Until I moved to Berlin, I had no idea that the seasons could affect my mood as much as they do. People talk about getting sad in the winter and how the lack of sun can be a real downer, but as someone who grew up in the sunny Sonoran desert, I actually looked forward to overcast days and rain.
That changed after my first Berlin winter.
At its worst, we can go two weeks in a row without seeing the sun. Everything looks desaturated, including your very existence. For months, you get used to being cold and achy.
And then one day something happens – suddenly, the eagar flowers have woken up. And then the twigs start to stretch leafy arms from their sides towards the sun. And then…within a span of two weeks, the city is transformed into a green oasis and the increasing joy of the city is palpable.
These are my favorite things to do during Spring in Berlin, ranging from touristy things that are best in Spring to locals' seasonal rituals. Enjoy!
Follow Not a Nomad blog on Bloglovin', the easiest way to keep up with your favorite blogs.
Follow
See cherry blossoms around town
Cherry blossoms are easily one of my favorite things about Spring. They really signal that things are about to change, and what more, they're so beautiful!
Shortly after the Berlin Wall was toppled, Japan donated thousands of cherry blossom trees to the city in solidarity. Thanks to their generous gift, Berliners can see cherry blossoms all over the city between mid-April and early May. The longest stretch of trees is over a kilometer in length, and you can take a walk along paths lined with cherry blossom trees on either side.
Mid-April - early May
KEEP READING – Where to find cherry blossoms in Berlin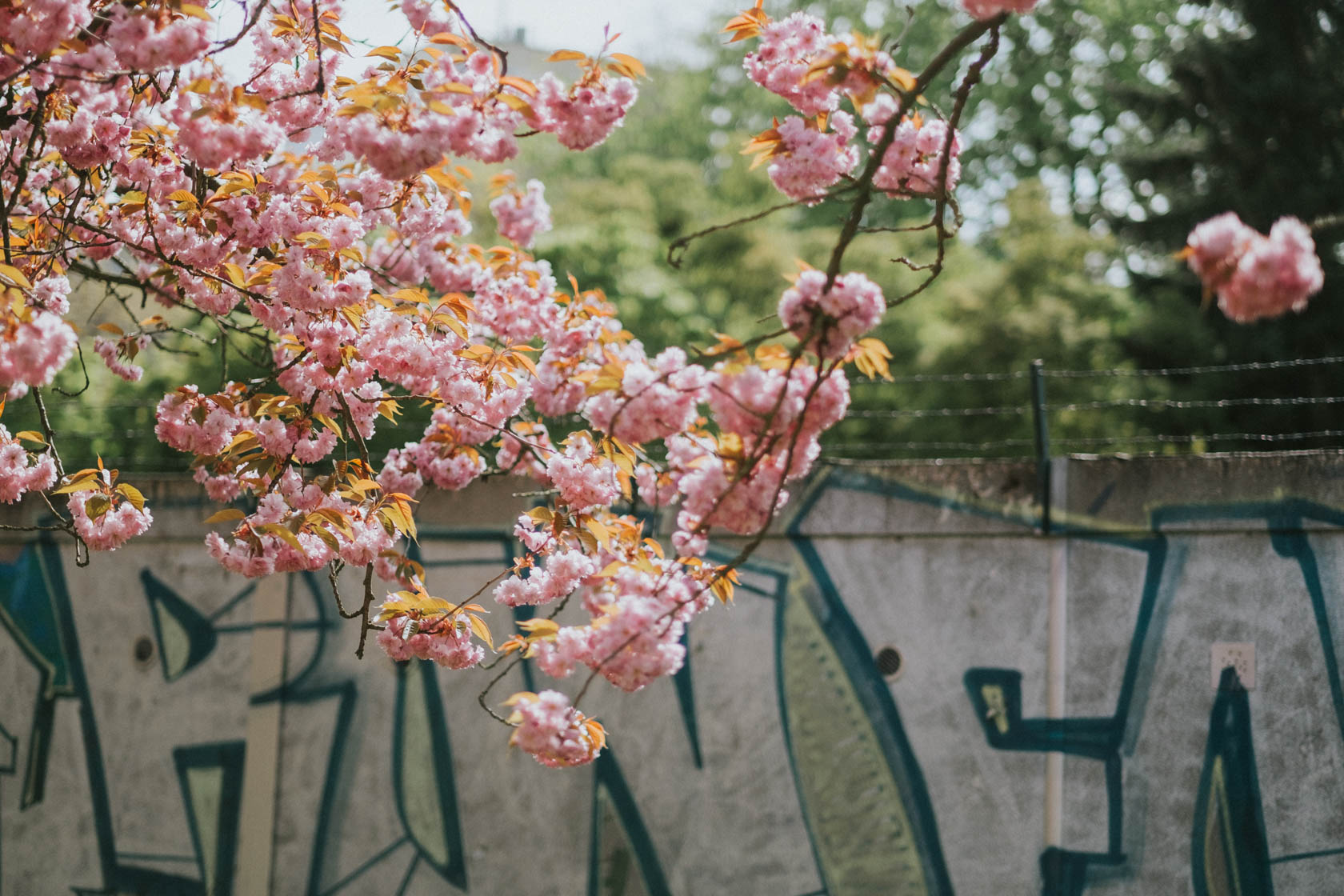 Attend the May Day in Kreuzberg
What used to be a day of violence against the police resulting in burning cars and vandalizing property has been transformed by the city into one of the biggest street festivals of the entire year. May Day is still associated with left-leaning politics, but can be enjoyed by anyone who values a cold beer, streetfood, live music, and feeling the vibes of the people.
May 1st
Kreuzberg, Berlin
Begin the brunch season outdoors
One of the greatest love of Germans – eating outdoors in any kind of weather that will permit you to do so. Even if it takes a heater and a veritable down comforter to do the job, they will brave the great outdoors just to drink their coffee or eat brunch outside. You can do it like the locals by taking brunch outdoors in Spring, even when it's much too cold to be comfortable!
Enjoy Berlin's gorgeous parks
Compared to most capital cities, Berlin is exceptionally green. If you come to Berlin, visiting one of our parks should undoubtedly be a priority, especially in Spring. Here are a few of my favorite parks in Berlin:
Viktoriapark (pictured below) - Never too busy and a bit off the beaten path, this park has a great view over the city from the top of its hill.
Tiergarten - Berlin's largest park can feel like a small forest, and is great for picnicing or sitting by the river at a beer garden.
Treptower Park - The site of an enormous soviet memorial, this park is just a short bus ride away from the East Side Gallery and a favorite for history buffs.
Tempelhoferfeld - Located at the former Berlin airport, this spot has a huge open space you can use for running, skating, biking, and of course – barbecue.
Listen to international music at the Carnival of Cultures
In recent years, the Carnival of Cultures has grown to more than 5,000 participants from all over the city. There are several themed music stages featuring music from Africa, Latin America, and right here in central Europe. Besides music, tons of local vendors set up shop, offering hard-to-find imports as well as handcrafted goods. For me, the highlight is definitely the food! Sourced from all over the globe, you can eat foods you never knew existed as well as standard street festival fare. Don't miss Sunday, when the procession winds through Kreuzberg featuring floats themed for countries the world over.
Karneval der Kulturen
May 18-21st
Blücherplatz, Kreuzberg, Berlin
Attend the opening of Berlin's beer gardens
Even if beer isn't your jam, it's still possible to enjoy one of the most venerable German pasttimes: drinking beer in nature. Or at least, something resembling nature. While the bigger beer gardens in Berlin, like Pratergarten or Cafe am neuen See are open year round, most beer gardens only open in April. If you're looking to visit a beer garden on your trip to Berlin, be sure to come in April for the widest selection!
Eat your first ice cream of the year
Last but not least, one of the most defining moments in the year of a Berliner: the first ice cream cone. As soon as it's sunny and the weather's above 10-15ºC, the locals come out in droves donning shorts and looking for a good time. It's almost like people communicate subliminally in order to decide "Today's the day" at exactly the same time throughout the city.
What're you looking forward to this Spring?
My number one thing is always confidently zipping up my winter coat into storage! Share yours in the comments below!