If there's anything Canada is famous for – after absurdly friendly people and maple syrup – it's got to be its stunning nature and landscapes. Banff National Park is perhaps the most famous showcase of the country's natural beauty, considering it hosts more than 4 million visitors every year.
And let me tell you, when you visit Banff in the high season – it shows! If you're planning to visit Banff, but only have a couple of days, you can use this comprehensive Banff itinerary for 3 days to plan your trip!
Read on for a guide to visiting Banff National Park in 3 days including maps, points of interest, tips for beating the crowds, a short packing list, things to do in Banff, the best time to visit Banff, and as always – tons of excellent photography locations in Banff National Park!
All of my favorite places are denoted in the headline with a ★ so you know which places you absolutely should not miss on your Banff road trip itinerary!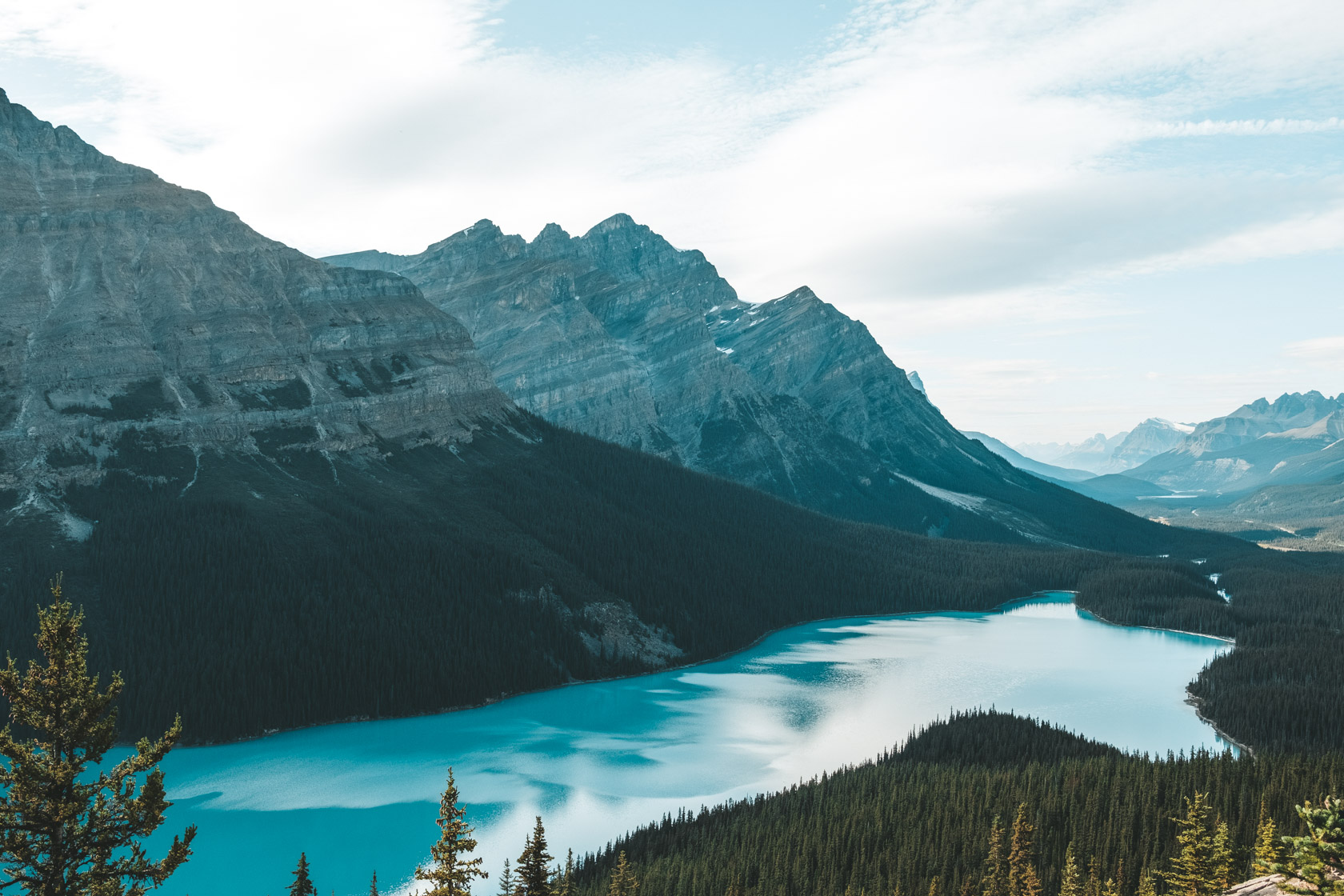 Some links in this post are to affiliate sites. If you purchase something through them, I may earn a small comission — which costs you nothing! I am very grateful when you use my links to make a purchase.
Before you go to Banff National Park
You don't need to overplan your trip, but there are a couple of things you'll want to make sure are all squared away before you go to Banff National Park:
Duration – 3 days
Dates visited – August 27-29

Can you visit Banff now? (Summer 2023)
Most foreign citizens can visit Canada now as long as you are vaccinated and the most recent dose has been administered more than 14 days prior to entry.
Where to stay in Banff
Depending on where you stay in and around Banff, you can spend wildly different amounts on accommodation. The most important thing to do, is to BOOK IN ADVANCE, especially if you are planning to visit during Summer!
One of my colleagues booked more than seven months in advance and found most of Banff was already booked out. If you haven't booked accommodation yet, head over to my post dedicated to where to stay in Banff for details on how to pick accommodation in Banff.
Otherwise, here are a couple of options to consider:
Banff town – Right in the thick of things, staying in Banff will save you about 40 minutes of travel each day compared to Canmore. Tons of excellent dining, though on the pricier side both for food and accommodation. Check out Banff Ptarmigan Inn , which strikes a good balance between having those mountain lodge vibes and being affordable by Banff standards.
Click here to check hotel availability in Banff for the dates of your visit.


Canmore, Alberta – This is where we stayed! Located less than 20 minutes from Banff, but has a bigger selection (being a slightly bigger town). It's less expensive, has less competitive parking, and more selection. Specifically, we stayed at this resort in Canmore , and enjoyed having a suite with a full kitchen. It's also really family-friendly with an indoor swimming pool with a slide for the kids, and several nice restaurants within walking distance. Click here to check availability in Canmore for hotels during the dates of your visit.


Lake Louise – Easily the most stunning place to stay, if you've got the budget for it! Wake up every morning with lake views (and enjoy that sweet priority parking). Without a doubt, the Fairmont Chataeu Lake Louise is easily the most coveted place to stay near Banff. Definitely the place I would stay if I were loaded with money (or just enjoying a special occassion like a birthday or anniversary!). Click here to see other hotels in Lake Louise for the dates of your visit.
Should you rent a car in Banff?
If possible, I recommend renting a car with 4-wheel drive. It will give you an unparalleled amount of flexibility to customize this itinerary to your own needs and interests! The roads are very well-paved but depending on what you plan to do, you might want to add gravel protection to your insurance. That said, there are loads of tours running in and around Banff in case renting a car isn't feasible for you.
Our favorite place to rent cars is DiscoverCars.com . We've used them in almost every country we've visited with no issues.
Fun and affordable Banff activities
There are three main activities mentioned in this itinerary: two right near Banff and one along the Icefields Parkway. Here's a handy list with my own reviews in case you are currently on the hunt for activities in and around Banff!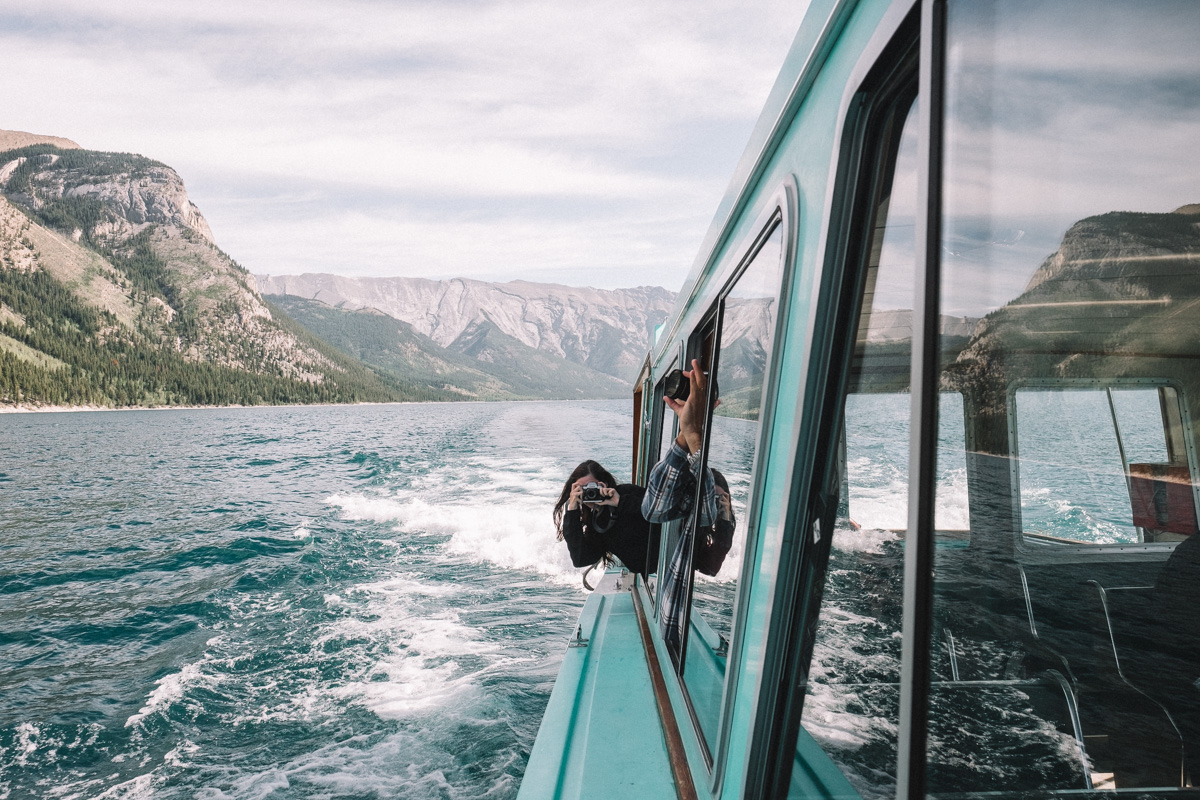 1. Lake Minnewanka Boat Cruise
I took my parents and boyfriend on this cruise and we all loved it. Great way to start a trip in Banff with loads of context about the Park's history. Had the 10AM tour almost to ourselves in the peak season!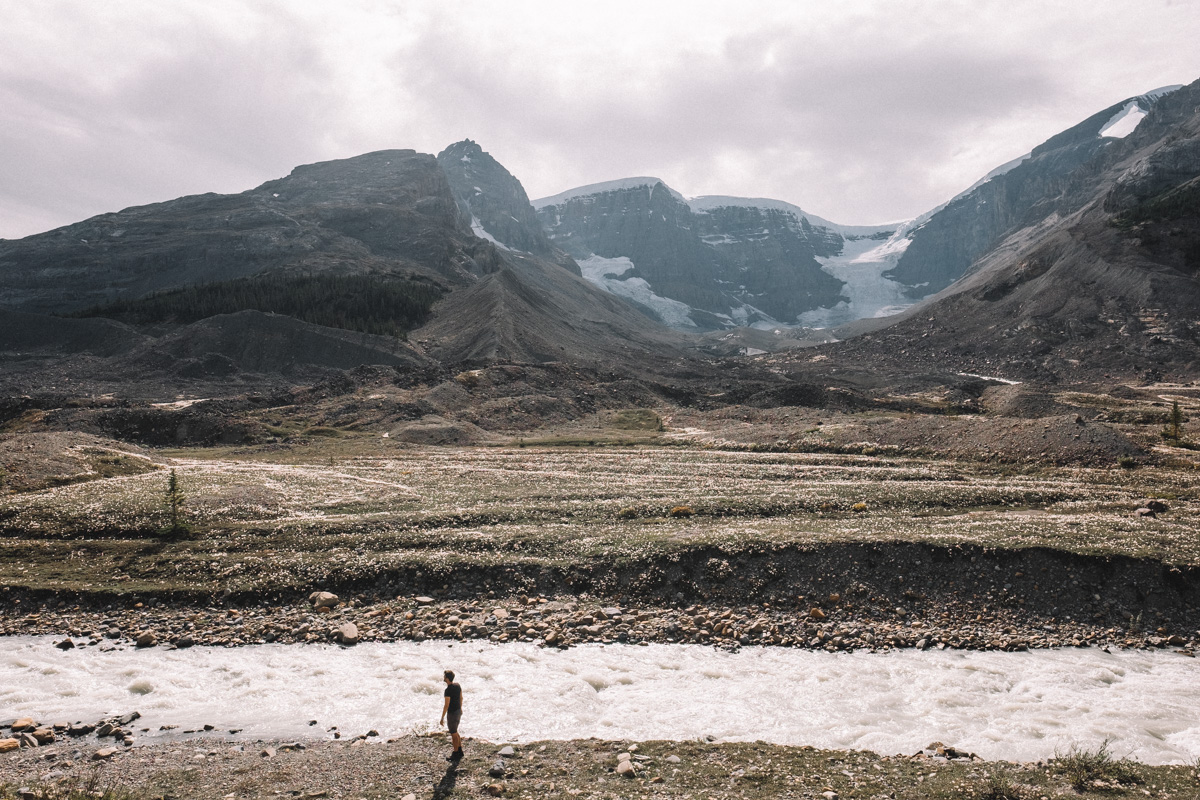 2. Athabasca Glacier Snow Trip from Banff
This tour is available year-around, and lets you drive across a massive glacier at the heart of one of the largest, non-polar icefields in the world. Really incredible, especially if it's your first time.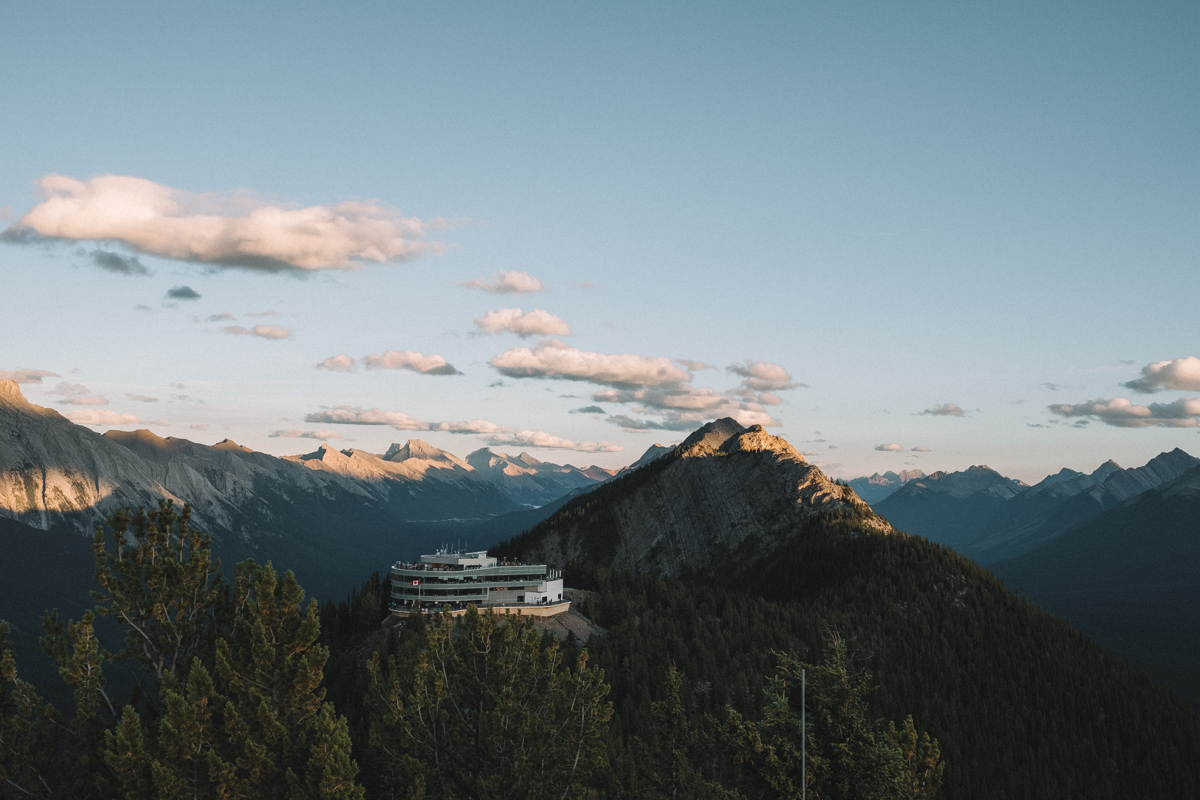 3. Banff Gondola to Sulphur Mountain
Watching the sun go down over Banff was a really special way to end our first day. As the sun goes down, the lights in the town start to come on and it makes for great photos!
And without further ado…here is the full 3-day Banff itinerary.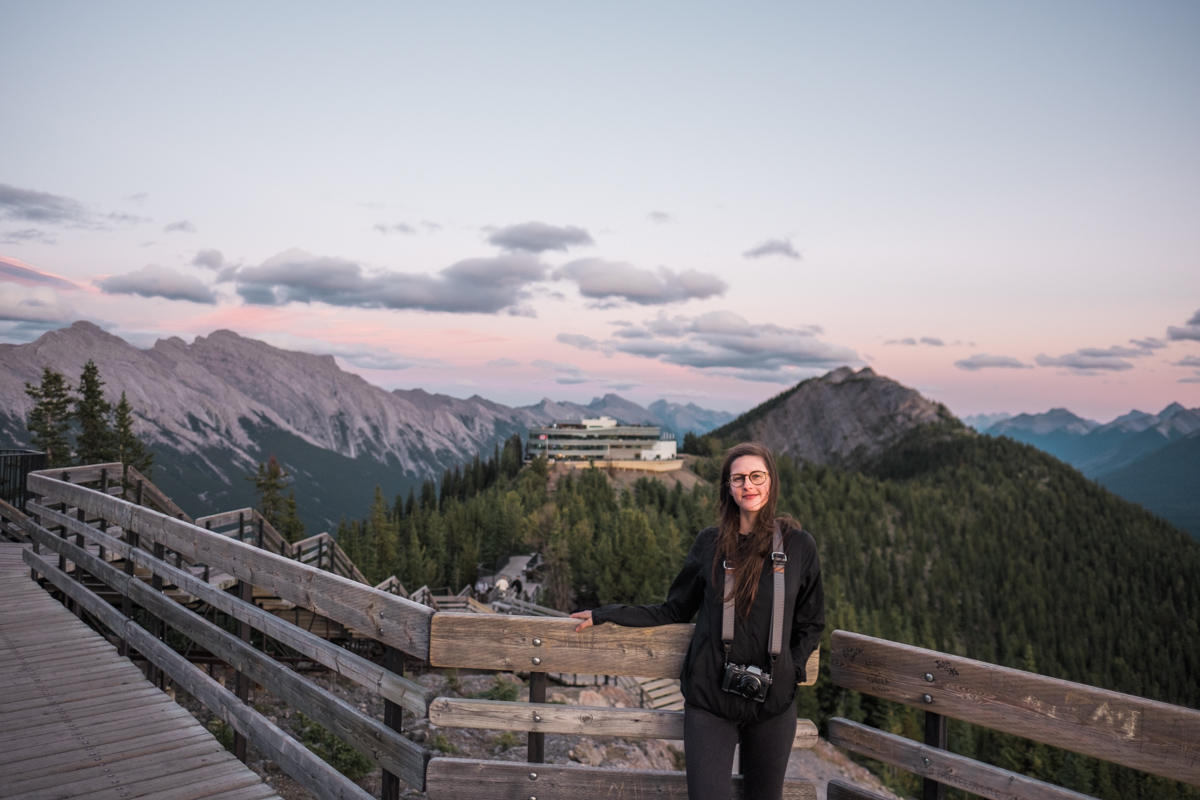 You can take the Banff Gondola to Sulphur Mountain at sunset for these amazing views 😄
Banff Itinerary for 3 days
Day 1: Banff and surroundings
Today is all about getting to know the area directly around the town of Banff and the town itself. We'll start early in the morning on the Lake Minnewanka Loop and pop by ultra-reflective Two Jack Lake before continuing on to our Minnewanka Lake Cruise on the largest lake in Banff National Park. After that we'll go for an early lunch in Banff before taking a look at Bow River on our way to the Mount Norquay Viewpoint and then the Vermillion Lakes . Our last stop before dinner is Johnston Canyon , and after dinner we'll take the Banff Gondola up Sulphur Mountain to watch sunset.
Two Jack Lake ★
Arrive at Two Jack Lake early in the morning for the stillest water and the best reflections. Two Jack is connected to Lake Minnewanka, yet has its own small-lake vibes. If you're keen to have breakfast outdoors, Two Jack Lake has a number of picnic spots for you to enjoy the early hours with a coffee in your hand.
Two Jack gets a lot less attention than its big sister Minnewanka, so in the morning you'll have the place mostly to yourself. So long as you take the longer branch of the Lake Minnewanka Loop you'll have an easy time stopping here on your way to your boat cruise.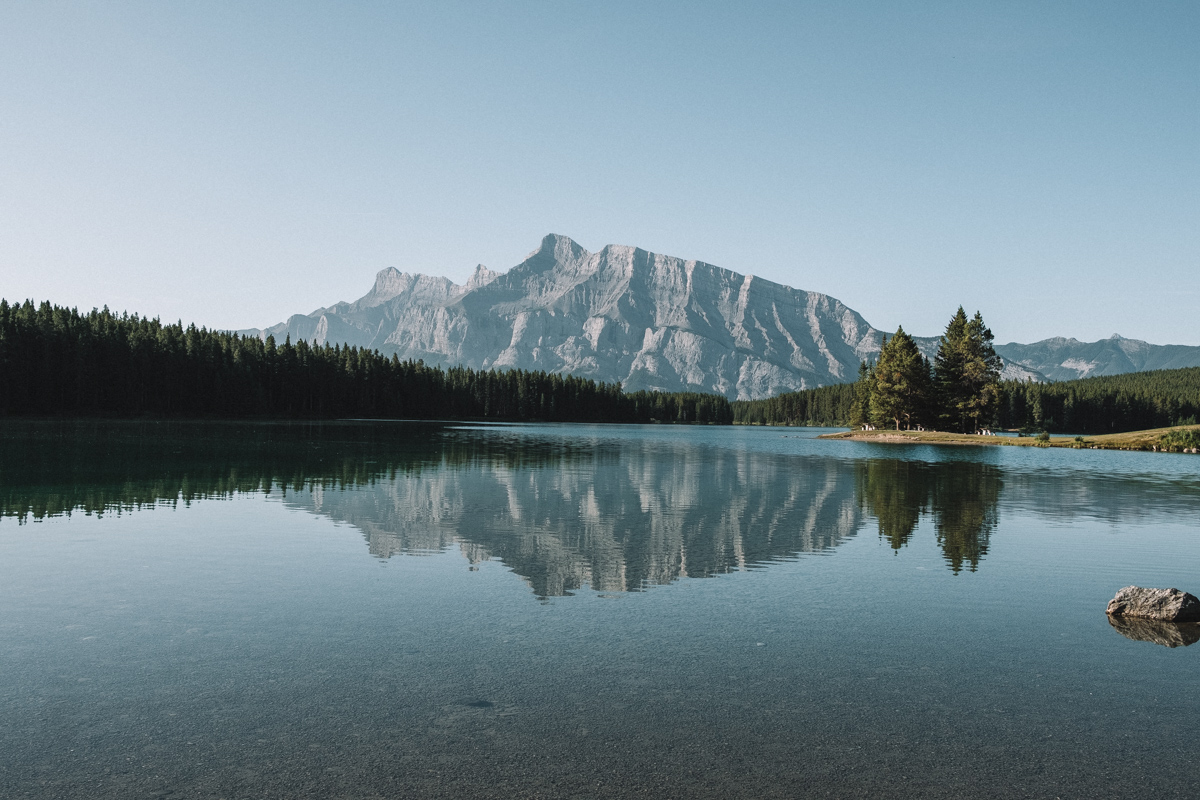 Lake Minnewanka ★
I originally booked a cruise on Lake Minnewanka after reading an itinerary where the author considered it the highlight of her trip! Especially since I was traveling with my parents and my boyfriend, we thought it would be a good way to kick off the trip. We learned about the history of the lake, both in terms of the original inhabitants and the explorers of Europe, got to taste some pine tea and locally-made sourdough bread. Our guide was ultra friendly and took time to answer questions in addition to telling lots of stories about the lake.
I even saw a bald eagle fly over the boat! It's also possible to see other animals like wolves or bears, but of course when it comes to nature, it's all about getting lucky 😄
My own takeaway from the trip was that it's a great way to experience Banff's largest lake and get some context about the park before starting our 3-day experience.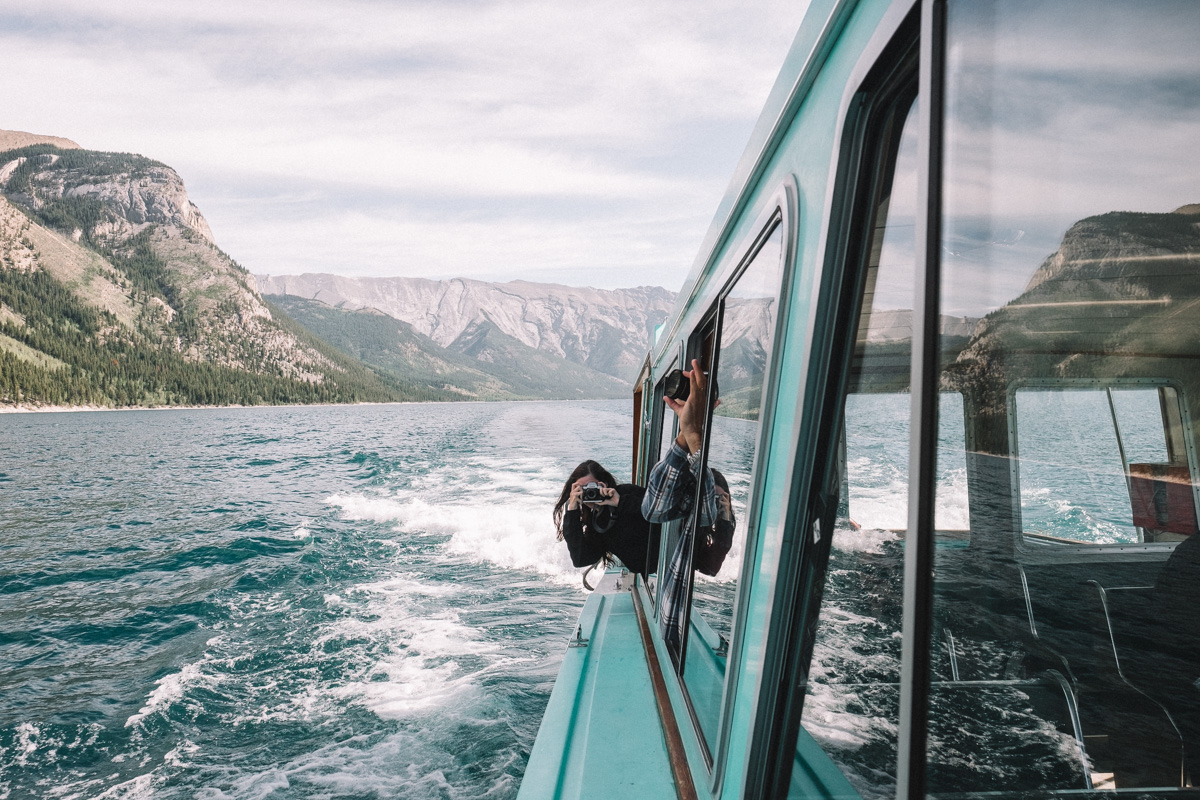 Note: There is only one company that offers cruises on Lake Minnewanka, called Brewster with the parent company Pursuit. You'll see that they offer lots of different tours throughout Banff, and also operate the Banff Gondola. In general our experiences with them were positive!
We chose the 1.5 hour extended cruise. It was something like $10 more per person but 50% longer so we thought it seemed like a great deal. Furthermore, our cruise had just a few people on it whereas the classic cruise was totally packed, even when we arrived 15 minutes early.
Here are the different types of Lake Minnewanka cruises:
10AM – 1.5 hour extended cruise
12PM – Childrens cruise
5PM – Beer cruise
If you have the time, you can also do a hike to Stuart Canyon from Lake Minnewanka. Ultimately we opted against it because we wanted to go for an early lunch in Banff so we'd have plenty of time to do things afterwards before our dinner reservation at Park Distillery .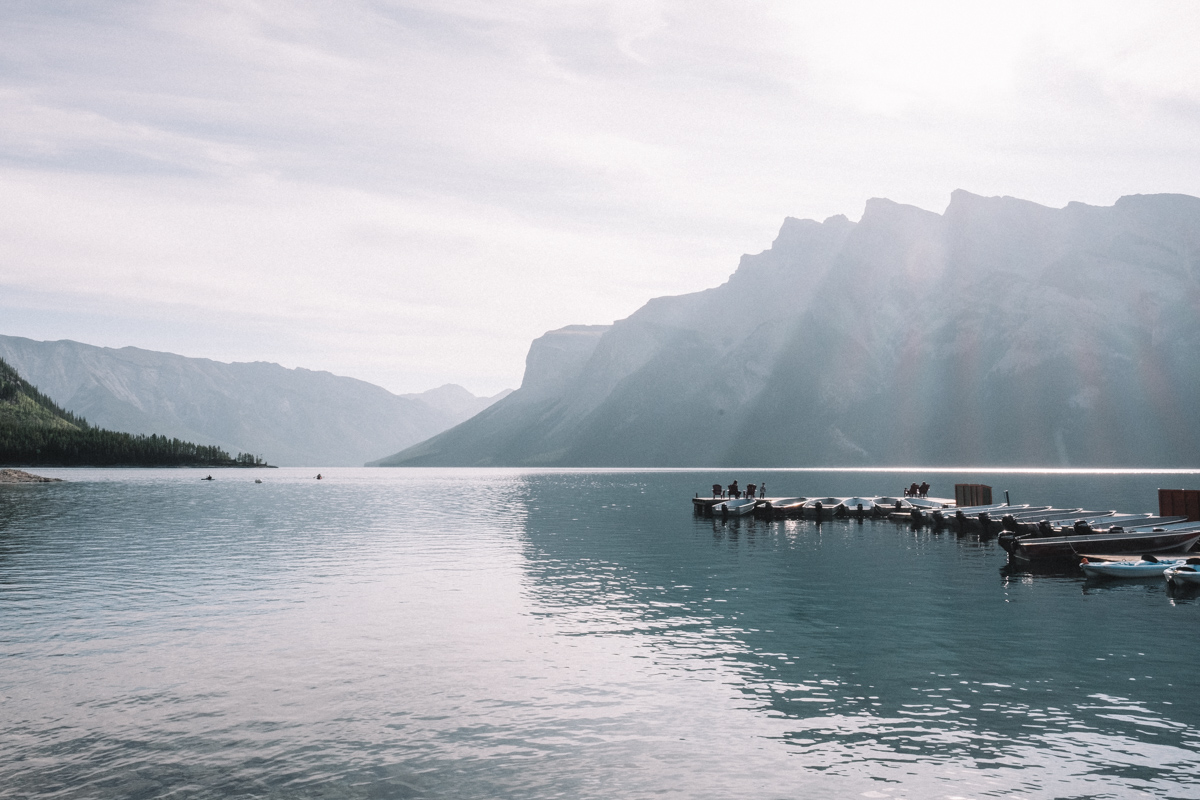 Banff town ★
The town of Banff is the epicenter of this part of the national park. It's become famous on instagram for its mountain views right from the main street, Banff Avenue. The main challenge we faced when visiting Banff was parking our massive truck, but we eventually got lucky with the row of parking right on Bow River .
Besides being the home of plenty of great restaurants (with high prices to match), you can buy all the Banff sweaters and leaf-shaped maple syrup bottles your heart desires in Banff. It's also the starting point for a lot of day tours, and therefore a convenient place to stay if you aren't self-driving Banff National Park.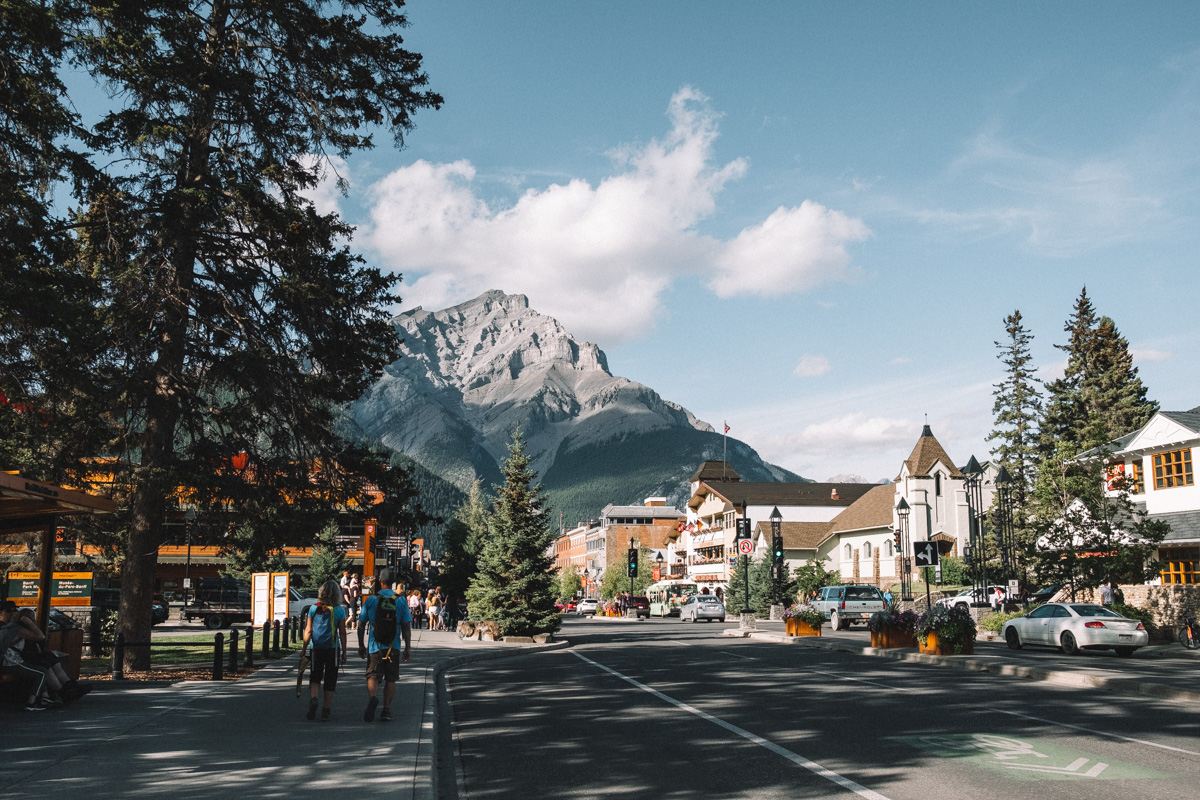 Bow River and Bow Falls
You can take the scenic route around Banff and you'll find both the river and the waterfall right in the heart of town. One of the common things you'll be thinking about on this trip is how incredible the color of the water is. That's because the Bow River is fed by the Bow Glacier, which imparts its amazing color.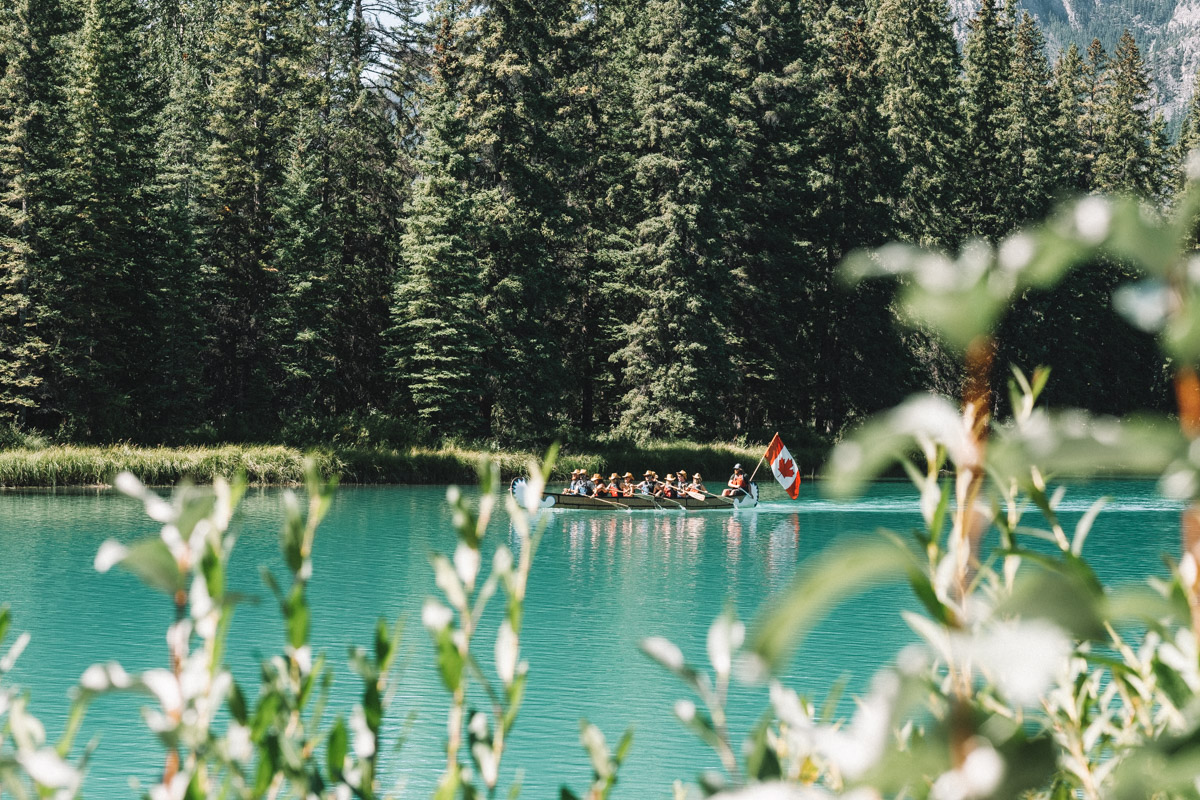 Mount Norquay Viewpoint
After lunch, you can do a short drive up Mount Norquay, a popular spot for skiing around Banff. There's an obvious turnout and viewpoint that'll give you a view over Banff and across to Tunnel Mountain, Mount Rundle, and Sulphur Mountain. We also got lucky enough to spot a whole herd of mountain sheep!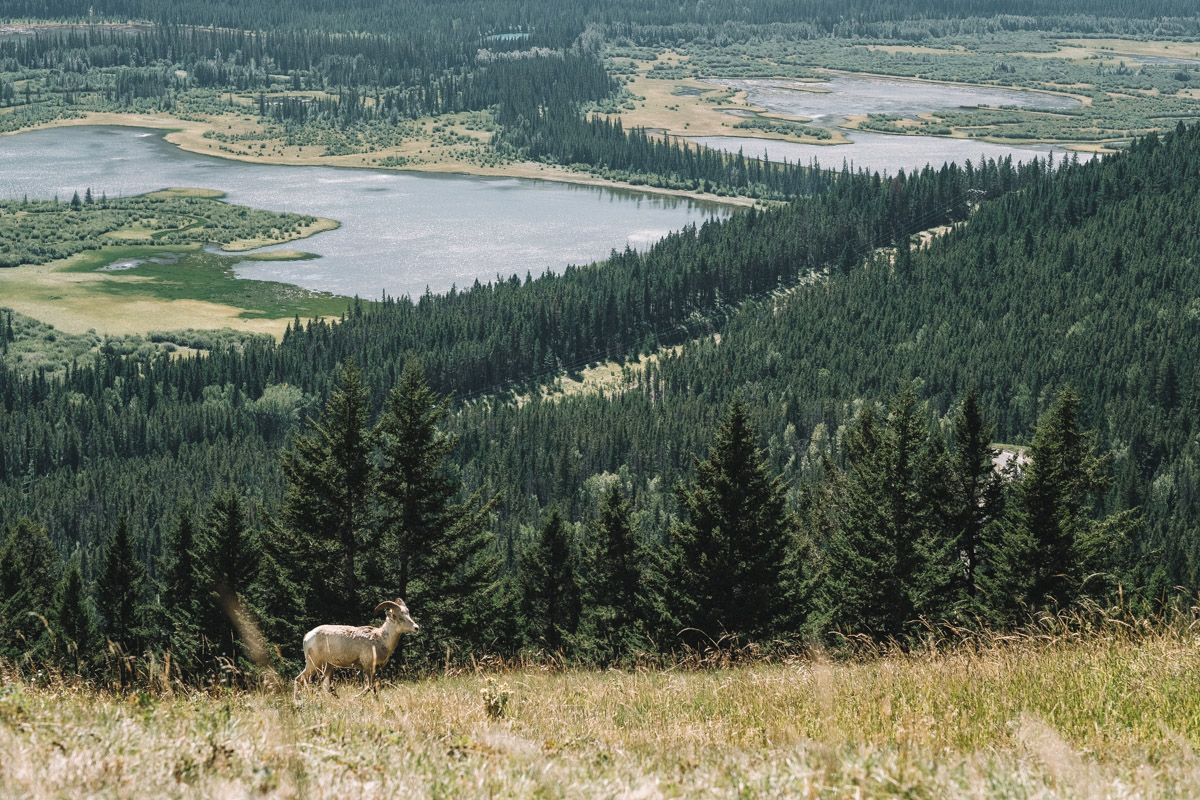 This lookout point has a large plain of grass in case you prefer to prepare yourself a picnic and eat in the grass and enjoy the view.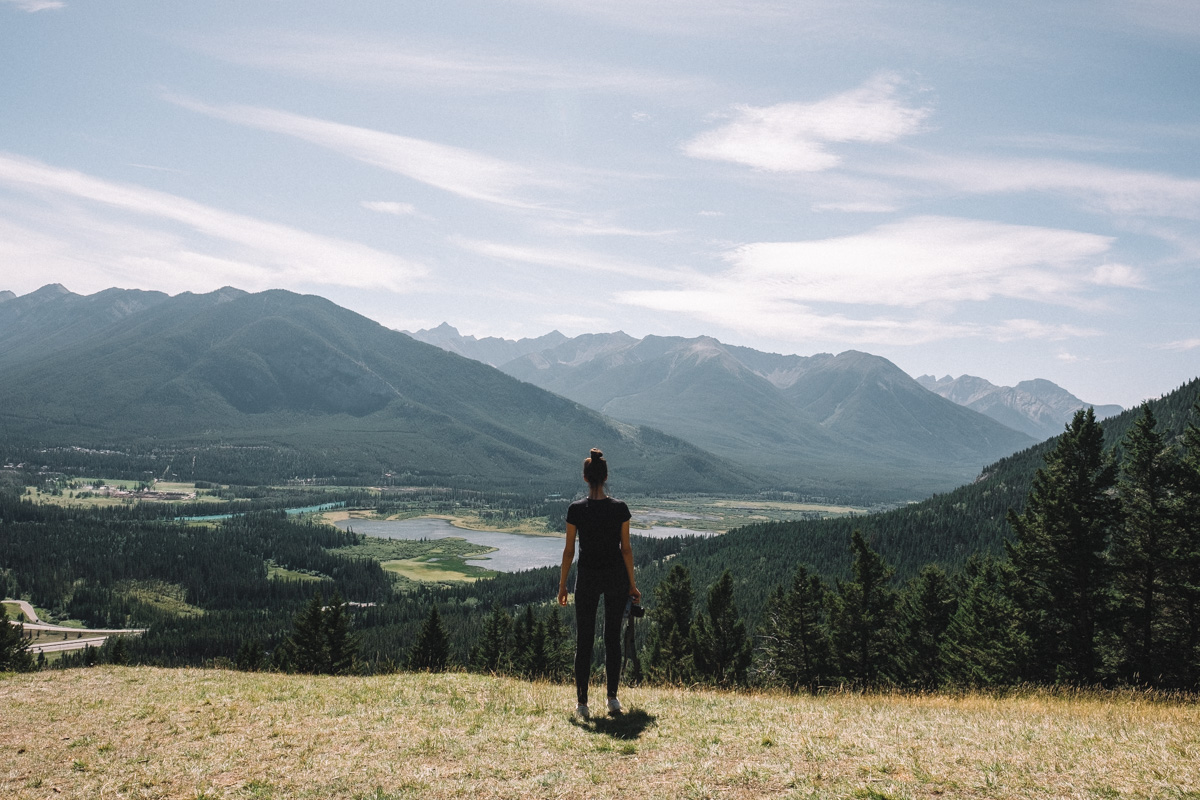 Vermillion Lakes
Next are the Vermillion Lakes, which we found surprisingly unpopulated despite the close proximity to the town of Banff. There are two main ways you can see the Vermillion Lakes: either from the lookout point connected to the highway or by driving along a road that winds along parallel to the lakes and the highway at the lake level. Ideally you take the time for both!
What makes the Vermillion Lakes special is the view of Mount Rundle, the distinctive jagged mountain in the distance. In the morning or winter when the water is still, you can see a clear reflection of the mountain in the lakes.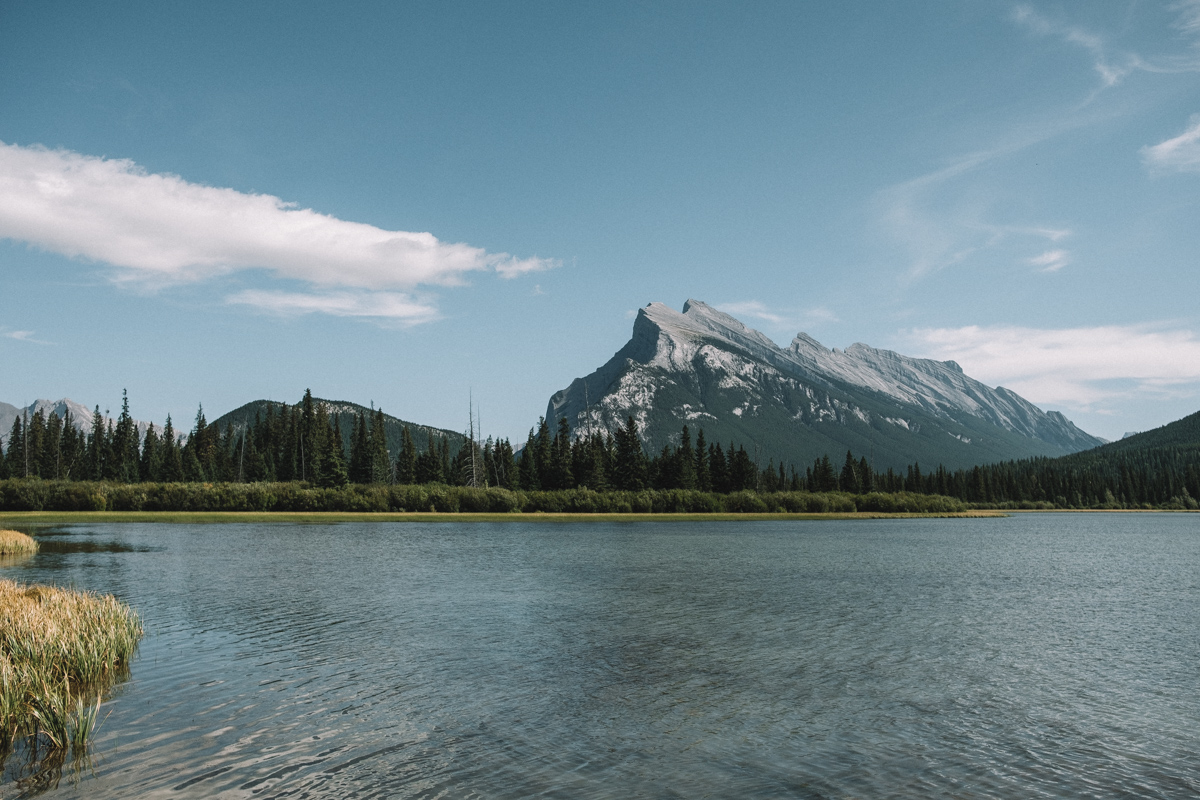 Johnston Canyon
Johnston Canyon is probably one of the most popular sites on today's itinerary, given that the "hiking trail" is totally paved and easy to access for families. That means the first part of the trail through the canyon is going to have quite a lot of people, especially in the Summer.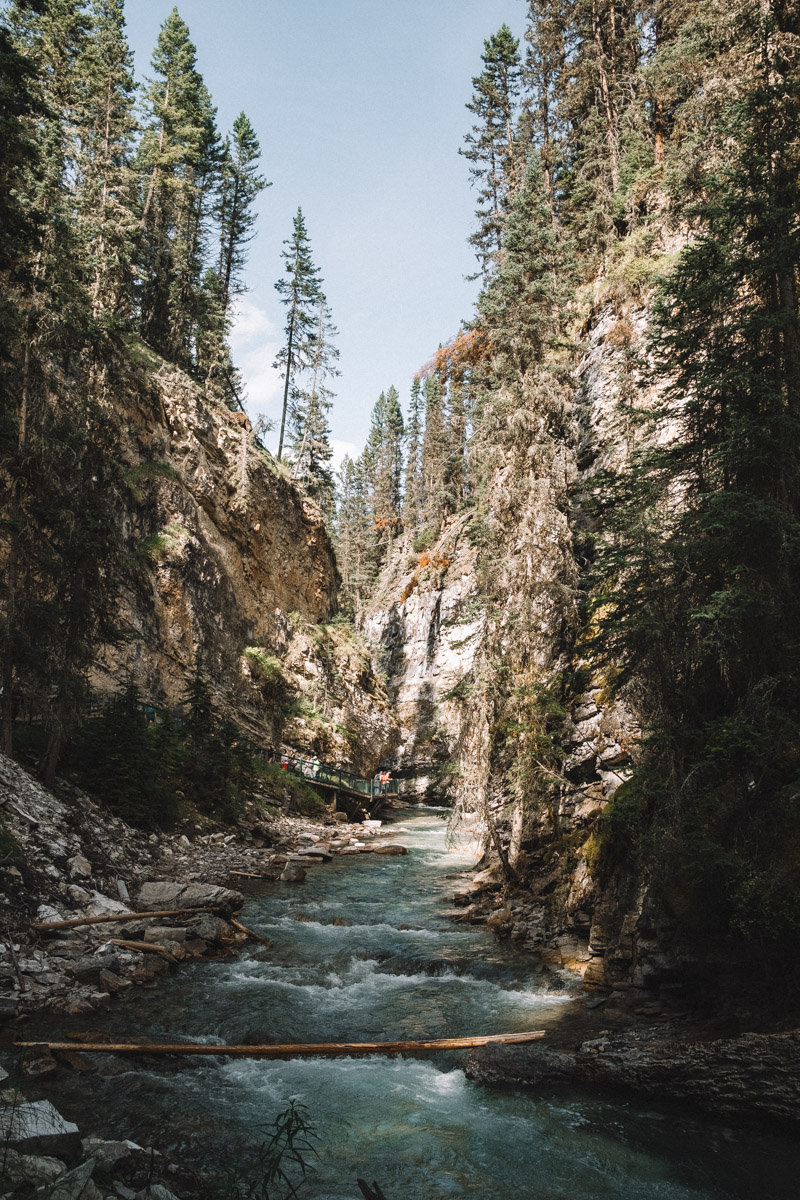 There are three points of interest at different distances: the lower falls, the upper falls, and the ink pots. We only made it to the lower falls and honestly found it a little bit underwhelming – there was a queue to see the waterfall from inside a cave and the view was not much different than seeing it from the outside.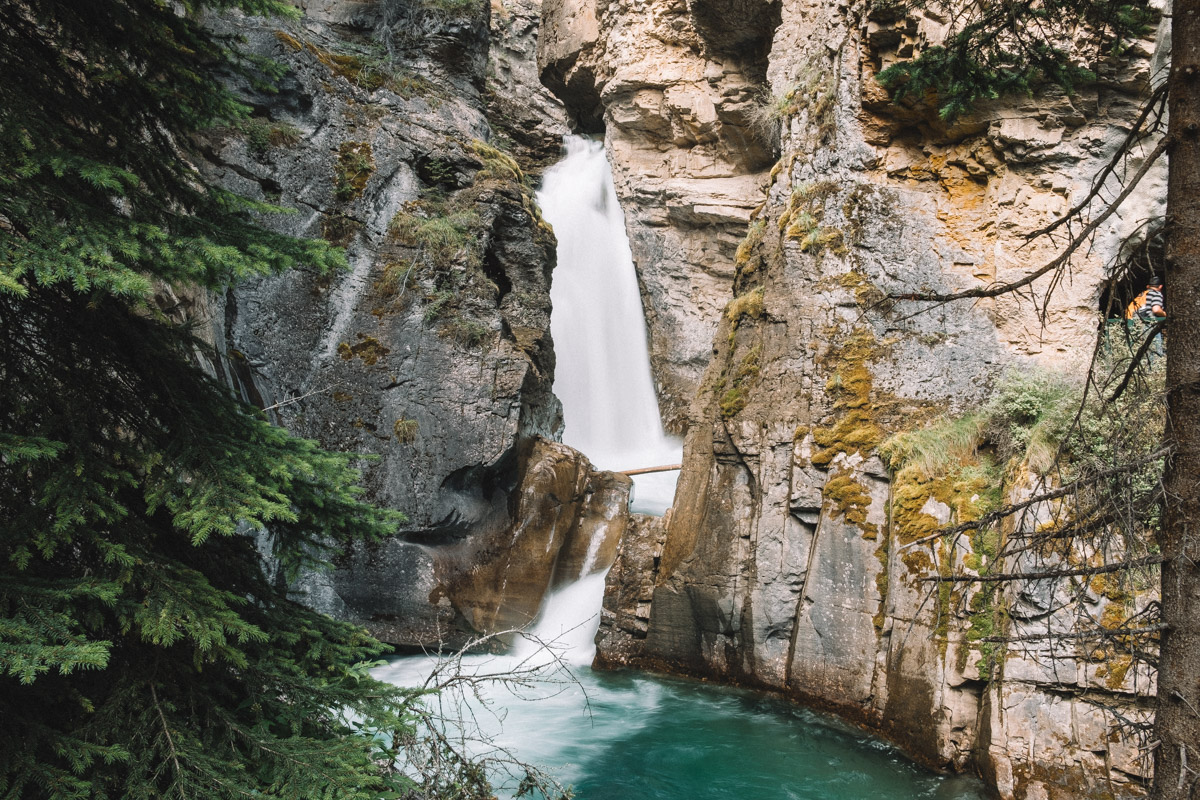 That said, the upper falls are where you'll find the instagram-famous version of Johnston Canyon, so if you're on the hunt for photos definitely do the extra trek to get there! It's not that much longer in total.
Banff Gondola / Sulphur Mountain
After dinner, you can head up the Banff Gondola to the top of Sulphur Mountain to watch the sunset over Banff town and its surroundings. If the clouds behave you can end up with a really spectacular sunset, and what's better – if you buy gondola tickets after 5PM you get a small discount!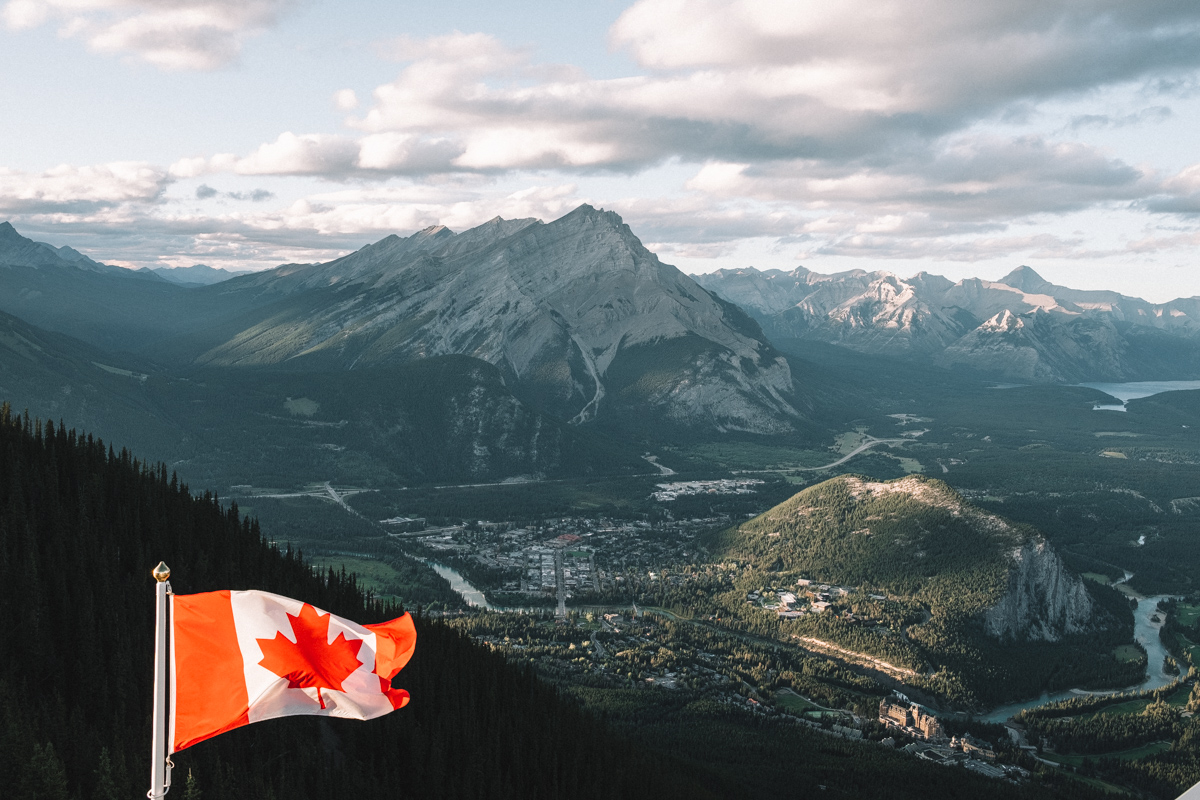 When we went there was a "Sunset Festival" happening at the top of Sulphur Mountain, though the performer was not that great so I wouldn't necessarily recommend spending your whole evening up here. And indeed, after the sun had thoroughly set, most people were queueing up to head back down to town.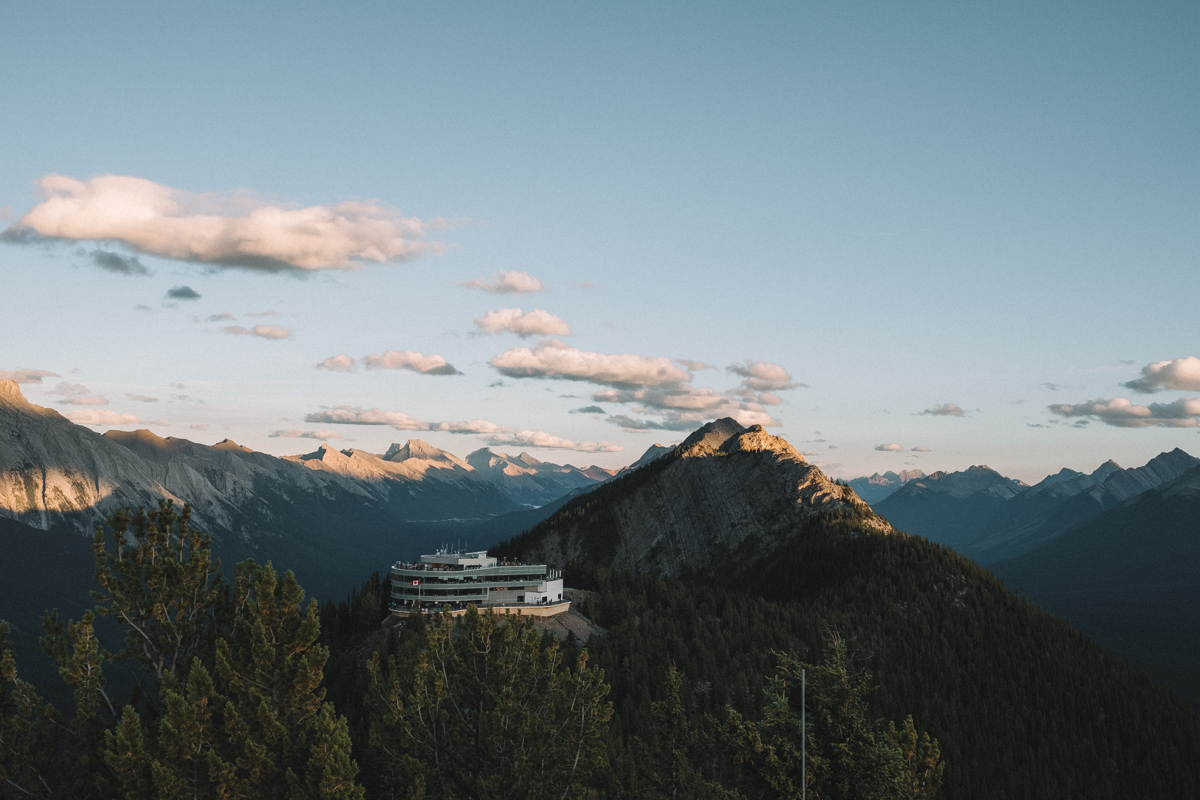 Day 2: Icefields parkway
Icefields Parkway is considered one of the most scenic road trips you can do in the entire world. The whole time you've got mountains on either side, glaciers cropping up in the distance, and even wildlife easily spotted from the road. This epic stretch of road connects Banff National Park with Jasper National Park to the north. While you'd ideally spend at least two days driving the Icefields Parkway, it's doable in a single day.
Our strategy was to focus on stops on the side of the road with the best sunlight during that time of day in order to snap the best photos. For the most part we focused on driving up north quickly, and only start to make stops after hitting the half-way point.
That means on the way up we stopped at Bow Lake , Big Bend Lookout , Panther Falls , Athabasca Glacier , Sunwapta Falls , Athabasca Falls , and fueling up in Jasper .
On the way back to Canmore, we stopped at Saskatchewan River Crossing , Tangle Falls , Peyto Lake , and Herbert Lake .
We woke up around 6AM in order to leave by 7:30AM for a long day of driving. If you want to take more sunrise photos, you'll probably need to get up earlier in the Summer. Make sure you have plenty of gas in your car, the only place to gas up before you get to Jasper is the Saskatchewan River Crossing which is more expensive than getting gas beforehand. You should also be aware that these services are not available in the Winter, so be prepared!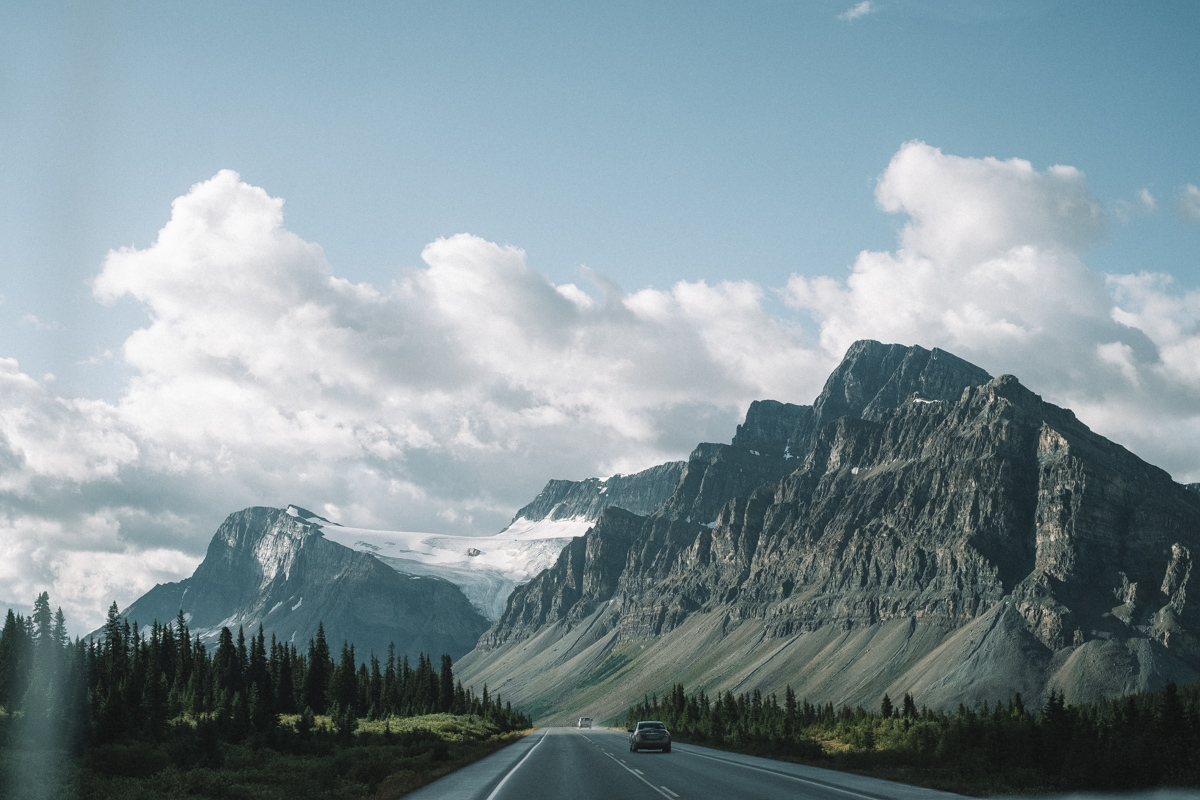 Bow Lake ★
Our first stop in the morning is Bow Lake , which is probably the most famous for its ultra-reflective water. It also has a fabulous color in the sunlight thanks to the adjoining glacier. This lake is pretty massive and it's very easy to walk down to the shore for some up-close photos.
Big Bend / Cirrus Mountain Lookout
After Bow Lake we'll drive for a while and try to make some progress along the Icefields Parkway. Make sure that once you transfer from the Trans Canada Highway that you change onto the 93, which is the Icefields Parkway that leads to Jasper. There'll be a checkpoint for your park pass, and you can also get a map with some points of interest along the parkway.
The next stop we'll make is at a big curve in the road, called Big Bend (named after a nearby mountain). If you stop at the lookout point on top, there's a great view over the road and you can even see a waterfall trickling down the side of the mountain.
This is where Banff and Jasper National Parks meet, so be prepared that you'll soon be entering a new national park (and that you have your park pass in order 😉).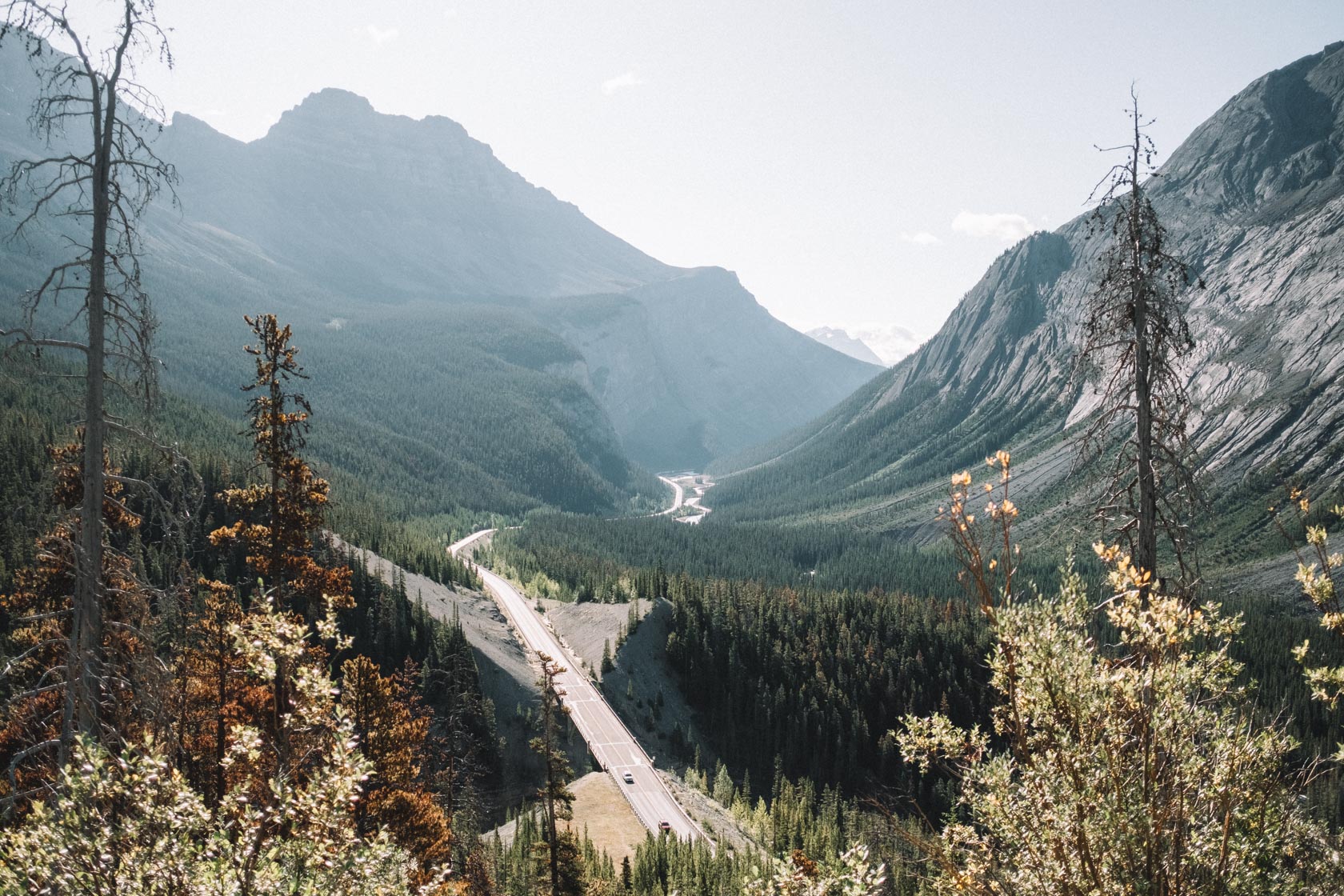 Panther Falls
Shortly after the Big Bend lookout point, you'll see another turnout where you can stop. From here it's possible to do a short (but slightly trecherous) hike to Panther Falls . This spot isn't on any of the maps, probably because there isn't much infrastructure around it and you can walk right up to the cliffs. Obviously – don't do that, the drop is steep and leads directly to the bottom of the waterfall. If you're careful you can catch a glimpse of a very special and hidden waterfall.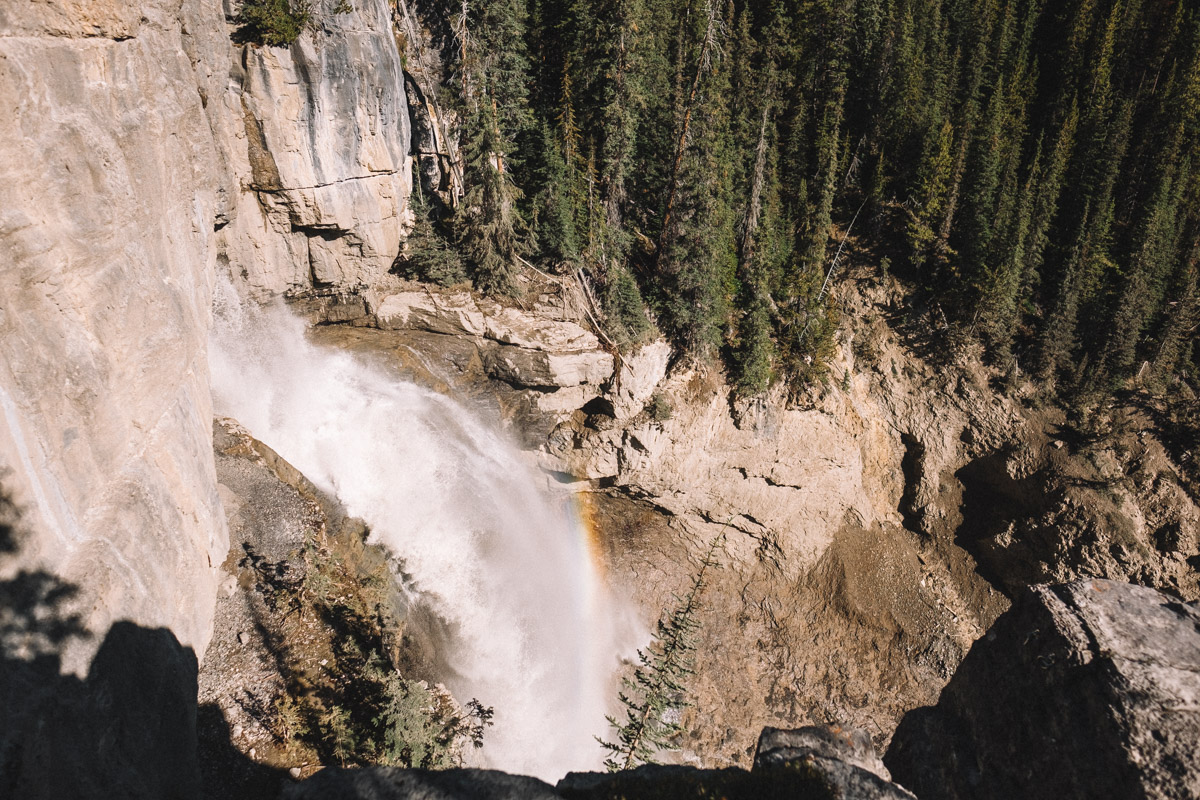 Note: Access to these falls is a little dangerous so please be careful!
Athabasca Glacier ★
Icefields Parkway gets its name for the enormous Columbia Icefield that rests on top of the mountain range. It's the largest accumulation of ice south of the Arctic Circle! The glaciers we see are just "toes" of that larger icefield, and the Athabasca Glacier is one of the largest. You can get close to a certain point, enough for some really nice pictures!
But if you want to actually get onto the glacier and see it up close, you can take a tour by the same company that runs the Minnewanka Lake Cruise and the Banff Gondola:
Athabasca Glacier Tour and Glacier Skywalk – This tour lets you drive right up on the glacier in a special vehicle! Taking a tour like this is the only way to safely get on the glacier yourself. It lasts for 3 hours, and has really flexible times: you just show up at the Columbia Icefield Glacier Discover Center and you can join any of the tours that depart every 15-30 minutes.
Columbia Icefields, Glacier Skywalk, and Lake Louise tour – If you're open for a full-day tour, this one combines a number of highlights from the Icefields Parkway into a single trip: Lake Louise (easily Banff's most famous lake), Peyto Lake, and two glaciers – one of which you'll explore on foot the same way as the other tour, on an Ice Explorer! This tour has overwhelmingly positive reviews on TripAdvisor.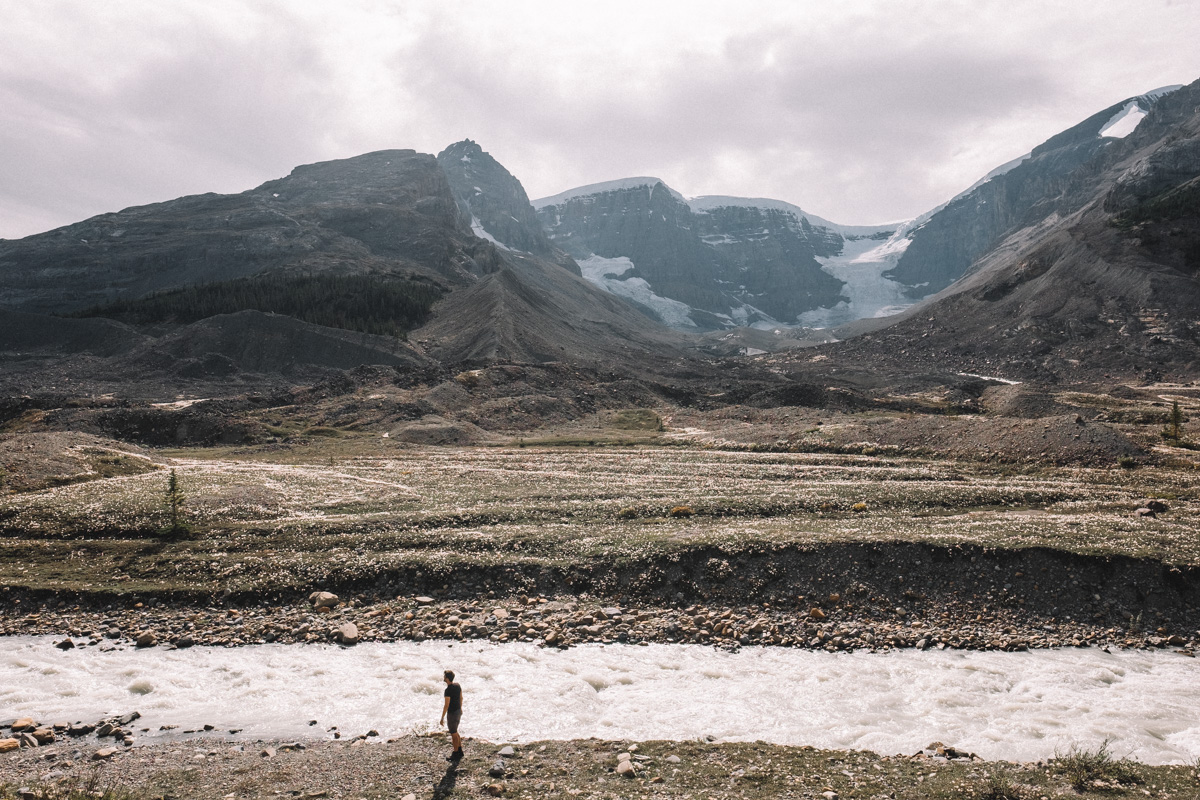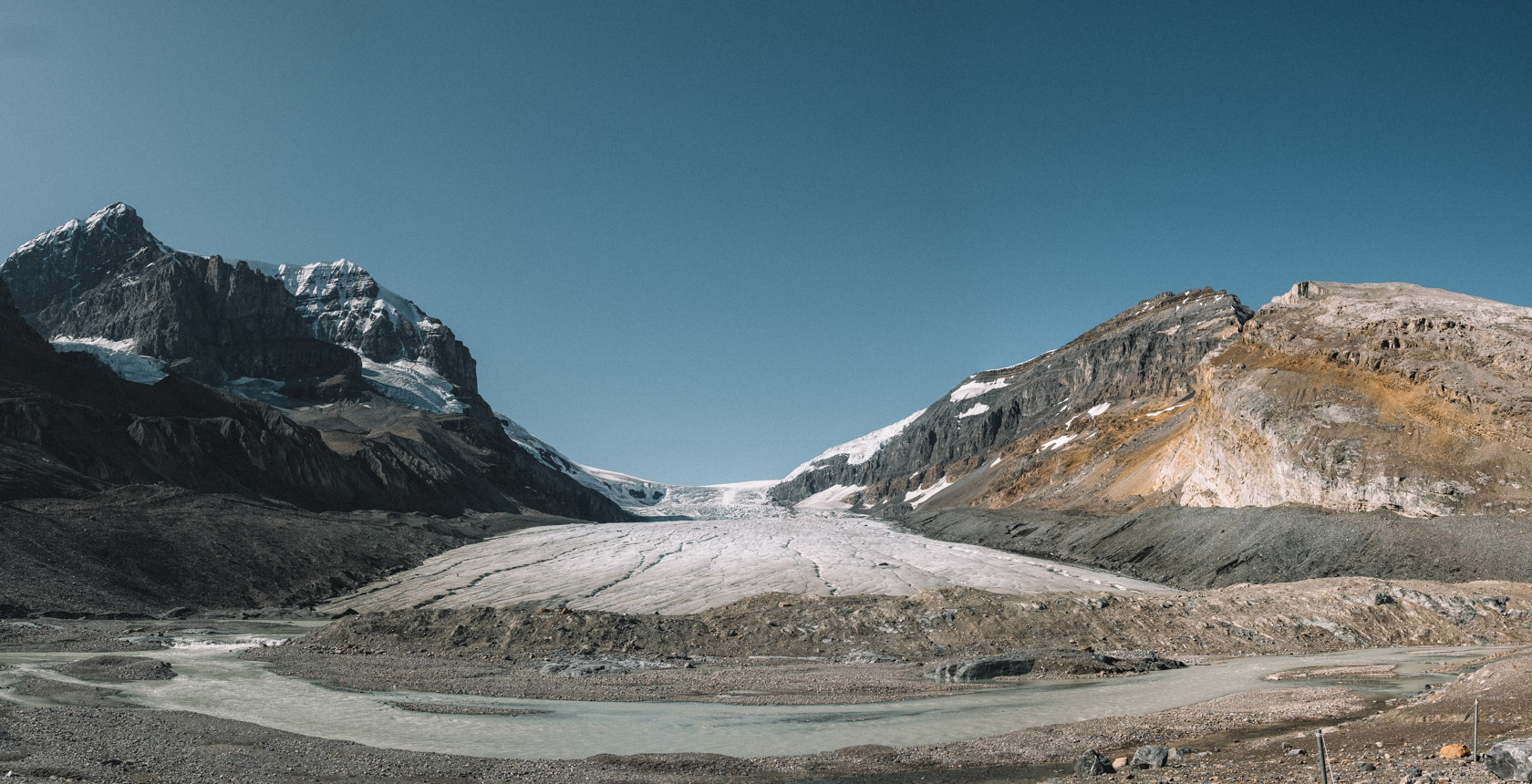 Sunwapta Falls ★
You can choose to visit Sunwapta Falls either on your way up the Parkway or back down, but we opted to do it on the way up in order to get the falls in good lighting. Here you can see that a good part of the falls was already in shade when we arrived a little after noon.
After shooting some photos, we stopped at a picnic spot for lunch. There are really not a lot of places to eat out here, though you could theoretically eat lunch at the Saskatchewan River Crossing on the way up if you're running a bit late or a bit early. Otherwise, we made it up to Jasper and there are plenty of options there.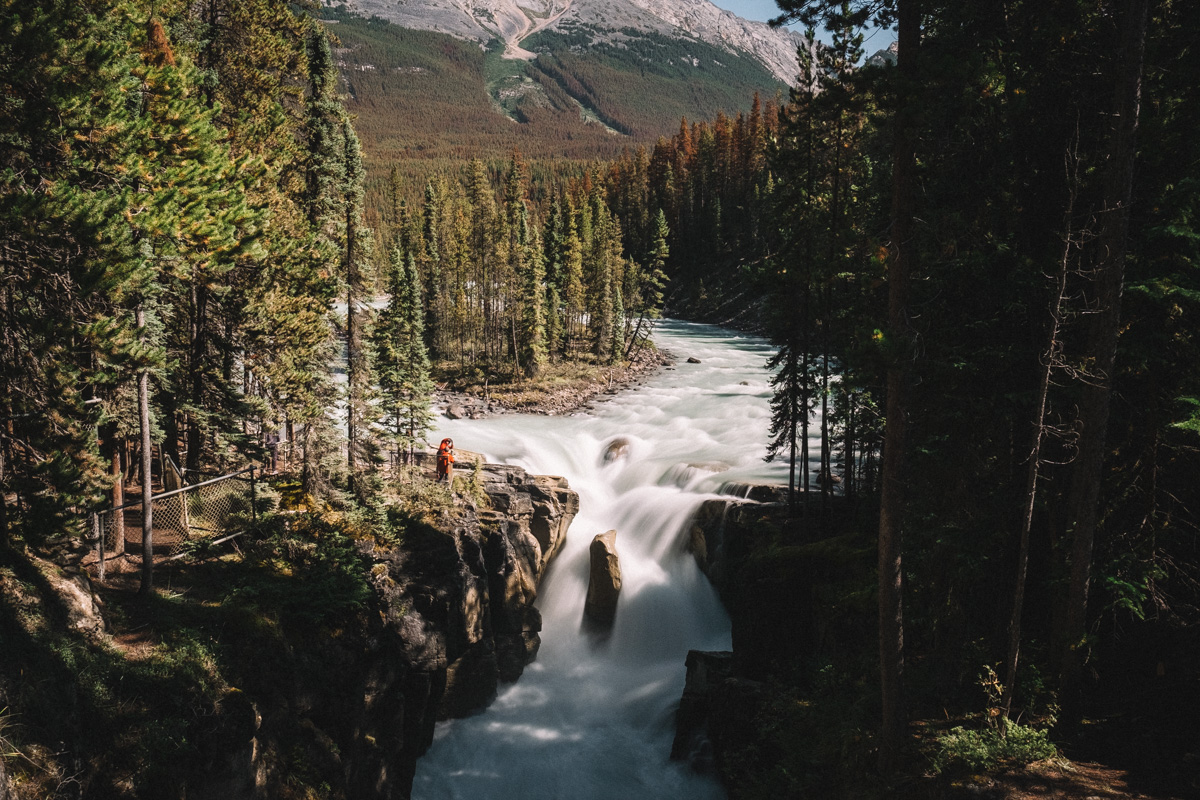 Athabasca Falls
Athabasca Falls are the highest volume waterfalls in Jasper National Park, and super powerful! While I didn't find them as picturesque as Sunwapta Falls, they were still worth the stop. There's a lot of infrastructure that allows you to see the falls from different angles.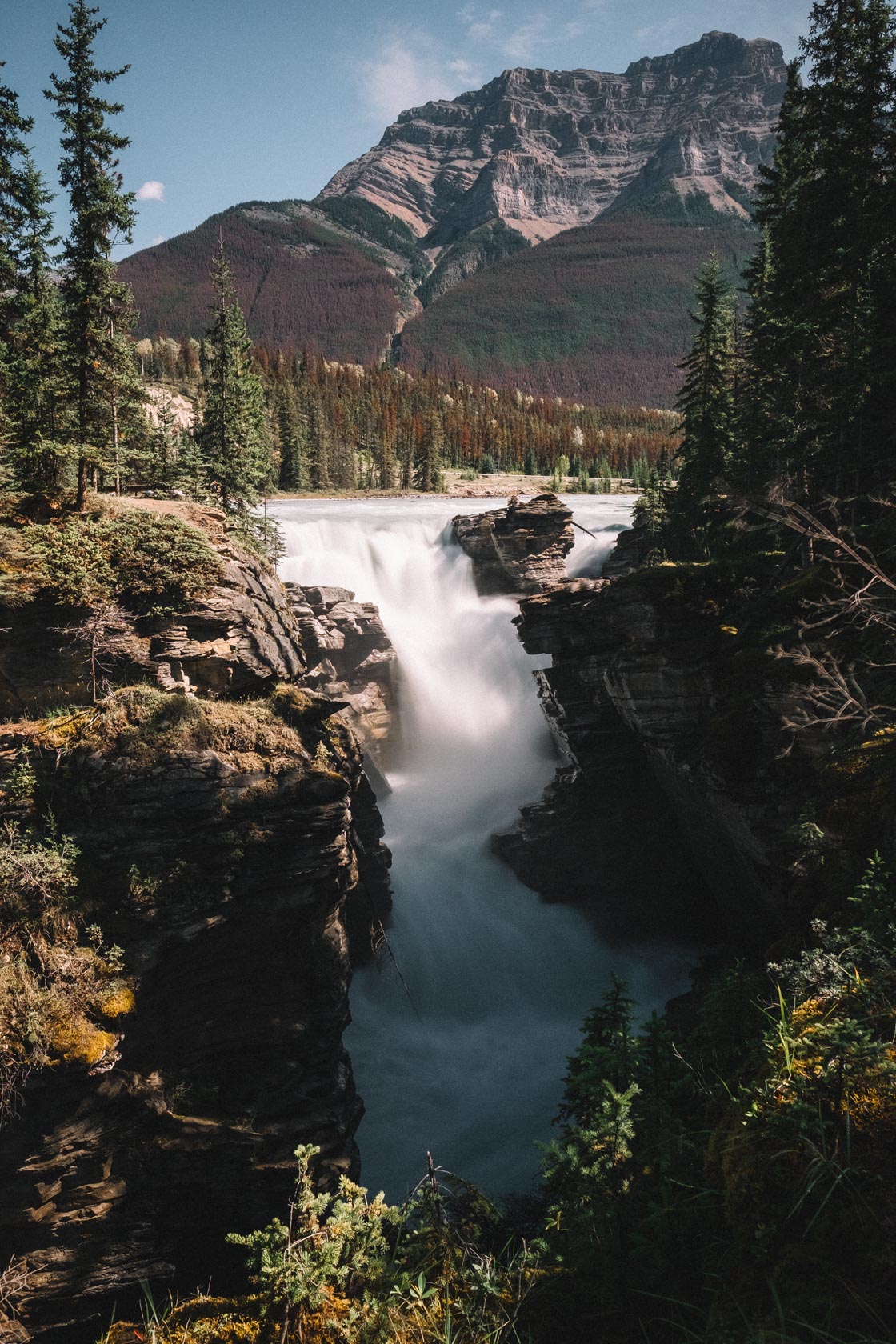 Jasper pitstop
After reaching Athabasca Falls, you're only about 20 kilometers away from Jasper. You don't need to come all the way up if you'd rather save time, but it's a useful place to get gas and stock up on snacks. Probably the most famous sight in Jasper is Maligne Lake , which can only be reached through a road from Jasper that doesn't connect back directly to the Icefields Parkway. We didn't have time for this stop, but you might if you start reaaaaaaally early 😉
Saskatchewan River Crossing
You can get out here and see the spot where trappers and fur traders used to cross on their way into British Columbia. Again you'll spot some more glaciers, and this is an opportune stop partway back to your home base along the Icefields Parkway.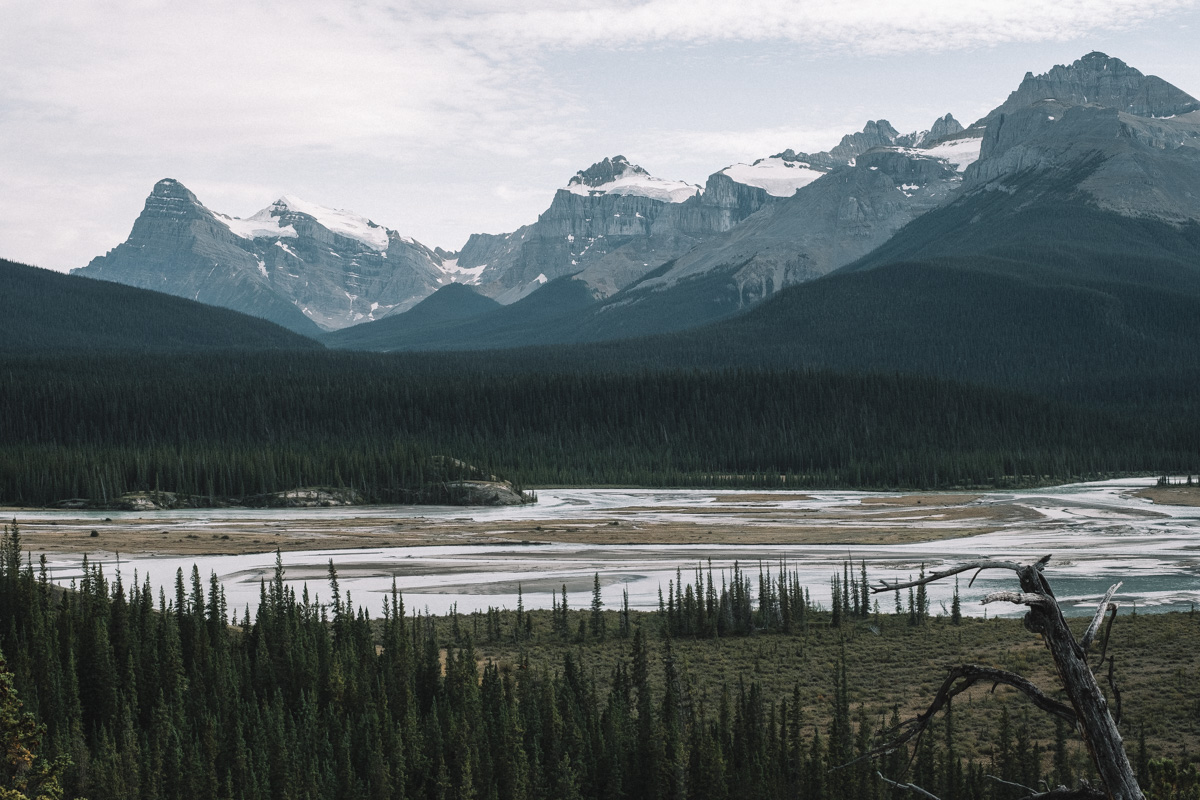 Tangle Falls
Tangle Falls is right along the road, and if you drive too fast you're likely to miss it. Unlike a lot of waterfalls, Tangle Falls is a place where you're allowed to climb on the rocks around the waterfall. The map we got at the beginning of the parkway warned us to be on the lookout for sheep!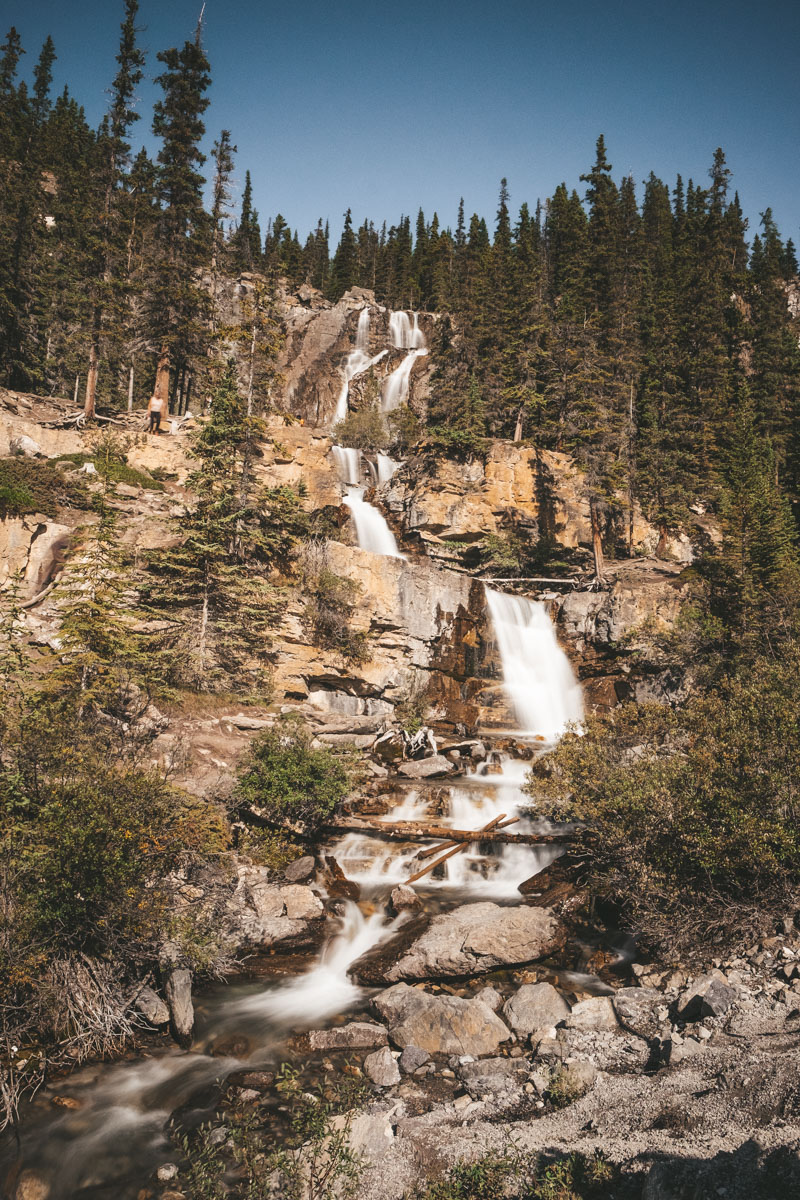 Peyto Lake ★
This lake is the highlight of the day, and we were lucky we got to visit it because the maps we received from the park service said it was closed for rennovation! Luckily we decided to check it out anyways, and after a short 15-20m hike for 2km on a paved path, you emerge with a high-level view of Peyto Lake! Peyto Lake is probably most famous for being shaped like the head of a wolf.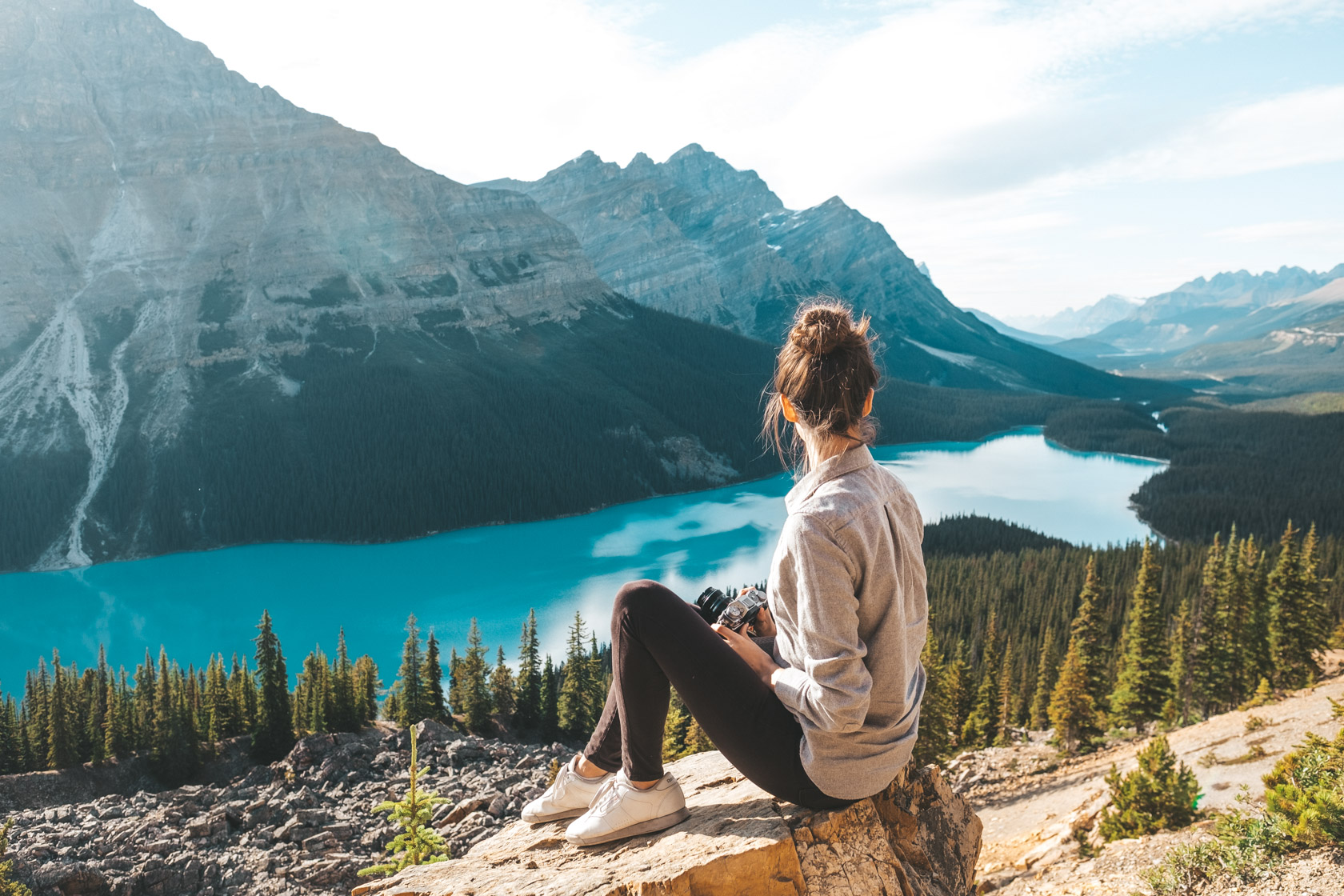 This lake is like a less frequented sister to the two lakes we're visiting tomorrow: Lake Louise and Moraine Lake. It has the same famous turquoise water. You can take a 2.8km hike to a higher viewpoint to get away from the crowds. We visited during Golden Hour and the crowds were certainly managable.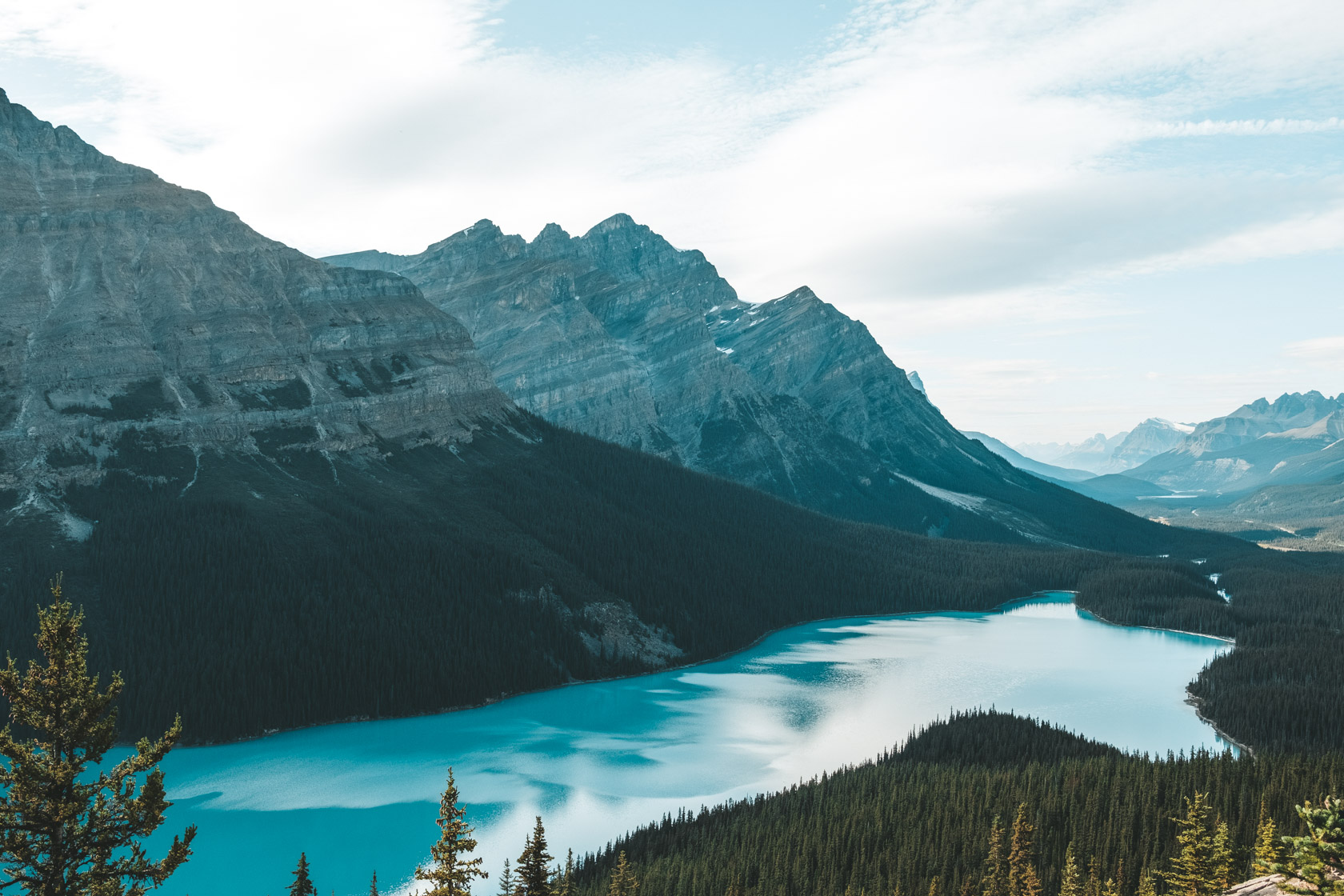 Herbert Lake
The last place we stopped on the way back from our Icefields Parkway drive was Herbert Lake, which is best known for its reflections in the water. On a day without wind, the lake acts like a perfect mirror for the trees and mountains above. Herbert Lake also has a number of spots for day camping if you want a spot to chill out and picnic.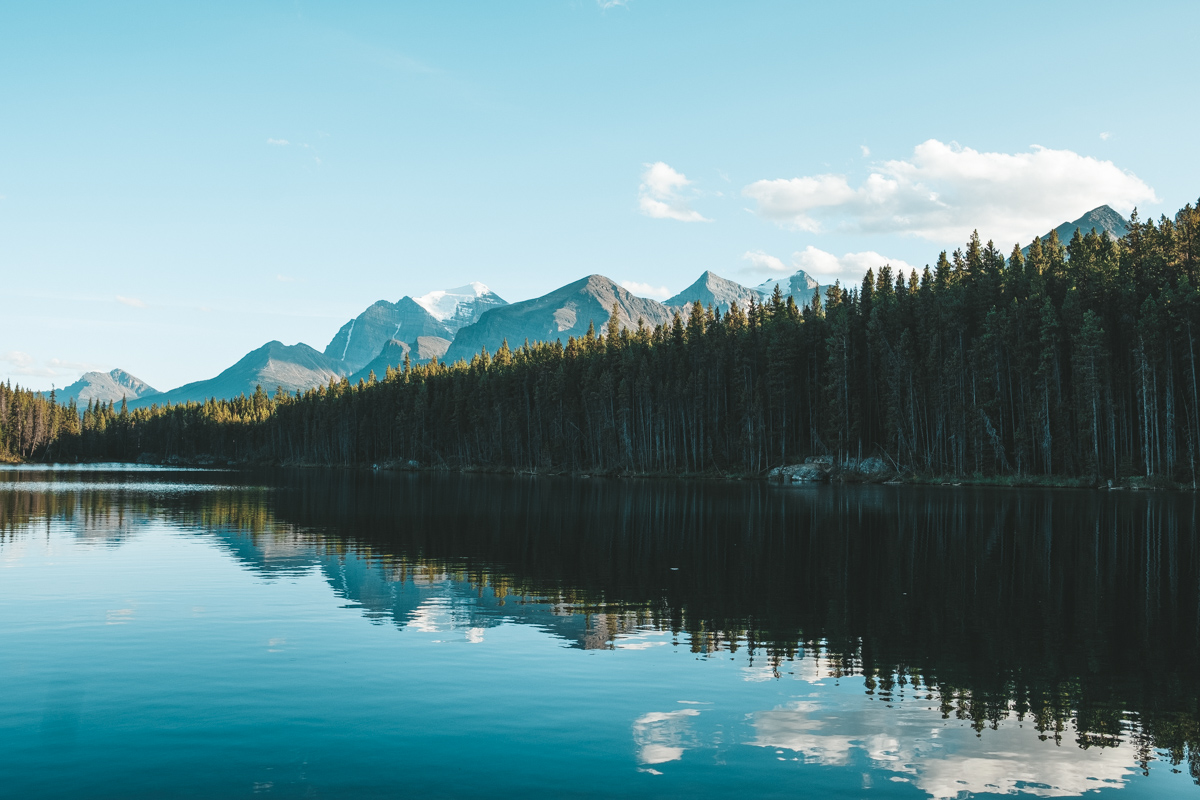 Day 3: Lake Louise, Moraine Lake, Bow Valley Parkway
This itinerary is all about saving the best for last. And today we're going to two of the most famous lakes in the entire Banff region: Lake Louise and Moraine Lake . Read on for lots of tips on exactly how to reach these lakes, which are typically the most popular with tourists. After our lake adventures we'll also stop by Castle Junction where you can get a great view of Castle Mountain before you continue along Bow Valley Parkway during Golden Hour. Keep your eyes peeled for wildlife in the numerous meadows and forests along the way!
Lake Louise ★
When I was reading up on TripAdvisor exactly how I could reach Lake Louise, there were a number of people who said Lake Louise is the most beautiful places they've ever been. While I'll admit it was gorgeous, I'm not sure I'd rank it that high – but you have to think, when you're on the shores of Lake Louise, that it is a very, very special place.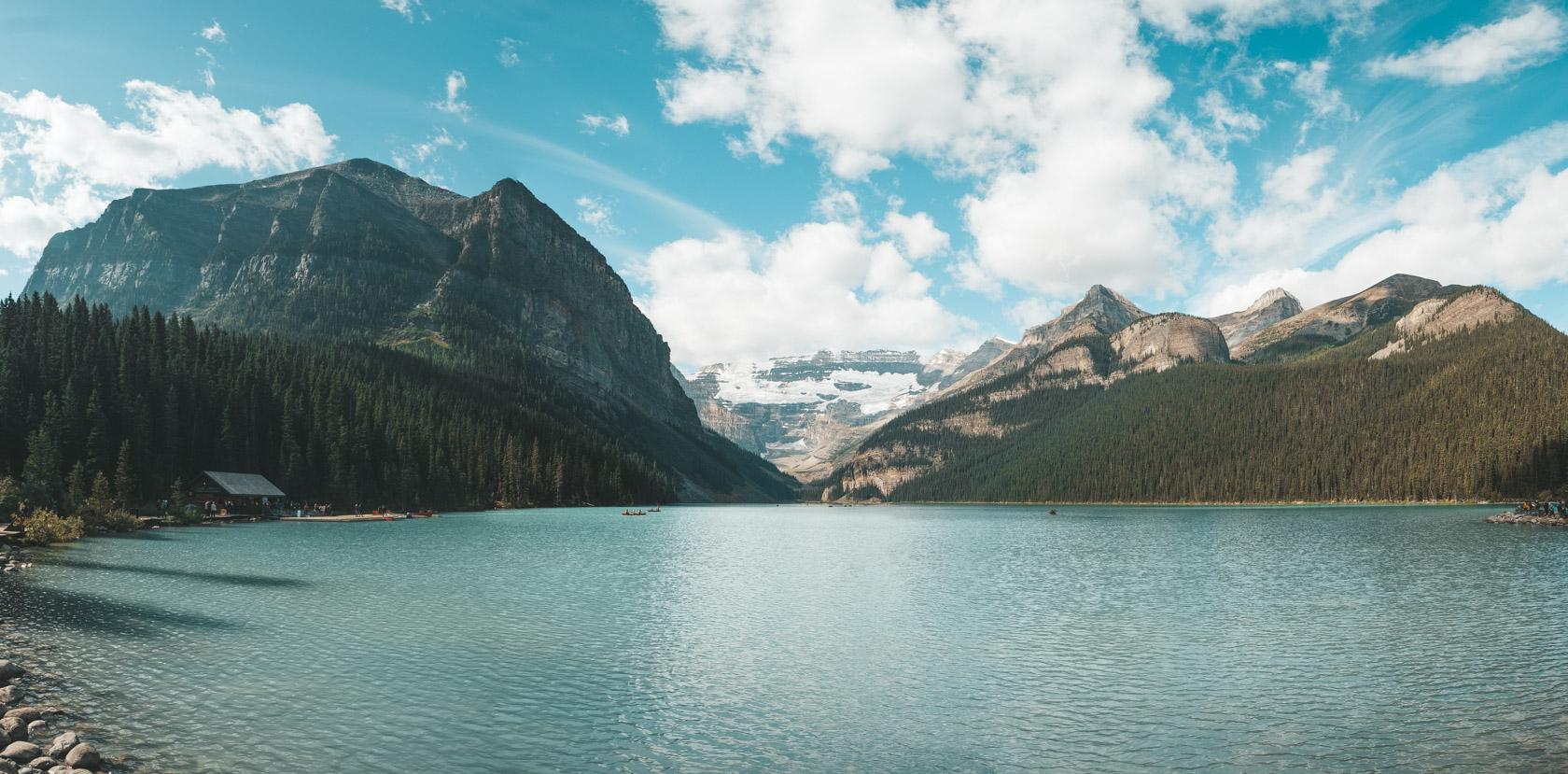 And this special place attracts crowds. That said, I found the reviews on TripAdvisor to be completely overdramatic with the number of crowds (I was not, however, visiting Lake Louise on a weekend!). There are crowds but I thought that Parks Canada did a good job managing them and that the bus system was pretty well organized.
Read on for tips on how to reach Lake Louise and how it works.
How to reach Lake Louise
In essence you have five main options:
Wake up before dawn and try to get a spot in the Lake Louise parking lot. Usually full of cars by 6:30AM.
Take the free bus from the "overflow parking" to Lake Louise town and hike ~1h to the lake. Departs every 45 minutes.
Pay $2 per person for a round trip directly to Lake Louise from the "overflow parking" lot. Departs every 15 minutes starting at 9am and has variable waiting times for the bus.
Stay at the Fairmont Chataeu Lake Louise and wake up to a view of Lake Louise
Take a tour to Lake Louise directly (this tour also includes many other beautiful stops).
We eventually took Option 3 as were traveling with my parents who weren't so keen on waking up at 3AM to go to the lake. I can't blame them 😂 In total our wait for the bus was probably around 45 minutes and the whole system seemed pretty organized. They send busses every 15 minutes and it helps control how many people are at the lake. We also found the lake a bit crowded but still totally mangable around 11AM on a Thursday in August.
At Lake Louise you can directly buy a ticket for the bus to Moraine Lake. That one costs $6 per person and you need to pick a time in advance when you want to go to the lake. We opted to spend 3 hours at Lake Louise for photos and eating lunch. One thing we missed in the area was a 3-hour round-trip hike to Lake Agnes , which we'd love to do on a return trip.
Moraine Lake ★
Moraine Lake, like Lake Louise, has limited parking that tends to fill up fast. When it's full that means they close the parking lot altogether as people tend to spend a lot of time here. If you want to snag the famous photo of Moraine Lake with the sun on the tips of the mountains, you're going to need to wake up damn early to get it!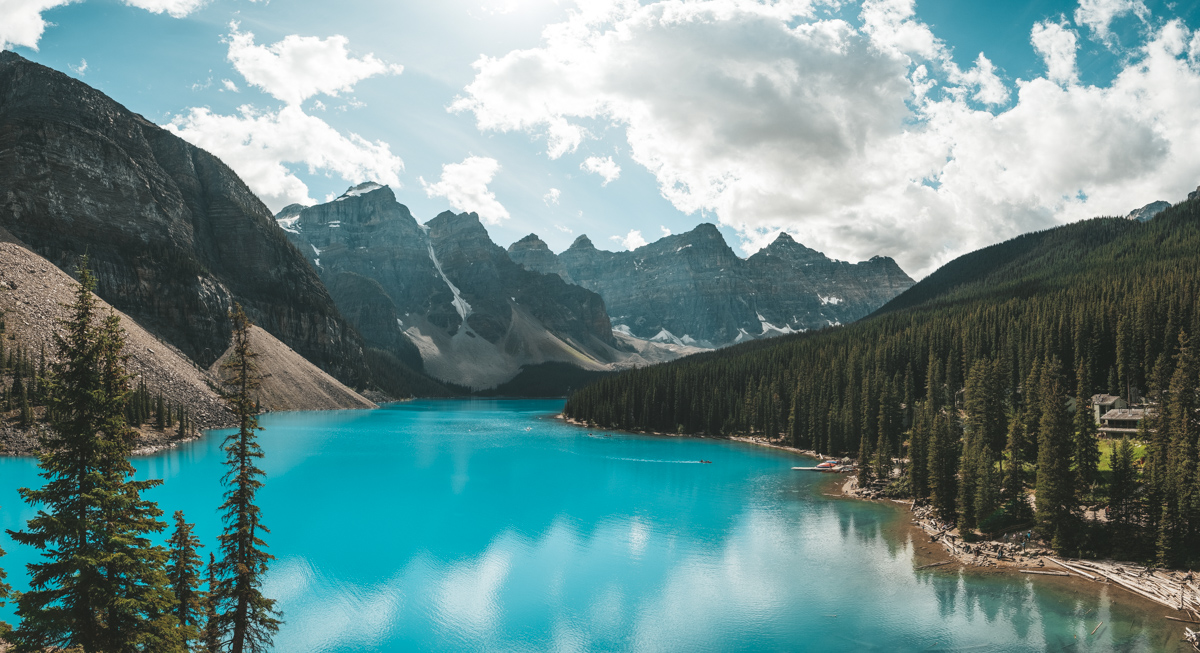 Be sure to climb the Rockpile for the best photos of Moraine Lake at any time of day. When the sun is out, the lake becomes the most unbelievable turquoise color. Yes, it is a good or better than the photos! But you can really tell a difference between when the sun is out or when it's cloudy.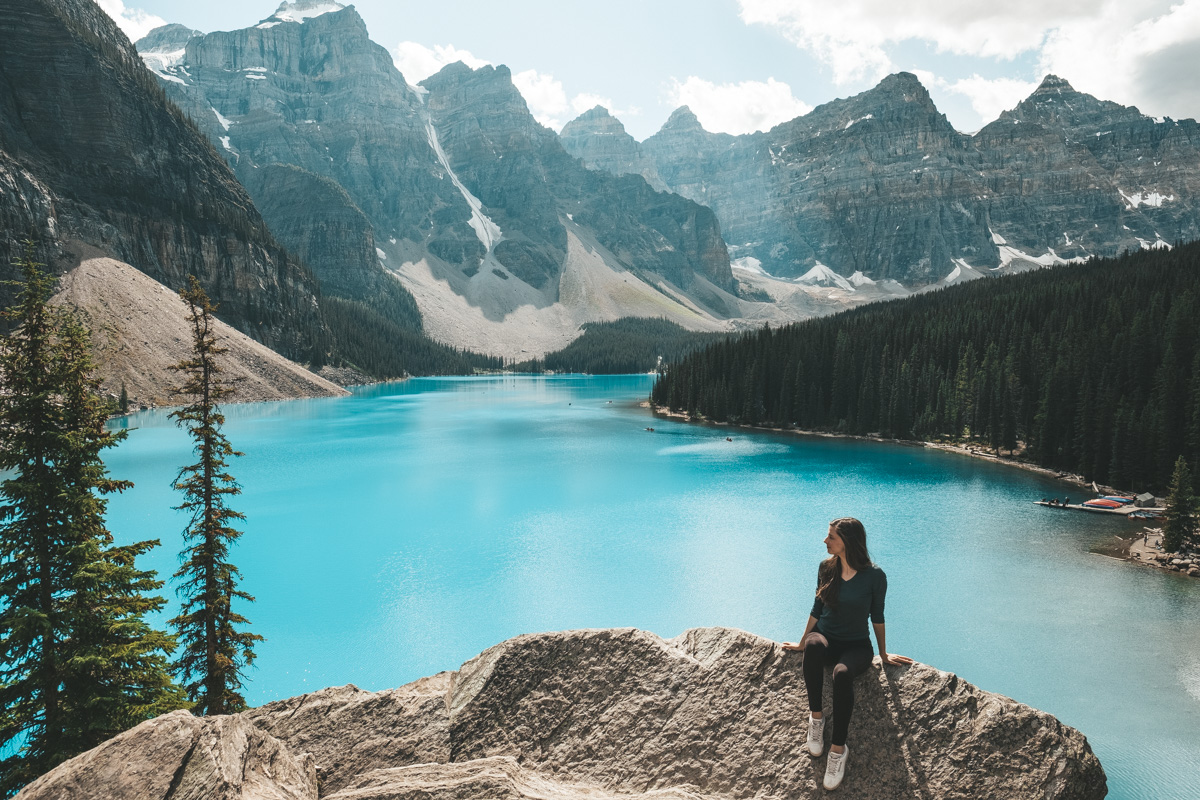 Get this photo by climbing to the top of the Rockpile. There are quite a lot of stairs and you'll be climbing over some rocks so wear sturdy shoes!
From Moraine Lake you can take the bus back to your car at the overflow parking. The return trip is included in the $6 ticket you bought at Lake Louise.
Castle Mountain ★
From Lake Louise, you'll want to connect at Castle Junction. You might need to go slightly north to make sure you don't miss this exact junction. As you cross at Castle Junction on your way to Bow Valley Parkway, stop before the bridge over Bow River and go through the wildlife gate (be sure to close it behind you) up to the river. From there you can take photos of Castle Mountain surrounded by water!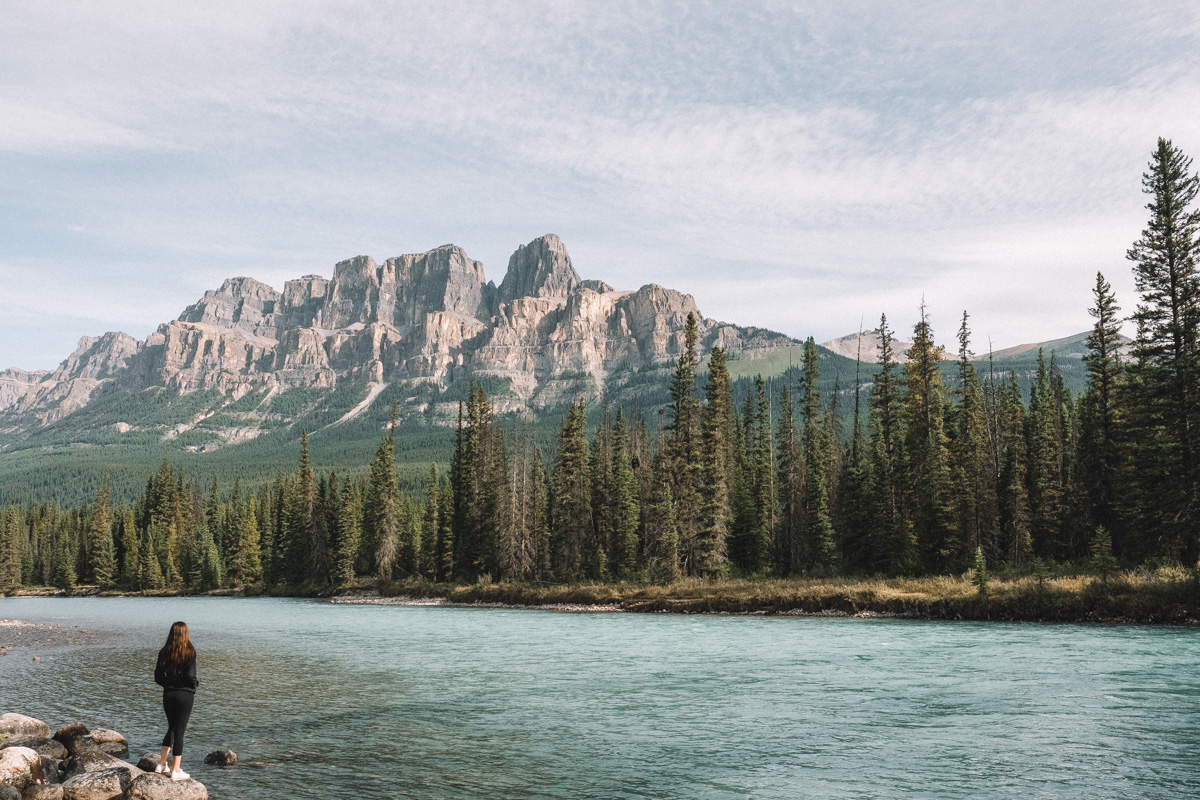 Castle Mountain looks best at sunset when it's illuminated by the setting sun. This photo was taken in the morning.
Bow Valley Parkway
Bow Valley Parkway is a small highway that runs parallel to the Trans Canada Highway. You can take it at a slower pace – if you want to return to Johnston Canyon, you can do that along this stretch. Otherwise, be on the lookout for animals! This is a popular spot for animals to walk through, whether they are wolves or moose or other critters 😉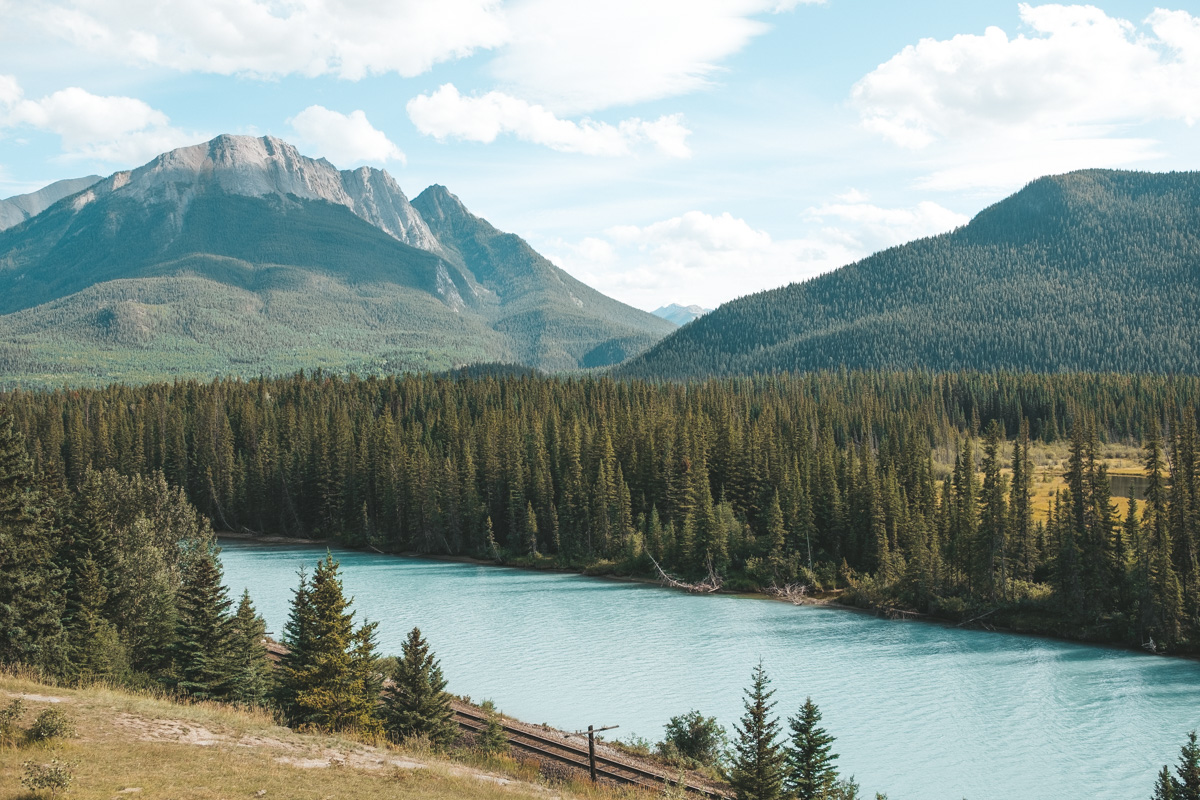 More beautiful places in Banff beyond this itinerary
It's obviously impossible to see every bit of Banff and Jasper National Parks in just three days. I wanted to be sure to mention some of the places that we wanted to visit but didn't find the time, either because it was a longer hike, we ran out of time, or we passed it on the road.
Lake Agnes – A 6.8km hike from Lake Louise.
Emerald Lake (Yoho) – Another popular turquoise color lake with a picturesque lakehouse on its shores.
Takakkaw Falls (Yoho) – The second tallest waterfall in Canada!
Morant's Curve – Famous spot to catch a photo of the Candian railway in action, located on the northern part of the Bow Valley Parkway.
Maligne Lake and Spirit Island (Jasper) – Only accessible from Jasper from a road that doesn't connect back directly to the Icefields Parkway. On my list to return to!
Mistata Canyon – An easy stop on the Icefields Parkway, which we passed.
Parker's Ridge – This is a longer hike.
Wilcox Pass – This is a longer hike.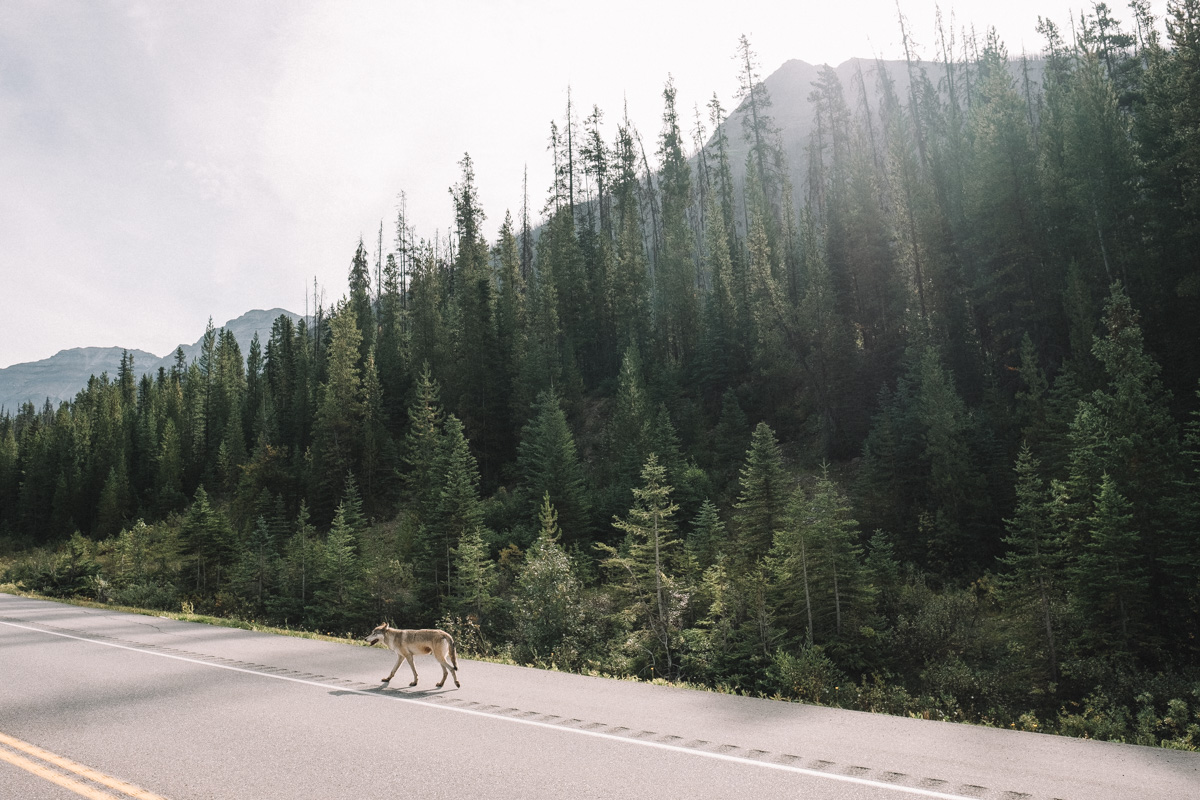 Banff Packing List
What exactly you need to pack for Banff is going to depend on what kind of trip you're planning to have. Obviously if you'll be doing a lot of hiking, you'll need appropriate clothing for that. But here are some of the main things I wouldn't leave at home for this trip:
Buy your park pass – Be sure to check whether a Parks Canada annual pass is more cost-effective for you. It gives you 12-months of unlimited entrance to over 80 different parks. Realize you will probably go to several parks during your stay in Banff, such as Banff itself, Jasper, Yoho, Kootenay, and potentially others.
Carry bear spray – In Banff and the surrounding national parks, you're expected to hike in groups of at least 4 people and always be carrying bear spray . If you're driving to Canada, you ARE allowed to bring bear spray over the border (which is what we did). Otherwise, you should buy it once you're in Canada because bear spray is not allowed to be in checked luggage.
Bring hiking boots – Even some sights are close to the road yet require some hiking on unpaved paths. I stupidly only brought tennis shoes and I regretted it!
Pack warm layers (even in Summer!) – The temperature variation in Banff can be pretty extreme, with cold mornings and evenings as well as hot mid-day sun suitable for shorts. Wear layers you can remove as the day warms up and put back on as it cools down. A wind layer will also come in handy for those mountain tops!
Get an offline-friendly travel guide – Much of Banff National Park does NOT have cellular reception at all! You won't be able to reliably use your data plan in the national park. If you want to check on-the-fly whether a stop or a hike is worthwhile, you are going to need an offline-friendly travel guide. See my recommendation below.
Recommended travel guide – I found this awesome Banff National Park guidebook extremely useful for planning our trip. It has great sample itineraries, color photos, hiking guides, tips for where to see wildlife, as well as information on Jasper and Glacier National Parks in addition to Banff itself. Again, this is really helpful when traveling somewhere without any cell reception.
Best time to visit Banff
Banff is a popular destination to visit year round, with the Summer months popular for the great weather and the winter months popular for winter sports such as skiing. Since Banff receives heavy snowfall, there are a lot of roads or hikes that are not accessible in Winter. That said, you can capture some really amazing photos in the wintertime that you can't capture for the rest of the year. August begins so-called "Berry season" where the buffalo berry is ripe and the bears eat a quarter million berries daily to start fattening up for winter. Obviously in the Winter you probably wouldn't see bears, since they are hibernating 😉
We went in late August and found that the weather was great and the days were still long, with sunset around 8:45PM. The crowds were apparent but still managable in the week before the school holiday. September starts to see crowds tapering off, and October is the month where many services start to close for winter. May and June mark the beginning of the tourism season.
Do you want to visit Banff National Park?
Let me know in the comments which of these beautiful locations you'd love to see the most, or if I missed your favorit spot!
Like this post? Pin it for later!