There's no two ways about it: Banff, Canada is one of the most beautiful places I've ever been. Perhaps surprisingly, it's also one of the most expensive places to stay. Hotels in Banff cost as much or more as those in Paris or London, but the benefit is that you get to surround yourself with signing birds instead of honking cars.
But what's important to know is that staying in the town of Banff isn't your only option.
It is a great place to stay. There are also several locations in and around Banff National Park that are excellent places to stay in 2023, and can help you save money.
I'll also cover where to stay in Banff in Summer and Winter, the best time to visit Banff, as well as where to stay in Banff for luxury accommodation – as well as budget accommodation in Banff. Banff for all budgets – that's what I should've named this article 😁
Let's get into it.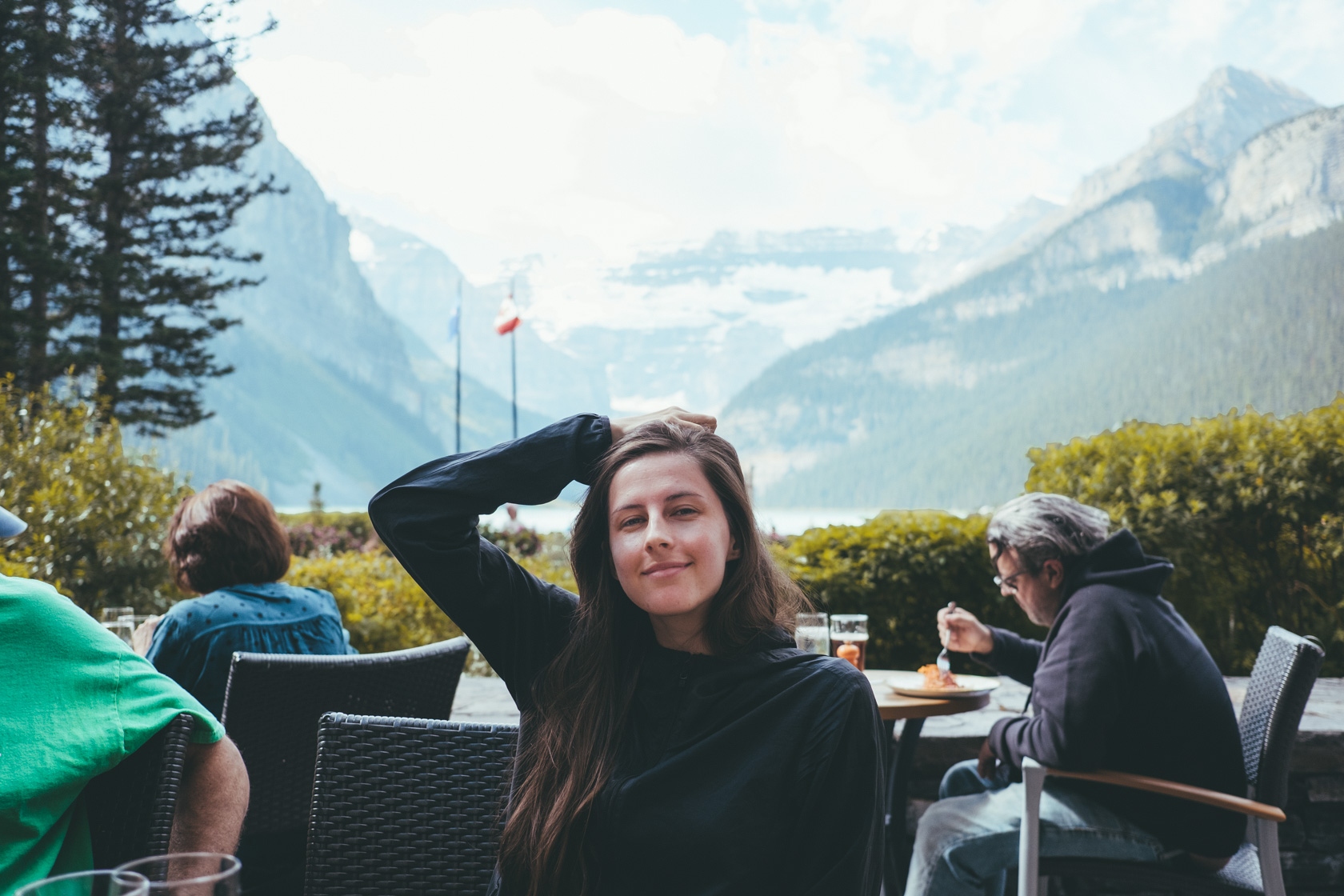 Some links in this post are to affiliate sites. If you purchase something through them, I may earn a small comission — which costs you nothing! I am very grateful when you use my links to make a purchase.
Table of contents – Here are some relevant topics we're going to cover today. Feel free to jump around to the part that's most useful for you right now.
Can you visit Banff now? (Summer 2023)
Most foreign citizens can visit Canada now as long as you are vaccinated and the most recent dose has been administered more than 14 days prior to entry.
How much do hotels in Banff really cost?
Accommodation in Banff is brutal. I mean BRUTAL on your budget. Whether you're looking on Booking.com or Airbnb, a full apartment or hotel room costs pretty much the same when booking for two people. A typical hotel costs between $120-$200 (US dollars) per night.
Who knew that getting in touch with nature would cost so much green?
The reason is simple: Banff's resident areas are extremely small, and has a near zero vacancy rate with loads of restrictions on new development. Now imagine millions of tourists visiting every year, and you'll understand how they can charge so much!
That is why the most important piece of advice I can give you is this:
BOOK IN ADVANCE. I'm not just talking about 2 or 3 months in advance. I'm talking 6+ months in advance. Especially if you're reading this in the Spring, and the majority of Banff accomodation is already filling up, and some of the most desirable places are full. I'm not trying to be dramatic, I'm trying to help you save money!
I've shared the best-rated and budget-amenable Banff accommodation below (notice I didn't say "budget-friendly", hotel prices are the only not-friendly thing about this part of Canada!). I'll also share exactly where we stayed during our three days in Banff to bring down the costs for a family of four.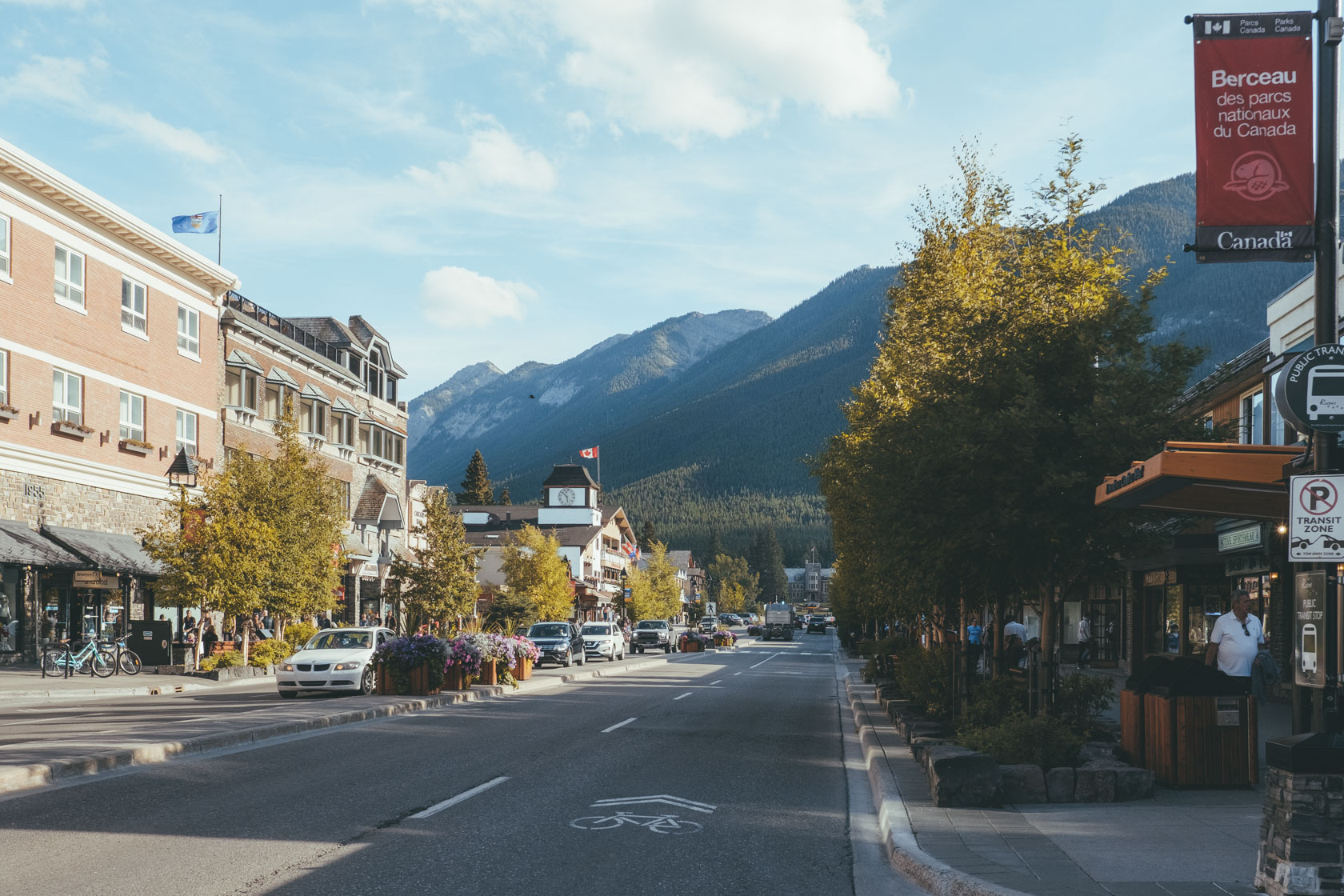 Summary of best places to stay in Banff National Park
Real quick, of all the places mentioned in this post, here are my top picks (including the Airbnb I stayed in) for where to stay in Banff: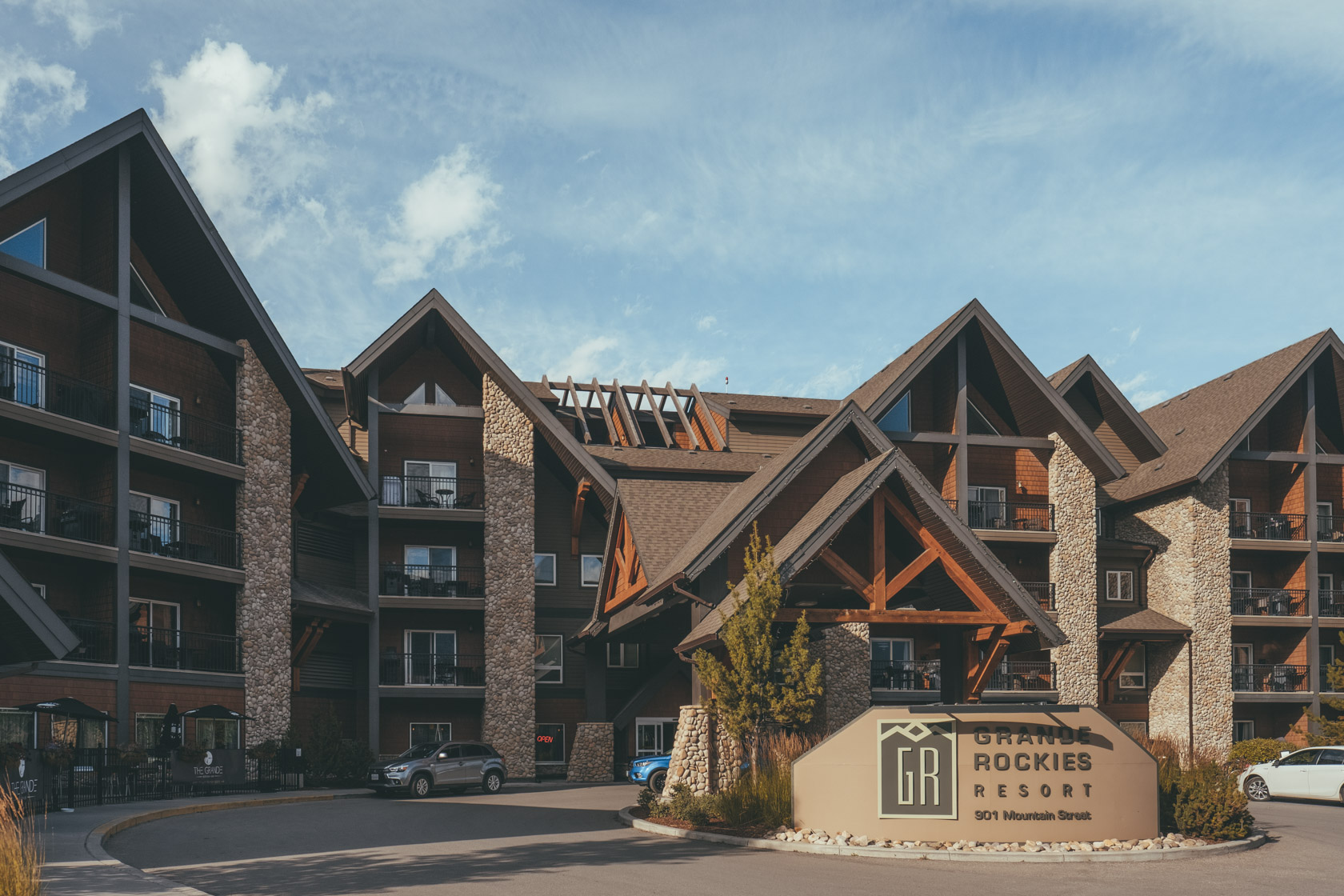 Grand Rockies Resort (Airbnb)
Best for families
Canmore
— This is where we stayed, and was a great option if you're traveling with a group or family. Plenty of parking, easy to walk to excellent restaurants nearby, and not as hectic as staying in Banff directly.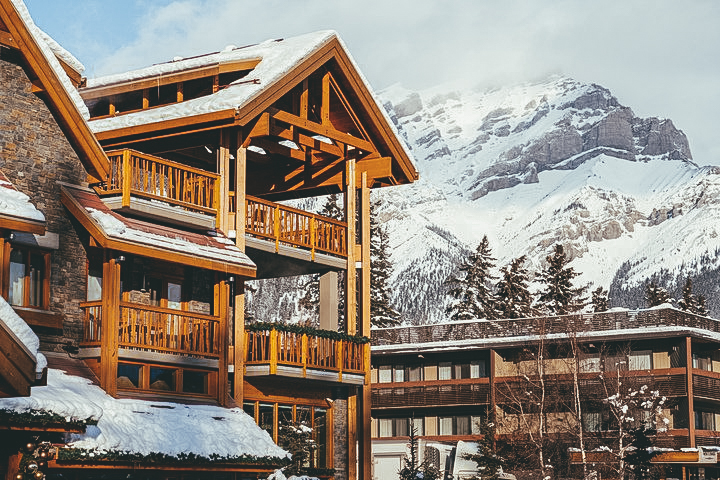 Moose Hotel and Suites
Best for first-time visitors
Banff town
— Charming mountain lodge in the heart of Banff town. Hot pool, sauna, fitness room, mountain views, and most importantly — free parking (very scarce in Banff!).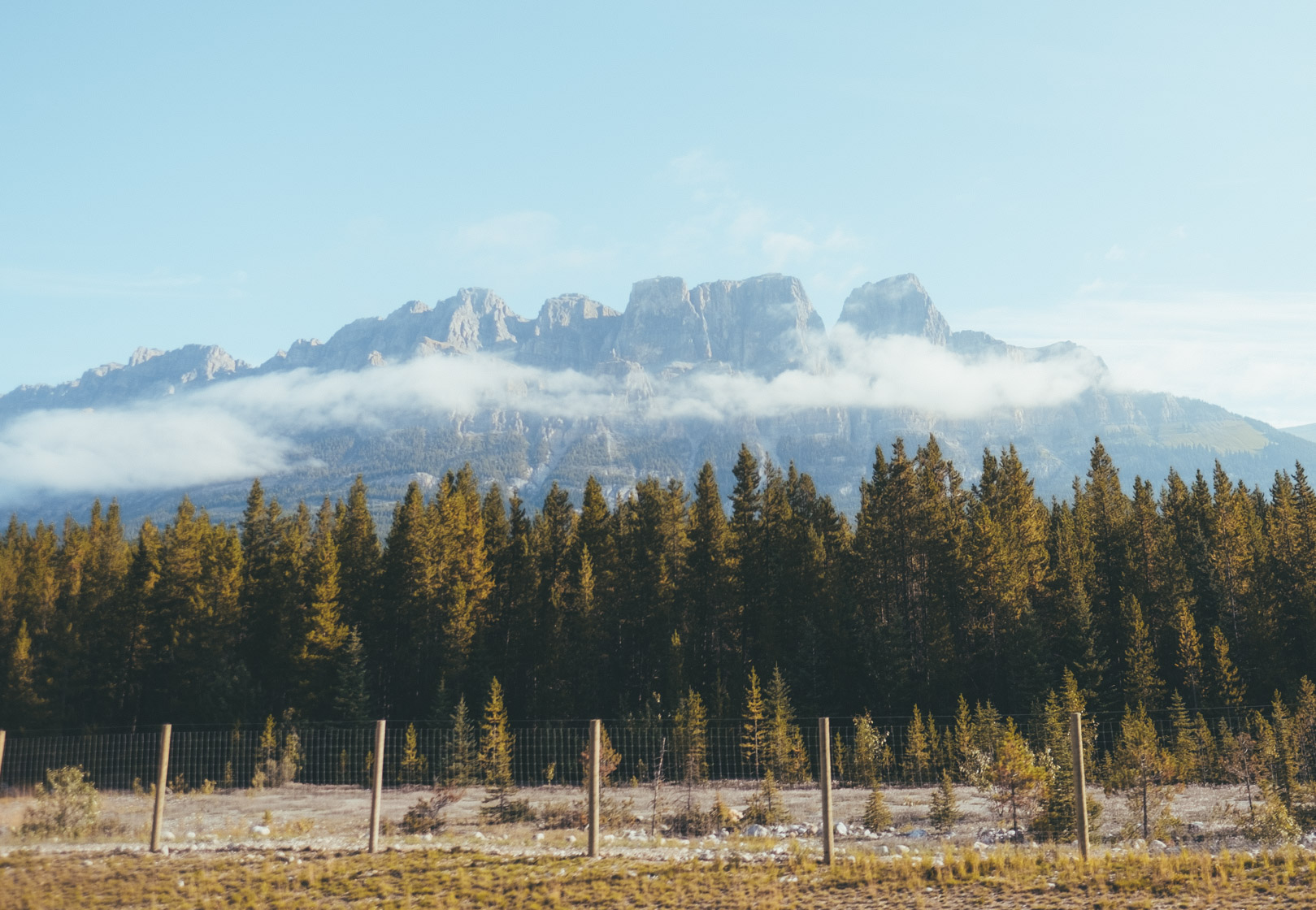 Castle Mountain Chatlets
Inside the Park
Castle Junction
— This lodge is located in a prime, central location inside the park called Castle Junction. Central enough to have meals in Banff town, but better located to reach Lake Moraine and Louise early in the morning.
Where to stay in Banff National Park
So where's the best place to stay in Banff? Well you have more options than you might think, and depending what part of the park you're exploring, it might make sense to choose a different location.
Here are the top choices for where to stay, and who they suit best:
In general, I don't recommend staying in Jasper to visit Banff, because it's really far away.
Keep reading for tips on how to choose accommodation in each of those locations and specific recommendations:
Banff town
Best for first-time visitors
Staying in Banff is really like being in the thick of things. The main street of Banff is called Banff Avenue, a scenic street that leads your eye straight to Tunnel Mountain. Restaurants and outdoors shops abound, and the food here is magnificent if a tad pricy. It's the best place to stay in Banff for first-time visitors thanks to its convenient location, connection for tours and transit, and a great place to end the day.
Here are the pros and cons of staying in Banff.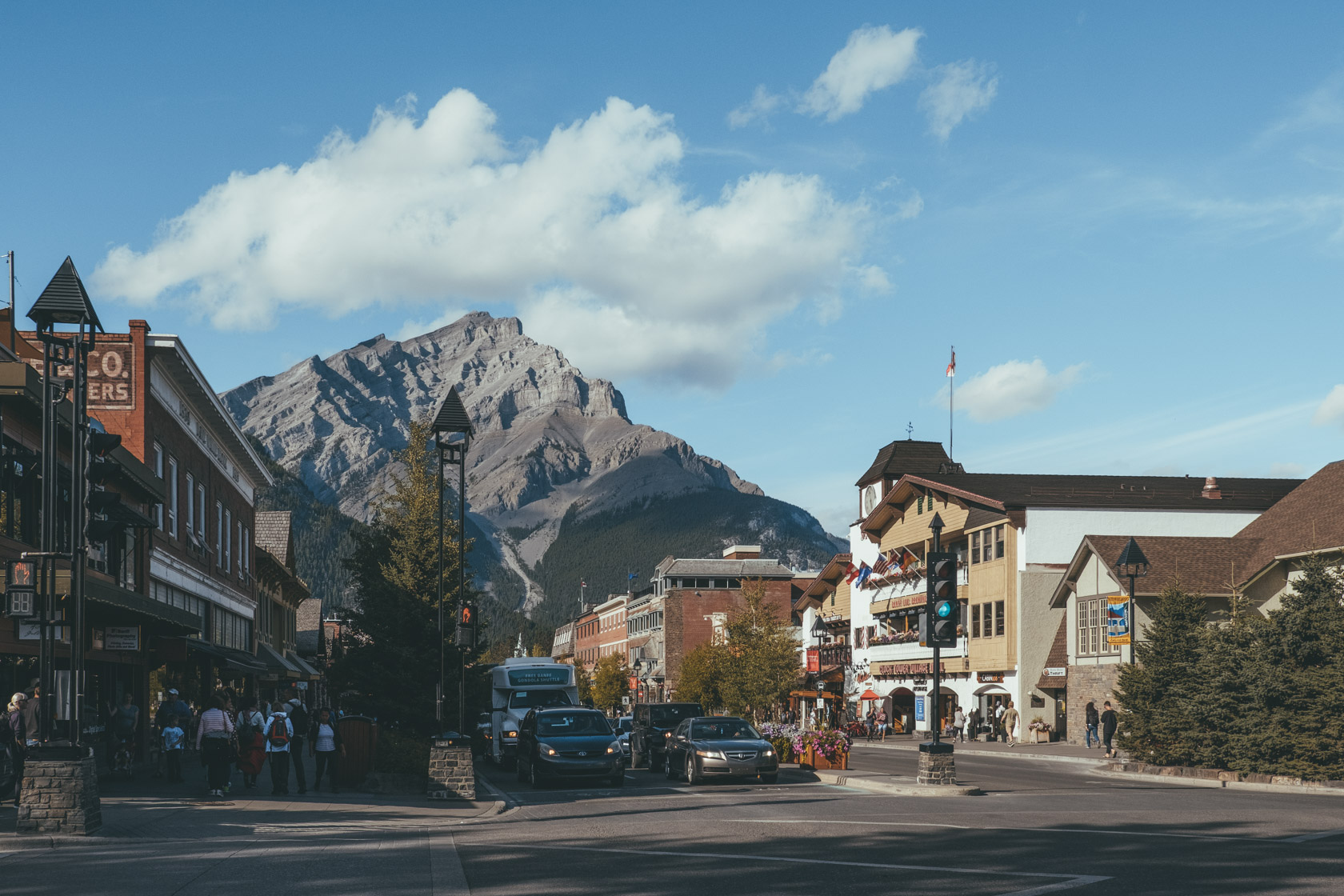 Here are the best things about staying in Banff:
Stunning views and mountain town vibes
Loads of delicious places to eat
Connection for tours and transit throughout the park
Hotel can provide you with parking (very scarce in Banff)
The cons are more or less the expensive price, and the fact that restaurants in Banff can charge quite a bit. But from an experience perspective, this is probably where you want to be.
Best hotels in Banff
Here are the best mid-range hotels in terms of cost with the most enthusiastic reviews in Banff:
High Country Inn – Central location in Banff and one of the best price/rating ratios available in the town of Banff, if you're not looking to drop 300€+ per night. Free parking is included, and there's also a swimming pool and the WiFi in particular has particularly good reviews!


Banff Ptarmigan Inn – Similar central location, free parking included, and breakfast included. For the price it's impressive they also have hot tub and a steam room too. A bit more expensive than High Country Inn, but still on the lower/standard end for Banff.


Moose Hotel and Suites – Charming mountain lodge in the heart of Banff town. Hot pool, sauna, fitness room, mountain views, and most importantly — free parking (very scarce in Banff!). A bit on the higher end of the price scale.
Canmore
Best for families
Canmore is a town 20 minutes southeast of Banff, technically outside the boundaries of Banff National Park. While it's certainly not as cute and charming as the tiny main street of Banff, it has a number of conveniences (not the least of which is the cheaper cost of accommodation!).
Here are some of the best things about staying in Canmore:
Less expensive than Banff
Still has beautiful mountain views to offer
Plenty of restaurants in walking distance
Larger than Banff, ergo less competitive for accommodation
Only 20 minutes driving from Banff
That said there are always cons: The extra 20-minute drive adds 40m on to your daily jaunts. If you want to visit Banff, you may have a challenge parking in Banff since you're not staying at a local hotel that offers a parking spot. That said, even with my dad's massive truck (it's basically an SUV with a truck bed!) we still managed to find a place to park that beast 😄
We spent three days at this resort in Canmore: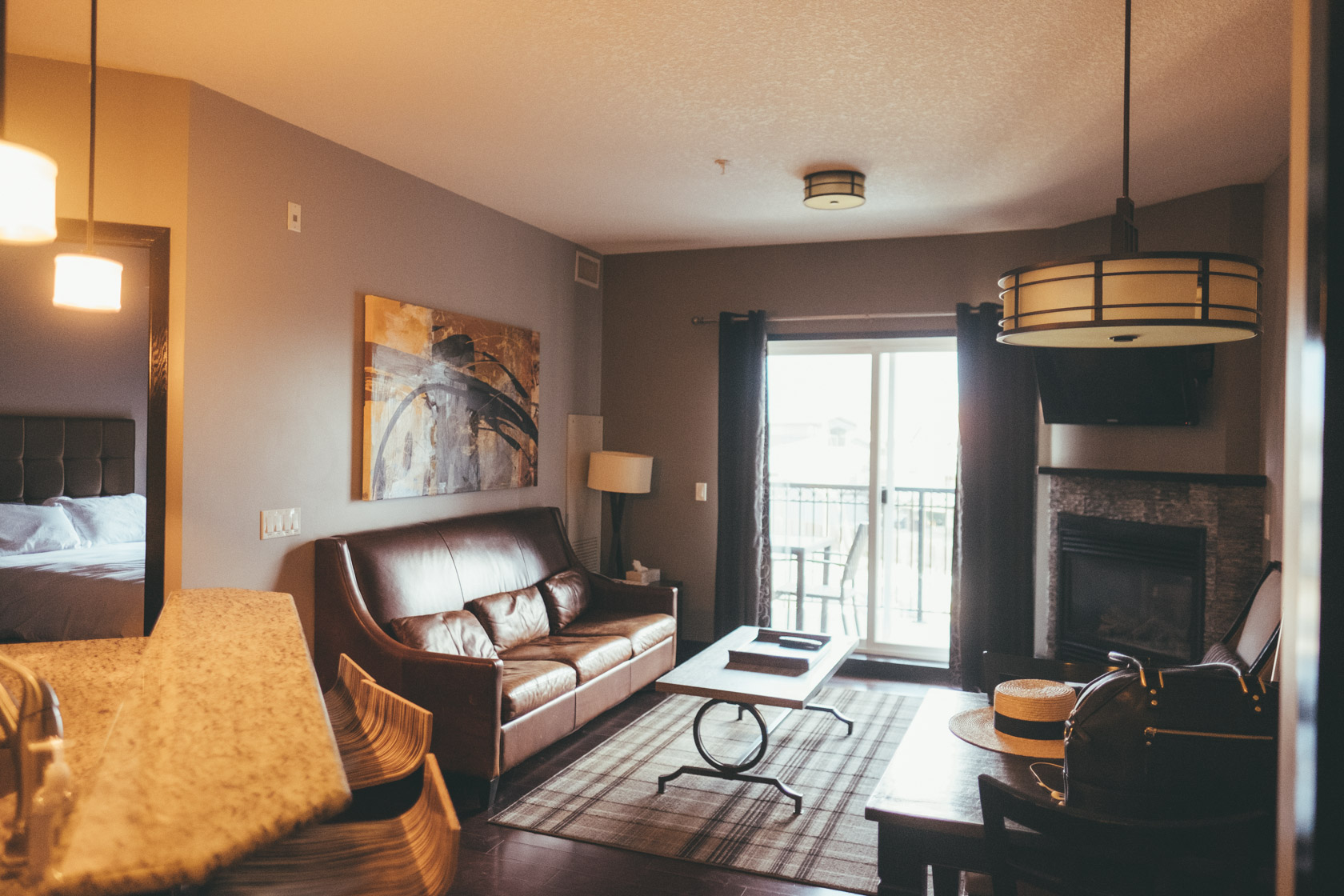 Our apartment had two separate rooms for two people each, two bathrooms, even jacuzzi tubs! It's located inside a resort, so there's also an indoor pool with a slide (a hit with kids) and a fitness room. There were several great restaurants within walking distance as well. It also has a stunning mountain view of the Three Sisters mountain range.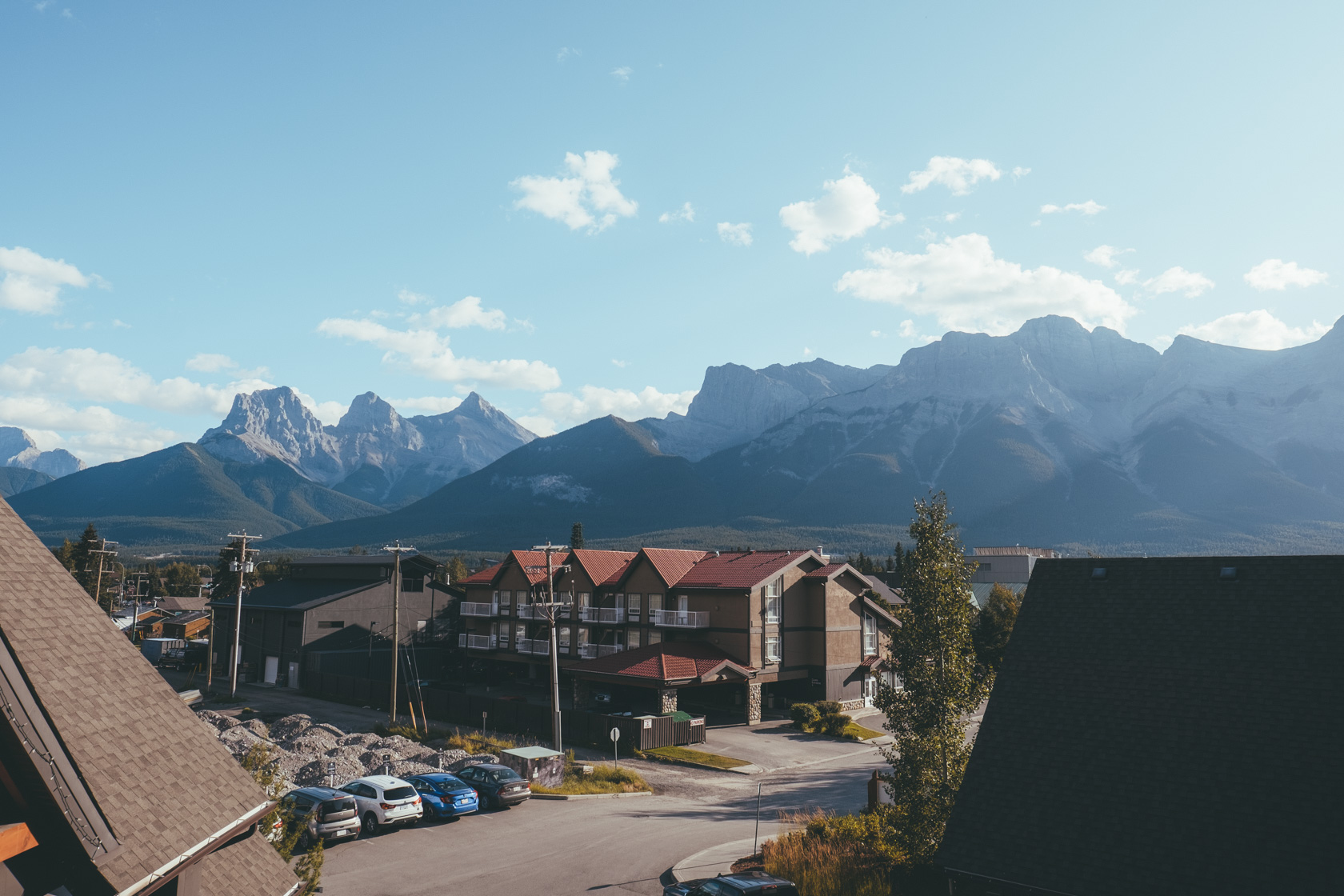 If you're also interested in trying an apartment in Banff, click here to check availability of our resort . I would definitely recommend it if you're more than 2 people and can split the price, or you're traveling as a family and the kids won't pay 😉
Alternative: Staying at a hotel in Canmore – If you're two people or traveling solo, a hotel might be more budget-friendly as apartments and Airbnbs often have service and cleaning fees on top. Here are the best rated hotels in Canmore under $150 per night:
Canmore Rocky Mountain Inn – Probably the best value accommodation in Canmore besides staying in a hostel. Charming interior, WiFi, and mountain views.
Lake Louise
Best for luxury
Lake Louise is not only one of the best places to stay in Banff National Park, but one of the most beautiful places in the world. And you can wake up to it each morning! Fed by a glacier, the lake's unique color comes from the glacial sediment.
Lake Louise can refer to either the village, or the Lake itself. Lake Louise Village is located a distance from the lake itself, and you can hike to Lake Louise (the Louise Creek trail is 2.8km / 1.7 miles, rated "easy" but as a 195 m elevation gain) or you can take a shuttle (must be reserved in advance).
Here are some of the best things about staying at Lake Louise:
Absolutely stunning location
Avoids the parking mayhem or dealing with shuttles
Lots of restaurant options (incl. at decent prices for Banff)
Convenient location for visiting other popular places in Banff and Yoho (e.g. Lake Moraine, Bow Lake, Emerald Lake, Icefields Parkway).
As for cons, they're kind of obvious: staying at Lake Louise is expensive and you have limited choice. It can also get crowded with day visitors during the peak season. That said, we visited at the end of August (i.e. PEAK peak season) and we didn't find the crowds overwhelming at all (see our photos below, it's not that bad and that's mid-day!).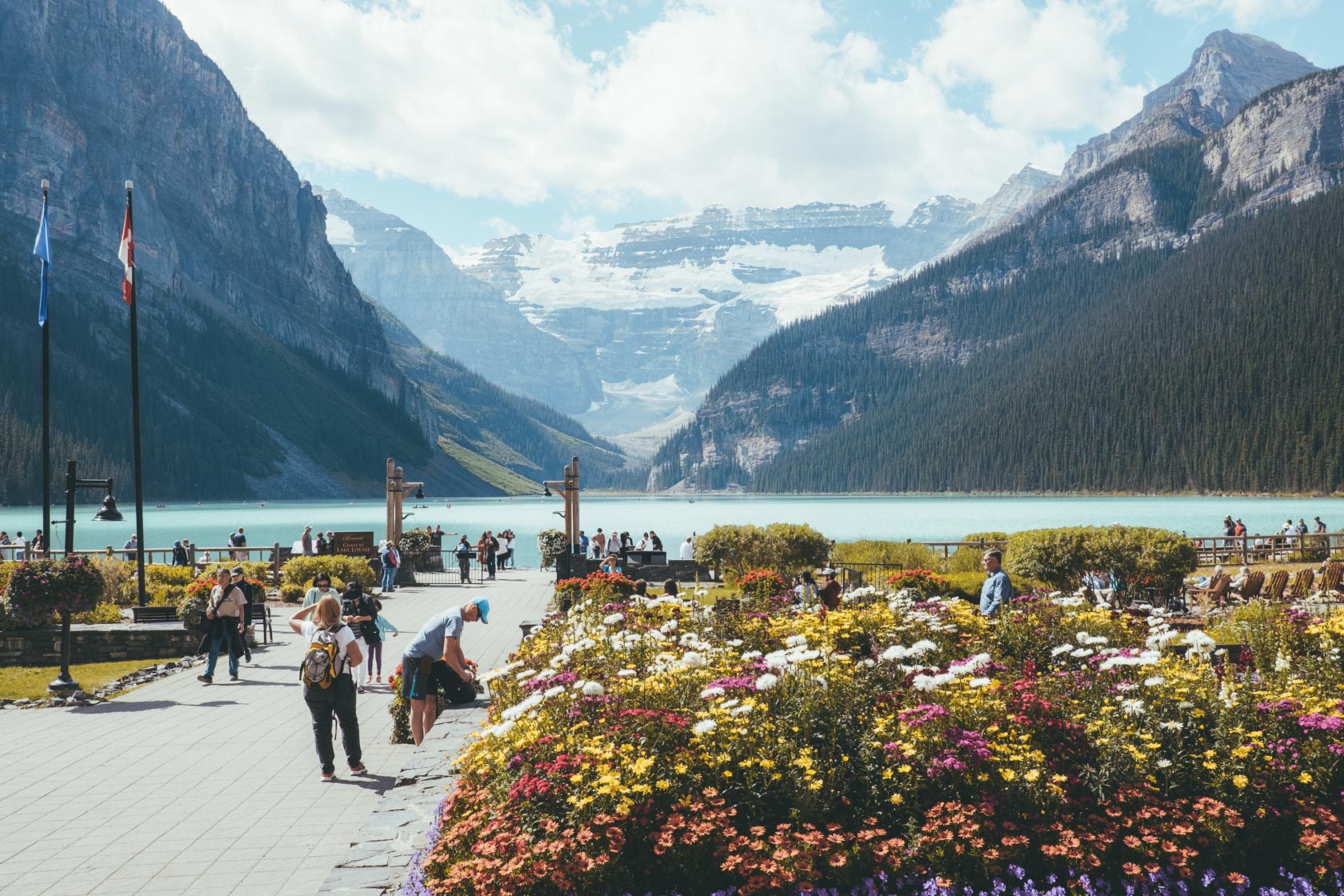 My recommendation? Consider staying 1-2 nights in Lake Louise instead of booking your entire trip there. That way you enjoy a bit of luxury but can also afford to go for cocktails in Banff a few times 😉
Best hotels in Lake Louise
If you want to stay at Lake Louise itself, your real option is the Fairmont Chateau Lake Louise . It's a stunning complex: multiple restaurants inside, stunning lake views from your bedroom window, excellent hikes nearby including to Agnes Tea House and Lake Agnes.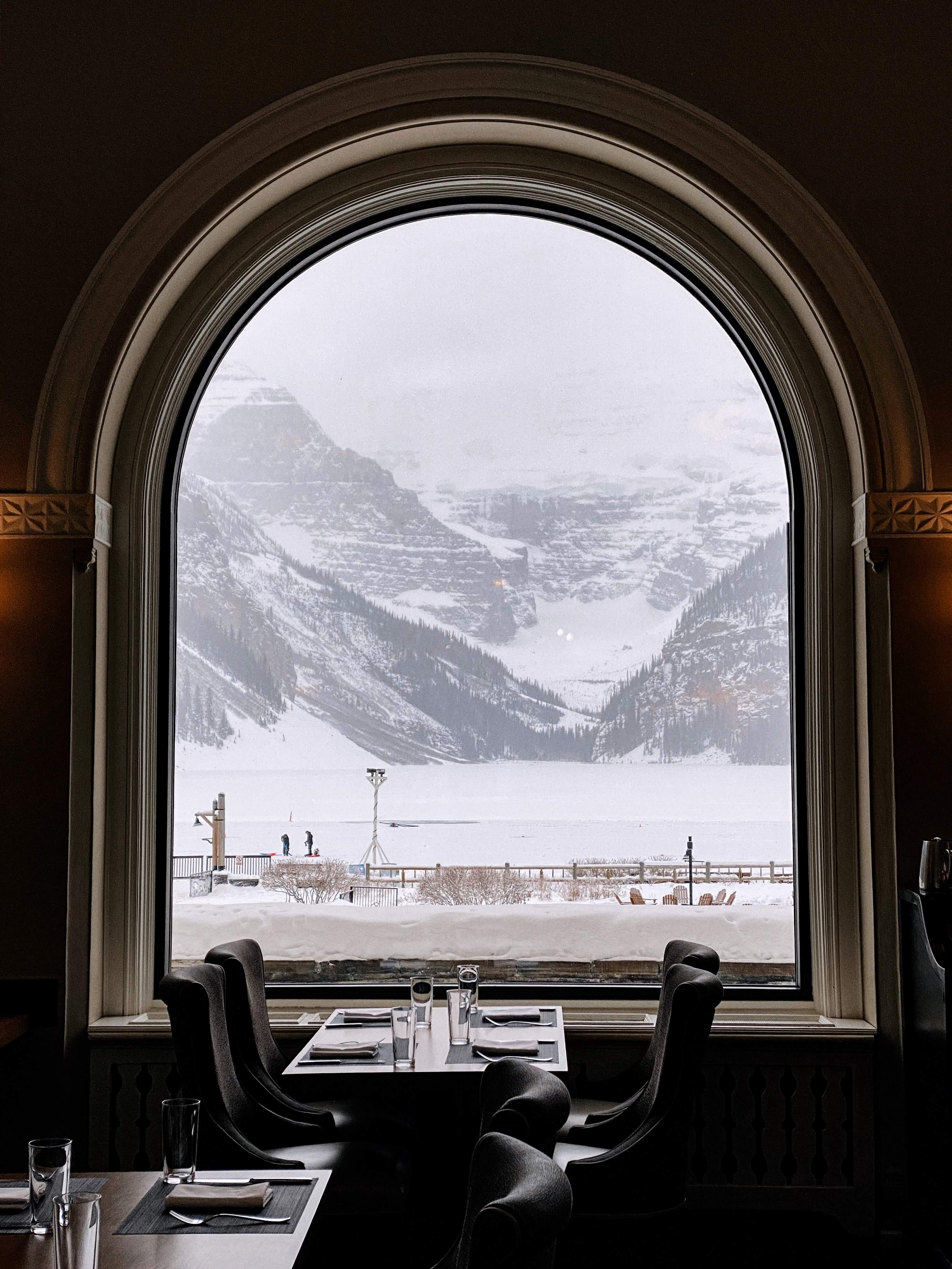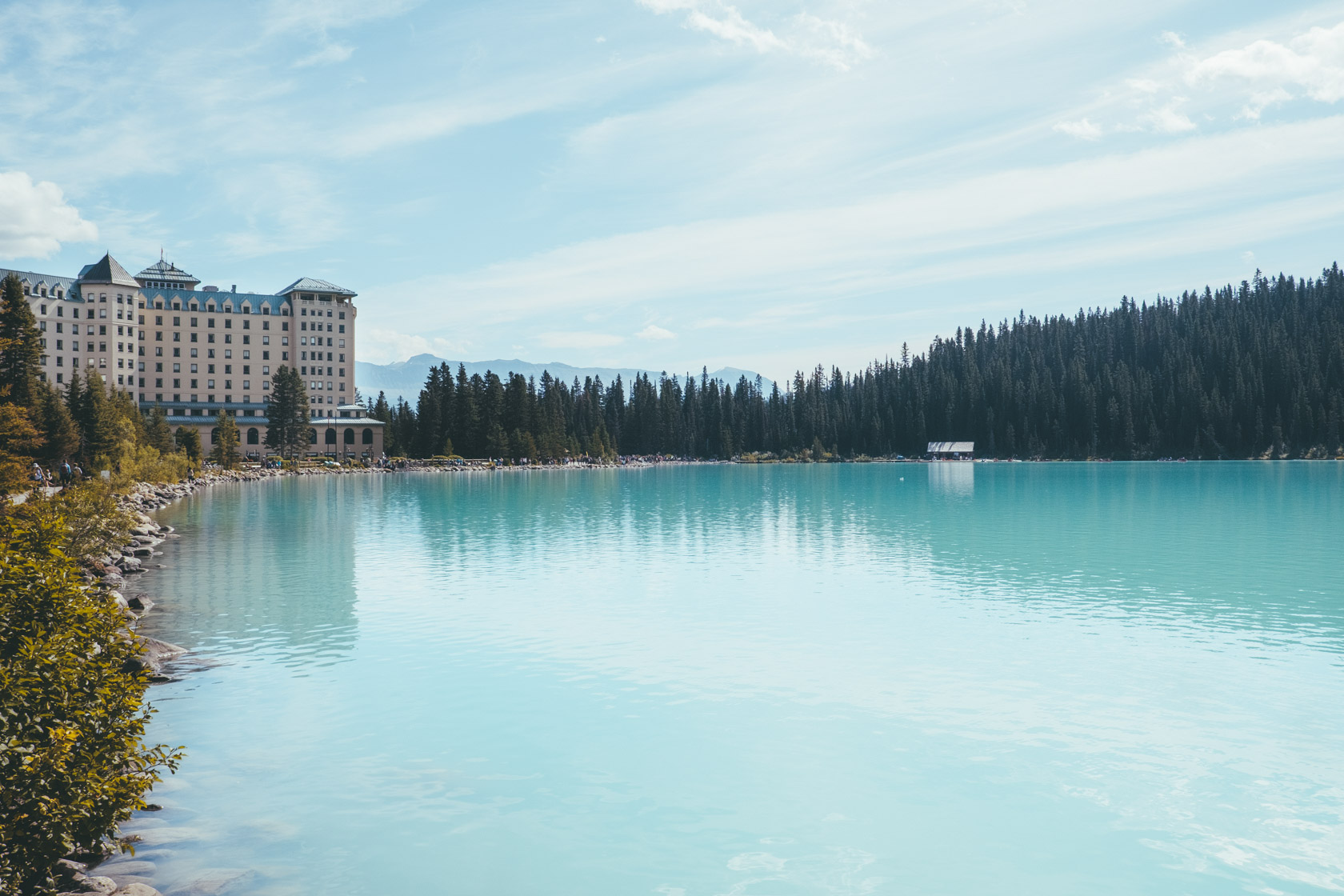 While the Fairmont Chateau Lake Louise is expensive, if you stay outside the peak season you can find rooms for less than half the price of the rooms in the Summer.
In terms of other hotels close to the lake, there's also Deer Lodge , but honestly the reviews are not stellar and it doesn't seem you can get a lake view despite it being only a 5-minute walk from the lake.
The other best place to stay in Lake Louise is Post Hotel and Spa . With a 9.3 "Wonderful" rating on Booking.com (that's even higher than the Fairmont Chateau!), Post Hotel and Spa is located in the town of Lake Louise, and not on the lake itself. It's a full-service spa and an excellent option to treat yourself.
Inside Banff National Park
Apart from staying in main hubs of Banff, Canmore, and Lake Louise, there is also a bit of accommodation available throughout Banff (not just camping grounds and RV sites!). One example are the Castle Mountain Chatlets , a set of small cabins located at Castle Junction (which is just a bit south of Lake Louise). Depending on whether you want to venture into Jasper, it can be more convenient to stay further north along the Trans-Canada Highway.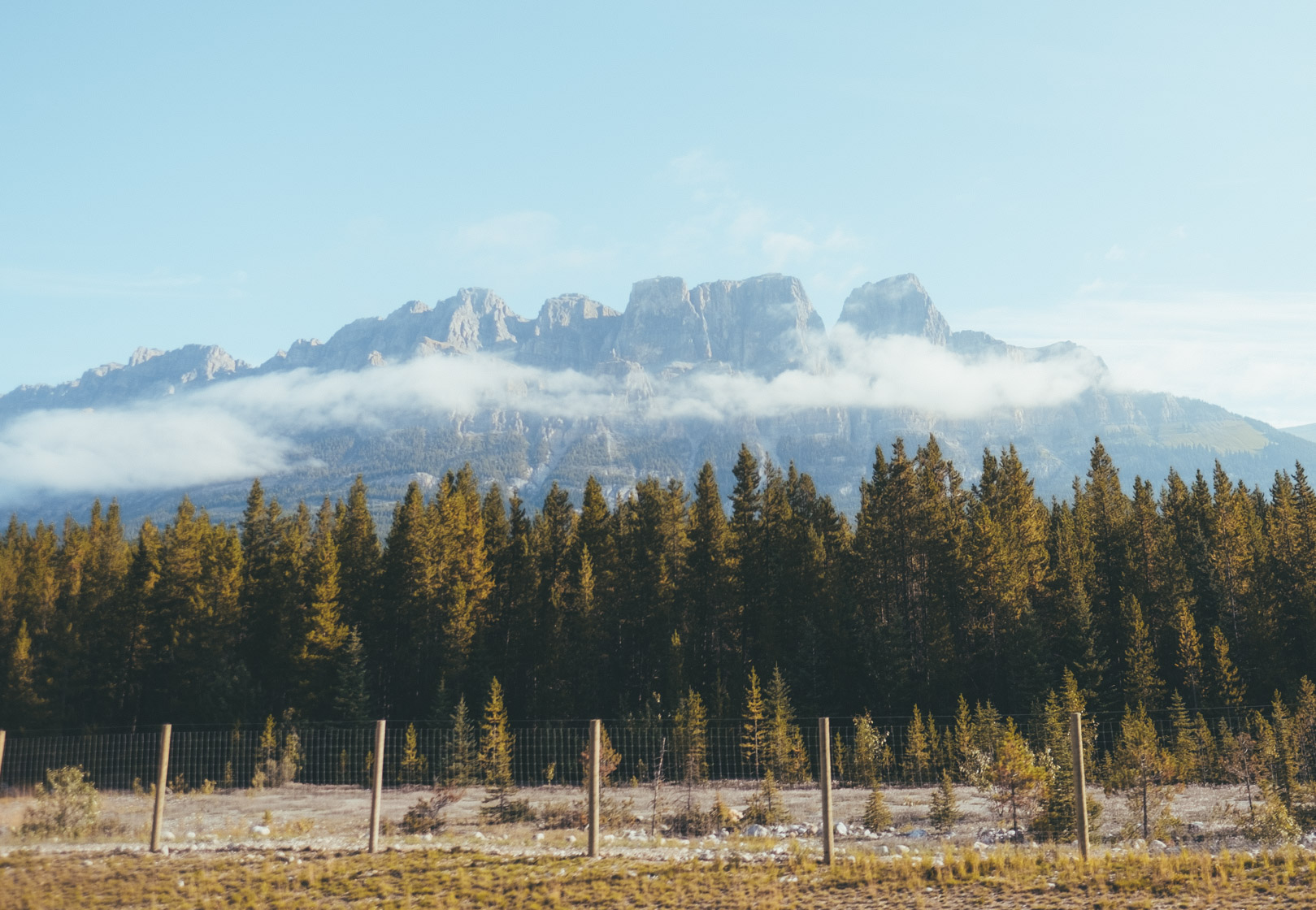 Calgary
Best for single-day visitors
The closest city and airport to Banff National Park is in Calgary, Alberta. It might be tempting to look for accommodation in Calgary once you see how expensive Banff can be, but it's important to realize how much driving staying in Calgary adds to your daily travels:
Calgary to Banff town: 1.5 hours one way
Calgary to Lake Louise: 2 hours one way
Calgary to Athabasca Glacier: 3 hours 40 minutes one way
For that reason, I would only recommend staying in Calgary if you only have one day to see Banff, and only plan to see the sights in the southern part of the park (such as Vermillion Lakes, Lake Minnewanka, Sulphur Mountain, Johnston Canyon, Bow Valley Parkway, Banff town, etc.)
In my experience, visiting Lake Louise and Moraine Lake was already a full-day affair when leaving from Canmore – the two lakes which are arguably the highlight of the park. Most hotels in Calgary are over the $100/night mark anyways, unless you're staying somewhere like this Days Inn in Calgary .
Budget accommodation in Banff
If you're on a budget in Banff, you're probably going to be looking more at the price than the location. So I wanted to just round up the best budget accommodation (spoiler: it's mostly hostels) in one place. Here is the highest rated yet cheap accommodation in Banff National Park:
Canmore Hostel / Apline Club of Canada

Hostel

(9.1 "Wonderful" rating) – This hostel is some of the most affordable Banff accommodation I've seen yet. It's located in a remote location in the woods outside of Canmore, but has gorgeous premises and is very affordable.


Banff International Hostel

Hostel

(8.2 "Very good" rating). While the rating isn't as high, it's located in the center of Banff, making it very convenient for taking tours or transit around the park.
Important note: The hostels listed here are part of Hostels International, meaning you need to be a member to get that rate, or sign up for a membership. A membership is pretty cheap though, at under $20 per person and is valid for a year, and you can buy it on arrival.
Click here to check for more hostels in Banff on HostelWorld, you will find options in Banff town, Banff National Park, at Lake Louise, as well as other useful pitstops like Castle Mountain.
Best time to visit Banff
We visited Banff in Summer, and it was positively sublime. But regardless, Banff is a popular destination to visit year round, with the Summer months popular for the great weather and the winter months popular for winter sports such as skiing.
May and June mark the beginning of the tourism season. August begins so-called "Berry season" where the buffalo berry is ripe and the bears eat a quarter million berries daily to start fattening up for winter. Obviously in the Winter you probably wouldn't see bears, since they are hibernating 😉
We went in late August and found that the weather was great and the days were still long, with sunset around 8:45PM. The crowds were apparent but still managable in the week before the school holiday. September starts to see crowds tapering off, and October is the month where many services start to close for winter.
Where to stay in Banff in Summer
We had an excellent experience staying in Canmore in Summer, though staying in Banff would have been perfectly fine as well, if we hadn't been a group of four needing two rooms (from a cost perspective).
Frankly anywhere on this list is excellent for the Summer season, including Lake Louise.
Where to stay in Banff in Winter
Since Banff receives heavy snowfall, there are a lot of roads or hikes that are not accessible in Winter. That said, you can capture some really amazing photos in the wintertime that you can't capture for the rest of the year.
Lake Louise in particular is a very popular ski resort that attracts lovers of winter sports from all over the world. If you're interested in skiing, you might want to visit Lake Louise for that reason.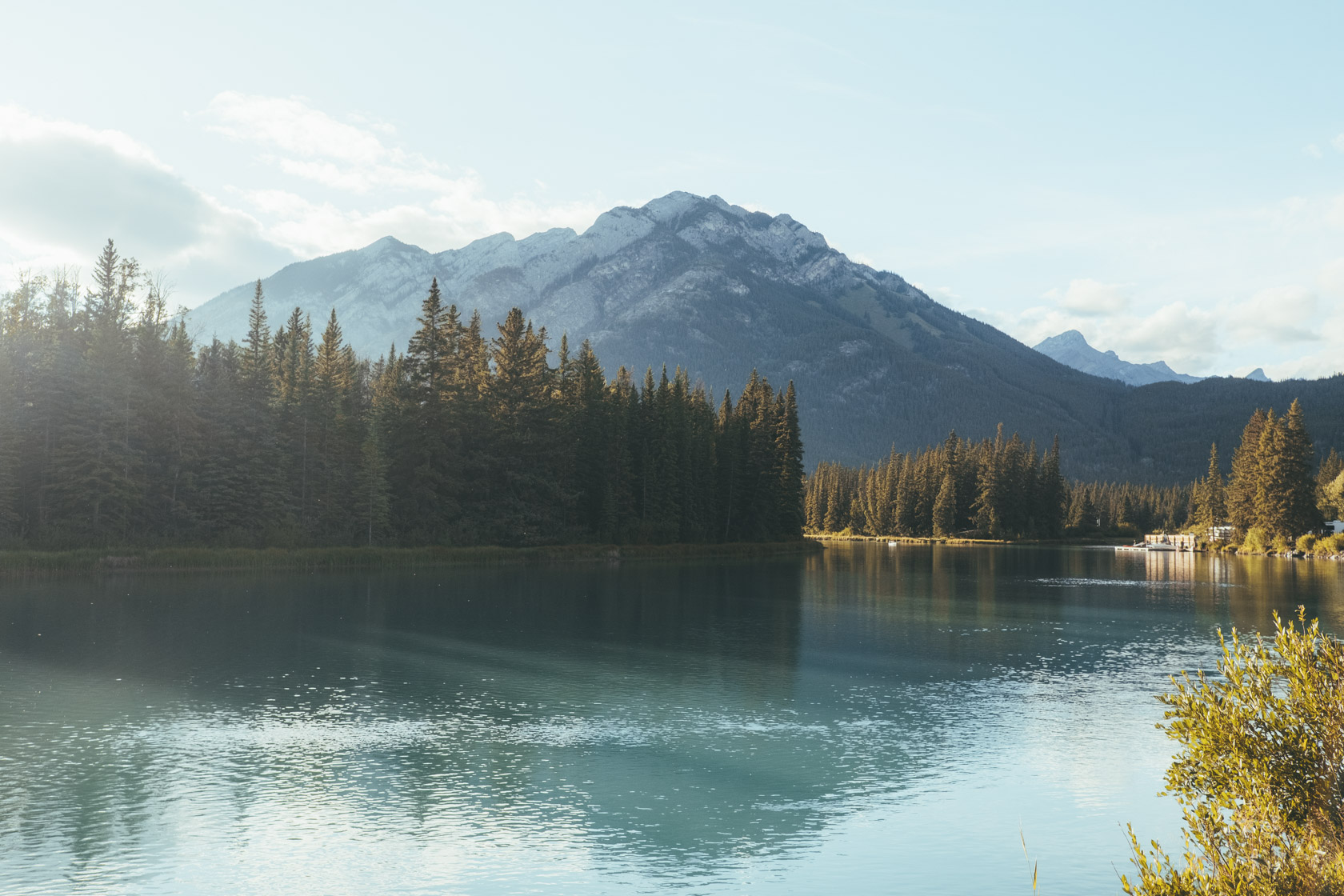 Check availability for accommodation in Banff for your dates!
Put your dates into the map below and press Search to see which hotels and guesthouses still have availability during your trip.