The Manta Ray night snorkel or dive in Kona is one of the most famous places to see Manta Rays on the entire planet. First, only on the Big Island of Hawaii do all the Manta Ray dives and snorkel trips happen at night. Second, you're able to see the Mantas year-round because the species in Kona's coastal waters do not migrate.
The breed of Manta Rays on the Big Island are called Reef Manta Rays, and are the second-largest species in the world. But unlike their barbed cousins, Manta Rays have no stingers.
Kona's beautiful Manta Rays are safe, gentle giants that can get as wide as a BOAT! Plus, many tours have a 90%+ success rate of sighting them (I'll explain how in a second).
When I went to the Big Island of Hawaii last year, snorkeling with Manta Rays was absolutely the highlight of my trip and 100% tops my list of the best things to do on the Big Island.
In this guide, I'll share my personal experience snorkeling with Manta Rays on the Big Island, explain the best places to see Manta Rays in Kona, what you need to do to prepare for your night dive or snorkel, plus specific details about the exact tour I took (and how to capture amazing photos!). In this post, you'll learn: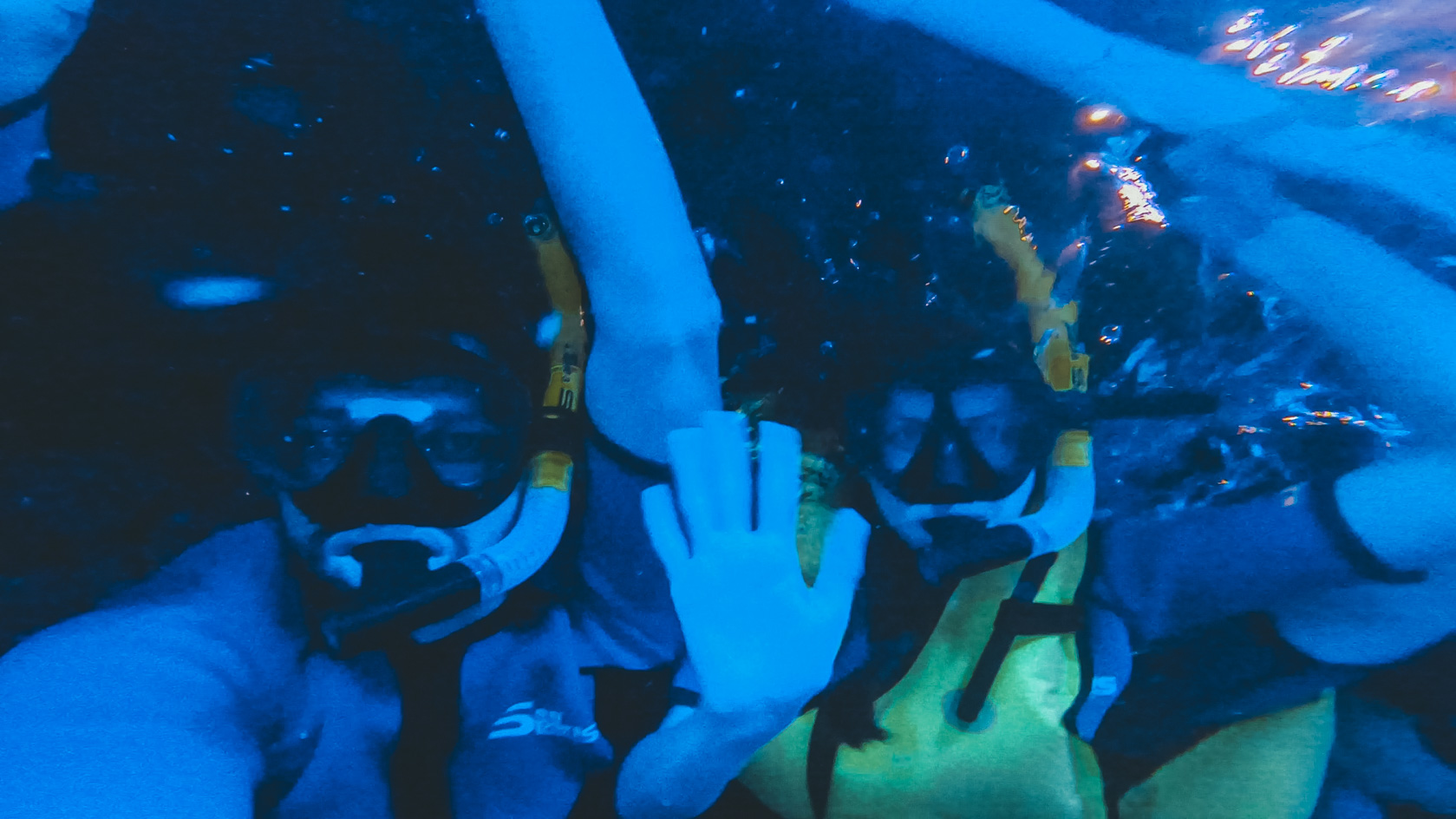 Some links in this post are to affiliate sites. If you purchase something through them, I may earn a small comission — which costs you nothing! I am very grateful when you use my links to make a purchase.
How does the Manta Ray night snorkel work?
The way Manta Ray dives and snorkels work is that the rig you're on shines a blue neon light into the water. Manta Ray dives emit the light from below, and snorkeling tours have floating rigs you hold on to which emit the light from above. The light then attracts plankton, the Manta Rays' favorite food.
To capture the plankton, Manta Rays do incredible, aquatic acrobatics while opening wide to filter plankton from the water through their mouths. In the process, they can get really close to you and give you an unparalleled view of this majestic animal.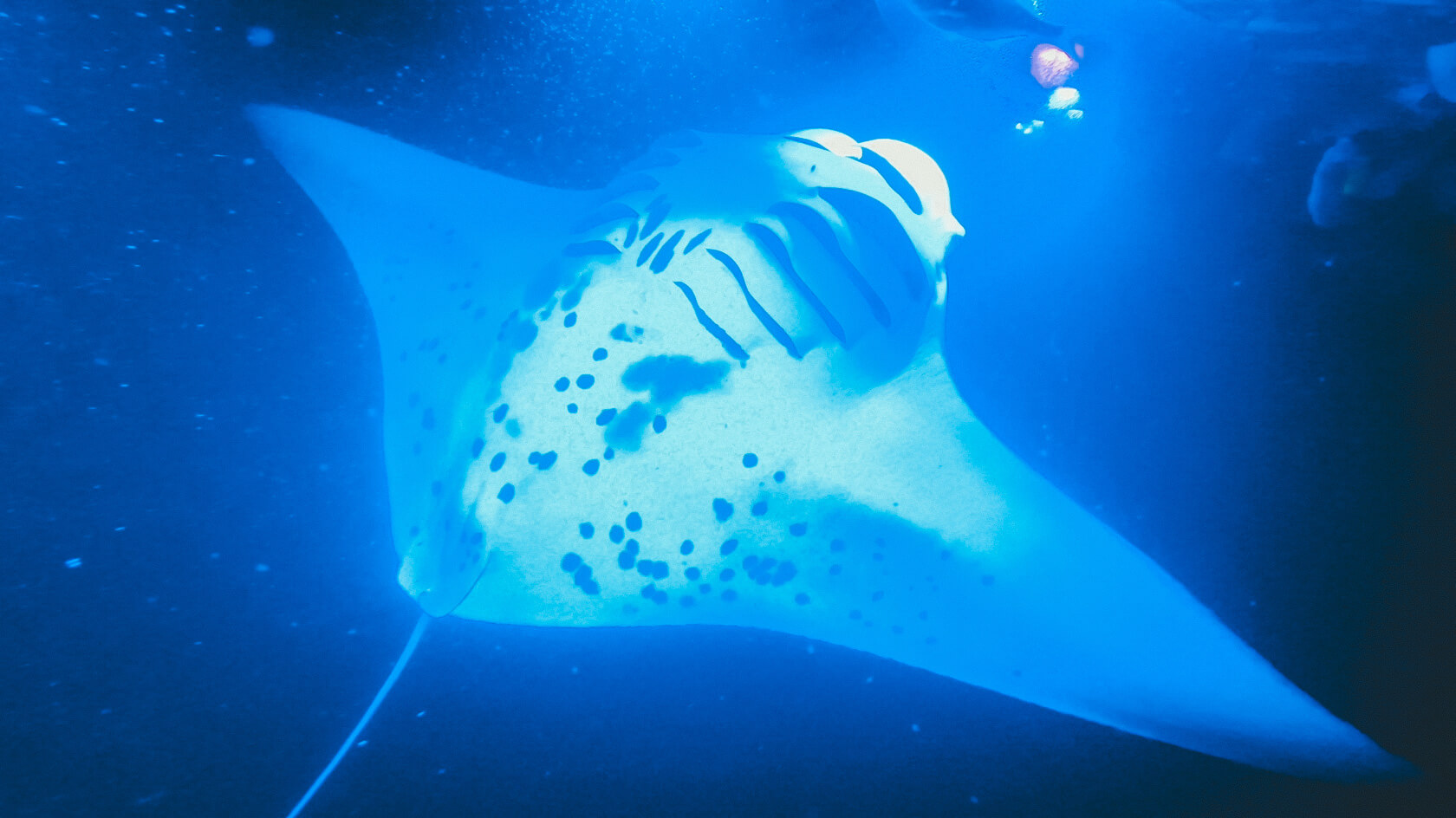 Twisting, rolling, and gliding through the water like graceful giants. It's a peaceful, otherwordly spectacle to behold. Manta Rays can get so close to you, they might even bump into you (it happened to my boyfriend while he filmed with our GoPro!).
To snorkel with Mantas in Kona, you don't necessarily have to be a super strong swimmer. Though I personally wouldn't recommend it to non-swimmers, it'd been years since I'd last snorkeled before I went on this tour. You can also opt for a floatation vest (I took one "just in case" and didn't really need it), plus a pool noodle to help you suspend your legs while you observe the Mantas from above.
Then you've got your goggles, snorkel, and wet suit, and you just get to hang out and watch the Mantas swim below you. Here's the view from above: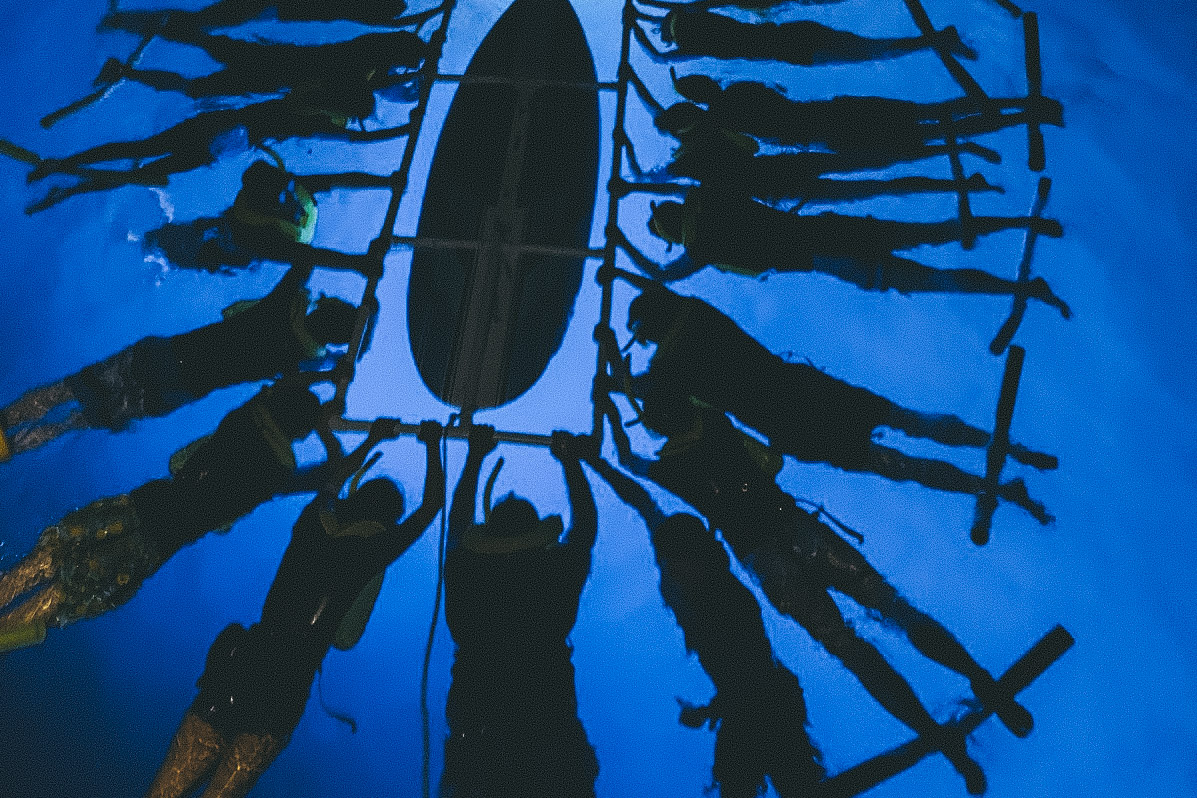 And the view from below: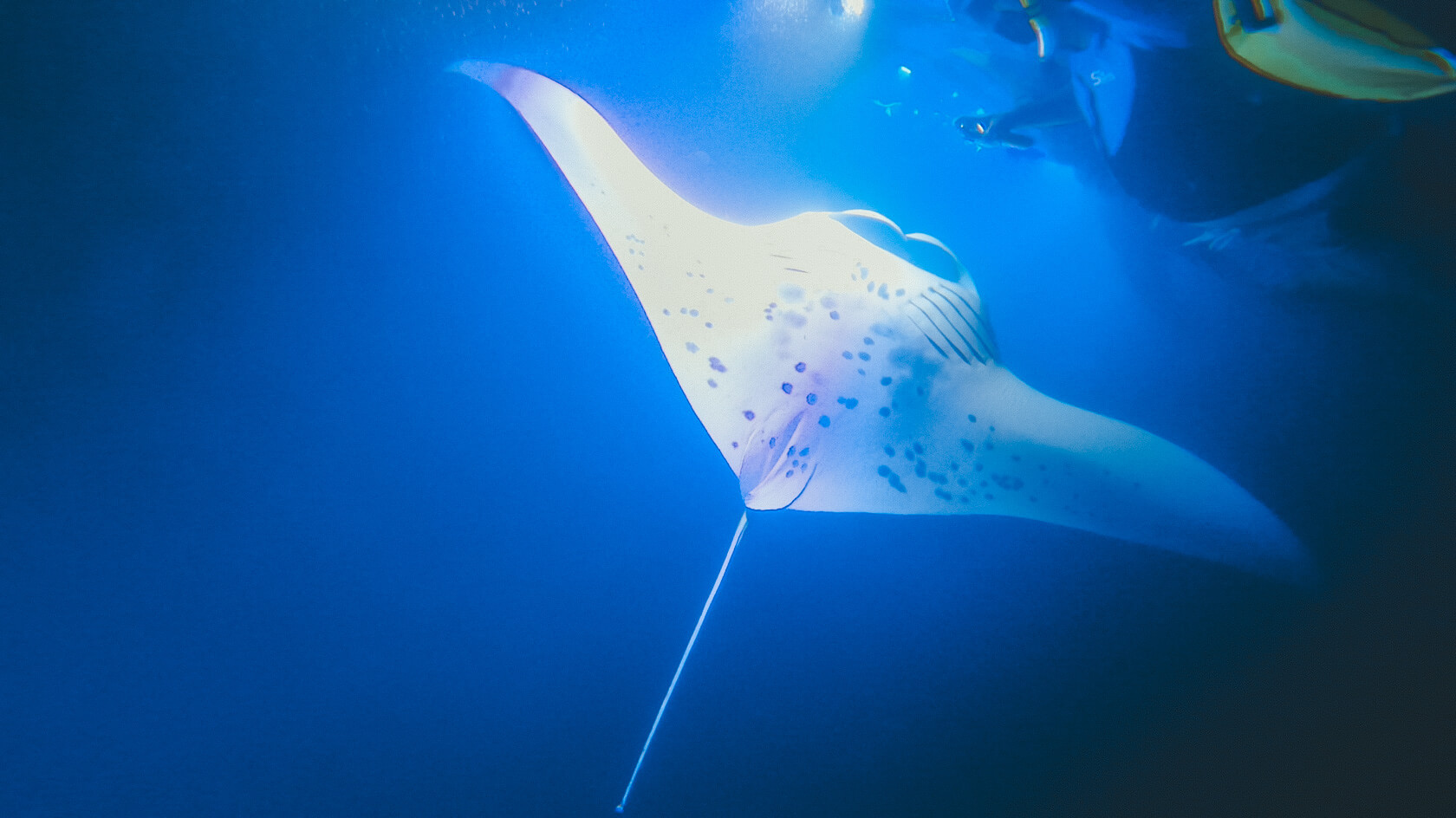 Sounds cool, right? If that sounds fun to you, you can jump ahead to more information about the exact tour I recommend or just check it out on the tour provider's website below: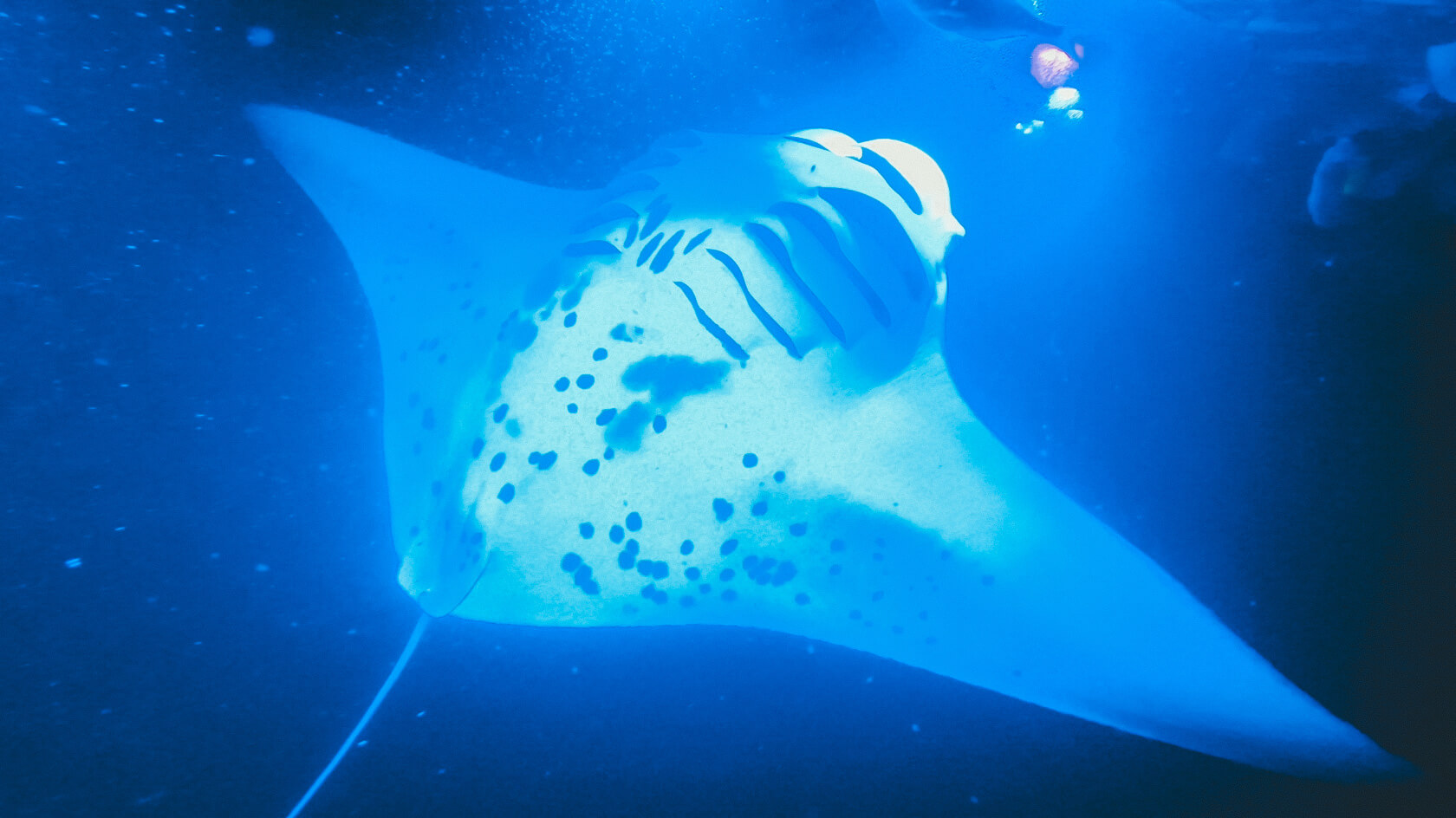 Recommended Manta Snorkel in Manta Heaven
This 2-2.5 hour Sunset Manta Ray night snorkel tour at
Manta Heaven
, with a free re-try if you don't see Mantas the first time. This is the exact tour that I took and loved!
★★★★★ 181 Reviews
4.9 of 5 on GetYourGuide
Or maybe you want to know more about why the Kona Manta Ray snorkeling experience is so special – and I'm here to oblige! Here's why you shouldn't miss your chance to snorkel with Manta Rays in Kona.
What makes the Kona Manta Ray snorkeling experience so special
The Manta Rays at Kona were originally discovered when people noticed that every night the Mantas would surface to feed on Plankton that were attracted to the blue light emitted by the Kona Sheraton Hotel . Today, those exact waters are one of the first and best places to see Manta Rays, not just on the Big Island but in the entire world. Here's why.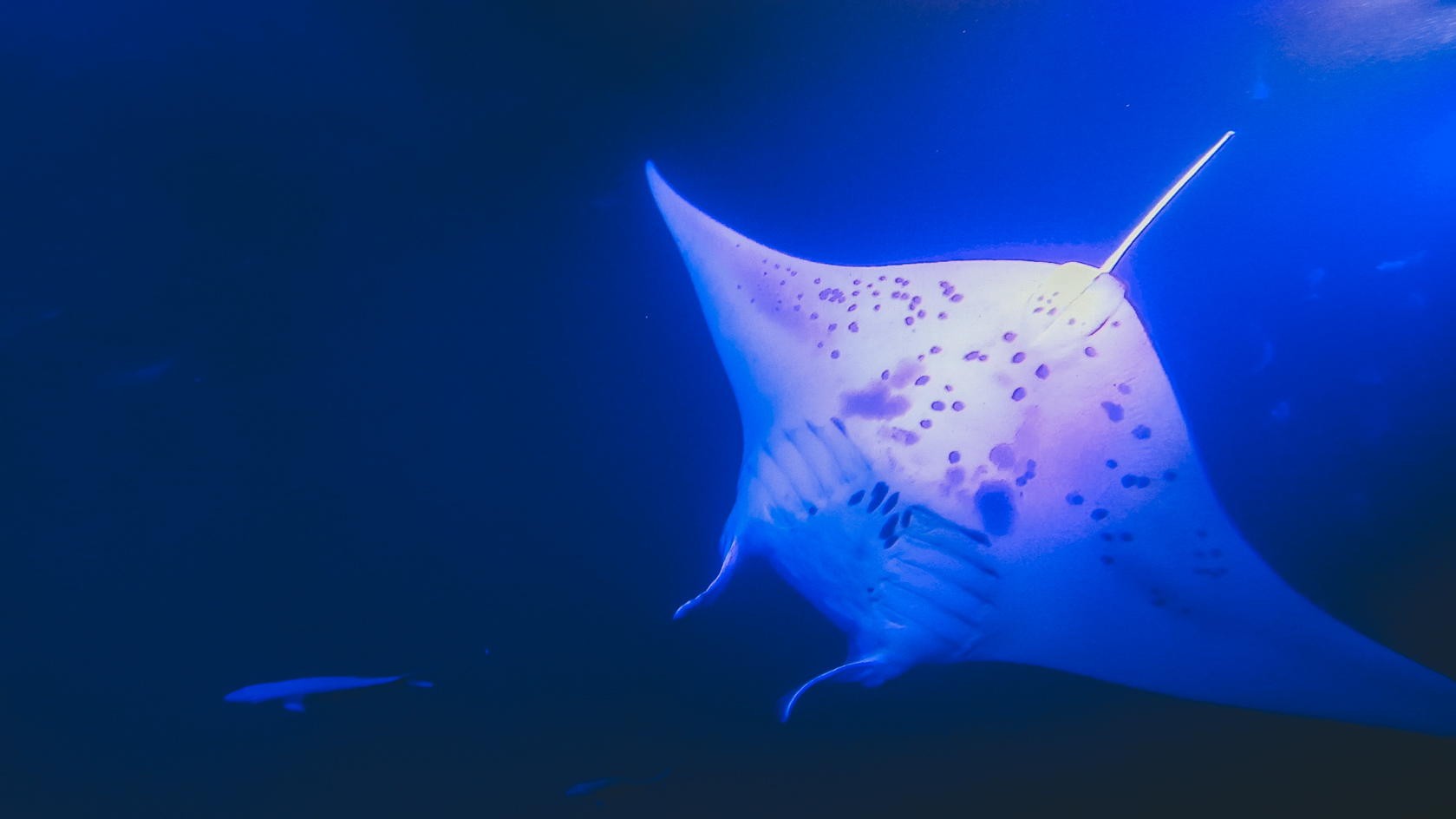 On most Manta Ray dives around the world, you'll be watching Manta Rays get cleaned by other fish at so-called "cleaning stations" where they regularly migrate. This is a common phenomenon but doesn't necessarily result in the most active aquatic scene for divers and snorkelers.
But on Kona, you get to watch Manta Rays feed on plankton, thanks to the light dive operators and snorkeling rigs use to attract plankton (and therefore hungry Mantas) in Kona. This spectacle is much more engaging for all participants, because the Mantas are way more active.
When you combine it all together, snorkeling with Manta Rays in Kona is special because:
They do not migrate, making it possible to see them year round
They can be attracted reliably (and safely!) through lights that attract plankton
You get to watch them actively feed, instead of being passively cleaned
Finally, this all happens at night which adds to the entire experience
Each of these factors makes Kona one of the best places to do a Manta Ray dive or snorkel in the entire underwater world.
Kona Manta Rays
Kona Manta Rays are part of a species called Mobula alfredi , or Reef Manta Rays. They can be distinguished from one another by the unique pattern on their underbellies. Scientists are currently studying the Manta Rays off the coast of Kona, and believe some may reach 50 years old.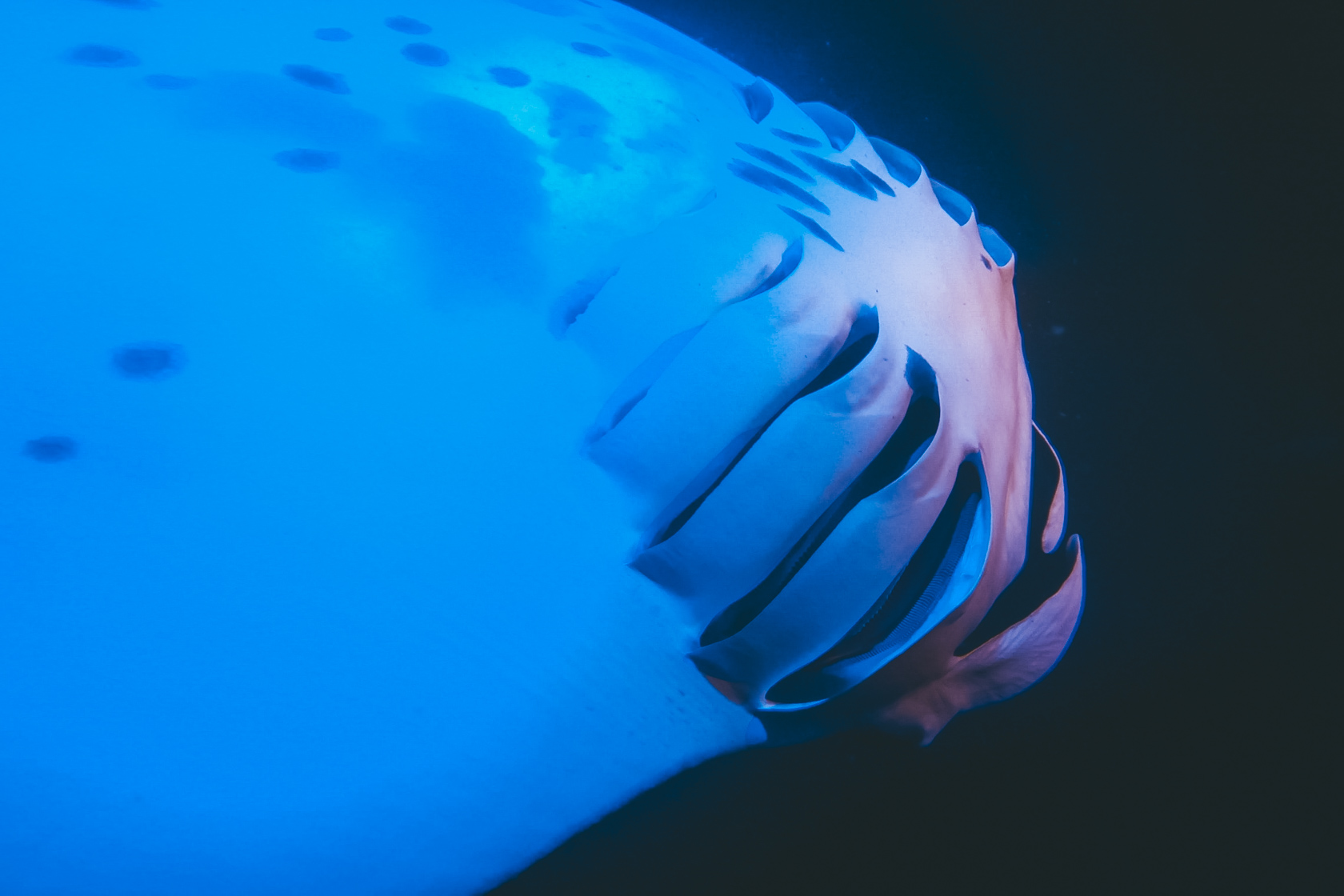 Manta Rays on the Big Island of Hawaii do not migrate, which makes it possible to see them year-around. This is different than the Manta Rays you'll find in other parts of the world, like Indonesia or Thailand, which migrate and can only be seen during a few months of the year.
Reef Manta Rays can grow up to 16 feet (5 meters) across, but on average the size you'll see of Manta Rays in Kona is closer to 11 feet (3 meters). However, there have been sightings of a small number of extremely large Manta Rays off the coast of Kona, so you could get lucky on your trip!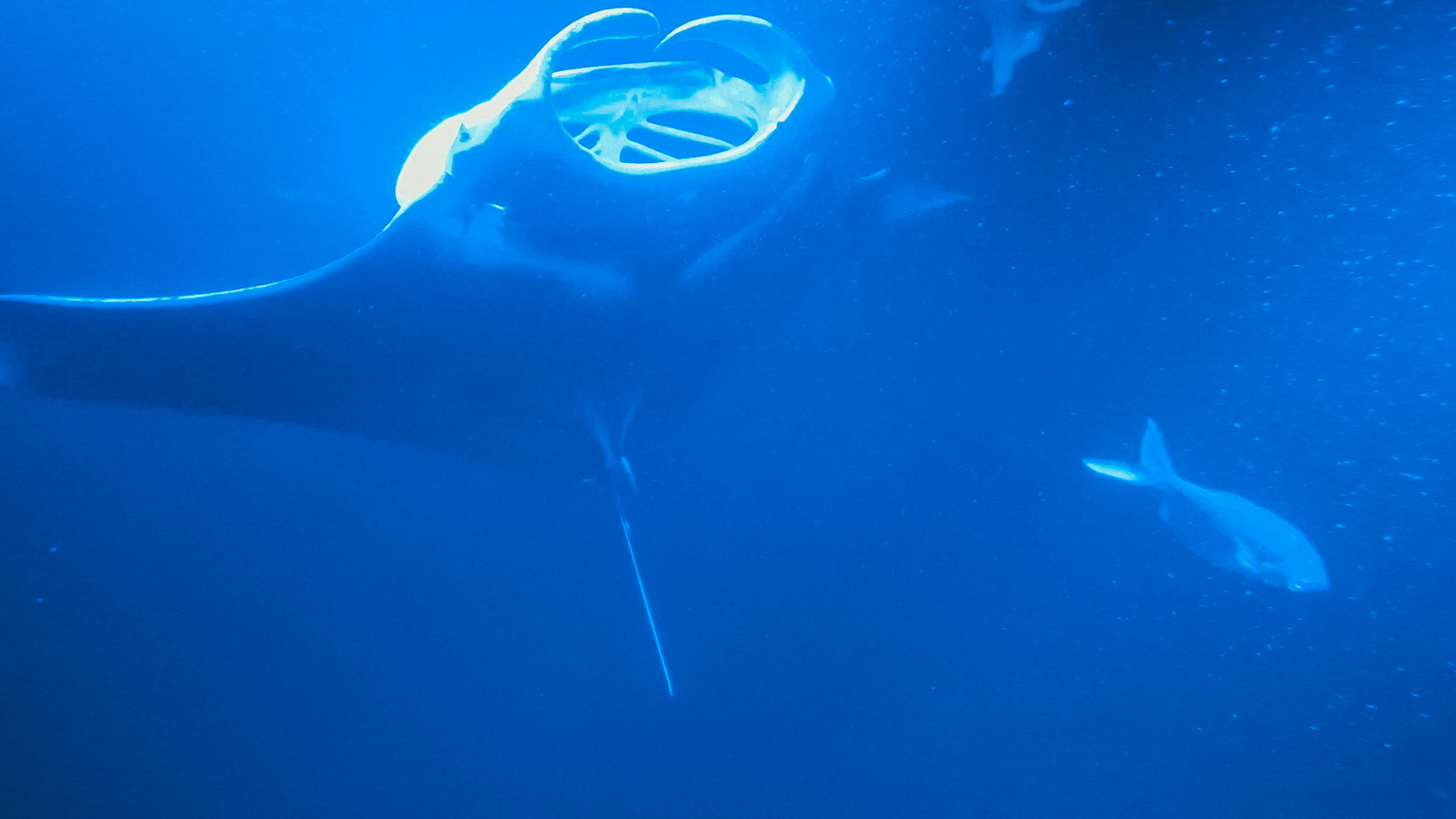 Best places to snorkel with Manta Rays in Kona
The best place to see Manta Rays in Kona is going to depend on whether your goal is smaller crowds or a greater chance at seeing Mantas. Manta Village and Manta Heaven are two areas off the coast of Kona with very high rates of sighting (well over 90%), whereas the location off the Kohala Coast is less realiable but also much less crowded.
Here are the three places on the Big Island of Hawaii where you can snorkel with Manta Rays:
Manta Heaven (Near Kona International Airport – where we did our tour)
Manta Village (Near Keauhou Bay)
Kohala Coast (Near Waikoloa)
1. Manta Heaven (Near Kona International Airport)
Manta Heaven is one of the best places to see Manta Rays in Hawaii, because it has an extremely high success rate (90%+). You'll reach it by boat from Honokohau Harbor , just 3.5 miles north of Kailua-Kona. There's a huge parking lot with plenty of space to park your car, and a bathroom where you can to change into your swimsuit.
In terms of tour operators, I can definitely recommend this exact Manta Ray tour , which is the one we went on. They took a lot of care making sure that everyone was safe, including people who aren't strong swimmers. The goggles and snorkel worked great, and they also have floatation vests and pool noodles if you want them.
We also went with my aunt and uncle, so I'd really say this activity is great for families of all ages as long as any kids are comfortable in the water. Do note when booking a tour what kind of age restrictions might be in place for children (some seem to permit kids as young as 3 years old, others have a minimum age of 7 — you want to check).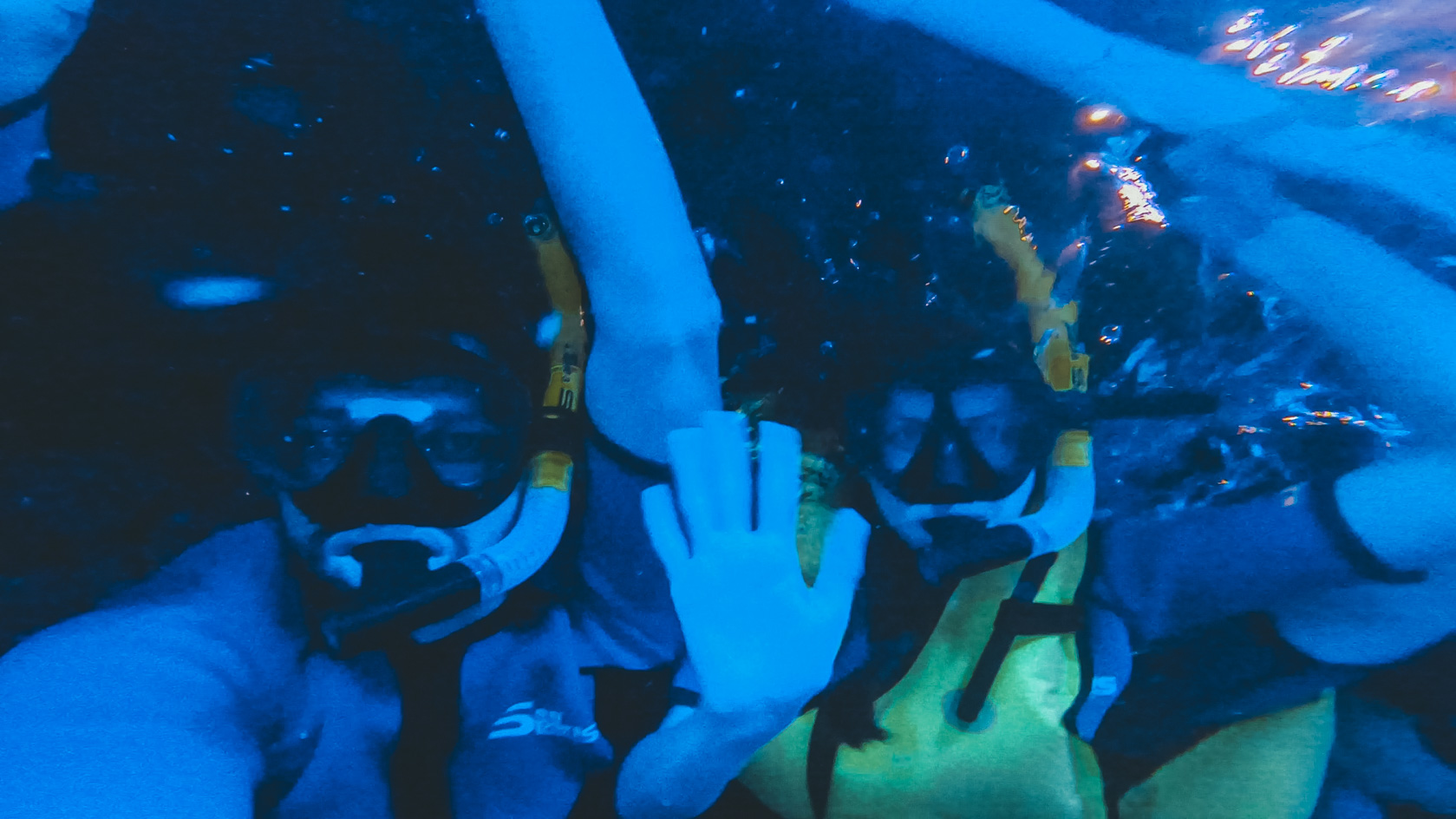 With this tour, if you don't see mantas, you can get one free re-try on another date! Same story if your tour gets canceled for any reason because of weather. We had a little bit of rain on our tour but it didn't make a difference for us. The main reason these can get canceled is strong winds which makes the water rougher, though otherwise the water is quite calm in this bay.
Critically, you absolutely need to book this in advance (especially if you want to have some extra days for a re-try just in case you get incredibly unlucky and don't see Mantas). Manta Ray snorkeling tours are extremely popular, and as such sell out all the time.
Click here to check availability for this Manta Ray snorkeling tour , which is the same one we took at Manta Heaven. It's best to book towards the beginning of your vacation so you have time to re-try in case you get really unlucky and miss the Mantas.
If this particular tour is booked out, this alternative Manta Ray snorkeling tour also has 980+ glowing reviews and is the same duration and location as the one I took where we saw multiple Mantas for the full 40-minute snorkel.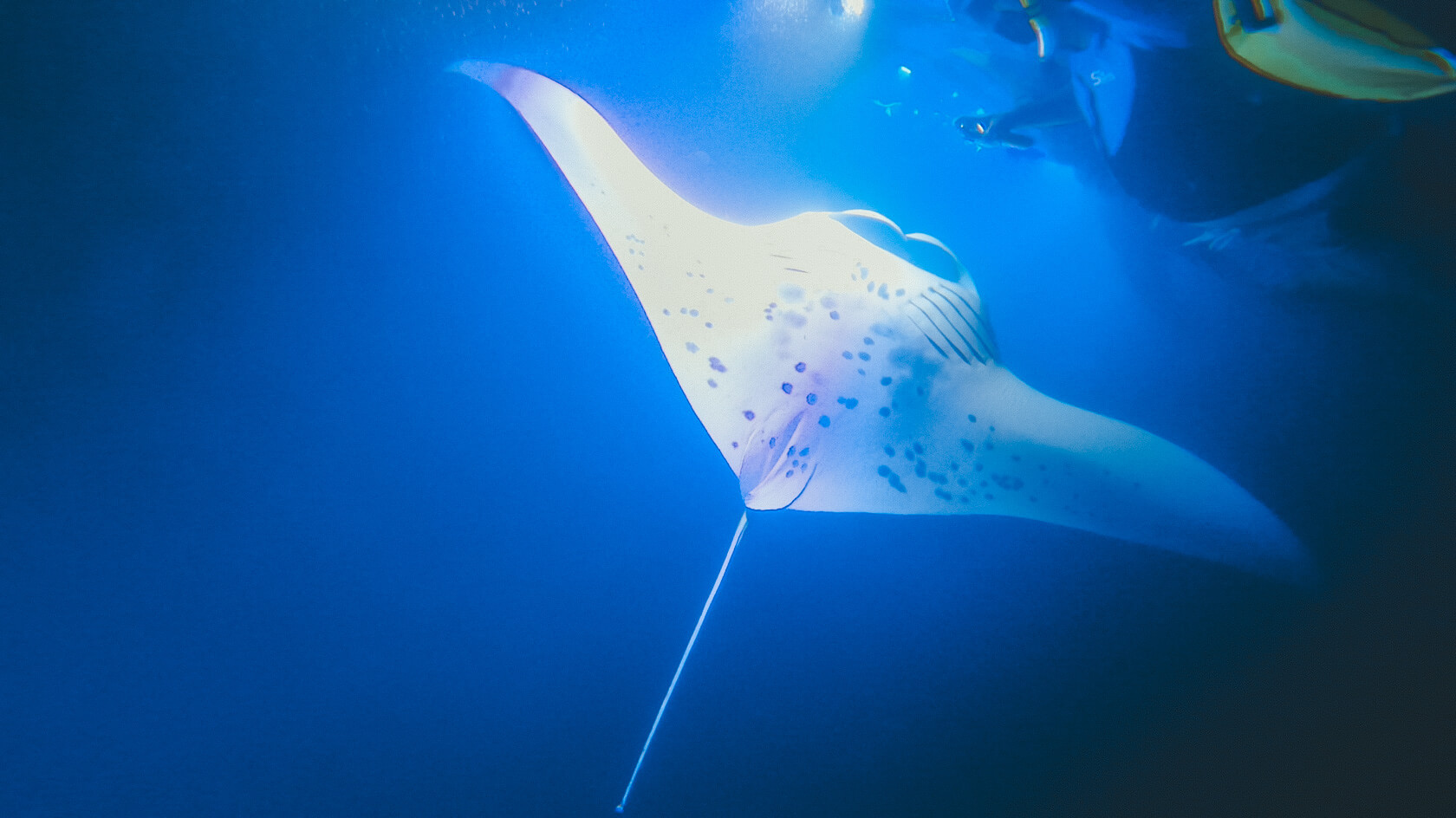 If you are prone to sea sickness and need a shorter boat ride, or want to join a very small group tour (~6 people), check out the alternatives running in Manta Village below.
2. Manta Village (Near Keauhou Bay)
As I mentioned before, the way Mantas (and plankton) are attracted to light was first discovered at what's now called Manta Village off the coast of the Kona Sheraton Hotel . This makes Manta Village the original, and one of the most popular places, to see Manta Rays on the Big Island.
We actually took an afternoon snorkeling tour at Captain Cook monument which passed through this area, and happened to see a Manta during the day from the surface! This is why Manta Village is also a popular spot for day-time diving with Manta Rays.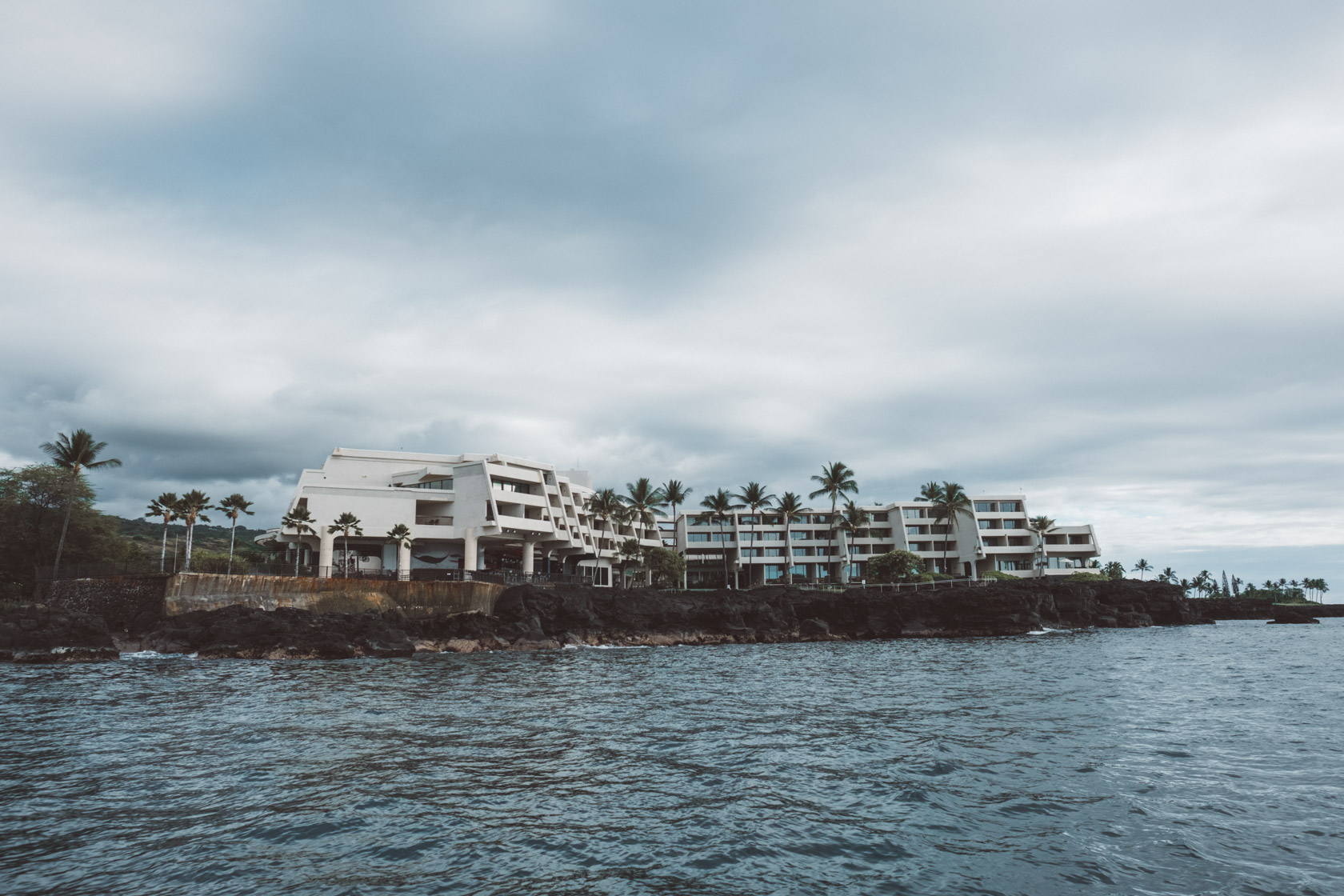 Manta Village is conveniently located just 7 miles south of Kona. Most tour operators who come here leave from Keauhou Bay , which greatly reduces the amount of time you need to spend in the boat before you're able to get into the water.
Here are three great options for Manta Ray night snorkels at Manta Village:
Eco-Friendly Twilight Manta Ray Adventure by Seaquest . I did an awesome daytime snorkeling tour with this company, and really appreciated that they offer prescription goggles (especially useful at night!).
Manta Ray Night Snorkel by Hawaii Island & Ocean Tours only takes 1 hour and 30 minutes because the transit time is reduced to just 5 minutes. It also features a super small group of just 6 people. Like many other operators, this tour offers a refund/reschedule if you can't go out because of weather.
Manta Ray Night Snorkel by Sea Paradise also takes 1 hour and 30 minutes, has a maximum group size of 22 snorkelers, and also offers a refund/reschedule if your tour is canceled because of weather.
3. Kohala Coast (near Waikoloa)
This Manta Ray site is the furthest north on the Big Island for spotting Manta Rays, near Kawaihae Harbor. Even though there are fewer Manta Rays here, it does have one big point of appeal: you might be the only tourists there.
When we did our Manta Ray night snorkel in Kona, there were several other boats around doing the same. Though they were all pretty spaced out, it definitely feels a bit like a Manta Ray party at times.
Whereas on the Kohala Coast, both Manta Rays and tourists are rarer.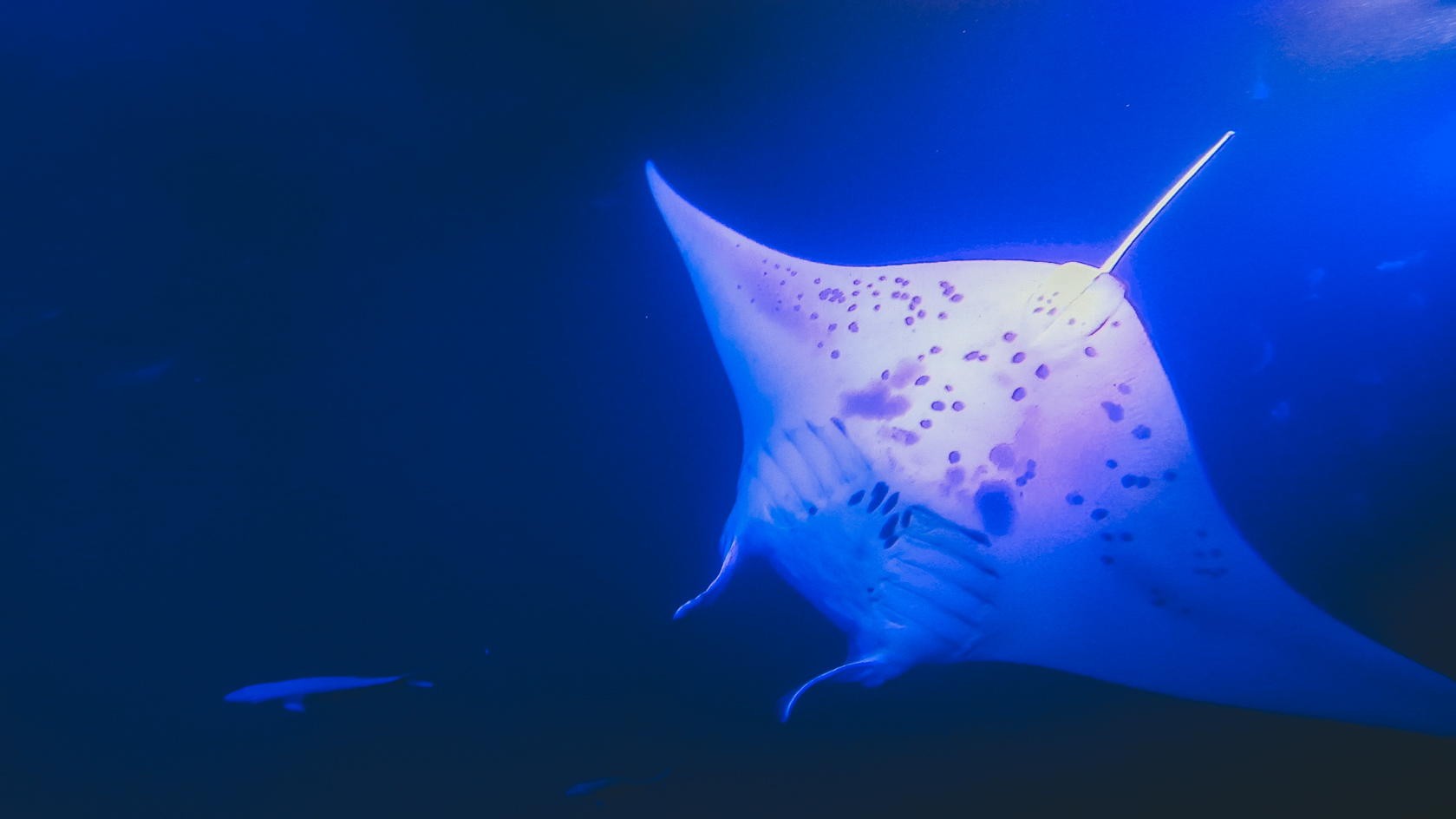 Choose the best Night Snorkel with Manta Rays tour
To pick the best Manta Ray night snorkel on the Big Island, you want to consider:
How big is the group? Although I imagine that post-COVID the groups are smaller, groups can range dramatically in size. Check if the tour you'll be joining mentions the maximum number of people, if this is important to you.
How long will you need to travel by boat? If you get sea sick, you might want to pick a tour that has a short transit time. While you won't have any issues with the boat while it's running, it does swing around when it's stable. Plus, tours range from 75 minutes to 120-150 minutes, depending on the location and how long the ride is. You can work around your schedule by picking a Manta Ray tour in a good location.
Do you need prescription goggles? You won't enjoy the experience if you can't see anything. If you need prescription goggles and won't be bringing your own, this Manta Ray tour is with the only company I know has Rx goggles.
How long do you get to spend in the water? Most tours will let you spend up to 40-45 minutes in the water with the Manta Rays. In my experience, this felt like plenty of time to get to observe the Mantas.
Is the tour eco-friendly? Some tours claim to have eco certification, or take other measures to ensure the Mantas are kept safe during the tour. You can usually find this mentioned on their website or in the description of the tour itself.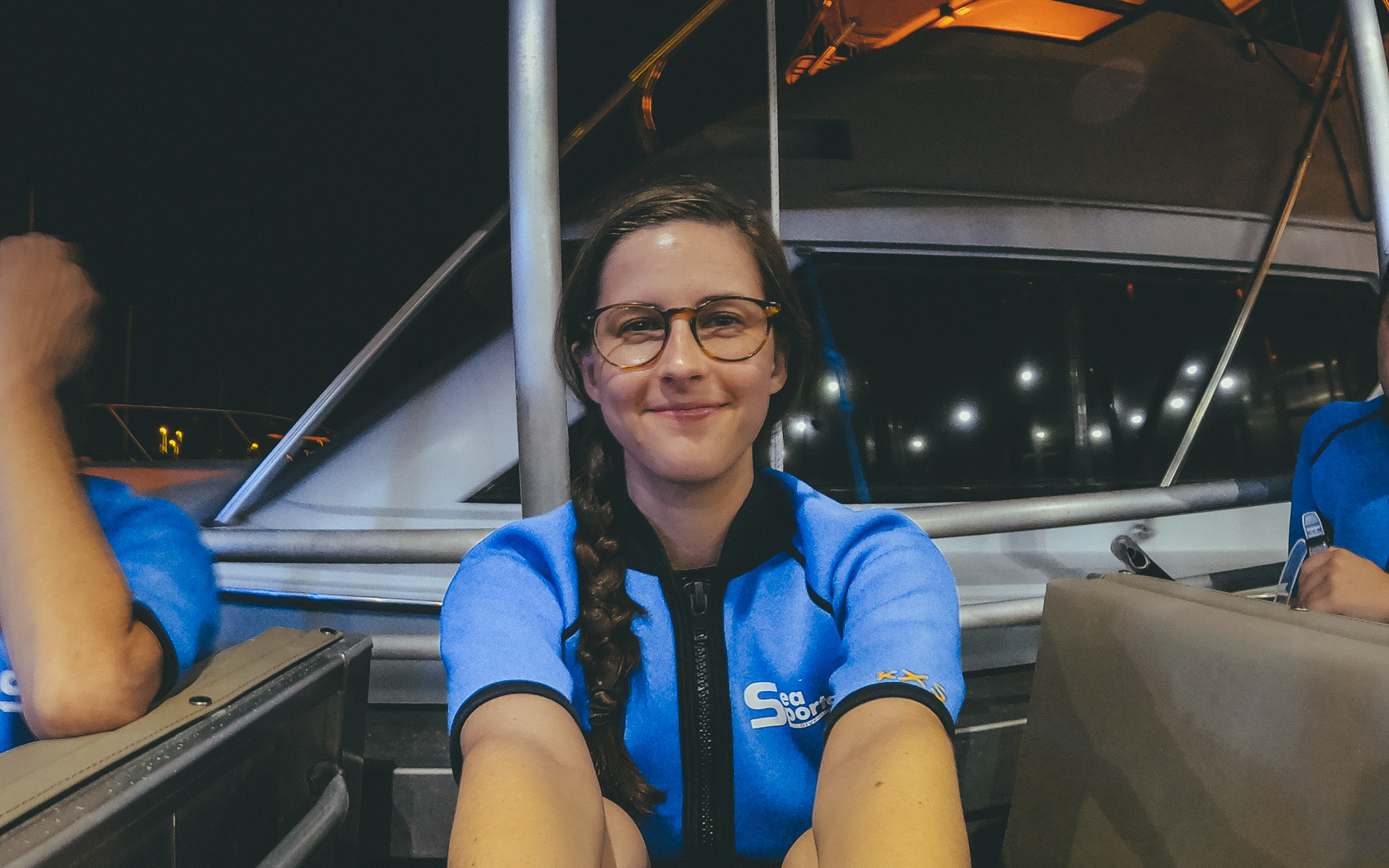 How to prepare for your Manta Ray night snorkel
Here are a few things you'll want to bring along with you on your
Bring a swimsuit and towel. You'll be provided a wetsuit in your size to put on over your swimsuit, and will use the towel to drive off after your swim. I tend to get cold easily in the water, but had no issue at all with the wetsuit in Hawaii in December.
Bring a bag (including something for holding wet things). You'll want to be able to change out of your wet clothes, because it can get cold and breezy. Ideally, if your bag has some kind of rain cover you can bring, that'll help with keeping it dry.
Bring a jacket or light outer layer. – Again, because it can get cold and depending which tour you have, you might spend 20+ minutes in a boat driving to and from the snorkel location. The boats also go pretty fast so you'll have the wind cooling you down, too.
Bring a GoPro and floating attachment. – Lots of snorkeling companies allow you to rent a GoPro to take underwater photos and videos for $15-20 and will email you your photos and footage afterwards. But the problem is that most of the GoPro models are very old. This means you won't have the most modern technology for capturing images in low light, or maybe even enough practice using it to get some good shots. I can recommend the latest GoPro (with a front-facing camera) plus this floating handle (GoPros do not float on their own + you can attach this on your wrist so you don't lose it in the water). Spare batteries like these are also highly recommended.
One thing you might not expect is that you won't be wearing your shoes on the boat. Instead, you'll most likely store your shoes at the harbor before you leave. This is to help people from falling over shoes. So having sandles and flipflops is only important in so far as you'll need to put them back on and your feet / the floor of the boat might be wet.
Frequently Asked Questions
Going on a Manta Ray snorkeling tour was one of the coolest things I did in Hawaii! If you're still not sure if it's for you, here are a few FAQs to help you with any lingering questions.
What happens I don't see Manta Rays on my tour?
Most tour companies are confident enough that you will see Manta Rays, that they offer a free re-try. With sighting success of Manta Rays near Kona at 90%+, you probably won't need to worry about this situation happening at all.
Most tour companies do not offer refunds, in the case that you aren't able to fit a re-try tour into your schedule. So the best thing you can do is to book your Manta Ray snorkel early in your vacation so there's time to re-try in case you get very unlucky.
Can you touch Manta Rays in Hawaii?
Do not touch the Manta Rays! Manta Rays are still wild animals and we are only here to passively observe them do their thing. Manta Rays may brush up against you while feeding on plankton, but never extend your hands, arms, or camera (like a GoPro) towards a Manta Ray.
Can I join a Manta Ray snorkeling tour even if I can't swim?
Some tour companies will allow you to do this, but I personally would not recommend it. Even as someone who grew up knowing how to swim, if it's your first time in the water in a while, it can feel a bit intense to be in the water at night. If you're not a super comfortable swimmer, I'd advise doing a daytime snorkeling tour (I loved this one ) first to get familiar with snorkeling.
Yes, you can get a floatation vest and extra pool noodle to help with floating. But if you are just really uncomfortable in the water, the entire experience will be much harder for you.
Is it safe to swim with Manta Rays?
Yes! Manta Rays may be huge creatures, but they are completely harmless. They feed primarily on plankton and do not have a stinger like Sting Rays do (I know you're thinking about Steve Irwin now – RIP – but you are not at that kind of risk with Manta Rays).
What's the difference between the Manta Ray night dive and Manya Ray night snorkel?
The main difference between the Manta Ray night dive vs night snorkel is that with the first, you're diving below the Manta Rays and need to be dive-certified to join the tours. The crew you're with will typically shine a light from below to attract plankton and manta rays into the water column. With night snorkeling, you don't need prior training and you are observing the Manta Rays from above. Snorkelers hold on to basically a floating raft, which emits blue neon light downwards.
Any other questions about snorkeling with Manta Rays?
Feel free to get in touch, either by email or on Instagram and I'll do my best to help. Have fun with the Mantas!