What's the first thing you think about when you hear "Hawaii"? For most people, Hawaii elicits images of overcrowded cruise ships, septuagenarians, and screaming kids. When I told some friends I was visiting Hawaii, they wondered, "Why would you want to do that, isn't it full of tourists?" But in reality, the Big Island of Hawaii is special in this respect – it's one of the least touristed islands of Hawaii.
And that makes it feel just a little more precious.
You'll find so many incredible things to do on the Big Island that can appeal to people of all ages and levels of fitness – but if you're looking for adventure, you are going to LOVE the Big Island. Whether the Big Island activities that excite you most involve swimming, volcanoes, jungles, or just catching up on Vitamin D, Hawaii has something for literally everyone.
I'm not even that adventurous, but something about the Big Island really brought it out of me.
I crafted this list of things to do in Hawaii based on a ton of information I got from my aunt and uncle, who have been coming to Hawaii for decades. Read on for the most comprehensive list of the best things to do on the Big Island of Hawaii!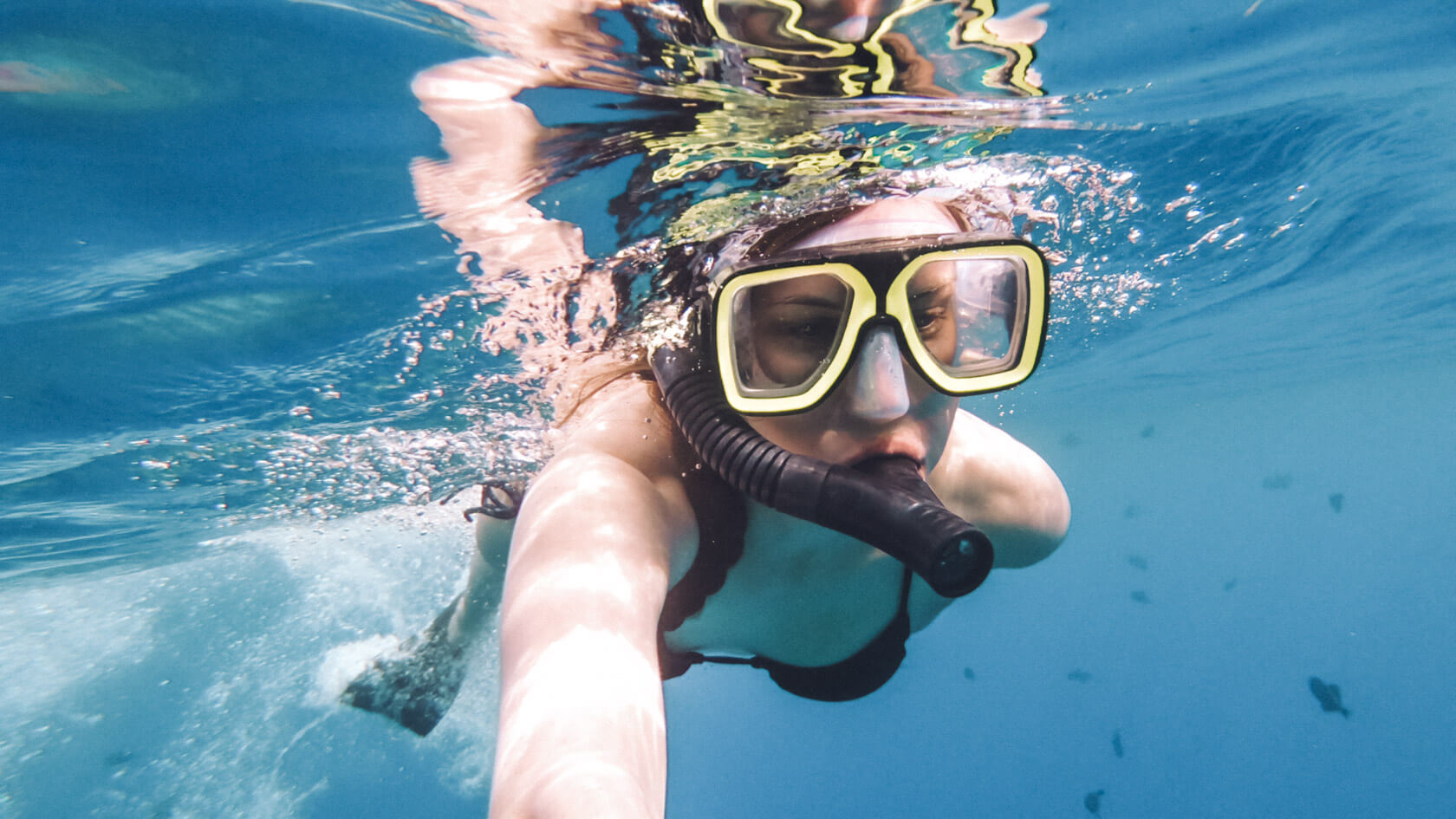 Some links in this post are to affiliate sites. If you purchase something through them, I may earn a small comission — which costs you nothing! I am very grateful when you use my links to make a purchase.
Can you visit Hawaii right now? (Summer 2023)
Hawaii no longer requires proof of vaccination, negative tests, or to register before traveling to Hawaii. Hawaii's indoor mask mandate ended on March 25th, but some businesses may require or encourage you to wear masks.
One more thing before getting to the list: These are the top 3 Big Island activities I personally did on the Big Island, which you really, really should book in advance because they often sell out.
These are the exact tours I personally took and highly recommend: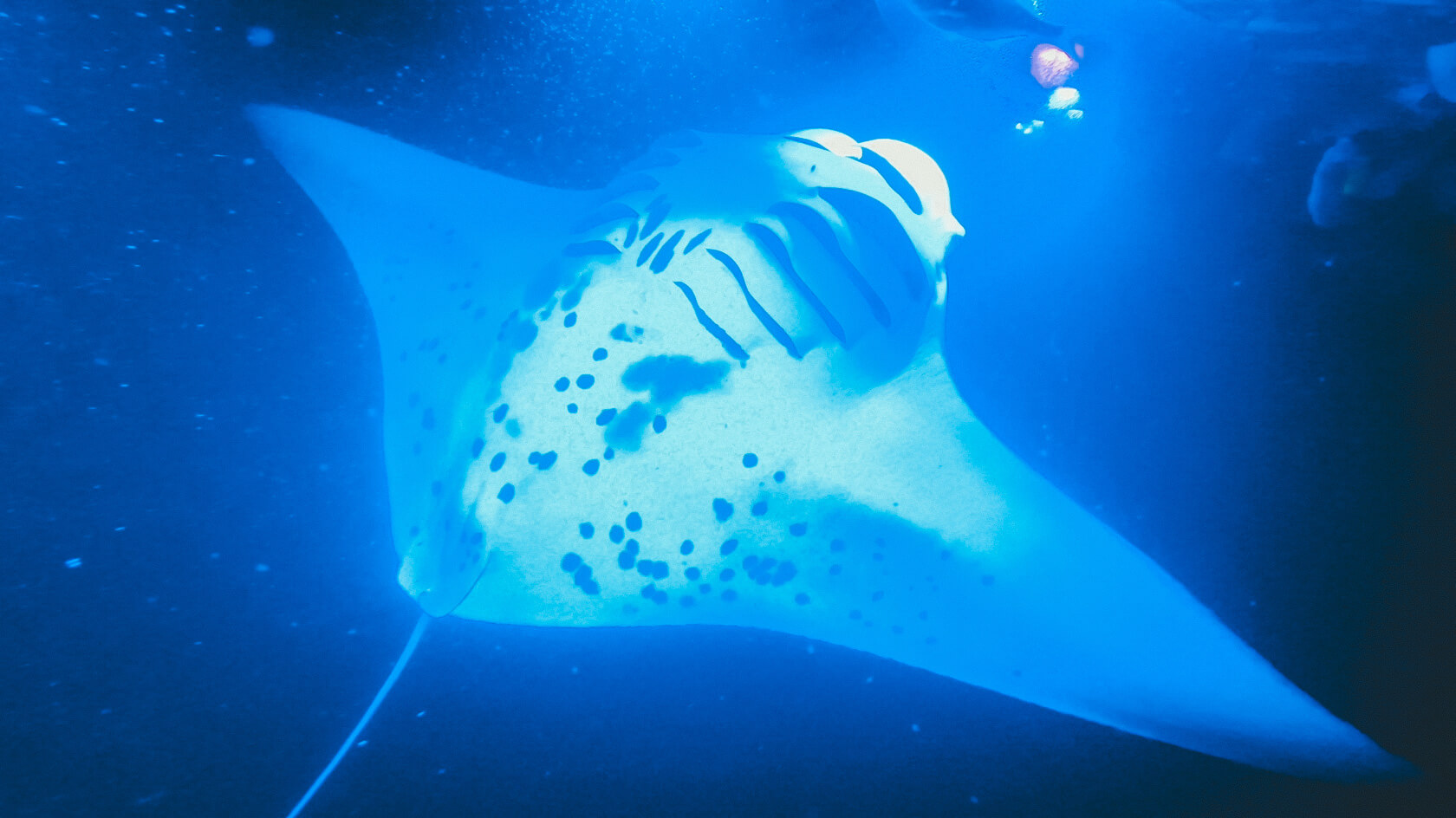 1. Snorkeling with Manta Rays
#1 Must-Do Activity
Absolutely my top recommended, must-do activity in Hawaii. You'll go on a night time snorkeling adventure alongside completely harmless (and huge!) Manta Rays.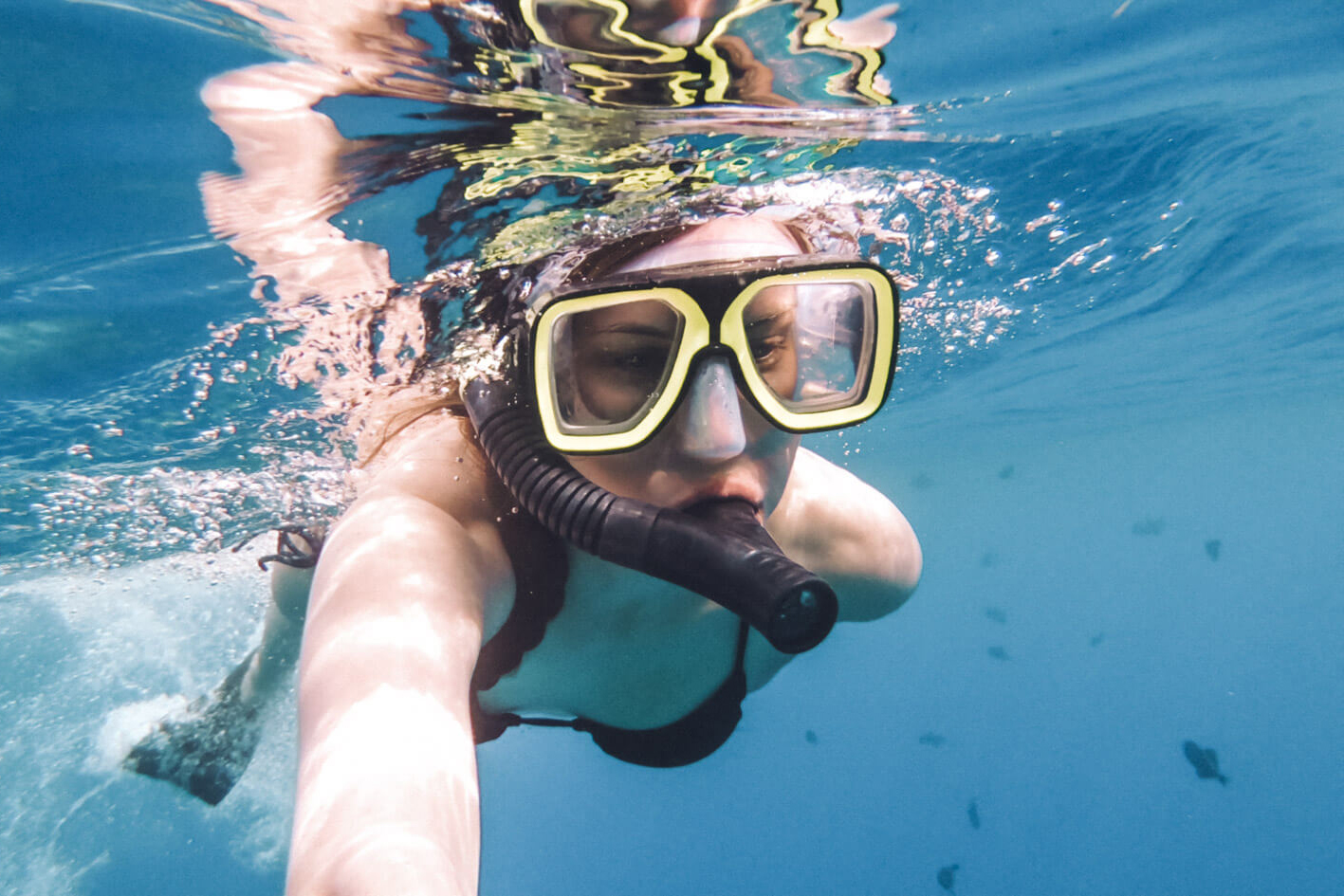 2. Snorkeling at Captain Cook Monument
This 3-hour, afternoon cruise and snorkeling tour visits Kealakekua Bay, one of the best places to snorkel in the entire world. We loved this particular tour.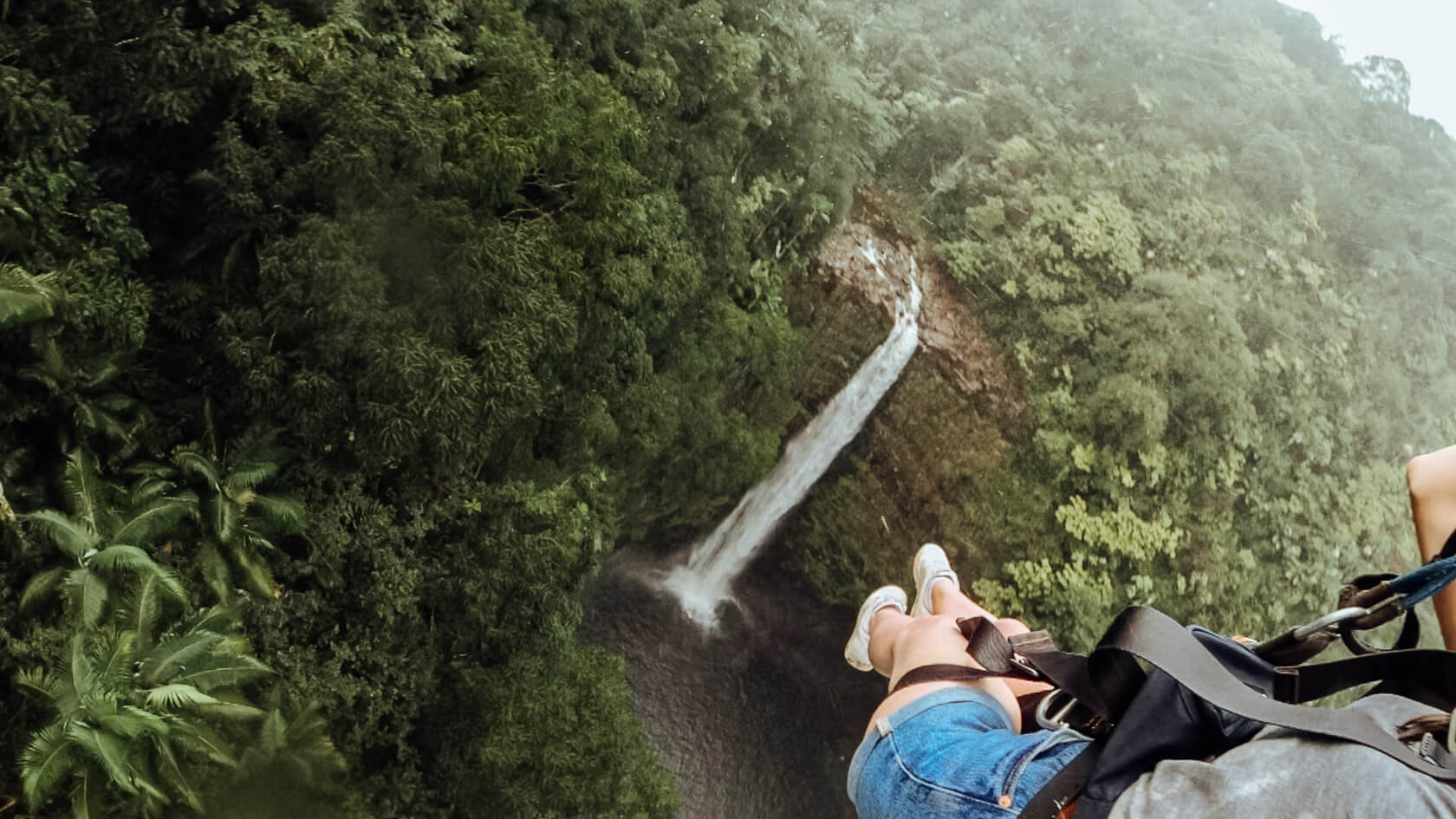 3. Zipline near Akaka Falls
I bought this exact tour for my boyfriend for his birthday, and we had so much fun. I'm kind of scared of heights and even I enjoyed it.
Each of these activities is also described in detail below, with more images and information about the experience. You can also participate in nearly all activities year round, thanks to Hawaii's tropical climate.
First up, swimming with Manta Rays!
1. Swim with Manta Rays
Simply put, snorkeling with Mantas is the number one activity to try in Hawaii.
It's otherworldly to watch them barrel roll and glide through the water, just centimeters from you. Not only that, but the biggest ones can get as wide as a BOAT. They are massive!
Unlike their barbed cousins, Manta Rays are completely harmless and don't have a sharp tail. They feed exclusively on plankton, which are attracted to the blue light used by Manta Ray tours like the one I took in Hawaii. Eventually, Manta Rays learned that the plankton were attracted to the light, and now Manta Ray boat tours have an over 90% success rate in sighting Mantas!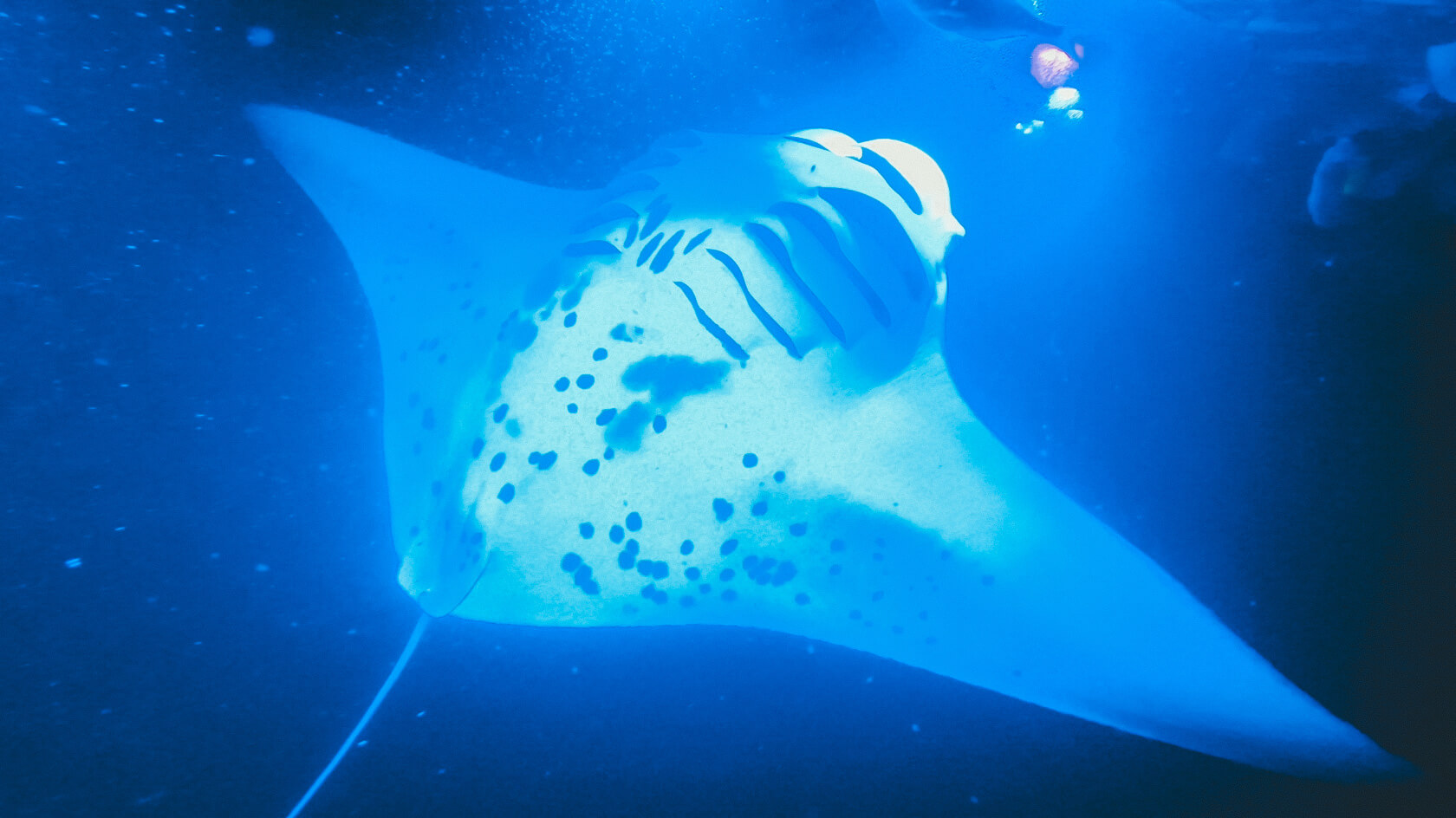 There are two main locations that a Manta Ray snorkeling tour will take you: The original location where Manta Rays were discovered, Keauhou Bay also known as Manta Village, off the coast of the Sheraton Kona Resort. Or, Manta Heaven, close to the Kona International Airport.
I can definitely recommend this exact Manta Ray tour , which is the one we went on. They took a lot of care making sure that everyone was safe, including people who aren't strong swimmers. The goggles and snorkel worked great, and they also have floatation vests and pool noodles if you want them. You actually don't need to swim much, because you hold on to a flotation device and make your body horizontal so the mantas don't run into your dangling legs 😉
Bonus: If you don't see mantas, you can get one free re-try on another date! For this reason, you should try to book your Manta Ray night snorkel towards the beginning of your Hawaii vacation.
Click here to check availability for this Manta Ray snorkeling tour . Booking in advance is highly advised, because this is really one of the most popular must-do Hawaii activities.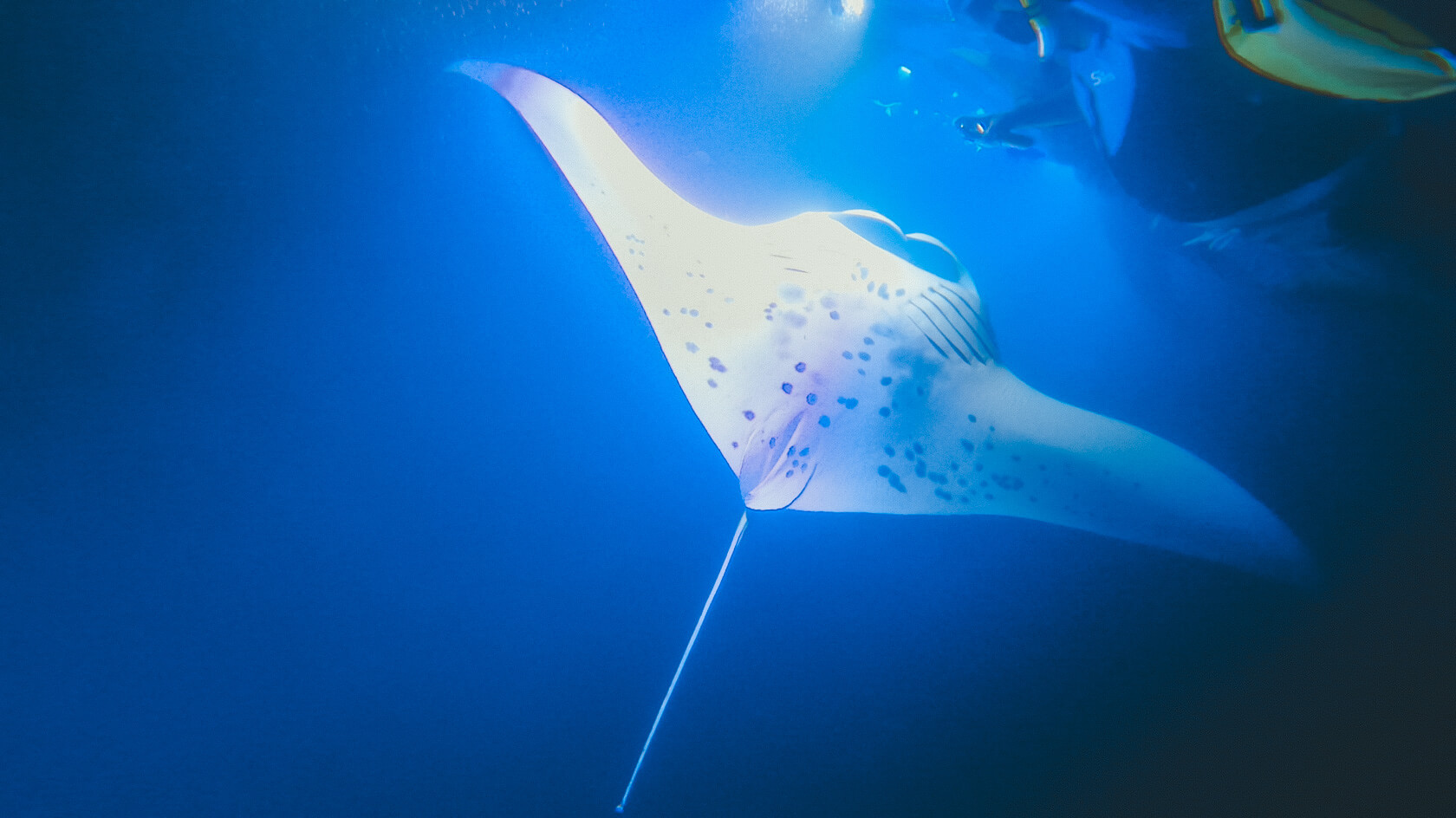 P.S. This is how close the Mantas swim to you! One of them bumped into my boyfriend while we were filming with a GoPro.
I've also written up a detailed explainer of how to works to snorkel with Manta Rays in Kona if you want to learn more about this awesome experience.
2. See 'Akaka Falls
'Akaka Falls is easily the most famous waterfall on the island, and also very easy to reach. Plummeting 422 feet (129 meters), you can actually see this waterfall as you approach from the parking lot. You'll walk about half a mile if you decide to take the "recommended" path, passing by the less impressive Kahuna Falls en route.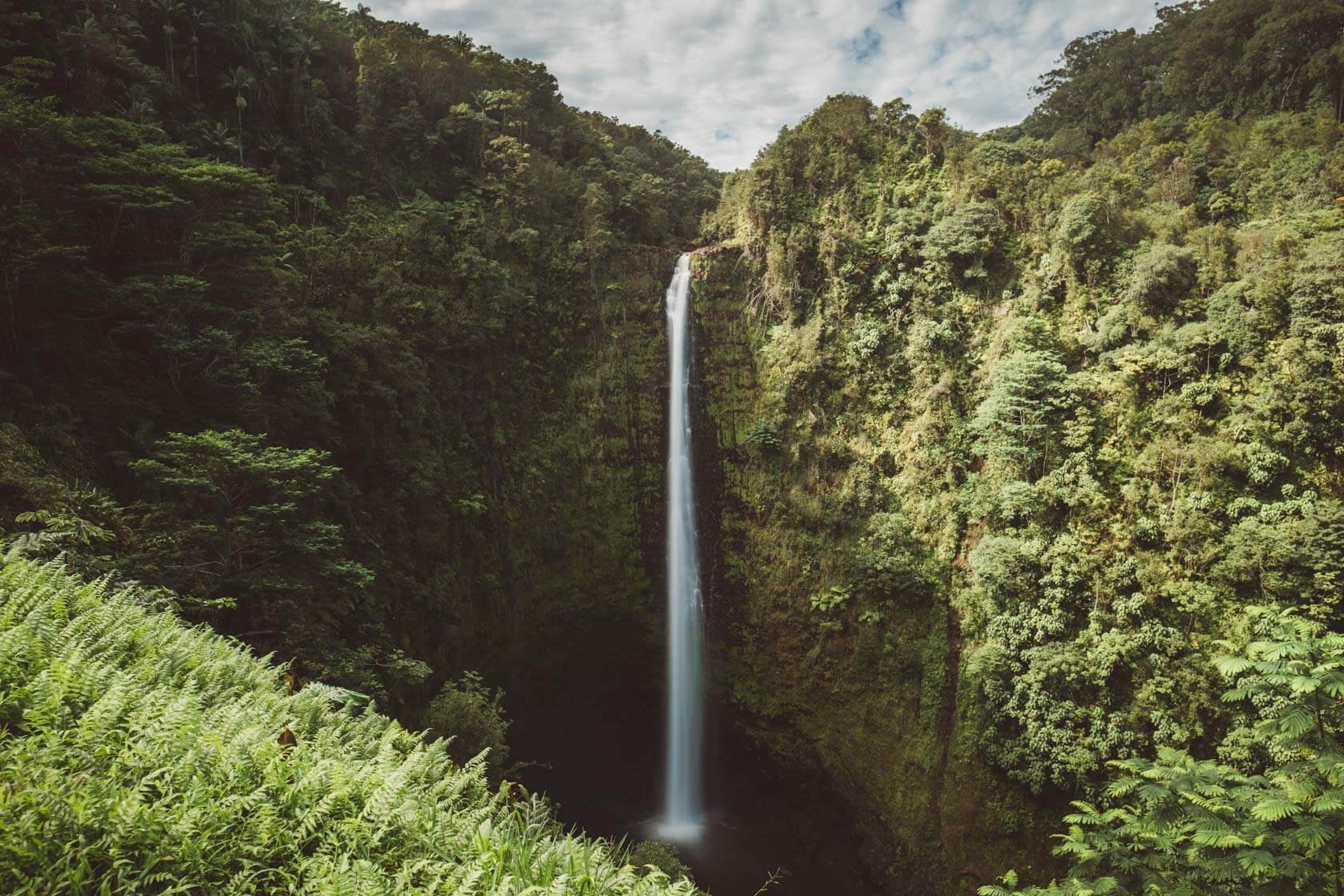 Visiting the park is free for residents of Hawaii, $5 per car, or $1 per pedestrian if you park a little further up the road. You can actually pay by card, but it'll be better if you bring a bit of cash.
Tip for photographers: In Winter, the sun never gets high enough to actually hit the waterfall itself. In Summer, you'll want to be there a bit after sunrise for the best lighting. We had the best weather in terms of cloud cover first thing in the morning, but there was better lighting just before noon.
While you're in the area, I can recommend another adventure activity…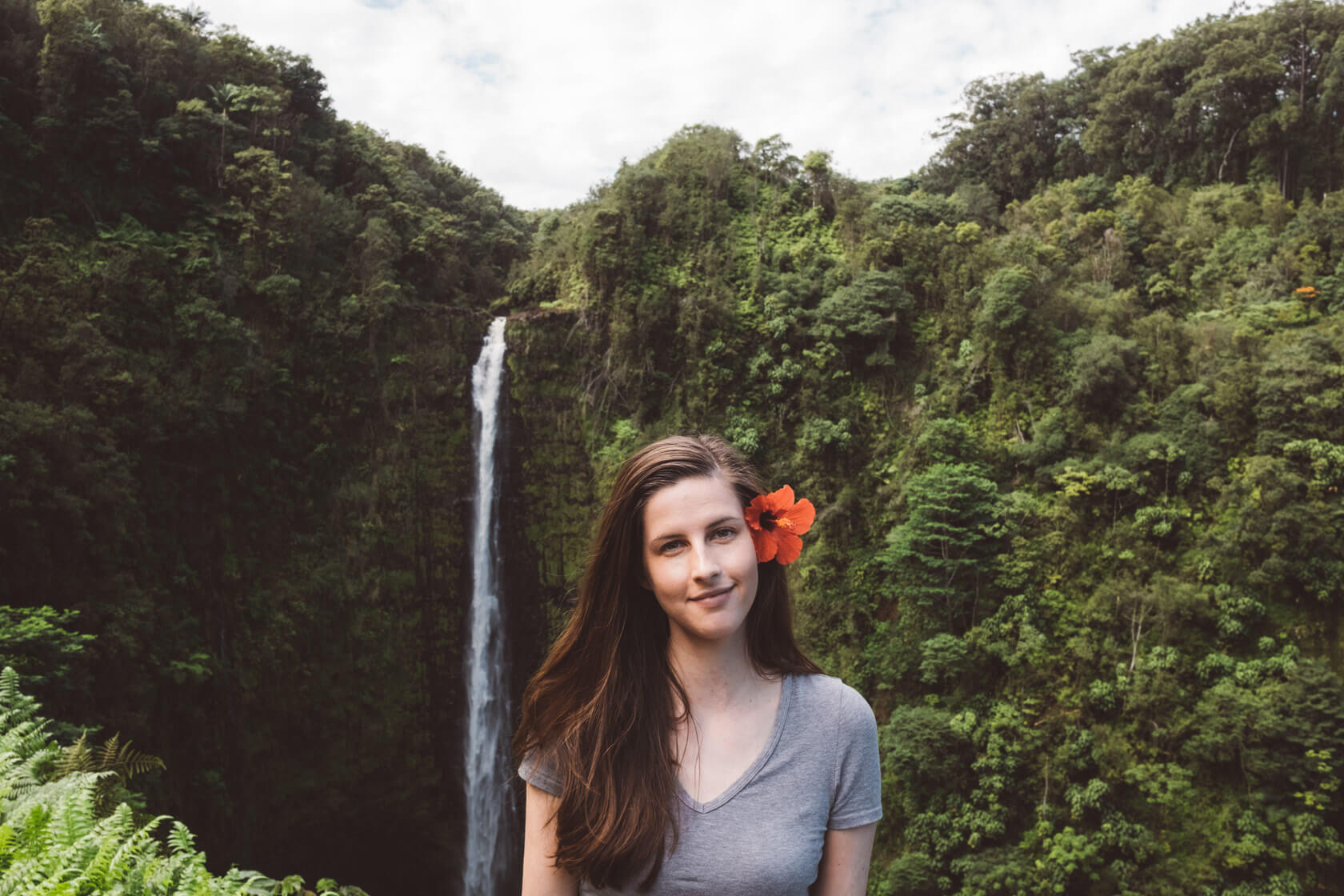 3. Zipline over a waterfall
I ziplined for the first time in Hawaii, and looking back I still cannot believe I did it. If you're not familiar with ziplining, you basically get attached to a pulley system and wizz through the air over interesting landscapes.
In our case, we ziplined over a massive canyon and waterfall. As someone who's a wee bit scared of heights, I only did it because I bought this activity as a gift for my boyfriend's birthday, and partly because he kept joking on other trips that I was too much of a wimp to try 😏
But it was. SO. MUCH. FUN.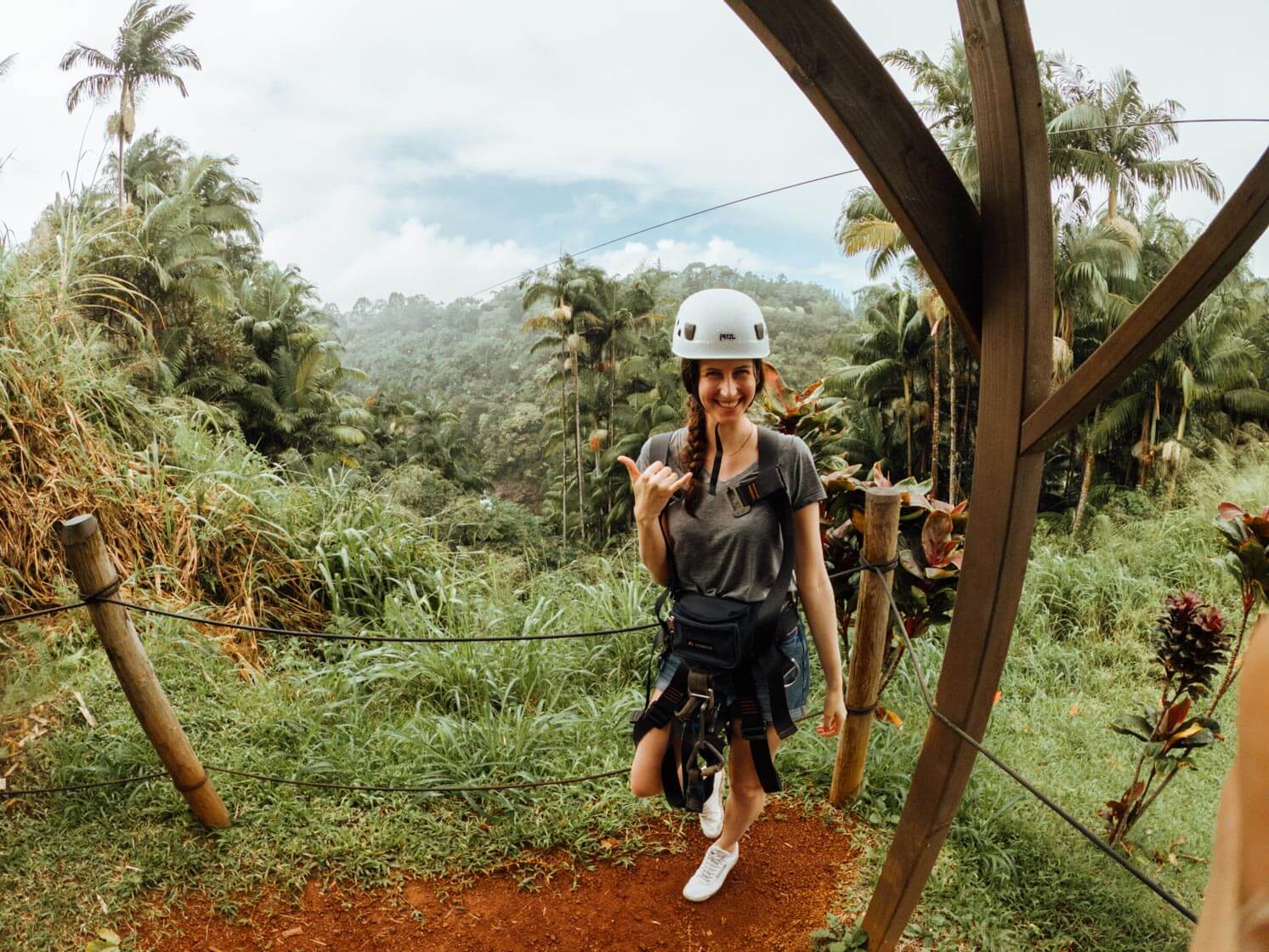 I highly recommend this particular zipline tour , which ziplines over Kolekole Falls , also known as "Little Akaka". The guides were super funny, knowledgable, and always made us feel safe. You start with smaller zips until you build up enough courage to go big 😉 There are 7 lines in total, and I really felt like we got our money's worth.
It's the perfect combination to do when you're visiting Akaka State Park (mentioned above) on the Hilo side of the island, as the two locations are right next to each other.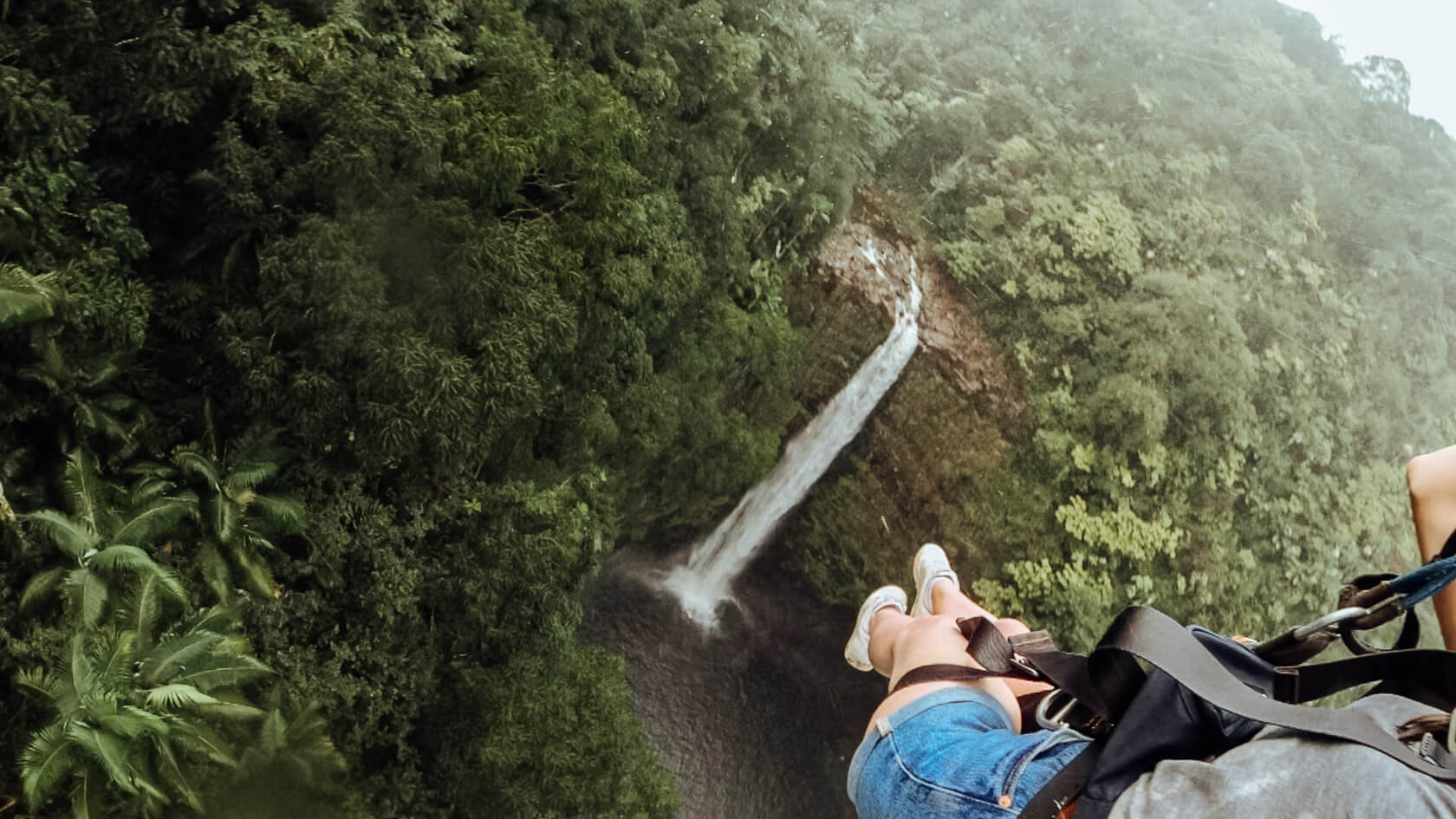 4. Go snorkeling at Captain Cook Monument
Hawaii is big on superlatives, and Captain Cook Monument is one of the best places to snorkel in North America. That includes other Hawaiian islands as well! Captain Cook Monument, which was built by the Hawaiians to honor Captain Cook, is located on the far end of Kealakekua Bay . There are a few ways to reach this prime snorkeling location:
Hiking – 3.8 miles (6.1 kilometers) round trip, with a 1,300ft (400m) elevation gain on your way back, in full Hawaiian sun.
Boat tour – Easiest way to get to the bay. Most last 3 hours to half a day, and include snacks, gear, and education!
Kayaking – Takes 15-30 minutes to reach the Monument, but be sure the kayak you rent has a valid permit 😉
You can guess which option we picked with our limited time in Kona…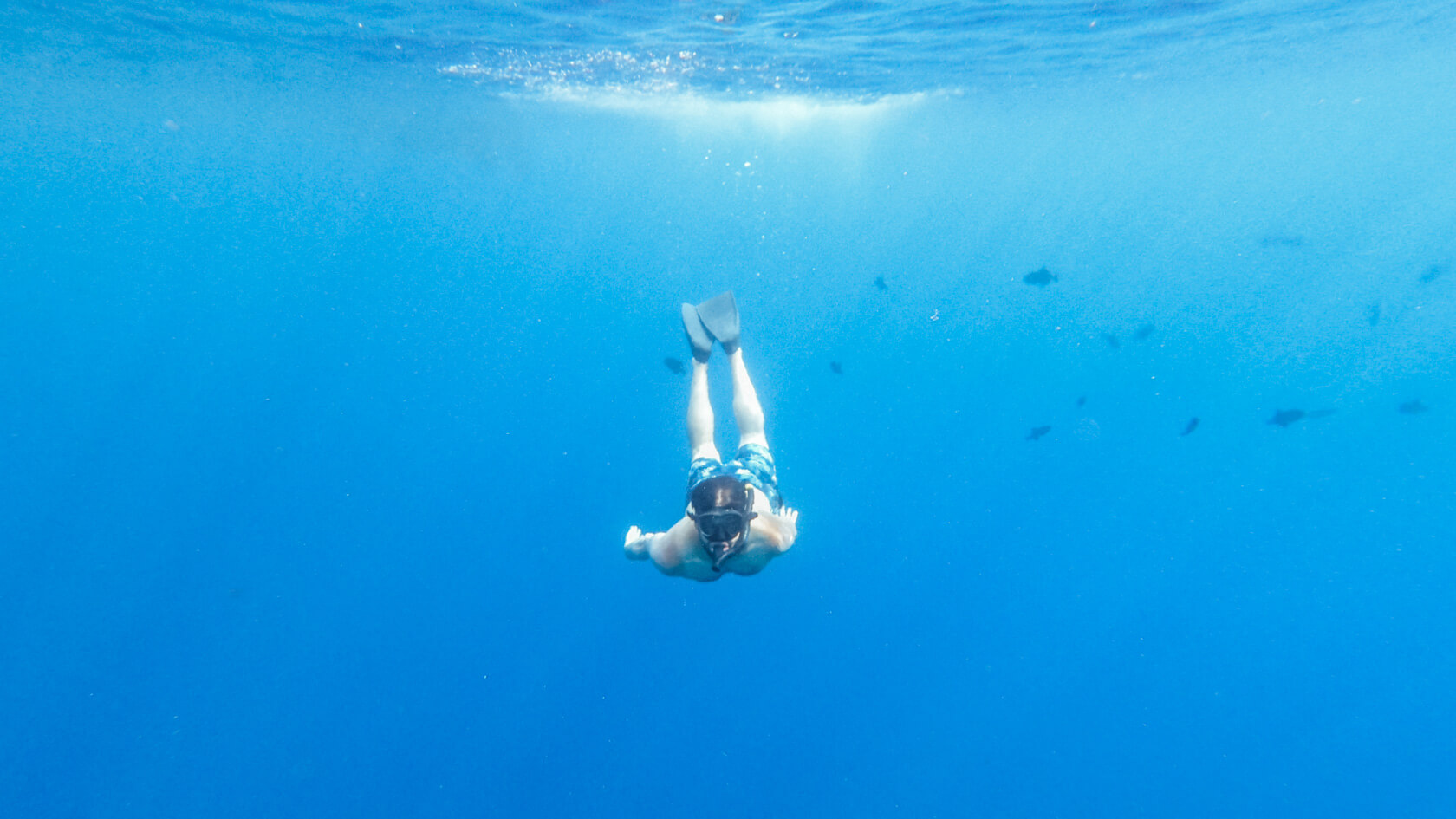 We took this afternoon snorkeling tour referred to as the "Captain Cook Express", which was a small group tour (just 6 of us!) for 3 hours. I loved how it was just a few of us, as it's always nice when there's just less people to organize yourself with.
The Captain was awesome, and she explained to us all about the history of the area, both in terms of civilization and geology. I also thought it was awesome that they had prescription goggles available, which is so cool for those of us who wear glasses! You can obviously also bring your own gear if you own prescription googles already.
Another great option is to book a morning snorkeling tour with them too, and is probably the option we would've picked if we had been staying in Kona. Morning is the best time to see dolphins because they're usually napping in the afternoon!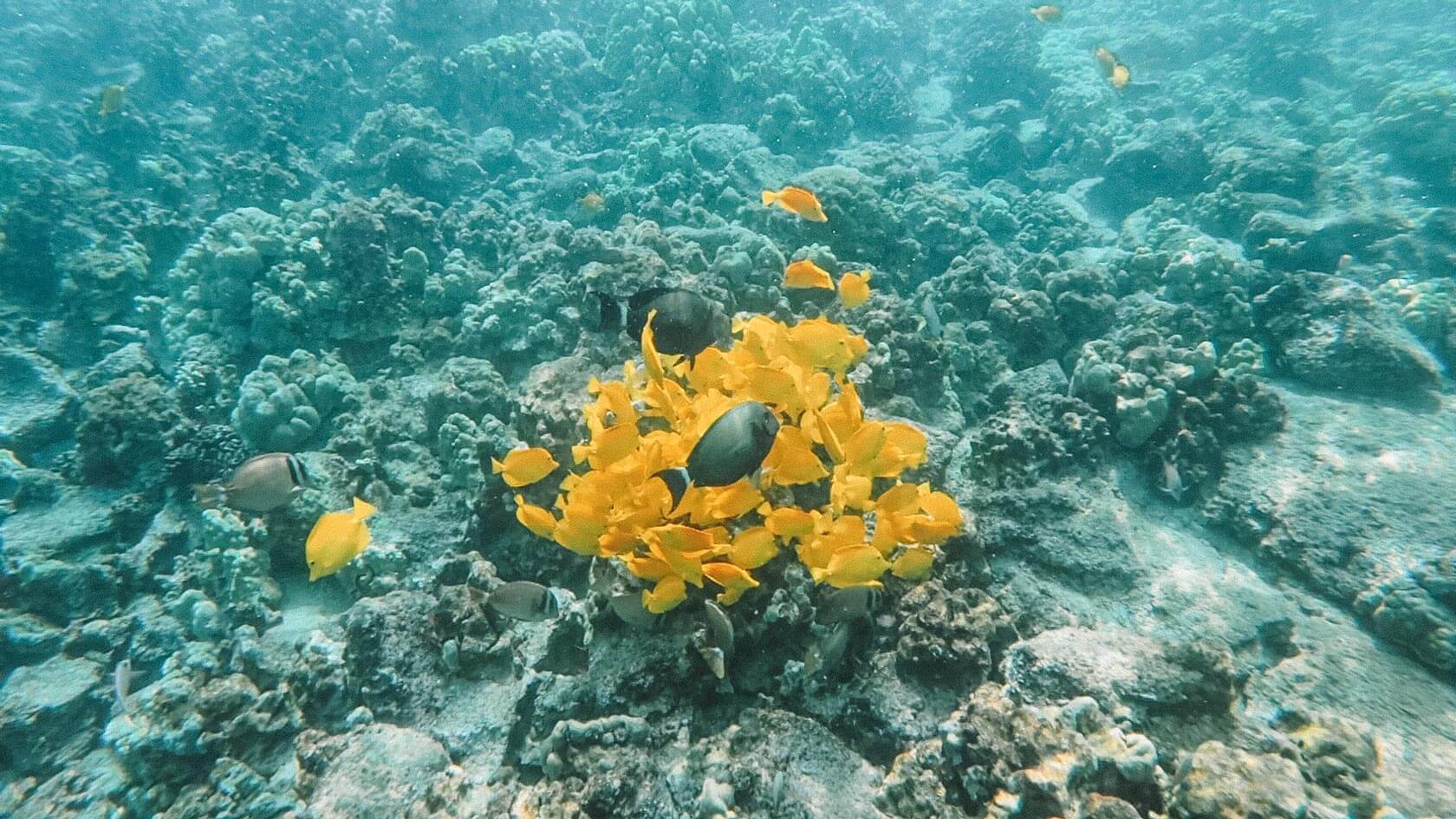 In general, the company we booked with has several kinds of snorkeling tours, all competitively priced. In fact they're among the best-rated boat tour providers on the entire Big Island with tons of 5-star reviews .
They are also a certified operator by the Sustainable Tourism Association of Hawai'i, which you can learn more about here 😄
Click here to check availability for snorkeling tours at Captain Cook monument. I highly recommend booking in advance. We got lucky just to find ONE operator with an afternoon slot for us on the same day, but literally everything else was booked!
5. Go whale watching in Winter
Did you know that Humpback whales from all over the Pacific ocean migrate to Hawaii for the Winter? Between December and mid-April (with the best viewing starting in January), whale watching is one of the most unique things that you can only do during Winter in Hawaii. You also have the chance of seeing dolphins if you go in the morning!
Here are a few of the best-rated whale-watching boat tours you can take from Kona, Hawaii for an up-close experience with these gentle giants (sorted by customer rating):
2.5 hours: Kailua-Kona Whale Watching Cruise – 2.5 hour cruise. Departs from Honokohau Harbor (3.5 miles north of Kona). You have a live tour guide, snacks and beverages, and you get a special device to listen to the whales sing!


1.5 hours: Kona Whale-watching Cruise – 1.5 hour cruise. Complementary drinks, and offers one free re-try if you don't see whales on your cruise. Departs from Kawaihae Harbor, which is further up the coast (44 miles from Kona, 45 minute drive).


1.5 hours: Kona Whale-watching Cruise – 1.5 hour cruise. Departs from Anaehoomalu Bay (25 miles from Kona, 35 minute drive). Complementary drinks are included.
6. Visit the Hawaii Volcanoes National Park
Until the erruption in 2018, the Big Island of Hawaii was one of the few places where you could observe molten lava as a tourist. Today, the lava flows have solidified after the massive erruption of Kilauea. Visiting the Hawaii Volcanoes National Park is an incredible opportunity to see the impact of a large scale volcanic erruption on the island.
Until Kilauea's erruption, it was emitting over 40,000 cargo trucks-worth of lava EVERY SINGLE DAY. Forty thousand. Daily!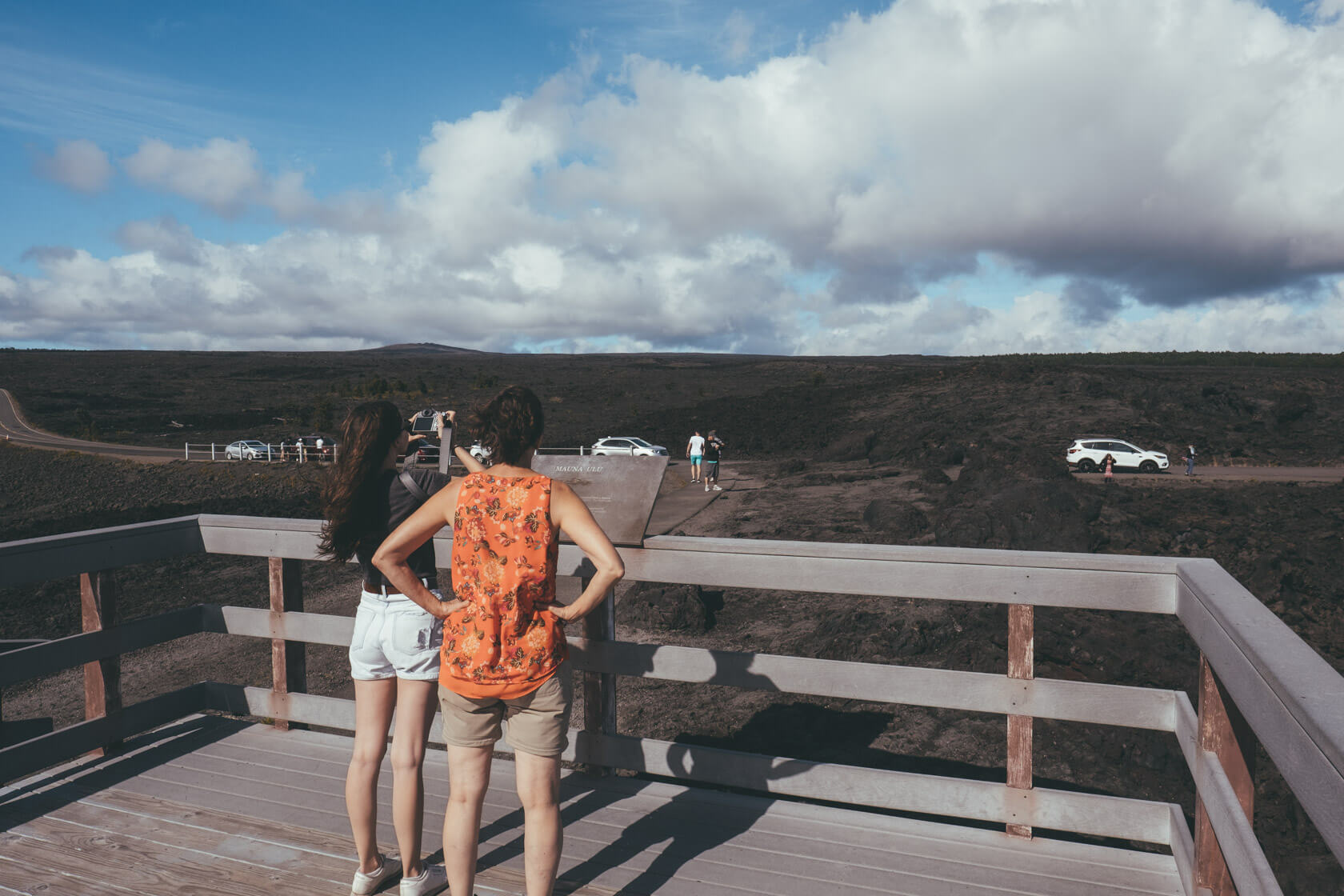 Tragically, with the erruption, has destabilized the area that the Jagger Museum is located on, and it's been closed indefinitely. But you can still hike the Kilauea Iki Crater, one of the best hikes on the Big Island . You can also still drive most of the Chain of Craters Road, a road that leads you to the sea along craters and cleared fields of lava. The scale is unreal!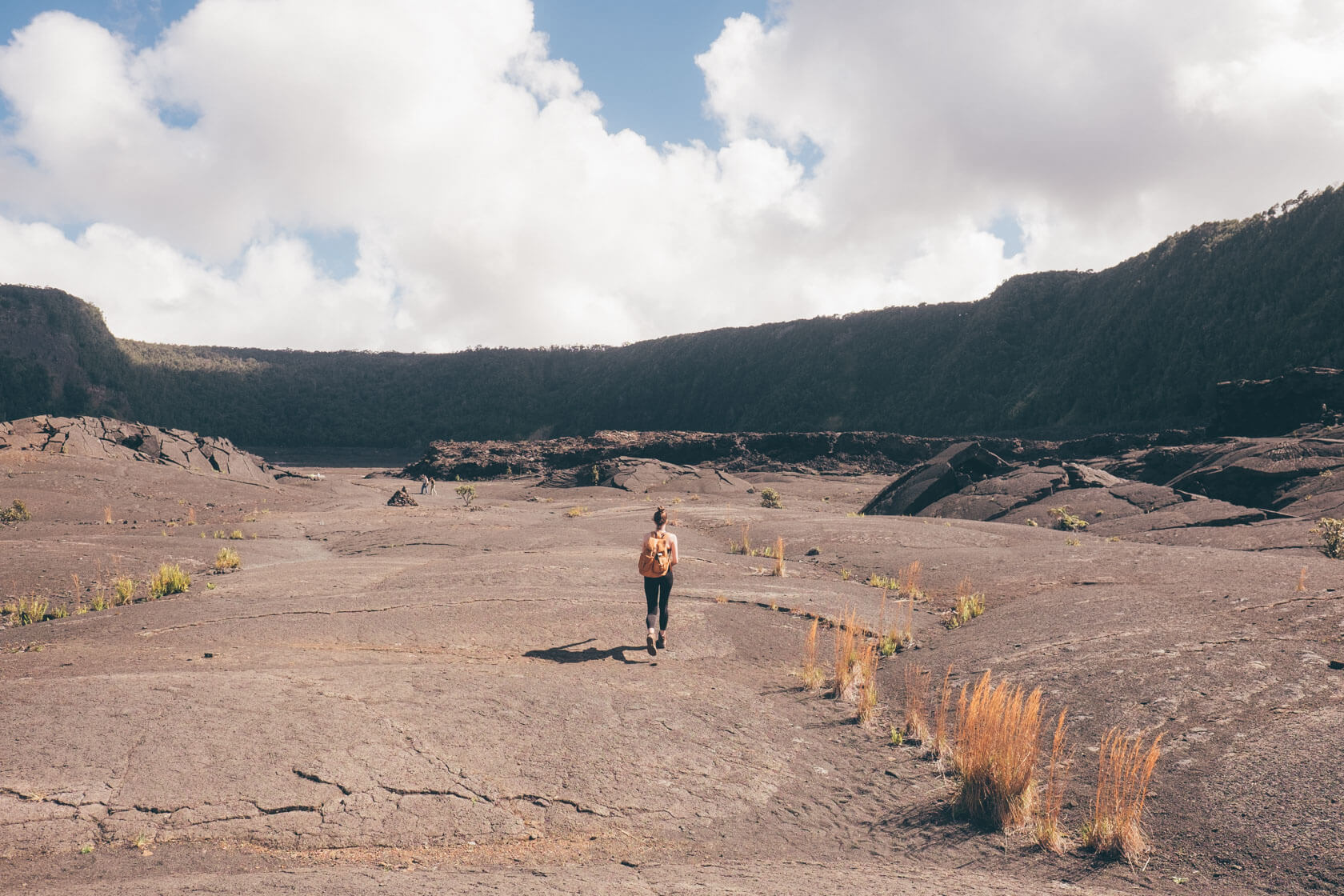 7. Tour the Hawaii Tropical Botanical Gardens
While you're on the Hilo side, don't miss visiting the Hawaii Tropical Botanical Gardens . These gardens started as private property, a stretch of land that reaches all the way to the ocean, and hosts a broad array of orchids, tropical trees, plants, and flowers, even its own waterfall. You'll see plants that make it look like you're back in prehistoric times, chillin' with the dinosaurs!
Admission is $18 for adults, and children between the ages of 6-16 are $5. Children below the age of 6 are free. Just make sure you get to the park a bit early, because it closes at 4pm!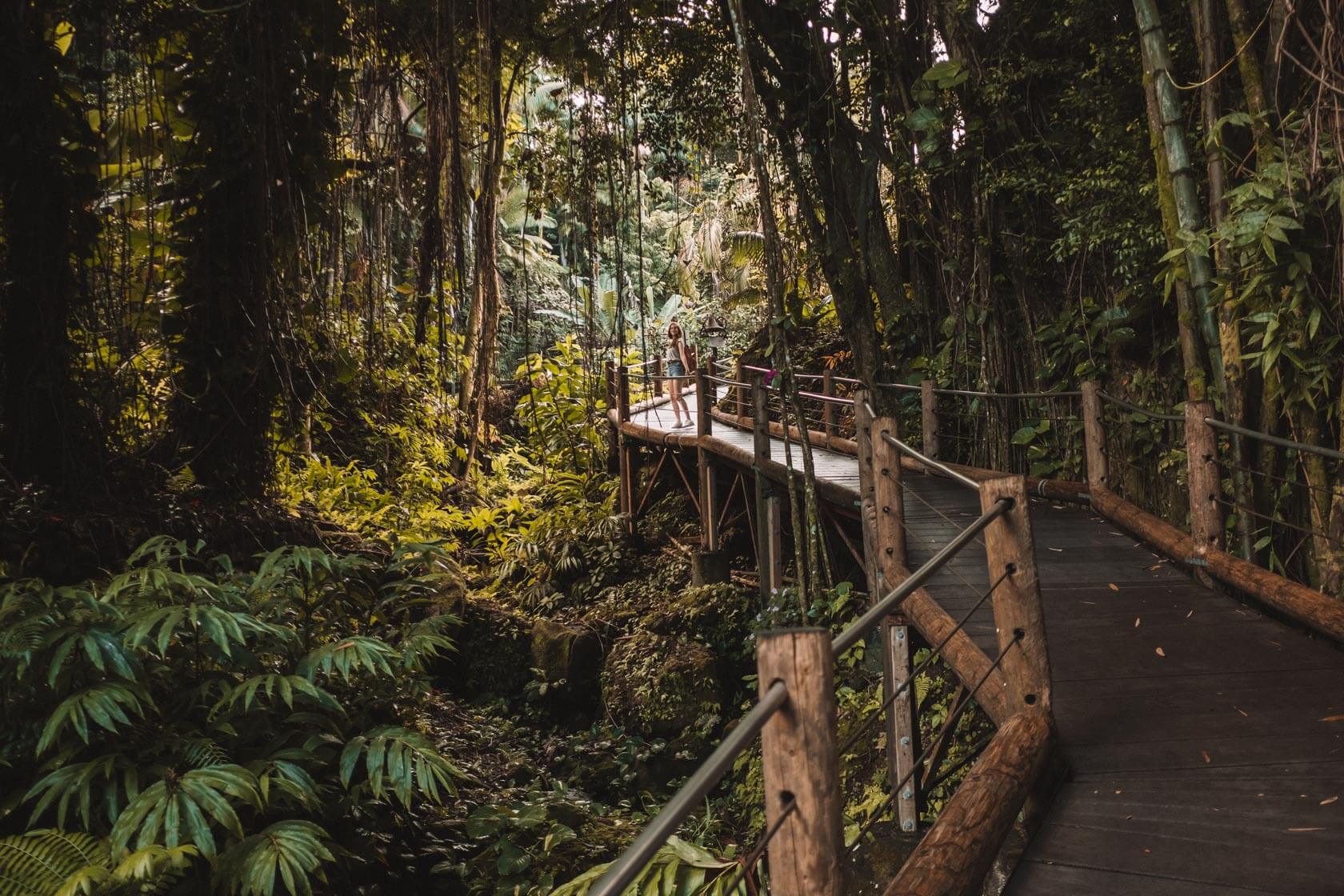 Note: If you use a wheelchair, you can get a ride around in a golf cart for a $5 fee. You won't be able to wheelchair around yourself.
8. Visit Waipi'o Valley
When we tried to swap in our rental car for a 4-wheel drive, the people at the rental agency told us that they'd already lost two cars in Waipi'o Valley that day 😱 A lot of people do drive down, but you should be an experienced driver if you plan to do it.
Besides being famous for its incredibly steep roads, Waipi'o Valley is known for its Taro fields and black sand beach. On your way down, you'll find numerous waterfalls, including one of the Big Island's tallest waterfalls, Hi'ilawe waterfall.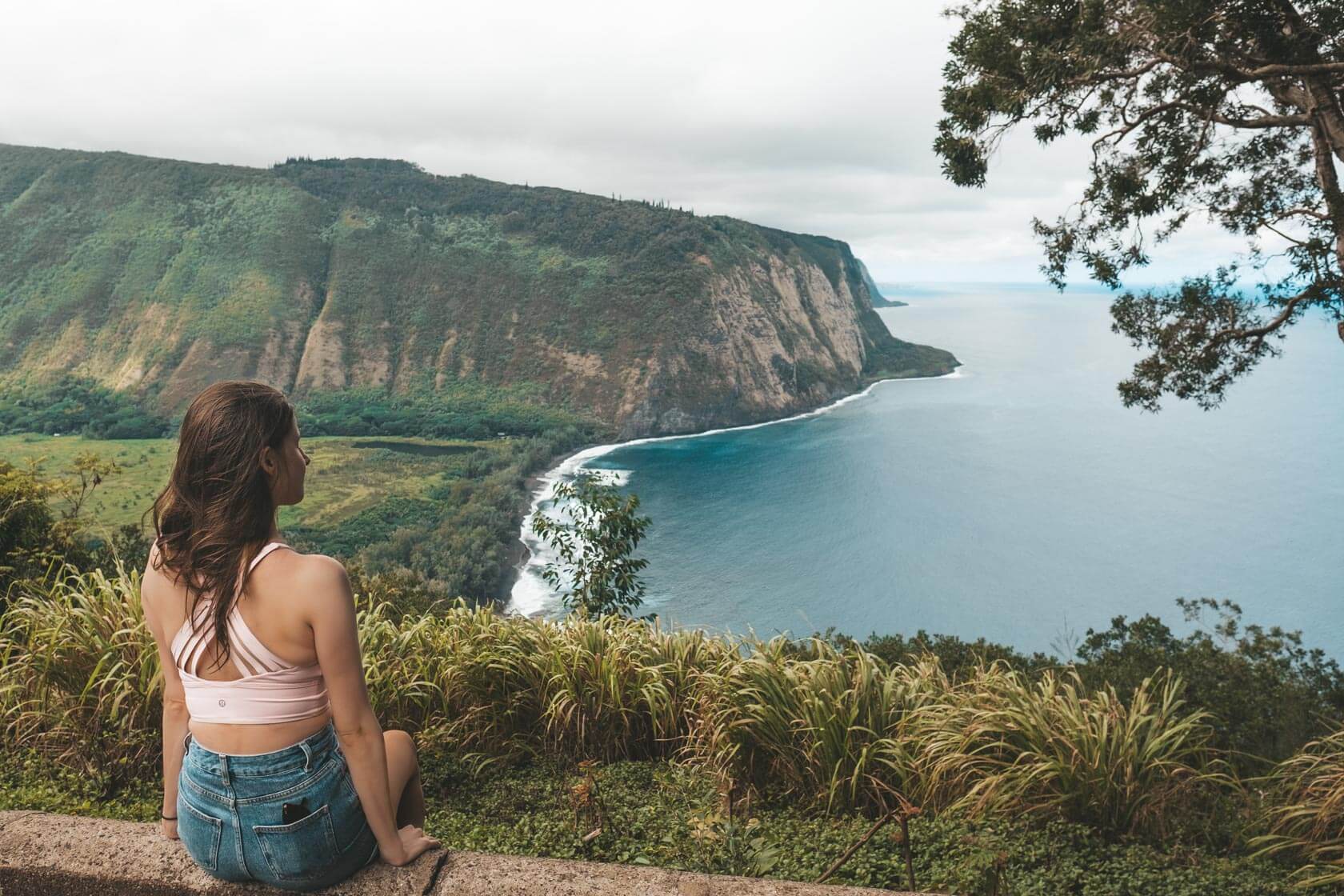 As you drive down the road, you might find some cars that didn't quite make it! 😁 If you're intimidated by the drive, or don't have a 4WD car, you can take a Waipi'o Valley waterfall tour which includes a shuttle to the bottom. It's a full-day tour of the Hilo side, meant to be taken from Kona.
Even if you don't drive to the bottom, you can visit the Waipi'o Valley Lookout . It's easy to reach and you don't risk losing your car 😉
9. See turtles at the Black Sand Beach
Punalu'u beach is the most famous black sand beach on the Big Island. Here you can see the Honu, the green sea turtle that's most common in Hawaii. They shimmy up on the beach and bask in the sun, making it the easiest place to see turtles in Hawaii.
There are a number of other black sand beaches on Hawaii though, so keep reading for tips on visiting those 😉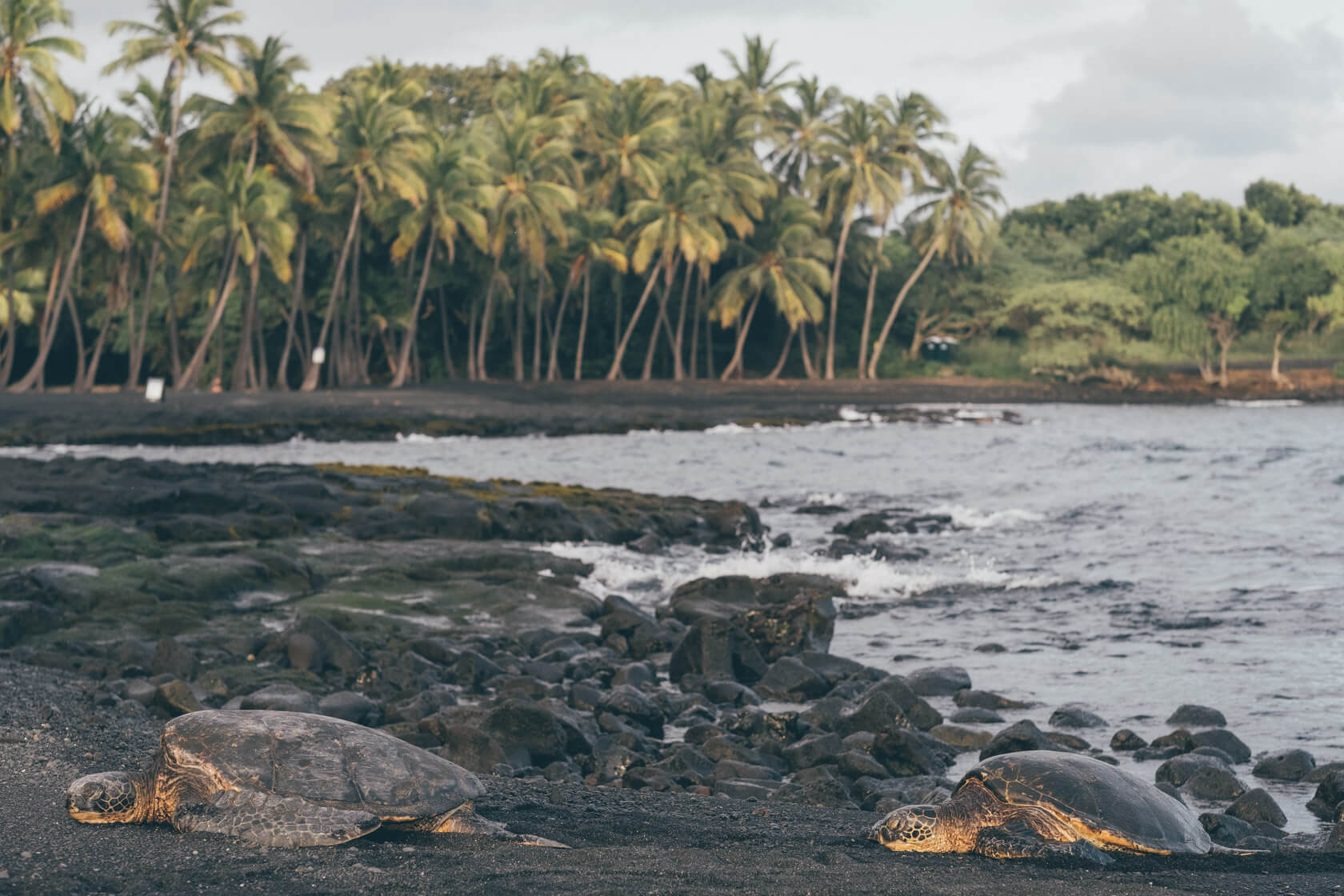 10. Hike to the black sand beach in Pololu Valley
Pololu Valley is the best easy hike on the Big Island, so long as your knees are in good shape and you can handle some quasi-stairs. At the bottom of Pololu Valley is a black sand beach and valley. For picture opportunities, the best photos come from half-way down the hike and is easily accessible. The hike is also not too crowded, even during the high season of December!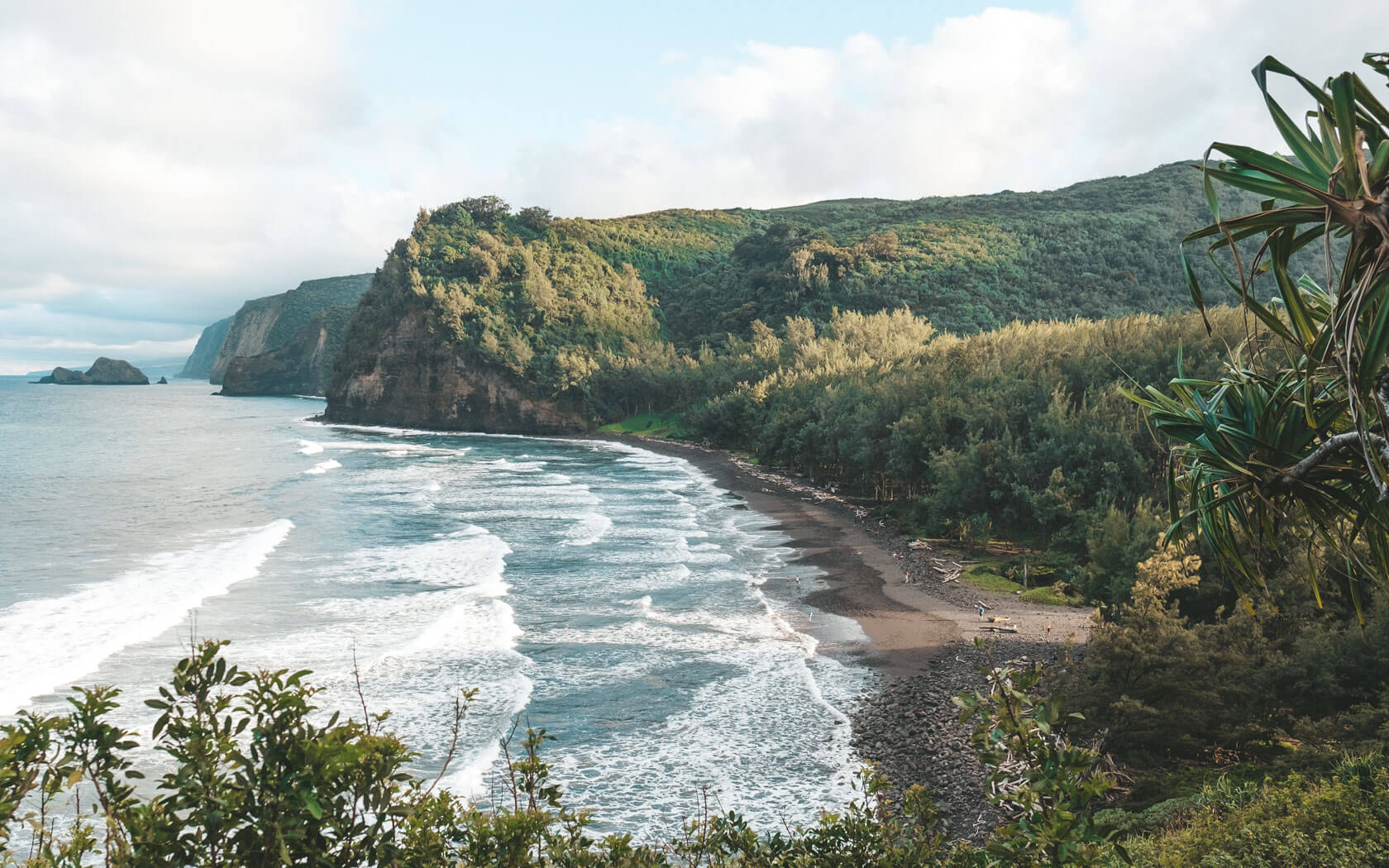 11. See a hula performance
Hula no longer needs to mean busty women in coconut bras. You can see authentic hula performances that focus on storytelling in a unique and beautiful way, often with students from hula schools in Hawaii. The stories are told in the Hawaiian language, and usually with intercalary narration by the storyteller. Definitely a must-do activity, just make sure you look for a hula experience that doesn't offer a shuttle from your hotel 😉 We saw one at Huggo's On the Rocks by chance and loved it!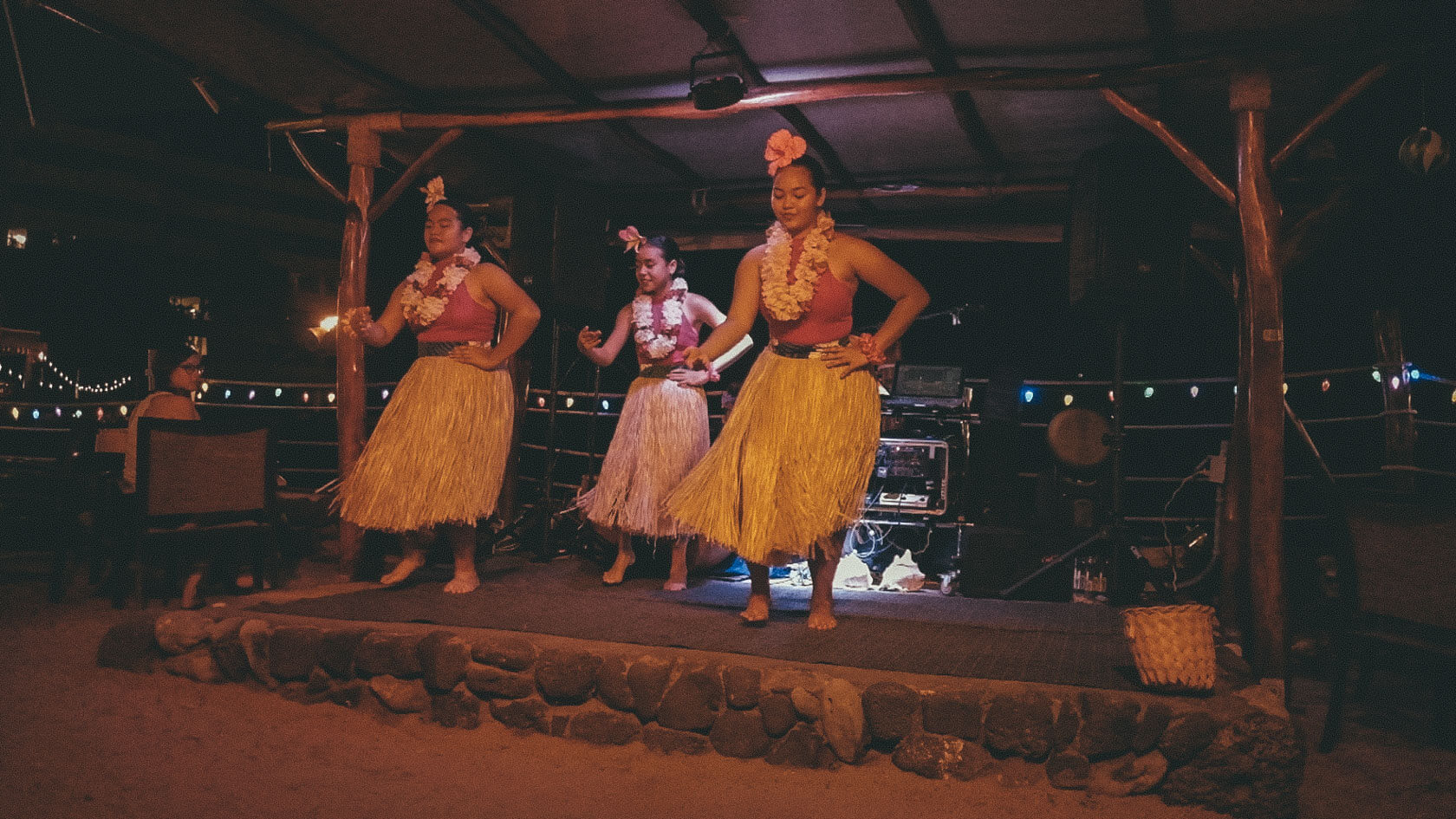 12. Eat some Hawaiian Poke
Can you even go to Hawaii without having yourself a bowl of Poke? If you've not tried it yet, poke is essentially a bowl with rice, diced raw fish, accompanied by fresh onion and soy sauce, and other side dishes. It's right next to pineapple and spam when it comes to being iconic for Hawaii 😉
I can definitely recommend Umeke's in Kona for poke, the portions are massive and the food is delicious! They have two locations, one which is a full restaurant, another one is for take-away and lunch.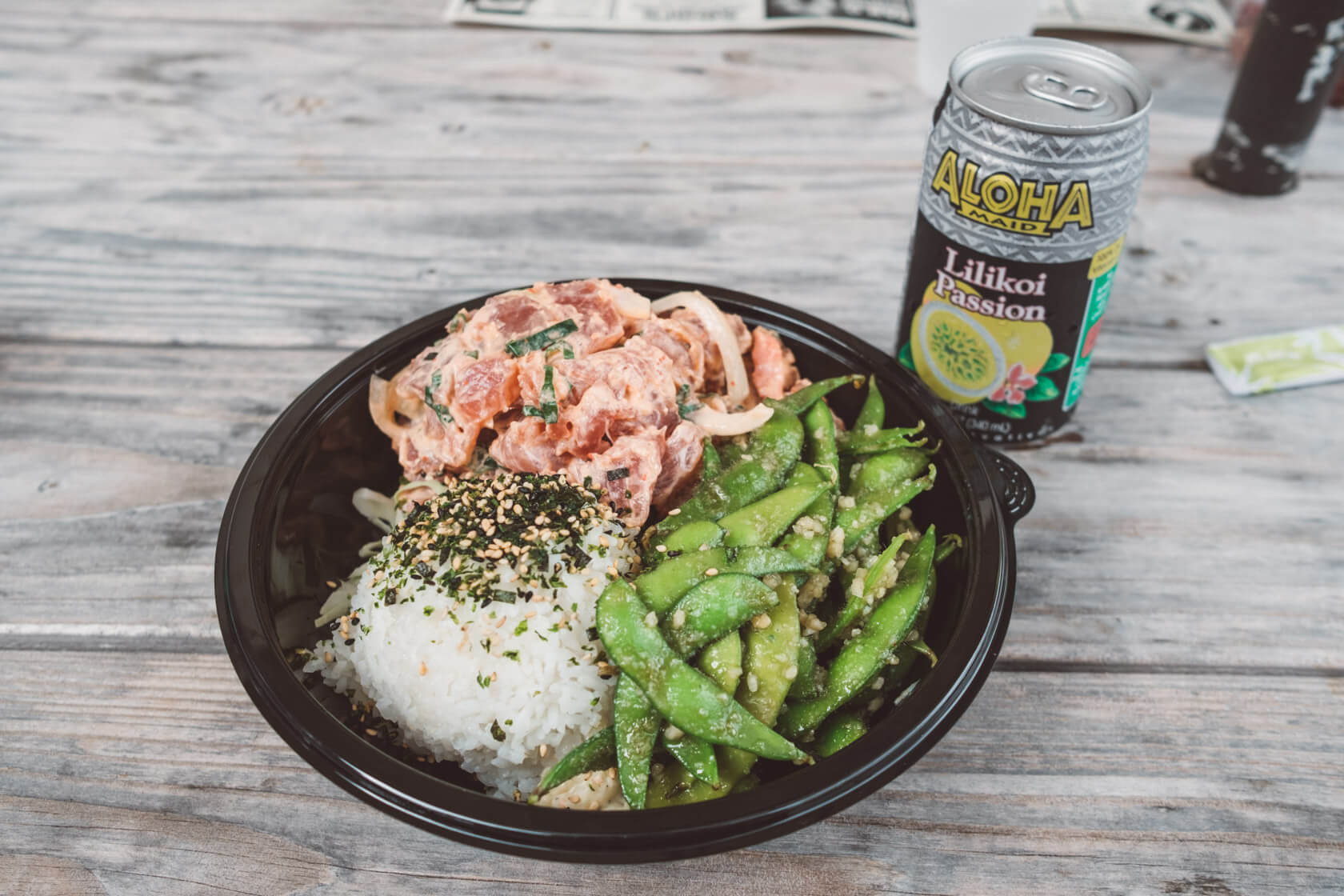 13. See Rainbow Falls
Rainbow Falls are probably the number two waterfalls you have to see while you're visiting Hawaii, after Akaka Falls. The special thing about Rainbow Falls is that if you visit in the morning, you might get to see a rainbow reflected in the waterfall! If you're planning a day of chasing waterfalls in Hilo, I highly recommend starting at Rainbow Falls and then continuing to Akaka, depending on the season.
Rainbow Falls can get pretty crowded with visitors, especially if it's during a time where a cruise ship is docked. So make sure you show up early! Because Rainbow Falls is super easy to reach straight from the parking lot.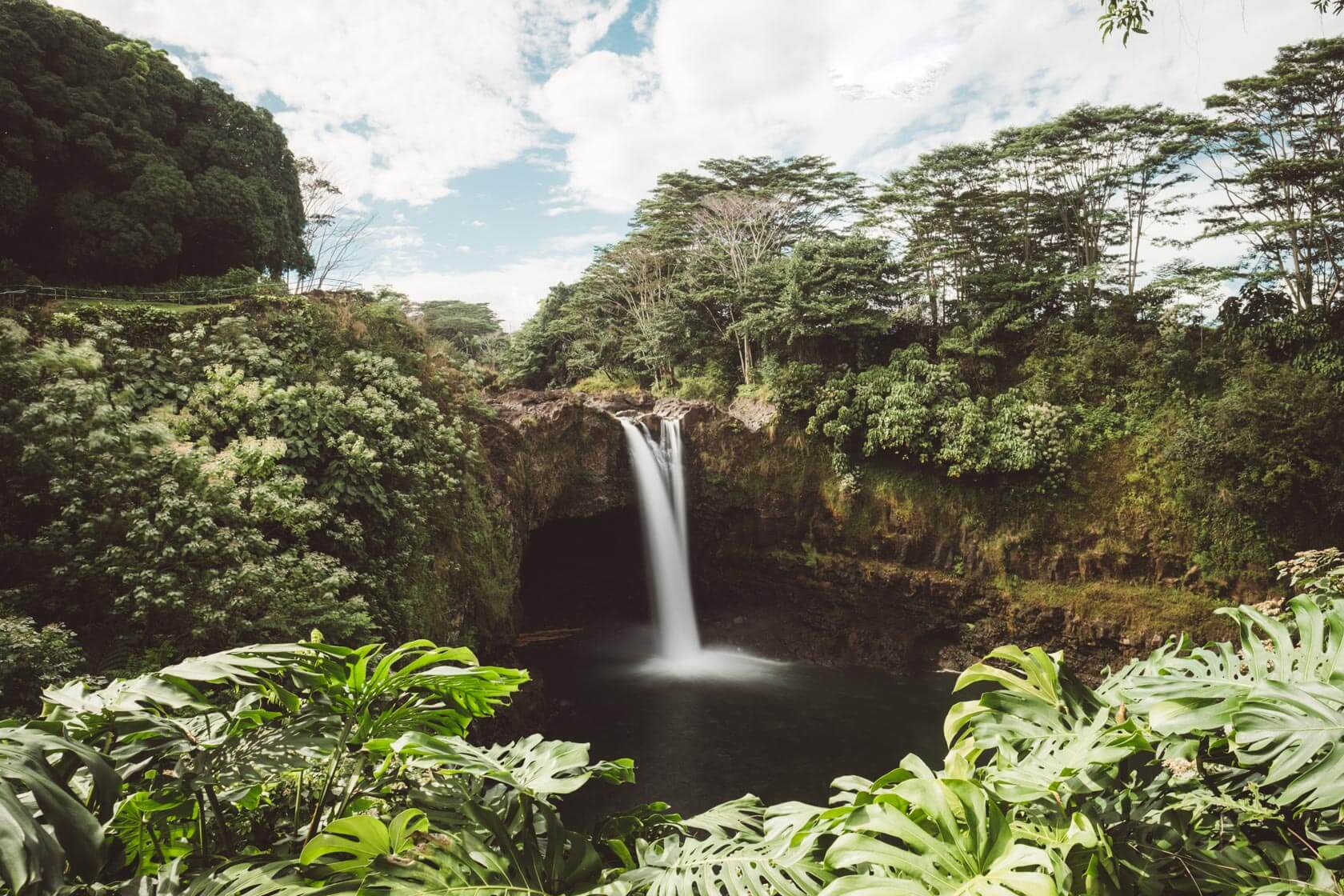 14. Drive around Hilo's scenic forest roads
While the Kona side of the island is one of the most popular places to stay, if you spend a few days on the Hilo side, you're bound to find yourself in the middle of the jungle! There are a number of stunning scenic drives you can do around Hilo, such as the Kalapana - Kapoho Road and Beach Drive.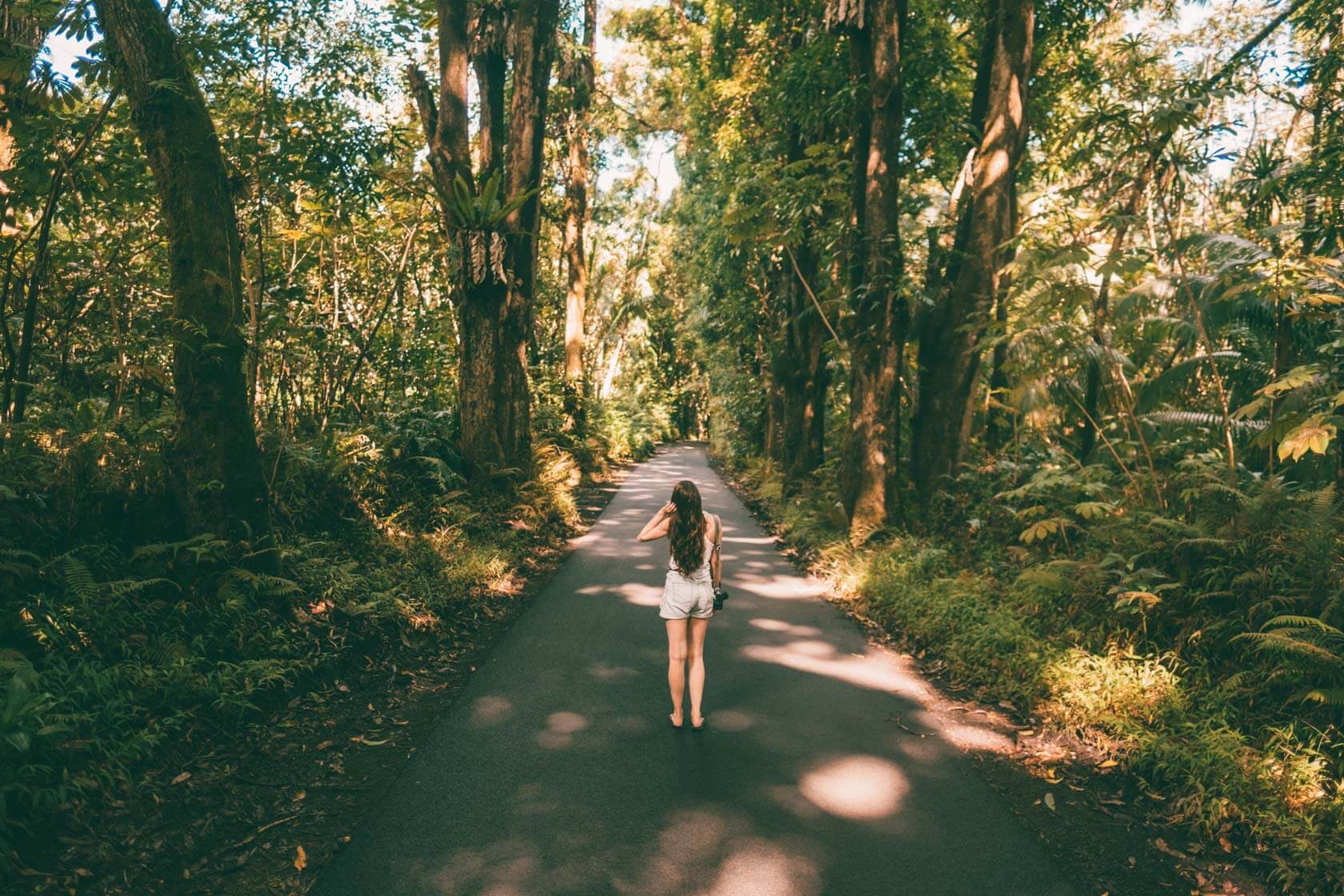 15. Hike to the Green Sand Beach at South Point
There are only a handful of green sand beaches in the world, and Papakōlea beach is one of them. The sand on this beach gets its green sand thanks to a common mineral in the lava on Hawaii, called olivine. It stays on the beach because it's heavier than other elements found in the lava.
While swimming isn't recommended at this beach, you can hike there but do be aware that the hike is in full sun and it's quite steep to get down to the beach. Be sure you wear proper shoes, and don't take sand from the beach – it's illegal!
16. Learn how to scuba dive
Even if you've never been scuba diving before, you can get scuba certified in Hawaii. Or, if you're a more experienced divers, there are really unique experiences to have, such as diving with Manta Rays instead of just snorkeling. The most popular places to learn how to scuba dive are on the Kona side of the island, because that's where the water is the calmest.
Most places you can scuba dive will rent you everything you need on the spot. Some of the things you might want to bring along with you, according to your preferences, include things like your own wetsuit , your own mask , and smaller accessories like these great air-integrated dive computers . Bigger or bulkier accessories like fins are probably best rented at the scuba shop itself.
17. Explore the Kaumana Caves
The Kaumana Caves were formed by a lava tube that stretches for kilometers below the earth. If you're not familiar with lava tubes, what happens during a volcanic erruption is that lava doesn't just come out of the top of the volcano – it also comes out in totally random places in tubes sourced from the molten lava under the ground.
So when you're exploring the Kaumana Caves, you're actually walking through a place where lava used to gush out in massive amounts.
Today, the Kaumana Caves are damp and get dark very quickly. If you love exploring caves, make sure to bring a headlamp because the light on your phone is too weak to provide much help.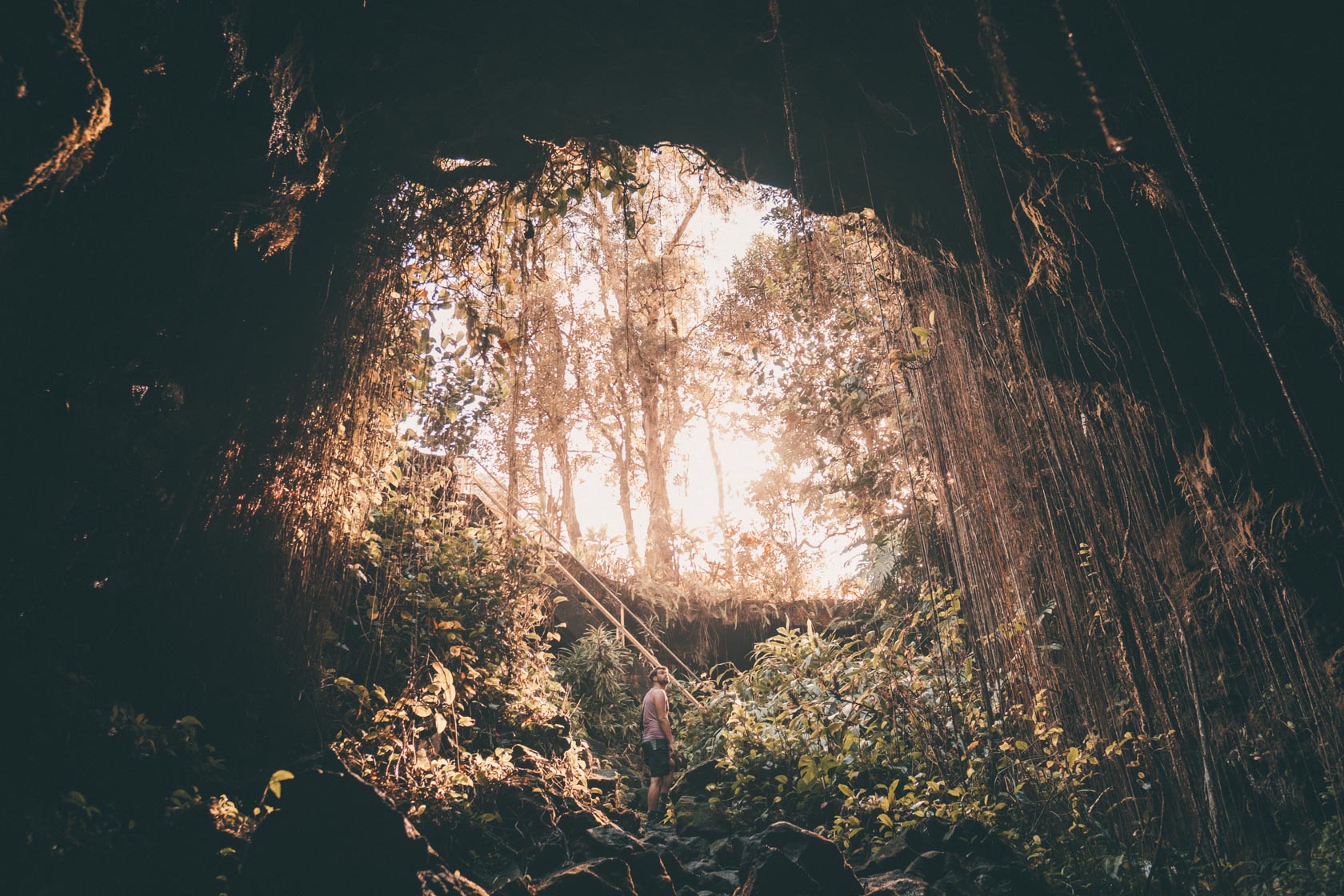 18. Try Kona Coffee
Did you know that Hawaii is the only place in the United States where coffee is grown? That's part of why Kona Coffee is so famous, and if you're on the Kona side of the island, you can visit a coffee plantation and learn all about how the coffee is grown.
19. Go for a Mai Tai
When you visit Hawaii, you won't find a restaurant that doesn't offer the venerable Mai Tai. Usually accompanied by a fresh slice of pineapple, the Mai Tai contains rum, grenadine, lime juice and possibly spearmint. It's ultra refreshing and can be drunk en mass if you're determined.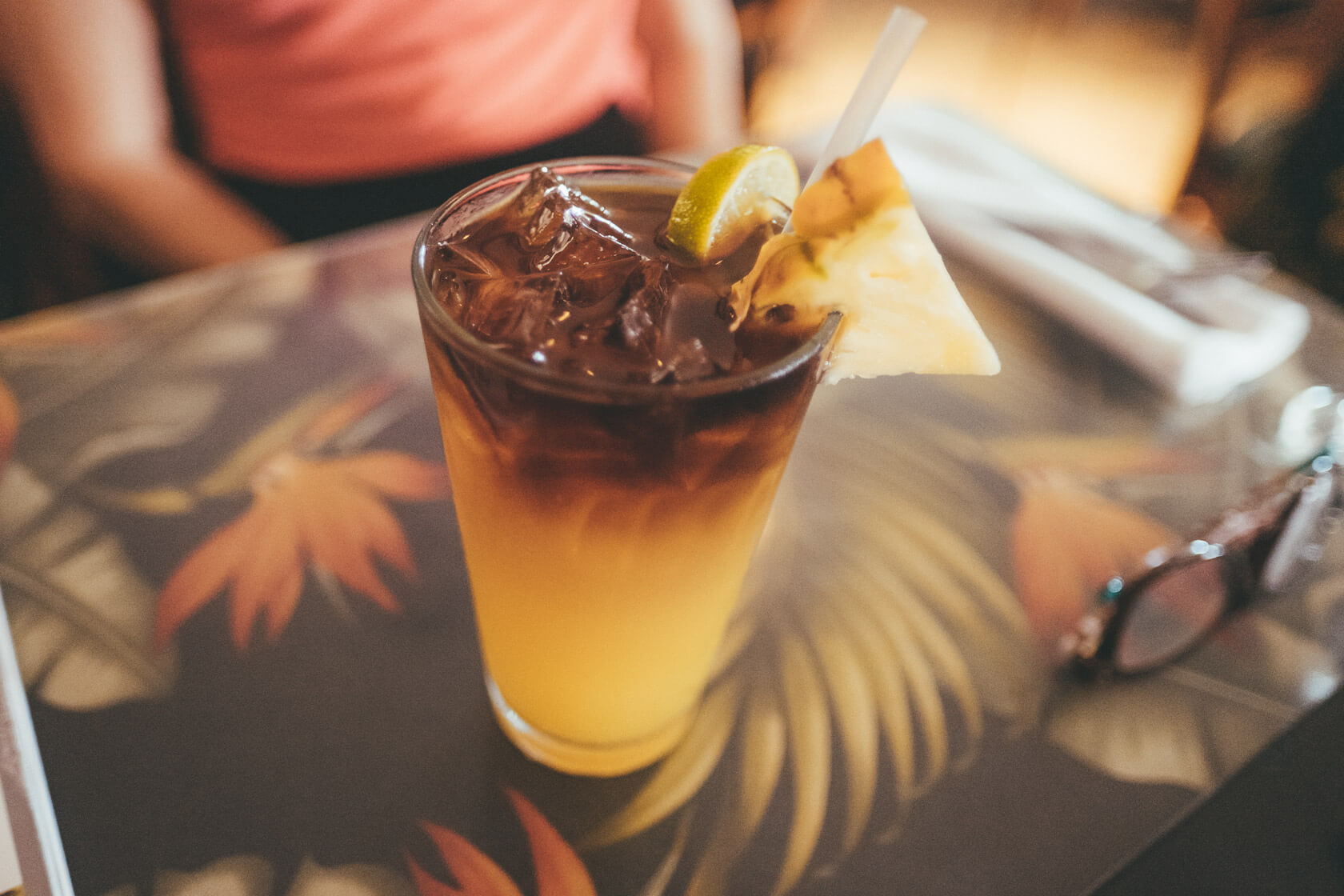 20. Check out the funky hippie town of Pahoa
Pahoa is a funky little hippie town on the Hilo side of the island. Many of the shops and residents have come to Hawaii from all over the world to live a more relaxed lifestyle as part of the local community. One of the highlights of the main street in town is Pele's Kitchen , which has killer breakfast burritos and local fruit plates full of things you've probably never seen before. There's also regularly live music as some of the local bars, and music out on the street.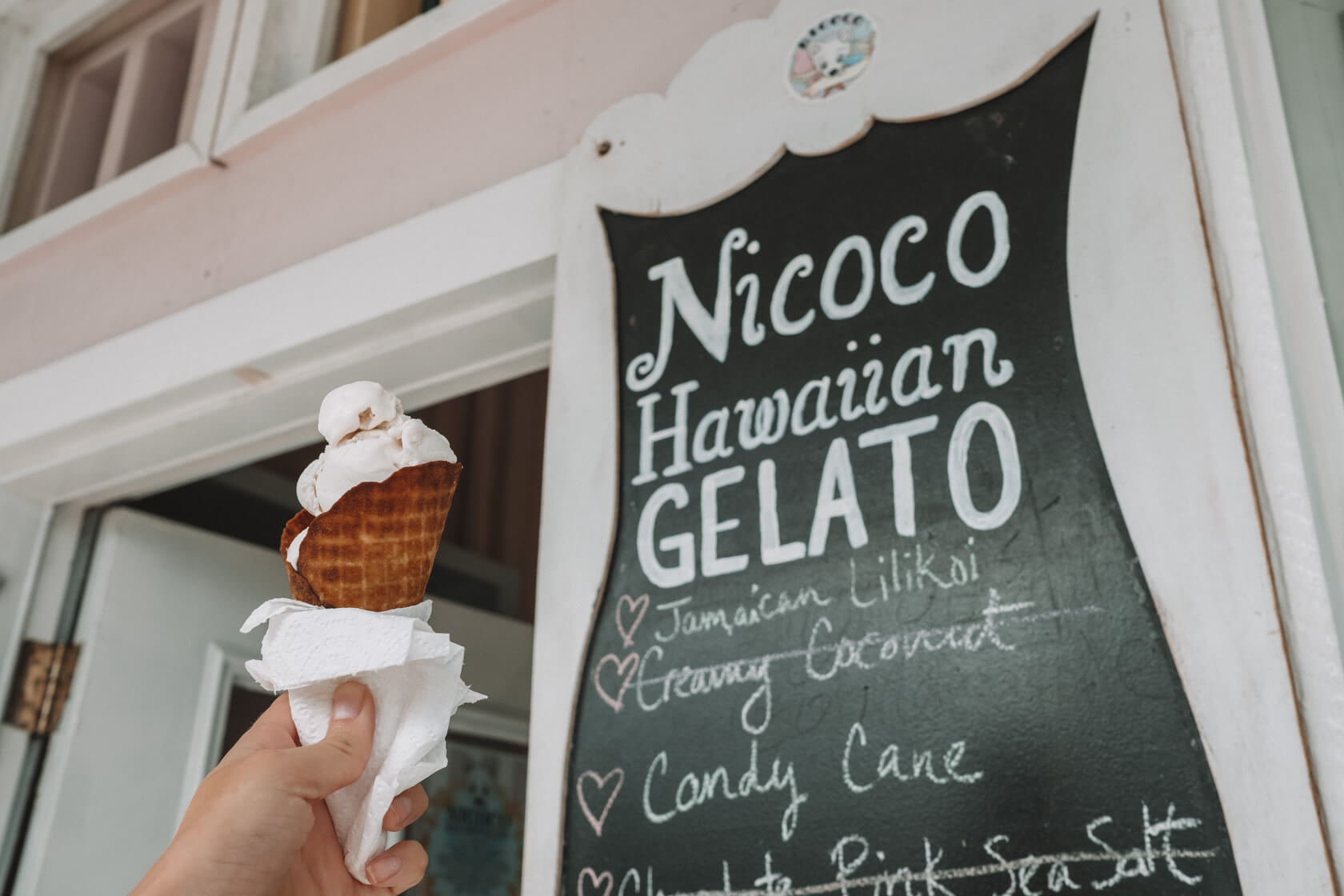 Nicoco's Hawaiian Gelato is the first vegan gelato spot on the island, and has a location in Pahoa as well as down at Uncle Robert's, a popular location for locals to listen to music on Wednesdays.
21. Try traditional Kalua pig
If you're planning to attend a luau, one of the foods you're most likely to try is Kalua Pig. You can also find it at almost any Hawaiian restaurant, whether that's on top of your nachos or as part of a proper Hawaiian BBQ. If you eat meat and pork, this is one dish you need to put on your list.
22. Take a scenic drive up the Hamakua coast
On the Hilo side of the island, the Hamakua coast stretches all the way from Hilo up to Waimea. It goes past Waipi'o Valley, and you'll have the chance to see numerous tiny waterfalls and streams along the coastline as you make your way to the pastures of Waimea.
The drive takes longer than you might think, because the road is windy and the people in Hawaii prefer to drive under the speed limit. That's why you'll find signs along the main highway that state the minimum speed limit rather than the maximum 😏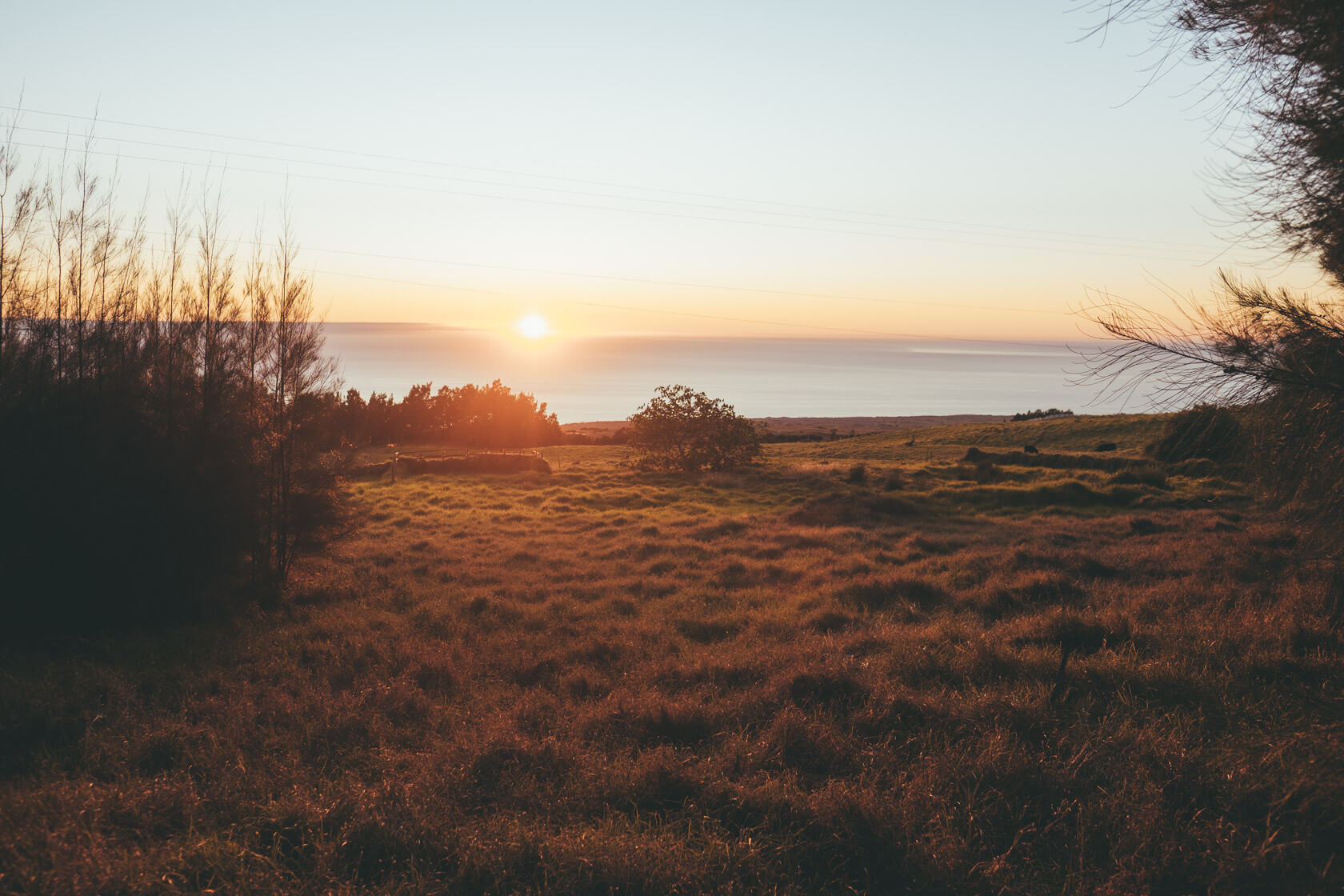 23. Spend a day in Kona
Kona is easily the most touristed spot on the Big Island of Hawaii for a couple of reasons: first, it's the closest area to the airport and more populated than it's sister city of Hilo. Second, it's on the "dry side" of the island, meaning that you're going to have sunshine pretty much the entire time you're there. Most of the rain on the island gets trapped on the Hilo side on the east side, and doesn't make it over the mountainous region in the middle where Mauna Kea and Mauna Loa are.
Kona itself is pretty touristy and might remind you of Southern California, with a multitude of surf shops and places to buy sunglasses. If you want to go shopping, Kona is the place to do it. It's also the starting location for a number of activities, you can also come here to pick up a kayak or snorkeling gear.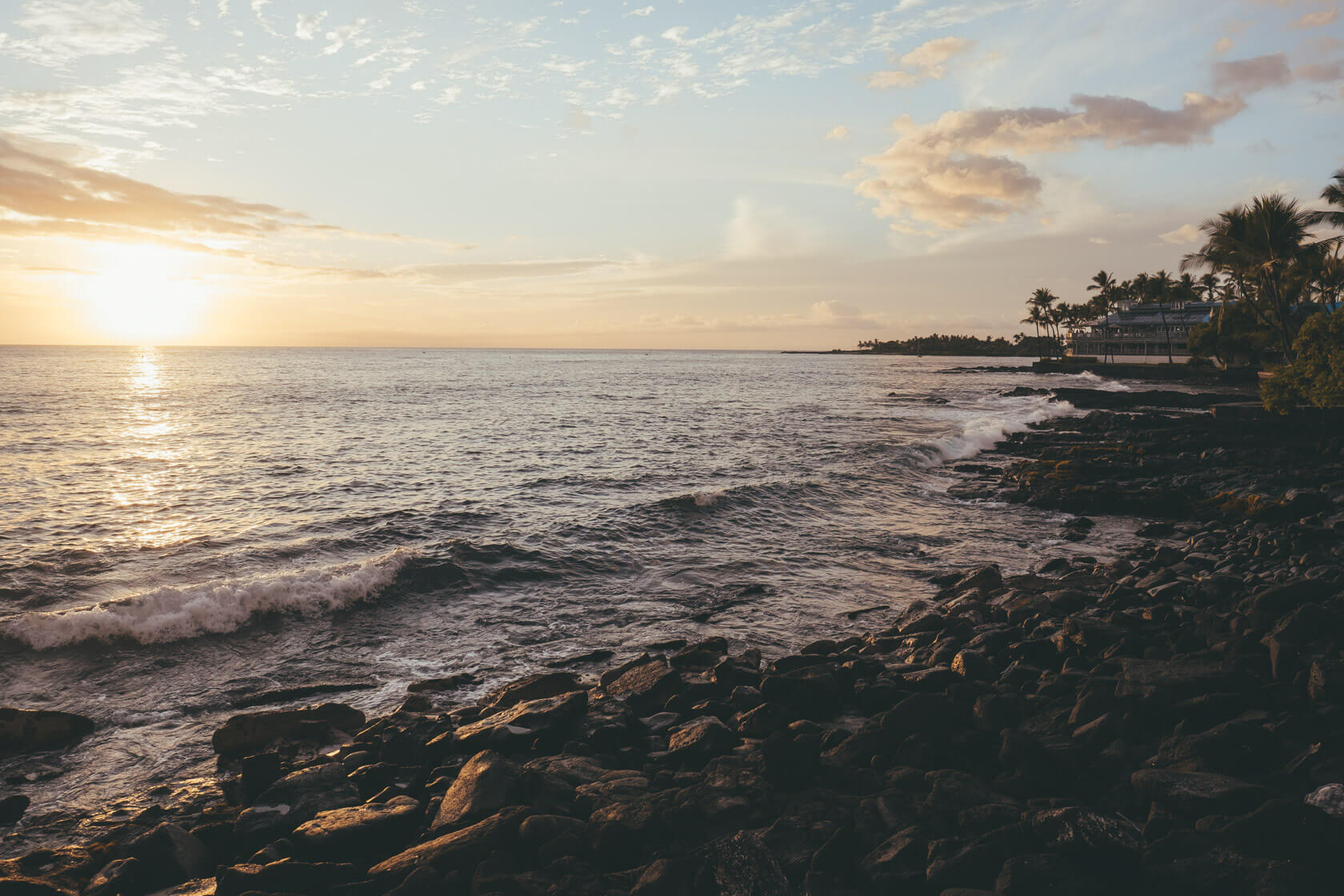 Since Kona is so popular for its fantastic weather, you'll also find that the bars and restaurants in Kona are pricier than on the Hilo side. So be prepared to dish out some serious cash or do your research for affordable places to eat, especially if you want to have a sea view.
24. Learn how to surf on the Big Island
Surf schools abound on the Big Island, especially on the Kona side. Two Step Beach is a popular place for both surfing and snorkeling, and you'll find dedicated areas for each activity.
25. Have a shaved ice (with ice cream in the middle!)
Hawaiian shaved ice is one of the most popular ways to cool down on a scorching day. You can even get ice cream in the middle at some of the more population locations, such as the Scandinavian Shaved Ice , which you can visit in Kona.
26. Try some traditional Hawaiian fruits
Get ready to learn some Hawaiian, because in Hawaii you'll find plenty of menus listing the Hawaiian name for fruits. Two of the best fruits you need to try while you're in Hawaii are lilikoi (passion fruit) and obviously paina (pineapple). You can get pretty much anything in lilikoi flavor, ranking from margaritas to cupcakes and ice cream. There is no limit to lilikoi.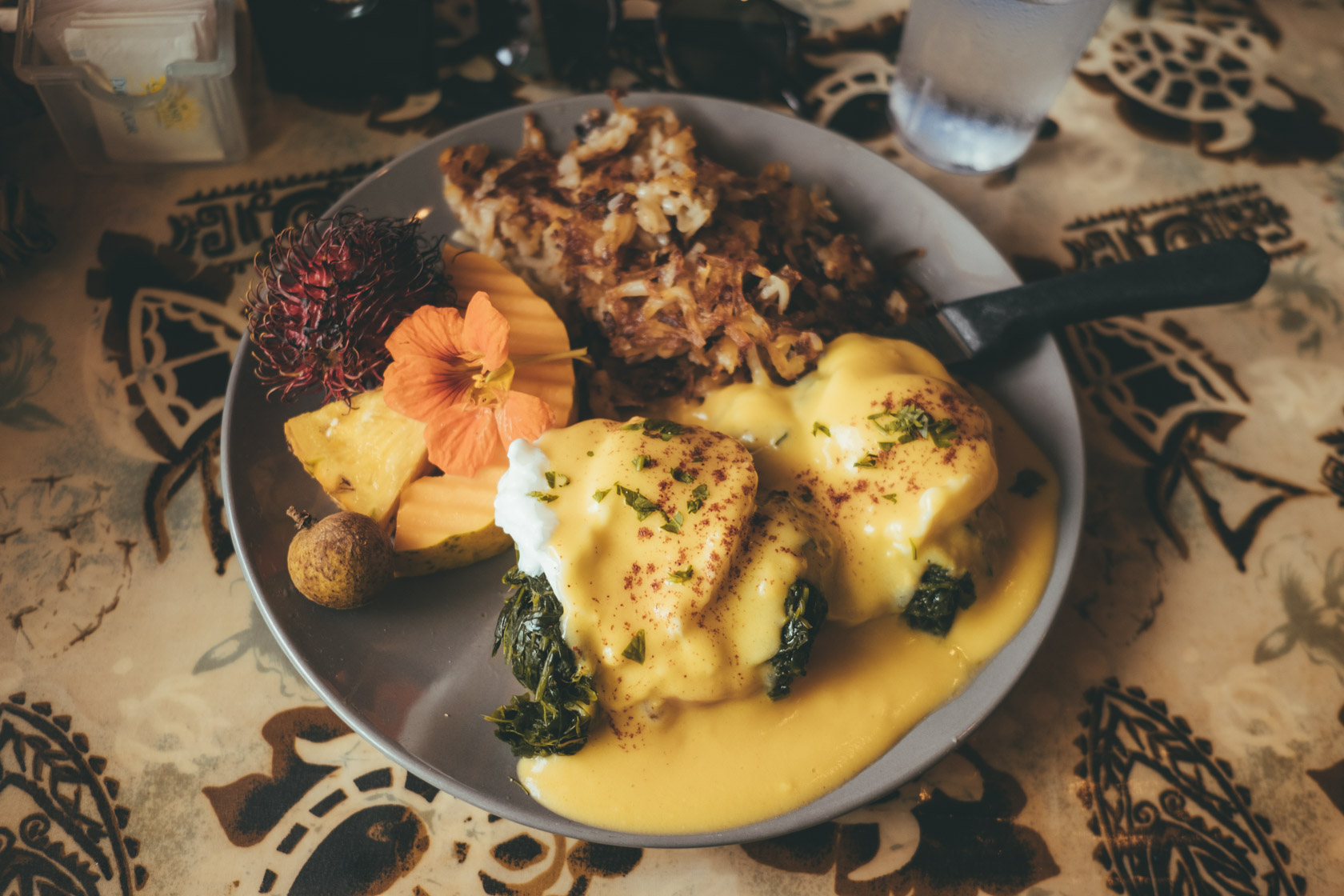 27. Buy your dad (or yourself) an Aloha shirt
One does not simply come to Hawaii and buy an Aloha shirt. The sheer range and selection can be overwhelming, as can the price variation. You can get cheap Hawaiian shirts at the Target in Kona, or you can go for locally-made and handmade Hawaiian shirts with prices from $60-70 and upwards. As always, it's great to shop local if you're looking for a gift to bring home to your family and friends. You'll also find numerous ABC Stores in Hawaii, where you can get slightly more cookie-cutter but still decent gifts.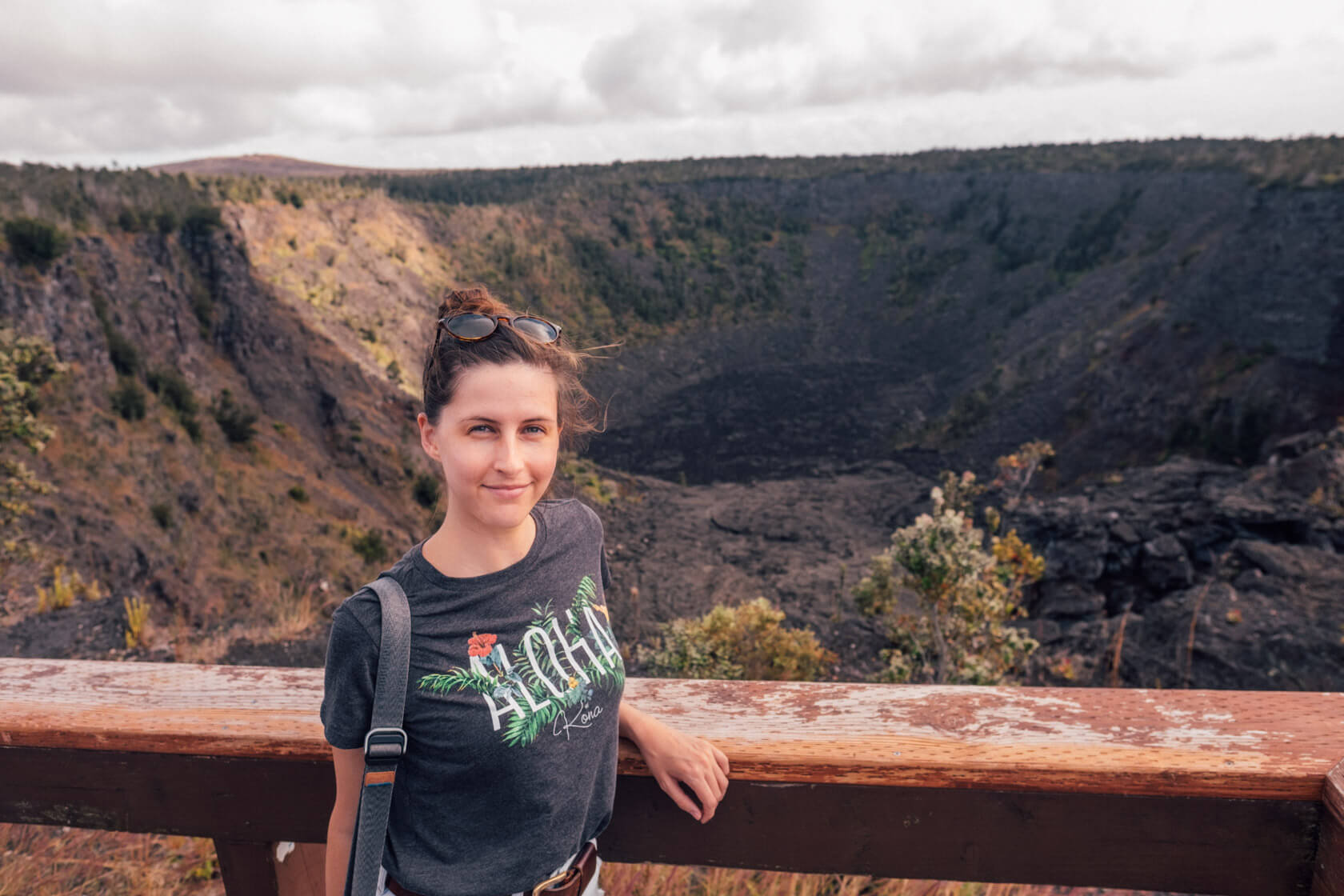 28. Do your shopping on Kona's Ali'i Drive
Speaking of shopping, one of the best places to do that is on Kona's Ali'i Drive. This coastal road winds along the Kona Coast and has loads of options to go shopping at both locally run shops and those from national brands. You can also park and visit the shopping center on this street, which is largely outdoors and has loads of shops. This is where we bought some signature Hawaiian sunglasses, as well as gifts for my boyfriend's family.
29. Visit a Farmer's Market
Whether you're on the Hilo side or the Kona side, one of the best ways to pick up fresh produce is to stop by a farmer's market. You can get loads of fresh fruit grown right on the island, as well as freshly plucked coconuts ready to be slashed open by a machete. My best advice is to find a fruit that looks weird and get as much of it as you can. You'll find tons of fresh produce that you won't find back home, no matter where you live.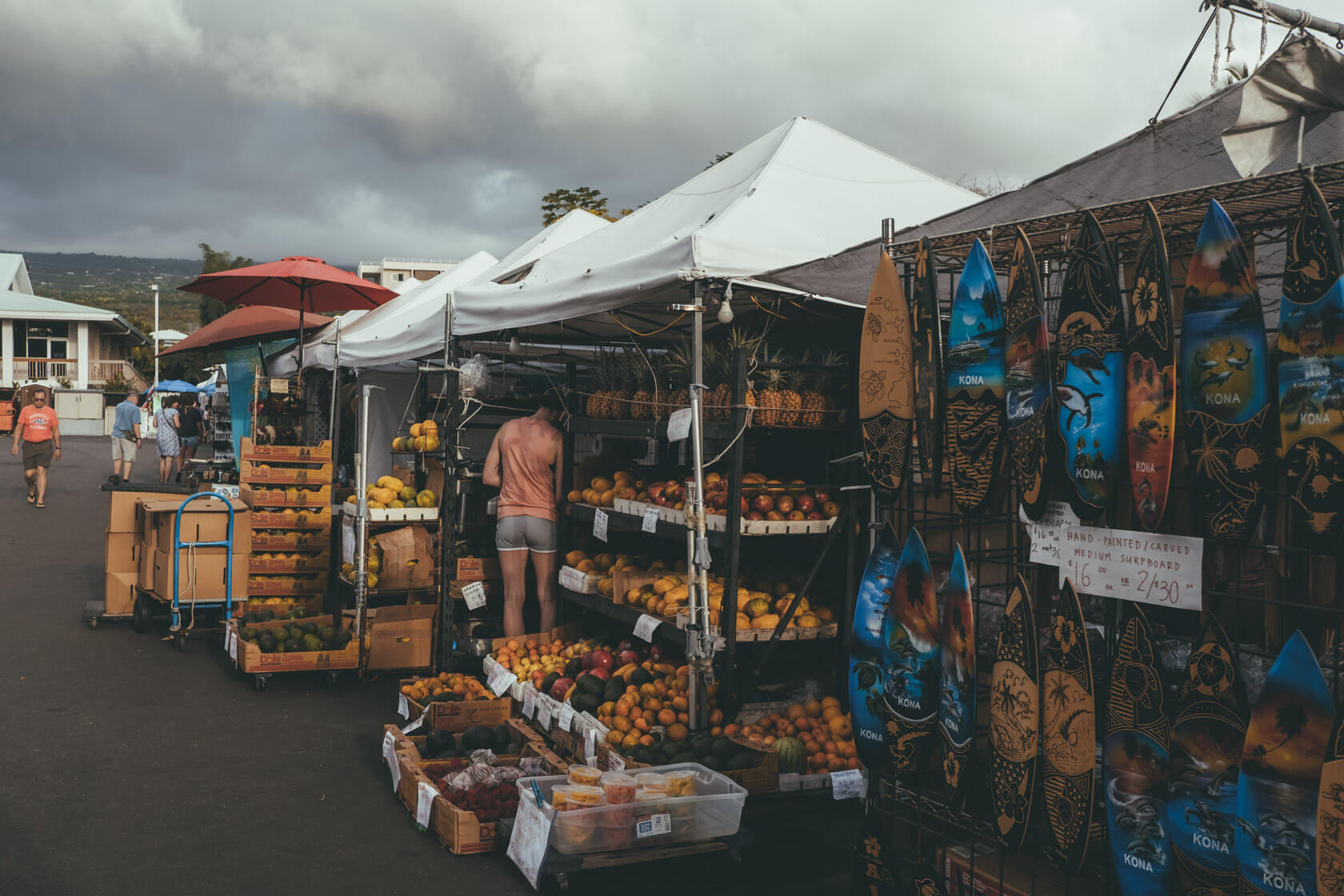 30. See the painted church of Kalapana
When Kilauea errupted in 2018, the lava covered the area of Kalapana, where a jungle had been growing for centuries. The community came together to save the so-called Painted Church of Kalapana, and managed to relocate this little church and save it from the lava. It's a quick pitstop while you're in the southern region on the Hilo side of the island.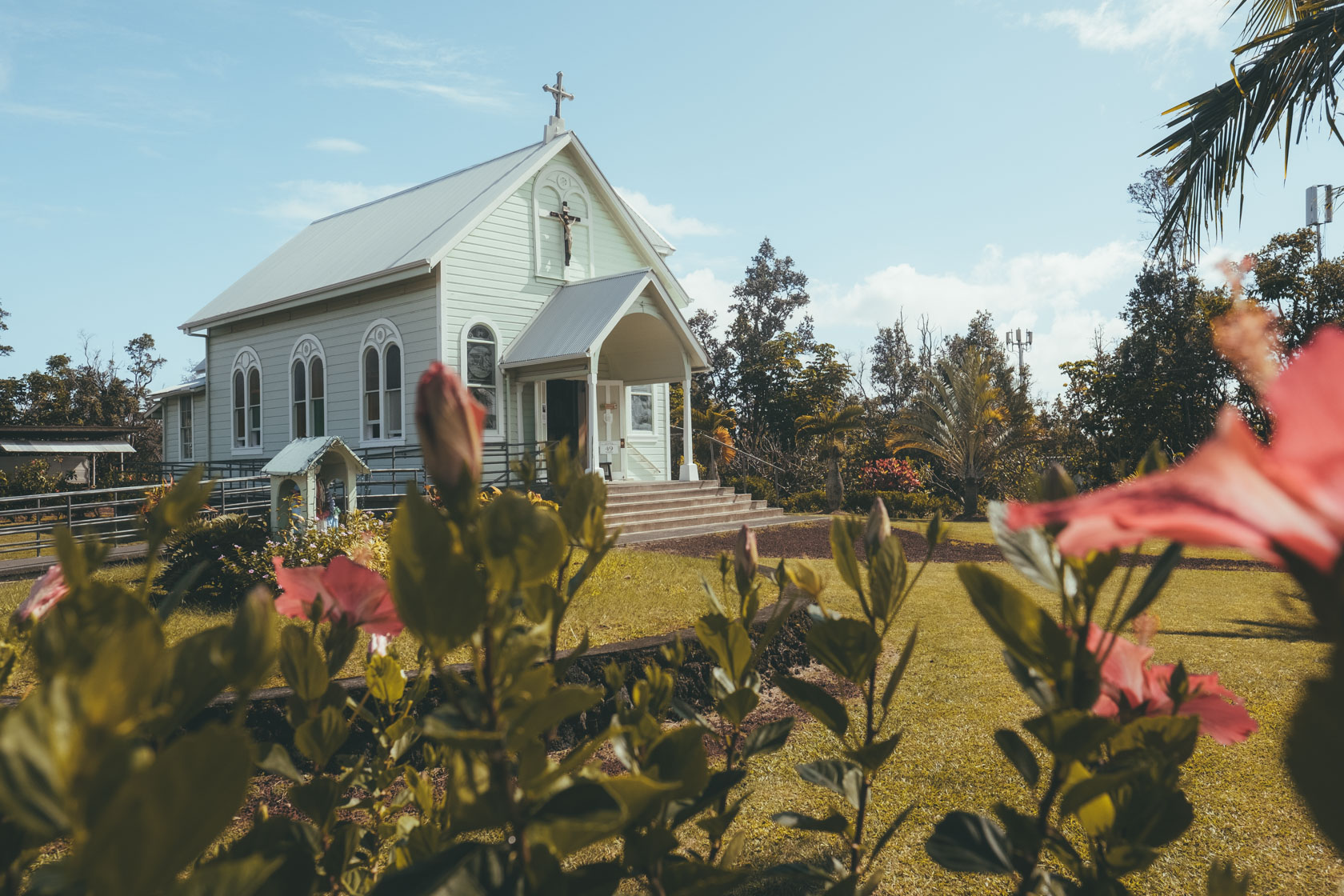 31. Drive the Chain of Craters Road
One of the main draws of the Hawaii Volcanoes National Park is the Chain of Craters Road. This road goes from the visitor's office of the park all the way to the coast, and since the erruption in 2018 has had the road cleared from lava. This means you'll be driving through lava flows merely a year or two old as you come through.
When Kilauea was flowing at its peak, it was emitting more than 40,000 cargo trucks worth of lava every single day. Forty thousand! You can easily imagine this being the case once you drive down this road.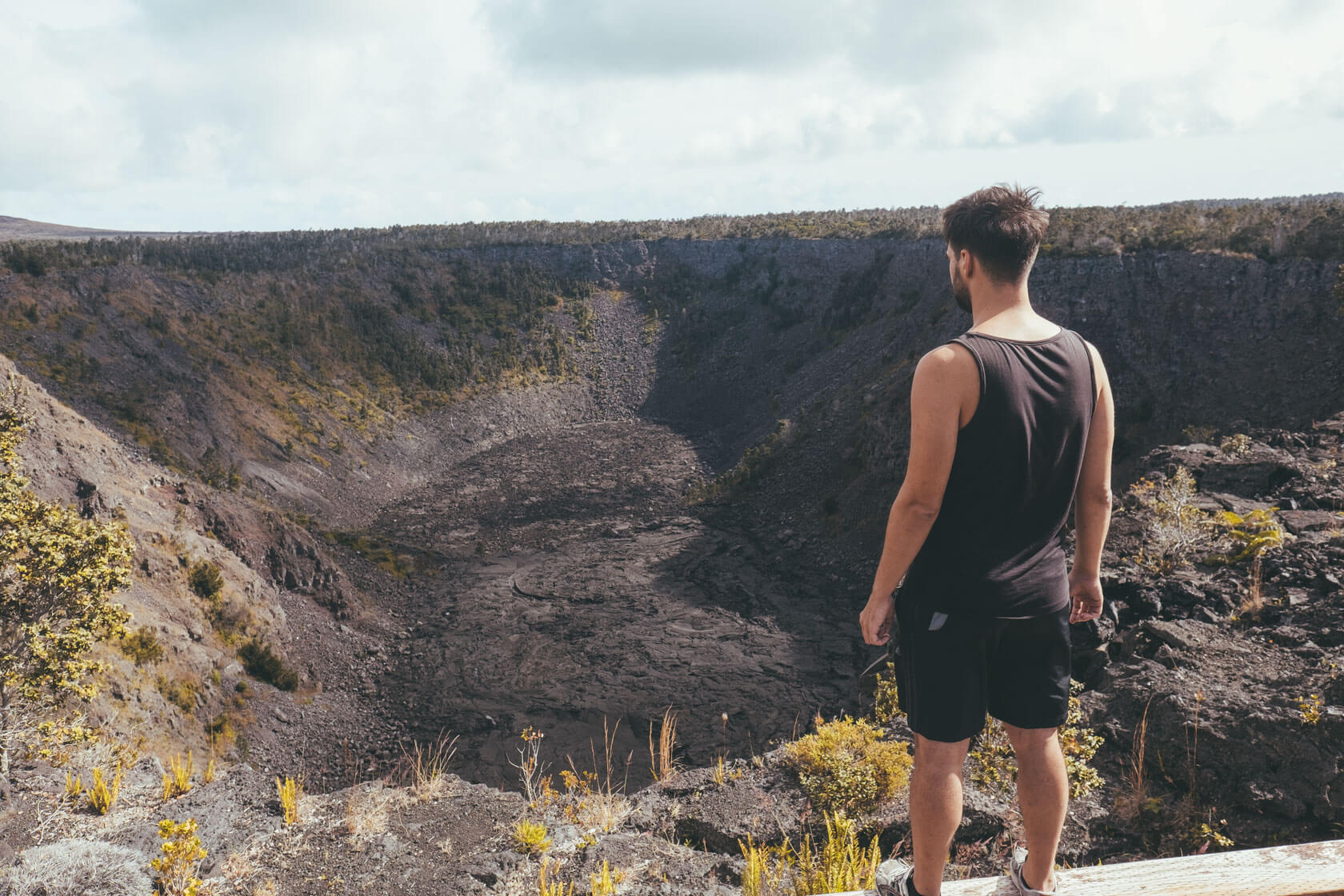 32. Go on a Kona Coffee tour
Forget about beer or wine tastings, in Hawaii you can go for a coffee tasting at one of Kona's more than 600 coffee farms. Even if you aren't a coffee addict, you can still appreciate what a difference gourmet coffee can make.
Typical Kona coffee farm tours last about half an hour, and are usually walking tours. Lots of coffee farm tours are even free, you just need to drive to the coffee farm yourself. You can find loads of Kona coffee farm tours all over the Kona coast, depending on where you're staying the other activities you have on your agenda.
33. Try a beer by the Kona Brewing Company
Speaking of beverages that the Big Island is known for, the Kona Brewing Company sells both bottled beer around the island and has a brewery in the middle of Kona that you can visit and go for a tasting. So no matter where you're staying, you can taste the aloha 😉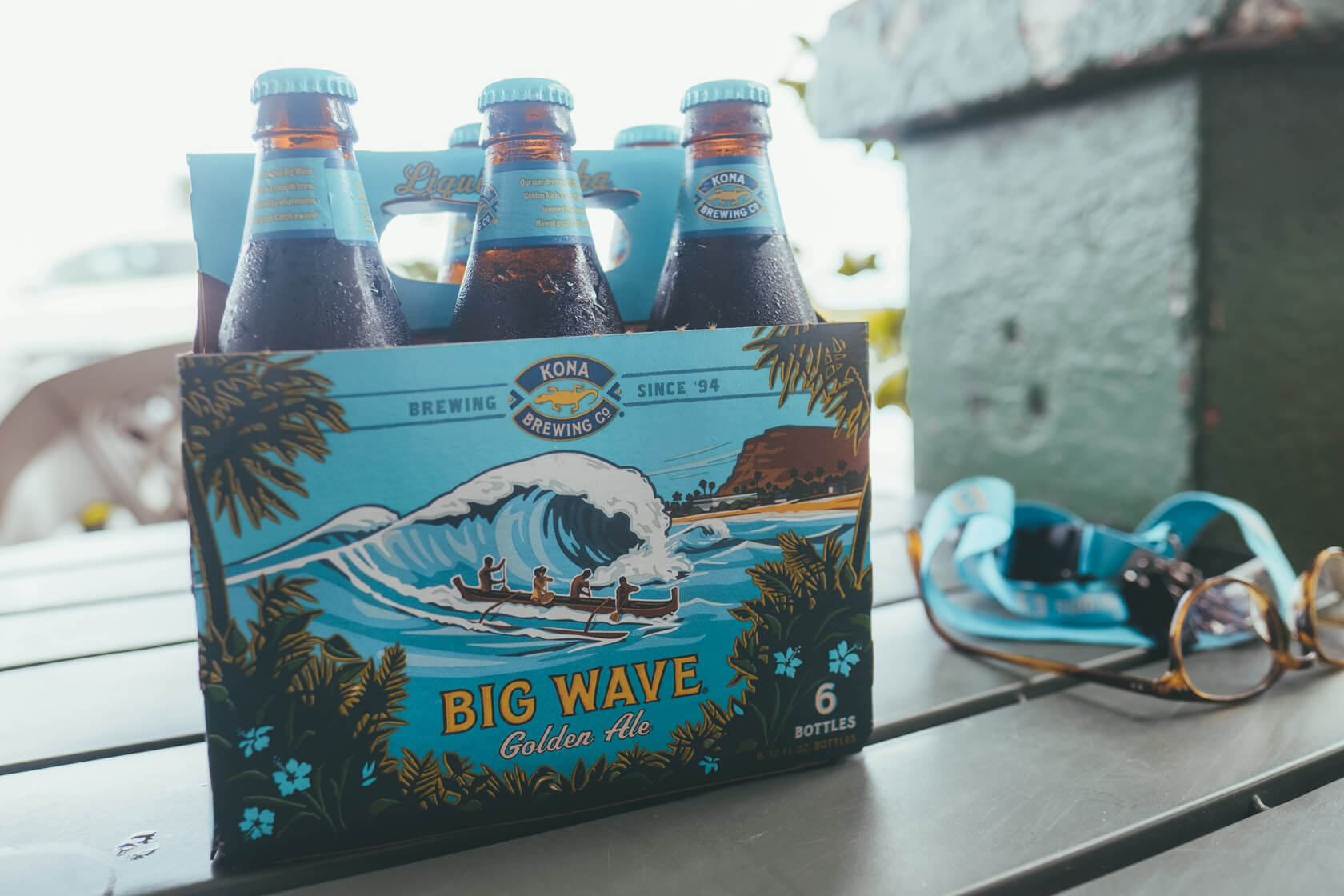 34. Go stargazing on Mauna Kea
Mauna Kea is one of several active volcanoes on the Big Island, along with Mauna Loa and Kilauea. Mauna Kea has such excellent stargazing that multiple countries have telescopes set up on its peak. It's cold, so be sure to dress warm and with layers if you'll be heading to the top – it's not uncommon to see snow on top of Mauna Kea!
NOTE: As of December 2019, it was not possible to go up Mauna Kea because of ongoing protests surrounding the construction of a thirty-meter telescope on the top, because the top of this mountain is considered holy land for the native Hawaiian people. Be sure to double check this before you plan a trip to the top. You can read more about the controversy if you're curious about the politics and the impact of the telescope.
35. Drive around the pastures of Waimea
Waimea is located at the northernmost area of the Big Island, and looks starkly different than much of the Big Island which is either arid volcanic land or lush jungles. Waimea is where a lot of cattle and sheep are raised, and thus is home to wide pastures that stretch for miles. From the northern tip, you can even see Maui looming in the distance.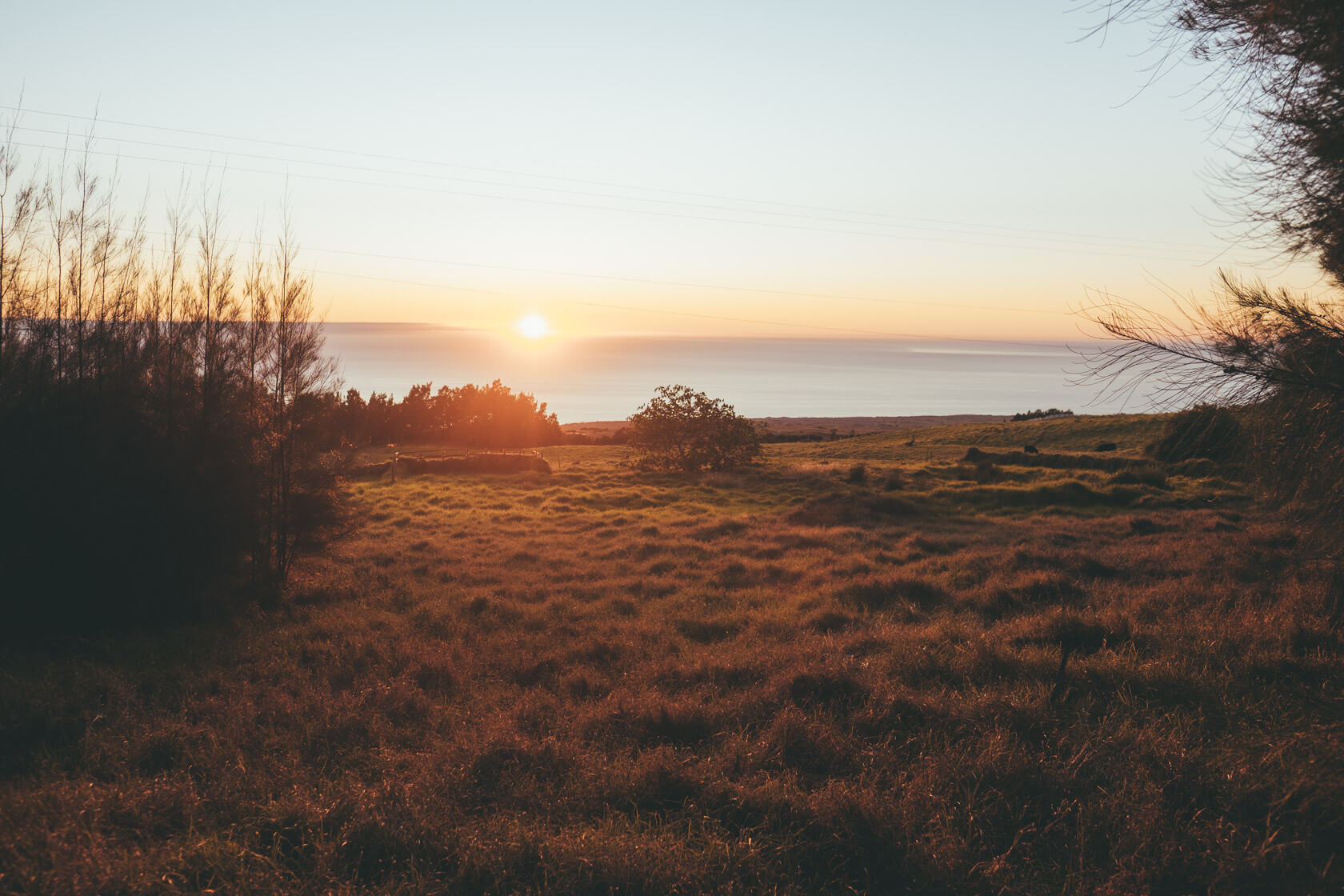 36. Have some of the island's best ice cream in Hawi
On your way up to Waimea, you'll have a chance to pass through Hawi, a village that looks unremarkable to the unknowing visitor, but is actually home to some of Hawaii's best ice cream. Stop at the Kohala Coffee Mill for some uniquely Hawaiian flavors, such as lilikoi (passion fruit) or Kona coffee.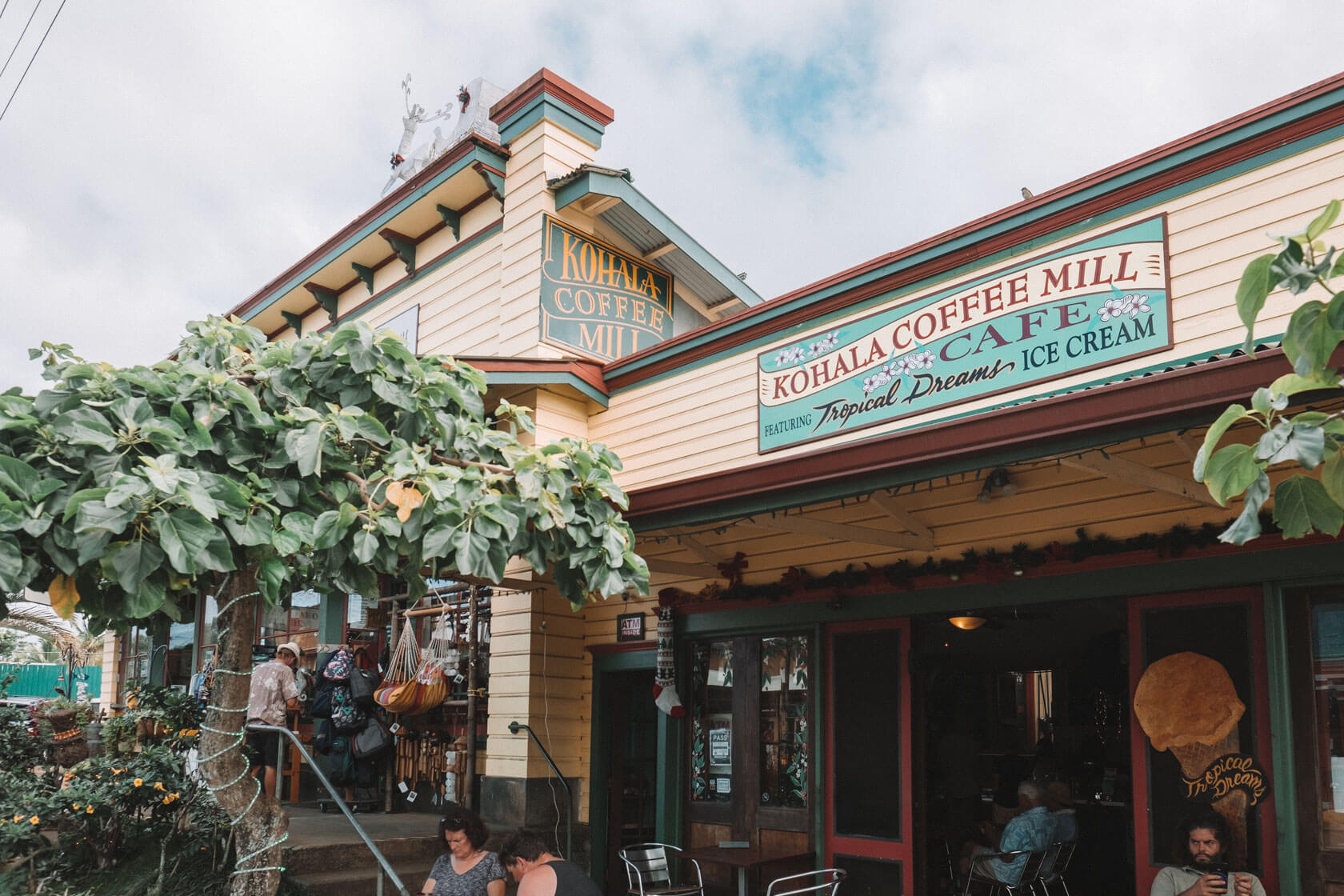 37. Relax on some of Hawaii's white sand beaches
One of the reasons why people love staying on the Kona side of the island is the nearly limitless choice of white sand beaches. One of the most important things to do know is that the beaches do get very full by 10AM, and some of the best beaches are in gated resorts that will turn you away if their parking lot is full! That's how we got turned away from Mauna Kea Beach , perhaps the top-rated beach on the entire island.
Don't forget that the sun in Hawaii is INTENSE, and space in the shade can be limited. Make sure you bring an ultra-high SPF sunscreen that is also reef safe, meaning it won't hurt the coral reefs if you decide to take a dip in the ocean.
Here's a complete list of the best beaches on the Big Island in case lounging on beach is your primary modus operandi when visiting the island.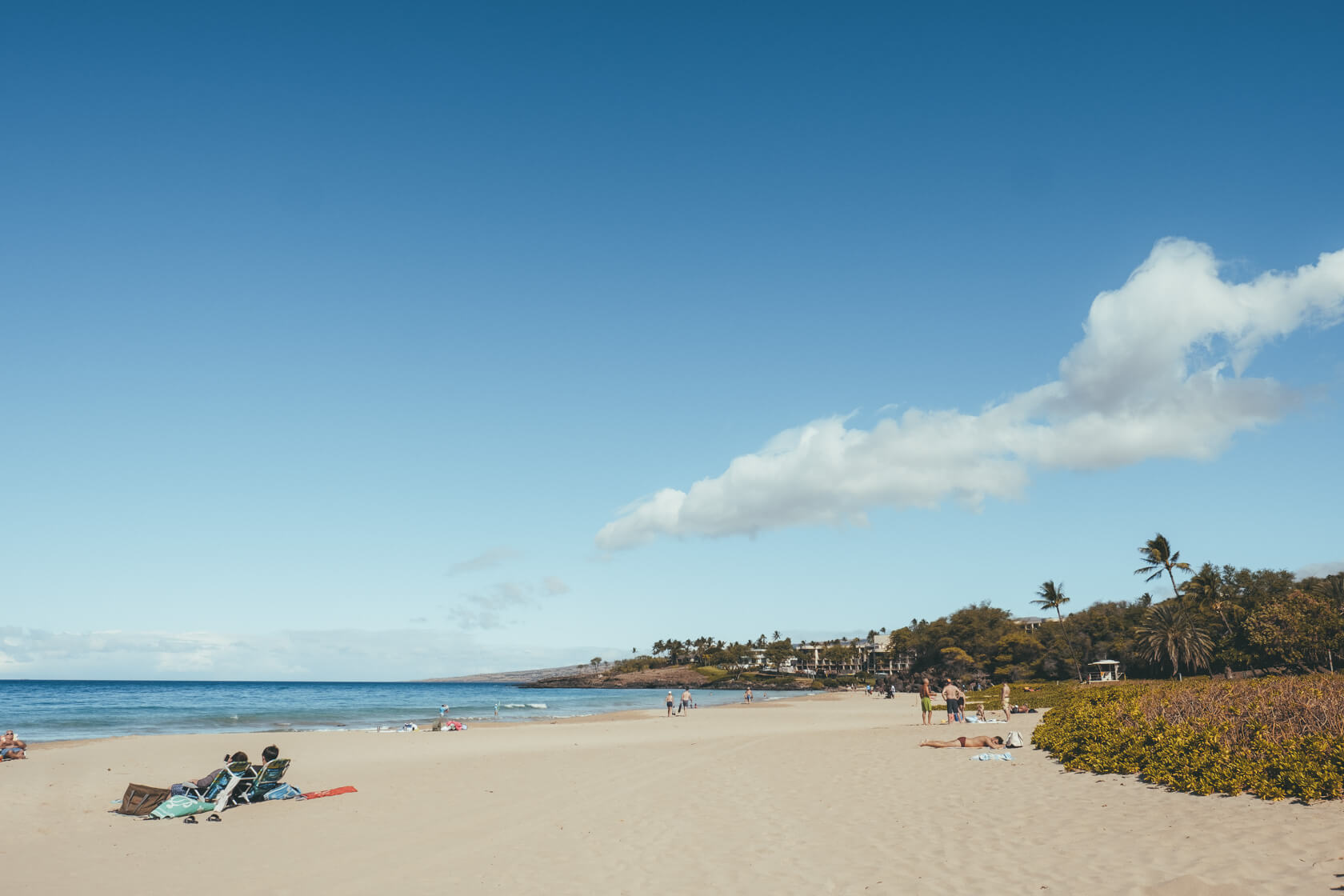 38. Go to the United States' only zoo inside a rainforest
Little did you know that Pana'ewa Rainforest Zoo located on the Hilo side of the island is the only zoo in the United States that is actually located inside a rain forest. You'll find all sorts of animals, ranging from the ringrailed lemur to peacocks and other indigenous birds like the 'io (Hawaiian Hawk). It also has a botanical collection including giant lillies.
The main tip you need to know about visiting this zoo is to avoid it during school holidays, where it can host over 2,000 visitors in a single day. The official Hilo Zoo website has more information about the current opening hours and prices.
39. Hike the Kilauea Iki Crater Trail
Located in the Hawaii Volcanoes National Park, this trail is called Kilauea Iki (literally meaning "Little Kilauea"), is 3.25 miles (5.2 kilometers) long and relatively easy if you don't mind some stairs. The elevation gain is about 600 feet (182 meters), and you can decide whether you want to start by going down stairs and end by ascending switchbacks, or the reverse.
You can hike it either clockwise or counter-clockwise, and you'll go through lush jungle terrain, forest land, and the arid crater of a volcano. The lava stream you cross is 50 years old!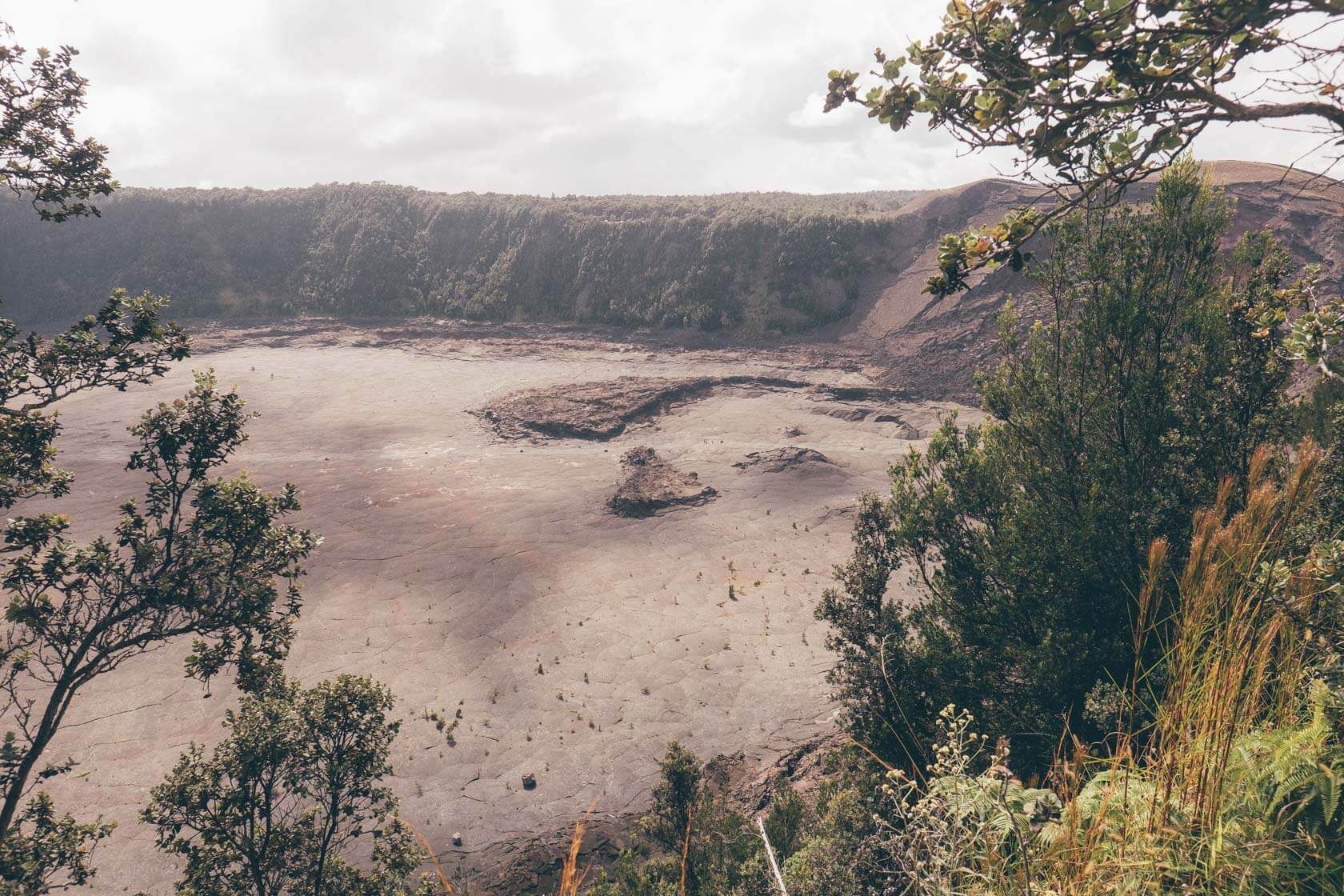 40. Eat lunch at the Volcano House
What's better than hiking through the intense Hawaiian sun across a crater that used to be molten lava? Cooling off in the heavily air-conditioned Volcano House , which offers panoramic crater views over the Iki Crater. You can eat full meals, as well as try a variety of beers on tap and tasty cocktails made-to-order. The prices are definitely not the cheapest given the monopoly on the food scene inside the Hawaii Volcanoes Park, but I think you should reward yourself after completing just about any hike in the park.
41. See petrified trees at the Lava Trees State Park in Puna
Has Hawaii made you a lover of lava? I'm pretty sure that once you've visited this place, you'll find lava and volcanoes more intriuging than ever – meaning you'll love the Lava Trees State Park, located in Puna on the Hilo side.
It's an easy one kilometer walk round trip completely on paved surfaces, where you can see trees that have been petrified by lava. You don't need to spend a ton of time here to get interested in the unique ways that lava shapes the landscape and nature of Hawaii.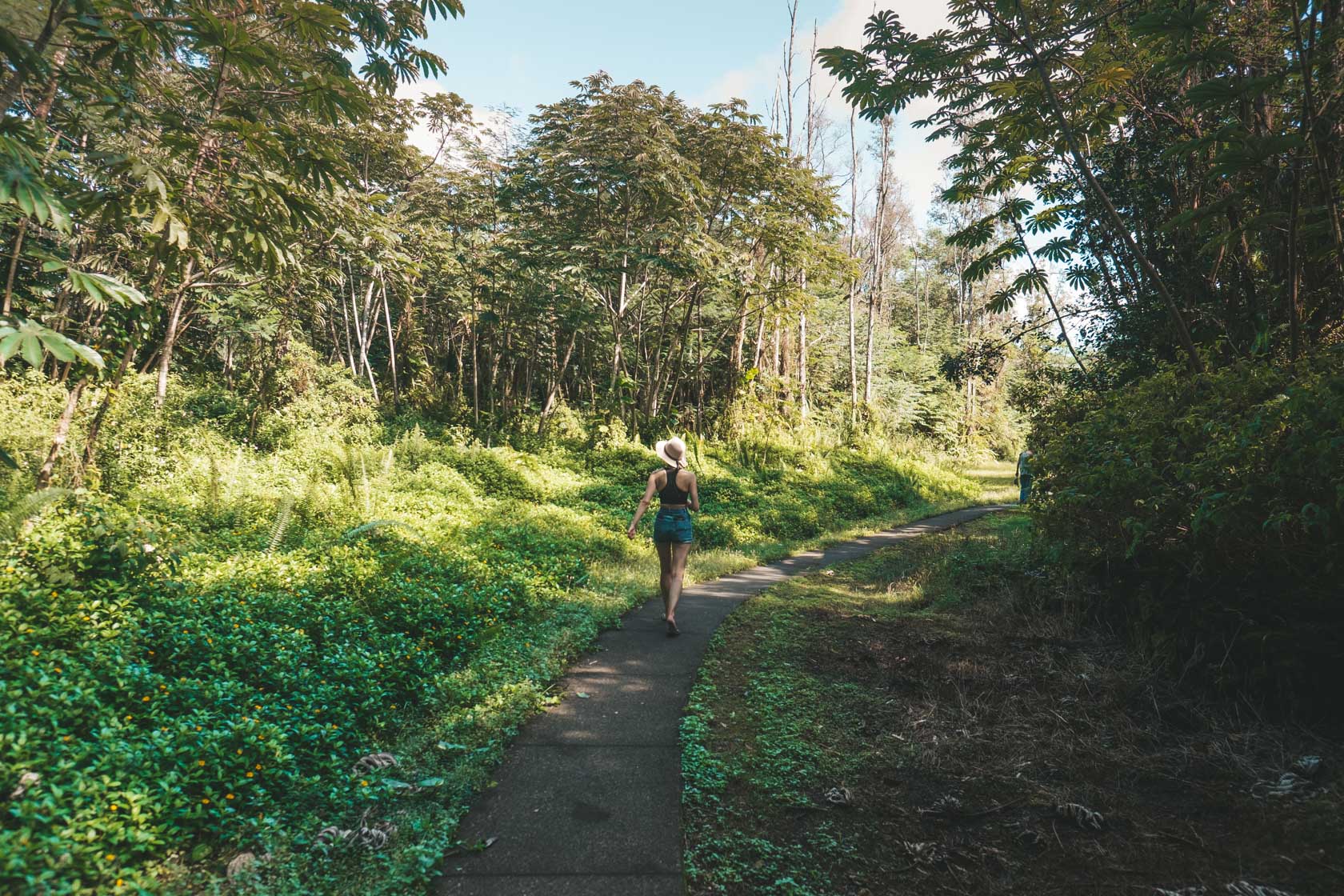 42. Go swimming on Coconut Island in Hilo
For the most part, visitors to Hawaii prefer swimming in Kona. The waves are smoother, there are more snorkeling-friendly beaches, and the weather is more predictable. However, one of the few places you can safely swim in Hilo is off the coast of Coconut Island. It's easily accessible by a bridge from the island, and features a jumping rock you can leap off of into the ocean. It's not a good place for snorkeling because the water is a bit murky, but it's very popular for swimming. If you're staying in the town of Hilo, there's no doubt you'll end up here at some point during your Hawaii trip.
43. Visit a newly created black sand beach
Make a pitstop at Pohoiki black sand beach (Isaac Hale Beach Park), a black sand beach which was just recently created by the erruption of Kilauea in 2018. Believe it or not, when lava reaches the sea it often bursts into millions of tiny particles, which causes new black sand beaches to be born. Unlike some of the older black sand beaches, the Pohoiki Black Sand Beach has coarse black sand which will give your feet a proper exfoliation if you ever needed it.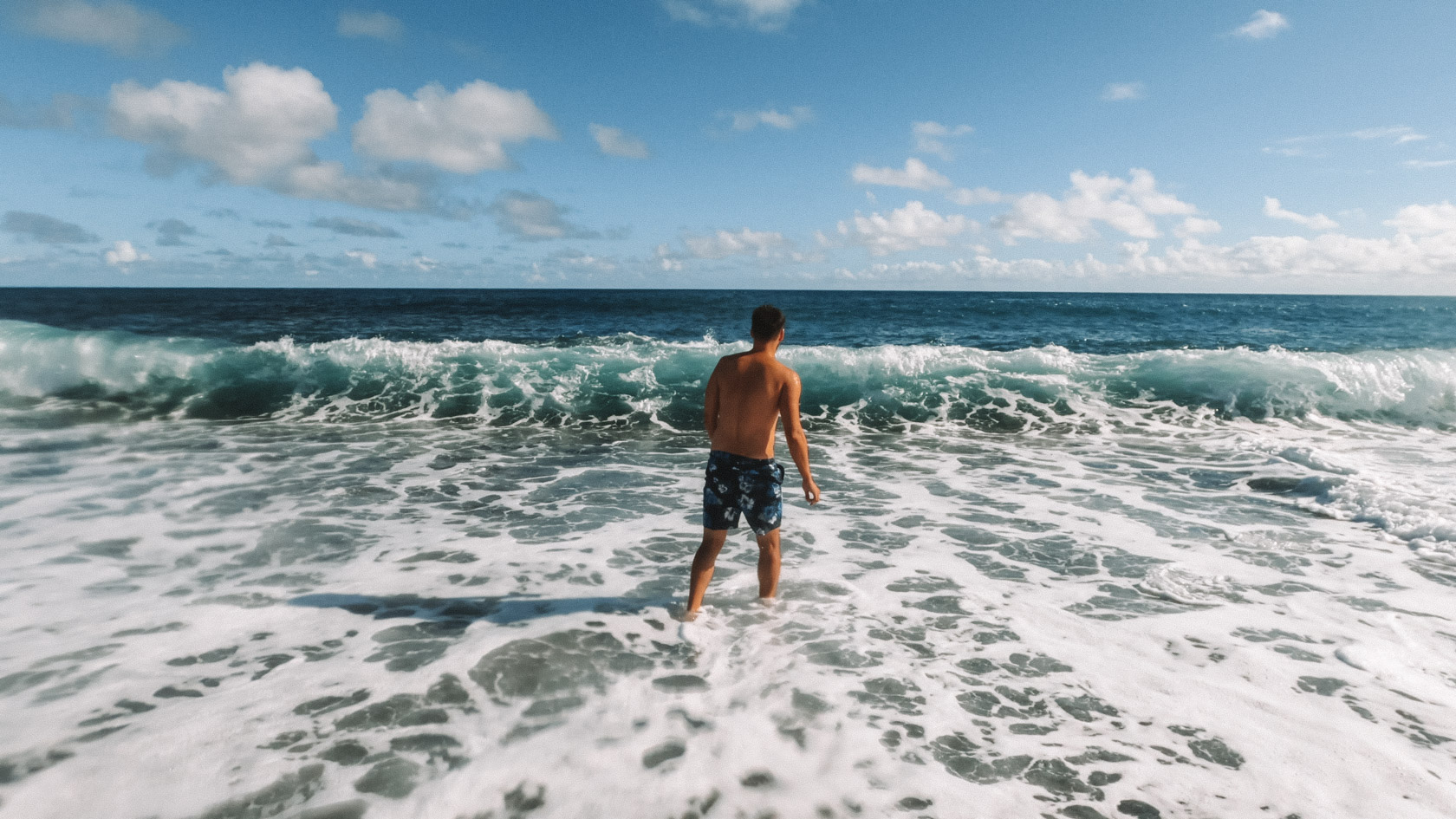 The surf is rough so swimming isn't advised, and you shouldn't get in above your waist. However, it is amazing to visit a beach that literally didn't exist two years prior and see the impact that active volcanoes have on the island and how they can reshape it in such a short period of time.
44. Spend a day in the town of Hilo
Kona and Hilo couldn't be more different. While Kona feels like Southern California on a sunny day, Hilo is more like a low key sleepy surf town. It has a couple streets full of shops where you'll have a good chance to support local artisans and locally run surf shops. It's also a great place to go for gifts, and is the primary place we eneded up going shopping for Christmas gifts for my boyfriend's family. Just be aware that a lot of places operate on "Island time" meaning that they may be closed on Sundays or have limited opening hours!
45. See historical Hawaiian sights at Pu'uhonua O Hōnaunau
While you're on the Kona side of the island, you can visit Pu'uhonua O Hōnaunau, also called "The Refuge". If a Hawaiian broke a kapu (one of the ancient laws), this is a place where they could seek immunity by fleeing here. Today you can seem impressive walls made out of lava rock and fitted together without mortar, as well as reconstructions of what the ancient Hawaiian houses, called hale, looked like. You can do a self-guided tour using a map at the entrance of the park.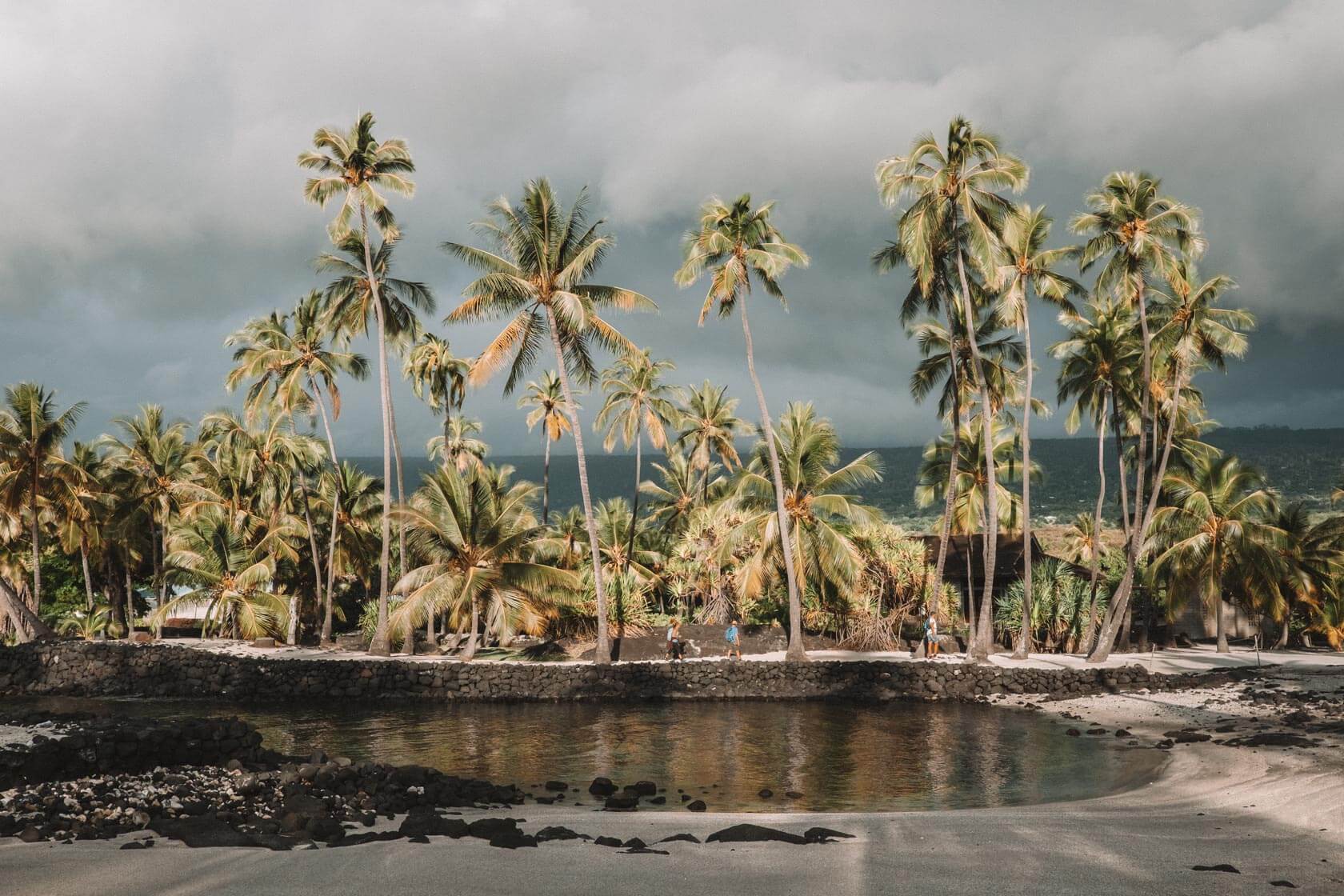 Pu'uhonua O Hōnaunau is located right next to Two Step beach, a popular surfing and snorkeling spot. Definitely combine a trip to these two places together if you have a chance to visit this part of the Kona Coast.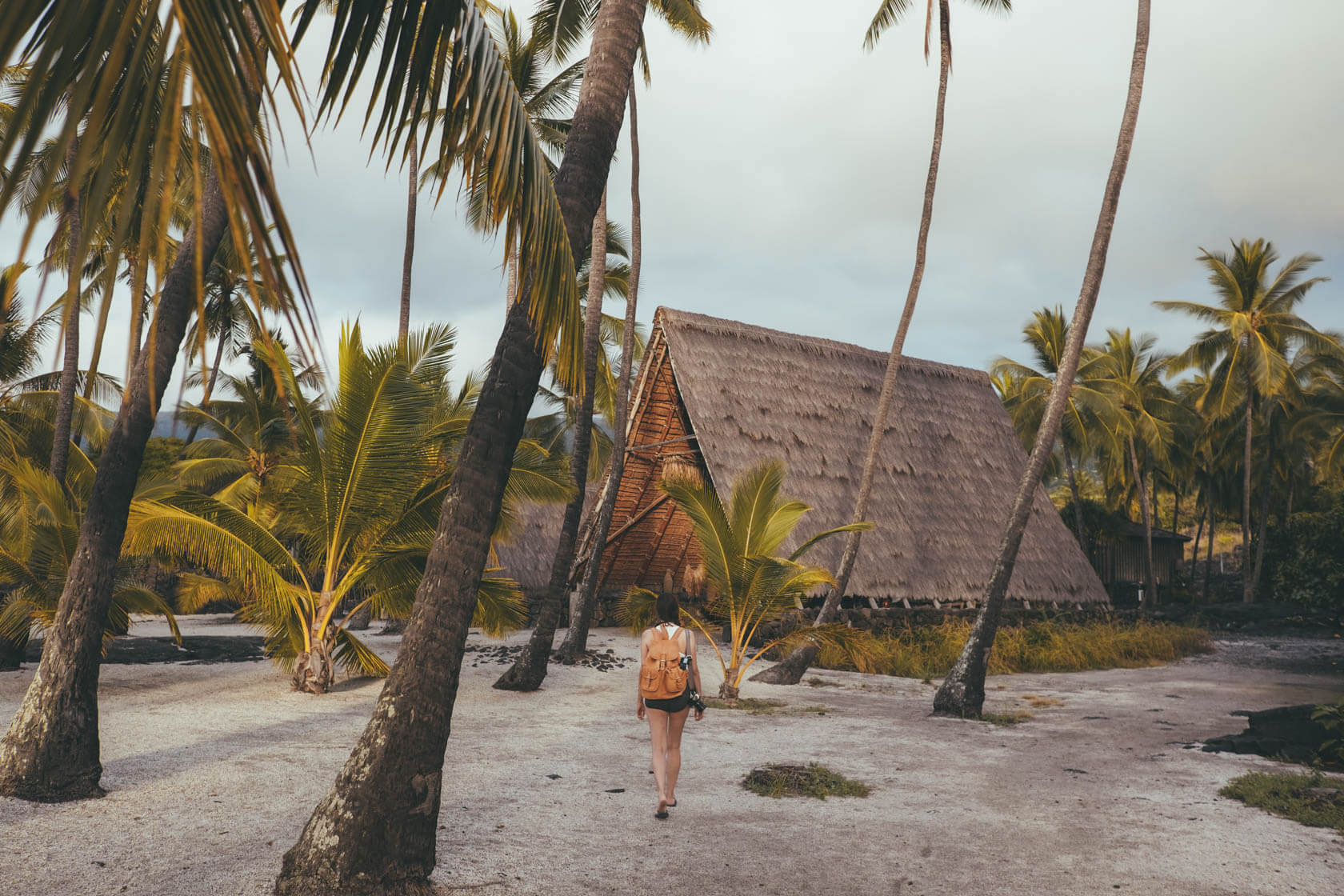 46. Chase waterfalls in Hilo
Even though Akaka Falls and Rainbow Falls are probably the most accessible and famous waterfalls in Hilo, you can find dozens of others along the coast if you're willing to go exploring.
Some of the other waterfalls you might want to see include Kailuka River Falls, Umauma Falls, and Peepee Falls at the Boiling Pots.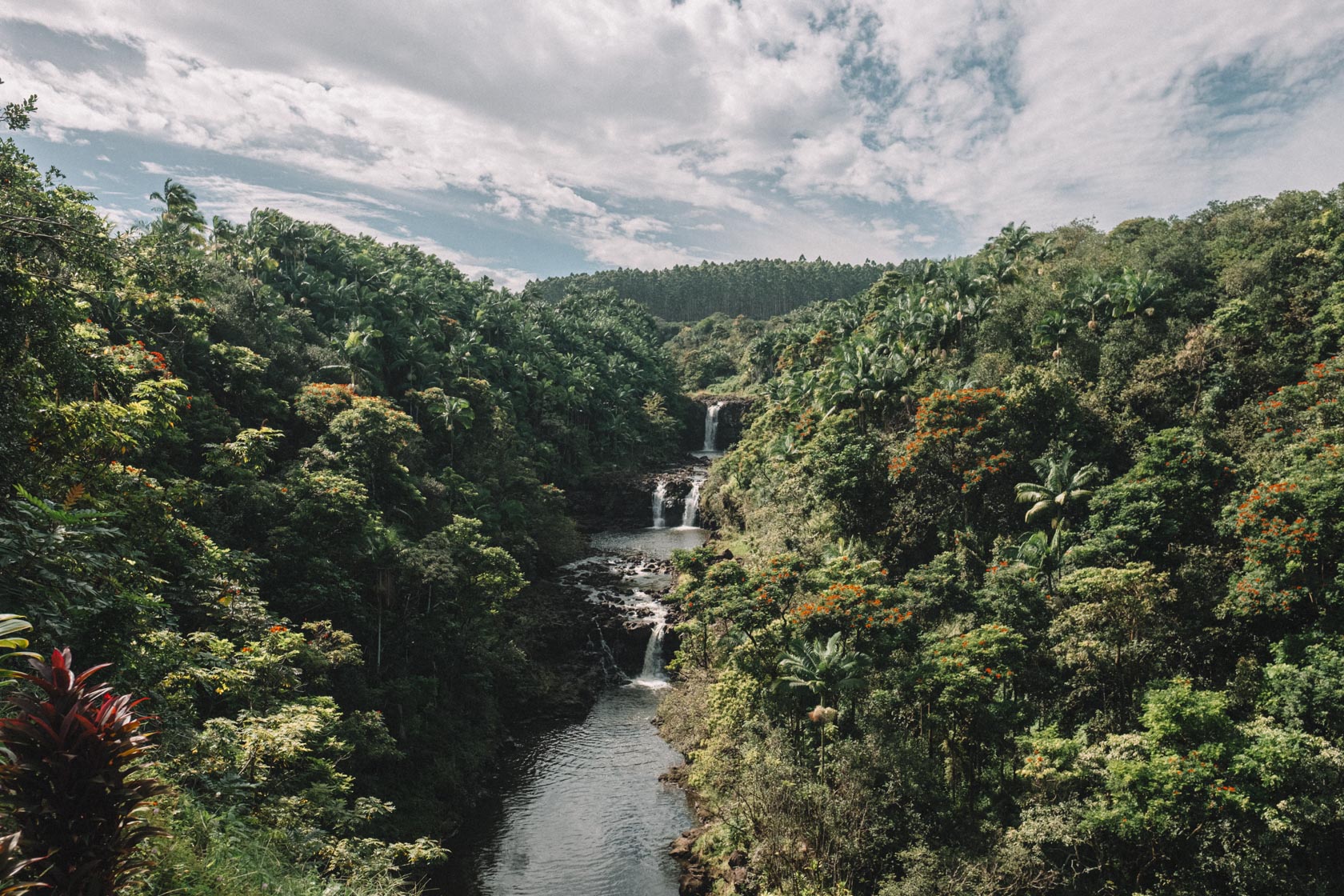 47. Visit the Boiling Pots
While you're chasing waterfalls in Hilo, you can also visit the Boiling Pots. Located in a residential neighborhood, these pots used to be visible from a hiking trail but have since been closed off owing to the danger of flash floods. If you're visiting the Hilo side of Hawaii's Big Island, you'll likely hear a lot about flash floor warnings and how deadly they can be.
Enjoy the Boiling Pots and their accompanying mythology from afar. If you look in the distance, you'll also be about to see Pee'pee Falls, which was also formerly accessible by a hike.
48. Eat yourself into a food coma at a traditional luau
For a lot of people, attending a luau is one of the essential experiences they want to have in Hawaii. You can probably picture it in your head: a full big on a spit roasting over an open fire, tiki torches everywhere, and a stunning Hawaiian sunset. The tricky thing about luau is that most of them are extremely commercialized, and tend to cater more towards guests who are staying in a giant resort.
49. Go to Uncle Robert's for live music on Wednesdays
If you're down for an authentic Big Island experience, make sure to make a pit stop at Uncle Robert's for live music on Wednesdays. There are vendors from all sorts of local producers, and you have a chance to meet people who are part of the local scene. Live music can be had at several locations on the Big Island, but Uncle Roberts is a tradition that has been going through two generations of the owners.
50. Buy your own fresh caught fish at the supermarket
The last thing I can recommend you do while you're visiting the Big Island is to skip the expensive fish at the restaurants and buy your own sushi-grade fish at the supermarket. You need to make sure you get there early enough to get the best that's available, and don't hesitate to talk to the staff working at the supermarket to understand when the next batch will come in. You can get fabulous Grade A tuna for a fraction of the price you'd get in a restaurant for the exact same quality.