Welcome to my travel guide to exploring Iceland in 10 days! There's a lot to share on this topic and I couldn't possibly fit it all into a single post, but you can consider this Iceland travel itinerary to be a solid basis from which to start crafting your own road trip around Iceland's Ring Road. In the future I will cover things like what foods to try in Iceland, an Iceland packing list, and specific tips for traveling Iceland in Winter!
Until then, feel free to leave any questions you have in the comments and I will do my best to answer them.
Originally published in 2017, this guide has been updated with 2019 information.
Iceland: a precursor
To say that Iceland exceded my expectations would be an understatement. It pretty much got to the point where I was exhausted from looking at all the gorgeous and divrese landscapes as we drove the Ring Road, a highway that forms a complete loop around the country. You will not be disappointed when you visit this country, but it's also important to be mindful that tourism has exploded in Iceland and its roads and infrastructure are not necessarily intended for the volume of visitors it receives every year. For this reason, we all have to do our part to travel as sustainably as possible and treat these precious natural sights with respect 😄
Let's get started!
Iceland travel guide: How to see Iceland in 10 days
Table of contents – Each section has its own map including driving instructions, where to stay, and special sights to see along the way. We went around Iceland counter-clockwise, but you can also just as well go clockwise (it's simply less typical to do).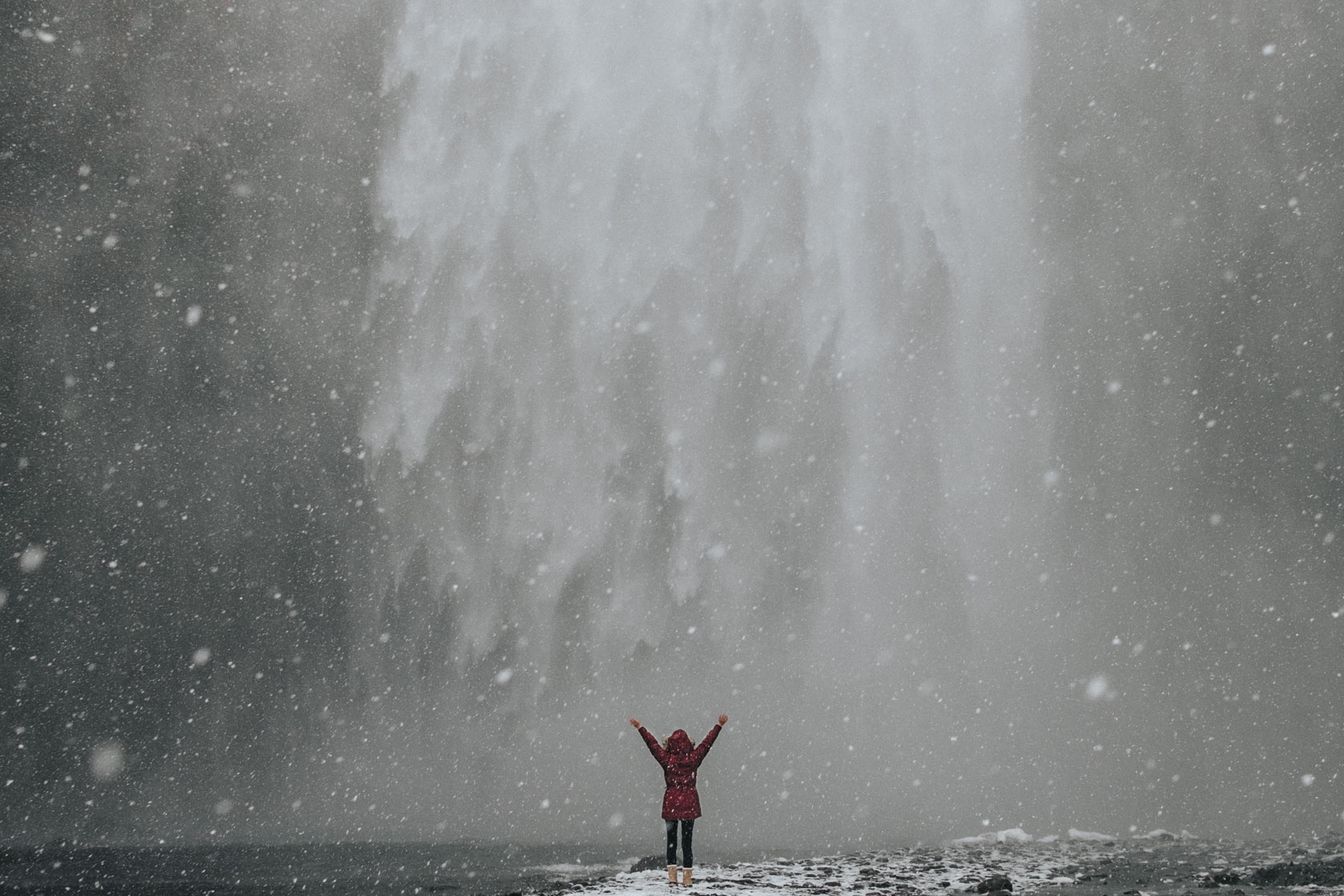 Some links in this post are to affiliate sites. If you purchase something through them, I may earn a small comission at no cost to you!
I am very grateful when you use my links to make a purchase ❤️
Follow Not a Nomad blog on Bloglovin', the easiest way to keep up with your favorite blogs.
Follow
A 10-day itinerary for Iceland
Click to order Duration 10 Days
Dates visited Feb 23 - Mar 4
Recommended Iceland travel guide
We extensively used Lonely Planet's Iceland travel guide (Updated for 2019) to plan our trip and while we were there. Since there are a lot of small towns, there's a lot in here we didn't find online and a lot we would've missed without it!
Before you go
If visiting Iceland in winter, I strongly advise you to buy a pair of crampons before you go. Walking around without them can be downright dangerous. They're also way cheaper to buy before arriving in Iceland. I bought these crampons and I could've saved about $20 (and a lot of falling on my butt) if I had bought them beforehand.

Handy websites Get familiar with Vedur.is the Icelandic weather service. You'll need it to travel safely, and for the aurora forecast if you're visiting in Winter and want to see the northern lights.
Recommended Accomodation in Iceland
Here are the places I really liked staying in Iceland. My favorites are denoted with a star (★).
There are many factors that going into deciding where to stay in Iceland and how to pick accommodation. For more details on this, check out my in-depth guide on where to stay in Iceland what to consider when choosing a hotel.
♦ ♦ ♦ A must-see | ♦ ♦ Liked it | ♦ Point of Interest
1. Reykjanes Peninsula (Keflavík → Reykjavik)
Welcome to Iceland! It's time to pick up your car and hit the road. Before settling down for the night in Reykjavik, take a drive around the nearby Reykjanes Peninsula .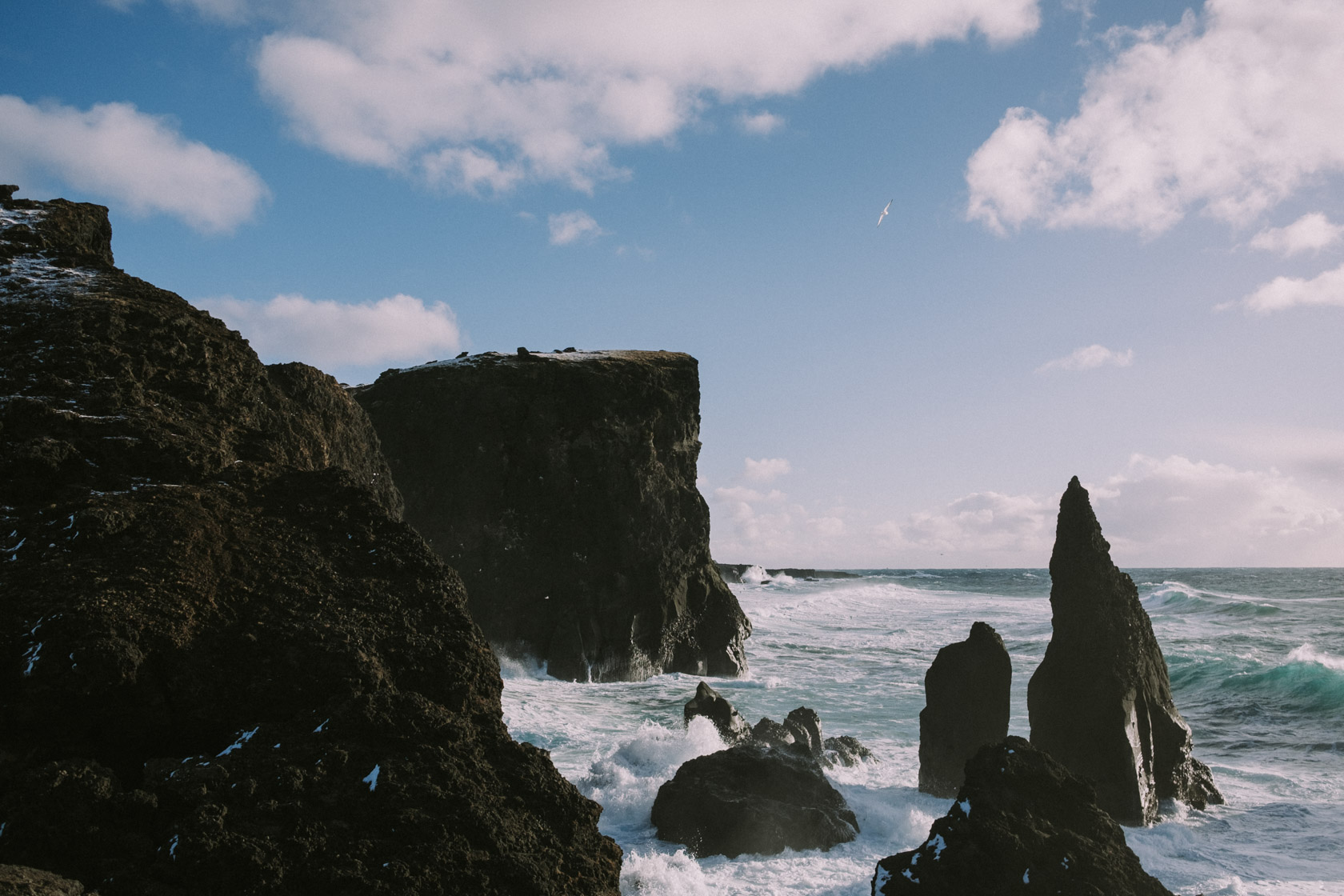 Things to do on the Reykjanes Peninsula
Reykjanesviti ♦ – See your first Icelandic lighthouse! This is also Iceland's oldest lighthouse. Just down the road is also your first chance to experience Iceland's geothermal fields.
Krýsuvík and Seltun ♦♦ – A larger area for geothermal activity, where you can walk across bubbling mud pits by way of wooden pathways.
Blue Lagoon – I didn't enter the Blue Lagoon because we didn't book early enough. If that happens to you too, don't fear, there are more options to take a dip later down the road!
Buy an Icelandic sweater – Handknit sweaters will run you around $200 or more, but are also sure to keep you warm with thick Icelandic wool!
Spend the evening in Reykjavik – Check out Reykjavik's city center and pick a spot for dinner. We ate our very first meal at Icelandic Fish & Chips , which was delicious but very touristy. That said, Reykjavik's city center is about 90% tourists so it could very well be like that in just about any restaurant 😜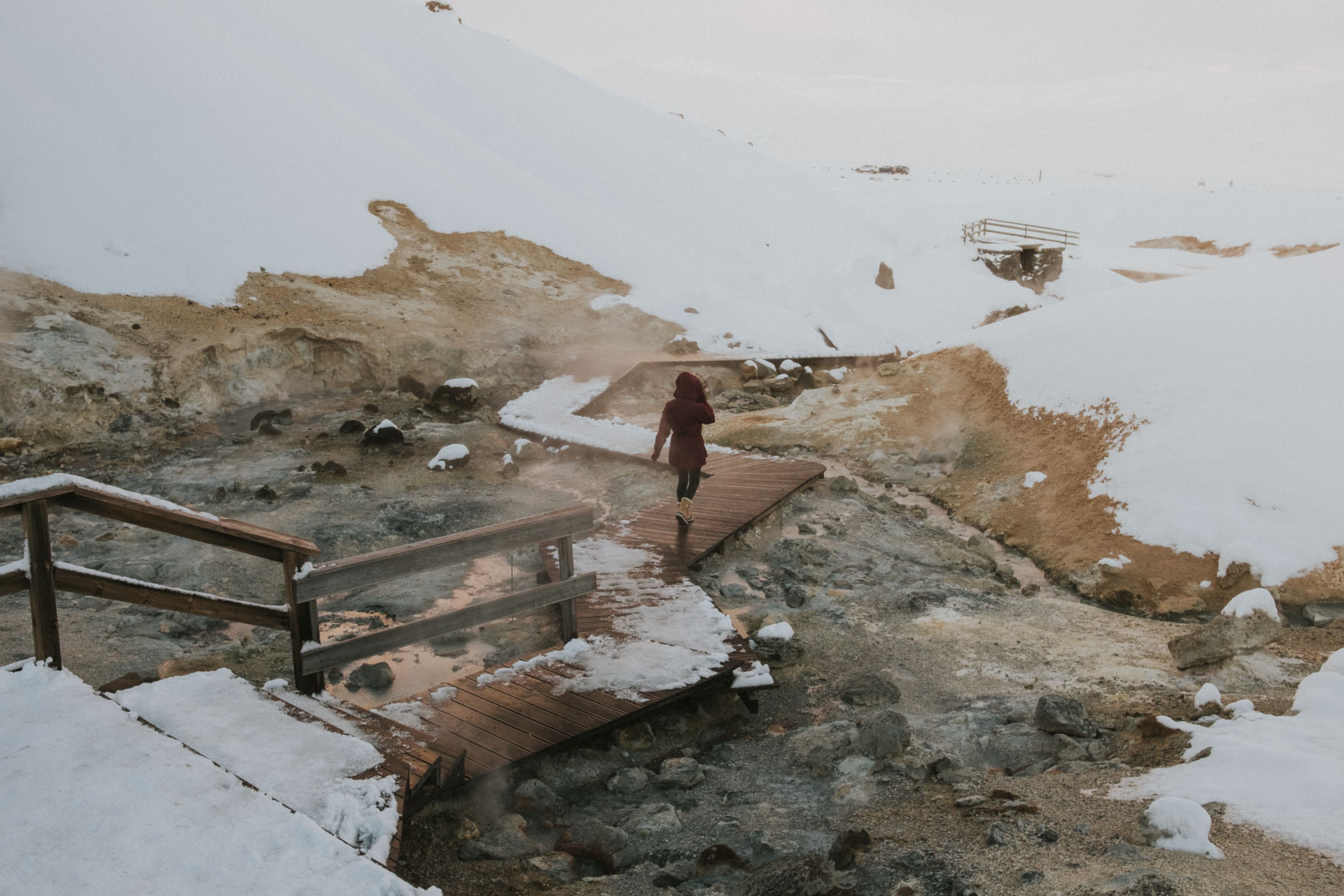 2. The Golden Circle (Reykjavik → Hella)
This trio of sights is easily the most popular in Iceland, and your surest bet to be battling other tourists – that is, unless you get lucky like us and a "no travel" storm begins brewing the morning before you go out. Practically no one was on the road and we had everywhere essentially to ourselves!
Stops to make in the Golden Circle
Þingvellir National Park ♦♦ – Þingvellir is famously the site of the oldest parliament in the world. Here you'll find a quaint church and summer houses, a small river, waterfall, and wooden bridges connecting paths throughout the park.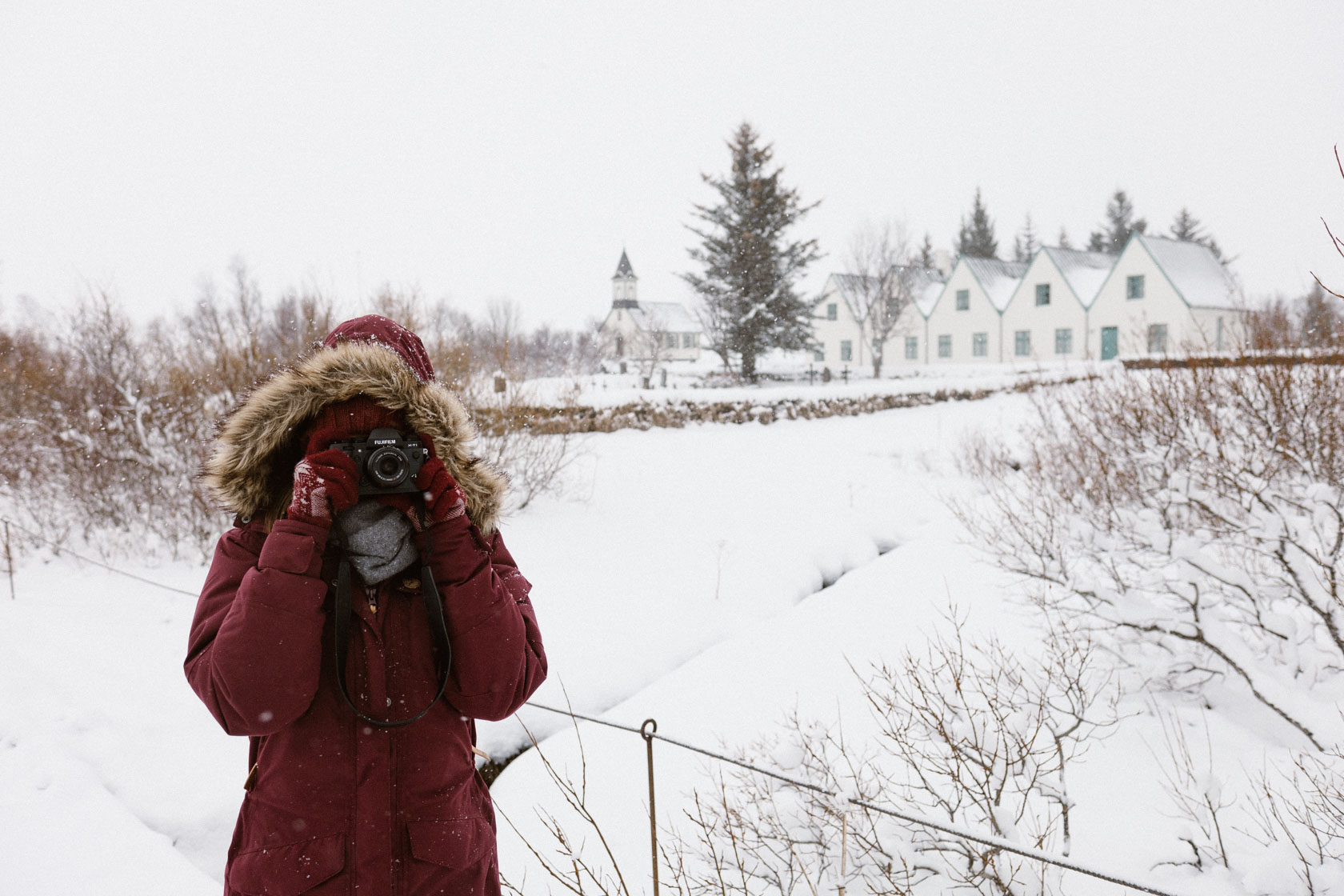 Strokkur Geysir ♦♦ – So, somehow we didn't know until getting there, that the original Geysir actually closed up after an earthquake a few years back. Now you can see its smaller counterpart, which still gets big enough to drench you if you stand downwind!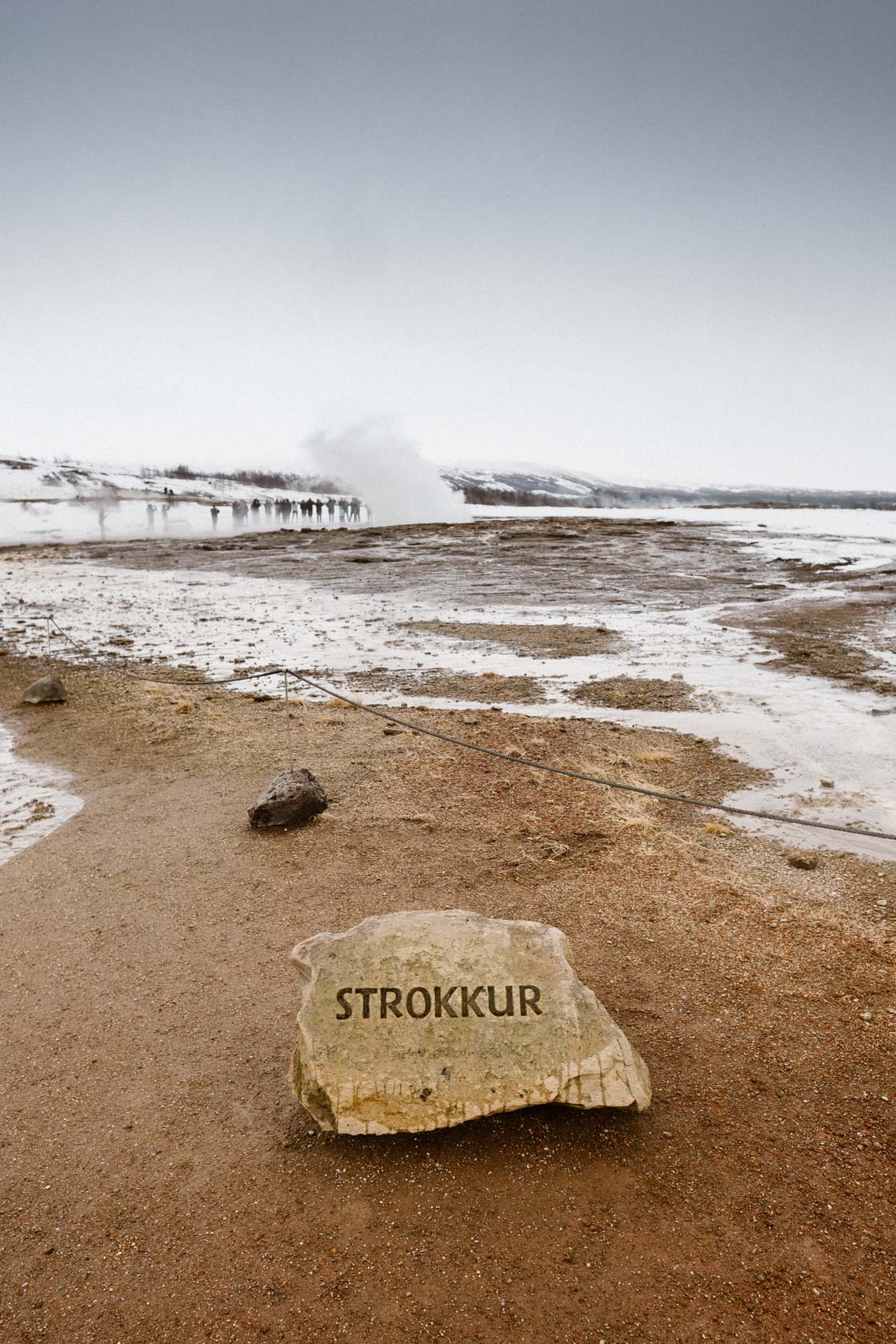 Gullfoss ♦♦♦ – Your first proper waterfall!! Note that there are two ways to view the waterfall, one from above (where there is a giftshop) and another parking lot below.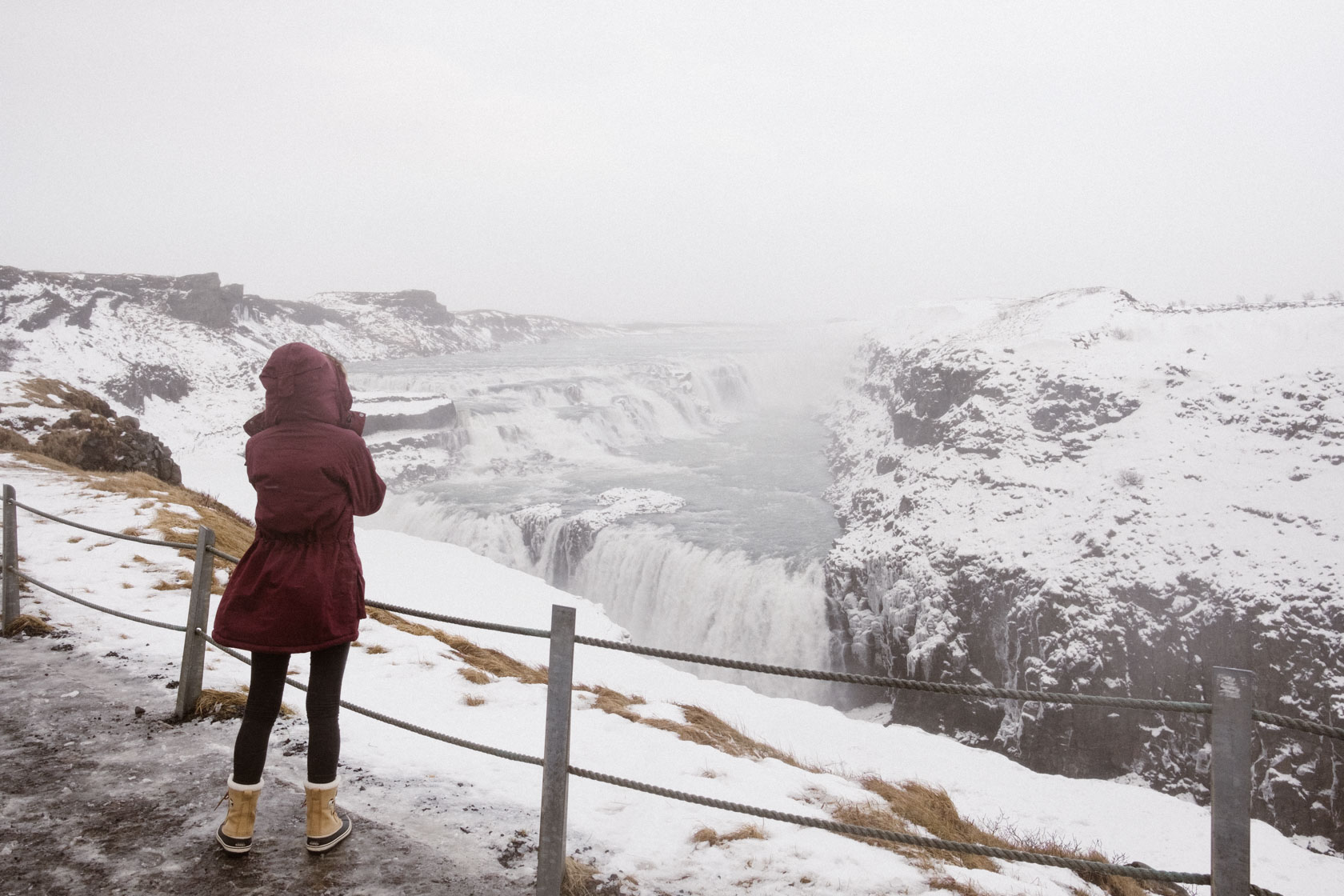 Stay at River Hotel
After spending the whole day outdoors, warm up in the jacuzzi with a view over the river at River Hotel in Hella. This place also has a super cozy lounge where you can have a look at all the awesome photos you took that day!
3. Iceland's South Coast (Hella)
Today's theme is water. We'll meet two of Iceland's best-known waterfalls, plus a hidden natural swimming pool just out of sight in the mountains along the Ring Road.
Driving up to our first stop, Seljalandfoss , from the West is awesome because you can already see the waterfall's narrow stream jutting out from the side of an immense mountain as you approach. Coupled with the morning sunshine, it looks like a scene from a fantasy movie.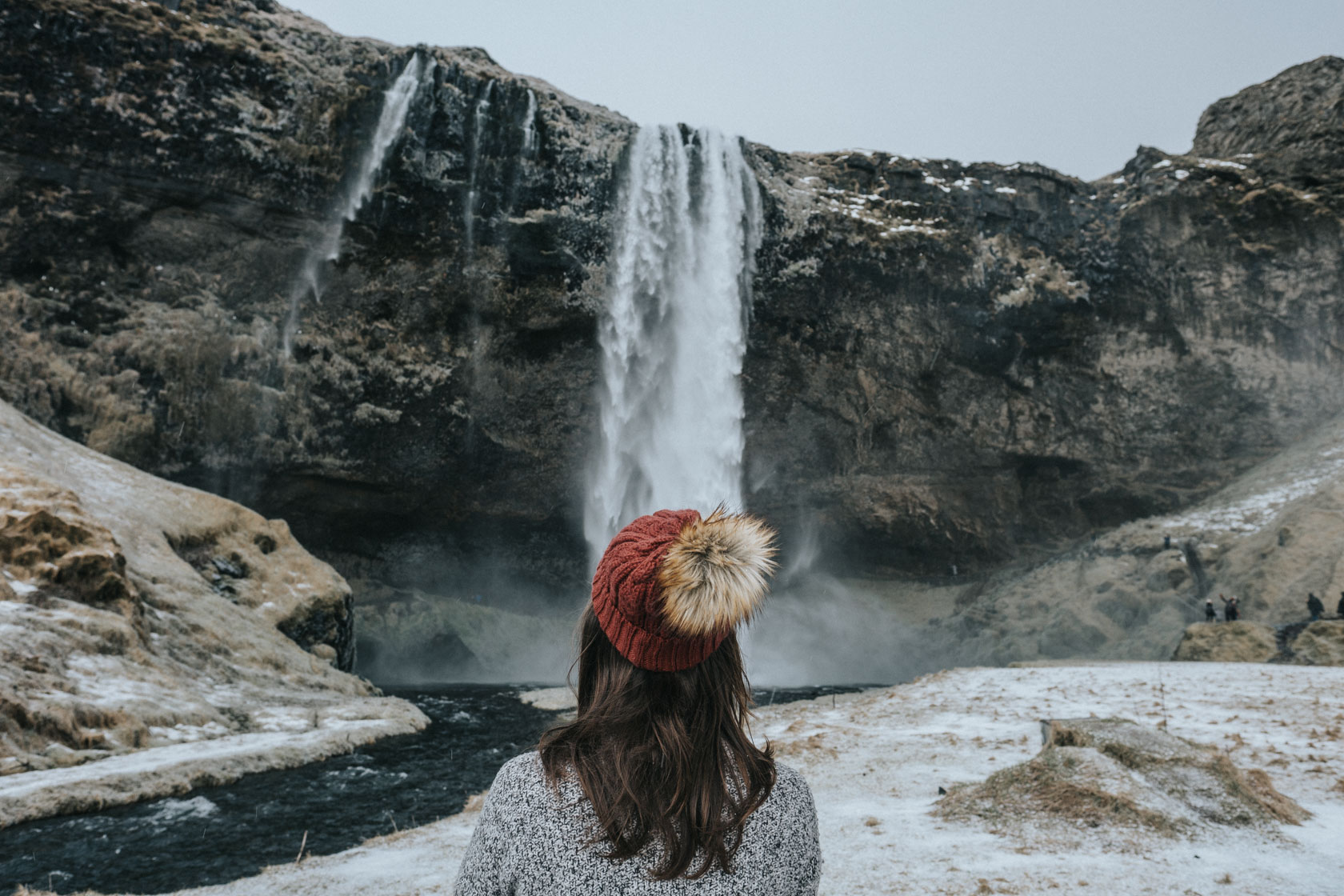 Next to Seljalandfoss are several other smaller waterfalls, but 90% of the people visiting never seem to take the short walk. In one waterfall, you can completely walk inside the cave where it's located, just make sure you've got your wellies! You might also remember Seljalandfoss as a place where you can also walk behind the waterfall, but it does require being waterproofed from head to toe!
Next, get ready for a small hike to Seljavallalaug Zwembad . This natural pool (which literally just pipes in water from a nearby hotspring) is not that warm in the winter, but absolutely an adventure in and of itself. It's pretty easy to find – you drive to Seljavellir, park your car, and soon find yourself on a path.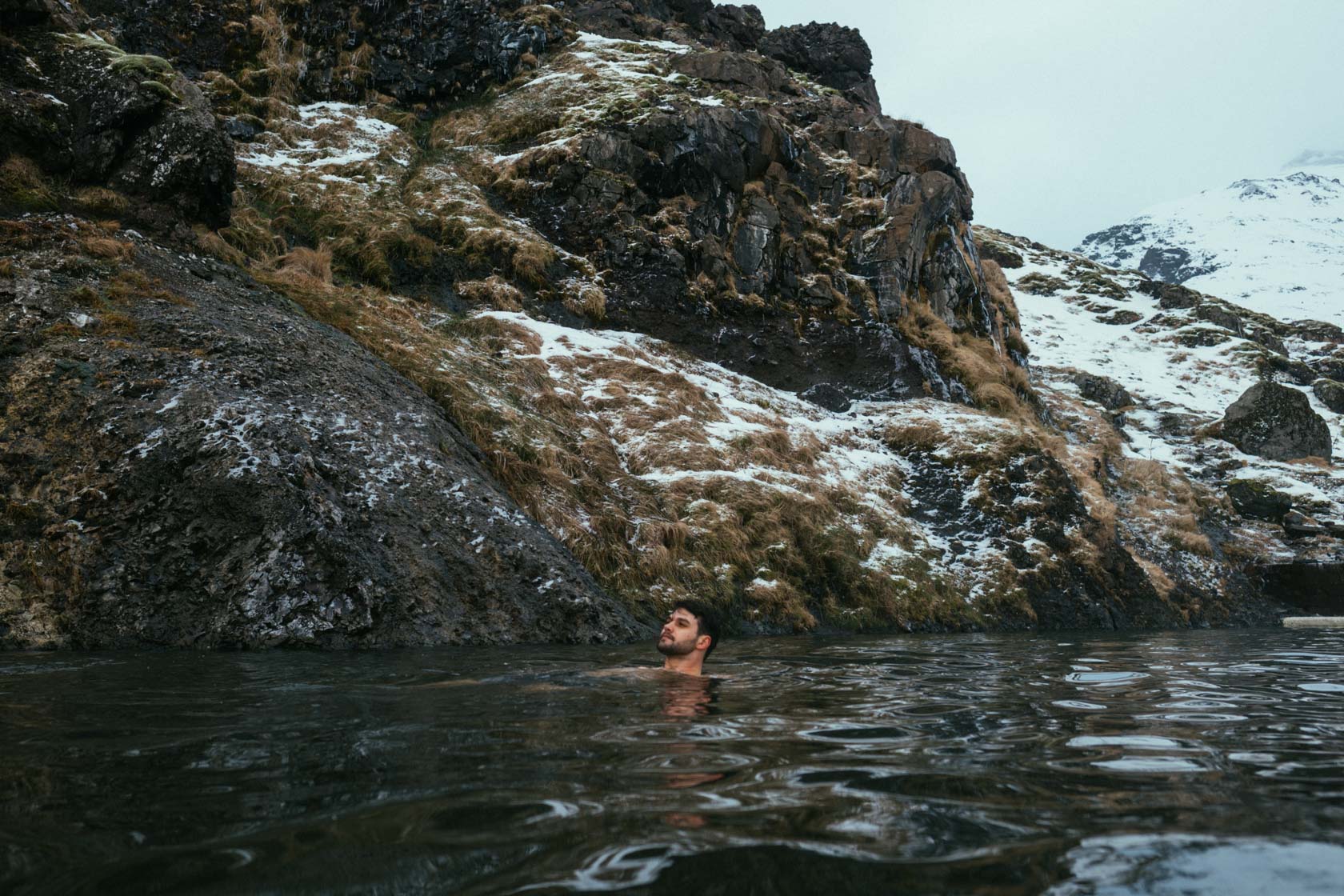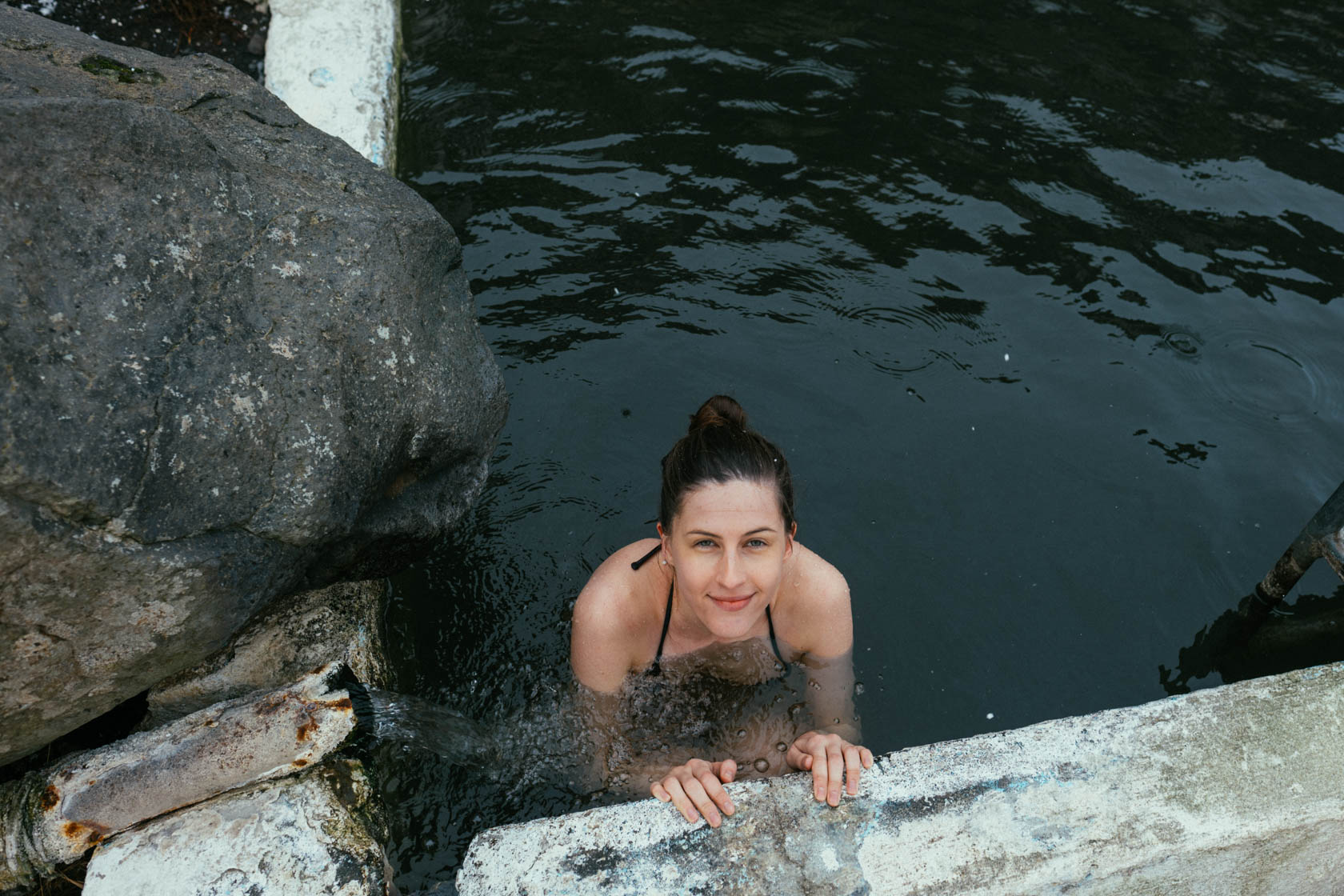 My number one tip: stay close to the river. It's easier to cross the river where it's wide and shallow, rather than where the water is running faster (I share this from firsthand experience: I fell in trying to use the rocks as a small bridge. No-worky).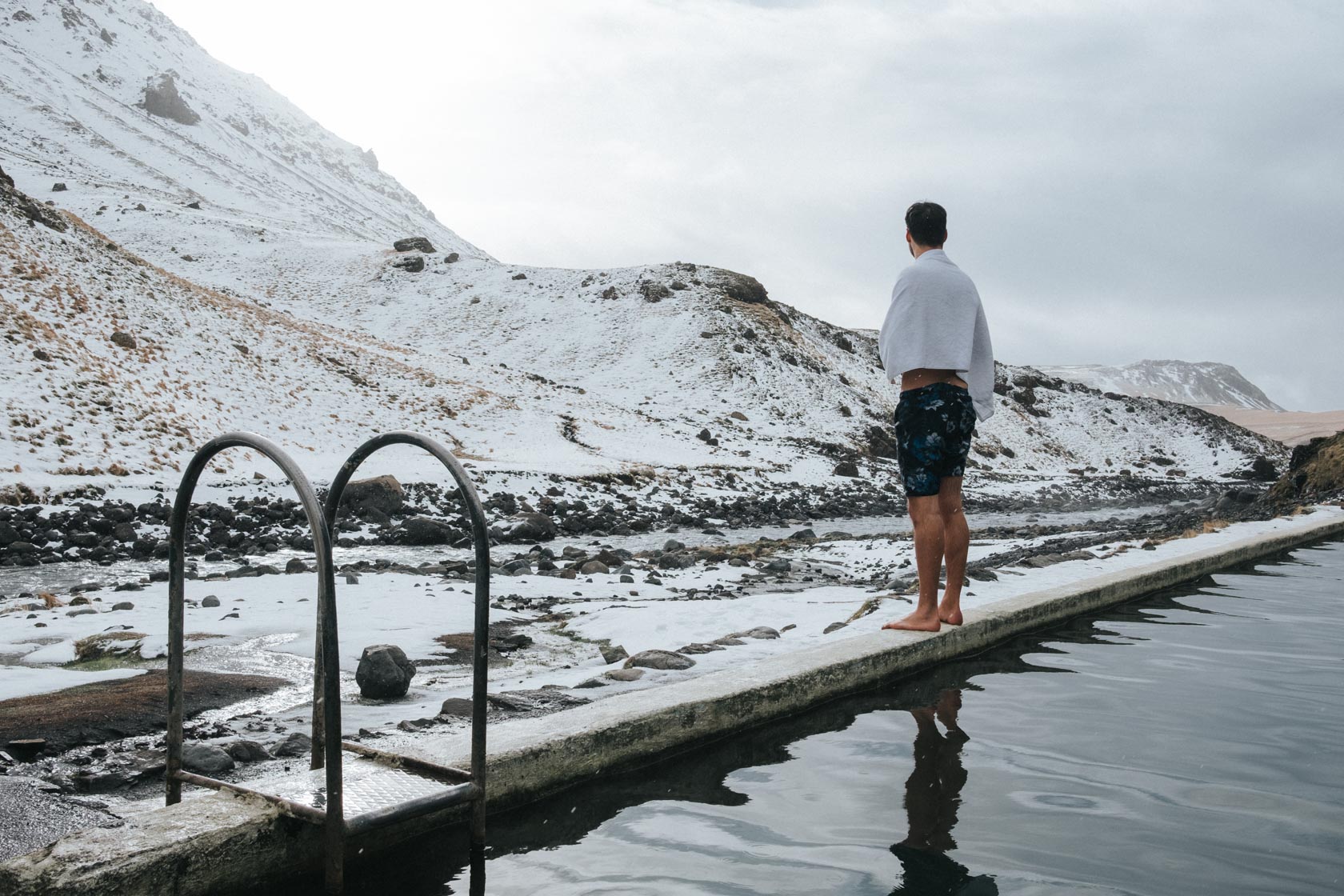 After taking a dip, hop back in the car and drive a few miles down the road to Skogafoss , of the most recognizable waterfalls in the whole island! You can get essentially as close to the waterfall as you want, just be prepared to get wet!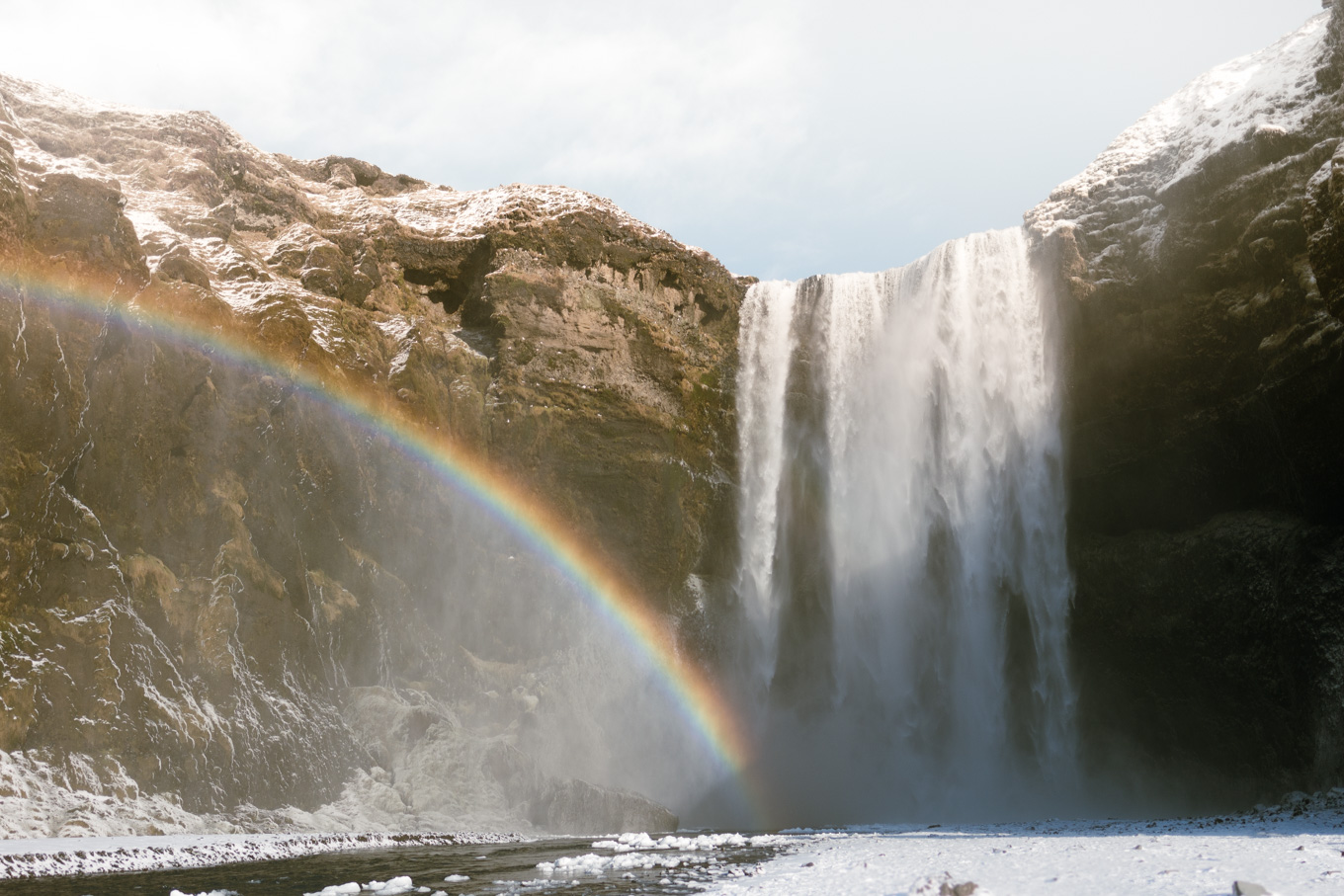 Places to see on Iceland's South Coast
Seljalandfoss ♦♦♦ – You can also go behind this waterfall, but be prepared to get drenched! Don't miss the other waterfalls along the mountain.
Seljavallalaug Zwembad ♦♦ – Bring waterproof shoes for this hike, and you'll be rewarded with a very cool natural bath surrounded by mountains.
Skogafoss ♦♦♦ – We visited Skogafoss twice, once during a small snowstorm and once during sunshine. It's amazing how different it looks depending on the weather!
Stay at Hotel Ranga
If you're going to treat yourself, Hotel Ranga is the place to do it. Beautiful rustic cabin-style rooms, three separate jacuzzis from which you can watch the Northern Lights, and a gourmet restaurant (can you say, reindeer carpaccio?!).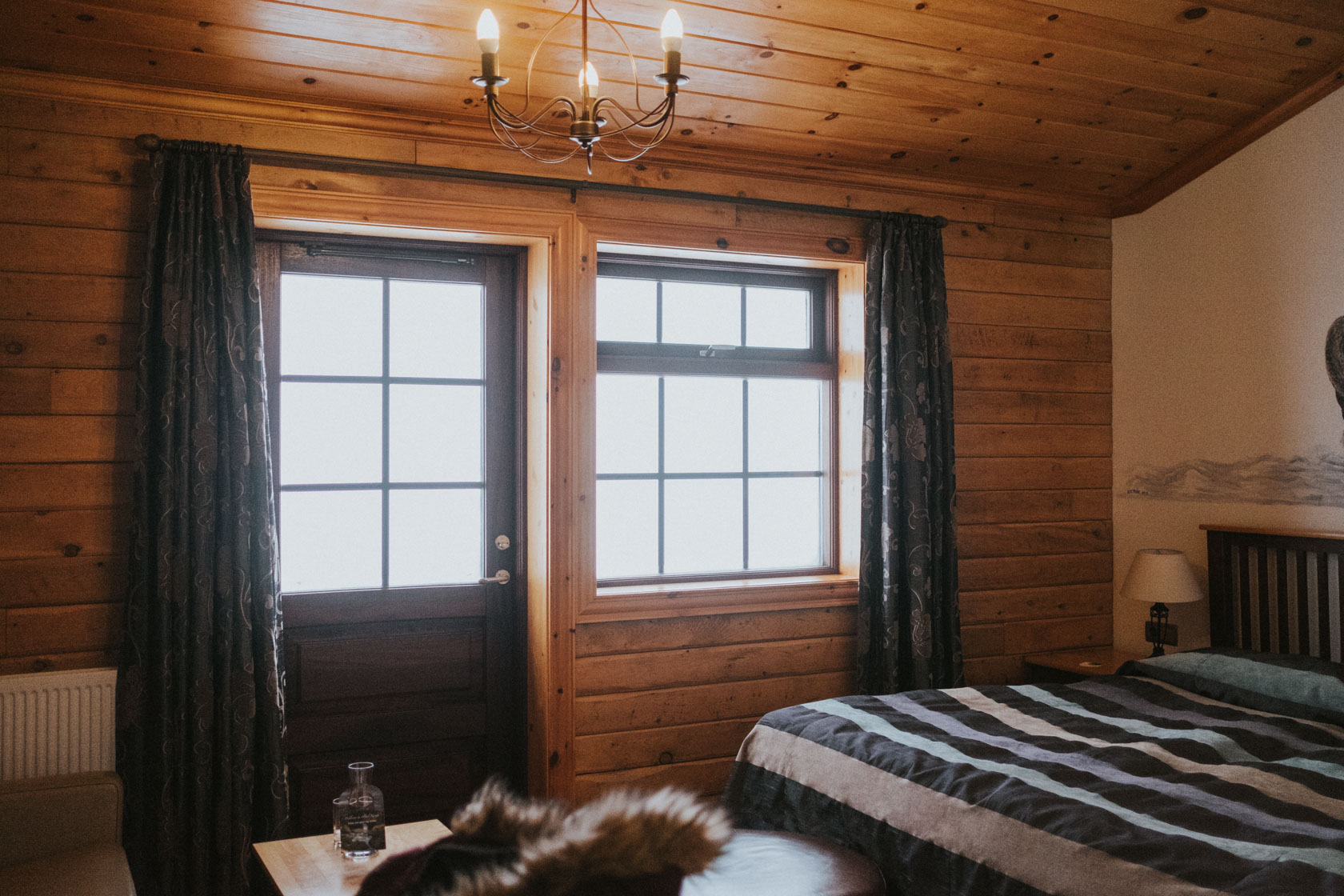 Our room also had a bath with jets in it, so it was the perfect way to get warm after spending the day subjecting ourselves to the elements. They even had something called bath tea?! No idea what it does, but it was a nice detail!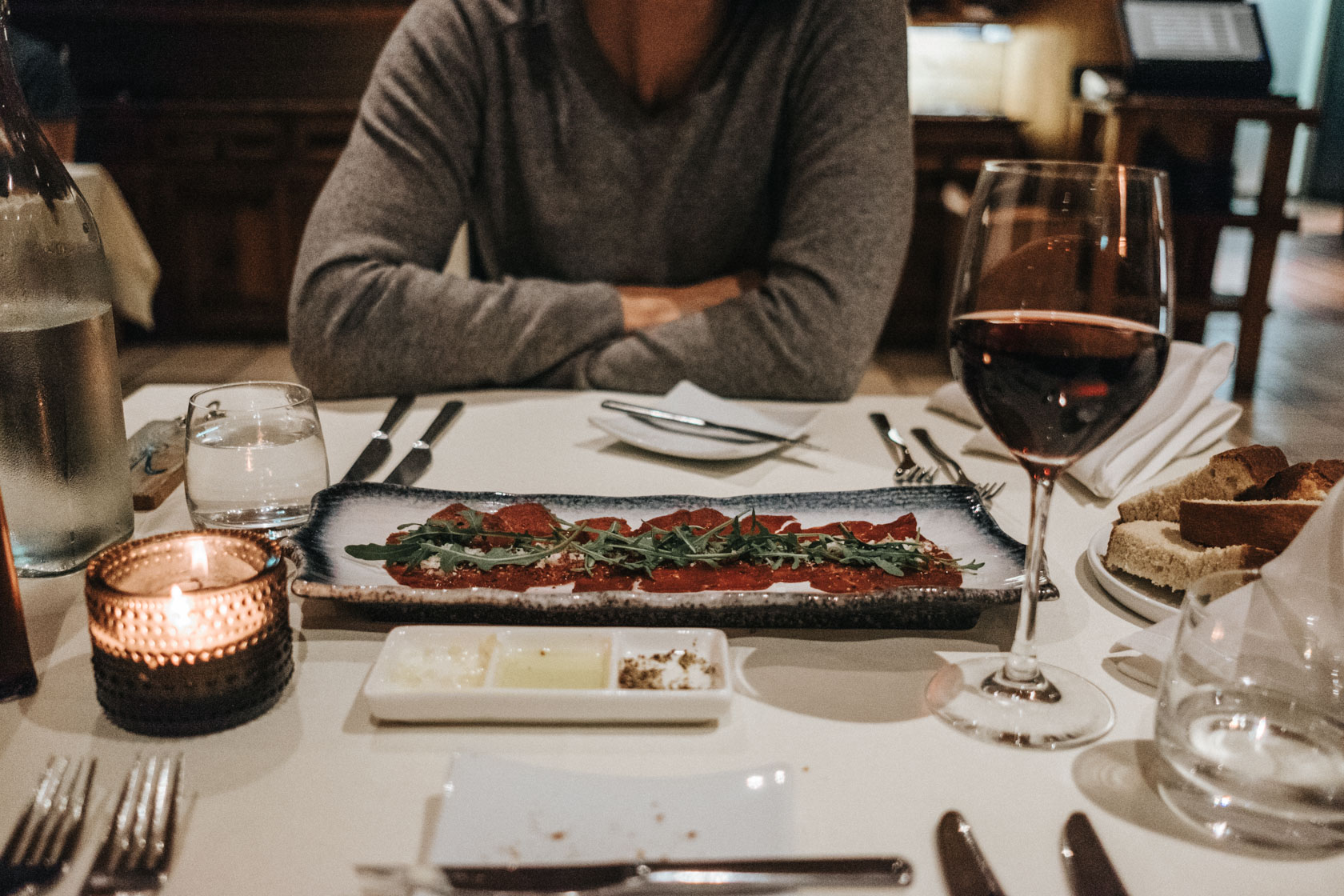 4. Black Sand Beaches (Hella → Skaftafell)
Black sand beaches were one of the coolest things I was looking forward to seeing when I came to Iceland, and they didn't disappoint. There are so many unique vantage points from which you can see stark contrast of the white foamy sea on ebony sand. Here are some of the best places to see Iceland's black beaches.
Dyrholaey Arch ♦♦♦ – Even though the next spot on this list is better known, the area you reach after turning onto the road to Dyrholaey has some of the best views. There's a lower parking lot, which offers great views, and a steep and trecherous gravel road that leads you to even better vistas (plus this lighthouse!).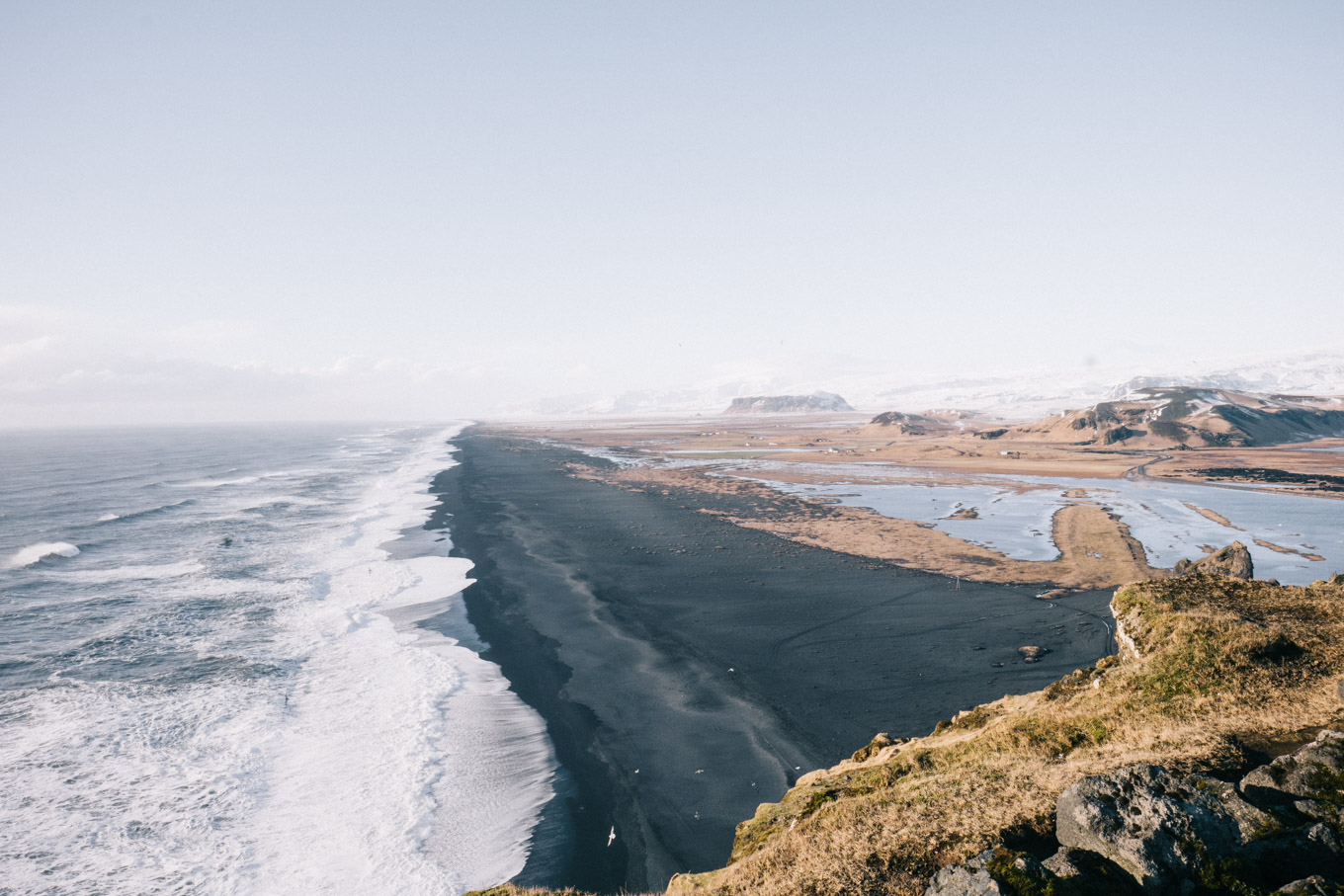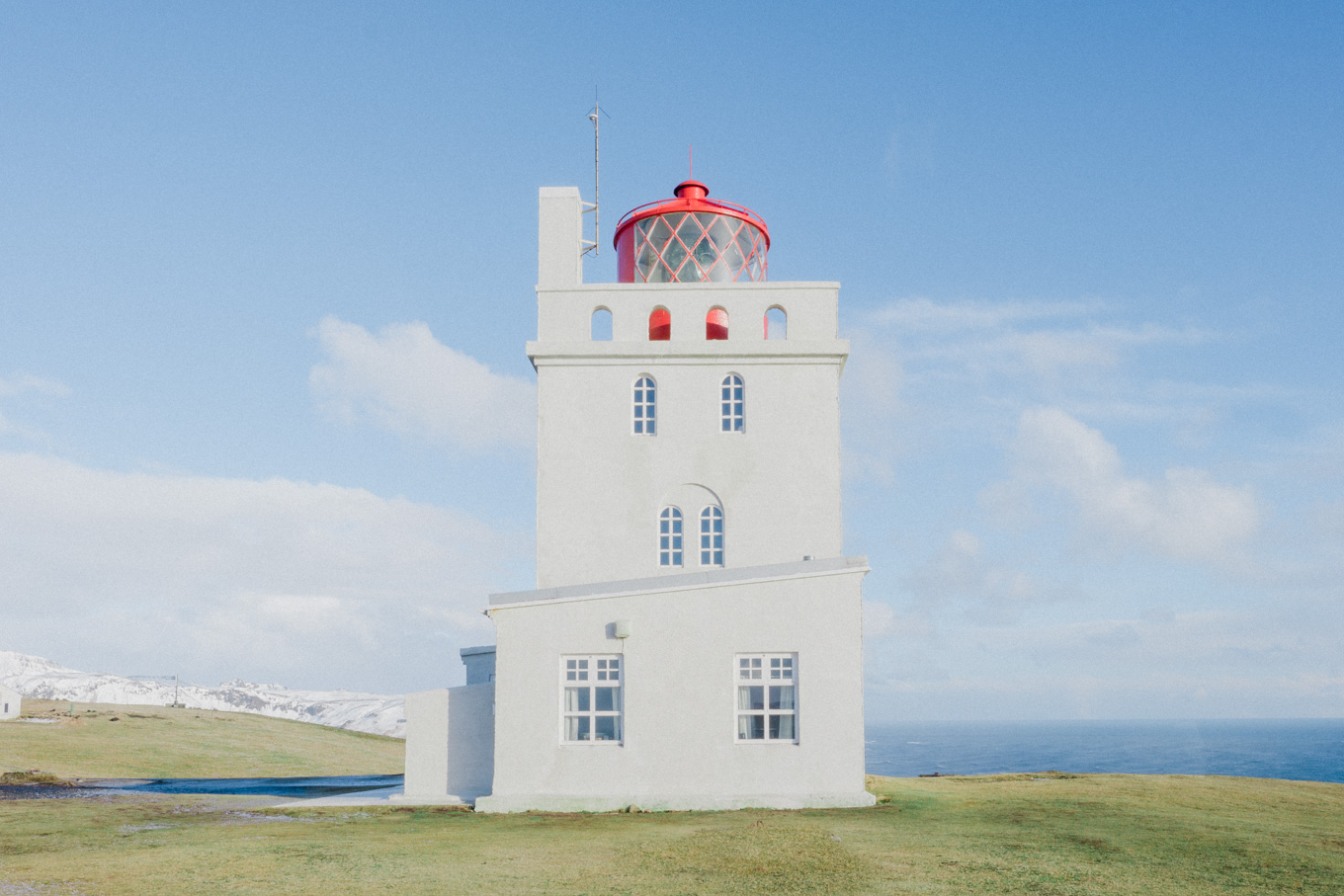 Reynisfjara ♦ – I've got a confession: the basalt columns you find at this location are actually kind of tiny! There are so many tourists here, even in the dead of winter, that it's not somewhere you're going to want to spend a lot of time (unless of course you show up first thing in the morning and beat the crowds).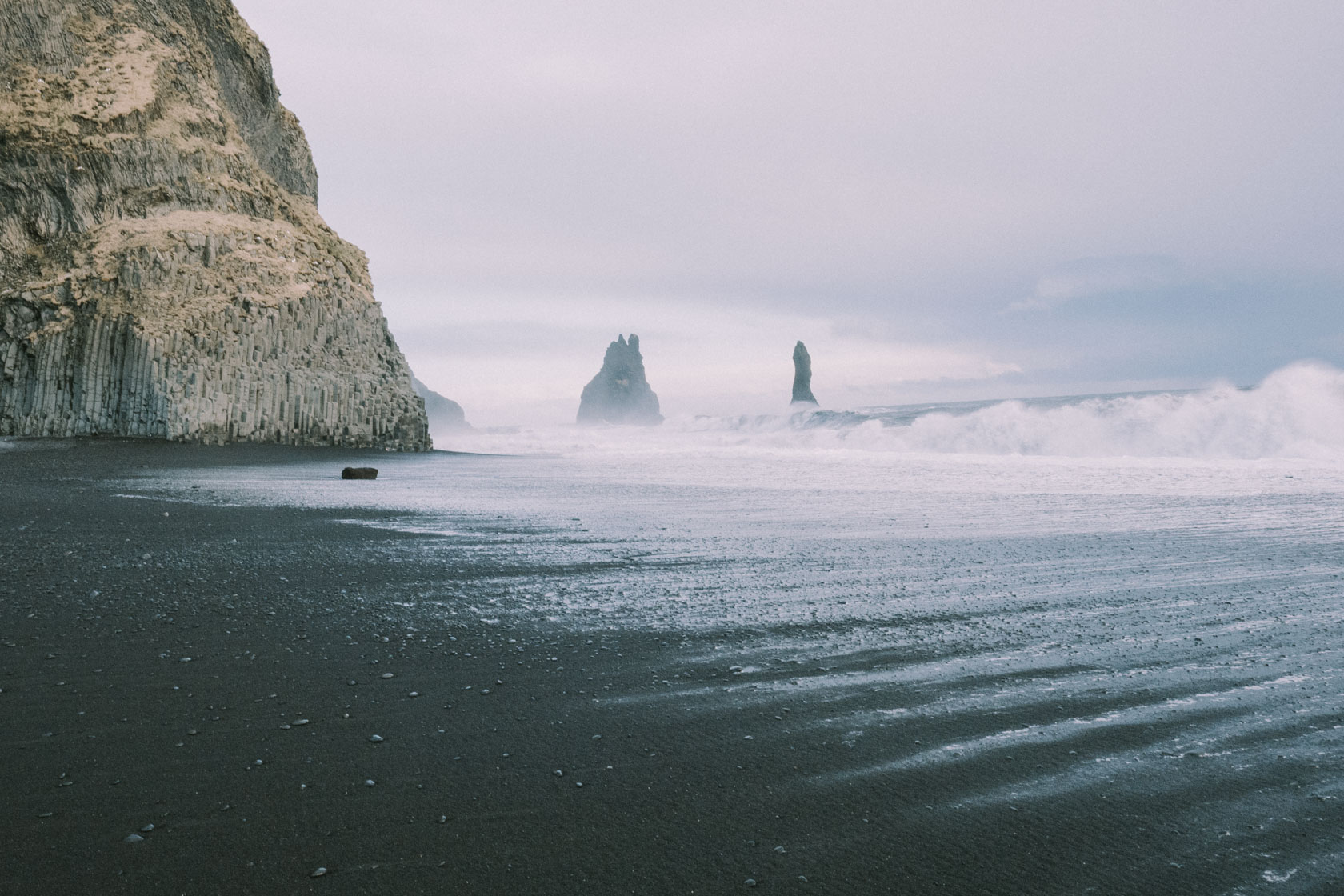 Sólheimasandur Plane Crash ♦ – The walk to this plane takes about 45 minutes each way. It's extremely easy to find (there's a wide path lined with reflective markers every 50 meters), just make sure the weather is going to cooperate on your walk!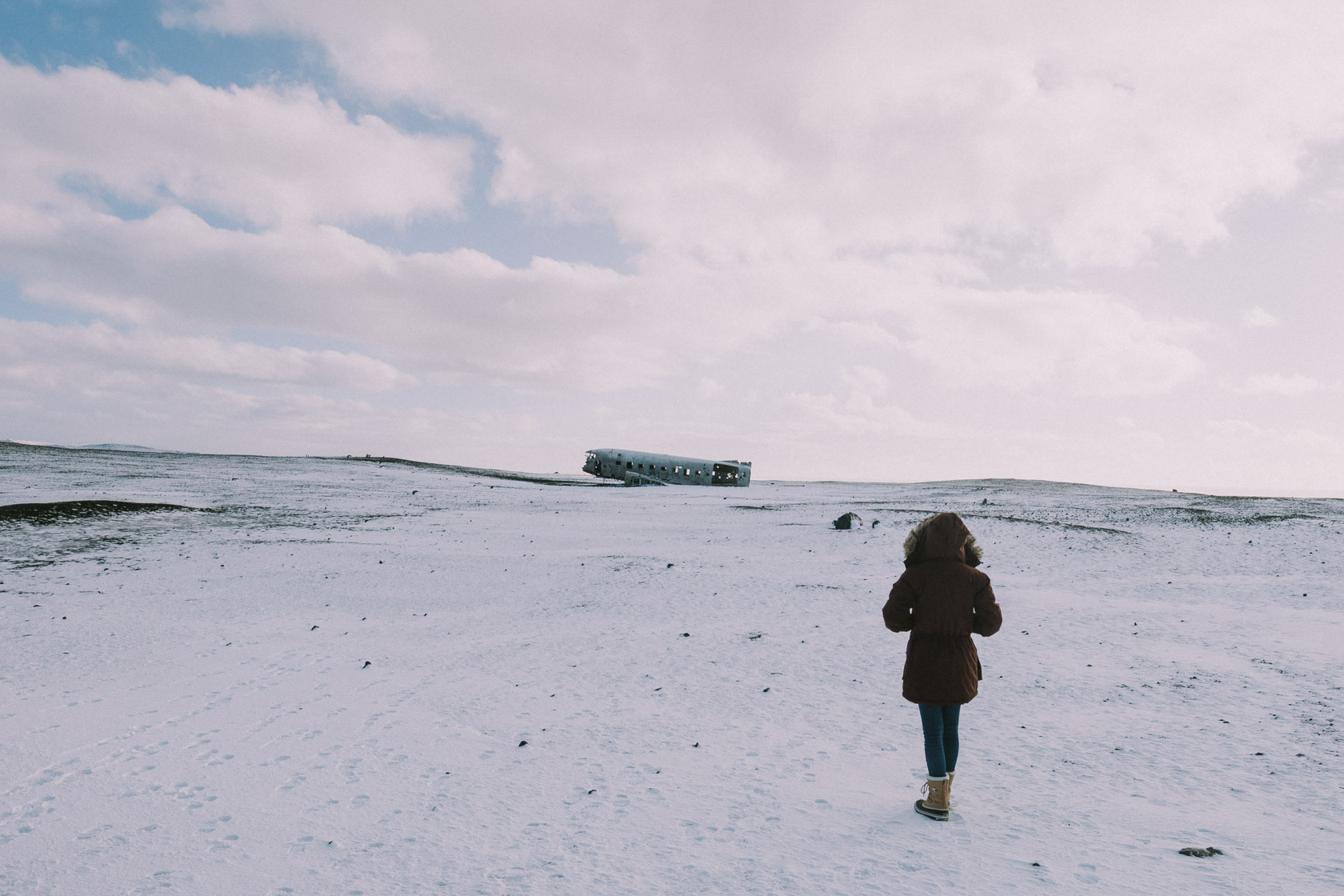 Fjaðrárgljúfur (Moss Canyon) ♦ – Covered in snow, the Moss Canyon leaves a lot to be desired (plus the road can be very icy in winter!). Minus the snow, there are a bunch of hiking trails in and above the canyon. I'd love to come back here when it's green and beautiful, but I wouldn't recommend the detour in Winter.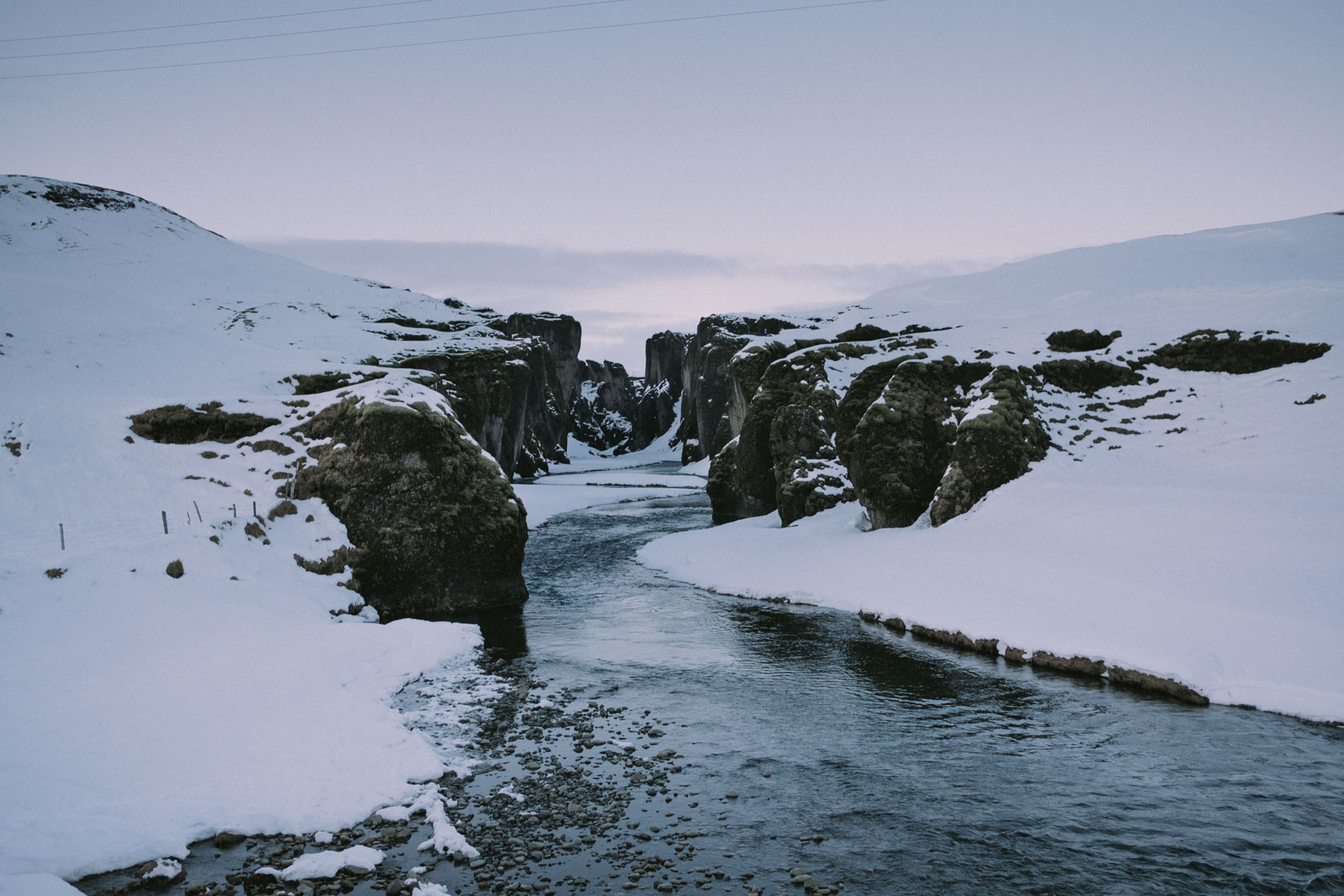 5. Glaciers (Skaftafell → Höfn)
If there's anything that makes traveling Iceland in Winter a challenge, it has to be the unpredictable weather. It's not that it's obscenely cold, but that the weather can completely derail your plans for the day with little-to-no notice.
What you need to know about booking a glacier tour
They're very prone to be canceled due to weather. Booking another tour last minute may be possible!
You can only go inside the ice caves during Winter, as they're flooded the rest of the year.
Try to visit less popular ice caves for a more intimate experience. If possible, opt for an ice cave besides Crystal Cave.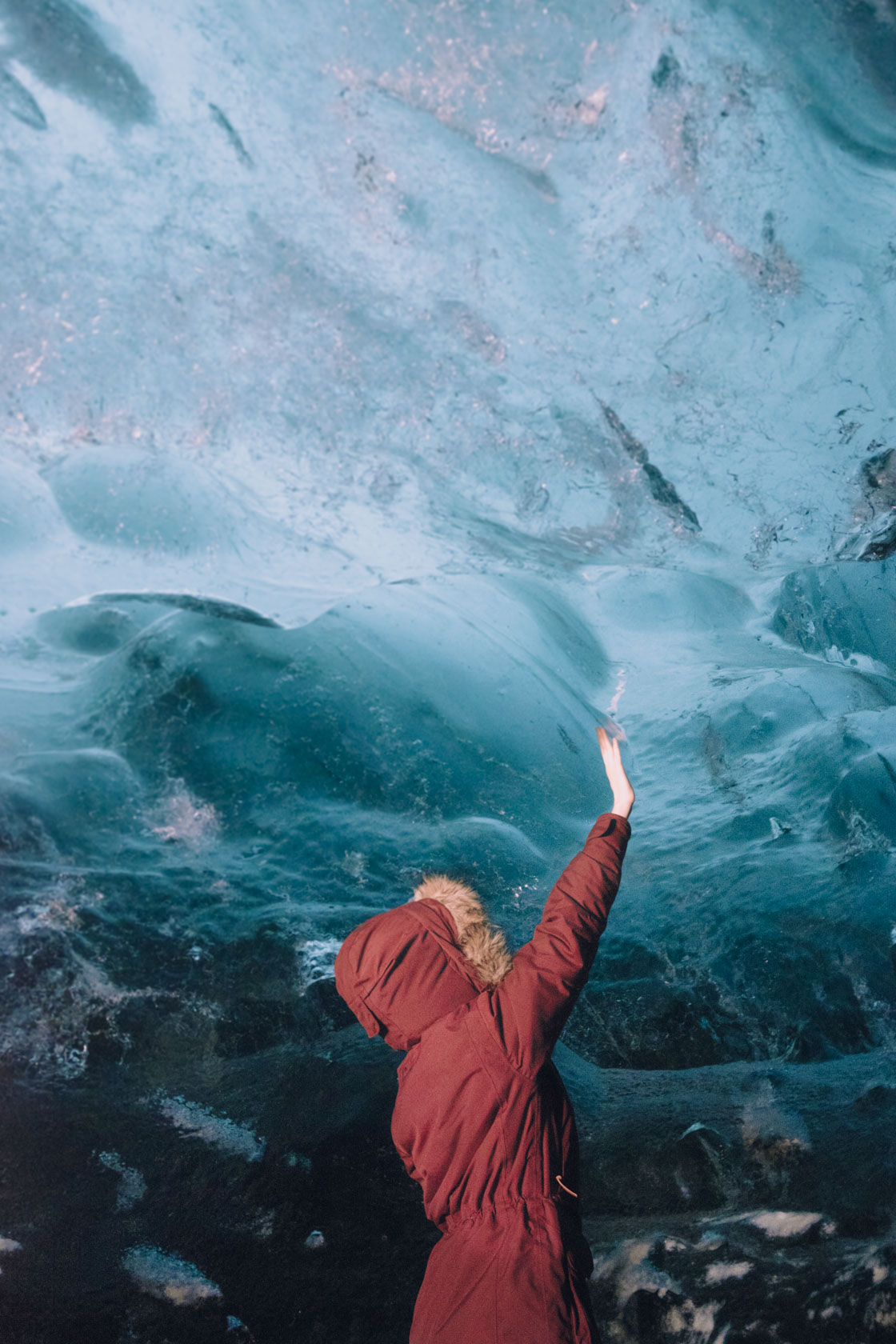 Photography gear used in this post
Newer version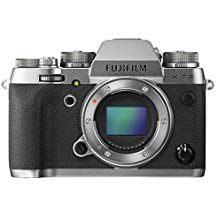 Fujifilm X-T2
This is the newer version of the camera used in this post (which I also own!)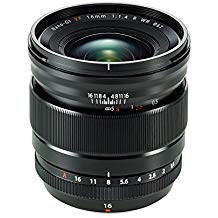 Fujinon XF 16mm f1.4 WR
Wide-angle lens great for landscapes and tight places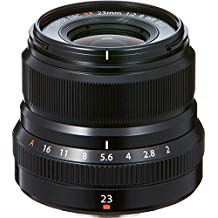 Fujinon XF 23mm f2 WR
Great travel lens, weather resistant too! Which is VERY important in Iceland.
Where to experience glaciers in Iceland
Svartifoss ♦♦ – In winter, I daresay Svartifoss isn't accessible without crampons! A 2km hike that's about half uphill, if you're going in the winter you're going to want the extra security of spikes under your shoes. From nearby you can also hike to see a great view over the glacier!
Ice Cave tour ♦♦ – Some companies operate on different glaciers and go to different caves, so you can get a more personal experience than if you go in a large group tour.
Jökulsárlón ♦♦ – Glacier Lagoon and the accompanying Diamond Beach is where chunks of glacier float out to sea, year-round.
TIP – If you're traveling Iceland in Winter and you haven't bought crampons yet, you can pick them up from the gas station in Höfn. We didn't see them at any other gas station in Iceland, so this is your best bet to pick some up! Just be prepared for a price tag of about $70.
Alternatively, you can buy crampons before you go from Amazon. If you are traveling Iceland and will encounter snow and ice (which, let's be honest, you will) you will thank me for years that you bought crampons.
Stay: Guesthouse Hafnarnes
Höfn ended up being one of my favorite small towns in Iceland, and an important component of this was definitely seeing the Northern Lights for the first time from Guesthouse Hafnarnes . There were intense, blistering cold winds which prevented us from taking photos without a bunch of blur from the wind shaking the tripod. Luckily, we could even see the northern lights from inside the guesthouse.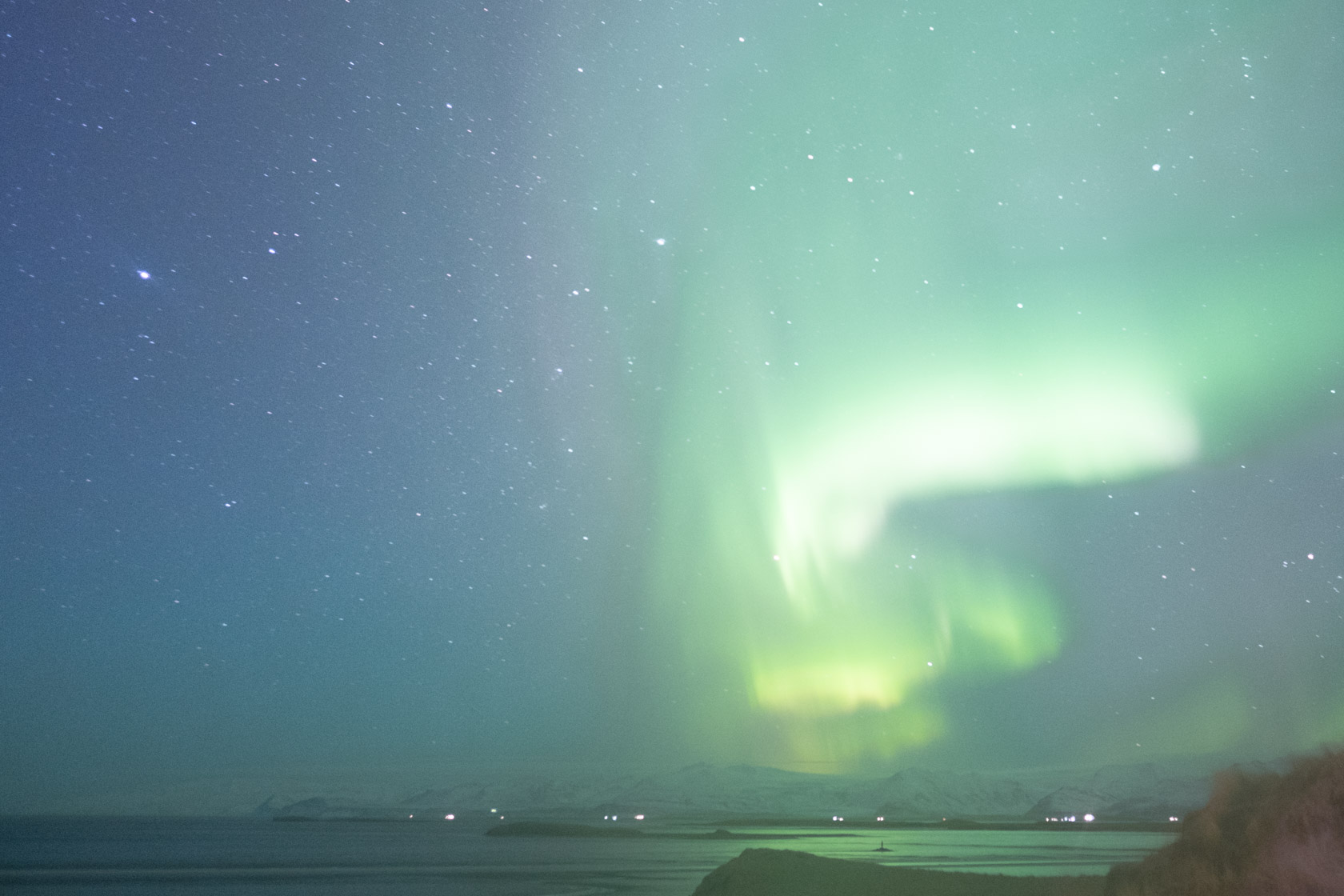 Eat: Pakkhús
It is amazing what five days in Iceland will do to your sense of what is expensive and what is a bargain. Case in point: we got a recommendation from the host at the guesthouse that Pakkhús is a great place to eat for dinner. The special of the day was $50 for a three course meal – and we thought to ourselves, "Wow, that's a good deal! Someone has to get it." In my normal, non-Iceland life I would never spend $50 on a single meal. But in this country, it was a really good deal and in fact, the best meal of the entire trip.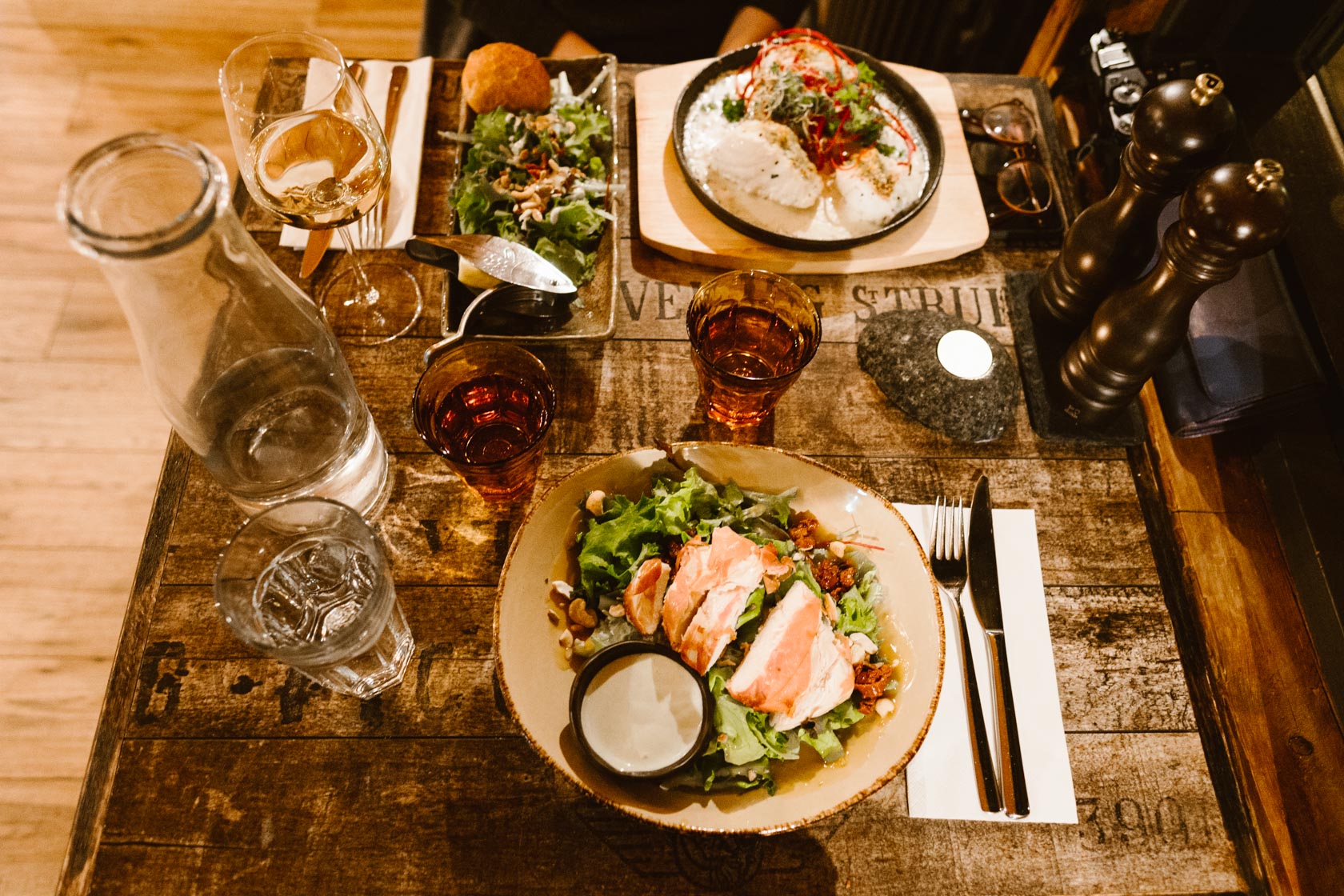 You can try Icelandic lobster here "on a budget" in the form of lobster soup for $18. It sounds insane, but you will not be as offended by this price by the time you get here 😜
6. From the East Fjords to North Iceland (Höfn → Mývatn)
Today is a long day of driving, but easily one of the most scenic, culminating in Europe's most deadly waterfall just before nightfall. So get yourself some road snacks and let's start this beautiful drive!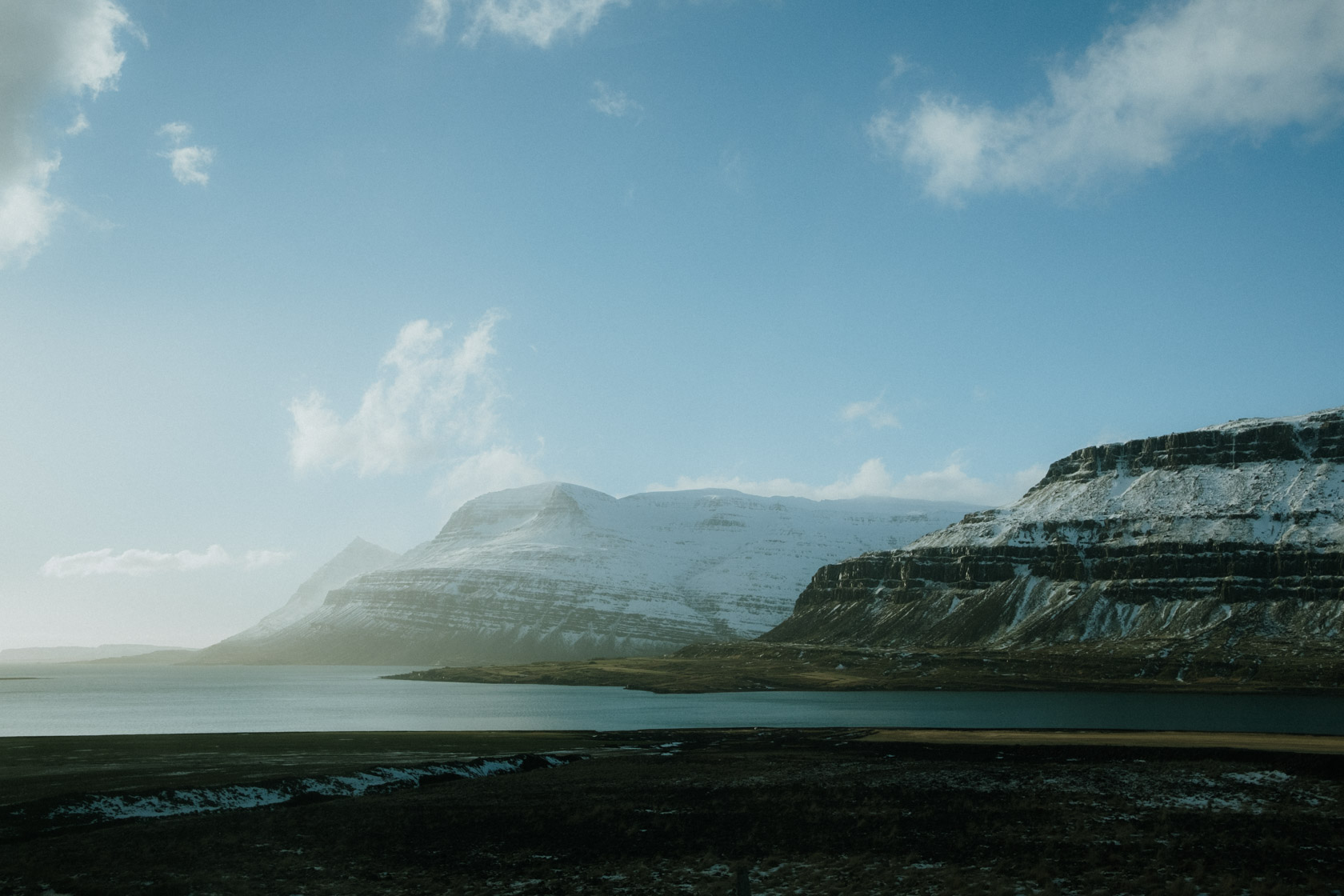 One thing I noticed about this drive along Iceland's east coast was that the climate changed dramatically from the south. There, we experienced a ton of snow and storms, but on the east we had clear blue skies and saw mostly moss and exposed rock. There are more black beaches, and the east is dotted with small industrial towns where you can pull off to visit the general store or get gas at an unmanned gas station.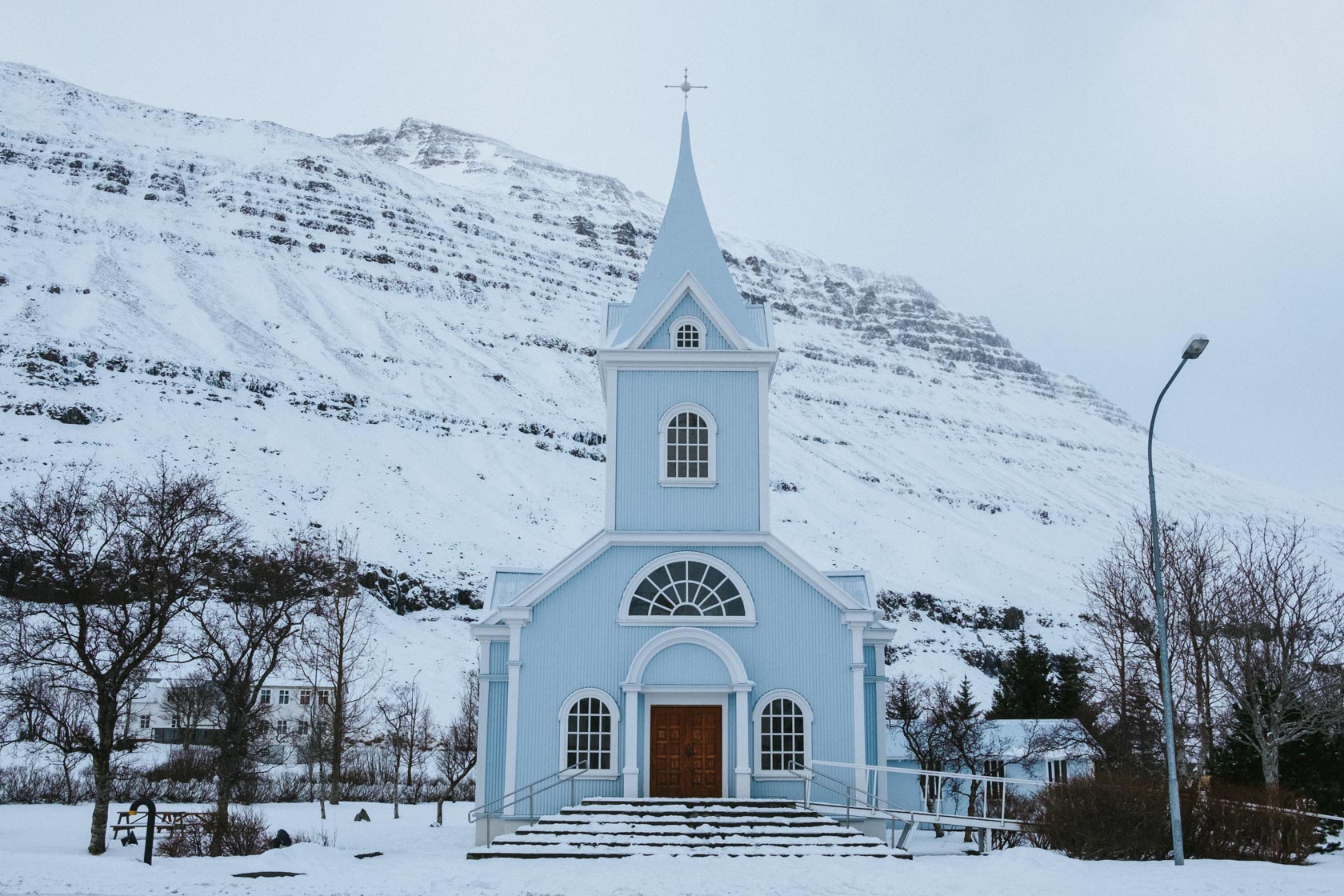 My top tip for today would be make sure you have a good playlist! It's the longest day of driving, and you'll spend most of your time looking at beautiful mountainscapes from the car.
Places to see in East Iceland
Gorgeous drive along the Eastern Fjords ♦♦♦ – This long and windy road will keep you close to the sea. Keep an eye out for possible road closures in Winter, as you may need to improvise and take a slight detour off the Ring Road.
Egilsstaðir ♦ – The only "major city" in East Iceland, here you can stock up at the grocery store, get gas, and even buy some crampons at a local outdoors shop (bear in mind: winter hours mean they open at 3pm).
Seyðisfjörður ♦♦ – You have to take a mountain pass from Egilsstaðir to access Seyðisfjörður, but if weather permits it's worth it to visit this adorable harbor town. There's a weekly ship that heads to the Faraoe Islands and then on to Denmark from here, but the main attraction has to be one of Iceland's prettiest, tiniest churches. Coming out of town, you can also pull off to see a small waterfall, naturally.
Dettifoss ♦♦♦ – Dettifoss can be accessed from two different directions, from the east and from the west. On the East, you'll meet an unpaved road which may be closed in Winter (it was for us). This side let's you get right to the edge of Dettifoss, which is amazing for photos. The road on the West is newer, paved, and you only have to walk for about 20 minutes to reach the waterfall along a paved path. If you have the time, it's probably worth it to view Dettifoss from both sides.
Selfoss ♦♦♦ – While Dettifoss is more powerful, Selfoss is definitely the prettier waterfall. The distance markers are a bit misleading, as Selfoss is a quick walk from the car park and will be your last stop of the day.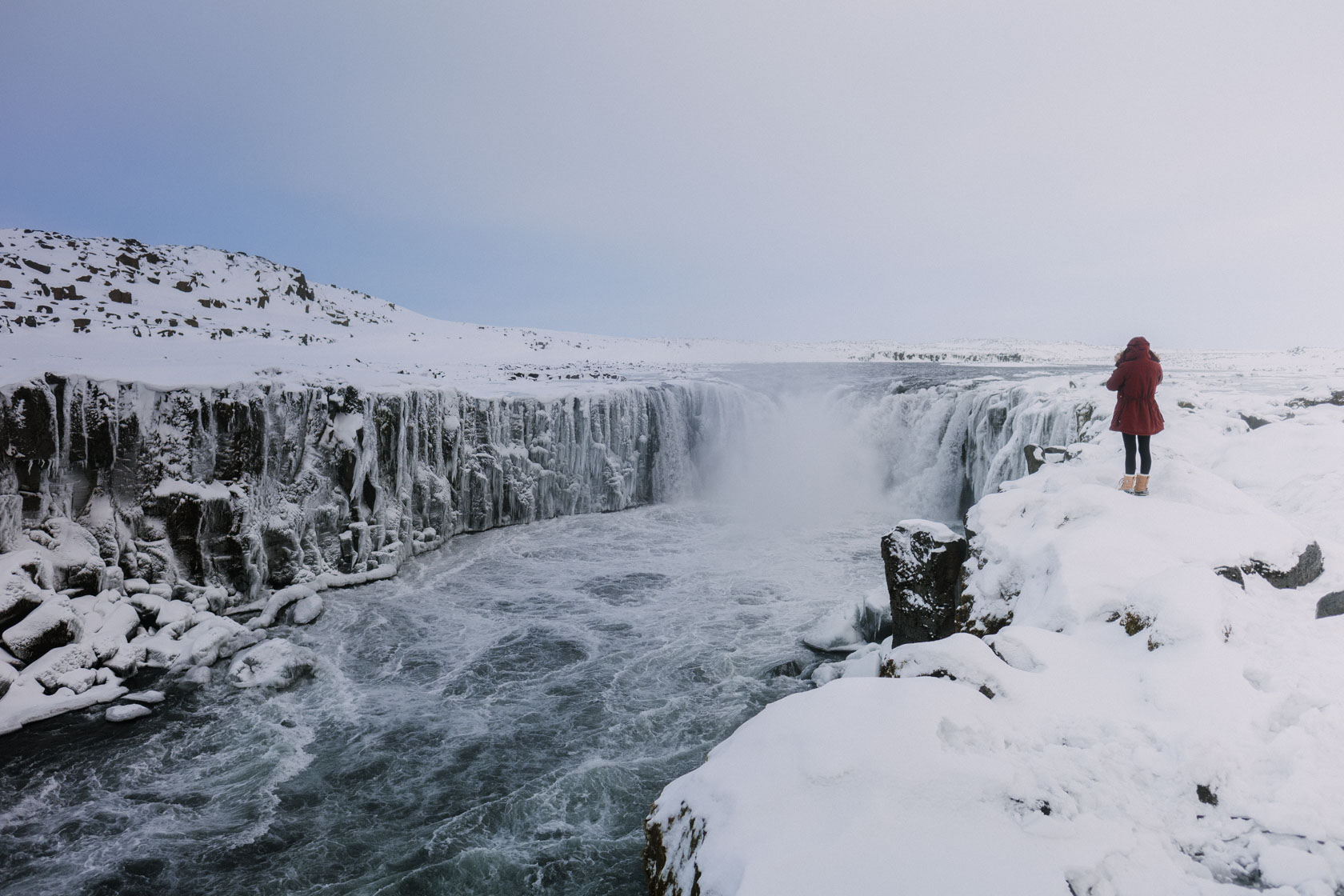 Stay: Dimmuborgir Guesthouse
From the pair of waterfalls, you'll continue to Mývatn , which you'll likely only see by night today. Right on the East Coast of the lake you'll find the Guesthouse Dimmuborgir , which is basically a series of cute cabins outfitted with kitchens and either a lake view or a crater view. It's also a great location to start the next day exploring the lake area.
7. Explore Mývatn and the Northeast (Mývatn → Akureyri)
Mývatn has to be one of the most alien areas of Iceland that you can encounter from the Ring Road. The landscape largely comprises lava rock, and the craters especially make it feel like you're on another planet. In this area you'll also find a less commercialized alternative to the Blue Lagoon, which is definitely worth a visit.
Things to do around Mývatn and North Iceland
Dimmuborgir ♦ – These lava formations were supposedly home to the "Yule Lads", a gang of trolls who lived in these formations. It's said that the area looks like an entire city formed out of lava rocks, but it's hard to see it when it's covered in snow. I bet this place is more interesting once the snow melts.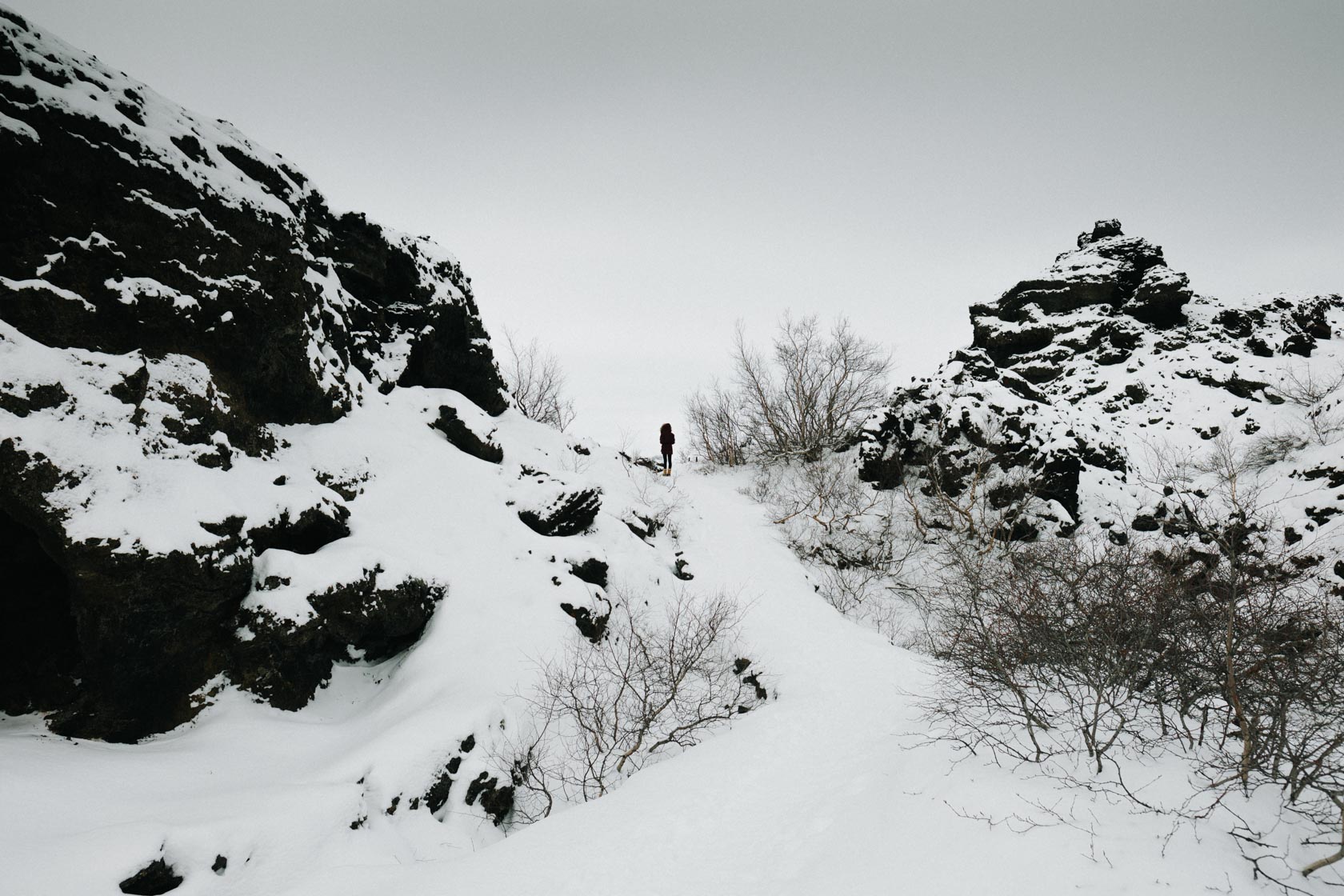 Námafjall Hverir ♦♦ – If you've been to geothermal areas elsewhere on this trip, you should still visit this one – it's bigger and more impressive than the others, and you can get even closer to some of the springs and bubbling pits.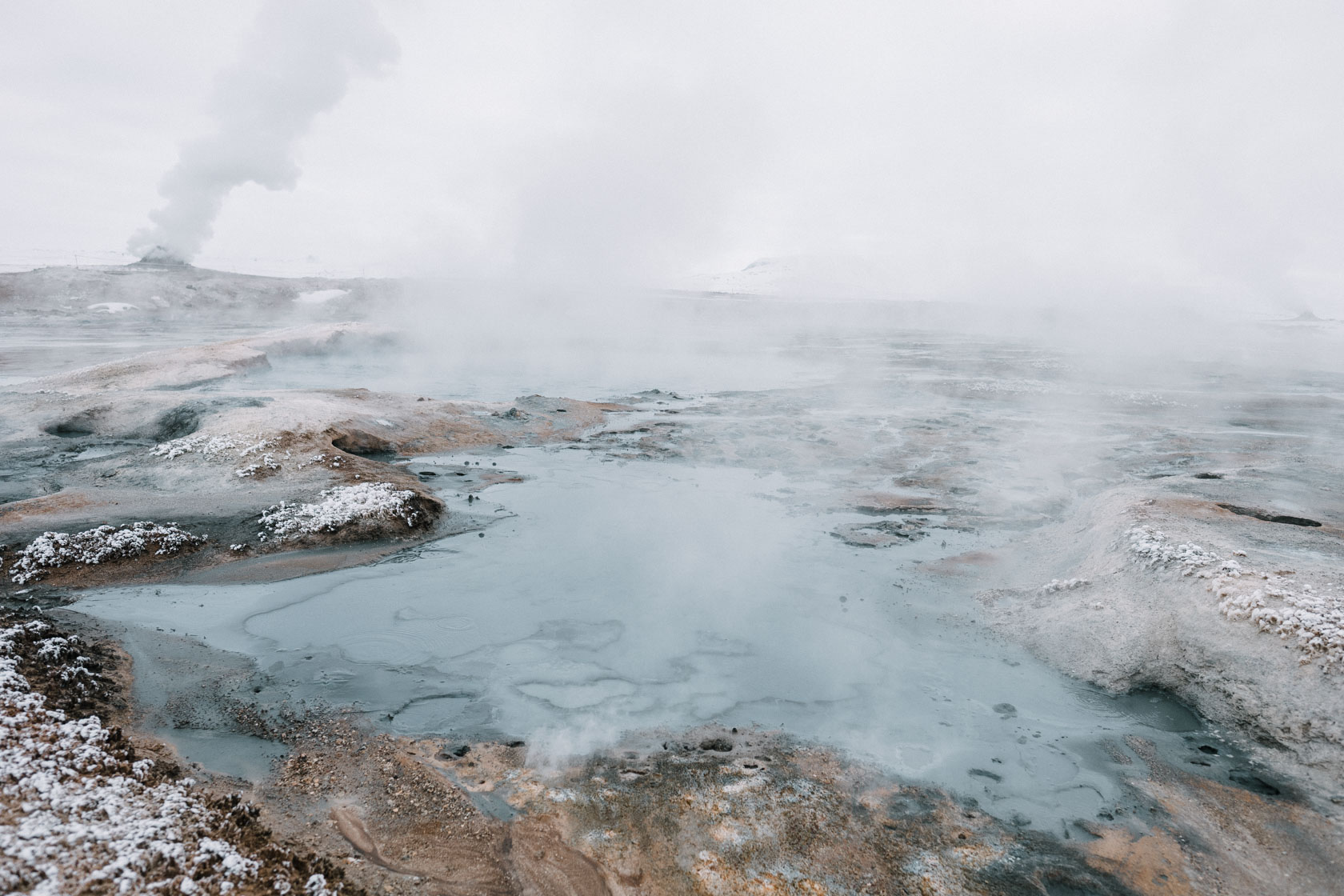 Mývatn Nature Baths ♦♦ – A much less expensive alternative to the Blue Lagoon, here you can experience the Icelandic tradition of naked bathing and getting into ultra hot water. In the winter it's hard to see the surrounding landscape because of the steam coming off of the water, but that also makes it even more interesting to explore.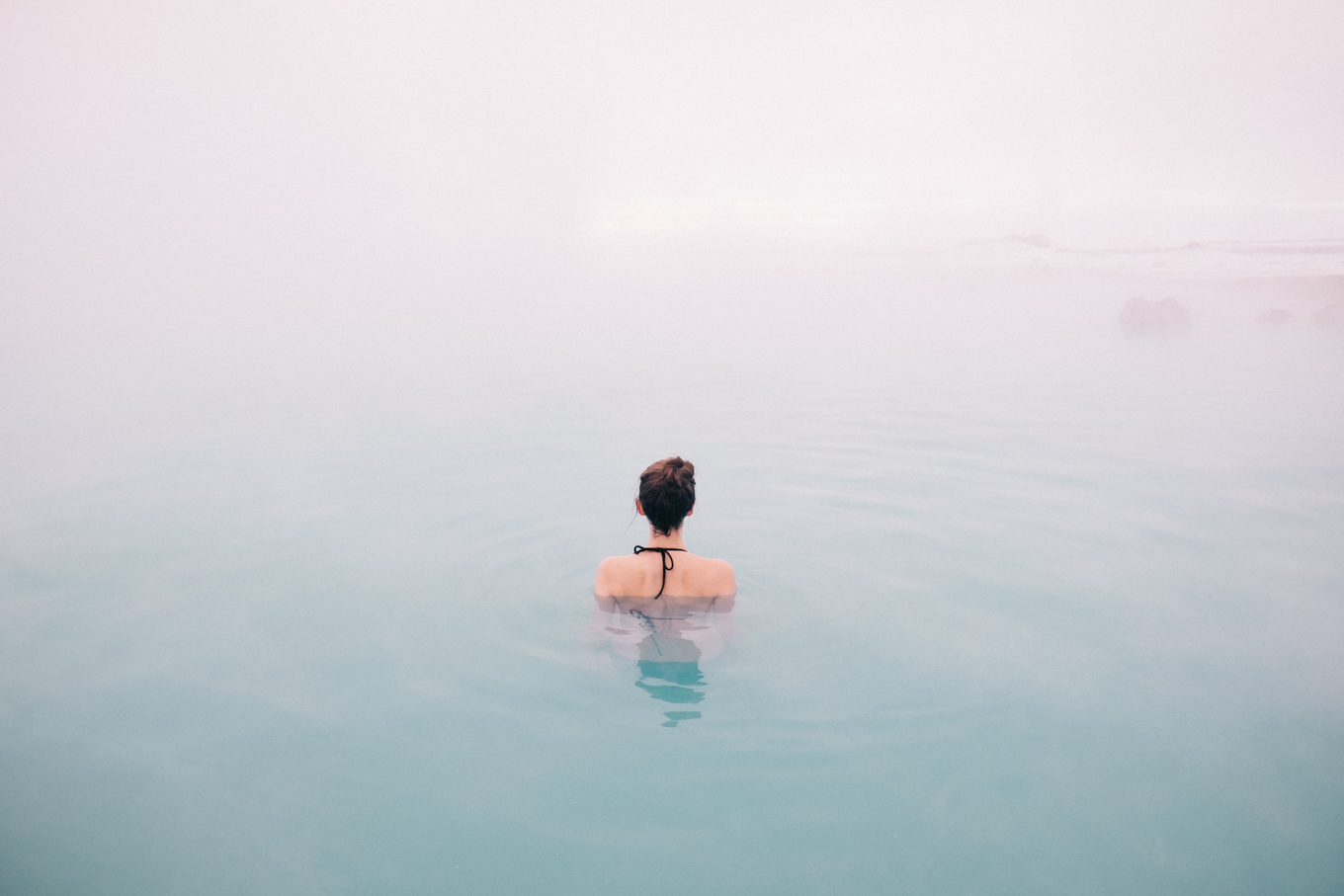 Krafla Power Plant ♦ – Iceland is a leader in producing the energy consumed in the country using geothermal means, and this powerplant is just one that harnesses nature to provide power to homes in Iceland. In the Spring you can take a take of the plant, but in the mean time you can still drive up to the plant and see it at work.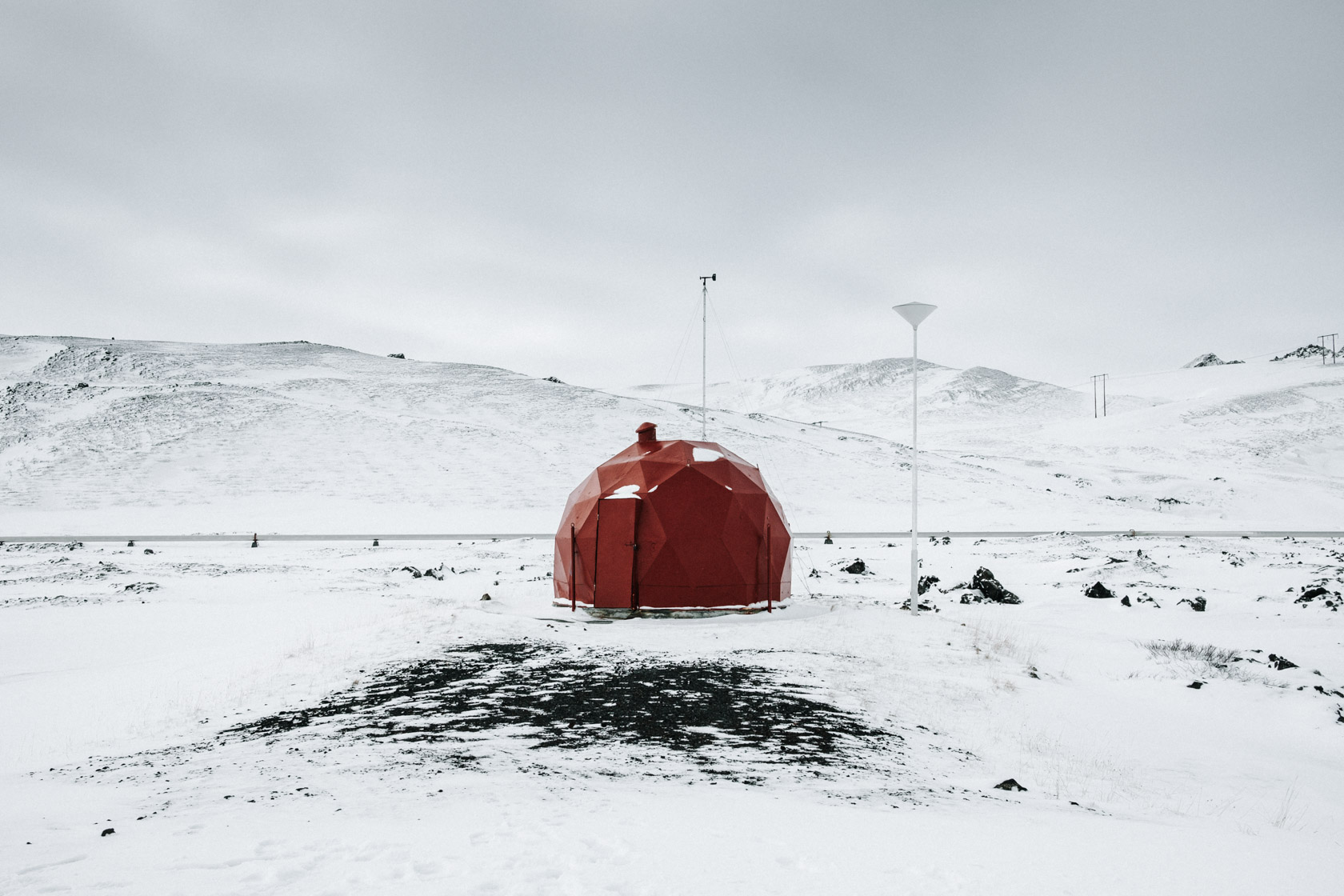 Skútustaðagígar ♦ – You can walk around the rim of some of these craters, which is definitely a unique experience. You'll encounter these craters when doing a loop around Myvatn, you basically can't miss them from the car window!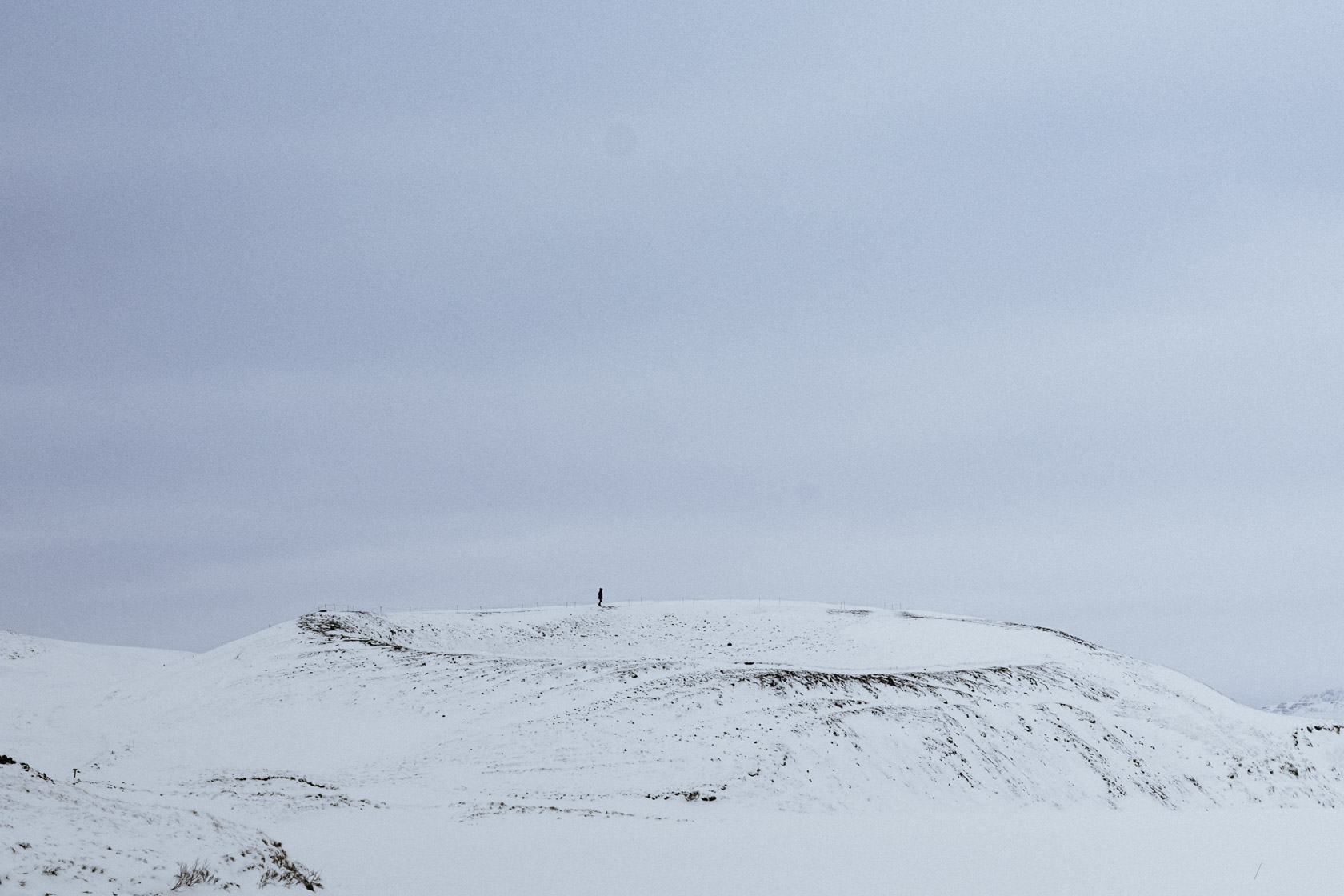 Góðafoss ♦♦♦ – Take it in because Góðafoss is the last proper waterfall we're going to encounter in Iceland! Luckily it's very beautiful, and extremely easy to access from the Ring Road. You can basically park next to the waterfall, and it can be accessed by foot from both sides by a bridge.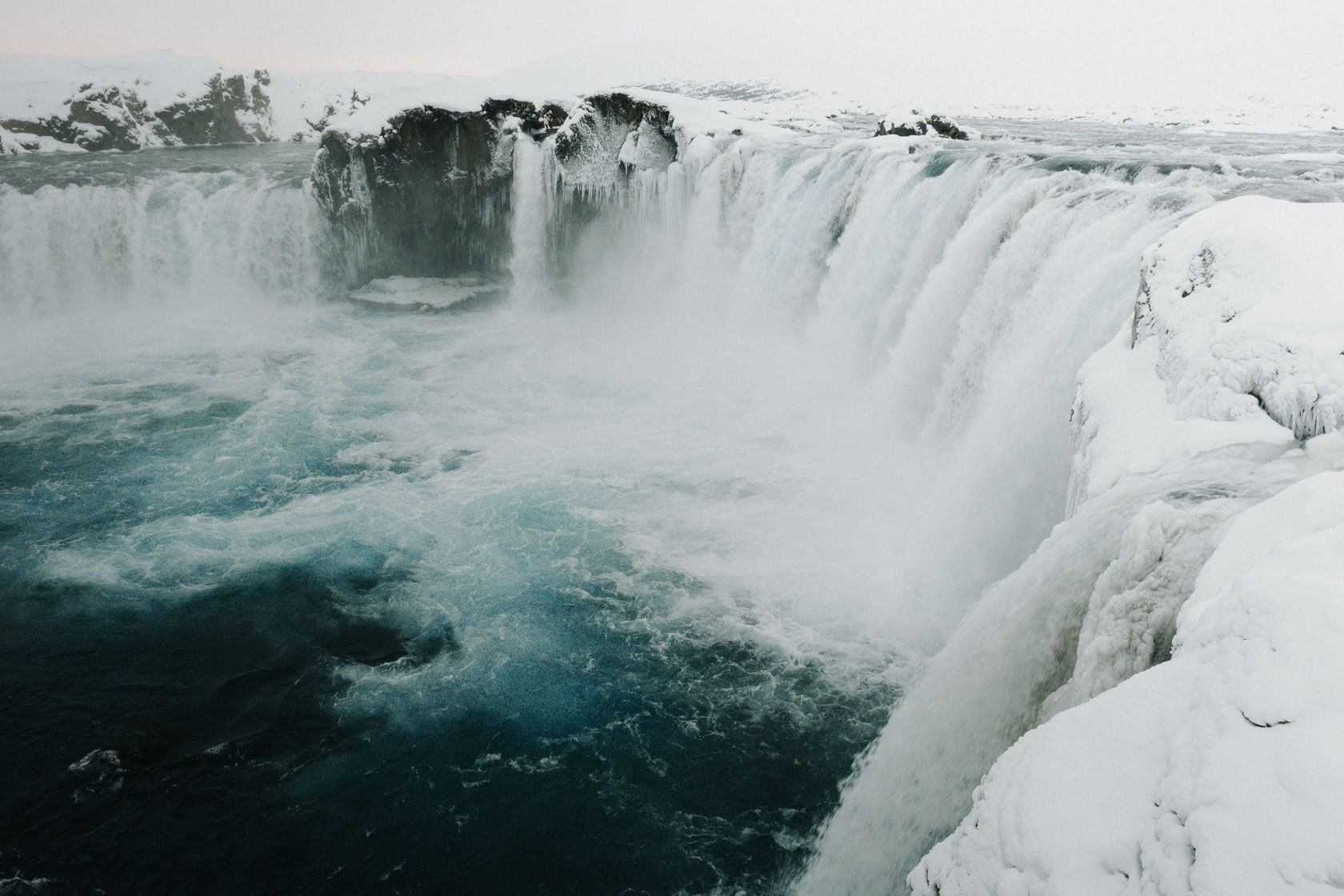 Stay: Iceland Air Hotel Akureyri
Tonight you'll arrive in the second largest city in Iceland, Akureyri . Compared to all the small towns we've seen lakely, Akureyri feels pretty poppin'. We won't do any sight-seeing here, just walk around the city in the evening, a quick look at the church (which was designed by the same architect as the Hallgrímskirkja in Reykjavik), and of course: dinner. There are also a bunch of souvineer shops in Akureyri if you're still missing a postcard or viking helmet 😉
There are more choices for a hotel in Akureyri than almost anywhere else on this list, but Iceland Air Akureyri has a great location you can use to walk anywhere in the center of town, including past the church. Enjoy the feeling of civilization before we head back out into the country tomorrow!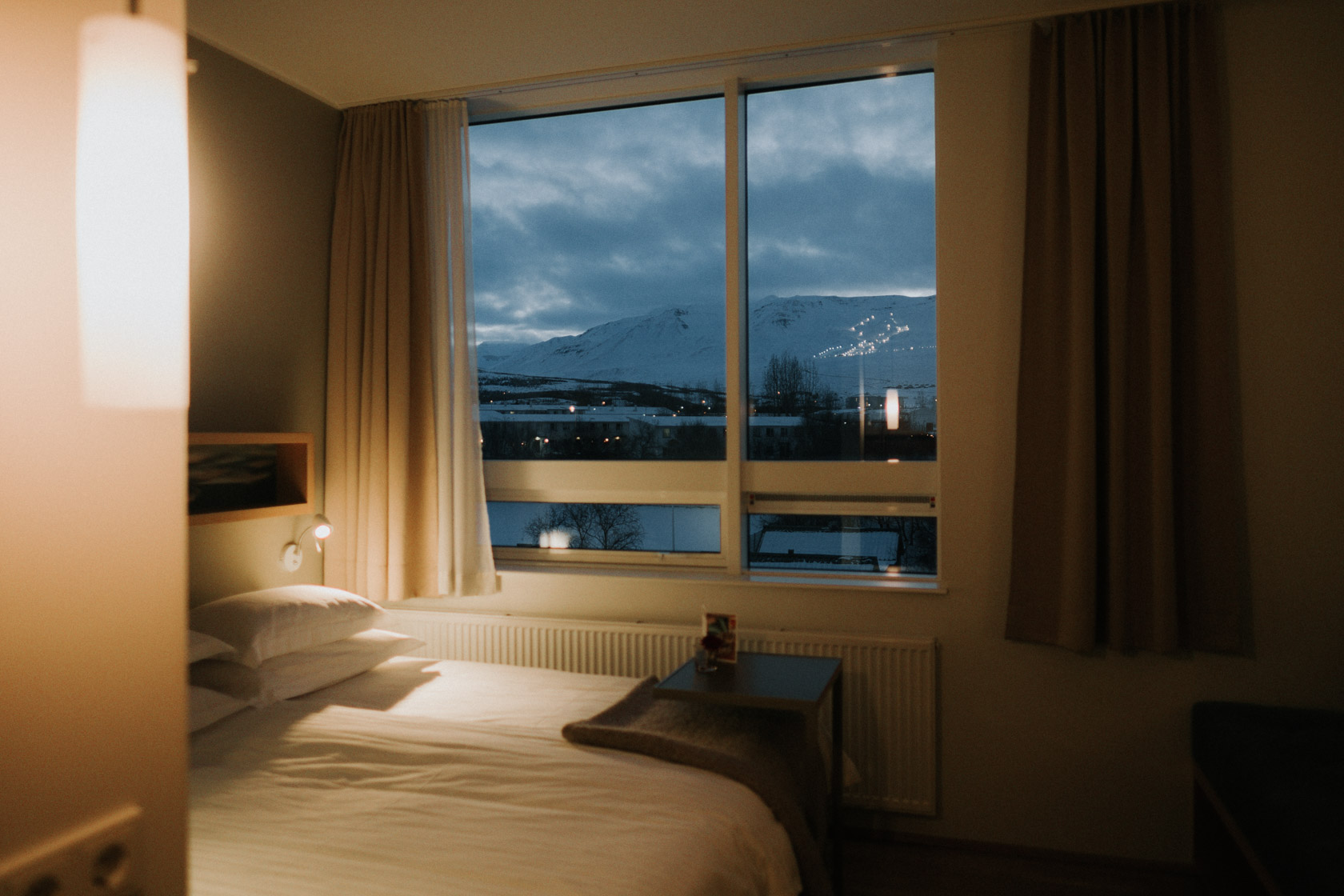 8. From Northwest Iceland to the Snæfellsnes peninsula (Akureyri → Snæfellsnes)
Today also involves a lot of driving (I know, I'm saying that a lot: but we are on a road trip!) but it's not as scenic as the one along the East Fjords. That said, there are still a number of points of interest you can use to punctuate the day, such as stopping at the turf houses in Glaumbaer or walking down to the Hvitserkur, a rock in the sea that looks like a rhino.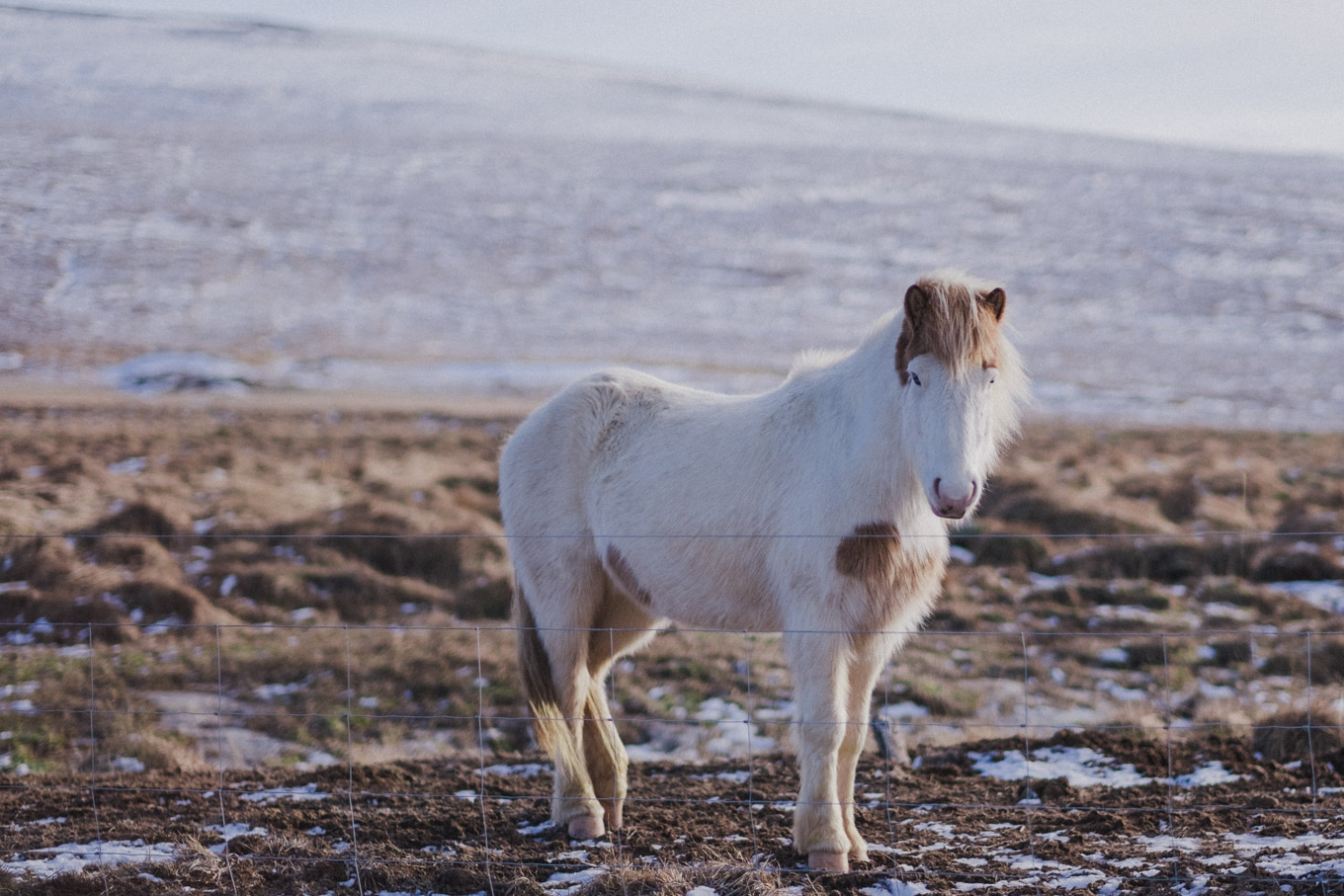 Towards the end of the day, we're going to meet the most photographed mountain in Iceland, Kirkjufell (Church Mountain), as well as one of the most famous churches, Búðakirkja (Black Church). Both can be visited again the next day, but today is the day we can take in both at sunset!
Places to see in Northwest Iceland
Hvitserkur ♦♦ – On the detour up to this rhino-shaped rock formation, you'll do a tour around a peninsula which gives you the best possible view of the West Fjords you'll get on this trip! Hvitserkur is relatively small, but if you plan it right you can come during low tide to get a closer photo.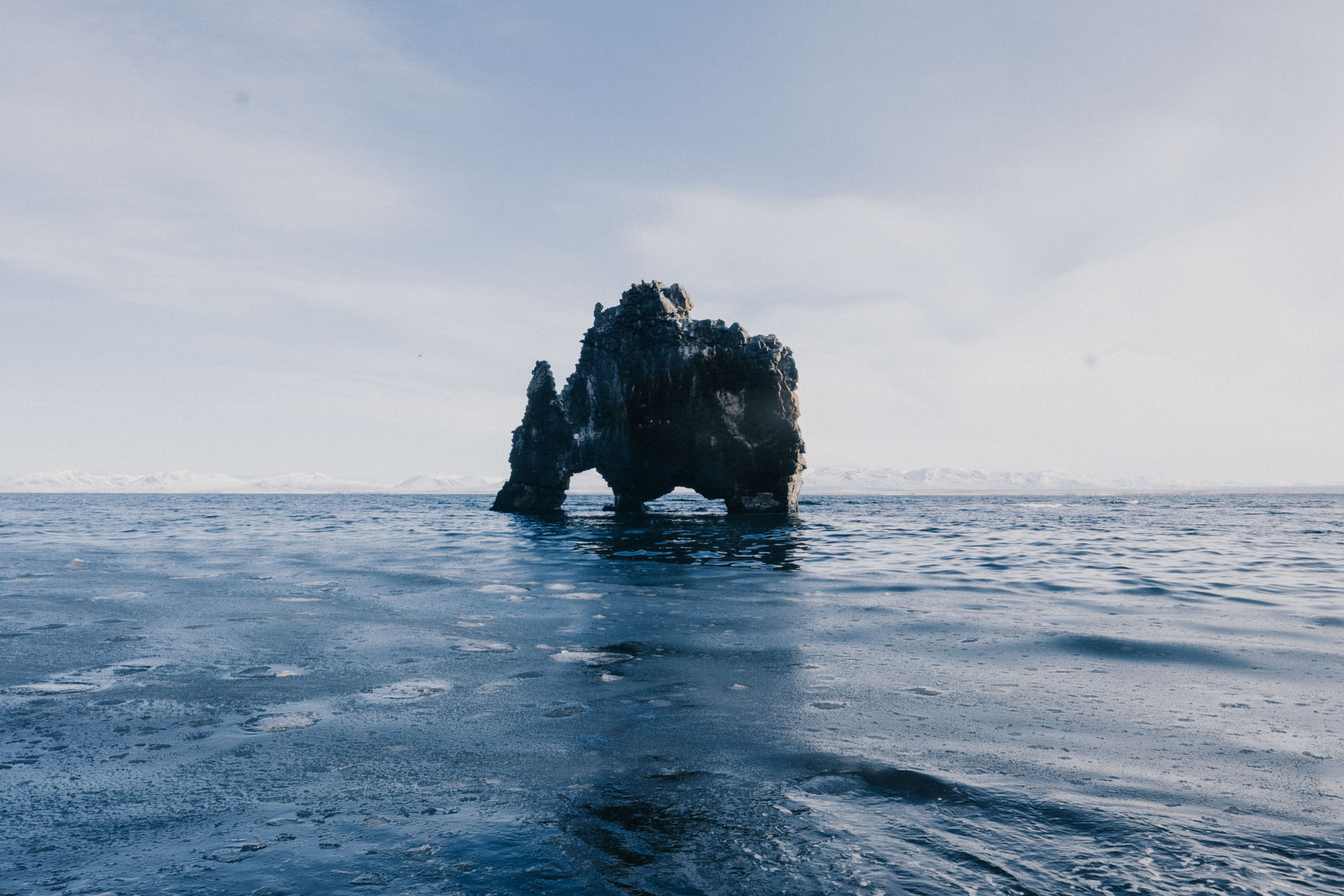 Turf houses in Glaumbaer ♦♦♦ – Come here to see some preserved turf houses, a short detour from the Ring Road. There's also a museum, but the hours in Winter are irregular, and you can visit the turf houses and a very sweet neighboring church at no cost.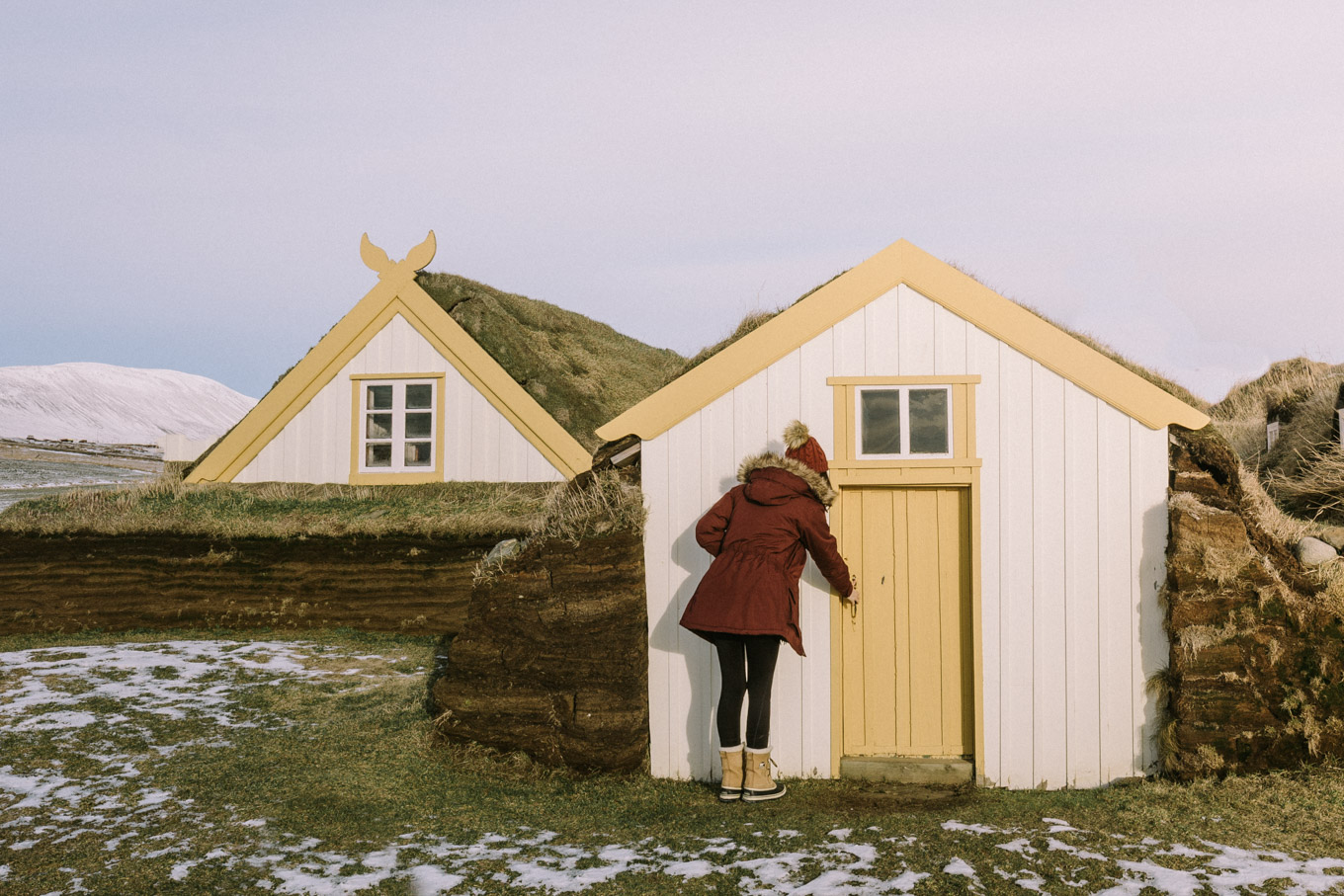 Go inland (during Summer) for hiking – Iceland has so-called F-roads, which go deep in the heart of the country. In the winter it's not possible to access the interior (even with four-wheel drive!) but in the Summer you can drive inland for hiking in Kerlingarfjöll and see incredible rust-colored hills.
Places to see on the Snæfellsnes peninsula
Kirkjufell ♦♦♦ – Bring an ultra-wide angle lens to take that iconic shot of Kirkjufell! You really need to fit a lot in to get the waterfall and the mountain. The combination of the two is really special, albeit unoriginal (which is how you may feel trying to squeeze in to the row of professional-looking photographers all taking the same picture as you 😂).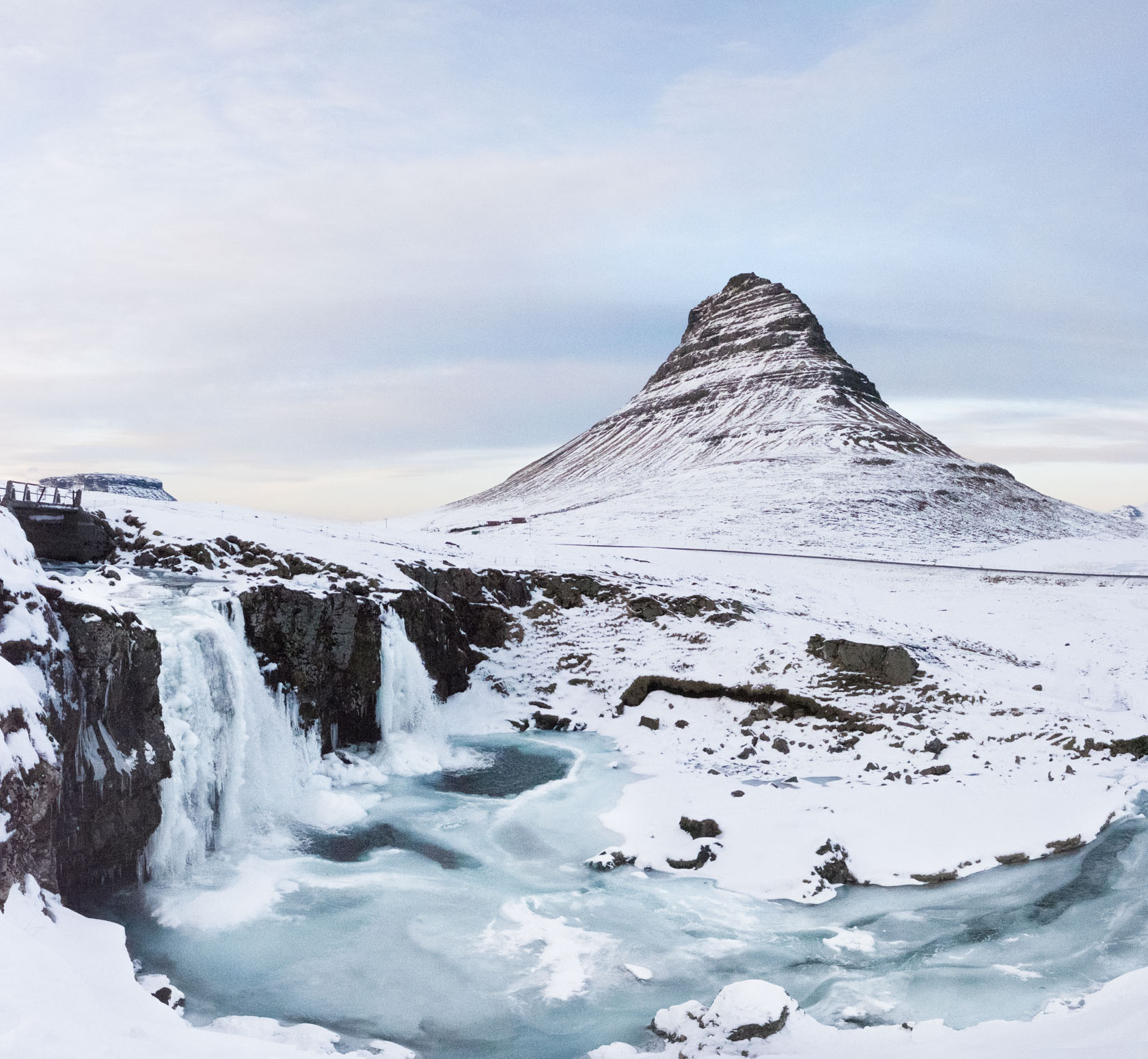 Búðakirkja ♦♦♦ – The black church is right off the Ring Road and a perfect last stop for your first day on the Snæfellsnes peninsula.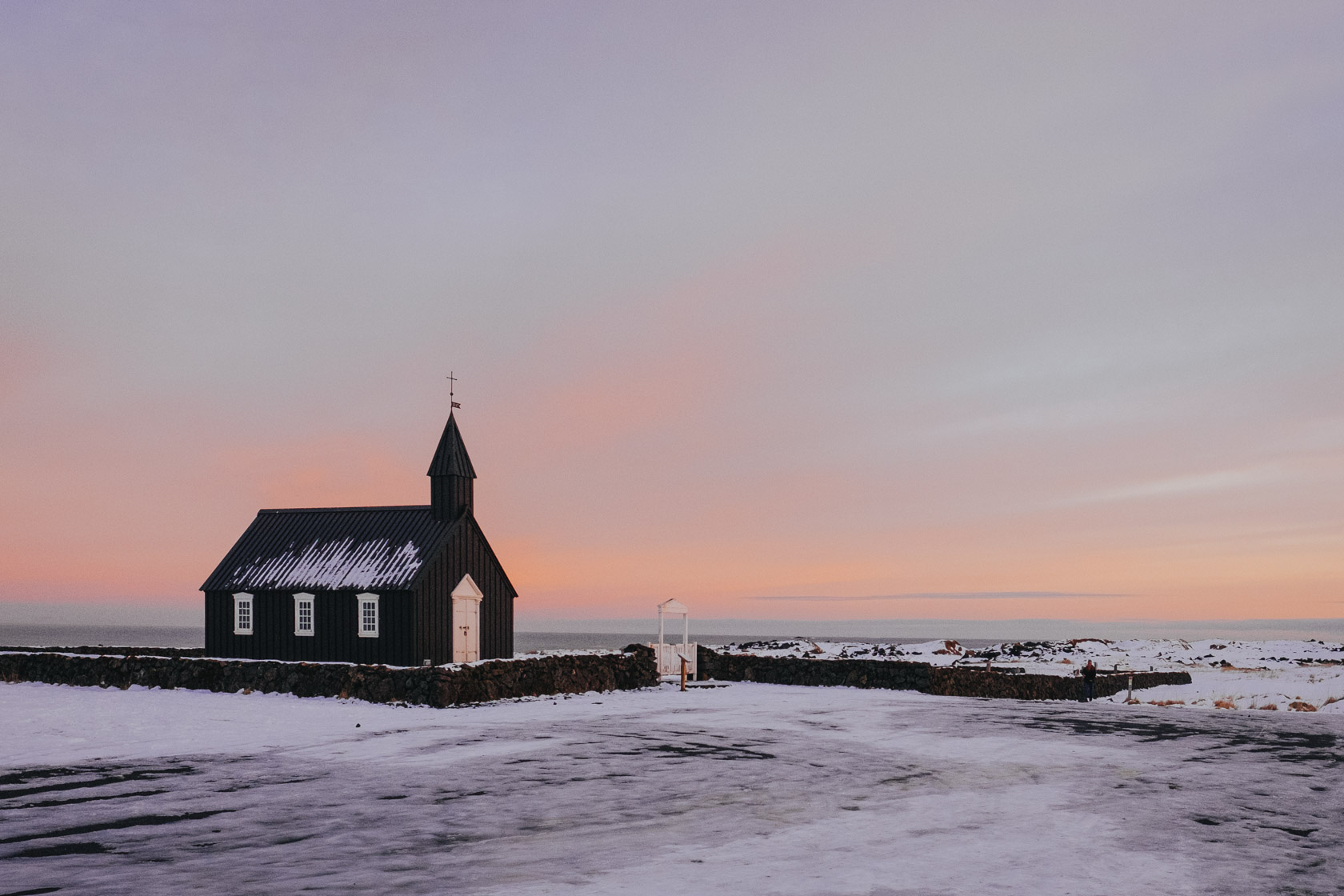 Hellnar ♦ – We came here looking for a gas station (spoiler: it's no longer in service) but stopped for a coffee and to have a look at the church in Hellnar which is especially nice.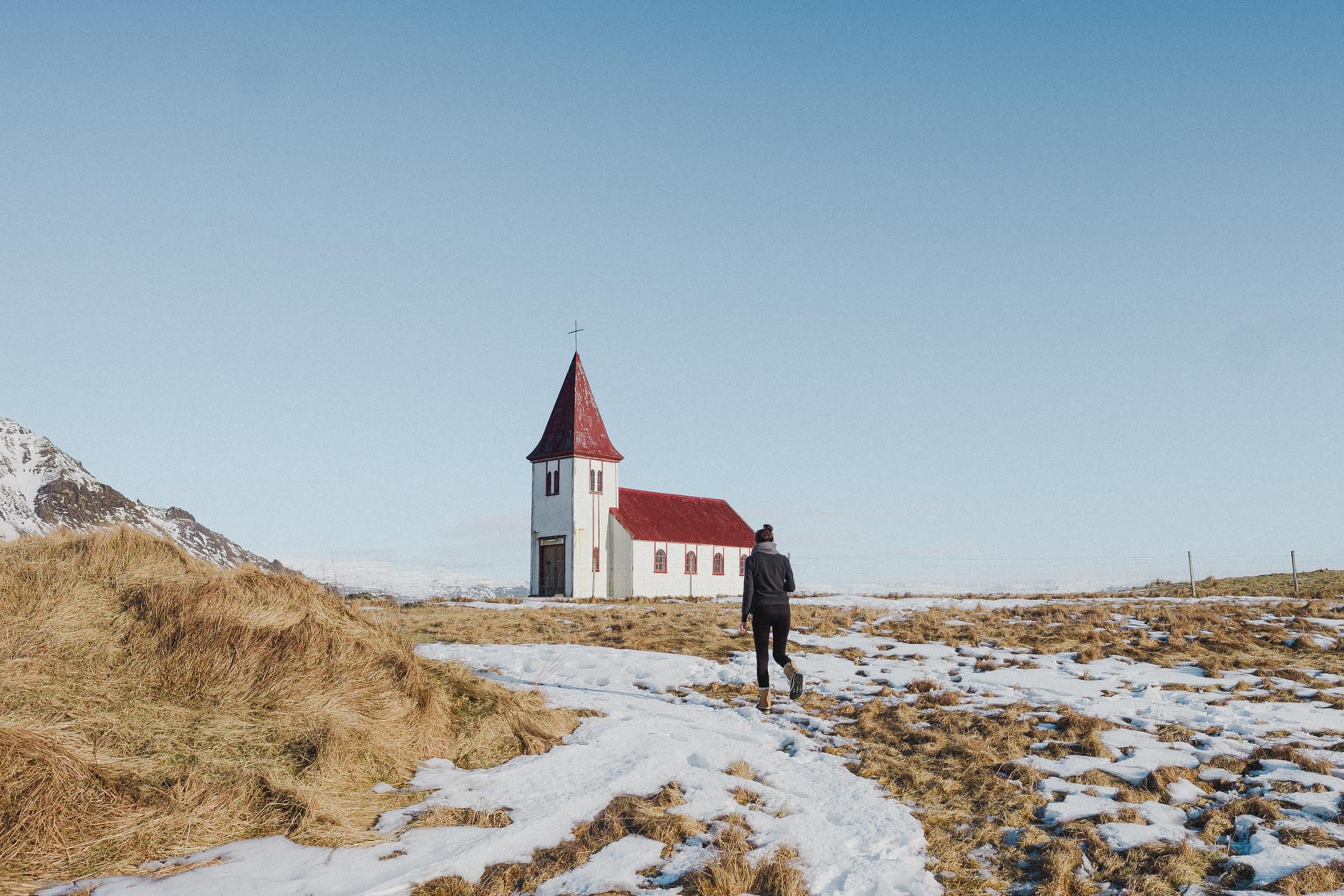 Lóndrangar ♦♦ – This lava field paired with rock formations is said to be the location of the Elf Church and Elf Library. It takes a lot of imagination to get there, but that's one reason why this field is so special.
Borgarnes ♦ – One of the more sizable towns between the Penninsula and Reykjavik, this is where I bought my Icelandic wool sweater!
Places to stay on Snæfellsnes peninsula
Grundarfjörður – This tiny town is right next to Kirkjufell. If you're going to want to take photos of this mountain at sunrise or during the northern lights, you might find it very convenient to stay here!
Guesthouse Kast – One of the only places you can eat dinner in the sparsely populated peninsula, staying here would be a great optimization. Here we really experienced more home-style Icelandic food, and the staff was incredibly kind. They also have a northern lights wakeup list, and the wifi works really well.
Guesthouse Hof – Some real budget accomodation in the area, you actually share a guesthouse with other people. That said, at $65 a night, it's hard to complain…especially when each house also comes with a jacuzzi! If you don't need a lot of privacy, the view of the sunset over the ocean and jacuzzi combo is pretty amazing.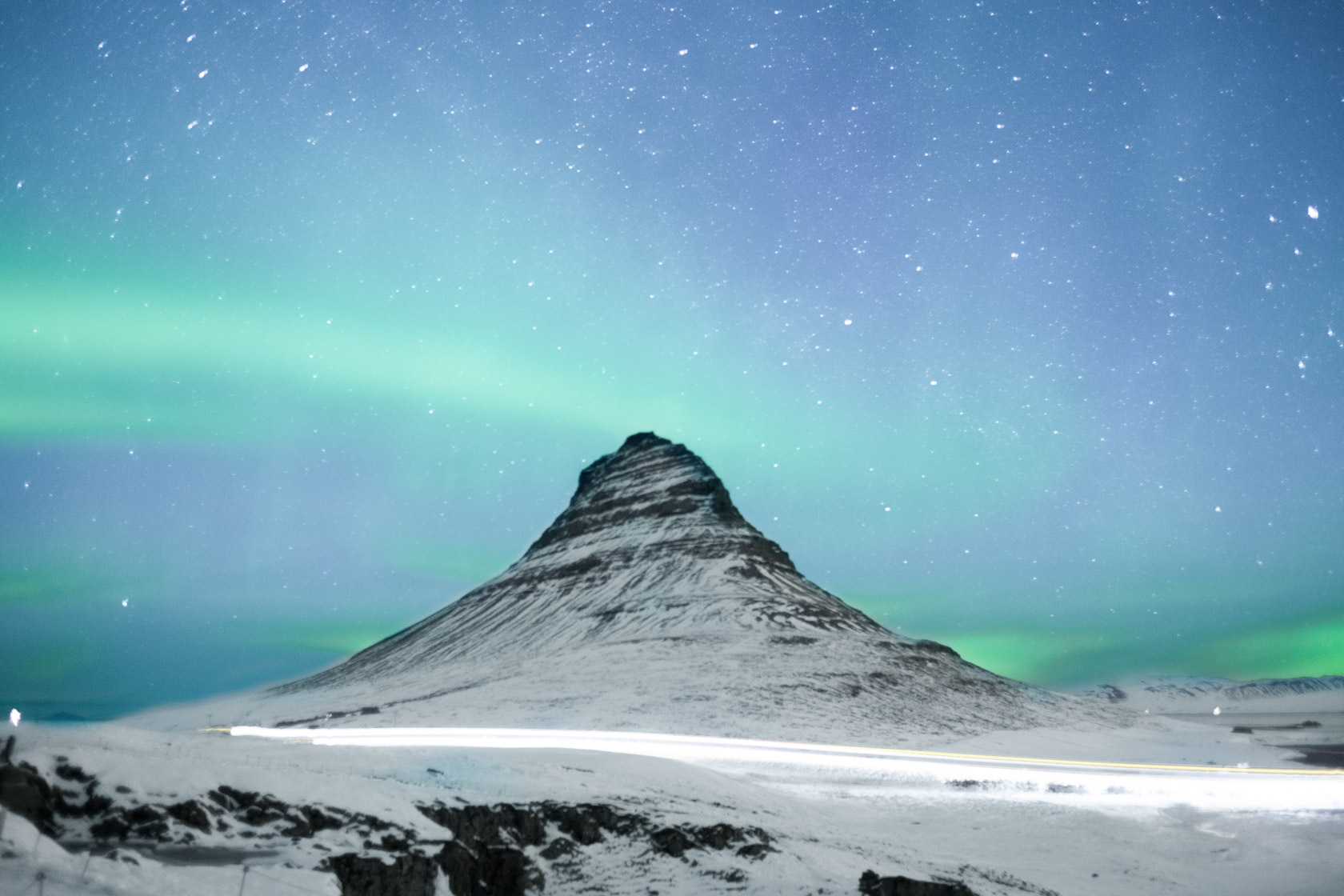 9. Finish the Snæfellsnes peninsula and head to Reykjavik (Snæfellsnes → Reykjavik)
Anything you missed yesterday can be reached today by doing a loop around the peninsula and then continuing on to Reykjavik . The first day, we saw Kirkjufell and Búðakirkja. The next day we saw Kirkjufell again, and visited the rest of the places on the list. There are also a few opportunities we didn't take, such as climbing down into a cave (there are descents every hour).
You can stop in Borgarnes on your way to Reykjavik if you need gas, something from the supermarket, or in my case, an Icelandic wool sweater!
Depending on when your flight is, you can visit Reykjavik tonight or spend the day around the city.
10. Depart from Reykjavik (Reykjavik → Home)
Anything you haven't done yet in Iceland, today is the day to do it. Pick up your sweater, try on a viking helmet, get some postcards, or just take it easy and enjoy a beer in the pub. I think most people who've done the Ring Road are about as unenthusiastic about Reykjavik as I am, so don't feel like you'll miss much if you don't spend enough time in this city.
I didn't do much in Reykjavik, but I would recommend the two restaurants I tried: Icelandic Fish & Chips and Drunk Rabbit Pub. If you want to try more Icelandic foods, it's probably less expensive (but still expensive) to do this on the countryside!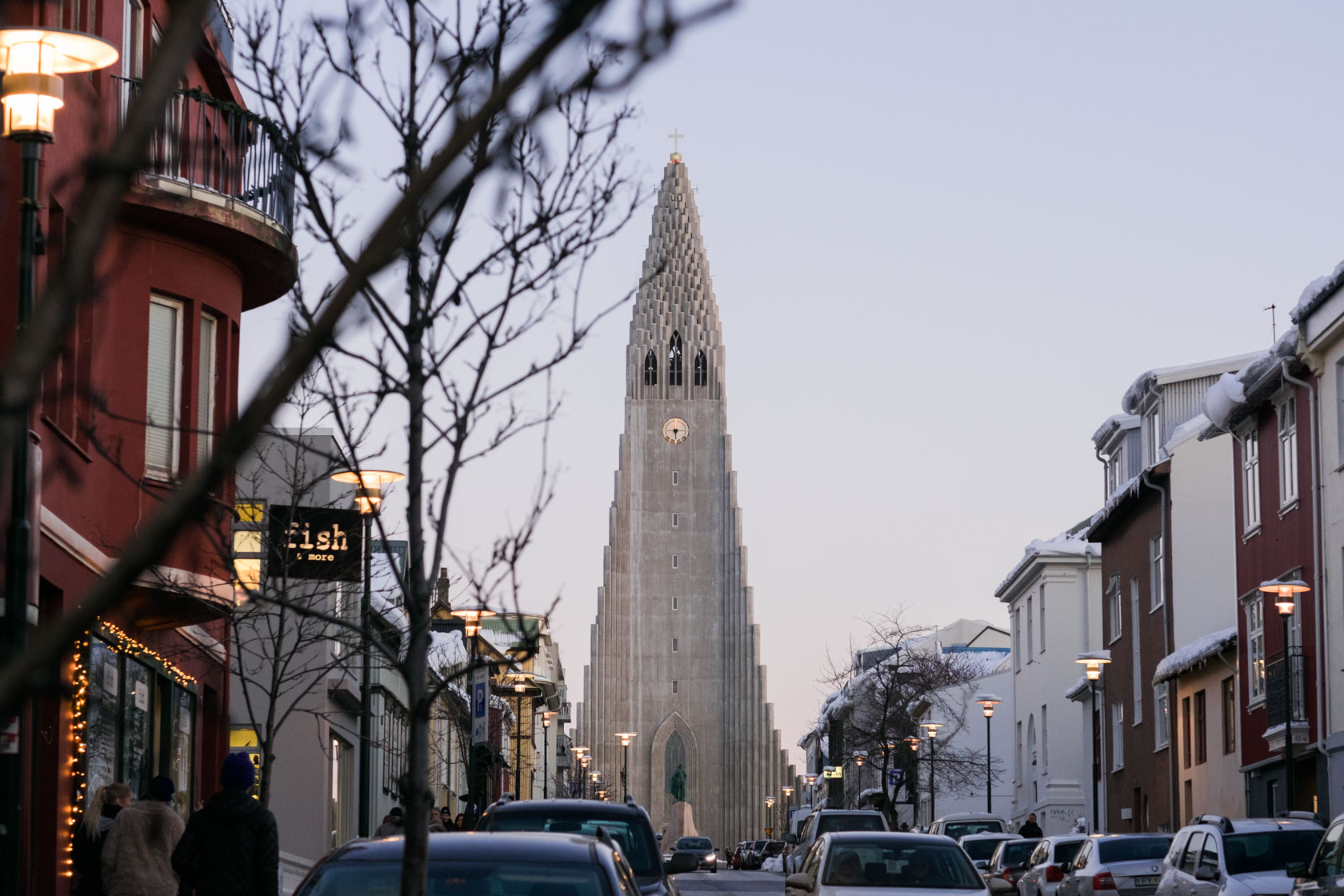 Ideas for things to do in Reykjavik
Visit the Hallgrímskirkja – Bear in mind that the winter hours for going up in the church for a view over Reykjavik are very limited! We missed the possibility by mere minutes, which was very frustrating, especially because it was still bright and sunny. In any case, it is still beautiful from the outside.
See the Harpa – There was a lot of construction around this beautiful building when we were there, so the view was not as nice as it could've been.
See the Sun Voyager sculpture – In the harbor in Reykjavik, you can come see this shiny metal ship that resembles a viking ship.
Walk around the tiny downtown – Reykjavik can be explored in approximately one afternoon, so take the time to meander around town and see some of Reykjavik's cute, historic streets. Just don't be taken aback when you hear more English than Icelandic in this tourist-heavy town.
Time to fly home!
Being on the road for ten days in Icelandic is not enough to see and do everything, but definitely sufficient to get you thinking about visiting in another season!
Have you been to Iceland?
What's the number one thing that you want to experience? Let me know in comments! Especially if you have anything you think I missed in this itinerary!!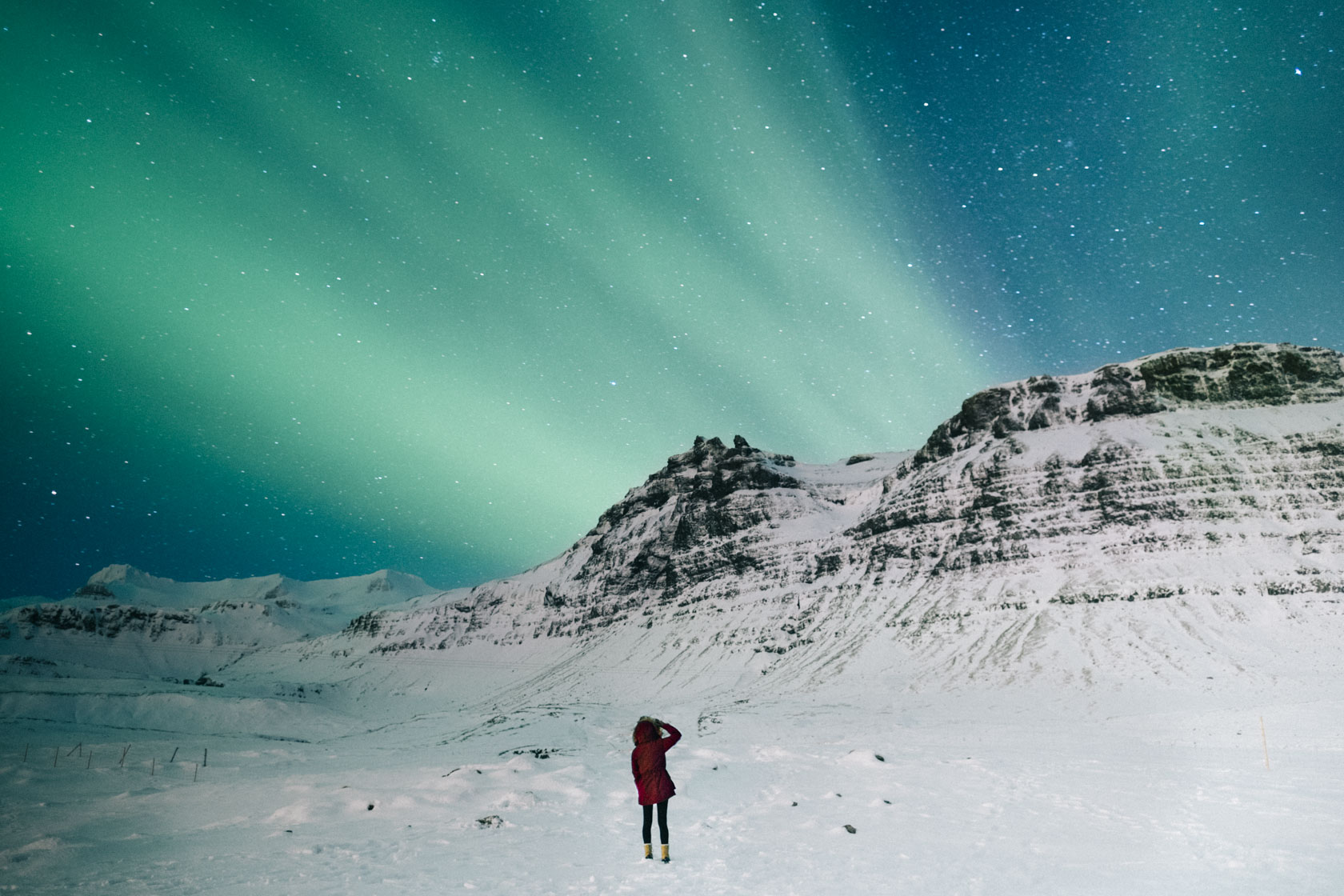 Pin this post for later!