There are a TON of excellent reasons to go to Munich in Winter. Maybe you want to celebrate Christmas in Munich, and go to a Christmas Market. Or maybe you want to try ice skating, attend a winter festival, or you just want to see what Bavaria looks like decked in snow!
Generally speaking, the south of Germany has way better weather than the north in the Winter (and, frankly, year round). You're more likely to have sunny skies, powdery snow, and temperatures that are not yet too cold for comfort. It's pretty obvious why Bavaria in Winter, and Munich itself, are great places to visit during the Winter season.
That, coupled with the fact that this region is one of the best for experiencing traditional German food and beer, and you are in for an idyllic time in one of Europe's most picturesque cities.
You're excited by now, right??
Here are some great things to do in Munich in winter, along with recommendations for places to eat, hotels in Munich and areas to stay in, and what kind of weather you can expect in Munich in the winter.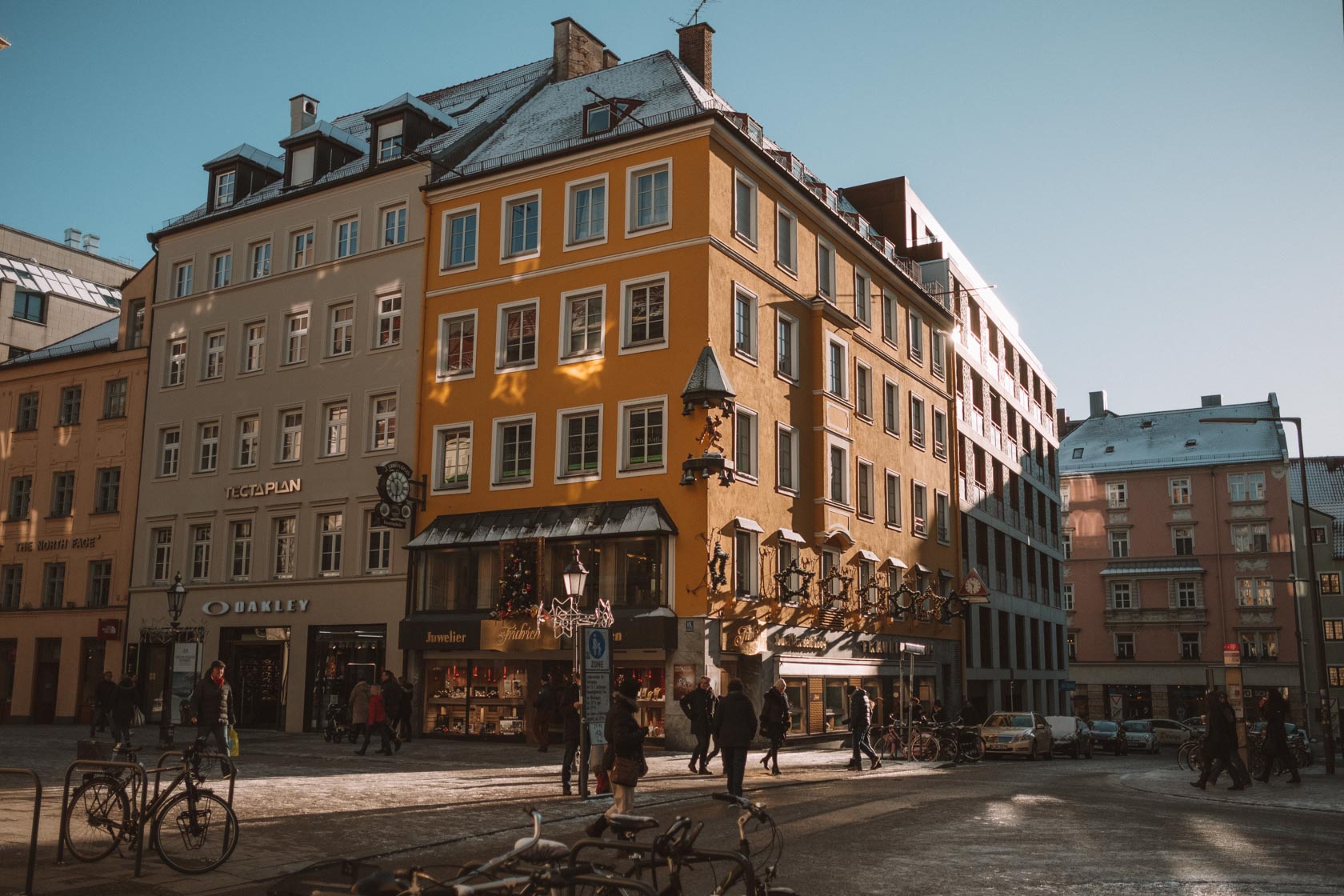 Some links in this post are to affiliate sites. If you purchase something through them, I may earn a small comission — which costs you nothing! I am very grateful when you use my links to make a purchase.
Where to stay in Munich
I stayed in the Cocoon Hauptbahnhof , which is a super cute Alpine-themed hotel. When you get in the elevator, there are "windows" that make it look like you're going up a ski lift. The room's interior looks like a cozy cabin. Everything is modernly furnished and super clean.
It was very convenient because it's located close to the main train station and we traveled to Munich by train. If you don't decide to stay near the train station, you can stay just about anywhere centrally. Munich is a very safe city.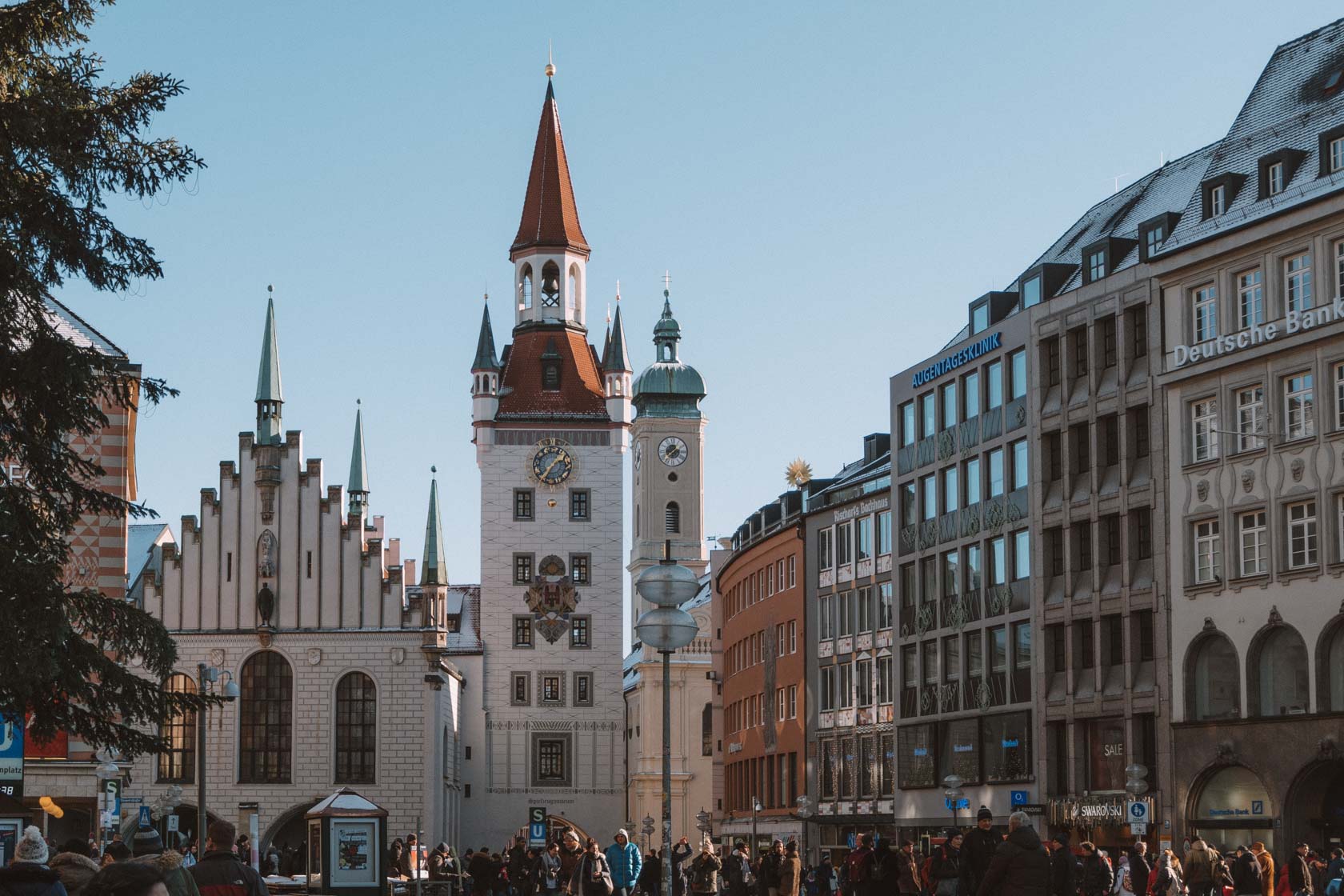 Do be aware, that Munich is Germany's most expensive city, and hotel prices will reflect that. If you are looking to spend much under 100 EUR per night, do check out some hostels in the city.
Best Things to do in Munich in Winter
Even though it's Winter, Munich still gets a better amount of sunshine because it's further south. So you can still experience some outdoor activities, you just want to be flexible depending on the day to get the most out of the experience.
Here are my top tips for things to do in Munich in Winter (including must-do day trips if you can manage them!):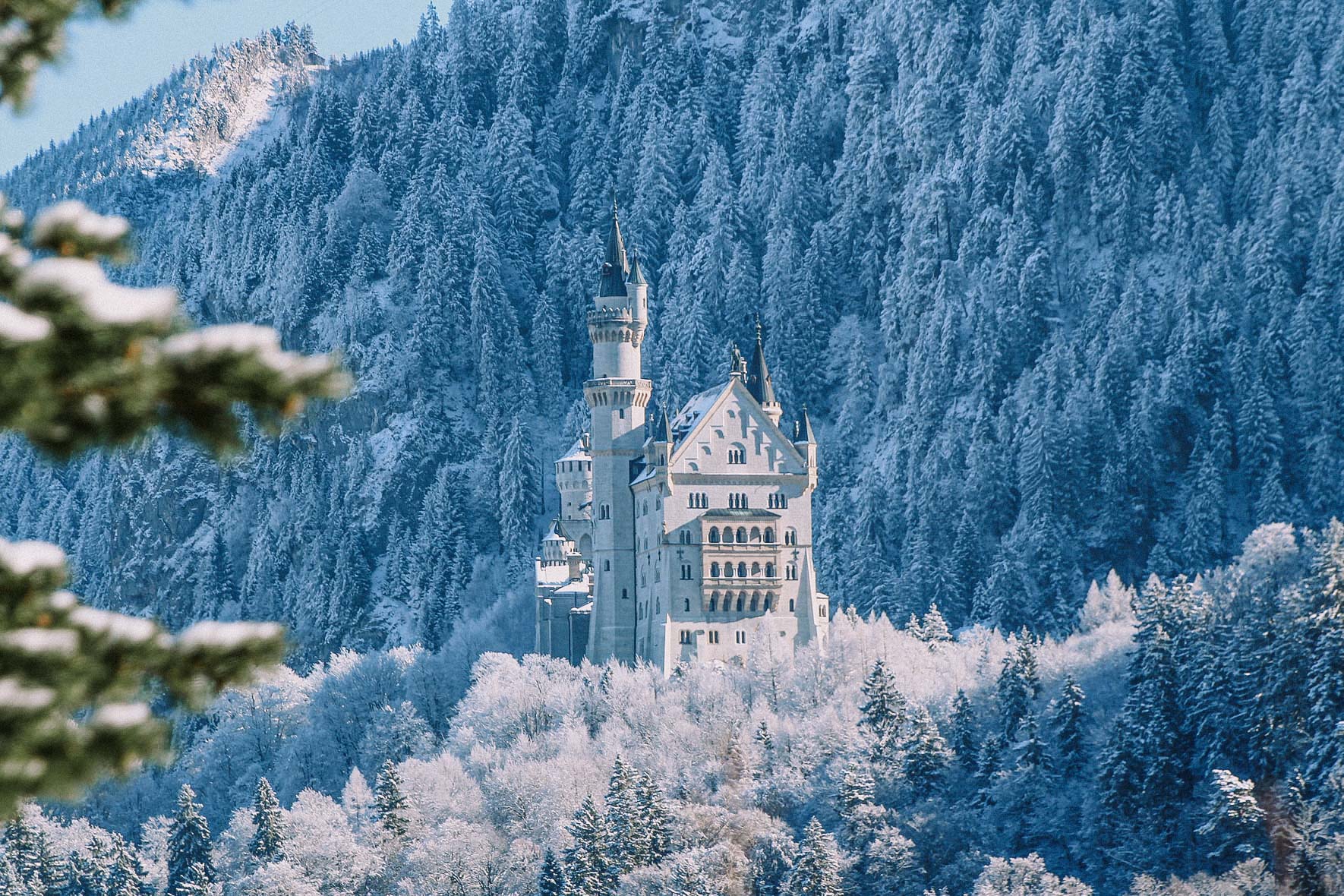 1. Neuschwanstein Castle
Day trip
Germany's – if not Europe's – most famous castle and the most popular day trip from Munich. Disney's Cinderella castle was based on Neuschwanstein.
★★★★★ 4.9
on GetYourGuide
121 Reviews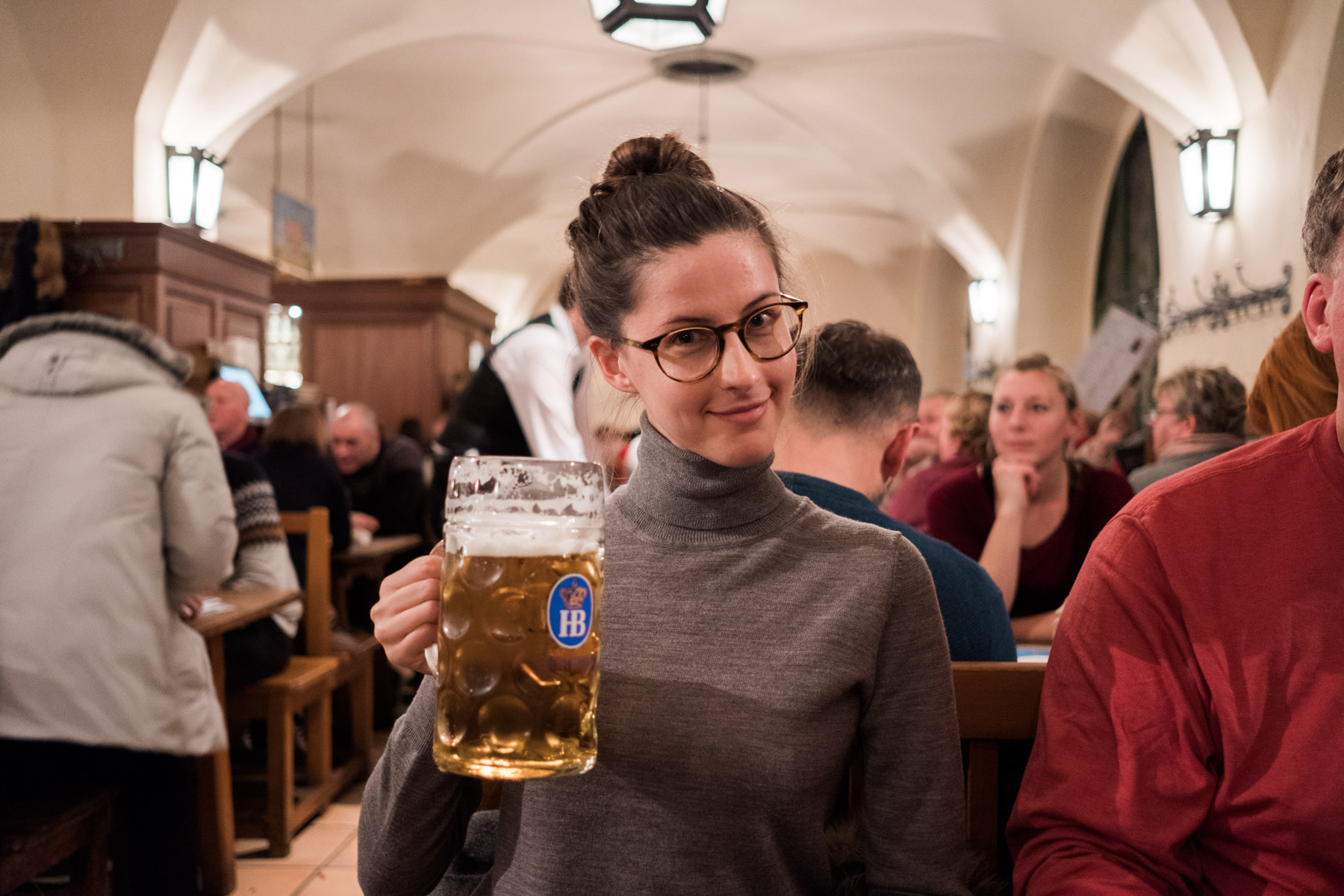 2. Go on a Munich Beer Tour
Stay warm at the world's most famous beer tavern and other local haunts on this English-language tour. Beer and food included, with vegetarian options on request.
★★★★ 4.6
on GetYourGuide
200 Reviews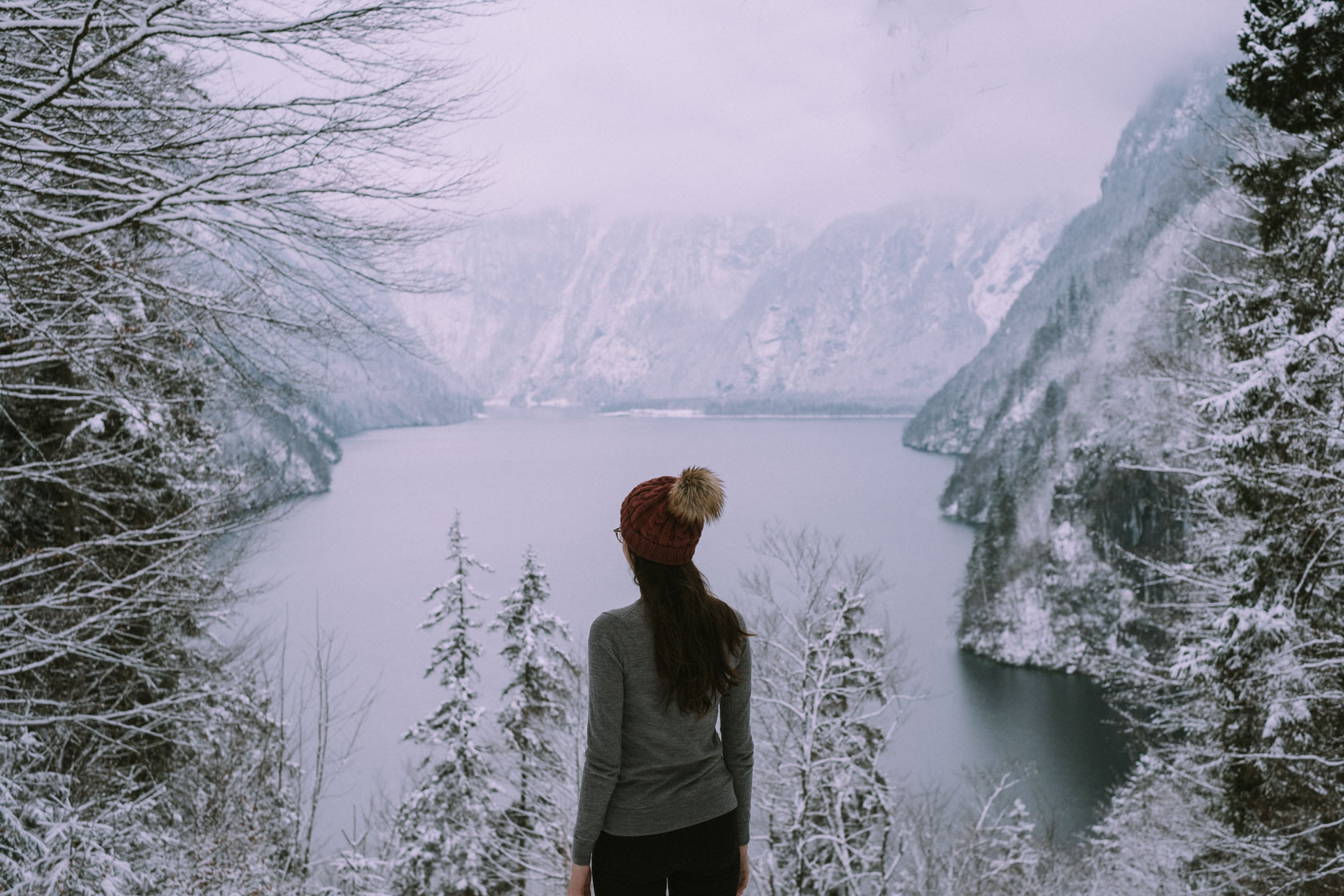 3. Königssee
Day trip
Also called the Fjords of Germany, Königssee is GORGEOUS for hiking and photography and you can take a tour of the lake by boat. Accessible by tour from Munich.
★★★★★ 4.8
on GetYourGuide
32 Reviews
Here are some more ideas within the city limits, including Munich's best museums, historical sights, and cultural hotspots. Enjoy!
1. Spend a few hours at the Residenz
Without a question, the Residenz in Munich is probably the number one spot to visit in the whole city – at least when it comes to the exhibits! The Residenz used to be the home of the royal family of Bavaria, and today is the single largest city palace in Germany.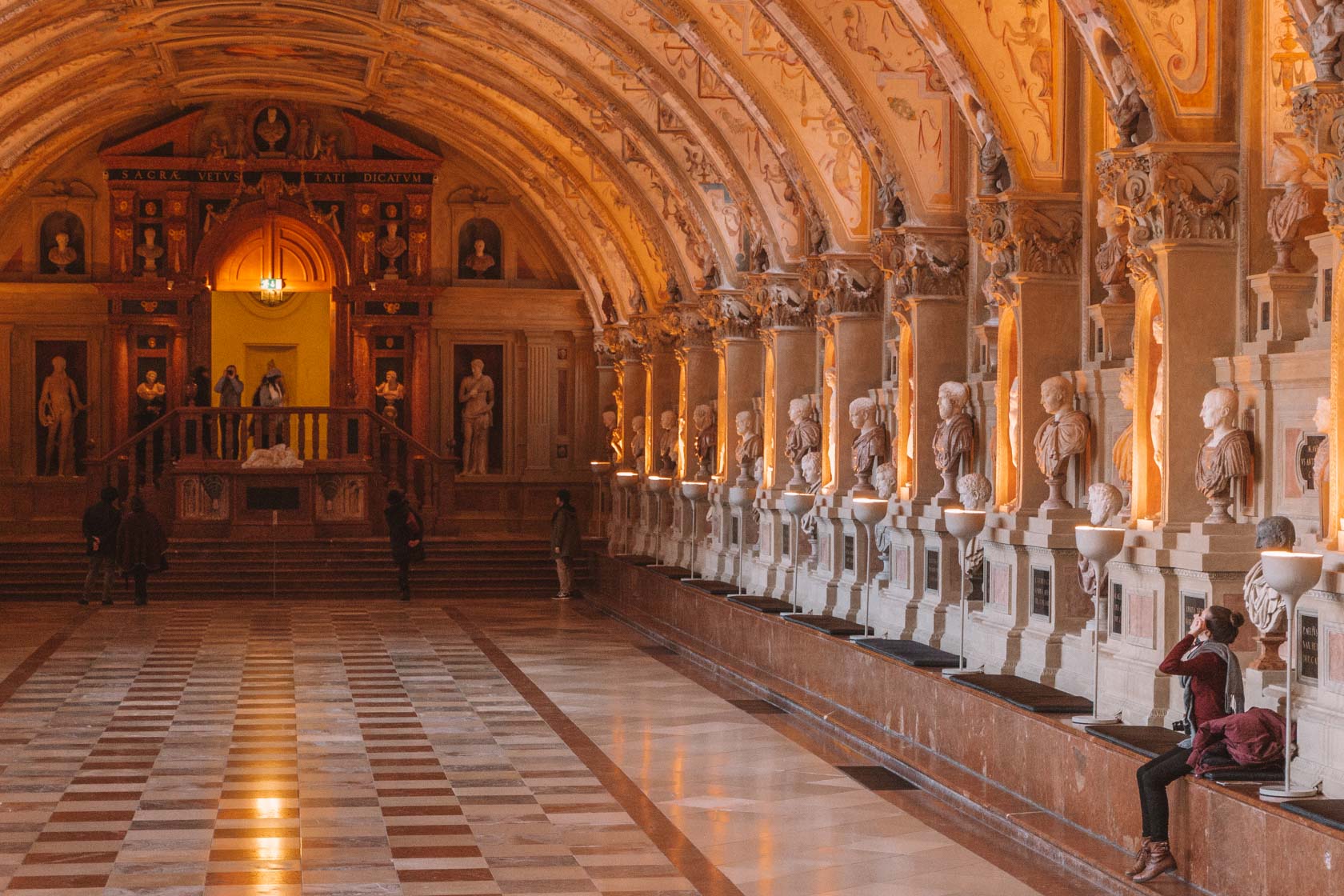 Frankly, the Residenz is so huge that I don't think it's even possible to do the whole thing in a single trip. So don't be intimidated, there is no pressure to do it all at once! Especially if you have just a weekend, you need to pick your priorities.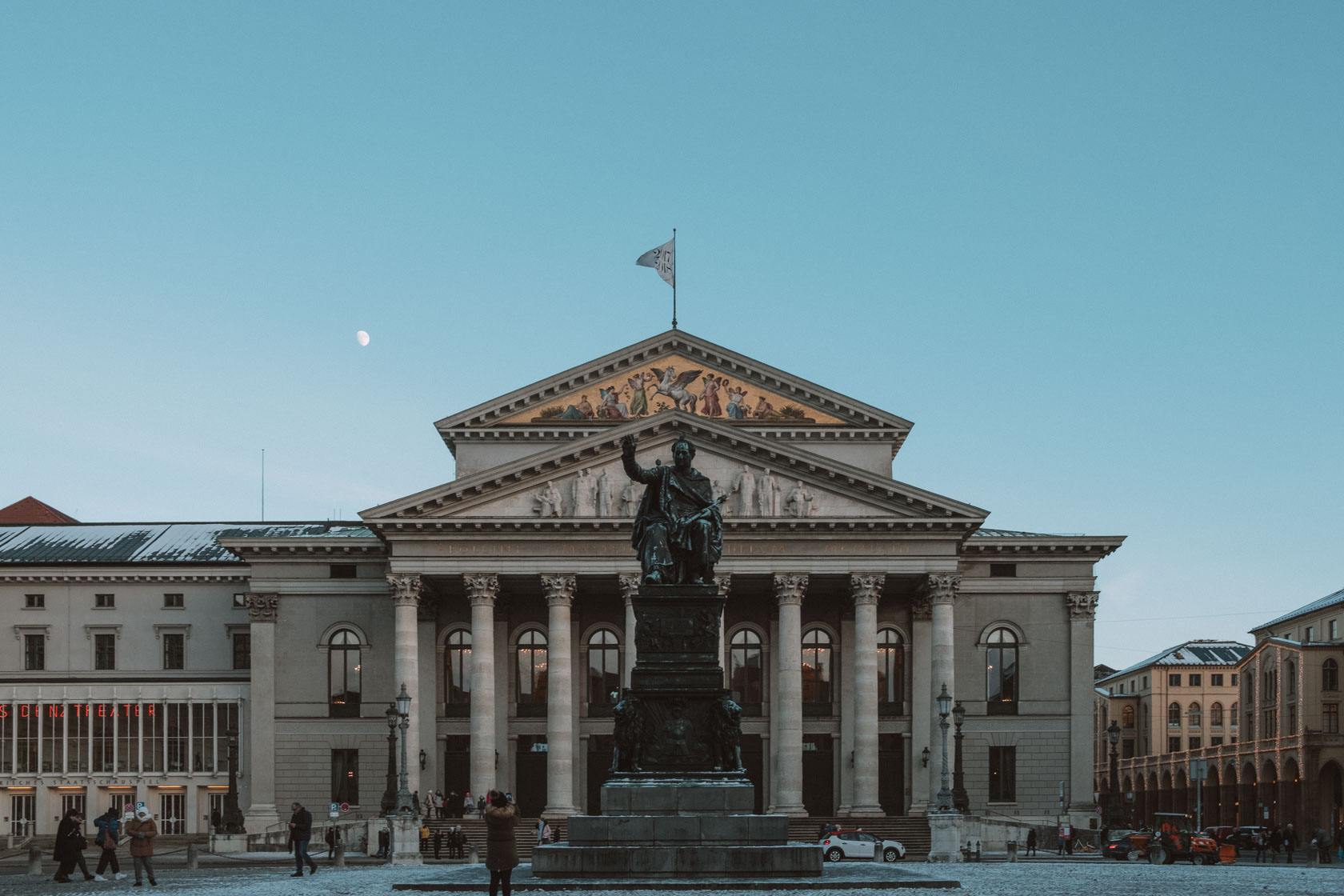 It's also possible to get a combination ticket to include the treasury, though in the short time we were there we just didn't have time to visit! Getting to the Residenz is really straightforward, as it's located right in the middle of the city. Take the subway to Odeonsplatz and you'll be right at the foot of this impressive palace.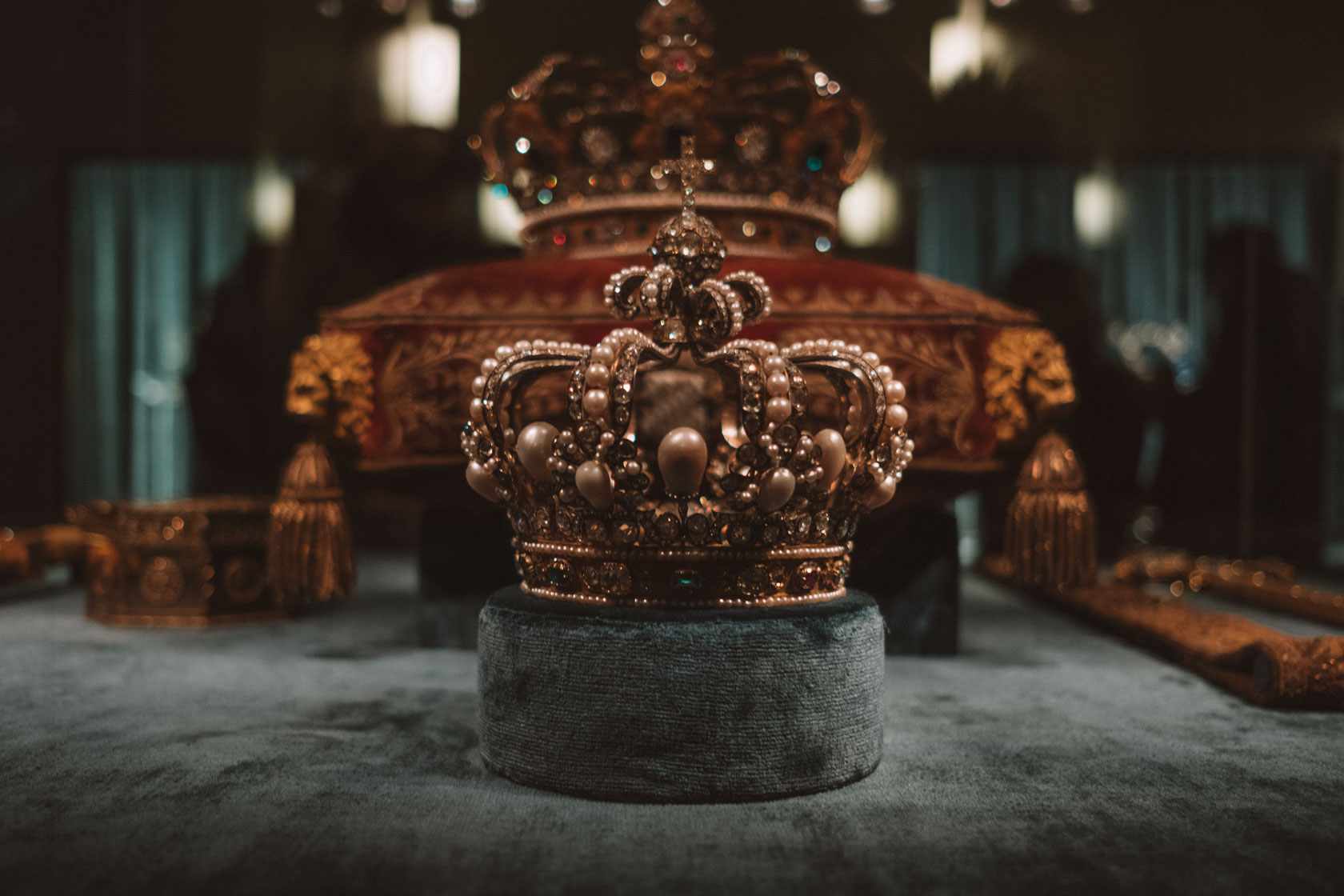 2. Go to the Literaturhaus for lunch
There is a whole lot of art to see in Munich, but what could be better than combining art with something to eat? Stop by Brasserie Oskar Maria , a cafe attached to the Literaturhaus. If you're not in Munich during the weekend, there is also a business lunch available.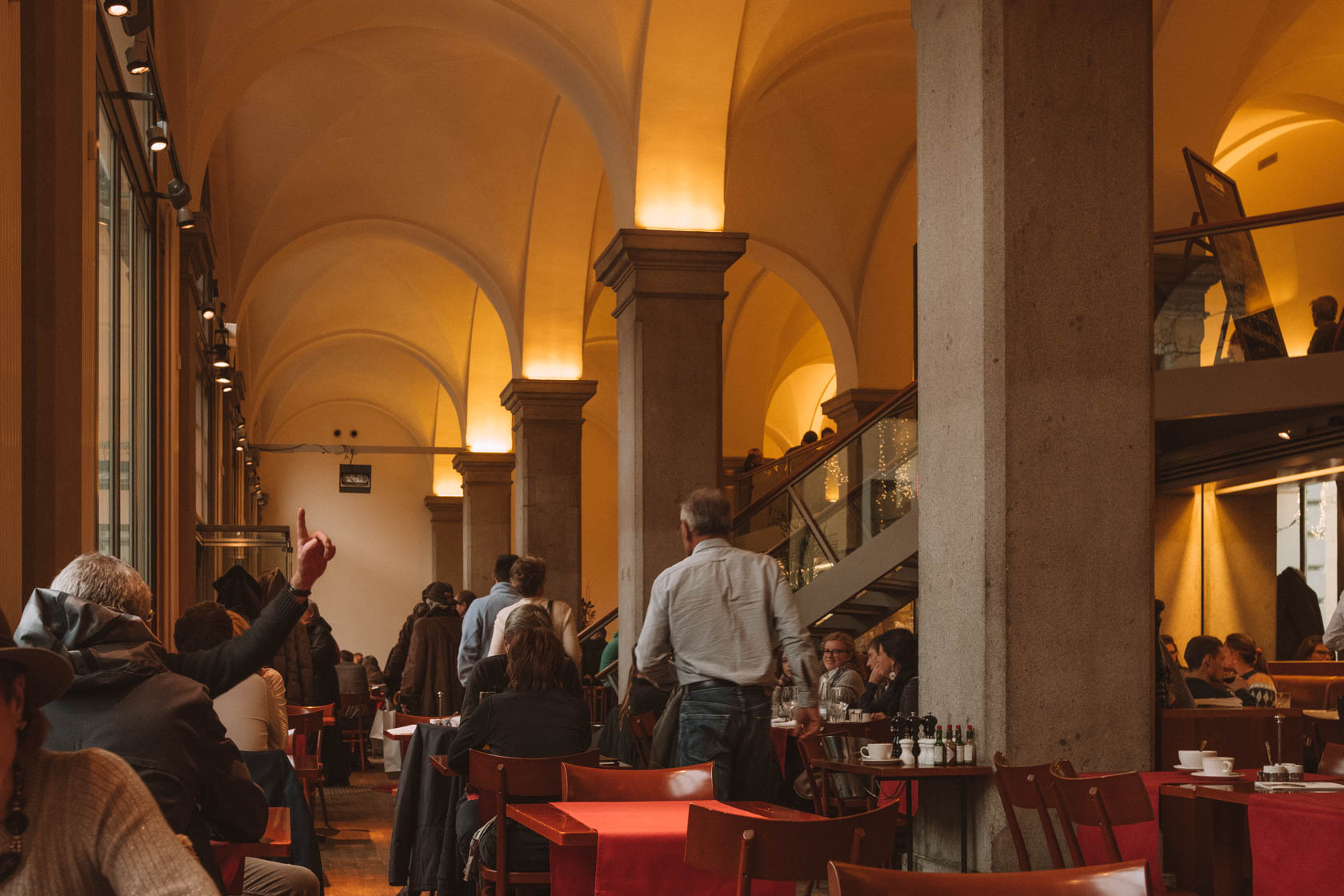 After lunch, visit the art exhibit at the Literaturhaus. They rotate the exhibits, so you can decide whether it interests you. When we were there, the exhibit was portraits of hippies in Europe during the 70s. I never really knew much about how the hippie movement affected Europe so it was pretty interesting! That said, most of the information is only available in German.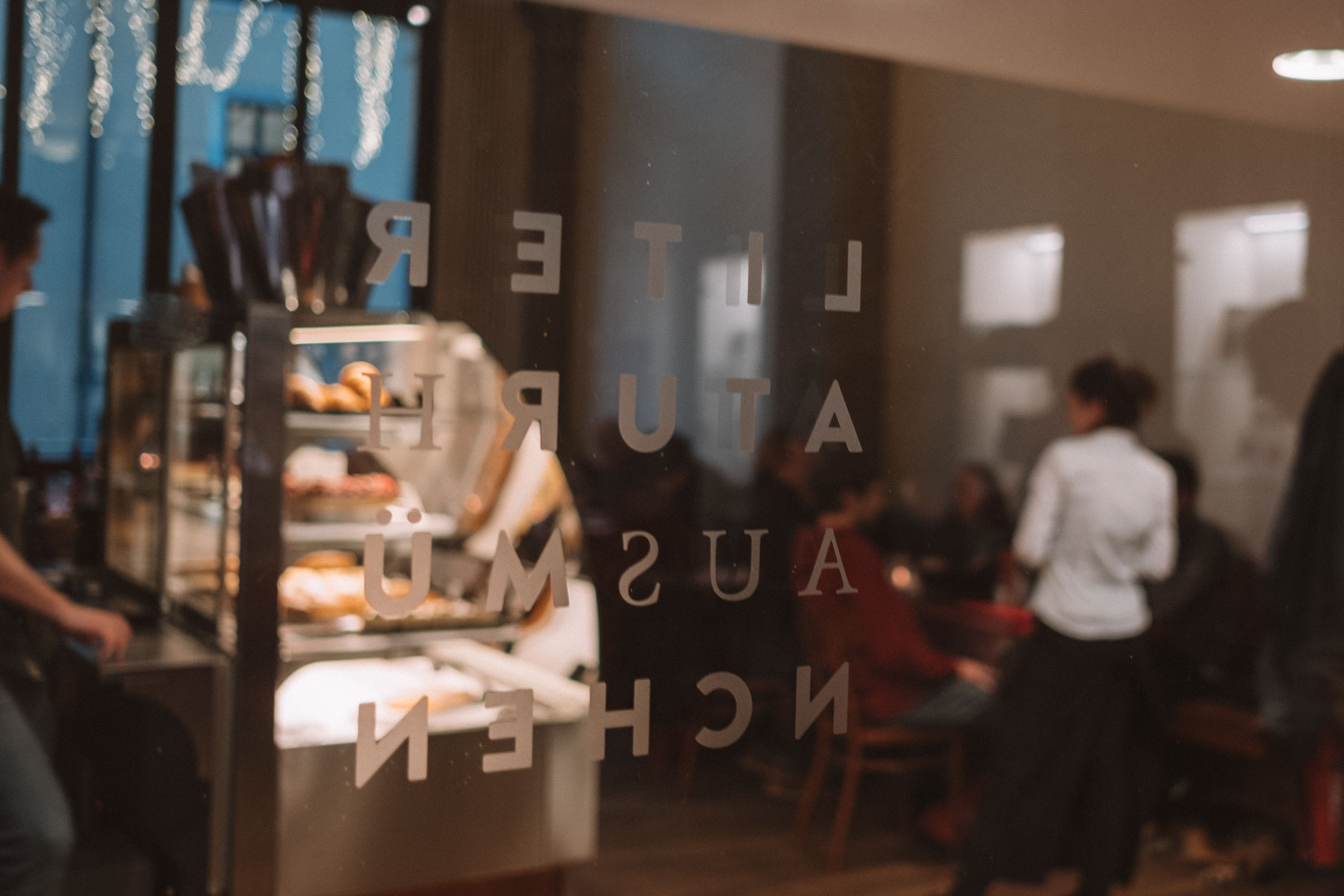 3. Schloss Nymphenburg
What list of things to do in Munich could be complete without this one? The Nymphenburger Palace is probably the single most popular thing to do in Munich, and even in Winter, the grounds are very impressive. I mean look at these happy swans, they are just chillin' out and enjoying the snow.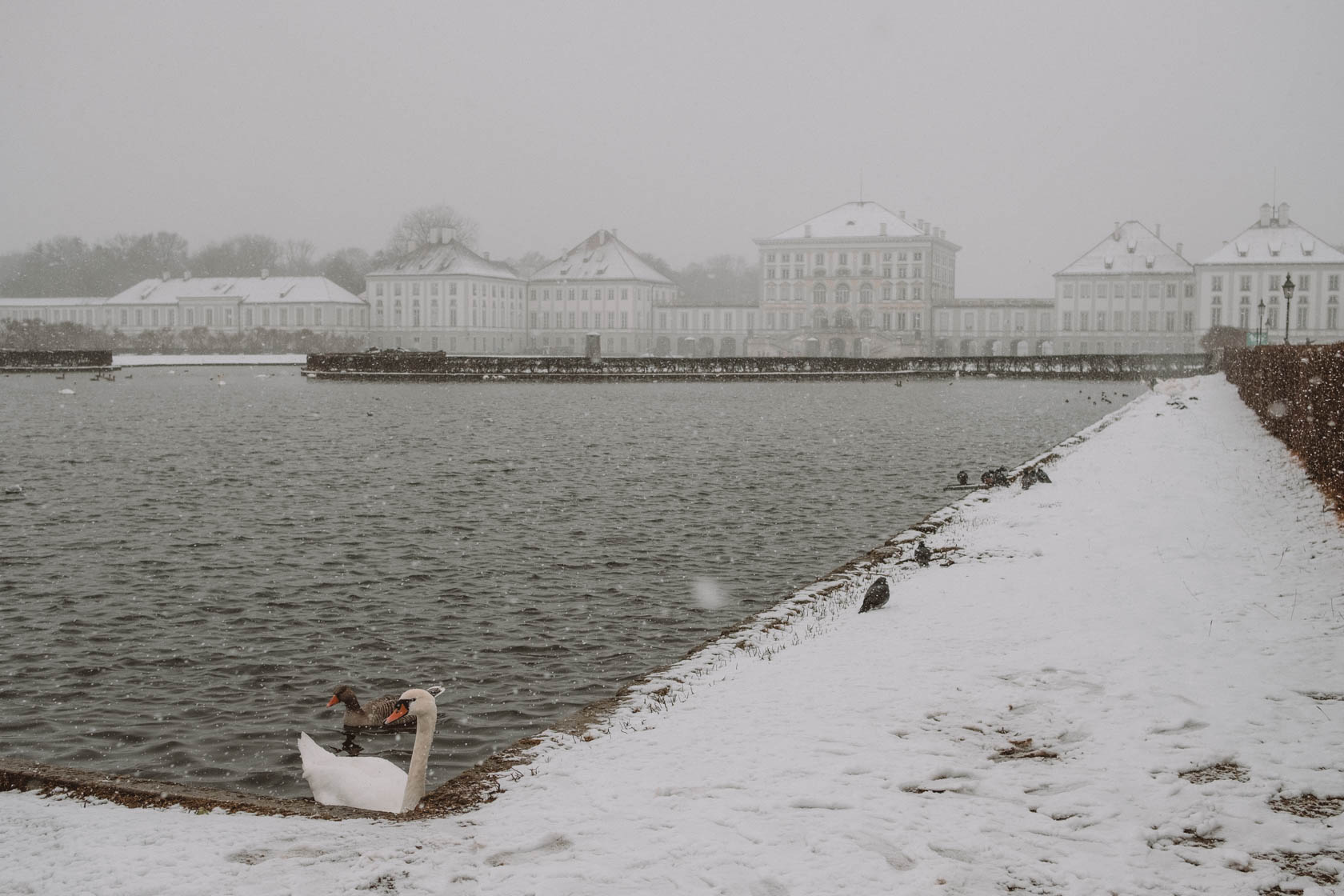 Inside, you'll see the the summer residence of the kings of Bavaria. If you remember the Residenz from earlier, that's where they spent the rest of the year. It's a little silly given that these two spots aren't so far apart but hey, they were royalty, so they just did what they wanted 😄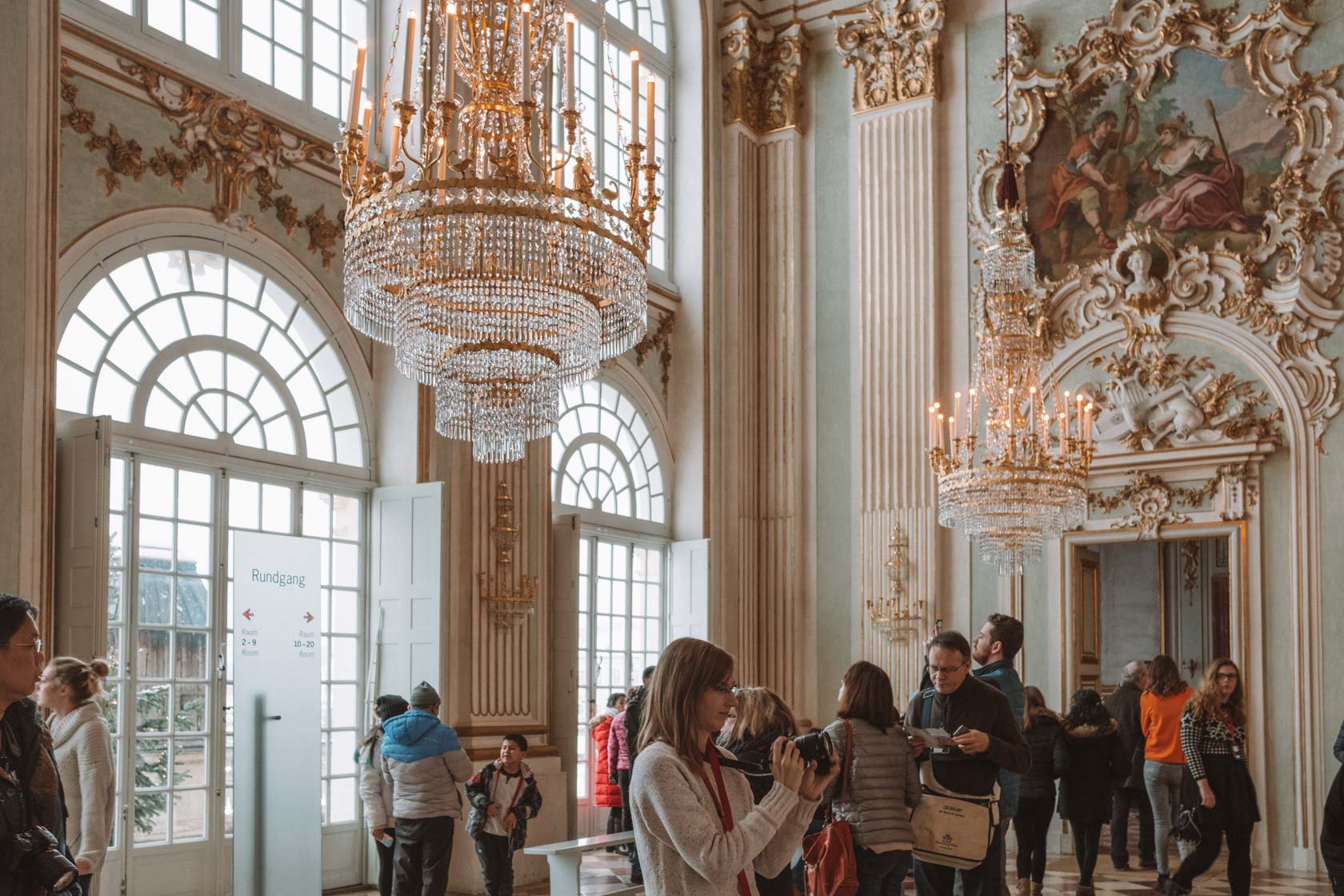 On the interior one of the most prominent things is the paintings on the ceilings. Apart from these, you'll find a lot of the typical palace trappings: fancy rooms, fancy hallways, lots of art, and plenty of stories about things that happened in the halls. You'll definitely want to get an audio guide to help complete the picture as you walk through the palace.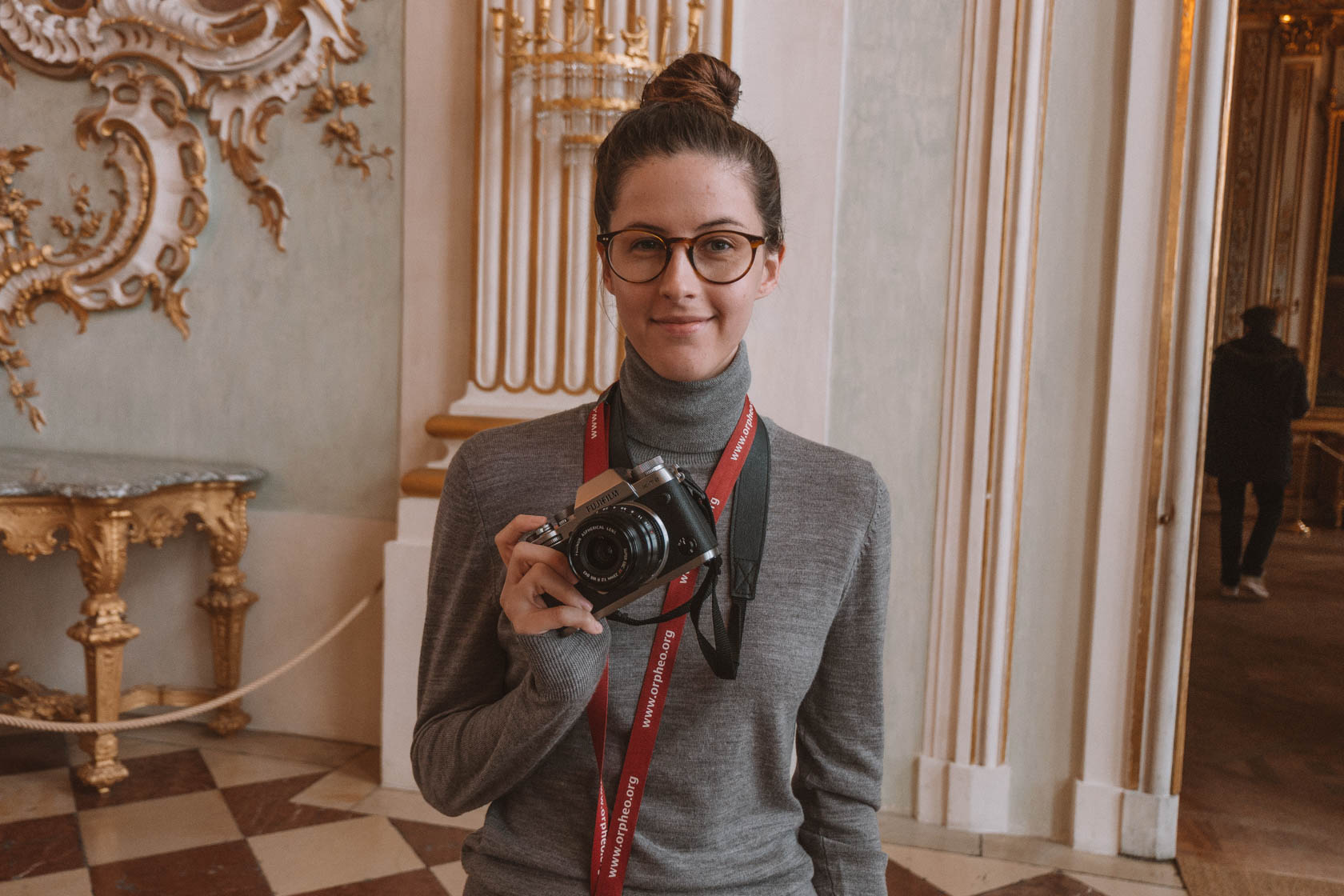 Normally, you'd probably want to walk around the grounds a bit but for us, in winter, it started to snow pretty aggressively! I think you can see a little bit of this in the next photo – and with the wind, we weren't particularly keen to stay out and walk around.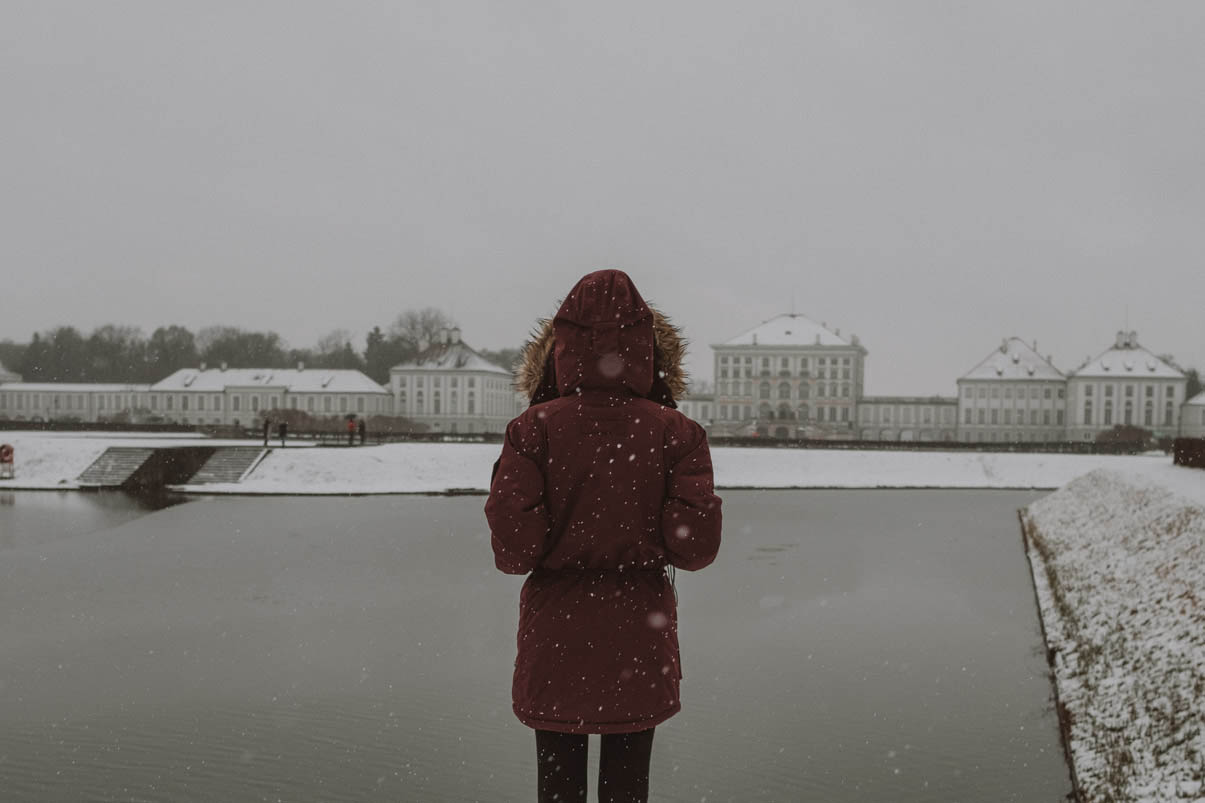 That said, the weather was bright and sunny the next day so we definitely had plenty of time to enjoy Southern Germany's famously better weather.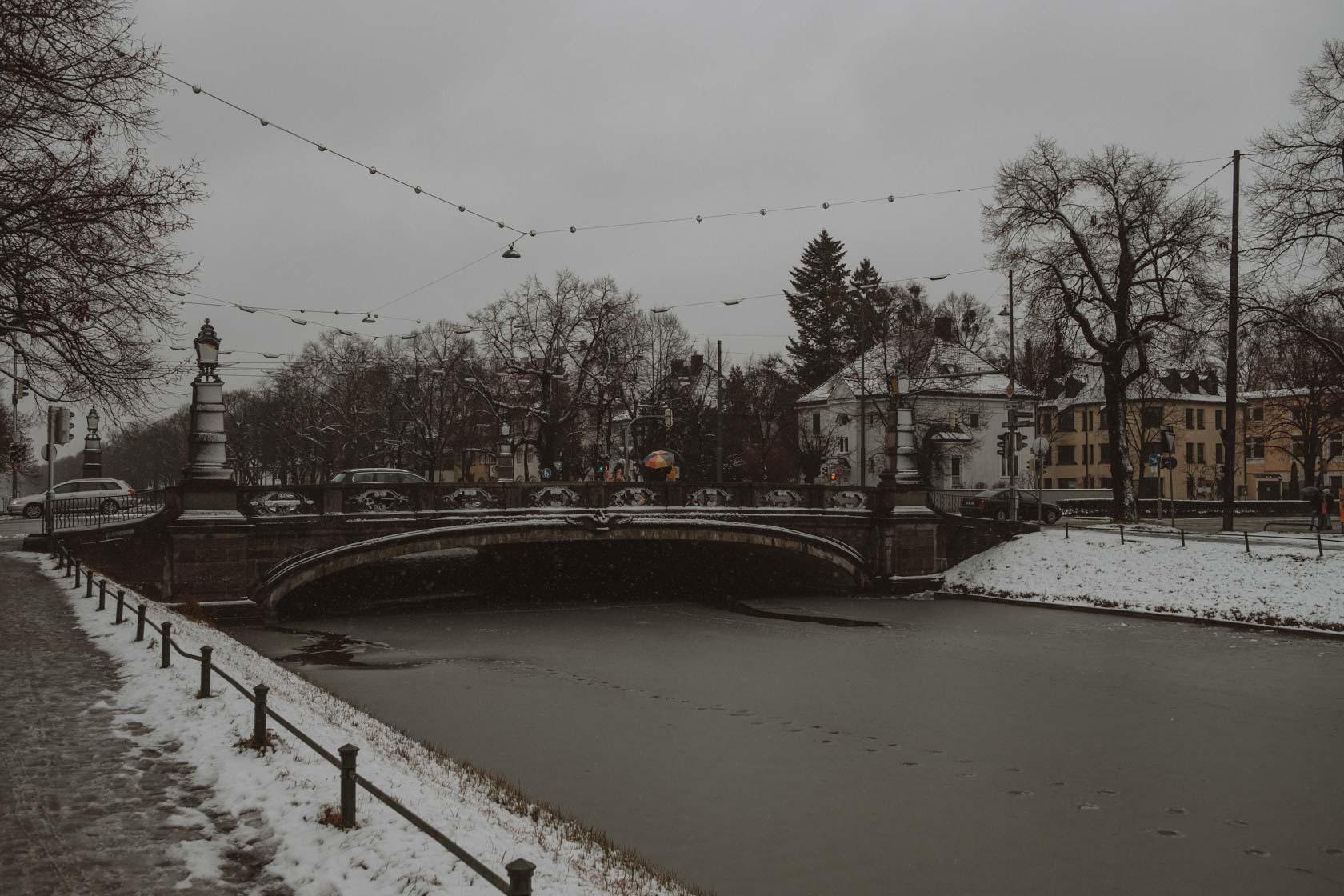 Enjoying the photos?
Follow along on Instagram!
Follow @notanomadblog for beautiful travel photography and stories of our journeys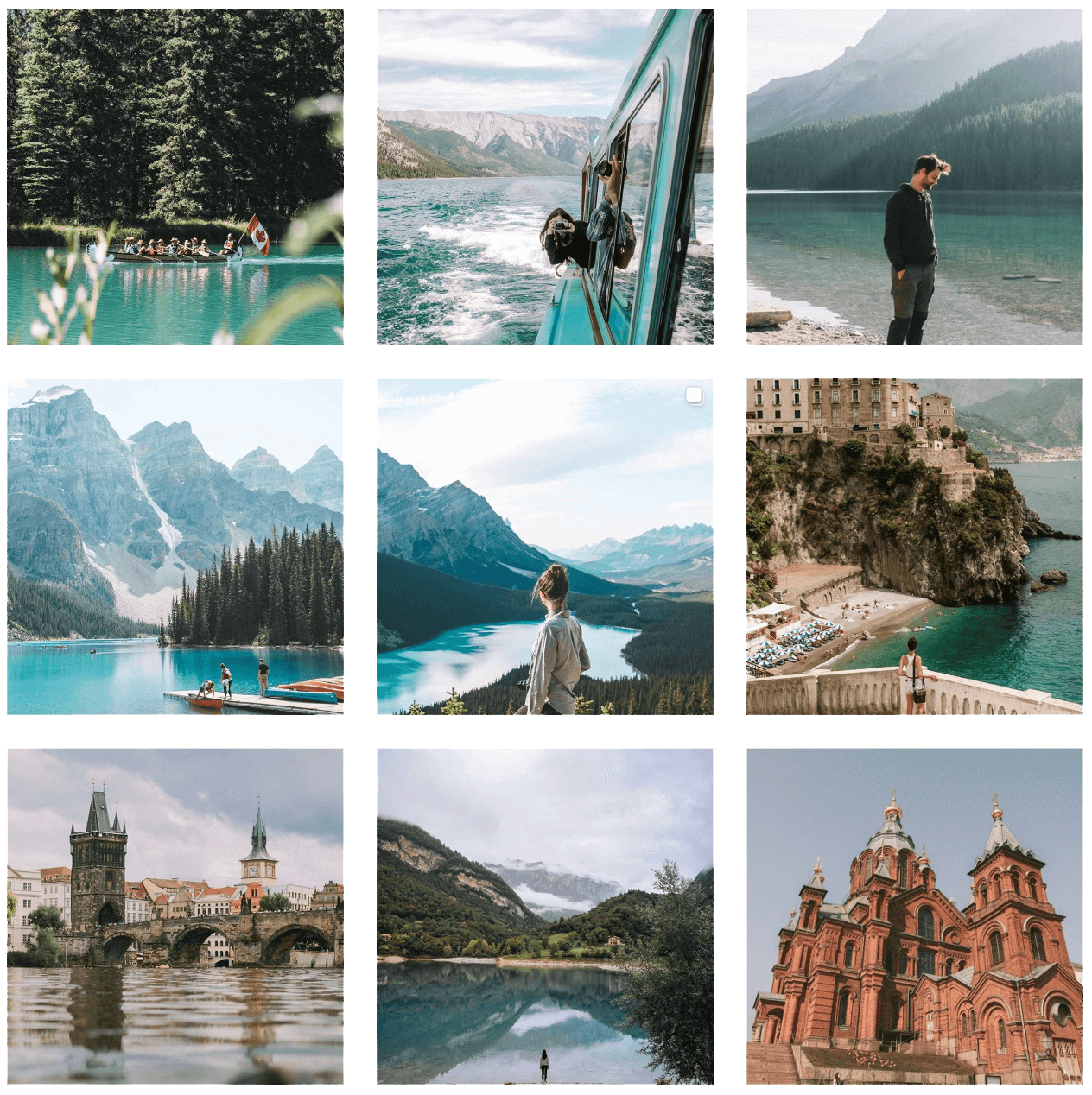 4. Art Galleries
When it's cold outside, the best thing you can do is to go indoors! I always feel like it's a crime to stay in a museum all day when it's warm outside, but in the winter it seems like exactly the place to be. There are a ton of fabulous art museums in Munich, but we went to the Alte Pinakothek . There are some seriously famous paintings in here by artists ranging from Rembrandt to Peter Paul Rubens.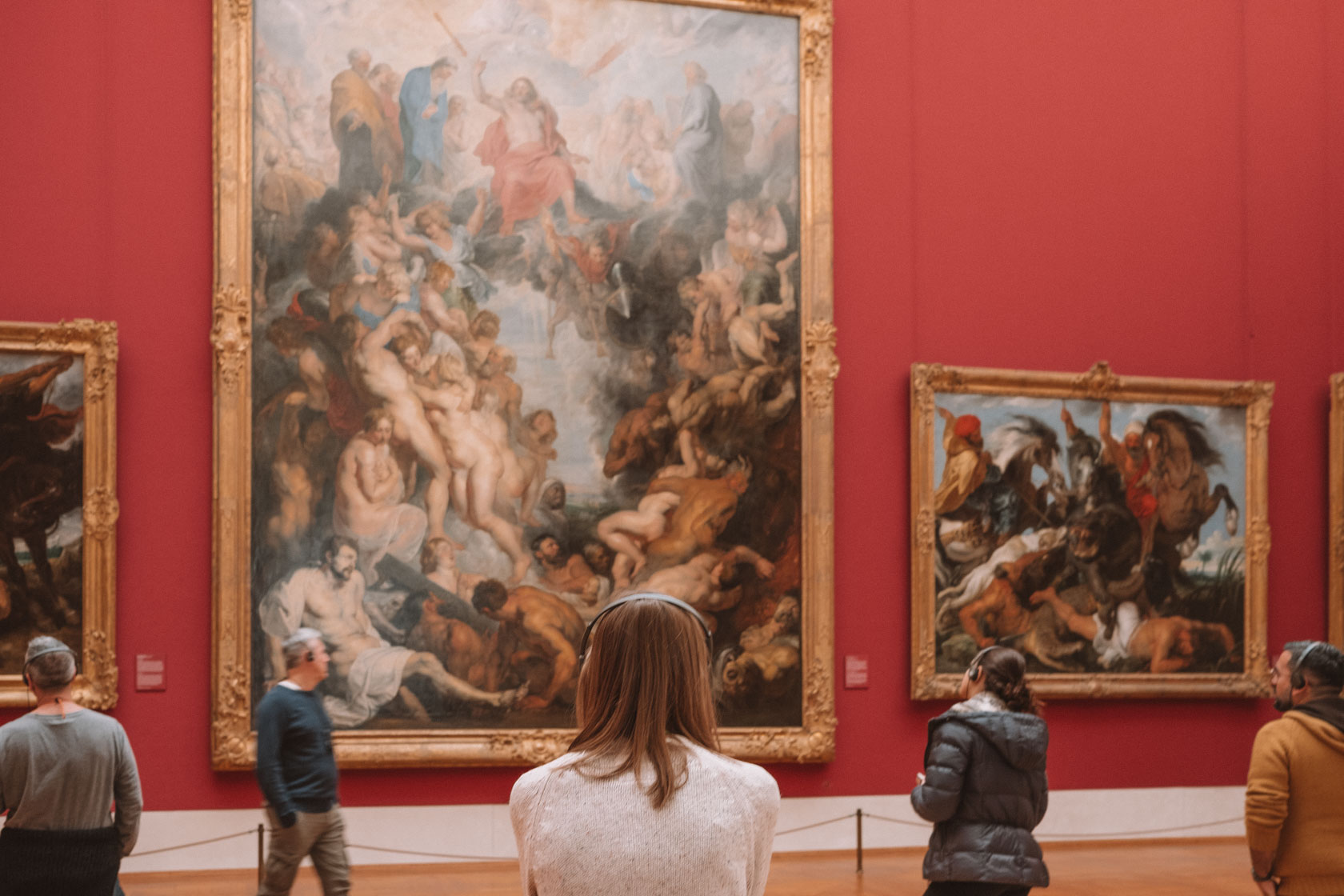 5. Hofbräuhaus
If you're not much of an art person (or even if you are, but you're in the mood for a beer thereafter), stop by Hofbräuhaus , the most famous beer hall in Munich. It's basically packed all the time, so you're going to need to walk around a few times until you find a spot. Just don't be afraid to ask people if you have sit by them!
It's expensive and touristy but also fun. Some ladies will come around and sell you pretzels. Just make sure you insist you get "the big one" when they come around for your beer order 😉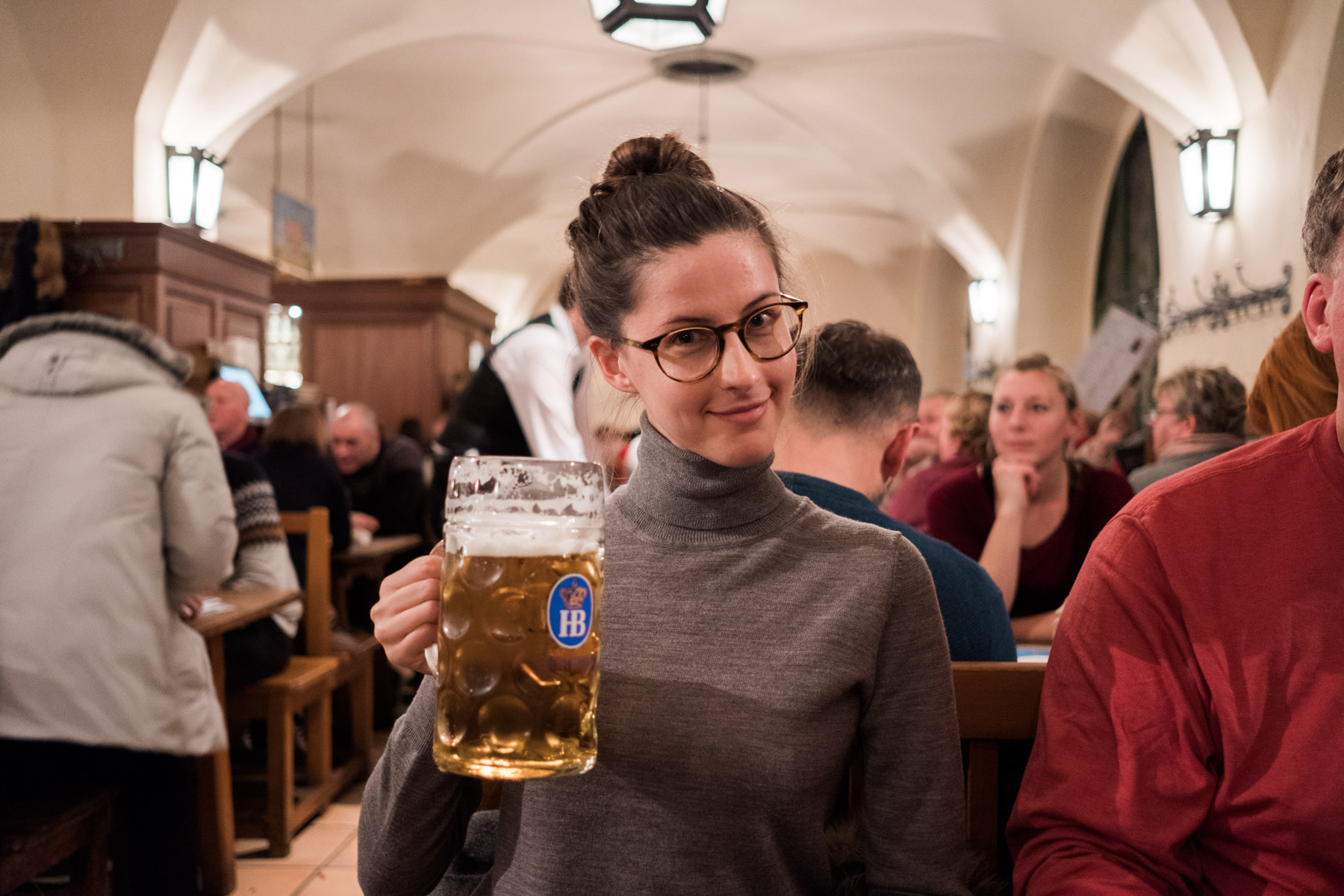 6. Visit the Neus Rathaus (city hall) and Frauenkirche (Cathedral of our Dear Lady)
Marienplatz is the heart and soul of Munich, and from here to can see two of the most iconic sights in the whole city: Neus Rathaus (New City Hall) and Frauenkirche (Cathedral of our Dear Lady). If you come during Christmas time, you'll also find a Christmas market on this square. It's a great place to do some shopping while being surrounded by gorgeous, classic German architecture.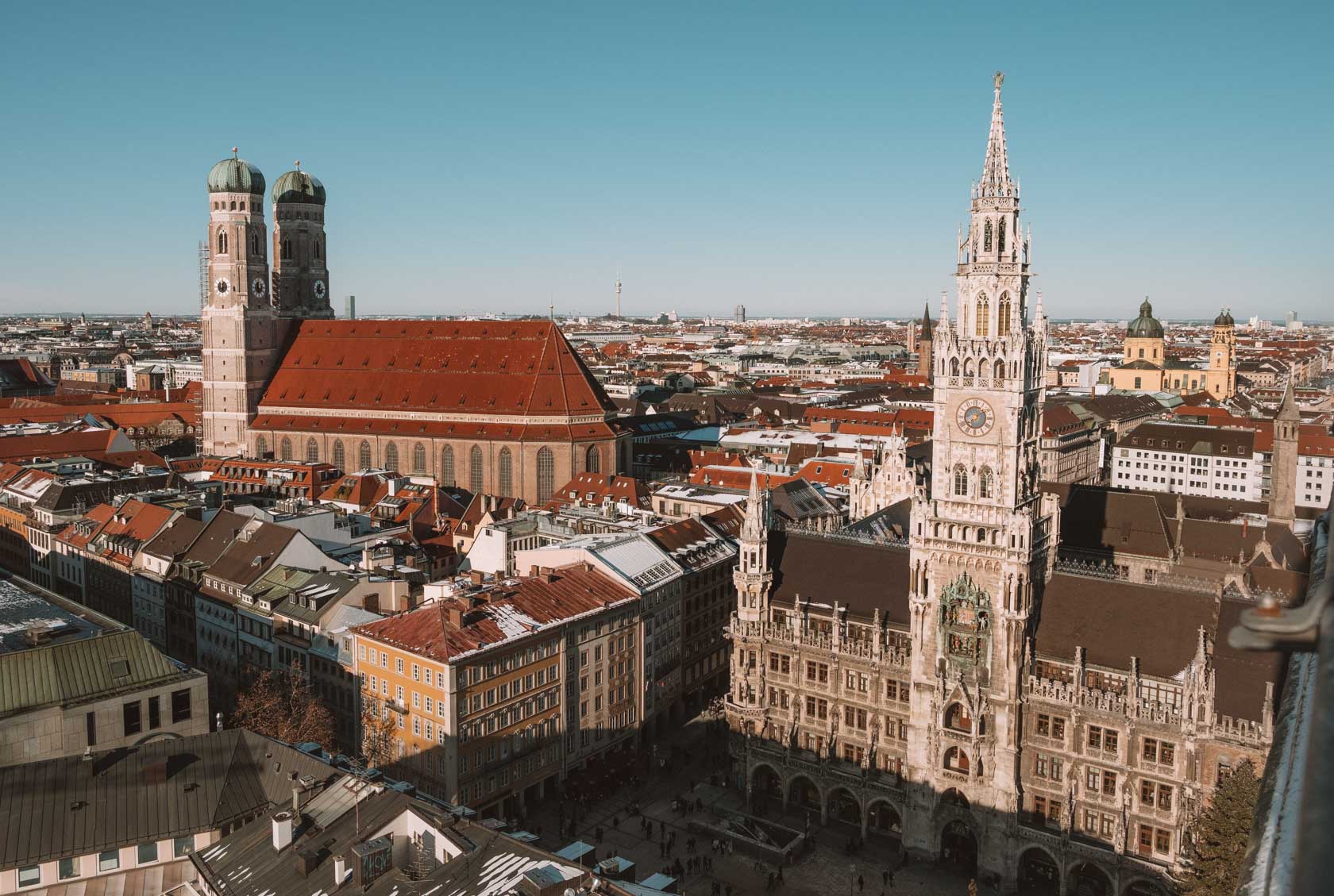 7. Climb Old St. Peter's Church
Want to snag that amazing view? Climb the steps of St. Peter's Church for an incredible 360-degree view over city. You can peak into courtyards, spot some of the most famous buildings, and hopefully you get to see it right after some snow to see the city's rooftops decked in snow!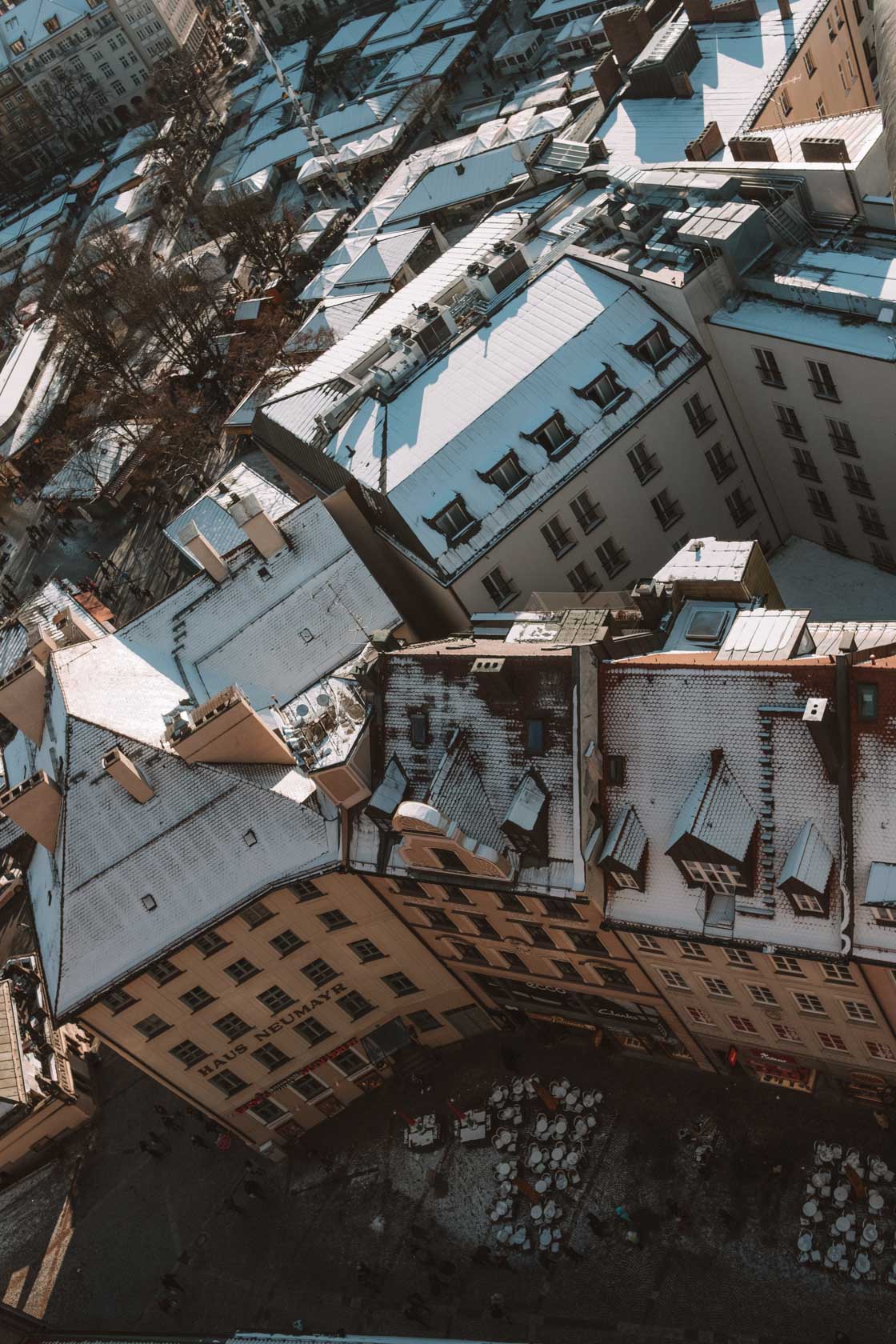 This is easily one of the best spots to get a feel for the size of the city and appreciate the Bavarian beauty that is Munich!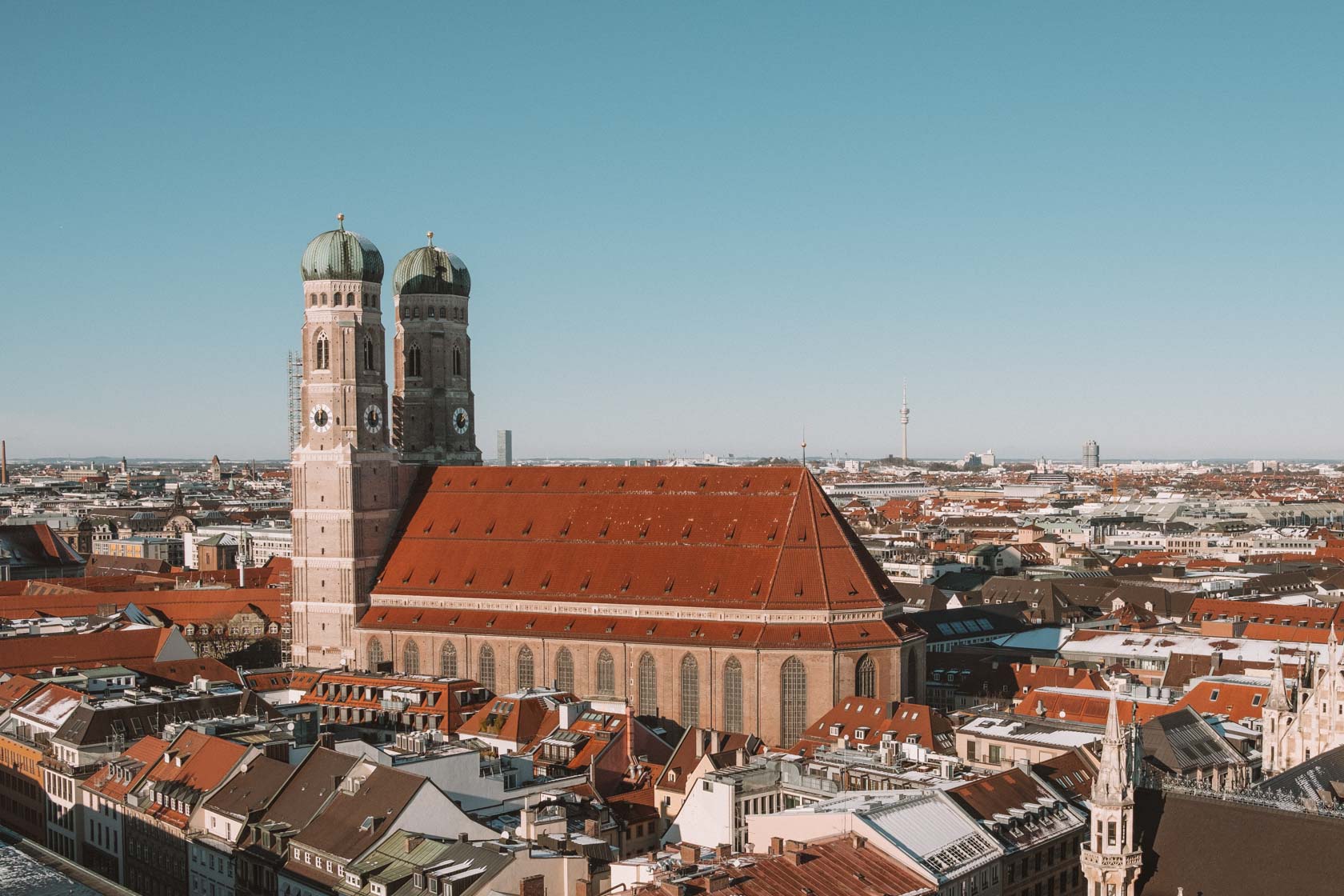 8. Go to a Christmas Market
Christmas Markets in Munich typically open up at the end of November and stay open until the New Year. If there is anywhere worth going to Christmas markets in Germany, Munich is one of the top destinations! If you're looking for a day trip, another famous spot for Christmas Markets in Bavaria is Regensburg which you can reach by train.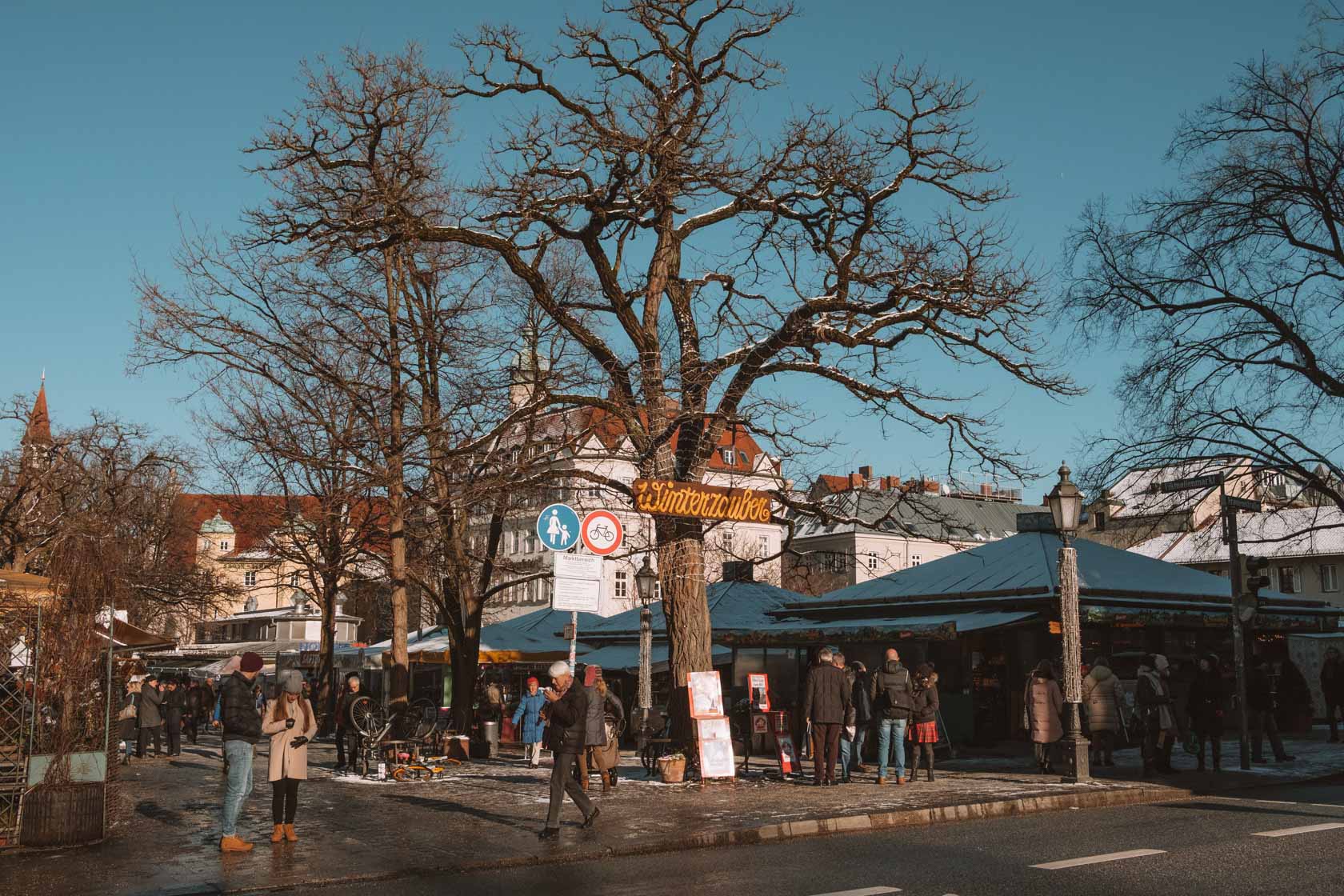 9. Hang out in the student quarter and stop by the Victory Gate
There are a ton of students in Munich, and if you're looking for a hip spot to grab a coffee and explore a bit outside the center, head down to the area near the Siegestor (Victory Gate). This gate is dedicated to the glory of the Bavarian army.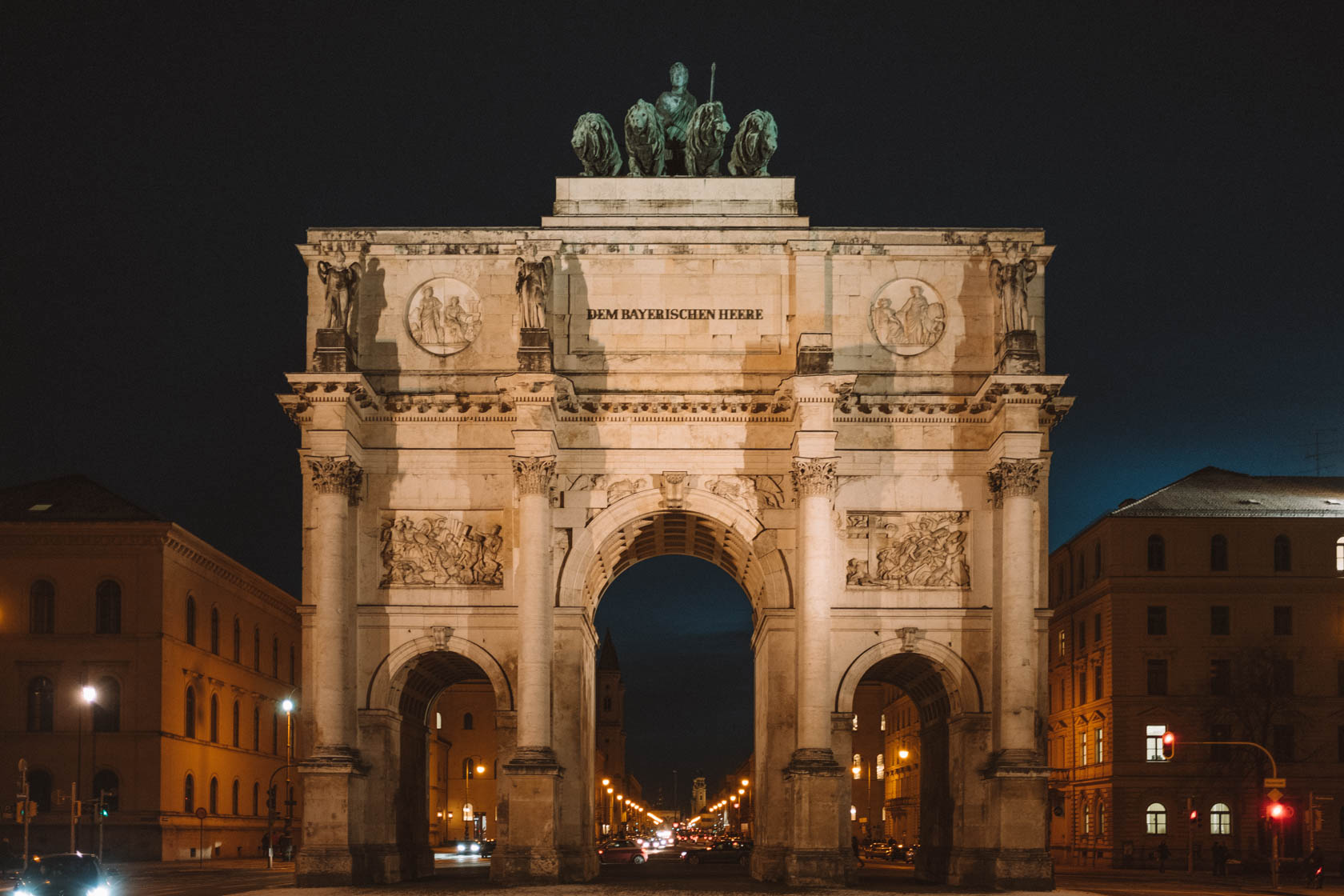 Day trips from Munich (suitable for Winter)
Luckily, the area around Munich (known as Bavaria) is a positively beautiful place to visit in Winter. If you love to visit cities, but also love to spend some time in nature enjoying the mountains and forests, any of these day trips would be an excellent addition to your itinerary.
Neuschwanstein and Linderhof Castles – Neuschwanstein is famously known as the model castle for Cinderella's castle. It looks positively gorgeous covered in snow and is well-worth visting if you have the time.
Berchtesgaden and Obersalzberg – Last year I went to this area in Winter and it was so beautiful covered in thick, fluffy snow. If you want to see the real Bavaria, this is it!
Salzburg – Another place I visited last winter, Salzburg is a beautiful and compact European city, making it perfect for a day trip. Most famous as the location where Sound of Music's "Do Re Mi" song was filmed.
Just to give you an idea of how beautiful Winter in Bavaria looks, here is a photo taken from the Berchtesgaden region during my trip to Salzburg, specfically located at Königssee . Check out my detailed guide on how to get from Munich to Königssee.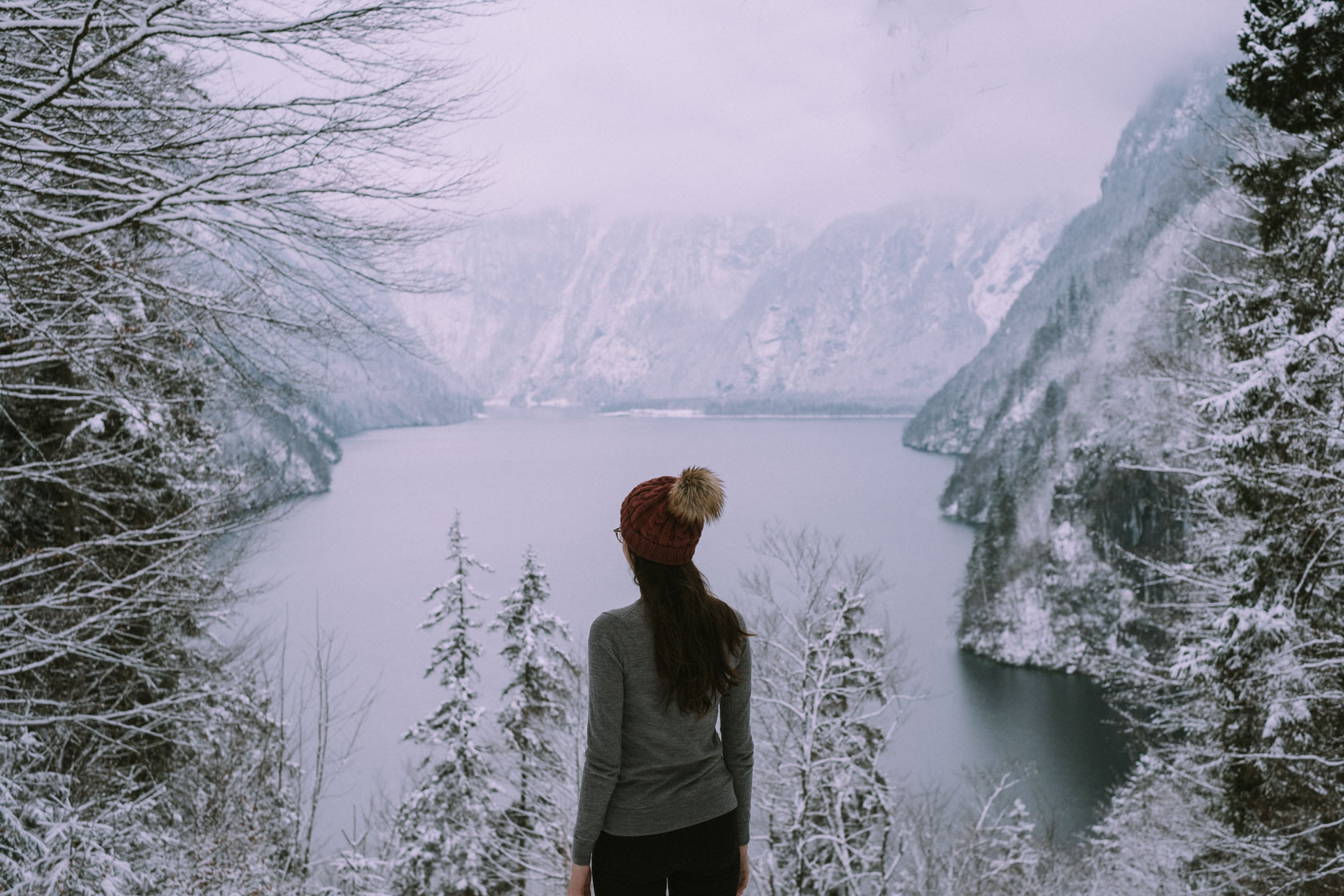 There are many options for reaching Königssee from Munich. For instance, This particular tour to Königssee from Munich has enthusiastic reviews, only 4-8 participants, and a high 4.8 rating. Honestly it doesn't cost that much more than taking the train and saves you a fair bit of time. The only downside is that the cost of the boat trip isn't included, which costs 15€ for a round trip.
Weather in Munich
During Winter, Munich typically gets a good amount of snow and tends to have sunnier skies than many other parts of the country. Luckily, Munich also has great public transit, and Germany has a great train system, so you'll have no problem getting around even during the winter weather.
| Month | Low °C | High °C | Low °F | High °F |
| --- | --- | --- | --- | --- |
| December | 4°C | -1°C | 39°F | 30°F |
| January | 3°C | -2°C | 37°F | 28°F |
| February | 5°C | -2°C | 41°F | 28°F |
What to pack for winter in Munich
Here are some of the most important items to make sure you pack when you visit Munich in winter:
Warm winter coat
Boots suitable for snow
Gloves and scarf
Layers you can put on and off
A warm hat!
The most important thing to bring for winter in Munich are boots that can handle a bit of snow! Nothing is worse than walking around with wet feet!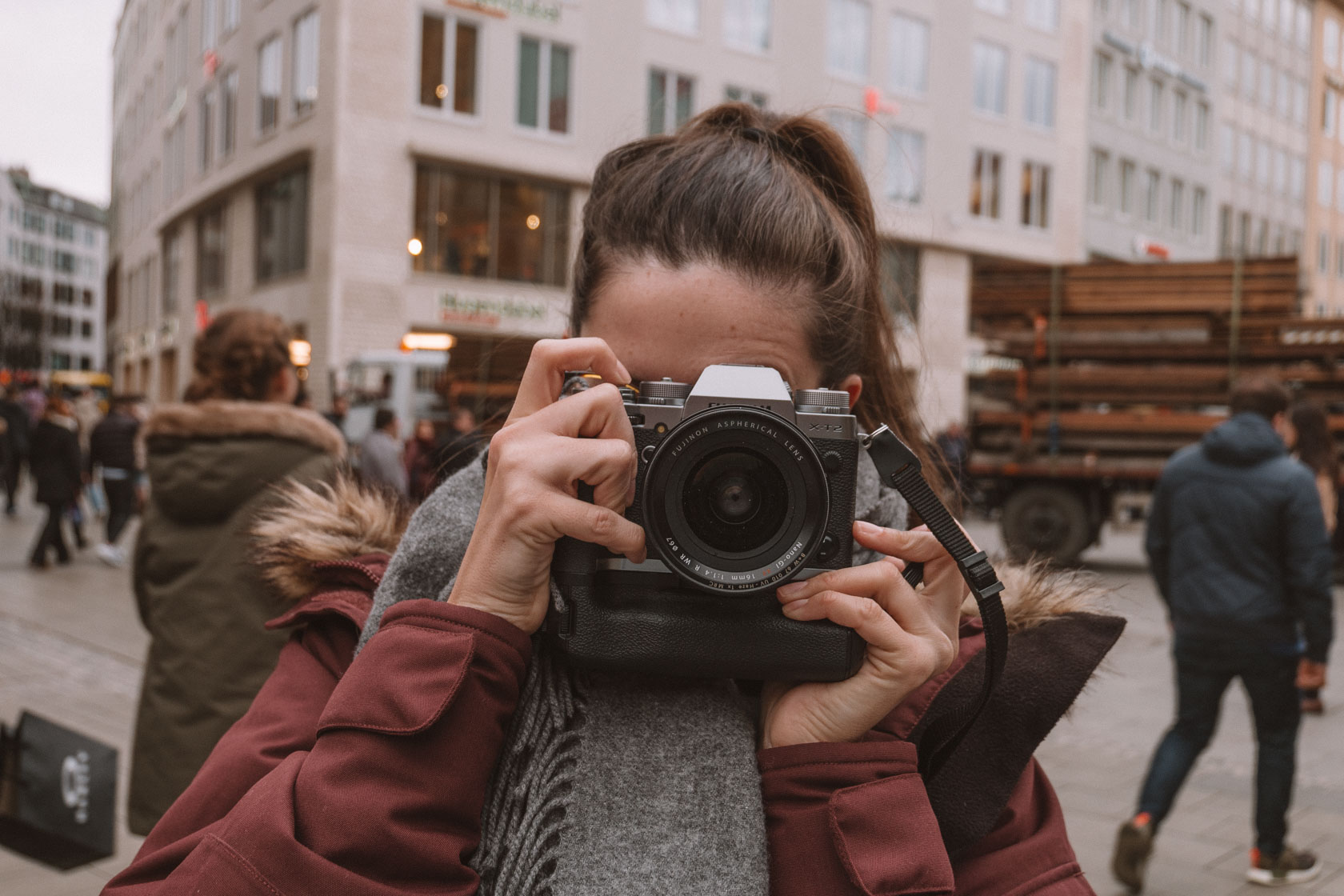 Have you ever been to Munich? What would you be most intered to experience in Germany?
Share your thoughts in the comments, especially if you have some tips for me on this part of the country!