Königssee's name literally means "King's Lake" in German, and once you get here you'll completely understand why: it is without a doubt one of the most beautiful places in Germany, if not in Europe. It's also the deepest lake in Germany, pluging to a depth of 190 meters or 630 feet. At a length of 8 kilometes or 6 miles, you can reach a scenic viewpoint to see the entire lake with just 30 minutes of walking. Sounds good or what?!
Located close to Berchtesgaden, Germany, it's also very easy to get from Munich to Königssee or from Salzburg to Königssee! We actually stayed overnight, but much of what you'd want to do in the lake area can be done in one, efficient day including hiking in the Berchtesgaden National Park, visiting scenic viewpoints in the German Alps, and taking a boat tour of Königssee.
Learn how to reach this gorgeous lake, the best things to do at Königssee, information about the ferry's costs and timetable, the prettiest viewpoints to reach by hiking, and ideas for more places to explore during your trip to Bavaria!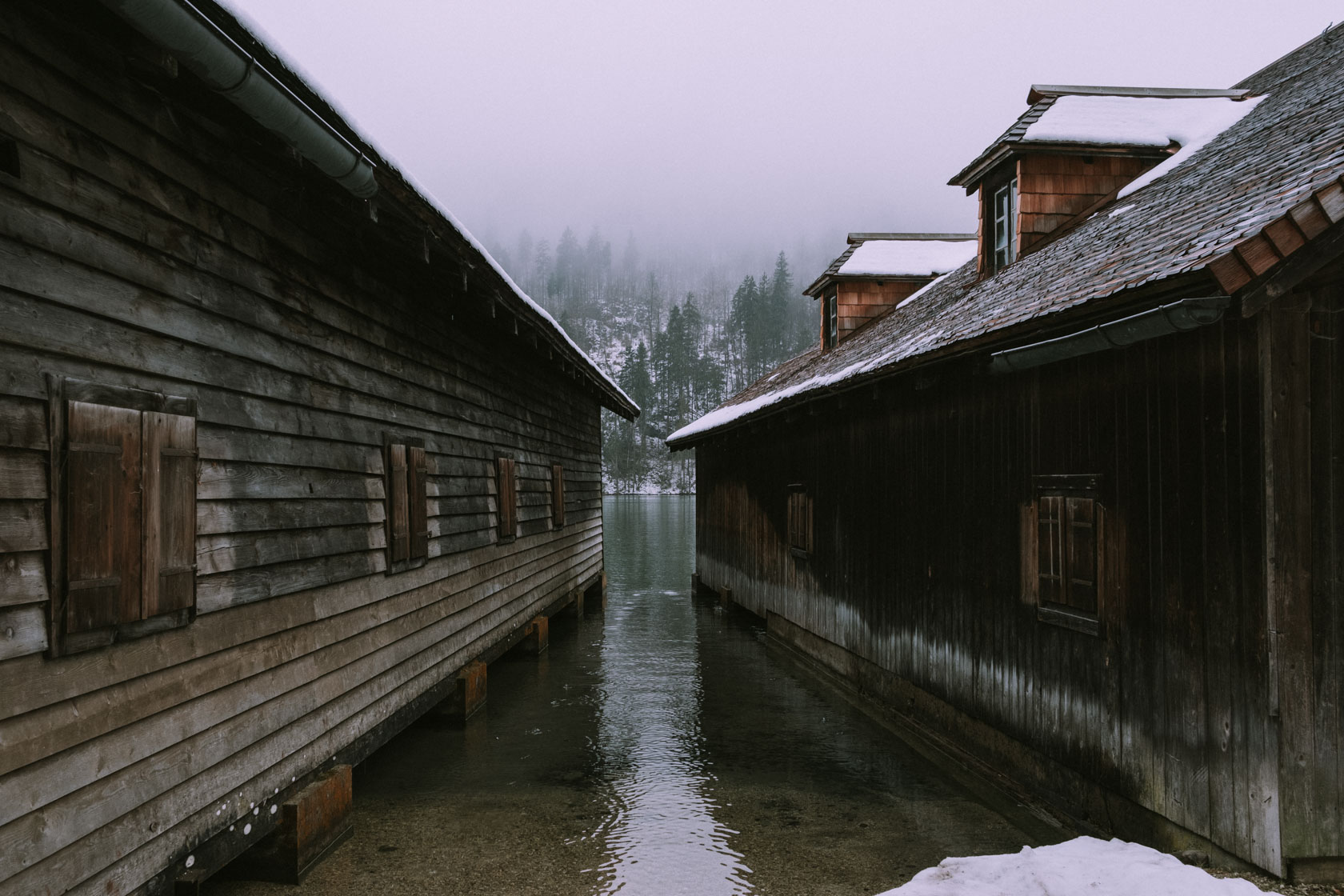 Some links in this post are to affiliate sites. If you purchase something through them, I may earn a small comission — which costs you nothing! I am very grateful when you use my links to make a purchase.
Can you visit Germany right now? (Summer 2023)
You can enter Germany using an EU Covid pass without any additional tests. If you are coming from a high-risk area, you may be required to fill out a Passenger Locator Form (here) to re-enter. This can be done online prior to entering the country, and you may be asked for it to board your flight into the country.
If you're traveling from outside the EU and don't have an EU Covid pass, you'll either need a negative PCR test (taken within 72 hours prior to entry) or antigen test (taken within 48 hours prior to entry), proof of being fully vaccinated (or having an initial dose combined with a negative test) which includes your personal data like birthday, first and last name, dates and names of the vaccines, etc. or proof of recovery. All requirements are described in detail here.
How (and how long?) to get from Munich to Königssee
Getting to Königssee from Munich is luckily pretty easy, and you have means of doing it either by a rental car, using the German bus and train system, or by taking a small-group tour. Roughly speaking, from Munich to Königssee you'll spend about 2 hours by car or 3.5 hours by train and bus going in each direction. No matter which way you do it, you'll want to leave early in the morning to maximize your time on the lake.
If you plan to stay overnight in Berchtesgaden, I have recommendations on where to stay in Berchtesgaden later in the post.
Without further ado, here are three popular ways to get to Königssee from Munich:
By car
By car you will need to drive for about 1h 45m along the A8. Do be aware that if you are driving a rental car, some rental car operators will charge you more money if you tell them you are going to be crossing country lines (which, in this case, you will be swinging through Austria!). That said, driving yourself will obviously give you the greatest amount of flexibility to see other sights in the area.
Transit time: About 4 hours (round trip)
By public transit
Though doable by public transit, you are in for a long day! To reach the closest town, Berchtesgaden, takes a little under 3 hours by train. This includes a transfer at Freilassing to a local train. From Berchtesgaden, you'll need to get to Schoenau am Koenigssee, which is another 6km. You can take a short bus (the 843 or 831) to the town on the lake, Schoenau am Koenigssee. From there you need to leave yourself a few hours to explore the lake, go on a boat tour, etc. Be aware that the boat ticket office closes at 5PM!
Check on the Deutsche Bahn website for travel timetables between "Munich Hbf" and "Berchtesgaden Hbf". Most tickets will cost about 40€ each way, though sometimes cheaper fares are possible if you do not choose flexible departure times. Just be aware that choosing non-flexible tickets means that if you miss your train, you'll need to pay full price for a new ticket.
Transit time: About 7 hours (round trip)
By tour
If you're not driving yourself, then a guided tour easily will be the most efficient way to get from Munich to Königssee. This particular tour to Königssee from Munich has enthusiastic reviews, only 4-8 participants, and a high 4.8 rating. Honestly it doesn't cost that much more than taking the train and saves you a fair bit of time. The only downside is that the cost of the boat trip isn't included, which costs 15€ for a round trip. So far I haven't seen any guided tours in my research that do include the cost of the boat tour.
Transit time: Similar to car driving times. Total tour lasts 8-10 hours including transit from Munich.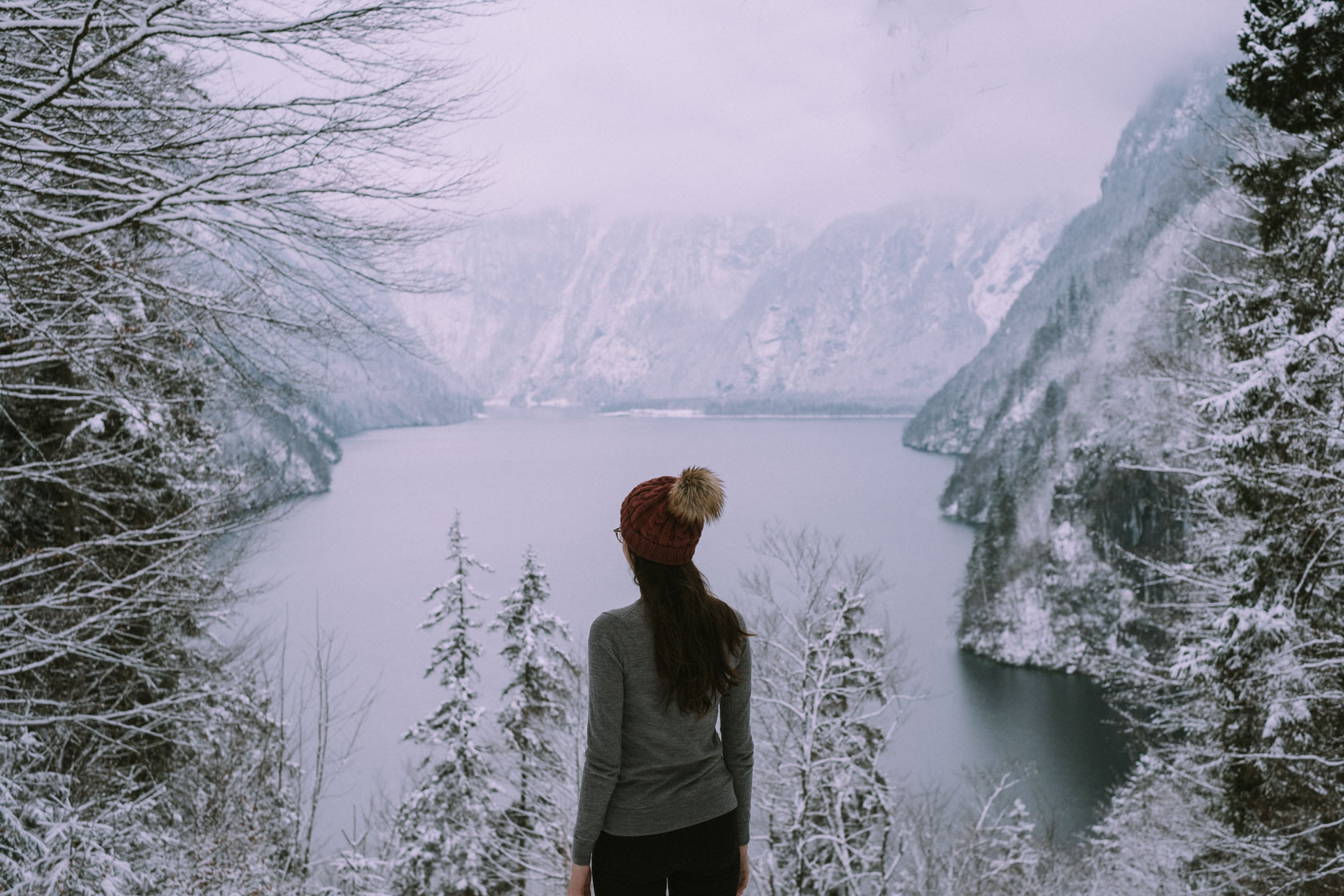 Things to do at Königssee
While you can really see how impressive Königssee looks in a day, you could spend days in the Berchtesgaden National Park hiking around and visiting various landmarks in the area. Here are the top highlights and things to do at Königssee:
Christlieger Island – There is a tiny island in Königssee you'll see either from the shore, or as you pass it from the boat!
Boat Houses – One of the most popular photos to take at Königssee, you'll see these from the shore as well.
Echowand – During your boat trip, the captain will stop the boat to play a song on his trumpet which comes back as an echo!
Falkenstein – This wall is also a memorial for sailors whose boats have sunk in the lake.
Saint Bartholomä – This Roman Catholic pilgrimage church operates today primarily as a restrauant. From here you can begin hiking to…
Eiskapelle – About a 30-minute hike from the church, you can reach this ice cave. Unfortunately it was snowed in when we arrived!
Salet & Obersee – You can reach Obersee, a smaller lake near Königssee, by a short footpath connecting the two lakes. Very famous instagram spot!
Röthbach Waterfall – Continue further and you can see Germany's highest waterfall from the distance. Most impressive early in the season before Summer has dried out the water.
Go on a boat tour – Many of these places are best reached with the help of a boat tour. Read on for more details about how to use the ferry at Königssee.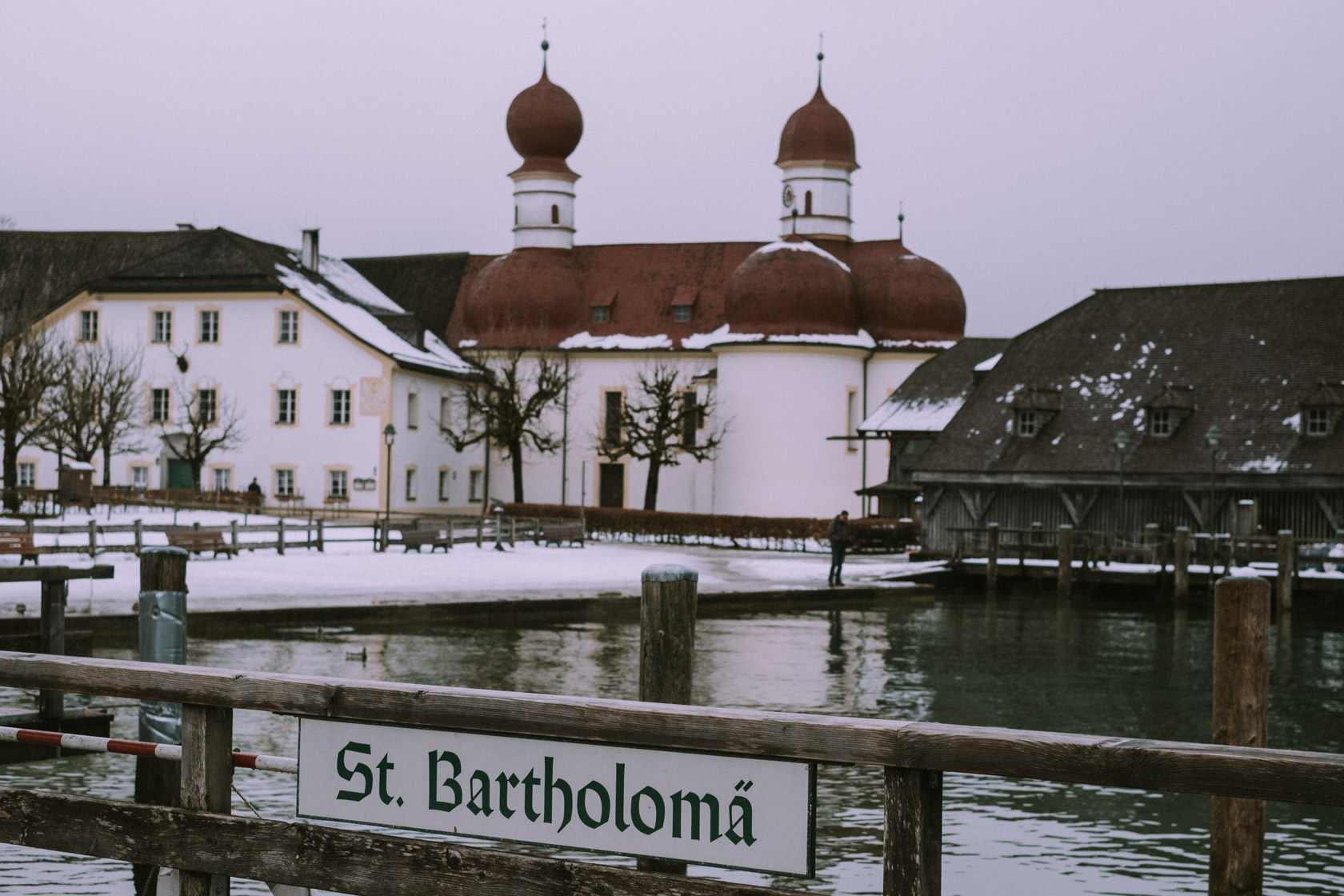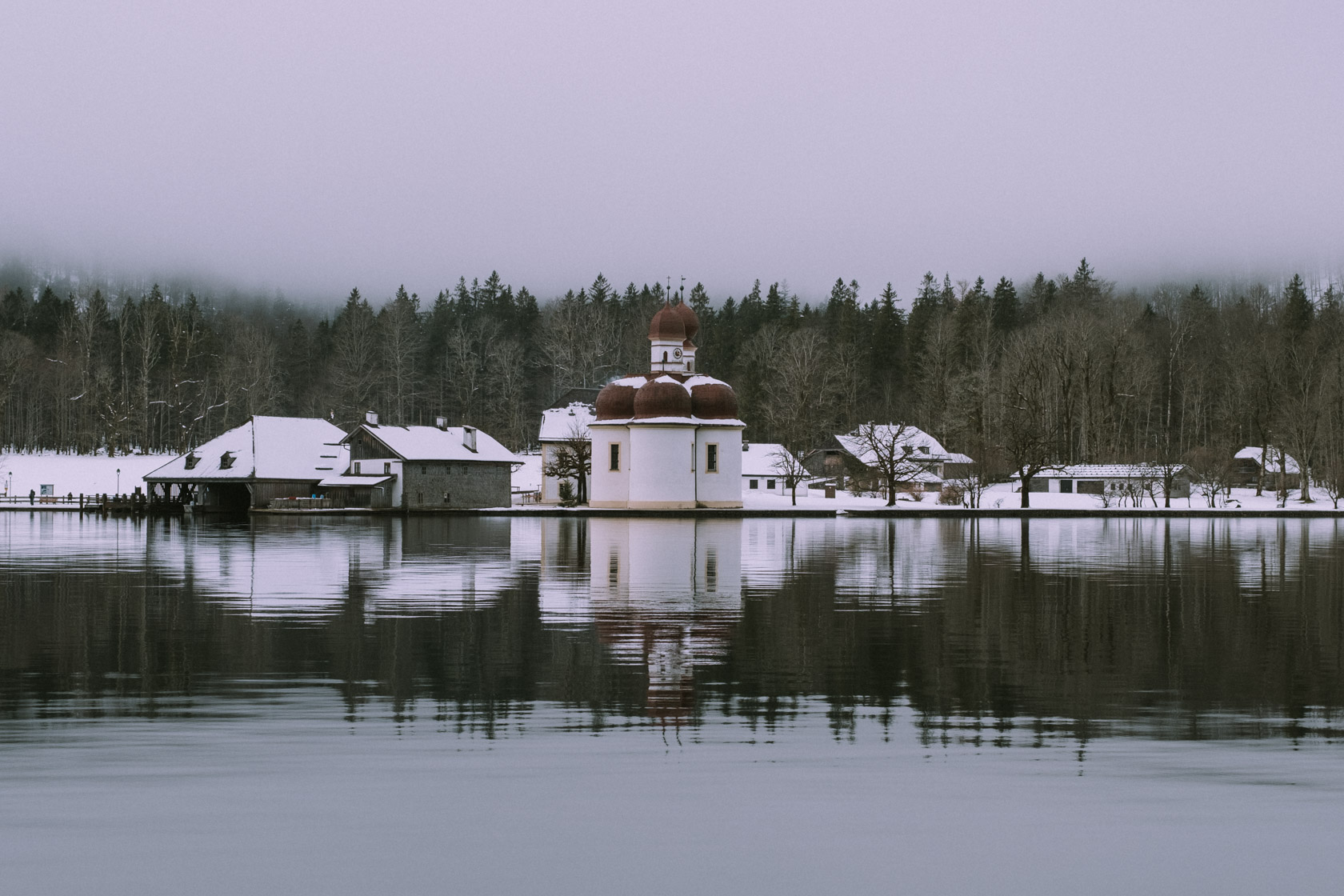 Königssee boat tours
When does the Königssee ferry run?
The ferry runs all year long, though in Winter the ferry only does a half-run from the boat station to Saint Bartholomä. Meaning, you won't be able to reach Obersee from the boat tour during Winter. However, in the rest of the year, you can do the boat tour in two parts: the first part to reach Salet, and the second part to reach Saint Bartholomä on the way back. From Salet there is a footpath that will take you to Obersee.
You can check the ferry timetable for seasonal and up-to-date information and when the ferry is running.
On rare occassions, Königssee might freeze over but it's been about 10 years since that last happened to a point you could walk on the ice. According to the official website, that winter the landlord of St. Bartholomä drove his car over the lake to make it to the restaurant!
As they mention on the website, you should be aware there can be waiting times in the Summer! They recommend taking the 10:30AM boat ride out and coming back by 2:30PM. Luckily, you can book tickets online and print them out in order to skip the line. Just be aware you need to choose a fixed departure time, though the return time is then flexible!
How to use the ferry at Königssee
Ferries depart roughly every 30 minutes, and they have about 19 boats that might be navigating the lake at any given time! Using the ferry is as simple as showing up to the boat station and purchasing a ticket. You should bring cash if you are not going to be buying tickets online in advance, though there is an ATM on the way from the parking lot to the ticket area.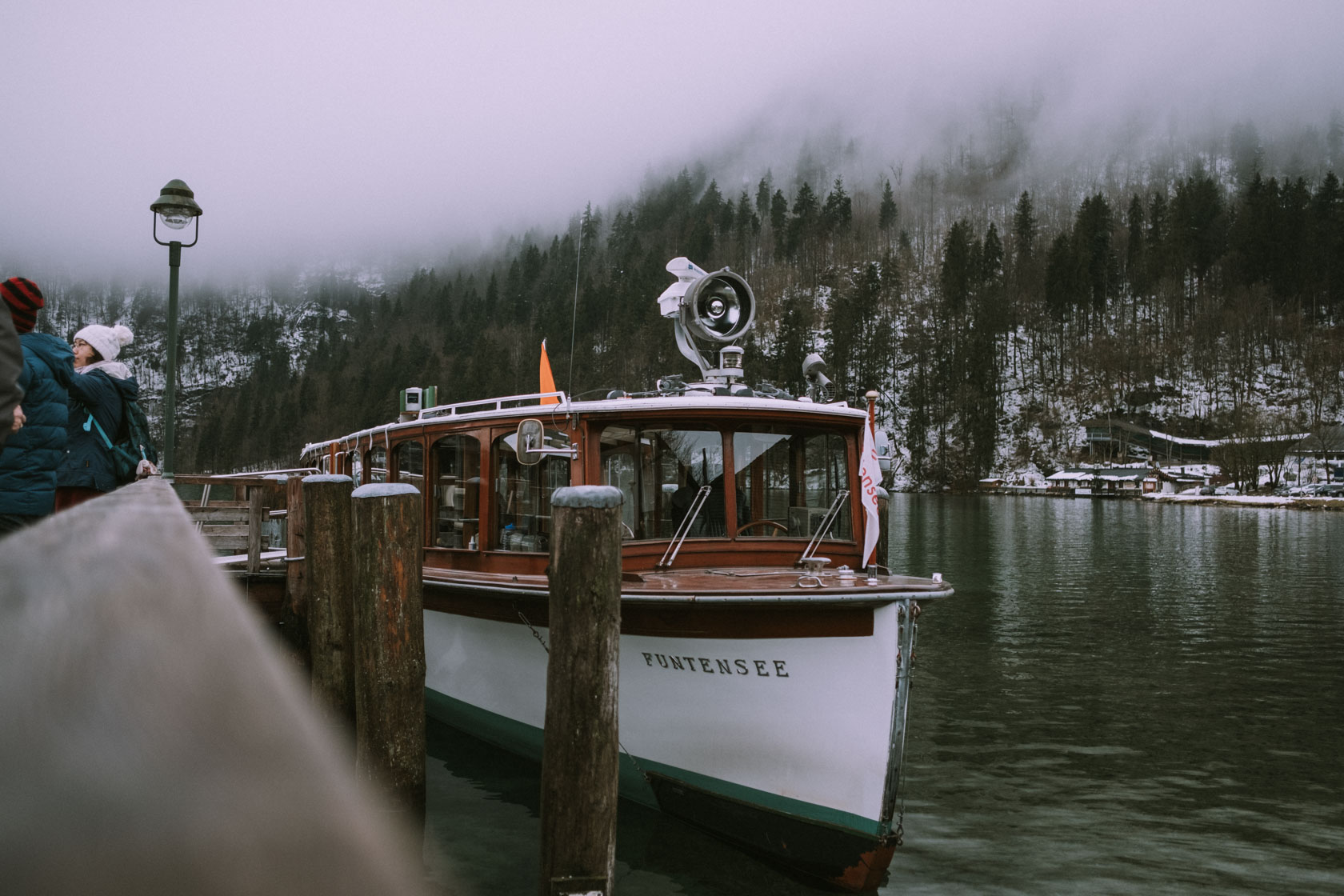 Best viewpoints in Königssee
Malerwinkel (Painter's Corner – 30m): This viewpoint is the first place you'll see a clearing from which you can see Königssee. While it's the lowest of the three viewpoints listed here, I think it also makes for some of the best photos!
Rabenwand (Raven Wall – 40m): Continue further up for another 10m to reach Rabenwand. In Winter you will want to have crampons or it is VERY slippery, despite the presence of a rope. There are rocks to climb. This is probably the most popular viewpoint.
Archenkanzel (Ark's Pulpit – Elevation: 1,346 m): This viewpoint is high in the mountains and can be reached from a few different entrypoints. Come here to see both Königssee and Obersee!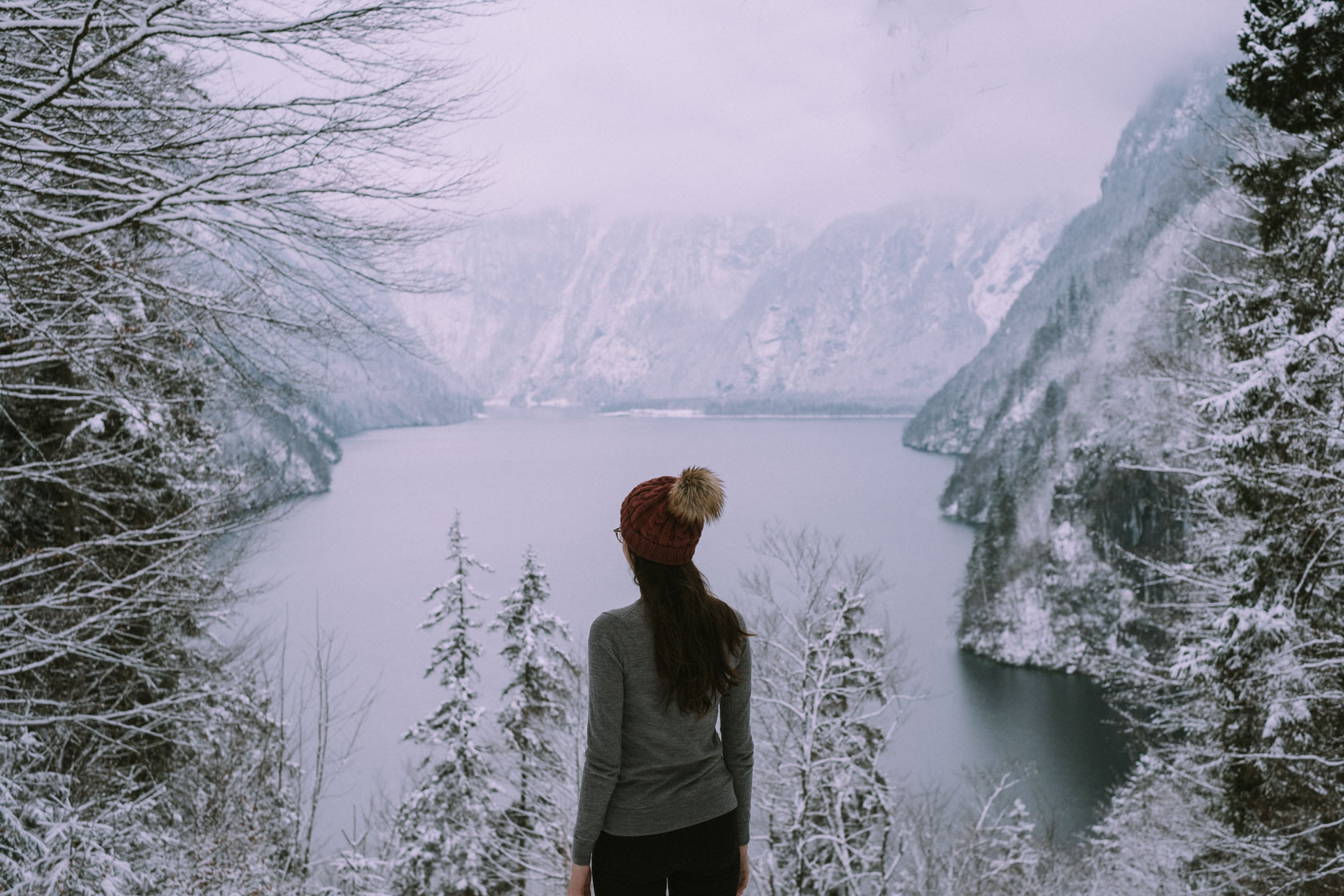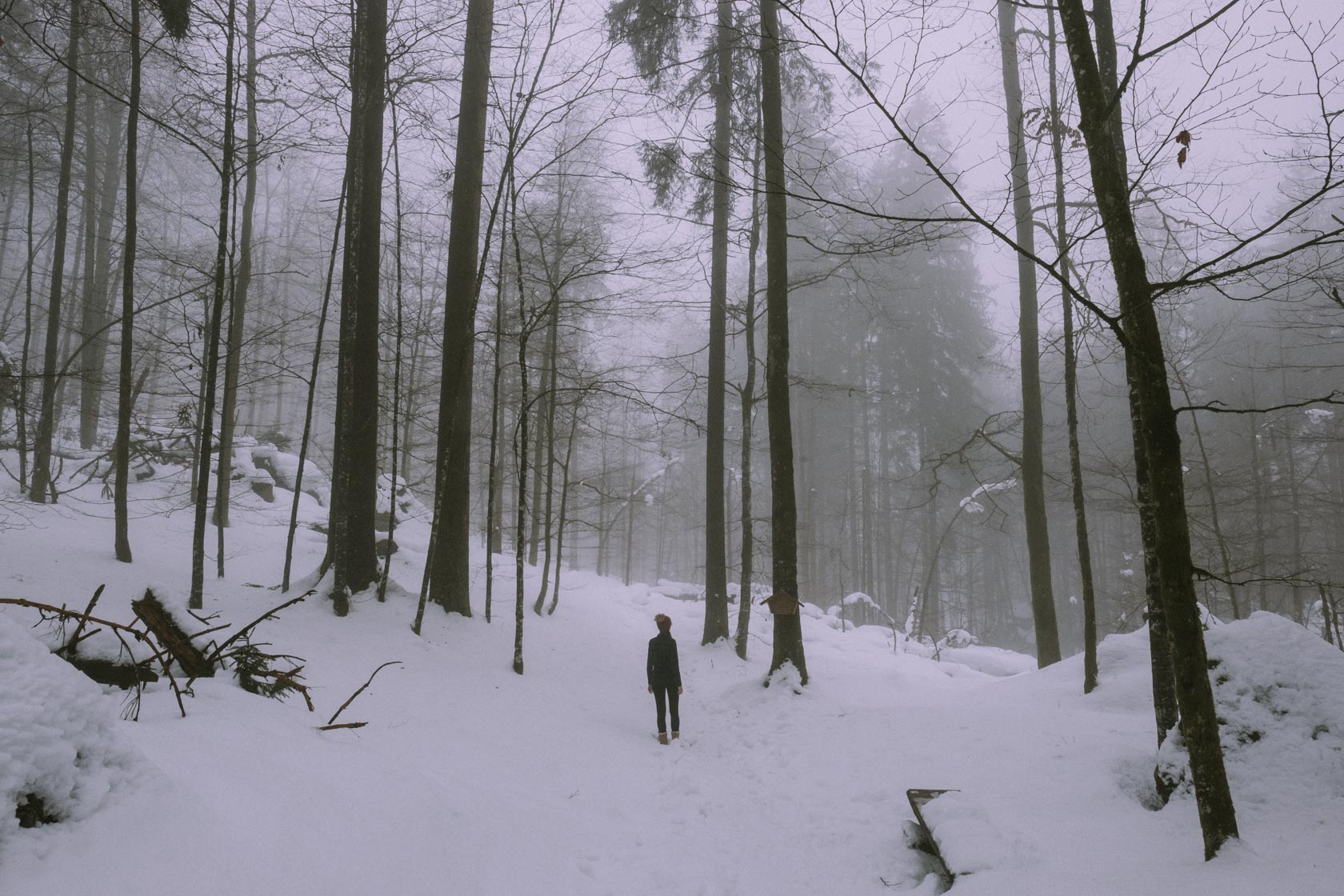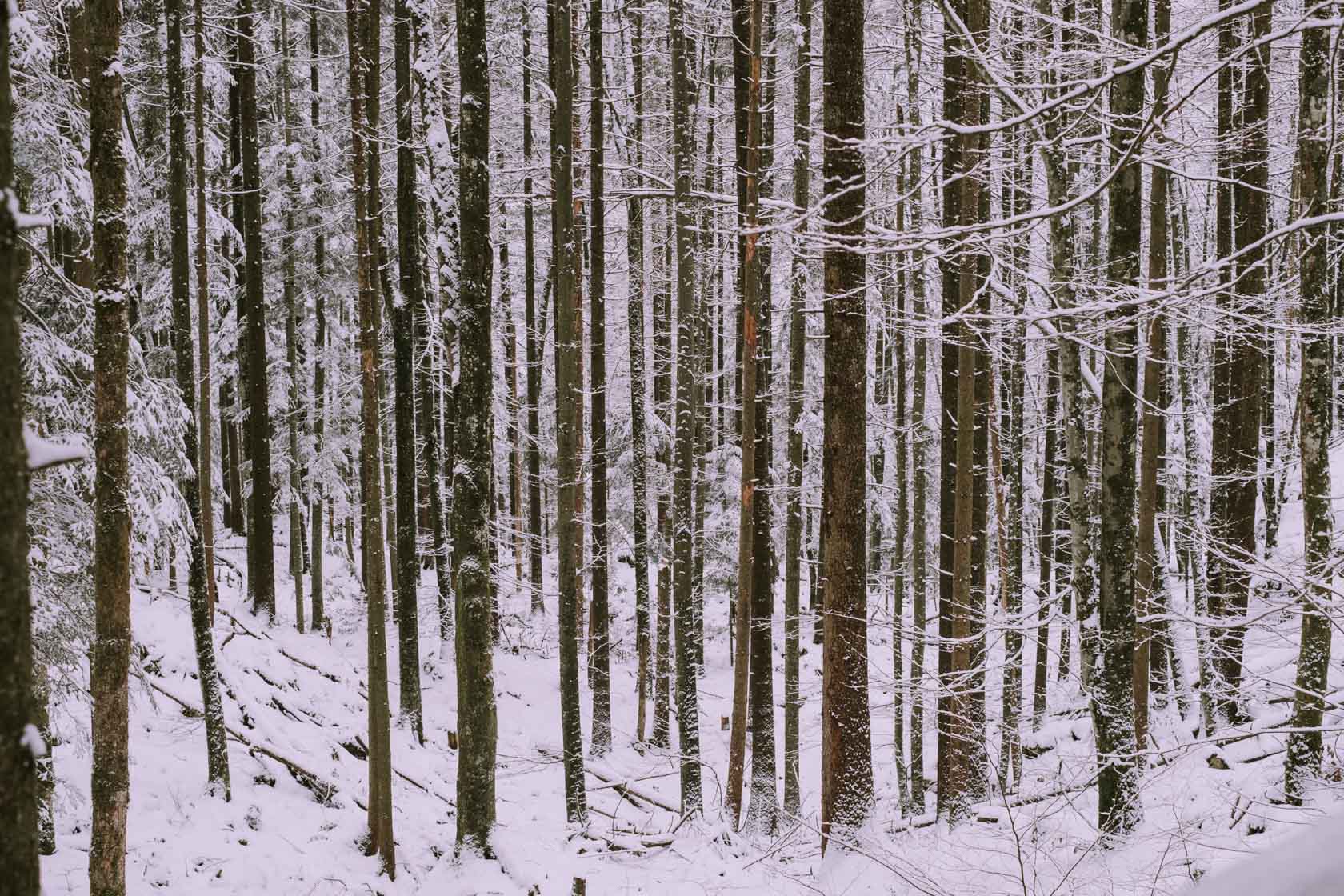 Best hotels near Königssee, Schönau, and Berchtesgaden
The closest proper town (which is still tiny!) near Königssee is called Berchtesgaden . It's located just 6km away, meaning the drive from there to the lake is just a couple of minutes. It's also convenient to reach by train from Munich or Salzburg since it has a train station!
We stayed at Hotel Vier Jahreszeiten , which was simple, affordable, and had great views over Berchtesgaden's surrounding mountains from their top-floor balconies. Be sure to check that the hotel or guesthouse you choose is close enough to town in case you want to walk to dinner without needing to bother with parking.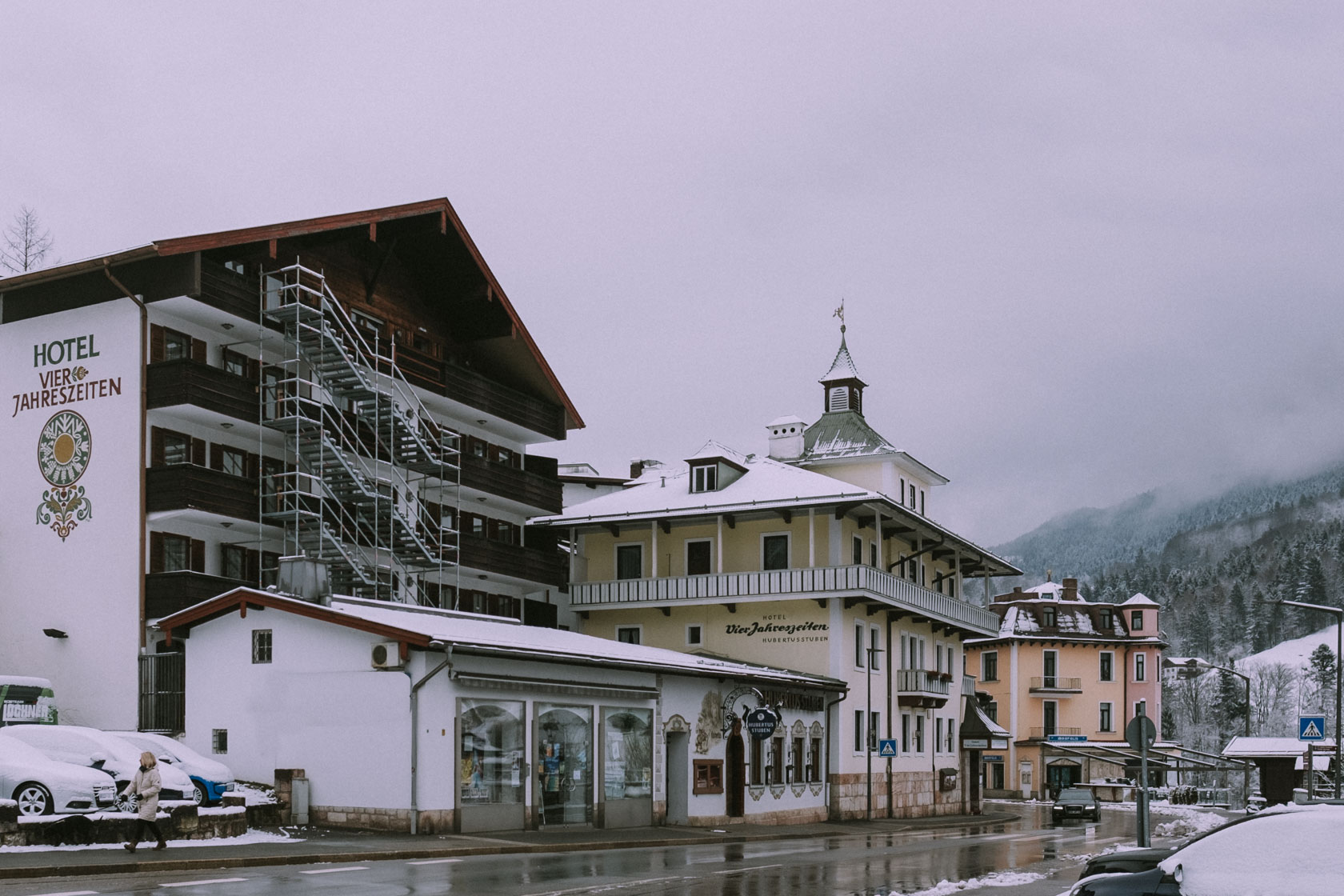 Staying in Munich?
Check out my related post on Munich in Winter for tips that apply not only to winter but all seasons in Munich, such as things to do in Munich, where to stay, and other excellent day trips from Munich.