I love beer gardens. They bring together two things that the German people are especially great at: enjoying nature and drinking beer. If you ask me, no trip to Germany is complete without indulging in a beer garden. Having lived in Berlin for the last four years, I've visited a bunch of different beer gardens. Here are my top favorite beer gardens in Berlin, essential information about visiting them, as well as information on how beer gardens usually work in Berlin so you're super prepared!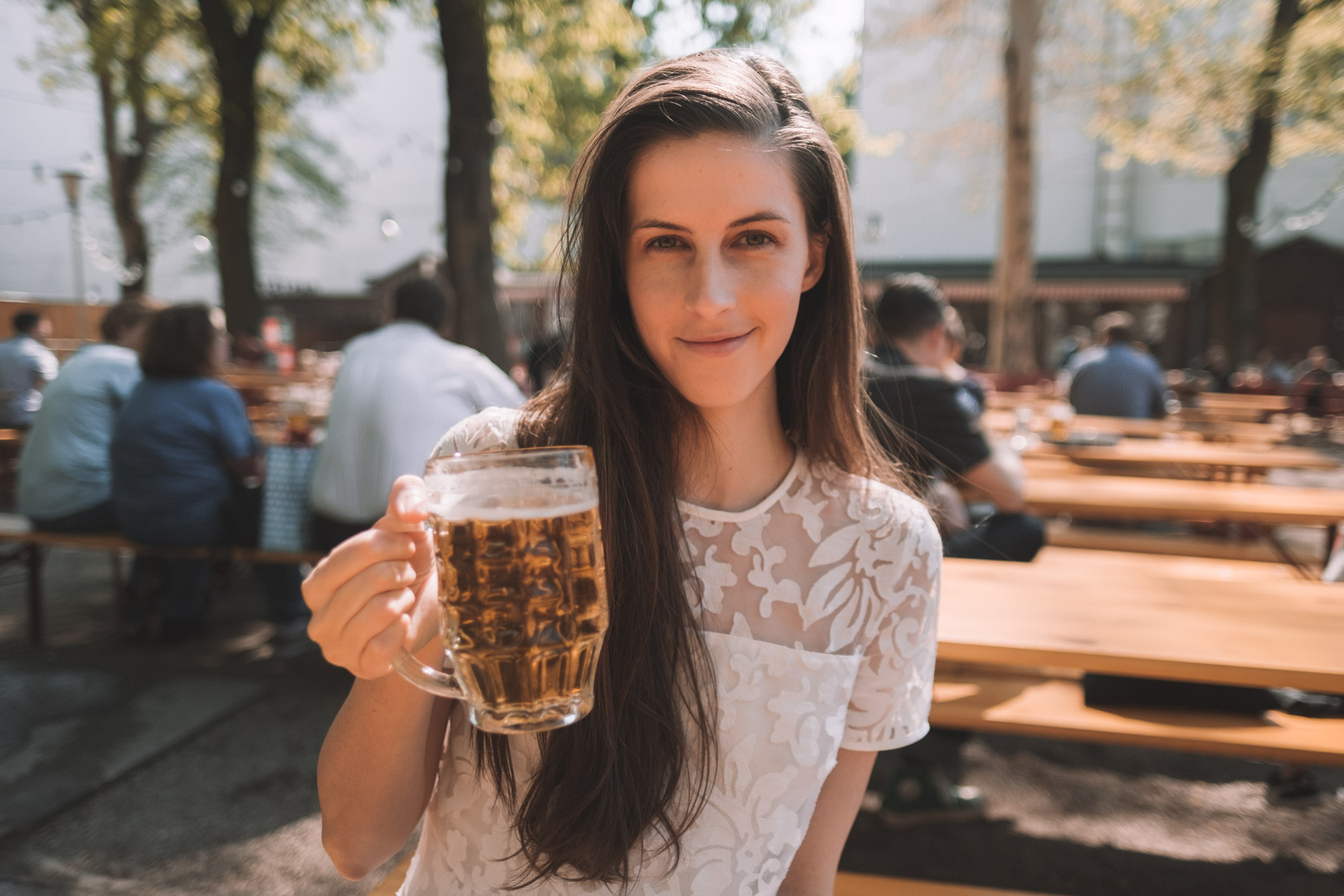 Some links in this post are to affiliate sites. If you purchase something through them, I may earn a small comission — which costs you nothing! I am very grateful when you use my links to make a purchase.
How beer gardens work in Germany
If it's your first time visiting a beer garden in Germany, you might start by asking yourself: How does it work? Especially with many of the instructions around the beer garden being written in German, you could easily be uncertain about whether you need to order at the bar, what kind of food to expect, etc.
Here are a few things you should know to be prepared for your first trip to a beer garden in Berlin:
Self-service is typical. That means usually, you're responsible for ordering your own food and drinks and bringing them to the table. If you just sit at a table and wait, nothing will happen 😉 If you see a sign that says "Self-Service" or "Selbstbedienung" you know, you need to go up to a window and place your order.
Traditional beers only. Beer gardens usually don't have a huge selection of beers. Typically you'll find Pilsner, Hefeweizen, Black Beer, and Radler (a combination of beer and Sprite). If you want to try German craft beer, skip down to my section on craft beer in Berlin.
Use a coaster for in-progress beer. If you're still drinking your beer and leave to go to the bathroom, just put your coaster on top to indicate you're still workin' on it.
Show up early if the weather is good. Especially in great weather, everyone flocks to beer gardens. Show up early to ensure you get a seat at the table!
You can bring your kids. In America it might be unthinkable to bring your kids to a bar. But a beer garden is a family spot, many beer gardens also have a Kinderspielplatz (a playground) for kids to entertain themselves.
Alcohol-free beer is also on tap. While not all alcohol-free beer is created equal, you can find it at almost any beer garden. Just because you're driving doesn't mean you can't participate!
Best Berlin beer gardens
Here are the best beer gardens in Berlin, where to find them, whether it's self-service or not, how expensive it is, as well as the opening hours!
Prater Garten
Prater Garten is Berlin's oldest beer garden, founded back in 1837. It's also considered the largest beer garden in Berlin, though as of mid-April 2019 a large part of the garden is under construction. Nonetheless, the beer garden is still open for you to enjoy right at the heart of Prenzlauer Berg.
Neighborhood: Prenzlauer Berg
Food: Yes (Traditional German food, limited veggie options)
Service: Self-service
Price range: $$
Opening hours: Weekends from 12pm, Weekdays from 6pm
In terms of beer, Prater Garten brews its own beer, so the main beers on the menu are brewed by the brewery itself. There are plenty of tall trees, so there's room to sit in the shade or in the sun. Beers come in one size, 0.4L for everything.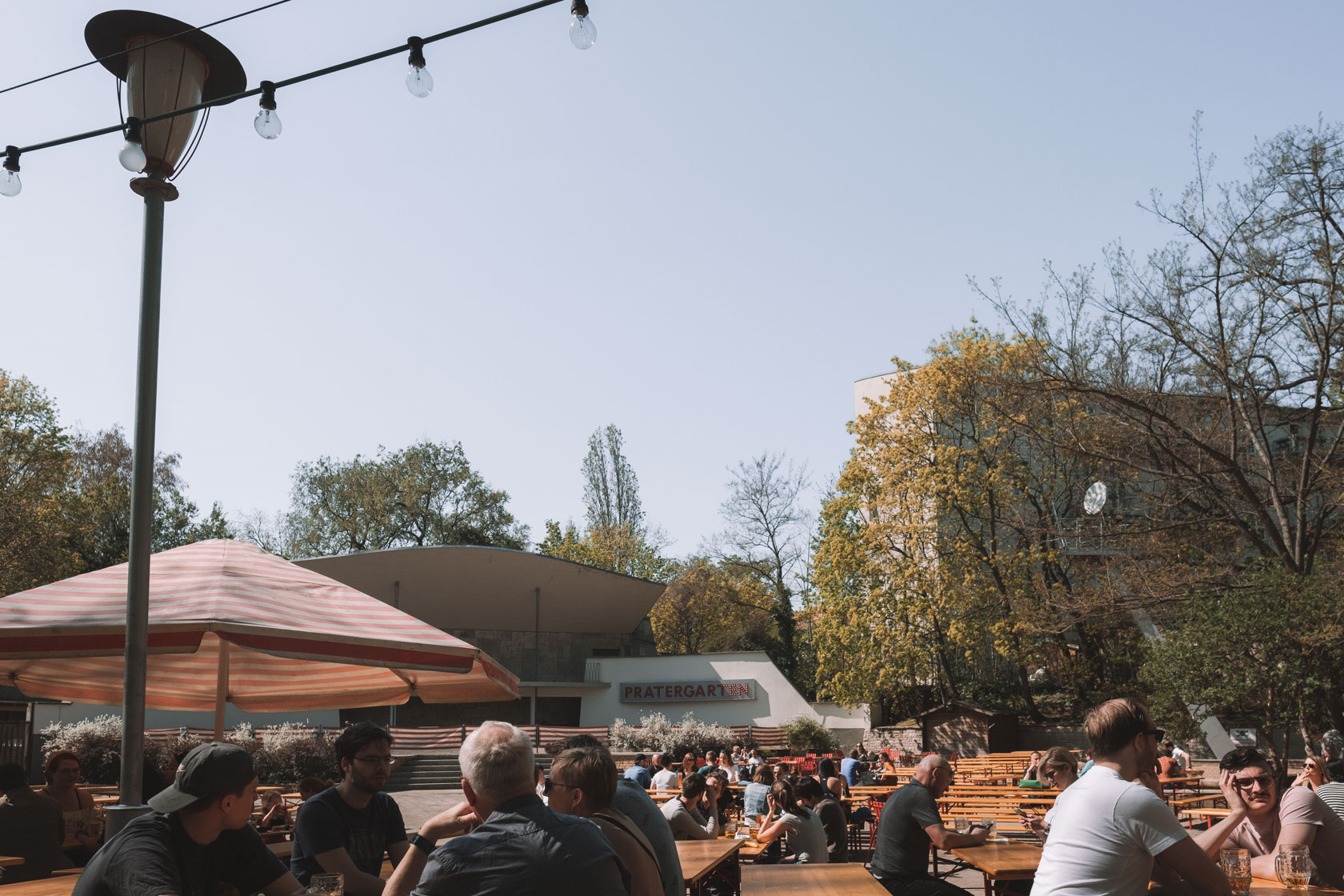 What makes it a favorite? Prater Garten is quite big, meaning that you have a good chance of getting a seat if you come by. The long tables are great for larger groups. Plus, the location is right in the center of Prenzlauer Berg so you have tons of options for dinner afterwards if you need something more substantial.
Any downsides? Limited options for vegetarians (potato salad or pretzel), so don't come hungry if you're on a plant-based diet.
Golgatha Beer Garden
Golgatha Biergarten is tucked into the southern corner of Viktoriapark, my own personal favorite park in Berlin. It can be a tad tricky to find, but it's definitely worth it. This intimate beer garden is popular with locals in the Kreuzberg neighborhood, and offers both food and drinks.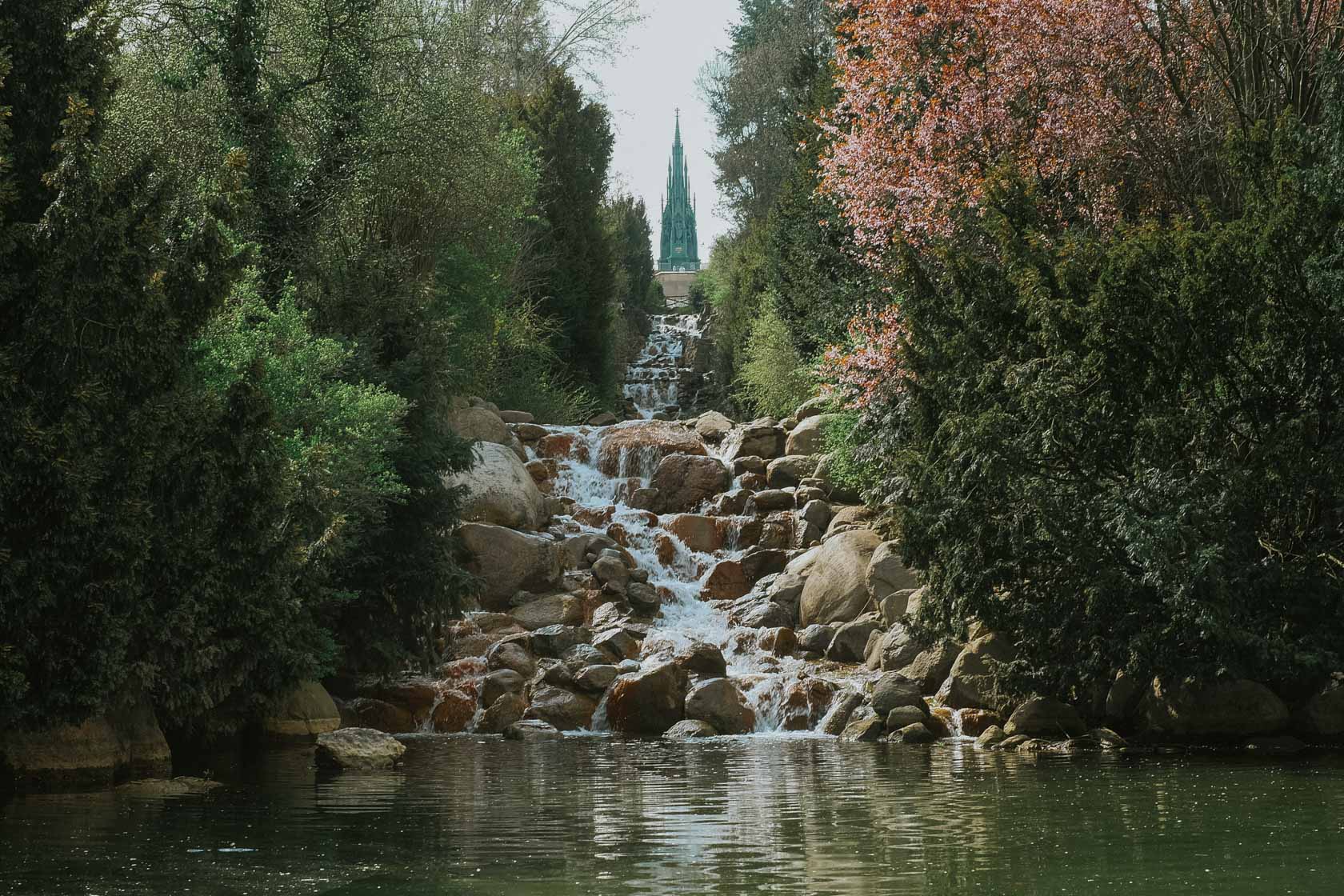 Neighborhood: Kreuzberg
Food: Yes (Traditional German food, limited veggie options)
Service: Self-service
Price range: $$
Opening hours: Daily 9 am
What makes it a favorite? Golgatha is located in the gorgeous Viktoriapark in West Kreuzberg. So you'll have a chance to visit this lovely park (and waterfall!) on your way to this beer garden. This place has a really nice upper terrace that looks over the south end of the park.
Any downsides? Not a huge beer garden, if it's busy you'll struggle to find a place to sit.
Café am Neuen See
Café am Neuen Seeis perhaps one of the most popular beer gardens in all of Berlin. It's situated in a scenic inlet of the Spree that runs through Berlin's sizable park, Tiergarten. You can't get more beautiful than this – watch kayakers glide across the river while you sit comfortably in your chair sipping on a Radler.
Neighborhood: Tiergarten
Food: Yes (Traditional German food as well as Pizza)
Service: Self-service
Price range: $$
Opening hours: Monday - Friday from 12 noon, Saturday + Sunday from 11 am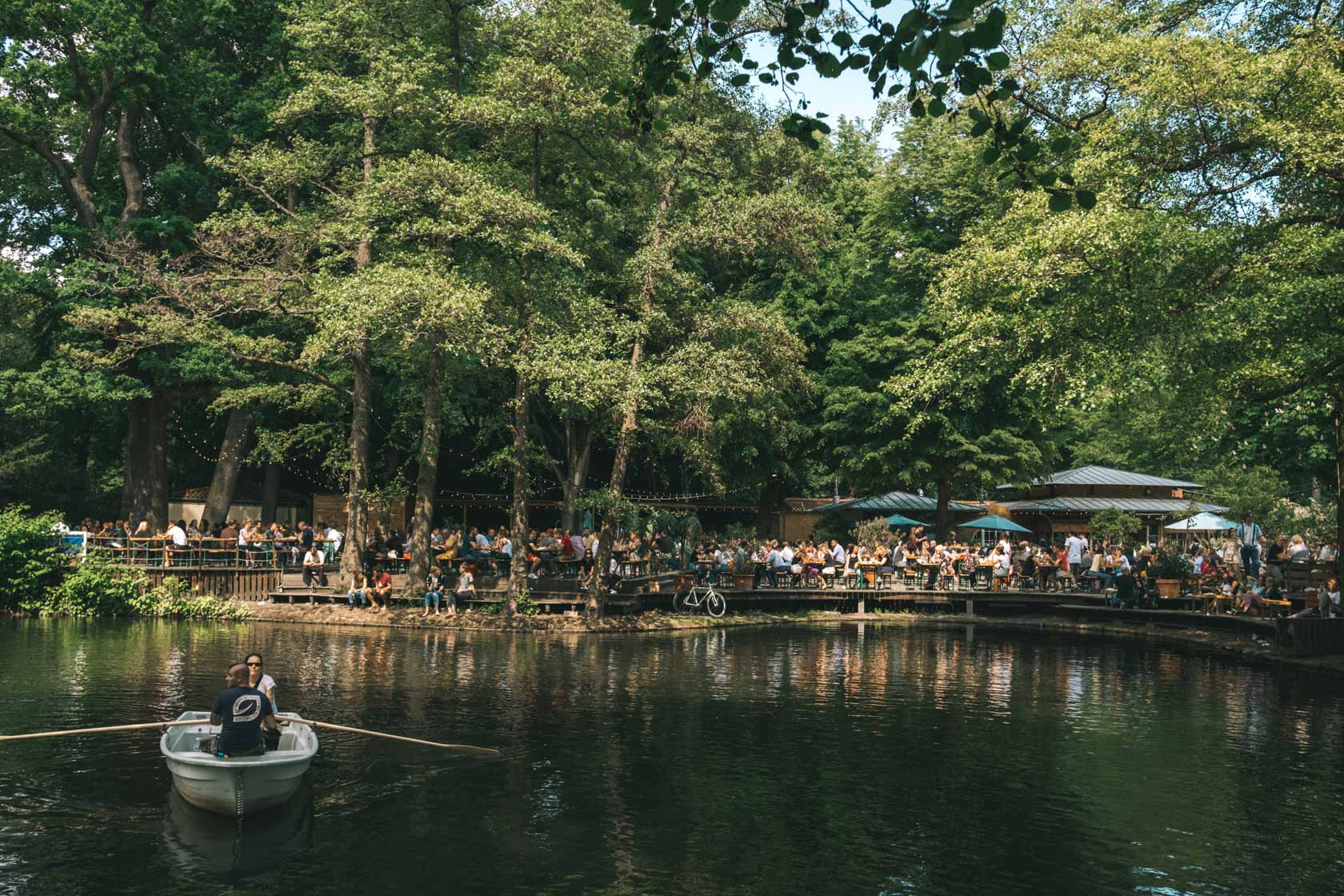 What makes it a favorite? It has to be the most beautiful beer garden in Berlin. There's a lake, you're in the middle of Berlin's biggest park (which is basically a forest). Really one of the prettiest beer gardens I've ever visited in any city.
Any downsides? It can get PACKED in good weather and on the weekend. People going up and down the rows of tables looking for a spot. Come early if you want to get a spot in the shade on a hot day.
Brachvogel Restaurant
This beer garden is definitely a local's secret spot. You can come to Brachvogel without worrying that you're visiting Berlin and spending all your time where the tourists go. Plus, there is a ton of beautiful trees around this beer garden, giving you that amazing feeling of being in a forest rather than in the middle of a city!
Neighborhood: Kreuzberg
Food: Yes (Traditional German food, full restaurant menu)
Service: Table-service
Price range: $$
What makes it a favorite? I live within walking distance of this beer garden! But besides being convenient, this beer garden is quite spacious and a great spot to watch sports with a crowd. I watched the last World Cup here and it was a ton of fun. It's really quite green, and you're right next to the canal in Kreuzberg.
Any downsides? While there is a full restaurant menu, I would say it's a bit on the expensive side.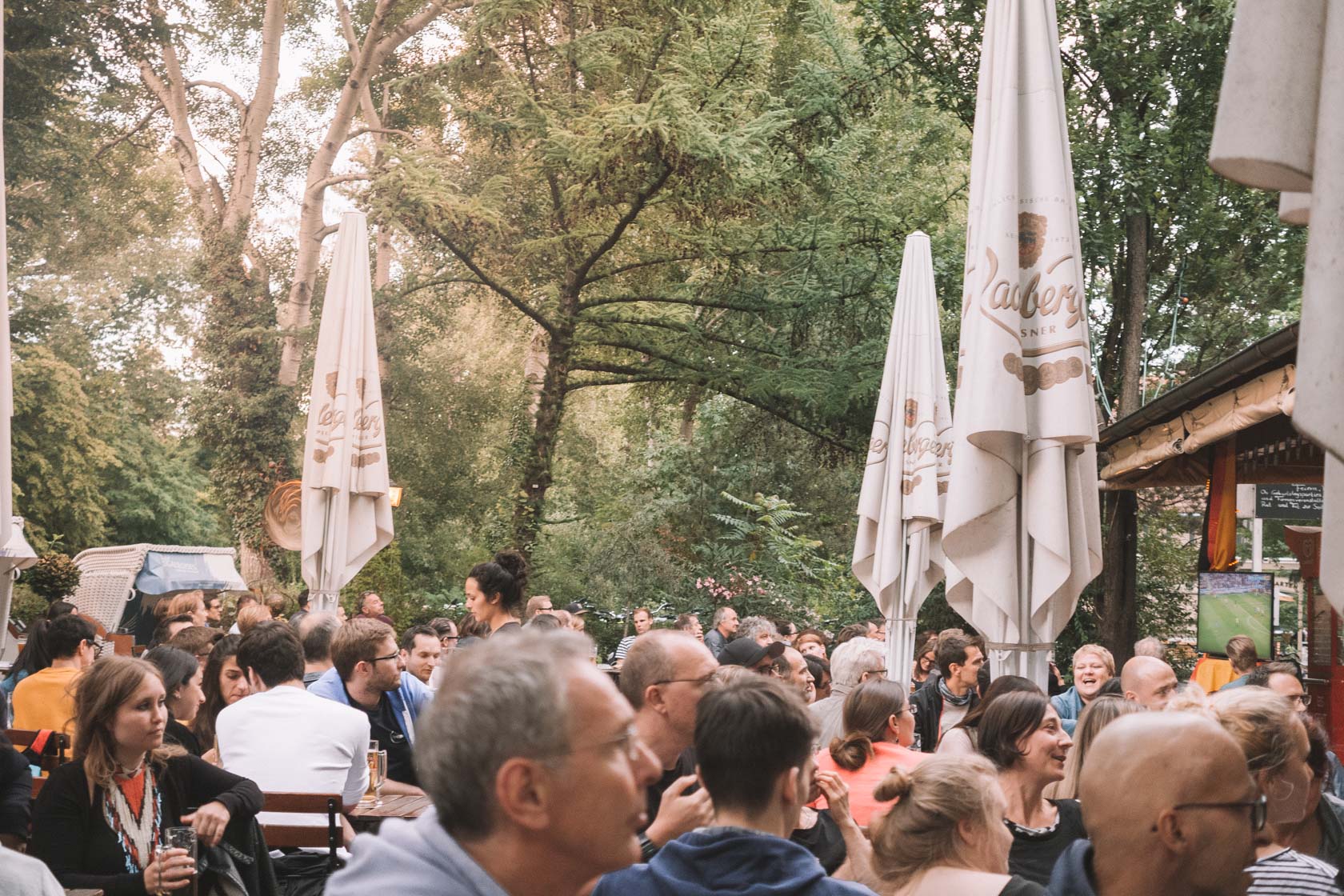 It's not typically this crowded, Brachvogel is a favorite spot for locals to come together to watch football! (Americans: "soccer")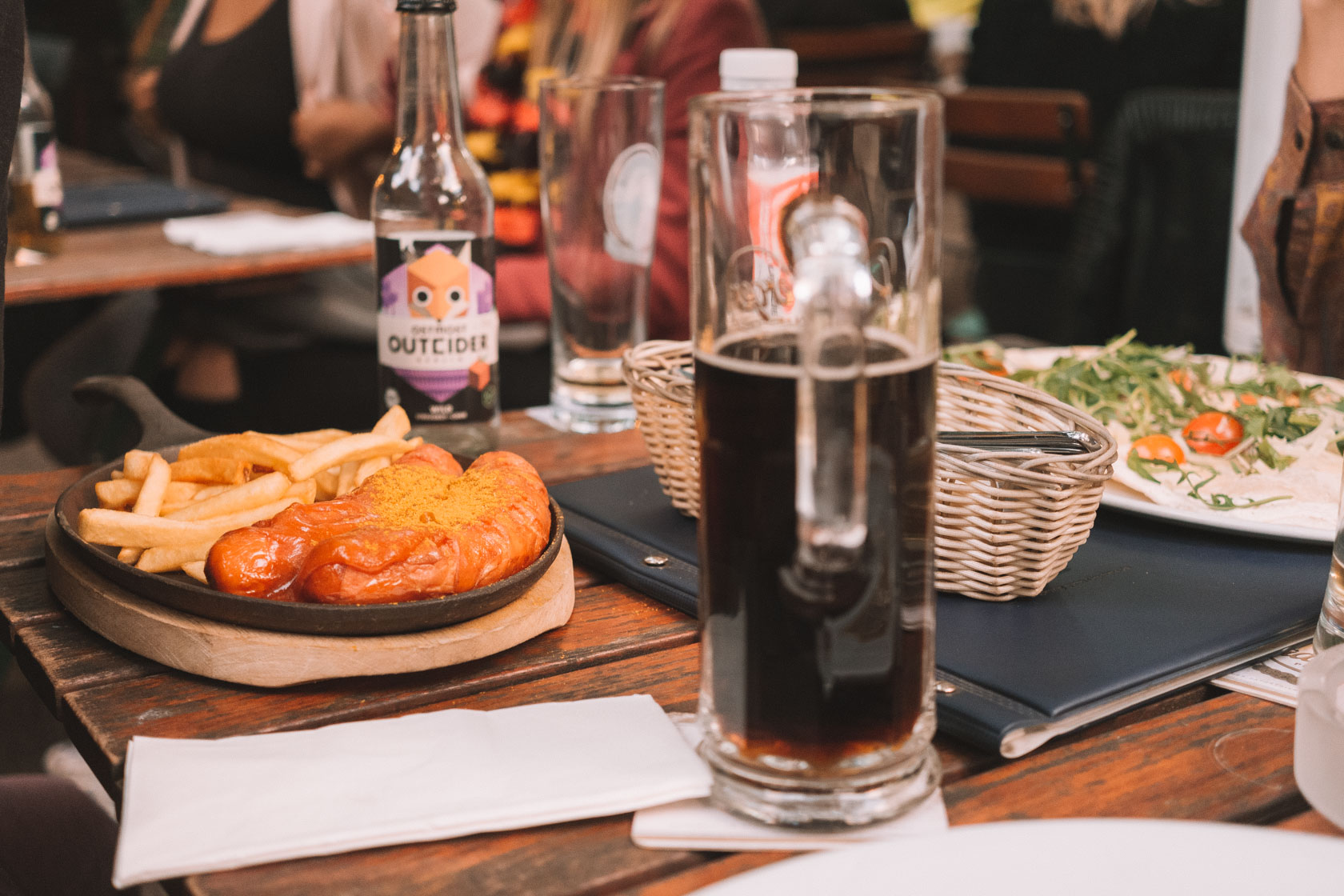 Pretty much every beer garden is going to give you the option of currywurst. It's basically a hot dog covered in ketchup and curry powder. Not my jam but some people swear by it!
Strandbar Mitte
Not your typical beer garden – this spot claims to be a beach bar, and exists right in the heart of Berlin within walking distance from Hackescher Markt. Grab a (very expensive) Corona and watch the boats float down the river Spree. It's situated right across from the Bode Museum and the Museum Island, so it's a perfect spot to grab a drink after an afternoon of museum-hopping.
Neighborhood: Mitte
Food: Yes (Simple snacks)
Service: Self-service
Price range: $$
What makes it a favorite? It's located right in the middle of the city, across from the Bode Museum. If you ever wanted to feel like you're on a beach in the city, you can (kinda) do that here.
Any downsides? You're paying the Mitte premium. It's one of the pricier places to drink a beer.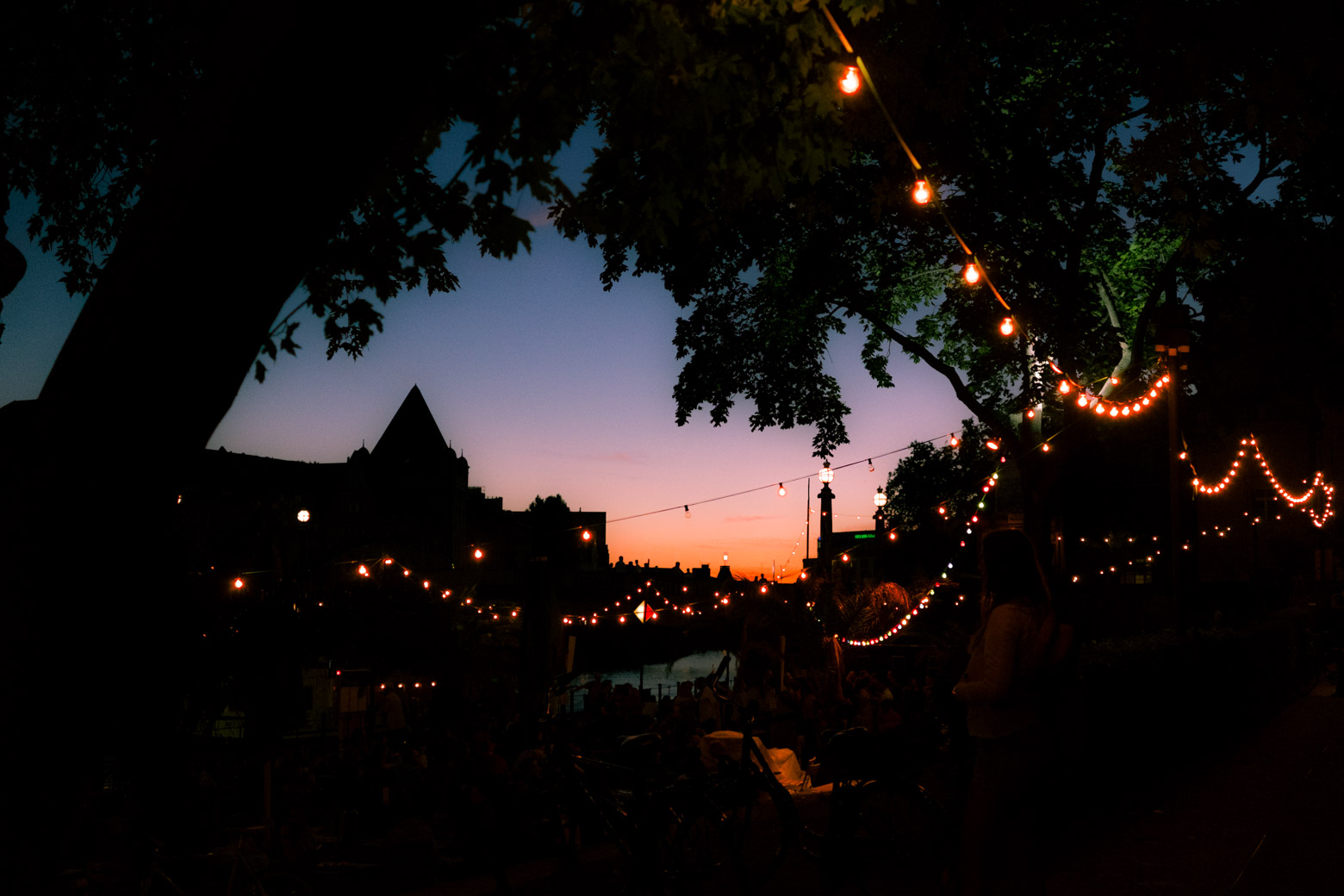 More beer gardens in Berlin
For the sake of completeness, I want to also mention some other beer gardens in Berlin. These are beer gardens I haven't personally been to, but it might be helpful for you depending on what neighborhood you're staying in!
Klunkerkranich in Neukoelln
This is a roof-top beer garden located on top of a shopping center. A bit tricky to find, but offers views over the entire city. Come early, there is often a queue to get in – the only time I tried to go, and the queue was too long to wait for it!
Zollpackhof Biergarten in Mitte
One of the other popular beer gardens in Mitte.
Schleusenkrug in Tiergarten
A less busy alternative to Cafe am Neuen See, yet also located in Tiergarten (meaning, beautiful natural surroundings).
Restaurant Schupke in Reinickendorf
A bit outside the center and popular with locals.
Restaurant Fischerhütte in Schlachtensee
Not located inside Berlin, but a great chance to get outside the city and explore some of the beautiful surrounding lakes.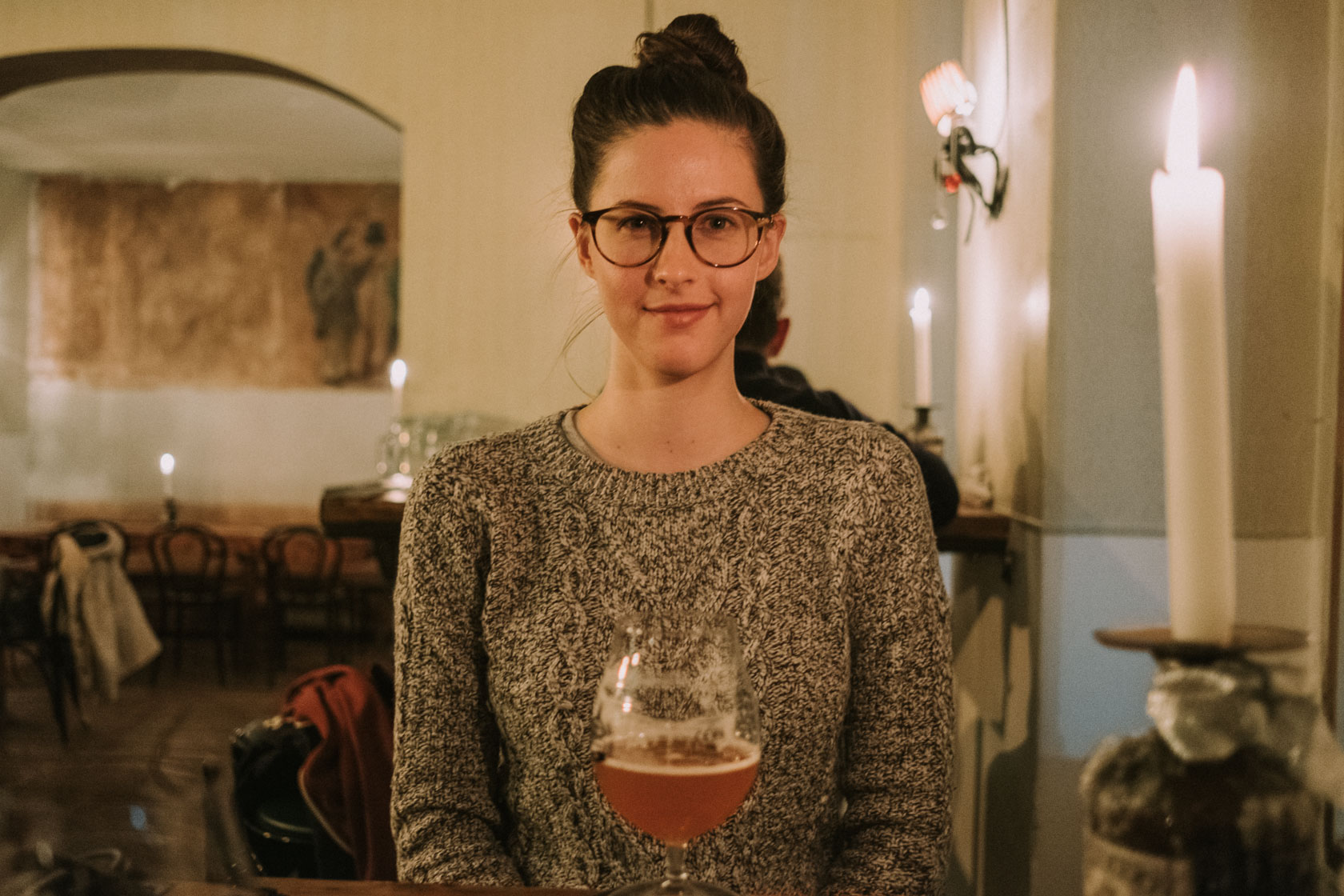 Hopfenreich in Kreuzberg, one of my favorite craft beer spots in Berlin.
Craft beer in Berlin
While beer gardens are a fabulous way to enjoy German beer-drinking culture, if you're anything like me, you also love a good craft beer and would love to see that side of the brewing scene as well. Here are a few places you can enjoy craft beer in Berlin:
BRLO Brwhouse Kreuzberg in Kreuzberg
I've never been to this brewhouse, but I have drank plenty of BRLO beers and they are mighty tasty. There are mixed reviews about the service here so just be aware.
Kaschk in Mitte
This beer spot in the middle of Berlin, near Rosa-Luxembourg Platz. They offer a beer tasting board and a combination of local and international craft beers. Not the most beautiful surroundings but the beer is good and the staff is friendly.
Hopfenreich in Kreuzberg
Great place to grab a craft beer in Kreuzberg, and one of my favorite places. They have outdoor seating, although rather limited so (as always) show up early. Conveniently located near the Schlesisches Tor U-bahn station.
Markhalle IX in Kreuzberg
Heidenpeters is a local brewer that has set up shop permanently inside the Markthalle IX, a popular market hall in Kreuzberg. Come here if you want beer and a wide variety of food to choose from. Thursdays is especially recommended, when the market hall does "Street Food Thursdays".
Another option: Take a beer-tasting tour!
If you're visiting Germany, and you're a fan of beer, let me advise you NOT to stop at drinking just the traditional beer available in beer gardens. Berlin has a lot of great places to drink craft beer, and you shouldn't leave the city without trying some of these spots out. Here are two tours that will give you a chance to try some of Berlin's amazing craft beer.
Tour
Pros
Cons
Check availability
Berlin: Craft Beer and Brewing Discovery Tour

Try 5 different local beers
Almost 1L of beer per person!
3 hour tour duration
English-speaking guide

Check availability
Best Craft Beers Private Tasting Tour

Try 4 different local beers
3 hour tour duration
English-speaking guide
Private guide

Depends if you prefer to meet people in a larger group

Check availability
Berlin Craft Beer Tour

Try 9 (!!) different local beers
3 hour tour duration
English-speaking guide

Most expensive option (but also the most different beers)

Check availability
What do you think is the best beer garden in Berlin?
Let me know in the comments whether you're a fan of beer gardens, have ever visited a beer garden in Berlin, or which of my selection you think looks the prettiest!