Living in Berlin for over 9 years now, my list of the best things to do in Berlin in 2023 combines some of the most important tourist sights with locals' favorite spots that visitors to Berlin never see.
It's one of those cities that is really just really cool – and knows it. When I first moved to Berlin from a mid-sized German city, it was like going to the future – grocery stores open past 8PM, public transit that runs late, there's even so much WiFi WLAN I don't even know what to do with it, I need to cancel my data plan! I immediately saw what Germans mean when they say that Berlin is a city like no other in Germany. Not just in terms of conveniences, but attitude.
Read on for 50 essential Berlin experiences that will help you fall in love with the city and might even convince you to stick around for a while. You'll need much more than the standard weekend in Berlin that so many tourists have, though I'm sure you can something fun to do on this list, whether you've got two weeks or just a few hours.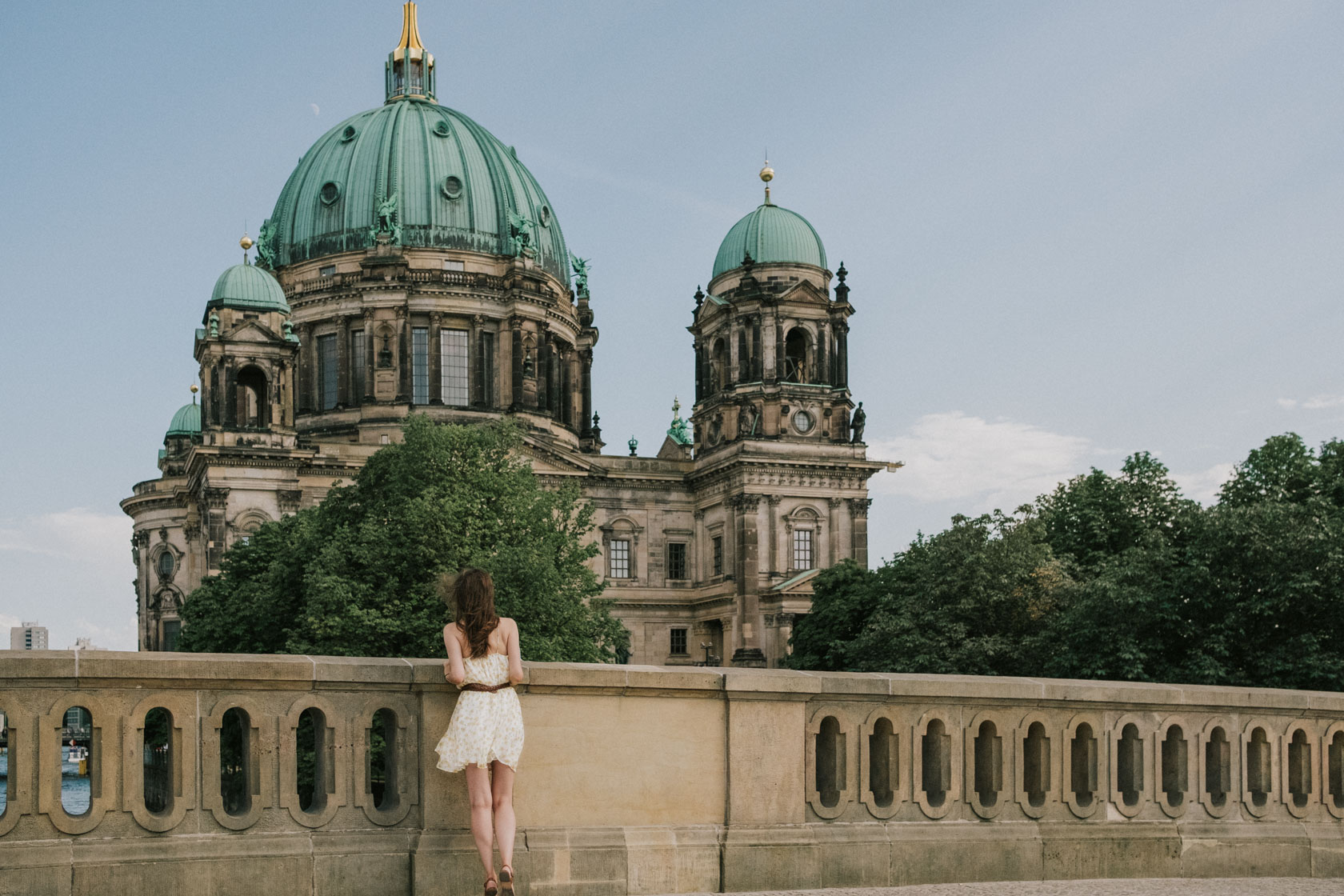 Some links in this post are to affiliate sites. If you purchase something through them, I may earn a small comission — which costs you nothing! I am very grateful when you use my links to make a purchase.
Are you trying to decide where to stay in Berlin? Don't miss my extensive Berlin neighborhood guide and tips on where to stay in Berlin that explains the best place to stay based on what you want to experience in the city, as well as your budget. Based on my experience living in Berlin for over SEVEN years!
Are you visiting Berlin in Winter? I've got a dedicated post on things to do in Berlin in Winter which lists a number of activities and sights you can only experience during the Winter season! Go check it out if you're feeling festive and will be visiting Berlin in December, January, or February.
50 Best Things to Do in Berlin
Honestly there are so many amazing things to do in Berlin, narrowing down a list of 50 was hard. But I've done my best to prioritize the must-do things — especially if you are a first-time visitor.
So, as an adopted local, and including tips from Berlin natives, here are the best things to do in Berlin regardless of the season. My top three recommendations are summarized here: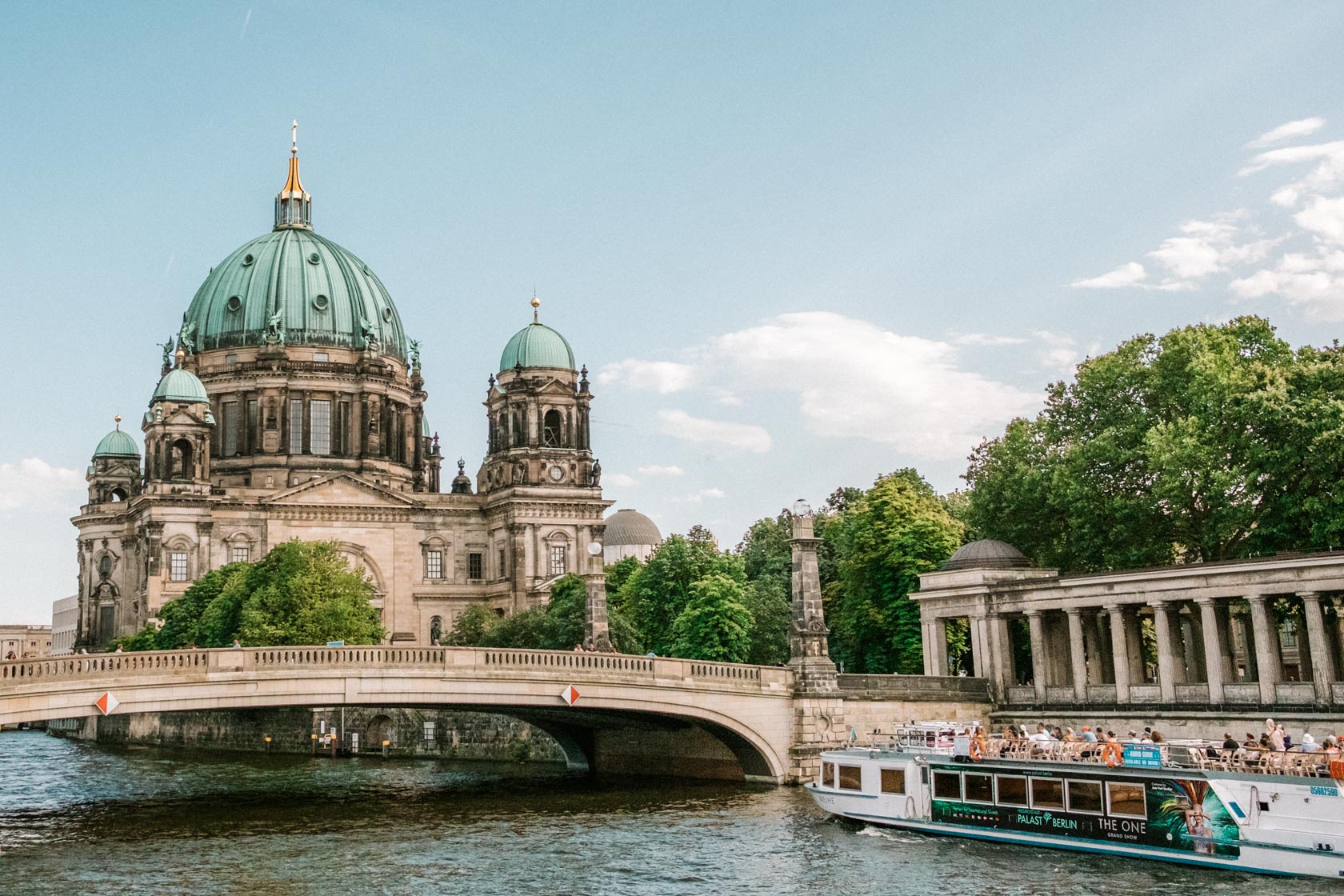 1. 1-hour Berlin City Tour by Boat
#1 Recommendation
This 1-hour boat trip lets you see Berlin's top landmarks from the river! I've done this tour tons of times with family and friends visiting Berlin, and they always love it.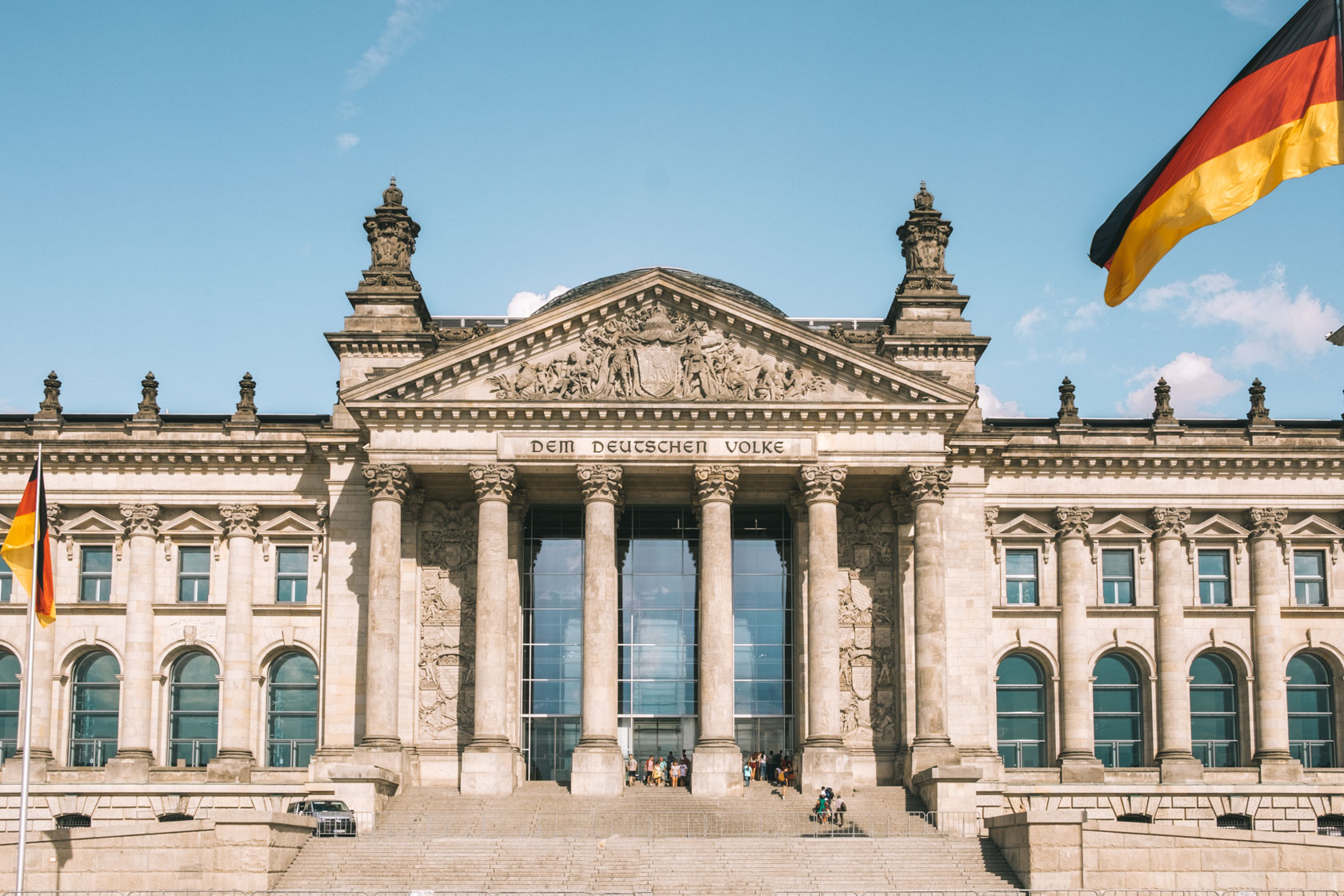 2. Take a tour of Germany's parliament building
The most iconic building in Germany, the Reichstag. You can take a tour of the building (advance booking required), walk around the glass dome, and have coffee at a cafe overlooking Berlin's biggest park.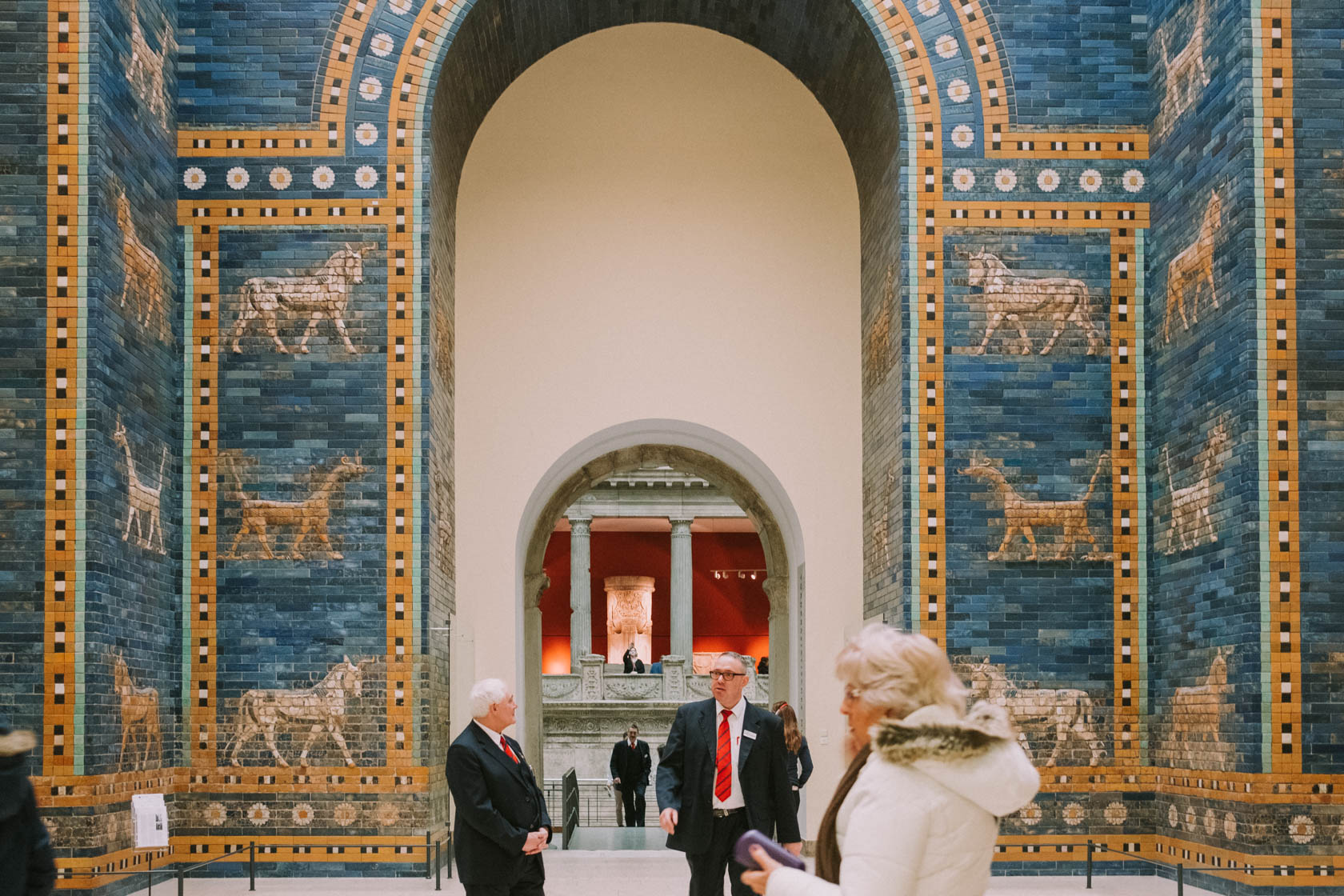 3. See Berlin's best museum, the Pergamon
Berlin's best museum, located on Museum Island. Incredible, life-size reconstructions of Babylon's Ishar Gate and Roman market. Highly recommend getting skip-the-line tickets to both the Pergamon + Panorama exhibit.
1. See Berlin's most famous landmarks by boat!
Summer is coming! And now that both my and my boyfriend's parents have visited, it's fair to say I know boat tours. I can personally recommend the boat tours by Stern & Kreis, and the most time-efficient tour with them is the 1-hour Berlin City Tour by Boat . You'll learn about Berlin's history, and really hit the highlights in term of Berlin's landmarks in a short period of time.
In good weather it's an amazing way to see Berlin's main sights and scenic neighborhoods. In colder weather, the boats have indoor seating as well. Put me on a boat and put a Bier in my hand, and I'm a happy girl.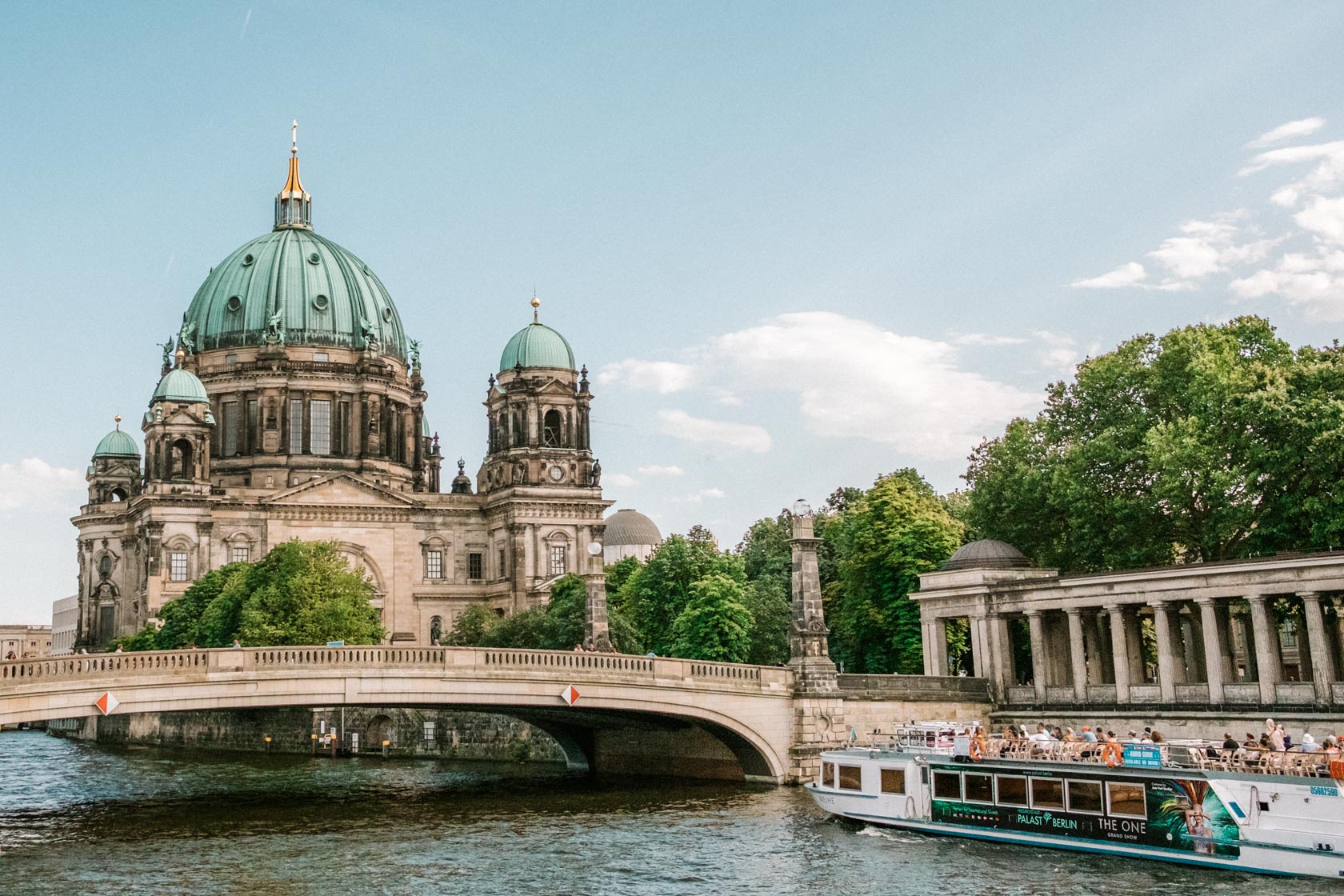 Now that the weather is getting better (and tourism is finally picking up again), seats on these boat tours get snapped up fast. I definitely recommend booking in advance (and showing up early!) to make sure you're able to enjoy this experience.
2. Go inside the dome of the German Parliament Building, the Reichstag
The mighty German parliament comes here to spend their time walking around this cool glass dome at the Reichstag. The original parliament was destroyed in the war, and was rebuilt with this glass dome. You can even take a tour and climb it yourself for a view over Tiergarten. At the top, there is a cafe where you can get coffee or lunch. Who knows, maybe you'll even see a famous German politician you don't recognize 😏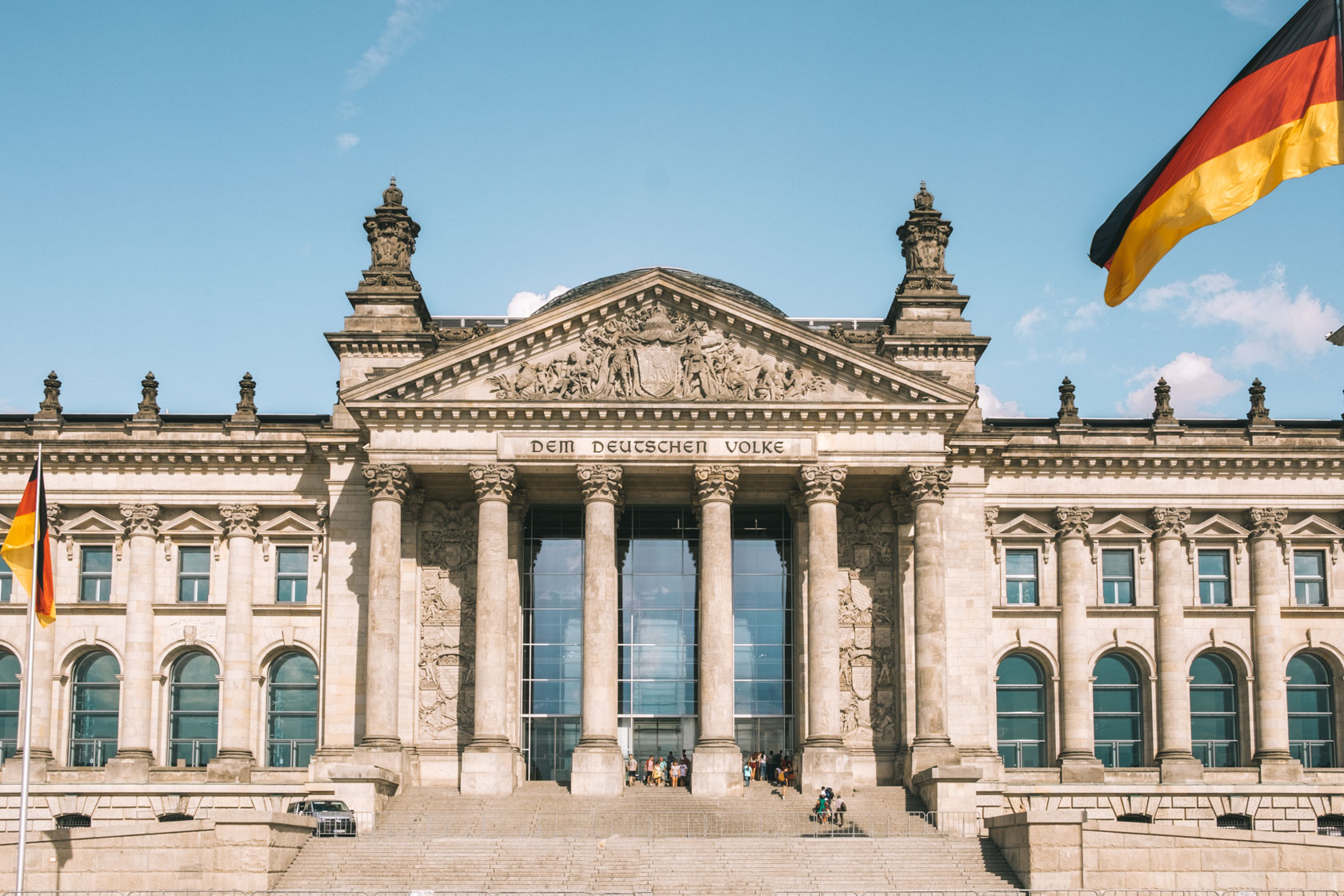 One thing to know is that you MUST book your appointment to visit the Reichstag more than one month in advance in the peak season. Entry is free for a self-guided walk about if you do it in advance through the German government , but you can also get a sense of the history of the building by taking a tour in English , and they'll help you apply for entry to the building which includes a background check.
3. Visit the Museum Island's world-famous museums
The Germans take their museums very seriously, and there are a ton of great museums located on the Museum Island, right in the center of Berlin. You could spend a day or more hopping between them.
If you love museums, pick up the three-day museum pass .
You are almost guaranteed to save money, and the pass covers more than 30 museums around the city like the excellent Jewish Museum and the German Technology Museum.
Here's a summary of the five museums located on the Museum Island.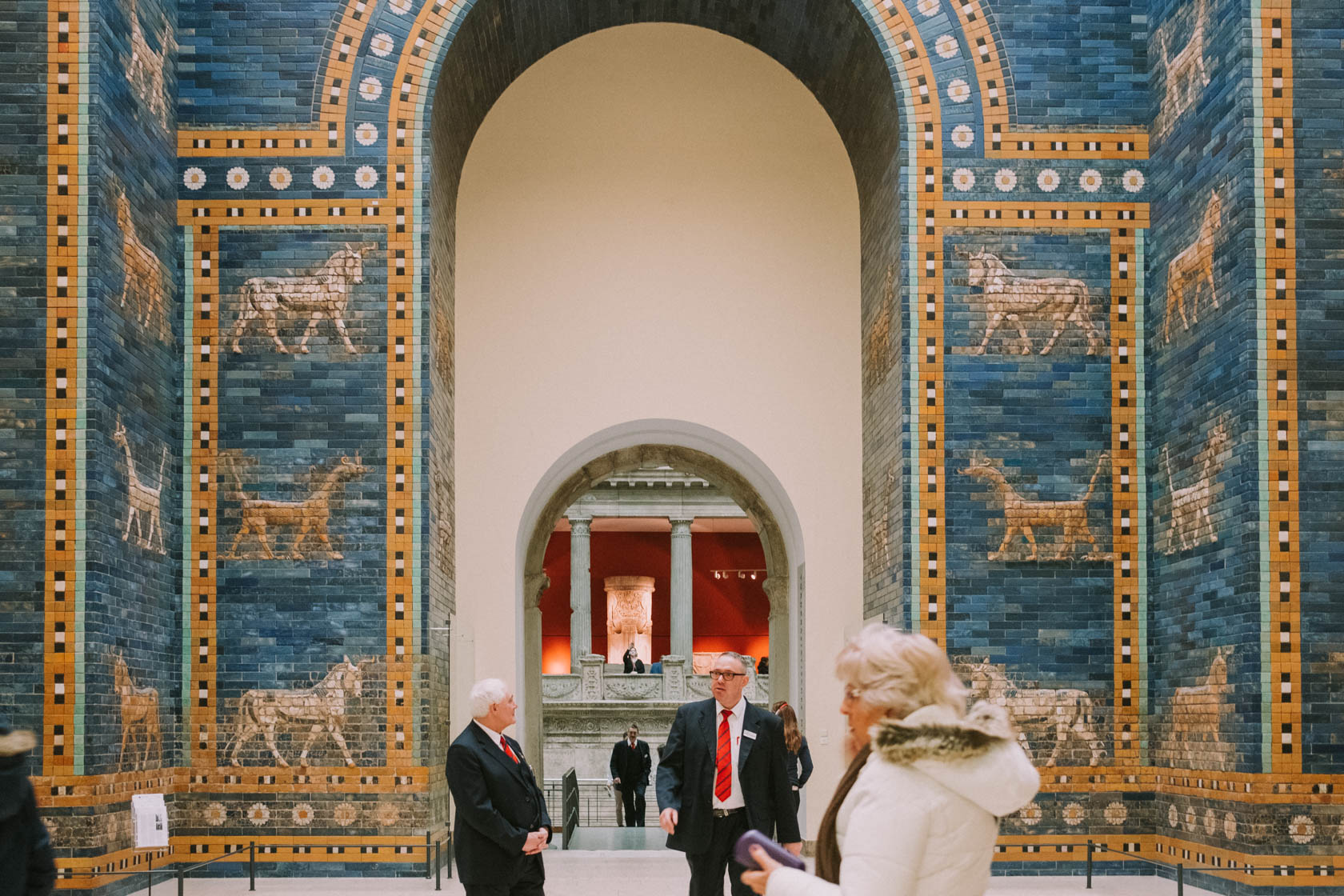 My personal favorites are the Pergamon Museum and the Neues Museum , though the Bode Museum is also quite good too.
Museum Name
Highlights
Get tickets
Pergamon Museum + Panorama


#1 Recommendation

This museum is home to a reconstruction of the the Gate of Ishtar, part of the Babylonian Empire and the original 7 wonders of the world. Skip-the-line tickets recommended during the tourist season.
Check availability

Neues Museum


#2 Recommendation

Ironically, though its name means "New Museum", this museum has some of the oldest things in it. Famous for hosting the bust of Nefertiti and scrolls of the Book of the Dead. Come here for its impressive Egyptian collection!
Check availability
Bode Museum


#3 Recommendation

Perhaps most famous because recently it's multi-million dollar Canadian gold coin was heisted away!

Closed Mondays
Check availability
Alte Nationalgalerie
This is the main museum that is going to contain paintings. You'll find mostly neoclassical and romantic-era paintings. One of the largest collections of 19th century sculptures and paintings in Germany.
Check availability

Altes Museum
Hosts the antique collection (Antikensammlung, Collection of Classical Antiquities) with lots of Ancient Greek artifacts.
Check availability

Nefertiti's bust is possibly the most tantalizing attraction of the Museum Island. Earlier this year, hackers claimed to have covertly 3d scanned it, which was later said to be a hoax .
Don't try to take a picture of it, or a grumpy Museum Frau will scold you. The funny thing is though, if you stand outside the room and use a zoom lens, you are still allowed to take a picture.
I'm pretty sure it's because they don't want people leaving on their flash and slowly destroying the paint on the bust, which is still in amazing condition.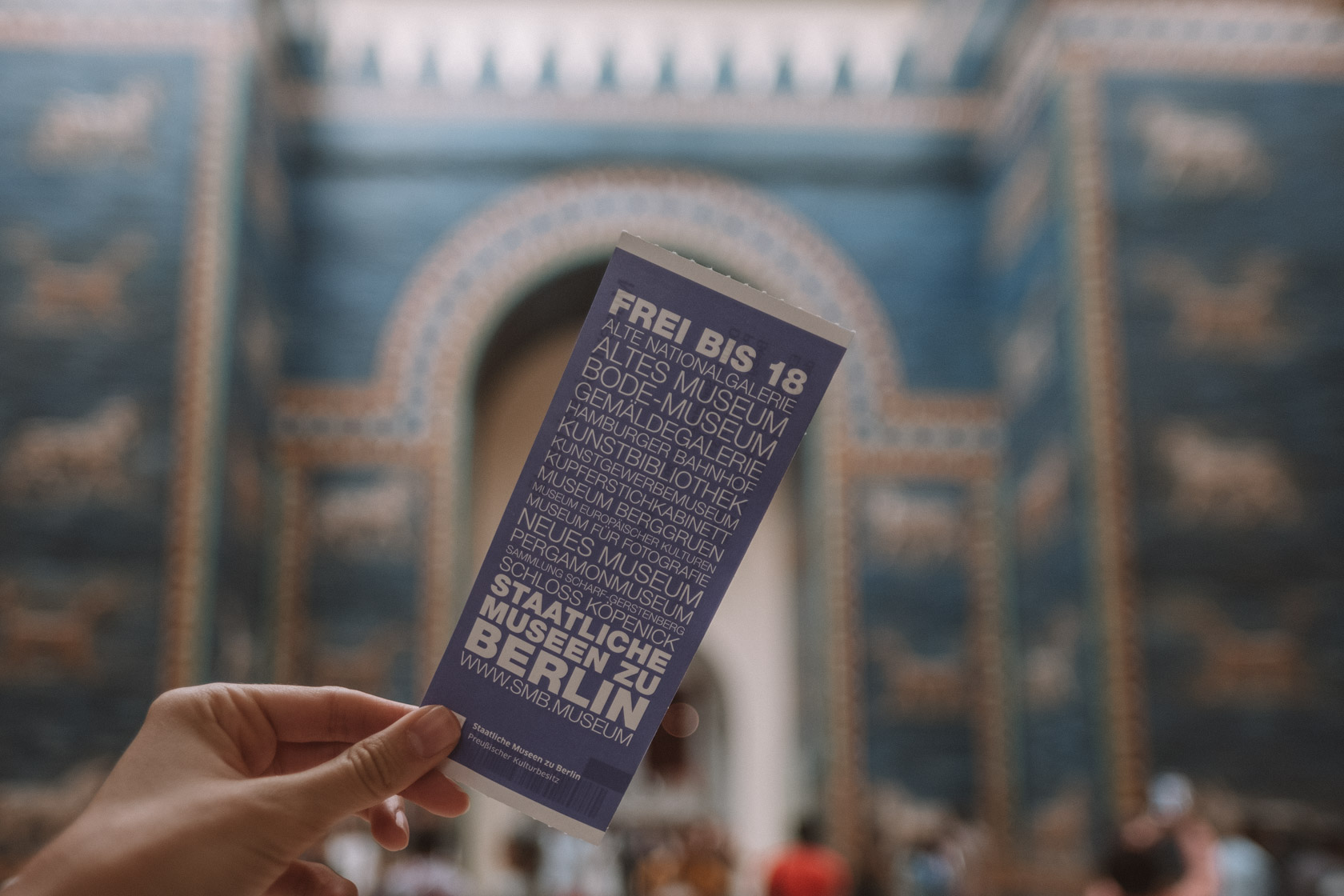 4. See the Brandenburg Gate, which Napoleon once marched through
The Brandenburg Gate is easily one of the most recognized sights in all of Germany, not only in Berlin. It was built on top of the former city gate, on the orders of the Prussian king Frederick William II in the late 1700s. About fifteen years later, Napoleon has even passed through the Brandenburg gate, after the Battle of Jena-Auerstedt. So just think, you'll be passing through a place where Napoleon once stood! I don't know about you but that gives me a sense of gravity.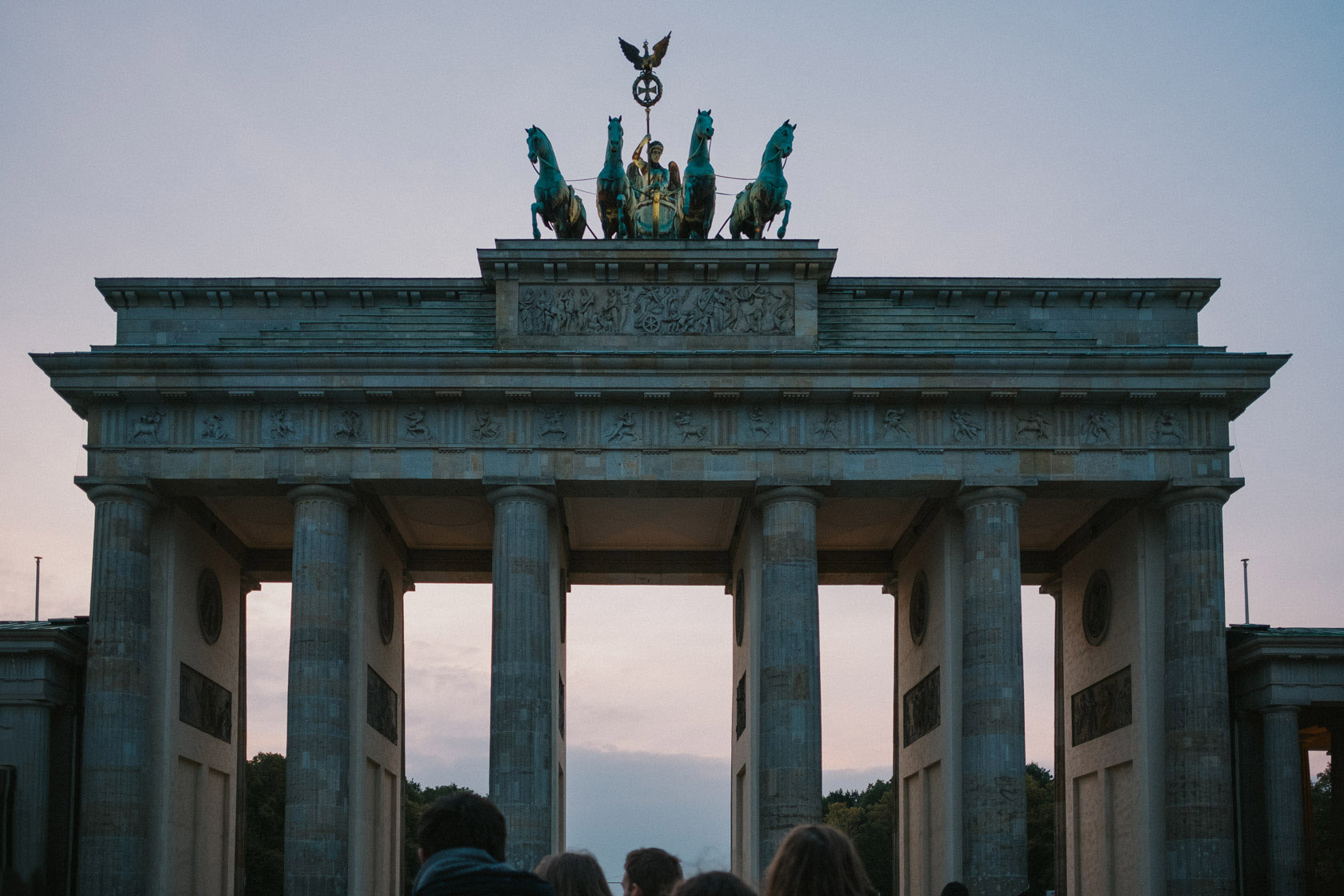 If you want to take photos with minimal crowds, do show up early in the morning. Brandenburg Gate is one of the most popular sites in Berlin for a reason!
Enjoying the photos?
Follow along on Instagram!
Follow @notanomadblog for beautiful travel photography and stories of our journeys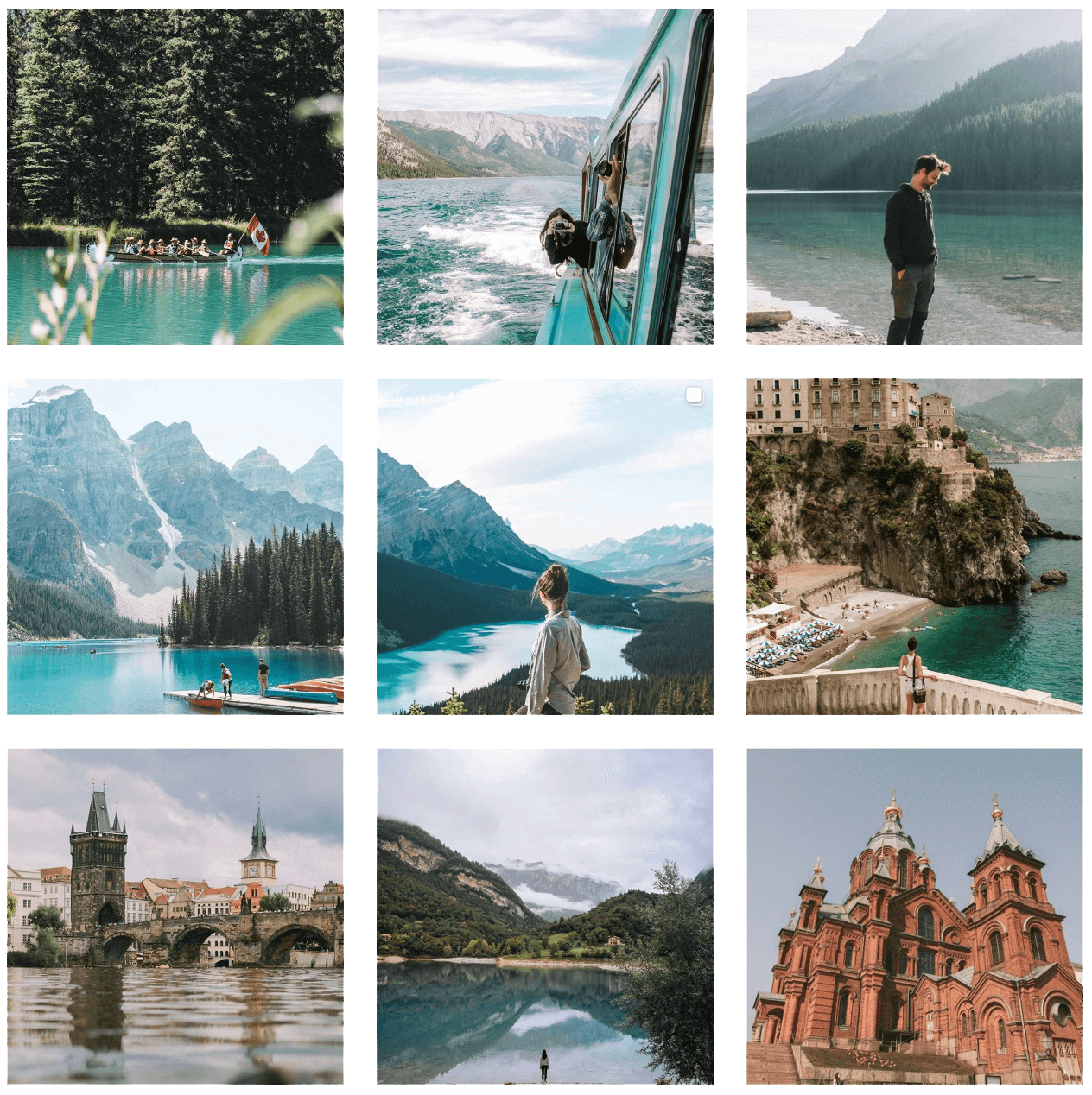 5. Take a tour inside the former airport built by Hitler
One of the neatest things about Berlin is how many abandoned and defunct buildings you can find. Probably the most famous one in the entire city is the former airport, Tempelhof, which was originally commissioned by Hitler himself.
He imagined it to be a grand stadium where he would give speeches, and it was designed that literally one million people could fit in the stands to listen to him. Ironically, he never even saw the completed airport. Apart from the history of the airport, you'll learn a lot about the history of Berlin, history about Berlin during the second World War, and a ton of topics that can give you perspective to shape your trip to the city.
My boyfriend and I loved the tour of the airport – it was even led by an architecture student who had really great insights on how Hitler personally influenced the design of the airport. The exact tour I can recommend you try out is Berlin Tempelhof Airport: The Legend of Tempelhof Tour !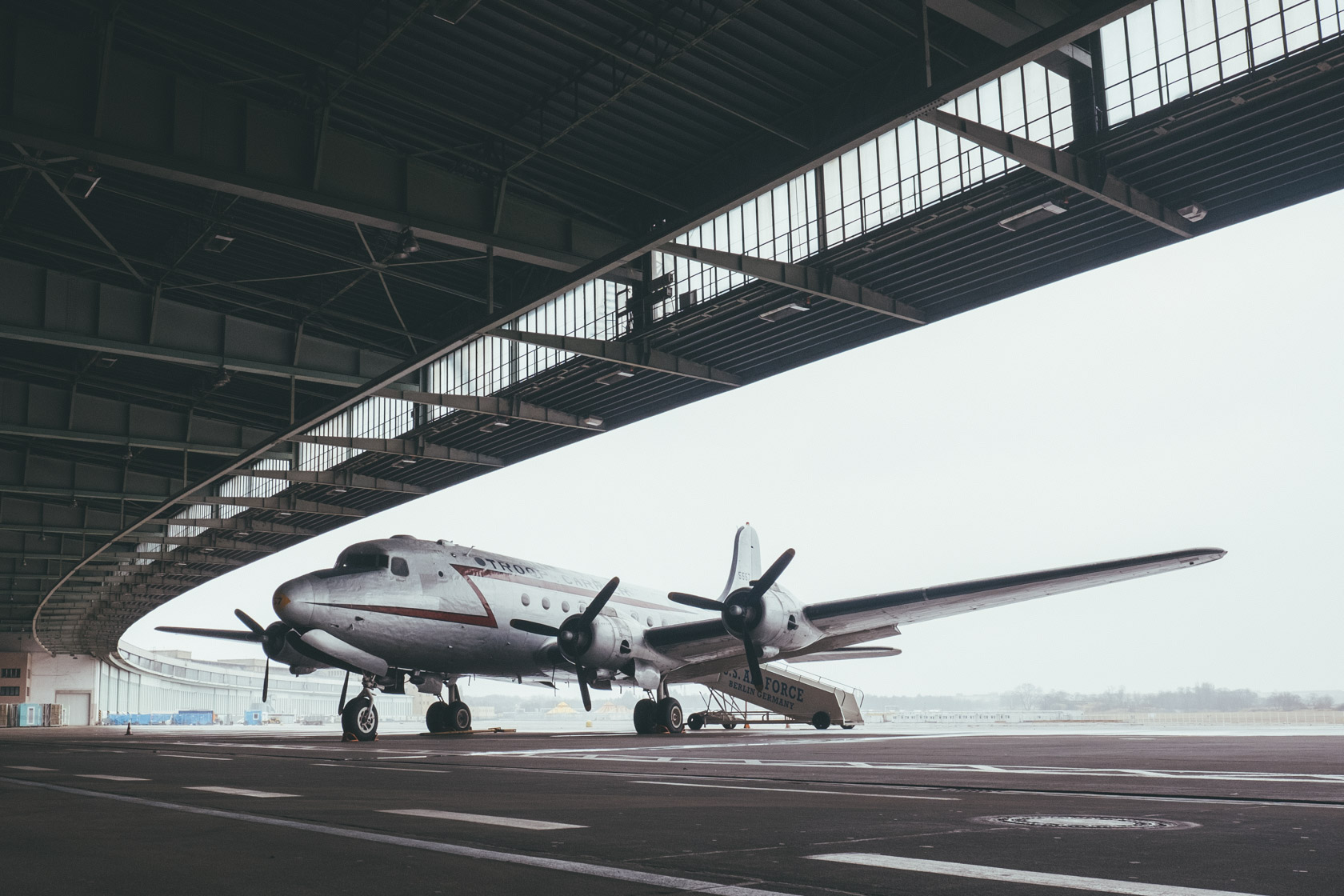 Apart from seeing airplanes and hangars, you can also see how the Americans repurposed the airport to their own needs while they occupied part of Berlin after the second World War. No spoilers though 😉
6. Visit the Versailles of Berlin, Sanssoucci Palace
If you have more than a day or two in Berlin, don't miss visiting Sanssoucci Palace , the palace occupied by Prussian kings and queens of yore. It's got plenty of grounds to walk around, making it an excellent place to spend time both outside and inside. You can explore the palace grounds and gardens, the opulent interiors, and spend the rest of the time in Potsdam, the surrounding city.
It's possible to reach Sanssoucci Palace either by public transit, or you can take a guided tour of Sanssoucci for a very reasonable price. Don't miss either a guided tour or audio guide to dive deep into the history of Berlin! Fun fact: In French, Sans soucci means "Without Worry" 😄 You can understand why the kings and queens chose this name for their Summer home.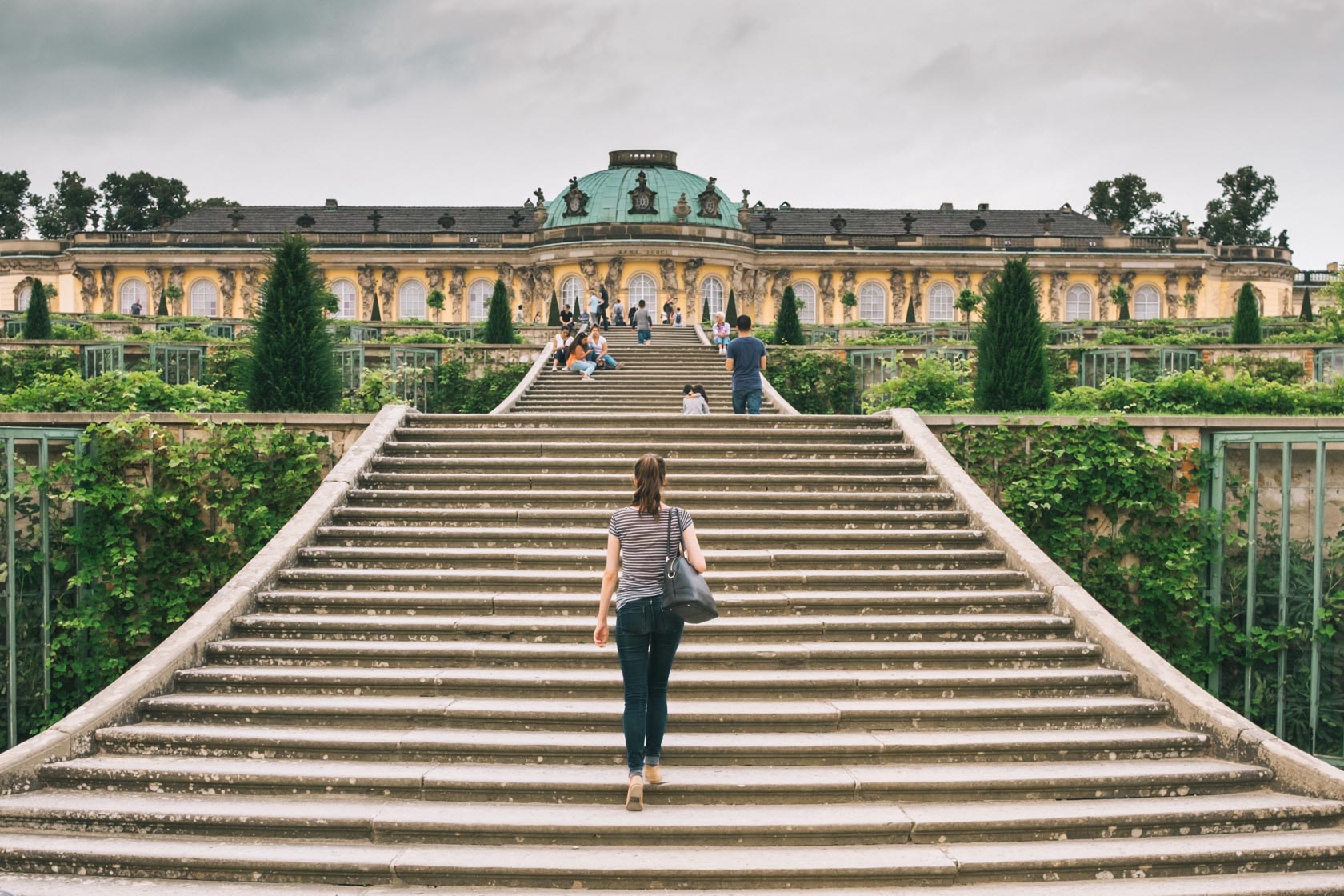 7. Enter a former spy station (and Europe's largest street art gallery)
Teufelsberg , literally "Devils Mountain", is a former spy station that the Nazis originally constructed as a military college, and was repurposed by the American NSA to listen to Russian communications.
Today it's covered in graffiti, but you can still go up and explore this abandoned building. Climb all the way to the top to enter the echo room and listen to your voice while you admire the impressive art.
Not only is the spy station neat, but you also get an impressive view over the forest surrounding Berlin from the top of the station.
Reaching the spy station involves a short hike through the Gruenewald forest and a small sense of adventure. You can also take a guided tour of Teufelsberg .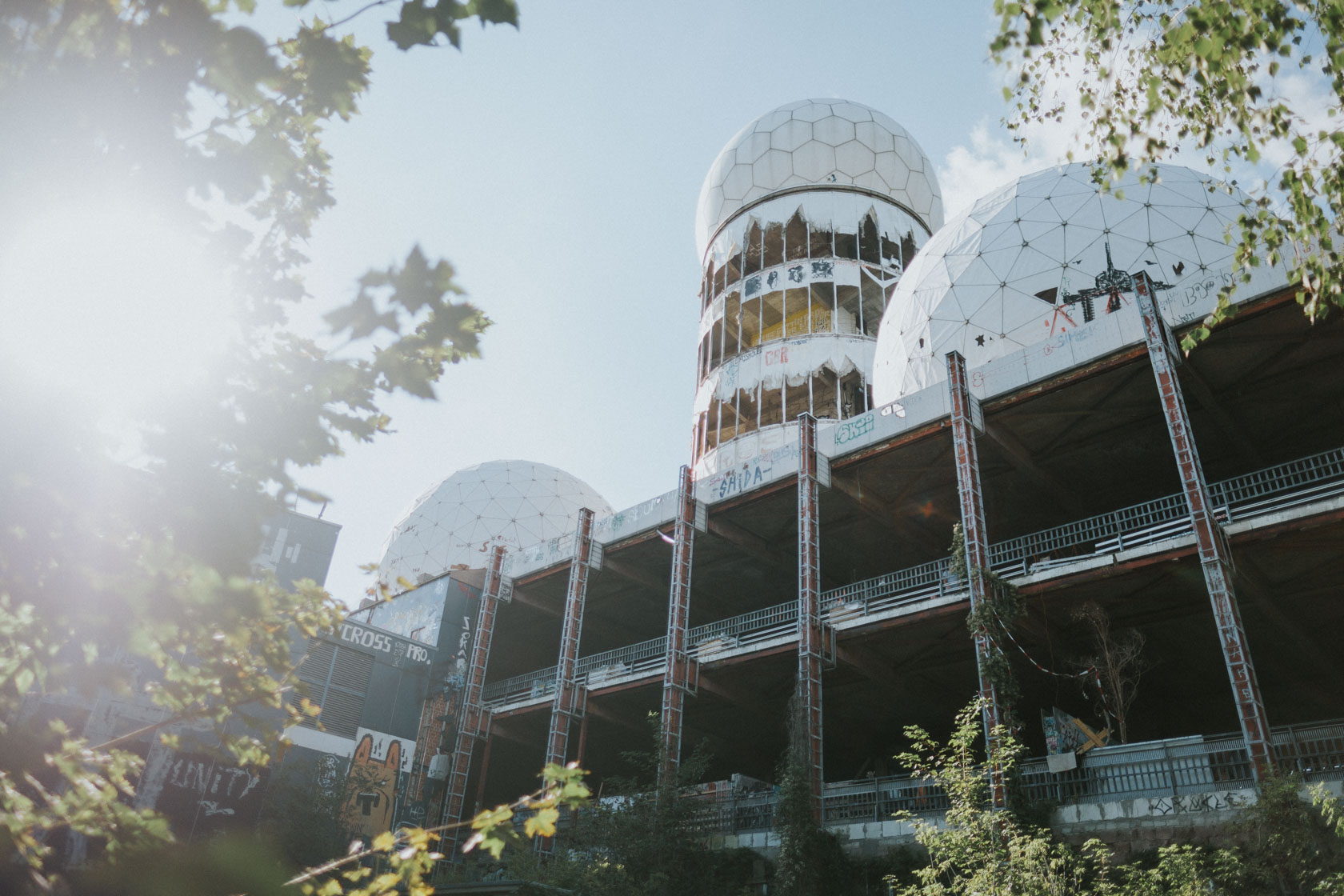 8. Visit Peacock Island
Known in German as Pfaueninsel, Peacock Island is home to – you guessed it – peacocks! You can walk around a number of different landmarks, go for a picnic, and just generally enjoy being an on inside within the borders of Berlin. Makes for a great combination if you're exploring the Gruenewald area, the biggest forest near Berlin. For more details, read my post on Peacock Island.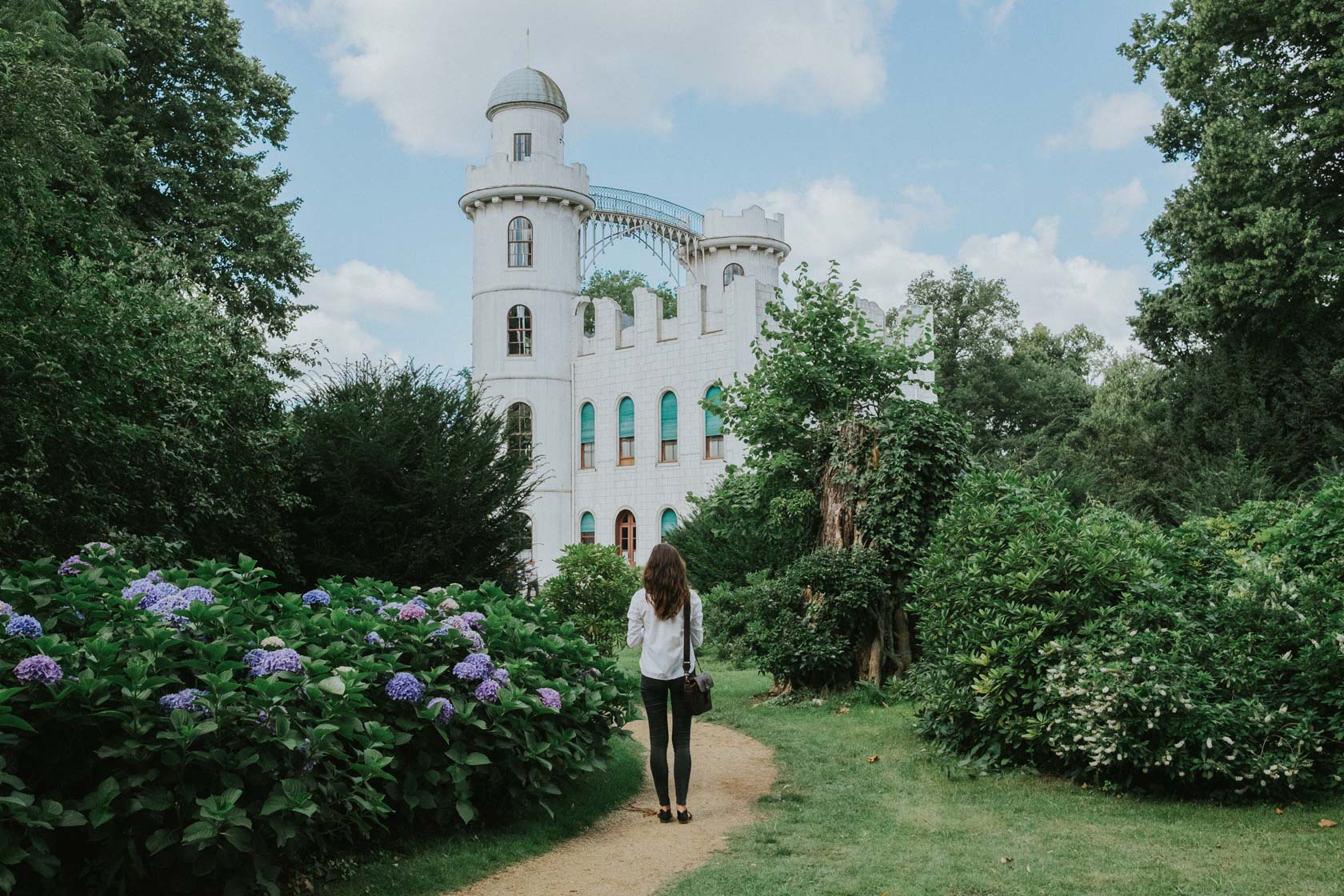 9. Have a huuuuuge beer! Eine Maß Bier, bitte!
Go big or go home, amirite? Not everywhere in Berlin offers the big ones, but you're sure to find it at the Hofbräuhaus, a sizable beer hall modeled after the eponymous one in Munich. If you're looking to experience Oktoberfest but find yourself in Berlin instead of Bavaria, here's a sure bet for seeing a ton of people in Lederhosen singing traditional German songs. If you care more about craft, try Hopfenreich.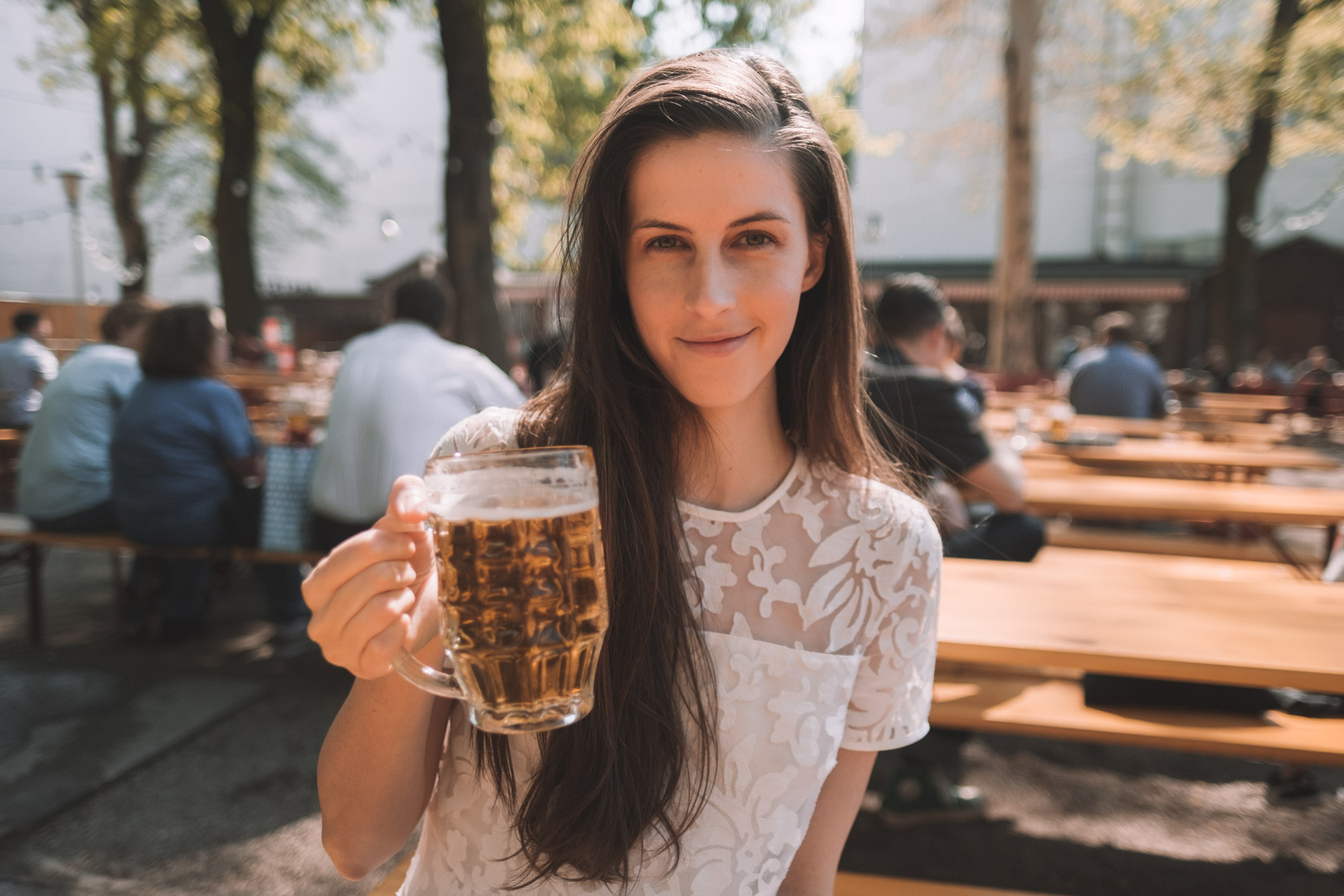 10. Picnic in the Tiergarten
Literally, "Animal Garden", Berlin's Tiergarten is a massive park including lakes, lots of willows, plucky ducks, and a lovely beer garden. It's 520 acres of nature, right in the middle of the city. Outsized in Germany only by Berlin's own Tempelhofer Park and Munich's Englischer Garten (English Garden), it's called Tiergarten because the Berlin Zoo – the zoo with the most species in the WORLD mind you – is located at its feet.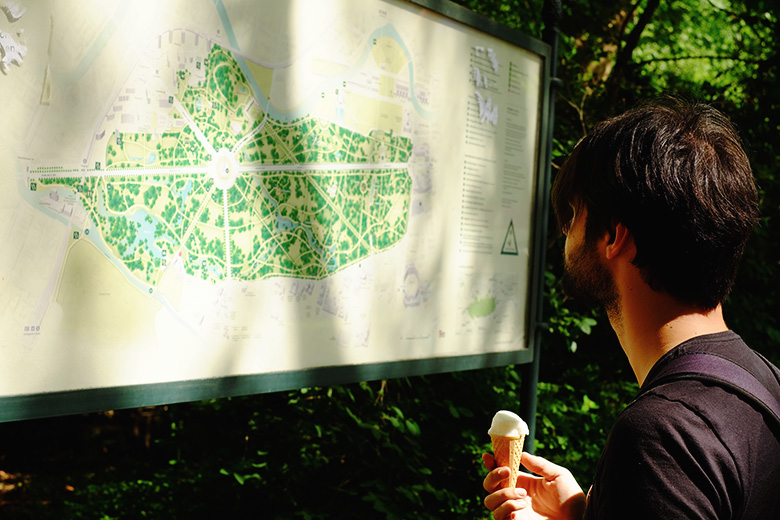 11. Visit the zoo with the most species in the world
Would you have ever guessed that Berlin is the home to the zoo with the most species in the entire world? Me neither. But it's true! Now, what percentage of those critters are actually creepy crawlies I cannot say, but nonetheless you are bound to be impressed by this expansive zoo. And once you've had a lot of fun observing the different animals, you can go and visit…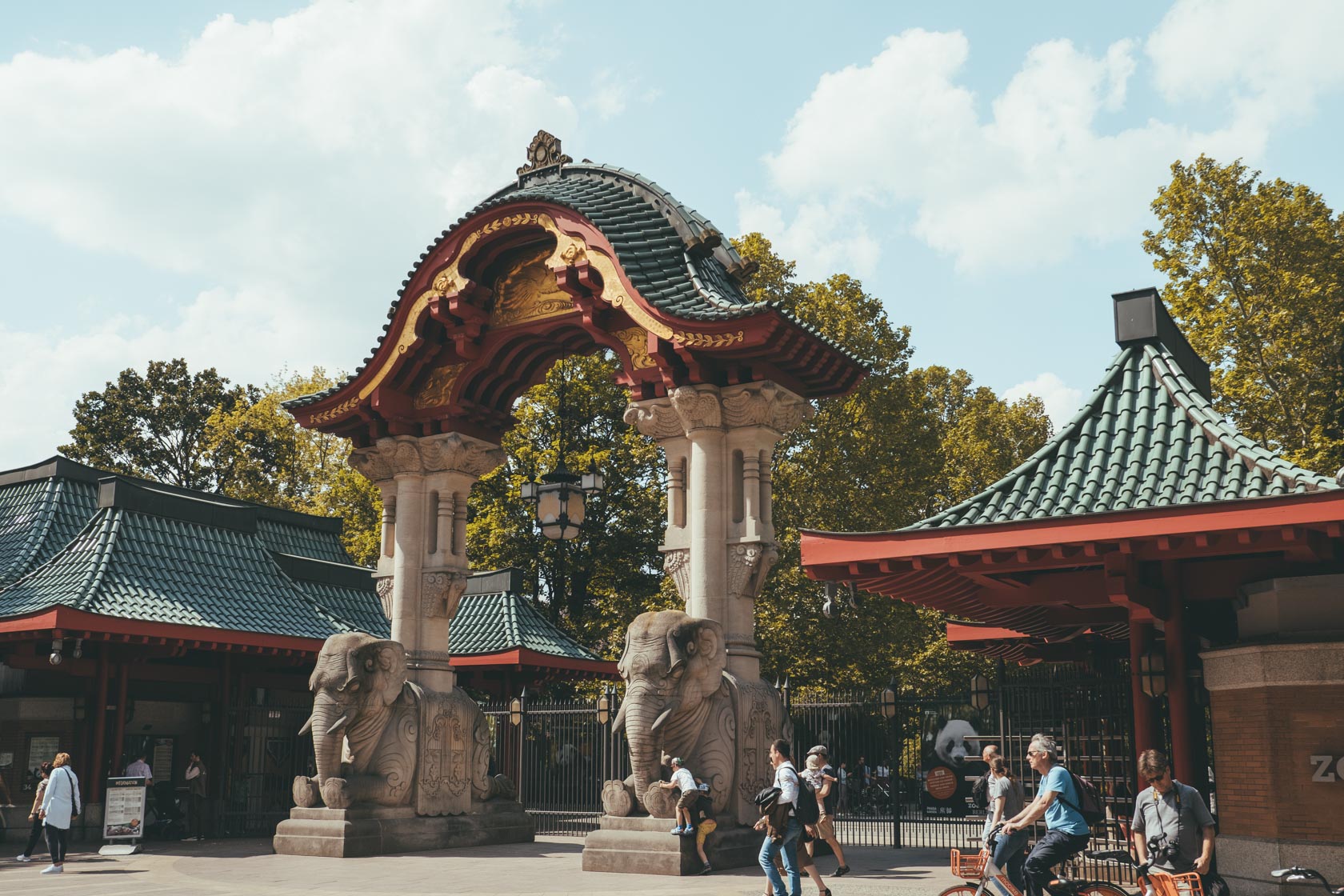 12. Drink cocktails with the monkeys!
After your trip to the zoo, why not visit Monkey Bar for a fancy drink. The big draw of this bar is the people monkey-watching opportunities. Swing right once you enter the bar for the best views over the monkey enclosure at the Berlin Zoo! Sometimes you wonder who is watching who in the zoo 🤔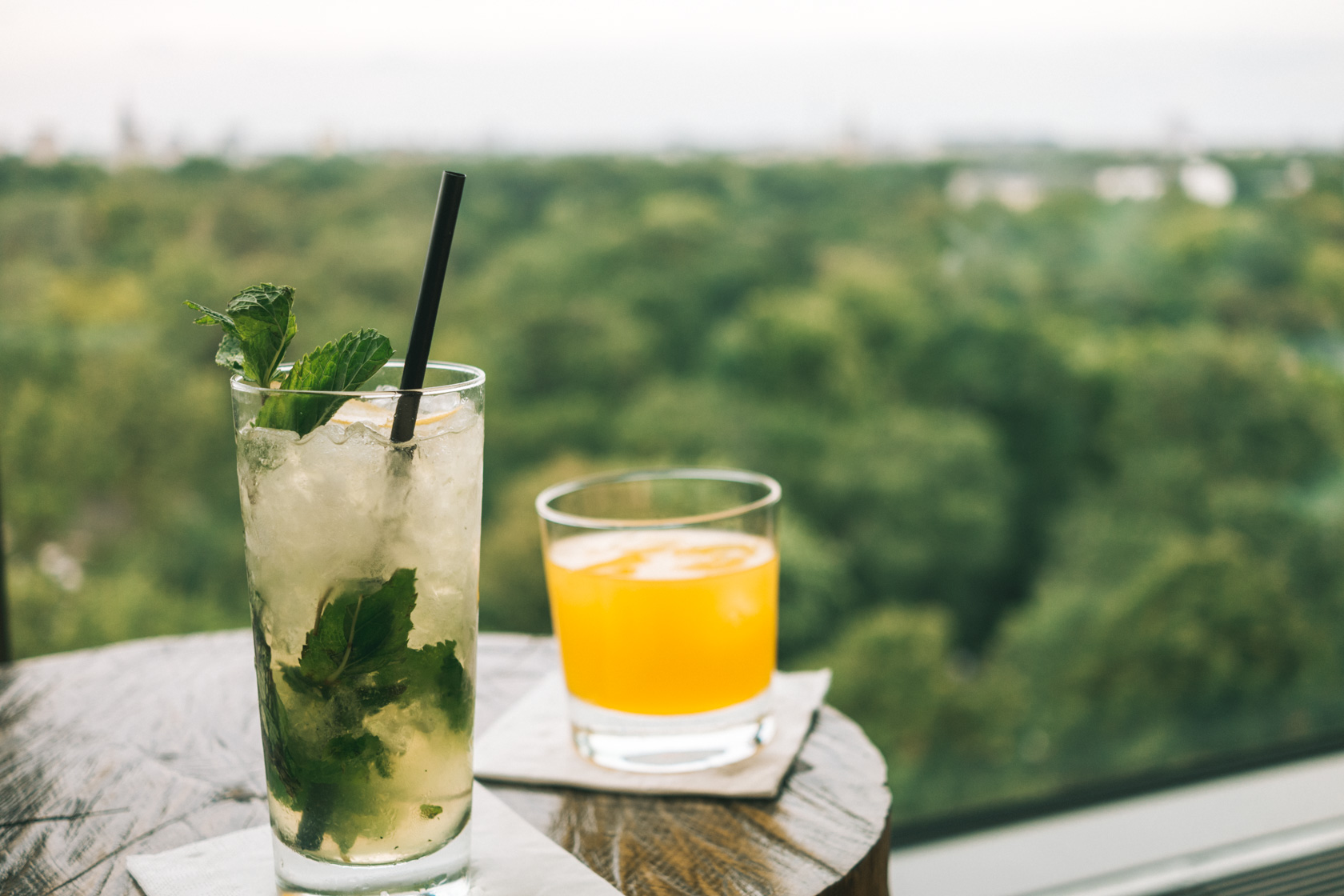 There are monkeys down there. I saw them entertaining the zoo-goers.
There are tons of awesome rooftop bars in Berlin in addition to Monkey Bar, so don't miss reserving one if you happen to be visiting in Summer.
13. See the Fernsehturm from all over Berlin
Whether you're trying or not, you will see the TV tower while you hop around the city's main sights. You can even go up to the top, and use skip-the-line tickets to avoid a long wait during peak season. There's even the possibility to eat dinner at the restaurant at the top of the tower – I haven't done it yet but it's definitely on my list of things to do before I eventually move out of Berlin!
For a close up of the exterior of the TV tower, pop by Alexanderplatz, just don't stick around the area afterwards as it a bit lacking in shops or restaurants. Instead…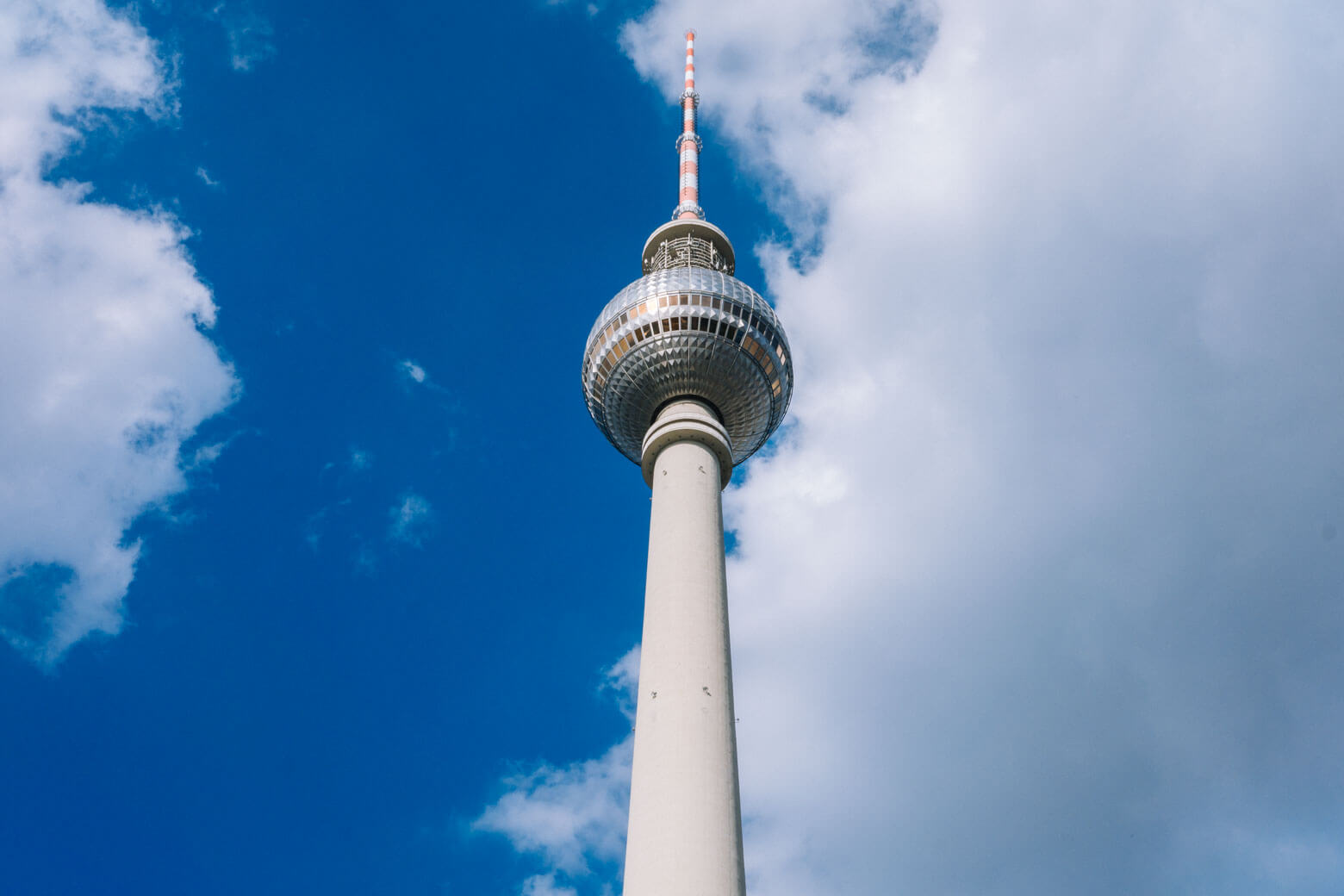 14. Eat some traditional German food
By now, you've worked up an appetite and deserve some serious eats. German food is the definition of hearty, so make sure you have a friend to carry you home. I have an entire post dedication to where to eat German food in Berlin, which covers not only the restaurants I recommend that you try, but also which foods to try! Naturally, Schnitzel is a great option but it's not the only option. Thankfully, there are even vegetarian-friendly German options like Kaesespaetzle (think: German mac and cheese) and Gemuese Maultaschen (vegetable dumplings).
In Berlin I always recommend making a reservation, just to be on the safe side. That said, if you're only 1 or 2 people, there's a good chance most places will be able to find you a table.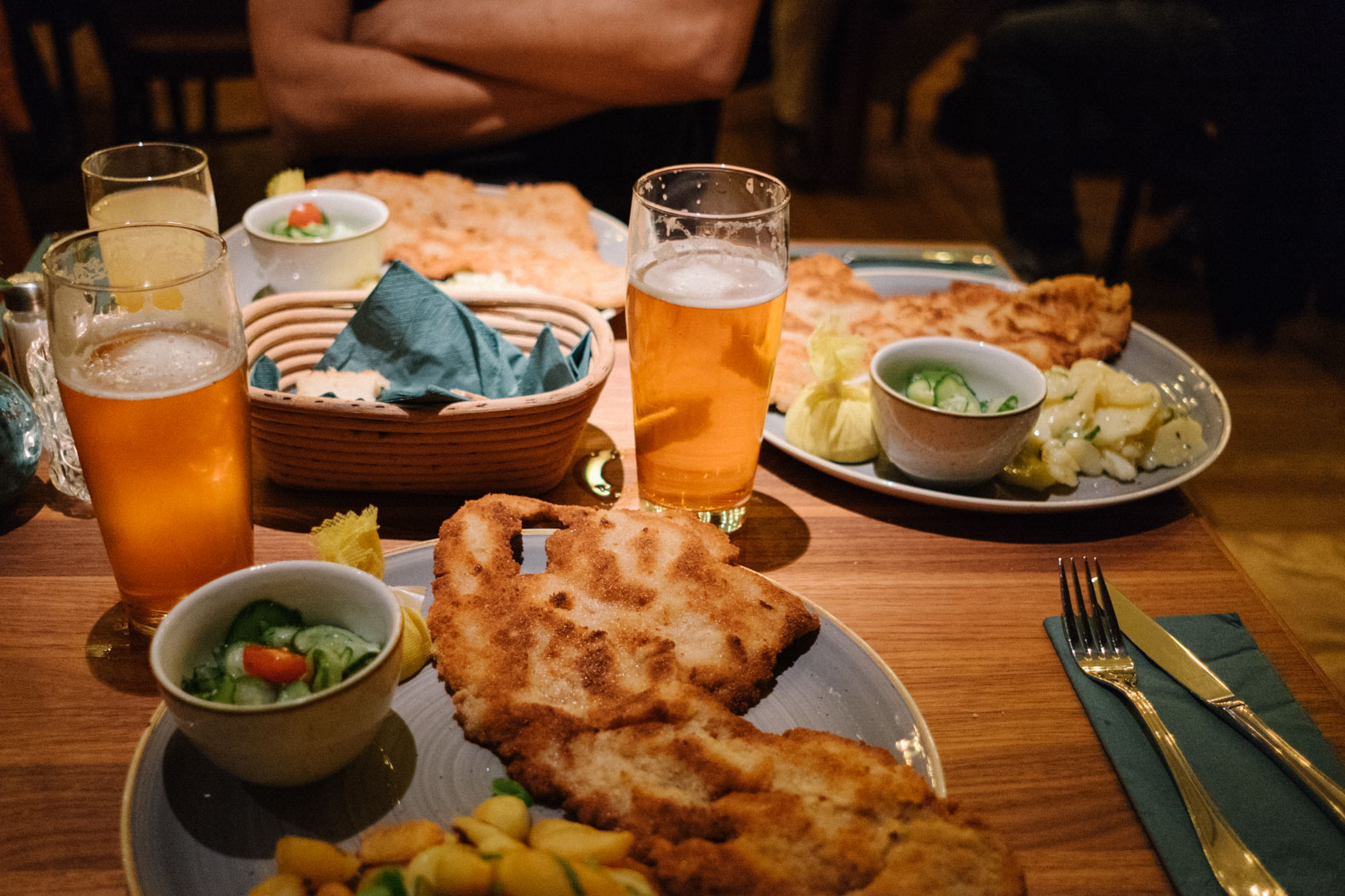 15. Climb the Kreuzberg for a panoramic view of the city
I would be remiss if I didn't bombard you with recommendations in Kreuzberg (my own neighborhood, represent!). Ascend the hill in Viktoriapark until you reach the apex, where you'll see a sweeping view of Berlin. See if you can find the TV tower, Gendarmenmarkt, and other famous landmarks.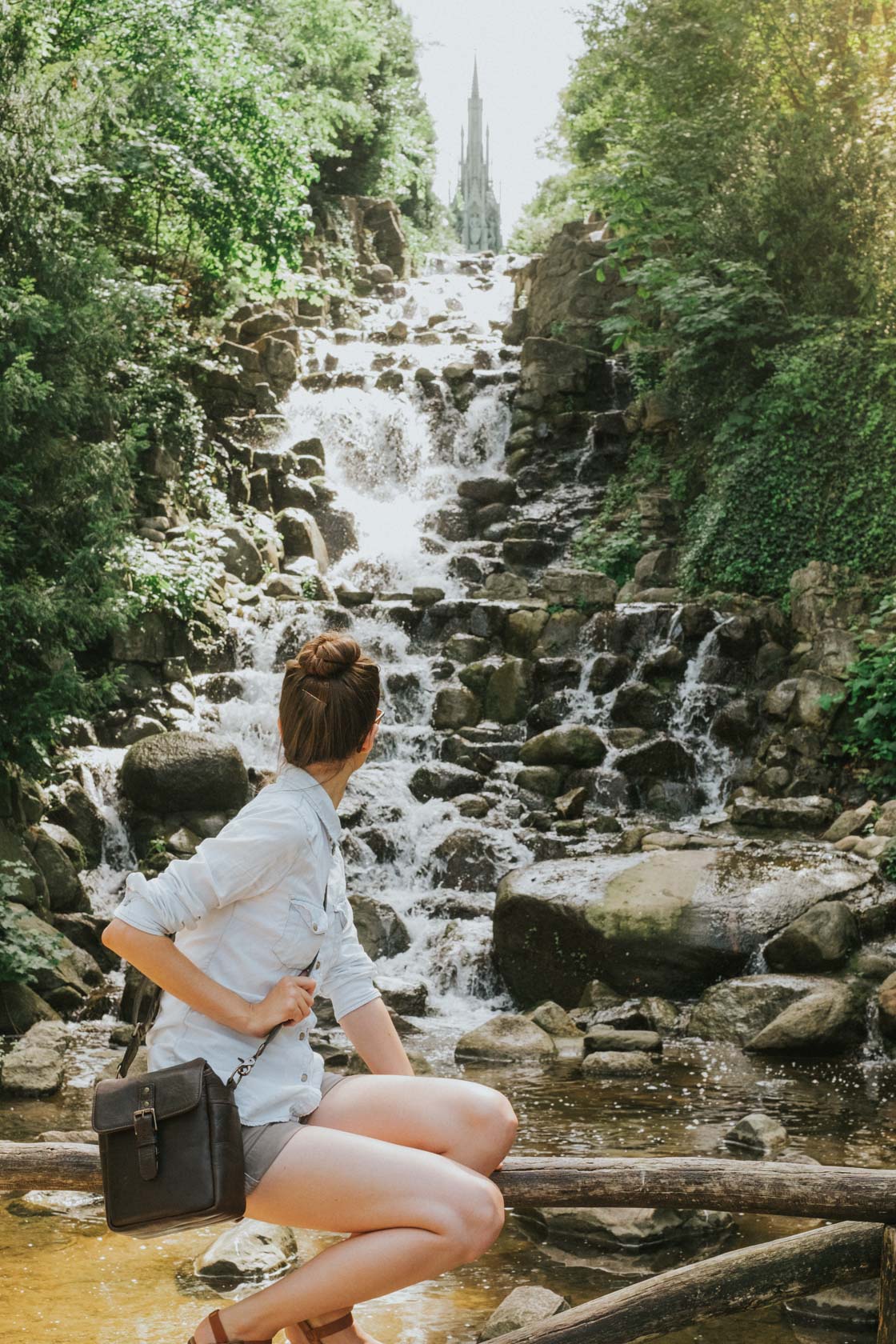 16. Spend an afternoon in a beer garden
Alas, one of my favorite pasttimes! Germany has got its beer game down, and nowhere is that clearer that in a garden expressly designed for the purpose of drinking it. I've got a whole guide of best beer gardens in Berlin, but you can scroll down for a summary.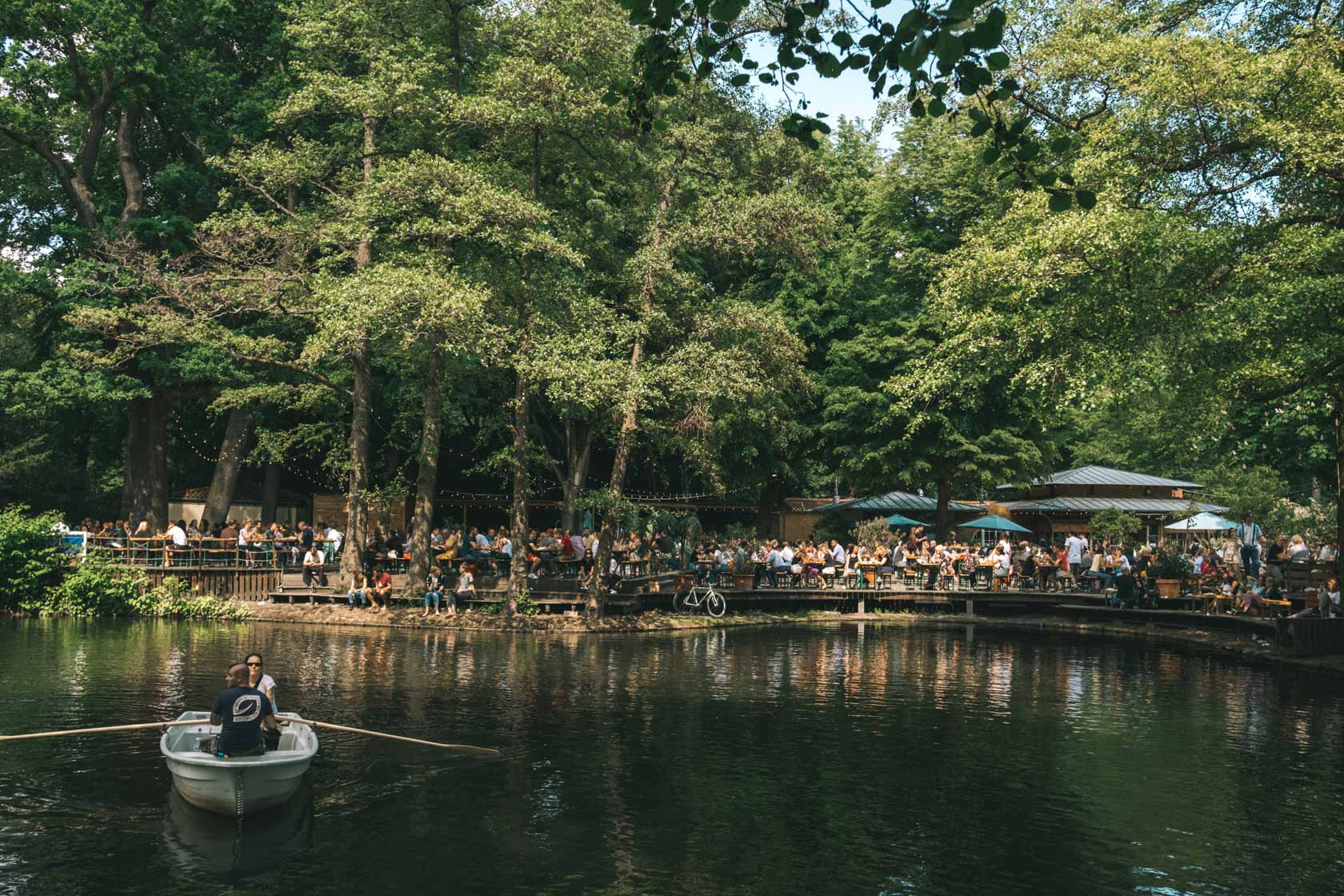 Here are some of my favorite beer gardens in Berlin:
17. Take an underground tour
In preparation for the bombing campaigns of World War II, the German government built civilian shelters and bunkers which exist to this day. You have to see this to get an idea of what it was really like living in Berlin in the thick of intense bombings during the war. You can learn more about underground tours on the Berliner Unterwelten website. They have a number of different tours to pick from and many options in English. I've never done it before but I've had friends and colleagues rave about these tours!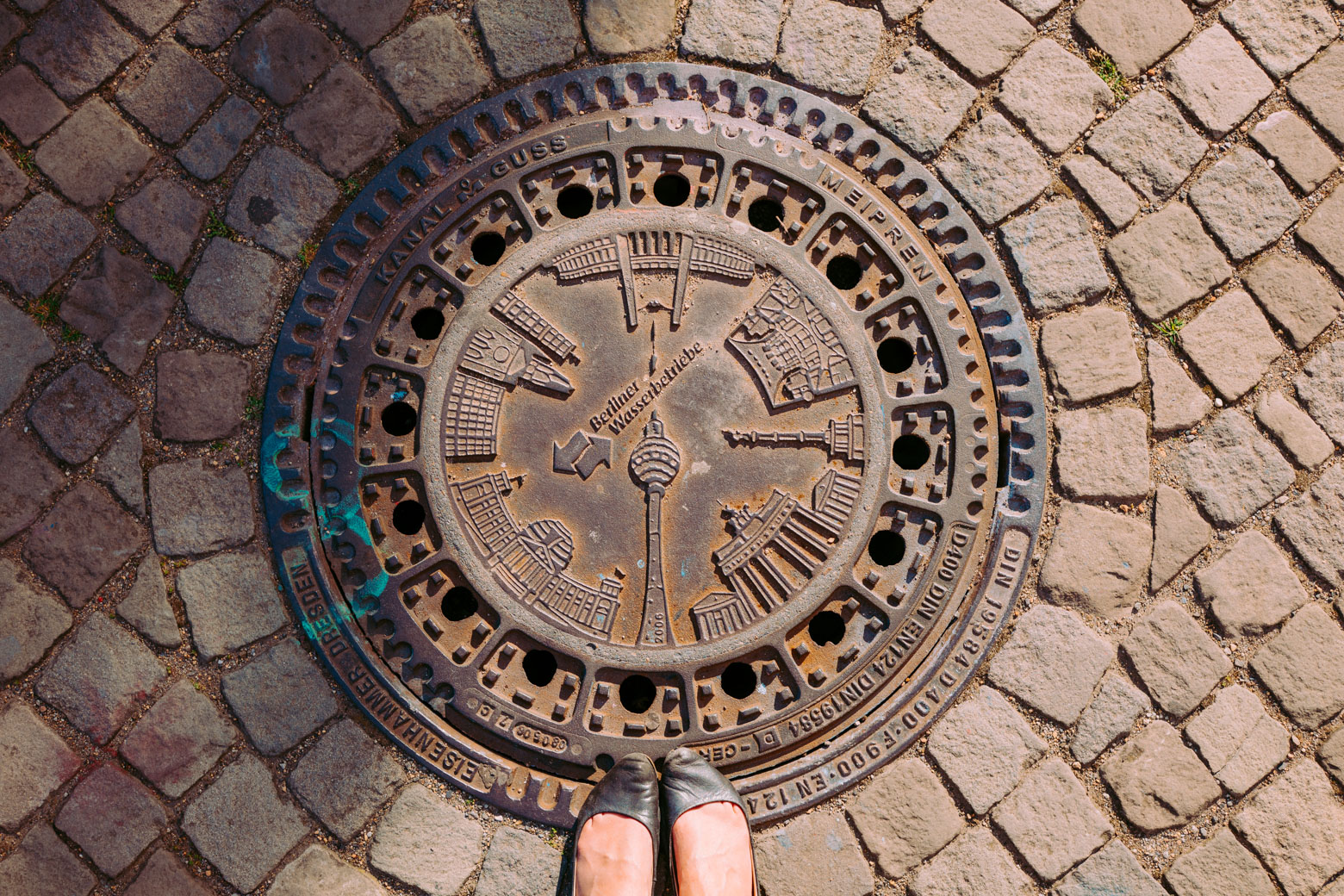 18. Climb the Siegesäule for a view over Berlin's Tiergarten
Located in the middle of a busy roundabout, the Siegesäule (Victory Column) might remind you of the Arc d'Triomphe – with the distinct difference that this one has tunnel access so you don't have to risk your life running across traffic like you do in Paris. The stairs be narrow, but the view be worth it. The cost to enter is very low, just a couple of euro.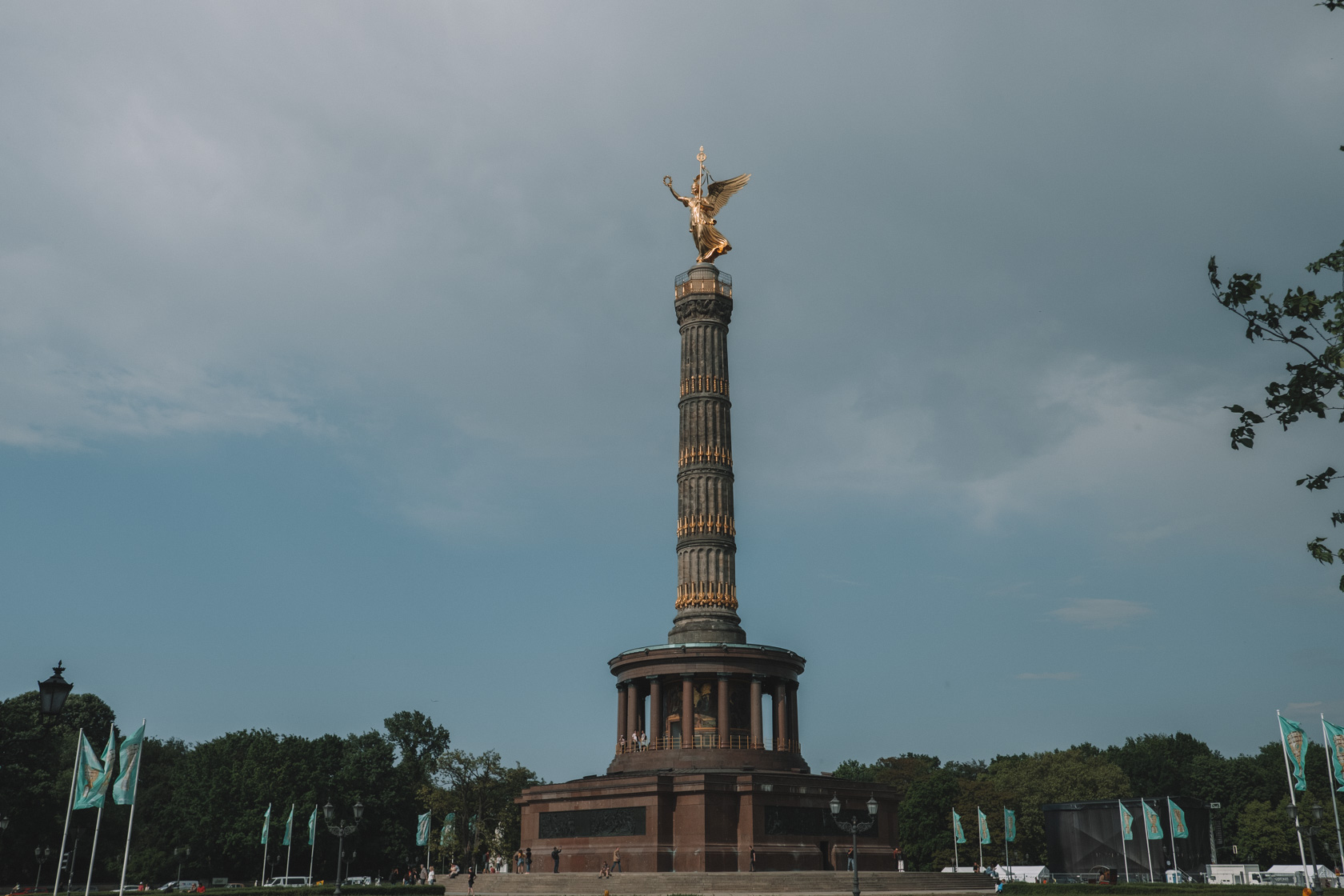 Apart from the view from the top, there's also a small museum inside about the history of the Victory Column. How it was relocated by the Nazis during World War II, which luckily helped it survive the bombings of Berlin by the Allied Forces. You'll also see replicas of many other monuments around Germany and the world.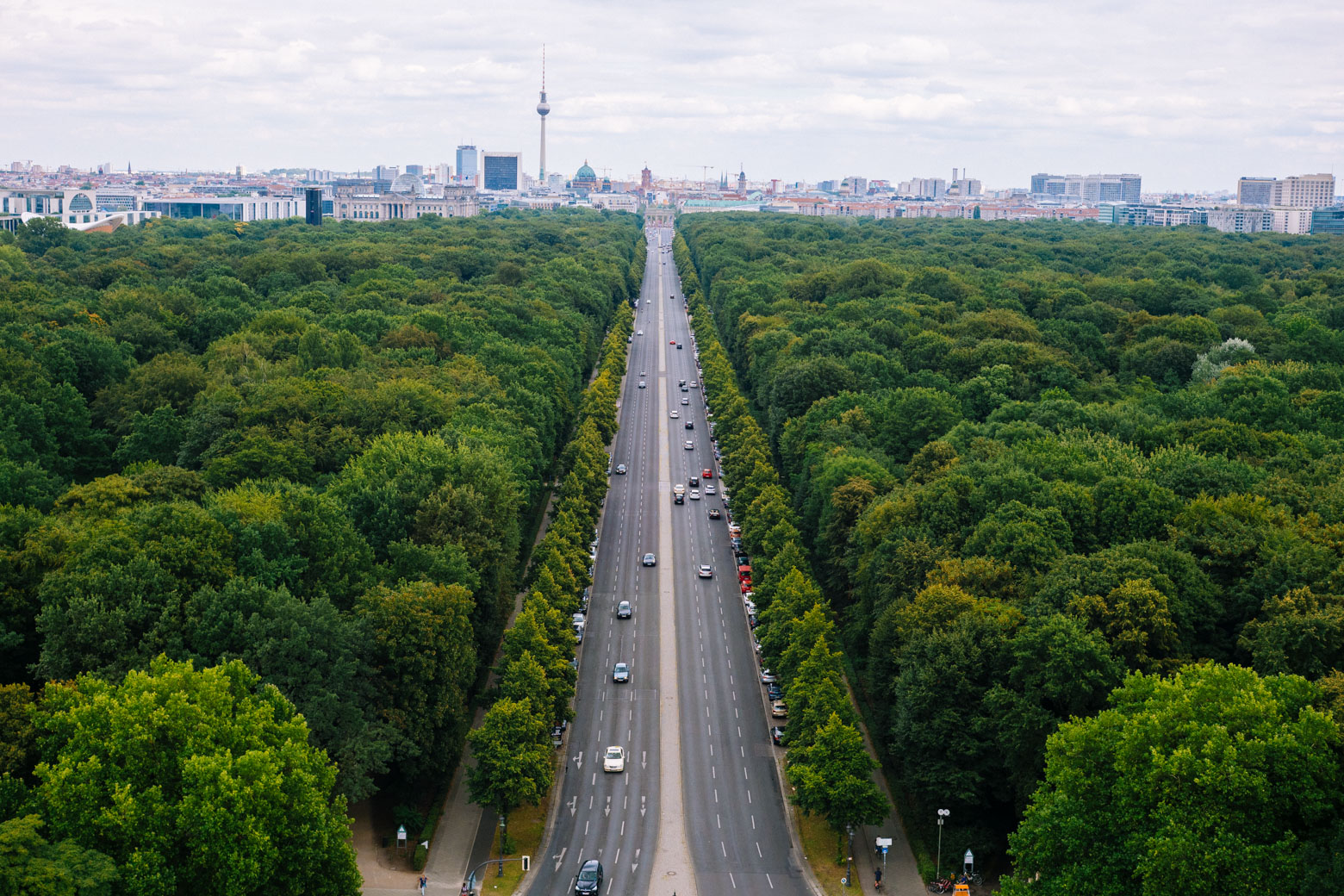 19. See the Berlin Wall at the East Side Gallery
Do not, I repeat, do NOT go to Potsdamer Platz to see the Wall. Potsdamer Platz is ugly and soulless, whereas the East Side Gallery has the most famous pieces you're expecting to see. Just don't stick around the immediate area once you're done, instead head back in to the Wrangelkiez and maybe grab a craft beer at previously mentioned Hopfenreich 😉
If you want to get some more history about the Berlin Wall, consider doing a dedicated Berlin Wall tour.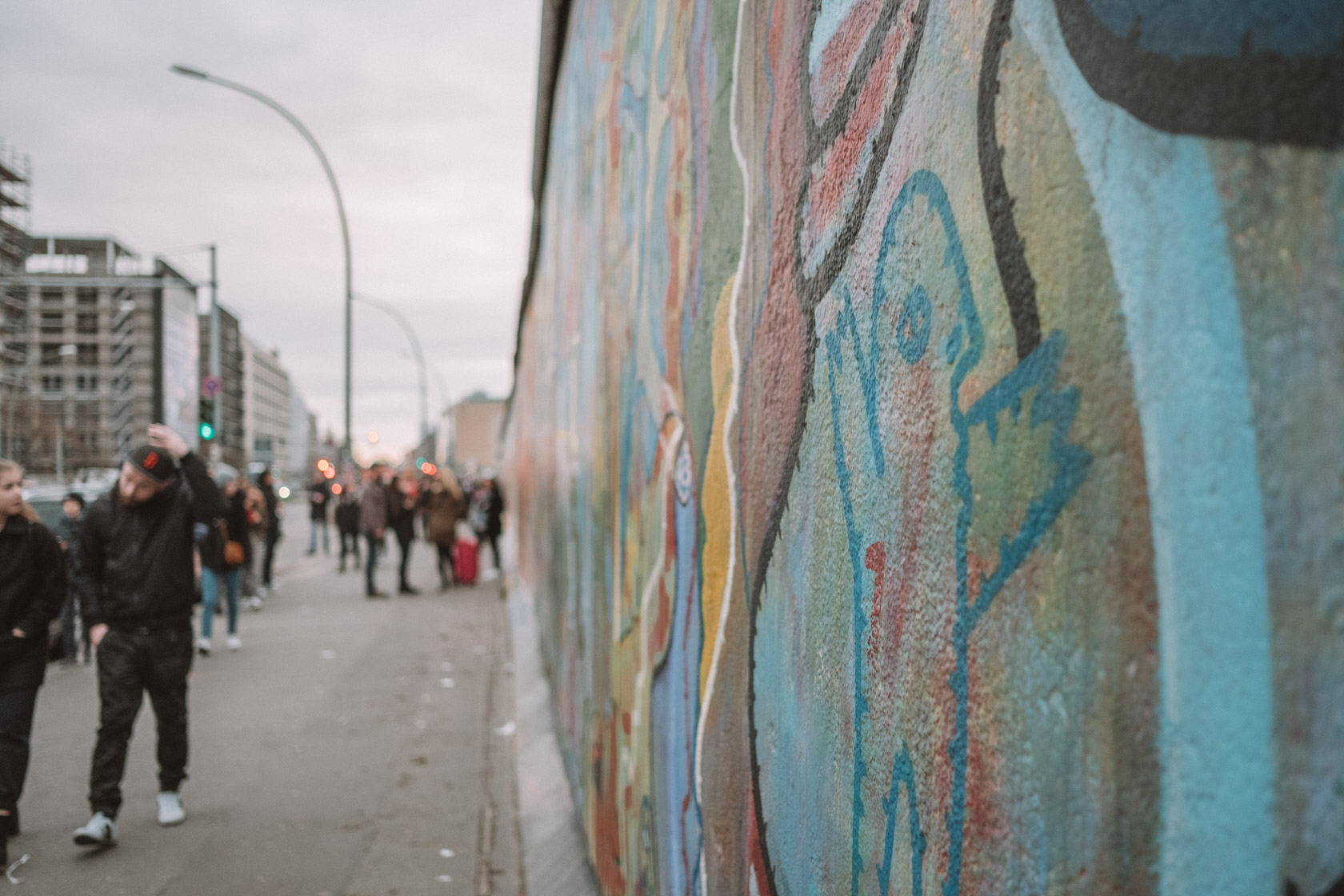 20. Go swimming in one of Berlin's surrounding lakes
If you're lucky enough to spent some summertime in Berlin and it's sunny and warm, it's practically a sin not to take a dip. Berlin's got numerous surrounding lakes, including Müggelsee, Schlatchtensee, and many others (Check out this nice long list by the Berlin Tourism Office).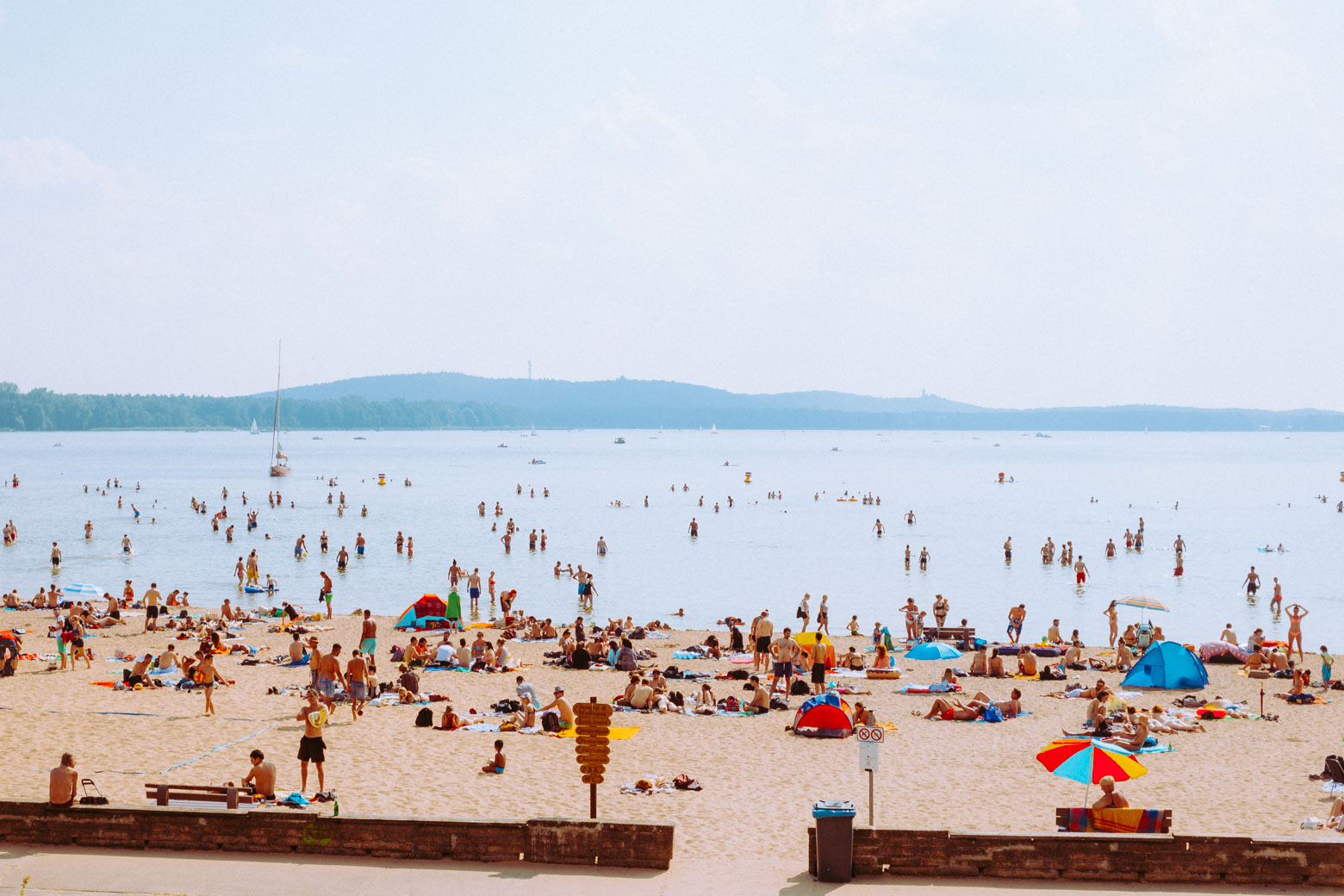 21. …and if it tickles your fancy, go naked!
Many of these beaches have also got an FKK Bereich (Free body culture area). Let it all hang out with the oldies and you're on your way to a perfect tan. If you're more of a spa kind of person, Vabali Spa Berlin will also offer you a chance to get naked with the locals in a slightly more private setting.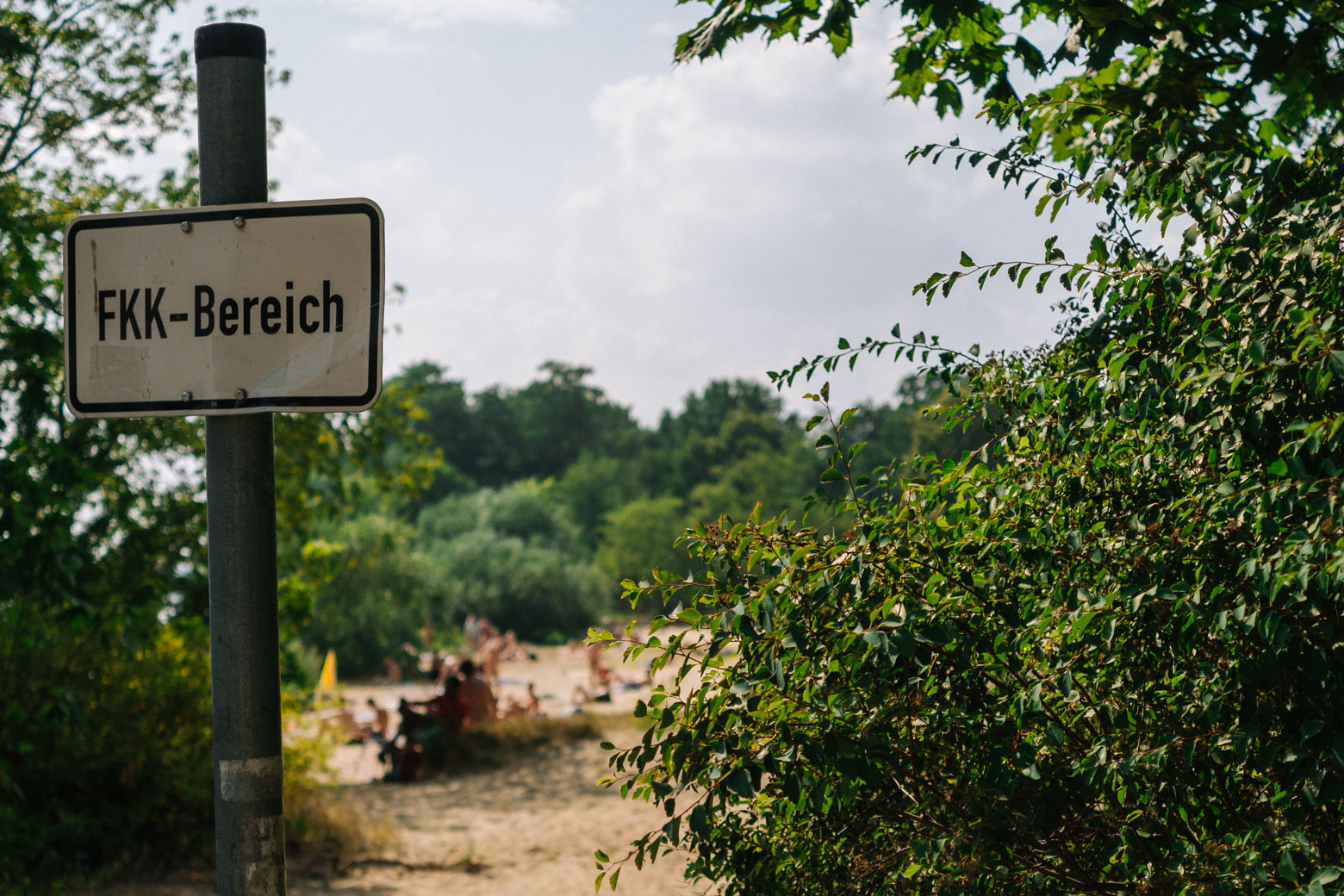 22. Visit the Oberbaumbrücke
This bridge is one of the most recognizable sights in Berlin. If you decide to go on a boat tour, you'll definitely pass under it at some point during the trip. If you've watched some Berlin-based TV shows like Berlin Station, you'll also recognize this bridge. Come here for some lovely pictures from the north side of the river!
23. Eat street food at Markthalle IX on Thursdays
This market is a busy one. All summer they host themed breakfast markets, and on Thursdays, a streetfood market where vendors from all over Berlin come and set up shop. You can check out their website for a weekly schedule on the different markets they are running, and all sorts of special events. Besides the vendors that come and go, there are also long-term tenants such as Sironi , the bakery responsible for Berlin's top-rated bread, Heidenpeters , a craft beer corner, or some delicious coffee at Kaffee 9 .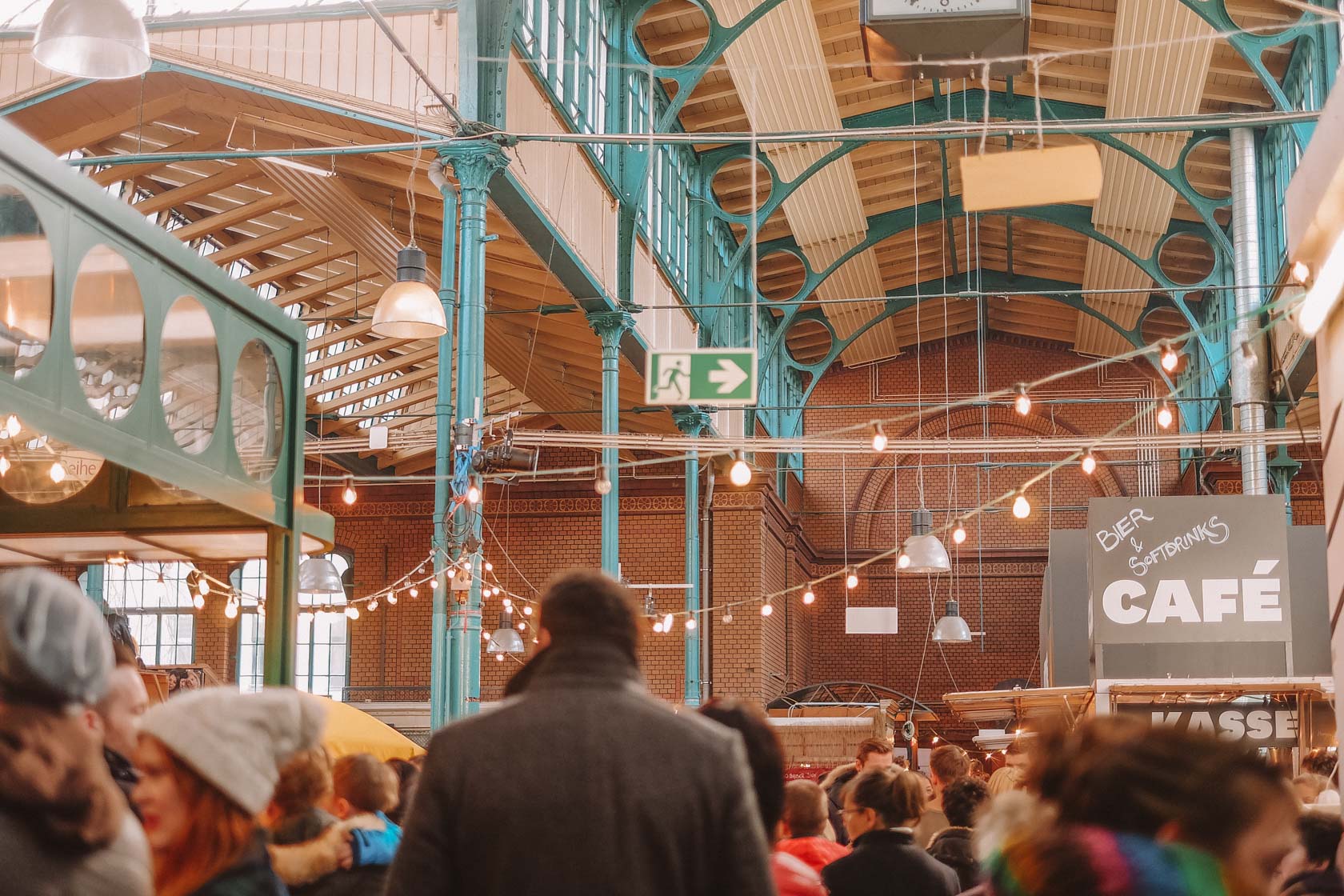 24. Go for wine at a pay-what-you-want wine bar
Berlin is so cheap, I LOVE IT. Der Weinerei on Veteranenstrasse, to me, the epitome of cheap Berlin. It works like this: you go in, you pay for your glass, you serve yourself from the open bottles at the counter or ask to taste something else, and off you go! It's a great way to try wine before really committing to a glass – or just to drink a lot of wine.
25. Wander the cobbled streets of old town Berlin
Berlin is not like those quaint German villages you see in Rick Steve's Europe, with criss-cross designs all over them, perched over the Rhine river. We'll say, it's not "traditionally beautiful." But there's a small corner of the city that has this small town charm, called the Nikolaiviertel. Come to the Berlin old town to see a reconstruction of the oldest settlement in Berlin from 1200.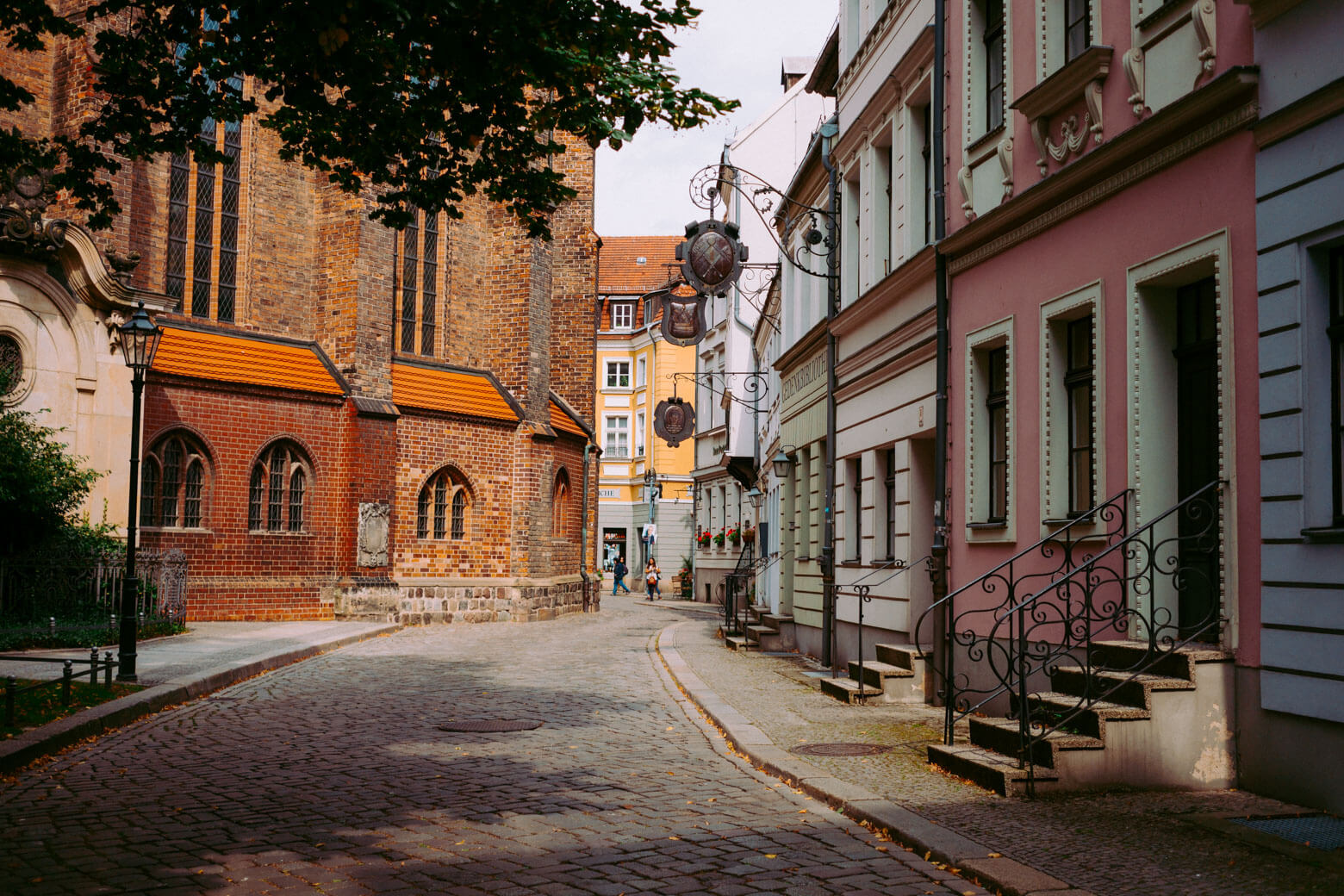 26. Drink some third-wave coffee
I'm not sure what first or second wave coffee was like, but third wave coffee is delicious. I personally recommend two locations in Kreuzberg: Concierge Coffee and Chapter One. For more options check out this massive list of third wave coffee places by Stil in Berlin.
27. Eat a döner kebab at its birthplace
Cheap eats abound in Berlin, and none is more iconic than the venerable döner (okay, this point is arguable, but more on that later). Be warned: not all döner is created equal. Look for a line and stand in it, or go to the supposed birthplace of the döner, Hasir in Kreuzberg, or the kebap place famous for having the longest lines, Mustafa's . If you're wondering what exactly is inside a döner, don't worry, we all are.
28. Get lunch at the Turkish market on the Maybachufer
On Thursdays the Turkish market sells fresh produce and delicious (and cheap!) meals. Grab a plate of something yummy and park yourself on the banks of the nearby canal.
29. Read inspiring quotes by Josef Stalin at the larger-than-life Soviet War Memorial
Over 5,000 Russian soldiers are buried at the memorial in Treptower Park. There are enormous statues of Russian soldiers and a mixture of German and Russian on every plaque. Come here to wonder at the sheer scale of this installation as a detour from your walk along the Spree river.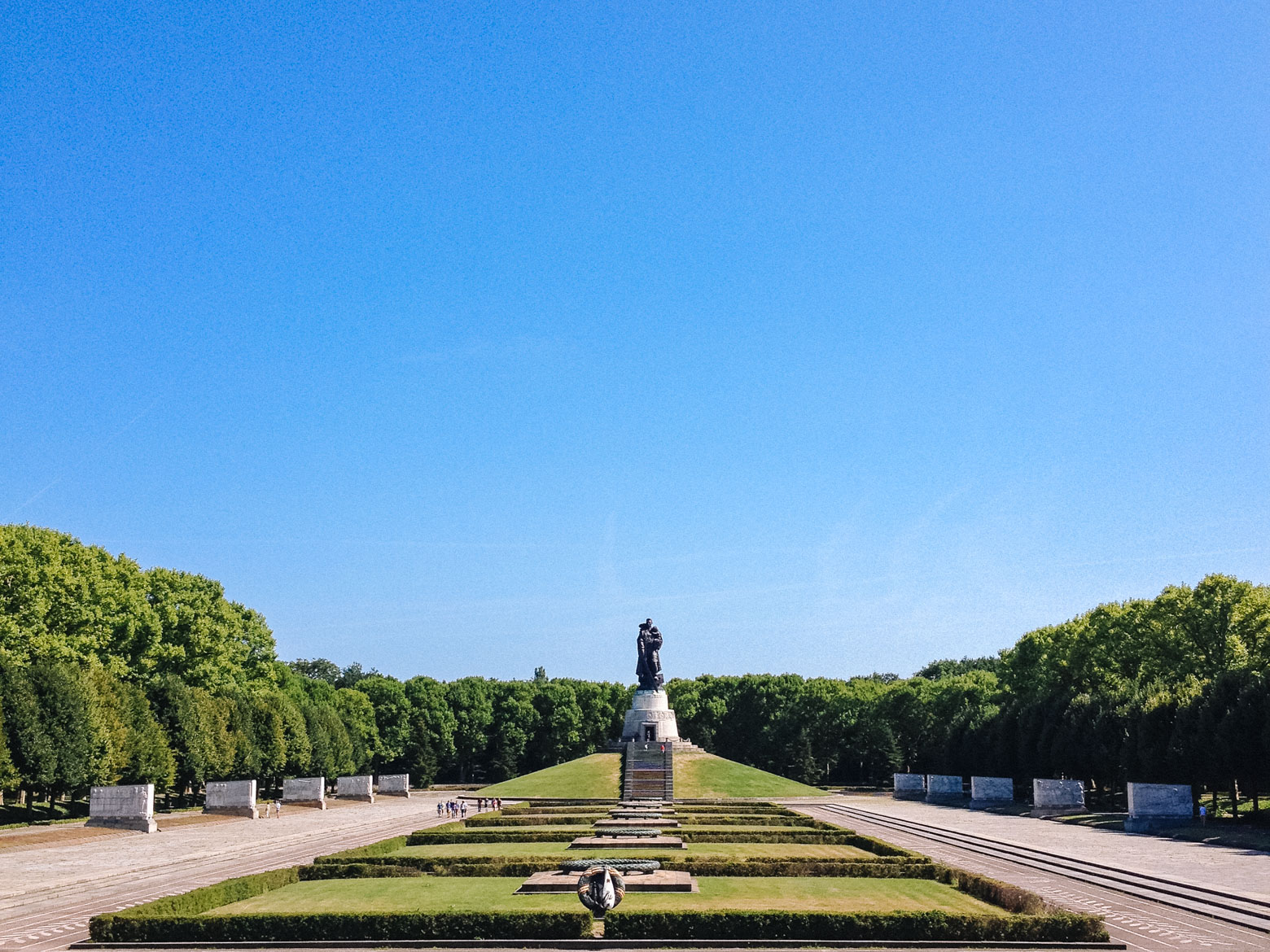 30. Shop your heart out at Europe's largest department store
For the luxury travelers out there, this one is for you. I'm pretty sure I couldn't even afford the shoe polish at the Kaufhaus des Westens (shortened to KaDeWe). Between 40,000 and 50,000 shoppers pass through eight floors housing more than 380,000 articles every day.
31. Go to "Thai Park" and eat tasty food cooked by Thai mamas
Just around the corner from KaDeWe is Preußenpark, which transforms into "Thai Park" on summer weekends. The grassy pitch is filled with tiny tables where Thai ladies provide home-cooked Thai food. The busiest day is Sunday, so get it while it's hot!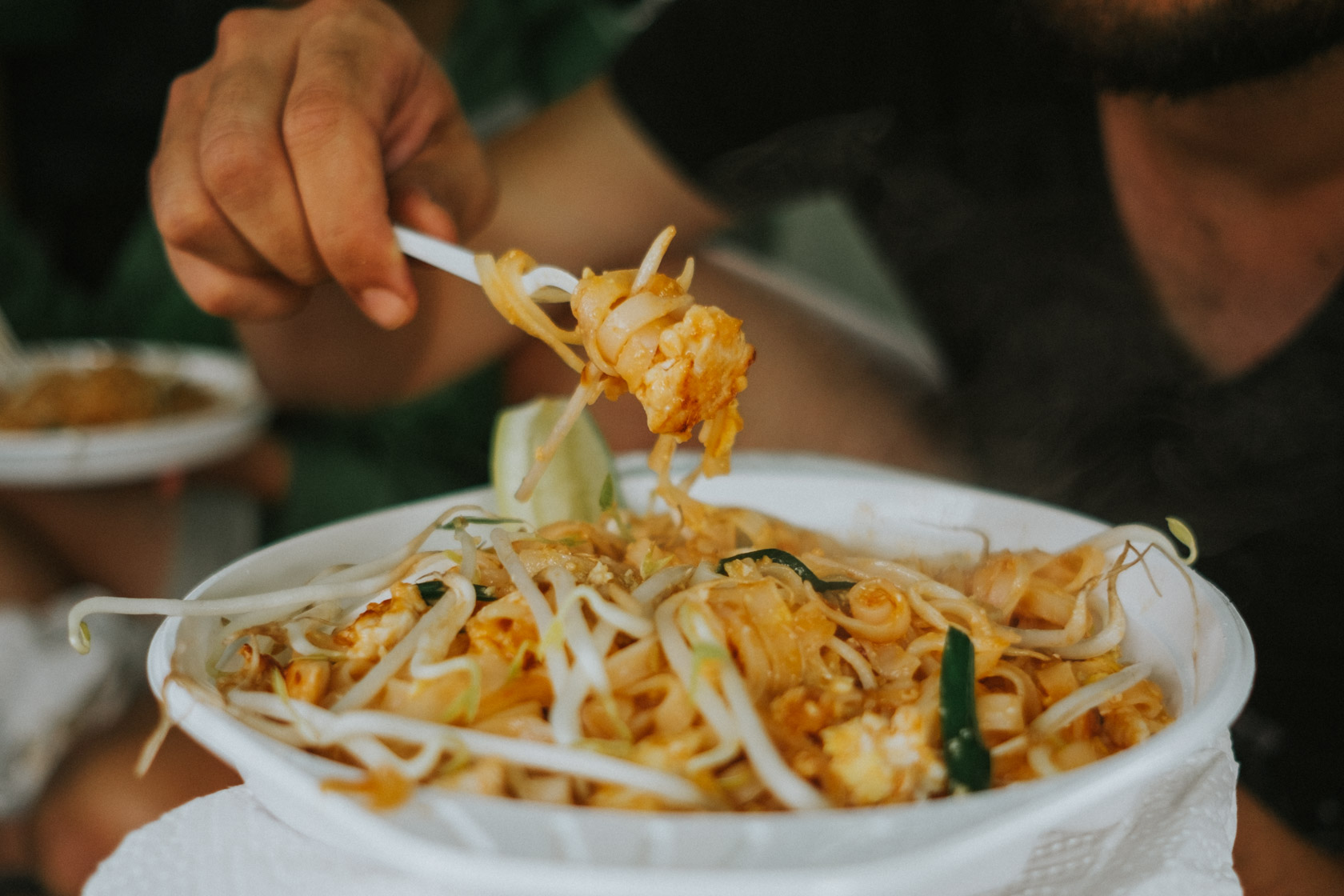 32. Eat currywurst (also available vegan!)
Personally, I had one bad currywurst and that was enough for me. But a LOT of people swear by it, so I'd be remiss not to include it in the list. You can get a currywurst for a steal all over Berlin, so it doesn't hurt to pick one up and see if the tantalizing combination of wurst, curry, and ketchup does it for you.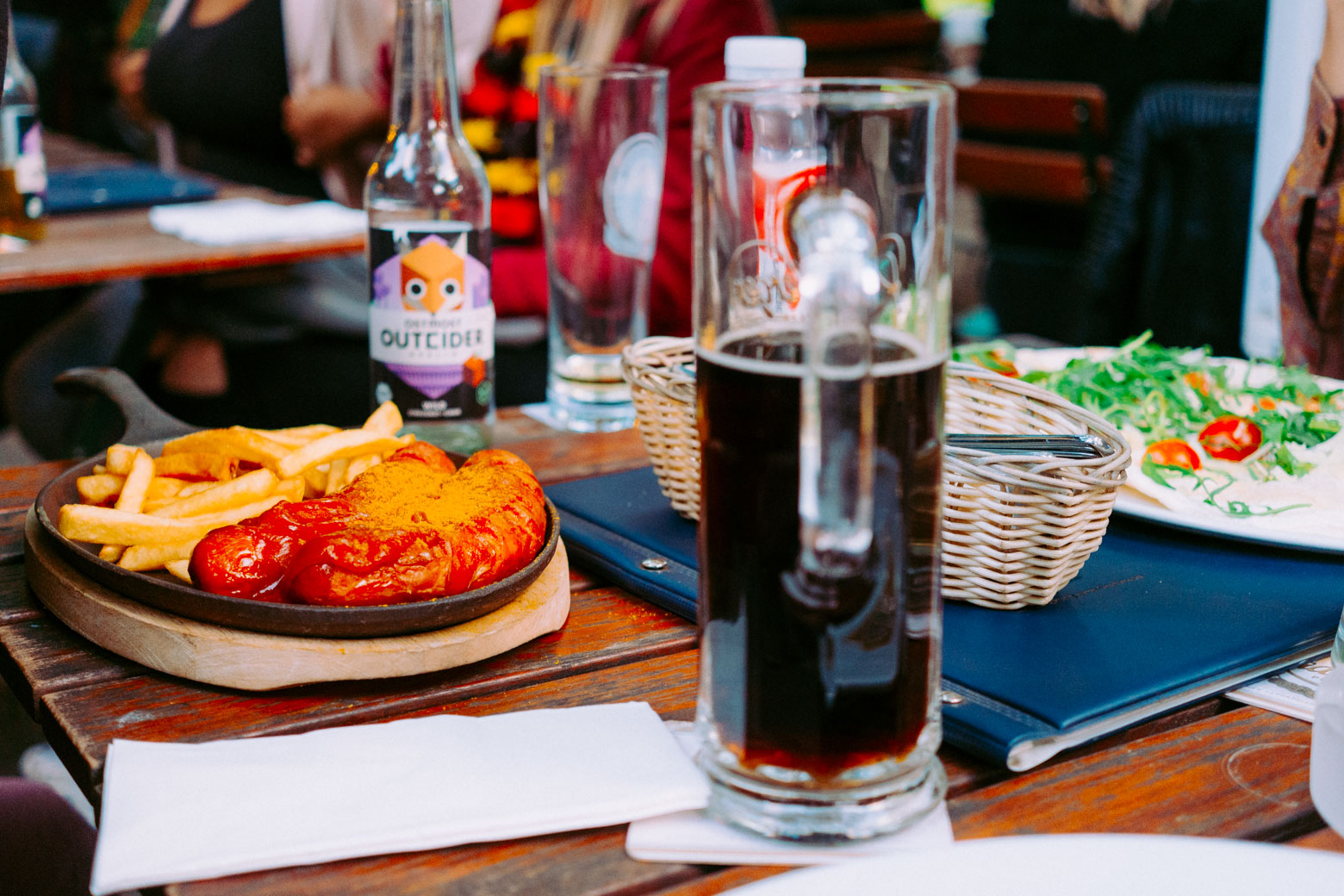 33. Grab a beer at the Späti and drink it with the hipsters on the Admiralsbruecke
Did you know that Berlin has more bridges than Venice? Enjoy some quality bridge time with the hipsters of Kreuzberg, watch the sun go down over the Landwehrkanal, and take in the gorgeous scene kissed by golden hour. If you have the patience, you can get some of Berlin's best pizza from Il Casolare. Be warned, it will take at least an hour on the weekend and they will not be friendly, but dayum that pizza!
34. Sing karaoke at the Mauerpark
Sing your heart out with a serious crowd! Every Sunday, people gather in Mauerpark, mostly for the Flea market, but also for an impromptu karaoke festival. So pick up something vintage and head for the song pit!
35. Go swimming in the Badeschiff
A must for any list of Berlin to-dos. If you're lucky enough to be here in high Summer, you'd be remiss not to take a dip in this swimming pool that's partially submerged in the Spree.
36. See (and taste) the latest and greatest of urban gardening in Berlin at Prinzessinnengarten
This place takes "farm to table" to a whole new level. Come here for lunch and feast on food that was grown in the very ground you're walking on! It's amazing to see a place like this right in the middle of the city.
37. Try to get into the world's most famous nightclub
Berghain is famous for rejecting people at the door for no reason, but if you get through, you're greeted with the hottest club in the world. Just make sure you're wearing enough black to pass the "cool test". If you don't like the idea of rejection, the Berghain Kantine next door hosts concerts and you can still dance as much as you want.
38. Pay your respects at the Holocaust Memorial
Possibly one of the most striking views in Berlin, this memorial makes you feel lost and disoriented. For a historical look at how Jews came to Germany and their contributions to this country, don't miss the Jewish Museum.
39. Browse flea markets all over town for your next treasure
While the flea market in Mauerpark is the best known, it's surely not the only. Go there for vintage cameras, leather goods, and locally made clothing. Don't miss the Art Market at Zeughaus or the Antiques Market at Straße des 17.Juni. There's also the newer RAW Flohmarkt at Revaler Strasse, which hosts themed markets several times a year.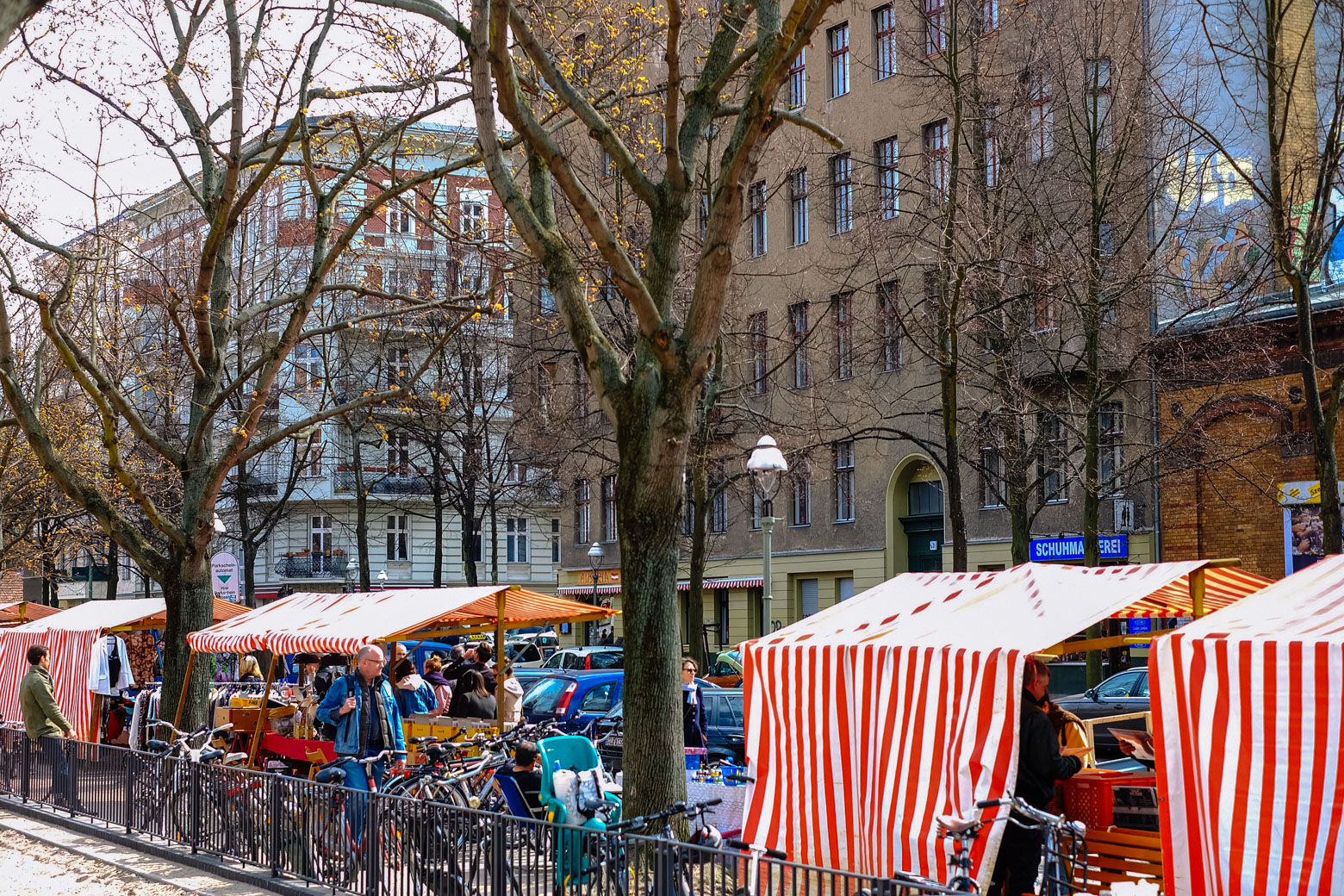 40. Drink Glühwein at one of Berlin's many majestic Christmas markets
Most people come to Berlin during the summer, but if you brave the winter cold you may be rewarded with Christmas market season, which basically lasts for the month of December. Some of the best markets in town are: Gendarmenmarkt, Schloss Charlottenburg, and the lesser known Richardplatz.
Don't miss my post on Berlin's best Christmas markets, which I've just updated for 2019 and listed out the new opening dates, hours, and entry prices for this year.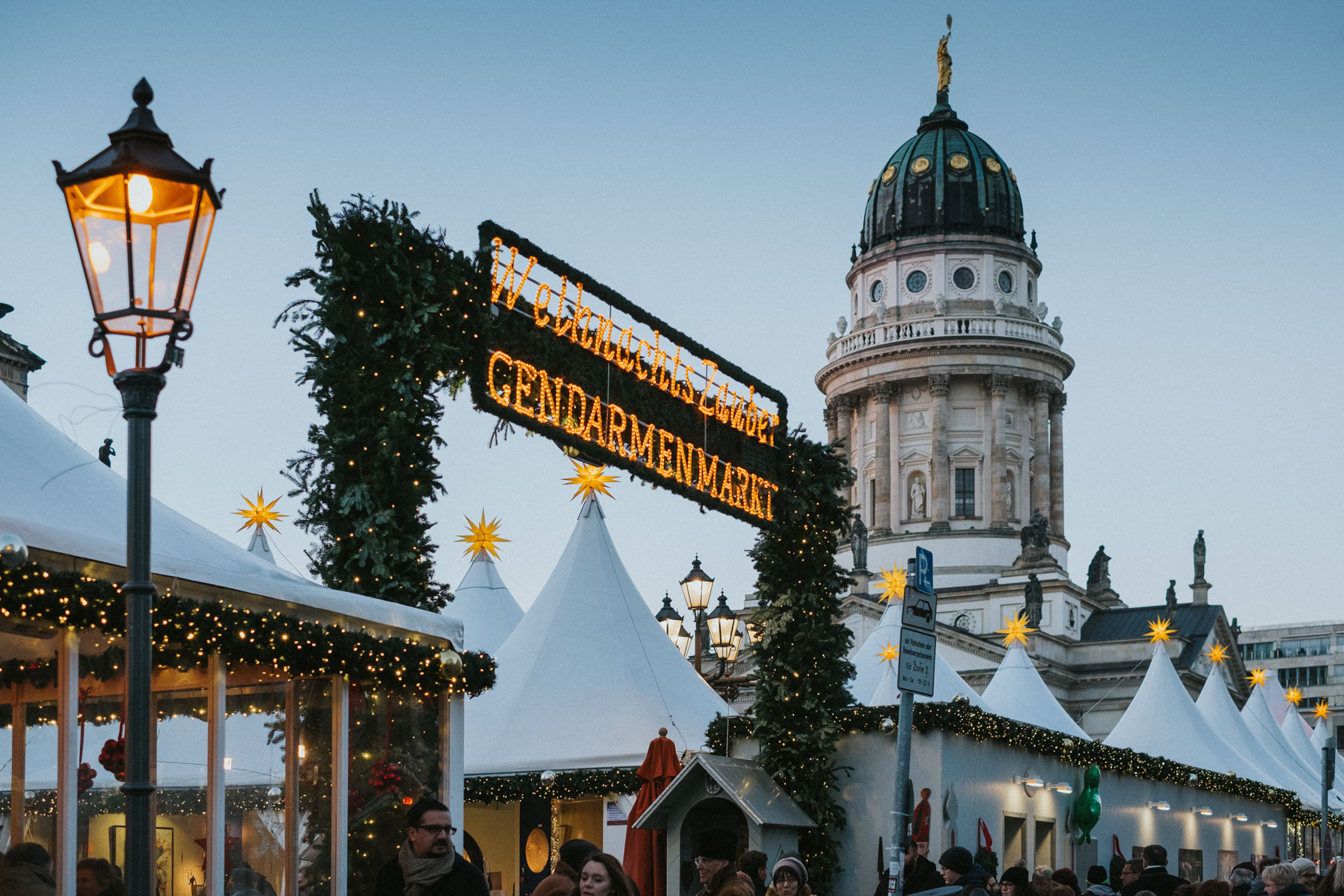 41. Peek in on the Berlin startup scene's hipster programmers
St. Oberholz is infamous for providing shelter to legions of Mac nerds from the few stray rays of sunshine that happen to grace Berlin a few times a year. You'll find them typing away in silence on their super secret startup ideas. Blend in with the crowd by bringing your shiny computer and indulging in some delicious cake. The surrounding area (Tor Strasse and Rosenthaler Platz) is lined with cool bars and restaurants.
42. Visit the Gärten der Welt (Gardens of the World) for cherry blossom season
One of the most beautiful places to see Spring in Berlin, there is accompanying music, dancing, theatre, and of course – food. These Flowers aren't the only attraction of the gardens. There are also Chinese, Balinese, Korean, and Renaissance gardens, with an English garden also planned.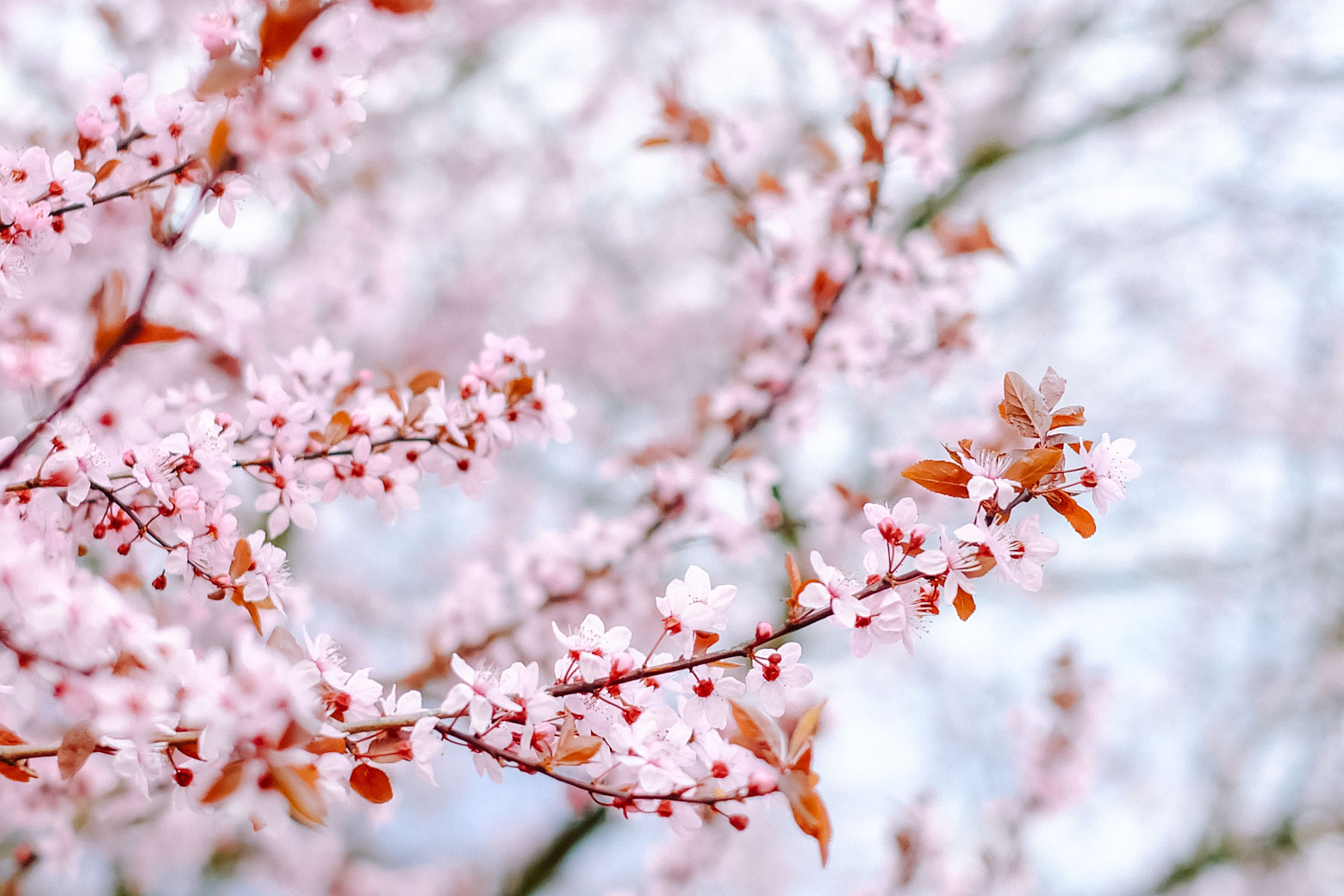 43. Build your own free art walking tour in Mitte
Although some of the better known galleries do charge admission, and are likely worth the entrance fee, it's totally possibly to give yourself a free art tour.
44. Hang out with the Mitte-hipsters at Rosenthaler Platz
There are just tons of fabulous places to eat and drink in the area (as well as people-watching!). Be fancy and have fabulous Italian at Hartweizen or go grungy-hipster-style beers at Mein Haus am See. Continue up the bikes-only Weinbergsweg for a lovely and lively tree-lined street with even more bars and cafes galore.
45. Check out the street festivals happening year round
Berlin loves festivals for all occasions, and especially in the summer it seems like a different one is happening every weekend. Some well-attended festivals in Kreuzberg include the Maifest (May Day Festival) on May 1st, Karneval der Kulturen (Carnival of Cultures), and the most mature of them all: the Jazz festival!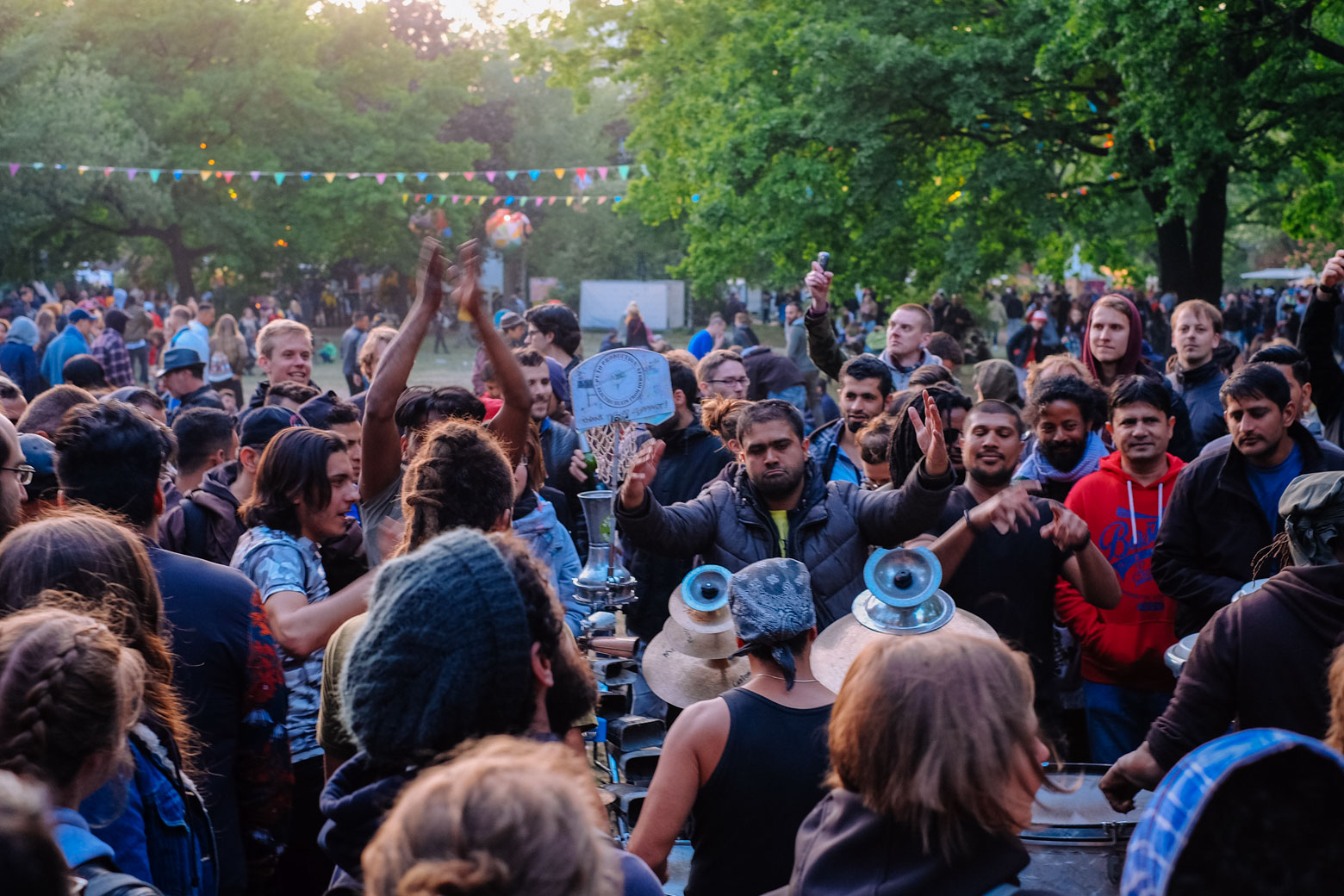 46. See a movie in a Freiluftkino (Open air cinema)
Germans celebrate summer like no other people I know. One clear evidence of this is the concept of Freiluftkino, where the wonderful warmth is celebrated by showing films outdoors. Check out what's playing this Summer
47. Drink a coffee in a cemetary
While not everyone's taste, enjoying a coffee in a cemetary is bound to be very…peaceful. If you need somewhere super quiet to nurse your hangover after a wild night out, you'll find no better cafe than Café Strauss.
48. Have a barbecue in the park
One of the many wonderful consequences of having no laws against drinking in public is how free you are to have a beer and beef barbecue in the park! Grab a blanket, brewskies, and some Fleisch and head to one of the BBQ-friendly parks.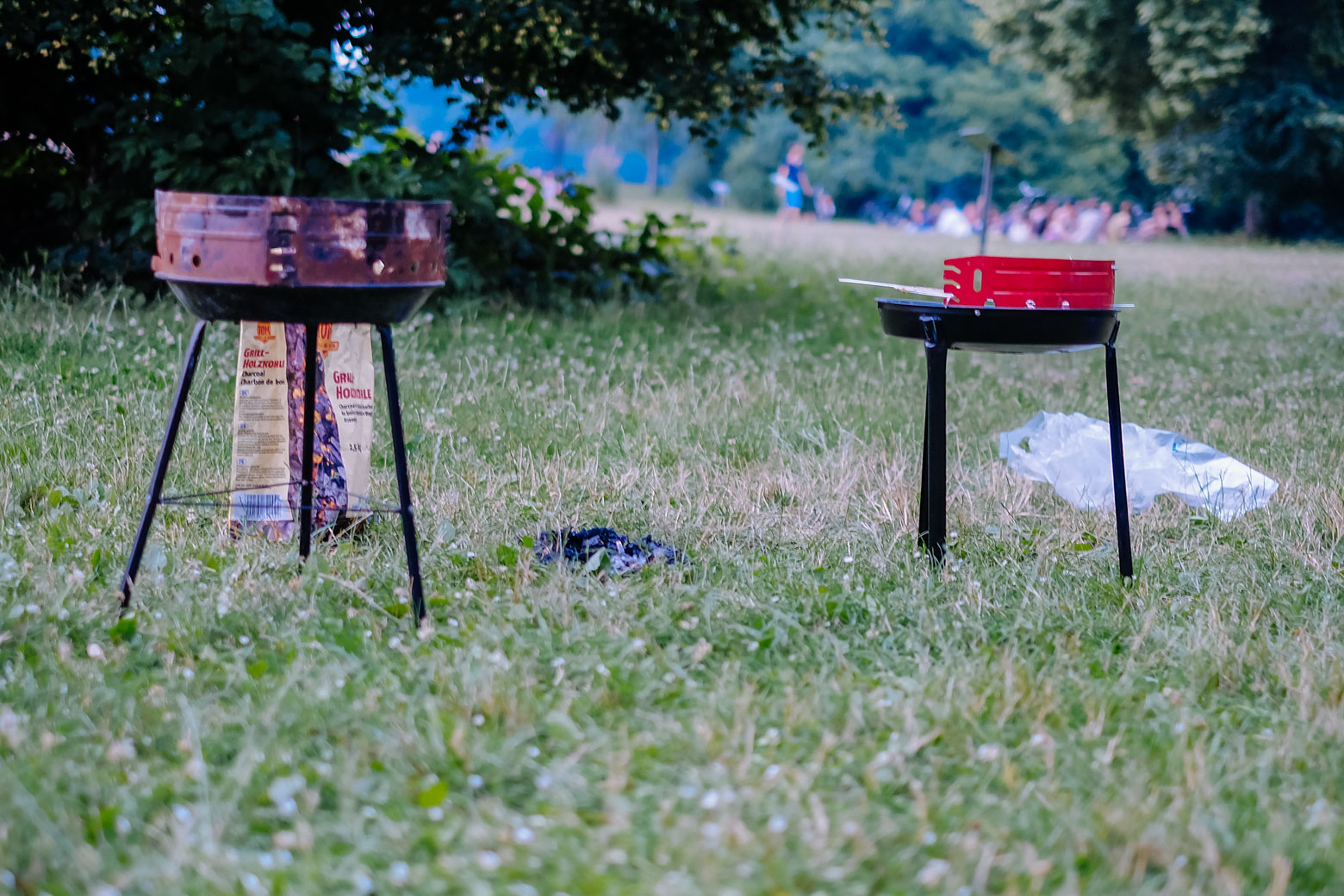 Bargain barbecues can be found at any supermarket in the summer – so grab some coal and hit the park!
49. Rent a canoe on the Insel der Jugend (Island of Youth) and paddle around the Spree
In between Treptow Park and Forst Plänterwald (Plänterwald Forest) is a tiny island, connected to mainland Berlin by the oldest bridge of its kind in Germany. Come for a picnic, live music on Sundays, or to rent a canoe and go padding along the River Spree.
50. Rent an apartment and stay for a while!
Because why not? Find a long term AirBnb, learn a few words of German, and see what all the fuss is about. Interested in making Berlin your home? Check out my guide to emigrating to Germany and places to check for startup jobs in Berlin.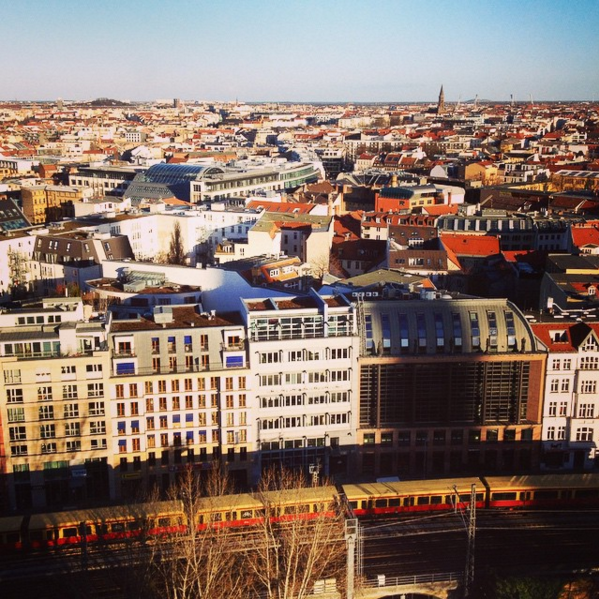 Have you ever been to Berlin? What am I missing on my list of essential Berlin experiences?
Share your suggestions in the comments and I will DEFINITELY check them out myself!
Pin this post for later!