Did you know that Berlin has thousands of cherry blossom trees? They were donated shortly after the Berlin Wall fell, when a Japanese television station began an effort to raise money to give them to the city as a gift. Well, their efforts were massively successful and Berlin now has over 9,000 cherry blossom trees within its borders!
Having recently learned this, I set out this Spring to be sure to capture the season. I was massively afraid that I had missed the season because I was in Brazil for two weeks at the end of March – luckily, the season didn't really pick up until the middle of the following month 😅
Last year, I was in Japan for cherry blossom season, so I completely missed it in Berlin. So it came as a complete surprise to me this year that there really are cherry blossoms all over the city. I went hunting for those perfect Spring photos during the trees' fleeting beauty – here's where I found them!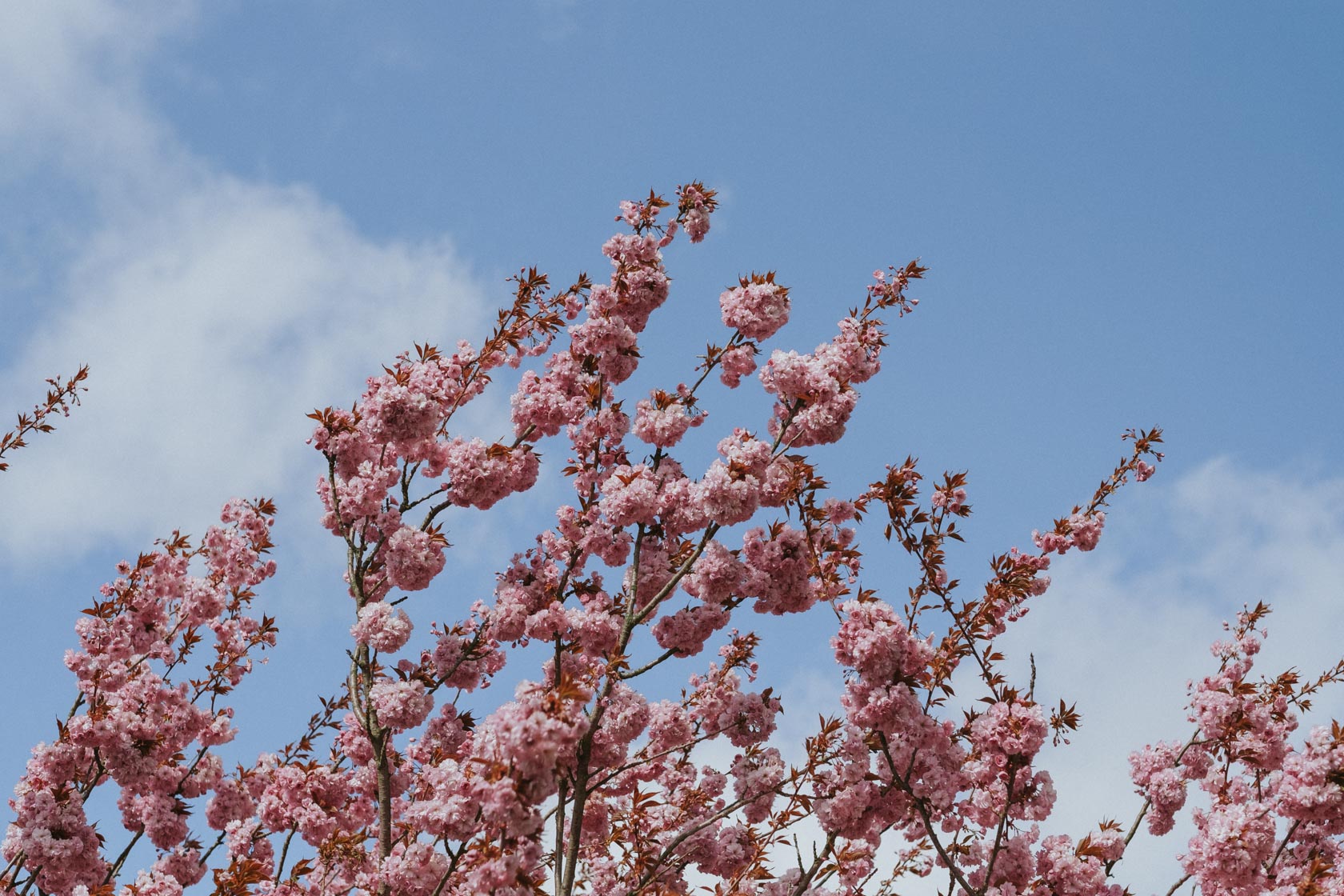 When is cherry blossom season in Berlin
There are festivals that happen throughout the city, and you can watch their shifting dates for the year to get a good idea of when the trees are expected to be looking their best. Here are the two main festivals:
The photos in this blog post were taken on the 23rd of April and the 1st of May, so you can get a general idea that cherry blossoms in Berlin are at their peak in the middle to the end of April. In a warm year it's possible that they can start as early as March, but it seems that April is a solid bet!
The cherry blossoms are at full bloom for approximately 10 days, so plan carefully if you want to enjoy the trees at their most lucious.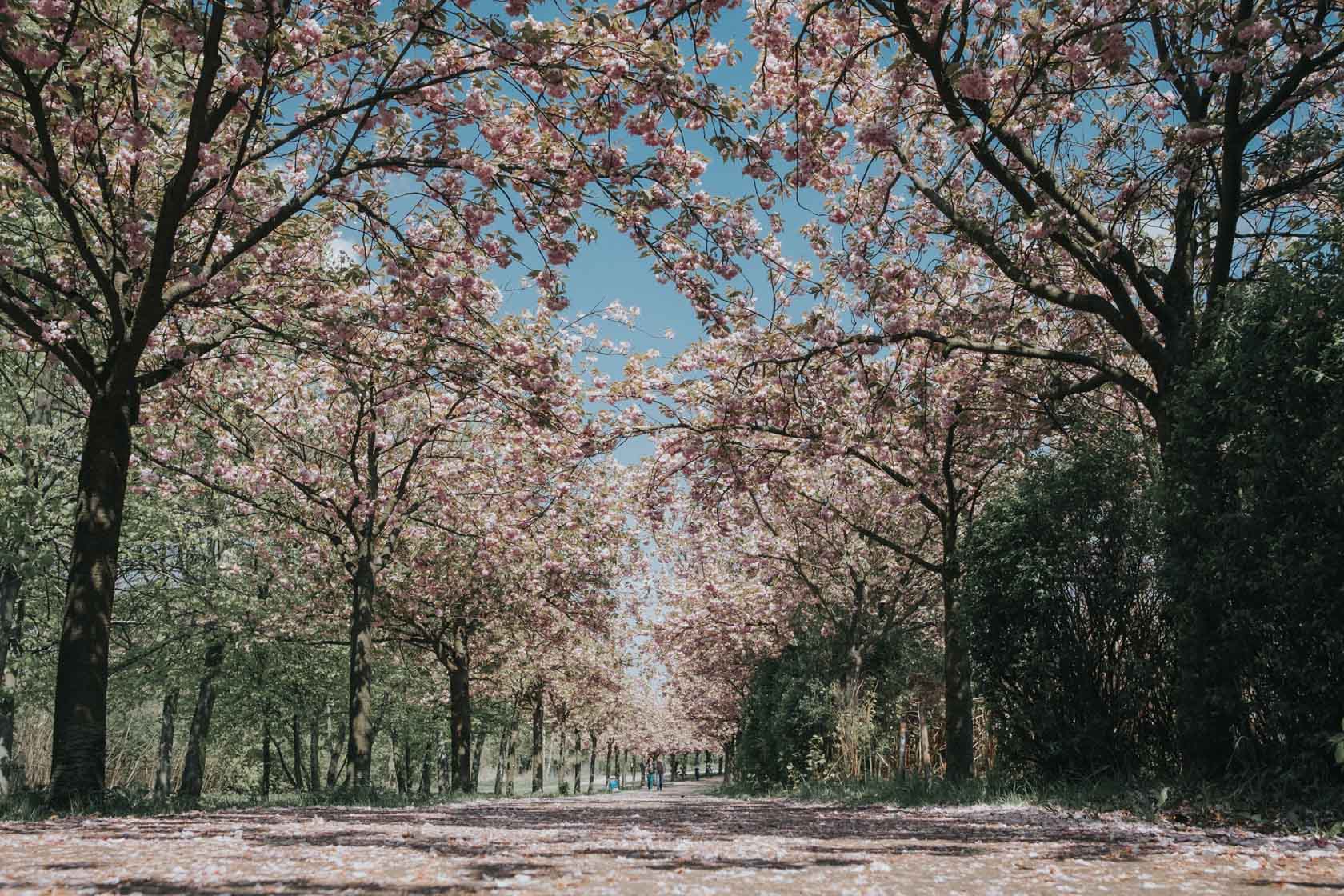 Berlin's best places to view cherry blossoms
As I said, cherry blossoms are all over the city. But here are two of the most impressive locations where you can go to see cherry blossoms in the city!
Mauer Weg at Lichterfelde Süd
I'm pretty sure this is the closest I've been to leaving "the ring" of Berlin! In the South of the city, where some of the less visited stretches of the Berlin Wall used to be, you will find two kilometers of cherry blossoms that you can walk completely unimpeded.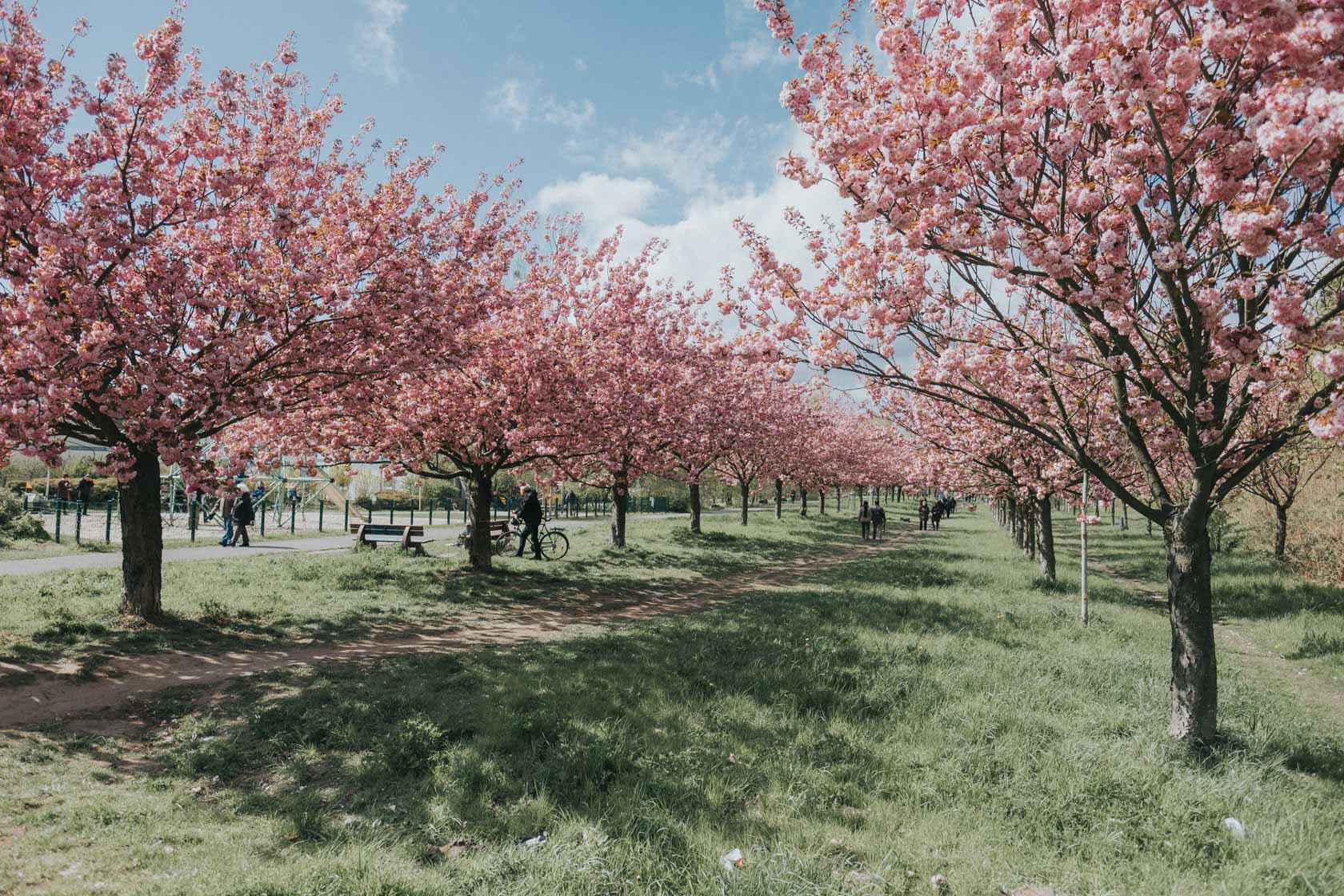 On a sunny Spring day, you'll find young couples with cameras, brides getting photographed in their wedding dresses, people dressed in costumes of characters from anime. Just walking this trail is great people-watching.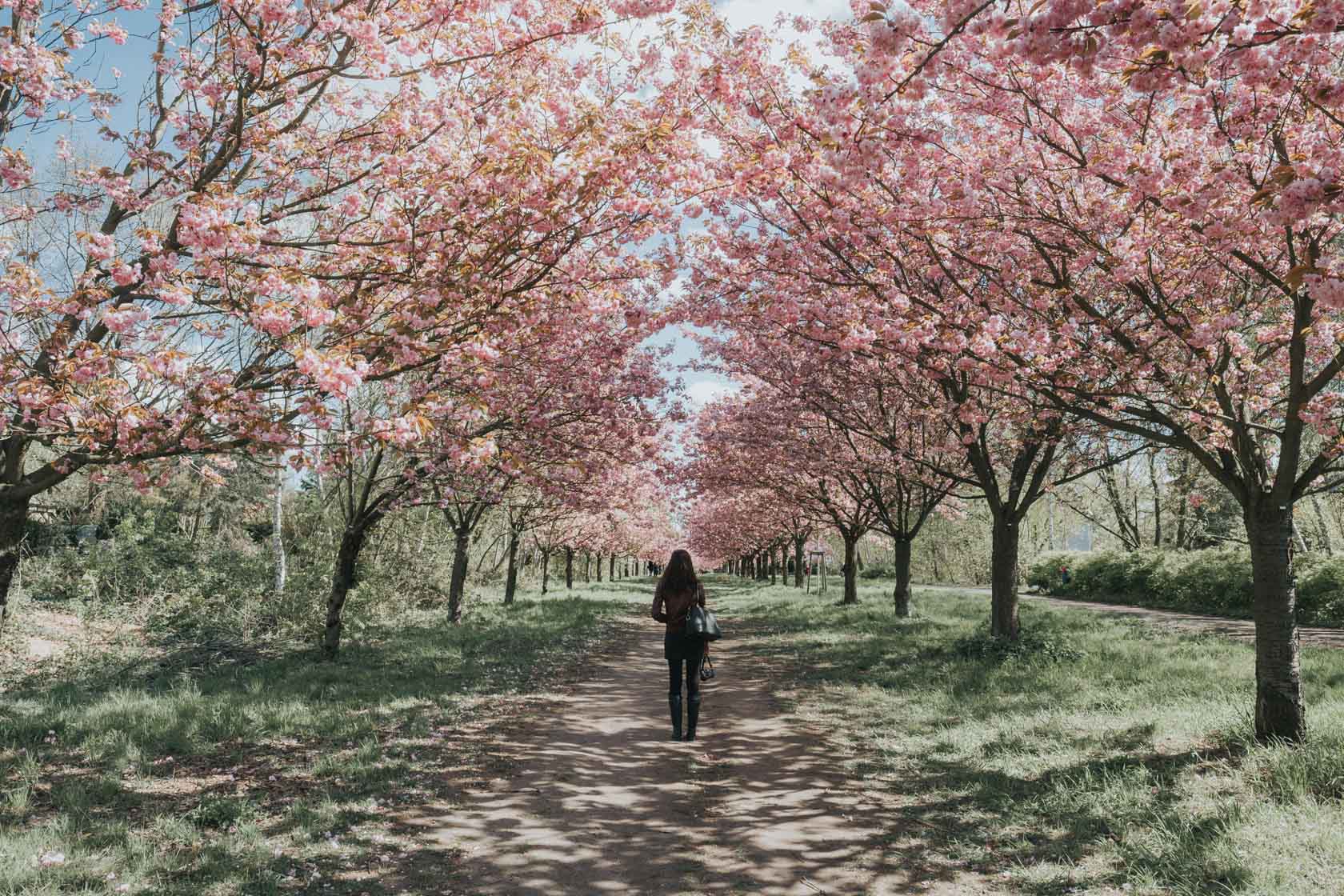 One girl was getting her wedding photos taken with a horse. And then it started raining. That's Spring in Berlin for you!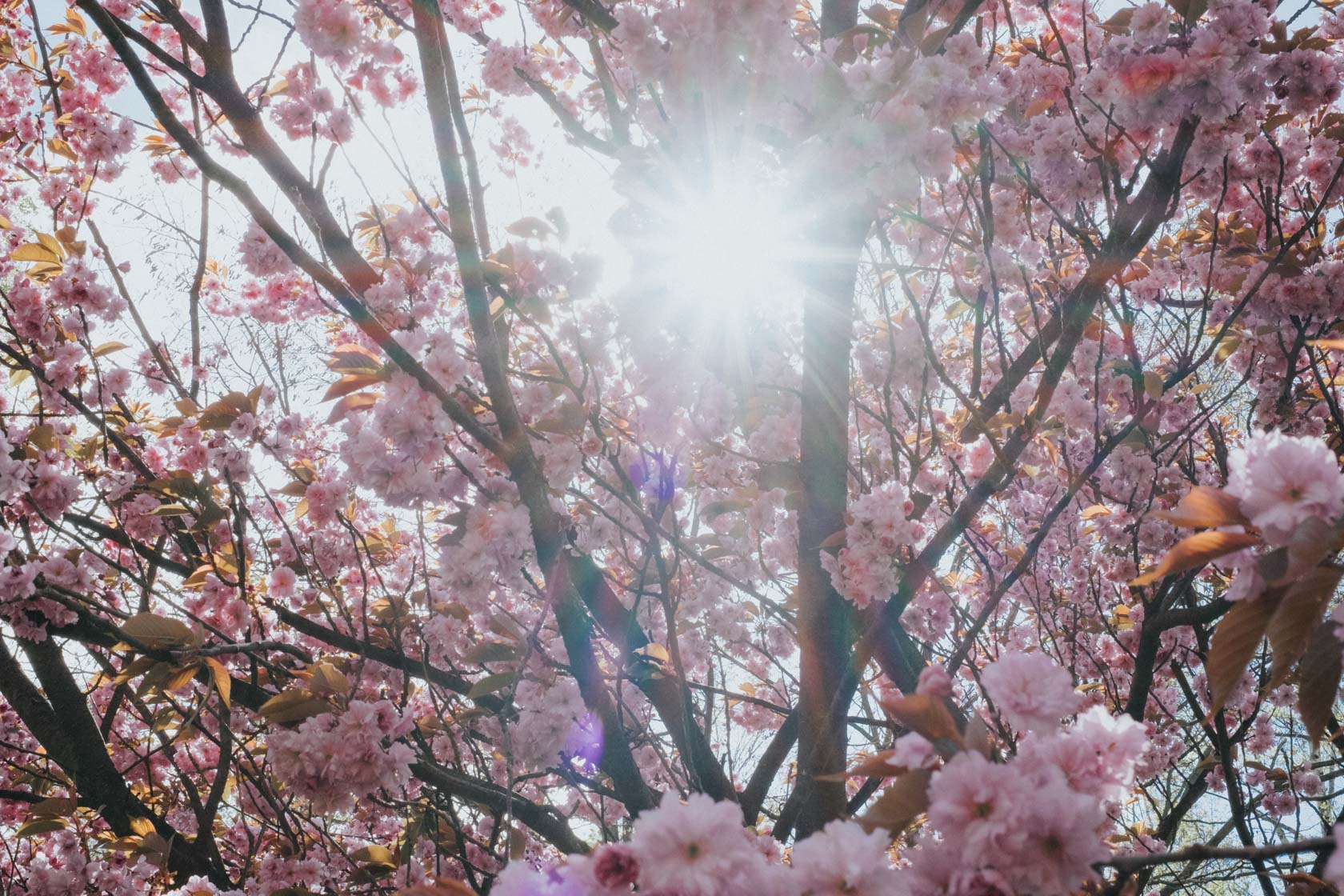 Bornholmerstraße
In the North of Berlin, on the border of Pankow, you can find another avenue of cherry blossoms close to the Bornholmerstraße S-Bahn station We had better weather on this weekend, so the photos are much sunnier and more vibrant.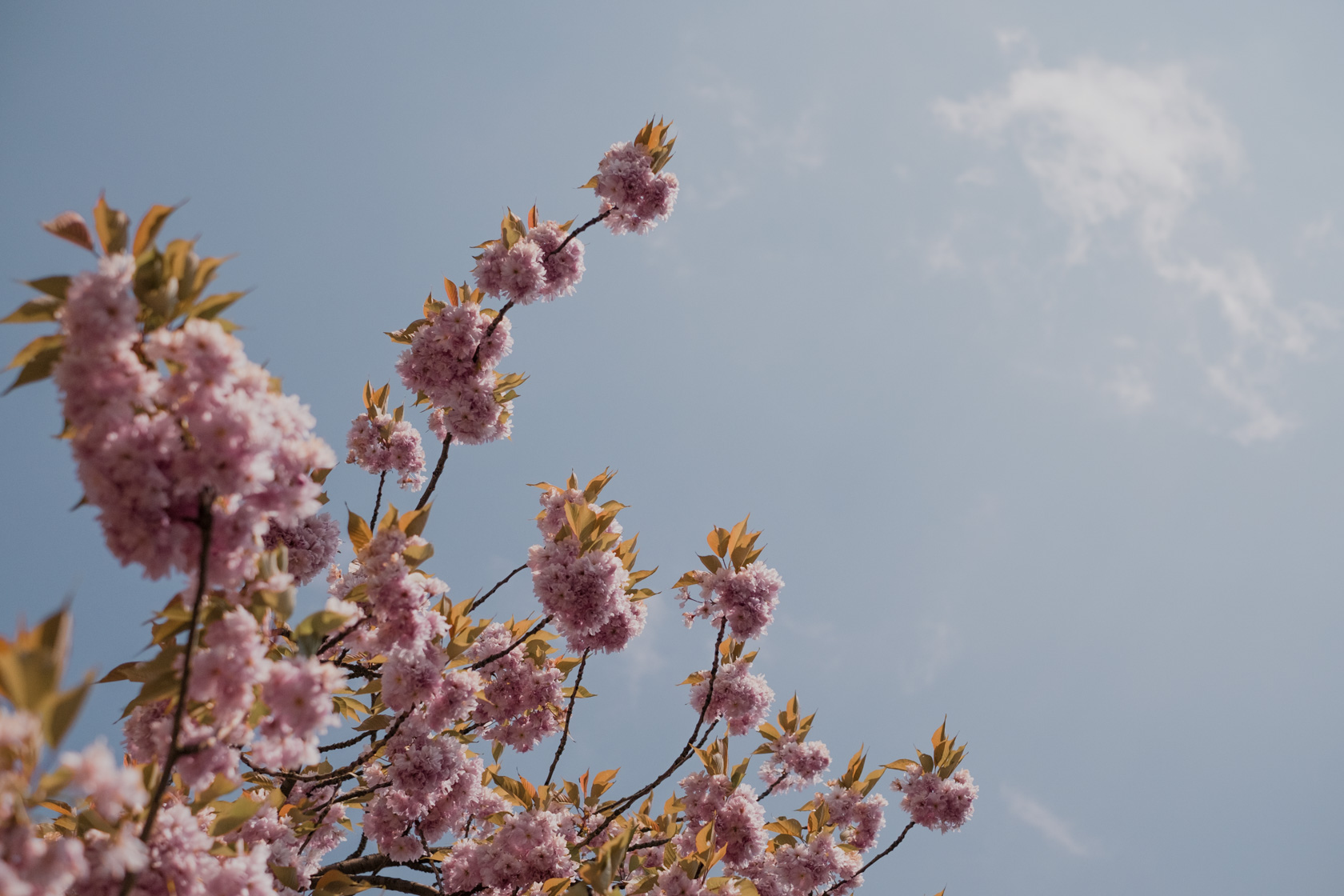 This stretch of cherry blossom trees are especially pretty because they're grown quite close together, creating a real umbrella of boughs over your head.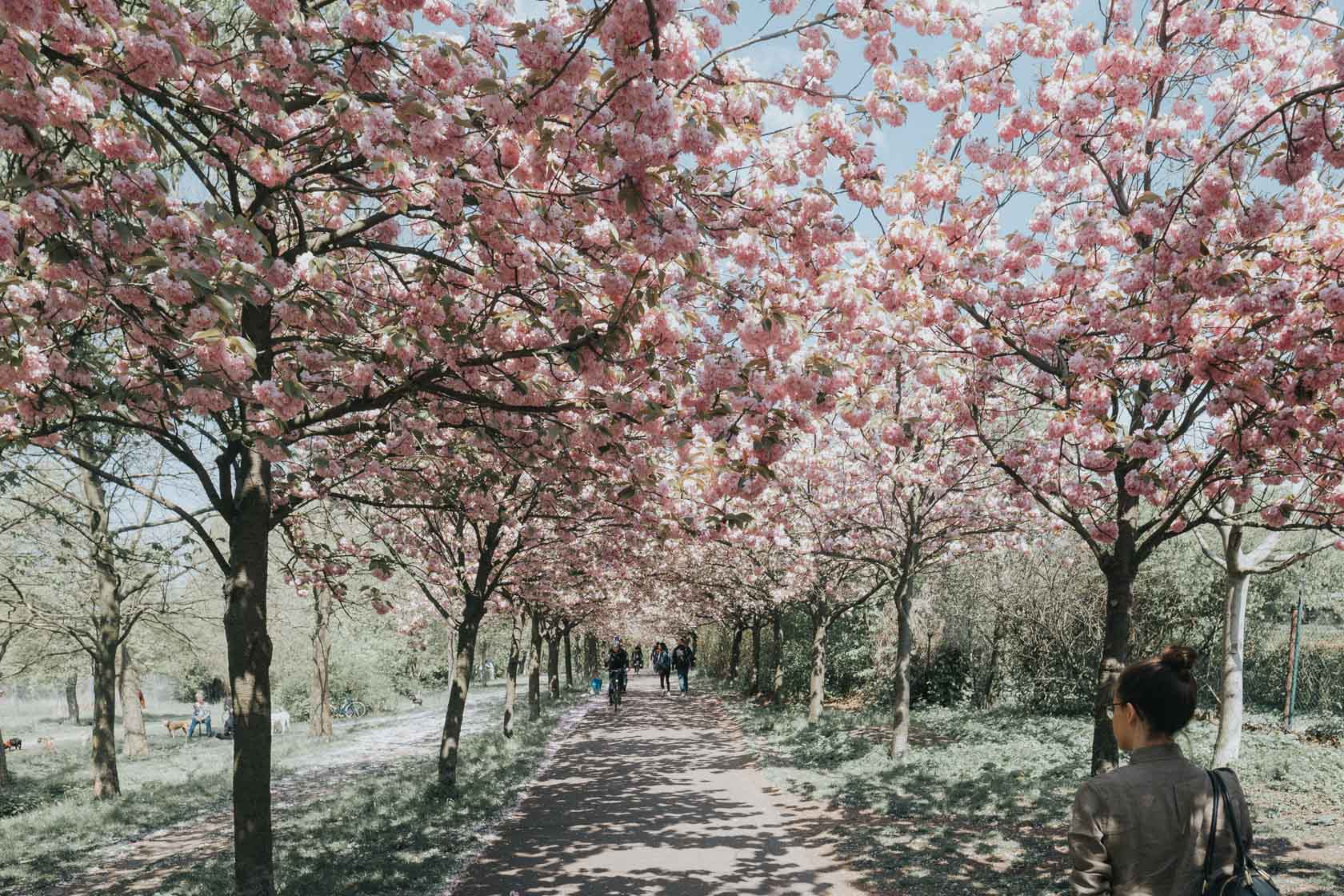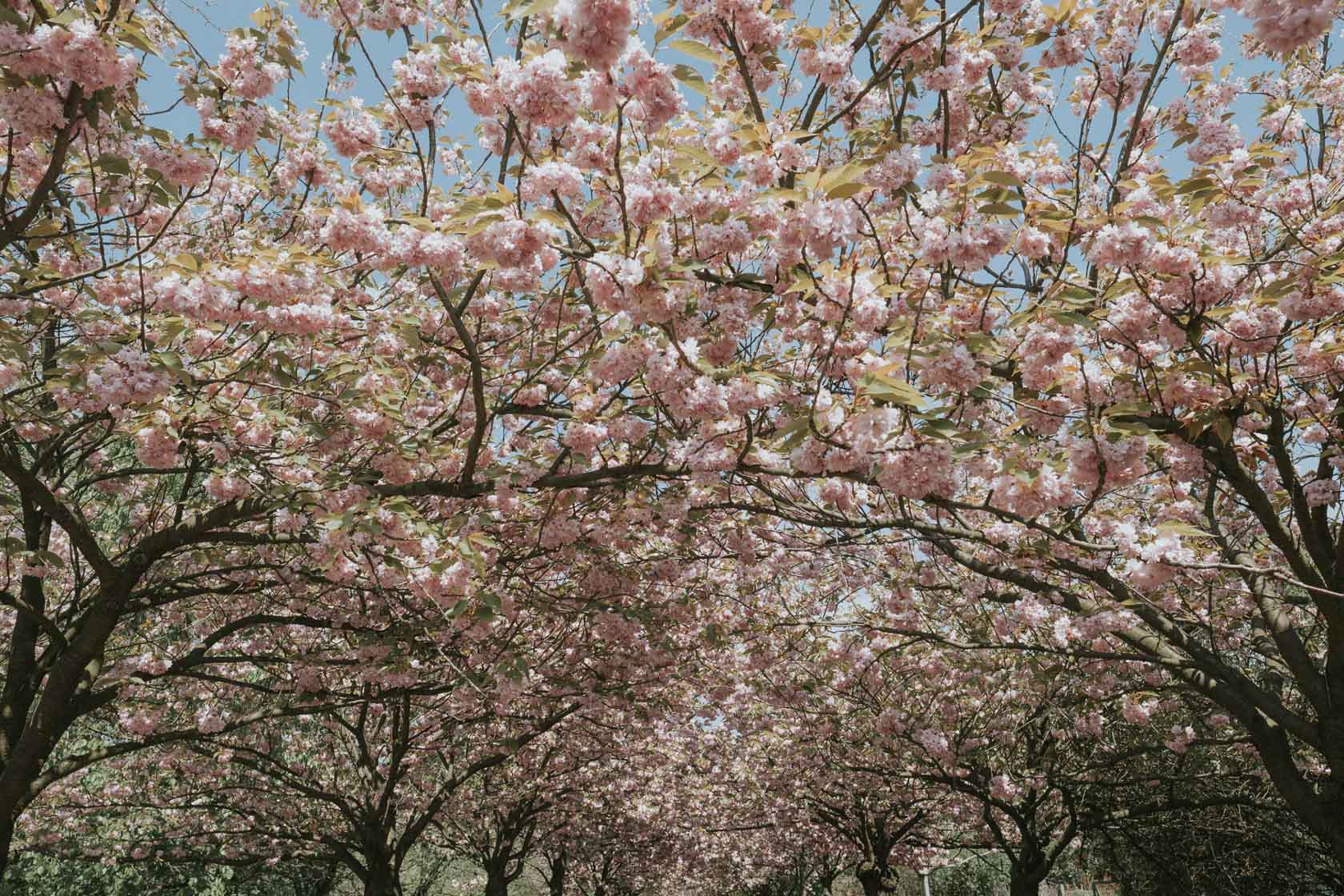 Directions to cherry blossom locations in Berlin
How to find the cherry blossoms at Mauer Weg
After exiting the S-Bahn station, walk down Holtheimer Weg. You will pass a playground on the right-hand side with some cherry blossoms, but this is a red herring! You can stop and have a look at them, but eventually you want to continue west along Holtheimer Weg until it's about to curve. At this point, you will already see the cherry blossoms, which continue as far as the eye can see in both directions.
If you opt for the left path, which is a longer stretch, you will encounter railroad lines. You can back track a bit, and there is an underpass you can take to continue seeing more blossoms until you reach the end at Japanecke (Japan Corner).
How to find the cherry blossoms at Bornholmerstraße
After you get out of the S-Bahn station, depart using the Bornholmerstraße exit. In short, the S-Bahn station is kind of "on top" of the cherry blossom avenue, you might even be able to see them once you exit the station and walk down the street. If you walk along the graffitied wall, you will eventually see a gap which leads to a long row of weekend gardening houses. At the end of this row is the cherry blossom path!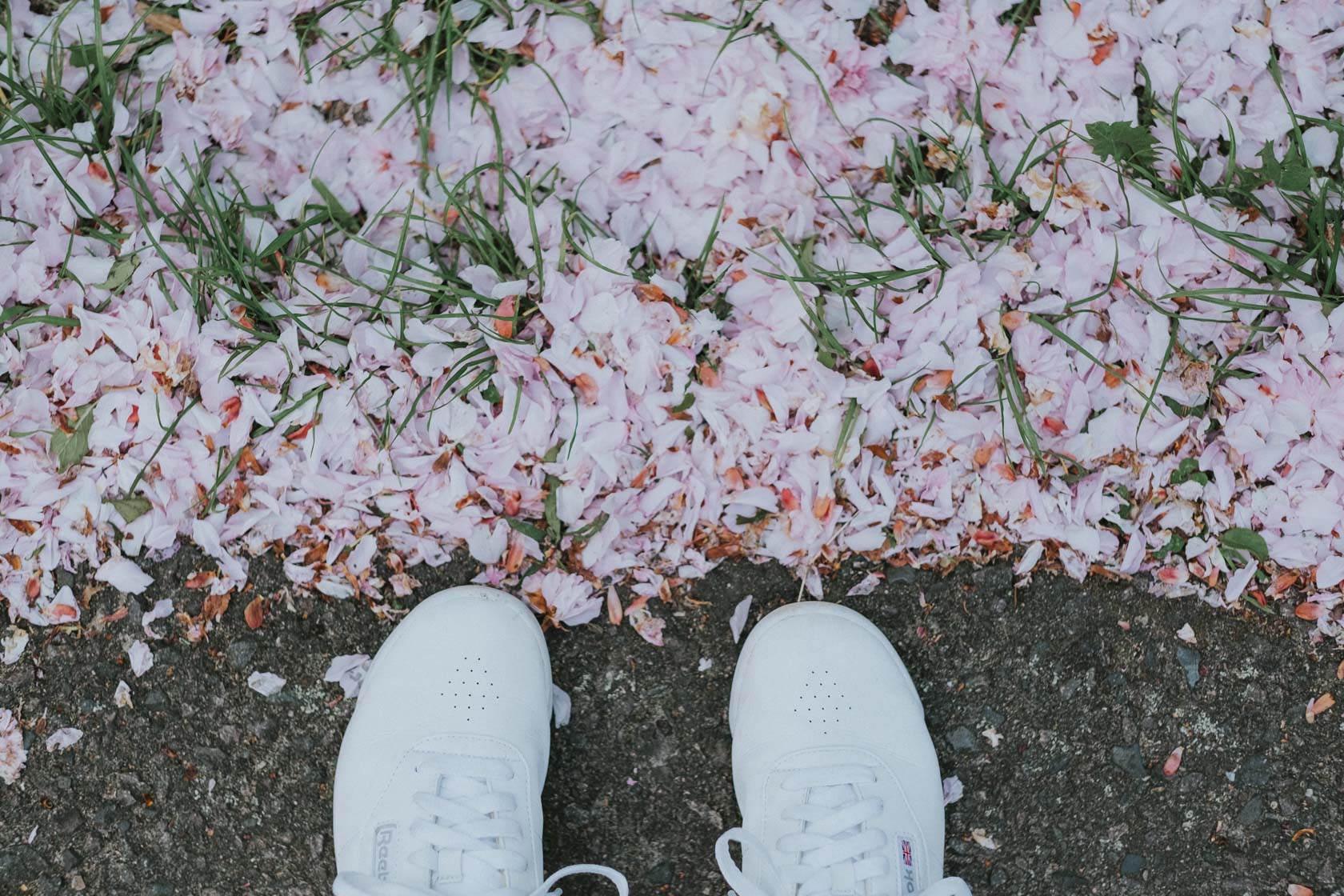 Which location for cherry blossoms is better?
I think this depends completely on what you're going for! The Bornholmerstraße are generally more grown together, so they really form a beautiful canopy of blossoms. At Mauer Weg, you have just incredibly long stretches of trees, so that is also impressive in its own way! I think the Bornholmerstraße path is nicer, but it's also much shorter and therefore more crowded too 😉
More places to see cherry blossoms in Berlin
Berlin's website has a list of cherry blossom locations around Berlin which you can use to seek out trees all over the city!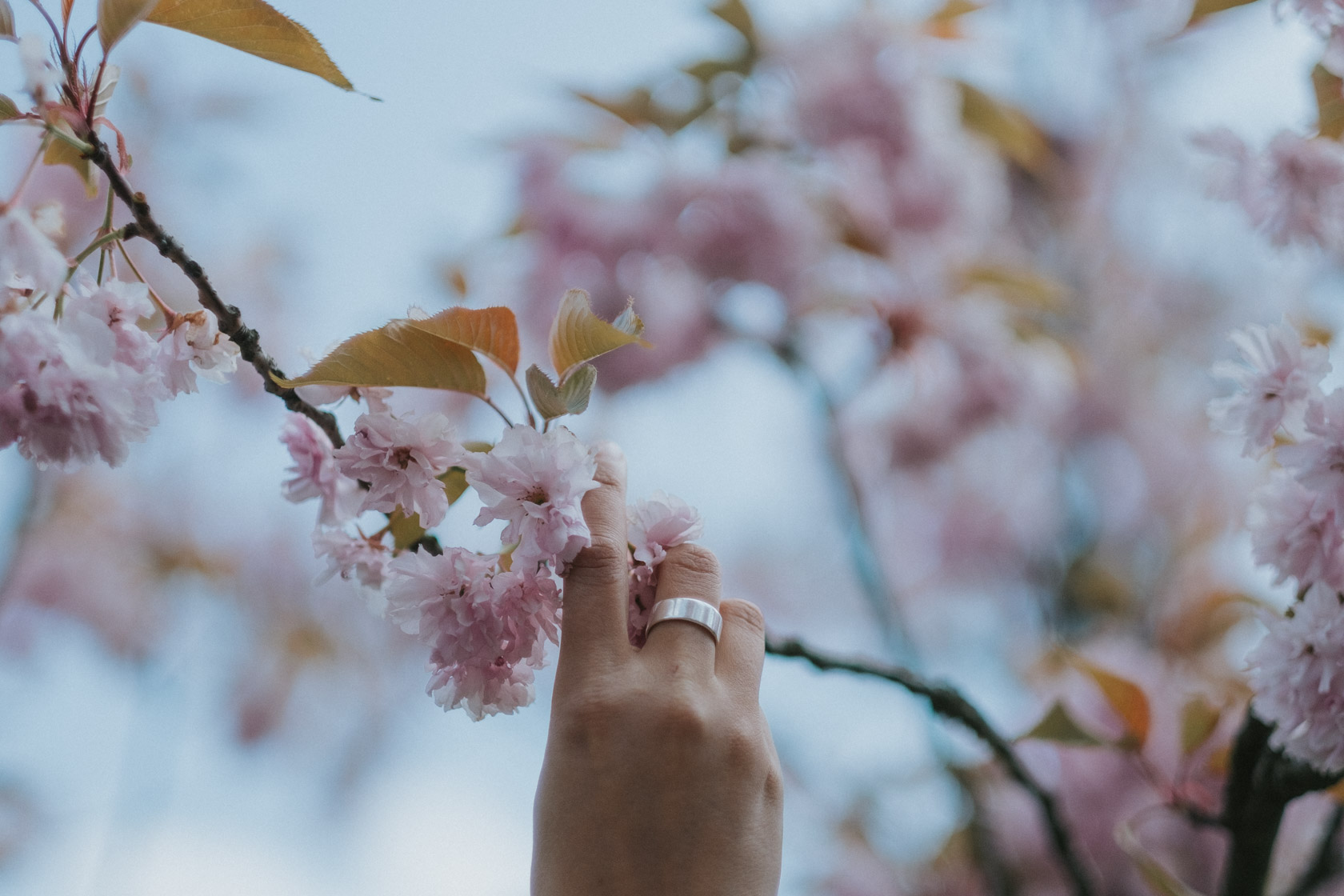 Does your city have beautiful places to observe Spring? Share them in the comments!
Pin this post for later!