Berlin, Germany
There is something so special about Berlin in Autumn. It's like one day, the whole city wakes up and thinks, "I should wear a sweater today." And then it happens – everyone is decked out in Autumn gear and shifts their lives from shorts to shawls, parks to pubs, from Radlers to radiators. Last weekend I was leading a pair of friends around the city, only just seeing Berlin through autumn eyes. It was so much fun to bundle up and go out to the bars or hunt around for eagar red foliage amid the incipent yellow leaves. To see Berlin in Autumn is to see a place in flux, and all the beauty in that transformation!
"Autumn is a second spring when every leaf is a flower."
— Albert Camus
Tweet this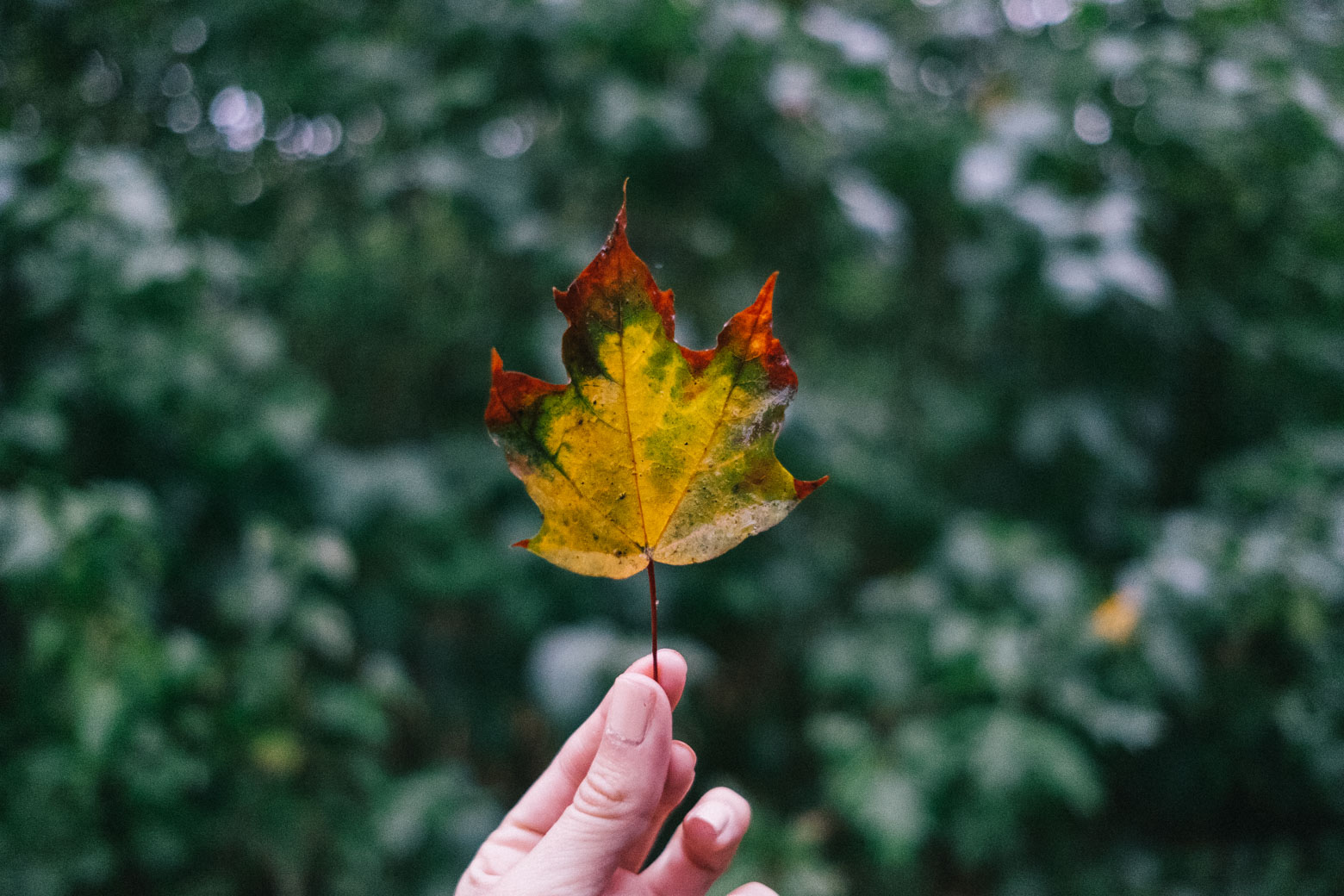 1. Enjoy the off season at the biggest tourist sights
Berlin in the off season is a dream – the queues and waiting seems to melt away just as soon as the summer sun sets for the last time. The city's most popular sites, some of which can warrant weeks on the waiting list or uncomfortably close encounters with your tourist counterparts, are suddenly accessible spontaneously. And what could be better than rolling out of bed and deciding to do something totally unexpected with your day in Berlin?! Here are some examples of Berlin's most iconic sights that become more pleasurable as the crowds disappate.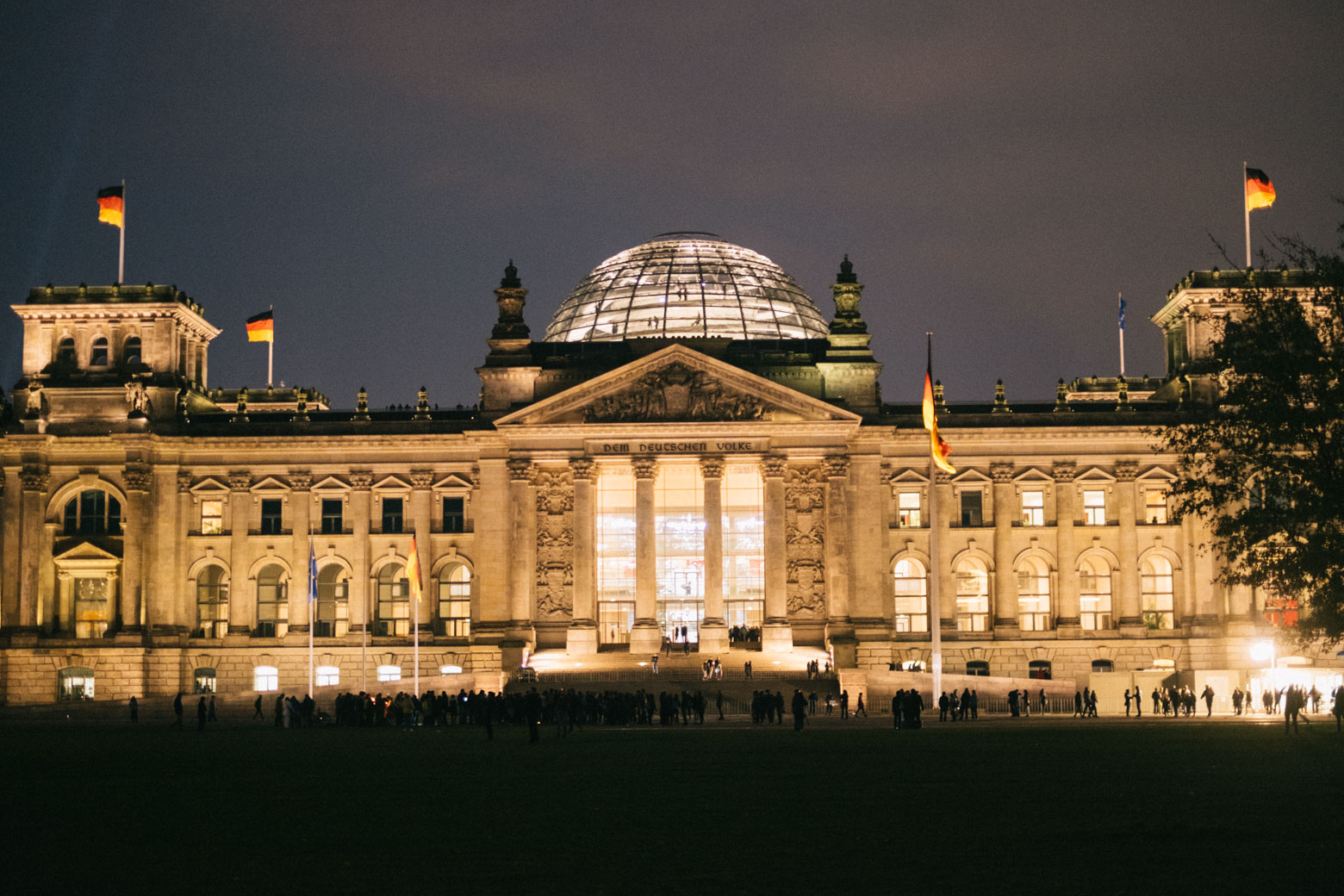 Getting a tour of the Reichstag or going up in the dome has got to be one of the top itinerary item for any first-timer in the city. From here you get panoramic views that will convince you, if nothing else, that Berlin is a proper European capital complete with all the lights and sounds that comes with the role.
The earliest you can possibly visit for the typical, free entry to the Reichstag is two months in advance. However, it's also possible to turn up on the same day (minimum two hours in advance) and take your chances with there being space on the list. During high season, it's much more important to register in advance as the spots fill up quickly (hello, free!) but in the Autumn, a week or two is totally sufficient to guarantee a spot!
Click here to register for a visit to the Reichstag
2. Take shelter on Museum Island on a rainy day
What better way to enjoy the inevitable Autumn rain than by heading indoors and taking in some culture? Luckily, Berlin is the only capital with more museums than rainy days. But if you do find yourself unlucky, Museum Island has got you covered (literally, ha! Okay, that was bad…).
You can think of the island as the "Greatest Hits" of Berlin's vast collection of museums. Since they're so close to together, it's easy to hit up several in the same day, and you can get a multi-pass to make the trip even more economical.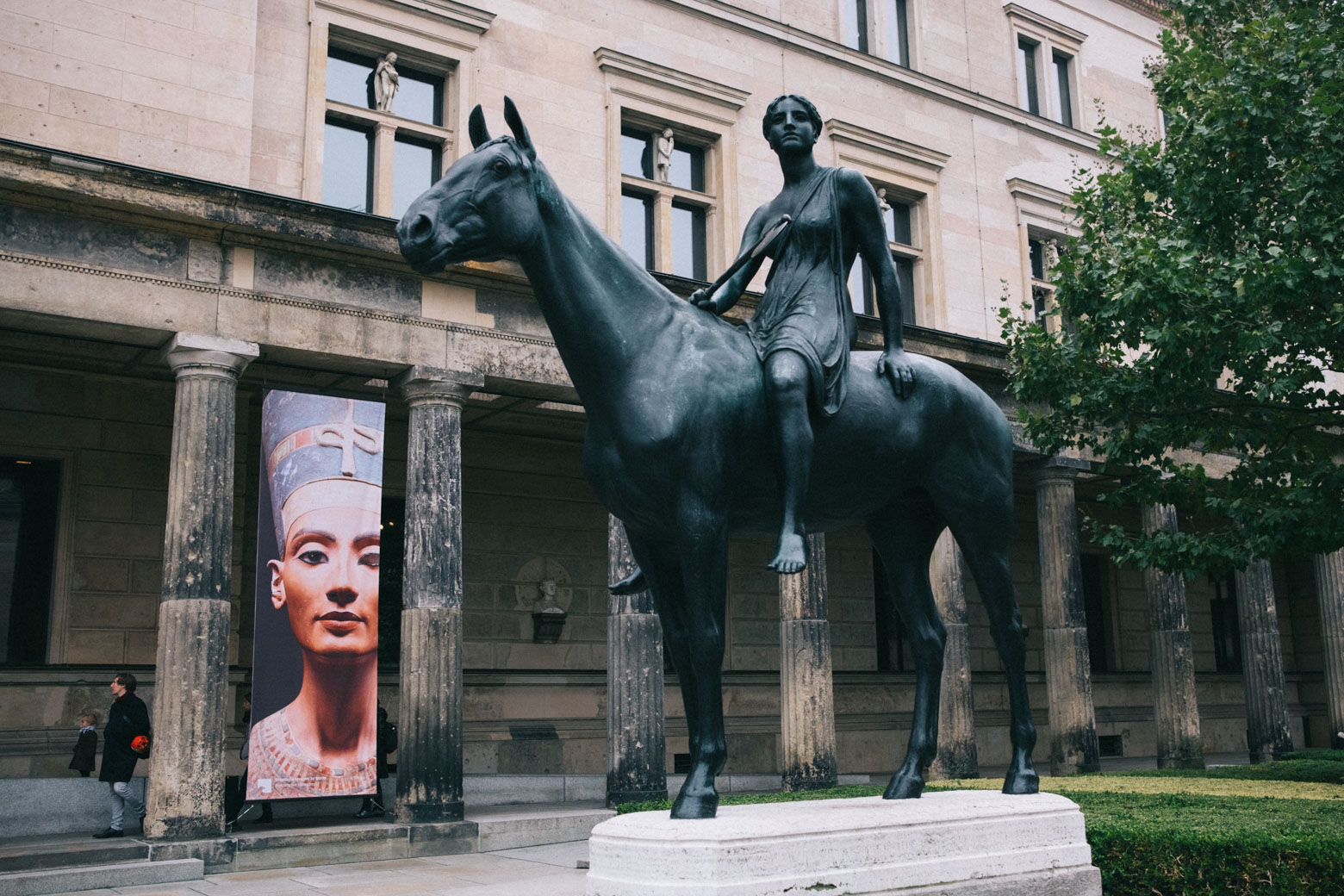 The Neues Museum is a classic, crowd-pleaser with its extensive Egyptian collection featuring full walls of papyrus from the Book of the Dead as well as the main star – Nefertiti's original bust, in all its ancient color. It is seriously impressive that the pigment is so well-preserved, and surely the reason for that is that NO PHOTOS ALLOWED!!! If you're into Ancient History and love a good mummy story, Neus is just your ticket.
Most recently I went to the Bode Museum , which is renouned for its collection of Byzantine sculpture. Right now its temporary exhibition is a comparison of the three Abrahamic religions, how they get their start, including historical artifacts from each. One of the most memorable parts is how huge monks hoods are how much they really have in common. Bode also has an enormous collection of coins from basically the dawn of time, as well as some seriously impressive artifacts that have been moved from their original locations – namely, HUGE mosaics and a room made of mirrors.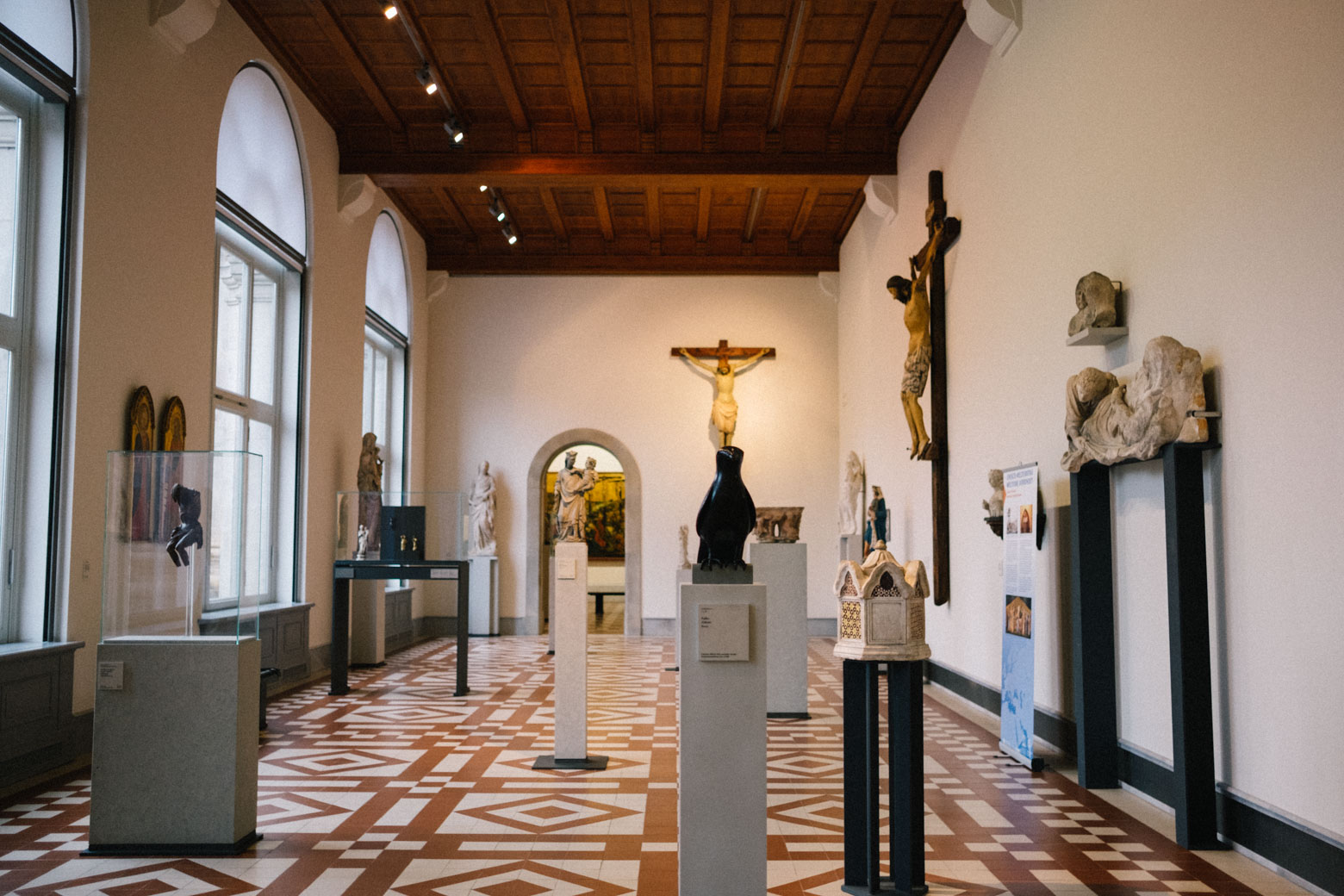 3. Enjoy the parks and gardens in full Autumn foliage
Berlin is by far one of the greenest European capitals. What it lacks in personality from the remaining Soviet-style buildings in the East, Berlin makes up for with vibrant parks that look beautiful in any season.
My favorite parks in Berlin to enjoy the change in season are:
Viktoriapark – Hands down my favorite park, this spot sports a magnificent waterfall and panoramic city views.
Tiergarten – Berlin's biggest park hosts the avenue of yellow-leafed trees you can see from the Victory Column.
Britzer Garten – Outside Berlin's city limits, Britzer garden is gorgeous in any season.
SEE ALSO: 50 things to do in Berlin for more beautiful spots to get in touch with nature in and around Berlin.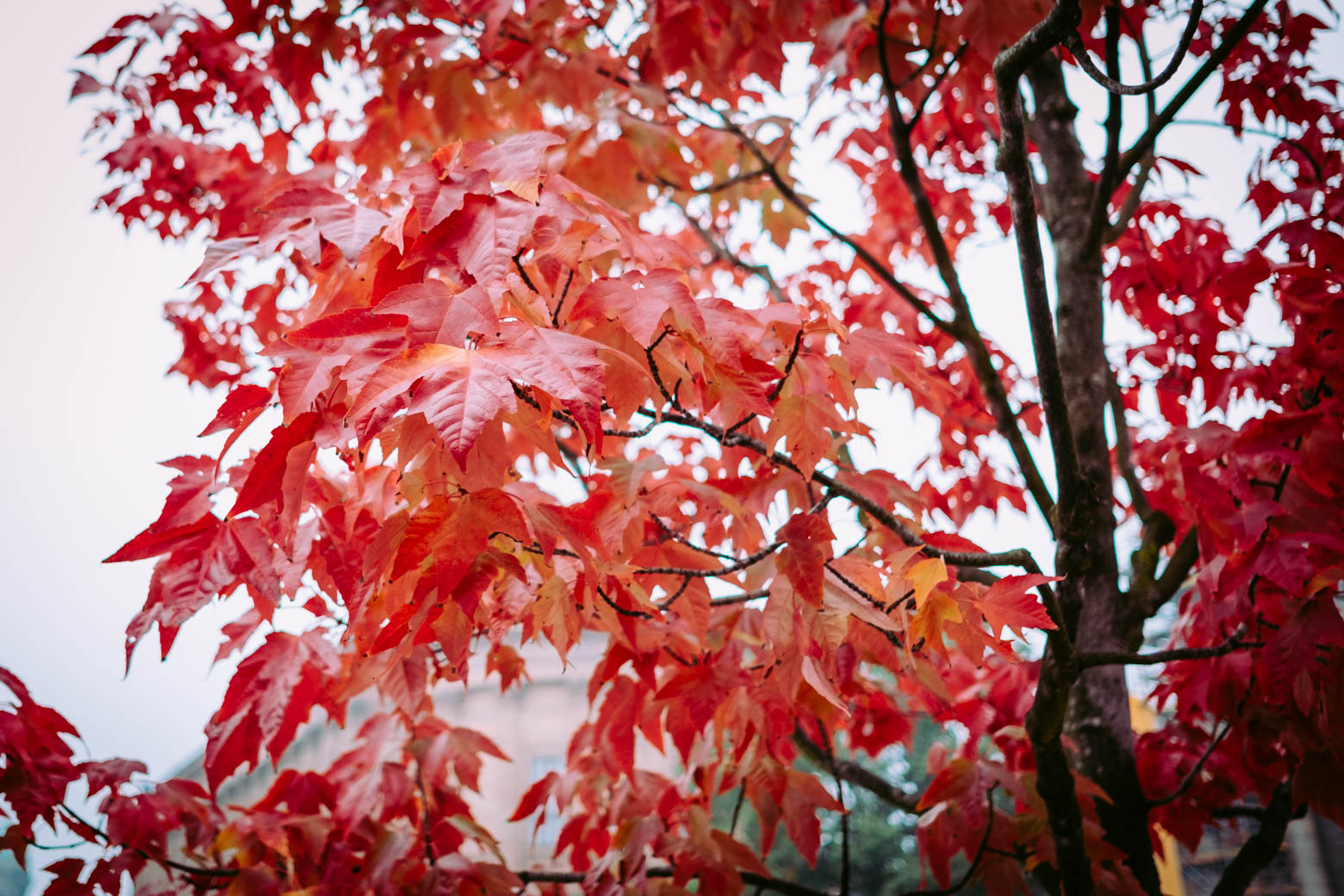 4. Warm up with pay-what-you-want wine
For me, one of the clearest signs of the change of season is that I'm swapping out the white wine in favor of red (let's be real, rosé is timeless). Luckily, wine in Berlin is incredibly cheap – in fact, showing off this fact is one of my favorite ways to impress upon visitors that my quality of life in this country is seriously high. Besides the supermarket, one the best spots for a solid glass of wine is at Der Weinerei (Perlin) . It works like this: You place 2€ in a Bacchus-shaped piggy bank for your glass, help yourself to a selection of open wines at the counter, and drop what you think it was worth at the end of the evening in a glass jar at the end of the evening.
5. Enjoy the seasonal specials on chanterelles, apples, and pumpkins
I've said it before: living in Europe really impressed upon me what it's like to eat seasonally. Luckily, I adore Autumn produce and the frenzy it sets off throughout the city to create themed menus. It's easy enough to find full pages dedicated to dishes involving Chanterelles (which, by the way, you can buy from the supermarket in adorable woven baskets!). You'll also find a bounty of apple desserts to top off the season menu. Yummm.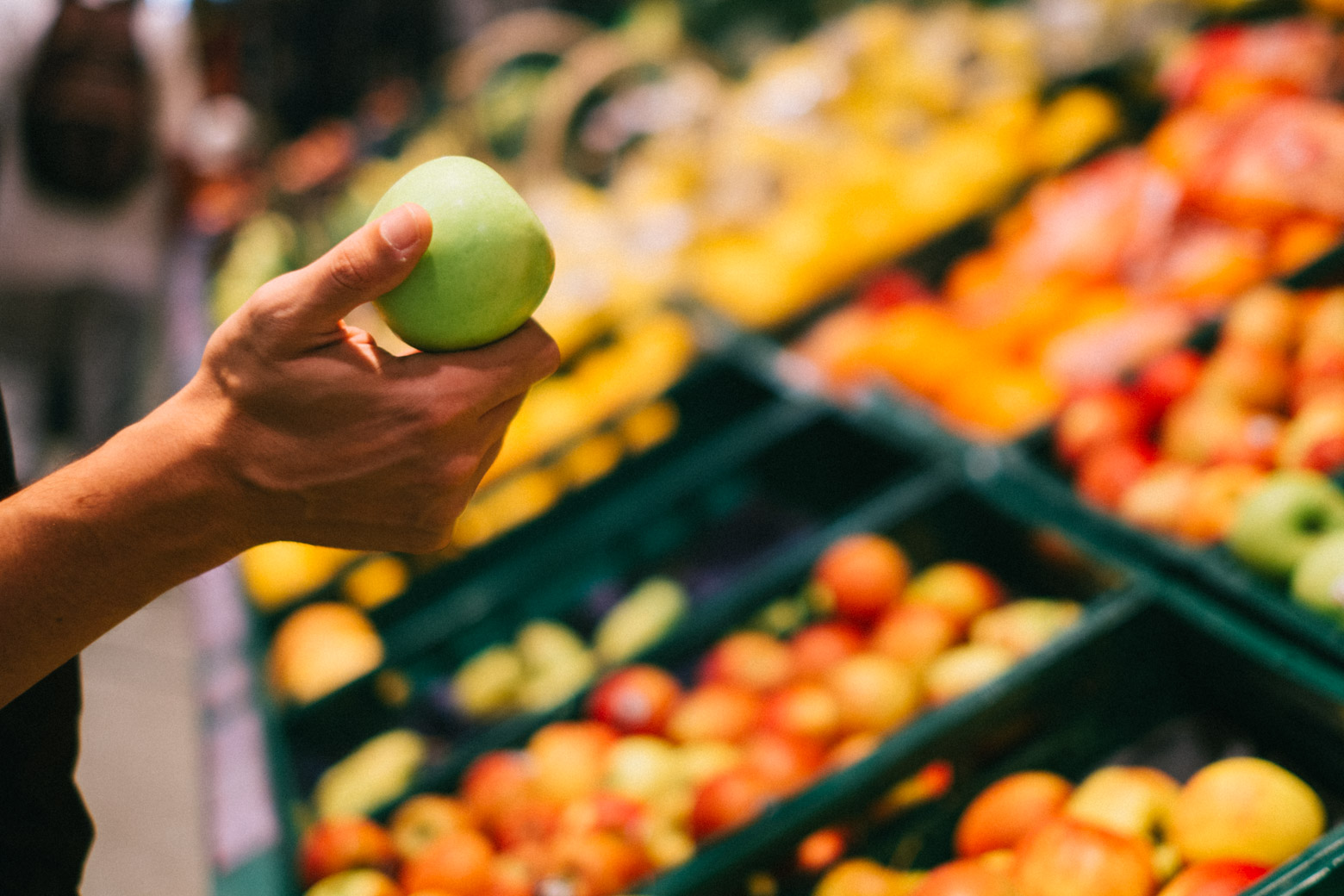 6. Celebrate Oktoberfest (yes, Berlin has it too)
If you're not in Bavaria for Oktoberfest (which actually happens at the end of September), don't fret – Berlin has its own renditions which are more economically priced and longer-lasting. All the enormous beers, girls in Dirndln and boys in Lederhosen are still to be found. Check out this list of Oktoberfests in Berlin.
7. Climb the Victory Column
The narrow climb to the top of the Victory Column (Siegesäule) leads to a just-as-narrow observation deck. During the summer, it can get downright claustrophobic trying to pass people on the way up and the way around the tower. Fastforward to Autumn – the stairs and the deck are much more breathable, and there's less competition for that perfect shot down the road leading to the Brandenburg Gate. You tell me – isn't this picture a little more special thanks to the gold-lined street?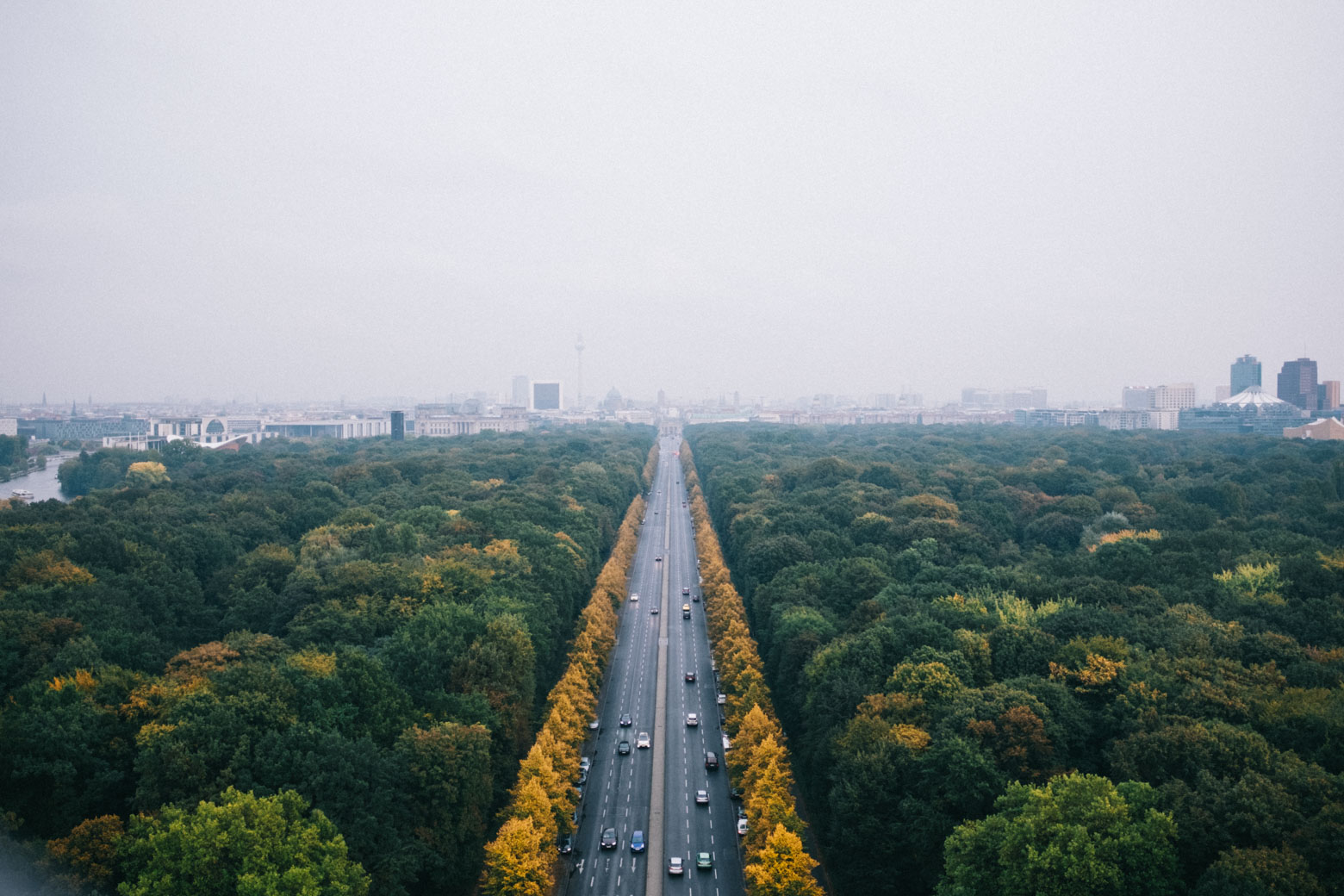 This view costs only 3 EUR and a brief cardio workout. Worth it? You tell me!
8. See a film at once of Berlin's international cinemas
Moving to Berlin changed my life in a lot of ways, but one way I noticed first was having access to English-language movies! In some cases, you can even see them without distracting subtitles – a real sign that this is a truly international city, if you ask me. I really enjoy meeting up with my boyfriend afterwork and seeing something spontaneous at the Hackescher Höfe Kino , which is a small and intimate theatre hidden in plain sight at Hackescher Markt.
Even though most people don't see movies when visiting a new place, I think it's worth doing in Germany for the fact that it's different here. For one, sweet popcorn is king and many kinos (cinemas) don't even serve big brand soft drinks. If you want the "classic" experience, you can still go to the more maintstream Sony center for a massive combo that'll double the cost of admission 😉
In Autumn there's also International Short Film Festival, which happens all over Berlin around the mid of November.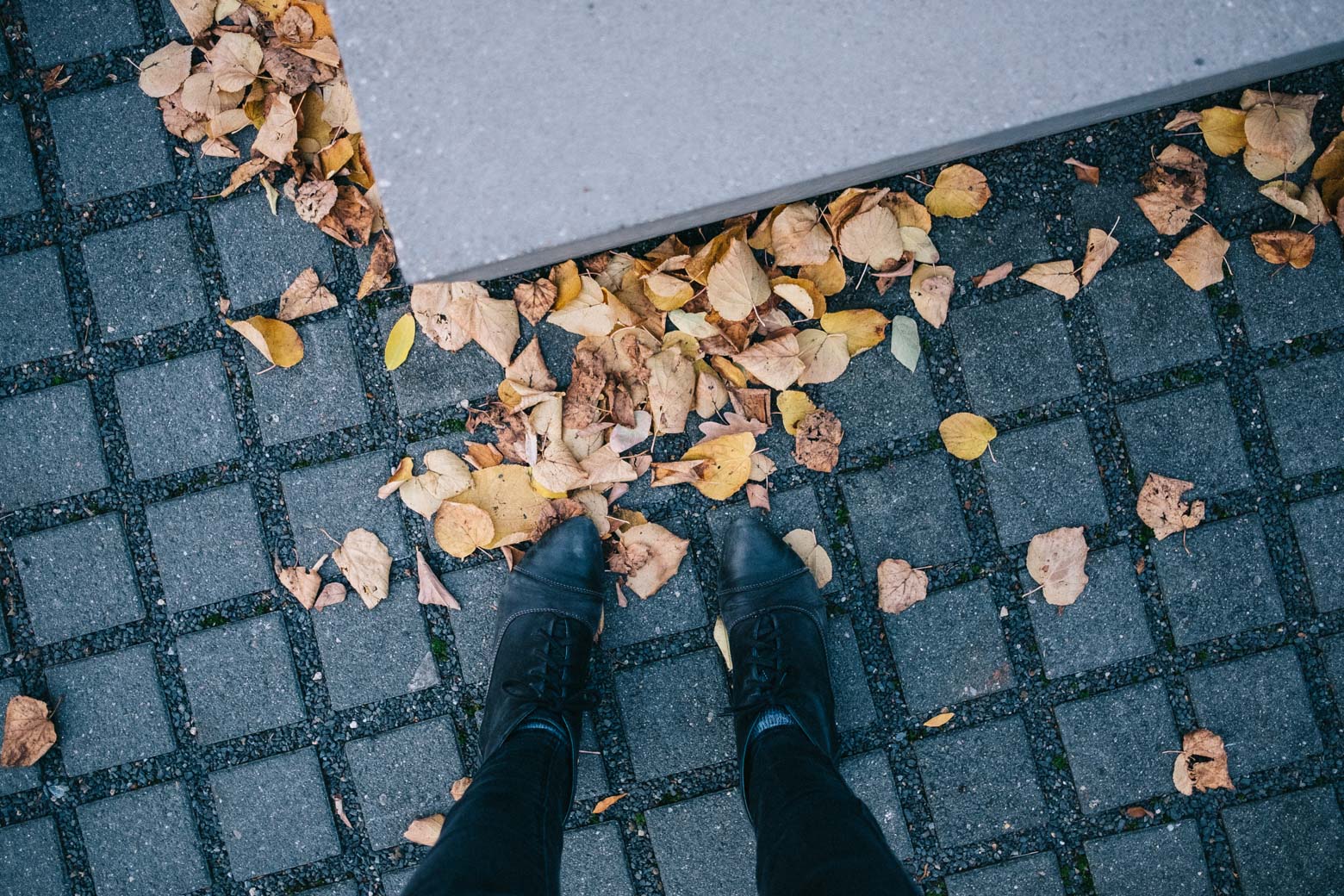 9. Go sweater shopping in the West
Affectionately known as Ku'damm, West Berlin's Kurfürtestendamm is one of the city's most famous avenues – and the best known for shopping. Here you can find a full range of shops to satisfy your sweater cravings – from H&M's various spin-offs like & Other Stories and COS to designer clothing from floor to ceiling in KaDeWe (Kaufhaus des Westens, literally "Department store of the West"). Here, between 40,000 and 50,000 shoppers pass through eight floors housing more than 380,000 articles every day. My staple on this street is the massive Uniqlo, a Japanese brand that specializes in affordable but quality basics (hello cashmere!).
Warm shops and shopping centers are the perfect spots to hop between as you stay warm on a particually cool Autumn day. The area also has some cool spots for cocktails and coffee once you need a break after all the shopping!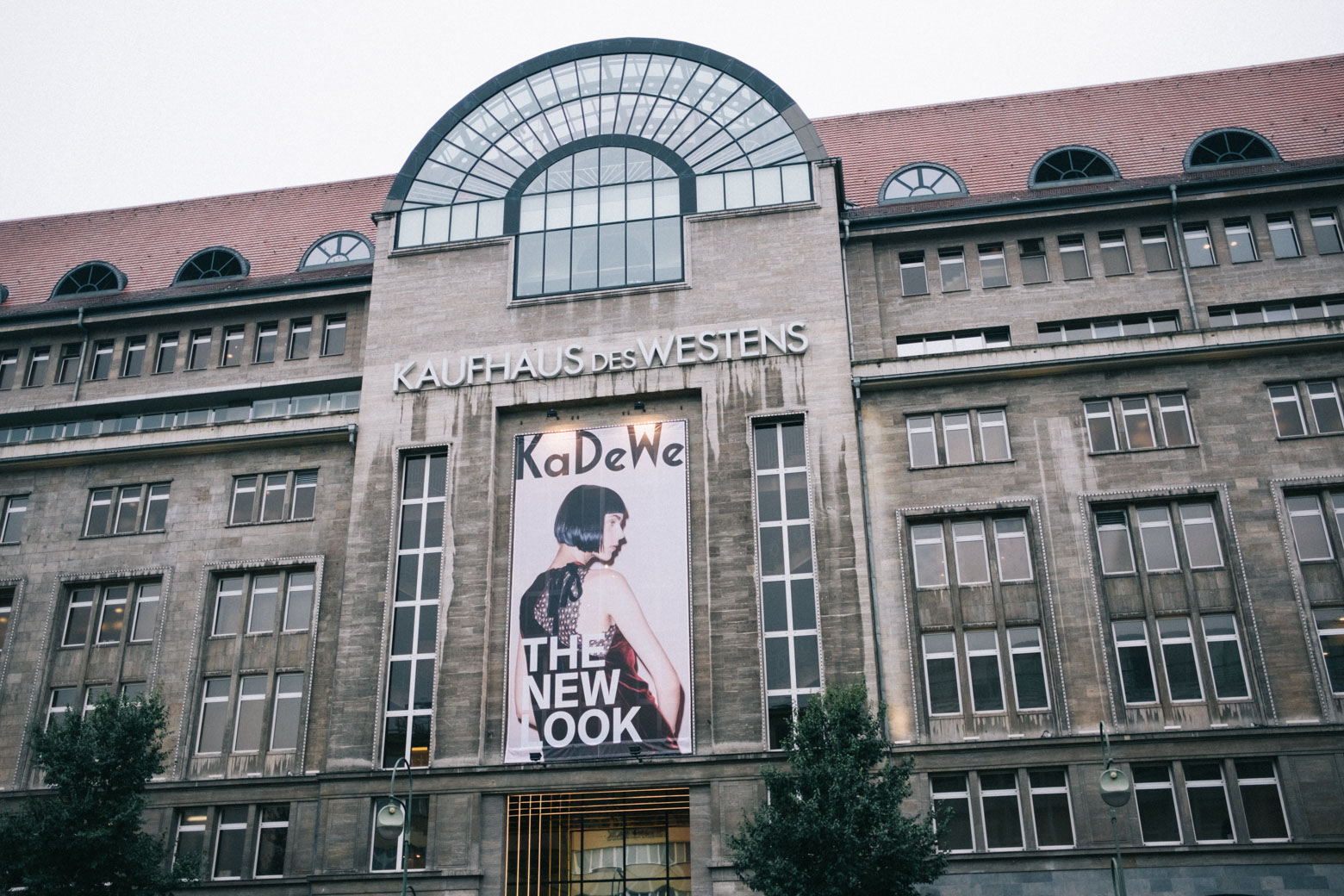 10. Get in the holiday spirit at the Christmas market
This one is cheating – but I love Christmas markets so much that I can't stop myself from mentioning it! The Christmas markets typically start up at the end of November…and you'd better believe I will be a regular before the month is out. Check out this great list of Christmas markets, which seems to show that the markets universally consider the 21st of November the day to open their doors. Stay tuned for an upcoming post about the best things to do during Winter in Berlin! Spoiler: Christmas markets might top the list 😉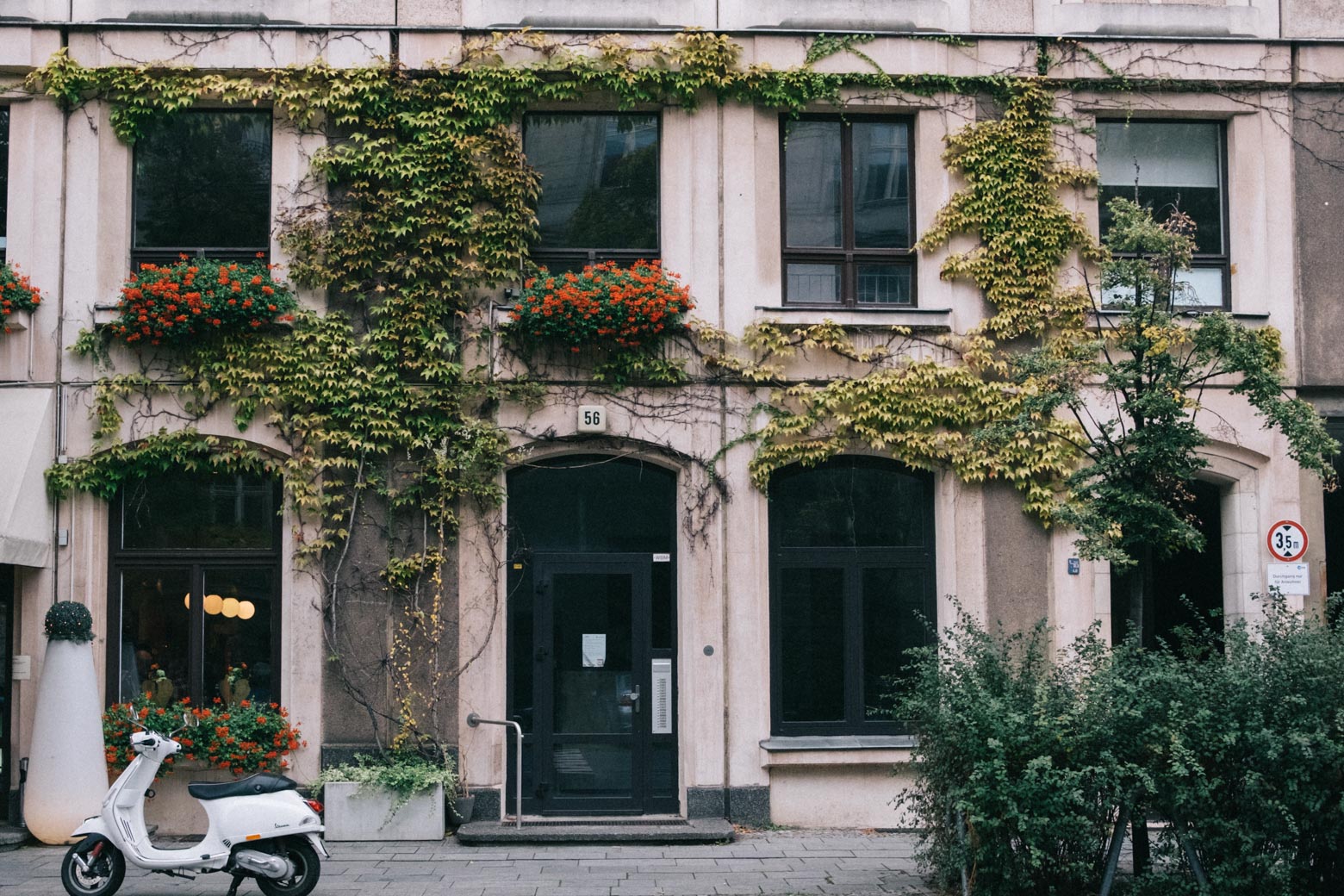 Where is your favorite place to experience Autumn? Have you ever thought about traveling somewhere just to experience Autumn in that town / city / country?
Please share in the comments, I'd love to know where your Autumn adventures are taking you!