Germans love saying that Berlin is nothing like the rest of Germany. It's one of their first pieces of wisdom to impart – when in reality, that piece of wisdom SHOULD be telling unsuspecting foreigners that Wurstsalat is NOT a salad with sausage but a salad of sausage. I digress.
Since Berlin is nothing like the rest of Germany, you wouldn't expect to find much in the way of traditional German vibes – sure, Berlin has neckbreaking cobblestone streets, but is severely lacking in most other characteristics you expect to find in a proper German city – namely, _Fachwerkhäuser_, people actually wearing Lederhosen, and places where you can buy a liter of beer in one mug.
Nikolaiviertel, Nikolai Quarter, is a tiny, one-city-block-sized exception in the very heart of Berlin. After being bombed to smithereens in WWII, Berlin reconstructed the Nikolaiviertel, which had been the earliest settlement in Berlin, dating back to 1200. For the Americans in the room – that is LONG before we were a twinkle in King George's greedy, tax-collecting eye.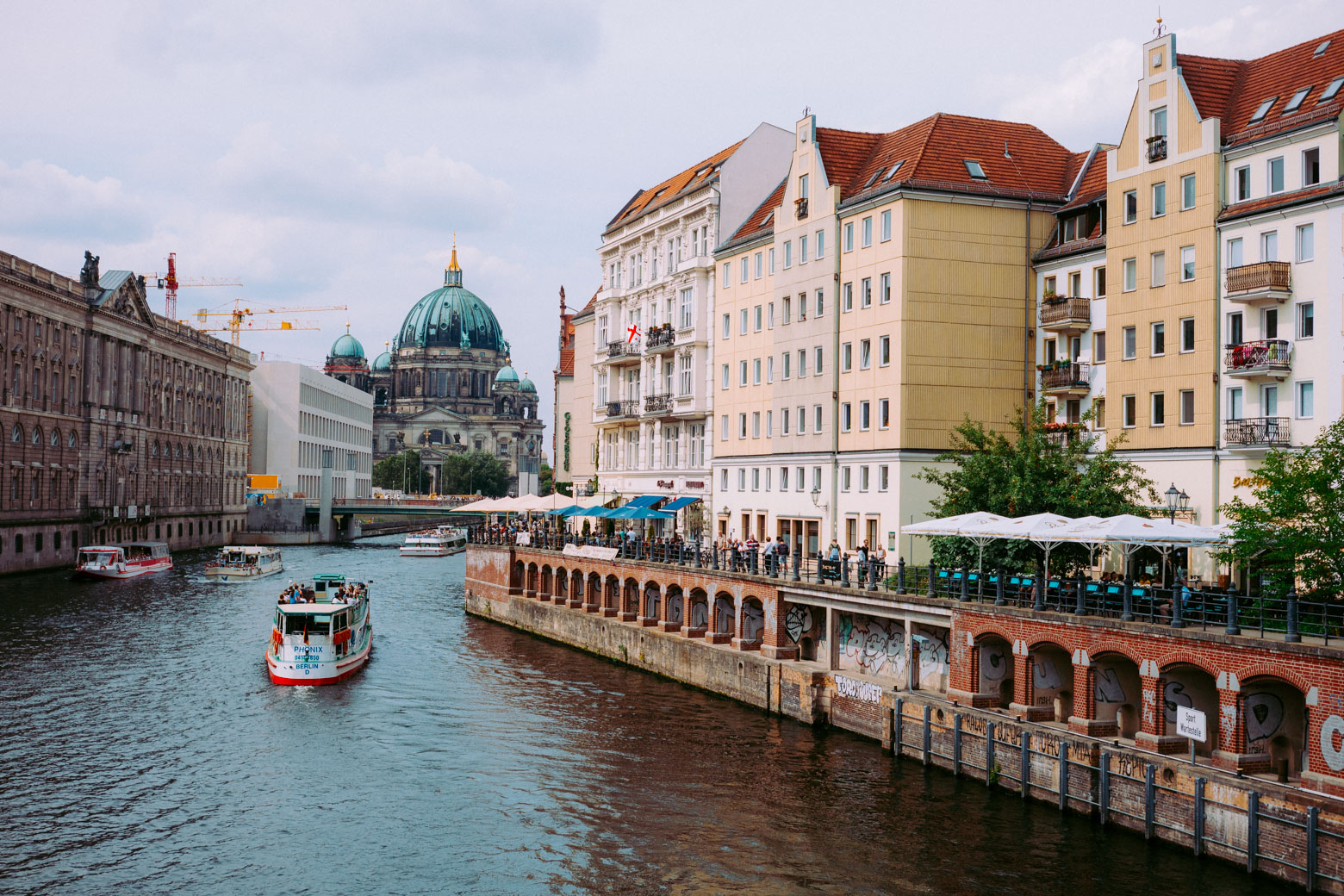 Here are a few other things that also happened around 1200:
The Sorbonne, the second oldest university in the world, receieved its charter.
Genghis Khan became the sole ruler of the Mongol plains.
Leonardo Bonacci brought the Fibonacci Sequence to the western world.
So yeah, I digress again, but Berlin has had people for a long time. I think that's the point I was making.
How the Nikolaiviertel came to be
Enter the Nikolaiviertel. Or should I say, 're-enter' – it wasn't until 1979 that East Germany decided to rebuild the quarter. So began an eight-year project in an attempt to recreate the area, which some deride as having resulted in a weird Disneyland replica. But since Disneyland is a replica of Europe – does that mean it's just a replica of itself, so it's perfectly authentic? What a riddle.
Today, the Nikolaiviertel is a place to escape the un-German Berlin and join tourists looking for real Germany. Here you can find plenty of beer gardens, ice cream, and a "Garlic House" – in other words, true German pleasures.
Actually the Knoblauchhaus is impressive because it survived the war, and boasts AUTHENTIC 19th century furniture – if you're into that.
The Nikolaiviertel is of course, most famously home to the Nikolaikirche – Nikolai Church. This bad boy was originally built in 1402, and then got its towers (just like an angel gets its wings) in 1877. Like everything else in Berlin, it was bombed to pieces in 1945 and then later reconstructed.
Unfortunately, East Germany is East Germany and some of its design sensibilities were a bit lacking. With the same view of the proud twin towers of the Nikolaikirche, you can see the utilitarian East German plattenbau architecture, characterized by reminding you of any other city where the Russians got their hands on the design plans.
PRO TIP Do not order Berliner Weisse. It is a fake beer that comes in weird colors and tastes terrible. Only the unsuspecting drink it. Do not unsuspect. Do not drink it.
Everything in its place
There are a lot of lovely spots for a beer or anything else but a Berliner Weisse in the Viertel. If you are looking for a relaxing day in Berlin and completely escaping the loud cars and psychotic bicyclists (such as myself), this area is perfect for that. It's completely free of cars and you can dine and drink al fresco. For just a moment, it feels like being in a small, european town.
Thinking about the Wurstsalat I didn't eat.
Practical tips for your time in the Viertel
Things are more expensive here, but not exhorbitantly so. You might get 0.3L of beer for 2.70 EUR instead of a proper half liter, or spend a couple extra EUR for a Schnitzel.
That said, it's all about the atmosphere – Berlin is a cheap city overall, so even if you splurge a bit on dinner in Nikolaiviertel you'll still be cheaper than lunch in Paris.
Be aware: the Nikolaiviertel is small. As I said, it's about one city block. So you don't get to be disappointed if you think it's too small – for one, you were warned, and for two, everything in Europe (except the beers) is small so you've gotta get used to it if you're here!
Come for the slice of traditional Germany in the heart of Berlin, and come to get a different perspective of the capital city that many claim is outright ugly – the Nikolaiviertel will prove them wrong!