Hallstatt, Austria
Is Hallstatt, Austria more than just a pretty face? As perhaps the most photographed village in Europe, Hallstatt's UNESCO World Heritage view attracts visitors from all over Europe and the world. If you haven't heard of it, Hallstatt is a lakeside village of 900-some-odd people located in the Salzkammergut region of Austria, known in English as the Lake District. While there are many other towns in this region (covered in future blog posts!), Hallstatt is without question the most famous and easily recognizable.
I went to Hallstatt over the Easter holidays this year, here's what I did and some tips for planning your own trip to this beautiful corner in the Lake District of Austria.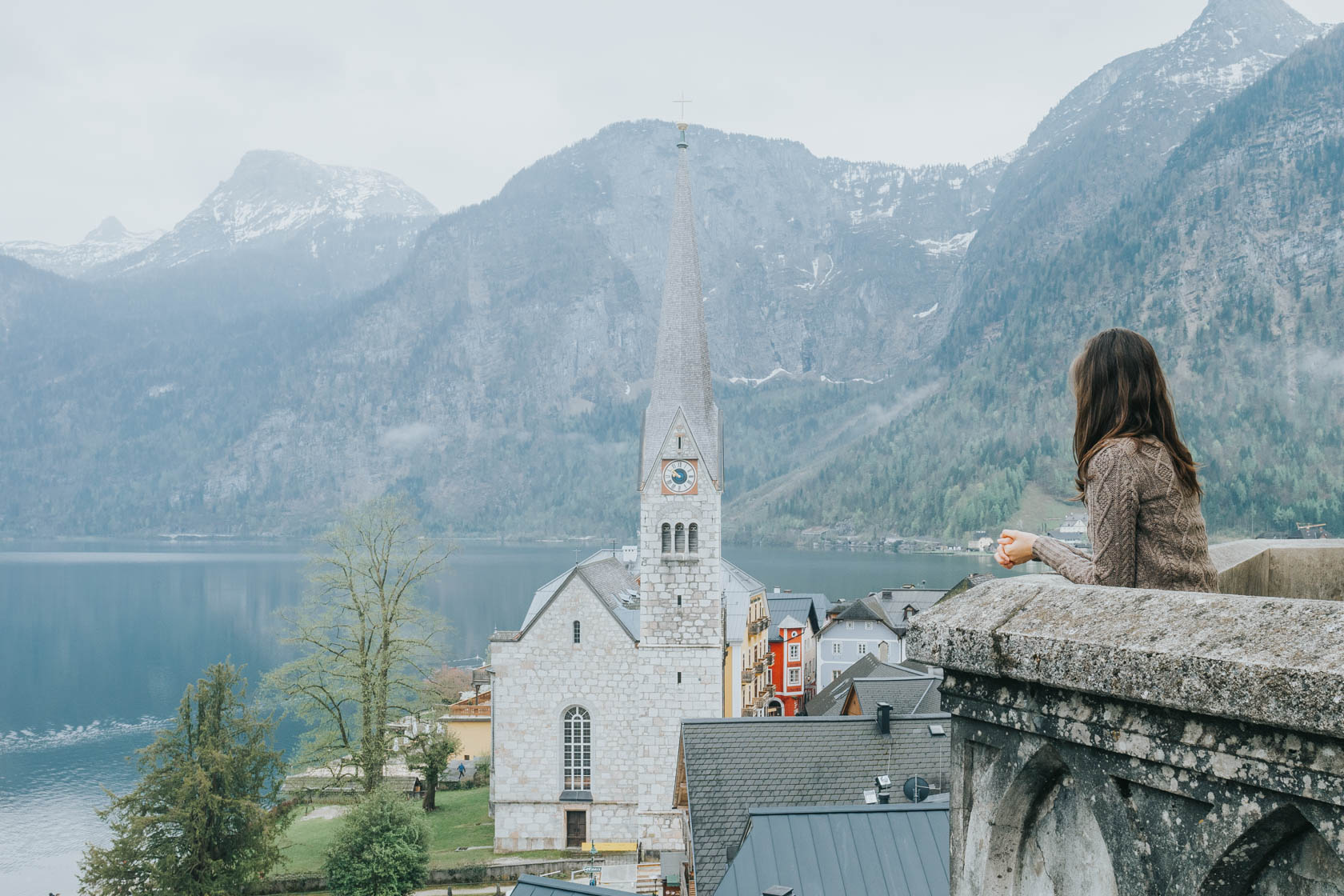 Some links in this post are to affiliate sites. If you purchase something through them, I may earn a small comission — which costs you nothing! I am very grateful when you use my links to make a purchase.
Quick facts about visiting Hallstatt
Duration 1 - 2 days
Dates visited April 13 - 14
Recommended accomodation in Hallstatt Seehotel Grüner Baum had a great location right on the main square and if you book early, you can get a room with a lake view. It's really helpful to stay in town so you get to see the village before all the tour busses arrive.
How to reach Hallstatt: Day trip from Salzburg
It's completely doable to take a day trip to Salzburg to Hallstatt. There are a number of different day tours to Hallstatt from Salzburg .
Just be aware, if you do not decide to stay overnight in Hallstatt, you will miss out on the part of the day where the town isn't crowded with tour busses. However, sometimes you just have an afternoon and I totally understand that! Even with a short amount of time, I would still recommend visiting Hallstatt.
Here are two of the top-rated tours you can take from Salzburg to Hallstatt, both of which will pick you up right at Mirabellplatz in the city center of Salzburg.
Things to do in Hallstatt
See the UNESCO World Heritage view
Let's be honest: this is the thing that compels so many of us from all over the world to come to Hallstatt. Just scrolling past this photo once on the internet is probably enough to imprint it into our minds forever: the reflection of the church steeple in the lake, framed by mountains, with tiny whisps of clouds hovering just overhead.
In some ways, it's hard to believe this is a photo of a real town, and not the movie posted for a movie that takes place wherever the elves go at the end of Lord of the Rings. I mean seriously, look at it!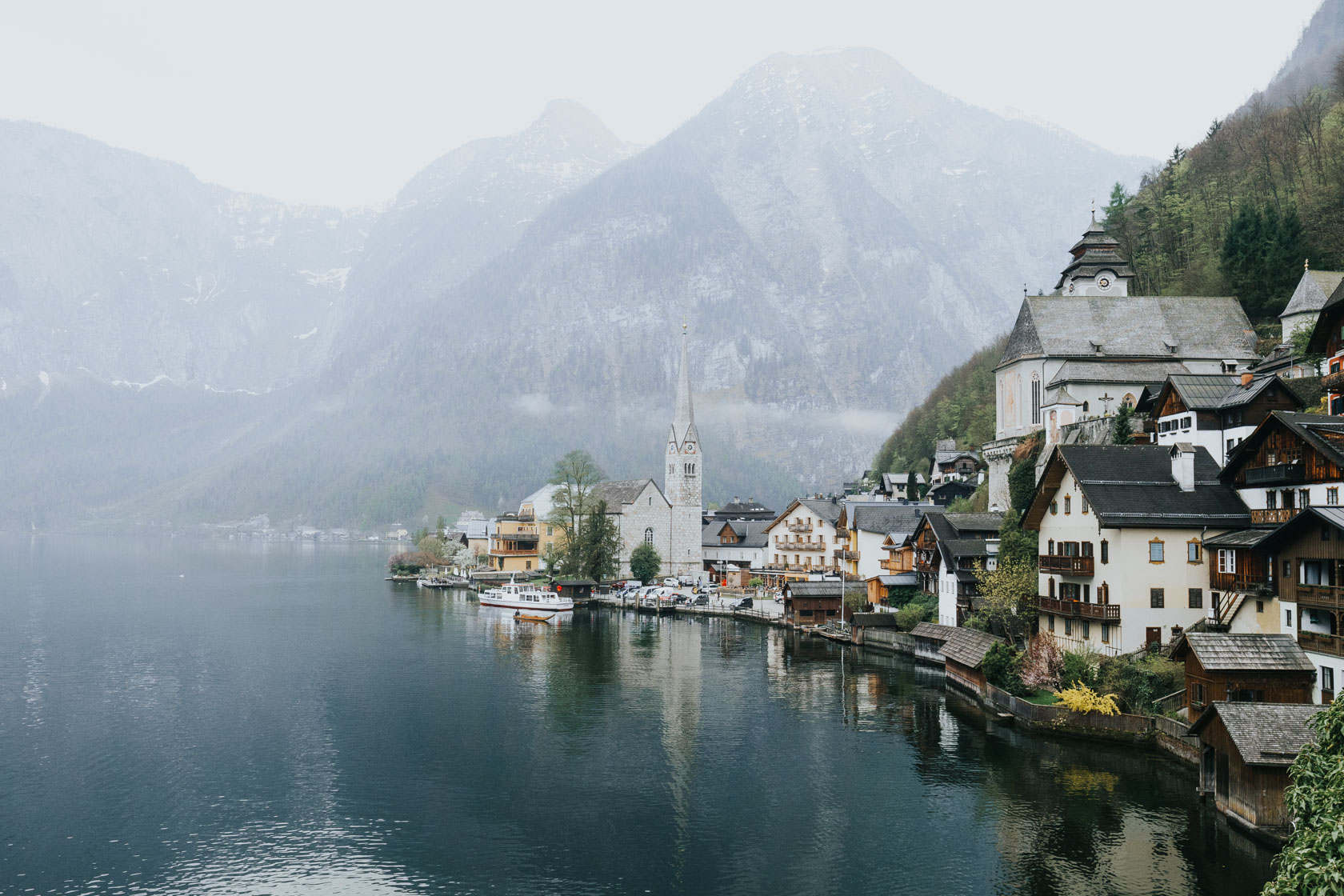 Visit the main square
In a town this small, you can't miss the main square. I'm pretty sure that all roads are somehow connected to it, and if you aren't sure where it is, just look for the church steeple!
Around here you can get an ice cream and walk around, pop in a cafe, or take some photos in front of people's personal homes (true story: I was taking a photo of someone's house when they came out and saw me! The embarrassment I endure for this blog…)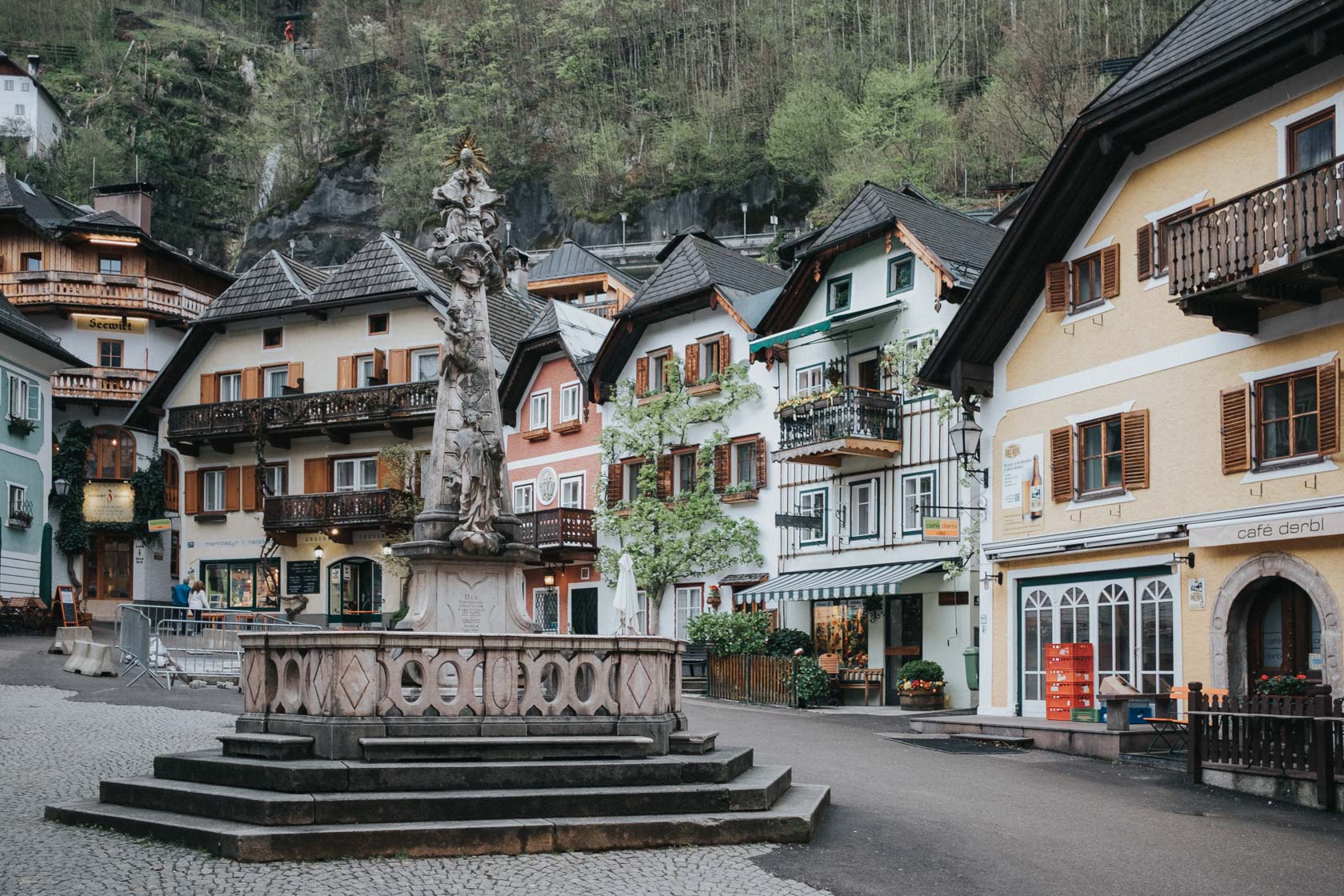 You'll see a few houses throughout Hallstatt which have these beautiful trees growing up the facade.
Walk along the upper bounds of the city
While everybody else is walking around on the ground level of the city, there are a few less visited locations on the upper parts of the city that you'll want to see, such as the Ossuary and the Hallstatt cemetary.
Enter the Ossuary and the Catholic Parish Church
Does Hallstatt have the smallest catacombs in the world? Here you can pay a couple euros to enter the Beinhaus (Bone house or charnel house), an array of about 600 painted skulls, organized by family name. If you ever want to go somewhere you can contemplate your own mortality in a very tiny room, this ossuary has gotta be it.
Just next door is the Hallstatt Parish church, which was originally built in 1181 😱 It was completely renovated in 2002, and is in a really lovely condition. From here you can walk around the cemetary and see the names of families who have lived in Hallstatt for generations.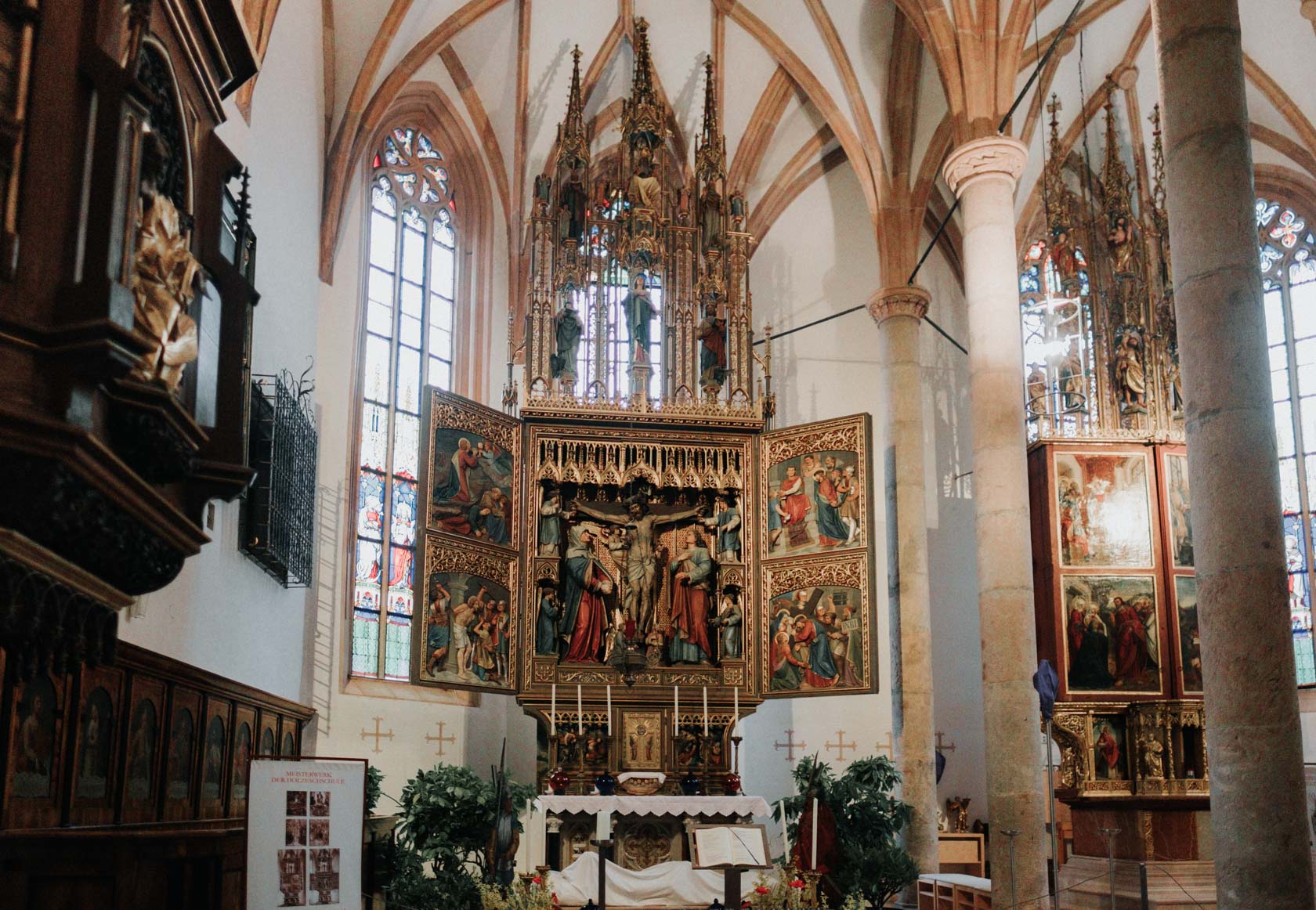 Check out the Hallstatt cemetary
Hallstatt's cemetary is so small, that they used to dig people up to make space for new bodies after 10 years or so. Nowadays, most people want to be cremated so space is no longer an inssue. Regardless, this has got to be one of the cutest cemetaries I've seen! The "headstones" remind me of cuckoo clocks. Walk around this area for some lovely look out points over the village.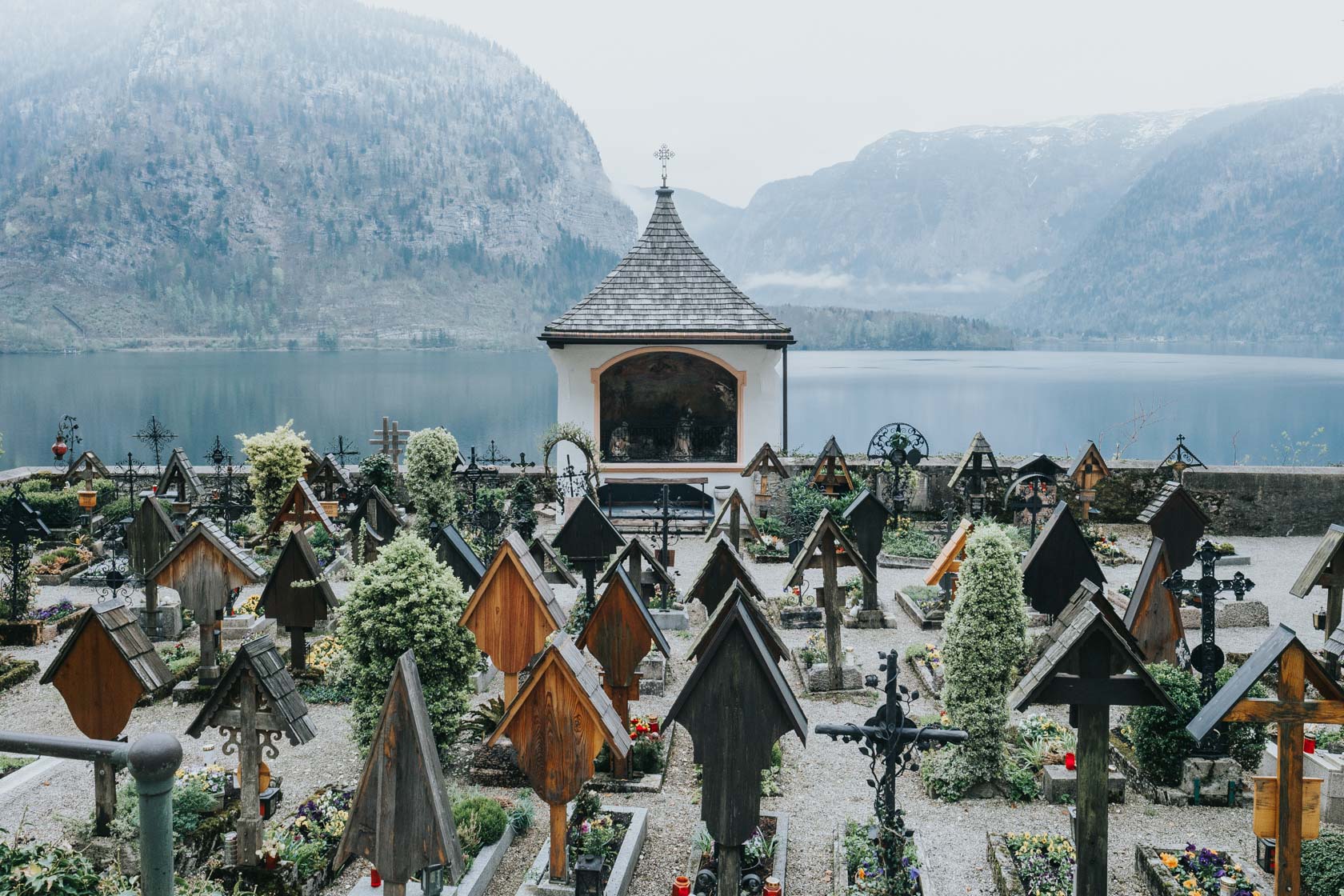 Enter the Dachstein Ice Cave
Did you know that Dachstein is the highest mountain in the region? It has an elevation of almost 3,000 meters and is the 8th highest peak in the Alps. Moreover, you can actually go inside the ice cave and see huge frozen waterfalls. It's even available to visit during the Summer, which is not always the case with ice caves. The caves were discovered only in 1910 and can be toured today.
Unfortunately the ice caves were closed when we went, they are closed from November until May each year. But come to Hallstatt in the Summer and you are in for a unique experience!
Take the cable car to the Hallstatt salt mines
A ten or fifteen minute walk from the town center, you can take a cable car to the Hallstatt salt mines (known in German as Salzwelten). Alternatively, it's also possible to hike up, or take the car up and just hike down (just make sure the path is open based on the season!)
These salt mines are considered the oldest in the world. In fact, you might recognize that Salzwelten has something in common with the region's name Salzkammergut. And that's because Salz in German means "Salt". Even before the Romans conquered Europe, the people living in Hallstatt were mining salt here. Today you can go down a slide and a train inside the mines. All depends on how much time you have!
Get your photo taken on the viewing platform
After taking the cable car up the mountain, enjoy the view and get your photo taken on a viewing platform that juts out over the lake an into the mountain scenery! While you're up here, you can also grab a coffee at a cafe/restaurant at the top and enjoy it while you look over the lake.
Simply be prepared to wait in line for a photo at the viewing platform. There are a lot of people waiting to take this photo and some are more patient than others 😉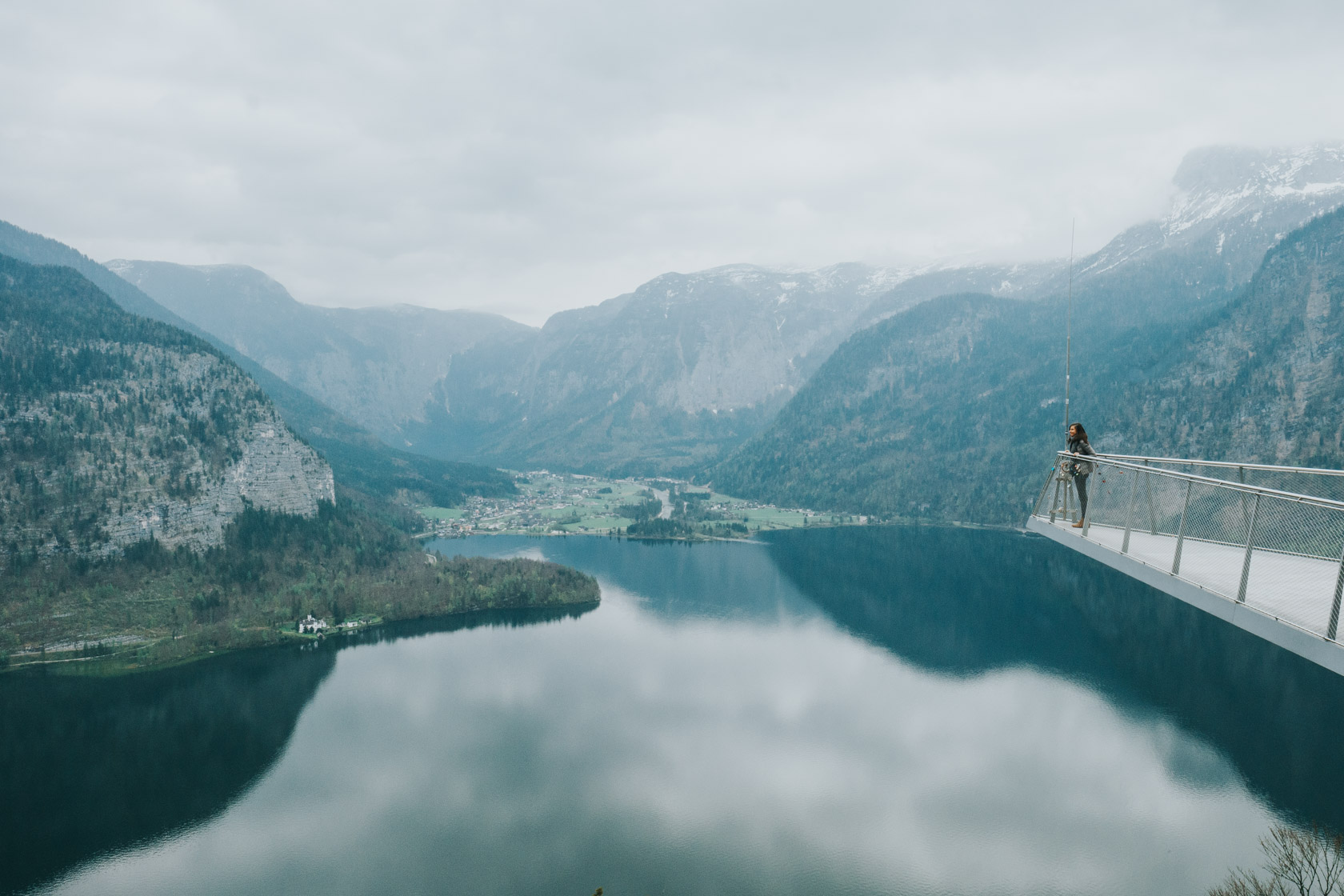 Hop on a ferry across Lake Hallstatt
You can take a scenic boat ride across the lake to get a different view of Hallstatt than the typical ones that pop up on the internet! Also, if you take the train to get to Hallstatt, this is the same boat that you'll take to come into the village itself. The cost of the ferry isn't too expensive, and you can check the up-to-date ferry prices for more information. The website also offers a timetable which denotes the most popular ship journey, to and from the train station across the lake.
If you're arriving at Hallstatt by train, you're likely to end up taking this boat ride regardless. And at least if you come by train, you won't need to worry about parking in this tiny village 😉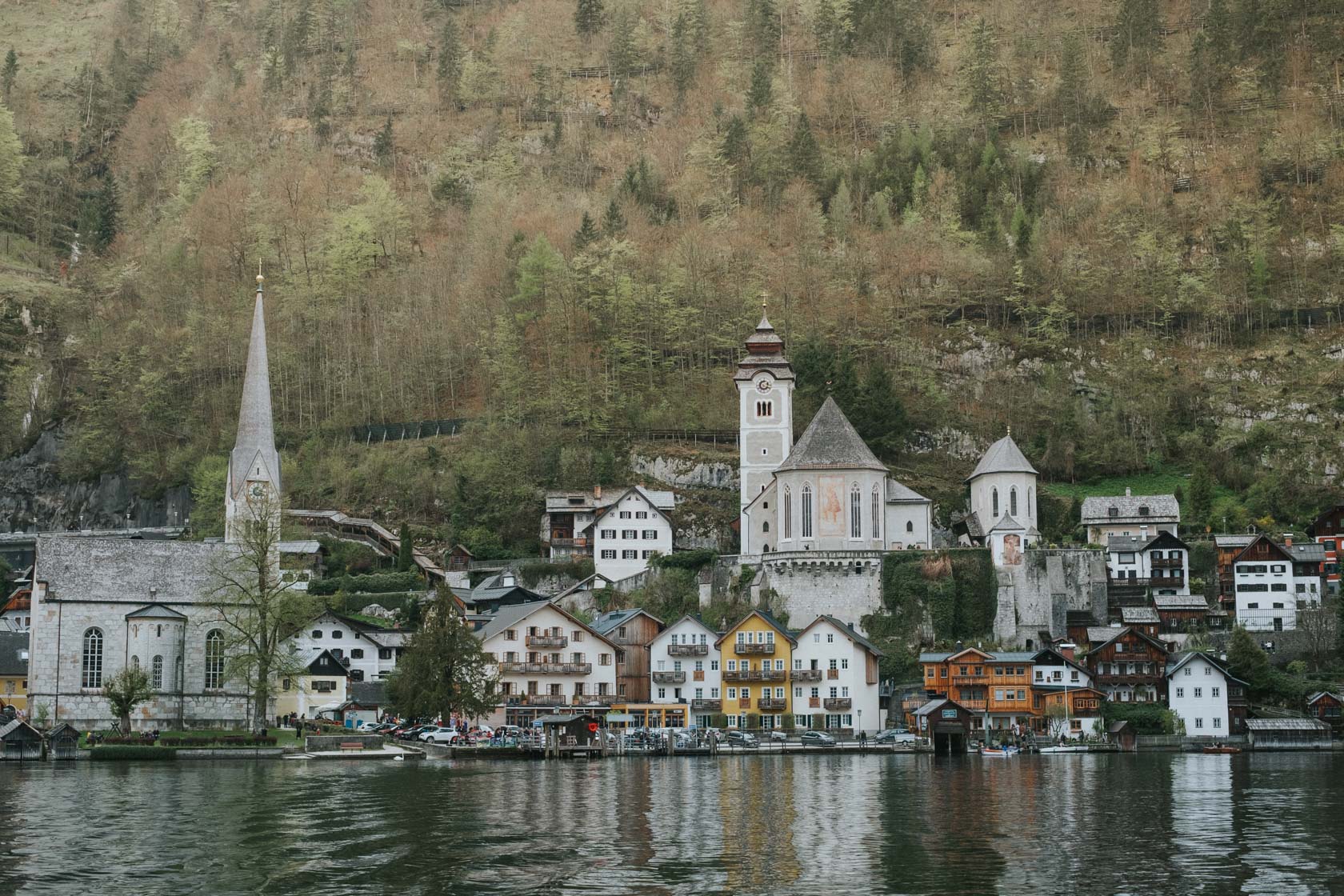 Try Austrian food
No blog post would be complete without a section on food, amirite? For one, eating is an easy thing to put in a "Things to do" list. Plus, food is probably the best think you can do in most places 🙌
There aren't a lot of options in Hallstatt, and if you check them online, basically nothing has a good review 🙈 Of course it's hard to know whether that's because the tourists just don't like Austrian food, or because the food is actually bad. In the end we settled on Braugasthof am Hallstattersee and, despite the low online rating, the food was really delicious! Just goes to show, you shouldn't believe everything you read on the internet 😉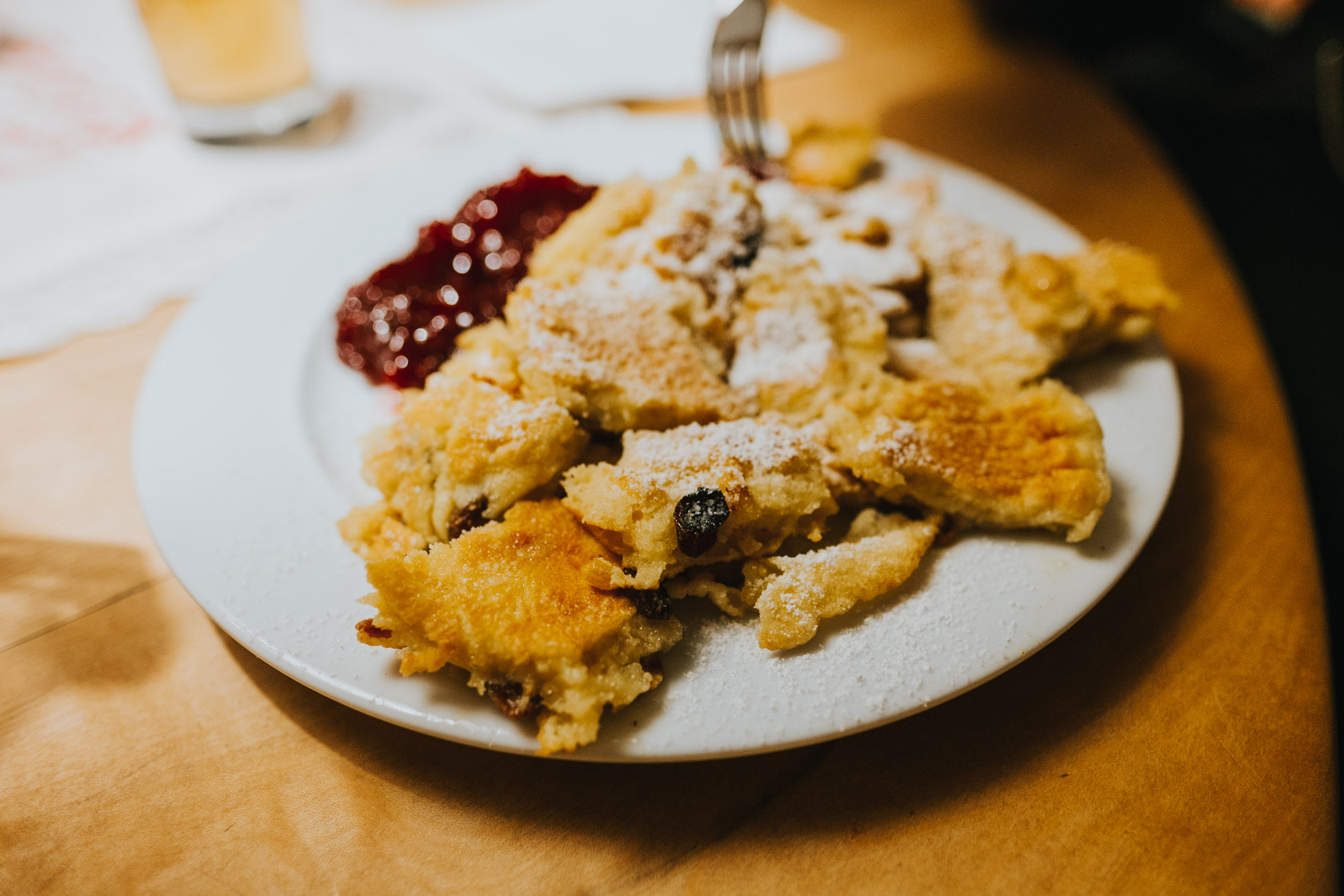 This dessert is called Kaiserschmarm, which is kind of like a pancake with powdered sugar and red currant jam. If you have any space in your stomach after a traditional Austrian dinner, this is the way to end your evening!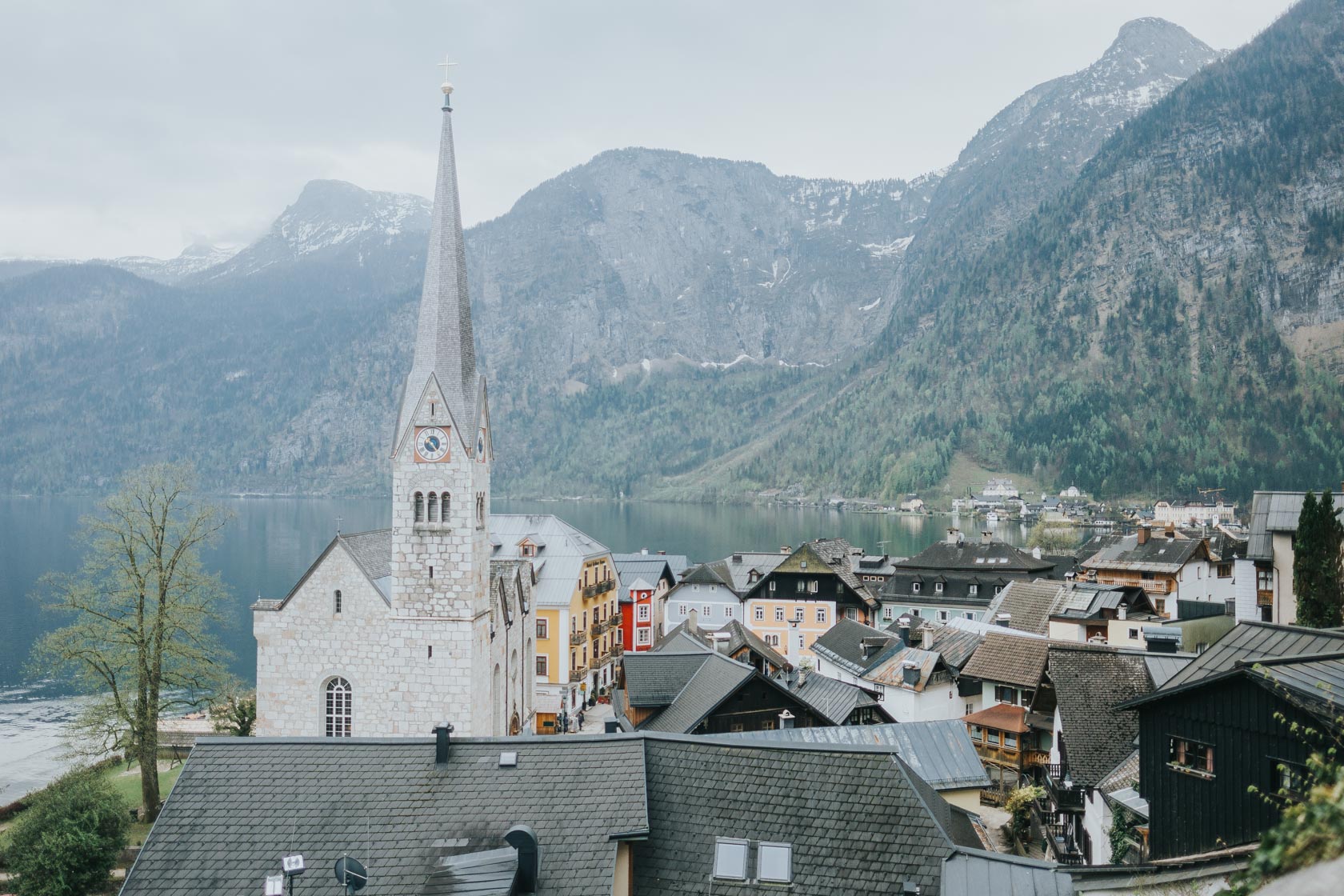 Things to know before visiting Hallstatt
Hallstatt is extremely popular among Chinese tourist groups. I'm pretty sure that at any given time, at least 50% of the people walking around town have originated from tour busses and belong to a group of Chinese tourists. You can see the effect this has had on the town: some restaurants have menus in Chinese, and my own hotel also offered spring rolls with breakfast 😆 If you want to avoid the crowds, visit in the off season, get up early, or stay into the late afternoon.
Accomodations and dining options are limited. Booking a few weeks in advance, we couldn't find any hotel that let us stay for two nights in a row! Which makes sense, you can count the number of hotels in Hallstatt on one hand (I think).
24 hours is sufficient to explore the town. Even if the town is small, it takes a little more than just an afternoon to explore the town, so make sure you have enough time to walk the down and go up to the salt mines. After you've done that, don't forget to explore more of the Salzkammergut region!
Getting to Hallstatt is easiest by car. Especially to give you the indepedence from a tour group, visiting by car is going to give you the flexibility to come and go when the tourist flow is lowest. Parking isn't permitted in the town, but you can park in a garage outside town and get a free shuttle in (or just walk, it only takes about 10 minutes). Plus if you're using a car, it makes it a lot easier to get to other towns in the region which aren't as easily accessible by public transit.
You can also reach Hallstatt by train and ferry. If renting a car isn't an option for you, you can also take a train from Salzburg and then a ferry from the train station to the town. One benefit here is that you won't need to figure out where to park your car.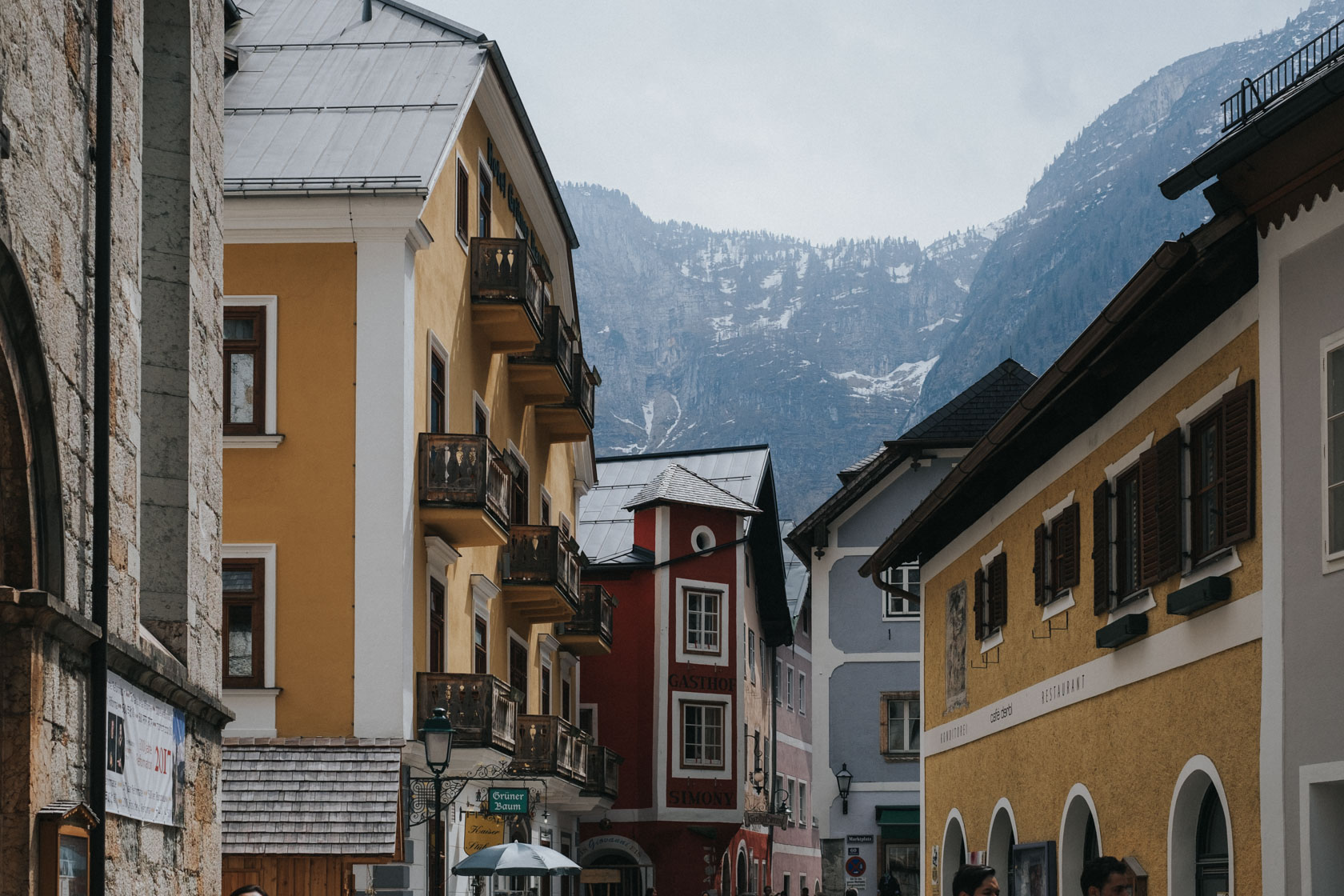 Would you want to visit Hallstatt?
I wanted to visit Hallstatt for a while, so it was wonderful to actually see the place I've seen photos of for so long! Would you go? Let me know in the comments what you think of this pretty lakeside town.
Pin this for later!