Hallstatt, Austria
Is Hallstatt more than just a pretty face? As perhaps the most photographed village in Europe, Hallstatt's UNESCO World Heritage view attracts visitors from all over Europe and the world. If you haven't heard of it, Hallstatt is a lakeside village of 900-some-odd people located in the Salzkammergut region of Austria, known in English as the Lake District. While there are many other towns in this region (covered in future blog posts!), Hallstatt is without question the most famous and easily recognizable.
I went to Hallstatt over the Easter holidays this year, here's what I did and some tips for planning your own trip to this beautiful corner in the Lake District of Austria.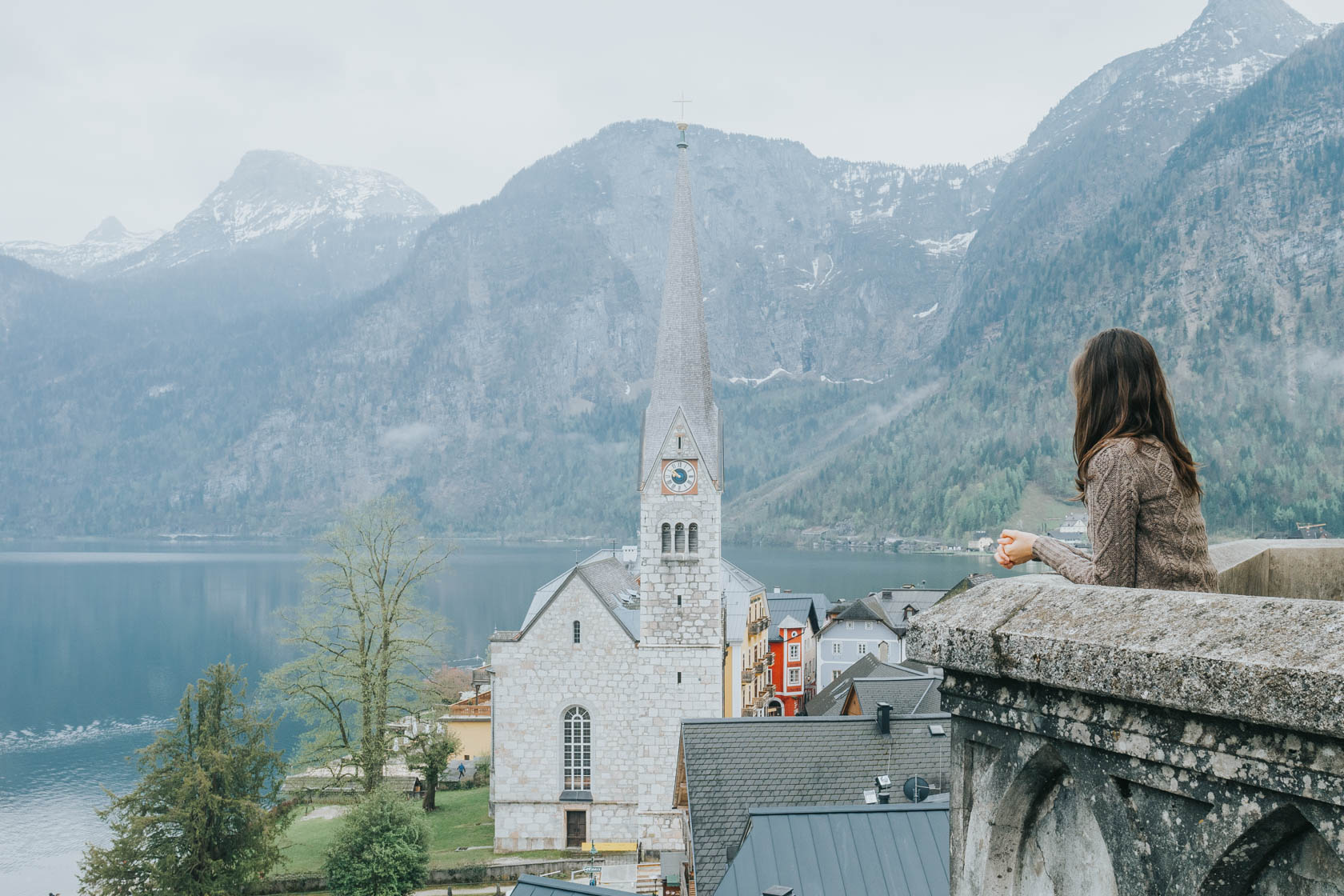 Some links in this post are to affiliate sites. If you purchase something through them, I may earn a small comission at no cost to you.
Follow Not a Nomad blog on Bloglovin', the easiest way to keep up with your favorite blogs.
Follow
Quick facts about visiting Hallstatt
Duration 1 - 2 days
Dates visited April 13 - 14
Recommended accomodation in Hallstatt Seehotel Grüner Baum had a great location right on the main square. Even if you can't get a lake view, the market view is also exceptional. Obviously it's pretty expensive to stay in Hallstatt in general, but first thing in the morning and the early evening are the best times to enjoy the town without encountering too many tour groups.
Here are some things you should do in Hallstatt, Austria!
See the UNESCO World Heritage view
Let's be honest: this is the thing that compels so many of us from all over the world to come to Hallstatt. Just scrolling past this photo once on the internet is probably enough to imprint it into our minds forever: the reflection of the church steeple in the lake, framed by mountains, with tiny whisps of clouds hovering just overhead.
In some ways, it's hard to believe this is a photo of a real town, and not the movie posted for a movie that takes place wherever the elves go at the end of Lord of the Rings. I mean seriously, look at it!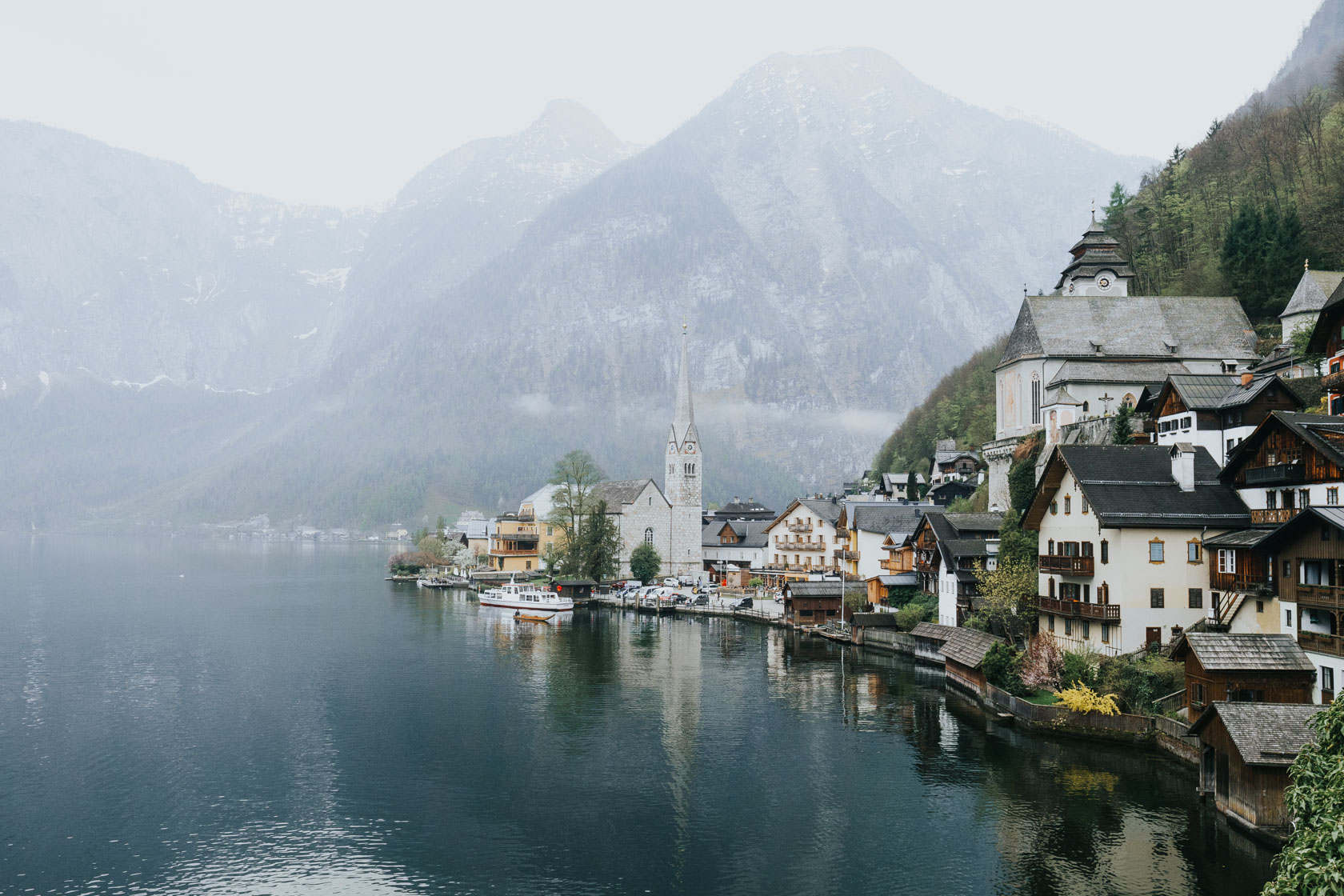 Visit the main square
In a town this small, you can't miss the main square. I'm pretty sure that all roads are somehow connected to it, and if you aren't sure where it is, just look for the church steeple!
Around here you can get an ice cream and walk around, pop in a cafe, or take some photos in front of people's personal homes (true story: I was taking a photo of someone's house when they came out and saw me! The embarrassment I endure for this blog…)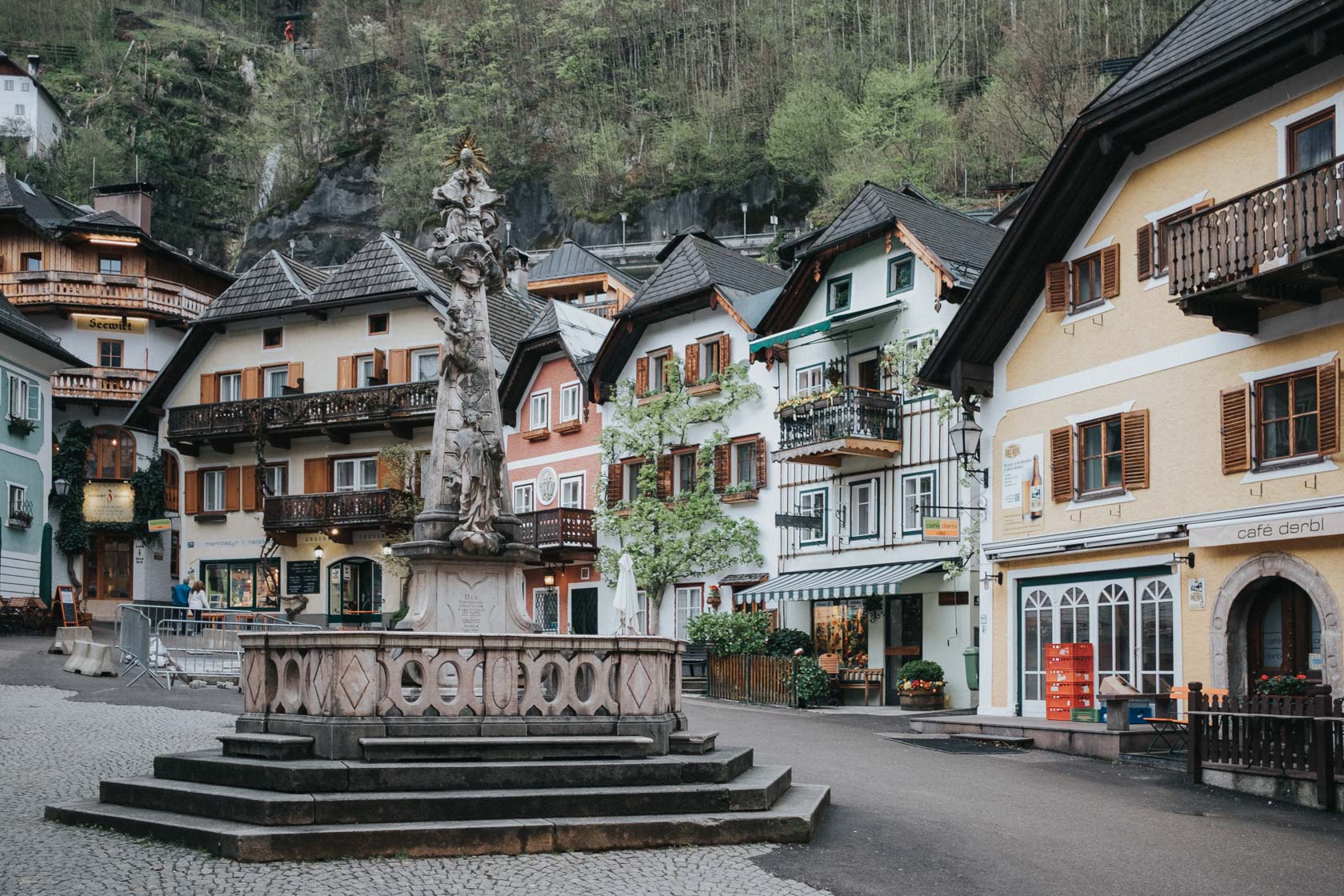 You'll see a few houses throughout Hallstatt which have these beautiful trees growing up the facade.
Walk along the upper bounds of the city
While everybody else is walking around on the ground level of the city, there are a few less visited locations on the upper parts of the city that you'll want to see, such as the Ossuary and the Hallstatt cemetary.
Enter the Ossuary and the Catholic Parish Church
Does Hallstatt have the smallest catacombs in the world? Here you can pay a couple euros to enter the Beinhaus (Bone house or charnel house), an array of about 600 painted skulls, organized by family name.
Just next door is the Hallstatt Parish church, which was originally built in 1181 😱 It was completely renovated in 2002, and is in a really lovely condition.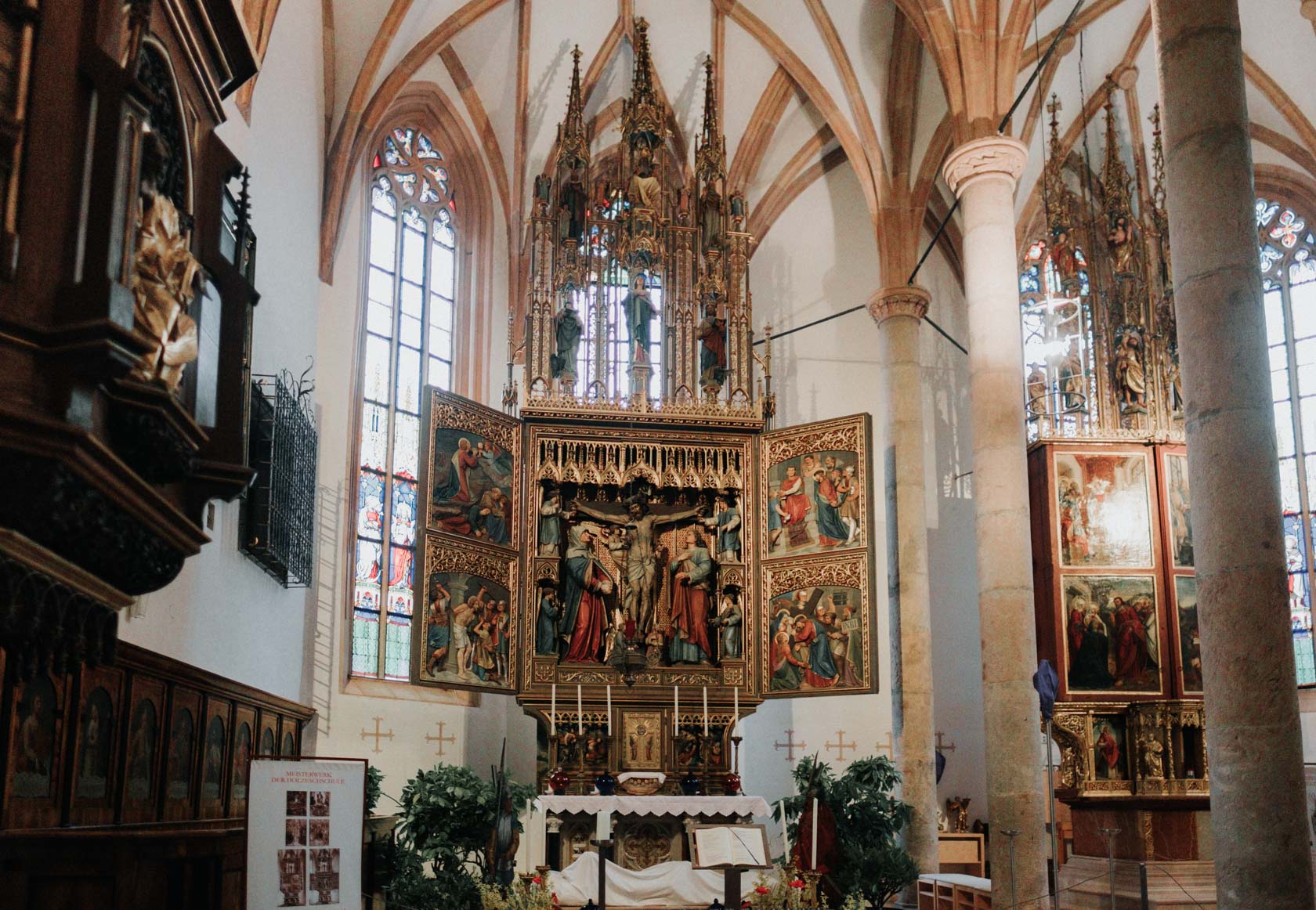 Check out the Hallstatt cemetary
Hallstatt's cemetary is so small, that they used to dig people up to make space for new bodies after 10 years or so. Nowadays, most people want to be cremated so space is no longer an inssue. Regardless, this has got to be one of the cutest cemetaries I've seen! The "headstones" remind me of cuckoo clocks.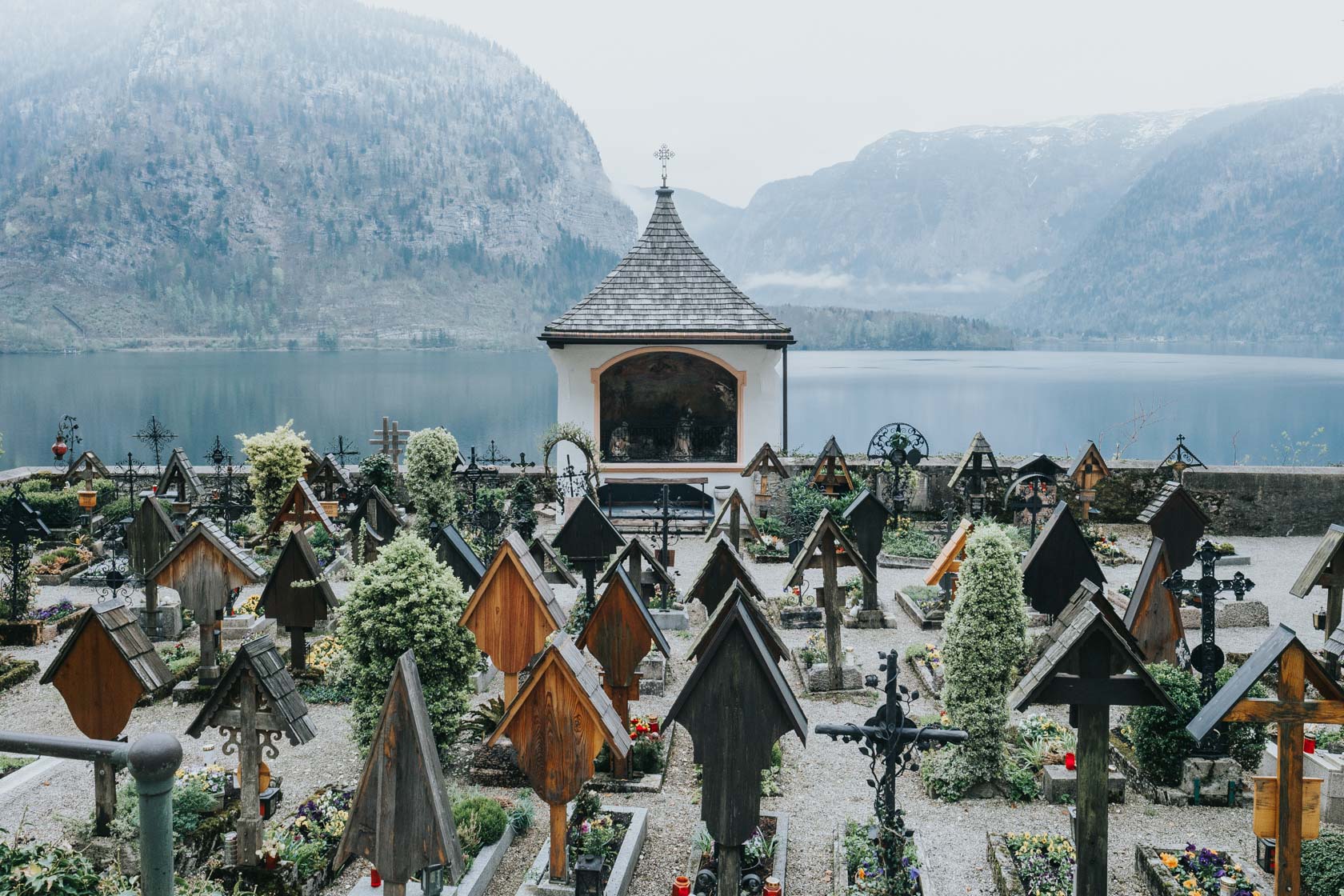 Take the cable car to the Hallstatt salt mines
A ten or fifteen minute walk from the town center, you can take a cable car to the Hallstatt salt mines. Alternatively, it's also possible to hike up, or take the car up and just hike down (just make sure the path is open based on the season!)
Get your photo taken on the viewing platform
After taking the cable car up the mountain, enjoy the view and get your photo taken on a viewing platform that juts out over the lake an into the mountain scenery! While you're up here, you can also grab a coffee at a cafe/restaurant at the top and enjoy it while you look over the lake.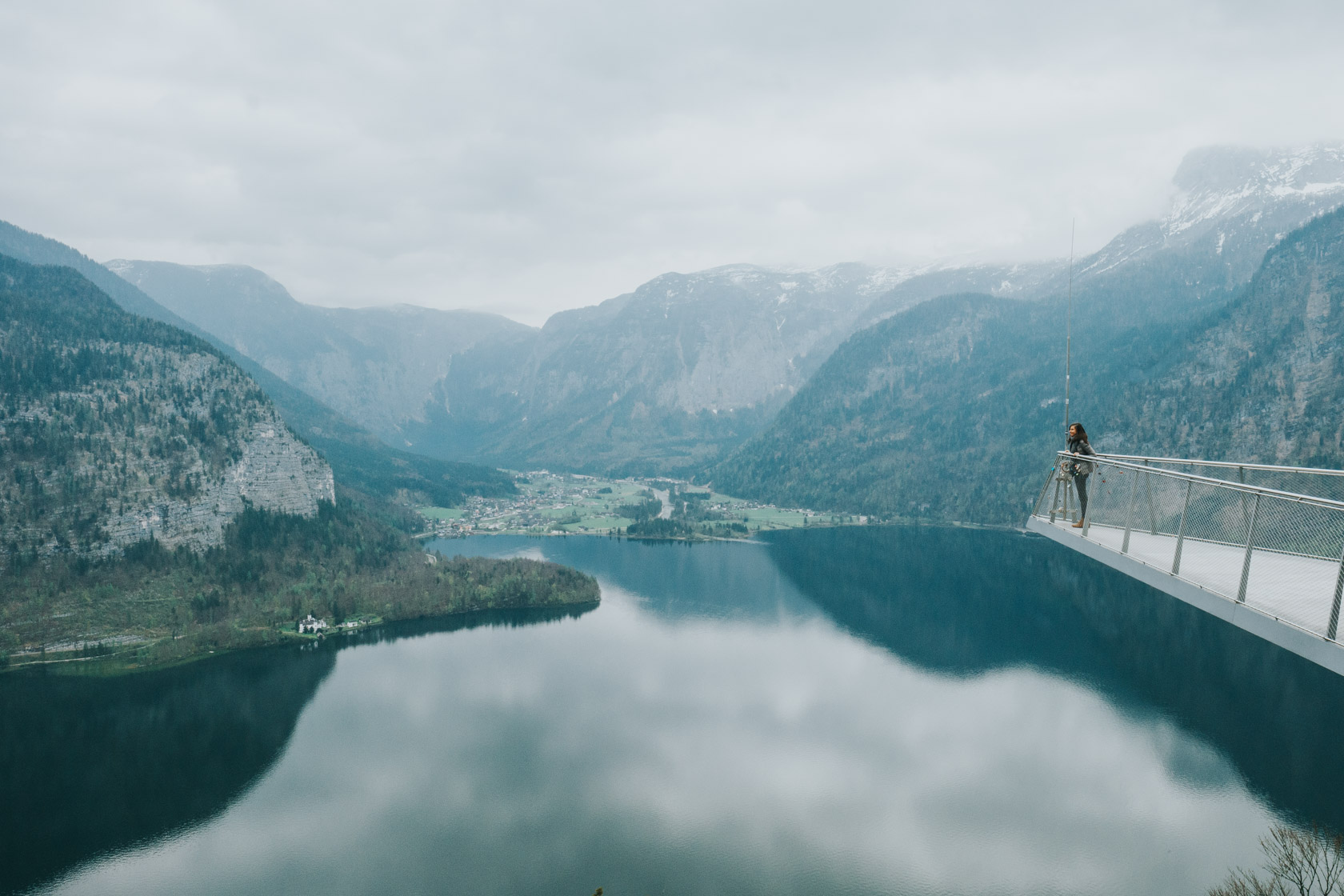 Hop on a ferry across Lake Hallstatt
You can take a scenic boat ride across the lake to get a different view of Hallstatt than the typical ones that pop up on the internet! Also, if you take the train to get to Hallstatt, this is the same boat that you'll take to come into the village itself.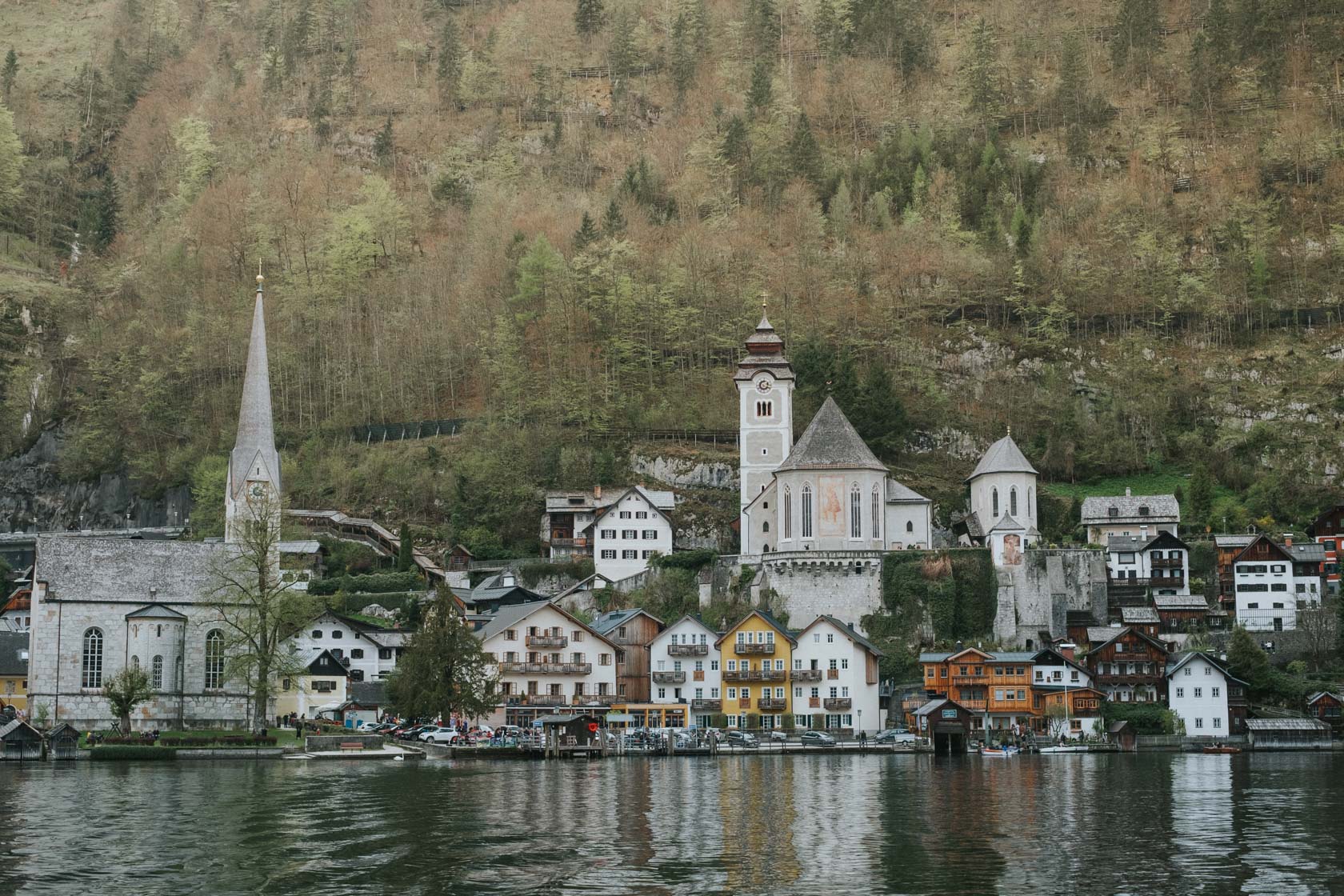 As I get older, I find that I'm enjoying more and more some of these luxurious hotels. Okay, at about 100 EUR a night it's not completely outrageous, but there are quite some niceties that make this a nice spot to relax after an afternoon of exploring all the little nooks of Hallstatt.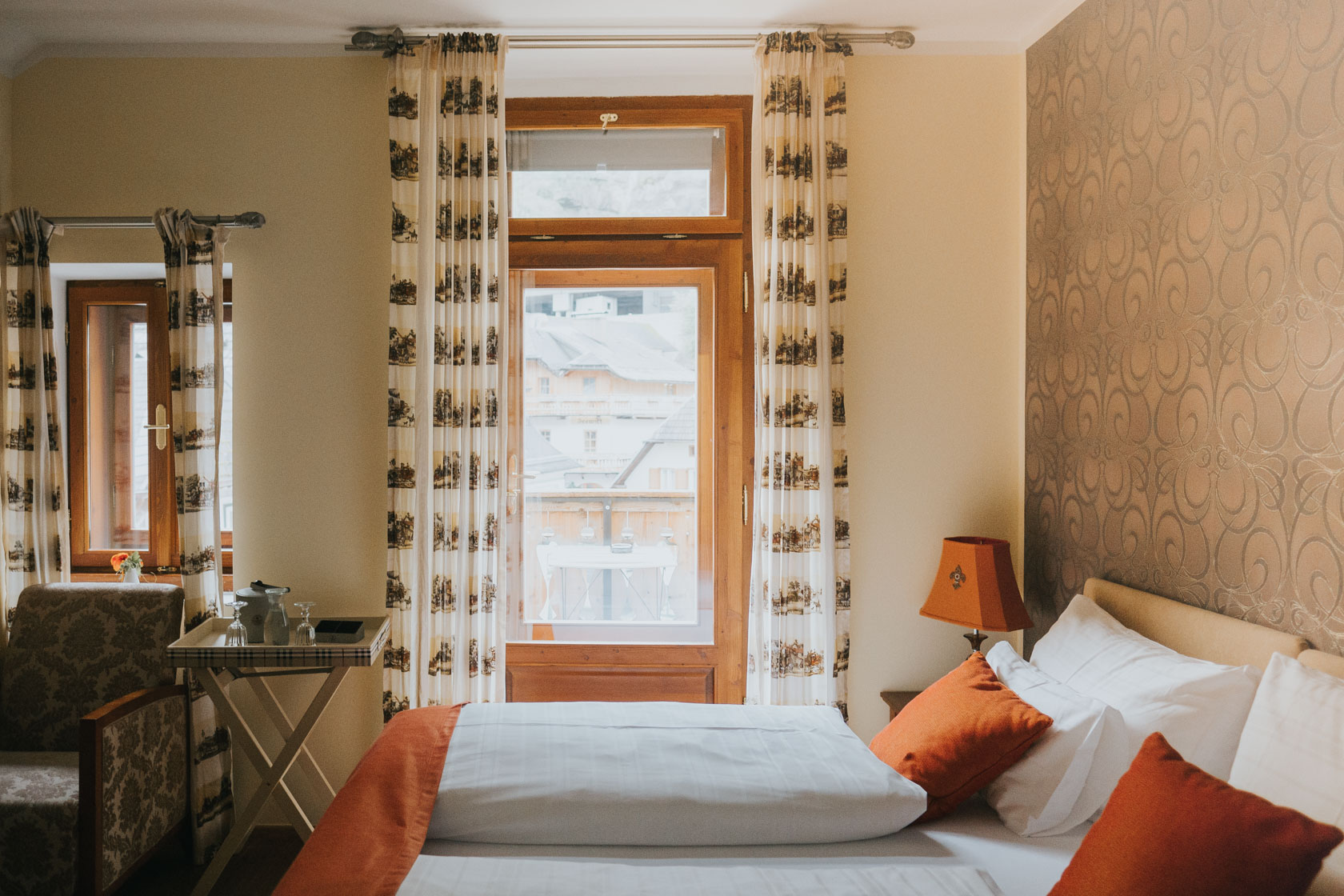 At Grüner Baum you can get either a lake view or a market view. Of course we wanted a lake view, but the market view is also adorable. You have a balcony where you can prepare a cup of coffee and people watch as everyone takes selfies in front of people's private homes 😄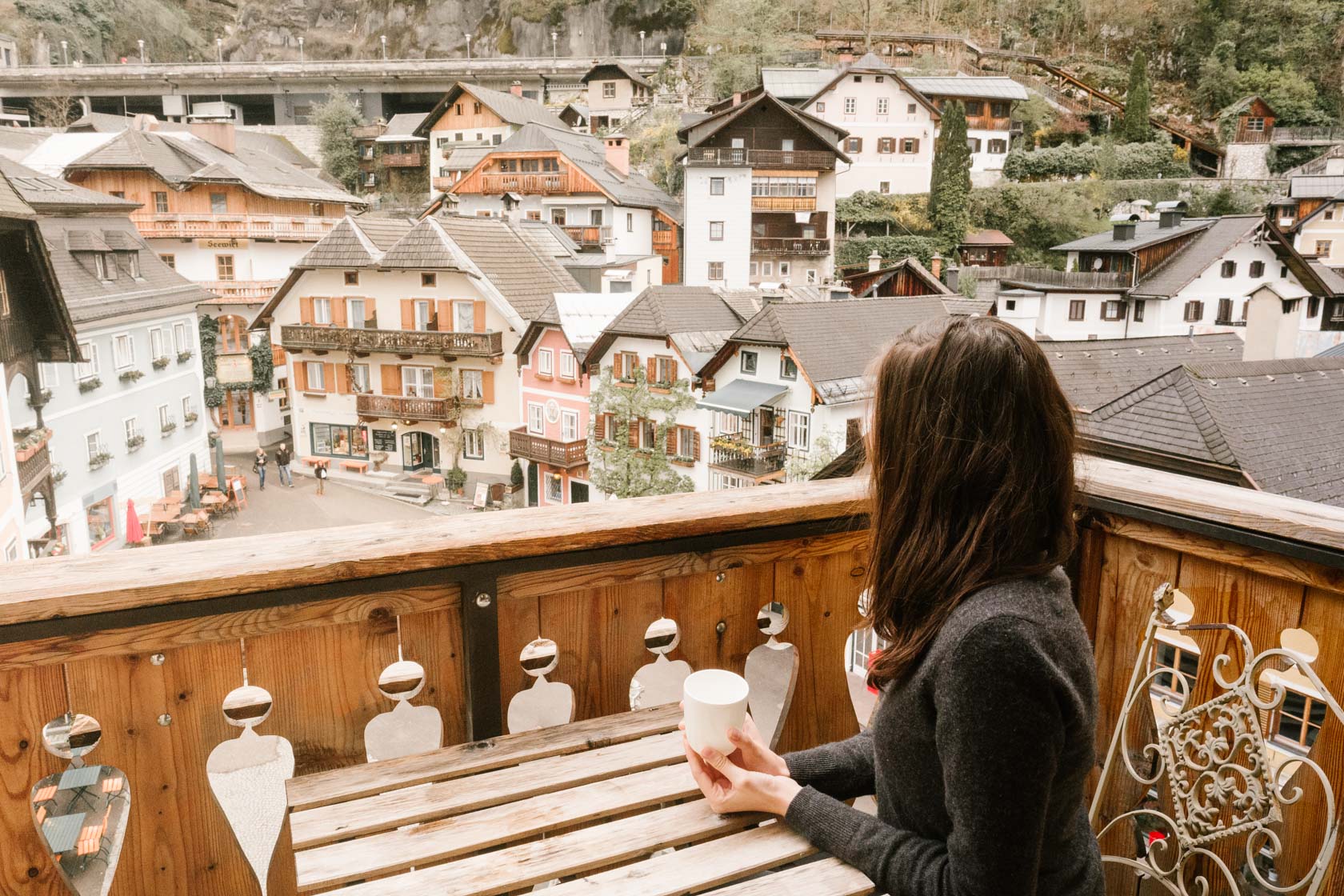 I can only imagine what the view is like from one of these balconies overlooking Lake Hallstatt! That said, you should be sure to book in advance, as there are limited hotels in Hallstatt and naturally, limited lake views!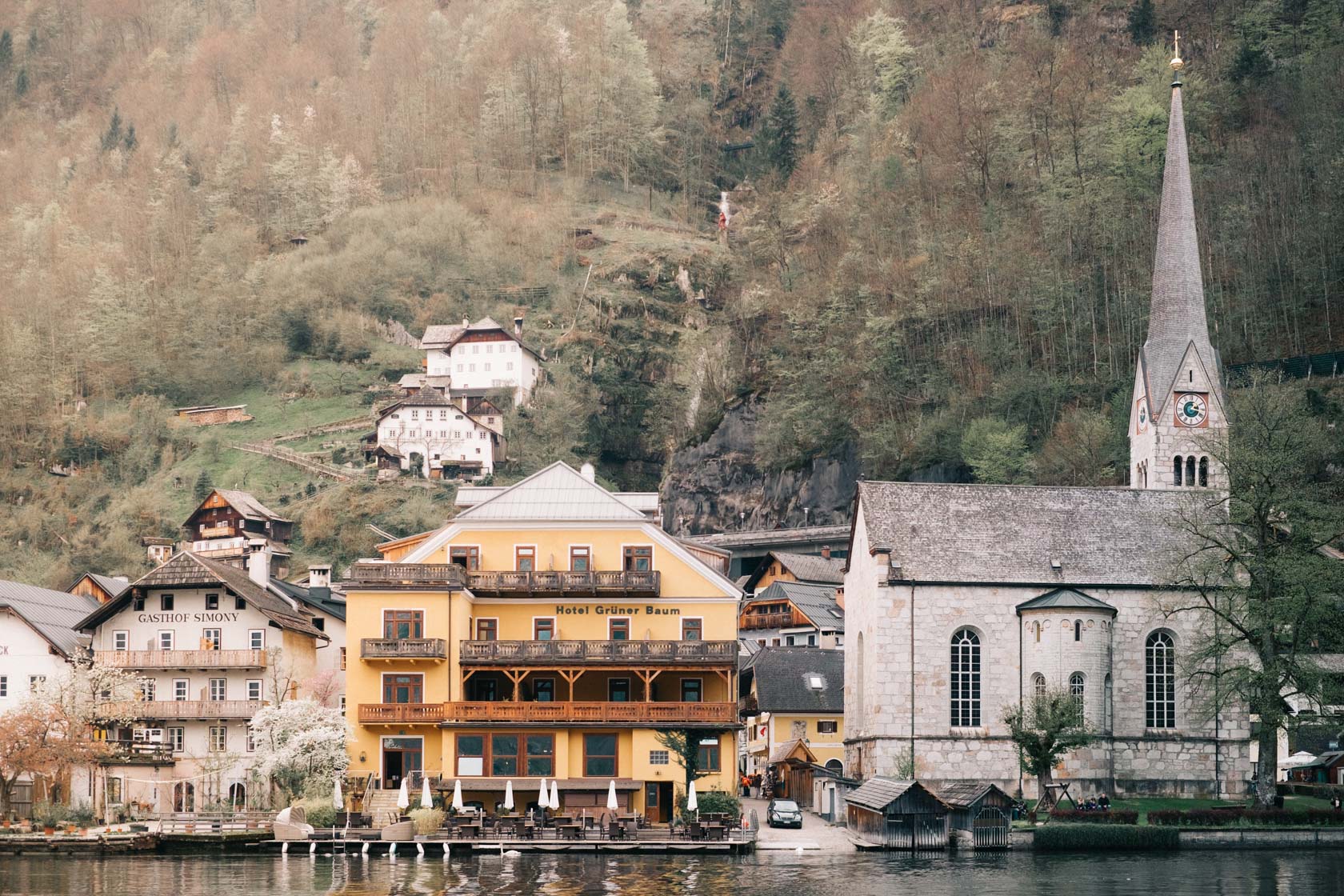 Try Austrian food
No blog post would be complete without a section on food, amirite? For one, eating is an easy thing to put in a "Things to do" list. Plus, food is probably the best think you can do in most places 🙌
There aren't a lot of options in Hallstatt, and if you check them online, basically nothing has a good review 🙈 In the end we settled on Braugasthof am Hallstattersee and, despite the low online rating, the food was really delicious!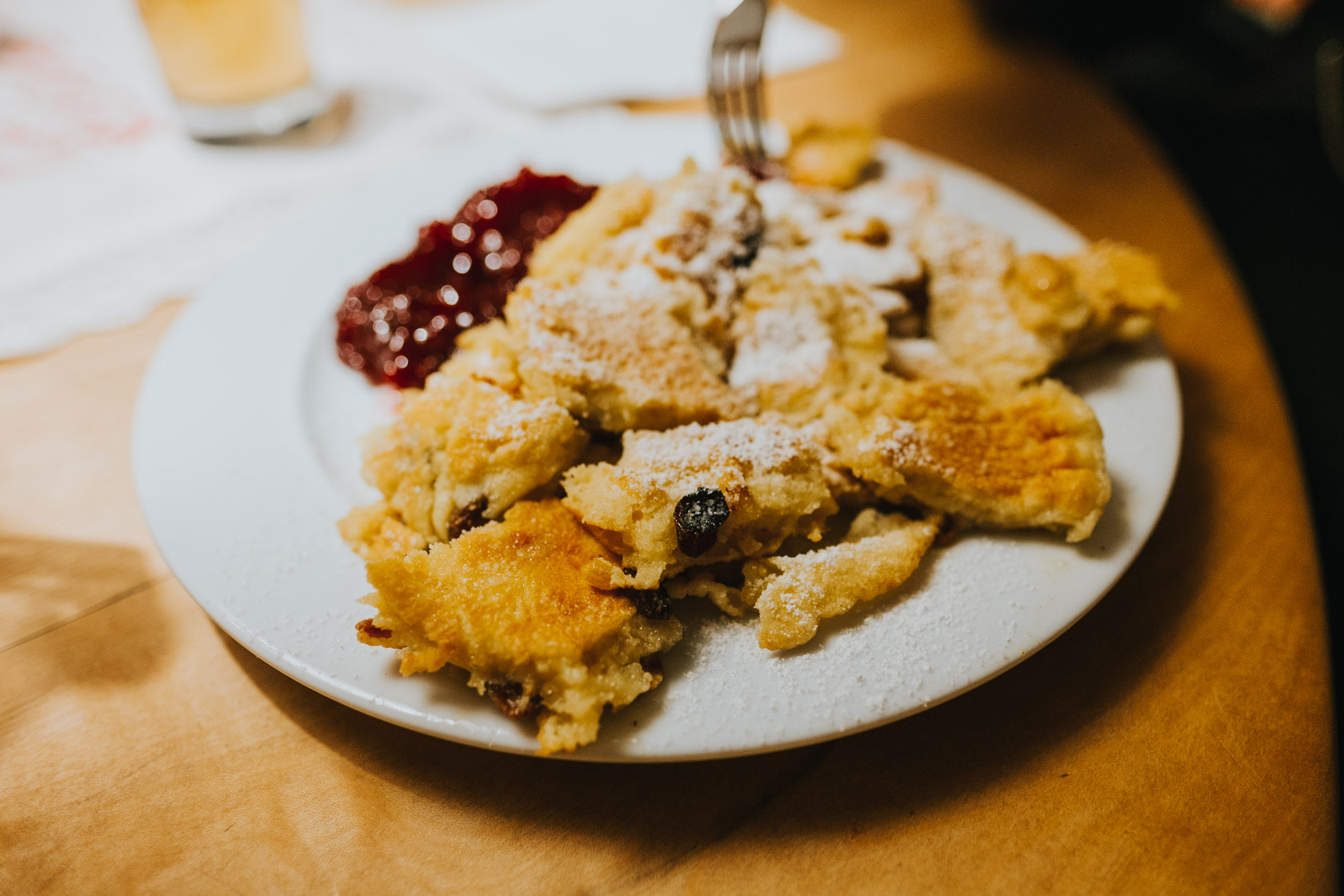 This dessert is called Kaiserschmarm, which is kind of like a pancake with powdered sugar and red currant jam. If you have any space in your stomach after a traditional Austrian dinner, this is the way to end your evening!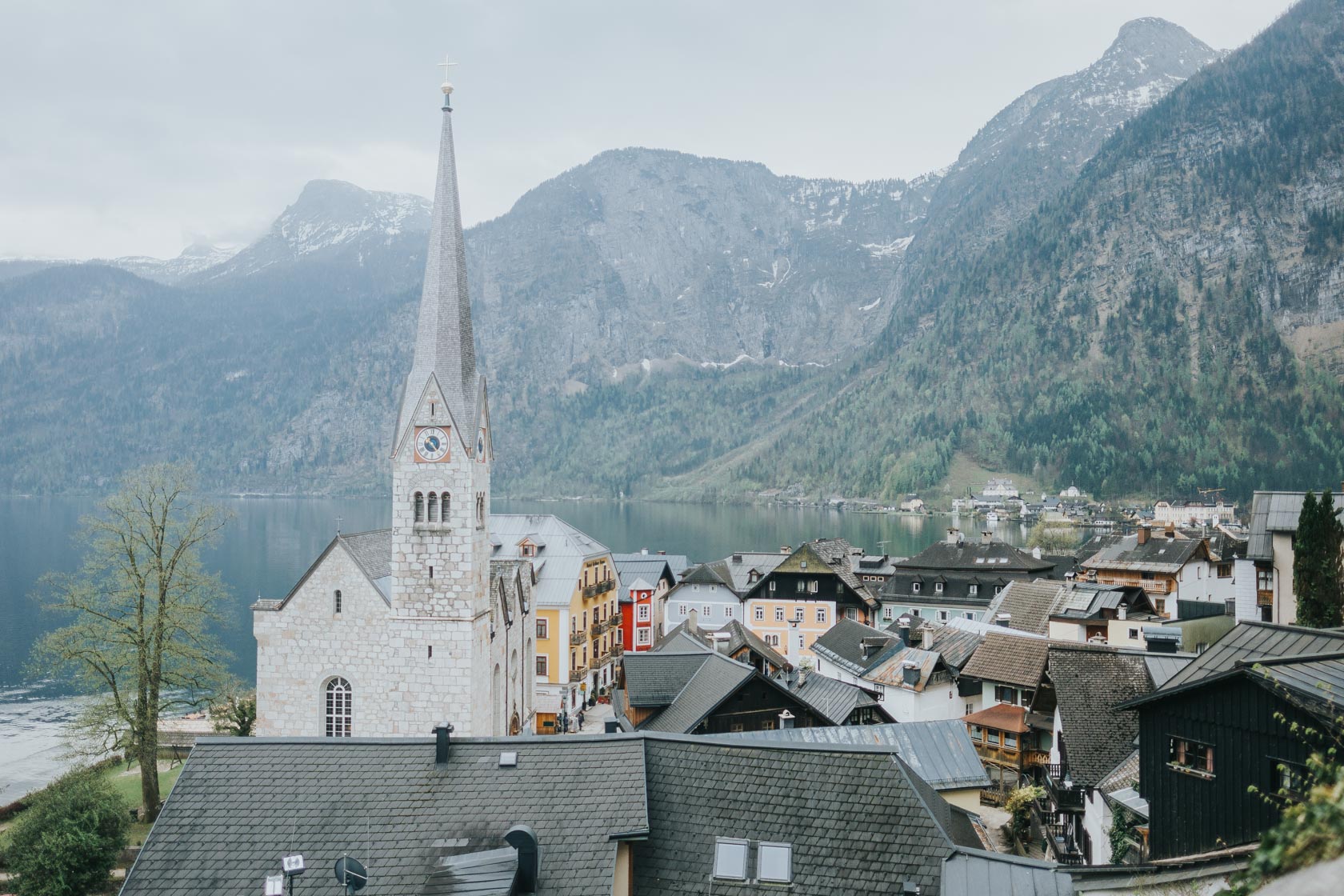 Things to know before visiting Hallstatt
Hallstatt is extremely popular among Chinese tourist groups. I'm pretty sure that at any given time, at least 50% of the people walking around town have originated from tour busses and belong to a group of Chinese tourists. You can see the effect this has had on the town: some restaurants have menus in Chinese, and my own hotel also offered spring rolls with breakfast 😆 If you want to avoid the crowds, visit in the off season, get up early, or stay into the late afternoon.
Accomodations and dining options are limited. Booking a few weeks in advance, we couldn't find any hotel that let us stay for two nights in a row! Which makes sense, you can count the number of hotels in Hallstatt on one hand (I think).
24 hours is sufficient to explore the town. Even if the town is small, it takes a little more than just an afternoon to explore the town, so make sure you have enough time to walk the down and go up to the salt mines. After you've done that, don't forget to explore more of the Salzkammergut region!
Getting to Hallstatt is easiest by car. Especially to give you the indepedence from a tour group, visiting by car is going to give you the flexibility to come and go when the tourist flow is lowest. Parking isn't permitted in the town, but you can park in a garage outside town and get a free shuttle in (or just walk, it only takes about 10 minutes). Plus if you're using a car, it makes it a lot easier to get to other towns in the region which aren't as easily accessible by public transit.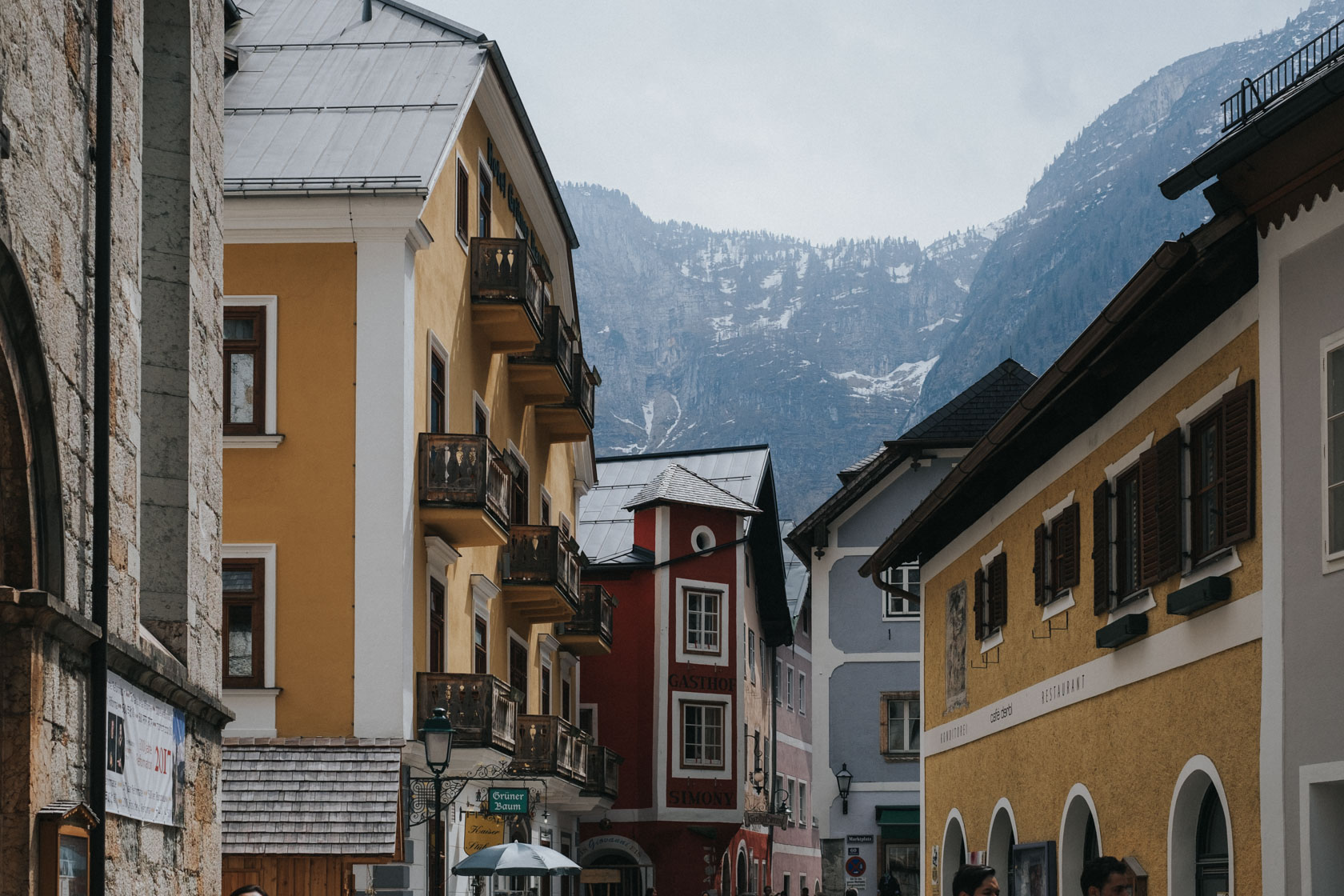 Would you want to visit Hallstatt?
I wanted to visit Hallstatt for a while, so it was wonderful to actually see the place I've seen photos of for so long! Would you go? Let me know in the comments what you think of this pretty lakeside town.
Pin this for later!