Kawaguchi-ko, Japan
Yes my pretties – it's time to start planning Spring travel.
I know, I know it doesn't feel like a flower could grace the world again, as all of us in the northern hemiphere wade through soggy leaves and impermiable dreariness. Just yesterday morning I woke up and thought for a moment that it had snowed here in Berlin…turns out it was just really thick fog.
But let's muster up some optimism, bust out those wallets, and get booking, because Spring is inevitable…just like the enchanting cherry blossom season in Japan, which so happens to be one of the most beautiful times to see Mt. Fuji!
Looking for a complete itinerary for Japan? Check out my related post on spending 2 weeks in Japan!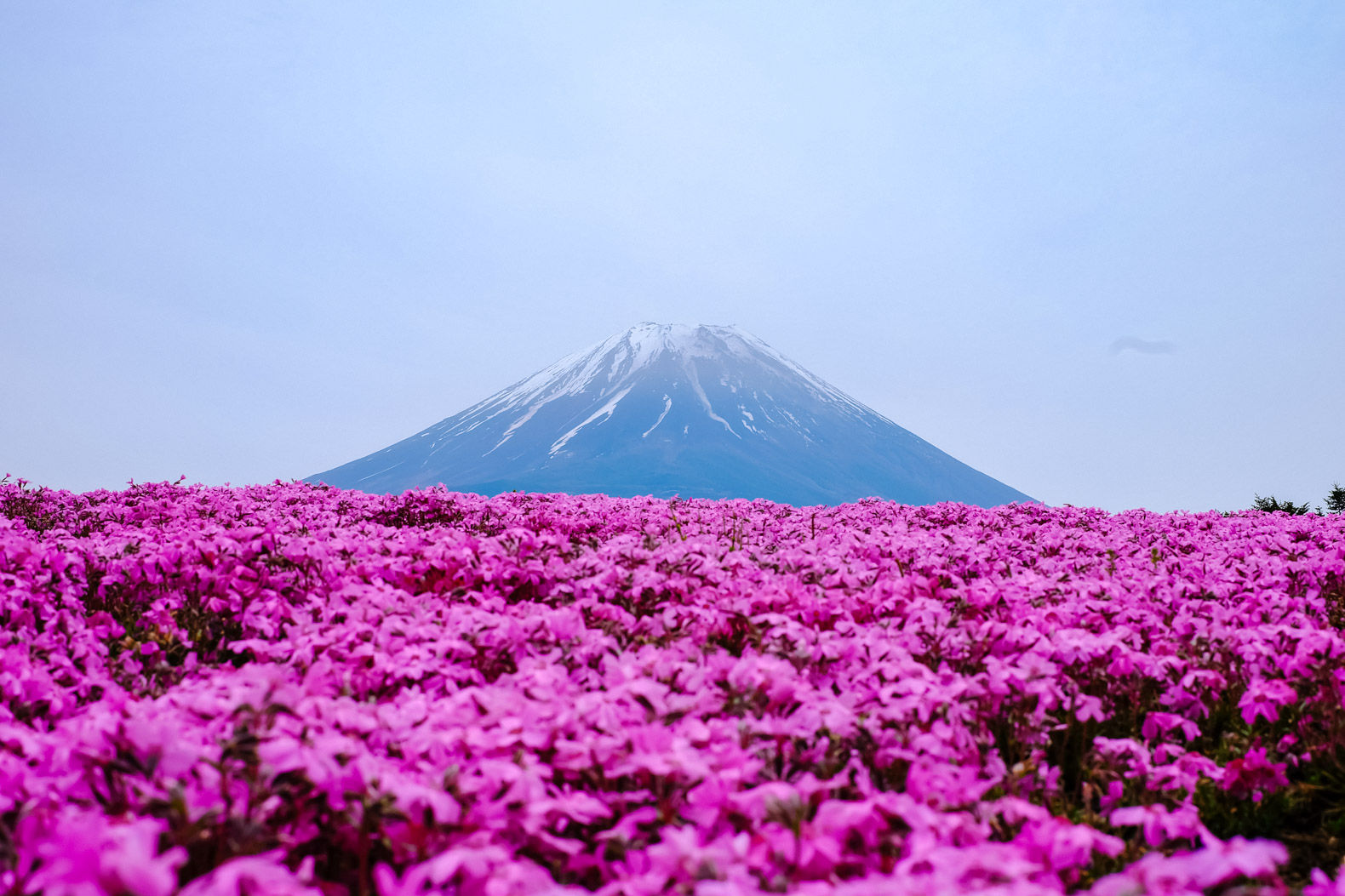 Best places to see Mt. Fuji (in Spring!)
Here are some photos and stories about the most beautiful places to see Mt. Fuji in Spring. If you're just looking for the raw details, you can jump down to a Google Map of places to see Mt. Fuji.
Lake Kawaguchi
Everyone says that your best chances of seeing Mt. Fuji are waking up early in the morning. For this reason, my boyfriend and I set the alarm for something like 5AM so we could be up right as the sun began to peak over the horizon. It was weird because we arrived in Kawaguchi-ko when it was already dark, so we were totally not expecting that when we woke up in the morning…
We had a view of Mt. Fuji out the hotel window!
Naturally we got dressed as quickly as possible and rush out to the lake, just a few minutes walk away, to see it reflected in the lake below. It is really unbelievable just how big this mountain is.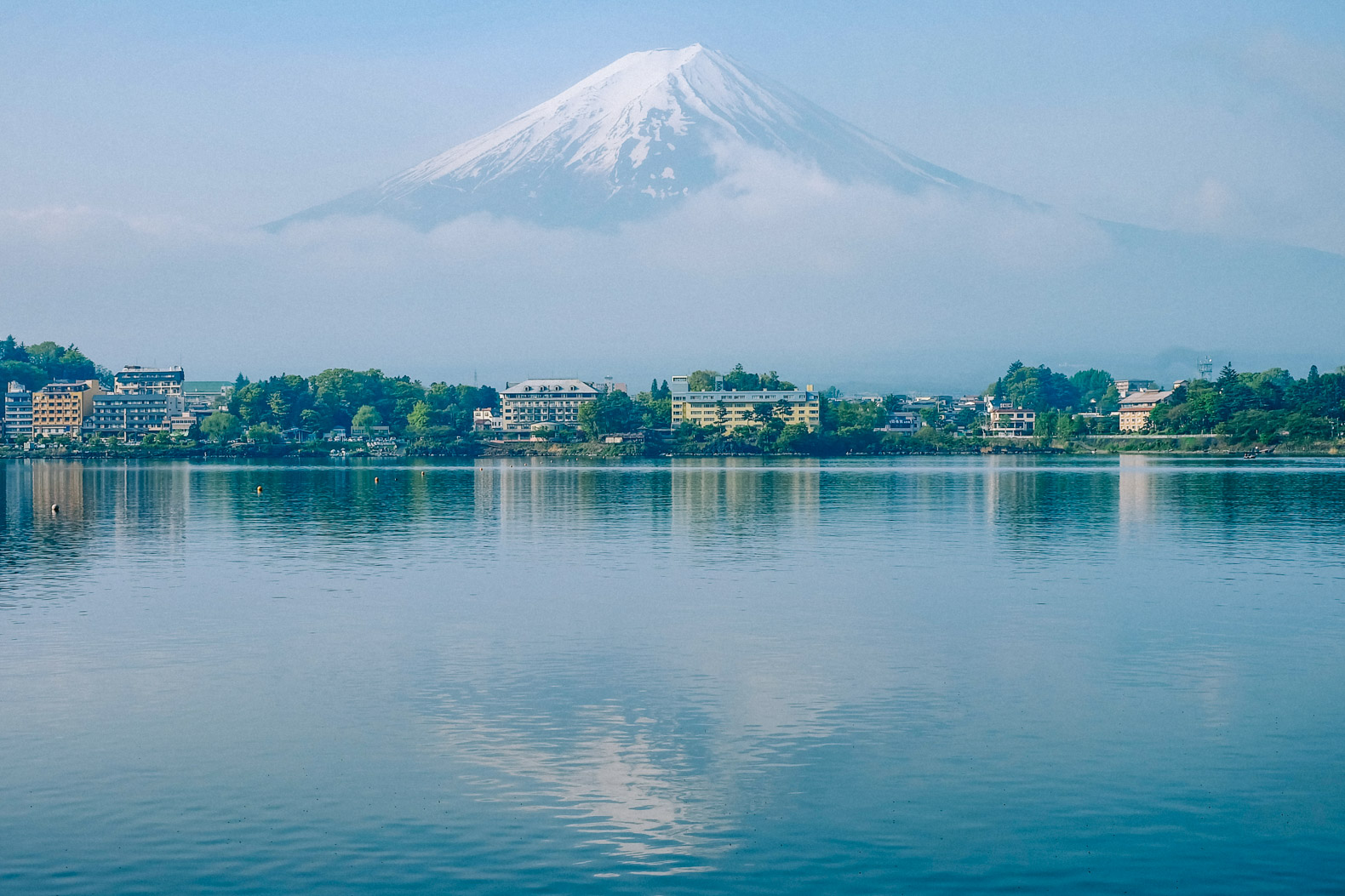 Mt. Fuji as seen from Lake Kawaguchi, Japan. On a day with less wind, you could probably see an even more perfect reflection!
Where to stay at Lake Kawaguchi. We stayed at Kawaguchiko Lakeside Hotel . Honestly, it's overpriced, but everywhere around Mt. Fuji is too. There's a complementary breakfast, where you can choose Japanese-style or Western-style. The people were really kind: one downside is that the bathing facilities are all shared. If you're down with the Japanese onsen and don't mind some public nudity, this is about as authentic as you can get. That said, it was quite empty when we visited during Spring, so you might get it all to yourself!
How to get to Kawaguchi-ko. Kawaguchi-ko is not serviced completely by a typical rail line covered by the Japan Rail (JR) Pass. From Tokyo by train, you can depart from Shinjuku in the direction of Otsuki. There you transfer from the JR Chuo Line to the Fujikyu Railway line. If you have "JR Tokyo Wide" pass, the trip between Otsuki and Kawaguchi-ko will be covered by your pass, otherwise you have to buy the ticket separately (1140¥ one way). Read a complete list of ways to get to Kawaguchi-ko here
Fuji Shibazakura "Pink Moss" Festival
As I said, everyone tells you that waking up first thing in the morning is the most important thing you can do to ensure that you're going to be able to see Mt. Fuji. For us, the opposite was true: Mt. Fuji became more visible as the day went on. I guess the moral of the story is that you should not plan to visit Mt. Fuji for only the morning, because you might miss out on a totally clear afternoon!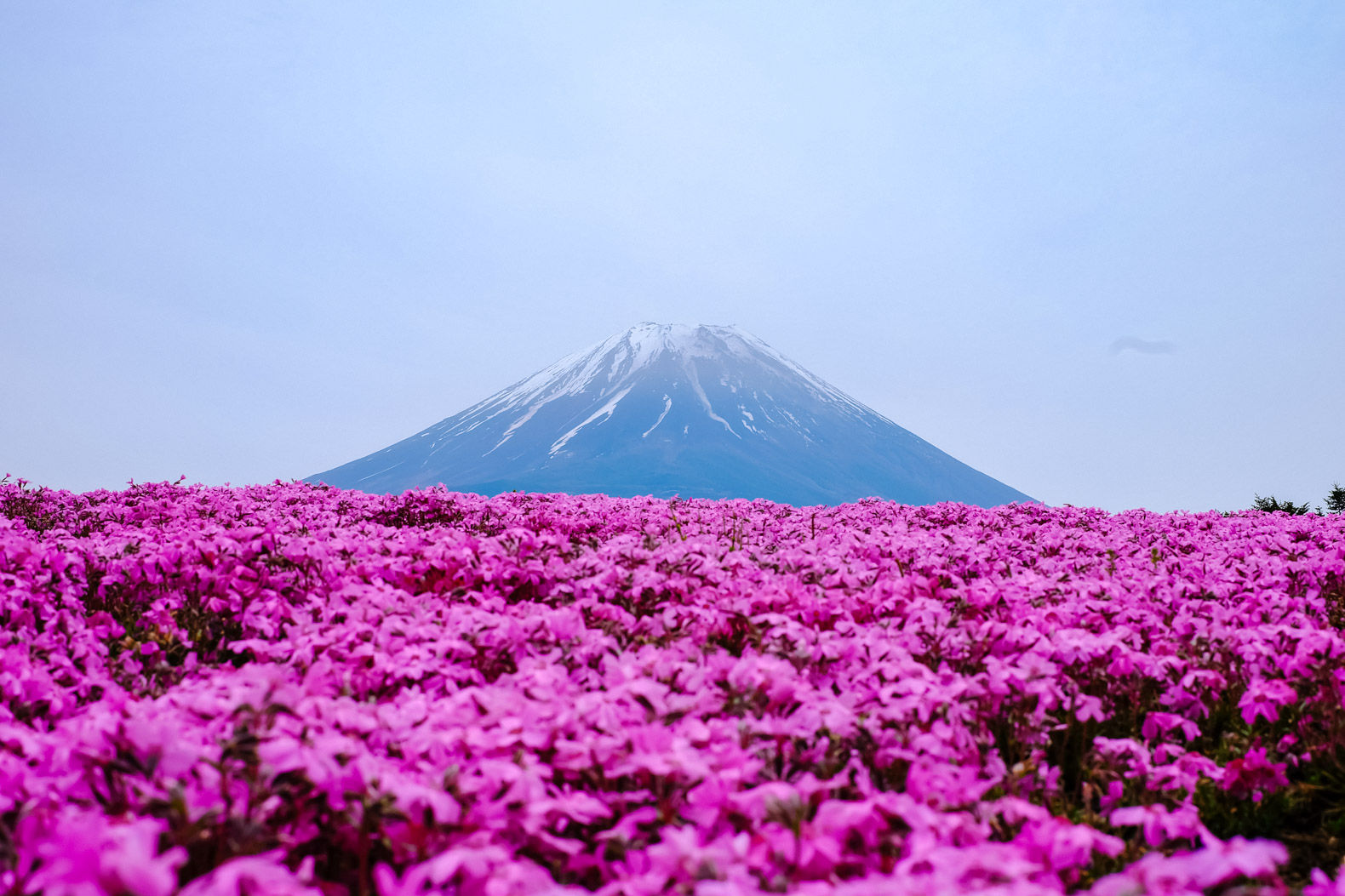 Thanks to the fact that it cleared up immensely, the view at the Fuji Shibazakura "Pink Moss" Festival was so much more impressive. This festival takes place every day from mid-April to end of May, where you can see a blanket of "Moss Plox" (small, pink flowers) covering small hills leading up to Mt. Fuji. I was there at the very beginning of May, and not all of the flowers had bloomed yet, but we were rewarded with some lingering cherry-blossoms 😄
How to get to the Shibazakura "Pink Moss" Festival
There is a bus that departs from the main station in Kawaguchi-ko.
On an interesting, but very sad note: On your way to the festival, your bus will pass through Aokigahara , also called Suicide Forest or Sea of Trees. Located on the northwest base of Mt. Fuji, this dense forest is best known as a common suicide site (on average, one person is found every week or two).
Chureito Pagoda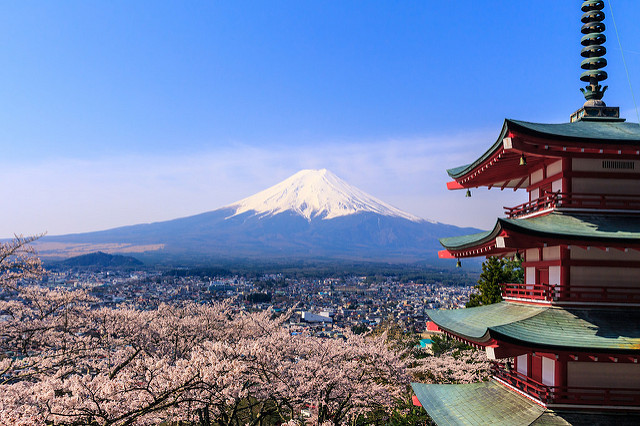 Photo credit: Flickr
Not seeing Mt. Fuji from this point is probably the one and only thing I can say I really regret about my trip to Japan! It's so close to the Kawaguchi-ko, that it's really a shame to miss it if already in the area. I think it looks absolutely spectacular around sunset in particular! My perfect day of Mt. Fuji viewing would be: start at the lake, go to the Pink Moss festival, and end at the Pagoda. Let me know if you try this!
How to get to Chureito Pagoda
From the Kawaguchiko Station, you can take a train along the Fujikyoko Line which lasts about 13 minutes. From there, it's a 20 minute walk to the pagoda.
Hakone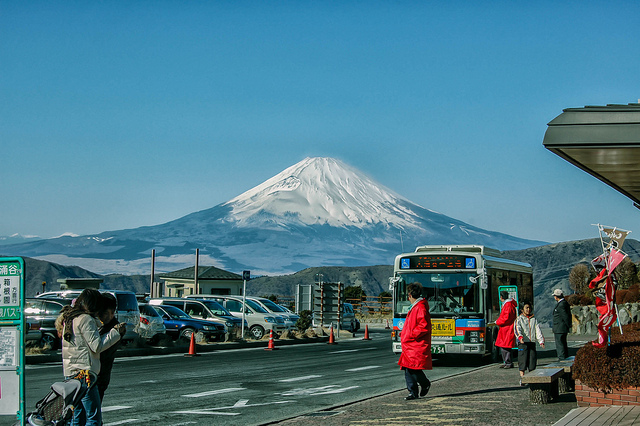 Photo credit: Flickr
Hakone is further away from Mt. Fuji, so it is one of the hardest places to see Mt. Fuji. But on a clear day, it also offers some of the very best views. On the northern shorts of Lake Ashinoko, you can see one of the most classic Mt. Fuji views, featuring the lake an a floating Torii shrine. You can even take a sight-seeing boat across the lake to snap some really unique pictures.
How to get to Hakone
There is no direct way, besides car, to get between Kawaguchi-ko and Hakone. You have to go about 60% of the way back to Tokyo to make it happen. So most likely, you will pick either Lake Kawaguchi or Hakone as your Fuji-viewing location. From Tokyo, you can take a direct train to Hakone.
One of the big draws of Hakone is the ability to do a boat tour and see Mt. Fuji from Lake Ashi. Check out this highly-rated Mt Fuji and Hakone Cruise & Bus Tour which has convenient pickup locations around Tokyo.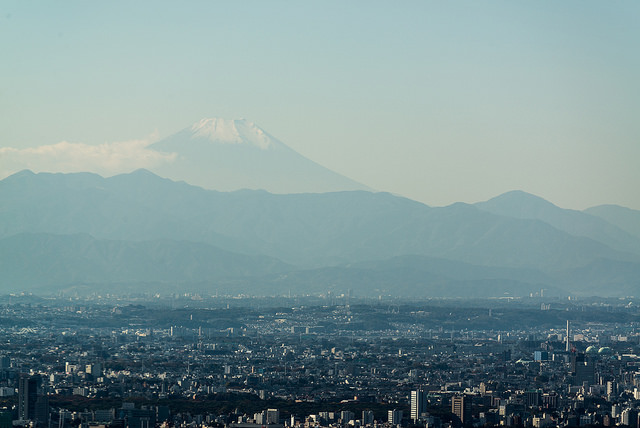 Photo credit: Flickr
Tokyo Skytree Tower
It takes a loooot of luck to be able to see Mt. Fuji from the Tokyo Skytree, but on an exceptionally clear day, the view is impressive. What you have to keep in mind is that Tokyo is actually very far away from the mountain (100km!), so you need near perfect conditions to score this view. Having been in the Tokyo Skytree myself, I think it's only worth it if you can go up on a clear day anyways. I went up on a hazy day, and the view disappears pretty quickly.
How to get to Tokyo Skytree Tower
Tokyo Skytree is super easy to get to, and is even labeled as its own stop on the Tokyo metro.
Day tours to Mt. Fuji
There are several places you can go to see Mt. Fuji, with Lake Kawaguchi and Hakone . I've only been to Lake Kawaguchi but next time I really want to visit Hakone. Each of these different tours will give you a different perspective on Mt. Fuji:
Did you know that Mt. Fuji is only visible for about 1/3 of the year?
This summer I met up with a friend from University, who came to Europe on vacation with a friend he met after moving to China. Like all old friends do, we were talking about pictures we recently posted on Instagram. I pulled out one of my dopest pictures of Mt. Fuji, and he responded viscerally, "Noooooooo put it awaaaaaaay!!!!!!"
What? Why should I hide this glorious picture of Mt. Fuji? The entire world should see it?!
Turns out that during his trip to Japan just months earlier, he and his lady friend tried to see Mt. Fuji. Tried being the operative word. Mt. Fuji is only visible 90 days of the year. These star-crossed friends never had a chance, and the unsuccessful attempt to see Mt. Fuji left the aforementioned lady friend completely devestated, and we should avoid allowing that memory to resurface at all costs.
It is very hard to predict Mt. Fuji's visibility. Unless you will be spending a lot of time in the area, you pretty much have to book and pray. Here are a couple of practical tips for upping your chances of seeing Mt. Fuji:
Winter is the season producing the most days of visibility.
Summer is the most difficult season, because the humidity is higher.
You can check the Mt. Fuji TV for a live view of Mt. Fuji if you're only planning to come for the day.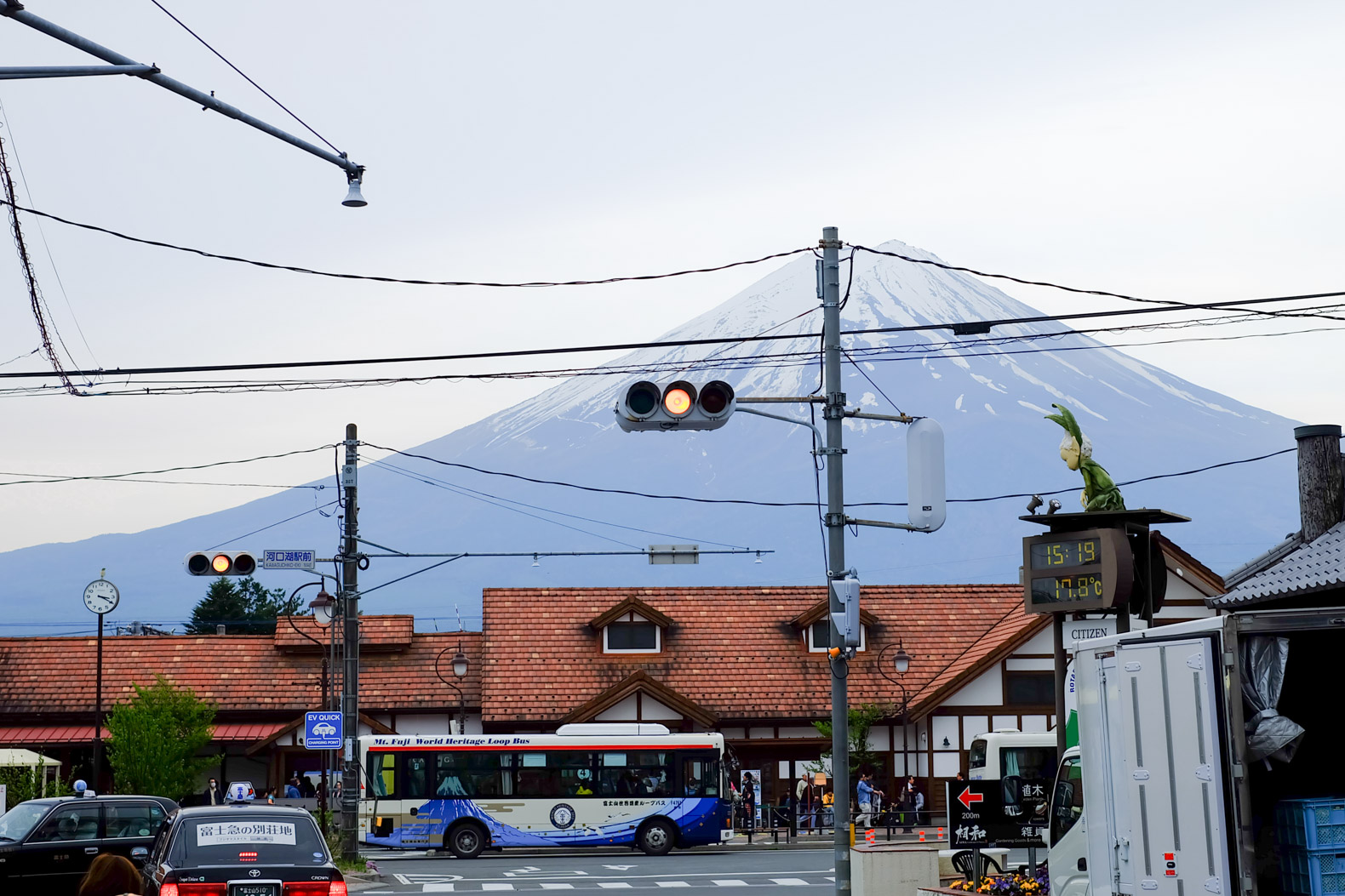 Which place do you think offers the BEST view of Mt. Fuji?
Did I miss any of your favorite spots? Let me know in the comments and I will put it on my personal list!!