Twenty-four hours earlier, we'd arrived in Osaka's famous Dotonburi neighborhood. Its eponymous street is densly lined with street food vendors hawking takoyaki, while gigantic mechanical octopuses wriggle over their heads. Large, loud, neon signs proclaim something along the lines of, "Come and get it!" People push past at a fast clip, stopping only for a half-second to take in the obviously overwhelmed look on my face.
It was a shock arriving in Osaka, and it was a shock leaving.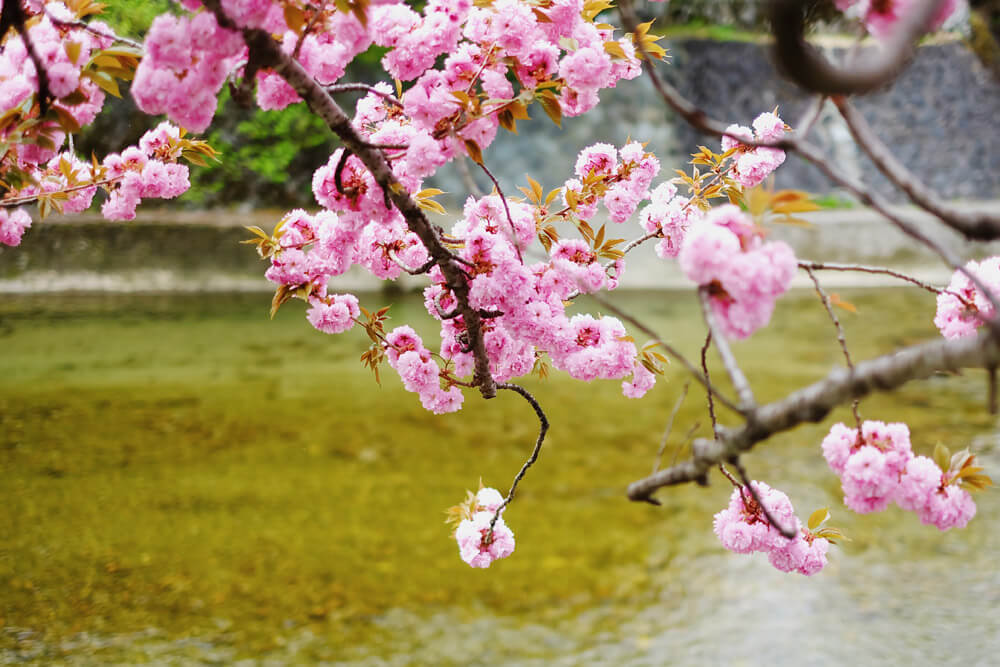 It takes only a few hours on the train to go from Japan's wildest metropolis to Takayama, a small town somewhere in the Japan's northern alps. From neon lights to reflective water. From tall buildings to massive trees. From rushing people to running water. I guess you could say we experienced culture shock several times in Japan.
A train through the mountains
Given the astounding fact that Japan has a higher population density than India, it's no surprise that it's hard to find a place without people, even when you are traveling Japan by train.
Small towns grow organically from the rail tracks that jut through Japan's countryside. Takayama, however, is a town that existed long before the venerable Shinkansen (bullet train) linked together formerly isolated locations. Its high altitude and separation allowed it to develop a distinct culture, characterized by excellence in carpentry and woodcrafts.
Wake up to the morning market
The way of the turtle is to start at the morning market. One is by the river, Miyagama, and offers largely handmade crafts by local artisans. The other: produce, flowers, and other wares you might need to start your day.
These markets begin as early at 6AM in the summer and wind down by noon. Depsite Takayama's surprisingly large population of 90,000 people, the markets are not crowded. There's a shop that specializes in chopsticks – bet you didn't know that two tiny sticks could be so customized! This place has chocksticks from floor to ceiling, with prices ranging from "gift for a work colleague" to "I'd be lucky to get this as a wedding present…from my own parents."
At the Miyagama morning market, I bought a small, hand-carved owl for my dad. It's made from the Japanese yew, which especially grows in the Hida region. Aparently this tree is toxic, so I'll have to tell my dad not to try to swallow his present.
The streets of Takayama
Takayama's merchant district dates back to the times when the shogunate still ruled Japan. This is considered the country's final "traditional" era – a time capsule of the moment just before Japan opened up to the West.
The merchant houses are only really preserved in terms of their façade, with most of them having been turned into shops. To be honest, it feels pretty commercialized, and it's no surprise why – there are a lot of tourists in Takayama, including Western tourists.
Amid the shops, we found tea houses, sake shops, and of course plenty of places to snag tea pots and other traditional Japanese wares. Of everwhere I went in Japan, Takayama was the best place to find something to take home.
Ryokan in the Japan alps
A ryokan is a traditional Japanese guesthouse, where everything from the room, the food, and the service is set to match. The tatami mats on the floor were such a welcome rest to sore feet. If you get one thing out of this post, let it be this: Stay in a ryokan when you are in Japan!
The sign on the right is for the Ryokan where we stayed, Sumiyoshi Ryokan.
Perched amid cherry blossoms, looking out over the Miyagama river by day and the brilliant mountain moon by night.
First, there is the fabulous owner who took care of us, aided by a small army of ryokan-ladies. It was like returning to childhood. She made us matcha tea and taught us how to eat our breakfast with chopstocks, making ad hoc sushi with nori sheets and steamed rice. Heaping a huge mound of rice into Gernot's bowl, she justified it, "Fuji-san of rice make you strong!" Hard to argue with that kind of logic.
SEE ALSO: Regional cuisine and street food to try in Japan
Besides breakfast, sleeping on the floor, and the traditional Japanese decor, an esssential part of a ryokan stay is the onsen. Onsen are traditional Japanese baths – if you're into public nudity, this will be your cup of tea! If not – well, you could stay at a ryokan like ours, which had a bath available for private- and couple-use.
Dressed in a yukata (a Japanese "summer kimono"), drinking matcha, then taking a dip in the bath – now that is the kind of slow living that I am keenly interested in.
Little Kyoto
Both Kyoto and Takayama have areas called Higashiyama, where temples and shrines have gathered together for optimized gawking. But it's honestly hard to see how small-town-Takayama's temple district has anything in common with that of Kyoto, which is basically a zoo. Little Kyoto, on the other hand, is delightfully tiny and quiet. The only person you might spot is a stealthy gardener.
It was like stepping into a Miyazaki movie. The gentle wind manages to draw you in, just like a scene from Spirited Away. Doesn't this guy look like he'll suddenly start speaking to you?
Little Kyoto contains a lot of tiny magic moments. A statue of a young samurai, moss-covered shrines, dozens of folded paper cranes.
While there may be abundant visitors in the merchant streets, Higashiyama the calm in the mildest storm ever weathered.
What you need to know before visiting Takayama
Takayama is a town with charm, friendly (and patient) residents, gorgeous surrounding areas, and a relaxing pace of life. That said, Takayama is not only what you see in the pictures. Most of Takayama has the same "look" as other, urban Japans cities – unfortunate, uncreative architecture with utilitarian aesthetics.
SEE ALSO: Sake to me! A beginner's guide to sake.
So don't be surprised when you show up in Takayama and you think, "Nothing like the pictures." Takayama has very beautiful places, but the area between the train station and your ryokan is not it. Take some time to wander, and you will be rewarded.