The Japanese have had a lot of good ideas — bullet trains, tamagotchi, the shiba inu — to name a few — but possibly the best of all has to be the national cuisine. Don't believe me? Would you believe Anthony Bourdain:
"This is a great country. Every chef I know wants to die here." — Anthony Bourdain
I think we can extrapolate that Mr. Bourdain meant to end this sentence with "in happiness."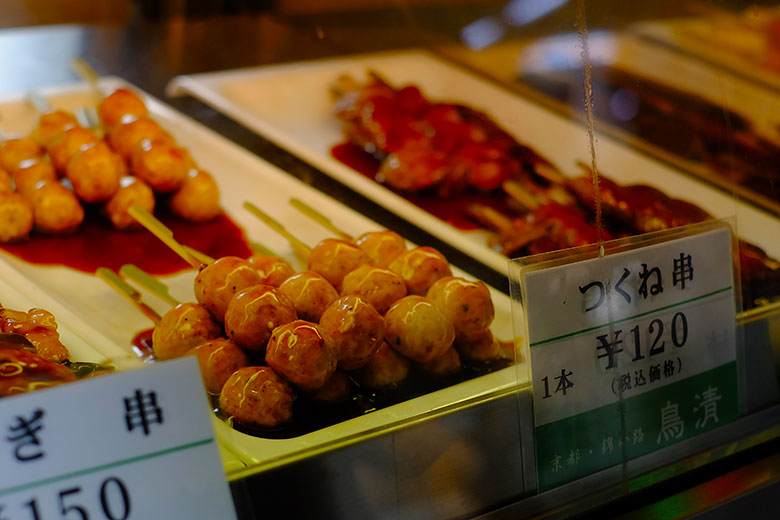 Tsukune, Japanese chicken meatballs covered in a sweet yakitori sauce, at the Nishiki Market in Kyoto.
Japanese food is subtle and surprising at the same time. Its sheer breadth and diversity means you could stay in Japan for months without eating the same dish twice.
Local cuisines and street foods are especially intruiging for several reasons. Firstly, it's representative of what the people are eating regularly. Secondly, many of these dishes are so specific to regions of Japan, you'll be hard pressed to find them anywhere else in the world.
So, as the Japanese say: Please enjoy…
Japanese-style breakfast
As someone who can hardly stomach more than a cup of coffee first thing in the morning, the idea of a Japanese-style breakfast seemed positively overwhelming. But if the Japanese have such long lifespans, how can I argue with rice for breakfast?
Luckily, the host at our traditional Japanese guest house was there to help me through it. Both mornings, she separated my chopsticks for me and demonstrated how to form ad hoc sushi rolls with nori sheets, soy sauce, and rice. She deftly turned over a fragrant, sticky mixture which simmered voraciously over a traditional charcoal grill. Then she formed bites for us.
I imagine that's what it's like to be a two year-old with a Japanese grandma.
What's in a Japanese breakfast? Miso soup, mysterious pickled vegetables (including but not limited to daikon), exactly three very sour berries (maybe umeboshi), fresh green tea (lightly double-brewed), broiled salmon, tofu, tamagoyaki (rolled omlette), nori (dried seaweed), some delicious mixture of unknown ingredients that simmers on a leaf (collected from the nearby mountains), and of course — a biiiiiiig "Mt Fuji" of rice. For strength.
Where to find it? Breakfast, and sometimes dinner, is typically included if you spend a night at a ryokan (a traditional Japanese guest house). We also received a somewhat similar breakfast at a Japanese-style hotel, but the quality of course didn't compare. We stayed at Sumiyoshi Ryokan in Takayama and I couldn't recommend it enough.
Okinawan cuisine
Okinawa is so far south, its cherry blossoms begin blooming in mid-January. Its islands were once part of an independent state called the Ryuku Kingdom, which only became a real part of Japan one generation before World War II. It has a distinct dialect, culture, and of course — food. We wandered into an Okinawan restaurant by chance, and it soon became clear that fate had a hand in our dinner.
This is a dish involving tofu, tempeh, and a tomato-based sauce. Unlike most Japanese food, it had a spiciness which built with every bite.
What is Okinawan food? Okinawa's most iconic dish is called Goya chanpuru. Chanpuru literally means "something mixed", and can refer to the Okinawan culture as a whole, which is a mixture between traditional Ryukyu, Chinese, Japanese, Southeast Asia, and North American culture. The term is thought to originate from the Indonesian word campur meaning "mix". The Okinawans pride themselves on having a "chanpuru culture": laid-back, easy-going, surfer-vibes.
Goya itself refers to bitter melon, which Okinawans will snack on straight. But the dish itself looks like a mess of tempura jumbled together. They also have a dish called "Taco Rice", which is quite literally the Japanese version of a taco salad.
Look in the right corner — that chopstick rest is shaped like a Shīsā, a creature from Ryukyuan mythology resembling a cross between a lion and a dog. The open-mouthed version here is typically believed to protect against evil sprits. Big job for a chopstick rest!
Where to find it? If you can't make it to Okinawa, you can sample from the extensive menu of Okinawan food at Asian chample foods, Goya in Kyoto. It's a short walk from the west end of the Philosopher's Path or the Ginkaku-ji (Silver Palace).
Onigiri
Alright, not local cuisine or a street food — but it is the next best thing: convenience store food. I'm not sure how many dozen of these I ate while I was in Japan. On sale, they're only ¥100.
The best/worst part is that often times the filling isn't indicated, and sometimes the picture is non-descript as well. Every time, it's a surprise! I only once ended up with one that was inedible, and unfortunately it was the one I was eating on my way to my flight out of Japan. Neverthless, I would do it again.
What is onigiri? Rice, shaped into triangles or circles, wrapped in nori (seaweed). Some convenience store onigiri has this incredible mechanism which keeps the rice and the seaweed separate, so it's crispy when you open it.
Where to find it? Sometimes it's also on the menu as a side-dish, but it's most easily available from convenience stores like 7-11 and Family Mart.
Igamenchi
After an evening viewing cherry blossoms by night in heavy rain, we wandered around Hirosaki looking for something to eat. With soaked socks and freezing fingers, it was demoralizing to look around and see the city seemingly asleep. By a stroke of extreme luck, we found what we were looking for: numerous permanent food stalls grafted together in a building that looks like it would typically host offices full of salarymen.
What is igamenchi? "Iga" is the local way of saying ika, meaning "squid". The minched squid tentacles are mixed with vegetables and then deep-fried. It's delicious, not too chewy, and the perfect accompaniment to a hot sake on a rainy day.
Where to find it? This specialty of the city of Hirosaki may be hard to find elsewhere. We ate it at 日向ぼっこ, Hinatabokko, located inside the collective Kadare Yokochō (look for orange curtains and a green paper lantern). It was probably the most fun I had eating in Japan — as soon as we sat down, one guy designated another as our ambassador, who helped us through the menu. The stall is intimate and lively, and we had a hilarious time trying to communicate with the other guests in broken Japanese (who had presumably indulged in a few cups of sake before we arrived). The owner kept feeding us delicious local fruits. I wanted her to adopt me.
Kaiyaki Miso
Also at this delightful food stall in Kadare Yokochō is another local cuisine which is served out of a scallop shell. As it was cooking over the traditional japanese grill, the staff kept telling me (with palms outstretched in my direction), "Chotto matte, wait!" The dish bubbles over the flame and after a few minutes, it's ready to eat!
What is kaiyaki miso? Daishi soup, miso, green onions, scallops, and egg. For this, they gave us spoon — I'm not sure if it's just because we were western 😉
Where to find it? This dish can be found in the Aomori region of Japan, which is the northernmost prefecture on Japan's main island of Honshu.
Oysters
Another food first for me, I ate my first ever oysters in Japan. Having seen plenty of slurping in the past of people eating oysters, I was a bit nervous of whether it'd be weird. But oysters are a specialty of Hiroshima, where an annual oyster festival is held every winter!
The Japanese can fry anything, so it's no surprise that "fried oysters" is the most common oyster-form found on the menu. Purists seem to be appalled by this. It's possible to get fancier raw oysters throughout the city, but certainly more expensive.
What are oysters? Oysters. Oysters are oysters.
Where to find it? Hiroshima is possibly the most famous for oysters, but Hokkaido is also known for them. If you happen to be in the Hiroshima/Miyajima area in January or Feburary, you might be able to catch one of the series of oyster festivals that happen between the two locations. Any time of year, this skewer of three oysters was just ¥400 on Miyajima Island (a short ferry ride from Hiroshima) from a street vendor.
Okonomiyaki
In a lot of places, Okonomiyaki is actually made by the guests at a restaurant. The establishment itself only provides the ingredients, and your job is to cook it. Obviously, as a foreigner with no prior okonomiyaki-grilling experience, the idea of ending up somewhere like this a bit intimidating.
Luckily, we popped in to a place where it's all prepared for you — the chefs also prepared oysters and gyoza on the flat grill, which was highly entertaining to watch (they put ice cubes with the food under a metal bowl to steam the gyoza!).
To eat the Okonomiyaki, you basically get a metal spatula and chopsticks. The Japanese do it by cutting the whole okonomiyaki in half, and then several times across — more efficient than what we were doing, one piece at a time.
What is okonomiyaki? People compare it to a 'pancake' but I'm not entirely sure the resemblance goes beyond the shape and the fact that it's made on a griddle. It's more like a savory crêpe sandwich, with all sorts of chaos inside. The contents vary by region, and several claim to do it best. The standard version includes shredded cabbage, eggs, various sea foods, and sauces everywhere. In Hiroshima, you'll find Okonomiyaki in a local style: layered instead of mixed, and containing noodles! It's also the only place where you can get oysters inside (go figure).
Cutting okonomiyaki involves a metal spatula and determination.
Where to find it? Okonomi-mura (lit. "Okonomiyaki Village") in Hiroshima is famed for having tons of choices. On their website, you can see several descriptions of different establishments that offer it. I can't remember which place we visited, but I think it's safe to say you can just walk in off the street and they'll take care of you!
Udon
Finally I know what this emoji is: 🍥 ! It's called narutomaki, and is a seasoned and cured fish paste. I would've thought it was a vegetable, honestly…
Anyways, back to eating Udon. Perhaps you've heard of Japanese noodle etiquette, which dictates that it's a sign of enjoyment and therefore polite if you loudly slurp your noodles. I have to say, it's difficult not to do when you've got such thick Udon noodles in a yummy broth.
What is udon? The noodles themselves are made from wheat flour, and they go into a noddle soup. It comes in many varieties like tempura udon (lightly battered and fried vegetables), tofu udon, and yaki-udon (the cousin to yaki-soba).
Where to find it? Every other place in Japan specializes in a different kind of Udon. One of the most popular kinds of Udon is Sanuki udon, which originated in the Kagawa prefecture and then spread to neighboring regions. One key for quality udon is to look that the noddles aren't perfectly shaped, as that's a sign that they're handmade and not made by a machine. You can find Udon all over Japan, oftentimes for as little as ¥200-300.
Honetsuki-dori
Honetsuki-dori literally means, "bird with bone", and is probably the second most famous export of Kagawa after Udon. The restaurant we ate at provided us with our most difficult communication challenge at that point in the trip — you might think that in a huge city like Osaka, the servers would be used to interacting in English. Not so. Fortunately we managed with a lot of repetition and pointing, and it was totally worth it!
What is honetsuki-dori? Typically served-bone in, this chicken comes in two varieties: Oyadori (adult chicken) and Hinadori (young chicken). Both are prepared by being baked in salt, pepper, and garlic until tender. The pepper is surprisingly spicy, and definitely needs an accompanying beer to wash it down. We got the young chicken with o-musubi (an alternative term for onigiri, rice balls), which we were instructed to dip in the, err, chicken liquid. Definitely delicious, definitely unhealthy.
Where to find it? We ate honetsuki-dori in Osaka at 一鶴 心斎橋店 (Ikkaku), located near Dotonbori, Osaka's loudest and livliest district. It's on the third floor of what looks like a department store, but is actually full of restaurants (a common phenomenon in Japan). Focus on looking for a sign with the "一" and pictures of chicken and you'll find it.
TIP: At this restaurant, you pay by bringing a card with a number on it from your table to the front counter. They have an awesome English menu complete with cartoons. Almost all the side dishes are also chicken.
Takoyaki
I made a big mistake. I was so full after my meal of Honetsuki-dori that by the time we made it to wandering around Dotonbori in Osaka, I had no room left for all the crazy foods being hawked on the street.
So I had to settle for some festival takoyaki, and I have to say: I didn't like it. It was too soft and the takoyaki sauce was really overpowering. But when I told a friend about my experience, she was surprised and said that clearly my takoyaki was undercooked. Next time I'm in Osaka, I will eat proper takoyaki at any cost!
What is takoyaki? Tako in Japanese means "octopus", and yaki basically means "fried or grilled" when used as a suffix. That's why you can find all sorts of yaki things in Japan: teriyaki, sukiyaki, okonomiyaki. Takoyaki in particular is therefore a wheat-based batter, filled with octopus, tempura scraps, green onion, and pickled ginger, grilled together in a special pan with sphere-shaped slots.
Where to find it? Osaka is unequivocally the place to eat takoyaki. Don't make my mistake! Just eat it. You'll see bajillions of street vendors frying up takoyaki, often with enormous octopus mascots mounted over their shops. It's impossible to miss — just pick the spot with a decently sized line and do as the locals do.
Tako tamago
Honestly, I almost whimped out. We were walking through Kyoto's Nishiki Market, struggling slightly with the strong smell of fish, and there it was — candied octopus on a stick. I'd read about it online and threatened my boyfriend with putting one in my mouth with the tentacles sticking out and try to give him a kiss. Honestly: disturbing!
But when the time came, we'd just had breakfast and I used it as an excuse not to try…but luckily, he shamed me into getting one and I'm glad I did!
If I look concerned, it's because I am.
What is tako-tamago? Candied octopus, stuffed with a quail egg. The flavoring of the "candied" part is not overpowering — slightly sweet but almost goes unnoticed. The octopus itself is chewy, as octopus is. No strange surprises. Honestly, I had a difficult time psychologically taking big bites!
Where to find it? I don't recall seeing it anywhere else in Japan than at Nishiki Market, where I saw two separate stalls selling it. A little internet research seems to indicate that most other people ate it here, too. Come get it!
Funny flavors of ice cream
The Japanese love of ice cream might just rival that of the Germans. The only problem is that an ice cream cone in Japan is more than twice as expensive as in Europe, so the costs seem to add up. You can find ice cream on any given street, and often in flavors you might've never thought to put on a cone; sweet potato, grape, green tea, and black sesame are staples. There are also "normal" flavors like strawberry, mango, and vanilla.
I tried the two most common Japanese flavors: green tea and black sesame. One I loved, one I hated! Could you guess which?
To me, the green tea was meeeeeeh. I like matcha in general, and drank tons of it at every sushi restaurant, but in the form of ice cream it just didn't do it for me. It was too bitter. Black sesame, on the other hand, was delicious! I was a repeat customer of this flavor.
Where to find it? Basically everywhere in Japan. The typical price for ice cream seems to be between ¥300-350. I can't fathom paying more for it. The best deal we saw was ¥250 but it was really an anomaly. This comes out to about $3 for ice cream, which is steep!
Hida beef
You've probably heard of Kobe beef, which comes from cows who are supposedly massaged in sake every day. But have you heard of Hida beef? Like Kobe, Hida (pron. "hee-da") is a region in Japan that has a special technique for raising cattle, and the beef produced is considered on par with that of Kobe — just less marketed. Rather than "getting massages", the cows are carefully protected from harsh winters and roam freely in summer through lush pastures with a view of the Japan alps. What a life!
What is Hida beef? Hida-gyu, as it's known in Japanese, is recognized by its even marbling and a melt-in-your-mouth texture. Typically it's a little fatty. I think I can safely say it's the best beef I've ever eaten — the only unfortunate thing is that it can be quite expensive, so you never quite have a mouthful, only tiny delicate bites.
Where to find it? Hida beef comes from Hida, the northern part of the Japan Alps. Consequently, one of the easiest and cheapest ways to enjoy it is in Takayama, one of the best known towns in Hida. Here, Hida beef is found in varying forms and for varying prices. The most expensive ways to eat Hida beef are at grill-your-own establishments or at a restaurant that offers it in steak form.
We ate it at a restaurant recommended by our tour guide to Shirakawa-go, and the bill ended up being surprisingly small at the end (under ¥5,000, $50). We grilled our own pieces of Hida beef and then dipped them in lemon juice and some mysterious sauces.
TIP: The cheapest way to eat it is at the asaichi (morning market) near the Miyagawa river in Takayama. You can get a skewer for about ¥400 and a Hida beef sandwich for ¥500 (about $4 and $5 respectively). Picture above is after one healthy bite 😉
Sushi
The classy grandfather of all Japanese foods, sushi in Japan is unlike anywhere else. Say good-bye to the preposterous "inside-out" roll, or large quantities of soy sauce and wasabi masking the precious, delicate flavors of fresh fish. Sushi in Japan is about savoring every single bite (partly because it's so expensive).
Pictured left: "Crub" sticks.
One variety of sushi is called kaiten-zushi, literally, "rotation sushi". This style implies a conveyor belt of sushi snakes around the restaurant, and you can pick off whatever plates look good. The color of the plate indicates the price. At the end of your meal, the server takes a fancy gadget and reads microchips embedded in the colored plates to calculate the cost. Seriously impressive.
At this restaurant, your made-to-order sushi is delivered to you by Shinkansen (bullet train)!
Where to find it? You can also get made-to-order sushi at a rotation sushi restaurant. At the sushi restaurant in 西武渋谷店 (Seibu Shibuya), additional sushi is ordered through a tablet at your table with a complex array of choices and sets. Luckily there's an English setting, though you may simply not have heard of these fish before.
TIP: This sushi spot is located on the 8th floor of the Seibu department store, "building A" according to Google Maps, near Shibuya station. There are chairs that wind around the floor, which you can just sit in and wait for your turn. At 6:30 PM on a Friday, the wait's estimated at an hour.
According to the sushi chef, the two pieces of the left topped in funny green sprigs should not have soy sauce, as it would mask their already perfect flavors.
Where to find it? Our most "extravagent" sushi meal was at すしざんまい 本店 (Sushi Zanmai) — located in the famed Tsukiji fish market. Pictured is a set plate, costing around ¥3,000 ($28) which came with miso soup and tea. We came on a Thursday night around 9PM and were seated immediately.
Foods I missed in Japan
I have to say, I got really lucky in my food exploits in Japan. It happened several times that I was eating the right thing at the right place, totally unbeknownst to myself. But I did miss out on a few exciting dishes:
Uni: Sea urchin, with a notoriously strange texture.
Soba: Although I managed to try Udon, I missed out on Soba. This dish's noodles are made from buckwheat flour, and are often served cold.
Fugu: This is a deadly puffer fish! If prepared incorrectly, it can kill you. Otherwise, it's a delicacy. It can be had at a high price, but also at more reasonable costs.
Which unusual Japanese food do you want to try?
Pin this post for later!