You're probably here because you're planning a trip to Japan – that is already really exciting! I loved traveling Japan, and one of my most memorable experiences was staying in a traditional Japanese inn in the Japan alps. But if you're just starting to plan your trip, you might have a lot of questions: What is a Ryokan? What's the best place to stay in a Ryokan? Is a Ryokan worth the cost? How long should you stay in a ryokan?
In this post I'm hoping to answer all of these questions and give you a peak into what it's like staying in a ryokan, as well as how to find options at all sorts of budgets, and tips for making the most out of your experience.
P.s. Looking for a complete itinerary for Japan? Check out my related post on how to spend 2 weeks in Japan specifically designed for cherry blossom season and updated with information for 2019-2020.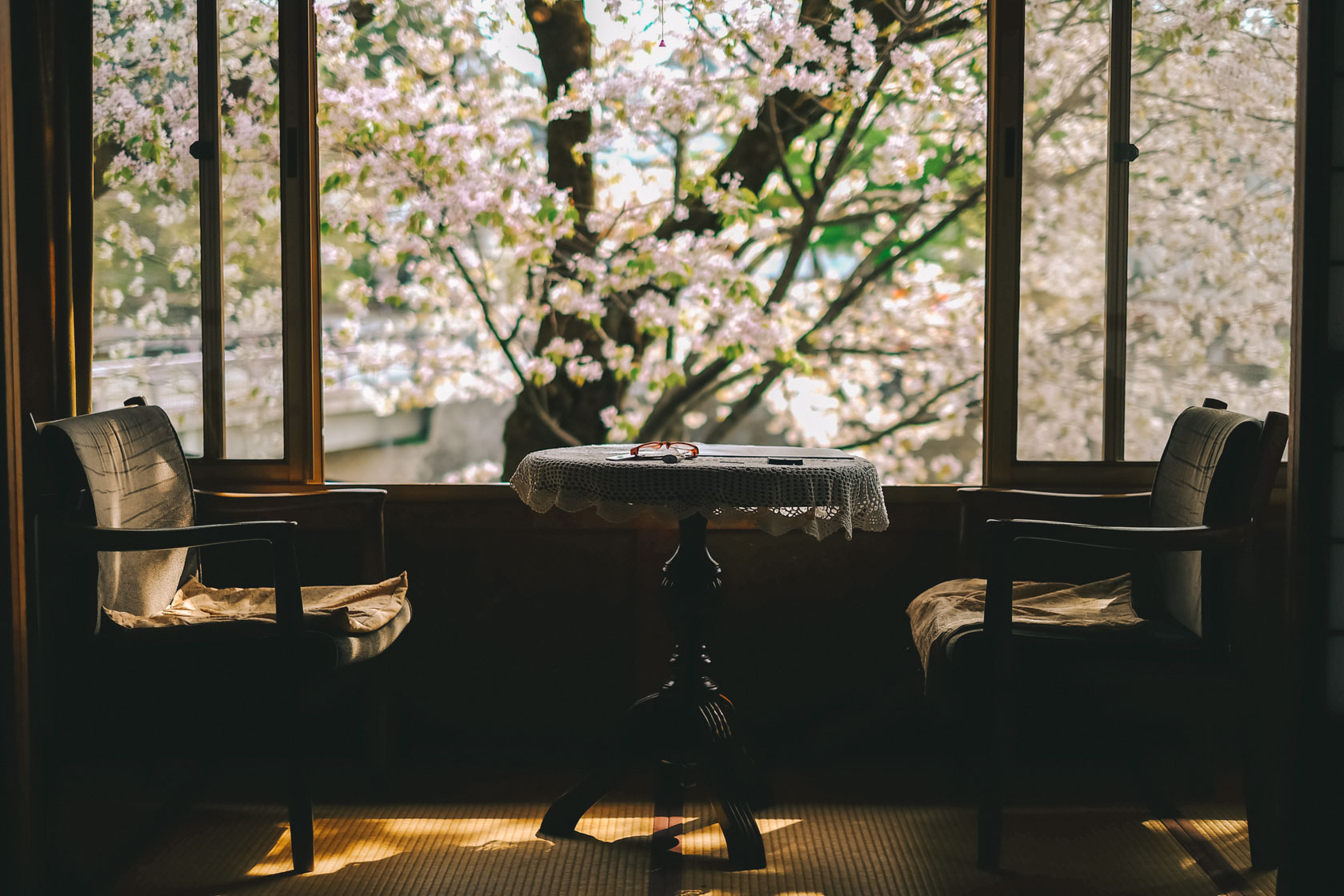 Some links in this post are to affiliate sites. If you purchase something through them, I may earn a small comission — which costs you nothing! I am very grateful when you use my links to make a purchase.
What is a Ryokan?
Put simply, a Ryokan is a traditional Japanese inn. But what exactly does that mean? When you arrive at your ryokan, you'll start by taking off your shoes (I'm pretty sure in Japan you only spend about 50% of your time wearing shoes at all).
After that, you'll check in. Chances are the house is quite old and historical, though there are modernized ryokan as well. Upon checking in, your hosts will help you carry your things to your room, where a hot cup of tea is waiting for you. Soft tatami mats cover the floor, and there's a good chance you'll also have a balcony and a private bathroom.
The room itself is usually minimally furnished – you'll have a low table for eating and perhaps a seating area by the window. All bedding and linens are packed away until the early afternoon, when the staff prepares your room for the evening.
During the day, one of the main activities you'll want to try at a ryokan is the onsen. An onsen is a traditional Japanese spa, you'll find these not only at ryokan but some hotels as well. The great thing about a ryokan is there is probably a private onsen. If you want to do the naked-spa-thing by yourself or with your partner or family, this is a way to do that!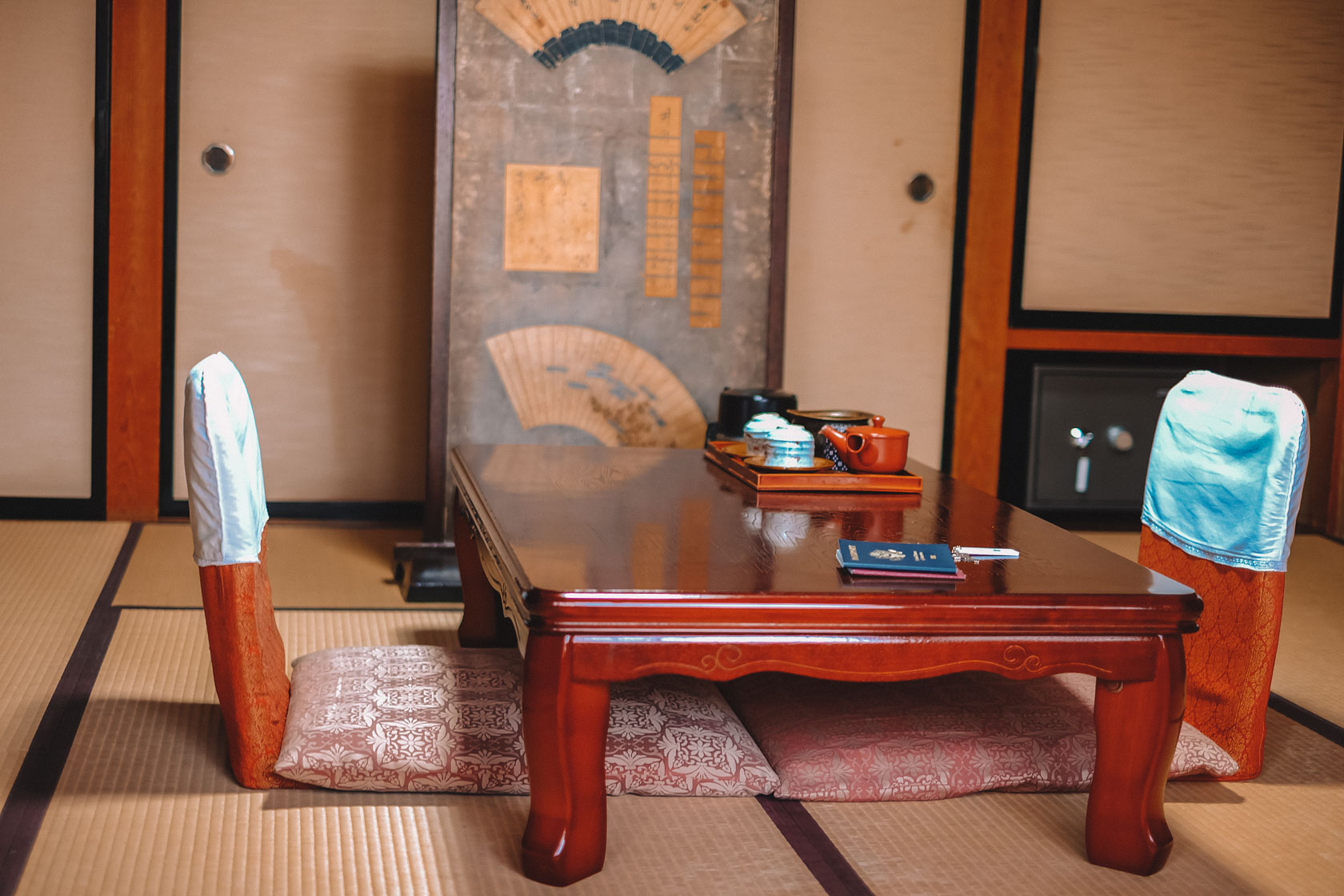 Every morning, you'll have someone come to your room who prepares your breakfast. You'll eat things you never thought about eating for breakfast! In our case, our host made our breakfast personally, and she taught my boyfriend how to use chopsticks 😉
Most likely your ryokan will also include and multi-course dinner, or the option to add dinner on top. This style of meal is normally called kaiseki, so-called haute cuisine. Generally speaking, my advice would be to do dinner one night in the room, and eat out the other evenings if you are staying somewhere urban like Kyoto to Tokyo. Otherwise, you might find that – especially in rurally located ryokan – in-room service is the absolute best option!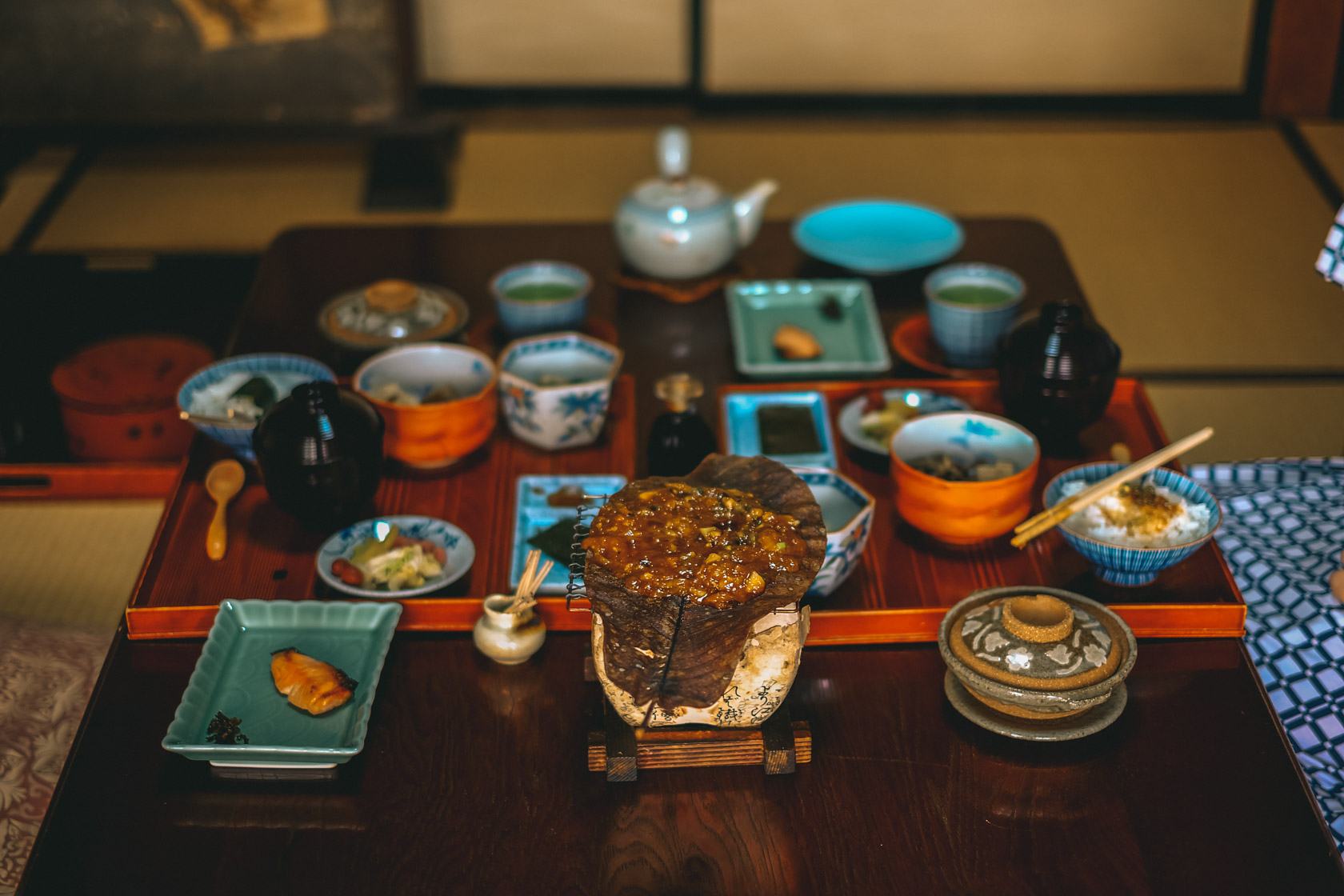 In Japan you have both family-run Ryokan and more commercialized Ryokan. There's also a huge spectrum of how modern it is, how traditional it is, and what services are included – which is obviously reflected in the price!
Honestly you can find ryokan for just about every budget, ranging from hostel-level prices to luxury hotels. We opted for something mid-range, and still felt like it was a really fancy experience. I'll share with you the exact ryokan we booked, how we chose it, and what our experience was like in a moment.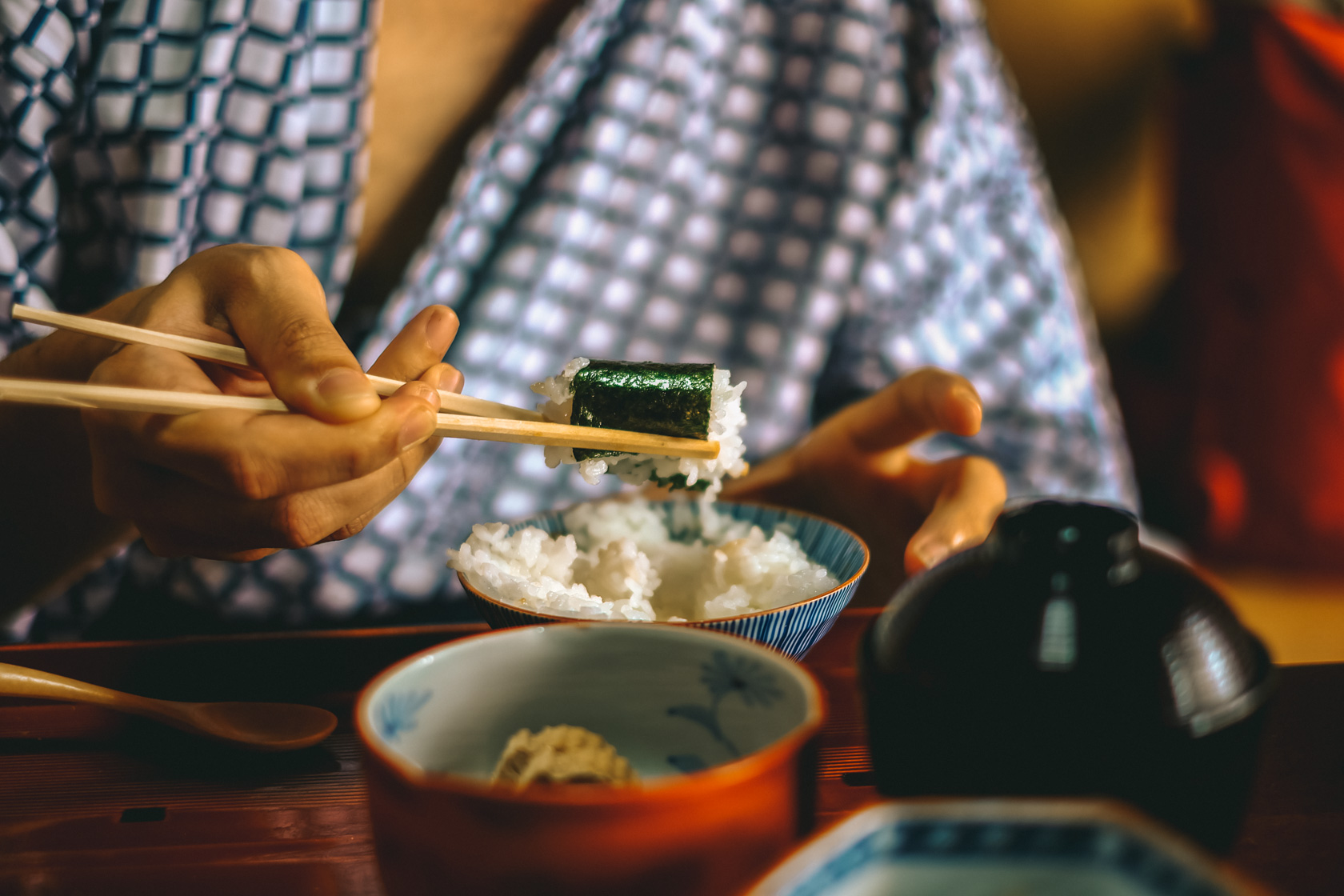 Where to stay in a Ryokan
Because of the fact that ryokan are usually more expensive than a typical "business hotel" in Japan, you'll find fewer of them in big cities like Tokyo and Osaka. That said, the typical Japanese business hotel is microscopic so you might enjoy the extra space that a ryokan usually affords!
It's a lot more popular to stay in ryokan in smaller cities or towns, such as Hakone, or Takayama. A big reason for this is that ryokan is also about relaxing and spending time surrounded by nature, which is a bit harder to do in the middle of the bustling city.
That said, you can find ryokan in almost any city if you look for them. In fact, the world's most famous ryokan is in Kyoto, which is a sizable city in its own right.
Here are the most popular places to stay in a ryokan during your trip to Japan!
It is possible to stay in a budget ryokan for under $100 for two people, just as much as you can also stay in one that will cost you more than $500 per night PER PERSON 😱 All prices are based on two guests. As a solo traveler, you can expect to pay about 2/3 of the price for a single person.
$ >100  |  $$ 100-200  |  $$$ 200-300  |  $$$$ 300+
Ryokan in Takayama
Takayama – Takayama is where I stayed at a ryokan! With the small town vibes, it definitely feels like going back in time when you stay at a ryokan in Takayama. Also the owners of the ryokan we stayed at were so kind. My favorite part was the lady trying to feed my boyfriend a big bowl of rice so he can be strong like Mt. Fuji 😄
| Property name | Price category | Rating | Special features |
| --- | --- | --- | --- |
| Sumiyoshi Antique Inn | $$ | 9.3 | Breakfast included. River view, private onsen, central location in Takayama. I loved my stay here! The hosts were so kind, food was delicious and unique, and our room had a blooming cherry blossom tree right outside the window 😍 |
| Wanosato | $$$$ | 9.3 | Breakfast and multi-course dinner, free transfer service, secluded location in woods in traditional grass-roofed house. If you want to tune in with nature, this is the one to choose in Takayama. |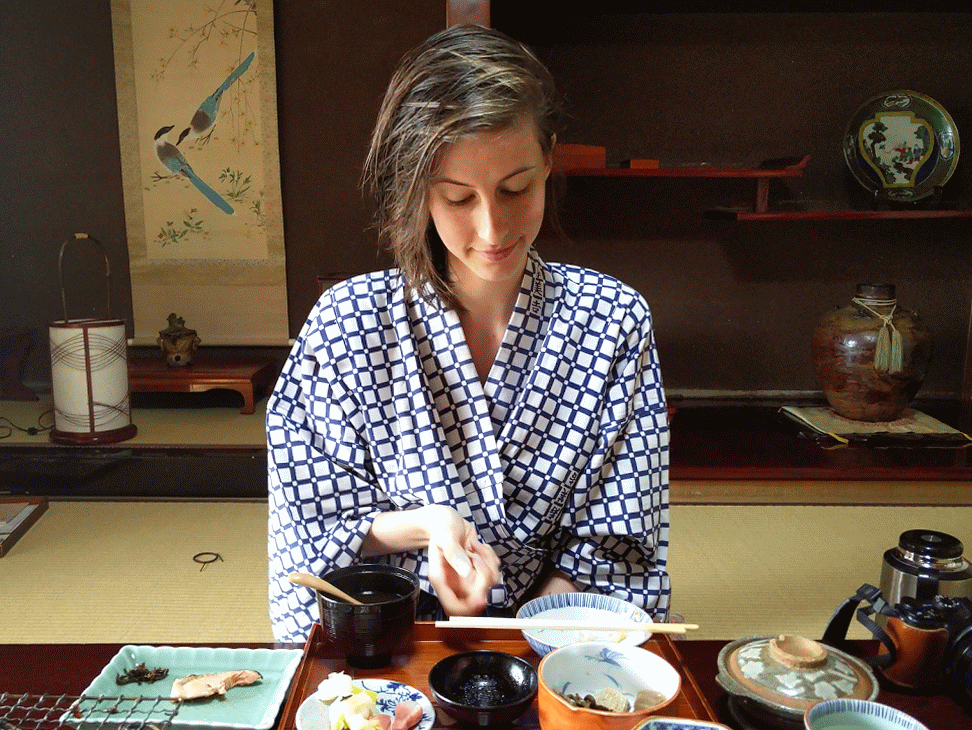 Ryokan in Tokyo
Tokyo – A lot of people visit Japan and base themselves in Tokyo, possibly taking day trips in the area. There are not that many ryokan in Tokyo, comparatively speaking, especially because Tokyo is such an expensive place to stay. But there are a few options if you want to include a ryokan stay in your Tokyo-based visit.
| Property name | Price category | Rating | Special features |
| --- | --- | --- | --- |
| Ito Ryokan Tokyo | $ | 9.2 | Highly rated and very budget-friendly ryokan. Breakfast an additional $4. |
| Sadachiyo | $$ | 9.0 | Traditional ryokan that looks authentic but has modern amenities: close to public transit, 24h baths, wifi throughout. Breakfast included. |
| HOSHINOYA | $$$$ | 9.3 | Private bathrooms, location near the imperial gardens, very modern (if that is what you want!) Breakfast included. |
Ryokan in Kyoto
Kyoto – Kyoto is one of the best places to spend time in Japan if your goal is to soak up culture. Kyoto also happens to be the place in Japan most famous for kaiseki, making it a prime choice if one of your goals of staying in ryokan is culinary.
| Property name | Price category | Rating | Special features |
| --- | --- | --- | --- |
| Ryokan Shimizu | $ | 9.2 | Great value ryokan, though they don't serve any meals. |
| Hirashin Ryokan | $$ | 7.5 | Located in downtown, this is a good choice if you want to be mobile in the evenings. |
| Tawaraya | $$$$$$ | ? | Considered the world's best ryokan. Apparently you cannot book it online, but there are websites explaining how to book Tawaraya |
Ryokan in Hakone
Hakone – Hakone is a popular place to stay in a Ryokan because you can get a room with a view of Mt. Fuji 😱 It's also a great choice if you want to enjoy a ryokan with an outdoor onsen and get connected with nature. Plus, Mt. Fuji is not visible every day, so the longer you stay in the area, the greater your chance is to get a clear view of Mt. Fuji.
| Property name | Price category | Rating | Special features |
| --- | --- | --- | --- |
| Hotel Green Plaza Hakone | $$$ | 8.2 | This is a modern ryokan, with a view of Mt. Fuji and both breakfast and dinner included. |
| Fukuzumiro | $$ | 9.0 | Gardens, view of the river, beautiful interior. Breakfast included, dinner offered. |
What makes staying in a Ryokan special?
You might be reading this post and thinking – what's the big deal?! It's a hotel! I think a lot of people have that reaction when the first thing people suggest they do in Japan is to stay indoors somewhere. Afterall, aren't we here to enjoy nature, soak up culture, and see some famous sights?
Here are a few reasons why I think a ryokan is an essential part of the full Japan travel experience.
Simple yet luxurious
The modest yet attentive nature of ryokan is such an accurate depiction of what the Japanese seem to value: things that are orderly and minimal but still tasteful. You won't feel uncomfortable while you're in a ryokan, nor will you feel extravagent. It's just the right balance.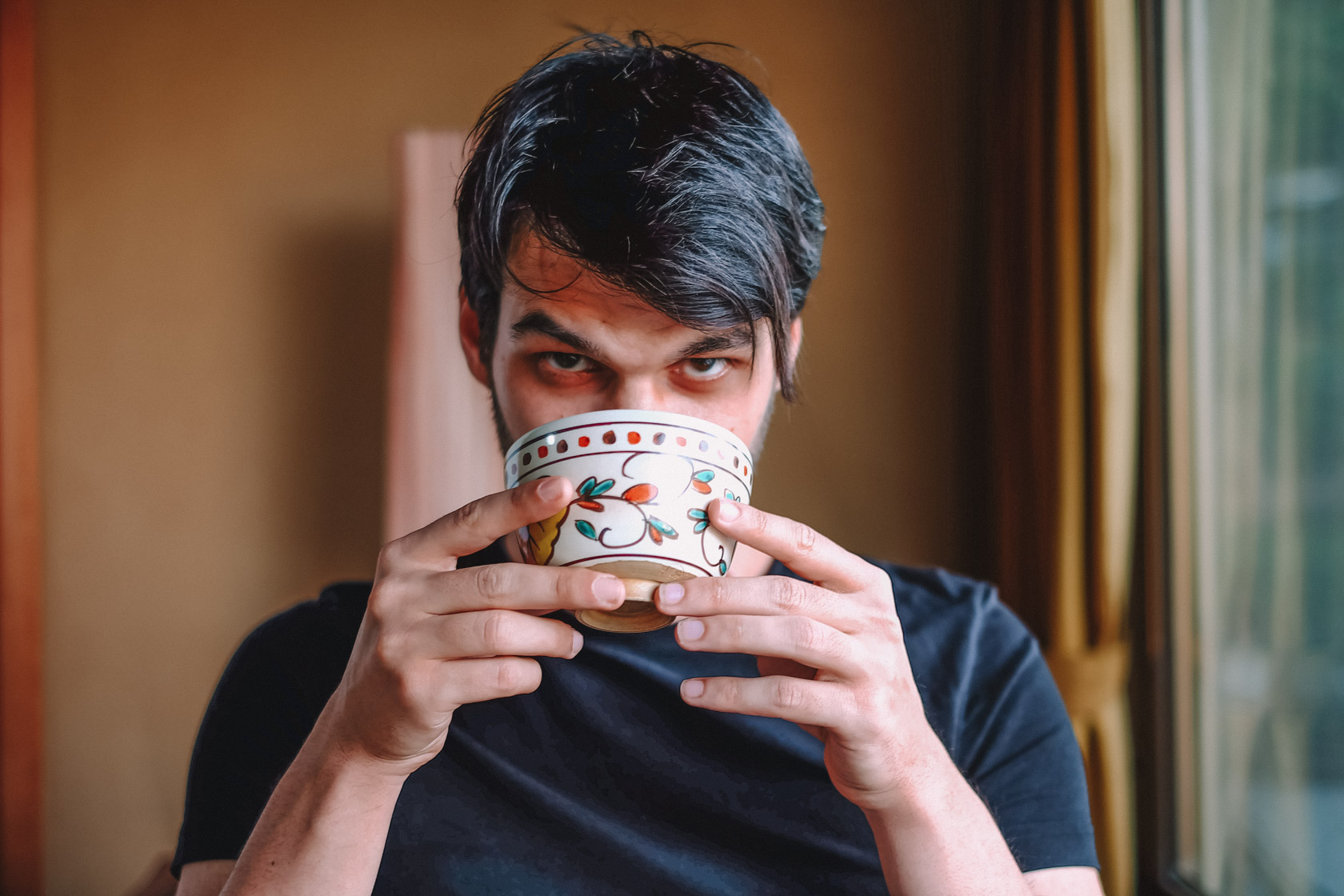 Unrivaled hospitality
If there is one thing I remember about Japan, it's how helpful the people were – and how much they would go out of their way to try and help you, no matter if they could speak English! This extreme hospitality is even more visible in a ryokan, where you get to not only experience the kindness of your hosts but also get to know them a bit during your stay.
Breakfast in bed
I can say with confidence, there are foods I would've never eaten in my life if I didn't try them for breakfast in a ryokan! I mean, what is this food being cooked over an open fire on a leaf?! 🍃 To this day I have no idea what it was, but it was totally delicious. No matter what the Japanese try to feed me, I will accept it – there must be a reason they live so long, right?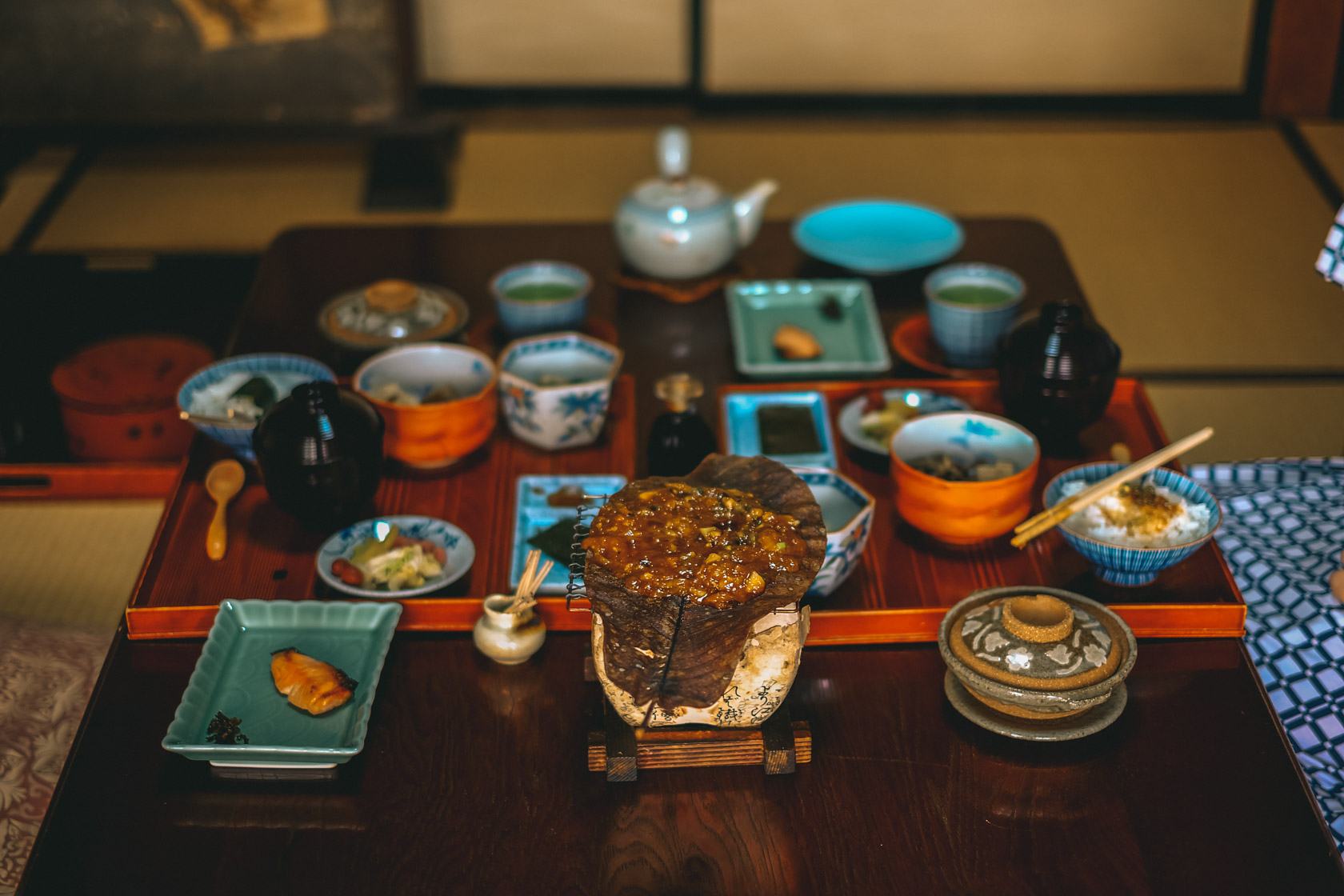 Japan has so many unique and interesting foods, some of which you'll probably only experience inside the walls of a traditional ryokan. I mean just look at that gooey goodness.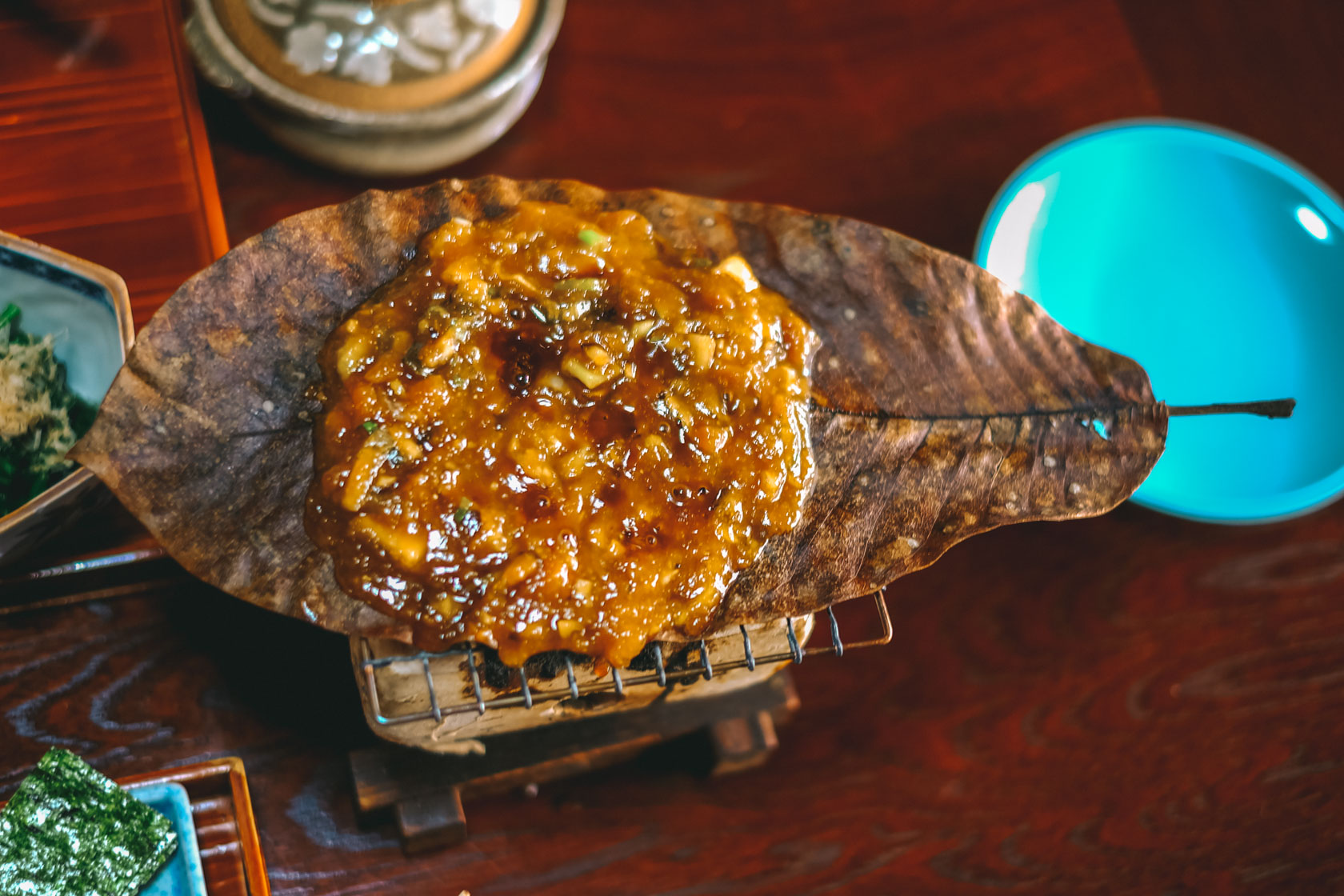 Private onsen
Onsen is considered one of the ultimately Japanese experiences – get naked with a bunch of strangers and soak in some scalding hot water. While I never got up the courage to go to a public onsen (blame my puritanical American roots), I did truly enjoy getting to try it out in my ryokan – and being able to lock the door behind me!
Thankfully, my ryokan had some funny English-friendly instructions for how to use the onsen. First, wash off, second, don't make a nuisance of yourself! Simple and straight to the point.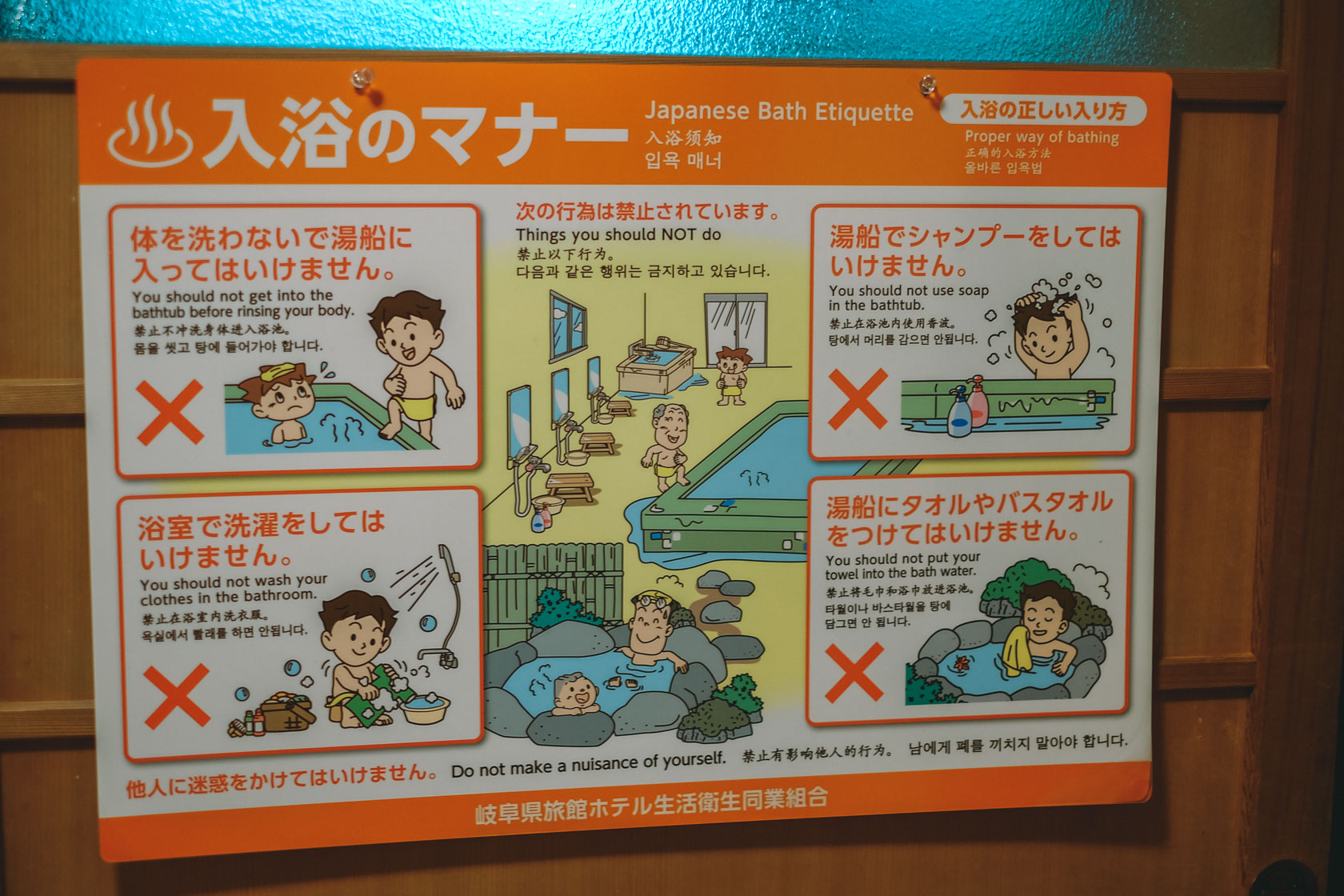 At just about any ryokan, you're going to have yakuta or summer robes stashed in your closet. Wear these for breakfast after you've gotten out of the shower, and on your way to and from the onsen!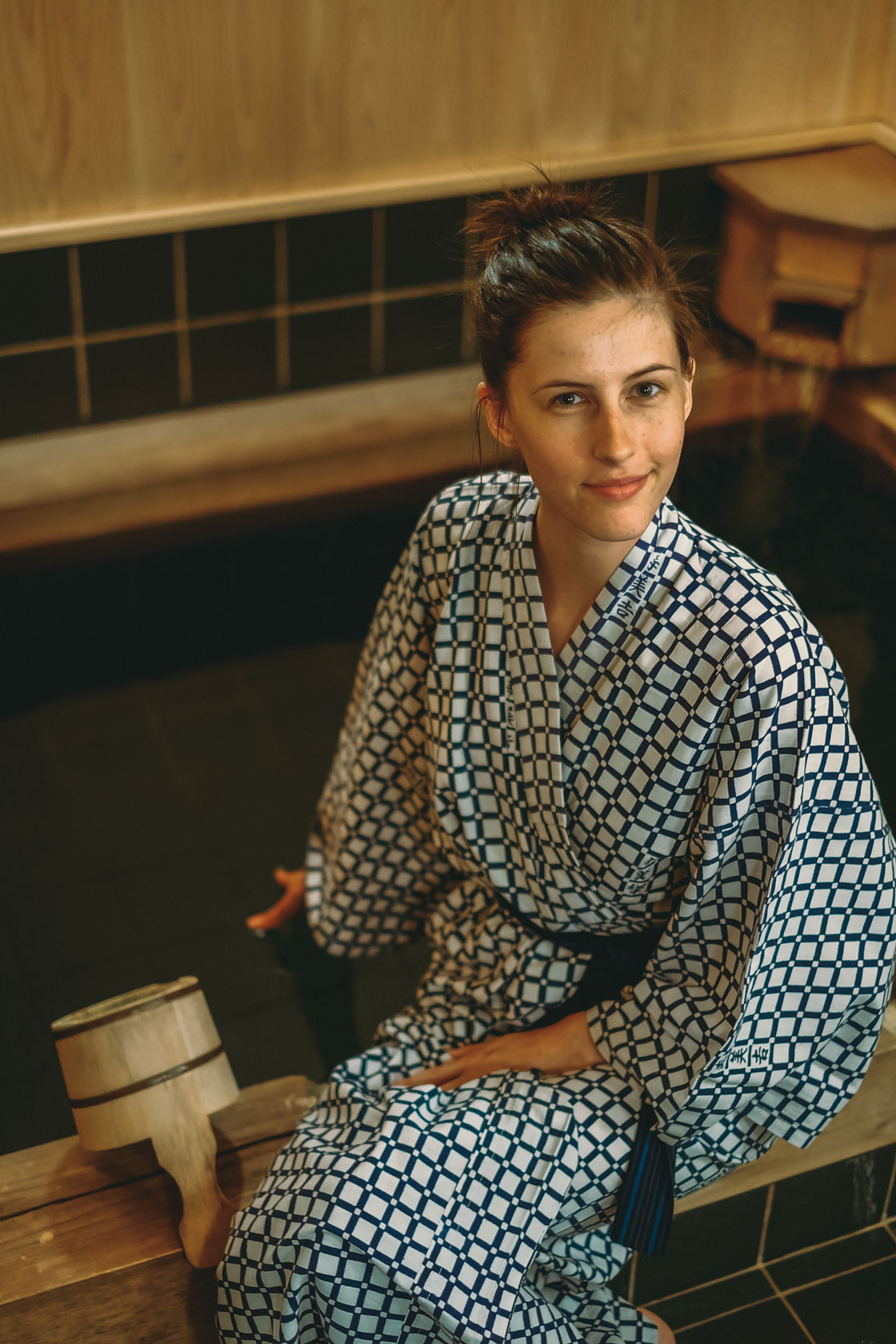 How to pick a Japanese ryokan
I wouldn't go so far as to call myself an expert, but I can definitely say what I would look for in my next ryokan experience:
Located in nature
Breakfast and dinner
Ideally with a view!
The rest of the luxuries like WiFi and modern rooms are not really important to me. I think the best part of a ryokan is the ability to disconnect with a bit and really enjoy the present moment 😄
How long should you stay in a ryokan?
You don't need – and perhaps can't afford – to stay in ryokan in Japan for your whole trip. My advice would be to book 2-3 nights in a ryokan, eating breakfast in your room every morning, and then doing one night of dinner in and the other nights out. Keep in mind that ryokan are minimally furnished, so if you have back problems, you might not be comfortable missing that sofa to pass out on!
Or, double check that your ryokan has a little more amenities if you aren't going the ultra-minimalist route. We had a lot of fun rolling around on the tatami mats and on our super comfortable on-floor futon.
So, should you stay in a Ryokan?
Ultimately, I think the answer is a resounding YES – but you don't need to spend hundreds of dollars per night for the experience. You can enjoy the best of what a ryokan offers for about $150-200 if you are feeling spendy – that means, meals included and a nice location. The best prices are going to come in more rural areas, which are not in the middle of cities.
If you can manage to pull yourself away from your epic Japan trip for a little bit of serenity, I highly recommend it.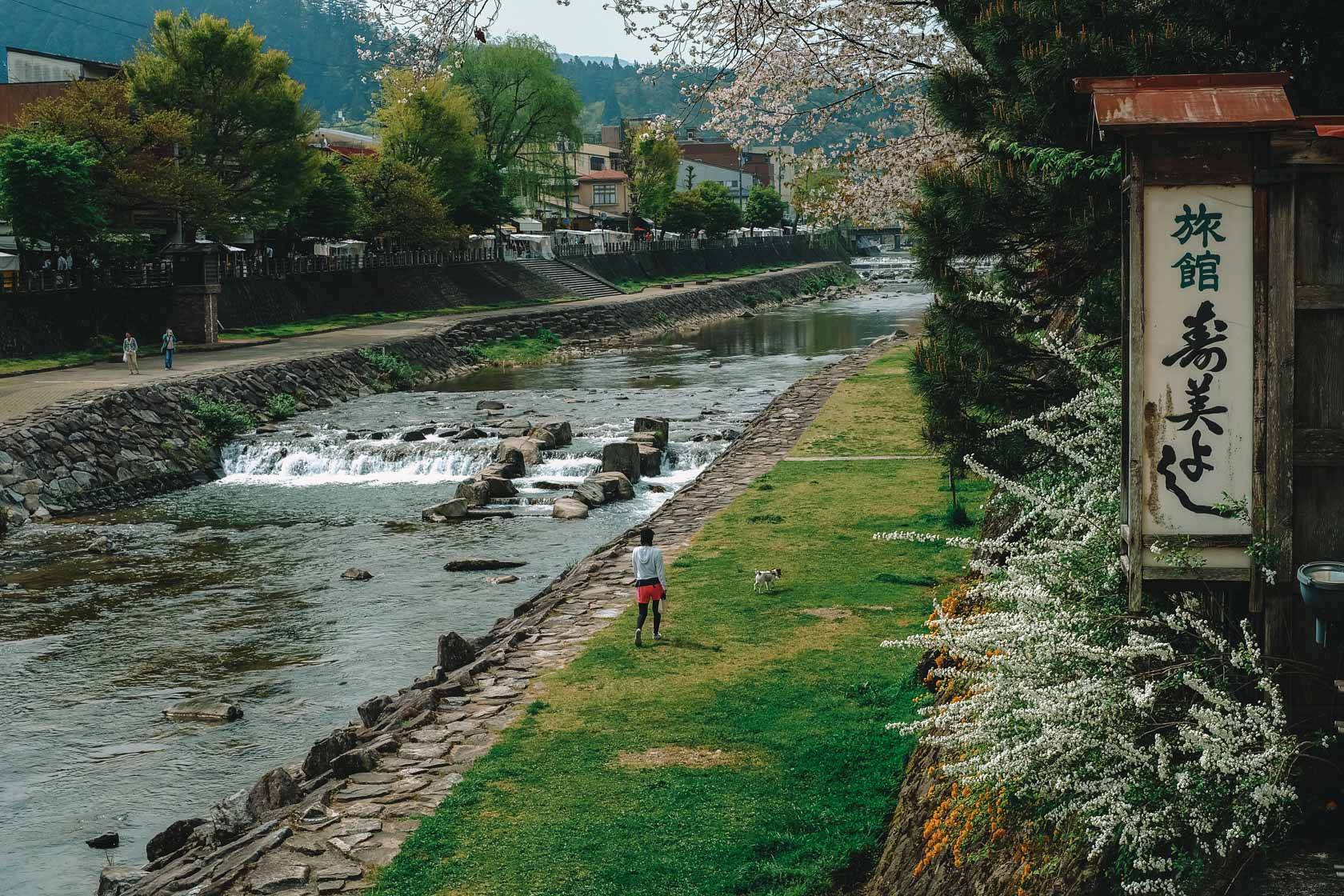 Would you stay in a ryokan in Japan? Why or why not?
Share your thoughts in the comments, especially if you can recommend me your favorite ryokan in Japan for my next trip!
Save this post for your next trip!