I'll start with this: I am not really the outdoorsy person. Don't get me wrong, I love nature and I love beautiful landscapes and scenery, but no matter how hard I try, I don't really like the dirt. Or the walking. Or, well, all the other things you normally have to like in order to be outdoorsy. I want to like hiking and camping and climbing trees and all the other cool things that outdoorsy people like. But somehow, I'm just not that good at it.
It's one of those "know thyself" kind of things – just like I know that I will never have a perfectly clean house for more than 24 hours or actually catch up on my laundry. We all have our flaws. Mine are just diversified.
New to the series "Off the beaten path in Japan"? Check out previous installments:
• Shoren-in, Kyoto – Even inside the busiest city for culture in Japan, there is sanctuary.
• Kanmangafuchi Abyss, Nikko – A beautiful gorge just 1km away from Nikko's UNESCO shrines.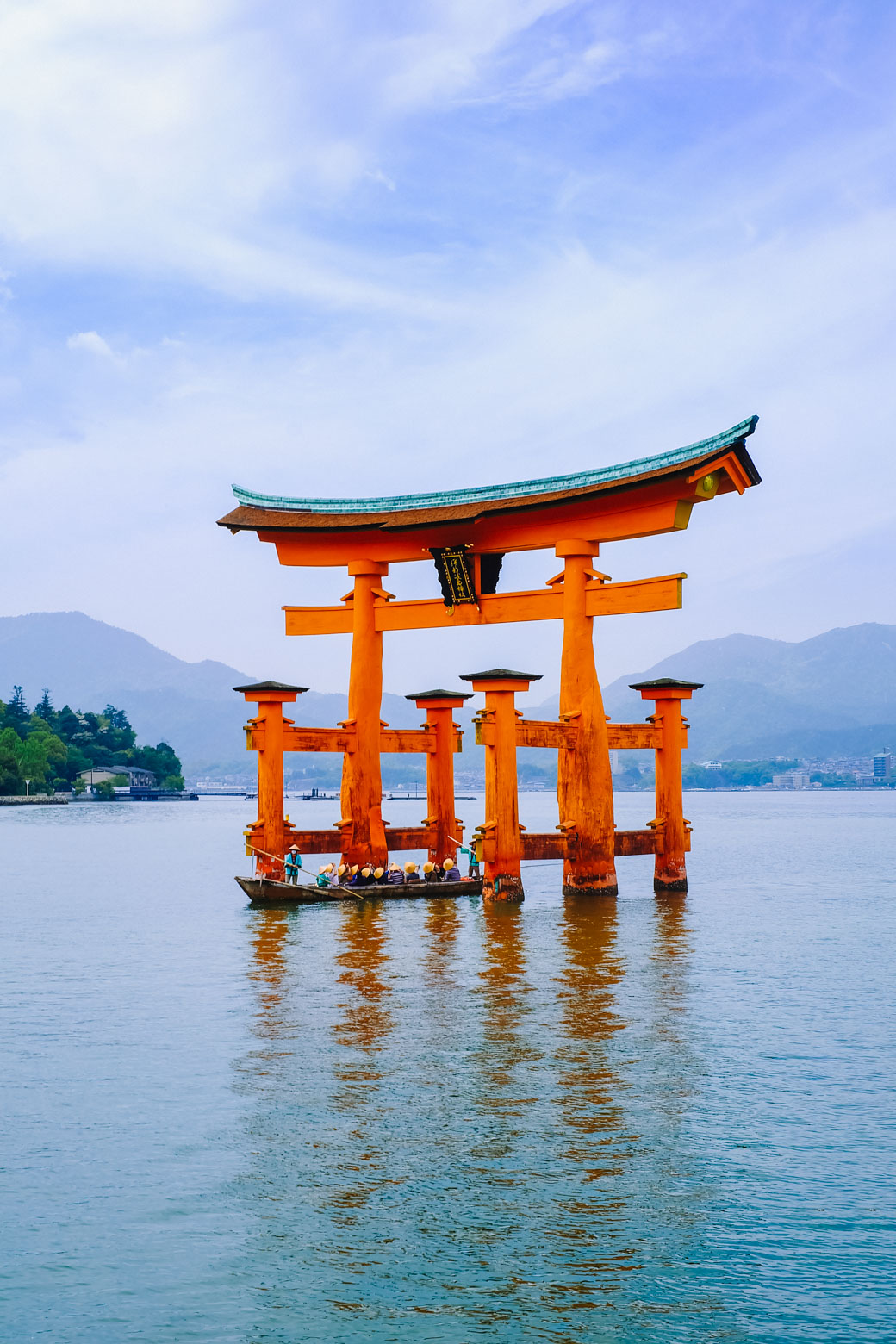 Most people only ever see this part of Miyajima Island – which is okay, because it's awesome too, but there is so. much. more!
With this in mind, climbing Mt. Misen was not exactly something I was looking forward to. Most of the time, climbing makes me miserable and I'd rather just take an elevator to the top and get a glass of something bubbly. Sue me.
To my surprise, getting away from the base of the island, away from its most famous shrine and all the Golden Week tourists, and climbing into the clouds was the absolute best part of going to Miyajima.
This is how you can get off the beaten path in even one of busiest tourist locations in all of Japan.
What's the big deal about Miyajima Island?
Miyajima literally means Shrine Island (So I guess when I call it Miyajima Island I'm actually calling it Shrine Island Island – oops). It's called this way because of the big red shrine you saw above. At high tide, this shrine is said to look like it's floating on the water. Honestly I never really got that impression, but maybe I'm not very imaginative. Either way, it's very romantic.
Miyajima is also widely known as the birthplace of Buddhism in Japan. The founder of the Shingon sect is said to have visited Miyajima, and as one of the holiest people in Japan's history he definitely left a mark.
Besides being holy and sacred, Miyajima is also considered one of the top three scenic spots in Japan! In Japanese these three places are referred to as Nihon Sankei.
Taking the ropeway
Most people stop at the shrine, snap a few photos, get their map eaten by a deer (more on that later), and take the next ferry back. Some of the more adventurous buy a rice paddle, then stop at the shrine, snap a few photos, and get their map eaten by a deer. The even MORE adventurous ascend Mt. Misen.
There's a bus at the base of Miyajima Island which will take you to the ropeway station fo' free. Don't miss it. That windy ride will have your head spinning, but it's only in preparation for what's to come – the ropeway.
If heights are not your thing, don't look down because you're swinging so far over the thick forests below that if you were to fall out, no one would notice and the trees would swallow you whole. That's how dense it is. The faint sound of running water leaks through the leaves below, but it's conceiled entirely by foliage.
Riding the ropeway both ways costs ¥1,800 (15€, $17). One way is only ¥1,000, and leaves you the option of hiking down the mountain.
The ropeway happens in two parts. On the first leg, you may even get a car to yourself, but on the second one you're packed in with other people. They wait until there are enough people to fill the second set, so don't be embarrassed to walk briskly to the next platform if it means you're going to get a seaside view!
The ascent of Mt. Misen
After alighting from the ropeway, you'll emerge at a ropeway station, which acts as an observatory. There are funny binoculars you can look through to catch a glimpse of boats skimming the bay. Following the signs, the ascent begins!
Along the way are several places of worship, where practicing Buddhists come to pray. Shrines are located all along the path. I loved this baby Buddha just hanging out with his…acorn? I'm not sure what he's holding but I'm sure it's meaningful.
The way up has got to be one of the most not-outdoorsy-friendly paths I've ever taken. It wasn't paved, but it might as well have been. I bet the fancy ladies of Tokyo could do this route in their Louboutin heels.
All told, the ascent takes less than an hour and there's plenty of interesting views along the way. For the most part, you'll pass elderly Japanese people who probably just climb the mountain as part of their daily exercise, who knows! Maybe Mt. Misen is the key to eternal youth, I wouldn't put it past the Japanese to figure this out first.
Something I really loved about this hike – everyone smiles and says hello to you! A sweet, elongated konnichiwaaaa leaves the lips of every hiker as they pass. A gentle hike and gentle people, what more could you want.
The rewards
After a brisk 45 minute walk, more vertical options present themselves. In no time at all, you are really and truly above the clouds.
This is where we started! It actually feels very distant and tiny. Whenever a car departs, they sound an alarm which can be heard along most of the path.
Back to the views. Hiroshima's bay unfolds itself, and if you have eagle-eye vision it's possible to see the shrine from way up here. We were there on a hazy day, but it's still possible to make out where our boat came from.
At the very top of the mountain, we were alone basking in the cool blues of the bay. Just the many mini islands of Hiroshima as company.
Miyajima Island
The descent feels all too quick. We shared a car with a pair of Buddhist monks who busied themselves with their smartphones. I didn't even know monks were permitted smartphones, but there they were. They probably have more modern phones than mine.
The island's main attraction is the floating Torii as viewed from the pier, but the best spot to take a photo is actually on your way to the pier from the docks.
If I were to do it again, I wouldn't bother paying the rather exhorbitant admission price, and instead walk around it. Unless you're dying for a straight-on view, you can get closer from the shore!
Remember how most people get their maps eaten by a deer? Well, that's the kind of deer I'm talking about. Flocks of deer run rampant on Miyajima (much like they do in Nara), but I'm convinced that the Miyajima deer are a bit feistier. They'll snatch the map right out of your hand and start chewing – the map itself even warns you about this! Something along the lines of, "Don't let a deer eat me, paper is precious."
Getting to Miyajima
Miyajima is located off the coast of Hiroshima, so obviously you've gotta take a boat there. It is way too far to swim. So! There are a few options. You can take some kind of baby cruise around Hiroshima Bay and then get to the island in a roundabout way.
OR.
You can use your JR Pass to get here for FREE (because you have a JR Pass, right?!). The latter is the way to go. Hiroshima itself, as well as its bay, aren't remotely scenic. Sorry, I said it. Save yourself the money and use your JR pass to get here. The JR Ferry will transport you from mainland Hiroshima to Miyajima.
Miyajima's floating Torii is an iconic symbol of Japan, representing this holy island and its rich history. But there is so much more to see. The next time I make it to Miyajima, I will:
Travel only with the JR Pass Ferry.
Spend the night on the island in a ryokan (traditional Japanese guest house) and catch the torii first thing in the morning.
Join one of these awesome canoe sessions! That's going above and beyond the call of tourism.
Did you like the photos in this post? They were all taken with my super basic Fujifilm X-A1 (the latest X-A3) and the gorgeous XF35mm f1.4 lens, which is more responsible for the image quality.
Would you spent a little extra time on Miyajima to go up Mt. Misen? Where did you last discover a secret oasis in the middle of a busy tourist spot?
Share your experiences in the comments!
Did you like this post?
Share it on Pinterest! (And don't miss my Majestic Japan board on Pinterest!)