Nikko is one of the most popular day trips from Tokyo, and for a good reason: it's got gorgeous shrines, tons of history, and is situated in some really beautiful nature. But besides all the standard stuff you'd see in a trip to Nikko, I want to share with you the part of Nikko that's my absolute favorite: Kanmangafuchi Abyss .
Kanmangafuchi Abyss, a short stroll from some of Japan's most famous cultural heritage sites but practically untouched by tourists. Its got a beautiful ravince, rows of shrines, and the most beautiful part about it is that you won't see another living soul while you're there.
If that's not bliss for the tourist in Japan, I don' tknow what is!
Read on for my story of how I discovered this place, what you'll find there, and how to reach this beautiful area of Nikko.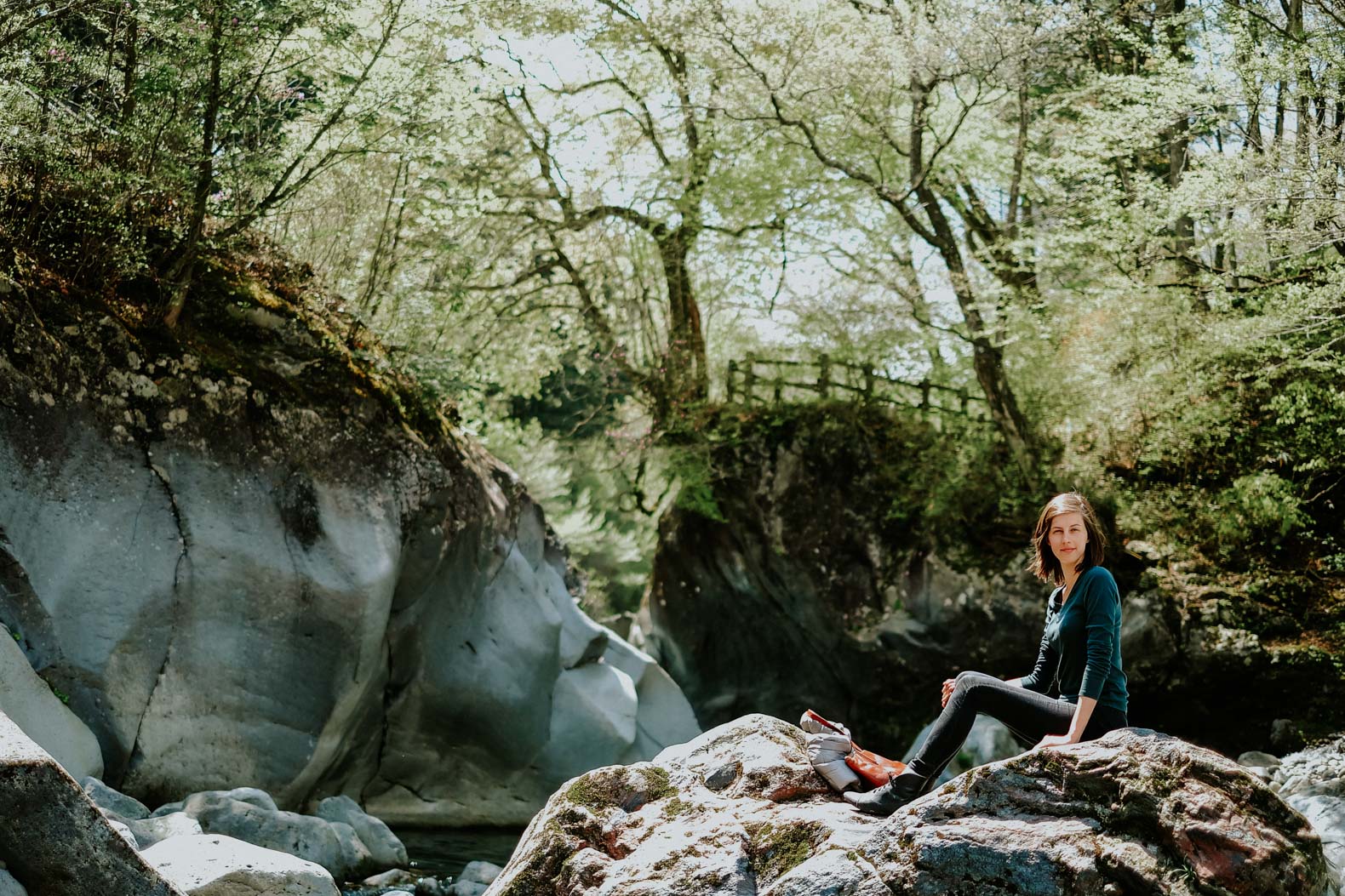 Nikko, Japan
If you're looking for a full Japan itinerary, check out my related post on how to spend two weeks in Japan.
Where to stay in Nikko, Japan
Just quickly, I want to mention my recommendation on where to stay in Nikko:
Nikko Backpackers Nikkoriso . What made this place special is that the hosts happened to recognize us at the train station and gave us a ride! That was so lucky and so kind. They have private rooms for partners or friends as well as individual beds.
Arriving in Nikko…
I have to share a secret: Nikko made me miserable.
A little background. Nikko is a very small town in itself, and being a small town in Japan, there are two critical implications:
Nowhere accepts card payments
No ATMs accept foreign cards
Long story short, we arrived late in the evening, and ended up bartering with some Germans at a 7-11 to trade euros for yen in order to subsist on bar food for the evening.
Our lack of money meant we needed to wake up early to get money before we could afford to go to Nikko's collection of UNESCO World Heritage shrines and temples. By the time we got there, they were filled to the brim with tourists enjoying Golden Week.
Pro-tip: Don't travel to Japan during Golden Week.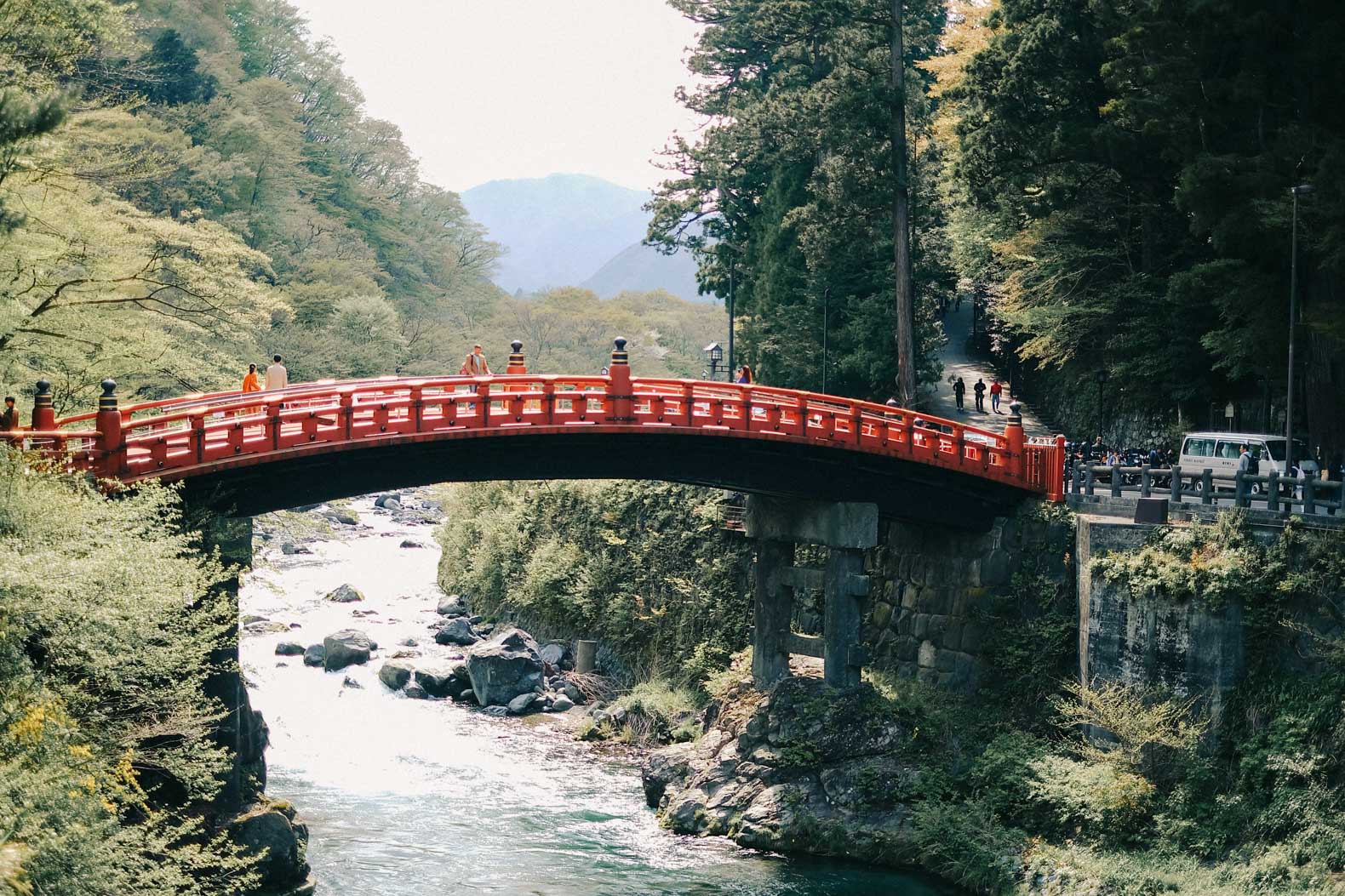 Nikko was supposed to be a natural paradise, but instead it felt like being on the Tokyo subway during rush hour.
I was the lone sow in a herd of cattle, getting yelled at in Japanese. Ooooh, you were telling me not to take pictures. My bad.
We peaced out after about an hour, but still decided to take it easy and not rush ourselves to catch an earlier train to Tokyo, instead heading south to check out the Kanmangafuchi Abyss.
Kanmangafuchi Abyss
After a very expensive coffee and cake at Nikko Coffee, we started our walk towards the Abyss. Along the way we spotted some late-blooming cherry trees and eventually, these guys: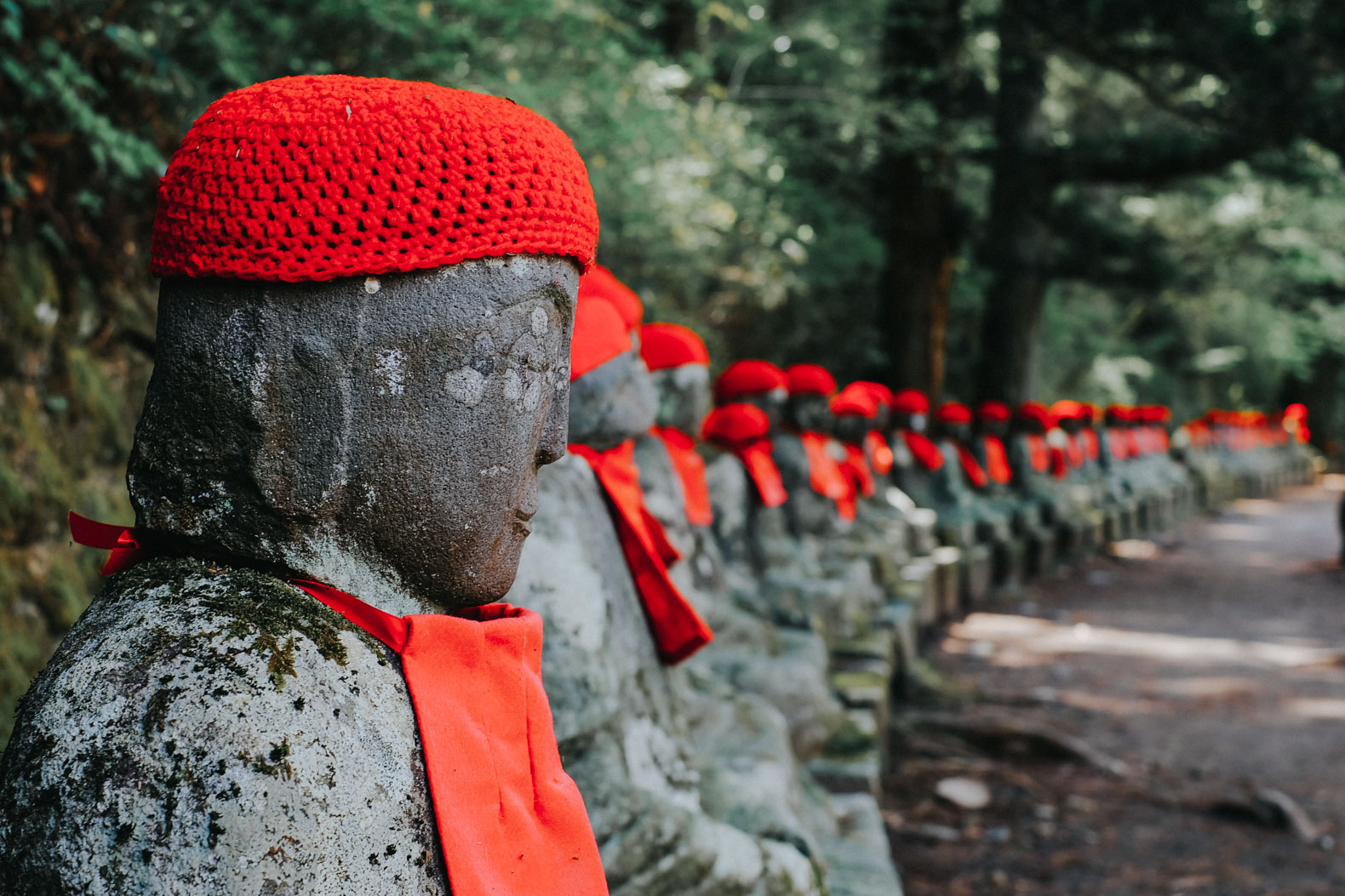 These are called Bakejizo, "ghost jizo", because it's said that walking into and out of the abyss, you cannot count the same number of them both ways.
We tried counting them, but were unsuccessful. But let's be honest, it's probably because I have trouble adding 2 and 2, not because they were disappearing…right?
A little ways further along the path, we found ourselves looking over a channel of clear blue water, slipping smoothly between the rocks. The abyss is encircled by vibrant green trees and narrow paths leading downward.
Maybe it's not allowed, but the guys blowing leaves didn't seem to mind — the climb into the abyss was quick and easy, and before we knew it, we were surrounded by pure cerulean streams. I can't remember the last time I saw water that was so vibrant. Combine this with full sunshine and the moment was nothing short of bliss!
As a girl from the Sonoran desert, it's probably the closest I've come to a real oasis.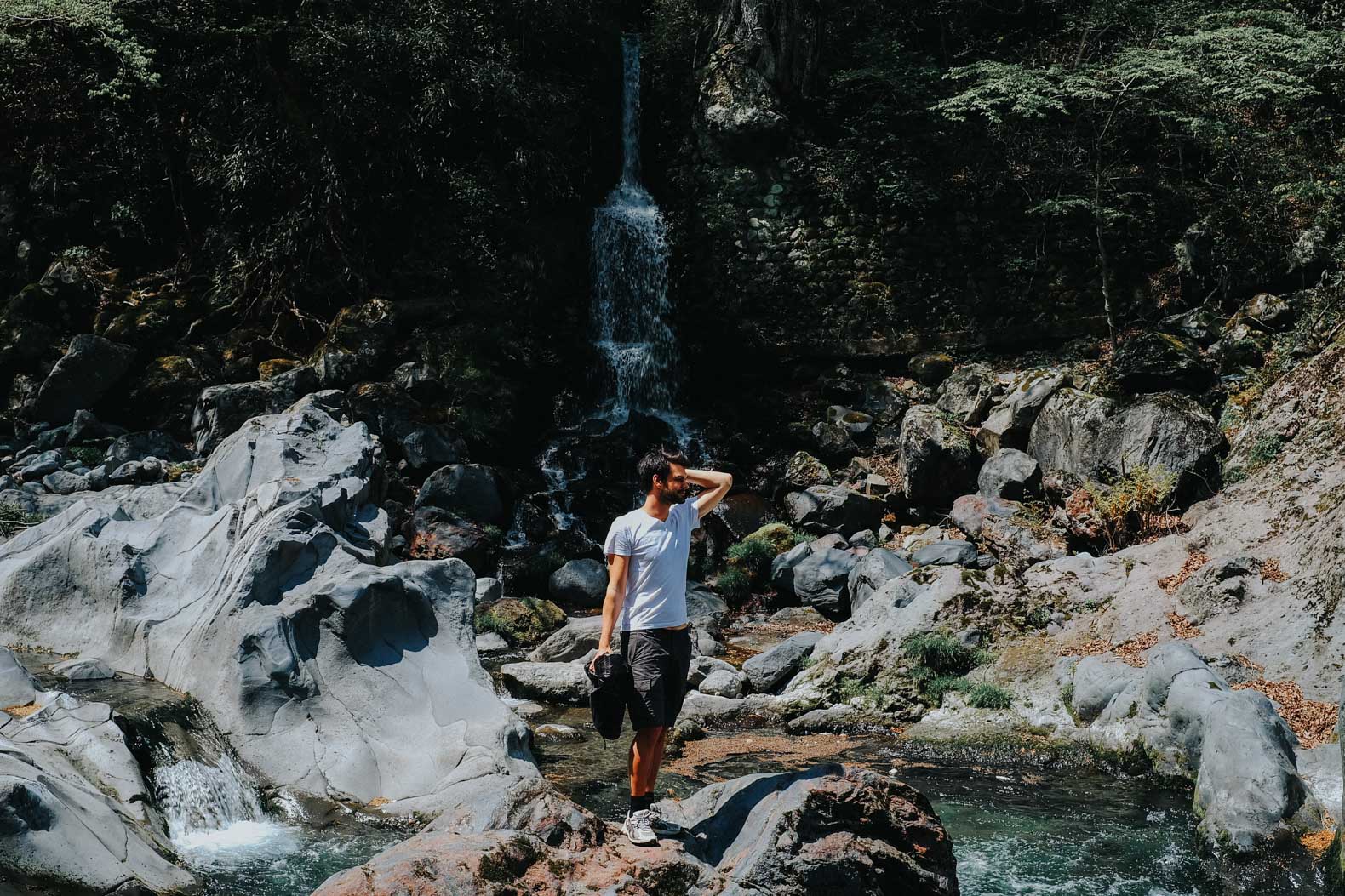 The hour or so that we spend at the Kanmangafuchi Abyss was easily the highlight of my time in Nikko. Well, it's got some tough competition from getting drawn Manga-style by a guy at the bar the night before who was half a bottle of whiskey deep — but no, the abyss was better.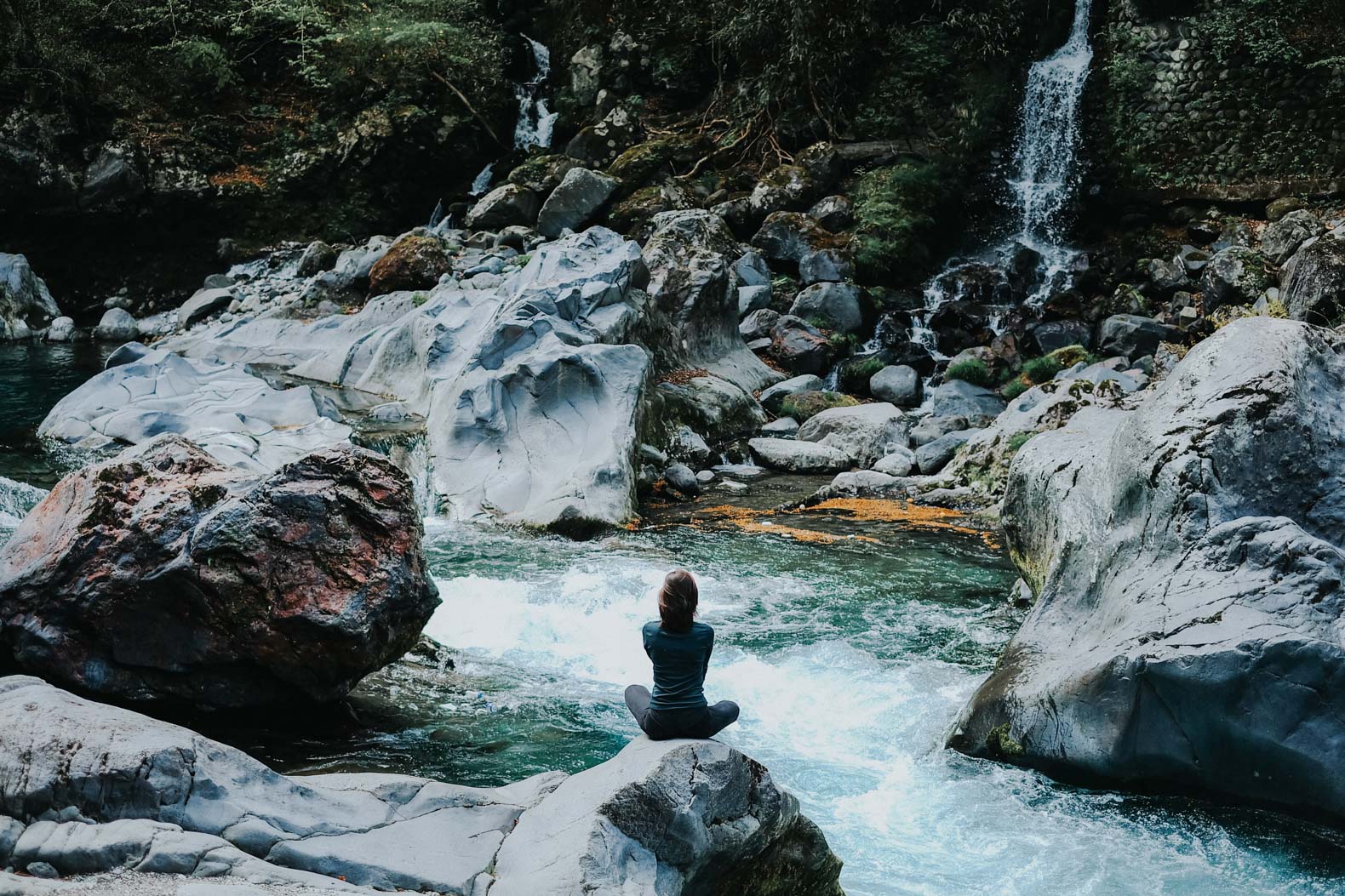 How to get to Kanmangafuchi Abyss
You can pick up a local map in English at the train station once you arrive in Nikko (which is accessible by a JR Line from Tokyo). On this map, the Abyss is clearly marked. Just be sure that you approach it from the east, in order to get the rows of bakejizo on your way in.
If you don't get a map from the station, Google Maps' directions to Kanmangafuchi Abyss are also reliable. Just walk westward along the river once you reach it and there are signs to follow!
Is your style of travel more about hitting the big sights or looking for the small, precious moments?
Stay tuned next week for the best, less-frequented spots on oft-photographed but rarely explored Miyajima Island.