This year, I'll be going into my 7th Berlin Winter as a resident of this city. And even though I can't say it's my favorite season in the city (that would be Spring!), I still especially look forward to the December in Berlin. What's more idyllic than sipping mulled wine, wrapped up in a parka, and seeing a European city decked in Christmas lights?
In this post, I'm going to share my favorite things to do in Berlin in Winter, as well as tips for how to get around the city, and what to expect from the weather (and answers to popular questions like: does Berlin get snow??).
This post has been updated for Winter 2021-2022. All the activities, tours, and events are scheduled for this Winter season so enjoy!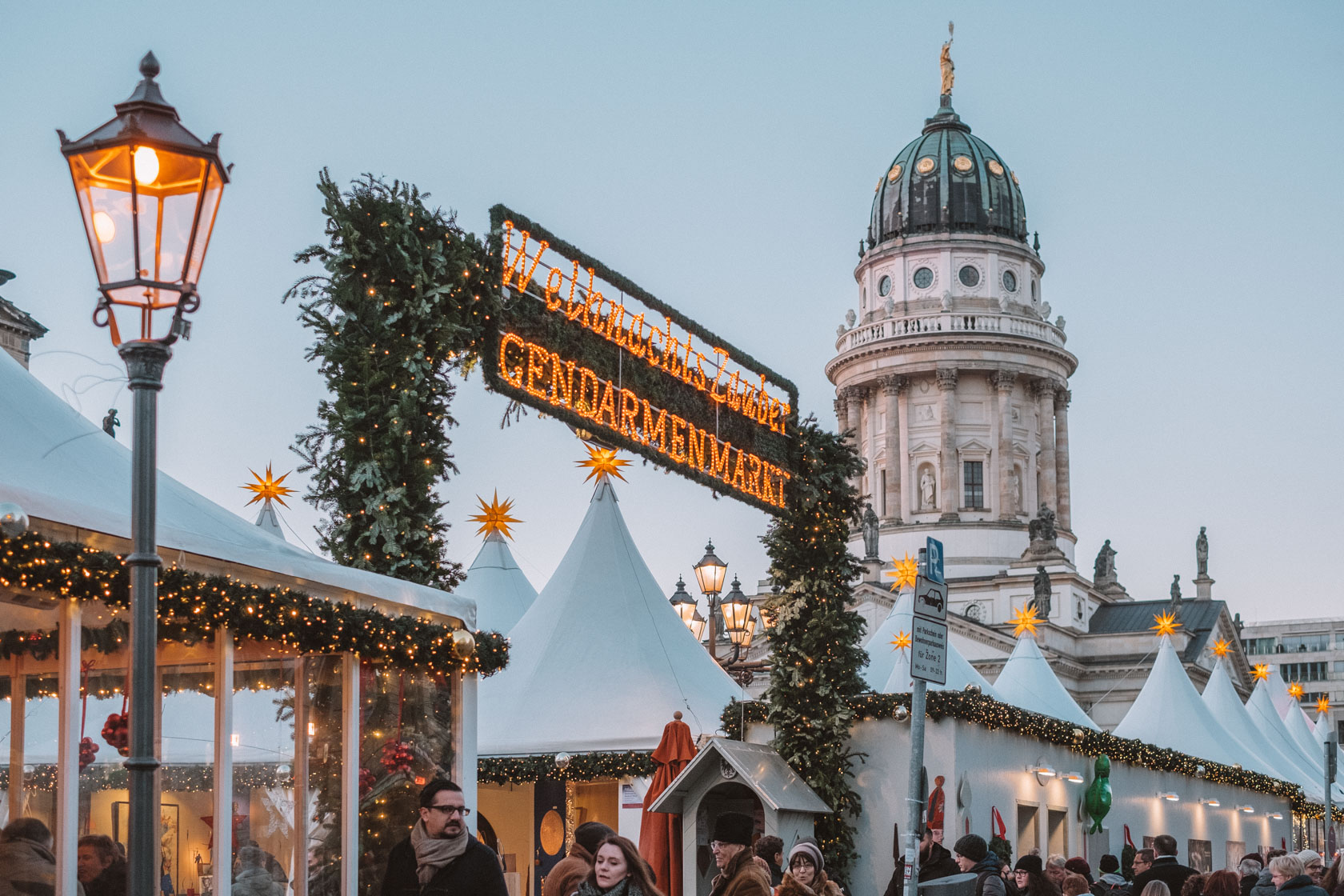 Some links in this post are to affiliate sites. If you purchase something through them, I may earn a small comission — which costs you nothing! I am very grateful when you use my links to make a purchase.
Weather in Berlin in Winter
I'm not going to sugar coat it: Berlin is gray in Winter. You'll get 1-2 sunny days roughly every two weeks, and by the time December rolls around, the sun sets around 4:00-4:30PM. That means the best thing you can do is wake up early to enjoy the light and start your day right! As for average temperatures, here are a few to keep in mind:
Berlin in December - 39º / 31ºF (4º / -1ºC). Generally you will not see much if any snow in Berlin during December, although sometimes you do get lucky and see snow while the Christmas markets are running! Otherwise, Berlin does have Winter rain for about 10 days out of the month of December. So bringing an umbrella is not a bad idea, and do make sure your winter boots are waterproof!
Berlin in January - 37º / 29ºF (3º / -2ºC). January is a bit of an odd time to visit Berlin, as most of the Christmas markets have closed and the city is slowly starting to open up again after all the holiday closures. January is when we start to have a chance at snow 😄
Berlin in February - 40° / 29°F (5º / -2ºC). February is generally the coldest month in Berlin, and I've seen lows as low as 10ºF (-12ºC). Usually that just lasts for about 2 very cold weeks, until we go back to "normal cold" that lasts through April. Berlin can also be quite windy, so make sure you have wind-proof layers for that ultra cold stretch!
If I were to make a recommendation, visiting Berlin in December is the best time to do it thanks to all the holiday activities. That said, there's a lot to do in the city besides Christmas markets and there is something pretty special about Berlin covered in a layer of powdery snow ❄️
Where to stay in Berlin in Winter
The most important thing when choosing accommodation in Berlin, especially during Winter, is selecting a hotel that is close to a subway station. When it's cold at night or even raining, the last thing you want to do is be waiting for a notoriously late bus, or walking long distances against strong wind.
My hotel recommendation in Berlin's city center is The Circus Hotel which has tons going for it: awesome location at Rosenthaler Platz with excellent food and restaurants nearby, connected to the U8 subway, and the floor-level breakfast spot called Commonground is one of the best brunch locations in Berlin in its own right.
If you're on a tighter budget, just across the street is their sister property, The Circus Hostel . Possibly the top-rated hostel in Berlin, it is often booked out so be sure to reserve in advance.
17 fun things to do in Berlin in Winter
Besides this post, I've got way more content about Berlin you should definitely check out, such as my ultimate guide to things to do in Berlin and my hand-crafted-with-love Berlin itinerary for 2 days. Both are complete resources for planning a trip to Berlin, in addition to the seasonal information I've shared below.
Without further ado, here are my favorite things to do in Berlin in Winter that won't break the bank.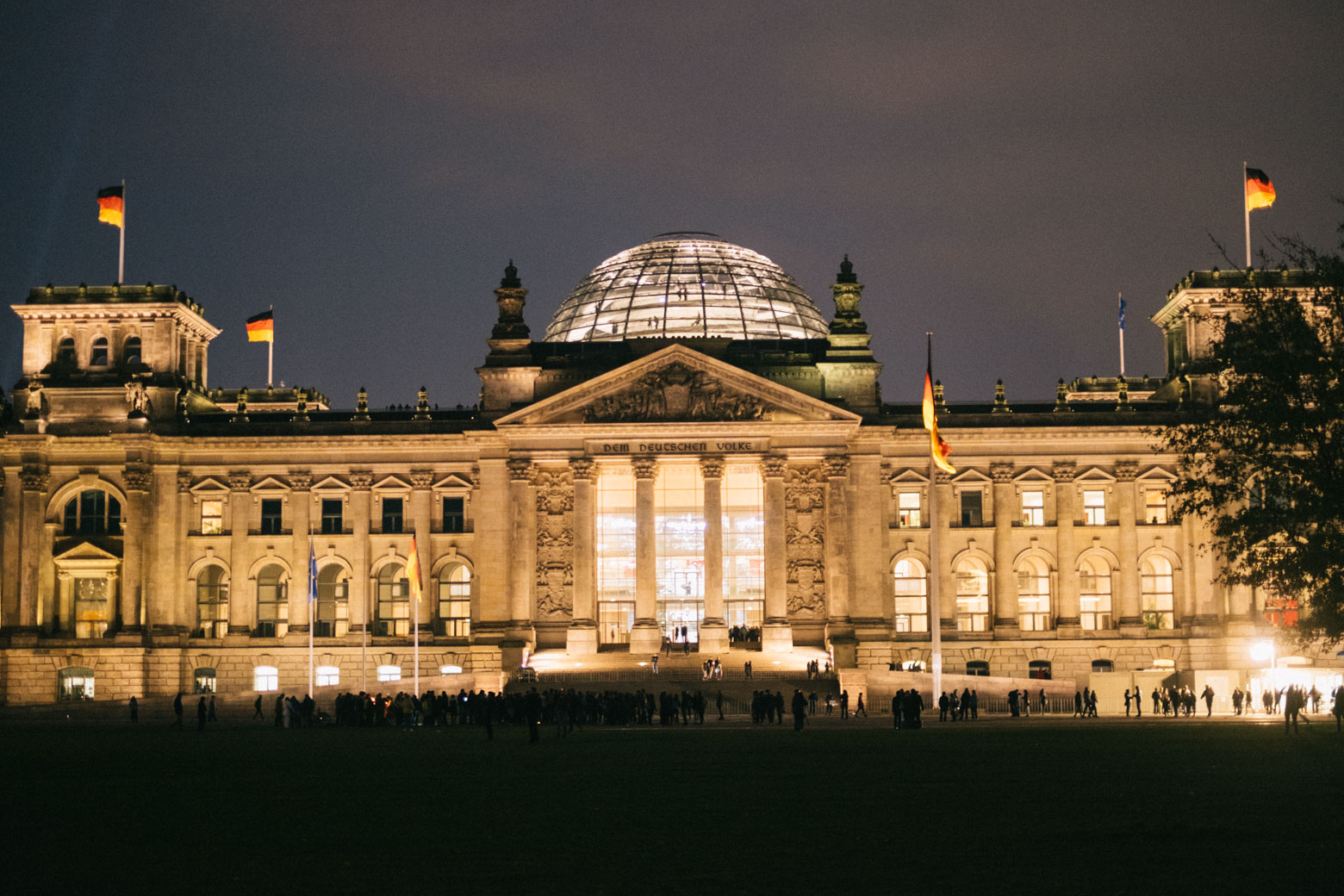 1. Visit the Reichstag
A must-do if it's your first trip to Berlin. It is critical that you book IN ADVANCE as a limited number of spaces are available each day owing to government background checks.
★★★★★ 4.7
on GetYourGuide
3969 Reviews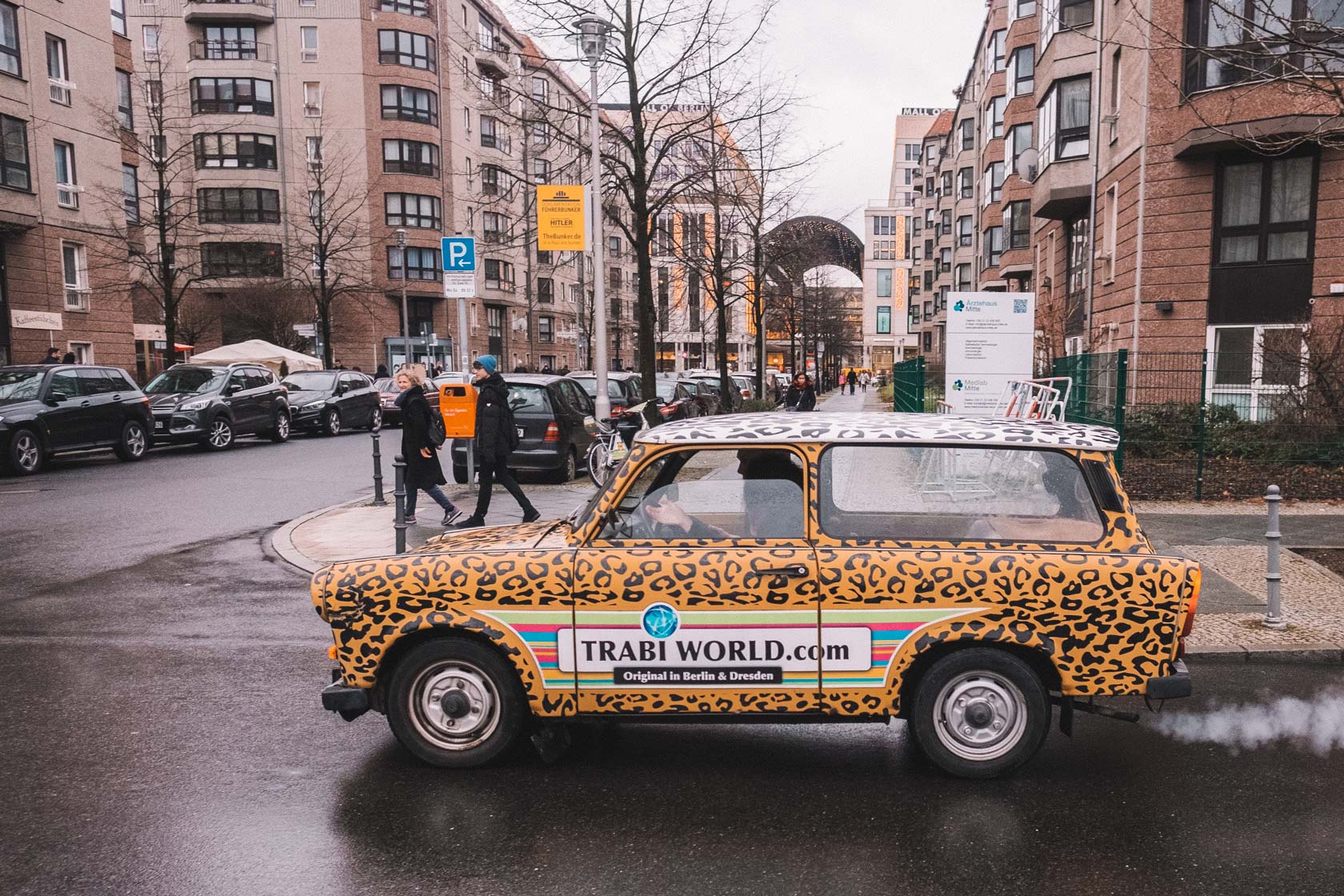 2. Take a Trabi Safari
Trabis are a famous style of car from Germany's communist era. See the city in a super-efficient way in your very own vintage Trabi. Perfect for groups from 2-4 people.
★★★★★ 4.8
on GetYourGuide
1292 Reviews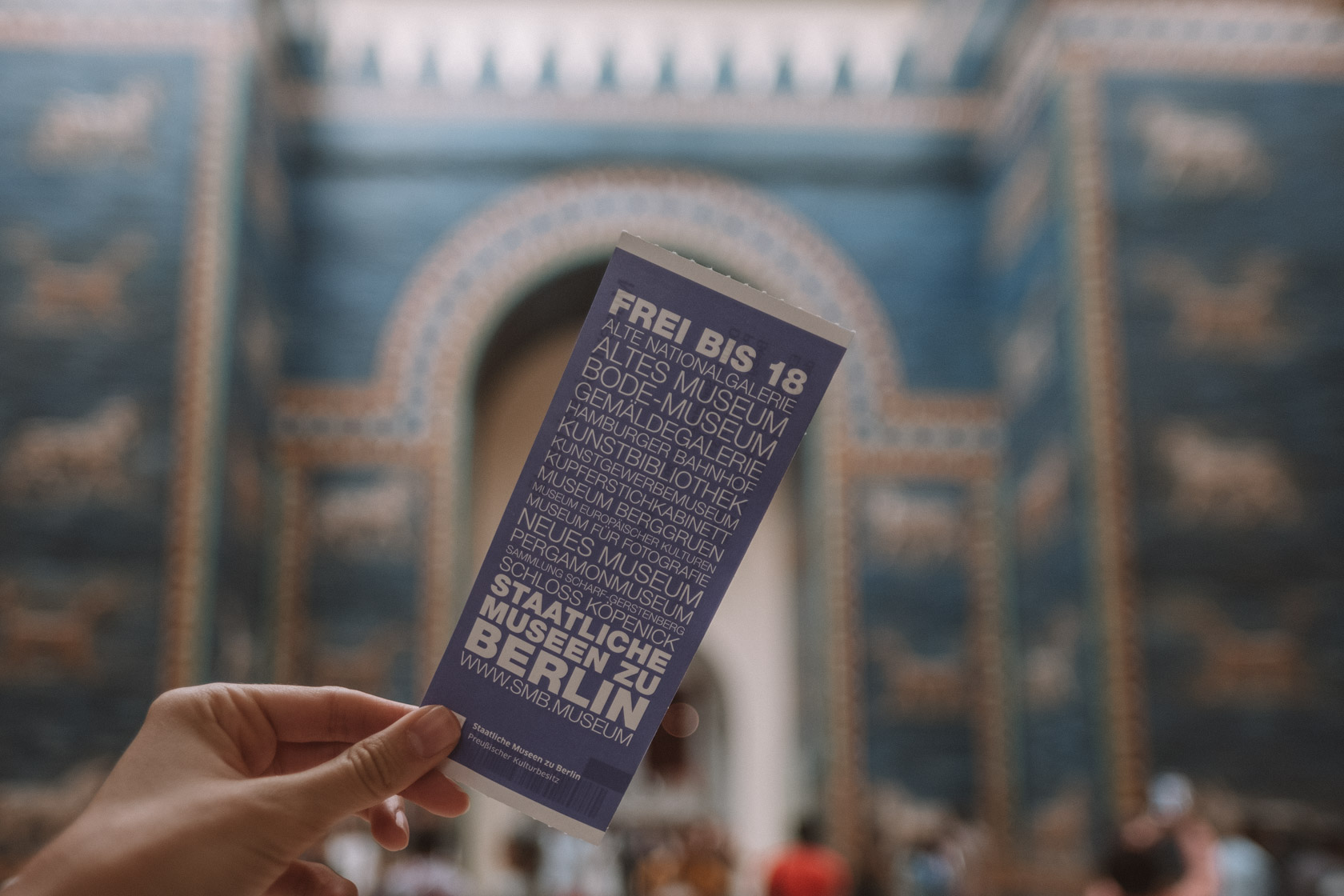 3. Visit the Pergamon Museum (Favorite museum)
Berlin has a ton of excellent museums, but my favorite is the Pergamon for its life-size reconstructions. Perfect way to spend a cold afternoon in the city center.
★★★★★ 4.5
on GetYourGuide
354 Reviews
1. Take a tour of Germany's parliament building, the Reichstag
During World War II, Germany's parliament building, called the Reichstag , was destroyed by bombs dropped by allied forces. During the reconstruction afterwards, the Germans rebuilt the building with a glass dome that you can visit today and look out over Berlin's biggest park, called Tiergarten.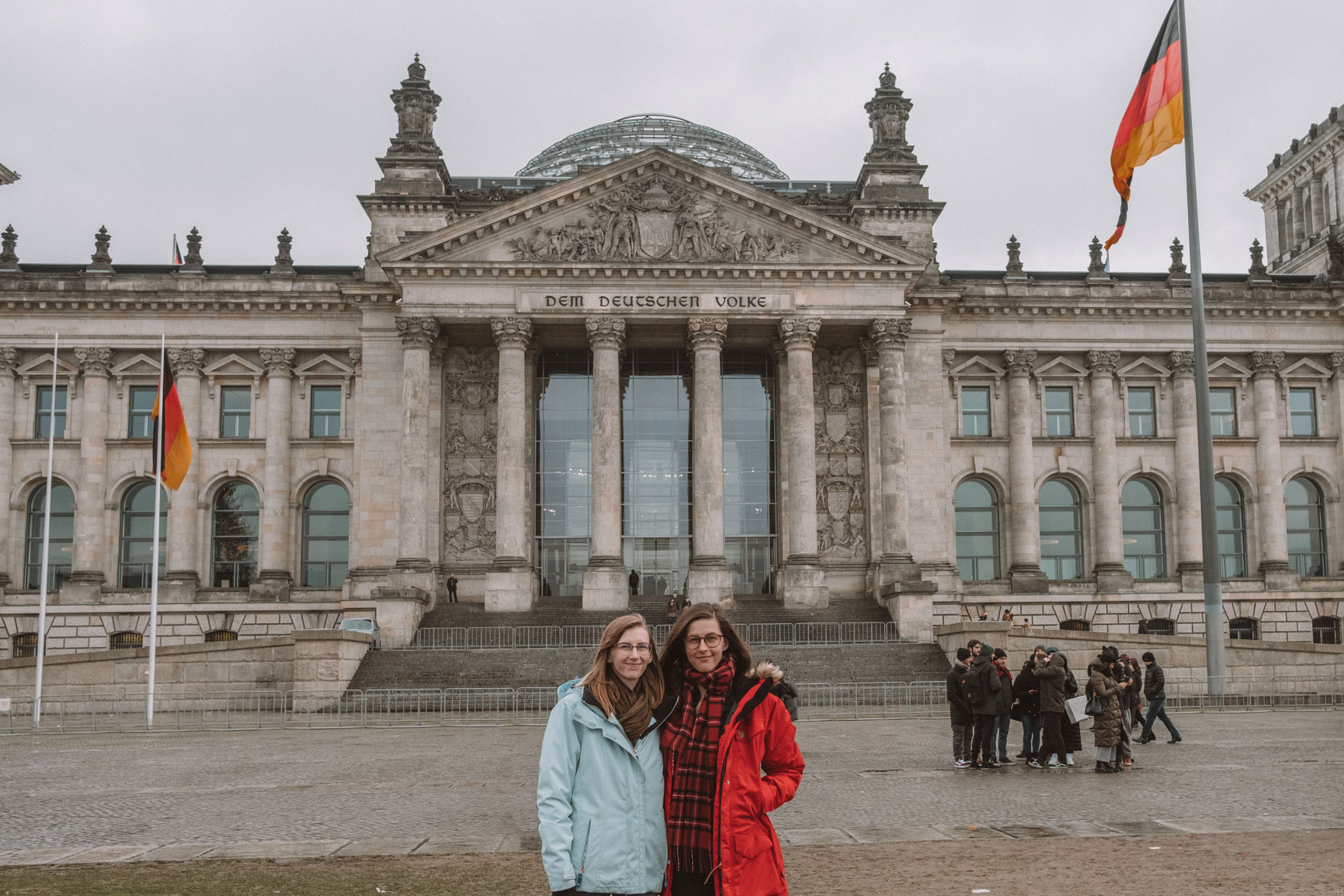 Taking my little sister to the Reichstag like a good Berliner
Today, the German Parliament is easily considered one of the must-do tourist activities, especially if you're into history or politics. Whenever I have guests in Berlin, I always make sure to help them book in advance for visiting the Reichstag! Too many times, I've seen people procrastinate and then all the spots are gone.
During the peak season, you need to book at least a month in advance. During the off season, I still recommend giving yourself at least 2 weeks. A lot of people come to Berlin in December for the Christmas season!
Keep reading for instructions on how to reserve a timeslot to visit the Reichstag in Berlin.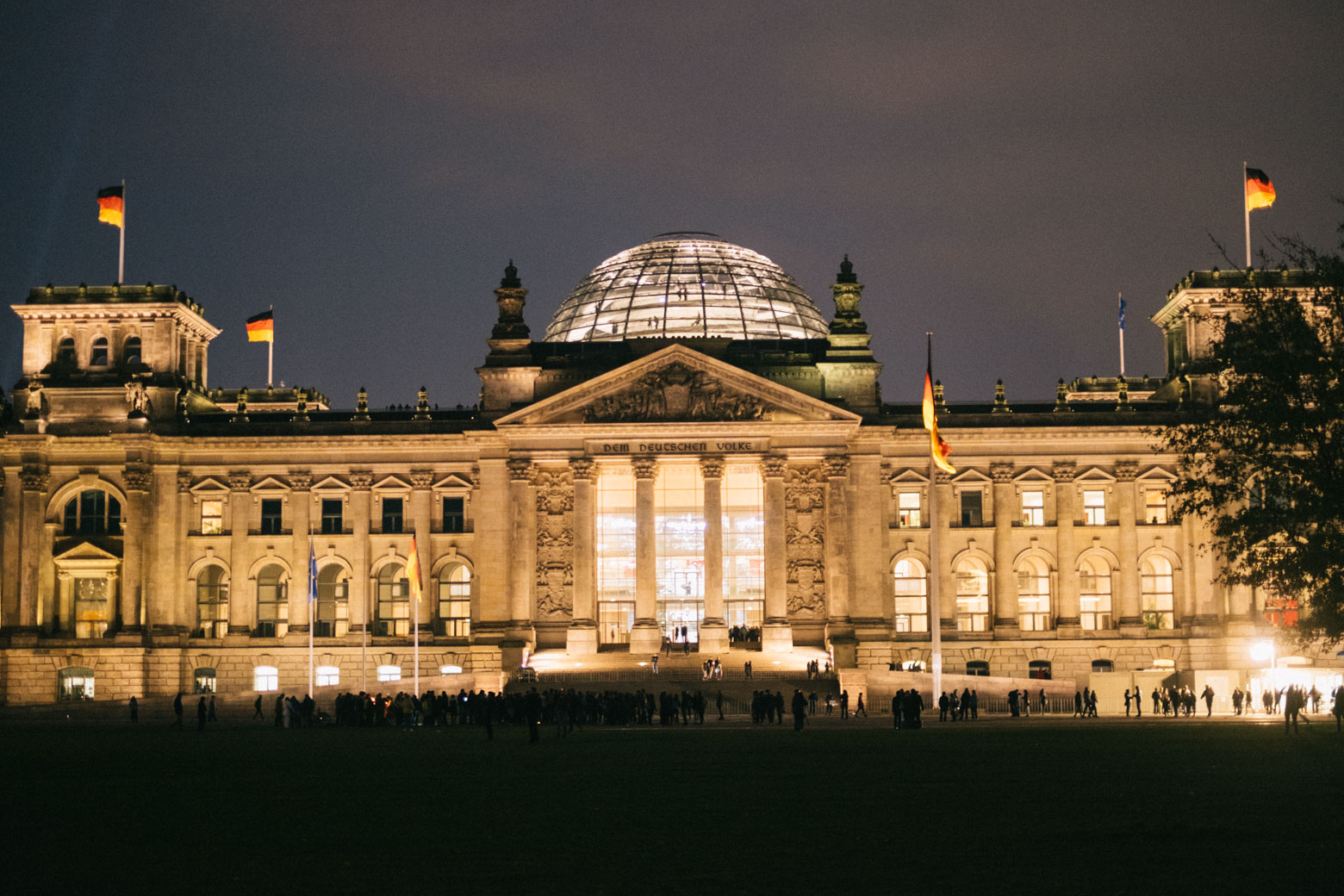 See all those little people walking around in the glass dome? That could be you!
Entry is free for a self-guided walk about if you do it in advance through the German government . An alternative is to take a guided tour in English for an explanation of history of the building (which is pretty interesting itself), and they'll take care of the reservation for you – which is also important if you procrastinated too long and all the pre-allocated slots are gone! Usually a specific number of slots are reserved by tour companies so they can help all the last-minute visitors 😉
If you are already in Berlin, chances are you will need to visit through a tour company.
Click here to check availability for English-language guided tours of the Reichstag. Unless you're already a German history buff, a guided tour will help you appreciate the history of the building and the country more regardless. It's also super affordable.
2. Go on a Trabi Safari
While you're feeling nostalgic, try a tour of the city in a Trabi, the iconic car produced during the communist era in the former East Germany.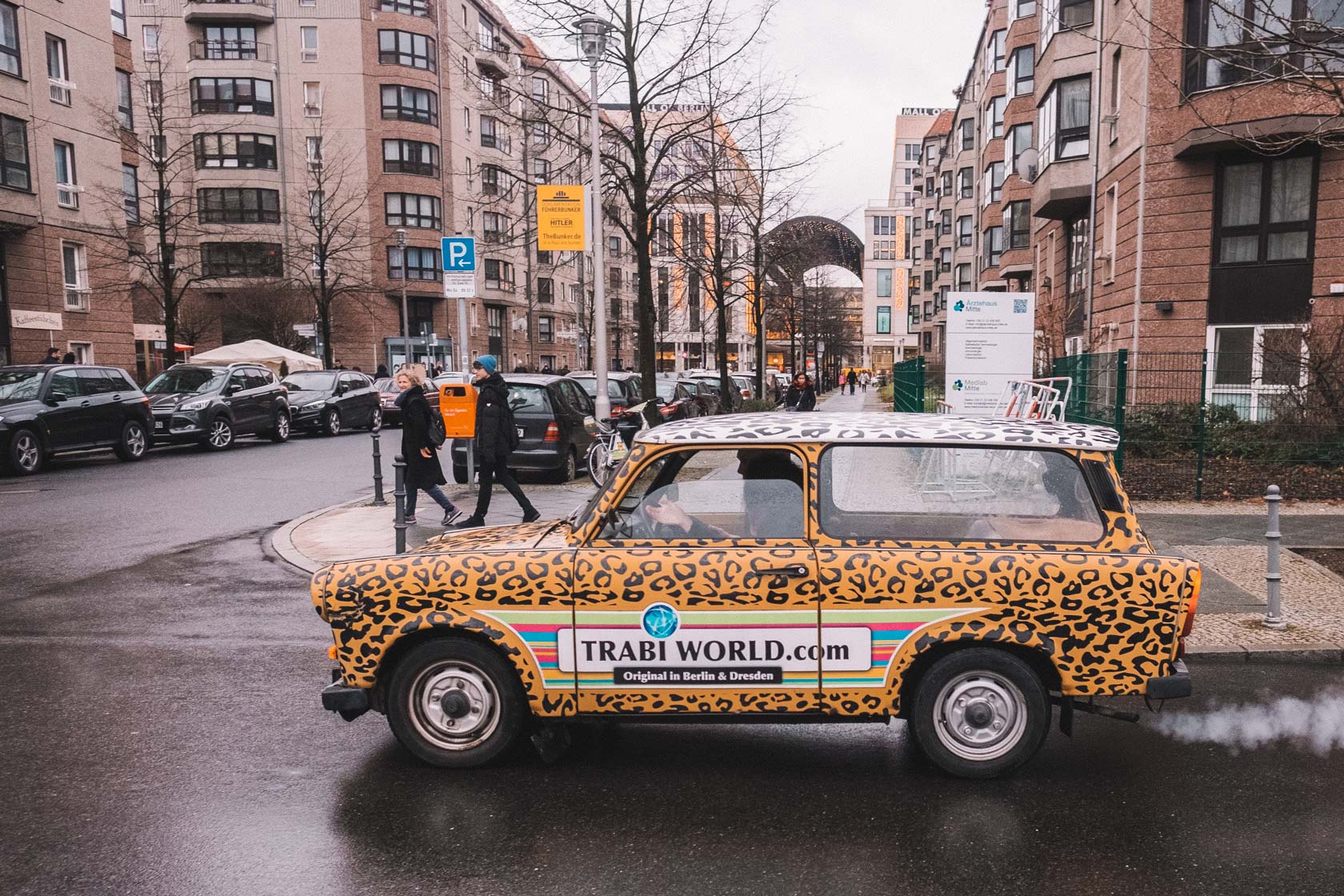 For 75 minutes, you and up to 3 friends can putz around Berlin in this hilarious car. The way it works is that you drive around and get live radio commentary from the guide, while groups of people in Trabis drive around and see Berlin's most famous sights.
You get to see Potsdamer Platz, Brandenburg Gate, Berlin Cathedral, the TV tower, East Side Gallery (where the Berlin Wall is), and a number of other locations.
Driving a Trabi is seriously a blast from the past before the reunification of Germany. Do note, you need to be able to drive a manual transmission car!
Click here to check availability for Trabi Safari rides during your visit.
3. Visit the Christmas markets
Berlin has over 60 Christmas markets scattered through the city. If you're in Berlin in December, you'll probably run into a few without even trying. However, some of the best markets are only open for a very specific time period so be sure to read my post on Berlin's best Christmas markets, which I've just updated for 2021!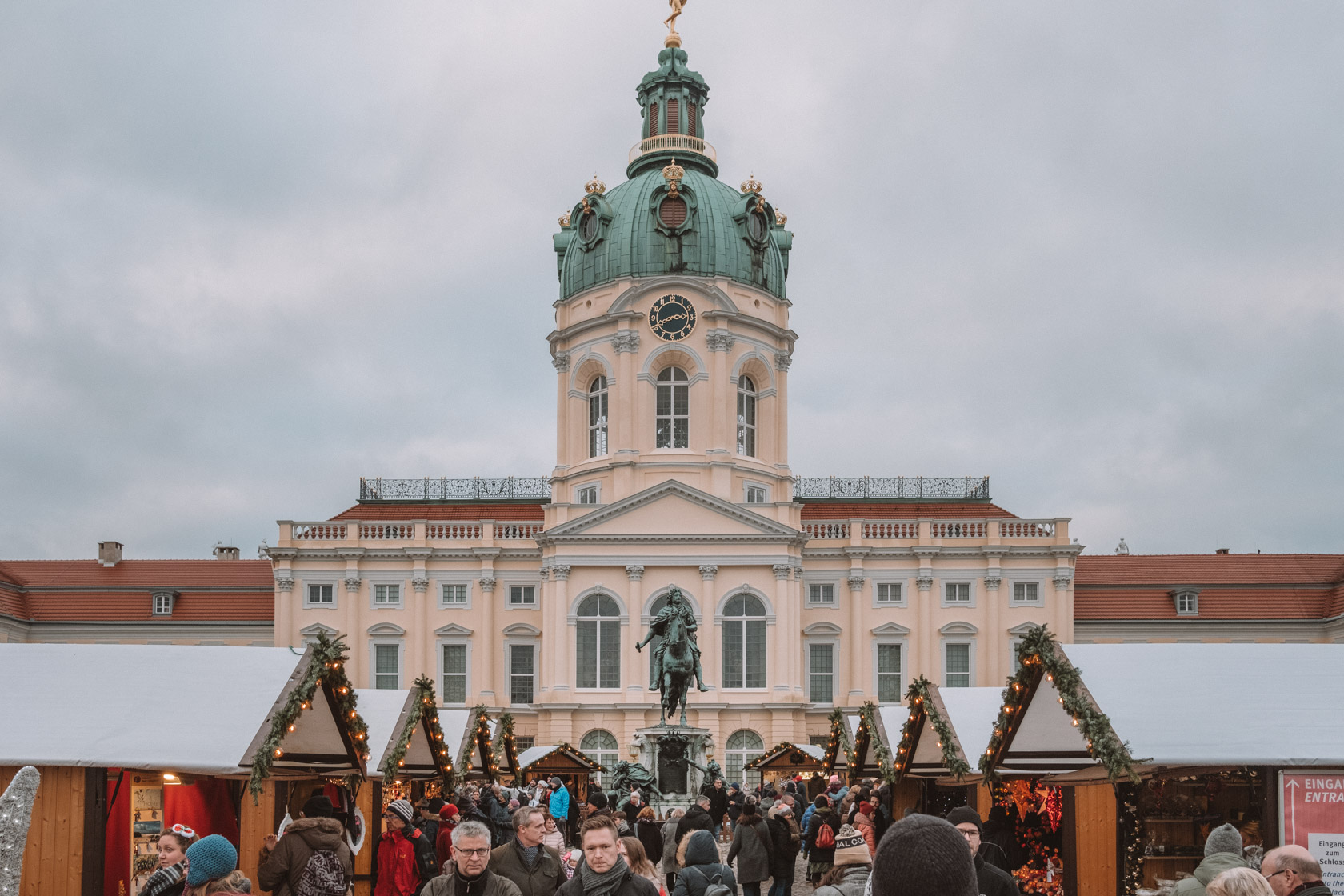 The Christmas Market at Charlottenburg Palace is considered one of the most beautiful in Berlin
If you're not familiar with the concept of Christmas markets, it's a European tradition where cities all over the continent have small markets that set up during the Christmas season.
Usually they sell the local variation of mulled wine, traditional seasonal foods, and gifts and trinkets you can buy for your friends and family. The stalls are usually decorated in an old-timey way, like wooden buildings from centuries past.
It feels a little like an anachronism, and that's what makes it fun!
4. Visit Berlin's arguably most famous museum: Pergamon and the Asisi Panorama
So, Berlin has a TON of museums and if you're experiencing bad weather during your visit, holing up in museums is a great way to pass the time. Especially when it comes to archaeology, Berlin has a leg up because of how industrious the Germans were during the turn of the century.
Of course this also means they have a lot of great artifacts that should prooooobably be returned to the countries they originated in, but we're not going to touch on that 😉
Easily the most popular spot to visit museums in Berlin is Museum Island , a literal island in the middle of the Spree River which houses 5 museums. You could spend a day or more hopping between them, and use this convenient Berlin museum pass to do it.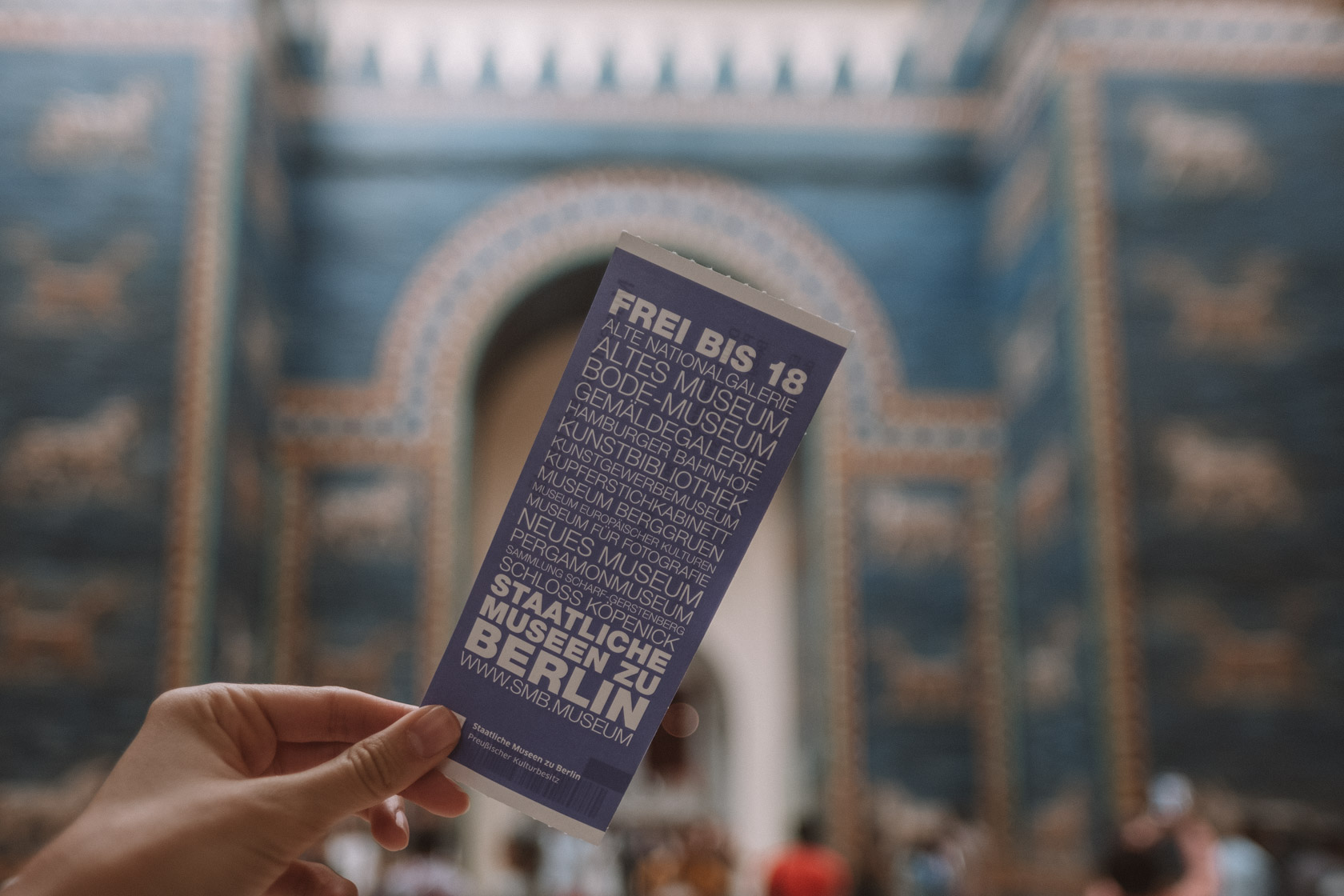 But if you have to pick just one museum, my top recommendation would definitely be the Pergamon Museum . Why, you might ask?
Because unlike just about any other museum, the Pergamon has life-sized reconstructions of historical places which you can walk through, such as a Roman Market and the Gates of Ishtar from Babylon. And by reconstructions, I mean they took the original pieces from wherever they were, and re-built them inside this giant museum in Berlin. I don't know anywhere else in the world where something like this exists 😱
Click here to reserve tickets for the Pergamon Museum and Asisi panorama, Berlin's world renowned archaeology museum. It's literally the coolest.
5. Visit the Berlin Christmas Garden
At the Berlin Botanical Garden, which runs from November 19, 2021 - January 9th, 2022, you can see the garden decked completely in Christmas lights. The door open open every day at 4:30PM (remember, that's when I told you it gets DARK), and it lasts until 10PM every night.
Besides walking around and admiring the light show, you can go ice skating or eat some typical German foods at the Botanical Garden's restaurant. I'm a huuuge fan of visiting Botanical Gardens when I travel, and even though it seems a little odd to visit one in the middle of Winter, clearly Berlin has found a way around that.
During the week, you can book flexible tickets to the Christmas Garden, but during the weekend you'll need to book a timed slot in advance. You can find tickets on the website.
Enjoying the photos?
Follow along on Instagram!
Follow @notanomadblog for beautiful travel photography and stories of our journeys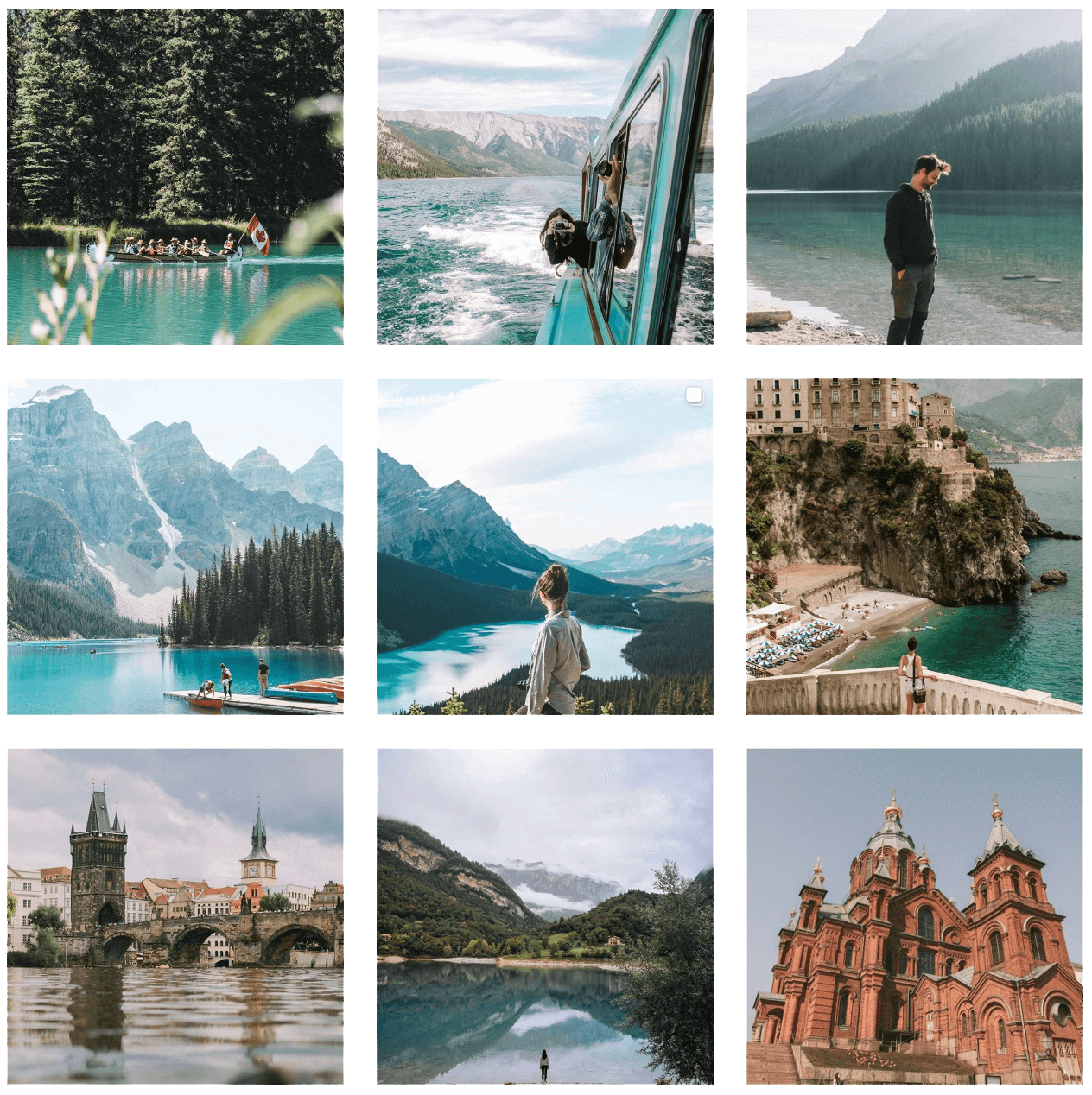 6. Taking a walking tour (just dress warm!)
A walking tour is an AMAZING idea, especially if you can manage to do it on a day with sunshine! Which is a rarity in Berlin during Winter, but that's what makes it precious.
The most important sights I'd recommend visiting by foot include the Brandenburg Gate, the Berlin Cathedral (pictured below), Museum Island (mentioned above), the Reichstag (also mentioned above), the Victory Column, as well as Gendarmenmarkt. Especially if it's your first time in Berlin, getting into those top sights is an important part of having the "Berlin Experience".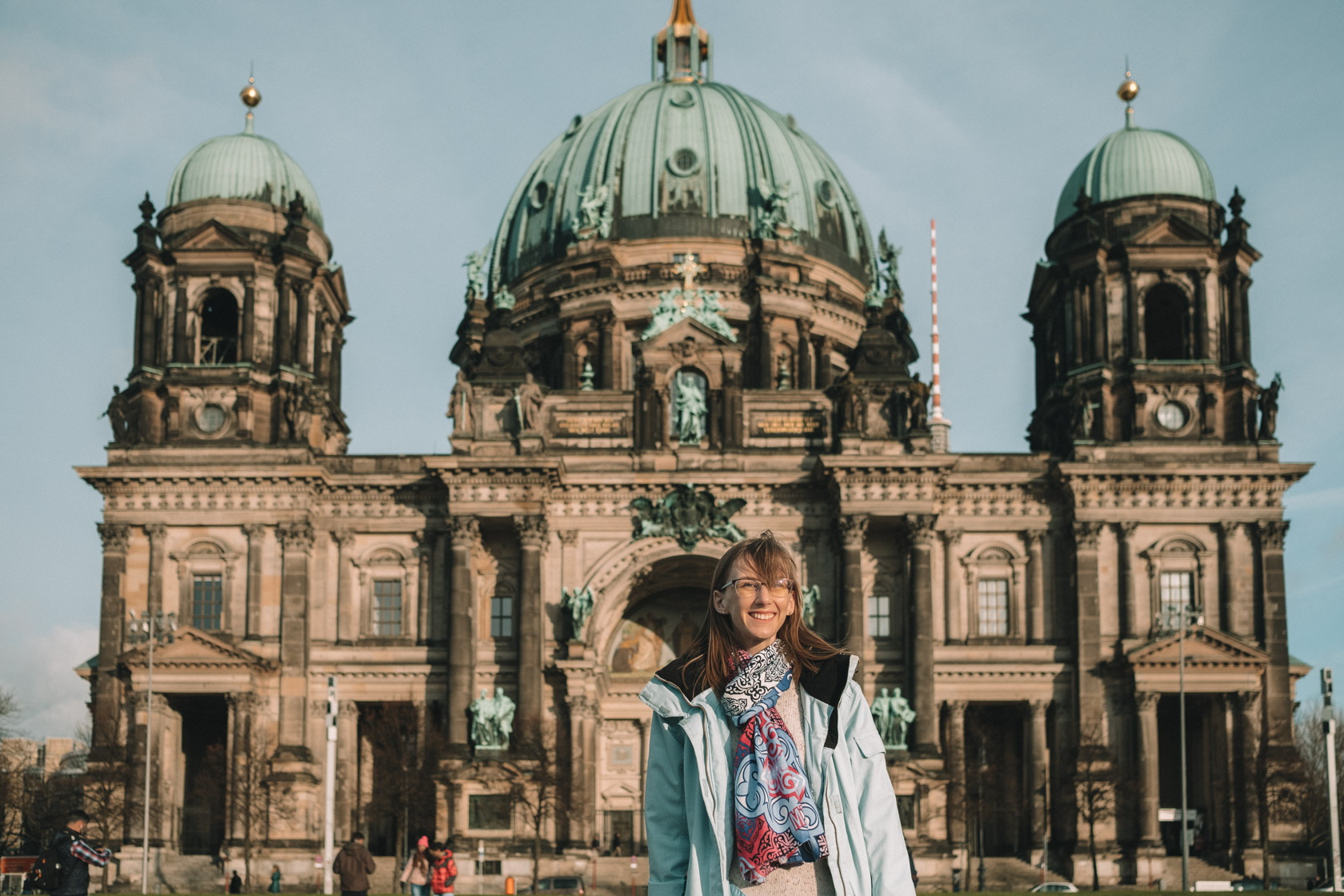 If you'd like to add some history and commentary to your experience, check out this super highly-rated Berlin Top 20 Sightseeing Tour which visits all the spots I mentioned above as well as Berlin's Old Town, the Nikolaiviertel. Seeing the top 20 sights in 3 hours is possible because so many are placed close together, you just have to know where to go 😉
7. See a show at the Friedrichstadt Palast
Berlin's Friedrichstadt Palast is the world's biggest theatre stage, and the ARISE Grand Show is one of the most popular things to do in Berlin regardless of the season. It's an international-level considered on-par with the kind you'd see in Las Vegas.
Luckily for visitors who don't speak German, ARISE is also free of dialog, which makes it one of the few shows you can watch without having an extra audio guide on hand. You might be surprised but even for an international city, Berlin has a lot of German-only activities.
This venue is conveniently located next to one of the main stations in Berlin, making it ultra easy to reach even if Berlin's weather isn't on your side! I used to work across the street from this venue and can vouch that it is extremely popular year round.
Click here to check availability for tickets to the ARISE Grand Show at Friedrichstadt Palast.
8. Go for a tour inside a former airport commissioned by Hitler
Did you know that Hitler once commissioned an enormous airport, with enough space to hold events with ONE MILLION spectators…but never once set foot inside?
This fascinating, now defunct airport, is worth visiting for a number of reasons. First, you'll learn about the architecture and how it was designed. Then you'll also learn the history of how it was used during World War II, see the underground bunkers that families used to hide in during aerial raids, and also how it was used by the Americans during the Cold War to bring supplies to Soviet-surrounded West Berlin.
My boyfriend and I loved the tour of the airport – it was even led by an architecture student who had really great insights on how Hitler personally influenced the design of the airport. The exact tour I can recommend you try out is Berlin Tempelhof Airport: The Legend of Tempelhof Tour !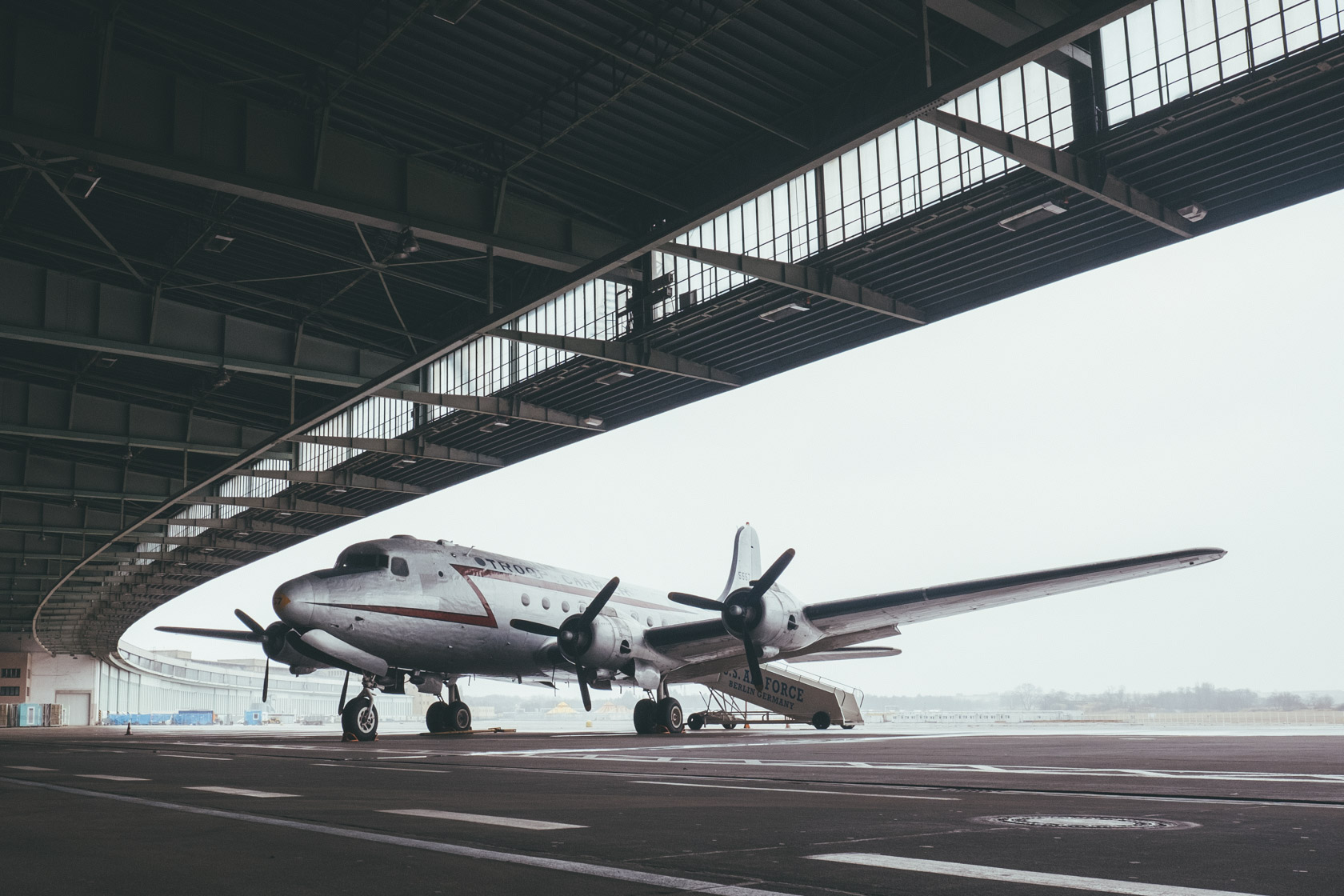 9. See the Berlin Wall at the East Side Gallery
You may or may not know, there are numerous places in Berlin where you can see pieces of the Berlin Wall. After all, the Wall ran through the entire city. However, if you're looking for something more impressive, be sure to check out the kilometer-long East Side Gallery . It's the best place in the city to see the Wall, in tact, and covered with famous art you've probably seen in movies or on postcards.
Whatever you do: Do not see the Berlin wall at Checkpoint Charlie or at Potsdamer Platz. They are not comparable, if you're really interested in seeing massive stretches of the wall. Those are just small pieces 😉
Visiting the East Side Gallery is free, but if you want to learn more about the history of Germany, the Wall, and the art that covers it today, you can book a Berlin Wall guided tour at a seriously reasonable price.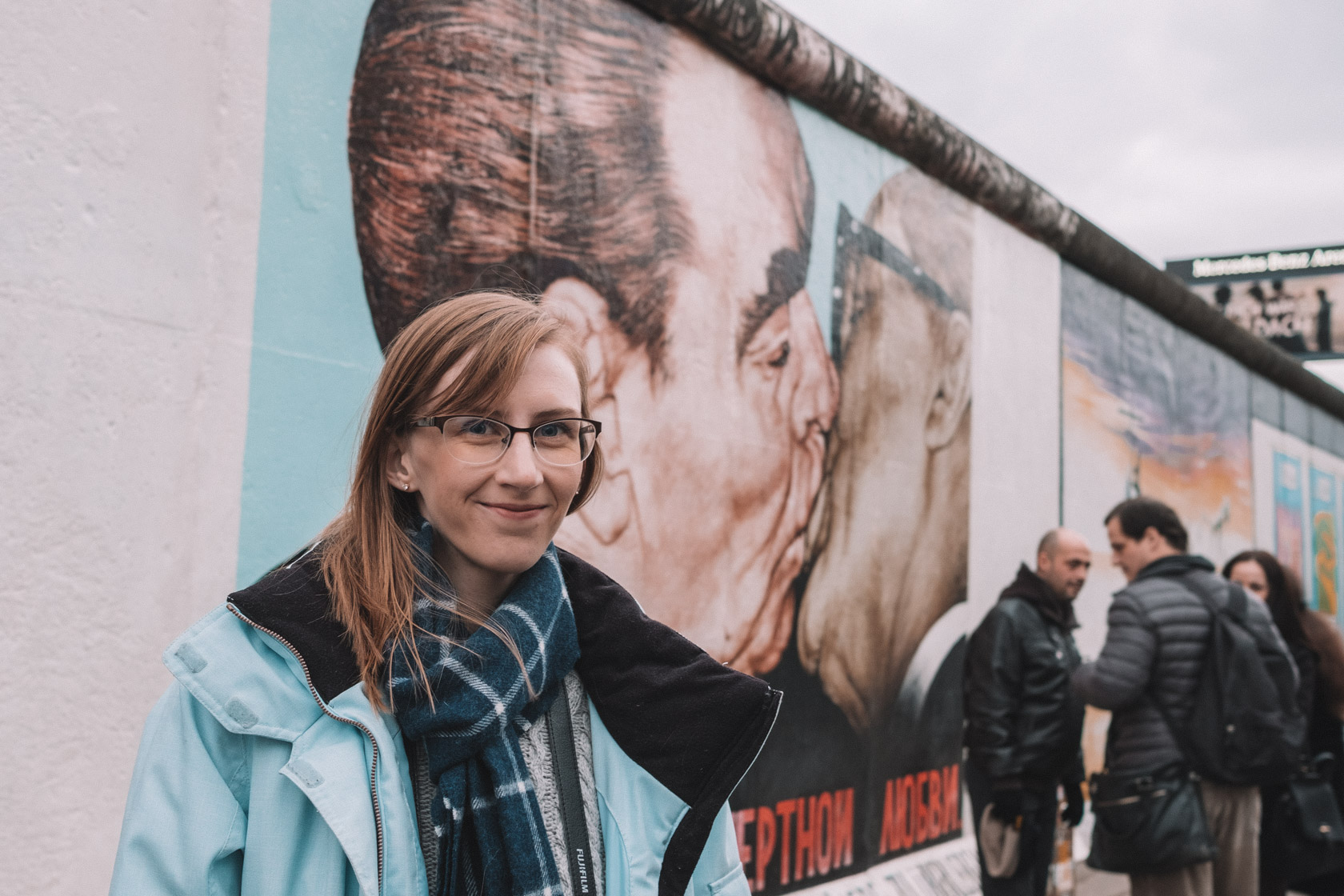 10. Visit one of Berlin's best craft beer bars
While one of my favorite things to do with visitors is take them to one of my favorite beer gardens in Berlin, those shut down at the end of Summer. So what's a beer fan to do in the midst of Winter when you want to taste some of that famous German brew?
If you ask me – head to a craft beer bar!
While you can get a "typical" German beer at just about any restaurant, in just the last couple of years, Berlin's craft beer movement has made strides to catch up to the United States. Now any Germans reading this will scoff and say that American beer is terrible – which it is if you're purposefully treating Bud Light as though it's indicative of ALL American beer *AHEM* – but in fact, Germany has only recently started to get more experimental and create beers that depart from the typical brews they've been making for centuries.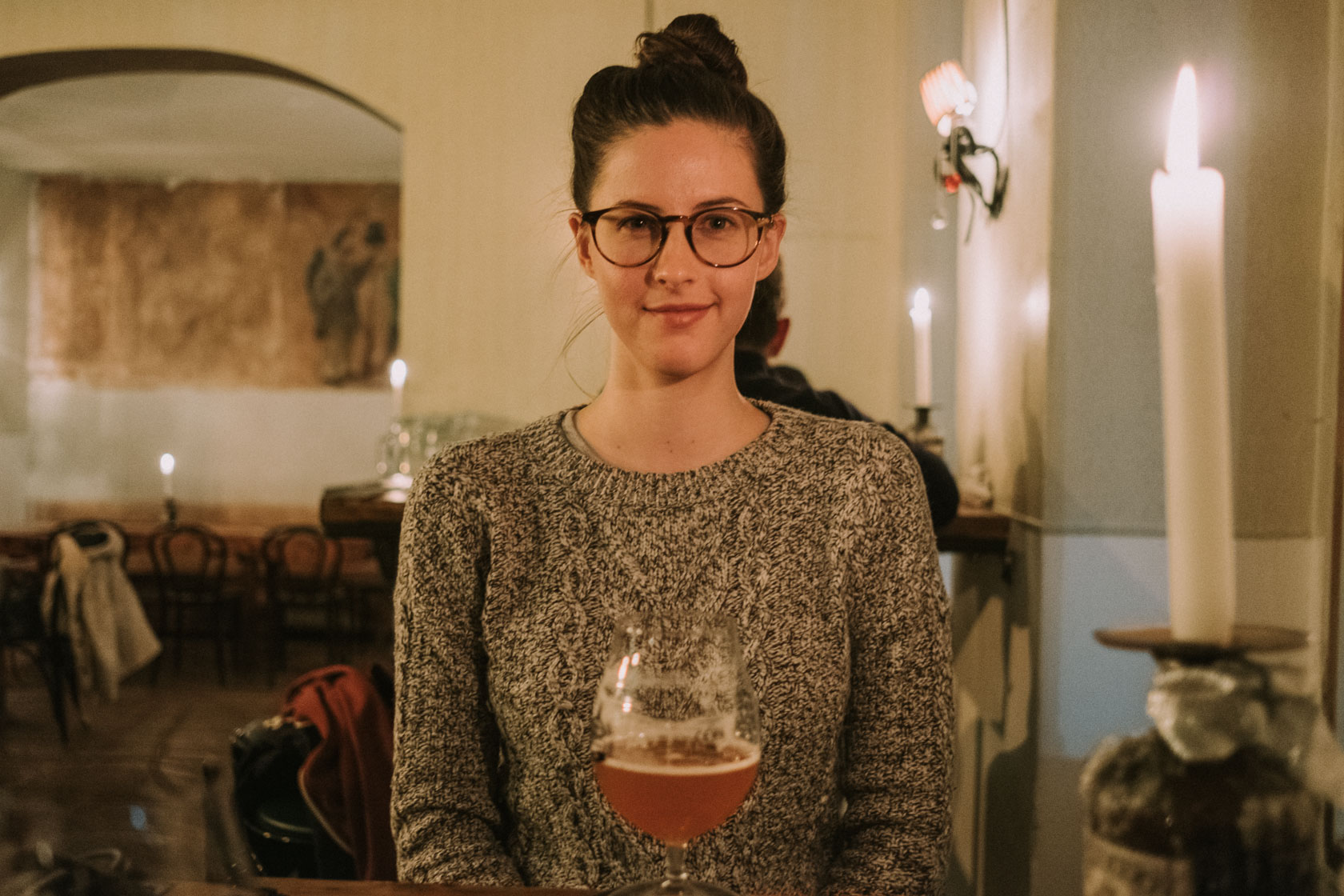 Here are a couple of my favorite craft beer bars in Berlin: Hopfenreich (located in Kreuzberg), Kaschk (located in Mitte, as mentioned above), and Markthalle IX (at the Heidenpeters, located in Kreuzberg).
10. Do your Christmas shopping at Europe's largest department store, Kaufhaus des Westens
Remember how I said that Berlin has the largest theatre, which is the Friedrichstadt Palast? Here's another thing that's the biggest in Berlin: Europe's largest department store. Ok I just learned in researching this article that Harrod's in London has ousted it from the top spot. But this department store is still pretty damn big.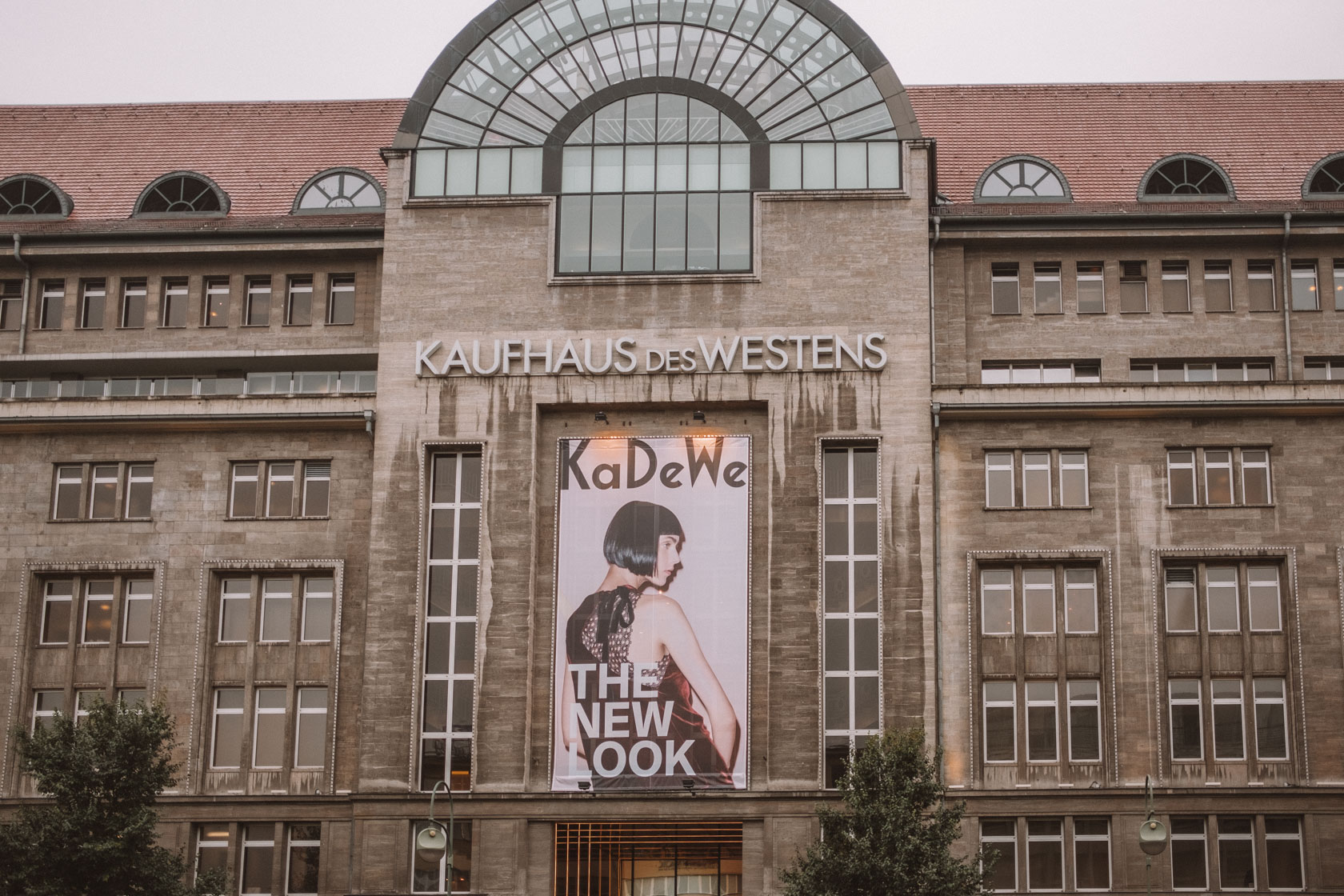 Here are some mind-blowing stats about Kaufhaus des Westens (also known as KaDeWe):
40,000-50,000 shoppers pass through
380,000 individual articles are on sale
60,000 square meters
It's 8 floors, including one dedicated to international food
The top floor includes a winter garden with a 1,000-seat restaurant
Since 2015 it's been owned by a Thailand-based department store conglomerate 🤔
Most of what you'll find in here is quite high-end and expensive, but if you're on the hunt for a killer cashmere sweater to take home with you – this is the fanciest place in Berlin to do that!
11. Eat some heavy German food
Mmmm especially in Winter, is there anything better than breaded meat, potatoes, and washing it down with beer? No? I didn't think so either. And even though Berlin isn't in Southern Germany, where certain "famous" German dishes have originated, you can still find pockets of fantastic German food in Berlin. You just need to know where to look.
Take a look at my post on where to eat German food in Berlin for specific tips on my favorite places for German food, whether it's your standard Schnitzel or something you've surely never had before.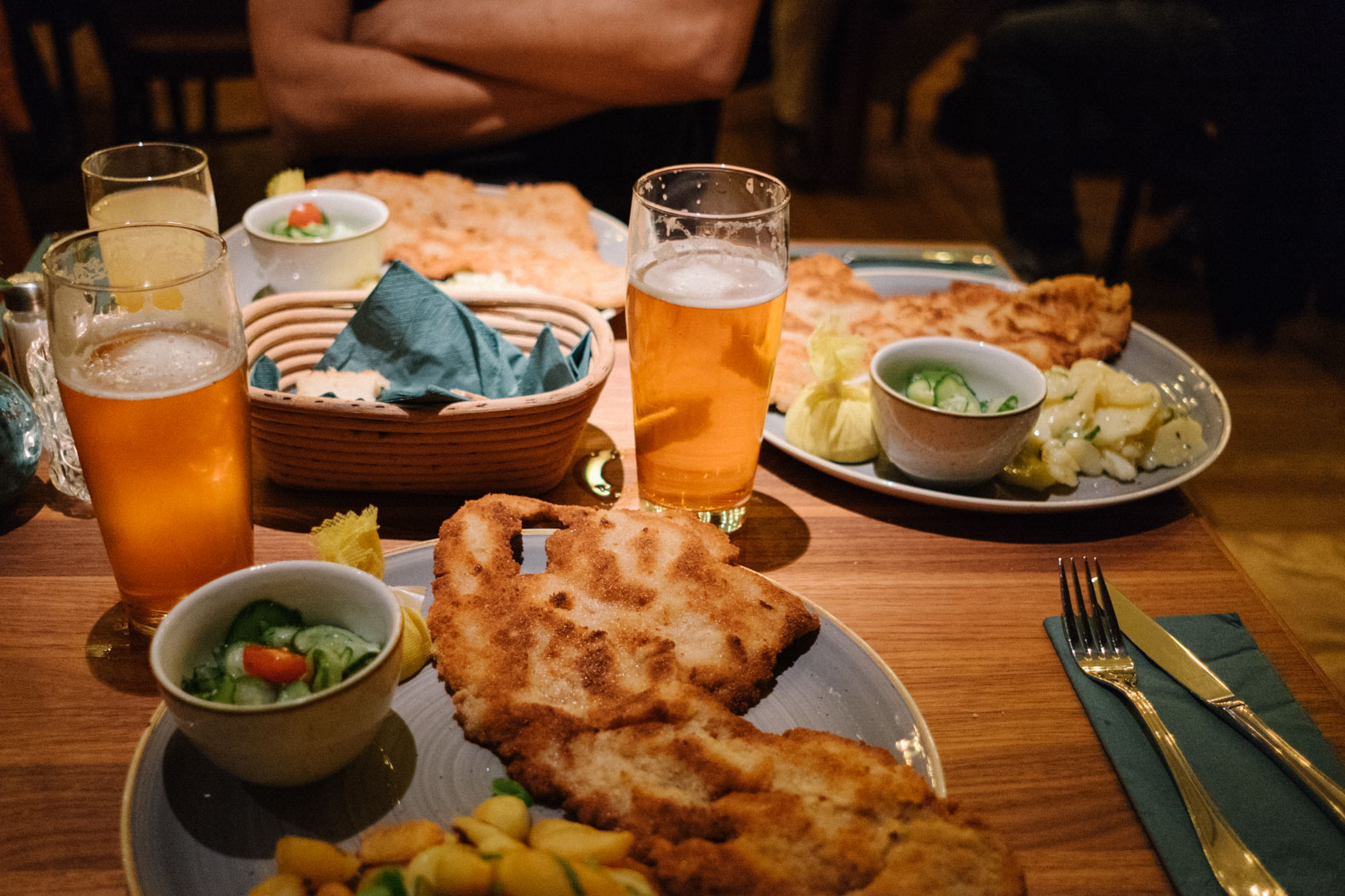 12. View a Berlin decked in Christmas lights from the top of the TV tower
Known as the Fernsehturm in German, Berlin's TV Tower is arguably tied for its most famous landmark. It's Berlin's tallest structure and the easiest way to orient yourself from just about anywhere in the city. What's awesome is you can take a lift to the very top to look out over Berlin, and if you plan ahead you can even get a window seat at the Panorama Restaurant.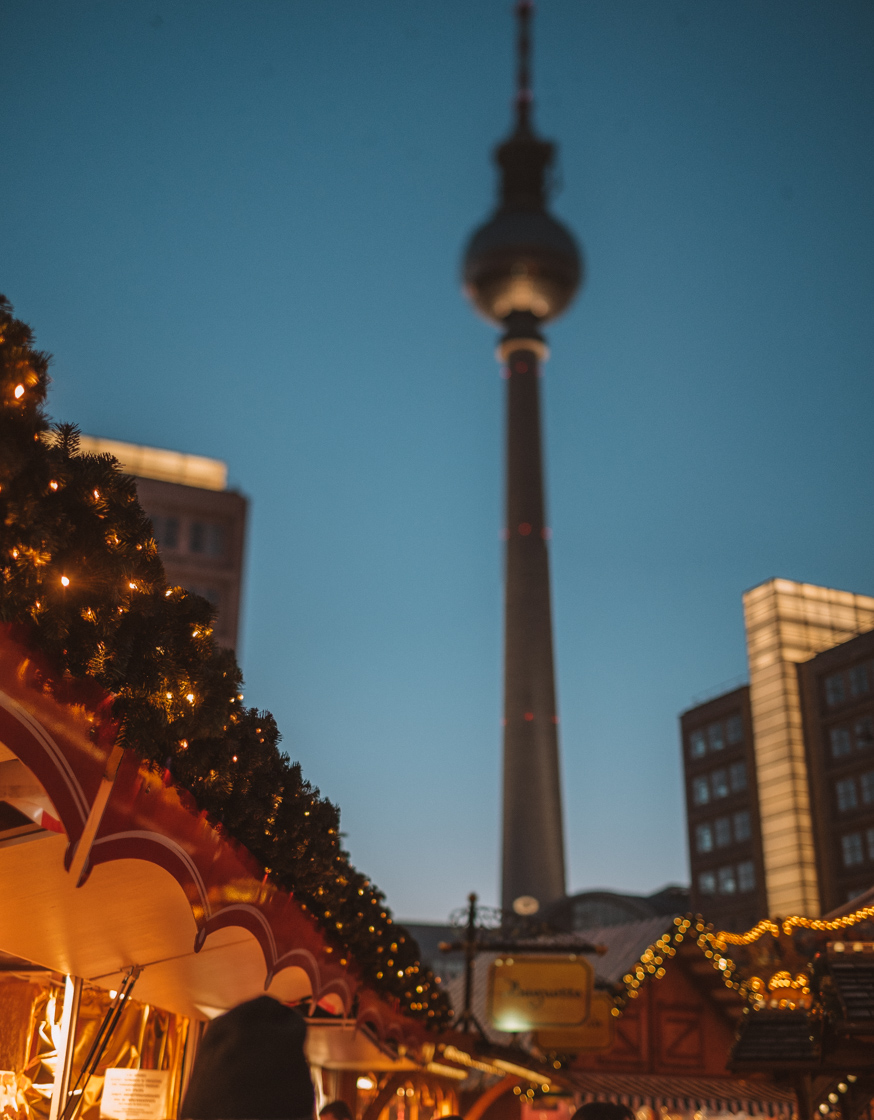 A Berlin-based tour company called GetYourGuide provides skip-the-line tickets for the TV Tower so you can avoid a long wait in the cold. Wouldn't you love to ride to the top and look out over dozens of sparkling Christmas markets all over the city 😄
13. Get your photo taken in front of Oberbaumbrücke
Some more landmarks to cover here – right next to the East Side Gallery, you'll find Oberbaumbrücke . It's less frequented because it's not as close to the city center as some of the other tourist sights, but especially if you can get a bit of light on it, it's a gorgeous red bridge with prominent turrets.
Once you see the bridge, be sure to cross and head to the corner pictured below for one of the best spots to get your photo taken with the bridge. If you're a big photography fan, check out my related post on the best photography spots in Berlin.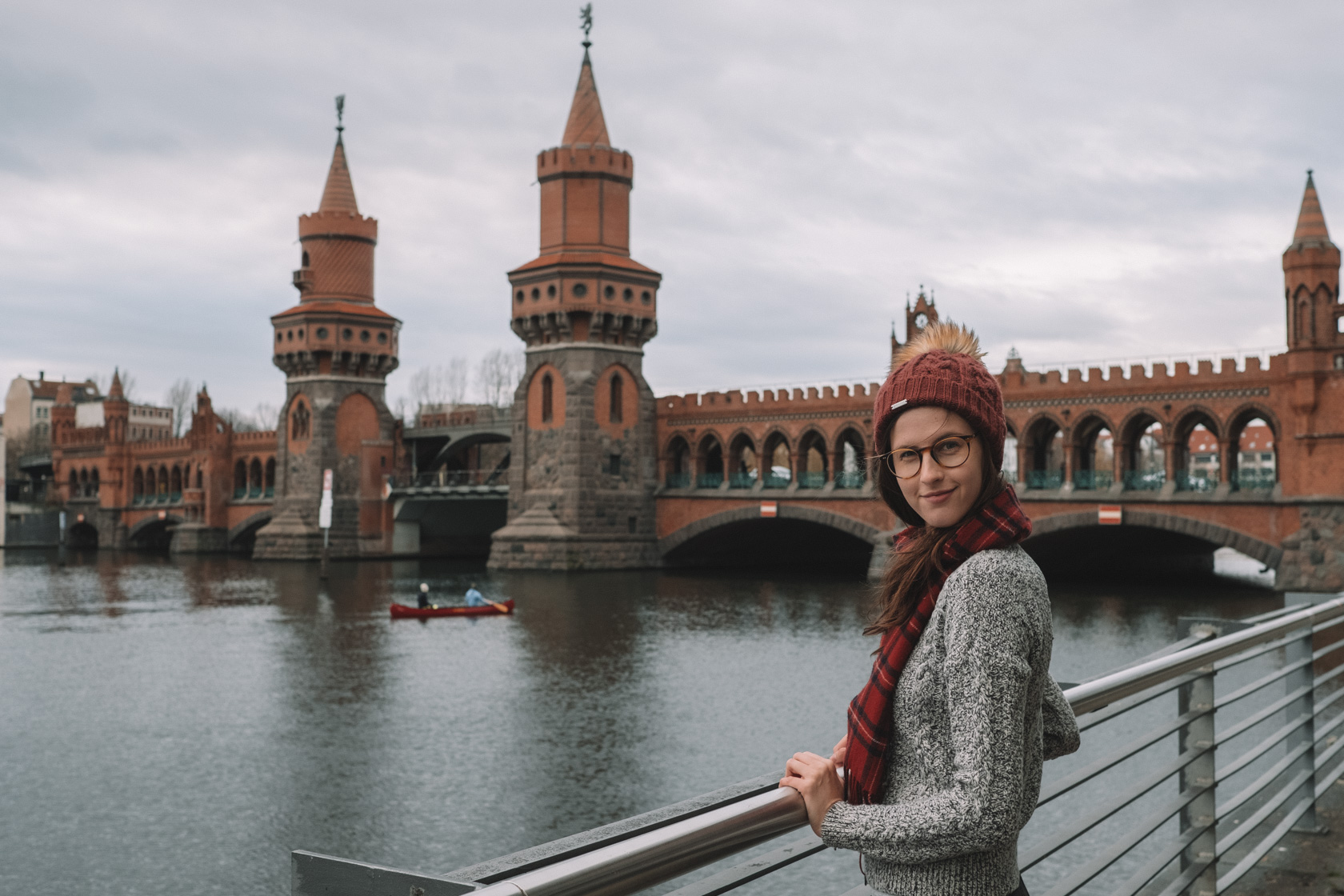 14. Cozy up in one of Berlin's incredible third-wave coffee shops
I remember when I first moved to Germany, trying to drink the coffee was a battle. First there was no such thing as iced coffee (AKA 50% of my blood content in Summer) and the idea of not drinking something that'd be kept on a burner for three hours just didn't seem to have reached the country yet.
Fast forward a few years and Berlin's coffee scene is booming. There are at least a dozen fabulous places for coffee all over the city, many of which also sell beans you can take home and grind and brew for yourself!
Here are a couple of my favorite coffee joints in Berlin: Five Elephant (locations in Mitte and Kreuzberg), 19 grams (locations near Alexanderplatz and Chausseestrasse), and Chapter One (located in Kreuzberg).
15. Attend one of the most famous international film festivals, the Berlinale
The Berlin International Film festival happens every February. And while it might not be quite as famous as Cannes, it's considered one of the top three international film festivals in the world. It was originally founded in West Berlin in 1951, and welcomes celebrities and film buffs every single year.
You can learn more about Berlinale in preparation for the 2020 edition on the Berlinale official website . At the time of writing, the 2020 programme isn't up yet but keep checking back if you're down for watching some unique films and documentaries during your trip!
16. See a movie at the Sony Center at Potsdamer Platz, location of Europe's largest screen
Last of the "Berlin is the biggest" in this post, here you can actually see a movie on the largest screen in Europe. Did you know you wanted that? Now you do. You can see movies in IMAX, 3d IMAX, as well as "normal" (if anyone does that these days?). Like a typical movie theatre, the cost for eating popcorn and drinking liquid sugar is absurdly high, but it's a great way to kill some time.
Another thing that makes the Sony Center special to me is the fact that you can see movies here IN ENGLISH. WITHOUT SUBTITLES. This is a biiiiig deal if you're an expat living in Europe!
One thing to note: In cinemas like the Sony Center, you need to reserve a specific seat in advance. Make sure you do that on the website in advance , or just show up earlier in the day to buy your tickets in person. I can't find out if it's possible to translate the website to English, but generally the people at the front desk will be able to help you 😉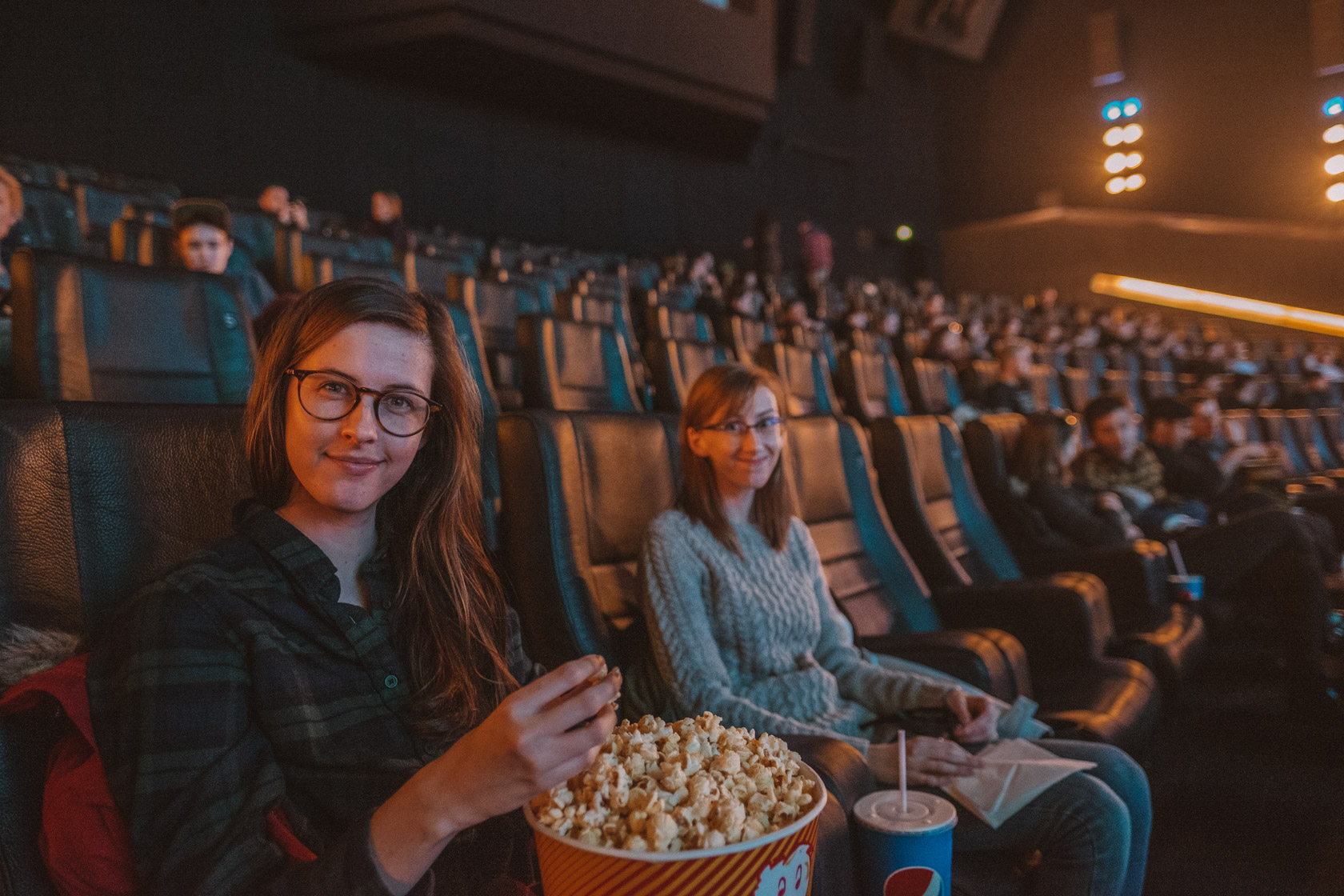 In case you're wondering, we saw Black Panther
17. Take a winter day trip from Berlin
While I love Berlin, there are other places you can visit in Germany with slightly more to offer when it comes to typical winter activities and, well, snow. Here are the top places I'd recommend visiting around Berlin during the Winter season as day trips.
Dresden, Germany – Dresden is a beautiful city and the capital of the German state of Saxony. If you're looking for even more beautiful Christmas markets, Dresden is famous for them, in addition to its architecture.
Potsdam, Germany – Potsdam is the home of the "Versailles of Berlin", a famous palace with open grounds you can walk and look especially idyllic in snow. Walking the grounds is free, but visiting the elaborate interior comes at an extra cost.
Sachsenhausen Nazi Concentration Camp Memorial – Sachsenhausen is located just a 30-minute train ride outside of Berlin, and is one of the most notorious concentration camps the Nazis built during their reign. Visiting a place like this is very heavy, but worthwhile to complete your picture of all the things have happened here. While I'm not sure this falls under the "fun" title of this blog post, I still felt it was worth sharing.
Are you excited to visit Berlin during Winter?
Let me know how your trip goes, and if you discover any new activities I ought to add to my Berlin Winter travel guide!