Let's imagine you've just touched down in Berlin. It's late afternoon. You drop off your bags at your Airbnb, and hunger starts to set in. What could be better than a heavy German dinner to start your time in the city off on the right foot? That's exactly what this guide to German food in Berlin is here for 😉
Most people don't know this before touching down in Berlin, but the city isn't as famous for its German culture as its sister city, Munich. Berlin is much more focused around international food, and it's not exactly a walk in the park to find a German restaurant on a whim. That said, you can find German food in Berlin for all kinds of budgets and all kinds of dietary requirements. Whether you're a meat-o-holic, vegetarian, or vegan, you can eat German food
Here are my top recommendations on where to try German food in Berlin.
This blog post is part of a new series called Berlin Tips, where I share quick tips about my favorite things to do in the city I live in. Stay tuned for weekly additions to this series alongside my other posts!
What actually is German food?
Potatoes, potatoes, potatoes – Potato salad, grilled potatoes, pommes (french fries). The germans love potatoes, and you're pretty likely that no matter what you order, a side of potatoes will come along too.
Käsespätzle – More or less the German version of mac 'n cheese. The "noodles" are made from flour and eggs, and it's smothered in cheese and often topped with crispy onions.
Schnitzel – A thinly pounded slice of meat, breaded, and fried in vegetable oil. The most famous Wienerschnitzel is made from veal, but you can also commonly get Schnitzel made from pork or turkey.
Maultaschen – Literally "mouth dumplings", these come in meat and vegetable varieties. It's kind of like German ravioli.
Wurst – This is sausage, and comes in a million variations. Weißwurst (White sausage), Wurstsalat (Sausage salat…seriously), you name it, you can get it in the form of sausage.
Brezel – Pretzel! But bigger. Normally, if you get a Brezel in Germany, it's gonna be the size of a child's head.
Riesling – Okay, not a food, but a wine. Did you know that German produces a bunch of wine, and much of it is darn tasty? There are a bunch of opportunities in Berlin to drink domestic wine.
Where to try German food in Berlin
Schnitzelei €€€
I discovered Schnitzel one night while looking for a place to eat dinner near one of my favorite spots for craft cocktails, Reingold . A hop and a skip away, you'll find Schnitzelei Mitte .
It's a little bit fancy and hipster, but the food is really delicious if you're willing to drop the money on a slightly expensive dinner. A Wienerschnitzel will run you 18€ any day fo the week, except on Sundays when you can get it for a much more reasonable 12€! I have to emphasize that this is the best Schnitzel I've had in Berlin, so it's worth the cost in my book.
Neighborhood: Mitte
Recommended dish: Wienerschnitzel and a craft beer. It also has at least one vegan dish, and a few other vegetarian options.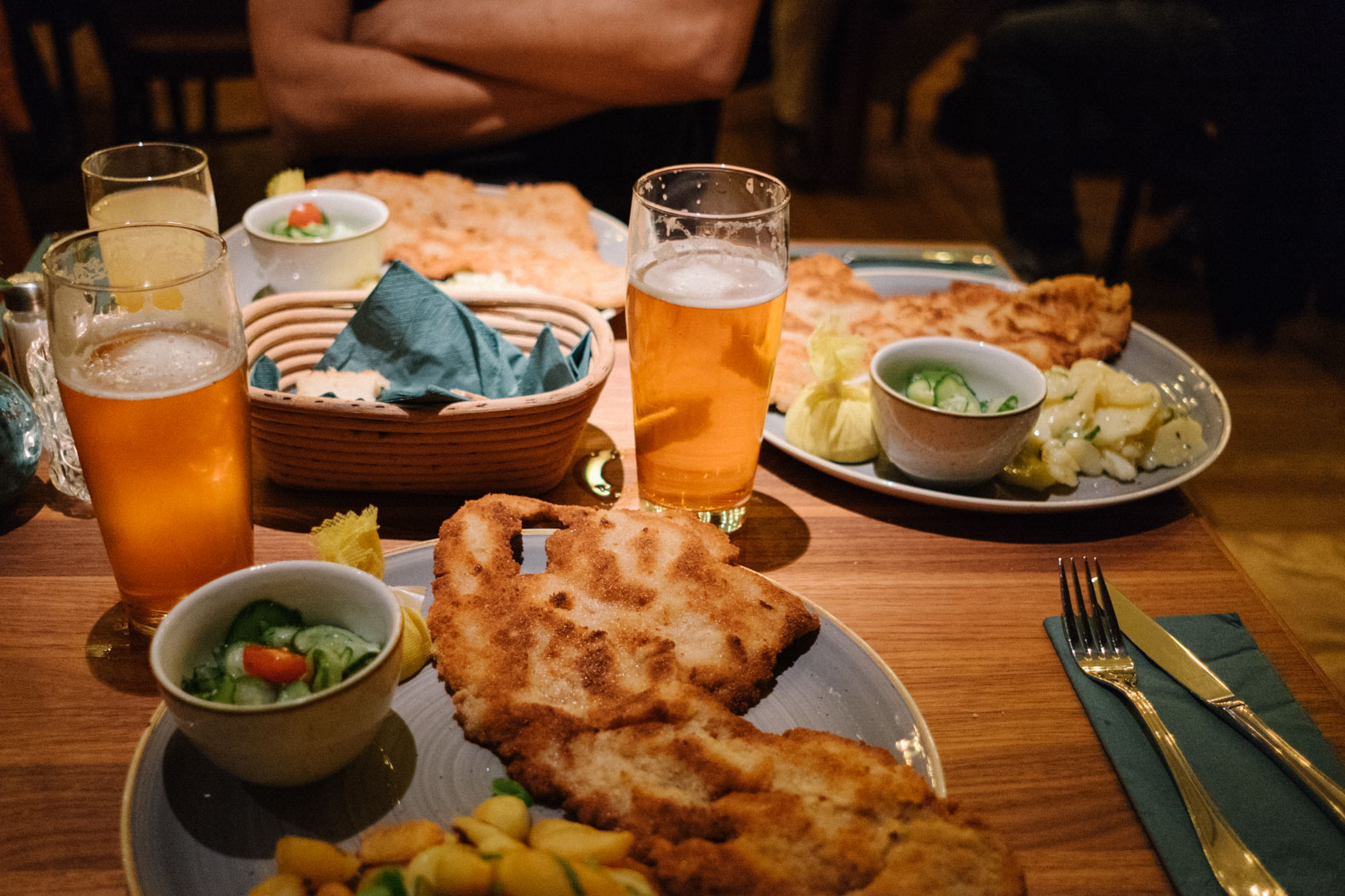 Schwarzwaldstuben €€
This spot has a mish-mash of antique tables and chairs, arranged around a long bar that serves up all sorts of German beers from the tap. It's really cozy, you can spend several hours here and not even notice. And then…there's the food! You can get a pork Schnitzel here for 12€, and several other dishes for even less.
Just make sure you make a reservation, as this place is popular every day of the week! In nice weather, you can also sit outside while you enjoy your half liter of beer.
Neighborhood: Mitte
Recommended dish: Schnitzel, Spätzle, or Gemüse Maultaschen (veggie dumplings)
Max & Moritz €€
Max & Moritz is named after a creepy German fairytale, where the two boys play seven tricks and the last one lands them in a mill where they're ground to bits and devoured by hungry ducks. In fact, you can even the visit the mill where it supposedly happened – I bet you're hungry now!
In any case, Max & Moritz is one of the classics spots you can eat German food in Berlin. They have several vegetarian choices and are located conveniently close to the Moritzplatz U-Bahn station.
Neighborhood: Kreuzberg
Recommended dish: Gemüse Maultaschen
Not only Riesling €€
This is one of my favorites in my neighborhood! Given that it's a wine bar, depending on your age you might be the youngest and poorest person here on any given day, but it's too much fun not to include.
The name of the bar goes back to the idea that Germany doesn't just produce Riesling wine, but all sorts of wines. If you want to try German wines, don't miss this place. And of course, if you prefer another variety, this wine shop and bar has a huge selection. If you buy something in the shop, you can just pay an uncorking fee and drink it at the bar anyways.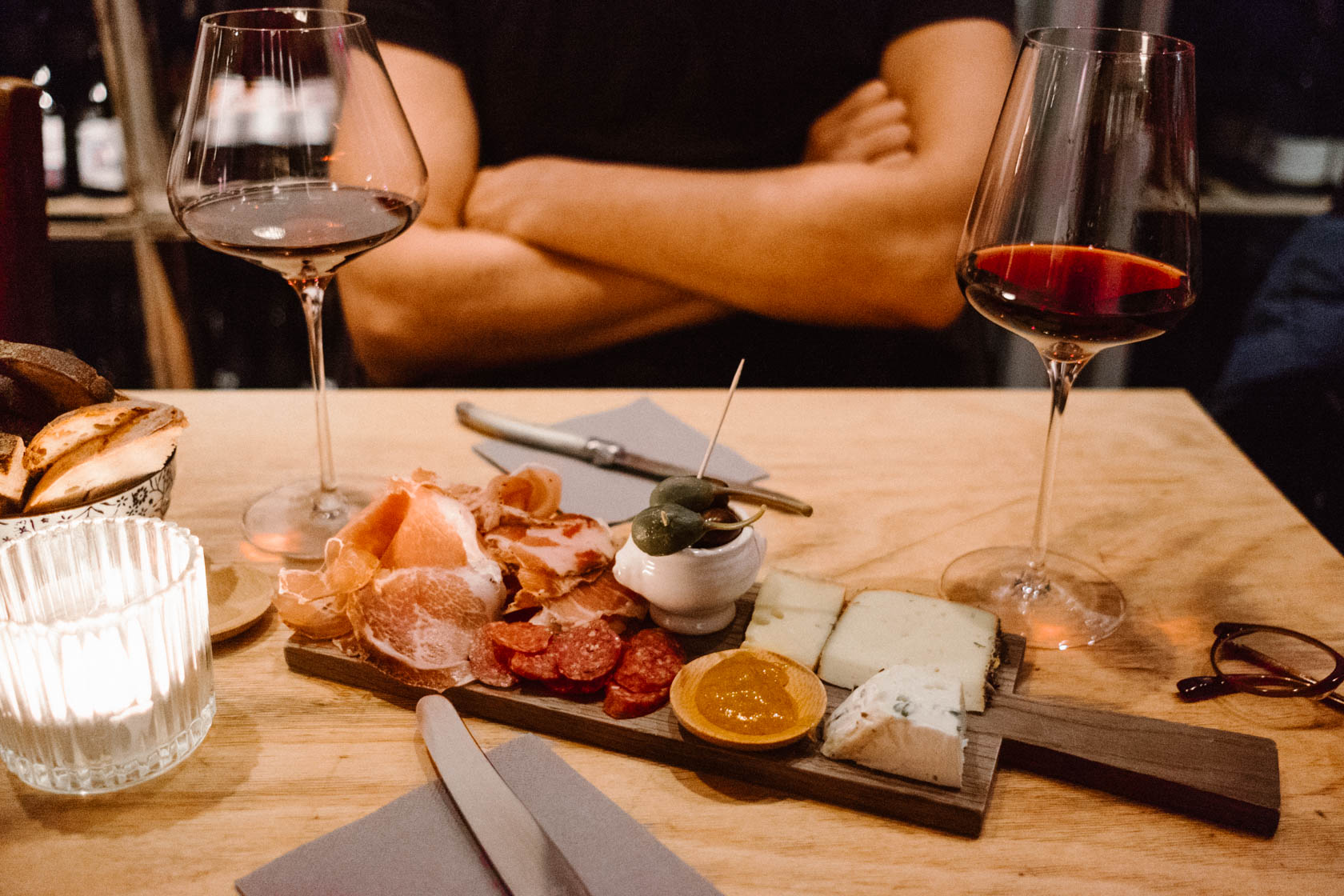 They don't have proper meals, but you can order a cheese and sausage board, which is absolutely fantastic, to go with your bottle of wine. If you find yourself in West Kreuzberg and not needing a full meal.
Show up early in the evening to avoid needing a reservation, or call ahead to reserve a table, it can get very popular on the weekend.
Neighborhood: Kreuzberg
Recommended dish: Wurst & Käse Brett (meat & cheese board)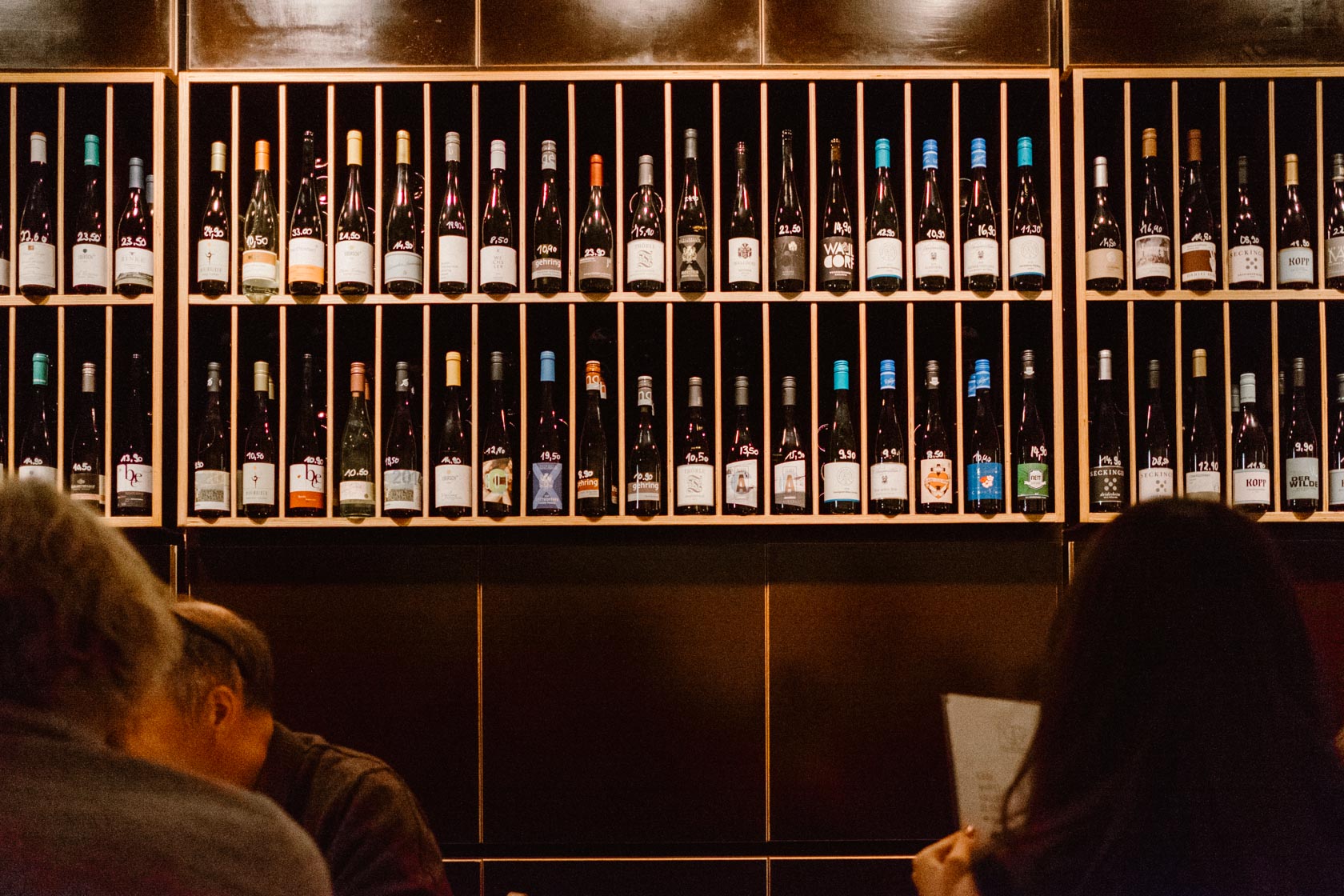 Clärchens Ballhaus €€
So, we're going to start on the slightly touristy part of the list! I mean, sometimes touristy is fun, and that is often the case with Clärchens Ballhaus. It's a cute beer garden in the middle of the city – but don't be fooled, there is also an entire garden in the back of the restaurant too.
This spot is also famous because it lent itself to Inglorious Basterds for a specific scene. That said, locals and tourists alike enjoy Clärchens Ballhaus – you can get some typical German dishes, as well as pizza and pasta, so there really is something for everyone.
Neighborhood: Mitte
Recommended dish: Käsespätzle or the pizza!
Augustiner am Gendarmenmarkt or Hofbrauhaus Berlin €€
In case you didn't realize that Munich is the more likely place to see the German folk frolicking in Lederhosen and Dirndln, you can still fake it in Berlin by visiting these two highly commercial German breweries and restaurants. If you happen to miss Oktoberfest in Munich, you can still get a small taste of it by visiting one of these establishments during the celebrations.
Neighborhood: Mitte
Recommended dish: It's touristy, so get something weird like Pork Knuckle or white sausage (Weißwurst) or maybe play it safe and get a Brezel (pretzel).
Alternative: Take a food tour in Berlin!
I love going on food tours in unfamiliar places. Here are some of the most highly rated food tours you can take during your trip to Berlin.
Berlin Evening Food Tour By Bike – This five-hour food tour goes through the streets of Prenzlauer Berg, easily one of Berlin's hippest districts. Tour is in English and does 3-4 stops.

Berlin 3-hour Secret Food Tour – This tour does an impressive 7 stops in only 3.5 hours. You get to taste all the German classics like kebab, flammkuchen, Turkish food, local cheese and meats, and much more. Tour is in English and led by a "passionate and fluent English-speaking guide" 😄
You can book tons of different food tours in Berlin here . Just make sure that you note any dietary restrictions you might have in advance, so that the tour guide can say if the tour is suitable for you. Luckily, even though Germany is a country that consumes a lot of meat, Berlin is a very friendly place for vegans and vegetarians alike.
And that's a wrap! Are you hungry?
Have you ever had German food before? Let me know what you've tried in the comments, or if you're interested in German cuisine!
Like this post? Pin it for later!