I felt compelled to write this article about where to stay in Berlin, Germany, after reading so many popular articles on the topic, and realizing that many of the photos and descriptions were just…inaccurate, at best. And I want you, my dear reader, to have the best possible experience in my adopted home! So, as a 5+ year resident of this city, I took it upon myself to write this post on the best places to stay in Berlin.
Berlin has a ton of fun neighborhoods to stay in, whether you're looking to experience the side of the city famous for nightlife and hipster parties – or you're doing a weekend in Berlin as a family or a couple's trip. Berlin is ultra eclectic and two people visiting the city can have TOTALLY different experiences. That's why I stick around!
Read on for my Berlin neighborhood guide, including affordable accommodation with the best locations in Berlin for exploring the city – that also won't bust your budget. Berlin is an ultra affordable city, and there's no reason not to stay somewhere great at the fraction of a price you'd pay in other European capitals.
Let's go!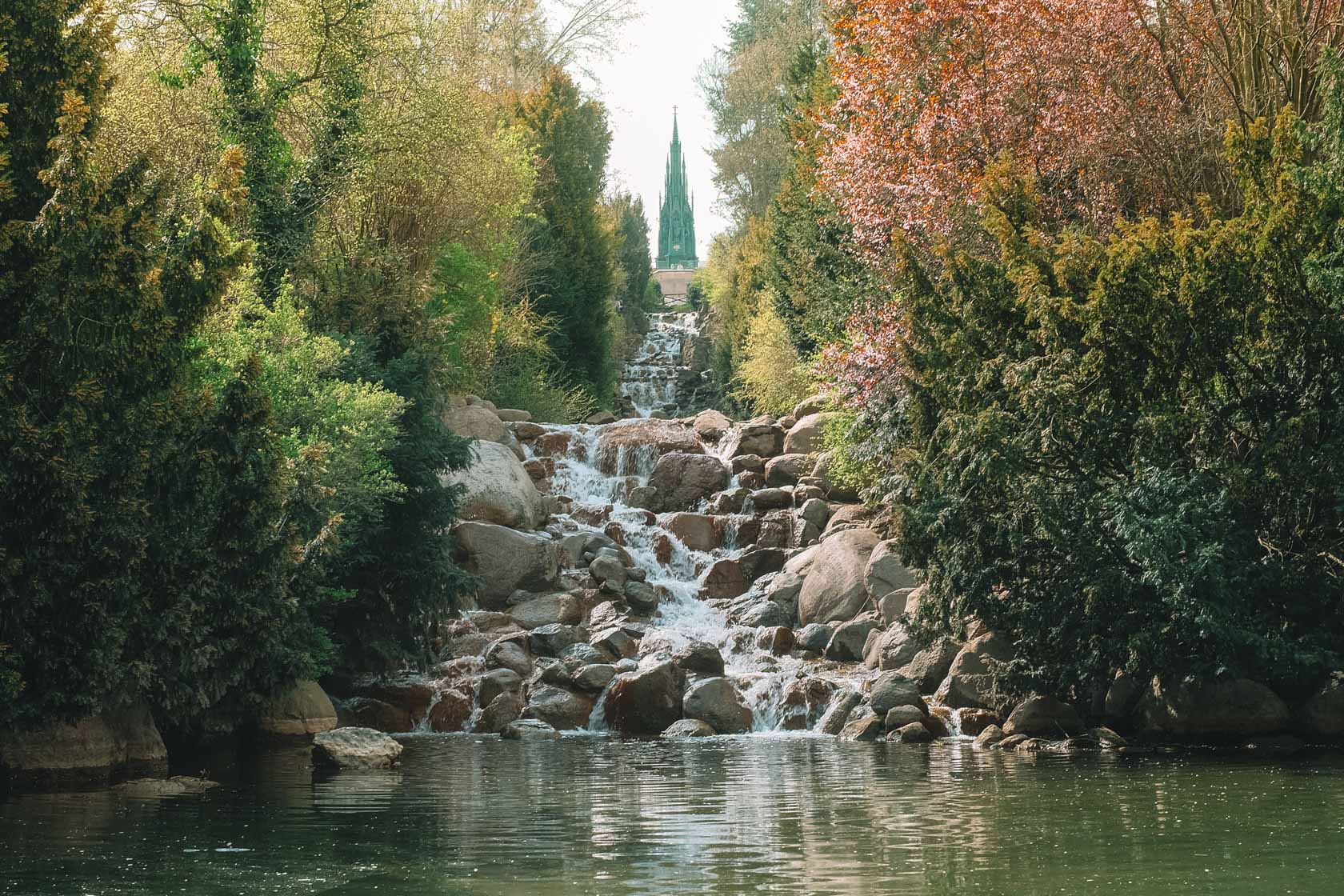 Some links in this post are to affiliate sites. If you purchase something through them, I may earn a small comission — which costs you nothing! I am very grateful when you use my links to make a purchase.
Can you visit Germany right now? (Summer 2023)
You can enter Germany using an EU Covid pass without any additional tests. If you are coming from a high-risk area, you may be required to fill out a Passenger Locator Form (here) to re-enter. This can be done online prior to entering the country, and you may be asked for it to board your flight into the country.
If you're traveling from outside the EU and don't have an EU Covid pass, you'll either need a negative PCR test (taken within 72 hours prior to entry) or antigen test (taken within 48 hours prior to entry), proof of being fully vaccinated (or having an initial dose combined with a negative test) which includes your personal data like birthday, first and last name, dates and names of the vaccines, etc. or proof of recovery. All requirements are described in detail here.
Quick tips: How to pick accommodation in Berlin
Before I go into specific neighborhoods and locations, I want to give you a couple of quick tips on how to choose accommodation in Berlin so your trip is as convenient as possible:
Stay within walking distance to a subway station. Ideally 5 minutes away or less! You'll most likely be using public transit to get around, so it'll save you time.
Look for accommodation with air conditioning in the Summer. Berlin can get VERY hot in the Summer, over 100ºF / 38ºC. You will want air conditioning, trust me.
Parking in Berlin is surprisingly straightforward, especially if you're not staying in the very most central areas. There's a good chance you can find somewhere to park your car on the street, even if your hotel doesn't offer parking.
With that, let's go to the neighborhood guide!
Top picks: Berlin's best neighborhoods for everyone
Berlin is divided into 12 different districts, called Bezirk in German. From there, you can break them down even further into Kiez, which are like smaller neighborhoods. In a lot of ways, each of these Bezirk has their own centers, style, personality, and unique things to do and see.
Here are the best neighborhoods I'd recommend you stay in depending on your own personal goals for visiting Berlin:
Let's look at each of these in more depth, including things to do in each neighborhood, the best hotel and hostel in the area, and my personal experience for the type of person who will love that neighborhood the most.
Want to go big? Read my master list of things to do in Berlin which I've been compiling and refining for the last five years. It's my labor of love, no joke!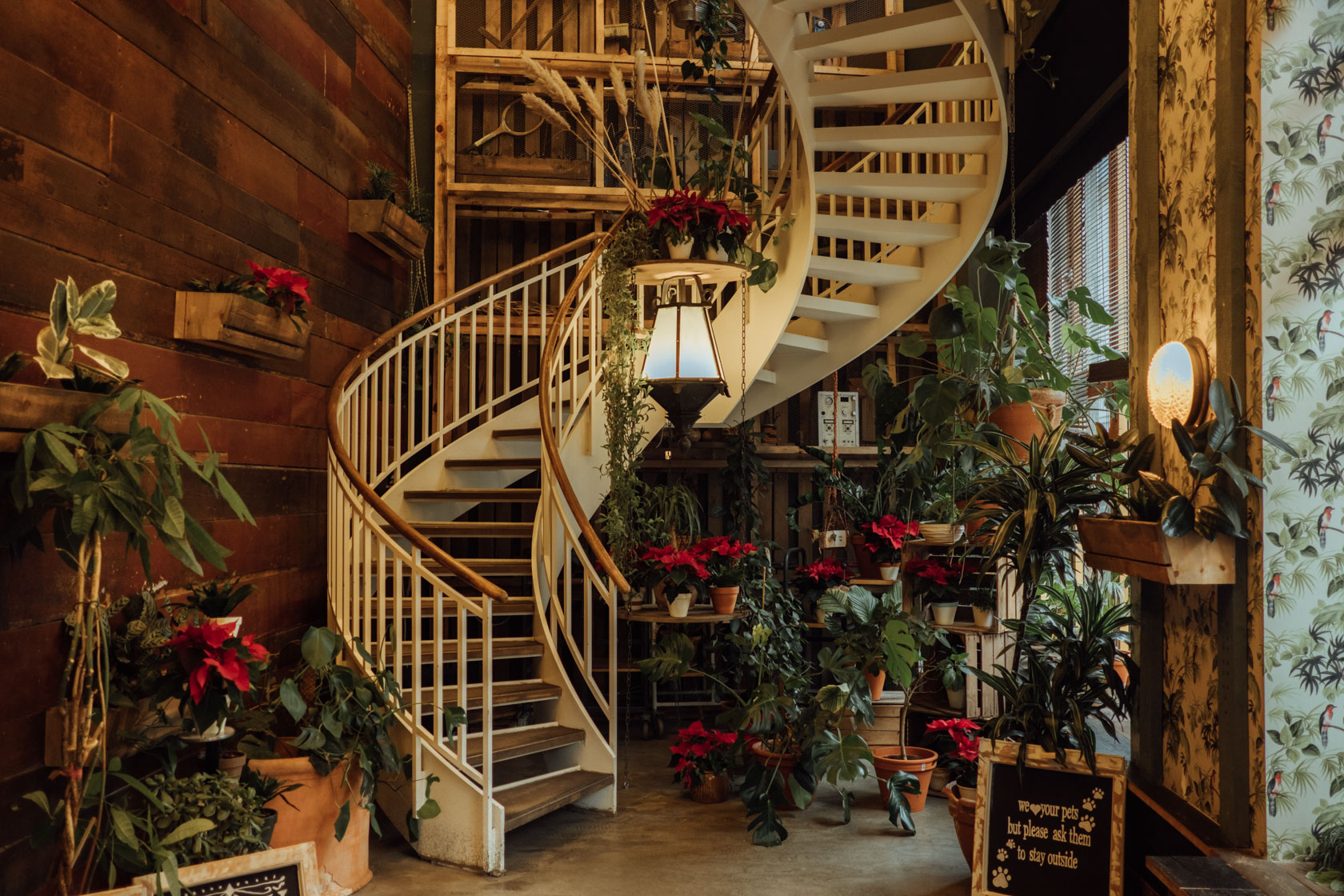 Berlin neighborhood guide: Where to stay in Berlin
This hotel and accommodation guide is focused on the most important thing when chosing accommodation: location, location, location. While Berlin has excellent public transit, where you stay in Berlin is often going to indicate which areas you spend a good amount of time in and what you end up doing.
As a long-term resident of Berlin, these are the best neighorhoods I recommend you stay in, and the top places to stay based on a combination of extensive reviews and my experience in the neighborhood. Enjoy!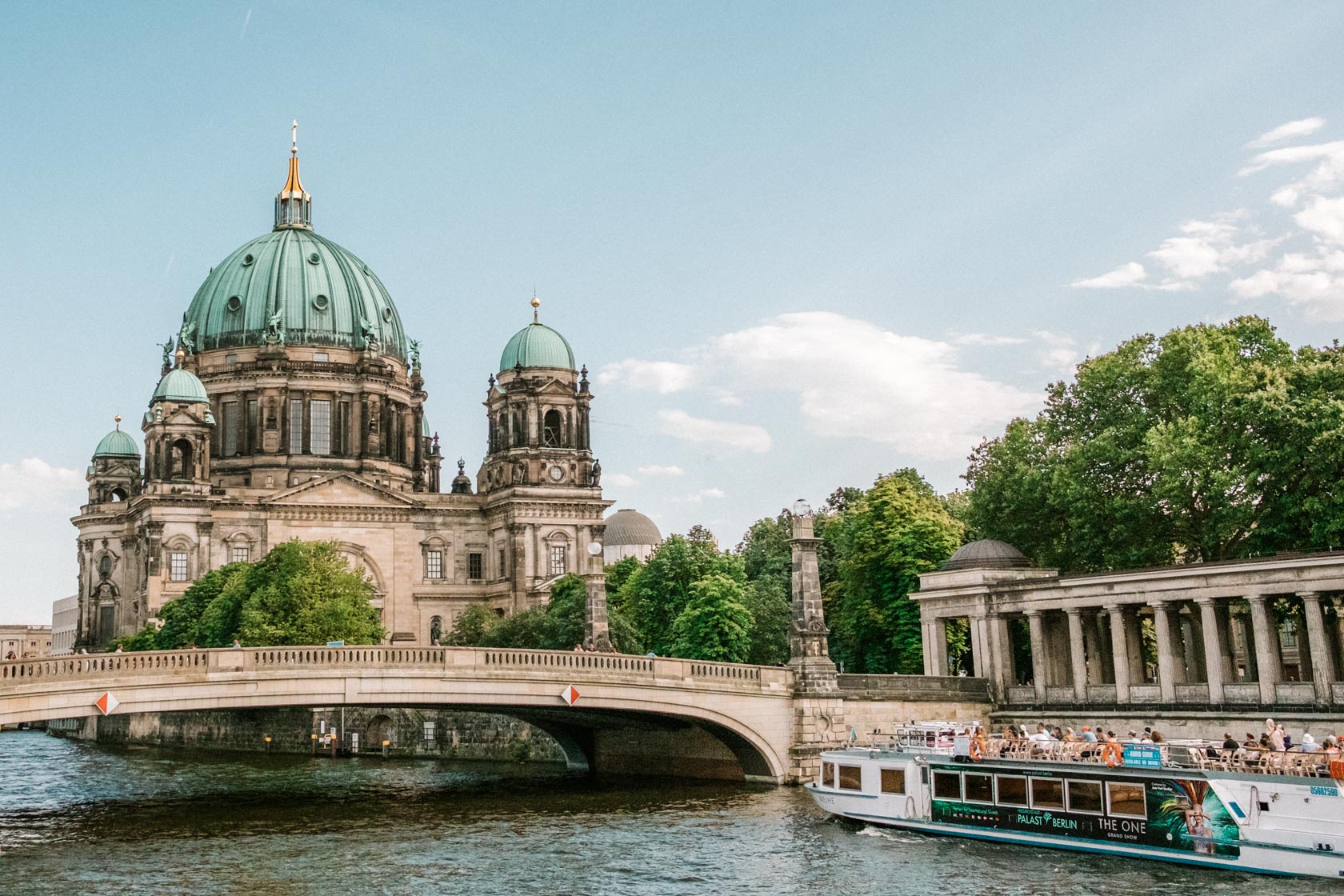 Mitte
First-time visitors
Christmas markets
Mitte is the best area to stay in Berlin for sightseeing. One of the few European capitals where it's affordable to stay in the center, so enjoy!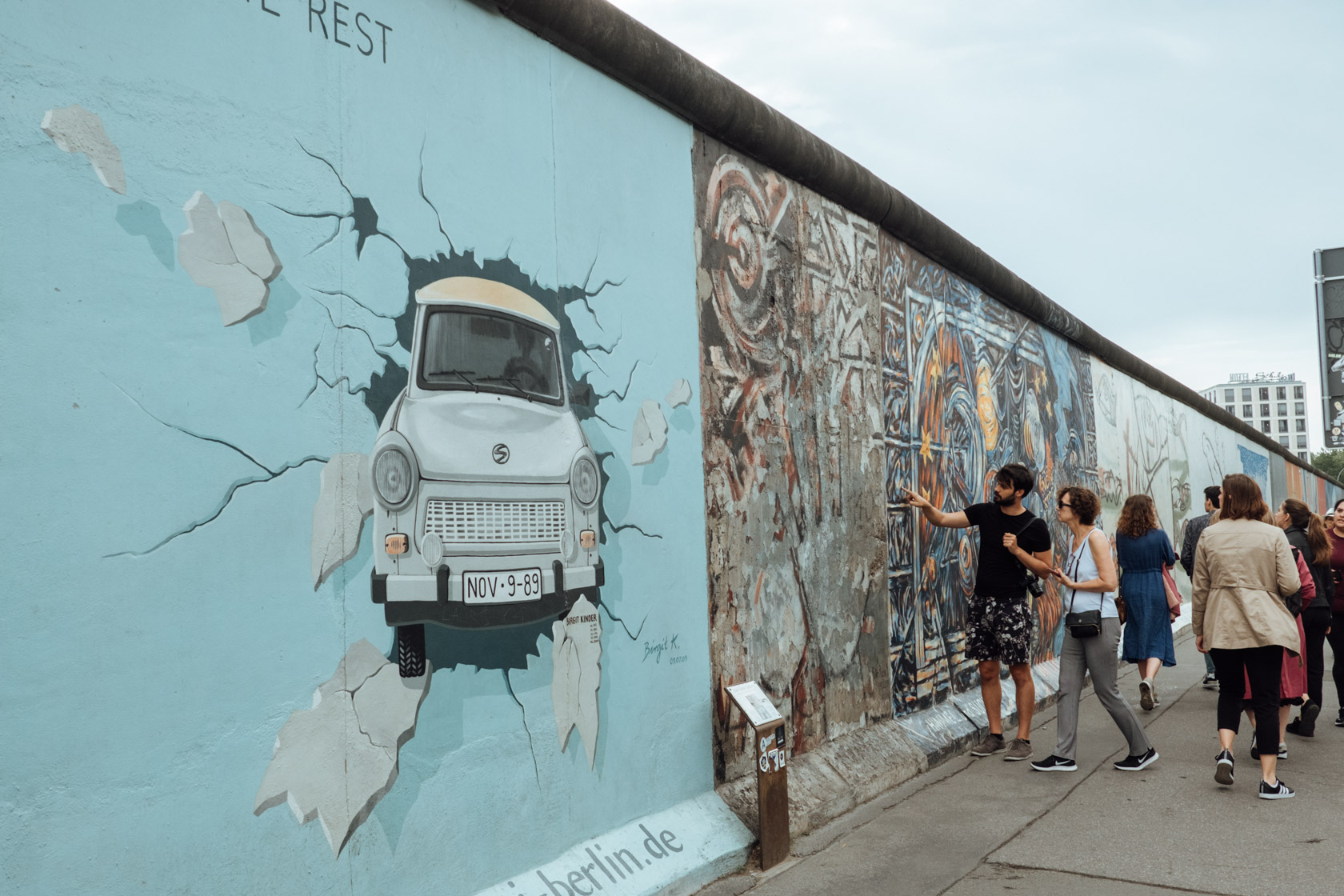 Friedrichshain
On a budget
Friedrichshain has lots of shops and restaurants, especially around
Boxhagener Platz
. Close to the Berlin Wall and world-famous nightclub, Berghain.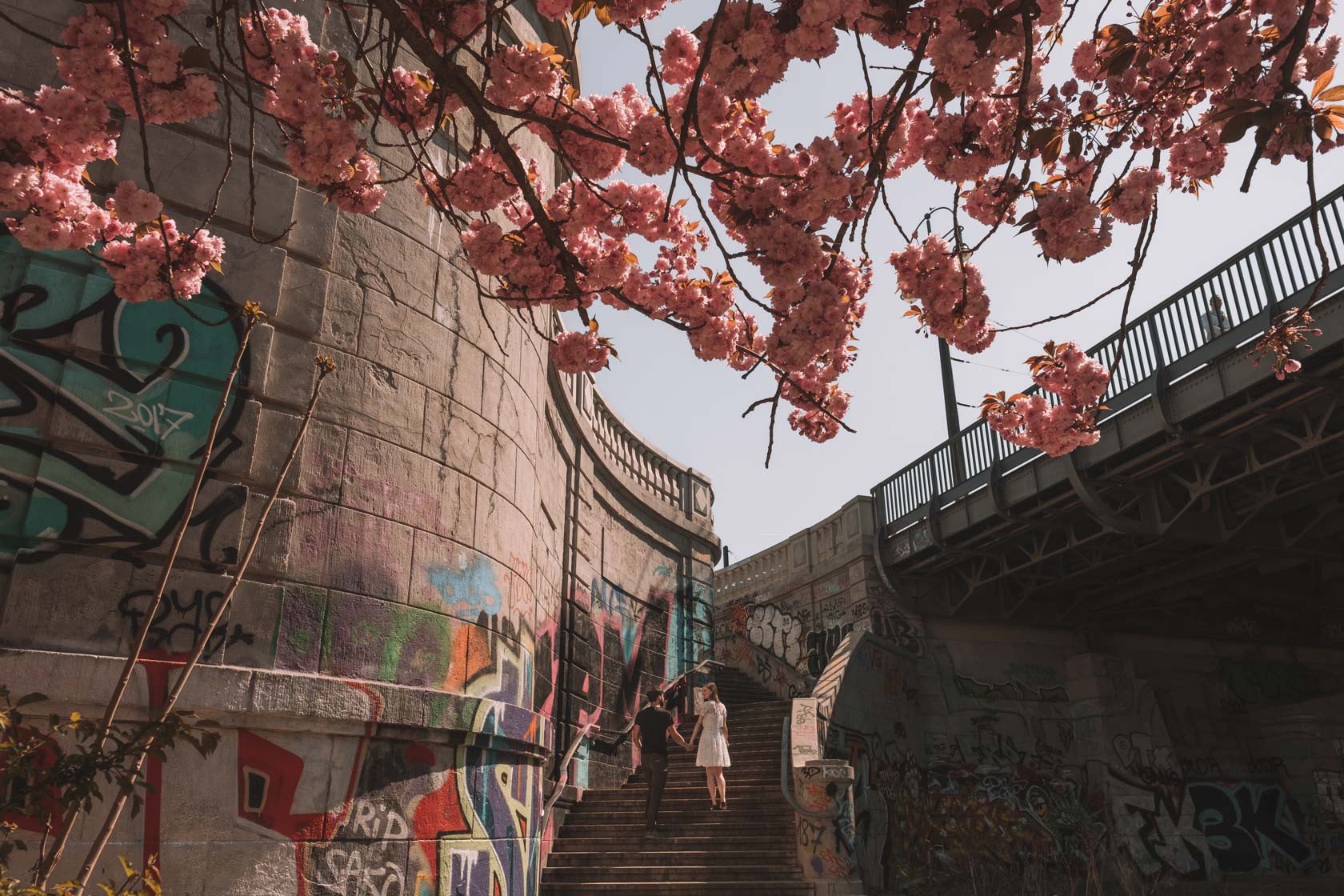 Prenzlauer Berg
Local experience
Prenzlauer Berg is one of the best areas to experience Berlin's international food scene, plus local hangouts like Mauer Park and lively areas like Schoenhauser Allee.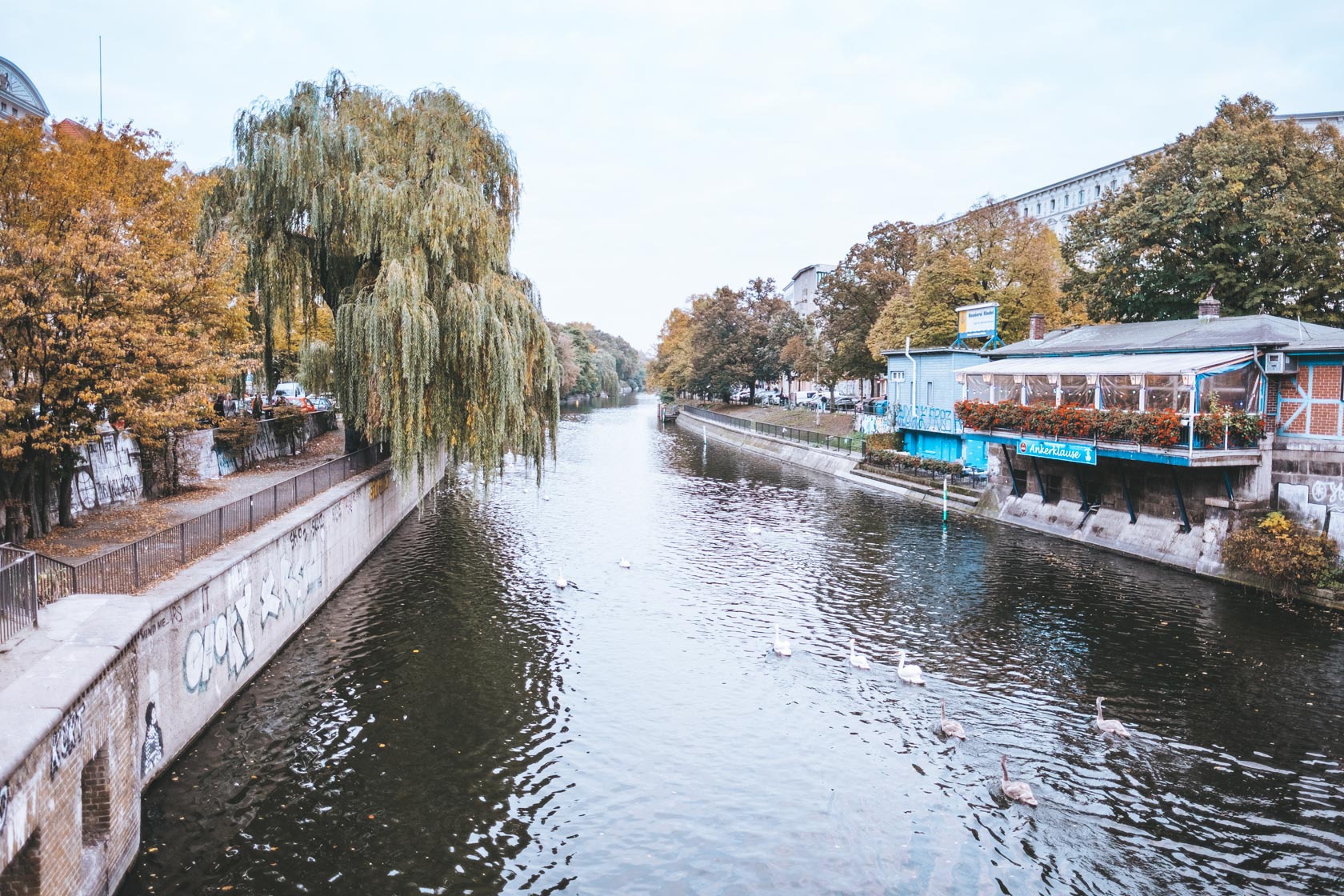 Kreuzberg
Best nightlife
Kreuzberg is famously the neighborhood David Bowie used to hang out in. It has great food, lovely bars and beer gardens, and my favorite park in Berlin. This is my hood 😄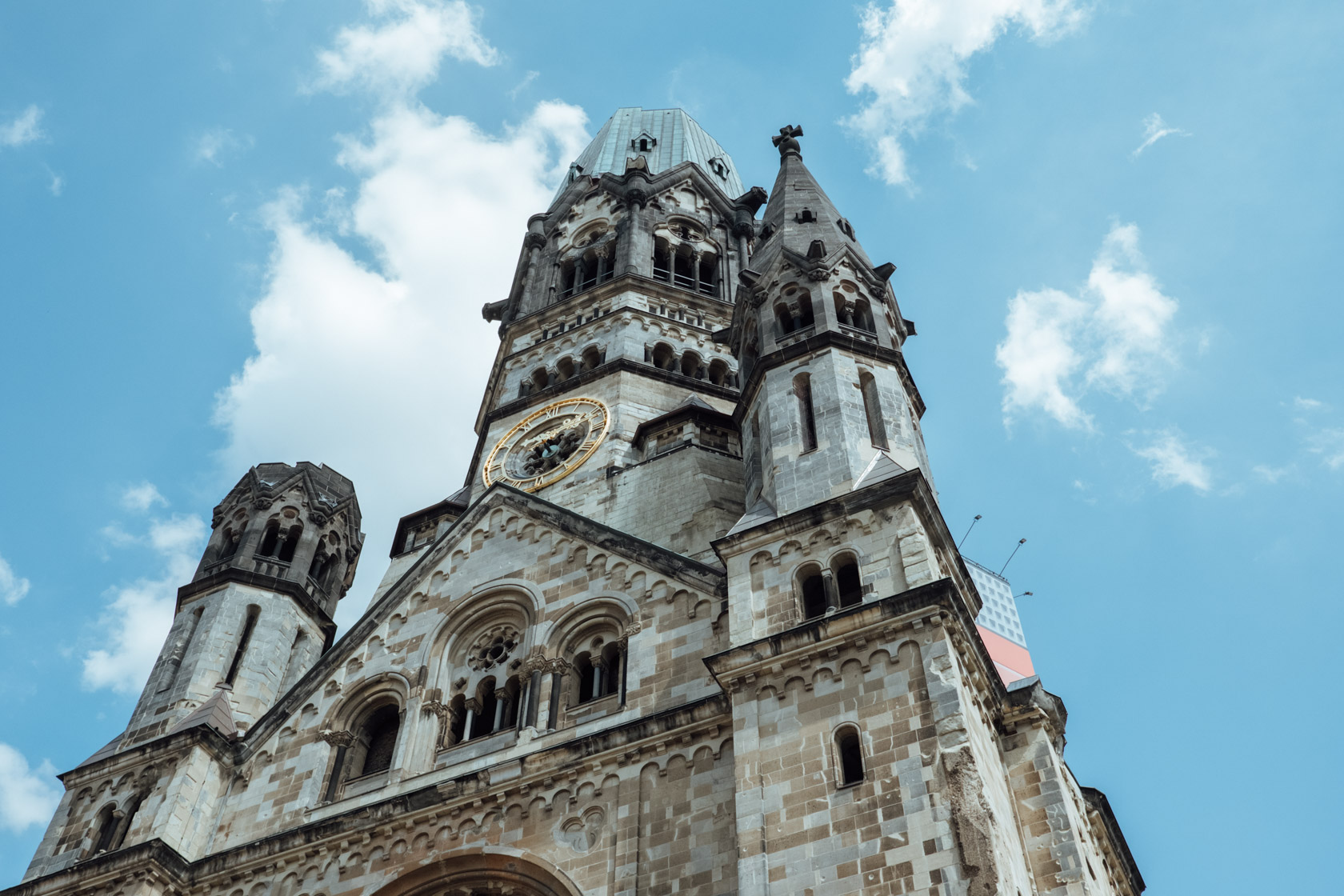 Charlottenburg-Wilmersdorf
Family-friendly
Best area in Berlin for shopping, and full of fun things to do with the family like visiting the Berlin Zoo. There are also famous landmarks like the Kaiser Wilhem Memorial Church.
Mitte neighborhood
First-time visitors
Christmas markets
Mitte is the neighborhood I recommend to anyone who comes to Berlin for the first time. The reason is simple: it's the best neighborhood in Berlin for sightseeing. It's also the most central neighborhood (it's called "Mitte" like "Middle"), making it a great place to connect to subway lines going in every different direction.
It's also a safe, well-lit area you can feel comfortable walking around at night. Honestly, most of Berlin fits under this banner, as one of the safest European metropolitan cities. Besides that, staying in Mitte puts you within walking distance of the absolute most famous sights in Berlin, such as the Berlin Cathedral pictured below.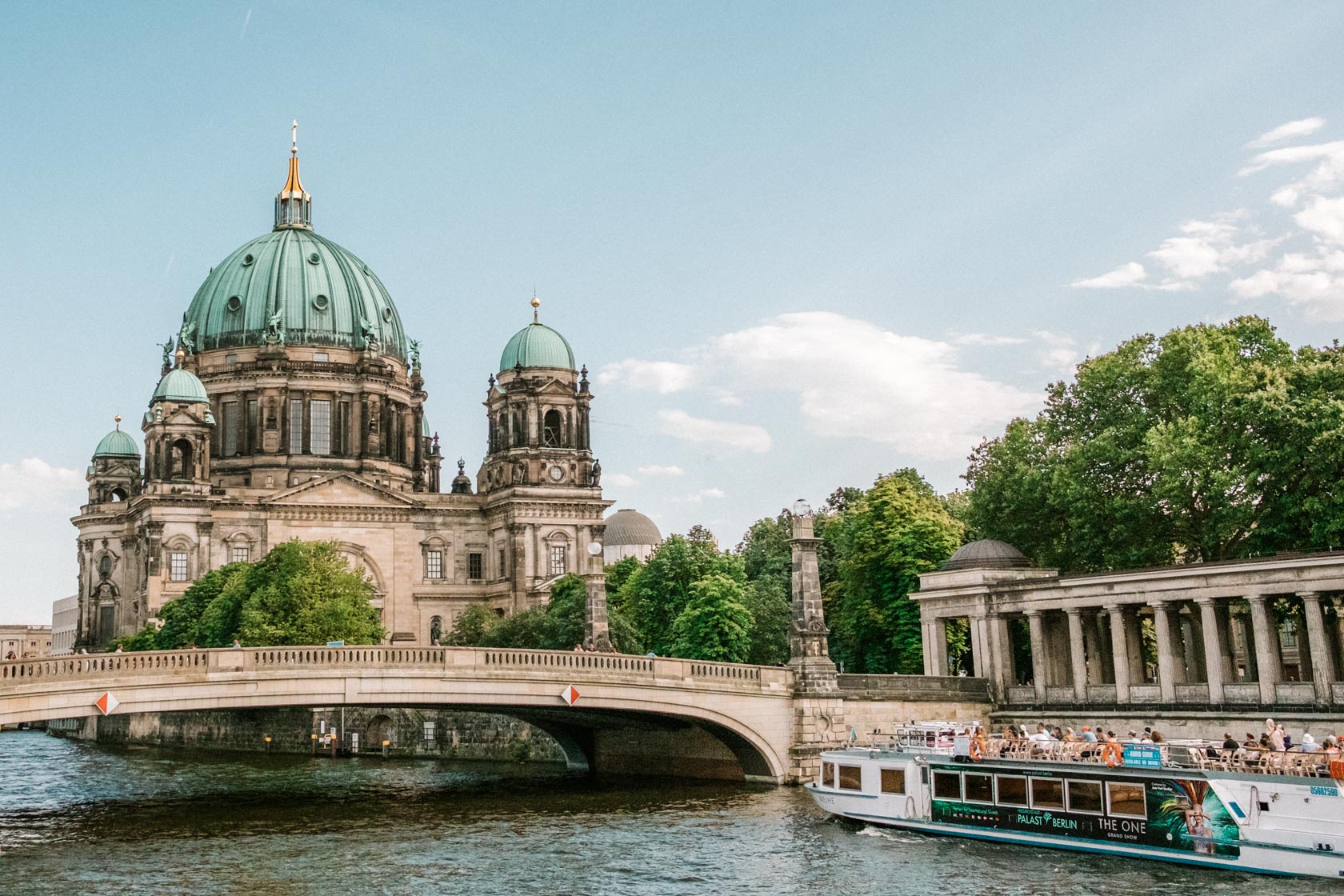 Mitte is not the cheapest place to stay in town, but it is generally affordable, especially if compared to other European capitals (and even some cities in Germany, hallo Munich!). The important thing about Mitte is to book in advance, especially during the high tourism season in Summer! In the Winter you will see less competition, but honestly Berlin is a year-round destination.
Here are two of the best located and best-priced options for accommodation in Mitte.
The Circus Hotel is the place I always recommend in Berlin. It has tons going for it: awesome location at Rosenthaler Platz with excellent food and restaurants nearby, connected to the U8 subway, and the floor-level breakfast spot called Commonground is one of the best brunch locations in Berlin in its own right. It's also located next to one of my favorite craft beer bars in Berlin, Kaschk.
If you want to do sightseeing, you're a 5-10 minute subway ride away in any direction. And then in the evening, you have tons of fantastic restaurants nearby and option to enjoy nightlife in the heart of the city. This hotel is not even that pricey if you book in advance.
See photos and availability on Booking.com
The Circus Hostel is perfect for anyone who wants to stay central and stick to a budget. Possibly the top-rated hostel in Berlin, it is often booked out so be sure to reserve in advance.
See photos and availability on Booking.com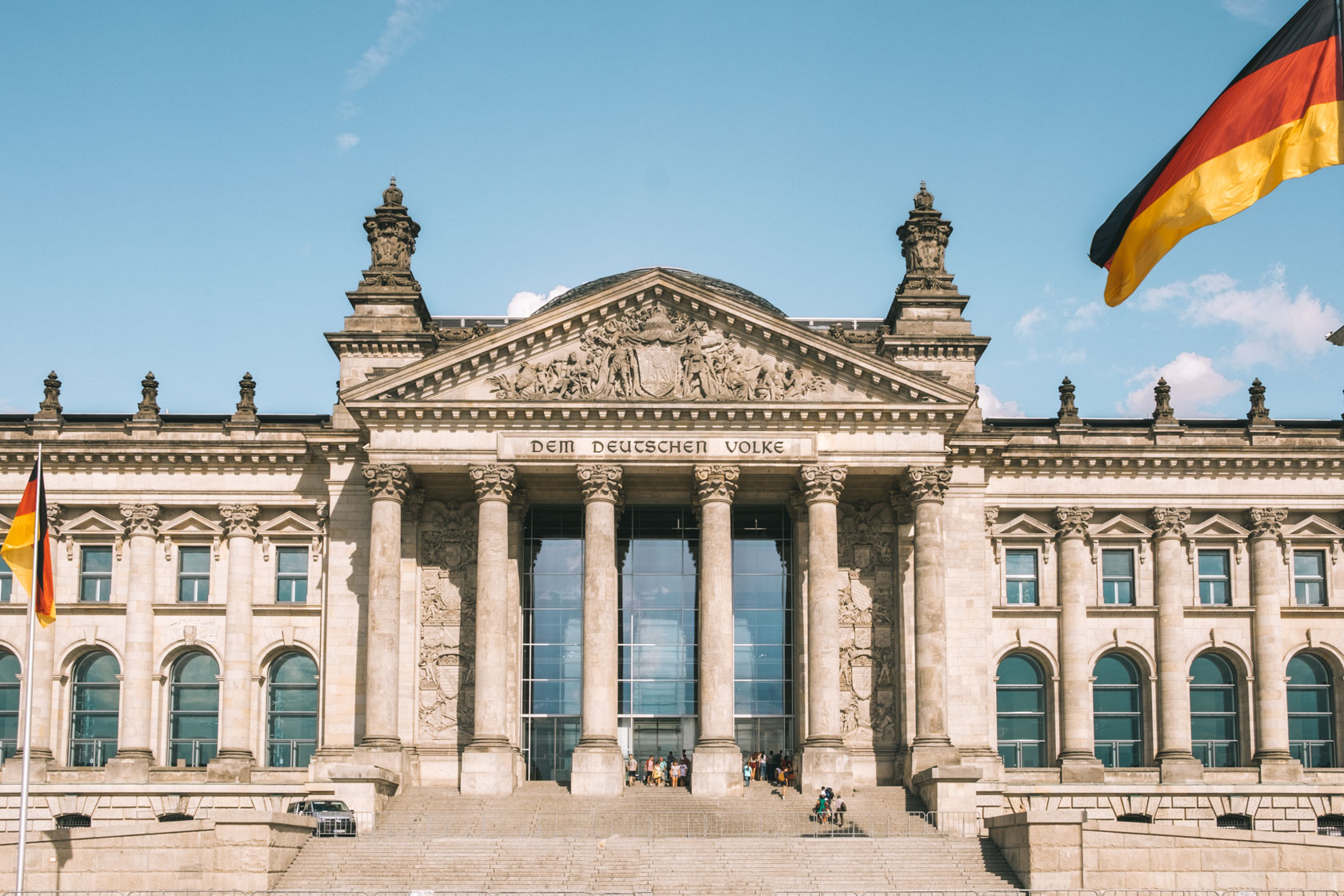 Friedrichshain neighborhood
On a budget
Honestly Friedrichshain is one of the neighborhoods I've spent the least time in, but I know a lot of people who live here and love it. It's especially affordable, especially if you're on a budget, and you want to enjoy Berlin's nightlife. It's home to the world-famous club Berhain – a club so famous, that at last year's New Years party, there was a seven hour line to get in 😱
I'm not that hardcore about clubbing, but Berlin's techno and electronic scene is one of the most prominent in the world, so if that's something you're into, you've come to the right place!
But besides clubbing, Friedrichshain is home to Boxhagener Platz , a really cute area with great restaurants and greenery. You can also easily visit the Berlin Wall and it's right along the Eastern part of the River Spree. Friedrichshain also has a great central hub for transit, called Ostbahnhof. It's a single S-bahn ride away from the center, too.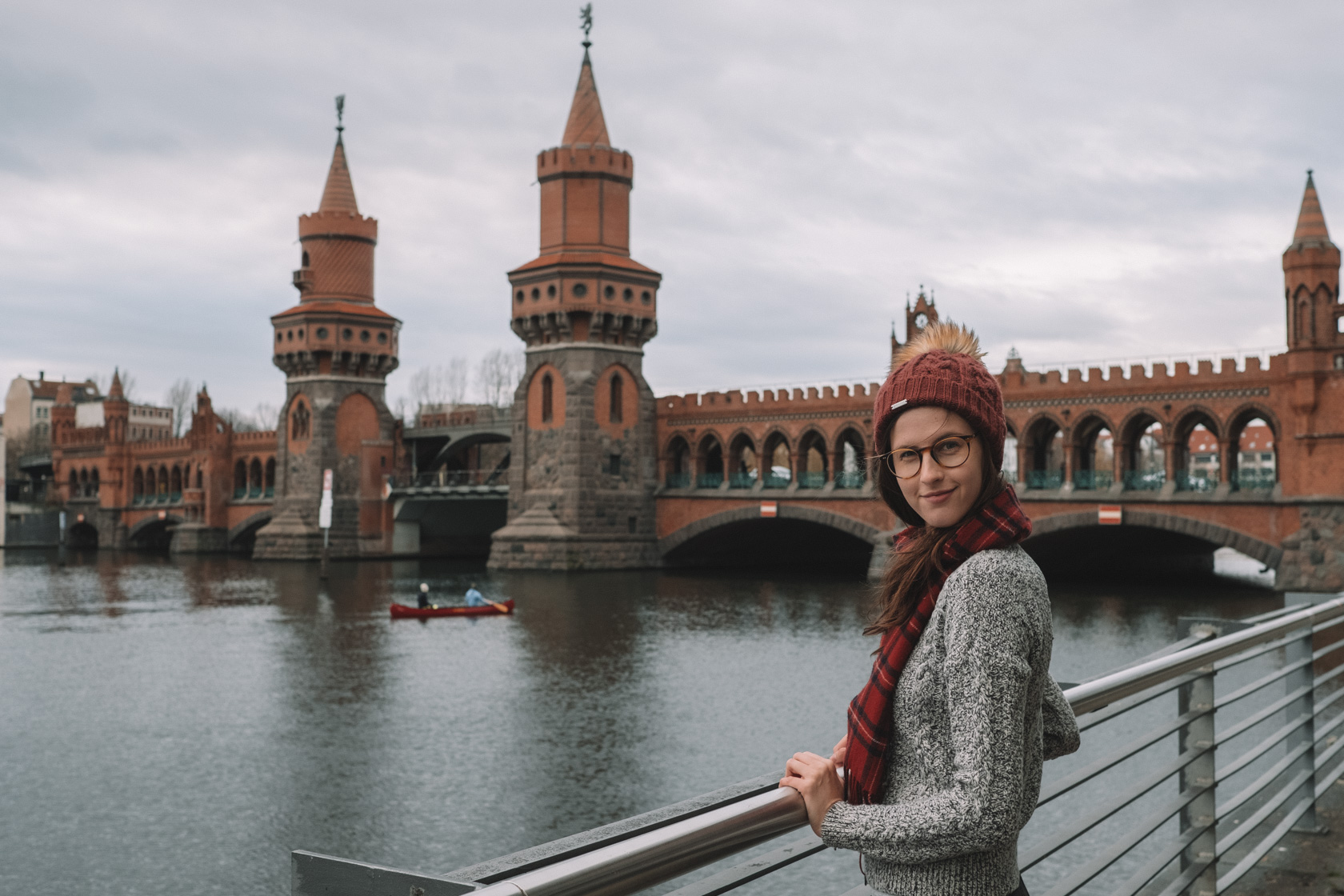 This hotel functions both as an ultra-hip and designer hotel, but also one of the best places to sip cocktails in the entire city. I can personally vouch for how well-designed this place is, and how great the drinks are. Possibly the best hotel bar in the city? Plus, it has an excellent location, close to the nightlife at Warschauer Strasse and right next to a subway that'll bring you to the center in about 5 minutes.
This hotel isn't cheap itself, however you can find availability for under 100€ for night if you book in advance, depending on the season. For that price, it's a steal!
See photos and availability on Booking.com
Located near Boxhagener Platz , this highly rated hostel is in high demand and is often booked out at least a month in advance. It's ultra affordable, even for a hostel. Free WiFi and naturally also a shared kitchen area, terrace, and place to do laundry. Not so usual for some hotels, but the towels are also included, and even a cereal breakfast. If you're arriving from Schoenefeld, you can even take the S-bahn directly to this hostel.
See photos and availability on Booking.com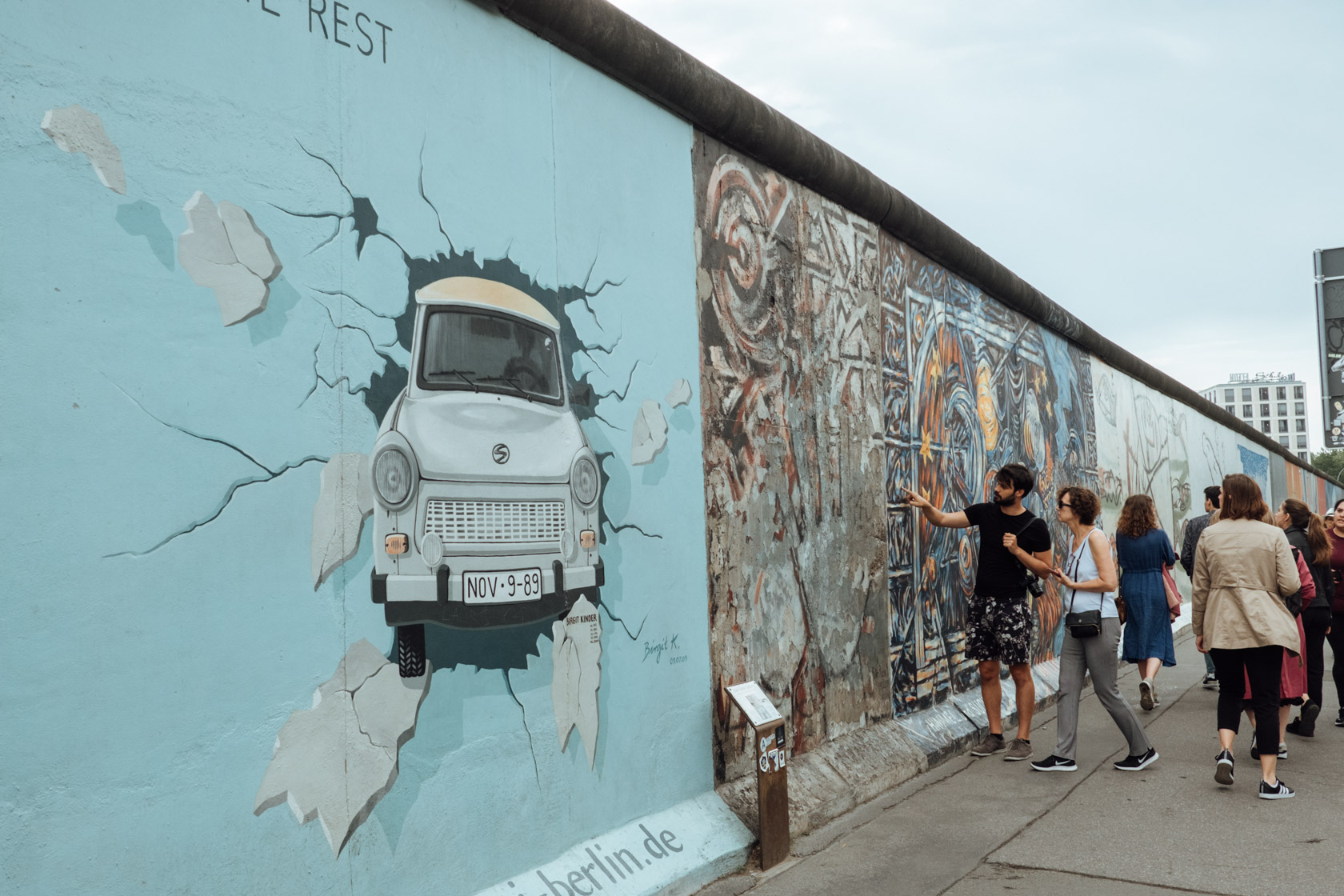 Prenzlauer Berg neighborhood
Local experience
Prenzlauer Berg is one of the best areas to experience what it's like to live in Berlin. Though Prenzlauer Berg is particularly popuar with young families, there are people of all ages and backgrounds living in this neighborhood. Many of the streets are pretty with Art Nouveu style building and art galleries lining them.
Prenzlauer Berg has a great international food scene, as well as bars, many of which are centered on streets like Schoenhauser Allee and Kastanienallee . This is a great neighborhood to just grab a coffee or an ice cream cone and walk around and see what you discover.
Particularly during Spring, there's a beautiful place to see cherry blossoms in Berlin in Prenzlauer Berg.
Prenzlauer Berg is also directly connected to the center of the city via subway and tram, reachable in just 5-10 minutes.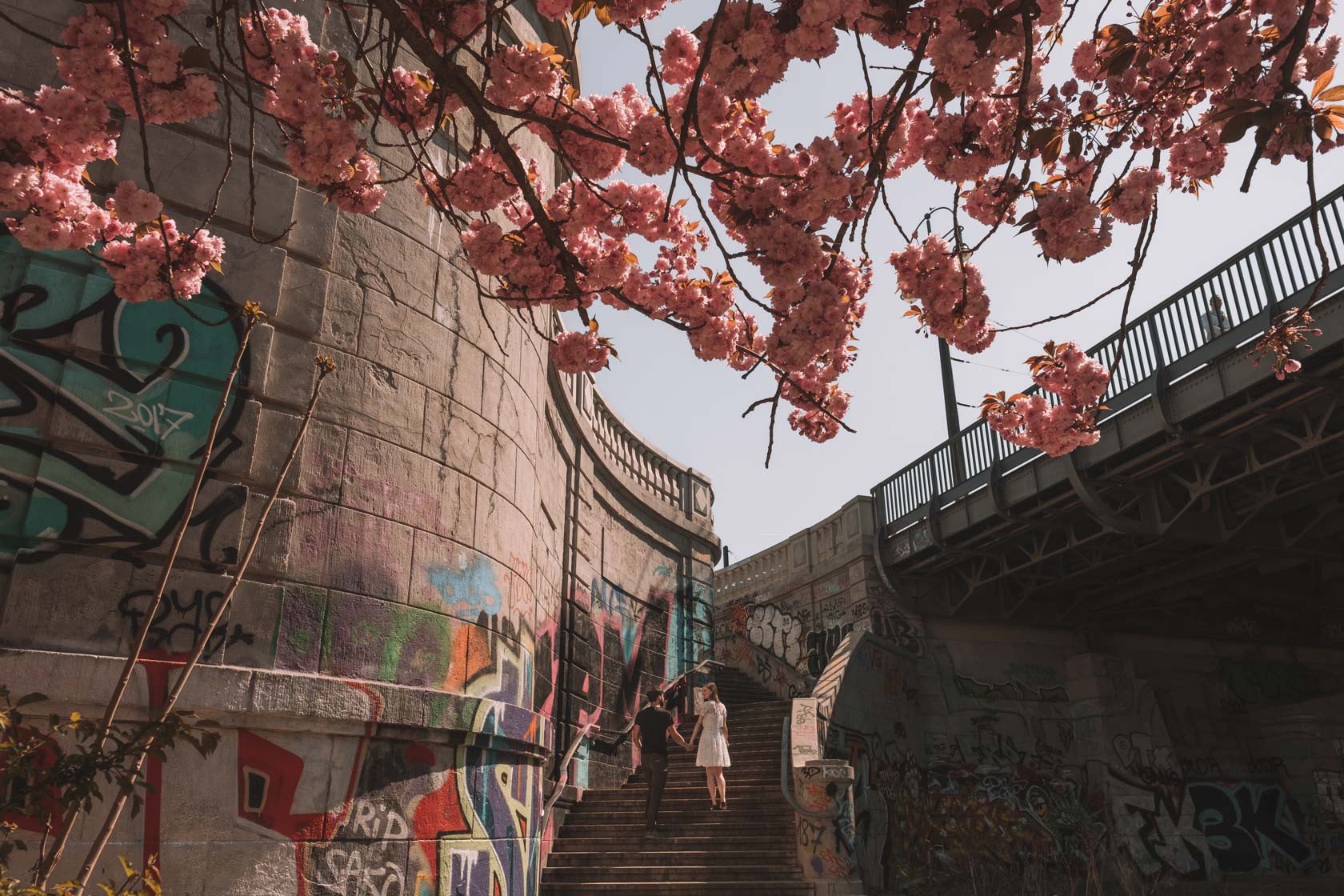 Orderberger is located right between Schoenhauser Allee and Kastanienallee , and is actually a former public bathhouse dating from 1902 that has been fashioned into a hotel. It's just 6 minutes away from the nearest U-Bahn station, and all the rooms have free WiFi and mini-fridges. You can also upgrade to a suite with a living room. The indoor pool is stunning and has high vaulted ceilings.
Nearby, you can walk to the KulturBrauerei , a popular venue and the location of one of Berlin's most famous Christmas markets. Some of Berlin's best restaurants are within walking distance, so enjoy!
See photos and availability on Booking.com
Located a stone's throw from Schoenhauser Allee , this hostel is at an excellent price for its prime location. Of top importance, there's free WiFi in all rooms, a shared kitchen, and a super cute private garden with a barbecue area and hammocks. Located right next to an U-bahn station, and merely 15-minutes walking from the city's most central square. You can also add a continental breakfast for merely 3€.
One thing to be aware of is that the hostel doesn't have an elevator, so it's not a good choice if you have mobility limitations.
See photos and availability on Booking.com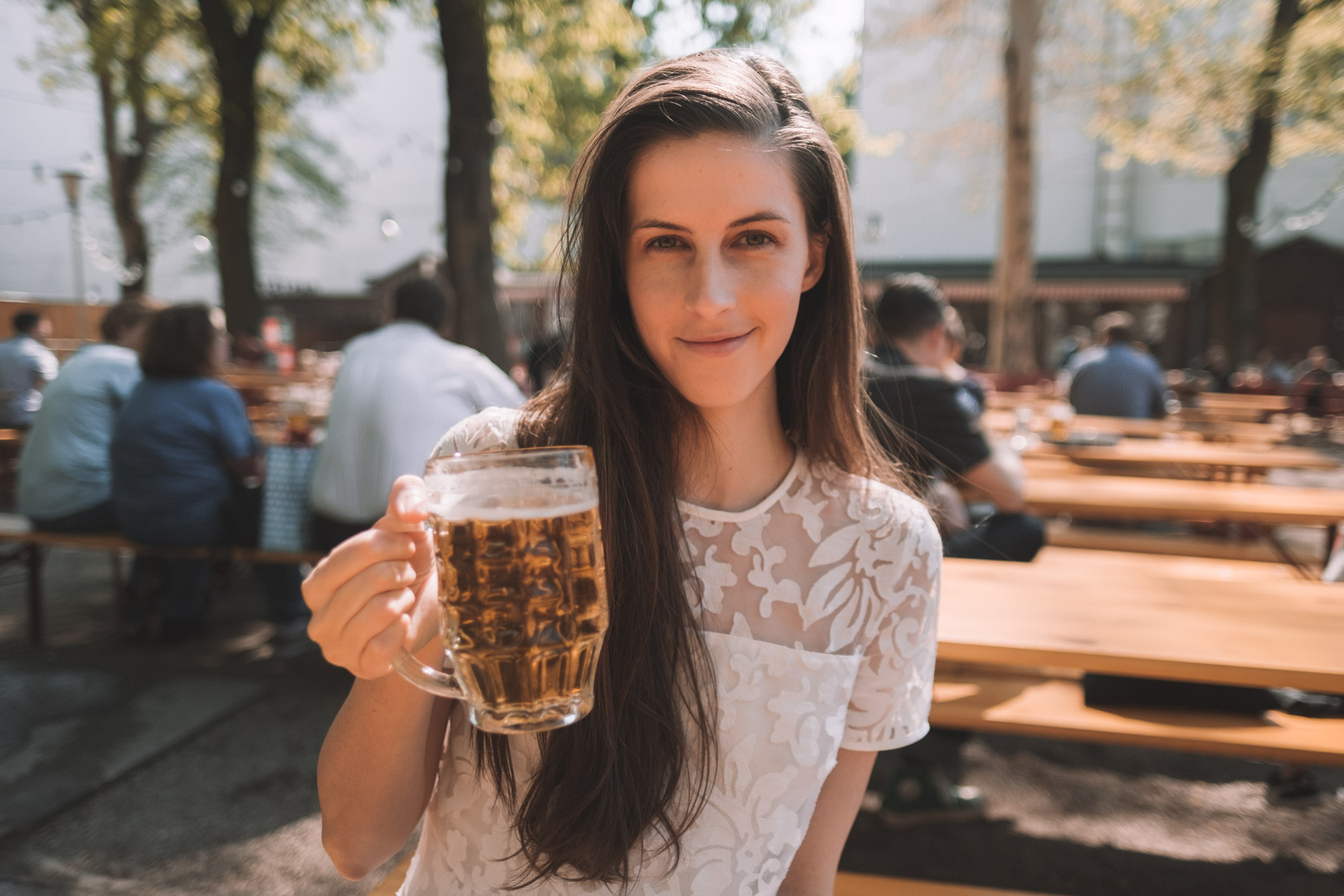 Coincidentally, Prenzlauer Berg is the home to the oldest beer gardens in Berlin, Prater Garten . Good enough reason to hang out here, no?
Kreuzberg neighborhood
Best for nightlife
Now before I start talking about Kreuzberg, you need to know: Kreuzberg is the neighborhood I live in, so I know it the best! I visited Berlin several times and stayed in different neighborhoods before deciding that Berlin was my favorite neighborhood and where I wanted to live long-term!
Kreuzberg has two parts:, West Kreuzberg and East Kreuzberg, with distinctly different personalities and characteristics. East Kreuzberg fits the profile of "punk Berlin" more closely, with lots of clubs and a grungy edge. You'll find plenty of hole-in-the-wall restaurants and bars, and people walking around. West Kreuzberg, where I live, is a little more chill but equally charming.
Some of the most popular streets are Oranienstrasse for restaurants and cafes, Paul-Lincke-Ufer for walks along the canal, and smaller yet lovely side streets like Graefestrasse .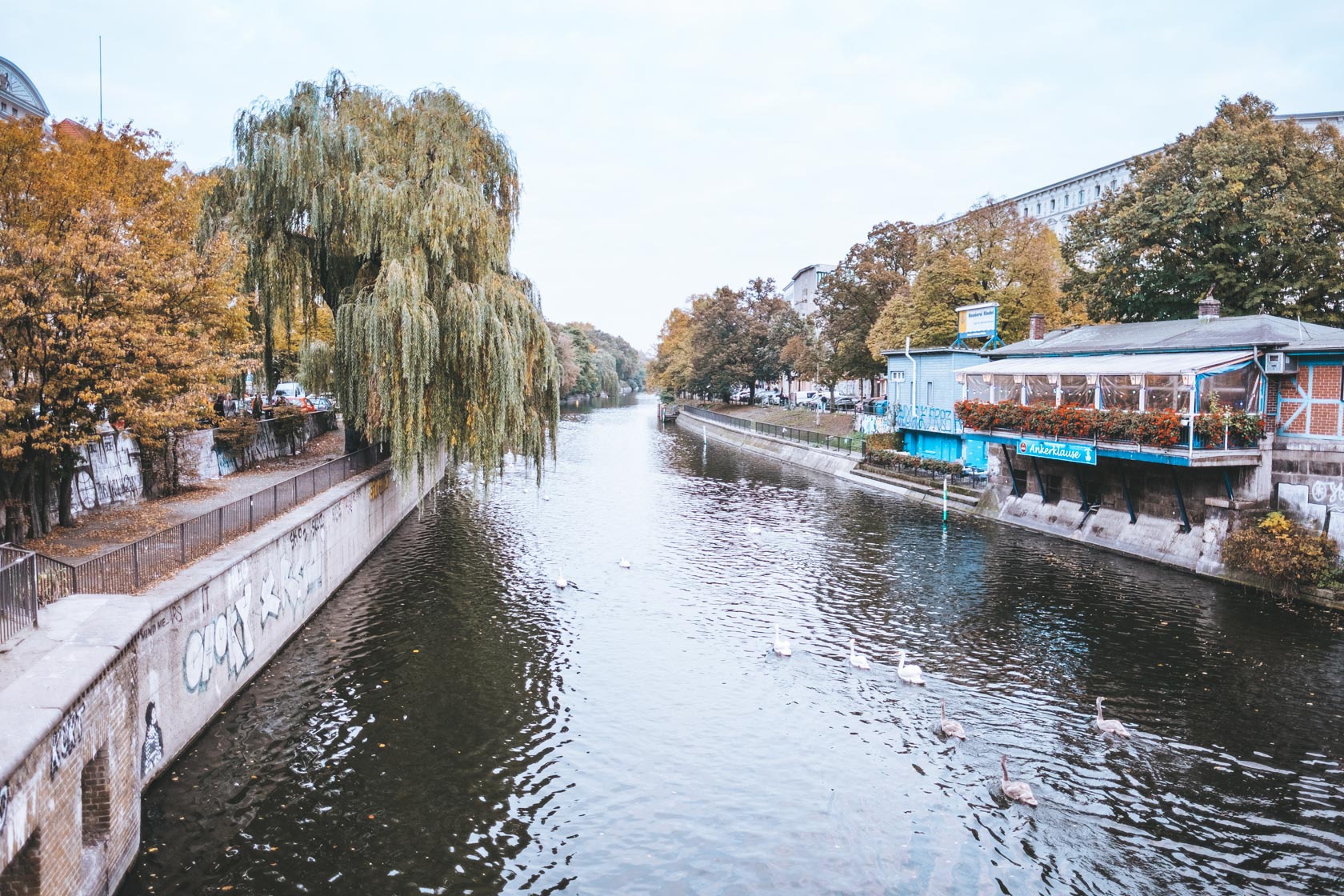 I cycled past this hotel almost every day for the last year, and looking inside I was super impressed by the interior design and lighting! It has a gorgeous outdoor seating area, you'd think it was an upscale restaurant. You can add on breakfast for an additional fee, but I'd skip the hotel breakfast and head nearby to either A.HORN or have breakfast on a boat at Van Loon .
In terms of amenities, this place has just about everything. Air conditioning (not a given in Berlin, and it gets hot in the Summer!), free WiFi, a swimming pool and spa, a hotel bar, parking, and even pet-friendly.
I know the location really well because it's quite close to where I live. I can tell you that the nearby restaurants are excellent, send me an email if you stay here and I'll send you some recommendations!
See photos and availability on Booking.com
I've always wanted to stay in this hostel after seeing it, I mean…it's called the Cat's Pajamas. That's amazing! It has a 24-hour front desk, located 50 minutes from either airport, has WiFi throughout the entire hostel, a shared kitchen, and lockers available.
Located at Hermannplatz, you're right next to Weserstrasse, one of the fewer areas of Berlin bars that tourists rarely venture to. You can visit some great craft cocktail bars in the area, and you're connected to the U8 line that takes you directly to the main city square in under 10 minutes.
If you're feeling fancy, this dorm has not only female-only rooms, mixed rooms, but private single rooms for one person or private doubles for two. Of course, the private rooms do rival the cost of a lower-priced hotel.
See photos and availability on Booking.com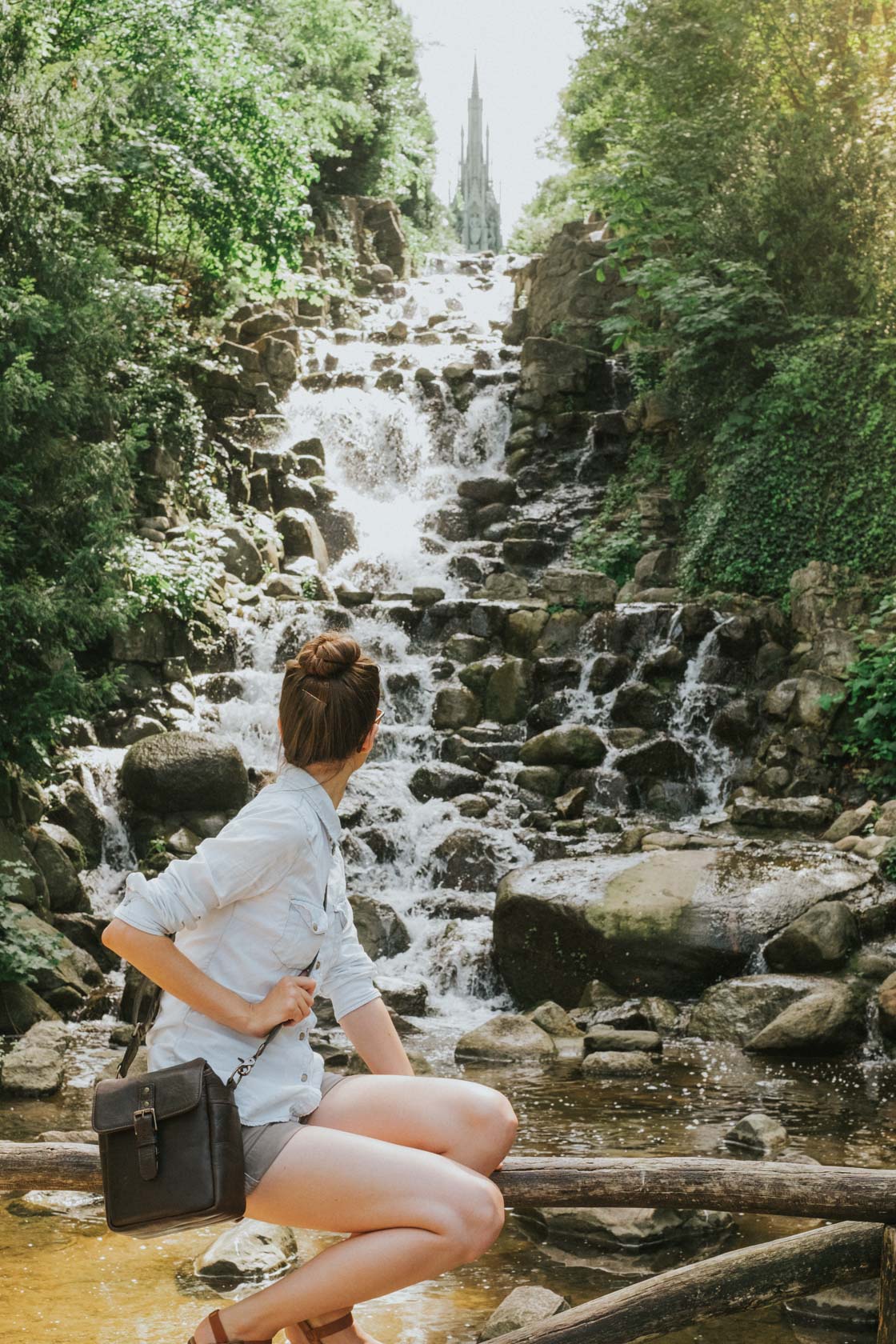 Charlottenburg-Wilmersdorf
Best for shopping
Best for families
Charlottenburg is the heart of the former West Berlin, back when the city was divided in two. After reunification, the main city center stayed in the former East, but there is still a lively and popular center in the West.
The main area is called Kurfürstendamm , which is probably most famous for being a shopping district with loads of shops as well as the second biggest department store in Europe, Kaufhaus des Westens. For the kids, you've got the Berlin Zoo , the zoo with the most species in the entire world! Next door you have the aquarium, as well. The most notable palace in Berlin's borders is the Schloss Charlottenburg , also the location of one of Berlin's prettiest Christmas markets.
There is no shortage of things to do. This part of the city is connected to the center, but you'll need to transfer once to get there. I usually come here to do my Christmas shopping!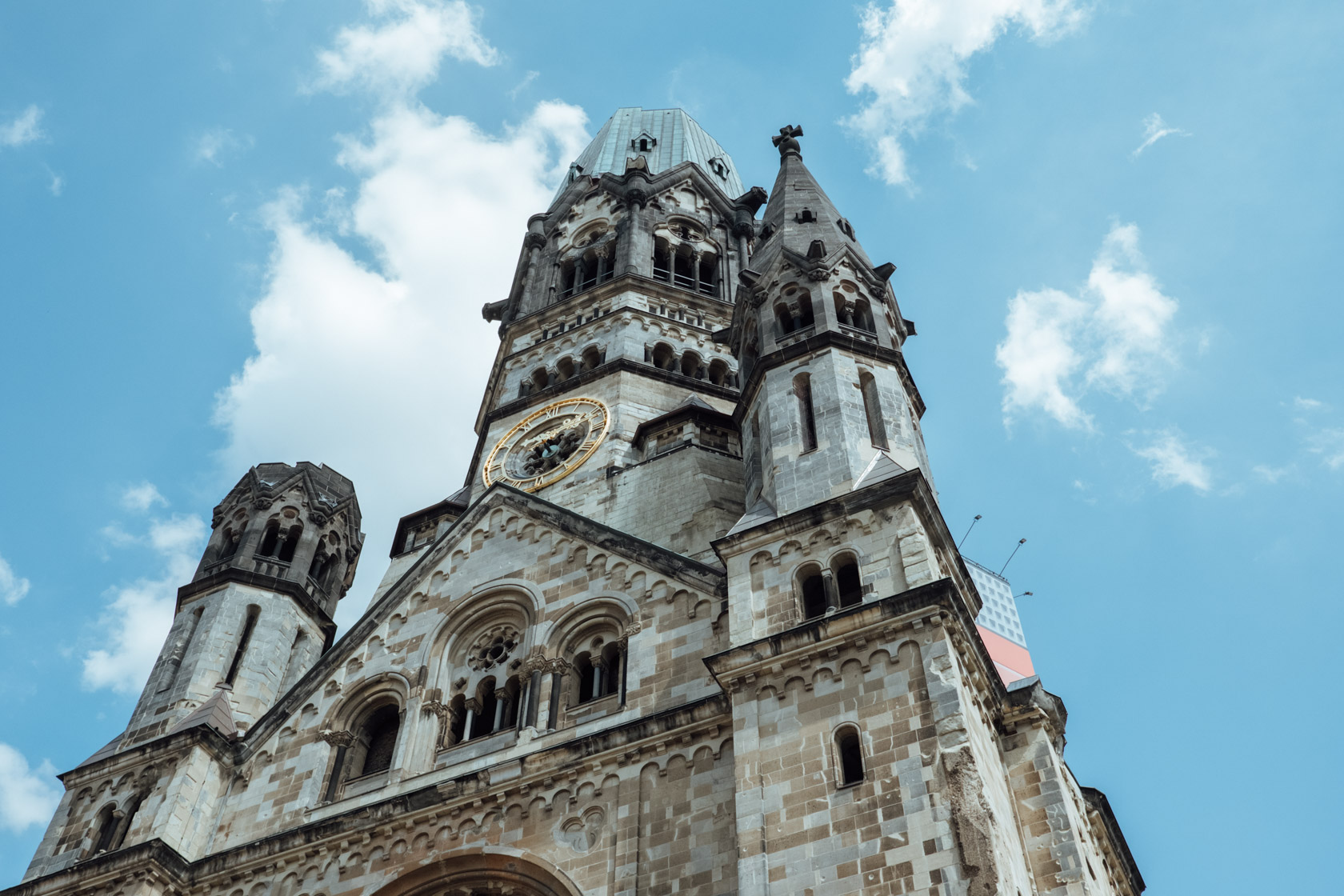 Another hotel I've been drinking at 😂 At the top of this hotel, there's an awesome bar called Monkey Bar which overlooks the Berlin Zoo's monkey exhibit. Well guess what? You can look out over the Zoo and Berlin's gigantic Tiergarten park from your hotel window. Simply stunning. This hotel has excellent design, an awesome bar and restaurant, air-conditioned rooms, free WiFi, and floor-to-ceiling windows.
Berlin is a pretty green city, with lots of parks, but there aren't that many hotels that have such a great location where you get to look over such an enormous park. Check out the photos and you will see what I mean about the impressive view!
See photos and availability on Booking.com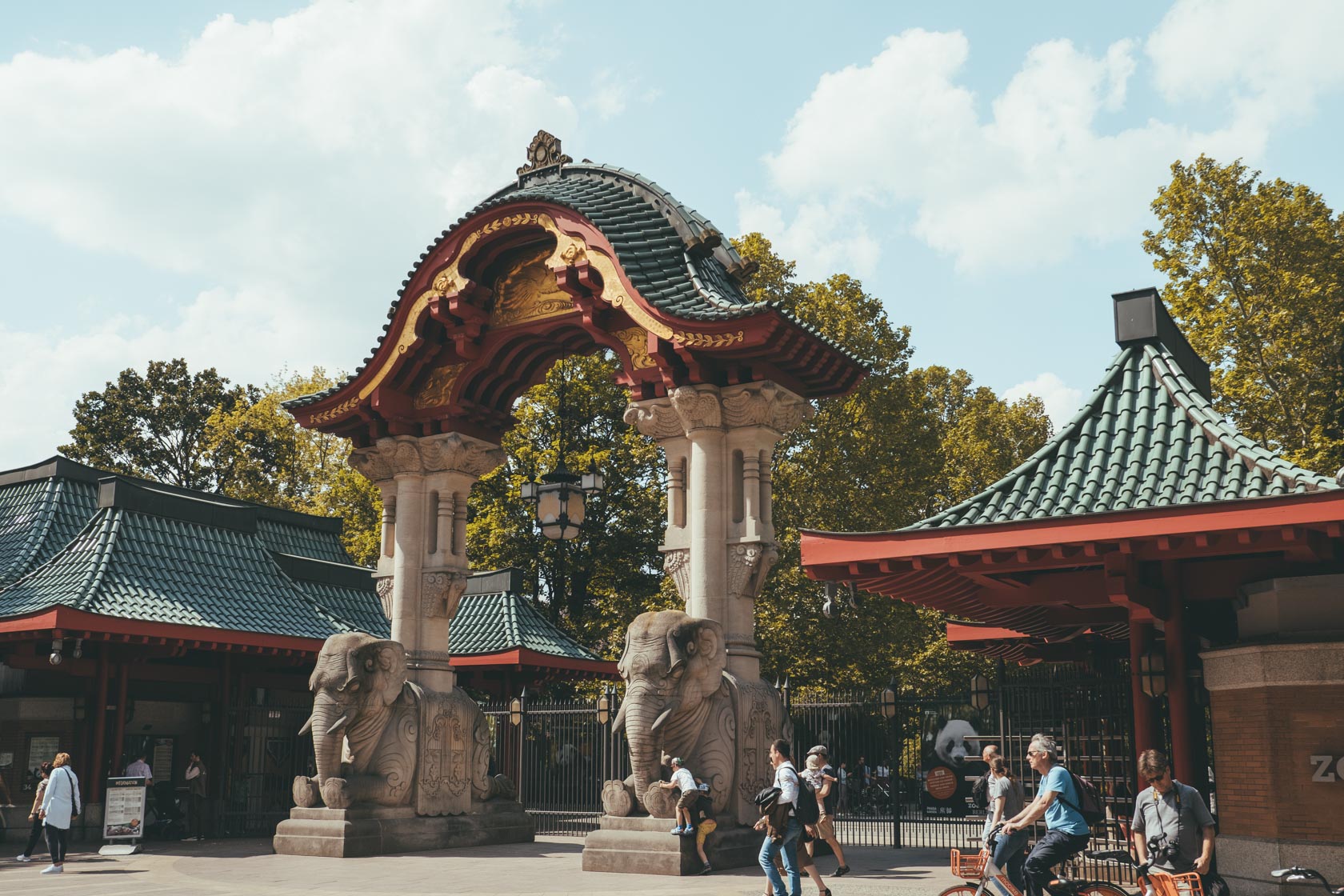 Neukoelln
Best for hipsters
The most important thing you need to know about Neukoelln: it's HUGE. You can't just pick a hotel that says it's in this neighborhood, because you might be veeery far South in the city. So make sure you're looking for accommodation in the northern part of Neukoelln!
Neukoelln (or, in the area where it's connected to Kreuzberg, Kreuzkoelln), is one of the most affordable and fun places to stay in Berlin. That's why I say it's for hipsters 😄 You've got all kinds of great coffee shops and brunches places and bars.
Parks like Hasenheide are great for grilling in the Summer, Masaniello has excellent Italian food, and Roamer's is a hipster's paradise for their ultra-instagrammable brunches. If you stay close to the subway, you'll also have a direct line to the city in under 10 minutes.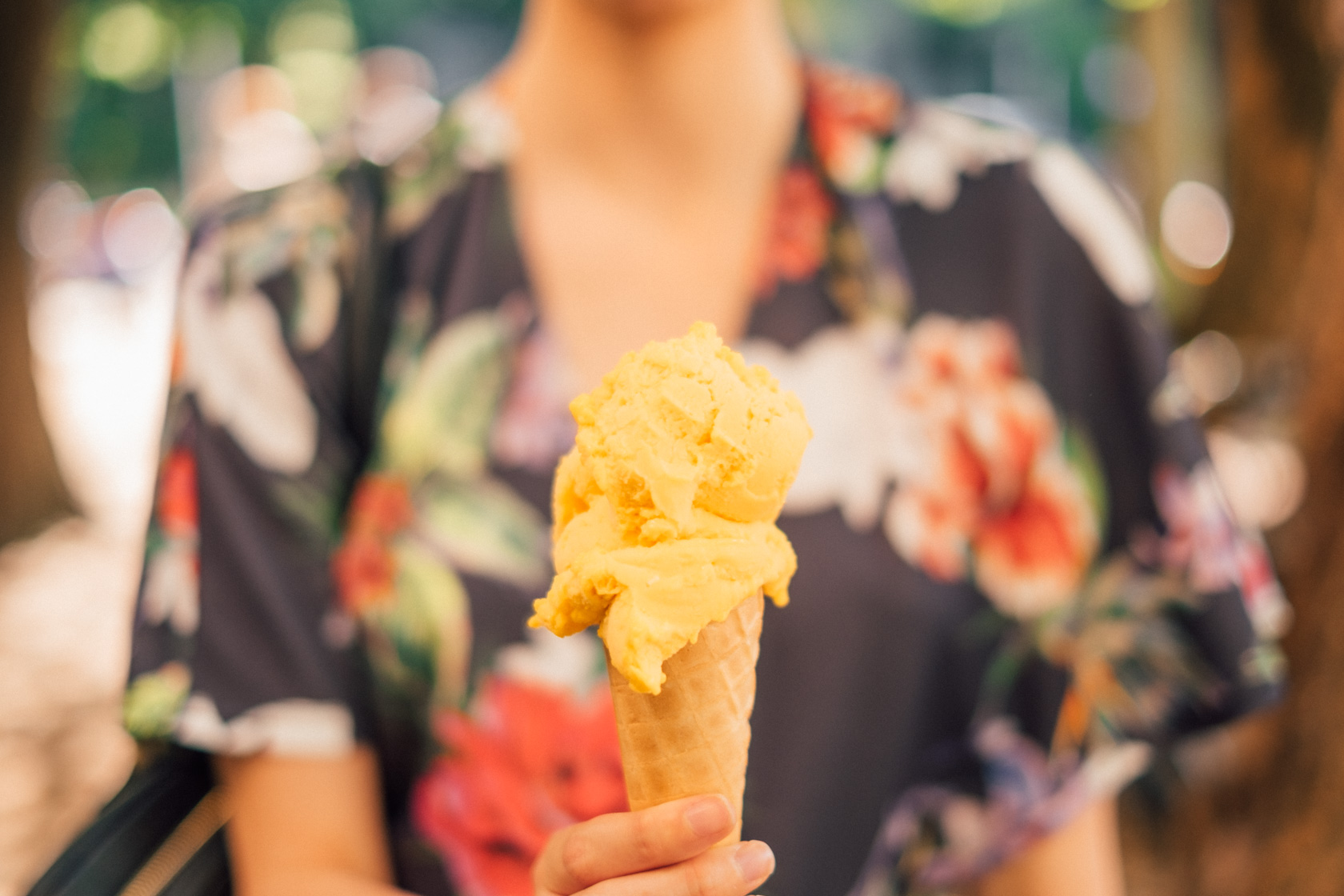 I previously mentioned this hotel under Kreuzberg, but it's right on the border and is easily the top-rated hostel in the entire area. Definitely check it out if you're looking for a great area to stay for food, drinks, and easy transit to the center!
See photos and availability on Booking.com
So, which is the BEST Berlin neighborhood?
In this post I've tried to outline some of the best, central neighborhoods you can stay in Berlin according to my experience living in this city. No matter where you stay, you're bound to love Berlin and find yourself wanting to come back to experience more.
Do you have more specific questions? You're welcome to send me an email if you have specific questions about Berlin that aren't answered on my blog! I'm always to help people discover this amazing city ❤️