When I first started looking for somewhere to stay in Franschhoek, I saw tons of options but didn't really know exactly what to look for. Is it important to stay close to the town center? Is it better to stay somewhere with a full on-site restaurant? Or should I be focusing on the views of the Drakenstein mountains?
The truth is, there's something for everyone in Franschhoek.
Here are my top tips on how to pick accommodation in the Cape Winelands in general and the pros and cons of Stellenbosch vs. Franschhoek. I'll also share photos and reviews of four specific wine farms I visited (2 of which I stayed at myself, 2 of which I visited as a day guest) as well as some links for popular budget guesthouses and wine farms in Franschhoek.
At the end of the post, you'll also find a handy map for visualizing the region and gauging prices throughout the Franschhoek Wine Valley.
Let's get started.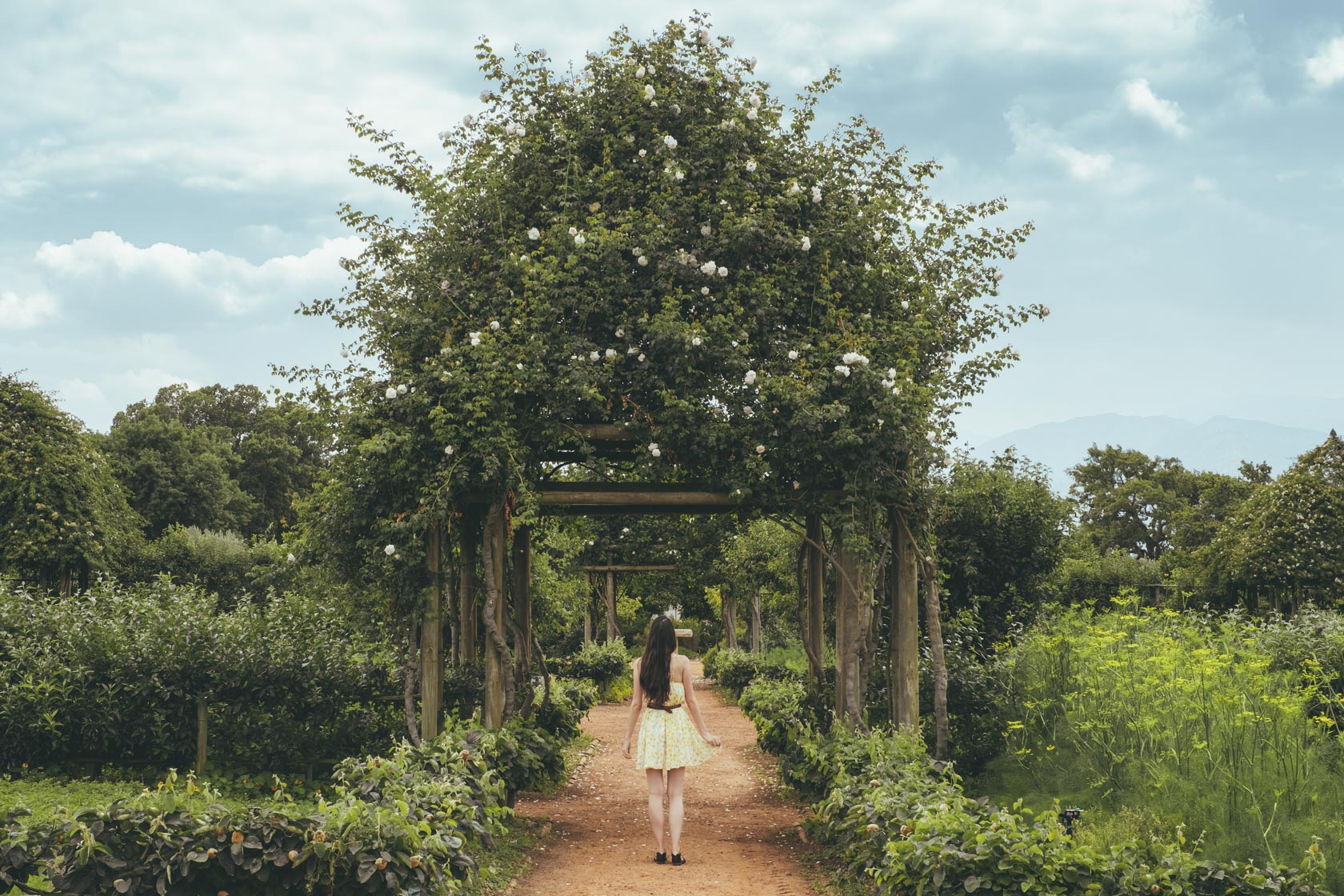 Some links in this post are to affiliate sites. If you purchase something through them, I may earn a small comission — which costs you nothing! I am very grateful when you use my links to make a purchase.
Where to stay in the Cape Winelands
The Cape Winelands consists of three main towns: Stellenbosch , Franschhoek, and Paarl . Frankly if you really wanted to explore it all, you could spend at least a week doing so. Even though all three of these towns are comparatively close together, each has a rich density of places to eat amazing food and drink wine.
In the end, you can choose to base yourself anywhere – but what are the main reasons you might want to base yourself in one place or another?
Let's talk about it.
Stellenbosch is a university town, and as a result is much larger than Franschhoek. It has a primarily Dutch influence, like much of South Africa. One potentially positive note is that if you'd like to be able to walk to and from your dinner spot in the evenings, you'd be able to do that in Stellenbosch. Stellenbosch is also home to some very famous wine estates like Spier Wine Estate .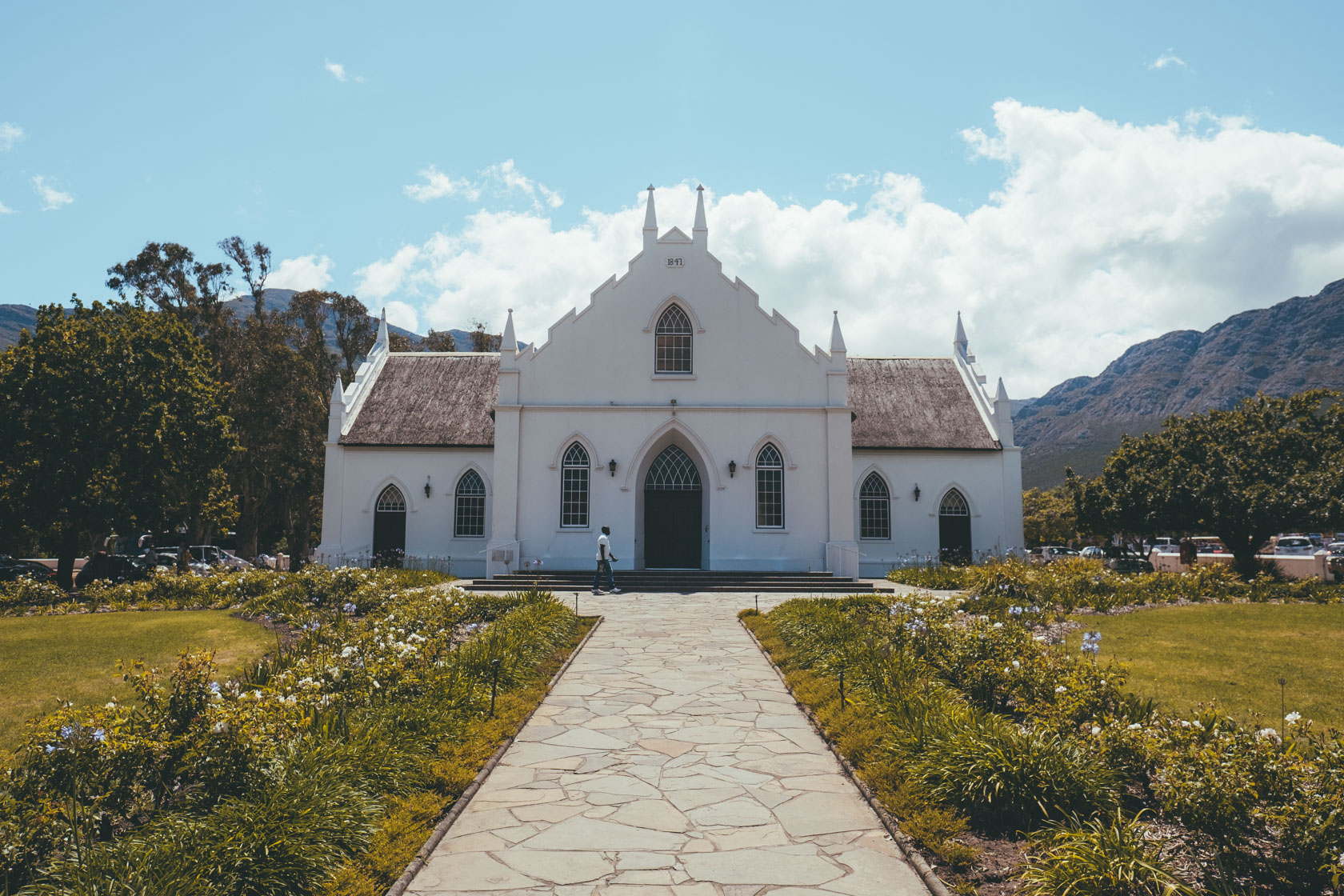 Franschhoek on the other hand is much smaller. You can drive right through the center in one pass. Many of the best restaurants and wineries are located in the countryside, but luckily the valley is very compact so it doesn't take long to drive from place to place. Unlike Stellenbosch, Franschhoek has a strong French influence because the French Hugenots settled here after being driven out of Europe. This results in amazing French restaurants in the area along with excellent wineries in the French tradition.
Paarl is home to the Paarl Wine Route, which is the second oldest in the country. The most popular variety of wine is Shiraz, which you'll have the option to taste in abundance in the area.
Now, I'm assuming you're already pretty set on Franschhoek so let's continue to a couple main things to do look for in your accommodation there.
Tips for how to pick the perfect Franschhoek hotel or guesthouse
Look for something connected to the Wine Tram. Franschhoek's wine tram is an awesome way to ride from farm to farm and taste wines without drinking and getting behind the wheel. While the "tram" portion is rather short (otherwise it turns into a bus decorated like tram), there are a number of different lines for which you can buy a pass. Depending on which wineries you want to visit, you can pick exactly the pass that stops at those wineries.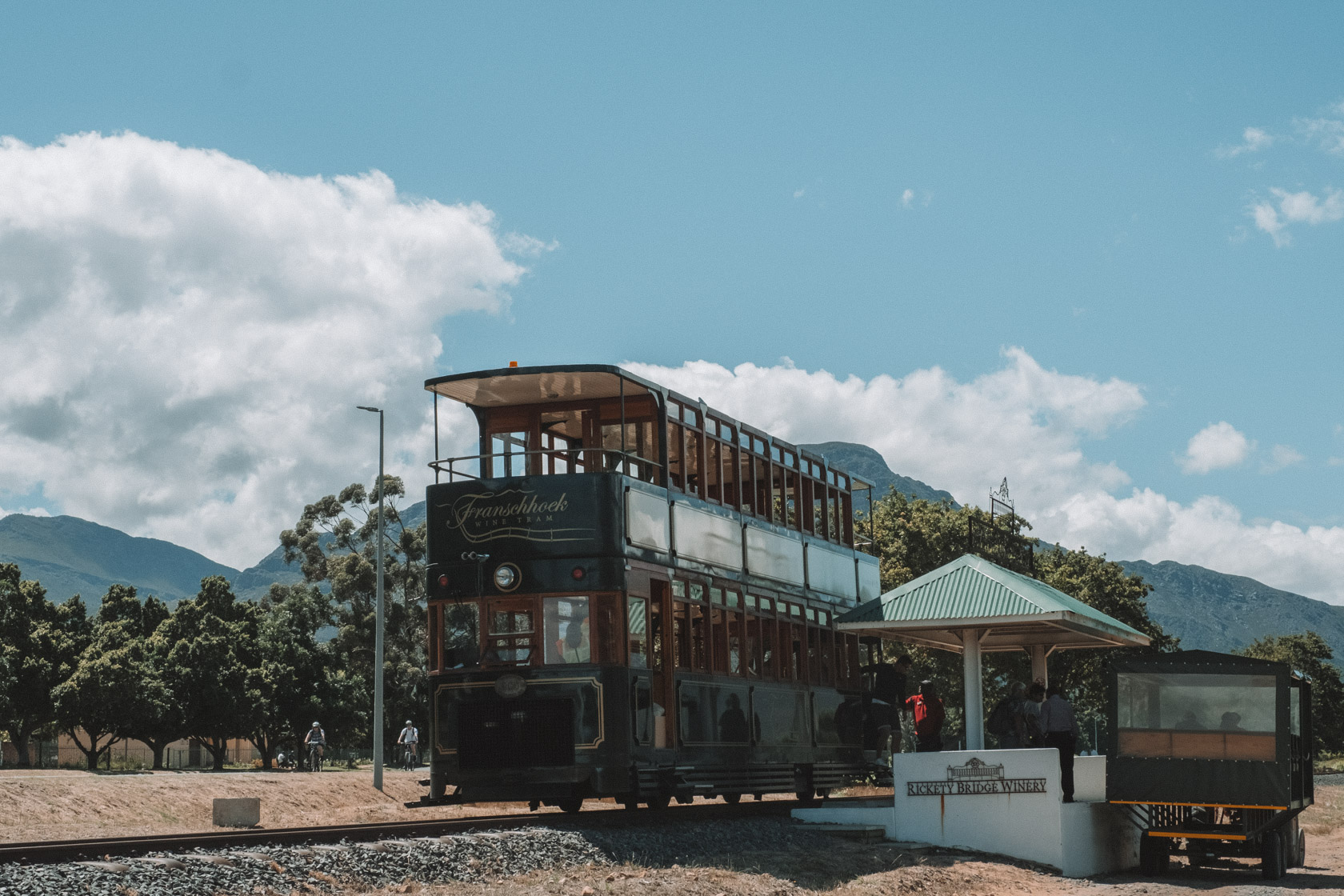 WINE TRAM TIP – You need to book IN ADVANCE. They do sell out of spots on the wine tram, AND the wine tram is more of a morning activity. Yes, wine for breakfast, a dream come true. So make sure you take the operating hours and availability of the wine tram into account! Be ready to hop on between 9:00 and 10:30 AM.
Book early, ESPECIALLY if you're staying on a weekend. Franschhoek and the Cape Winelands are an extremely popular weekend getaway for both locals and tourists based in Cape Town. When we looked last minute, there were a lot of sold out properties. Next time I would definitely book sooner in order to have more options on the table and to save money.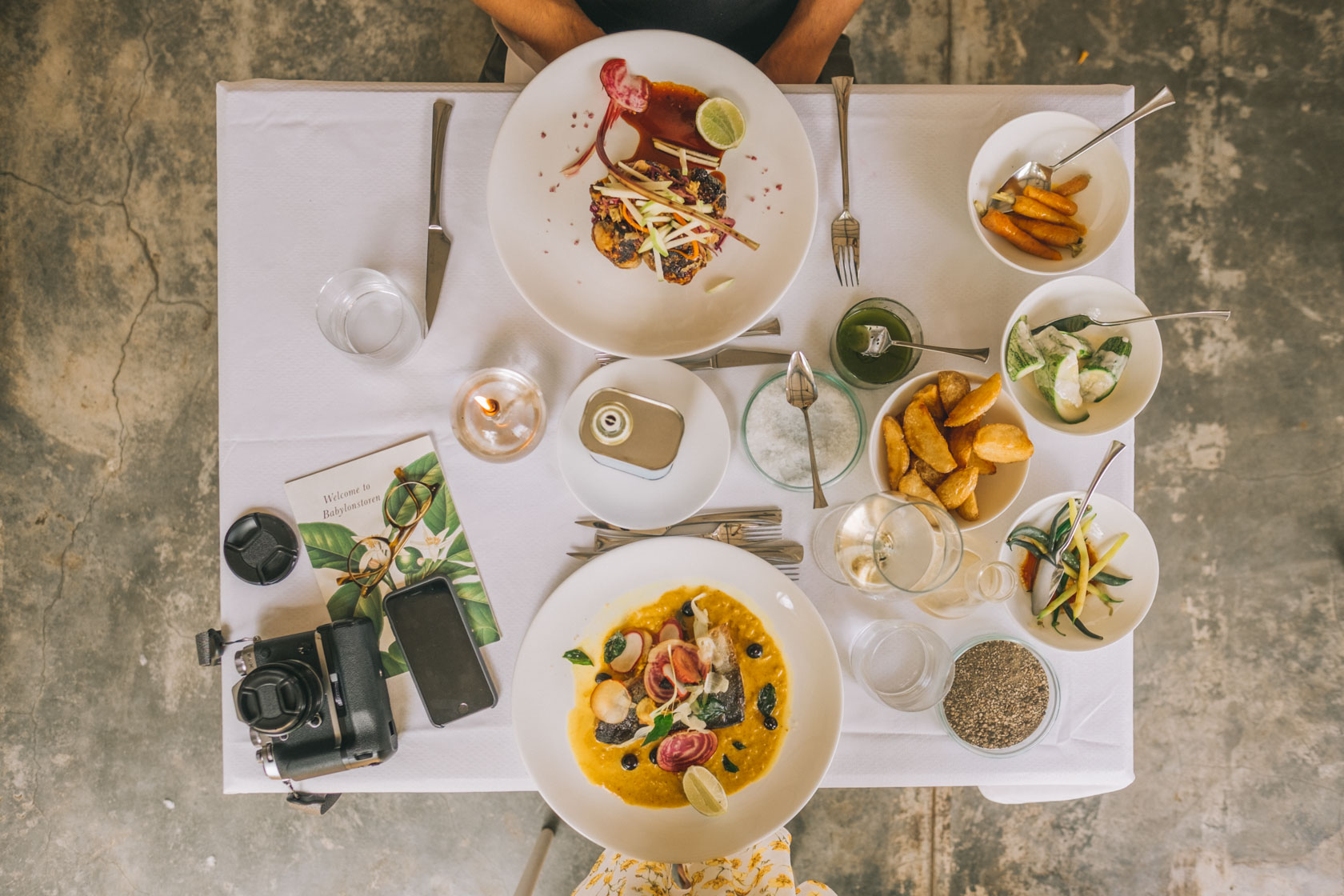 The Franschhoek Wine Valley is not that large. In reality, the location of the wine farm you pick doesn't necessarily matter that much. Everything is quite close together, and you can drive from one end of the valley to the other in about 20 minutes. The only important thing, as I already mentioned, is whether you want to be connected to the wine tram! You may also find that your wine farm offers a shuttle to the town (which is where you can buy and hop on the wine tram as well).
The best accommodation in Franschhoek for every budget
I personally stayed at both #1 and #2 on this list, and visited the premises of #3 and #4 (where I also ate at the restaurant). None of my stays at these hotels were sponsored! I paid them with my own money. So, enjoy the photos and the reviews and alas, your stay in Franschhoek!
Price ranges (per night): $ - Under $100 / $$ - $100-$150 / $$$ - $200-$300 / $$$$ - $500+
Star ratings: ★ denotes how many stars the hotel holds.
At the end, I've also added a convenient map for you to explore accommodation in the Franschhoek Wine Valley and see the prices of different wine farms, hotels, and guesthouses.
Stunning sunsets and grounds: Val d'Or Estate ($$)
Because of the fact that availability gets so scarce in Franschhoek on the weekend, we stayed in two different places during our trip. The first spot was Val d'Or Estate , which immediately wow'ed us with the beautiful premises. We arrived right around sunset and had just a little bit of time to snap some photos before rushing off to dinner.
Here's some information about what to expect when staying at Val d'Or as well as its pros and cons.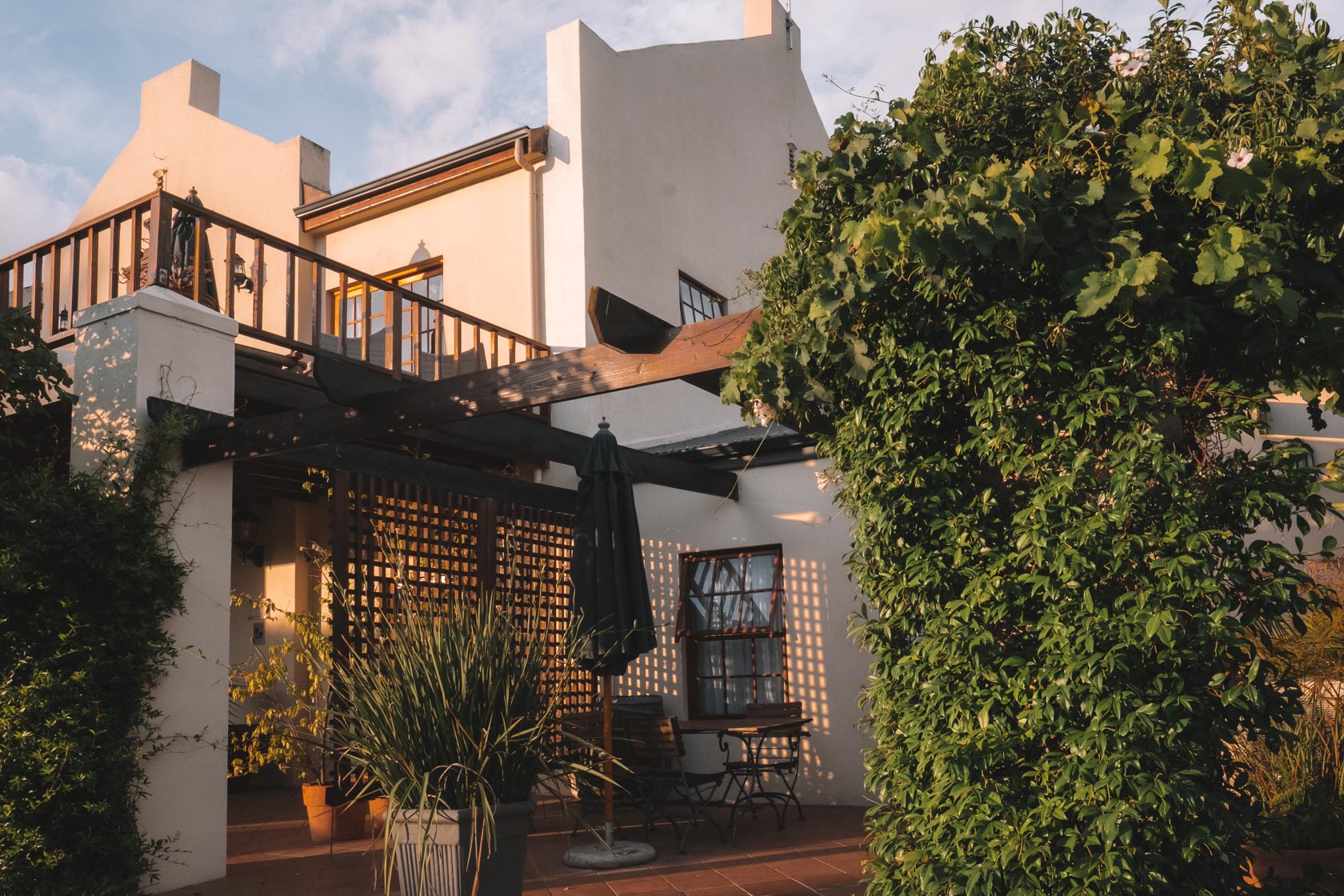 First things first, the rooms. The rooms are extremely spacious, as are the bathrooms. You get a seating area, plenty of space to set your things, an enormous bed, and probably one of the largest bathrooms I've ever had at a hotel. The rooms are clean and comfortable, but you also have an outdoor seating area in front of your room.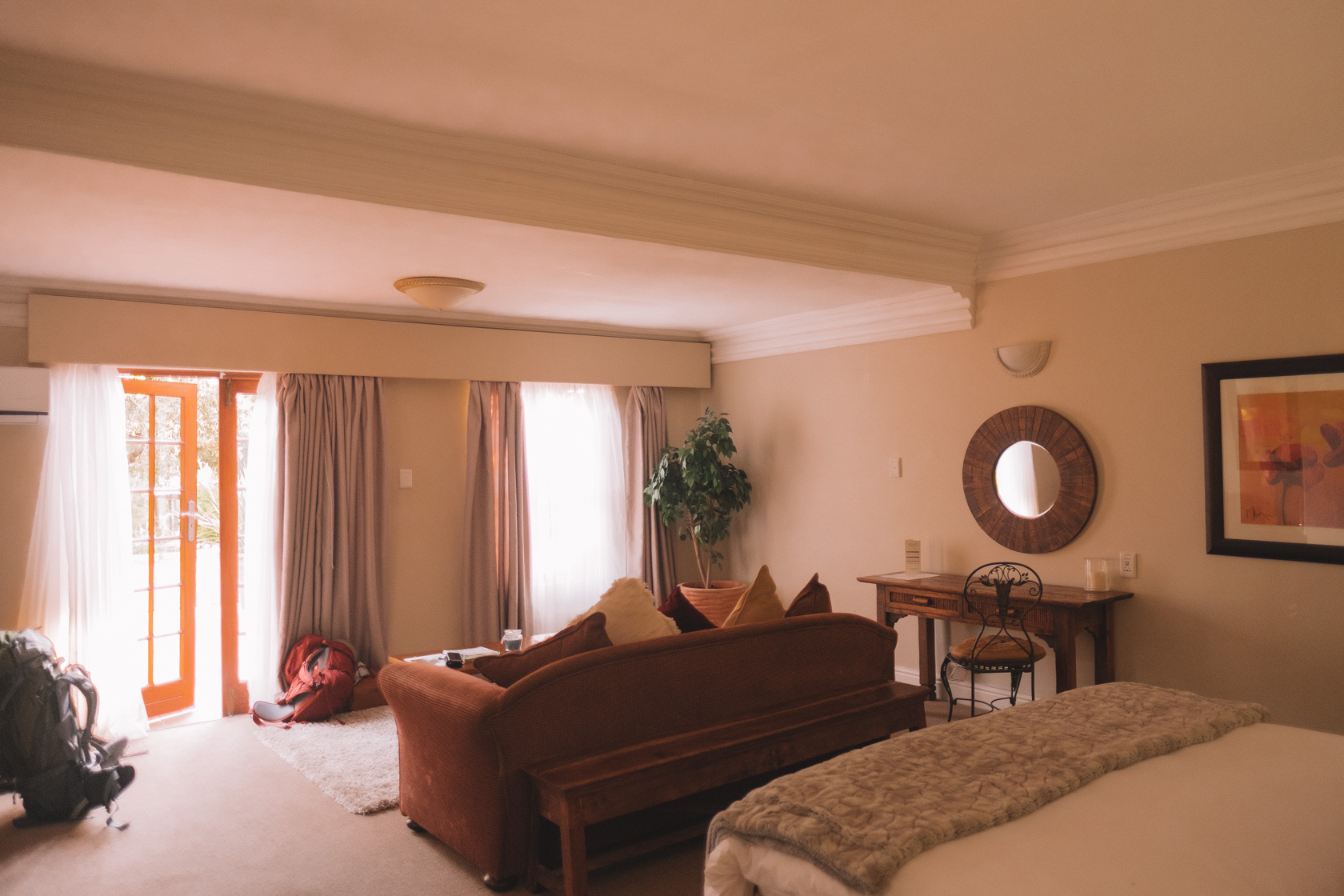 Besides your room itself, let's talk about the facilities. You've got a swimming pool with a view over the mountains, and plenty of room to walk around. Especially when it's warm I could totally imagine sitting out here and soaking up the sun. Apart from the exterior, we were really grateful for the staff. The man working at the reception ultimtely recommended us the best restaurant of our entire trip to South Africa and called ahead and made a reservation for us.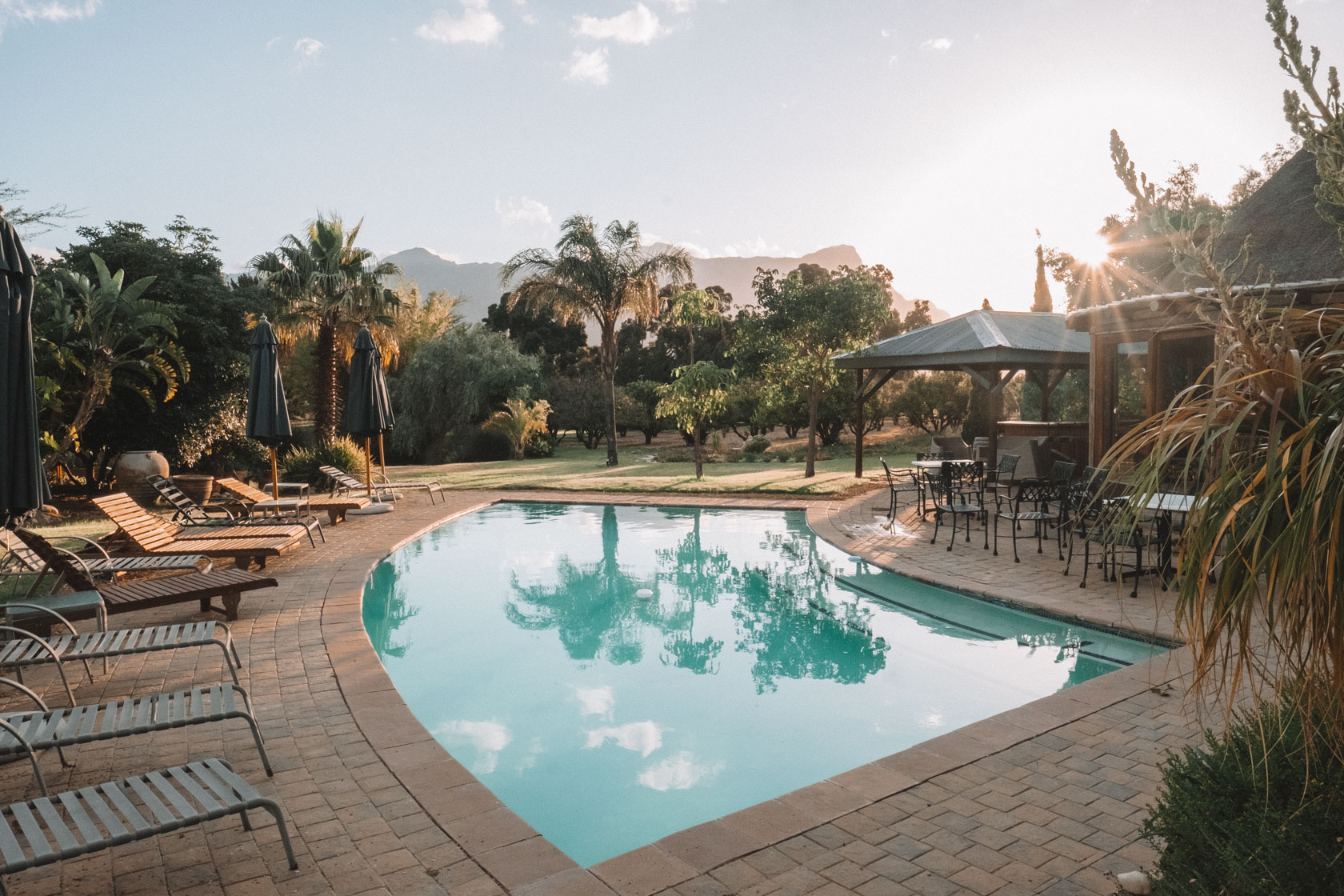 Pros: Large room and bathroom, swimming pool, outdoor seating, gorgeous premises, easy parking, WiFi, breakfast included
Cons: Room's windows could be bigger to let in more light
All in all, Val d'Or was very lovely and I wish it had been hot enough to warrant a dip in the pool while we were there!
Check availability for this property
Historic & excellent location: Basse Provence Country House ($$)
The second place we stayed in Franschhoek was Basse Provence Country House , which we didn't realize until later is one of the older wine farms in Franschhoek. They had a nice little library of books outside the rooms, so I picked one up about the different wine estates in the area and found Basse Provence inside to my surprise!
Let's take a look inside this sweet Dutch-style country house.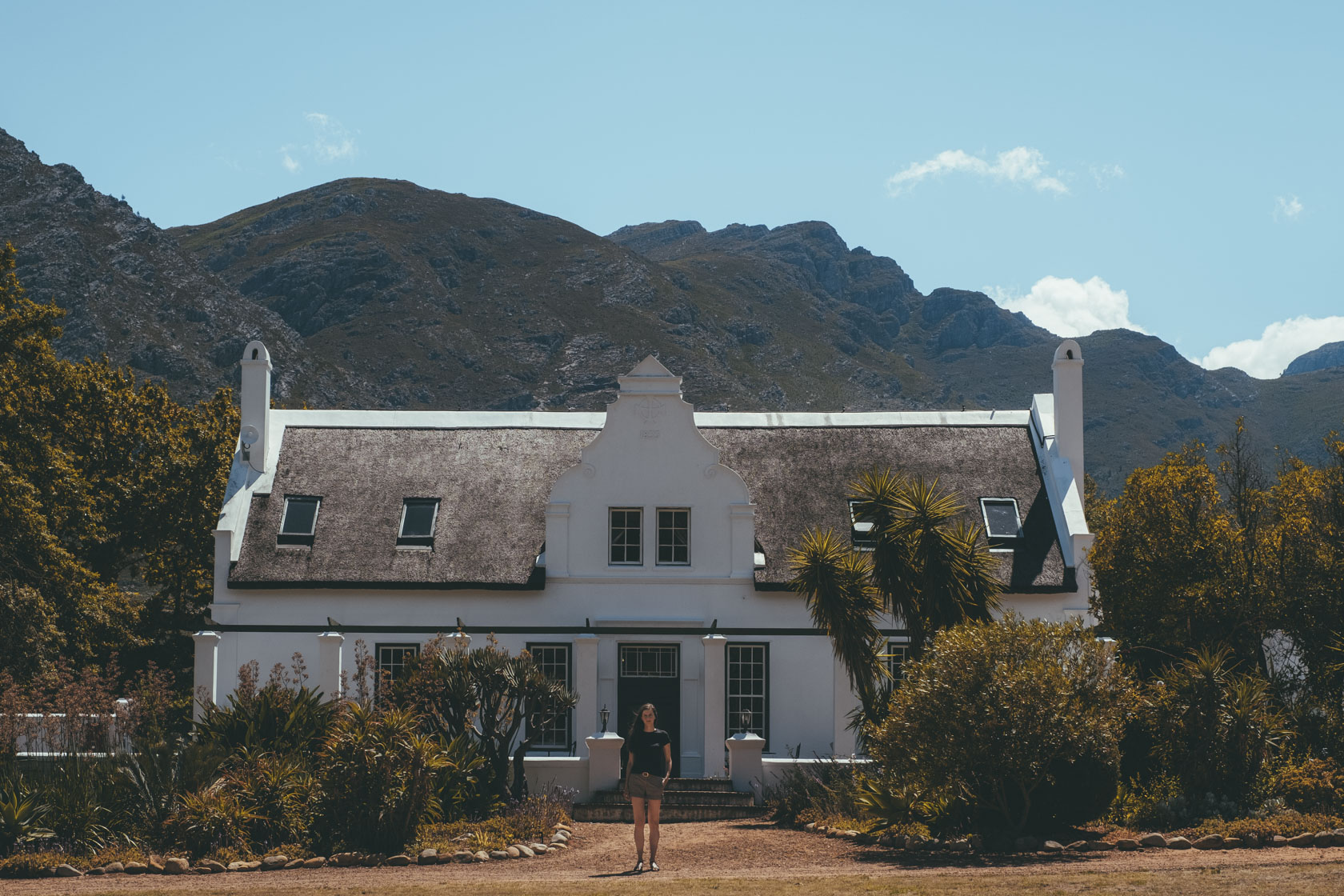 The first thing we noticed after checking in was that included in our stay was a voucher for two free wine-tastings at the neighboring Rickety Bridge Winery . Since this is South Africa, wine tasting isn't super expensive ($3-5 per person in most situations), but we still enjoyed the gesture. Plus, since Rickety Bridge was located so close-by, we could go for an afternoon tasting without having to worry about the car.
Reaching Rickety Bridge winery from Basse Provence is as simple as following a dirt path for about 10 minutes through the vineyard. You also pass some cows along the way!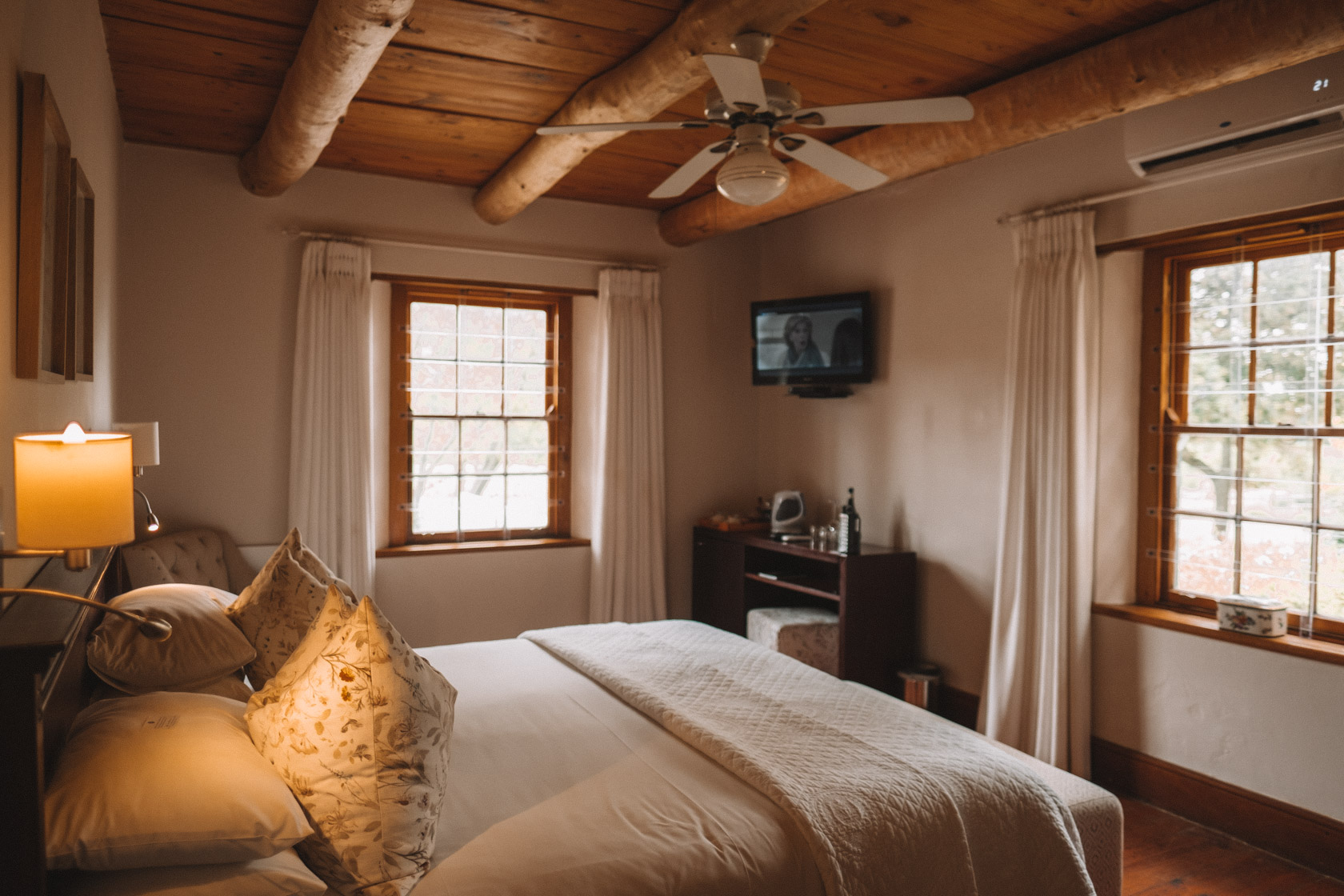 The room itself was a little smaller, but I didn't mind as it wasn't cramped. Plus the window surface area to room ratio meant that it was still well illuminated during the day. The stay also came with a complimentary bottle of wine and in-room kettle and tea and coffee. The bathroom was also well-sized. All in all, a really cute guesthouse. The only downside I'd say is that the view of the garden wasn't the best, though the vineyards and mountains in the distance was a bit better!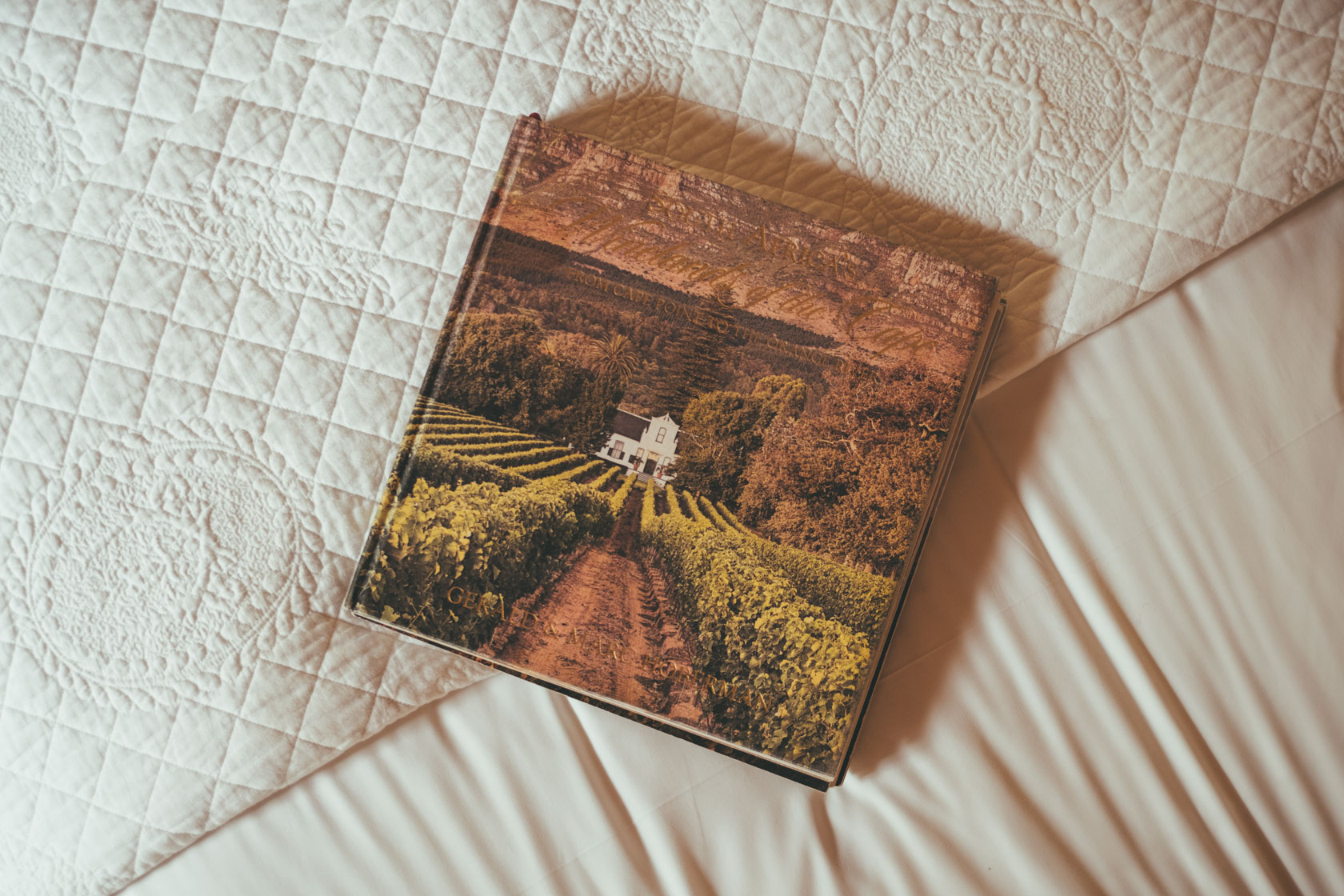 Pros: Hot breakfast (omlettes!) included, easy parking, WiFi, comfortable bed, connected to the Wine Tram, walking distance to Rickety Bridge Winery
Cons: Smaller rooms than Val d'Or but better lit as a result
Between Val d'Or Estate and Basse Provence, I actually preferred Basse Provence. Even though the rooms were technically smaller, everything felt just a little more polished. It was also just slightly less expensive (I think the difference was something like $20), so that's always a win.
Check availability for this property
Ultra fancy cottages: Boschendahl Wine Estate ($$$)
Even if you don't decide to stay at Boschendahl, you should at least visit for the wine tasting they're famous for: wine and chocolate pairings. As far as wine tastings go, it's more expensive than the usual (running you around $10 USD) but still a lot of fun.
Now, when talking about Boschendahl it's important to note: Boschendahl is HUGE. When we first arrived we went to the wrong part of the estate for the wine tastings, and were were instructed to drive to the right area. We were thinking, "Really? I need to DRIVE there?"
Yes. It's that big. Luckily there are people working in the parking lots who can give you directions though!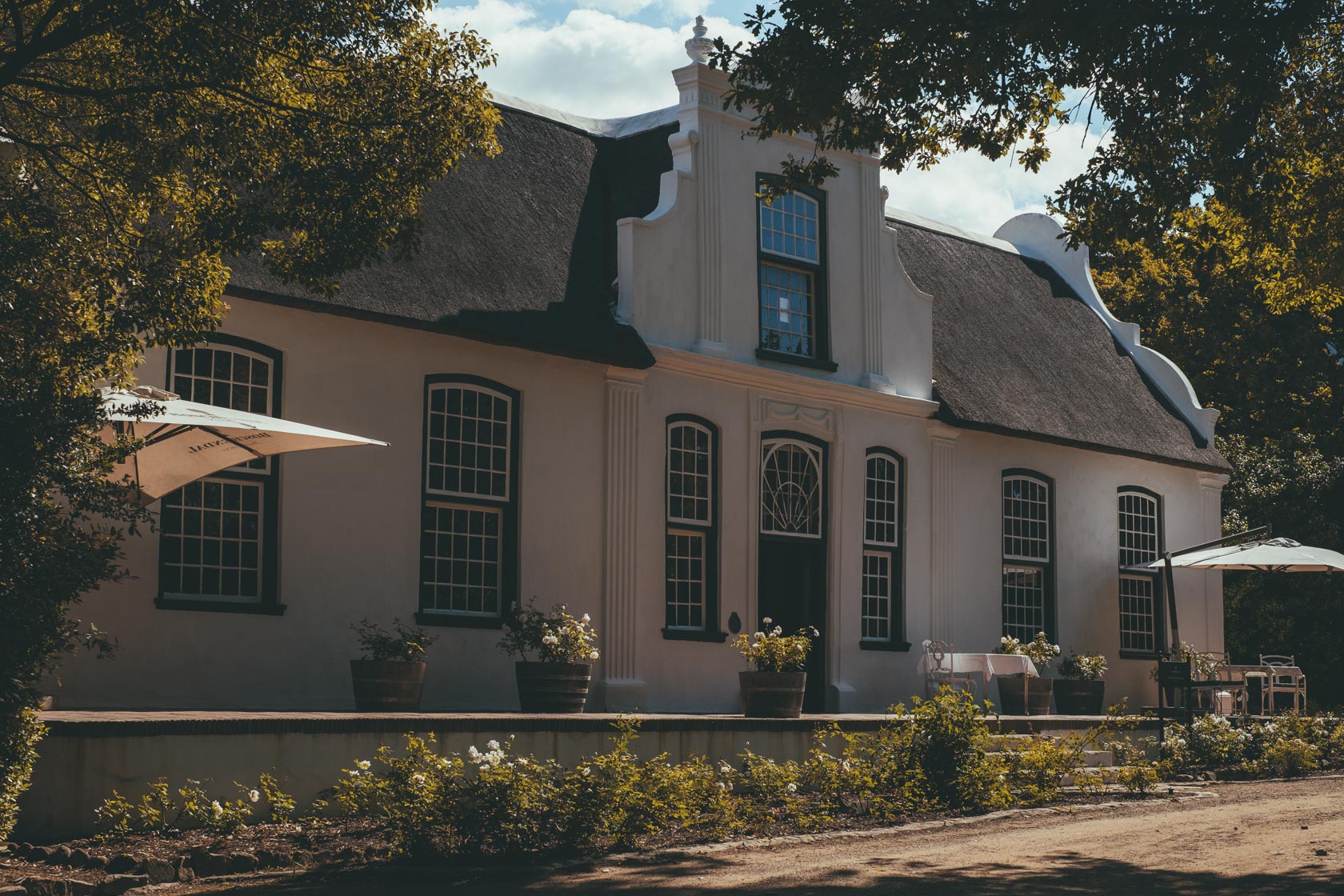 One really neat thing about staying in Boschendahl is that you get your own little cottage. They have 22 rooms available. And since Boschendahl is so fancy (it is a 4-star hotel), you don't just get your own little cottage. You can also enjoy their outdoor swimming pool, go fishing, get a massage, enjoy the spa, send your children to the playground, or enjoy the numerous gardens. Boschendahl also has a farm shop where you can buy gifts for your friends and family back home.
Even though Boschendahl technically has the same star rating as Val d'Or Estate and Basse Provence Country House, it's clearly on a different level in terms of accommodation.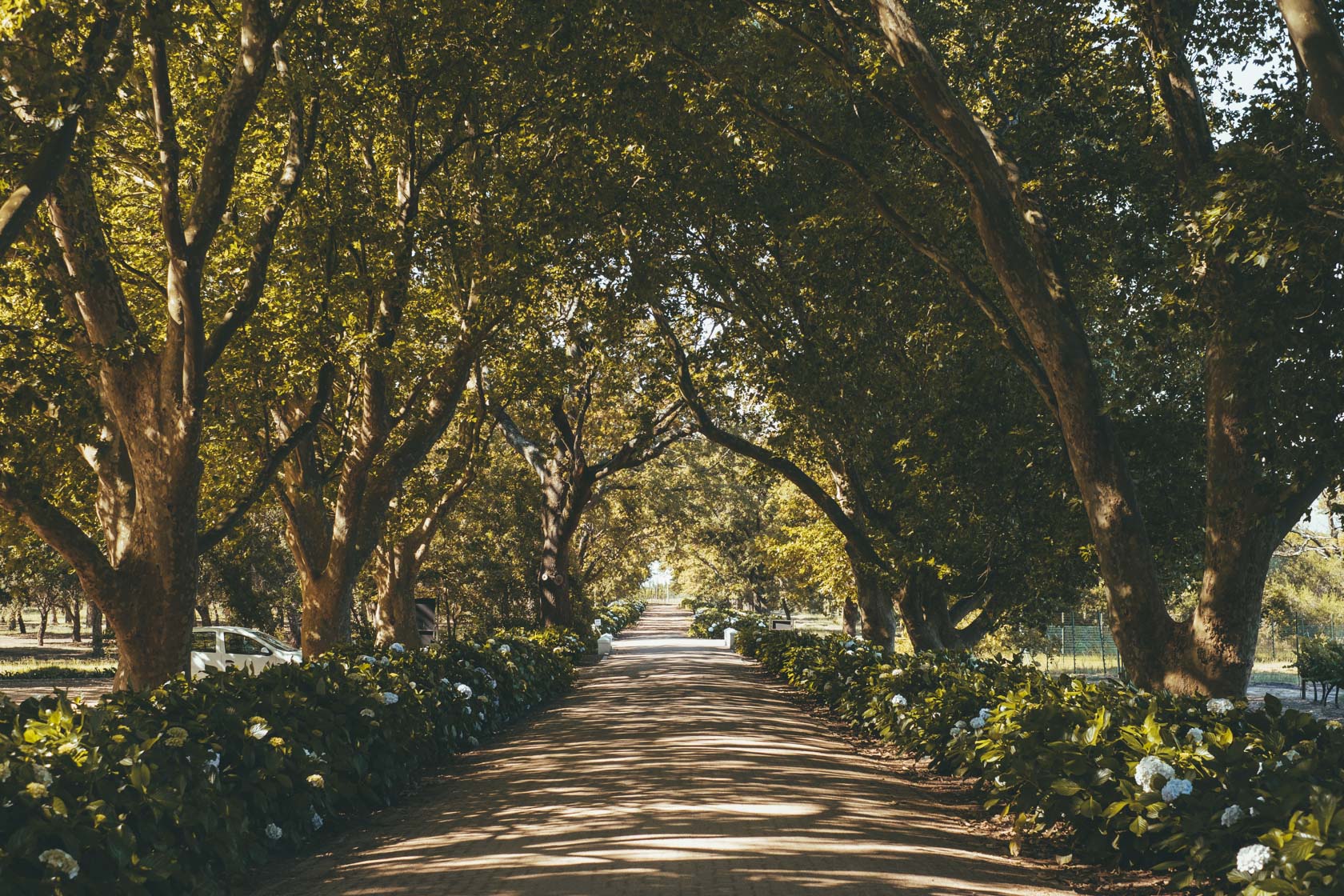 Another convenient thing is that unlike Val d'Or and Basse Provence Country House, they have onsite restaurants. If you don't like the idea of driving around at night in Franschhoek (which, by the way, is totally safe) then you might enjoy having dinner a bit closer. Depending on the time of day you're craving something to eat, you've even got multiple eateries to choose from.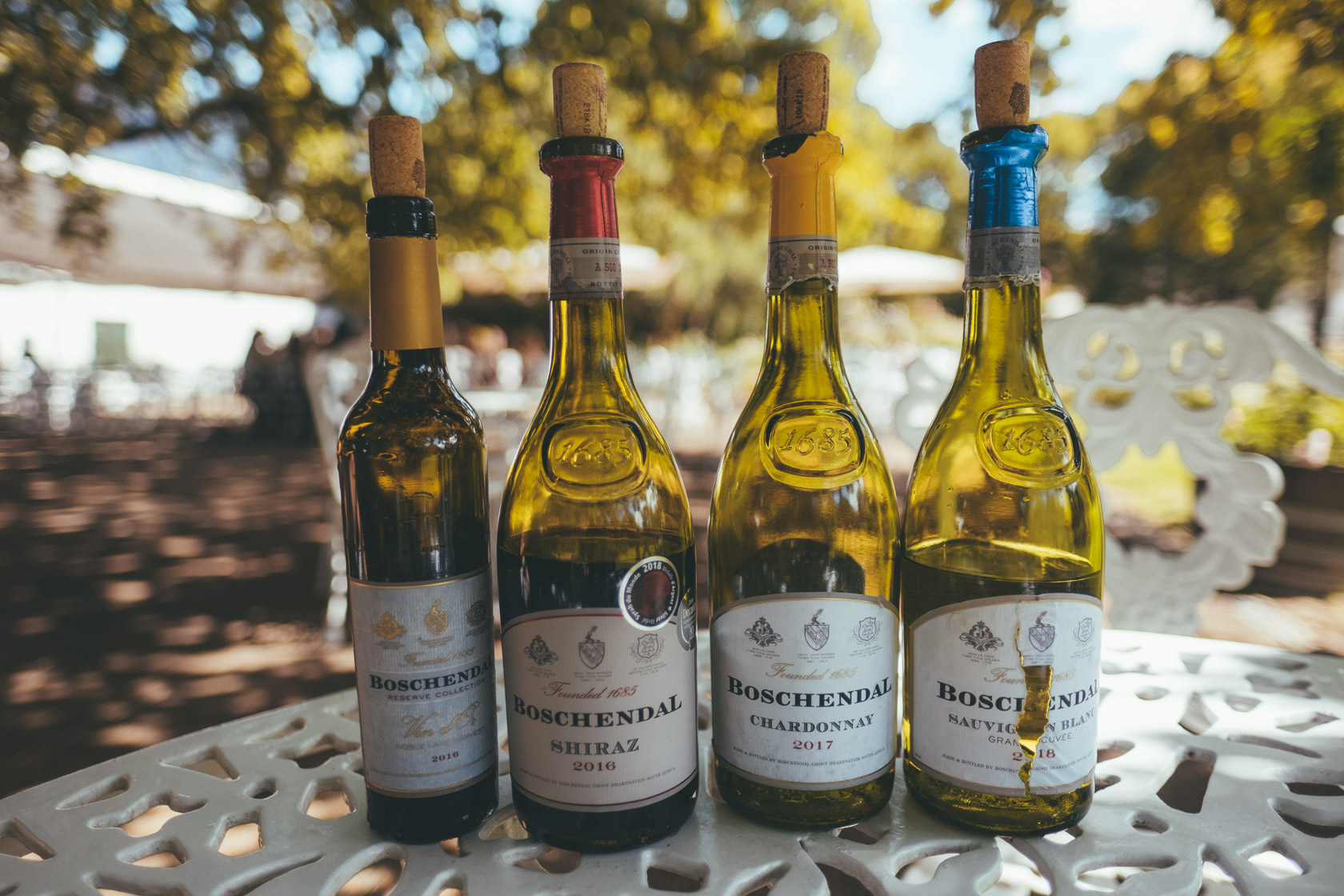 Pros: Everything you need at your fingertips. Free airport transfer, WiFi in all rooms, your own terrace, on-site bars and restaurants, ensuite kitchenettes. Cottages available with 1, 2, 3 or 4 bedrooms.
Cons: It's expensive. But it can be cheaper if you have enough friends, and it also depends which suite you get. You can pay as little as $250/night for 4 people, or $415/night for 2 people – depending on the suite you choose. Check the current rates to see what they are!
Check availability for this property
Farm-a-licious luxury: Babylonstoren Wine Farm ($$$$)
Babylonstoren is the only 5-star hotel in Franschhoek on this list, but you'll soon learn what exactly sets it apart from all of the others. First things first: this property functions both as a garden you can tour and pick anything off the branches at eat them, and as a guesthouse. So even if you don't come to Babylonstoren Wine Farm over night, you can still visit Babylonstoren as a day guest.
Alright, so what makes Babylonstoren so much fancier that the other wine estates in Franschhoek?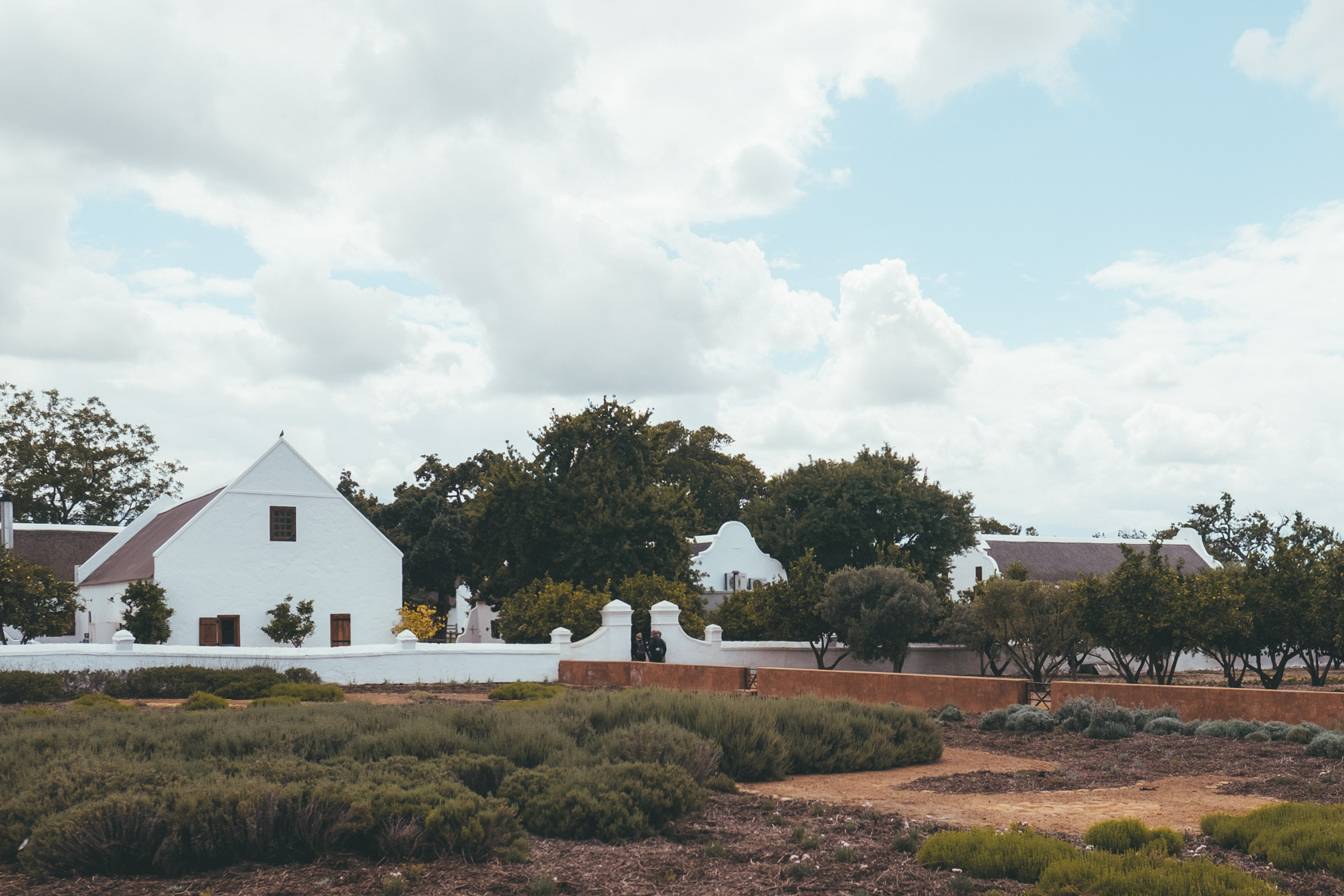 While the exterior of Babylonstoren might look humble, like the typical Dutch architecture that's popular throughout the Cape Winelands, the interiors are out of this world. You can stay in their so-called "Farm Hotel", which consists of just over a dozen one- and two-bedroom cottages. If you do a garden tour, you can actually see them close to the fruits and vegetable sections of the garden!
Each cottage has a fireplace, a library, a lounge area, and a kitchenette. Apart from what you get inside your room, you'll also have access to an outdoor swimming pool and a spa area.
If you want to get a peak inside, check out pictures of the interior of Babylonstoren's rooms on Agoda.com .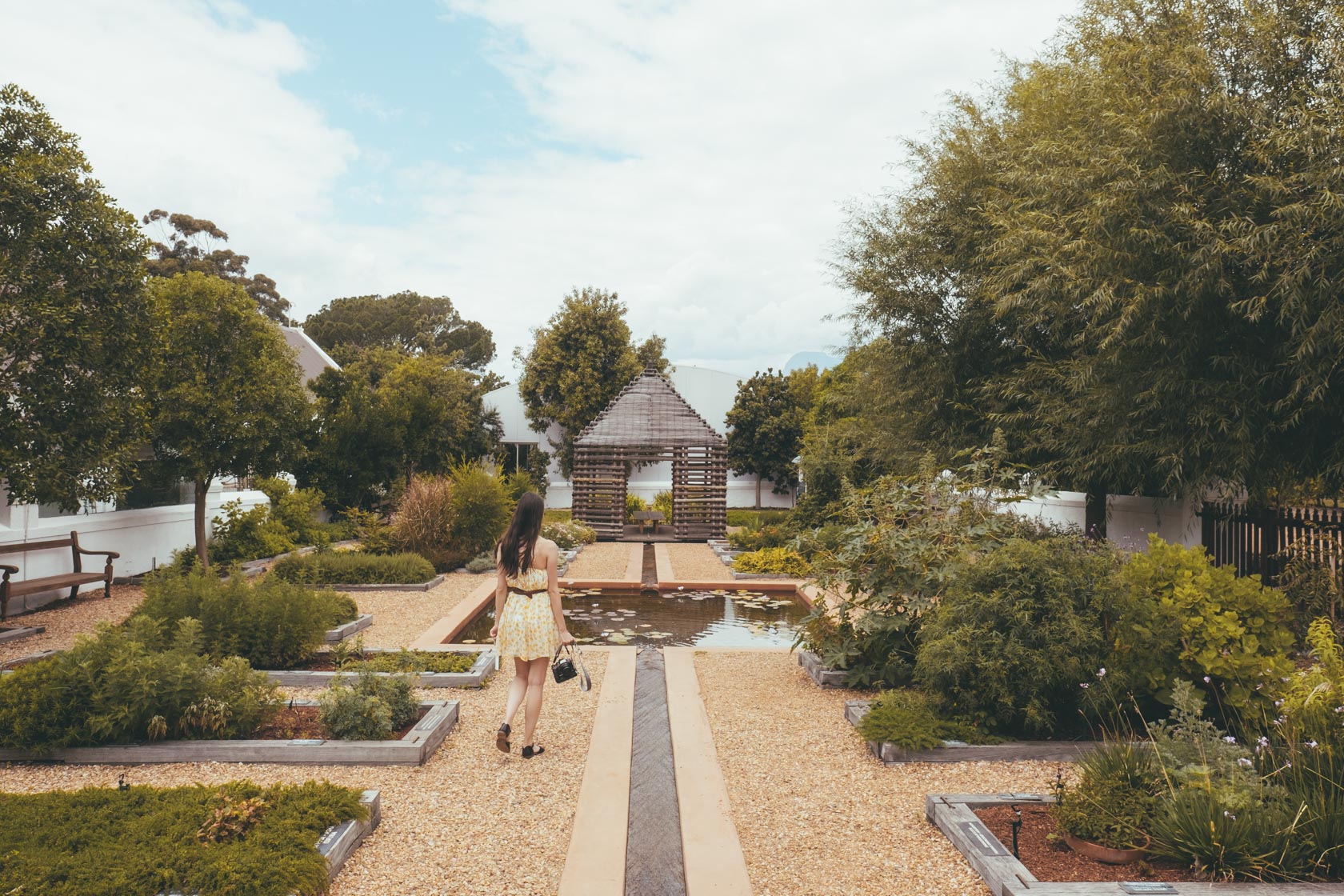 Besides the rooms, one of the main attractions of Babylonstoren is its award-winning restaurant, Babel . Here they practice a "farm-to-fork" philosophy, meaning the menu is highly seasonal and features fruits and vegetables grown right in the garden. Though we didn't stay overnight, we reserved for lunch after our garden tour. It was amazing, and actually a pretty good deal considering you get SO MANY complimentary side dishes in addition to your main.
While you've got an "in" for the restaurant if you're staying as a guest, anyone who isn't is advised to book at least one month in advance for a seat at Babel!
Besides this restaurant, there's also a more casual dining spot called The Greenhouse .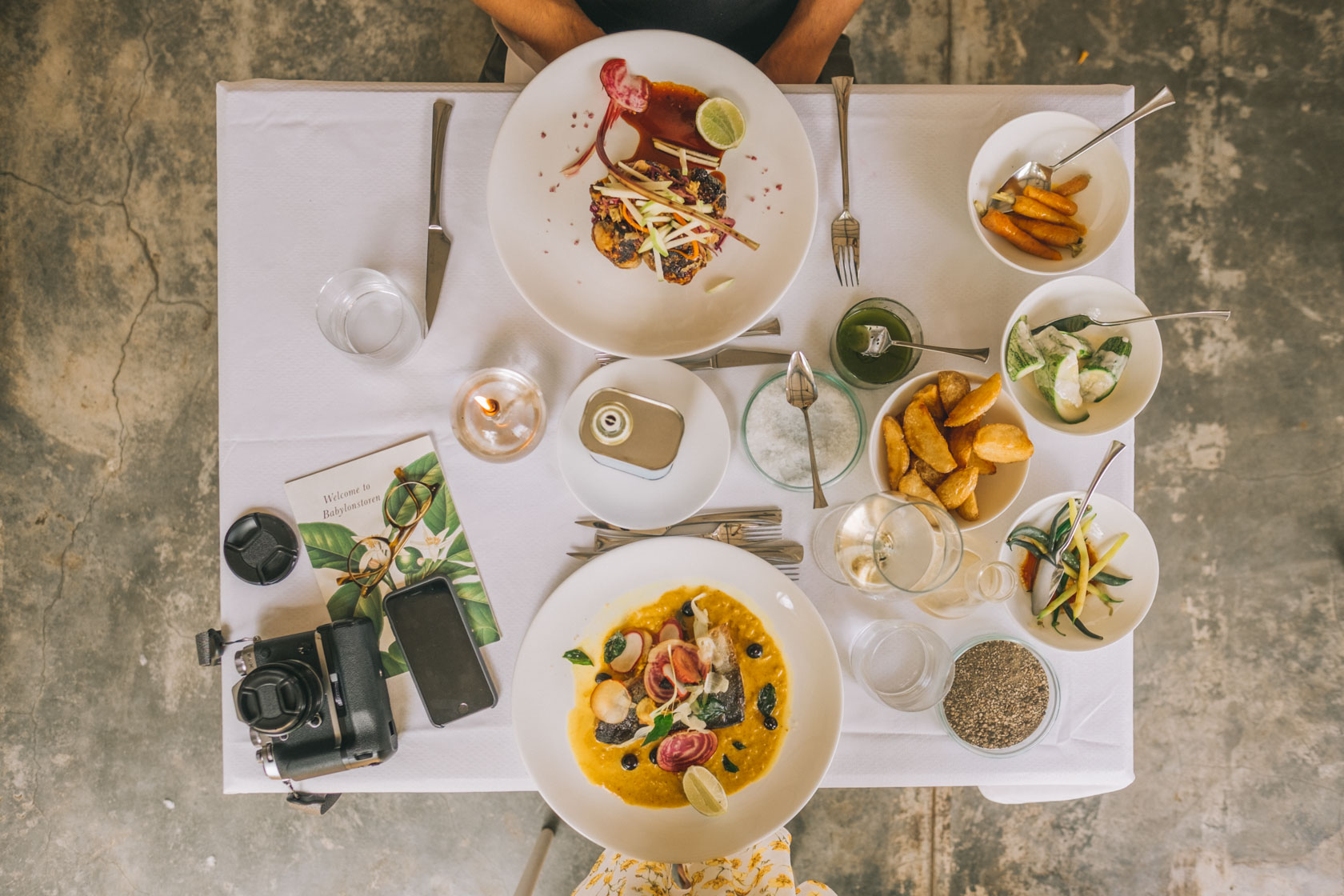 Pros: Literally the chicest place to stay in the entire Cape Winelands region.
Cons: It's got a price tag to match!
Check availability for this property
Cheap accommodation in Franschhoek ($)
Franschhoek on a budget is completely doable if you plan ahead. There are family-run guesthouses you can select as an alternative to large-scale and commercial wine estates like Boschendahl or Babylonstoren.
So far, the best prices I've seen for spots around Franschhoek with glowing reviews is about $80 USD per night, though you can also go cheaper than that and find things for around $50/night. Just be sure to double-check the location before booking anything!
If you're on the hunt for a deal, you can use this Booking.com dealfinder for limited deals based on the days you're planning to book. I booked my stays at both the wine farms I stayed at through Booking.com and basically always choose to go through them when possible because of their flexible cancelation policy.
Alternatively, you can take a look at basically all the places on the market in Franschhoek in terms of hotels on this giant map!
More places to stay in Franschhoek – map edition!
There are really a lot of options when it comes to Franschhoek, but if you want to have the greatest selection it really is important not to procrastinate too much when booking accommodation. As I've already mentioned, the Cape Winelands is easily one of the most popular day trips from Cape Town and as such, the selection can get especially sparse on the weekends!