I'm going to be honest, I kind of predicted that visiting the Cape Winelands of South Africa would be one of my favorite parts of the trip. But it turned out not to be just because I love wine (obviously), but because there are so many fun things to do in Franschhoek even if you are a big wine-drinker. There's incredible food, radiant sunsets, friendly people, and superb weather.
I mean it's obvious there is no higher state of being, right? 😅
Even though Stellenbosch is probably a more popular place to visit, we chose to concentrate on Franschhoek , mostly because we read great blog posts about it and we liked that it seemed a bit quieter than Stellenbosch.
What also makes Franschhoek interesting is the French influence, present because this is where the Hugenots fled to after they were driven out of Europe. You can see that many of the street and place names, as well as food and drinks, show the French heritage of the residents of this town.
Read on for recommendations for the best things to do in Franschhoek, best places to eat in Franschhoek, as well as the best wineries I can recommend you check out!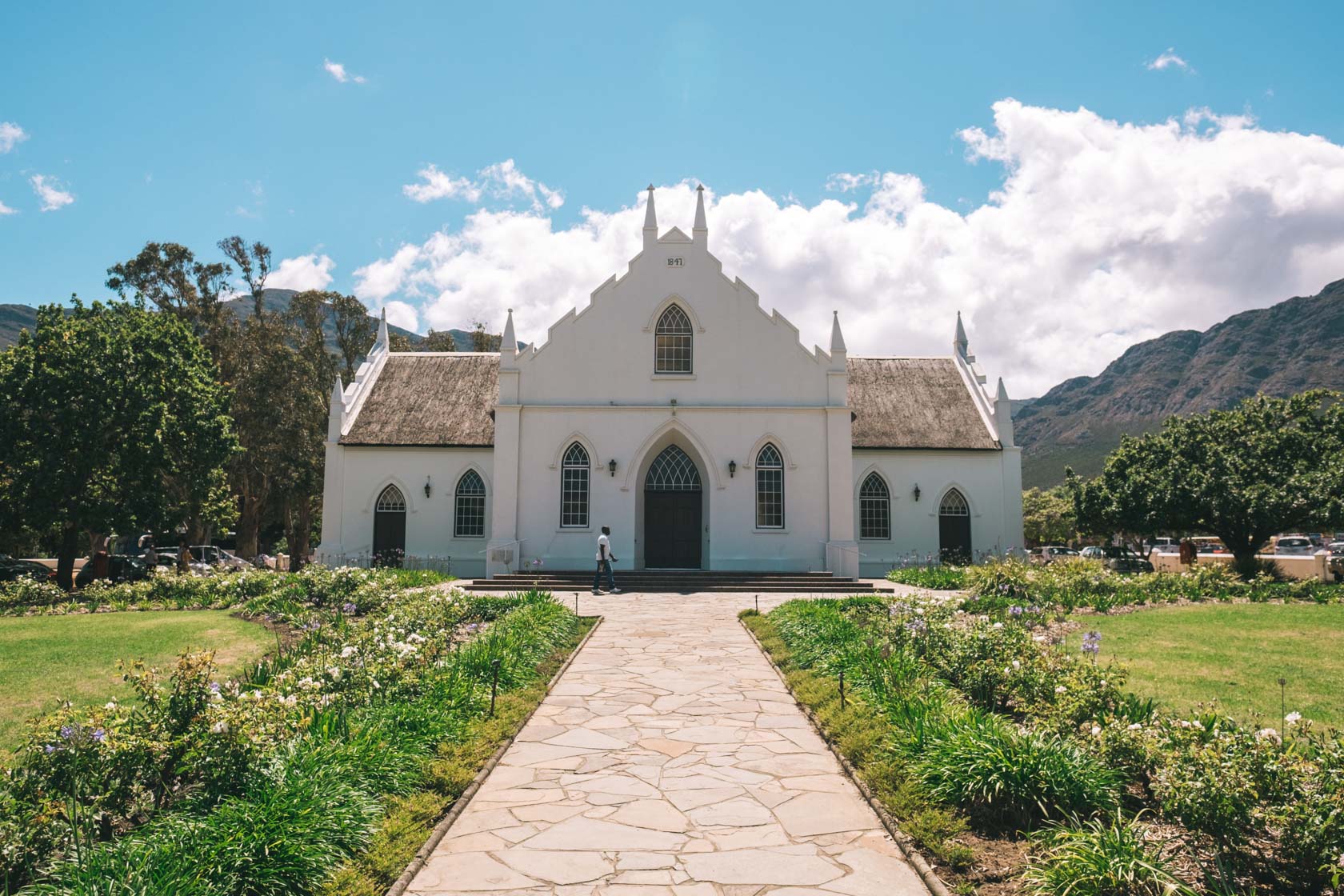 Some links in this post are to affiliate sites. If you purchase something through them, I may earn a small comission — which costs you nothing! I am very grateful when you use my links to make a purchase.
Psst: Are you planning to spend about two weeks in South Africa? Check out my dedicated South Africa itinerary for way more details on how to spend your time in the country.
Where to stay in Franschhoek
As I already mentioned, you can stay just about anywhere in Franschhoek from a location standpoint without being too far away from anything. Even the two guesthouses I stayed at were barely 5 minutes apart by car. Luckily I can strongly recommend both places I stayed as they were each lovely!
Check out my post on Franschhoek accommodation for more details, photos, and alternatives.
Estate name
Pros / Cons
Check availability
Val d'Or Estate
($$)

Beautiful gardens and swimming pool
Massive and modern rooms and bathroom
Excellent staff restaurant recommendation!
9.0 "Superb" rating

Check availability
Basse Provence Country House
($$)

Walking distance to Rickety Bridge Winery (and free voucher!)
Good breakfast included
Comfortable and spacious rooms
9.0 "Superb" rating

Check availability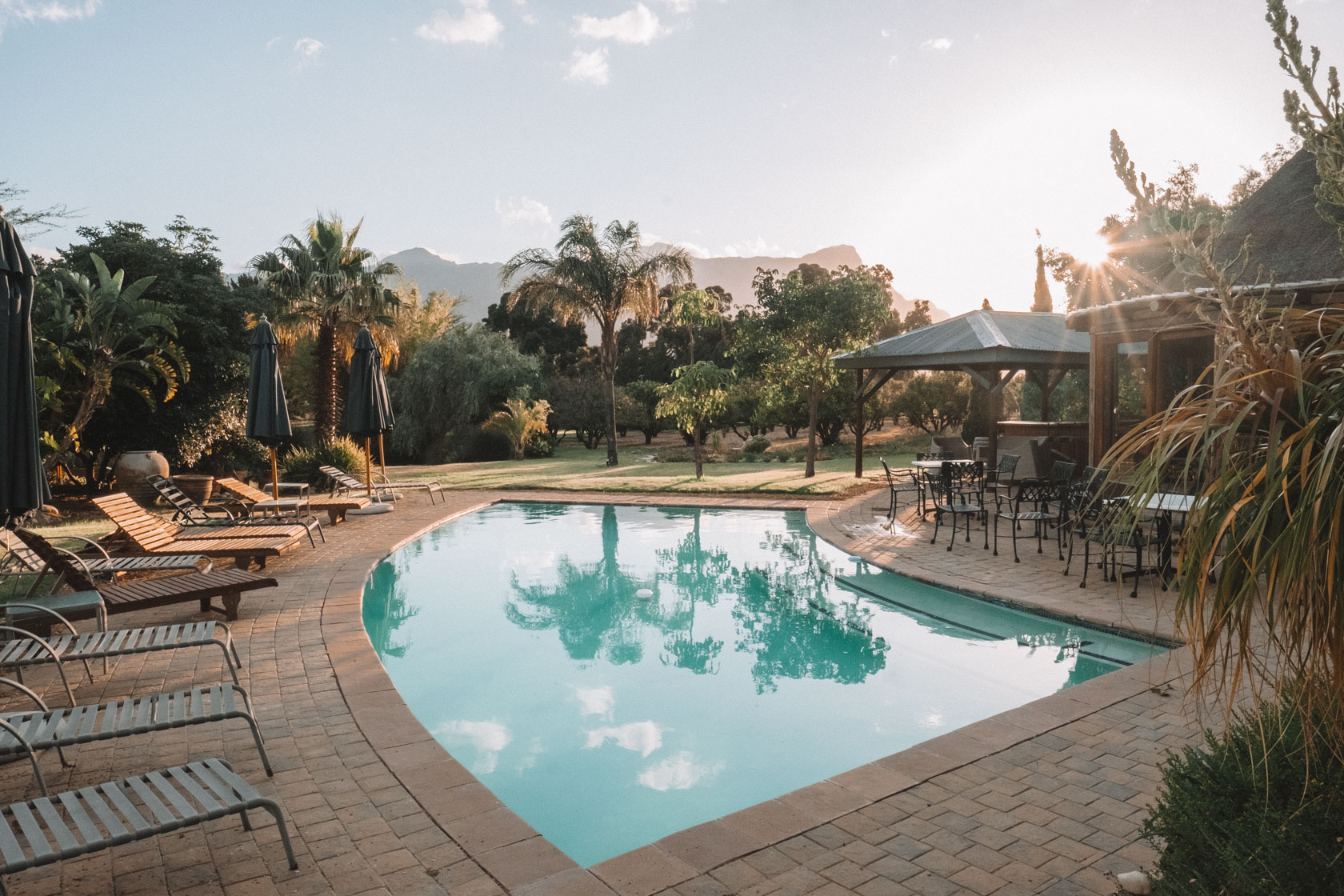 Things to do in Franschhoek
Everything mentioned in the post is also shown on the map below. As you'll soon be able to tell, most things in Franschhoek are pretty close together! The two points furthest from each other on the map (Babylonstoren and the Franschhoek View Pass) are a 30 minute drive apart.
Visit Franschhoek's center
As I said, Franschhoek's center is pretty small with just one main street. That said, this street has everything you would need: a supermarket, some restaurants and shops, and of course, a recognizable Dutch-style church.
Ride the wine tram
The wine tram is an easy way to tour wineries without getting behind the wheel of a car. The way it works is there are several different lines you can pick from, and you can go to a maximum of 4-5 wineries during a day's worth of riding. In essence it works with a hop-on hop-off model, but you need to book tickets in advance and they can sell out during peak season or on weekends. Do also be aware that wine-tasting is a morning activity so you should be ready to hop on your tram between 9:00 and 10:30 in the morning.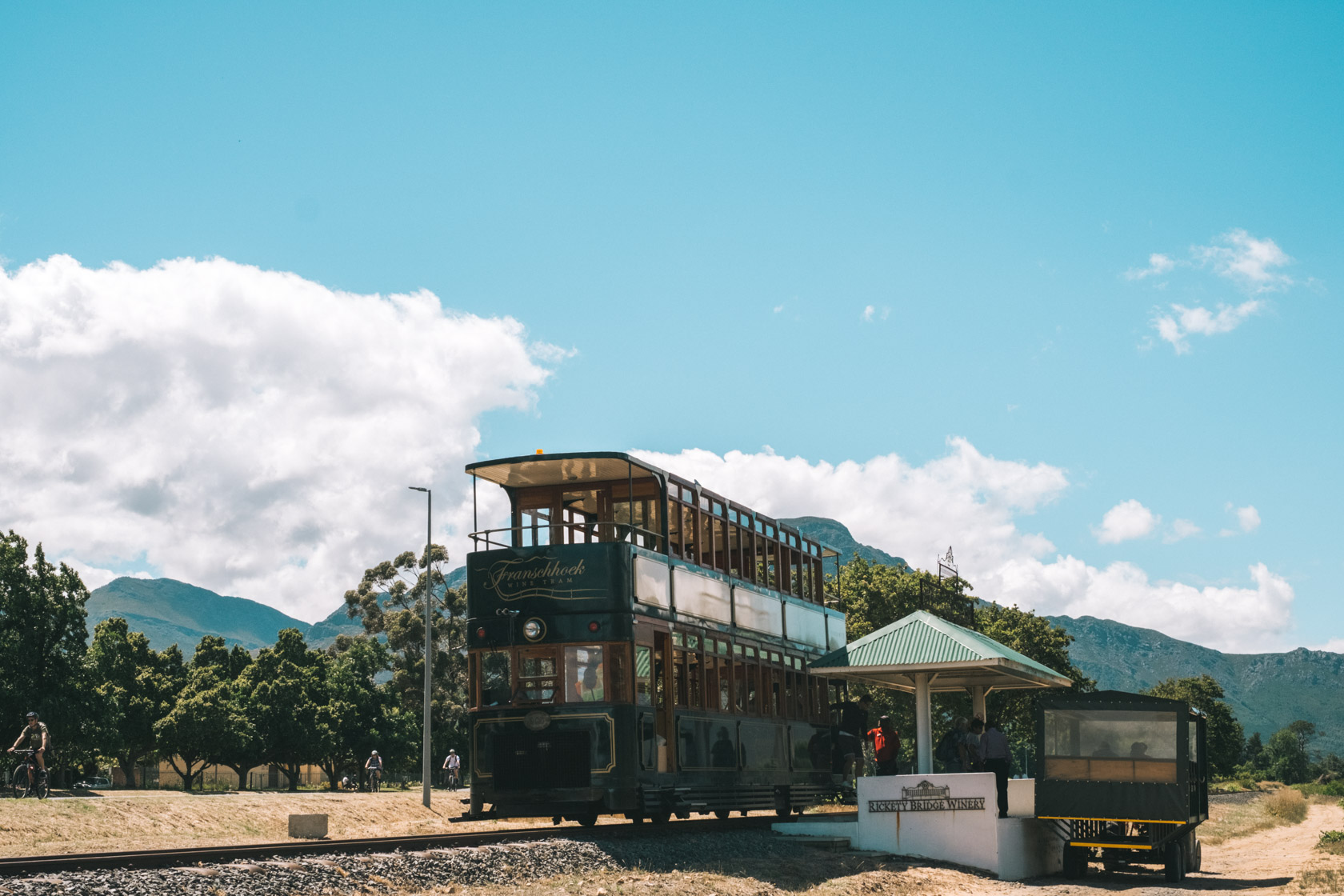 Most of the wine tram line is actually served by a bus disguised as a tram, but here you can see how great the open air wine tram does look!
Franschhoek View Pass
You only need to drive for 10-15 minutes through this pass in order to get a fantastic view over the Franschhoek Valley. Bring your camera and take a few minutes (ideally before you've started with the wine tastings 😉) and enjoy the landscape of the place you're staying.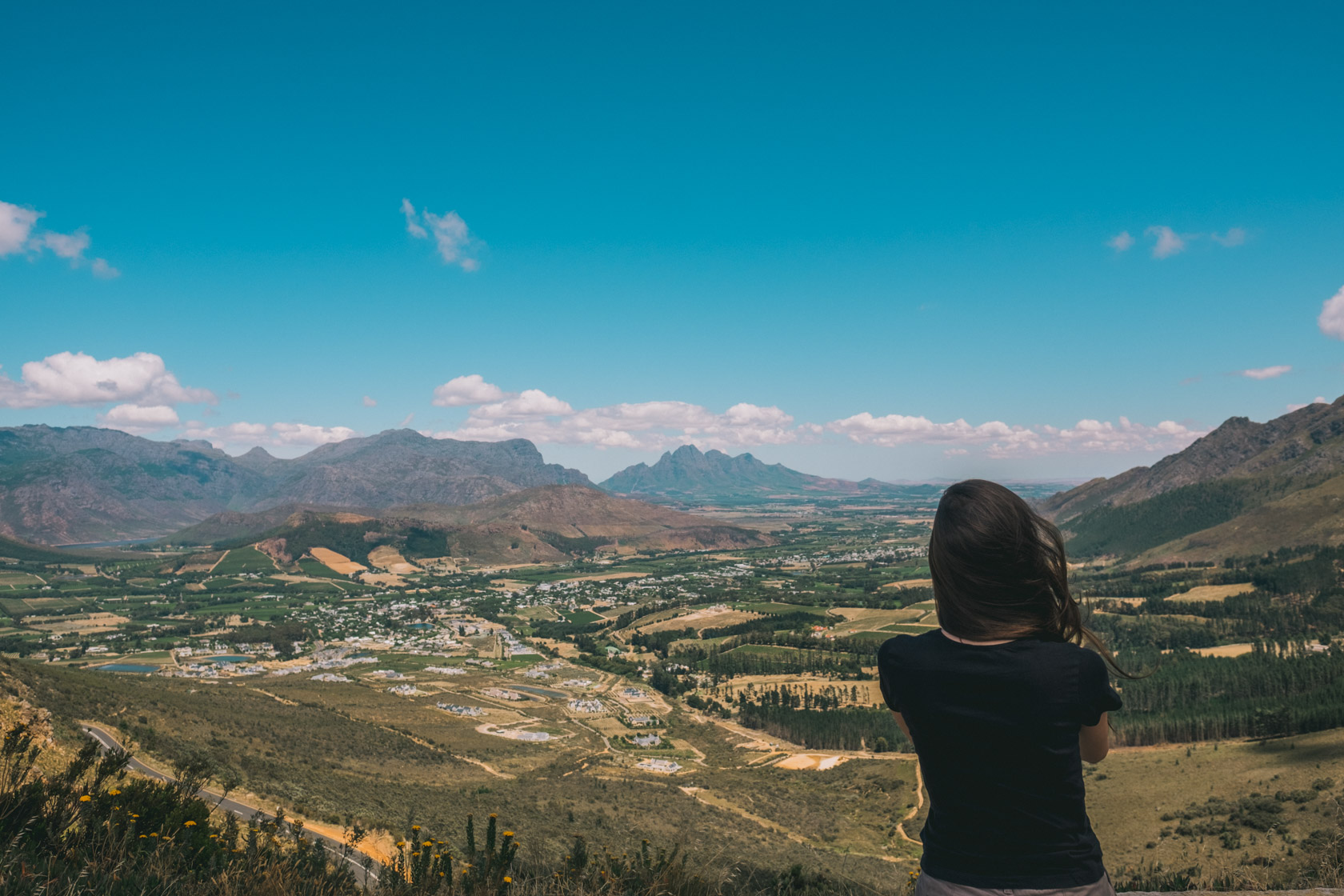 There are several different look out points along the way to the top, each offering a different perspective.
Visit wineries
It's probably obvious, but visiting wineries is easily the most popular thing to do in Franschhoek. If you want, you can jump down to the wineries section, I am the last person to judge you 😏
Visit nearby Stellenbosch
Even if we're not staying in Stellenbosch, you can drive to Stellenbosch within 30 minutes. As with a lot of these South African cities in the area, the main landmark is a church, but you can also drive down Dorp Street – a street which has been memorialized in many, many paintings. It features the typical Cape Dutch architectural style and makes for a nice photo, as do a number of other tributary streets.
Stay at an authentic wine estate
One of my favorite things about staying in Franschhoek is also the chance to stay in a historical building. In fact, when we stayed at Basse Provence Country House (pictured below), we even read one of the books there which listed it as an original winery. Who doesn't love a view of the vineyard and mountains from their bedroom window?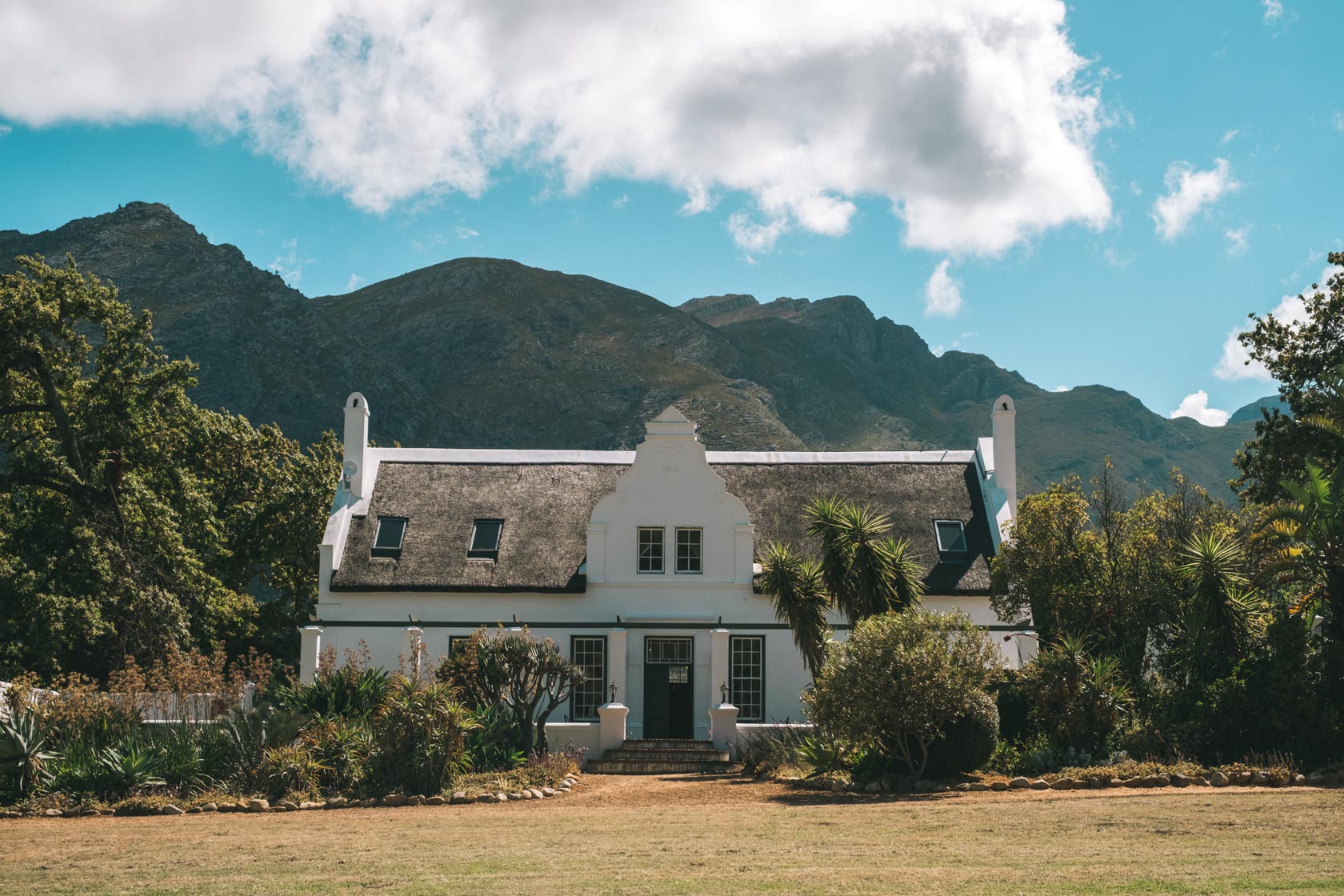 TIP – When visiting in high season or on weekends, it can be hard to find somewhere to stay for two consequtive nights. We also loved Val d'Or Estate , and it was not a pain at all to travel between them, as most things in Franschhoek Valley are not more than a 10-15 minute drive apart.
Wineries in Franschhoek
Get up early, because wine tasting is a morning activity! Either use the wine tram, or if (like me) you have a non-wine-loving boyfriend, then you're in even more luck because you can handcraft your itinerary. Here are the wineries we visited, though there are many more we did not get a chance to visit. Do note that some wineries may be closed on some days of the week, so plan in advance which ones you want to visit, and bump any that are closed today to the previous day. One thing to remember to try in the region is Semillon, which is the white wine the region is famous for.
Babylonstoren ♦♦♦
Babylonstoren was easily the most impressive winery we visited. We went on a garden tour, where we learned about the history of Babylonstoren, got to taste different plants and fruits, and also learn about how the farm and winery are run today. Between the garden tour and our lunch reservation, we could explore on our own and take a ton of photos. If you aren't able to land a reservation for Babel, there is a still a more casual cafe where you can grab lunch at the end of your tour.
Besides joining a garden tour and having lunch, there are a number of things to do on-site. You can visit the Farm Shop to shop for gifts to bring back home, the cheese shop, the meat shop, as well as a shop specifically dedicated to smells called the Scent Room.
If you've got some really deep pockets and want the luxury farm stay experience, you can also stay at Babylonstoren for a pretty penny (R8,200 - R13,500, which comes out to about 490 - 810 EUR per night).
TIP – Definitely sign up for the free garden tour which takes place daily, rain or shine, at 10AM. You'll learn about the history of the gardens, and have the chance to pick and eat anything you find along the tour. Book the garden tour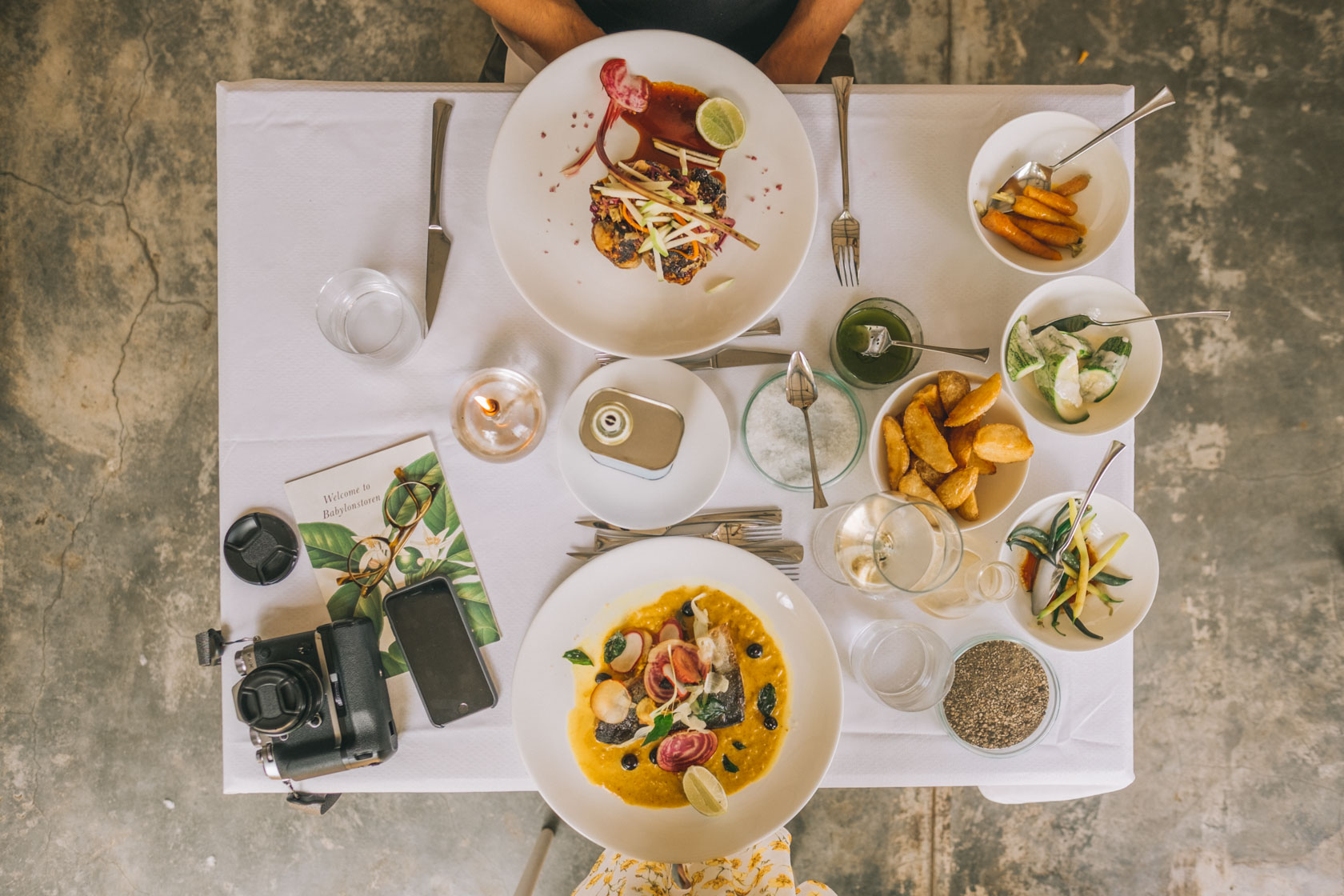 Book a meal at Babel, the onsite restaurant at Babylonstoren. You can easily book a lunch after your garden tour, and enjoy a meal made completely from ingredients from the garden! Book a month or more in advance.
Rickety Bridge ♦♦
We ended up visiting Rickety Bridge because our hotel, Basse Provence Country House , gave us each a voucher for a free wine tasting and we could easily do a short walk along vineyards to reach the winery. This winery is also part of the wine tram tour, so even if you don't stay at the same hotel as us, it's easy to get to the winery.
As with many wineries, the outdoor seating is lovely, the prices are beyond affordable, and there's a great cheese platter (though not our favorite, keep reading for which that was!).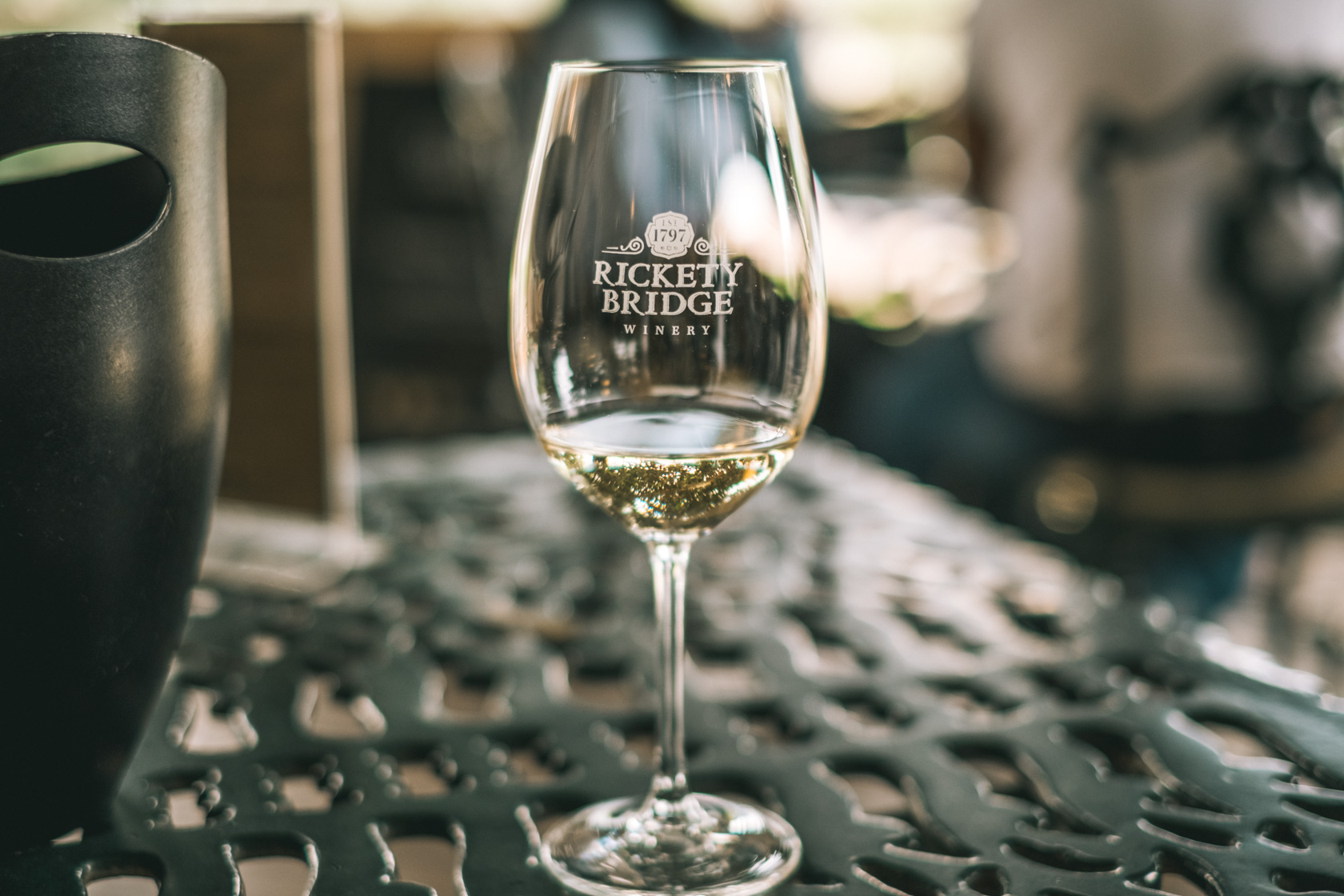 TIP – Try the Sémillon wine, one of theregion's most defining wines. Not surprising, given the French influence on the area.
Haute Cabriere ♦♦♦
You can do wine tasting at Haute Cabriere but for us, the food was the most defining part of the experience. This is where we ate our best meal of the entire South Africa trip. If I have one food recommendation that you must follow in this itinerary, it has to be this one! Plus, you can't go wrong with the views. Do be sure to call ahead or make a reservation.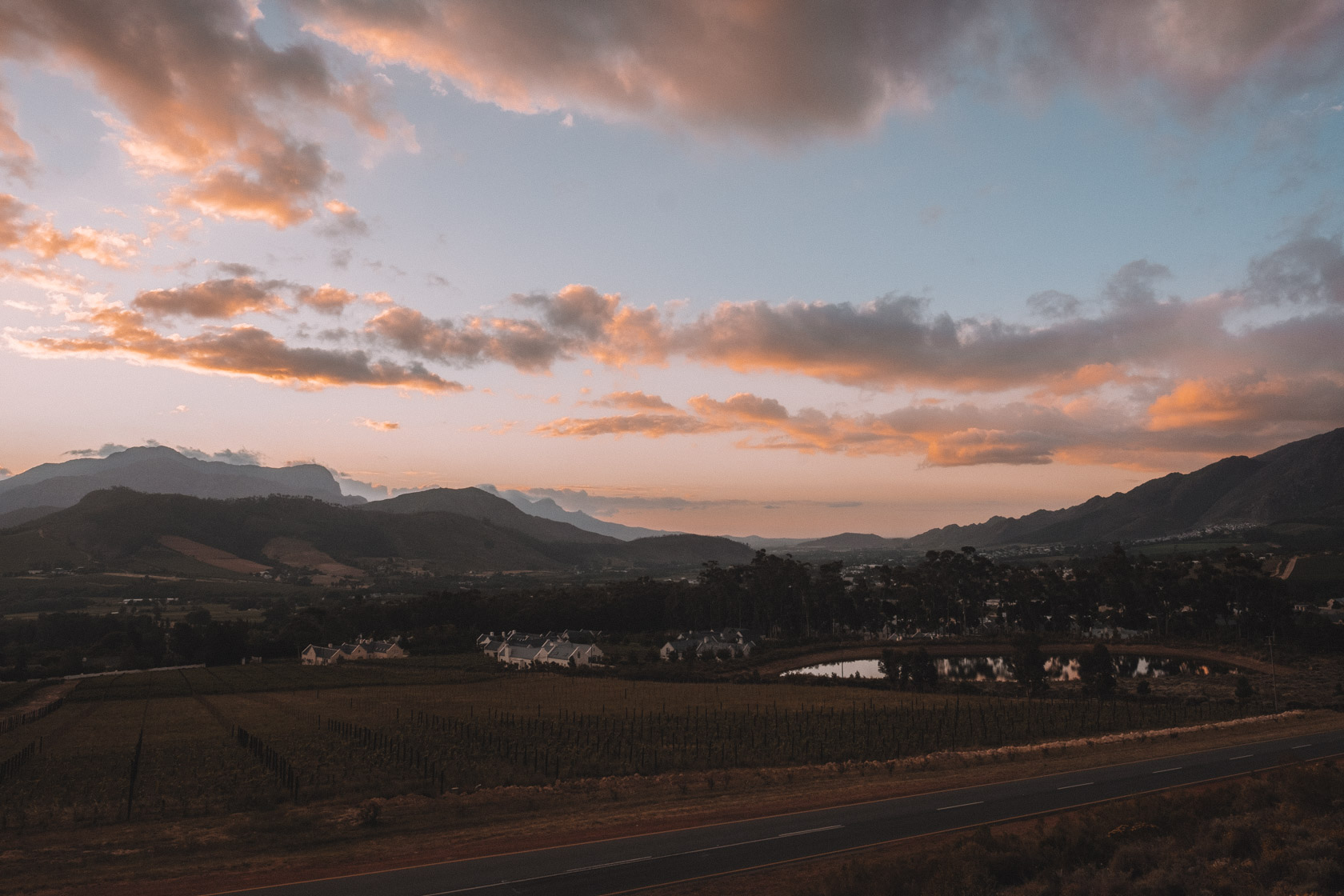 Easily the best view of any winery that we visited over the valley.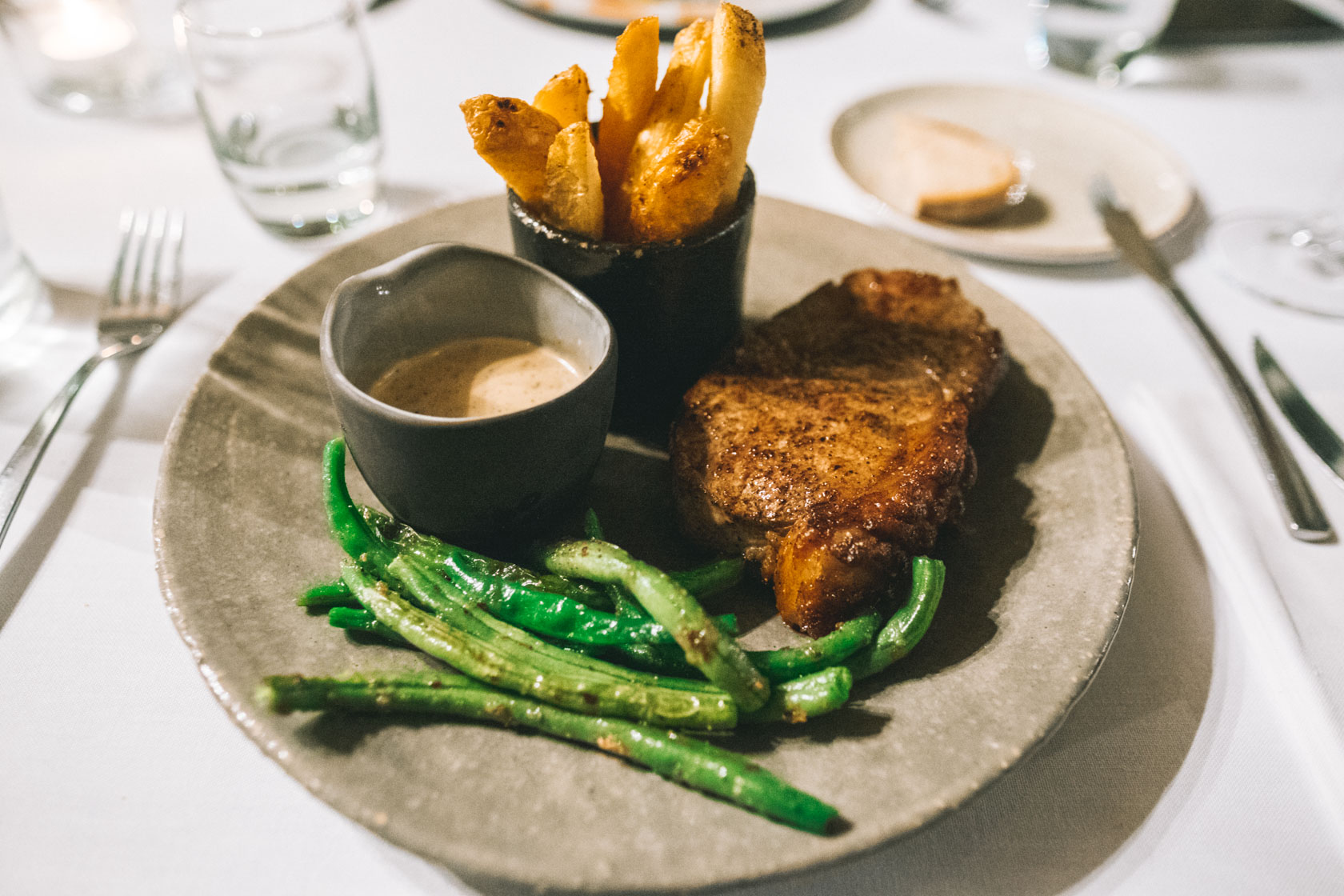 Dieu Donne ♦♦
Another popular spot for dinner is Dieu Donne , though this time we just stopped by for a wine tasting. Here we especially noticed how friendly the staff was. Come here for a fabulous view over the valley as well, it came highly recommended by the hotel staff at Val d'Or Estate as the best restaurant for watching the sunset. We weren't able to get a reservation (though we were super grateful that our "backup" was our favorite meal of the trip!), which underscores the need to book ahead for this spot if you want dinner as opposed to just tasting wines.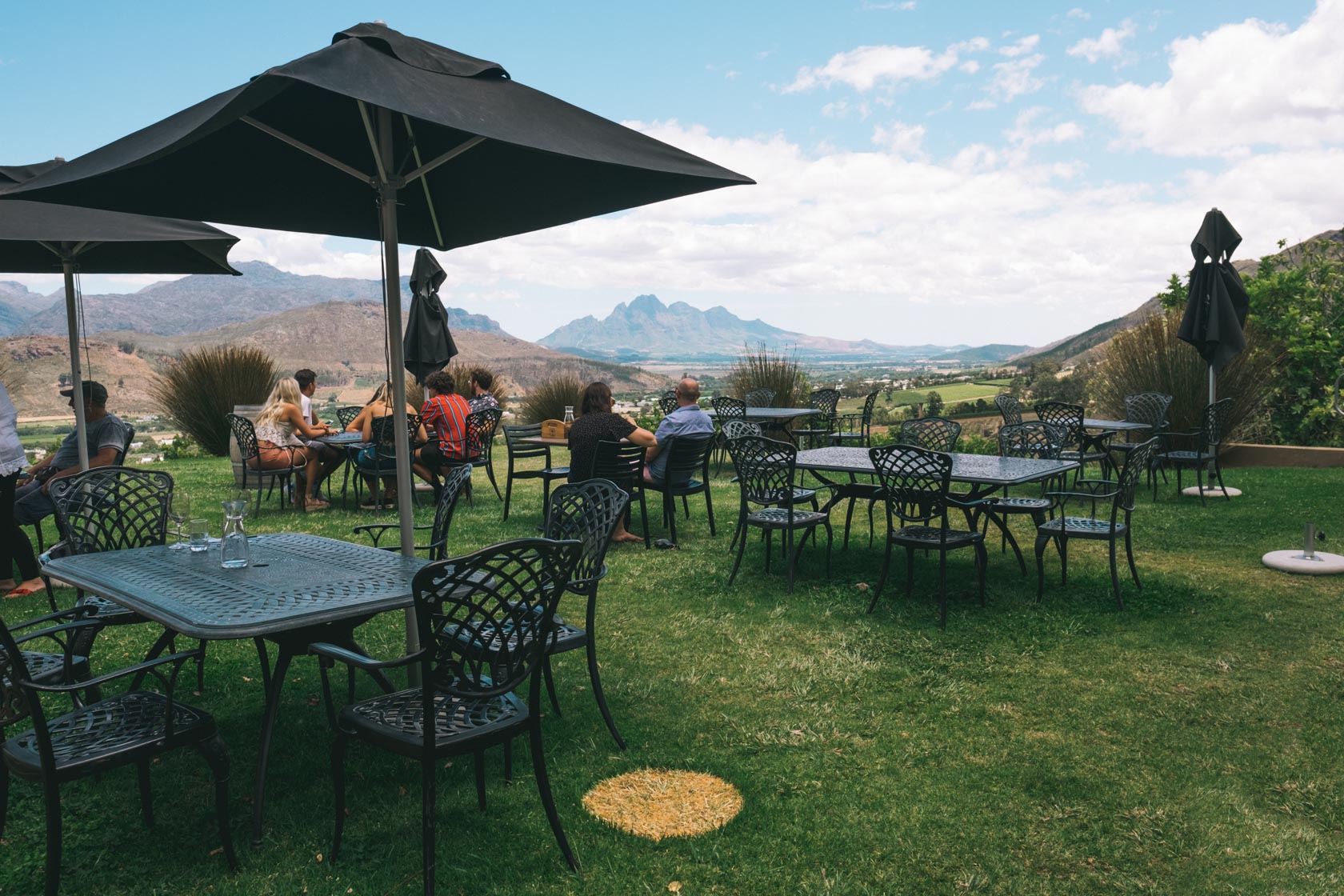 Boschendahl ♦♦
This spot is one of the more commercial wineries, with positively massive grounds. In fact, we showed up at the wrong tasting room for the famous wine and chocolate pairings and several people wanted to be sure we had a car so we could drive to the other tasting room 😱. It ended up being no big deal, and we had a lot of fun tasting the wines with chocolates and even brought back a bar of chocolate for my boyfriend's mom. Besides wine and chocolate, you can also buy a picnic in a basket and eat on the lawn. South Africans love picnics and this place will show you why!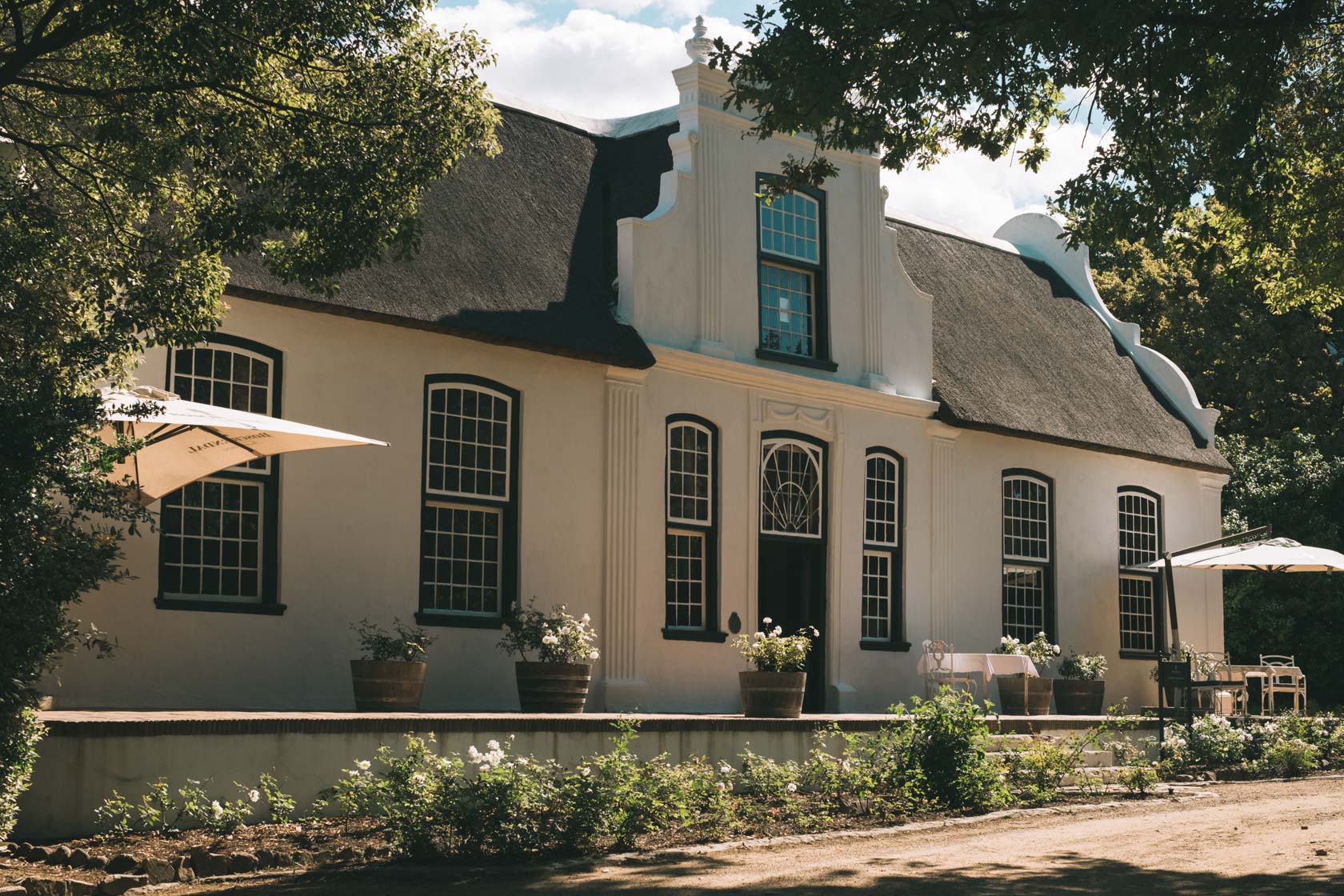 The estate at Boschendahl is gorgeous, and you get to try a get variety of wines paired with both white and milk chocolates.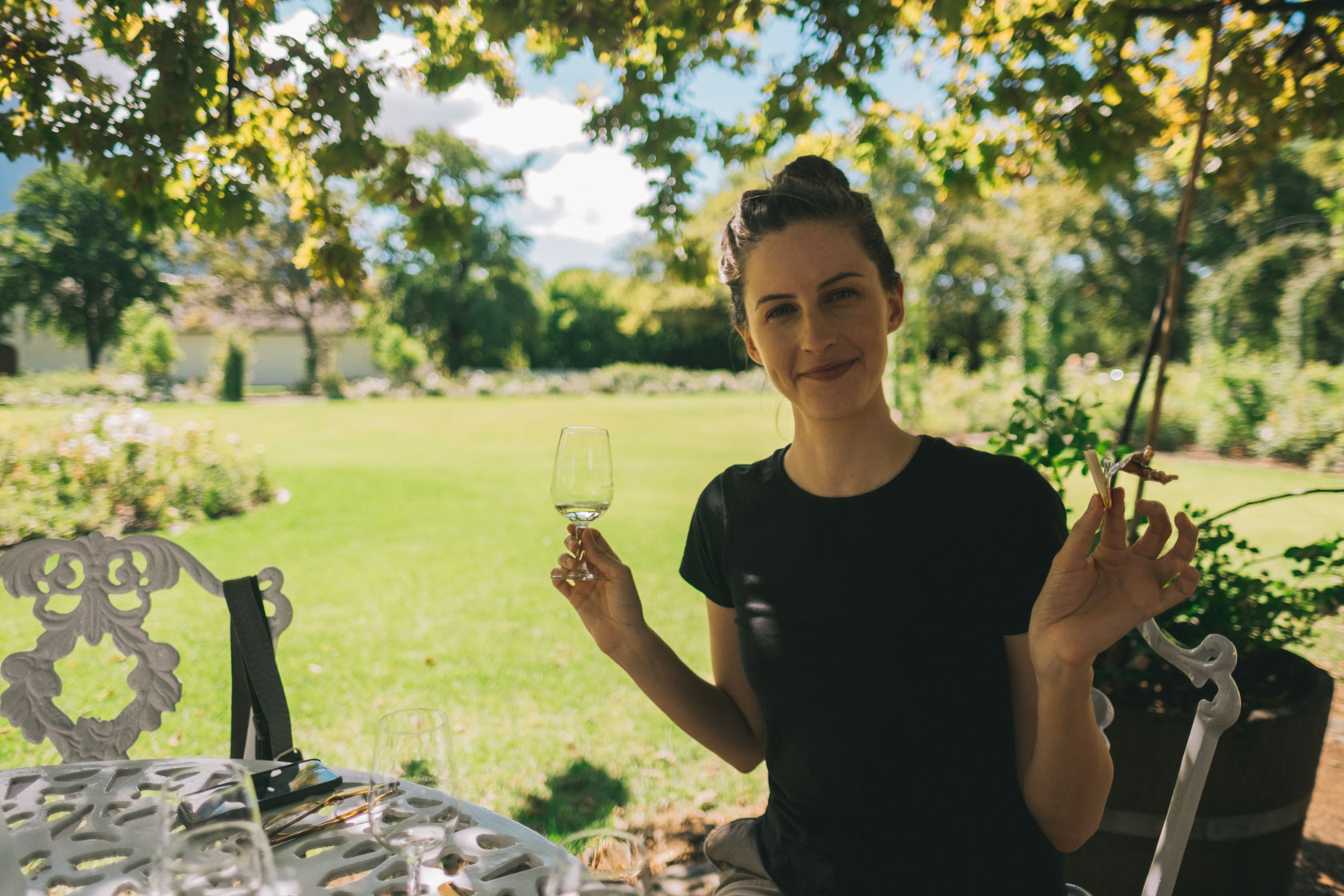 Eikehof ♦♦♦
Highly commercial wineries are not the only ones you can visit in Franschhoek. Eikehof is a family-owned boutique winery and was one of the most personal experiences we had at a winery in Franschhoek. The owners personally brought us the wines, and explained them to us with a lot of context. Besides wine, they also grow some of the world's best peaches (ok, maybe an exaggeration, but they were delicious). Eikehof also wines the best cheese plate award. We ended up taking home a bottle of Merlot as a gift.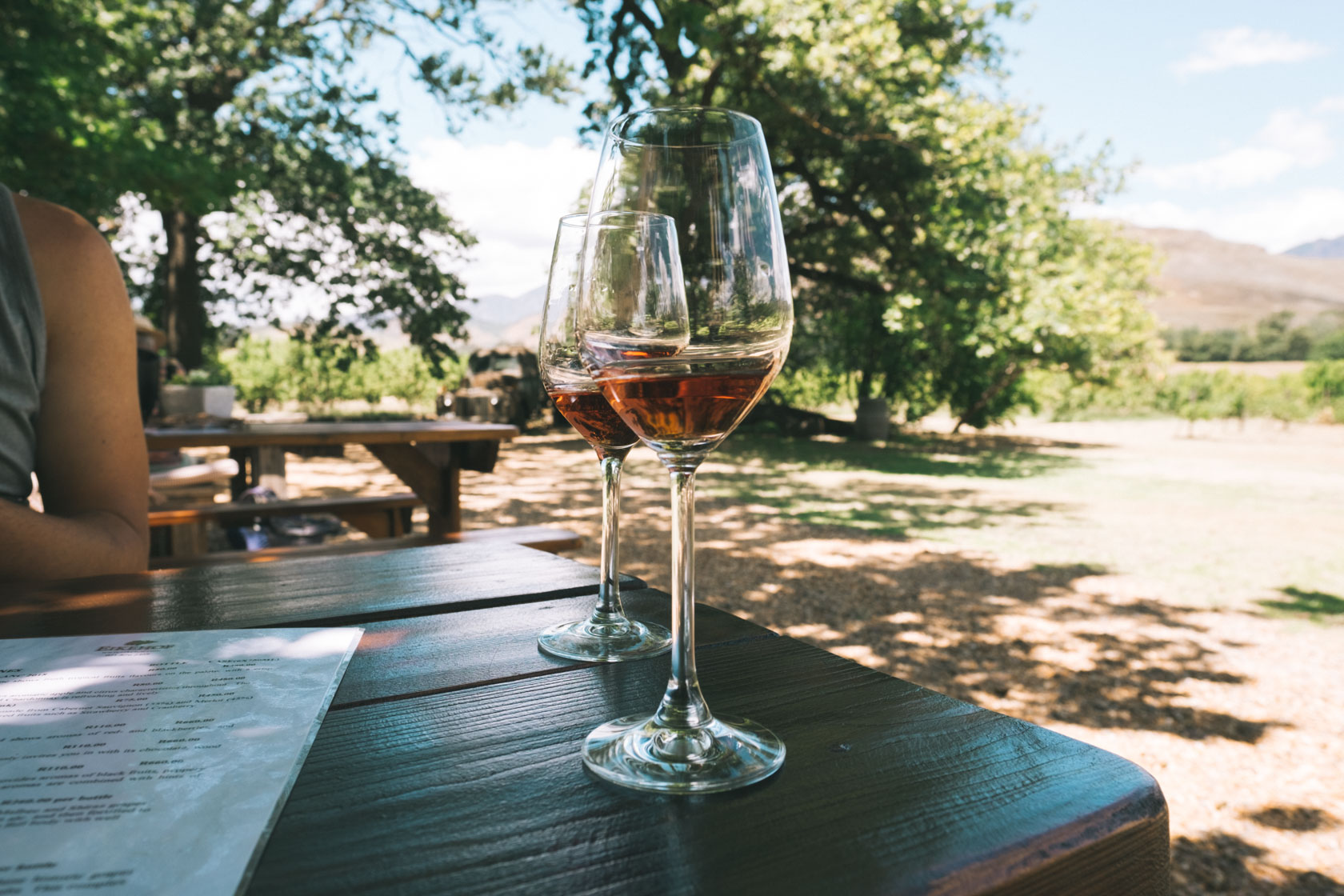 Eikehof has a lovely view over their vineyards, and you sit under massive oak trees. Pictured above are our welcome drinks, a glass of their Rosé.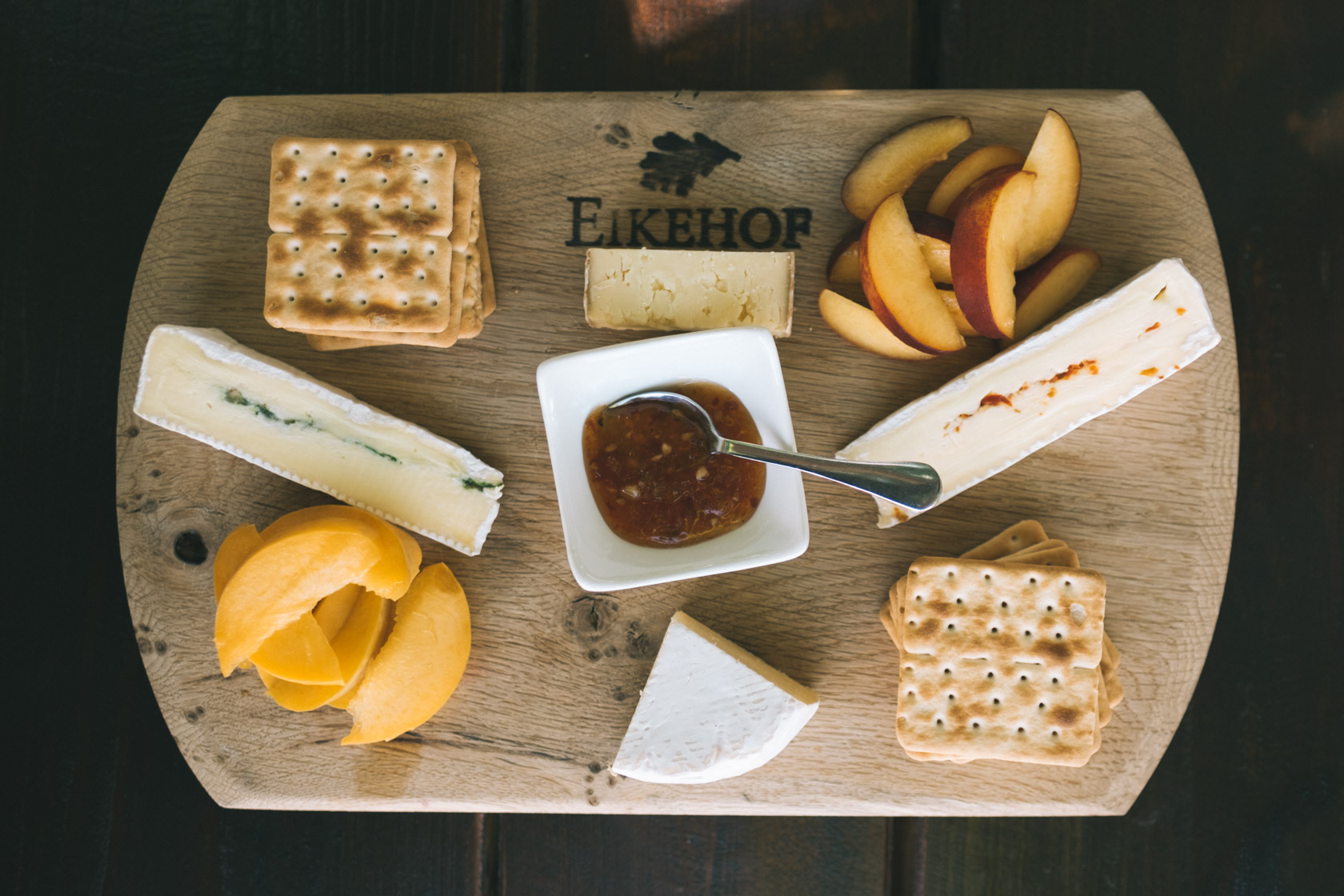 Best cheese plate! Two varieties of peaches and the spicy jam were out of this world.
How much does wine-tasting cost in South Africa?
Wine tasting is South Africa is fabulously affordable. You can expect to pay between 50-75 rand (roughly $3.50-$5.00). Wine tastings and a cheese plate for two might bring the cost up to about $15 in total. So as you can see, it's a perfectly reasonable amount (and probably half or less of what I'd expect to pay in Berlin!).
Are you planning a trip to South Africa? Where are you looking forward to visit the most?
Let me know in the comments, I'd love to hear if you're exploring somewhere I should check out myself!