South Africa is easily becoming one of the most popular places to travel on the continent, and after my recent trip I can say I totally understand why. This country is so diverse, this two-week South Africa itinerary takes you through landscapes ranging from desert to jungle to beaches to rolling hills blanketed with vineyards. You'll also see a lot of amazing sunset photos in this post, though I believe you have to see it to really understand how gorgeous they were.
Keep reading for inspiration for your own, two-week itinerary for South Africa, as well as recommendations for where to stay, where to eat, and places where I would've loved to extend our trip. Enjoy and as always, leave me comments with your feedback or recommendations for my next trip!
Some links in this post are to affiliate sites. If you purchase something through them, I may earn a small comission — which costs you nothing! I am very grateful when you use my links to make a purchase.
Can you visit South Africa now? (Summer 2023)
As of March 22, 2022, international travelers can visit South Africa regardless of vaccination status.
If you're vaccinated, you need to prevent a valid vaccination certificate at the port of entry. If you're not vaccinated, you'll need a negative COVID-19 test from a WHO-recognized organization obtained not more than 72 hours beofre the date of travel.
For the latest information, keep an eye on the official government website for updates on restrictions.
South Africa trip summary
I visited South Africa during the early Summer, which is in December for the Southern Hemisphere. The best time of year to visit South Africa can heavily depend on which activities you want to do. Winter is mild, although rainy in many parts of the country. Many say that winter is the best season for safari because the bush is thin, so it's easier to spot animals. On the other hand, Summer sees lush vegetation and sunny skies so you can't go wrong then either, and we got to see essentially all the animals on safari we would've liked.
Duration 14 days
Dates visited 3 Dec - 17 Dec
Recommended accommodation in South Africa These are places that I stayed while traveling South Africa that I really enjoyed and would love to stay in again.
Greenhouse Boutique Hotel – Cape Town
Excellent location for exploring the urban part of Cape Town (it's within walking distance to the V&A Waterfront!). They also have parking spots away from the street, which is a big plus when we opted to Uber around in the evenings. It can be hard to tell which neighborhoods are safe in Cape Town, and we definitely felt safe while we were staying here.


Val d'Or Estate – Cape Winelands (Franschhoek)
The grounds of this country house are second to none. You can just chill out and watch the sunset reflecting in the pool. The staff were also so helpful with recommending and reserving us a restaurant, which turned out to be the best meal of the trip. If you're staying longer in the Cape Winelands, go check out my complete Franschhoek accommodation guide.


Motswari Private Game Reserve – Kruger National Park
Incredible safari experience, from end to end. Friendly and helpful staff, eventful game drives sighting both lions and rhinos, comfortable air-conditioned rooms, delicious food, and fun to interact with the other guests. Read my full review if you're considering going on safari in South Africa.
Recommended South Africa travel guide This South Africa guidebook was ultra helpful, especially for our visit to Kruger and Blyde River Canyon which had large, dedicated sections. Especially useful as you don't have cell coverage in some parts of Kruger!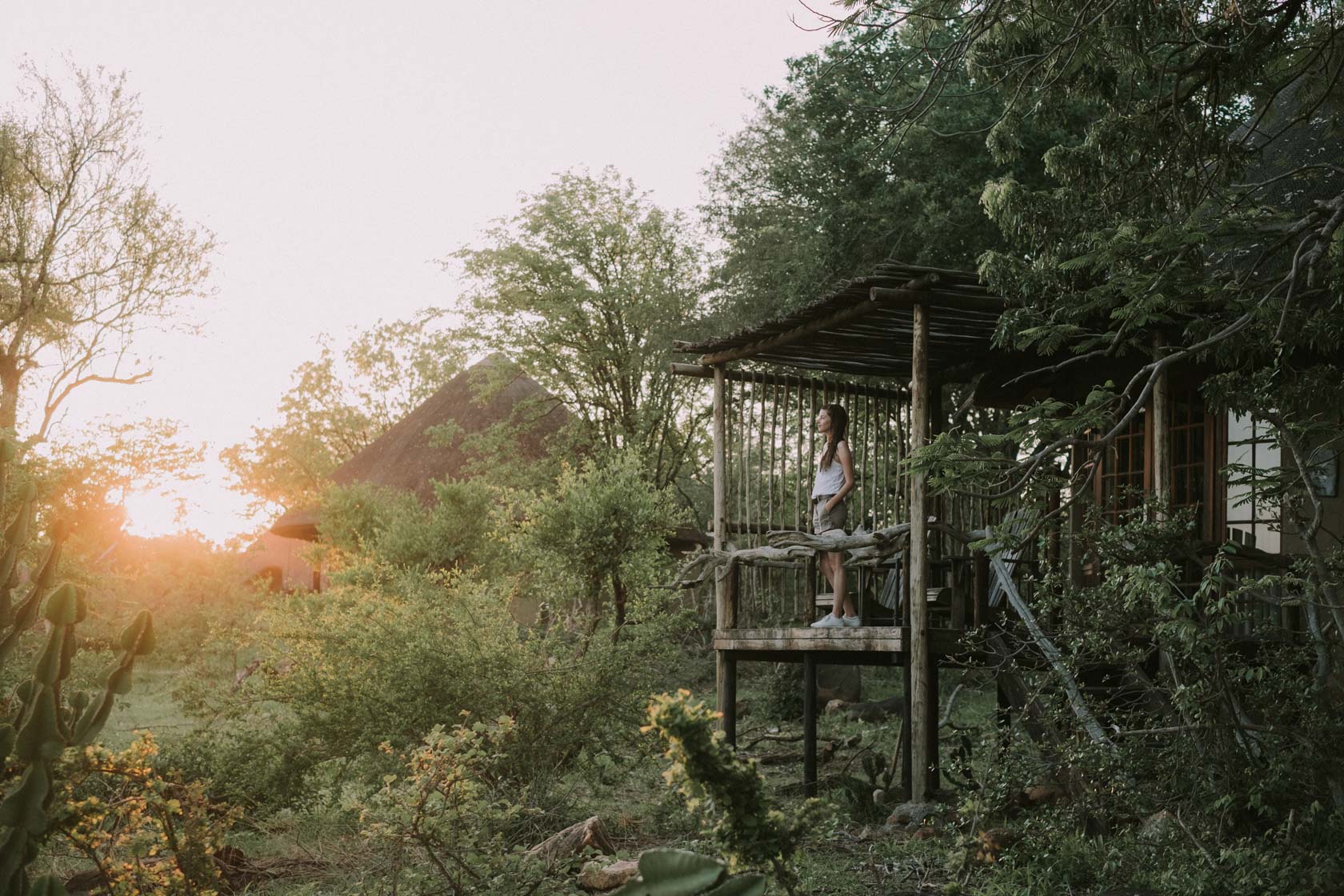 Two week South Africa Itinerary
♦ ♦ ♦ A must-see | ♦ ♦ Liked it | ♦ Point of Interest
Day 1-4. Explore Cape Town and the Cape Peninsula
Cape Town is called the "Mother City" in South Africa, and it's not so hard to see why that is. I'm not sure how many cities I know that offer what Cape Town does: beaches, mountains, affordable prices, excellent food, and beyond friendly people.
You are spoiled for choice when deciding how you want to spend your time in Cape Town.
That said, of anywhere in the country, Cape Town highlights the inequality that the country is struggling with as the fabulously rich live in beachfront homes and many of the poor live without running water. Keep your eyes open and see a gorgeous city with massive potential being realized, but don't gloss over the reality for many of its residents either.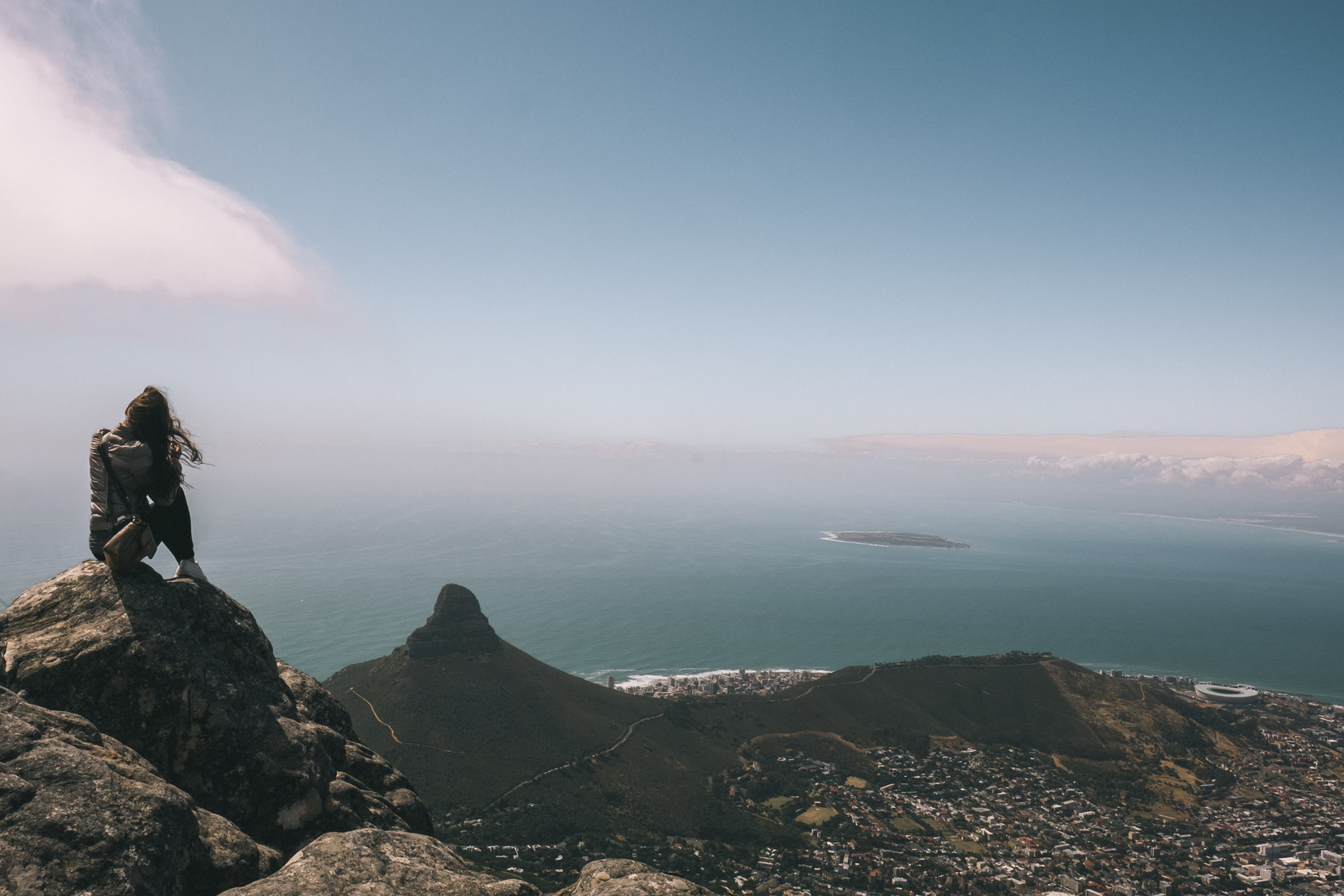 Things to do in Cape Town
As I said before, there is so much to do in Cape Town, you could spend the entire two weeks just in the city if you wanted to. We've got four days, so I've just listed some of the activities we did, as well as other popular activities we didn't have time for. In those four days we're also going to visit the Cape Peninsula , which is the most popular road trip from Cape Town!
In large part, I recommend that you decide what you do on which day based on the weather. Some things, like going up Table Mountain , heavily depend on the weather for the best experience (being able to see Cape Town from above). For instance, if you want to do the Platteklip Gorge Hike to the top of Table Mountain, you're going to want clear skies!
For tons more details and in-depth reviews, you can read my Cape Town itinerary for places to eat, tours to try, photography locations, and costs and opening hours for different attractions. It was just too much to fit into one article!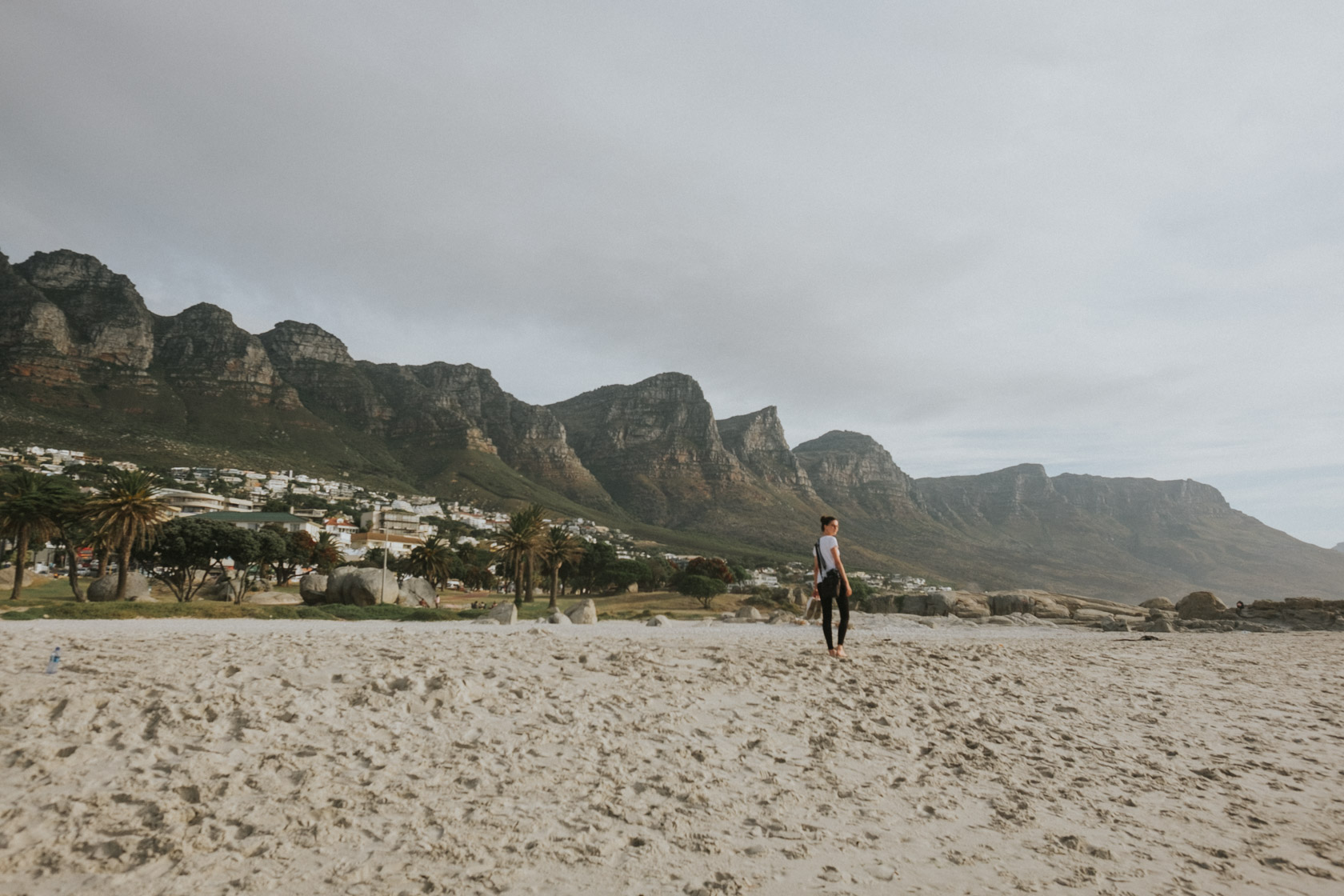 Soak up the sun at Camp's Bay – Camp's Bay is one of the most popular beaches in the city. You can go for food, sit on the beach, or visit the tidal pools. From this beach you can see two of the most recognizable mountains in Cape Town: Lion's Head and the Twelve Apostles mountain range.


Take a helicopter tour over Cape Town – The Cape of Africa is famously where two oceans meet: the Indian and Atlantic oceans. You can get an ultra special view over Cape Town and these two oceans from the sky. I definitely have to do this on my next trip! Be sure to check the availability of helicopter tours in advance.


Go on a cruise from the V&A Waterfront – There is so much to do at the Victoria and Alfred waterfront, whether that's shopping, sipping cocktails, watching the boats go by, or observing a chess game on a human-sized chess board. One of the most popular boat trips is the Sunset Champagne Cruise , which lets you experience South Africa's stunning sunsets from the water, followed by a three-course dinner!


Kirstenbosch Botanical Gardens – Known as the most beautiful botanical gardens in all of Africa, this place absolutely deserves a place on your South Africa itinerary. Beyond being a botanical garden, Kirstenbosch includes lengthy hikes up the mountains into a nature reserve. Besides showing off some of the vegetation that's unique to the Cape, you can see waterfalls, visit the succulent garden, learn about edible plants, and much more. It's easily to spend a number of hours here.

Kirstenbosch Botanical Gardens

Table Mountain – When planning a trip up Table Mountain , it's essential that you check the Table Mountain website so you know the visibility conditions from the top. Table Mountain is often surrounded by clouds, making it impossible to see the city below. The most popular ways to reach the top are using the aerial cable car or by hiking to the top. A round trip on the cable car costs R330 per person, which is about 18 EUR / 20 USD / 16 GBP. If you want to hike up Table Mountain, officials recommend you hike in groups of at least four people for safety reasons. If you're traveling with fewer, you can book a group hike instead. There are two routes where you can join guided hikes: India Venster Trail and the Platteklip Gorge Hike . Both take about 4 hours.

Table Mountain

Bo-Kaap – The Bo-Kaap neighborhood is famous for its colorful houses. Specifically, you can visit Wale Street and Chiappini Street for some of the best concentration of color. Before becoming a tourist destination, Bo-Kaap was known as the Malay Quarter and used to be a township. Before the empancipation of the people leasing homes in this area, all of the houses were required to be painted white. Upon being freed, the locals painted their houses in bright colors to express their freedom.

Urban Cape Town – In the center of Cape Town, there are a couple of main streets that are the most lively, with lots of places to shop, eat, drink, and see live entertainment. These include Bree Street , Long Street , and Kloof Street . We didn't have time for it, but you can also visit the District 6 Museum which documents apartheid in South Africa, specifically its effect in Cape Town in displacing entire communities.
On taking a township tour in Cape Town
I really struggled with whether it was appropriate to do a township tour as part of my South Africa itinerary – on the one hand, you only really know what it's like when you see it with your own eyes. On the other hand, depending on how it's done, it can feel exploitative.
After going on a township tour in Langa , led by a girl who grew up and lives there. She shared with us what it was like growing up in Langa, and the living conditions of many in the township: lacking running water, communal bath rooms, unsafe eletricity over exposed wires, and eight people living together in shipping containers without heat or air conditioning.
Some of the money they earn goes directly into the community, people whose homes you visit. I would encourage you to be open to finding an ethical township tour to really round out your experience in Cape Town.
More tours in and around Cape Town
There are so many fantastic day trips from Cape Town, I could only bake a few of them into this 2 week South Africa itinerary. Each of these top experiences is covered in detail throughout the next sections, however there are SO MANY more things you can do being based in Cape Town. Whether it's safari trips, coastal drives, or anything in between.
What to see along the Cape Peninsula
Spend a day exploring the Cape Peninsula by car. You can rent a car in South Africa at very affordable prices. If you're too freaked out by driving on the left or you're simply basing yourself in Cape Town, you can use small-group guided tours to explore the Cape Peninsula just as effectively.
Boulder's Beach ♦♦♦
If you've already done any research on South Africa, there's a good chance you're interested in seeing penguins in South Africa and Boulder's Beach near Simon's Town is one of the best places to see them. If want to see penguins but aren't renting a car, you can also see penguins on a guided tour of Cape Point , which also visits all the main points I'm sharing below as part of the itinerary.
There are two sides to the beach – one are where you can go swimming and see up close a few penguins hanging out on the rocks. This is the best place where you'll actually get to hang out up close to penguins. There are a lot of signs up to remind you that penguins will bite so you should not try to feed them!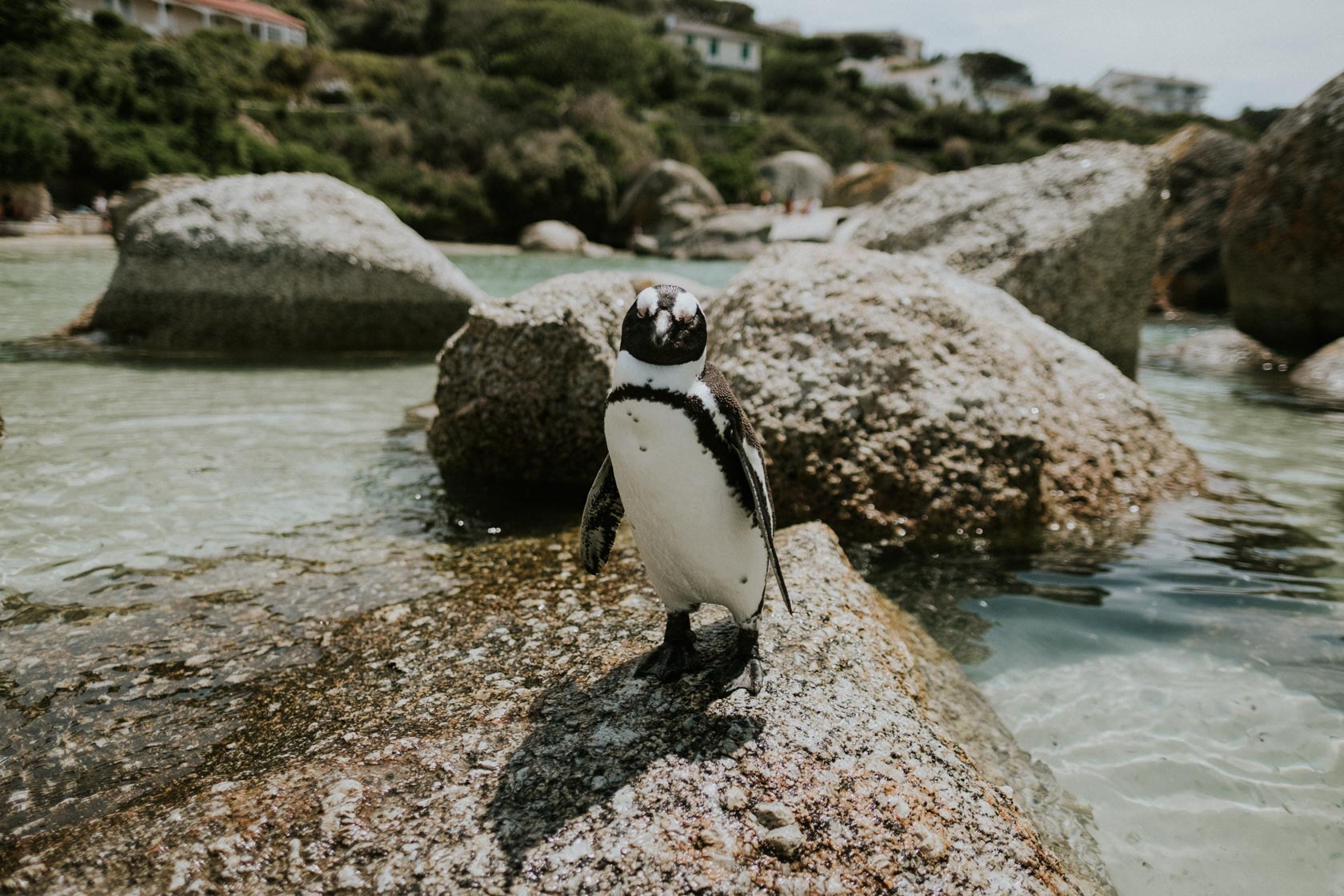 On the other side, you can see the massive penguin colony and watch them swimming! This side is a lot more crowded. There are also some walking baths through natural areas nearby, where you'll see other creatures scurrying across wooden paths.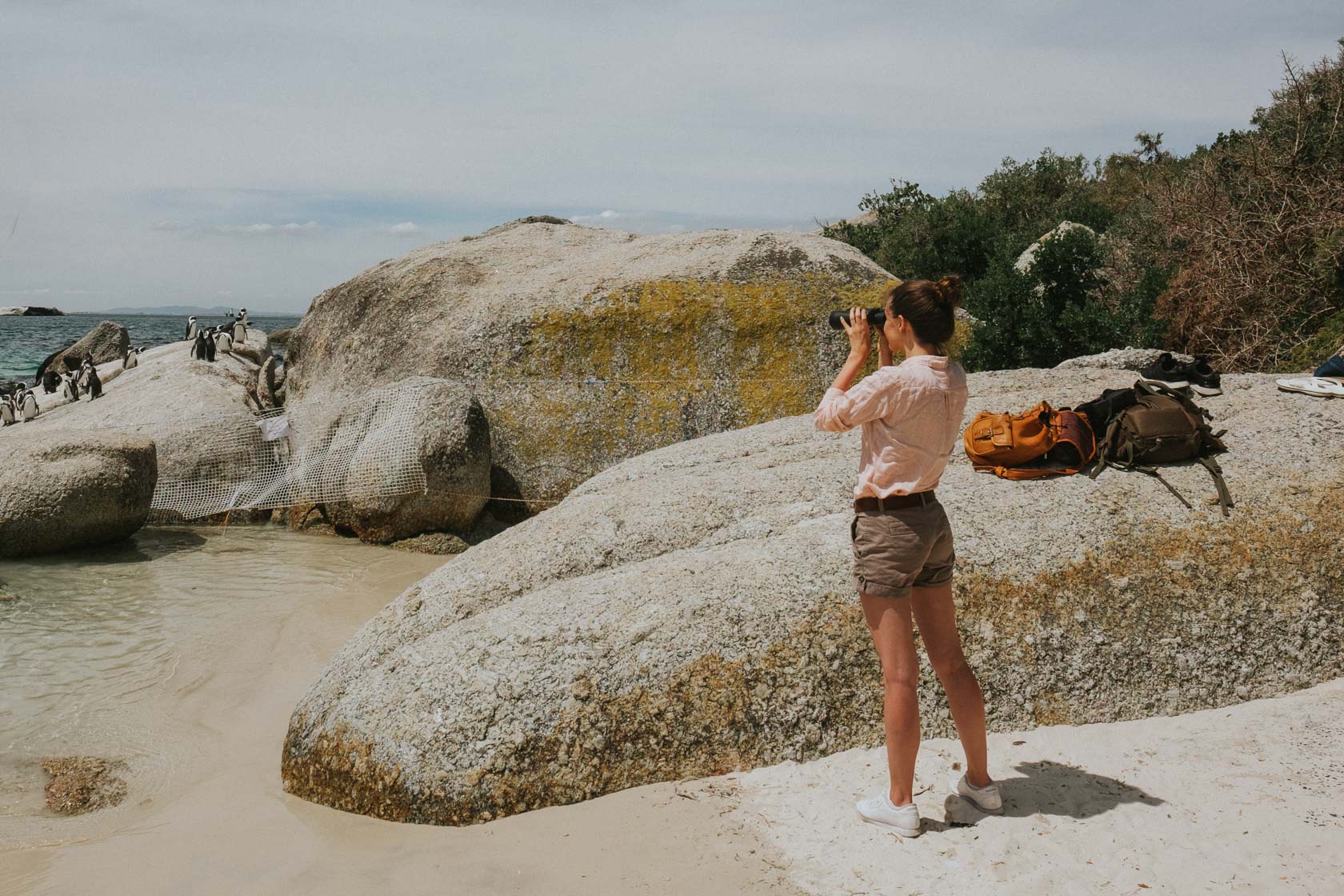 TIP – Bring binoculars to South Africa! Even if the animals aren't so far away, binoculars make it easier to see animals in detail you can't get, even with a telephoto lens. I bought and recommend these binoculars made by Olympus.
Chapman's Peak Drive ♦♦♦
Chapman's Peak Drive is one of the most photogenic roads in the Cape area, winding around rocky ridges and offering beautiful views over the sea and around Hout Bay . The road itself is not very long, but there are a number of really nice look out points you can stop by either on your way out or on your way back. Even if you don't go all the way down the cape, this scenic route demands a place on your South Africa itinerary for its stunning sunsets and rocky landscape.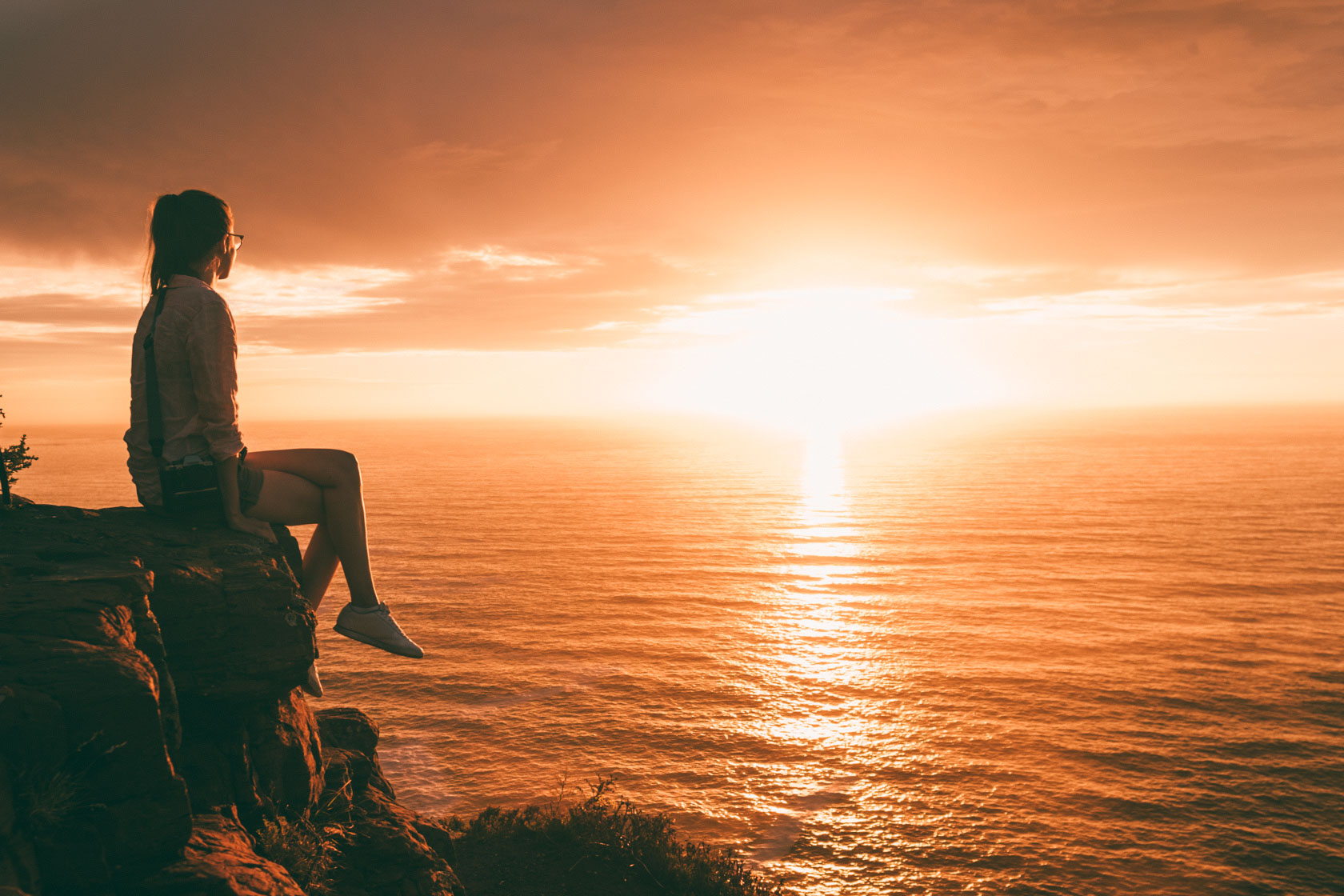 One of the best spots to stop is Chapman's Peak view point itself to watch the sunset. There's even a small cave you can check out if you're not afraid to climb a fence that says not to climb it… 😂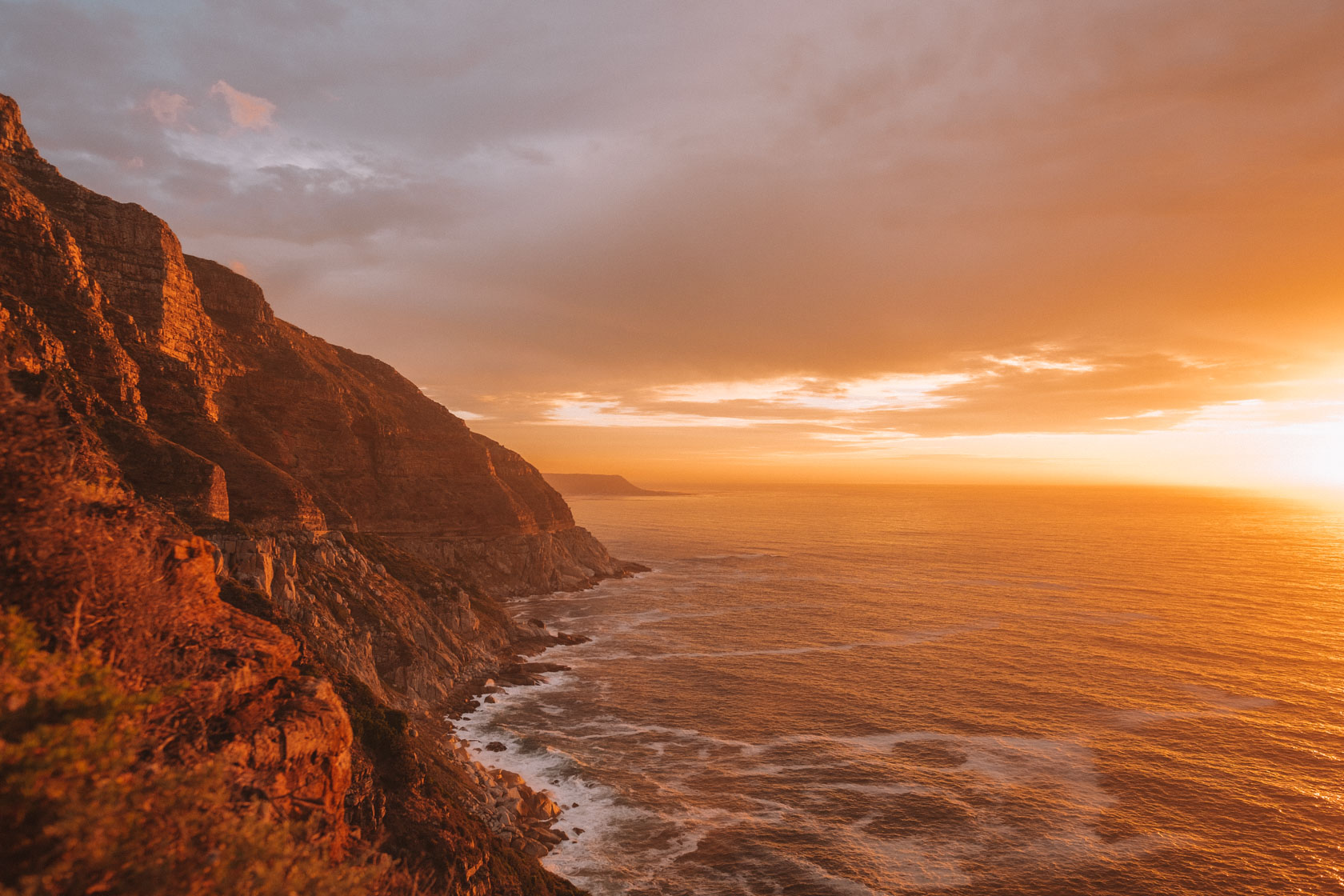 TIP – There is a toll for driving on Chapman's Peak Drive, so be sure you have cash handy. Most toll roads in South Africa do not accept international credit cards so be prepared!
Cape of Good Hope ♦♦
This is our first national park on this trip! You can spend the whole day in the park depending on the time that you have, but there are a couple of must-visits while you're here.
TIP – Before you go to South Africa, check which national parks you want to visit to see whether it makes sense for you to get a WILD card. It costs about $230 for two people. Depending on how many parks you visit, it could be a good deal. On our trip we wouldn't have broken even, but it depends on your planned itinerary.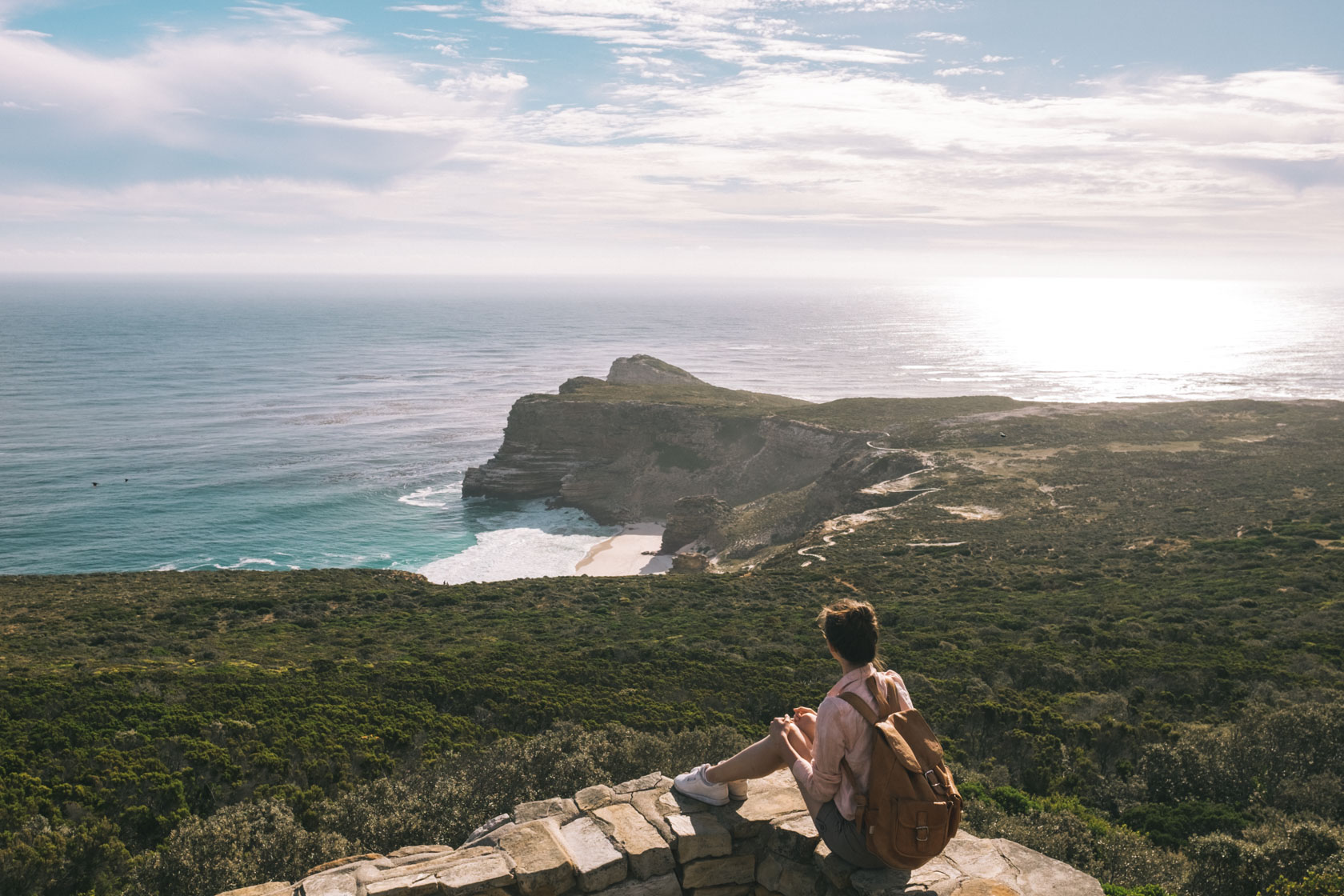 Visit Cape Point and walk up to the old lighthouse. There is also a tram you can take up, but the walk is not so bad. From here you can see where the Atlantic and Indian oceans meet.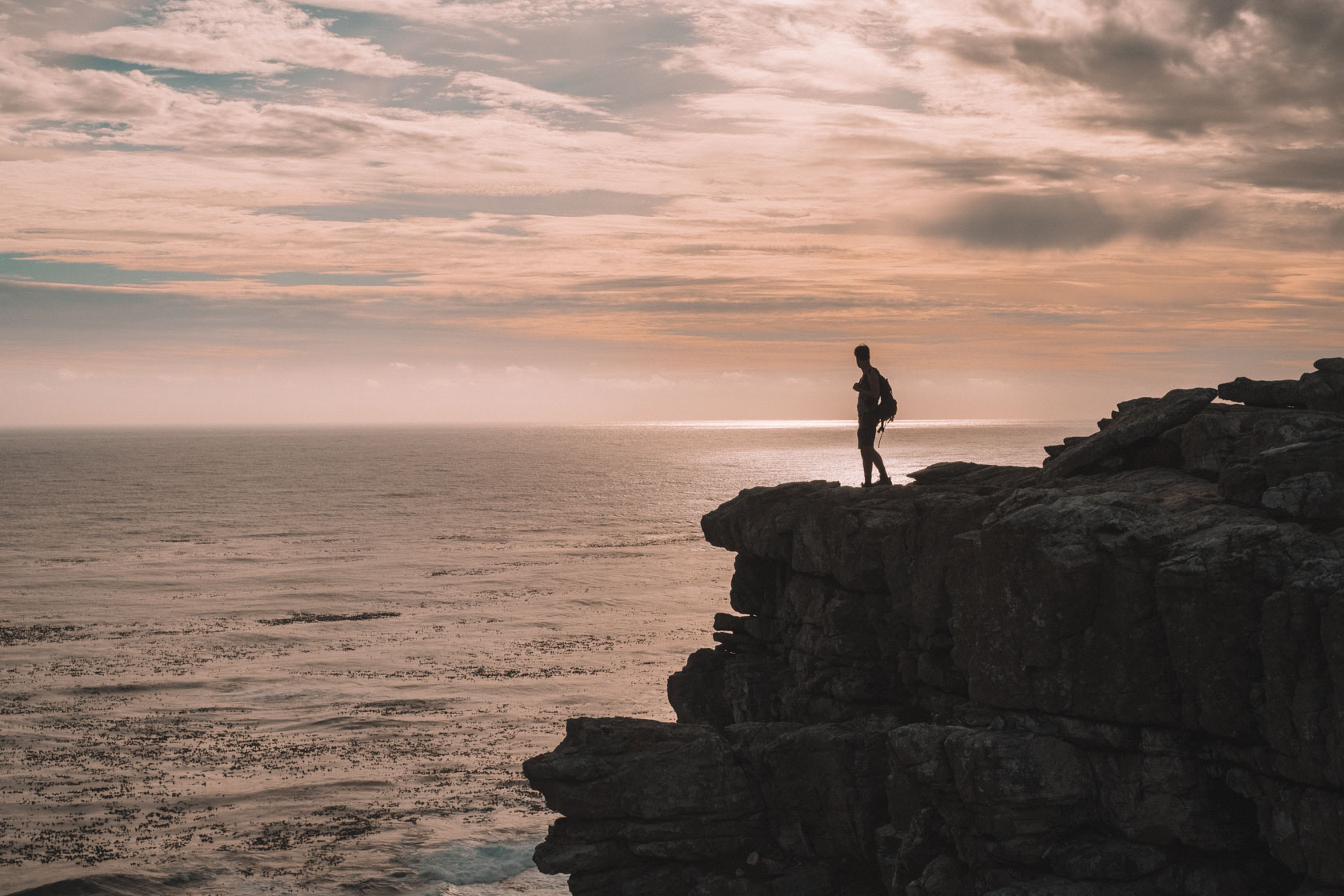 Visit the Cape of Good Hope, the most south-westerly point in Africa. If you want to visit the southernmost point you're out of luck, but here you can climb up to the top of the mountain and have a look out over the sea.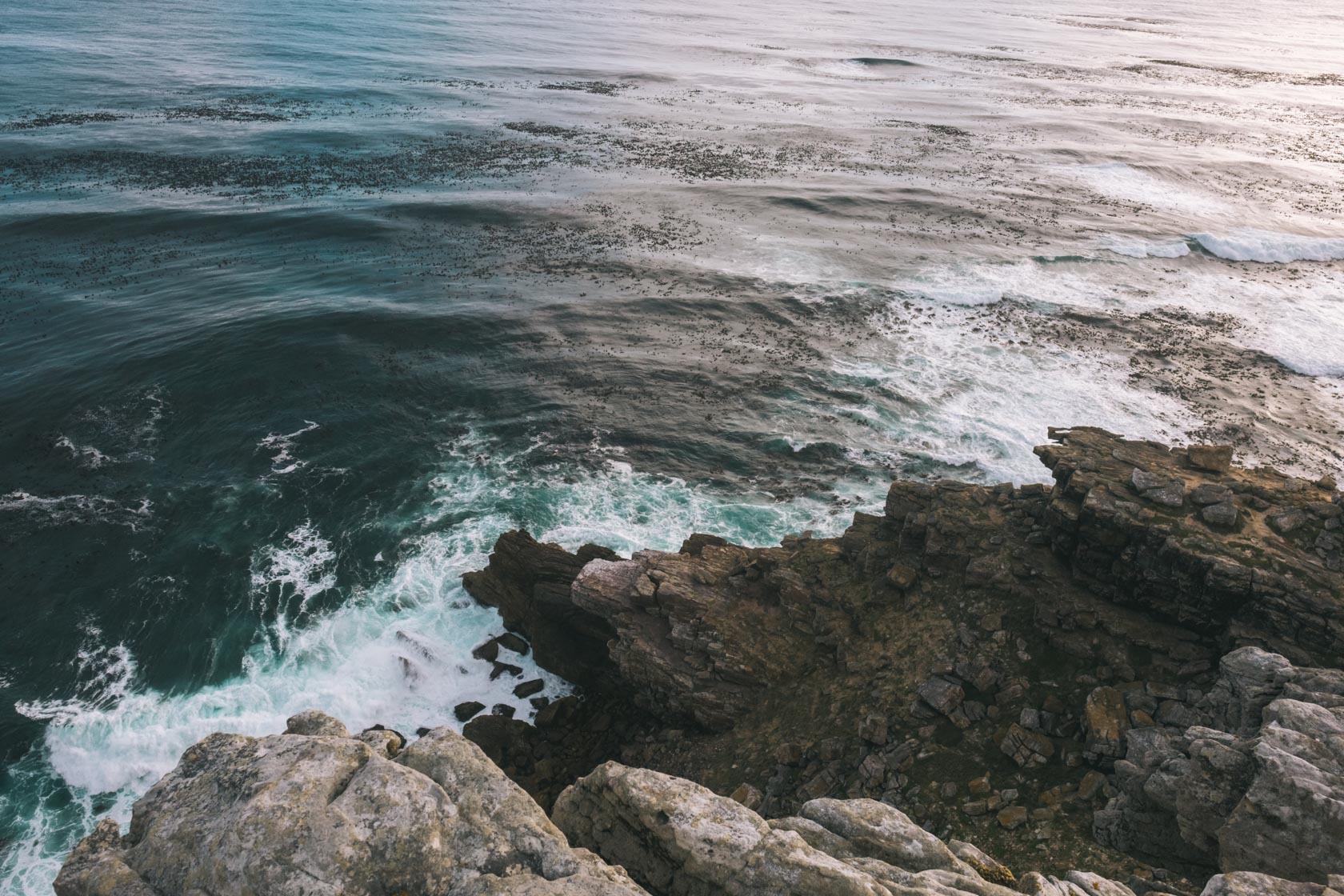 Stop on your way back to see Cape Town by night. Driving back over Chapman's Peak Drive you'll likely see Cape Town as the sun sets, bring a tripod for shots of the city by night!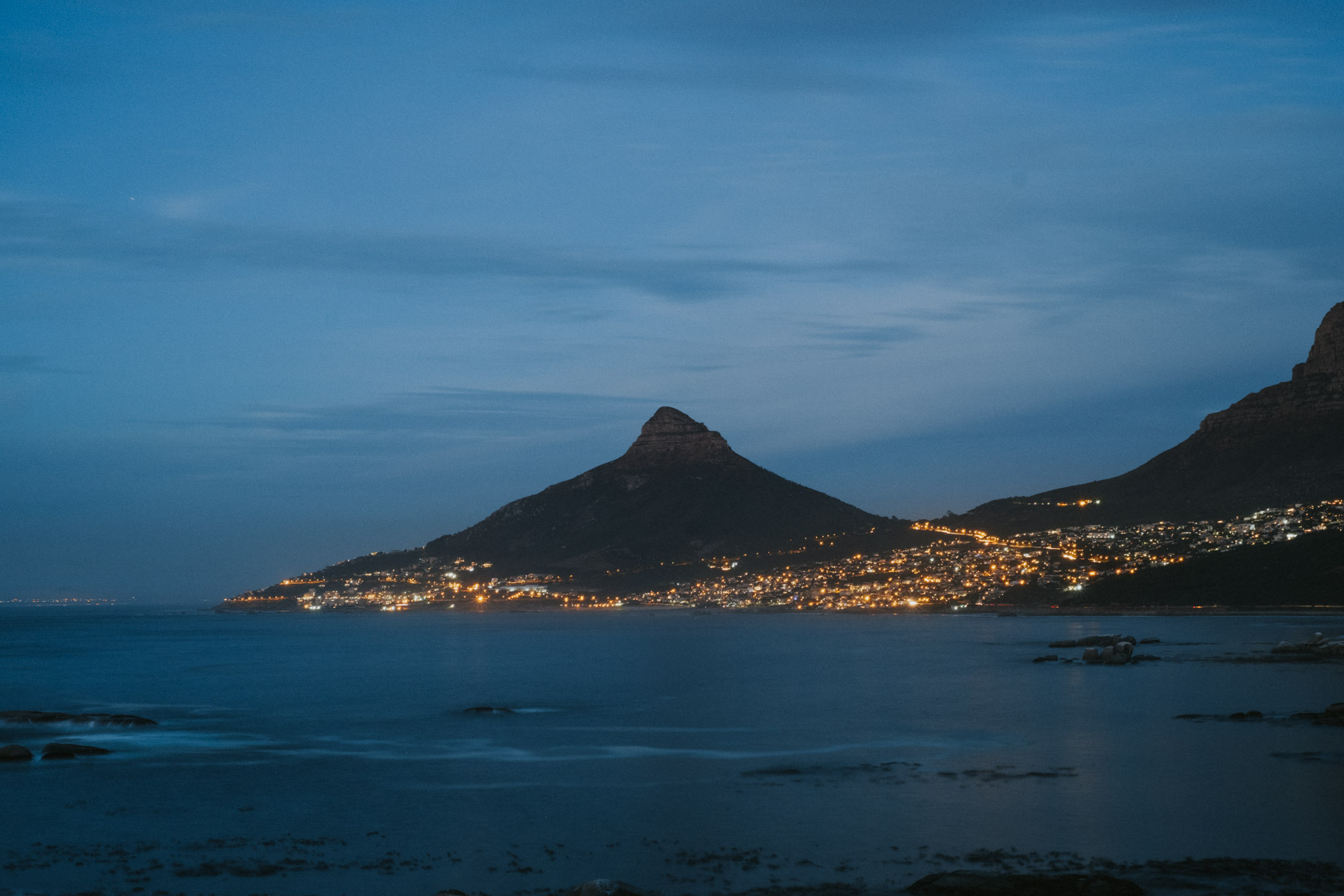 Day 5. Wrap up Cape Town and drive to Franschhoek
At some point today, it's time to make it out to the most famous wine regions of South Africa, namely Stellenbosch and Franschhoek . While South Africa has many different wine regions, largely concentrated in the west of the country, these two areas are easily the most recognizable. Similarly to Cape Point, if you aren't renting a car it's still really easy to make it to the Cape Winelands. There are loads of guided tours that will take you around the whole area, such as this highly-rated wine-tasting tour .
Should you visit Franschhoek or Stellenbosch?
Whether you would more enjoy Franschhoek or Stellenbosch is not much of a question, given that you can surely explore wineries in both areas during a single trip. What you should know is that Stellenbosch is a university town and much more of a proper town. That means it has more shops and restaurants in the center. On the other hand, if you're looking for something smaller and more rustic, you might enjoy that Franschhoek is a smaller town with just one main road.
Each is lovely in its own right, and there is a good chance that you'll drive between wineries anyways, staying outside the town centers for most of your time here.
Things to do in Franschhoek
We chose to concentrate on Franschhoek, mostly because we read great blog posts about it and we liked that it seemed a bit quieter than Stellenbosch. What also makes Franschhoek interesting is the French influence, present because this is where the Hugenots fled to after they were driven out of Europe. You can see that many of the street and place names, as well as food and drinks, show the French heritage of the residents of this town. Here are a couple of the best things to do in Franschhoek:
Visit Franschhoek's center – The center is pretty small with one main street, but lovely historic buildings and great places to eat. Again, excellent French food in this area and it would be a sin not to try it.
Ride the wine tram – Tour wineries without driving! This hop-on-hop-off option is great for people who want to indulge responsibly. There are many different lines to pick from so you can decide based on the wineries you want to visit most.
Franschhoek View Pass – A 10-15 minute drive out of the valley for beautiful view. Bring your camera and enjoy! It can be very windy so tie down your hat.
Visit Wineries – Is this the number one thing to do in Franschhoek? I'll let you decide, but there are tons of fabulous wineries in the area and a wine tasting costs just $3-5 😉
Visit nearby Stellenbosch – One of the most iconic towns in South Africa, come here for the wine and walk down Dorp Street for a scene often memorialized in paintings!
Stay at an authentic wine estate – One of my favorite things about staying in Franschhoek is also the chance to stay in a historical building. Basse Provence Country House in particular was super conveniently located.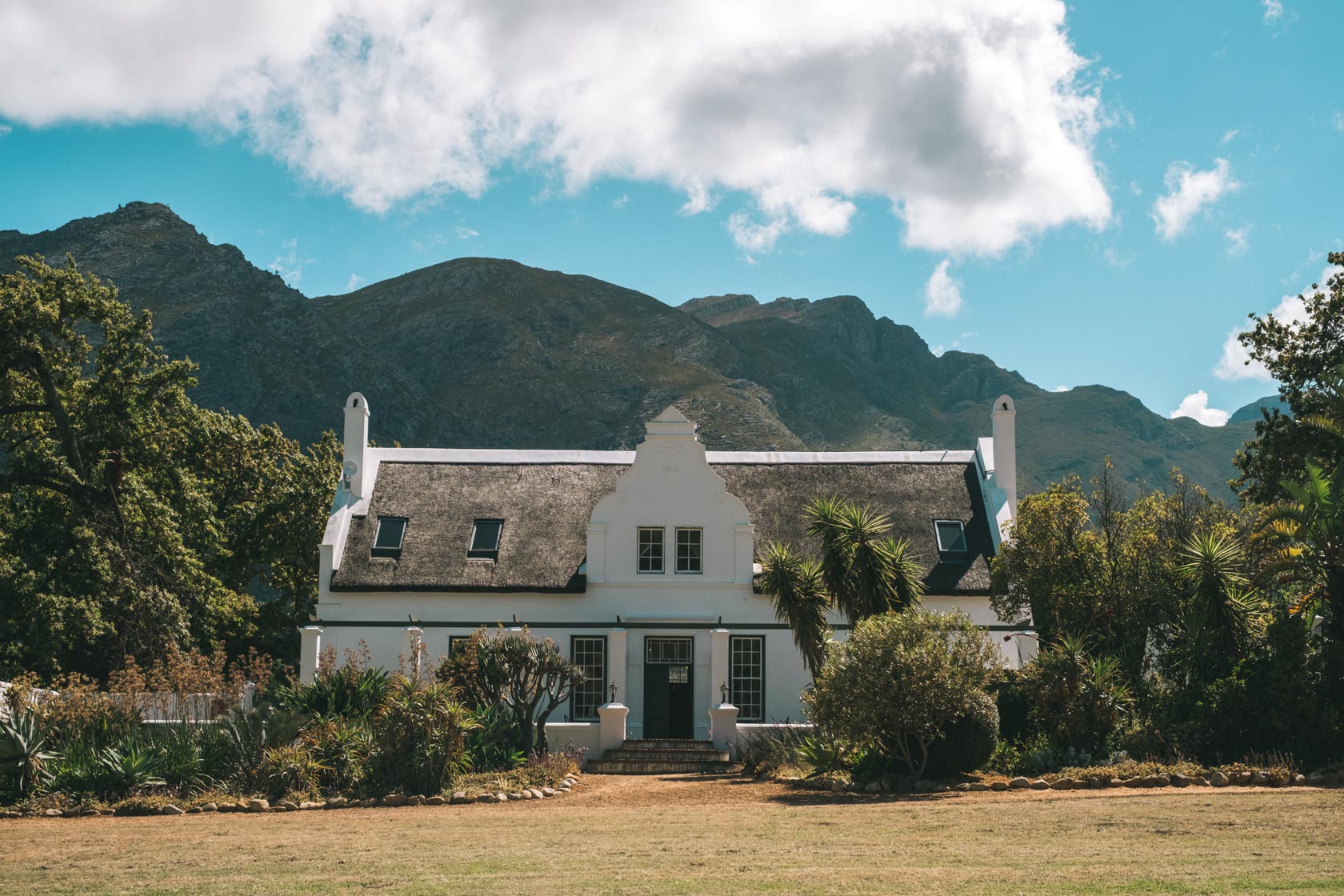 View from the back of Basse Provence Country House , which we saw on our way to the nearby Rickety Bridge winery.
Enjoying the photos?
Follow along on Instagram!
Follow @notanomadblog for beautiful travel photography and stories of our journeys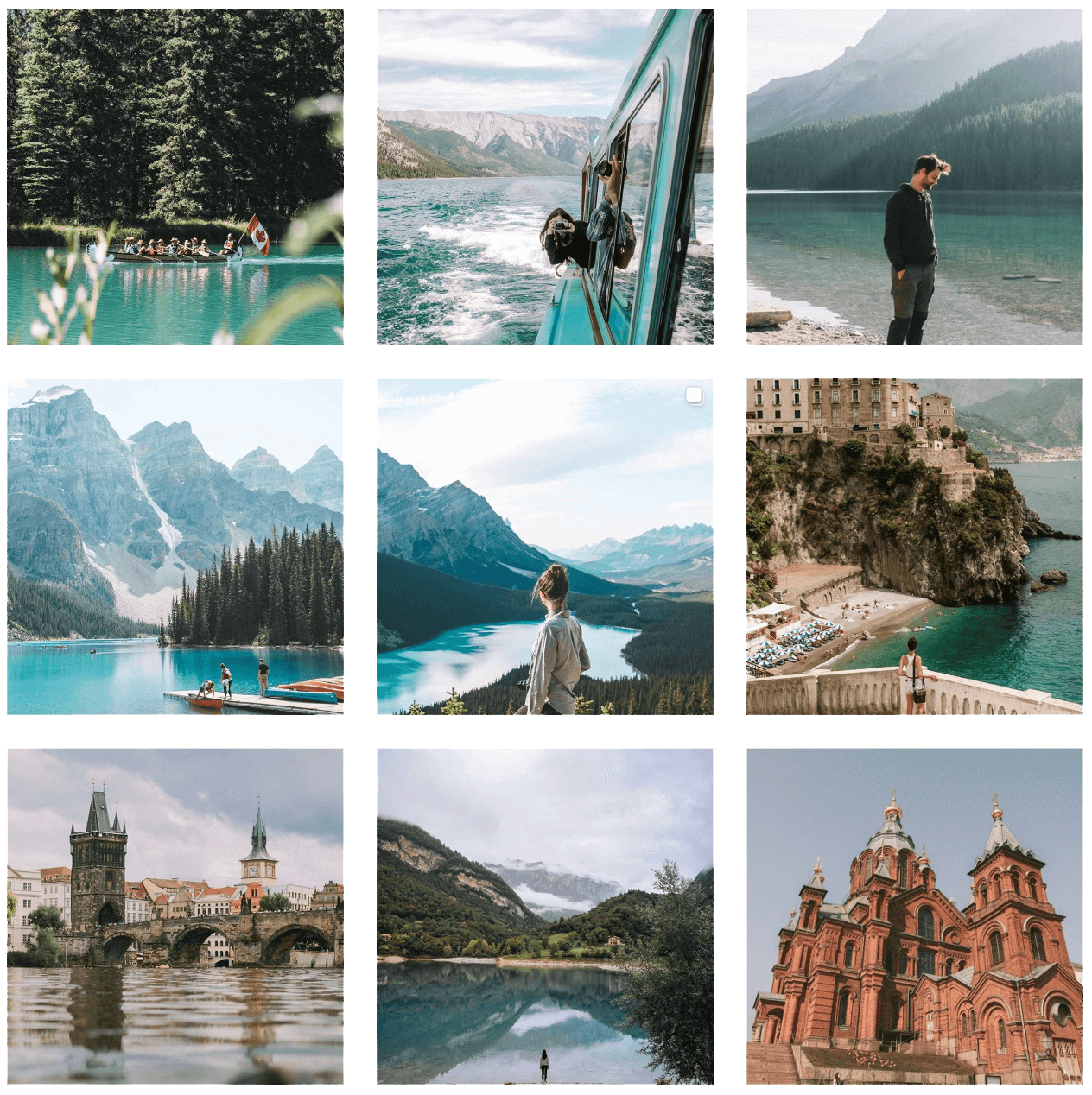 Day 6. Begin the tour of wineries
Get up early, because today is about riding around and trying all the different wines! Each use the wine tram, or if (like me) you have a non-wine-loving boyfriend, then you're in even more luck because you can handcraft your itinerary. Here are the wineries we visited, though there are many more we did not get a chance to visit. Do note that some wineries may be closed on some days of the week, so plan in advance which ones you want to visit, and bump any that are closed today to the previous day.
Wineries to visit in Franschhoek
Babylonstoren was easily the most impressive winery we visited. You can book a free garden tour in order to get a feel for the history of the place.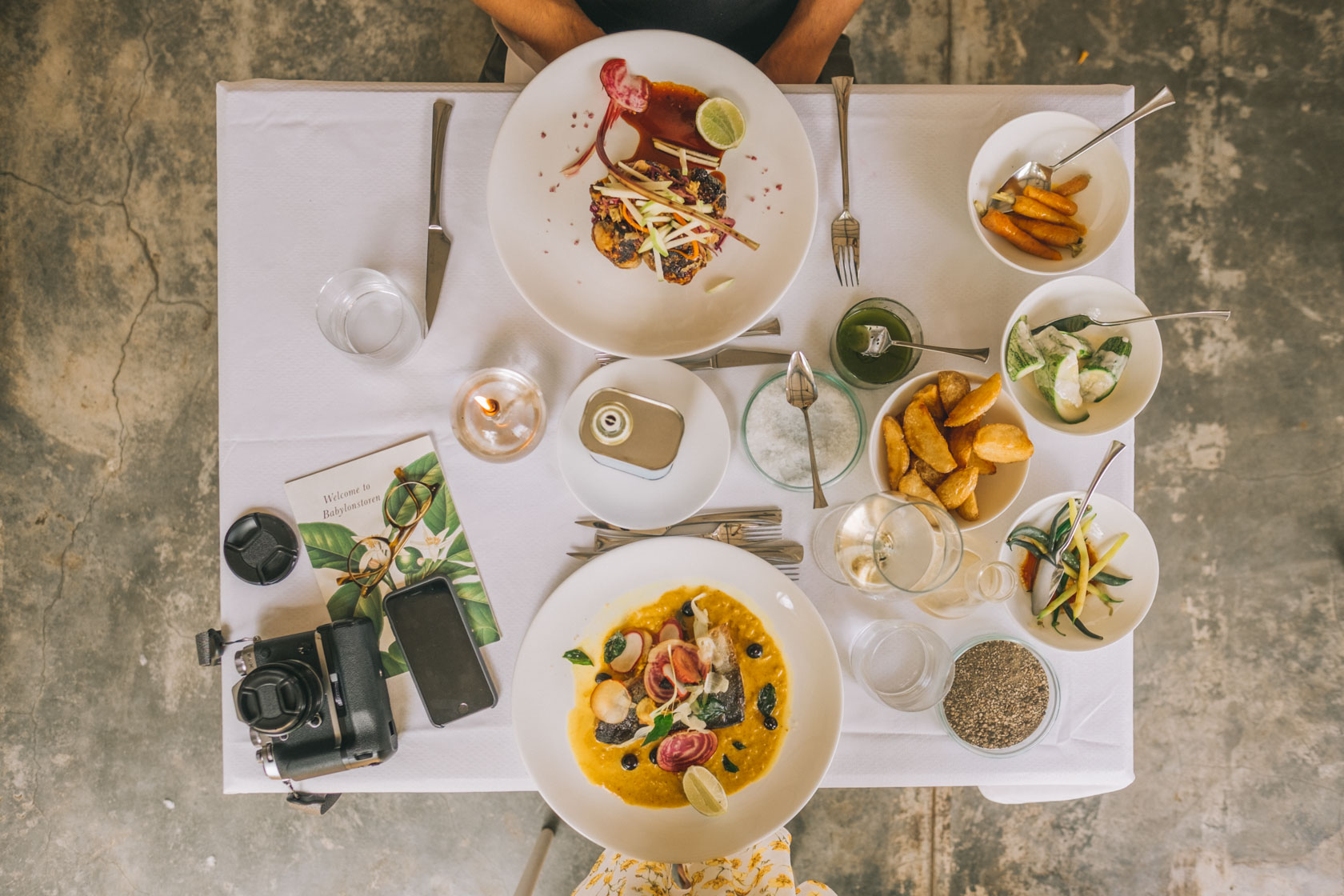 Book a meal at Babel, the onsite restaurant at Babylonstoren. You can easily book a lunch after your garden tour, and enjoy a meal made completely from ingredients from the garden! Book a month or more in advance.
Rickety Bridge Winery – We ended up visiting Rickety Bridge because our hotel, Basse Provence Country House , gave us each a voucher for a free wine tasting and we could easily do a short walk along vineyards to reach the winery. This winery is also part of the wine tram tour, so even if you don't stay at the same hotel as us, it's easy to get to the winery.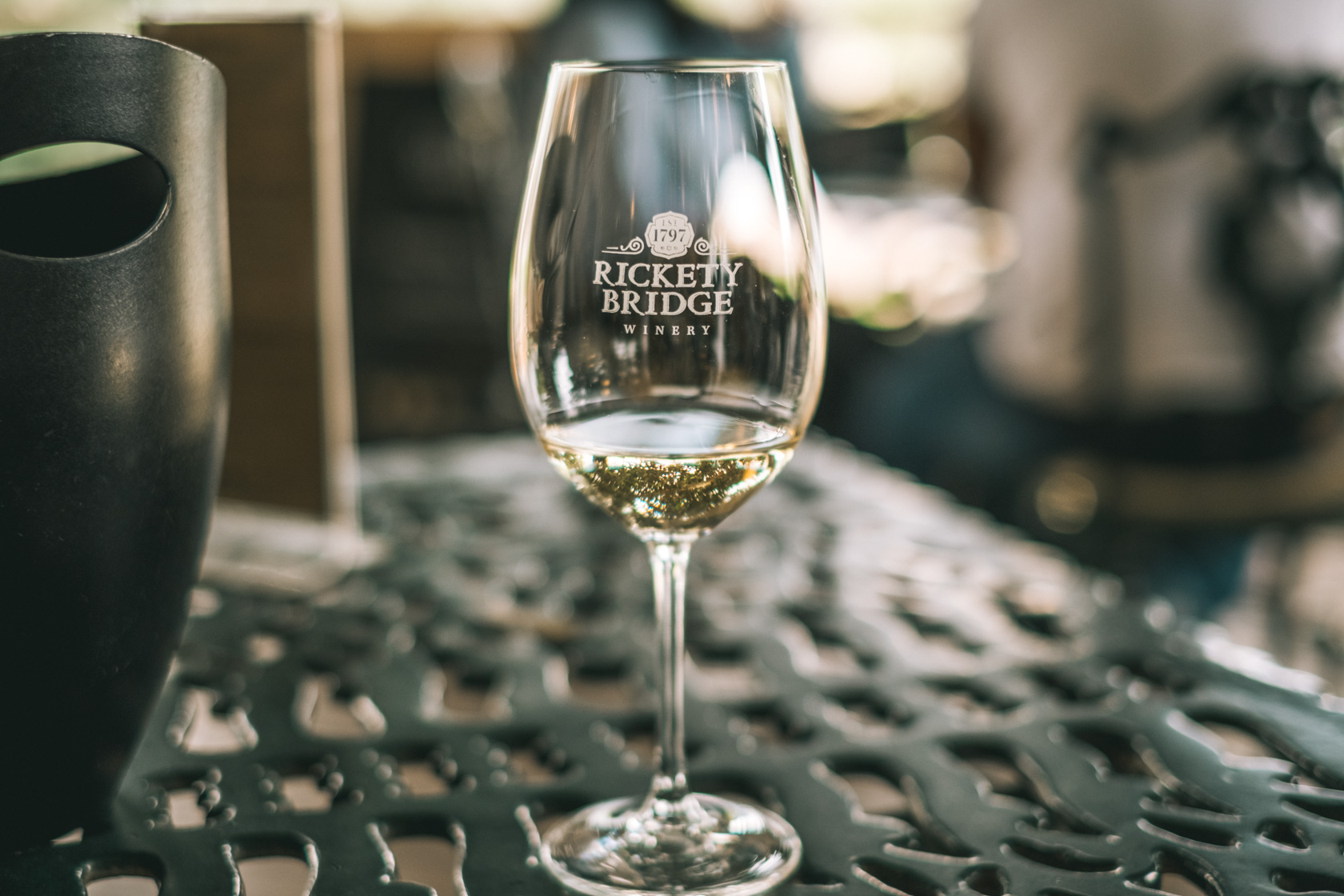 Haute Cabriere – Easily the BEST meal I ate in South Africa, it also has wine tastings and an incredible view over the valley. Call ahead and make sure to get a reservation, it can be really busy in good weather.
Dieu Donne – A great alternative if you can't get a table at Haute Cabriere, also has a gorgeous view over the valley and super friendly staff. Come for the sunset if you are able to!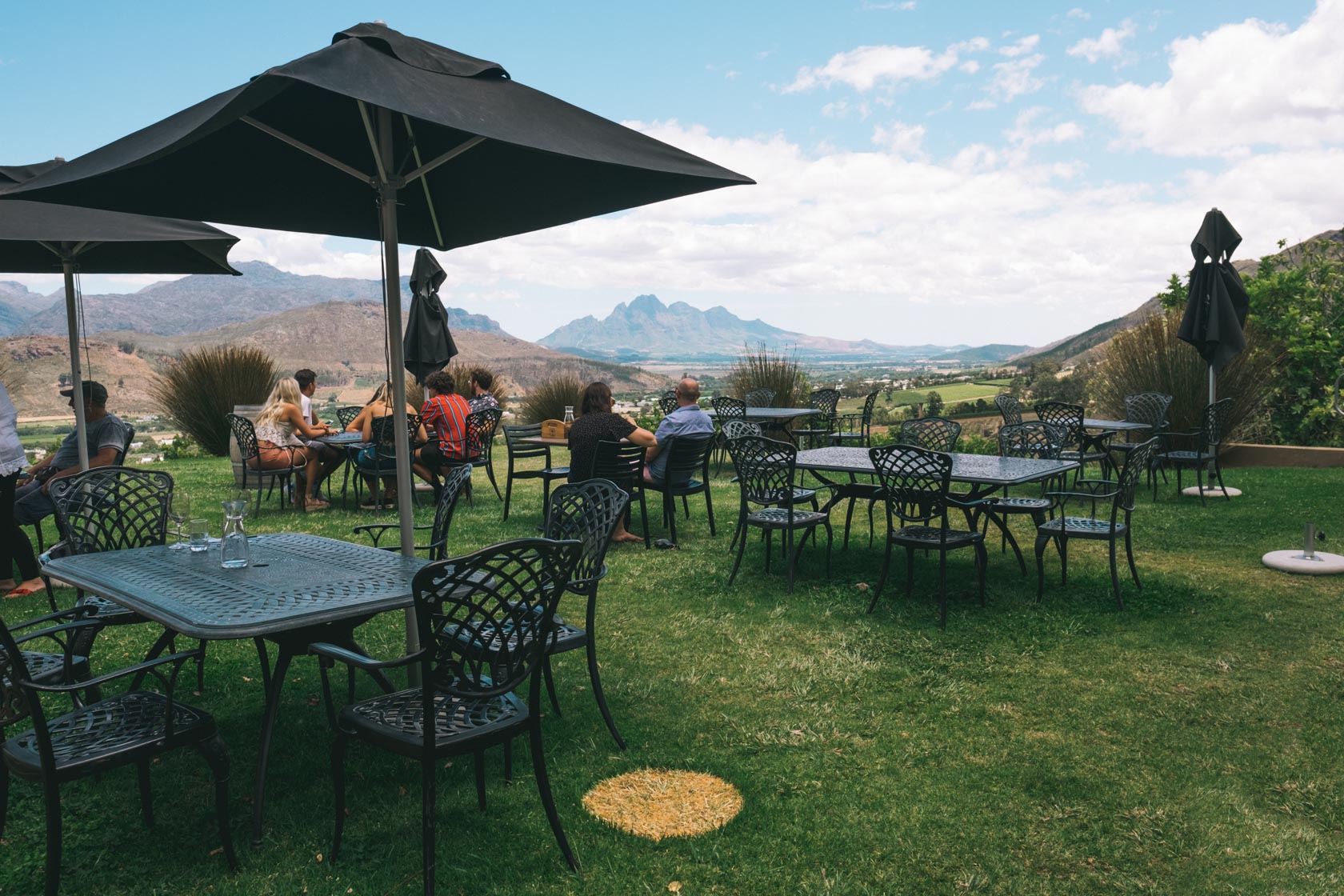 Boschendahl – This is a huge commercial winery, quite different from many others. You can buy a picnic here, do a wine-tasting paired with chocolate, and just enjoy the massive grounds. Do be careful, it's easy to get lost!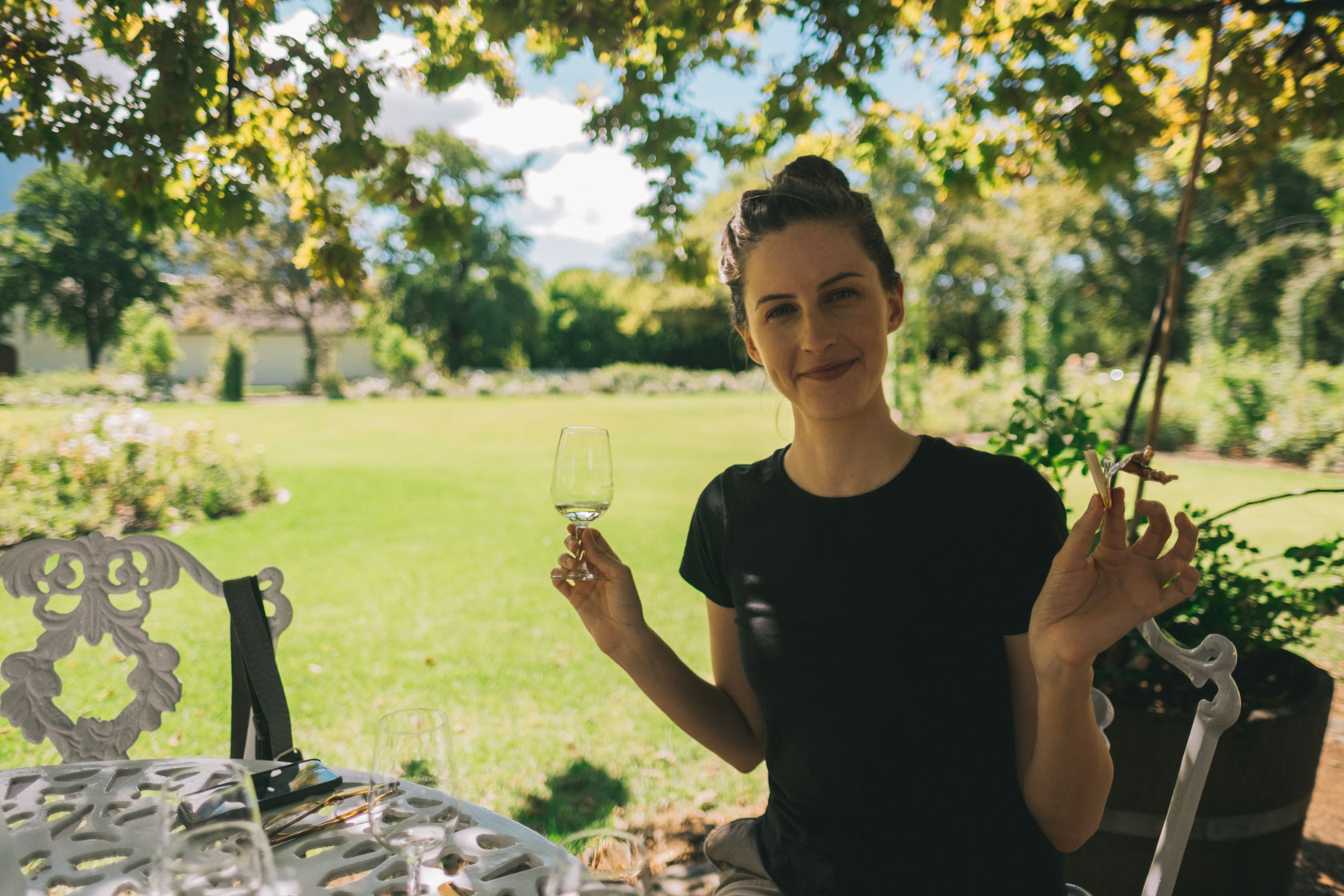 Eikehof – A cute, super nice family-owned winery. Come to talk to the people who are actually growing the wine, for some amazing peaches, and for possibly the best cheese plate of any winery we visited.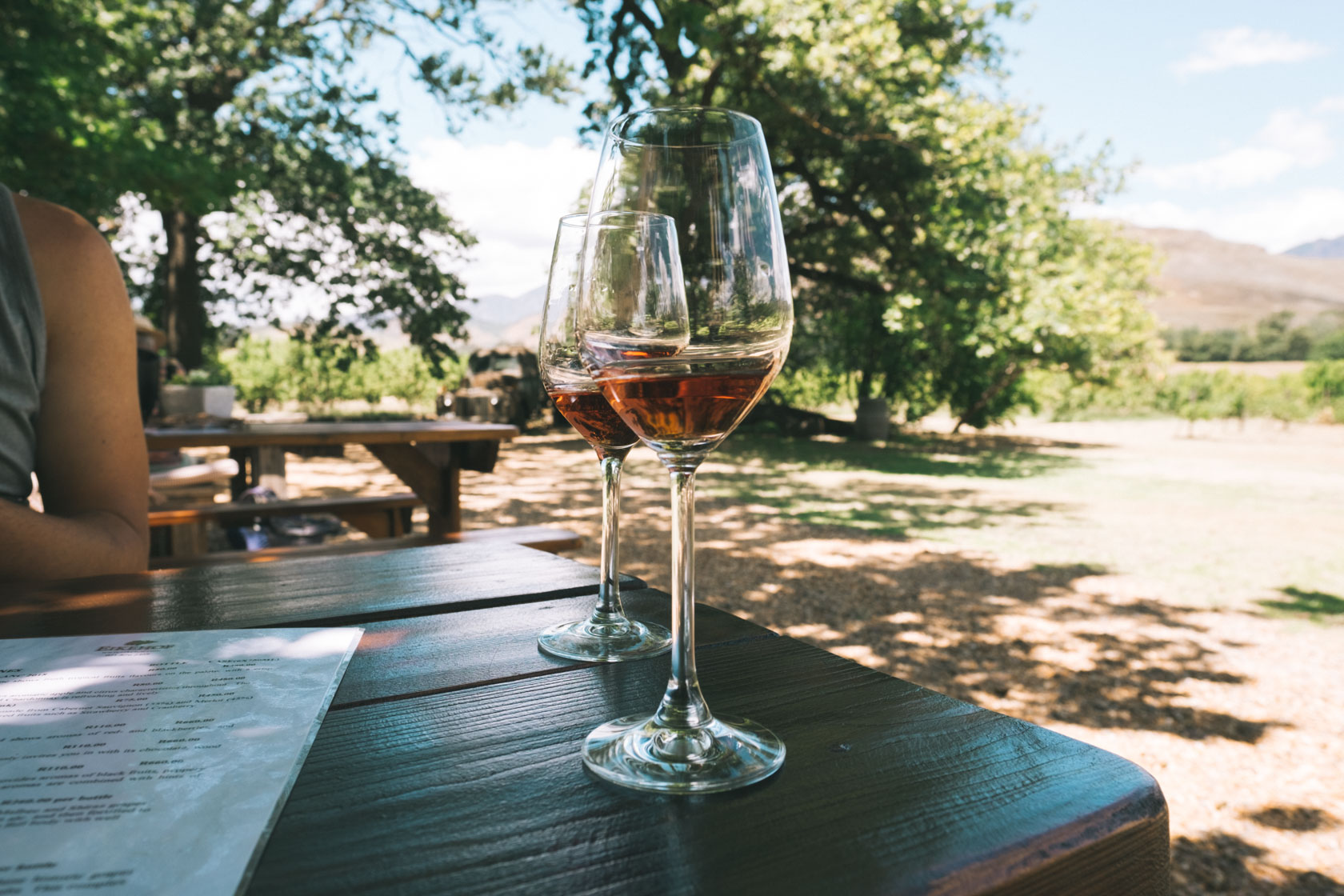 Eikehof has a lovely view over their vineyards, and you sit under massive oak trees. Pictured above are our welcome drinks, a glass of their Rosé.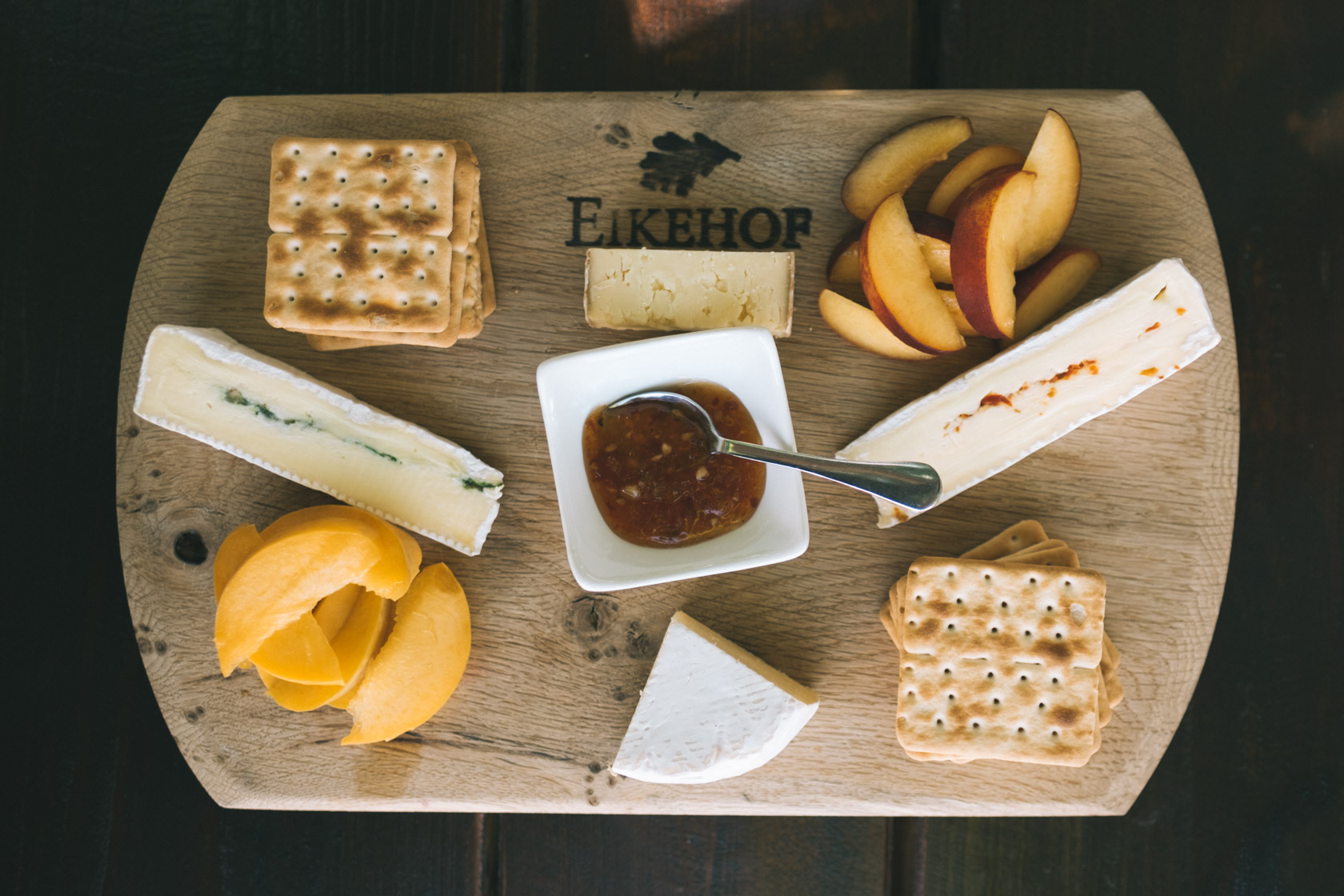 Best cheese plate! Two varieties of peaches and the spicy jam were out of this world.
Day 7. Wrap up wine country and drive to Hermanus
Anything wine-related you missed the following day, and you can wrap up before we head to Hermanus , the world's best land-based location for whale watching. When we were there in December the whales had all but moved on (their main time in the bay is between June and November). According to our host at The Nantucket , Hermanus receives its breeze from Antarctica, and has long been prescribed as a location for medical patients who benefit from its "champaigne air". Some people pass up Hermanus on their South Africa itinerary, instead heading to Mossel Bay to start the garden route directly, but Hermanus is somewhere I would definitely recommend visiting. It's beautiful and easy to explore, and you might see whales!
Things to do in Hermanus
For such a small town, you can spend more time here than you realize. Sadly we had just one night, and if we had more time we would've loved to extend our time in Hermanus.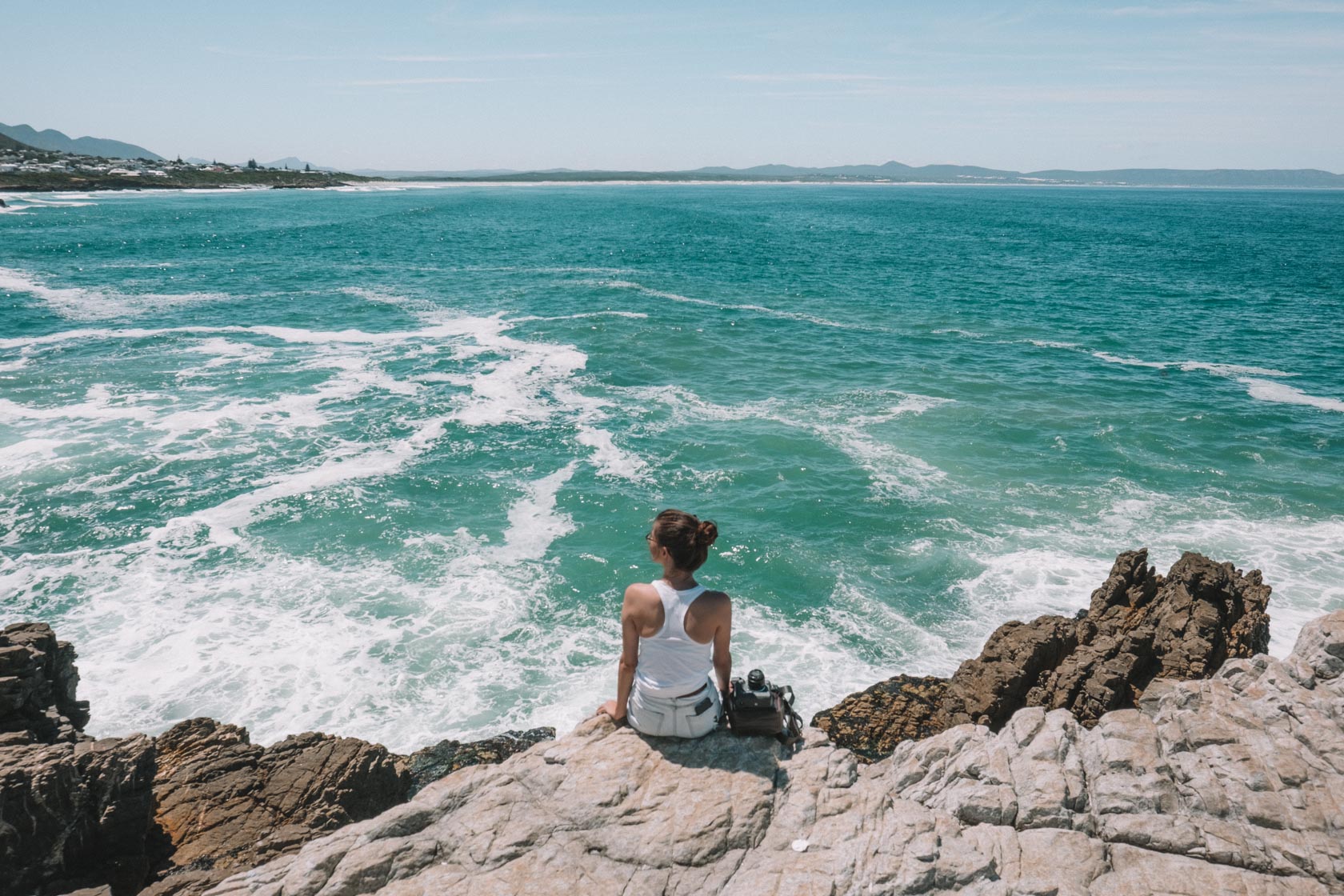 Whale Watching
At the end of September, there is a large whale watching festival in Hermanus, although you can watch them for much of the Spring between June and November. There are numerous companies that offer whale watching tours, though we did not do whale watching so I cannot recommend a specific tour personally.
Cliff Path
As I said, Hermanus is famous for what you can even see from land in terms of whale watching. Cliff Path is one of the best spots to see whales from land (though you can also see them from the rooftop balcony at The Nantucket , as our neighbors attested to). Talk a walk along Cliff Path and enjoy the gorgeous bay.
Enjoy oysters or grilled meat
Our top two restaurant recommendations in Hermanus are Lemon Butta and Char'd , depending on if you want seafood or barbeque respectively. As we approach the Garden Route, you'll have plenty of oppotunity for fresh seafood so get ready!
Day 8. Drive through Karoo to Knysna
Today we're taking the long route to get from Hermanus to Knysna, and it's quite a lot of driving. If you have the time, I would recommend spending some more time in the area to appreciate it. This region also has a number of wineries, in case your time in Franschhoek left you wanting more!
Klein Karoo ♦♦
There's no official definition of what the Karoo's borders are, but this lower part of it is usually called the Klein Karoo (or, "Little Karoo"). Driving through here feels like driving through a different country than what we're used to around Cape Town. Here you'll see farming as far as the eye can see, arid landscapes and mountains.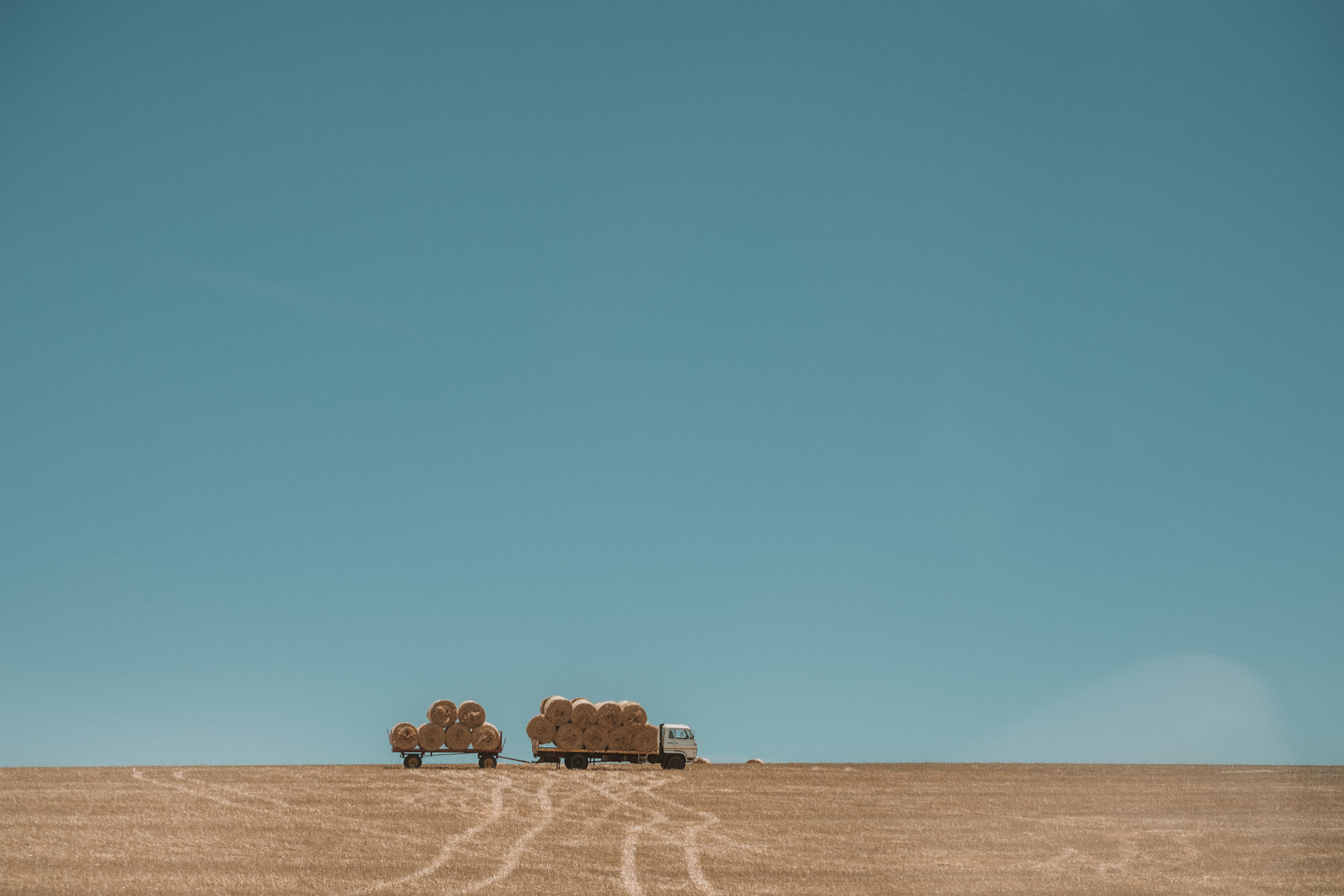 Calitzdorp
A small city, it's easy to drive right through. Stop at De Krans for a wine tasting if you need a break from the drive.
Outshoorn
Famous for ostriches and selling ostrich feathers back in the day when it was all the rage to put one in your cap. You can visit ostrich farms or buy other ostrich-related goods, like ostrich eggs or feathers.
Swellendam ♦
Swellendam is one of the oldest towns in South Africa, and its church is without a doubt the most famous landmark. Honestly I'm not sure if there is a whole lot to do here, but you can enjoy driving around a bit to see some nice Cape Dutch-style architecture.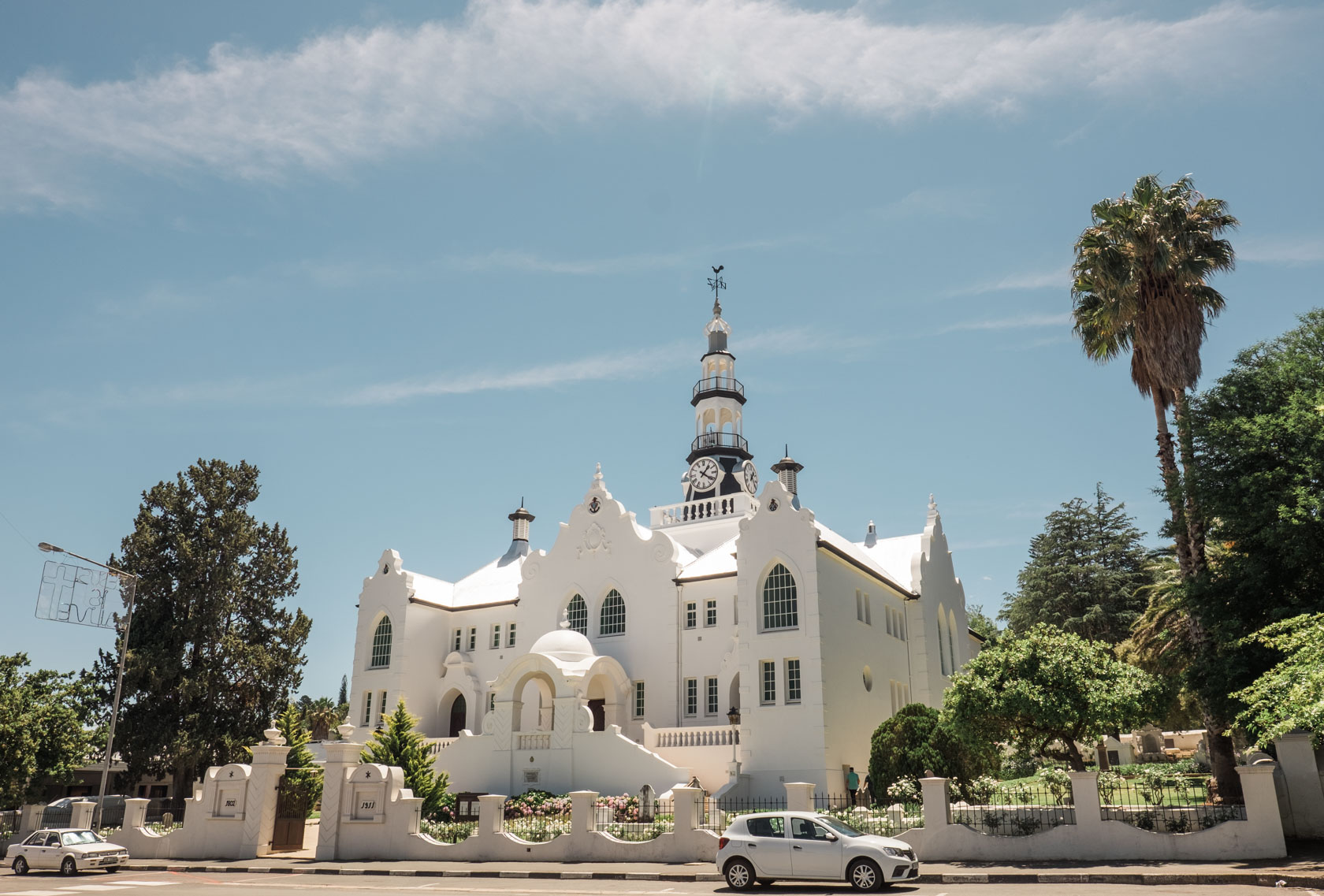 Mossel Bay ♦
Technically, Mossel Bay is the beginning of the Garden Route (more on the Garden Route in the next section) and is the spot that brings us back to the coast. While the city itself was not particularly beautiful (rather industrial), we did stop for oysters and were not disappointed. If you'd like an afternoon stack, stop in Oyster Bar .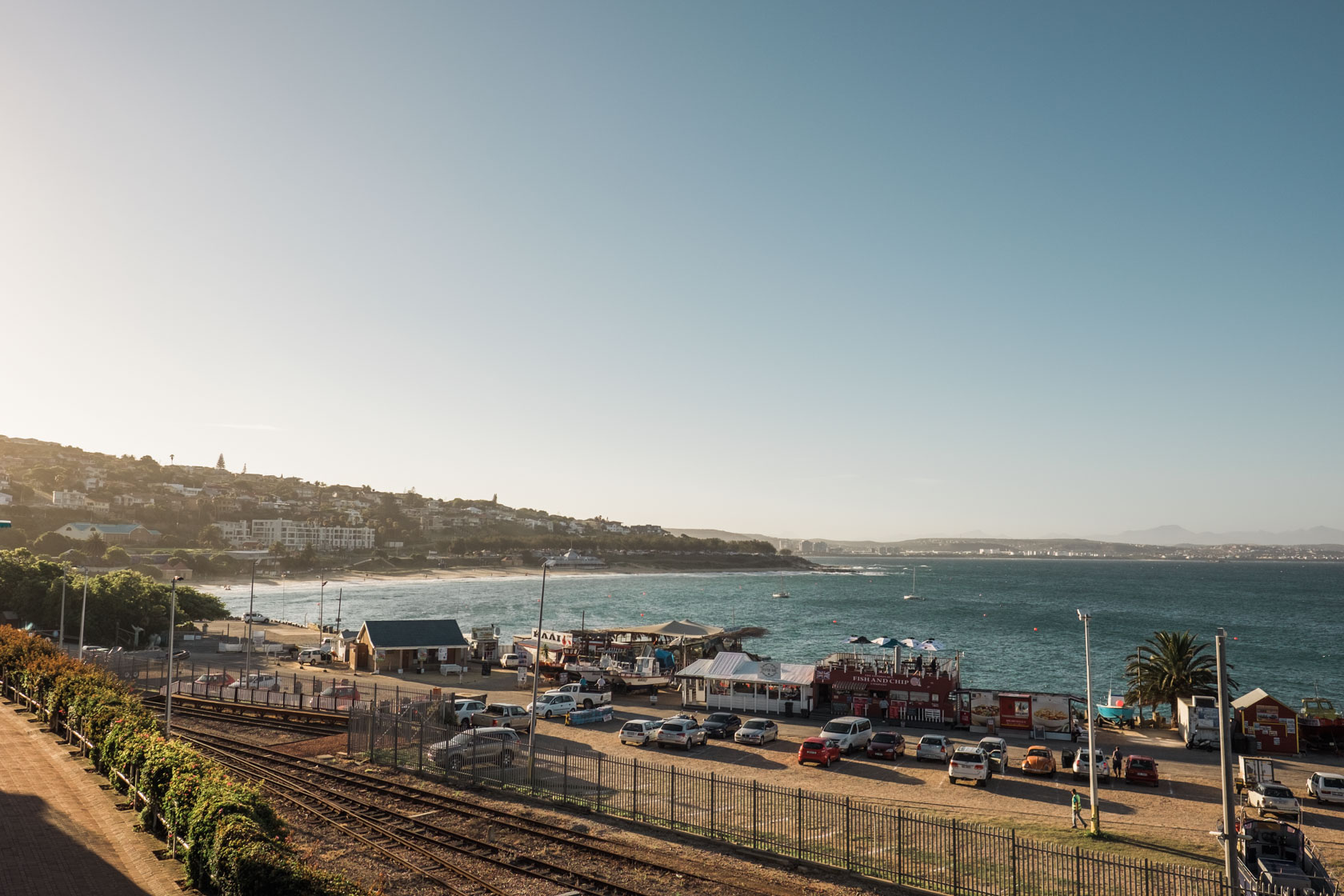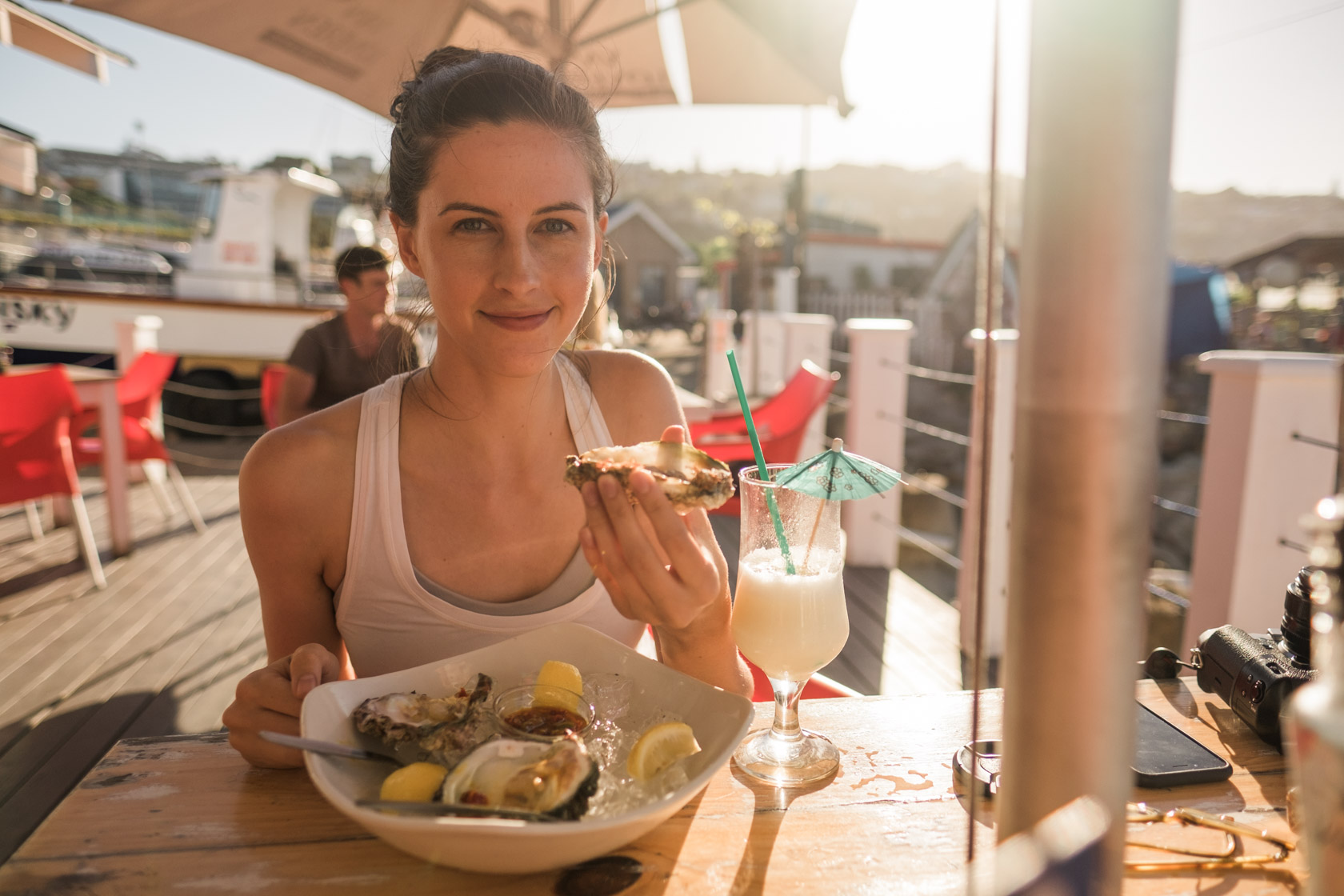 Knysna ♦♦♦
Arrive in Knysna, ideally in time for sunset over the lagoon. We'll spend tomorrow morning exploring Knysna before starting on the Garden Route in ernest. Easily the most popular place to visit in Knysna are the Knysna Heads , famous for being one of the most difficult places to pass by boat.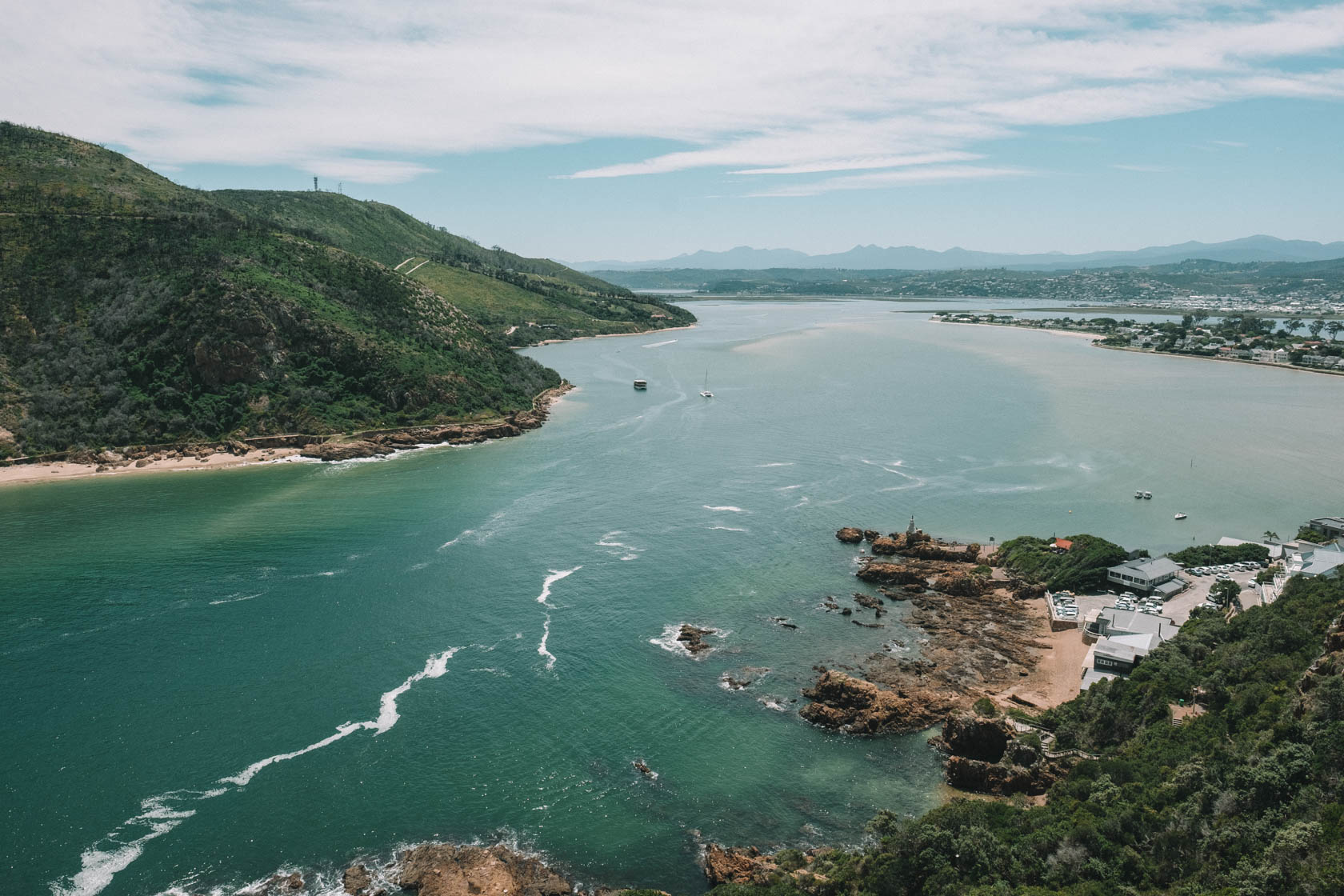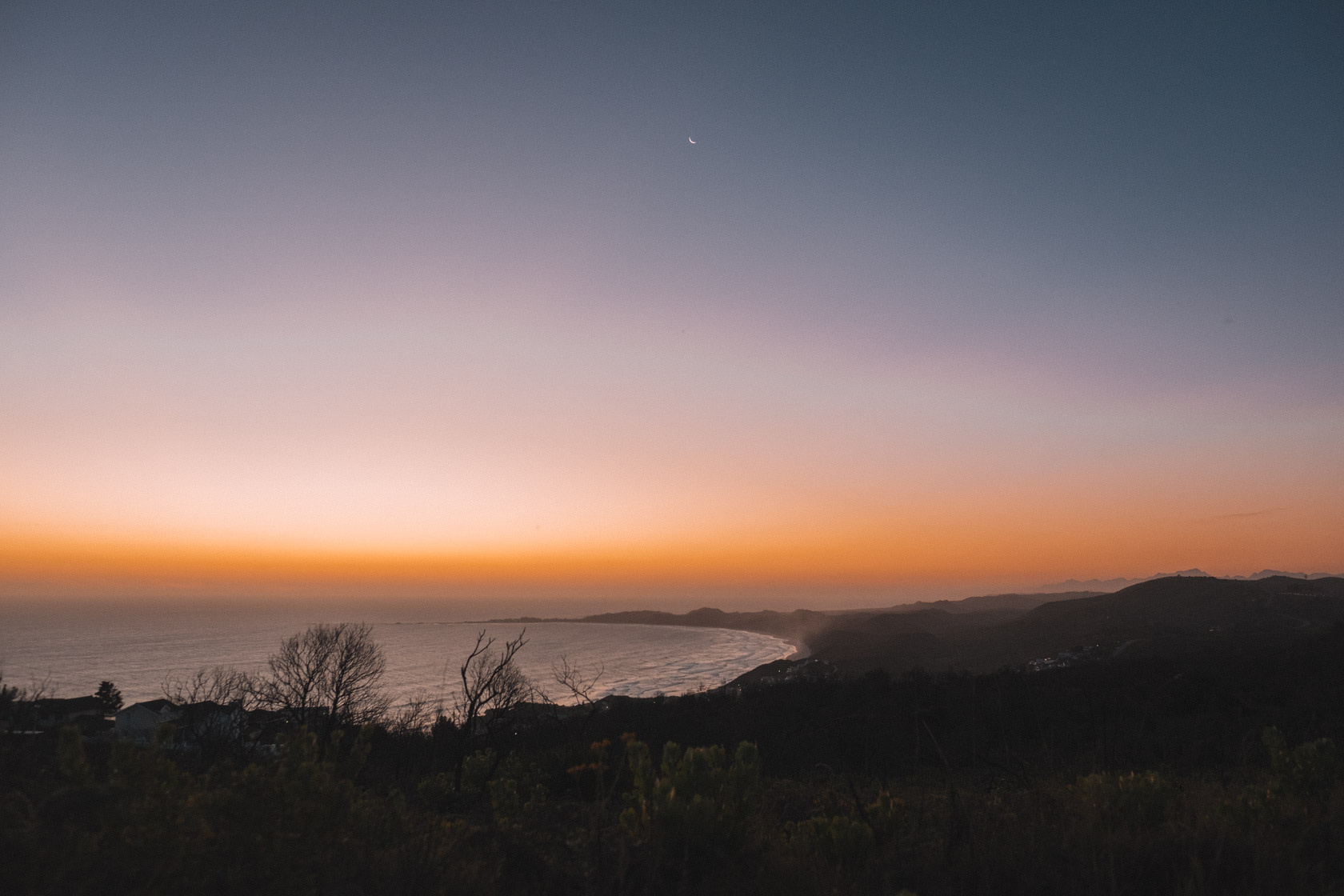 STAY – Cloud 9 , with this incredible sunset view from the front porch.
Day 9. The Garden Route
Spend the morning around Knysna, whether it's going through town or enjoying the many scenic outlooks. After that, we're continuing along the Garden Route. Soon it'll be clear why it's called the Garden Route – even along the highway it's super lush and green. There are tons of opportunities to stop along the way, so be spontaneous if you see something you would enjoy visiting.
On our itinerary we are foregoing a lot of time on the Garden Route to make time for safari later, but there are people who spend an entire week or more exploring the Garden Route. So do add a few days in this area if you have the time!
Things to do on the Garden Route
Here are some of the highlights for places to stop and things to do along the Garden Route. If you want more details for each of these stops, check out my dedicated garden route itinerary. It includes more options of different activities you'll find along the Garden Route!
Mossel Bay ♦
Given that Mossel Bay isn't particularly scenic, I wouldn't spend an evening here, but do stop in for oysters or other seafood. There is also the Dias Museum right near the Oyster Bar, where you can learn about the history of the region, specifically about the era of exploration. The museum is named after a Portuguese explorer who sailed around the tip of Africa without realizing it 😂
Knysna ♦♦♦
As I already shared, Knysna's main draw is the beautiful views and the fact that you can explore both the sea and a lagoon from nearby. Drive up to the Heads for beautiful photos of where the lagoon meets the sea. If you're looking for a place to eat, head down to the Knysna Waterfront for a ton of different options, including the great value spot 34 degrees south which has something for everyone: seafood, sushi, and local wines and craft beers.
Plettenberg Bay ♦♦
Lovingly referred to as "Plett", Plettenberg Bay is a great spot to spend some time at the beach or taking a break for lunch along the Garden Route. Some popular things to do in the area include Birds of Eden , a free-flight bird sanctuary, Robberg Nature Reserve , a popular spot for hiking trails, Monkeyland , a free-roaming monkey sanctuary, and the Plettenberg Bay Elephant Sanctuary .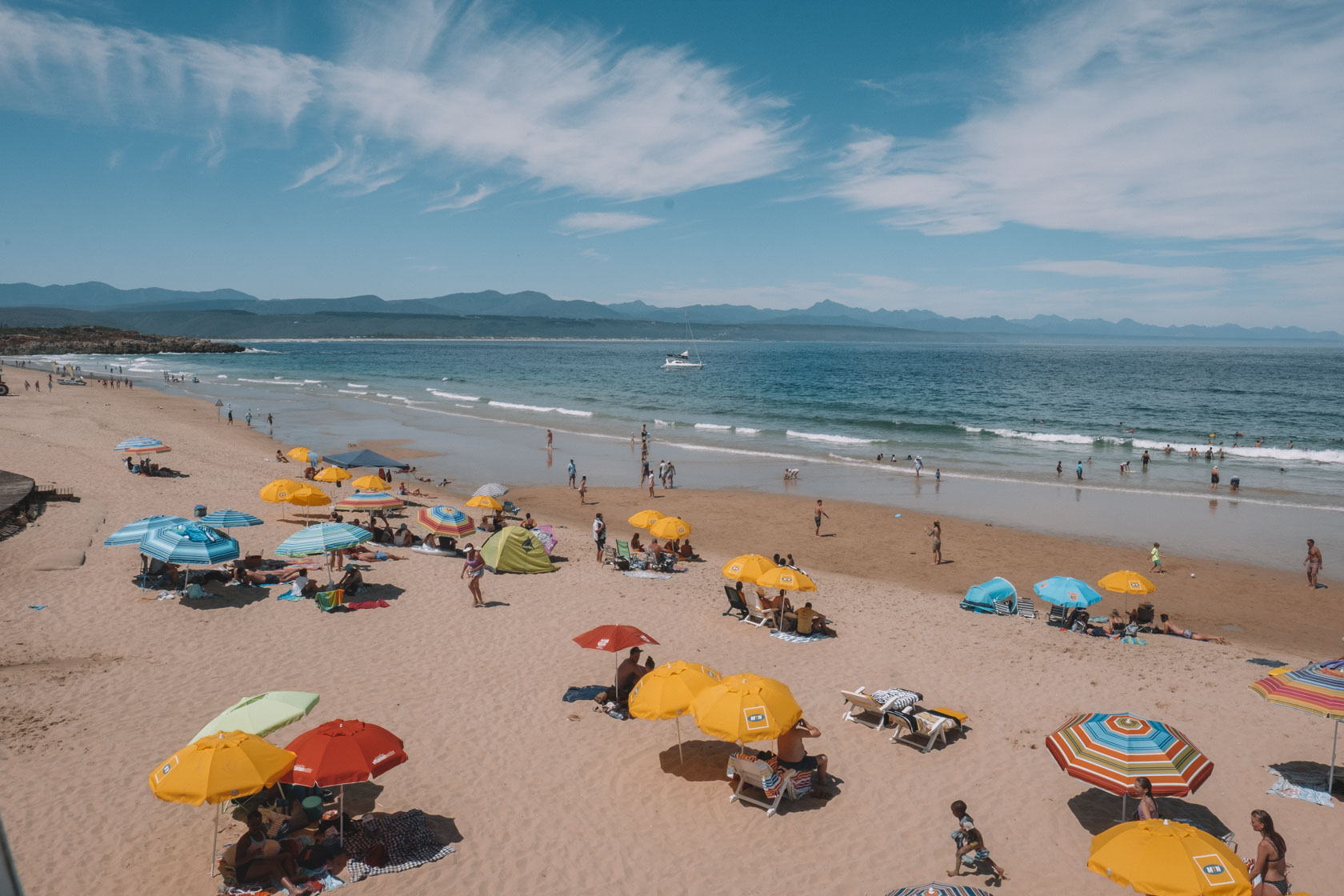 Bloukrans Bridge ♦♦
Ever wanted to go bungee jumping? You can do that here at Bloukrans Bridge , the site of the world's highest commercial bridge bungee jumping. Even if you don't want to do it yourself, you can watch jumpers from the comfort of the sidelines (like me). Besides jumping, it's also possible to zipline out to a bridge on the underside of the bridge where you can look down into the canyon.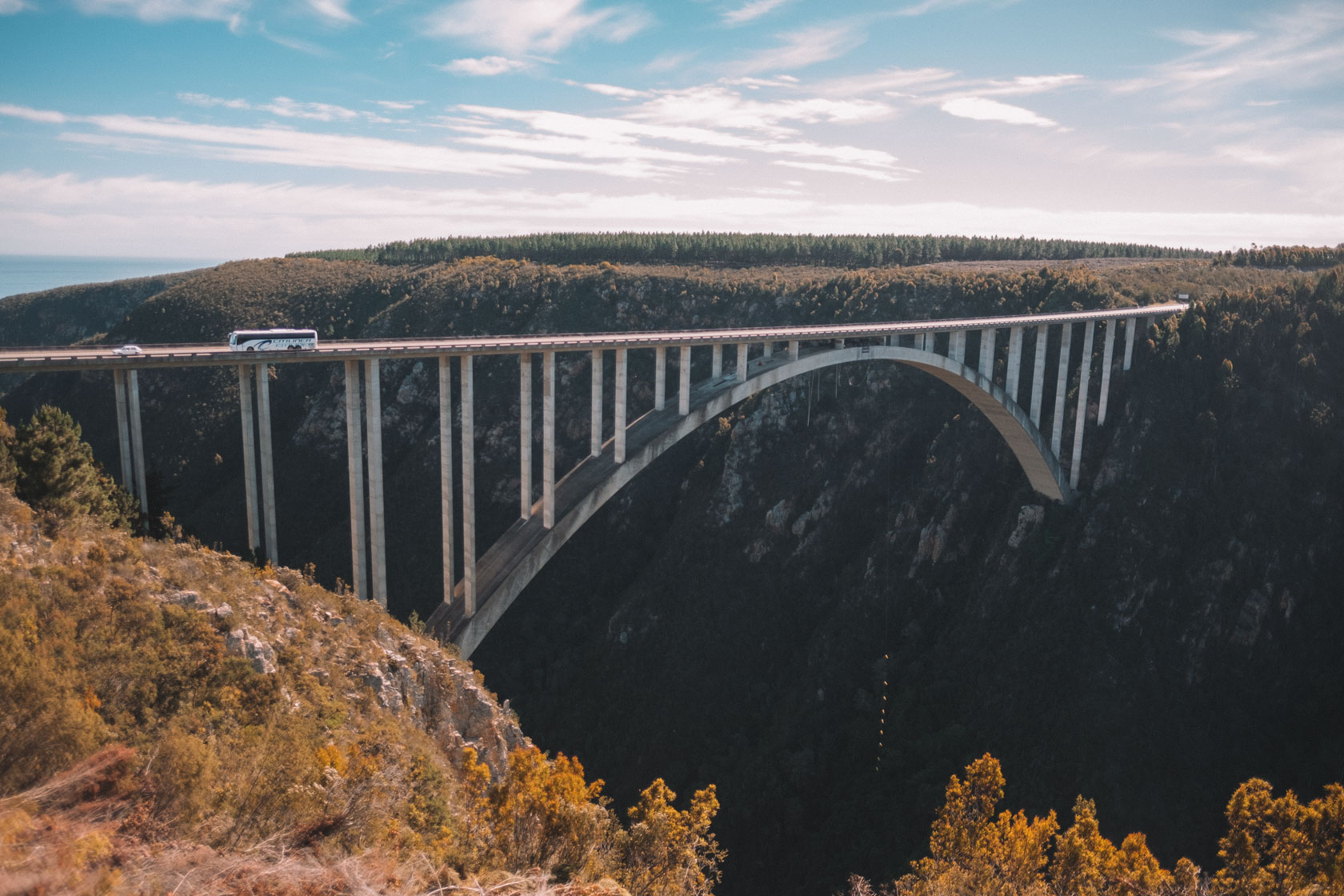 Tsitsikamma and Storm's River Mouth ♦♦♦
Not to be confused with the town named Storm's River, Storms River Mouth National Park is famous for its suspension bridges, which you can reach with a short hike of about 20 minutes. The national park is also popular for kayaking, camping, and other hiking trails. You could definitely extend your trip here to enjoy more of the forrested part of the Garden Route.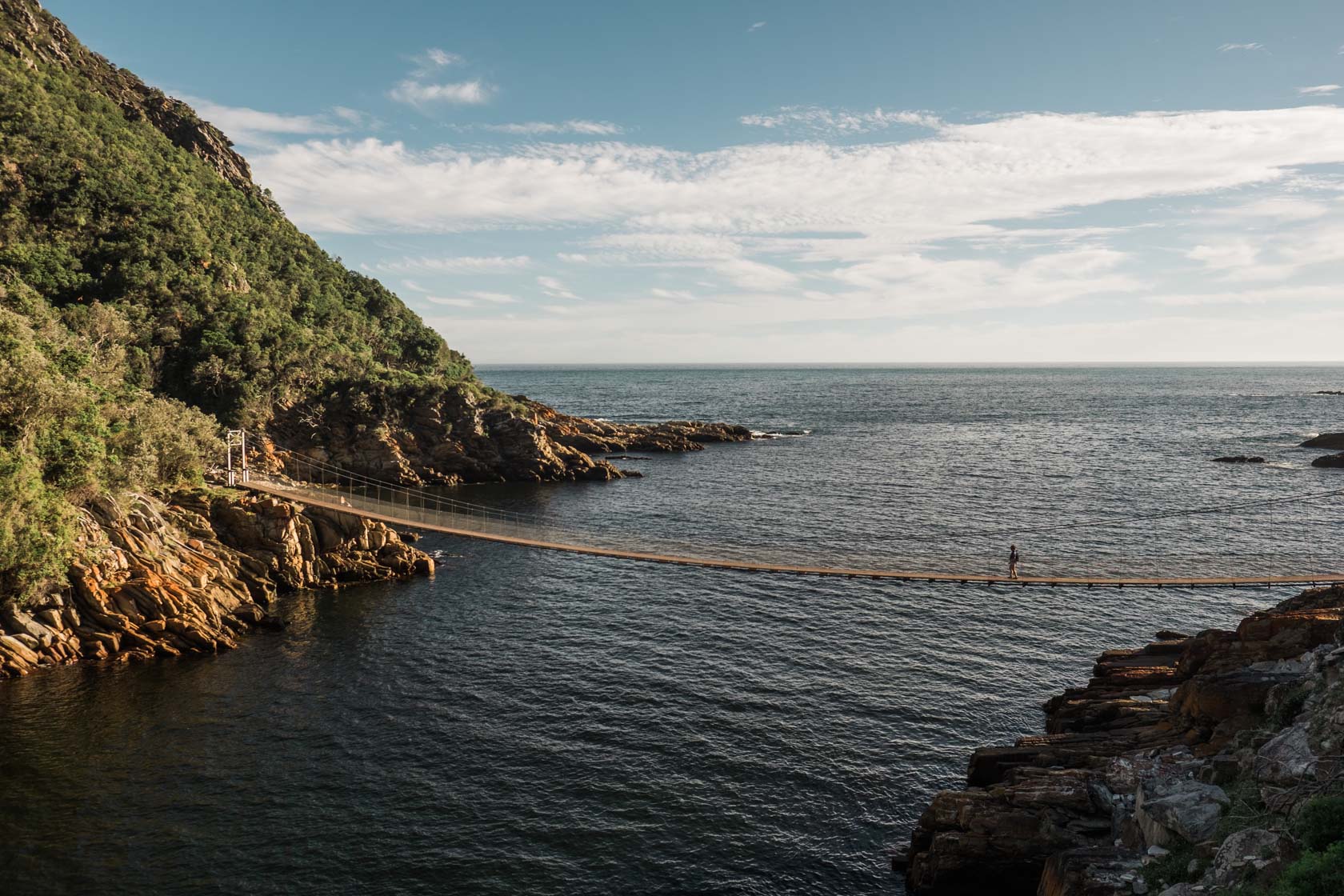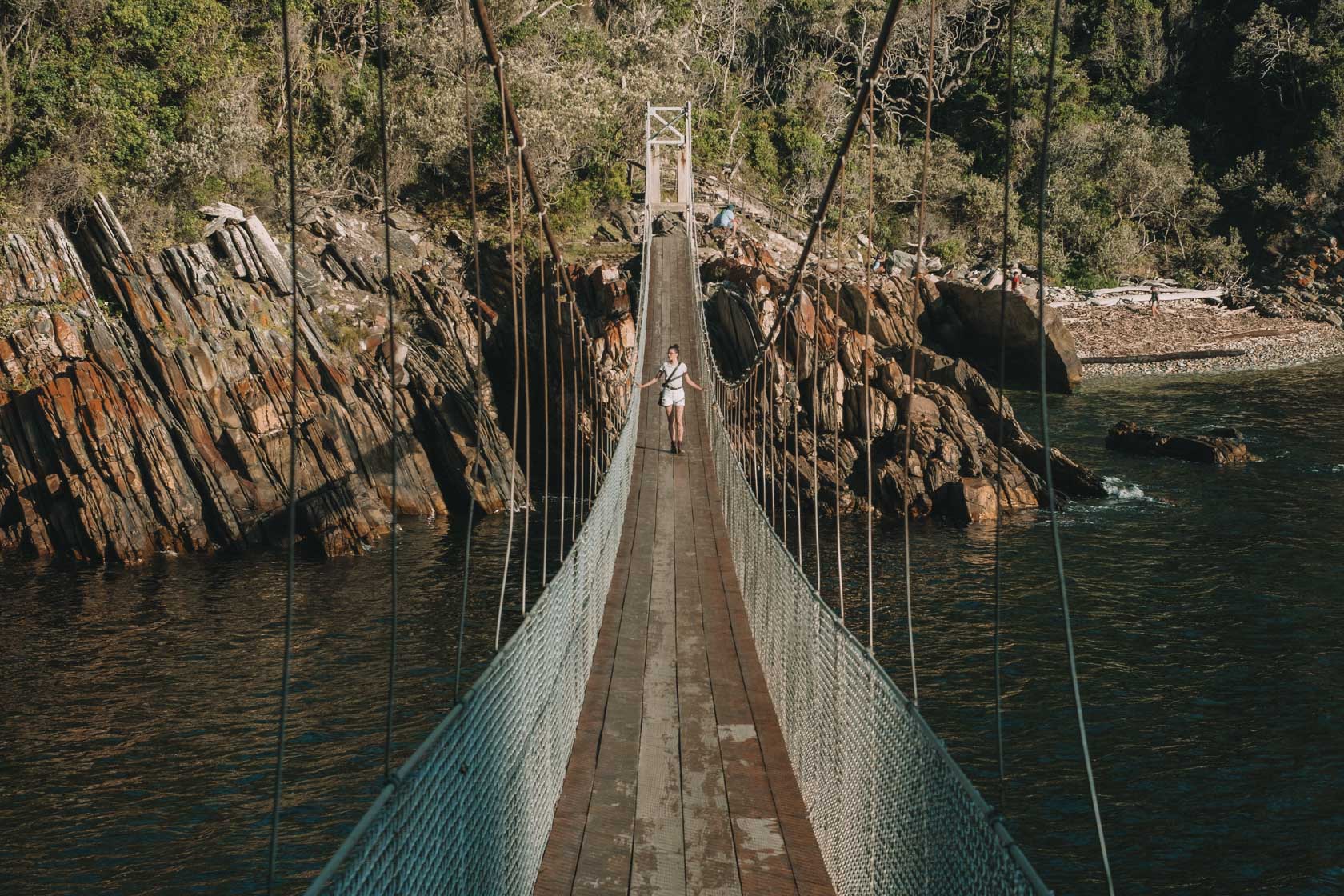 Jeffreys Bay ♦
We went at the end of the day for a quick pit stop, but didn't find much about the beach at Jeffrey's Bay to give us a reason to stick around. This city has become famous for surfers, so may be somewhere worth checking out if you're interseted in surfing in South Africa. Otherwise, I think this town is somewhere you can omit from your South Africa itinerary.
Port Elizabeth ♦
Port Elizabeth marks the end of our Garden Route whirlwind tour! If there's any tip I can give you, is not to worry about trying to see much in Port Elizabeth – all the houses have 3-meter high walls and electric wire surrounding them, making most of the residential areas look more like self-imposed prisons. What we're interested in near Port Elizabeth is rather Addo Elephant Park , which is about an hour's drive away.
Day 10. Addo Elephant Park
Addo Elephant Park was surely a highlight of our trip, where we experienced safari for the first time. Doing a self-drive safari in Addo is one of the most budget-friendly options for safari in South Africa. If you prefer a guided game drive, you can book a guided safari for the same day at the reception where you buy your day pass to enter the park. They offer guided safaris during the day, as well as special occassion safaris like sunset, sunrise, and nighttime.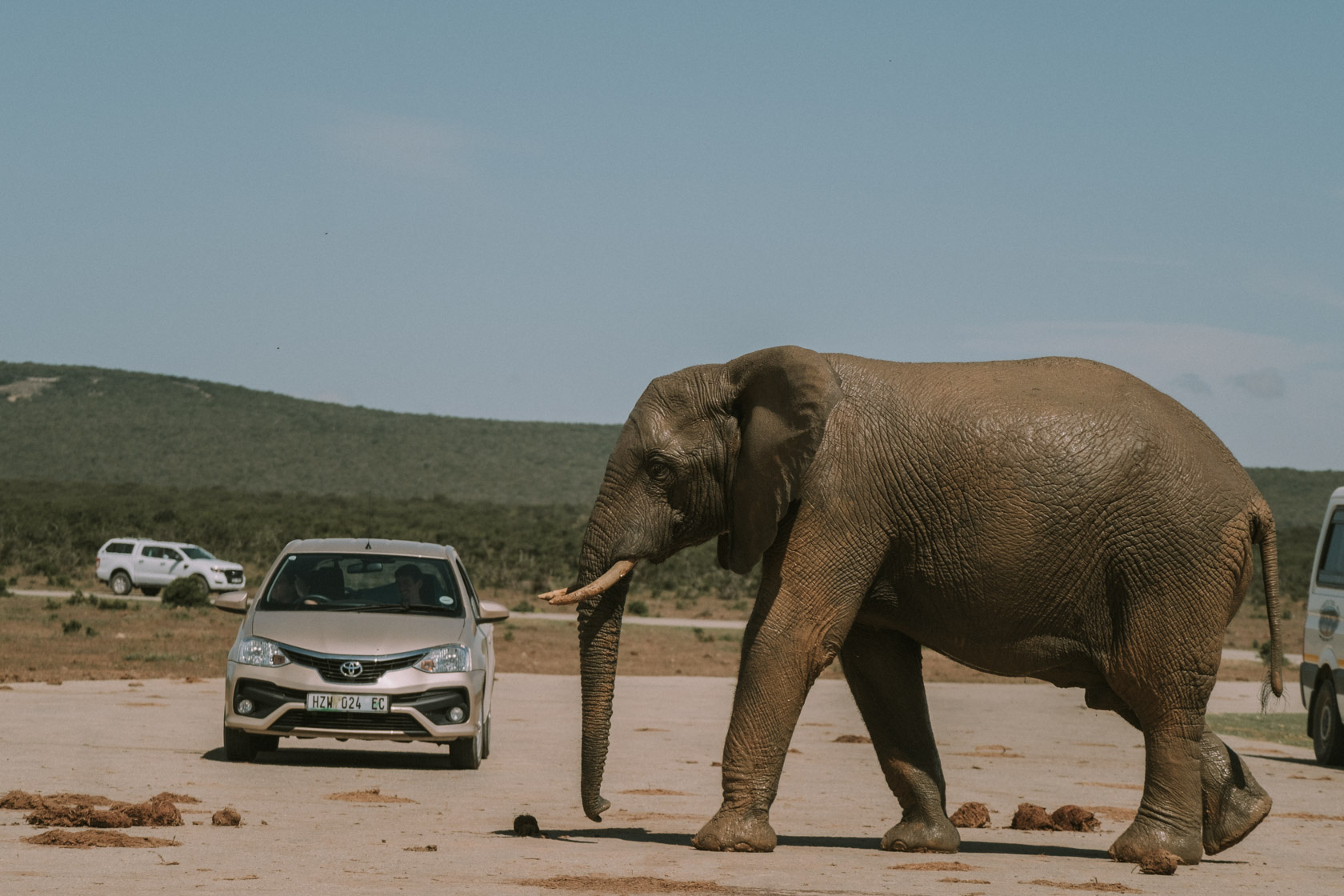 Only when you get up close to an elephant do you realize just how massive these creatures are!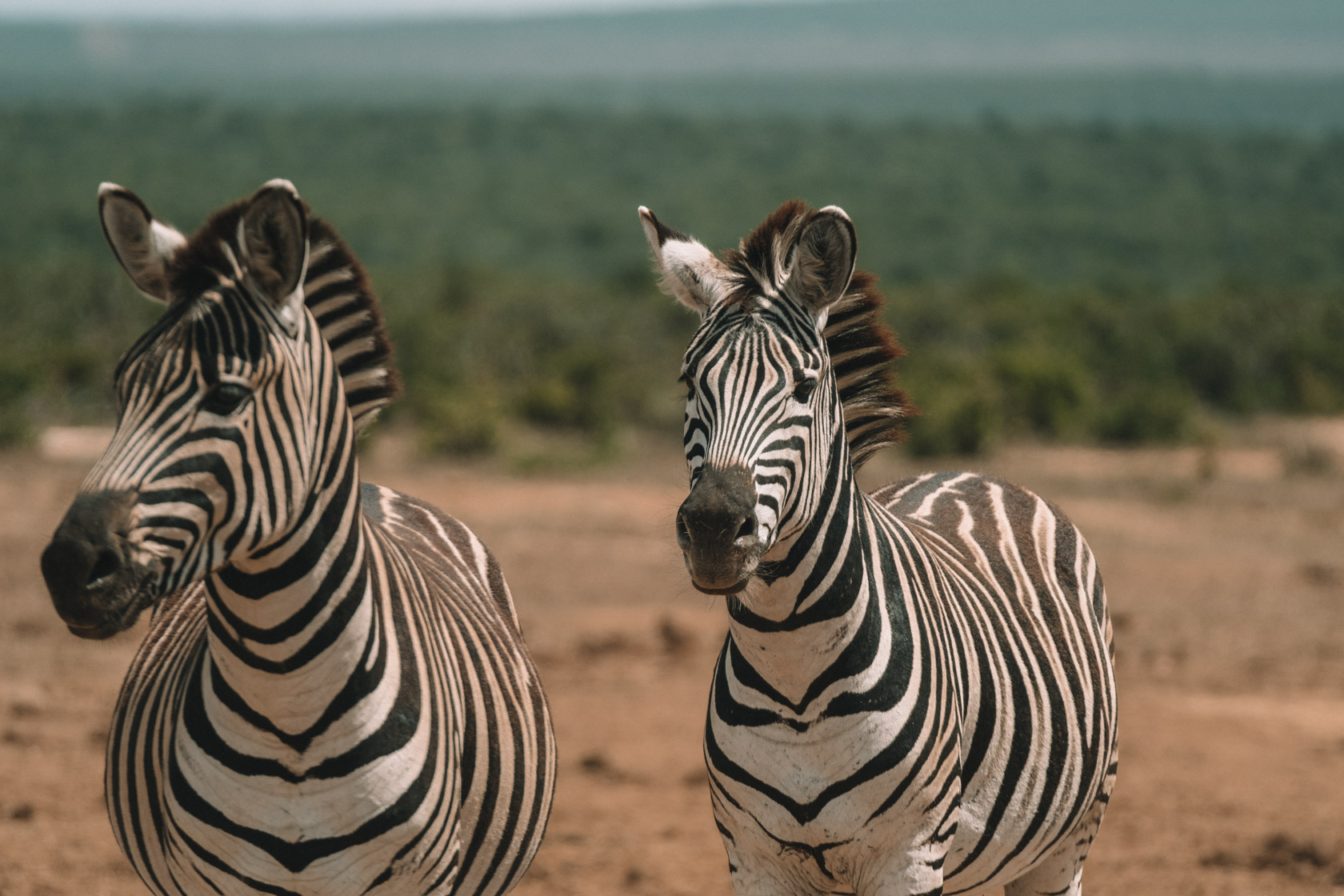 Some of the most fun during safari in Addo was watching different kinds of animals interact with each other – like elephants chasing zebra away from their watering hole.
Tips for self-drive safari in Addo Elephant Park
I need to write a full blog post on this topic, but until then, here are a few of my top tips for making the most out of a self-drive safar in Addo.
Visit the watering holes during high sun. Elephants love the sunshine and love taking mud baths to cool off when it's hot. You'll get a map when you enter the park which will help you find the watering holes.
Check the sighting board before you go out. You'll have no trouble finding elephants in the park, but if you want to spot other animals it might help to check the board at receptions where people place magnets in the spots they've seen animals that day.
Make sure your windshield is clean and you have food and water. There is a gas station near the entrance to the park where you can fuel up or wash your windshield.
Check for guided safaris. We started around 11:30AM and got the last two spots on the sundowner guided safari. So you don't need to be crazy early, but don't hesitate to book – you only reserve a seat and need to come back to pay before the game drive actually starts.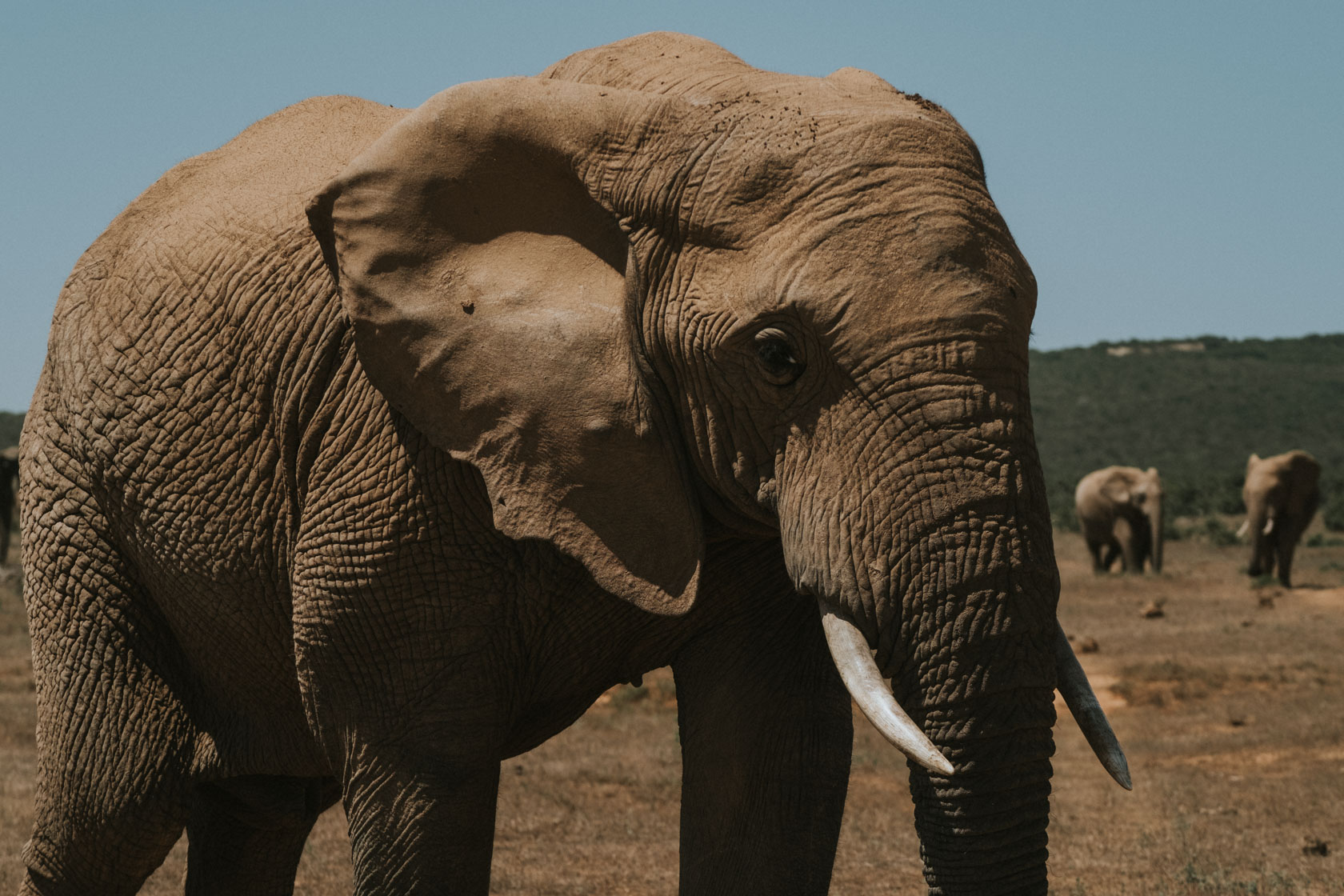 Photography gear used on safari
Day 11-13. Fly to Kruger National Park for 3 days of safari
Luckily our hotel in Port Elizabeth was just a 9 minute drive from the airport, where we returned our rental car and caught an early morning flight out of Port Elizabeth to Hoedspruit through Johannesburg. Port Elizabeth's airport is pretty small so it doesn't take long to get through security to the gate.
Kruger has four connecting airports, so which airport you want to land in will depend on where exactly your safari lodge or camp is located. At this point you'll need to customize your itinerary based on whether you want to stay in a camp or a lodge.
Skukuza Airport
Hoedspruit Airport
Kruger/Mpumalanga International Airport
Phalaborwa Airport
How to choose a safari lodge in Kruger
We knew that we wanted to get the full experience, so we splurged a bit on staying at an all-inclusive safari lodge. There are a lot of choices to be made when picking a lodge, so I just want to highlight a few considerations you'll want to keep in mind when you pick a safari lodge.
How many game drives can you do per day?
How long are the game drives?
How many people are in each game drive group?
Does the area the game drives cover have the Big Five?
Is the lodge in a reserve that is directly connected to Kruger, without fences?
How's the food? It's all you've got!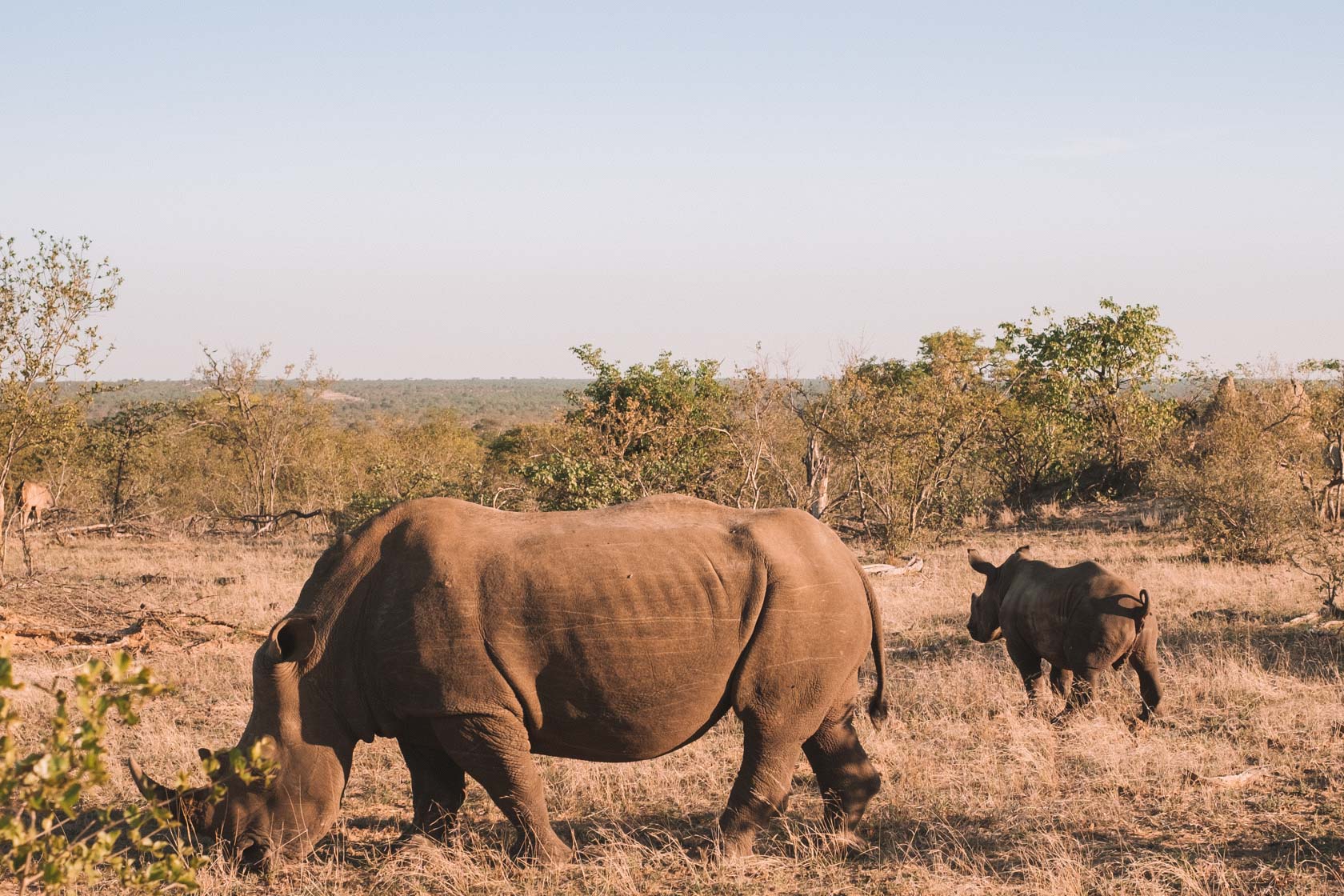 Convenient links for finding lodges
Here are a few of the main areas we considered for our safari lodge. All of them are directly connected to Kruger, meaning that animals can roam freely between the Kruger Park and these reserves. Each of these reserves is considered part of the "Greater Kruger Park".
Safari lodges in Timbavati Game Reserve – This is the reserve we stayed on. It's directly connected to Kruger, and is home to lions (we saw them twice!). This reserve has all of the big five, if that's your main criteria for choosing a lodge.

Safari lodges in Sabi Sand Game Reserve – Easily the most exclusive area (and one of the oldest) for safari in South Africa. If you're looking to splurge and have the full experience, check this area out.

Safari lodges in Klaserie Private Game Reserve – Has some of the most gorgeous lodges around Greater Kruger Park, just like at Sabi Sand, the reserve is connected directly Kruger so animals can freely roam in and out of the reserve.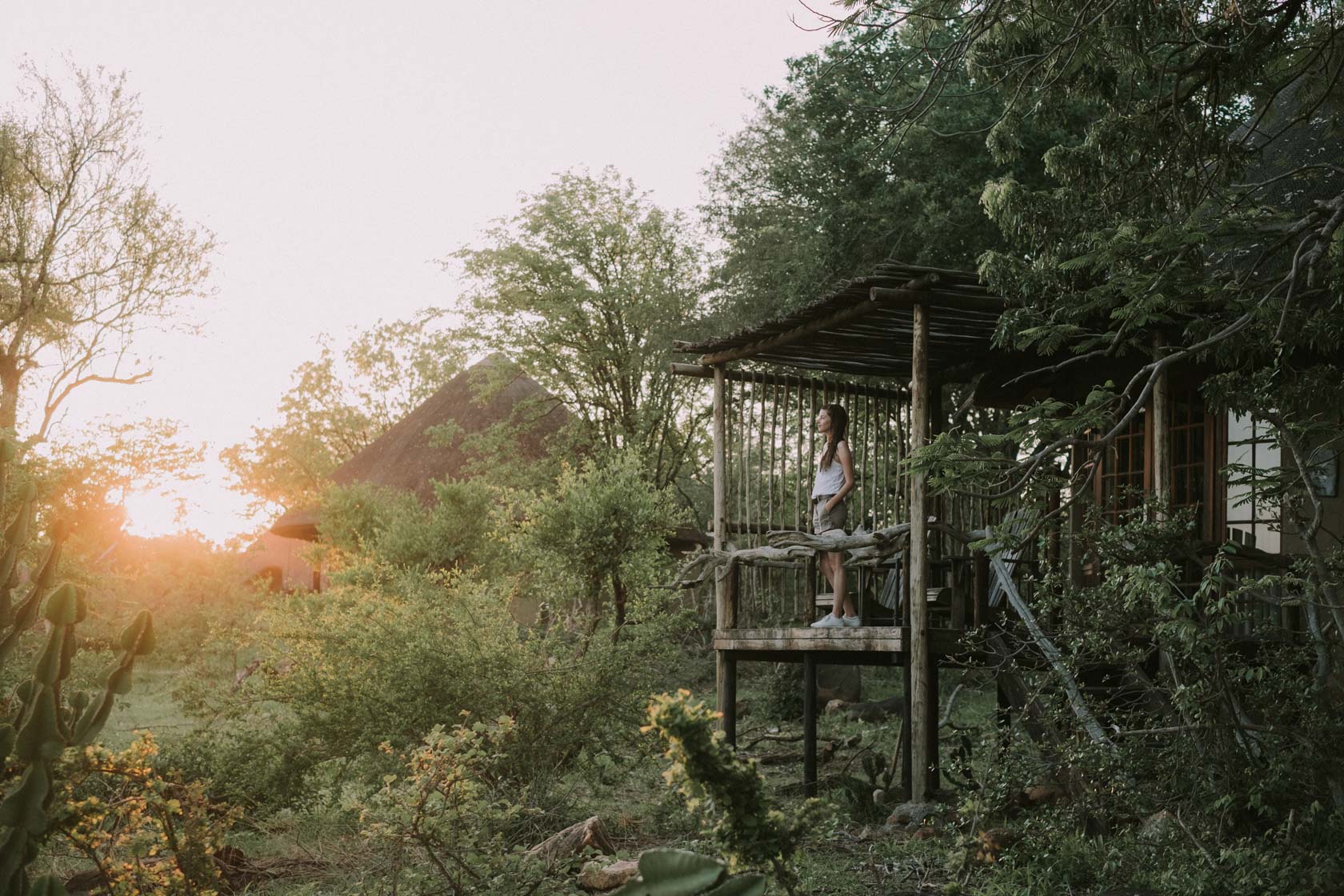 Why we picked Motswari Private Game Reserve
I already wrote a whole blog post reviewing the lodge so I won't repeat that information. I'll just quickly share the main considerations that made us tip the scale in favor of Motswari, compared to other lodges we looked at. Motswari Private Game Reserve is:
Directly connected to Kruger and has no fences between it and Kruger.
Known to host all of the Big Five, and is especially famous for being the place white lions were discovered.
Offers two game drives daily plus a bush walk.
Food photos looked good (turned out to be correct!)
Not "overly modern" looking, still has an authentic safari vibe.
Easy to get to from the Hoedspruit airport, so we don't lose too much time traveling.
What to do while you're on safari
Just be on safari! This is the one part of the itinerary you don't really need. Just sit back, relax, let safari happen to you. The lodge will take care of everything and you don't need to plan whatsoever.
Day 14. Blyde River Canyon to Johannesburg
If I can tear you away from your safari lodge, it's time to make our way back to Johannesburg through the stunning Blyde River Canyon . If you have the time, do add an extra day here. You can easily spend two days here if you have the spare time in your schedule.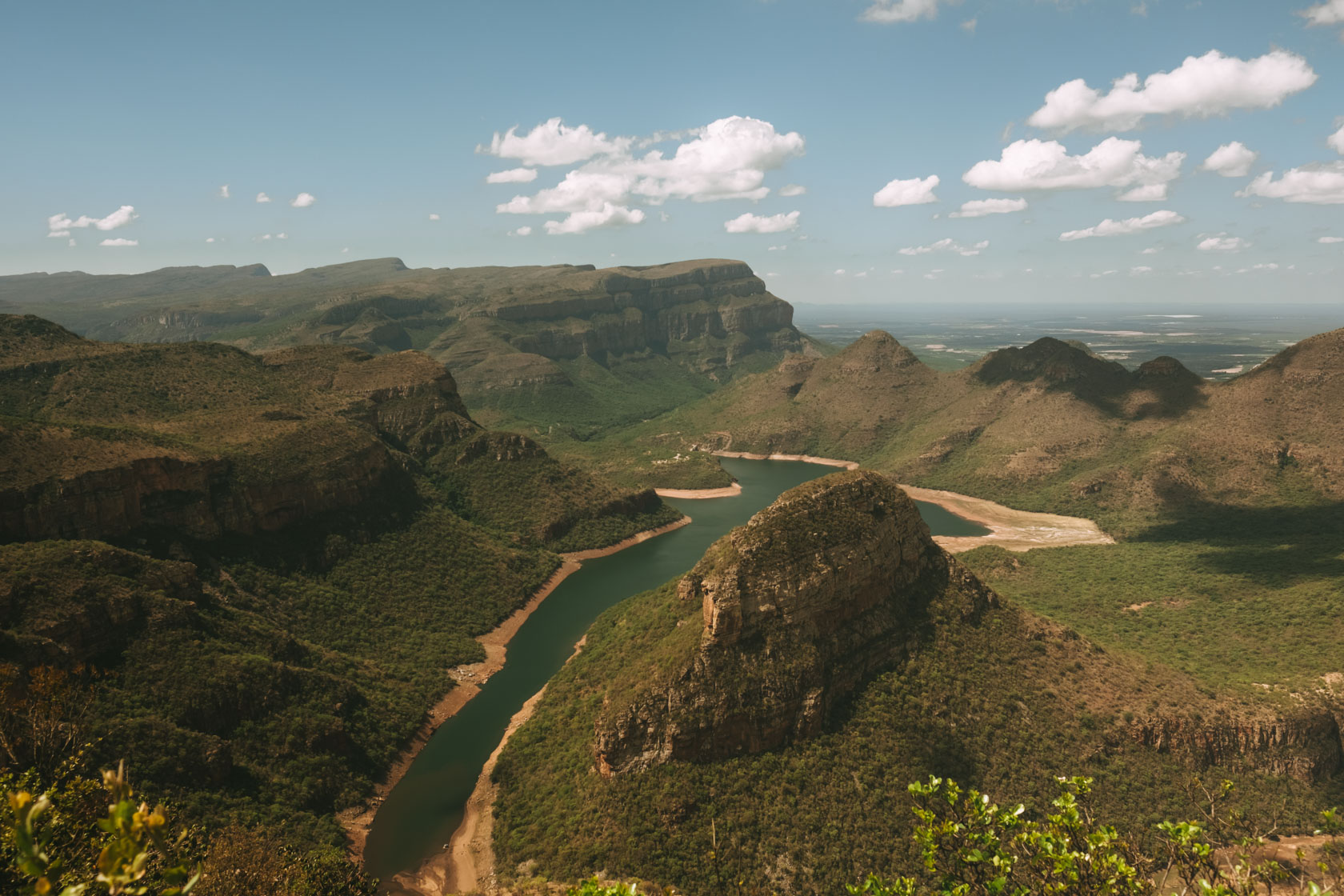 Things to do in Blyde River Canyon
God's Window and Rainforest Path
Come see actual rainforest in South Africa. The rainforest used to stretch much further, today there are only small pockets. You'll really be amazed when you come here and hear the sound of the rainforest. It's like stepping into another world, and such a departure from the rest of the nature we've experienced thus far.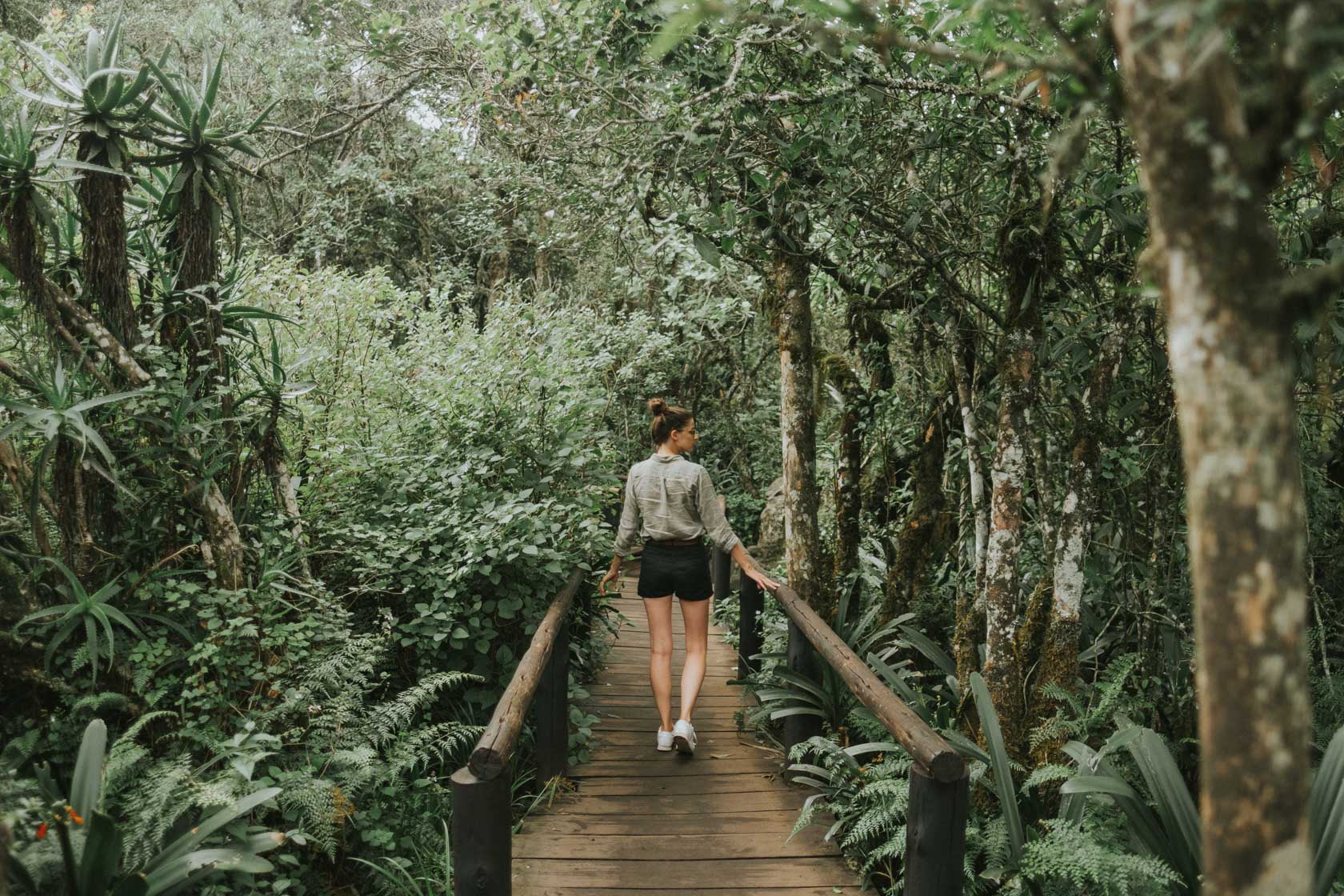 Unfortunately there was recently a fire in the area, so a lot of vegetation has burned. Thankfully we could see that the area was already recovering, with plenty of plants coming out of the charred remains of trees that used to be there. It's still plenty beautiful depsite the fire damage.
TIP – Bring cash to pay for entry! The nearest ATM is about 10km away.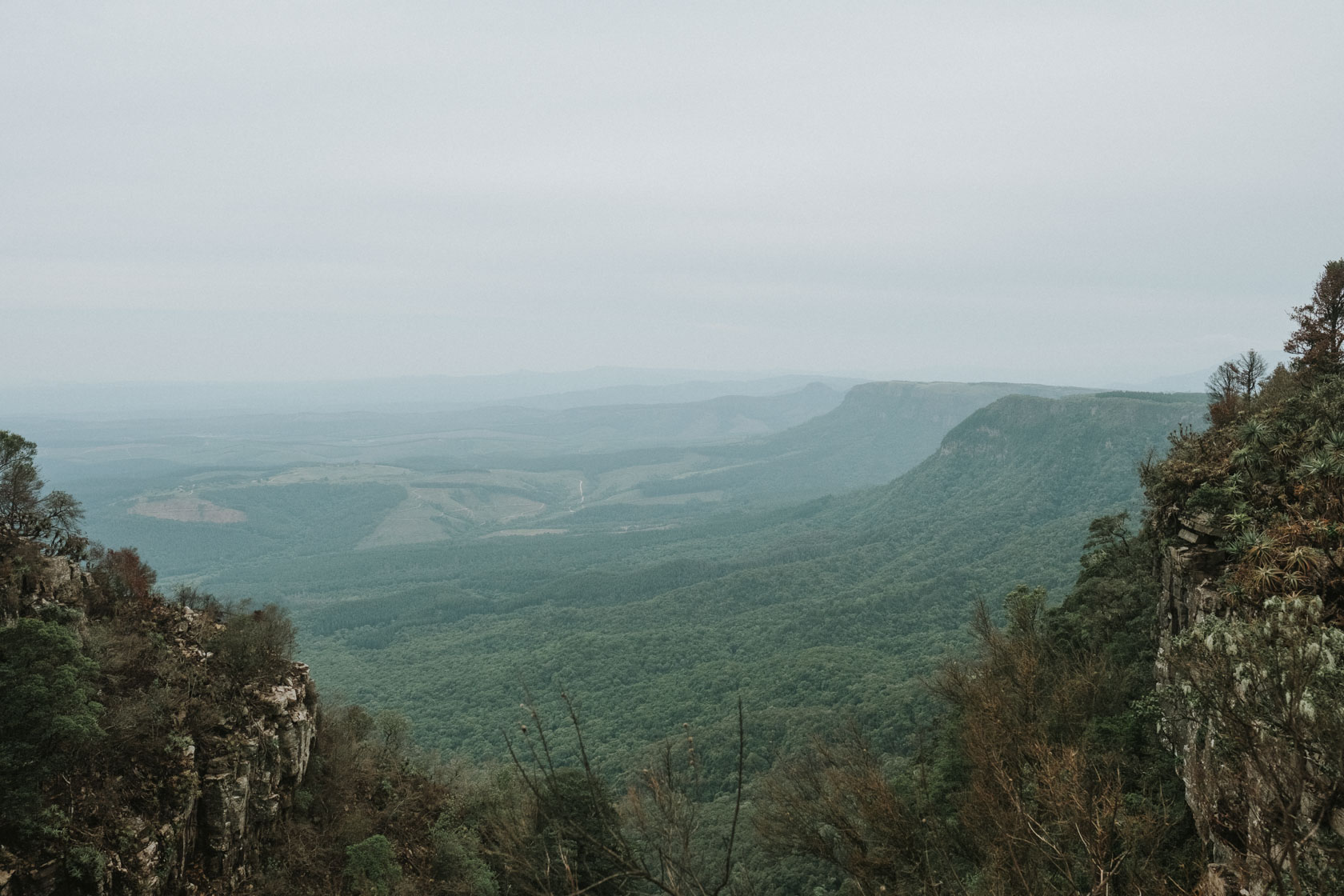 Three Rondavels
This is the iconic view of the Blyde River Canyon, which you've seen in just about every photo. You get an impeccable view over the river, and can see the three peaks called the "Three Rondavels" that this viewpoint is named for. Be advised that the area can be pretty packed with tourists, so come in the morning to have the best views all to yourself.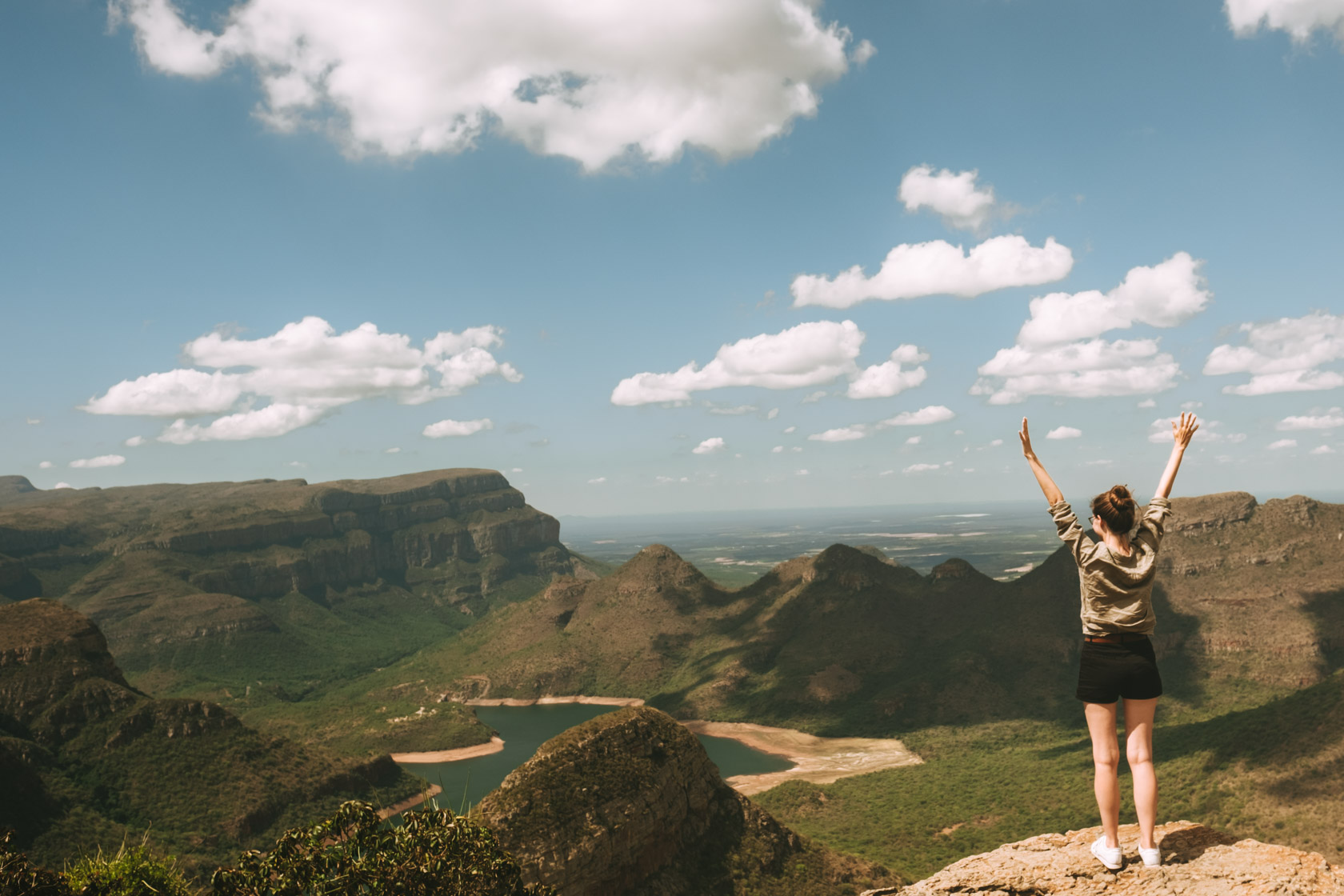 This was totally scary but also awesome! 😂
Lisbon Falls
Lisbon Falls and neighboring Berlin Falls are both beautiful waterfalls you can visit along the Blyde River Canyon Route. Again, bring some cash to pay for entry, and take the time to walk around the side of the waterfalls instead of stopping at the main viewing deck. You'll be rewarded with beautiful views.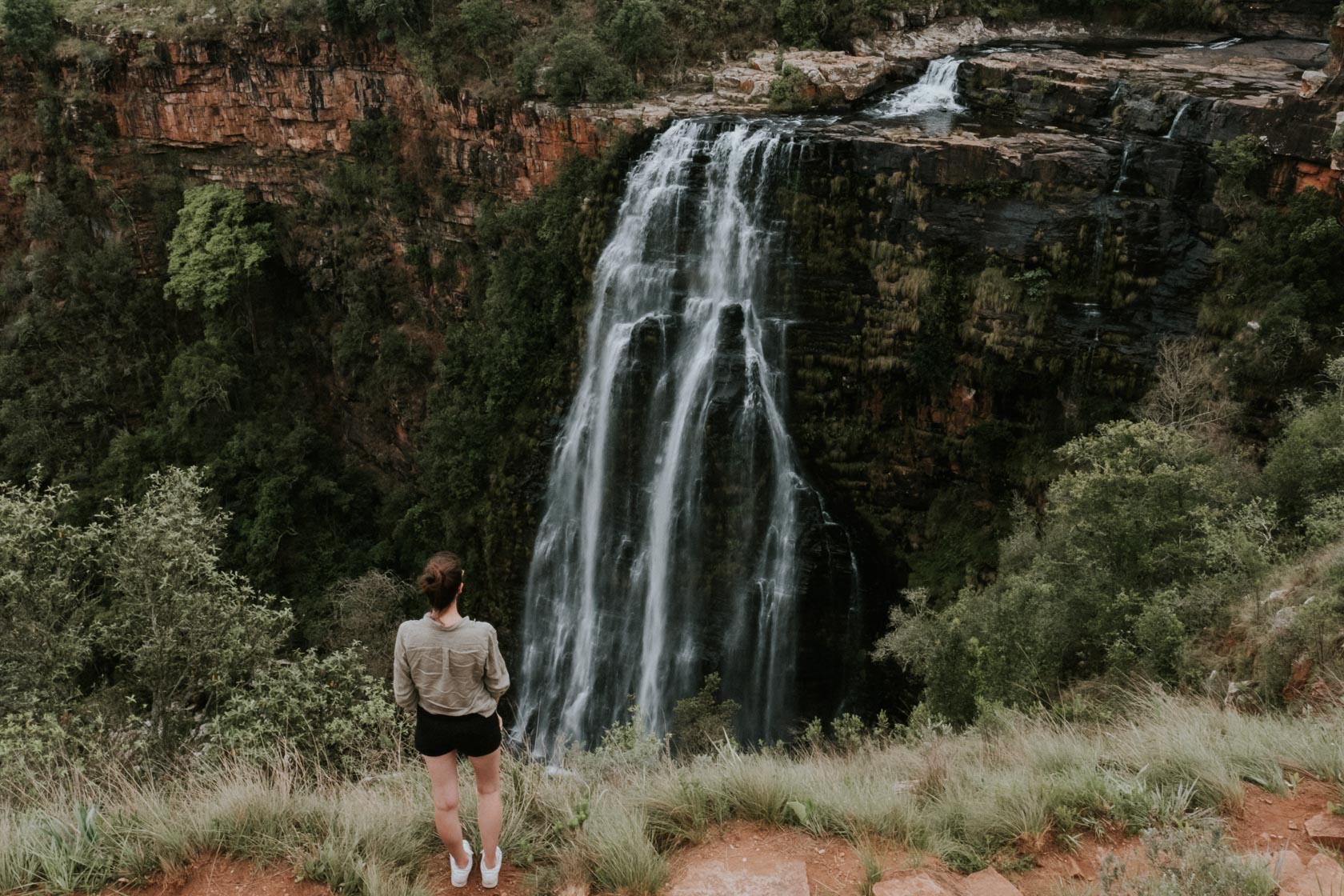 Drive back to Johannesburg and fly home!
TIP – There are multiple tolls collected between Blyde River Canyon and Johannesburg. These toll booths only accept South African cards, so make sure you have cash! We had to make THREE pitstops for cash.
Time to hit the road and head back to Johannesburg. If you have time, spend it checking out the city. We unfortunately didn't have the time, but we will be back!
Are you inspired to build your own South Africa itinerary? Have you been already?
Share your thoughts in the comments and let me know if you have more tips for me to add to my itinerary next time!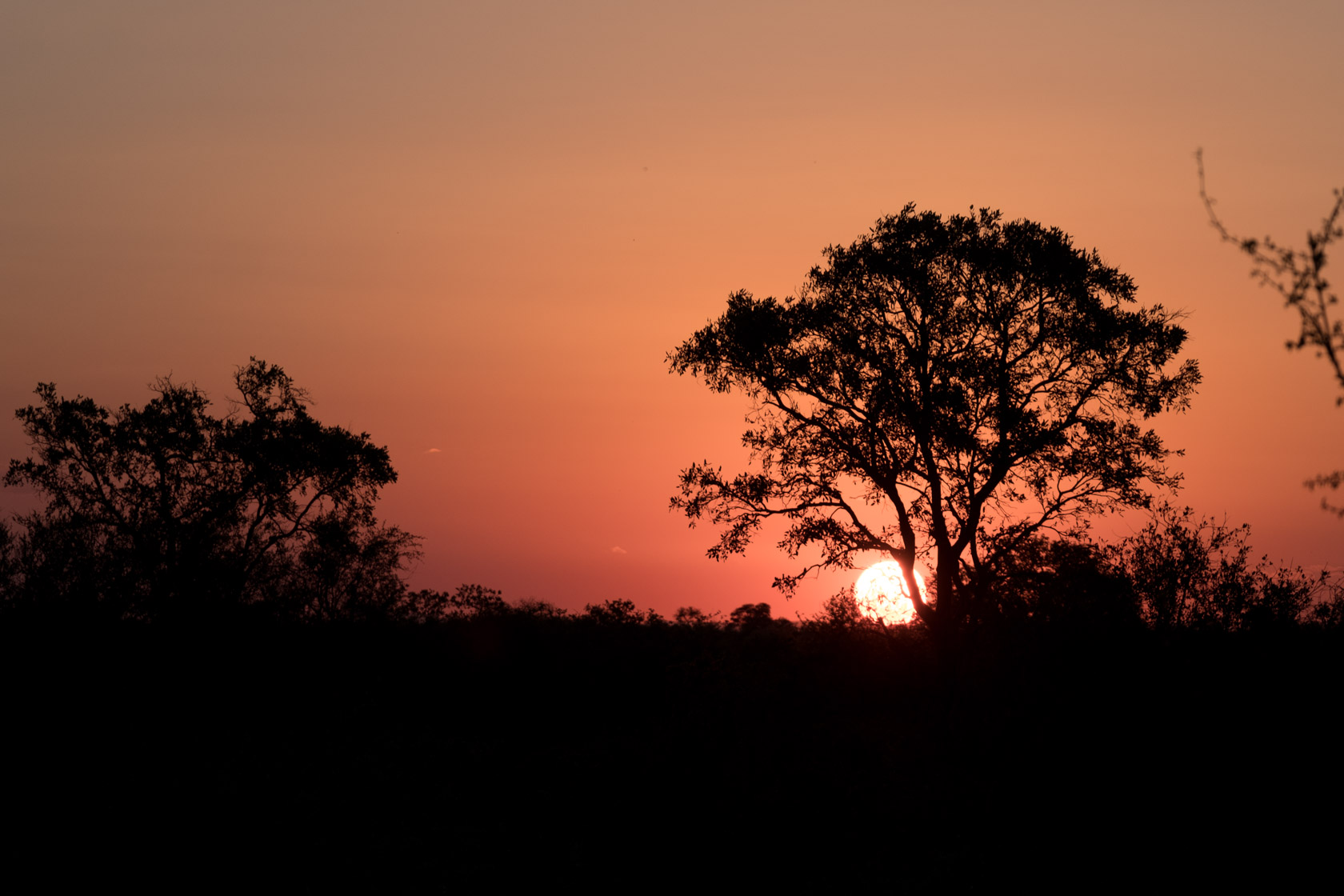 Pin this post for later!