Streching for more than 300 kilometers (or 190 miles), South Africa's Garden Route is perhaps the most popular road trip in the entire country. In some ways, the Garden Route is a condensed version of South Africa: it has forests, mountains, lagoons, grasslands, and deserts. This Garden Route itinerary is perfect for both the adventurous as well as the laid-back traveler, with plenty of activities to mix and match. And since there are so many things to do in the Garden Route in South Africa, you can let yourself be occupied from morning until night!
Personally, I loved South Africa's Garden Route and could've spent twice the number of days here than I could. Especially if you love outdoors activities, you'll be spoiled for choice with the fabulous national parks in this region.
Here are the highlights of my Garden Route trip, some tips on driving it yourself, extra activities I missed but wish I'd had time for, plus guided tours to the Garden Route from Cape Town in case you're not renting a car.
Enjoy this beautiful slice of paradise ✨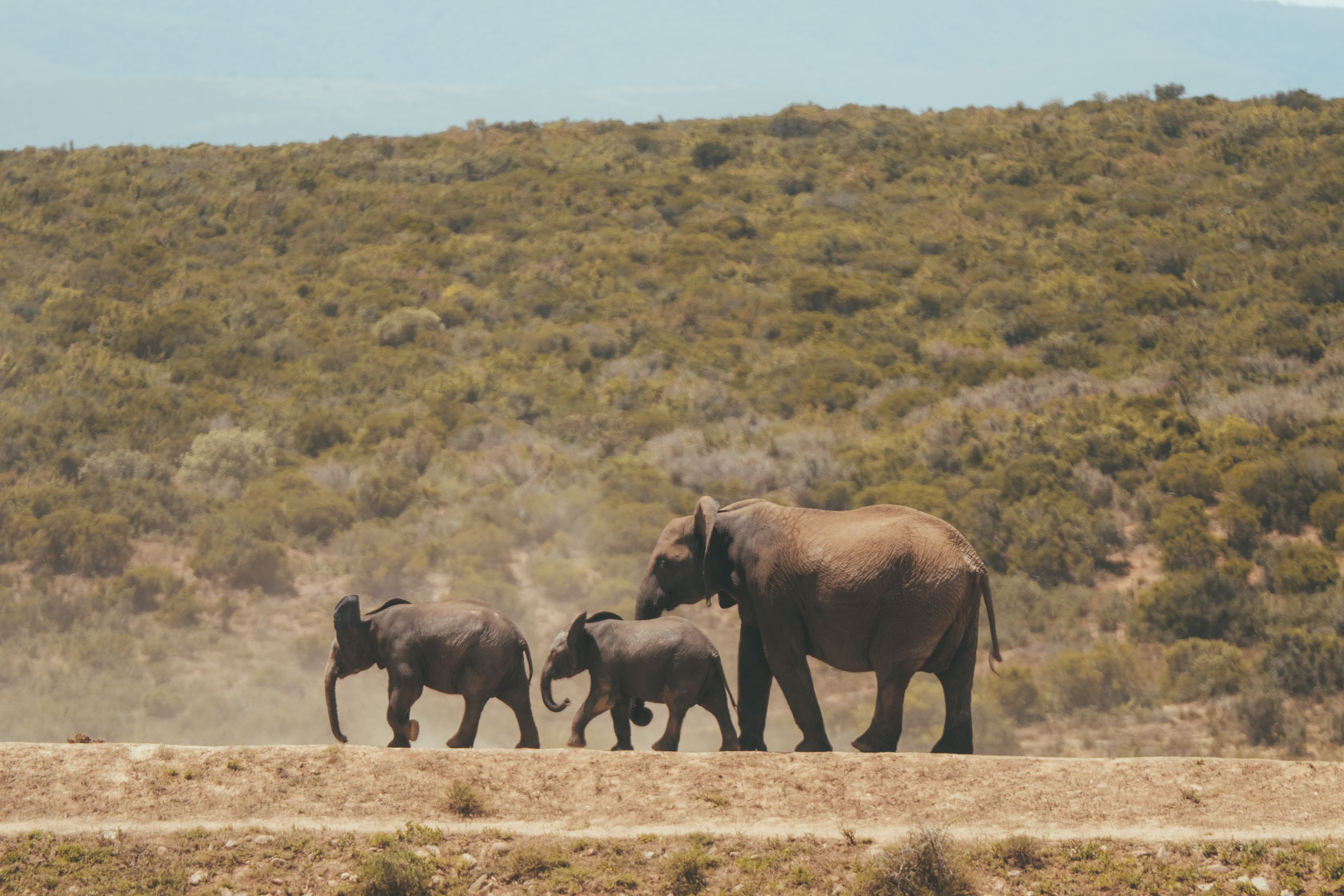 Some links in this post are to affiliate sites. If you purchase something through them, I may earn a small comission — which costs you nothing! I am very grateful when you use my links to make a purchase.
Can you visit South Africa now? (Summer 2023)
As of March 22, 2022, international travelers can visit South Africa regardless of vaccination status.
If you're vaccinated, you need to prevent a valid vaccination certificate at the port of entry. If you're not vaccinated, you'll need a negative COVID-19 test from a WHO-recognized organization obtained not more than 72 hours beofre the date of travel.
For the latest information, keep an eye on the official government website for updates on restrictions.
Garden route accommodation
In general, you can stay in most towns along the Garden Route and not go terribly wrong. There are a lot of Garden Route itineraries that recommend a bunch of different locations, ranging from guesthouses to full-blown luxury lodges. These are the places I personally stayed at that ended up being excellent, both in terms of facilities and logistically, and won't blow your budget.
Hermanus – We loved our stay at The Nantucket . It's a three-story guesthouse, and the owner will give you decades-worth of tips for the Garden Route. He even printed out a list of recommended stops for us! Great ocean views, our neighbors staying here saw whales from the balcony! Super clean and bright.


Knysna – Another guesthouse, Cloud 9 has stunning views over the sea and the lagoon from its high vantage point. The cost per night is a steal, though access is along a weird dirt road Google doesn't know about so be prepared.


Port Elizabeth or Jeffreys Bay – We stayed at Brighton Lodge in Port Elizabeth, which ended up being very lucky as they gave us SUPER helpful tips for our trip to Addo Elephant Park, including where best to enter the park and which roads to avoid. Besides Port Elizabeth, you can also base yourself in Jeffrey's Bay.
Garden Route Itinerary for 5 days
Day 1: Cape Town to Hermanus
Hermanus
While not technically part of the Garden Route, Hermanus is a town that a lot of people (us included) build into their Garden Route itinerary. And why not? It's on the way from Cape Town to Mossel Bay (the official start of the Garden Route), and is famous as the best land-based whale-watching capital of the world. From June to December every year, the Southern Right whale comes to the bay to give birth to its calves. That's right – you can see baby whales!
Apart from seeing whales, you can also often see the Cape Fur Seal as well as dolphins.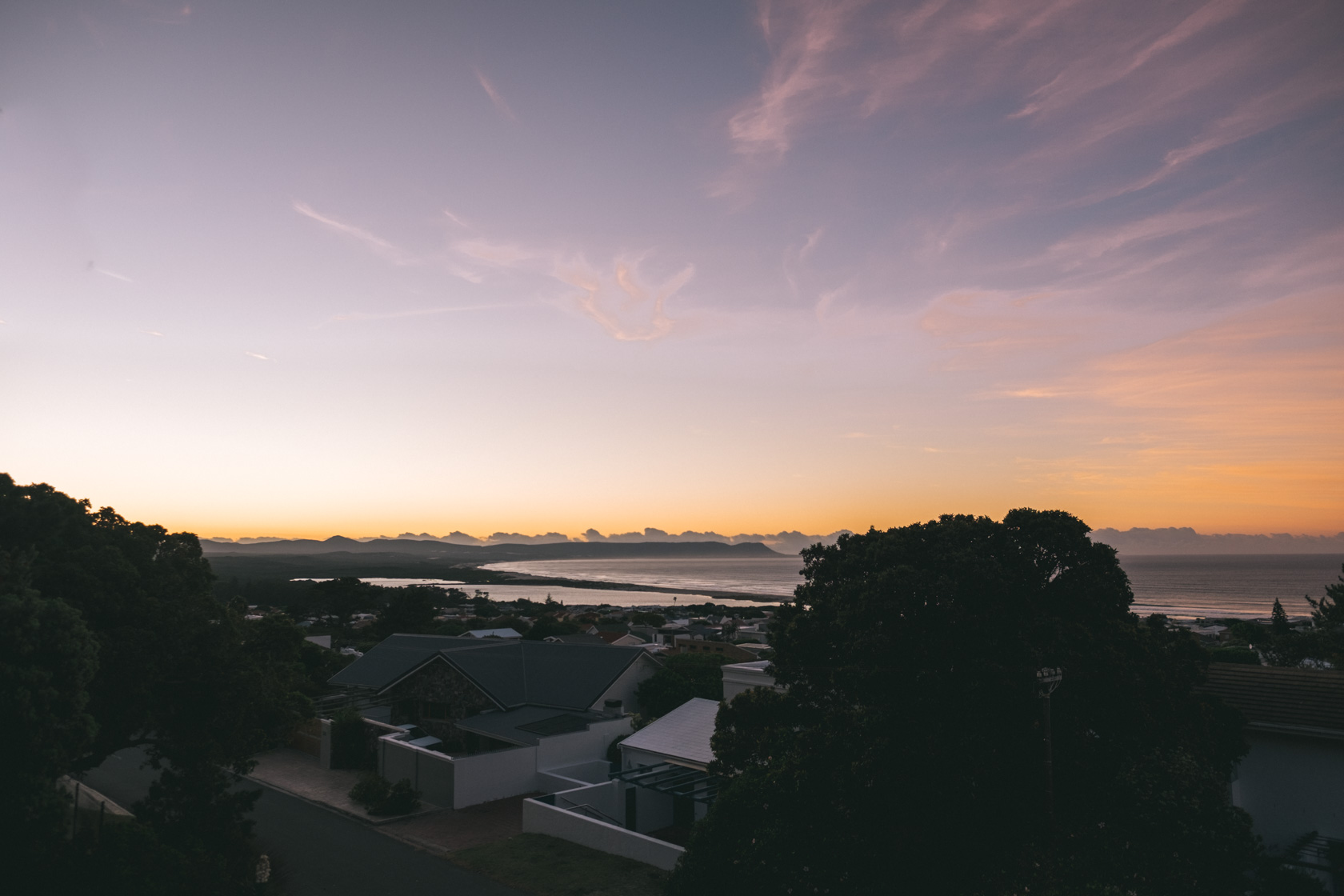 Things to do in Hermanus
Take a whale-watching boat tour – While Hermanus is famous for its excellent land-based whale-watching, you can get within 50m of these gentle giants by boat. Must-do if you are visiting during the whale season from June to December (there were still whales in the bay during our trip in early December).
Hermanus Whale Festival – September is peak season, even if the whales can be seen for many more months. This three-day festival includes street food, activities for kids, live music, and whales obviously.
Cliff Path – Another place you can watch whales from, this easy 10km coastal hike is a great way to spend time in Hermanus. You don't need to stay long to enjoy the view and breathe in Hermanus' famous "champagne air".
Go for oysters at locales' favorite oyster joint – Recommended to us personally by our host in Hermanus, Lemon Butta has excellent seafood, especially oysters.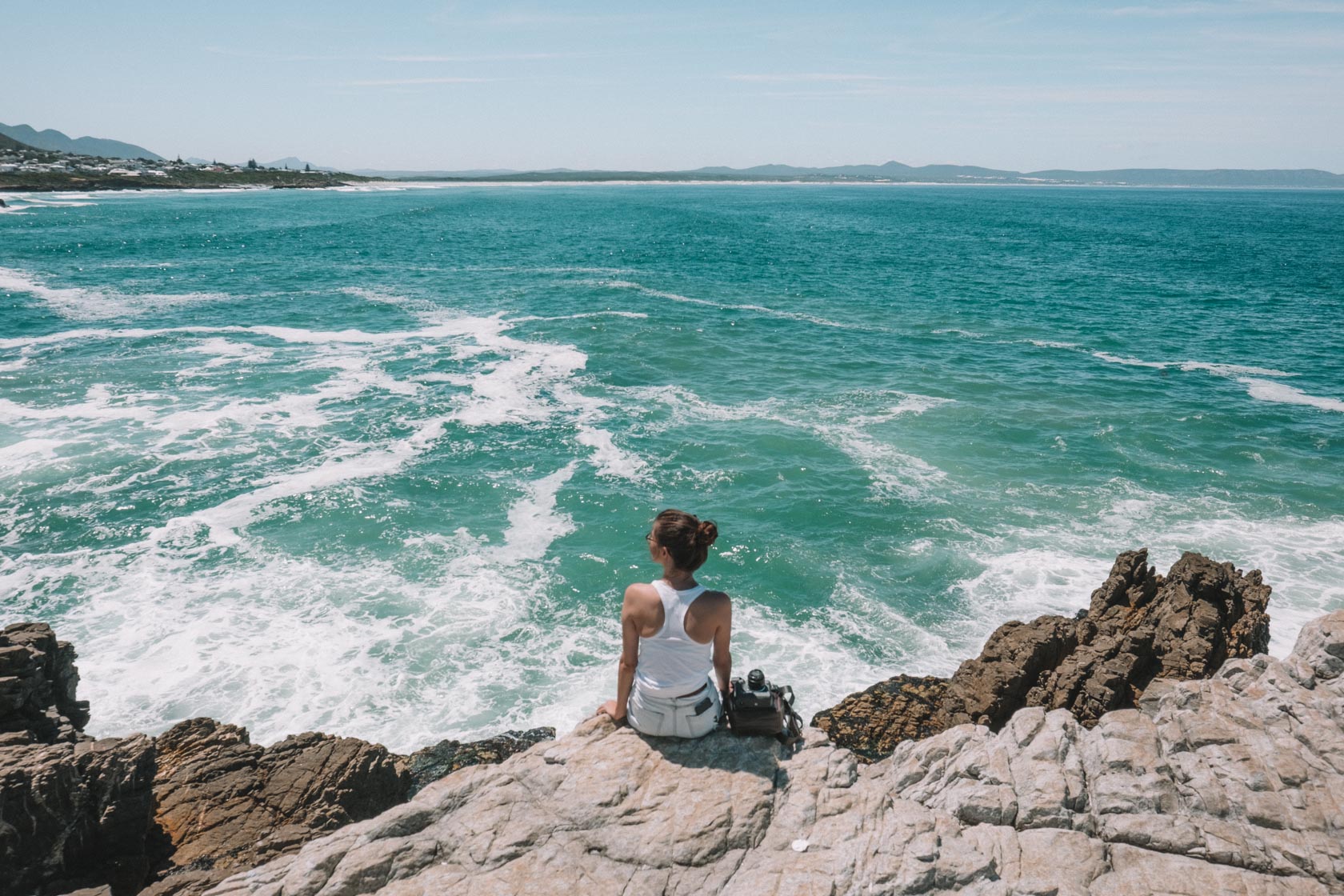 Day 2: Mossel Bay, Wilderness, Knysna
Mossel Bay
Mossel Bay marks the official start to the Garden Route, even though many people make sure to stop in Hermanus on the way here. Its name literally means "Mussel Bay", like the mussels you might like to eat! If you're trying to do this as a day trip, that probably means mussels for breakfast or lunch. Based on some reviews (and our trusty South Africa guidebook ), we ended up at Oyster Bar , which offered 3 oysters for under $10.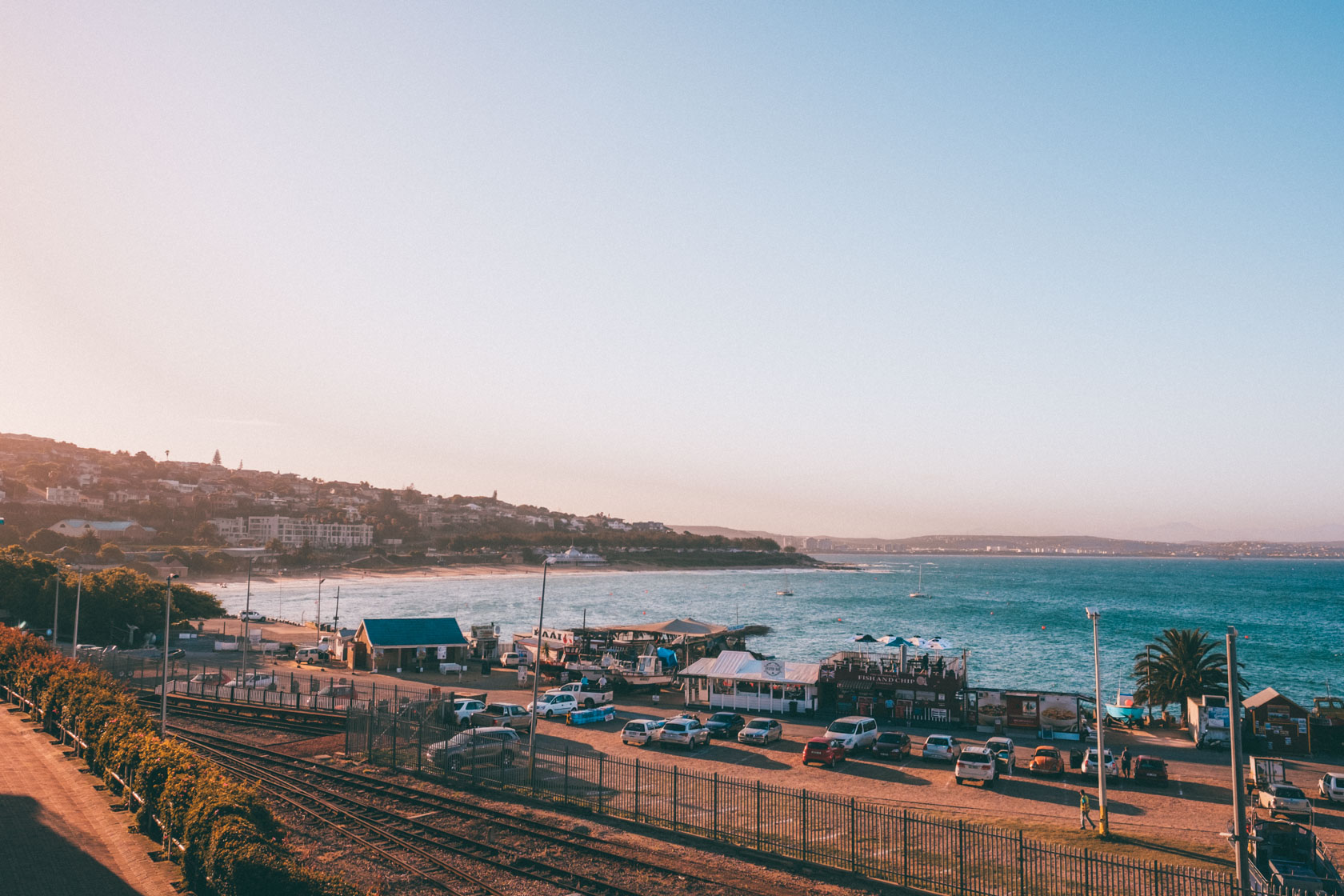 Things to do in Mossel Bay
Eat oysters – You'll notice this is a theme on the Garden Route! Oysters and other seafood are extremely popular here and you can find them ultra-fresh in Mossel Bay.
Visit the Bartolomeu Dias Museum Complex – Remember how we talked earlier about how sailors used to crash against the southern tip of Africa? You can visit a musem named for the explorer who was the first European to sail around it. It's got ships inside.
Diaz Beach – The biggest beach in Mossel Bay, with beautiful sand and has a restaurant and surf school nearby. You can go swimming here, just not too far because the area does have sharks.
The Point – A popular surf point and beach, complete with both a small and a large tidal pool. Entry point to the St. Blaize hiking trail.
St. Blaize Hiking Trail – A 15 kilometer long stretch of hiking trail along the coast of Mossel Bay.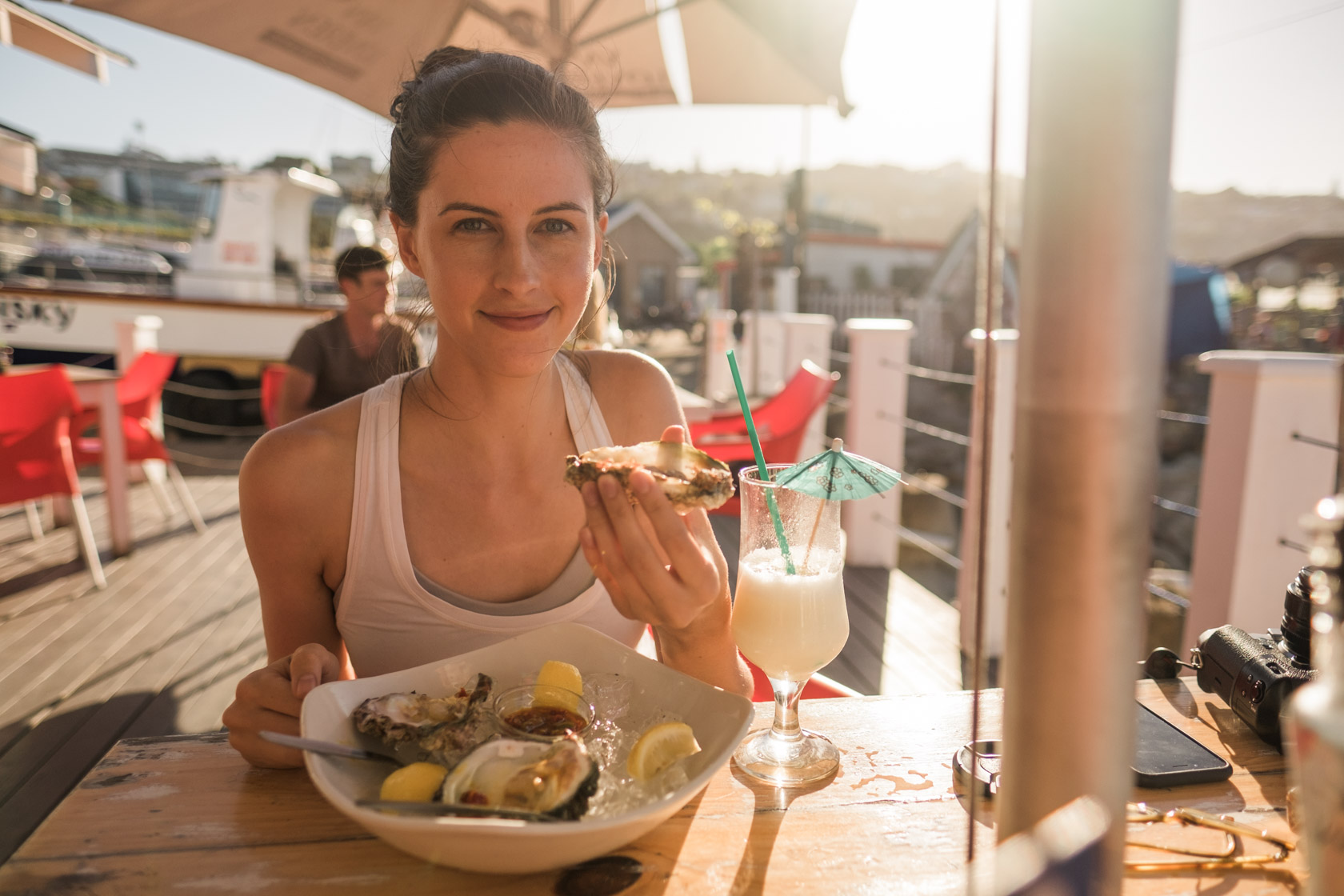 Knysna
Knysna is famous for having both a beautiful coastline as well as an inland lagoon. Depending on your vantage point, you can actually see both sides of Knysna at the same time. Its unique geography also means it was famous as a dangerous place to sail (this seems like a theme, no?). The Knysna Heads has been called the single most dangerous ocean mouth in the entire world. Sounds like a place you want to hang out, eh?
Truth be told, Knysna is one of my top picks for places to visit on the Garden Route and you'll soon see why!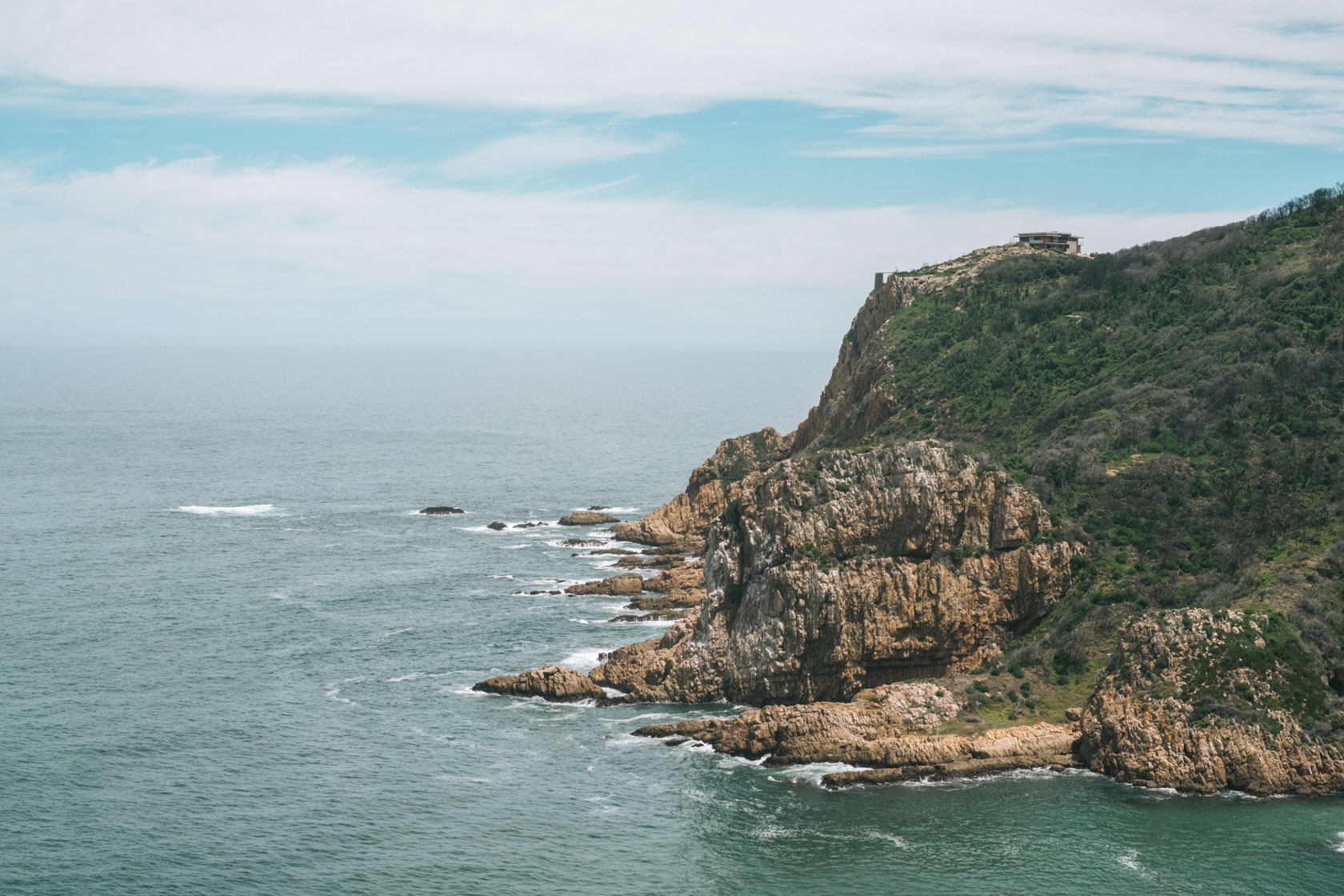 Things to do in Knysna
Eat oysters at the Knysna Oyster Festival – If you're in Kynsna in June, you can eat oysters at the most famous place to eat oysters in the entire country! You can check the exact dates on the Kynsna website .
Go for a boat ride – Just after telling you how dangerous it is to sail, I'm going to give you the idea to go for a boat ride! Often these are canceled owing to wind, but it doesn't hurt to give it a try. You can do a Whale Watching Boat Tour in case you didn't get a chance to see whales in Hermanus!
Knysna Elephant Park – You've got a lot of chances to see elephants on this trip, and if you won't make it to Addo Elephant Park (which, by the way, you SHOULD!) – you can also see elephant in Kynsna.
See the Knysna Heads at the Eastern Viewpoint – One of the best spots to get a view over the lagoon in Kynsna!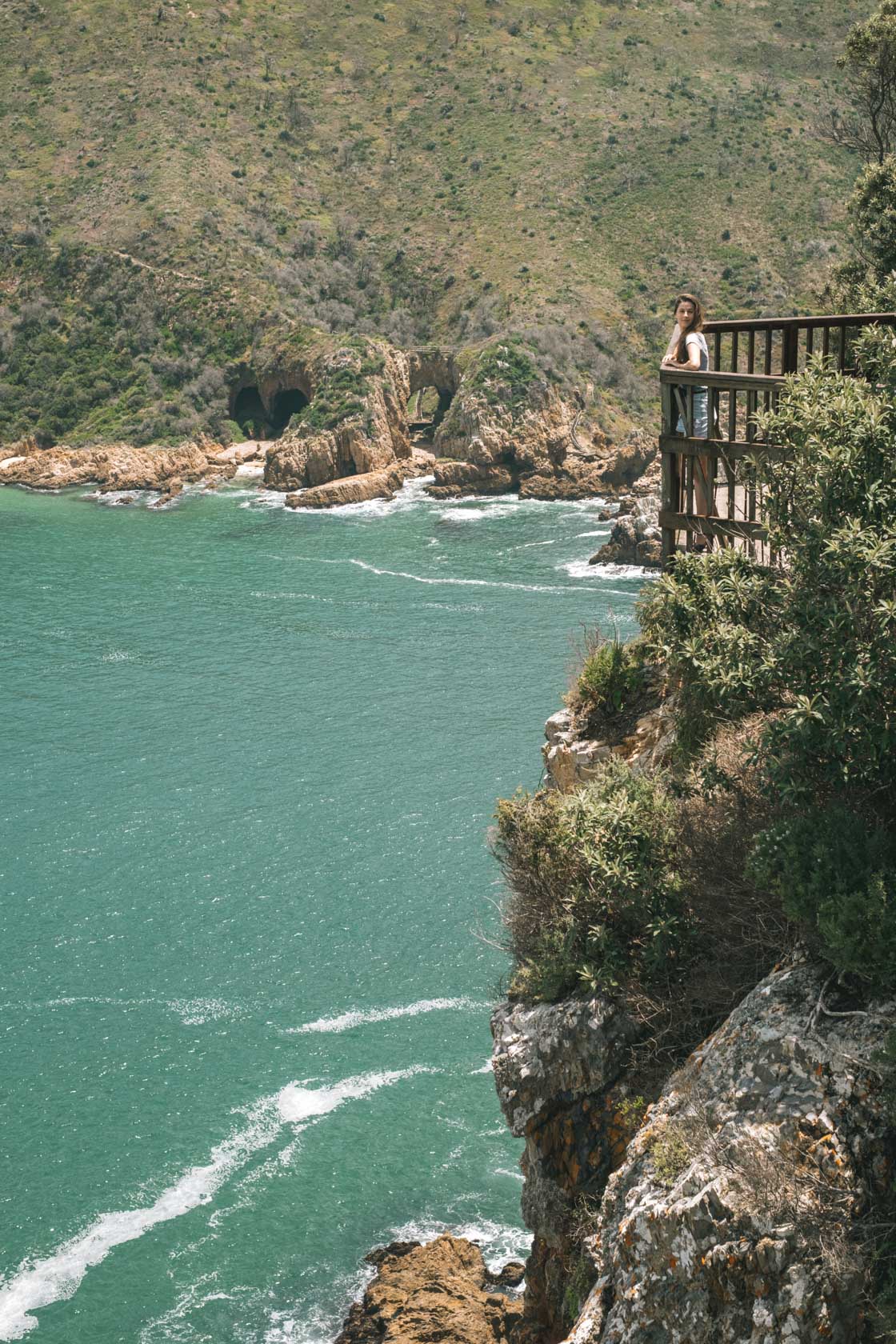 Day 3: Plettenberg Bay, Nature's Valley, Tsitsikamma National Park, Port Elizabeth
This stretch is a very pretty drive, including stops in a national park and plenty of chances to see babboons! If you have more time, you can break this stretch up for this garden route itinerary into several days. We met people during our South Africa road trip that spent several days in Tsitsikamma National Park alone.
Plettenberg Bay
Also known as "Plett", Plettenberg Bay is a city famous for its beaches. It's a popular place especially for families who want to spend time together on the beach. You can come here and grab a drink overlooking the beach, or jump in the water. Keep reading for more information about things to do in Plettenberg Bay!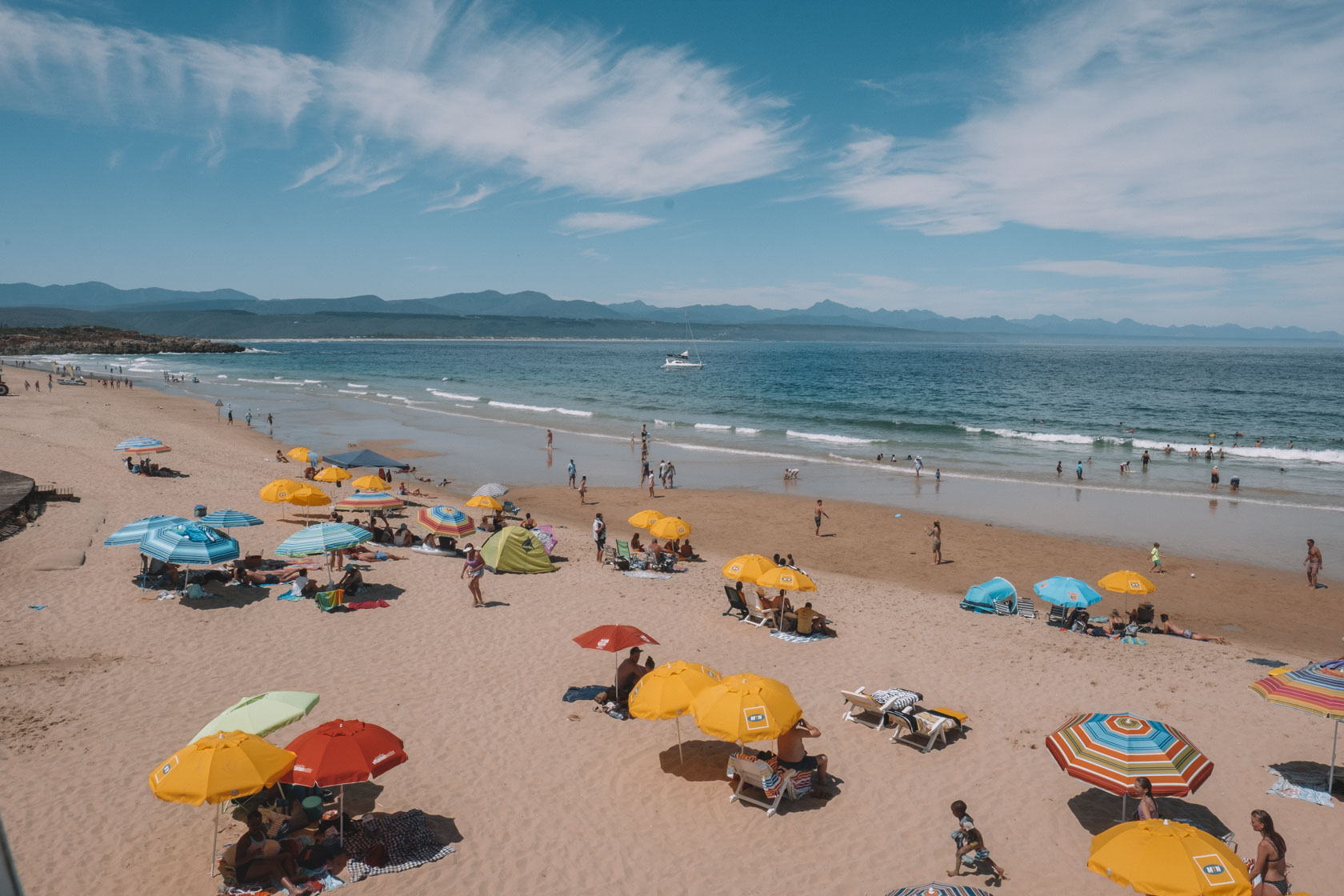 Things to do in Plettenberg Bay
Plettenberg Bay Game Reserve – If you're looking for somewhere to go on safari during your time on the Garden Route, my top recommendation is Addo Addo Elephant Park near Port Elizabeth. However, there are plenty of spots to do it before reaching the far end of the route, such as Plettenberg Bay Game Reserve .
Go to Monkey Land – If you want to walk among the monkeys, this is the place to do it. This park has free-roaming monkeys you can interact with as you experience Monkey Land. Bring your camera but hold onto it tightly 😉
Drive through Nature's Valley – After Plettenberg Bay, you'll have the option to veer off the N2 onto the R102. It's a scenic drive and plenty of changes will arrive to see babboons crossing the street! Read more about Nature's Valley in the next section.
See the Bloukrans Bridge – Bloukrans Bridge is the highest bungie jumping point in the world. It's set up in such a way that you need to zipline to the bungie jumping point, so it's not for those who are afraid of heights! If you want to do it, definitely book your bungee jump slot in advance – when we went they were sold out for the day!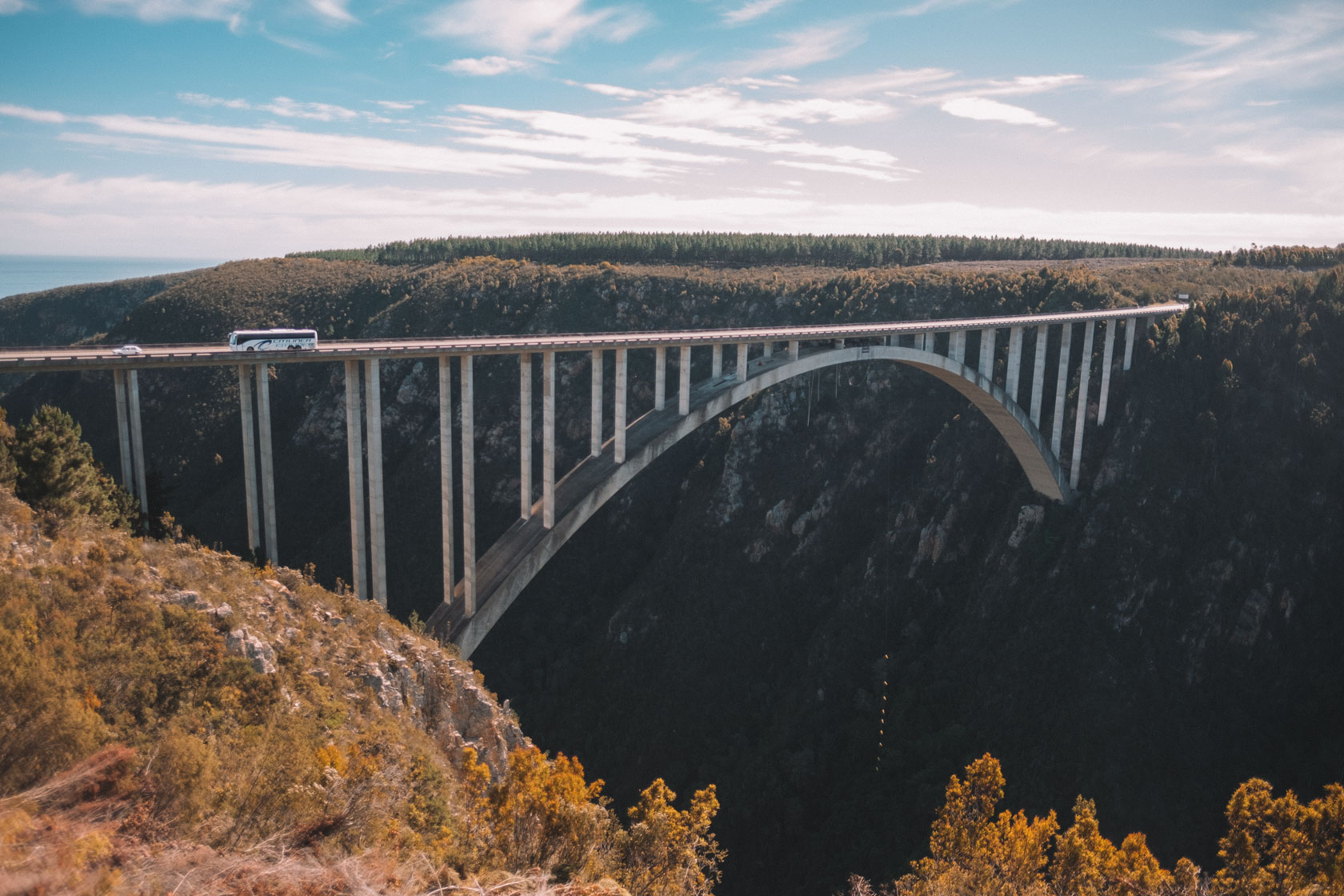 Nature's Valley
Nature's Valley is a small resort village along the Garden Route. Even if you don't decide to stick around for long, you can drive through the area by taking a detour off of the N2 (The Garden Route) onto the R102. As you drive through be careful as babboons cross the road!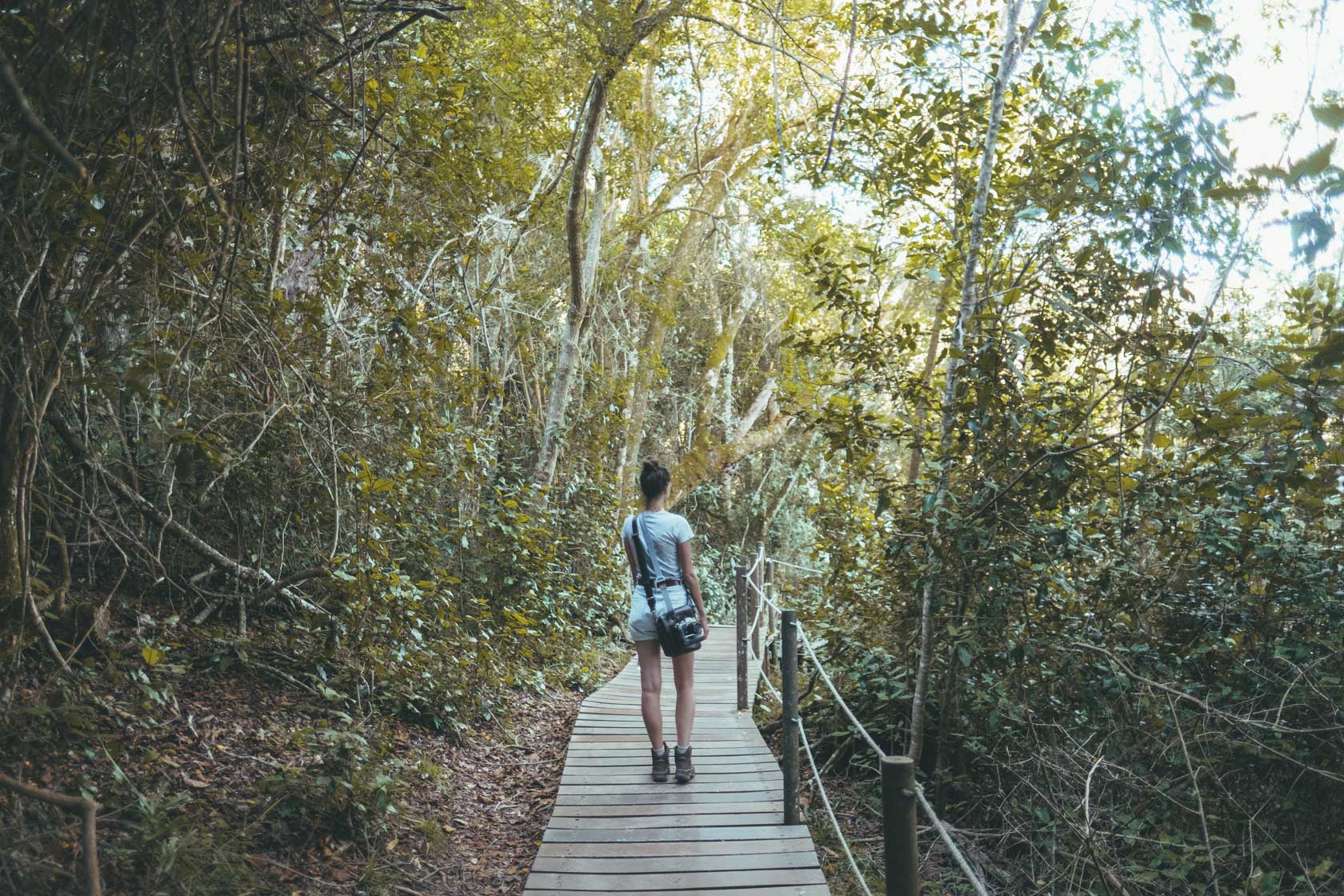 Tsitsikamma National Park
Tsitsikamma National Park is a marine reserve most famous for its suspension bridges you can walk to in about 15 minutes across wooden walkways. For the more adventurous and prone to outdoors activites, kayaking through the gorge or ziplining through the canopy of trees are two of the most popular things to do in Tsitsikamma.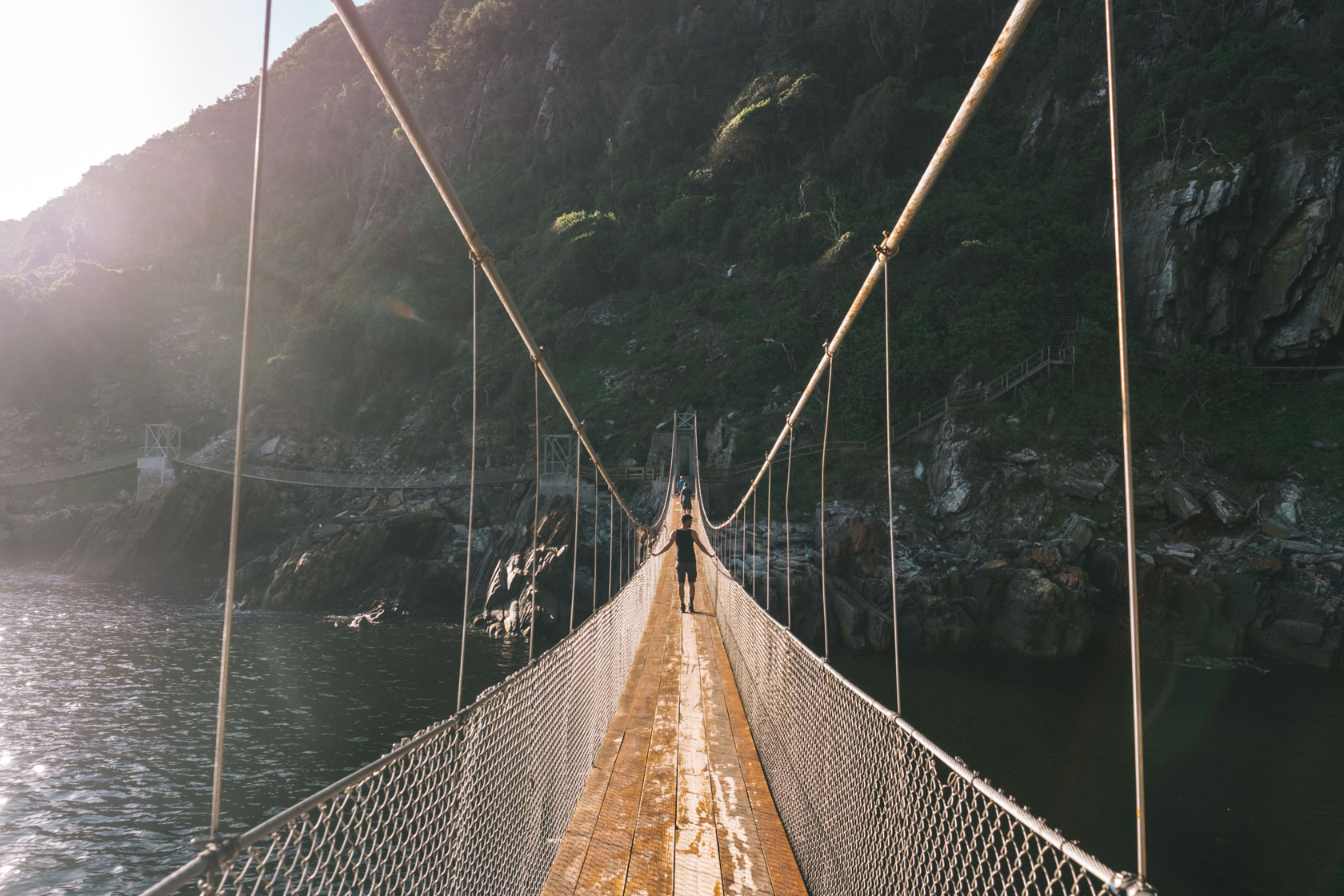 Day 4: Addo Elephant Park
Port Elizabeth
I honestly didn't spend a lot of time in Port Elizabeth itself, and found the city relatively vanilla compared to most of the other places in the Garden Route. But it's a great place to base yourself if you'll he heading to Addo Elephant Park the following morning! We stayed at Brighton Lodge which was super easy to find, secure, and had a good location for driving to Addo the next day.
Addo Elephant Park
Addo Elephant Park is the third largest national park in South Africa after Kruger National Park and Kgalagadi Transfrontier Park. It has more than 600 elephants, and is really special because it's a place where you can see immense herds of elephants altogether. There are numerous watering holes (many man-made) which often attract elephants in large numbers.
When we were there we also saw zebra, buffalo, hartebeest, and a number of other animals. There are even plans to expand the park to include a marine area, making it the only park in South Africa to be home to the "Big 7" (elephant, rhinoceros, lion, buffalo, leopard, whale and great white shark).
Addo Elephant Park was one of the highlights of our South Africa trip! Keep reading for my top tips for visiting.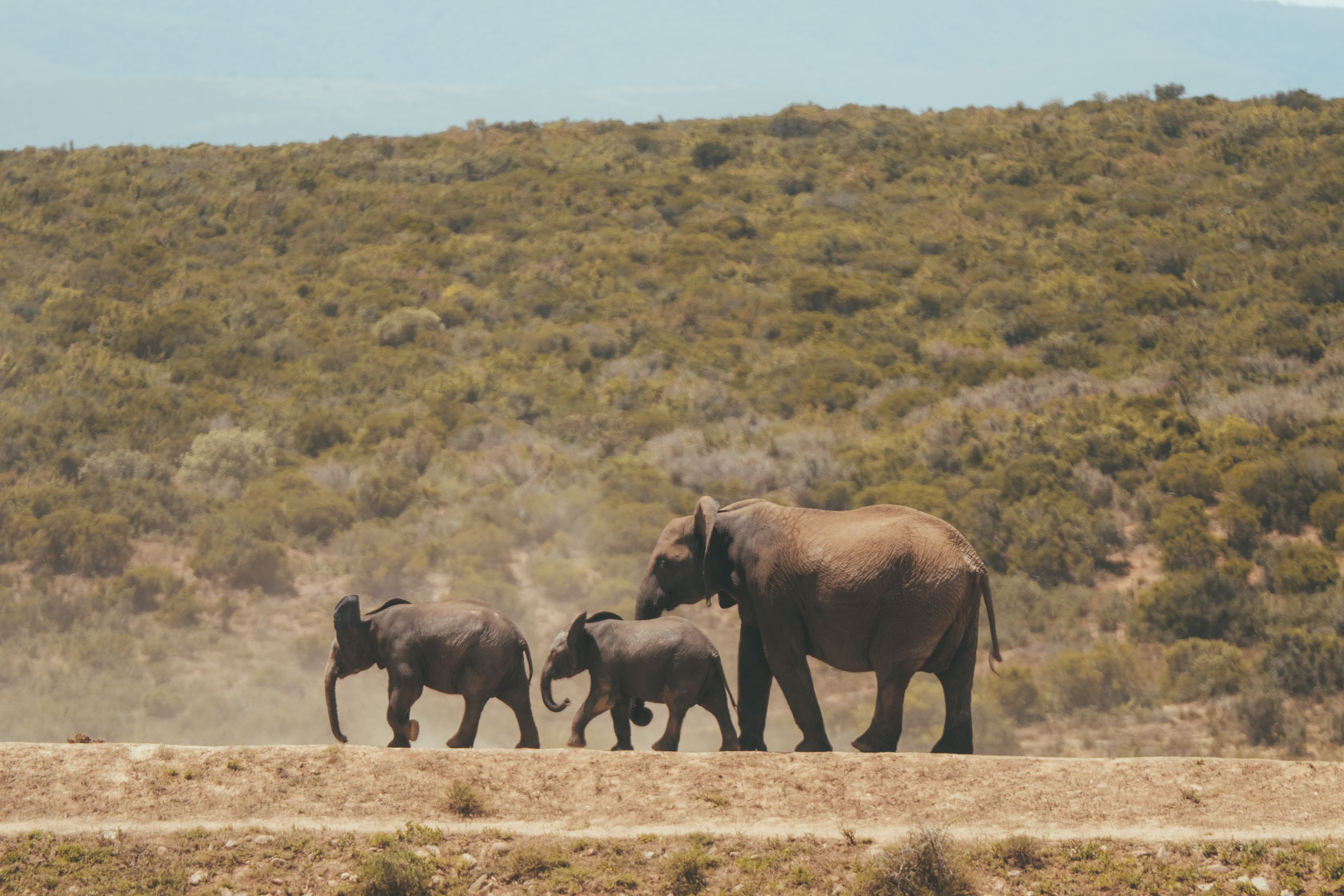 Tips for visiting Addo Elephant Park
Here are a couple of practical tips for your trip to Addo.
Enter through the north entrance. Addo is an enormous park, you won't have time to loop around. If you enter through the North, you can exit through the South and head back to wherever you're staying.
Roll down your window and talk to other self-drivers. Drive slowly and if you see other drivers and have a tip for them, or want to ask them something, don't hold back!
Go on a guided tour. Addo is an awesome place to experience budget safari in South Africa, because you can do both a self-drive safari (where you drive your own car around the park) and you can join a group guided safari (which will educate you and show you more of the smaller animals too!).
Get plenty of gas in advance. There is gas available close to the entrance, but you'll want to make sure you don't run the risk of running out because obviously there is just anywhere to get gas inside.
Bring water and snacks. You're going to be in an air-conditioned car, but you'll turn it off and wait at certain viewings and it can get toasty! Plus you'll want to spend at least a few hours driving yourself around. Be prepared!
Bring your binoculars! If you haven't used them for real, binoculars are AWESOME when you're on safari. It's even better than looking through a zoom lens. We bought these binoculars by Olympus and they were so great everyone else on our later safari asked to brorow them!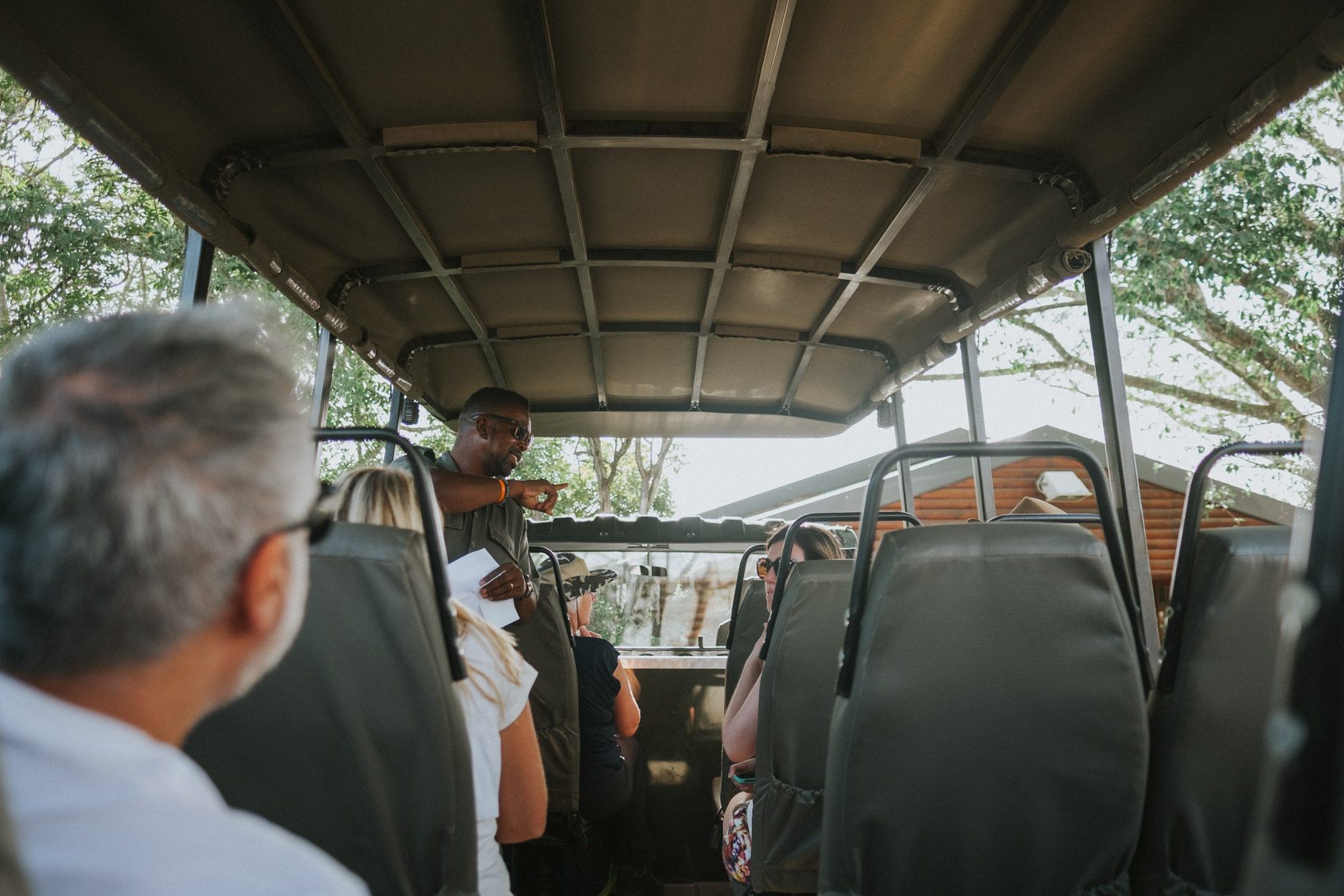 Day 5: Return through Klein Karoo to Cape Town
If you're flying back out of Cape Town, go ahead and loop back through the Klein Karoo. If you're flying out of Port Elizabeth to go elsewhere in the country, like Johannesburg or Kruger National Park, you can do the Klein Karoo in between Hermanus and the other parts of the trip. In any case, this is a special area with open landscapes and rolling hills of farmlands.
Klein Karoo
Klein Karoo means "Small Karoo", and it's a desert region that stretches above the coastal region of the Garden Route. The most famous road through this area is called Route 62, considered one of the best roadtrips in South Africa as a whole.
Things to do in Klein Karoo
Drive the famous Route 62 – Along this route you'll find a number of towns serving up great wine or hosting ostriches!
Go to an ostrich farm – One of my regrets in my South Africa trip that I didn't get to visit an ostrich farm! Just please do not ride the ostriches, it puts the birds under stress.
Follow the Klein Karoo wine route – Officially, the Klein Karoo wine route goes through Montagu, Barrydale, Ladismith, Calitzdorp, Oudtshoorn, De Rust, and Herold. Check out this website on the Klein Karoo wine route for suggested itinereries.
Stop in Calitzdorp for a glass of Port – Our host in Hermanus explicitly recommended stopping at De Krans, though there are a number of different options in the area for port wine.
Hike through the Swartberg Pass – There's literally a valley in this area called Hell ! If you want to see a side of South Africa most people miss, you can do a guided hike through Swartberg Nature Reserve .
Go on safari – If you only have a day away from Cape Town, you can still go on a big 5 safari in the Klein Karoo, the Big 5 being lions, elephants, buffalo, leopards, and rhinos. Naturally, on safari, it's not possible to ensure what you see, but the Klein Karoo is the only area near Cape Town that has all of the big five!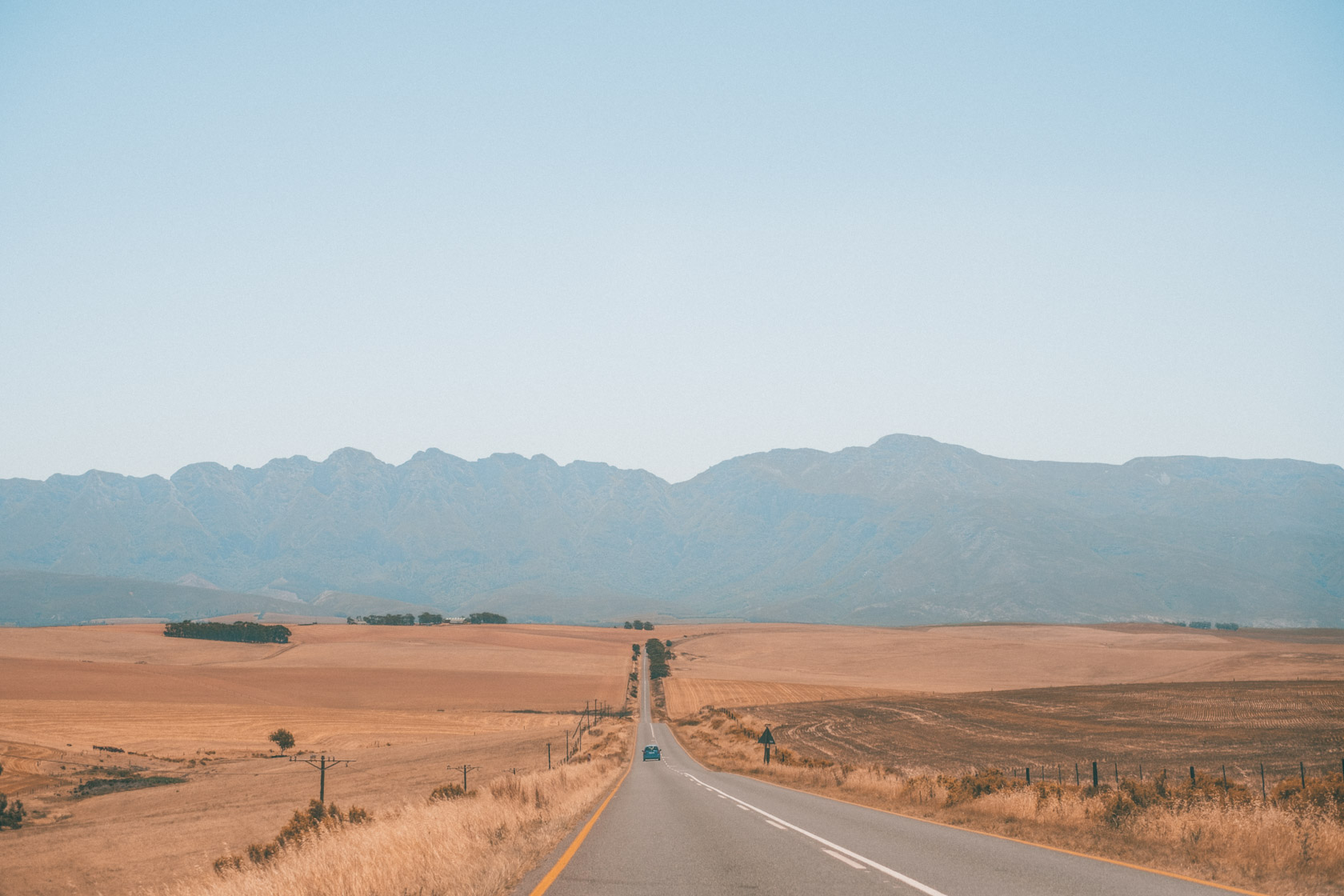 Safari in Klein Karoo
There are two main reserves in the Klein Karoo, both of which are home to the Big 5. If you drive yourself on this day trip from Cape Town you can save a lot of money on the transfer (which takes about two hours).
Aquila Private Game Reserve (does not include transfer) – As you might know, sunset is one of the best times to see animals on safari. If you can, booking either a sunrise or a sunset safari a great idea, because that's when the animals are most active.
Inverdoorn Game Reserve (includes transfer) – You can go on a day trip to this game reserve, including a 3-hour game drive. Unlike many public drives, you only share the open-top jeep with up to 8 other people. Inverdoorn is unique because of its cheetah rehabilitation program!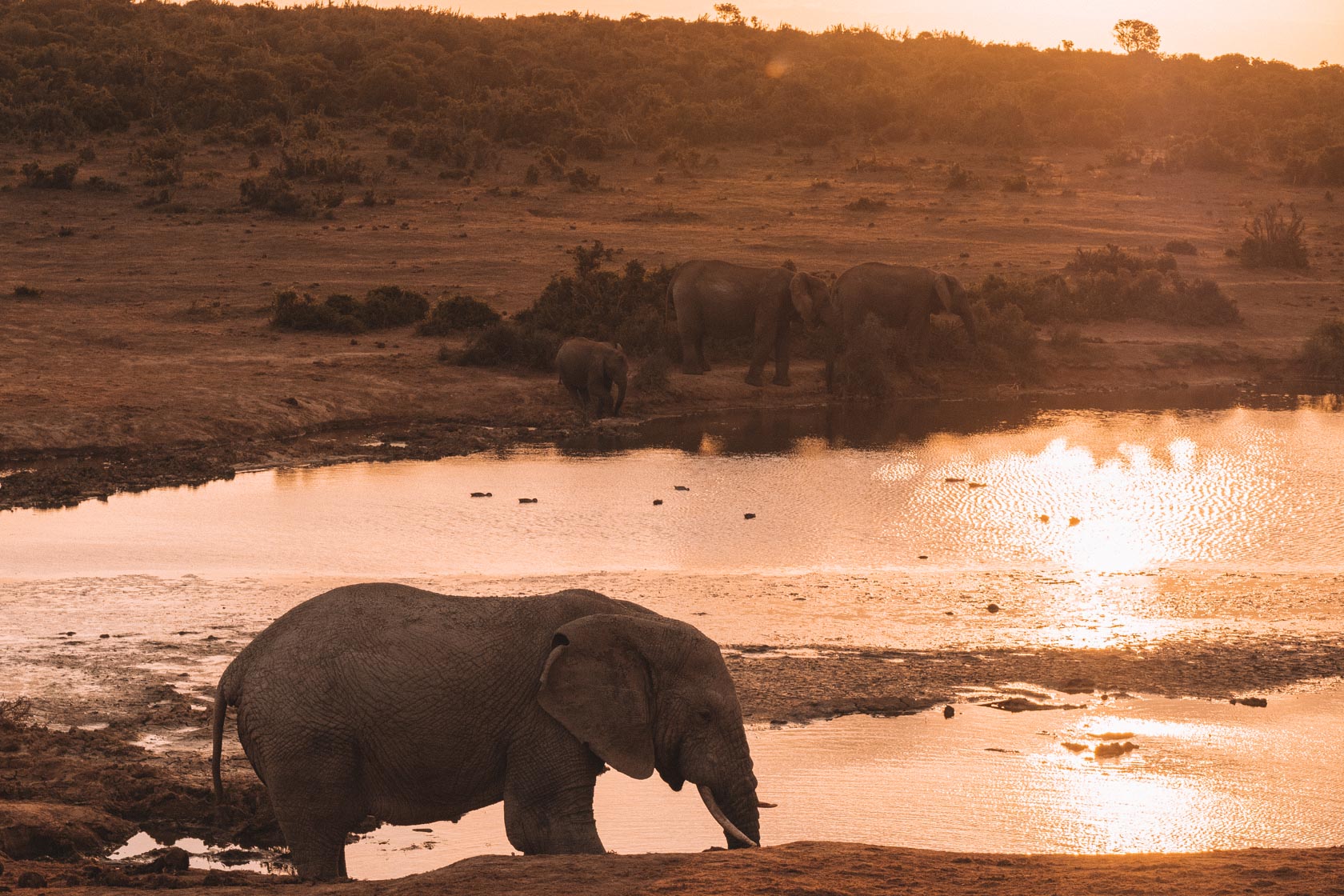 Reach the Garden Route from Cape Town
While it's possible to reach the start of the Garden Route from Cape Town on a day trip, your best option is to spend several days on the Garden Route. Personally, we loved driving ourselves down the Garden Route because it gave us a ton of flexibility. That said, driving in South Africa can be a little scary sometimes, and not just because of driving on the left. Roads aren't always in the best condition and there is a lot of speeding. That said, we obviously survived 😉
As for guided tours, after a lot of research, I think the 5-day Garden Route + Addo Tour is the best value. You'll have a better chance to see rare animals the more often you go on safari, and this tour gives you three safari opportunities. While it doesn't visit Hermanus, you can easily do that as one of your day trips from Cape Town if you're visiting in the whale-watching season from June to December.
Here are the pros and cons of the top two highest-rated Garden Route tours for different durations. Both of them have 4.9 out of 5 ratings or higher based on customer reviews.
Tour
Pros / Cons
Check availability
5 days

Garden Route Tour incl. Addo Elephant Park Safari

Pros: Many extra activities possible, and chance to do 3x safari in 2 different parks
Cons: Meals not included, does not visit Hermanus

Visits: Wilderness (canoe), Knysna, Bloukrans Bridge, Tsitsikamma National Park, Suspension Bridge, Jeffreys Bay, Addo Elephant National Park (2x safari), Oudtshoorn, Cango Caves, Buffelsdrift Private Game Reserve safari (extra), Elephant Bush Walk (extra), Route 62.

Check availability
4 days

Garden Route Tour incl. Knysna Elephant Park

Pros: Visits Hermanus (especially during whale season), breakfasts and dinners mostly included
Cons: Misses Addo Elephant Park

Visits: Route 62, Oudtshoorn, Cango Caves, Knysna, Knysna Elephant Park (extra), Plettenberg Bay, Bloukrans Bridge, Tsitsikamma National Park, Suspension Bridge, Garden Route Game Lodge, Hermanus, Stony Point Penguin Colony

Check availability
Highlights not to miss: Addo Elephant Park (famous for having huge herds of elephants), Hermanus (best land-based whale-watching the world, June-Dec), Tsitsikamma National Park (kayaking and suspension bridge), Knysna (just plain beautiful).
How long does it take to drive the Garden Route?
The Garden Route itself (from Mossel Bay to Port Elizabeth) from a pure driving standpoint could be done in one day, but when you include stops, the main route requires at least 3 or 4 days to see it properly. That said, many people spend an entire week on the Garden Route and still do not see it all!
This Garden Route itinerary spends 3 days on the official route, plus one day in Hermanus and one day driving back to Cape Town through the Klein Karoo for a total of five days. If I were to do it again, I would spend more time in the Tsitsikamma National Park and more time in the Klein Karoo!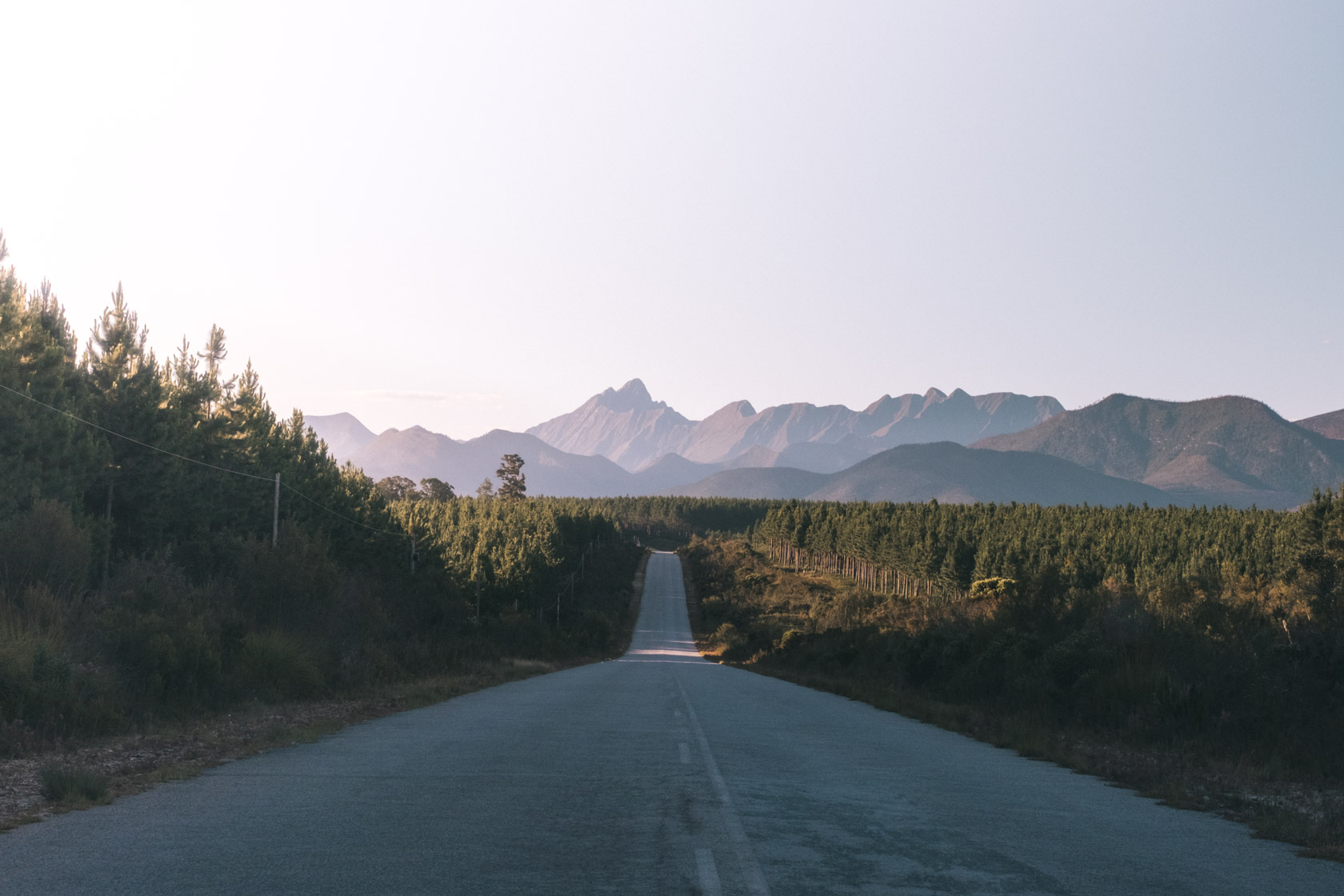 Best time to drive the Garden Route
We drove the Garden Route in early December, and it was warm enough to wear shorts and a t-shirt basically everywhere. It's also really important, even in early Summer before peak season starts, to wear bug spray and sunscreen anytime you go outdoors. The peak season in South Africa is mostly the end of December through February, so be aware of that when booking accommodation!
Have you ever been to South Africa? Where's the best place you'd like to visit in the Garden Route? Let me know in the comments if you have any extra tips for me!