Little did I know before booking my trip to the Amalfi Coast, that this pretty piece of Italy was recently named the most expensive Summer destination in Europe. YIKES. Before I'd even touched down, the flight and hotel were already costing quite a bit, but somehow I managed to spent 3x that amount after getting off the plane! RIP my bank account.
Visiting the Amalfi Coast on a budget is not for the faint of heart, but with a little preparation, it's possible to make a big dent in your expenses. And I'm here to tell you all the things I wish I'd known before planning the most expensive three-day trip of my life!
Here are my seven Amalfi Coast budget tips, which you can use to save money and still visit all the highlights of this beautiful region. Looking for specific things to do? Read my Amalfi Coast itinerary which covers how to spend 3 days in this beautiful region!
Can you visit Italy now? (Summer 2023)
As of June 1, 2022, COVID restrictions on visiting Italy have been lifted. You no longer need to present a PLF or any kind of negative test to enter the country. Your flight into the country may still require face masks.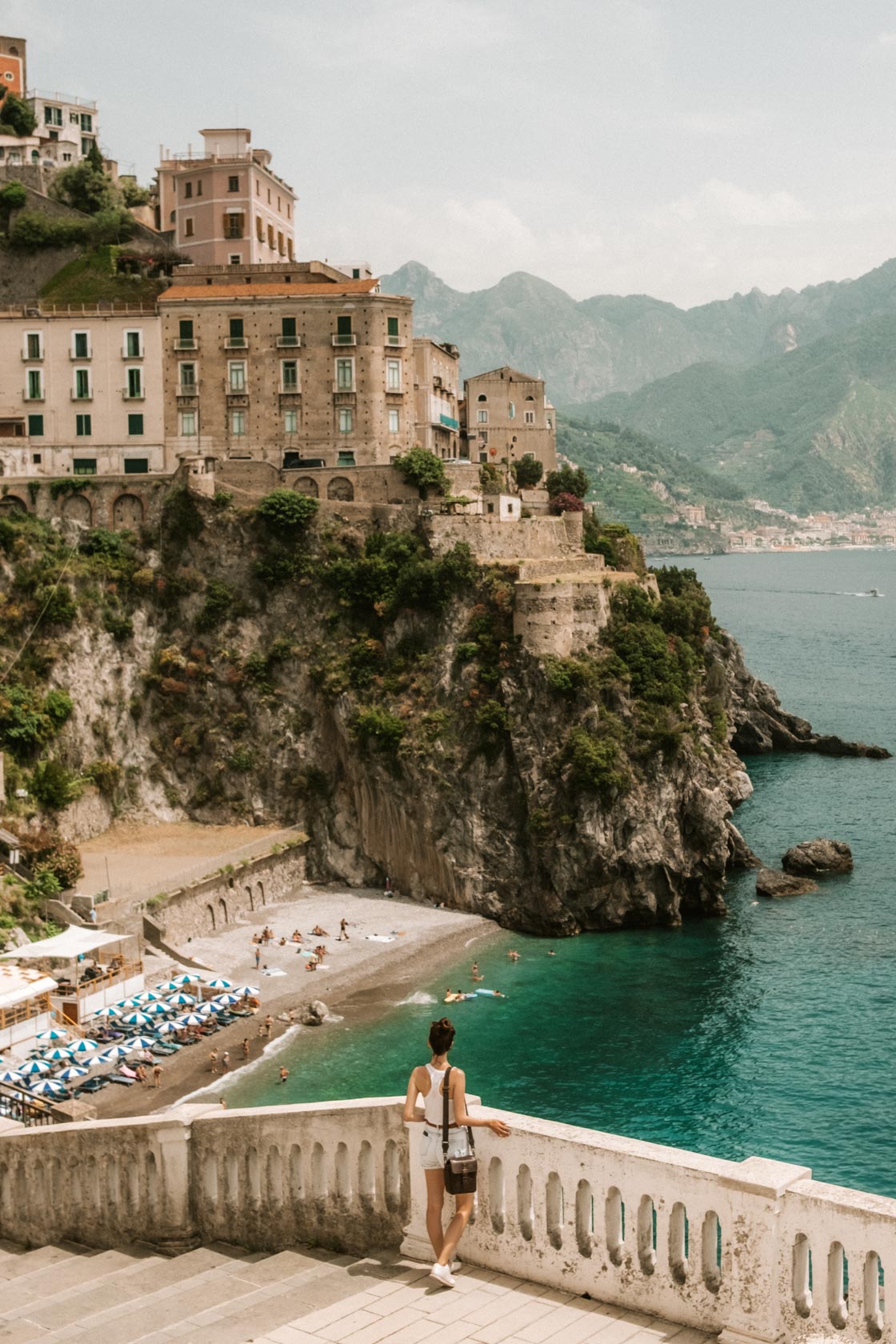 Some links in this post are to affiliate sites. If you purchase something through them, I may earn a small comission — which costs you nothing! I am very grateful when you use my links to make a purchase.
1. Avoid renting a car
In general, I love doing road trips in Italy. Our Tuscany road trip is one of my favorite Italy experiencs. Why, you ask? Well, it's a little bit dangerous (Italian streets are the definition of "controlled chaos") but the added flexibility is usually worthwhile. However, the further south you go in Italy, the conventional wisdom is that the cars are more banged up and you need to get more insurance – which obviously increases the cost of a simple car rental.
In retrospect, I wish we had not rented a car. Not because it was scary to drive on the winding roads on Amalfi Drive (I mean, it definitely was), but because renting a car in Italy comes with a lot of costs.
Car Rental. Insurance. Gasoline. And parking. For just 3 1/2 days, that car cost us over 400€!
Instead: Reach Amalfi Coast from Naples by private transfer
Next time, I would get a private transfer from Naples to Amalfi Coast , and then from there use the local bus system to get between towns (which costs just 1.30€!). You can optimize the cost of the private transfer by buying one with a group price or an individual price, depending on how many people you're traveling with.
The reason I'd go for a private transfer is because the transfer takes just 2 hours, and there are no direct trains from Naples to Positano. You have to transfer in either Sorrento or Vietri sul Mare to a bus, and honestly I just value my time 😄 Otherwise, you can do the cheapest possible option and use entirely public transit, it will just take longer.
Of course, not everywhere is visited by bus, but for all the towns along Amalfi Drive as well as Ravello, you will be able to reach them easily. The busses are also air-conditioned. Besides bus, you can also get a water taxi in situations that are rather far away (which will run you about 35€ for up to 4 passengers). Even so, the cost is still less than having the car for a day, and you get to ride a boat!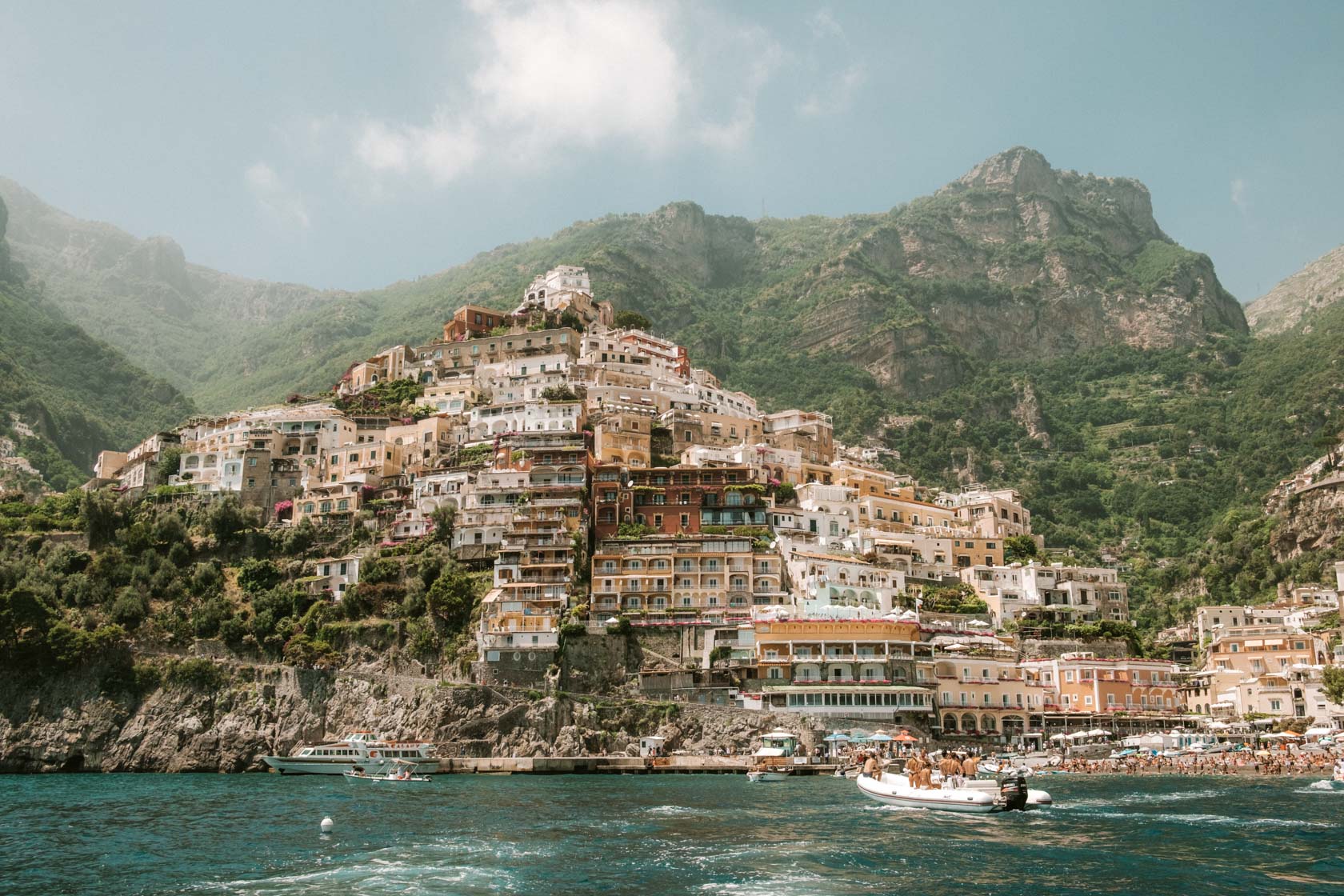 2. Stay almost anywhere but Positano
Positano is absolutely gorgeous, especially when seen from the sea. But at the same time, Positano is also both crowded and expensive. When you check online for hotels, there's no doubt that Positano is going to be the place with the most expensive cost per night (behind only Capri, perhaps!). I even checked on Airbnb and those cost almost exactly the same as a hotel!
In short, while Positano is both pretty and famous on Instagram, I wouldn't stay there overnight if you're trying to visit the Amalfi Coast on a budget.
Instead: Stay in Ravello or Minori
About an hour away from Positano, you've got two great towns you can stay in instead for a much smaller price:
Ravello – Ravello is perched in the hills with a stunning view over the sea. There's a convenient bus between Ravello and Amalfi, Atrani, and Minori. Ravello has great restaurants and is way less crowded than Positano or Amalfi. This is where we stayed, and I'd do it again! Our Airbnb in particular was absolutely amazing with sweeping sea views.

Minori – Minori is one of the less visited towns, making it more popular with locals than expensive locations like Amalfi or Positano. It's prettier than its neighbor Maiori, and is also connected with Amalfi by a short bus ride.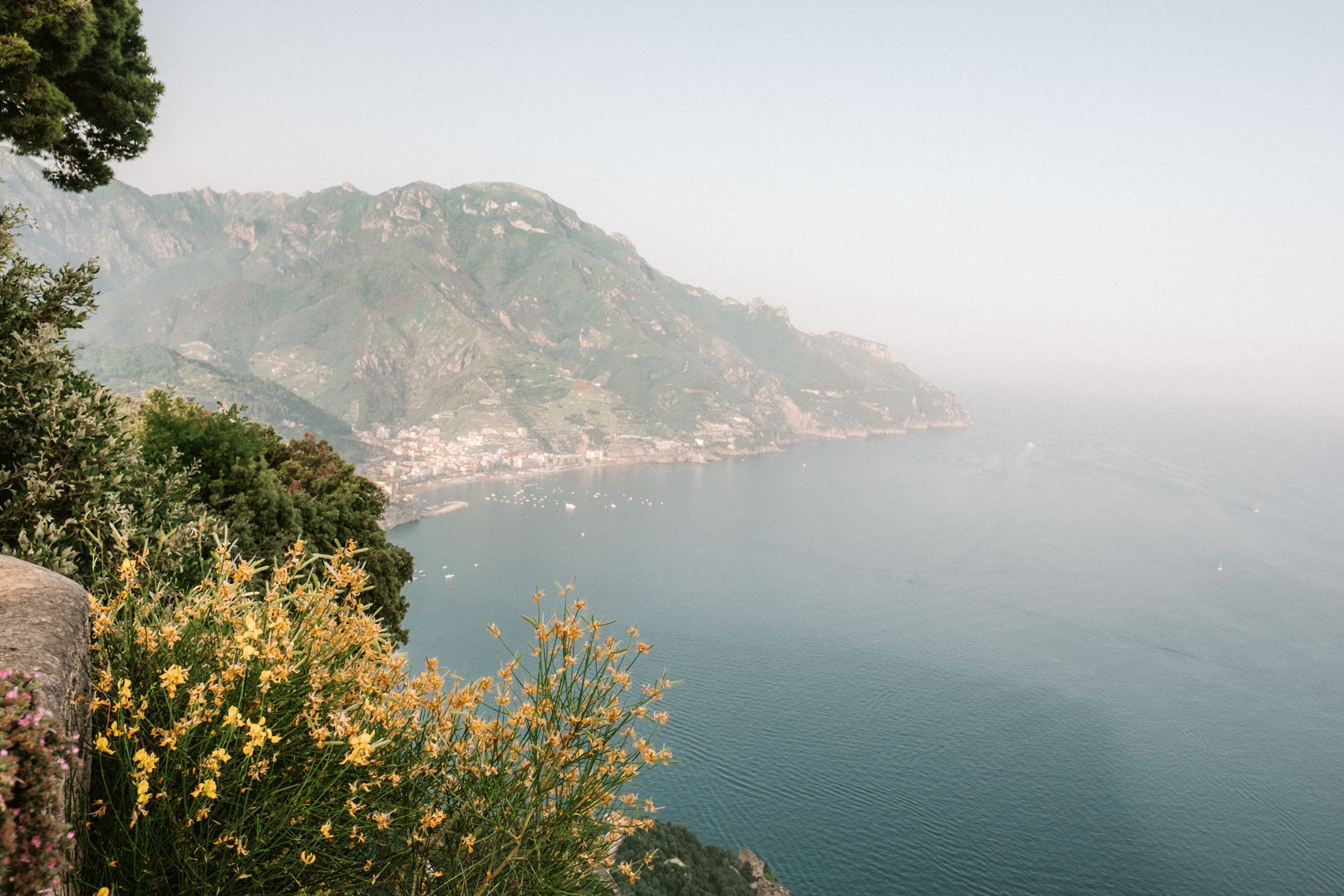 You could have this view if you stay in Ravello! From Ravello you can see Minori and Maiori by night, which looks beautiful 👋
3. Don't procrastinate booking your hotel
Speaking of booking accomodation – don't be like me and wait until the week before your trip to book! These towns on the Amalfi Coast are soooo tiny, you just don't have a ton of accommodation to choose from. And when you book late, most of the affordable accommodation is already completely full and you're left comparing 3-5 hotels per town.
And, I mean, it's just depressing to think to yourself that you're going to spend an extra 50€ per night beacause you procrastinated and you want a sea view, dammit!
Instead: Book your accommodation in advance
Your two main options for booking accommodation on the Amalfi Coast is either to check Amalfi Coast hotels on Booking.com or Airbnb. We opted to use Airbnb, but to be honest it cost the same as a hotel and it didn't have air conditioning 😭
If I were to do it again, I'd focus on finding somewhere with both a sea view and A/C by booking well in advance! It was up to 37°C or 98°F during our trip in mid-June. Whether it's a hotel or an Airbnb doesn't matter much, but unless you have air conditioning you're going to need to open your window and become a feast for mosquitos. You have been warned.
TIP – You can use my referral link for Airbnb for a discount on your first stay 😉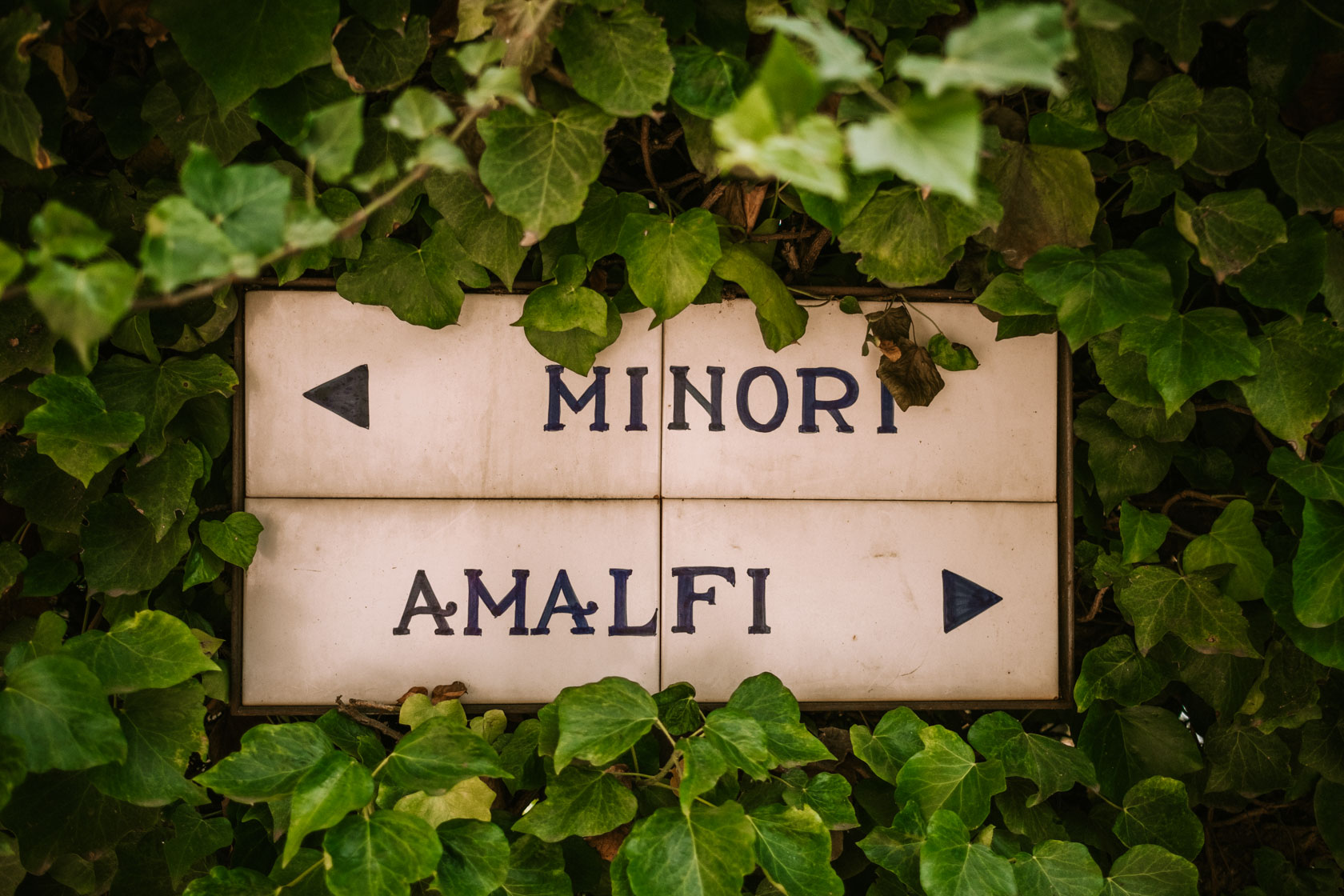 4. Try not to eat out for every meal
Food will easily be one of your top daily expenses during your trip to the Amalfi Coast. And as with any budget trip, eating out is the enemy of your bank account! Nowhere is this truer than the Amalfi Coast, where your main dish will usually run 15-25€ at a minimum. A glass of wine will be 6-9€ depending on how fancy you are, and cocktails are naturally higher.
Instead: Visit one of the (few) supermarkets
At the very least, if your hotel doesn't have breakfast included, you can prepare a basic breakfast for yourself. The difficult part is that there are very few supermarkets along the Amalfi Coast – most residents commute to Sorrento or Salerno to do their grocery shopping!
Here are two supermarkets we know about in the area:
Conad near Sorrento
Despar en route to Ravello
Stop in, pick up some fresh tomatos, cheese, and bread, and make yourself some simple breakfast or sandwiches. The groceries are comparatively affordable, but still not cheap 😉
5. Dine away from the main squares
As with any location popular with tourists, the more central the eatery, the more expensive it's likely to be. It's the same everywhere: from Rome to Paris, if you eat in the tourist areas, you're going to pay for it. But unfortunately, the entire Amalfi Coast is basically a tourist area – so how can you go a little off the beaten path in order to save some money?
What you can do instead is to go to restaurants along Amalfi Drive. Since a lot of people don't rent cars to explore the Amalfi Coast, it means they all try to pack themselves into the restaurants in the middle of town.
Instead: Go for dinner with a view
Interestingly, one of the restaurants we visited even offered a shuttle from Positano! So check in to what options you have to get out of town, or at least walk a little further from the main square to see the prices drop a bit. Walk up a hill, or down some stairs, and you will start to see the prices dip.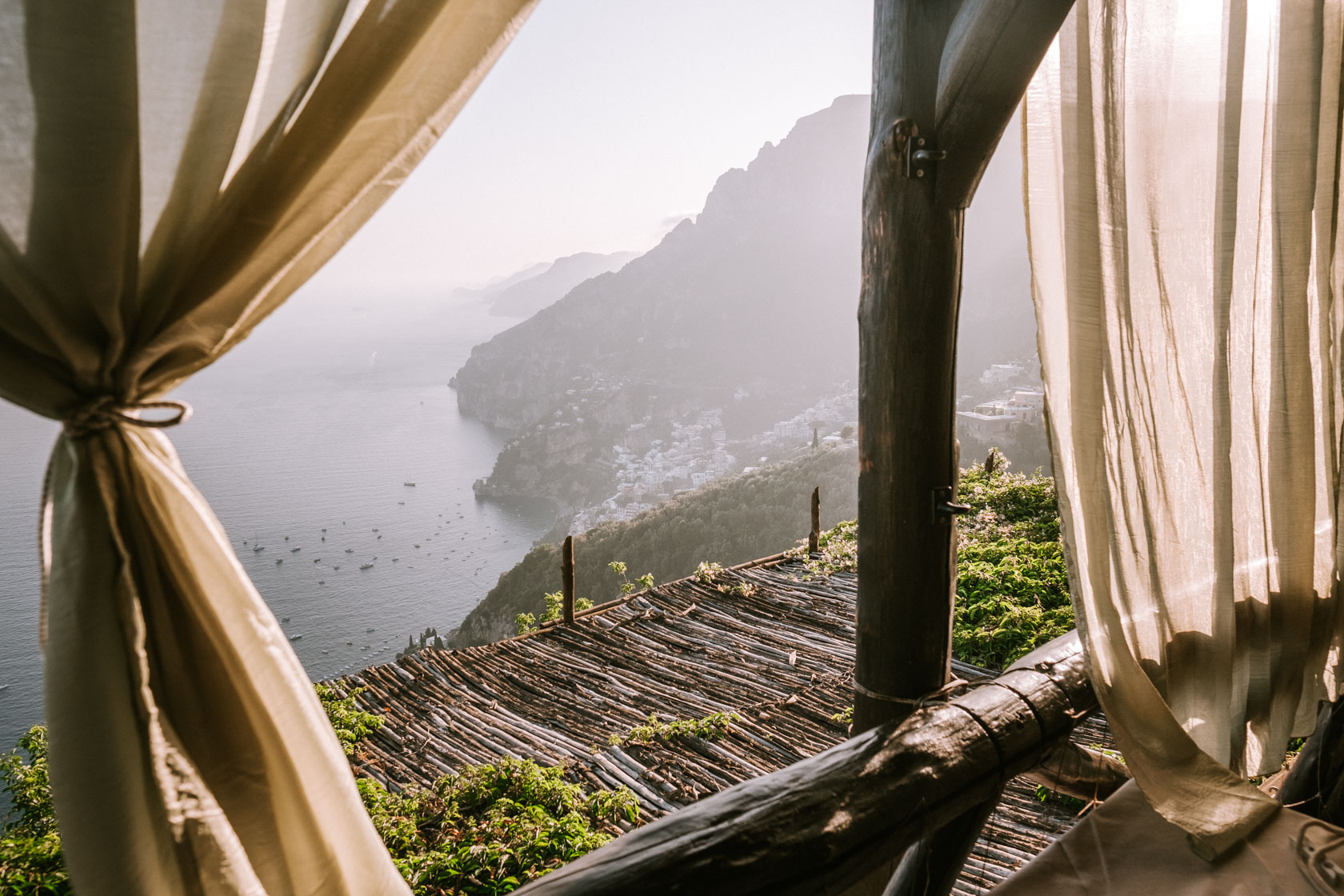 Alternatively, if you're not on an ultra-tight budget, you can probably afford to go somewhere fancier, if just a little bit further out of town. For example, at La Tagliata you get a sunset view over Positano, and each person's meal costs 45€ with four HUGE courses and all drinks included.
I'm convinced that this meal was an excellent deal if considered on a per kilo basis 😉 Plus how many meals come with unlimited wine?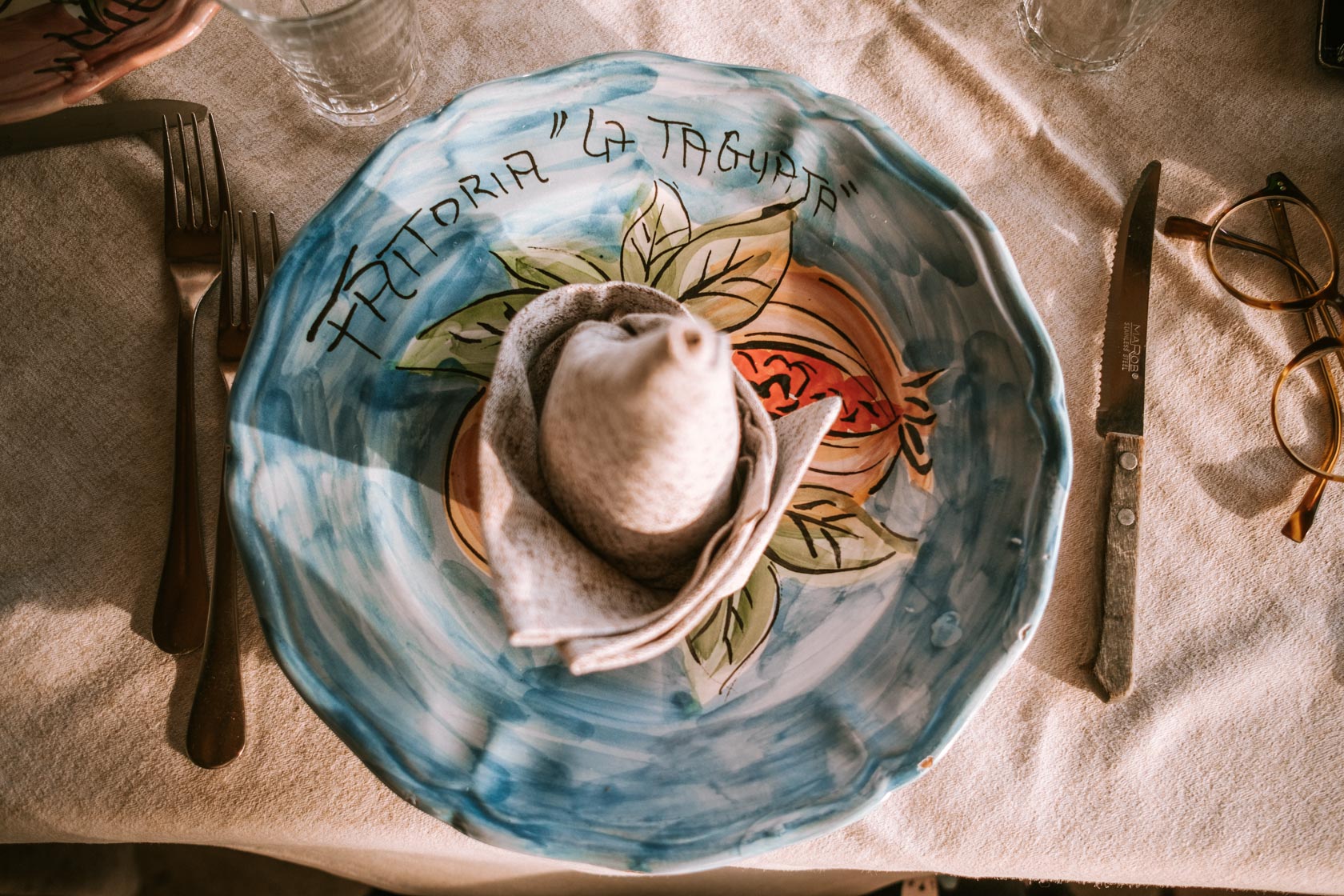 6. Visit in the shoulder season
The high season for visiting the Amalfi Coast in Italy is from June to August, and during this season the streets in many of the Amalfi Coast towns are clogged with tourists. This is especially true in the two most famous towns on the Amalfi Coast, Positano and Amalfi. While that might be a great time to get to the beach and put on a serious tan, it's also not fun to be fighting your fellow beach-goers for a spot in the sun.
Instead: Come to the Amalfi Coast in September
According to the skipper on our boat tour, September is the best time you can visit the Amalfi Coast in Italy. Not only are there fewer people in the streets, but that's when the prices also start to dip while the weather is still quite excellent.
Unfortunately, visiting the Amalfi Coast during the off season isn't very feasible because many hotels and restaurants actually close down from October until the beginning of May. Hence, one of the best times you can visit is in September! If were to come back to the area, I would definitely consider coming a little bit later to avoid all the competition for affordable hotels and parking spots 😉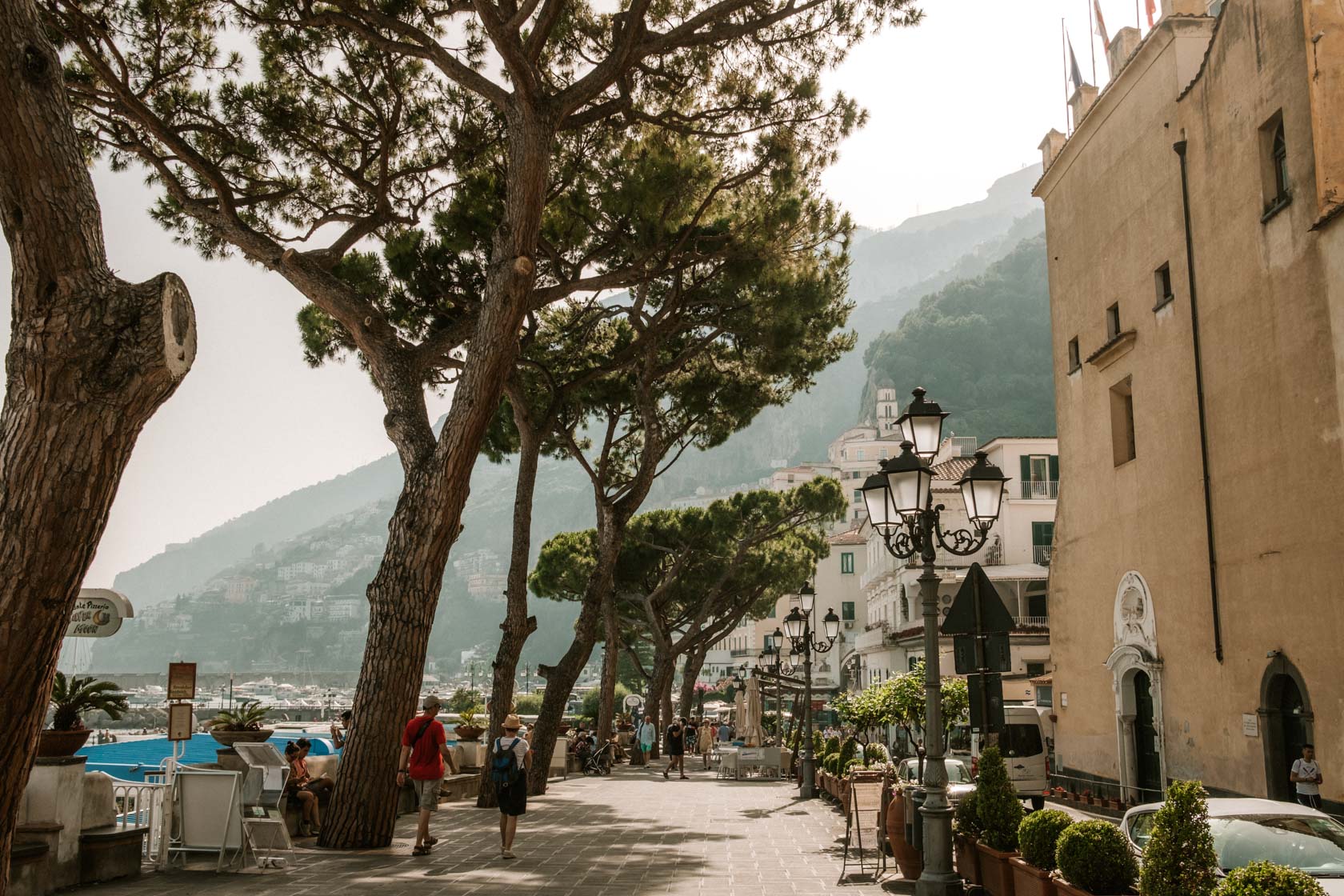 7. Don't wait until the last minute to book activities
My final tip for doing the Amalfi Coast on a budget – if you're going to do activites, don't wait until the last minute to book them! You might find yourself in a situation where the only option is much more expensive, but since you consider it an essential experience, you'll make yourself pay more than you otherwise would have.
For example, we wanted to book a group boat tour of the Amalfi Coastline, but we only waited until the same morning to book it. The cost would've only been 75€ per person, but since we were too late, our only option was a private half-day tour for 350€. But as it was our only option, we decided to book! In the end, we loved the tour, but the three of us ended up spending about 40€ more per person than we would have if we'd booked in advance.
Instead: Book tours online and early
There are a bunch of different websites where you can reserve interesting tours around the Amalfi Coast online and in advance. Here are the most popular, including the boat tour we took:
Viator – Via has a lot of options in and around the Amalfi Coast. We absolutely LOVED our awesome 4-hour boat trip with Blue Star which went from Positano up and down the entire Amalfi Coast, seeing all the little towns as well as hidden coves and grottos. Compared to many other options it was rather affordable (but still not cheap!). While we were waiting for our boat, we saw a bunch of people get rejected who tried to book on the same day.

GetYourGuide – One of the easiest places to book tours. They also have a number of different boat trips available, though the one I took with Blue Star is not listed here.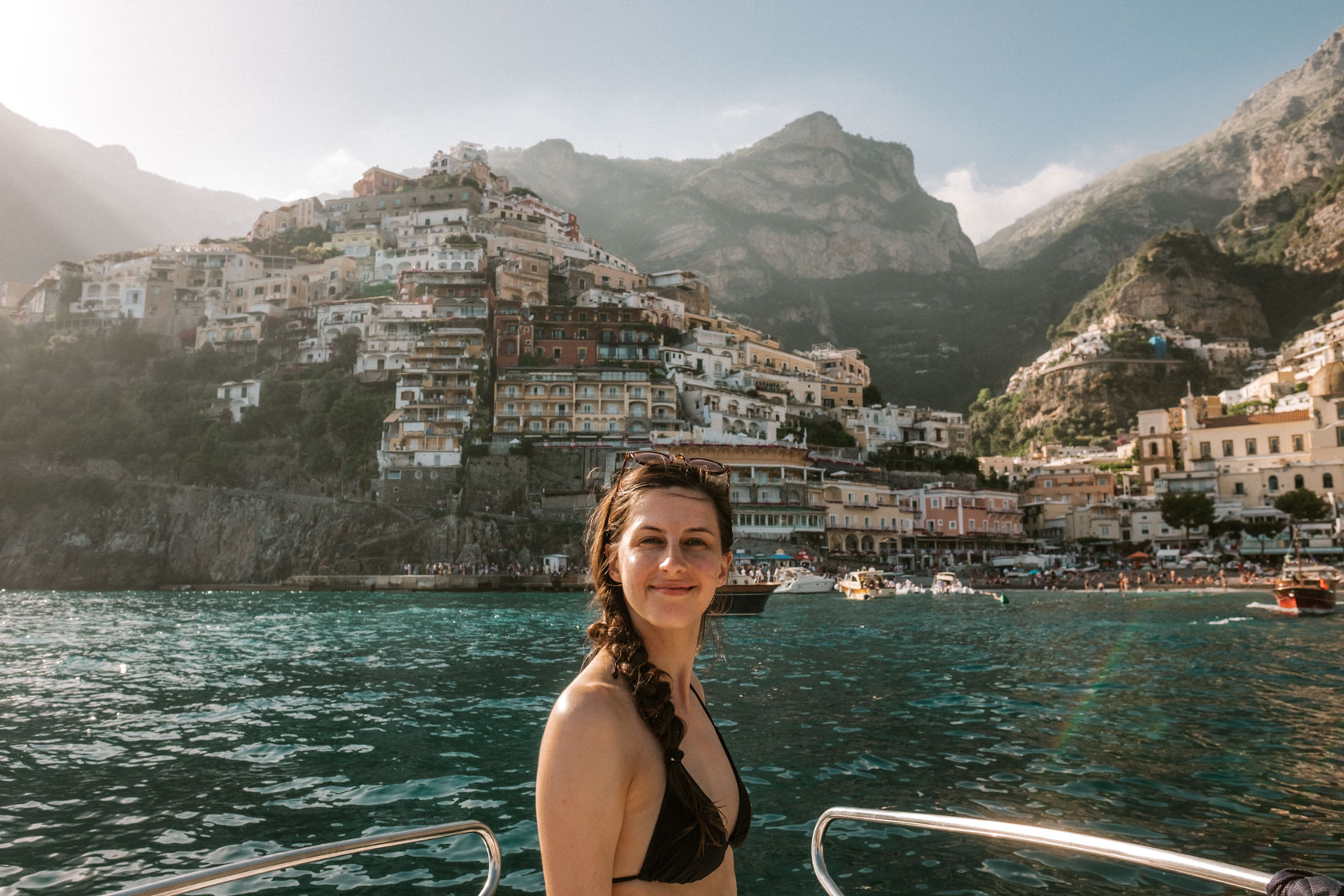 Are you planning to go to the Amalfi Coast? What do you think your biggest expense is going to be?
Let me know in the comments how you plan to make a budget-friendly trip to this part of Italy!