Florence, Italy
Planning a road trip through Tuscany is no small task. There are so many tiny hillside towns, cypress-lined roads, fields of sunflowers, and gorgeous churches, how can you possibly see them all? It's easy to get a perfect mental image of how the trip is going to turn out, but a different thing altogether to plan one that is going to work. For starters, there is so much more research to do when you're planning to visit numerous towns, than if you were just visiting one big city like Paris or London. Each town has something special, plus there is less information online about lesser known towns – so you really have to dig for the inside scoop. Plus there are the additional logistics involved in driving a car in a foreign country!
That said, touring Tuscany by car is so worth it! Here are my top picks for places to visit the next time you're in Italy.
"Life is a combination of magic and pasta."
— Federico Fellini
Tweet this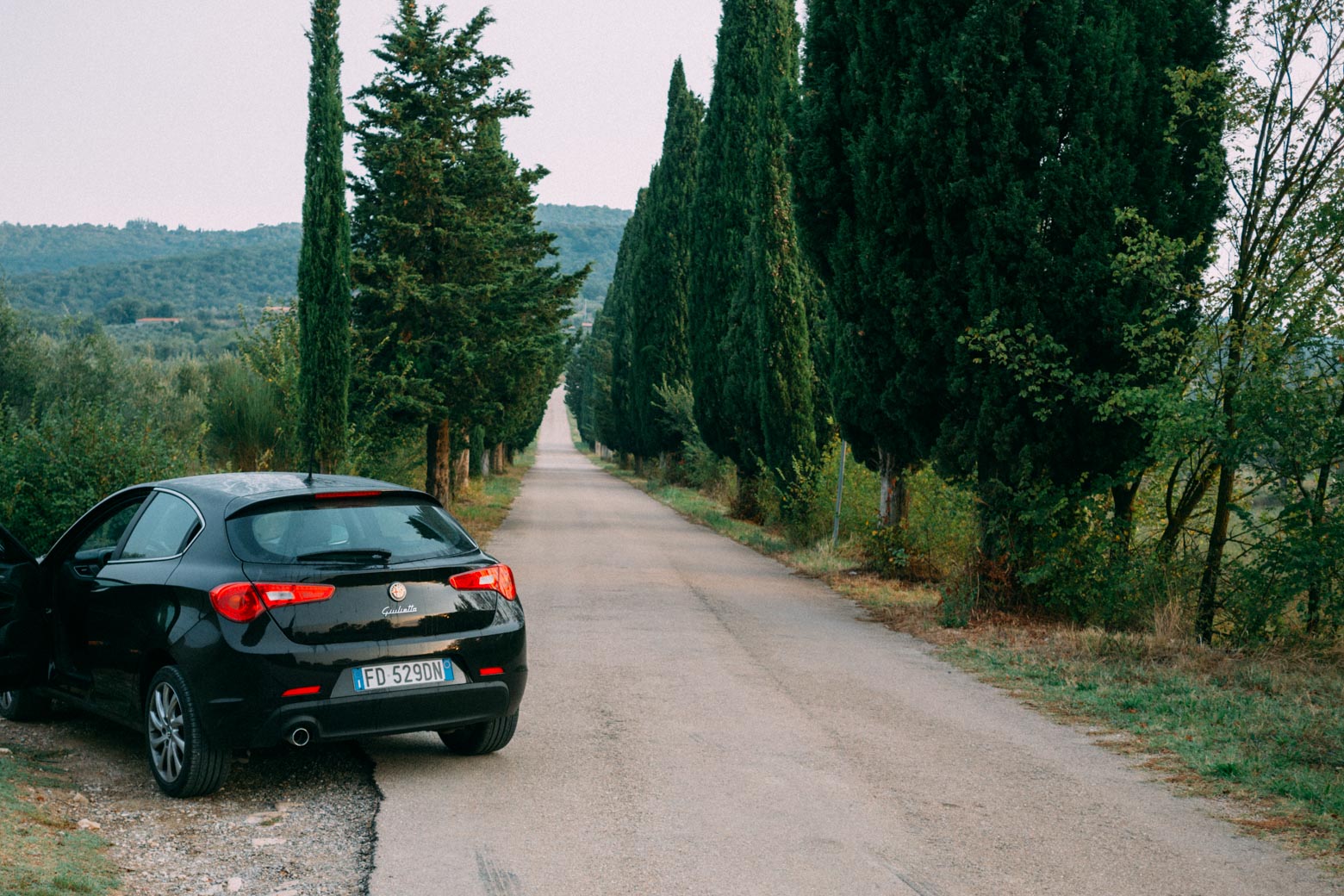 Follow Not a Nomad blog on Bloglovin', the easiest way to keep up with your favorite blogs.
Follow
Where to go on a road trip through Tuscany & Umbria
These cities and towns were my favorite from our trip through Tuscany – if you want to skip down to just the hard facts: Click here for a Google map and seven day itinerary
Florence – High steaks
First stop on the roadtrip was Florence – no trip to Tuscany would be complete without it, and after going, I understand why: Florence is beautiful, colorful, and delicious. Florence is especially known for Bistecca alla Florentina, the local way to prepare a T-Bone steak. In short, you get 1-1.5kg of meat, cooked rare, and served up all for you. If you're not carnivorous, Florence is also famous for gelato within Italy.
Even though food is probably the number one thing on my mind when going to any new city (especially an Italian city), Florence has some of the most recognizable art of all time, such as the statue of David and the Birth of Venus. I'd argue that the city itself is just as much a piece of art with people living in it. Do not miss Florence on your Italian roadtrip!
See / do / eat in Florence
Cafe Zaza – claims to have been the birthplace of Bistecca alla Florentina
The Duomo – free to enter main cathedral, but be sure to have a way to cover knees/ankles
Tower of Palazzo Vecchio – climb for views of the Duomo and Ponte Vecchio, shorter lines
San Lorenzo Leather Market – but watch out for shady deals.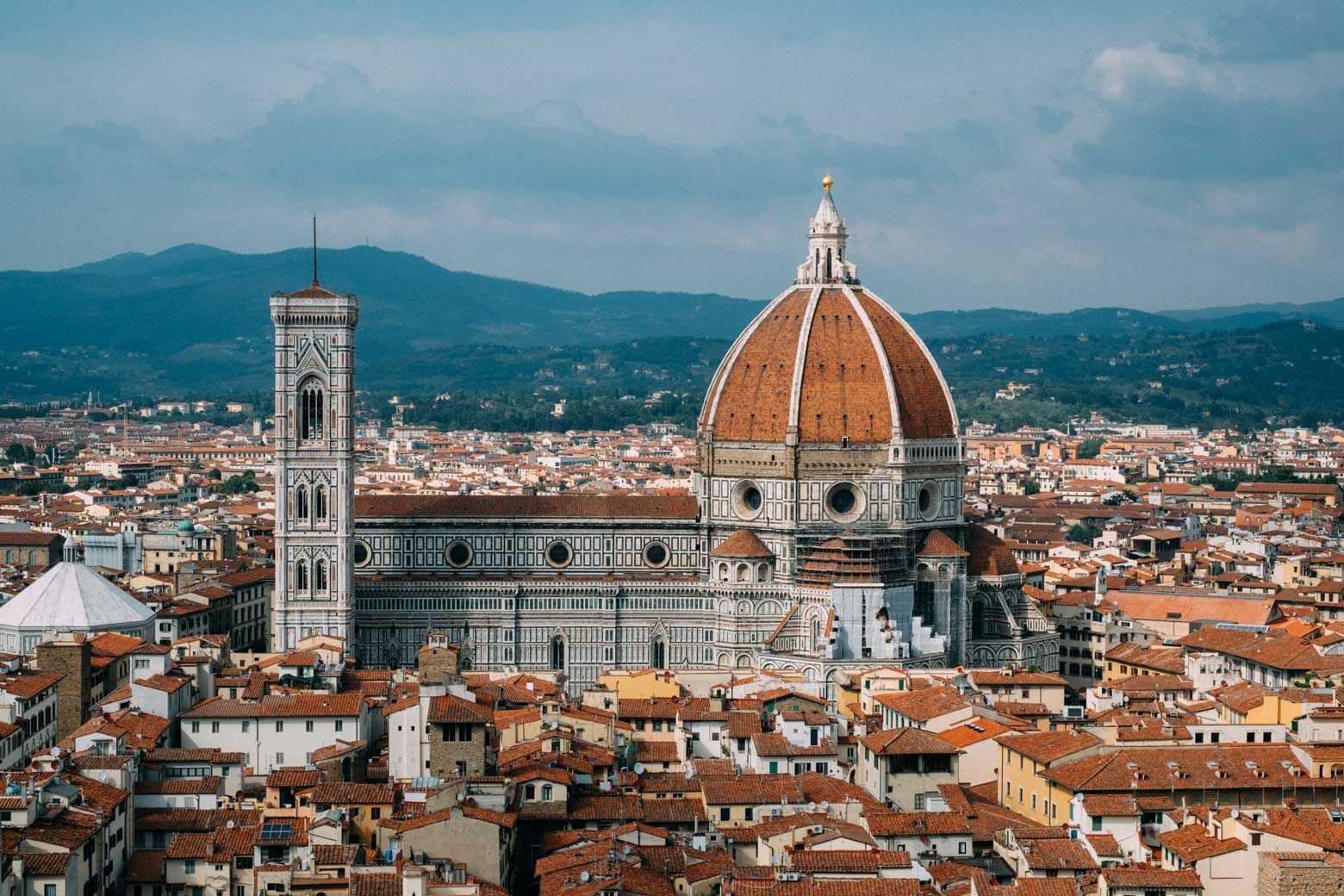 The Duomo, Florence
Assisi – The city on the hill
Apparently Assisi is known amongst Italians, because everyone I told that we planned to go there gave me their congratulations. It's easy to see why: this small town is one of the most impressive as you approach it from the road. High, white walls make it look like the city is meant to withstand siege, meanwhile the only thing threatening to breach its walls are fields of sunflowers.
This place has the highest concentration of real-life monks and nuns that I've ever seen – as well as tour groups. Luckily it only takes a little walking up the hill to escape them into Assisi's charming stone alleys.
See / do in Assisi
Basilica of San Francesco d'Assisi – St. Francis is buried in the lower cathedral, though both are beautiful.
Rocca Maggiore – climb up here for the best views over umbria's rolling hills.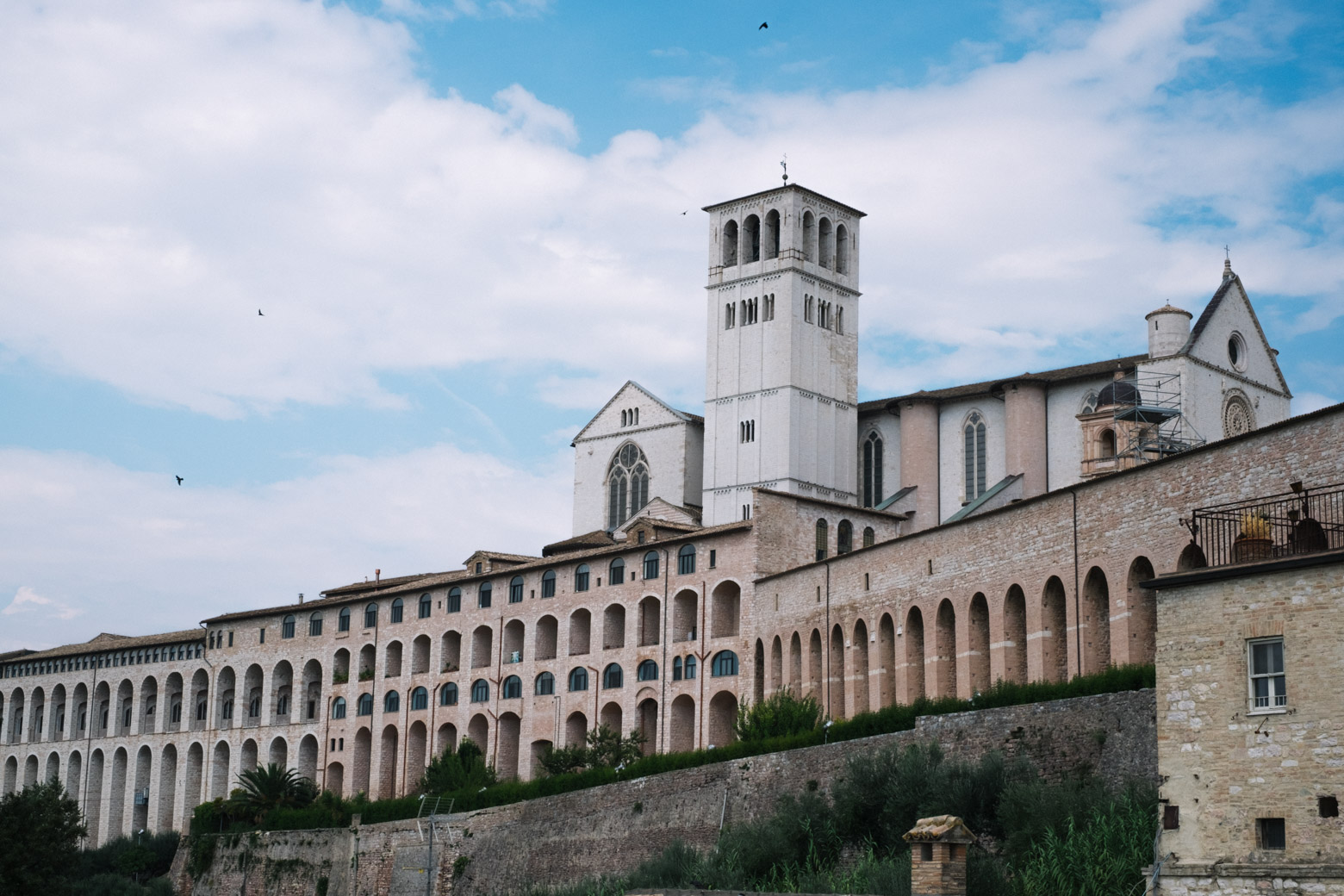 Basilica of San Francesco d'Assisi, Assisi
Montepulciano – Wine and hills for days
We went to Montepulciano with a single mission: wine. But on our way to the enoteca (wine bar), there were so many side streets that captured our attention that it took us almost an hour to get there, dispite how small Montepulciano actually is. Of everywhere we went in central Italy, this one had by far the most impressive views.
If you are looking for scenic drives through Tuscany, the ones leading to Montepulciano are just your ticket. You'll pass fields of sunflowers, vineyards, country homes, cypress trees, and have plenty of fun winding roads to traverse on the way.
See / do / eat in Montepulciano
La Bottega del Nobile – help yourself to a wide selection of local wines dispensed through a cool card system
Val d'Orcia – some of the best views over the Tuscan countryside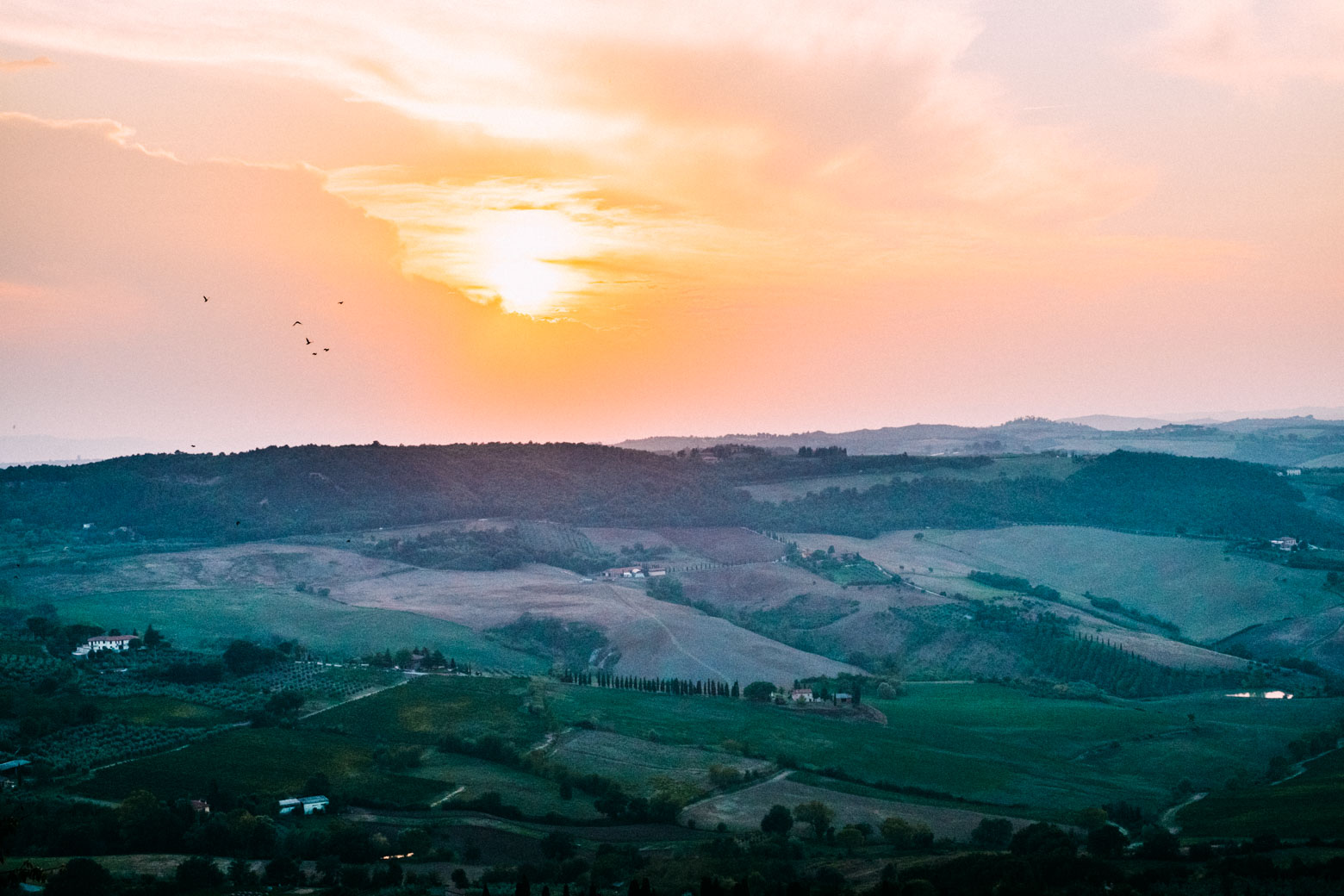 Lago Trasimeno – Sung to sleep by crickets, sheep…and mosquitos
While exploring Tuscany, we made Tuoro sul Trasimeno our homebase and visited the rest of the area on day trips by car. Possibly the most amazing part of this arrangement was the fact that our farm stay was so inexpensive while most of the surrounding restaurants were so expensive. Luckily, staying in a house means that you can DIY your breakfast and morning coffee with a beautiful view of the lake, so it ended up being a good deal anyways.
My number one tip for visiting Italy has to be: bring insect repellant. Everyone in our party ended up with numerous bites, with the poorest of all easily reaching double digits. This is especially bad when you're staying in a foresty area or near a lake (both of which, of course, we were doing).
See / do / eat near Lago Trasimeno
Il Vecchio Mulino – a favorite of locals, and very affordable
La Badiaccia – menu only in Italian, but food and wine was fabulous and we were even given a bottle to take home!
Agriturismo La Dogana – farm stay incl. a pool surrounded by olive trees, overlooking the lake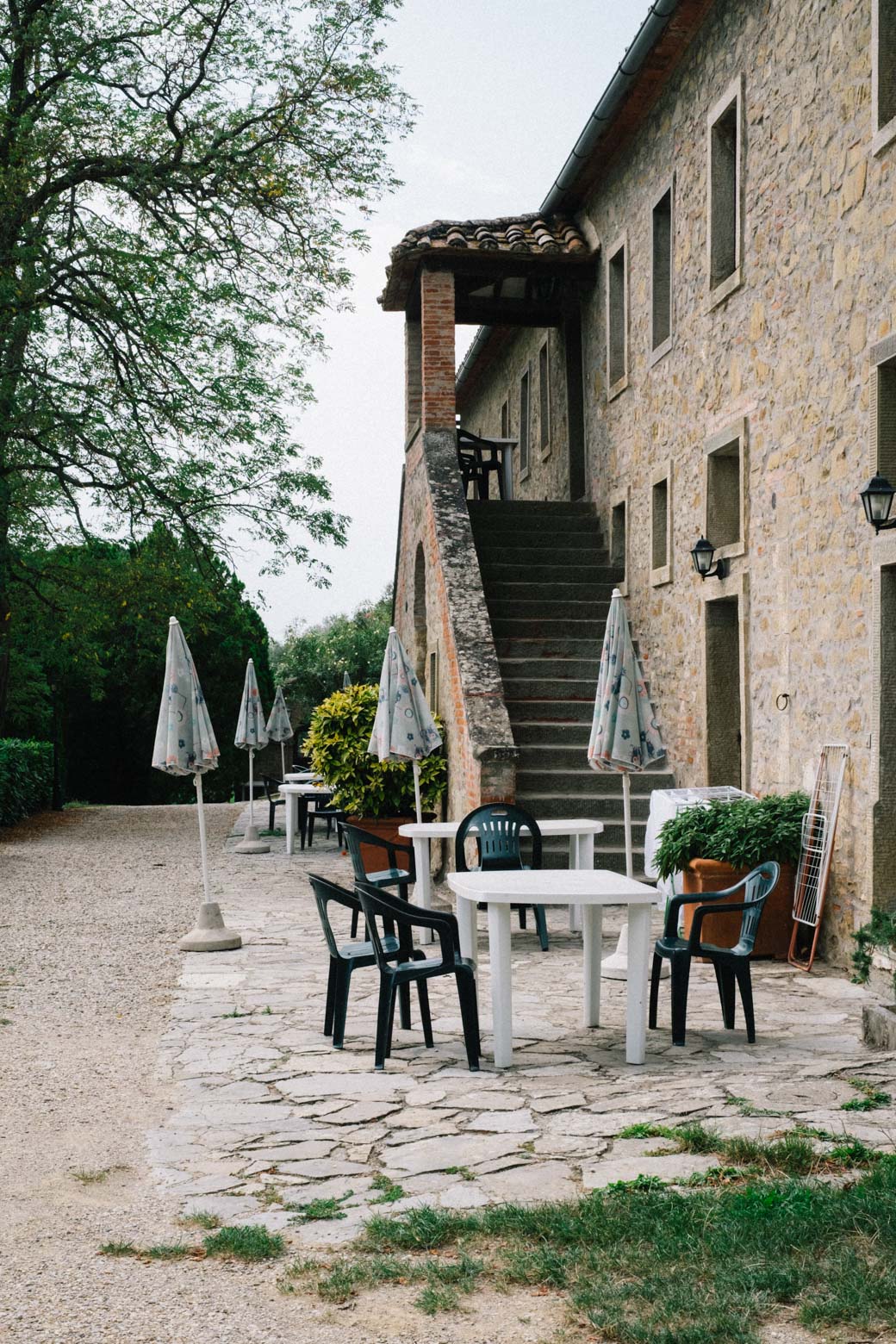 Perugia – The most harrowing roads
Yet another hillside town with hopelessly narrow streets – thankfully we weren't driving an American-sized car or there's no way we'd have mode it out. There were times when we had mere inches on either side of our rental car, and it was probably dumb luck that we didn't get any scratches on it! It's really clear that these cities were not designed with automobiles in mind.
Perugia is special not only for its tiny streets, but the fact that the entire city seems to be made out of stone. There are delicate arches linking buildings together throughout the town, it's amazing that it's all still stuck together after the stone has been worn so smooth.
See / do in Perugia
Piazza IV Novembre – the main square, you simply can't miss it!
Perugia Cathdral – Perugia's most prominent cathedral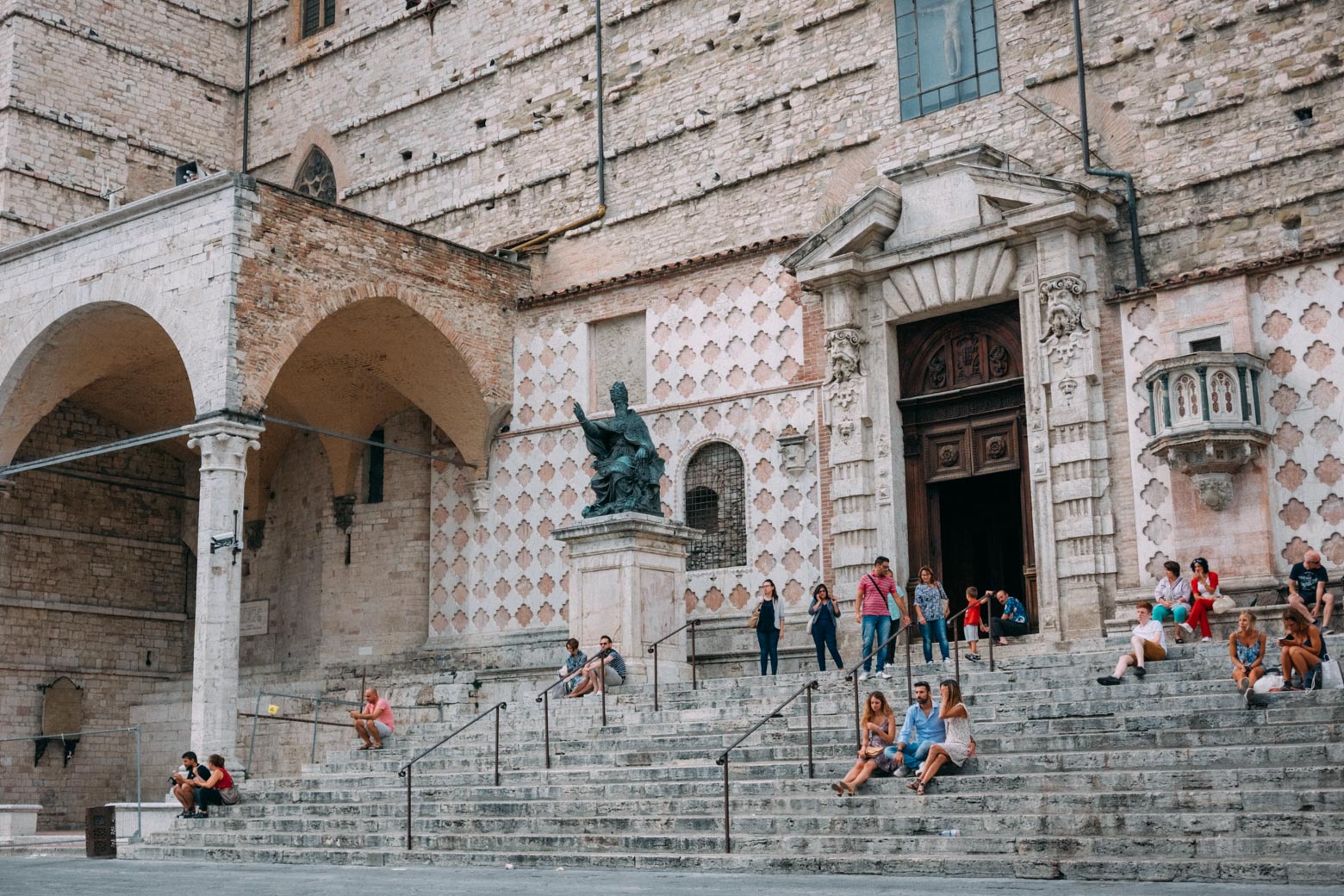 Siena – Beetlejuice beetlejuice beetlejuice
It's no surprise that Siena was the one city where the number of tourists was still noticable during the shoulder season – its church is OUTSTANDING. I'm not one to care about any ole Italian cathedral, and am the first to admit that they all look pretty similar once you enter the second half of a roadtrip through Italy. But the one in Siena was seriously awesome – known as The Beetlejuice Church, Siena's cathedral is one of the few that actually takes its stripey pattern seriously enough to apply it to the interior.
See / do / eat in Siena
Piazza del Campo – unique central square, shaped like a scallop
Cathedral Santa Maria Assunta – hands down the most memorable church in Tuscany!
Facciatone – climb for panoramic views of the tower and the main sqaure
Lots of shopping on Banchi di Sopra – Siena's main shopping street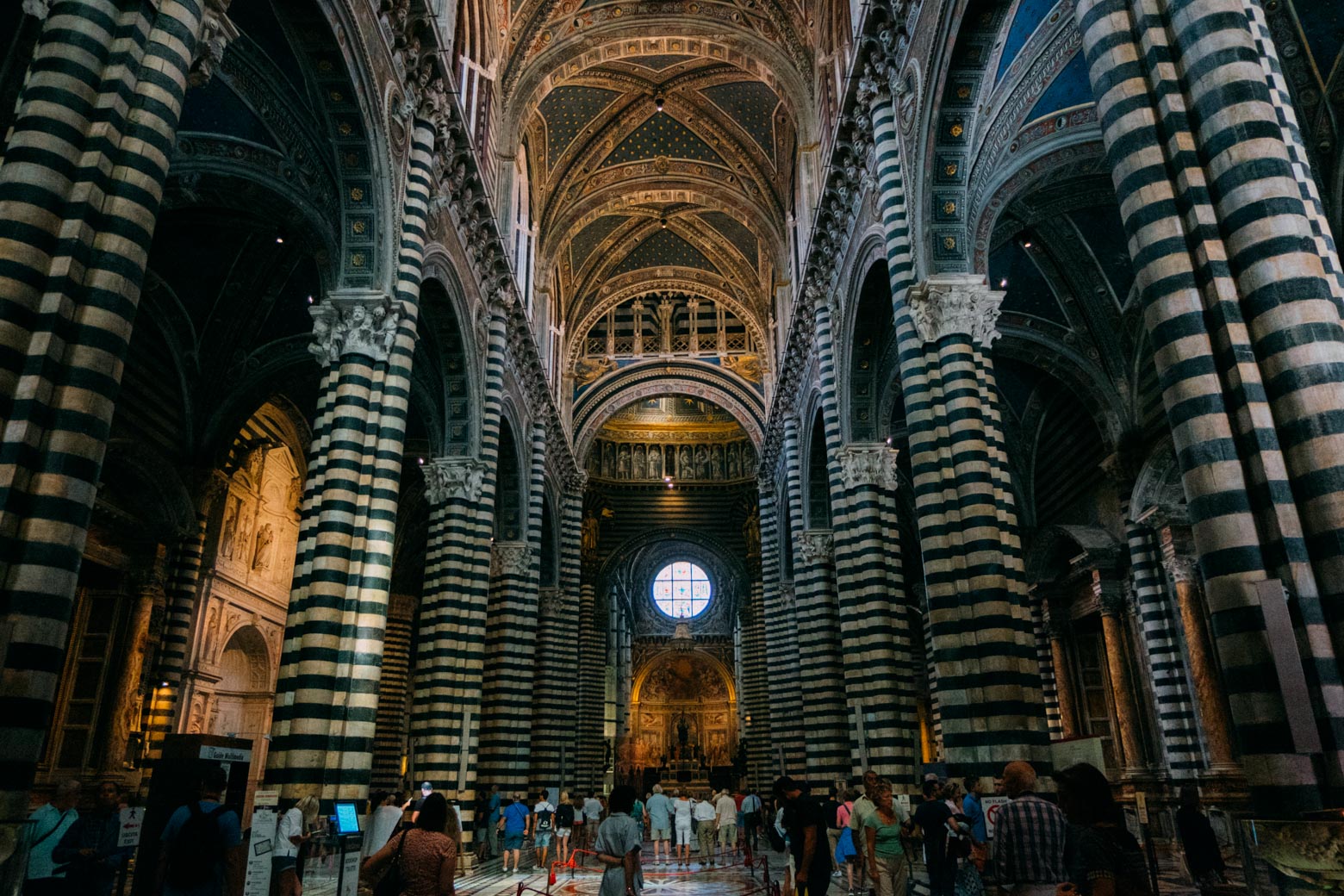 Lucca – Tuscany's darling
The smooth cobblestone streets shone in the rain and reflected buildings that still managed to be bright and vivid in spite of heavy grey skies. Every shop looked like the platonic Italian market. And of course, high fashion shops mixed seemlessly with the local ones. Lucca, like Italian style, is a mesh of effortless beauty and timelessness. The city's cohesive color scheme was meant to be immoralized in photos – and you bet I obliged.
Come to Lucca for some of the most quintessentially Italian vibes of the entire trip.
See / do / eat in Lucca
Torre Guinigi – centuries-old oak trees crown this tower, offering lovely views of the city
Museo Villa Puccini – pay your respects to Lucca's best known resident
Santa Christina – cute and quirky cafe and enoteca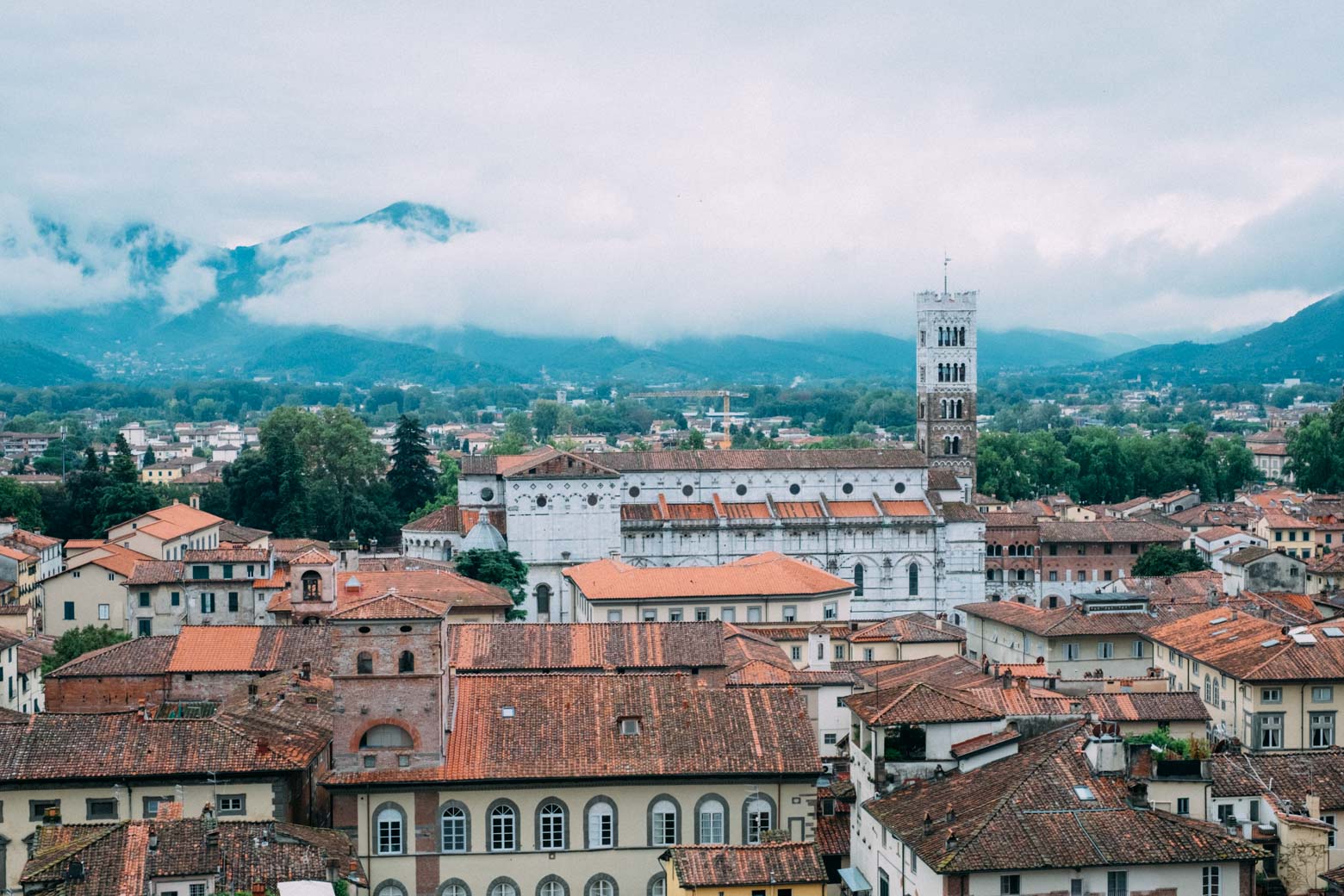 Our route
Here's a high-level look at all these spots on the map! As you can see, everywhere is pretty close together, and driving from one city to the next doesn't make more than two hours at most (that is, so long as the road isn't under construction!)
Our driving itinerary through Tuscany and Umbria
Day 1 – Fly into Bologna, drive to Florence. Spend the evening in Florence.
Day 2 – Spend the day in Florence, and after dinner drive to Turoro sul Trasimeno .
Day 3 – Day trip to Assisi and Perugia .
Day 4 – Spend the day on Lake Trasimeno or by the pool (!!).
Day 5 – Day trip to Montepulciano .
Day 6 – Day trip to Siena .
Day 7 – Visit Lucca on the way back to the airport in Bologna.
Seven tips for a stress-free road trip in Italy
Get the insurance on your rental car. Italians are known for having a less "gentle" relationship with cars. Get the insurance, at least on the exterior of the car.
Speed limits don't matter until they do. Italians often surpass the speed limit and though the fines are high, they're rarely enforced.
Save some cash at the pump. Use a self-service station to avoid paying to have someone pump your gas for you.
On Italian roads. Beware of toll roads and closures, both of which are common in Italy – especially if you need to make a deadline in another town, you may face unexpected traffic. Take this into account while planning.
Getting into small Italian towns by car is tricky. Look for parking before you approach town. Often parking is only available outside the city walls. Parking prices vary greatly depending on where you are.
Balance your time between small and large towns. Even the touristy spots in Tuscany are well-visited for a reason – don't pass up the big cities like Florence and Pisa just because you're worried about fighting the crowds. At the same time, small towns can get repetitive, as each is just as charming as the last. Keep things fresh by mixing and matching!
Schedule wine tastings. If you're looking to combine a wine tasting with a meal, booking ahead is absolutely necessary. Without a meal, many wine shops offer less formal tasting (and therefore, don't necessarily require a reservation).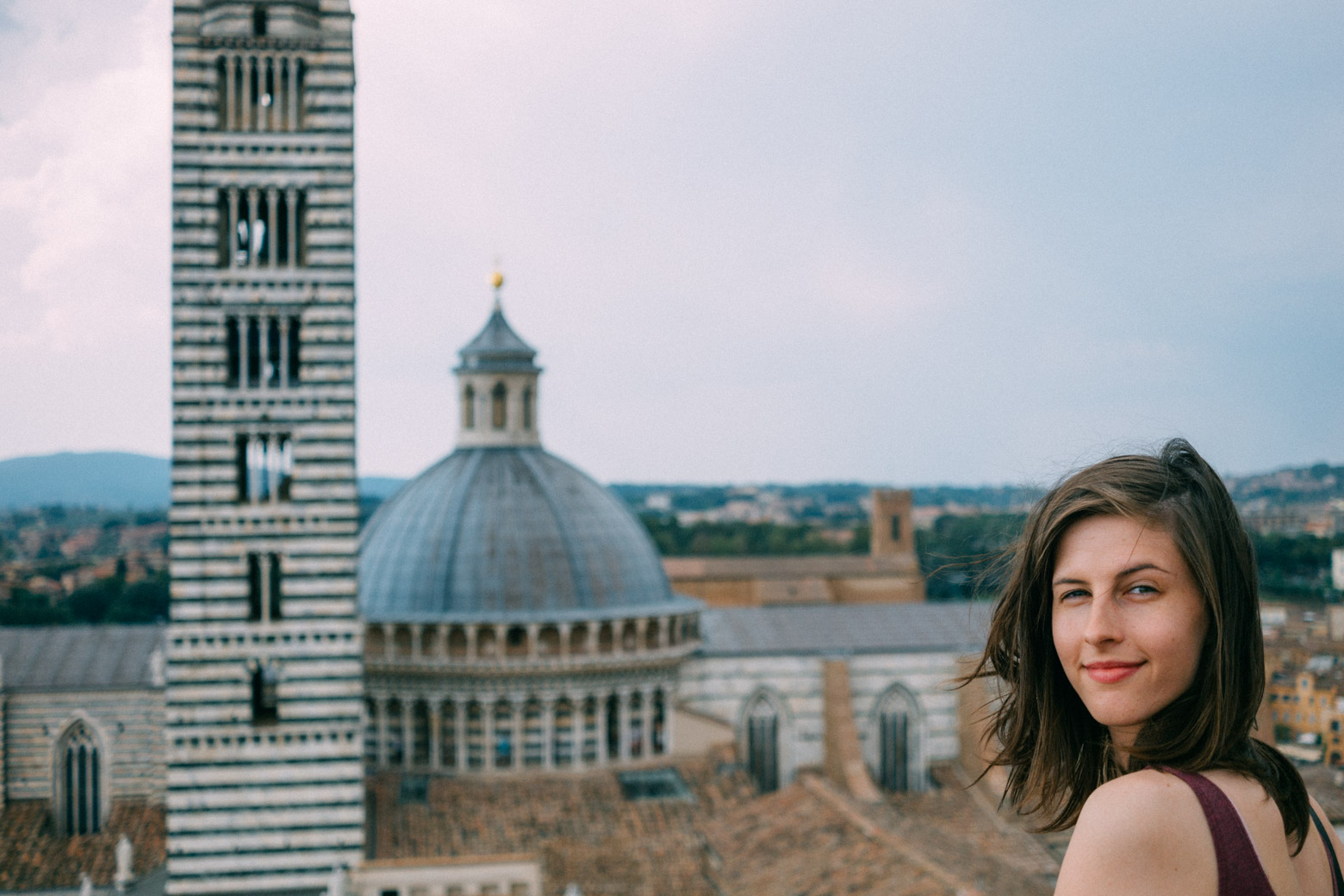 Have you been to Tuscany or Umbria? If you could pick any of these idyllic towns to visit, which would you pick?
Share your experiences and tips in the comments, I'd love to hear advice on what to do next time!
Pin this post for later!