Guys and gals – it's Autumn now. I rode my bike to brunch Monday morning (it was a holiday – Happy German reunification!) and on that ride, had a very odd sensation: my hands were cold. I could feel the wind nipping at my knuckes during the short distance between my flat in Kreuzberg and Chipps (which by the way has delicious brunch).
A question arose in my mind: in all my boundless enthusiasm for the season of cashmere and scarves and knit turtlenecks and hot chocolate, did I manage to forget the cold-hands-and-ears part of the season? The runny nose and aching fingertips? The inevitable cold and subsequent sniffles!?
Then I woke up today and the darkness of winter had fallen on the city like a fat down comforter just pulled out of storage on a cold night.
The onset of Autumn admittedly seals my roadtrip through Tuscany and Umbria as the final chapter of my summer travels. We started in Florence, set up home base on Lake Trasimeno, took day trips to Siena, Perugia, Montepulciano, and Assisi, and popped by Lucca on the way home through Bologna. *exhale*
Most of it was hot, sunny, and blue skies all around – but the very last day, when we went to Lucca, positively unlike the others: it rained. Our one day in Lucca rained.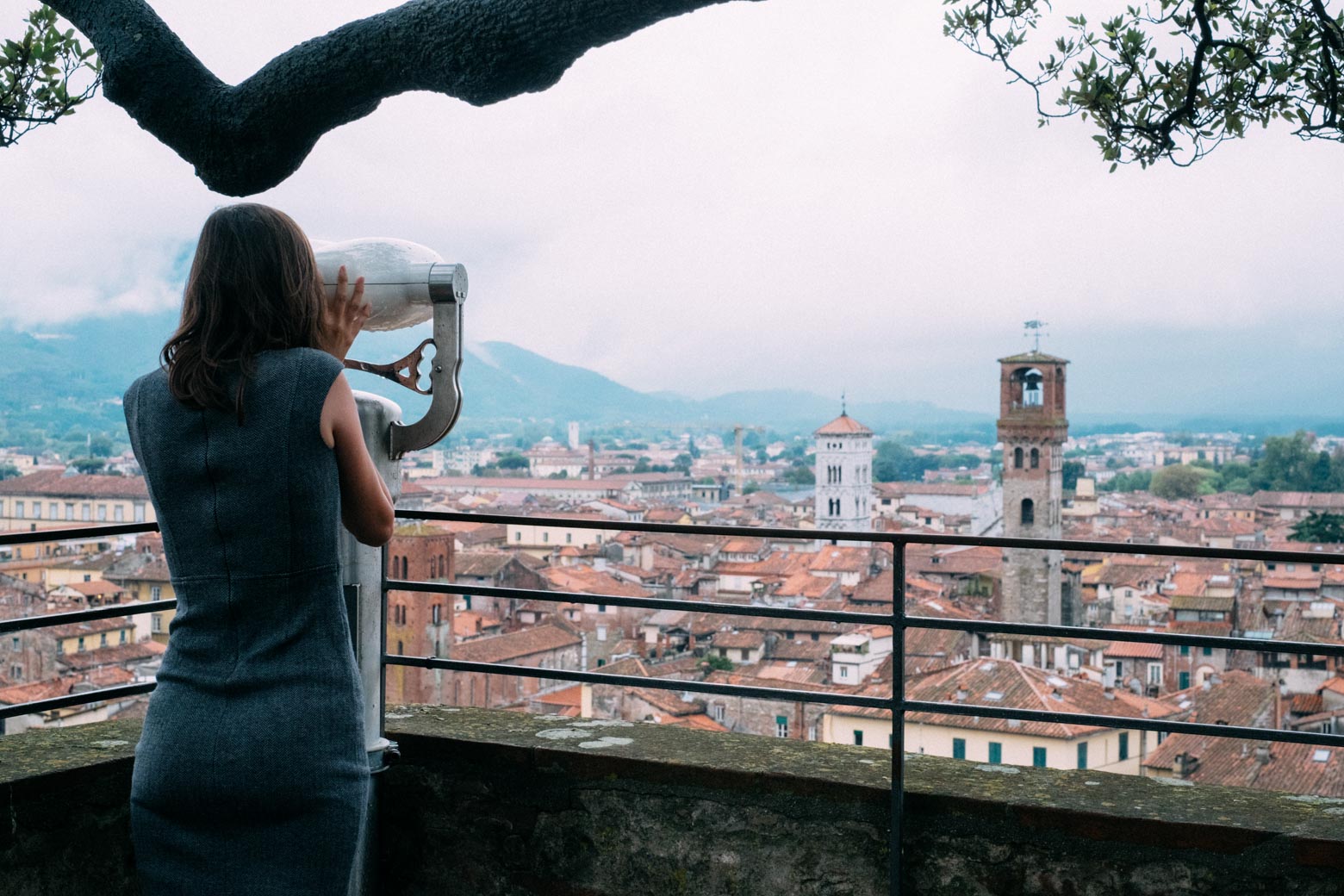 The smooth cobblestone streets shone in the rain and reflected buildings that still managed to be bright and vivid in spite of heavy grey skies. Every shop looked like the platonic Italian market. And of course, high fashion shops mixed seemlessly with the local ones. Lucca, like Italian style, is a mesh of effortless beauty and timelessness. The city's cohesive color scheme was meant to be immoralized in photos – and you bet I obliged.
Here's why Lucca stands out in my mind as one of the lovliest Italian towns I saw on my summer roadtrip through Tuscany.
Can you visit Italy now? (Summer 2023)
As of June 1, 2022, COVID restrictions on visiting Italy have been lifted. You no longer need to present a PLF or any kind of negative test to enter the country. Your flight into the country may still require face masks.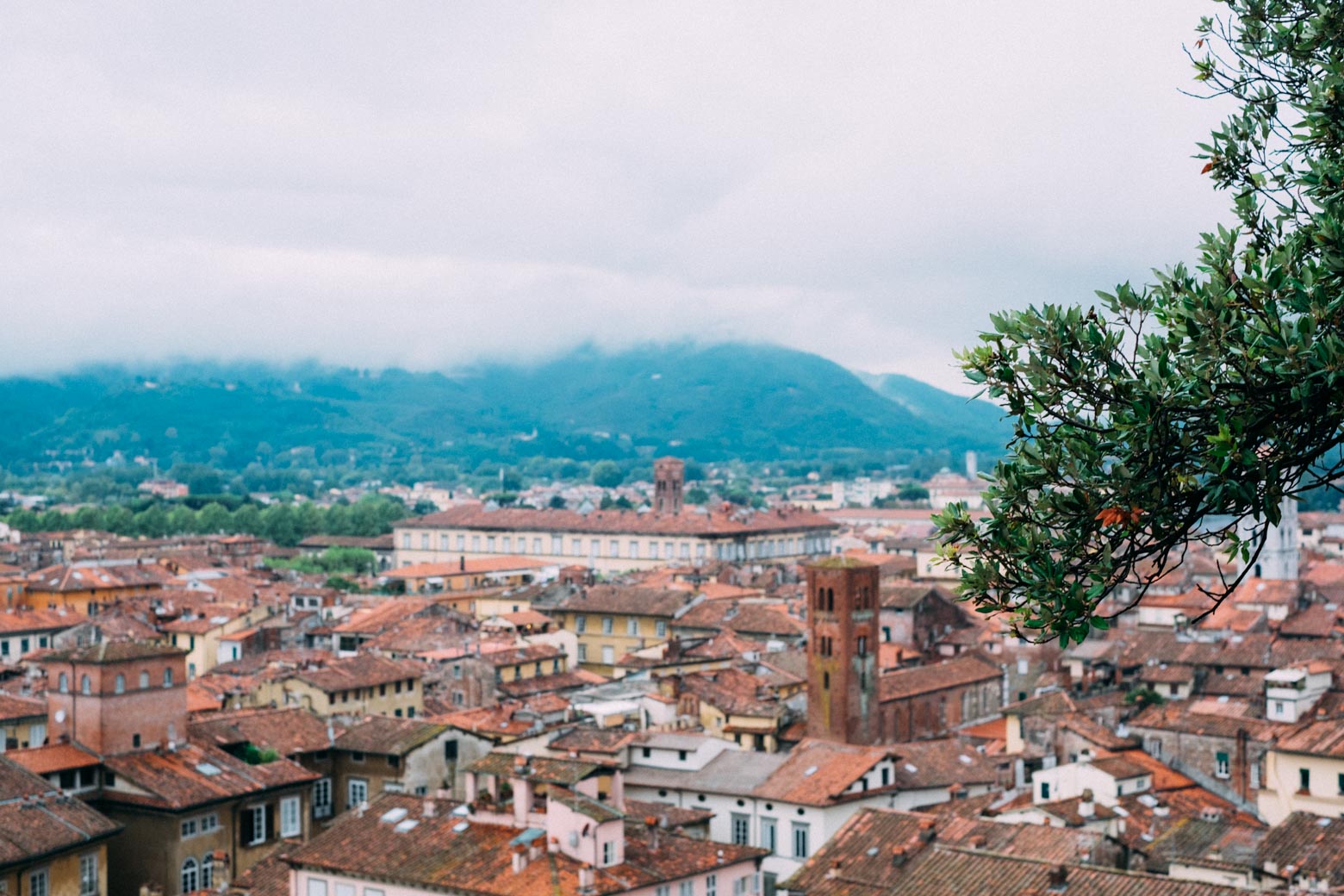 1. Lucca is pedestrian-friendly
Who else has been to Rome or Florence and was paranoid about getting ploughed over by motorcycles and over-ambitious scooters? I mean, in those cities, you just have to cross the street with confidence and hope it goes in your favor.
This fear can be set aside in Lucca. The city walls keep out most of the cars, leaving a chilled-out inner city for people to enjoy by foot. People also aren't rushing to the next huge attraction, but look like locals enjoying the Italian pace of life. I dig that.
TIP As with many other small Italian towns, it can be a real challenge to find parking, and oftentimes it comes down to a matter of luck. Be sure to research various parking locations before showing up, as you might have to approach the city differently to ensure yourself a spot!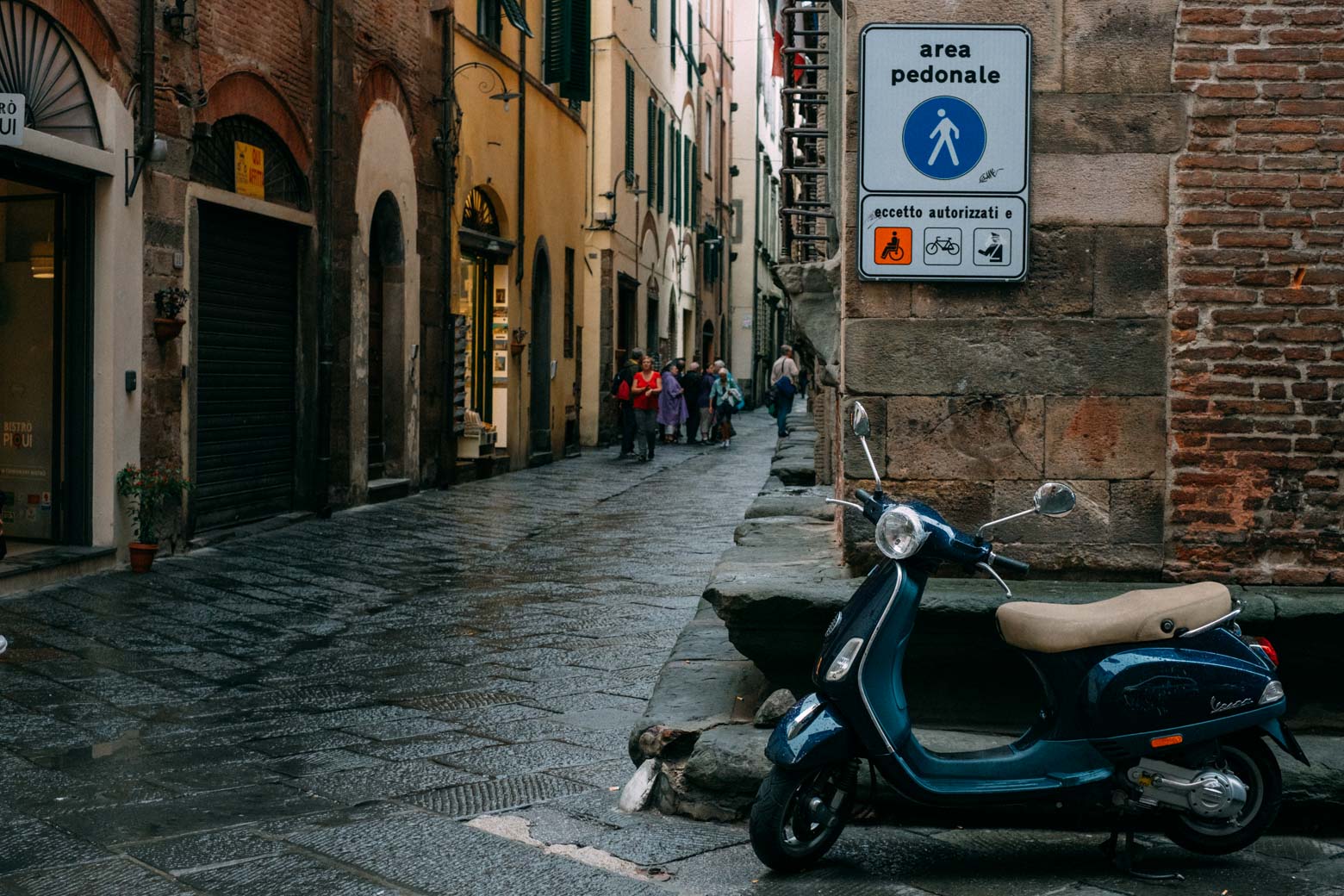 2. It's also bicycle-friendly
I've been wrong before about thinking that the entire continent of Europe must necessarily be a bicycle paradise. So when I see somewhere that's really living up to the European bike mantra, it's a real pleasure. Lucca clearly cares about keeping out the cars and providing great options to go by bike. One of the most famous bike routes around the city is actually atop its ancient city walls.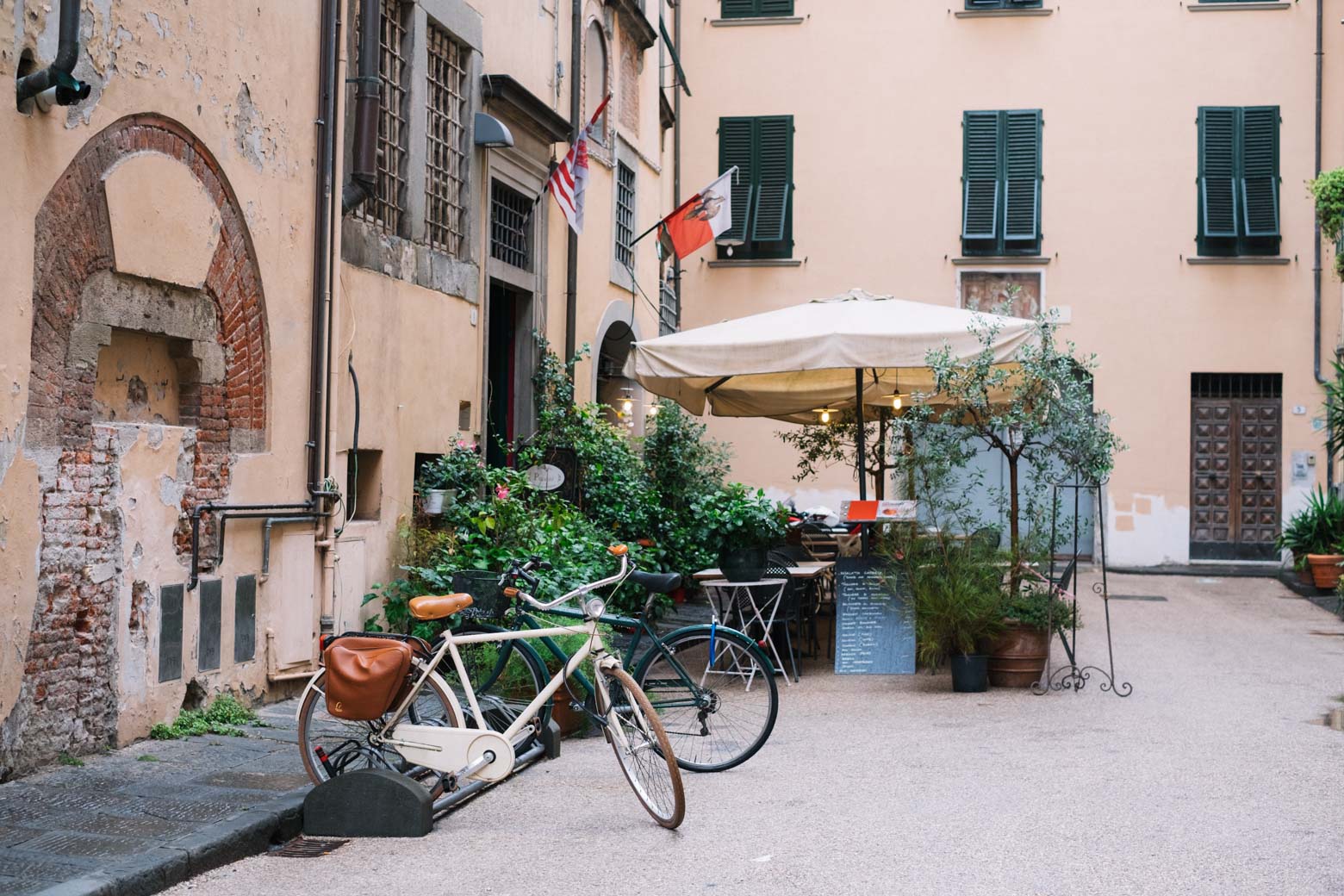 3. Every alley is postcard-perfect
Warm yellows and oranges, rich turquoise, and deep emerald dominate Lucca's pallete. I think I spent the least time in Lucca, but somehow managed to snap the most photos there than in comparison to anywhere else (*ahem* apart from Florence). There's no doubt that I eventually drove my travel buddies and bit crazy with the pictures, but clearly the ones from Lucca were worth it!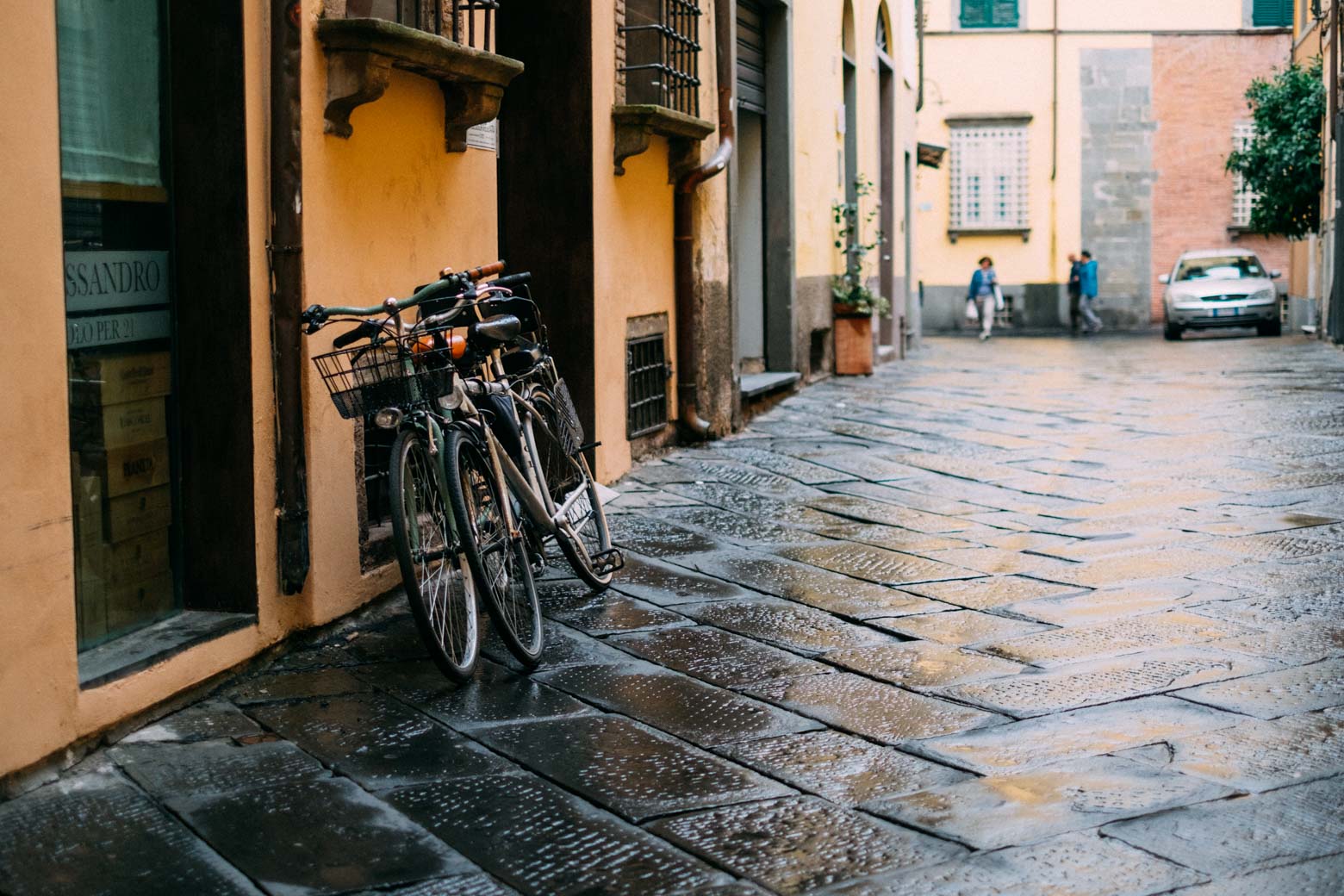 5. Gorgeous city views
No post about Lucca would be complete without panoramic views from one of Lucca's two most prominent towers: Torre del Guinigi and Torre delle Ore . I got this view from Torre del Guinigi, where an ancient oak tree wraps around itself in every which direction. I'm sure this was printed in a brochure somewhere, but I really wonder how big the tree was when they brought it up!
Up at the top, there are enormous spotlights which presumably light the trees at night. The top deck was flooded in some areas from all the rain and, clever me, I was wearing sandles and my feet got soaked. Nonetheless, I think I managed some lovely photos!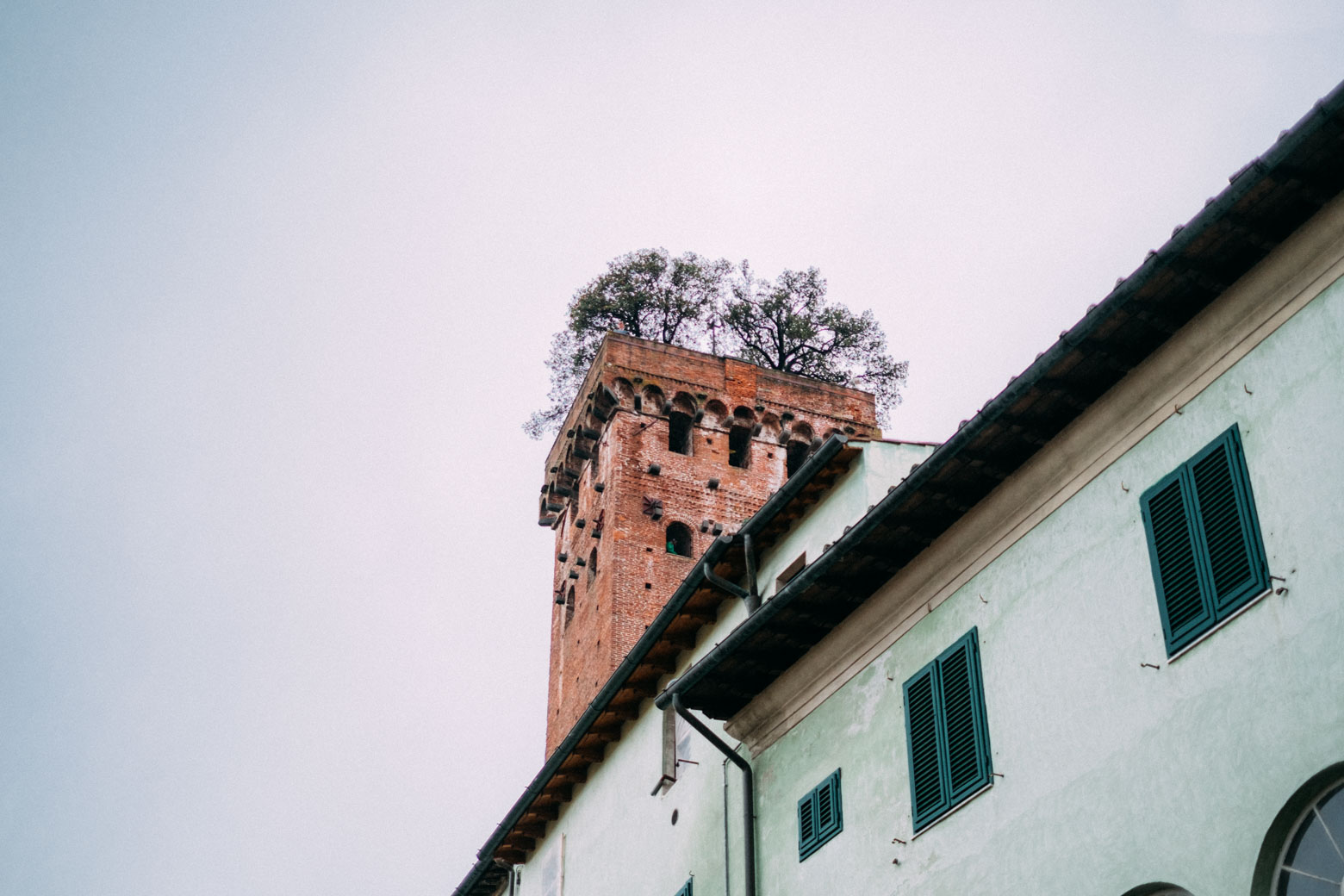 Before visiting Lucca, of course I did some internet research and checked out some pictures of the town. What I have to say is that it looks so completely different when the mountains are cloaked in clouds and this teal tone takes over. I wouldn't recognize the place, but it is so beautiful in its own right.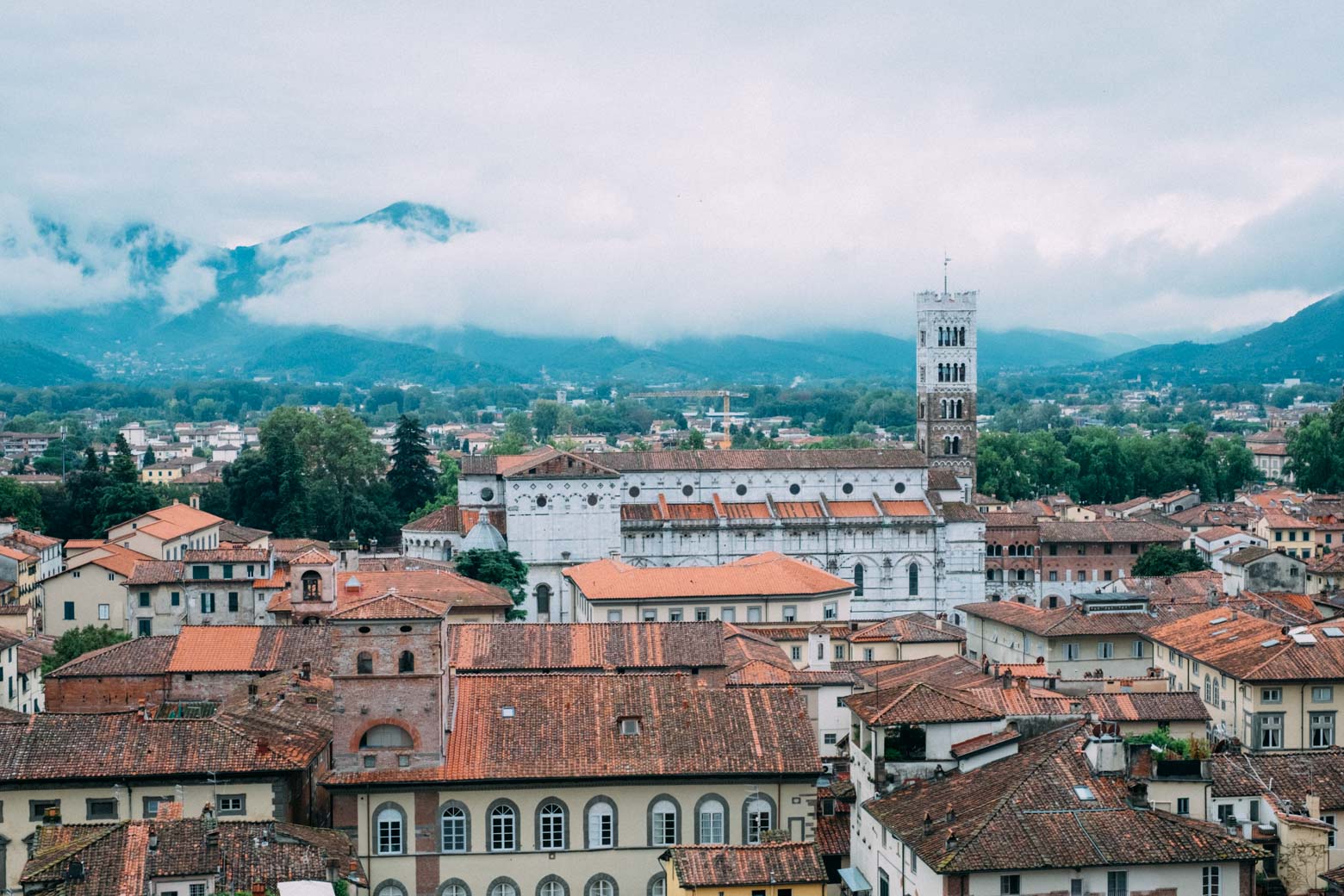 6. Charming cafes and delicious food
Don't you love it when you suddenly have to seek shelter from the rain, and it leads you somewhere wonderful? This is exactly what happened to me on arrival in Lucca – it was raining hounds and Maine coons right up the moment we decided to brave the walk from the car to any cafe in town.
I was foolishly trying to follow my phone, when instead I stumbled into Santa Cristina Enoteca. This place has the most quirkily crafted interior of anywhere I saw in Italy, with delicious food and coffee to match. Of course, I might be biased seeing as it was the cafe that took me wet off the street, but I don't think I'm too far off.
Something cool I learned from my placemat at Santa Cristina – there's a variety of wine called Monica, made in Sardinia!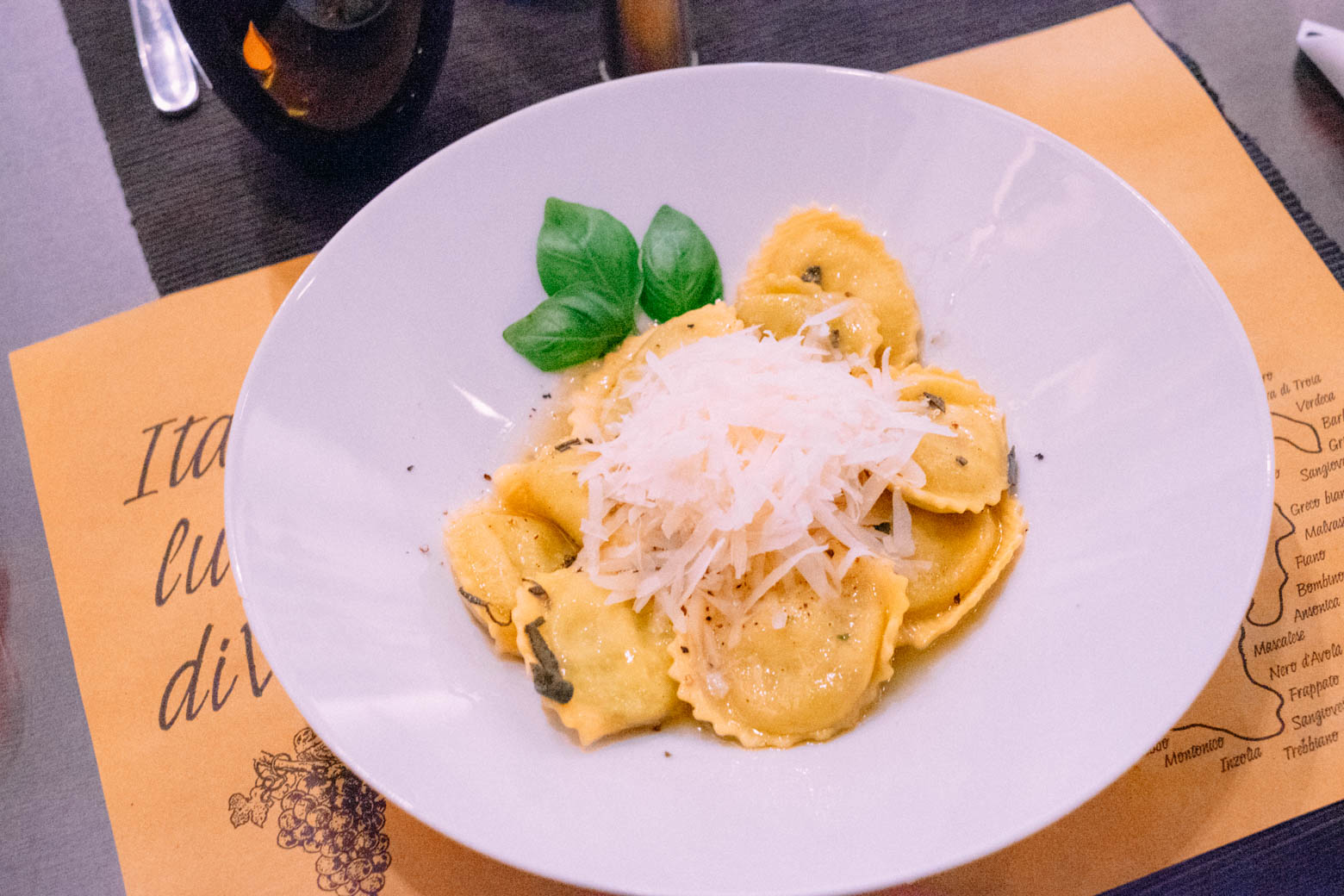 7. Even the supermarket is instagramable
Even through the rain, huddled under a way-too-small umbrella sold to us in the parking lot, I couldn't put down my camera, even for the absolute silliest things. I'm pretty sure this sign just says, "Vegetables, fruits, whatevs" but somehow it looks so very romantic.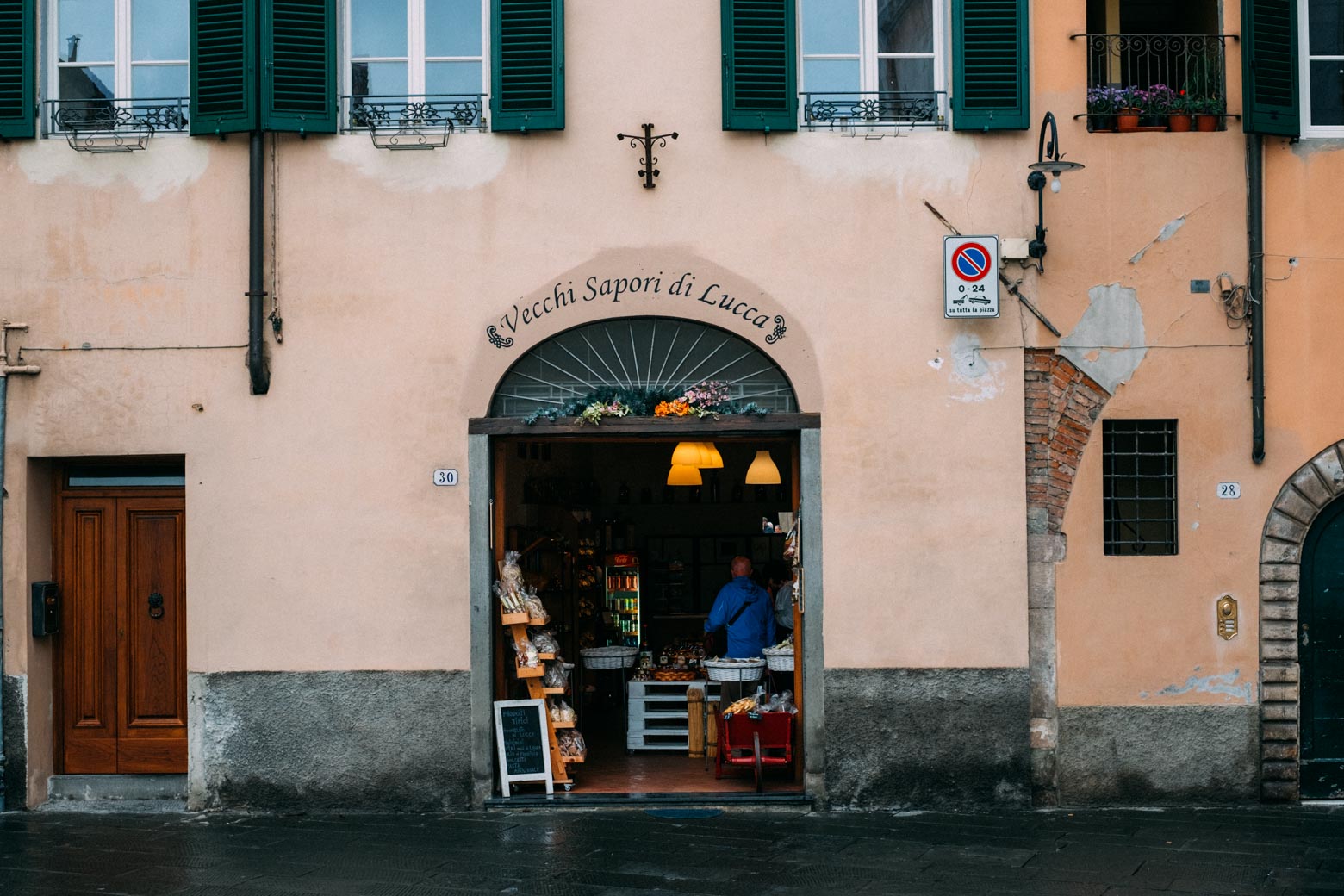 8. It's the home of Puccini
I think there was a time where I would've probably fit under the "culture snob" category. Who isn't a little bit during college, when your brain is getting so big with all those new facts and perspectives?
For this reason, I wonder if I could have EVER had a similar reaction to the tour guide who watched my boyfriend pretend to light Mr. Puccini's cigarette (as it clearly had gone out in the rain). She started swiftly on a tirade about how lighting the cigarette of Puccini was tantamount to drawing a moustache on Dali. Sacreligous to some, hilarious to others most.
Come on, who wouldn't help the guy out?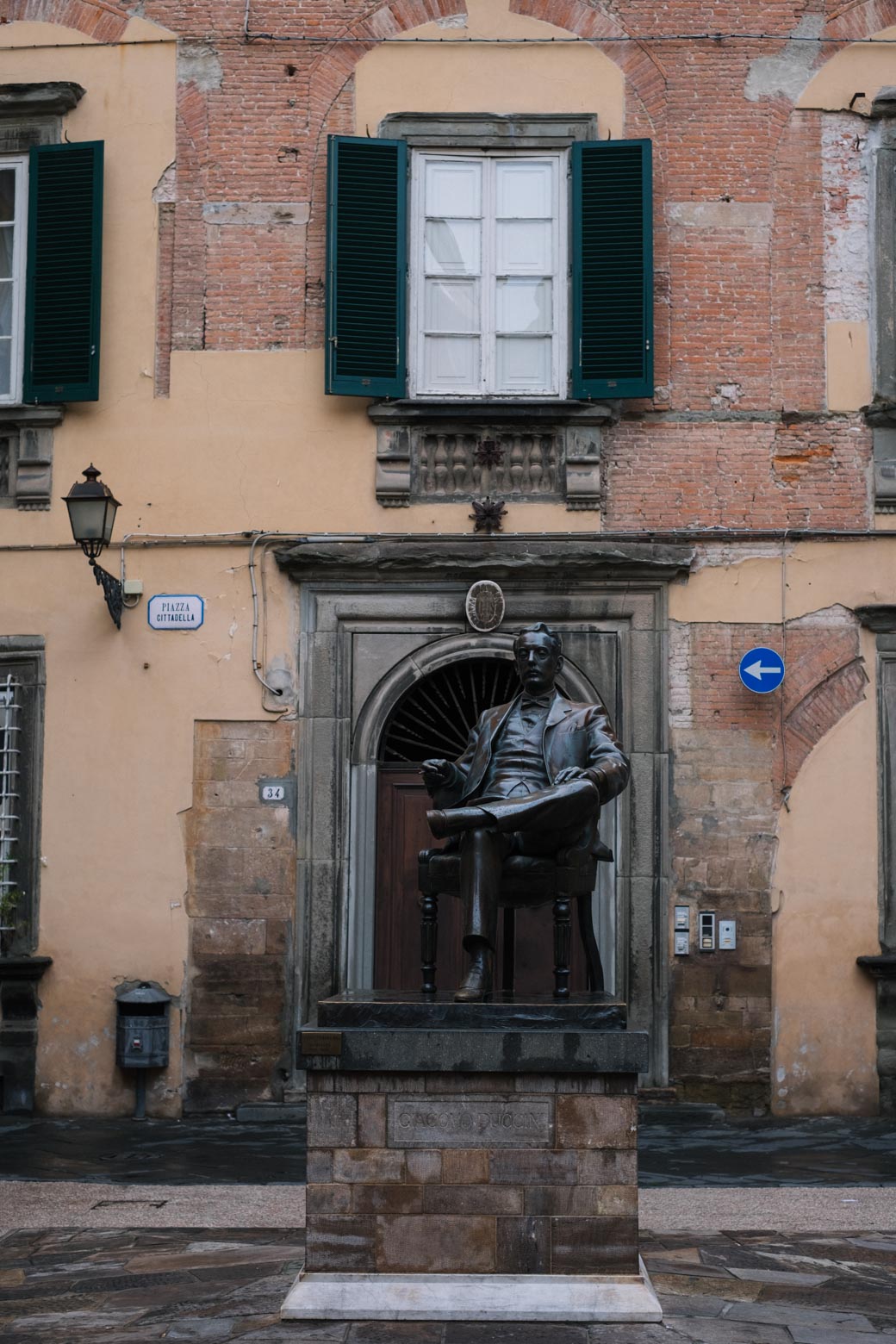 9. Tons of historic and artisan shops
Especially if you are a foodie, there are tons of shops in Lucca where your heart's deepest desires can be fullfilled. Just walking through the city center will have you passing bakeries famous for their culinary inventions (like Taddeuci who produced the first buccellato (raisin donut) or Forne Giusti , famous for Focaccia).
Whether you're looking for a local specialty or just some olive oil and parmesan to smuggle on the place, Lucca is an excellent place to shot before you hop a plane home.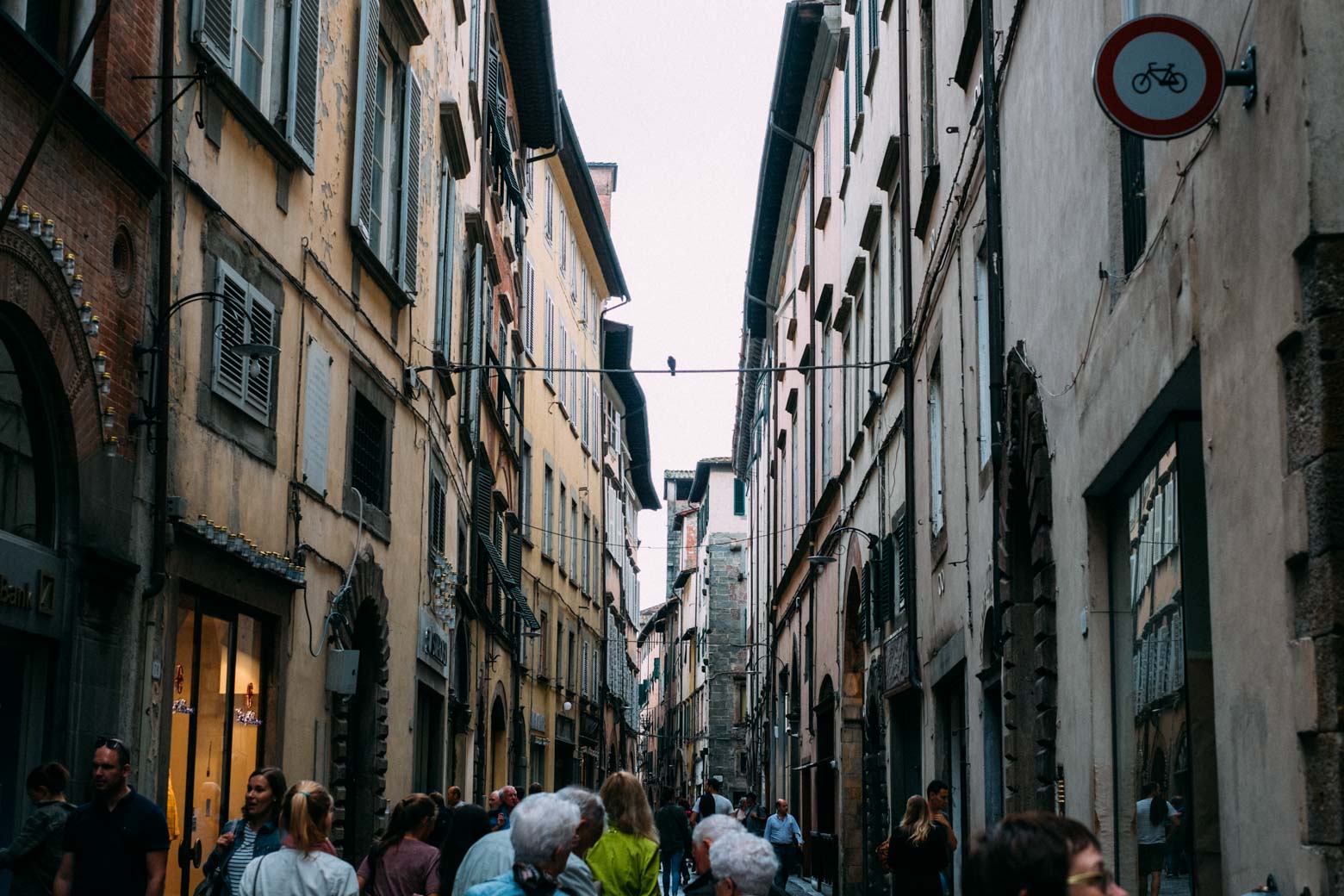 10. It's still under the radar
People have been calling Lucca the hidden gem of Tuscany for literally years, but somehow the droves of tourists and travelers have yet to overtake the town. I really wonder why that is – what, with all these reasons to visit Lucca, why don't more people do it?
Maybe having Pisa as a neighbor has something to do with it. Most people who come to Tuscany on a whirlwind trip will probably focus on Florence and Pisa, while passing up their little sister Lucca. Well, clearly that's their loss! The breathable streets and the fact that you don't have to fight for resources in this town really seals the deal for me. You can be in the most magical place in the world, but if there are dozens of others there with you fighting for the same magical moment, something gets lost along the way. That's a huge reason why Lucca was such a pleasure for me.
This is Piazza dell' Anfiteatro , an oval-shaped piazza and the former site of a Roman amphitheater.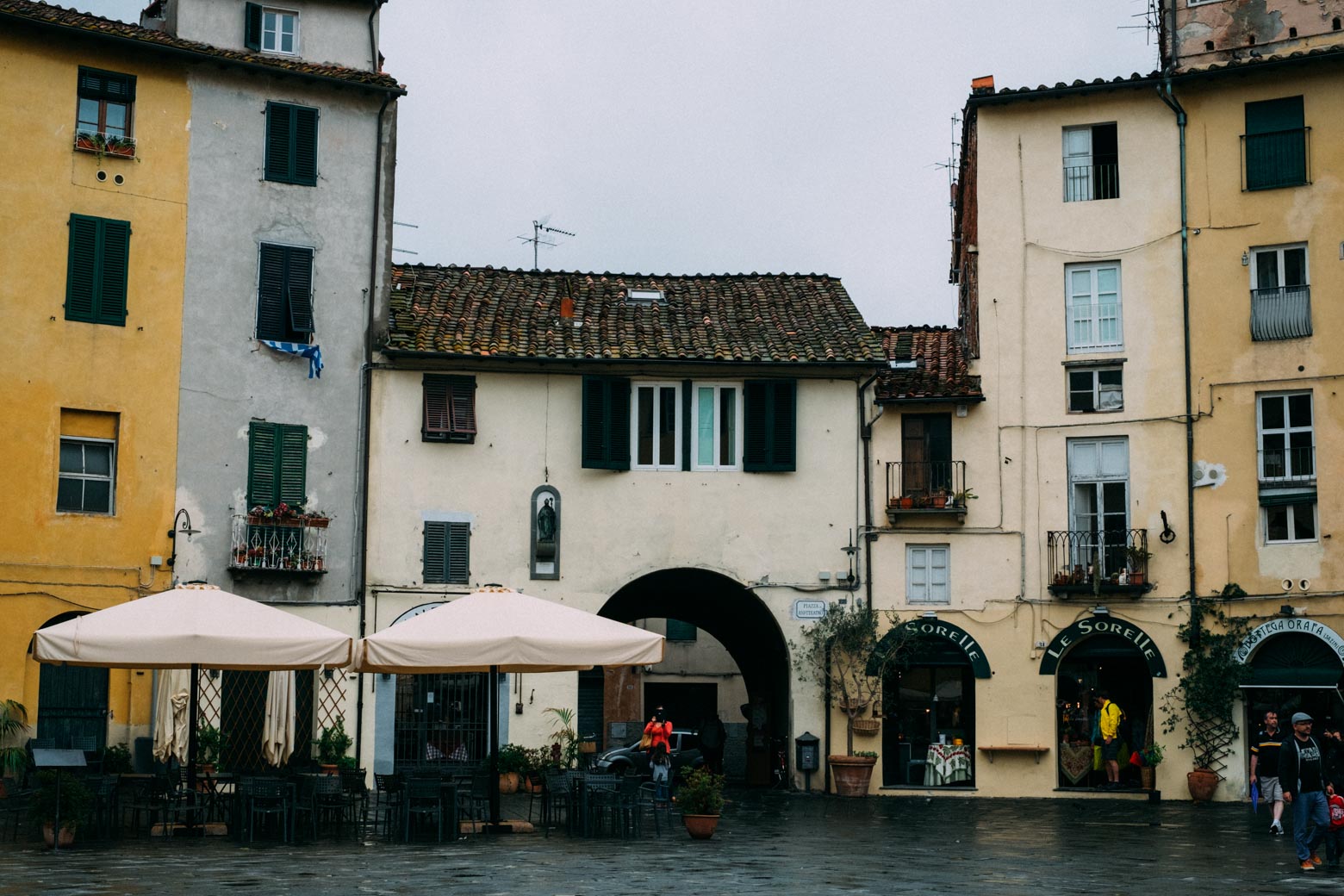 Have you also been hearing a lot of buzz about Lucca? Do you have a favorite town in Tuscany?
I'd love to hear any other recommendations! Please leave your suggestions and thoughts in the comments!
Pin this post for later!