After the last five years of living in Europe, I've been to Italy at least half a dozen times. My latest trip was to Lake Garda, Italy's largest lake and one of the most popular places to visit for both Italians and European tourists alike. There are so many Lake Garda towns that without a guide, it's hard to know where you ought to visit and what to skip. For that reason, I wrote up this post!
I hope it helps you decide where to go in Lake Garda, the best towns of Lake Garda, tours you can take to Lake Garda, the best day trips from Lake Garda, as well as how to reach Lake Garda from Verona, Milan, or Bergamo.
Prego!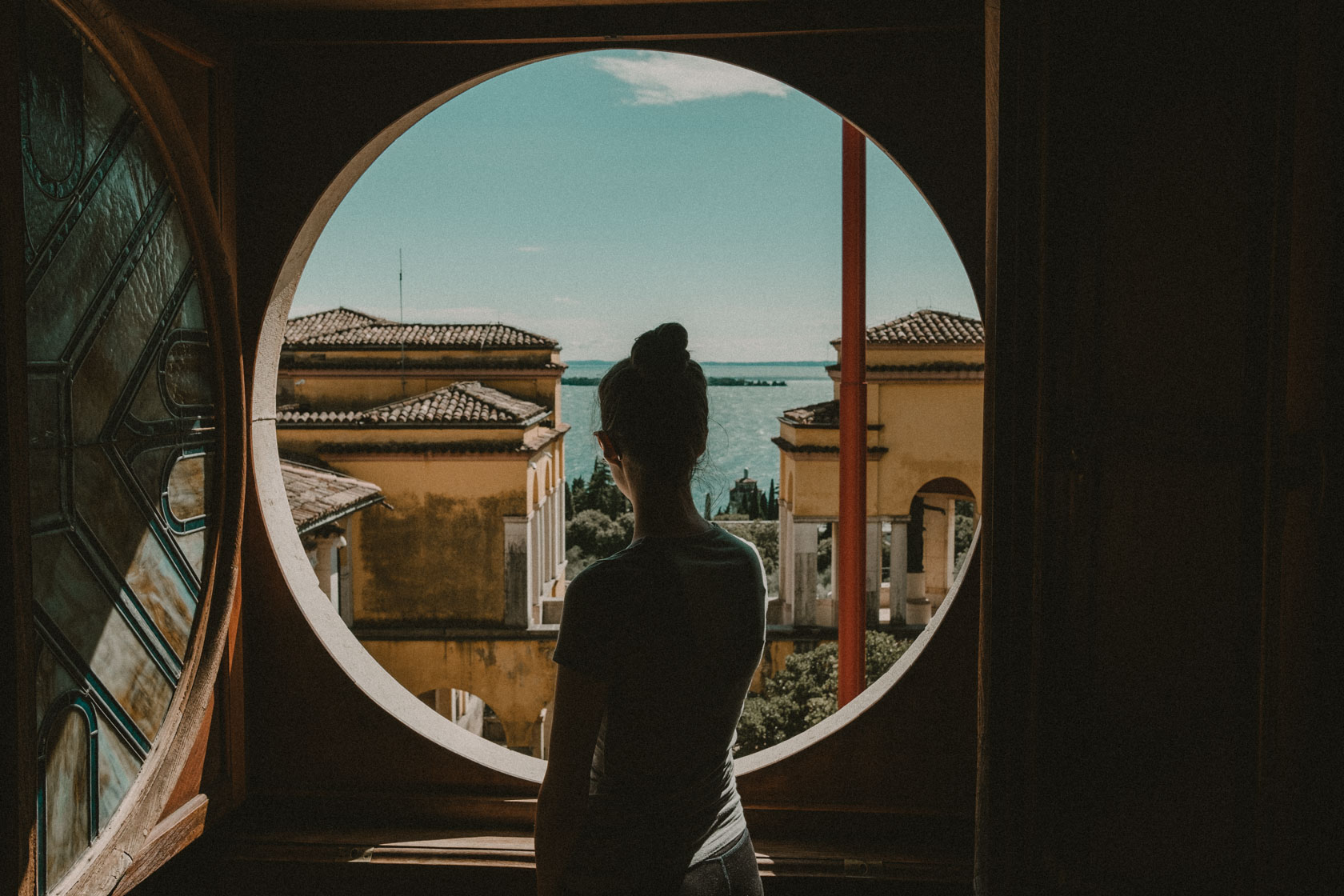 Some links in this post are to affiliate sites. If you purchase something through them, I may earn a small comission — which costs you nothing! I am very grateful when you use my links to make a purchase.
Can you visit Italy now? (Summer 2023)
As of June 1, 2022, COVID restrictions on visiting Italy have been lifted. You no longer need to present a PLF or any kind of negative test to enter the country. Your flight into the country may still require face masks.
Table of Contents
Where to stay in Lake Garda
Here are two places we stayed around Lake Garda. It's helpful with a lake this big to stay at a different place as you make your way around the lake. Since you'll most likely be renting a car, you can easily drive between the different places you book.
Hotel Baitone (Malcesine)

Budget-friendly


Located a little ways out of Malcesine, this budget-friendly hotel has its own restaurant and private access to the lake.
Borgo il Mezzanino (Salò)
Really nice grounds you can walk around, and a beautiful view over the lake (since it's situated up on a hill). Can be a little tricky to find since it's on a dirt road!
Both Malcesine and Salò are excellent places to stay on opposite sides of Lake Garda, even if my two recommended hotels are not available at the time when you book your trip.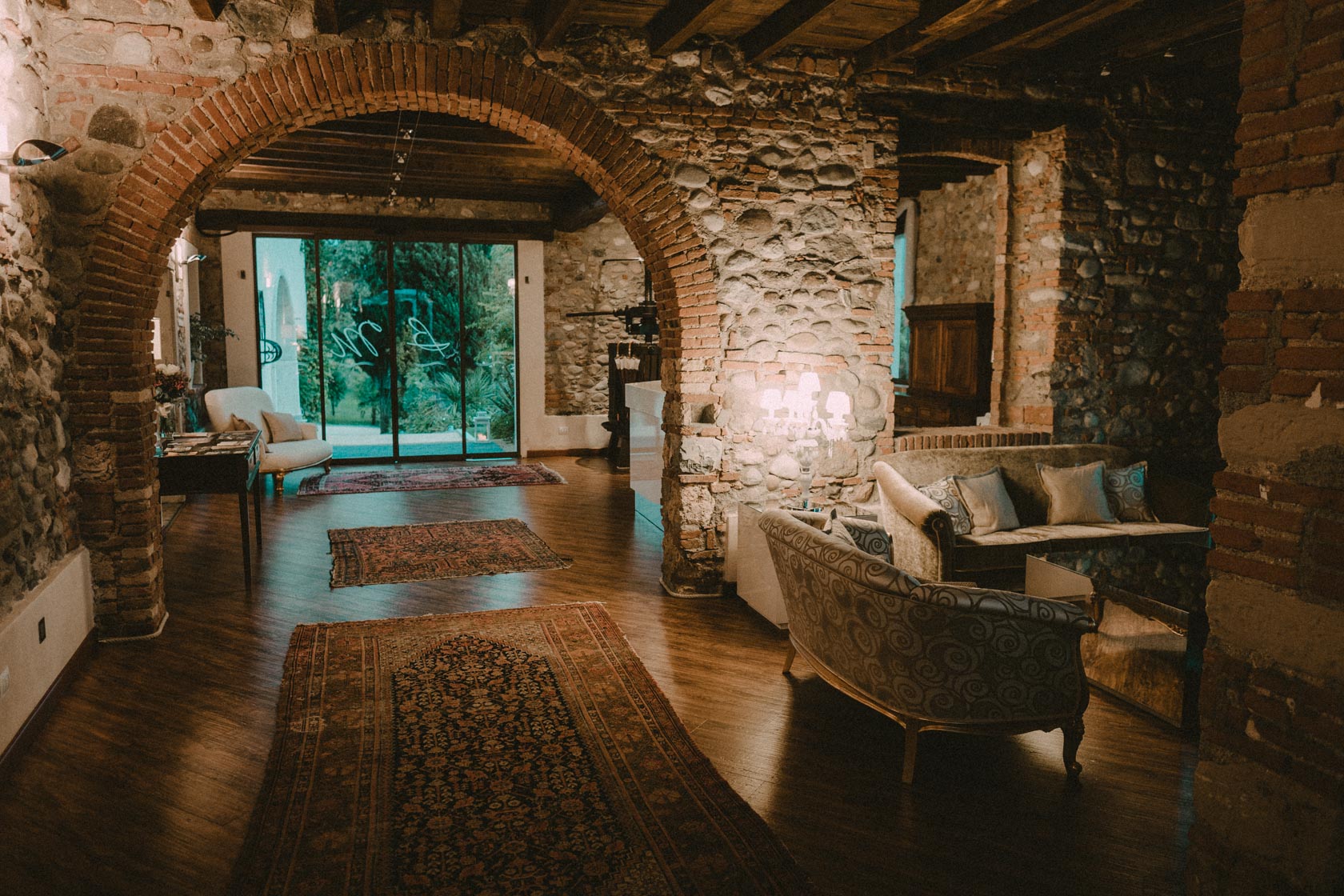 View of the common area at Borgo il Mezzanino .
How to reach Lake Garda
There are a number of different airports you can fly into for reaching Lake Garda, so just check which one has the best deals from the city you're flying into. The most popular airports to arrive in are either Milan (MXP) or Venice (VCE). I've flown in to both airports, and they are almost equidistant from Lake Garda. This time, I flew into Venice because I was planning to spend a few days there before continuing the trip.
I highly recommend renting a car during your time at Lake Garda. We always book through DiscoverCars and find the service great. Just make sure to get some kind of insurance in Italy, as people tend to be less gentle with their cars.
Tours to Lake Garda from other cities
If you just want to visit Lake Garda for one day, there are a bunch of different options to visit Lake Garda from some of the most popular neighboring cities, such as Verona , Bergamo , or Milan .
Best towns on Lake Garda
Lake Garda has dozens of tiny towns dotting the coastline, but we don't have all the time in the world! So here are the top 10 towns I would definitely recommend you check out during your trip to Lake Garda, as they are the best examples of small Italian villages that'll make you swoon.
Sirmione
If you read just about any post on Lake Garda, Sirmione is listed as the number one town to visit. Trust me! It's the top of the list no matter where you look. There's a pretty good reason, though, that Sirmione is one of the most memorable towns you'll encourage around the lake. Part of the reason is that Sirmione is home to one of Italy's best-preserved castles.
If you have time to see just one town on Lake Garda, Sirmione is easily the top pick for the honor.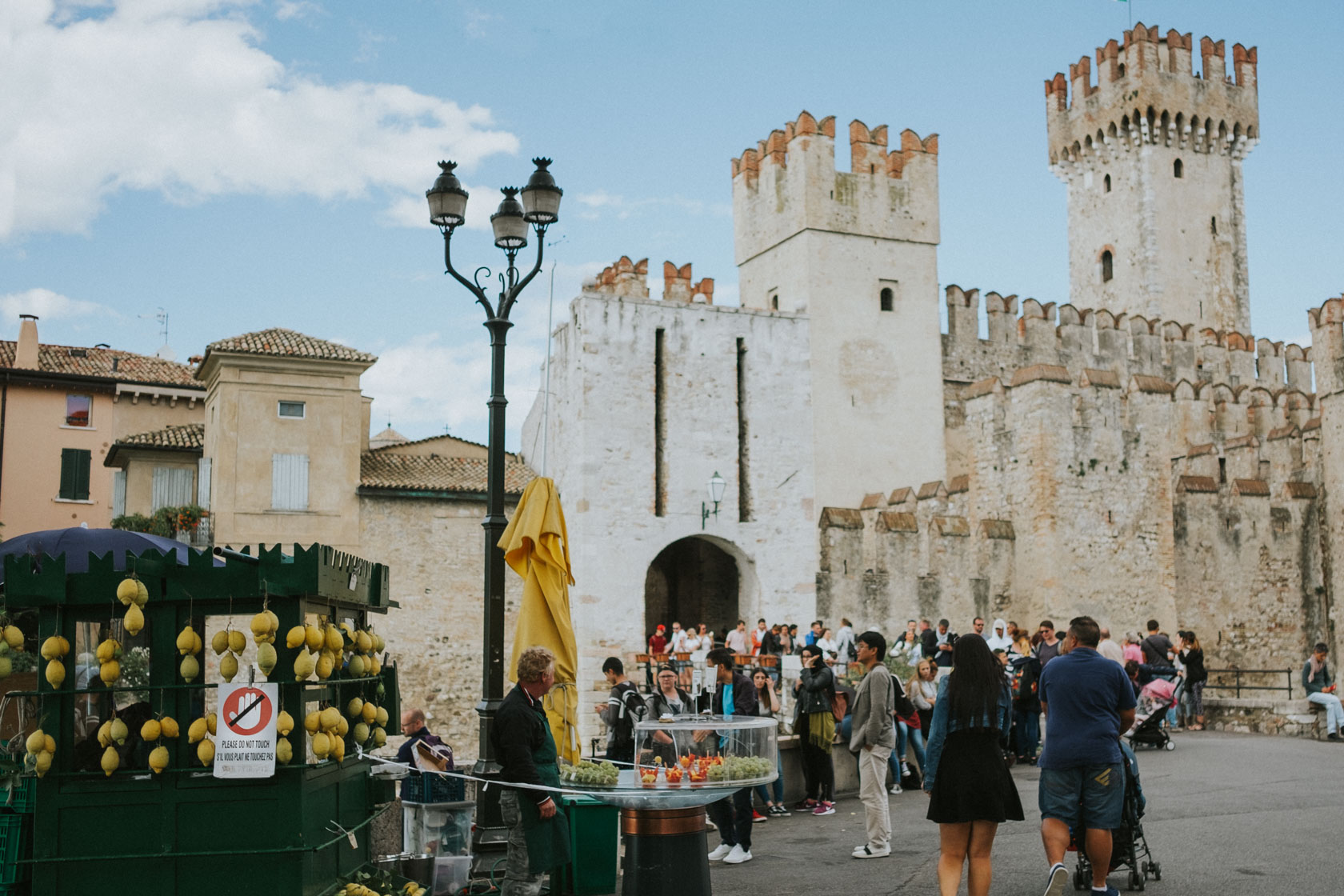 Things to do in Sirmione
Visit the Scaligero Castle – Again, this is one of Italy's best-preserved castles. You can go inside for 6€ or just admire it from the outside if you're in a hurry or on a budget 😉
Walk around the Archaeological site of Grotte di Catullo – Walk through the ruins named after Catullus, perhaps the most famous Roman poet of all time. Hang out with the olive trees and enjoy a gorgeous view over the lake.
Go to a thermal spa – If you're on a grown up vaction, consider visiting a spa in the area and just relax.
Lay out on Jamaica Beach or Lido delle Bionde – While Lake Garda is rather big and deep (making the water cold!) you can still enjoy the sunshine on the most popular beach, Jamaica Beach, or another options, Lido delle Bionde.
Take a boat ride out on the lake – Get a totally unique view of the Scaligero Castle by taking a boat ride around the Sirmione peninsula.
Walk around the Sirmione park – Escape the crowds by visiting this park, which is slightly hidden from the main areas on the peninsula.
Grab an ice cream and walk along the promenade – Sirmione has a lovely promenade where you can walk along. Grab a gelato and just enjoy watching the boats come and go.
Do some shopping – There are a number of fashion shops you can stop in here to level up your Italian style.
Take the family to Gardaland – Not exactly in Sirmione, but close enough, this amusement park is a great option for entertaining the kids (or just go as a grown up, no judgement!)
Enjoy a sunset over Lake Garda – Just soak it in 😄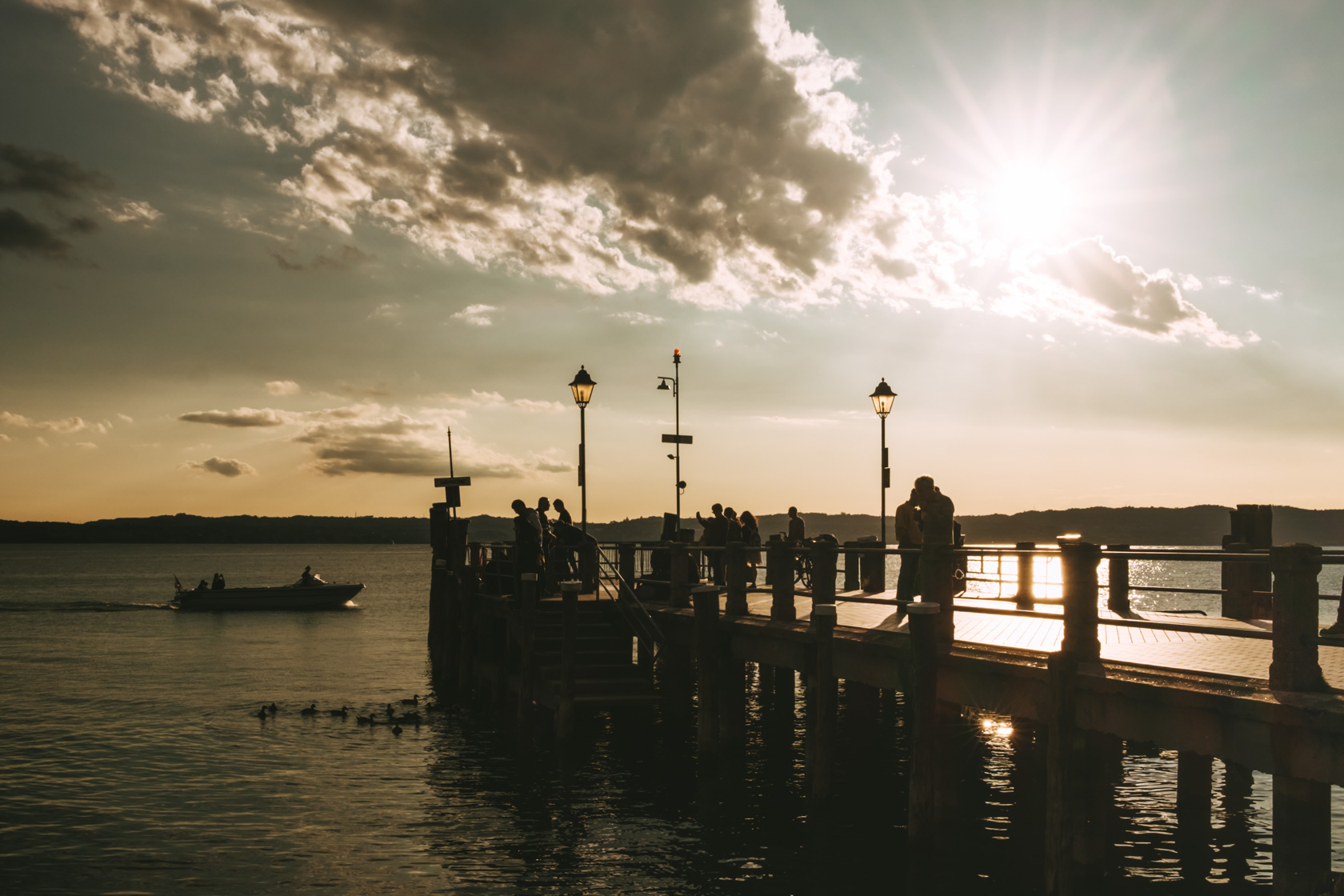 Archaeological site of Grotte di Catullo
This Roman villa is rather well-preserved, and when walking around the expansive ruins there's a good chance you'll wish this had been your villa back in the day! An accompanying museum gives you an idea of what it must've looked like, with a sweeping view over the lake. The Grotte di Catullo is actually the largest domestic villa in Northern Italy, making it a very special place to visit while you're in Sirmione.
Besides ruins to explore, there are a large number of olive trees and places to just sit and watch boats skip across the lake. Entry costs 8€ per person.
Bonus fact: Apparently they filmed part of the movie Call Me by Your Name here!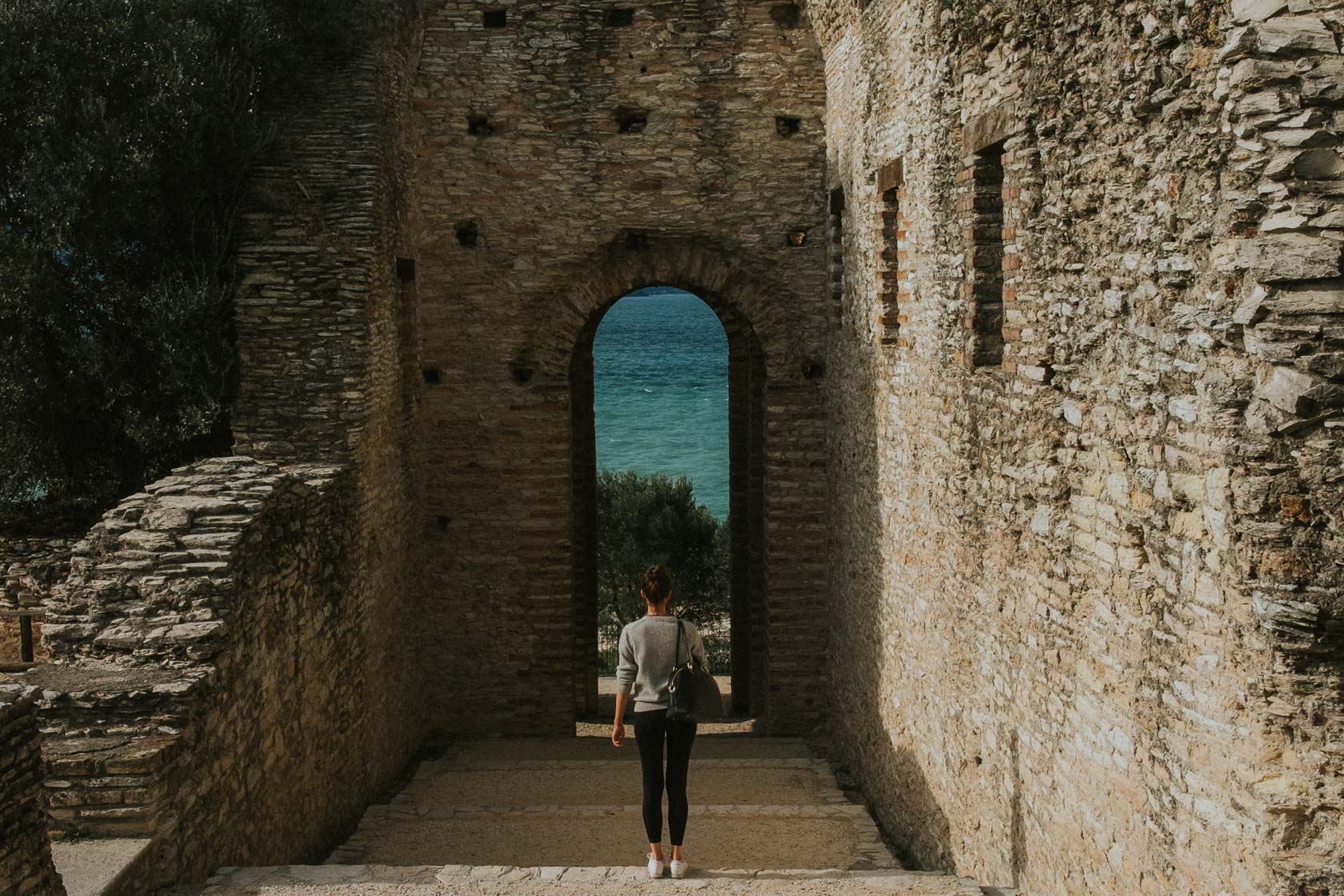 Archaeological site of Grotte di Catullo
Scaligero Castle
This castle dates back to the 13th century and is in excellent condition given its age. It used to be the base of the Scaliger fleet, thanks to its strategic location on the lake on the peninsula. For just 6€ you can pop inside and see a museum, or enjoy the unique design of the castle from the outside. One good thing about going inside is that you can take photos over the colorful rooftops of the town from the elevated height of the castle.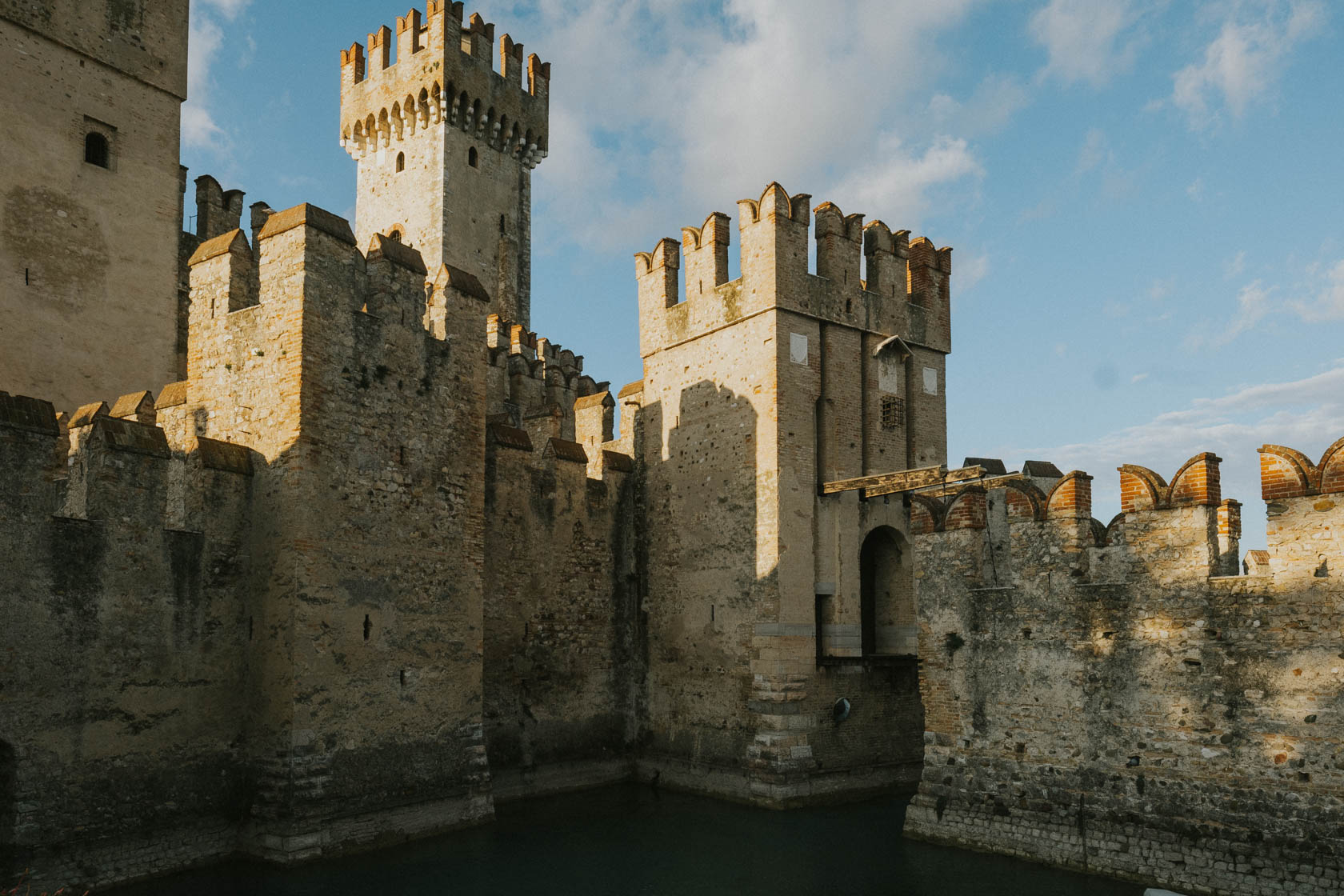 Scaligero Castle
Gardaland
If you're visiting Lake Garda with your family, Gardaland might just be exactly what you're looking for. I mean, when I was a kid I'm not sure I appreciated the fine art that is sipping an Aperol Spritz under the Italian sun. I mean, I'm sure I didn't given I was too young to drink and had never been to Italy. But I digress.
Gardaland has two main components: Gardaland Park and Gardaland Sea Life. If you decide to go to both instead of just one, you can tack on the other to a combination ticket for just a couple of euros extra.
Garda Town
Garda's eponymous town is a great place to explore the rest of the area, and its most famous sight is not located directly in town but accessible by car fromt the city center, Santuario Madonna della Corona . This church is essentially embedded into the rock face and is accessible by foot via a narrow road.
There's also a lovely promenade in Garda (as you'll find in a lot of these pretty towns!), with tons of restaurants and bars for you to enjoy the sunset at with a drink in hand. Besides the church mentioned above, you can also visit a more centrally located church, Santa Maria Maggiore Church . Garda also has a decent beach, though it's not one of the highest ranking around the lake (that award goes to the beaches at Sirmione, Lazise, or Torbole depending on your taste).
Salò
Salo is one of the top places I would be sure to visit in Lake Garda, thanks in large part to the fact that you have tons of great options when it comes to eating delicious food. We ended up at Osteria dell'Orologio, which offers both locally caught fish and home-style Italian food. That said, I'm one of those people who'd say food is the reason to visit anywhere, so I can also give you a couple more reasons to visit this town on Lake Garda.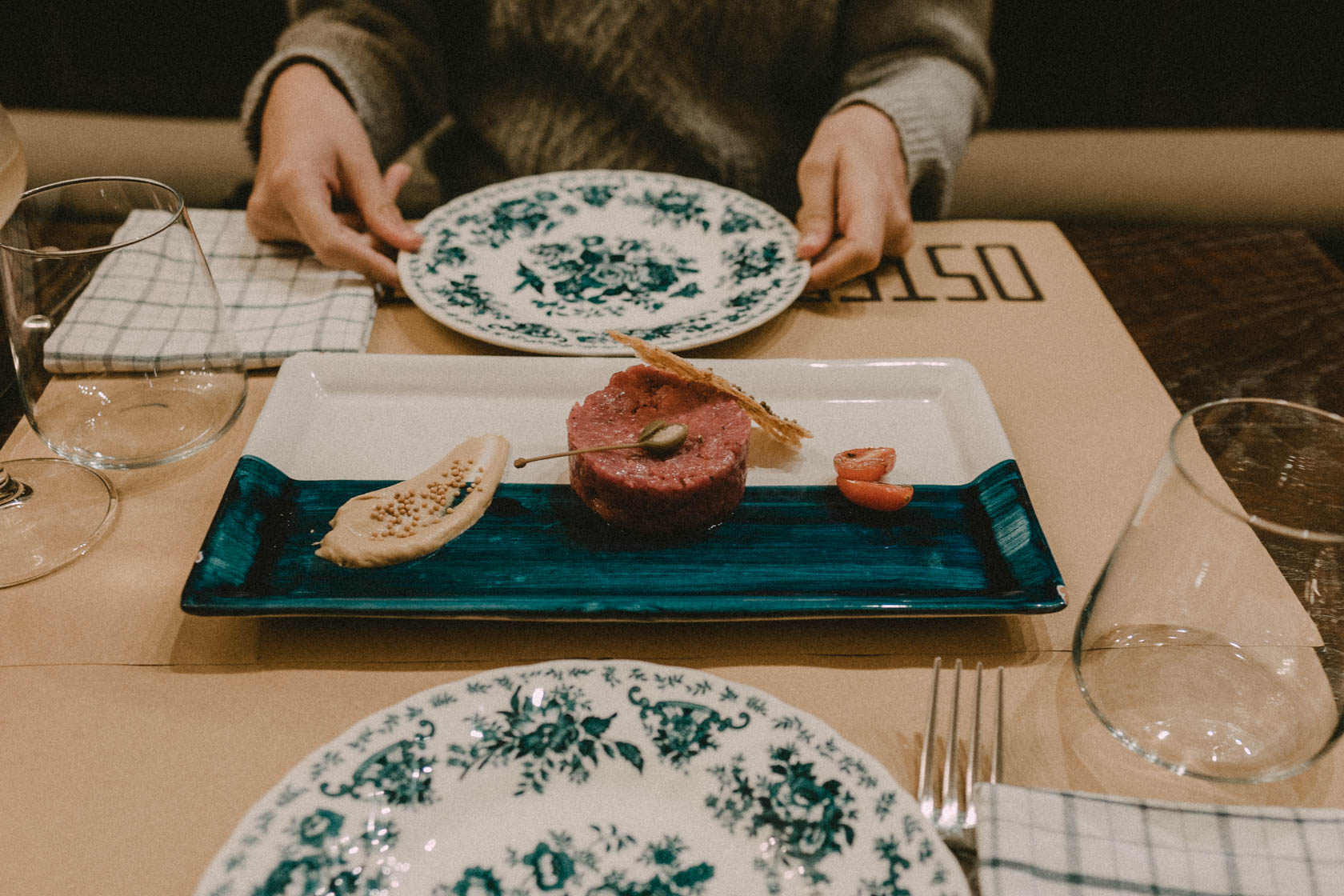 Things to do in Salò
Visit Isola del Garda – You can take a boat to this small island in the middle of the lake, where you'll encounter some nice gardens.
Drive over to Giardino Botanico Fondazione André Heller –These botanical gardens are home to numerous varieries of orchids as well as a gorge and waterfall.
Walk along the pier at Lungolago Salò –One of the prettiest spots in Salo to go for a walk along the lake.
Pop into Duomo di Santa Maria Annunziata – The main church in the center of the town itself, if you like to visit churches!
Do a farm stay – When booking a spot to stay in Salo, consider doing a farm stay (also called "agritourismo" in Italian).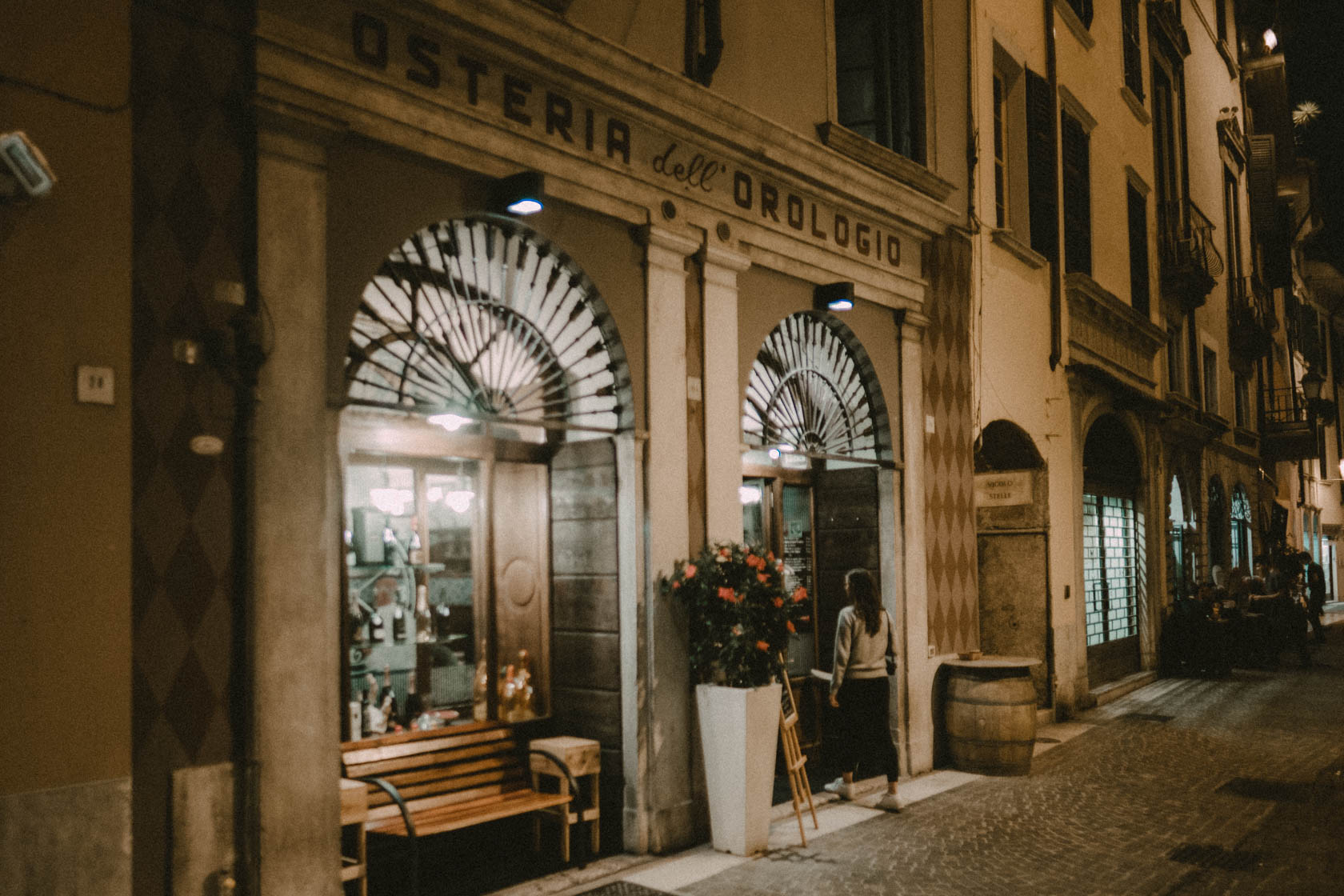 WHERE TO STAY IN SALÒ – Borgo il Mezzanino , grounds pictured below.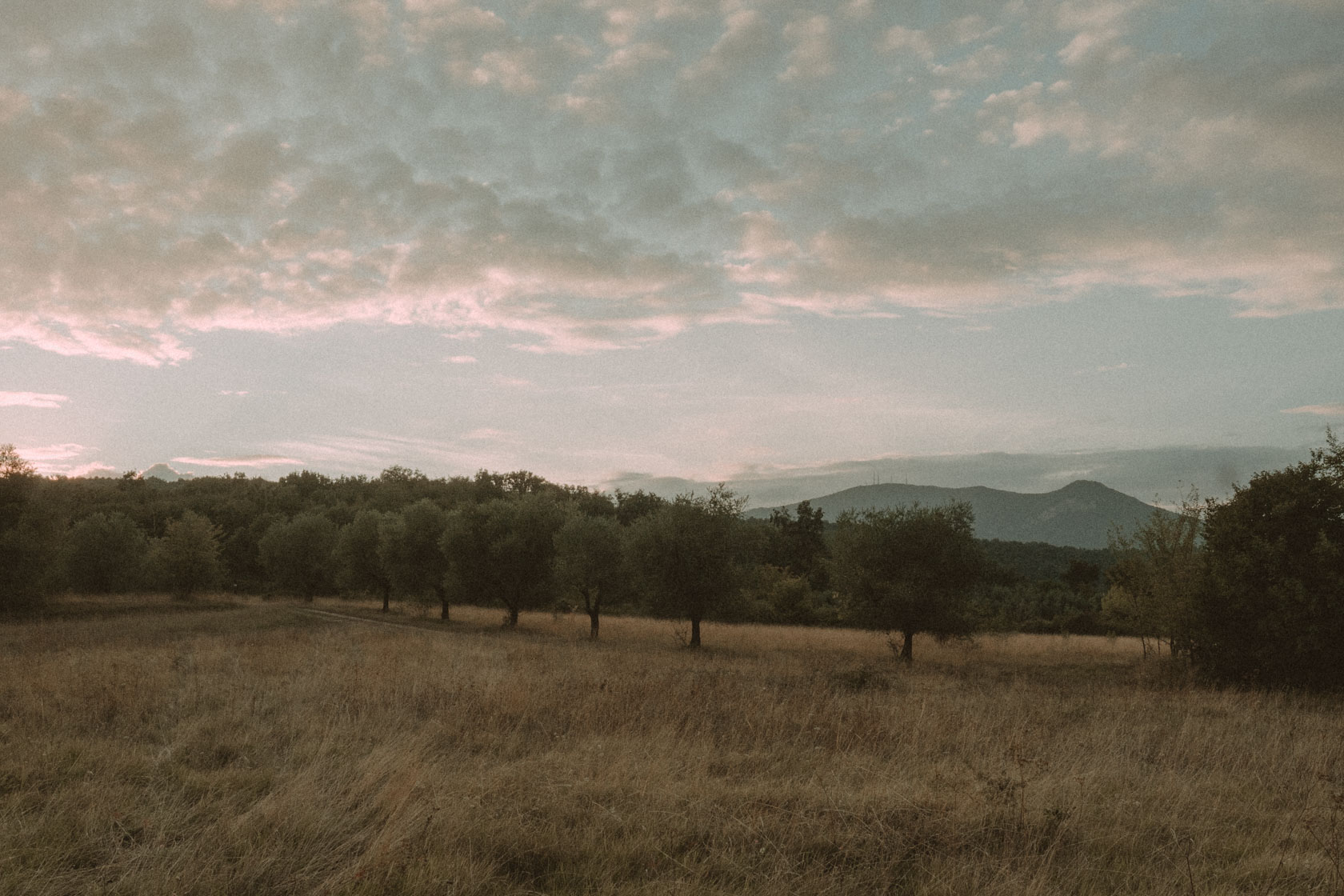 Gardone Riviera
I didn't spend any time in this town itself, but I did visit a major attractions located nearby: the Vittoriale degli Italiani, one of the best known villas on Lake Garda. Funny enough, on one day the weather was not cooperating but on the very next day it was bright and sunny! Here's what you need to know before visiting this huge property.
Vittoriale degli Italiani
This villa belonged to Gabriele d'Annunzio, whose estate – if I had to sum it up in one word – could be described as "extravagant". When you come here you'll see what I mean – not only is there a huge villa, but expansive gardens and a full-sized battleship smack in the middle. This harkens back to the fact that d'Annunzio was upset that, after World War I, the city of Fiume was going to be handed over to Yugoslavia rather than Italy. So he gathered together a small military and invaded the port, occupied the town, and declared himself the ruler.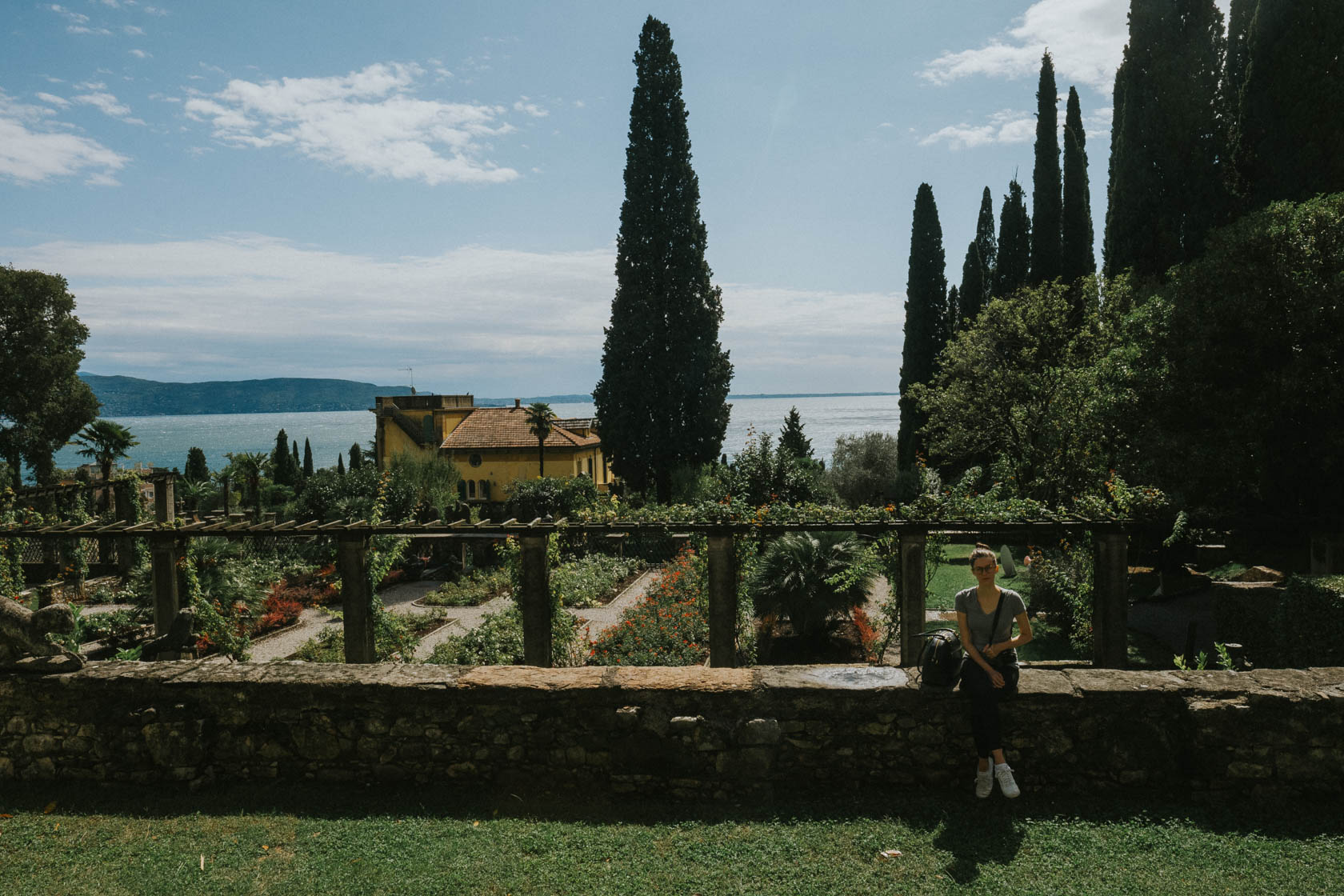 Tours are granted regularly, so be sure to give yourself enough time to arrive and book a ticket for a tour in your language. There's a set meeting point where you'll show up for the tour that you booked in advance. While you wait, you can walk around anywhere outside, but access to the interior is only available on a guided tour.
After the tour you're also able to visit a large theatre where a small airplane hangs aloft in the air. It's one of those things you just have to see to understand (and marvel at how they even got it inside the building??).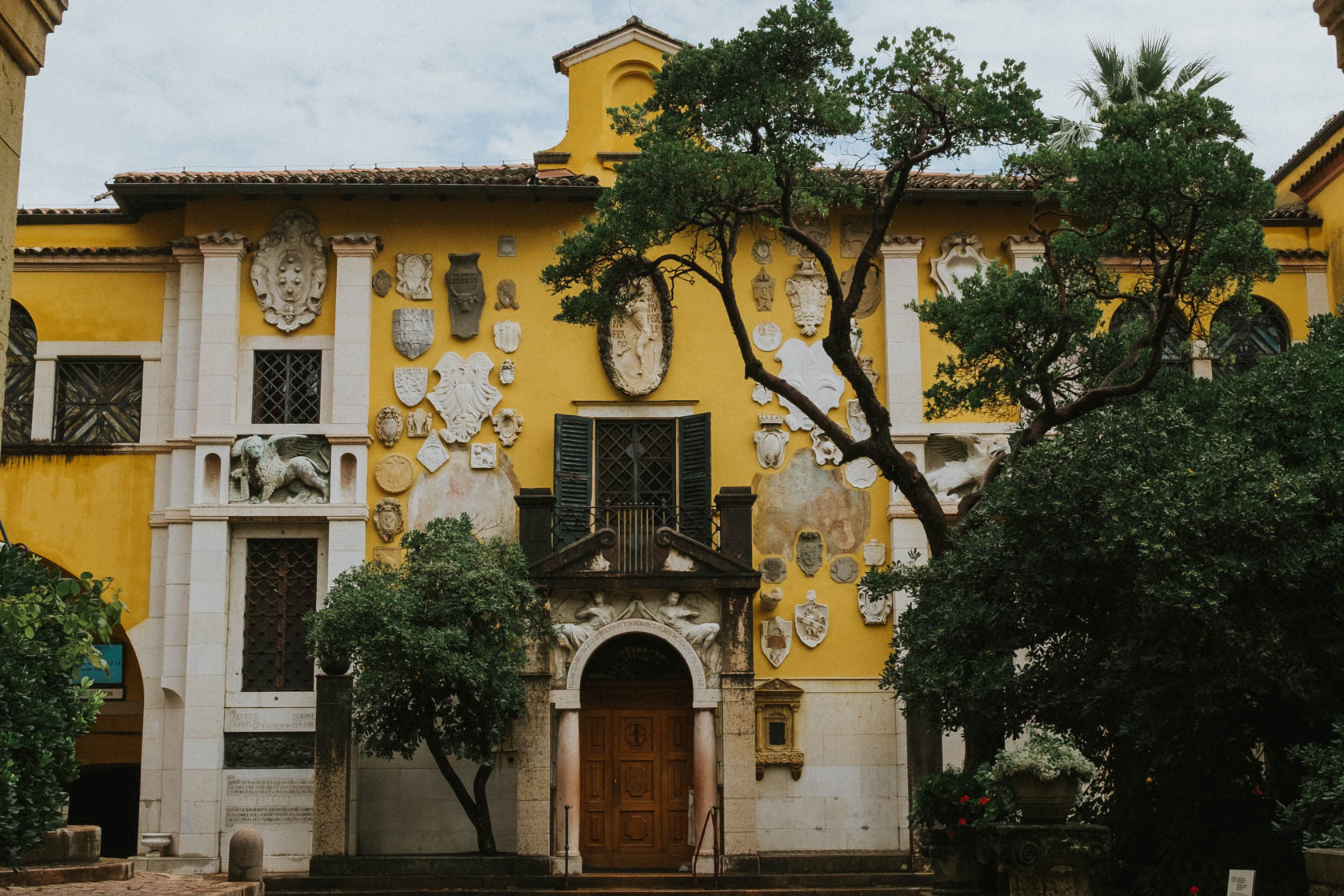 Check the official website for up-to-date information about opening hours, buying tickets, and other special events at the villa.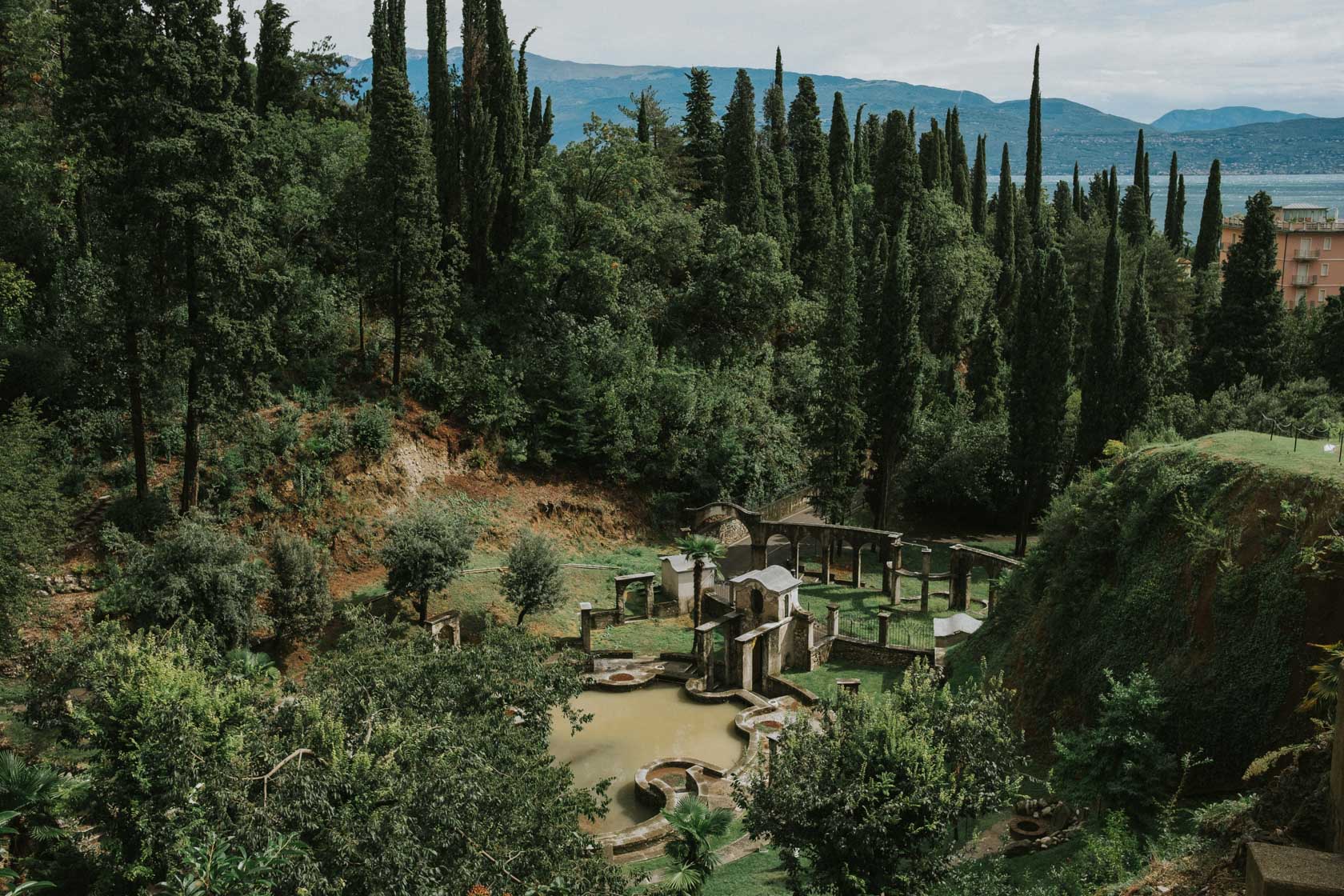 Limone sul Garda
Tragically we did not get a chance to visit Limone sul Garda, but I thought it was important to include this town because it's considered one of the TOP towns to visit on Lake Garda. It gets its name from the orchards of lemons that grace the slopes near the town, and you can enjoy a variety of lemon-flavored delights while you're here, such as limoncello (a popular Italian aperitif).
Arco
Arco is very north in Lake Garda, placing to close to South Tyrol and the Dolomites. For a taste of the mountains, you can do a small hike up the hill to an old fortress. The cost of entry is just a few euros, and there's even a tiny drink shop at the top if you're thirsty after the walk. Castello di Arco dates back to the medieval times.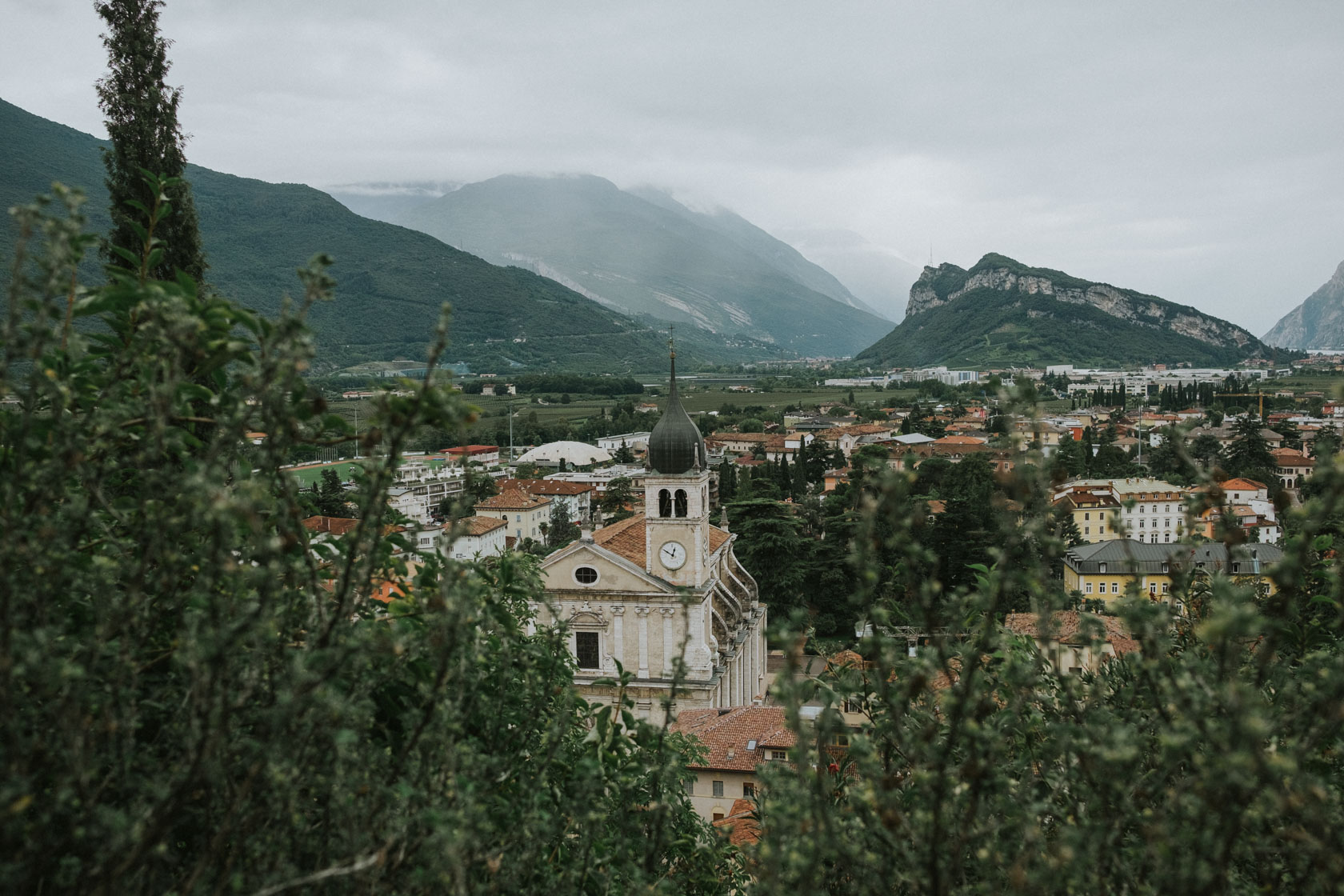 Riva del Garda
Riva del Garda is a really popular place for windsurfing on Lake Garda, thanks to its strong winds location in the northernmost corner of the lake. For a view over the lake, you can climb the Torre Apponale at the center of town. A little further up the coast, and you can visit the Cascate del Varone, which I'll cover in more detail below!
Cascate del Varone
Here you'll find a waterfall tucked inside a tall ravine, where you can walk to it through a pathway through the rock. It's a bit dark and narrow but quite neat to be able to visit. You can approach the waterfall from two different sides to get a different view (and also to have your picture taken 😉).
Besides the waterfall (the "cascate" mentioned in the name) there are gardens containing a wide variety of orchids that grow naturally in the area thanks to its unique climate. At the end of your visit you can also grab something at the neighboring cafe!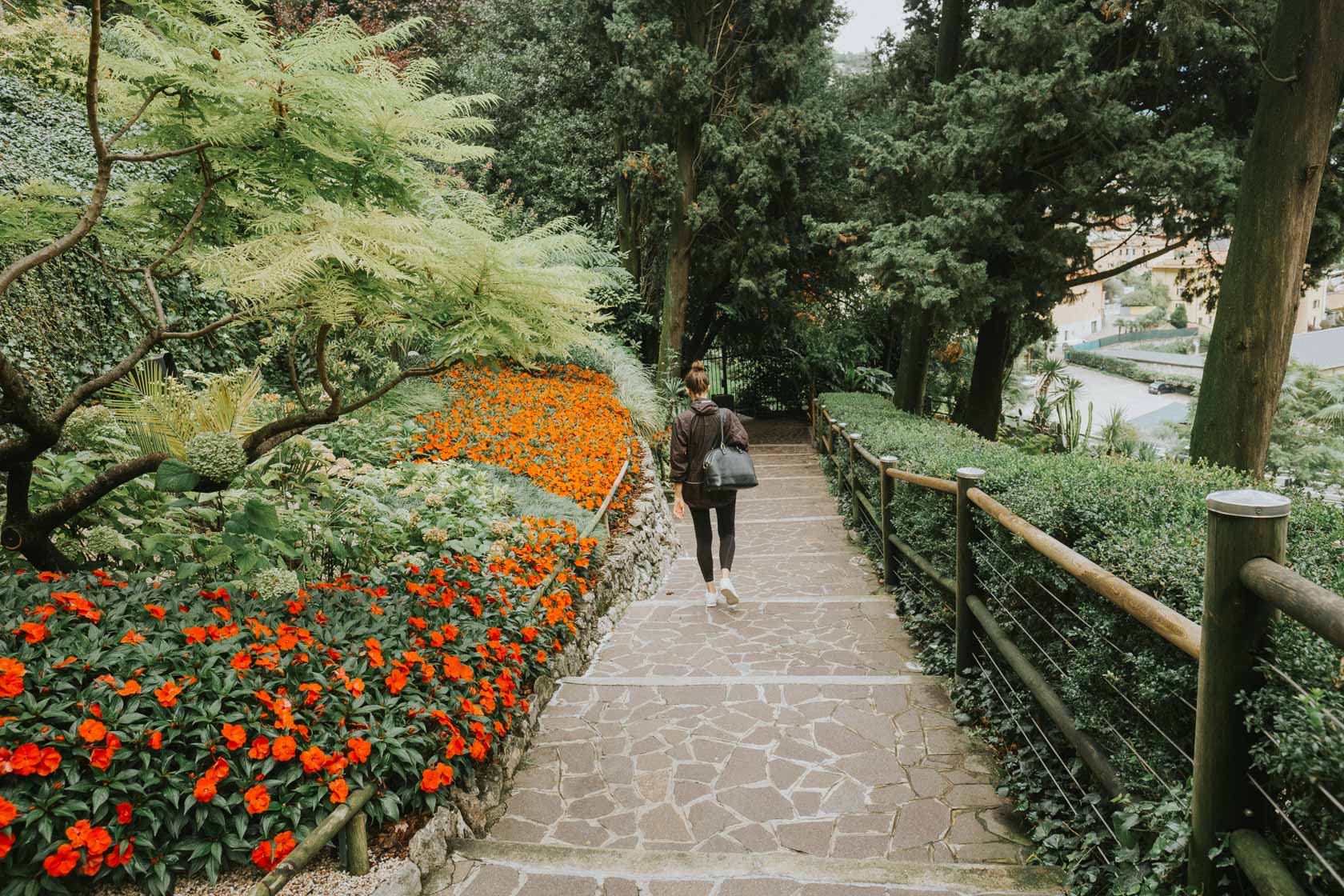 See the official Cascate del Verone website for details on opening hours. At the time of writing, the admission is 6€ per person, but you can also get a group discount for groups of 20 people or more.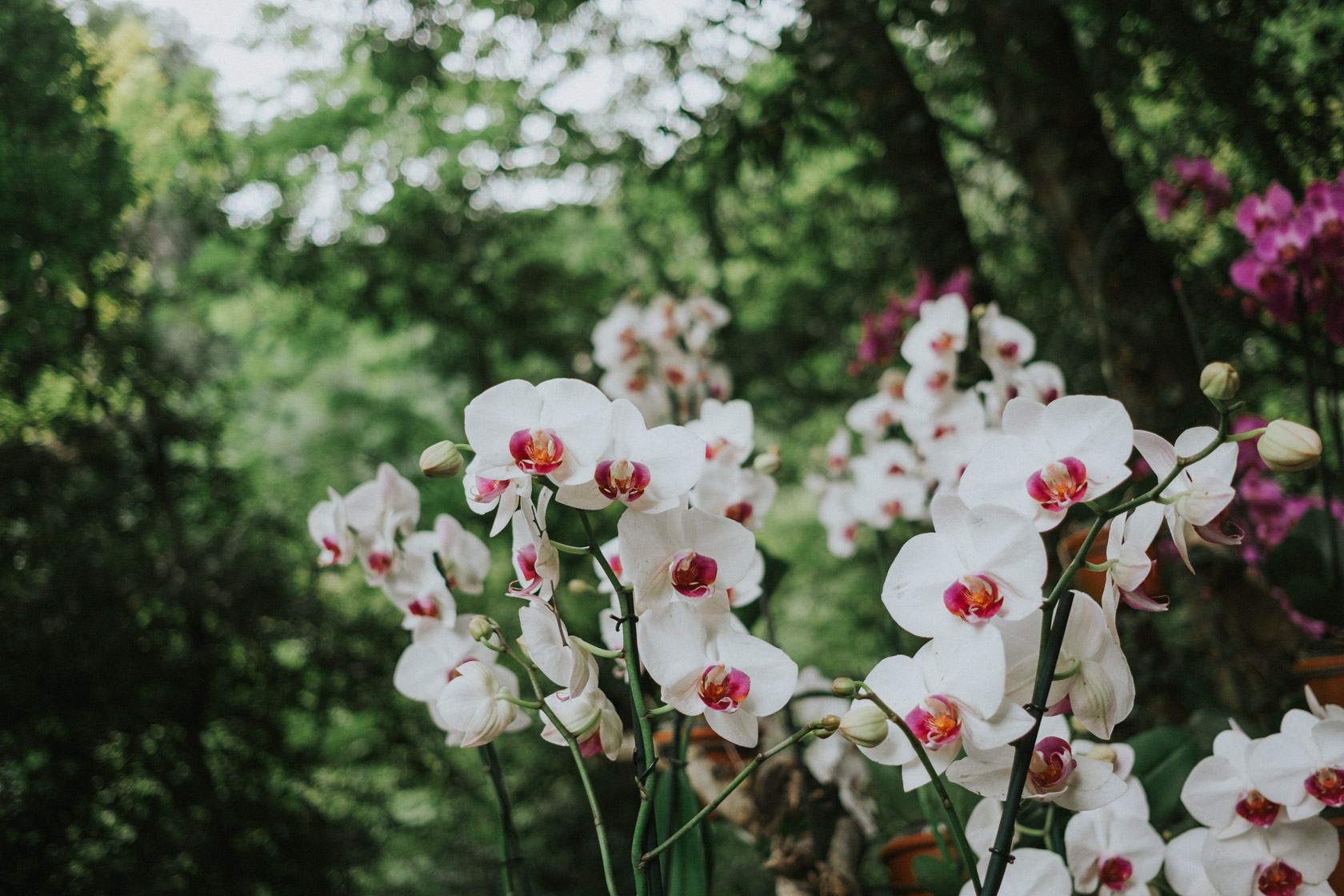 Bardolino
There are a lot of things to do in Bardolino, and a lot of them surround two of Italy's key specialties: wine or olive oil! Here you can visit a wine-making museum AND an olive oil museum (Museo dell'olio). There are also a number of highly rated wineries, in case you are the wine-loving sort (and aren't we all?). For instance:
Cantina F.lli Zeni
Guerrieri Rizzardi Winery
Both of these places are quite close together on the map in case you want to make an afternoon out of it 😉
Malcesine
Malcesine is another lovely town to visit, with a great combination of cobbled streets and winding flowering trees gracing the façades of homes, as well as local artisan shops where you can buy goods made from olives or lemons. Easily the most famous sight in Malcesine is a counterpart to the castle in Sirmione, called Castello Scaligero .
Unfortunately we didn't have the best weather in Malcesine (that's what you get for traveling in the off season!) and it rained for us, but that didn't take away from how cute the town was, even while the water was coming down.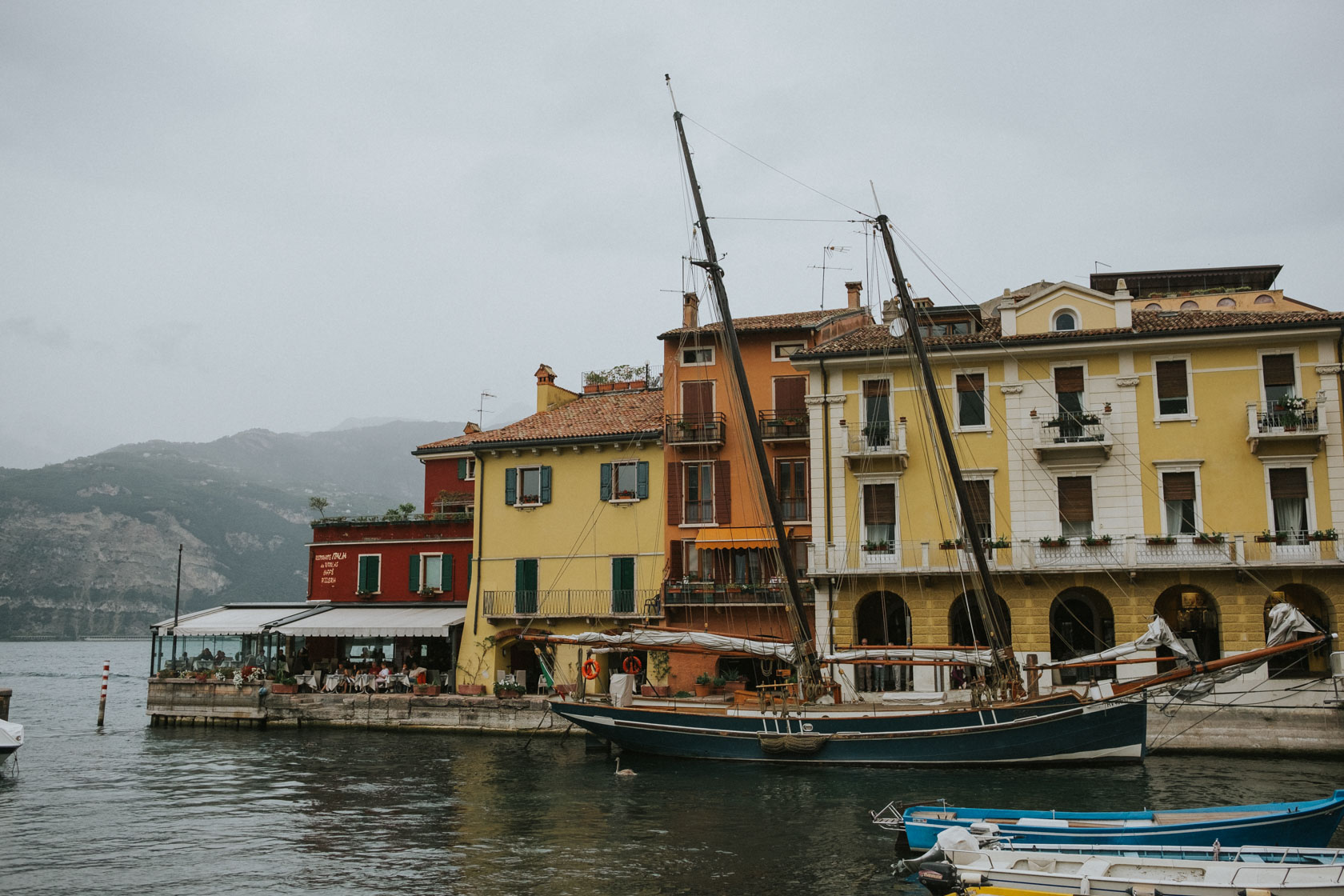 WHERE TO STAY IN MALCESINE – Hotel Baitone
Desenzano del Garda
Easily one of the prettiest towns on the lake, Desenzano del Garda has not only a lovely view of the lake but also of the Alps. Besides that it has three main beaches (Desenzanino Beach, Spiagga d'Oro, and Porto Rivoltella Beach) and a number of hotels. If you're looking for nightlife, you'll also find an ample nightlife scene in Desenzano del Garda. Come for the beaches, stay for the party 😉
Torbole
Similarly to Arco, Torbole is known for windsurfing and is also located at the northern part of Lake Garda. The architecture dates back to the 15th century. Even Goethe, the famous German poet, loved the town when he toured Italy back in the day. And, as with many of the small towns of Lake Garda, here you'll also find some nice beaches.
Lago di Tenno
Ok, this one I am cheating on because Lago di Tenno (or, Lake Tenno) isn't a town but I think it's definitely worth visiting anyways. This lake has some of the purest turquoise waters of any body of water I've ever seen! It's a rather small lake, but you can come here for a picnic or just enjoy taking some pictures. When we were here it wasn't too busy, just a few people who took the windy path away from the main lake to visit this smaller one. Do stop by if you want to see this crystal clear blue lake for yourself.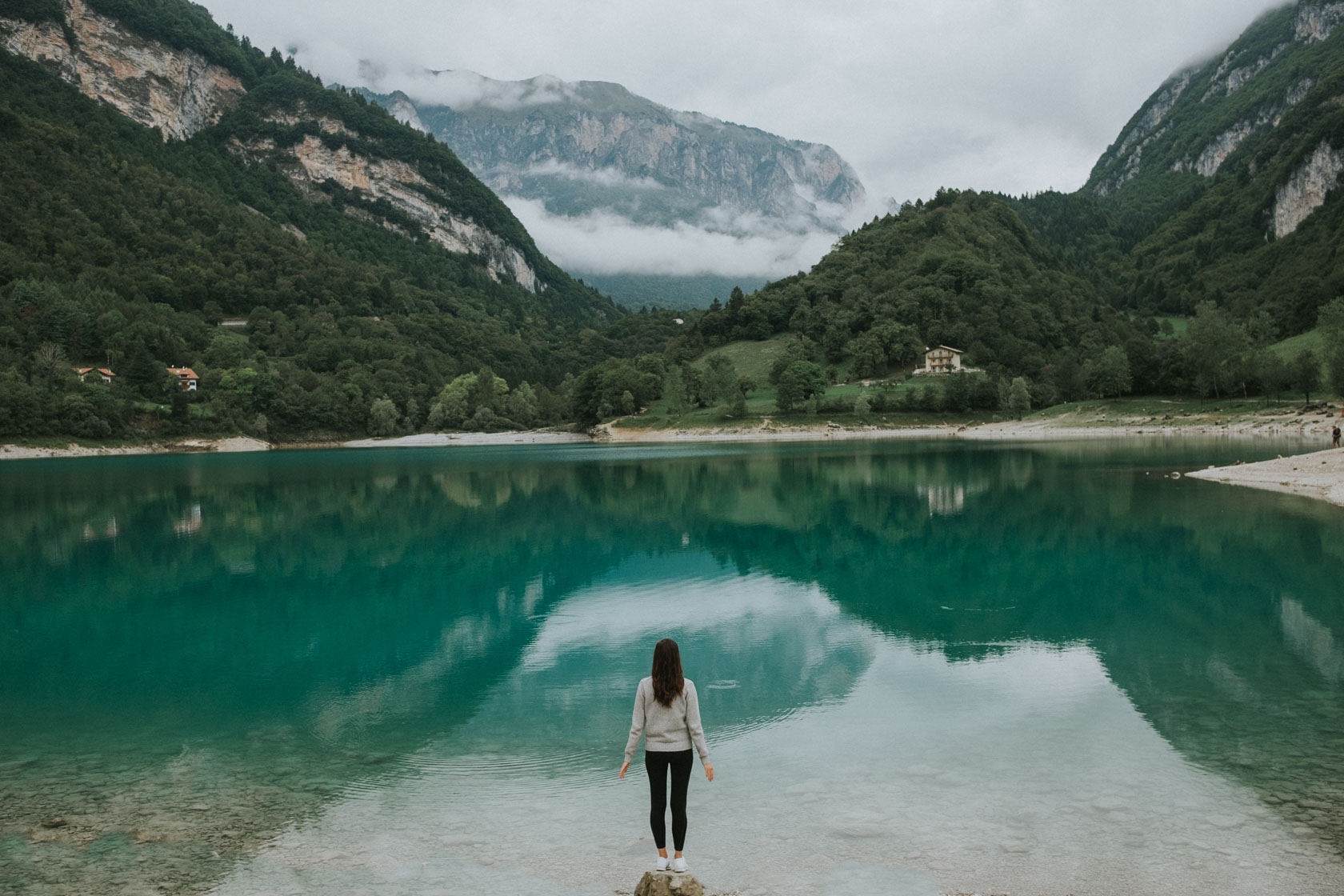 Peschiera del Garda
This cute town is the one closest to Gardaland , but is by no means the only reason to pass through. You can also pop by Braccobaldo Beach , a dog-friendly beach you can share with your furry friends! It's a pebble beach, but still one of the nicest ones to visit around Lake Garda.
Moniga del Garda
Has another well-preserved castle, called the Castello di Moniga . From the surrounding walls you can get a gorgeous, panoramic view over Lake Garda. In the same area you can find a park to walk around, or stop for drinks to go with your view from the nearby cafe.
Lazise
Saving the best for last – or, the best beach that is! Lazise is one of the best beach spots around the lake, as it has some of the nicest sand you will find. Part of the beach is privately owned by a campground, but you can still enjoy this beach in the free areas too.
Best day trips from Lake Garda
If you're staying for longer in Northern Italy, I highly recommend visiting some of the surrounding cities. The lake is beautiful, but you may also want to visit some cities or get into the mountains. Here are a few really nice places to visit near Lake Garda.
Venice

Recommended

– Before going to Lake Garda, we spent a few days in Venice. If you don't have enough time to stay longer, I definitely recommend at least doing a day trip to experience this truly gorgeous city.
Verona – Famous for being the location of Romeo and Juliet, this gorgeous Italian city has beautiful views and delicious food. It's also much less crowded than many popular tourist locations.
Dolomites – The main natural attraction in the region. If you love nature, definitely see if you can fit a trip to the Dolomites into your itinerary.
If you don't have a car or want to join a tour where you'll get more information about the city, here are the top-rated tours you can take for each of the three excellent day trips recommended above: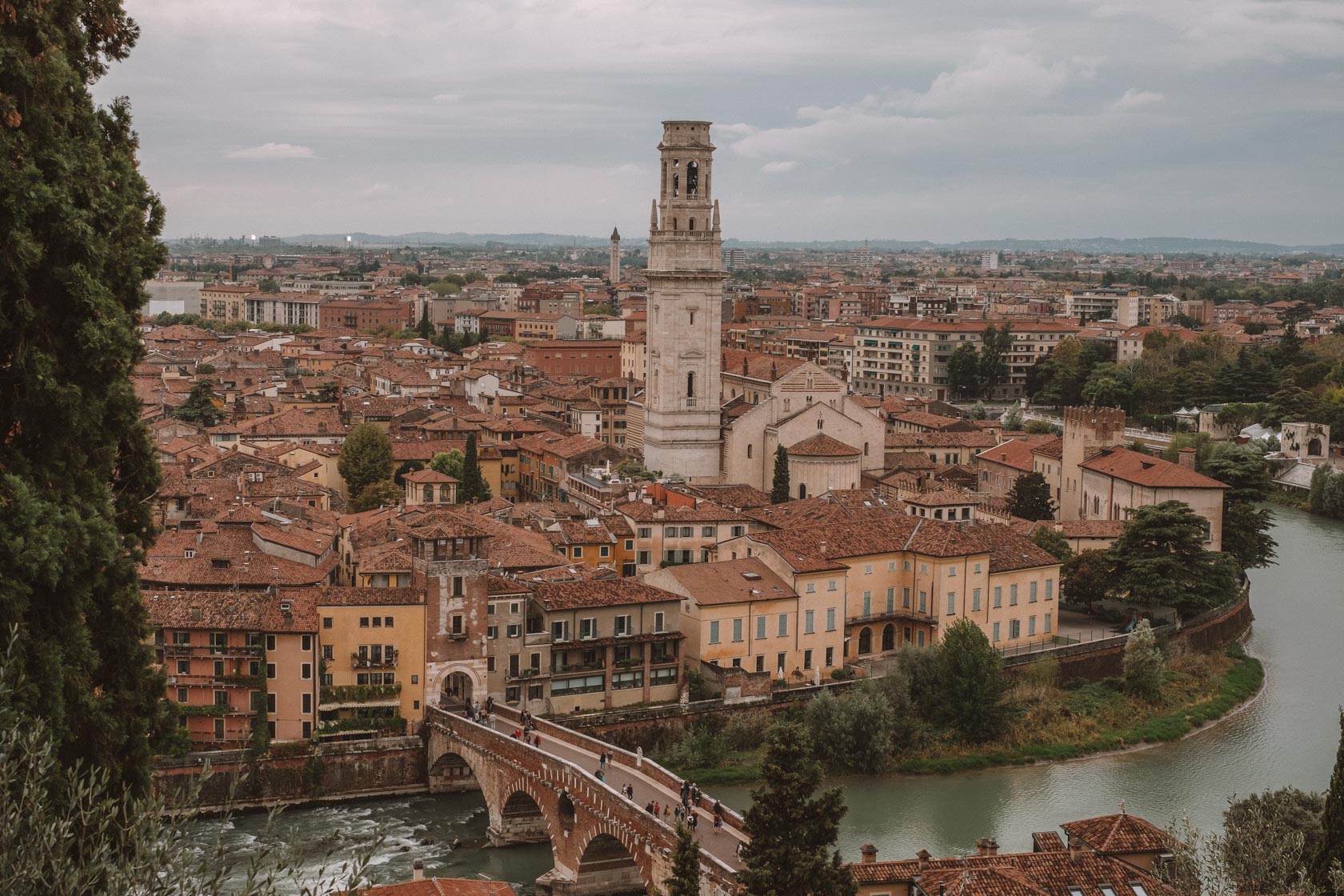 Make Lake Garda part of a larger itinerary
We went to Lake Garda as part of a larger itinerary, going to a number of different locations in the region. These cities specifically are the ones we also visited in the same trip. We flew in and out of Venice, and visited the others as part of a large loop.
Venice
Verona
Lake Garda
Bergamo
Do you want to visit Lake Garda?
Let me know in the comments which Lake Garda town is the most appealing to you, or if you can recommend a beautiful town to me that you think I missed!