When's the last time you've seen a bad photo of Venice? To be honest, this city is beautiful no matter which way you look at it – that is, if you can manage the crowds and the high prices!
Still, even if Venice isn't a budget destination, a picture is (almost!) always free. Here are my favorite photos and photography locations in Venice and how to find them.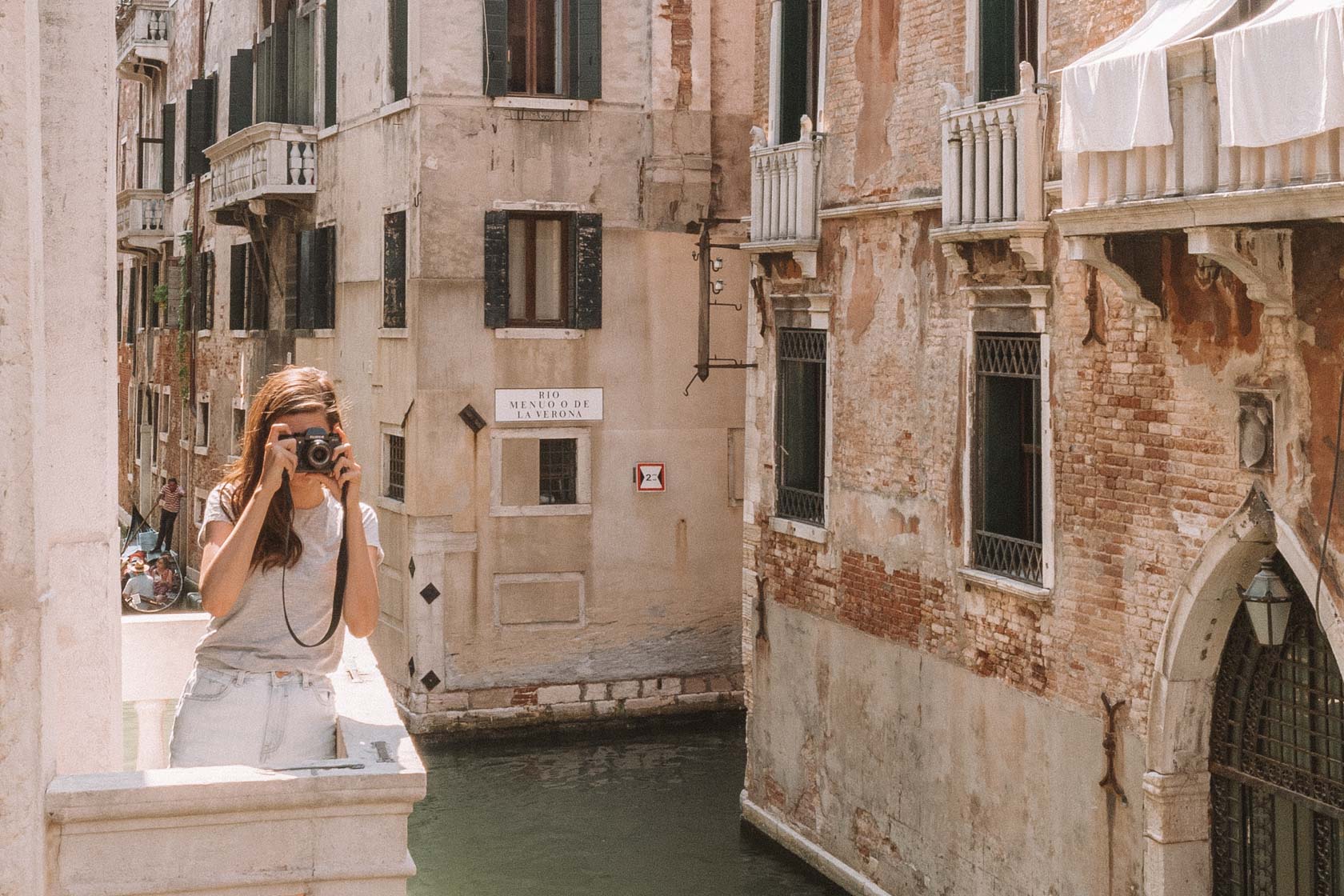 Some links in this post are to affiliate sites. If you purchase something through them, I may earn a small comission — which costs you nothing! I am very grateful when you use my links to make a purchase.
Can you visit Italy now? (Summer 2023)
As of June 1, 2022, COVID restrictions on visiting Italy have been lifted. You no longer need to present a PLF or any kind of negative test to enter the country. Your flight into the country may still require face masks.
Tips for taking photos in Venice
Take the water bus from the airport
On your way in to Venice, you can take the water bus for just 15€. This gives you a great way to see the city from the canal without splashing out an expensive water taxis. In Venice you'll do a lot of walking, especially if you don't want to pay for pricey transit, so be sure you've also packed some comfortable tennis shoes.
Come in the off-season
Looking to get beautiful shots of Venice without the crowds in them? I'm not sure if Venice ever really has a "low" season, but it does have a less-high season. Come in Spring or Autumn (or even Winter!) for an easier time taking photos of the big sights without fighting for the best spot.
Get up early
If you can't come in the off season, the next best thing (which you should do anyways!) is to get up early and see Venice at dawn. Some of the most magical moments to be had in the city are when the rest of it's sleeping. That said – you won't be the only one with this idea. Chances are you'll see plenty of photographers on your morning stroll 😉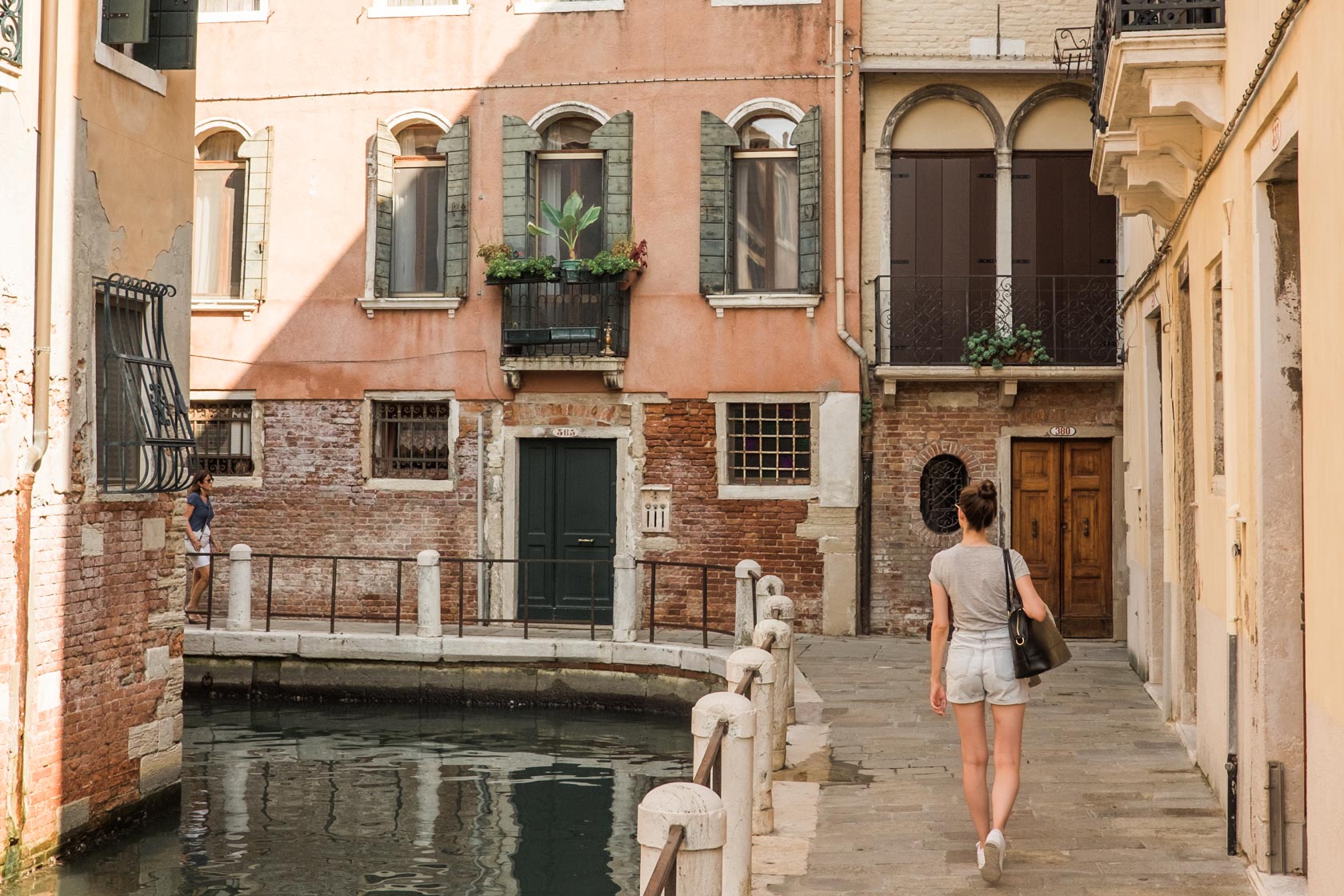 Stay in the city center
Yes, it's expensive. And yes, it's worth it. Not only because it's much easier when you get up at sunrise to take photos, but also because you can get a hotel with beautiful views over the canals – a photo op you just won't have if you're outside the limits!
Bring a wide-angle lens
Venice is famous for its narrow streets and those same tight angles can also make it hard to photograph without the right equipment. I used this awesome Fujifilm wide-angle lens. You don't need this lens in particular, but I definitely recommend bringing along a lens that'll let you fit in some of Venice's famous landmarks.
Go beyond the Venice city limits
Did you know that some of the most famous sights of Venice are actually found on nearby islands? Murano and Burano are both colorful islands a short boat ride away.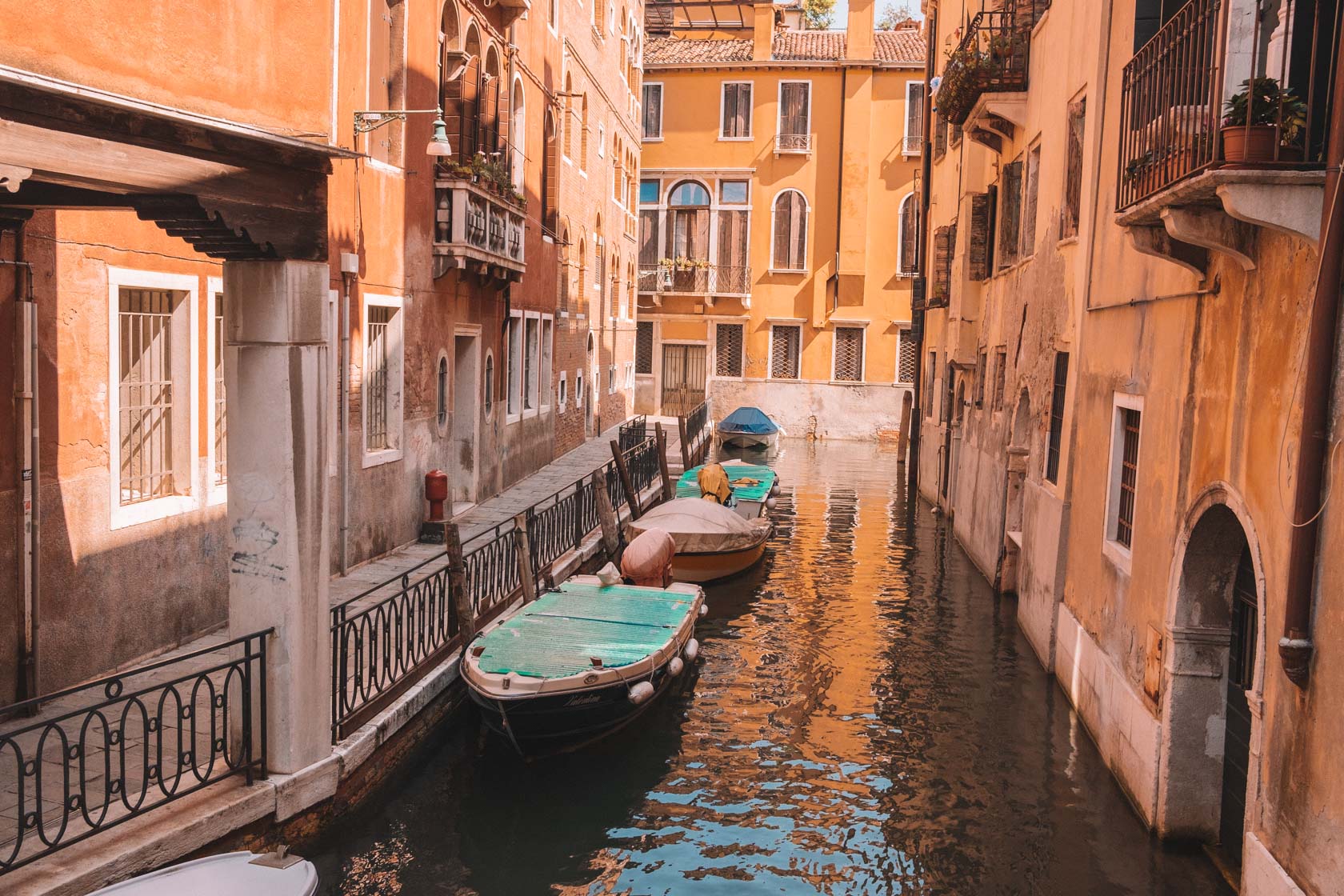 The best photography locations in Venice
Without further ado, here are some of the best photography locations in Venice.
Ponte di Rialto (Rialto Bridge) / Canal Grande (Grand Canal)
Easily one of the most recognizable sights in Venice, the Rialto Bridge is a landmark you'll likely see as soon as you enter the city. Be sure to come here both during the day and when it's illuminated at night. On the bridge itself you'll also find small shops.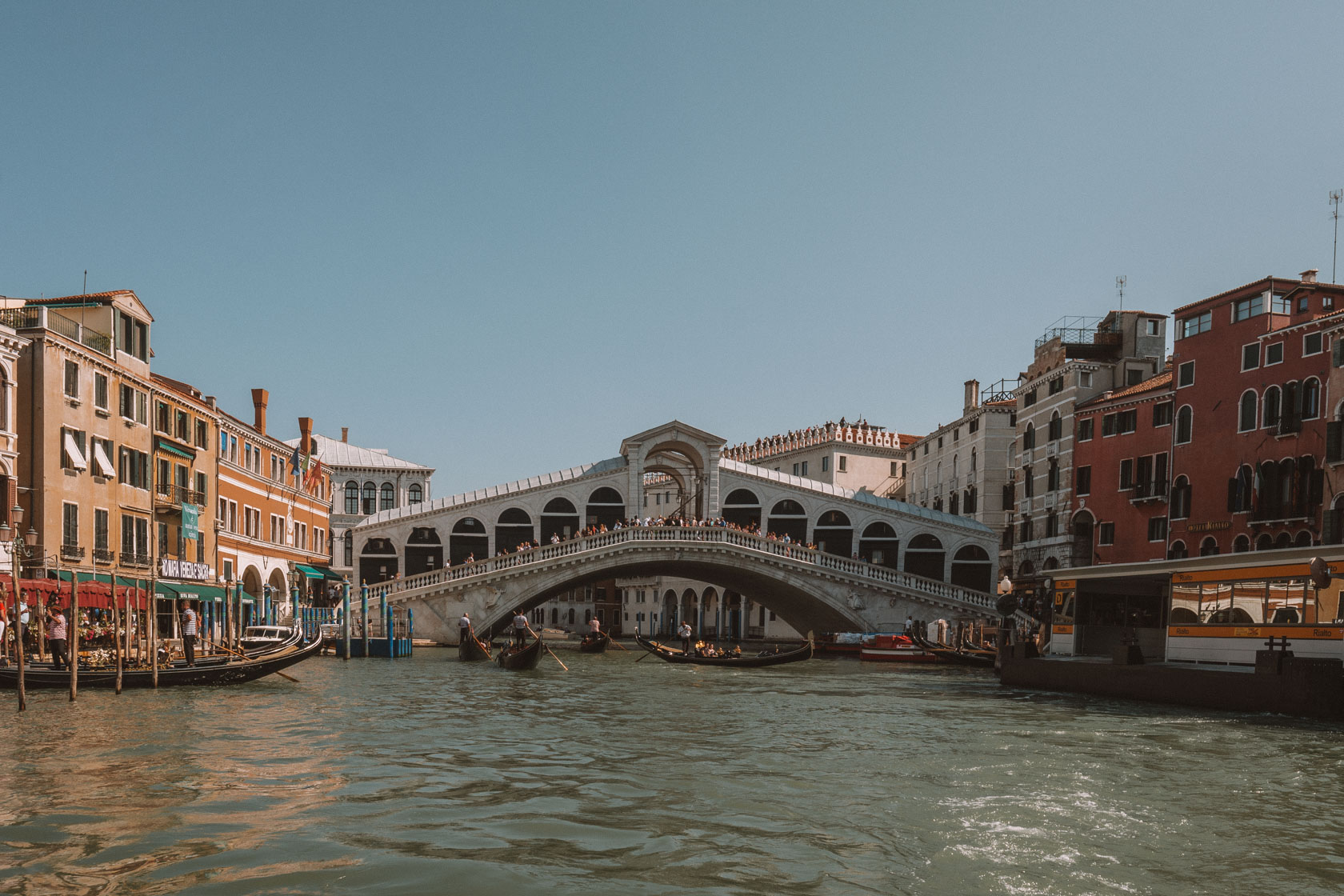 Basilica di Santa Maria della Salute
This basilica is seen best from the water bus, but you can also walk up to it and sit on its stairs to eat a gelato while you escape from the sun. As usual, be aware that in Italy you need to have your shoulders and knees covered to enter any catholic church!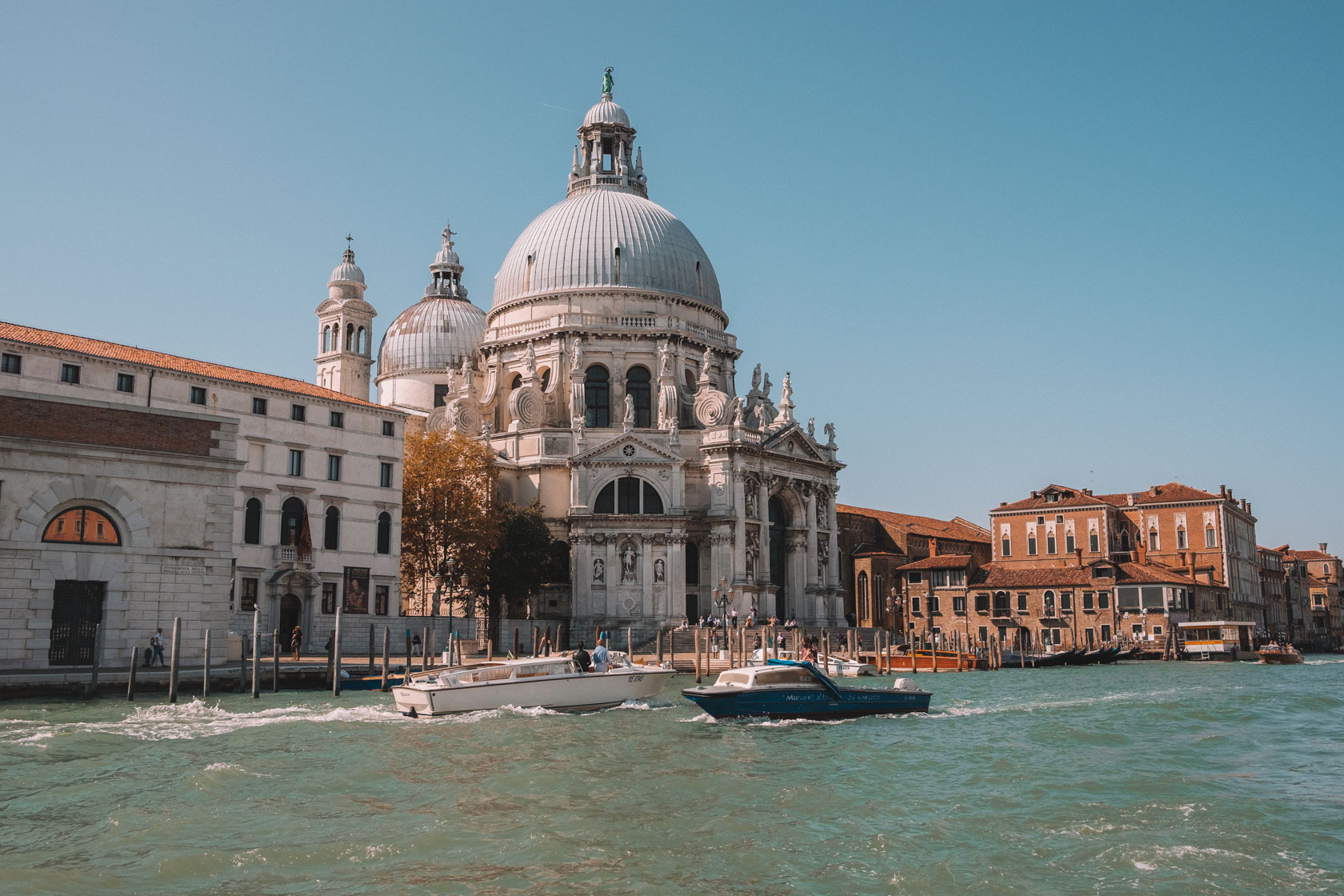 Basilica di Santa Maria as seen from the water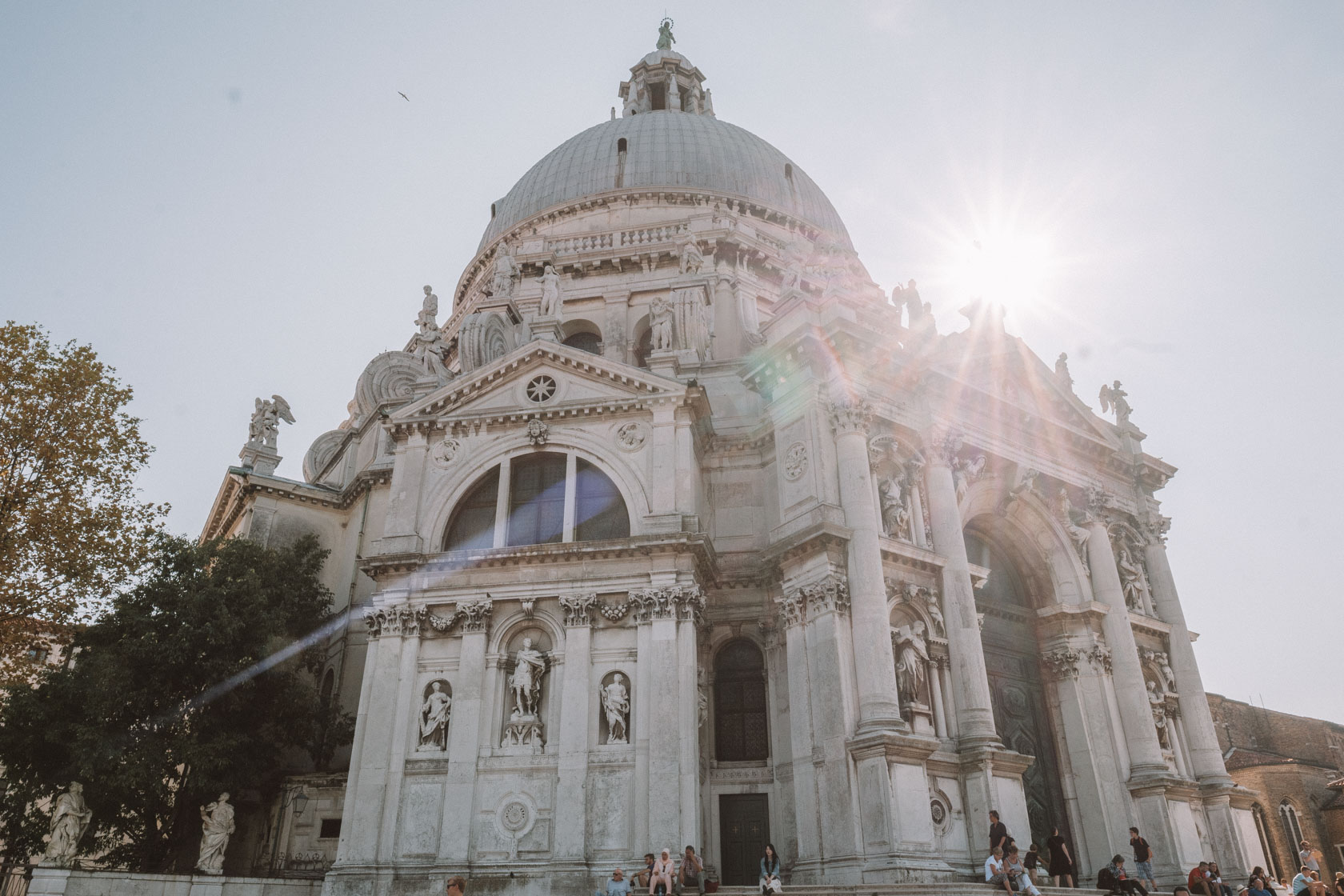 Your balcony
Even if it costs a pretty penny to stay in Venice proper, I have no doubt in my mind that it's worth it. We stayed in the beautiful Hotel Centauro and I was immediately floored by how impressive a view we had over the canal. From here you can watch gondoliers propel passengers below while you enjoy a slice of sunshine. These kinds of vantage points are just not possible unless you're staying somewhere that borders a canal.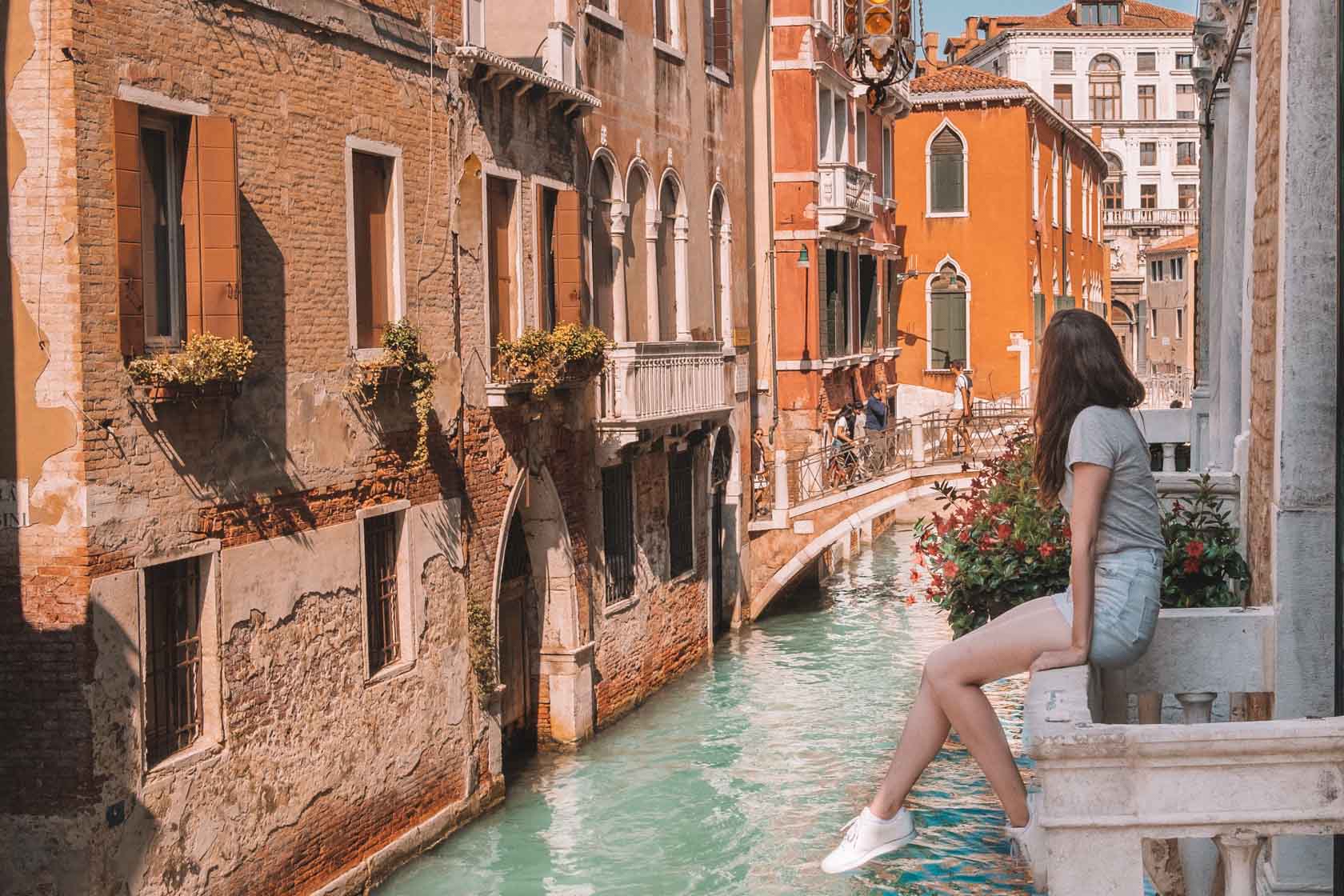 Below: Walking around Venice at sunrise near our accommodation.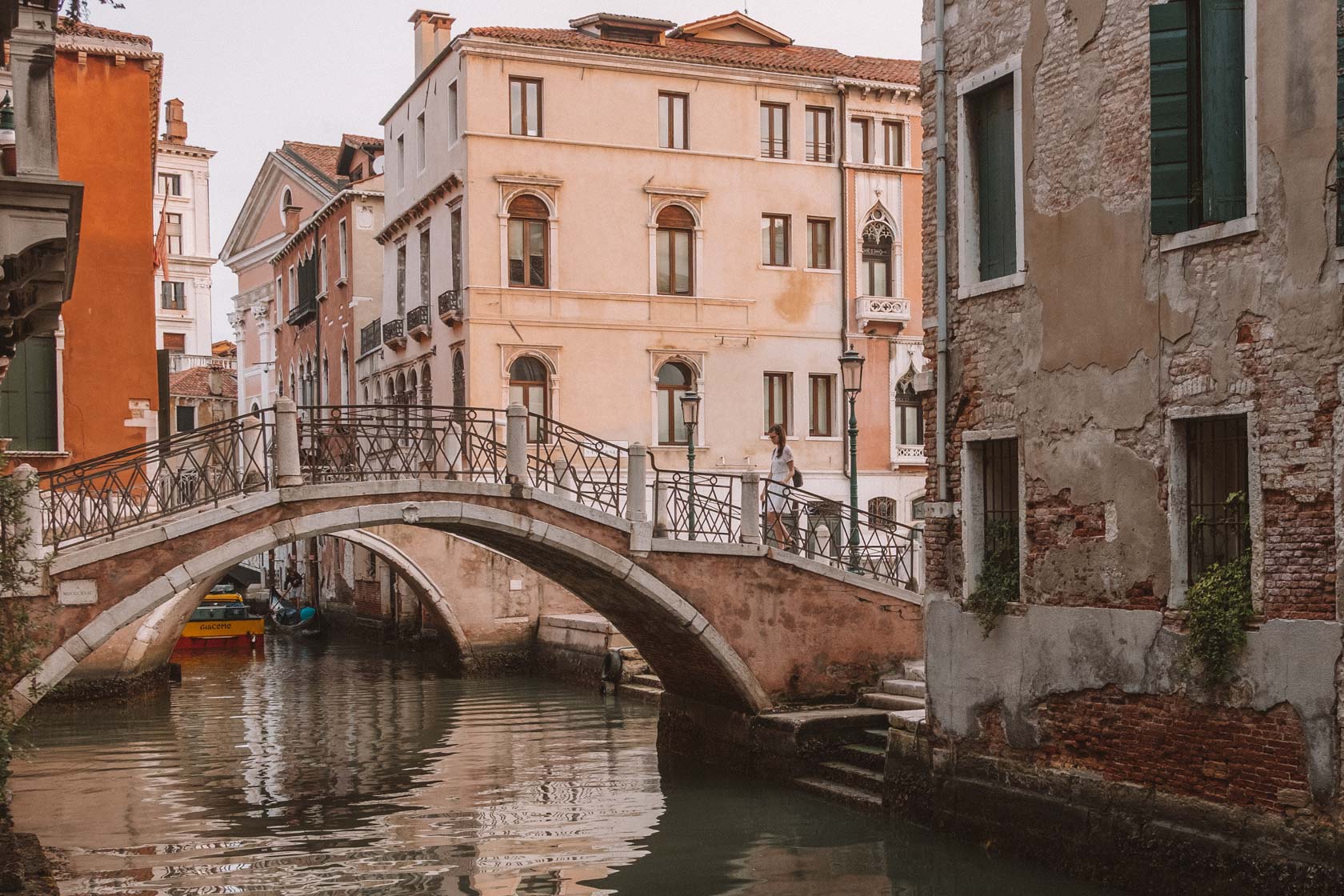 Your venetian-style bedroom
While we're at it, you can ask find a place that looks just as Old World-y on the inside as it does from the outside. Classical furniture and style made my stay in Venice feel all the more authentic. Again, another reason you'll want to stay in Venice itself rather than commuting in every day from outside the city by bus.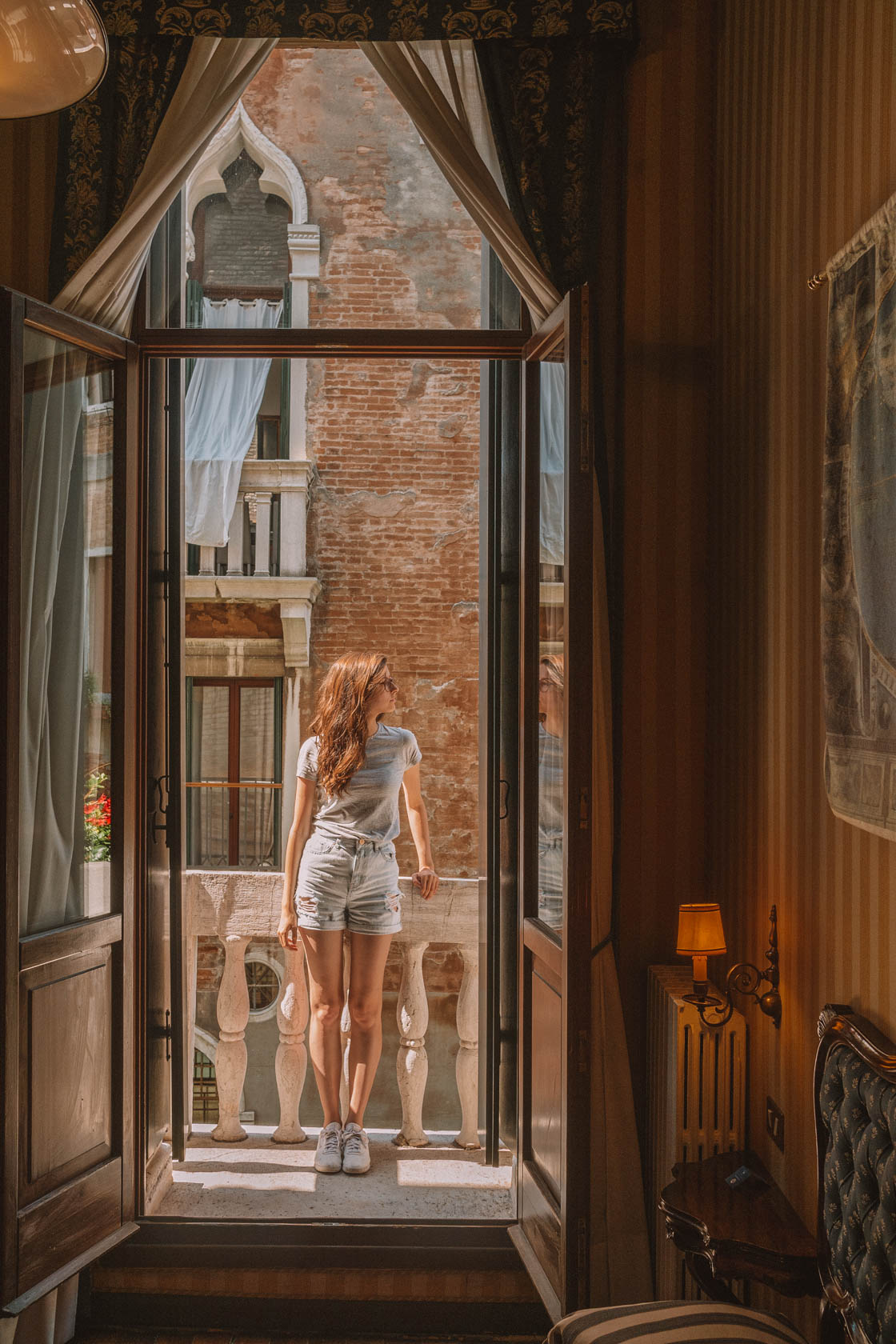 Interior at Hotel Centauro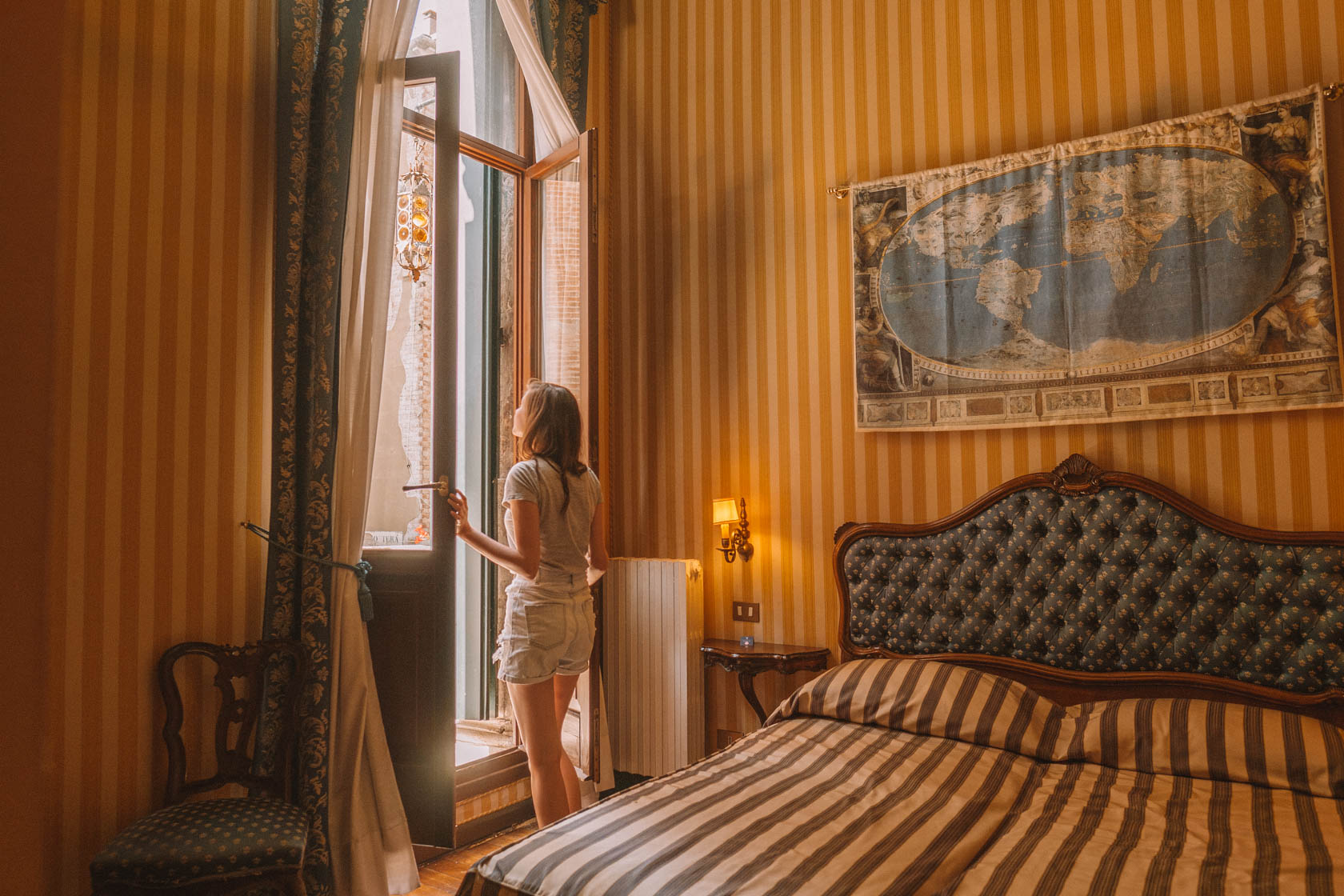 Piazza San Marco
Without a doubt, this plazza is the most recognizable in the entire city. We stayed relatively close to Piazza San Marco making it easy to visit in the early morning hours for a special view.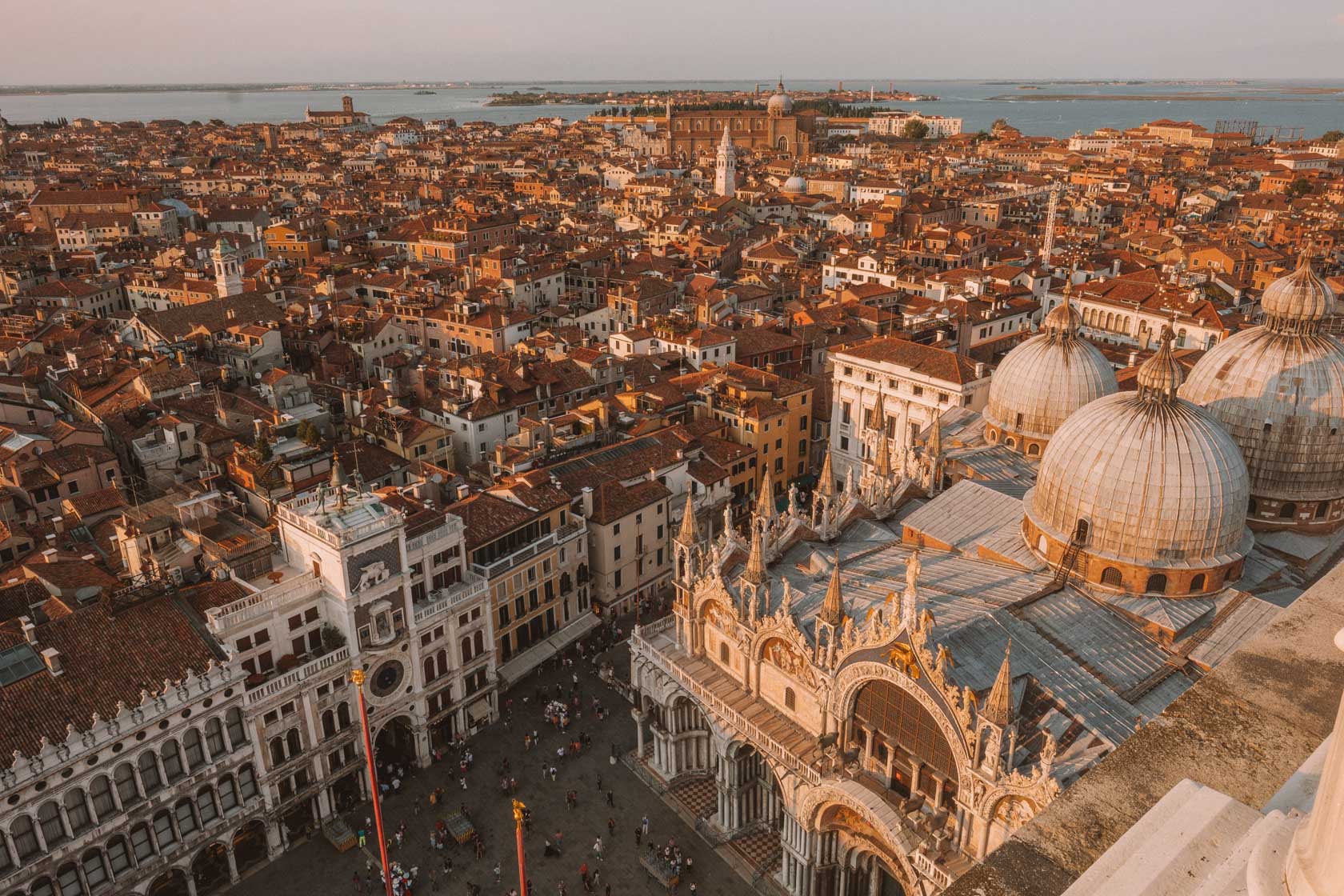 Piazza San Marco at dusk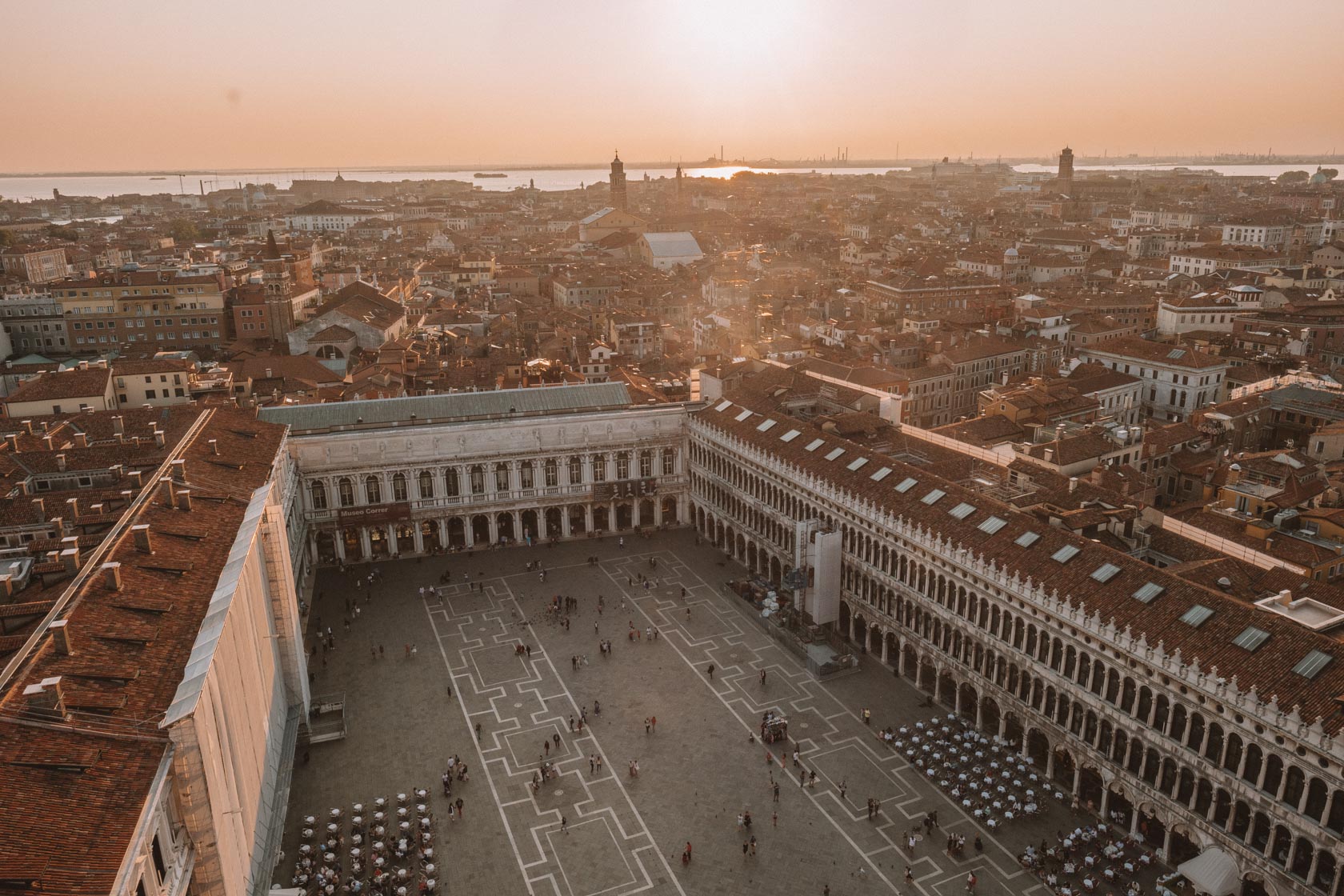 Campanile di San Marco
You can climb up the Campanile di San Marco for the vantage point I shared above over the Piazza San Marco . While it offers great views over the plazza, it deserves a photo itself!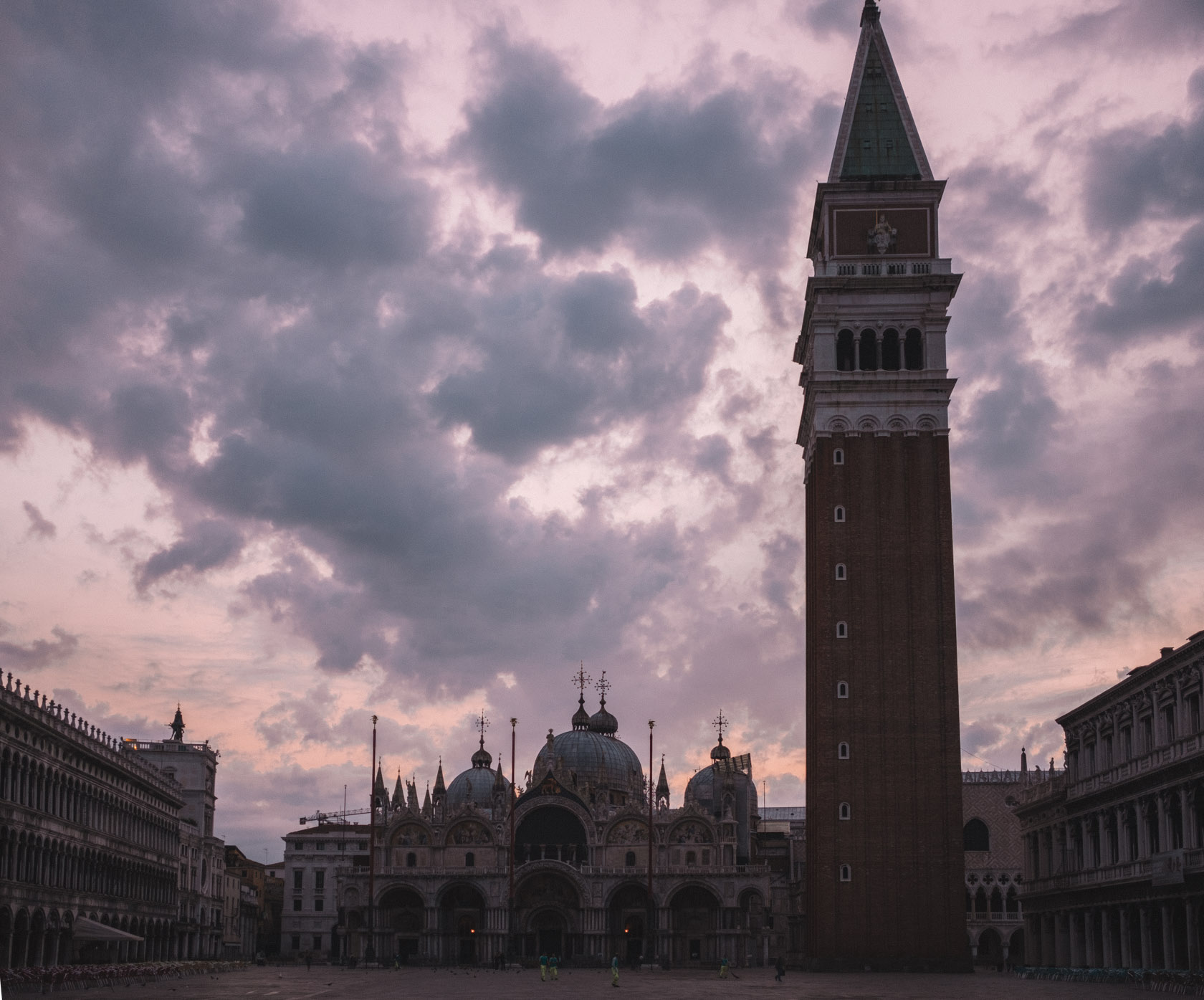 Saint Mark's Cathedral
If Piazza San Marco is the most recognizable plazza, then without a doubt, Saint Mark's Cathedral, or Basilica San Marco, is the single most recognizable sight in the whole city. You can pay 2 EUR to skip the queue by registering online, and the interior is equally impressive (although they ban cameras 😉)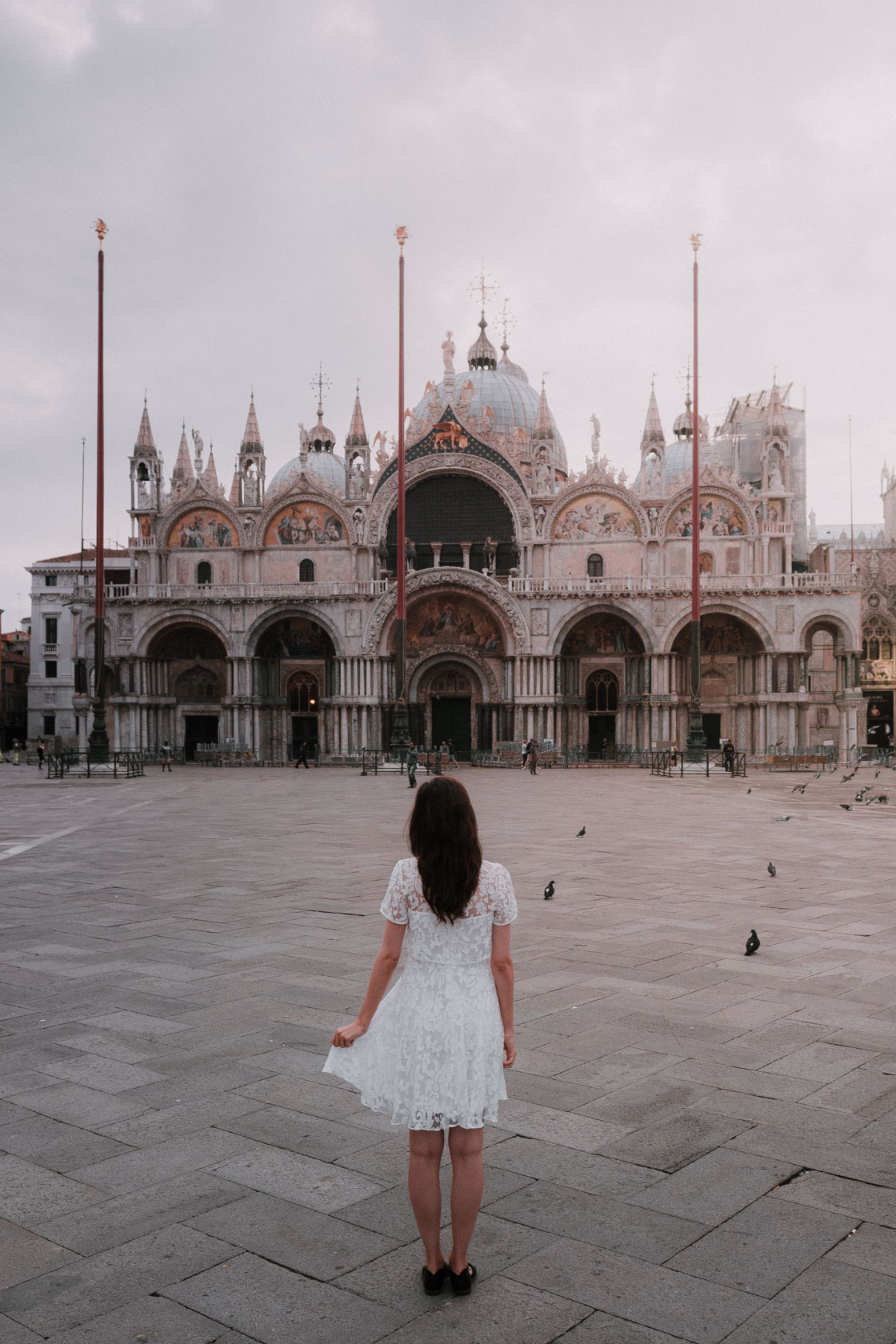 Church of San Giorgio Maggiore
No photoset of Venice is complete without a collection of boats with the Church of San Giorgio in the distance. Nearby there's also a beautiful pier with a lamp hanging over it. Come at sunrise for a colorful take on this classic photo.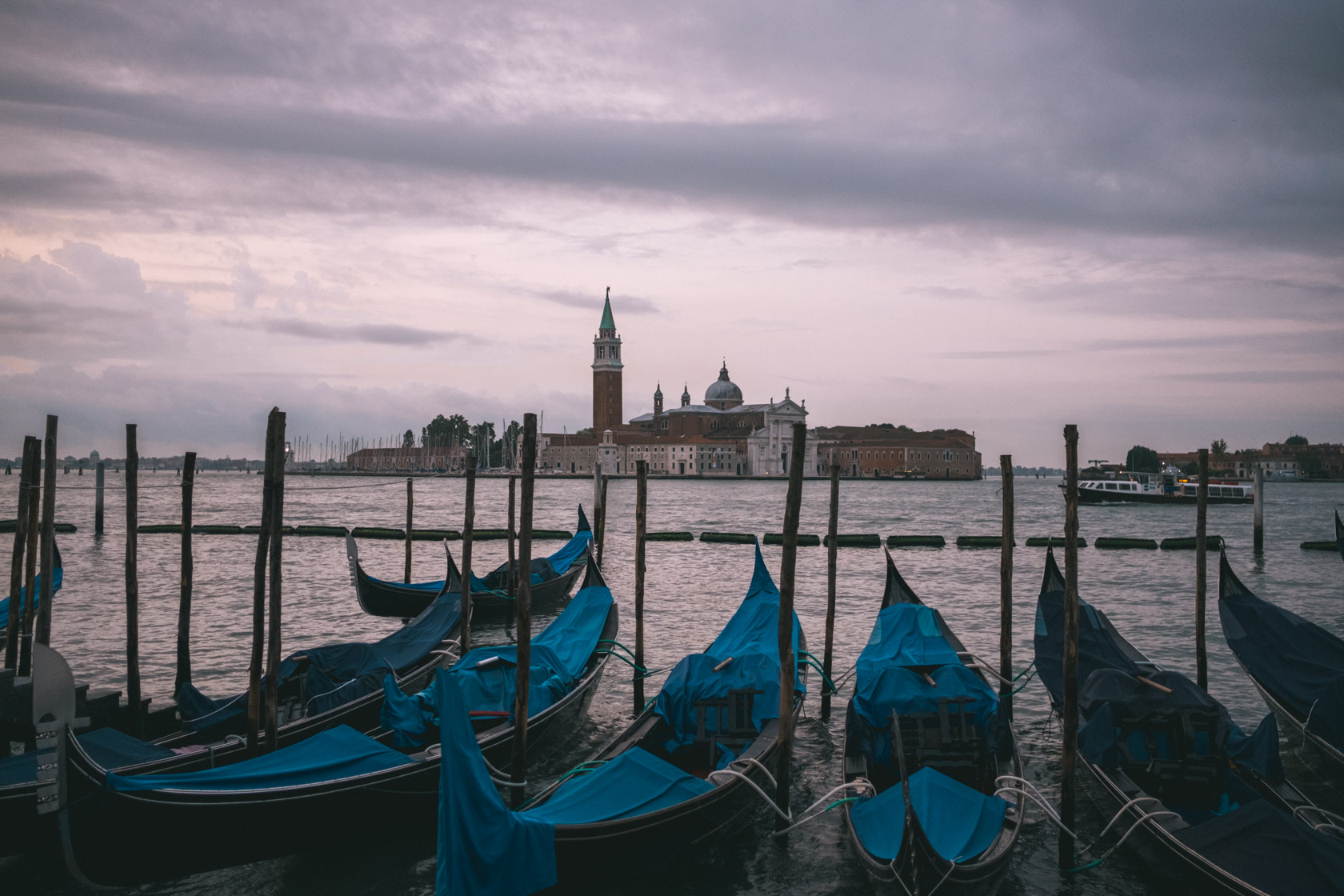 Have you been to Venice? What was the best photo you took when you were there?
Do share your experience in the comments, I would love to learn about new and interesting photography locations! Like this post? Pin it for later!