Starting a blog was one of the things that really got me to focus on photography. All the most successful blogs have beautiful photos, and I just knew that I could learn how to take them, too. Plus, living in Europe, I have as many opportunities as I want to go somewhere and create beautiful photos (and memories, of course).
That said, quick jaunts in Europe demand you bring minimalist photography gear. On budget airlines, for instance, you just can't get away with clothes AND a ton of gear, given the restrictions on luggage (and fees if you check luggage in). Plus, walking around with a heavy bag usually has one of two consequences:
Your shoulder hurts the whole day, or your feet hurt from the extra weight.
You leave your camera behind because it's too much of a hassle.
Both those things suuuuck!
In this post I'm going to share the camera gear I use on the road, as well as share some photos I've taken using each component!
"The best camera is the one you have with you."
Tweet this
Some links in this post are to affiliate sites. If you purchase something through them, I may earn a small comission at no cost to you.
In my minimal travel camera kit…
Filter case containing
filters ,
memory cards , &
lens pen +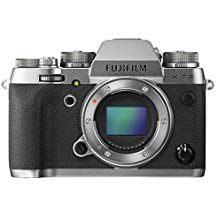 Fujifilm X-T2
My go-to travel camera I bring on every trip. Both robust and lightweight with gorgeous image quality.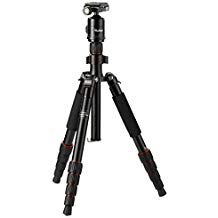 Rollei Compact Traveler No. 1 Tripod (Carbon)
My travel tripod of choice. I've used this in all kinds of scenarios, shooting northern lights or timed selfies. Easy to use and ultra light.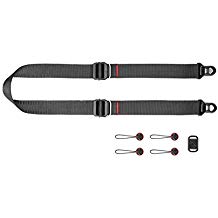 Peak Design Slide Lite Camera Strap
I'm often asked what I use as camera strap, and this is it! Super sturdy, comfortable, and easy to adjust the length.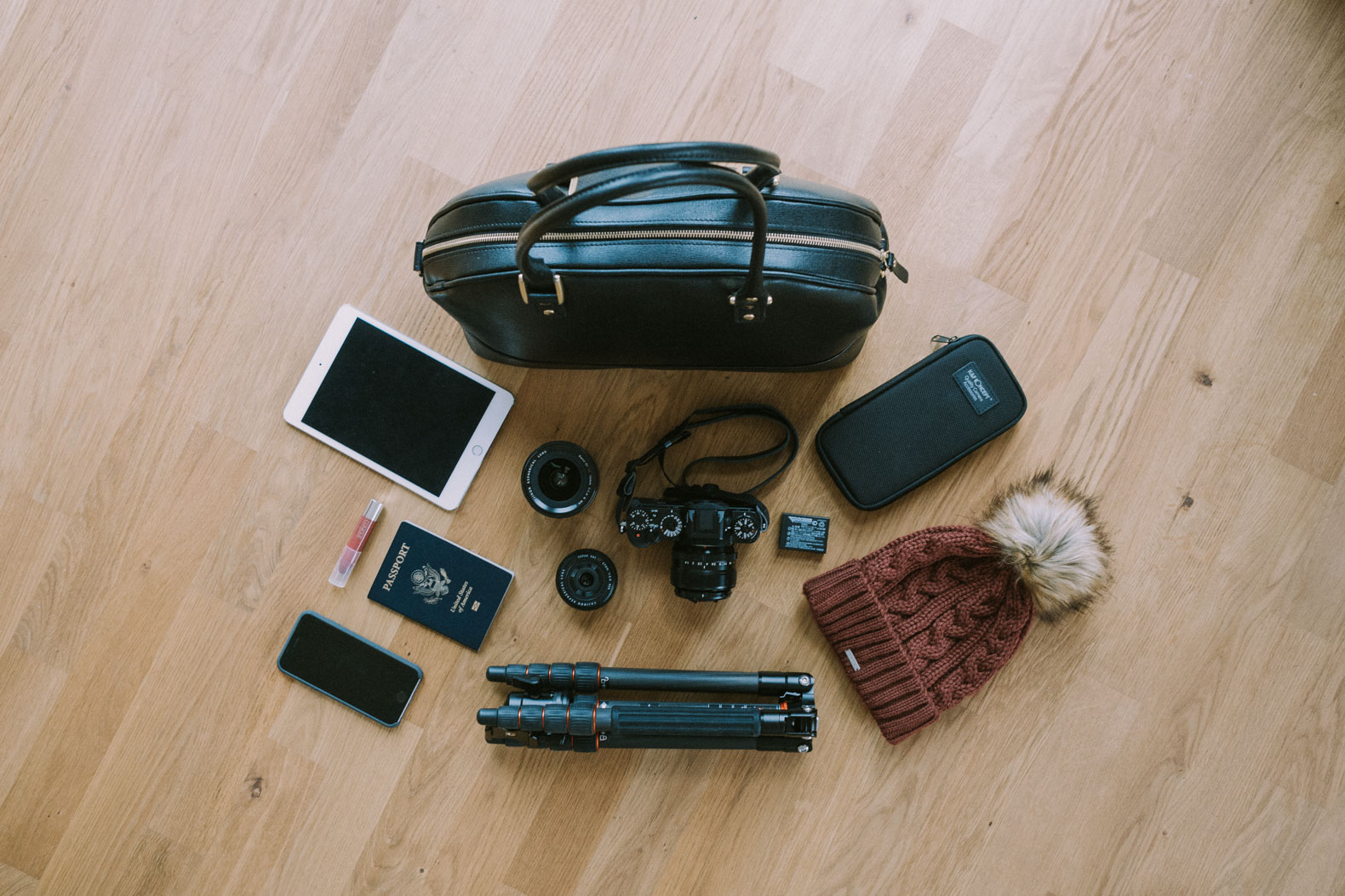 That's it! Since my camera has WiFi built in, I have everything I need to take and process photos on the go. Plus, it's light enough that I can waltz around some foreign city without my shoulder wanting to fall off.
Want to build your own travel kit? Read on!
Here'a table of contents for what parts we're going to go through.
Choosing a camera bag for travel
A huge part of being comfortable while traveling with photography gear comes down to the bag. It needs to handle a slightly heavier load (camera stuff and, you know, a massive lady-sized wallet, keys, city map, and other odds and ends).
Bag or backpack?
I have alternated between bag and backpack for years. As someone who commutes daily by bike, a backpack is my day-to-day goto. For years I've used a camera bag (read: purse) while traveling, but these days I've started using a backpack again. As long as the zippers are hidden but still easy to access when you know where to go, I'm not worried about theft or pickpocketing.
I got
this brand new camera backpack
almost as soon as it came out, and here's why I love it so far:
Well-maintained structure. It keeps its structure when you unzip it, making it super easy to re-zip when it's full. My old purse had me setting it on the ground just to pull it together to zip up.
Lenses don't need separate pouches. Instead, lenses can go in "loose" in one or more compartment, and they are both protected by padding and way easier to access.
It has a separate laptop compartment. I can fit my 13" MacBook Pro, almost with tons of other important bits and bobs that I need for shooting photos.
I will definitely look for these qualities in any future camera bags I look to purchase. I also love this bag because it is seriously stylish, and people have no idea about all my fancy equipment inside. People who pass me on the street probably think I'm smuggling meerkats or whatever weird things ladies keep in their secretive bags…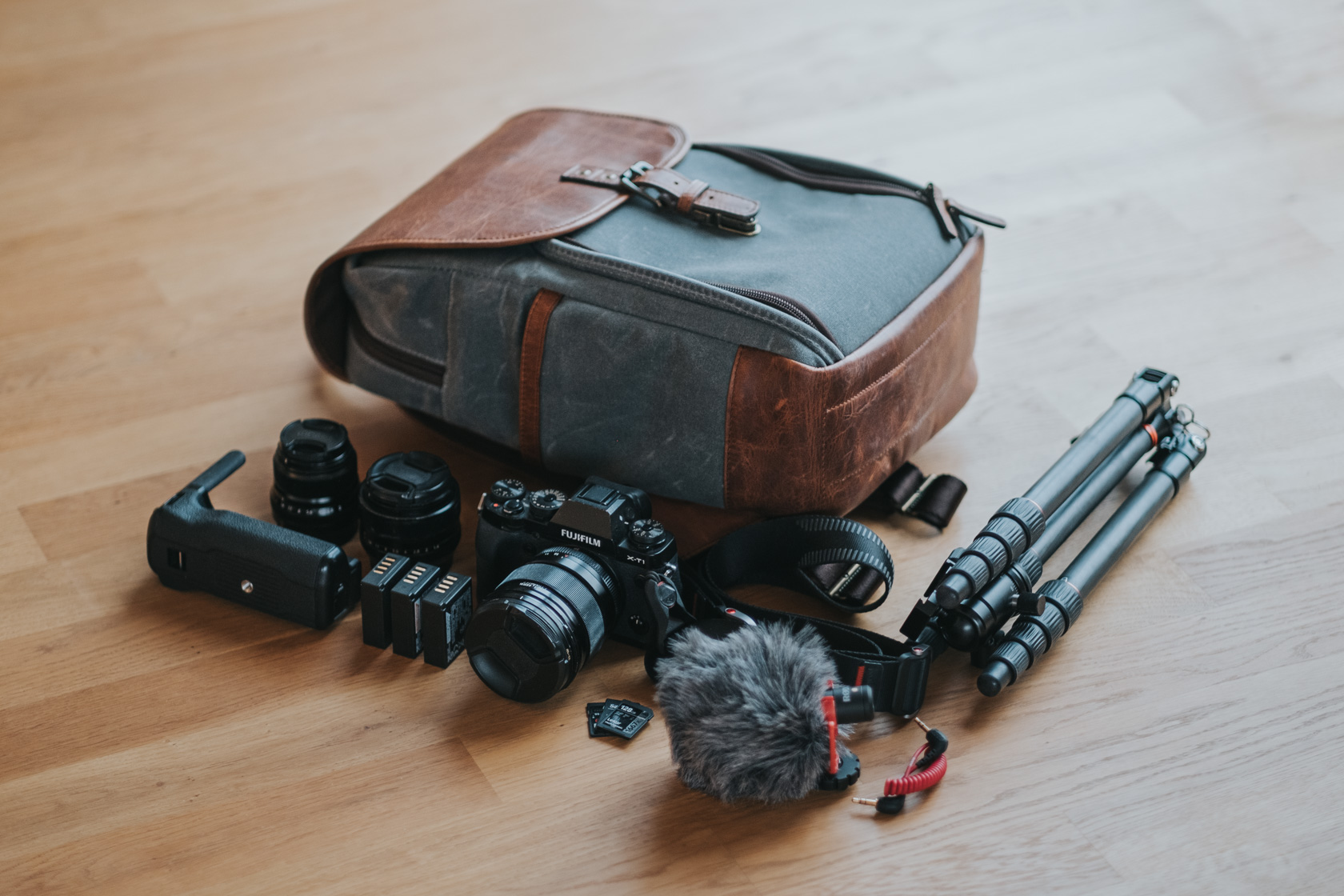 I still sometimes use my camera purse when I want to look a little fancier (that one is made out of black leather after all), but
also comes in a black leather version if you're wanting to go dark 😎
It's not easy to find a stylish camera bags that doesn't make it look like you're either hauling camera gear or about to go hiking in the mountains!
Essential travel photography accessories
With a minimal bag, one has to be critical of every piece that weasels its way in! Chances are, you're going to be carrying that around all day, and like an ultra-lightweight hiker who buys carbon-fiber nail clippers, we have to think about every place we can trim the extra weight.
These are the accessories I think are absolutely necessary, which also won't weigh you down!
Solid camera strap
Please do not just keep using the camera strap that came with your camera. 99% of the time it has a huge logo embalzoned on it that screams, "I AM EXPENSIVE PLEASE STEAL ME."
I use and love the super sturdy Peak Design Slide Lite Camera Strap. Here are a couple of important criteria to look for in a camera strap, which is fulfilled by this particular one:
Ultra-strong. Nothing is worse than your strap breaking with a camera on it. It's happened to me in the past with a low-quality strap, and your camera smashes mercilessly to the concrete. Cue heart attack.
Thick strap with comfortable fabric. Again, camera gear can be heavy and you want something that won't pinch your neck or slide everywhere.
Easy to detach the camera from the strap. This is important because you may want to remove the strap while your camera is on a tripod (i.e. to prevent camera shake from the wind pulling on the strap).
Whatever you do, do not buy a super cheap camera strap just because it looks cute! The strap is one of the most important factors to keeping your camera safe.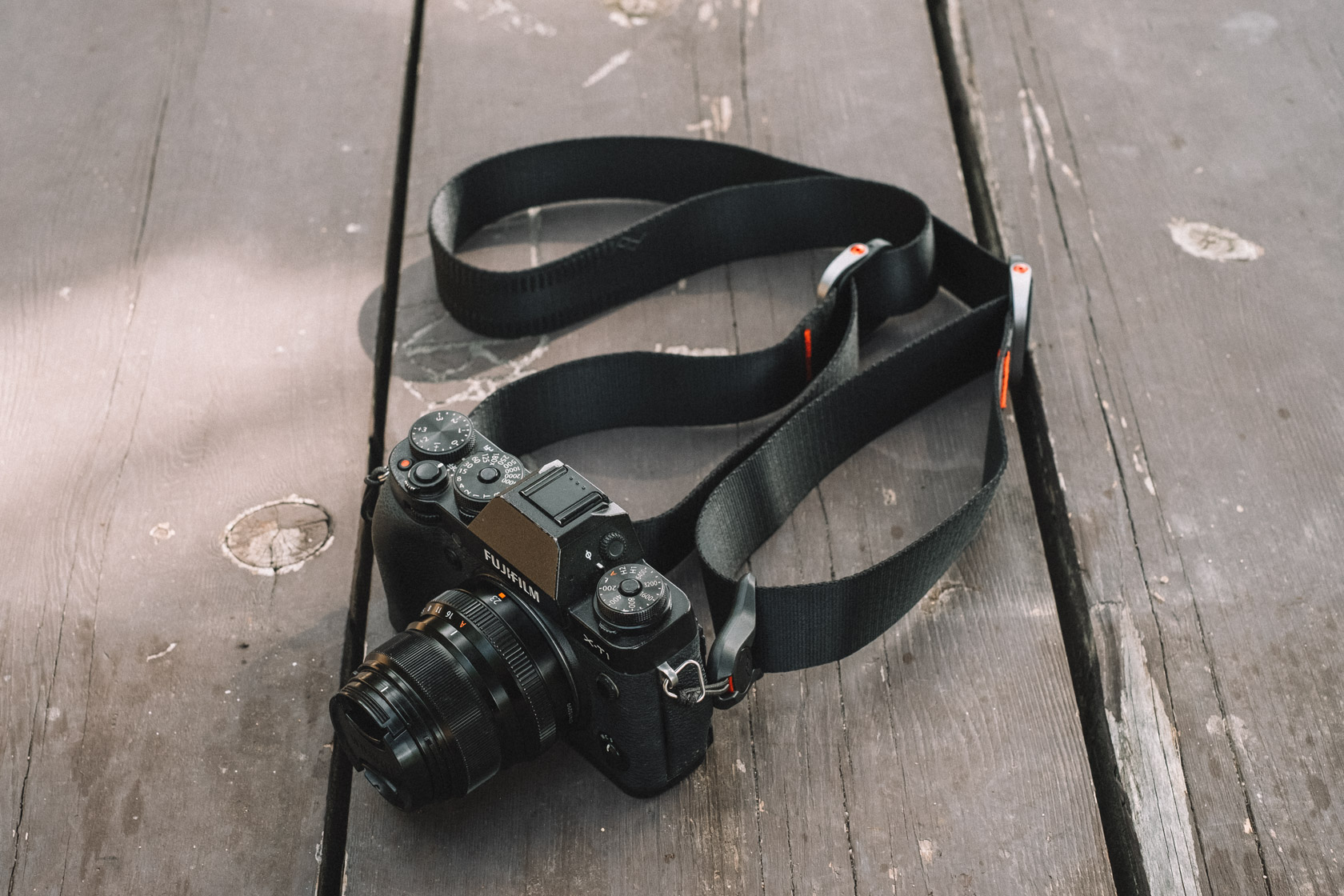 Filters and filter cases
Anyone else have tons of those pesky lens filter containers floating around in their bag? I finally said, "Enough is enough!" and found an awesome solution: a
If you're not super familiar with using
filters , you're not alone. In short, a filter is a piece of glass you place in front of your camera to affect the light that makes it into your lens. If you want to take any long exposures during daytime (to achieve silky smooth waterfalls or the movement of clouds), you're going to need a filter to keep the photo from getting overexposed.
When buying a filter, you need to choose the right diameter based on the lens you're trying to fit it to. So just make sure to check the filter size on your lens before buying one. I buy all my lens filters by B&W .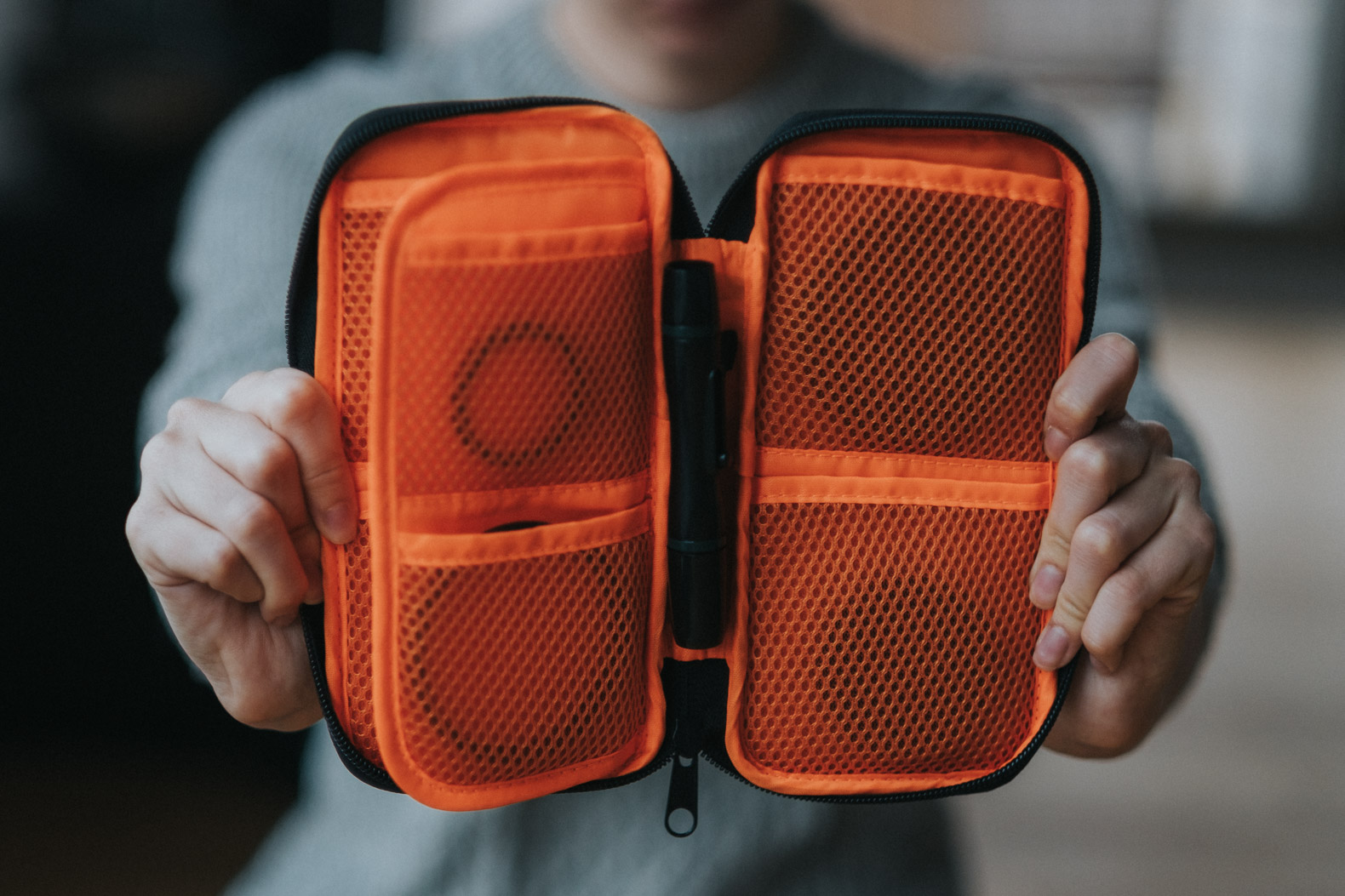 The photo below of a silky-smooth waterfall in Iceland was made possible using a lens filter and a tripod.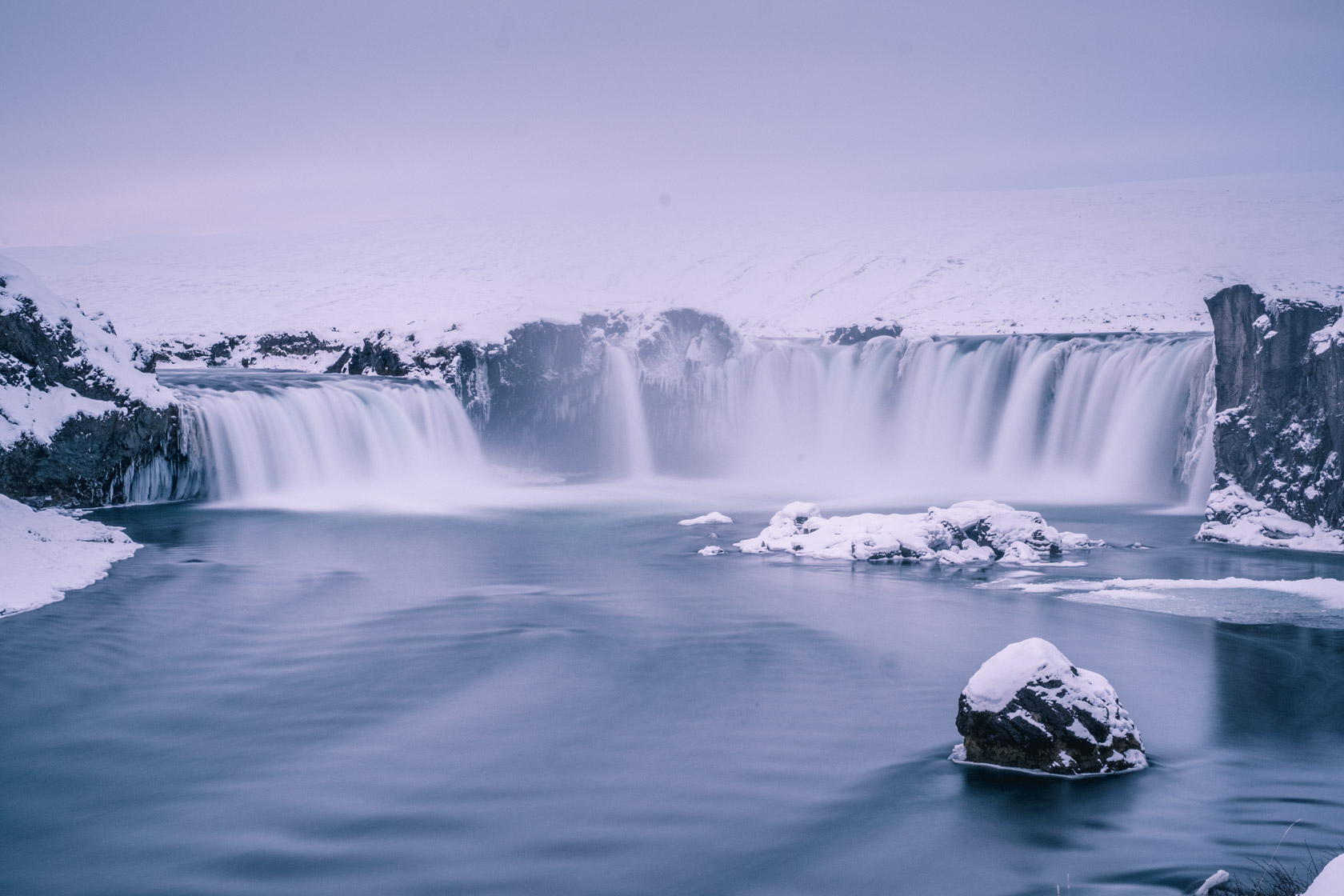 Spare memory cards
Not bringing spare memory cards with you is possibly the biggest mistake you can make while traveling. Then you have to delete some precious photos, you never know if you'll be able to replace them! Do yourself a favor and buy yourself some high-performance memory cards. My favorite is the SanDisk 64GB UHS-II 300 MB/s memory card for a few reasons:
64GB is the maximum recommended amount to store on a single memory card
UHS-II and 300 MB/s means it's fast enough for shooting 4K video
Never had a problem with corrupt files
These babies are pricey but I think I own about four of them and it's worth it being able to fill them up and keep shooting on a trip.
Lens pen
The filter case I have also has pockets for
and a spot for my
lens pen which I use to clean my lens (honestly I'm very messy and my lenses always reflect that fact!).
Spare batteries
Lastly, I learned the lesson the hard way that having an extra, charged battery is non-negotiable! You never know exactly how far you can push a battery, and I missed out on documenting much of my time in Nara, Japan because I simply wasn't prepared. Never again! I always carry spare batteries with me, and depending on the length of the trip, I also bring the charger.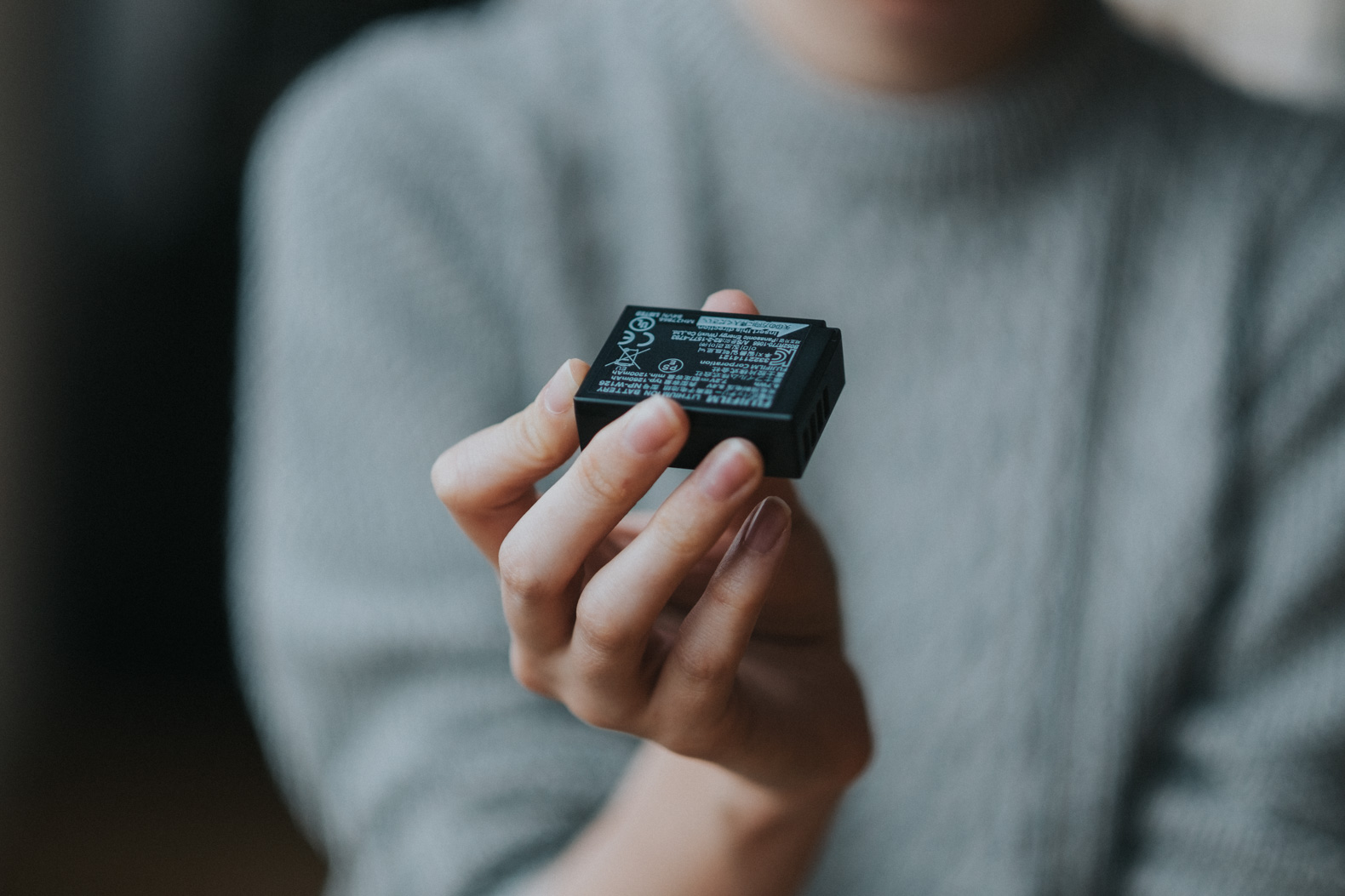 Travel tripod
There are certain kinds of pictures you just can't take without a tripod. Long exposures of water, long exposures in low light, just about any kind of long exposure really…plus, (classy) self portraits without a tripod are near impossible. I took pictures for a long time without a tripod, but now that I know what I can achieve with one, mine will never stay home! If you aren't sure, you can check out my detailed article on how to choose a budget travel tripod based on my experience.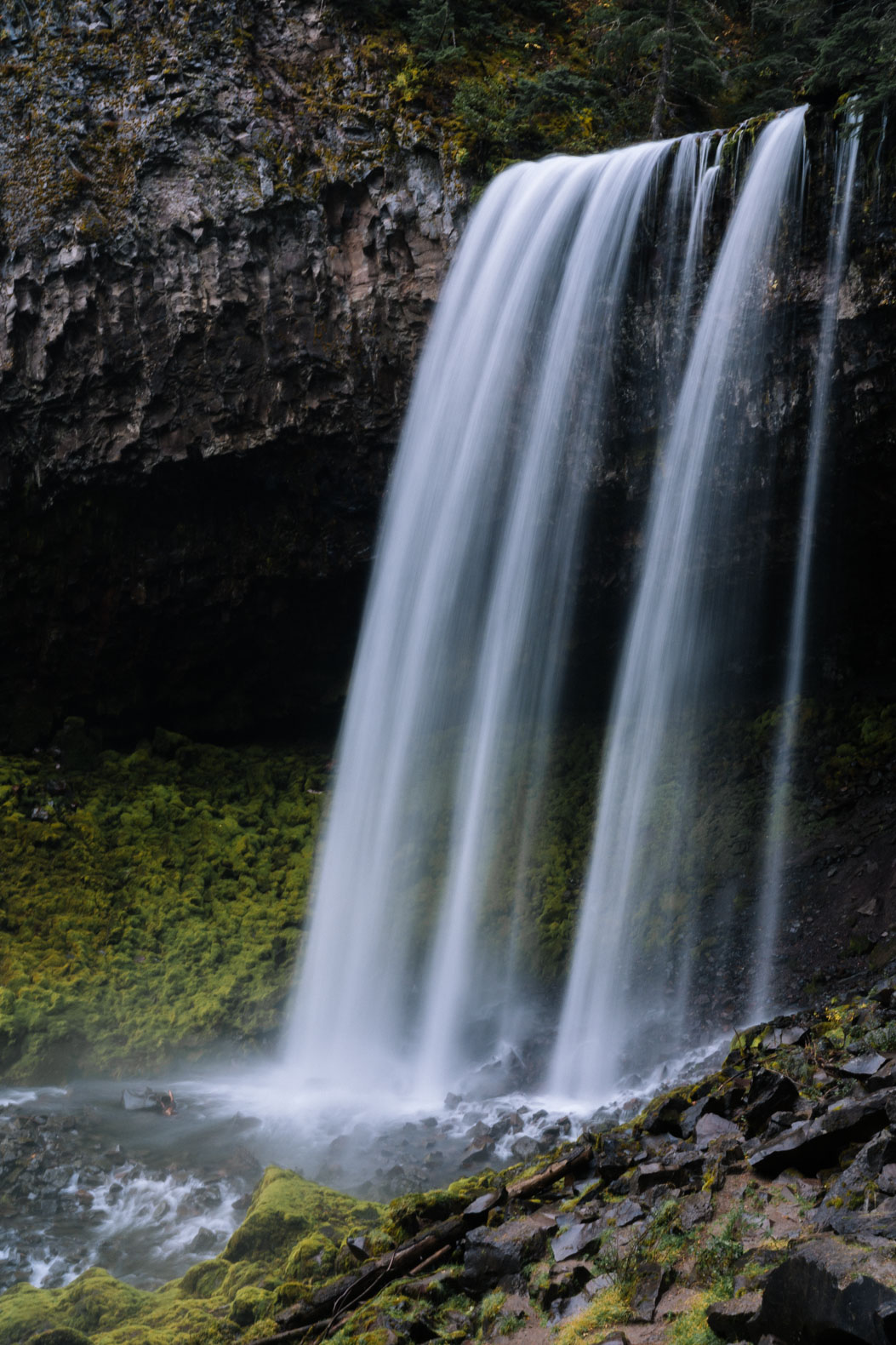 And if you get a lightweight tripod (I have
this awesome carbon fiber travel tripod which folds up to 33cm and weighs under 1kg or ~2 lbs) it's pretty unlikely it'll get in your way, while enabling photos you just can't achieve holding the camera yourself!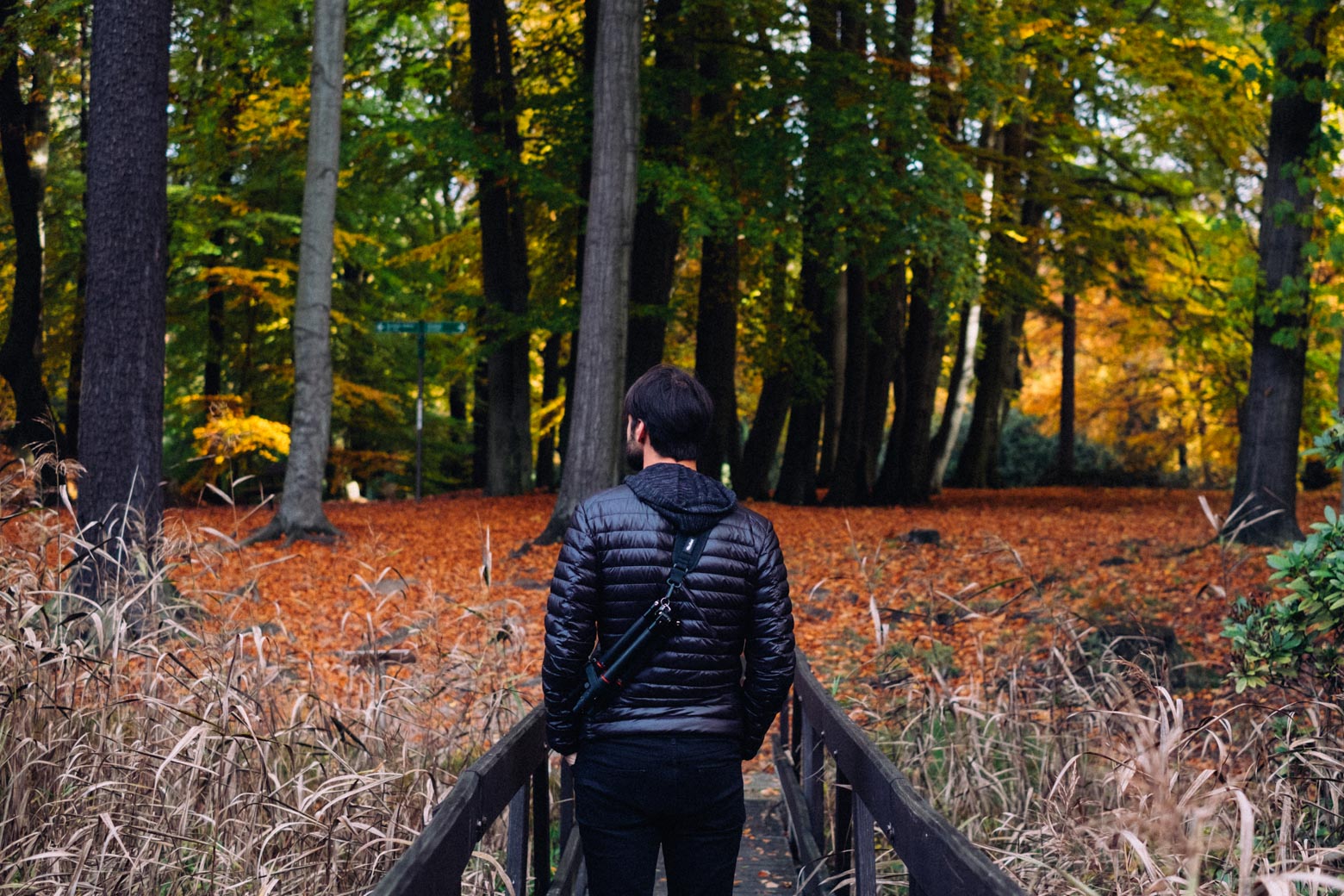 This is typically how the tripod is carried: by my boyfriend using a simple strap. Since it's ultra-lightweight (980g) you can barely tell it's there.
The best cameras for travel photography
Picking a camera is a super personal decision. Often, the camera becomes the closest thing a traveler has to a child. It gets the gentle touch normally reserved for babies and kittens, and costs just as much to feed with its diet of high-performance memory cards. Picking a camera is picking a partner, which would cost a lot of money to replace. Hence it makes a lot of sense to think about your needs beforehand.
Do you need to print your photos on a billboard?
Are you planning to crop your images to 1/10 the size?
Does having a big camera make you "secure" in how pro you are?
If you answered "No" to these questions, let me pitch you an idea for just a moment (then we'll get back to the gear!)
Why you should consider a mirrorless camera over a DSLR
Nothing screams minimal like mirrorless. If you haven't heard of mirrorless cameras, here's the short take: mirrorless cameras have interchangeable lenses, just like a DSLR, but are smaller and lighter because they don't use an internal mirror to snap a photo. Although the image quality from a DSLR is still better, you usually don't need that extra difference when your images are going to end up on the web or in social media. Plus, the image quality can usually be attributed more to the lens you're using than the camera you use it with.
Pretty much everything you can do with a DSLR, you can do with a mirrorless camera: killer portaits, sharp landscape photos, even pictures of the milky way (presuming you've got time for that!).
This is my mirrorless camera.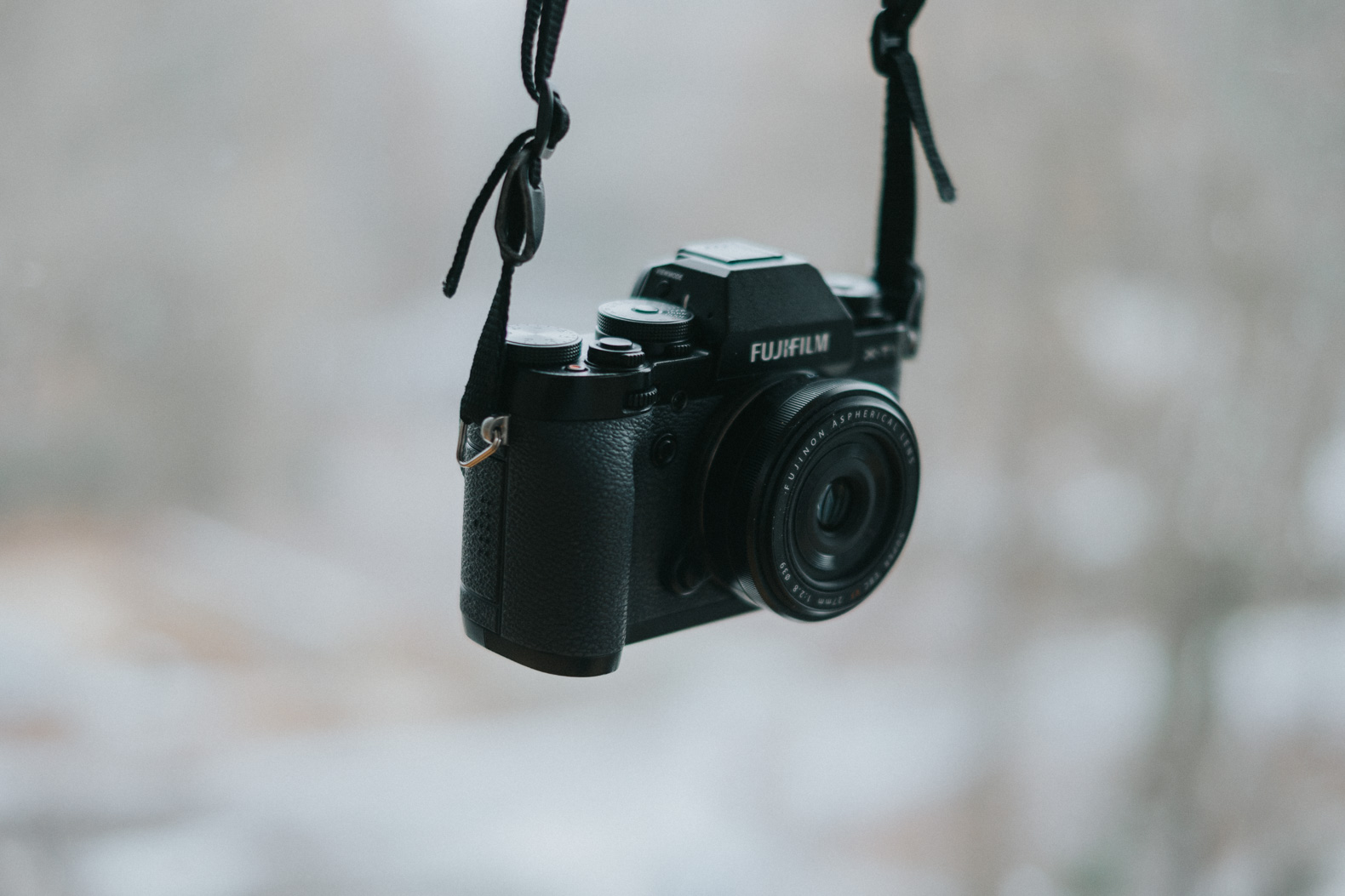 I carry my mirrorless
Fujifilm X-T2 in my purse every single day!
The most popular mirrorless cameras
As I said before, picking a camera is a super personal decision. Here are some of the most popular mirrorless cameras, and why people love them. You can skip this section if you already have a camera you know and love!
Fujifilm X-T2 – Although Fujifilm just released the X-T3 containing some awesome upgrades, the X-T2 is still a wonderful camera that does everything I could need right now. But what sets Fujifilm apart is really its lens offering: they aren't cheap, but they produce some truly beautiful images. One of my favorite features is the built-in WiFi, which lets me transfer photos directly to my phone. I can also tether the camera to my phone, and take pictures using my phone as a remote shutter. The cool part is that you can preview the photo you're taking on your phone, distanced from the camera – literally perfect for getting photos of yourself while traveling knowing exactly how it will turn out.
Sony alpha 6500 – Costs a pretty penny (well over $1,000) but still delivers some of the best performance in the mirrorless space. Especially if you're looking to shoot video, you might be very interested in this camera, which can create high resolution 4K videos. This camera just has mad specs. Sony also has a pretty extensive line of cameras you can use to use to get your feet wet without taking the plunge and dropping over a grand on your first mirrorless camera.
Click here and scroll for a table comparing features between the various models.
Olympus PEN E-PL8 – This camera is compatible with the Micro 4/3 lens series, meaning you have a lot of choice when it comes to lenses (and a lot of less expensive options). It's also the most budget-friendly option on this list! The built-in WiFi and 180º tilting LCD screen would make it great for holiday snapshots and…let's call it like it is…selfies.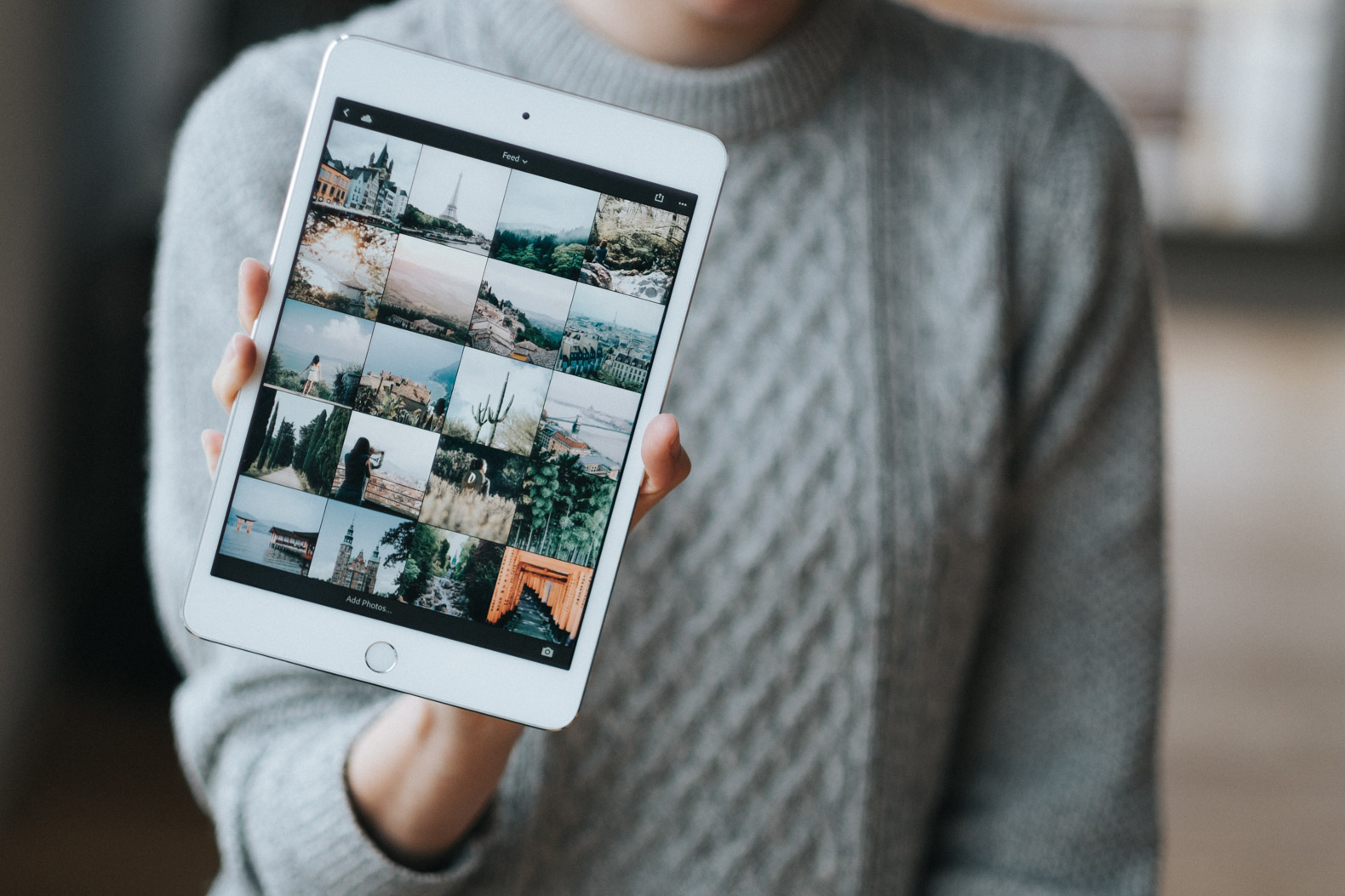 That's right. My iPad is a glorified Instagram planner.
Travel photography lenses
When picking a lens for travel, I have a couple of main considerations:
Is it flexible? Can I use it in a wide variety of scenarios and lighting conditions?
Is it lightweight? Am I going to notice a huge difference in the weight of my bag if I take it out?
It it necessary? How do I feel about the shots I just couldn't capture unless I bring it?
If the lens fails more than one of these points, it's pretty likely I'm going to leave the lens at home. For example, I have an absolutely stunning portait lens, the
Fujifilm 56mm f1.2 . It's super sharp and the bokeh is incomparable. But at the end of the day, not only is it a specialty lens, but it's the heaviest lens I have. This combination means, this lens normally stays home (Sidenote: All the product shots in this post are taken with the 56mm)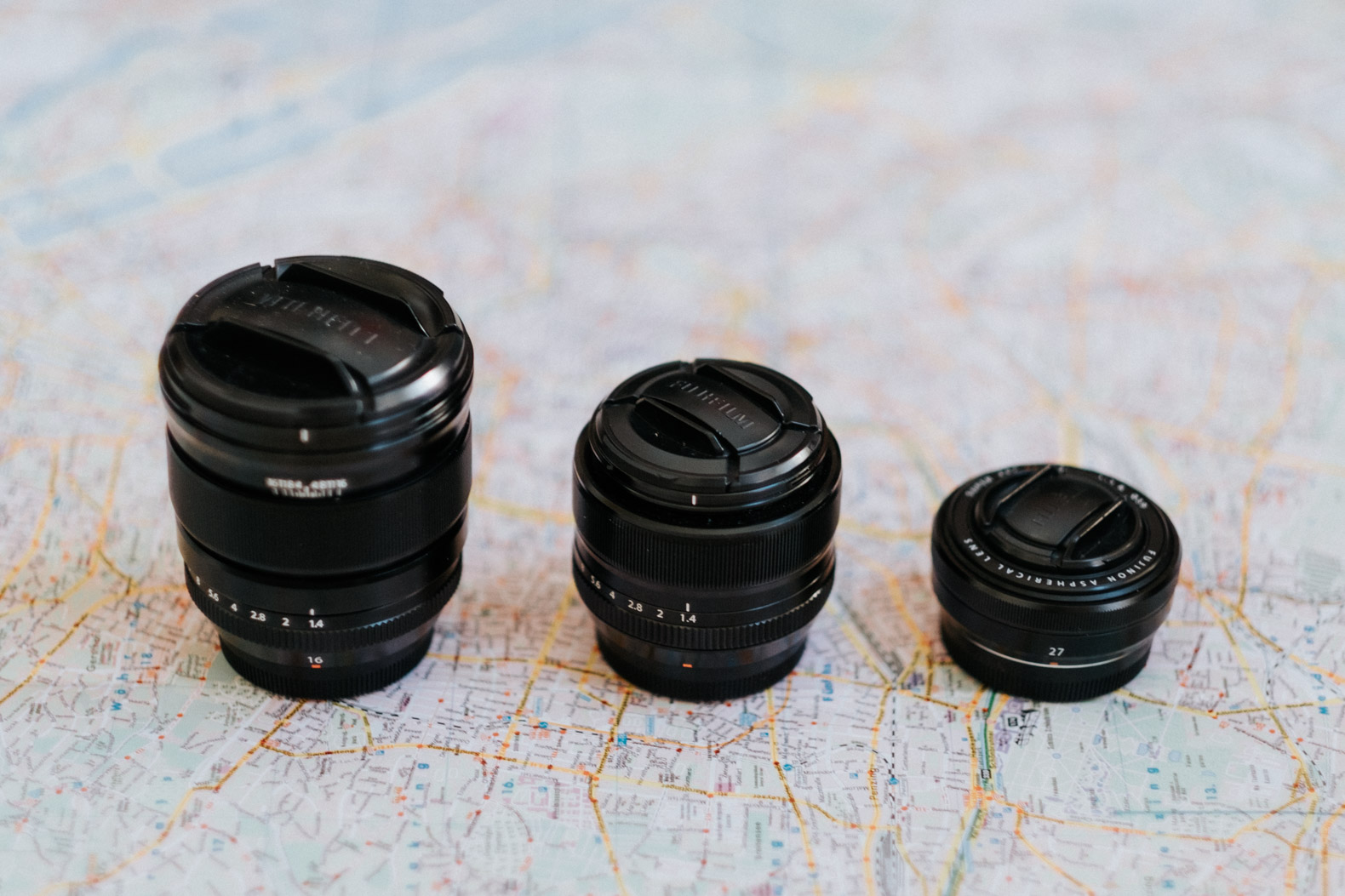 Late I'll share why I pick these three lenses as my favorites for travel!
Are primes or zooms better for travel photography?
Some people are prime people, others are zoom people. If you don't know what a prime lens is, it's basically a lens that isn't able to zoom. If you want to get more in the picture, or "zoom in", you have to move further or closer to your subject, respectively. Primes have an advantage that they are usually simpler, sharper, and force you to think about composition and move around. Primes are also normally lighter in weight and smaller in size, because there's less going on inside.
Lightweight and small is good for a minimal travel bag.
But! That's not to say that a zoom isn't a good idea. I'm sure that if I had a zoom lens, I would use it 90% of the time. But I'd rather not tempt myself, and stick to my "fast primes" (non-zoomable lenses that achieve a beautiful blurry background). Keep reading this post and you'll see why in my sample photos!
My travel lens trinity
Three is a great number. It feels strong, like a triangle or a tripod or some other stable object. I have three lenses that I absolutely bring with me every time I travel.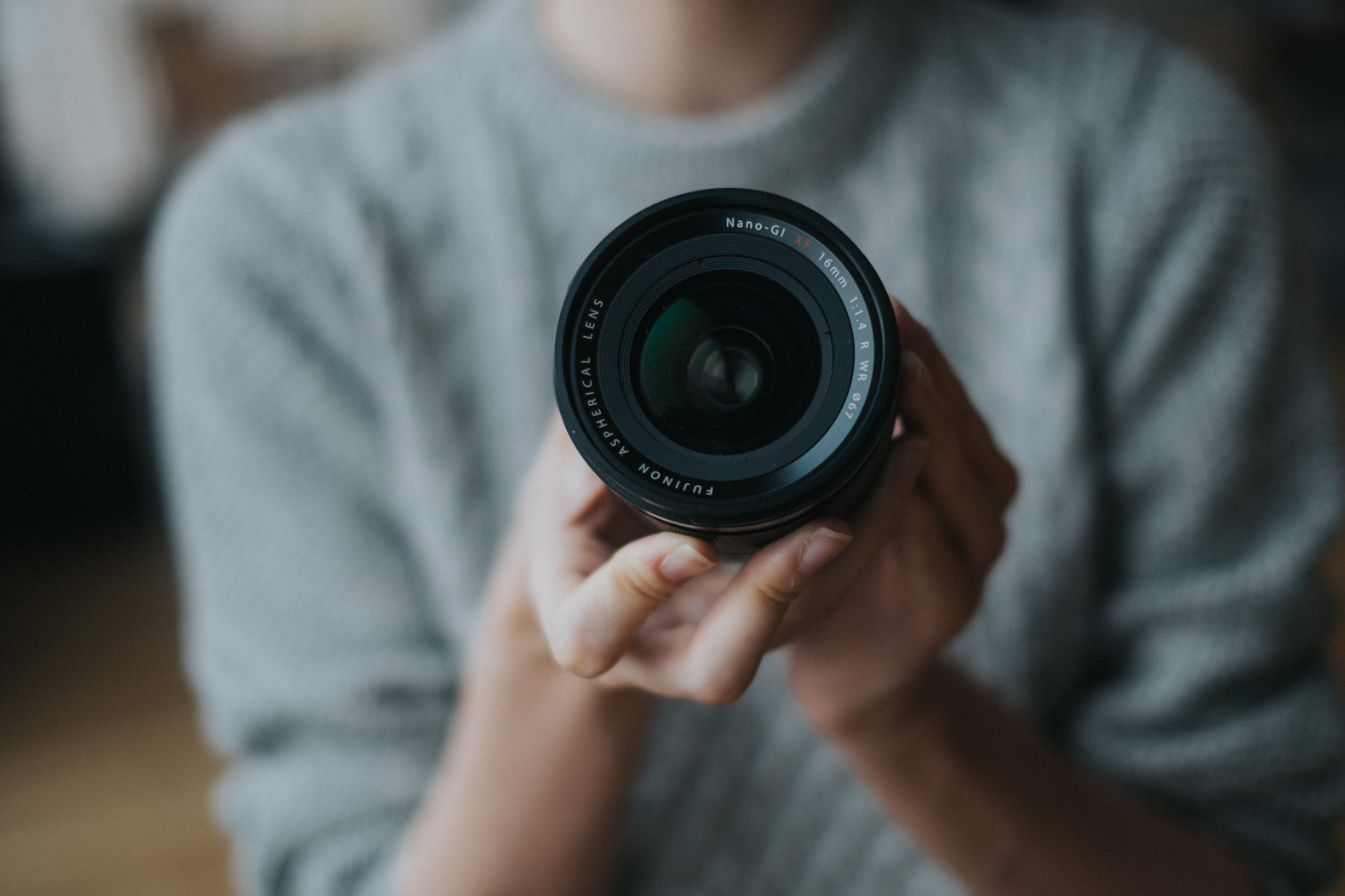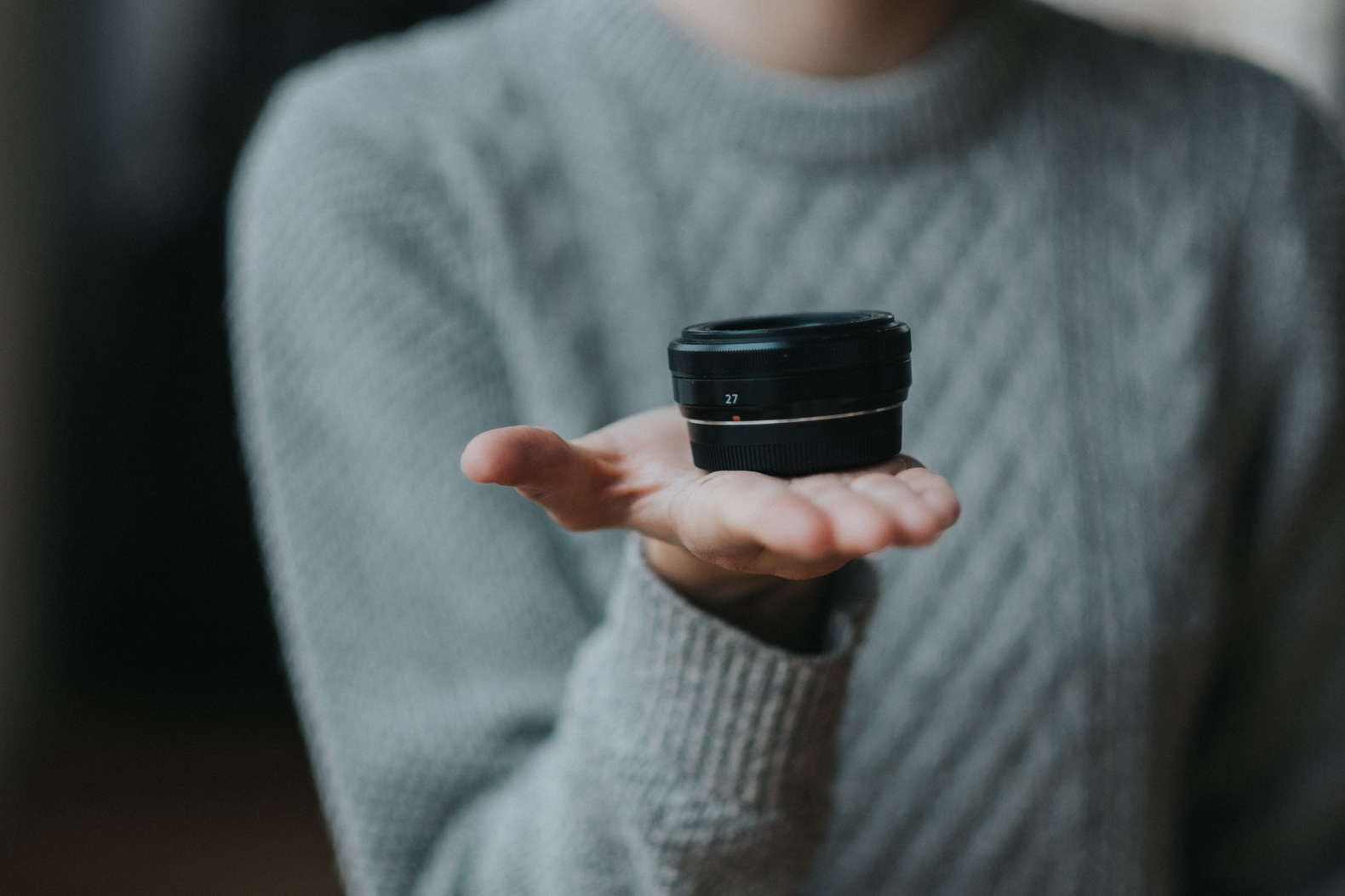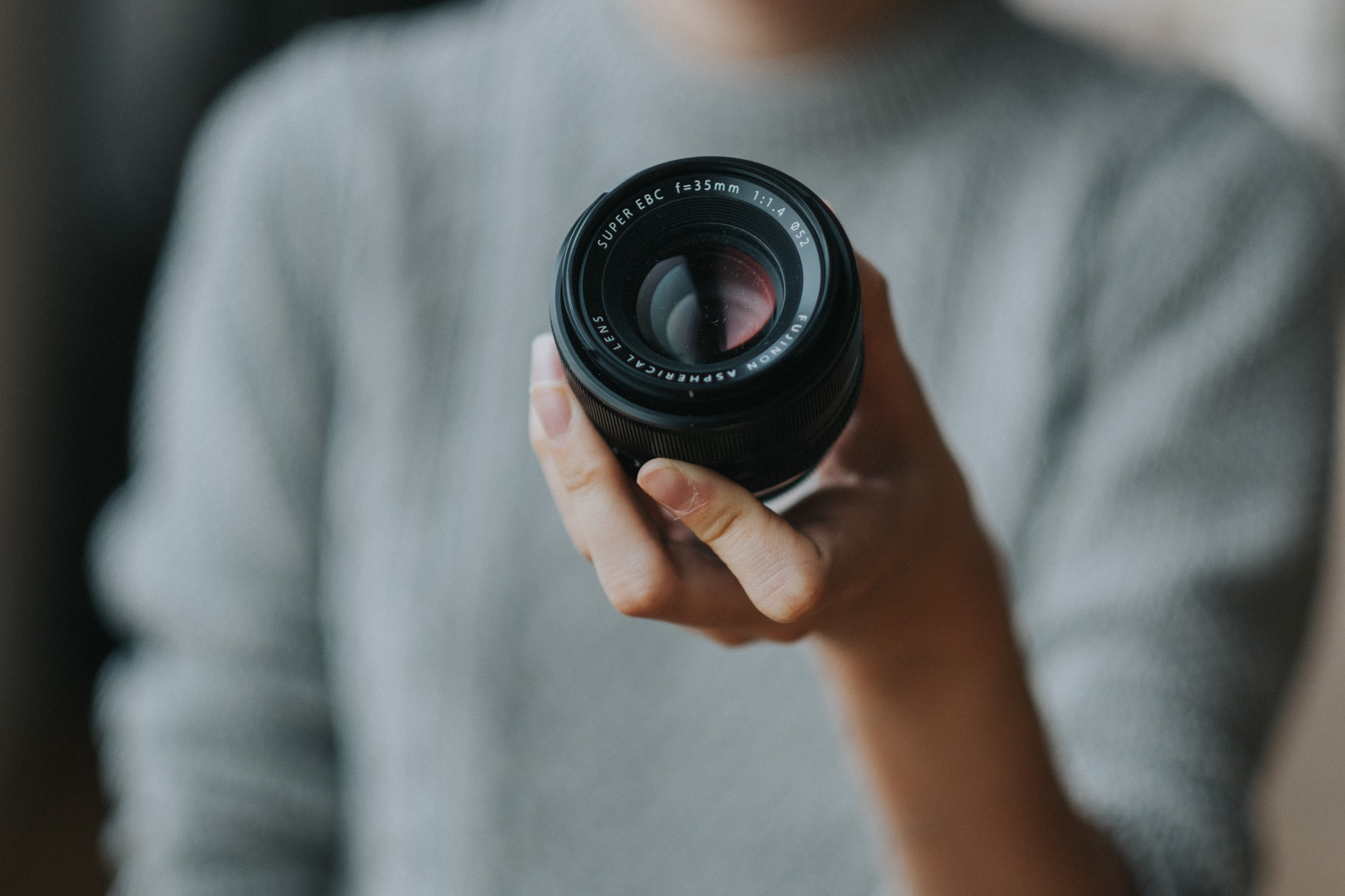 Each one has a specific purpose, and fits in with the variants of travel photography that I find myself most drawn to. Namely:
Travel lifestyle photos
Nature, landscape, and architecture photos (though not wildlife)
Food photography
Portraits
Here are my three favorite lenses and sample photos taken with them!
| | | | |
| --- | --- | --- | --- |
| Lens name | Best for | Special features | Check price |
| Fujinon 16mm f1.4 | Landscapes, architecture, astrophotography | Weather-resistent, ultra close-up shots, low light | Check price |
| Fujinon 27mm f2.8 | Landscapes, street photography | Lightweight, low profile, sharpness | Check price |
| Fujinon 35mm f1.4 | General purpose, classic | Beautiful bokeh, low light, image quality | Check price |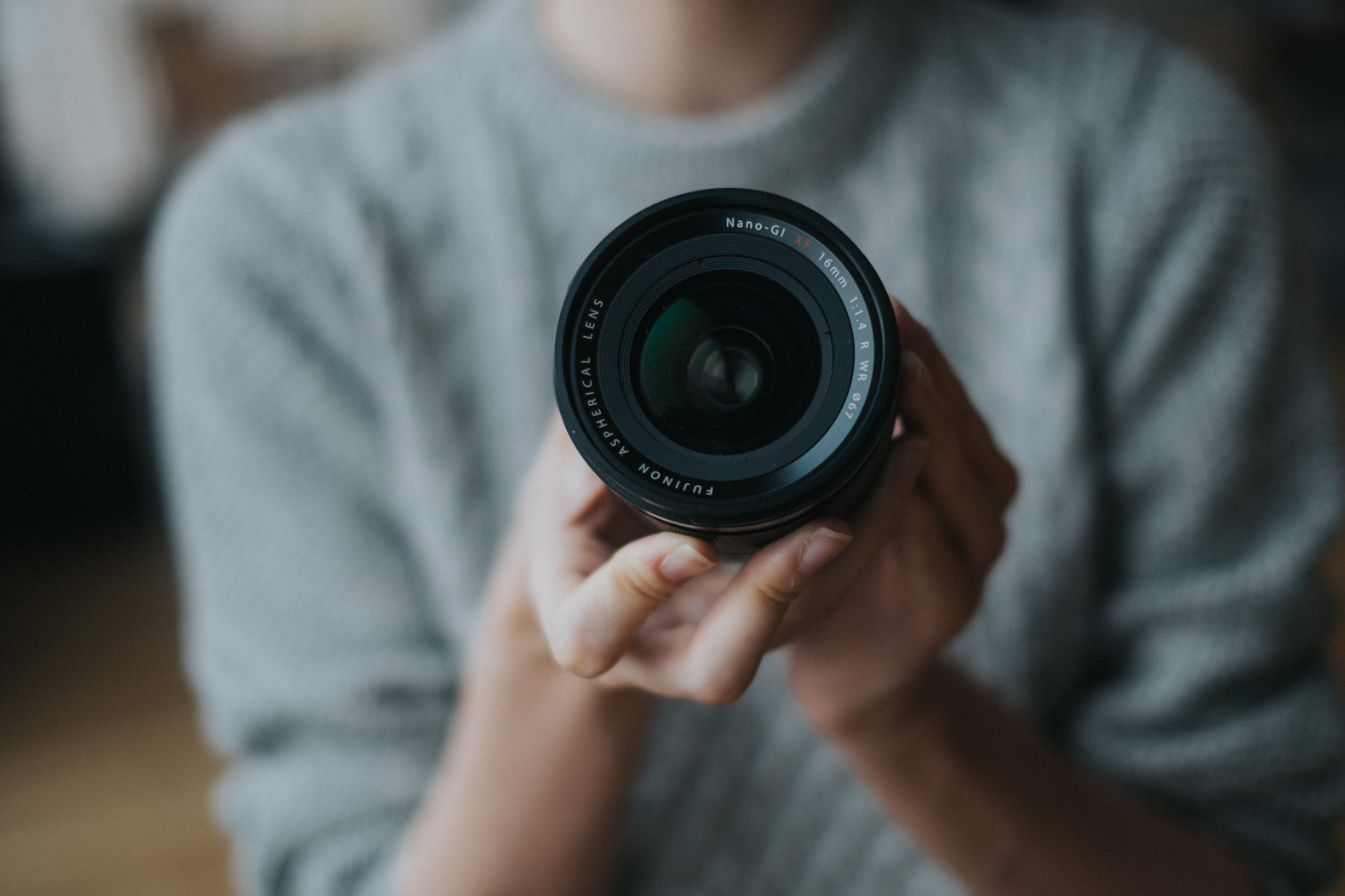 1. A wide-angle lens:
Fujifilm XF 16mm f1.4, weather resistant
A wide-angle lens is an obvious essential for travel photography. Wide angle means that the photo frame fits more in it than the human eye does.
This particular wide-angle lens is also special because of how flexible it is. It can focus extremely closely, and with its wide aperture, you can get a really unique perspective on an object while still achieving a blurry background!
Perfect for: Architecture, interiors, sweeping landscapes, astrophotography
Here are some sample shots: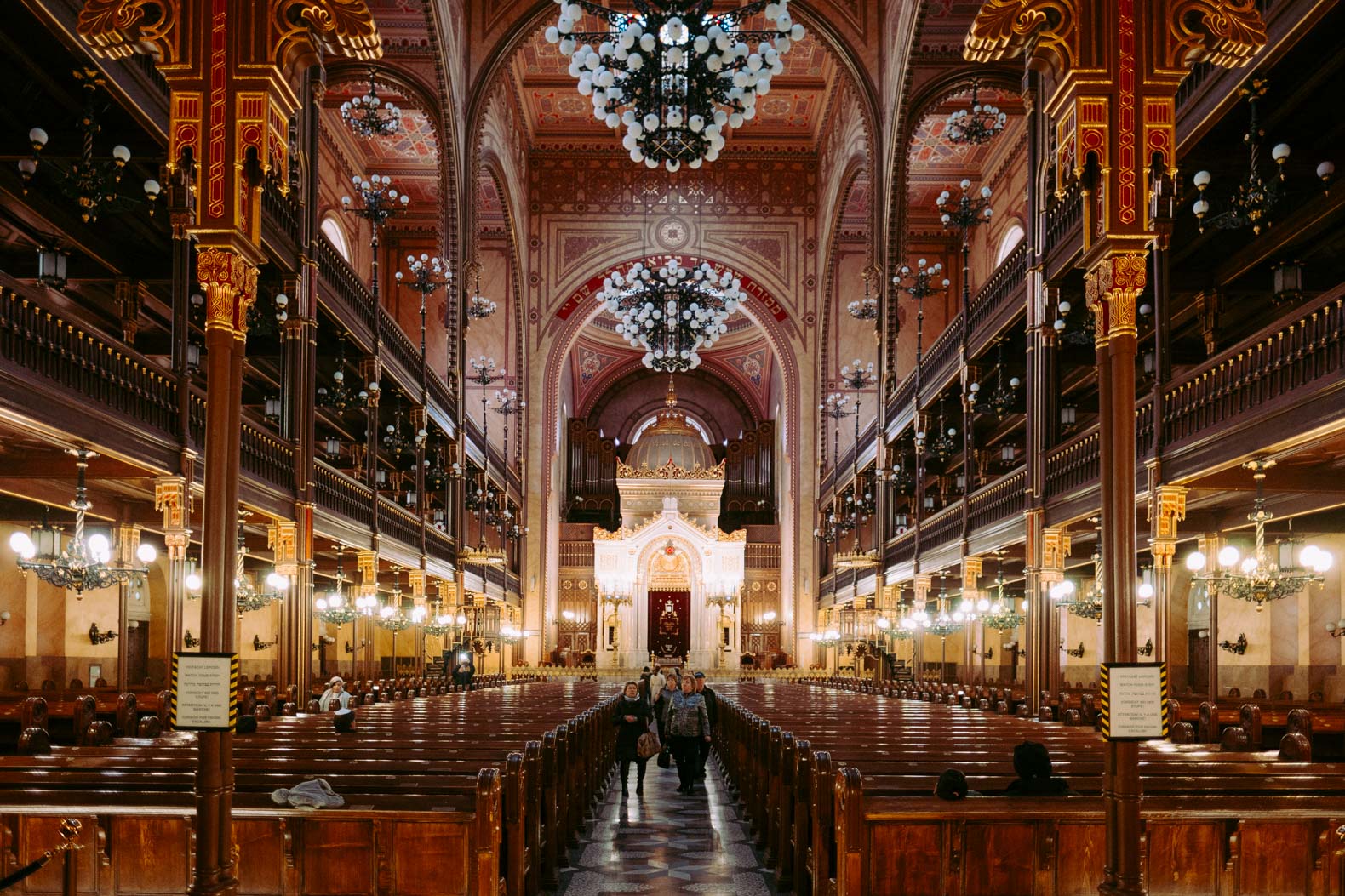 Great for (dimly lit) interiors
A wide angle lens is necessary for interior photography, and the fact that this particular 16mm lens opens up to f1.4 means that it lets in a lot of light – making it perfect for dimly lit churches.
With the other lenses listed, you'd never be able to fit in.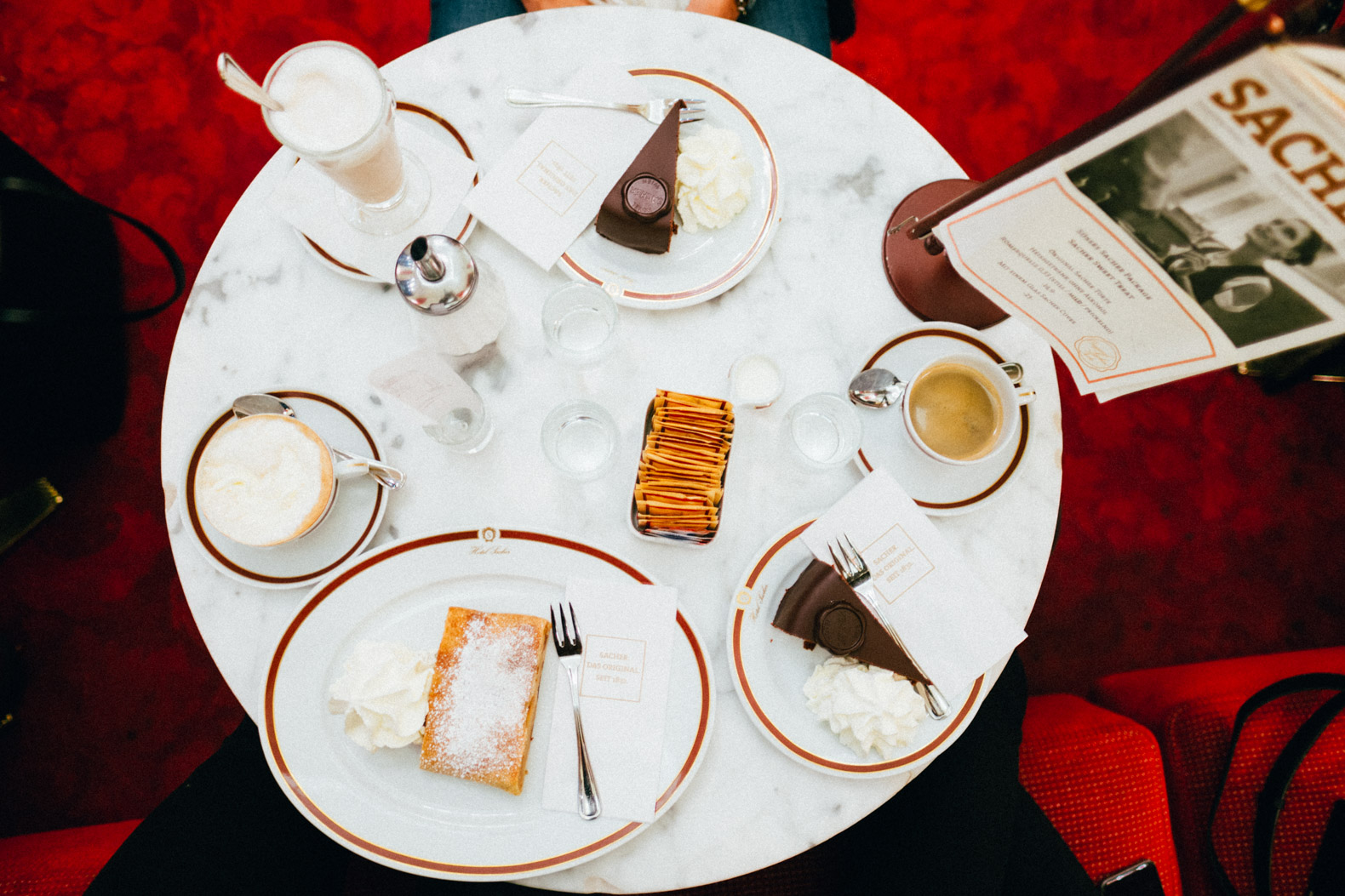 Great for "fitting it all in"
Honestly a wide angle lens can be pretty tough to manage. Normally, I use this lens only for a specific scenario, and then I put it away and swap to something more versatile.
But there are times when you just won't fit it all in otherwise, and the wide angle is a godsend! For instance, trying to get the whole table filled with desserts into the frame…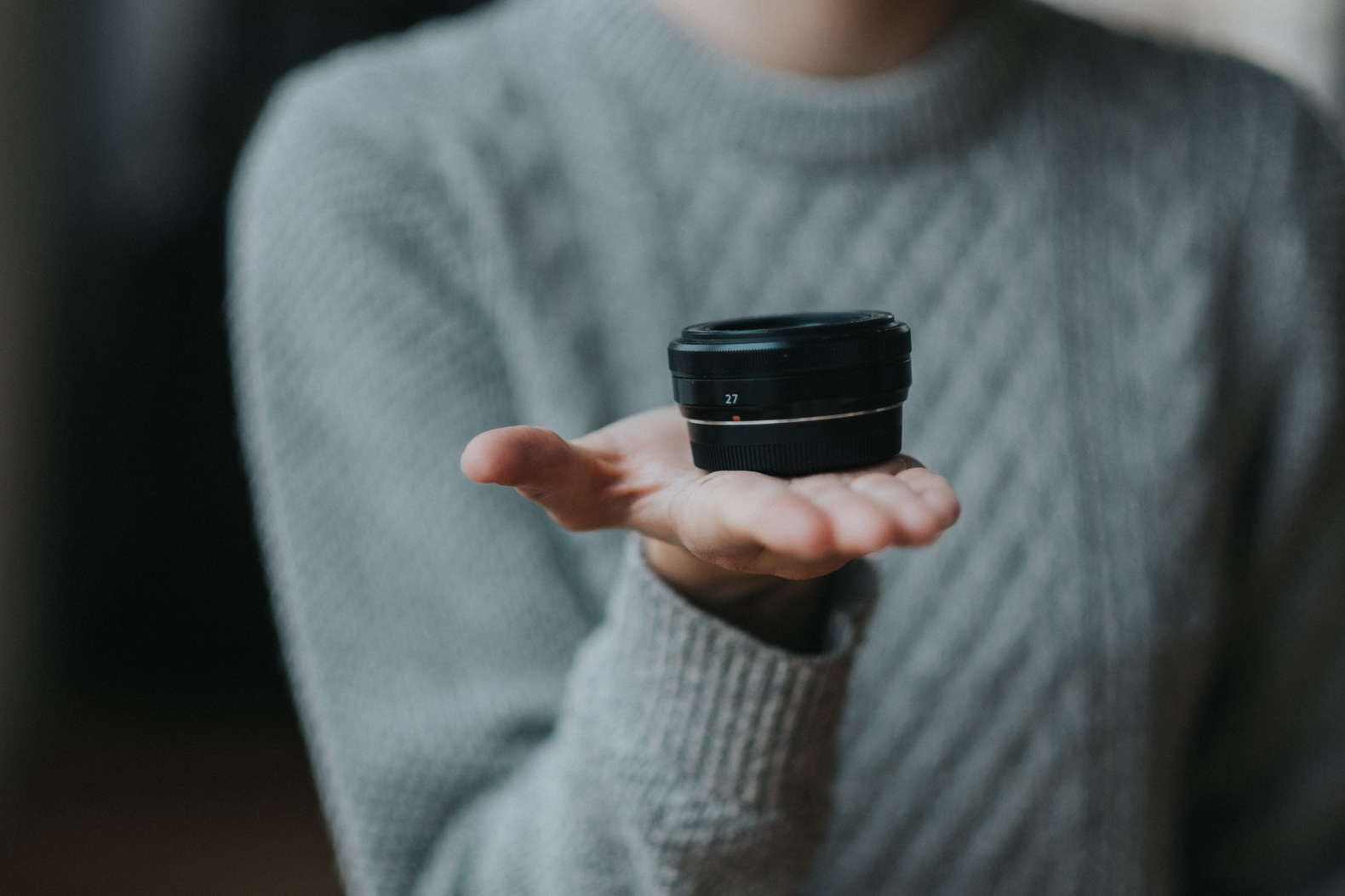 2. An ultra-sharp landscape lens:
I've written before how much I love Fujifilm's 27mm lens. I think it's one of the unsung heroes of its line. Combined with the lightweight X-T2, you don't even feel like there is a camera on your neck. Possibly the best feeling you can have when walking around a city all day!
Perfect for: Snapshots that pack a punch, landscapes
Here are some sample shots to show how I use this lens: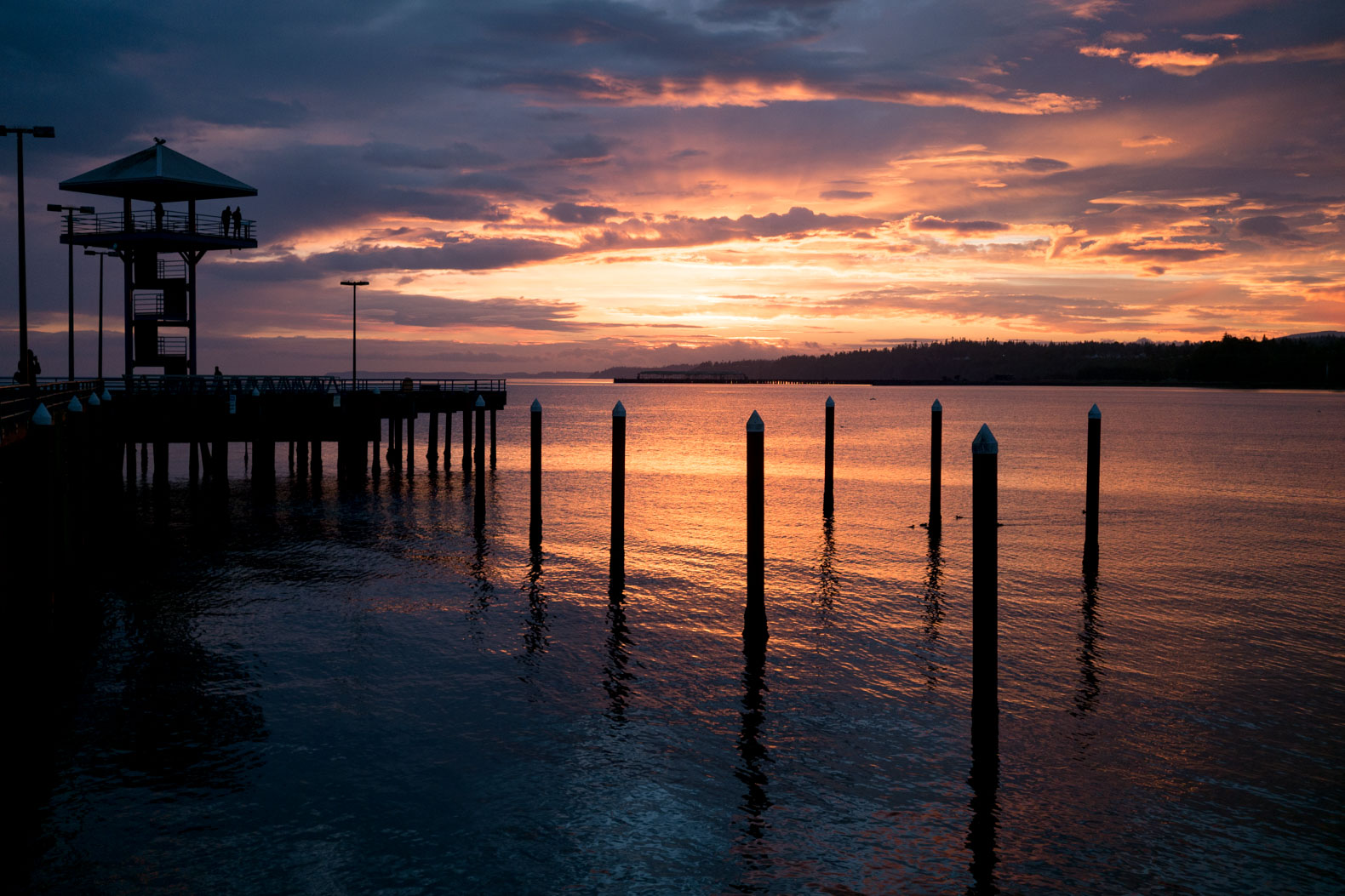 Picking just one lens
These photos were taken by my boyfriend on a road trip to the Pacific Northwest. He asked me what the one lens was, that he should take with him. I told him, definitely the 27mm. This lens is perfect for nature and landscapes because it's super sharp and not complicated to use.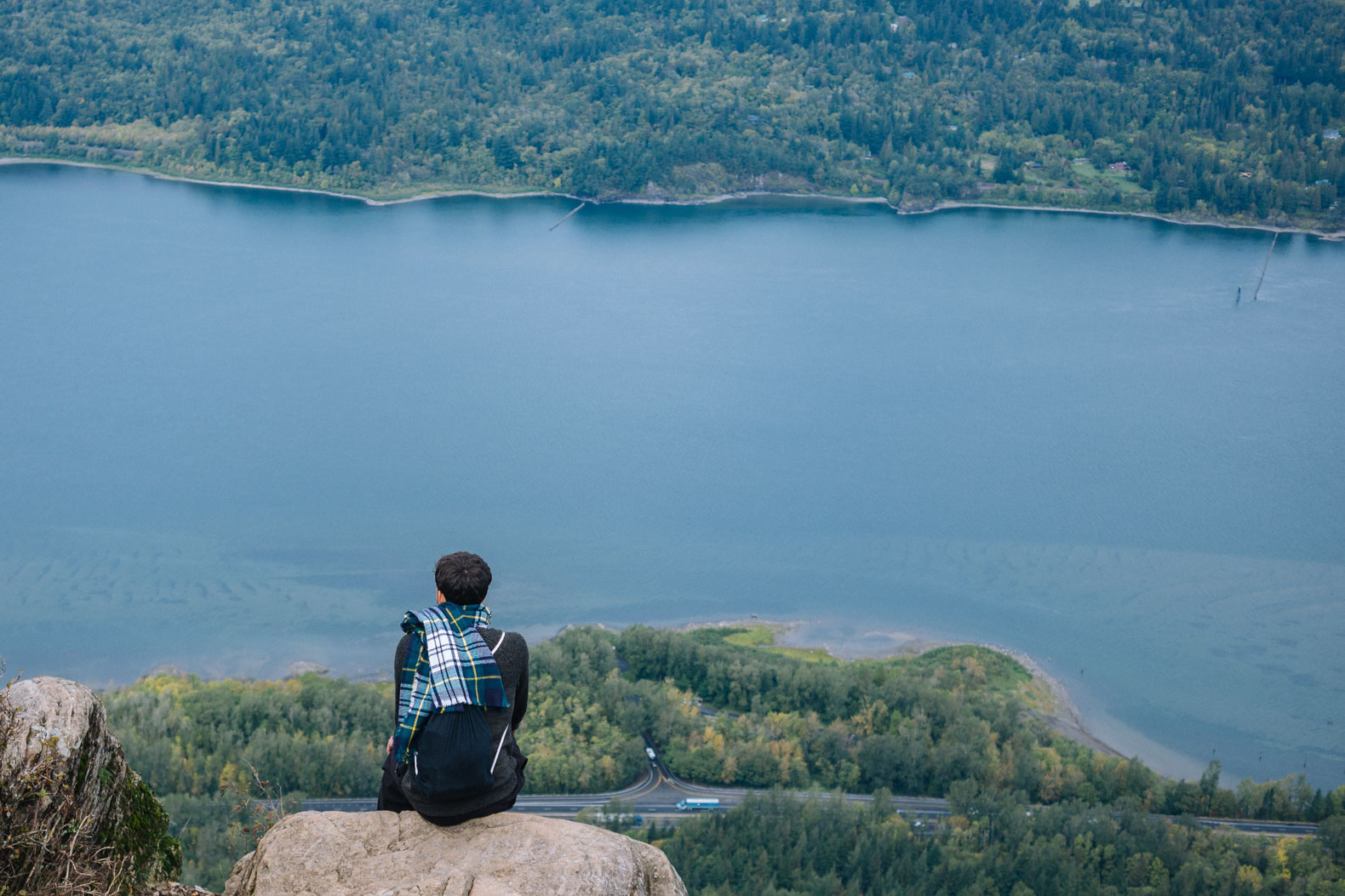 Perfect for people meet landscape
You know those trendy photos of people standing precariously on a cliff, with a vast landscape around them. Well, this lens is really suited for that. Many wider lenses make people look weird in my opinion, especially if you're not taking the photo straight on.
This lens accomplished that kind of photo effortlessly!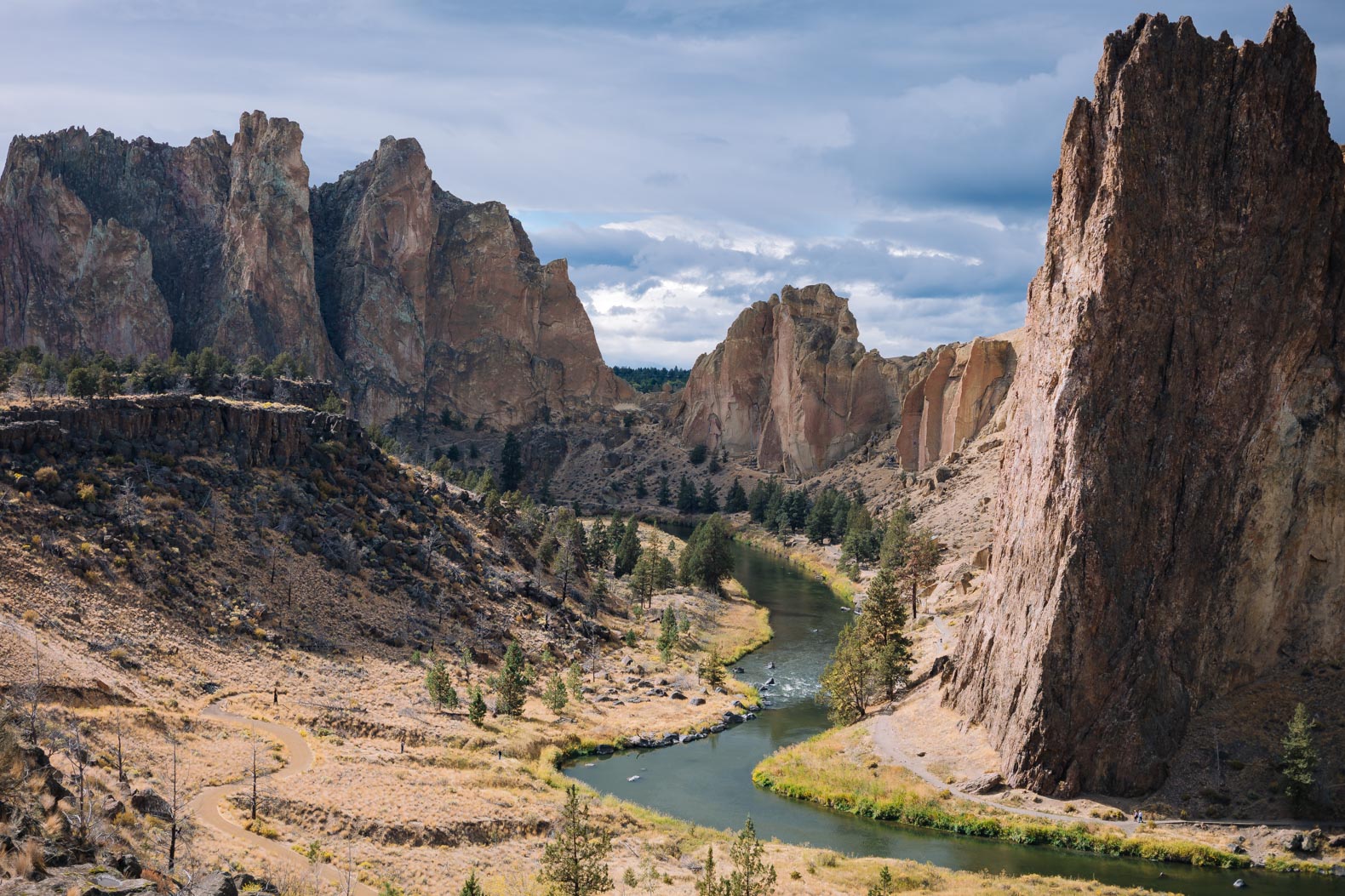 Proof that the lens matters more than the camera
All these photos were taken with my super entry-level Fujifilm X-A1, a camera so oriented towards casual users that it doesn't even have a viewfinder.
Yet, camera body aside, these PNW photos are just fabulous (stick around til the end of the post for some long exposures with this lens!!)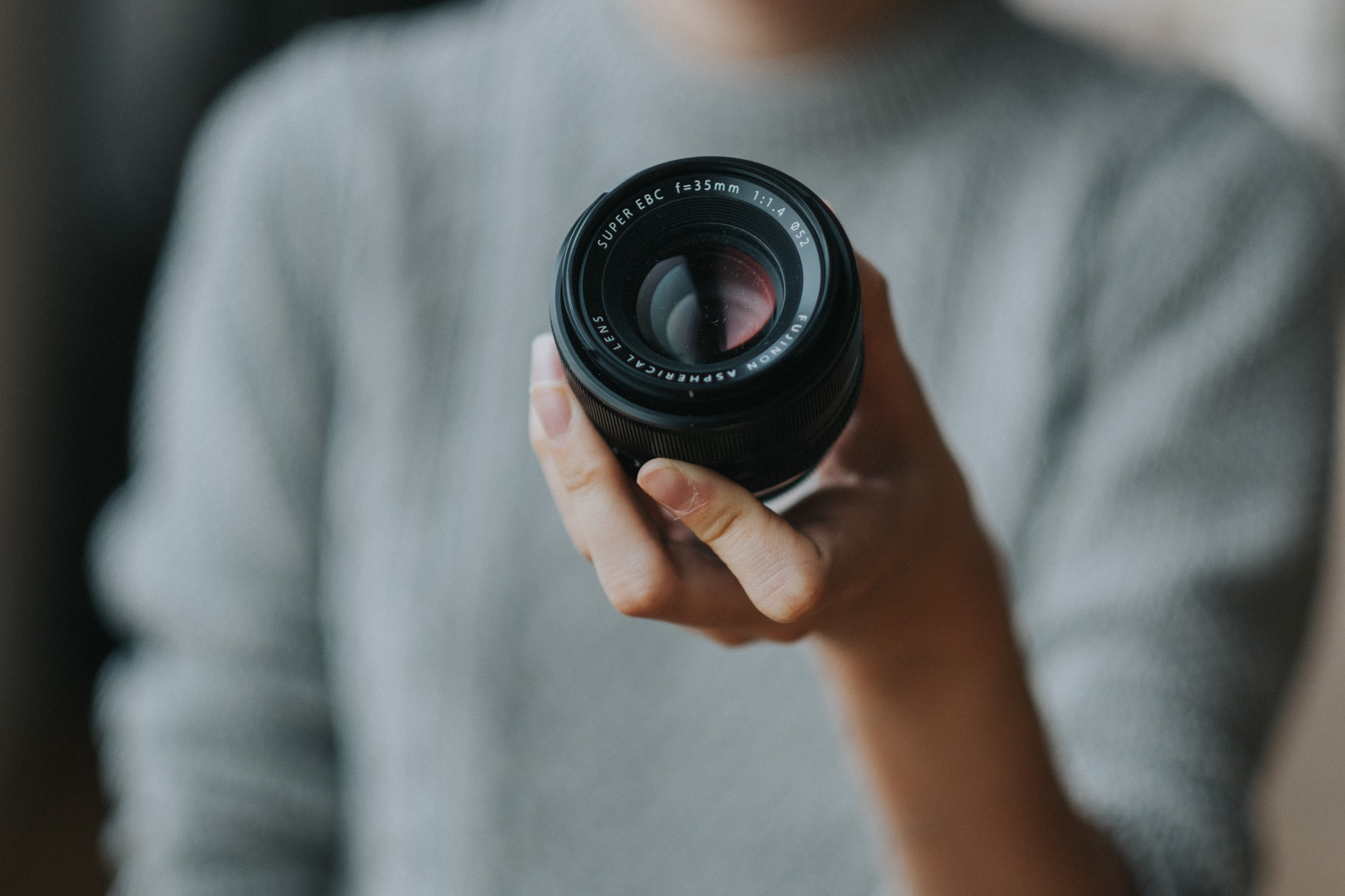 3. A make-everything-dreamy lens:
This lens is my bread and butter. In fact, you should know that my friends and boyfriend refer to it as the "magic lens", for its gorgeous image quality and dreamy blurry backgrounds.
Perfect for:
(Travel) lifestyle shots
Portraits
Food photography
Low light
Here are some examples of the magic made with this lens: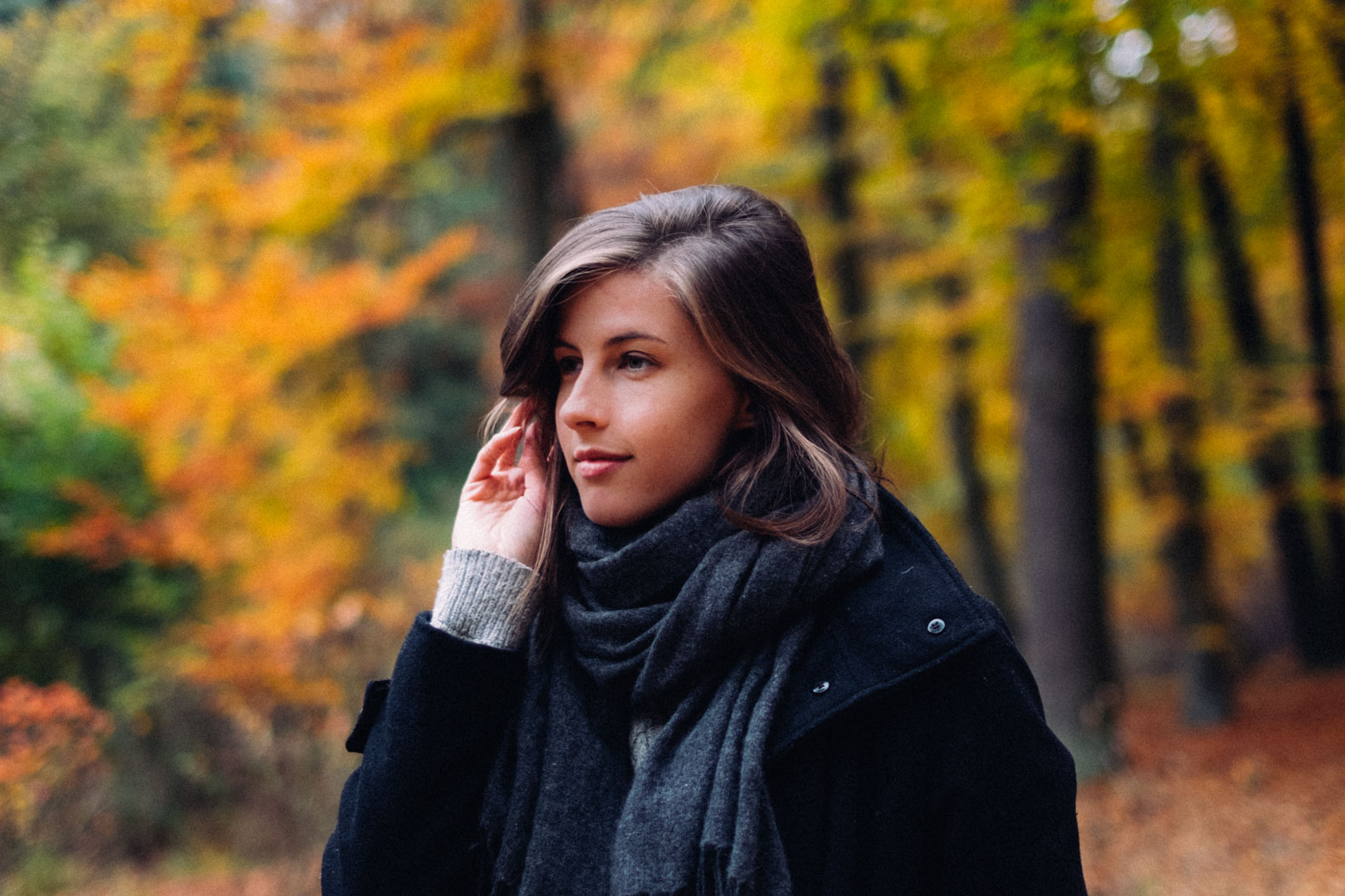 A versatile choice for photographing people
Most dedicated portrait lenses are not really suited for travel photography, because it's hard to get a sense of place with them – unless you walk reaaaaally far away (which of course means, you might get unintended subjects in your photo!)
The 35mm lens produces lovely photos of people, while also being great for walking around, as you'll see in the next photos!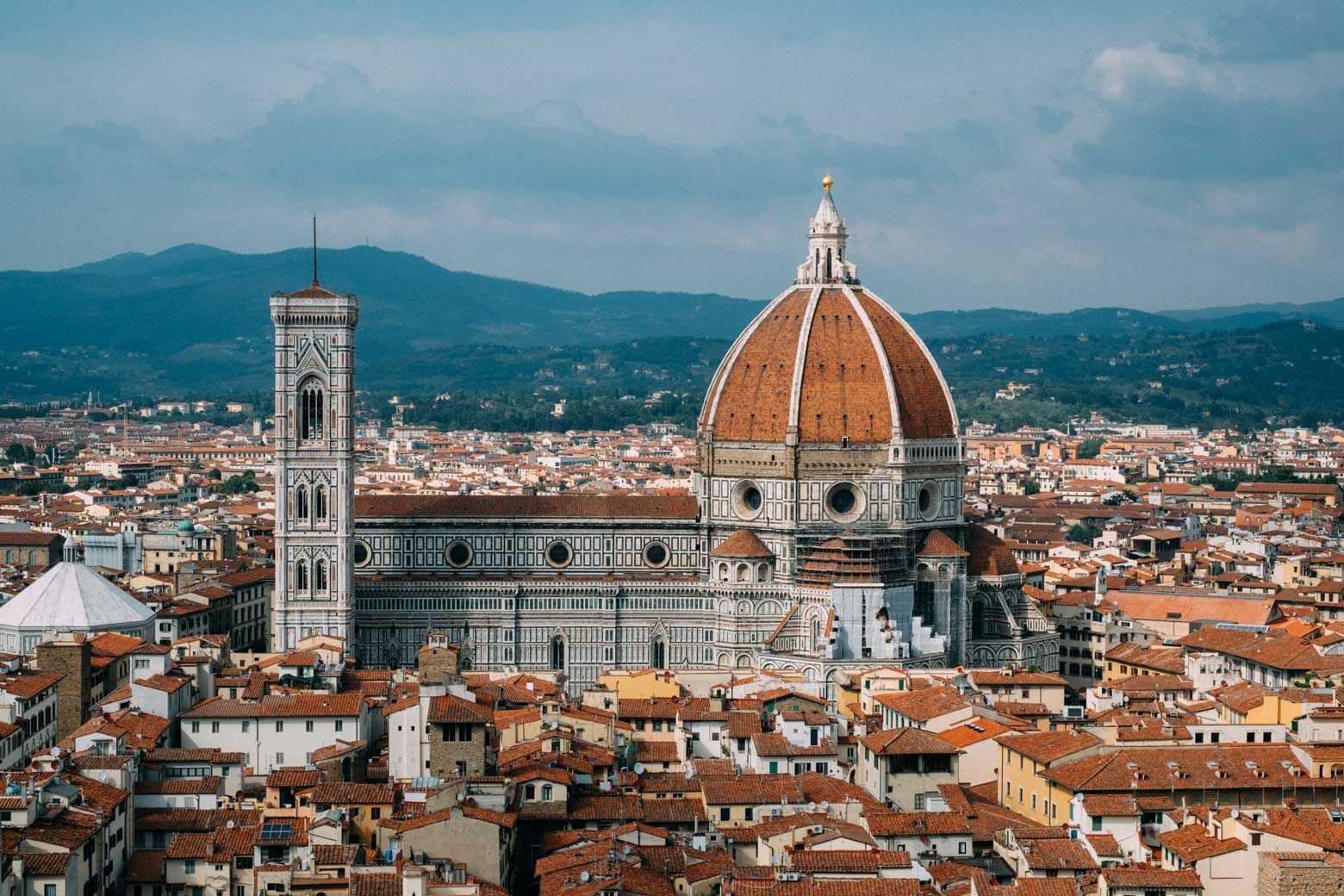 Great for walking around
I literally walked around all day in Florence this this lens and hardly changed, even for cityscape photos like this. The slight "zoom" from the 35mm helps hone in on a focal point. Italy is just meant to be photographed with this lens, I don't know what it is! Maybe it's because they're both meant for romantic ocassions ;)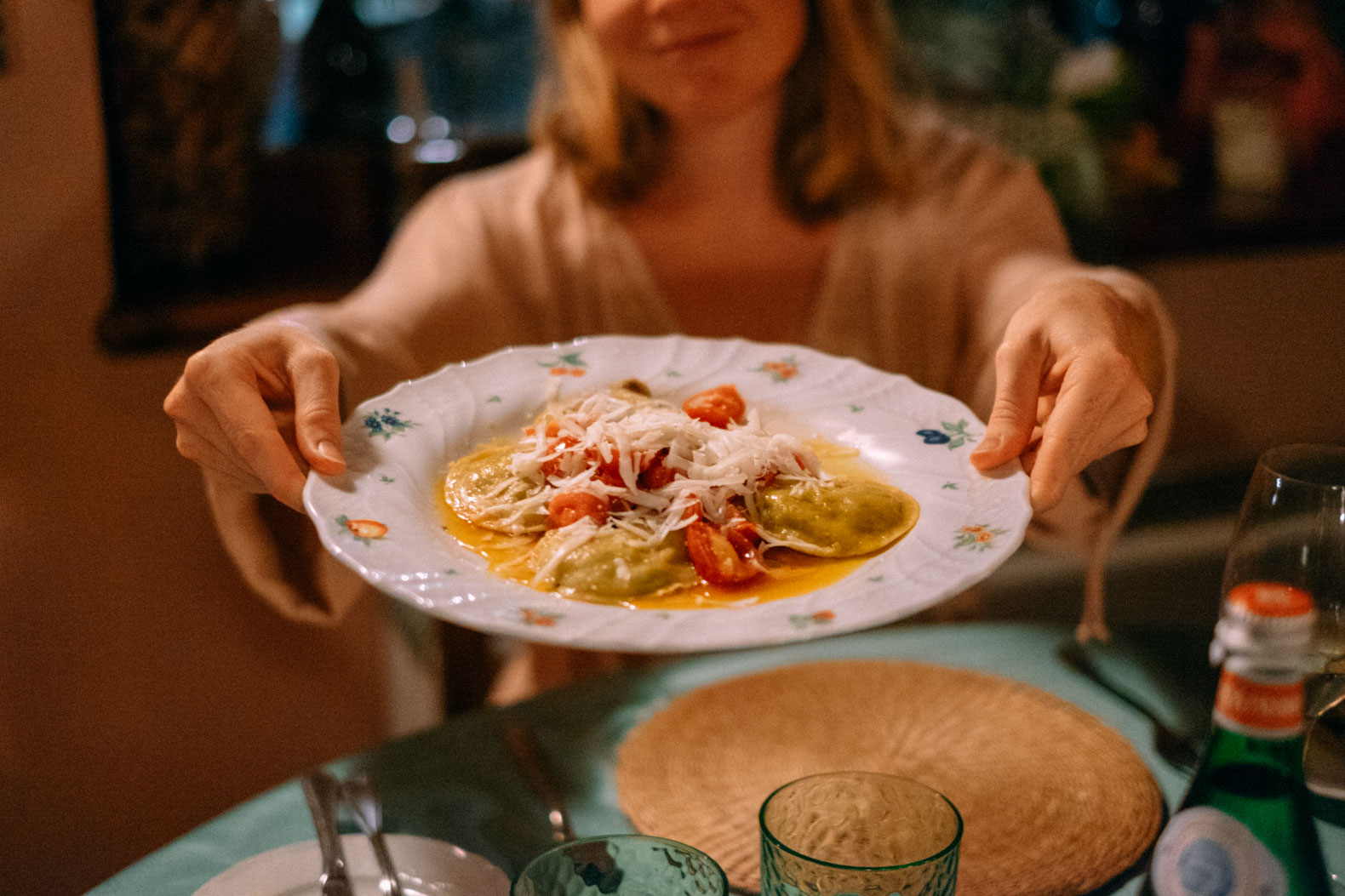 Amazing in low light
I'm always amazed how much detail this lens captures, even in underexposed pictures taken in low light. This photo was taken in a suuuuper dark restaurant in Umbria, Italy. With a little Lightroom magic, the photo is not only usable but also vibrant!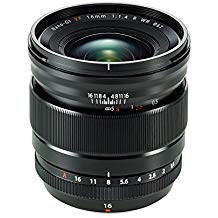 Fujinon XF 16mm f1.4 WR
This wide-angle lens is weather-resistant and perfect for massive landscapes or rainy situations. My most used lens in Iceland.
Favorite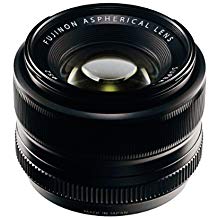 Fujinon XF 35mm f1.4
My most magic lens, the one I return to again and again. A little slow to focus, but the gorgeous photos speak for themselves.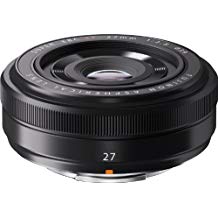 Fujinon XF 27mm f2.8
The lens I use when I need to keep a low profile. Takes beautiful sharp photos without looking conspicuous. My favorite in Brazil.
Beyond my top three lenses I consider my minimal gear, I've also written more about different lenses for different specialty situations – for example, if you're going to be traveling in extreme weather or going on safari or looking for wildlife. Read more about the best Fujifilm lenses for travel.
Whew, we've come a long way!
That was a long post. I just can't stop typing. But let's stop to remember briefly that all of this is possible with a camera bag containing just these items…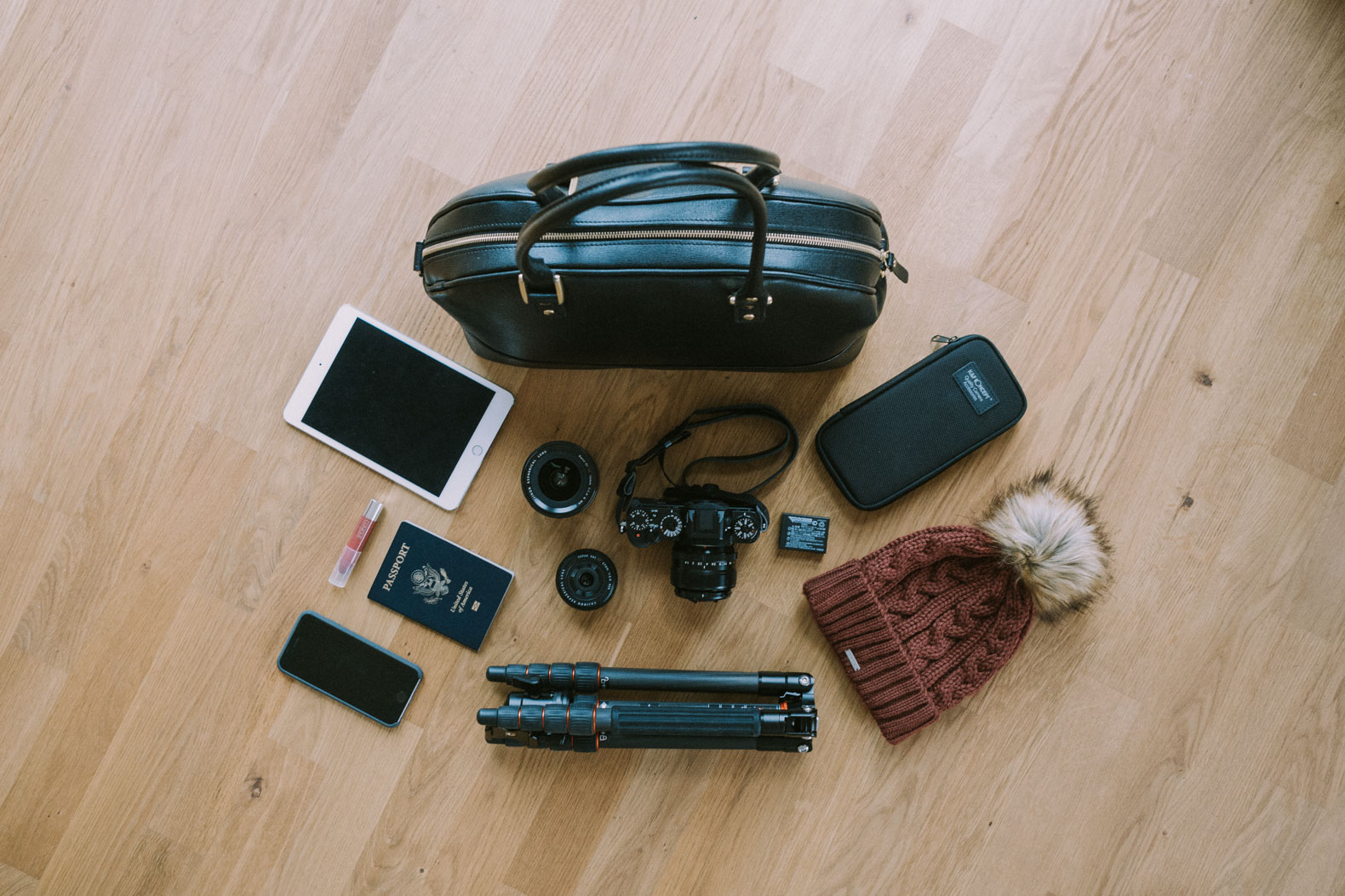 I feel prepared, how about you??
Let me know in the comments what camera gear you travel with!! I'd love to hear about an essential piece I'm missing (or better yet, a piece you think I can kick to the curb!) Till next time ♥️
Products mentioned in this post
I personally own and use all of these items and bought them with my own money. If you have any questions about this camera equipment just leave a comment and I will be happy to answer!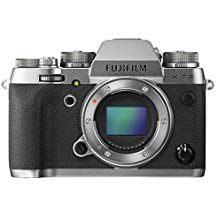 Fujifilm X-T2
My favorite camera for travel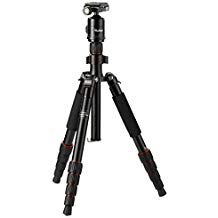 Rollei Compact Traveler No. 1 Tripod (Carbon)
Lightweight tripod for all ocassions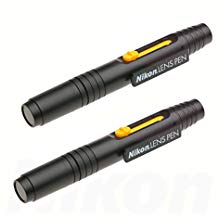 Nikon Lens Cleaning Pen
Cheap and keeps my lenses clean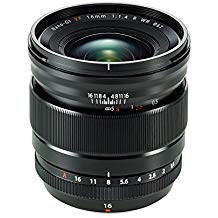 Fujinon XF 16mm f1.4 WR
Wide-angle lens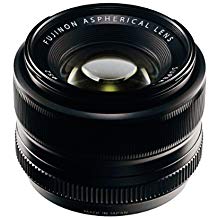 Fujinon XF 35mm f1.4
Portraits and general purpose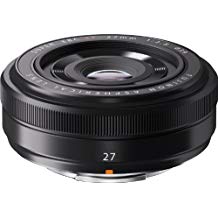 Fujinon XF 27mm f2.8
Discrete and sharp
Pin this post for later!