Trying to pick a lens to buy can be a super daunting task. I remember when I finally decided to upgrade from the kit lens that camera with my camera, and I had to do SO MUCH GOOGLING. How can you possibly decide what lens is best for you? It came with learning a ton of terminology I had never grappled with before: Aperture. Focal length. IQ (Image Quality).
There is a sea of choice and as beginners looking for information it's hard to know what's going to be best.
There there is the fact that lenses are expensive.
The last thing you want to have happen is that you buy a lens and then you don't like it! 😱
I personally own and have purchased all the lenses in this guide (except one I borrowed 😁), so I can provide you with lots of sample images taken with each lens to help your decision-making process!
Read on for a guide on picking a Fujifilm lens for travel, including information on how to choose a lens based on the kind of pictures you want to capture, and my top pick if you have to pick just ONE lens.
This post was originally published in January 2019, and has been updated for Summer 2023 with the latest additions to Fujifilm's lens lineup.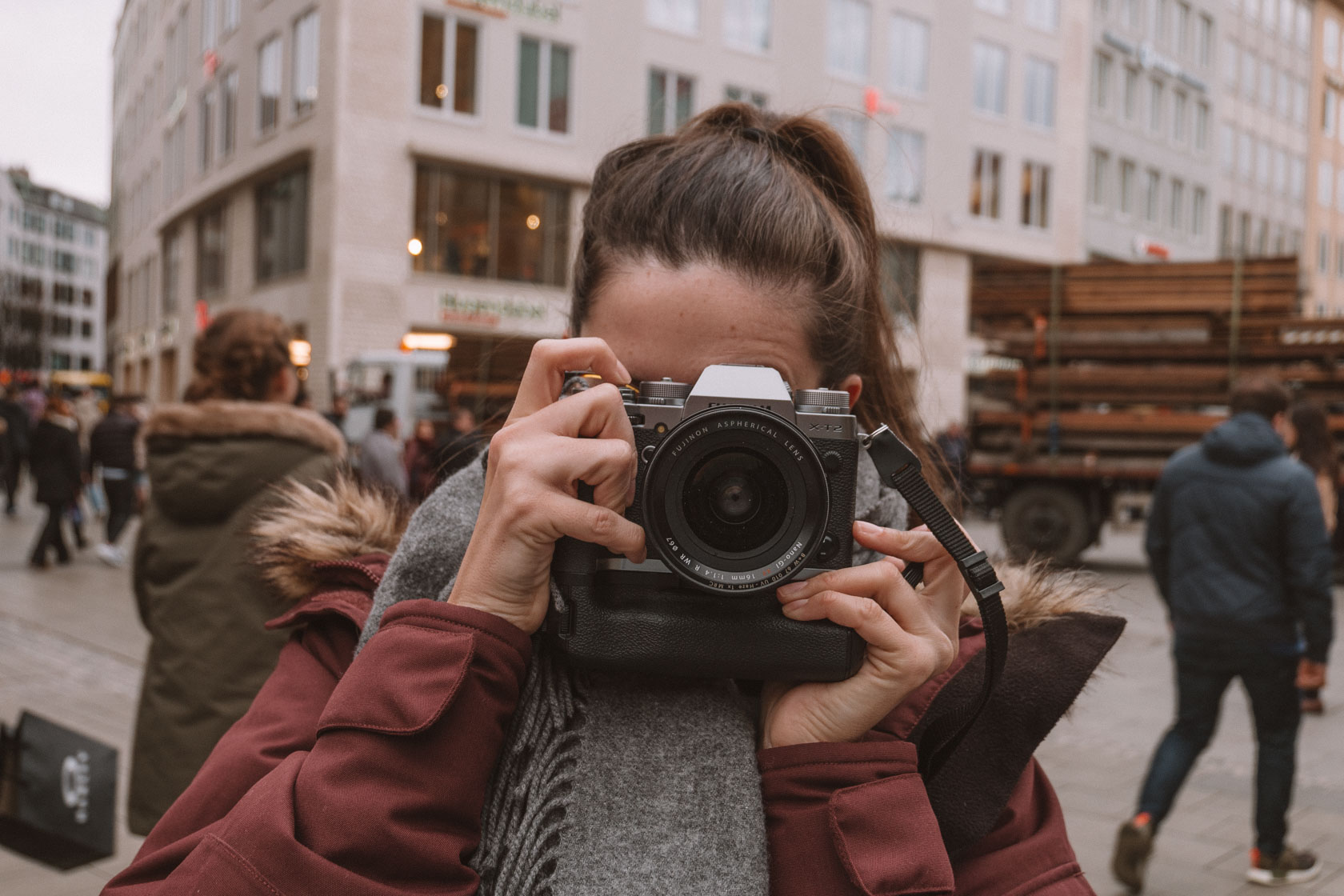 Some links in this post are to affiliate sites. If you purchase something through them, I may earn a small comission — which costs you nothing! I am very grateful when you use my links to make a purchase.
What makes a great lens for travel?
I have a few main criteria when picking lenses for travel. Any lens needs to match at least 2 of the following three criteria:
Lightweight – You don't want to have shoulder pain from carrying a ton of gear by hauling heavy gear around for long hours while traveling.
Versatile – You'll find no ultra-specialty lenses in this guide, only meant for one thing. Every lens needs to help me in a couple different ways.
Necessary – Whether I absolutely need to pack the lens because I'll be in a special situation, like shooting wildlife.
Hence, all of the lenses I include here are at least two of these things, and hopefully they are more like all three!
Why did I pick Fujifilm?
Back in the day when I started looking for a camera, a friend of mine who majored in Film in college unequivocally recommended that I start my photography journey with Fujifilm.
A big part of the draw is that Fujifilm focuses on mirrorless cameras, which are smaller and more light-weight than bulky DSLRs. When I know that my images will end up on this blog, rather than a billboard, I don't need the difference between the 24 megapixels of the $1,000 Fujifilm X-T2 and the 30 megapixels of the $3,000 Canon 5D Mark IV.
I will keep my extra $2,000, thanks!
And in turn, I have a camera that's light enough to pop in my day bag without me noticing the weight.
That can be a huge benefit when you're traveling, because the last thing you want to do is leave your camera in your room because it's too heavy and you don't want it to weigh you down.
Best Fuji Lens For Travel Photography
As I said before, I personally own or have extensively used all of these Fujifilm lenses. So you know you're getting recommendations based on my experience!
If you have any questions about them, please LEAVE A COMMENT! I am more than happy to help you pick the lens that is going to meet your individual needs and help you capture the kind of photos you dream about 😄
| | | | | |
| --- | --- | --- | --- | --- |
| Lens name | Best for | Special features | Price | Check on Amazon |
| Fujinon XF 16mm f1.4 WR | Landscapes, architecture, astrophotography | Weather-resistant, ultra close-up shots, low light | $$$ | Check current price |
| Fujinon XF 35mm f1.4 ★ | General purpose, classic | Beautiful bokeh, low light, image quality | $$ | Check current price |
| Fujinon XF 23mm f2 WR | General purpose, versatile, everyday lens | Lightweight, low profile, weather resistant | $$ | Check current price |
| Fujinon XF 50-140mm f2.8 WR OIS | Wildlife, safari, portraits | Sharpness, zoom, can be extended with teleconverter | $$$ | Check current price |
| Fujinon XF 27mm f2.8 | Landscapes, street photography | Lightweight, low profile, sharpness | $$ | Check current price |
Legend
WR - Weather resistant (can withstand rain and below freezing temperatures).
OIS - Optical image stabilization (helpful with zoom lenses to avoid blurry photos).
★ - My all-time favorite lens!
1. Fujinon XF 16mm f1.4
This is one lens that I always bring with me when traveling. A wide-angle lens is a super necessary part of the traveler's arsenal. If you aren't familiar with wide-angle lenses, it essentially means that you can fit more in to the picture than with a typical lens. This can be great, but it also means sometimes you need to get really close to something in order to use this lens and get the framing that you want.
Use this lens for: Landscapes, tight indoor spaces, low light photography, astrophotography, architecture.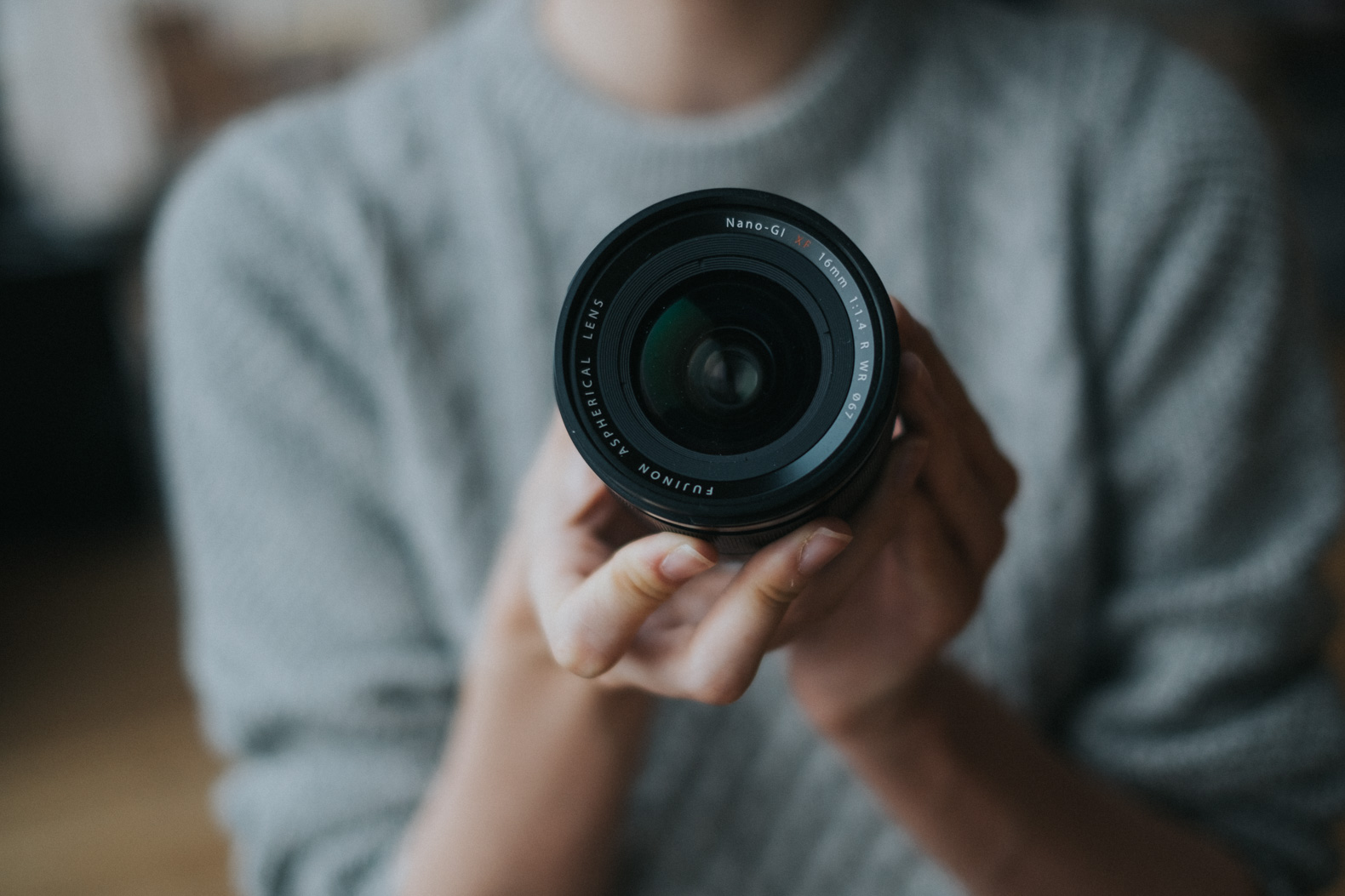 The reason I think a wide angle lens is necessary for every traveler is because these kinds of situations are the ones we encounter a lot.
Want to get that beautiful mountain landscape? Wide angle.
Want to photograph that impressive church or parliament building? Wide angle.
Want to capture people in the context of an landscape, instagram-style? Wide. Angle!
"Follow me" style portraits? If that's what you want, you need a wide angle!
There are a lot of shots you just miss if you don't bring a wide angle lens.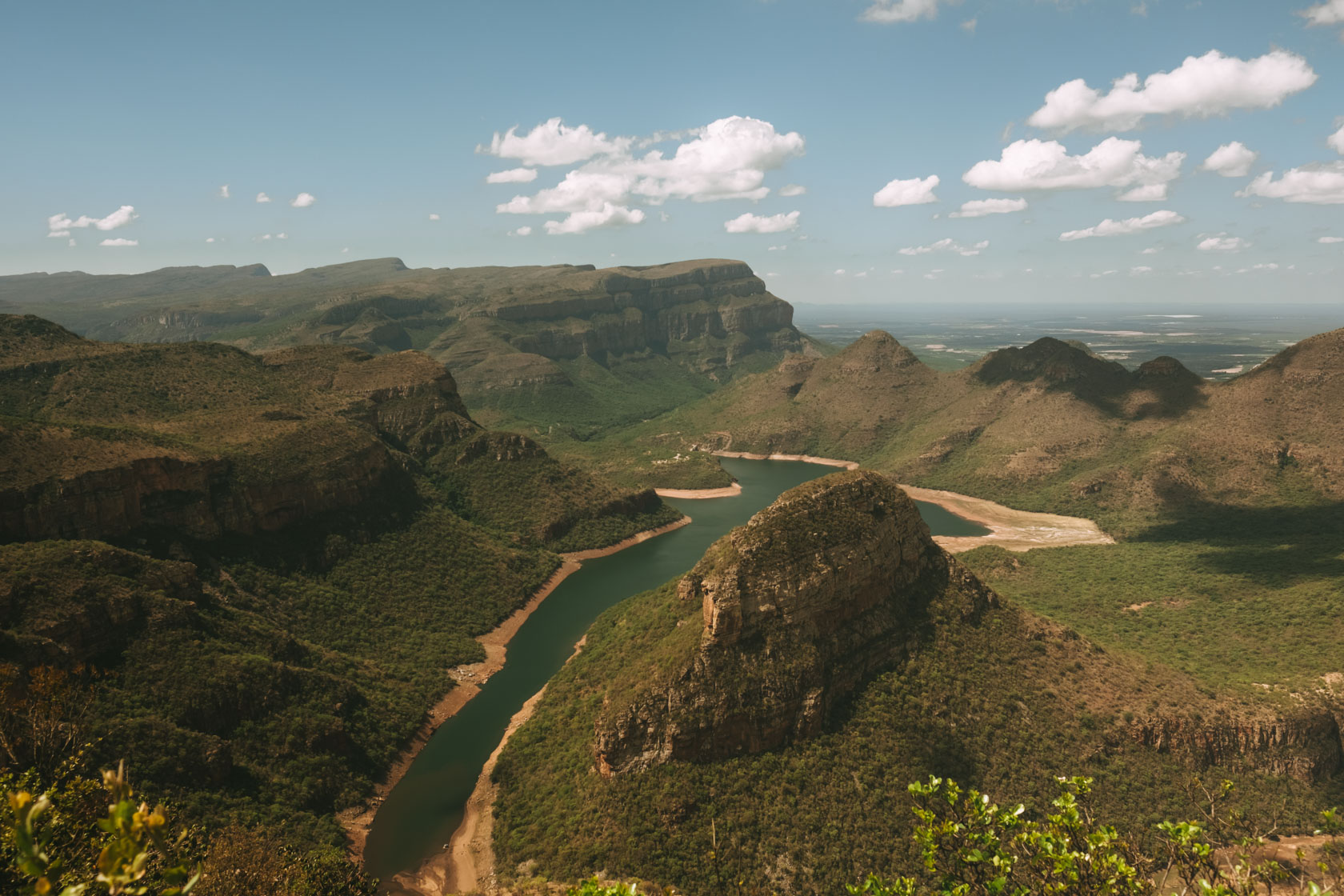 What makes this lens special This lens can focus very closely and has a very wide aperture. What it means is you can get bokeh (blurry background) from a wide angle lens by getting close, which is not a very common thing at all. The wide aperture also makes it a great candidate for night photos, I've used it to take plenty of photos of stars and northern lights!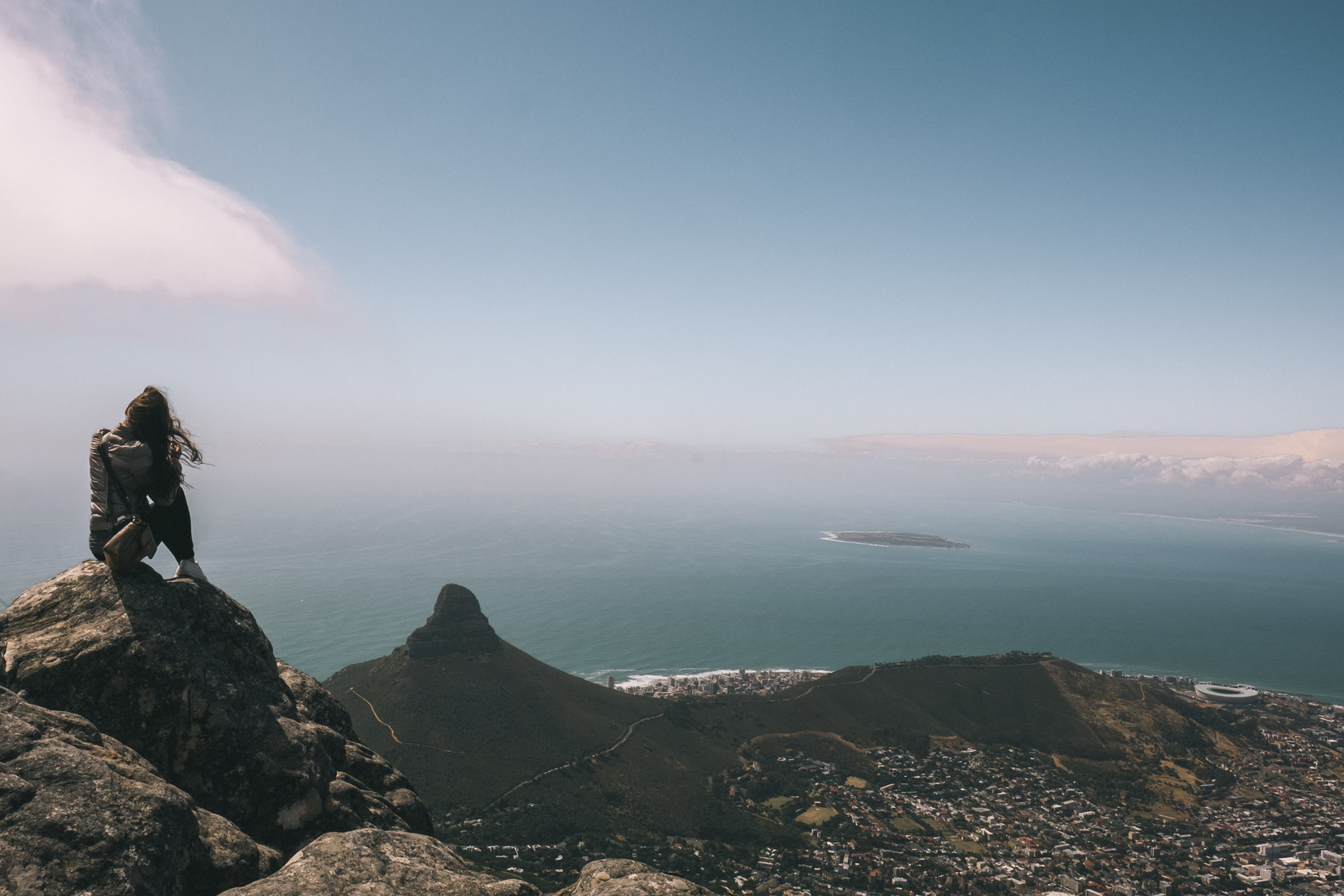 My best tip for using a wide-angle lens is GET CLOSER any time you are using it and you are not shooting a landscape!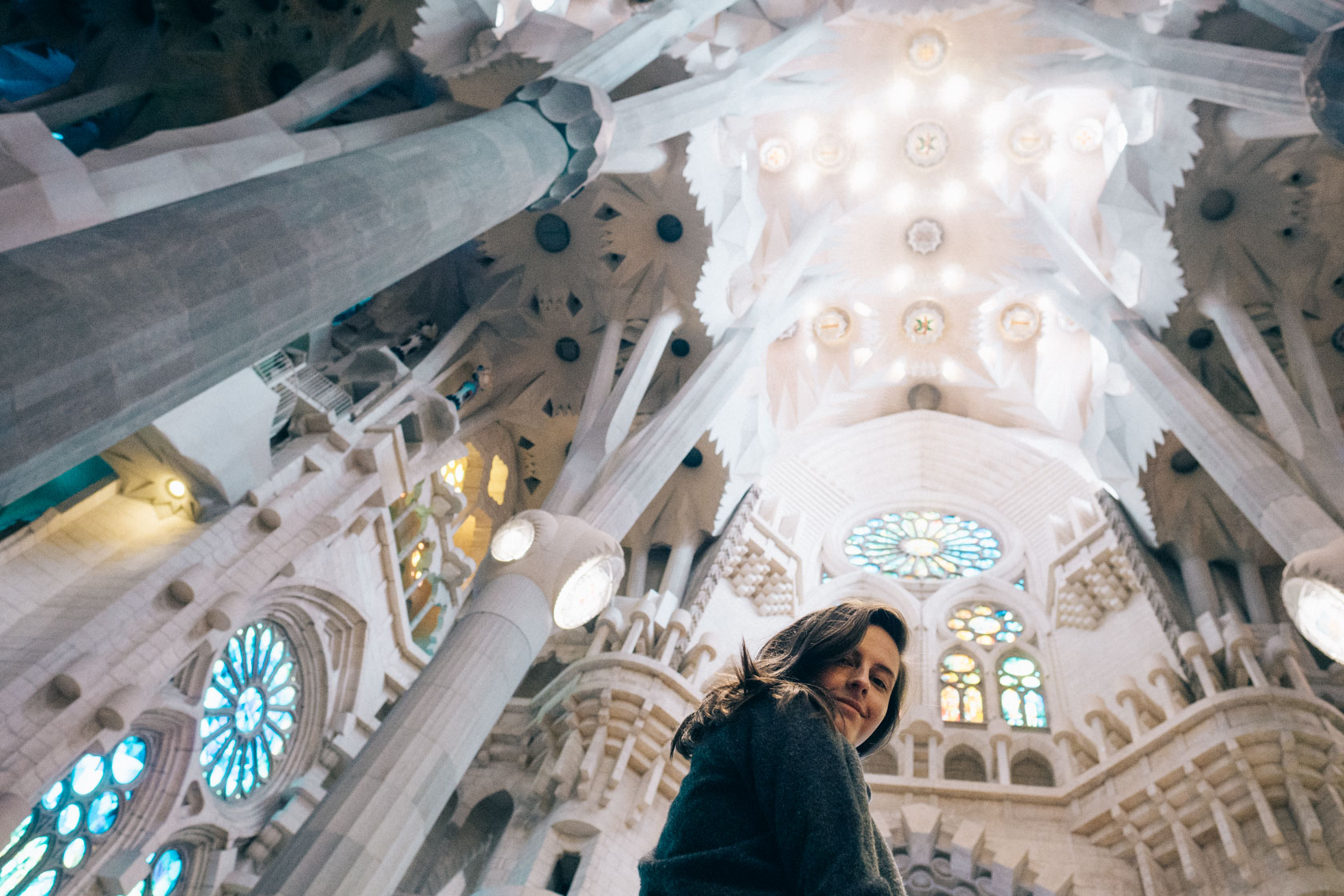 If you're still not sure, you can read my detailed Fujifilm 16mm f1.4 review for more sample images and an in-depth look at this lens.
Alternatives: Fuji's other wide-angle lenses
Prime lenses: These lenses don't zoom, but are often lighter and more compact than their zoomable counterparts. Fuji is known for its primes, and you can save hundreds of dollars if you don't really need the f1.4 aperture and can sacrifice a little sharpness.
16mm f2.8 WR – Very affordable alternative to the 16mm f1.4 which was just released last year (in 2019). Weather resistant, compact, and has consistently great reviews .
14mm f2.8 – Has a wider angle but is not weather resistant. A good option for astrophotography or taking pictures of the northern lights.
18mm f2.8 – Affordable and compact wide angle lens, but not weather resistant.
Zoom lenses: Fuji has a number of wide to mid-range zoom lenses. There are a few besides these, but these are the most modern and/or the ones with the best quality. You can find them at an entire range of price points as well.
16-55mm f2.8 WR – Considered the highest quality wide-to-midrange zoom in Fujifilm's lineup. Weather resistant, though a little bit on the heavy side. With the the latest Fujifilm camera bodies you can even bundle this lens as your kit lens for a steal.
10-24mm f4 – Possibly the best lens for landscape photographers. Super versatile because it's a zoom, but only f4 which is not really enough for low light. It does have optical image stabilization (OIS), which will help with handheld shots.
16-80mm f4 WR – Fuji's newest zoom offering (as of January 2020). Reviews for this lens are, however, mixed at best. Many are waiting for firmware updates to see if some of the key focus issues are resolved. Has optical image stabilization (OIS).
The reason I chose the 16mm f1.4 over these lenses is I wanted to be able to take low light photos, for example photos of the northern lights or stars. But, still have the flexibility of a lens that isn't "ultra wide". Any of these cameras can also take low-light photos, but you'll need to hold the shutter open for longer, which could mean the stars have moved. Plus, since it's weather resistant, I can use it in rain, snow, and winter which is important for me!
Check current price for Fuji's 16mm f1.4 on Amazon
2. Fujinon XF 35mm f1.4
I've owned this lens for a couple years now, I've added new lenses to my kit in the mean time, but none of them really displaced the 35mm lens as being my favorite lens I own.
It's not just me – a lot of people say that the 35mm f1.4 lens by Fujifilm is the standard by which all other lenses should be judged. It's super sharp, has gorgeous bokeh, and the image quality is just really, really beautiful. You can take a picture of garbage with this lens and it will look like magic. Seriously.
Use this lens for Everything! This is my all-time favorite lens.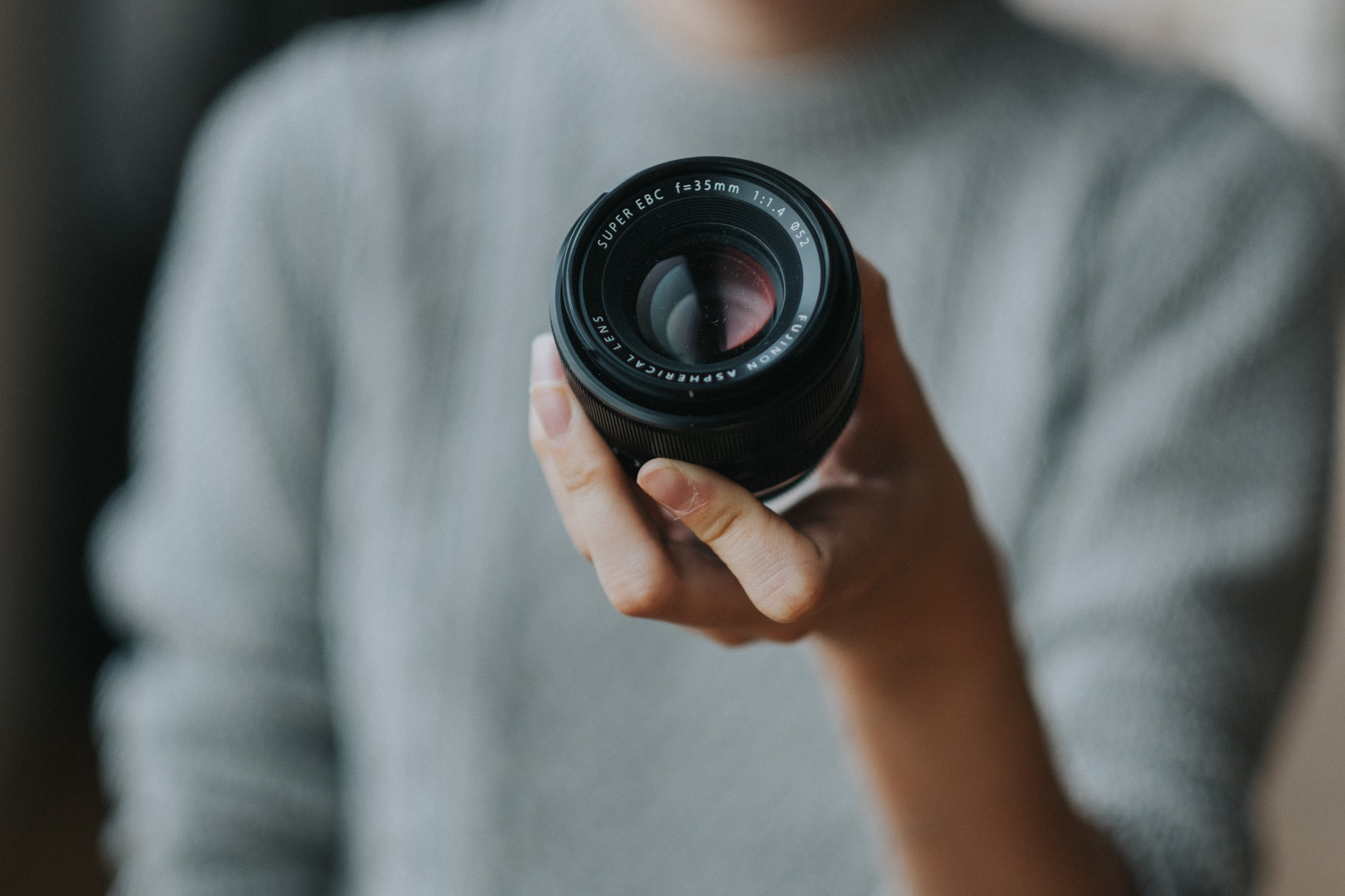 The first big trip I took this lens on was Japan, where I was still using a super low-end camera that didn't even have a viewfinder – meaning, I was composing all my photos by looking at the LCD screen. Even with the low-end camera body (and the very sad fact that I did not shoot in RAW :sad:), I captured so many beautiful photos in Japan.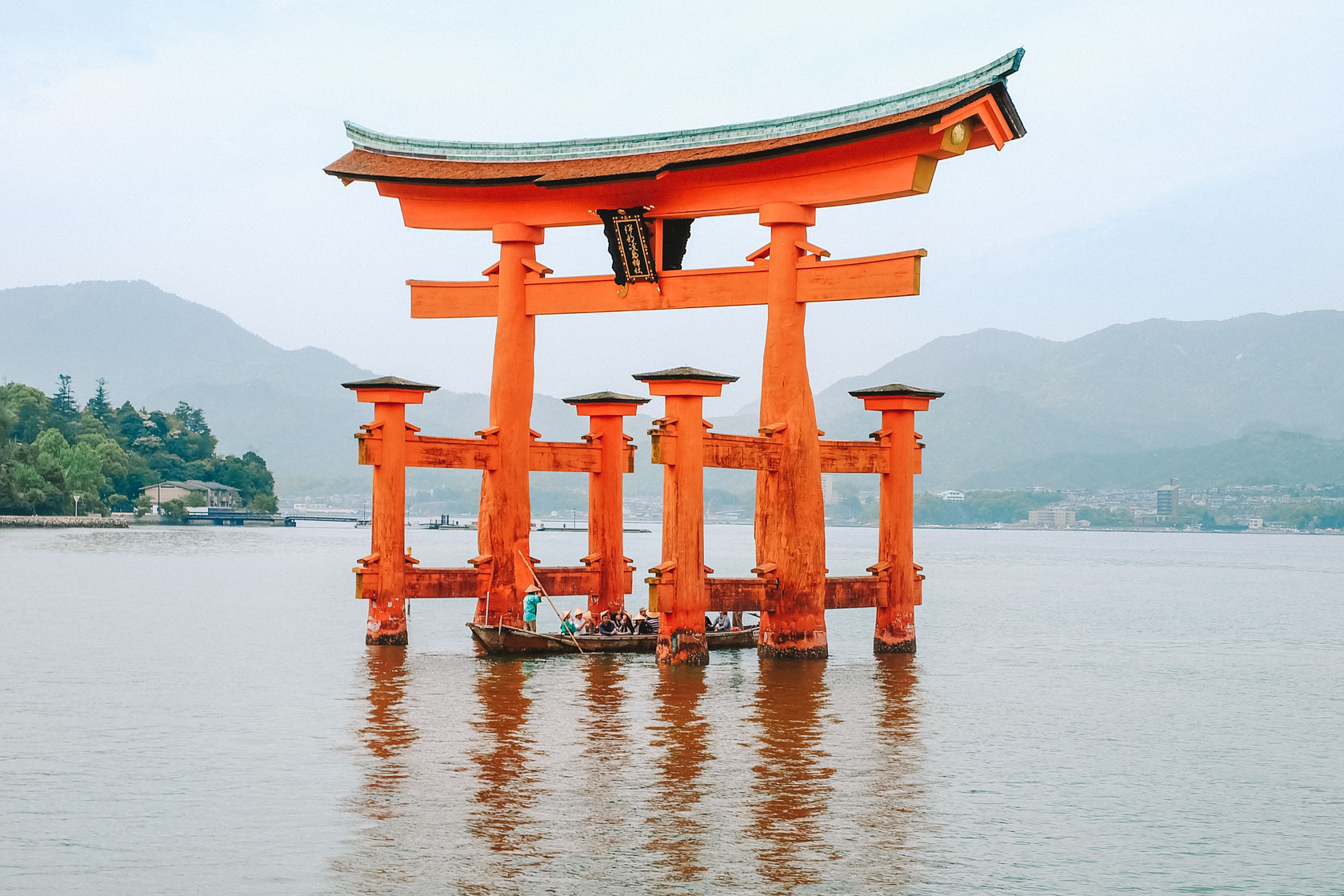 The fact that these photos look so good is a testament to the fact that the lens matters more than the camera when it comes to getting great shots. Yes, having both is best, especially in extreme conditions (low light or fast-moving subjects) but in 90% of travel scenarios, the lens is what is responsible for the beautiful image.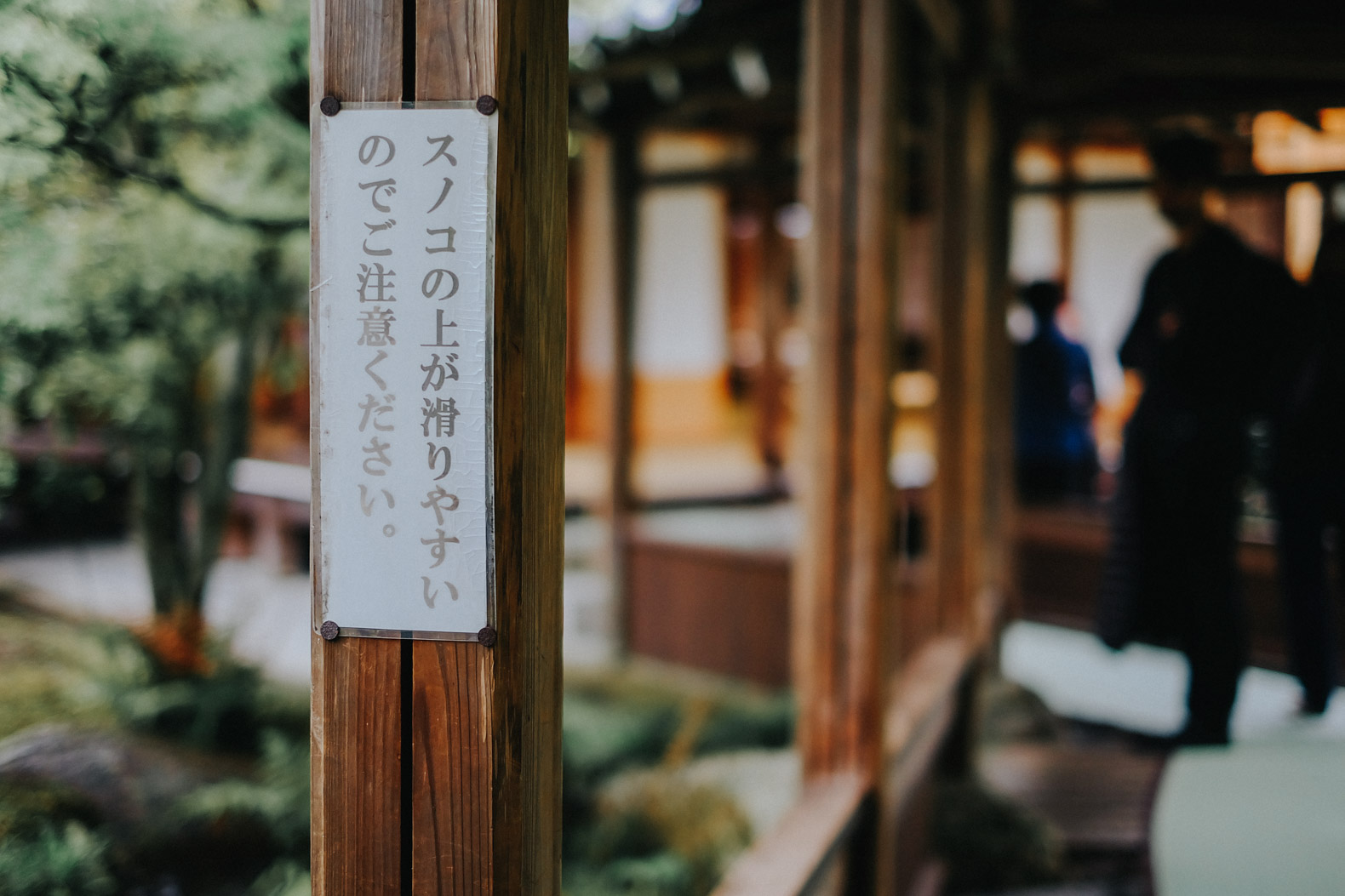 Now, this lens is one of the oldest lenses that Fuji makes. So you need to be aware that it has some drawbacks – it is slower and louder to focus than more modern lenses. It's simply a fact that technology has progressed since this lens came out.
For me, even with those two facts, I love the images created by this lens so much that I don't mind. It normally doesn't affect me at all, but you should be aware that more modern "versions" of this lens like the Fujinon XF 35mm f2 have greatly improved on these issues. That said, I take the f1.4 over the f2 any day!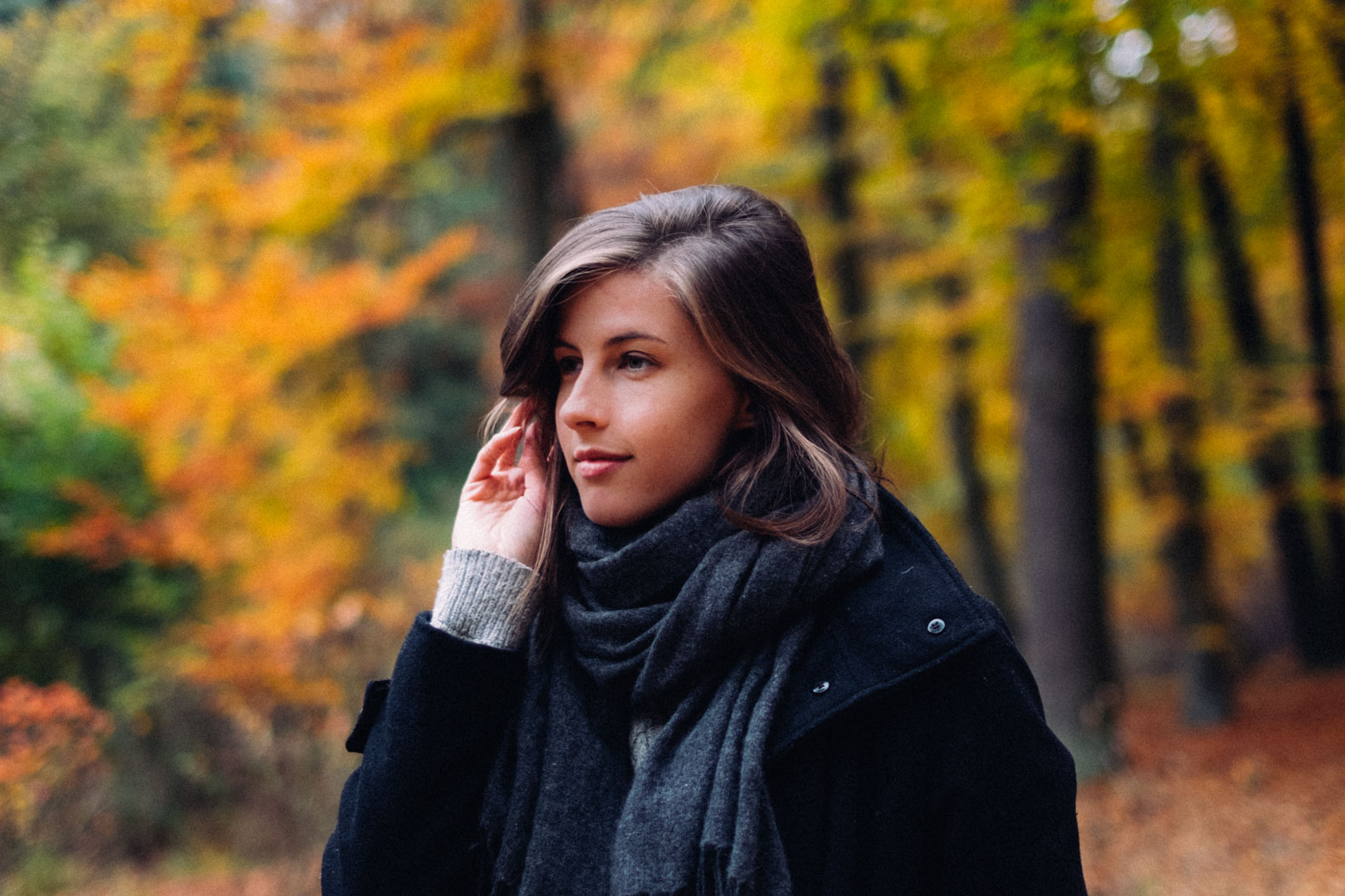 Alternatives The Fujinon XF 35mm f2 is a very good alternative to this lens. It's fast to focus, compact, weather sealed, and costs about $200 less. The question for you is whether you are really looking for that extra magic from the original lens – something only you can decide!
Check current price for Fuji's 35mm f1.4 on Amazon
3. Fujinon XF 23mm f2 WR
I originally bought this lens for an upcoming trip to Iceland during the winter, because I knew that I needed to have more than one weather-resistant lens. I already owned the 16mm lens, but I needed something that would be useful for everything in between.
This lens has a couple of key benefits: it focuses really fast and quietly (meaning, great for snapshots but also video), it's very lightweight, and of course it is weather resistant so you can feel safe using it in rain and snow.
Use this lens for Just about everything!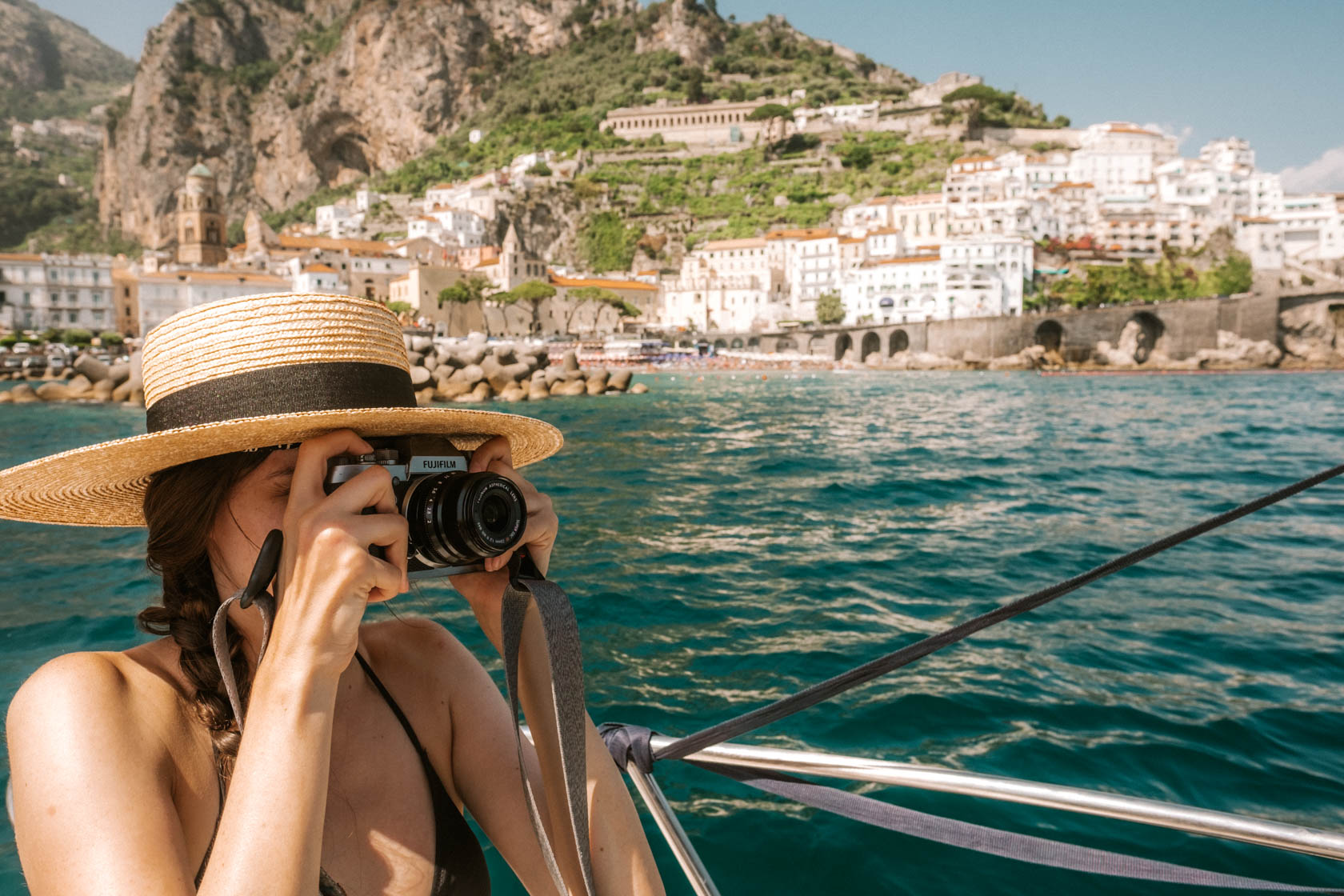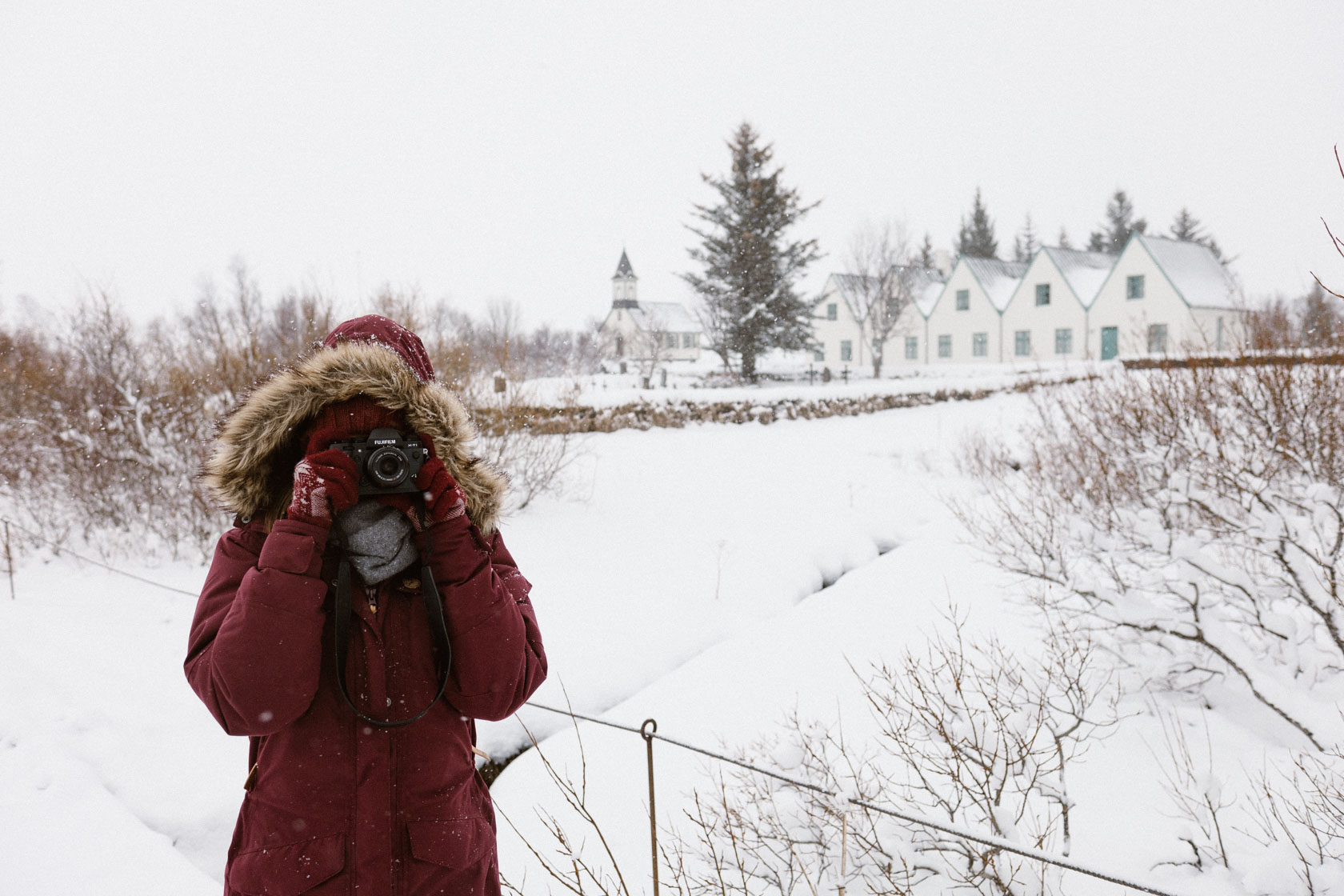 Here you can see the snow is falling everywhere and I am basically unconcerned about using this camera in very low temperatures. Officially, Fujifilm's weather resistant cameras and lenses operate as low as -10°C / 14°F. I'm not sure if I've gone lower than this before, but with the wind and cold it would not surprise me (especially when I was out photographing northern lights, brrrr!)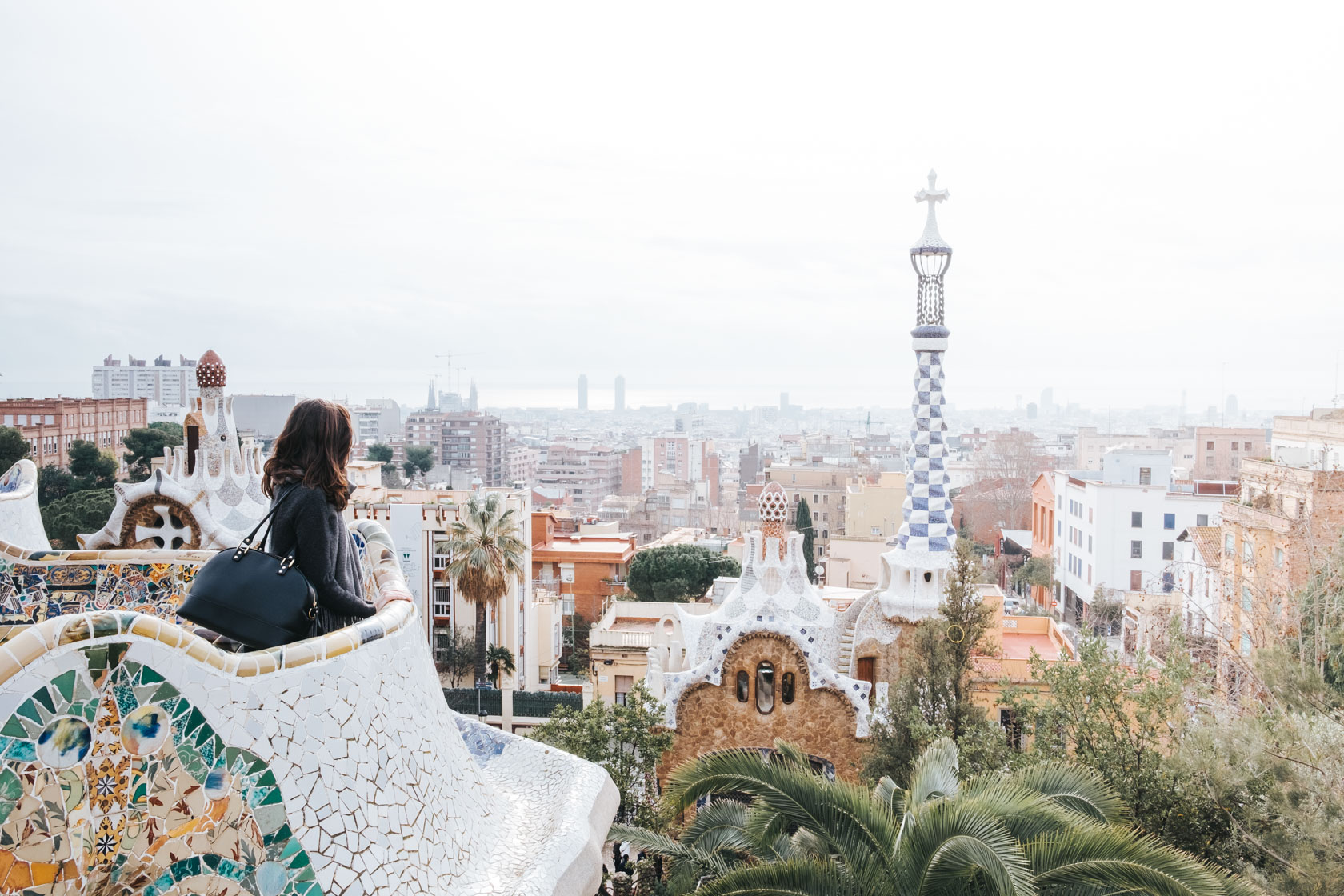 The two most classic focal lengths are the 23mm and the 35mm on a crop sensor. That's because these lengths are very versatile – in fact, 23mm is considered to be the same as the human eye, making the photos feel natural in what they contain.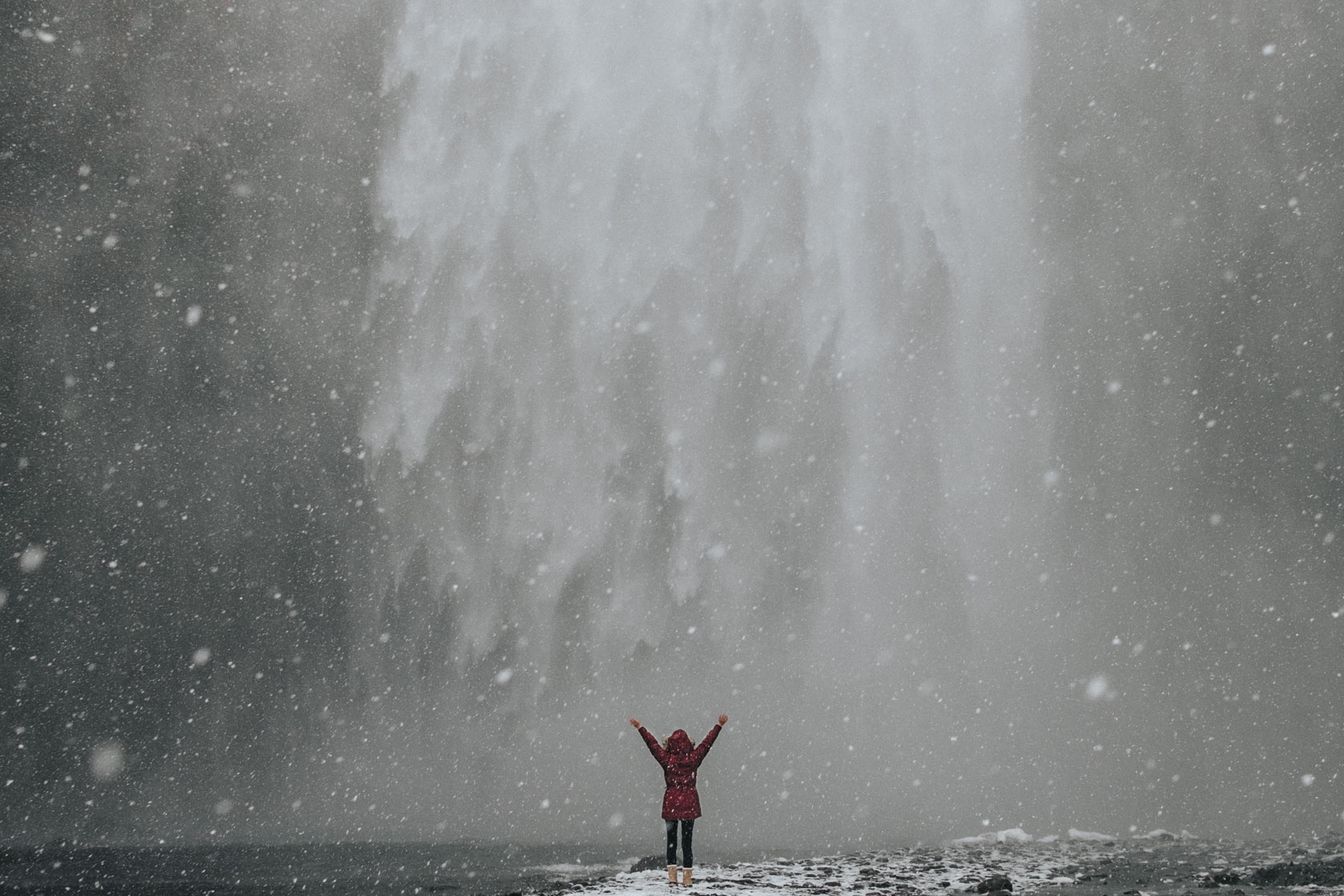 The fact that the Fujifilm 23mm XF f2 lens has a maximum aperture of f/2 means that it's much lighter than anything at f1.4, just because it takes a lot more glass to accomplish wider apertures. That said, f2 is perfectly good for a lot of low light photography. Check out this slightly longer exposure of the parliament building in Budapest.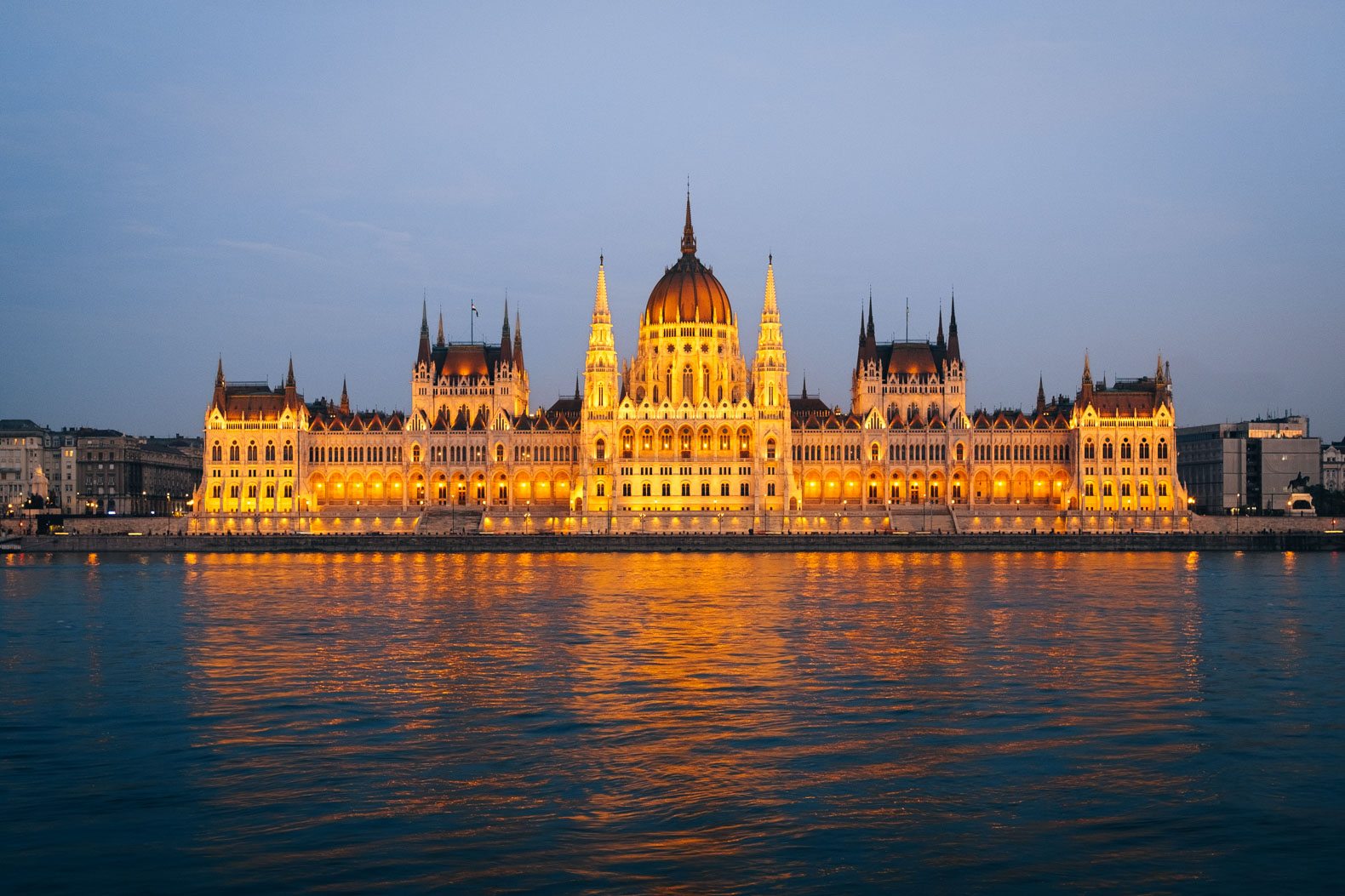 Alternatives
The main alternative is the 23mm f1.4 lens, which is an absolutely gorgeous lens. If you are looking for a lens that is a little bit wide angle but can still do very low-light, it is a great option. Unfortunately that lens is not weather resistant, so you can't take it everywhere you can take the 23mm f2.
Check current price for Fuji's 23mm f2 on Amazon
4. Fujinon XF 50-140mm f2.8 WR LM OIS + 2x Teleconverter
I'm not going to lie, this lens is a bit of a beast. It's larger than my head (though that's not to say I have a particularly large head). That said, I'm not a big girl, and I had no trouble wielding this lens while I was on safari to take wildlife photos. Yes, the lens is heavier than any of Fujifilm's prime lenses, but there are photos you can't capture without it. Cropping a photo can only get you so far. If you're going somewhere in nature where you think you'll see some animals, I can't recommend anything more than to bring a powerful zoom lens with you.
Use this lens for: Wildlife, safari, nature, portraits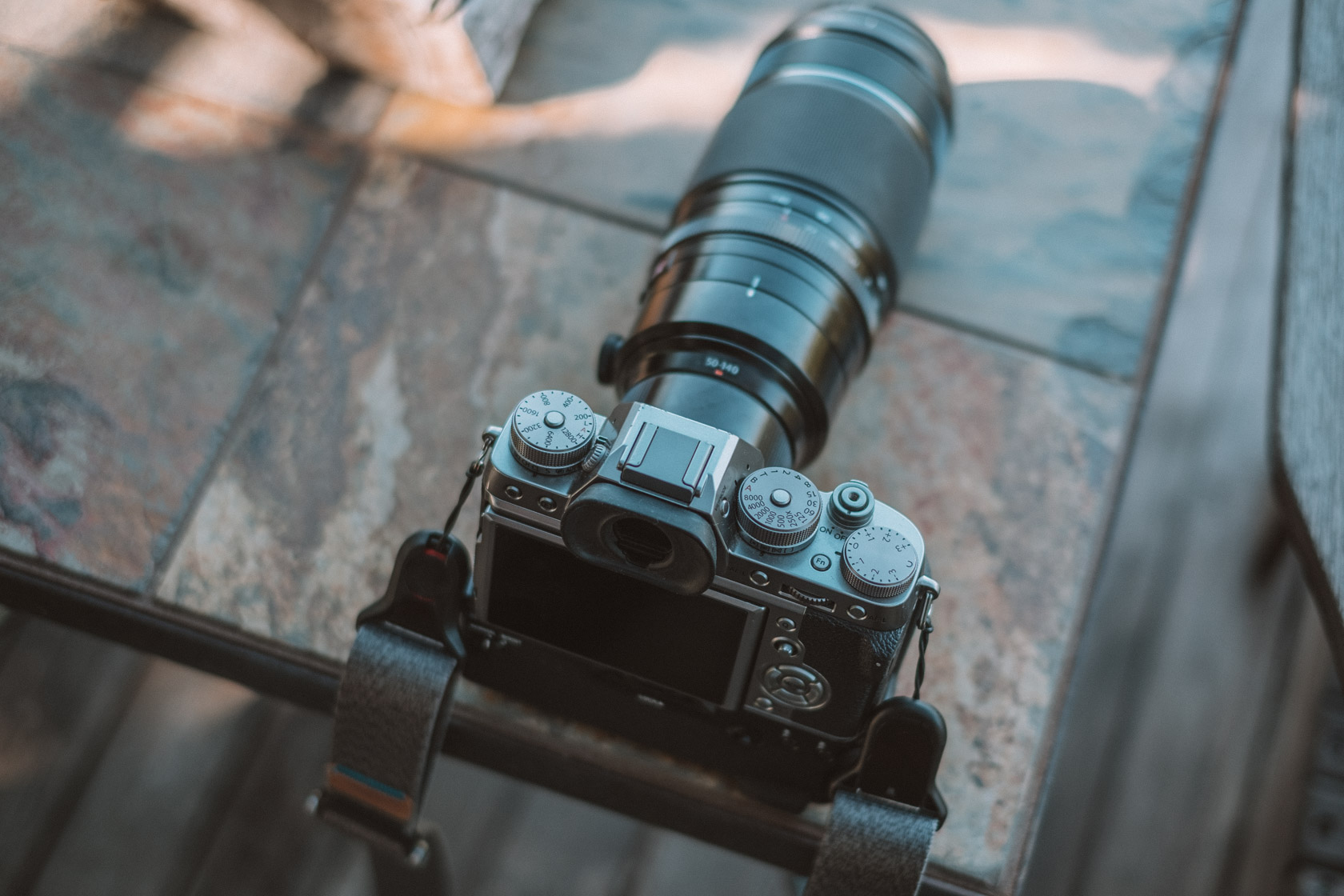 This photo shows BOTH the 50-140mm attached, as well as the 2x teleconverter. Without the teleconverter, it would be about 2 1/2 inches shorter.
How does a teleconverter work? A teleconverter is basically like a smaller lens that you attach to an existing lens. It's going to allow that lens to zoom in further, but it also reduces the amount of light getting into the lens. For example, if you attach a 2x teleconverter to the 50-140mm f2.8 lens, the lens will have the reach of 100-280mm f5.6. This is a great way to be able to zoom in twice as much as you could before, but do be aware, teleconverters are expensive and basically cost as much as a smaller lens themselves!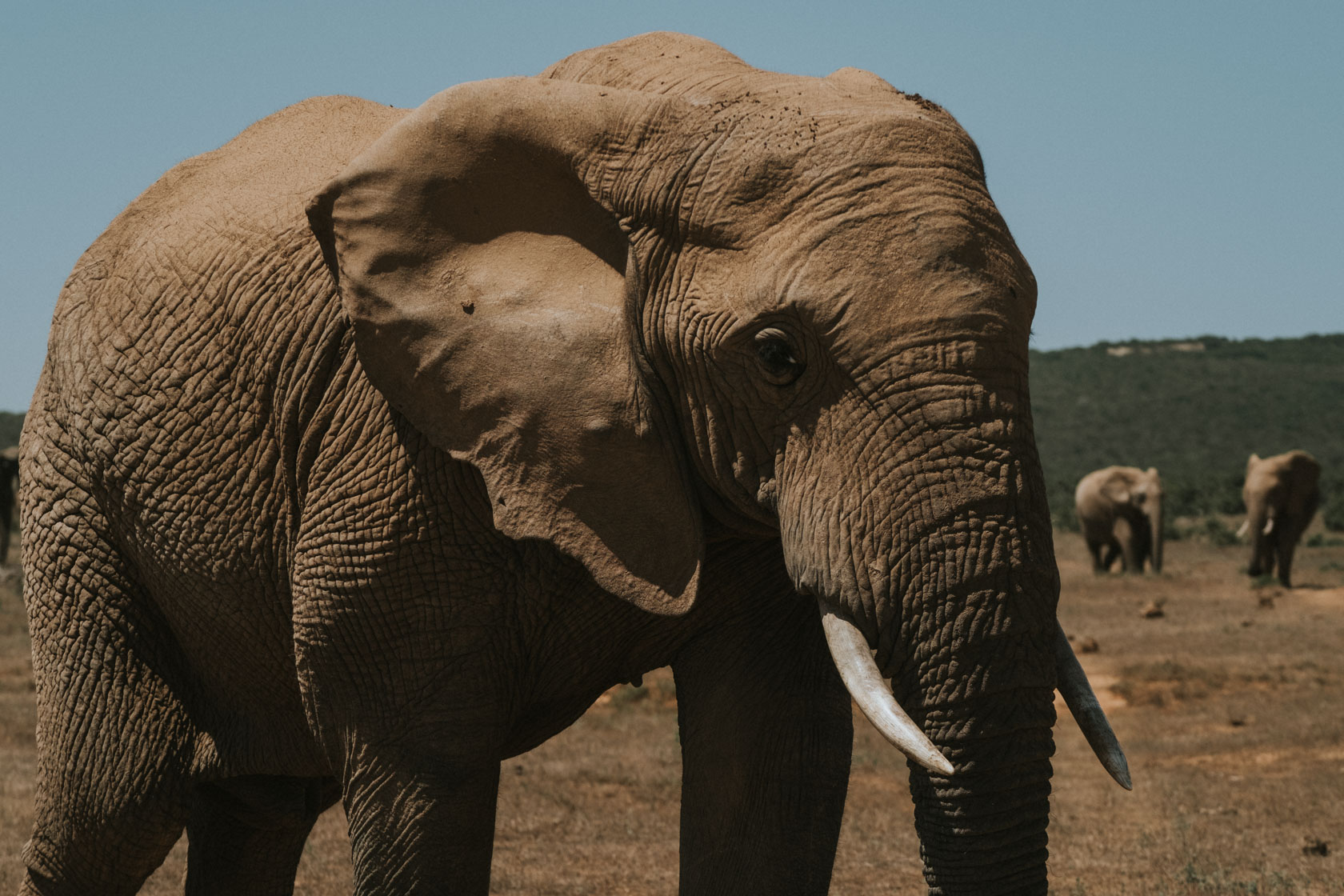 Did you know? Zoom lenses with a longer focal length (meaning, bigger number of "mm") are often used to take portraits? This is because they provide the face with nice proportions, and compress the background to better isolate the subject!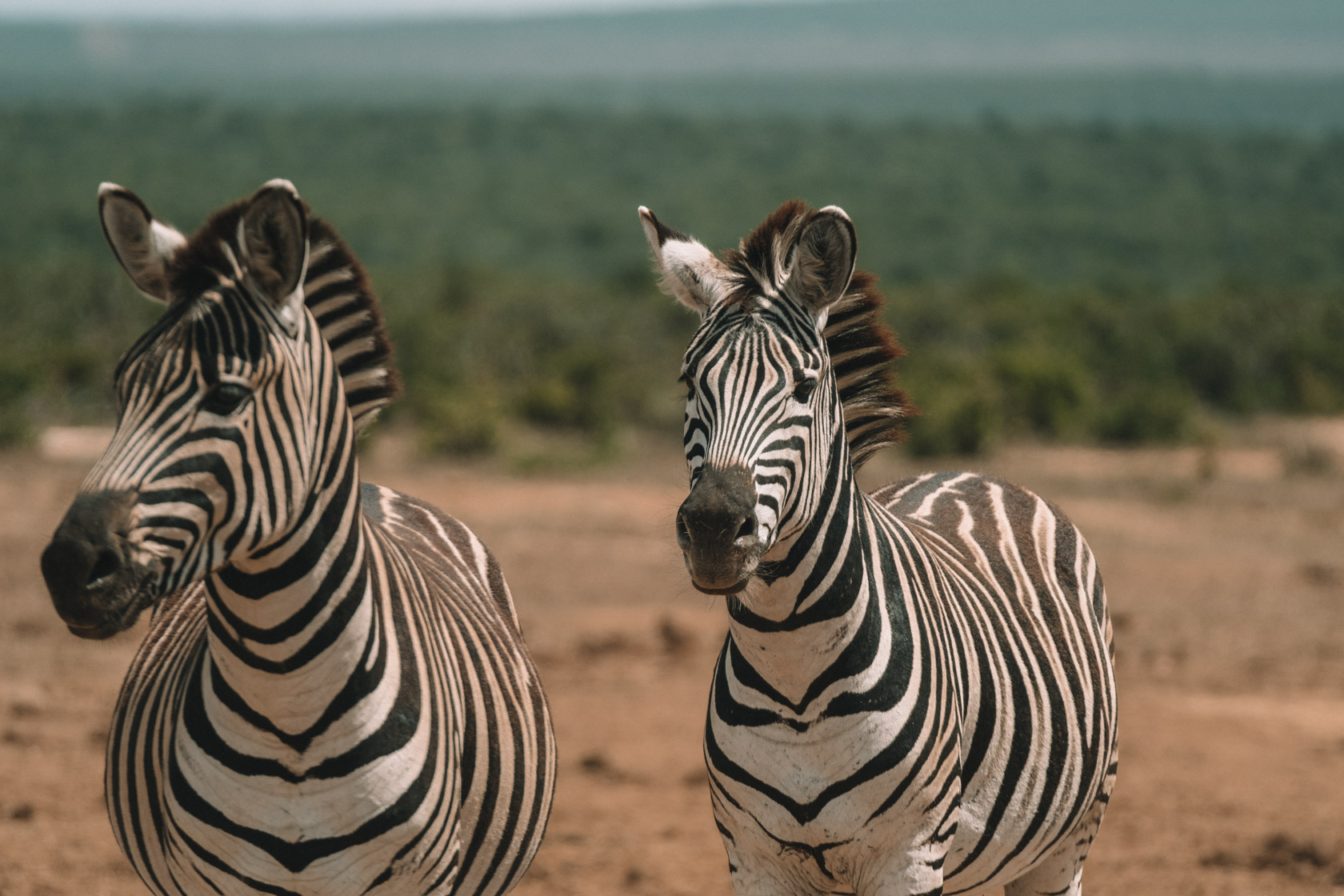 As you can imagine with these photos above and below, I could've never captured them on a different lens. But they are somehow magical in their own right, and totally worth it.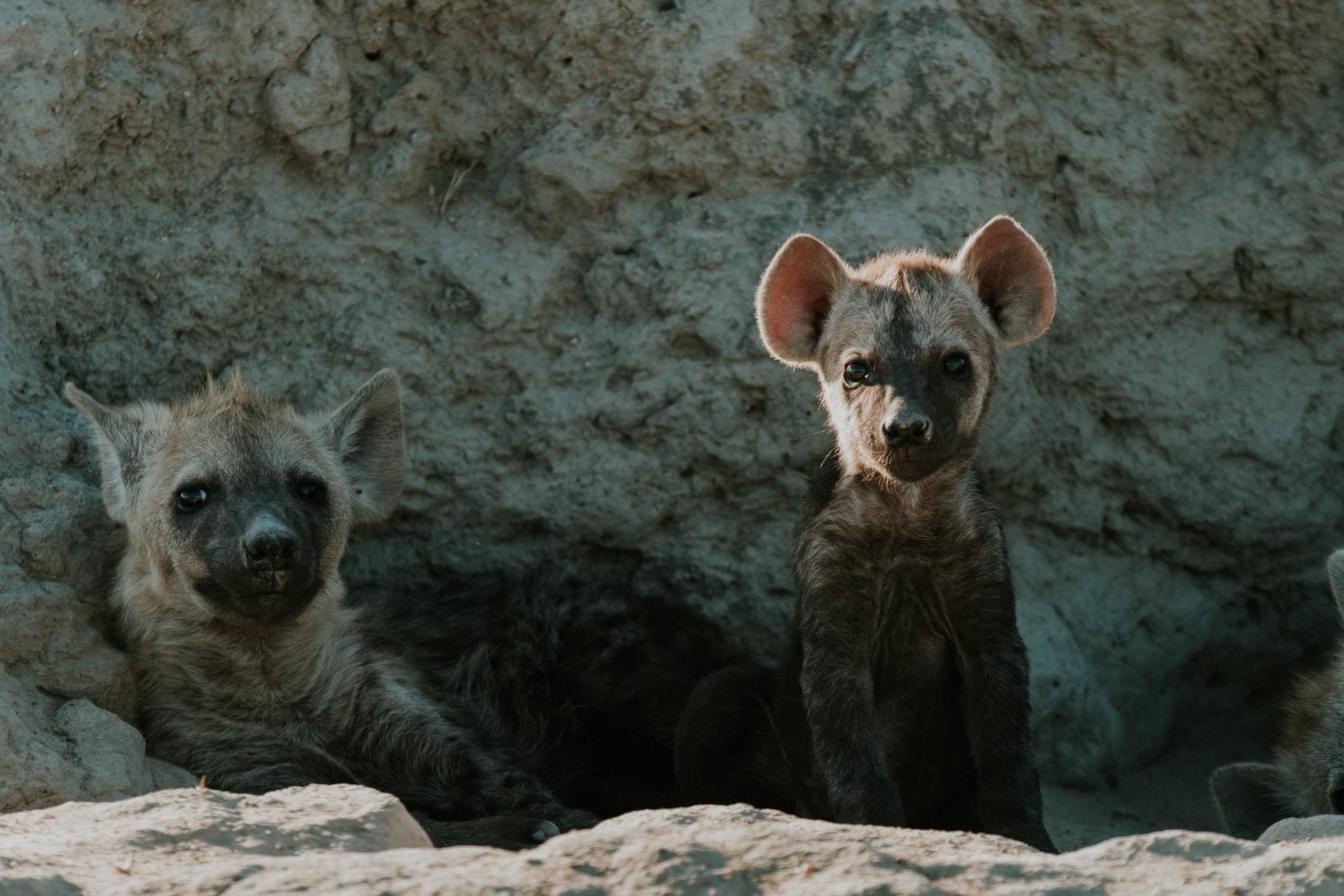 Alternatives: Fuji's other telephoto lenses
100-400mm f4 is the main alternative if you're specifically looking to shoot wildlife. The real question here is whether you want something portable or you care about getting CLOSE. For mega, mega close photos, you're going to need the 100-400mm lens. But if you are looking for a flexible middle ground, stick with the 50-140mm.
55-200mm f3.5-f4.8 is probably considered the best bang-for-your-buck zoom from Fuji. Pros: Affordable, great range, great image quality, comparatively lightweight. Cons: Not weather resistant, not as wide aperture, cannot be extended with a teleconverter. It has consistently stellar reviews on Amazon and around the web despite those tradeoffs.
Check current price for Fuji's 50-140mm f2.8 on Amazon
5. Fujinon XF 27mm f2.8
Did you know that tiny lenses like this are often called pancake lenses? Because they are flat and compact like a pancake! If you're looking for a lens to put on your camera to bring your camera with you anywhere, this would be a great lens for that. It's so light it feels like nothing around your neck.
Use this lens for: Street photography, sharp landscapes, keeping a low profile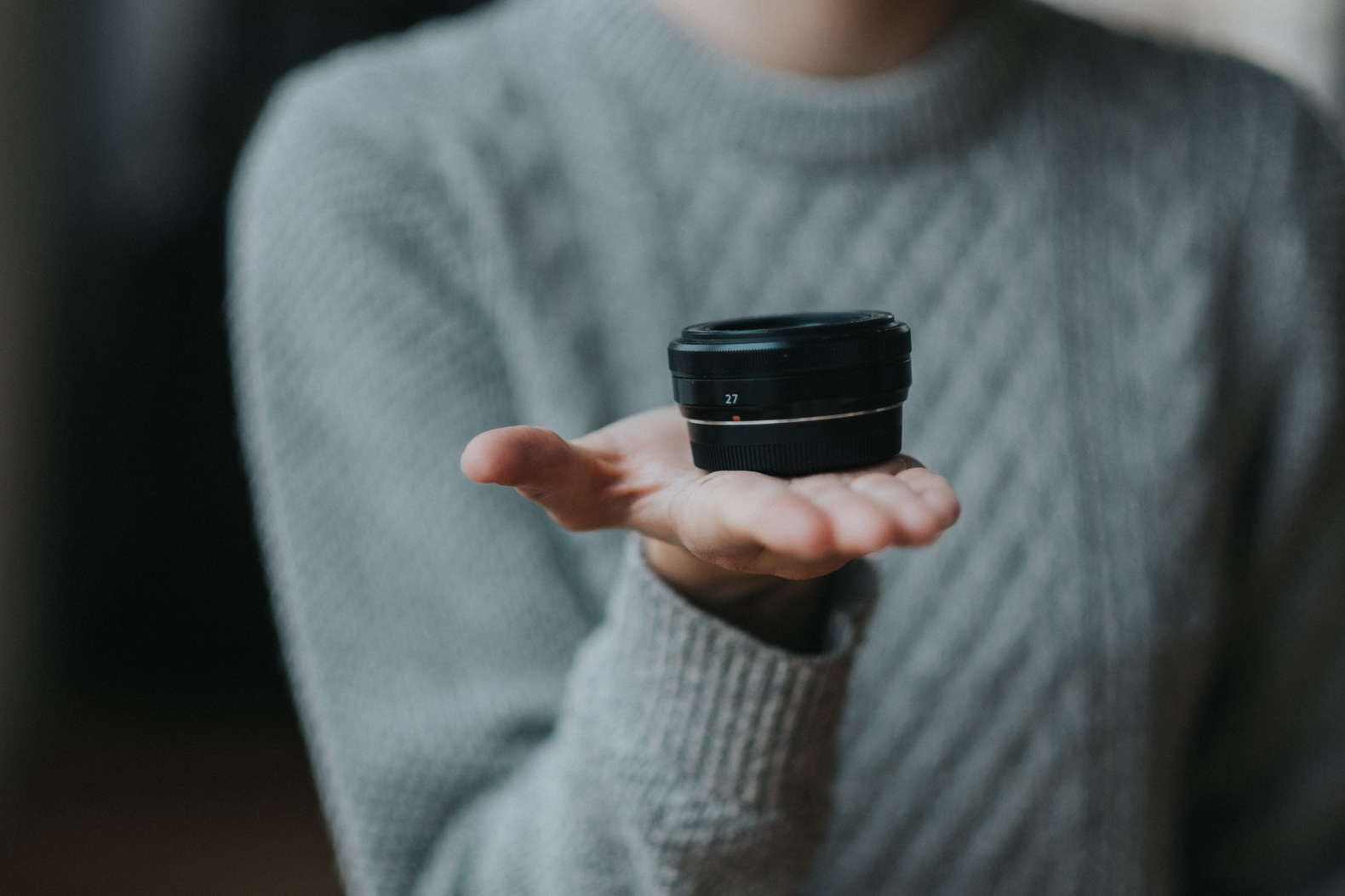 But my most prominent usage of this lens is when I want to keep a low profile, and not look like I have a thousand dollars hanging from my neck. Or, I want to be able to zip up my camera under my jacket without it being too noticeable.
For example, I went to Rio de Janeiro, which is unfortunately famous for petty theft against tourists. But at least with this lens and a light jacket, I could snap some photos without looking too much like a walking target the whole time. The bigger challenge was how much I was sweating while wearing a jacket in Rio 😂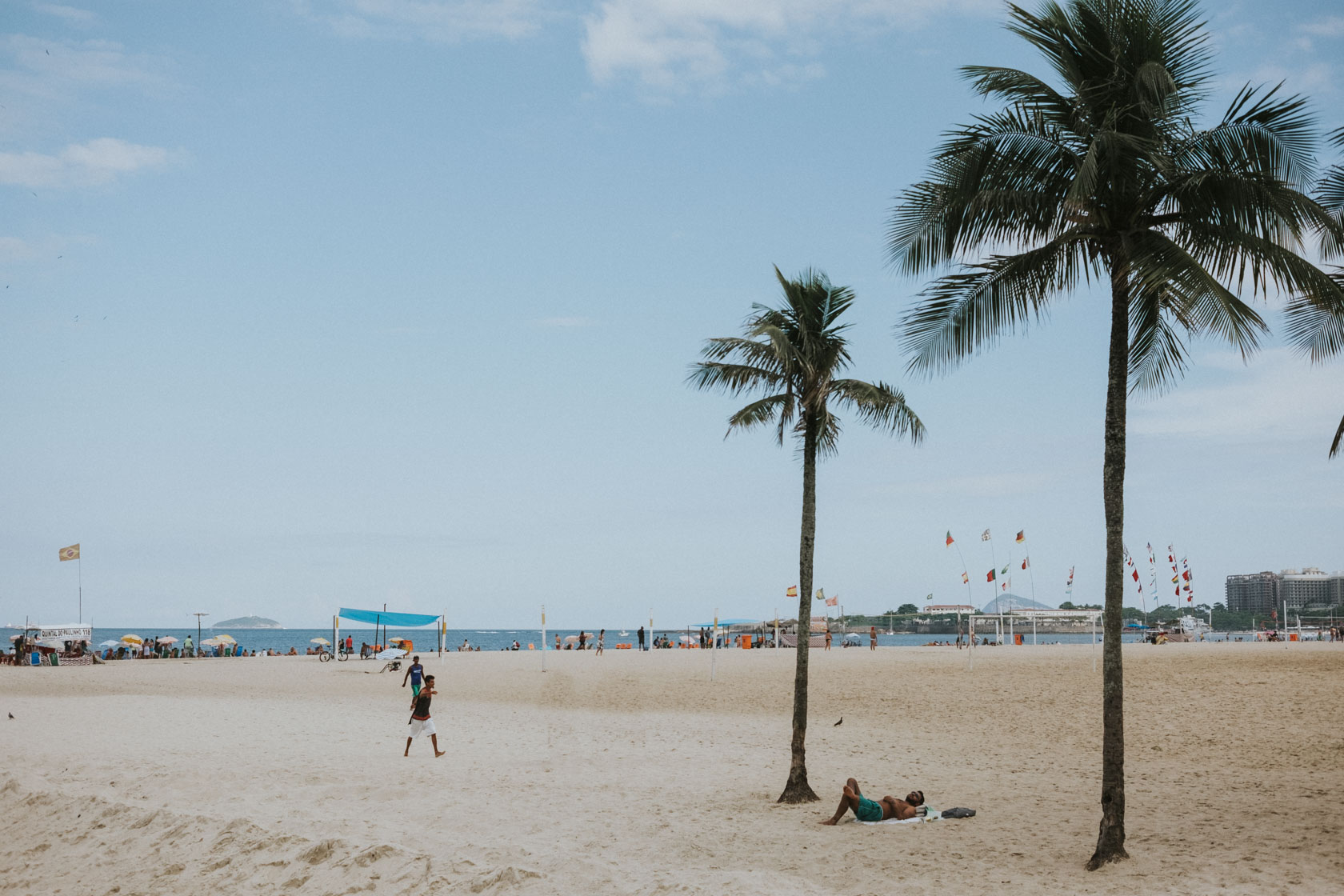 Photo taken in Rio de Janeiro on Copacabana Beach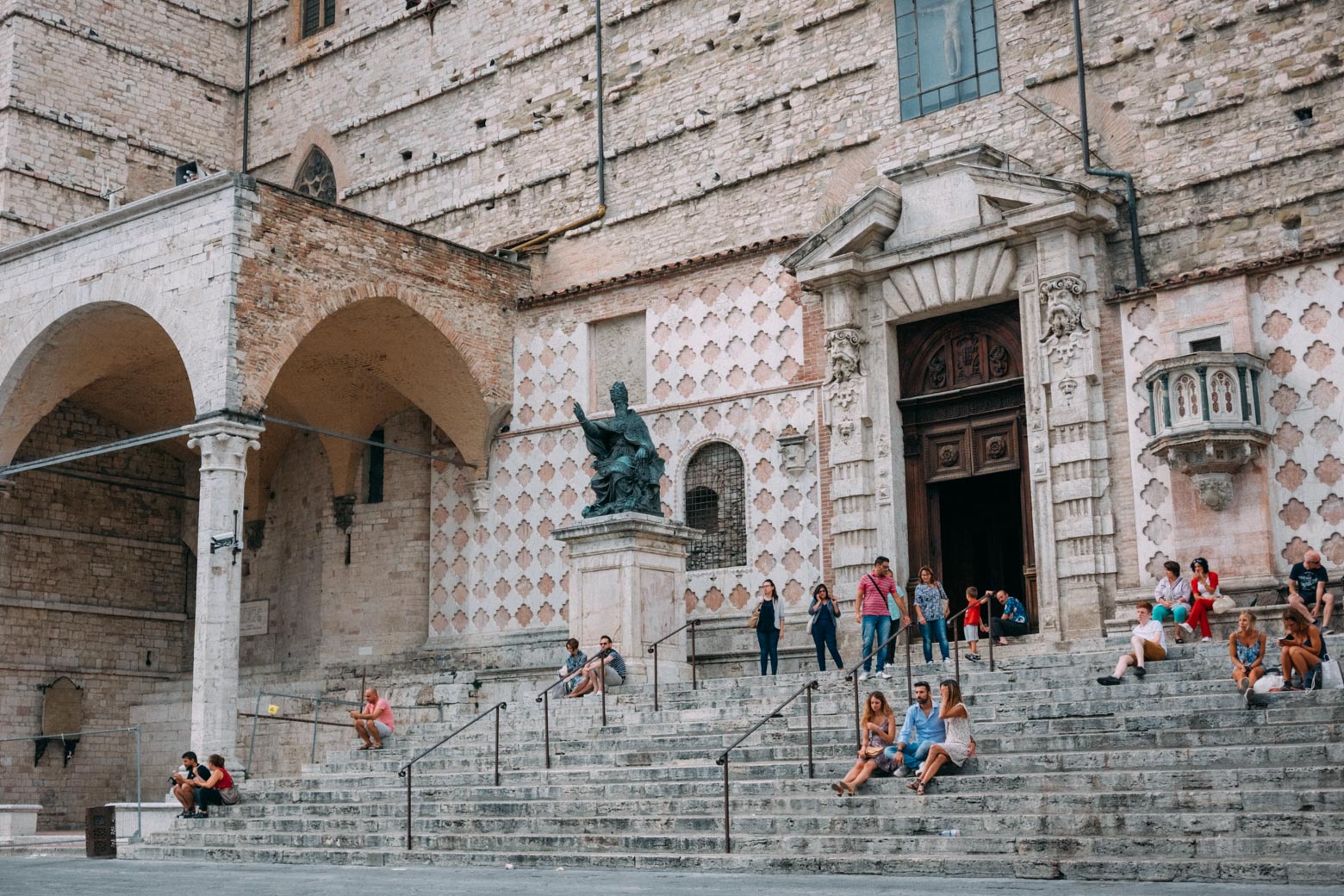 Besides just for places where you don't want to flash a huge camera and lens setup, it can sometimes just be nice to pack light and not worry too much about switching lenses. If I need to take just one lens, it's probably either this one or my favorite lens (described at the bottom of this post!).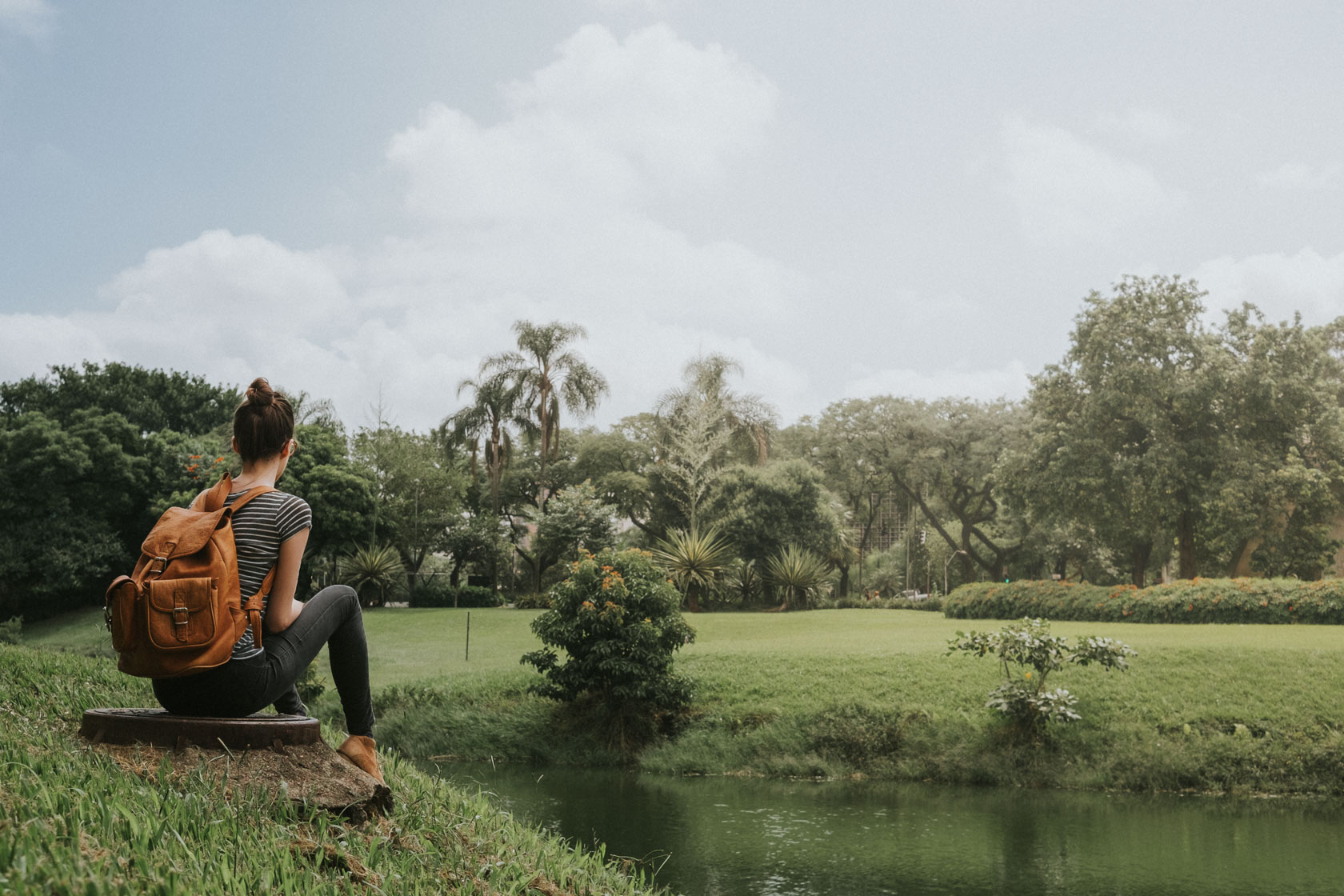 Alternatives
The 27mm is not the only Fuji pancake lens available, you can also pick up the 18mm f2.8 .
Both can be good options, it just depends on whether you want to have a wide-angle lens or a more neutral focal length. Given I already own the 16mm, adding the 18mm would be too similar. I also own the Fuji kit lens which starts at 18mm, so it would be too much repetition all around.
Check current price for Fuji's 27mm f2.8 on Amazon
Compatible Fujifilm X-Series Cameras
You can choose any X-mount compatible camera. I personally use and love the Fujifilm X-T2 , which comes with me absolutely everywhere. But the Fujifilm X-T30 (linked below) has the same image quality, just slightly less performance and is not weather-resistant (which maybe you don't really need, it depends on where you'll travel!).
The important thing is to invest in lenses because new cameras are released every year, but lenses stand the test of time and will serve you for many years to come.
Plus, lens quality affects your photos more than the camera in the vast majority of cases. Of course, a high end lens on a cheap camera is like putting a sports car motor in a Buick, but we've all got to upgrade gradually so it's totally fine!
You don't have to spend all your money at once, just start small and pick a camera and a lens that is going to give you the photos you want. You can always upgrade over the years 😄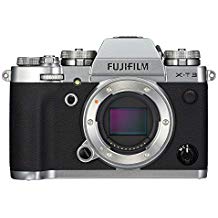 Fujifilm X-T3
The latest version of the Fujifilm X-series flagship cameras
Beginner friendly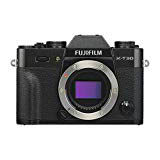 Fujifilm X-T30
Same quality as the X-T2 but without weather resistance.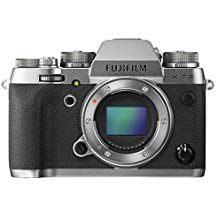 Fujifilm X-T2
The camera I use. Still excellent and can be found at good prices.
TIP – Fuji is about to release the Fujifilm X-T4 . Unless you need the in-body stabilization or new flip-out LCD screen, you can get the same sensor in the Fujifilm X-T3 at a significant savings!
Lenses recommended in this post
As I said at the beginning of the post, these are all lenses that I have bought with my own money or (in one case) borrowed and traveled with extensively. If you have any questions, please feel free to leave me a comment and I'll do my best to help you determine which lens is going to help you capture the travel photos you want!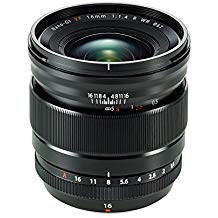 Fujinon XF 16mm f1.4 WR
Landscapes, architecture, astrophotography.
All-time favorite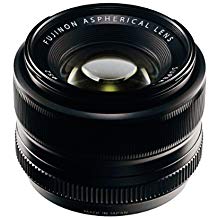 Fujinon XF 35mm f1.4
General purpose, classic, sharp, the gold standard.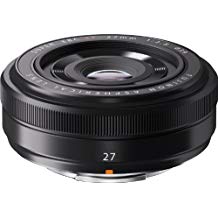 Fujinon XF 27mm f2.8
Landscapes, street photography, low profile.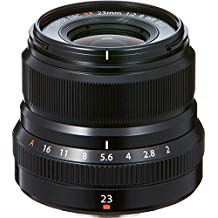 Fujinon XF 23mm f2 WR
General purpose, versatile, everyday lens that's weather-resistent
Fujinon XF 50-140mm f2.8 R LM OIS WR
Wildlife, safari, portraits, zoom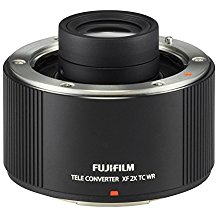 Fujinon XF 2X TC WR
Extend zoom ability of the 50-140mm lens.
More Fujifilm accessories
Lenses are probably the most important piece of your arsenal when it comes to producing beautiful images. But there are also lots of other useful Fujifilm accessories that will help you capture images you can't get without them! Keep reading this post for accessories to add to your travel photography kit.