I learned the hard way how important it is to have a quality camera strap. I'd purchased one of the crappy (but pretty!) ones off of Amazon, thinking that a camera strap is pretty much an aesthetic choice…and it only took a few months of wear for the cheap strap to break and cause my camera to go tumbling on the sidewalk.
Luckily Fujifilm cameras are built like a tank so it survived – but still, no one likes to cause unnecessary damage to camera gear worth thousands of dollars 😱 For that reason, I was super happy when my colleagues at work bought me Peak Design's Slide Lite camera strap for my birthday.
A quality camera strap isn't always something you think about buying for yourself, but I've come to learn that it is some of the most sensible investments in "accessories" that you can make as a photographer (hobby or pro, it doesn't matter!).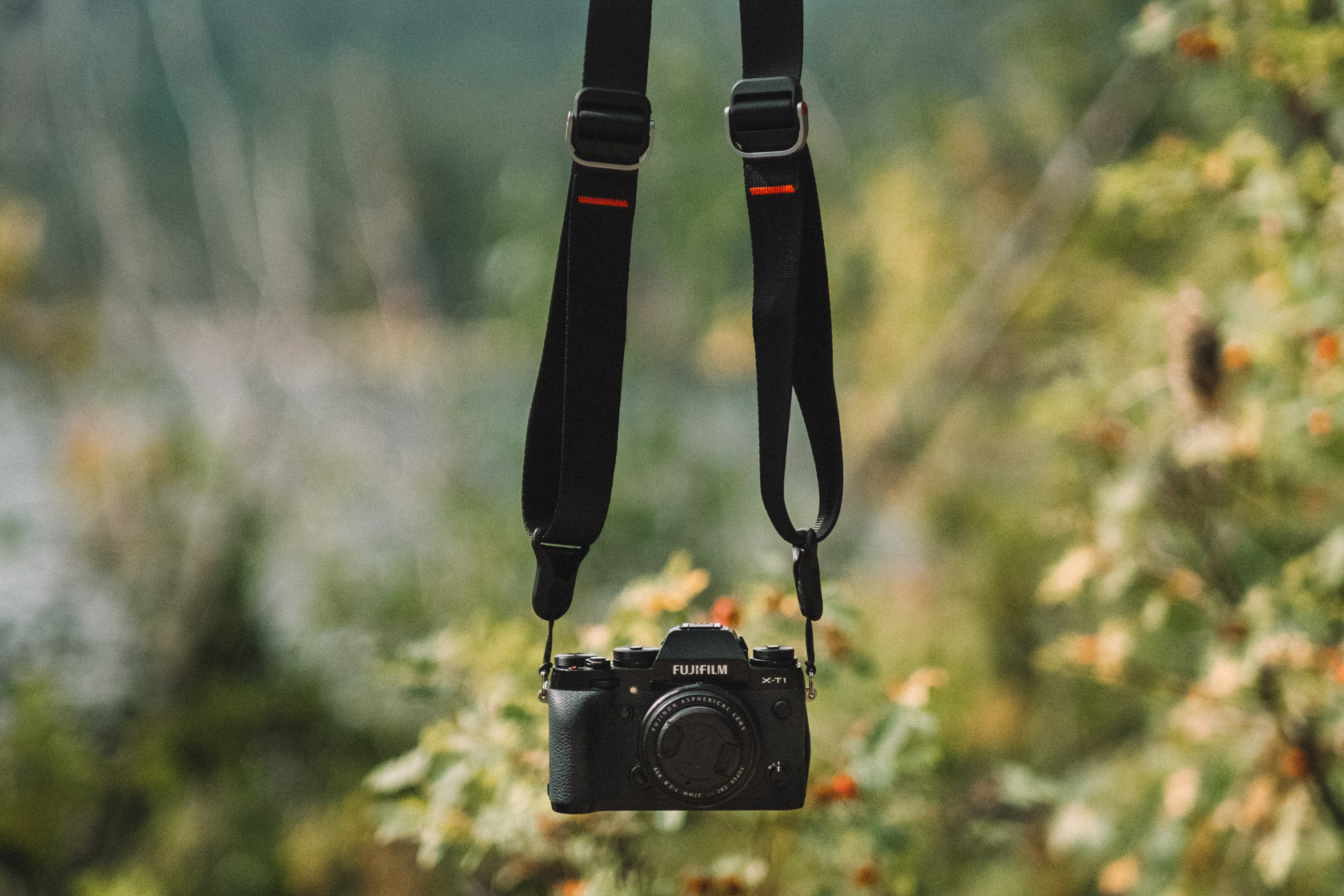 Some links in this post are to affiliate sites. If you purchase something through them, I may earn a small comission — which costs you nothing! I am very grateful when you use my links to make a purchase.
Another awesome thing is that the Peak Design camera straps come with a lifetime warranty. I think that says a lot about how confident they are in their strap quality.
So, after about one year of using the Slide Lite , I loved it so much that I bought a second one for my boyfriend. To mark the occassion, I thought I'd do an in-depth review of what made me decide to buy a second Slide Lite. What I like about the strap, what could be better, main features, what makes it different than the "normal" Peak Design Slide camera strap, and ultimately how to decide if it's the right one for you and for your photography kit.
Here's a handy outline if you want to jump around:
Quick Comparison: Slide vs. Slide Lite vs. Leash
Peak Design Slide -- This camera strap is meant for pro DSLR users with potentially large telephoto lenses, with an extra wide strap and additional padding. Peak Design advises that you buy this strap if you often need to haul heavy lenses around for long periods of time. That's primarily from the comfort standpoint (sense it has extra padding and a wide strap), not necessarily because the Slide Lite can't handle the weight.


Peak Design Slide Lite -- Intended to be more compact for mirrorless cameras with a lighter setup (though I did also use it with a hefty telephoto lens). Since the strap is thinner, it also weighs less and packs up more compactly than the Slide, which is handy for fitting the camera and the strap into a smaller camera bag or travel-sized camera bag.


Peak Design Leash -- The smallest and most lightweight strap. Ultra thin and folds up small enough to fit in your pocket, but still strong. Its main feature is how easy it is to adjust and reconfigure. Can be a great option if you're focused on building a minimalist photography kit.
Here's a handy table for comparing the different straps and their features:
Peak Design's Most Popular Camera Straps
Rating / Reviews
★★★★★ (4.8)
★★★★ (4.4)
★★★★★ (4.7)
Price range
$$$
$$
$
Best for
Larger pro lenses and large DSLRs
Pro DSLRs or mirrorless cameras
Small cameras and lenses
Strap thickness
1.8" (4.5cm)
1.25" (3.2cm)
0.75" (1.9mm)
Weight
148g
104g
86g
In the box
1x Slide camera strap
4x anchor links
1x anchor mount
1x Slide Lite camera strap
4x anchor links
1x anchor mount
1x Leash camera strap
4x anchor links
1x anchor mount
Colors
Black or Ash
Black or Ash
Black or Ash
Lifetime warranty
✔
✔
✔
Flip to grip
✔
✔
-
Comfort padding
✔
-
-
Get this if
You carry a heavy camera (DSLR + heavy/pro lenses) for long periods of time
You carry a mirrorless camera or a smaller DSLR
You're a minimalist and want something that fits in your pocket
Check prices and availability
Check prices for the Slide
Check prices for the Slide Lite
Check prices for the Leash
Here are some more details about the Slide Lite in particular, and my experience, and what made me decide to buy a second one!
What comes in the package
Peak Design's Slide Lite is a premium camera strap, and as such has really nice build quality and comes with a number of extras to help you get the most out of it. The Slide Lite is one of the easiest to attach camera straps that I've ever used, between the stock camera straps that come with the camera or custom straps ordered online. The way the hardware is configured makes it super simple to attach to your camera – and also to detach, which is great when you need to move the strap.
Here's what you can expect to receive in the packaging after you'd ordered a Slide Lite. The box has the camera strap on top with two anchor links already attached. You then open the drawer below the strap to reveal all the accessories, extras, and tools.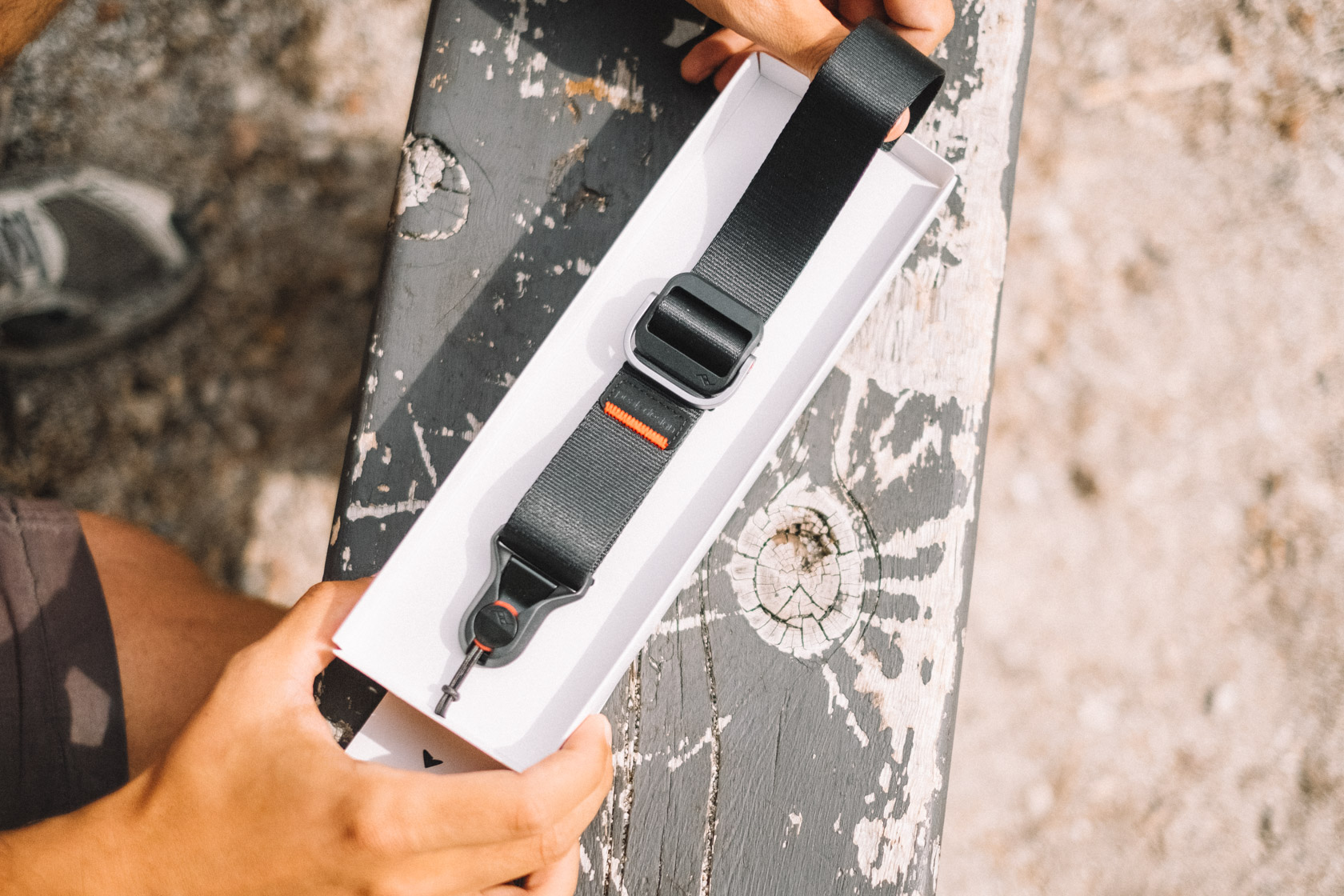 Slide Lite camera strap – Obviously, this is the star of the show 😏 The Slide Lite (as well as its big brother, the Slide) is made from nylon webbing, which feels somewhat similar to that of a car seatbelt. This is part of what makes it incredibly strong.
4 anchor links – Two for use with the strap and two spares. This is nice because a new pack of 4 anchor links would run you about $10, so having spares is very handy.
Anchor plate and allen wrench – For attaching on the bottom and carrying your camera vertically. Especially useful for heavy, telephoto lenses.
2 D-ring alternative hardware pieces – Less cumbersome alternative to the typical rings that come with your camera and less likely to get stuck in funny configurations.
Spare hardware bag – Handy storage for parts you're not currently using, like spare rings or the anchor plate and wrench. The bag is gray, no matter if you order the Black or the Ash colored strap.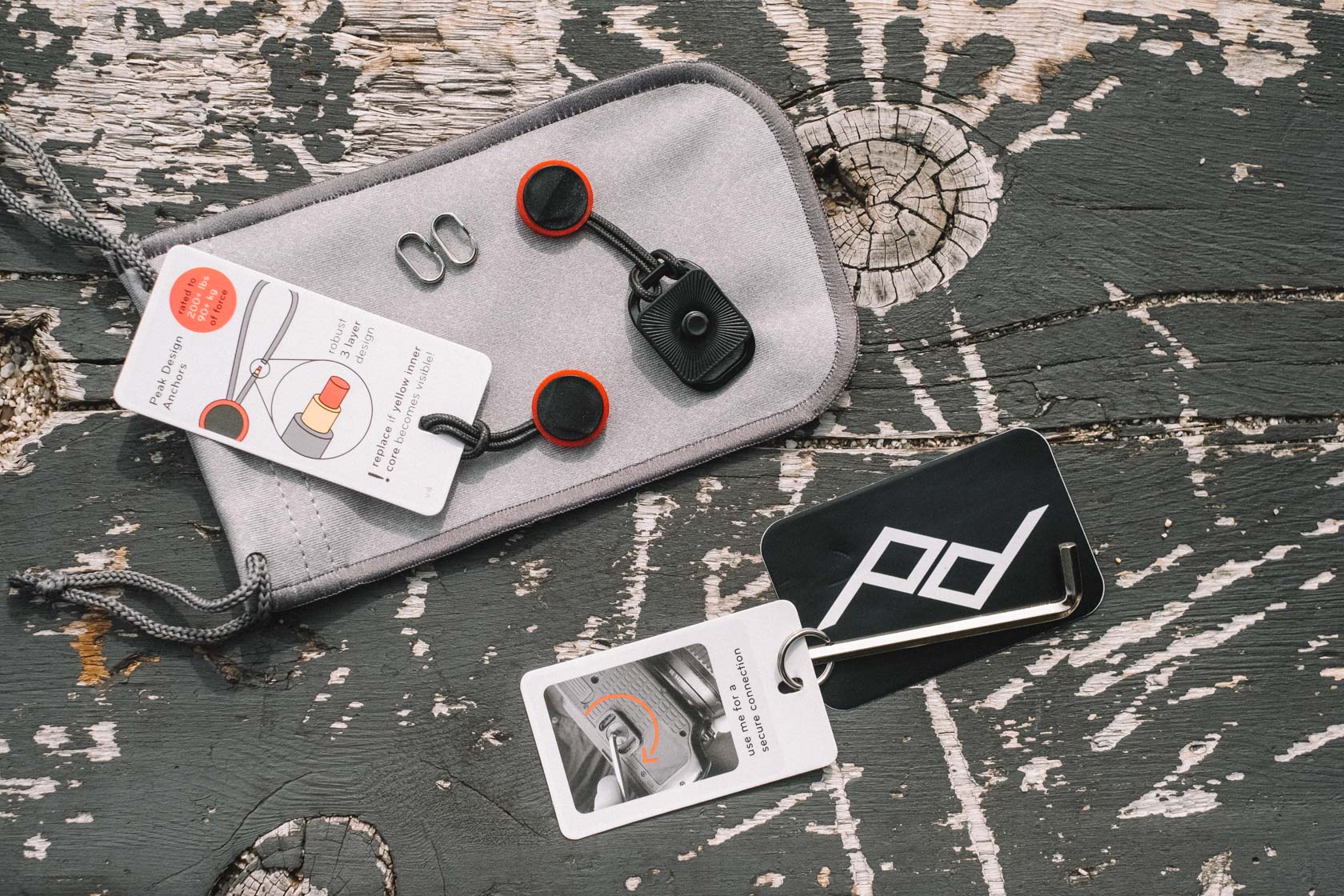 Peak Design Slide Lite's core features
In my opinion, you can really tell that a lot of thought and experience went into making this strap convenient for photographers to use. A lot of the big pain points I've had with other straps, like how annoying it is to adjust the length or not being able to detach the strap when using a tripod, are really looked after.
These are some of my favorite features of the Slide Lite, you can keep reading for more details about how exactly they work!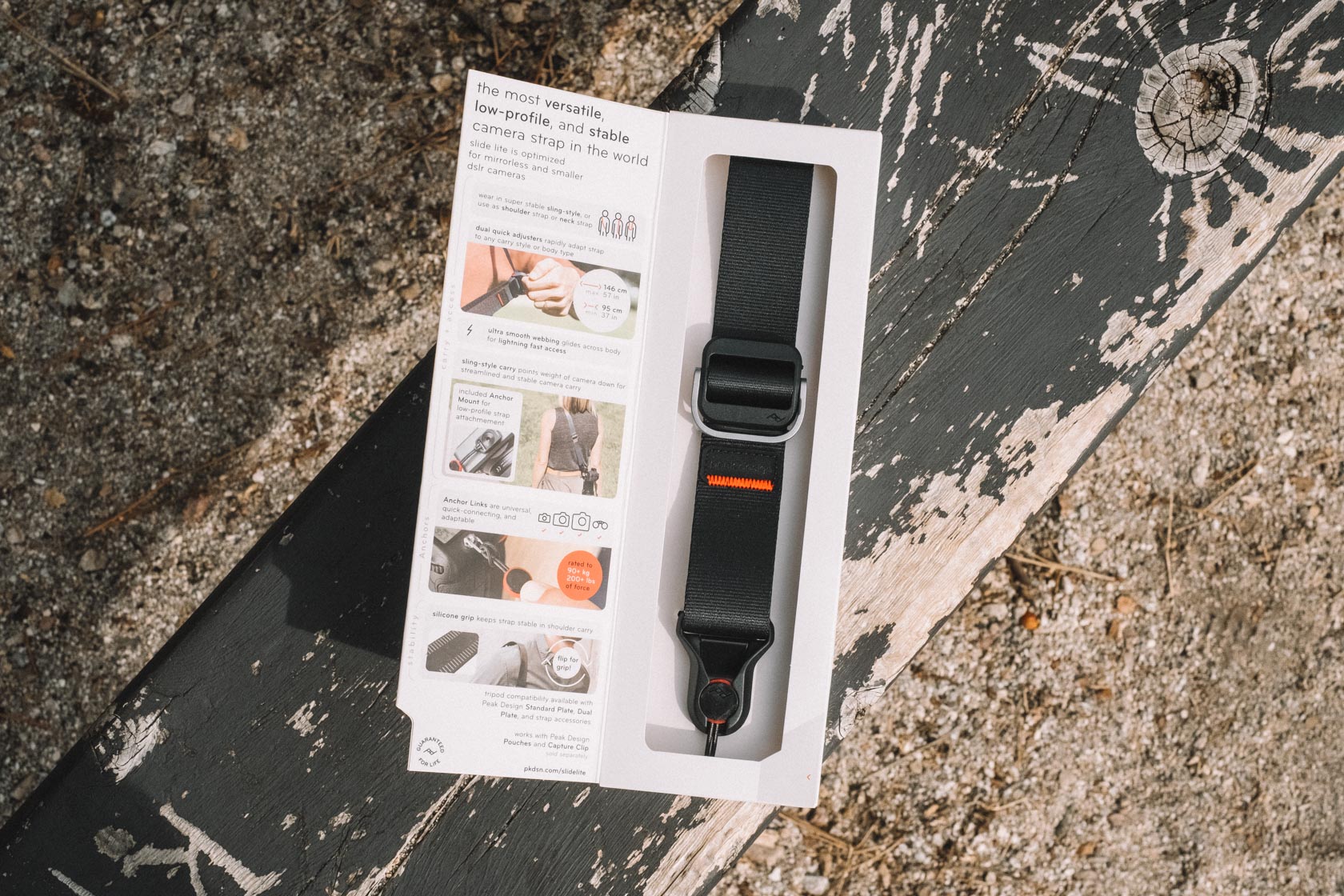 Easily adjustable length
One of THE most annoying things about most camera straps is adjusting the length. I don't know about you, but having to re-thread the typical camera strap can be torturous, and if you happen to adjust them unevenly or accidentally make it too long or too short – good luck.
That's why the adjustment system on the Peak Design Slide and Slide Lite camera straps is so convenient. You literally just flip up the silver lever and pull to adjust, and then flip it back. This means that if you want to wear the strap around your neck, cross-body, or over your shoulder and you need different lengths, that is super easy to accomplish.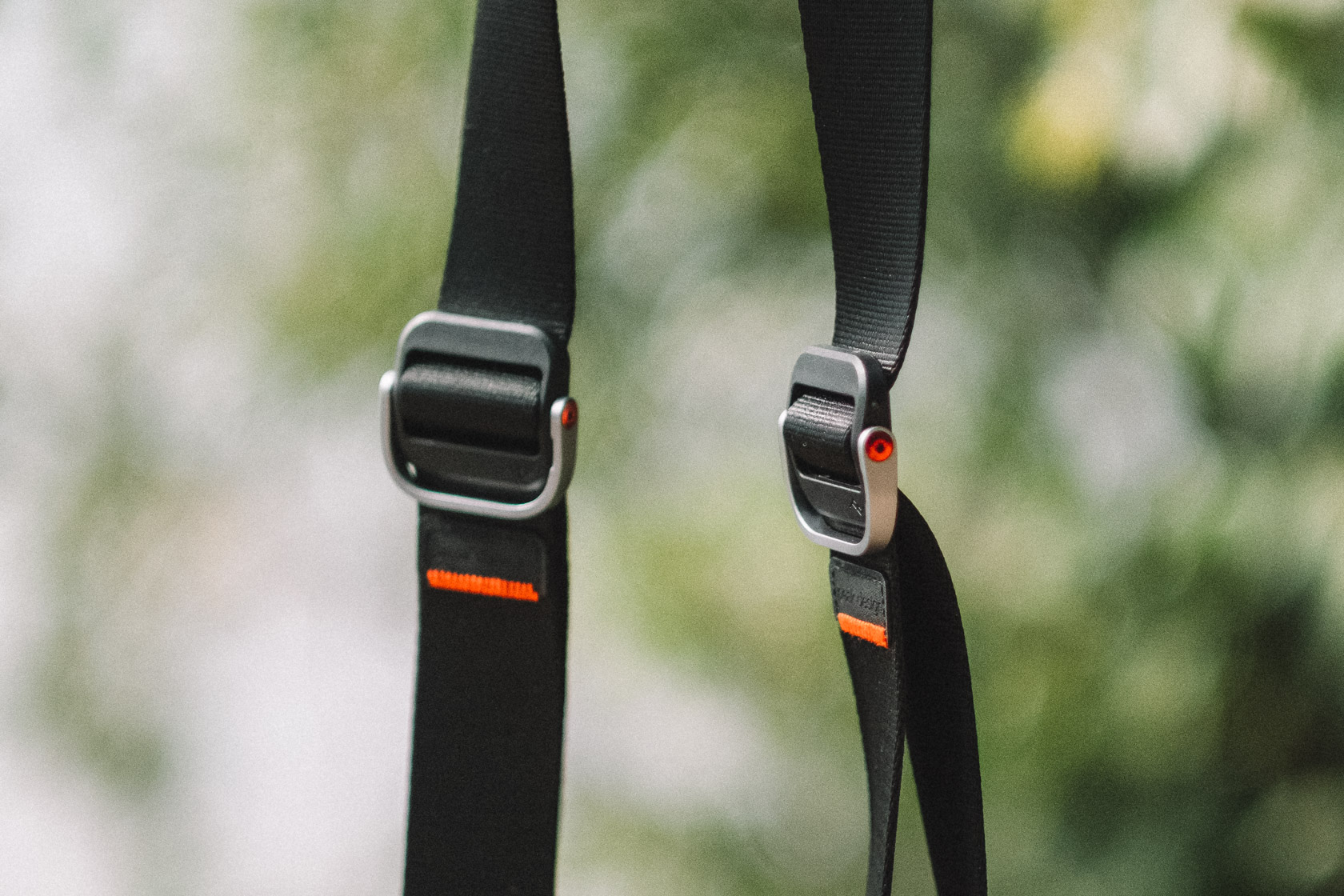 For the Slide Lite, you can get a maximum length of 57" (145cm) and a minimum length of 39" (99cm). For the Slide, the measurements are the same. While I'm rather small and need something closer to the minimum, my boyfriend uses it on a larger configuration and it works great. Plus if we need to swap cameras, it's really easy to just adjust the strap quickly to the size needed by whoever is using it.
That said, one of the cons I've noticed when using the Slide Lite camera strap is that the metal adjustment ring on the strap itself (used for altering the length) is hard enough that it can scratch other equipment. So you want to be careful when you store the camera that you're not bringing that part in contact with any sensitive gear. I personally store my camera on its own in the largest compartment of my camera bag, and fold the strap on top so those bits don't touch. I'm a little rougher with my gear than some people might be, so in that case you might want to detach it before storing. That's really easy to do because of the anchor link system (read more about that below!).
Easy release anchor links
Perhaps my favorite feature of the Peak Design Slide system are the easy release anchor links. Unlike many camera straps where you need to thread part of the strap through the D-rings directly, these anchor links are the thing that attach the strap to the camera. This has a couple of benefits:
Initial attachment of the strap is super easy. It takes about 2 minutes and your strap is attached and configured to fit you exactly.
You can easily detach the camera from the strap. This is useful for when you're using a tripod in a windy situation and don't want the dangling strap to tug on the tripod and make your pictures blurry.
You can replace just the anchor links if they get worn through. There's a red "inner core" that, when visible, will alert you that it's time to replace the anchor link. The anchor links themselves are able to withstand over 200 lbs (90 kg) thanks to this inner core. After a year of use I haven't needed to replace one yet.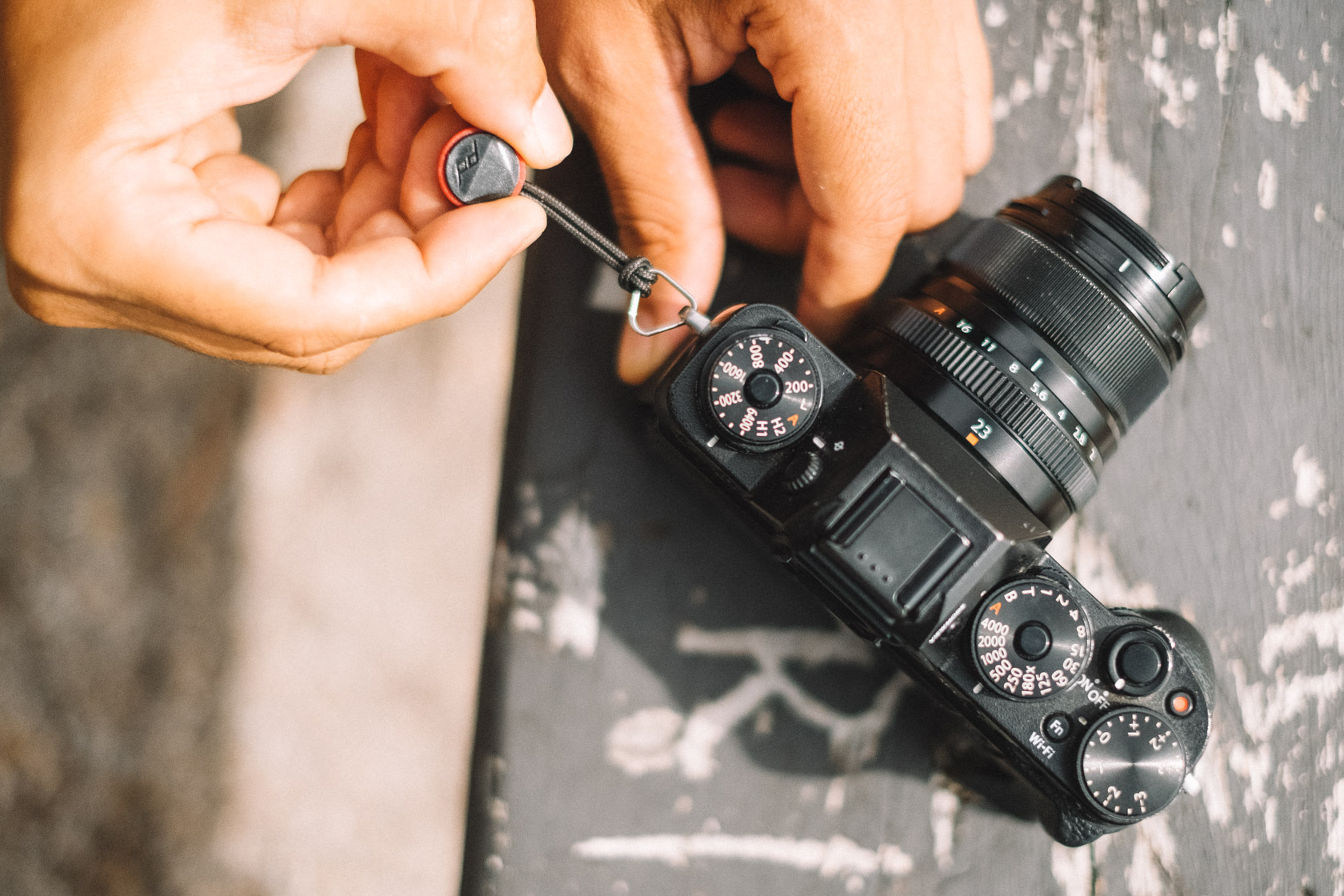 Here I'm not using the alternative D-ring hardware, but you can see how the shape of the D-ring compares to the hardware provided by Peak Design.
If you have a camera strap you already love, you can buy Peak Design anchor links that will actually attach to your existing standard camera strap. This is awesome because you get the strength and convenience of the anchor link system with any strap you may already use and love.
Alternatively, if you're a fan of camera wrist straps, you can alternate super easily between a neck strap and a wrist strap if you also own the Peak Design camera wrist strap because they all use the same anchor link system. I really like this for when you have a lightweight camera and you just want to keep it handy for quick shots.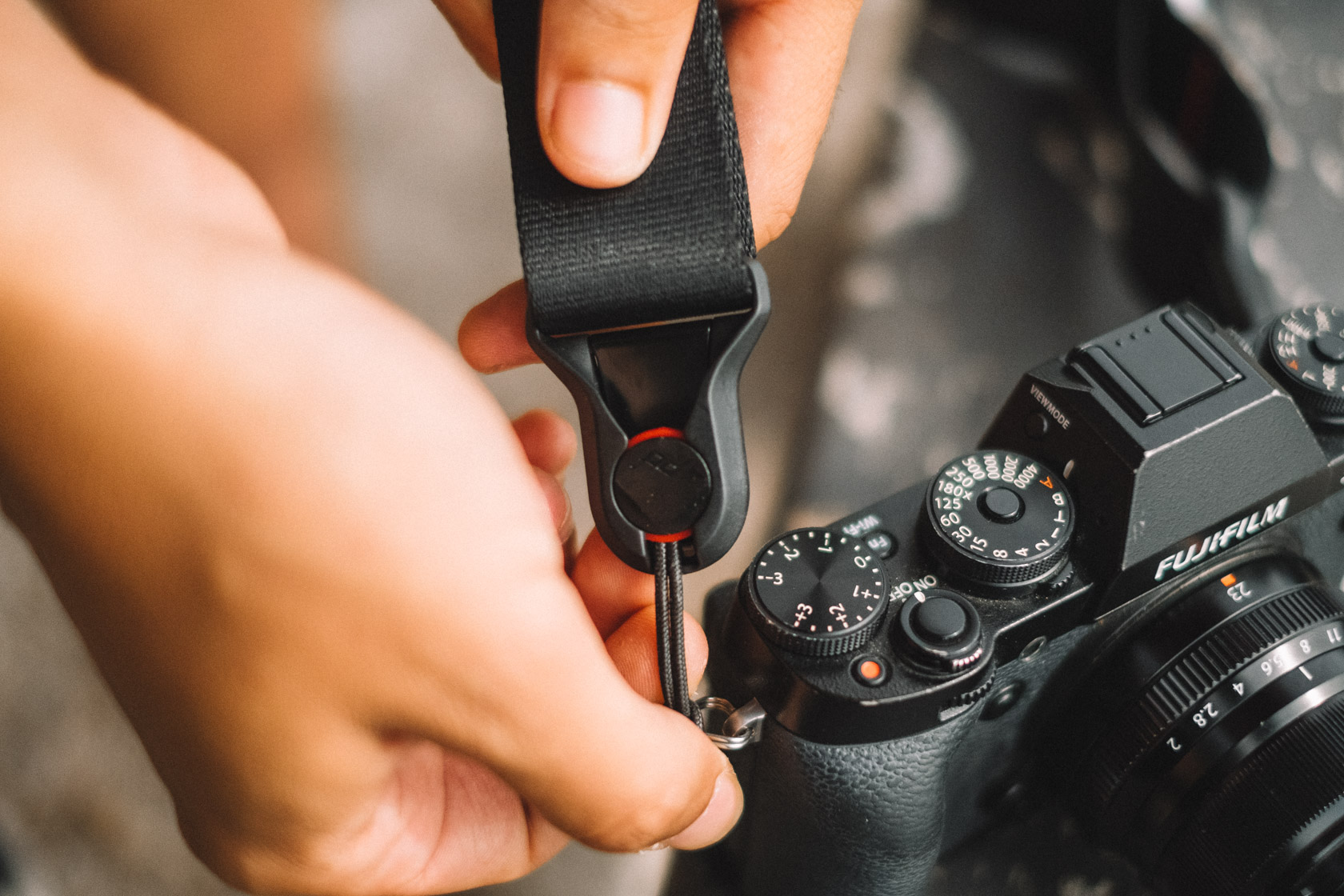 Flip-to-grip
Both the Slide and the Slide Lite have a grippy section on the outside of the camera strap. While you might not need this when wearing the strap around your neck, it can come in really handy if you're wearing it over your shoulder. The extra grip keeps the strap from sliding around, which is good if you don't want your camera to swing and hit things.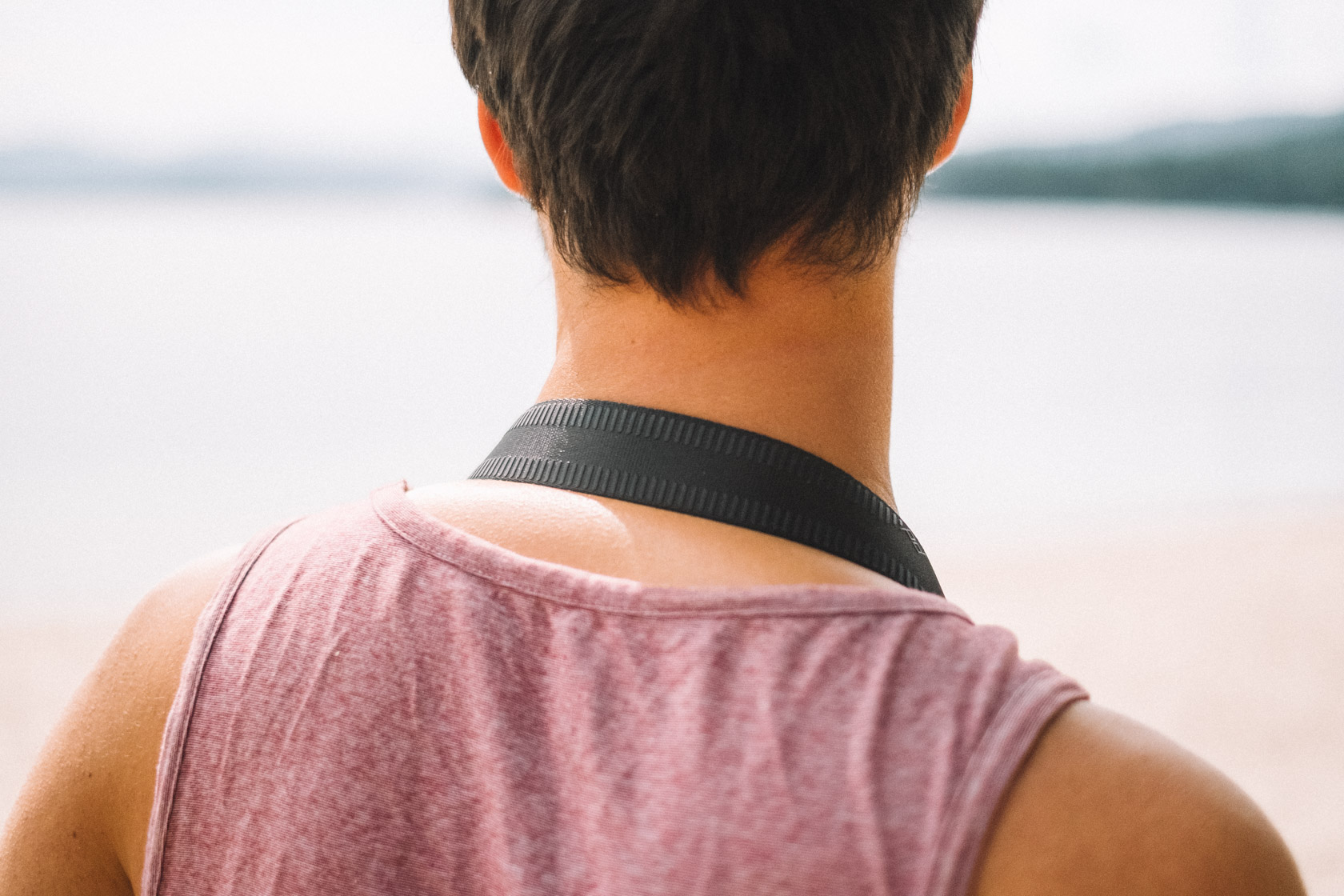 Bottom plate attachment (and more extras!)
When you're using a really heavy telephoto lens, it can be advantageous for the balance of the camera (and not hitting small children in the face) if your lens is vertical rather than horizontal. For that use case, you also get a bottom mount you can attach to your camera to easily swap the orientation of your camera strap. Peak Design also includes an allen wrench you can use to attach the plate to your camera.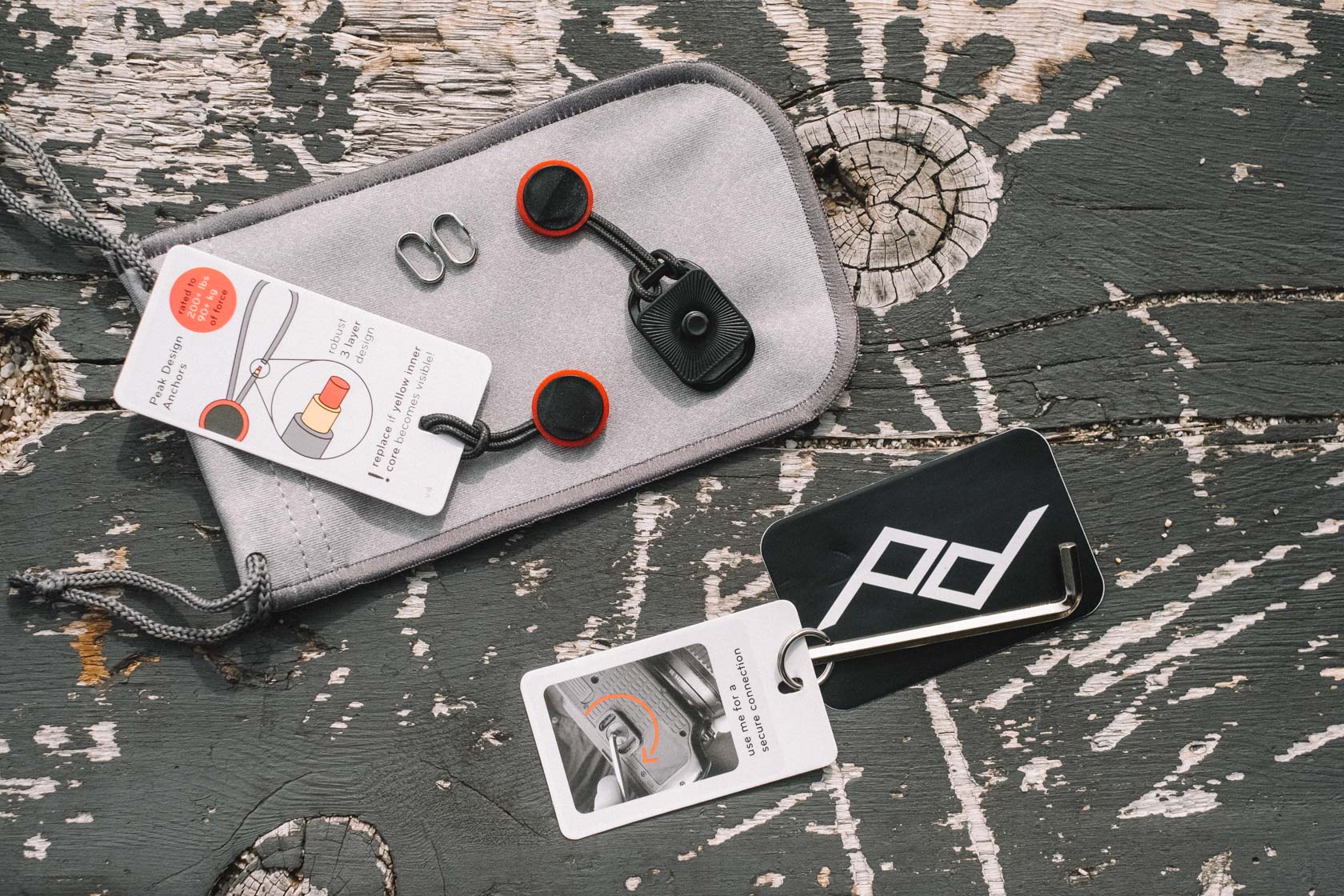 I've personally never needed this as my main experience with a telephoto lens was taking pictures on safari, where you get to sit in a jeep all day 😉 But, it is handy to have and with the little pouch that comes with the strap, it's super easy to toss these extra bits into your camera bag and just pull them out when you need them.
Wearable as sling, neck, or shoulder strap
If your use case for your camera is primarily on-the-go like for us, it can be really helpful to be able to carry a camera in different configurations. For one, it's about comfort and weigh distribution. No matter how much padding you have, wearing a heavily camera around your neck all day isn't going to feel great. Plus there's the fact that when walking, the camera tends to bounce around when you carry it around your neck.
For this reason, I typically carry my camera cross-body, especially when traveling. It makes it so the camera doesn't bounce around as much, and the weight is distributed on my shoulder and torso rather than just around my neck. It's also just better for balance with larger lenses.
Thanks to the fact that the lengths are so easily adjustable with the Slide camera strap system, it's not an issue at all to convert from one setup to another.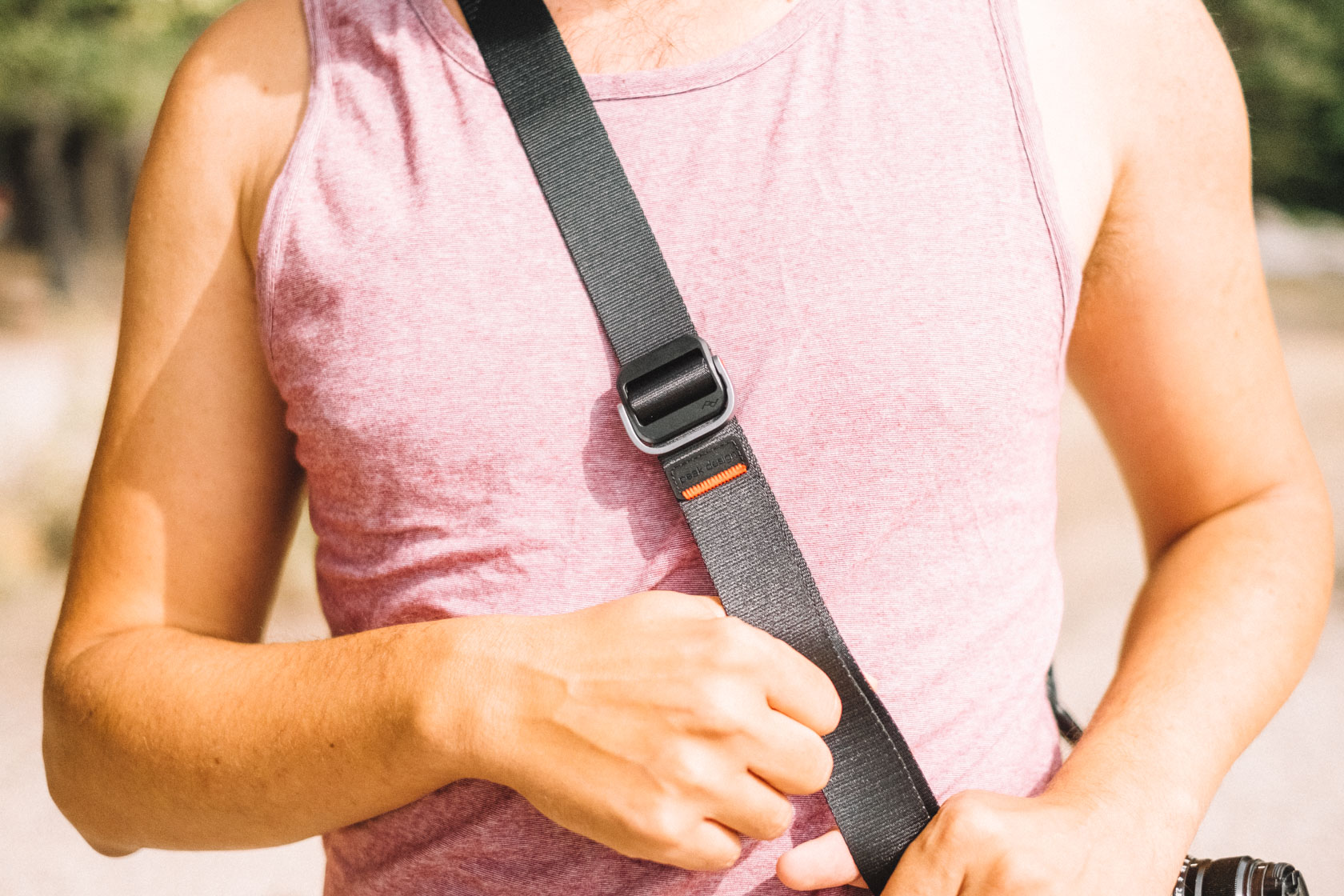 Color variants: "Black" (red accents) or "Ash" (blue accents)
This is a matter of taste, but you can get the camera in one of two colors: Black or Ash. The Black colored strap is obviously a bit more minimalist, and the Peak Design logo itself stands out less. Rather than being made from leather, as the Ash strap is, the logo is a thicker nylon material. So if you want to go leather-free, Black is going to be the color for you.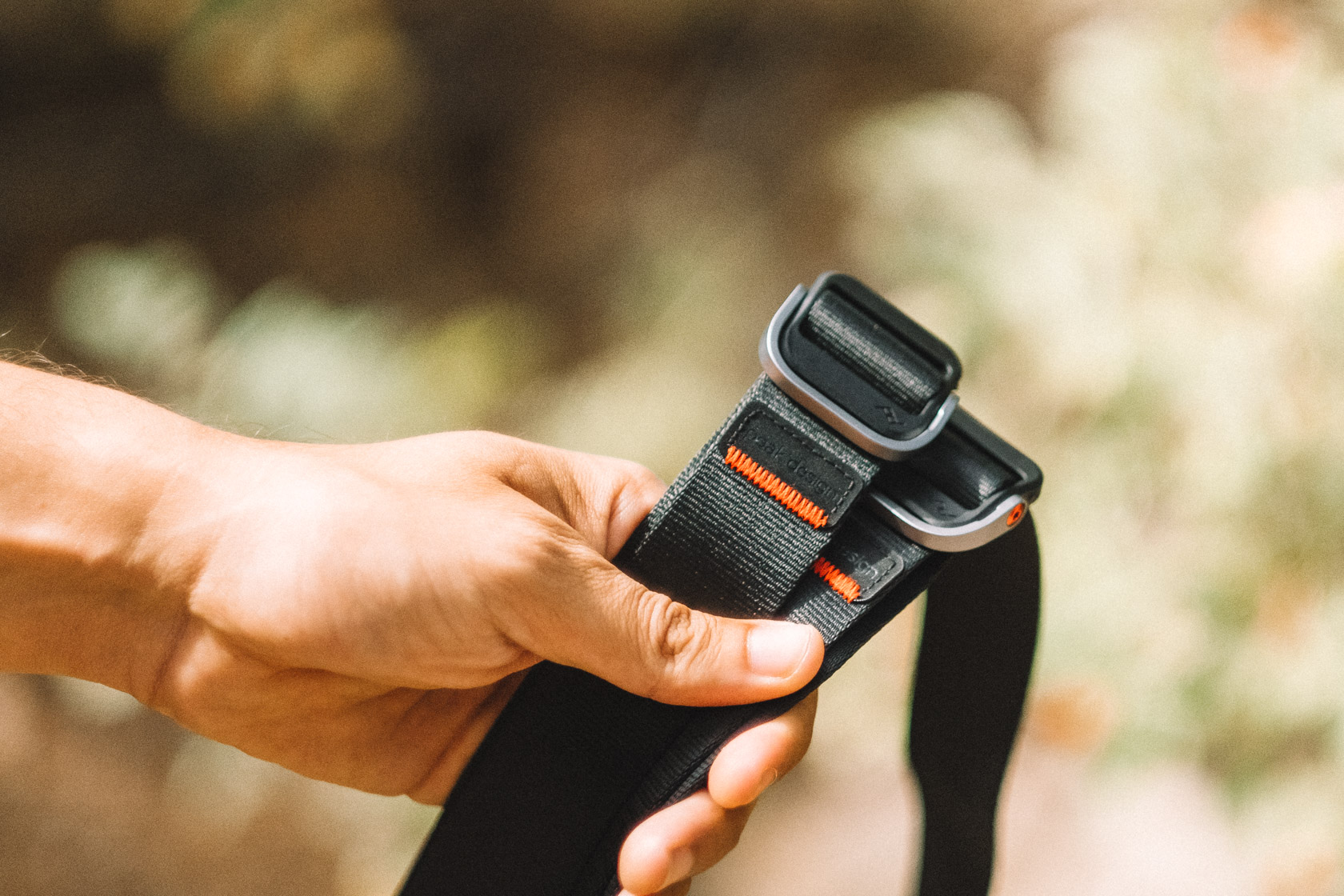 We opted to get camera straps that match the color of our cameras: the gray one already fit with my silver camera, and then the black one to fit with the black camera.
All in all, there's no functional difference between the two colors. It's purely about your preferences. As you can see below, the Ash-colored camera strap is actually a kind of heather pattern. The Peak Design logo is embossed on the leather and stands out a bit more visually.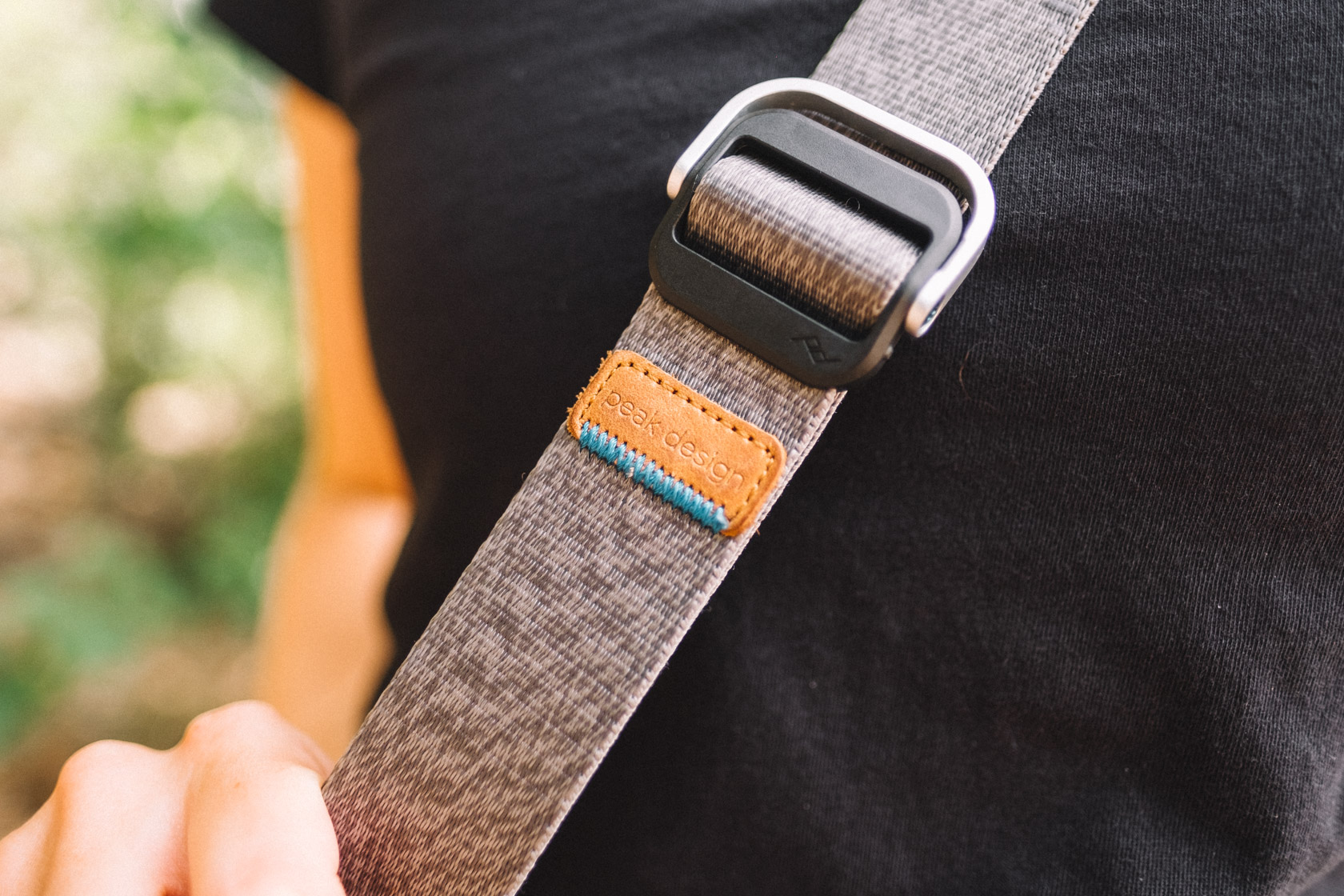 Pros and cons after one year of real world use
As with all things in life, there are pros and cons of this camera strap. As I already mentioned, I ultimately really love using this strap and am definitely not seeking to replace it anytime soon. But naturally, there are things that could be improved and maybe Peak Design will look into them for a future version.
Pros
I've already mentioned these quite a bit so I won't belabor the point too much. The Peak Design Slide Lite looks great and is a highly functional camera strap. Attaching the strap and adjusting the length is easier than with any other camera strap I've tried, and I really love the anchor link system because it's just so damn easy to to use. All in all, I really think it's one of the best straps on the market, and I love that there is a lightweight camera strap for mirrorless cameras as opposed to always having to use bulky pro-sized straps.
Cons
As with any serious camera strap, it just takes up more space than whatever shipped with your camera. Sometimes I need to get creative folding the strap so it fits in my really and minimal camera bags. I also need to avoid letting the adjustment levers potentially scratch other things in my bag, but as I already mentioned, I store the camera separately in a padded compartment so it's not a big deal.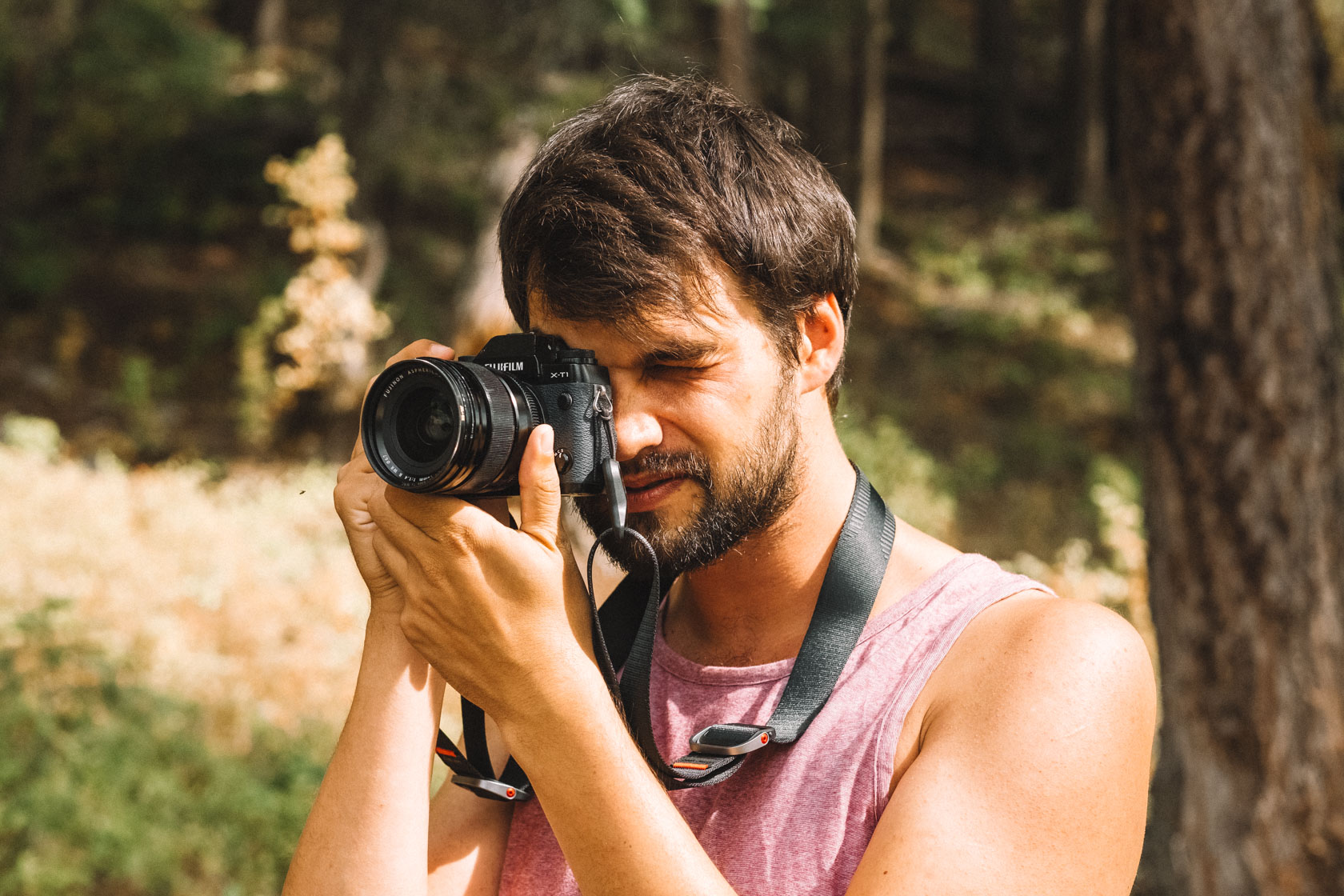 Conclusion & verdict
Especially if you're thinking about a camera strap for your mirrorless camera (or just for a regular DSLR), I would really consider getting the Slide Lite. Besides the look and function, the most important factor for a camera strap is that it's secure. Investing in a quality strap is a serious step you can take for keeping your camera from falling on the ground and potentially shattering gear that costs a whole lot more.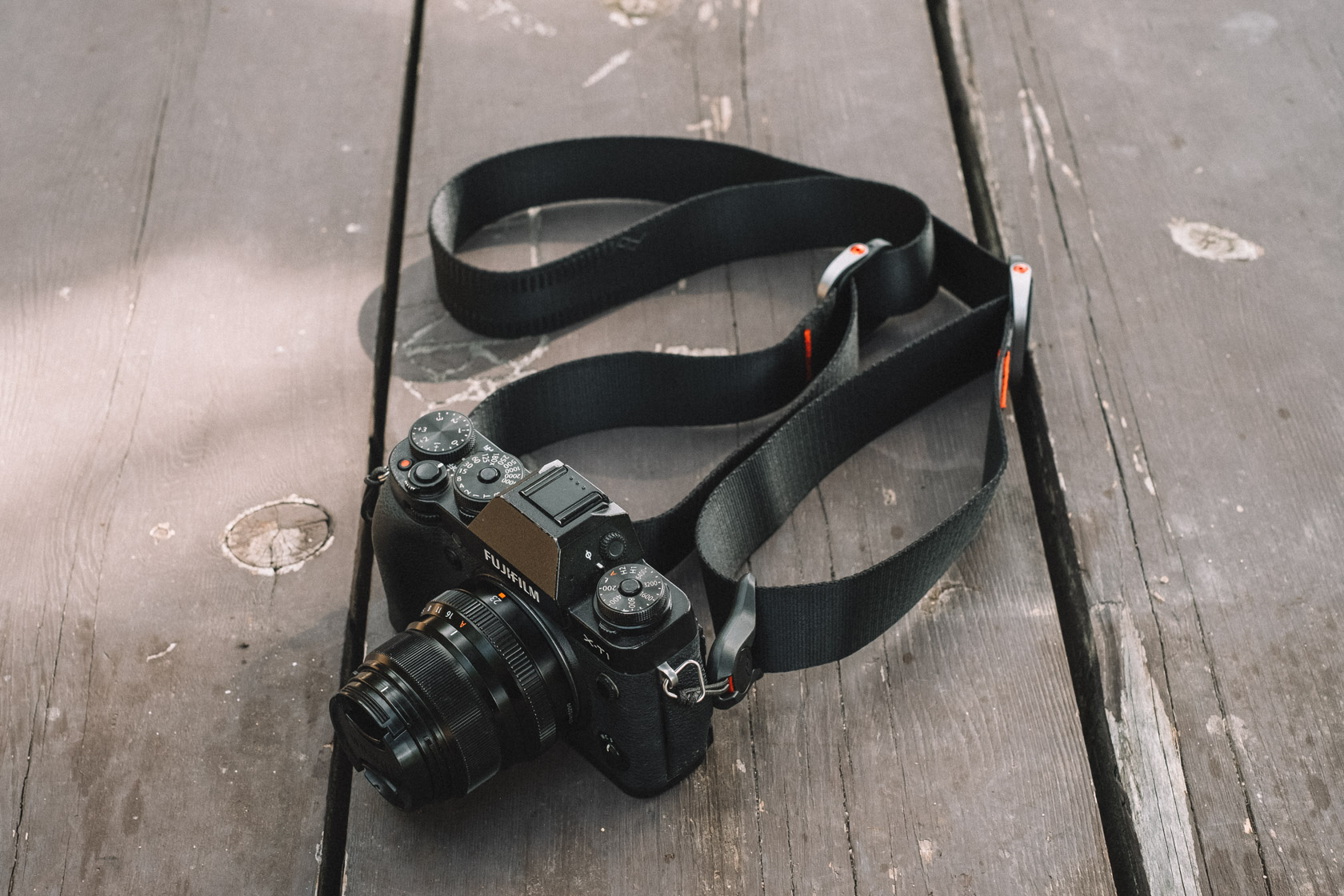 Products mentioned in this post
Here's a quick recap of the different options we discussed in this post. If you have any questions, please feel free to LEAVE A COMMENT or you can always email me if you're not sure what's going to fit your use case best. Happy shooting!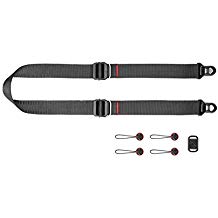 Peak Design Slide Lite Camera Strap
I'm often asked what I use as camera strap, and this is it! Super sturdy, comfortable, and easy to adjust the length.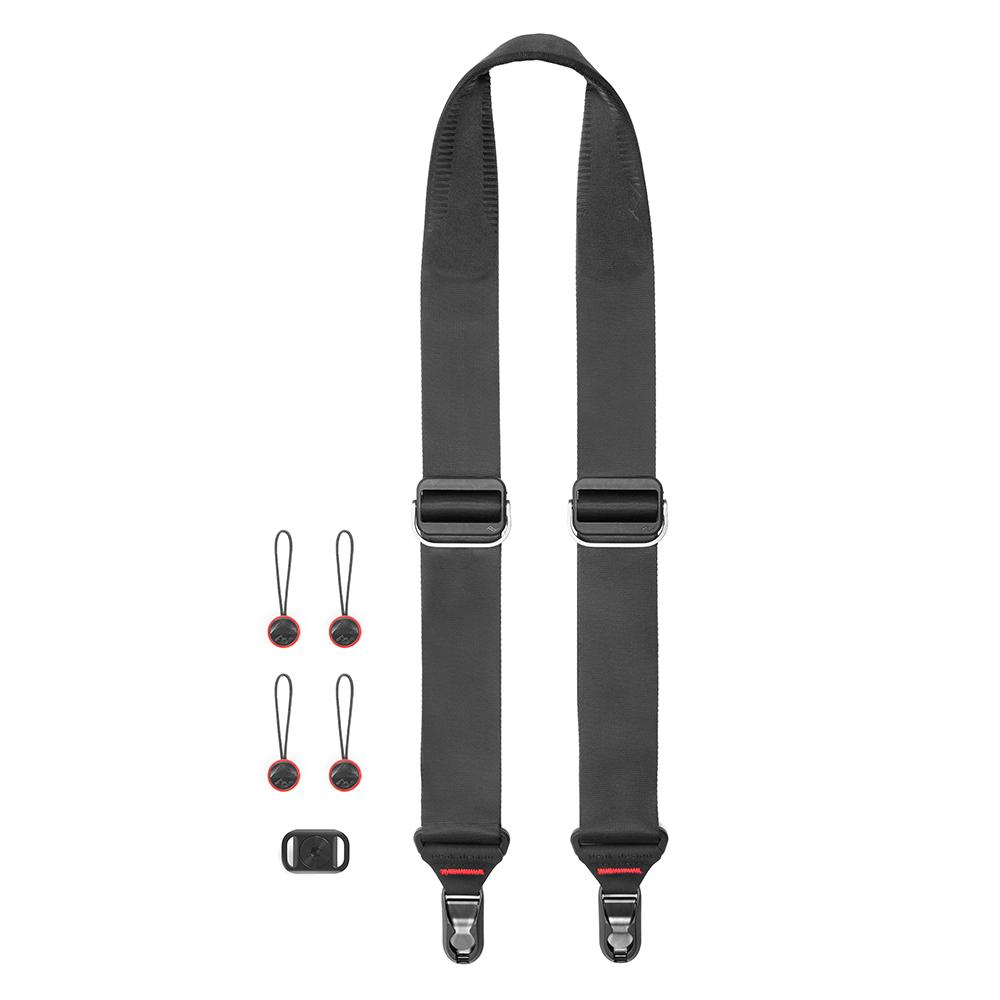 Peak Design Slide Camera Strap
A pro camera strap for heavy DSLR and telephoto lenses with extra padding for long days of carrying gear.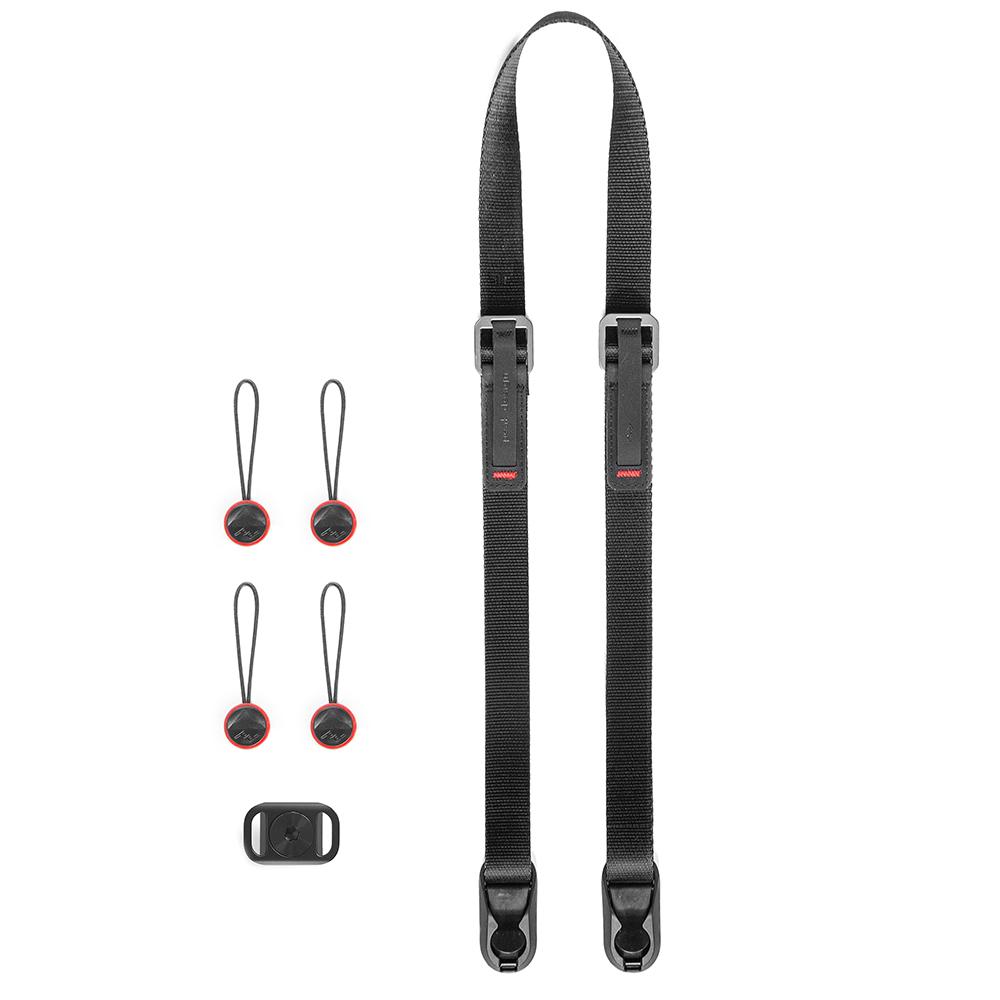 Peak Design Leash Camera Strap
A minimalist camera strap you can fit in your pocket. Use with lighter DSLRs or mirrorless cameras.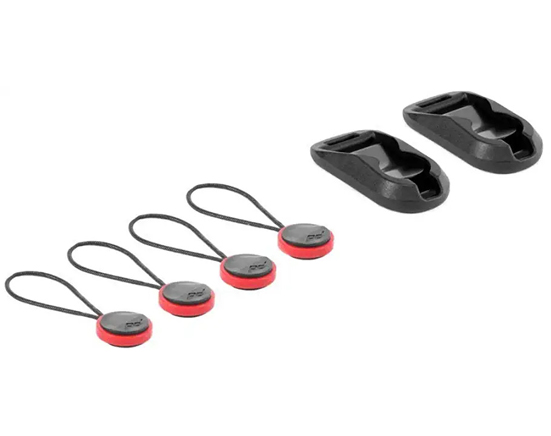 Peak Design Anchor Link set
Use this set to adapt any standard camera strap you already own to the easy-to-use Peak Design anchor link system.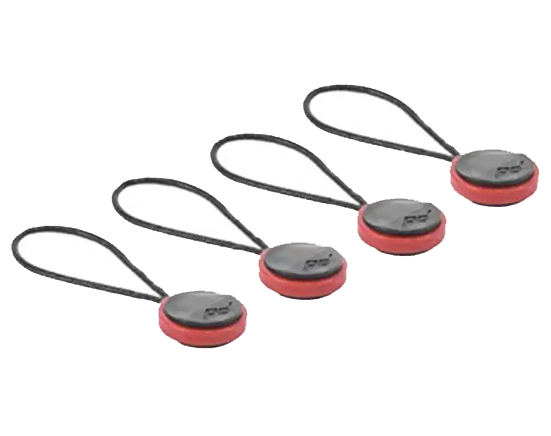 Peak Design Anchor Links 4-Pack
This system by Peak Design allows you to replace any missing or worn anchor links for a very affordable price.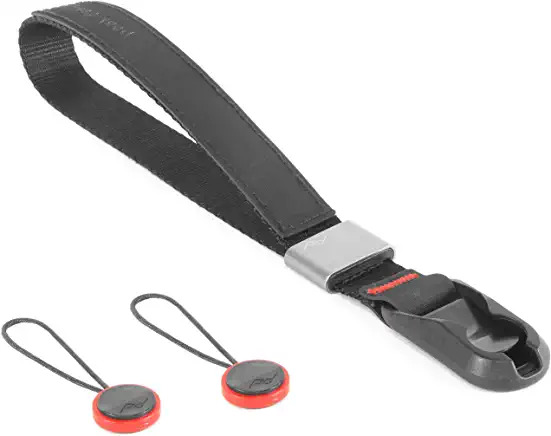 Peak Design Slide Lite Camera Strap
I'm often asked what I use as camera strap, and this is it! Super sturdy, comfortable, and easy to adjust the length.
Like this post? You can pin it for later when you're thinking about getting your next camera strap 😏