I hate to break it to you, but it's impossible to get good safari photos with your phone's camera. Yes, even with the latest iPhone or Pixel, what good safari photos require is physically impossible to fit into a phone. I mean, if we didn't need to lug around big lenses, I'm pretty sure no one would do it?
So if you need to bring a "real camera" on safari, exactly what camera equipment do you need for safari? Which equipment is optional? And how can you make the most out of the camera equipment that you already have?
Here are the essential photography equipment for going on safari, including my personal recommendations for gear, ideas for how to save money on your safari photography setup, as well as safari photography tips to help you make the most of any gear you get your hands on.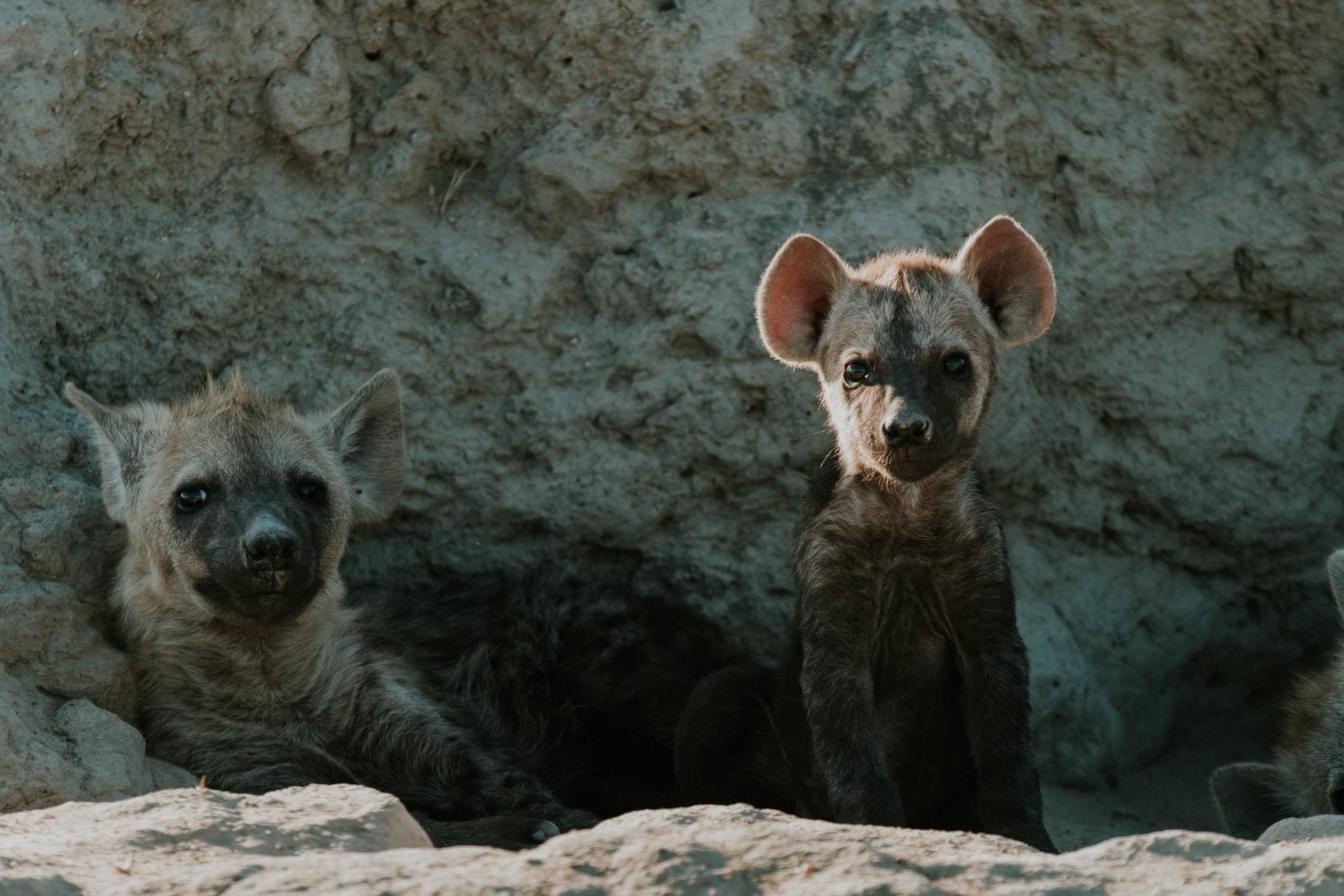 Some links in this post are to affiliate sites. If you purchase something through them, I may earn a small comission — which costs you nothing! I am very grateful when you use my links to make a purchase.
Bring the right photography gear for safari
You don't need to spend a fortune to get great photos, but you do need more than an iPhone to snag great photos. If this list sounds daunting and you don't already have a suitable camera, consider renting a camera or lens if you are certain you won't use it again. You can also buy gear used on eBay or Amazon to save some money.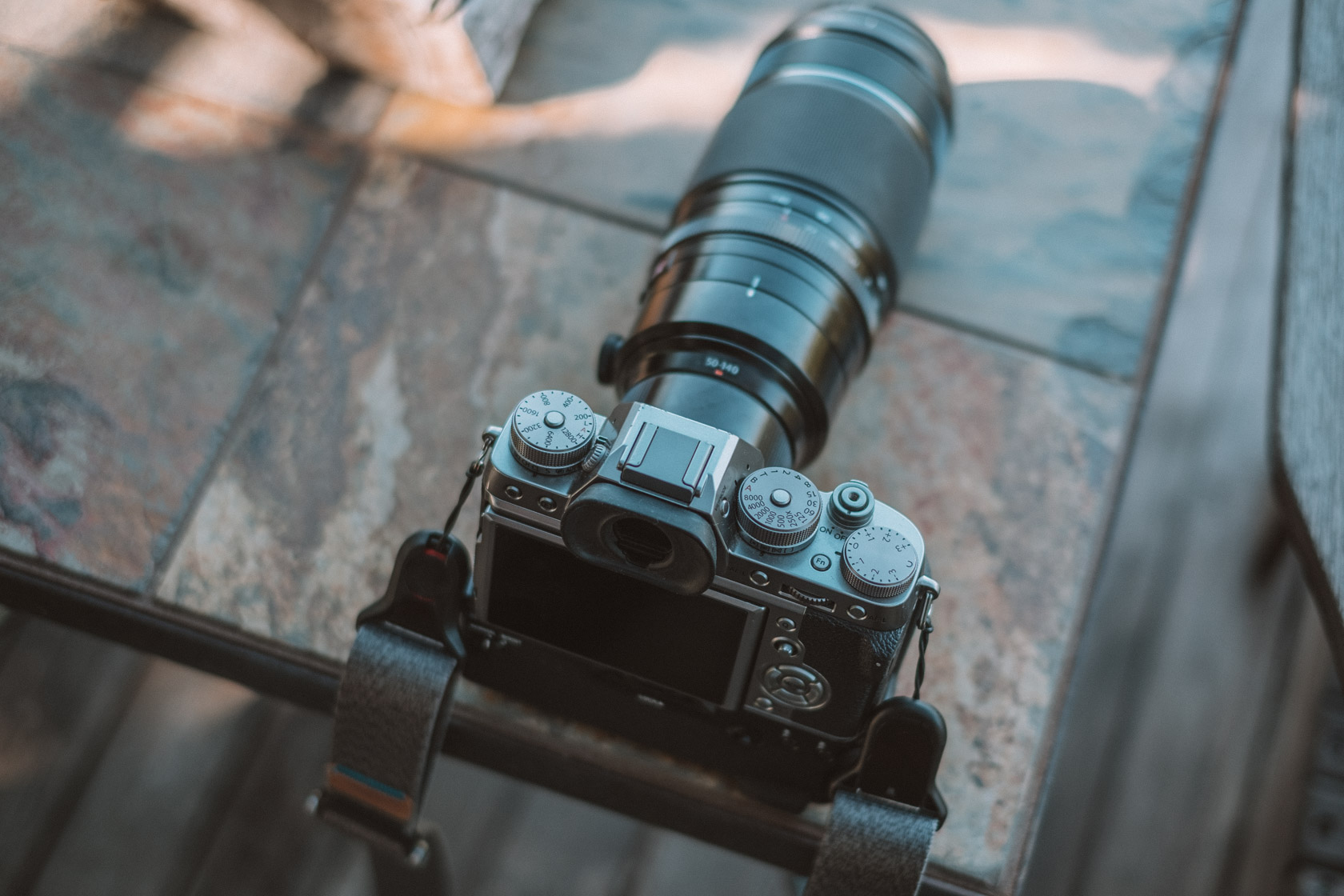 It might look silly, but you can bet I got the best photos!
Use the burst shooting mode
Burst shooting mode allows you to hold down the shutter, and take between 5 10 photos in a single second! This can be extremely useful on safari, when animals are moving quickly or simply when you know the animals are likely to disappear into the bush or an area you cannot drive to. That's why it's super useful to get a camera that supports this setting!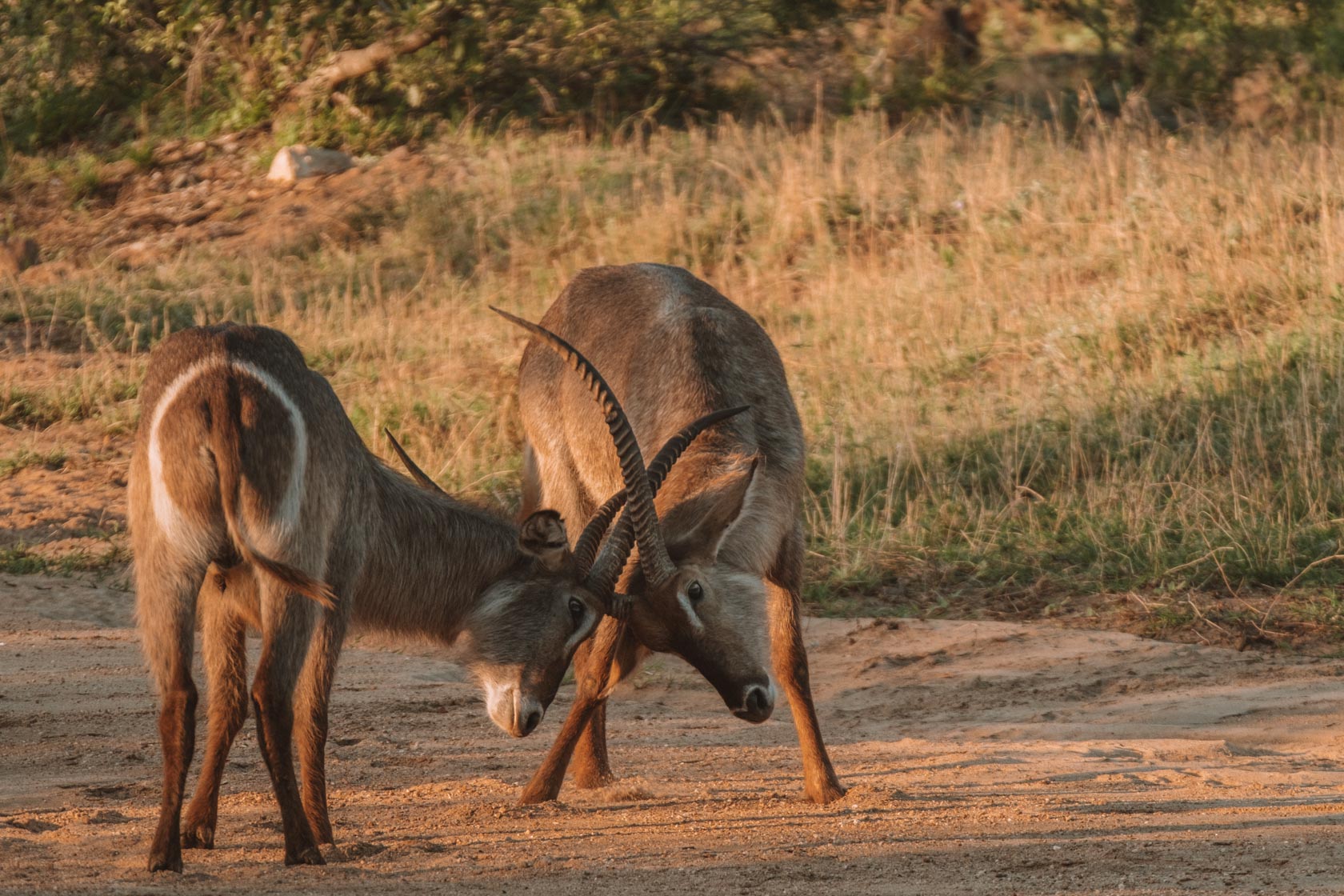 For example, here there are two water bucks, sparing with one another in the morning sun. Since they're moving around quite a lot, there weren't a lot of photos where I could see their antlers interlock. But since I could take a bunch of pictures, I could just pick the best one.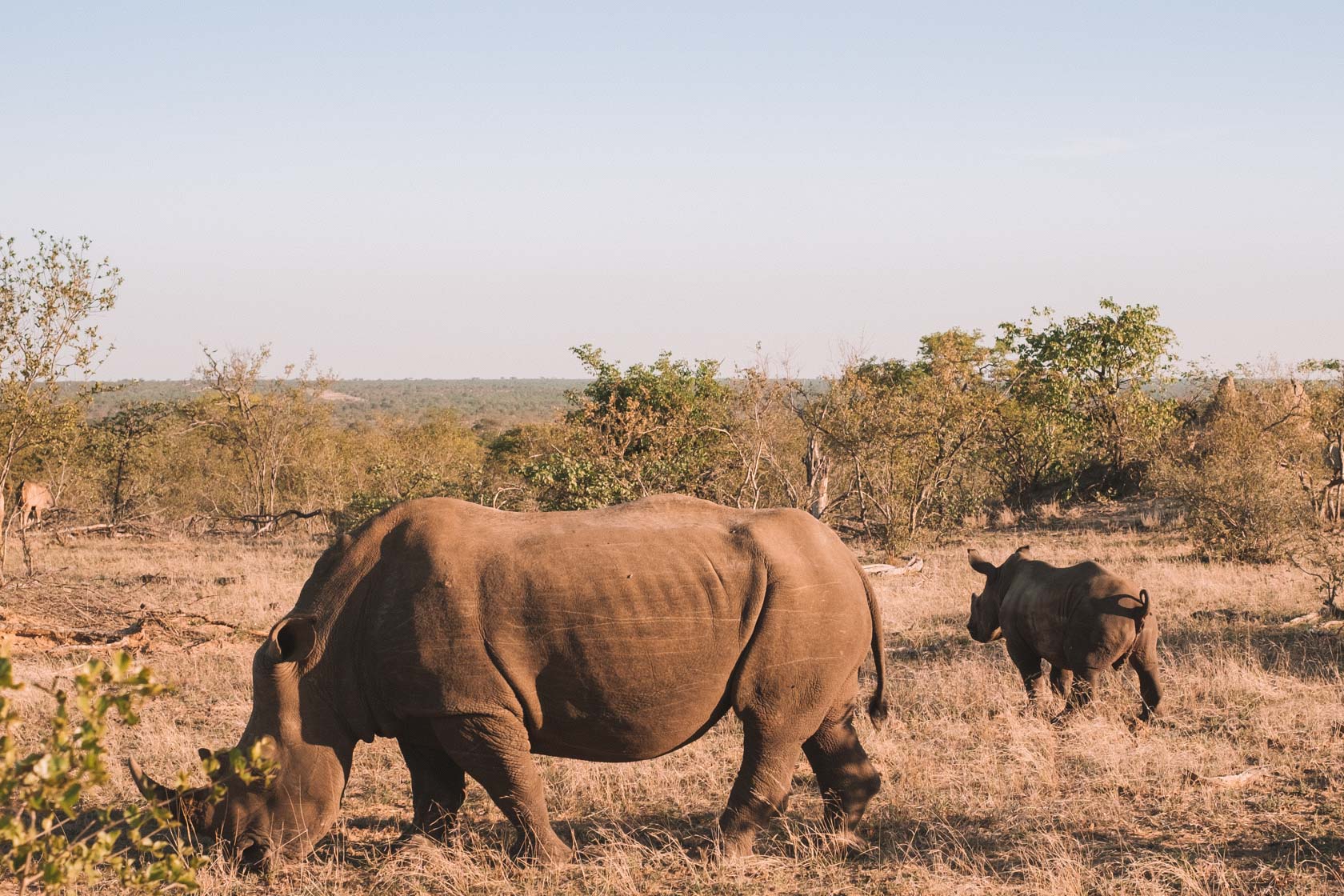 Here, the rhinos are not moving very fast, but it's a super special moment to capture a baby rhino on camera! Owing to the vegetation, I knew I wouldn't have a view of both the mother and baby for long, but burst mode saved me and I had a number of pictures to choose from. Thanks burst mode 🙏
Learn to use your camera in advance
Nothing is worse than trying to figure out how your freaking camera works while you're already ON safari! You'll just be frustrated trying to get the settings right, while an amazing wildlife moment just passes right by. Spend time practicing with your new camera. You'll want to learn a few things like:
How to make the shutter speed faster
How to turn on burst mode
How to change the focus point
That's just for beginners, but these are really important things to have down second-nature before your safari 🍃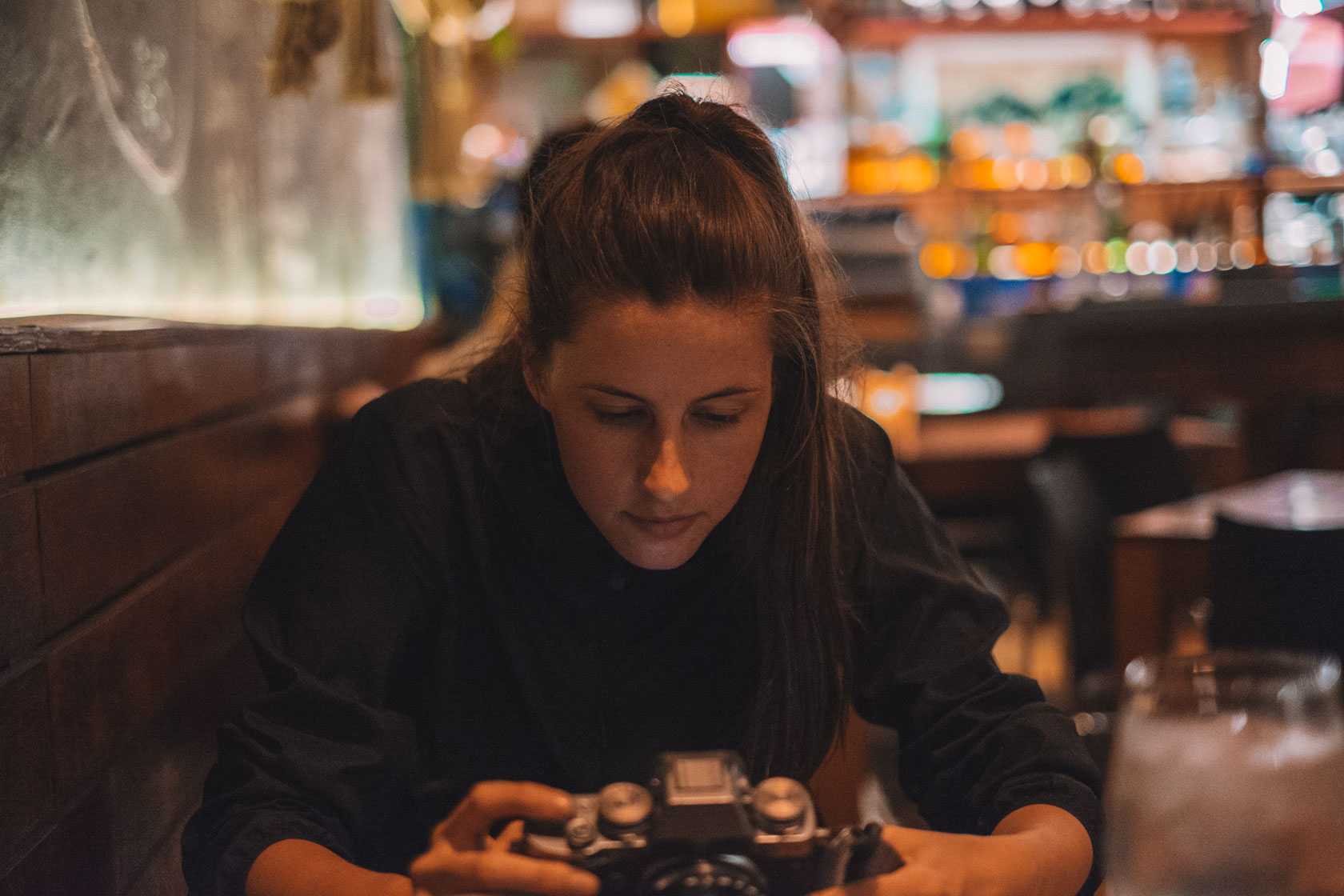 Enjoying the photos?
Follow along on Instagram!
Follow @notanomadblog for beautiful travel photography and stories of our journeys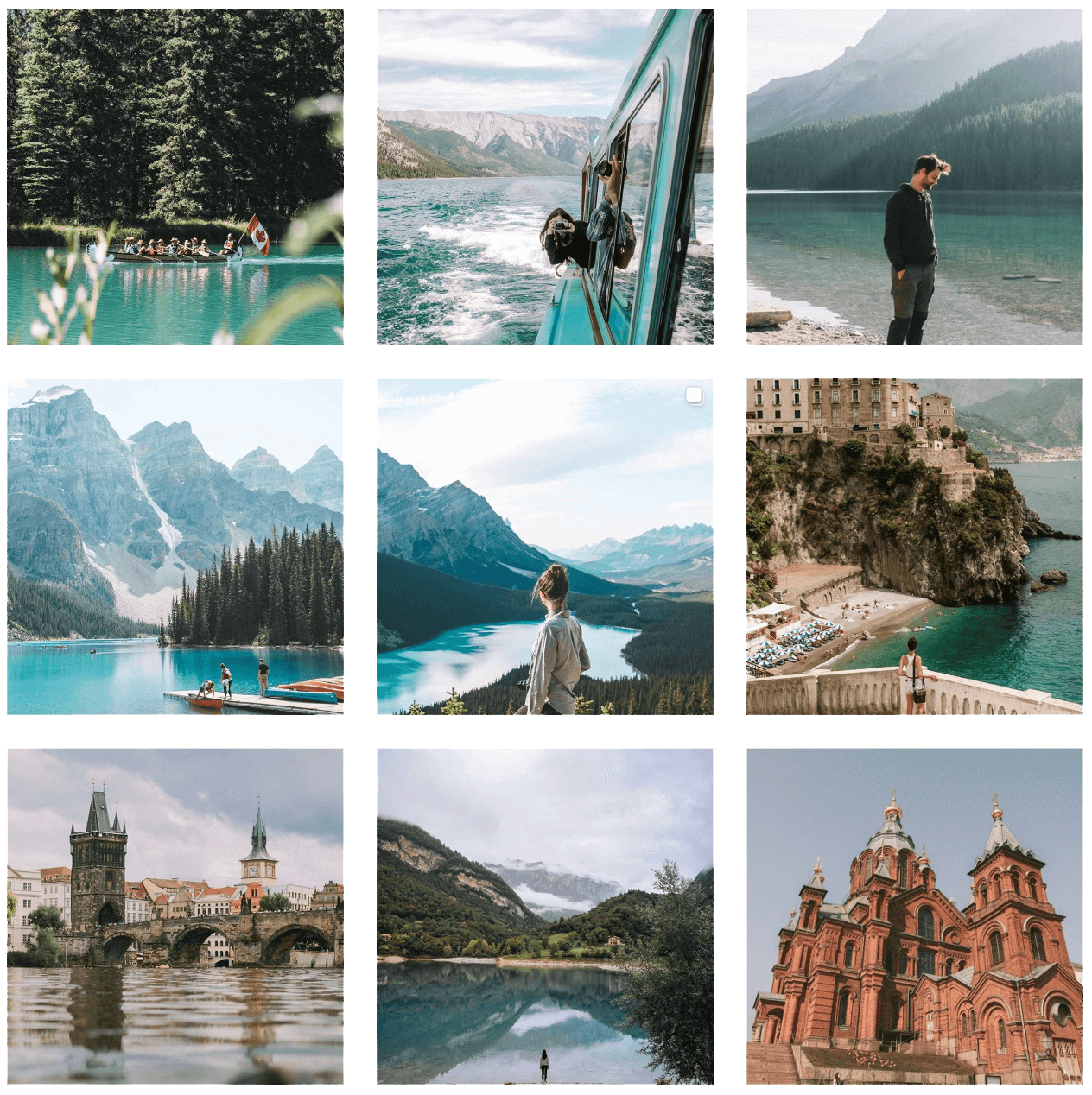 Bring equipment for dealing with dust or fingerprints
When you're driving out in the bush, there's a good chance you'll need to deal with some dust. How much dush depends a lot on where you're driving and recent weather conditions (has it rained recently?). In any case, don't forget to bring along a lens pen for cleaning smudges off your lenses (which can make your photos blurry!) and some lens cleaning wipes for more serious dirt or water droplets 💦
Bring back up memory cards
When you're using burst mode, it's easy for your memory card to fill up fast. Don't get caught on safari having to delete photos just to free up space on your memory card. I personally filled up THREE memory cards during my two-week trip to South Africa, and about half of that was just safari photos. Be prepared, buy extra.
Bring a telephoto lens
If your goal is to take wildlife photos, then a telephoto lens (also called "zoom lens") is the one piece of equipment you can't leave behind. The question is always, how much zoom do you need for safari? For many systems, the most common zoom lenth is somewhere between 50-150mm and 100-400mm. In general, you won't regret having plenty of zoom – it doesn't go as far as you'd think. That said, be sure to complement your zoom lens with a wide-angle or mid-range lens because there will be times where you need to capture a landscape, a whole herd of animals, or a complete scene with multiple animals in it.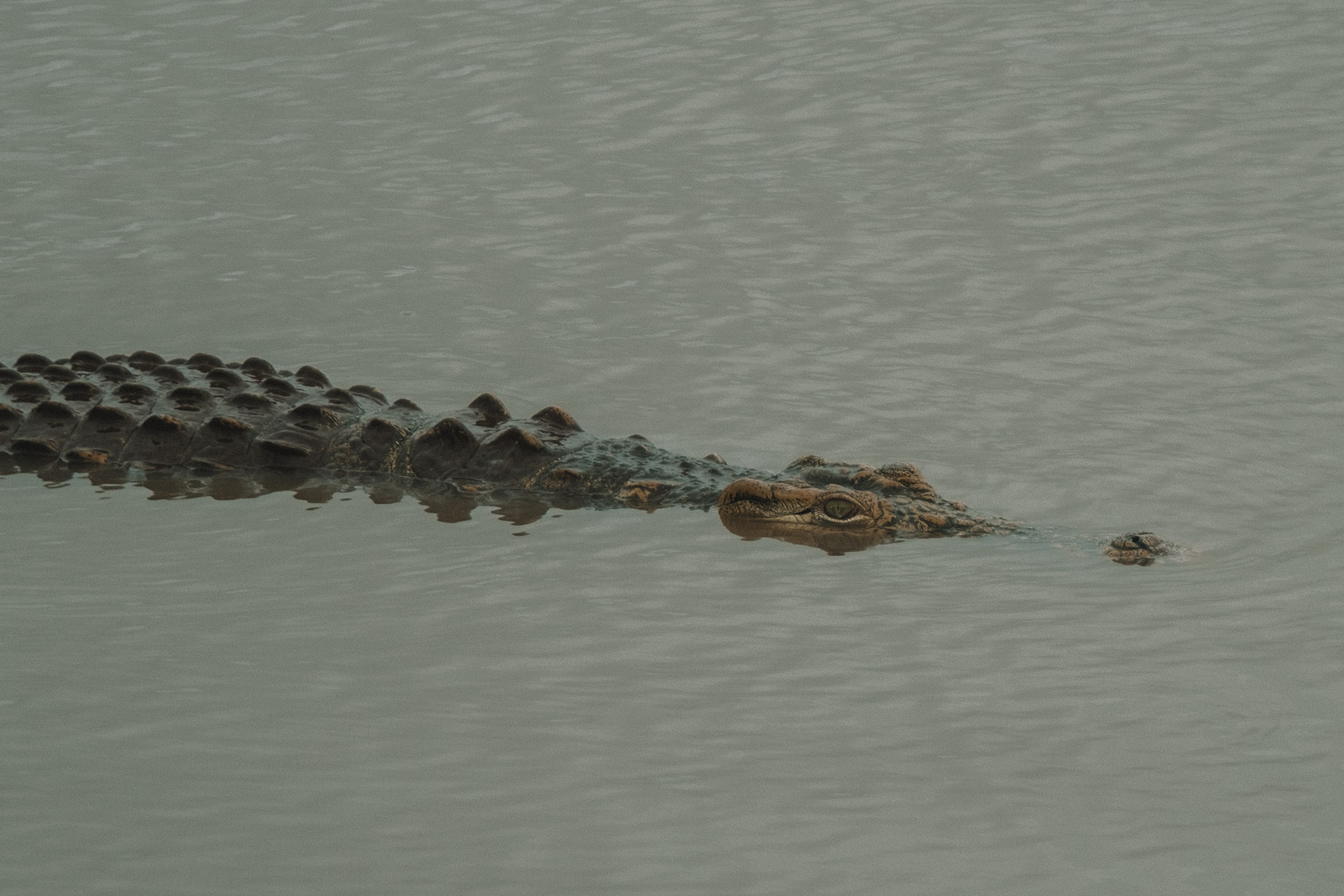 This crocodile was super far away, but I could capture him with my zoom!
Support your zoom lens to avoid camera shake
An interesting caveat to having a big zoom lens is that the more you zoom, the more likely you are to get blurry photos. That's because more zoom means less light coming in, and your camera needs to compensate for it. If you already have the aperature (also called "f stop") as open as possible, the next step for the camera is probably to slow down the shutter speed.
That's why you need to be as still as possible and support your lens with your hand to keep camera shake down. You can also hold your breath during a shot, to avoid introducing shake, or balance your lens on a bag or something soft on the edge of the safari vehicle or hand rail. Anything to help the lens keep still!
Many zoom lenses also come with OIS (optical image stabilization), so look for that when you are picking a zoom lens!
Bring a tripod for long exposures at night
Even though this isn't strictly a safari tip, the fact is that if you're staying in a private safari lodge, you're going to have incredible views of the stars. Bring along a tripod for some very special photos at night!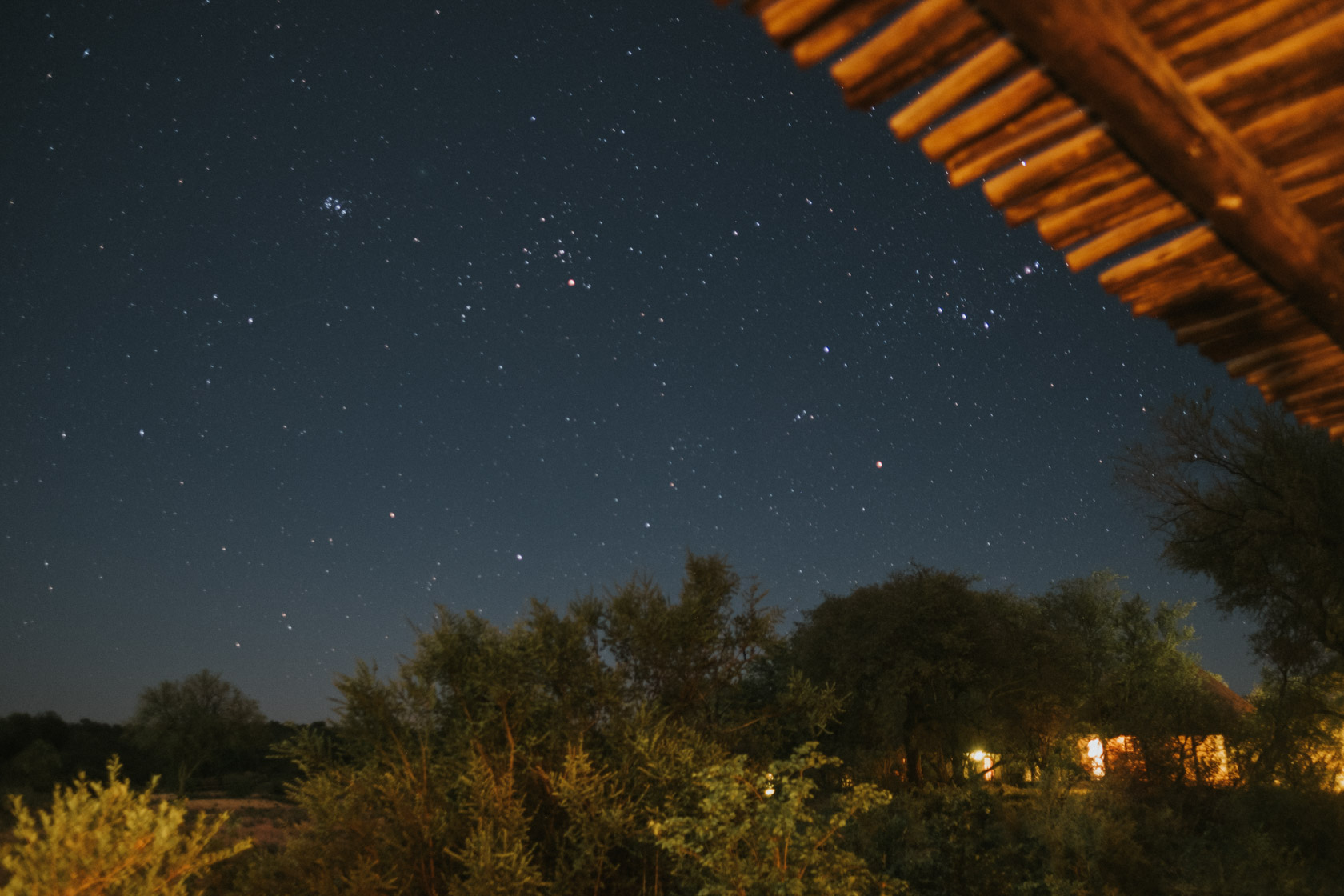 Include the environment
Sometimes the environment with the animal in it is way more interesting than the animal itself! Here's an example of that, with the hippo yawning as the sun sets over his favorite watering hole. These guys were so loud with their howling, it was a really memorable moment on safari while the sun was going down.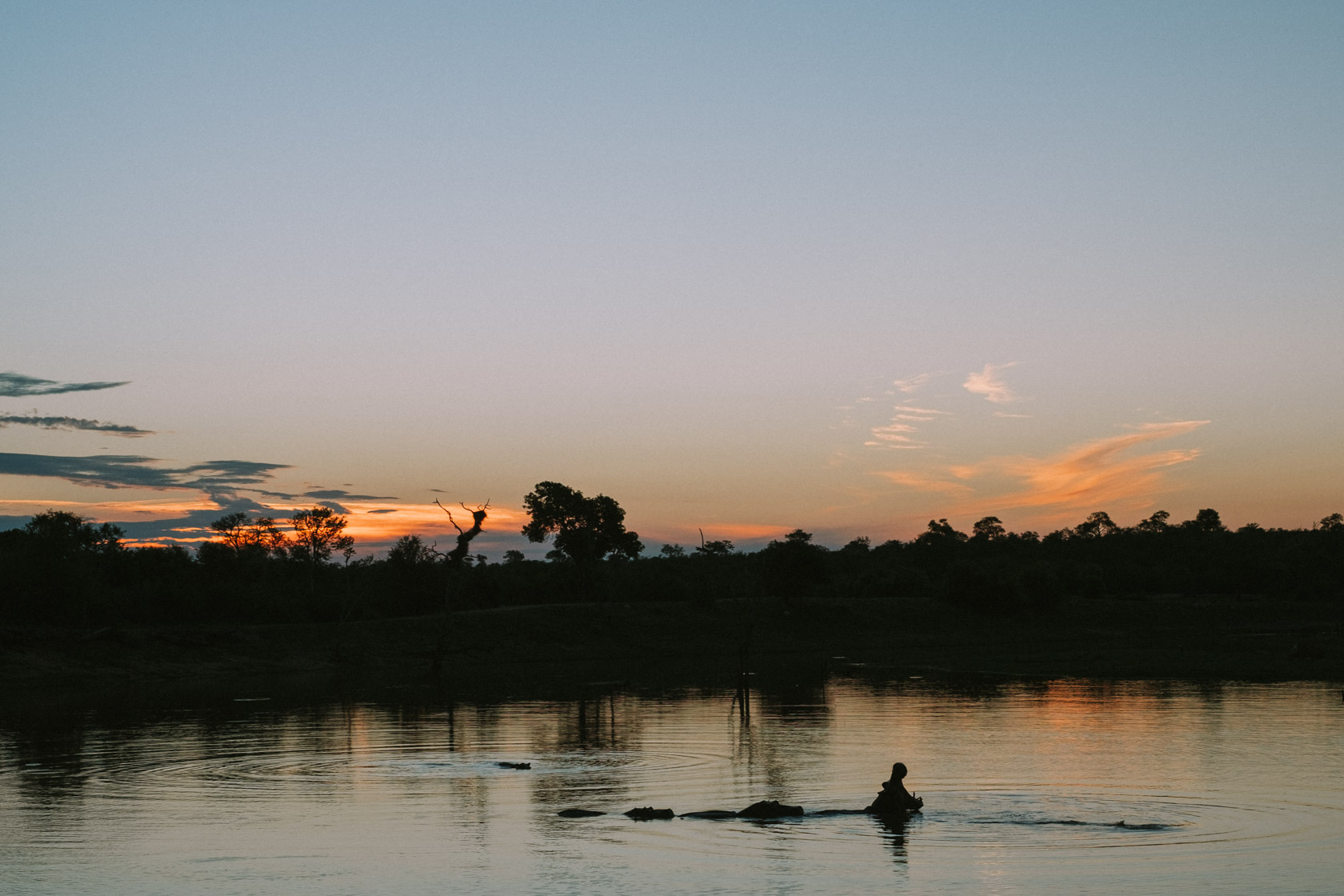 Be prepared for low light photos
When choosing lenses for safari, make sure you find one that has the lowest f-stop number (meaning, the widest aperature) that you can find. For example, the lens I used was f2.8. That's pretty good for a zoom lens. Many wildlife lenses will be f4, but that can also mean you get less light for the evening drives. Strive for a balance between zoomm power and f-stop.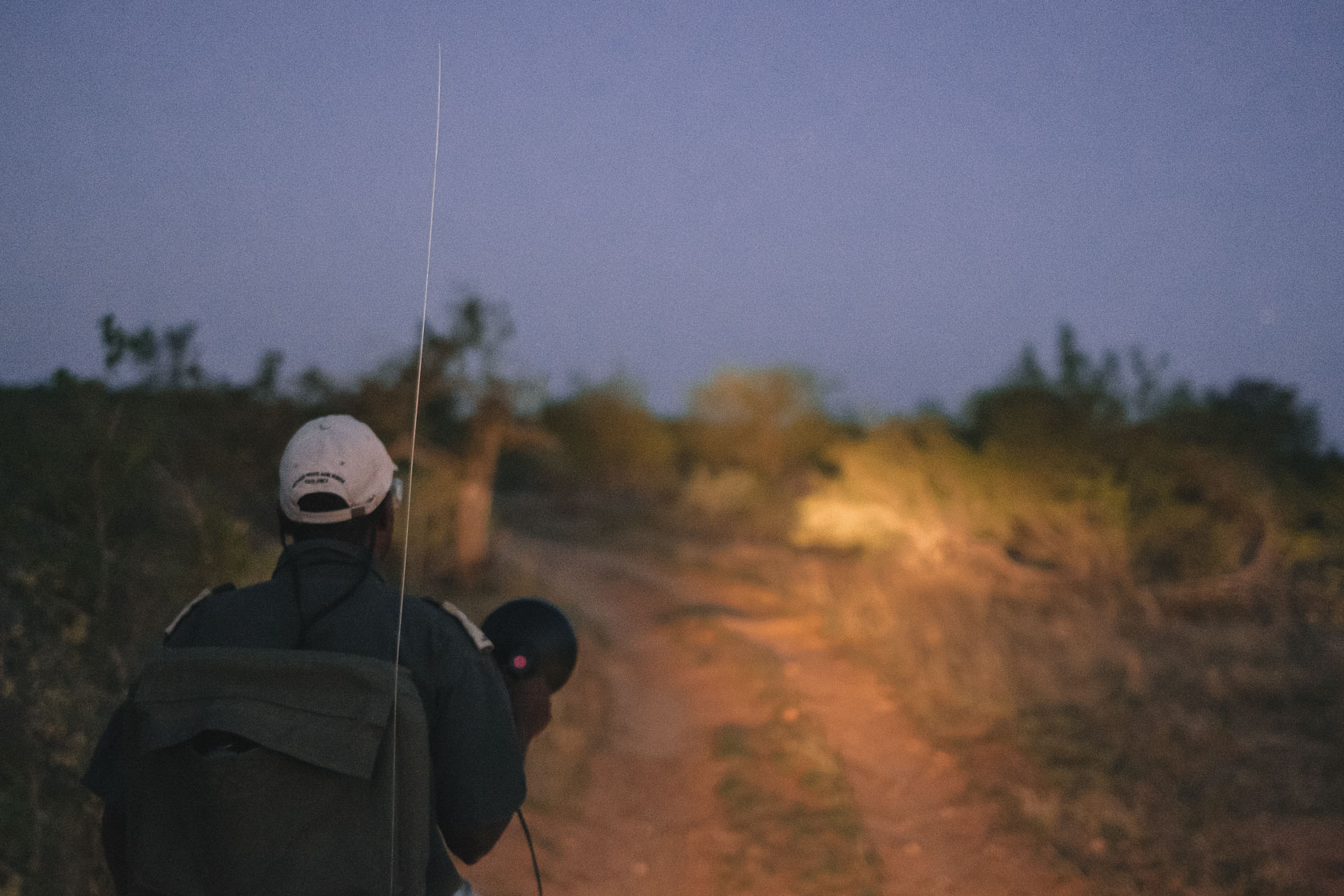 At night, our tracker scans the landscape for the gleam in the eyes of nocturnal animals. On one night, we spotted this beautiful African barn owl who was patient enough to let me take his photo!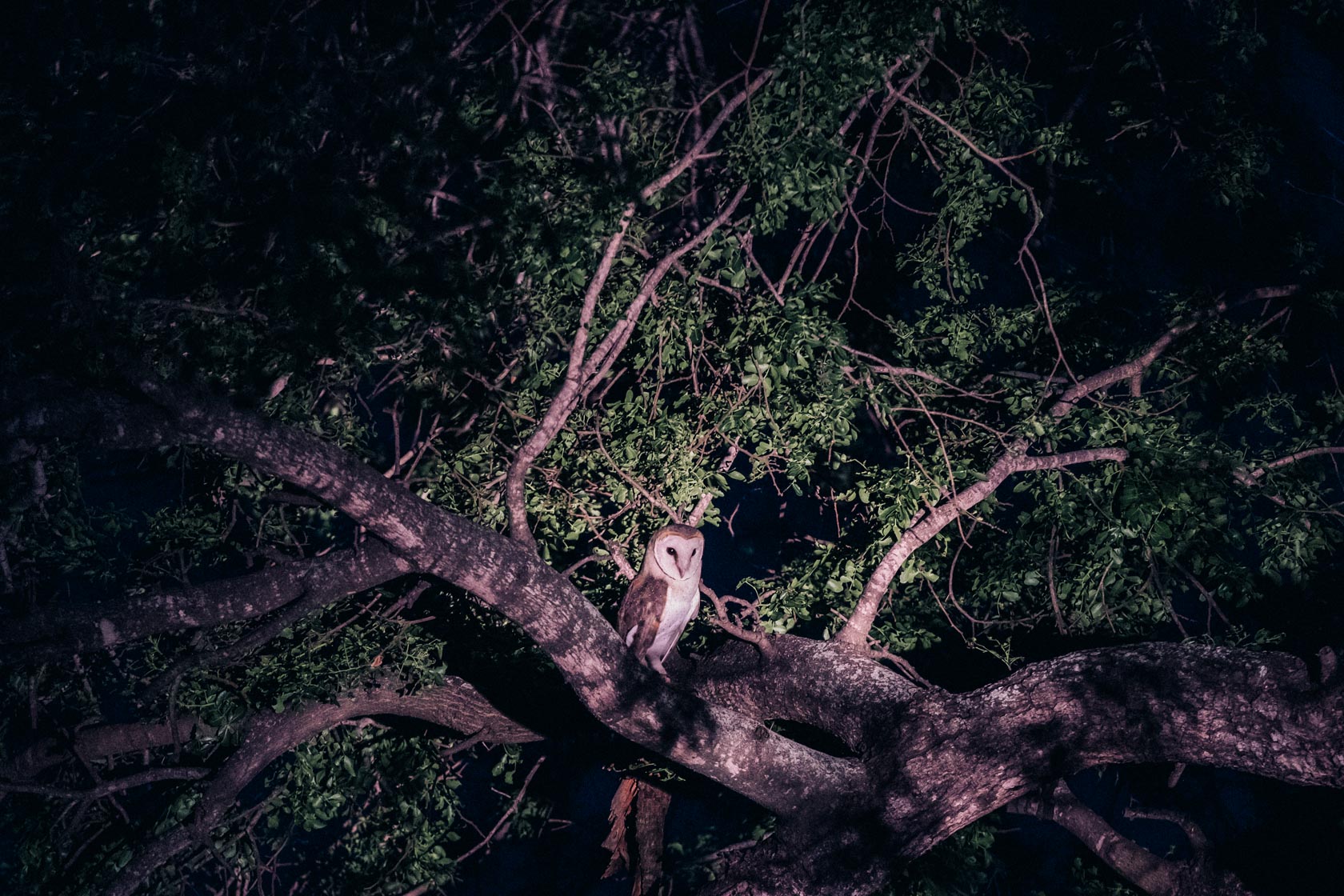 BONUS TIP
You can hover over any photo on this blog to see the camera and lens that the photo was taken with.
Click on the information to see reviews on Amazon.
Don't forget about the details
It can be really easy just to focus on animals, but safari is also about the overall experience, not just the so-called "Big Five". On safari you'll learn about the plants that animals feed on, and how it affects where they move to, as well as the smaller creatures that drive the ecosystem in the bush, like the venerable Dung Beetle!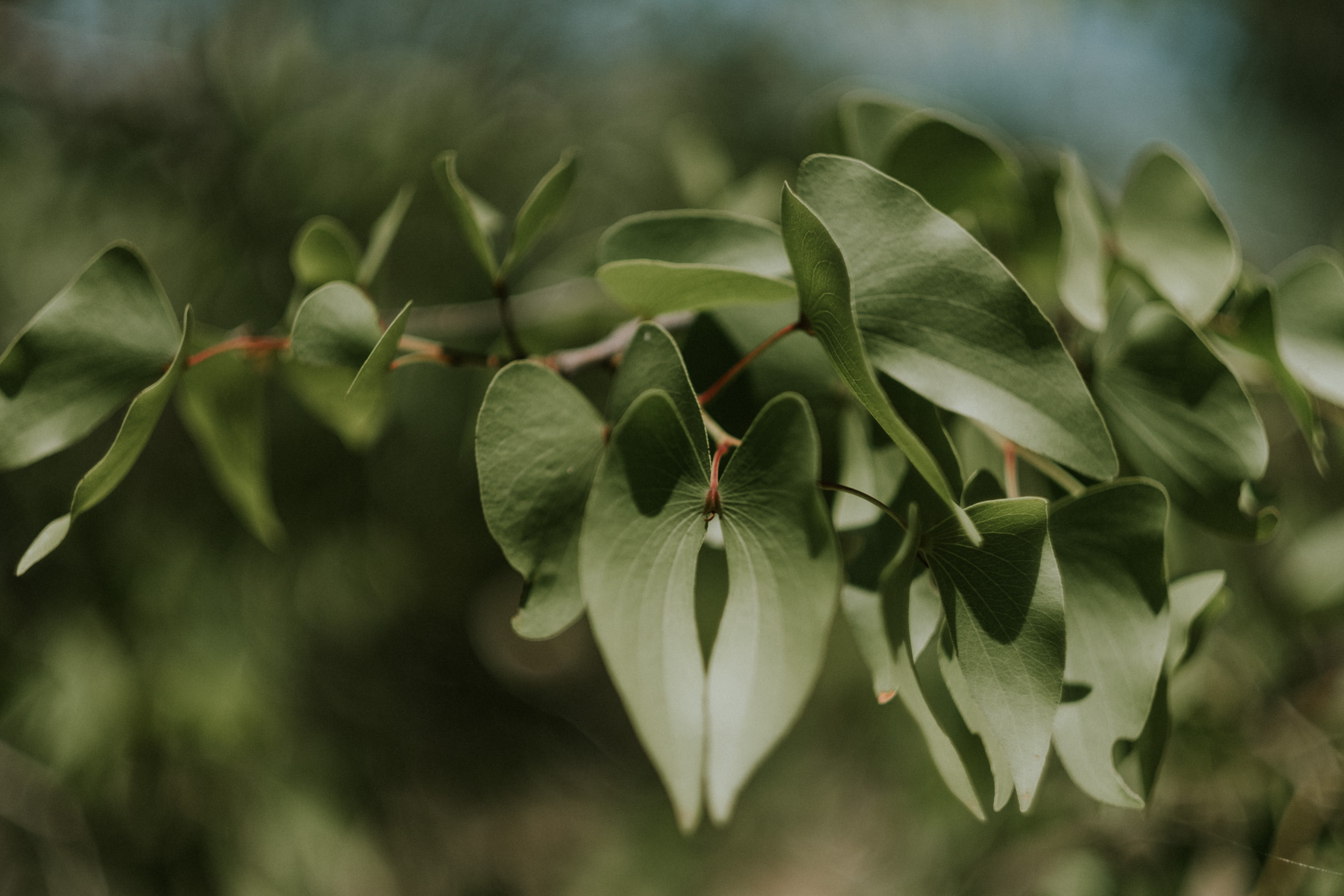 Above: Mopane trees are a favorite food of elephants, and one of the reasons they come to the Timbavati Game Reserve. Below: A Dung Beetle crafts its ball of dung, intended to attract a mate.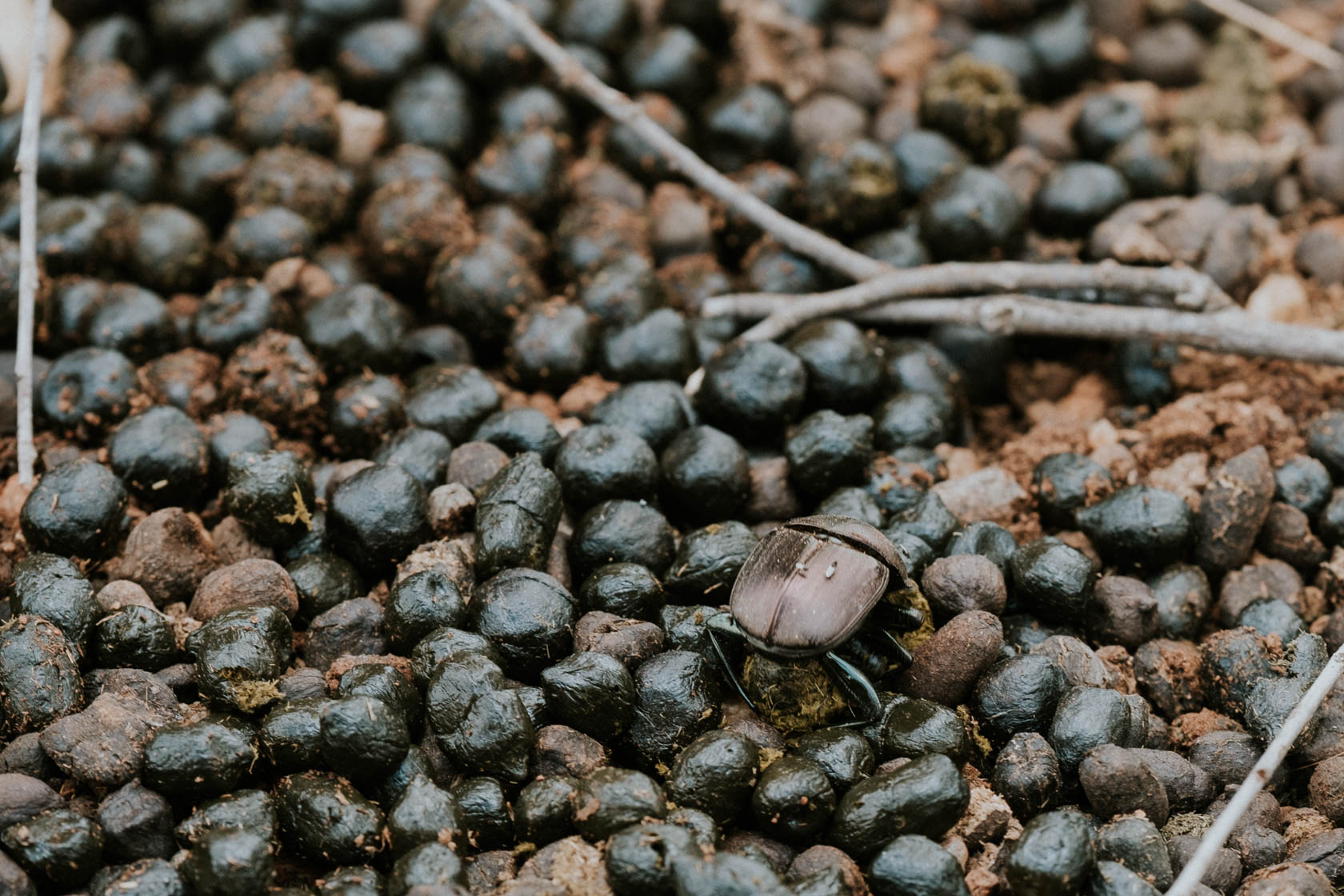 Include people or other objects for scale
It can be incredible how big animals are on safari! But usually in photos it's hard to convey how big they really are. By including people or other objects for scale, it can be easier to communicate visually how big something really is. For example, this Giraffe is totally huge standing next to a fully grown tree! No trouble getting to those leaves, eh?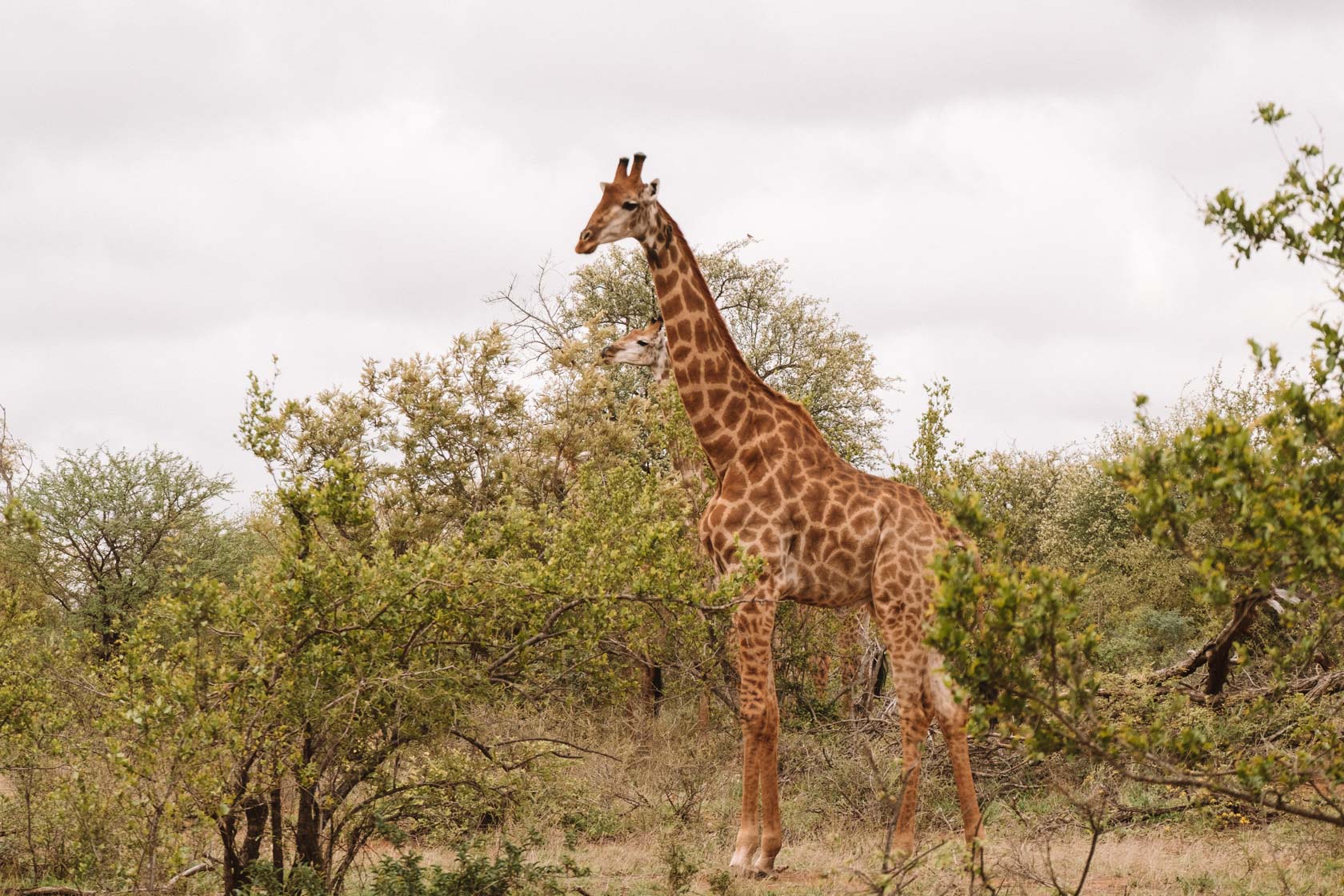 Go to where the animals are
In most parks, this means watering holes! Especially during high sun, you'll see animals coming to watering holes for a drink or to take a mud bath. Even if you don't see animals right away, you can stay and sit at a watering hole for a while and there's a pretty good chance that some animals will swing by in no time.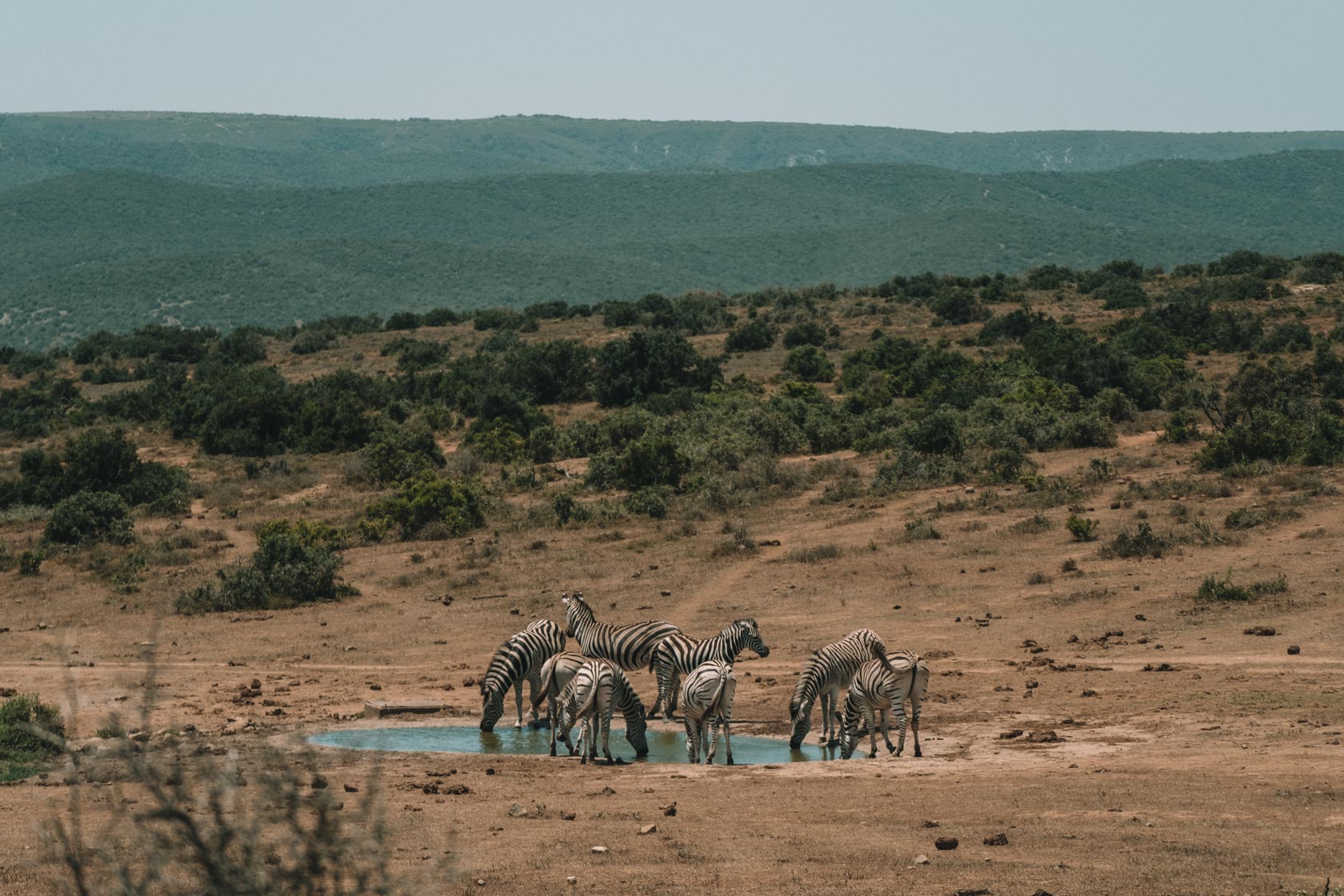 Watering holes are also a great place to see herds of animals. At Addo Elephant Park we saw herds of zebras and especially elephants congregating at the watering holes. The best part is watching the elephants chase the zebras away! 🐘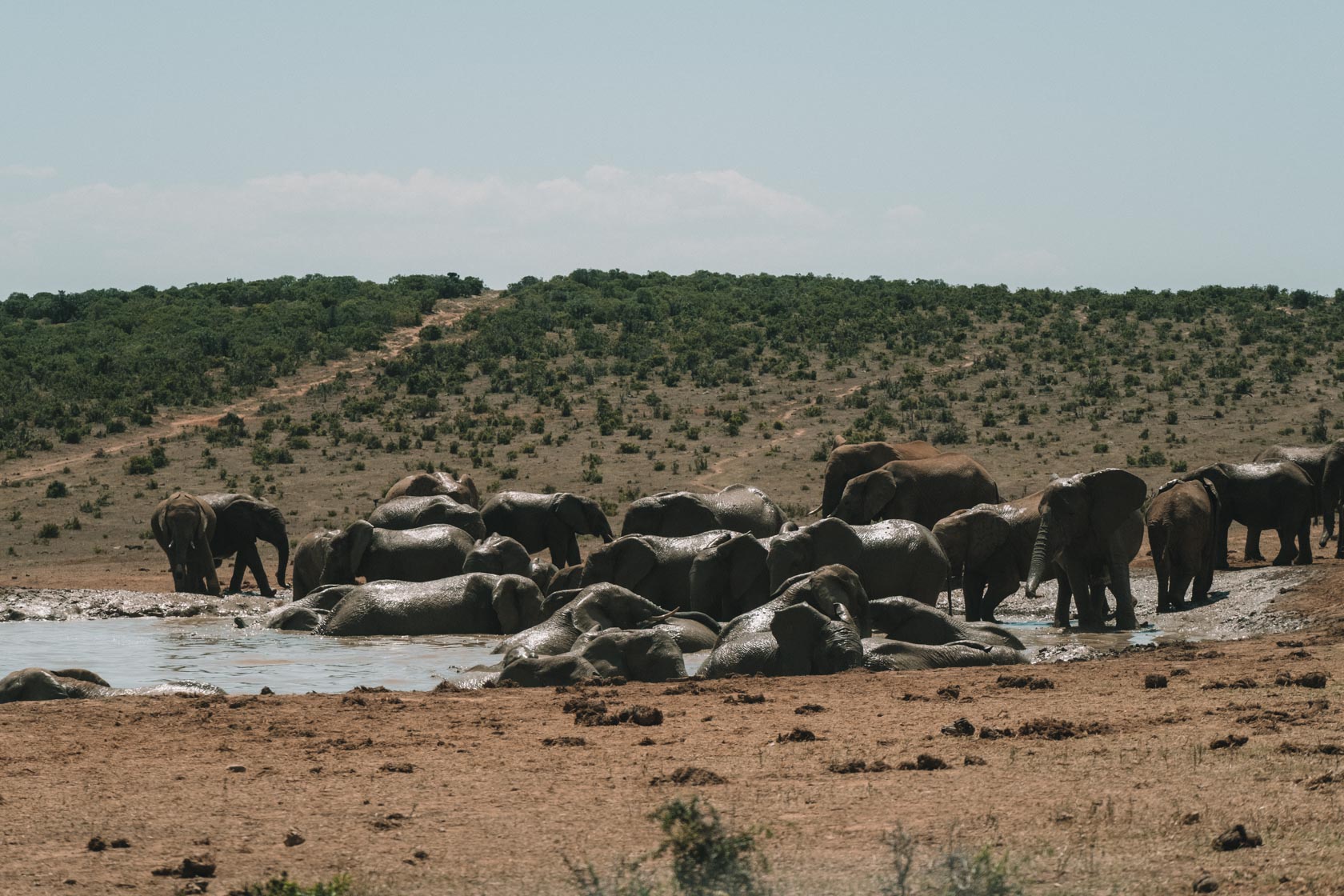 Wear neutral colors
There's a reason why safari-goers tend to dress in neutral colors! That's because animals are less likely to see it and run away. In most areas that are popular for safari, the animals know that safari vehicles are not to be feared, but plenty of prey animals are likely to run anyways. Dress neutral and keep your visibility to a minimum.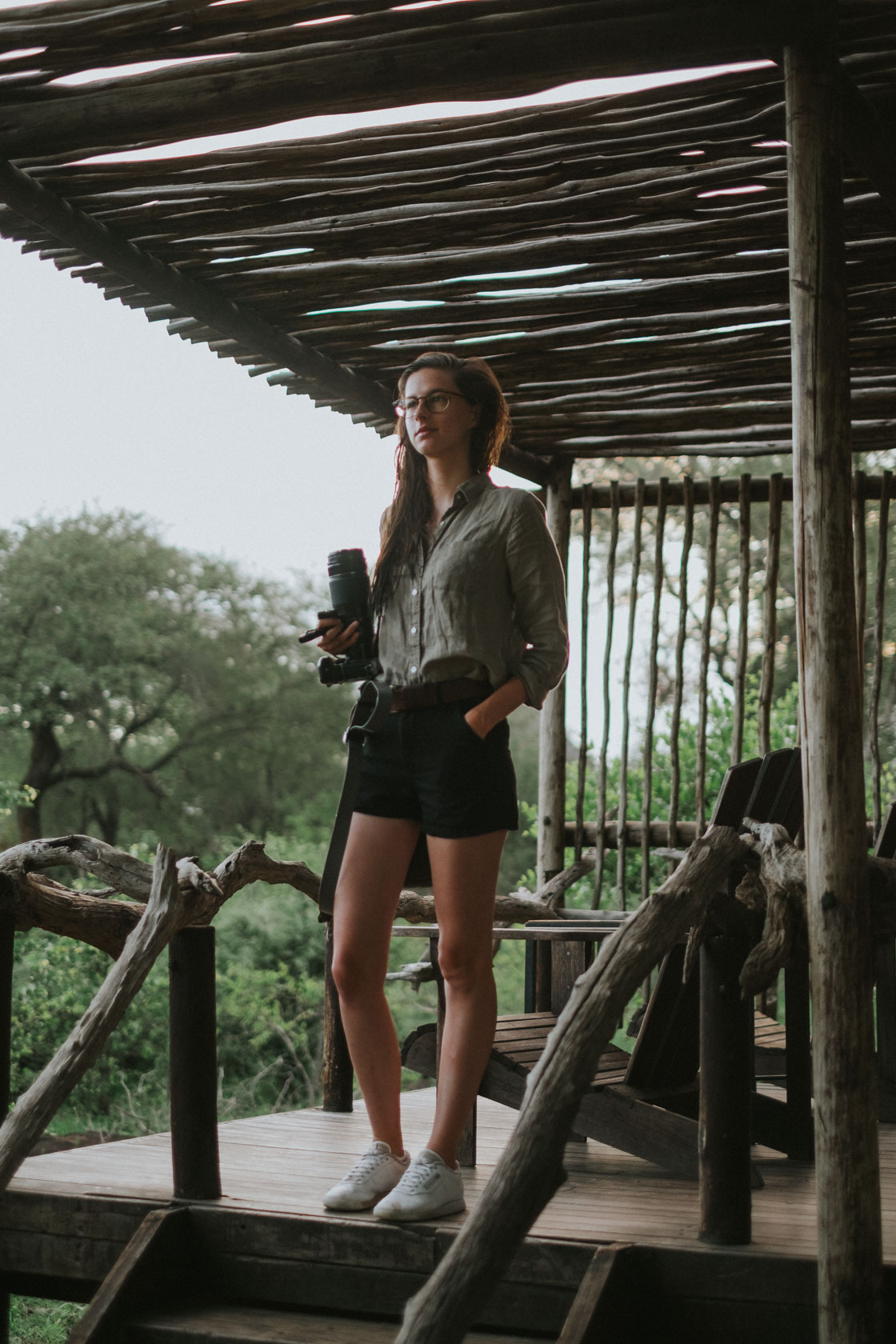 Dressing neutral usually means tan and olive-colored clothing. You're meant to avoid white or neon colors in particular.
Join a bush walk
One of the best ways to experience the African bush is going through a bush walk! You'll get a chance to see smaller animals and get up close to plants and insects you typically don't get to take your time with when driving through. Check that your safari lodge offers a bush walk.
WARNING – You should never go on a bush walk on your own, or leave the safari vehicle without your guide telling you it's fine. On a self-drive you should not get out of the vehicle at all. Only walk through the bush on guided tours, with guides who are usually armed.
Travel early in the morning or around sunset
Not only do you get some of the best photos possible during the "golden hours", but it's also the time when animals are the most active. Although we saw animals at all times of the day, you'll see different animals active at each time during the day. Most private safari lodges will take you on early morning and late afternoon game drives, but be sure to verify that before you book!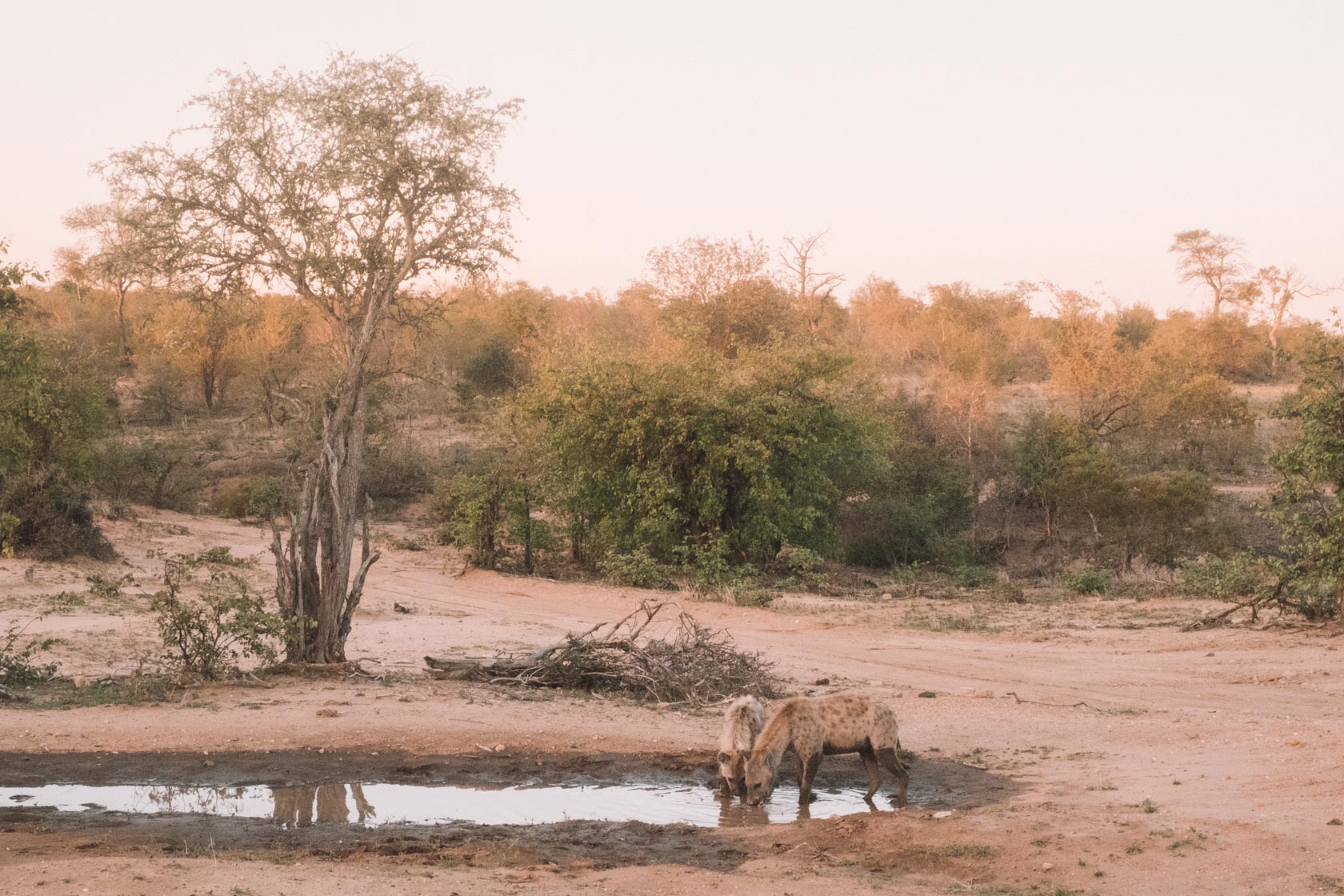 Above: Hyenas venture away from their den for a late afternoon drink near our safari lodge. Below: A bull elephant eating his leafy breakfast 🍃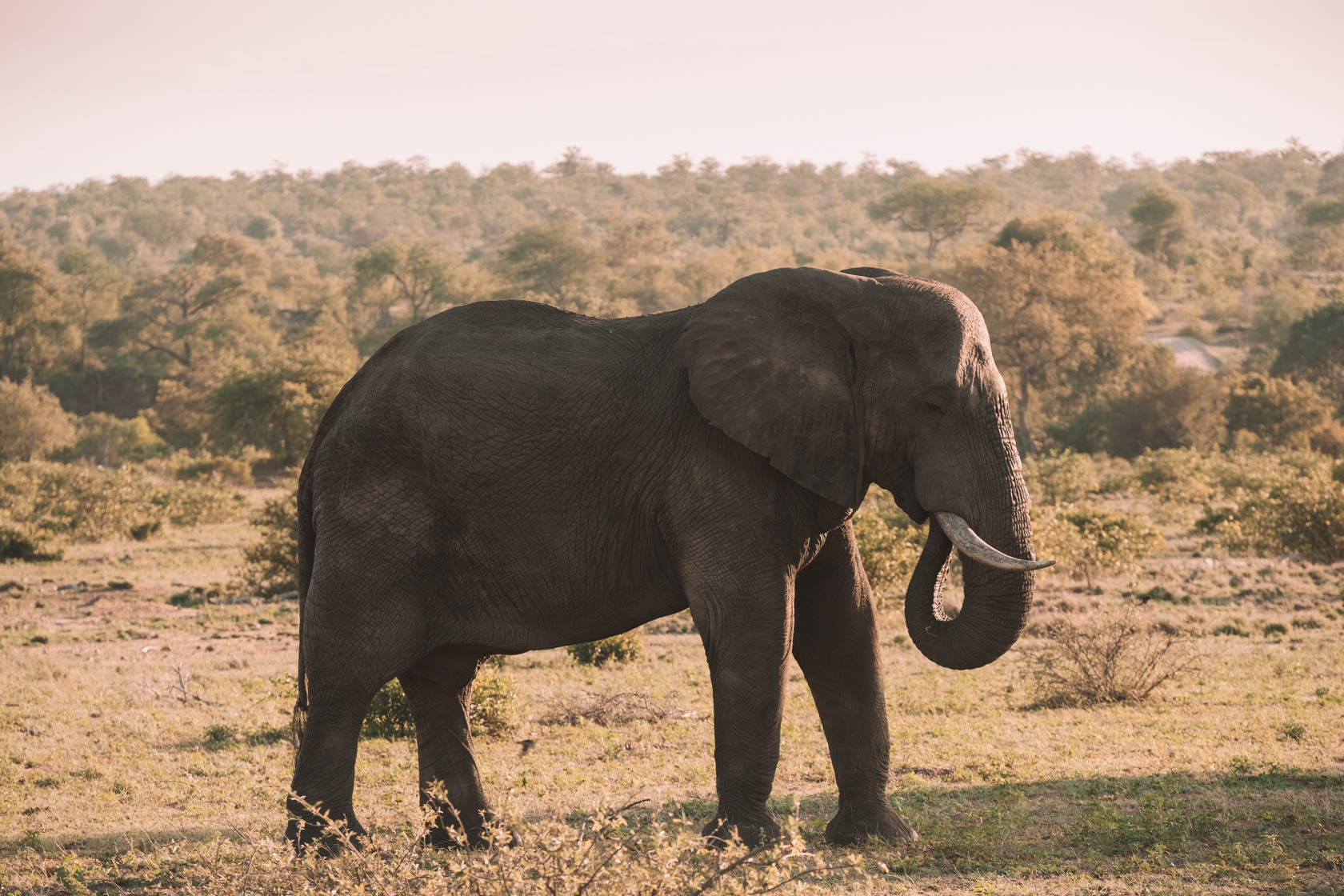 Talk to other safari-goers for tips on sightings
If you're doing a private safari, there's a good chance your guide and tracker are communicating with other guides and trackers about their sightings. That's one of the big benefits of going on private game drives. But even if you don't have the budget for that, don't be afraid to slow down your car on a self-drive and roll the window down to talk to people! That's how we got a tip about one of the best elephant herd sightings we had.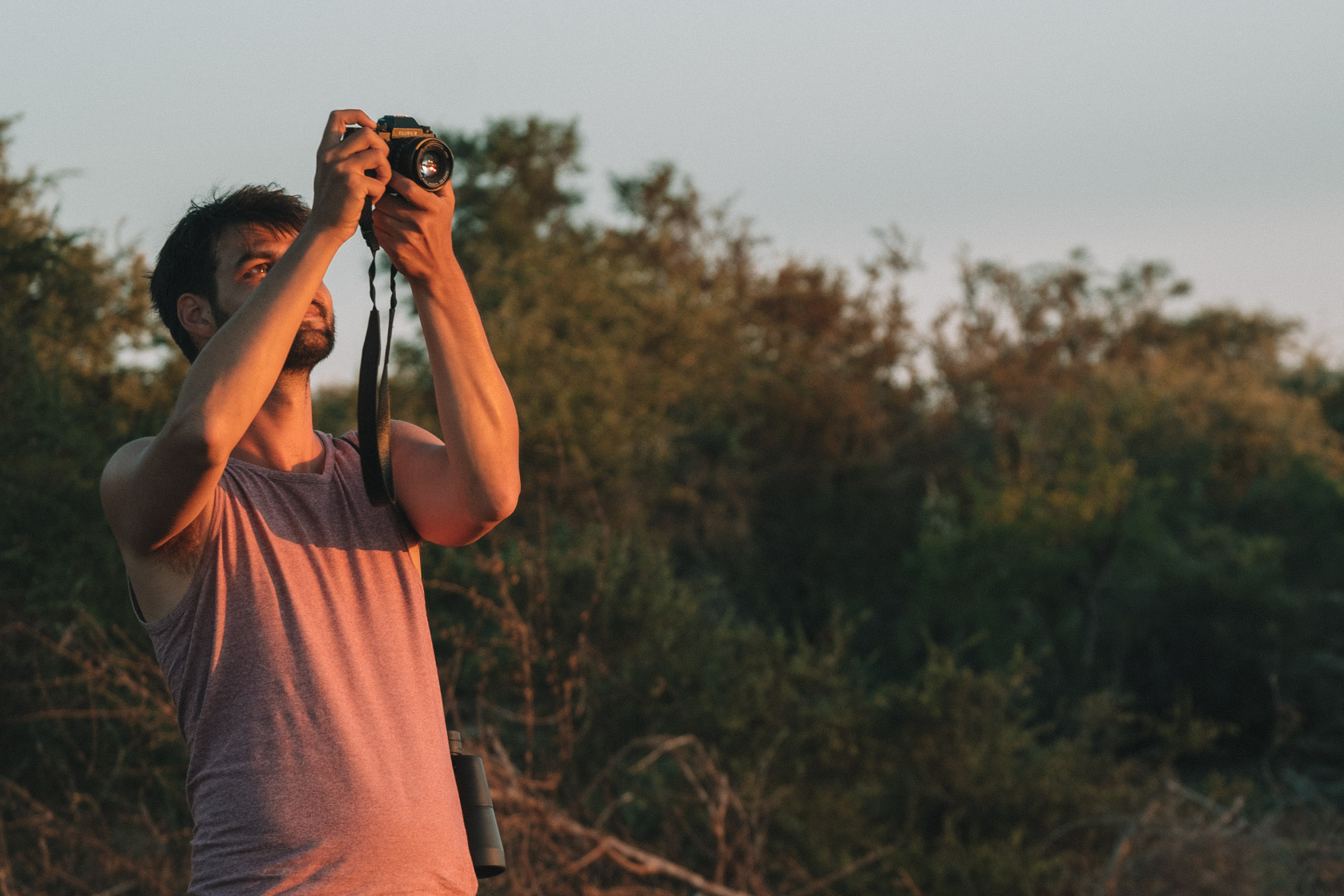 Don't just zoom in all the way
Sometimes the best photos include the full body of the animal, or even some of the environment. It can be so so so tempting just to use your zoom for animal portraits, but make sure you're also getting some of the landscape in the picture too!
Focus on the eyes
Whether you're photographing animals on safari, or you're taking portraits of people, the principle is the same: set your focus point on the eyes! This is what makes the photo look sharp and feel engaging.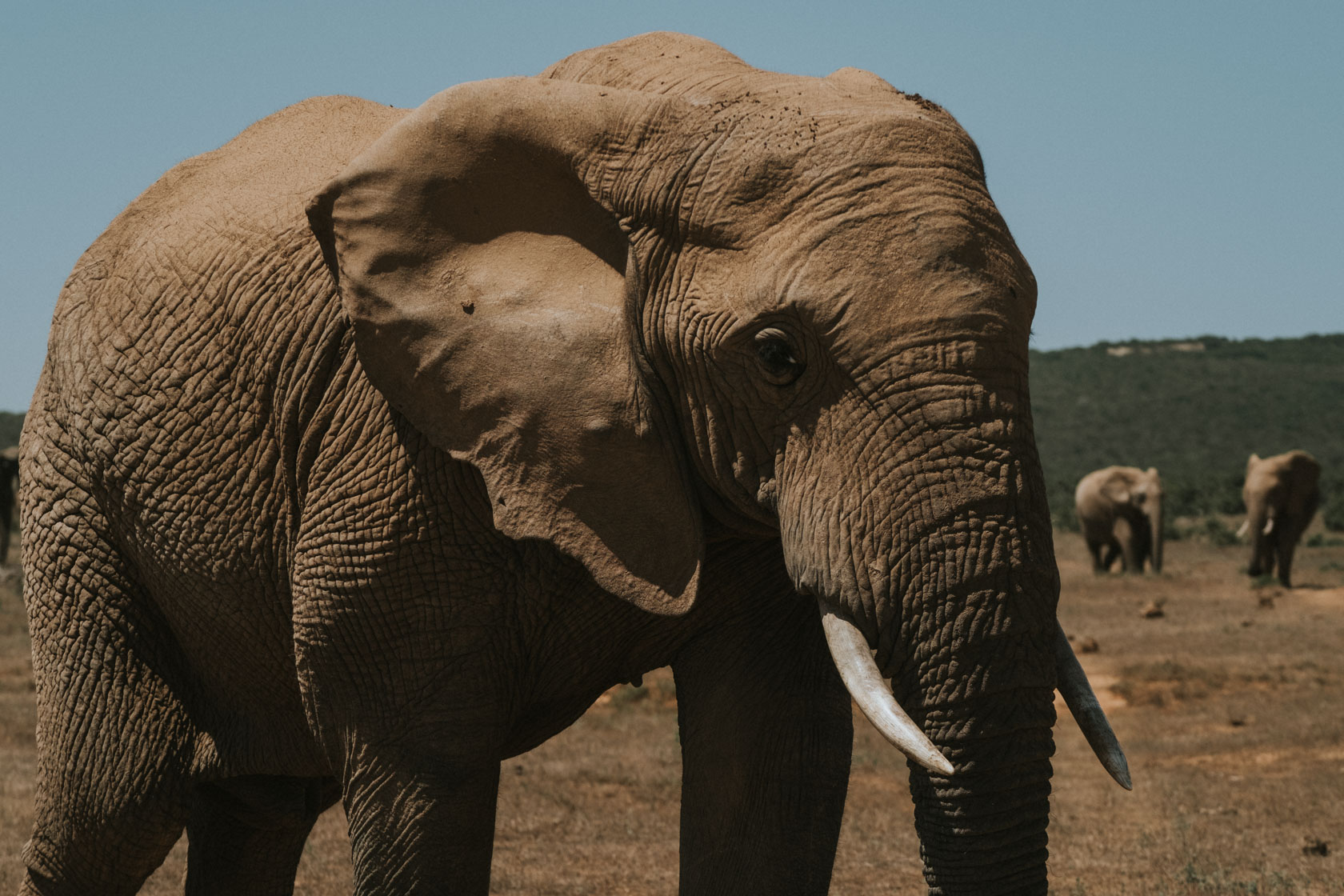 Make sure the settings on your camera are correct
Before heading out for the day, check that your camera settings didn't get changed, or that they're not the same settings you used when you were out at night! Nothing's worse than having an awesome early morning sighting and screwing it up because you still had your ISO too high.
Don't forget to enjoy the safari!
Photography is supposed to help you remember your safari experience, not to BE the experience in and of itself. Bring some binoculars to inspect the animals more closely, and enjoy whatever gifts nature has brought you that day!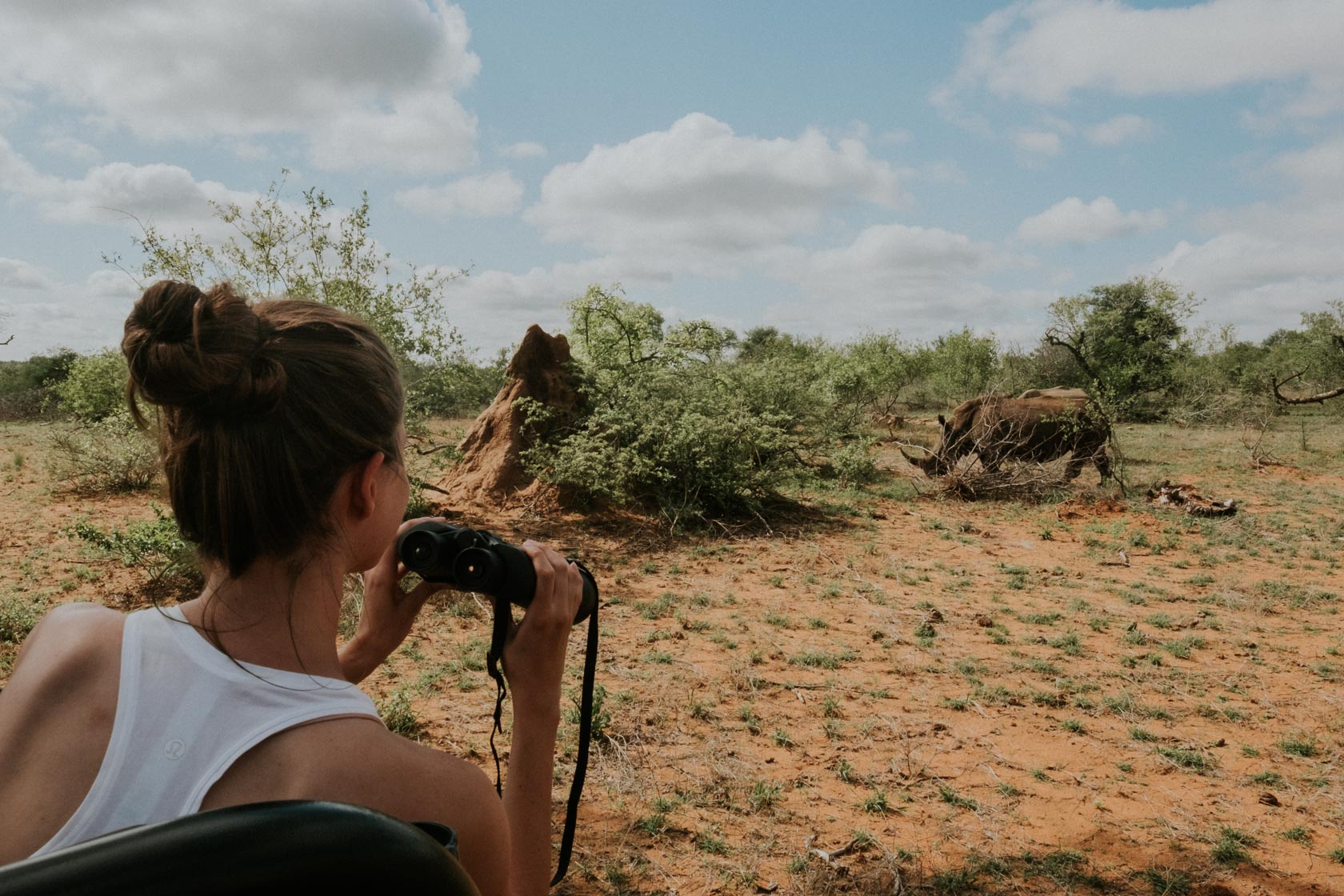 **Photography gear I used on safari**
Have you ever been on safari? What animal did you think was the most photogenic? What was the best spot you've been for viewing animals?
Share your experiences in the comments! I'd love to get your safari tips.