Depending on what you're looking for, safari can easily become the most expensive part of your trip to South Africa. So how much exactly does a South Africa safari cost? Well, it depends on a number of factors. The options and considerations for choosing an African safari are many: duration, group size, time of day, the guide, and the liklihood of seeing animals.
You don't have to spend a fortune to go on a South African safari, but you should also be aware of what you get when you're willing to hand out the cash. Here are three different ways to do safari in South Africa, including the pros and cons to help you pick which way works best for you – and for your budget.
How to choose a safari
TIP – In South Africa, safari is referred to as "game drive".
Self-drive ($)
Cost: Entry to the park (R272 for Addo, R372 for Kruger) + cost of the rental car
Self-drive safari essentially means that you take your own car and drive along paved or dirt paths in the park. When you enter a park, you'll get a map and you can drive around to different areas of the park to try and find animals. In our experience, we have had pretty good luck on self-drive safari for seeing animals – both driving around Addo Elephant Park and driving into Kruger National Park en route to our private safari lodge.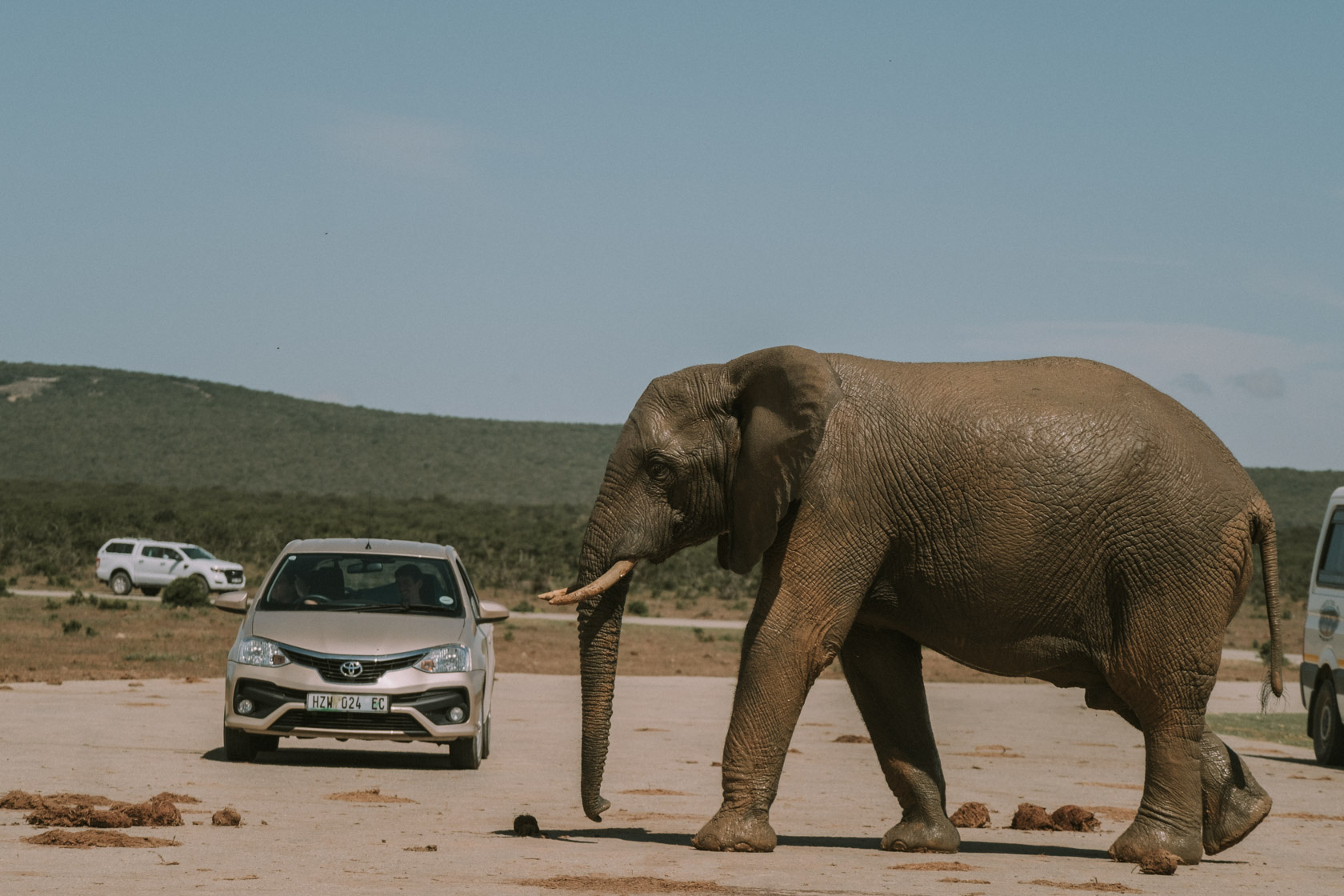 TIP – You can also do a ride along self-drive where you essentially rent a park ranger to drive along with you.
Reasons you should do a self-drive safari in South Africa
Self-drive safari can be a great option when you're on a tight budget. You only need to pay the conservation fee and can drive around for the entire day if you want to.
Take as long as you want at a sighting. If you find an animal or herd of animals you want to stay and watch, you can stay as long as you want to. Sometimes in a group there may be people who want to move on before you've landed the photo you wanted, so a self-drive gives you the freedom to go at your own page.
You can drive as long as you want to. Most guided safaris last between 2-4 hours, and you'll quickly learn when you're out in the bush that there's no such thing as a too-long safari. It takes time to spot animals, and you can drive around for a while without seeing anything. So being able to stay as long as you'd like is great.
Air conditioning in the car. If you're trying to keep out of the hot sun, it can be really nice that you can do safari in air conditioning!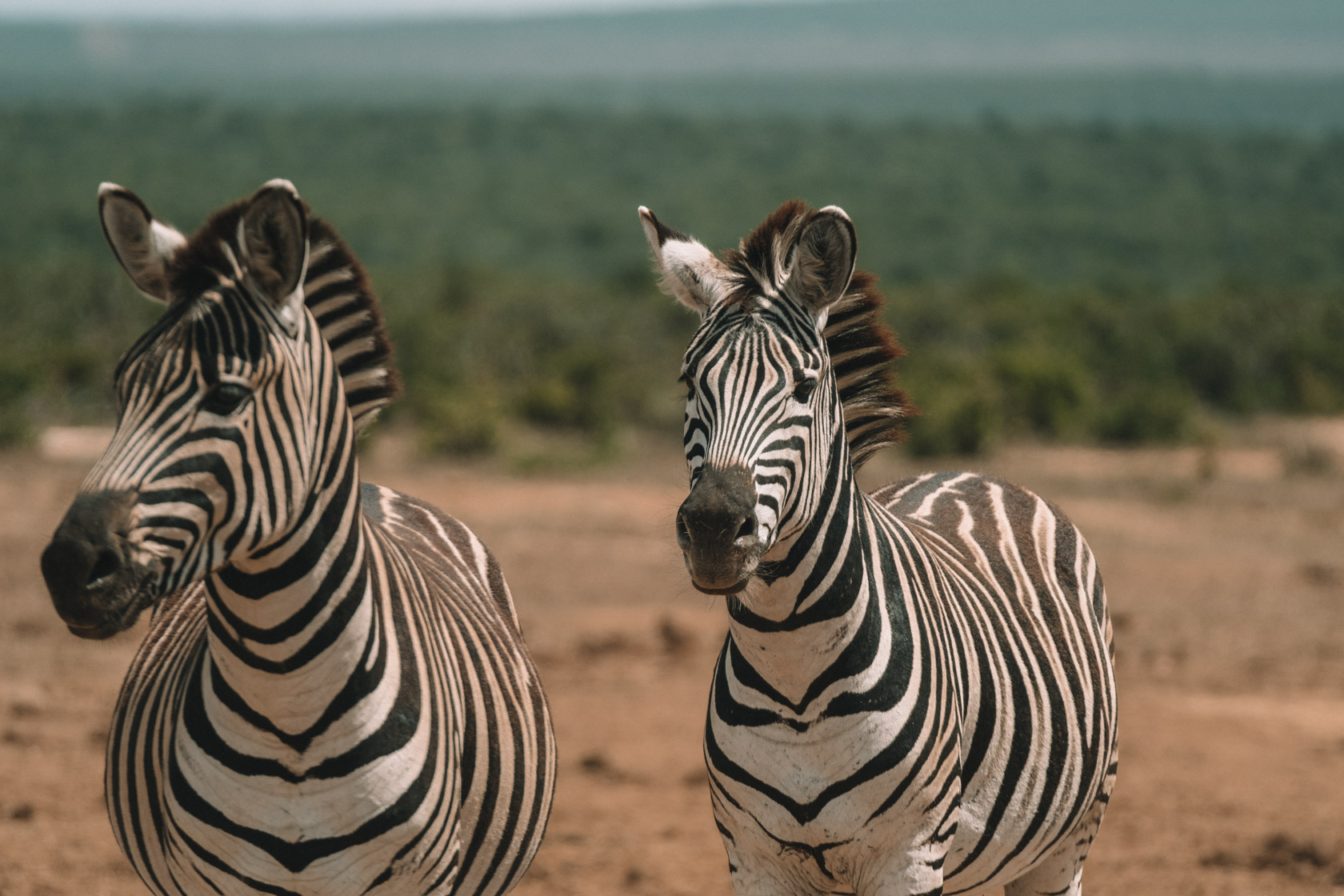 TIP – Be sure to bring water and snacks with you when you self-drive, as there are not many facilities inside the park and you want to be sure you can cover enough ground without going hungry or thirsty.
Downsides of doing a self-drive safari in South Africa
That said, there is a reason why guided safaris are offered, and it's mostly got to do with the fact that self-drive has some limitations and that people like you and me aren't exactly wildlife experts so we don't get the full potential out of a self-led experience.
You're limited to the park's public hours. If you're staying outside the park you can only stay in the park during the permitted hours. Depending on the season, that might mean that you miss sunrise and sunset, which are some of the best hours for viewing animals – both in terms of photos but also in terms of animal activity. It is possible to stay inside the grounds, but then your costs can really increase for the trip.
You'll miss the smaller animals. One thing I love about guided safari is that you get a chance to learn about smaller animals! Not only the Big Five are worth learning about, and the South African national parks have many interesting creatures big and small.
No chance to learn about the animals you're seeing. That said, as a whole it can be hard to identify animals that you're seeing without a guide. A few are obvious, but it's always interesting to learn more about what you're observing.
You aren't trained to spot animals, and will likely miss some. There's a reason why private game drives usually have both a guide and a tracker. Some people's entire jobs is to track and spot animals which are otherwise invisible to people like you and me.
Which animals you do see is mostly left to chance. When you think about it, the parks are huge and there is only a limited space which is even visible from the road. On private reserves, rangers can share sightings with each other.
It can get very crowded with many self-drivers at popular sightnings. We did not self-drive in Kruger, but there are plenty of stories of waiting in queues for 30+ minutes for an exciting sighting, e.g. a lion or leopard.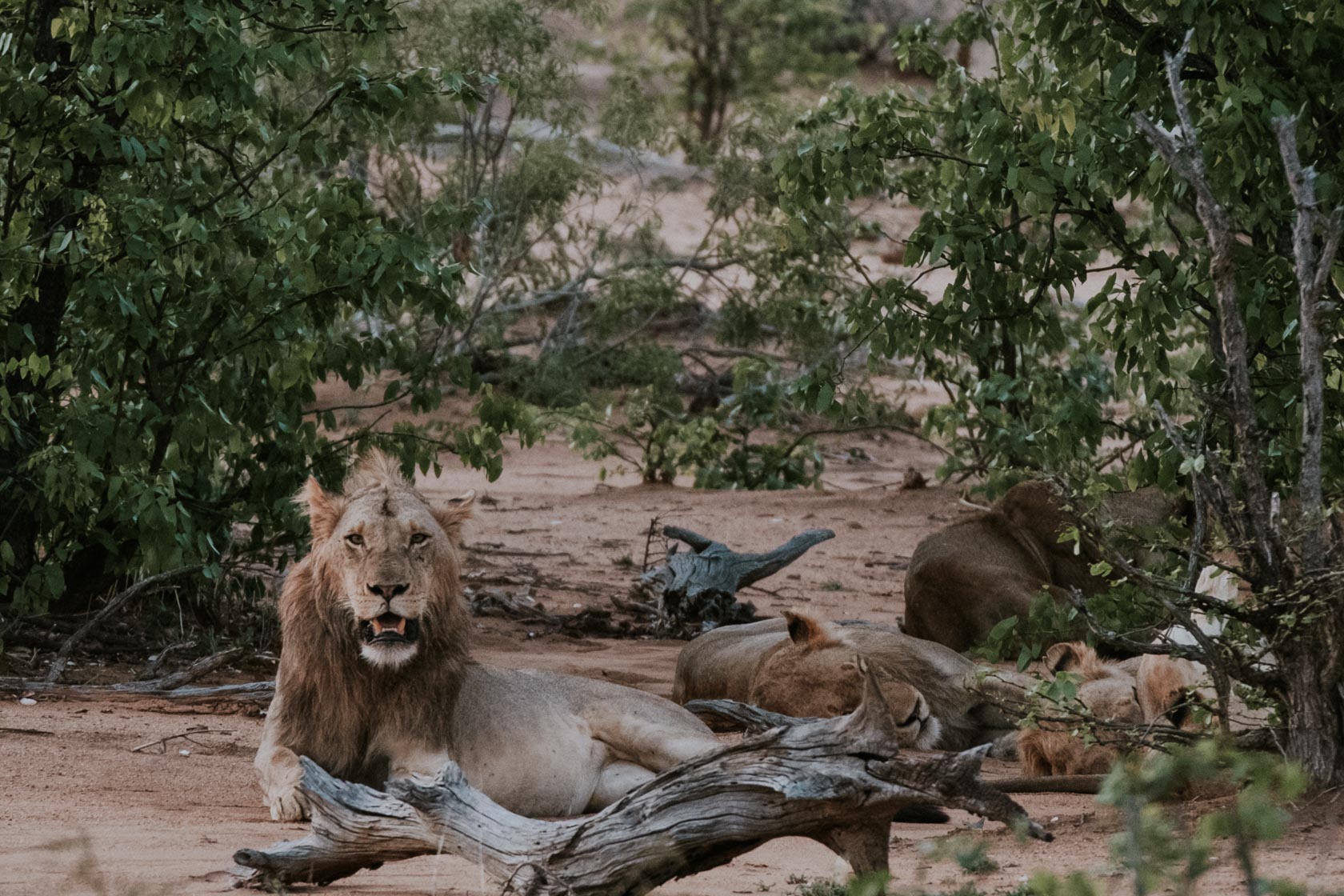 As opposed to self-drive, private reserves limit how many cars can join a sighting at once. This means the animals are less disturbed and you get to enjoy seeing the animal in peace!
For more information on what it's like to do a self-drive safari, check out this post on doing a self-drive safari in Kruger National Park and what pros and cons exist specifically for that park!
Public guided game drive ($$)
Cost: 25-37 EUR per person
The national parks like Kruger and Addo also offer group game drives you can join, which are guided by one of their park rangers. This is a good middle ground between self-drive and doing a private safari for a few reasons: it's not too expensive, it's educational, and the park ranger is probably better at spotting animals than you are.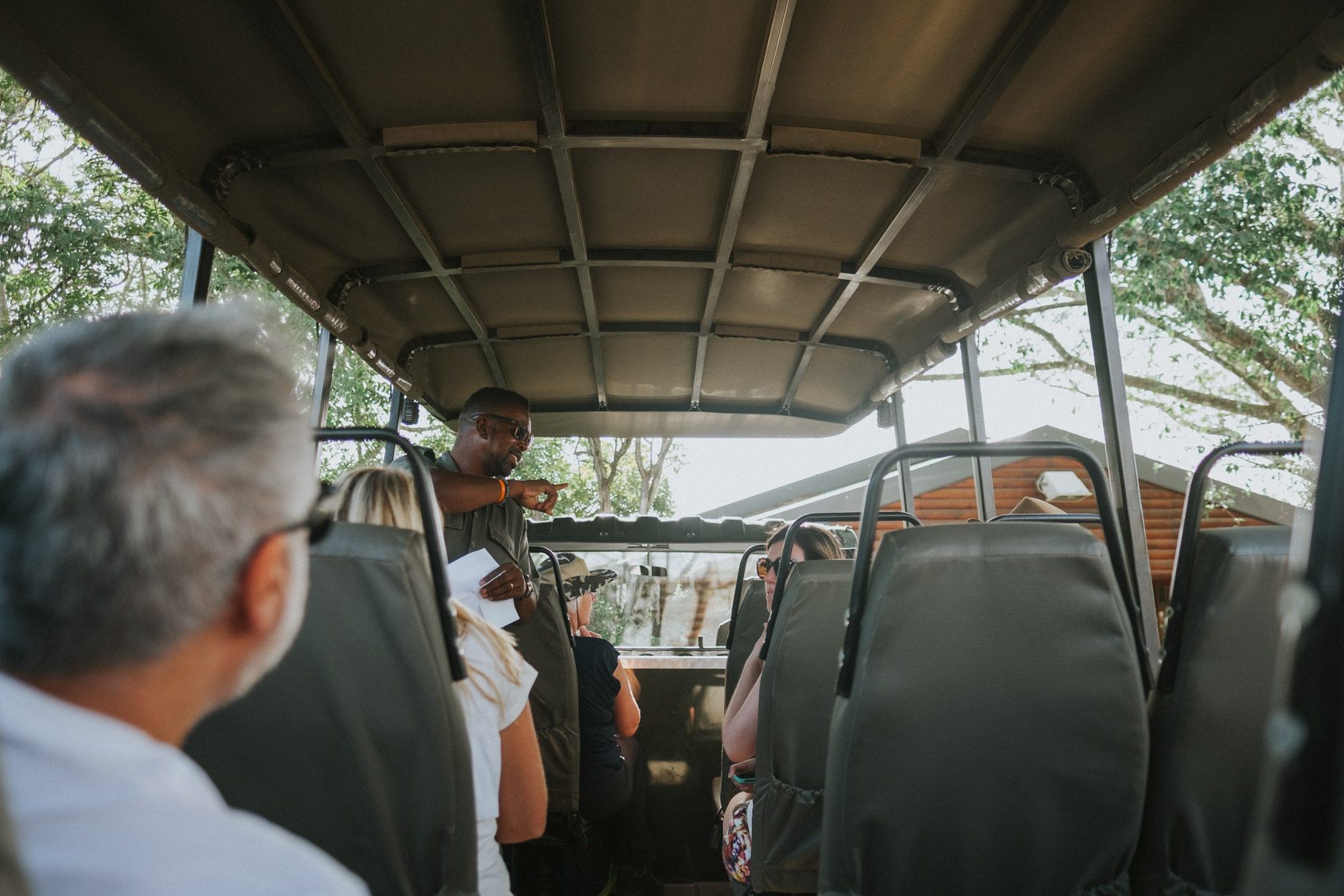 Why you should join a public guided game drive
Interesting commentary by your guide. I'm pretty sure these guides are used to being entertainers. We really enjoyed our guide at Addo Elephant Park, who delivered information with a sense of humor and also helped you learn a lot.
Stay at the park earlier/later than self-drivers. Parks will often offer sunrise, sunset, or night time safari rides, which are sometimes at times that regular self-drivers are not permitted to drive in the park. For instance, at our sunset drive in Addo, we were able to stay long enough at the park after it closed to see the sunset which made for gorgeous photos!
Learn about smaller animals besides only the big ones. As I said, I like learning about all the animals, not just the big ones. So the park ranger knows when it's worth stopping and showing you an animal you would've otherwise overlooked.
By sitting higher up you have better visibility. It's really a different experience to be up high in a land rover, compared to being low down in a sedan. You have better visibility and can see over the first row of bushes that might otherwise obstruct your view.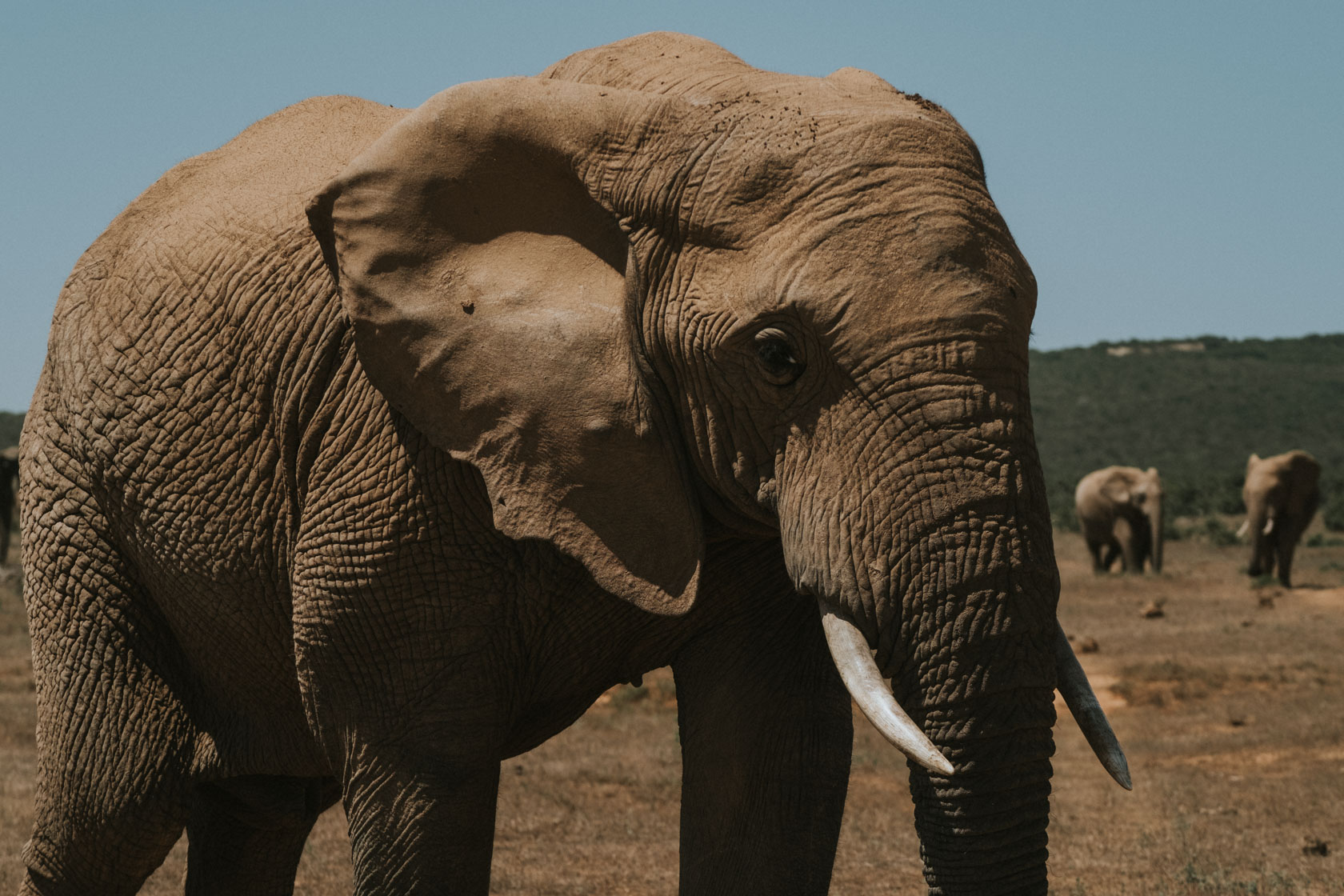 Downsides of doing a public guided game drive
Groups are big. Depending on how the land rover is structured (size, number of seats) you may end up without a good view because there are simply too many people for everyone to sit with a "window seat" so to speak. Dealing with more people in the public comes with what you expect – some people are loud, some don't follow the rules, or some obstruct your view.
They can be rather short (2 hours). As I said before, there's no such thing as a too-long safari. The public guided game drives we saw were around the two hour mark, which is really not much time to see animals. On our four-hour self-drive in Addo we already felt we were running out of time. In private game drives, you usually have a longer duration of 3-4 hours which is much appreciated.
It's still 100% chance what you'll see. Rangers are not allowed to communicate with each other which animals they see. I'm not sure if it's for safety reasons or other reasons, but it means that, as with self-driving, the actual animals you end up seeing is mostly left to chance.
Private safari lodge ($$$)
Cost: 250-350 EUR per person per night (includes lodging, all food and drinks, two game drives and a bush walk per day)
Staying at a private safari lodge is expensive, and for a reason. Not only does staying at a private safari lodge include between 6-7 hours of game drives per day, but it also includes all meals, drinks, and luxury accomodation. We left our safari lodge feeling that the cost was completely justified, but it really depends on if you can find the money for such an experience.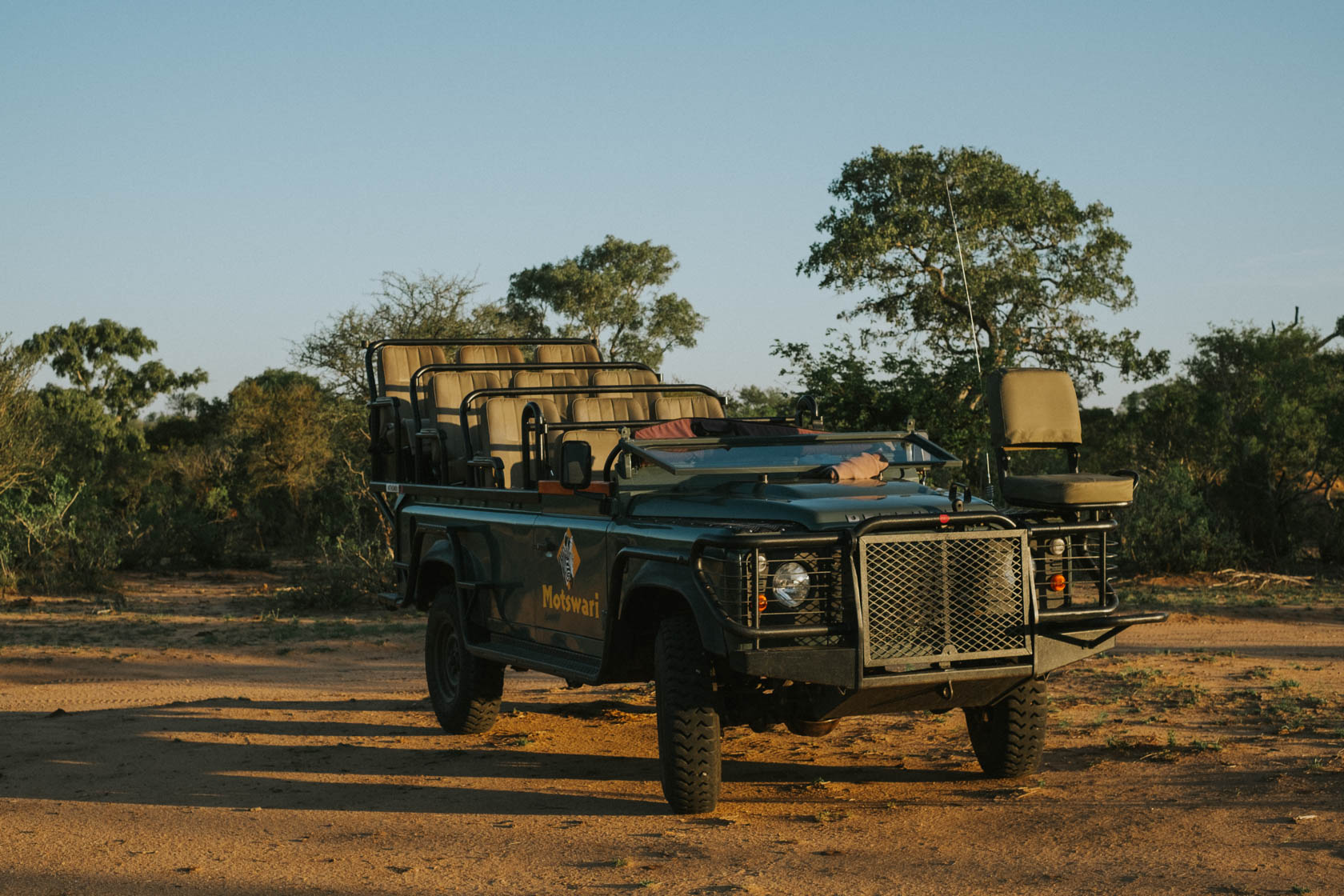 Our intimate safari range rover with Motswari
Why you should join a private game drive
Private game drives have an advantage for a number of reasons, and it was really helpful that we did self-drive and a public guided game drive in order to appreciate the value we got from the private game drive.
Guides share sightings with each other over radio. I can say that both of the times we saw lions, it was because the guides shared a tip on the location over the radio with one another. Without this fact, it could've been that we didn't spot lions at all on our drive, despite the fact that the area we were in is famous for lions! Taking a private guided game drive is one of my top safari photography tips.
Guides and trackers can focus on finding animals you're interested in seeing. Since guides share information over the radio, they can follow up on leads for the animals you tell them you're most interested in seeing. This means you have a better than "pure chance" of seeing the animals you're interested in. Plus, the tracker and guide can actually get out of the car to track animals, which you simply won't find on a public game drive owing to the tight time constraints.
Smaller group of people. Being in a smaller group has a ton of benefits: the drive is less noisy, you're more likely to get a good view, and you don't need to fight for a "window seat".
Easier to ask (many) questions. Plus, since the group is smaller, it's much easier to communicate with the guide and tracker to ask questions. In our game drive group I'm sure they answered a hundred questions during the three days of safari we had together. We learned not only about the animals, but the politics around poaching, survival skills, and how guides and trackers receive training.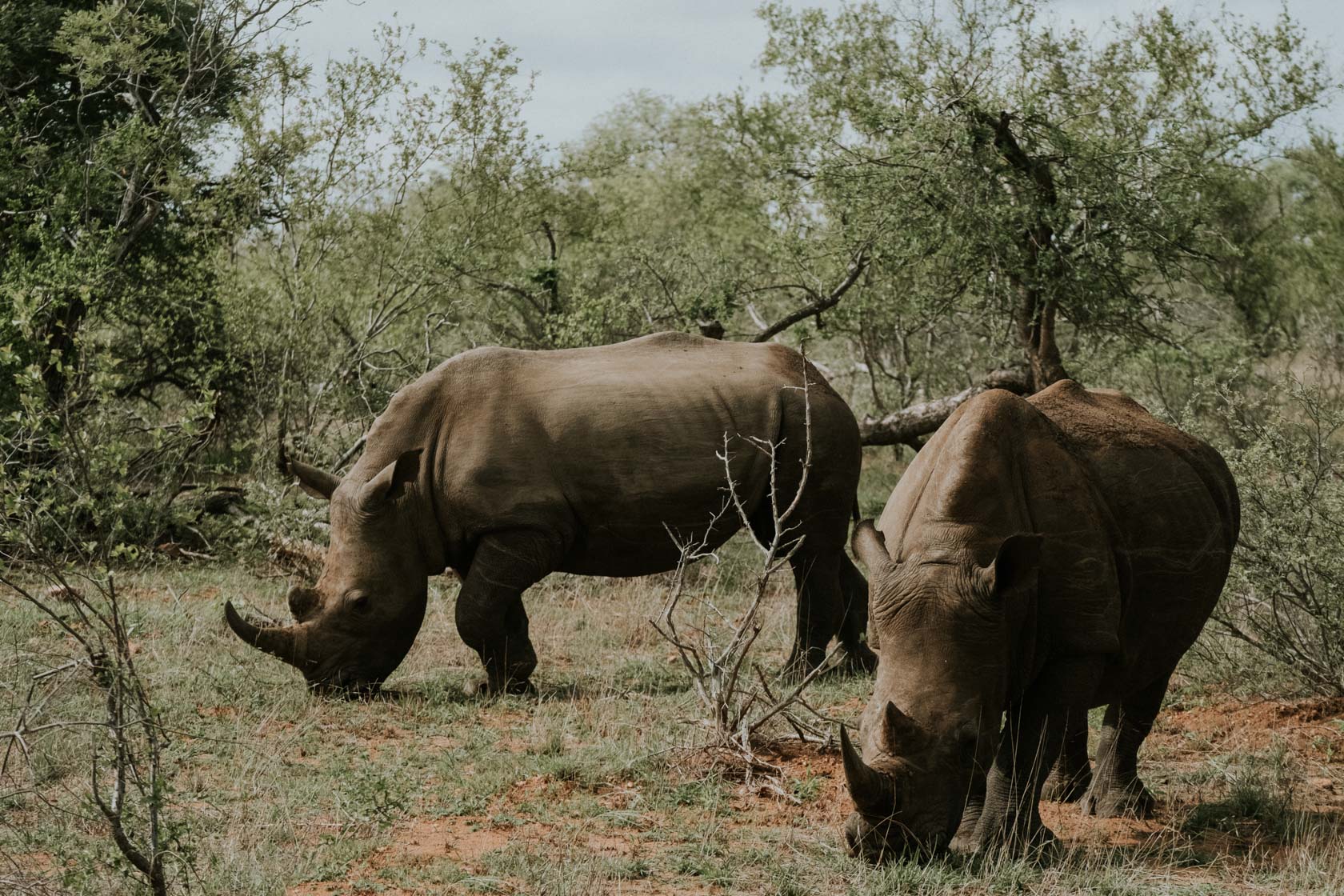 Longer time spent at sightings. Since the group is smaller, they will stay at a sighting as long as you want. It's also easier for the guide to make sure everyone is finished taking photos before you move on, which is really nice if you're on a mission to grab great wildlife photos!
Able to go off-road. Sometimes you just need to get closer, and in a private game drive, there are areas where the guides can drive off-road.
Longer duration usually means more animal sightings. In our experience, the game drives were usually between 3 to 3 1/2 hours. The guides will put effort into planning the drive so you get to see a variety of things, and may extend the drive to fit in something that will really make the drive special. They also remember what animals you've seen over the last days to ensure the whole group gets to see as many new animals as possible.
Recommended private safari lodge in Kruger
Motswari Private Game Reserve
Timbavati Game Reserve
Greater Kruger National Park
Accomodation: Luxury, Safari
Price Range: $$$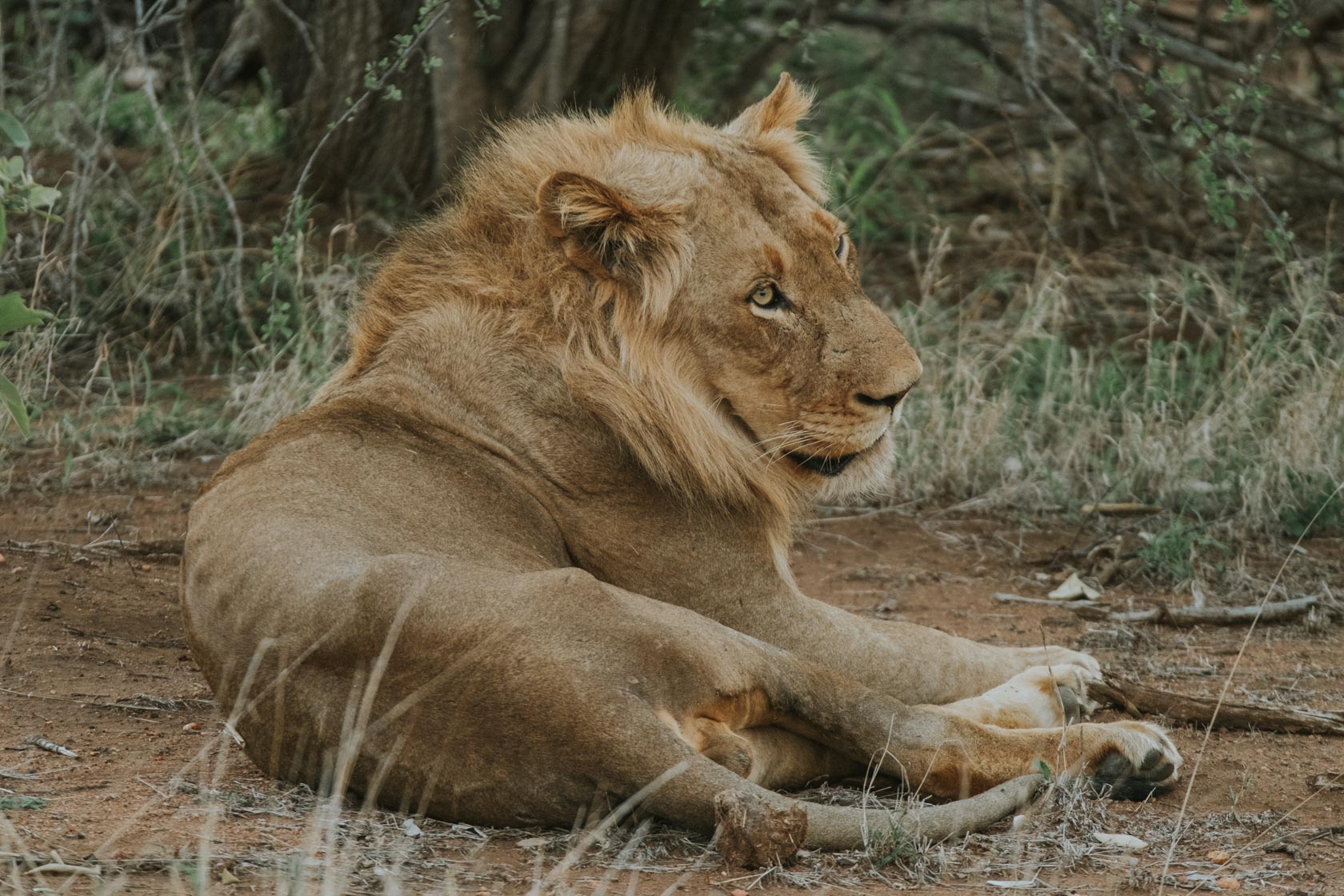 TIP – Do check off-season, because every private safari lodge has massive discounts during the South African winter. Besides, winter can be one of the best times for animal visibility.
Downsides of private game drives
There are some restrictions on where the guides can drive. Although we did not perceive that this affected what we saw, it is true that some areas are either off-limits for the guides to drive, or that there is a limit for how many people can be on a piece of land at once.
It's expensive. In terms of having the best all-round experience, there is no doubt to me that the private game drive is the pinnacle. However, it seems that about 300 EUR per person per night seems to be a pretty standard rate and we had a pretty hard time swallowing the price.
One way to think about it is how much a public game drive costs per hour (37 EUR / 2 = 18.50 EUR) and multiply it by how many hours of game drives you get at a private reserve (18.50 EUR x 6 = 111 EUR, or x 7 = 130 EUR). This approaches half of the cost, but with a much better experience. 170 EUR for luxury lodging and all inclusive meals is not outrageous but it would've probably been beyond my means a few years ago.
You see how I justified the cost? 😉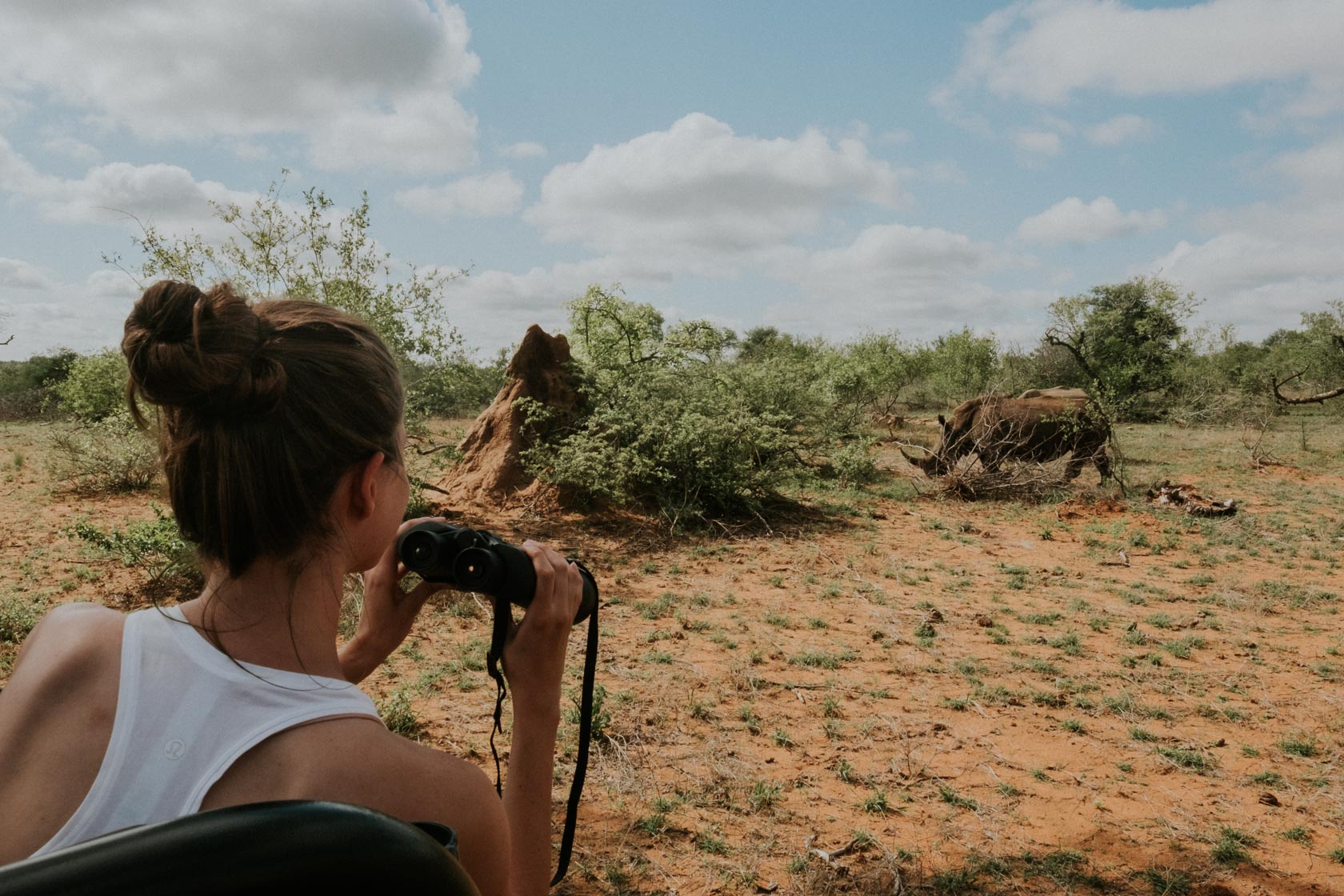 Which kind of safari is right for you?
Ultimately, you can do African safari on a budget no matter what budget you have. Whether you can only really afford to self-drive, that doesn't mean you won't see any animals. You can still have an amazing and exciting time on safari by self-driving. For a little more money, you can also join a guided tour which will give you a different perspective (literally and metaphorically) on the animals that live in the African bush. And finally, if you are looking for a once-in-a-lifetime experience and want to pull out all the stops and opt for a private safari lodge. I can tell you that for us it was totally worth the money.
Pin this post for later!