If only I could count how many hours I spent searching the internet for the best mirrorless camera bag that didn't look ugly (and frankly, manly). At the same time, I think when you want to choose a camera bag specifically for travel, there are some extra considerations compared to people who are just hauling their bag around from one photoshoot to the next.
Read on for my tips on how to determine which qualities you actually want in your travel camera bag, how big it needs to be, what materials to choose, and where to find a stylish camera bag that's going to be both beautiful and functional!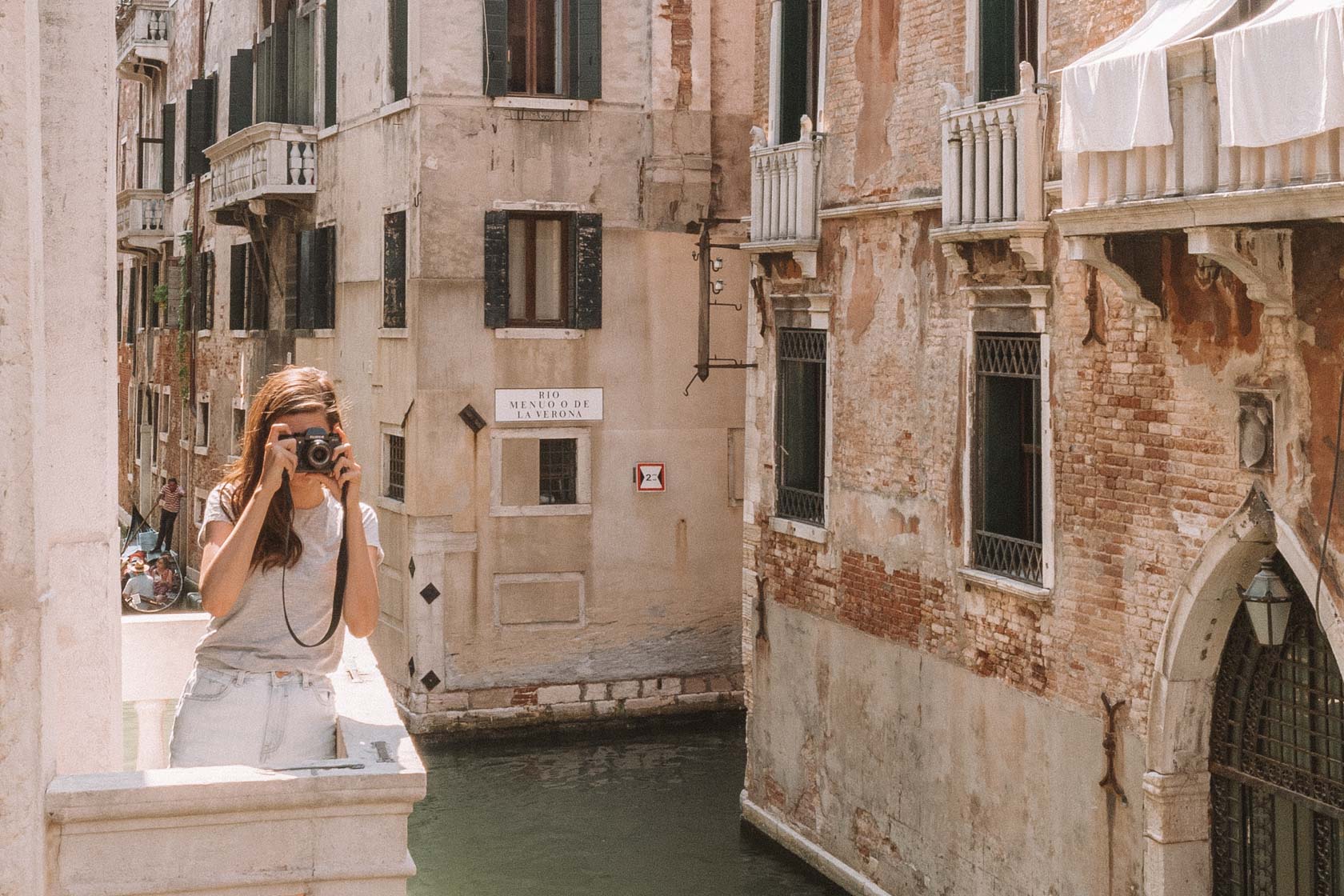 Some links in this post are to affiliate sites. If you purchase something through them, I may earn a small comission — which costs you nothing! I am very grateful when you use my links to make a purchase.
How to choose a stylish camera bag for travel
Choosing a stylish camera bag for travel is not exactly a piece of cake – for one, quality camera bags are rather expensive and most of the time you're going to be ordering them online rather than being able to try them out in a store.
In order to start narrowing down your own personal requirements for a travel camera bag, start by answering the following questions for yourself:
How much equipment am I going to bring?
How mobile do I need to be?
How long will I be out most days?
What kind of weather will I need to endure?
What type of photos do I want to take?
Understanding the kind of gear you need to bring with you is the most important part of picking a bag, as it's going to help to determine the capacity you need.
Let's take a look at all the important qualities you want to look for in a travel camera bag, shall we?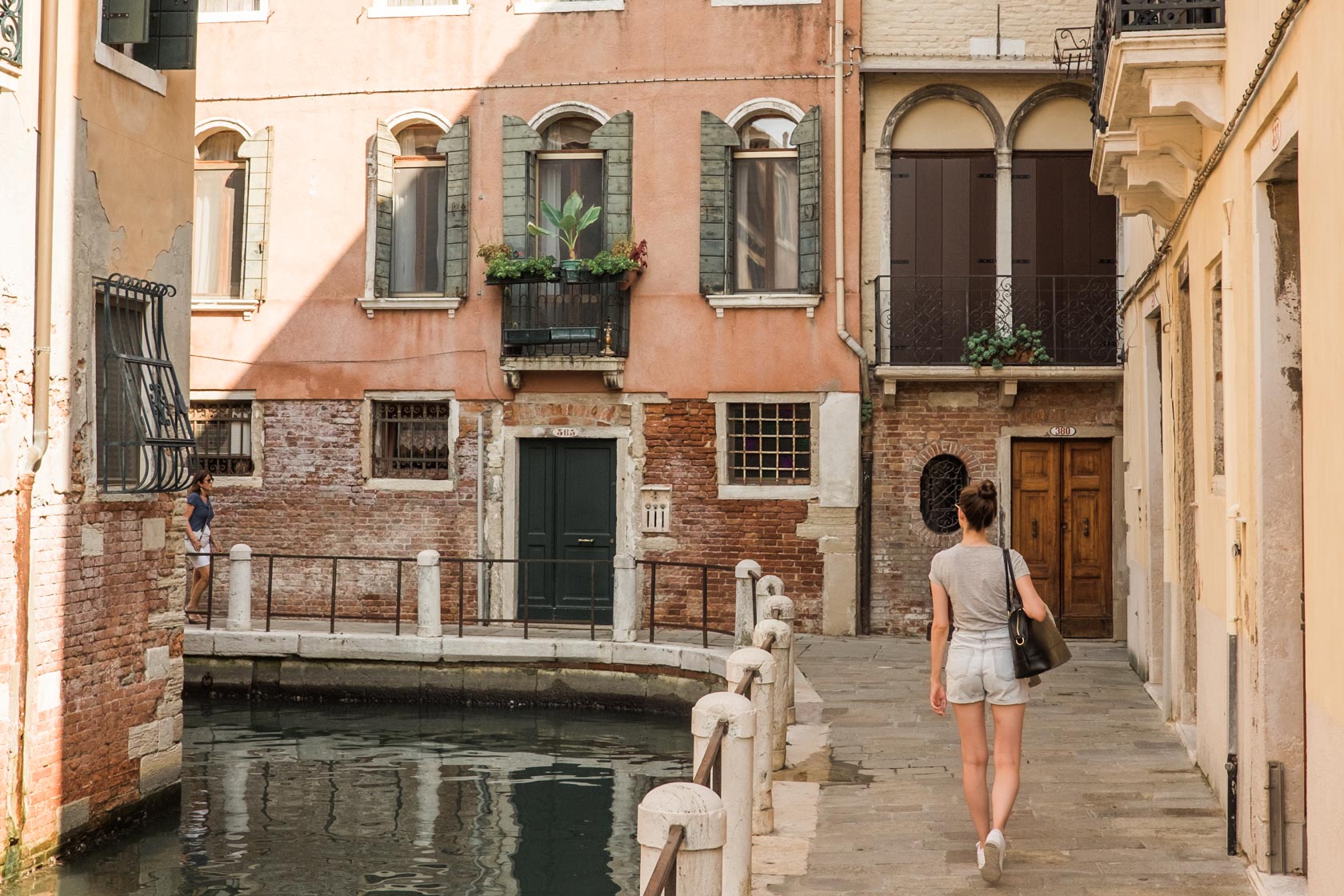 Important qualities for a camera bag for travel
✔ Structure – For me this is THE most important part of choosing a camera bag for travel. You want your bag not to lose its shape when you open it up. You will have a really annoying time if you try to use a soft structured purse or backpack as a camera bag because it's hard to re-zip once the content shifts around.
✔ Quick (but secure) access – You need to balance ease of access for you and difficulty of theft in a crowd. Most bags have a zipper facing forwards or hidden or internal compartments for your most important items.
✔ Capacity – The fact is, you want to carry not only camera gear but all that other stuff you usually walk around with: a light jacket, wallet, passport, keys, map, phone, you get the idea. Make sure the bag you choose not only fits your camera gear but extra space for your daily haul.
✔ Padding – Look for bags with nice, thick padding inside. The best part of having a dedicated camera bag is you can put your gear "loose" into each compartment. So you need those compartments to be well padded to keep the gear from getting banged up or scratched.
✔ Material – It rains when you travel. You meet mud when you travel. You're in tight spots when you travel. You are in nature when you travel. All these things mean you need to pick a material for your camera bag that is not overly sensitive, and you need to be able to treat the material to make it water resistent. I would avoid canvas unless it's a dark color (gets dirty) and instead choose a leather that can be treated to resist water or a waxed leather or waxed canvas that is naturally water repellent.
✔ Inconspicuousness – Lastly, you don't want your camera bag to scream "STEAL ME I HAVE $10k OF GEAR INSIDE". Opt for something that doesn't look too much like a traditional camera bag, especially if you are traveling to a country that is known for pickpockets or petty crime.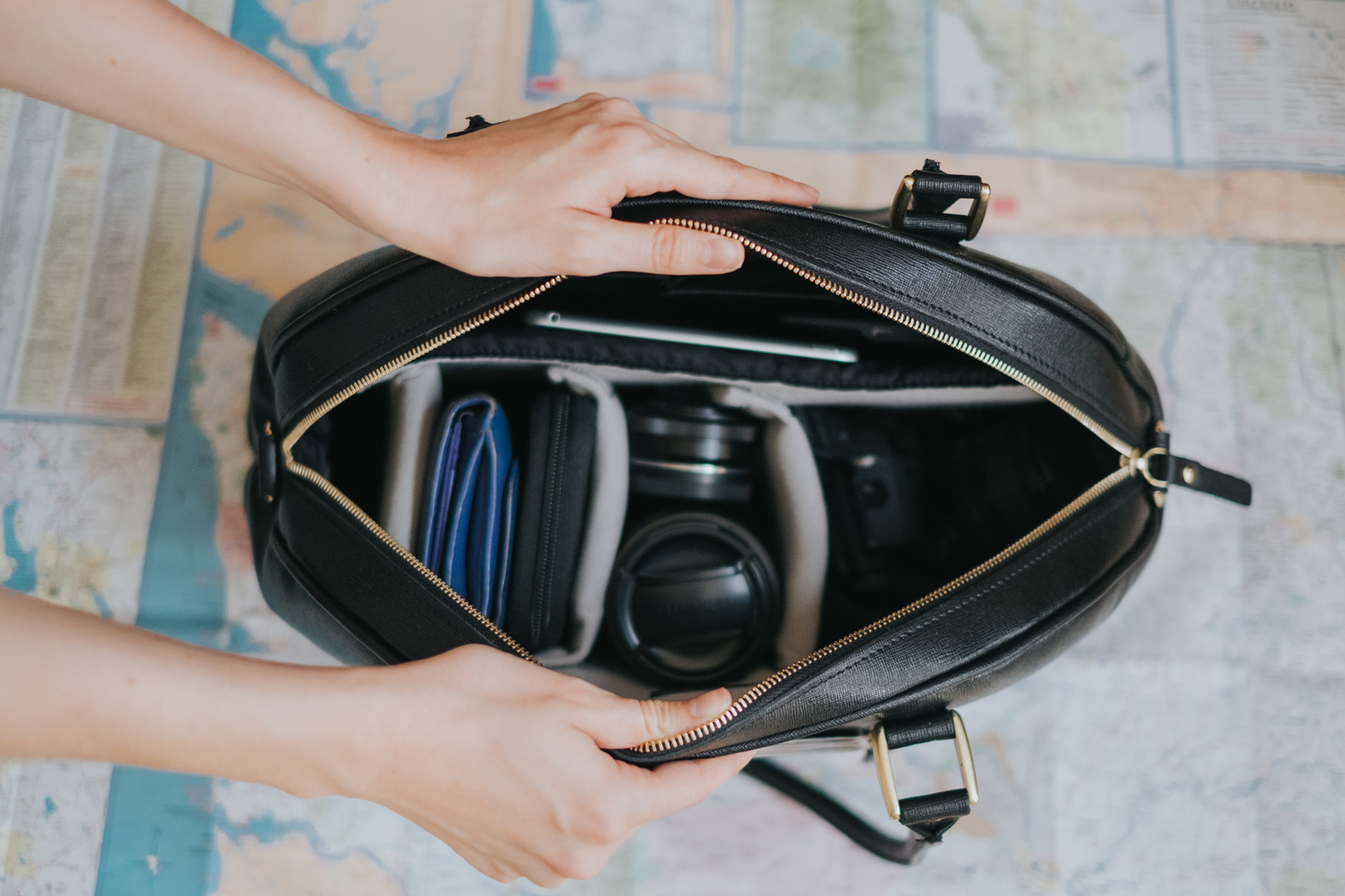 You can see that this bag is SO structured, it's easy to access all your gear and easy to zip back up. It's also made of a waxed leather that is easy to wipe dry after rain and clean off mud.
Which camera bag suits your travel style?
A lot of which kind of camera bag you will be happiest with depends on how you like to travel. Too much bag and you'll be miserable lugging it around. Too little bag and you might feel sad you can't fit all the gear you need for a special trip inside.
For this reason, it makes a lot of sense to consider what kind of traveler you are to get the right camera bag for your needs.
Are you…?
Frugal
I'll just start out with this one – if you don't want to spend money on a good camera bag (which is perfectly fine!), you have quite a few options to repurpose your existing bag or backpack into a camera bag.
Pros – Very affordable. Most camera bag inserts cost less than $30. You can find pouches and bags of varying thickness and water resistence. I personally use similar neoprene camera pouches whenever I want to use a normal purse and just bring along my camera!
Cons – Bags that aren't made for the purpose can still make it a bit inconvenient to access your gear. For instance, most camera bags are well-structured so that when you open your bag it doesn't lose shape. So it can get frustrating to re-zip the bag after getting what you need.
Recommendation: Repurpose an existing bag or backpack
Here are a couple of options. Even though I own several dedicated camerag bags, I also own camera pouches like the ones by AmazonBasics and use them sometimes. It's great for turning any bag or purse you own into a camera bag quickly.
You don't need to spend a fortune to protect your camera lenses!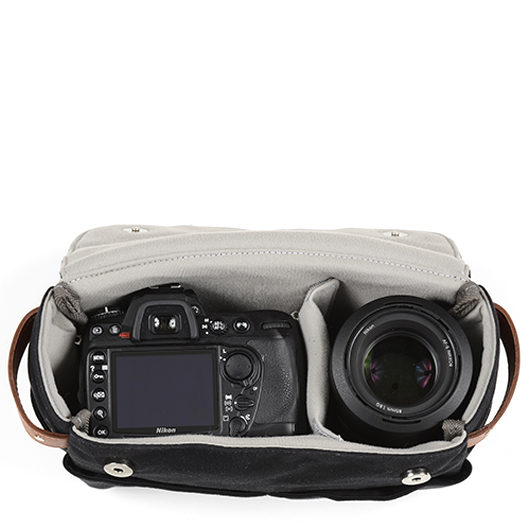 ONA Roma Camera Insert
Camera insert and bag organizer turns any bag you have into a cushiony camera bag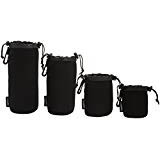 AmazonBasics Protective Pouches for Camera Lenses
I have a similar set of these that I use anytime I want to bring a lens in a non-camera bag
Great value
Padded Camera Insert for DSLRs
A more structured camera insert that fits into your existing purse or backpack
Mobility-first
If mobility is your number one concern, because you're going to be hiking, carrying a heavy load, need to bring along an extra sweater or jacket, your best option is probably a camera backpack.
Pros – Weight distribution. When you have something heavy, we all know it can be nice to have it in a backpack. And camera equipment can be super heavy. What's also nice is some bags can easily have things attached to the outside, like tripod straps.
Cons – Access is slightly more difficult than with a purse because you need to take off or swing around the backpack to access the contents. It can also be dicey for having gear stolen out of your backpack. I always recommend keeping your backpack in front when you're in crowds or high crime areas.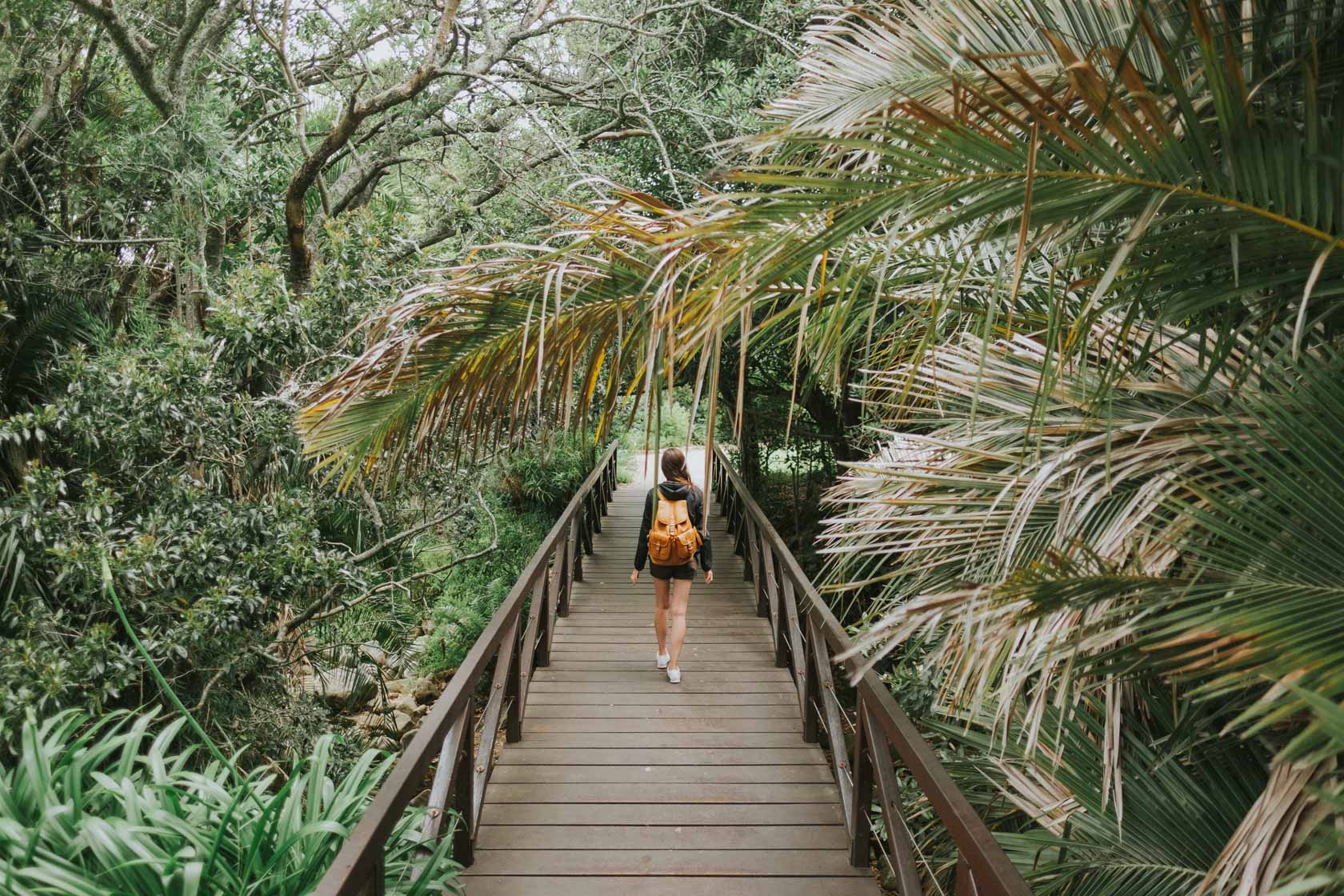 In South Africa I used a backpack instead of my usual camera bag in order to keep a low profile. It was less convenient but given theft is prevalent in Cape Town I knew it would be the safest way to bring my gear with me.
Recommended travel camera backpacks
I need to make the disclaimer that I've never used one of these backpacks, but I know and trust the brand and plan to buy one of their backpacks in the near future. They are always ultra high-quality, robust, chic, and don't "give themselves away" as holding camera gear which I love.
Backpack name
Pros
Cons
Check price
Camp's Bay

Large capacity
Holds 7 lenses + camera with lens
Easy access to gear
Adjustable compartments
Laptop compartment
Water resistent waxed canvas
Many color options

Might be too big for some
No full leather option

Check price
Big Sur

Large capacity
Holds 10 lenses + 3 cameras
Easy access to gear
Adjustable compartments
Laptop compartment
Water resistent waxed canvas
Tripod straps for attaching your tripod

Only available in black
Might be too big for some
No full leather option

Check price
Clifton

Large capacity
Holds 4-6 lenses + 1 camera with lens
Easy access to gear
Adjustable compartments
Laptop compartment
Many color options

Smallest option (can be good or bad)
Potentially sensitive leather

Check price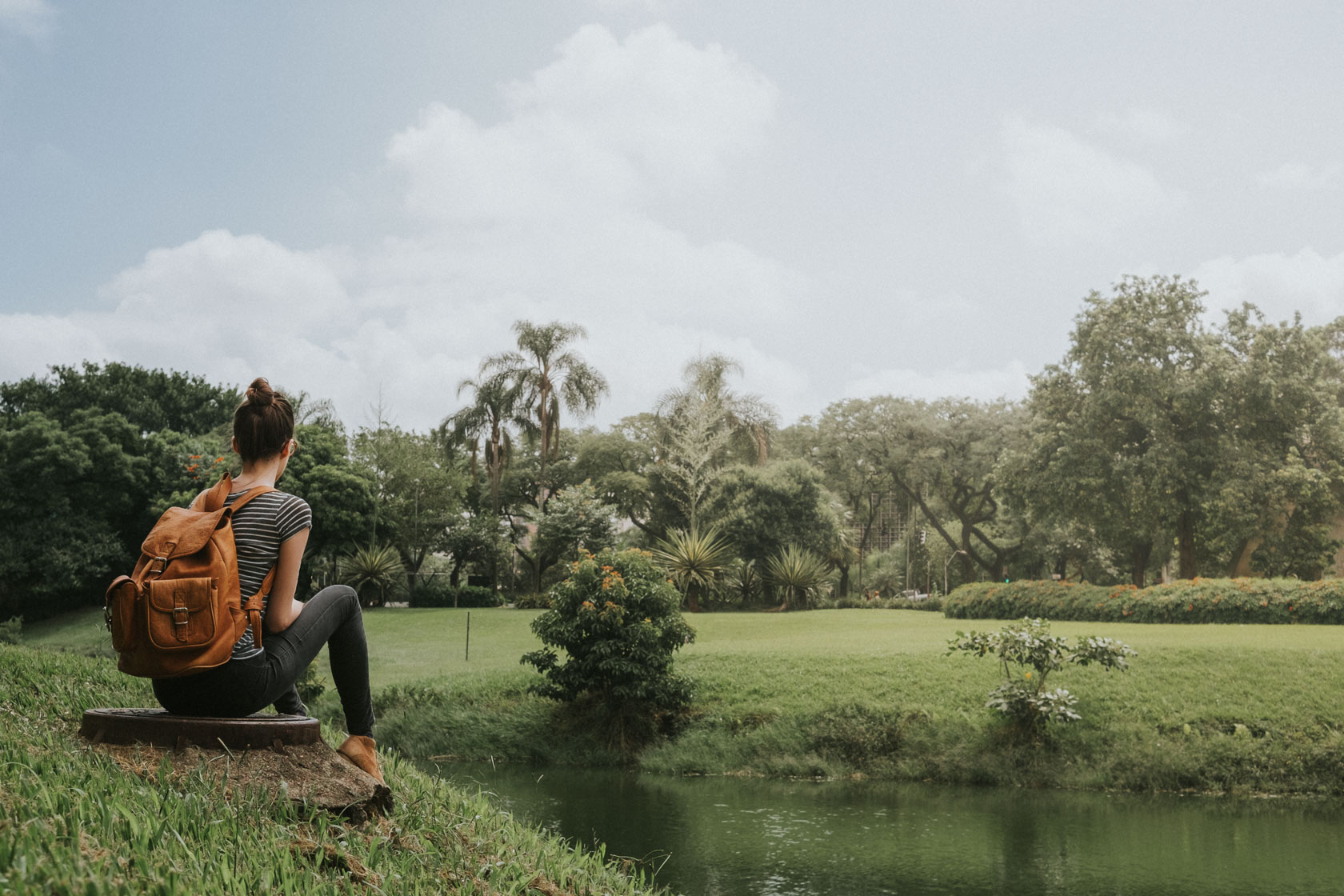 Minimalist
I love traveling as minimally as possible. When I travel to a city where I know I'm going to be taking mostly snapshots, I'm always sure to pack light and not over-complicate things. As someone who owns a lot of gear it can be hard to pick favorites, but no one likes walking around for 10 hours with a sore shoulder.
Pros – Small and inconspicuous, yet still has enough size to fit enough gear and accessories for a variety of situations. You can easily ride a bicycle with a Messenger-style bag like this. Super easy to access as it's around hip height and you have both hands free.
Cons – You risk leaving something behind you would've really needed, like a zoom lens or a bulkier piece of gear.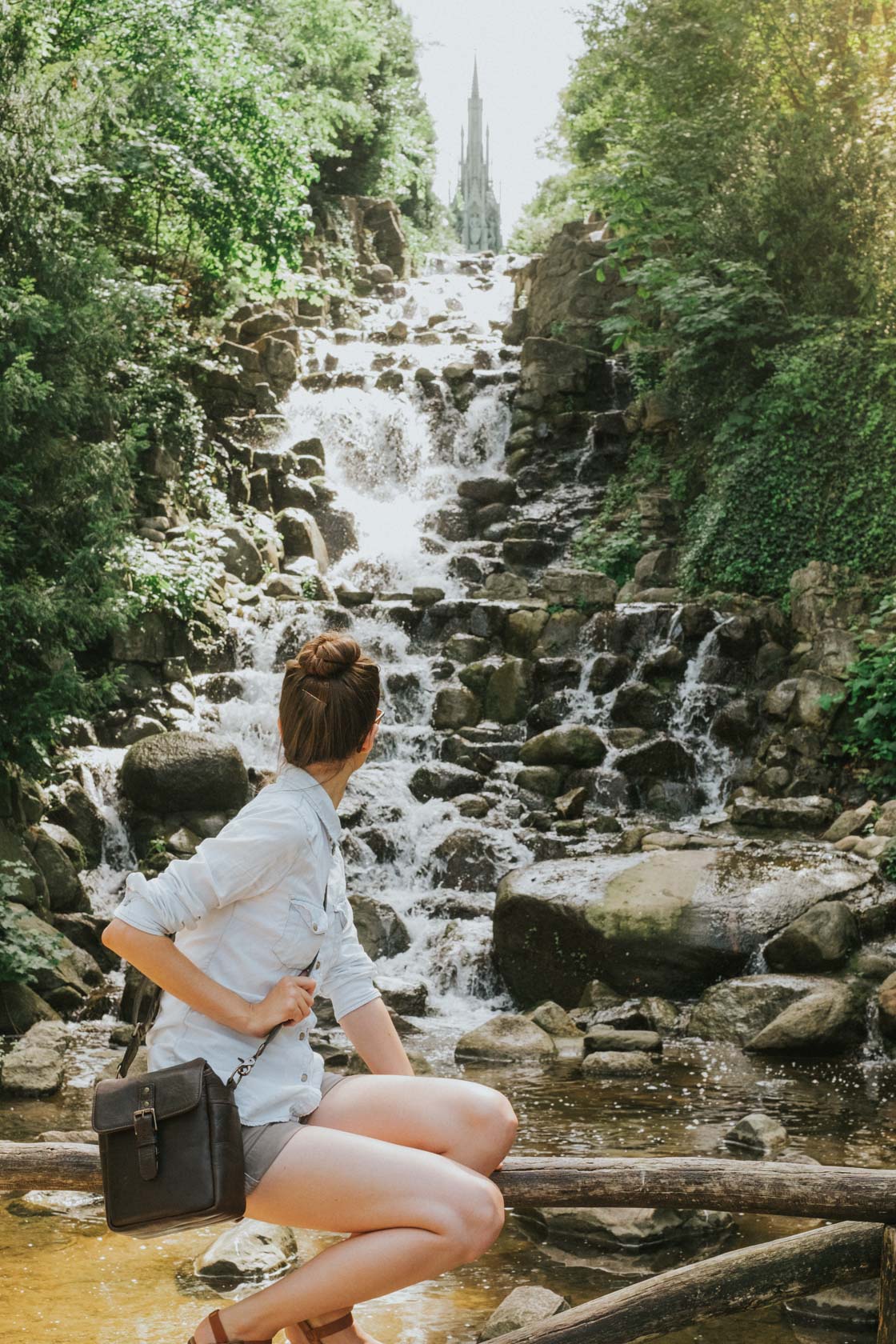 Inside my minimalist camera bag: camera with lens, extra lens, phone, camera accessories pouch (containing batteries, memory cards, cables, lens wipes, etc.) It also expands and I can fit a small windbreaker jacket inside as well. Finally, it has a pocket in the front and a zipper pocket in the back perfect for keys/passport.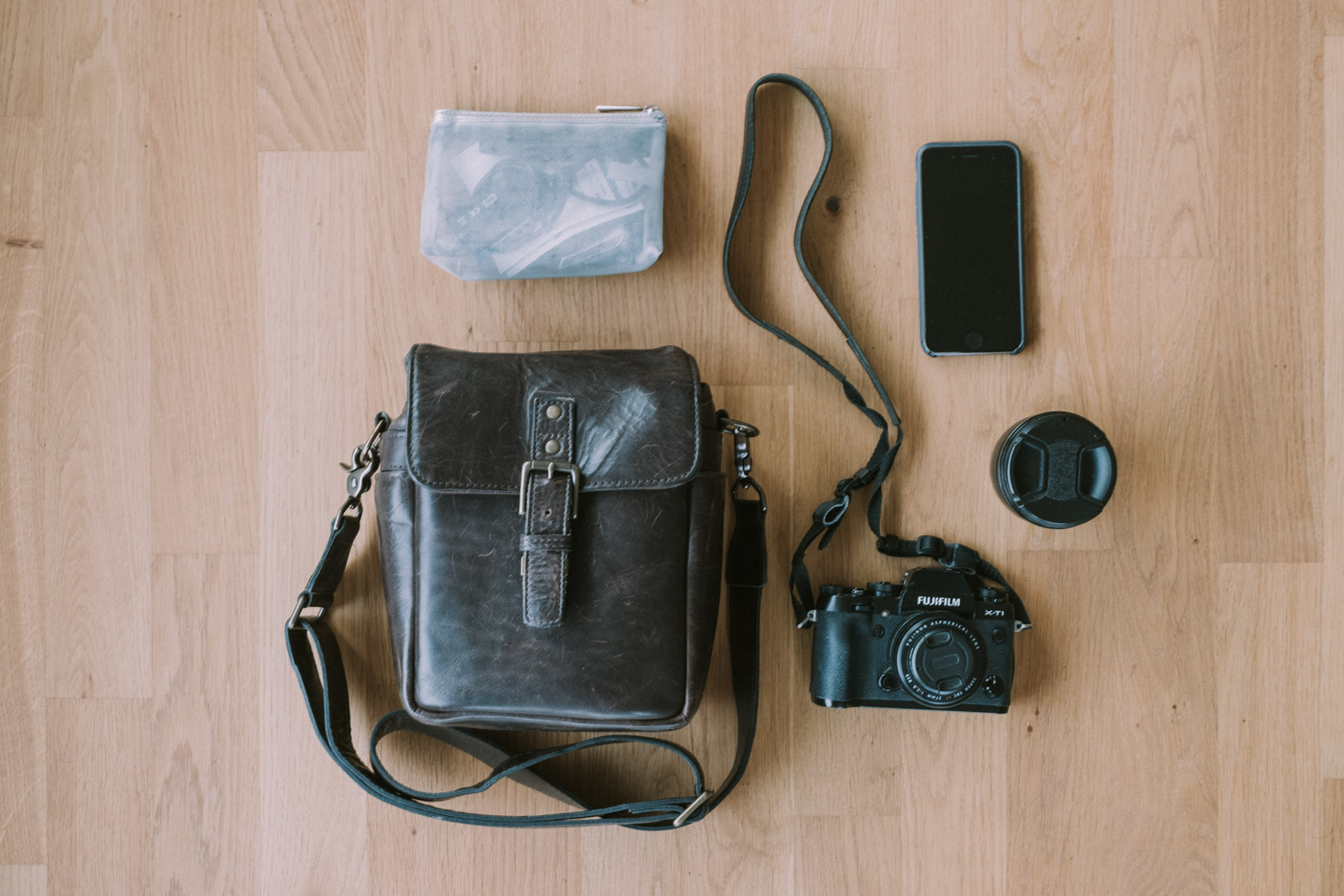 Recommendation: ONA Bond Street
Besides the design and easy access the ONA Bond Street camera bag gives me, I really appreciate that this bag is somewhat gender neutral in its design. That also helps it look more low-key and less like it has fancy lady things inside. It's super well-padded and the adjustable interior padding is really nice for accommodating different sizes of lenses. The only downside I can think of is that it doesn't have a ton of extra space inside, so it's better suited for Summer when you don't need to bring an extra sweater or scarf with you (though I think when expanded it can really fit more than you expect).
Fashion-first (or just a lot of gear!)
I have to raise my hand and say that most of the time, this is the kind of traveler I am. I like to have all the gear I need for most scenarios – night photography, landscapes, street photography, portraits – you name it, I've got gear for it. But there is nothing wrong with that as long as you recognize your limits in terms of how much weight you decide to allow inside your camera bag.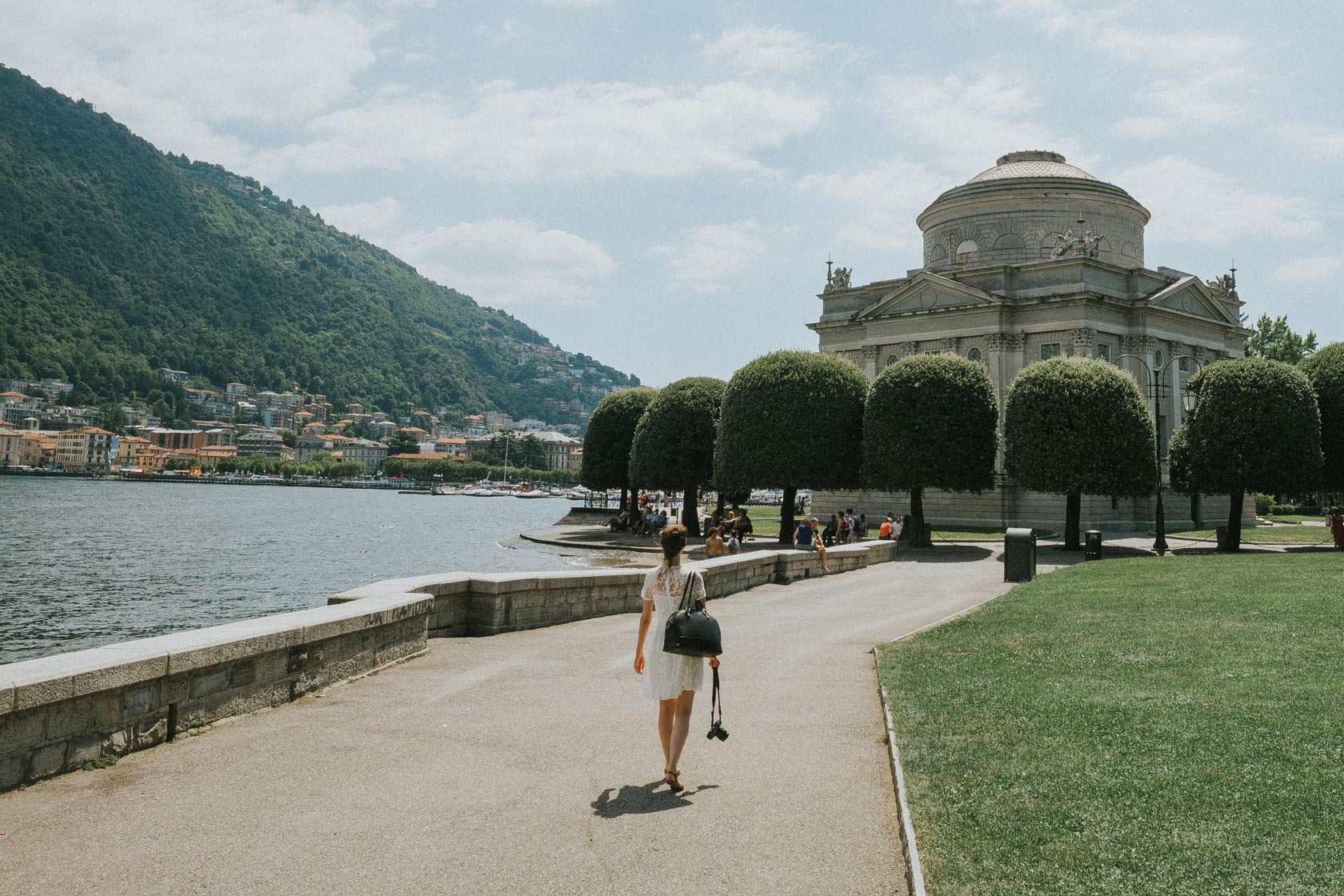 Pros – Fit everything you want. No compromises! Most bags in this category can even fit more than one camera inside, not to mention lenses, equipment, and your personal items as well. You'll basically never be in a situation where you think, "If only I had brought that lens with me!"
Cons – It is extremely easy to pack heavy and give yourself a shoulder ache. Now, ladies, I know most of us have probably developed sloped shoulders from carrying heavy purses and think it ain't no thang, but the reality is that the glass you have inside a camera lens is not lightweight and you really need to consider if you want to bring it all with you!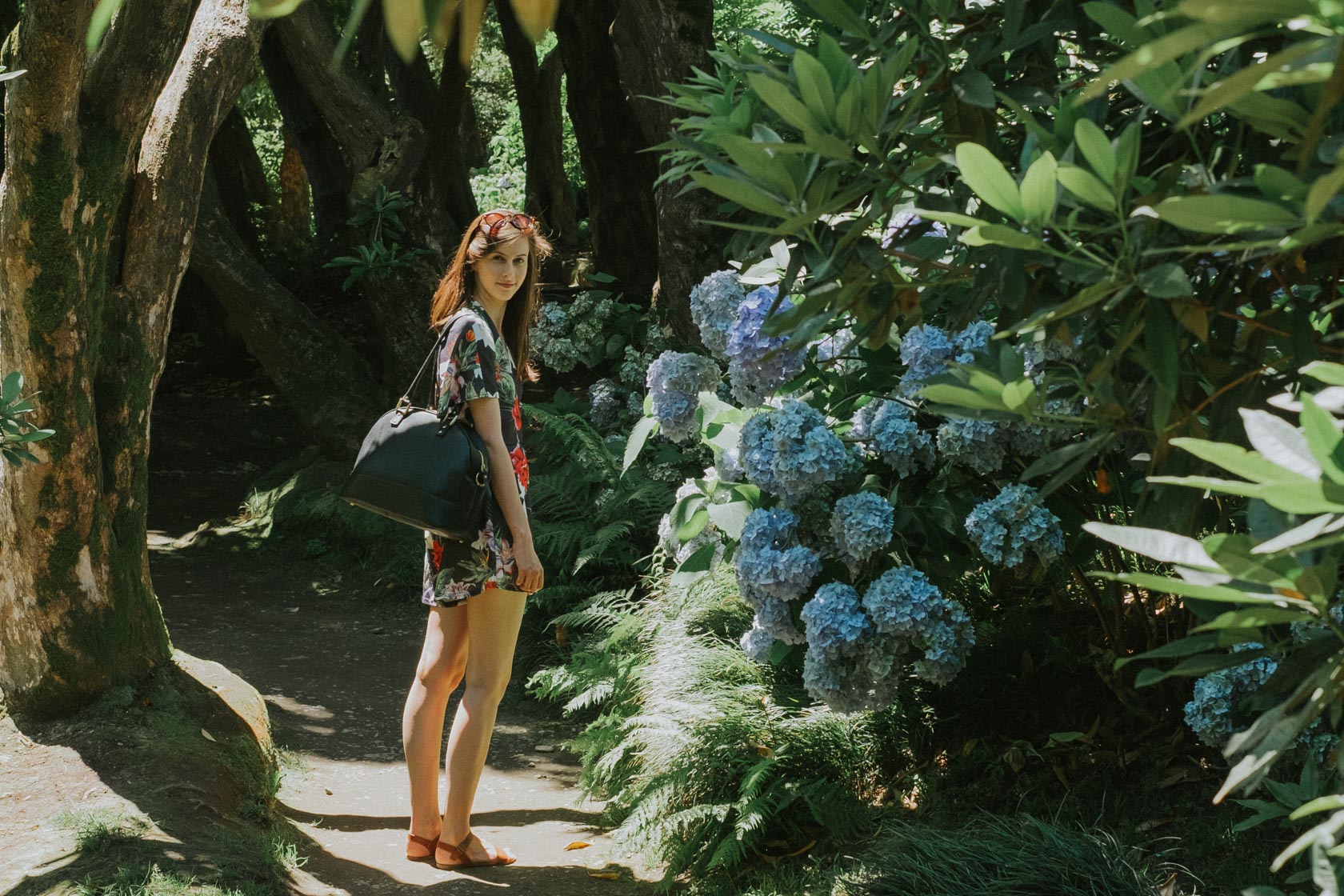 Recommendation: ONA Chelsea camera bag
Tragically, my favorite camera bag of all time has been discontinued. For now, you can still get it on Amazon but there's no telling how long they will still have it in stock. This bag is so incredibly well-made, chic, and spacious. I feel really lucky to have gotten one before they stopped offering it on the official website.
Camera bags for women – companies to watch!
If you're specifically trying to find stylish camera bags for women, there are a could of key brands I would check out. Some of them even have vegan bags in case you do not want to support the use of leather.
ONA
ONA is the brand I personally have experience with. I own two camera bags from them, and I can honestly say that even though their bags are quite expensive, the quality and durability is just unreal. I constantly get compliments on the camera bags I own from them, and people are completely surprised that they are camera bags until I open them up. In short: I love my camera bags from ONA and I will definitely be back for my next bag with this company.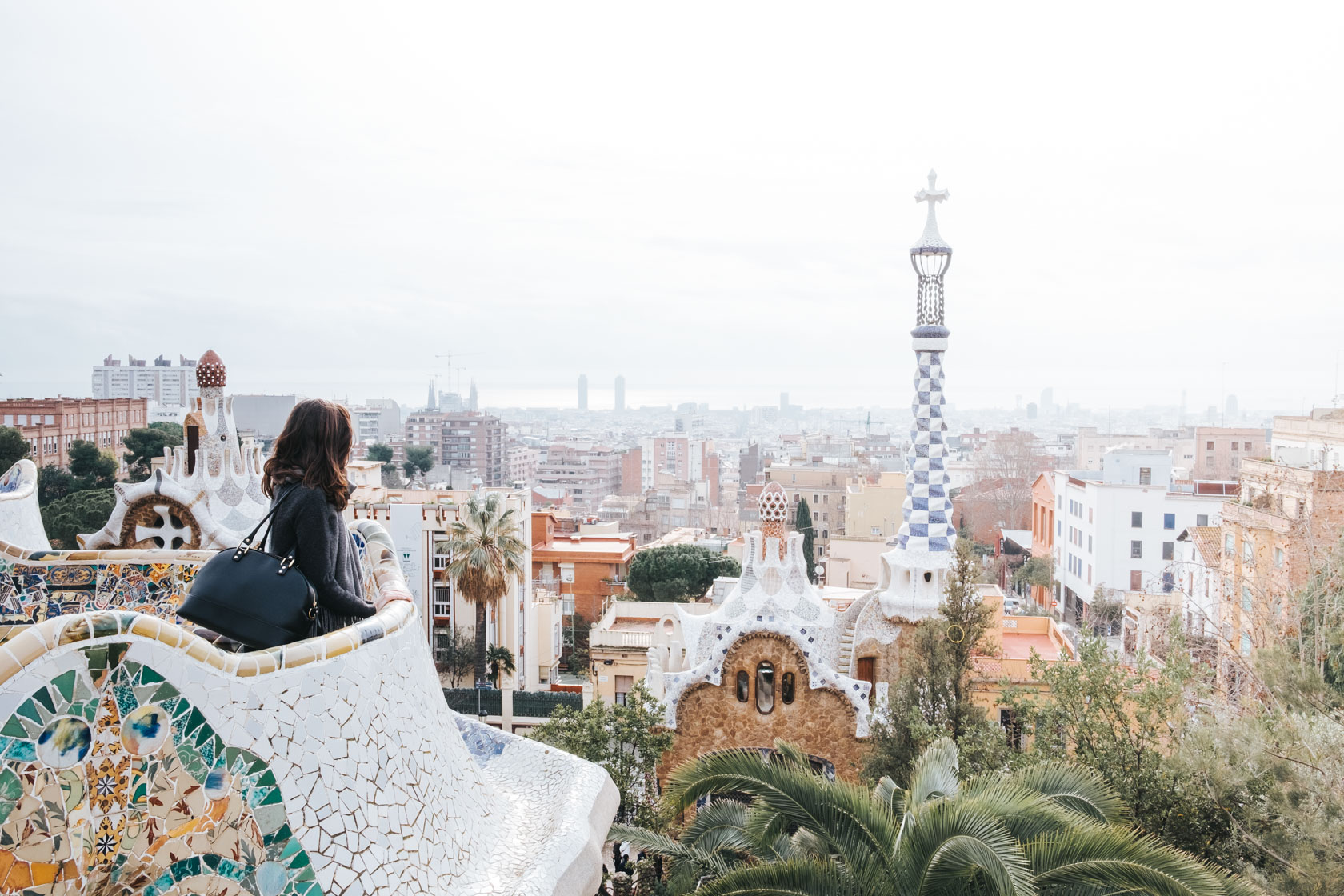 Lo & Sons
Lo & Sons makes a bunch of different kinds of bags, but out of their camera bags the prettiest one I've seen is the Claremont Women's Camera Bag . It has a couple of really cute features like a quilted interior, SD card pockets, and a spacious rear pocket. It looks quite similar to the ONA Savannah which actually costs about $50 less but unfortunately lacks a back pocket.
Kelly Moore
Kelly Moore makes all kinds of different bags, including camera bags. The price range is slightly lower than ONA, but you'll still be paying a pretty penny for anything in leather. They have camera backpacks as well as vegan bags if you object to having any leather at all in your bags.
GATTA
Gatta has some pretty stylish camera bags that look like stuff you'd find off the runway, though in my opinion they don't look all that practical. The cushioning is minimal in some bags or others lack proper dividers. They are some of the least expensive available but I would look very carefully if the quality is what you are looking for.
Kamrette
Kamrette is a brand I only recently discovered. They have a pretty limited offering (one backpack, one purse, and a camera strap). I would look for more online reviews before making a purchase but worth checking out if you're on the market for camera bags for women.
What's in your favorite camera bag?
Share your thoughts in the comments, I am always on the lookout for my next sexy camera bag to add to my collection!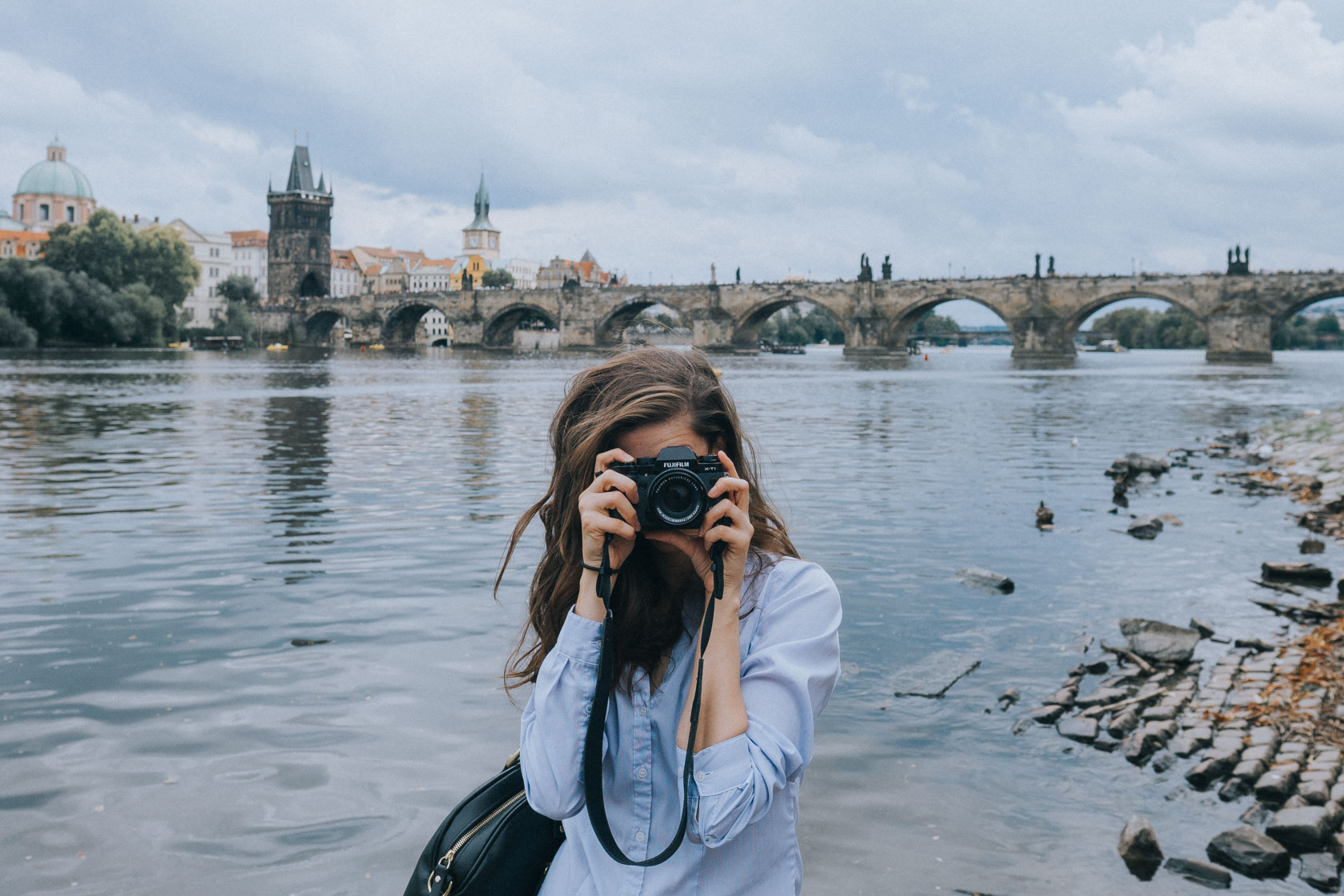 Like this post? Pin it for later!