Florence, Italy
I think there are two camps of people: people who don't take photos while traveling because they just say:
"Well, someone already took that photo of the Eiffel tower so why bother?"
And then there's people who take pictures of toilet in their hotel room because it's fancier than expected. Guess which camp I'm in!!! Spoiler: All loo photos go in my private collection and don't get posted to instagram.
To be serious (for just a second), I really don't believe that photos aren't worth taking just because someone else took them. There's always going to be something special about the picture I took, even if to the untrained eye it looks pretty much the same as any photo you could find on Getty images. Maybe it's the memory of who I was with when I took it, or (just as likely) the meal I ate afterwards 😂
That said, this post is about finding the most quintessential spots to celebrate being a traveler in Tuscany (seriously one of the best states-of-being you can achieve) and enjoying every minute of it!
Can you visit Italy now? (Summer 2023)
As of June 1, 2022, COVID restrictions on visiting Italy have been lifted. You no longer need to present a PLF or any kind of negative test to enter the country. Your flight into the country may still require face masks.
"Life is a combination of magic and pasta."
— Federico Fellini
Tweet this
Tuscany's biggest city
As anyone will tell you, no trip to Tuscany is complete without Florence , and for good reason: Florence is awesoooome! In fact, I've said it before, but I think I might prefer Florence to Rome. If you think that's crazy talk, wait until you see this city for yourself. It has all the things that make you swoon for Italy: incredible food, warm weather, nearly getting run over by a vespa, you know what I mean.
3 essential snapshots to take in Florence
The Duomo: from afar, from in front, from the inside, this is the #1 most recognizable spot in the city!
Ponte Vecchio: as seen in the cover photo, this bridge is the most famous in Florence.
A selfie with your face next to an enormous steak: *Not pictured* 😄
Where to snap them
Tower of Palazzo Vecchio – Both these photos are taken from the same location. What's cool about it is that you get a 360º view of Florence from this location, and can freely take pictures through the windows uninhibited! You also get two angles: one lower perspective and a higher one.
Piazzale Michelangelo – If you don't want to pay for the tower, this is a free option that is further away from the center of the city, but also offers a unique perspective. Just be sure to bring your zoom!
Don't miss doing a bit of looking around on the map before you climb up here! A lot of the city is visible from this point, so you can look around on the map and find other famous churches, squares, and architecture. Maps can be found for free at the tourist center near the Duomo, so don't forget to snag one and aquaint yourself.
KEEP READING – Quick guide to Florence in 24 hours
The Tuscan countryside: Hills, cypress, and olive tress
So you have the city, and the city is nice, but what do we all crave when we travel to Tuscany? The countryside. Rolling hills engraved with vineyards, roadside trattoria with amazing house-made pasta, driving through a neverending row of cypress trees as the sun sets. That is the Italy we came for!
Where to find cypress tree roads in Tuscany
You'll have your best luck in Southern Tuscany. La Foce is perhaps the most famous road, located just south of Montepulciano (which, as luck would have it, is mentioned a little later for ANOTHER must-take photo). To the northwest of Montepulciano you'll find Monticchiello , another zigzagging cypress-lined road.
This area in particular is also really interesting for another reason…
"You may have the universe, if I may have Italy."
— Guiseppe Verdi
Tweet this
Rolling hills
There is no better place in Tuscany to see the rolling hills than Val d'Orcia , conveniently located in close proximity to all those cypress tree roads. Here, tiny hillside towns dot the landscape, you can see the aforementioned cypress-lined roads, fields of sunflowers, farm houses, vineyards, it is really a view not to miss.
Where to view Val d'Orcia
My personal recommendation is to go to Montepulciano around sunset and you're sure to find the official scenic viewpoint for the valley. After the sun has gone down, you can do some high-tech wine tasting a couple hundred meters down the street. Oh, I forgot to mention that this adorable town is also one of the most popular wine-producers in the area? Yes, you can see this beautiful vista and then indulge in a DIY wine tasting coupled with regional Tuscan cuisine. Can I get a YES PLEASE?
"For us to go to Italy...is like a most fascinating act of self-discovery."
— D.H. Lawrence
Tweet this
Charming Italian towns
This completes my trifecta of essential places you should see (and photograph) in Italy. When you drive a car through the countryside, it literally seems like the Italians were horsebackriding through the hills one sunny afternoon, and every time they passed a hill, they also decreed that a tiny town had to be built on top of it. When driving to the next destination, there's no telling whether what you're seeing out the window is actually the place you're driving to, or another equally charming village that the guide books all forgot about.
There are too many towns to mention here (besides, I already mentioned my favorites in my Tuscany road trip guide AHEM) but this is one town I would recommend you don't miss…
"Traveling is the ruin of all happiness! There's no looking at a building after seeing Italy."
— Fanny Burney
Tweet this
Lovely
<a href="/cities/lucca" onclick="ga('send', 'event', 'Affiliate Link', 'Click', event.target.getAttribute('href'));"
target="_blank">Lucca . Wandering those streets you really can't help but think to yourself, "I'm in Italy now." Super charming, super cute, and way less crowded than its big sister Pisa. Here's to hoping that people continue to fixate on that leaning tower and never learn of this adorable treasure that lies just a short drive away.
Take this shot
Lucca has two towers that dominate the "townscape" when viewed from a high angle. Atop Torre del Guinigi , an ancient oak tree wraps around intself in every direction. From there you can see the city's other prominent tower, Torre delle Ore . A 2-fer ticket to climb is only a couple of euros, and for this view, I think it's worth every cent.
Tips for using instagram to plan your trip
Here are a few basic tips for how Instagram can help you plan a photo-filled trip to Tuscany. What I do is find these spots, and add them to a Google map when I'm planning my trip!
Check local hashtags: You will see towns tagged that you've certainly never heard of, but are bound to be somewhere along your route. It also gives you really a local perspective of the area. Try #tuscanygram, #tuscanybuzz, #instatuscany, and #tuscanylicious for starters!
Follow popular Tuscany tourism accounts: These feature the best of the best, and can give you cool ideas for when and how to take your photos in Italy. I really like @wonderlust.tuscany and @firenzecityitaly (which focuses on Florence).
Check the trending photos in the locations you're visiting. People find all sorts of interesting places to take pictures in these cities! Usually the top location photos contain more people than just landscapes, so you can pick up ideas for your Tuscany portait.
And above all else…
Understand this: just about every square centimeter (yes, we're in Europe now) of this region in Italy is scenic beyond words and without even trying, you'll probably stumble on many of these experiences organically. Enjoy your time in Italy and don't forget the cannoli 😉
"Italy is a dream that keeps returning for the rest of your life."
— Anna Akhmatova
Tweet this
Have you been to Tuscany? What was your favorite photo you took?
Please share your Italy photo tips or just your love for Italy in the comments, and we can gush over its beautiful landscapes and charming people together!
I think this one is one of my favorites: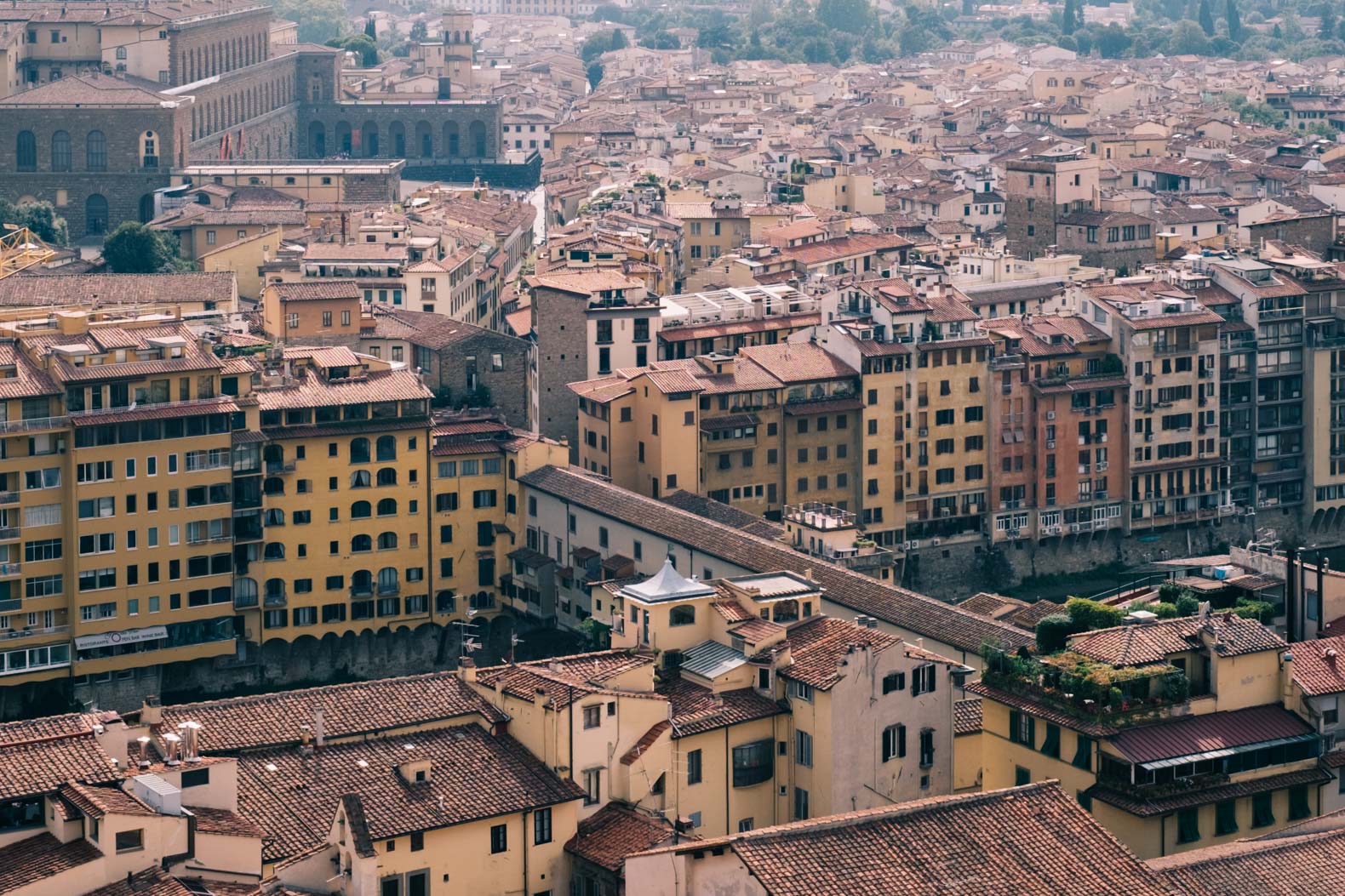 Pin this post for later!