For my 29th birthday, I booked a trip with my sister and my boyfriend to the Amalfi Coast, Italy – completely unaware I was on my way to Europe's most expensive destination at the start of the high tourist season 😱 Is it my fault I was born in June, and therefore have to take ALL my birthday trips during high season? Still, I can't say I intended to splurge on the world's most expensive pasta or spontaneous boat tours while I was there. But I did. And it was worth it.
Whether you know about the Amalfi Coast from ancient Roman history, or from watching Under the Tuscan Sun, I'm the last to judge. It doesn't matter because this slice of Italy is one of its most popular places to visit for a very. good. reason.
Read on for a detailed Amalfi Coast itinerary for 3 days, including where to stay on the Amalfi Coast, budget tips (and my most expensive mistakes), how to reach the Amalfi Coast from Naples, and loads of things to do while you're here. I'll also cover the best restaurants we ate at, because as we all know – when in Italy, throw your diet out the window, because it's time for carbs 🍝 🍷
Can I visit the Amalfi Coast, Italy right now?
As of May 28th, there are no active cases on the Sorrentine Peninsula and Amalfi Coast. They did an excellent job in this region of containment (source).
According to the official website for Capri, an island off the Amalfi Coast, they "feel confident that trips planned anytime after the second half of June can be reconfirmed." This falls in line with the official Italy policy of reopening to travelers from June 3rd without the need to quarantine.
You still need to wear a mask in a lot of situations, so be sure to bring a supply with you.
As someone who visited this gorgeous region in early June last year when it was full of crowds, I really believe this Summer of 2020 could be an amazing chance to see the Amalfi Coast with massively reduced crowds and to support the Italian economy.
Just make sure you book hotels, flights, and tours with a 100% refund policy upon cancelation.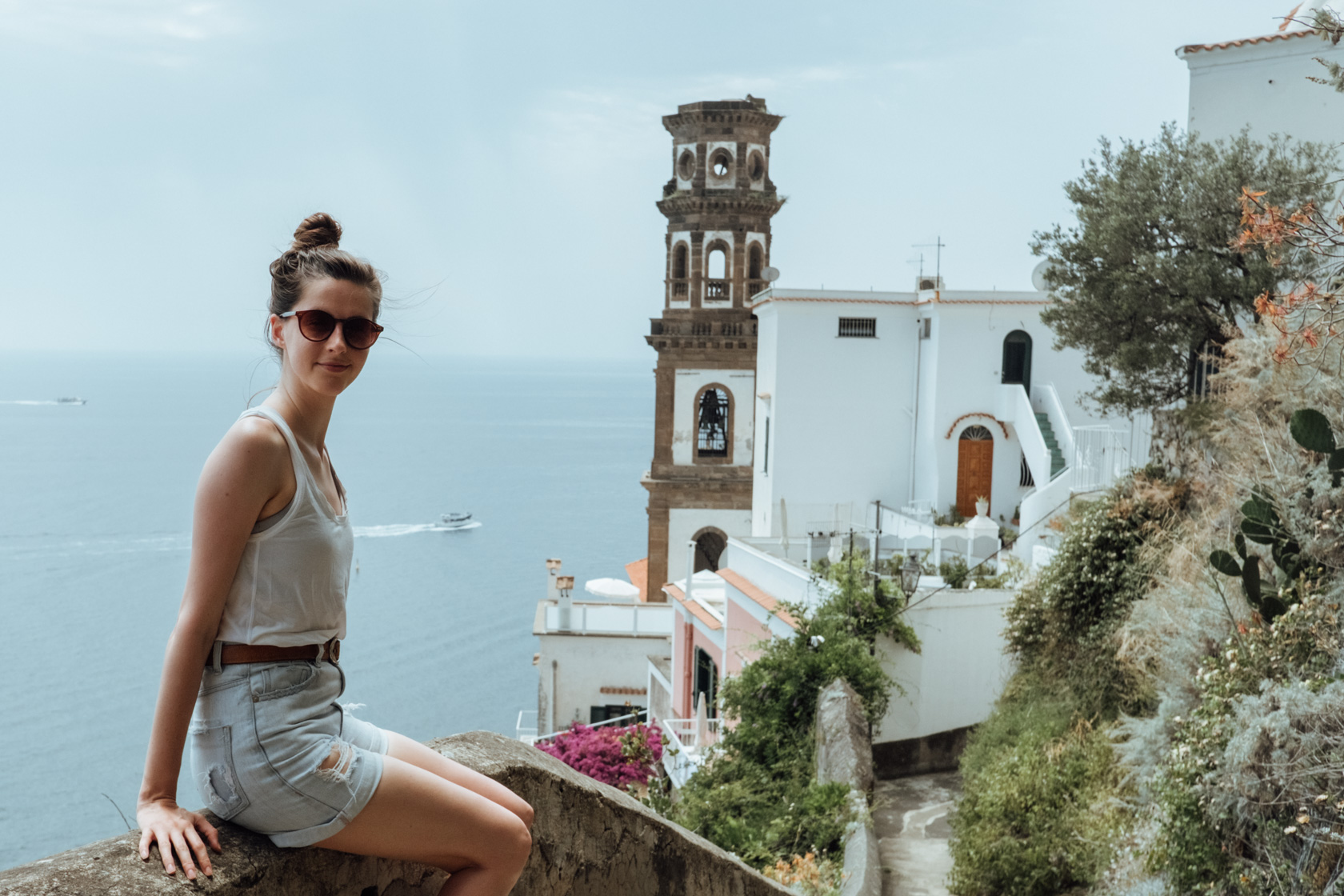 Some links in this post are to affiliate sites. If you purchase something through them, I may earn a small comission at no cost to you.
I am very grateful when you use my links to make a purchase!
---
Where to stay on the Amalfi Coast
Choosing where to stay on the Amalfi Coast is one of the most important decisions you'll make while you're here. Probably the three main hubs people tend to stay at include Positano , Amalfi , and Ravello .
We stayed at this stunning Airbnb in Ravello , which had panoramic views of the Amalfi Coast from a gigantic wrap-around balcony. It's not for people with limited mobility as there are stairs involved to reach the apartment, but the views were stunning and we loved having breakfast on the balcony every morning. If you've never used Airbnb before, use this link for 25€ off your first stay with Airbnb !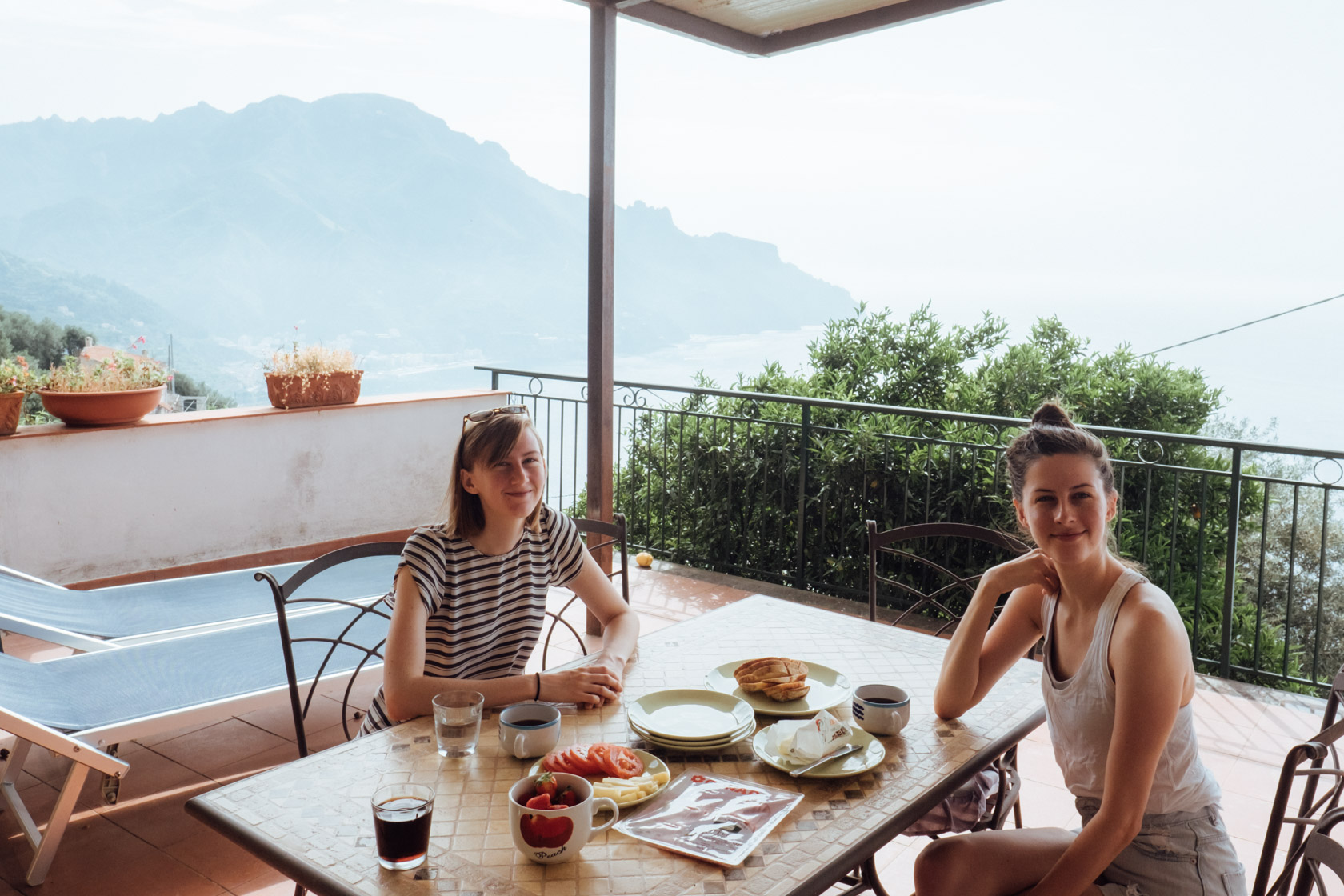 Otherwise, picking a central location will save you a lot of time in transit and traffic. The best value accommodation we found in our research, depending on your budget, also centrally located in Positano:
Both are bed and breakfasts with excellent central locations in Positano, and ranging between 80€ per night to about 200€ per night. Do not hesitate to book in advance, there are already many hotels booked out for 2020! You can always cancel if you find a better deal, especially if you book through Booking.com like we usually do.
We procrastinated and ended up spending almost 600€ on our accommodation for this trip 😱 By booking in advance, we could've cut that in half.
Quick tips: what else to book in advance on the Amalfi Coast
Besides booking your accommodation in advance, which I strongly recommend if you want to get one of the few moderately-priced hotels in one of the Amalfi Coast's desirable towns.
I also suggest that if you want to take a boat tour of the Amalfi Coast, you need to make sure that you book your Amalfi Coast boat tour in advance, too. There are simply a limited number of boats, and if you try to book same day or even just the day before, you'll either a) not have any options at all b) only be able to book a large boat for a large party, resulting in high costs! I saw people get turned away while we waited for our boat.
I loved the boat tour I took with Blue Star , if you're looking for a recommendation! It was easily the highlight of our trip to sail around the coast sipping limoncello in the sun and swimming in the Mediterranean. Even though it's expensive, if you are traveling with a group, you can definitely divide the costs and it becomes more reasonable.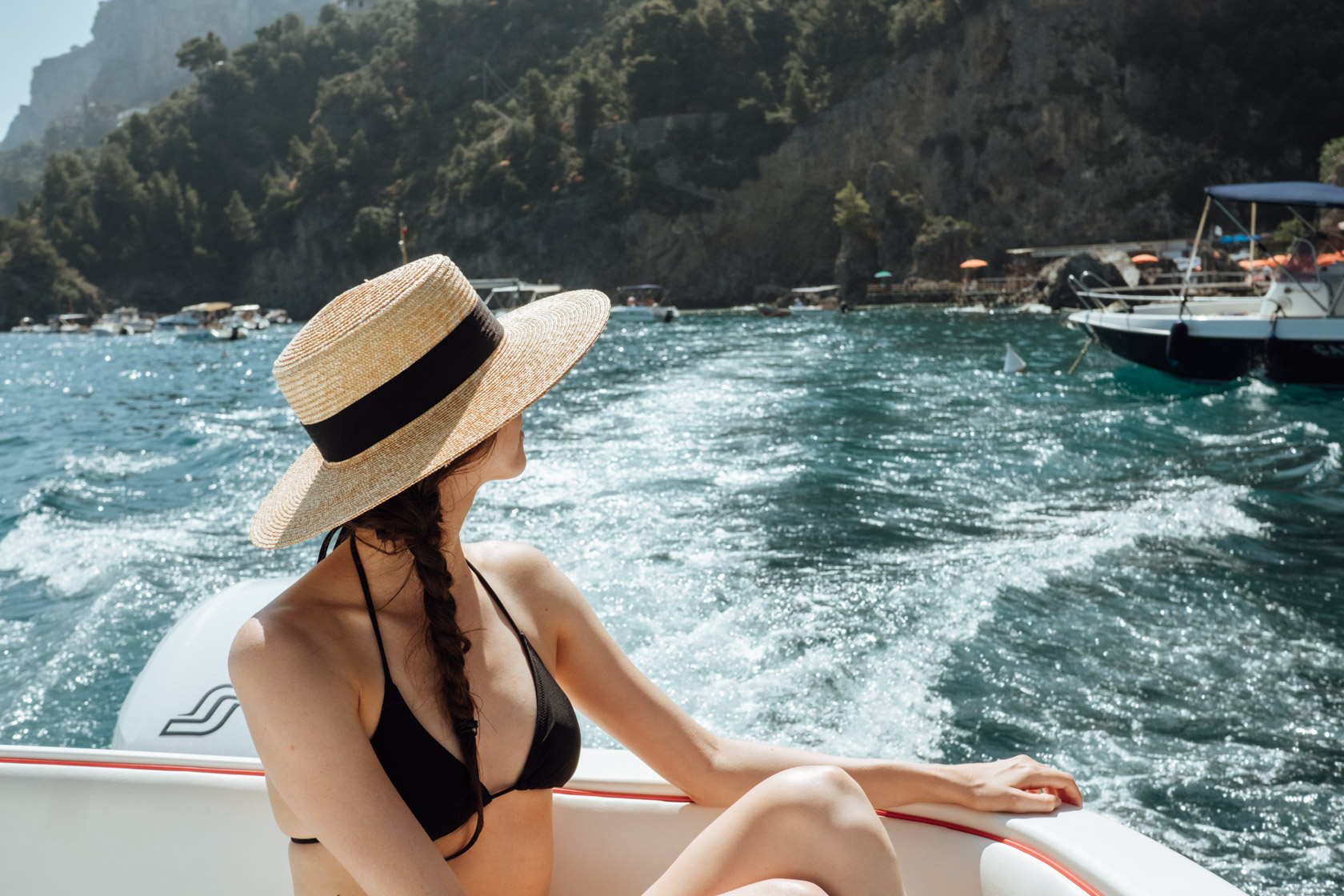 How to get from Naples to the Amalfi Coast
One of my top Amalfi Coast budget tips is to forego renting a car, and instead opt for using the public transit and water taxis. We paid roughly 400€ for a 3-day car rental, including that expensive Italian insurance (which you definitely want, the roads be narrow, and the Italians are famous for rough handling of cars).
That means that instead of renting a car, you should take a private transfer from Naples . It's way more time-efficient and you can split the cost with other people you're traveling with. You will save so much money when you combine the car rental, the insurance, and the daily parking fees.
Click here to check the availability for private transfers from Naples to the Amalfi Coast.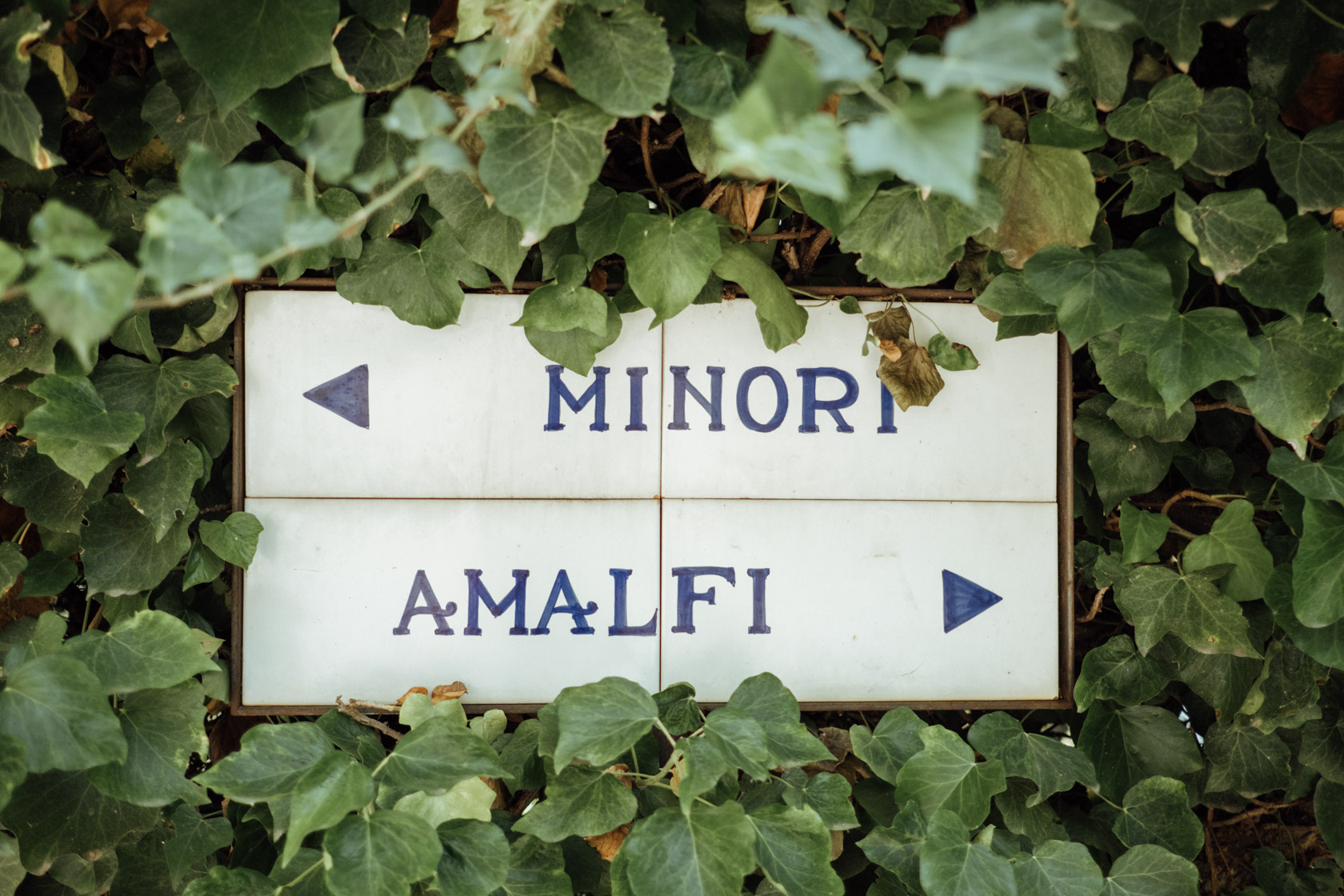 Day trips from the Amalfi Coast
Last thing before getting to the itinerary: day trips! If you have just 3 days, you might want to stick to this itinerary so you get a chance to experience the coast itself. But if you have a little more time, there are some great options all over the region. Here are my top recommendations for day trips from the Amalfi Coast:
See Capri and the Blue Grotto by boat – Capri was the escape of choice by Roman emperors, thanks to its stunning blue water and beautiful views. There are loads of boat tours available that last 8-9 hours, most of which depart from Sorrento, and cost about 80-130€ per person. A great way to start or end your trip to the Amalfi Coast.
Visit Pompeii with an archaeologist – Pompeii was buried under solidified ash after Mount Vesuvius errupted, resulting in one of the best-preserved complete Ancient Roman cities. A 2-hour tour is a great way to learn the history, and then spend more time exploring the areas you're most interested on your own. Even if you don't go for a tour, definitely reserve some fast-track tickets and audio guide in advance. The lines get very long and this is a popular place for those massive tourist busses to offload.
Explore Naples' food, culture, and archaeology – Naples has a ton to offer, if you have the time to see it. Whether that's exploring Naples' underground or taking a local streetfood tour , or exploring some of its ancient sights on your own. Do be aware that Naples has a bit more crime than some other areas of Italy, so you should keep an eye on your possessions.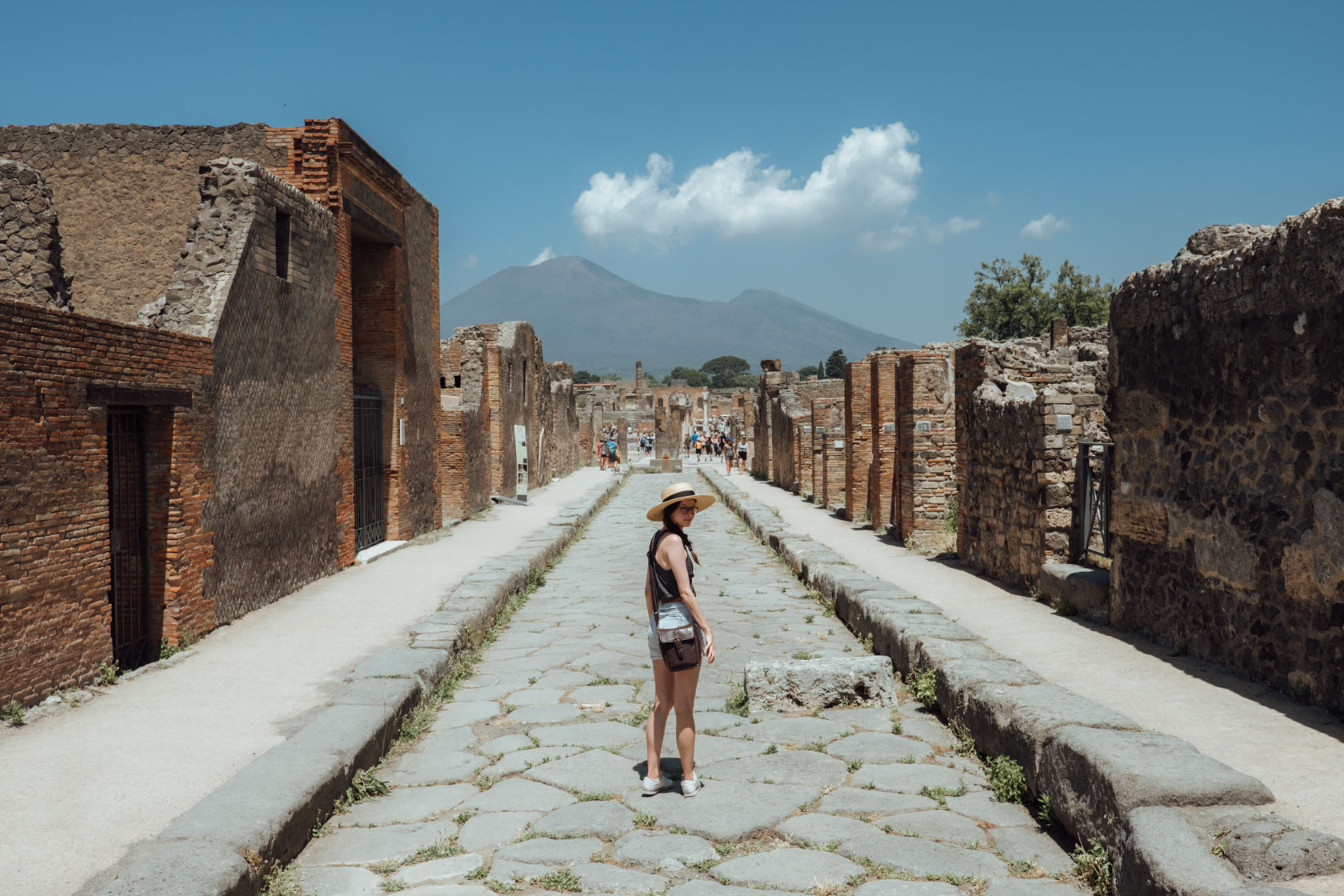 How to spend 3 days on the Amalfi Coast: An itinerary
Three days is just enough to dip your toes in the water, as it were. This itinerary visits the three most famous towns on the Amalfi Coast: Positano, Amalfi, and Ravello. We'll drive along Amalfi Drive, the road the winds around the coast and connects all these pretty places together. You might want to mix and match the order of these days depending on where you base yourself on the Amalfi Coast.
Day 1: Sorrento and Ravello
Sorrento
Sorrento is the first town on the Amalfi Coast you'll pass through when driving from Naples, and the largest town. A lot of people opt to stay here and then make day trips along the coast. While not particularly picturesque compared to its little sisters, it's worth getting out, stretching your legs, and potentially grabbing a bite to eat.
You can also get started with your shopping! One of the most popular things to buy on the Amalfi Coast is limoncello, a lemon-based liquor and popular Italian aperitif. If you behave better than the typical American tourist in Amalfi, you might just get a complimentary limoncello during your trip regardless 😏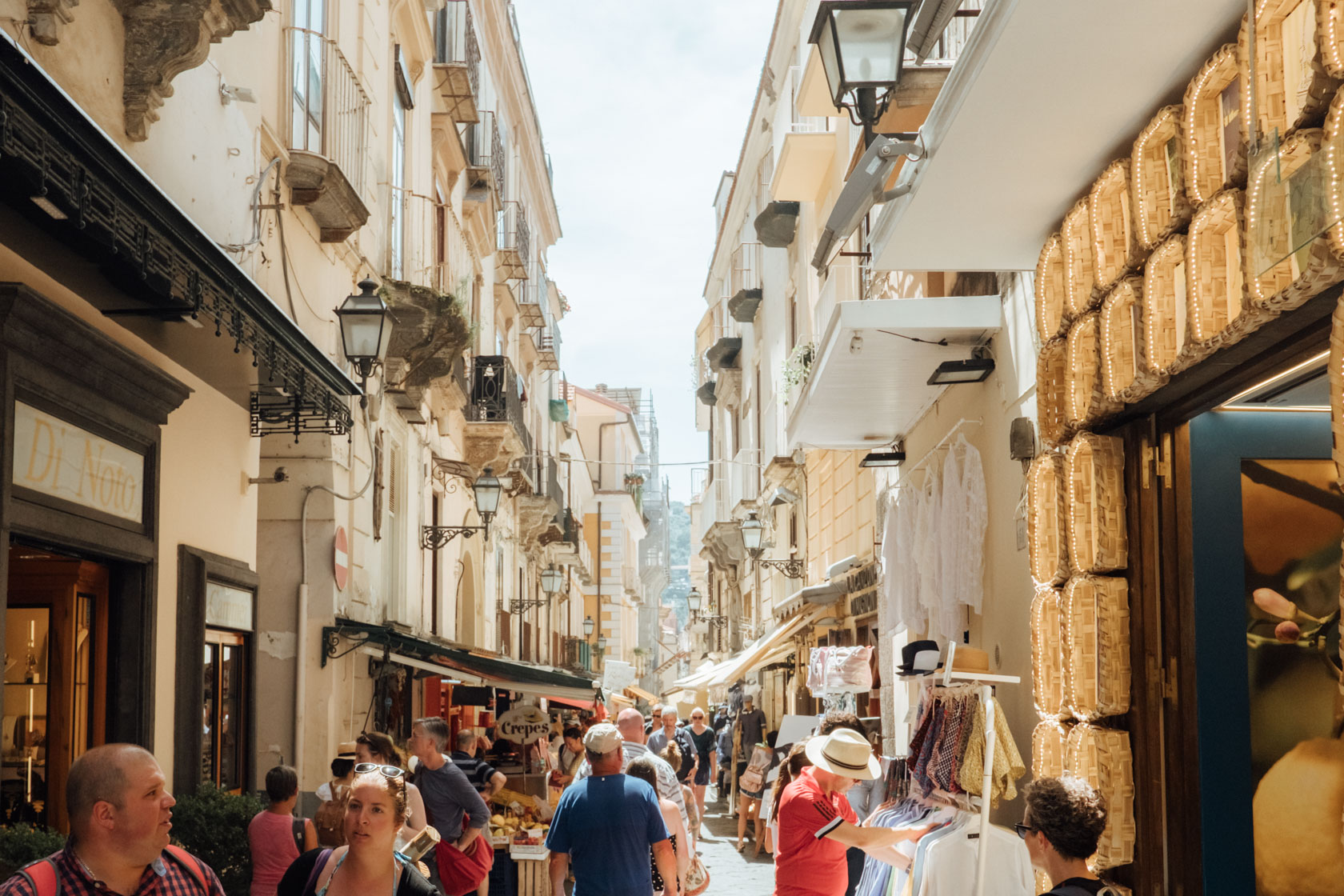 One important thing about Sorrento is that it's one of the few places on the coast that has a supermarket. If you're looking to visit the Amalfi Coast on a budget, don't miss stopping at the Conad and stocking up on snacks before you continue driving onwards! Even though it is a supermarket, it's still really tiny by typical standards.
In terms of things to do in Sorrento, apart from shopping, you'll also want to visit the Church of St. Francesco , look out over the marina, and perhaps grab lunch on the Piazza Tasso (more expensive owing to the central location, but easy to reach and plenty of covered parking lots nearby). Otherwise, if you'd like to stick to a budget, go down Corso Italia for something more moderately priced.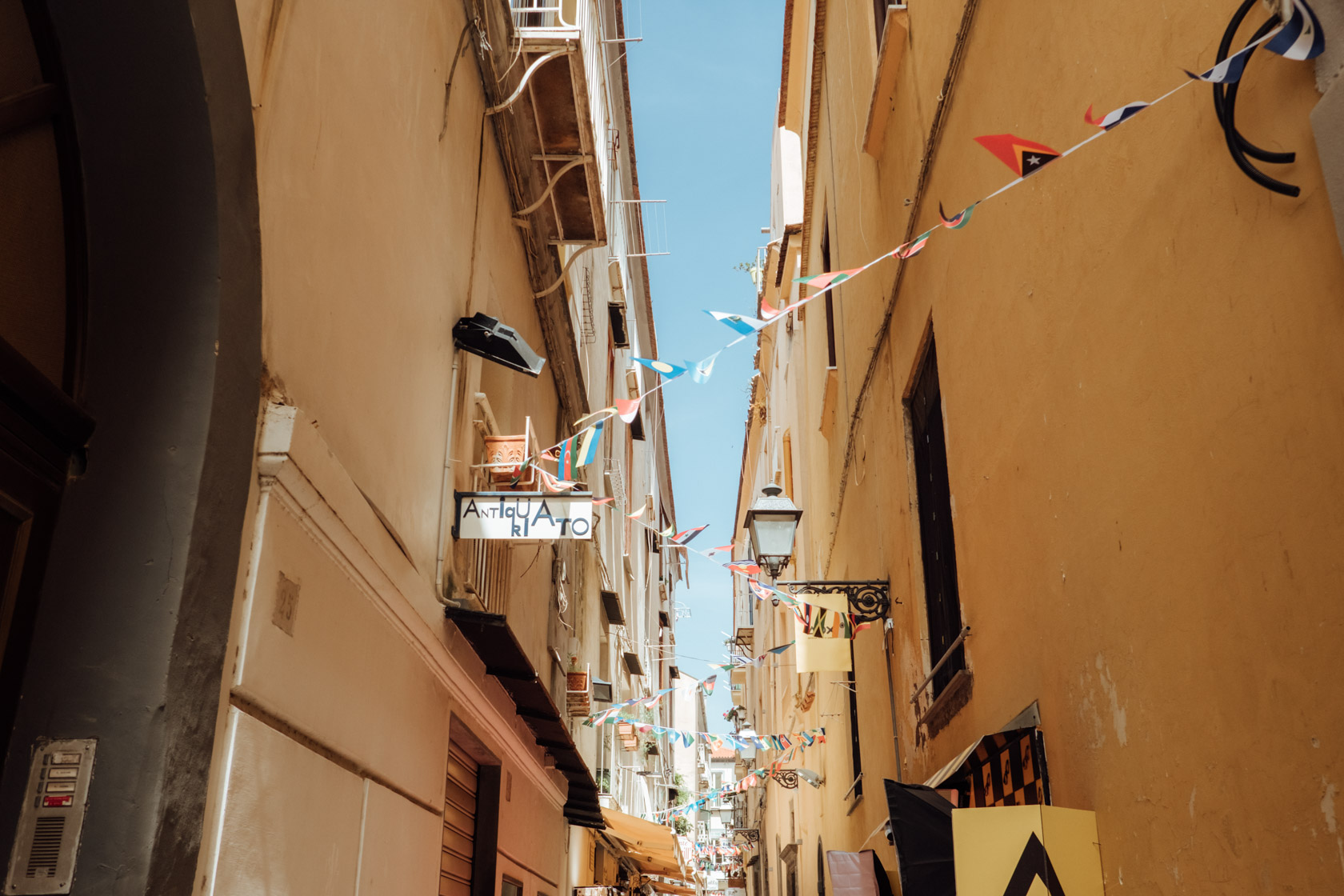 Ravello
Unlike most of the towns on the Amalfi Coast, Ravello doesn't have its center on the beach, but rather high up in the hills. When you look over the ledge on a Ravello balcony, you'll see layered terraces where people are growing lemon and olive trees. Ravello is also a lot less crowded than Amalfi or Positano, making it a great place to base yourself if you don't want to be elbow-to-elbow with fellow tourists.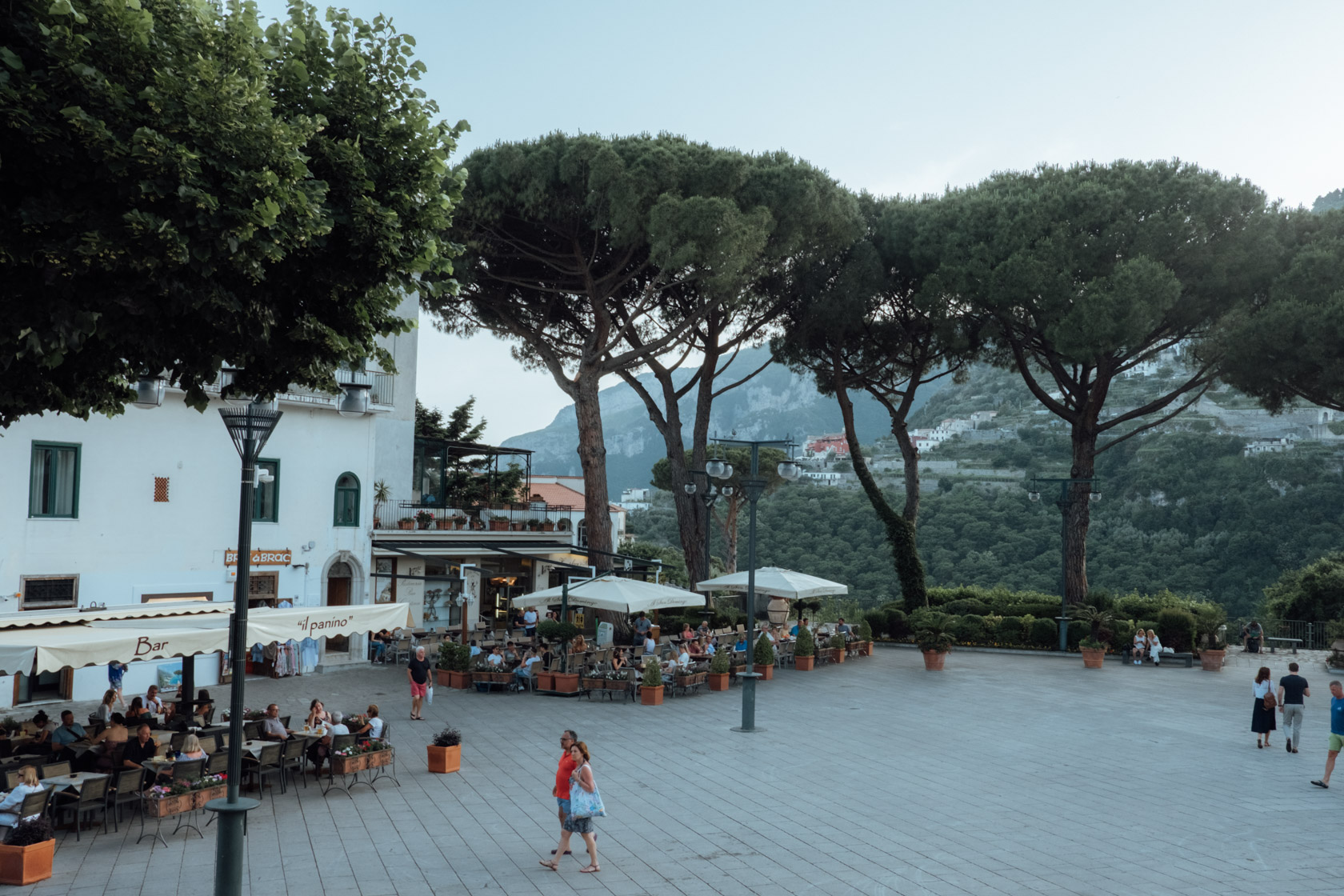 Here are a few of the best things to do while you're in Ravello.
Villa Cimbrone
Villa Cimbrone and Villa Rufolo are the two most famous villas on the Amalfi Coast (besides those on Capri), and they're both located in Ravello.
Villa Cimbrone dates back to at least the 11th century AD, and is most famous for its so-called "Infinity Terrace", called the Terrazzo dell'lnfinito in Italian. There's a specific balcony you can step onto and get perhaps the broadest panoramic view on the Amalfi Coast. What's better, you can be surrounded by fabulous Roman busts who might just be keen on appearing in your selfie 😏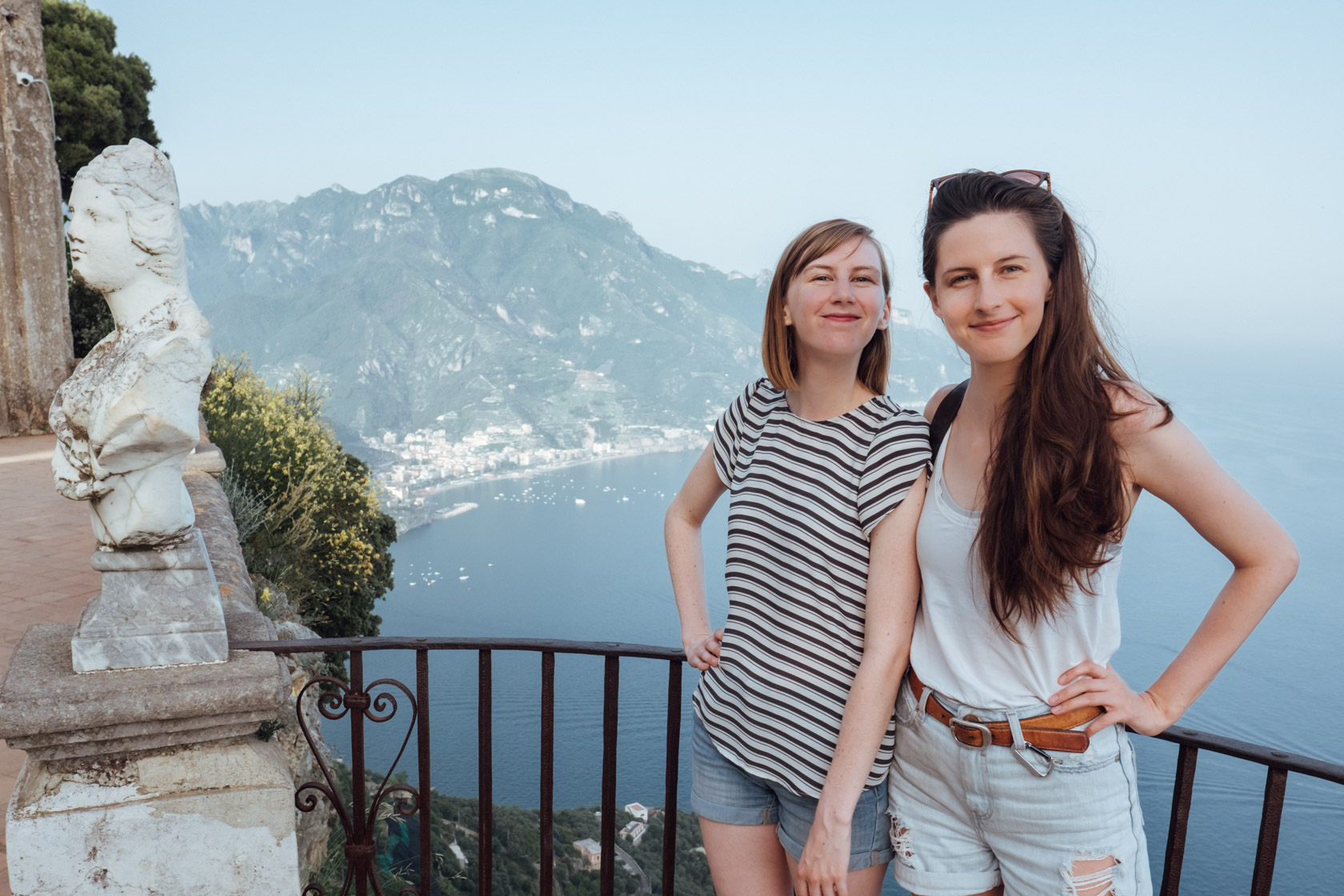 TIP: Incredibly, you can actually stay at Villa Cimbrone as a guests. It has extremely limited availability, so do check into it if you want to have the same view as the Terrazzo dell'lnfinito (Terrace of Infinity) but from your bedroom 😍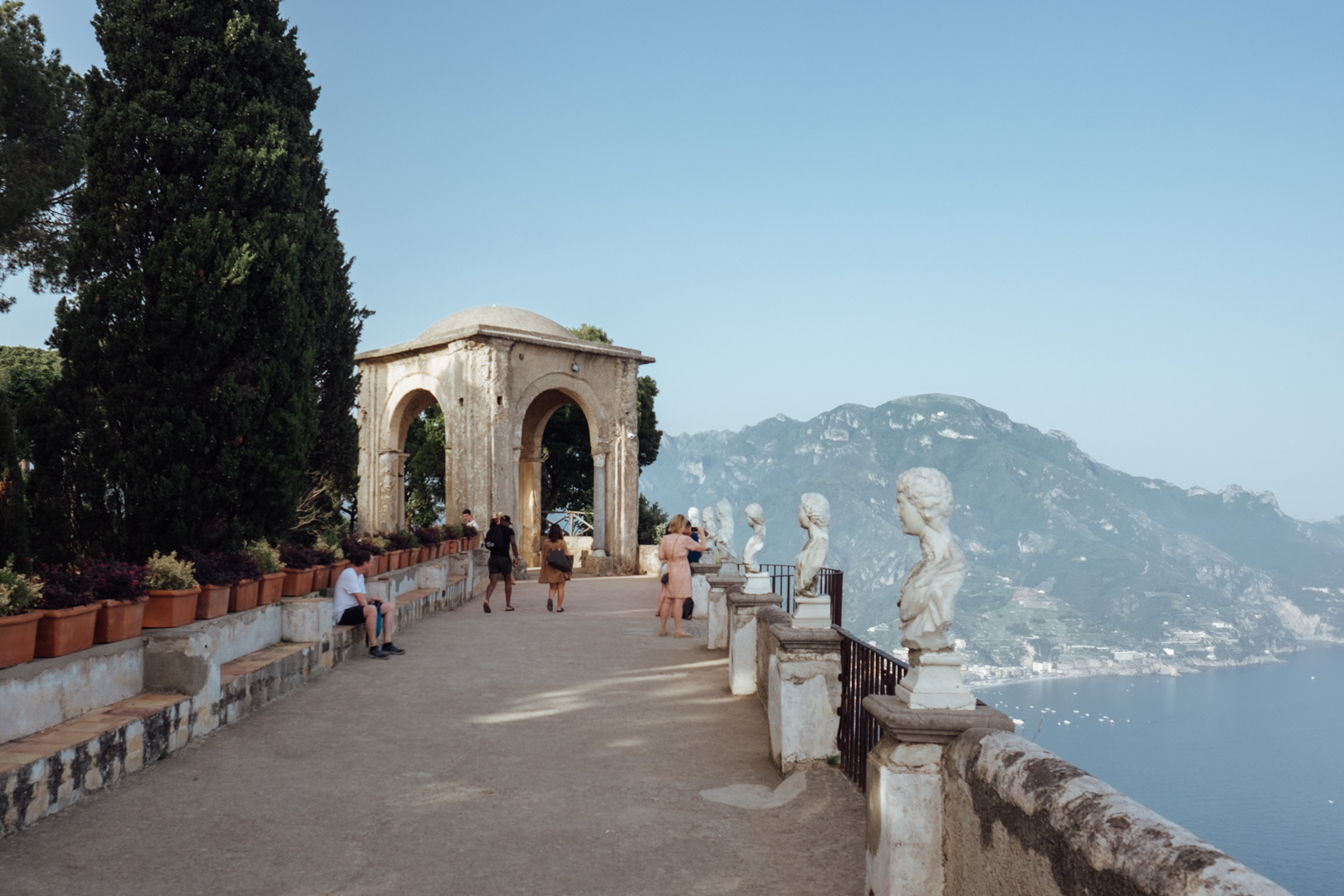 Apart from the Infinity Terrace, there are also expansive gardens to explore, which may be in bloom depending on the time of year you visit. You can learn more about the Villa Cimbrone gardens on their official website .
Opening hours and pricing: Villa Cimbrone's gardens are open year round, from 9AM until sunset. Tickets cost 7€ with discounts for groups and children under the age of 12.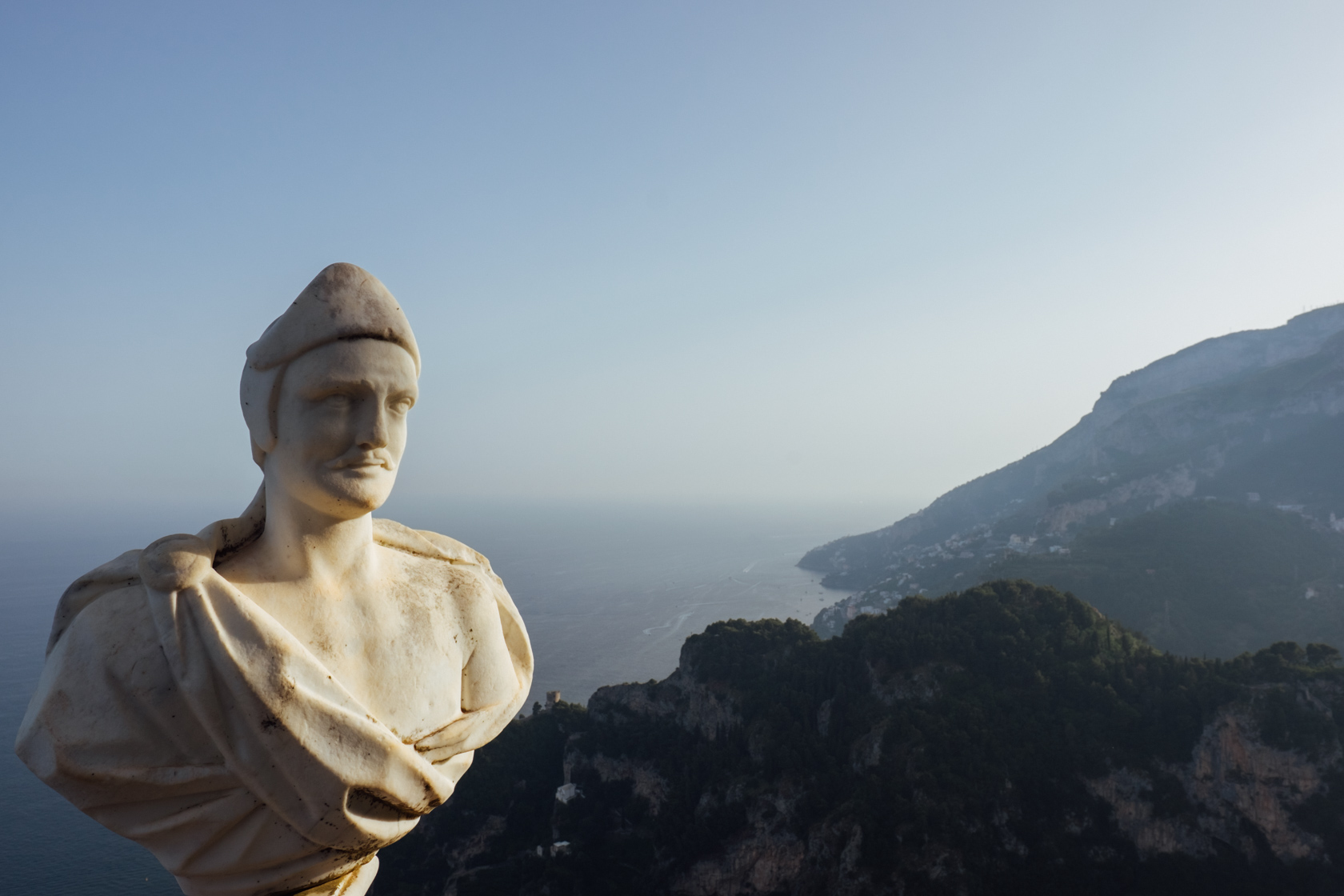 Villa Rufolo
Villa Rufolo is the other famous villa in Ravello, most known for its manicured and colorful gardens. The views are similar to Villa Cimbrone, but the gardens are more compact and will take less time to traverse. You can also go into the museum, though it does involve a good amount of stairs. We missed visiting Villa Rufolo owing to limited time, but I'd love to check it out next time.
Day 2: Atrani and Amalfi
Being based in Ravello, we decided to leave our parked car (too much of a pain to move it!) and take the 850 meter walk from Ravello to Antrani, and ultimately Amalfi. For the Americans, 850 meters is less than half a mile. Sounds easy, right? The important thing to know about this decision is that these 850m are PURE STAIRS. If you're in better shape than me, you'll probably just think it's a good workout for your bum. But I was literally taking stairs backwards for the rest of the trip 😂
If you don't want to walk, you can also easily take the bus between Ravello, Atrani, and Amalfi. Be sure to check the schedule, and give yourself time to figure out where to buy tickets (you can't buy them on the bus itself, but usually from a nearby shop offering SITA tickets). Most busses go about every half hour, but again, check the time table!
TIP: In the Summer, you absolutely want to be packing water along with you, as well as drenching yourself in sunscreen. Good walking shoes are also a must! For more tips on what to pack, scroll down to my Amalfi Coast packing list.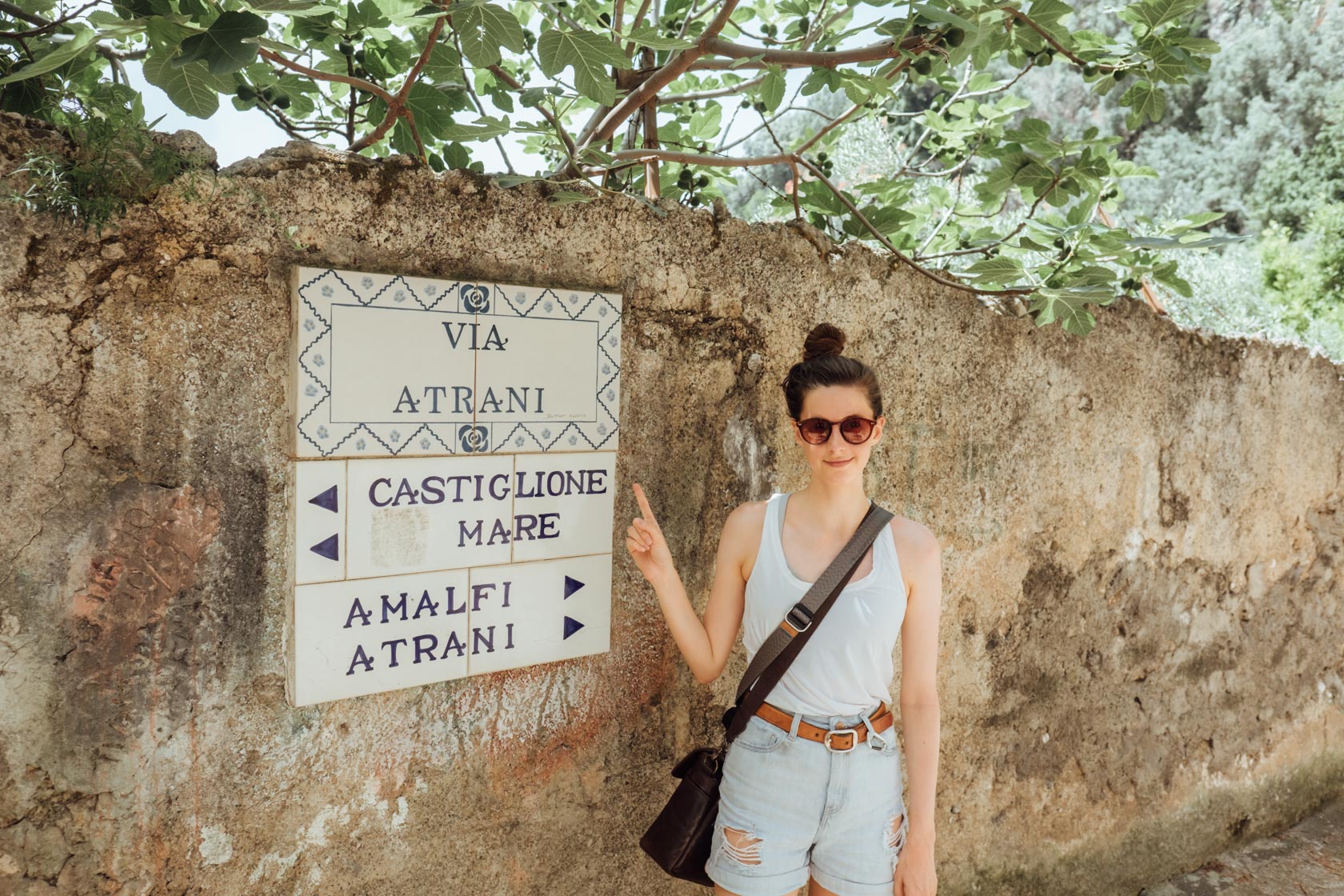 Atrani
Atrani isn't one of the main attractions on the Amalfi Coast per se, but it has a great stretch of beach and is a perfectly lovely place to catch some sun. It's also really close to Amalfi, so there's hardly a reason to pass it up. Probably the main things to do in Atrani include visiting the church, Church of San Salvatore de Birecto , a Byzantine-style church that dates back to 940 AD.
Otherwise, the main area of Atrani is shaped like a C, with arches surrounding the beach from all sides. There are several beach bars you can stop at and down an Aperol Spritz (or, you know, water) and cool down in the shade.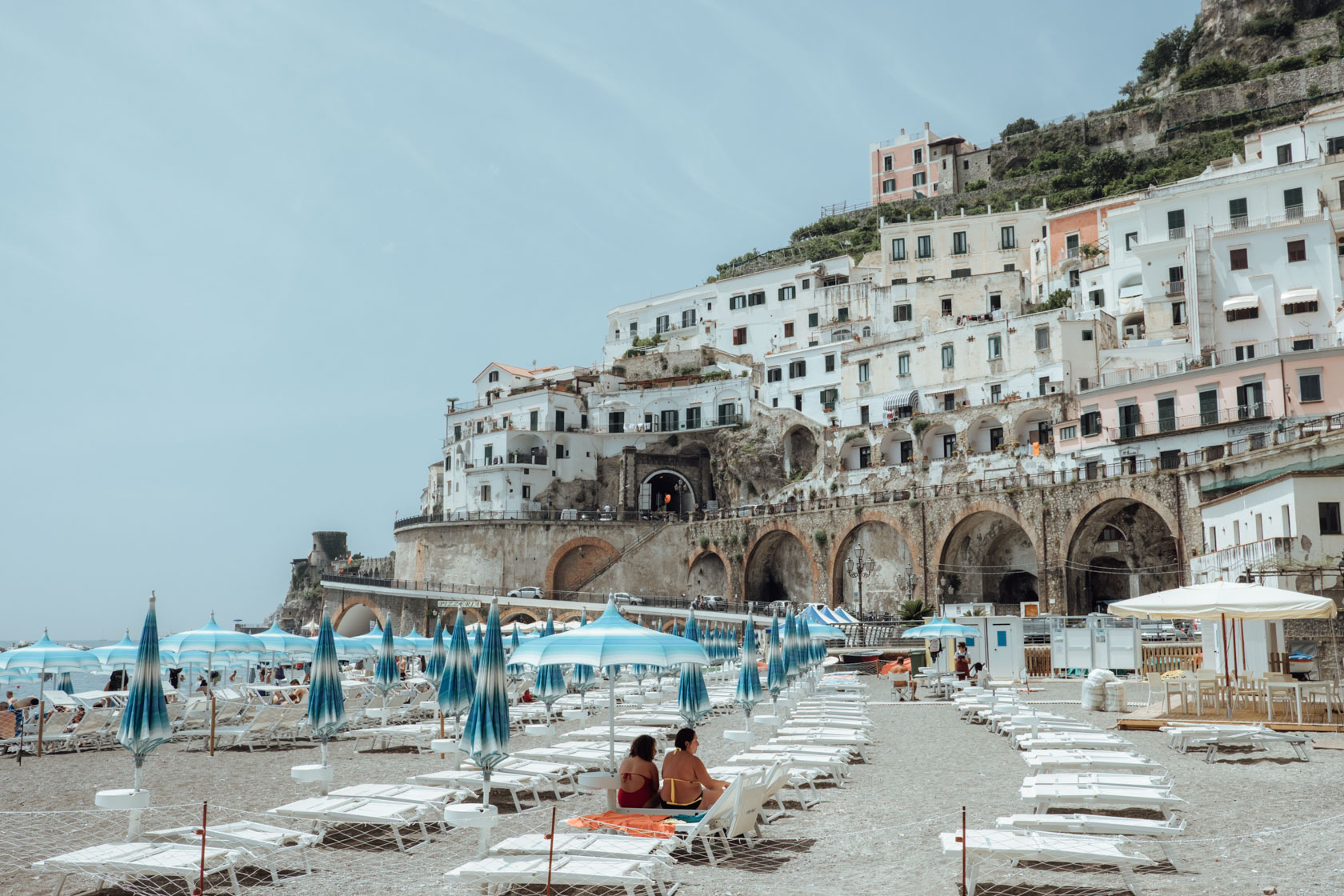 The beach bar we ended up with had so much ice cold water, I'm pretty sure we drank about four liters of it between the three of us. The prices were surprisingly fair given how expensive the Amalfi Coast is on whole.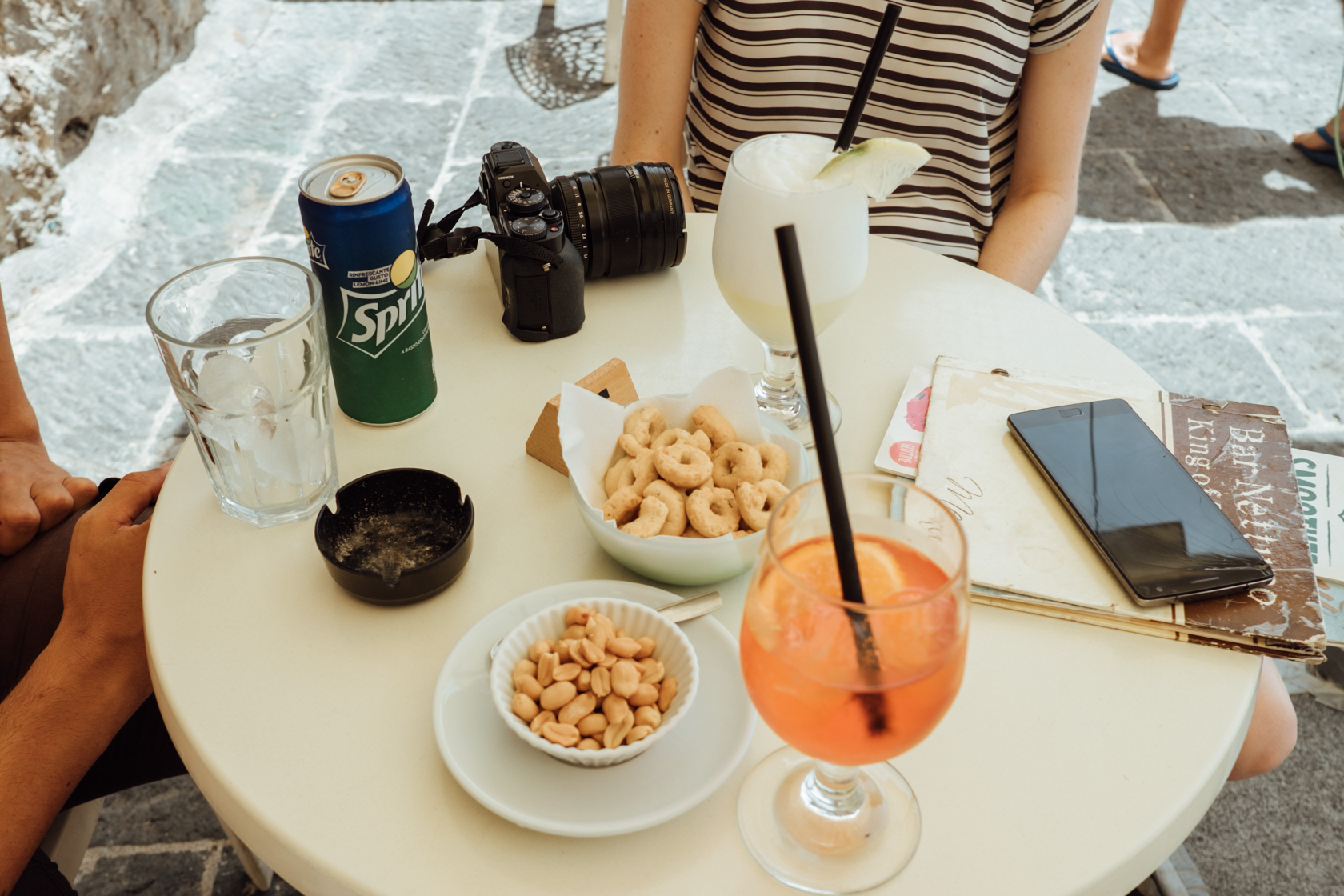 From Atrani, it's possible to walk to Amalfi, or you can take a bus to get there. The walk is pretty easy to follow via Google Maps, so long as you keep an eye and make sure you're still on the intended path. We had a little bit of backtracking to do, thanks to some wrong turns. The unfortunate part there is that since there are so many stairs, it feels like such a waste go up the wrong path and then have to come back down 😂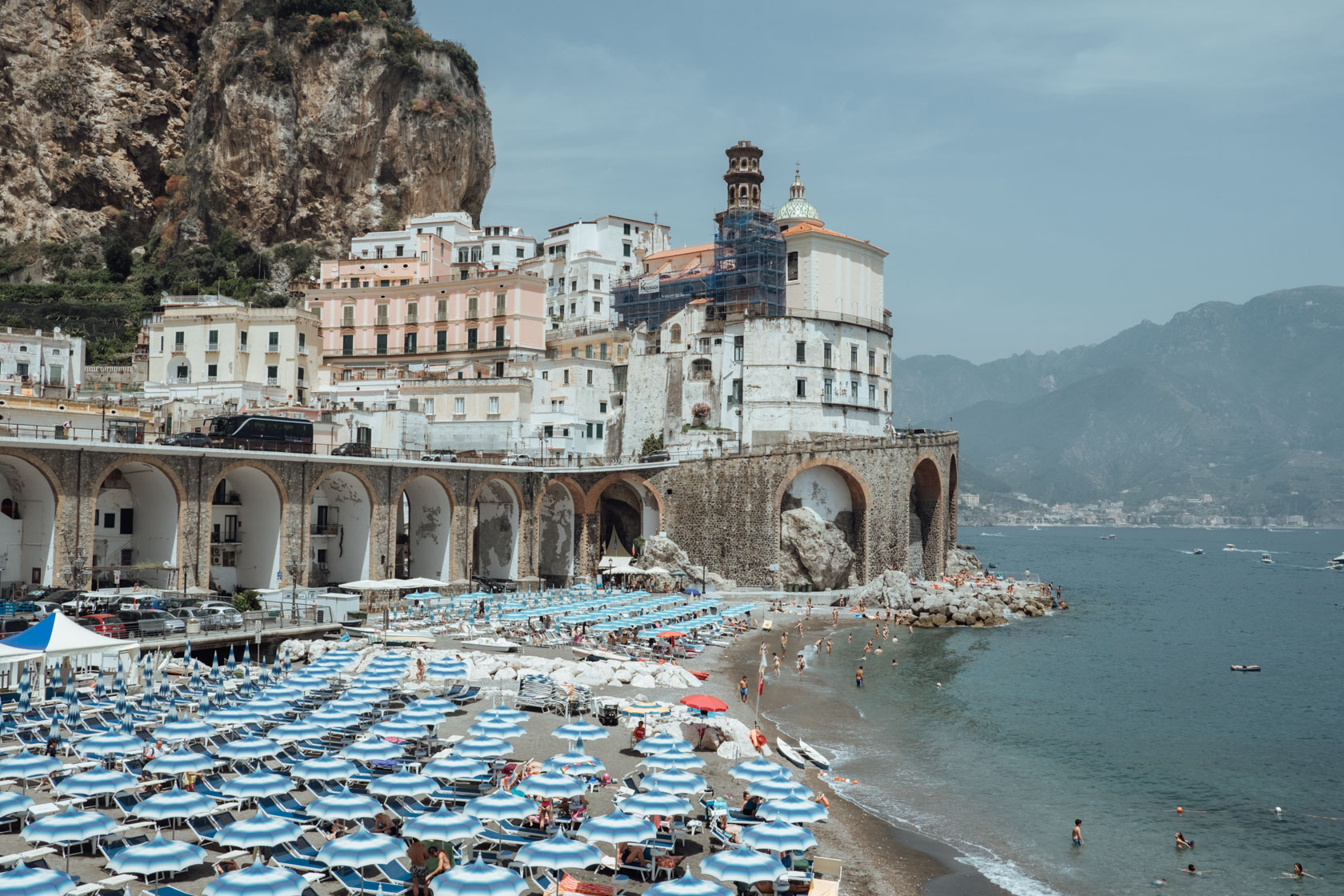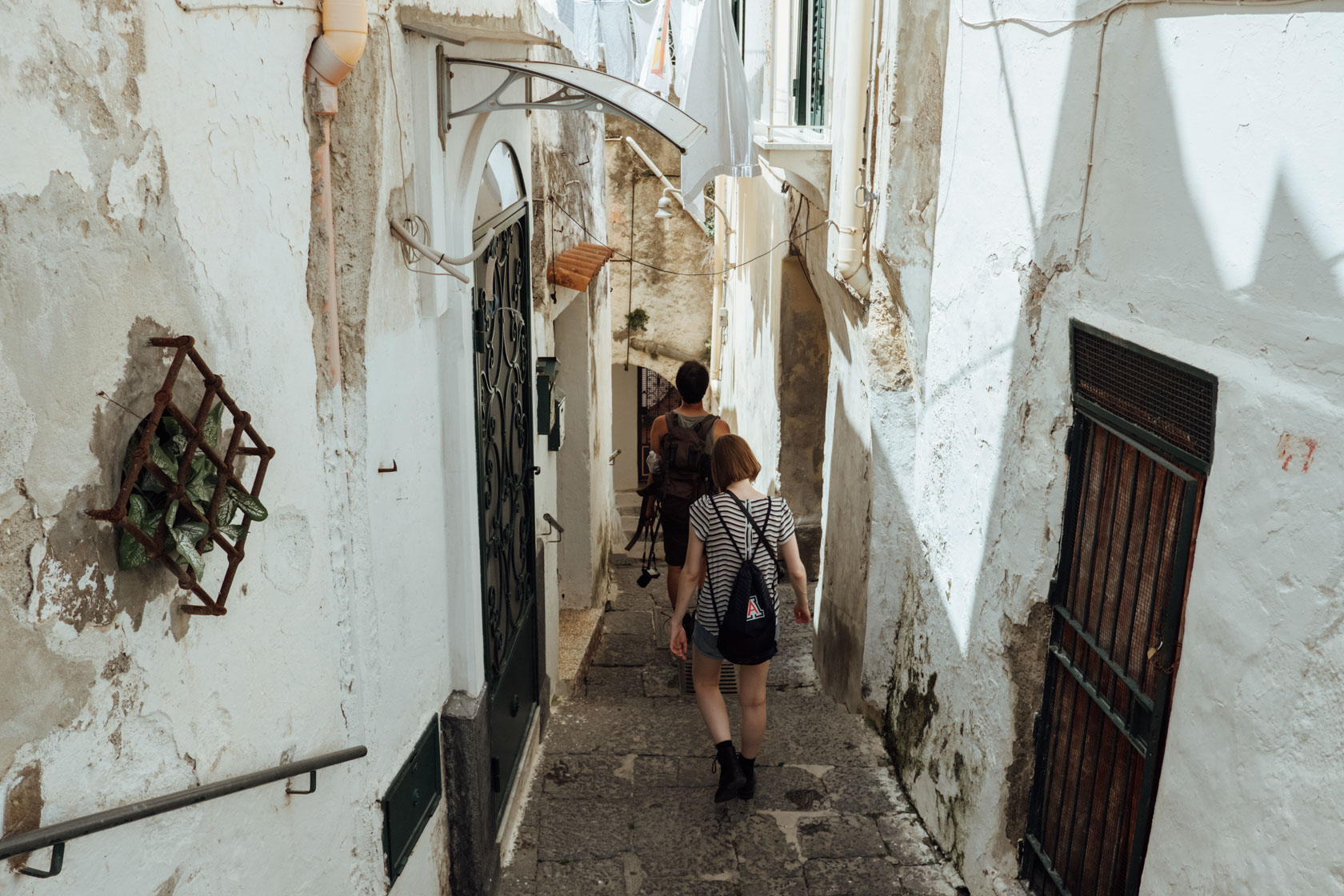 Amalfi
The eponymous Amalfi is quite a bit larger than Atrani, and is home to the most famous cathedral on the coast: Duomo di Sant'Andrea. This impressive church has multiple areas you can enter, which I'll talk about later.
In terms of walking around, there are some shopping streets where you'll find sellers hawking more lemon-derived products, swimsuits and hats, olive oil, as well as ceramics. I'm pretty sure the ice cream I had in Amalfi is probably the most expensive ice cream of my life, costing something like 9€ each?! There's a reason they call it Europe's most expensive Summer destination – it's definitely the ice cream.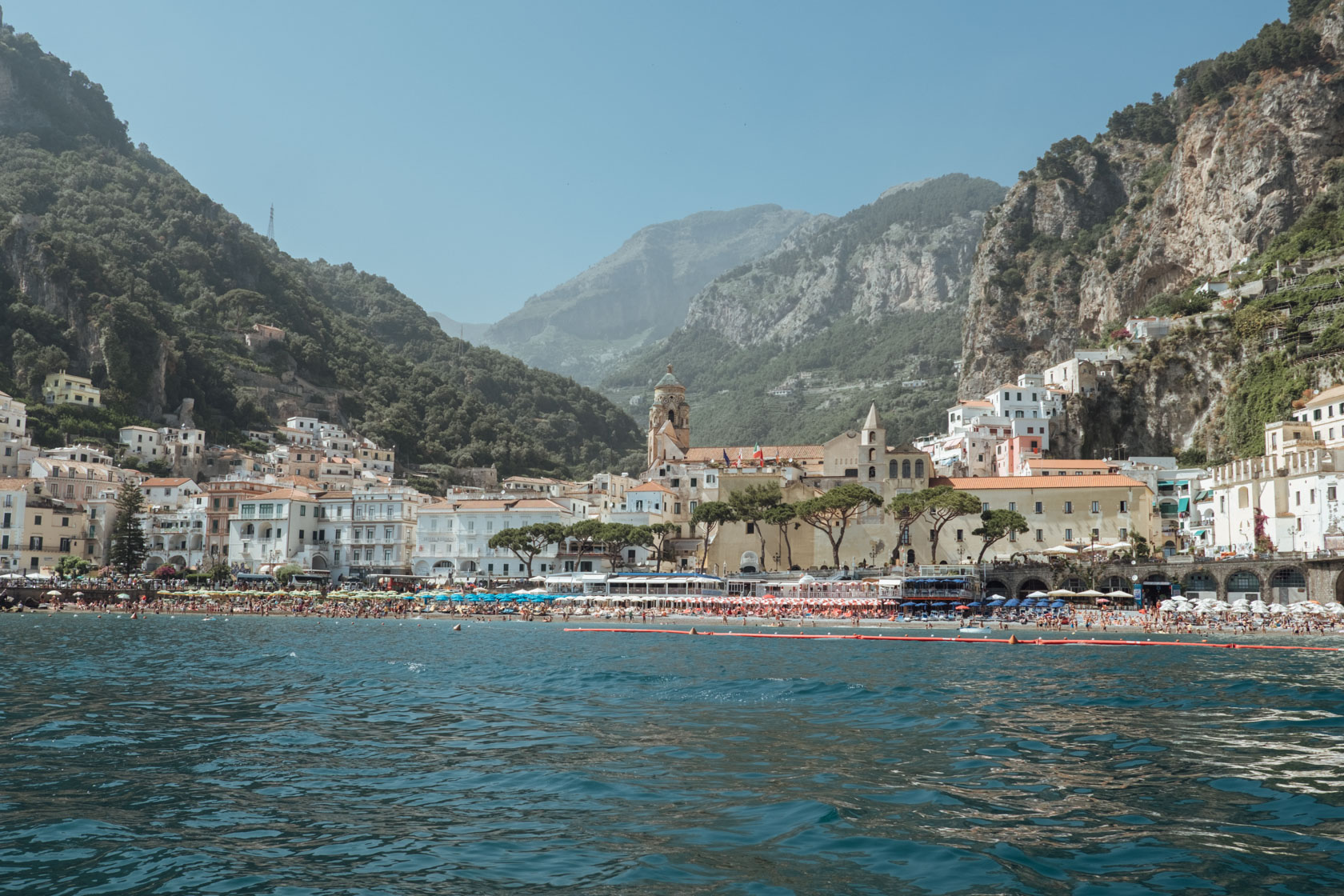 You can also walk along the promenade, where you'll find plenty of private beaches and places to grab a drink in the shade. Amalfi is one of the pricer spots on the Amalfi Coast, so keep that in mind when you're consuming food or drinks along the main tourist areas. Not just ice cream, though that's expensive too.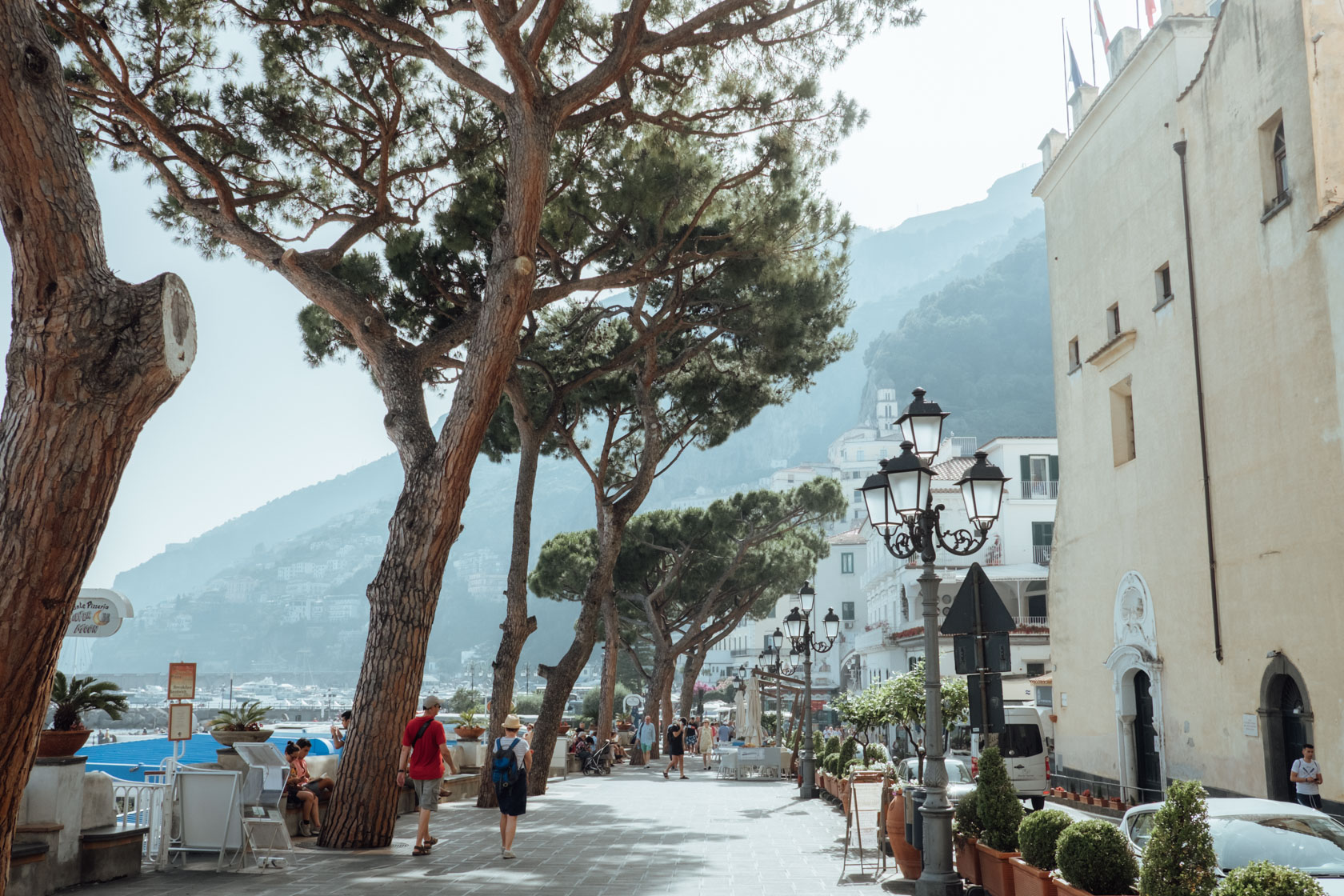 Amalfi Cathedral
The Amalfi Cathedral, the Cathedral of St. Andrew, is one of the main draws of Amalfi. There are a number of different areas to visit inside the Cathedral, such as the main area of the cloister with all the reliquaries and statues and busts. You can also go deeper in the church and see the crypt, where the relics of St. Andrew are stored. There's also an area called the Cloister of Paradise, which is an inner courtyard with a garden inside.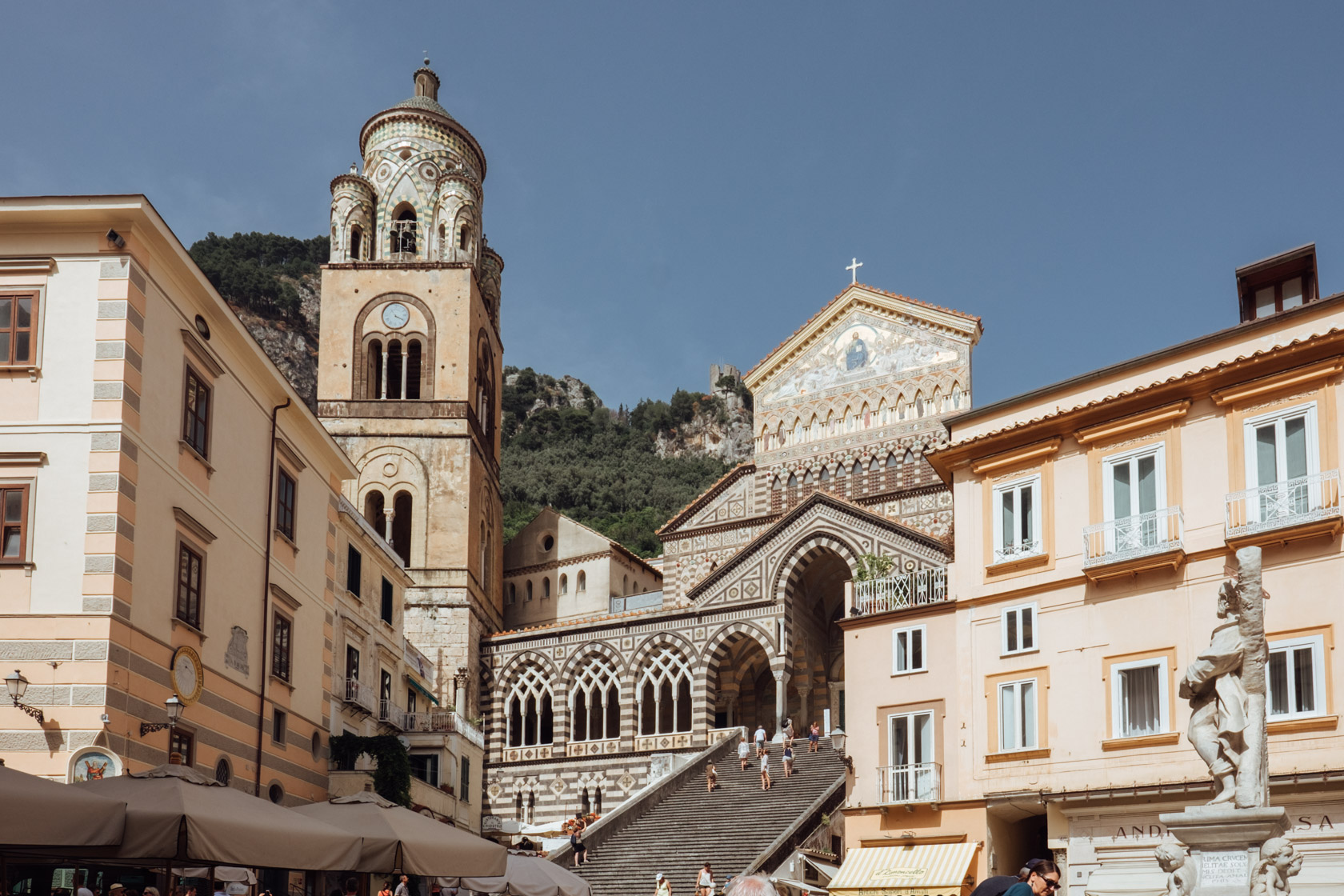 If you're a lady like me, and it's hot as the sun outside, chances are you won't be wearing the attire the Italians would like you to wear when you enter a church. Luckily that's no issue as they provide paper scarves (first time I've seen this in Italy, I think? Usually they're made of an inexpensive fabric). Of course, the men have are allowed to have bare shoulders 🙄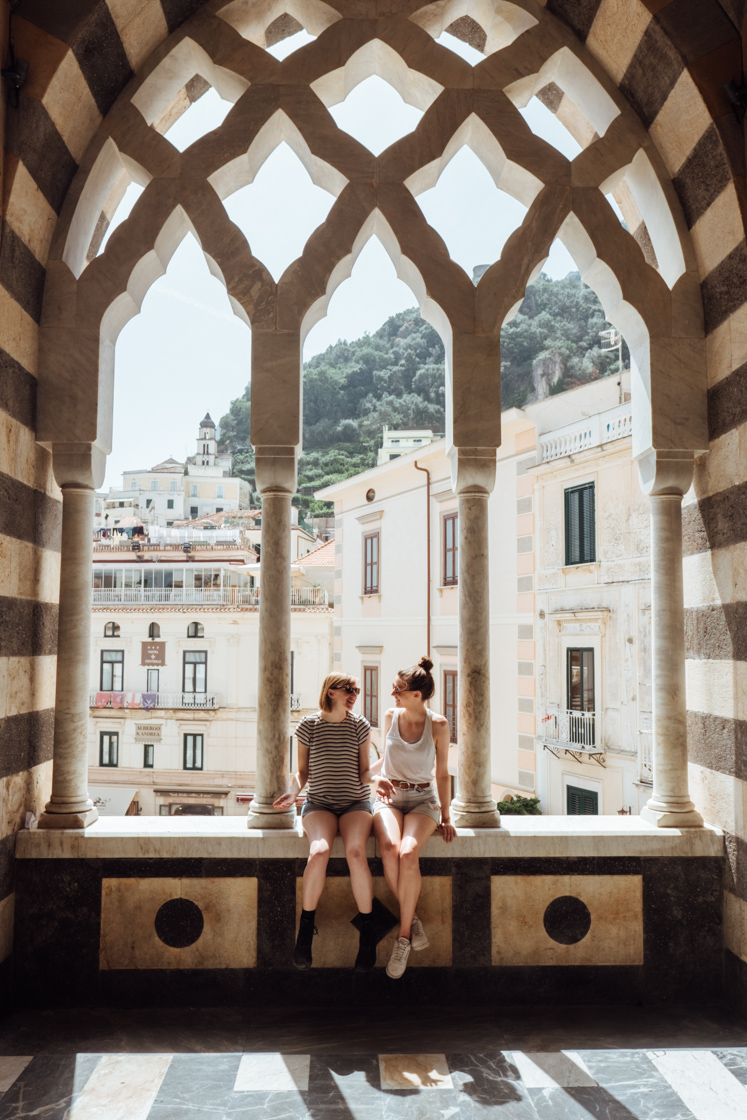 You don't need a ton of time to explore the Cathedral, perhaps 45 minutes depending on how much you like to read all the signs and examine the artifacts.
Opening times: From March to June, the cathedral is open from 9AM to 6:45PM. From June to September, from 9AM to 7:45PM. And during the Winter, it has more limited hours, from 10:00-1:00, and then 2:30-4:30PM. You can learn more about the current hours on the Duomo di Sant'Andrea on TripAdvisor .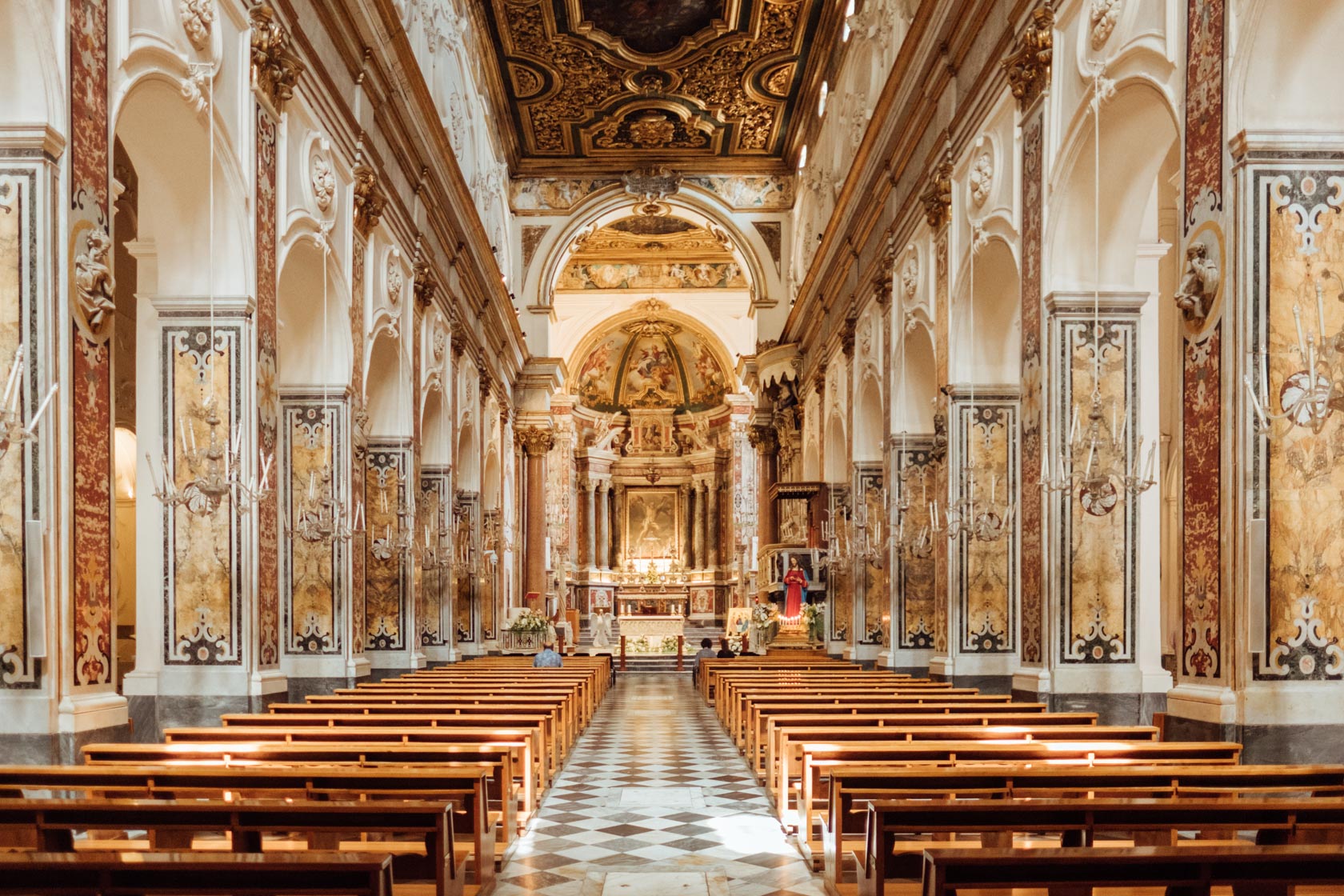 Museum of Paper
We didn't get a chance to visit, but the Museo della Carta (or, the Museum of Paper) is one of the most popular things to do in Amalfi after visiting the Cathedral. Tickets are just 7€ per person to enter.
Day 3: Positano and boat tour
Positano
If you're driving yourself, you need to arrive in Positano early in order to get a parking spot. There is parking available outside the town, but you need to both arrive early and be OK with spending 20-30 minutes walking into town, depending on where you park (again, including stairs!).
When we arrived around 11AM and still ended up using the paid parking deal offered to us by the team at Blue Star boat tours (20€ for parking for the whole day). It was a real journey to drive through town to reach the garage, for the privilege of parking it 😂
Here are some of the best things to do while you visit Positano, one of the absolute most scenic towns on the Amalfi Coast.
Take a boat tour
Seeing the Amalfi Coast by boat feels like the ultimate luxury. We took private half-day tour, which was the perfect way to not only see the coastline by boat, but a few special places like Fiordo Di Furore and the Grotta dello Smeraldo . These are places you can only really see properly by boat, which also means they're less busy than the rest of the Amalfi Coast.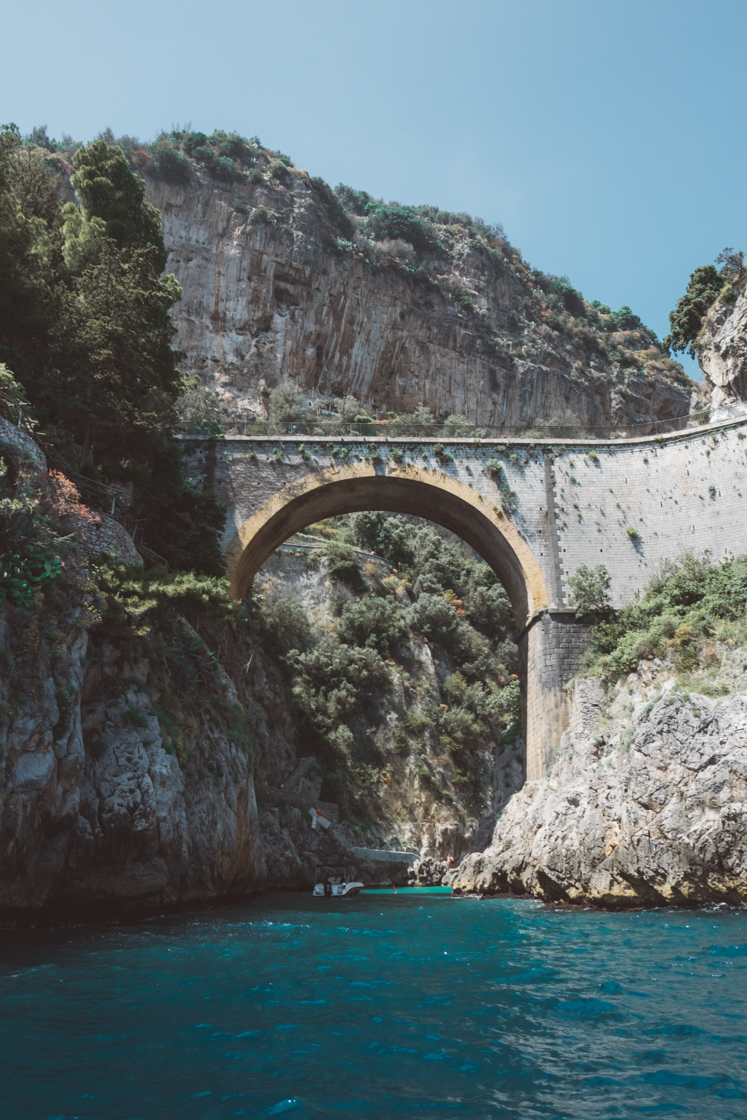 Fiordo Di Furore , for example, is actually currently (as of 2019) not accessible by the pathway because of fear of falling rocks. Which means the only way you can properly access the area is by boat. Technically the beach itself is also closed, though we did see people swimming. Regardless, it's a beautiful area to see from the water.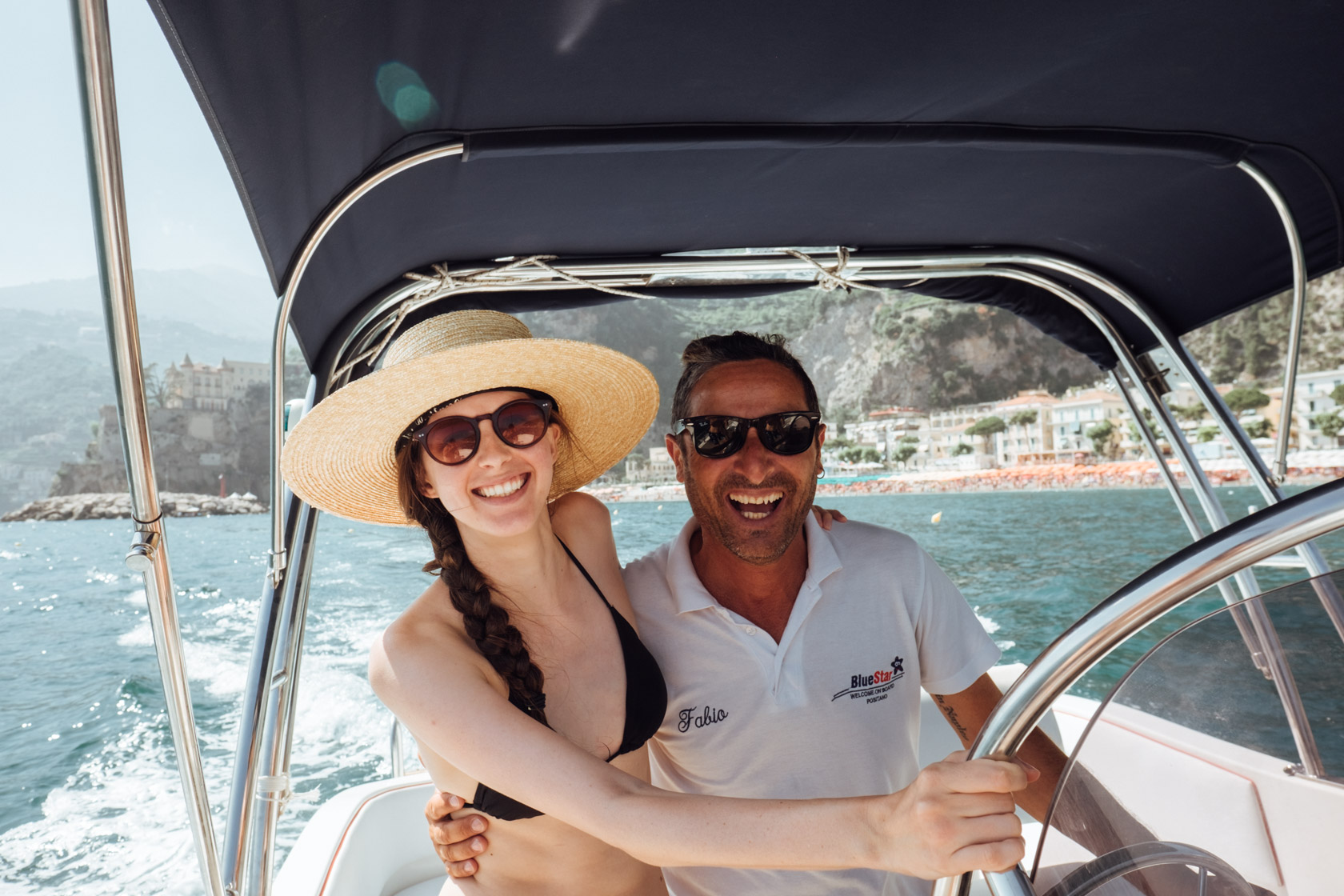 Book a boat tour with Blue Star
Blue Star is the most popular boat tour company operating from Positano on TripAdvisor. Booking in advance is highly recommended, we watched people try to reserve same-day and get turned away! This recommendation is NOT sponsored in any way, we paid for our own tour 100% and it was the highlight of our trip.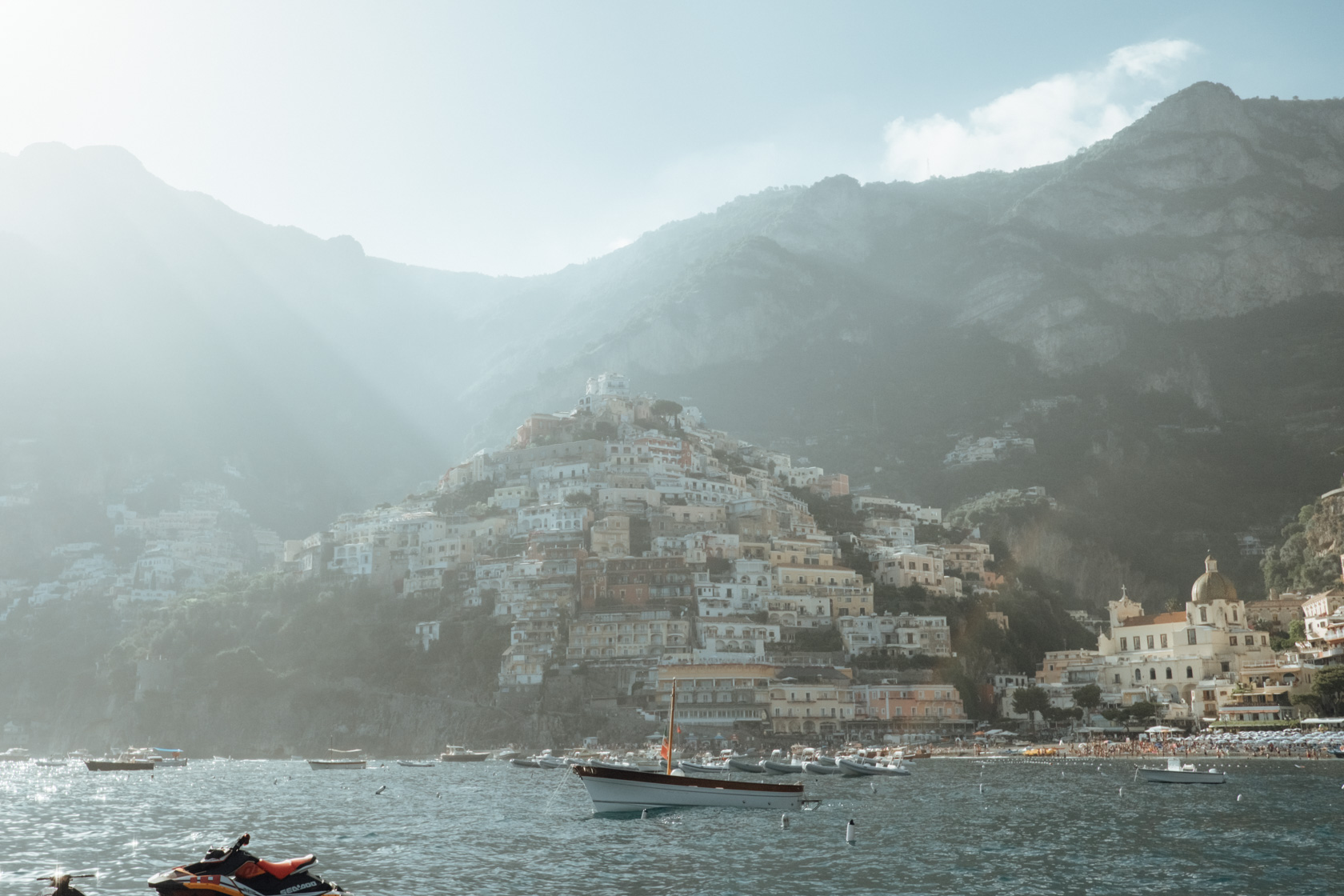 Hike the Sentiero degli Dei (Path of the Gods)
The Path of the Gods is considered one of the most beautiful hiking trails on the Amalfi Coast. Most people depart from Sorrento, and the hike itself takes about 4 hours. You get to see the Amalfi Coast from a perspective that frankly most tourists never get to see.
The trail itself is easy to follow, so you don't need a guide if you just want to enjoy a quiet hike. But if you're like me, you could very well enjoy having a guide who can give you more information about the nature and civilization you're traversing on this ancient path. You might just appreciate having some company, or if you're traveling solo, you probably know that hiking alone is not safe!
Check prices for a small-group guided hike along the Path of Gods that has a maximum of 8 participants and has a 4.9⁄5 rating based on almost 50 reviews.
Visit the best beaches in Positano
The most known beaches in Positano are the Spiaggia Grande (also referred to as Marina Grande ) and the Fornillo Beach . If you're looking to take some of those famous Positano pictures, the former is probably where you want to be. The sand is VERY HOT so make sure you bring some sandals with you!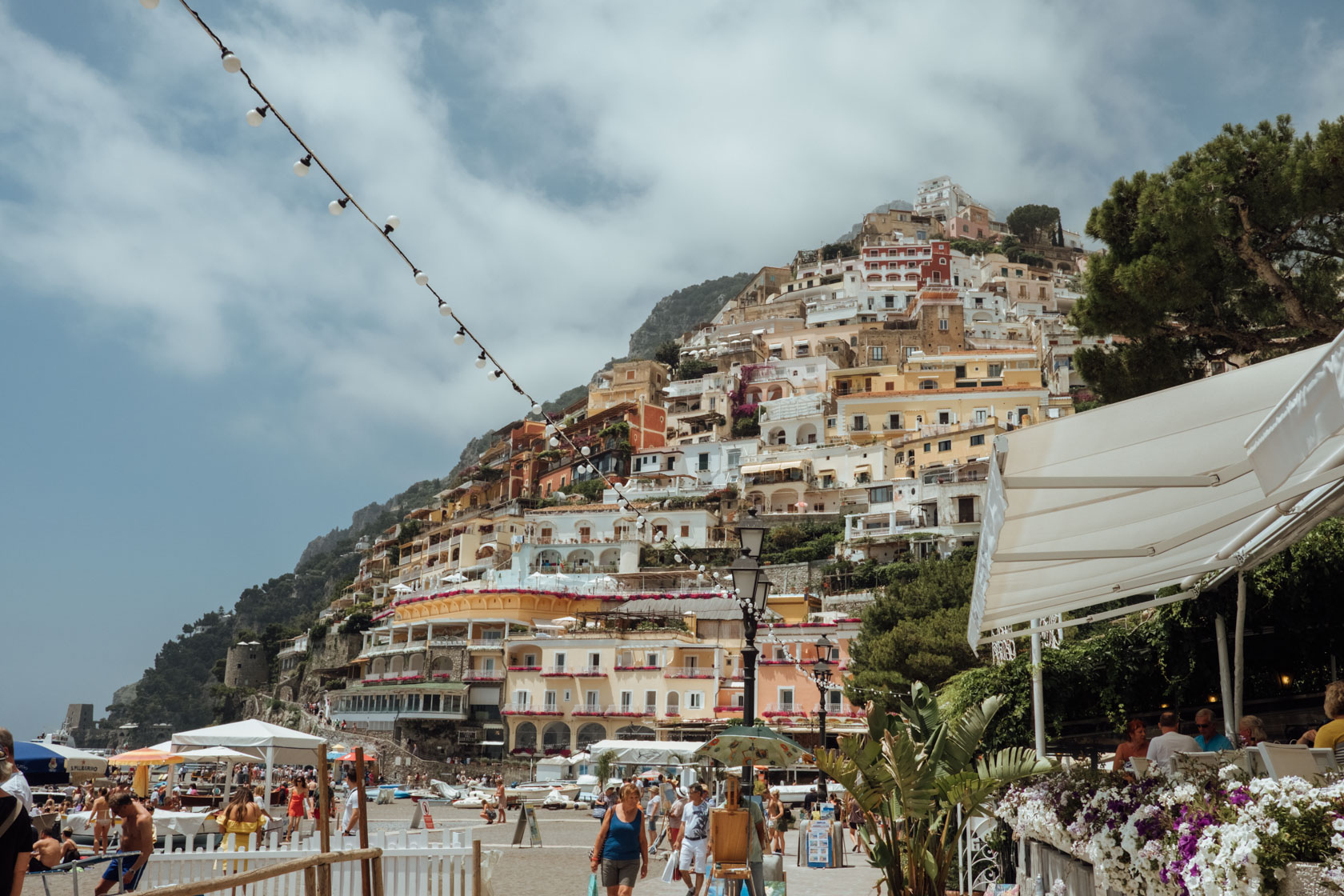 Pop by the Delicatessen for lunch and a photo
One of the most popular spots for a photo in Positano, if you're gathering snaps for your instagram feed, you'll pass this spot. If you're hungry, Delicatessen actually offers an affordable lunch you can eat on the balcony in the middle of town.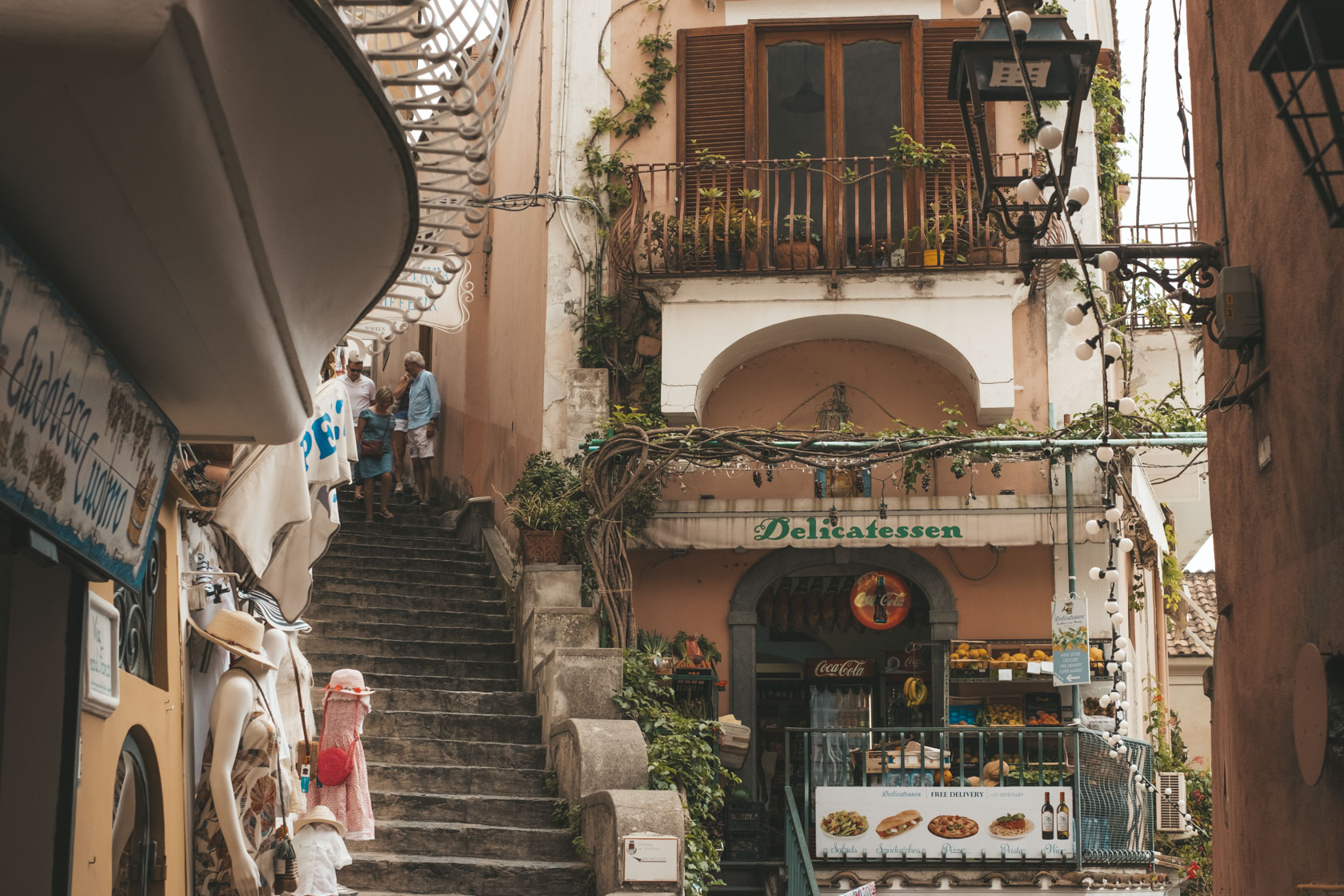 Buy a locally-made sun hat
I bought my hat at Carpineto Positano . This hat shop is right along the Via Marina Grande. Outside you'll see a number of less expensive hats, and inside they have more handmade hats. My hat wasn't cheap (about $60) from real straw, and has an adjustable band inside which helps the hat stay on despite serious wind!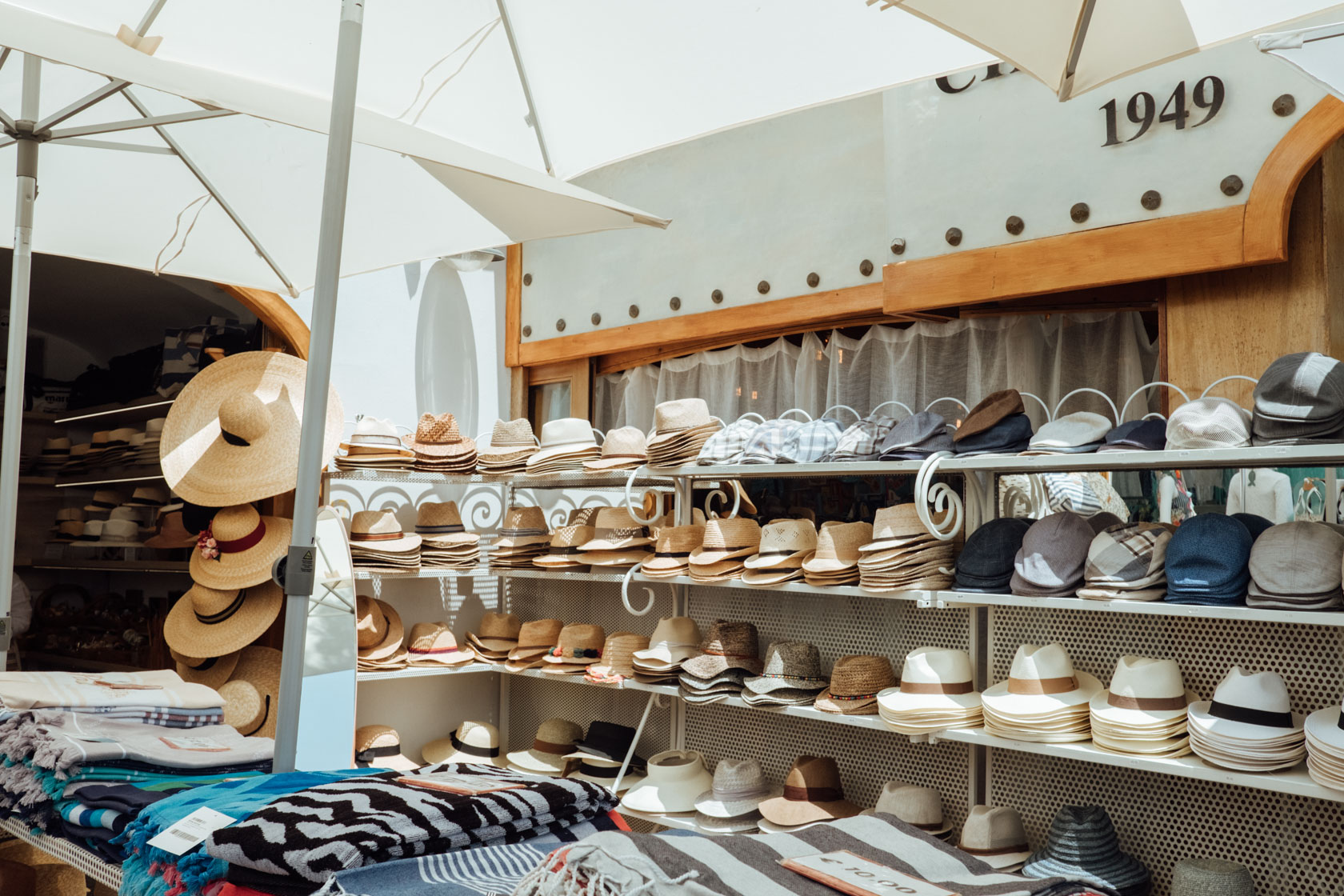 Where to eat on the Amalfi Coast
La Tagliata, Positano
Our experience eating at La Tagliata was pretty funny. One of my boyfriend's colleagues recommended it to us, but when we arrived we were a little surprised to find that there were not only no prices, but also no menu at all. Cue panic? The restaurant is family-owned, and everything is home-made. Supposedly our server is the son of the chefs, and I'm just guessing that the surly-looking guy manning the barbecue is somebody's uncle 😁
You get several courses: fresh vegetables, bread, meat, potatoes, and a medley of desserts. It's the kind of place you spend the entire evening eating, because it's so much food you'll have a hard time doing anything afterwards. The funnier thing was looking around the restaurant and seeing couples that weren't struggling, and wondering how on earth they managed!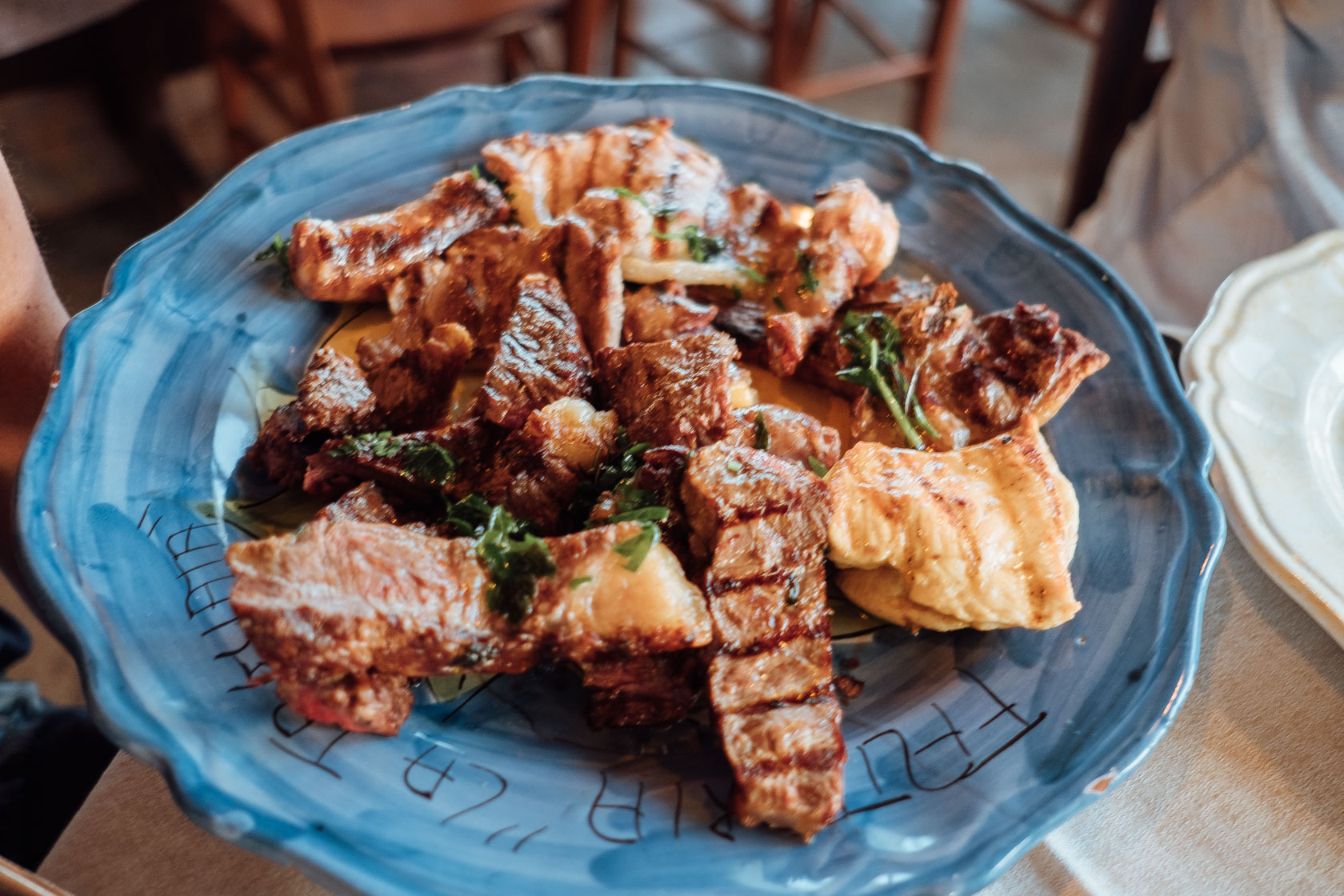 At the end of everything, we learned the price: 45€ each. It includes multiple courses and unlimited drinks, including unlimited wine 😏 Frankly we were expecting it to cost a lot more, and ultimately felt like it was a great value.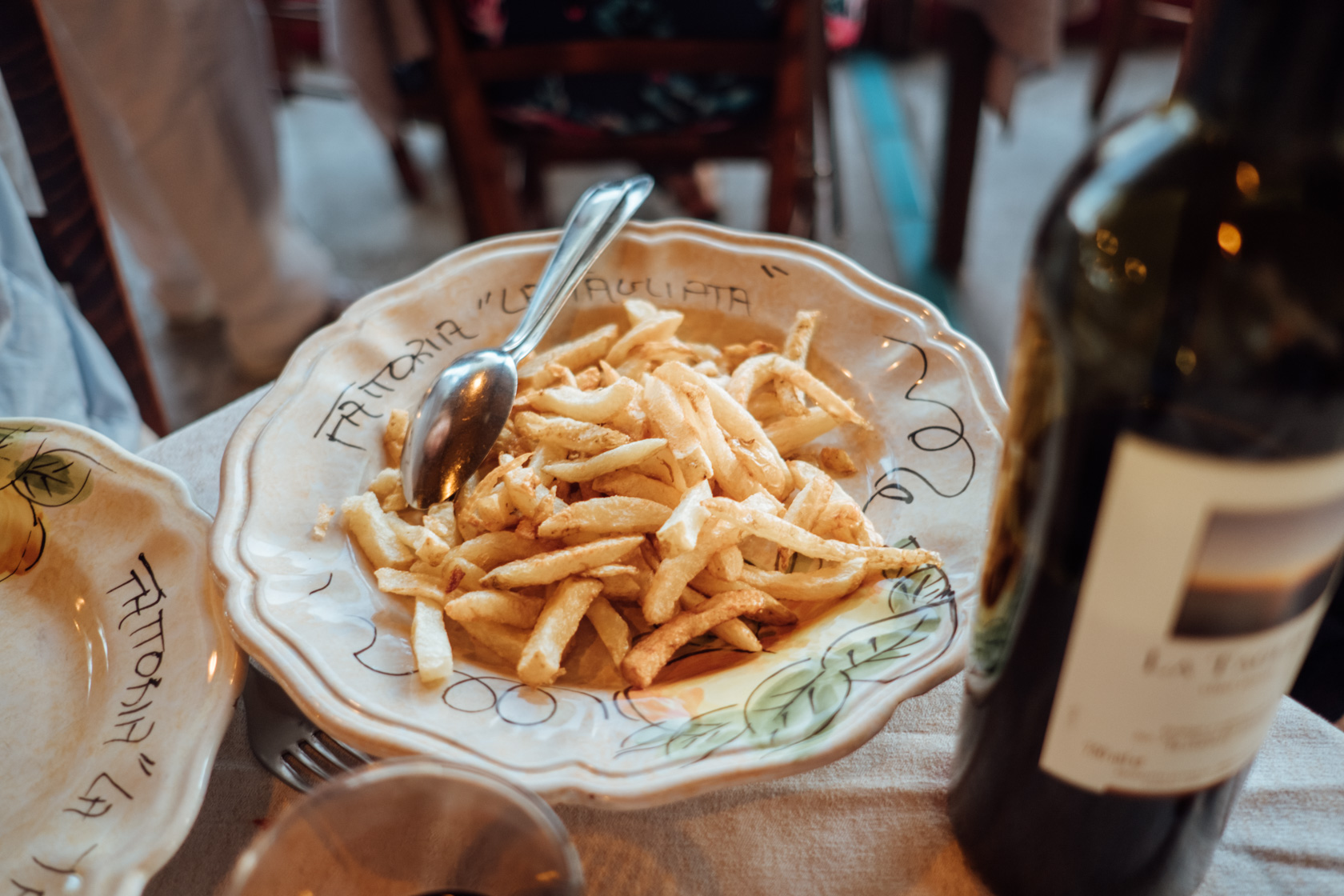 But perhaps the main draw of La Tagliata isn't even the food, no matter how great it was. But take a look at this view over Positano: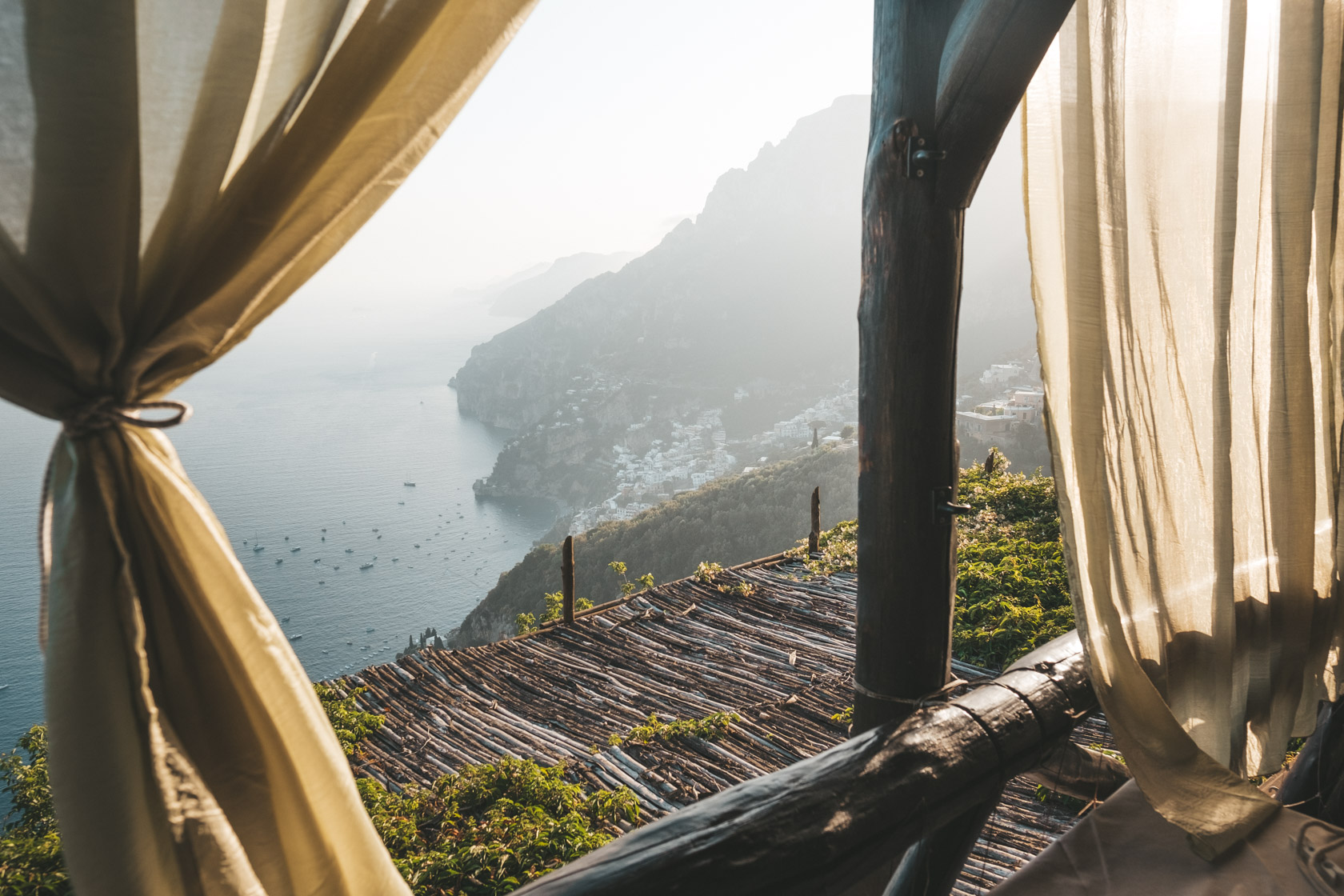 Make sure you reserve super early if you want a window seat! They are in limited supply, and easily the highlight of this restaurant. I would definitely go again, only I'd probably have to prepare myself specially in order to eat that much food 😂
Ristorante Salvatore, Ravello
Since Ravello was our home base, we tried a few different places in Ravello. The best was Ristorante Salvatore , which had an awesome traditional menu with an emphasis on seafood.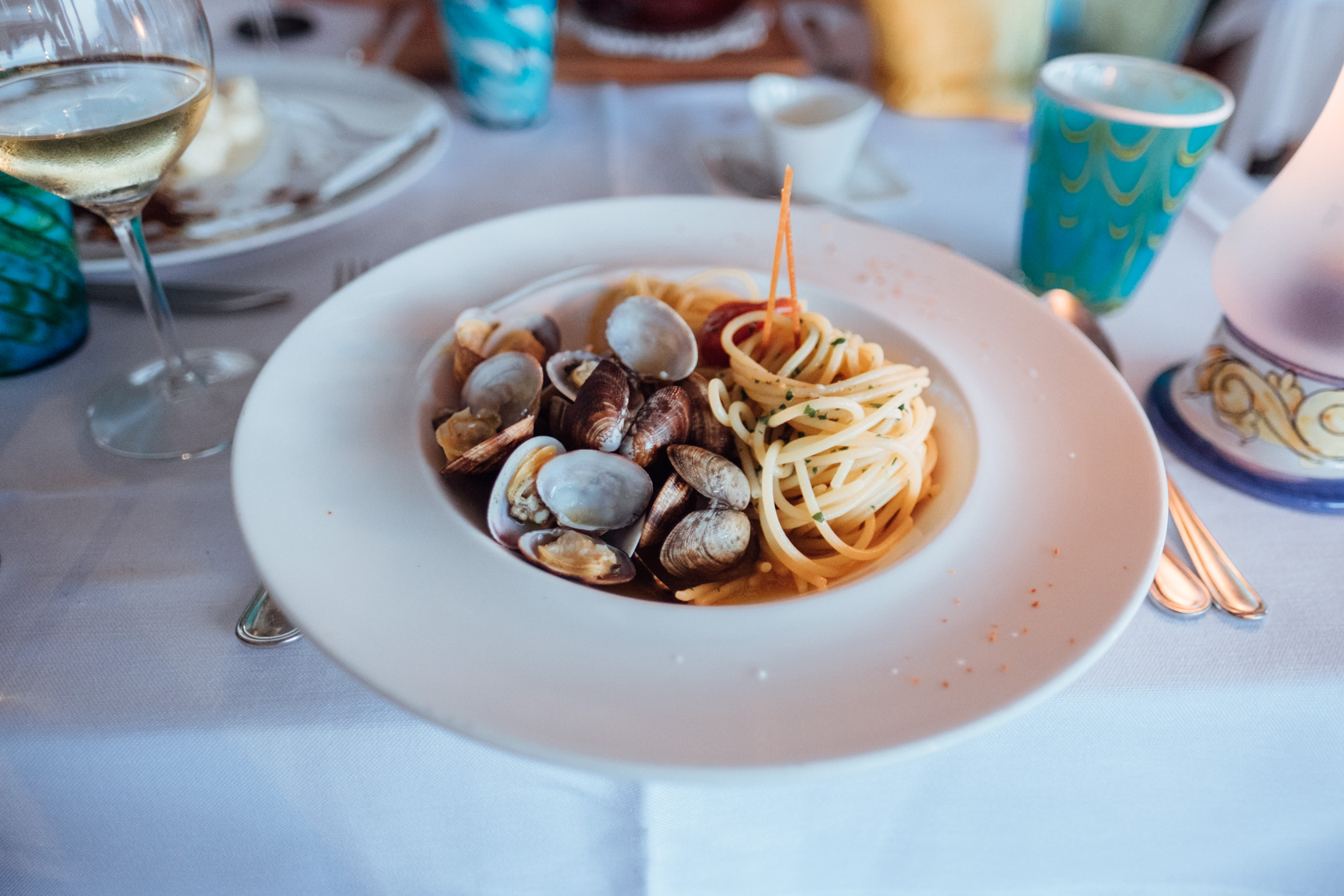 Next to Ristorante Salvatore is Pizzeria Salvatore, which we also tried. Their house special is a pizza with potato on it. It sounds weird. It is weird. But hey, when in Rome?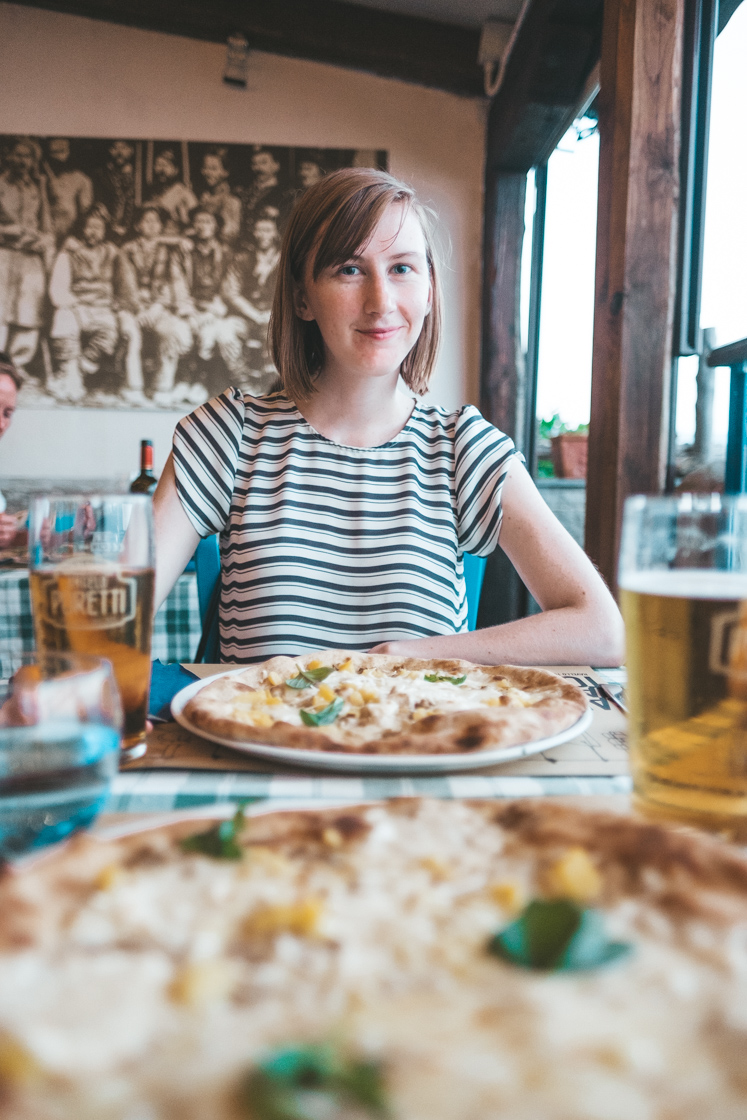 Best time to visit the Amalfi Coast
According to Fabio, our awesome boat tour guide, the Amalfi Coast shuts down for the most part after the end of September. While you can still visit, you may find a lot of the shops tend to take the Winter off. For that reason, visiting at the early shoulder season (May) or at the end of the season (mid-October) will grant you warm temperatures and lighter (but still moderate) crowds.
For instance, boat tours typically stop running around mid-October because the sea becomes rougher and it's harder to run tours on it.
We visited in the middle of June, supposedly before the peak season in July and August, and towns like Positano were still completely packed with visitors, leading to bumper-to-bumper traffic and a whole lot of stress! That's why, again, I don't recommend renting a car and instead going for public transit and private transfer from the airport.
In terms of weather, you should be aware that Summer is hot in Italy. Sun protection and ample water are both musts. Read on for more tips on what to pack for the Amalfi Coast in the Summer.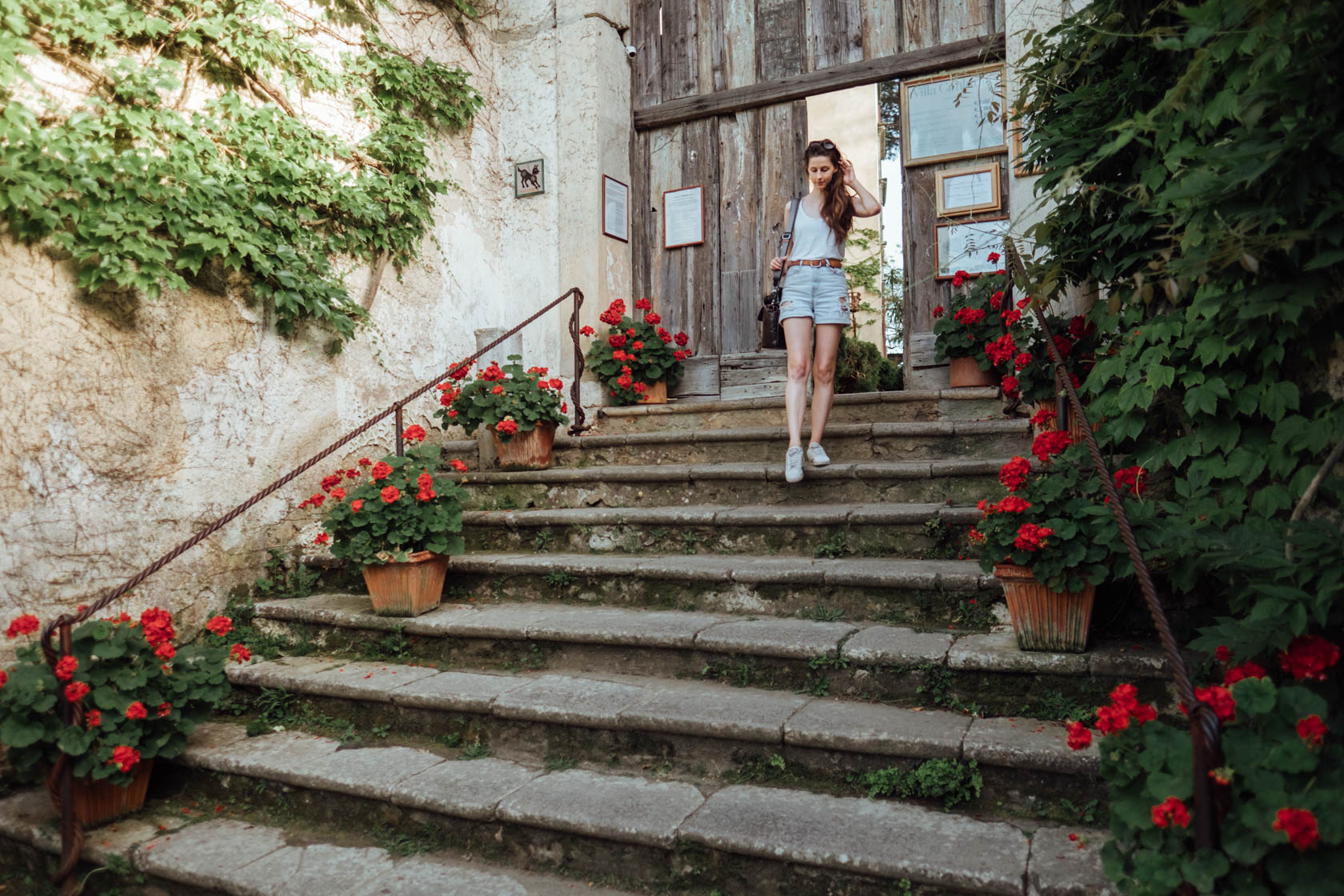 What to pack for the Amalfi Coast
The most important thing to remember is that the Southern Italian sun is INTENSE, so you want to make sure you're both ready-to-sweat and also that you have proper sun protection. Makes sure you bring and regularly re-supply sunscreen!
Buying a swimsuit on the Amalfi Coast will definitely cost you a pretty penny, but if you shop around you'll be able to find something for around $70-80. Obviously you'll save money if you come prepared!
Here are a few essentials I'd recommend being sure you bring with you:
Sunscreen
Sun hat
Sunglasses
Swimsuit
Beach sandals
Hiking boots if you plan to hike
Summer hiking socks
Reusable water bottle
Shorts, tank tops, breezy dresses
Good walking shoes for all those stairs!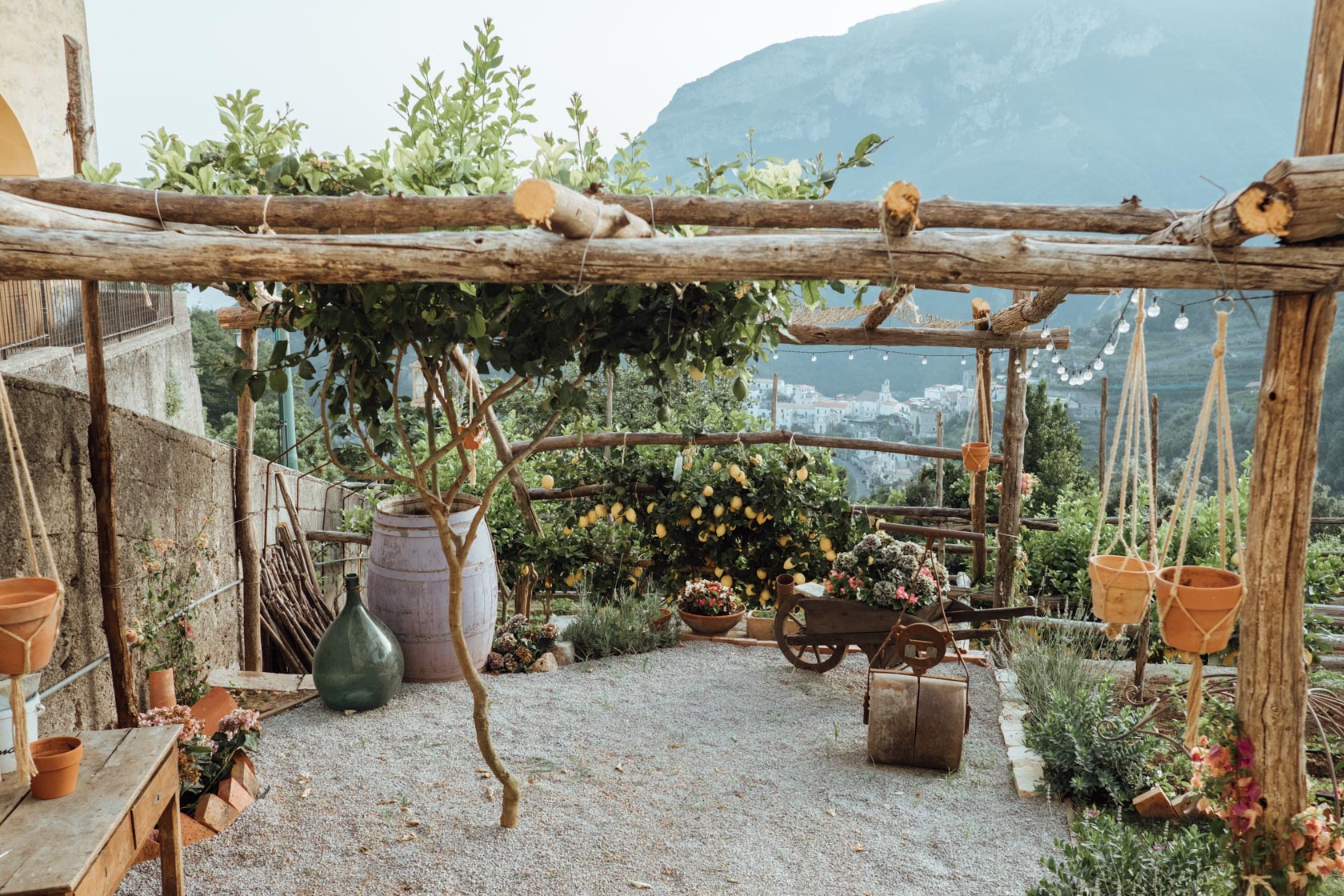 Traveling more in Italy? Check out my other posts!
Italy is one of my favorite countries in the world, and I've been numerous time since moving to Europe. Here are a few of my most popular articles on Italy travel, with an emphasis on Northern Italy:
Venice, Italy
Lake Garda, Italy
Lake Como, Italy
Tuscany, Italy
Like this Amalfi Coast itinerary? Pin it for later!