First things first – congrats on planning a trip to Lake Como! Of all the places in Italy I've been, Lake Como was easily the place that surprised me the most. First I was surprised by how beautiful it was, but I was also surprised at how affordable Lake Como can be.
Sure, if you want to spend $1,000 per night on a hotel, you will have no shortage of choice. But if you're an average traveler like me, you can still find comfortable accommodation in Lake Como without needing to sell your redundant organs.
That said, deciding where to stay in Lake Como can be a daunting task: there are so many tiny towns scattered along its shores! Which town should you stay in?
Read on for tips on places to stay in Lake Como, the best towns to consider setting up a home base in, whether you should rent a car or not, what to look for in a hotel, and my personal recommendations for hotels in Lake Como!
Can you visit Italy now? (Summer 2023)
As of June 1, 2022, COVID restrictions on visiting Italy have been lifted. You no longer need to present a PLF or any kind of negative test to enter the country. Your flight into the country may still require face masks.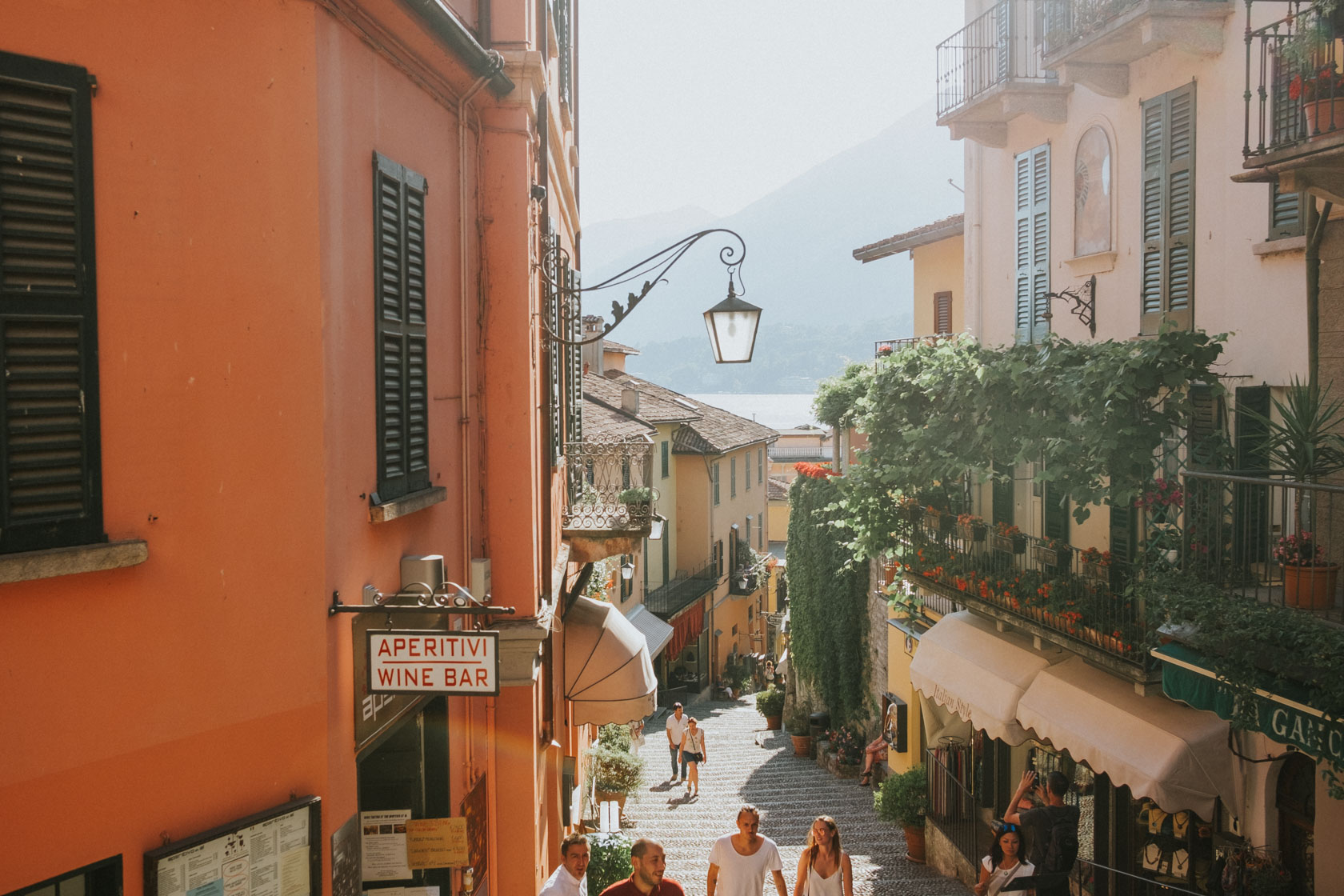 Some links in this post are to affiliate sites. If you purchase something through them, I may earn a small comission — which costs you nothing! I am very grateful when you use my links to make a purchase.
Table of Contents – Here are some of the topics we're going to cover today! Feel free to jump around to the information that is most relevant for your trip to Lake Como.
Quick recommendations
If you're looking for the TL;DR, this is it: the best place to stay in Lake Como is in Bellagio, and my personal favorite hotel was this one: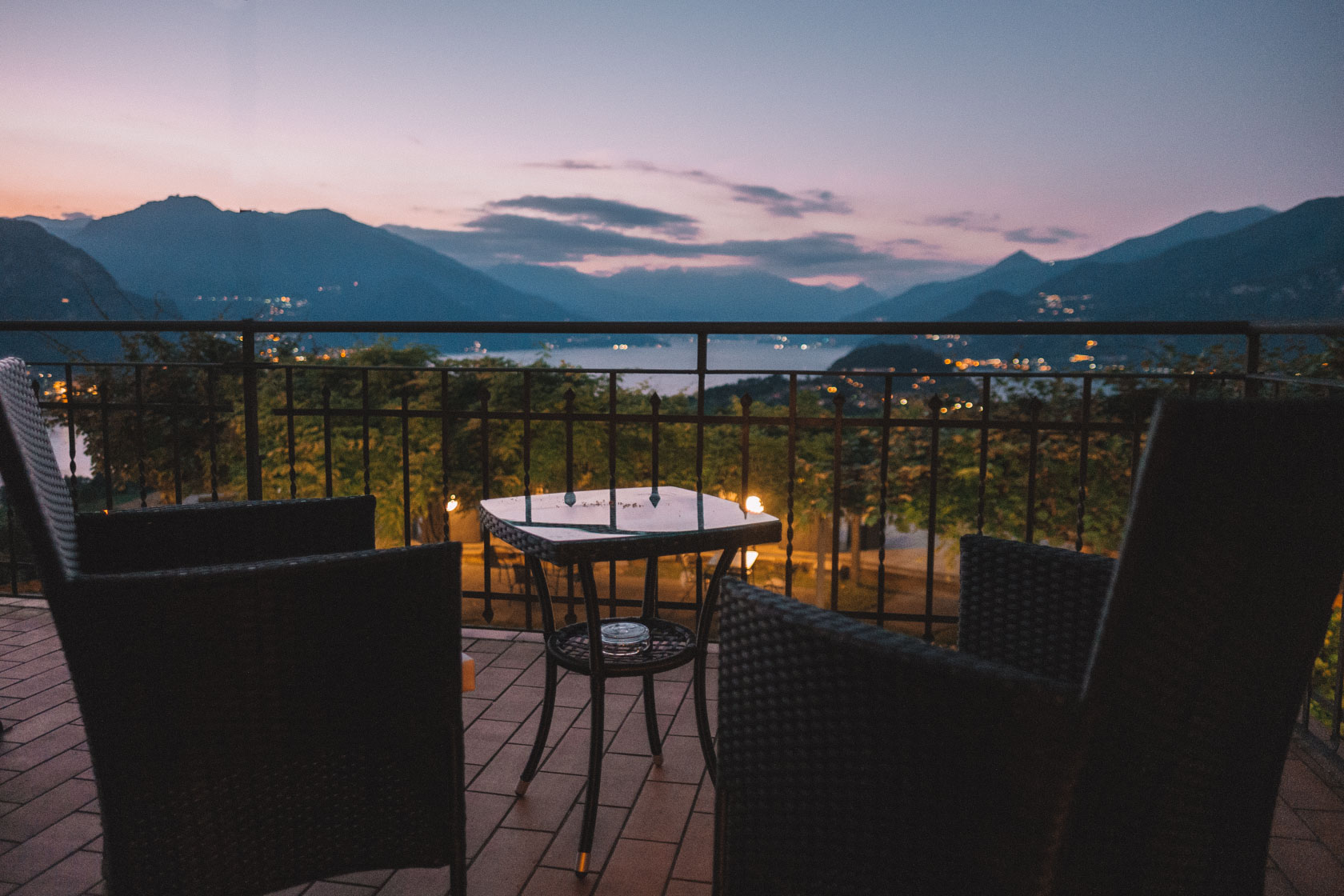 Hotel Il Perlo Panoramico
#1 Recommendation
Located in the hills overlooking Bellagio, the so-called "crown jewel" of Lake Como. Affordable, amazing balcony views, and tasty breakfast.
Normally Bellagio is a very expensive place to stay, but thanks to being connected to the town by a free shuttle, you can enjoy the town and views at the same time.
The other benefit is that Bellagio is connected to the other main towns by ferry, so it's the perfect place to stay regardless of whether you'll be driving in Lake Como or not.
Wondering what factored into this verdict? Here are the main considerations you'll want to keep in mind when picking Lake Como accommodation.
How to pick a hotel at Lake Como
Ok so before we go into a ton of specifics, what ACTUALLY matters when picking a hotel in Lake Como? Naturally a lot of that depends on your preferences, but I think there are a couple of basics we need to cover given the specifics of Lake Como itself.
Here are the things you want to keep in mind when shopping around for a hotel.
Parking – Are you driving a car? In many towns the parking is quite limited, so be sure to ask in advance about a spot for your car!

Nearby restaurants – Lake Como is not a place for partying (or dining!) late in the evening. You probably want to find somewhere near your hotel, because these can be few and far between if you stay outside the main towns.

Air conditioning – Italy can get HOT, and air conditioning is not a given in Europe. You'll want to double check this depending on what time of year you visit.

Swimming pool – This is optional, but of course you might want to find a spot with a pool. For me this is not important but perhaps you have a different opinion 😉

Proximity to early-morning activities – Some spots in and around Lake Como can be very popular with tourists, and it takes longer to drive around the lake than you might think owing to the winding roads.

How much do hotels at Lake Como really cost?
This is a really great question, because the range at Lake Como can be astronomically wide. You can stay in a hostel for as little as 22€ per night, or you can spend thousands per night for a luxury villa and be neighbors with George Clooney.
You gotta pick your priorities. The most expensive room I managed to find was at Villa d'Este which offers a "Breakfast Inclusive 1 bedroom Suite Lake View In Cardinal building Or Queen Pavilion" for a cool 3,200 € per night.
But don't worry. Breakfast is included 😏 🥐
For us plebians, the average Lake Como hotel is going to cost between 90-120 € per night. Of course there is variance, and it depends on how fancy you want to be, but most hotels in Lake Como are neither exhorbitantly expensive nor are they particularly budget-friendly. There are a small handful of hostels in Lake Como with beds around 22-25 € per night or private rooms around 65 €.
The places to stay near Lake Como
There are three main towns you'll most likely stay in during your time at Lake Como: Bellagio , Menaggio , or Varenna . That said, you can also save some money by staying outside these main "hubs" and I also have a recommendation a little later on of a spot to stay in between towns.
The neat thing is that you can travel easily by ferry between all three towns. So if you do decide you want to stay in ONE town, that would be logistically feasible.
We roadtripped around the entire lake, and just took a shortcut once with the ferry. But it's your choice whether you want to focus on these towns or also see more around the lake.
Read on for details on staying in each of these towns and specific hotel recommendations.
Bellagio
Bellagio is one Lake Como's prettiest towns. It's cobblestone streets are world famous, and there are tons of great places to eat food, have an ice cream, or walk along the lakeside. If you want to spend a small fortune on a hotel, you will also have a very easy time doing that here!
Luckily I have something a little more affordable up my sleeve for you guys 😏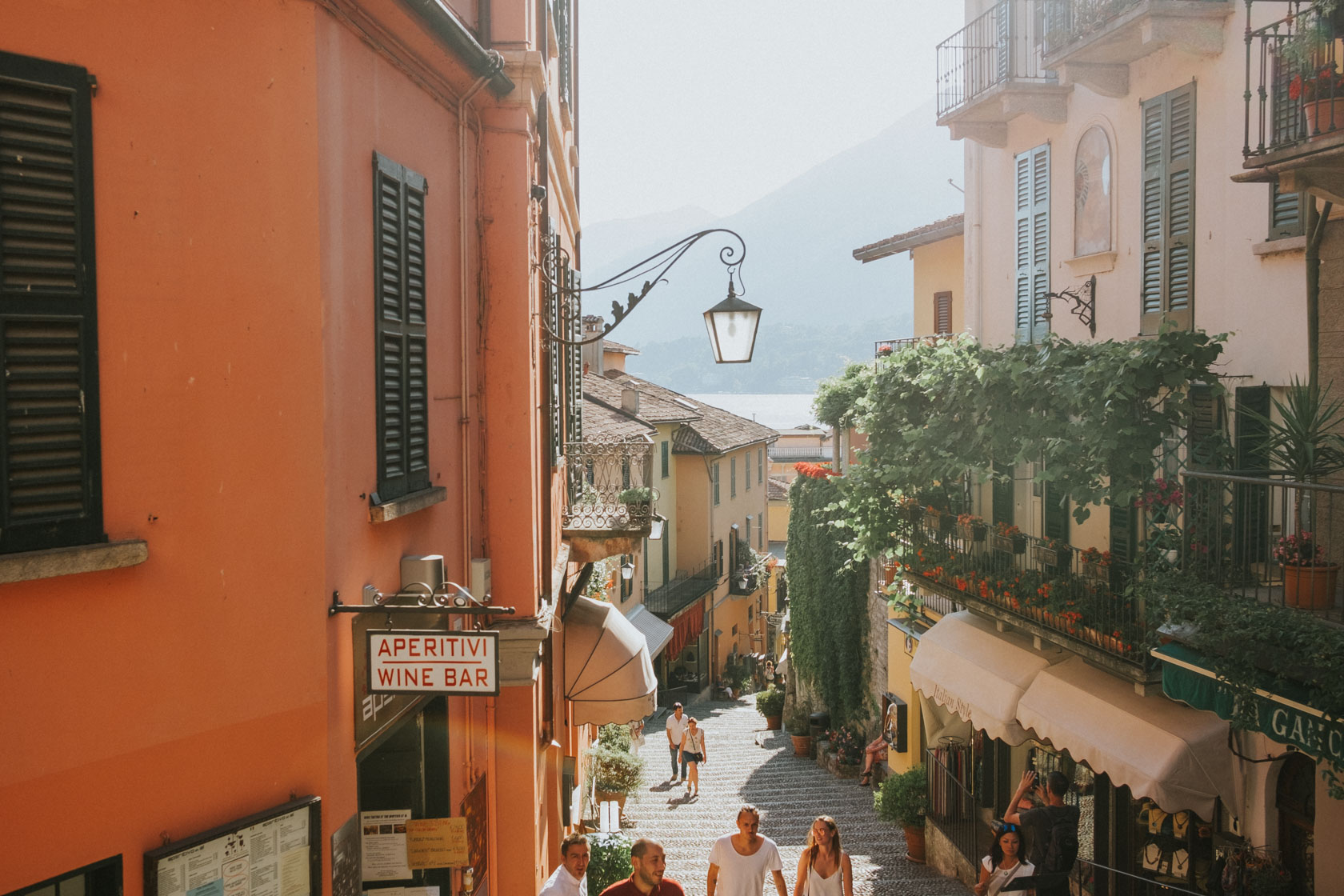 Bellagio is the most famous town on Lake Como, and also one of the more expensive places to visit and to stay in.
That's why my hotel recommendation for Bellagio is slightly outside of the town, but easily accessible thanks to a short drive or a free shuttle offered regularly by the hotel.
Hotel recommendation: Il Perlo Panoramico
My TOP recommendation for the entire Lake Como area is Hotel Il Perlo Panoramico , a boutique hotel perched on top of a hill that overlooks Bellagio. You get views of both the east and the west banks of the lake. They even have evening activities like wine tastings and options for dinner. This hotel is popular with cyclists and even has a kind of bicycle theme. Prices are totally reasonable and you get a beautiful and spacious balcony. I would come back!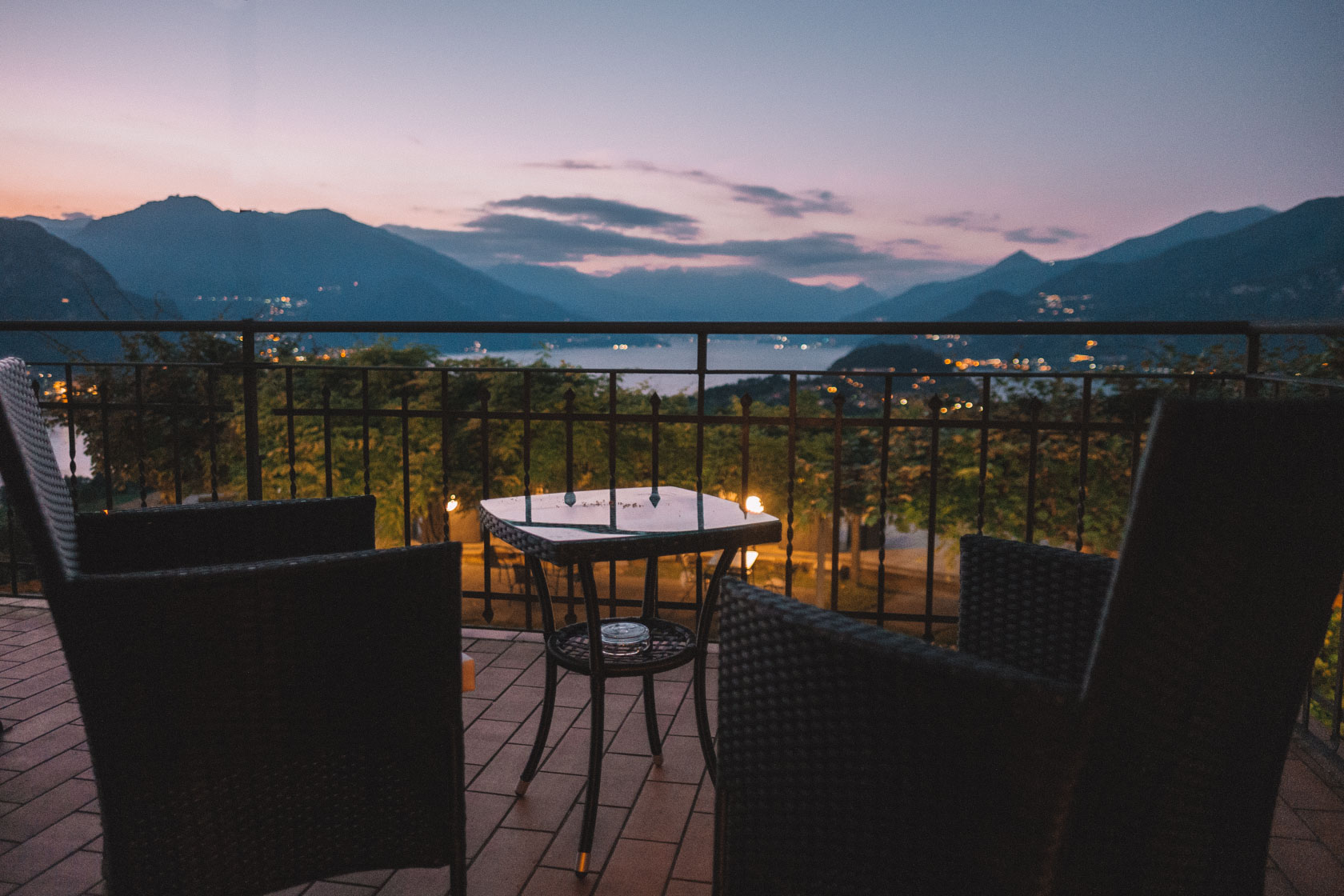 I mean, just look at this amazing sunset view. It's so romantic!
Here are a couple of specific highlights and features of this place. Do be aware, you are pretty likely to spend more money if you try to stay in Bellagio itself.
✔ Parking
✔ Regular shuttles to and from Bellagio
✔ Lovely breakfast and grounds
✔ Balcony with lake views
✔ Clean and modern room and bathroom
✔ 8.9 - Fabulous rating on Booking.com

Drawbacks? – This hotel is not IN Bellagio, so if you don't have a car and don't want to depend on the shuttle, it might not be for you. That said, you can always take a taxi back from Bellagio if you decide to stay out later than the shuttle runs.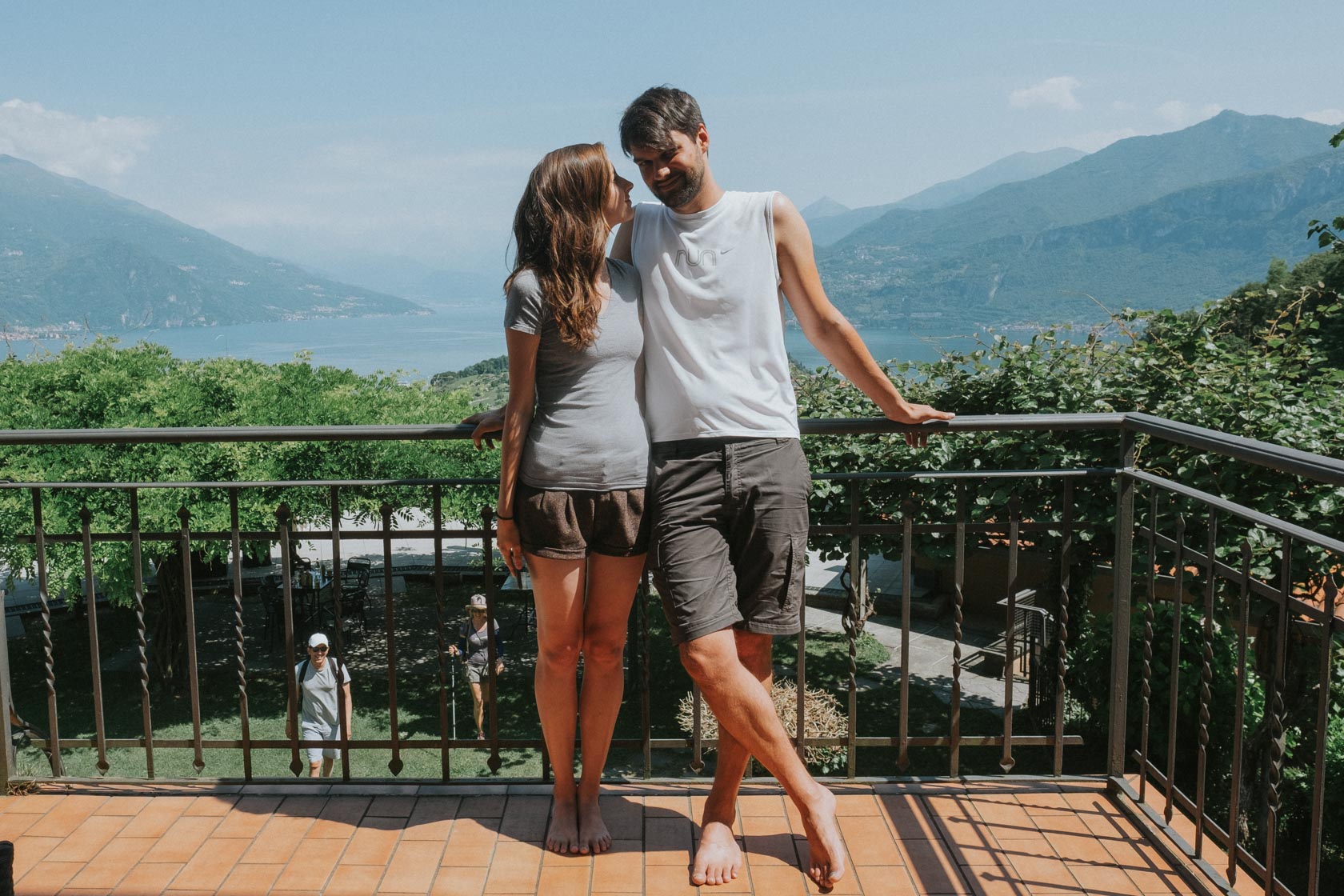 Varenna
Varenna is somewhere I wasn't expecting to love as much as I did. If you ask me, it's really underrated and much prettier to walk around and explore than I originally realized. I did not personally spend an evening in Varenna so I don't have a specific hotel recommendation here, but if I went back I would be really interested to stay here!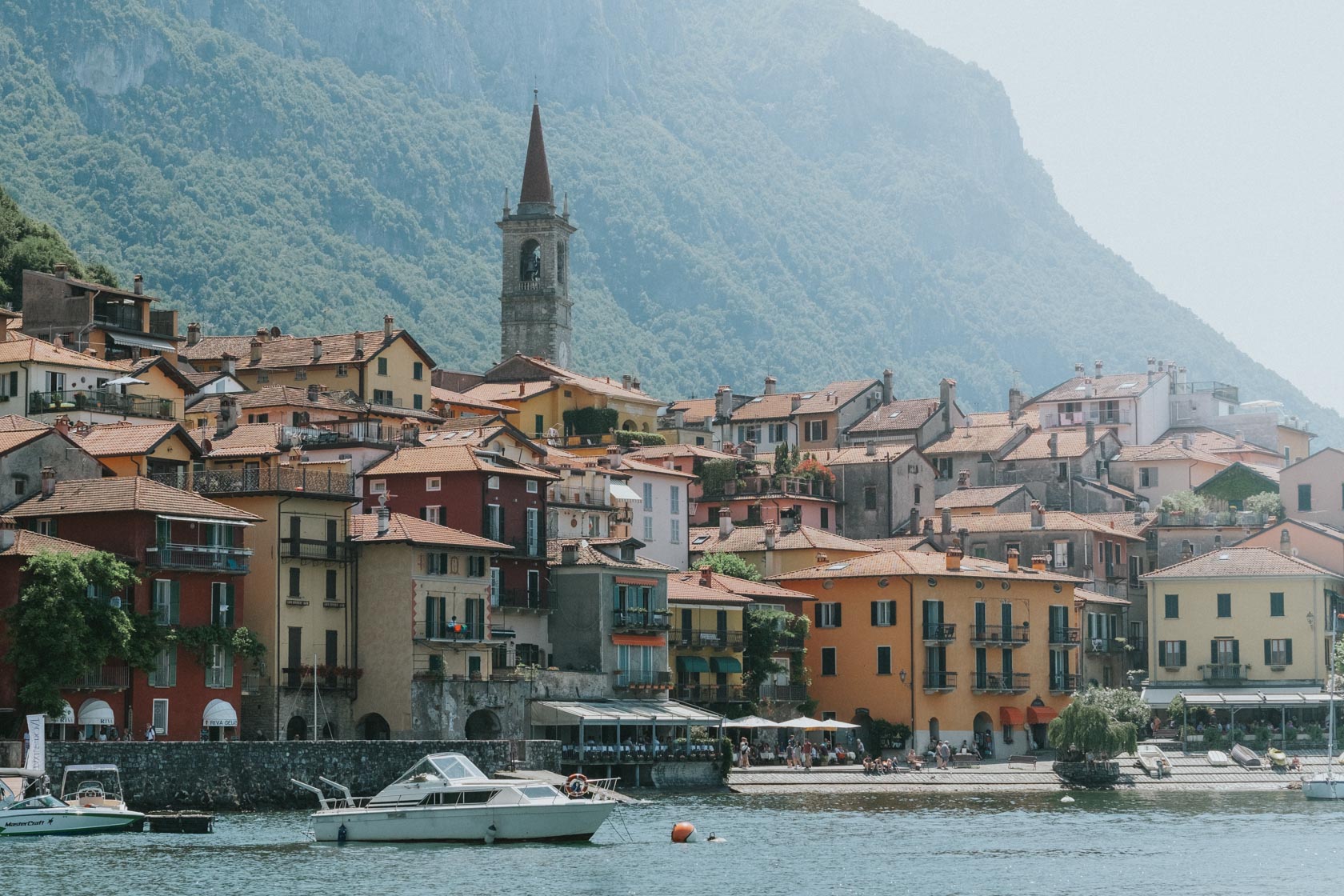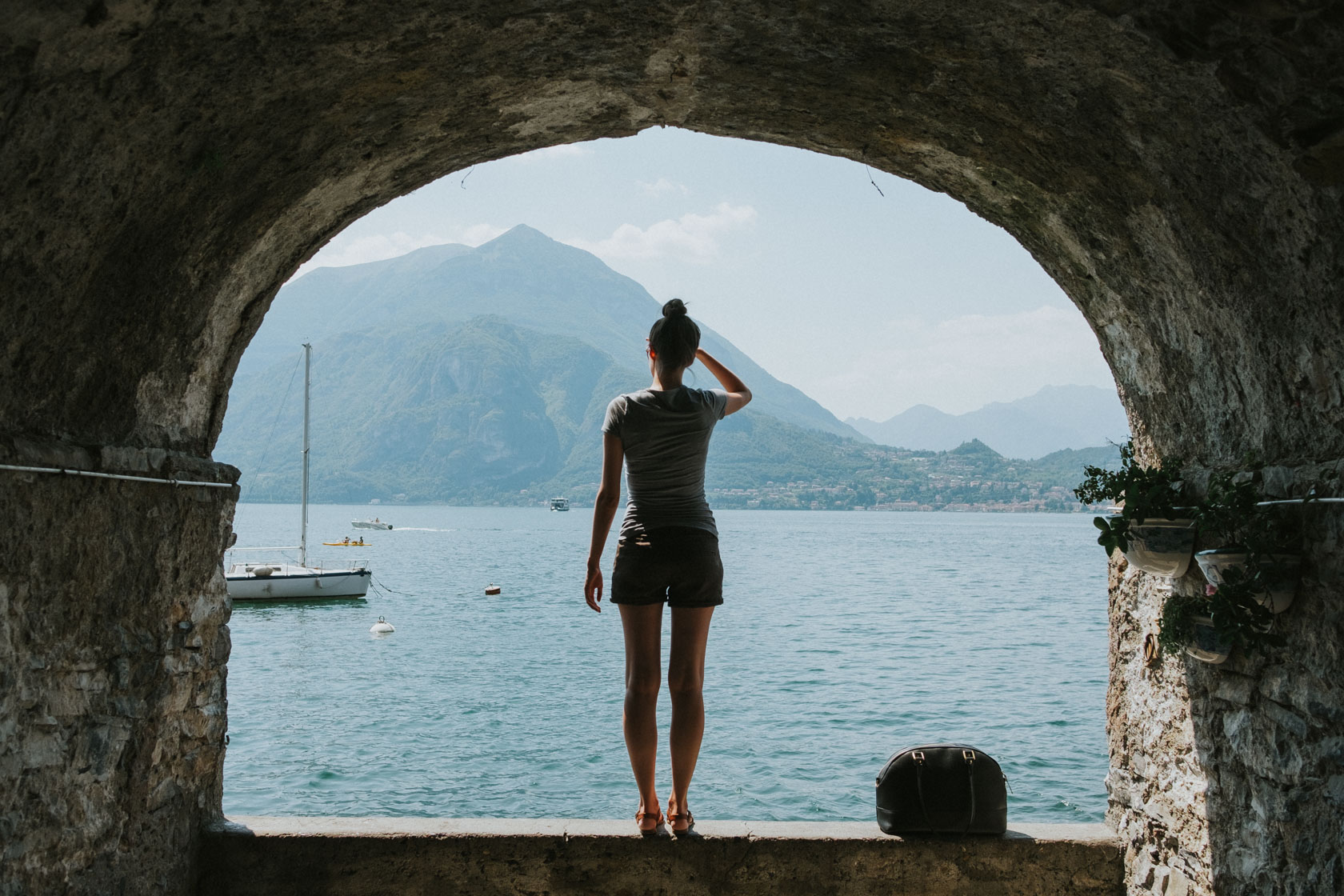 Menaggio
You'll find that Menaggio is not a particularly busy or large town, but it has a really nice promenade and is where we decided to start our trip after arriving from Milan. You don't need to spend too long to explore the whole town, but you will find some churches, cafes, shopping, and nice places to walk around. Menaggio is also connected to Bellagio and Varenna by ferry.
Hotel recommendation: Hotel Bellavista
If you're going to stay in Menaggio, the location of Hotel Bellavista is very convenient and centrally located. You have an easy time parking, either in a nearby garage or next to the hotel itself. My only recommendation would be to skip the hotel restaurant and walk into town instead (by "into town" I mean like 50 meters) because the hotel restaurant is a bit overpriced.
✔ Parking
✔ Fabulous air conditioning
✔ Swimming pool
✔ Balconies overlooking the lake
✔ Clean and affordable, though a little dated interior
✔ 8.2 - Very good rating on Booking.com

Drawbacks? – No particular drawbacks, it's not the fanciest place but perfectly comfortable, affordable, and tidy. Menaggio is not as exciting of a location as Varenna or Bellagio but worth a visit nonetheless! It's also very close to Villa Carlotta and Villa Balbianello so you can reach those places early in the morning.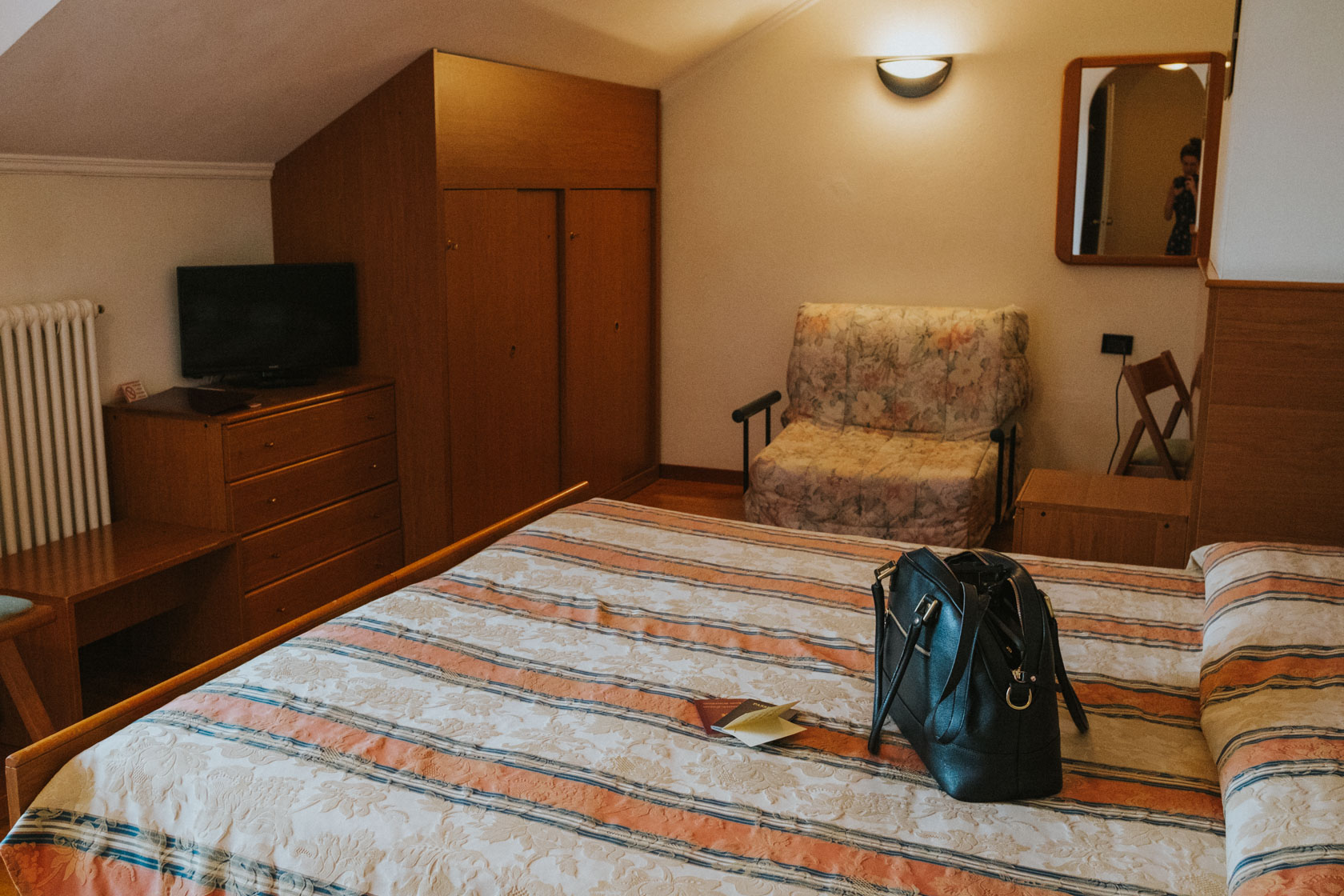 Not pictured, there is also a balcony where you can look over the lake and over the swimming pool!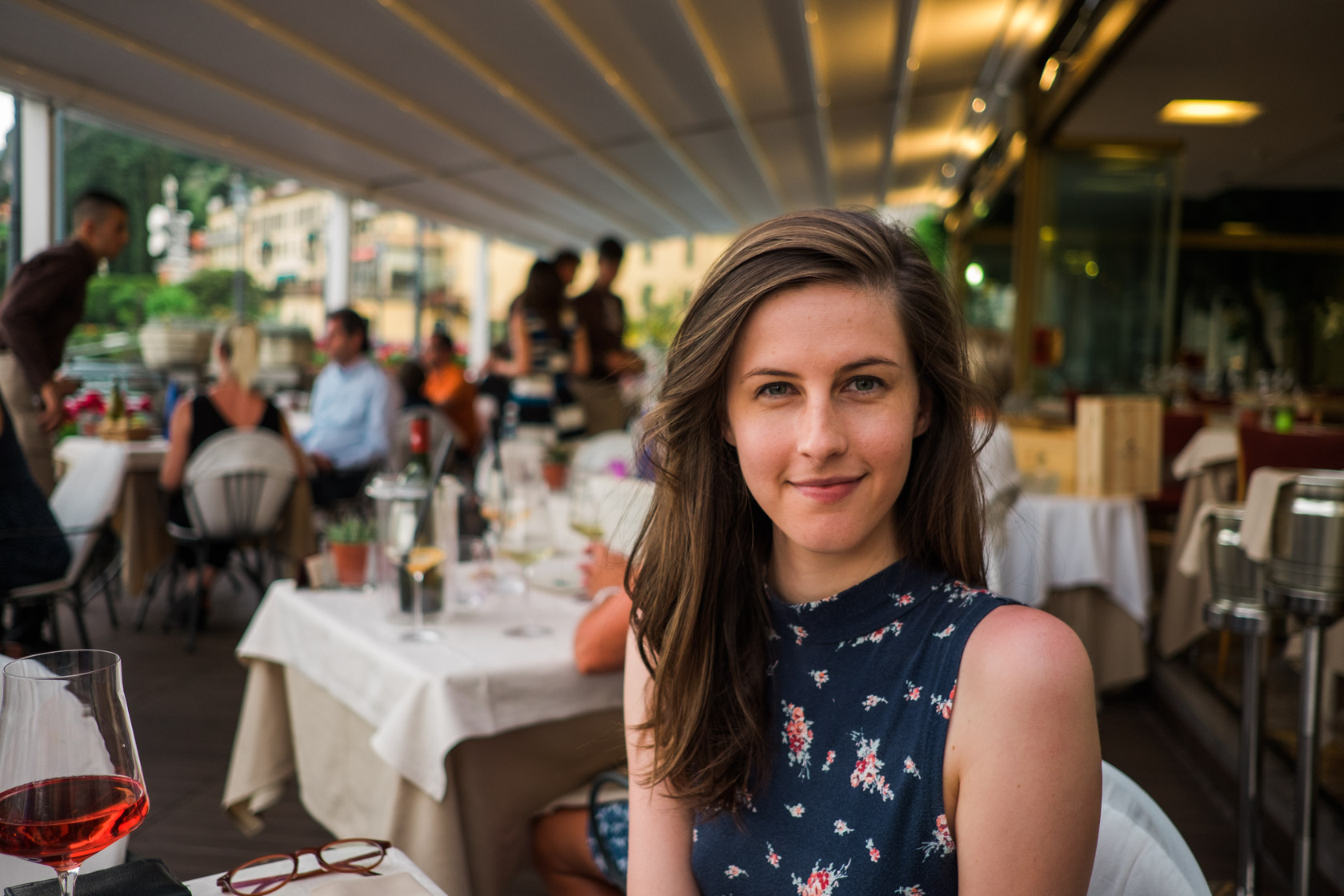 I was here for my 27th birthday. What a baby 😂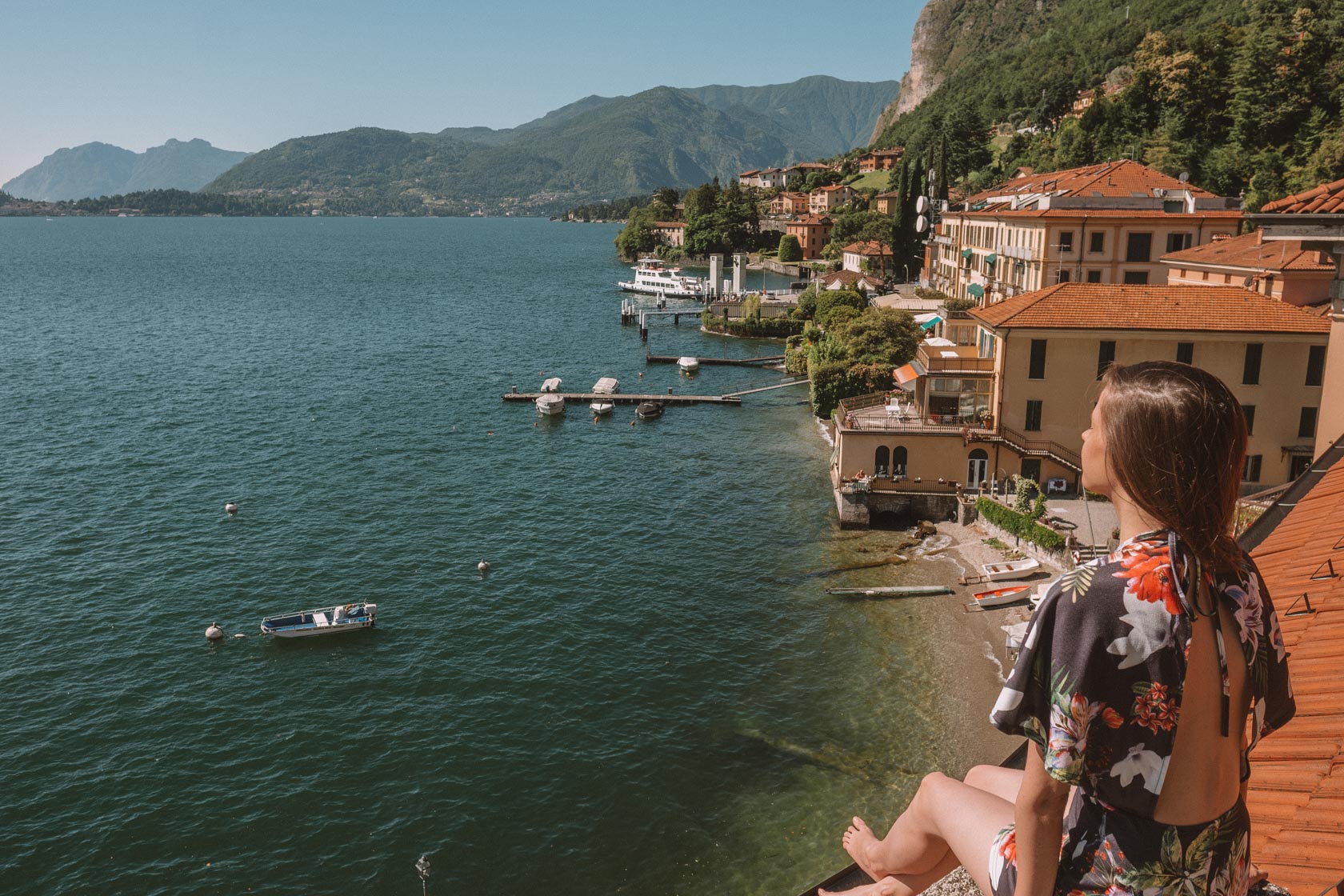 Don't try this at home? These are the views from the balcony we had on the top floor with a lake view. Looking below, you can see the swimming pool. I didn't use it though so I can't comment on whether it was super cold or not!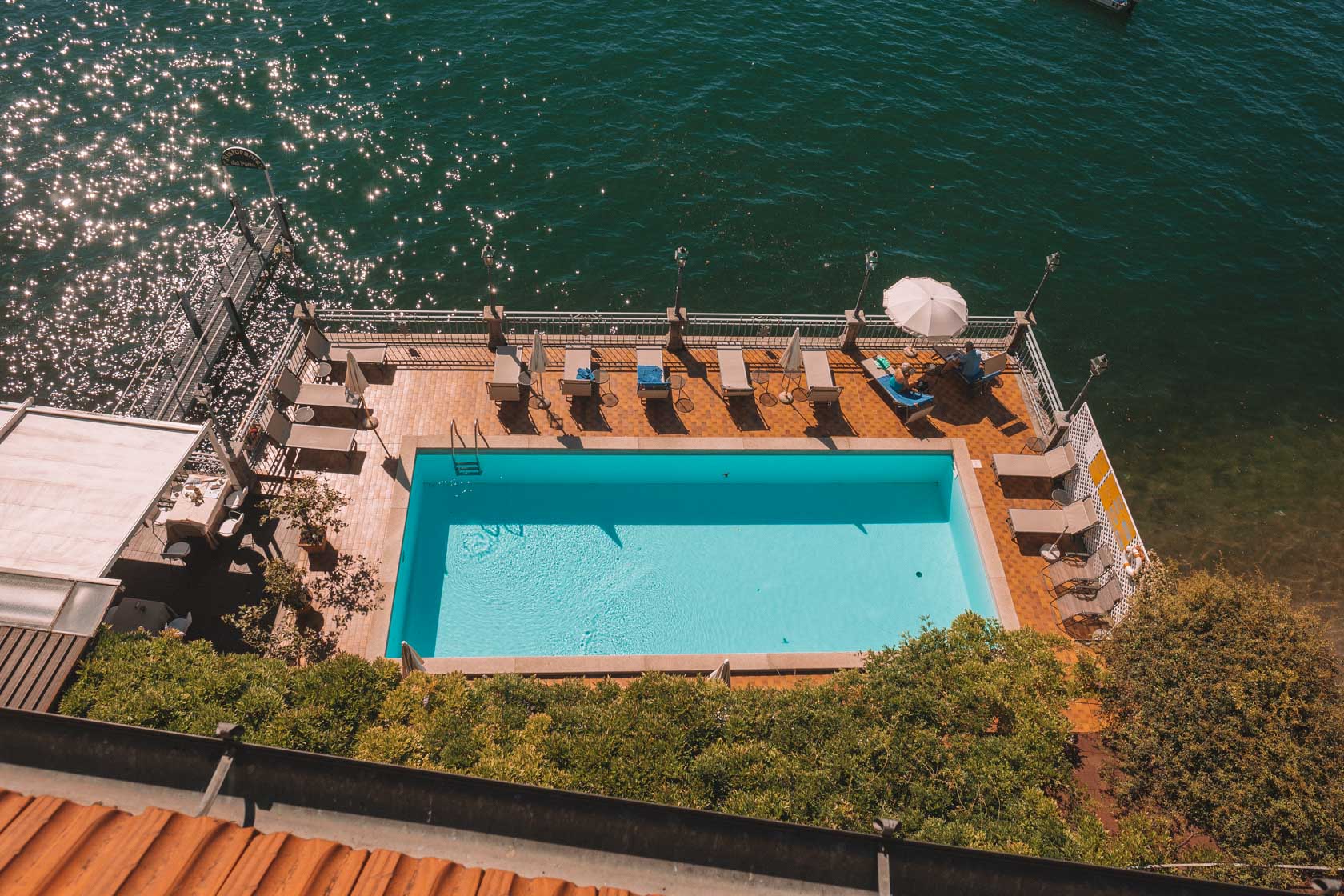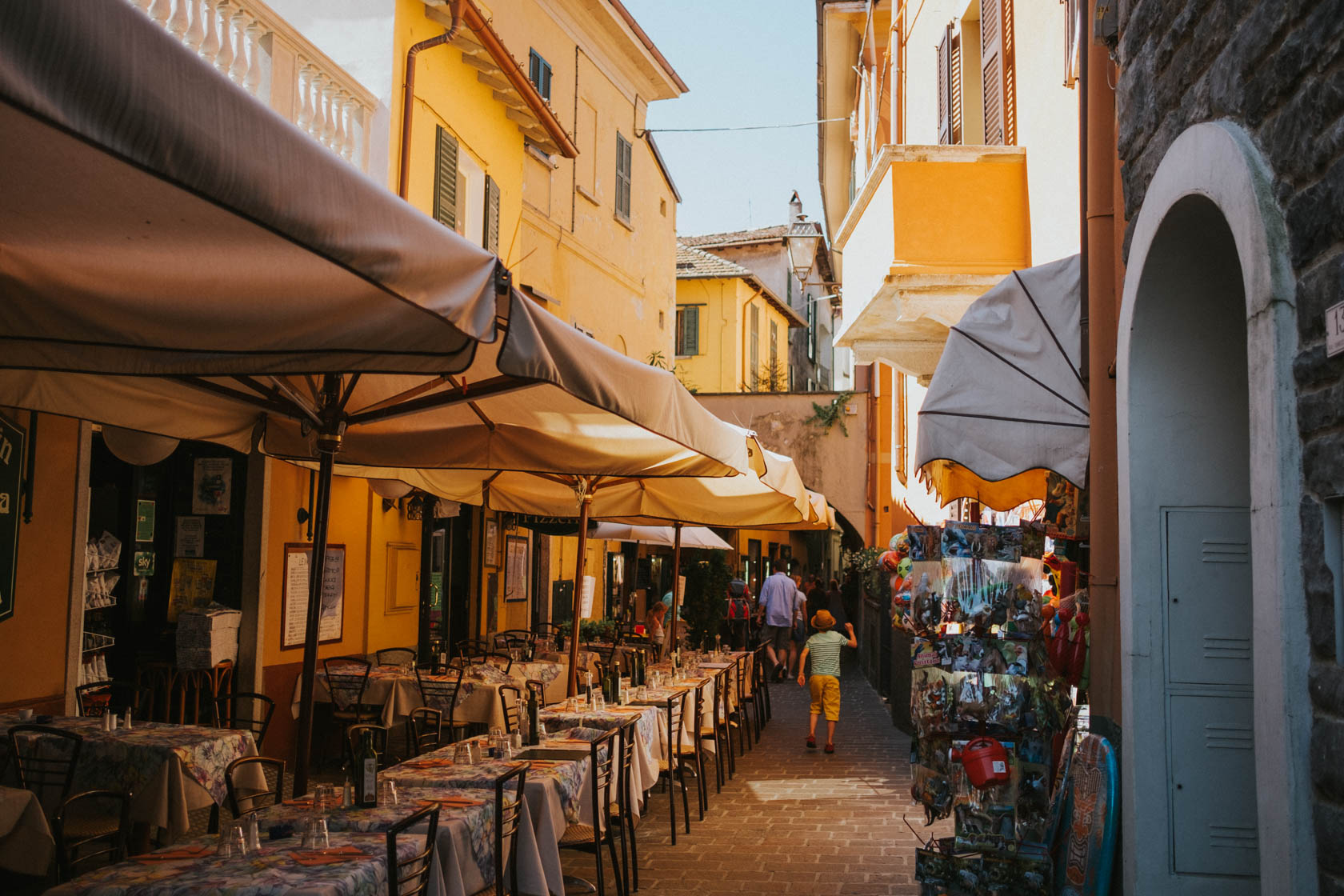 Anywhere with scenic lake views
Even though we have a few main towns that people tend to stay in while at Lake Como, the truth is that you don't need to stay directly in one of these towns in order to really enjoy the lake. In fact, you can enjoy it sometimes even more if you find a nice spot surrounded by nature.
I mean, can you imagine waking up to this view at sunrise?

Sometimes it's nicer to get away from people for a bit and find a slice of the lake all to yourself. Here's an idea of where you can stay if you're looking to stay somewhere else.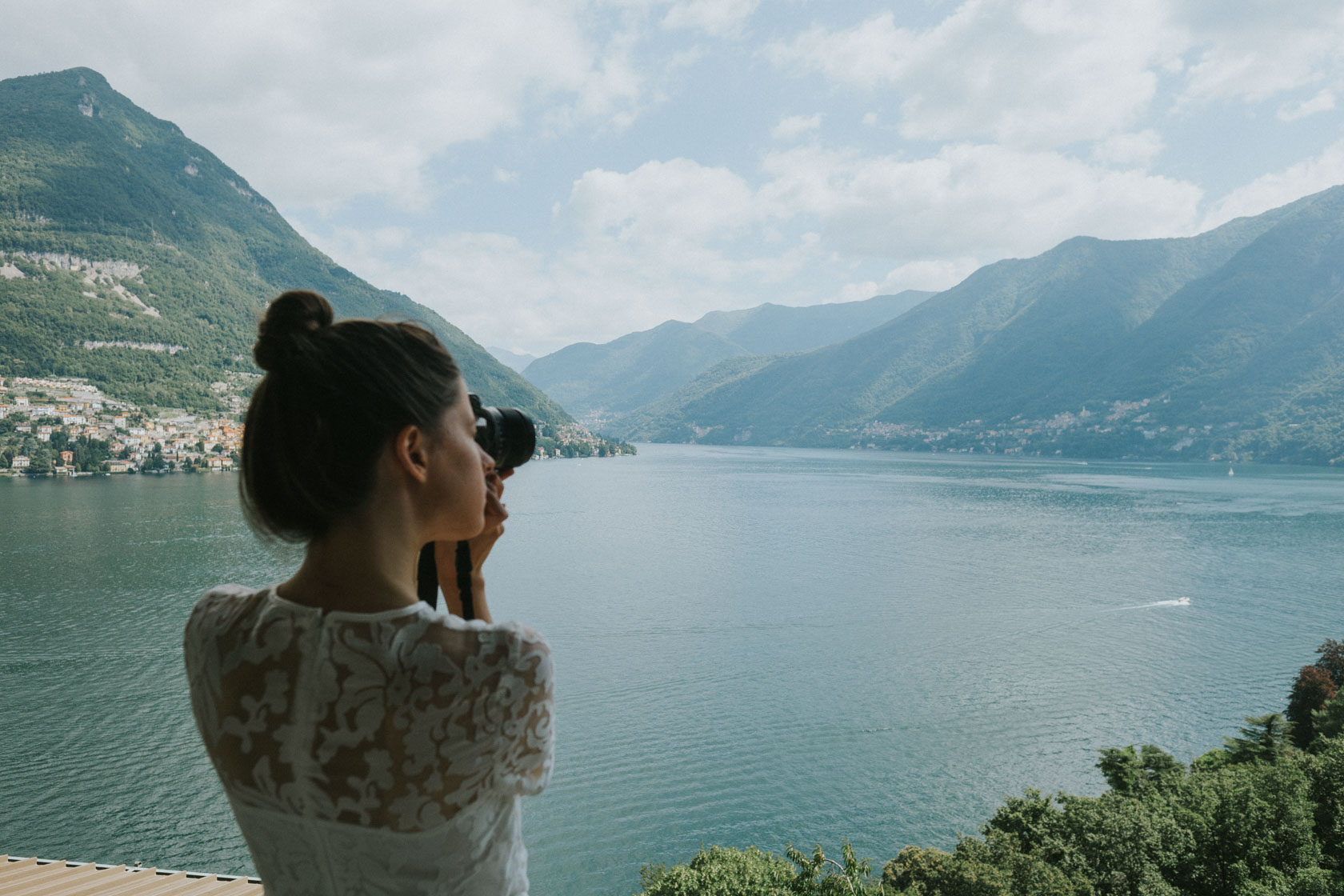 Hotel recommendation: Hotel Ristorante Glavjc
Hotel Ristorante Glavjc is located between the city of Como and Bellagio. Our trip went from Menaggio to Torno (here) and ended in Bellagio and a ferry trip to Varenna. So it was the perfect spot to rest on our way.
✔ Parking
✔ Sweeping lake views
✔ Great value restrauant built-in with HUGE portions
✔ Clean and affordable, though 80's style interior 😂
✔ 7.8 - Good rating on Booking.com

Drawbacks? – The reason to stay here is clearly the views. This hotel is elevated enough that you have a wide sweeping range of vision and fabulous balconies. Honestly the interior is pretty 80's. It feels a bit like being in a Saved By The Bell episode. But for ~75-80€ per night it is a STEAL in Lake Como and the views are second to none.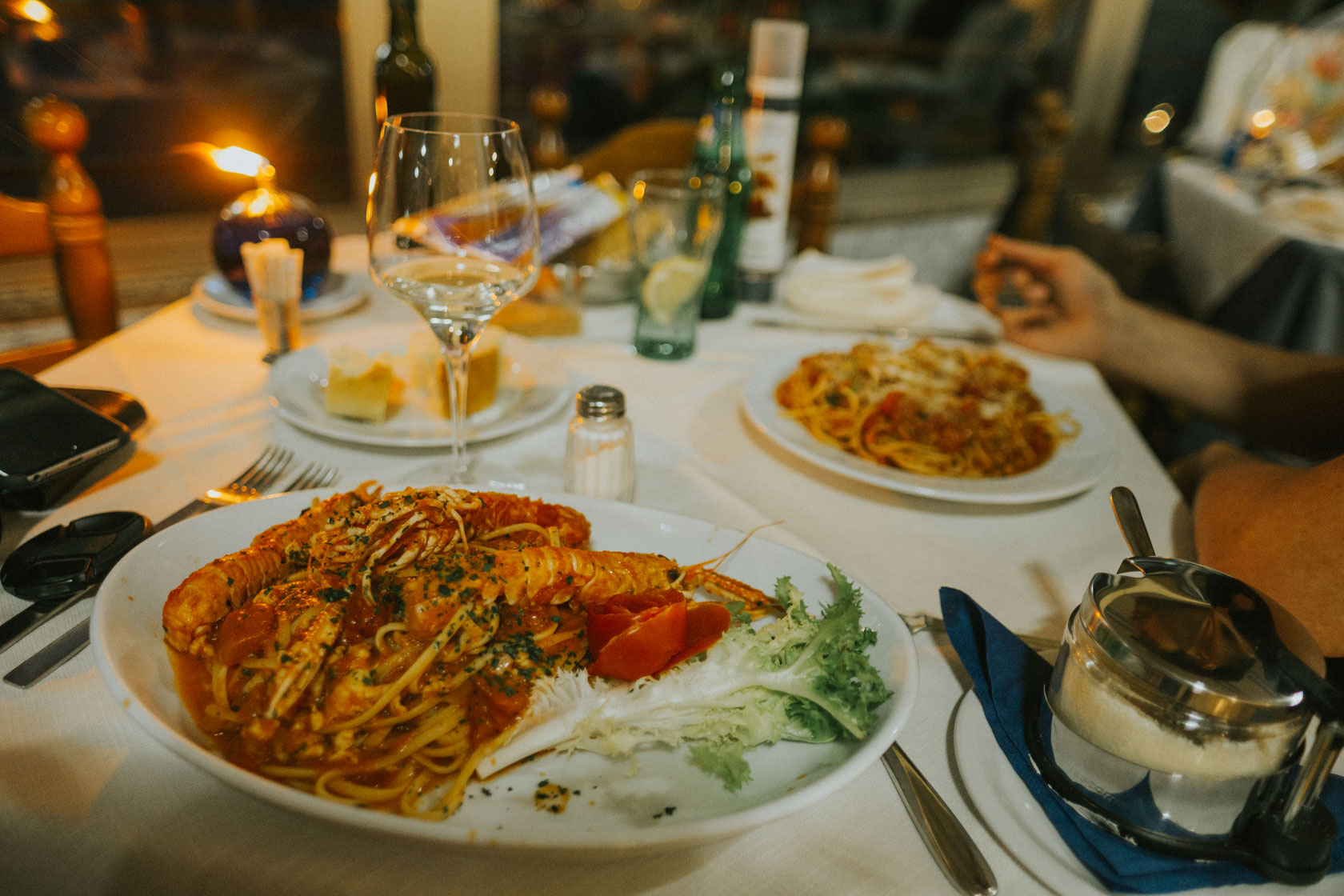 I basically had to be rolled back to my room after this dinner. They even gave me a bib to wear while I ate it 😂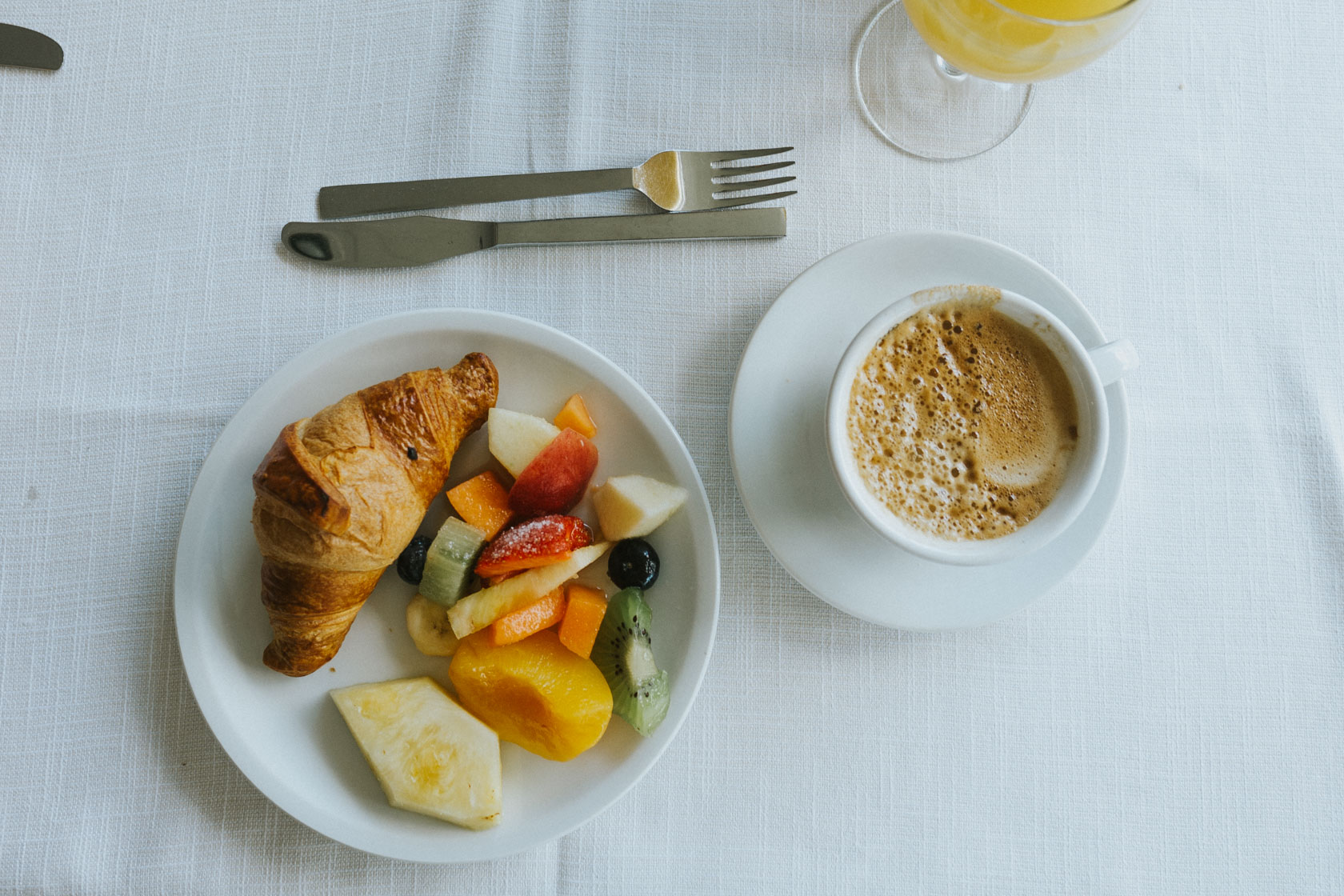 The breakfast area has really nice wide windows. It's a rather simple breakfast but, again, the views are truly lovely.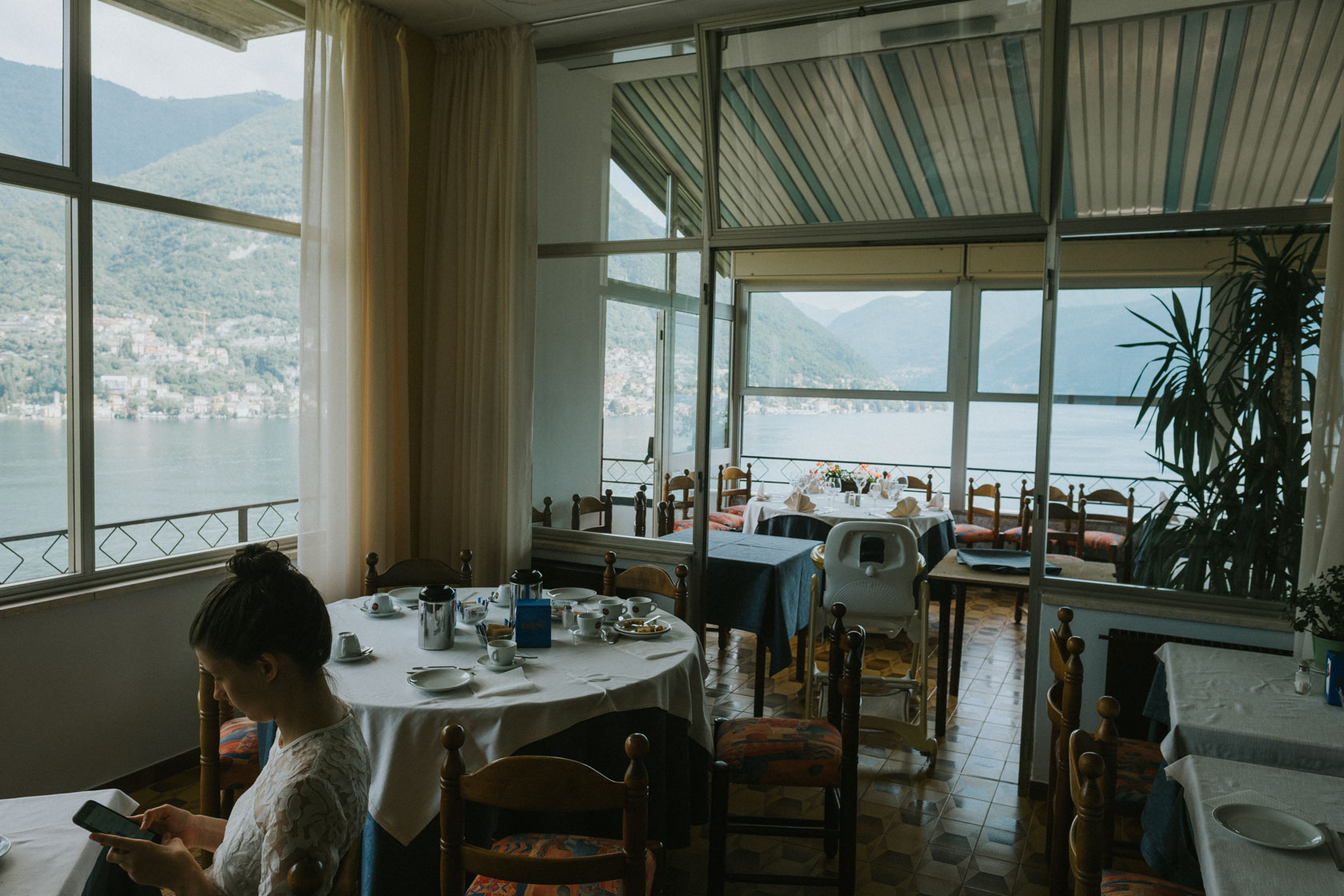 Should you rent a car at Lake Como?
As you may or may not know, driving in Italy is a unique experience. If you are notably not comfortable driving on windy roads with blind corners and no dividing line, you MIGHT find it a bit stressful driving here.
That said, driving is a great way to get around and be able to go at your own page. Lake Como area does have a bus system (making it VERY fun to share the roads with those busses!) but I've never tried it so I can't say if it's really doable for travel.
My recommendation would be to rent a car if you're able, it'll give you the flexibility you want when traveling the area.
I recommend this website for booking car rentals . Especially in Italy, I would highly recommend adding some insurance: while rental car companies are more forgiving of tiny scratches, Italians are known to be less gentle with their cars, and you don't want any surprise bills once you get home.
A big bonus: You can bring your car on the ferry at Lake Como! Read on for more about the ferry on my detailed Lake Como itinerary.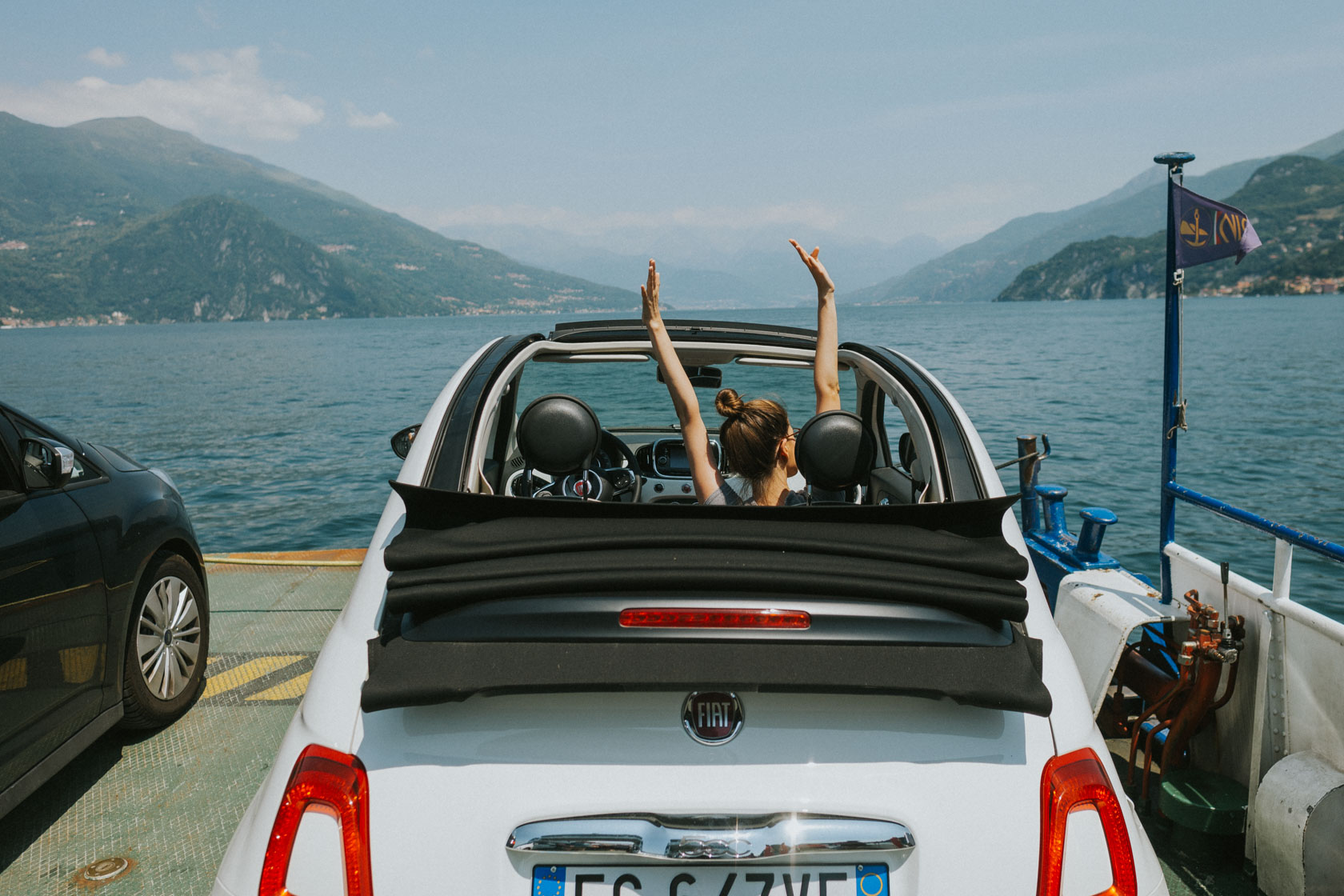 And that's it for specific recommendations for Lake Como!
Do you still have any questions? Feel free to leave them in the comments if so, and do check out my detailed Lake Como itinerary if you are looking for more inspiration on both popular and off-beat places to visit near Lake Como!