What's the first thing you think about when you hear "Lake Como"? For me there are a few things that come to mind: money, George Clooney, money, villas, money, Aperol Spritz, and oh…did I mention money? Luckily it's possible to see a lot of Lake Como, Italy on a budget, without spending too much money.
I came to Lake Como to celebrate my 27th birthday, and in a lot of settings, I was still the youngest person present (YES!). But that doesn't mean that coming to Como is going to mean you're kicking it with grannies the whole time – a lot of areas are also popular with families on vacation and couples looking for a time-out on the weekend.
If you're planning a trip to Italy, I hope you won't pass up Lake Como – it totally exceeded my expectations in terms of how beautiful it was and how much I enjoyed myself. Here are some quick facts to get you started on your trip!
Can you visit Italy now? (Summer 2023)
As of June 1, 2022, COVID restrictions on visiting Italy have been lifted. You no longer need to present a PLF or any kind of negative test to enter the country. Your flight into the country may still require face masks.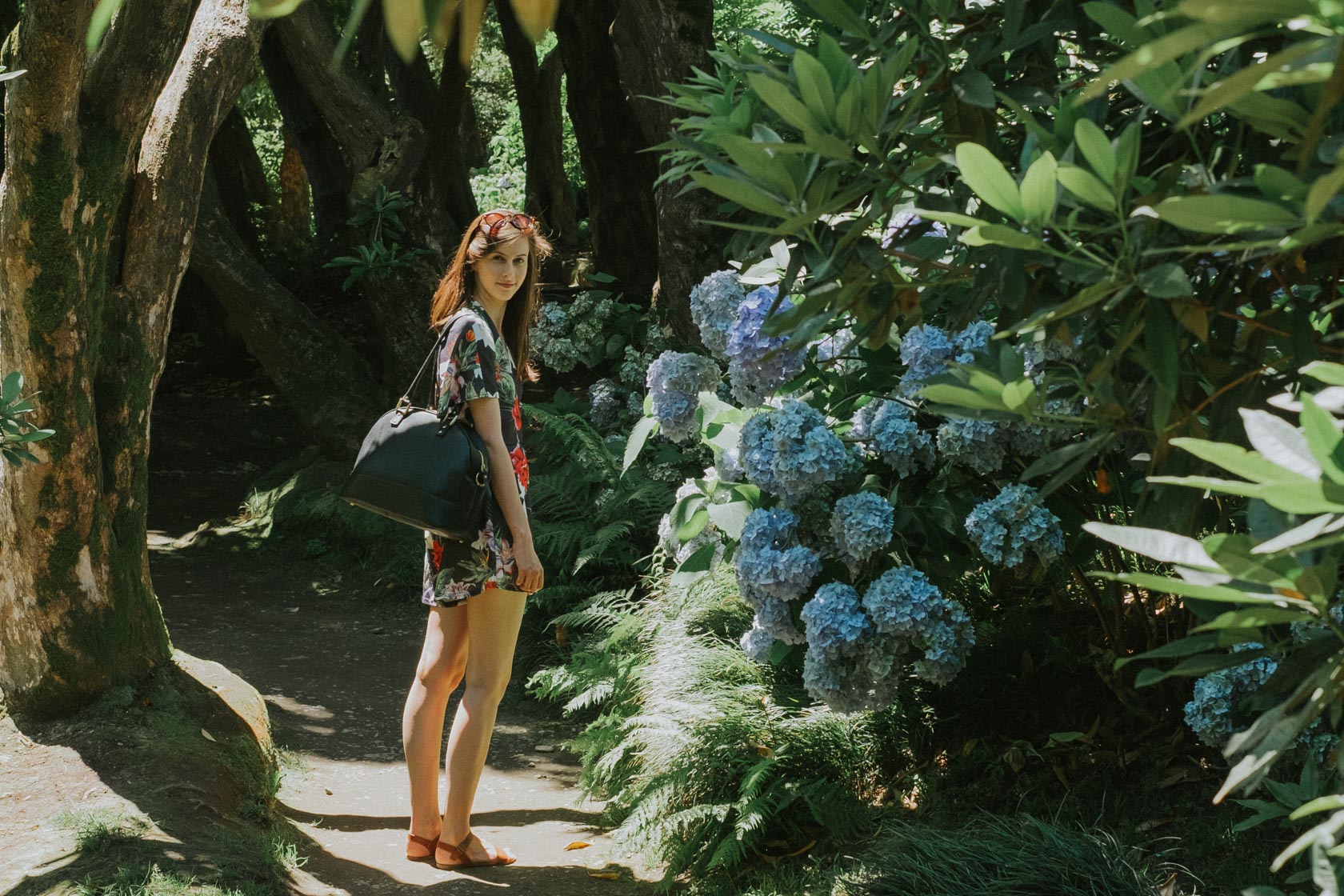 Some links in this post are to affiliate sites. If you purchase something through them, I may earn a small comission — which costs you nothing! I am very grateful when you use my links to make a purchase.
Here's what you'll see in three days on Lake Como, Italy
Duration: 3 days
Dates traveled: 16 June - 19 June
Recommended Accommodation on Lake Como: Of the places we stayed near Lake Como, these were my favorites and places I would love to return to:
Hotel Il Perlo Panoramico was our favorite place we stayed at on Lake Como. Fabulous premises with an amazing view over Bellagio . It's too far to walk into town, but they offer a shuttle several times a day. If you go around sunset, you'll have no trouble finding parking a 15 minute walk outside of town. They have wine tastings, a lovely breakfast, and the best view over Bellagio in my opinion.

Hotel Bellavista Located very centrally in Menaggio , and provides a beautiful view over the lake and excellent A/C for those summer months. Skip the hotel restaurant and go into town instead. Very convenient location for driving to Villa Balbianello and Villa Carlotta first thing in the morning 😉
Where to eat around Lake Como
My favorite meal on this trip was at Ristorante Bilacus in Bellagio! It's not on street level, so if you can find it, it's unlikely to be too busy. Solid prices, good portions, and perfect for people watching.
Before you go Although it's not strictly necessary to rent a car to explore Como, it will change your experience quite a bit! Without a car, you will have to stick to the main towns or haul around your luggage on a bus. I recommend DiscoverCars for your car rental in Italy (and when driving in Italy always get insurance).
How to get there There are a ton of cheap flights into the Milan airport at Bergamo, you can get here for $30 with Ryanair or other low cost carriers. This is also a great reason to come for an extended weekend – you can fit everything you'll need into a carry-on!
Reaching Lake Como as a day trip
I want to mention just briefly two options for boat tours around Lake Como, which you can keep in mind while you're reading this itinerary. Many of the places I've listed are also accessible as part of a boat tour, particularly my favorite towns and a few off-beat spots.
Especially if you're not renting a car, you may want to take a boat tour to see a few places mentioned in this guide:
Lake Como, Italy 3-day itinerary
Day 1: Menaggio, Villa Carlotta, & Villa Balbianello
Lake Como is shaped like an upside down Y. On our trip, we will start on the west side of the lake, and drive down the coast to reach our various destinations.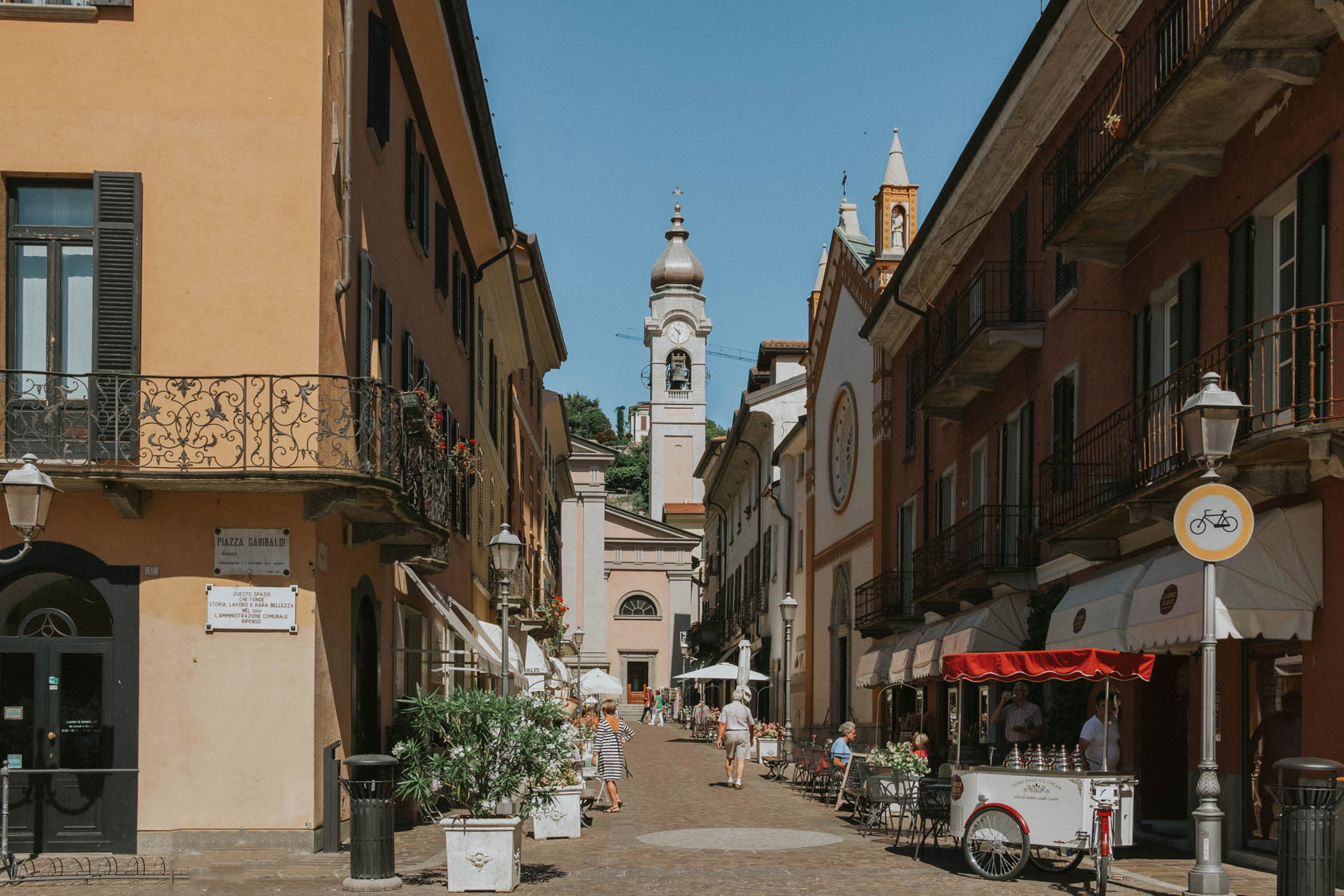 Menaggio
There are three main places you're going to want to see on Lake Como, Italy: Menaggio, Bellagio, and Varenna. These three are well-connected by ferry, and provide some of the best options for food and accomodation around the lake. It's also possible to stay in one of the many smaller towns, especially if you're driving by car.
When you're in Menaggio, don't miss grabbing an ice cream on the main square and taking a walk down the promenade. There are some churches in town as well which you can check out, but nothing too spectacular. Most of your time will be spent sitting at a cafe, enjoying the sunshine, and possibly taking a boat ride out on the lake.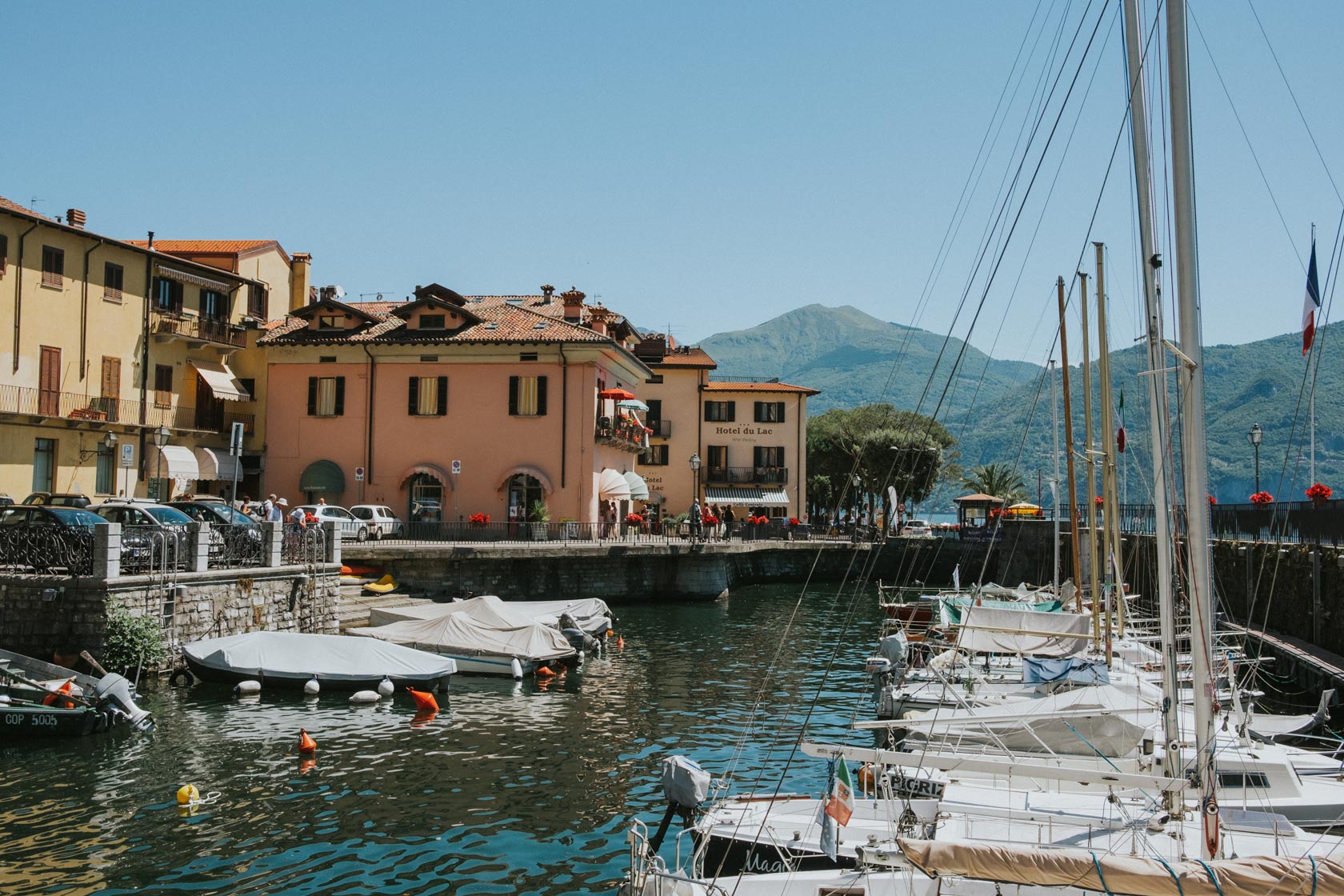 Most of the things to do near Menaggio are further down the coast, in the form of two villas: Villa Carlotta and Villa Balbianello.
Villa Carlotta
The thing that stands out about Village Carlotta is its expansive gardens. While the interior is pretty similar to many other villas, the gardens stretch out for ages, and there are a lot of different paths you can take depending on how much time you want to spend there.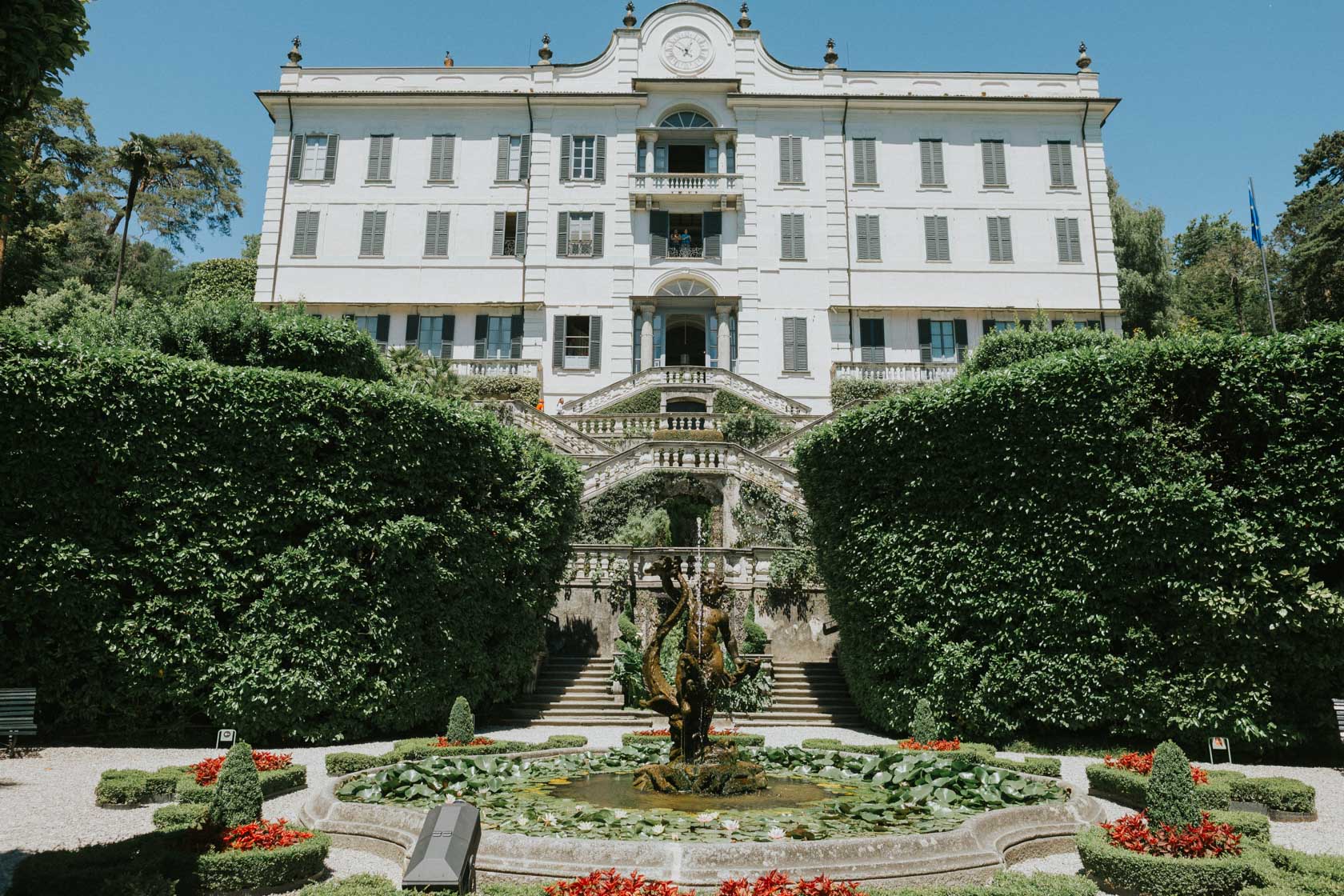 You'll find huge hubs of hydrangeas, panoramic lookout spots, even a gorge that looks like an overgrown jungle. Giant rhubarb also flourishes here, looking like something out of prehistoric times. Hours pass by quickly as you weave between bushes and snap photos of flowers framing the lake.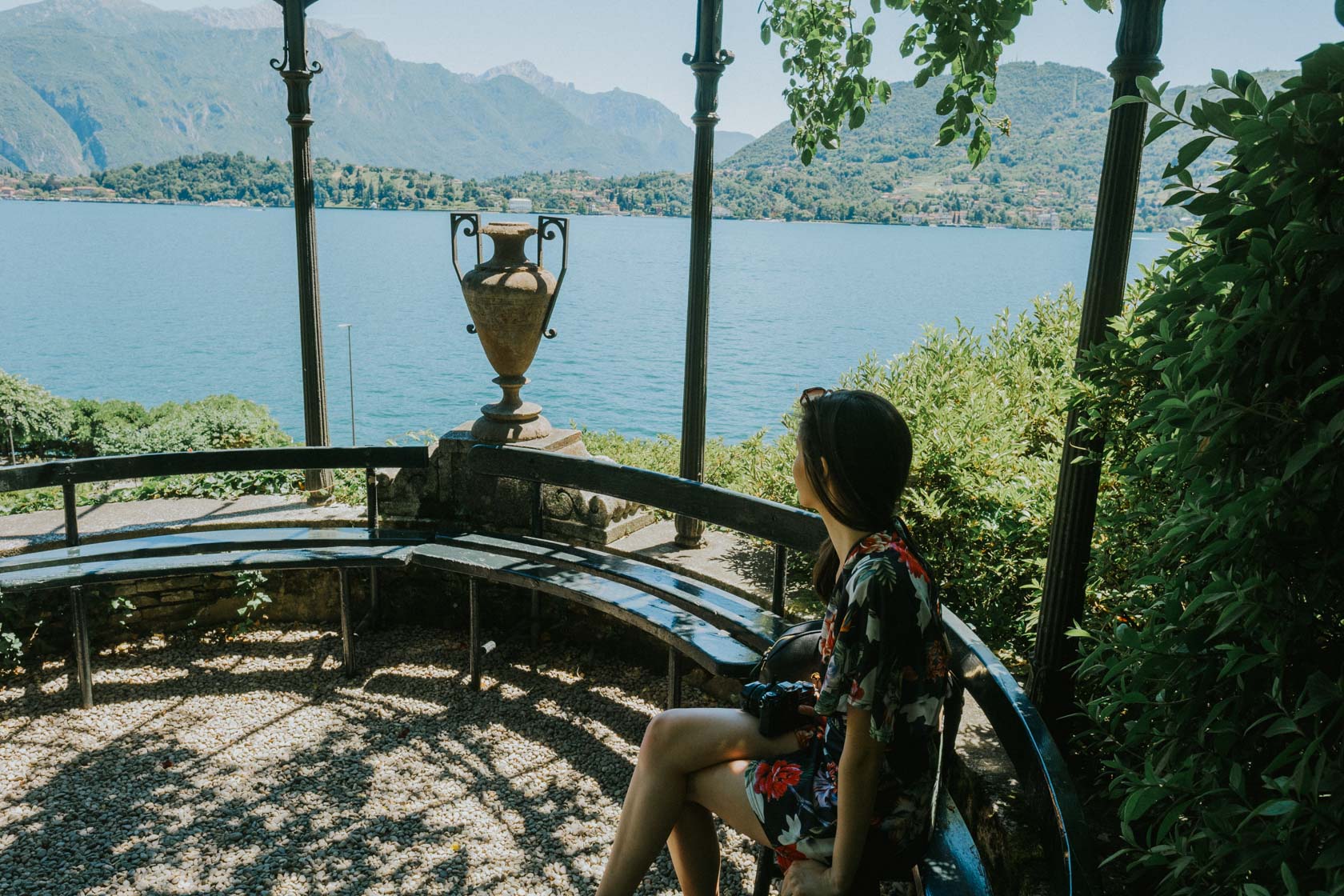 Besides the gardens, there's also an exhibit about the process of making silk. You can learn about silk worms themselves, how silk is made, and the history behind silk. In addition, of course, is a lot of rennaissance art and classical-style statues.
Villa Balbianello
This place has an incredible story. You probably know it best from the set of Star Wars or a James Bond flick, but besides being a filming location, it was also the home of an Italian explorer. Count Guido Monzino, the last person to live in this villa, was the first Italian to lead an expedition to Mount Everest.
With a guided tour, you can go inside the house and try to discover all its secrets.You'll find secret passageways, hidden compartments, and trapdoors in this maze of a home. Tours are offered in English, and cost about 20 EUR to access the interior and the gardens.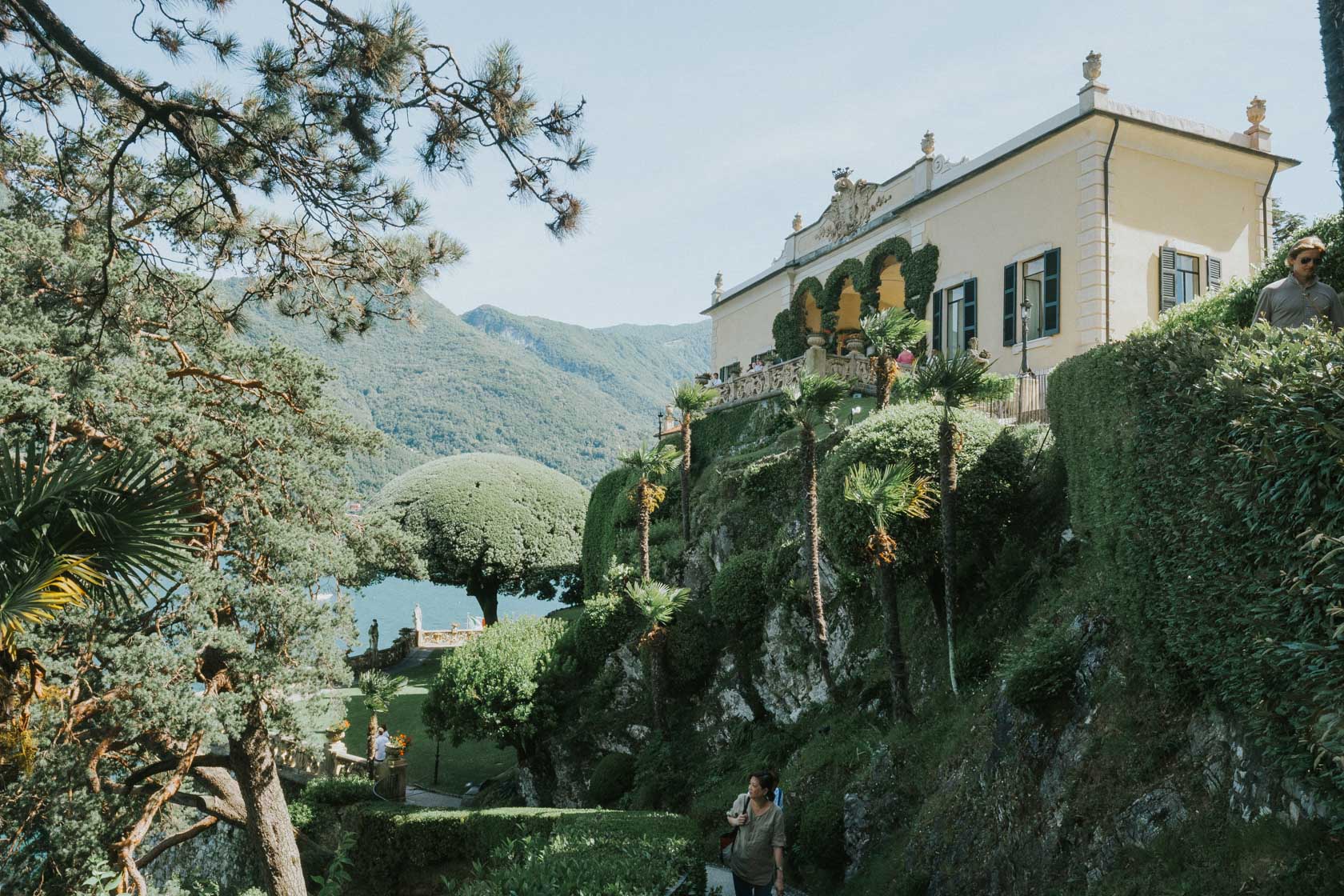 One of its many oddities is the dome-shaped tree, which is trimmed by gardeners by hand every winter over the course of three weeks. It was specifically designed this way to preserve the view from the lake from inside the villa.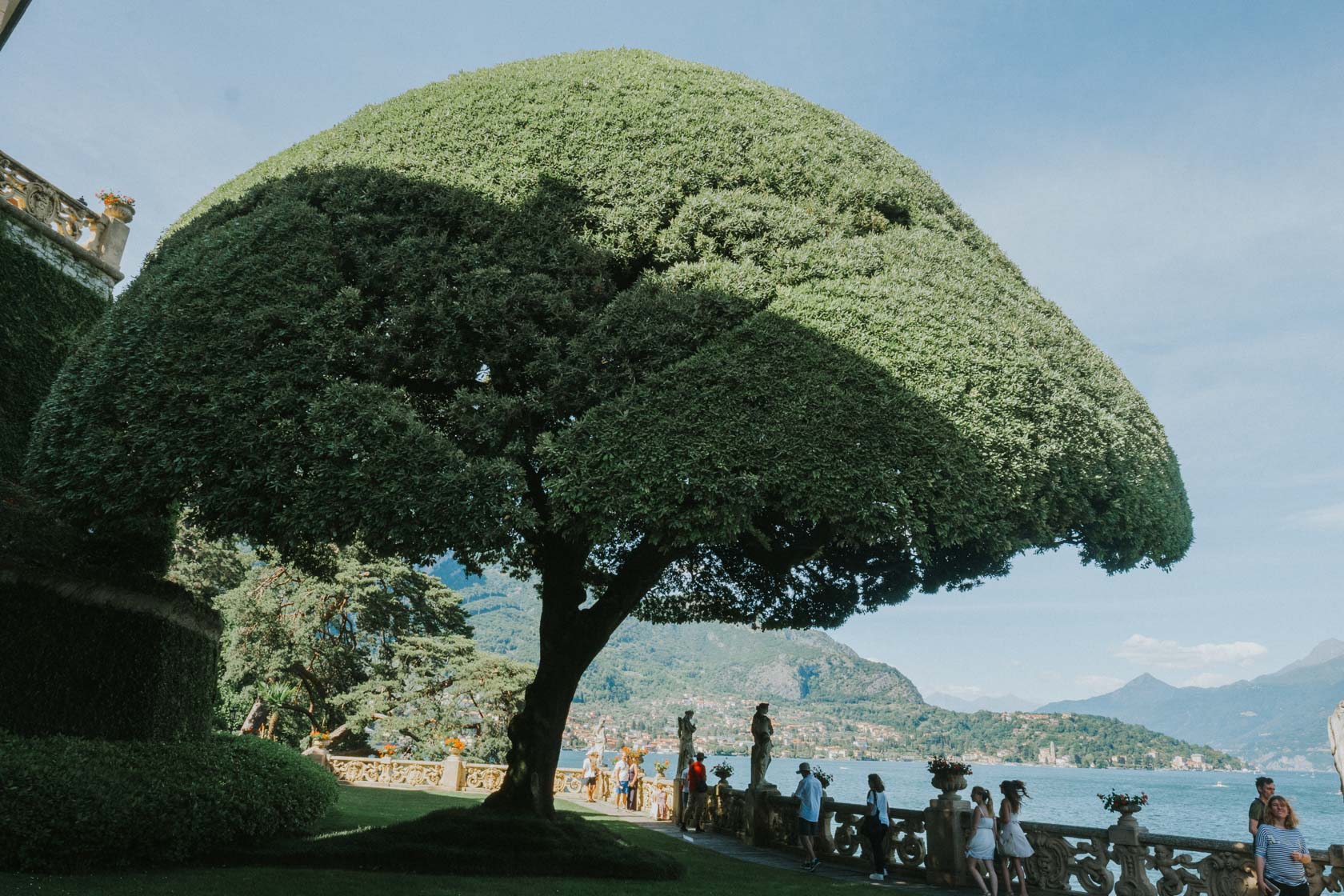 The last person to live in the villa, Count Guido Monzino, lived a life of adventure and decadance. This was his smoking room, with walls lined with wood that would absorb the smell of smoke. It's hard to believe that he was living somewhat that looked like this in the 70s. Clearly a man from another time!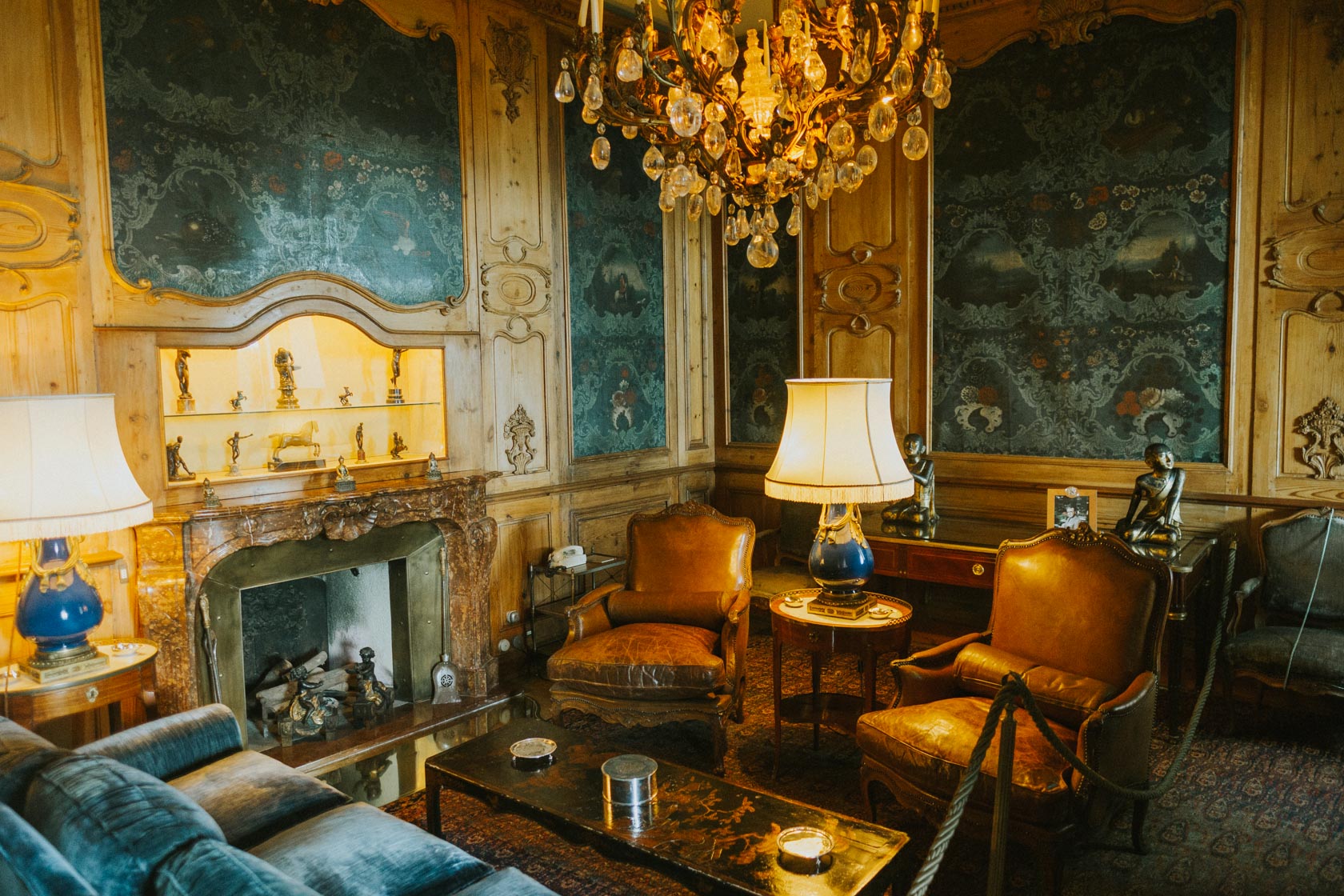 If you're inspired by the location, you can get on a two-year waiting list to be married here – with a minimum downpayment of 15,000 euros for the venue alone.
After a long day of viewing villas, crash for the night in Menaggio and wake up the next morning for three completely unique adventures around Lake Como!
Day 2: Como, Nesso, & Bellagio
Today is one of our busiest days, as we hit three very different locations: Como, the largest city on the lake, Nesso, a tiny village you can easily drive past which is perched atop a waterfall, and Bellagio, a glamourous and historical town known as the "jewel of Lake Como".
Como
A lot of guides will tell you to skip Como, as it's kind of a bigger city and you're at Lake Como to explore towns instead, right? To be honest, I was unfairly biased against Como. Even though it's much more populated, there's no shortage of gelato or beautiful Italian alleyways in this ciy.
Perhaps its most famous sight is the Cathedral of Como, which becomes visible almost as soon as you approach the city by car or boat. In fact, it's one of the few cathedrals around the lake with a notable interior. I'm not a huge "church person" but if you enjoy a good cathedral, don't miss popping in while you're here.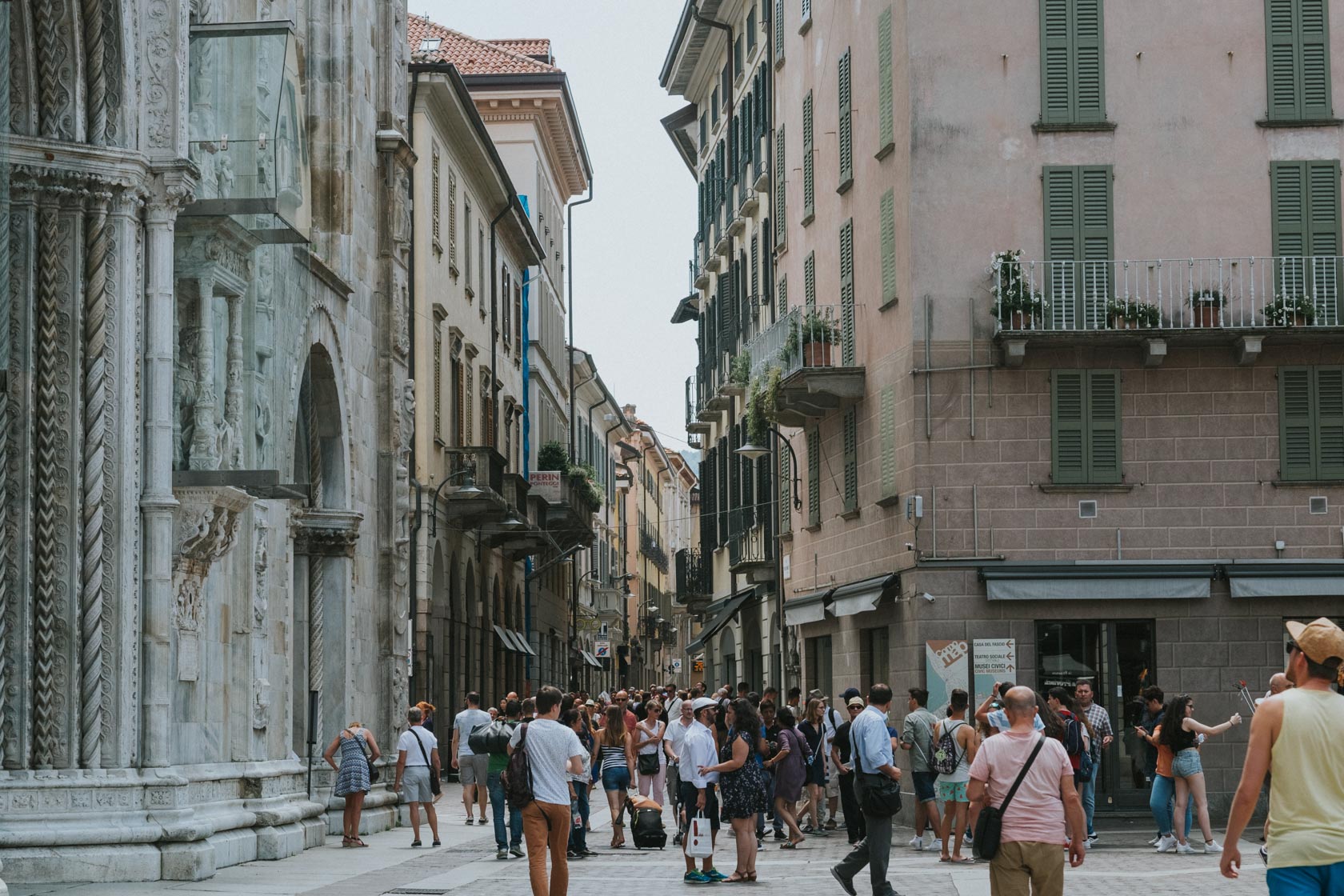 Second to the cathedral, Como is also famous as the home of Alessandro Volta. This guy invented the modern battery, and is memorialized in a monument along the pier. It costs money to go inside so we simply skipped it, but it surely made for a nice photo backdrop 😉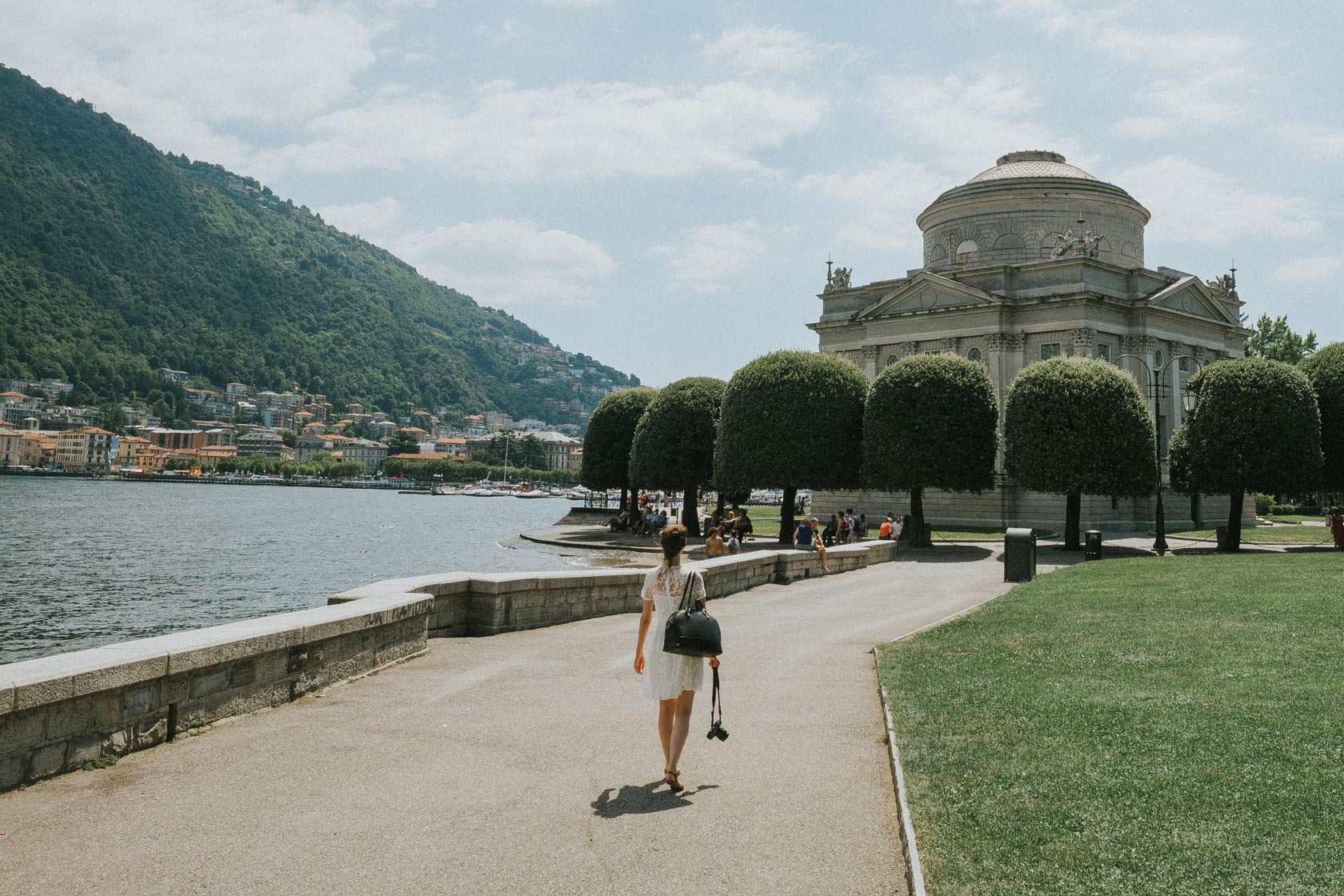 Tempio Voltiano, Como, Italy
Nesso
Next is Nesso, one of the cutest spots along Lake Como – if you can find it. Nesso is a bit mislabeled on Google Maps, and if you follow where the map labels and Nesso, you're likely to go up some steep and curvy italian roads and end up at a dead end. Nesso is actually right along the road, and you can accidentally drive right through on your quest to find it.
FINDING NESSO: Look for signs while you approach for Orrido di Nesso, or, on Google Maps, Falls and Orrido for the waterfall and Ponte Della Civera for the bridge itself (accessible only by foot). You may have to park a ways outside of town, and walk, in order to have somewhere to put your car, as there is very limited parking in town. Alternatively, you can take a boat tour to Nesso directly from Lecco.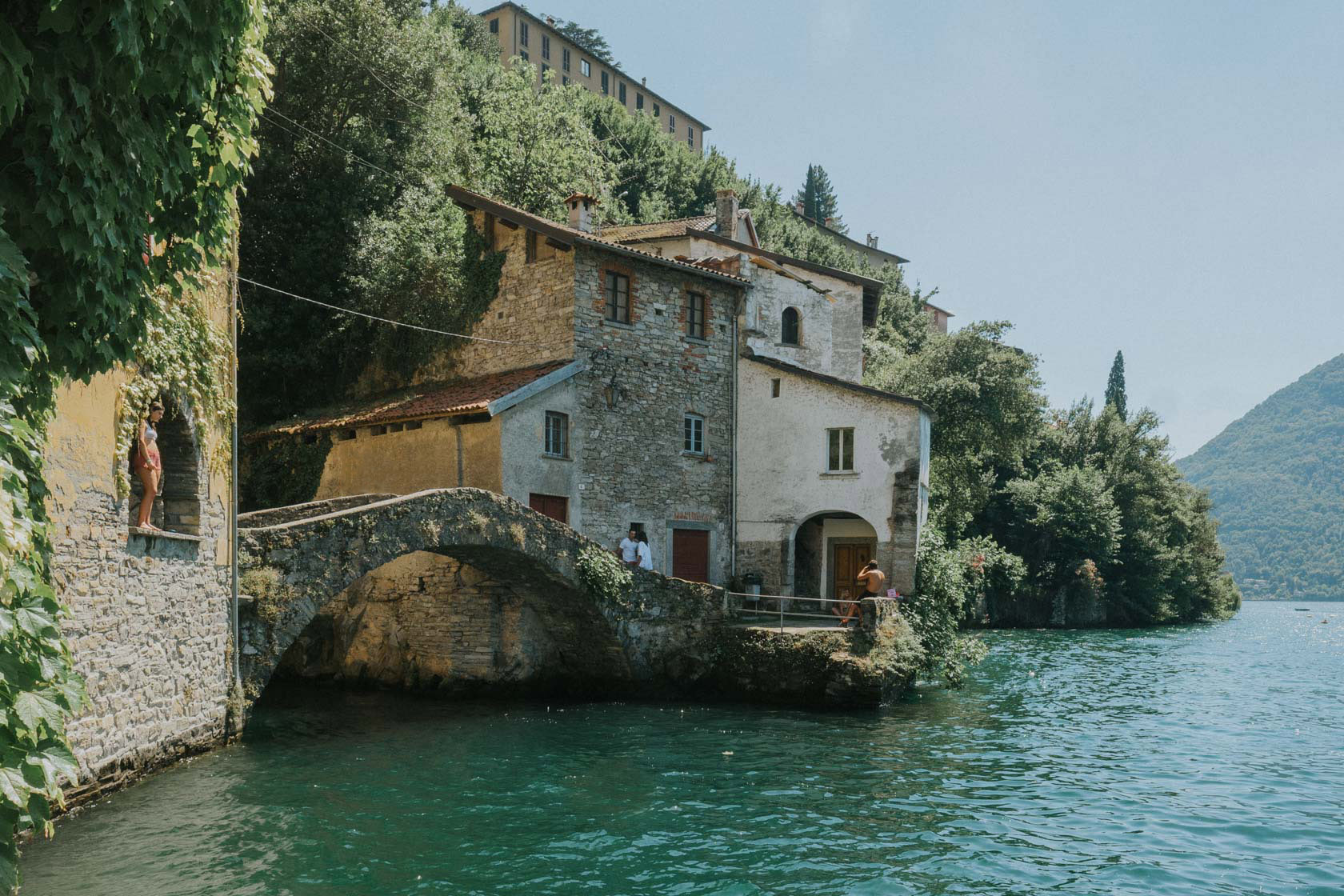 After arriving in Nesso, you'll find signs that direct you to the base of the waterfalls down a long set of uneven, rocky stairs.
At the bottom is an area is popular for swimming with the locals, despite the fact that Lake Como is freezing in June. If you're feeling adventurous, you can even swim to the foot of the waterfall through the ravine.
After your adventure to the bottom, you can stop at the top for a tiny beer to relax and spend a little time out of the sun. After that we're going to Bellagio!
Bellagio
Bellagio is a very beautiful town, and easily the most famous on Lake Como – for this reason it's also the most touristy, and can be packed full of people during the peak hours of the day. To avoid crowds, come to Bellagio around 6pm as the town starts to empty out. It'll be much easier to park your car and still early enough to get a seat at a restaurant in town.
PARKING NEAR BELLAGIO: There are a number of parking lots outside of town, many of which will let you park for free. You just have to walk 15 minutes or so into the center. Ideally your hotel will have a nice map for you of where you can park.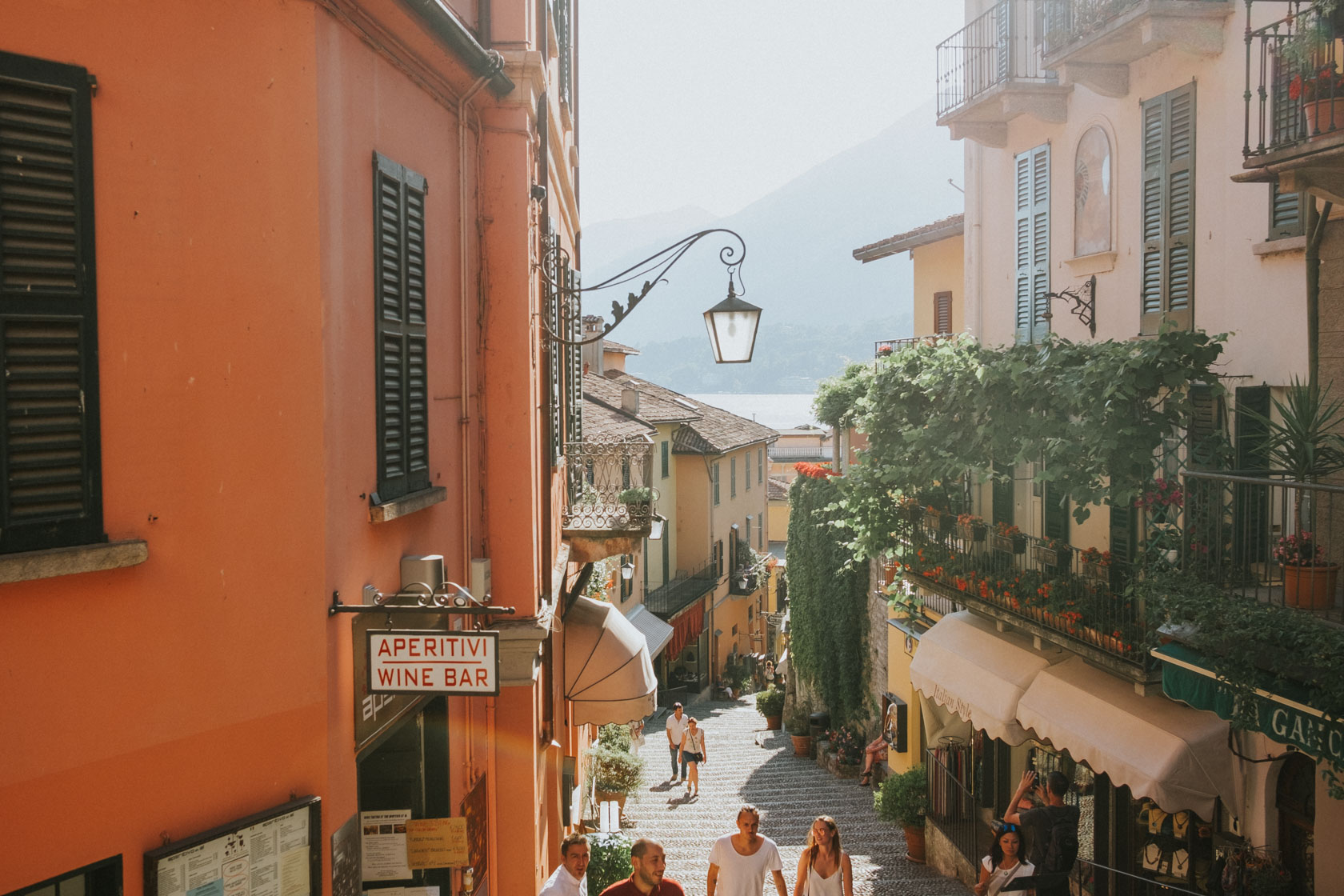 What makes Bellagio so special is definitely its narrow alleys and stony streets. You can grab a gelato almost anywhere and enjoy exploring all the parts of town - which honestly won't take you that long, since Bellagio is so tiny.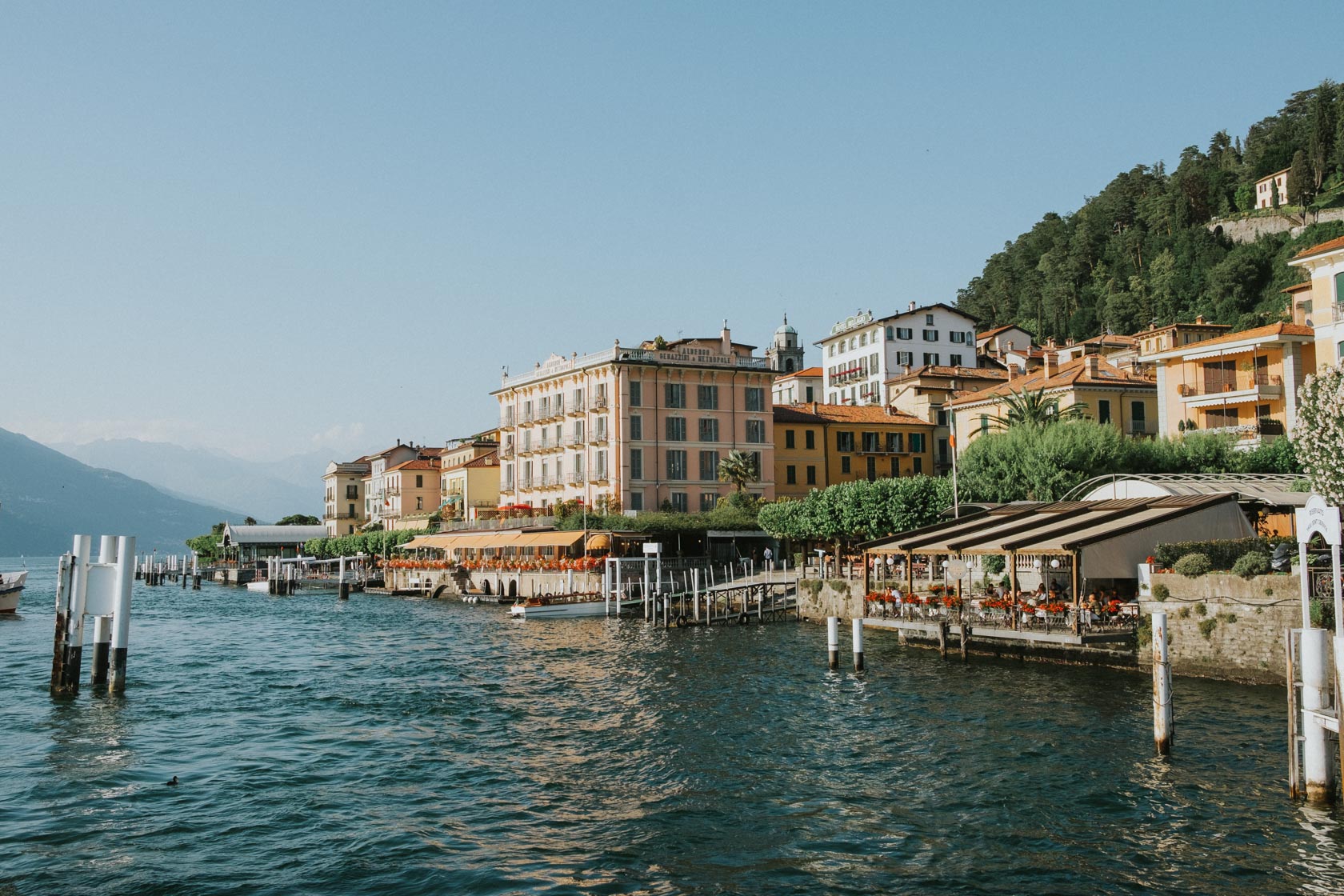 The town has two main areas to explore - the inner town and the area on the lakefront. When you arrive, you're likely to come into down and have a lot of small streets to explore (and/or share with motorcyclists trying to bust through the crowds). Once you find the most famous street around the entire Lake (pictured below), you can walk down to the promenade where you'll find even more restaurants with beautiful views.
My one recommendation for food on this trip is found in Bellagio, called Ristorante Bilacus It's not on street level, so if you can find it, it's unlikely to be too busy. That said, it did fill up when we were there between 7 and 8pm so do be punctual if you want to compete for a spot for dinner!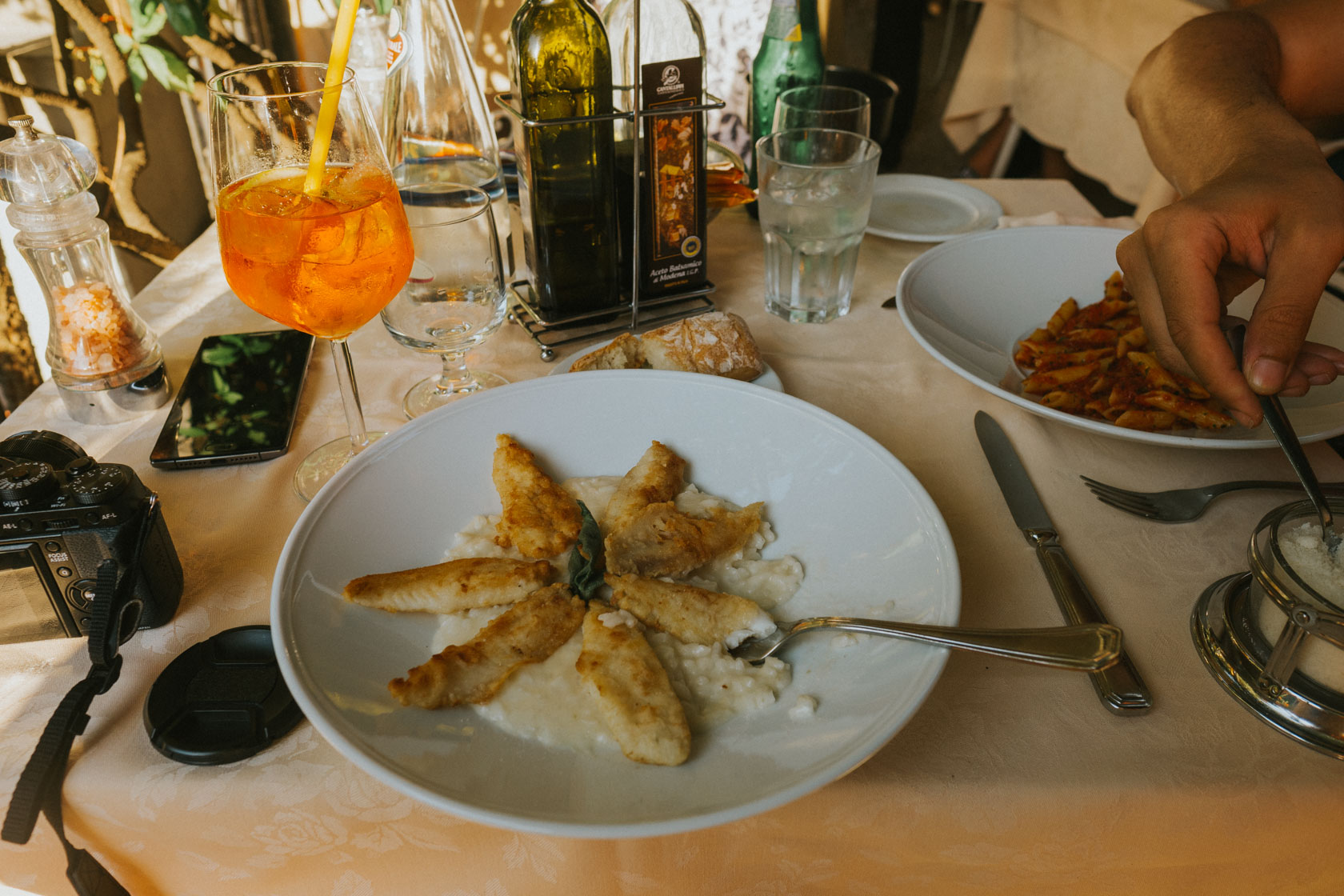 Aperol Spritz with every meal – I'm not complaining!
Where to stay in Bellagio We loved Hotel Il Perlo Panoramico . It's outside of town, so you can't walk there, but you can either take one of their shuttles during peak hours or simply drive in yourself afterhours. The rooms were super stylish and the view was out of this world. They have nightly wine tastings as well - I wish we had stayed longer!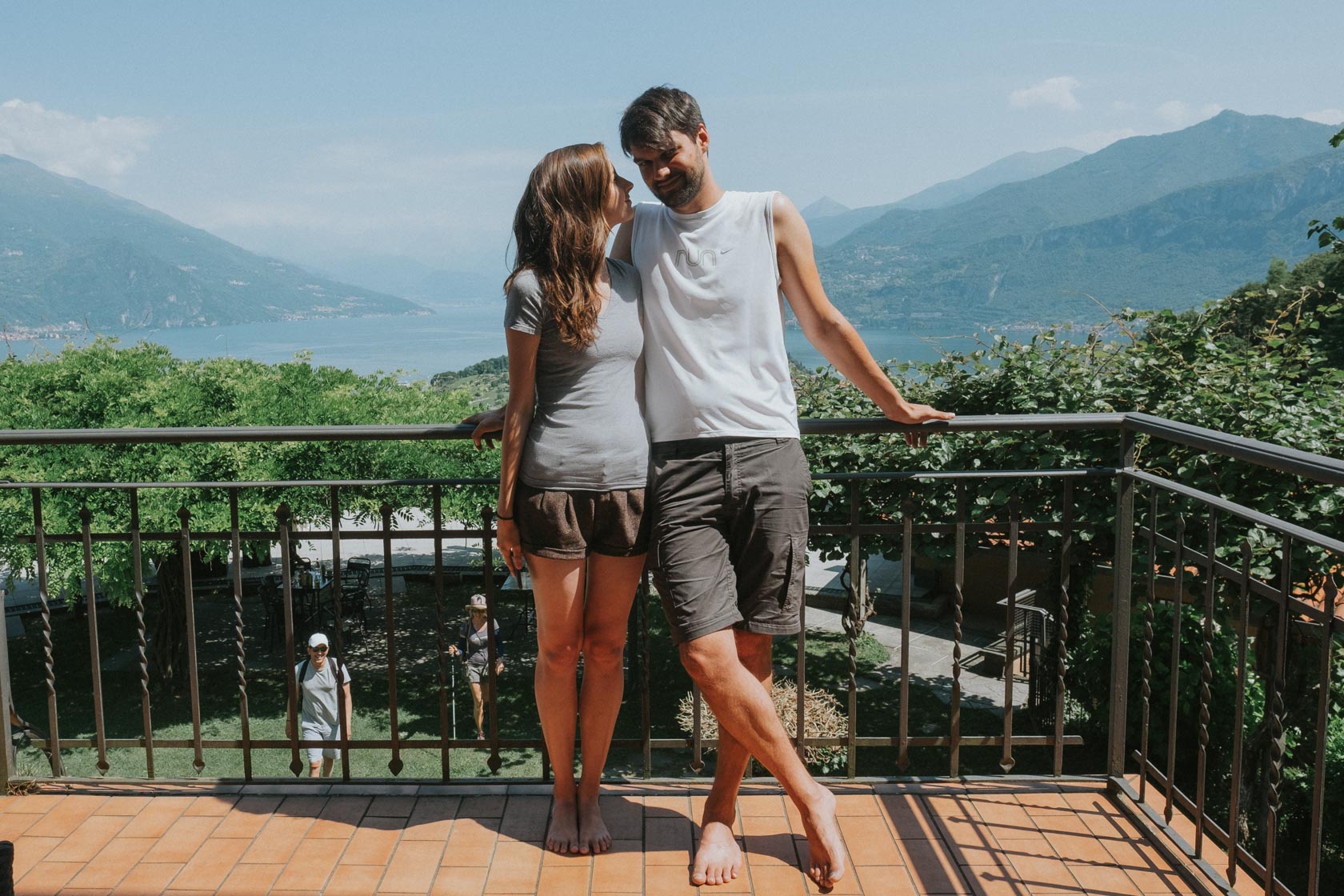 Day 3: Varenna & Bellano
If there's somewhere I really would've liked to have spent more time, it would be Varenna. People seem to miss it, favoring Bellagio instead, while I found the town just as charming without being overrun by tourists. It still has all the things you expact from one of these cute lakeside villages: narrow passageways, colorful buildings, and delicious pizza. Check check check!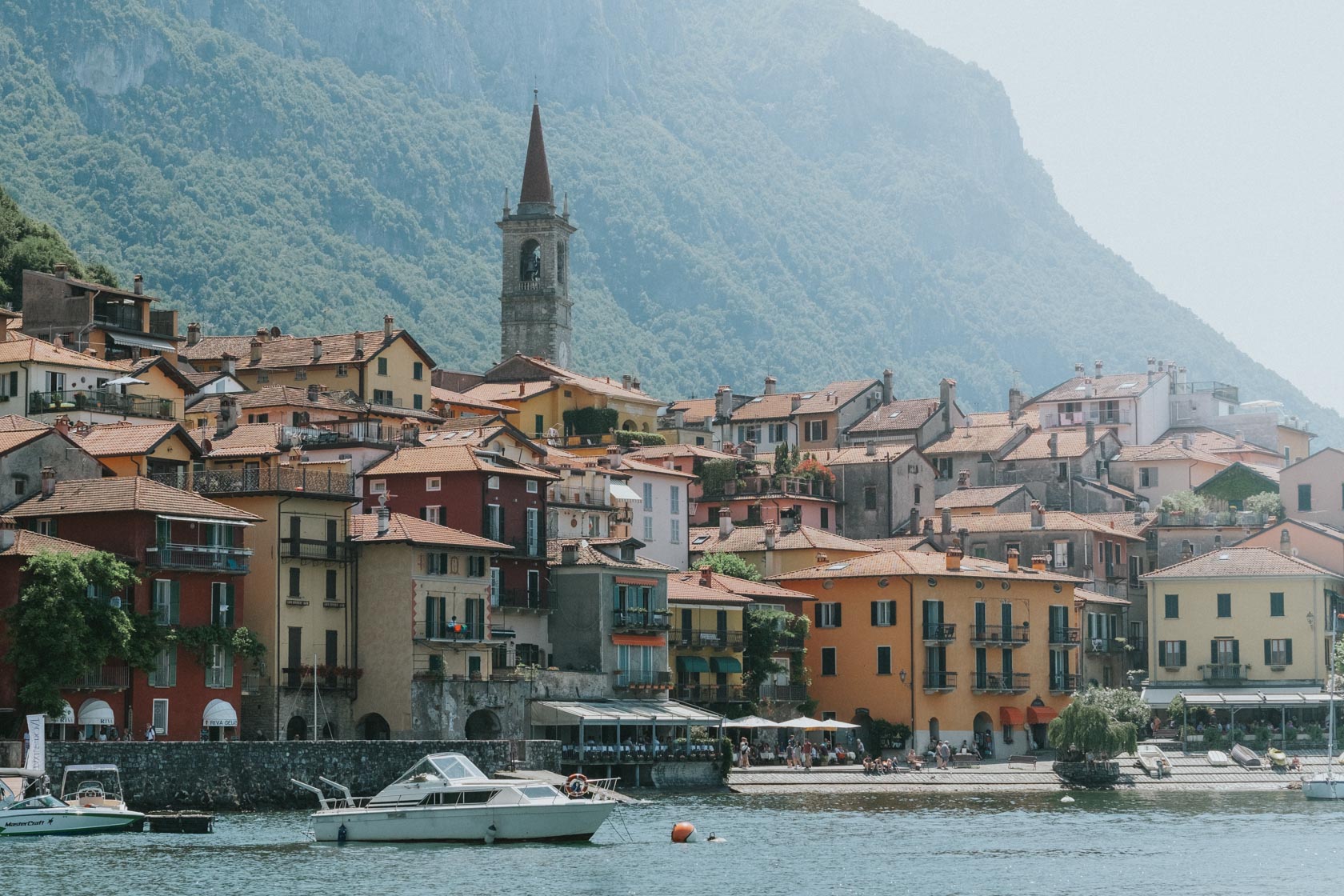 Varenna
If you're coming to Varenna by car from Bellagio, it's most effective to do so by ferry. You can check the timetable of the ferries the day before when you're in Bellagio, and plan to be in the row for the right destination at least 20 minutes in advance (I'd rather recommend 30-40 minutes depending on if you're here during the high Summer season). You can buy a ticket for yourself and the car, and pop out to grab an ice cream while you wait for your boat to arrive.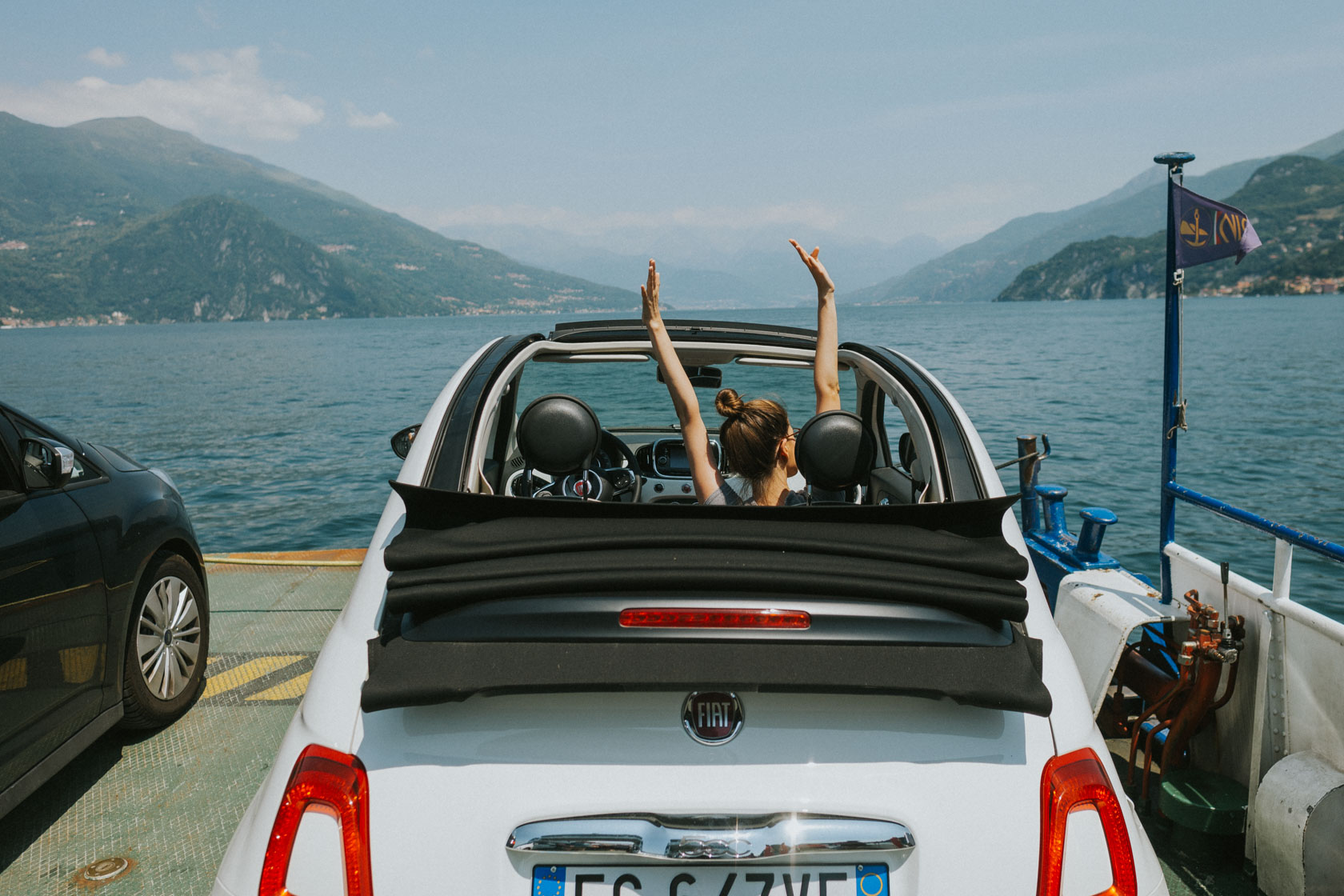 Approaching Varenna by boat doesn't take long, but be sure to have your camera out – these are views you can't get of the town from anywhere else on land!
There's not so much to do in Varenna besides walk around and explore. If you fancy a bite to eat, there are tons of places to go along the lakefront. When you arrive by ferry, follow the promenade to the right to find more of the town and more activities.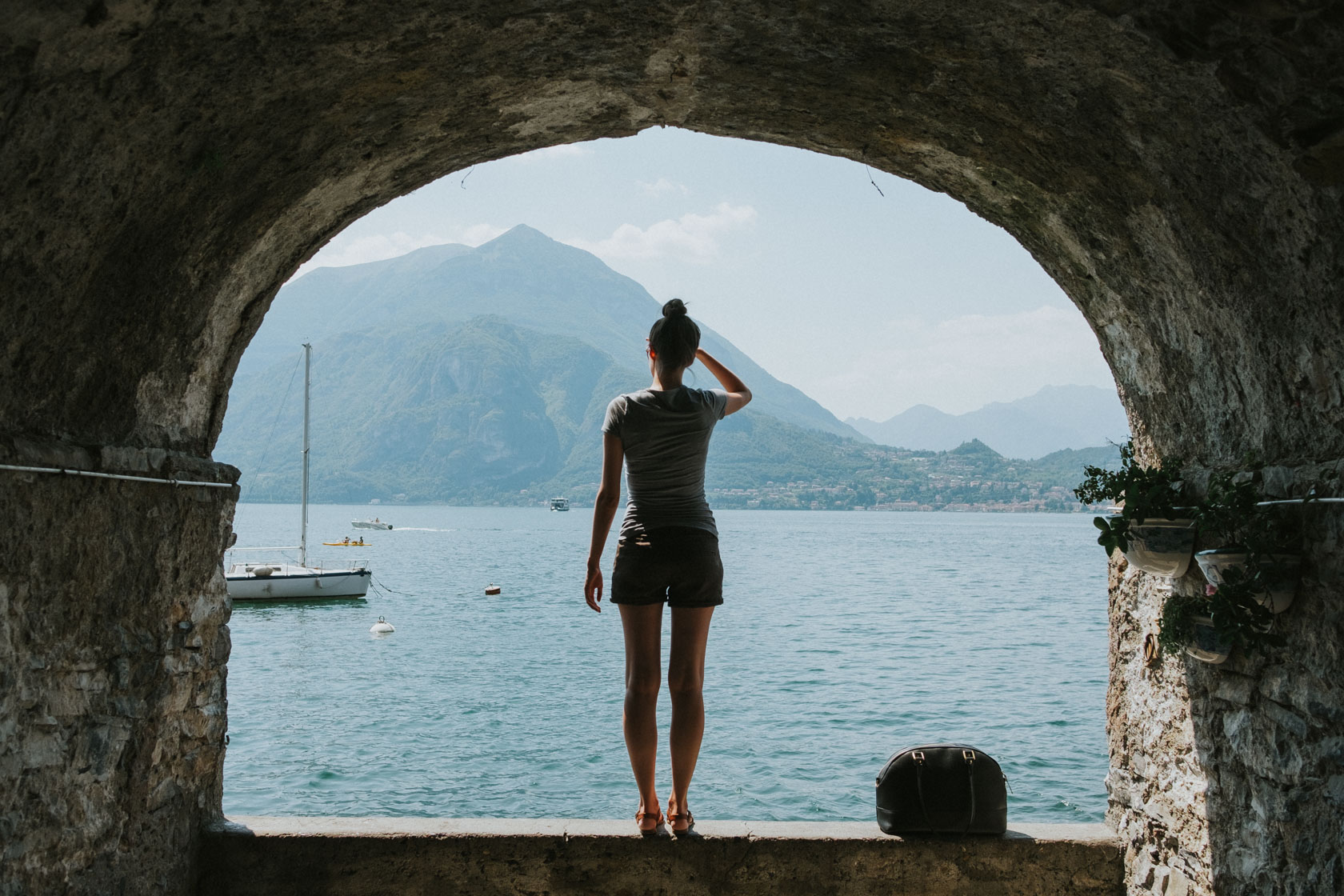 After a solid afternoon in Varenna, it's time to wrap up our trip to Lake Como by visiting Bellano! Hop in the car and get driving.
Quick tip: How to use the ferry at Lake Como
Using the ferry at Lake Como is pretty simple. You just want to be early (about 30 minutes early) for your boat ride, and you can pay the same morning to either ride across the ferry as a person or even with your car. It is not possible to make a reservation. Taking a car costs just 4 € plus the cost for each passenger, 1,80 € each. You can find more details about the ferry timetable and detailed fare information online.
Bellano
Similarly to the Orrido di Nesso, here you're going to want to look for the Orrido di Bellano. Again - don't trust Google Maps, just pay attention to the signs that will lead you to the best place to park.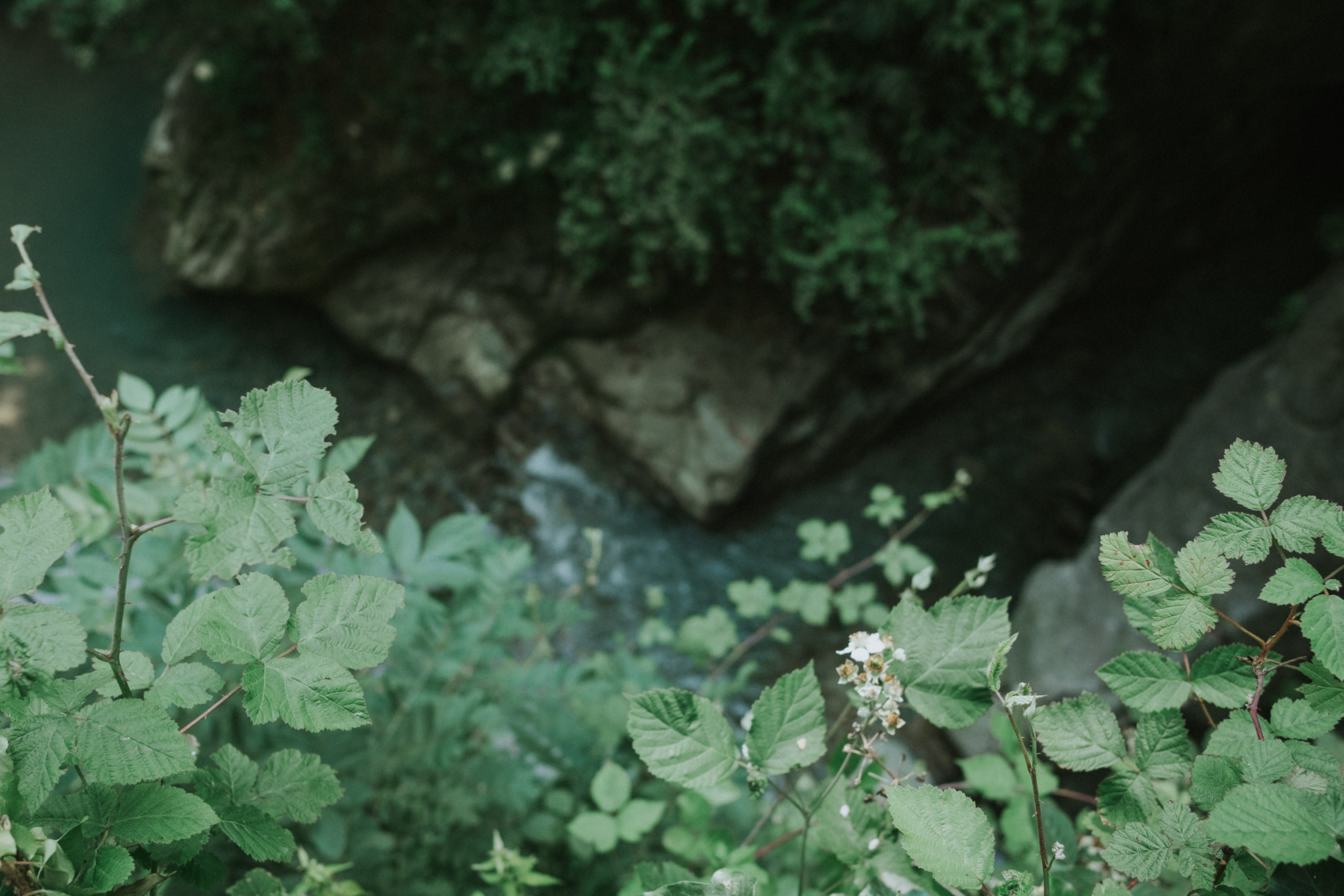 There's a small entrance fee to access the gorge, but I think it's well worth it. Inside you'll find walkways that connect canyon walls together so you can explore the inside of the orrido. You don't need more than 30-45 minutes to explore this area, but you'll be glad you did!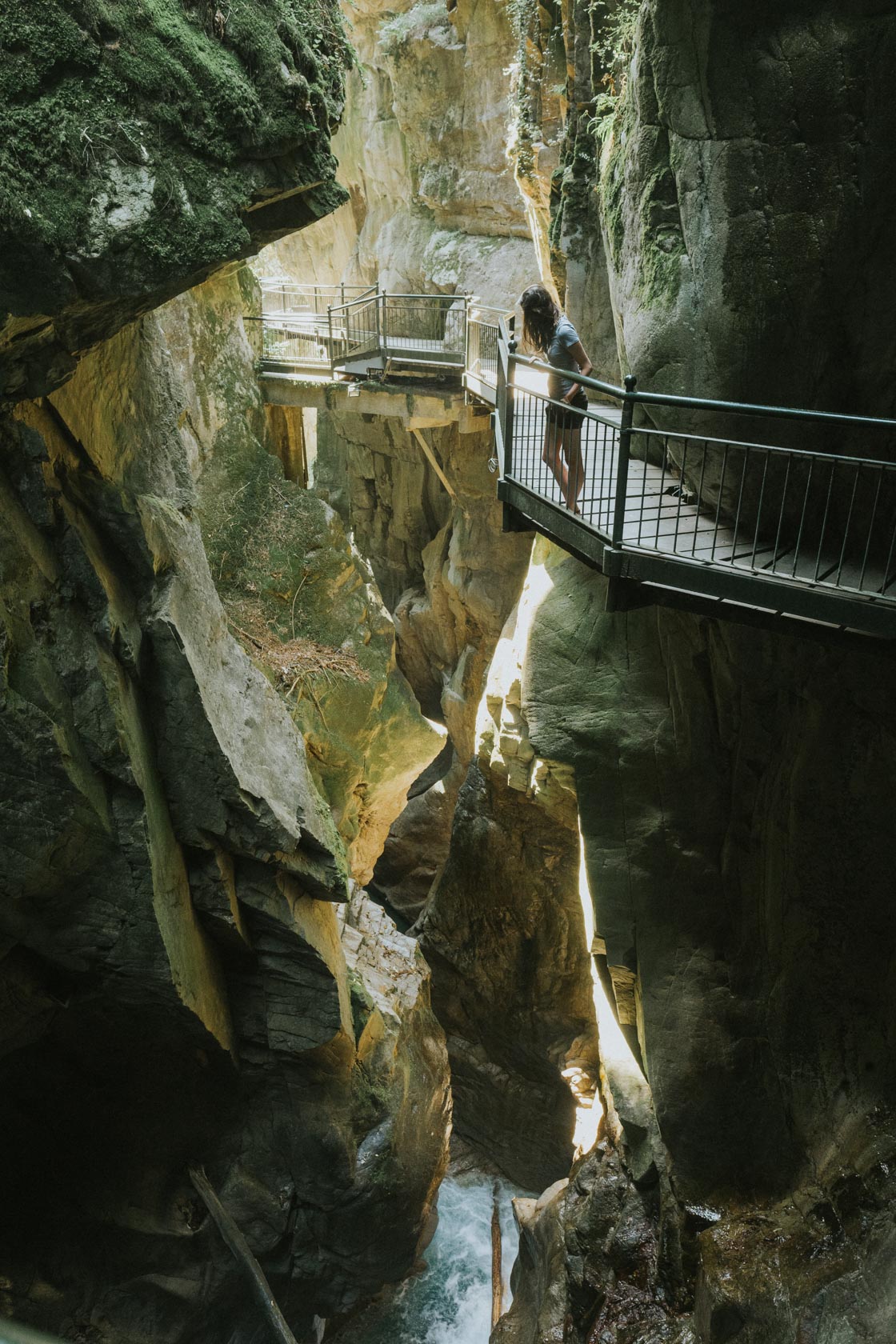 That's a wrap!
Have you been to Lake Como? Which of these places have you seen? Let me know in the comments which was your favorite, or if I'm missing anywhere amazing around the Lake!
…pin this post for later!