The mountaintop monasteries at Meteora, Greece are a marvel of human creativity. Can you believe people saw these enormous sandstone pillars and thought, "I'm going to live up there!"? That's exactly what happened centuries ago, and today you can visit the monasteries that are still inhabitied by 60 monks and nuns. Originally there were 24 monasteries, where today only six remain.
Read on for my guide to visiting Meteora, including when is the best time to visit, which monasteries are worth seeing, where to stay, places to eat, and many more tips to make your trip super efficient!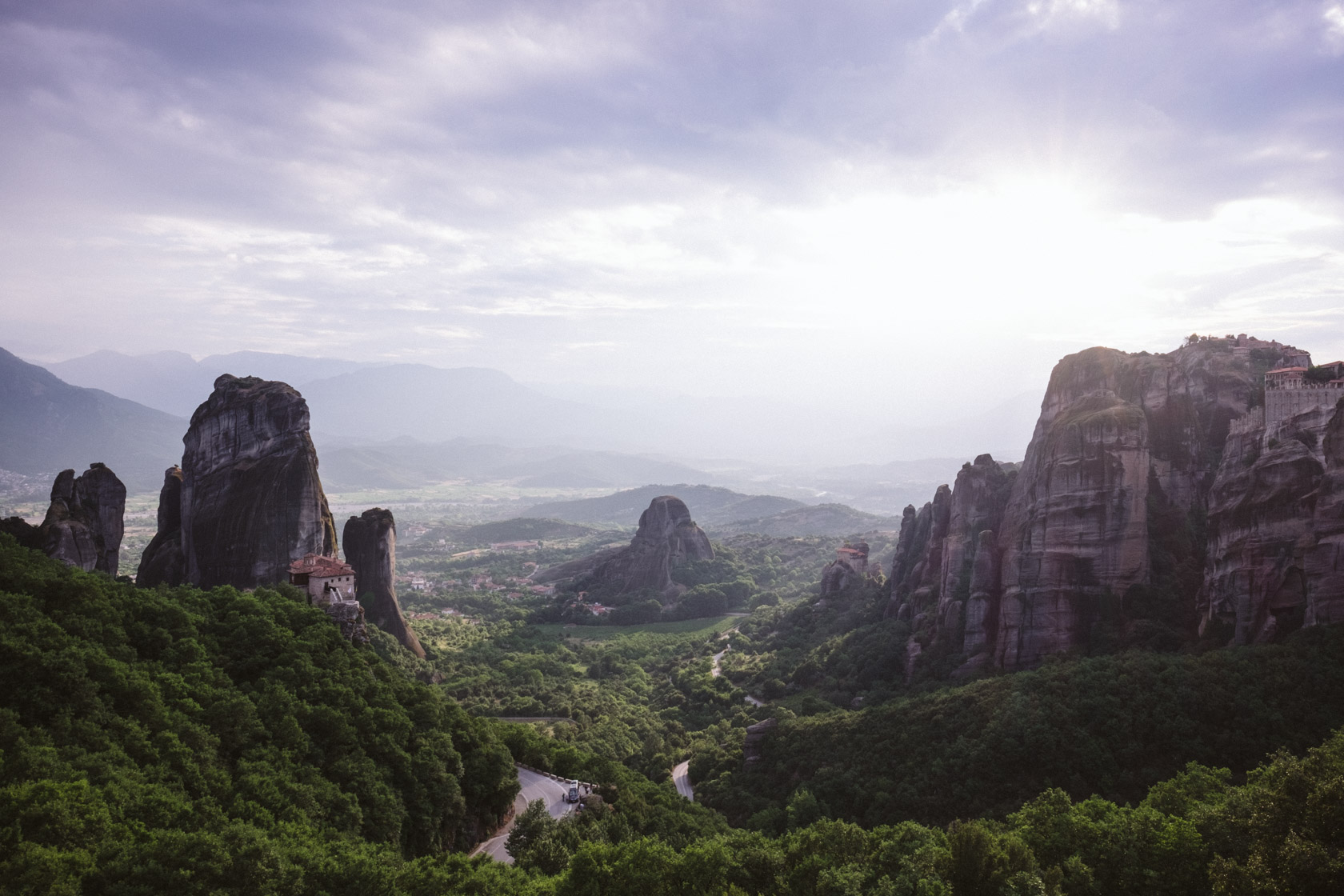 Can you visit Greece now? (Summer 2023)
Greece no longer requires proof of vaccination or a negative test in order to enter the country.
Some links in this post are to affiliate sites. If you purchase something through them, I may earn a small comission — which costs you nothing! I am very grateful when you use my links to make a purchase.
Before you go
Here are a few tips that will make your trip to Meteora in 2023 easier:
Entry to each monastery is 3€ – This means that in total, you will spend 18€ per person to visit all six monasteries.
Know the (dress) code – Women are required to wear a long skirt and cover their shoulders, whereas men are not allowed to wear shorts. In practice, I saw a few men in shorts but all women were enforced to wear a skirt (which, if you don't have one, is provided at the entrance to every monastery free of charge).
It's not really possible to "beat" the tour busses – Most monasteries open at 9am, and by 9:30am there are already busses at their doorsteps. The easiest way to avoid the crowds is to travel in the off season or to spend your time at monasteries which are more difficult to access (learn about this below).
This region of Greece is subject to a lot of rain! – In an instant, you can go from sunshine to pouring rain. Be prepared by checking the weather report, bringing an umbrella, and being prepared to keep your things (e.g. camera, bag) dry.
Stay in Kastraki instead of Kalambaka for easier parking and driving – Driving in Greece can be a little fun and a lot of chaos. If you want an easier time, try booking a hotel or guesthouse in Kastraki. It's just as close and convenient as Kalambaka with a fraction of the population.
You can easily reach Meteora from Athens or Thessaloniki via guided tours. You can go for anything from a full-day trip to a four-day excursion. This particular train tour from Athens is a bestseller with over 150 positive reviews.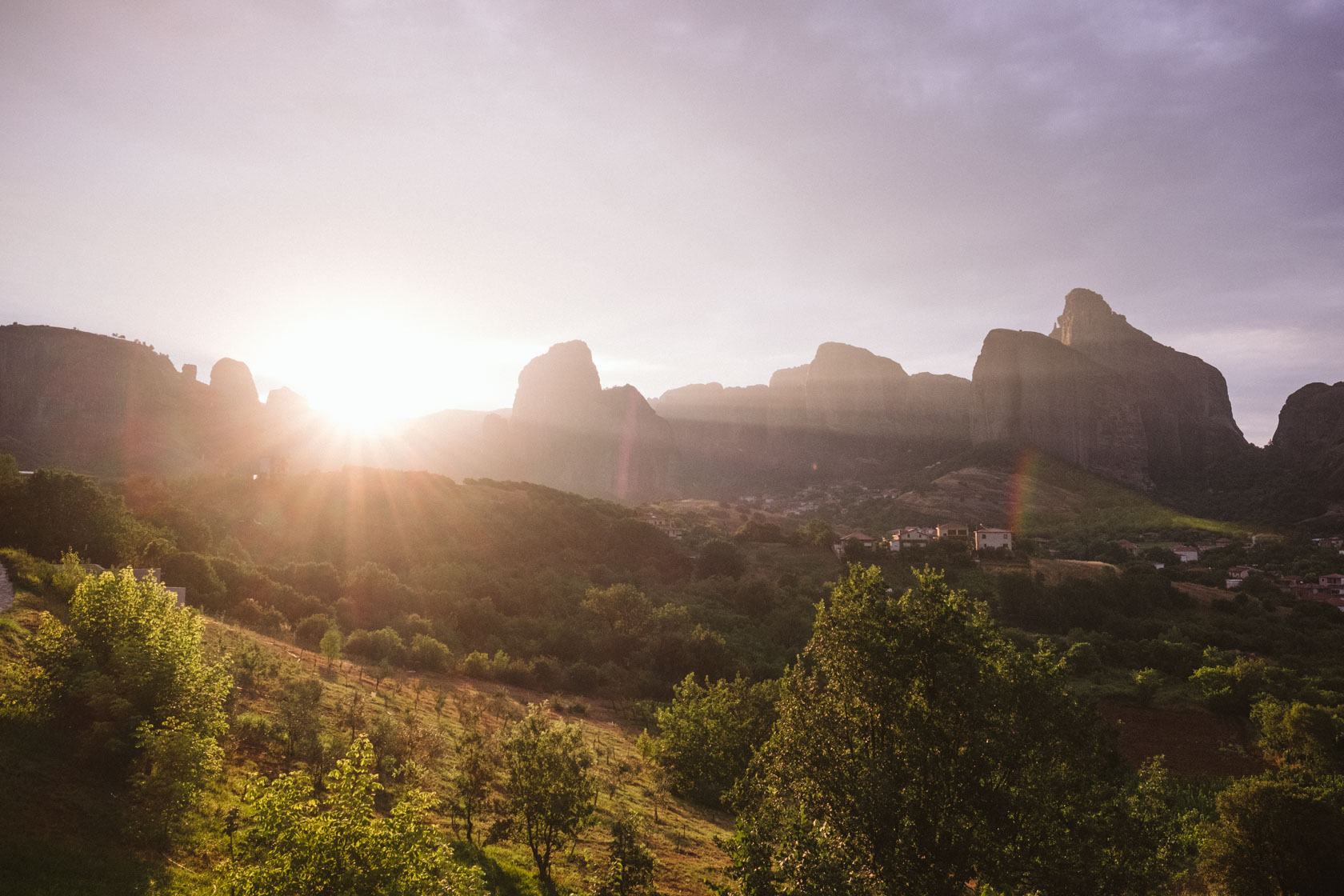 Sunrise in Meteora, as seen from our balcony at Hotel Meteora Kastraki .
Looking for a full-blown guide for Northern Greece? Check out my Northern Greece Travel Guide and Itinerary for things to do near Meteora. I've also written about how to spend three days in Athens if you'll be arriving in Meteora from the south.
Interesting facts about Meteora
It was used as a filming location for the James Bond movie, For Your Eyes Only.
Meteora also inspired the backdrop for Game of Thrones when Tyrion is being held in the Eyrie.
The Linkin Park album Meteora got it's name from…well, Meteora.
During World War II, the Germans occupied Meteora and burned down some of the precious artifacts. In Grand Meteora you can see images of people throwing a Nazi off a cliff from a monastery.
The more you know 🌈 Onto the itinerary!
---
Meteora Monasteries
Duration 2.5 days
Dates visited June 18-20
Recommended accomodation Hotel Meteora Kastraki – Has an unbeatable view, good air conditioning, nice selection for breakfast, and a swimming pool you didn't realize you needed. And affordable!
Recommended dining We enjoyed Taverna To Paramithi in Kalambaka the most during our stay. They even had live, traditional music played by a pair of old Greek dudes with live instruments!
Recommended guidebook This Greece travel guidebook was super helpful planning our entire trip through Northern Greece.
Opening hours
Every monastery is closed on a different day of the week, except Fridays where two monasteries are closed. This means that if you want to visit all of them, you need to visit over a two day period of time.
| Monastery | Summer opening hours | Winter opening hours | Closed on |
| --- | --- | --- | --- |
| Great Meteoron | 09:00-16:00 | 09:00-15:00 | Tuesdays |
| Holy Trinity | 09:00-17:00 | 9:00-16:00 | Thursdays |
| Varlaam | 09:00-16:00 | 09:00-15:00 | Fridays |
| Roussanou | 09:00-14:00 | 09:00-14:00 | Wednesdays |
| St. Stephen | 09:00-13:30, 15:30-17:30 | 9:30-13:00, 15:00-17:00 | Mondays |
| St. Nicholas Anapfsas | 08:00-16:00 | 09:00-16:00 | Fridays |
Suggested itinerary for visiting the monasteries
Legend   ♦♦♦ Must visit   ♦♦ Recommended   ♦ If time permits
Great Meteoron (mid-1300s) ♦♦♦
Great Meteoron is by far the largest and oldest monastery, the first to be founded. Like every monastery on this list, it has a katholicon (the part of the monastery where monks pray) with paintings of martyrs being tortured and of the final judgement. You should know that orthodox christians were widely persecuted during the Ottoman Empire, so many of the art references this fact. Some special features of Great Meteoron:
Three distinct museums, including a library containing a copy of the Suda, a 10th-centry Byzantine encyclopedia that references many ancient sources that have since been lost.
Gallery of art made by a contemporary artist who mimics the style of the period in which the monasteries are founded.
Only squat toilets 👎 Head to Varlaam for modern ones!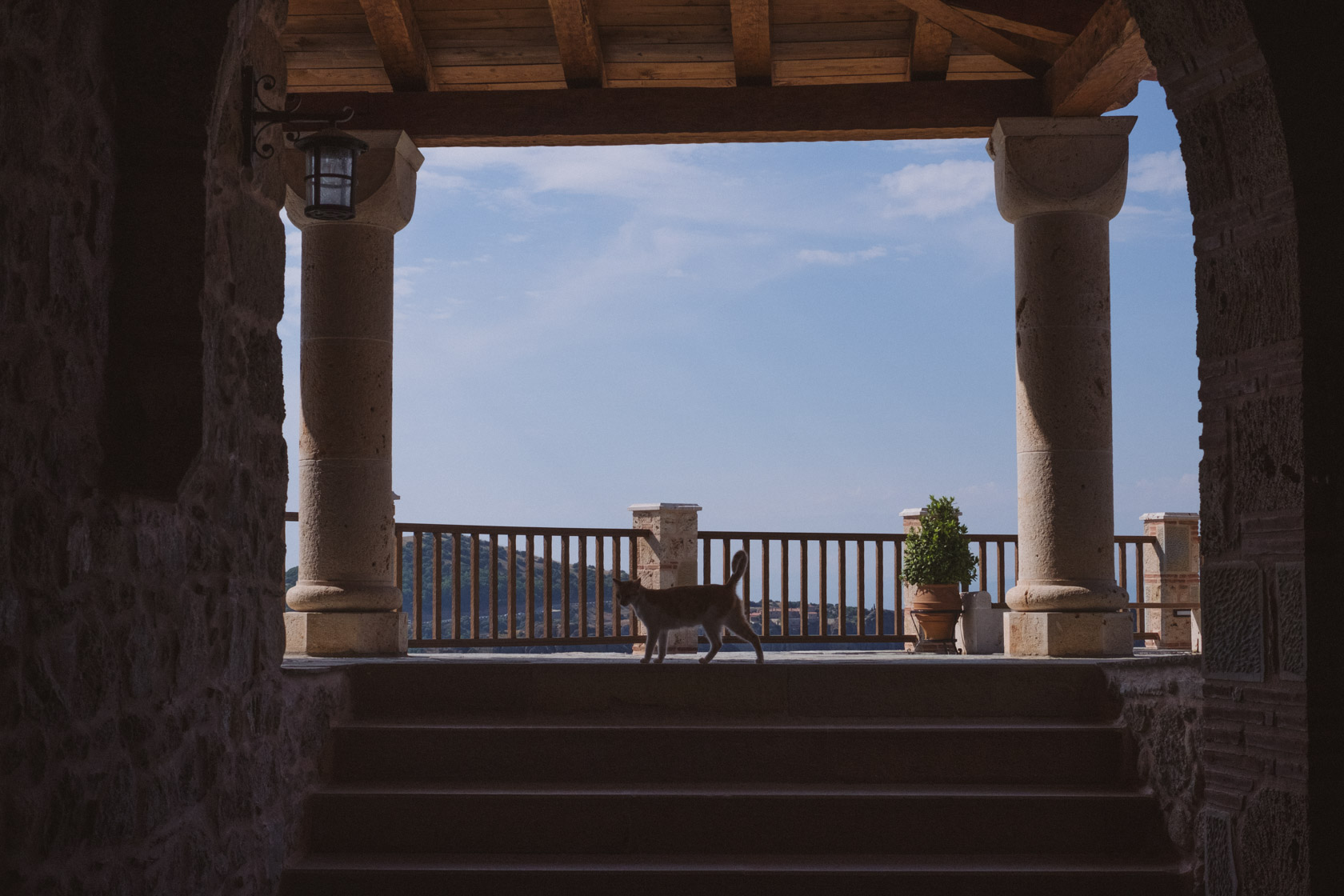 Holy Trinity (1475) ♦♦♦
This is the monastery that was featured in the 1981 James Bond movie For Your Eyes Only.
The stairs to reach this monastery number over 130! You will definitely feel the burn after climbing all these stairs 🔥
Has a great lookout point where you can climb and take some photos of monasteries in the distance.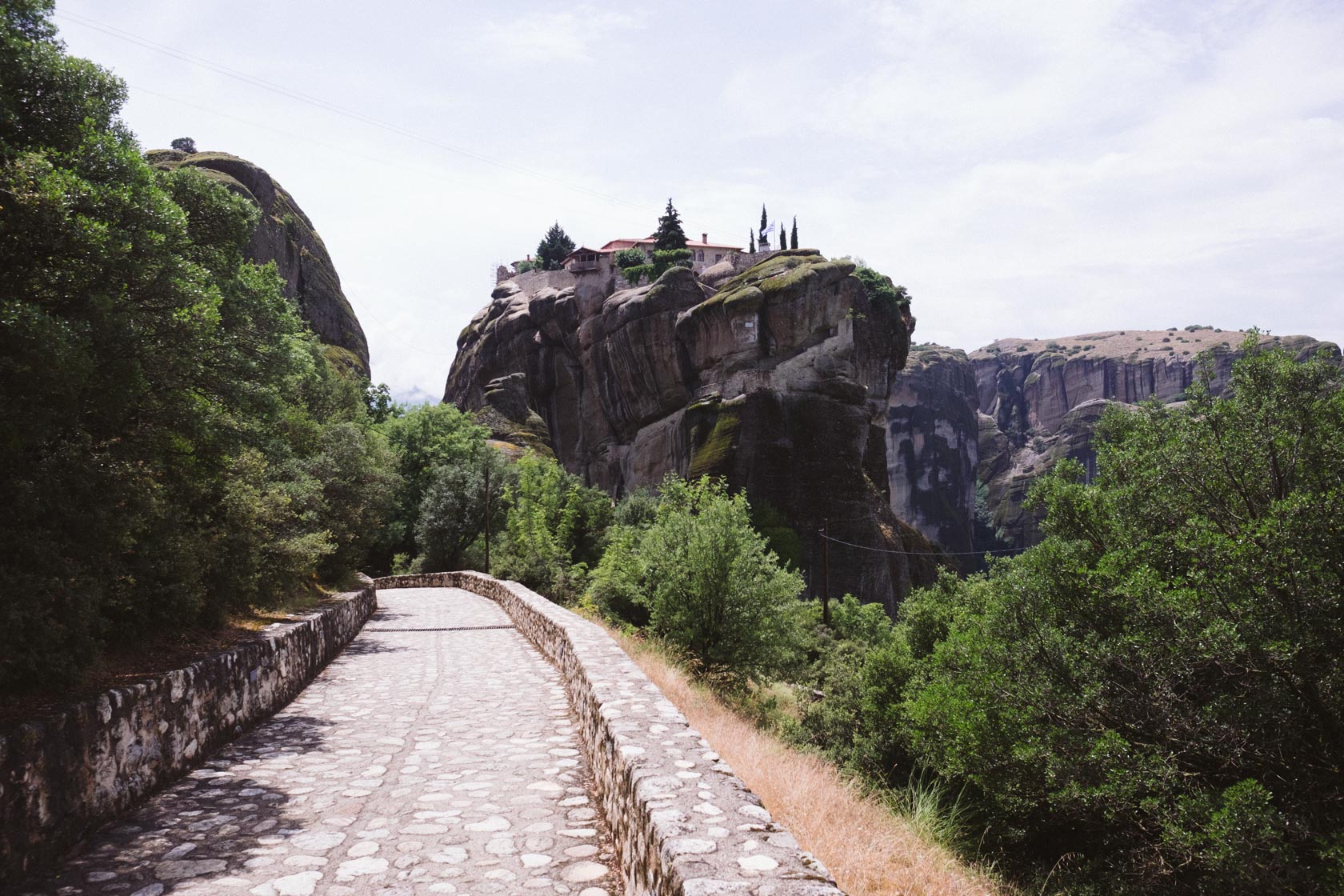 Varlaam (1641) ♦♦♦
Varlaam is the second biggest monastery in Meteora, and considered one of the nicest. What I liked about this place is that you thought you were finished exploring it, and then you discover a new corner where something is still waiting for you! Here's what you should know about Varlaam:
Has a great, compact museum about the history of Meteora. It's a great way to frame your trip by starting there and learning a bit about the history of the area and how the first monks came to dwell in the cliffs.
First class toilets 👌 As I mentioned, we were surprised to find that Great Meteoron Monastery only had squat toilets and subsequently regretted not taking advantage of the fancy onces at Varlaam.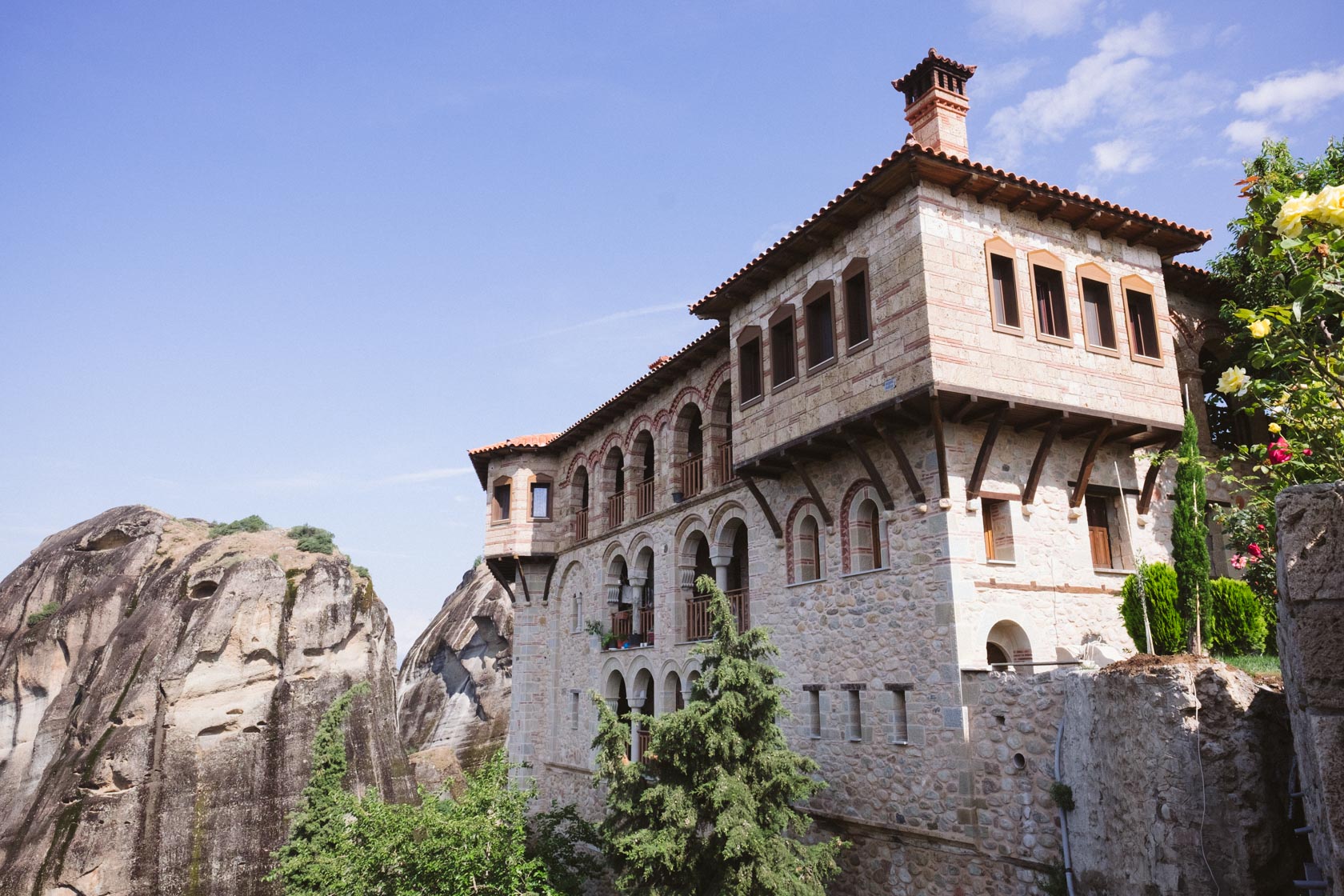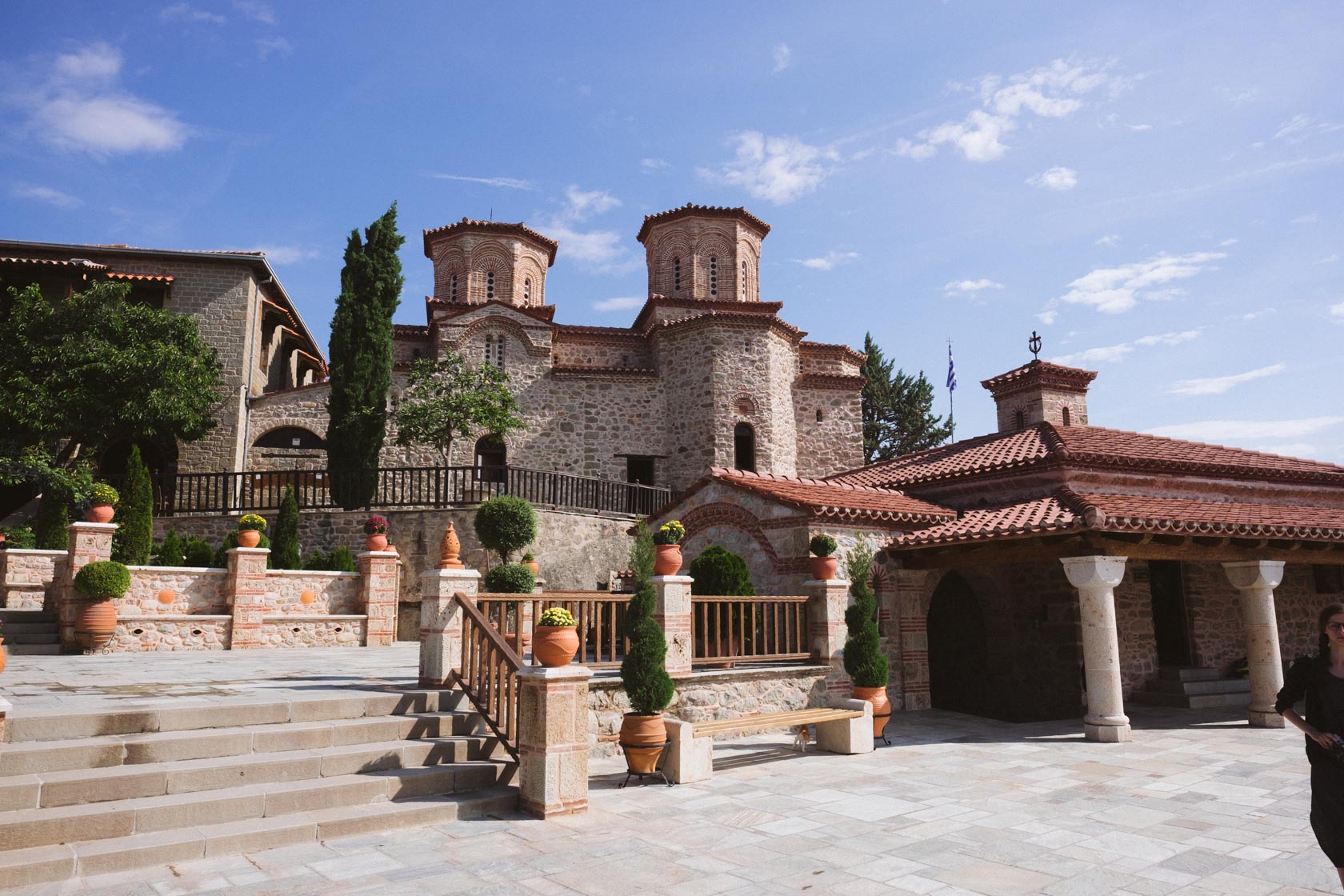 Roussanou (mid-1500s) ♦♦
Monastery of Rosanau is dedicated to St. Barbara, a women who dedicated her life to Christianity and was subsequently beheaded by her father. Today she's the patron saint of coalminers, and this nunnery in her name has 13 nuns in residence. According to this blog post about the meteora monasteries , Roussanou is both the most beautiful and least visited of all the monasteries.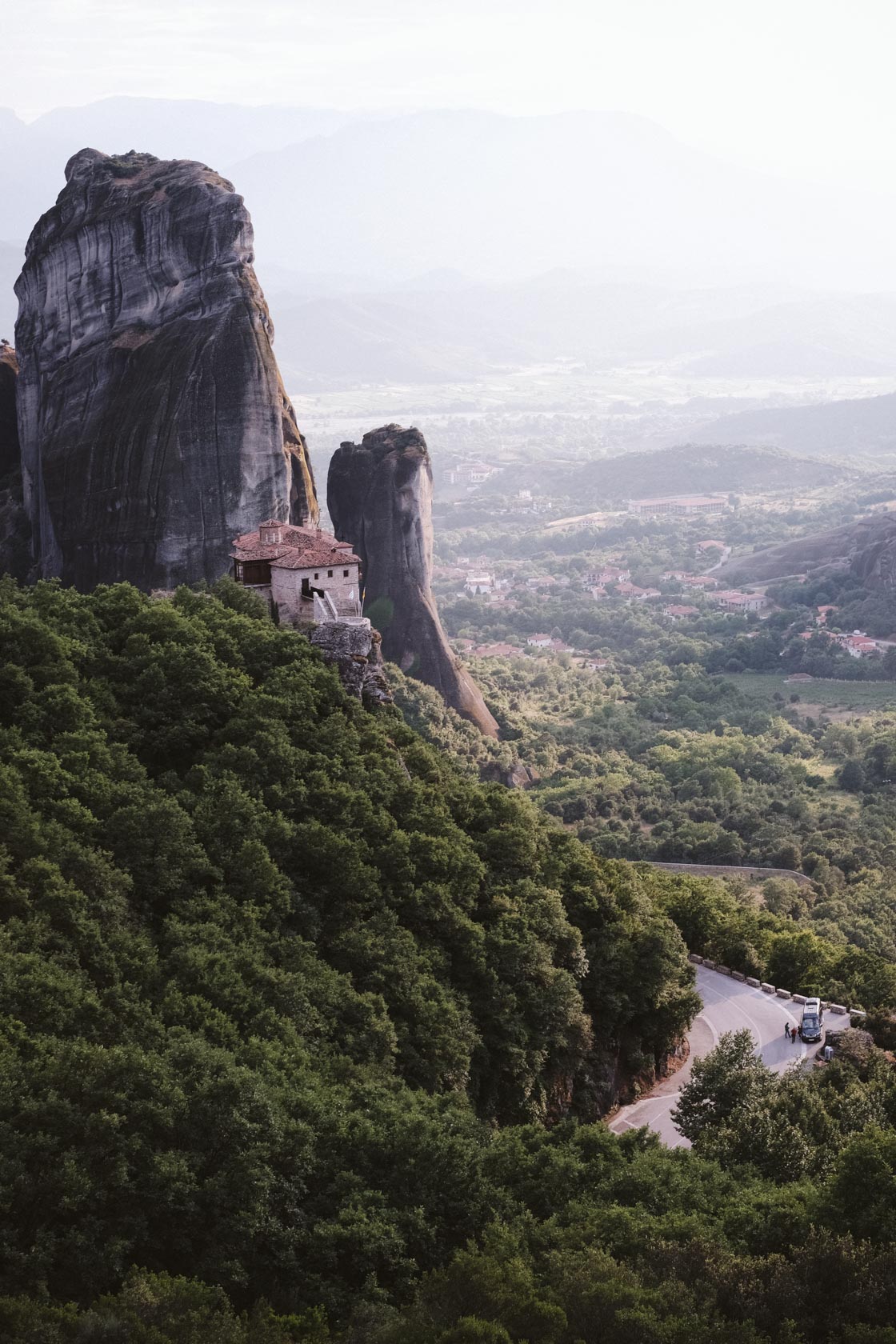 TIP: You can access this nunnery from both above and below. Above you get a great view over the valley, and it's probably shorter to walk, however there is less parking available.
St. Stephen's nunnery ♦♦
This nunnery is one of the busiest we went to! Perhaps owing to how easy it is to access, St. Stephen's was packed with people and perhaps one of the least comfortable to visit.
Very impressive chanedlier and frescos. Lots of similar motifs appear between the different monasteries, including the final judgement and brutal torture of saints from the time of Christ to the Turkish occupation.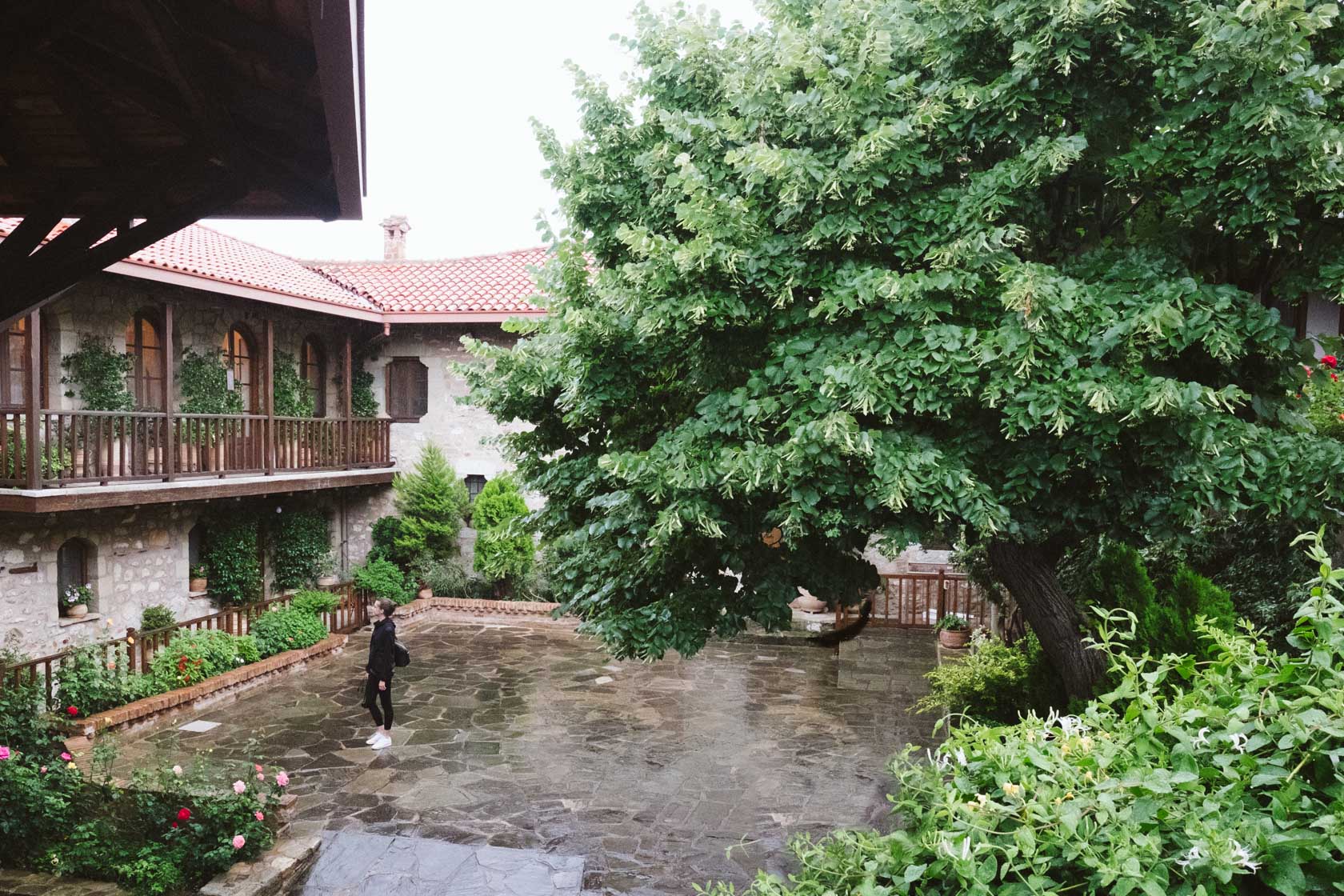 St. Nikolaos Anapfsas ♦
Of all the monasteries, I have to say that St. Nikolaos of Anapafsas is the most underwhelming. It's quite small and for some reason, the stairs to get there were some of the most exhausting! That said, it's not very crowded, as I'm guessing most tour busses tend to skip it.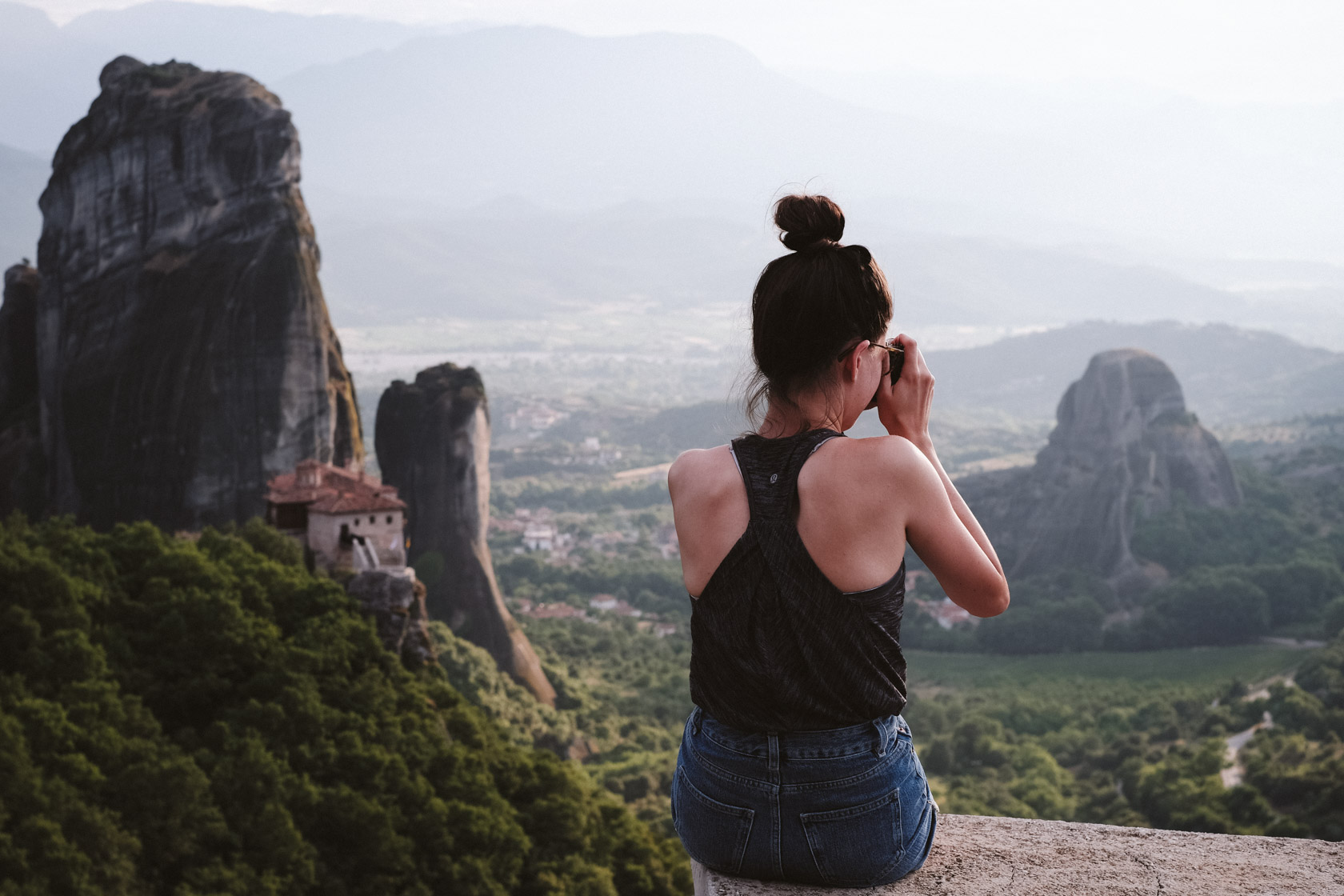 Read my article about my travel photography camera kit, which I use to take all the photos you see on the blog!
Best lookout points in Meteora
Almost anywhere you look, there's an awesome view to be had over the valley. That said, a few places stand out as the best spots to take photos – two main lookout points:
Psaropetra lookout
Lookout near Varlaam
Both of these lookpoints are marked in the map at the beginning of the article. We also found a great lookout point on our way to the lookout point, which isn't a lookout point but you can pull over and block the road briefly while you take a photo 😉 That point isn't on any map but is featured in the image above!
The photo below was taken at the Psaropetra lookout point.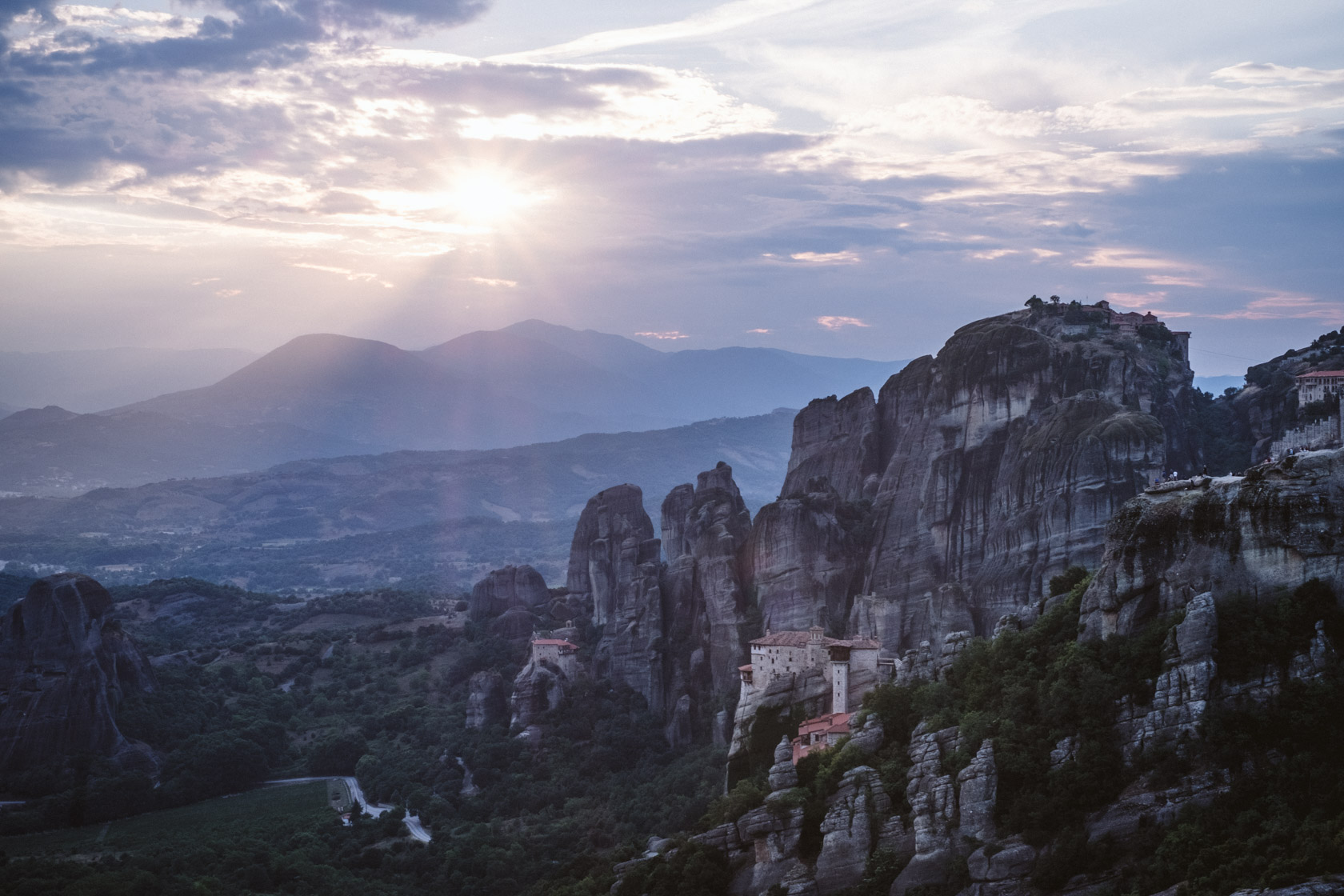 When to go to Meteora, Greece
As I shared above, during the high season it's practically impossible to beat the busses – they are out in force first thing in the morning. However, even with the tour busses, most monasteries didn't feel cramped and I only really needed to wait in line for one.
For that reason, I do think that June was a good choice for when to visit Meteora. It's hot but not sweltering, and the busses are there but they actually had a rather small impact on us.
There are also a lot of gorgeous photos of Meteora in Autumn, so I would certainly love to come back and see the valley in fall foliage.
Where to stay near Meteora
We booked Hotel Meteora Kastraki , which is located on its own road a bit outside of Kastraki. This made parking really straightforward, while driving into Meteora took something like ten minutes topcs. The room are rather basic, but the balcony is huge and you can book a room with a view of Meteora (which makes it really easy to get sunrise photos!). The price was also quite affordable at around 80€ per night when we booked.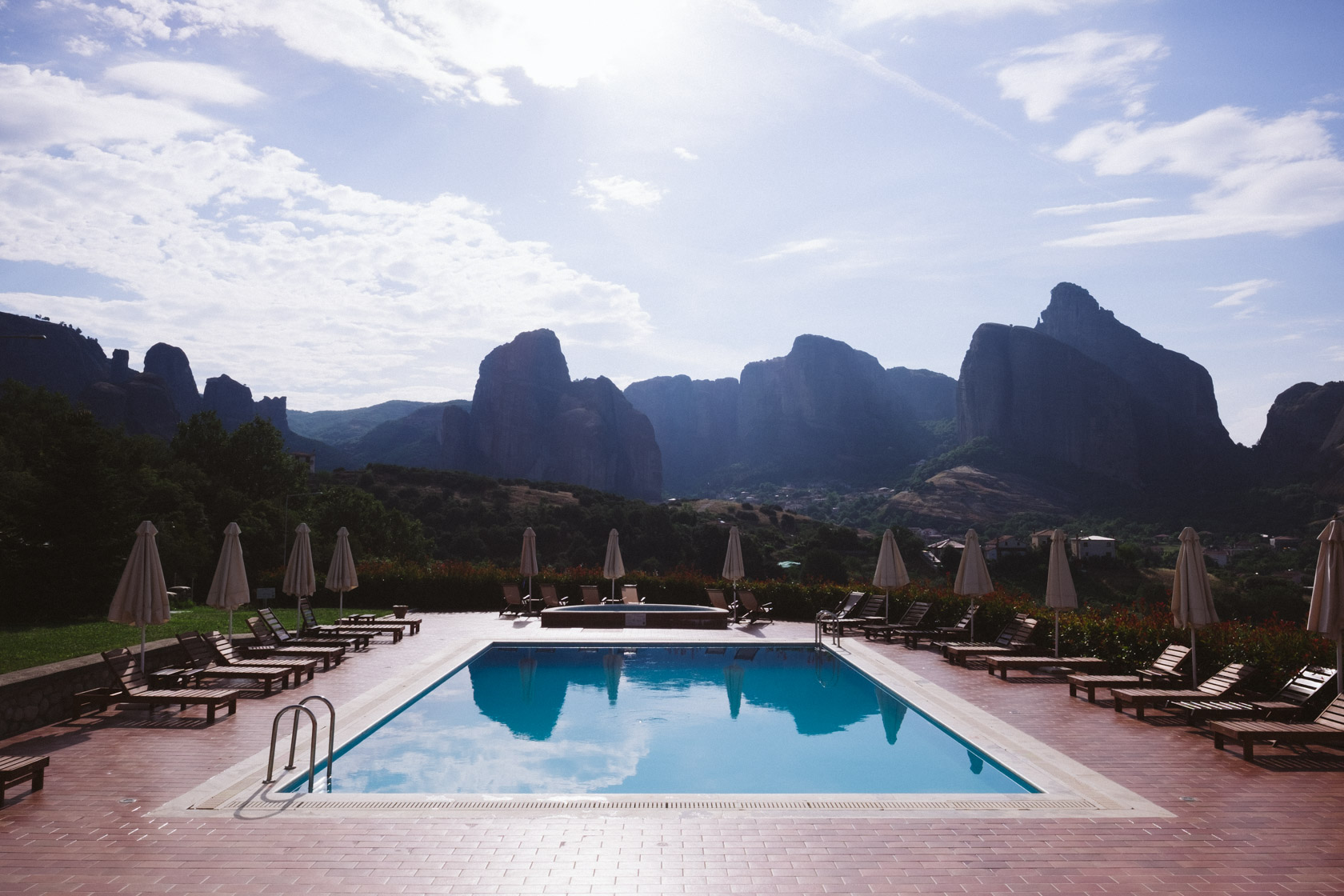 Guided tours of Meteora, Greece
Even though we drove ourselves in Meteora, I could definitely see how it would be engaging to have a tour guide explain the history to you as you weave around these majestic rock formations. Sometimes you don't realize how cool something is until you know the history. Adding a trip to Meteora is a feasible option is you're planning to visit Athens or will be traveling in Northern Greece.
If you prefer to do a guided tour, perhaps because you won't have a car in Greece or you just want that personal touch, here are three of the top-rated tours in Meteora.
If you're considering Meteora as an Athens day trips, I would encourage you to see if it's possible to stay overnight at least one night. Or, at least, ensure that you'll be in Meteora for sunset.
Have you ever been to Greece? Where would you like to visit most?
I've got an upcoming guide to some off-beat parts of Greece and a northern Greece itinerary, so stay tuned!
Pin this post for later!