Of the places I traveled last year, Northern Greece was the one that surprised me the most. Northern Greece is the upper half of Greece, including places like Thessaloniki, the Halkidiki Peninsula, and Vergina. It's surprisingly still rather untouristed, and much of the region can be discovered in a way that feels very authentic. Honestly, that feeling is not common in much of the world, which has become saturated with excessive tourism.
Luckily, many of the places mentioned in this guide are more popular with local visitors than those from abroad. And even though the Greek Islands seem to get all the press, and Athens, Greece is the place most people have heard of – you can come to Northern Greece to experience some of the most famous places in the whole country: Mt. Olympus and Meteora to name just two.
Read on for a full travel guide and Northern Greece itinerary, covering what to see, how to prepare for your trip, tips for doing a road trip in Greece, and recommendations on where to eat and where to stay.
Can you visit Greece now? (Summer 2023)
Greece no longer requires proof of vaccination or a negative test in order to enter the country.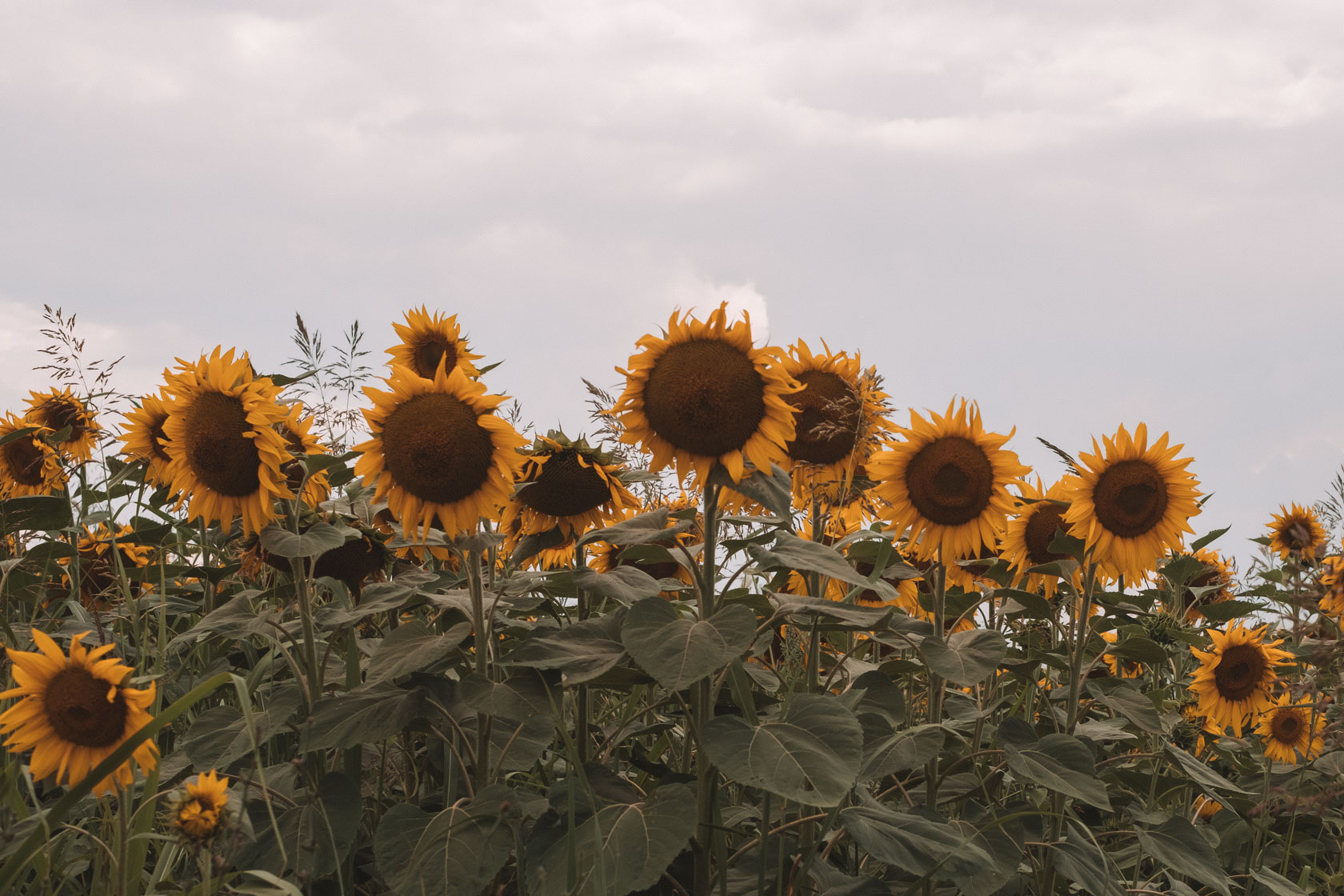 Some links in this post are to affiliate sites. If you purchase something through them, I may earn a small comission — which costs you nothing! I am very grateful when you use my links to make a purchase.
Before you go to Northern Greece
Here are a couple of facts to get you started planning your trip, such as exactly which dates I traveled (so you get an understanding of the weather), how long I was there, which guidebook I used and where exactly I stayed. Later in the guide you'll also see a map of all locations and tips for each spot. Enjoy!
Duration 7 days
Dates visited June 15-22
Weather in Northern Greece We experienced a strong mix of intense sunshine and VERY heavy rain showers. Northern Greece is full of forests, and it's clear how they get their water! Be prepared for warm weather, but do not forget to pack an umbrella and a light-weight rain jacket.
Recommended accommodation I got really lucky with the places we stayed during our trip to Northern Greece. Here are my favorite places that I stayed in Northern Greece, plus an outline of the pros and cons of each location to help you decide if it's a good fit for your trip.
Hotel
Pros / Cons
Check availability
Meteora

Hotel Meteora Kastraki ($$)

Views of Meteora from your balcony
Great air conditioning, swimming pool
Breakfast included, good selection
Located in Kastraki rather than Kalambaka (better for parking but you'll need to drive 5-10 minutes for dinner)
8.5 "Very good" rating

Check availability
Zagori

Hotel Machalas ($)

Spacious room including a jacuzzi
Friendly and helpful staff
Authentic stone-style houses
Great location for exploring Zagori's stone bridges
9.5 "Exceptional" rating

Check availability
Vourvourou (Sithonia, Halkidiki)

Akti House Apartments and Studios ($$)

Apartments outfitted with kitchens and couches
Located in a cute, small resort town on the sea
Private beach, restaurant, and beach bar
Beds located in a loft, so do not book if you have mobility issues
9.0 "Superb" rating

Check availability
Recommended guidebook This Greece travel guidebook (published in 2020!) was super helpful planning our entire trip through Northern Greece. Plus since it covers the whole country, I'm looking forward to using it again for my next trip to Greece!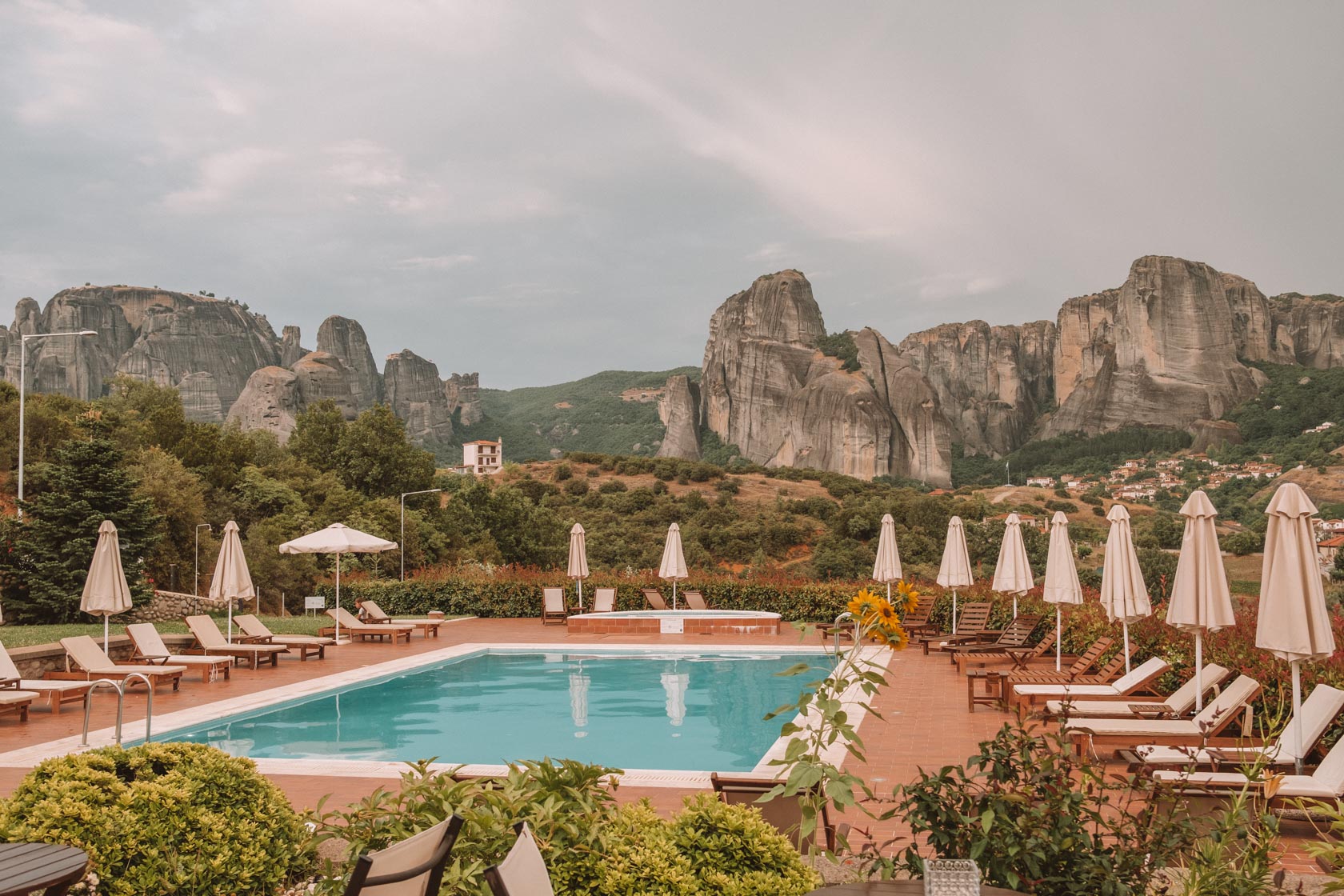 View from our hotel at Hotel Meteora Kastraki in Meteora, Greece
Quick tips for road tripping in Northern Greece
Before you embark on a road trip around Northern Greece, here are a couple of trips to help ensure that everything goes smoothly.
Get a shuttle from the airport to your rental car. At the Thessaloniki airport, you can get a shuttle to the location where you can pick up your rental car. Check with your rental car company if they offer this. Just beyond the drop off/pickup area in front of the airport there is an area where all the shuttles will be waiting. Click here to check availability of rental cars in Thessaloniki on DiscoverCars, which is where we always book our rental cars for road trips.
Don't pack your schedule too tightly. Greece moves at its own pace, so you shouldn't plan that everything is going to be as punctual or efficient as you might be used to. Leave some slack in your schedule to account for this.
Check your rental car's gas tank. Thessaloniki was the first place I've ever received a rental car with an empty tank. I have no idea if this is common practice or not, but something to check on so you don't start driving and then realize you're out of gas!
Beware of sea urchins. As when swimming in other Mediterranean waters, if you go swimming in Greece, be mindful of sea urchins. I know people who have stepped on them in this region and it is super painful. You can buy water shoes with a hard sole that will protect against their spikes. If you buy in advance it's much cheaper than buying on-site in Greece.
Keep an eye out for animals in the roads. There are loads of stray dogs in Greece, keep your eyes peeled so you don't actually hit any as they cross the road. It's sad but something that happens. Otherwise, be prepared to encounter real-life shepherds herding their sheep across the road, or cows going for a walk. Drive diligently and you should have no issue.
Don't assume every town will have an ATM. Though we found many places accepted cards, many towns didn't have an ATM. For example, in Zagori there's a grand total of one ATM among all the villages. Be prepared with extra cash just in case.
Without further ado, let's get on to the good stuff!
Northern Greece itinerary and map
Even though this itinerary was designed for 7 days, you can easily stretch it out for 1-2 weeks. If I were to extend the trip, I would spend more time in Halkidiki (many people spend 3-5 days on this peninsula), perhaps visit Corfu (an island on the west coast of Northern Greece), or even venture up into North Macedonia ( formerly known as Macedonia ).
Here's what you can do in Northern Greece in 7 days. If you're looking for information on a specific area, feel free to jump down and check it out. Otherwise, scroll on for details about all these locations.
Halkidiki Peninsula
Once you've picked up your rental car, it's time to drive! Most locations on Halkidiki Peninsula can be reached within 1-2 hours of driving from Thessaloniki. Known as the place where locals in Greece actually go to have a vacation, Halkidiki has the same blindingly-blue waters as the Greek islands but with a fraction of the tourists. It's here that we start our foray into Northern Greece!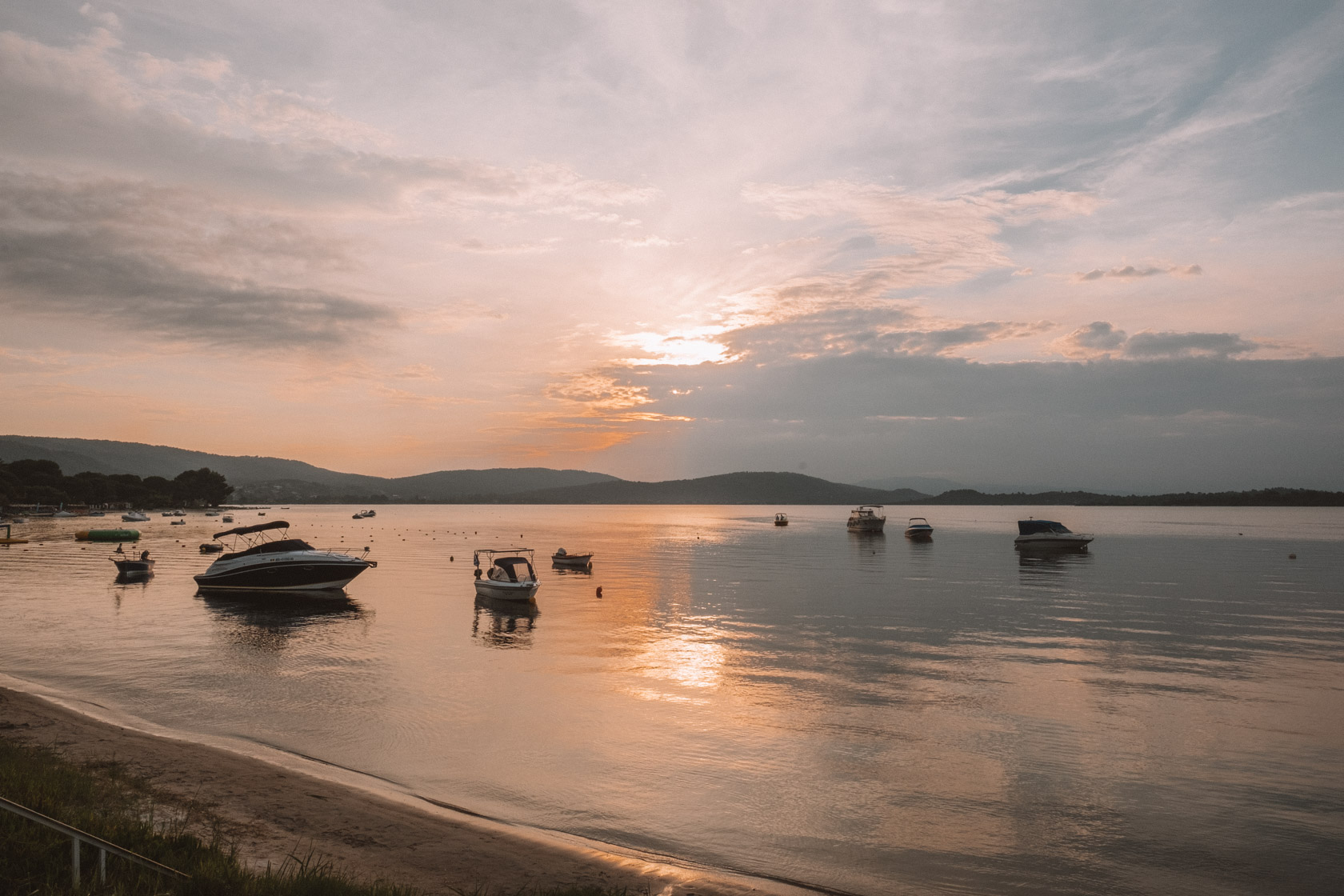 The three fingers of the Halkidiki Peninsula: Kassandra, Sithonia, Athos
Halkidiki is composed of three so-called "fingers": Kassandra, Sithonia, and Athos. The first two fingers are open to tourists and locals alike, whereas the last finger, Athos, is the location of males-only monasteries (yes, you read me right – not only are women not allowed in, they don't even keep female animals at the monasteries). If you want to visit Athos as a man, you need to apply at least six months in advance. With that in mind, let's focus on the other two then: Kassandra and Sithonia.
The big question when deciding here is more like: do you want to party or do you want to chill?
Sithonia is a great option for families and people looking for a calmer holiday: meaning beaches, hiking, camping, pine forests You can do some really gorgeous drives around the coast. We stayed in Sithonia in Vourvourou , and found it to be really chill and having some nice places to eat nearby. On a previous trip, I stayed in Neos Marmaras which has a really cute village with some really nice seafood restaurants. It's hard to go too wrong here.
Kassandra is known for being more focused on nightlife (though you can still find nightlife on Sithonia as well). The most popular place to stay on this finger of the peninsula is Afytos , but beware it can be extremely busy in the Summer months. As for beaches, we only had time to visit Kalithea Beach , which was nice but rather busy. Thankfully, June is just before the ultra-high season of July and August so if you book early you may luck out.
Best Halkidiki Beaches
Here are a couple of beaches worth checking out in Halkidiki. Note, there are dozens of beaches! But here are a couple of particularly nice ones 😄
Kallithea Beach
Possidi Beach
Sarti Beach
Ouranoupolis Beach
There are also a few official lists of top-rated beaches, such as this one about best beaches in Sithonia .
Things to do in Halkidiki
I could write an entire blog post dedicated to Halkidiki, but here are a few of the most popular things you can do on Halkidiki. Activities and options range from lounging on one of the peninsula's famous beaches to more active things like hiking and swimming.
Go for a cruise around the peninsula. Going for a cruise is a gorgeous way to see more of the area, and especially in July and August the water is a comfortable temperature for swimming. When you're out in the boat, you can really appreciate how clear and turquoise the waters are. As for cruises, you have two main options: join a small group cruise (max 12 participants) or if you're traveling with friends or family, go on a private cruise (max 8 participants). The small group costs about 70€ per person, whereas the private tour is about 400€.
See Athos monasteries by boat. If you want to see Athos, the men-only prong of the peninsula, those of us cursed with lady bits can still see it from a boat 😉 Don't forget we're going to see more monasteries later, but the fact remains that Athos comprises 12 distinct monasteries and is still impressive to see. No matter your gender, you can book a boat tour of Athos peninsula for just 17€.
Visit Polygyros, the capital city of Halkidiki. Already itching for archaeology? You can visit Polygyros for its well-known archaelogical museum. Besides that, its known for having a number of great restrauants and tavernas.
Relax on one of the Blue Flag-rated beaches. A Blue Flag beach is one that meets strict requirements for safety, quality, environmentalism, and services provided. Halkidiki has a number of beaches that meet this standard, such as Kallithea Beach or Sarti Beach.
More resources on Halkidiki
Even though I've been to Halkidiki twice now, it's a large area and I surely haven't been to every beach or restaurant Here are a few resources that are helpful when figuring out the logistics of your time in the area:
Sithonia Greece – A personal website dedicated to information about the Sithonia prong of the Halkidiki peninsula. Lots of useful info on what to eat, see, and do.
After you've soaked up enough sun, let's move on to the next leg of our itinerary: Vergina, the home of the tomb of the father of Alexander the Great.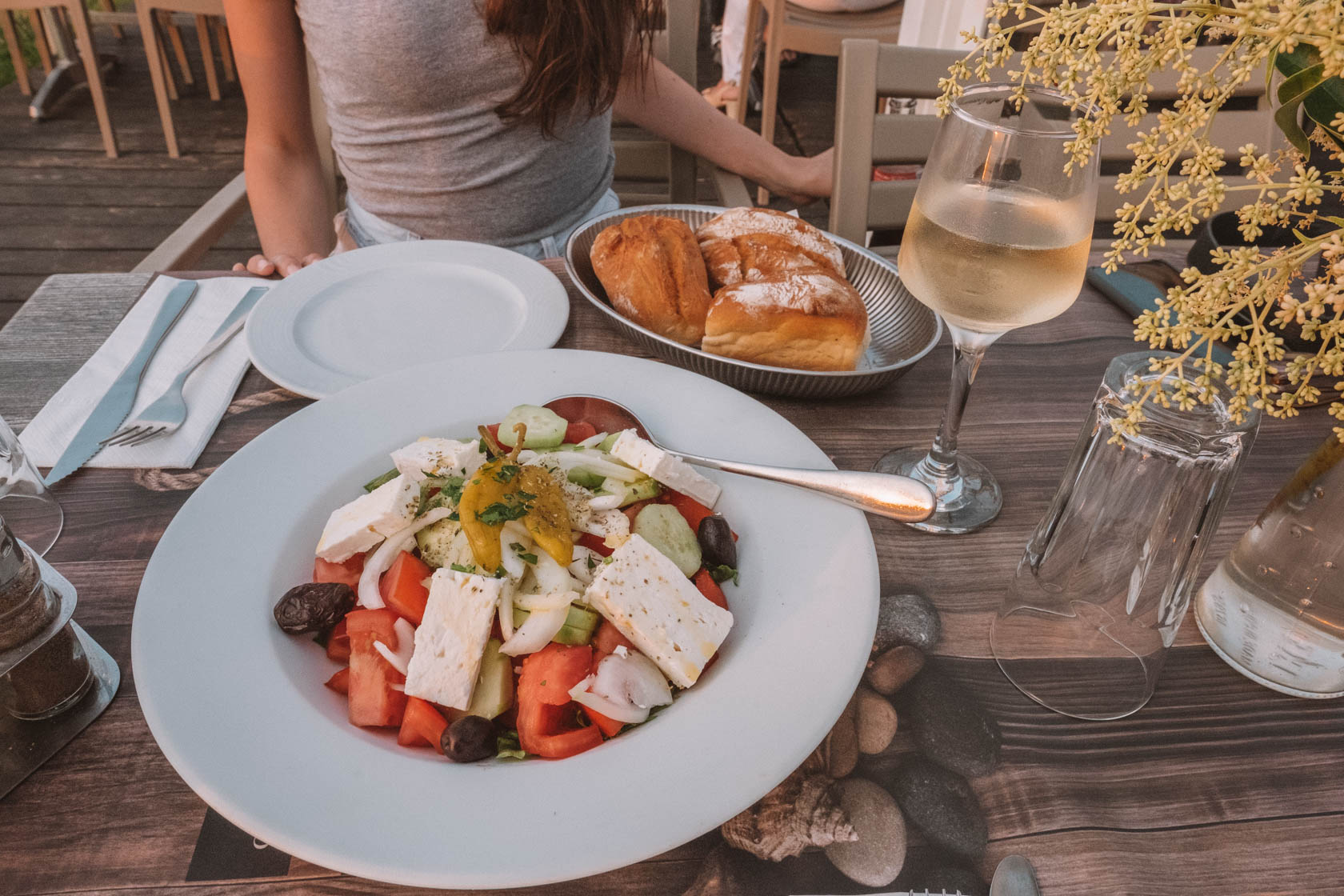 Vergina
Believe it or not, the tomb of King Philip II, the father of Alexander the Great, was discovered as recently as the late 1970s 😱 Who knew they were still discovering such significant archaelogical sites? Known famously (and formerly) as Aigai, this location used to be the capital of the Macedonian Empire. What makes this tomb so special is that it has been discovered so recently, that it hasn't been looted or disturbed in so long.
Today, the archaelogical museum at Vergina is considered one of the most important museums in all of Greece.
TIP – If you're going to be based in Thessaloniki, but want to experience Vergina, you can take a day trip to Pella and Vergina as well. Though for this itinerary I would of course encourage you to rent a car so you can explore more, sometimes that's not an option!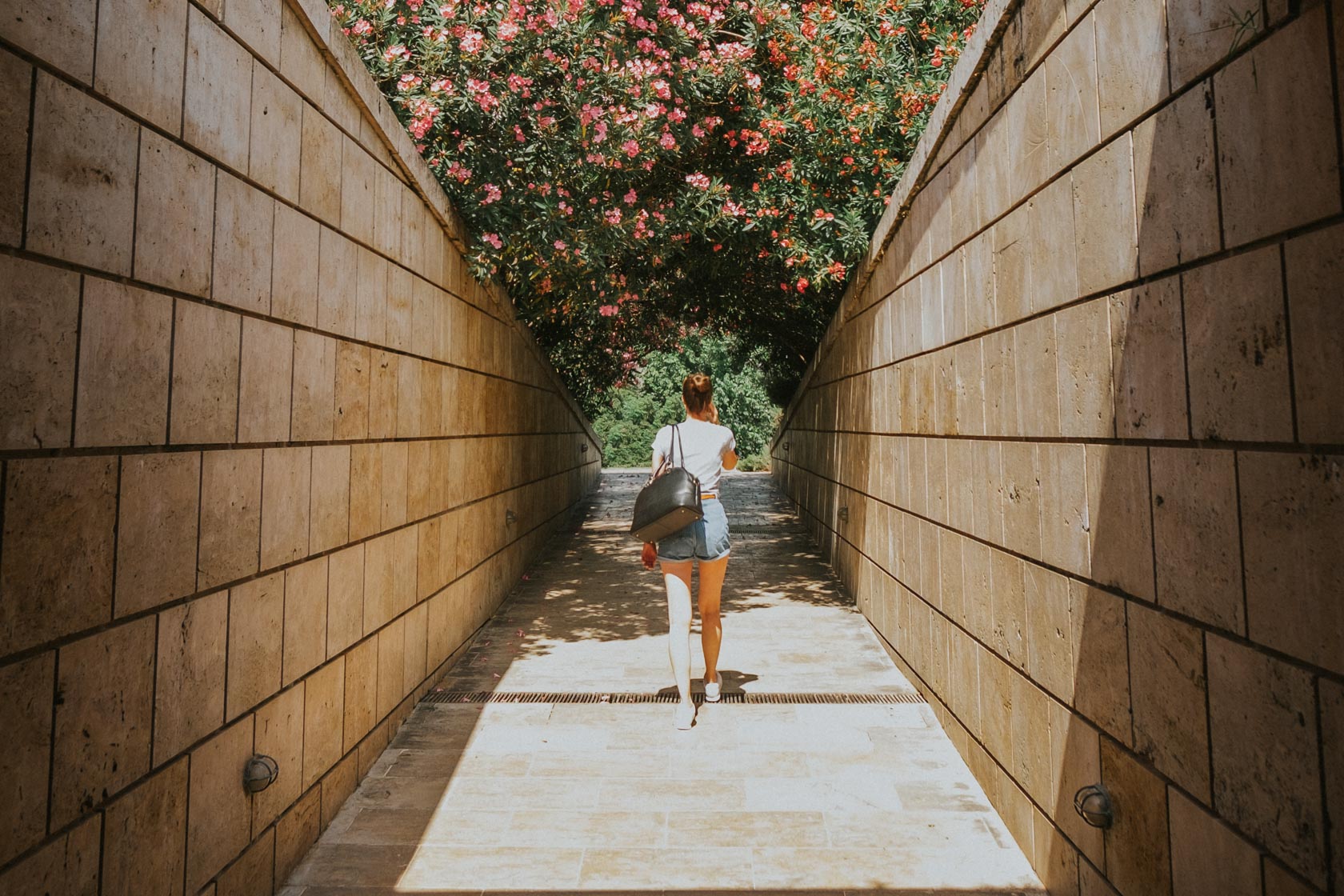 Archaeological Site of Aigai
When you arrive at this site, the main thing you'll notice is a large mound. From the outside, this site mostly looks like some flowers and a big hill of grass. What's more important is what's underneath. Entry to the site costs 12€, but if you've got kids under 18 they can enter for free.
Check the official Aigai website for up-to-date information on opening hours, holidays, and days where anyone can get free admission!
Royal Tomb of Philip II
You enter the burial site by going underground. Here you'll find tons of artifacts from the surrounding area and from the tomb, such as a famous golden wreath. The most important thing you'll see (though not pictured) is called "Tomb II", which is where Philip II is believed to be buried. This place is a so-called "burial cluster", which today is known to consist of four tombs. It is not known for sure who is buried in the other tombs, at least one of them is thought to contain the son of Alexander the Great.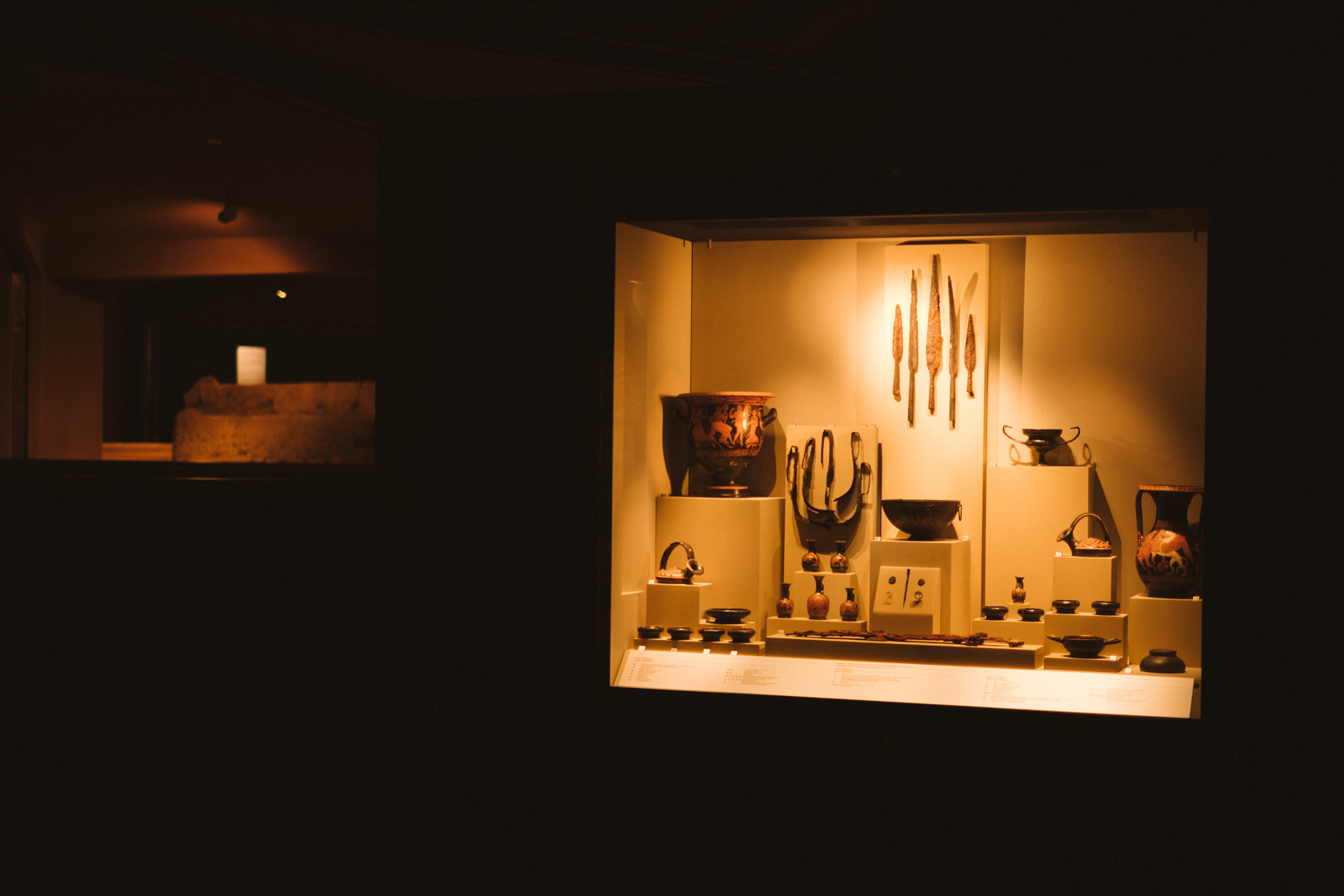 You don't need to spend a ton of time here, it's a pit stop on our way to the next place where we'll spend a little over two days: the Zagori municipality, located in the Pindos mountain region of Greece.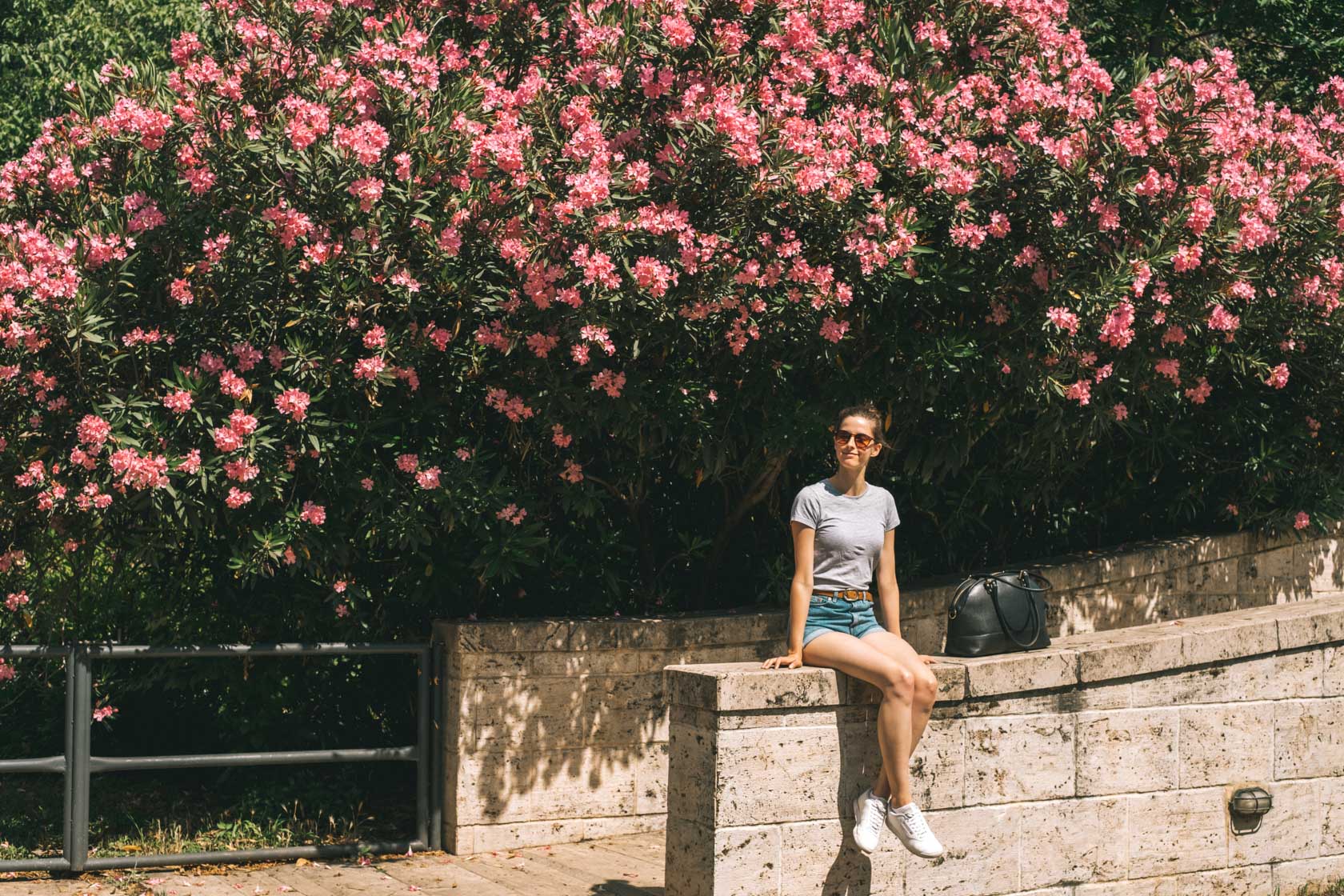 Zagori
Zagori is like one of those hidden treasures you hope stays exactly as it is for as long as possible. Zagori is the name of a municipality in Northern Greece, part of the larger Pindos mountain region. A large part of the area is covered by the Vikos–Aoös National Park . Besides the natural beauty, the area is known for its stone bridges, which people have used for centuries to hike by foot from village to village. Many of the stone bridges are still in use today.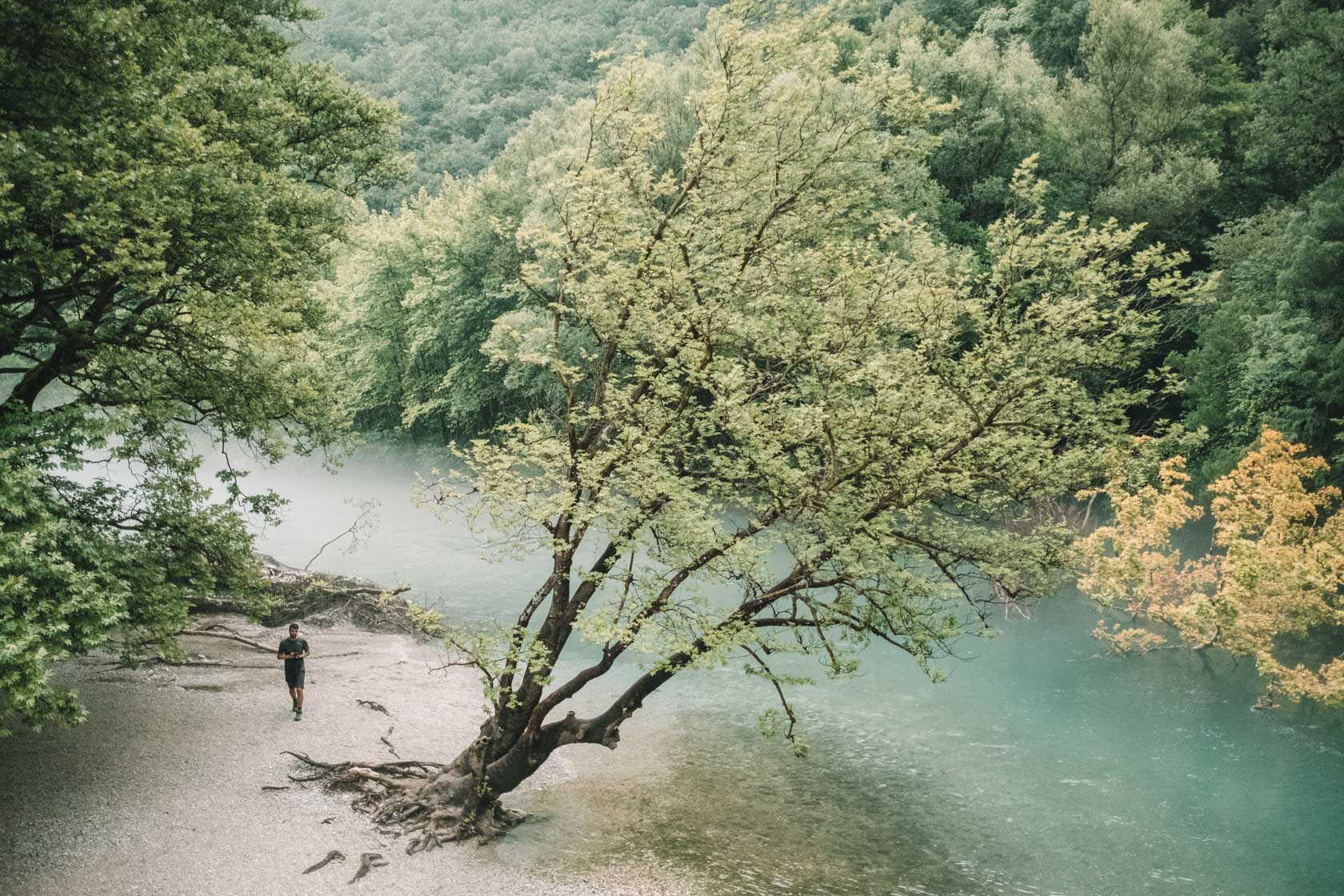 Voidomatis River, considered one of the cleanest and purest rivers in Europe, located at the heart of the Vikos–Aoös National Park
Zagori bridges
The Epirus region in Greece is home to more than 200 stone bridges. I know because the hotel I stayed in actually had a book documenting them! A woman and her partner traveled through Greece and documented hundrends of bridges, their stories, and how to find them. Some of them have been sinking into the mud for centuries, while others are immaculately preserved. If you're enticed by the idea of traversing some ancient stone bridges, I have tons more information on the blog about the Zagori bridges.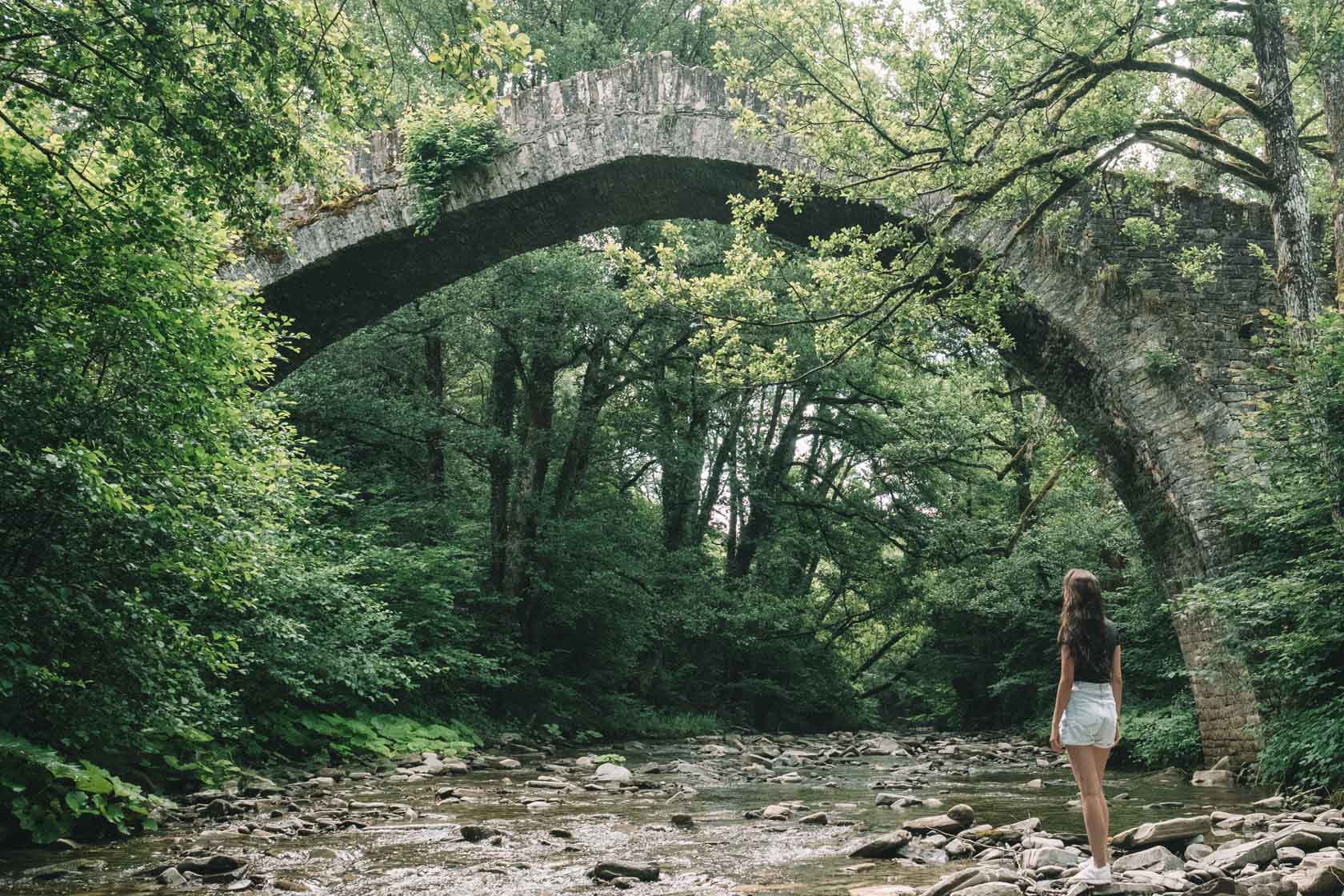 Though not the most famous bridge, the one I loved the most was Petsioni bridge, pictured above.
Vikos Gorge
Apart from the gorgeous man-made structures, you have the home of the deepest canyon in the world. At least, it claims to be in the World Book of Records! But how exactly is it defined? In this case, Vikos Gorge is the deepest canyon in respect the proportion of its width to its depth. You will find a number of signs around the park noting what a feat it has achieved 😉 There are a number of different scenic lookout points you can visit to get a unique view of the canyon. The Beloi Lookout Point is an easy 30 minute hike, whereas the Oxia Lookout Point is easily reachable by car. It's worth spending a day exploring different parts of the canyon and getting photos from different angles.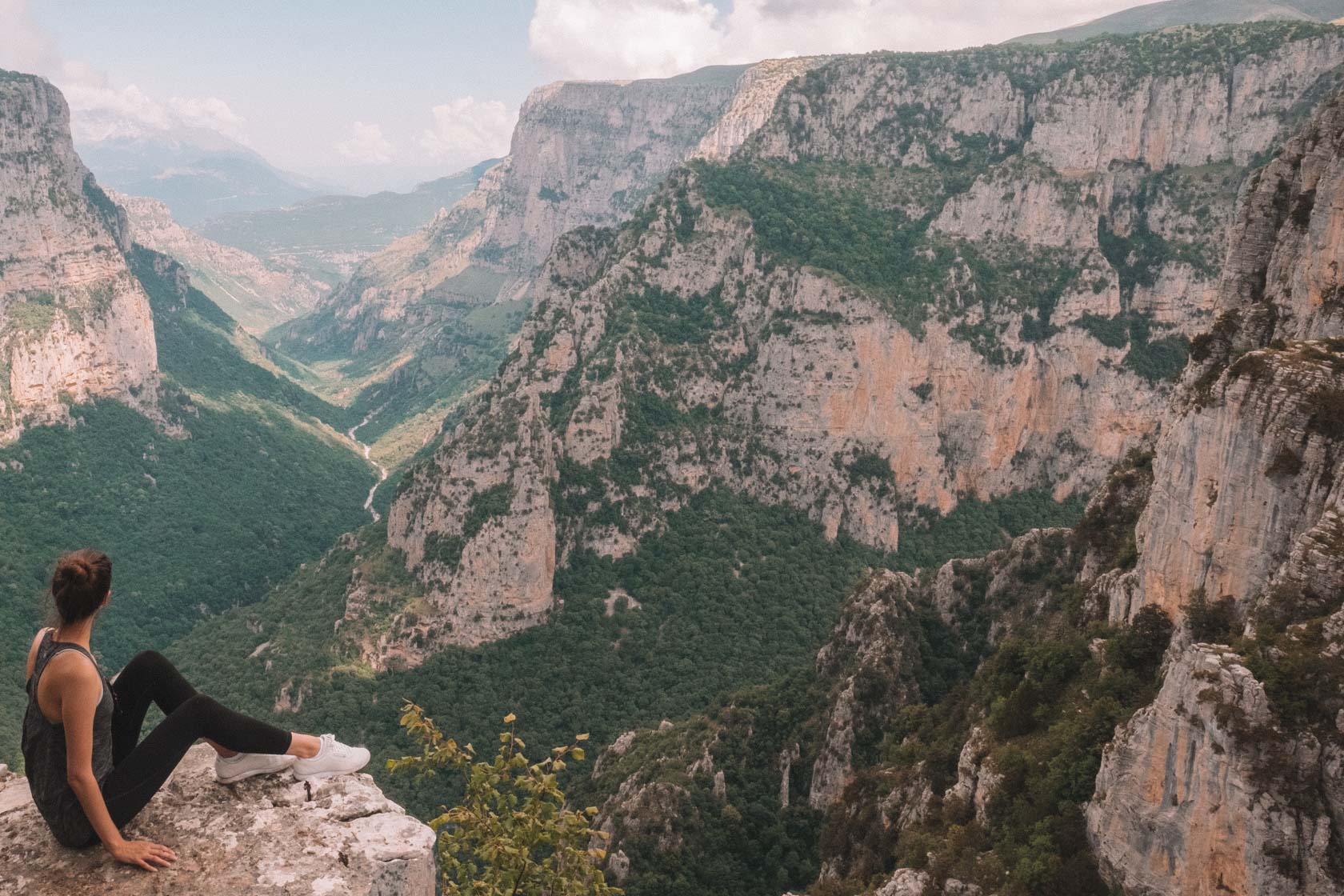 If you're looking for deeper information, check out my in-depth Zagori Greece travel guide for a ton of details on accessing all these places.
Ioannina
Some guides advise you to base yourself in Ioannina for exploring Zagori, though I would definitely encourage you to stay inside one of the villages for a more authentic experience. That said, Ioannina is interesting to visit in its own right: situated on a lake and a hub of college student activity, it can be nice to reconnect with civilization after a few days off the grid in Zagori.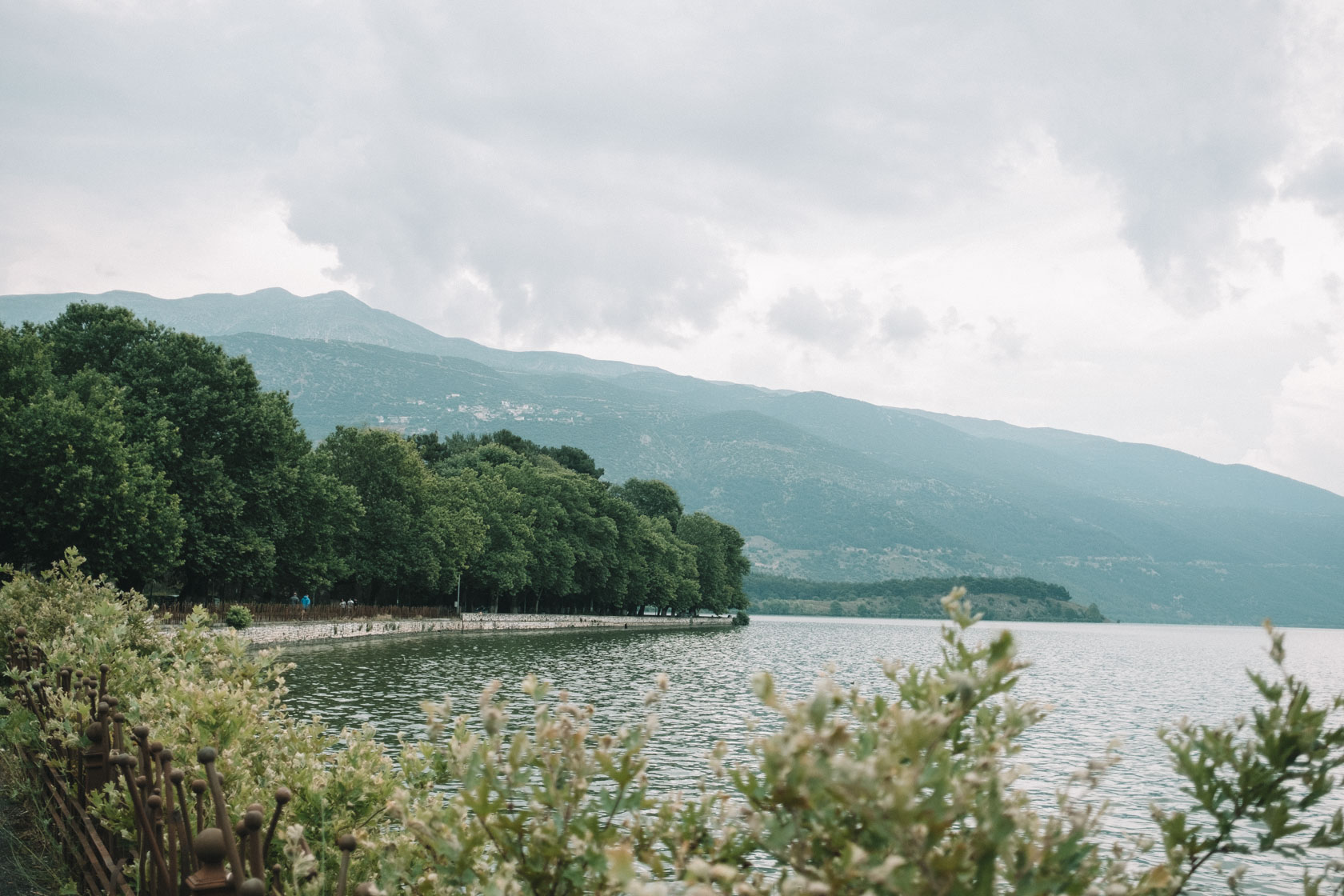 Things to do in Ioannina
See the Fethiye Mosque. The city of Ioannina was fought over for years by the Greeks and the Ottomans. Its name means "The Mosque of Conquest". From the elevated location you can get a great view over the town.
Visit the silversmithing museum. On the same elevated area inside the inner part of the city, you can visit what many consider to be the highlight of the city.
Take a boat ride on Lake Pamvotis to an island that has no name. You can take a ferry to this island for just a few euros, and it runs every 30 minutes.
See the central clock tower. A bit underwhelming, but considered the central meeting point of Ioannina. I wouldn't go out of your way to see it, but it's a nice structure to pass by.
Eat local fish caught in the lake. A number of different restaurants on the waterfront will offer you fresh fish caught in the lake. A small break from all the Greek salads you might be eating on the trip 😉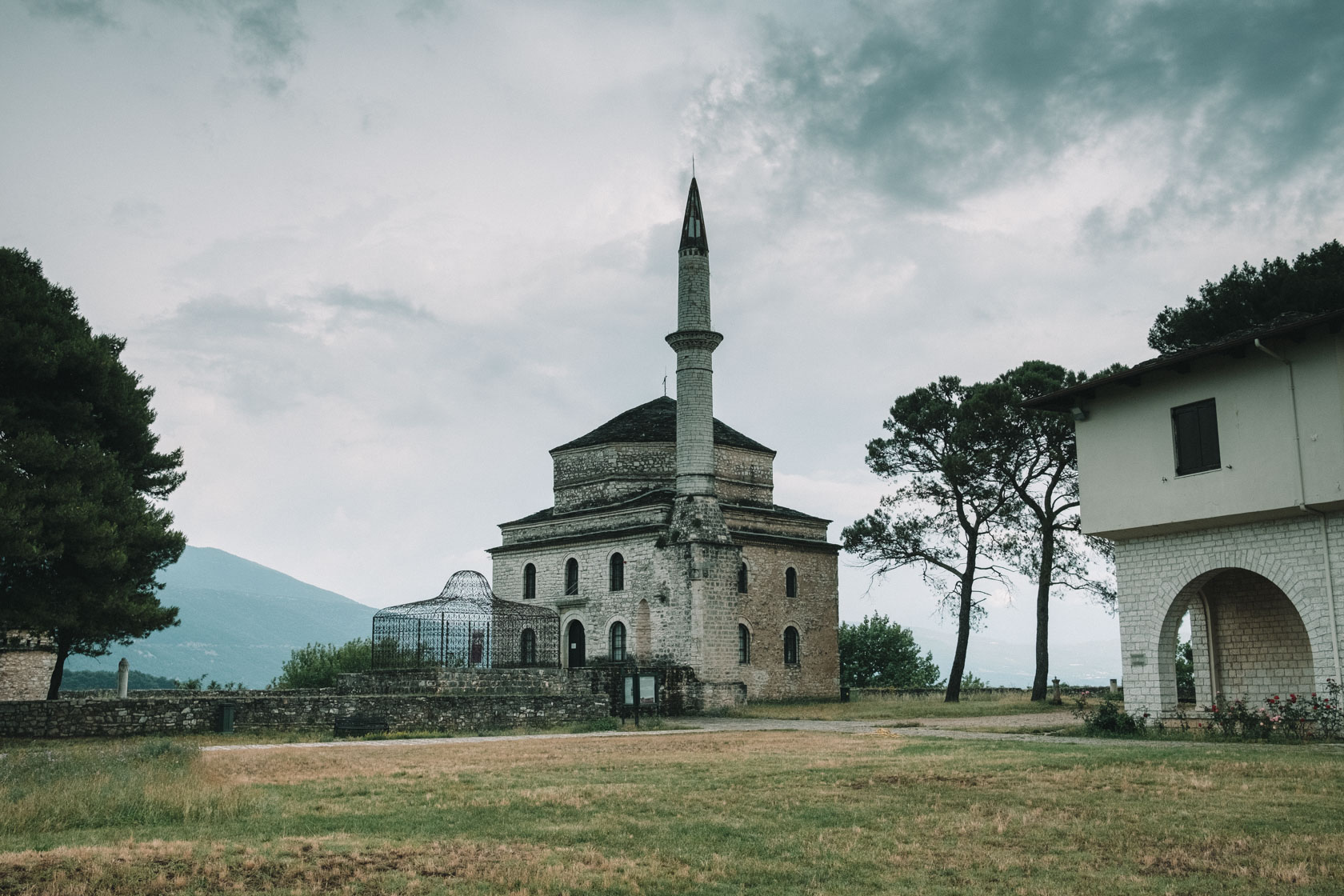 Dodoni
Dodoni is an archaeological site just a 30 minute drive away from Ioannina. It's an easy pit stop on your way out of the area. For just 4 € you can see one of the best-preserved ancient theatres in Greece. If you also want to visit the Archaeological Museum of Ioannina or the Byzantine Museum of Ioannina, you can group that together with Dodoni for an 8 € ticket.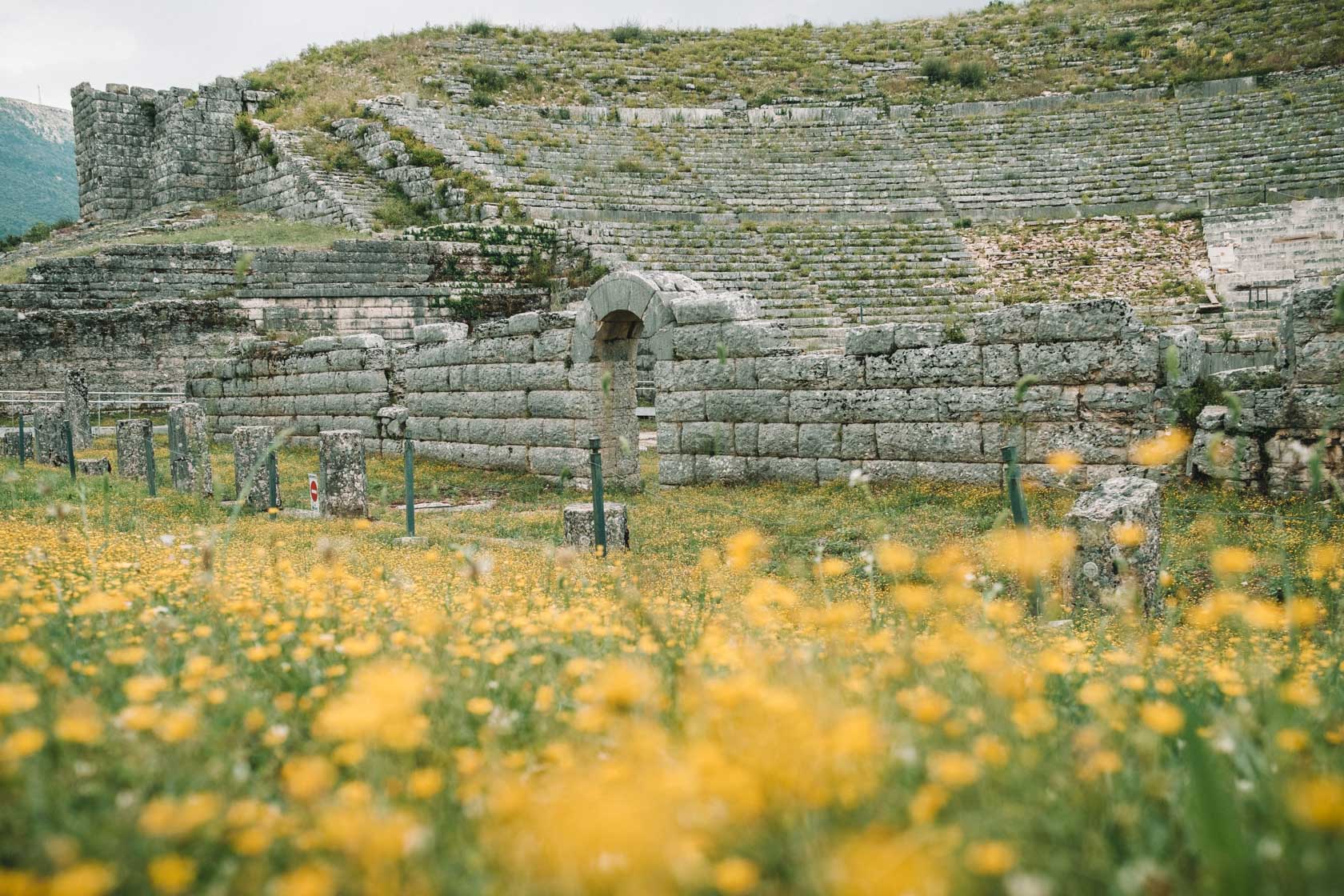 As I already said, the most significant thing about Dodoni is the well-preserved ancient Greek theater, plus the fact that it's a bit off the beaten path in terms of tourist sights. In Ancient times, Dodoni was second only to Delphi as far as revered and respected oracles go. At Dodoni, you can find the sanctuary to Zeus, which was marked by an ancient Oak tree. Today you can sit under an Oak tree that still exists in a very similar location.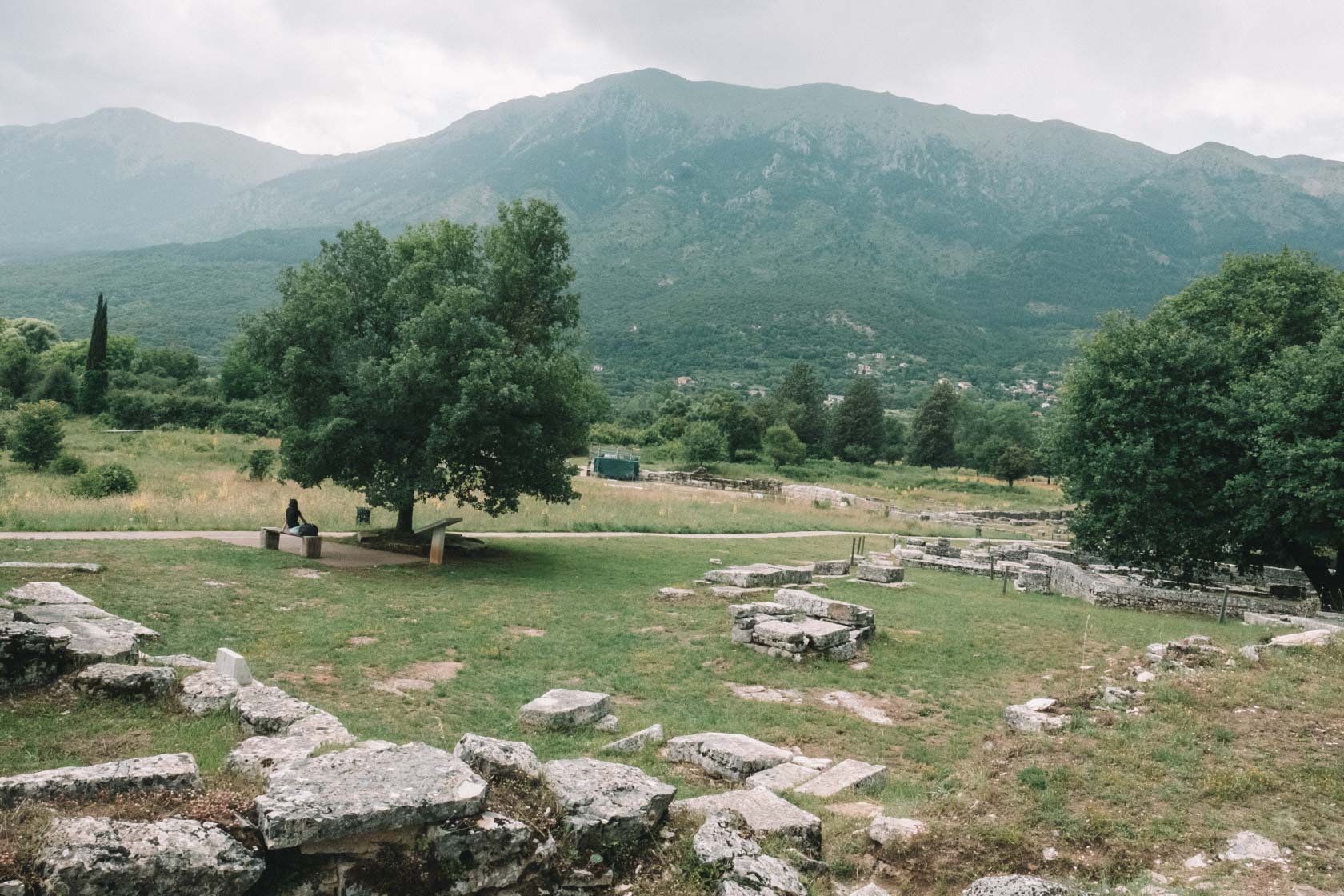 Apart from the theatre and the famous oak tree, a number of artifacts have been found at Dodoni. However the vast majority were brought to Athens, so what you'll find here are mostly remains of buildings. Interestingly, Dodoni lasted as a site of importance into the Roman times and was even repurposed by the Romans for gladiatorial fights.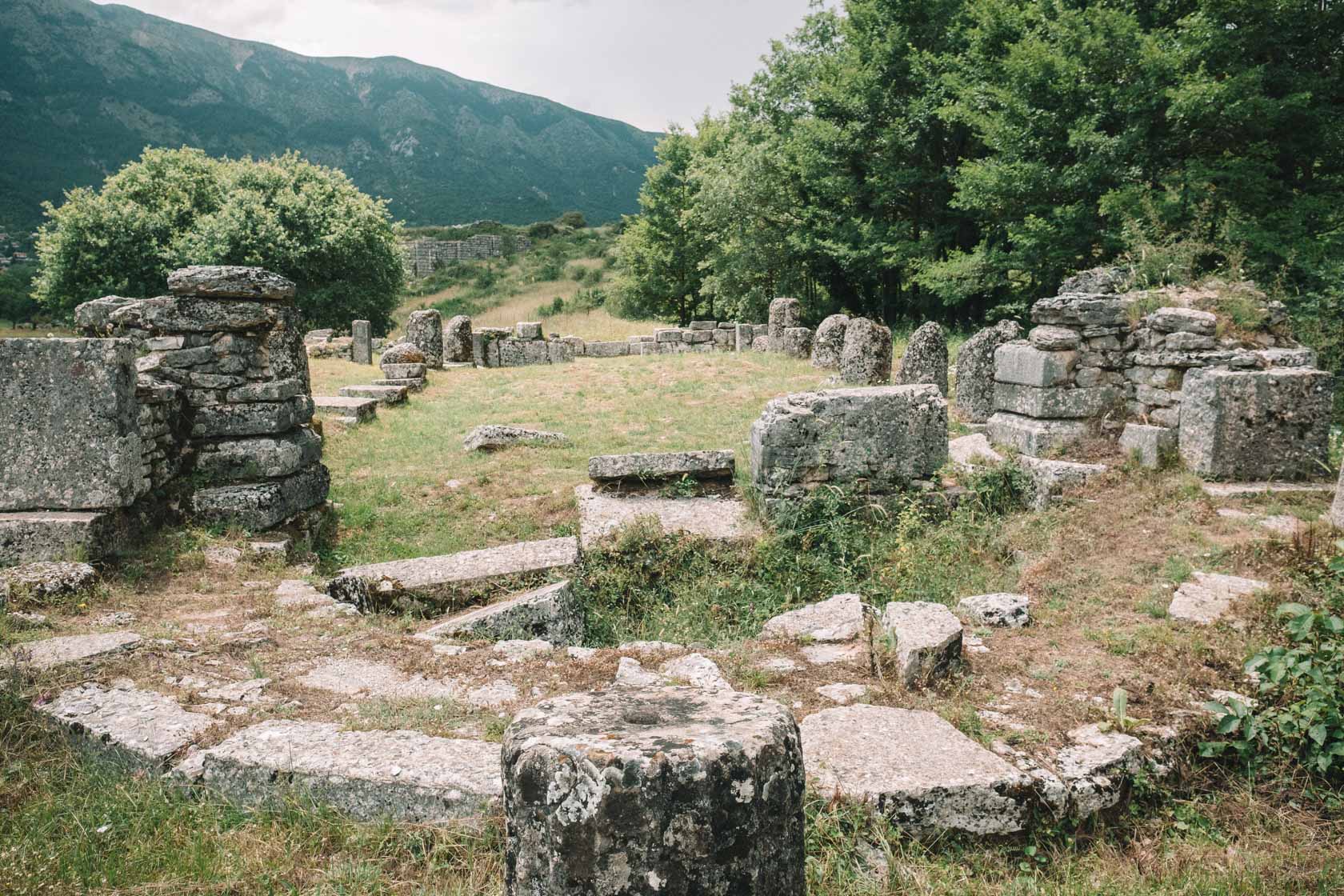 You only need about an hour or so in Dodoni before it's time to drive to Meteora. You'll arrive in the evening, have time to check in and freshen up, and then be ready for the morning.
Meteora Greece
Meteora is easily the most famous sight you can find in Northern Greece. Known as the home of the "floating monasteries", you'll find gigantic stone formations with monasteries perched on top. They date back to either the 11th or early 12th century. The main attractions in Meteora are driving around, looking at scenic lookout points, and popping into the various monasteries. If you're into hiking, it's also possible to hike around Meteora and walk between the different monasteries.
I'll do a quick summary of things to do in Meteora below, but for more details, be sure to check out my more complete guide to Meteora Greece.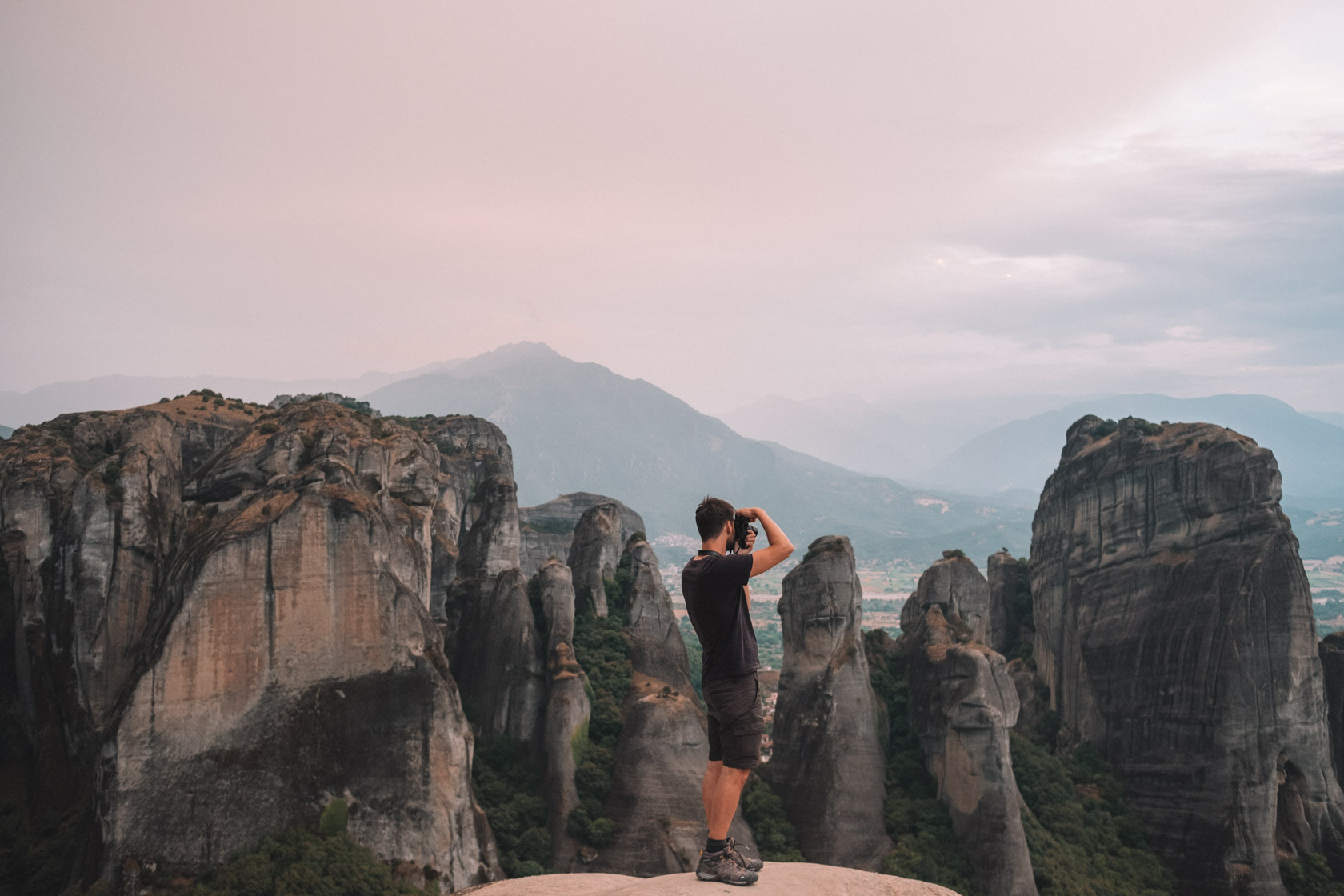 TIP – Each monastery costs 3€ to visit, and women need to wear a skirt when visiting. But you can borrow one at any monastery, so wear what you want in between 😉
Which monasteries to visit in Meteora
If you're limited on time, the first three monasteries listed here are among the most popular and the most impressive: Great Meteoron, Holy Trinity, and Varlaam. That said, it's doable to visit all of them so long as you have at least two days – the reason being that a different monastery is closed each day of the week. Therefore, to see them all, you'll need to visit the area on two separate days.
Great Meteoron (Closed Tuesdays) – Largest monastery. Lots to explore, including three distinct museums, an art gallery, and much more.
Holy Trinity (Closed Thursdays) – Loads of stairs to get to the top, but you'll be rewarded with a great lookout point. You can climb on the rocks for some neat photos.
Varlaam (Closed Fridays) – Second largest monastery, considered one of the nicest. A great place to start your journey, as it has a museum about the history of Meteora. Excellent toilets.
Roussanou (Closed Wednesdays) – Actually a nunnery. Very pretty to visit and has some nice gardens. Less visited than some of the other monasteries.
St. Stephen's (Closed Mondays) – Also a nunnery. Very busy, especially as you don't need to climb any stairs like you to do with the others.
St. Nicholas Anapfsas (Closed Fridays) – The smallest monastery and perhaps the least spectacular, but worth visiting if you're a completionist!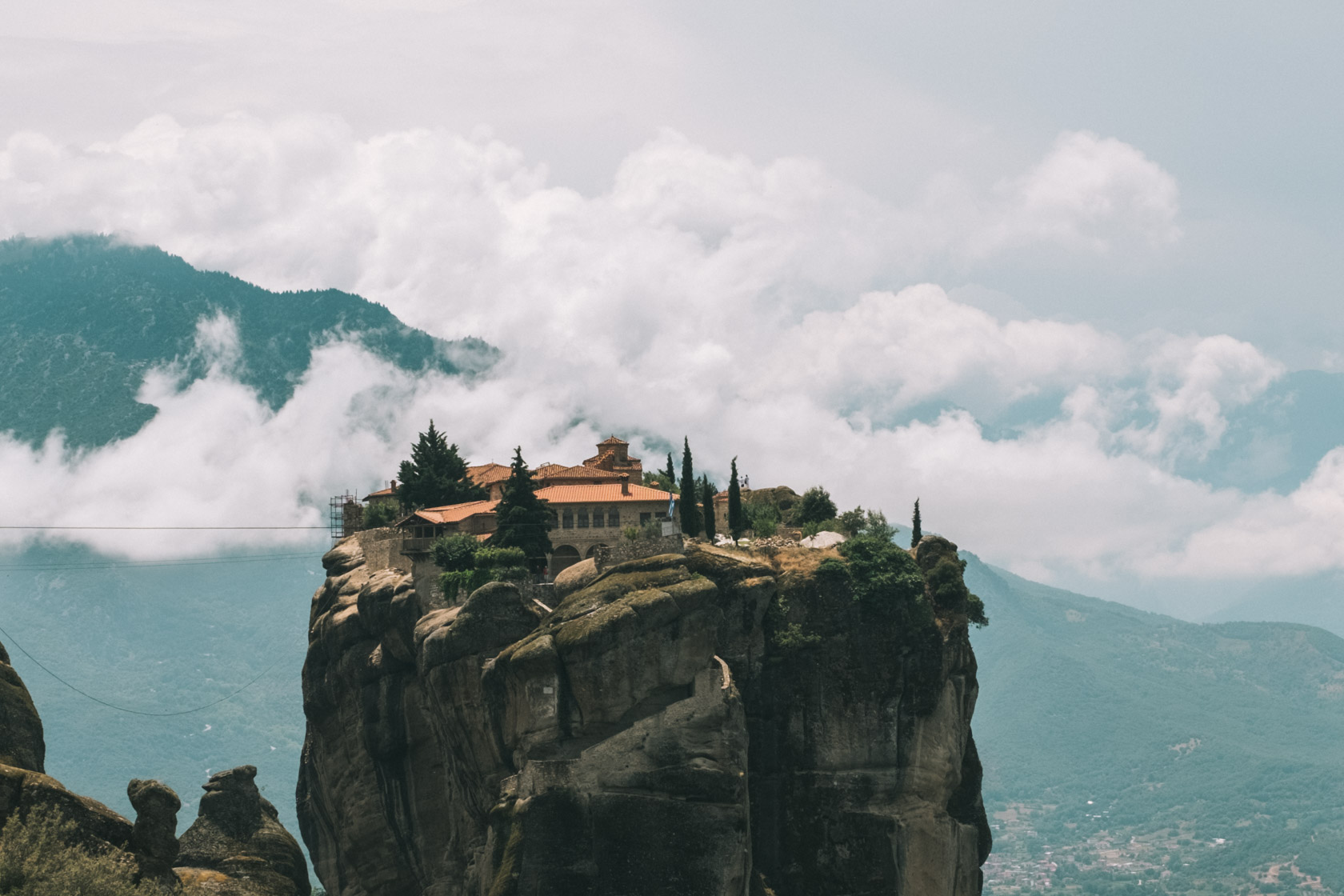 Monastery of the Holy Trinity, over 130 stairs bring you to the top of this stone pillar.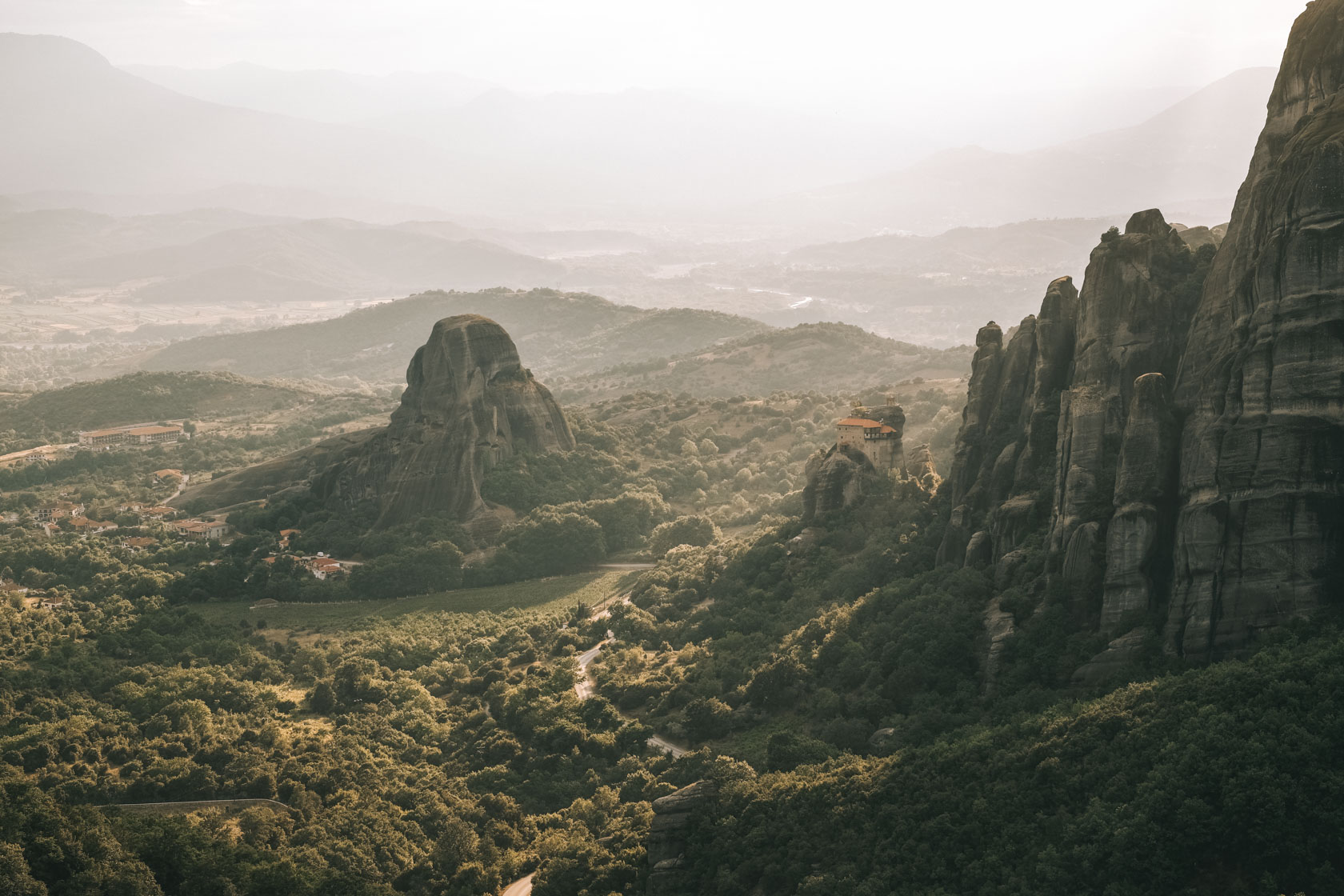 Best lookout points in Meteora
Besides visiting the monasteries, one of the best things to do in Meteora is checking out some of the beautiful lookout points and taking some photos. You can climb on the rocks and get some really epic photos! Two great spots to check out are:
Psaropetra lookout
Lookout near Varlaam
There are also a number of guided tours that will personally show you the best photo locations around Meteora, some of which are not officially marked on any map.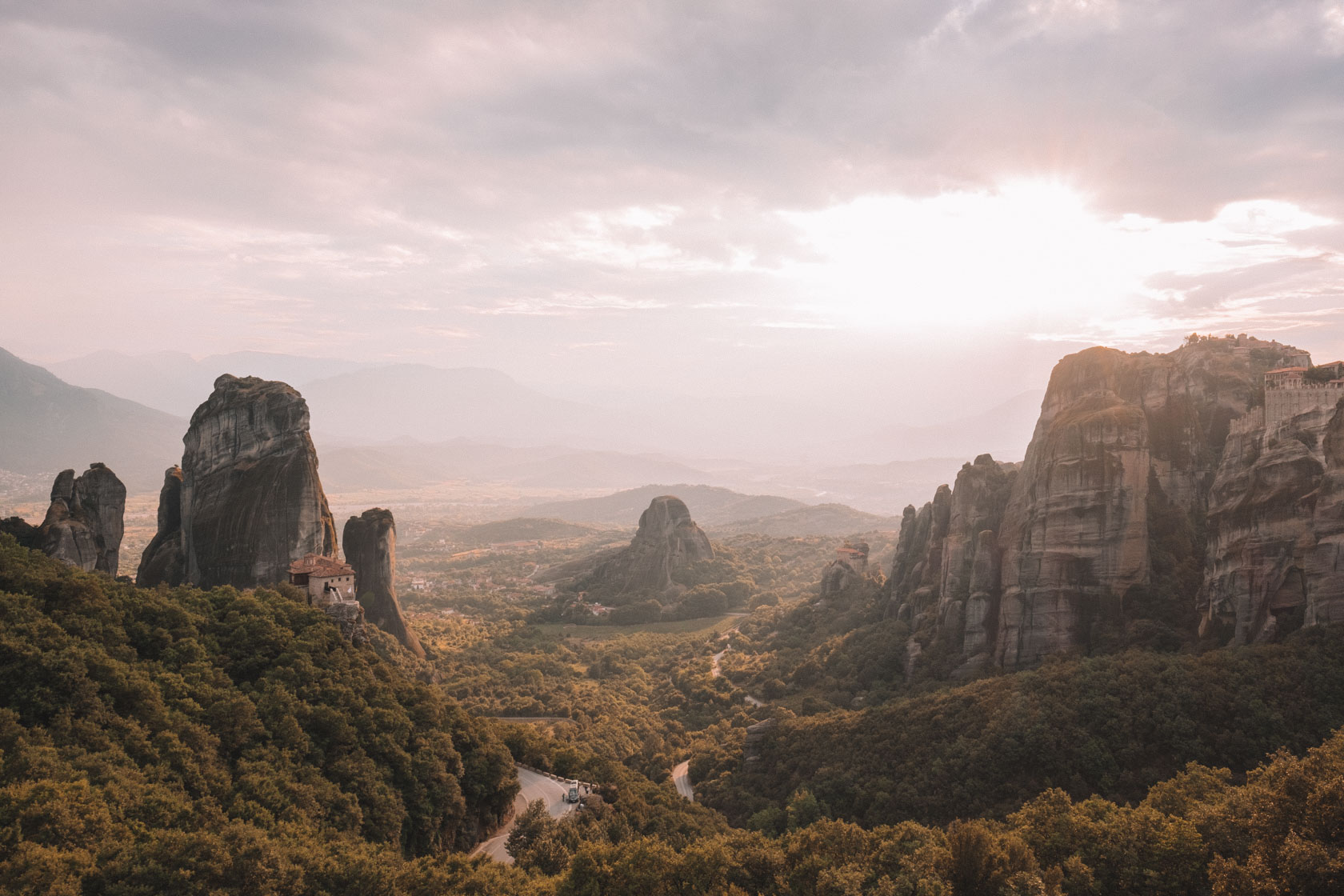 Where to stay: Meteora Greece hotels
One of the main things you want to decide for yourself is whether you want to stay in Kalambaka or Kastraki. Kalambaka is a bigger town, and the official location of Meteora, with more bars and restaurants. Just a five minute drive away, you'll find Kastraki. We decided to stay in Kastraki as we found a place on a hill, AND the parking situation was way better.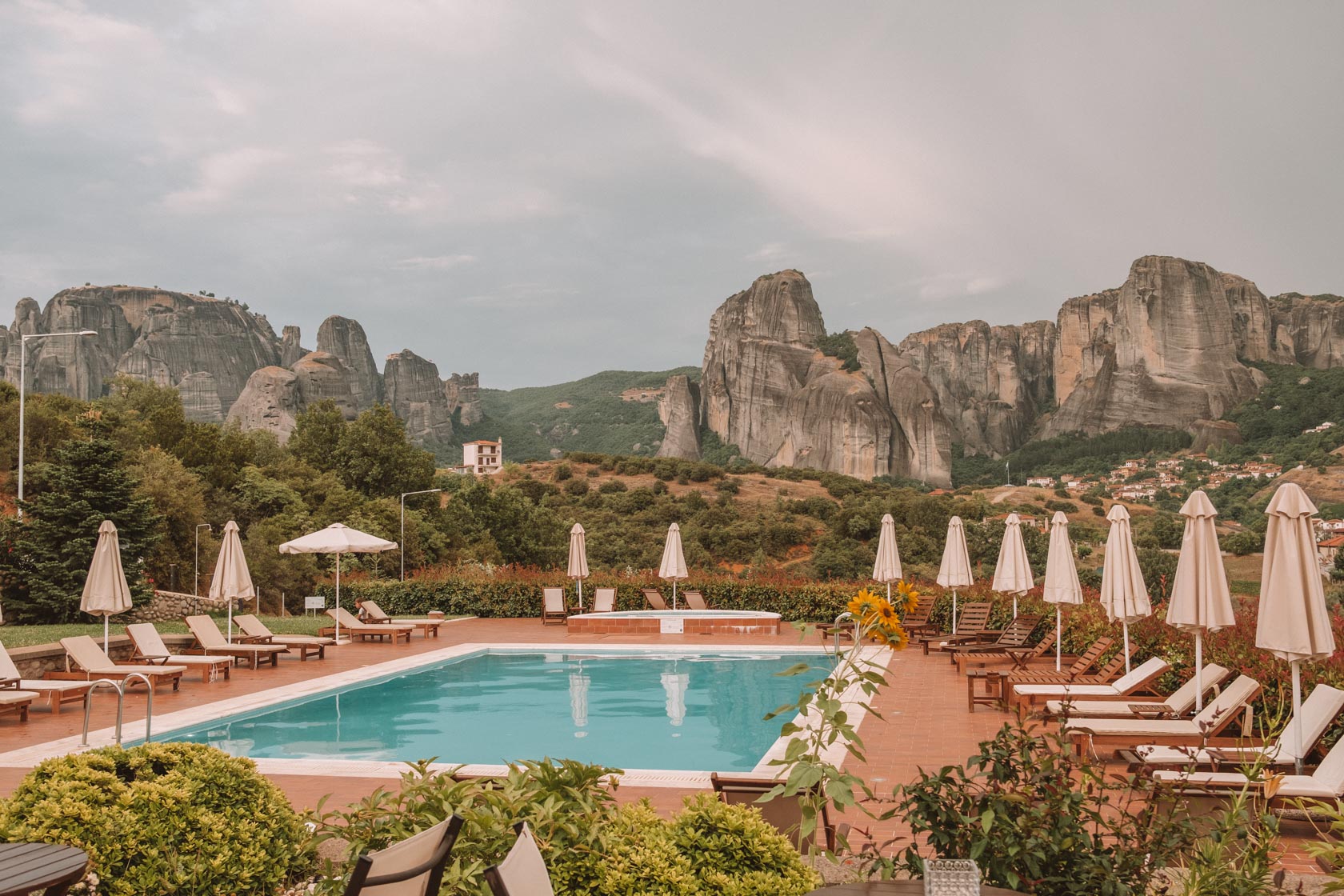 View from our hotel at Hotel Meteora Kastraki .
Mt. Olympus
We didn't have a ton of time on Mt. Olympus, but there is a lot to do on the mountain. The easy first thing to do is to pop in the Visitor's Center of Mt. Olympus, which is free to enter and you'll basically have the place to yourself. They can offer you a ton of advice on things to do depending on how much time you have.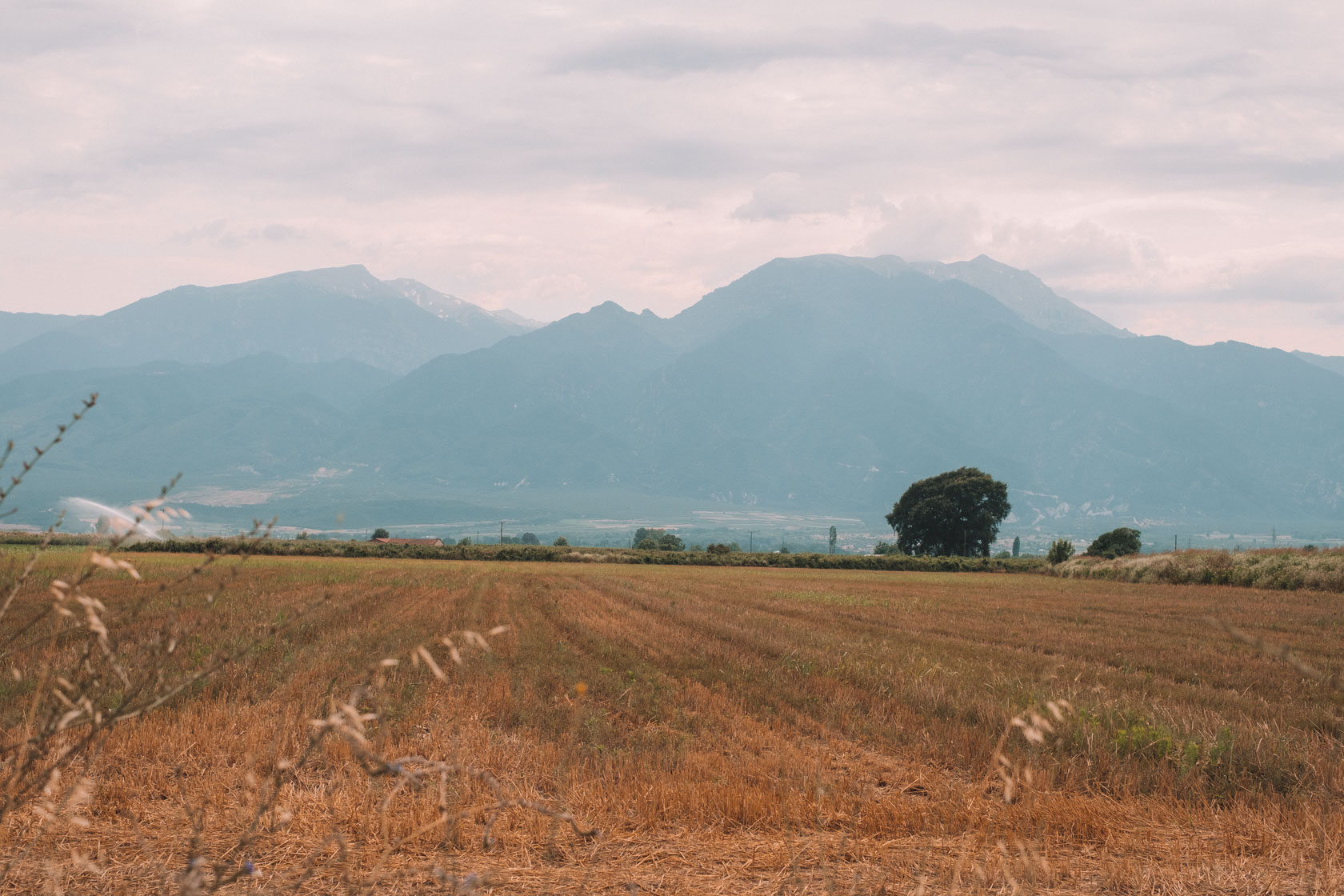 Things to do at Mt. Olympus
Stop at the Mt. Olympus Tourist Center. As I already said, this is a great place to start as there is a ton of information about different hikes and places to visit on Mt. Olympus.
Visit Litohoro. This is the main town that is near the base of Mt. Olympus. You can choose to stay in a hotel in this town or eat lunch here.
Take a dip in the Orlias Waterfalls. Probably one of the most interesting things to do on Mt. Olympus, these waterfalls and pools are a great place to take a dip if you feel like you're melting in the hot Greek sunshine.
Visit the Old Monastery of St. Dionysius. The original monastery dates back to the 1500s and was largely destroyed by the Germans in the early 40's. You can either reach it easily from the road or do it as a hike.
Stop at the Apostolidis Refuge. If you're in need of food or a place to sleep on the mountain, this is your spot. There are only 2 refuges on the mountain.
Besides these basic things to do, you can also reach these places on guided tours from Thessaloniki (our next stop). If you don't have a car, or you just want to have more context on the places you're going.
Thessaloniki
I wasn't expecting to enjoy Thessaloniki as much as I did. What makes the city special is that there is a HUGE streach of promenade, shaped like a C, which you can walk along. It's lined end-to-end with bars and restaurants and you get an awesome sea breeze no matter where you are. On top of that, you'll find killer sunsets.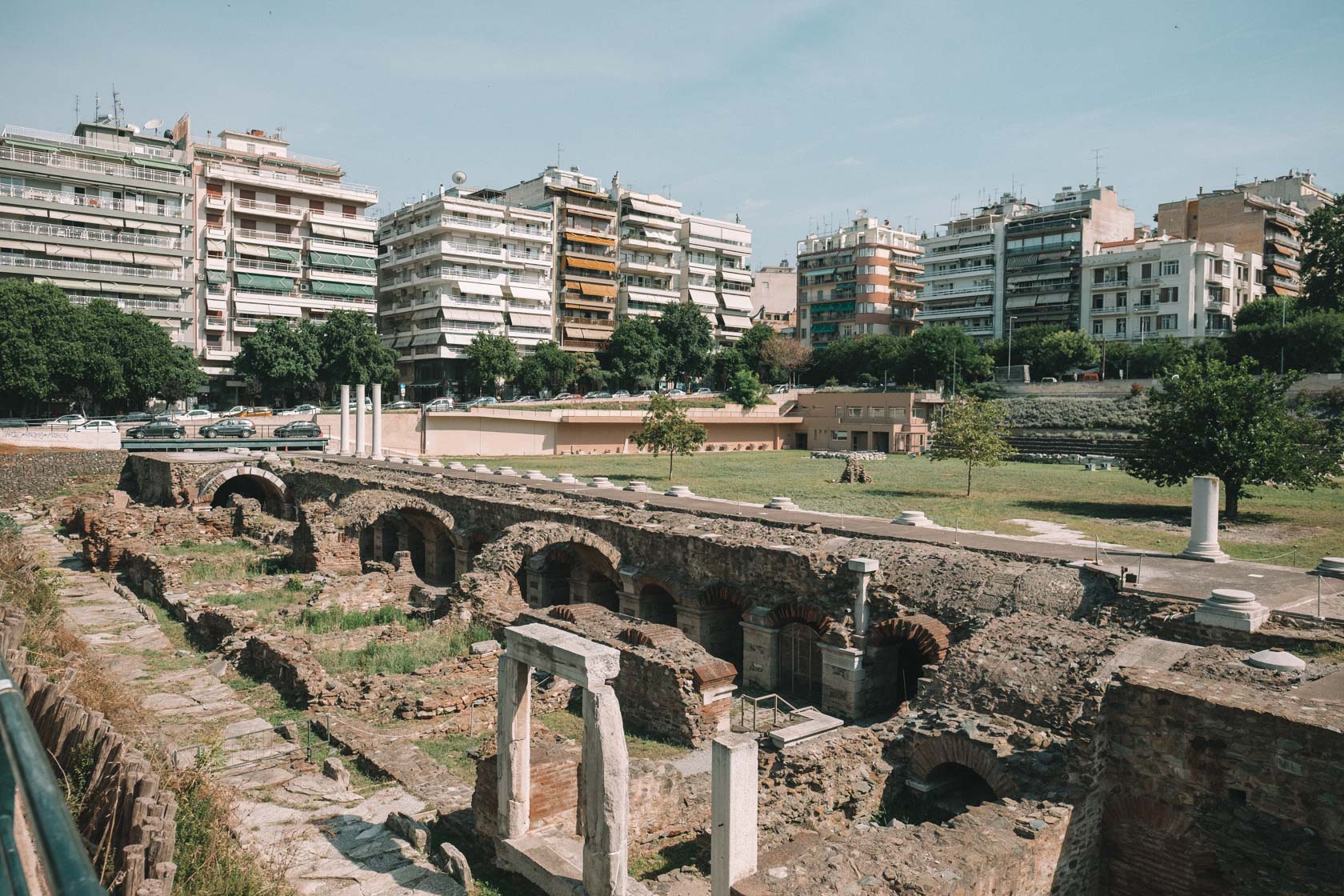 There are tons of ruins right in the middle of the city. You can go for a coffee overlooking this ancient site!
Things to do in Thessaloniki
There are so many things to do in Thessaloniki, but here are a couple of highlights you want to check out if you have some time in the city.
Visit the White Tower of Thessaloniki. Perhaps the most famous landmark in Thessaloniki, you can go inside from 8:30am-3:30pm every day. Once a prison, today it houses a museum.
Hang out at Aristotelous Square. This square is one of the most famous in the entire country, primarily designed in the 50's. Come by to observe the local youth 😉
Check out the Arch of Galerius and the Rotunda. Comissioned waaay back in the 4th century, this ancient monument smack in the middle of the city will remind you how historic Thessaloniki really is.
Visit the Archaeological Museum of Thessaloniki. If you love ancient Greek artifacts, come visit this museum. It has everything from red figure pottery, ancient armor, and original sculptures.
Go inside the Hagia Sophia of Thessaloniki. Modeled after the original in present-day Istanbul, this church was finally restored in the last 1900's after a fire.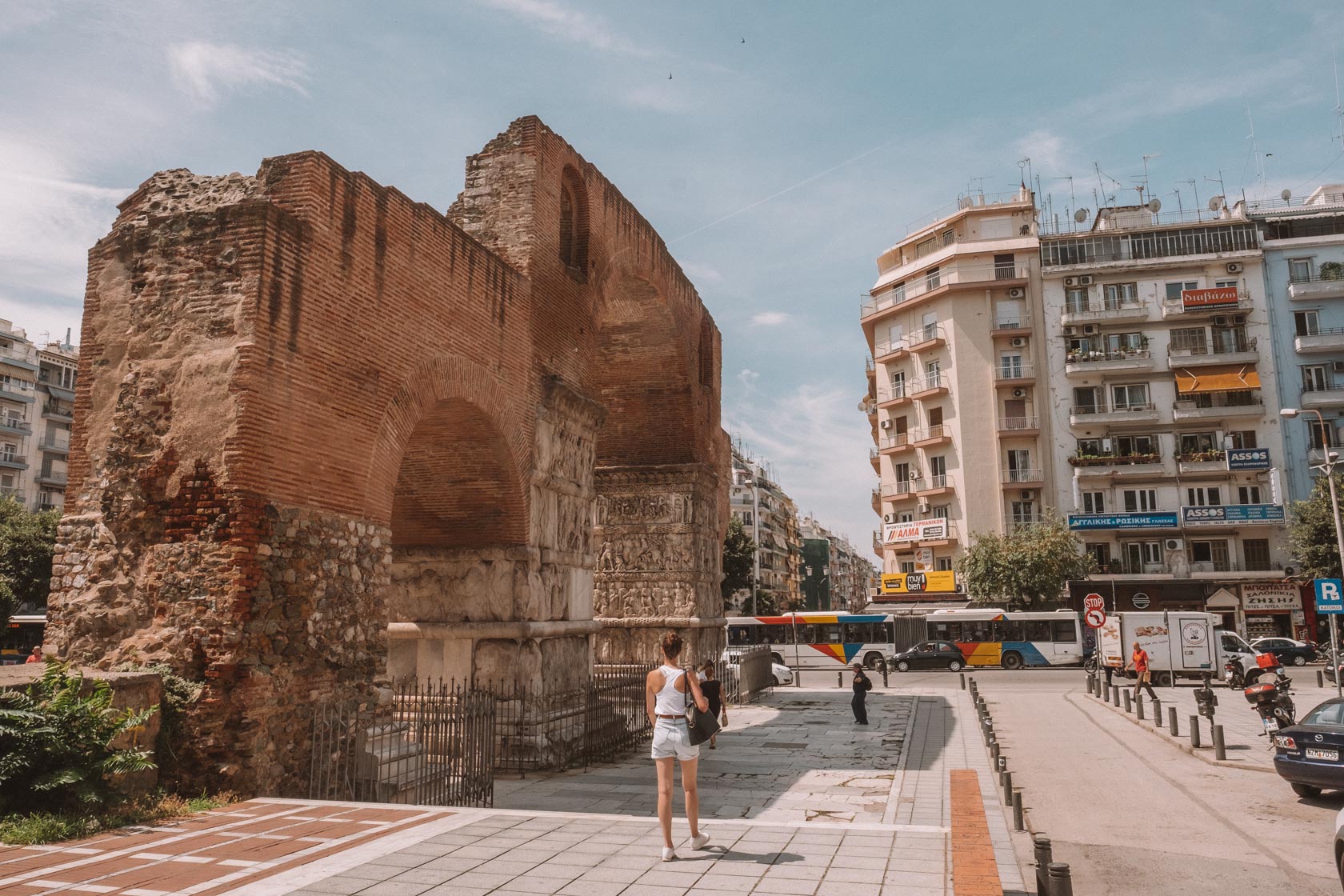 Arch of Galerius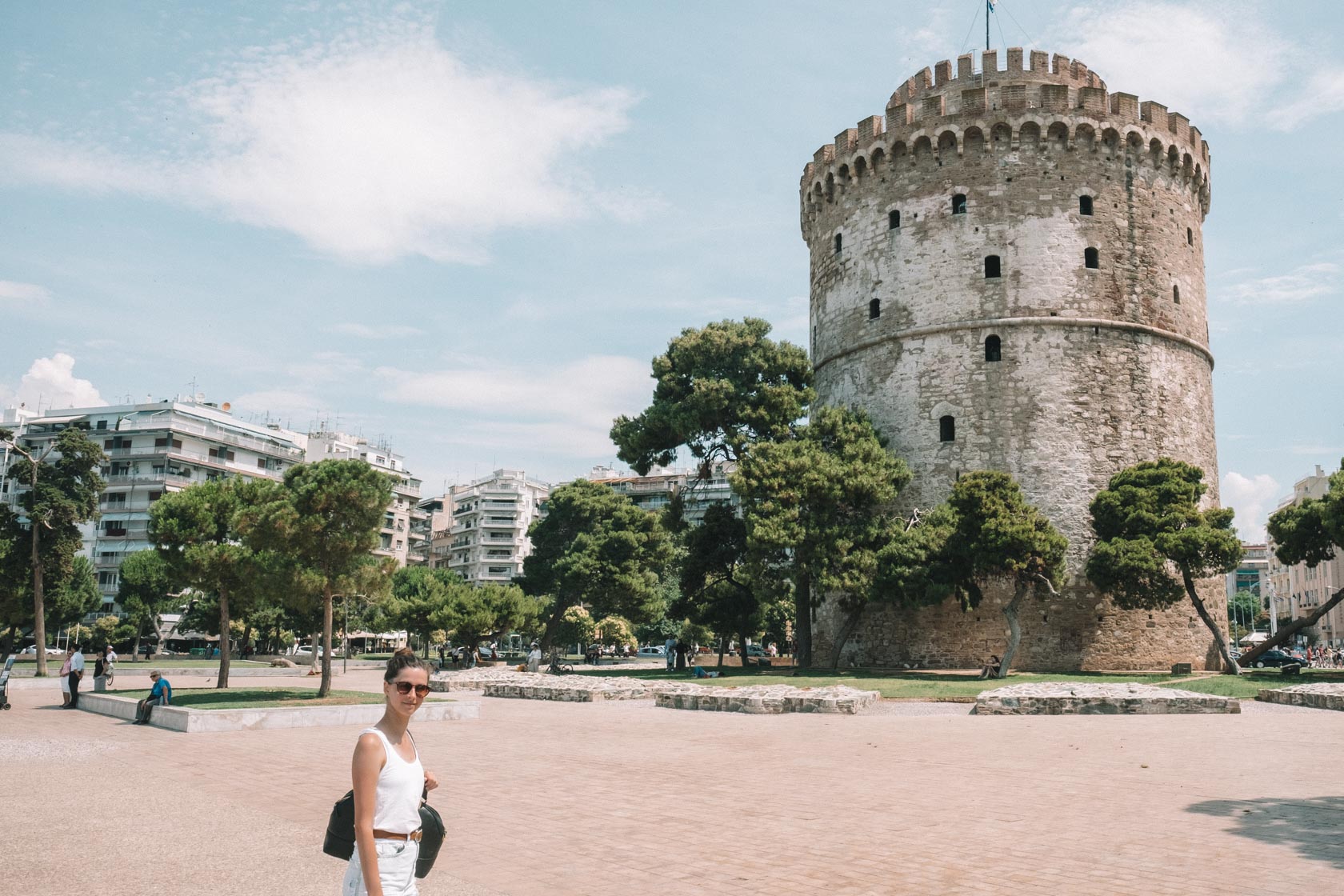 White Tower of Thessaloniki
Would you go to Northern Greece?
Share your thoughts in the comments and let me know what sights you think are the most compelling in Northern Greece! There are tons of additional places to visit, give me your insights if you have a recommendation for me 😉
Find this post useful? Pin it for later!