I'm not going to lie, one of the biggest things I was looking forward to about my trip to South Africa was drinking wine and chilling out on a wine farm. South Africa is renowned on an international scale for the wines it produces thanks to its temperate climate and toasty summers. I'm a simple girl, what can I say?
Luckily when I was researching Franschhoek before coming to South Africa, I found out about Babylonstoren , one of the biggest and most beautiful wine farms in the entire region. Their website has some killer drone footage and I was blown away by how gorgeous it is!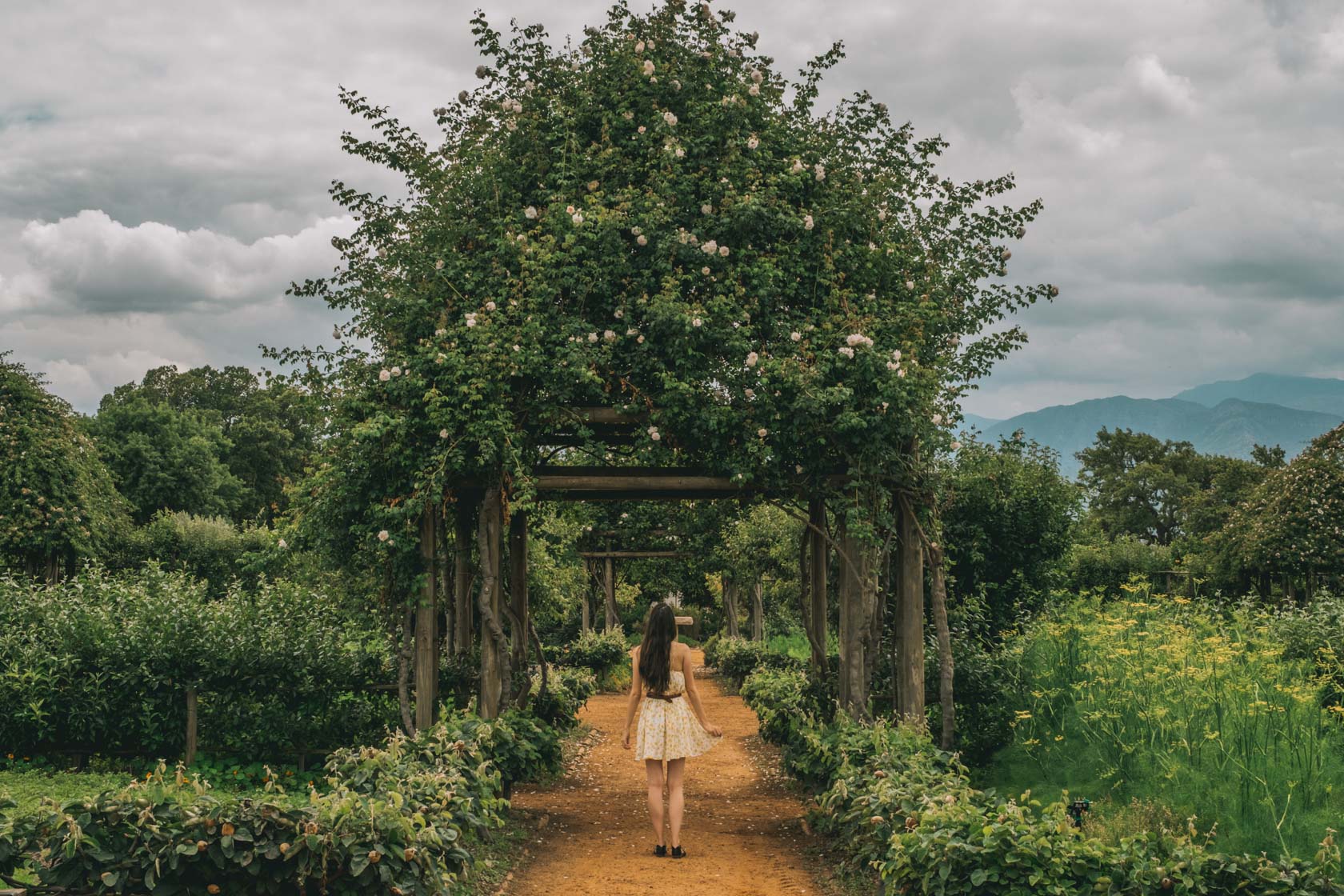 Some links in this post are to affiliate sites. If you purchase something through them, I may earn a small comission — which costs you nothing! I am very grateful when you use my links to make a purchase.
Even though I could not afford to stay at Babylonstoren as a hotel guest (prices start at $500 PER NIGHT 😱), I still got to experience the property in a ton of different ways: from their free garden tour, to their fabulous restaurant, expansive gardens and vineyards, and tons of places to buy gifts for friends back home.
That said, if you're spendy and fancy and want to stay at the neatest wine farm in the Cape Winelands, do have at it.
Check availability of Babylonstoren
If you're a pleb like me, you can still visit as a day guest. Read on for my top 5 reasons to visit Babylonstoren during your trip to South Africa!
Free daily garden tour
It takes just a second to register online to join a free daily garden tour at Babylonstoren. These tours start every day at 10:00 AM, and are guided by one of the employees who works at the garden. You'll learn the history of the farm itself, the history of the region, and TONS of things about all the different plants and animals that the wine farm is home to.
NOTE – Even though the tour is free, entry to the wine farm itself costs R10 on weekdays, and R20 on weekends and holidays.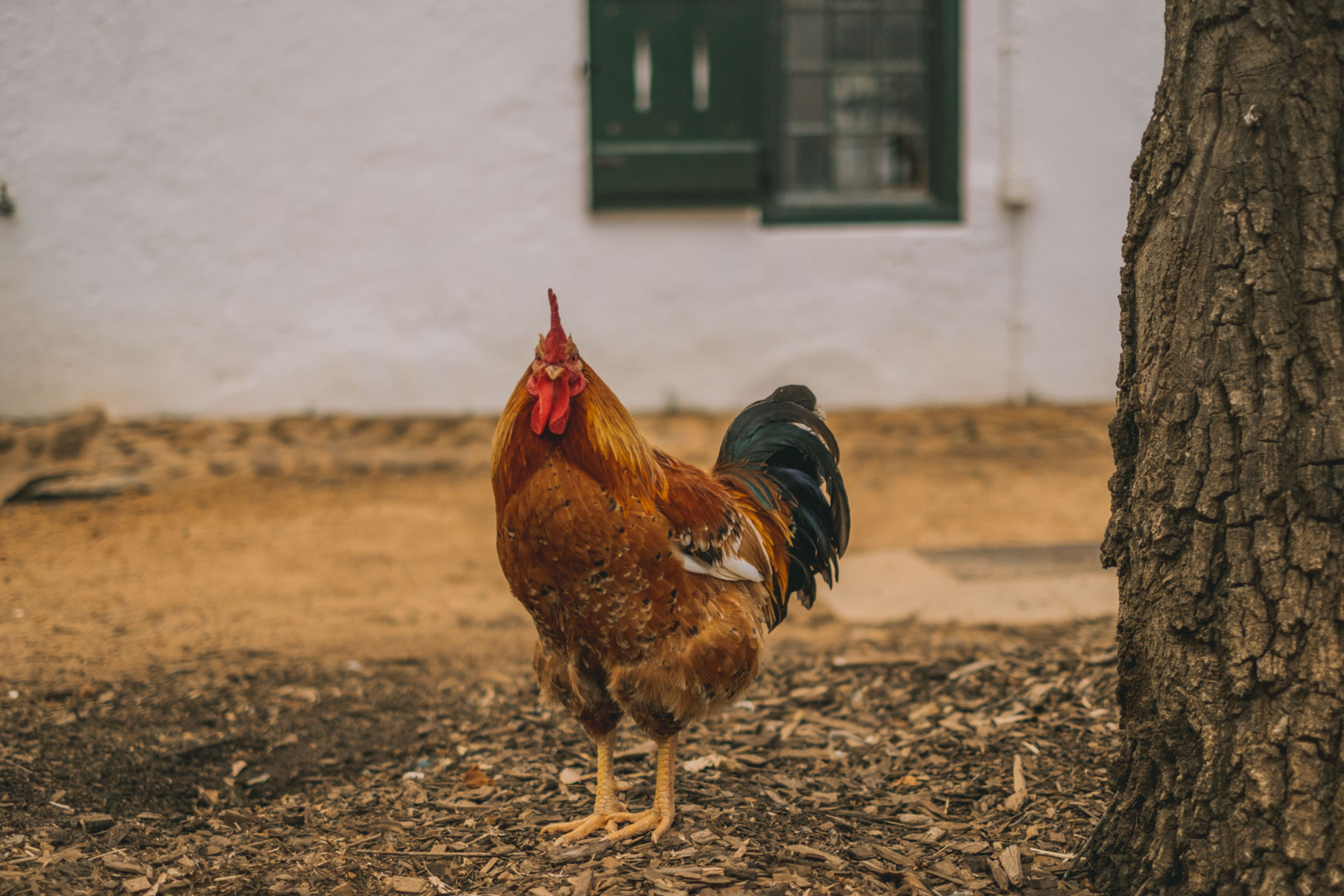 The tour starts daily (rain or shine!) at the Farm Shop, one of the main places you can buy gifts on the farm. Most likely there will be some roosters or turkeys chilling out by the entrance and making their typical "Cock-a-doodle-doo" sound. I'm not even if sure if I'd heard that in real life until that point 🤔
You'll get a map and be able to get an overview of what the wine farm has to offer. The main area of the tour is just a small but beautiful part of the farm – in fact, that farm is much larger but organized in a more utilitarian way.
You'll walk through fruit trees, gardens full of vegetables, koi ponds, and lovely huts that serve as a trellis for plants with vines. At each of the plants, the guide will tell you about how they cultivate it, the kind of care it needs, whether it's indigenous to South Africa, and basically anything else you could want to know.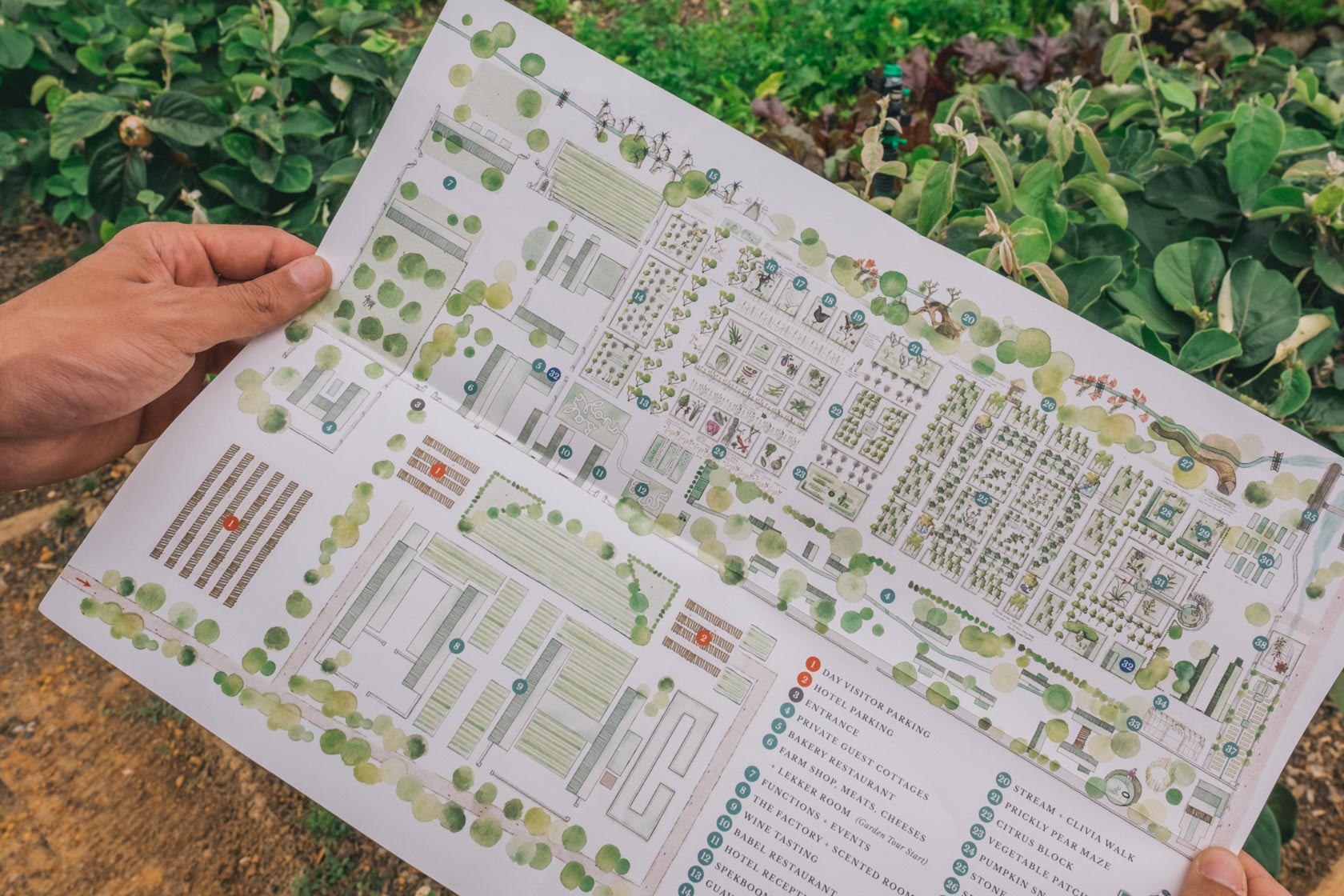 TIP – Book the daily garden tour in advance to be sure you'll have a spot. Afterwards you can make a reservation at Babel, their ultra-farm-fresh restaurant.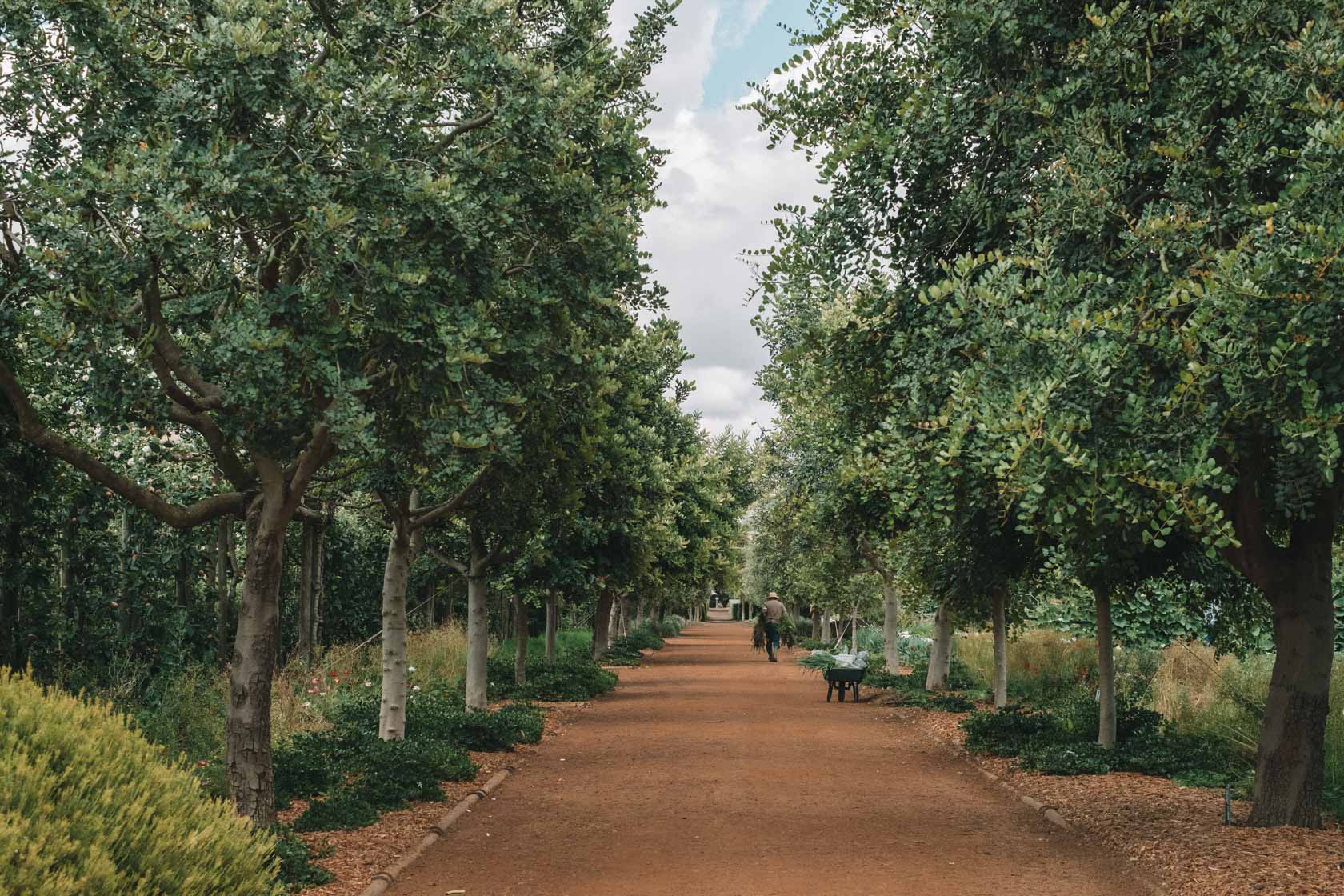 There are also a ton of people employed by the farm to do the farm work. If you are passionate about farming, you can even apply to be a volunteer or apply for a job at the farm. It looks like a ton of physical labor but it's hard to complain about spending all day in a garden 🍃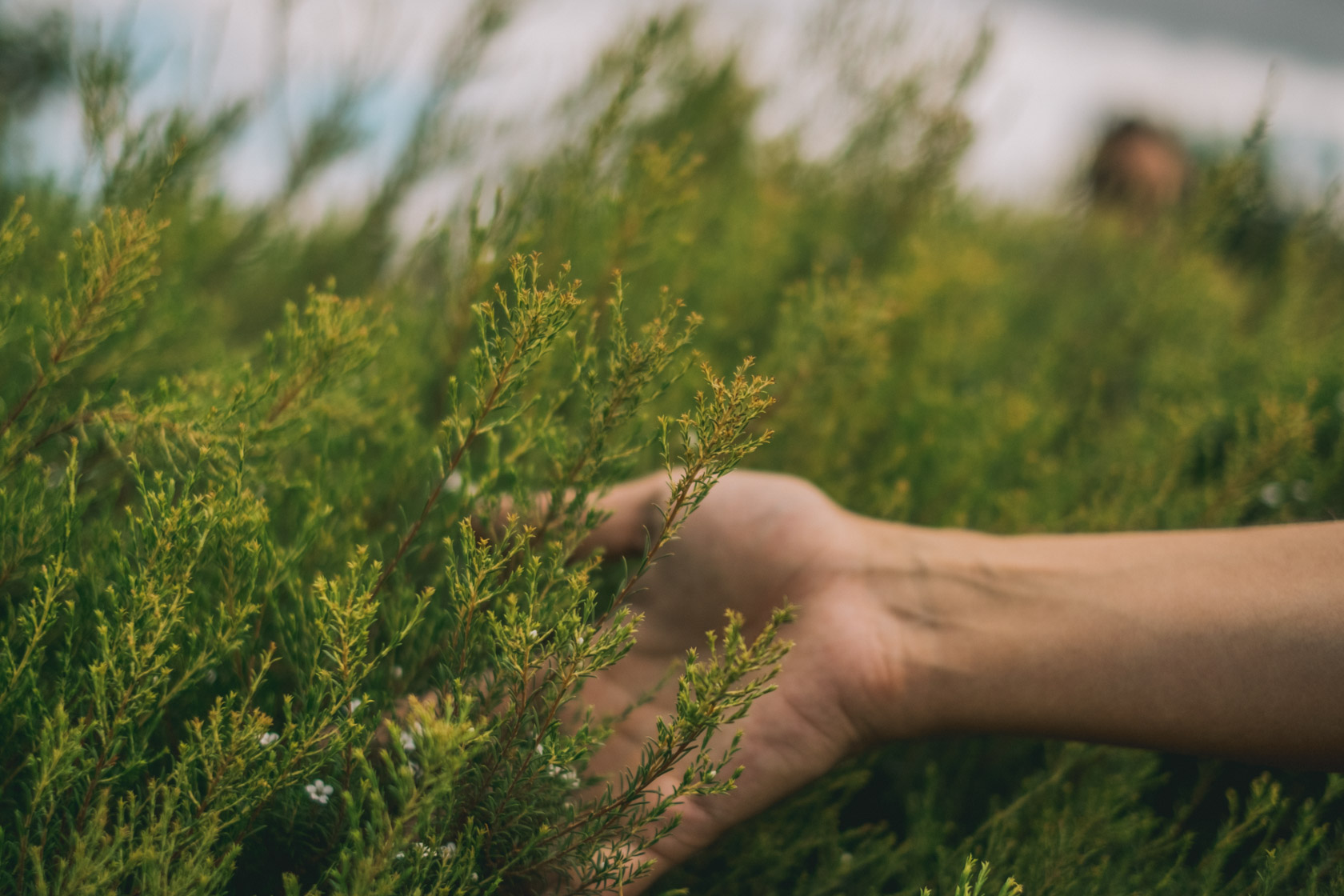 This bush was used by sailors to make their hands smell nice after fishing all day, before going home to their wives. You can just rub your hands between its leaves and your fingers will smell like lemons!
Enjoying the photos?
Follow along on Instagram!
Follow @notanomadblog for beautiful travel photography and stories of our journeys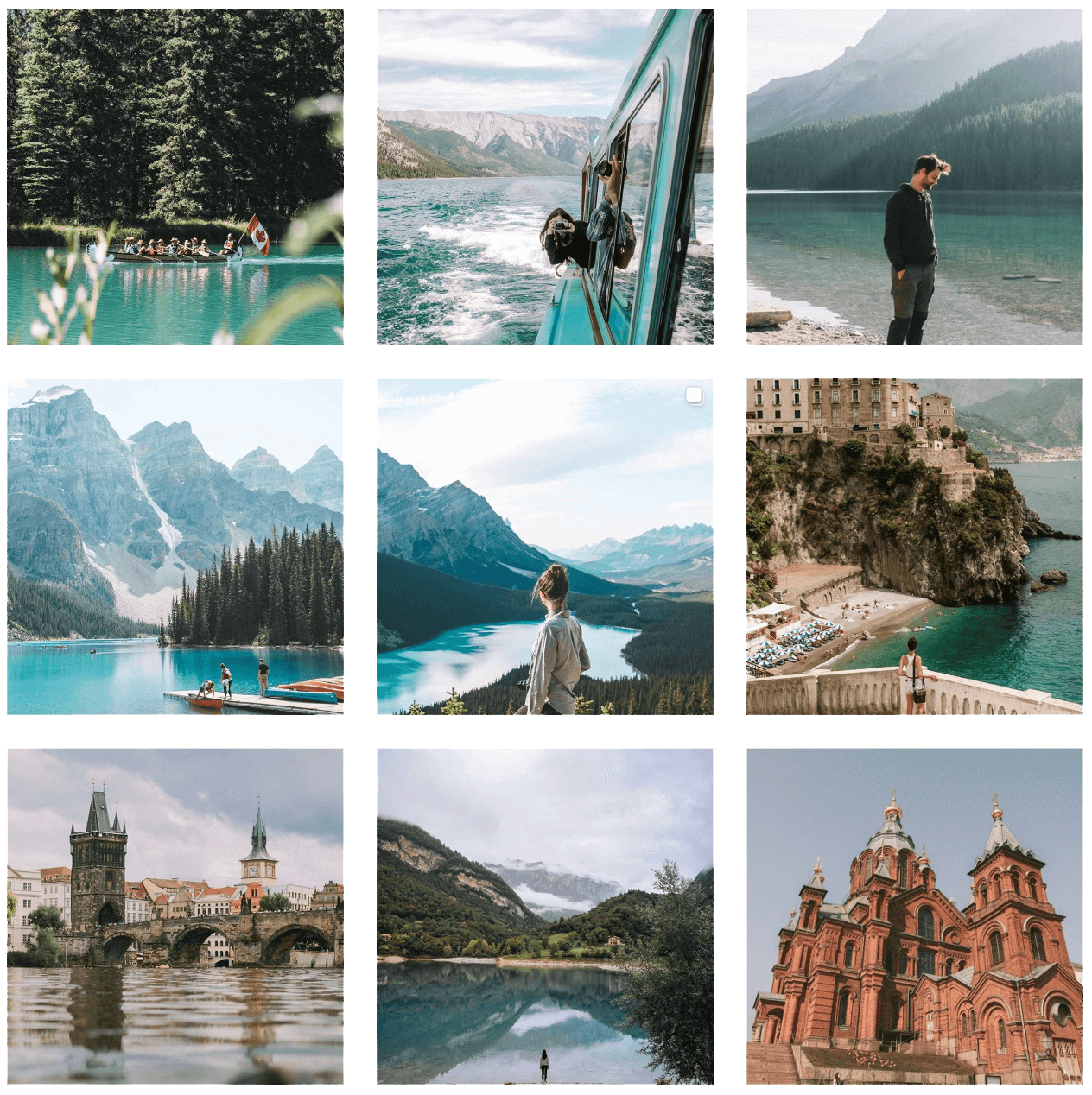 Some fruits will be wrapped in bags or surrounded by glass jars. The bags are meant to save some of the fruit from the birds, who also find it very tasty! Whereas the gas jars allow the fruit to grow inside the jar, and they use it to make spirits from the fermenting fruit.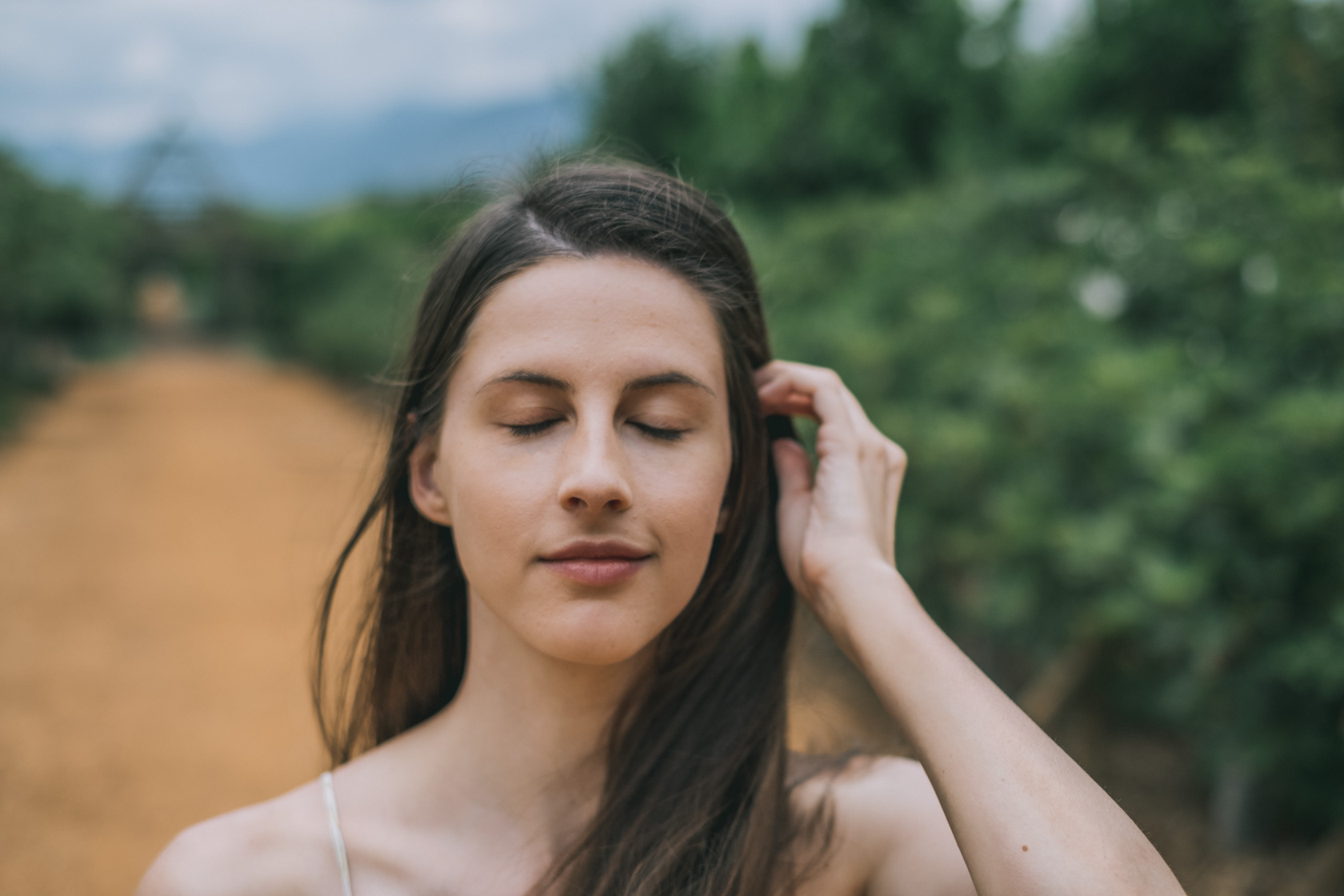 Depending on the season, you will see different fruits in season on your tour. For that reason, it's not a bad idea to check in advance that you'll be visiting during a season where some of the fruits are likely to be harvested. We went in the summer in early December and it was the very beginning of the stone fruit season, though most of the stone fruits (like peaches and plums) weren't ripe yet.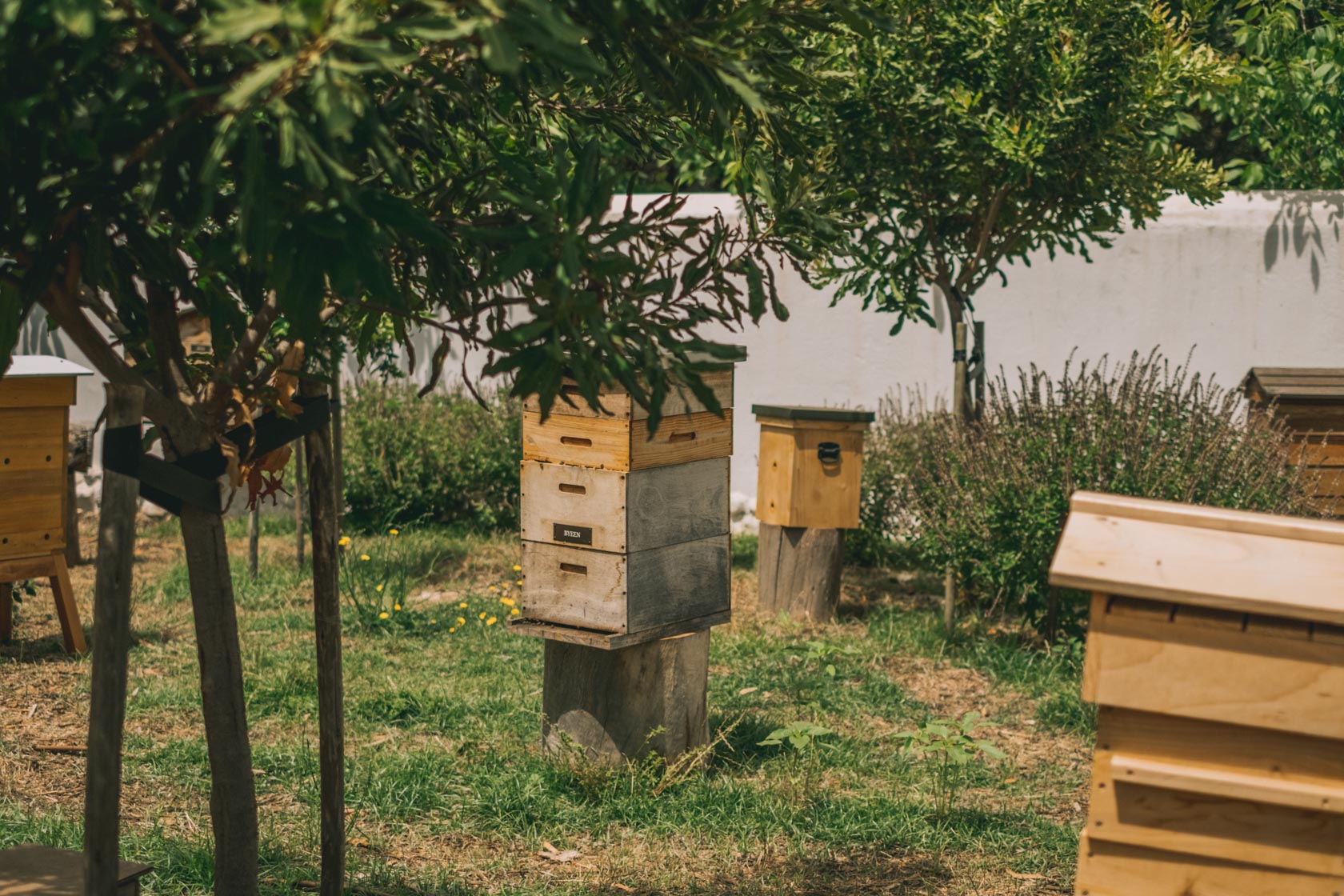 Besides just being home to lots of fruits and vegetables, Babylonstoren also has its own colony of bees! They produce honey, which you can taste in the on-site restaurant. If you've ever wanted to taste the freshest honey possible, this might be the honey for you 🐝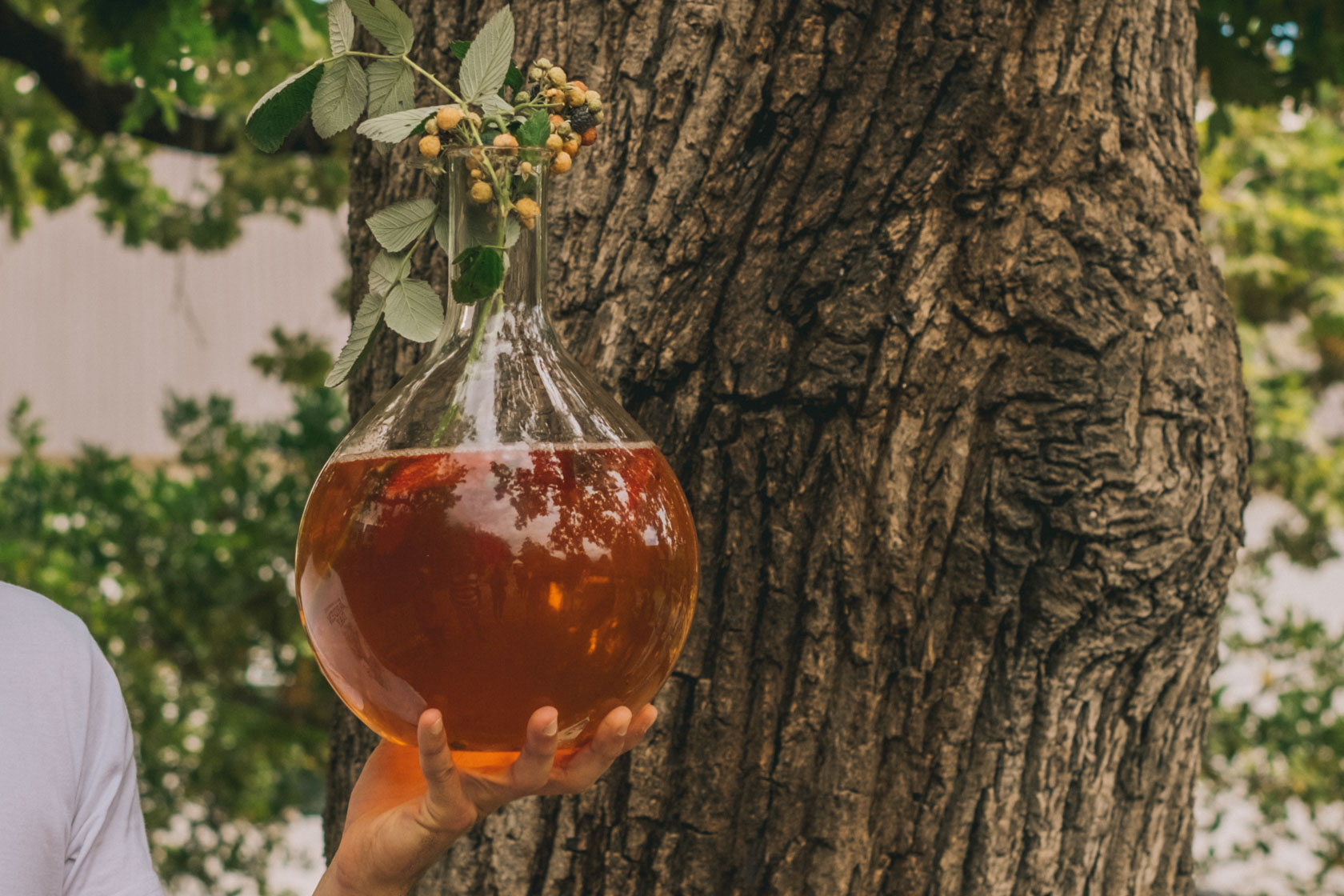 At the end of the tour, you can try a tea brewed using ingredients from the farm. In the Summer they offer an iced tea, and in the Winter a hot tea. It's the perfect way to refresh yourself after about an hour of walking around in the gardens and probably getting a fair amount of sunshine.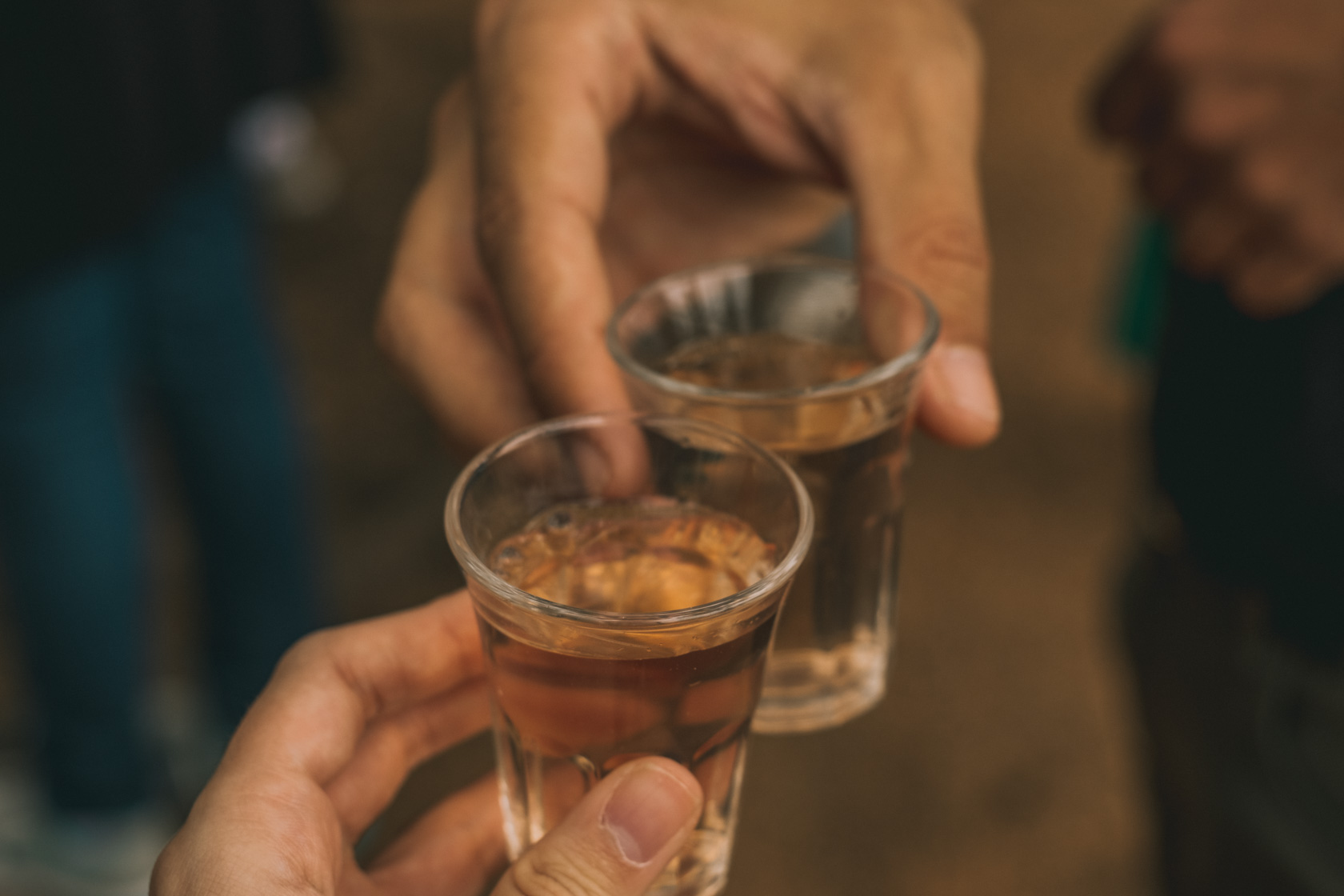 Be sure that if you're visiting on a hot day, you bring some water to drink and a hat to keep the sun off your face. South Africa has some seriously intense sunshine!
World class restaurant
There's no better way to end the garden tour than with a lunch in the incredible Babel restaurant. At this restaurant, they practice a "farm to fork" philosophy – meaning, everything on your plate is local, and most of it comes straight from the nearby farm. You'll be eating seasonal foods which come together in truly interesting combinations.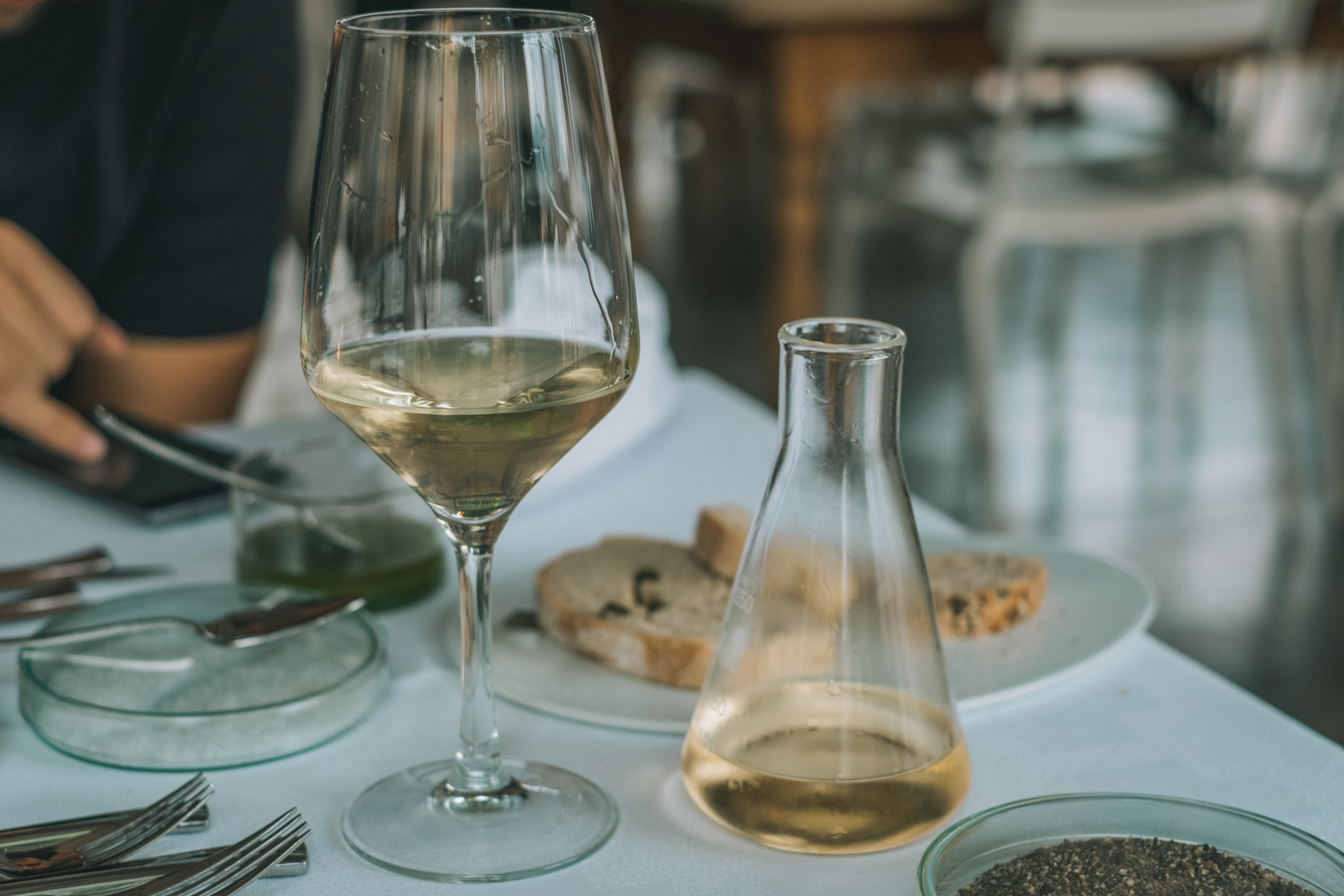 Start out with a glass of wine and delicious breads and dips. Each of the main courses on the menu comes with a recommended wine (though you can of course decide not to take the suggested one, or not to take wine at all). You'll find options on the menu that include beef, chicken, pork, fish, or vegetarian. I opted for fish (there is a LOT of great fish in South Africa), while Gernot opted for a full baby chicken (which was HUGE).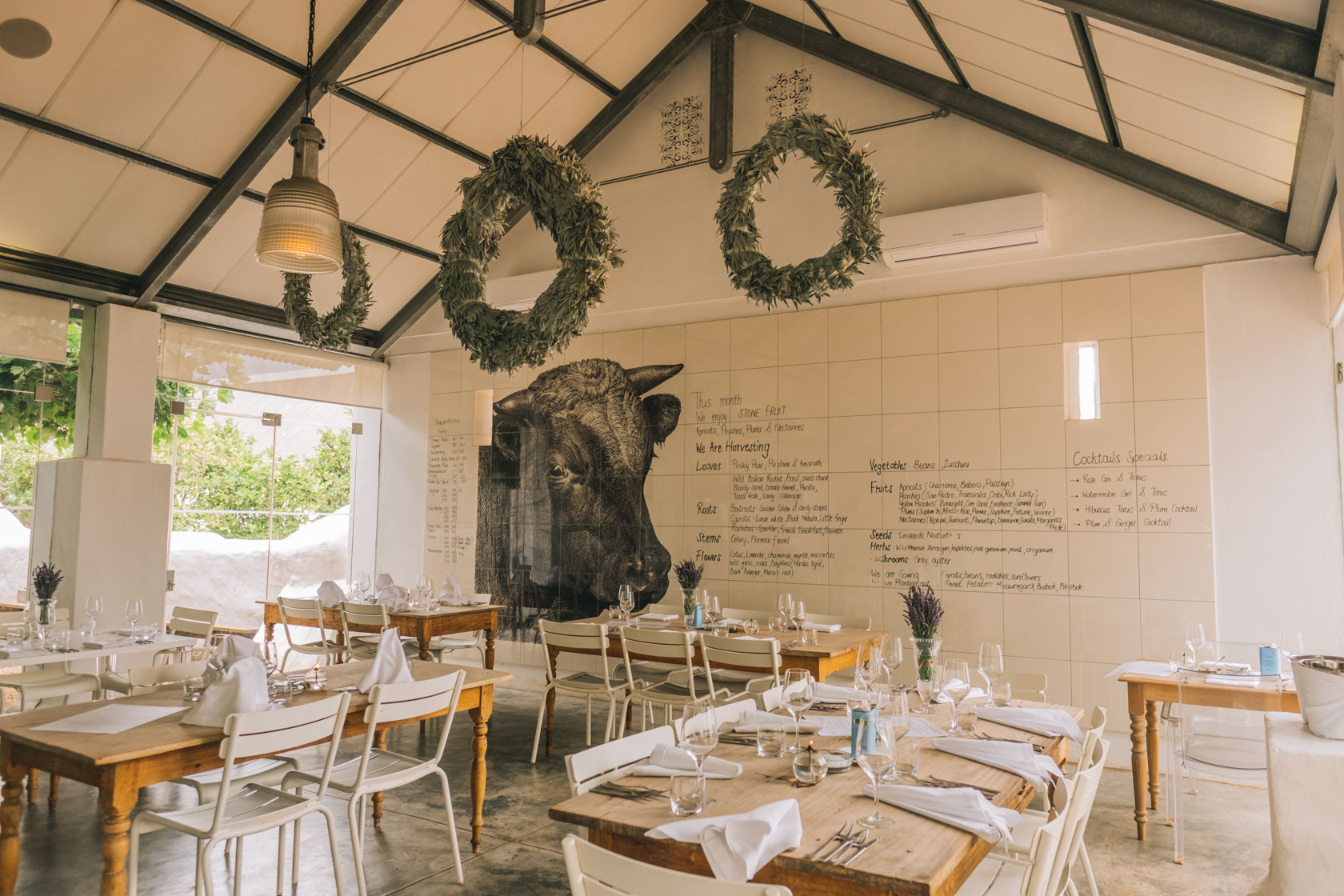 Depending on the season, you choose whether you prefer to sit inside or outside. For some reason even though we visited in Summer, it was only possible to sit inside. Luckily there are huge glass windows so we still felt plenty connected to the farm outside.
Before your meal even starts, you'll be offered some farm-fresh vegetables, plucked from the garden just hours before. A few of these I'd never eaten (or even see) ever before in my life so it was fun to taste them at their very best.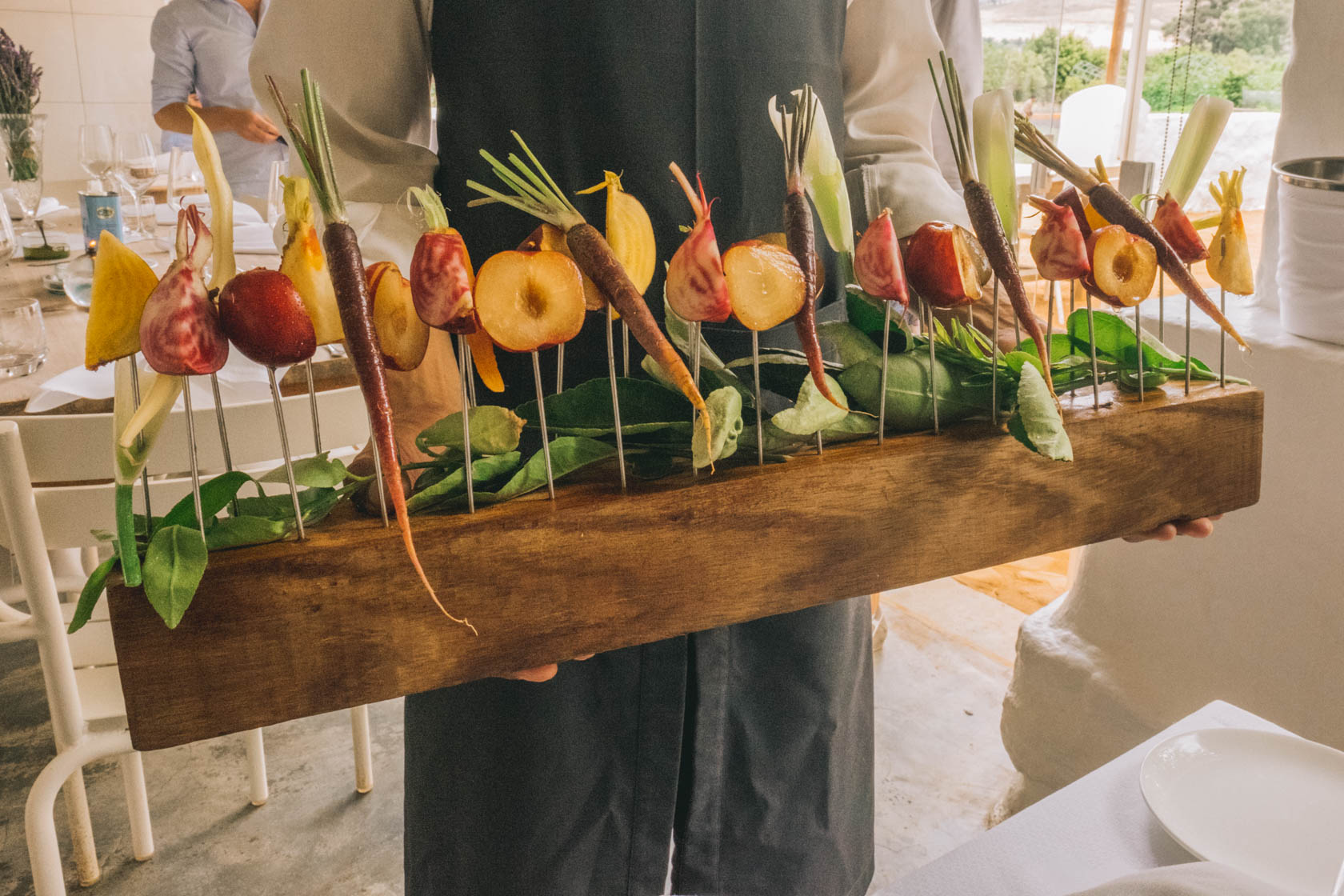 TIP – Book your reservation at Babel at least a month in advance, and if possible, be flexible about the day you go!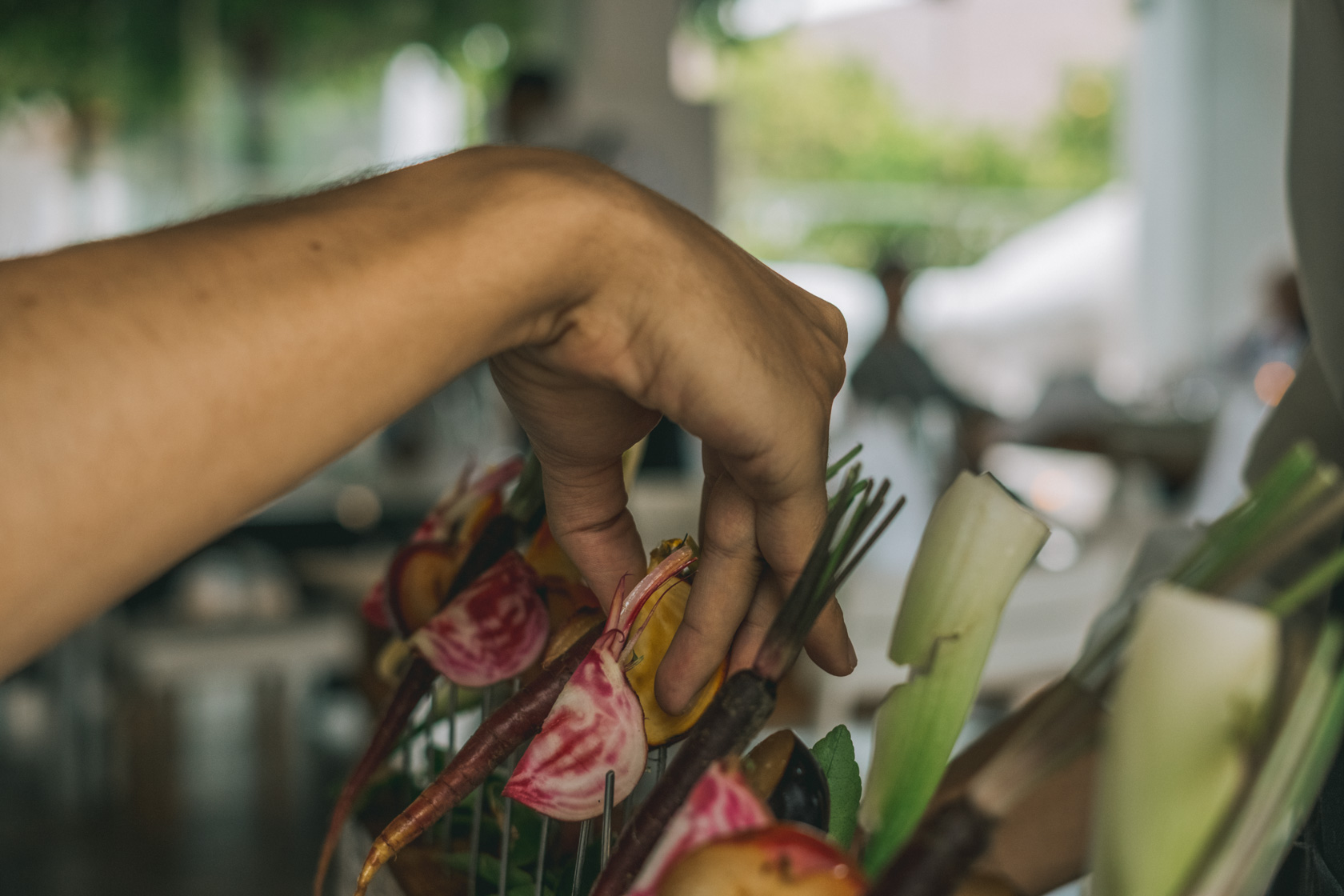 After that, the main course comes. You can also add starters, but for us it would've been way too much food – we struggled to finish just the complimentary bread and our main dishes.
What I thought made the food at Babel so interesting is that it has so many different combinations of flavors that you might not otherwise think to combine yourself. For example, my fish also had strawberries complementing it, along a South African style curry sauce. Who knew these things could taste so delicious together?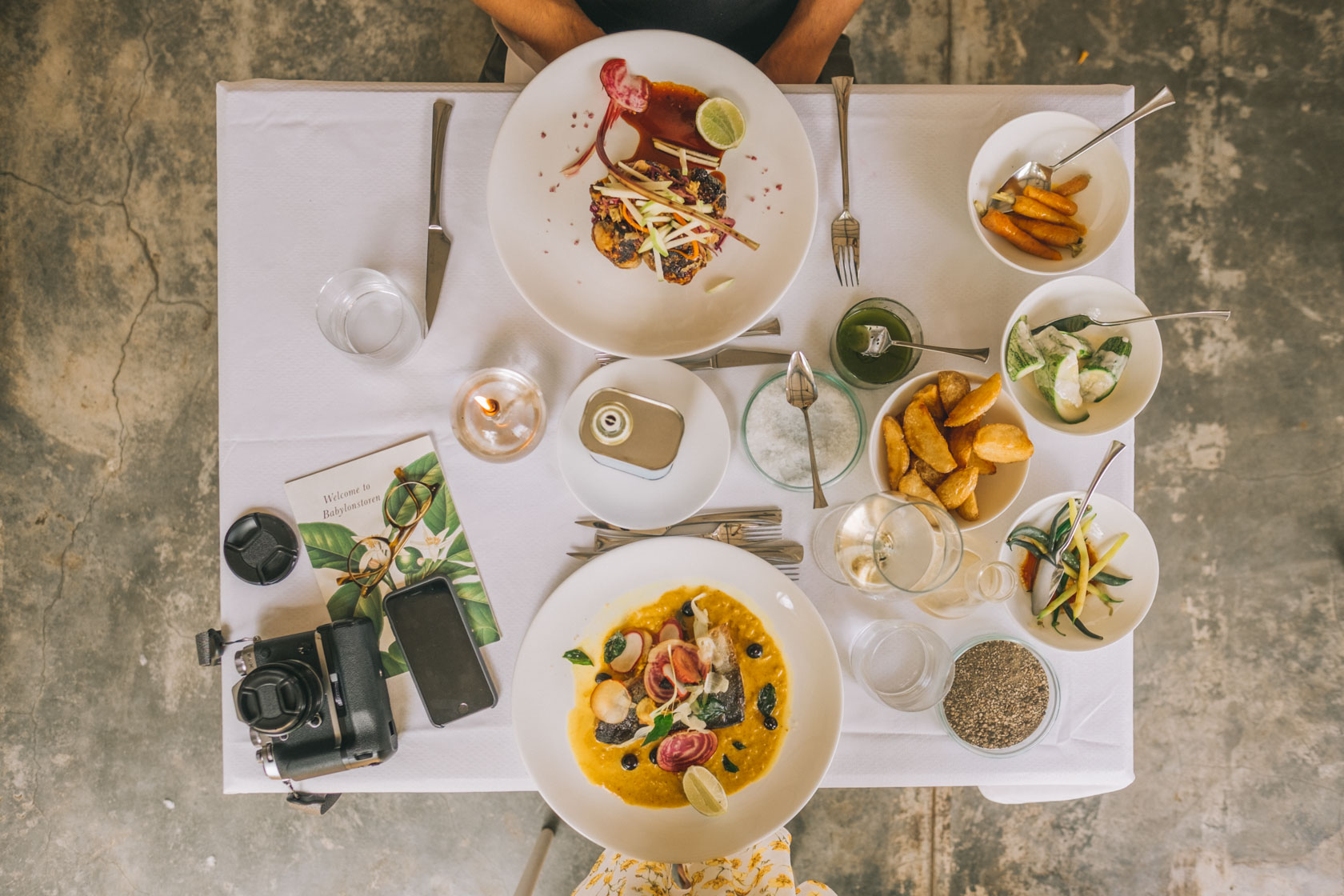 Besides your main dishes, you also get a ton of farm-fresh side dishes. We had potatoes, carrots, two kinds of green beans, and fresh zucchini in a cream sauce. You can imagine that since the dishes were already so big, it ended up being a ton of food. Which meant we could just snack for dinner, which is totally fine for me!
TIP – If you're not able to get a reservation at Babel, you can probably still find a spot at the Greenhouse, a more casual cafe still located on the farm.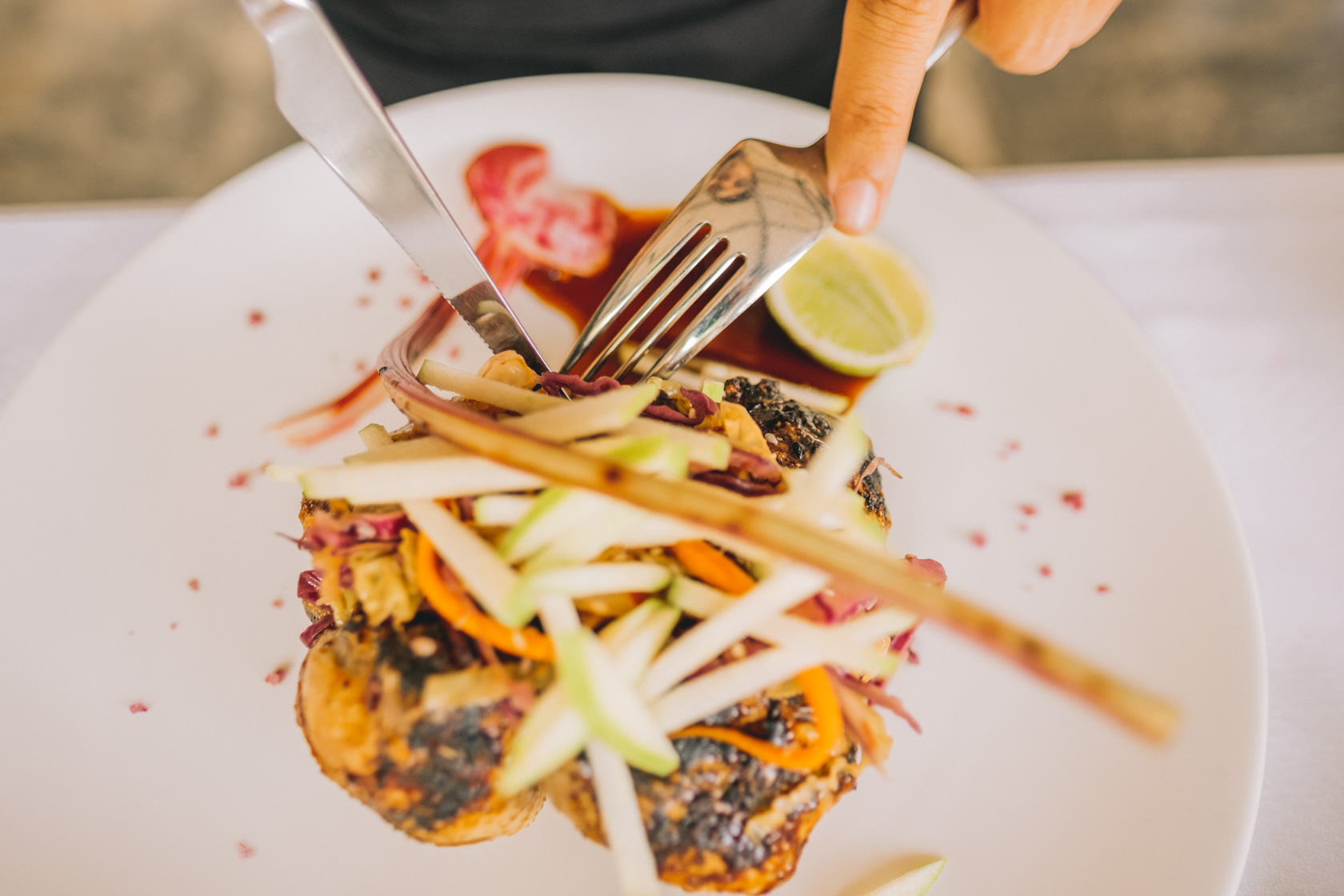 Great shops for gifts
It's pretty amazing – besides being a legit farm that produces tons of fruits and vegetables and wines, Babylonstoren also has a handful of different shops you can visit when you're there:
The Farm Shop
The Scented Room
The Bakery
Meat and Cheese Shop
The Farm Shop
The Farm Shop is the main gift shop at Babylonstoren, located very close to the main parking area. Here you'll find a wine variety of things to bring back home – whether for friends or all for yourself. Books and calendars with photos from the farm, sun hats and glassware, fresh jams and preserves, linens and aprons in all kinds of fabrics.
The Scented Room
The Scented Room is all about smells – as you might guess from the name 😉 There is a lot of lavendar growing on the farm, so you can find lavendar scented soaps and sprays. I ended up getting a rose face mist – no idea what it is but it smells very nice! Perfect spot to pick up a gift for the lady in your life – or anyone else who enjoys smelling farm fresh in the best possible way 😂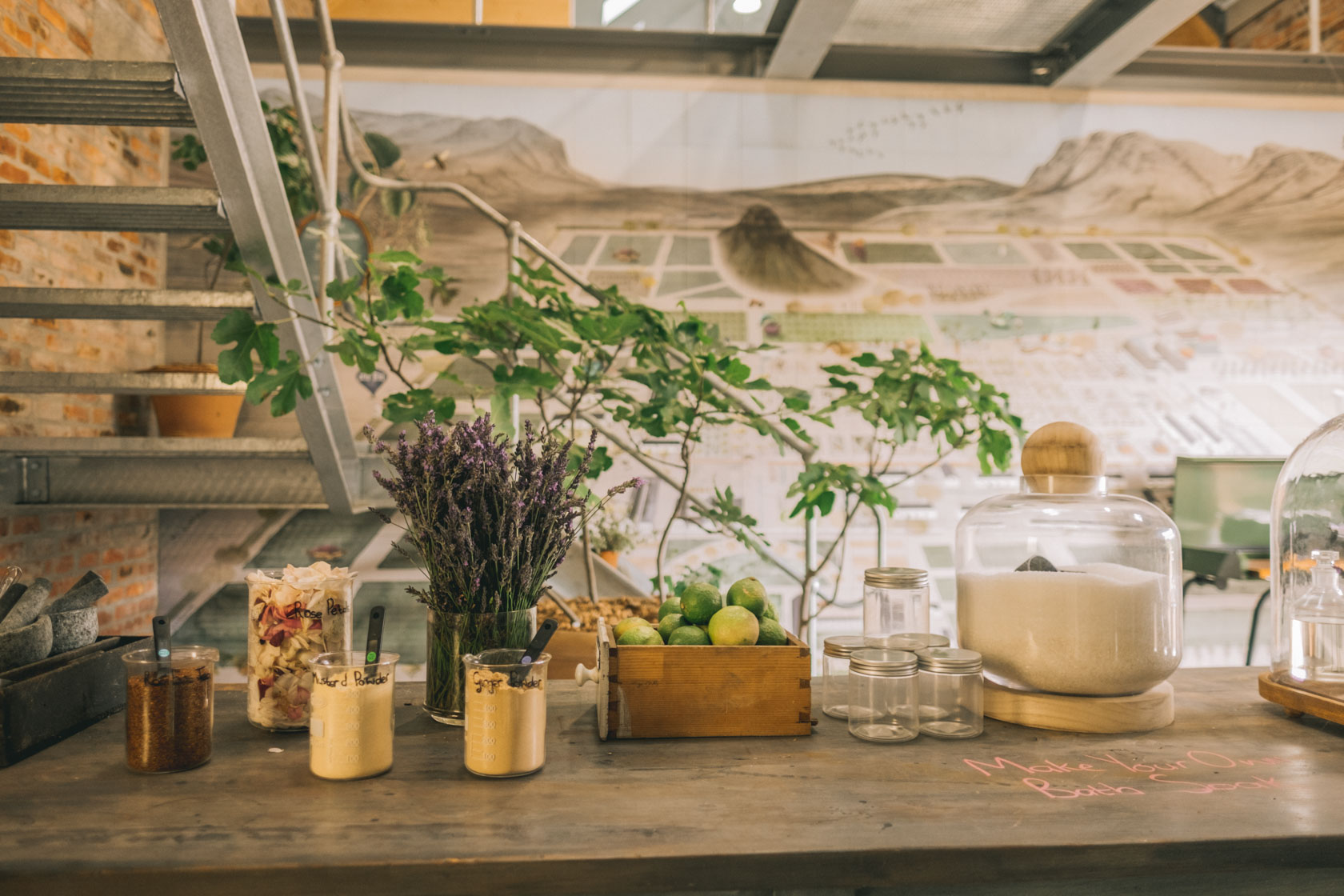 Meat and Cheese Shop
Besides all the things you can buy and bring home, you can also take something tasty with you! The Meat and Cheese shop at Babylonstoren has everything from dried meats to freshly made cheese and dried fruits and nuts. You can buy a lot of things in bulk, or purchase them in a pre-packaged amount. We bought some dried peaches to snack on, and the prices were pretty acceptable. Maybe buy things for a picnic at the next winery you visit?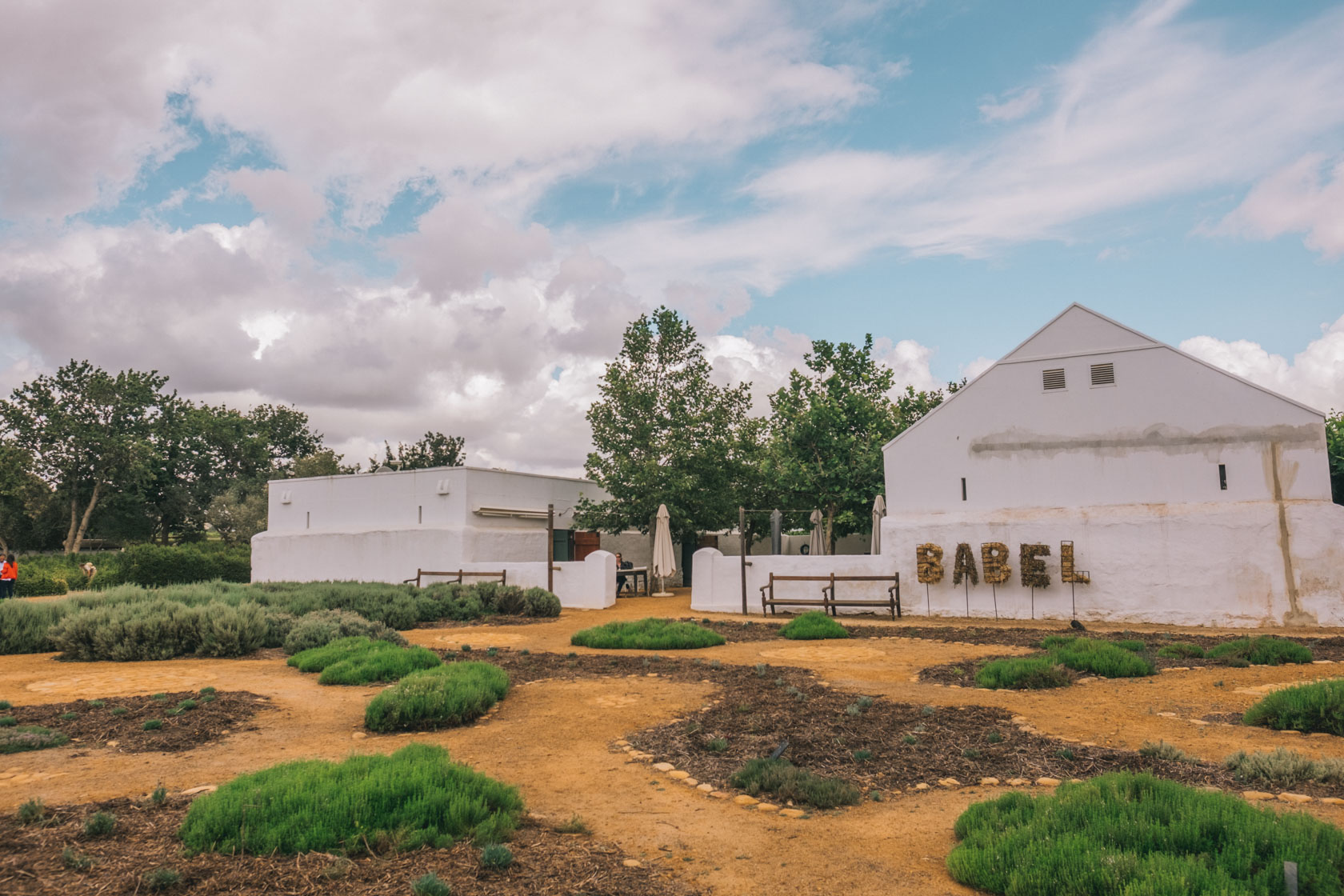 Beautiful and expansive grounds
Even if the tour only lasts for an hour, you should definitely take the time to explore the farm afterwards. You can take your time, take more photos, and explore little corners you might not have spotted during the tour earlier.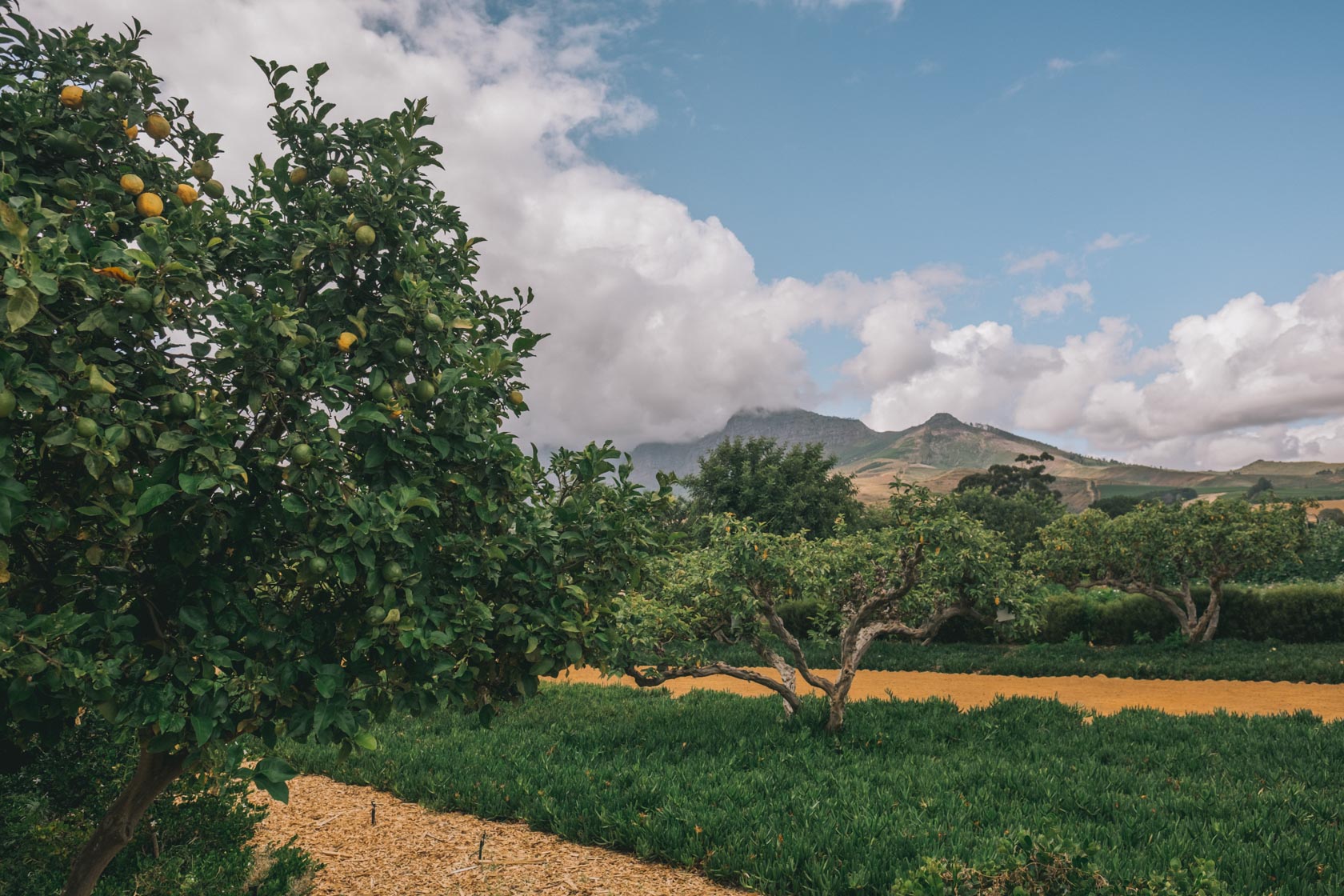 As I said before, the garden area isn't the only area – if you wander around, you can see that there is a ton of extra space dedicated just to commercial farming. While you can't access this as a guest, it's pretty amazing.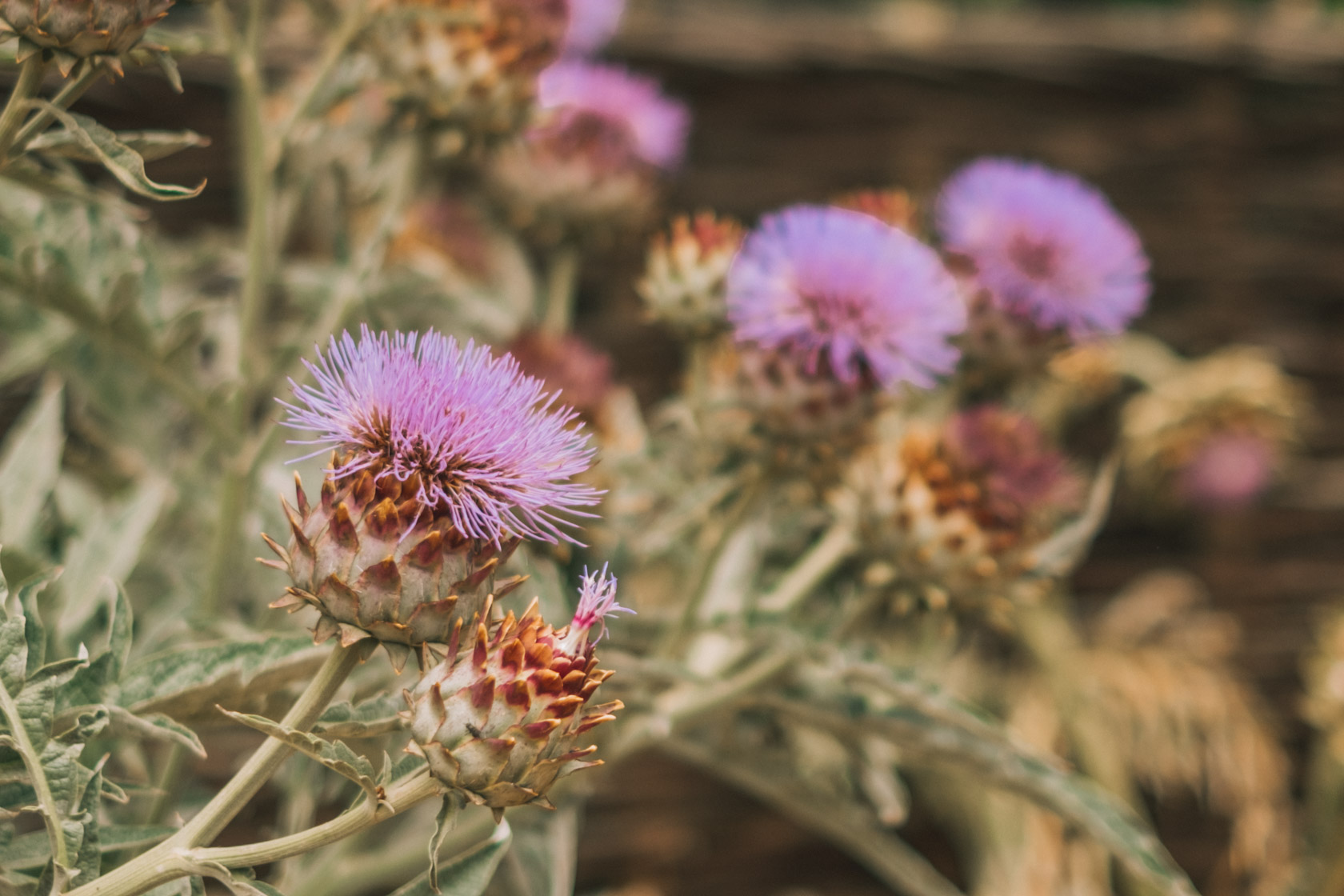 Of course, if you stay as a guest at the hotel you'll have access to a lot more, including a gym, a swimming pool, your fancy yet minimal room, and a $500 per night price tag 😄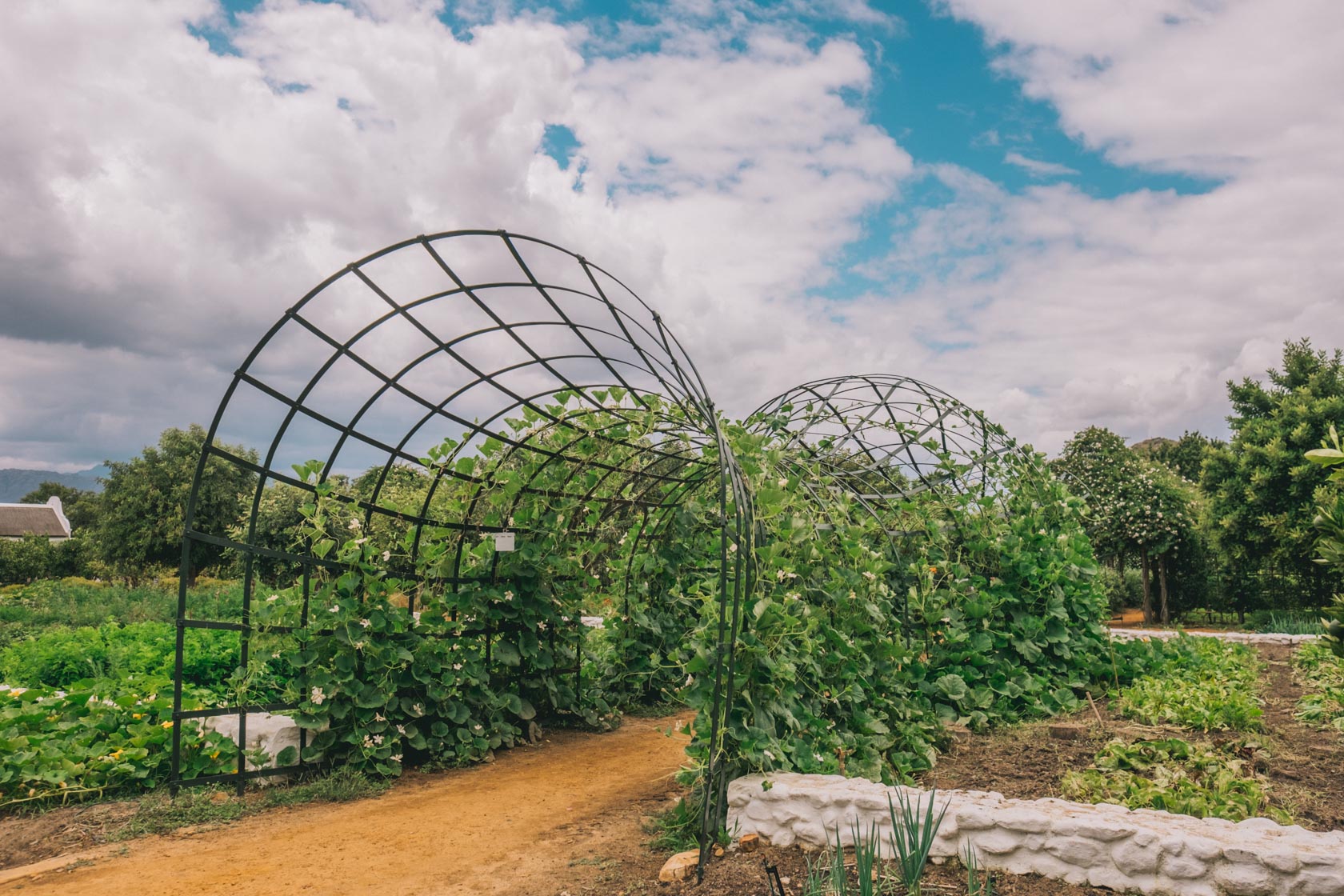 There are a few attractions around the garden, such as this "Pumpkin Snail" which is used as a trellis for large squash. Later in the year, you can see the squad dangling from the ceiling of this structure. There is also a huge swing and a walkway that is modeled after a snake. You'll have to see it for yourself!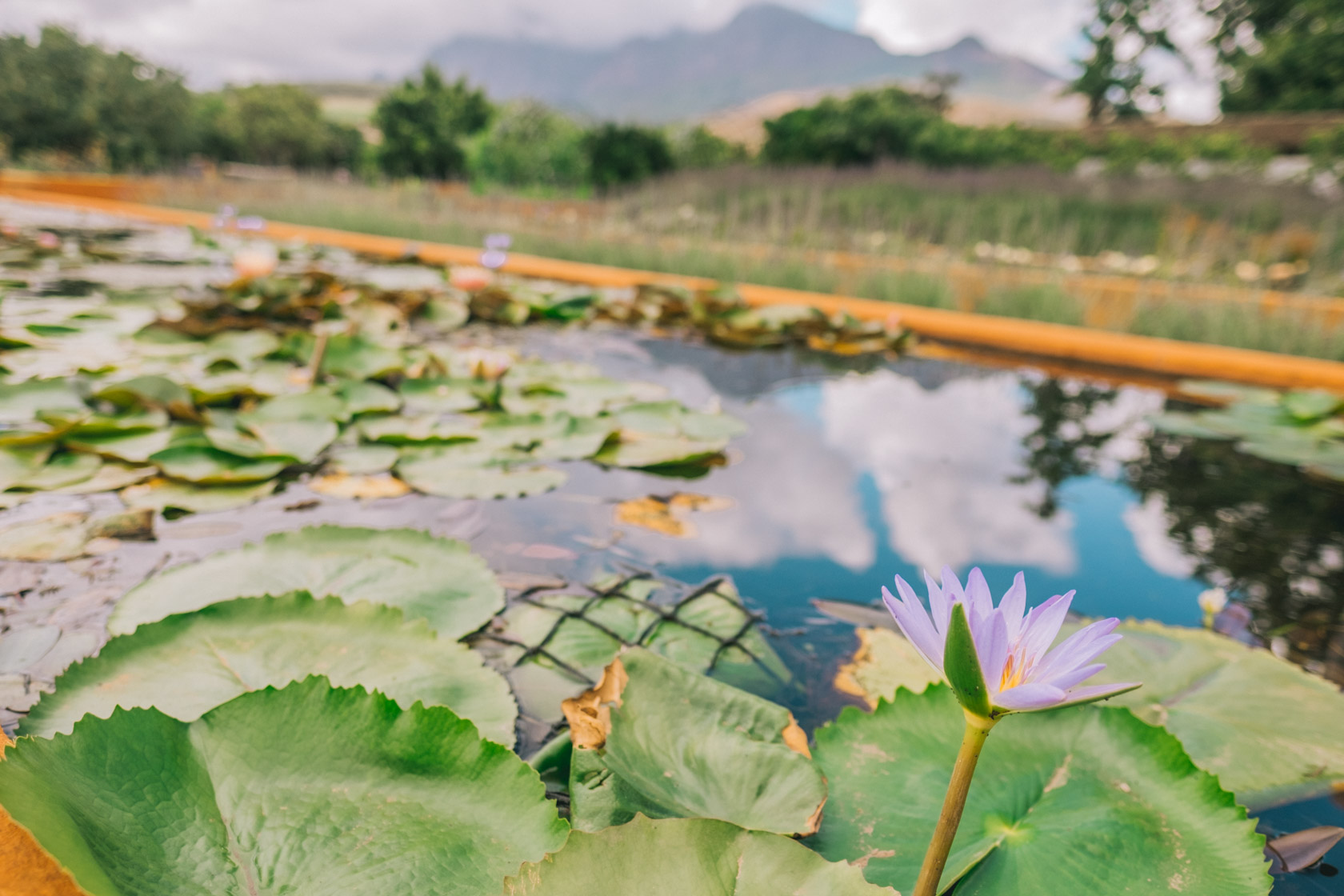 TIP – If you want a sneak peak, you can get an idea of what you'll find on the form by looking at this map of Babylonstoren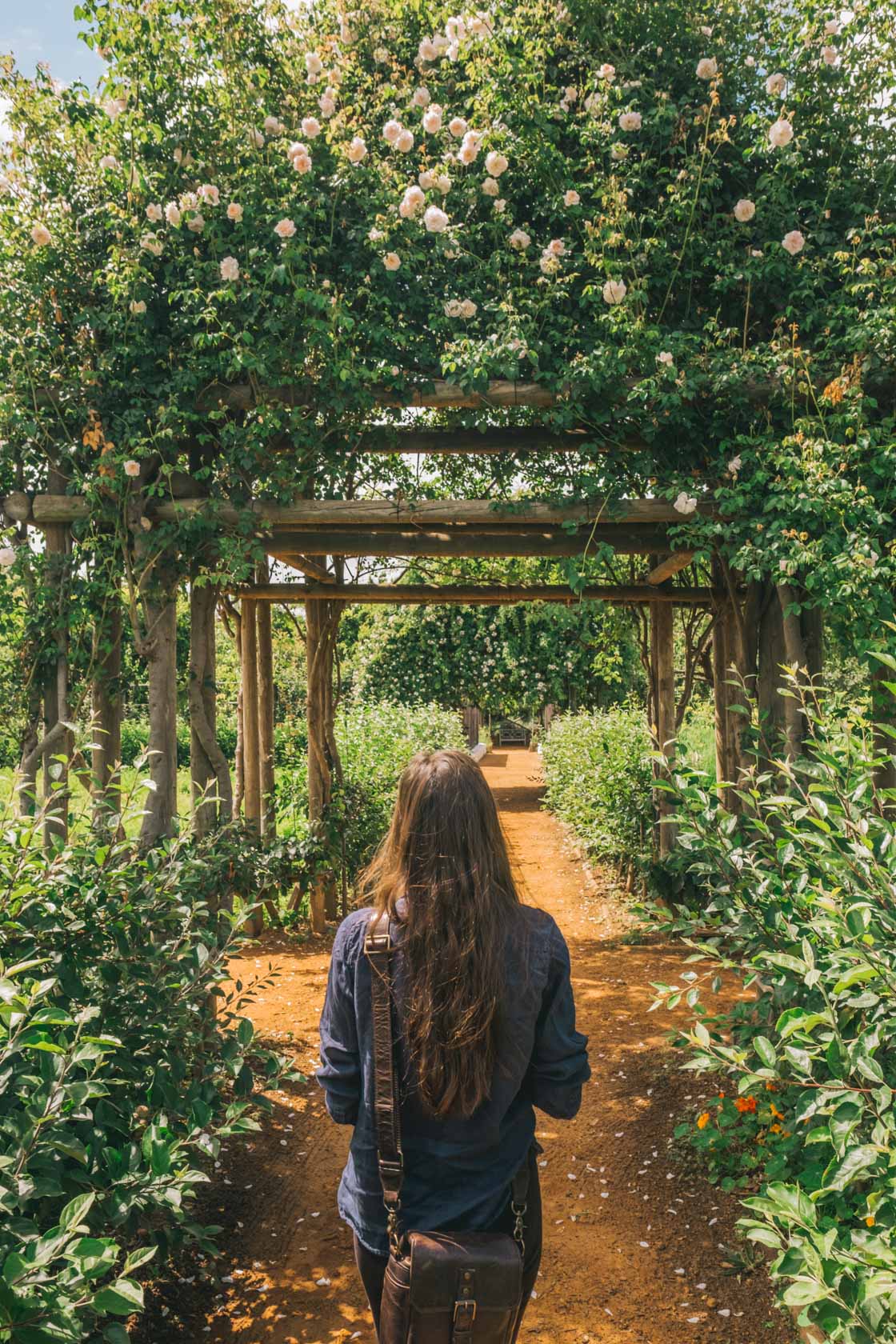 Pick and eat any fruit or vegetable you see
Guys, I saved the best for last! And that's the fact that while you're visiting the garden, you are encouraged to pick and eat any ripe fruit or vegetables that you find during your tour. That's why it's a nice idea to check in advance what produce will be in season when you visit the gardens. As I said, we visited at the beginning of stone fruit season. Unfortunately most of the fruits weren't ripe yet, but we didn't mind it was a bit sour.
Of course, there are also some critters walking around the farm, like turtles, turkeys, chickens, and mules. As you can probably ascertain, they are not on the menu 😉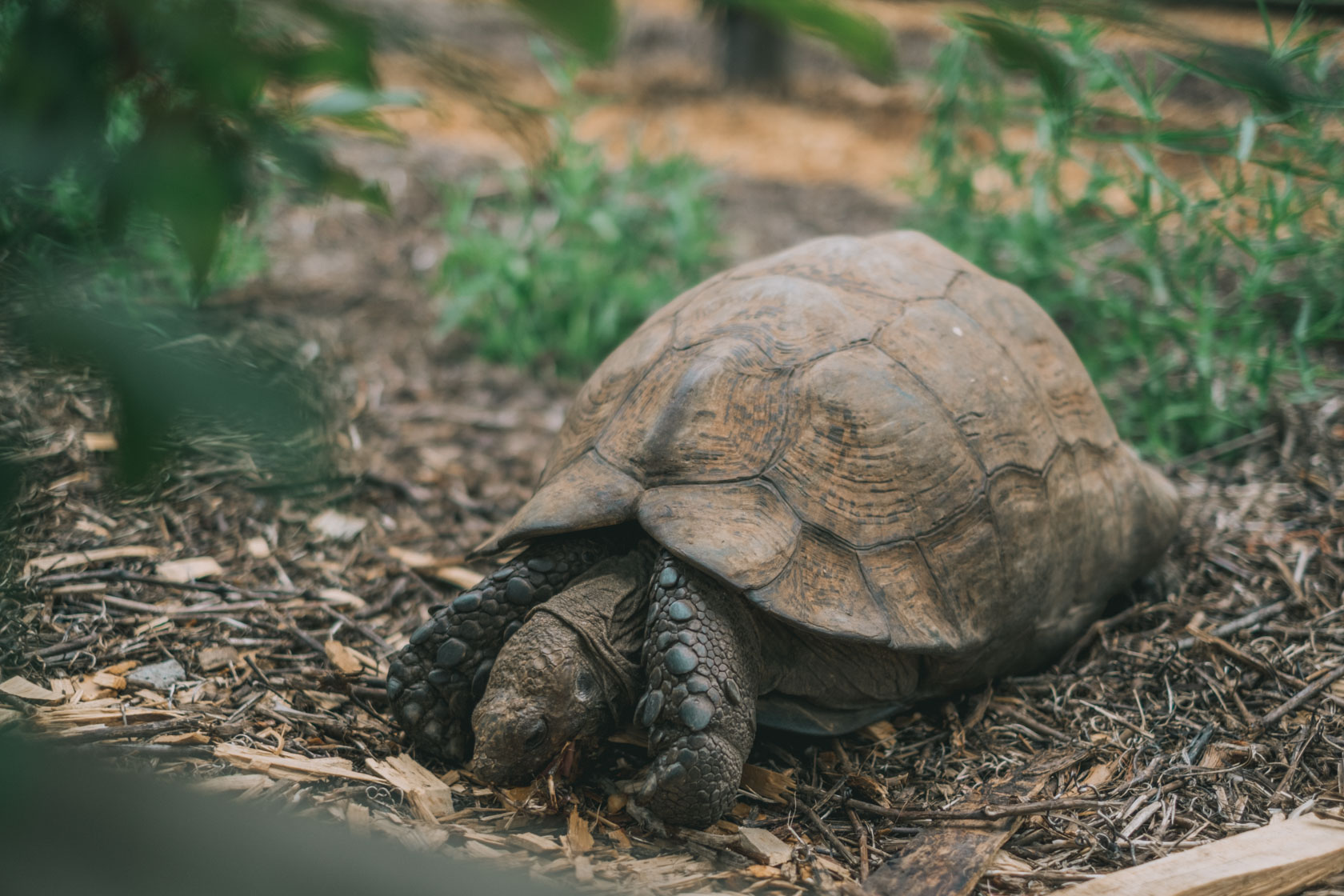 Would you visit Babylonstoren on a trip to South Africa?
Share your thoughts in the comments and let me know what the best winery or wine farm is that you have ever been to!
Save this for your next trip!