It only took me nearly five years of living in Berlin to FINALLY write a two-day itinerary for Berlin. I winged it with so many visitors – but this time, I wrote it down. Just for you 😘 If you only have a weekend in Berlin, obviously it's impossible to see absolutely everything – but you can still have an incredible experience and leave the city wanting more!
Here is the itinerary for seeing Berlin in two days, which strives for a balance between the most important touristic and historical sights and having some great local experiences: whether it's underground art, great international food, or scenic viewpoints a little further outside the city center. I can understand that it's a pretty popular option to do just 2 days in Berlin, so you have to optimize what you see for your first time and what you save for your next trip.
I'm pretty sure I can help you there 😉
Here's my local guide to Berlin in a weekend, based on living here for more than four years! If you have any questions, feel free to leave a comment and I'll do my best to follow up quickly. 👌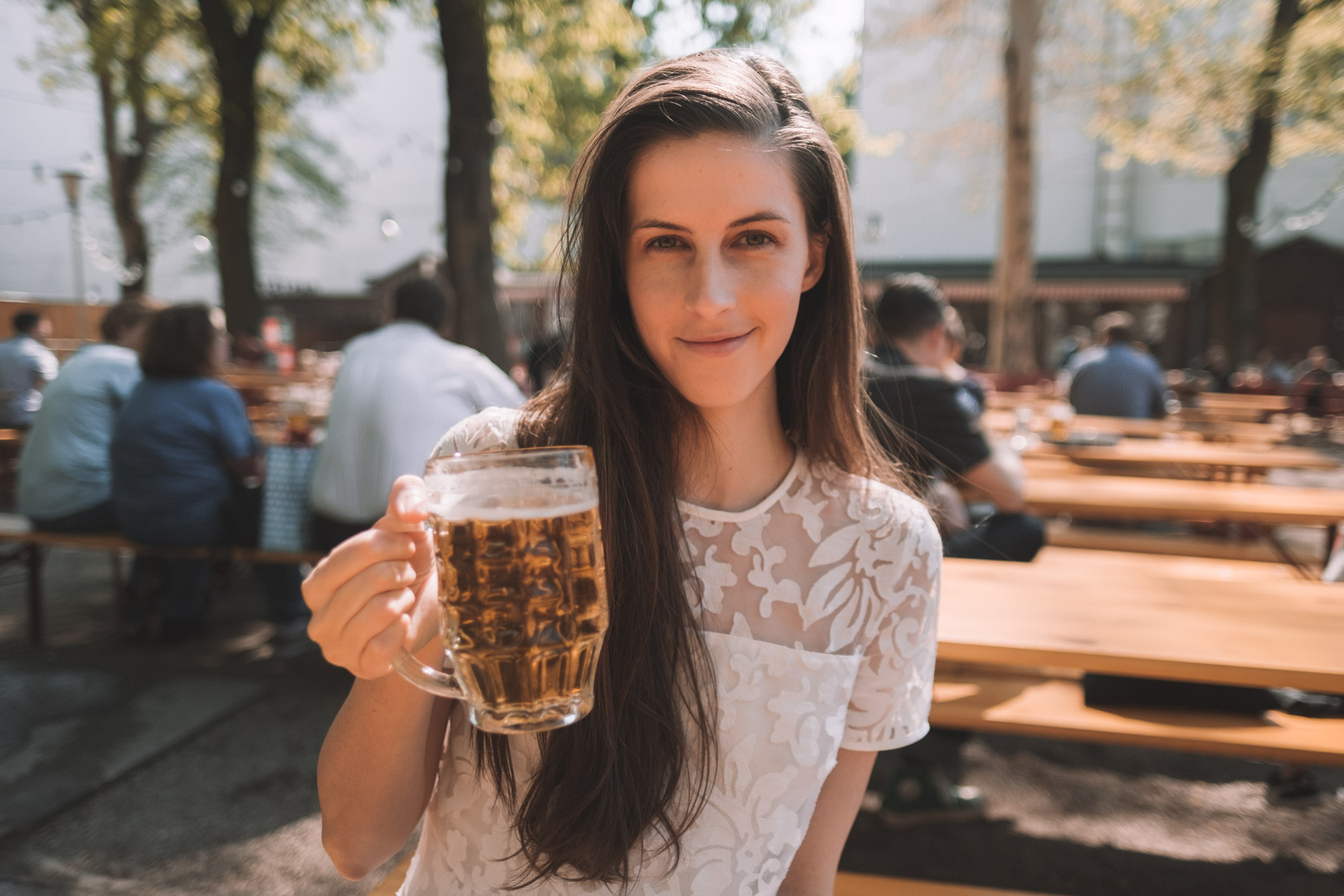 Some links in this post are to affiliate sites. If you purchase something through them, I may earn a small comission — which costs you nothing! I am very grateful when you use my links to make a purchase.
Table of Contents – I started writing this guide and it got a bit…long. Here are specific things you can do in two days in Berlin, as well as my top recommendations for food, drinks, where to stay, tours and activities, and (BONUS!) a section for special things you can do in Berlin depending on what season you're visiting in 😏
Where to stay in Berlin
The most important thing when choosing accommodation in Berlin (especially during Winter, which is coming up), is selecting a hotel that is close to a subway station. When it's cold at night or even raining, the last thing you want to do is be waiting for a notoriously late bus, or walking long distances against strong wind.
For first-time visitors to Berlin, I almost always recommend staying in Mitte , which is the most central neighborhood in the city. Super close to the most famous landmarks, lots of transportation hubs that will take you in any direction, and easy to get to/from Berlin's airports. It has a really urban vibe, but is so well-connected that you'll have no trouble getting to neighborhoods all over the city.
My hotel recommendation in Mitte is The Circus Hotel which has tons going for it: awesome location at Rosenthaler Platz with excellent food and restaurants nearby, connected to the U8 subway, and the floor-level breakfast spot called Commonground is one of the best brunch locations in Berlin in its own right.
If you're on a tighter budget, just across the street is their sister property, The Circus Hostel . Possibly the top-rated hostel in Berlin, it is often booked out so be sure to reserve in advance.
I've got an entire post dedicated to the best places to stay in Berlin, so check that out for an in-depth Berlin neighborhood guide based on your budget and requirements.
Best things to do in Berlin on the weekend
Coming up is a super long itinerary of exactly how to spend 2 days in Berlin, as recommended by myself! But if you're just looking for the highlights, here are the coupled of don't-miss activities that I always recommend to people who come and visit me and only have a weekend in Berlin.
Berlin TV Tower Fast Track tickets : The weekends are especially busy days for tourism in Berlin, since Berlin is such a popular city break, so skip-the-line tickets are a good idea. From the TV tower you can get a birds-eye view of Berlin from its highest point (and most recognizable landmark!).


1-hour Berlin City Tour by Boat : One awesome thing about Berlin is that so many of the most impressive landmarks can be seen from the river, such as the Berlin Cathedral and the German Parliament. How cool is that? This tour has audioguides in a bunch of languages, so you don't have to worry about your tour guide having a "very thick accent" 😉 I've taken my parents AND my boyfriend's parents boat trips with this company when they visited us!


Berlin Top 20 Sightseeing Tour : So, obviously when I have visitors I am the tour guide but since you don't have me to show you around, this seems like the next best thing. It covers some of my favorite sights, and the reviews for this walking tour are through the roof. Especially on a sunny day, a walking tour is an awesome and active way to see the city.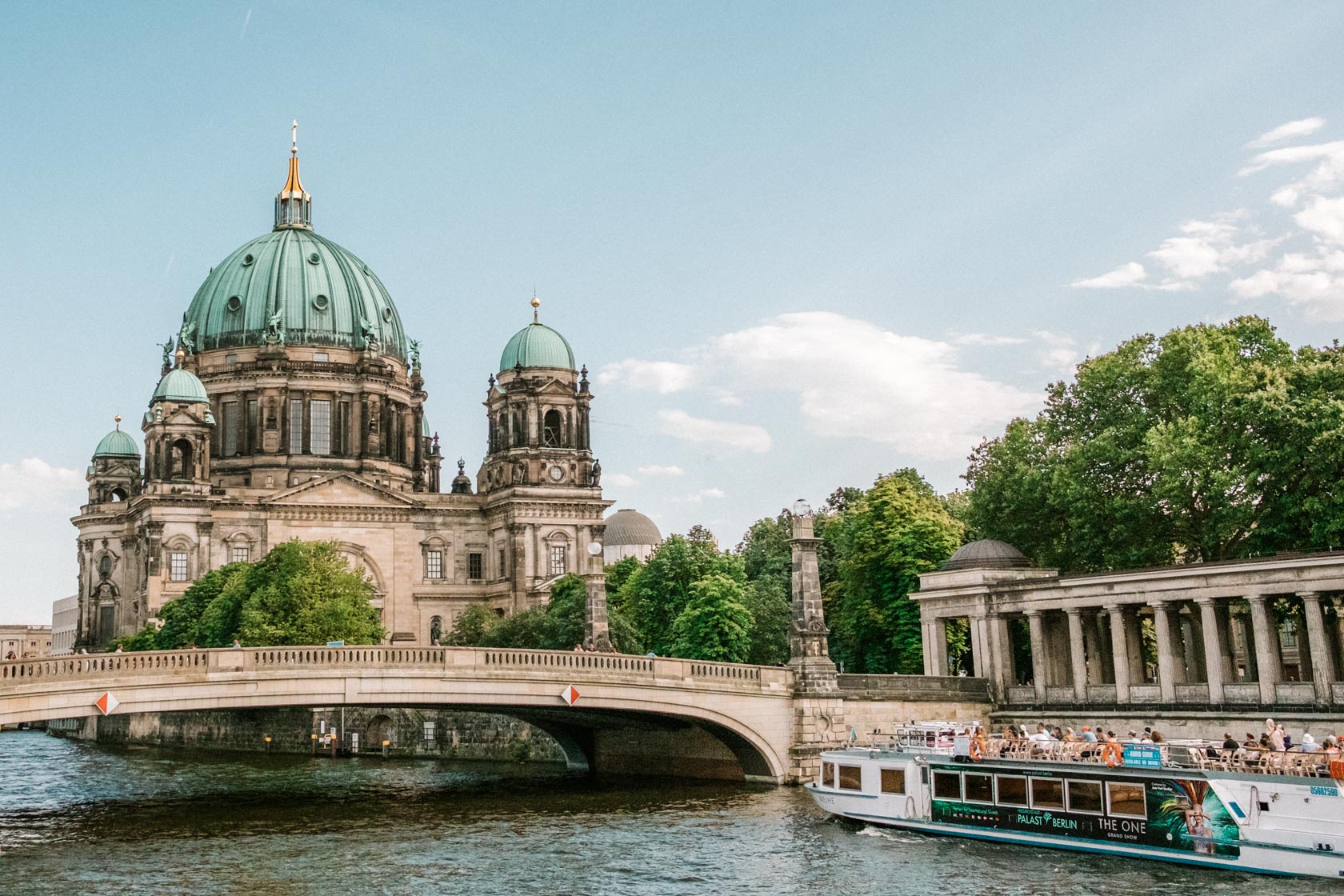 Looking for a massive, awesome, updated and ultra-detailed list of activities to try in Berlin? Head over to my list of the best things to do in Berlin for a bajillion additional recommendations based on my last 5 years in the city.
How to spend a weekend in Berlin
So, I've broken this itinerary into two parts that I think are really important, especially if you are a first-time visitor to Berlin. On the first day, we'll see historical Berlin: all the famous landmarks, museums, things going on in the city center. I'll give you tips on which tourist spots to avoid as well as the ones that are really worth your time.
On the second day, you'll get a look at the "real Berlin" as many people experience it, in the neighborhood of Kreuzberg. That's where I've lived the whole time I've lived in Berlin, so you can say I'm a bit of an expert 😏 That said, it's a massive neighborhood so I'll pick out my absolute favorite spots for you to spend your second day at.
Day 1: City center and landmarks
Gooood morning! Assuming you have a full first day in Berlin, let's start in the morning with breakfast. Where you decide to stay in Berlin will determine the best spots you can go for breakfast, naturally. If you're staying in Mitte, I recommend a couple different nice spots for breakfast:
Chipps – Make a reservation online to be sure you'll get a spot. Great vegetarian options.
Commonground – Beautiful cafe on the ground floor of the Circus Hotel at Rosenthaler Platz. You can come here even if you don't stay at the hotel.
Breakfast in our bellies, let's get started with the day!
Brandenburg Gate
The Brandenburg Gate is perhaps one of the most iconic sights in all of Germany. It was built on top of the former city gate, on the orders of the Prussian king Frederick William II in the late 1700s. About fifteen years later, Napoleon has even passed through the Brandenburg gate, after the Battle of Jena-Auerstedt. So just think, you'll be passing through a place where Napoleon once stood!
If you want to take photos with minimal crowds, do show up early in the morning. Brandenburg Gate is one of the most popular sites in Berlin for a reason!
Plus, the gate is very close to a couple of other important locations we're going to visit next: the Memorial to the Murdered Jews of Europe and the Reichstag.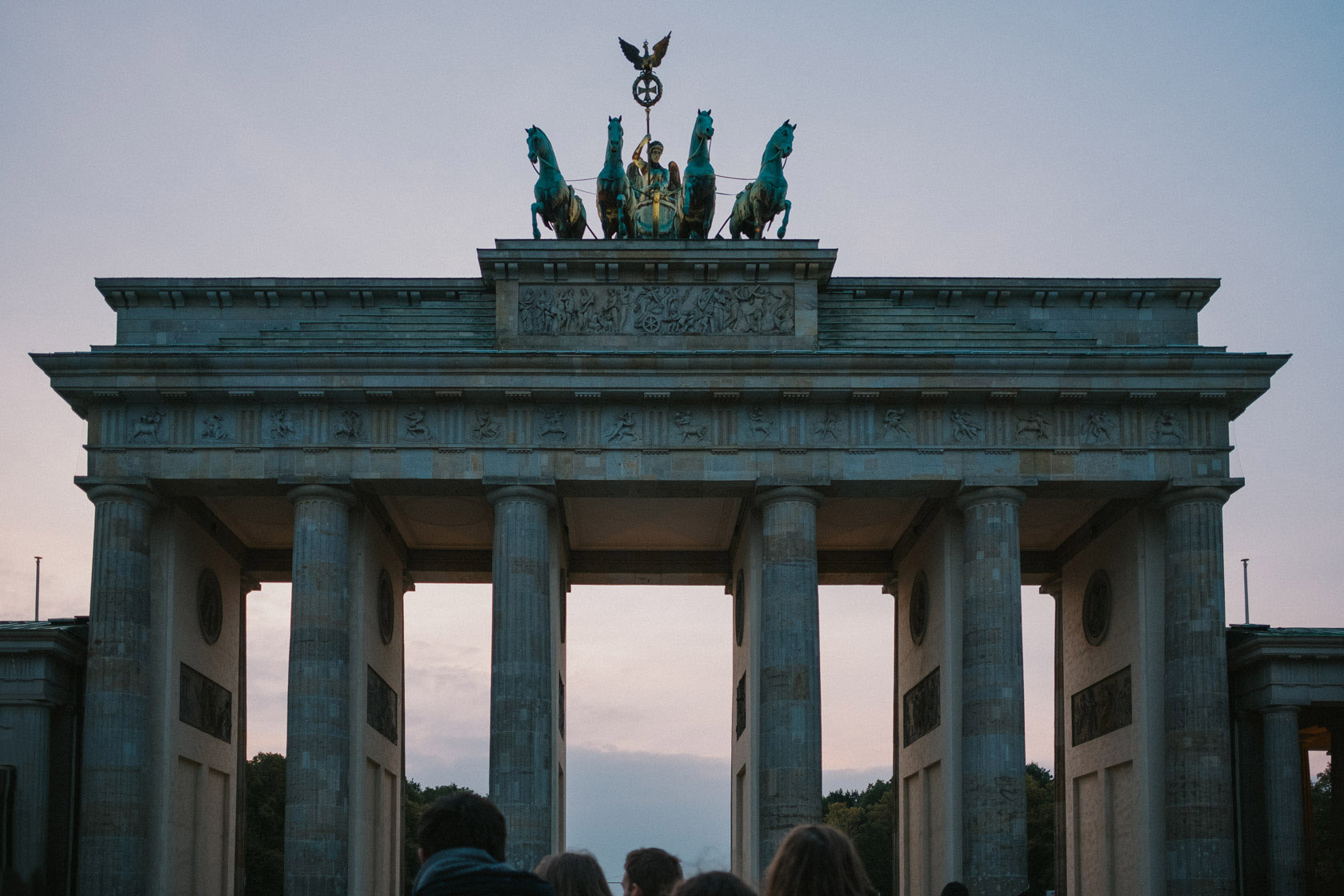 Memorial to the Murdered Jews of Europe
It wouldn't be right to visit Berlin without recognizing what happened in the city and in Europe during World War II. Just a short walk from the Brandenburg Gate is the Memorial to the Murdered Jews of Europe, also known as the Holocaust Memorial. The memorial was only built in recent years, from 2003-2004 to commmemorate the 60th anniversary of the end of the second World War.
There's a place you can visit underground containing the names of about 3 million Jewish victims. It's a somber place, but important to visit.
If you want to learn more about Jewish history in Germany, I highly recommend the Jewish Museum in Kreuzberg. It covers not only the war-time experiences of the Jews in Germany, but also their rich history in the region and their many contributions to society. Entry to the Jewish Museum is included in the Berlin Museum Pass .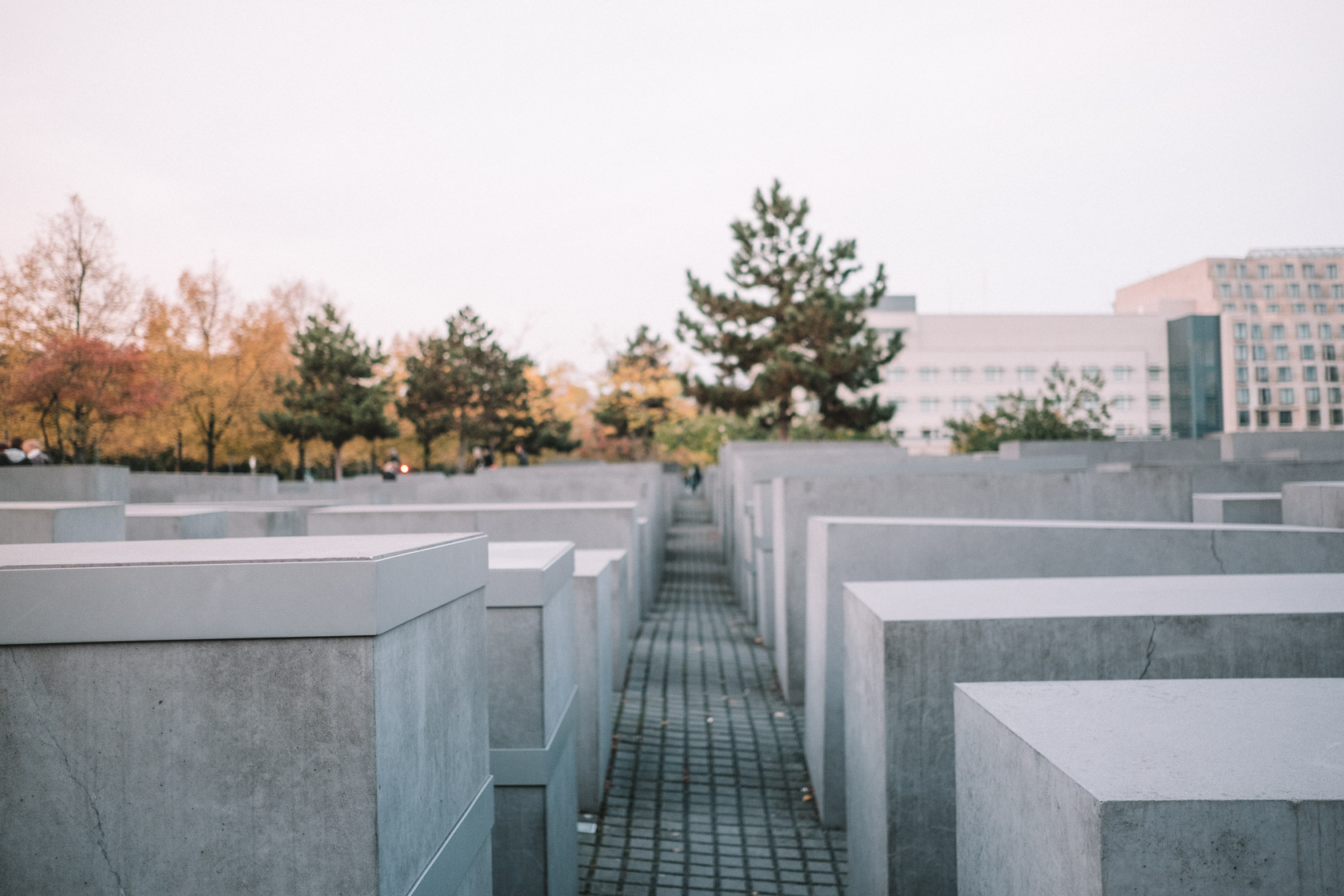 Reichstag
The Reichstag is the name of the building that is home to the German Parliament (called the Bundestag). It's located a short walk away from the Brandenburg Gate and has a vast lawn stretching out in front of it. The Reichstag original dome was damaged during World War II, and ultimately was replaced with the glass dome we know today. You can visit this dome, as well as eat at a restaurant on top of the Reichstag – maybe you'll see some famous German politicians you'd never recognize 😎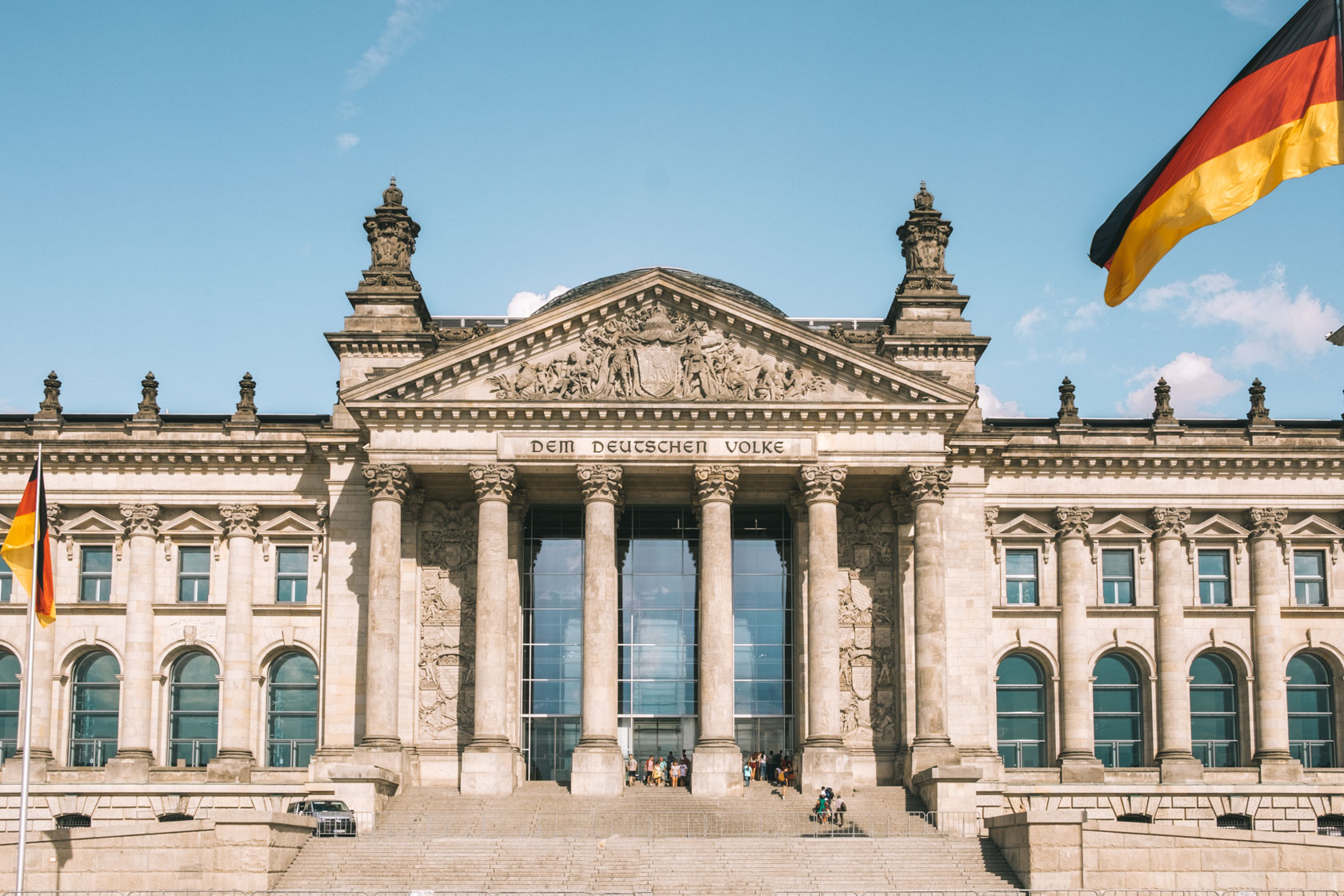 You NEED to register in advance in order to visit the Reichstag, because the German government will run a quick check on you (you are entering a government building after all!). Ideally register at LEAST one month in advance, the more the better. It can, and has happened to people visiting me in Berlin, that there were no more slots available.
There are a few different ways to register for entrance to the Reichstag. You can either register directly with the German government or sign up for a guided tour that will take care of the registration for you. This is especially important as an option for those who procrastinate (!) because tour operators reserve a certain number of tickets.
Check availability of guided Reichstag tours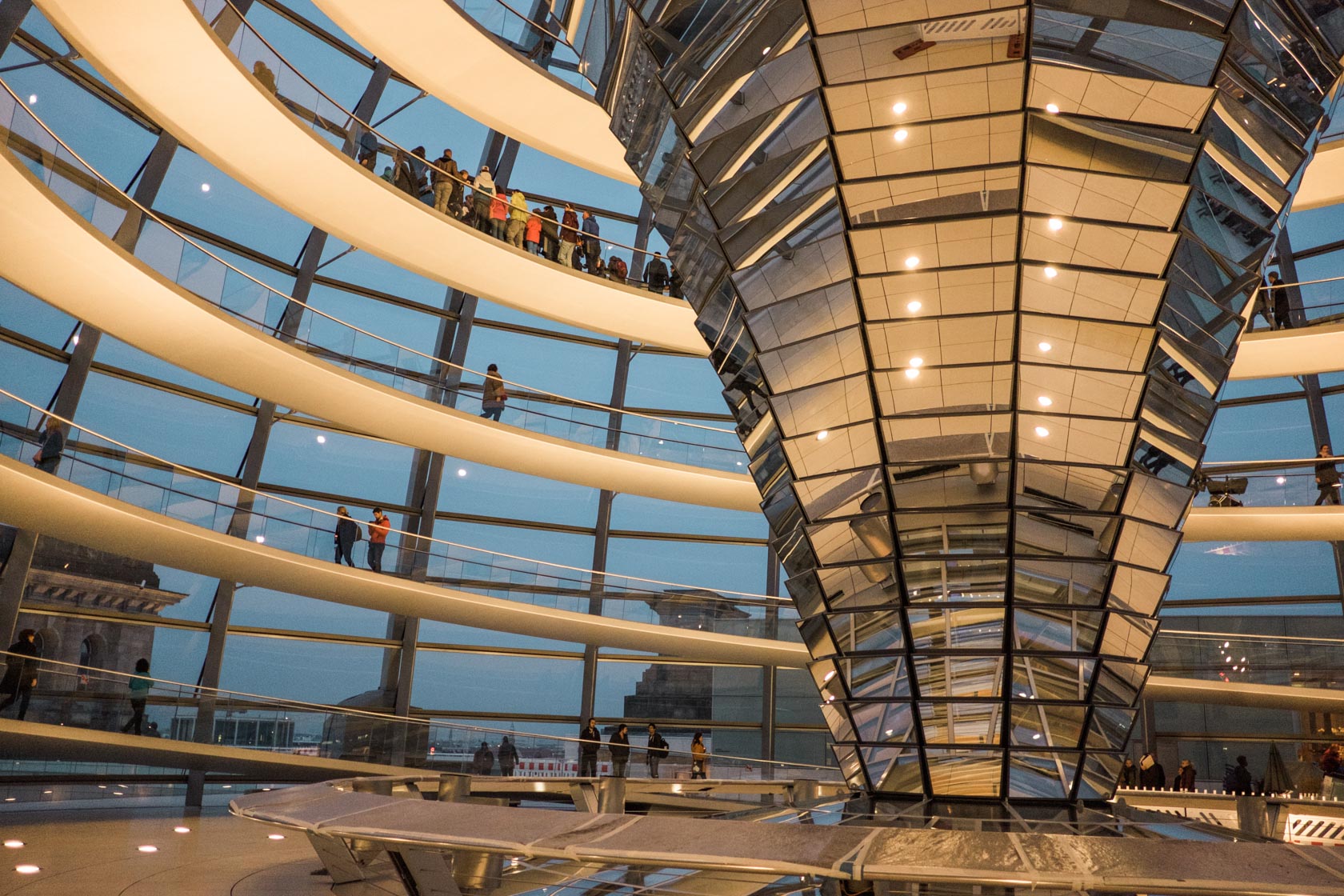 Enjoying the photos?
Follow along on Instagram!
Follow @notanomadblog for beautiful travel photography and stories of our journeys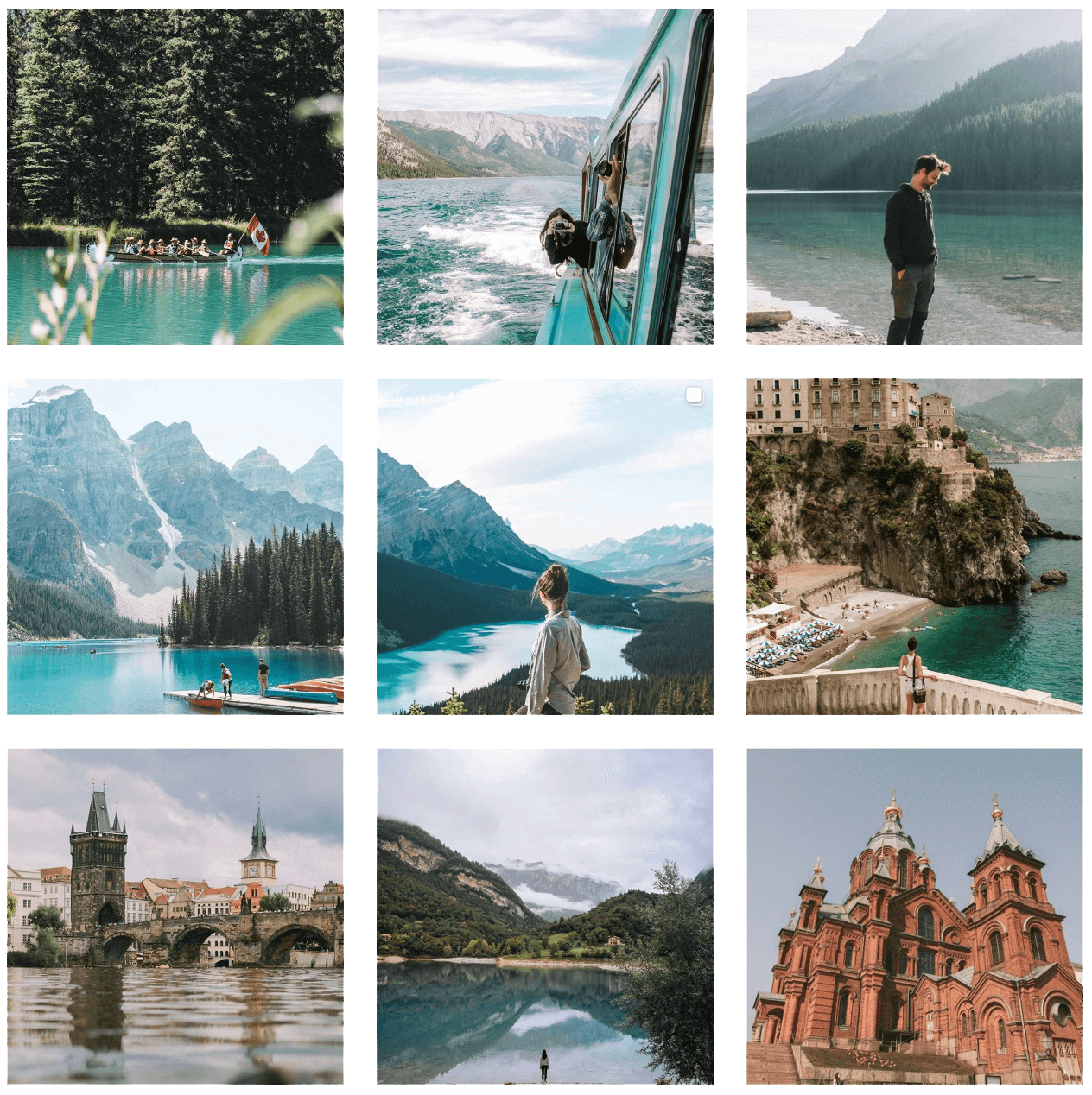 Victory Column
The Victory Column (called the Siegessäule in German) gives you sweeping views over Berlin, where you can see the Tiergarten on one side, all the way to the Brandenburg Gate down a row of trees (it's hard to see because I took this on a foggy day but I promise it's there!). One interesting fact is that the current location of the column, at Großer Stern, was implemented by the Nazis. They had a lot of ideas for how to redesign Berlin as a city. Fortunately, the fact that they did relocate the monument meant that it was saved from a lot of the bombing by the Americans on Berlin during WWII.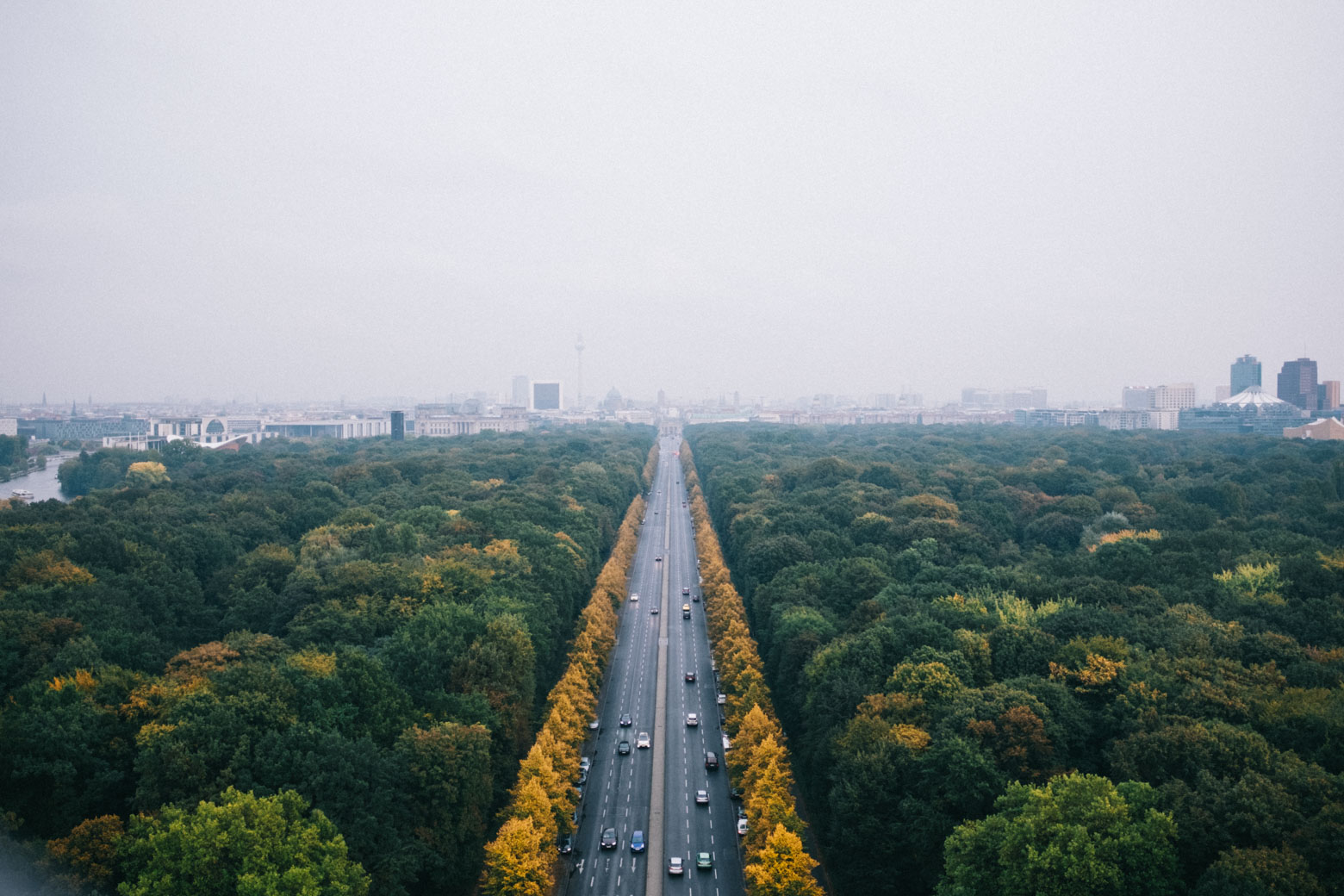 The entrance fee costs just a few euro, and allows you to climb the stairs inside the column to a height of 51 meters. It takes nearly 285 steps to get there, but the view is well worth it. I've been up twice and unfortunately both times it was cloudy but I'm sure it's even better when the skies are clear 😂
To reach the Victory Column from the Reichstag you can either walk through the Tiergarten park for about 25 minutes, or take the 100 Bus for about 15 minutes. Since it's only 4 stops, you can get a Kurzstrecke (short trip) bus ticket for just 1.50 €. But the walk is nice too 😄
Tiergarten
Tiergarten is a huge park that encompasses the Berlin Zoo (home to the most species in the world), the Victory Column (as mentioned above), as well as the next spot on our list (one of Berlin's nicest beer gardens).
Tiergarten is German's third largest urban park, after Tempelhofer Feld (also in Berlin) and Munich's Englischer Garten . It's absolutely huge and you won't possibly see every corner, but you can hit the highlights.
In good weather, Tiergarten is a beautiful place to have a picnic or just walk around. In Germany, there are no laws about not being able to drink in public, so you can freely bring your own beer to the park and have a drink by a pond or while sunbathing.
Alternatively, you can visit one of Berlin's prettiest beer gardens: Cafe am Neun See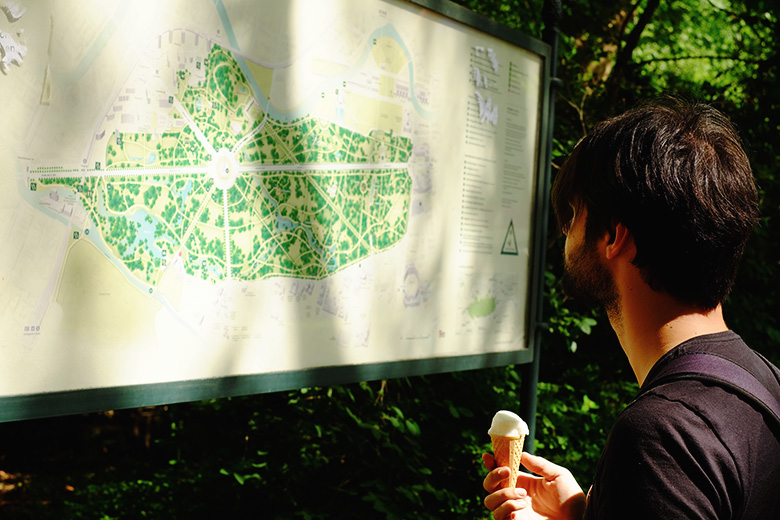 Cafe am Neun See
This beer garden is situated on an inlet from the Spree river in the middle of the gigantic Tiergarten park.
While it's not world class food, the view and atmosphere is fabulous. Enjoy a traditional German beer and go for a typical German food, whether that's currywurst (sausage with curry sauce), potato salad, or bail out and go for a pizza. This spot is one of my favorite beer gardens in Berlin for its beautiful views, but do be aware that beer gardens open in late Spring and close in Autumn!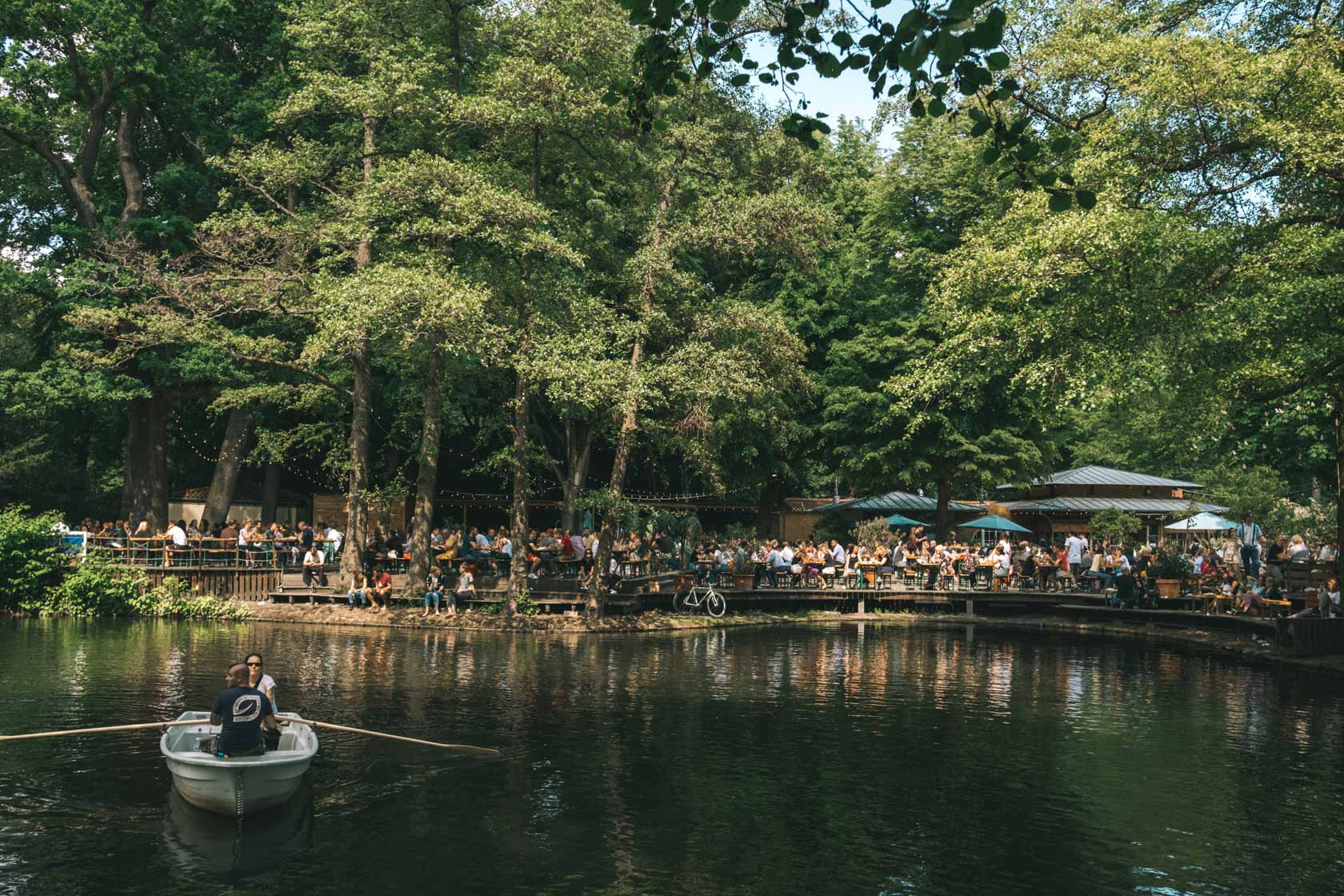 If you're in Berlin for a weekend, expect this place to be pretty crowded. It's popular with both locals and tourists. The earlier in the day you're able to come, the better.
From here, it's time to take public transit back to the center for an afternoon of sight-seeing and museum-hopping. You can take the same 100 Bus the other direction, and get out at Lustgarten, which is a stop right behind the Berlin Cathedral on the Museum Island.
Berlin Cathedral
Before heading into a museum frenzy, take a minute to enjoy Berlin Cathedral. Some of the best views of the cathedral can be head from the park in from of it, or from the Friedrichsbrücke which connects Museum Island to Hackescher Markt.
If you have the time, you can buy a ticket that lets you go to the top of the dome and get a view from above. I've never done this myself, but some members of my boyfriend's family have done it and really enjoyed it. The cost is 7€ per person.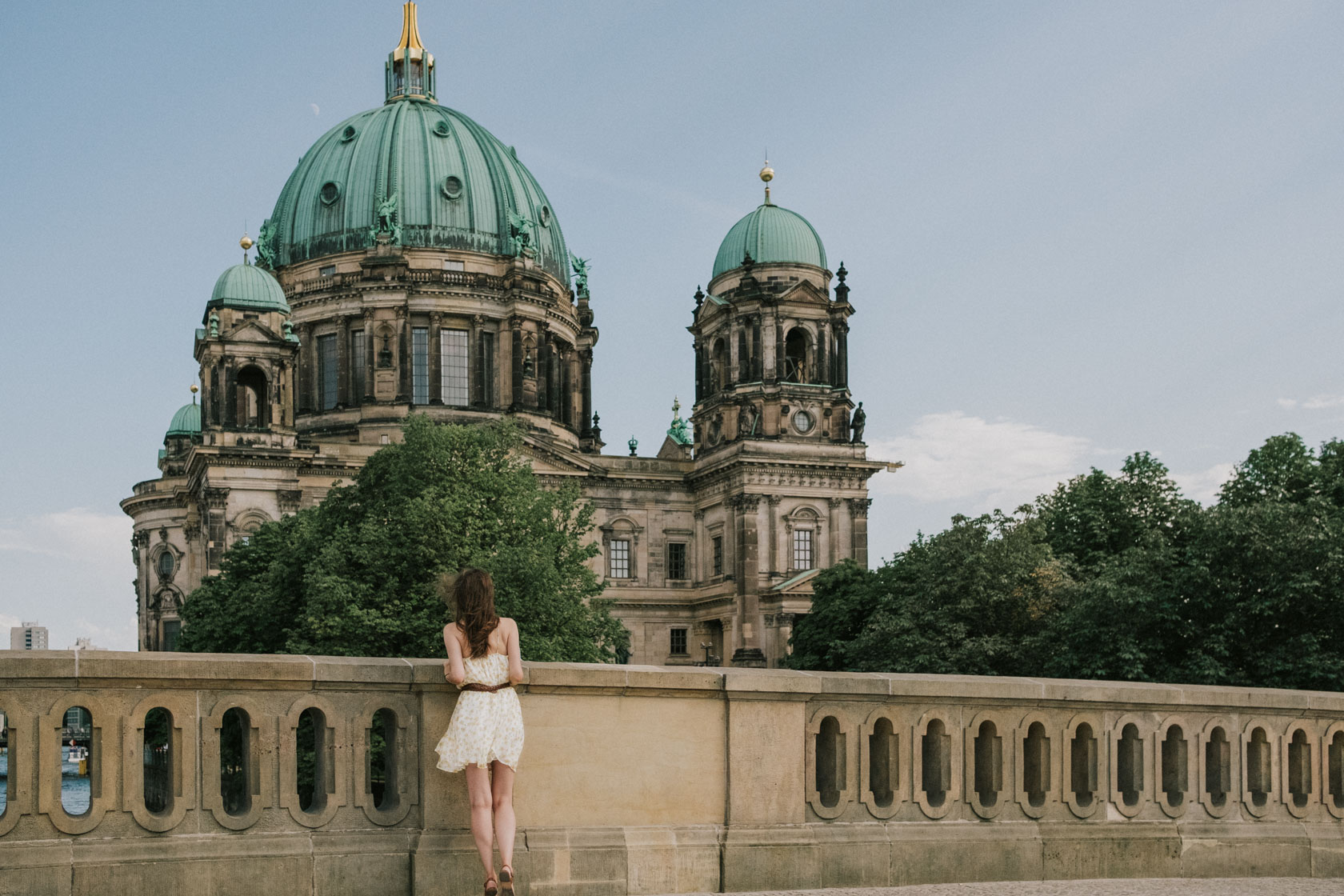 Photo of the Berlin Cathedral, taken from the Friedrichsbrücke.
Museum Island
Museum Island is quite literally an island in the middle of the River Spree, which runs through the city. It hosts a complex of internationally recognized museums, and is a UNESCO world heritage site. Museum Island is connected by short bridges from the main part part of the city.
Here are some of the museums I would recommend checking out while you're in Berlin. You can spend days in all of Berlin's more than 170 museums, but here are a few right in the middle of the city you can pop into. Entrance to each museum costs 10-19€, depending on the museum.
If you know which museum you want to visit, I'd advise buying a ticket in advance. Otherwise you will end up waiting in line during the peak tourist season to buy tickets. I've seen it. I've done it.
Be mindful that the museums close at 6PM most days, so do check how much time you have. Be sure to also check opening hours for the dates you'll be visiting in case of special events, bank holidays, etc.
Museum Name
Highlights
Get tickets
Neues Museum (12€)*
Ironically, though its name means "New Museum", this museum has some of the oldest things in it. Famous for hosting the bust of Nefertiti and scrolls of the Book of the Dead. Come here for its impresive Egyptian collection!
Get tickets
Bode Museum (12€)
Perhaps most famous because recently it's multi-million dollar Canadian gold coin was heisted away!

Closed Mondays
Get tickets
Pergamon Museum (19€)*
This museum is home to a reconstruction of the the Gate of Ishtar, part of the Babylonian Empire and the original 7 wonders of the world.
Get tickets

Alte Nationalgalerie
This is the main museum that is going to contain paintings. You'll find mostly neoclassical and romantic-era paintings. One of the largest collections of 19th century sculptures and paintings in Germany.
Get tickets

Altes Museum
Hosts the antique collection (Antikensammlung, Collection of Classical Antiquities) with lots of Ancient Greek artifacts.
Get tickets

* - If you want my opinion, Neues Museum and Pergamon Museum are the two coolest museums on Museum Island. And if you only have two days, you probably don't want to spend ALL your time in museums. While the Museum Island day pass is an excellent deal if you're visiting several museums, at only 18€, it does NOT include the Asisi Panorama which is one of the main attractions of visiting Pergamon. If I had to pick just ONE for you, I'd recommend the Pergamon Museum , including the Panorama for 19€. Unless you are an Egyptian nerd, in which case the Neues Museum is your ticket.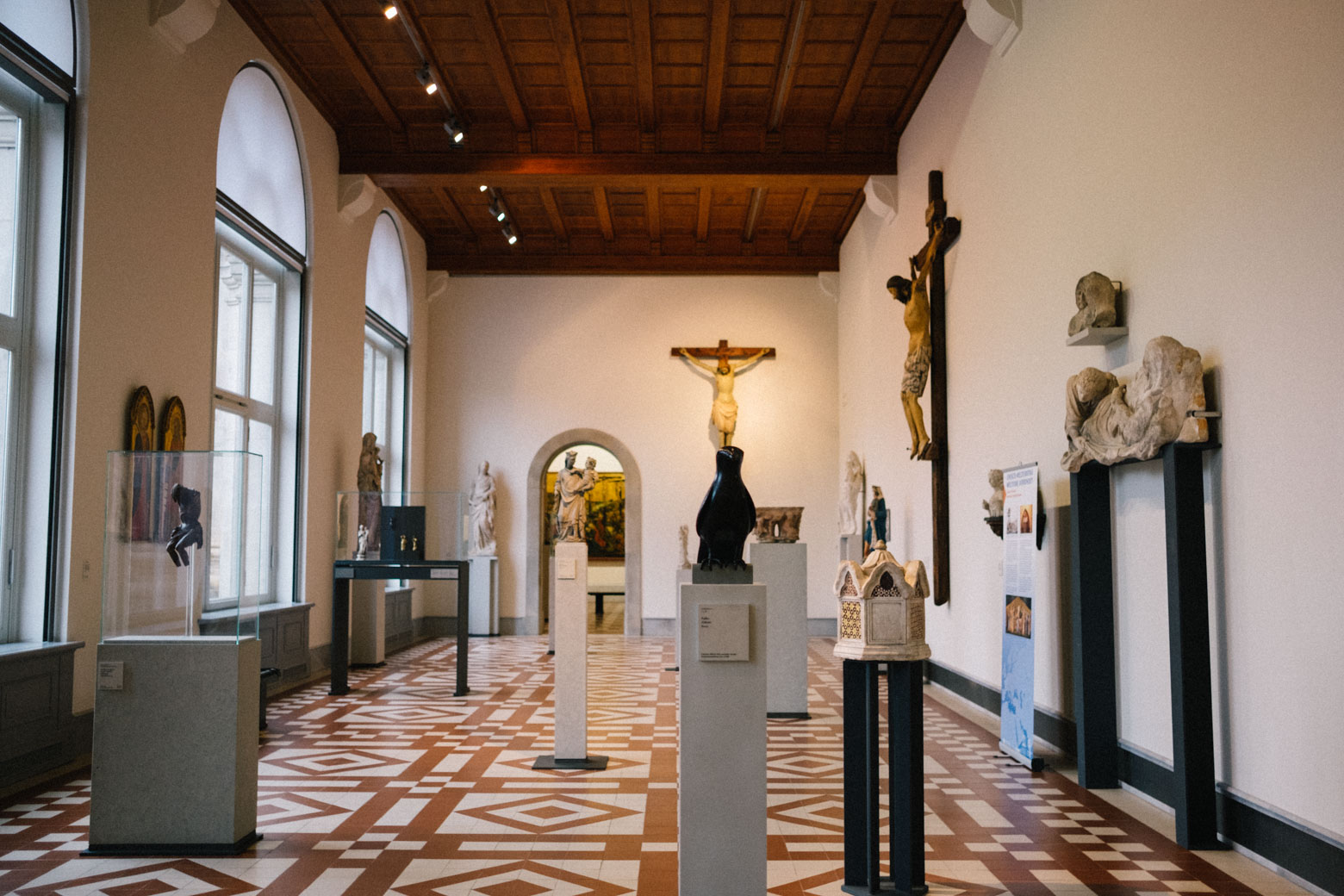 How to get the best deal on Berlin's museum tickets
If you plan to go to museums on both days of your trip, check out the 3-day Berlin Museum Pass . The 3-day museum pass costs 29 € (~$33) and covers 30 museums, whereas individual museums on Museum Island cost 10-19 €. So in short, you need to visit 3 museums to make the pass worth the cost, unless you add the Pergamon Museum then it only takes 2 because Pergamon is expensive!
However, if you only plan to visit museums on ONE day and ONLY the museums on Museum Island (there are many more museums besides on the one on Museum Island), you can also buy the Museum Island-only day pass for 18 € (~$22) which is obviously cheaper.
NOTE – Berlin also offers reduced ticket prices for seniors, students, and those with severe disabilities. If you want to get a student ticket, you need to be able to present a student ID that has a date on it. If you're under 18, you qualify for a free ticket .
Alexanderplatz
Alexanderplatz isn't the prettiest part of Berlin, but you can see the TV tower up close here. It's possible to go up to the top of the TV tower, and even eat at a restaurant up there! I've never done it but it's something I really need to do before I leave Berlin. You can get skip-the-line tickets for the TV tower so you don't need to wait.
Apparently you can even book a ticket for the TV tower that includes getting a window seat at the restaurant! If that sounds awesome to you, you can get a ticket here for just 3€ more than you'd pay for the regular ticket.
If you want to go somewhere high up where you can also see the TV tower, try the Panoramapunkt . This is a cheaper alternative to the TV tower that costs just 7.50€ and gives you a chance to ride the fastest elevator in Europe! It's located at Potsdamer Platz so you'll need to take the subway or a bus to reach it.
Otherwise, also located at Alexanderplatz is the St. Marienkirche and the Rotes Rathaus . If you come in Christmas there's a popular Christmas Market here as well.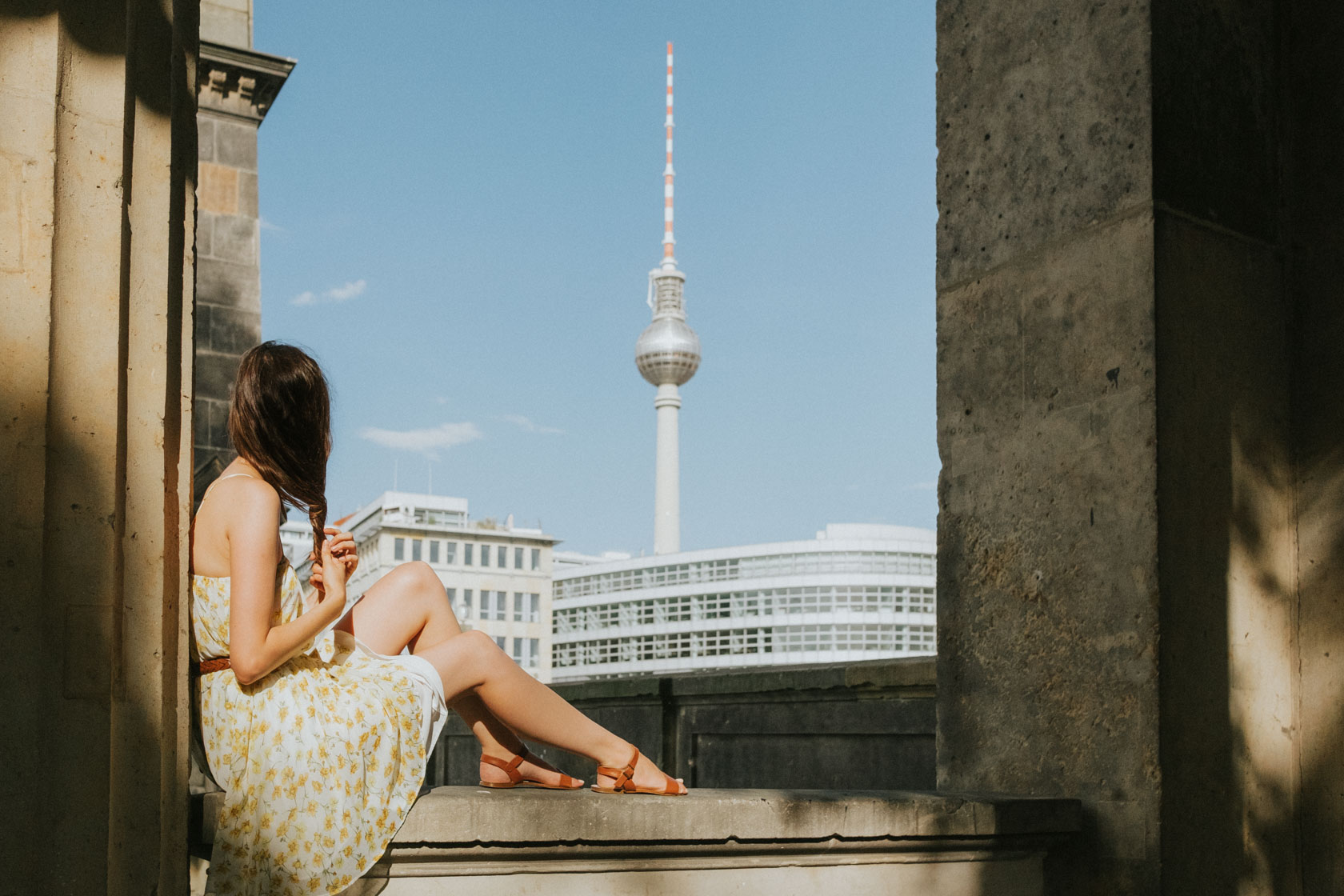 This photo was taken from Museum Island, facing Alexanderplatz.
Hackescher Markt
Hackescher Markt is one of the main areas you can go shopping in Berlin. If you want to pick up some mementos of your time here, this would be a great place to do it. My personal favorite shop on Hackescher Markt is Muji , which is a Japanese clothing brand. From here you also have tons of restaurants to try, or places that are within walking distance. Now that the day is mostly done, let's talk about dinner!
Where to eat in Berlin Mitte
Berlin is like a Mecca for fabulous international food. Thanks to the rich cultural diversity of the city, you can basically eat any kind of food you want here (except really good Mexican food…but I digress). Buuut, I'm going to guess that when you're in Berlin for just 2 days, you want to try something local. So here are a couple of great places to go for dinner, with a heavy focus on trying the local cuisine.
Schnitzelei Mitte ($$) – Menu – Excellent Schnitzel, tasty craft beer, also has plenty of vegetarian options and one vegan option. Outdoor seating available in good weather.
Clärchens Ballhaus ($$) – Menu – Combines classic German dishes with some more generic offerings, you'll find something for everyone. One vegan option 🌿 Plenty of outdoor seating for good weather.
Schwarzwaldstuben ($$) – Menu – Classic Southern German food, vegetarian options (not sure about vegan though). Just a few tables available outside.
In all cases, make a reservation. Of course you might get lucky, but reservations are free so get it done 😉
Evening activities in Mitte
If you're not totally wiped out from a busy day of activities, there are of course things to do at night. Here are a few ideas:
See the landmarks illuminated. The Berlin Cathedral and the Brandenburg Gate both look very impressive by night.
See a live show. There are some popular arobatics shows at Friedrichstadt-Palast as well as at the Chamaeleon Theatre .
See a movie in English – with no subtitles! Super boring for those of you coming from English-speaking countries, but if you're an expat living in Europe you can enjoy an English, subtitle-free movie at the Sony Center .
Day 2: Hipster Berlin
Welcome to day two of our two days in Berlin! Now that you've soaked in the biggest part of the typical Berlin tourist route, we're going to spend some time doing as the locals do. And that begins with brunch.
I live in Kreuzberg, so this is the area I know best and can recommend a lot of local activities. Historically, Kreuzberg has been a Turkish neighborhood which has seen a lot more people move here. It was famously where David Bowie used to hang out when he was in Berlin.
Today we're going to enjoy Kreuzberg's local side, as well as see some of the best tourism highlights in the area: the Berlin Wall and Oberbaumbrücke.
Kreuzberg brunch
If you're staying in Mitte, take the U8 to Kreuzberg. Depending on where you'd like to go for brunch, you'll need different public transit options. Here are a few of my favorite places for brunch in East Kreuzberg.
If you happen to get lucky and it's the third Sunday of the month, you can also go the next place for a breakfast market…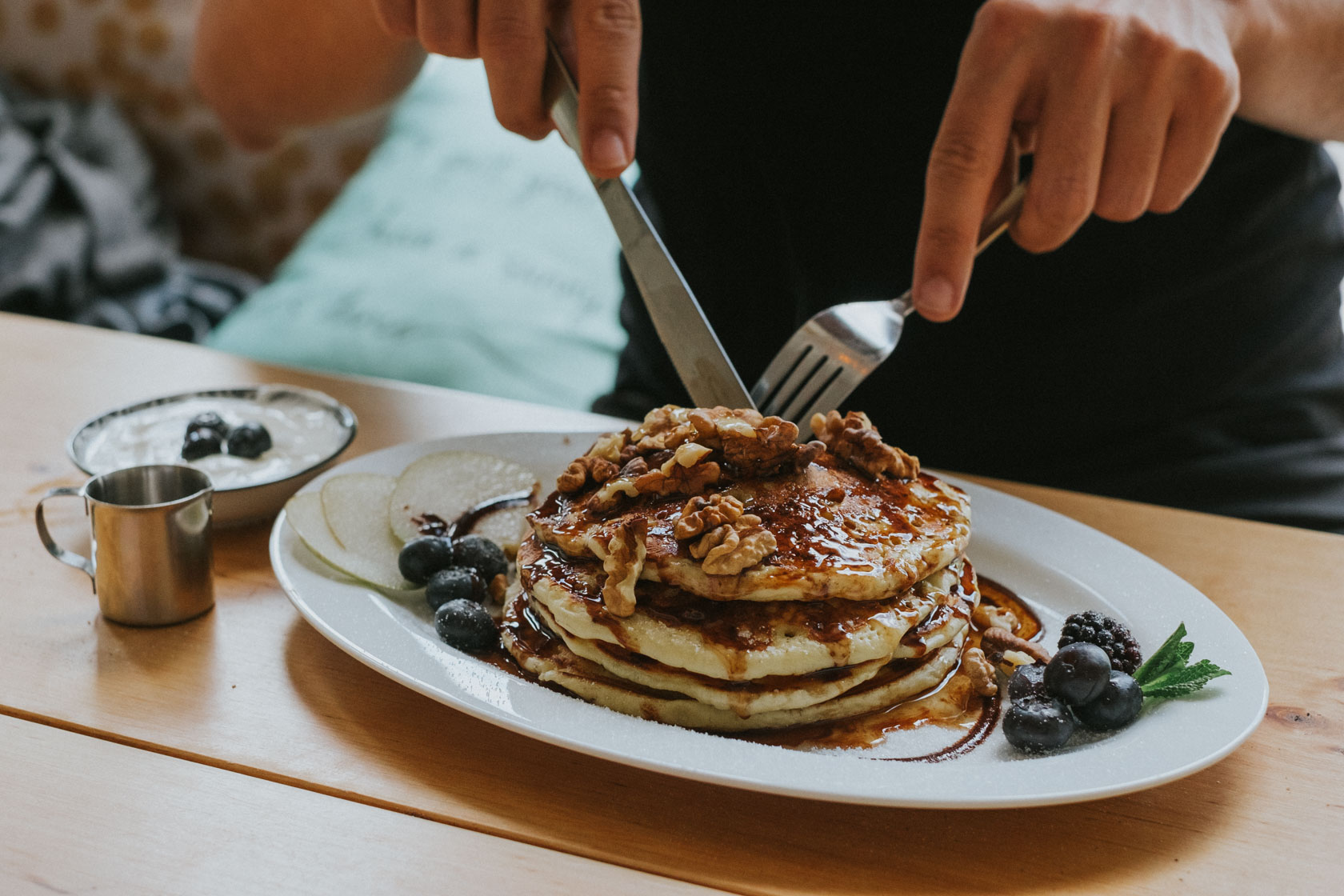 Pancakes at Be Coffee My Friend, another great breakfast spot in Kreuzberg.
Markthalle IX (if open)
If you're coming to Berlin on the weekend, double-check that Markthalle Neun is open before you arrive. Once a month on a Sunday, they have a breakfast market where you can basically get food from a ton of different stalls. Check out Markthalle IX's website for details on the different events they have going on.
If you happen to be here on a Thursday, you can come by for Street Food Thursdays, probably the most regular highlight of the market. Besides that, there are a number of stalls that are permanently installed. Such as the bakery where Berlin's top-rated bread is baked at Sironi , some tasty craft beer at Heidenpeters , or just a really nice cup of coffee at Kaffee 9 .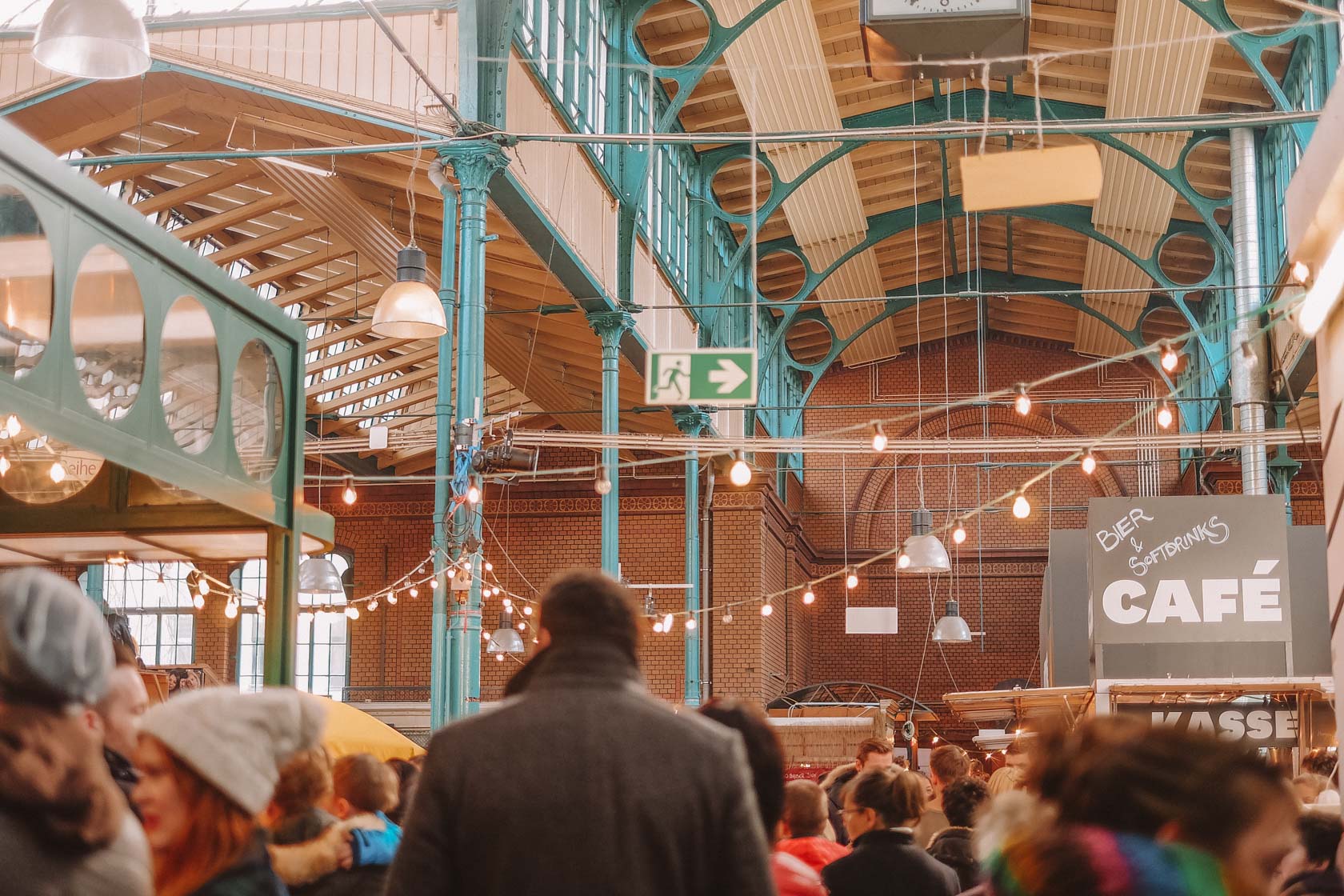 Oberbaumbrücke
After you've had a proper meal, let's head by foot through Kreuzberg to one of the city's most famous sights that also happens to lie outside the center: Oberbaumbrücke. This gorgeous bridge is probably one of the most common things you'll see in movies or TV shows about Berlin. Perhaps you recognize it if you watched Berlin Station, the Netflix series, because in the show they thwarted a terror attack that was planned to happen on this bridge.
Come around to the north side of the bridge to take some fabulous photos, and then continue on to the East Side Gallery where you'll see the best representation of the Berlin Wall that the city has standing.
East Side Gallery (Berlin Wall)
There are a lot of different places you can see the remnants of the Berlin Wall. For instance, there are some pieces at Potsdamer Platz, there are pieces in random places throughout Berlin. But the very best spot to see the Berlin wall, and the most famous art that has been painted on it, is at the East Side Gallery. This stretch of approximately 1 kilometer of wall is the longest in the city.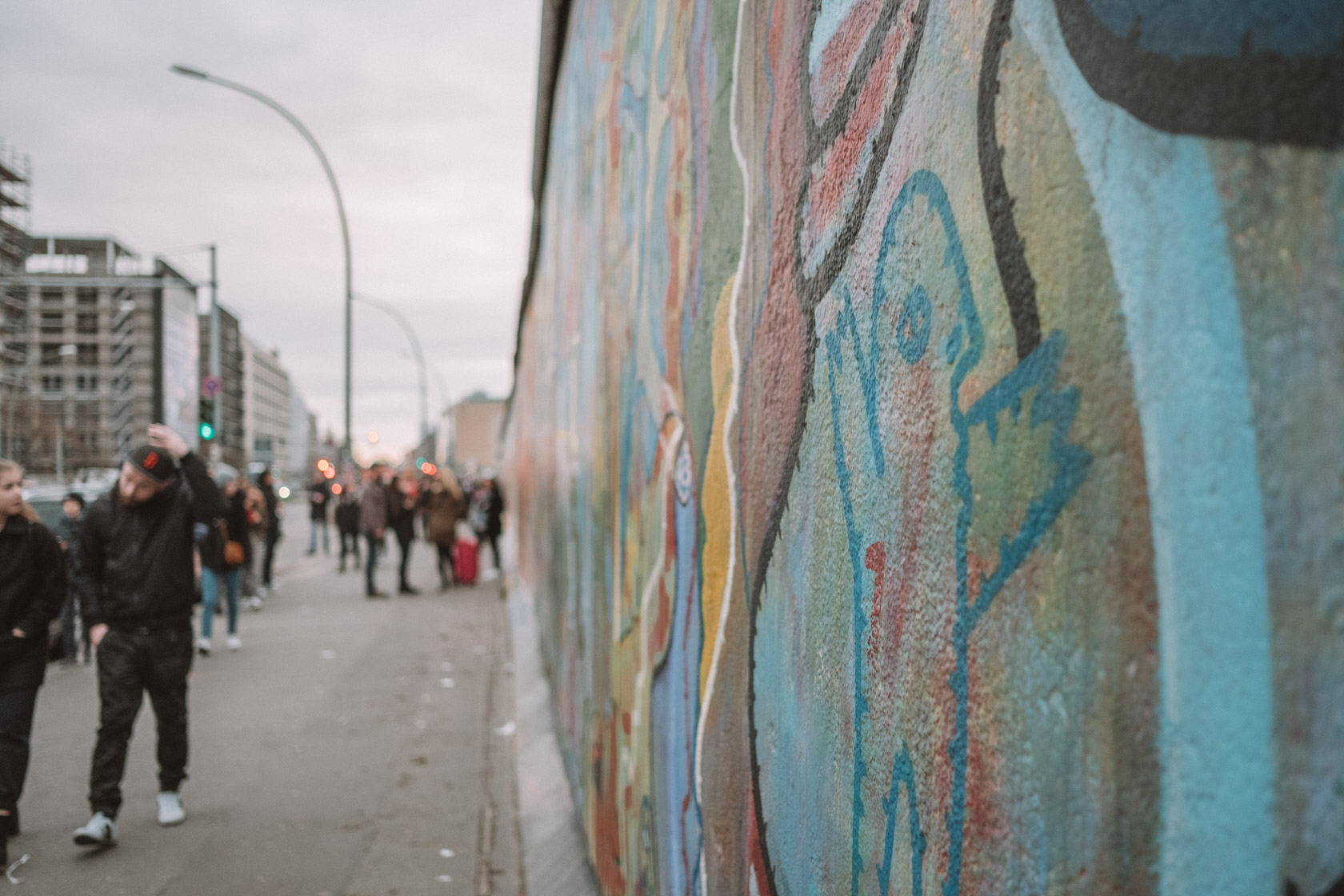 The art on the wall was painted in around 1990, and unfortunately there is a lot of vandalism that takes place and the murals are in need of regular restoration. You can grab an ice cream while you walk down the wall and reflect a bit on what it must've been like to live in a divided city. (In case you don't know, there is only one city in the world today that is divided as such, and that is the capital of Cyprus).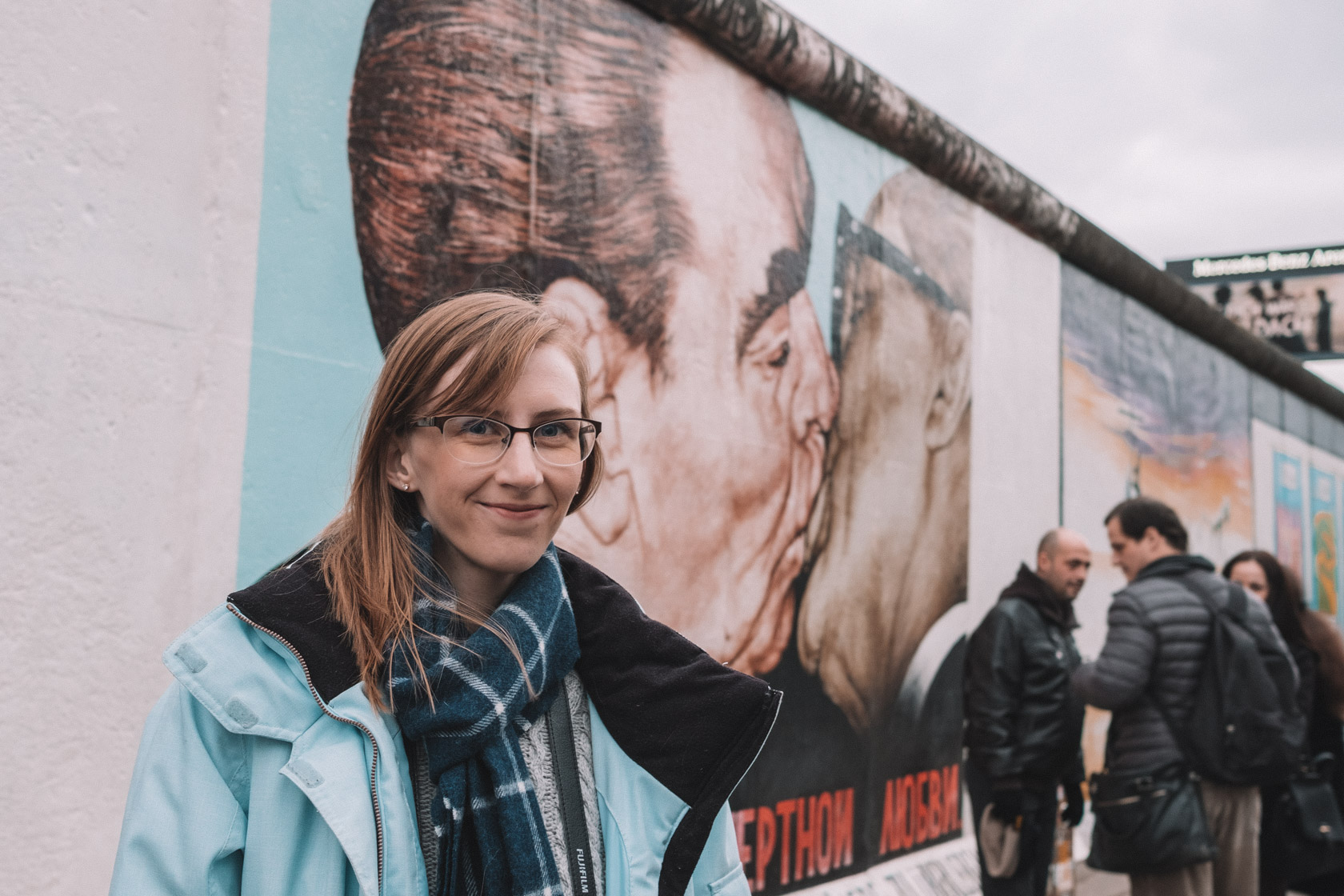 This is my little sister. You know my itinerary is legit because I also use it on my own family 😂
For lunch, head back to the Schlesisches Tor U-bahn station and grab a burger at a Berlin institution, Burgermeister . They even have a veggie burger, so no one goes hungry!
From here, you have basically a lot of options for things to do in Kreuzberg. You can mix and match these depending on what you're in the mood for and how much energy you have at the end of your trip!
Things to do in Kreuzberg
Visit Treptower Park where you'll see a huge Soviet memorial with Stalin quotes everywhere. It's pretty impressive albeit also strange. The main memorial is quite deep in the park so you'll need to take public transit.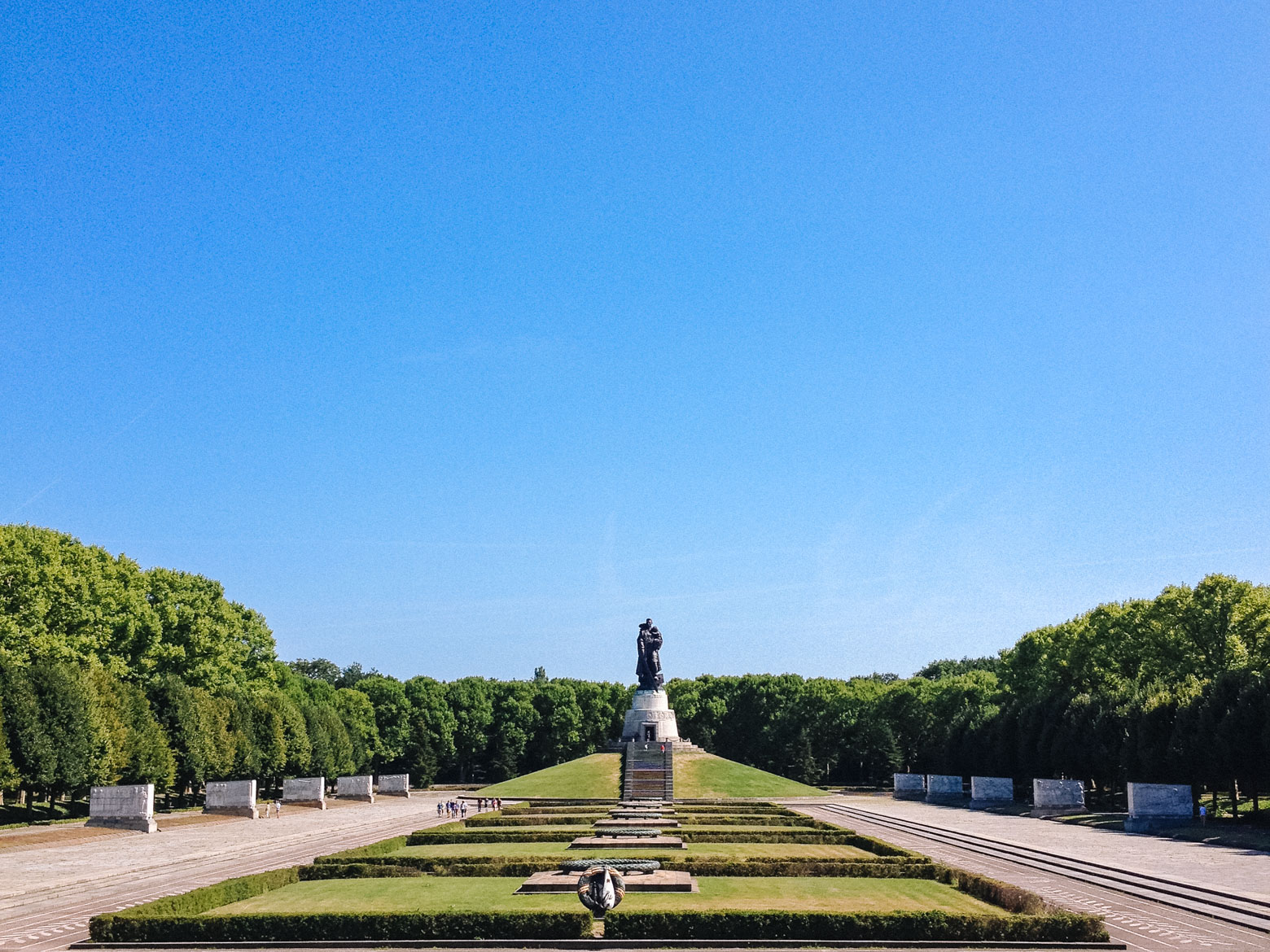 Go for a craft beer at Hopfenreich, a craft beer bar in Kreuzberg that opens its doors from 4:00 PM every day. They offer both domestic and imported beers and have limited but lovely outdoor seating for days with good weather.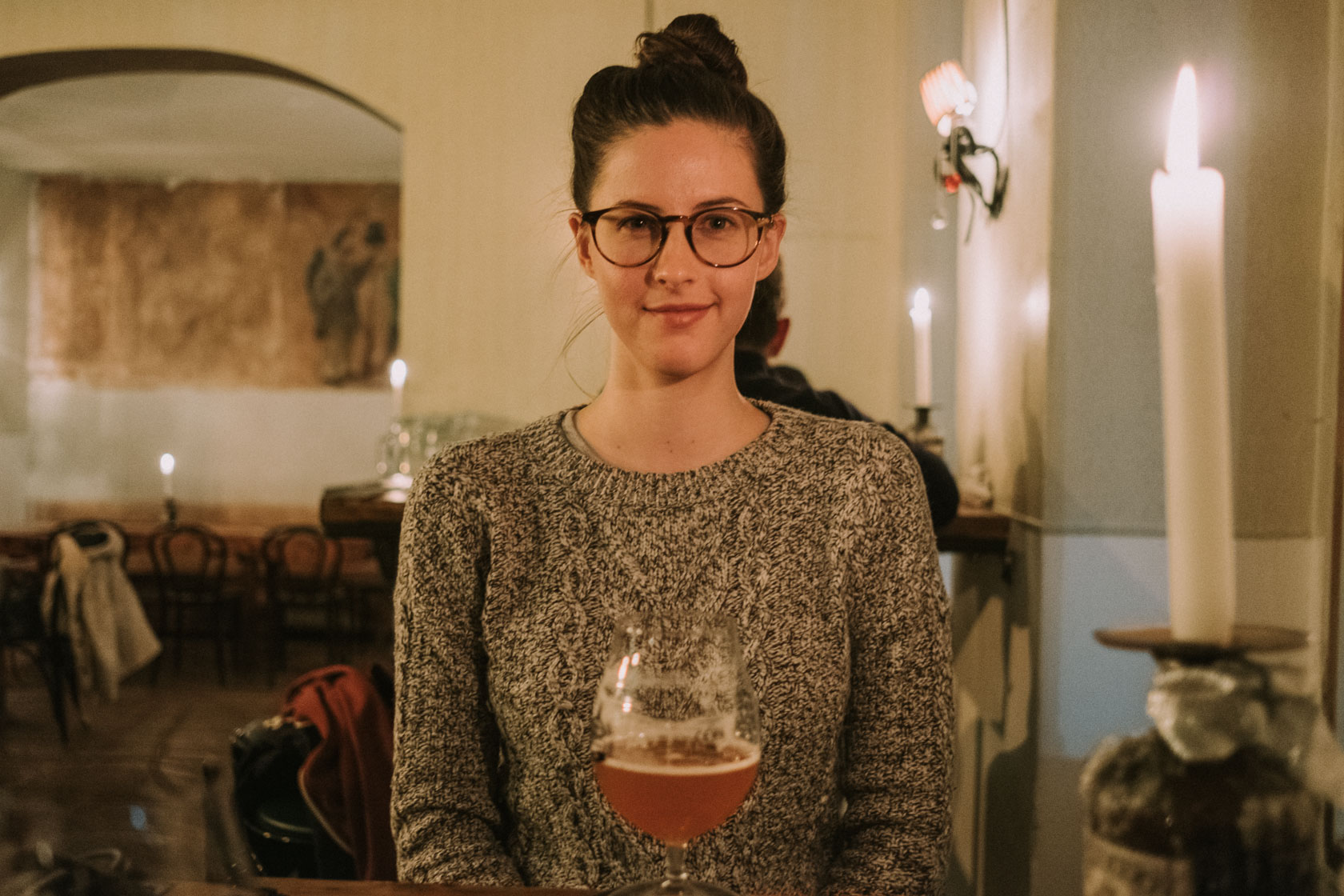 Go for a walk down the Landwehrkanal, a canal that runs through Kreuzberg. On Tuesdays and Fridays you'll find the Turkish Market at Maybachufer, where you can get street food and eat it by the water.
Alternatively, you can also take a Spree and Landwehrkanal boat tour . Did you know that Berlin has more bridges than Venice? Now you do. Learn that and more on this tour.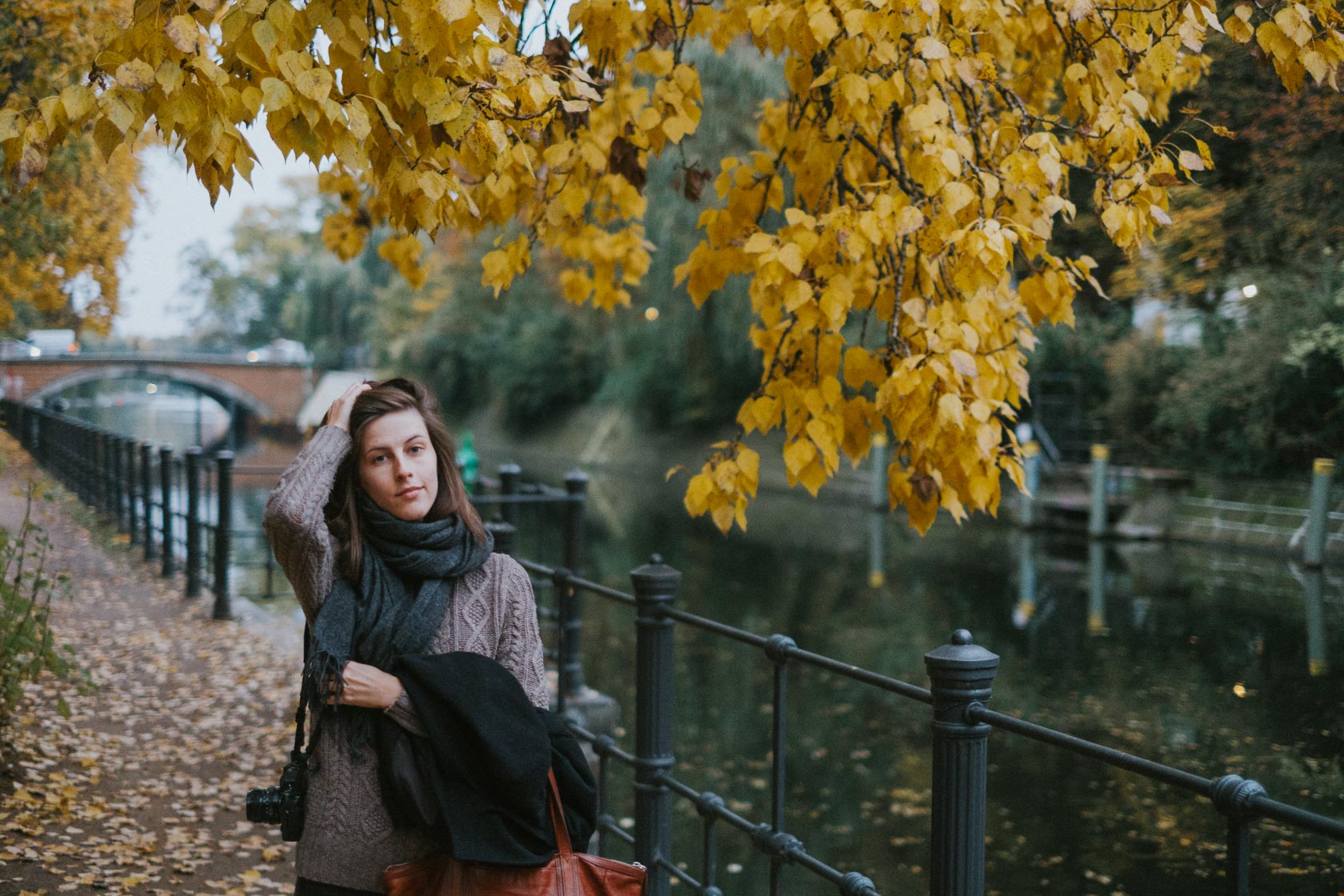 Visit Viktoriapark, my favorite park in all of Berlin. From the top you see a panoramic view over the entire city. Inside the park you also have a lovely beer garden where you can relax at the end of your trip and swipe through the neat photos you've taken.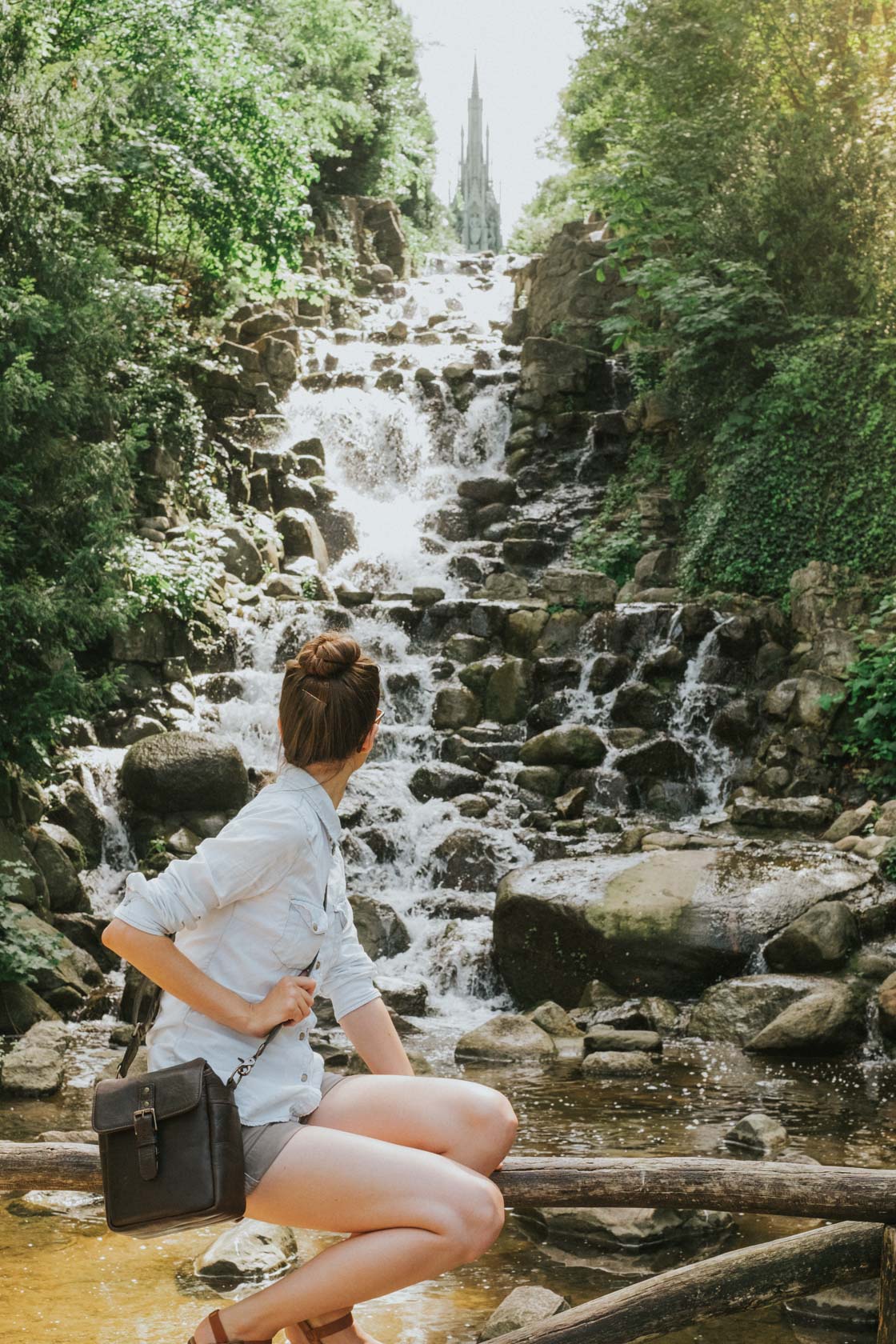 Take an Alternative Berlin walking tour, this four-hour tour takes you through Kreuzberg, Friedrichshain, and Neukölln as well as other districts where you'll learn about the alternative side of Berlin. Whether it's street art or house squatting. You'll get a better idea of how people live in the city, what are their struggles, as well as what local culture and art is like.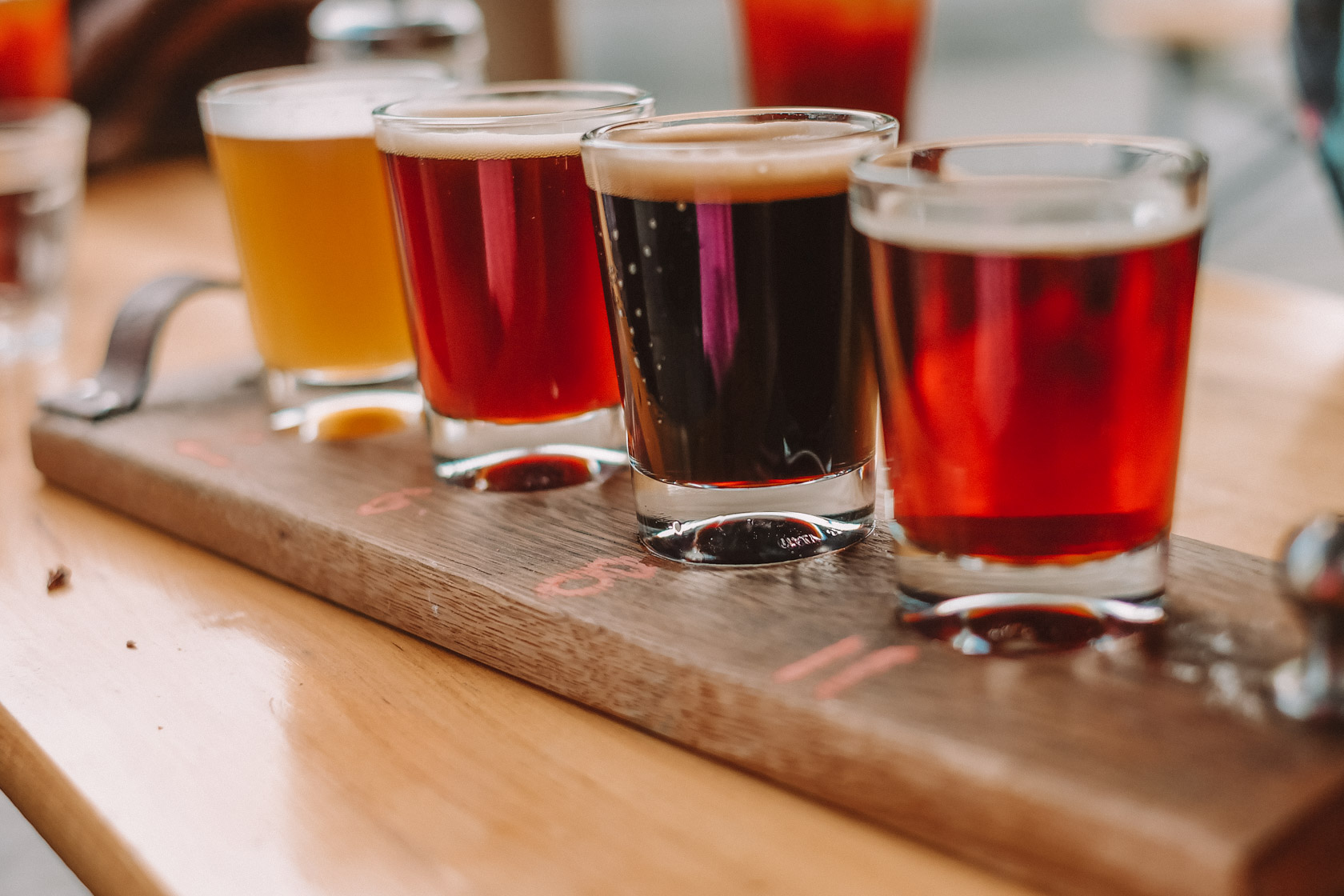 Tours and activities to try in Berlin
Besides the tours and activities I've mentioned in this post, there are a few others that you might find particularly interesting, and worth doing instead of a different part of the itinerary.
Berlin Underworld Tour – You can take a tour through the underground tunnels and bunkers that people hid in while Berlin was being bombed by the Allied forces in World War II. I'm planning to do this one with my Aunt and Uncle when they visit next month, and have heard good things about it from friends and colleagues (Note: there are four different tours offered by this company, check the others out too if you are interested)
Berlin Tempelhof Airport Tour – This airport was originally commissioned by Hitler, and was used until the 80s. Today you can take a really awesome tour inside and learn about its interesting architecture and history. I've done this tour and it really exceeded my expectations.
Berlin Sachsenhausen Memorial Day Tour – You might not realize it, but there is a concentration camp located just a 40 minutes subway ride from the Berlin city center. You can also go on your own, as admission is free. But to get the most out of it, you will want a guided tour.
Yes, sometimes travel isn't the most uplifting but Berlin has a dark history and it's important not to gloss over that. To wrap up this guide, I want to share with you a couple of specific things that happen in Berlin based on the season you'll be visiting in.
Getting around Berlin
Public transit in Berlin consists of four main parts: subway (U-bahn), express trains (S-bahn), busses, and trams (Strassenbahn). Any ticket you buy for one system will also be valid for the others. A daily pass will run you 7 € (which is a bit more expensive than 2 x 2.70 €, the cost of a standard ticket). You can also buy 4 tickets in a batch for 9 €. So for the daily ticket to make sense, you really need to be taking 3+ rides per day.
Do check out the Berlin Welcome Card , which offers unlimited public transit in A, B, & C zones (meaning, it includes the "budget" airport called Schönefeld, which is super far outside Berlin as well as Potsdam, the location of a famous palace). Plus, it includes all the museums on Museum Island, two photography museums, walking tours, boat tours, up to 30 different activities.
TIP – If you don't opt for the Berlin Welcome Card, BVG, Berlin's public transit company, has a handy mobile app you can use to buy tickets from. It's often cheaper to buy batches of 4x tickets than individual tickets.
Besides public transit, you can get around by foot, using Uber, or by taxi.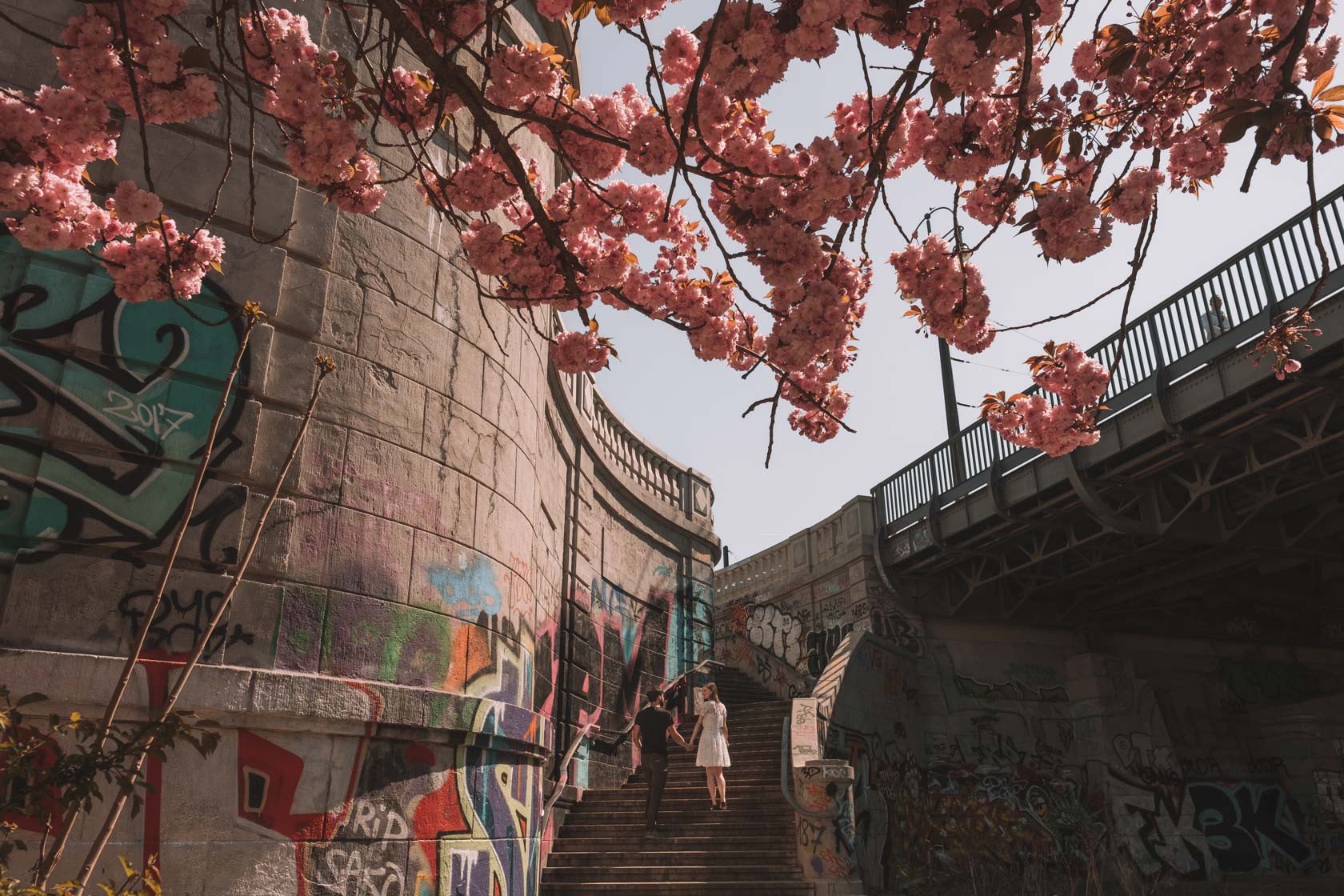 Things to do in Berlin by season
Lastly, I want to collect all my favorite things to do in Berlin based on the season you're visiting in. There is something unique for every time of the year!
Things to do in Berlin in Spring
There are plenty of great things you can do in Spring in Berlin, even if the weather is still relatively cold and subject to rain. Just be sure to pack layers to defend against the wind, and an umbrella and/or rain jacket.
See Berlin's more than 9,000 cherry blossoms. After the wall fell, Japan gifted Berlin with thousands of cherry blossom trees to mark a new era in her history. Find out where to find cherry blossoms in Berlin.
Peruse art galleries during Gallery Weekend. Contemporary art fans will enjoy this weekend in Berlin where over 50 art galleries open their doors for three days. Learn more about it on the Berlin tourism website .
Enjoy International Museum Day's special tours and talks. This international event also takes place in Berlin and gives visitors a special museum experience!
Things to do in Berlin in Summer
Participate in two of Berlin's biggest street fairs: Carneval of Cultures and May Day. Each of these street fairs gives you a chance to experience fabulous street food and live music.
Take part in Europe's largest street fair: Gay Pride in Berlin. More than 400,000 people participate every year. Happens in mid-July.
Go to a German beer garden. Do like the Germans do and enjoy the great weather with a beer! Here's where to find Berlin's best beer gardens.
Visit a nearby lake. Berlin has tons of beautiful lakes and green spaces. Come for a swim or even go naked in the FKK area.
Things to do in Berlin in Autumn
Enjoy Oktoberfest…in September. Did you know that Oktoberfest happens in September? And that it also happens in Berlin? Now you do.
See Berlin illuminated by the Festival of Lights. You can see some of the most famous sights of Berlin illuminated with artistic light shows around the middle of October for two nights.
Go to Jazzfest! Berlin has some famous jazz clubs, and there's no better time to enjoy them than this.
Things to do in Berlin in Winter
Attend Berlinale, a large international film festival. Berlinale takes place during the end of February into the first of March.
Go to the Christmas markets! If you're in Berlin for the holiday season, this is an activity you can't miss. Visit the Berlin Christmas markets for a taste of mulled wine and pure holiday spirit. Christmas markets usually start at the end of November and end by January 1st.
Read my full post on things to do in Berlin in Winter for loads of specific tips for your time in Berlin, especially during December and the holiday season.
Day trips from Berlin
In my opinion, two days is too short to do day trips out of the city. You'll just lose too much time. That said, if you have extra time or if you really want to get out of the city, there are a ton of great day trips from Berlin ranging from 45 minutes to 3 hours away.
I have an entire article on the best day trips from Berlin so I won't repeat all the information here. Just go have a read!
Will you visit Berlin anytime soon?
Share your thoughts in the comments about Berlin, whether you'd like to visit, and what you would want to see the most!