For a city that feels like it spends half the year in Winter, the Christmas season feels comparatively short – you have approximately one month from the opening of the markets to fit in as much of the festivities as possible.
That includes getting turnt on mulled wine, buying outrageously expensive Christmas ornaments, shopping for handmade crafts, and eating sausages that swing from massive, rotating grills served by men in alpine hats…
Sound like your idea of a good time? Mine too 😉
Read on for my extensive guide to Christmas markets in Berlin: my favorite markets, less known locations, as well as a survival guide for your first time. Enjoy!
Berlin's best Christmas markets
The first market to open on the list below opens on November 22nd, 2021. Each market listed below will share the dates it runs, how much entry costs, and how to reach it.
Here's a list of Berlins best Christmas markets, where you can enjoy the season. For "survival tips" for your first Christmas market experience, read the guide at the bottom of this post. (Spoiler: Bring cash!)
Unfortunately, not all Christmas markets will take place in 2021. I've re-ordered this list to first surface the Christmas markets which will take place. Luckily, there are plenty of great ones in here! My tip is to visit the markets during the day to avoid crowds, though almost certainly each market will have crowd control to keep contact low.
1. Gendarmenmarkt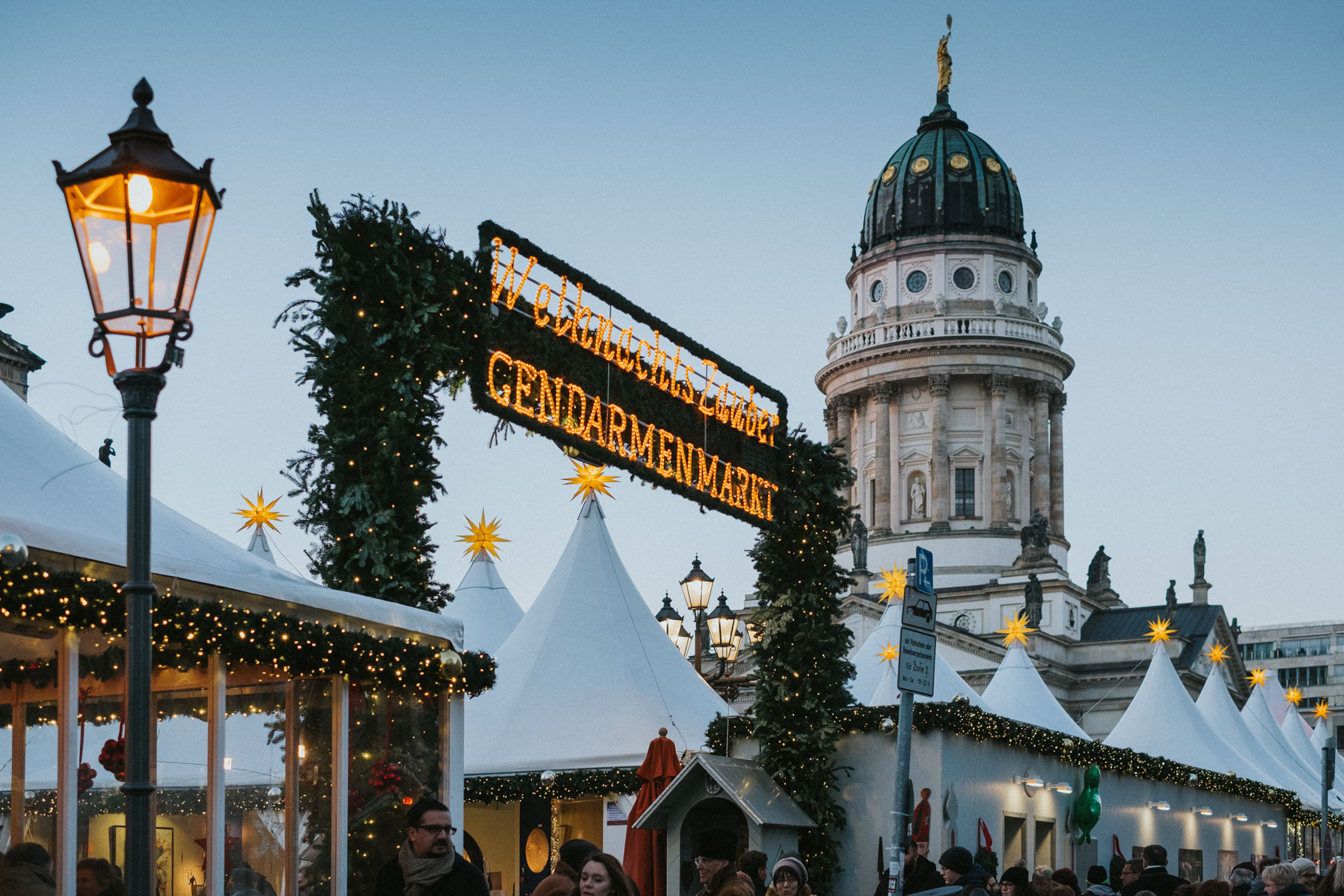 Open: November 22nd - December 31st, 2021
Hours: daily from 11 am to 11 pm, 24 December until 6 p.m., 31 December (open).
Address: Gendarmenmarkt, 10117 Berlin
Entry Cost: 1€
Weihnachtszauber at Gendarmenmarkt – Undoubtedly one of the most popular Christmas markets in Berlin, and for a good reason: it's beautiful and very central.
Gendarmenmarkt itself is considered one of Germany's most beautiful town squares. In fact the name WeihnachtsZauber literally means "Christmas magic", so you know it's gotta be good.
Unlike any other Christmas market on this list, there is an entry fee of 1 EUR. Unfortunately they don't allow re-entry with the same ticket, so you'll have to go in once and make it count! One good thing to note is that if you happen to visit mid-day between 11:00AM and 2PM, you get free entry!
Do be aware that this is one of the most popular Christmas markets in Berlin, so if you can go during the day to avoid some of the crowds, I'd advise you to do so!
2. Lucia at Kulturbrauerei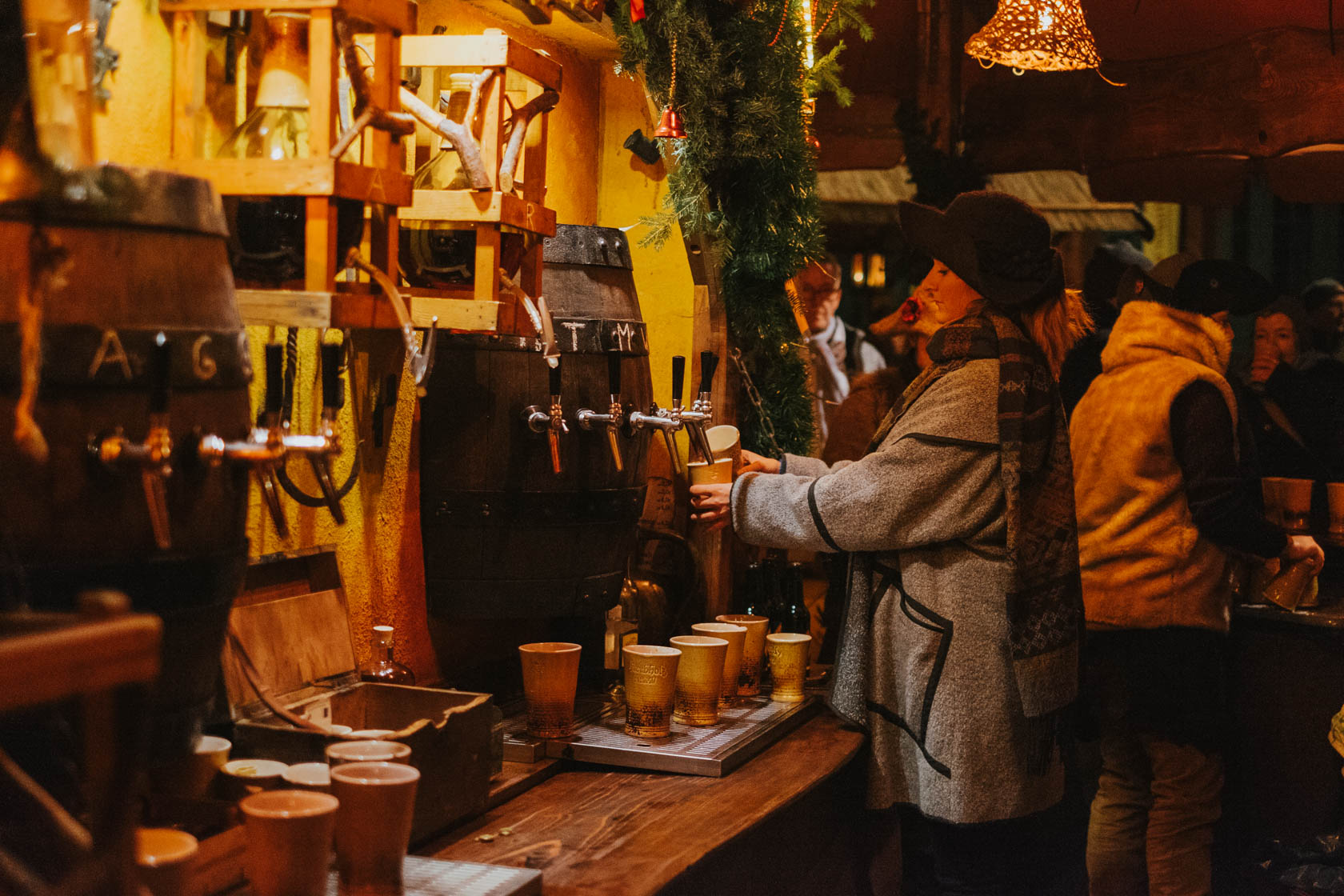 Open: November 22 - December 22, 2021
Hours: Monday - Friday, 3pm - 10pm. Satuday and Sunday, 12pm - 10pm.
Address: Knaackstraße 97, 10435 Berlin
Entry Cost: FREE
Also known as the Scandinavian Christmas Market, the Lucia Christmas Market is named after the Nordic goddess of light and offers tastes and gifts from various countries of the North.
The Kulturbrauerei is a former brewery, and the grounds are sizable – you can spend a lot of time here trying all the different Nordic variants of Glühwen.
3. Old-Rixdorf at Richardplatz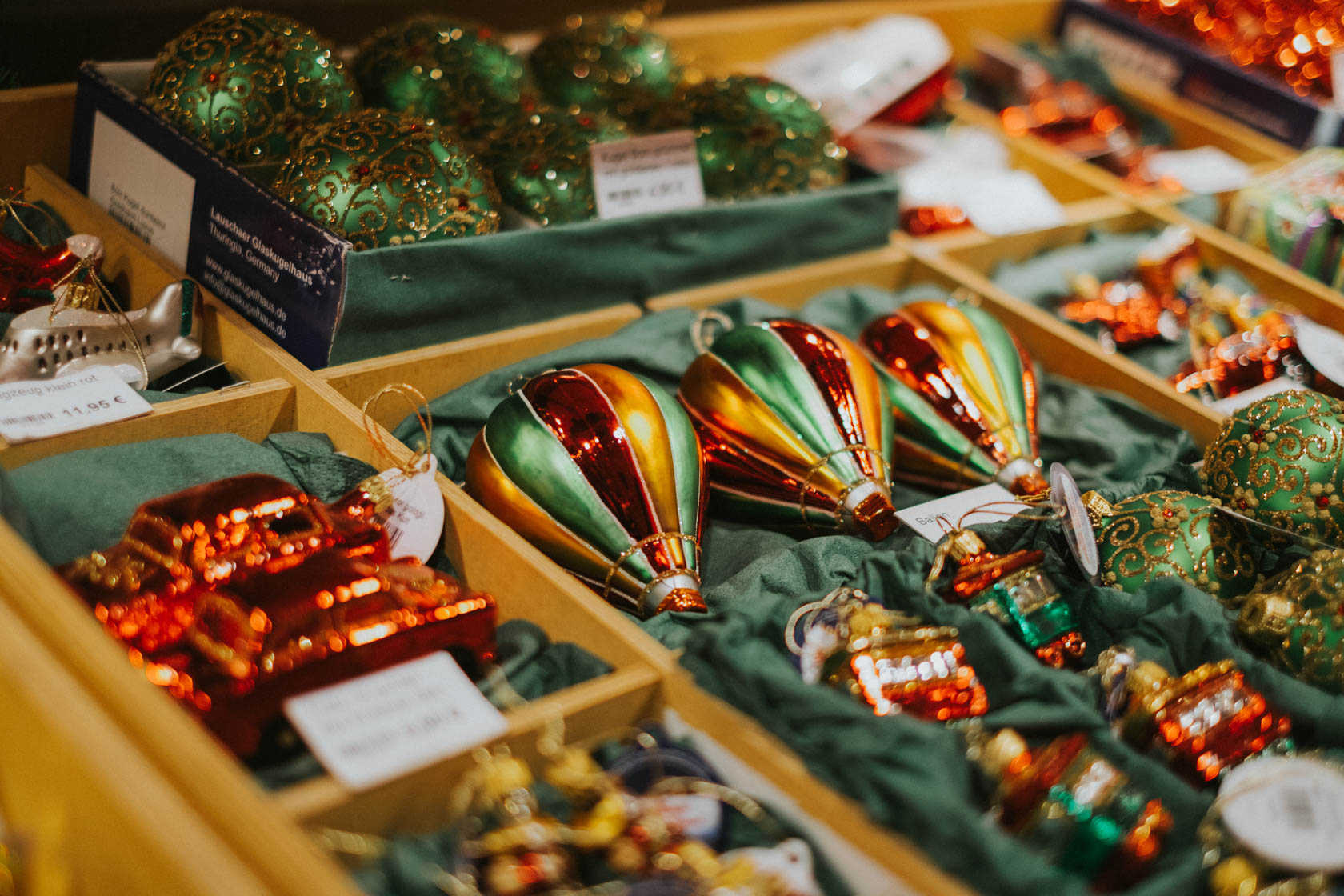 Open: December 3-5, 2021 (One weekend only!)
Hours: Friday 1pm - 9pm. Saturday 1pm - 9pm. Sunday 1pm - 8pm
Address: Richardplatz 28, 12055 Berlin
Entry Cost: FREE
Open for just one weekend out of the year, the Christmas market at Richardplatz is a really special event. Walking around this square, you'll see tons of Christmas lights lacing the boughs above your head.
Sadly my photos of this market got mostly lost, but it does look very beautiful with the lights in all the trees. Trust me!
All proceeds from this Christmas market go to benefit charities so you can feel especially good about doing some of your Christmas shopping here. Mark your calendar!
4. Kaiser Wilhelm Memorial Church at Breitschiedplatz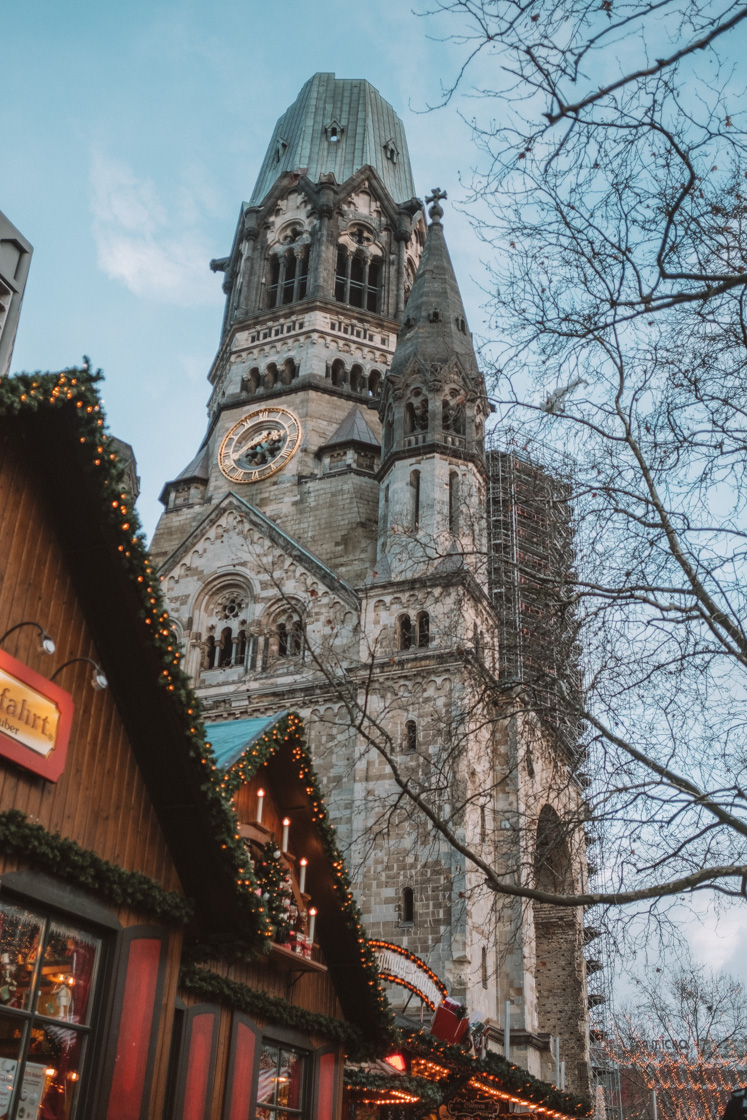 Open: November 22nd 2021 - January 2nd 2022
Address: Breitscheidplatz, 10787 Berlin, Germany
Hours: Sunday to Thursday from 11 - 21 o'clock, Friday & Saturday from 11 - 22 o'clock, Christmas Eve from 11 - 14 o'clock, Christmas holidays from 13 - 21 o'clock
Entry Cost: FREE
West Berlin is a great place to visit if you want to do your Christmas shopping, and what better place to take a break than at a Christmas market?
This Christmas market is located right at the foot of the Kaiser Wilhelm Memorial Church. What makes it unique is the convenient setting in the middle of one of Berlin's top shopping districts, and the fact that you have this famous church looming in the background while you chow down on some tasty Wintry treats.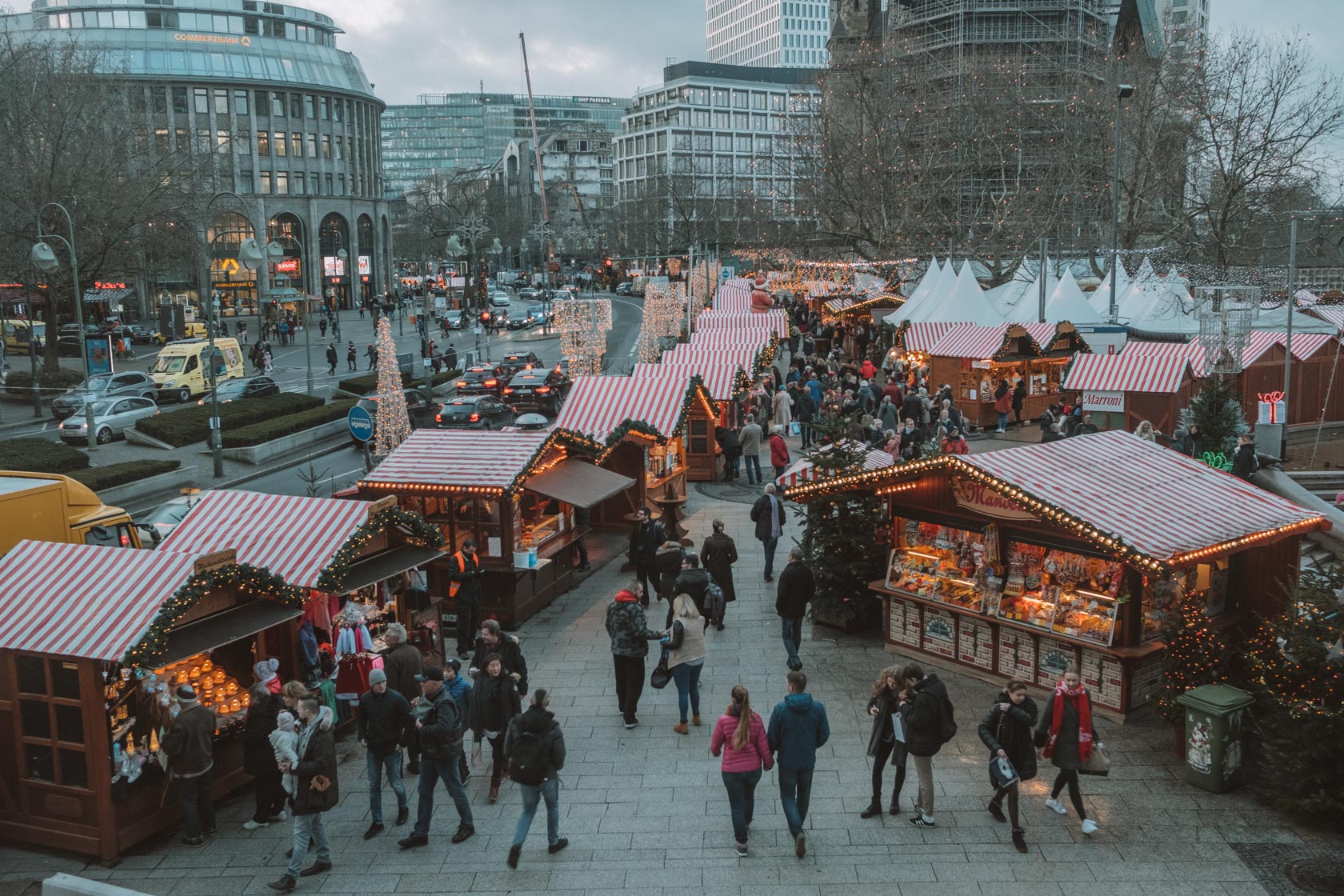 Sadly, you may also know this Christmas market location from the 2016 terror attack that happened in Berlin. In the mean time the area has been reinforced with concrete blocks to prevent trucks from driving through, and there are police around the area.
5. Rotes Rathaus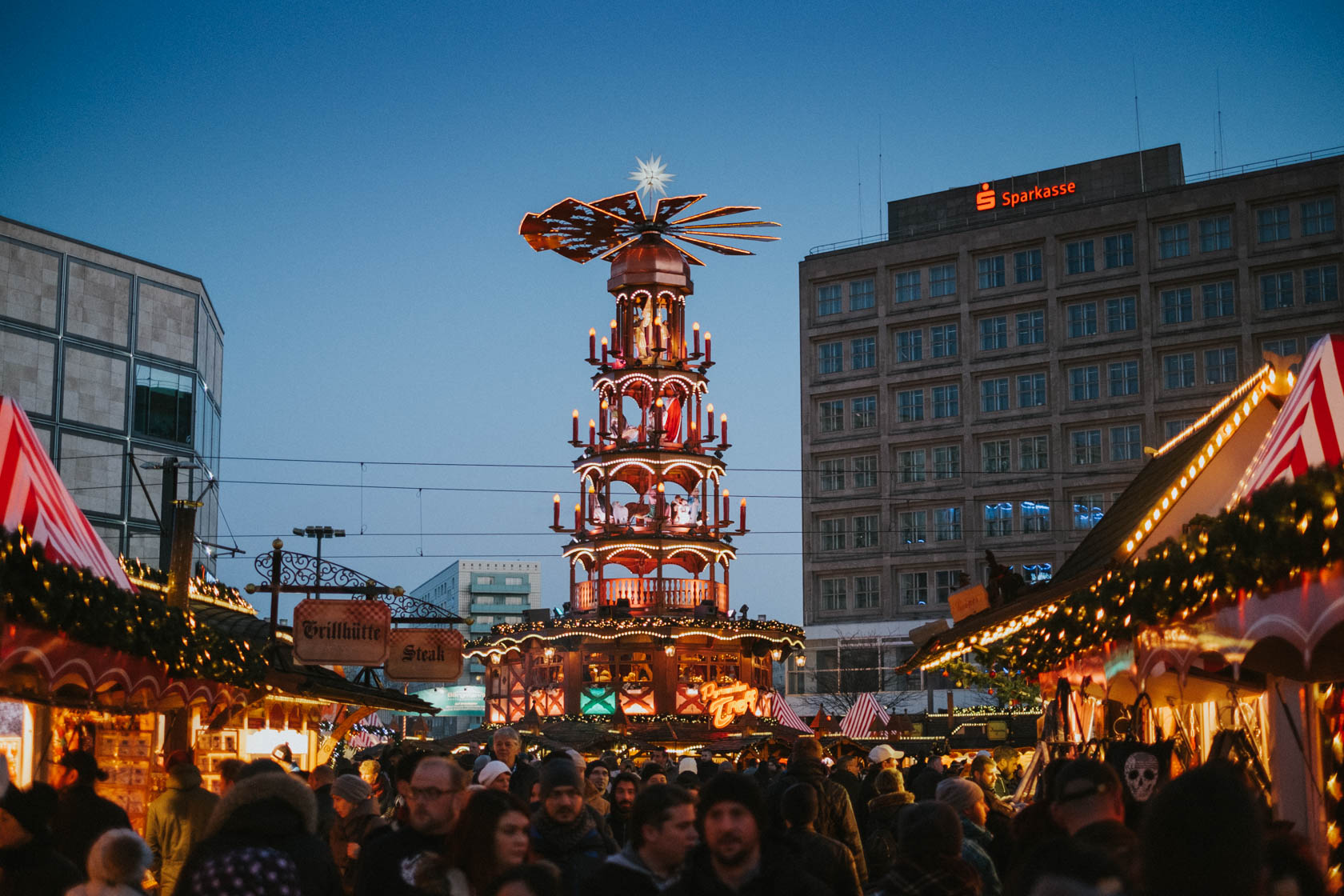 Open: November 22nd, 2021 - January 2nd, 2022
Hours: Monday – Friday 12 pm -10 pm, Saturday – Sunday 11 pm -10 pm, Christmas Eve closed, Christmas Day and Boxing Day 11 am - 9 pm
Address: Rathausstraße 15, 10178, Berlin
Entry Cost: FREE
It can be a little hard to get into the Christmas market mood when you're surrounded by concrete buildings, but the market at the Rotes Rathaus (Red City Hall) at Alexanderplatz is still a really convenient location to pop by for after-work Glühwein or trinket-browsing.
Make sure it's not the only one you visit this season but don't avoid it just because it's so central. They also have ice skating if you're feeling adventurous 😉
6. Christmas Garden Berlin
Open: November 19 2021 - January 9 2022
Hours: 4:30 pm - 10 pm
Address: Königin-Luise-Straße 68, 14195 Berlin
Entry Cost: 18€ per person
The door open open every day at 4:30PM (remember, that's when I told you it gets DARK), and it lasts until 10PM every night.
Besides walking around and admiring the light show, you can go ice skating or eat some typical German foods at the Botanical Garden's restaurant. I'm a huuuge fan of visiting Botanical Gardens when I travel, and even though it seems a little odd to visit one in the middle of Winter, clearly Berlin has found a way around that.
7. Charlottenburg Palace (Closed for 2021)
Weihnachtsmarkt vor dem Schloss Charlottenburg Berlin – If the Christmas market at Gendarmenmarkt is one of the most popular, then the market at Charlottenburg Palace is the most famous. Situated directly in front of the palace, there are view more scenic places to peruse for Christmas gifts than this market.
Open: Not running in 2021
Hours: N/A
Address: Spandauer Damm 20-24, 14059 Berlin
Entry Cost: FREE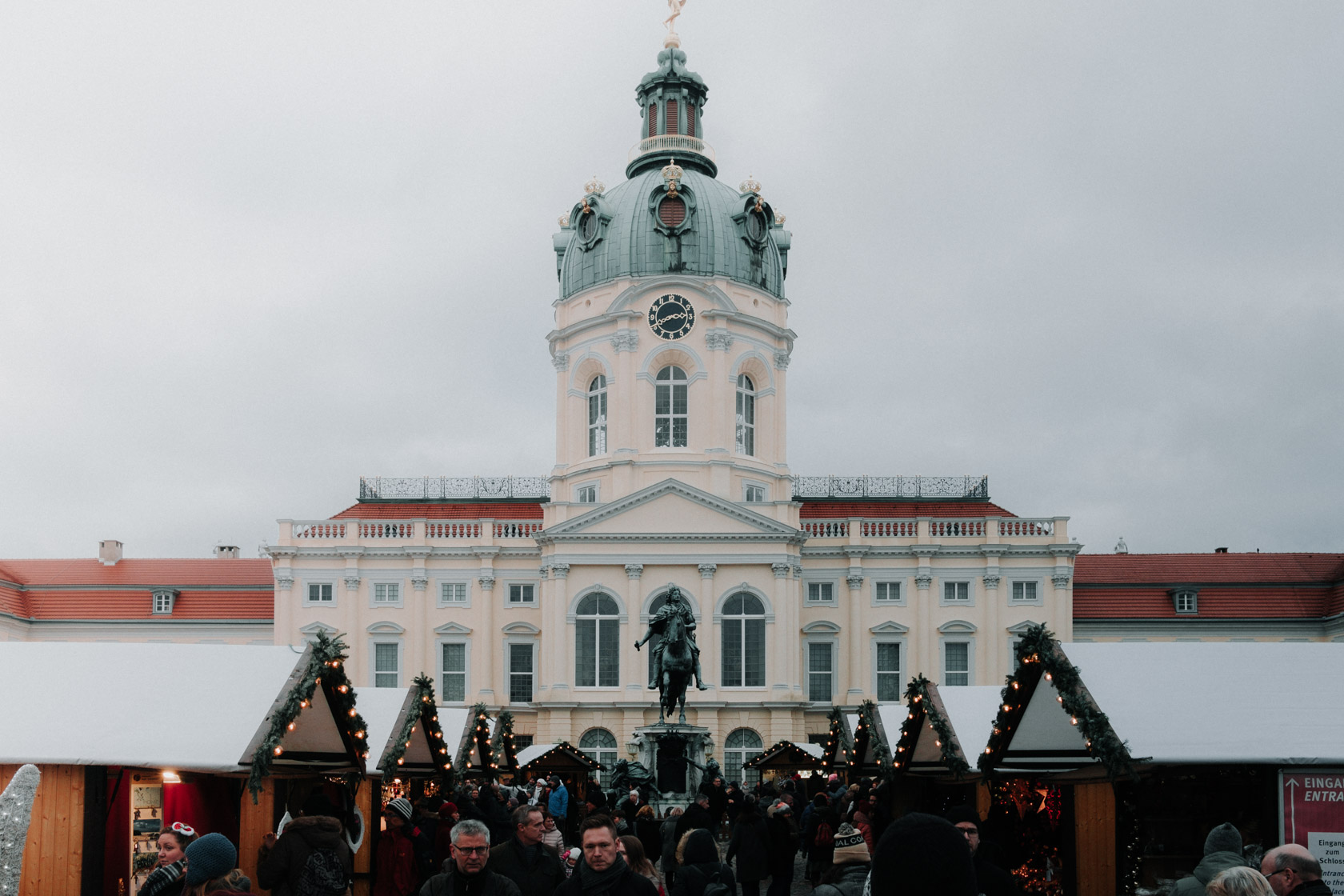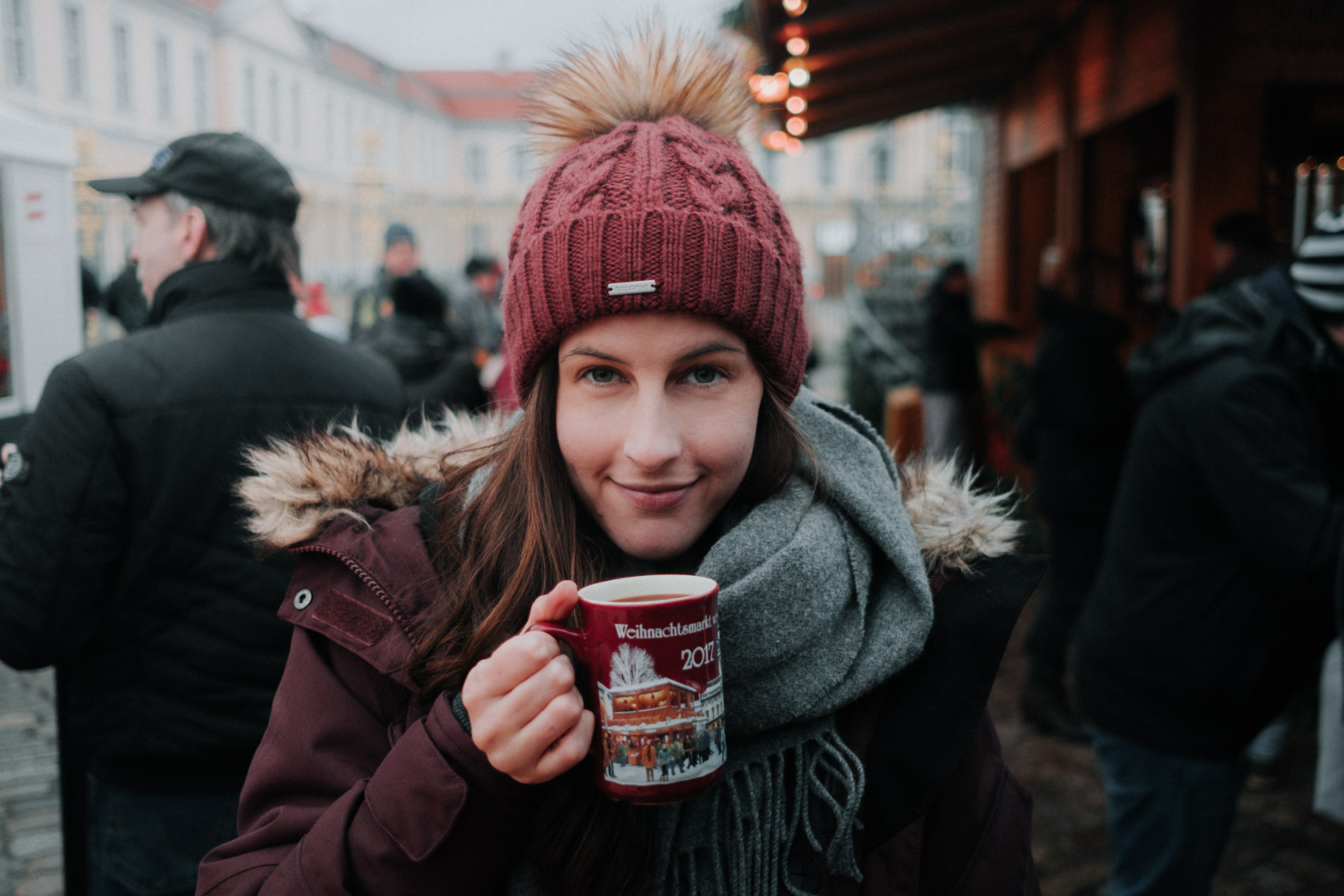 What you need to know before your first Berlin Christmas Market
When do Christmas markets open in Berlin?
The majority of Christmas markets in Berlin open on November 25th and run through December 28th. However each Christmas market has its own dates of operation, so do check each listing to be sure it'll be when you visit! For obvious reasons, almost none of them actually last into the new year 😉
There are a few that only open on the 1st of December, but most of the time, if you're coming to Berlin at the end of November you'll have no problem popping by a Christmas market or two.
Can I pay by card at Christmas markets?
If you live in Germany you already know – cash is still king, and the Christmas markets are no different. Occasionally gift stands that sell more expensive items will accept your credit cards, but if your main MO is food and drink, you're going to need some euro on hand.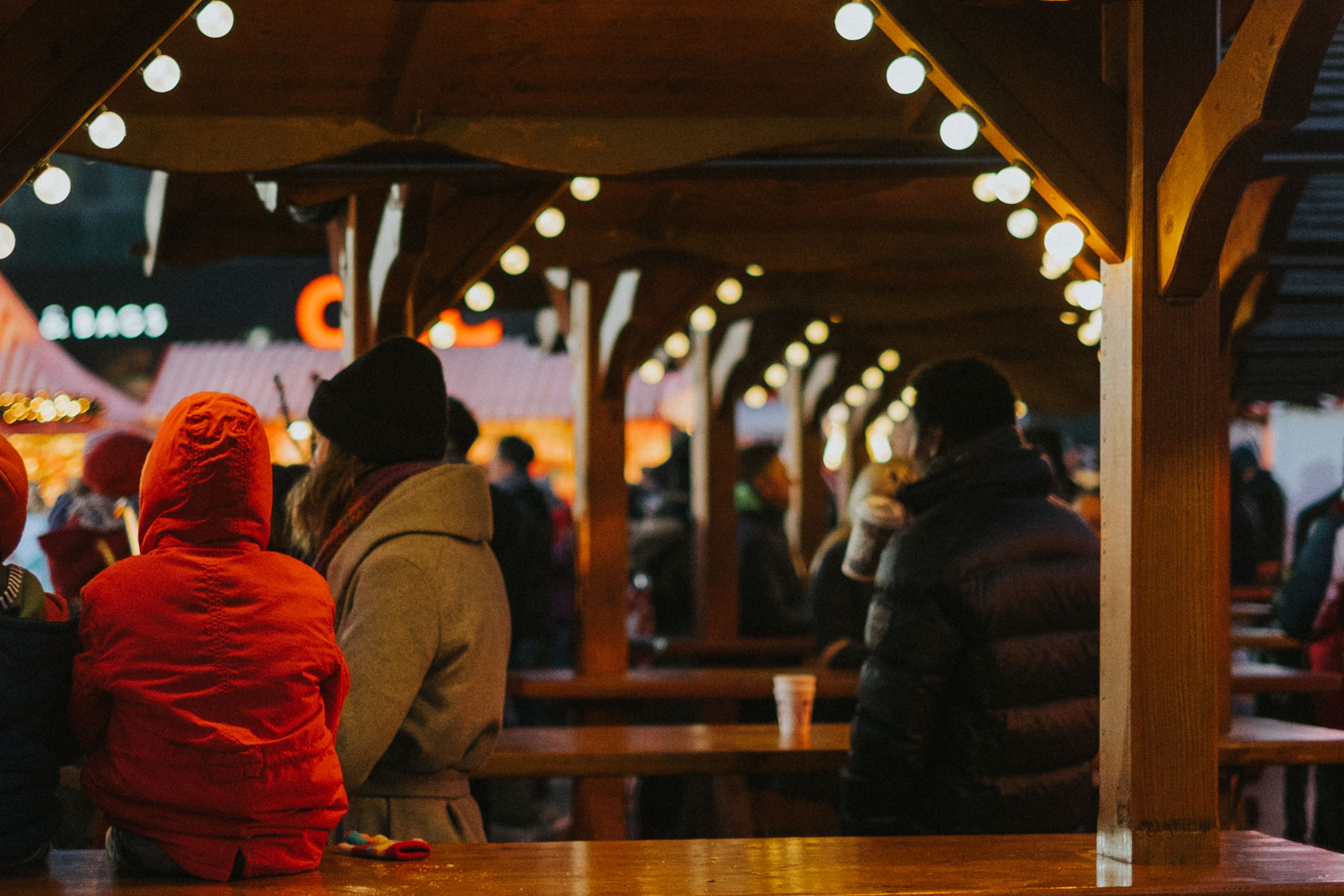 Are there entrance fees for Christmas markets?
Most Christmas markets don't have entrance fees. That said, one of the more popular Christmas markets, at Gendarmenmarkt, does charge a small 1 EUR entrance fee.
When is the best time to visit Christmas markets in Germany?
If you can, visit the Christmas markets during the week. On the weekend, markets can be so packed that you spend ages in the queue for something to drink (or worse – you do it German-style and there is no queue at all, just people fighting for the attention of the barkeeper).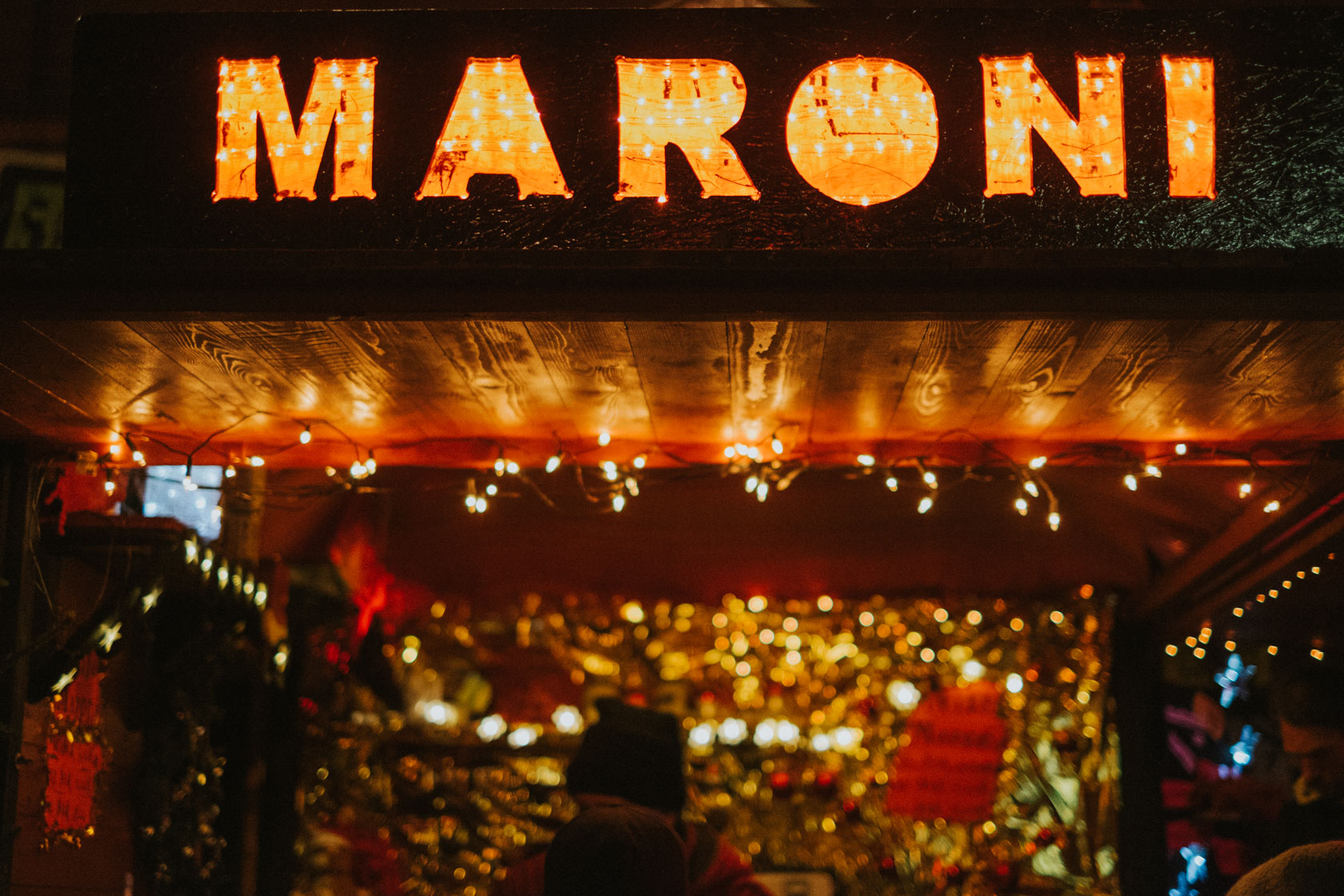 German food you need to try at a Christmas market
There are a number of popular foods you'll only find around Christmas time, which I'd advise you to focus on if you want to try everything like me:
Marillenknödel (Apricot dumplings) / Germknödel (Poppyseed dumplings)
Bockwurst (Sausage)
Glühwein (Mulled wine)
Maroni (Chessnuts)
Brezel (Pretzels)
The deposit system at German Christmas markets
How is this wine so expensive?! If you're new to drinking in Deutschland, you may not be familiar with the German concept of deposit. At many bars, as well as at Christmas markets, you're expected to pay an additional fee as an incentive to return your glass to the bar (at which time to get the deposit back). Since Christmas market mugs are so special, I've seen deposits as high as 3€! If you find a mug you fancy, you're free to keep it – otherwise, make sure you've got spare cash for those pricey deposits!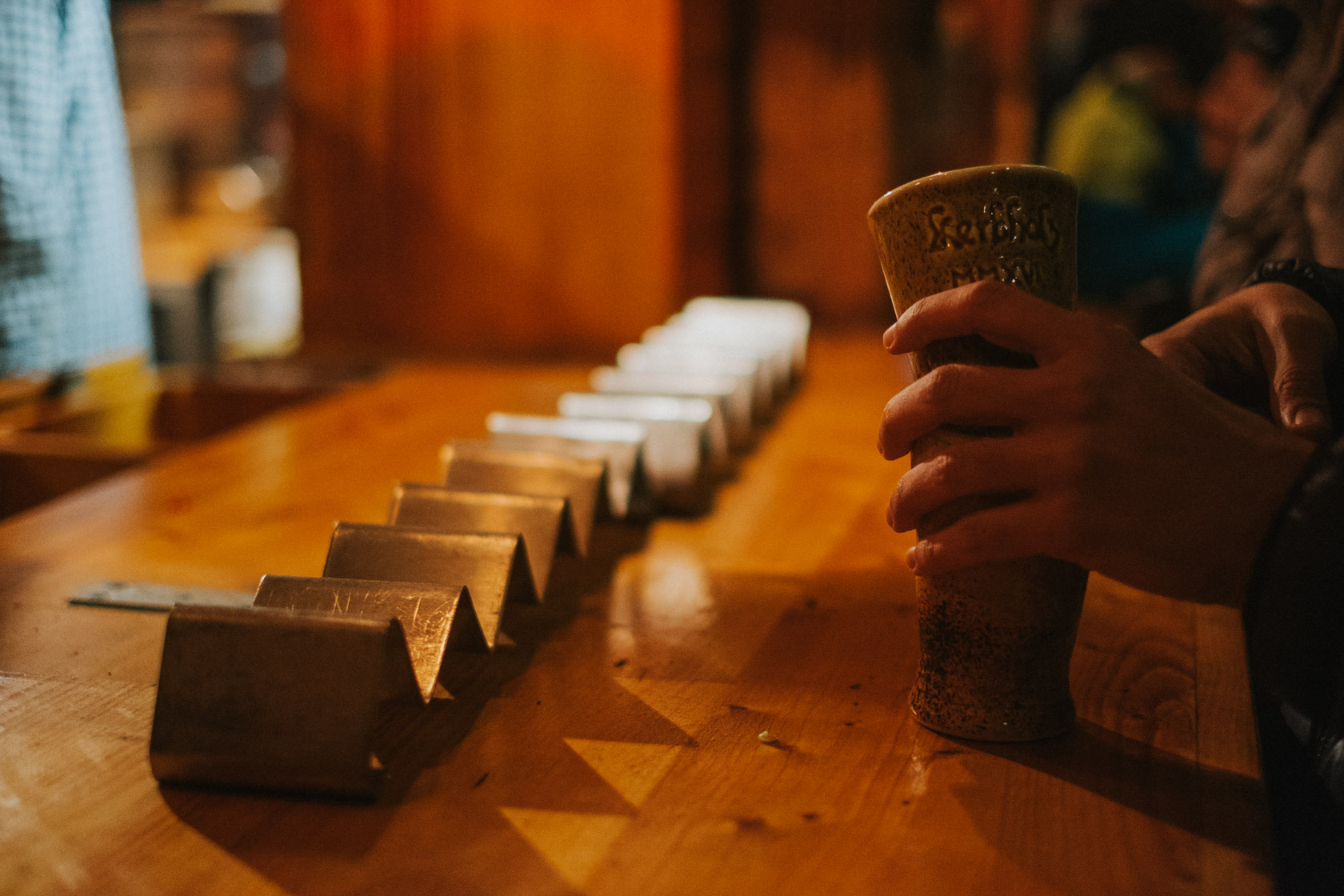 Which Christmas markets would you like to visit this year?
Let me know in the comments which you think looks the best! And if you're looking for more logistical details on the individual markets, be sure to check out the Official Berlin Website for more information!