By now I've been to Vienna in Winter during December and in Summer, and what I can say is there is definitely something magical about spending the Christmas season here. Not only are there things you can only do in Winter in Vienna, such as visiting Christmas markets, but the city looks absolutely gorgeous once fresh snow has fallen.
On top of that: the car-free city center, the dining and drinking traditions, the emphasis on arts and fashion, beautiful churches in the middle of the city, the sheer concentration of stunning architecture within walking distance, all carefully arranged to form an impressive 360 view of Vienna's impressive history.
Here's a complete guide to visiting Vienna in Winter, an extensive list of things to do in Winter, what to pack, what to wear, as well as information about the weather and day trips you can take from Vienna.
I've been to Vienna a number of times in Winter, and my boyfriend's family lives here so get ready for the inside scoop on this beautiful city!
This post was originally written in 2017 and has been majorly updated for Winter 2019.
"Vienna wasn't just a city, it was a tone that either one carries forever in one's soul or one does not."
— Sándor Márai
Tweet this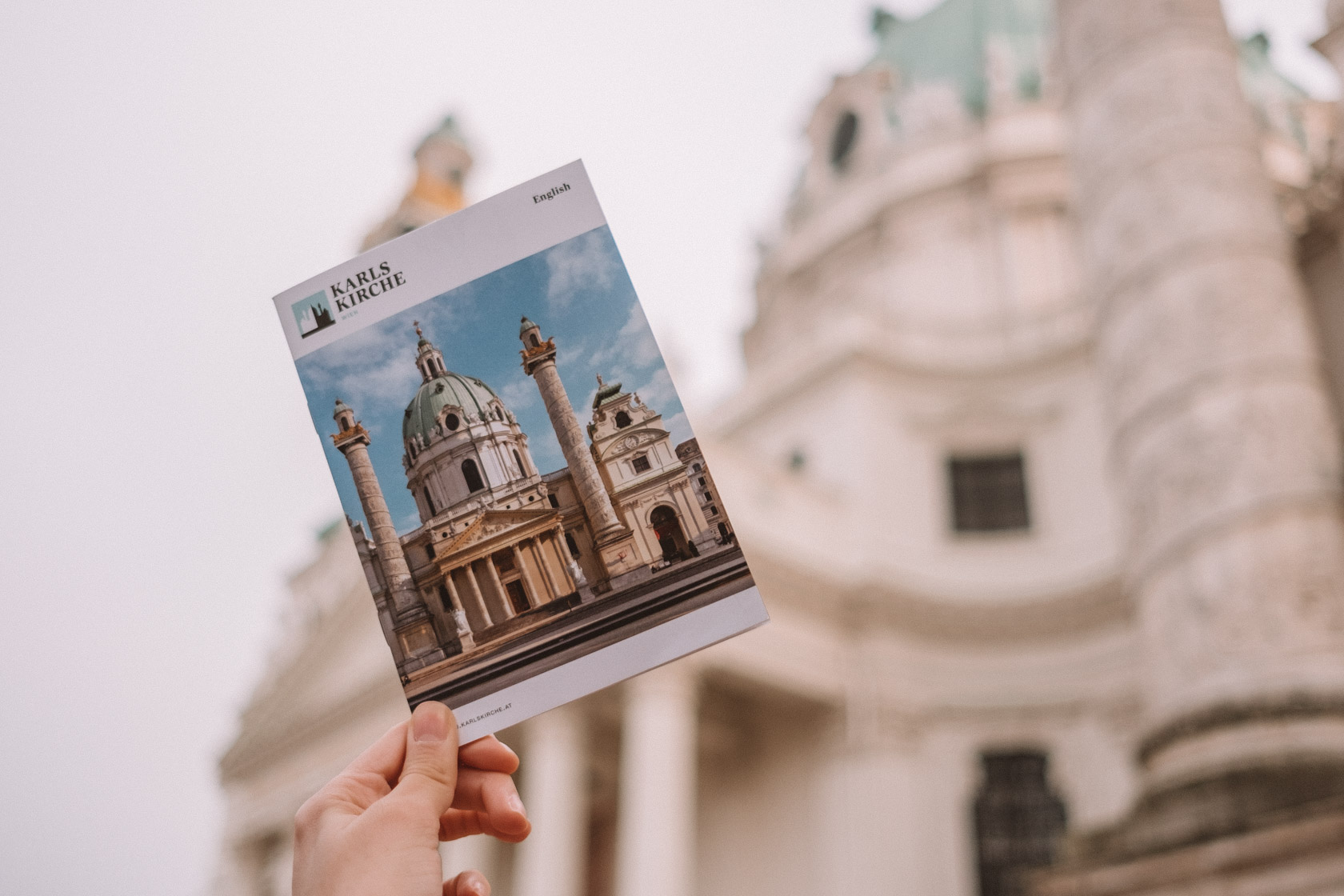 Where to stay in Vienna
Vienna has great public transit so you can stay in just about any central area and be well-connected. In fact, you can use the Vienna Card for unlimited transportation and discounts on some of the activities recommended below as well.
That said, I can personally recommend Die Goldene Spinne , a family-owned hotel which is literally a "walk through the park" to the city center and has excellent prices for the area it's in. I just checked and it's already selling out for dates in December 2019 though, so I wouldn't procrastinate booking your Vienna winter accommodation no matter where you decide to stay. Vienna is a popular place to be for the holiday season, and you'll soon see why!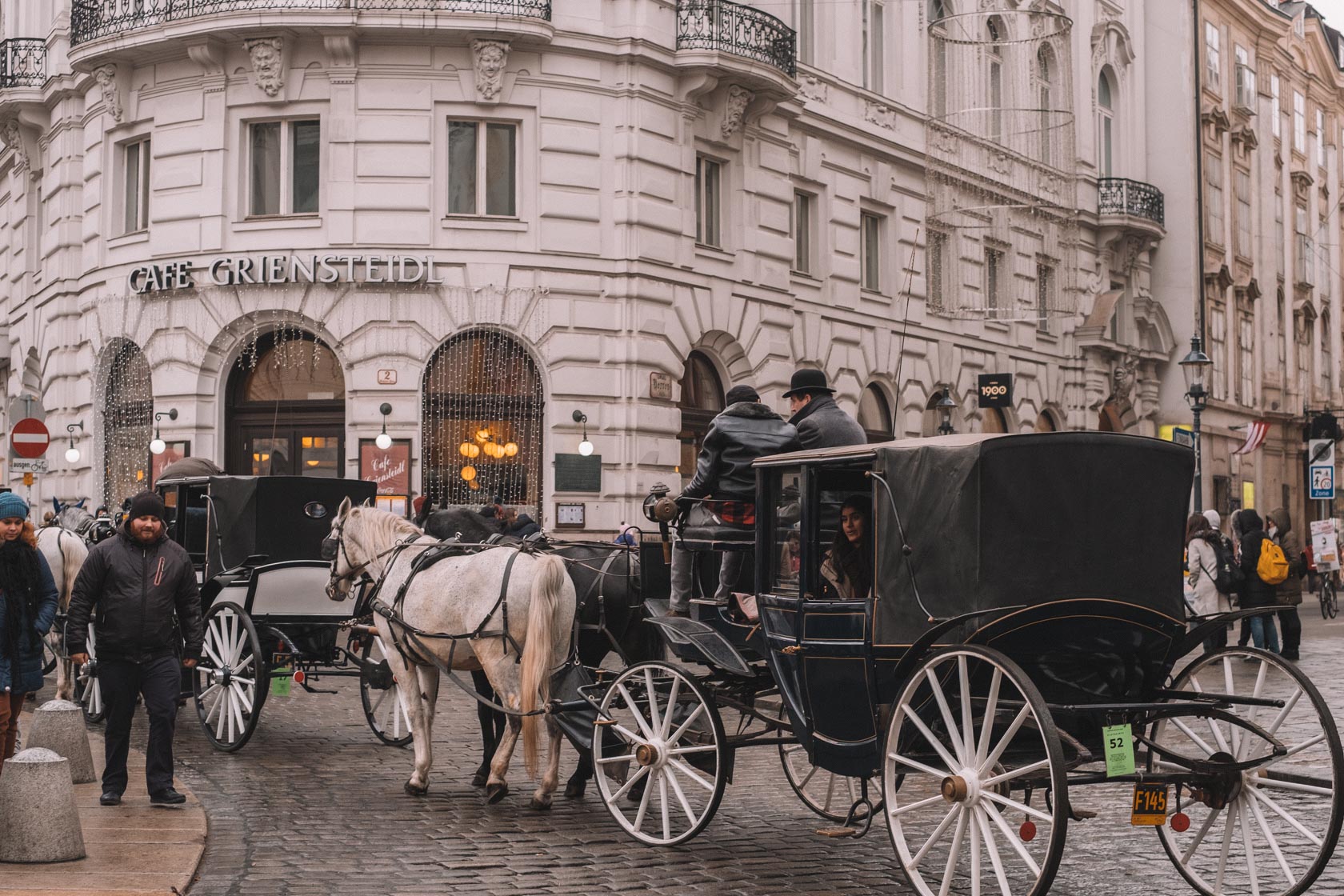 10 awesome things to do in Vienna in Winter!
Around Christmas time, the beauty of Vienna takes on a different tone. Strings of Christmas lights adorn every conceivable street, residents and tourists alike meander through Christmas market stalls hunting for the prettiest mugs to take home. Everything is slightly tinted in purple and blue, with warm lights reminding you every moment that CHRISTMAS IS COMING!!!
For all these reasons and so many more, winter in Vienna is something special. If you're thinking about visiting Vienna in the next few months, here are a few reasons you're sure to love it, and how to make the most out of your time in this gorgeous Austrian city.
1. See Vienna's world-famous Christmas markets
Christmas markets are a key reason it's worth visiting Vienna in December. If you've never been to a Christmas Market in Europe, you're in for a real treat, especially if your very first time is the world famous Wiener Christkindlmarkt am Rathausplatz .
Many would say it's the most beautiful Christmas market in the world, but I'll leave that for you to decide! Here you'll find carefully constructed wooden stalls lined with Christmas lights, arranged in rows, hawking Christmas ornaments, handicrafts, roasted chestnuts, and of course, mulled wine. All under the watch of the enormous Gothic-style city council building, which becomes illuminated as soon as the sun starts to set.
You might think that it's a castle, right?!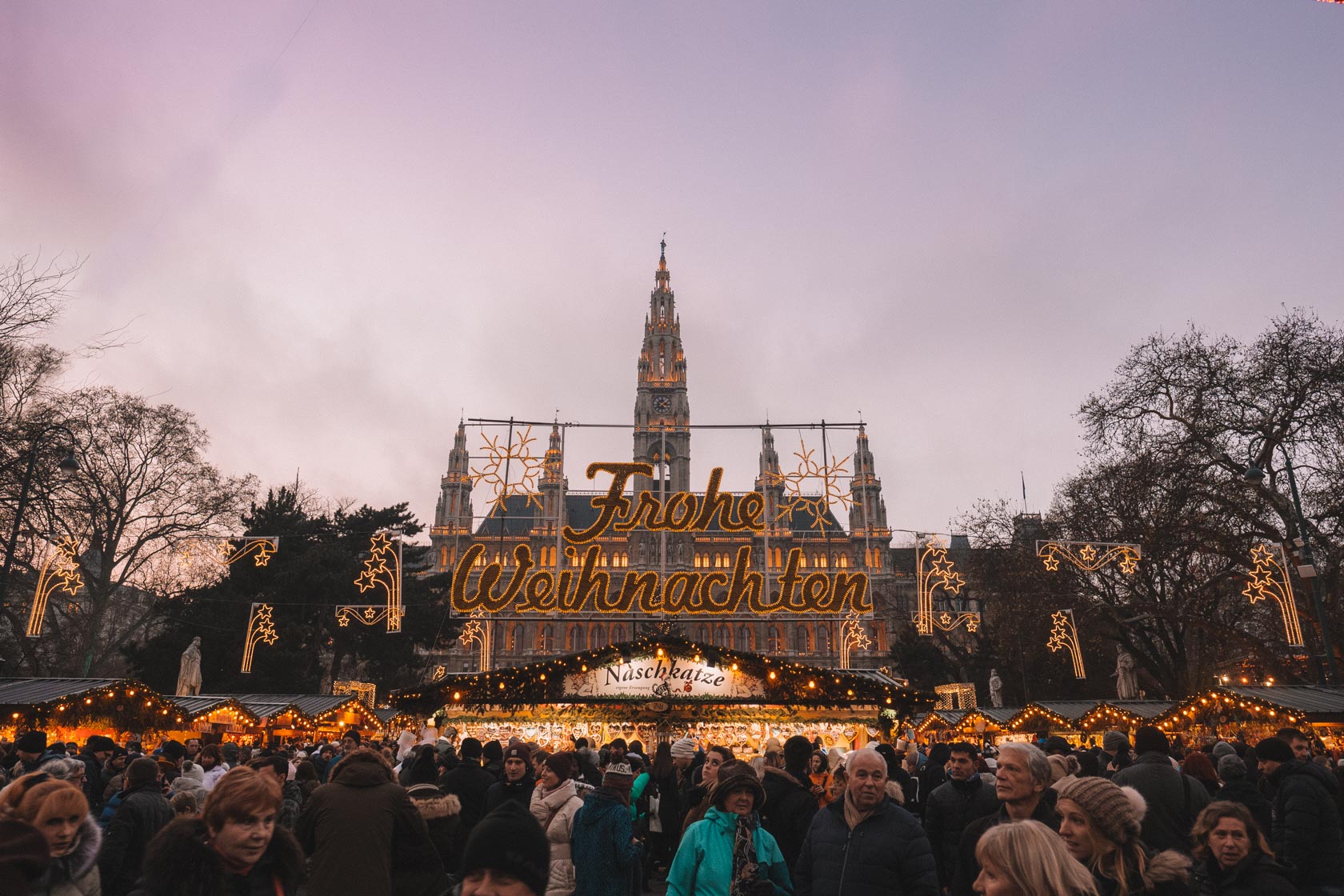 Best Christmas markets in Vienna
In terms of the prettiest Christmas markets you can find in Vienna, these are easily the top three:
Wiener Christkindlmarkt am Rathausplatz (Pictured above) – Easily the most famous Christmas market in Vienna, you can buy all sorts of gifts and obviously also enjoy mulled wine. Come around sunset for an impressive tone overlaying the market (as seen above!).
Christkindl Markt am Karlsplatz (Pictured below) – Very accessible in the city center, the church here is one of Vienna's most recognizable landmarks and a beautiful one at that. Don't miss coming inside, you can even do a Virtual Reality tour around the grounds of the church where it feels like you're flying!
Spittelberg – An easy walk from the Christkindlmarkt am Rathausplatz, this market spans several streets in the extraordinarily quaint neighborhood of Spittelberg. Very picturesque and with great stalls for gifts for your friends and family.
If you want to combine Christmas markets with a city tour, check out this Vienna Winter Walking Tour with Christmas markets which stops at the beautiful Christkindl Markt am Karlsplatz (pictured below!).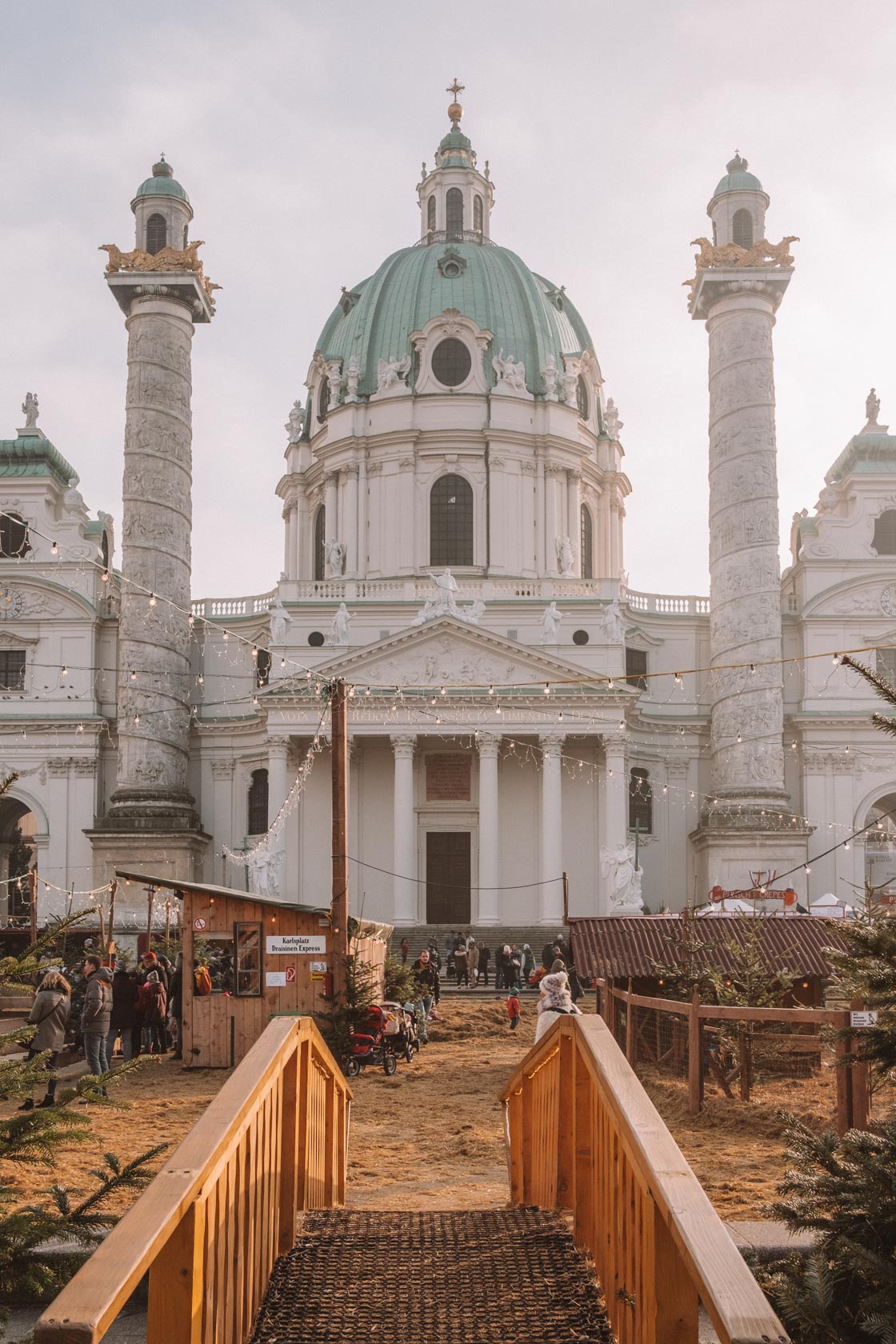 Check availability for the Vienna Winter Walking Tour
Foods you must try at the Christmas market in Vienna
Christmas markets are about 50% eating, 50% drinking, and 10% looking at overpriced Christmas ornaments. Can you tell I was great in math? Anyways, with that in mind, here are a couple of Viennese foods you should try when at the Christmas market!
Glühwein: Hot wine mixed with Christmas herbs, comes in white and re. Sometimes you can also get hot apple cider, or add a shot of your favorite spirit to your mulled wine.
Maroni: Roasted chestnuts, served in a paper tube and available all over the city during the Christmas season.
Schaumrollen: Tube-shaped pastry filled with whipped cream or meringue.
Langos: Hungarian deep-fried flatbread.
Lebkuchen: The German/Austrian version of a Gingerbread cookie.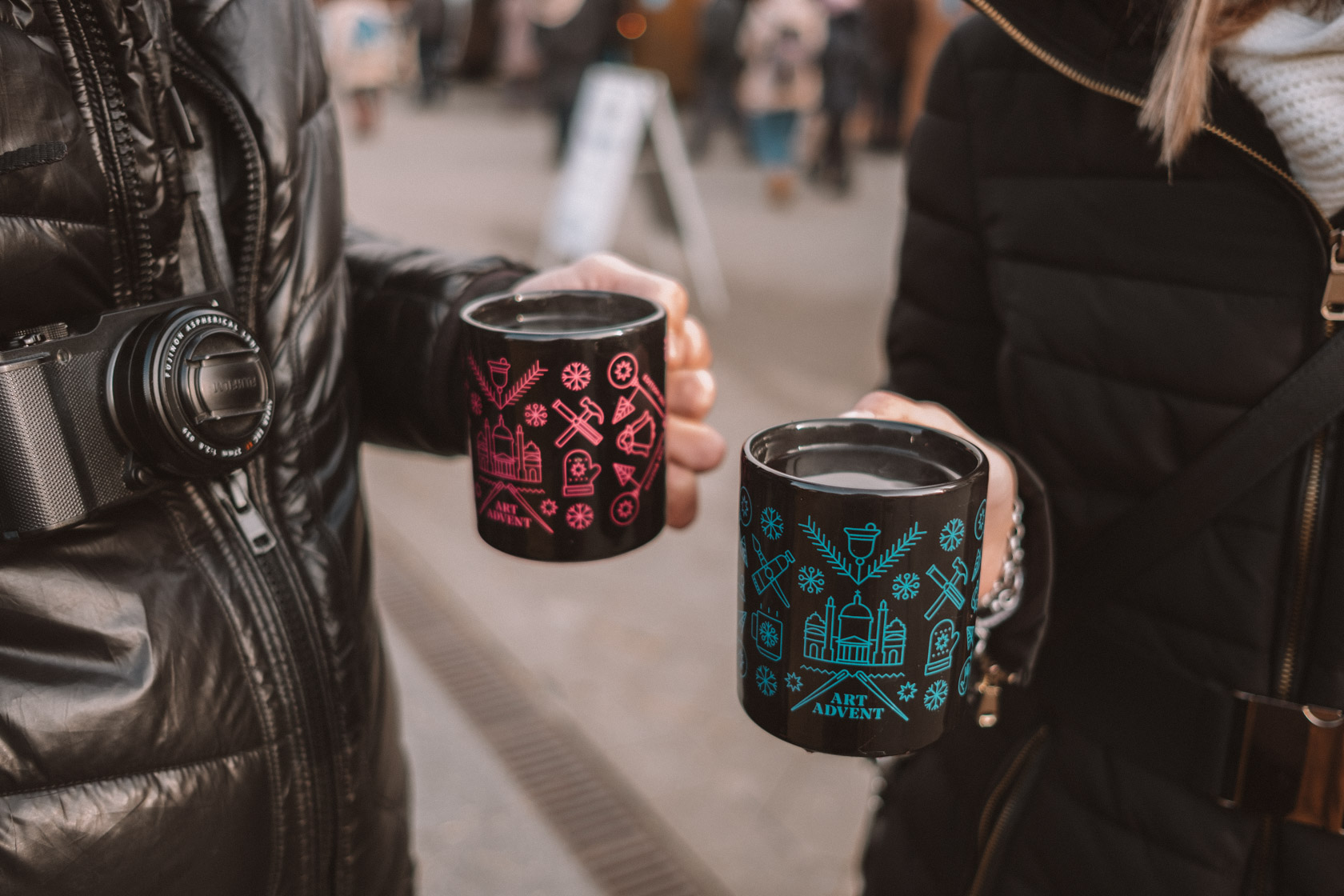 2. Go on a day trip from Vienna (suitable for Winter)
I've been to both of these places near Vienna and can highly recommend visiting them if you'll have the time to do so. Both of these day trips are also beautiful in Winter, especially if you happen to see them covered in snow.
Salzburg, Austria – Probably most famous for being the location of The Sound of Music, Salzburg is a stunning and historic city with a city center compact enough to explore in a day. Its main attraction is its fortress, from which you can peer out over the whole city. This to Salzburg tour from Vienna has the best reviews at the best price, and keeps the tour group at 8 people or below.

Hallstatt, Austria – Hallstatt is considered the oldest (and prettiest!) village in all of Europe, and for a small village of under 1,000 people there are a lot of things to do in Hallstatt. Just the view overlooking the village from the lake is considered a UNESCO world heritage site. While I'd recommend staying overnight if you can, it's still worth it to come for a day trip. This tour to Hallstatt from Vienna has the most positive reviews, and also stops at the Admont Abbey, a world famous monastery thanks to its gorgeous library.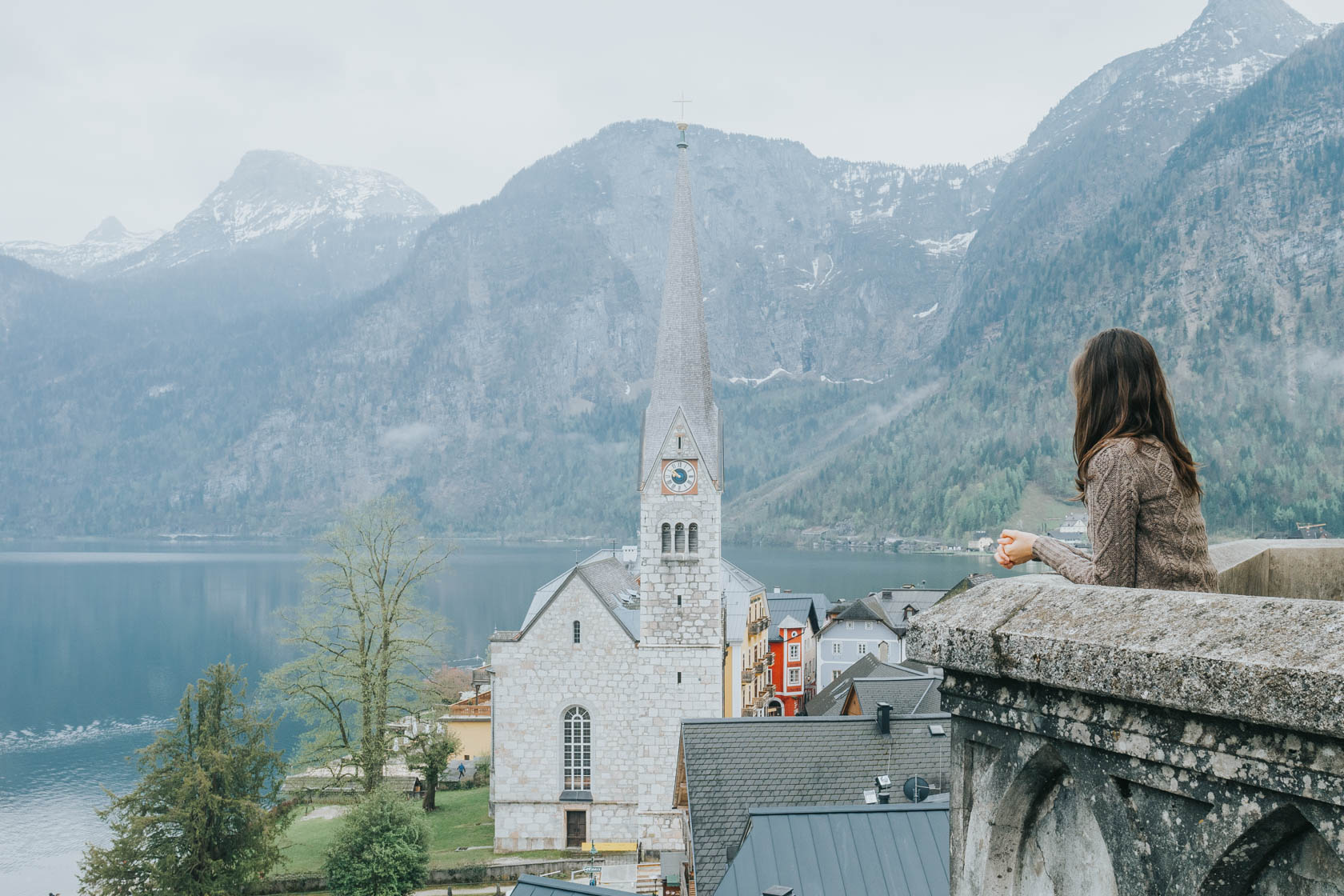 3. Walk through the Schönbrunn Palace covered with snow
Schönbrunn Palace is perhaps the most famous attraction in the entire city. You can imagine it like the Versailles of Vienna, complete with a palace, huge gardens, and entertainment for hours. This palace used to be the Summer home of the Habsburg monarchs. Luckily, it's super easy to reach Schönbrunn by public transit.
Things to do at Schönbrunn Palace
Besides doing a tour inside the Palace and walking around the gardens yourself, there are a couple of different popular ways to enjoy your time at the palace. Each of them is oh-so-Austrian in their own way, so if you're looking for the full experience, here is some inspiration!
Go for a strudel tasting! – Did you know that Austria is the birthplace of Strudel? Until you try it in Austria there's a good chance to don't know what it really is 😉 This activity is available at a really great price and the strudel is excellent.
Attend a concert of Mozart's music – Did you know that Mozart was Austrian? You can come listen to some of the most famous music by Mozart and Strauss at the Schönbrunn Palace, in addition to a tour of the grounds.
Take a half-day tour led by a historian – Calling all history buffs! I've been to a lot of palaces around Europe, and the best part is when you can actually grasp some of the history that happened in them. I find this tour extra cool because the guides are professors, history students, and historians.
In the Summer you will want to buy tickets in advance to avoid long waiting times, though even when we went in the Summer last year (in May) we had no issues. In the Winter there are far fewer tourists, and buying in advance may not be needed. You can always call the day before and ask how busy it's been!
Enjoying the photos?
Follow along on Instagram!
Follow @notanomadblog for beautiful travel photography and stories of our journeys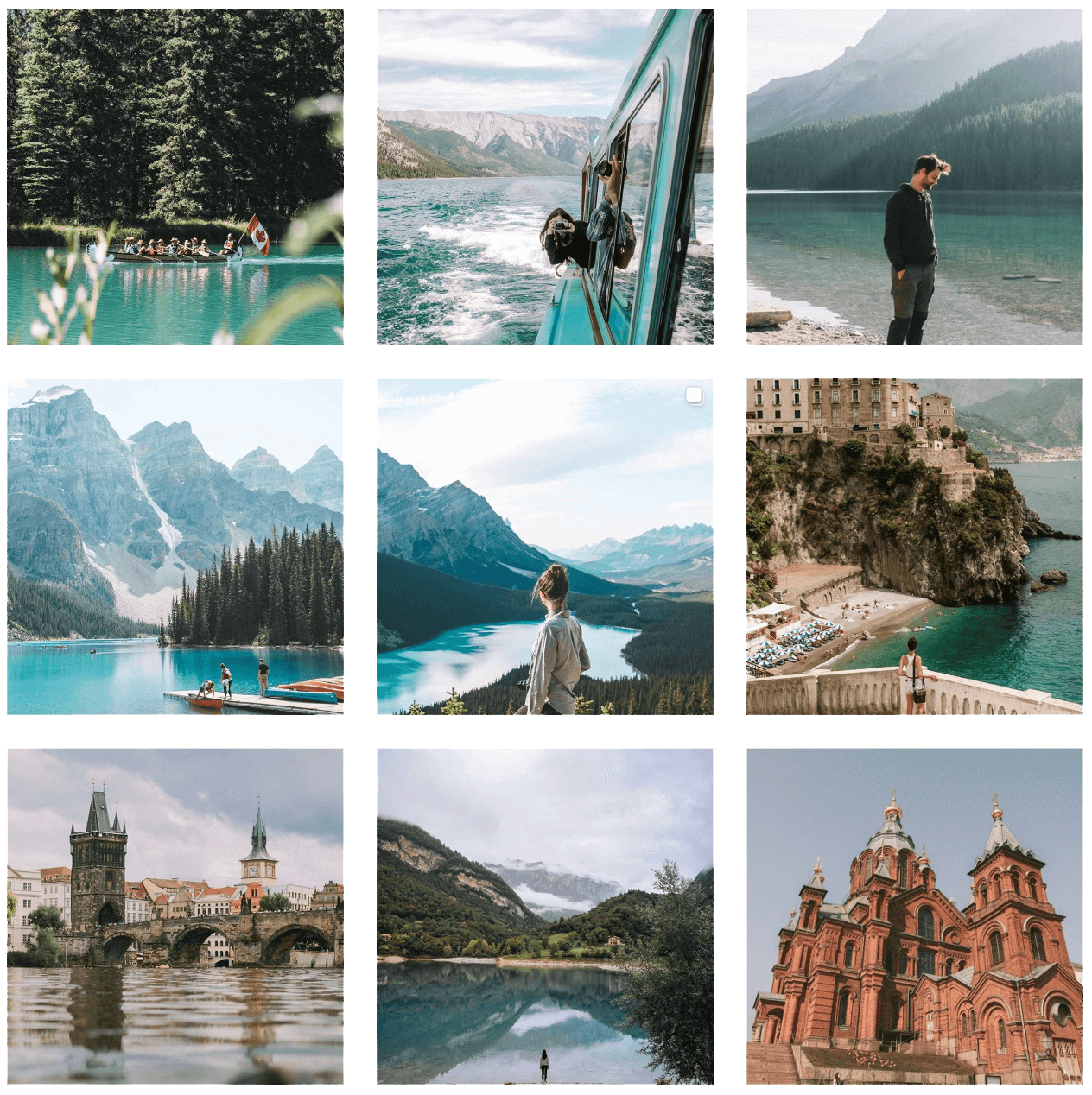 4. Climb to the top of St. Stephen's cathedral
Located smack in the middle of the city, St. Stephen's Cathedral is easily the most famous cathedral in Vienna. What's more, you can climb up to the top for a view over the city center of Vienna. From here you can see all the way to the mountains, so long as you can handle the 343 steps it takes to get to the top. The church has been here for more than 700 years, and is one of the most important landmarks in the entire country!
You can also visit the catacombs on a guided tour, if that's your thing. Children are also allowed to come with, making it an interesting family activity. For more information you can refer to the official website , especially for up-to-date opening times and prices!
Visiting the South Tower for the view is 5€ for adults, and even less for children and students. Open Monday to Sunday, 9:00AM to 5:30PM.
5. Visit Naschmarkt
As I mentioned earlier, Naschmarkt is a great place to set up a base in Vienna because of its proximity to tons of main attractions – not the least of which is the Naschmarkt itself!
In German, Naschmarkt means literally "Snack Market", and you can come here any day of the week to buy anything from produce to Austrian meats, cheese, and wines to pastries and seafood. There is literally something for everyone. Besides the individual stands, there are also a number of different restaurants you can warm up in during your trip. You could spend ages here looking around and trying everything.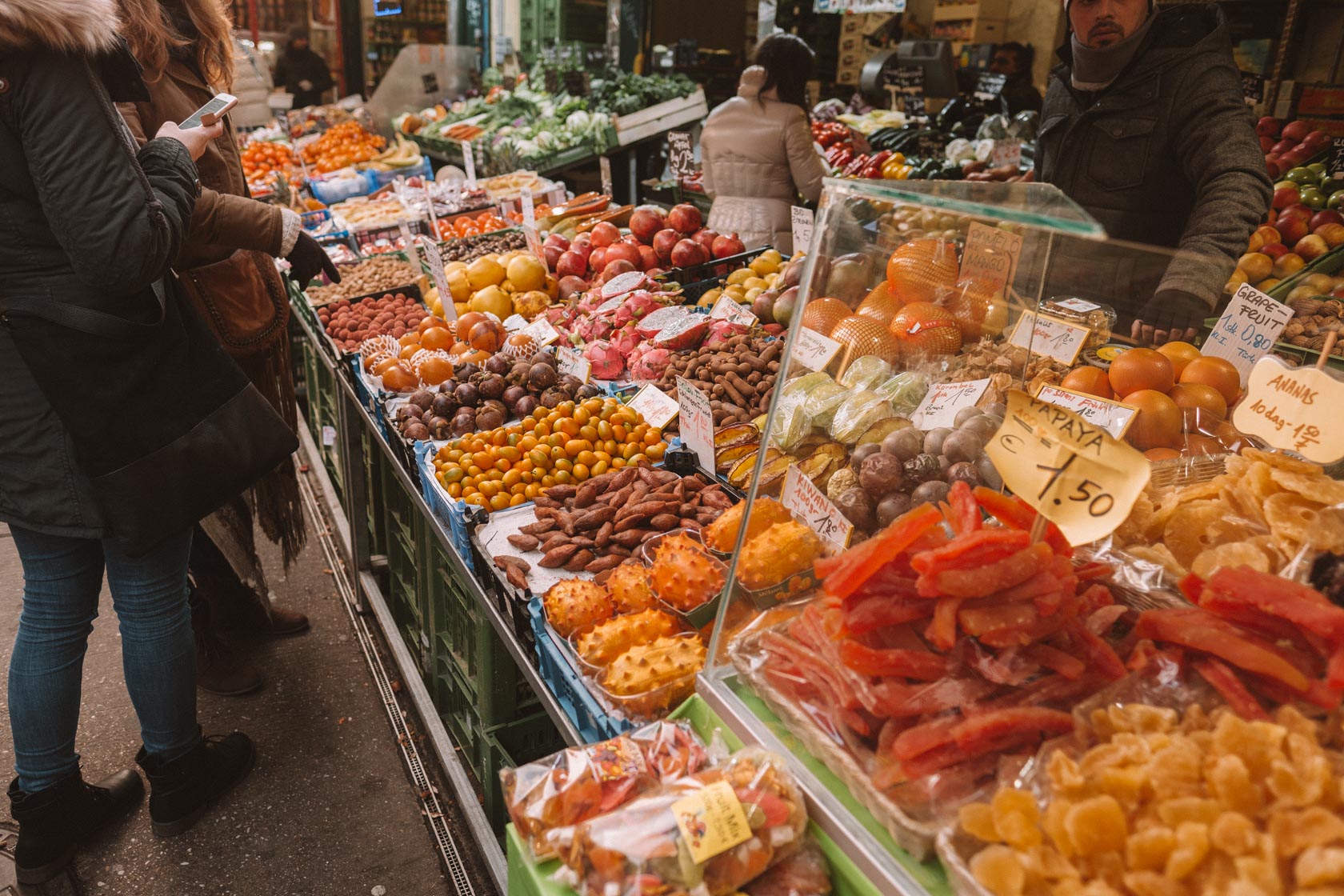 6. Do a free walking tour through Vienna
Vienna is a pretty walkable city, especially given how close together some of the main sights are located in the city center. If you like exploring a city by foot, but aren't quite sure where to go in the city, you can join an existing walking tour (free or paid) or simply download a walking tour itinerary online. Here are a couple of different options for walking tours around Vienna:
Both of these tours leave from Albertinaplatz and are free, meaning they continue to run based on the tips you give you guide at the end of the tour. Be sure to register in advance!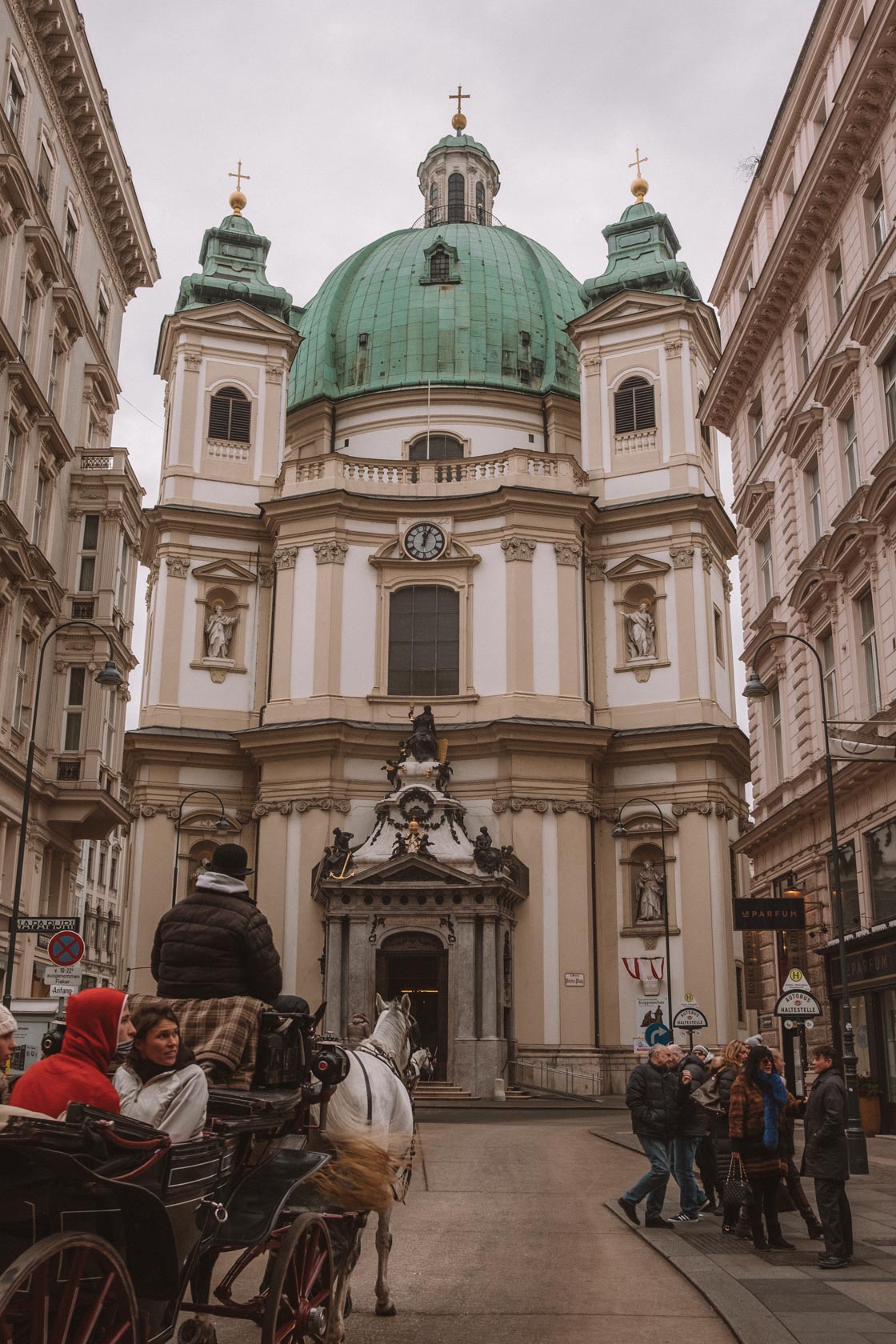 Of course, if you want to have a smaller group tour around Vienna, you can also pay a small amount for a tour for some more personalized attention and information. Most tours cost 15-30€ per person, and are therefore quite affordable even if you're on a budget in Vienna.
Here are some of the most popular small group tours:
7. Cozy up with the world's best Viennese Schnitzel
Stepping into a Schnitzel shop off the street is one of the best feelings! Inside it's warm and smells like breading and lemons, and you know you're about to get an incredible meal. If you've never had it, Schnitzel is a thinly pounded meat (usually veal or pork), covered in breading, and fried in searing hot oil. Typically you cover it in lemon juice and eat it with a red current sauce (though that's a more popular way to do it in the South!).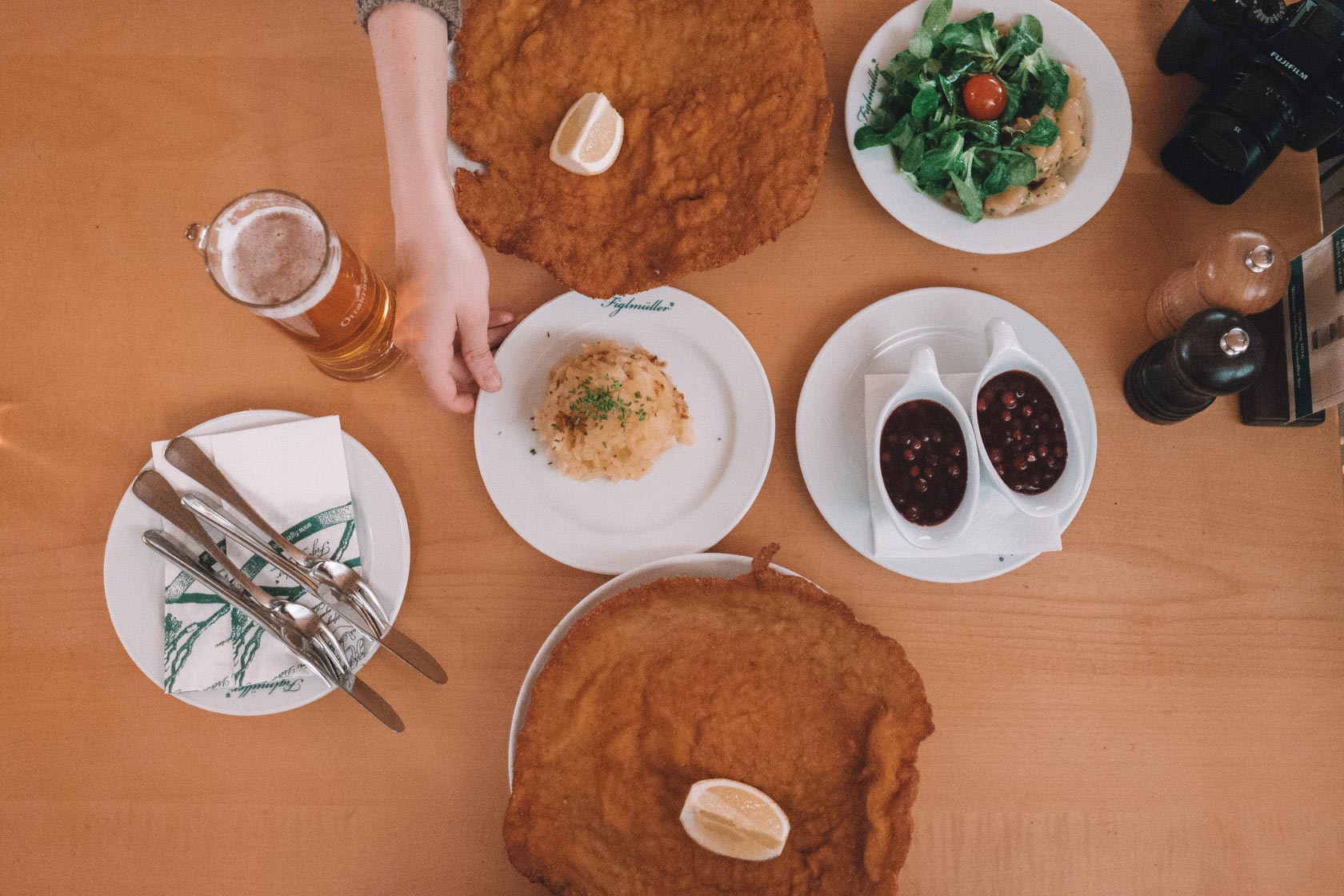 When it comes time for dessert (presuming you still have room, which I NEVER do), few things are more typically Austrian than Apfelstrudel (Apple Strudel). You can find this at any Austrian restaurant, or at the numerous glamorous cafes around the city. Kaiserschmarm is also popular, a fluffy pancake topped with powdered sugar!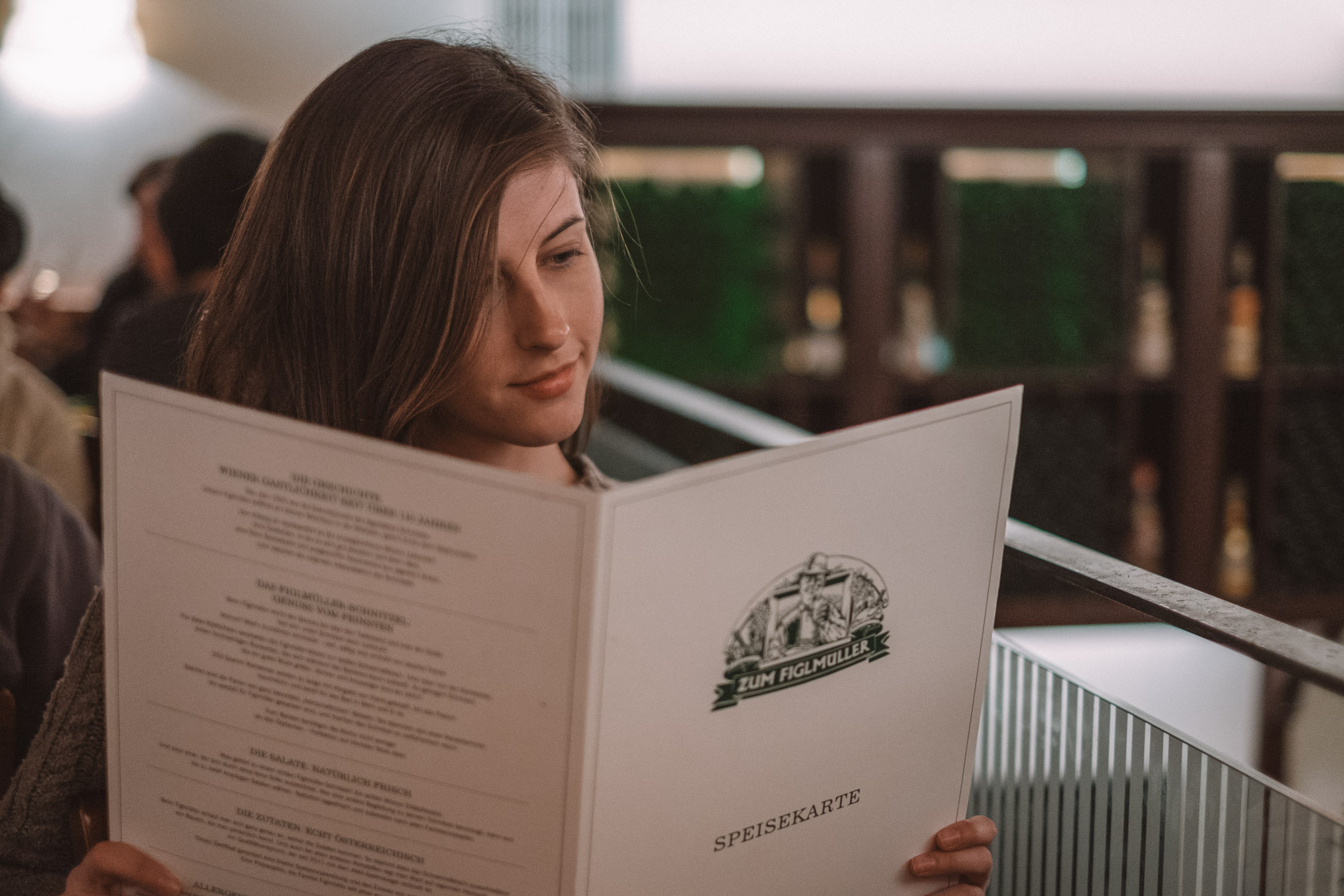 Figlmüller is one of the best-known spots to grab a Schnitzel. Be sure to get it with Preiselbeeren (red currant)! You can make a reservation at this restaurant online on their website, but don't wait too long, it was almost completely reserved when we booked a month in advance!) Dinner for two (Schnitzel, cranberry, two drinks and two sides) will run you about 50 EUR.
8. Enjoy Vienna's famous alleys
Wandering through Vienna, it really feels like you could be 200 years in the past. Especially when you're out of sight of any major roads or department stores, Vienna's Gassen (alleys) are a time capsule of beauty. Especially during winter, the streets are further illuminated with lanterns and string lights, lending a warm glow to the otherwise cold winter light.
Tip: Vienna has a couple of well known alleys that are especially charming. Perhaps the most photographed is Griechengasse , which is extremely close to St. Stephen's Cathedral. On your way to the Kleines Cafe (see below) at Franziskanerplatz, you may walk through Ballgasse which is also oh so quaint.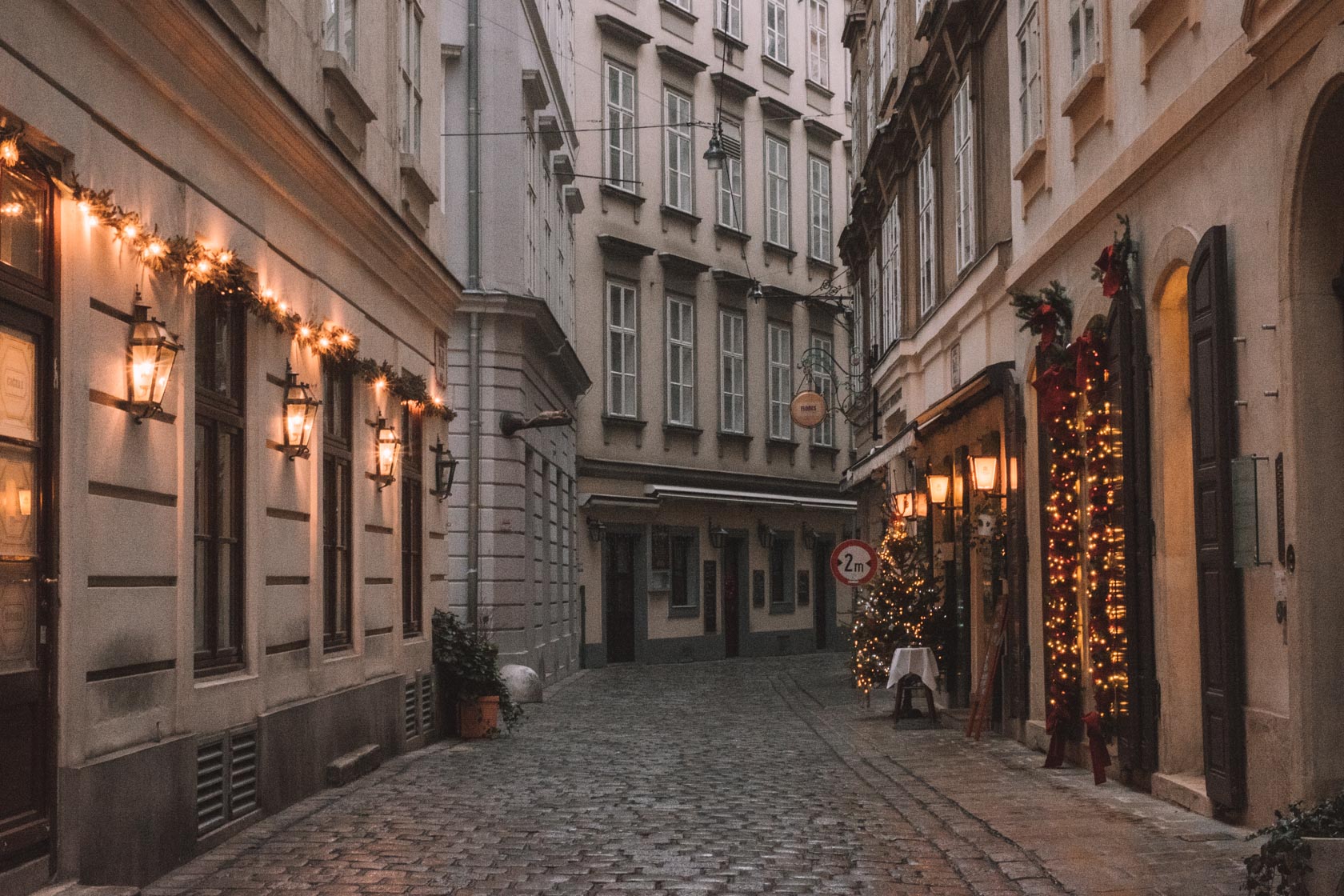 Ballgasse in Vienna
9. Warm up in a Viennese coffeehouse
You may think back on former times, when intellectuals would spend their whole day philosophizing from within the coffee houses in Vienna. Well it's no surprise, you step into one of these places and they treat you like royalty! Coat check, fancy menu, extremely fancy prices. Everything you need to feel smart and wealthy, plus cake.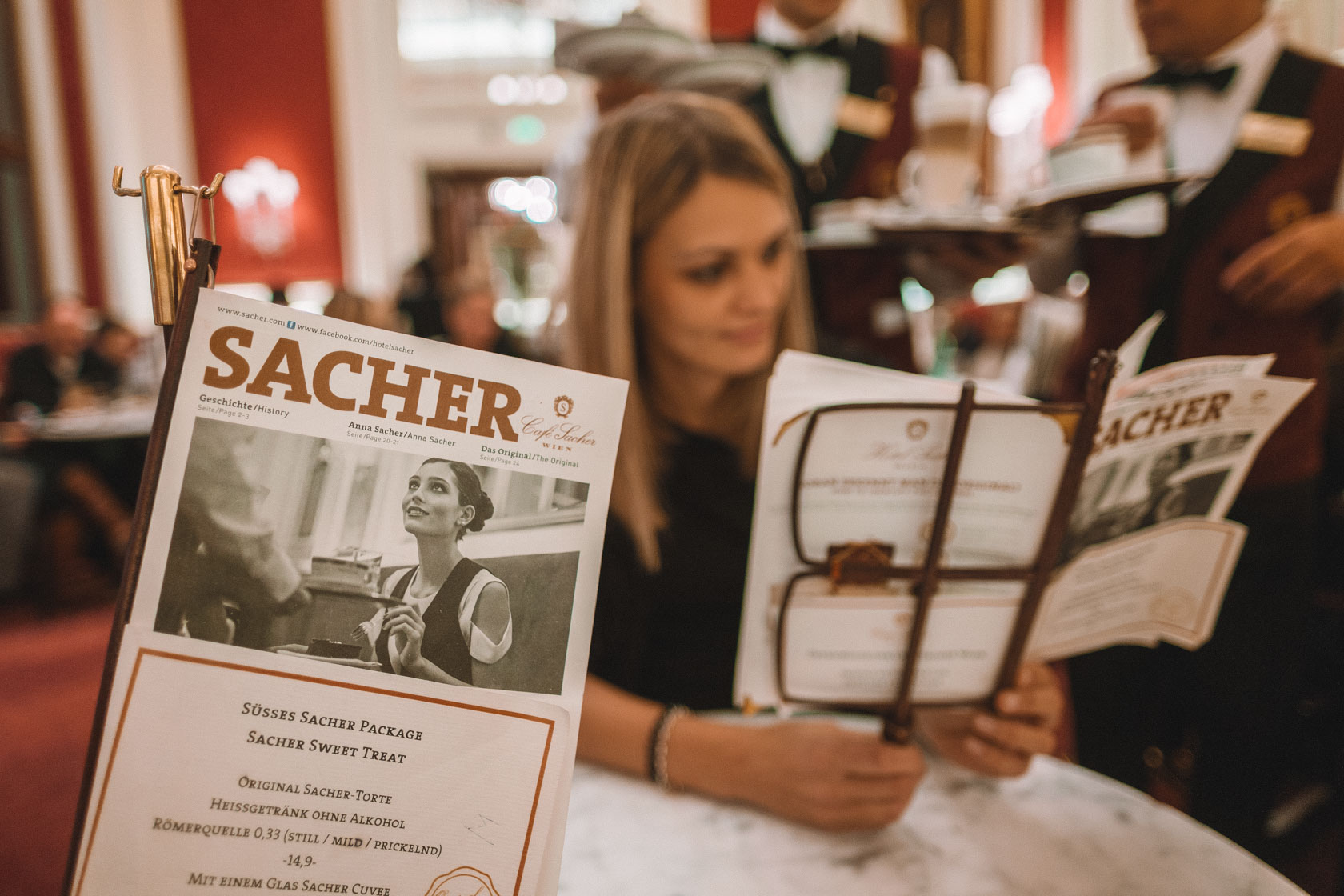 For the authentic Viennese experience, try Cafe Sacher , a coffee house in the middle of Vienna specializing in its own variety of chocolate cake. I was also shocked to discover that the coffee was actually kind of good (yes, the 6€ coffee was actually kind of good). Usually at these fancy coffee houses, the coffee is dreadful and you're really just paying to sit under a chandelier. Not so at Cafe Sacher!
But what Cafe Sacher is famous for is not the coffee, but rather their chocolate cake. To be honest it's a bit overrated, you're definitely paying for the experience more than that it's the best cake you'll ever eat. But hey, we do it for the 'gram?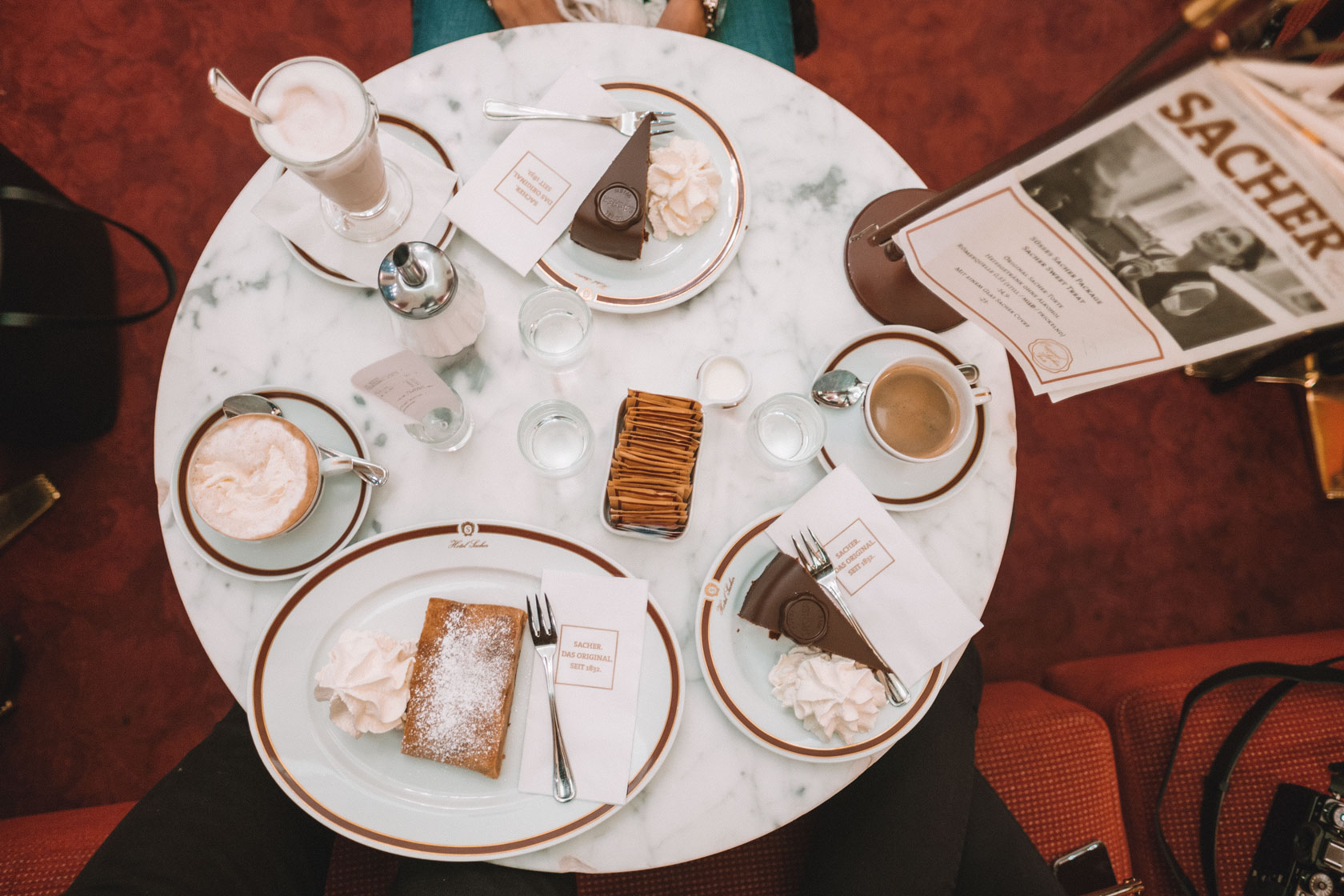 TIP – Coffee and dessert at Cafe Sacher for three people ran us about 36€, so about 12€ per person. Definitely not cheap, but an experience and a great way to get out of the rain if you get unlucky!
You can also try Cafe Central , however when we stopped by there was a queue out the door in the rain, so we decided to forego it. Right around the corner is also a famous pastry shop, Demel , which has a cafe on the second floor (entered through the back of the shop). Demel would be a great place to pick up edible souvenirs for friends and family back home who want a taste of Austria!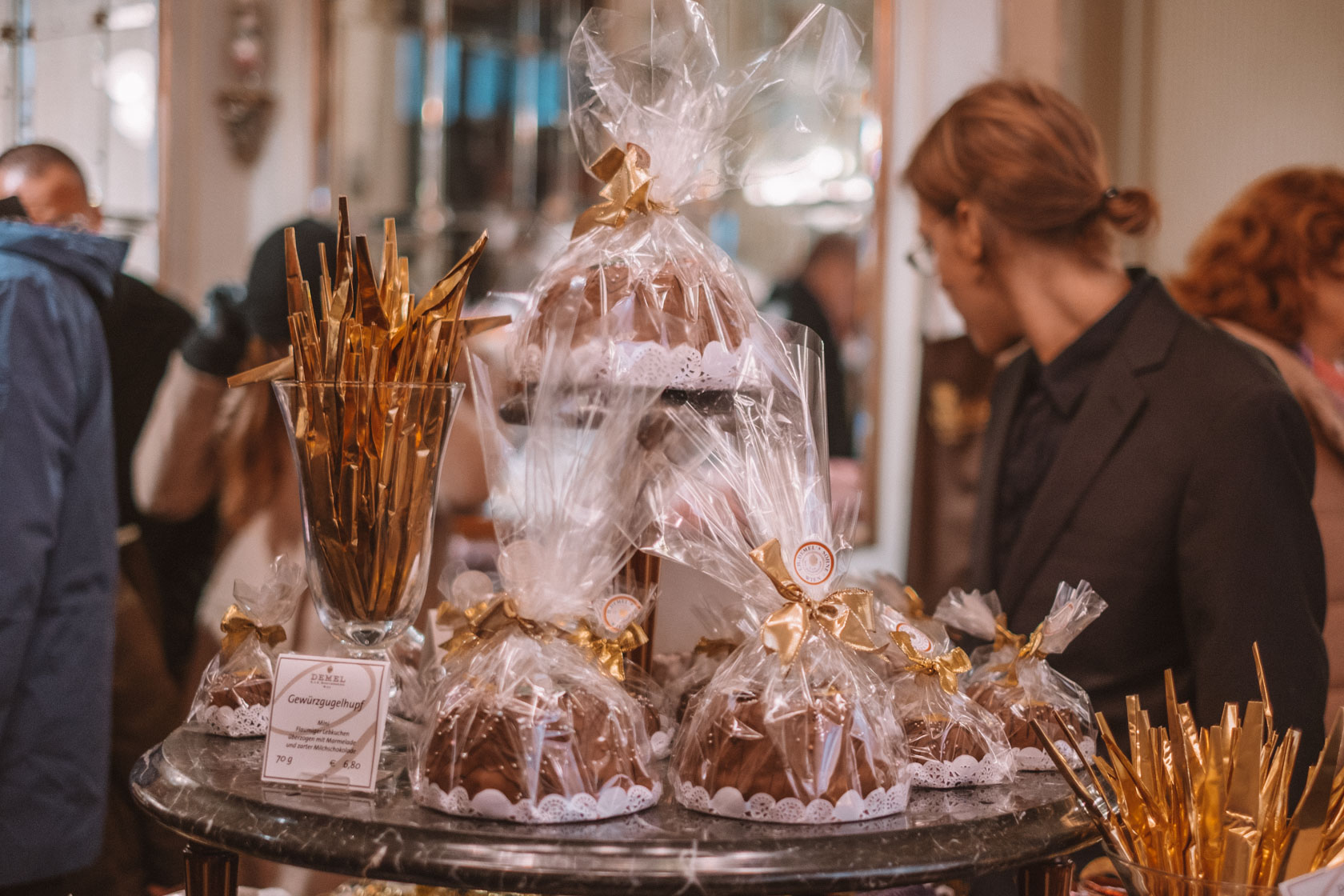 10. Enjoy a city decked in Christmas lights
If there is anything that really distinguished the aesthetic of Vienna during winter from the other parts of the year (besides, of course, a layer of white powdery snow), it's the Christmas lights illuminating the sky above every city street. Sometimes you'll be walking around and see an alley that would otherwise look completely boring, but the illumination from Christmas lights reveals that there's a tiny market waiting for you to find. Be sure to spend some time walking around Vienna after dark in the winter!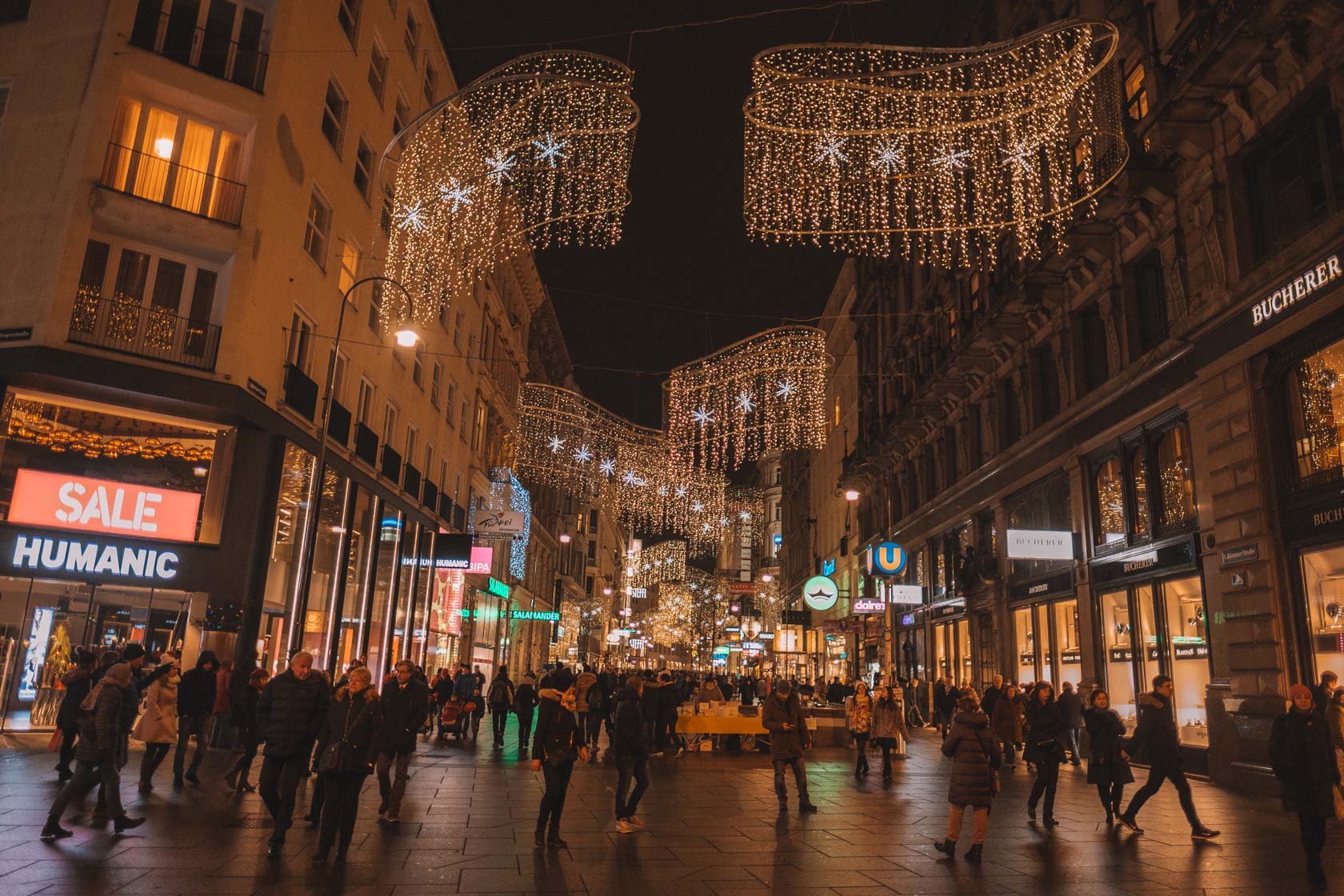 Landmarks are also covered in Christmas lights, or have lights projected on them. This is truly a sight you can see no other time of the year than winter! Karlskirche is particularly illuminated, and looks beautiful with the lively Christmas market going on below it.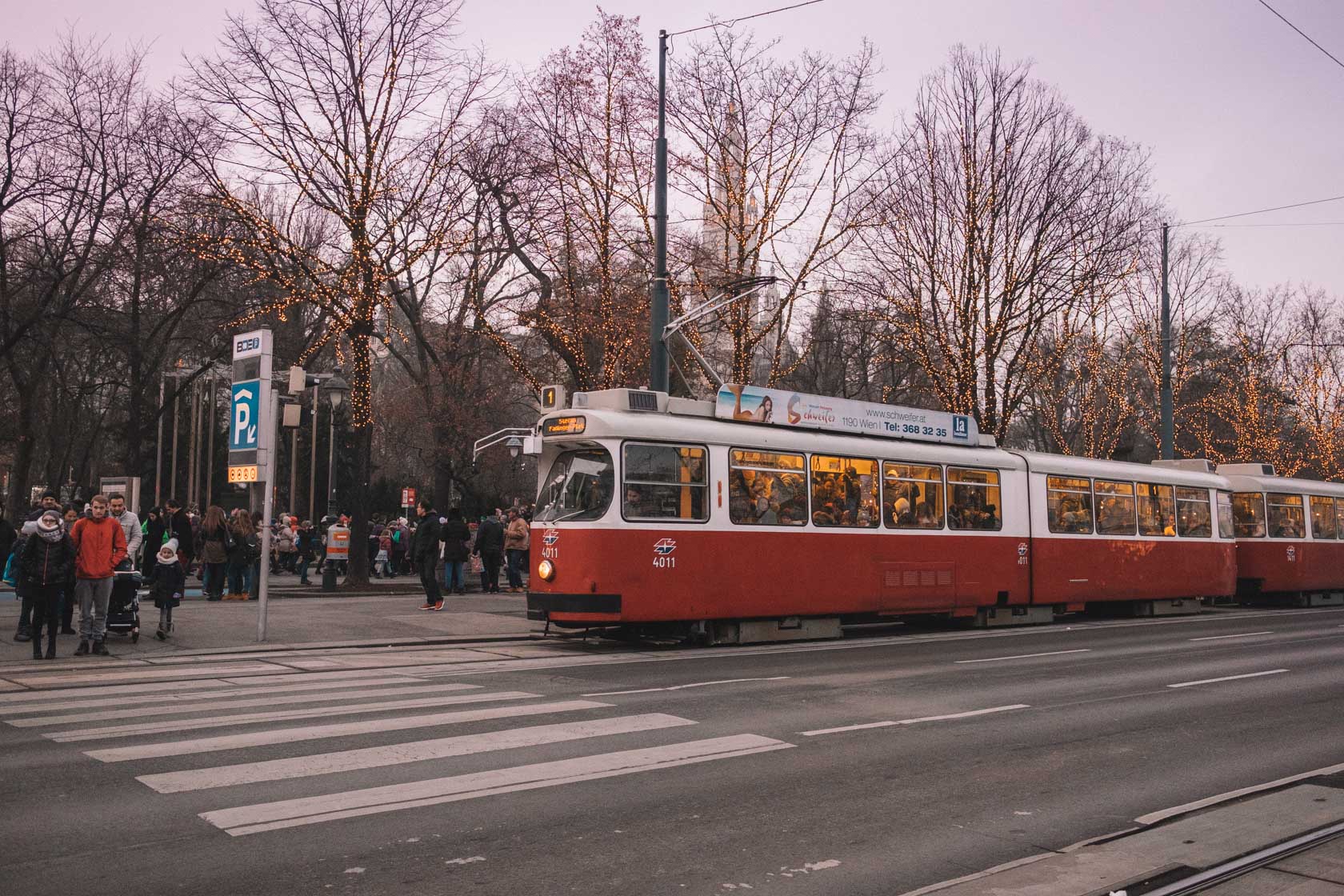 Practical tips for visiting Vienna in Winter
Now that you're sold on visiting Vienna this Winter, let's consider some of the essentials for making the trip its very best! I'll cover a couple of basics like what the weather in Vienna is during Winter, what you should pack, and how to get around the city. 👌
Vienna's weather in December, January, and February
Here are the averages temperatures for these months:
December – The average high is 3ºC, lows at 0ºC (37ºF / 32ºF).
January – The coldest month of the year, highs around 2ºC, lows at -4ºC (36ºF / 25ºF).
February – Highs around 4ºC, lows at -1ºC (39ºF / 30ºF)
In short, the weather in Vienna in Winter is really not that cold. I say this as someone living in Berlin, where we can get down to -20ºC (-4ºF). That would be cold. In my opinion, you don't have much to fear from Vienna's winter, so take heart! Vienna also doesn't have that much wind, so don't feel like you need to pack a big thick jacket or a ski mask in order to survive winter in Vienna.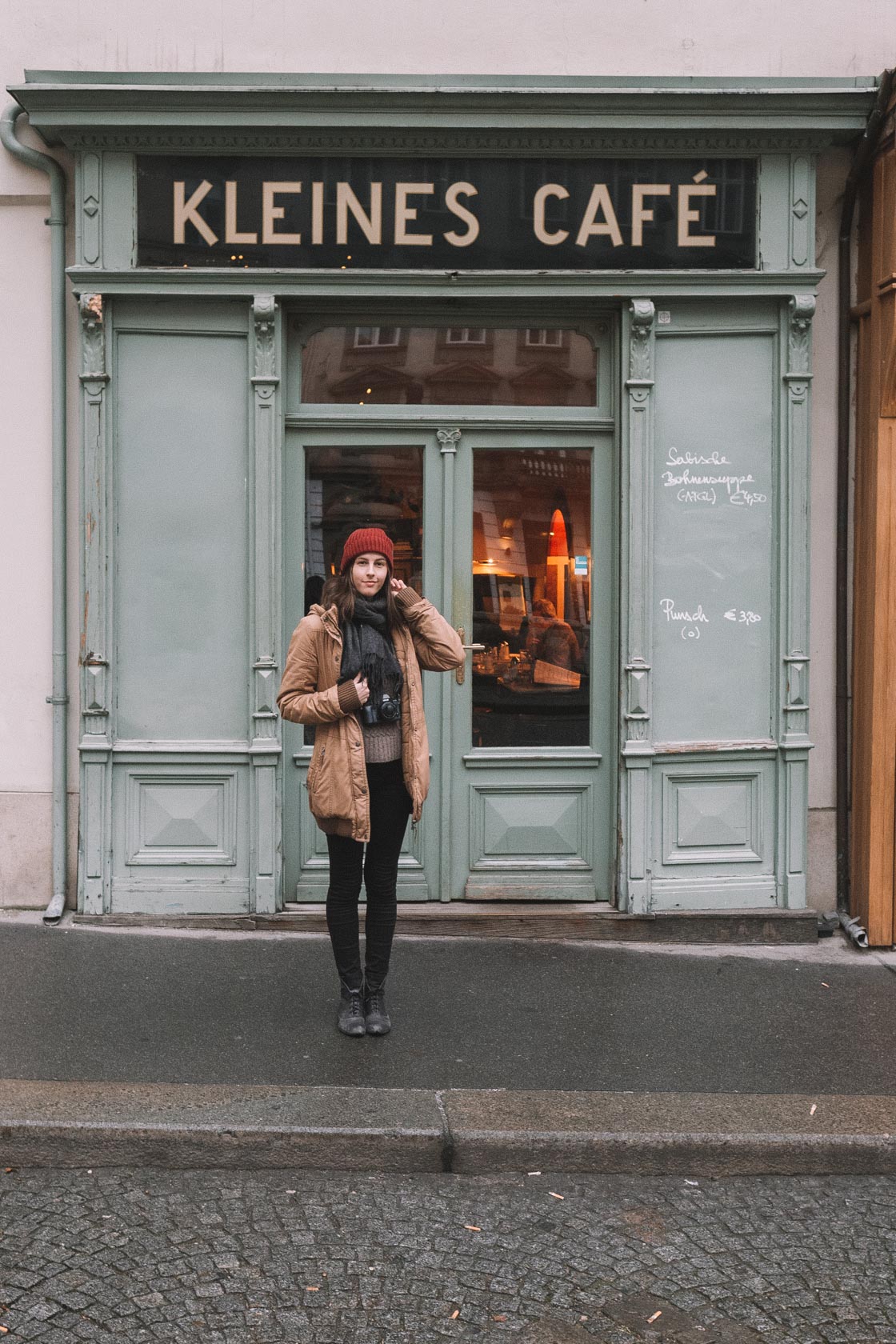 What to pack for Winter in Vienna
Vienna is more prone to clear weather than many other cities, because it's relatively southern within the scope of Europe. That said, rain and snow are both very common, so you should be prepared for both. Be sure to pack:
Shoes that can handle getting wet + appropriate thick socks
Scarf, knit hat, and gloves
Layers: thermal leggings, long sleeved shirt, sweater, and a medium-sized winter coat will suffice
No need to bust out the parka, unless that's just going to keep you extra cozy. Anywhere you go inside is going to be heated well enough, you want to make sure you're able to take off layers as needed, or you're likely to roast in any restaurant you enter.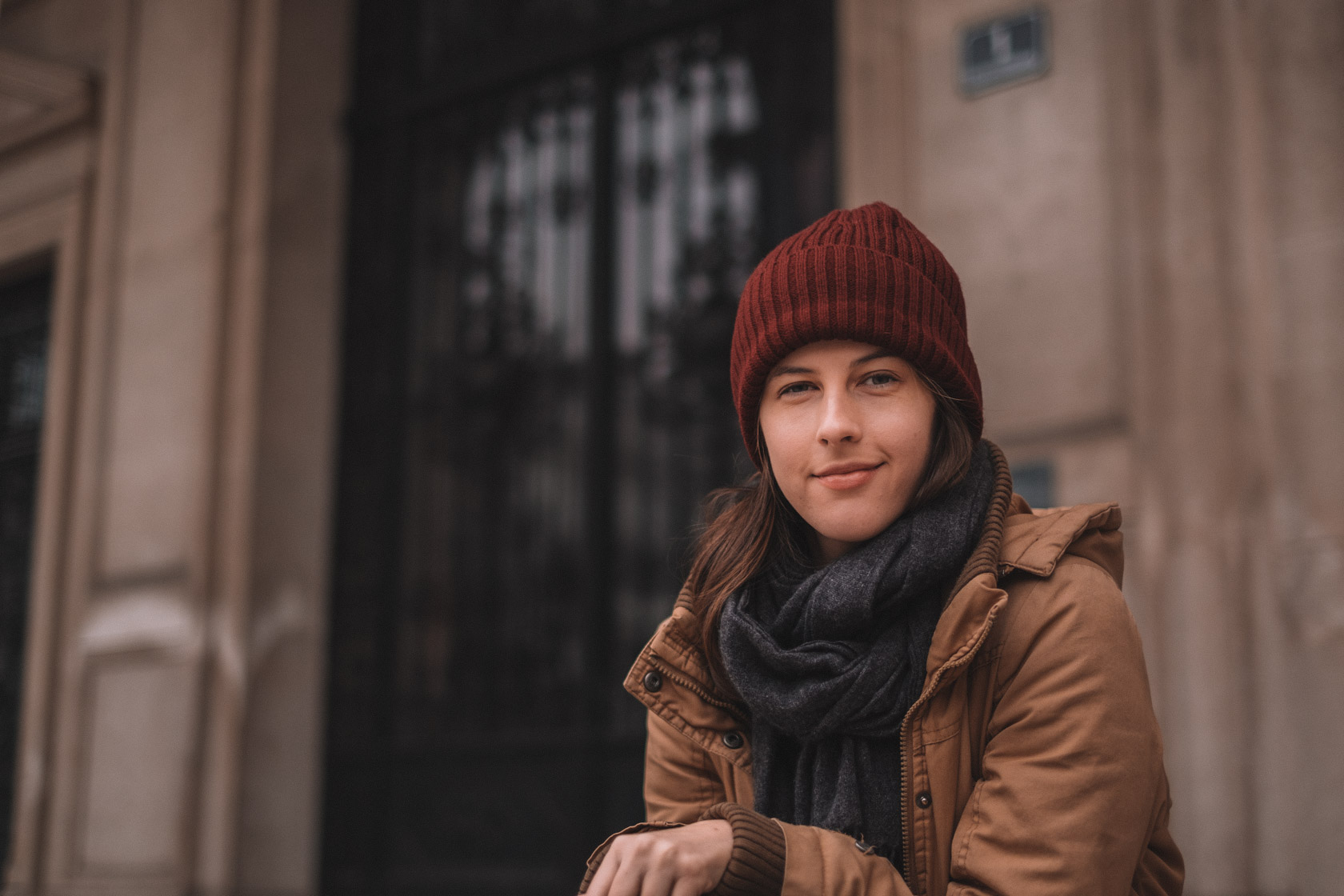 Getting around Vienna
In the warmer months, Vienna is very traversable by bicycle, and there are a ton of generous bike paths you can use you get around the city. In Winter, Vienna is more enjoyably traversed by public transit, although a lot of the city center can be done comfortably by foot. You can buy tickets at the various metro stops, and sometimes on the bus if you have coins, but oftentimes the bus driver will just take you to the metro and you buy the ticket there. Be warned, there is a HEFTY fine of more than 100 EUR for "riding black" (riding the metro without a validated ticket), so make sure you do always stay on the right side of the law!
Where is your dream winter destination? Would you come to Vienna in Winter?
I'd love to hear where you're spending the holiday season this year, and especially if you have any exciting Winter travel plans! Till next time ❤️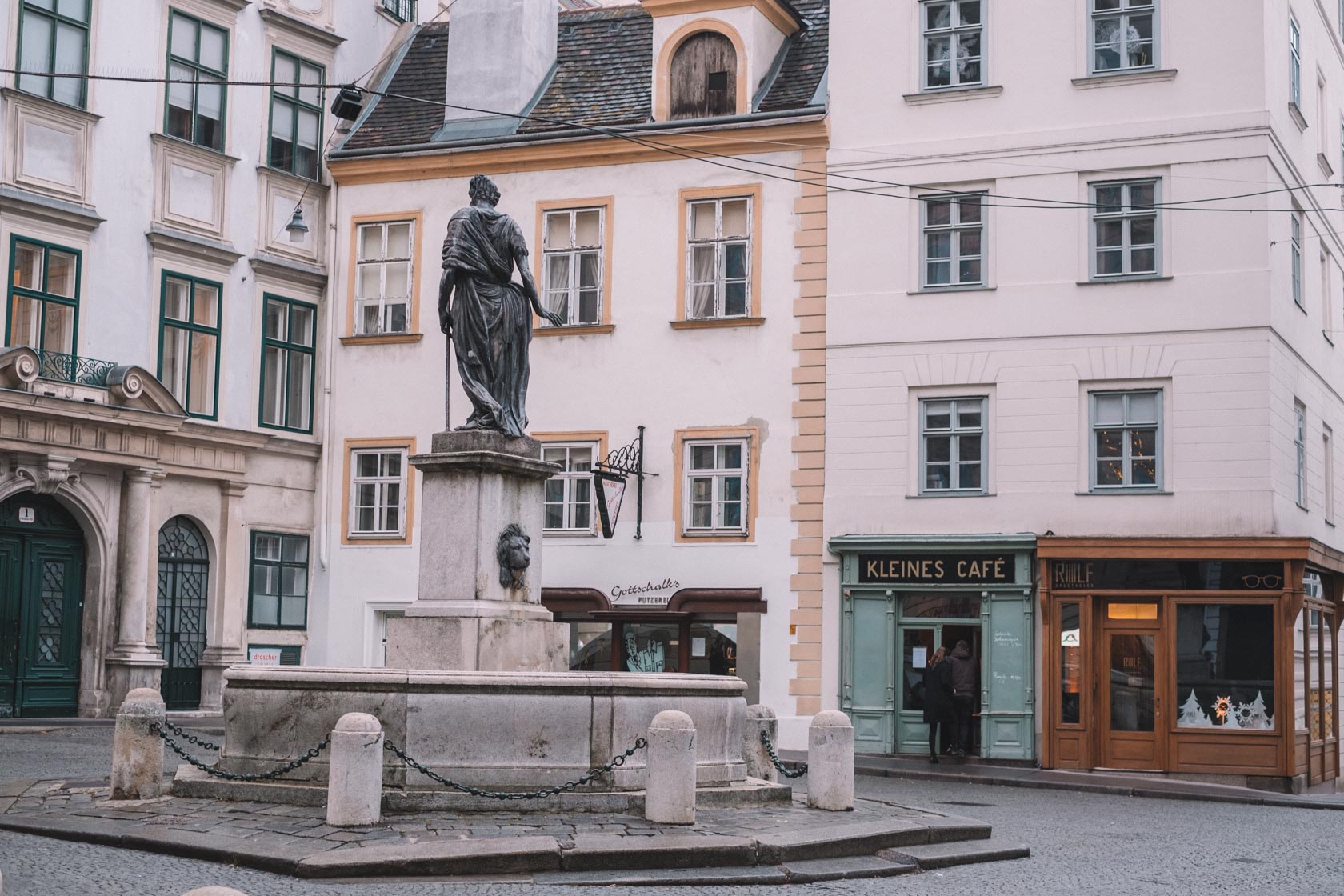 Pin this post for later!