Now, I've actually never skiied in my life, and when I told my boyfriend's family over Christmas that I'd be visiting Lech, they were universally impressed. As it turns out, this small village in the Austrian Alps is one of the top places to ski in the entire world. It has a reputation for being super exclusive – and expensive. Given my lack of experience, I felt pretty unworthy! But a ski pass was included in a conference I was scheduled to present at, so I had nothing to lose.
Here's everything you to need to know to visit Lech, Austria, including things to do (besides only skiing), hotels in Lech (which are pretty scarce), and what you can expect from the weather and what to wear.
Enjoy!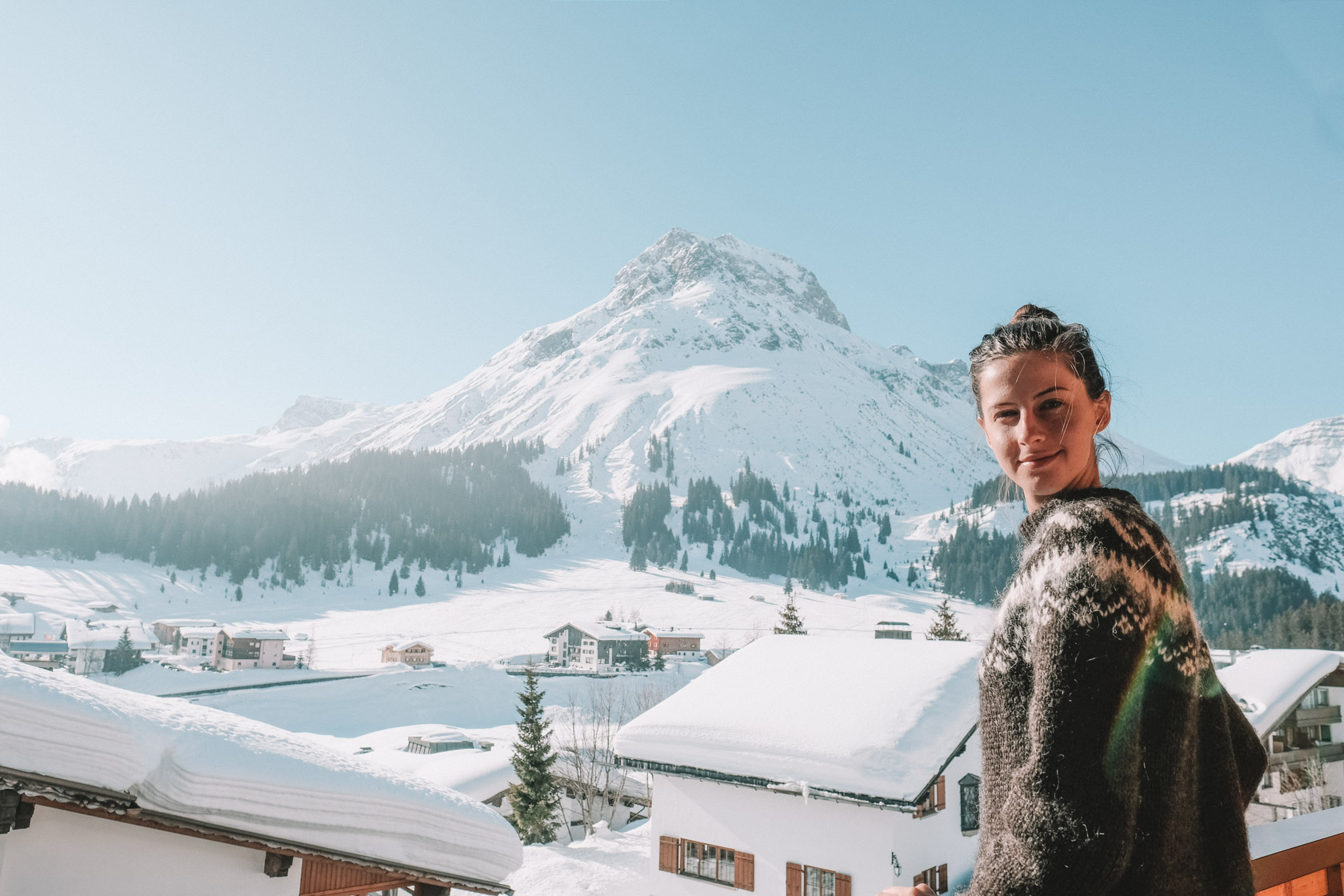 Some links in this post are to affiliate sites. If you purchase something through them, I may earn a small comission — which costs you nothing! I am very grateful when you use my links to make a purchase.
Quick guide to Lech
Looking for just the highlights? Here are the quick facts you'll need to plan a successful trip to Lech, Austria:
Book your hotel one month or more in advance – Accommodation in Lech is very scarce, and many places aren't even bookable online (yes, you have to call or email them!). We stayed at Pension Alpenfluh and really loved it.
Ski passes cost about 57 EUR per day – They count for the entire Arlberg ski region, and you can also ski in St. Anton with your pass. Lech is known to be best for intermediate skiiers, while St. Anton is for the more advanced.
Food in Lech is VERY expensive – Be prepared to drop some serious dough for dinner, or stop in a supermarket. There are a couple in Lech, with Spar being the most popular chain.
You can reach Lech by either the Zurich or Munich airports – Lech and its surrounding area is too small for its own airport. You'll need to fly in elsewhere and either drive or take a train or bus.
Ski season typically lasts until April – However, Lech is still beautiful to visit during the entire year, as part of the Austrian alps!
Check out the Ski Arlberg website – You'll get info on tickets, weather conditions, the condition of the snow, and even events.
Fun facts about Lech, Austria
Princess Diana is one of the most famous people to ever visit Lech
Lech was the first resort in the area to cap daily passes to 14,000
Every year, Lech receives close to twice the amount of snow as comparable resorts in France
Interested? Let's go on!
Things to do in Lech
Whether you know how to ski or not, Lech is a gorgeous place to visit. Here are just a few things you can do in a weekend in Lech.
Go skiing
As I've already said, Lech attracts skiiers from all over the world. This year, Lech got a record amount of snow and you can see it on the tops of the roofs and surely on the mountains. In Lech you can buy a ski pass, rent ski gear, and hit the slopes.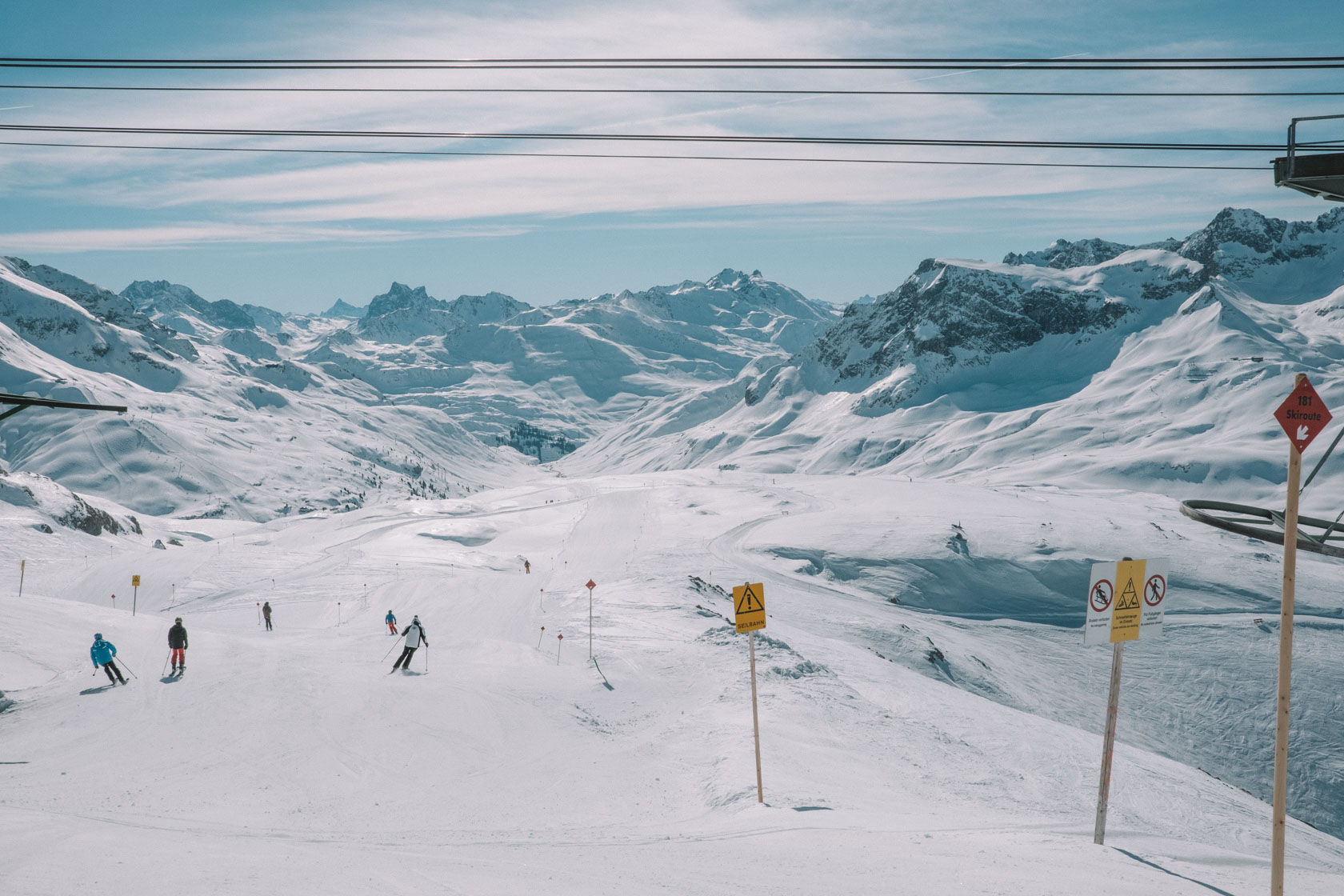 That said, the cheapest option is to bring your own ski equipment. Most lodges or hostels will have space for you to store your gear in a place it can dry off at the end of the day.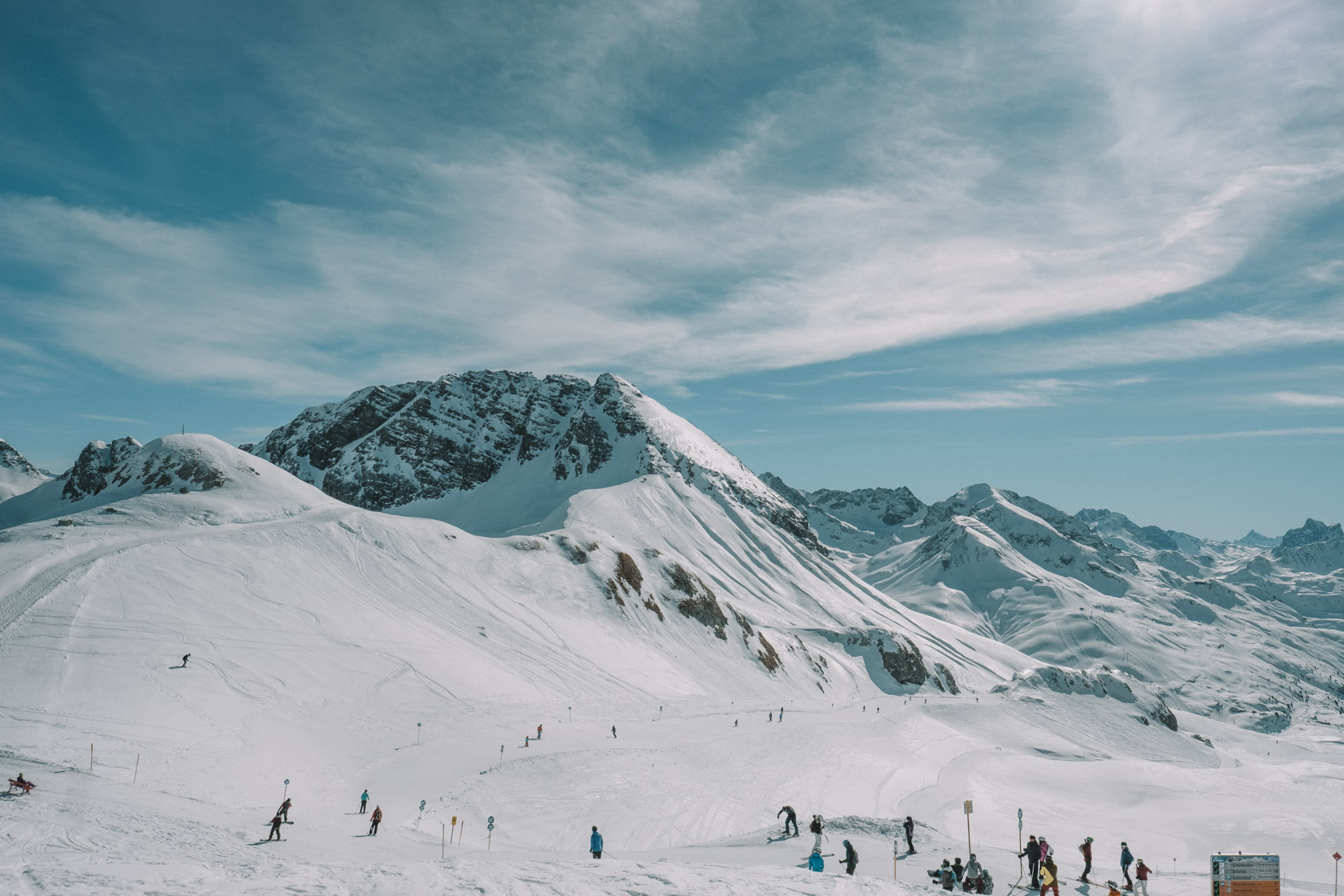 Take the Rüfikopfbahnen up the mountain
You can take it up if you want to ski, but even if not, there are often restaurants at the top of the ski lifts where you can sip a hot chocolate and see mountains for miles.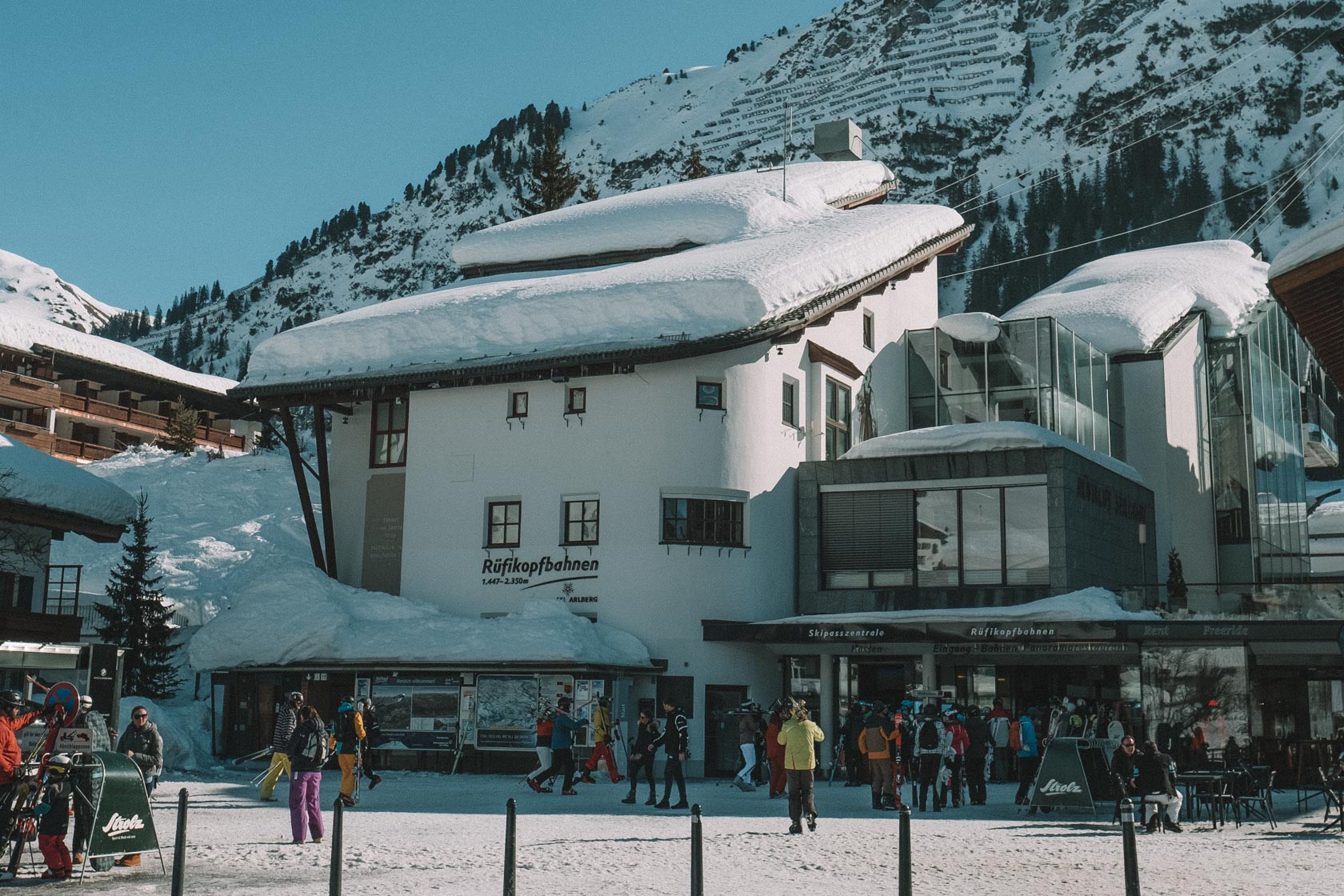 The cost to go up and back is 19 EUR. Further, each ski pass has a 5 EUR deposit which you can get back at the end of the day if you return it. Ski passes are not personalized, so you can give it to someone else if you're taking a break.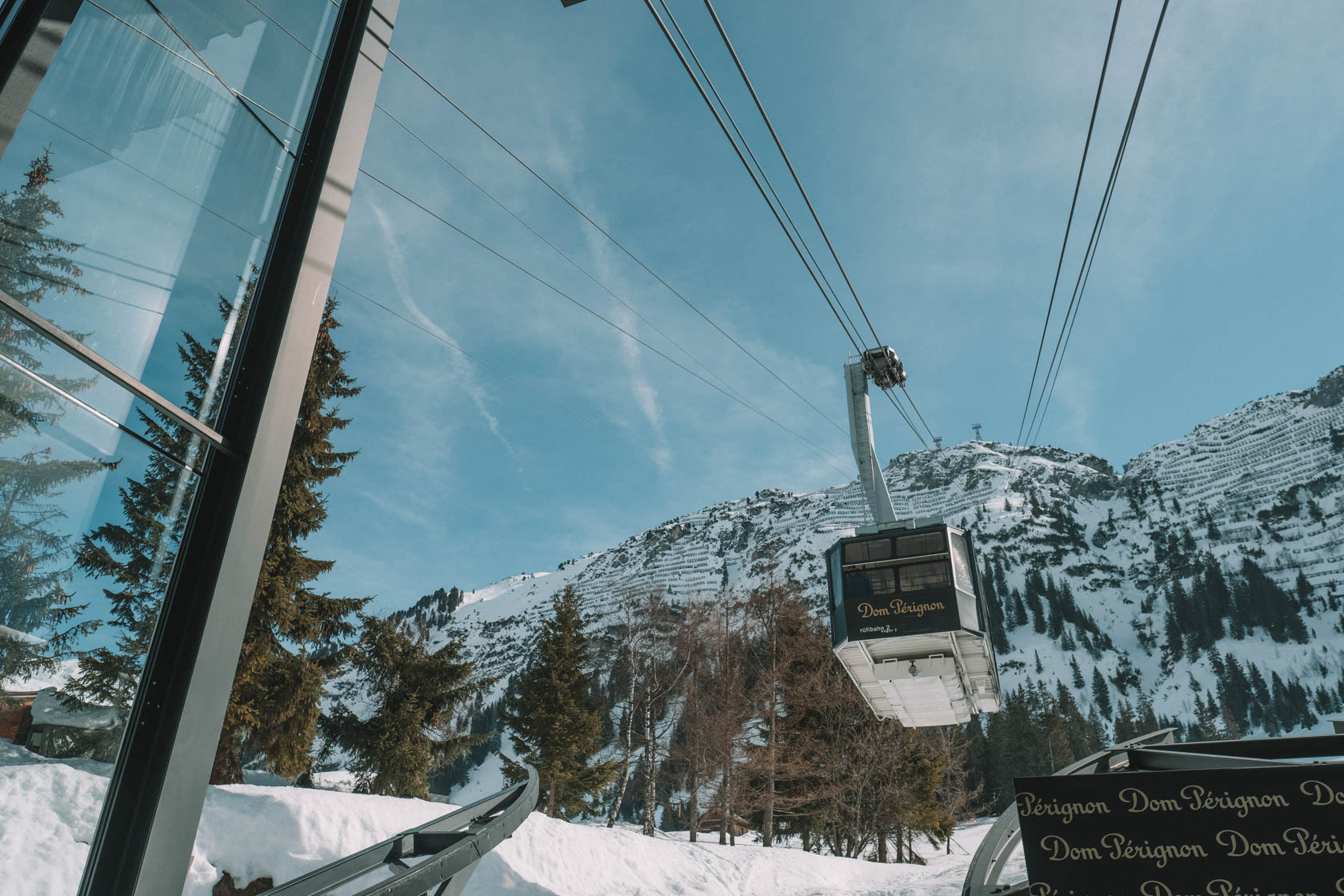 Even though it's a bit packed to go up (the wait was about 15m minutes when we went up in the late morning), since everyone else skis down, the cable car back is completely empty. My boyfriend (who does ski) said it was embarrassing to ride it as tourists but I don't know enough to care 😂
You do you.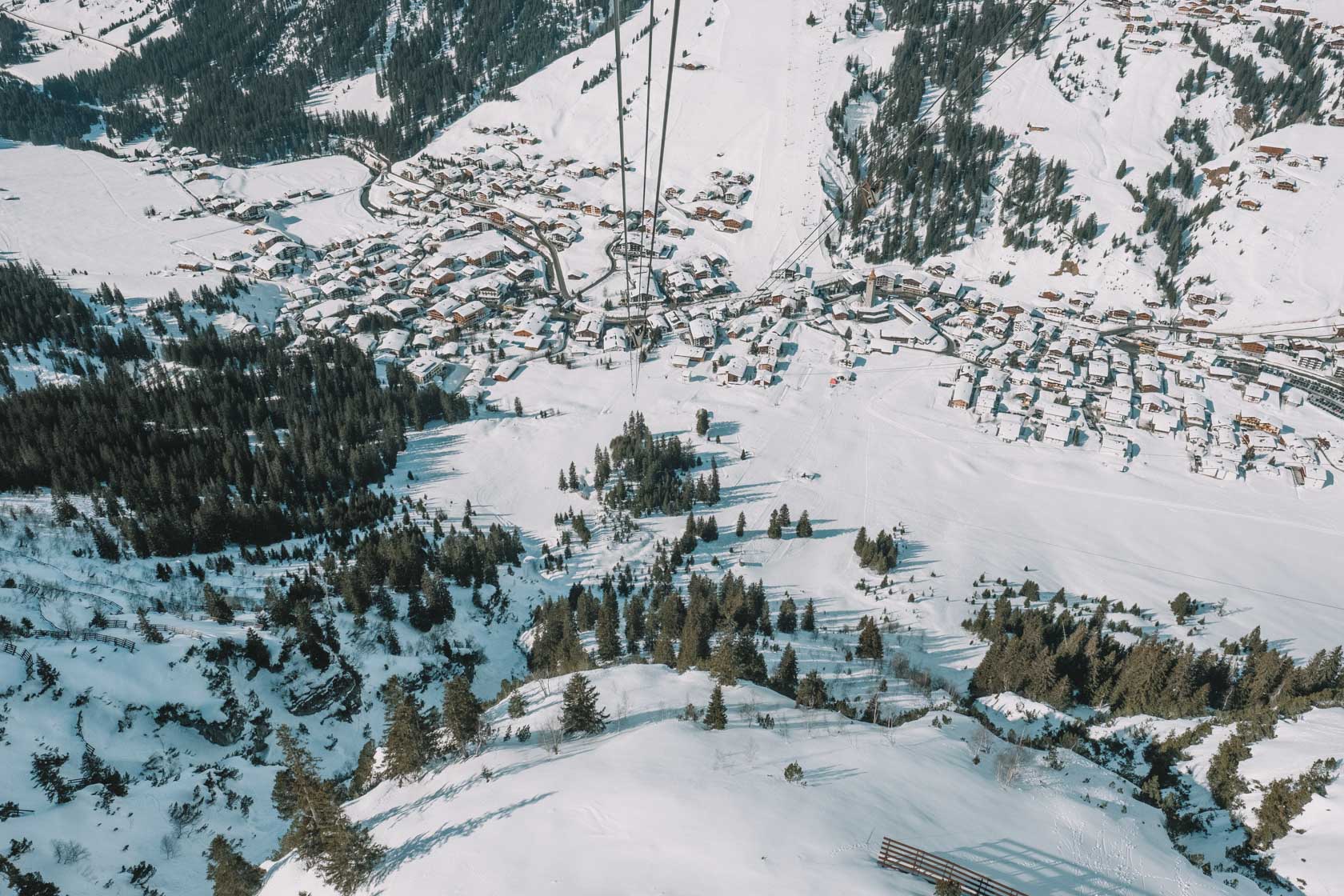 Lech was quite warm, I didn't even need to wear my parka when sitting outdoors in the sunshine. Just my Icelandic wool sweater and a pair of leggings 🆒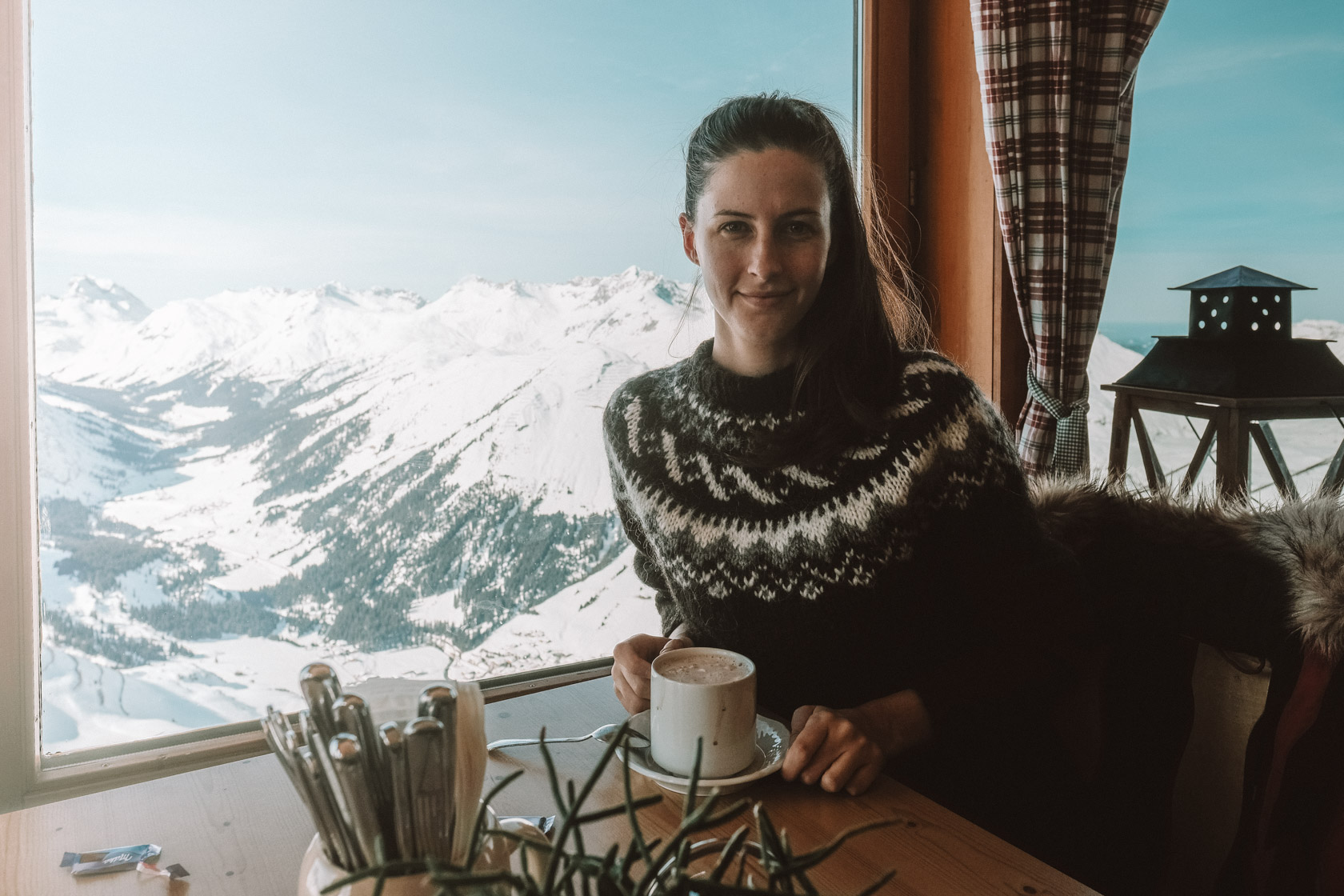 Go for some drinks in the sunshine
Lech is the only place I think I've ever seen a bottle of wine in the supermarket that costs upwards of 300 EUR. Did I mention this place is expensive? Thankfully that's the upper end of things, and you can go out for drinks at all times of the day and it's considered totally normal during ski season 😉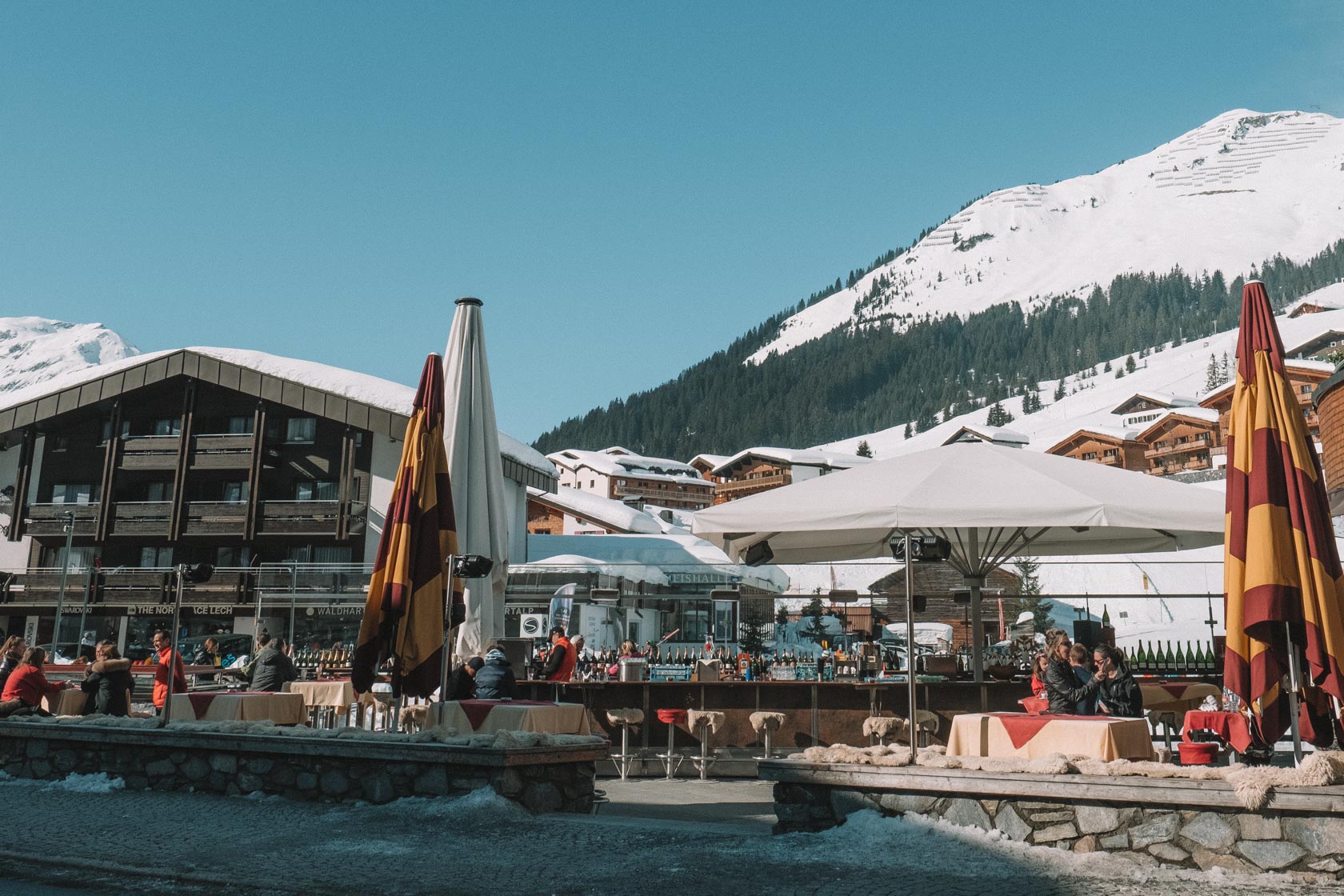 One of the great things about staying close inside Lech is that if you do decide to drink, you can probably walk back to your hotel. That said, Lech also has a bus system that will connect you with accommodation that is further away and to other nearby towns.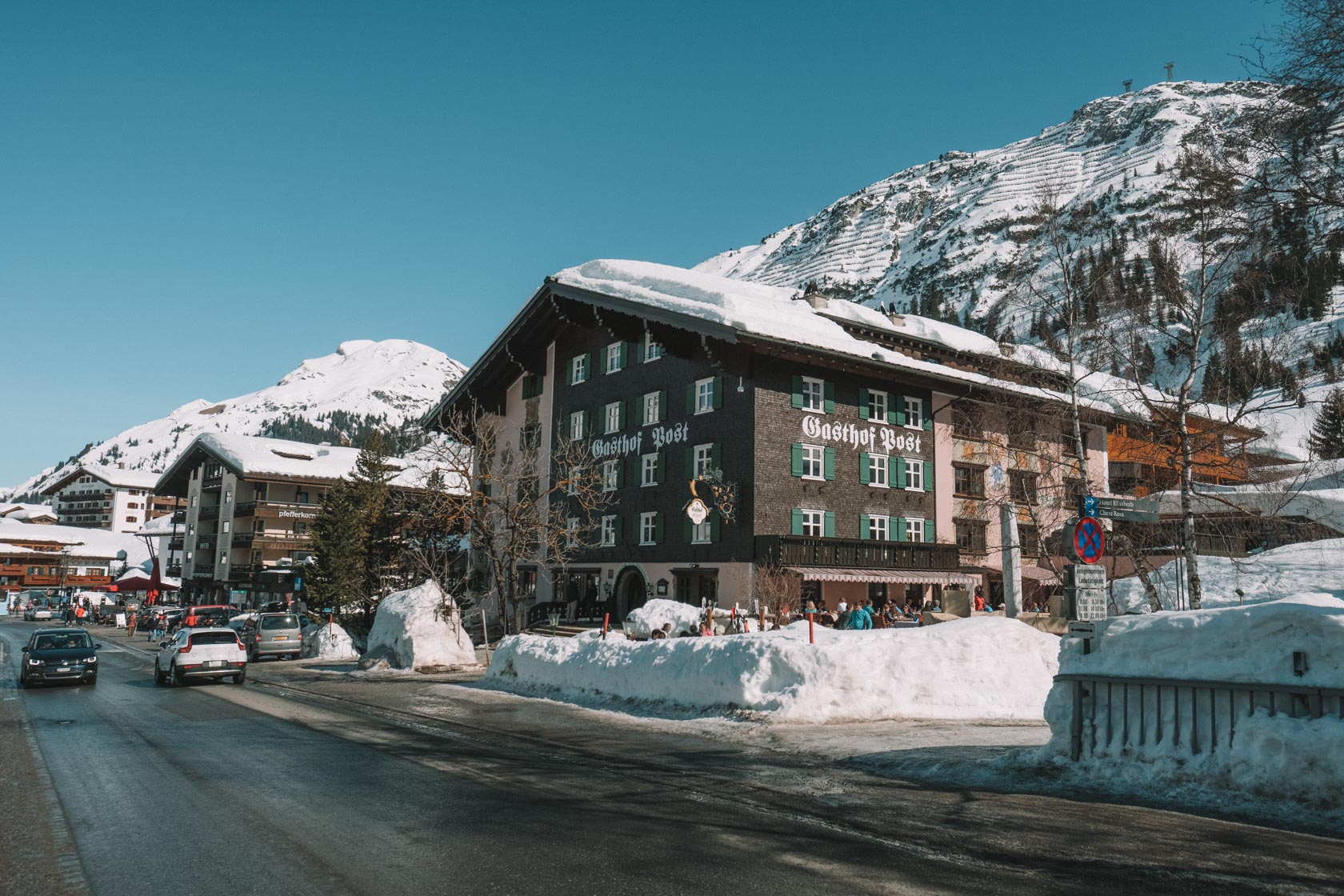 Weather in Lech and what to pack for your visit
In general, it comes down to a degree of luck whether you'll get clear skies and sunshine like we did. While I was at my conference, my boyfriend and his dad experienced a lot of fog and poor visibility. But two days later, you would never know there had been clouds there.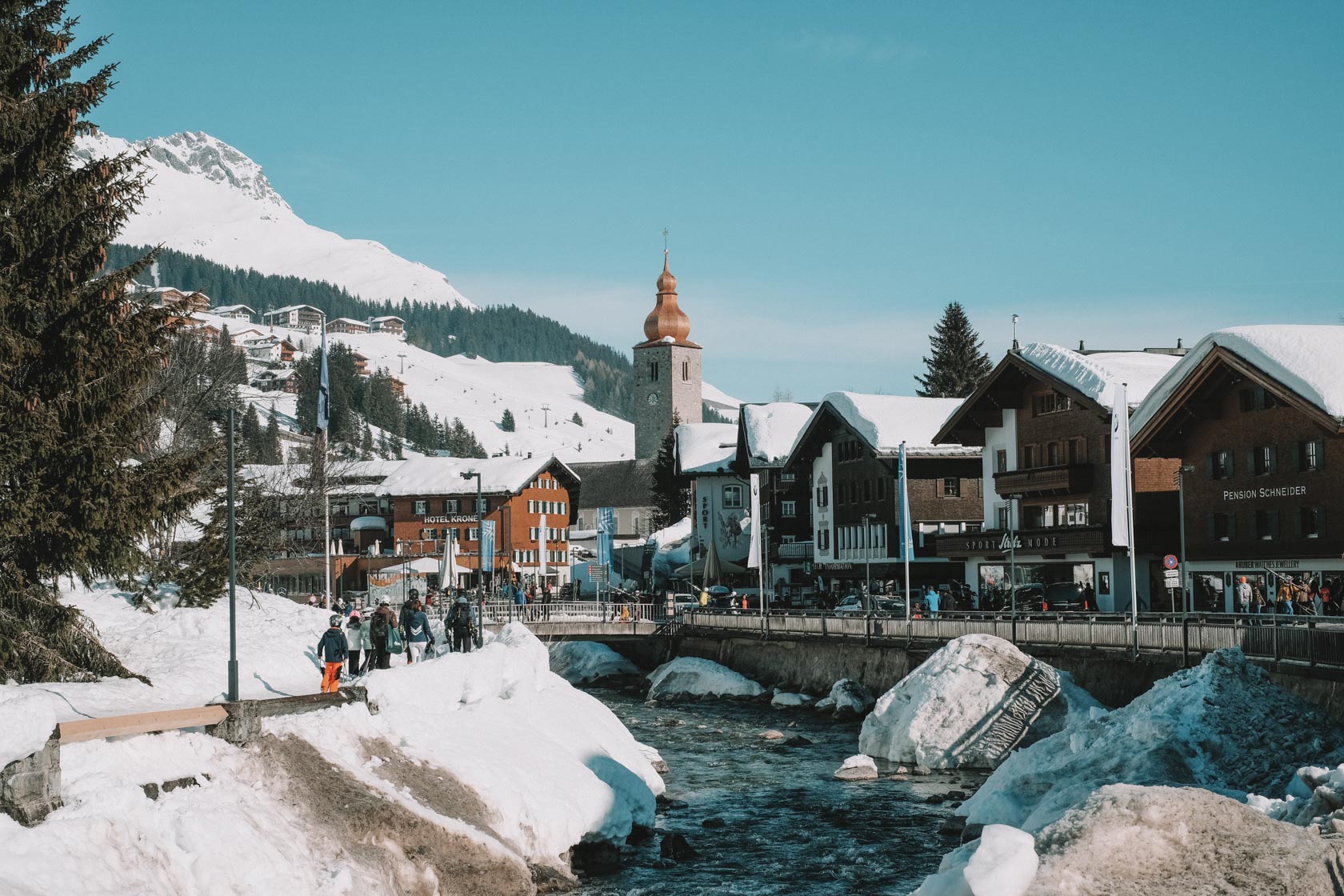 In terms of what to wear, naturally if you're skiing you're going to need to the typical ski clothing: pants, jacket, goggles, etc. On top of the mountains it can be very windy and is much colder than down at the base!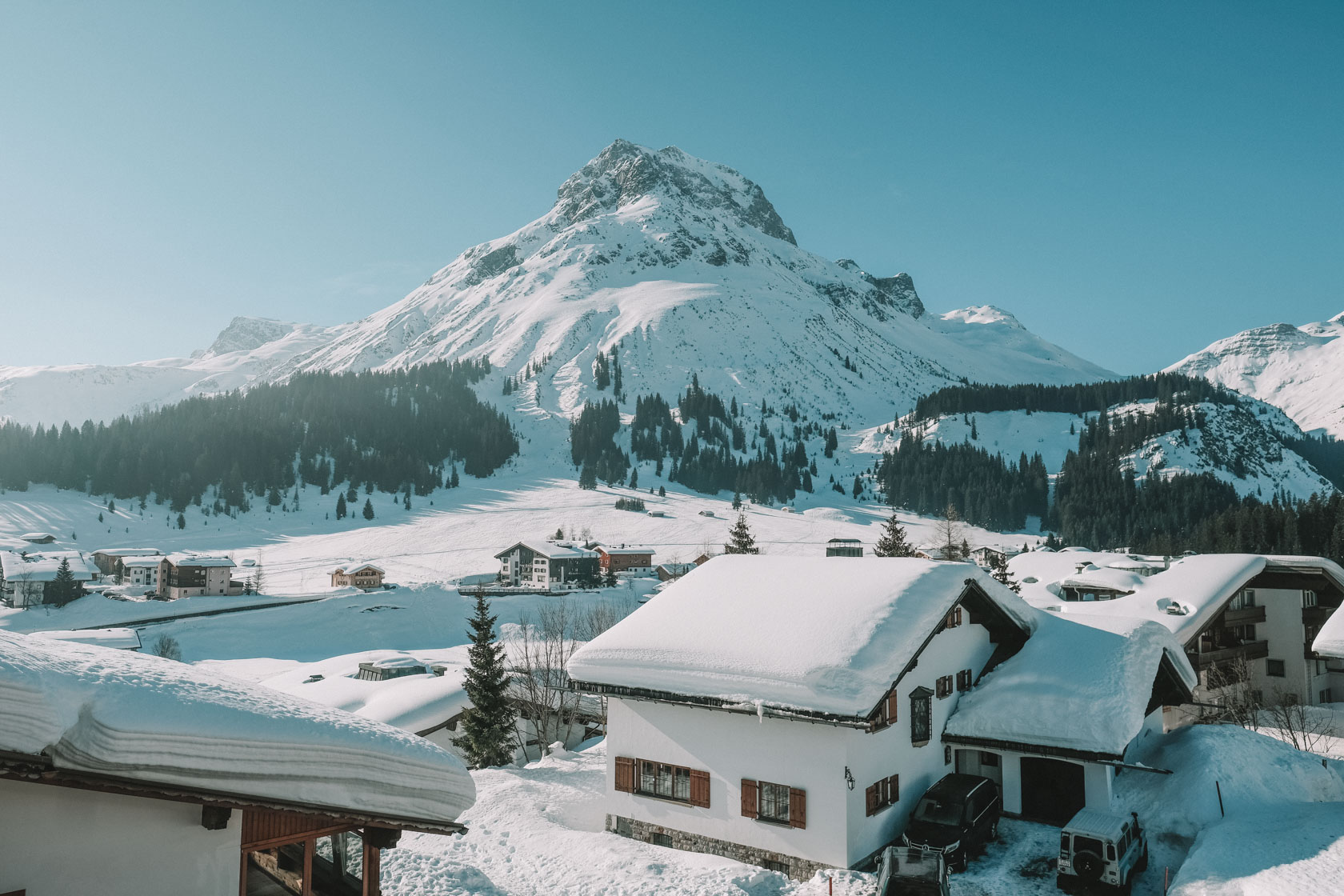 For just being around town, your typical winter clothing is completely okay: Lech is not known for reaching absurdly cold temperatures, but do consider bringing water-proof winter boots as you'll definitely be walking through snow. And, as I always recommend in Winter, if you're going to be hiking it never hurts to pack a pair of crampons !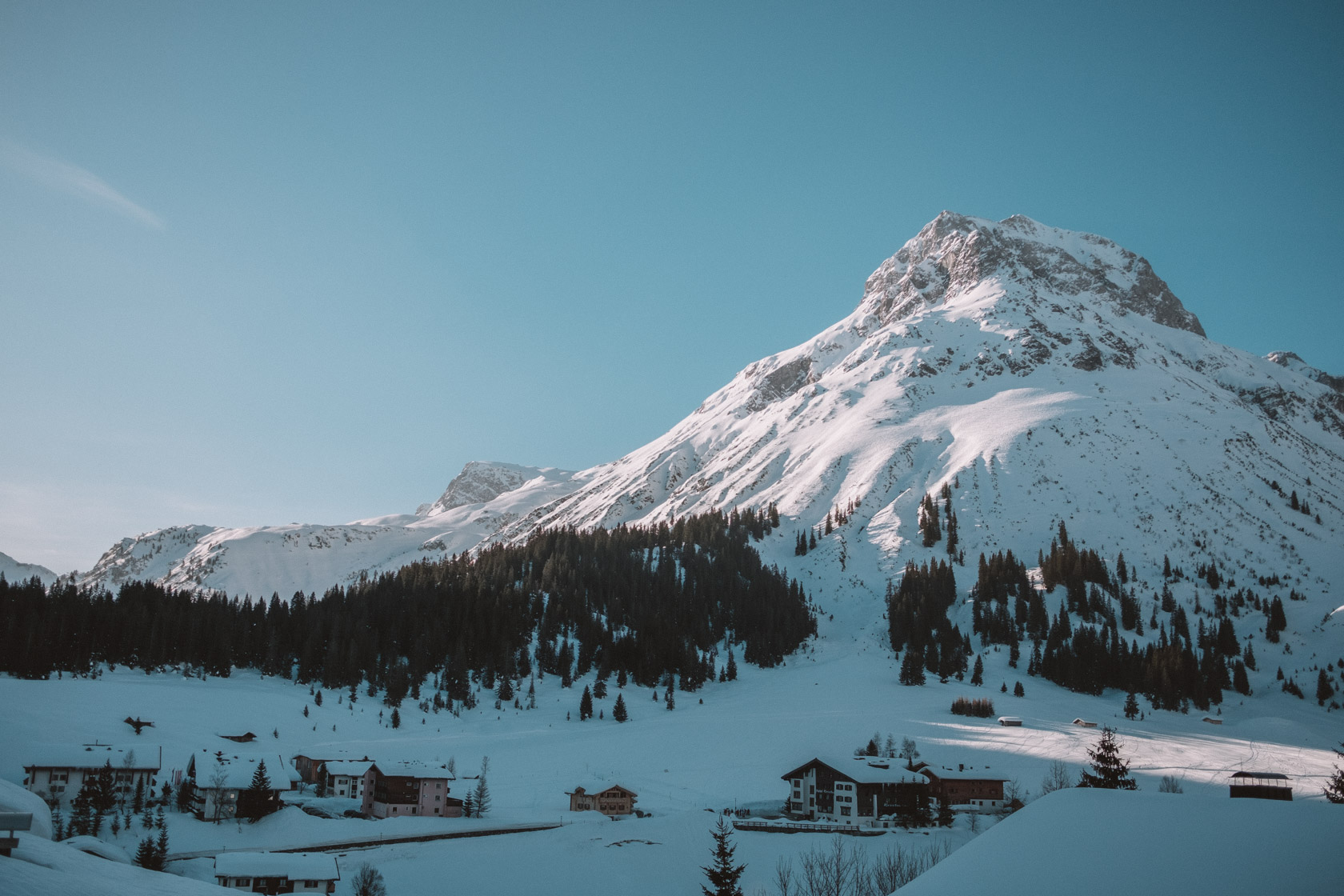 Where to stay in Lech
We loved our stay in Pension Alpenfluh , a cute guesthouse just a few minutes walk from the center of Lech. Here are a few things that we liked about this guesthouse, and you may want to consider when picking accommodation in Lech:
Central location – It was really easy to walk from the guesthouse to the center in just a few minutes.
Breakfast included – Food in Lech is astronomically expensive. Save some money by getting free breakfast!
Parking spots – Paying for parking is the worst, so the location + parking is a dream.
Super friendly staff – It takes patience to deal with tourists, and the staff here was super sweet.
Balcony with mountain views – It's hard to have a bad view in Lech but ours was extra special!
That said, you need to be prepared to drop some money for accommodation in Lech. Most hotels will cost you a minimum of 200 EUR per night. There are also some hostels in the area, but beware, lots of Lech accomodation will need to be booked by email or phone!
For our guesthouse we did not even pay in advance, or at the end. They gave us an invoice and we wired the money the following week. That's how small town it is ❤️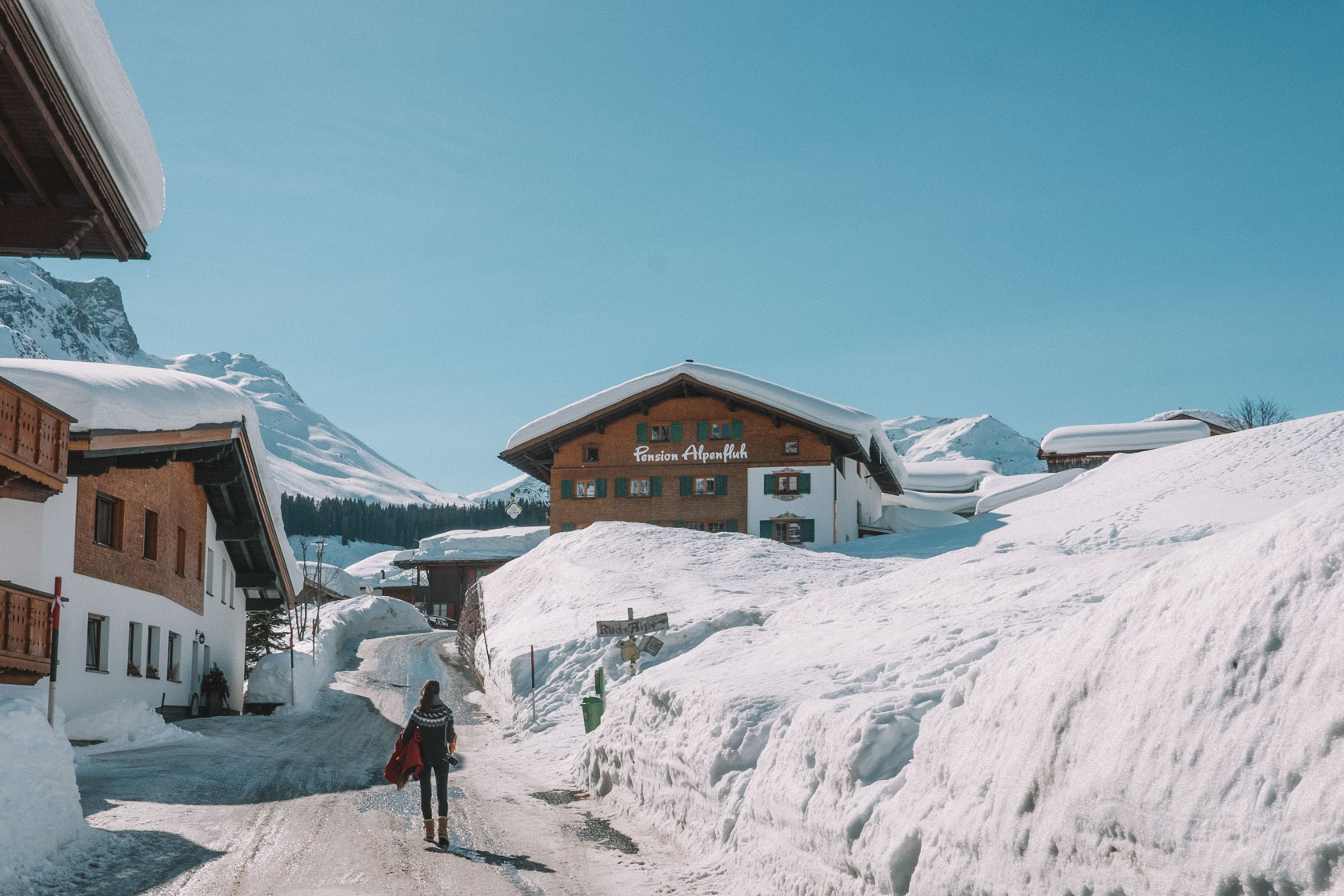 An important fact about Pension Alpenfluh is that it includes breakfast. As I said like three times already, food in Lech is pricey, you're likely to spend upwards of 20 EUR per meal. So having breakfast included is a huge bonus!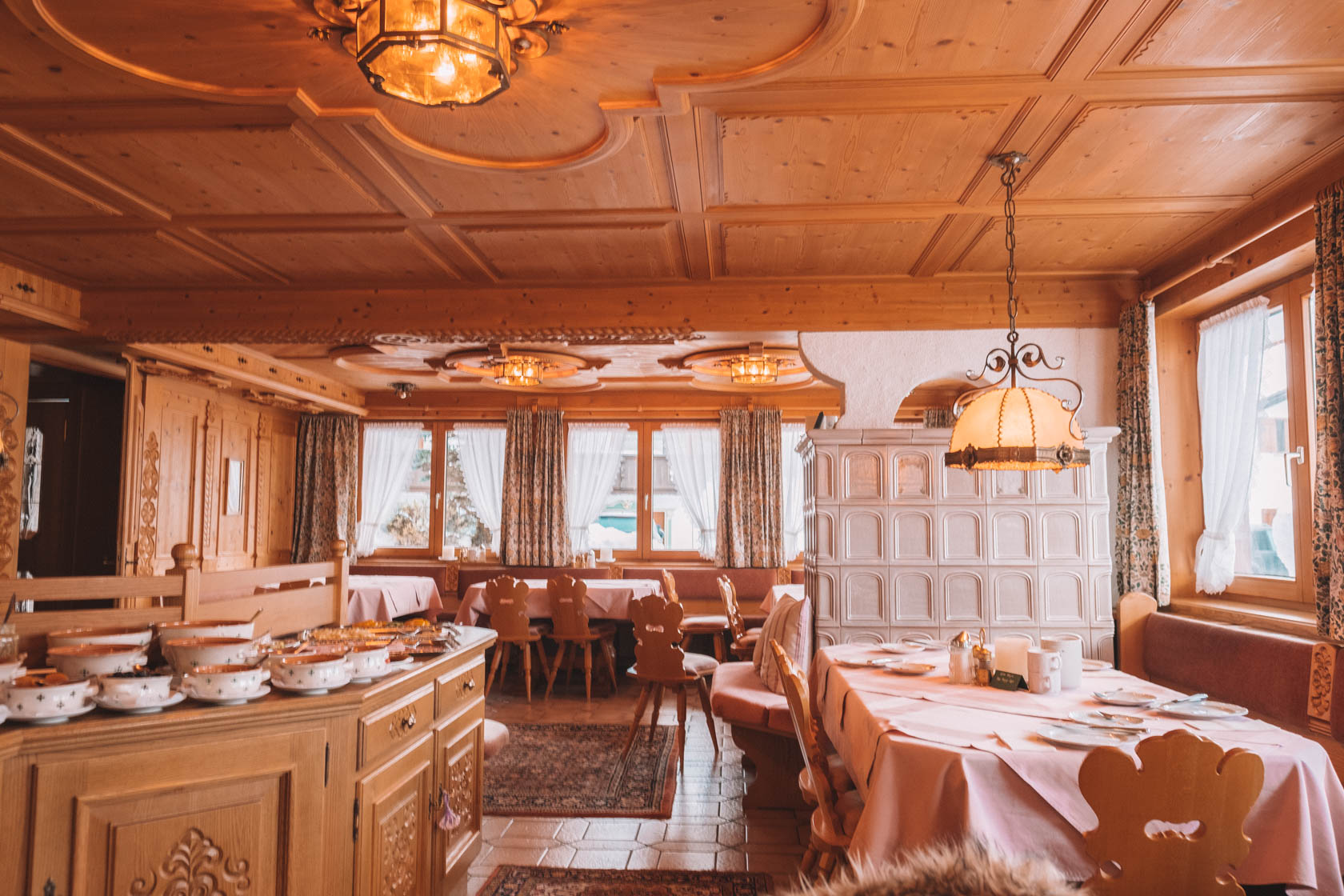 The breakfast here is a pretty traditional European breakfast: assorted breads, butter, salami, meats, marmalades, cheeses, yogurt, and plenty of nuts and dried fruit. They'll also prepare eggs for you as you prefer them. On top you obviously have coffees, teas, and juices.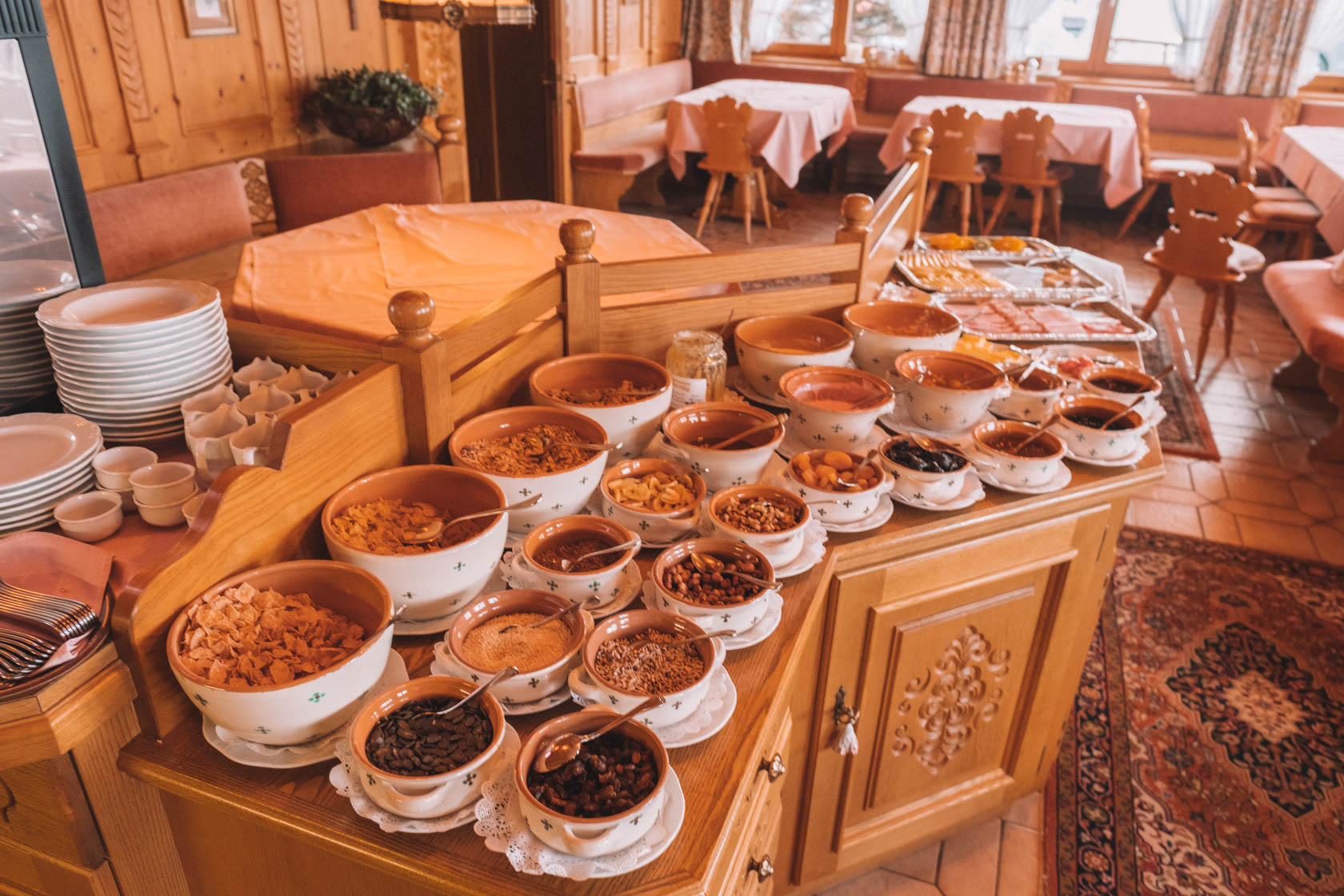 No room photos, as I arrived at the room long after my boyfriend and his dad had strewn their luggage everywhere 😂 But you can trust me when I say it was super cozy, plus it had this amazing balcony.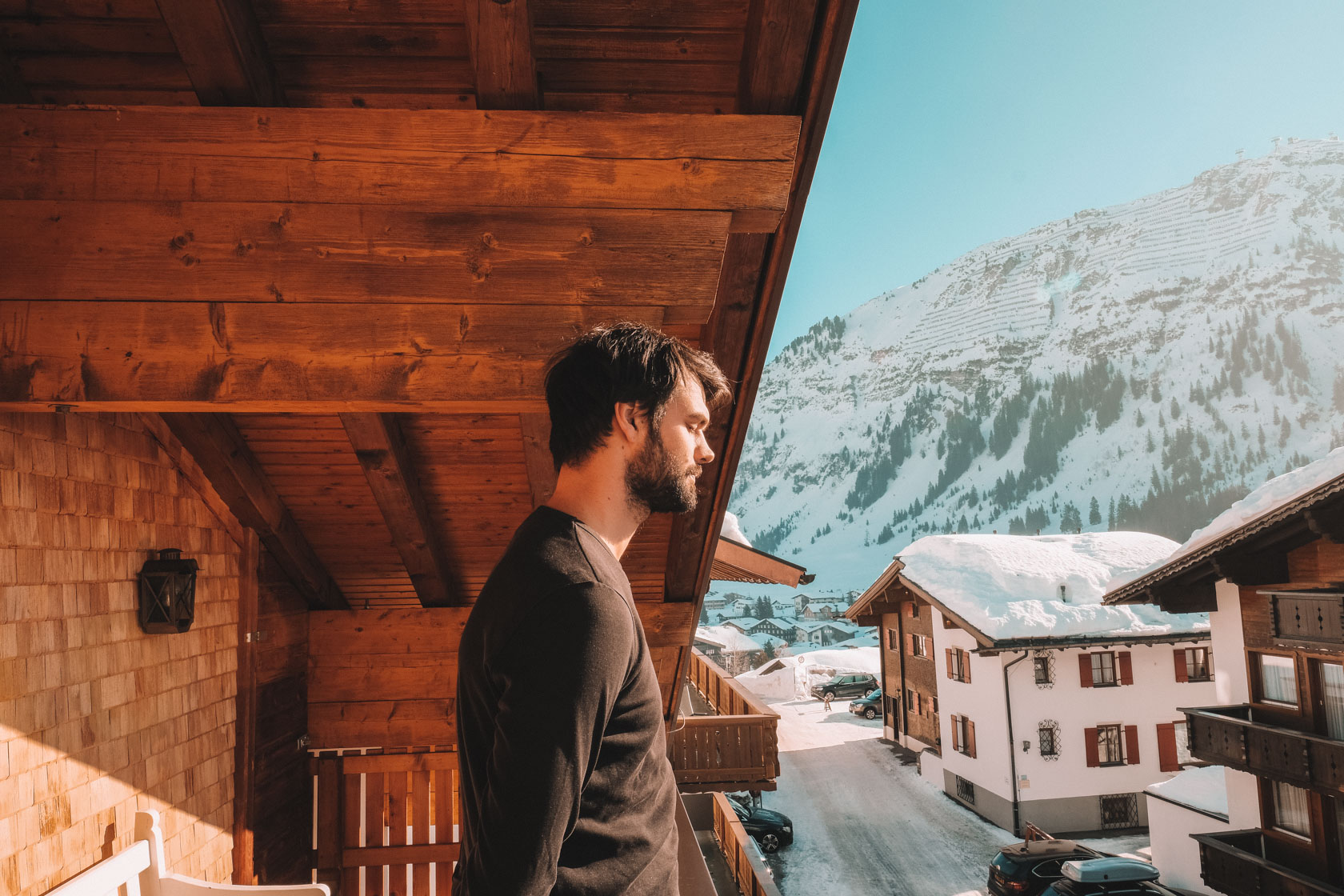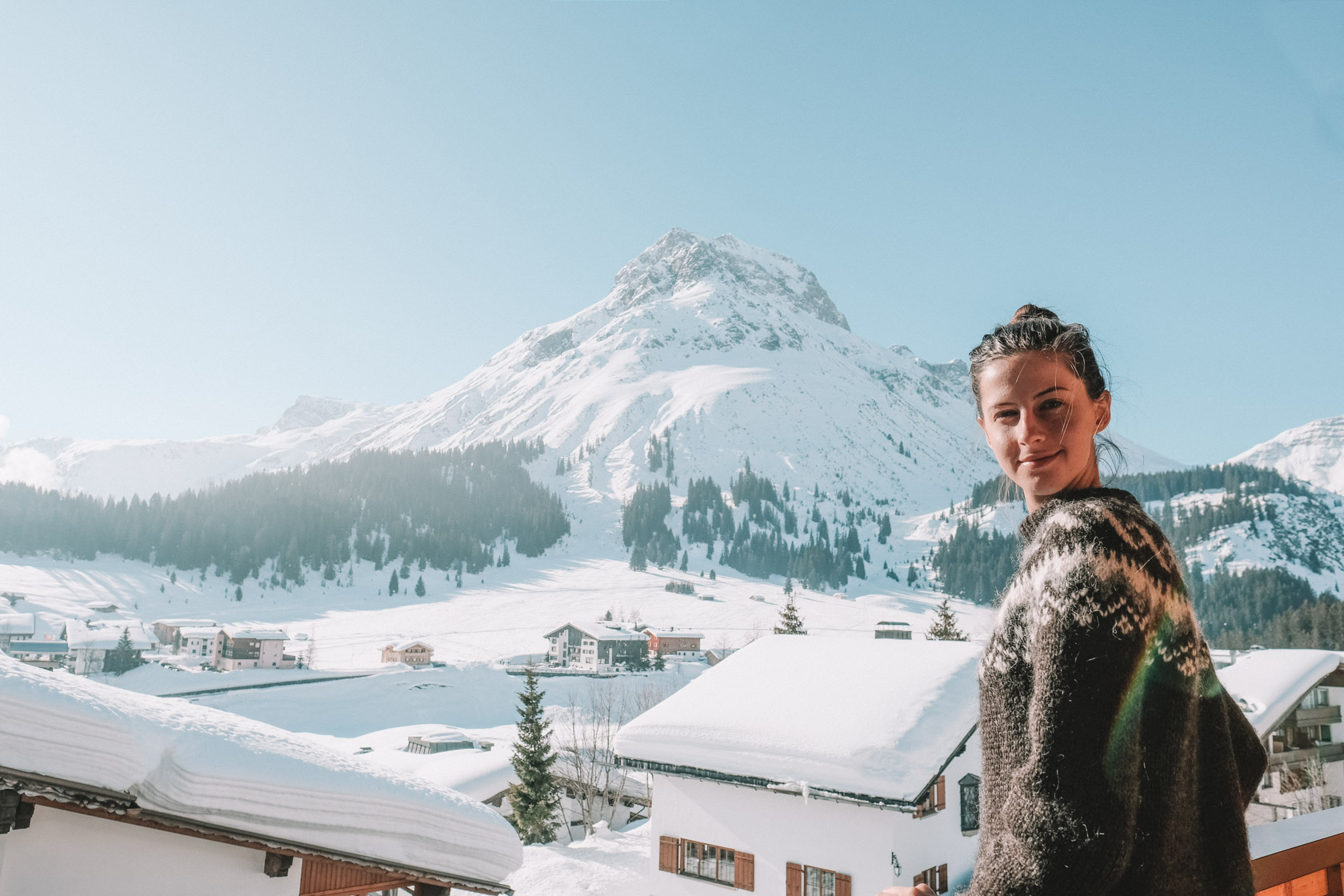 Places to visit near Lech
There are a fair number of pretty spots to visit near Lech. After our trip to Lech, we did a long weekend in Switzerland. But if you're looking to stay local, here are some spots you'll want to check out.
St. Anton – St. Anton is considered by many to be the best ski resort in the entire world. In terms of being a sweet alpine village, Lech is much prettier though 😉
Zürs – A similarly cute village nearby, although much smaller than Lech. You can visit here for skiing or in the evening for food or drinks.
Oberlech – A car-free area connected to Lech, you can ski here from the slopes around Lech.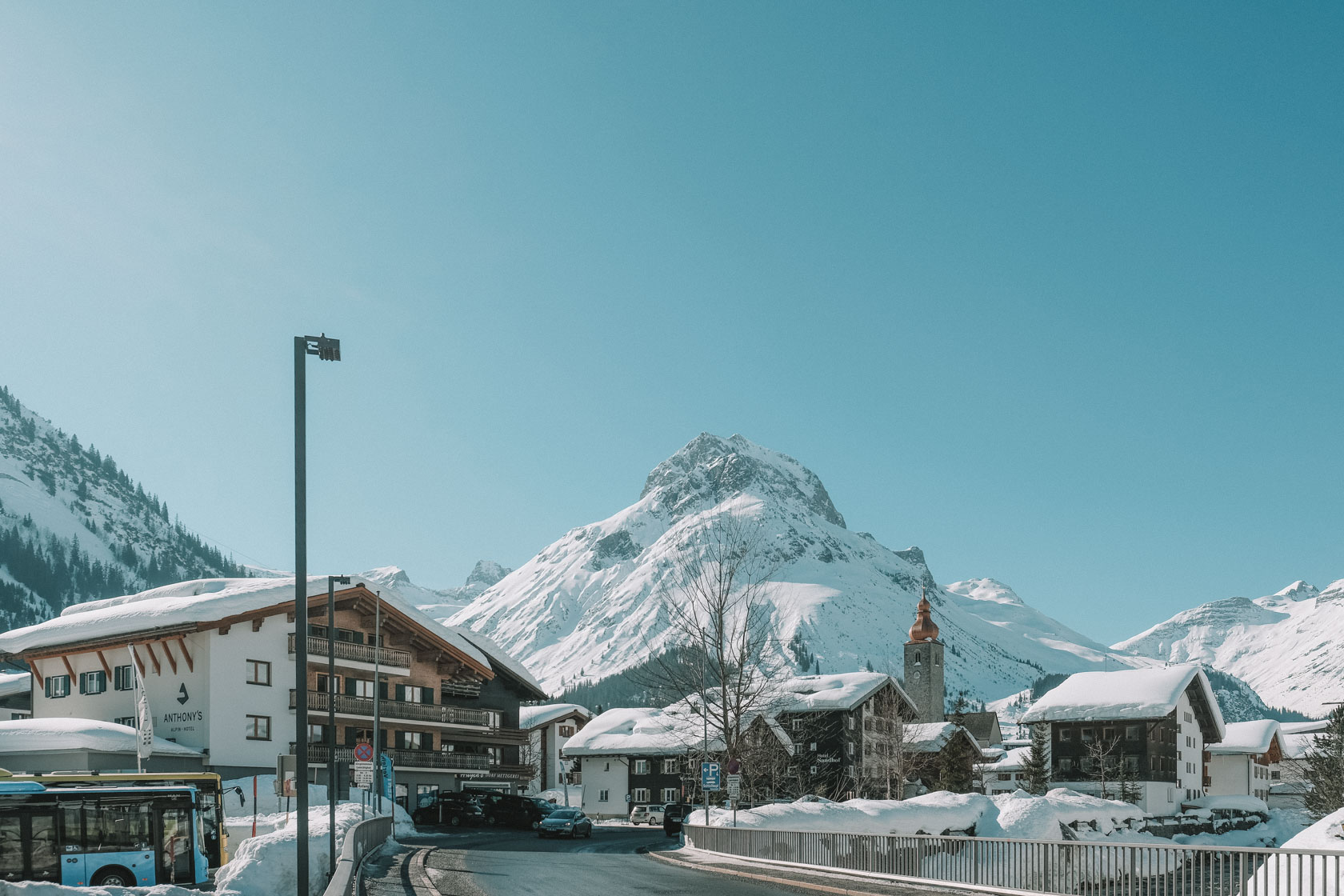 Definitely thinking our balcony had the best view in the guesthouse. We totally lucked into this room, it was the last one available!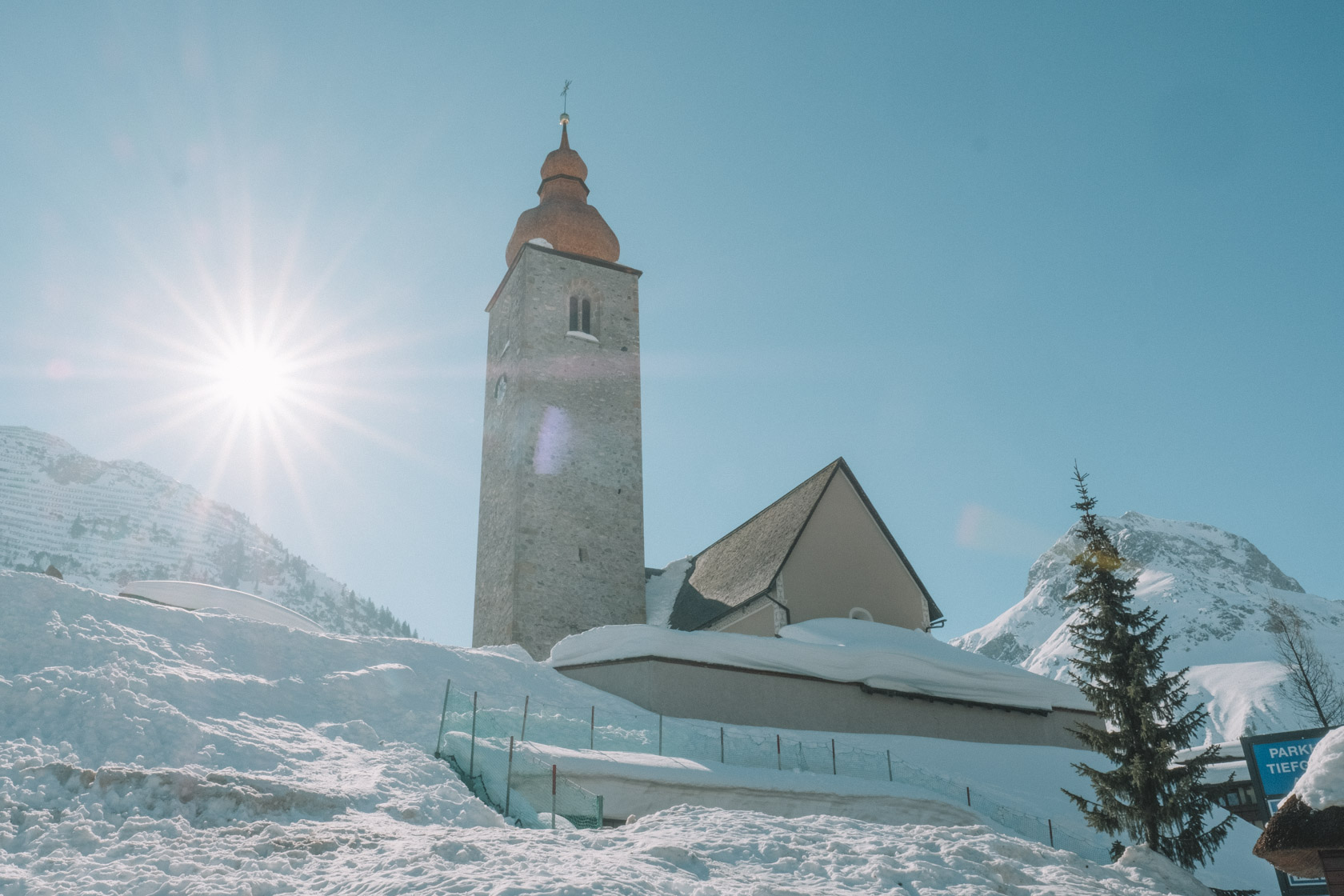 Are you excited to visit Lech? What's the most gorgeous place you've ever been in Winter?
Share your thoughts in the comments, I'd love to know more amazing places to visit while it's still cold!