Last Winter, I was determined to get the most out of my snow boots, so I planned a road trip aroung Bavaria in February to soak up the last of the year's snow. Unfortunately we don't get much snow in Berlin, so visiting Bavaria in Winter was my best chance to experience the season properly. In only a few days, it's possible to craft a Bavaria itinerary that will show you the best of the region – from the capital city of Munich, to Germany's highest peak, and back to one of its most picturesque lakes.
Here are a ton of things to do in Bavaria, especially during the Winter months which sees far less tourism than in the summer. Plus tips on what to pack for Germany in Winter, what to expect for the weather, and some general tips on making the most out of your trip to Bavaria!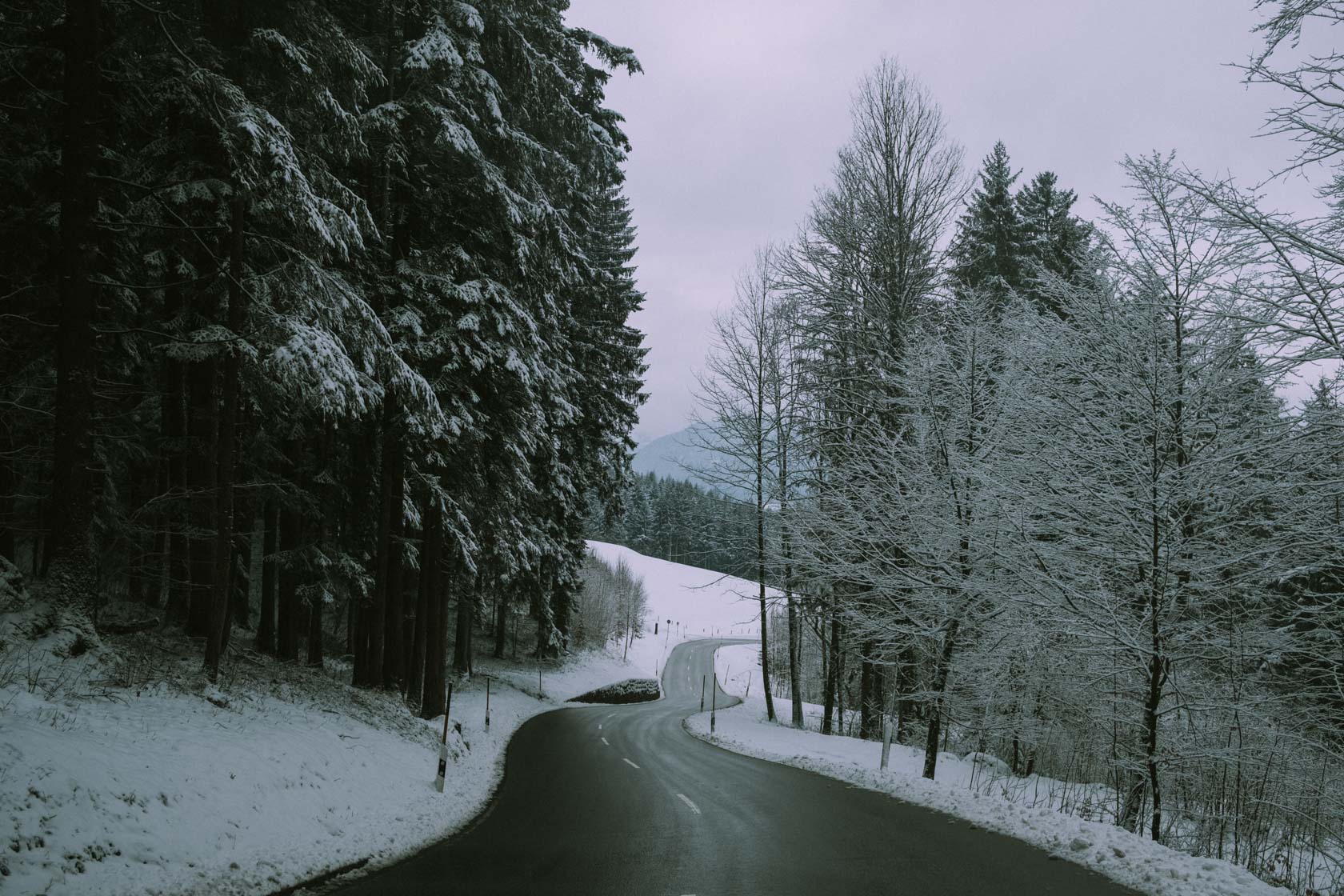 Some links in this post are to affiliate sites. If you purchase something through them, I may earn a small comission — which costs you nothing! I am very grateful when you use my links to make a purchase.
Where to stay in Bavaria, Germany
Bavaria is a large region, and there are several interesting pockets of things to do in the region. This guide is mostly focused on the eastern part, centered in Berchtesgaden . However, the western part is also interesting, centered in Garmisch-Partenkirchen . Both towns make great bases to explore the area. It just depends on which area you are most interested to explore. If you want to stay somewhere more urban, and just do day trips, you can also base yourself in Munich . You could stay in this area for weeks and not see it all, so just pick the top spots you want to see and plan your Bavaria itinerary around that!
Location
Pros / Cons
Check hotels
Munich

Many guided day tours from Munich available
Easy to reach by train or airport

Check hotel prices
Berchtesgaden

Close to Königssee
Easy to reach by plane via Salzburg

Check hotel prices
Garmisch-Partenkirchen

Close to Neuschwanstein Castle and Zugspitze
Accessible primarily by car, train, or tour

Check hotel prices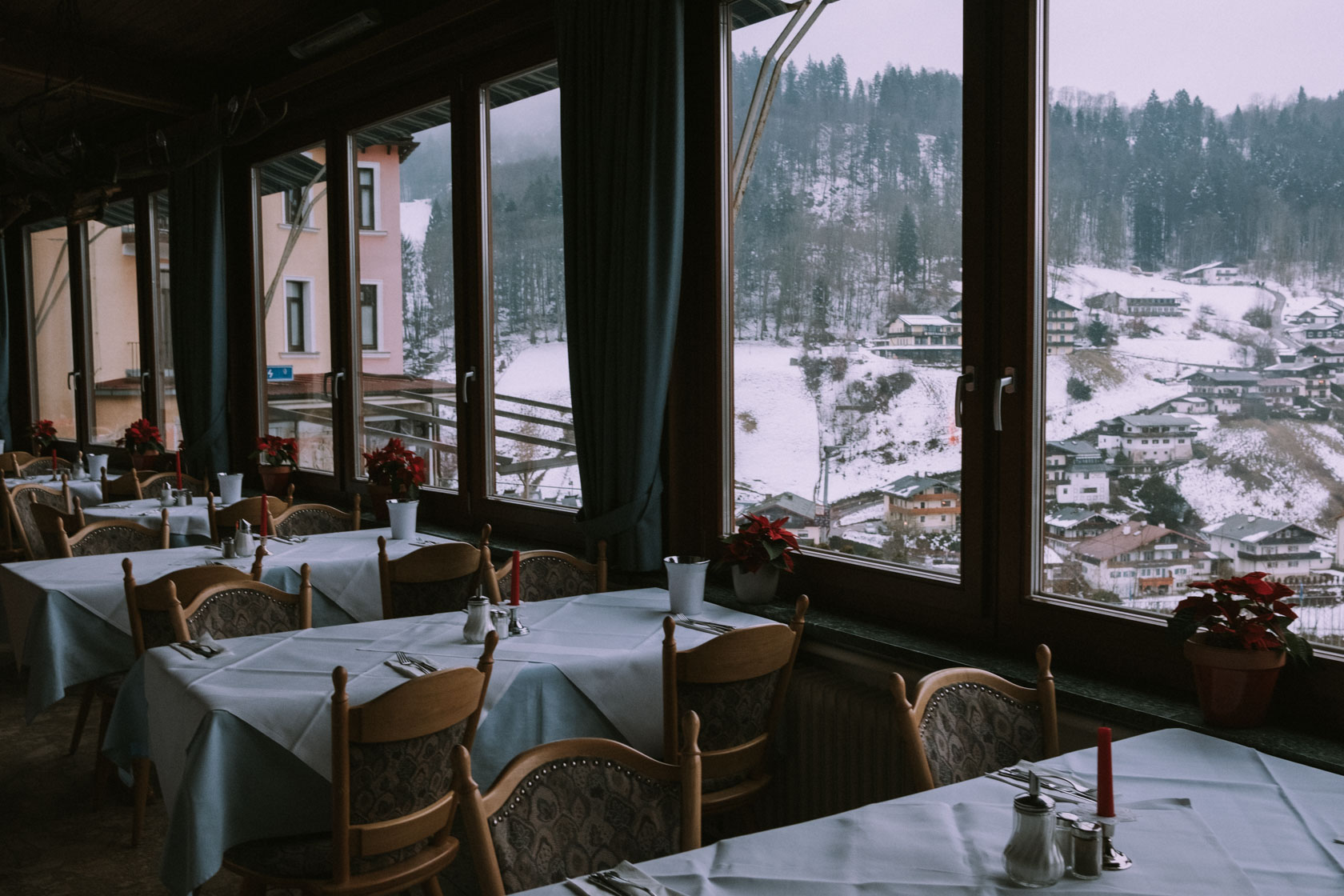 View from the breakfast room at our hotel Hotel Vier Jahreszeiten in Berchtesgaden
Tours in and around Bavaria in Winter (from Munich)
In general, I'm a big fan of doing my trips as road trips. However, if you don't feel comfortable driving in icy conditions, it's possible you might want to join a tour instead. Or maybe you just prefer to get some information from a guide while you travel. Both are perfectly valid reasons to opt for a tour. Here are tours for visiting many of the sights on this Bavaria itinerary.
What to pack for Bavaria in Winter
For the most part, you just need to be ready to deal with heavy snow depending on when you are here. You only need a couple of basics to ensure you stay dry and also safe if you'll be hiking. Most of these might be no-brainers, but better to be safe than sorry!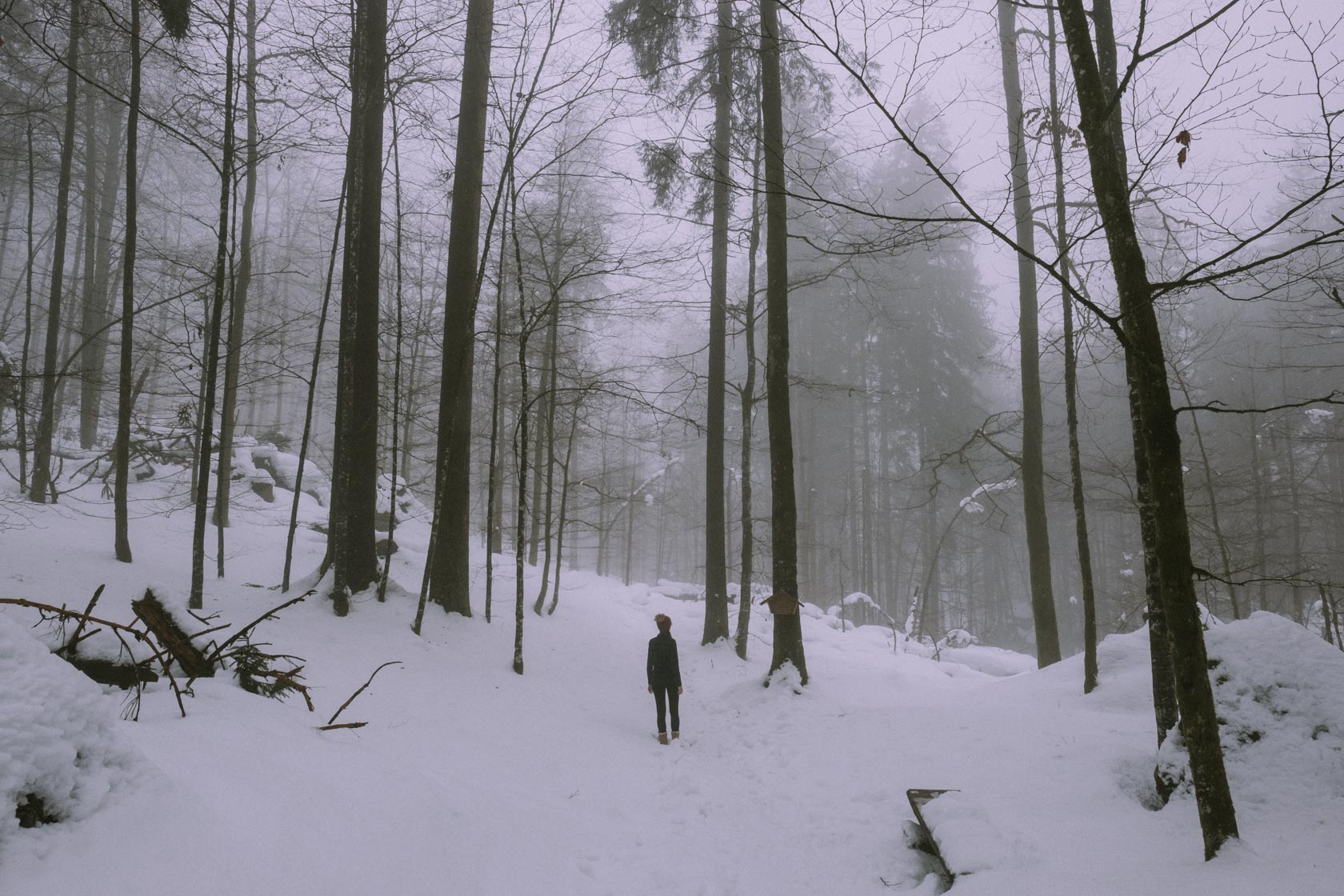 I am not joking when I say there is a lot of snow! Especially if you plan to do some hiking, prepare for that South German weather. In some places we had snow up to our knees while hiking around Königssee.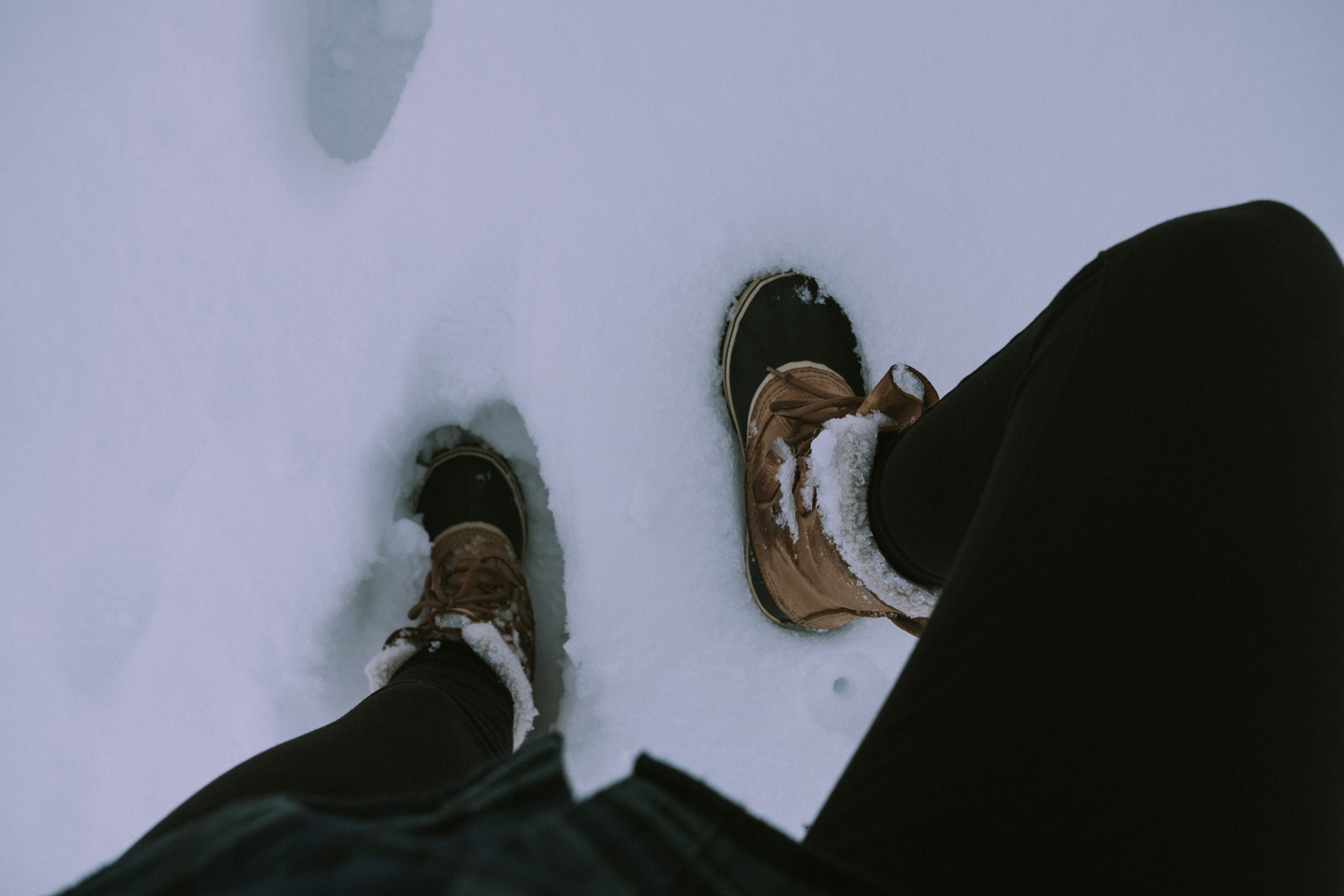 Where to go in Bavaria in Winter
Alright, enough preparation, let's dive into the best places to visit in Bavaria, Germany during Winter. Now, all of these locations can also be visited in the Summer, and one thing to keep in mind when it comes to scenic views is that the weather can also be very cloudy. But when the skies are clear, it is totally beautiful!
Munich
Let's just get this one out of the way, now shall we? Munich is perhaps the most famous city in Germany, and as the capital of Bavaria it's an ultra-popular place for people to visit. You've got all kinds of excellent things to do in Munich, ranging from seeing historical sights in town, going to a number of popular museums, eating traditional Southern German food, or visiting the biggest beer hall in the country. In general, if you like beer, you're going to love this part of the country – it's not uncommon to drink an entire liter of beer at a time 🍻
Munich is also quite friendly for English-speaking travelers, has a great public transit system, and is extremely safe. That said, it's a bit on the more expensive side when it comes to accommodation. If you're planning to stay in Munich, check out my post on Munich in Winter for a long this of things to do in Munich and specific recommendations!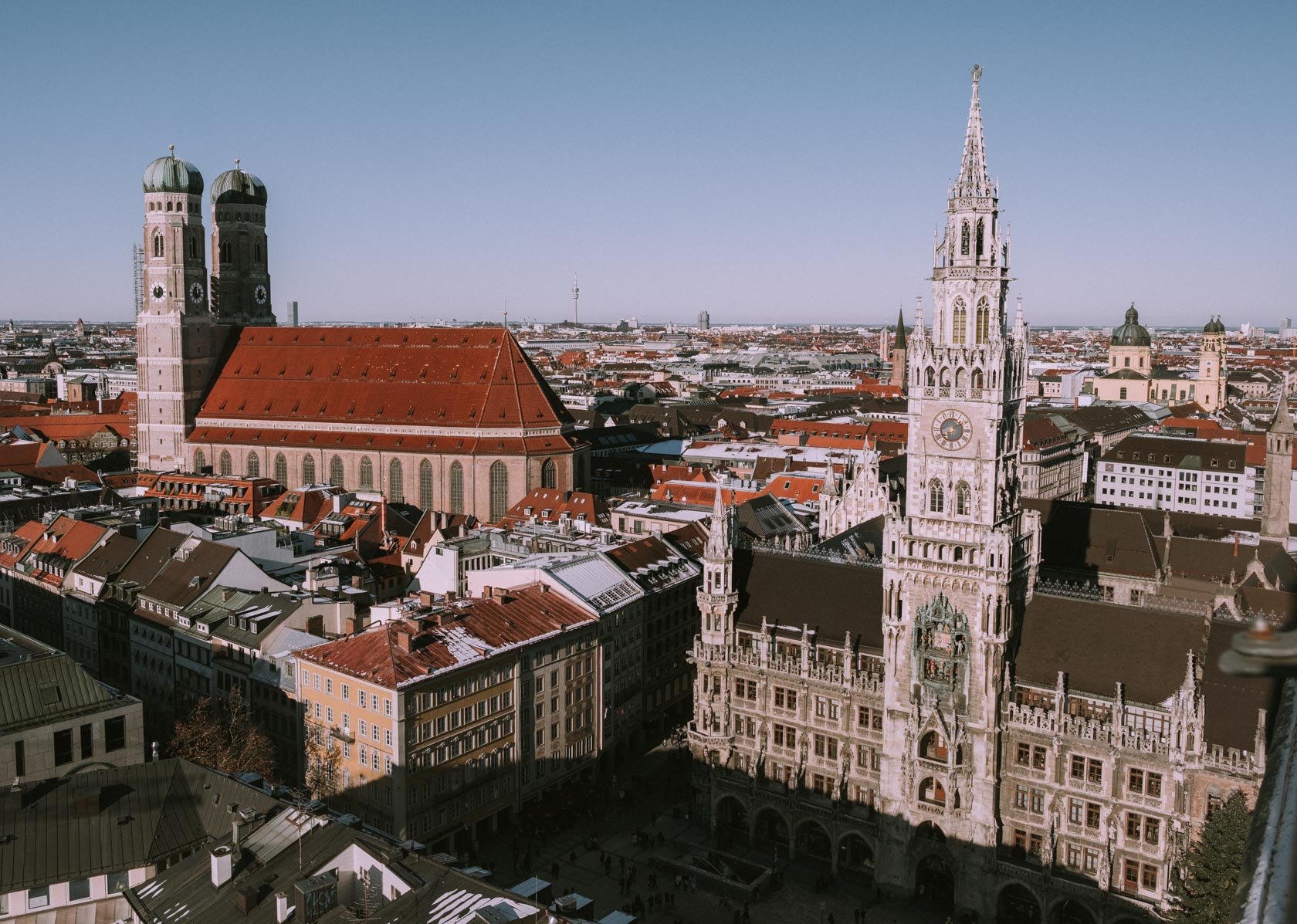 View from St. Peter's church, looking out over the Town Hall (Rathaus) and Church of Our Dear Lady (Frauenkirche).
Garmisch-Partenkirchen
Another popular location from which to explore Bavaria is Garmisch-Partenkirchen, a resort town in the German countryside. Unfortunately, I've never been to this town so I can't provide a lot of personal information on what to do here. But I wanted to include it, and the two main sights nearby, to make this guide as complete as possible. Especially because these two sights, Neuschwanstein Castle and Zugspitze , are two of the most famous sights in all of Germany.
Neuschwanstein Castle
This is the fairytail castle's design inspired Disney's Cinderella, which is probably why the castle looks familiar to you. Besides being represented on screen, the castle was home to King Ludwig II of Bavaria. If you decide to go to Schloss Nymphenburg in Munich, that palace was owned by the same family, the Wittelsbach family. King Ludwig II is famous for being deposed for hereditary insanity and the mysterious conditions surrounding his death.
Reaching Neuschwanstein can be done either by public transit or guided tour from Munich. From the Munich main station, it takes about 2 1/2 hours and costs roughly 56€ to reach Füsse, from which you then need to transfer to a bus which lasts about 10 minutes. Once you arrive, there is a final step to get to the castle – by foot for 40 minutes, by bus for 2.60€, or by horse-drawn carriage. You can find information about the trains on the Deutsche Bahn website and even purchase tickets. You will get a better deal the earlier you book!
If that sounds like a lot of work, you can also simply take a tour directly to Neuschwanstein . You will still need to walk for the last part, but that's okay because the walk offers the best spots for photos of the castle!
Zugspitze
As I've already mentioned, Zugspitz is famous for being the highest point in all of Germany. You can take a cable car to the top to enjoy the view over countless mountain tops. It's possible to cross over the German-Austrian border a number of times if you fancy that. Finally, you can also grab a bite to eat at an Alpine hut at the top. While it is possible to reach Zugspitze by public transit, if you aren't confident doing that, you can also take a guided tour to Zugspitz from Munich .
Sadly I haven't been to Zugspitz but it's definitely something I would prioritize in Bavaria if I didn't live in Germany full-time 😉
Berchtesgaden
Moving on to Berchtesgaden, an excellect location from which to explore the eastern part of Bavaria. I really enjoyed my stay at Hotel Vier Jahreszeiten because it had a spacious balcony and wonderful view over the town below. I could also walk to dinner from the hotel, and there was plenty of parking available across the street.
To give you an idea, this was the view we had from our balcony! So many cute little houses, forests, and mountains. On other days the view was better but sadly I didn't get any photos of it.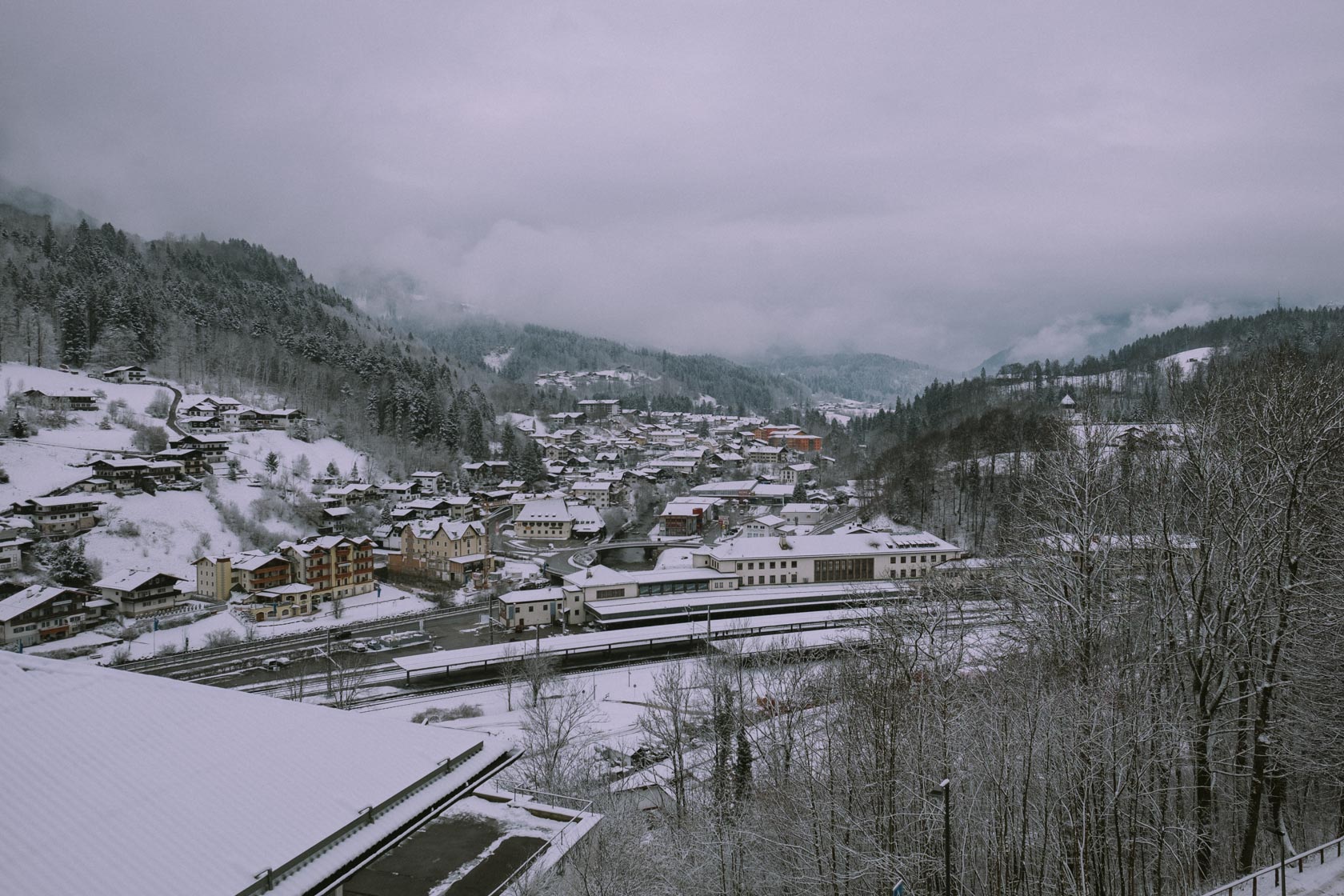 So, what is Berchtesgaden famous for? Well, as the area is so beautiful, it's perhaps best known for being a favorite spot of Hitler. He used to pass time in the Summer here with his extended family, and even built a base called Das Kehlsteinhaus, known in English as Eagle's Nest . Read on to the next section to learn more about this spot!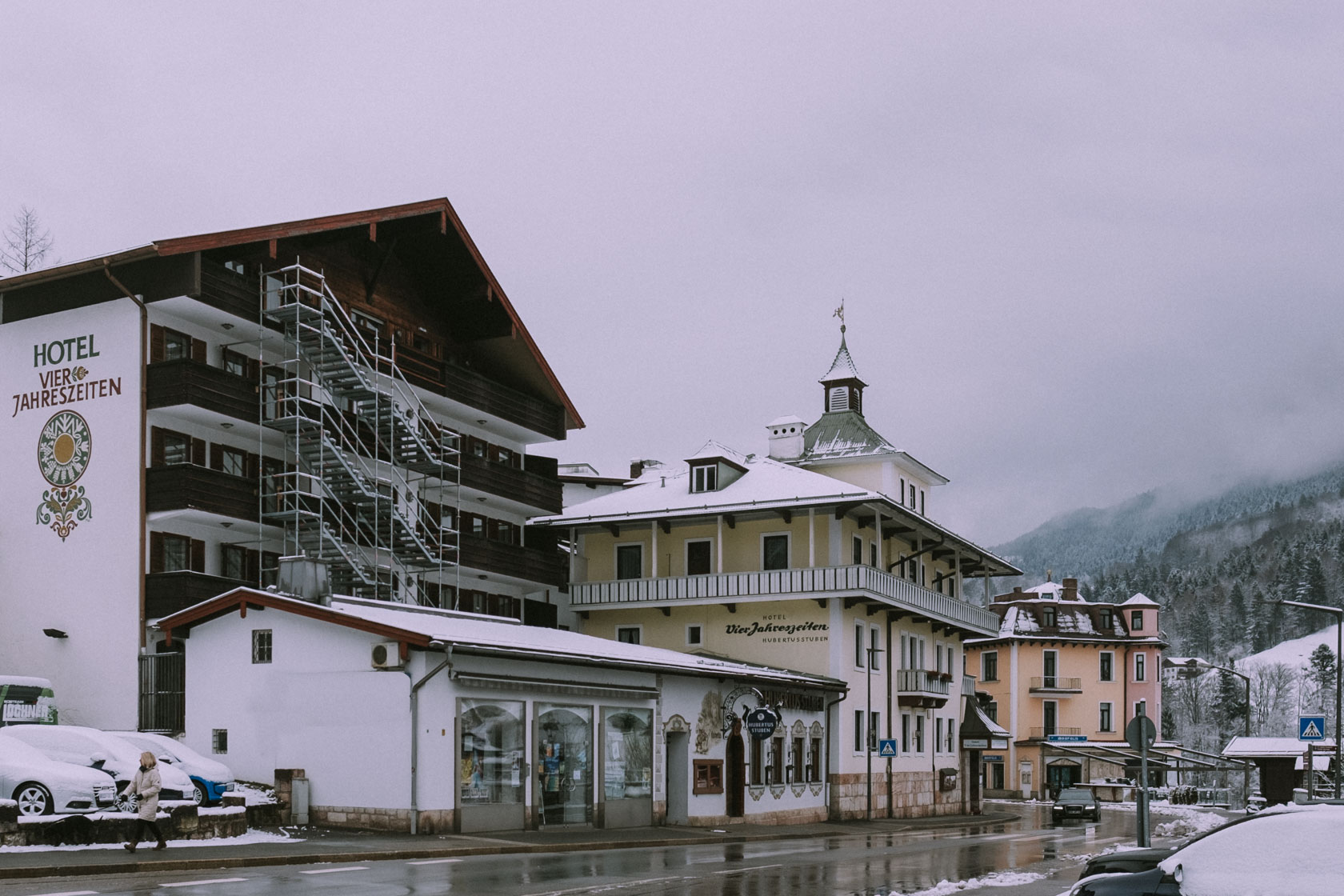 If you want to try local food in the area, I can higly recommend Gasthof zur Schießstätte . What I don't know is how good their English is, but the food was excellent and it's a local institution. They have photos on the walls from over the many years, and people who have lives in the town for decades use this as their meeting point. The owner showed us loads of photos from earlier times when his family was growing up. My recommendation is to try the Schnitzel if you eat meat, or the Knödel if you are vegetarian (they have many choices of filling).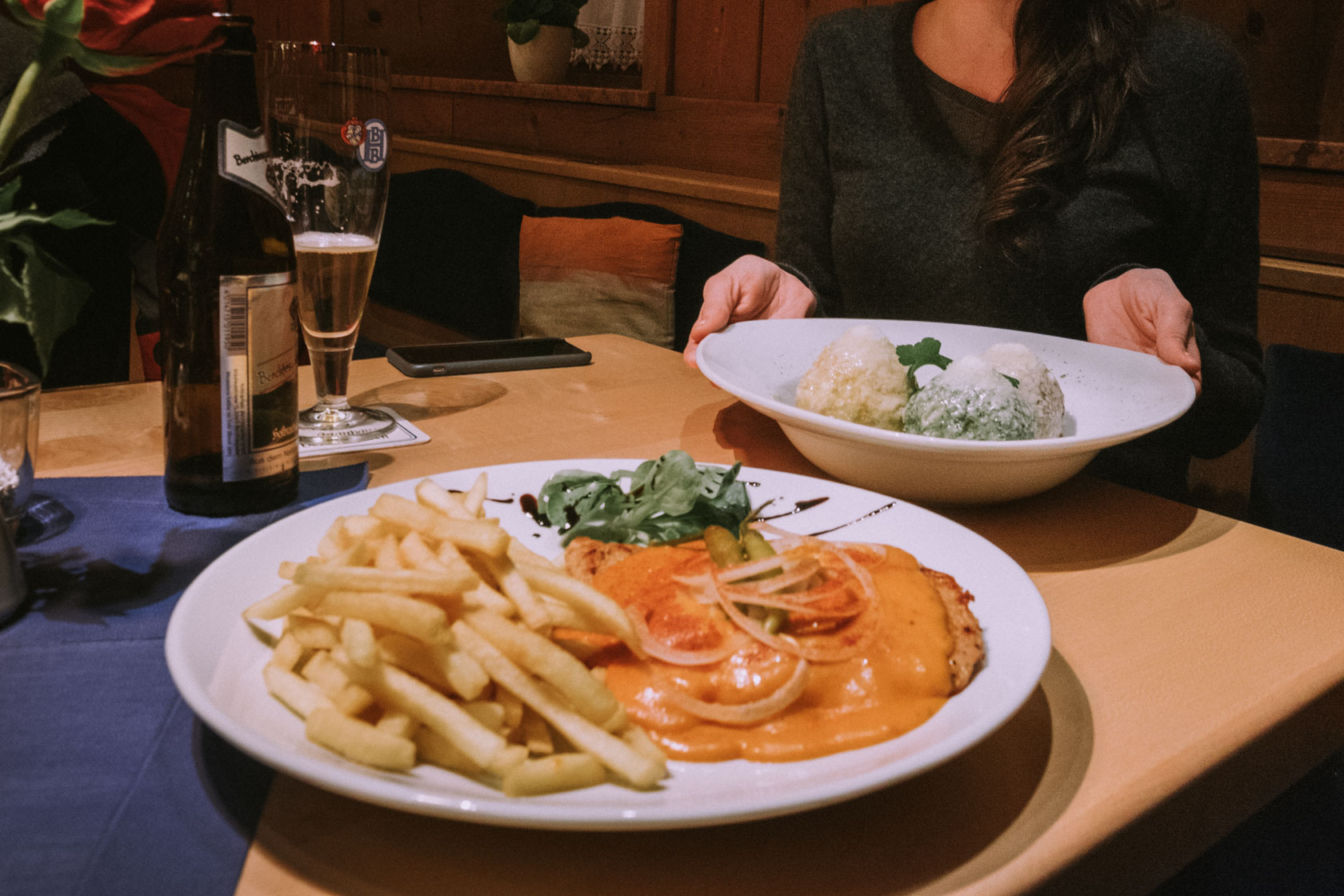 Eagle's Nest
So, as I was saying, Berchtesgaden is famous for being on of the favorite Summer spots of Hitler. Today you can visit mountain-top base he built, called Eagle's Nest, which now houses a restaurant with panoramic views of the area. Unfortunately, according to the official website the interior is not open during the Winter (only from mid-May to mid-October), but it's still possible to see from the outside during the Winter. If it's a clear day you may be rewarded with amazing views.
Obersalzberg
Across the river from Berchtesgaden is Obersalzberg. Again, somewhere with majest views if you happen to visit on a clear day, but unfortunately for us, it was rather cloudy when we were driving around the area. One point of interest here is the Dokumentationszentrum Obersalzberg . The admission price is just 3€, though I would not say that you need to spend a lot of time here. Be sure to check the official website because the opening hours do change in Summer vs. Winter.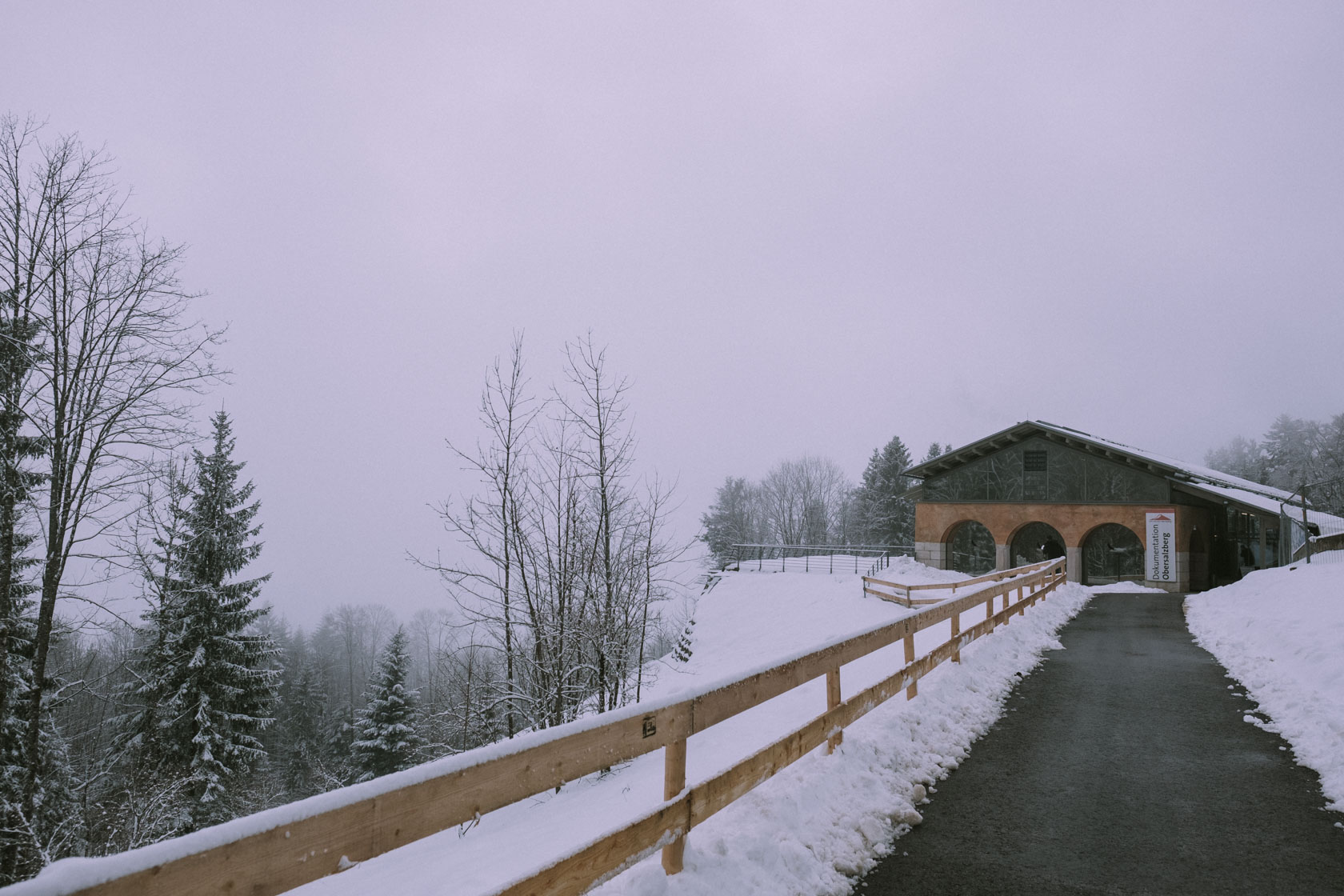 Deutsche Alpenstrasse
Now that we've explored the area directly surrounding Berchtesgaden, we can continue a bit further afield. We're going to see some sweet, small churches as well as stopping by the Koenigssee. An interesting fact is that if you want to, you can actually travel between Garmisch-Partenkirchen and Berchtesgaden entirely using the Deutsche Alpenstrasse (known in English as the "German Alpine Way").
But in this stretch, we can use the street to simply get from Berchtesgaden to Königssee. Either take the same route back, or visit a couple of the churches the area is known for.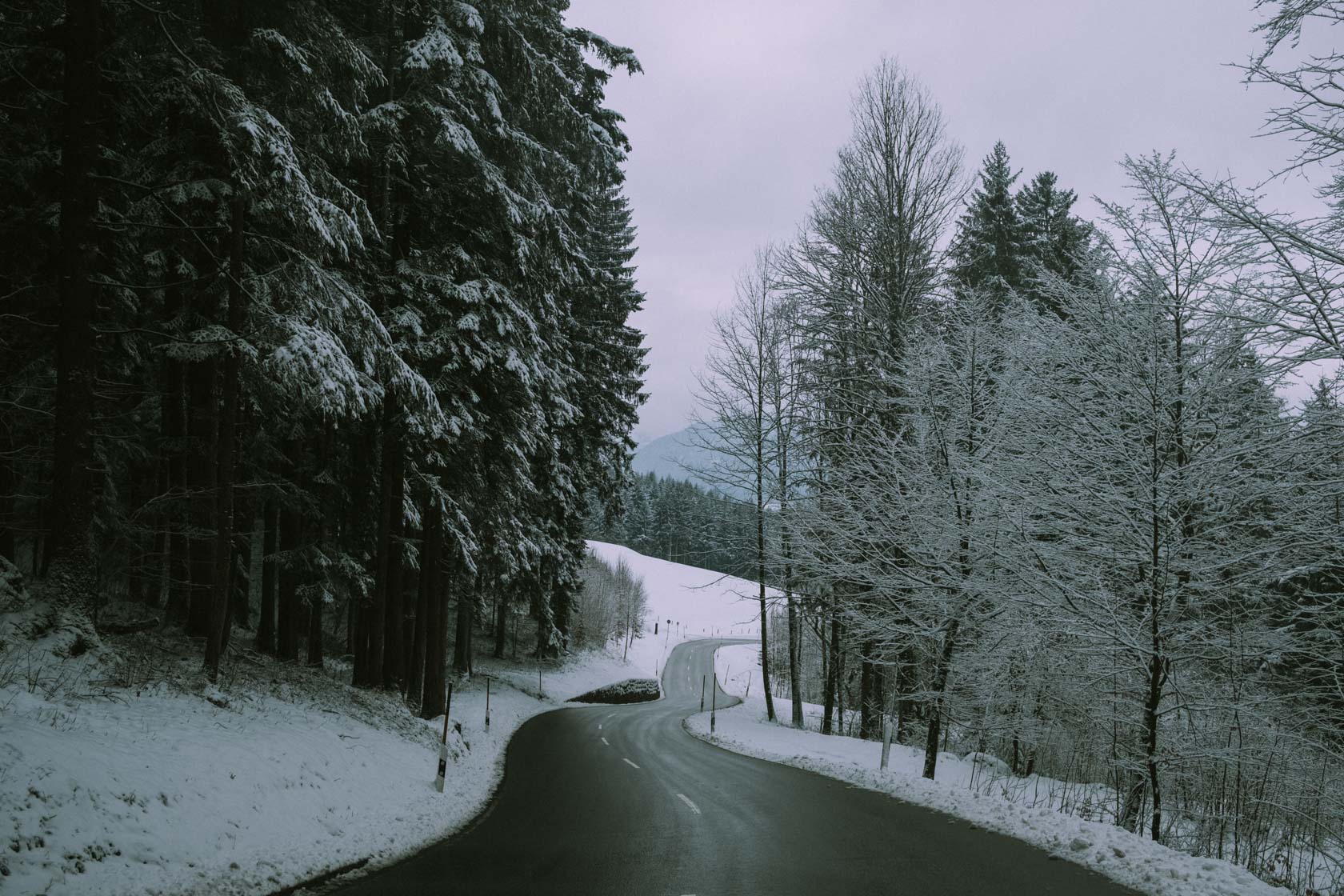 Königssee
Even more spectacular in clear weather, Königssee's name means "King's Lake". Mountains on all sides act like a crown for the silent, still water, which starts to stir only as a boat traverses its surface. If you ask me, this lake is the crown jewel of the trip with its gorgeous natural beauty.
Plus, it's surprisingly quick to reach Koenigssee from Munich.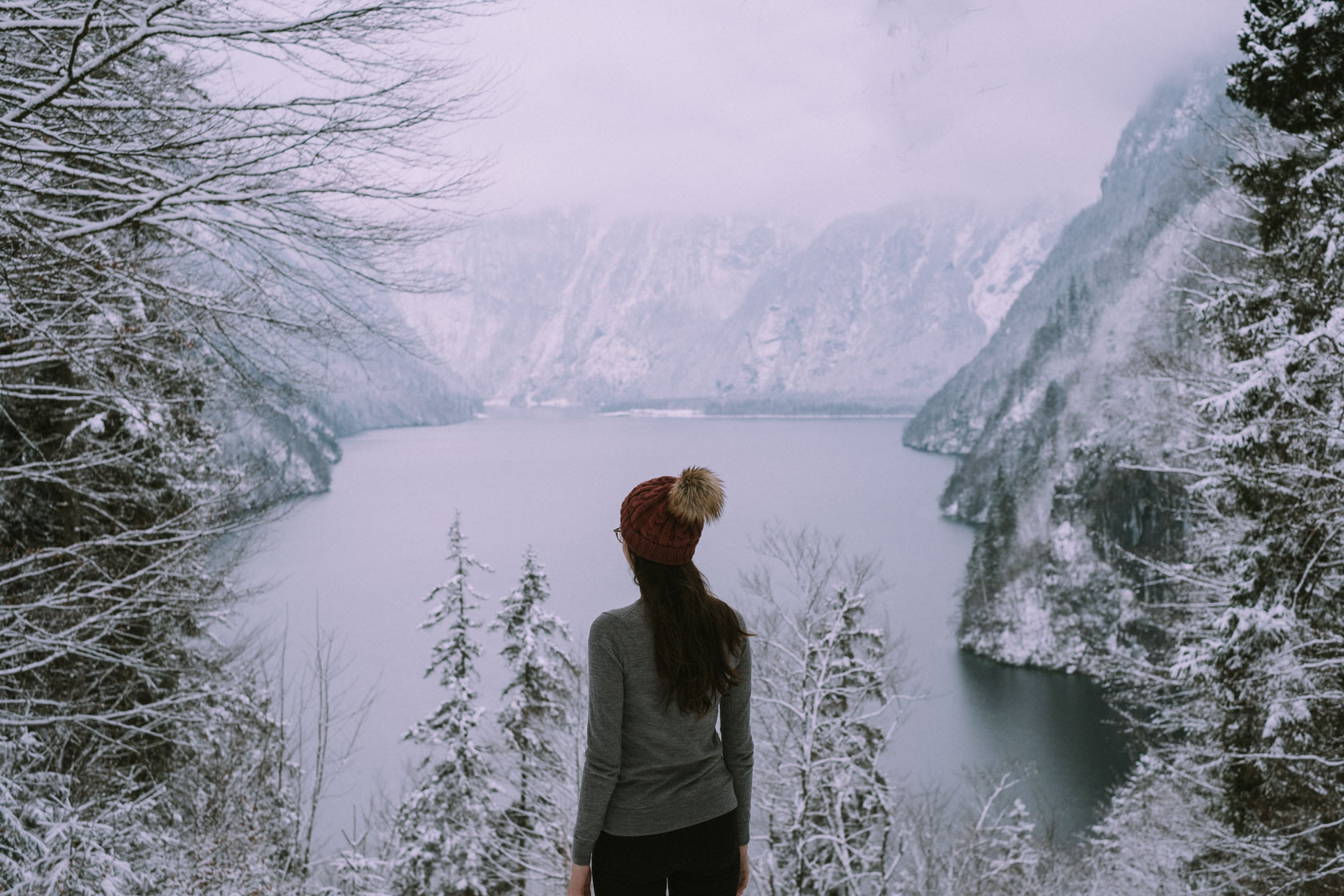 Photo taken from the Viewpoint at Malerwinkel
There are a lot of things to do around the lake, including taking a boat to St. Bartholomew's guesthouse (see below), plus going on a number of hikes. When we went in the winter we tried to visit the so-called Ice Chapel but it was snowed in. Otherwise, for beautiful views (like what you see above), hike to Viewpoint at Malerwinkel on this side of the lake. Once you cross, you can also hike to Archenkanzel which is a much higher viewpoint (I have not done it, and I am not sure if it's accessible in the Winter so best to ask around!).
Remember to buy crampons for this hike , the path can be VERY icy in winter to make it to the top!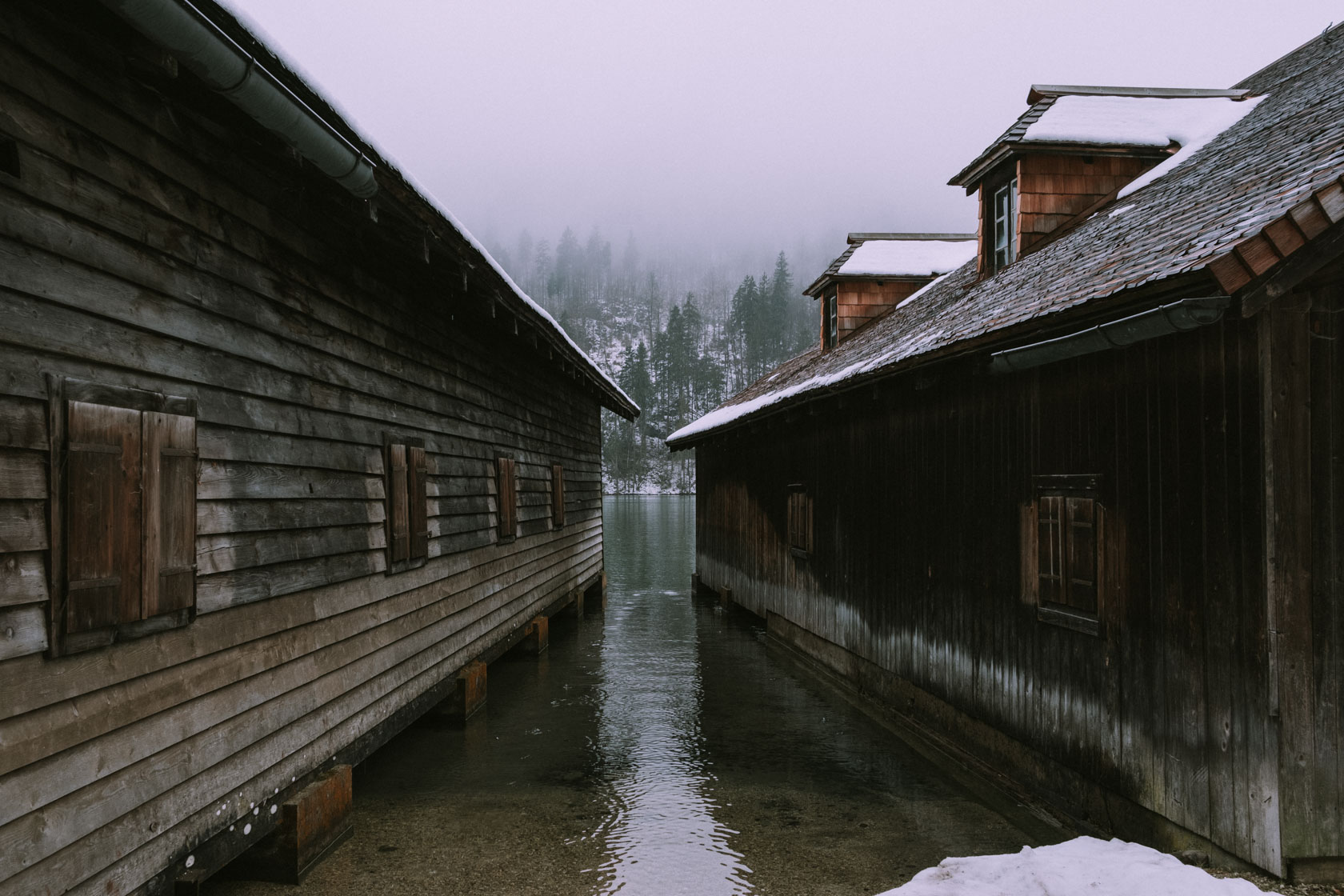 Unfortunately, it does not seem to be possible to reach the lake by public transit. Your best option is either to rent a car, or you can take a guided tour to Königssee from Munich . If you don't go with an organized tour and decide to drive yourself, check out the official boat tour website for information like boat timetable, price list, and a map of the area. The timetable changes in Winter vs. Summer so be sure to check it out closer to your trip for accurate information.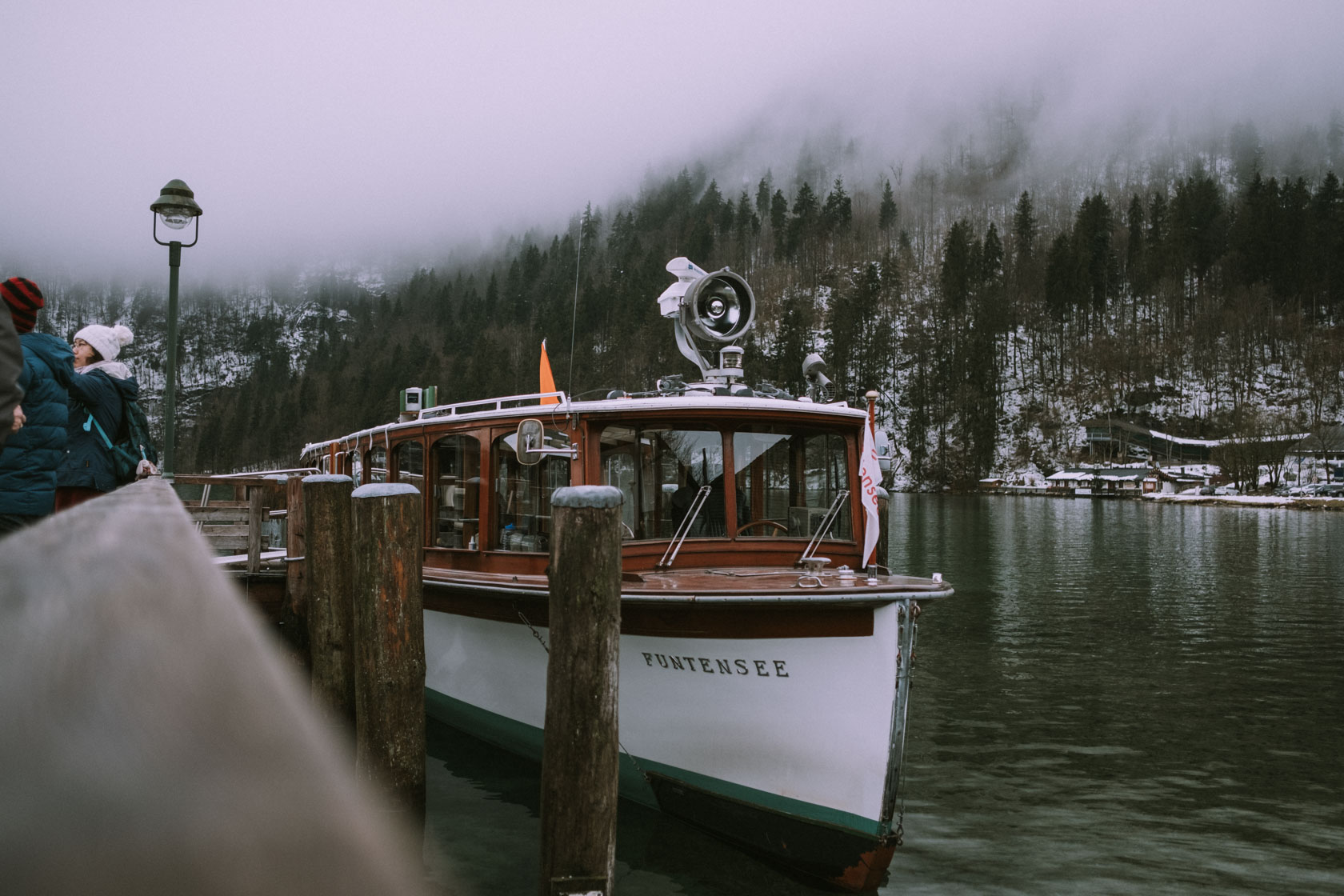 Gaststätte St Bartholomä
After taking the boat across the lake, you'll arrive at Gaststätte St Bartholomä . It used to be a place where Roman Catholics came on a pilgrimage, and was build in the 1690's. Nearby is a hunting lodge which now houses a restaurant, which you might be dying for after doing some hiking on this side of the lake. Walk around for tons of great photo opportunities!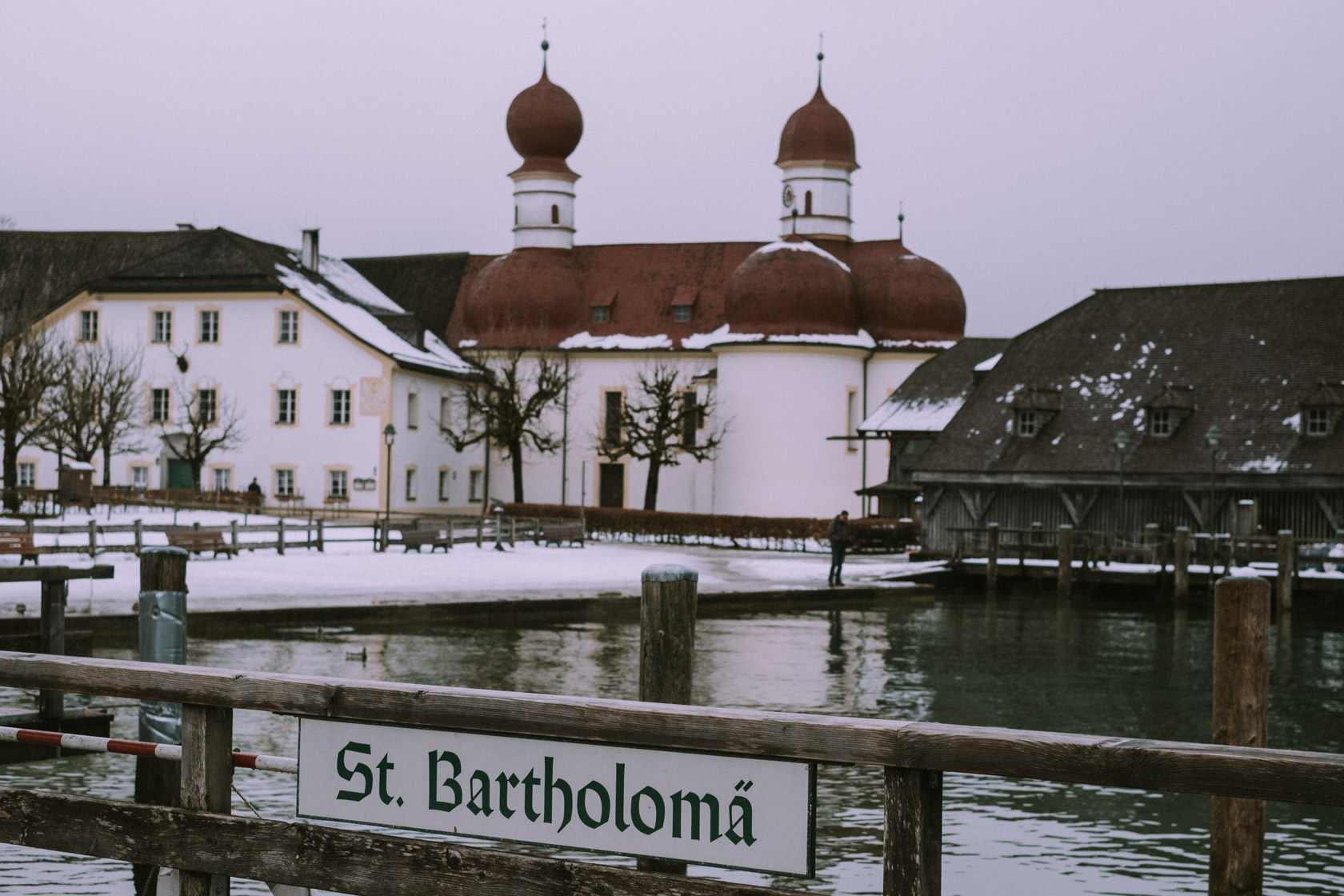 Be sure that you're also prepared with your camera when coming over the lake on your boat ride to catch a picture of St. Bartholomew's reflecting in the lake. Arrive early for the boat ride to catch the best seats for this photo!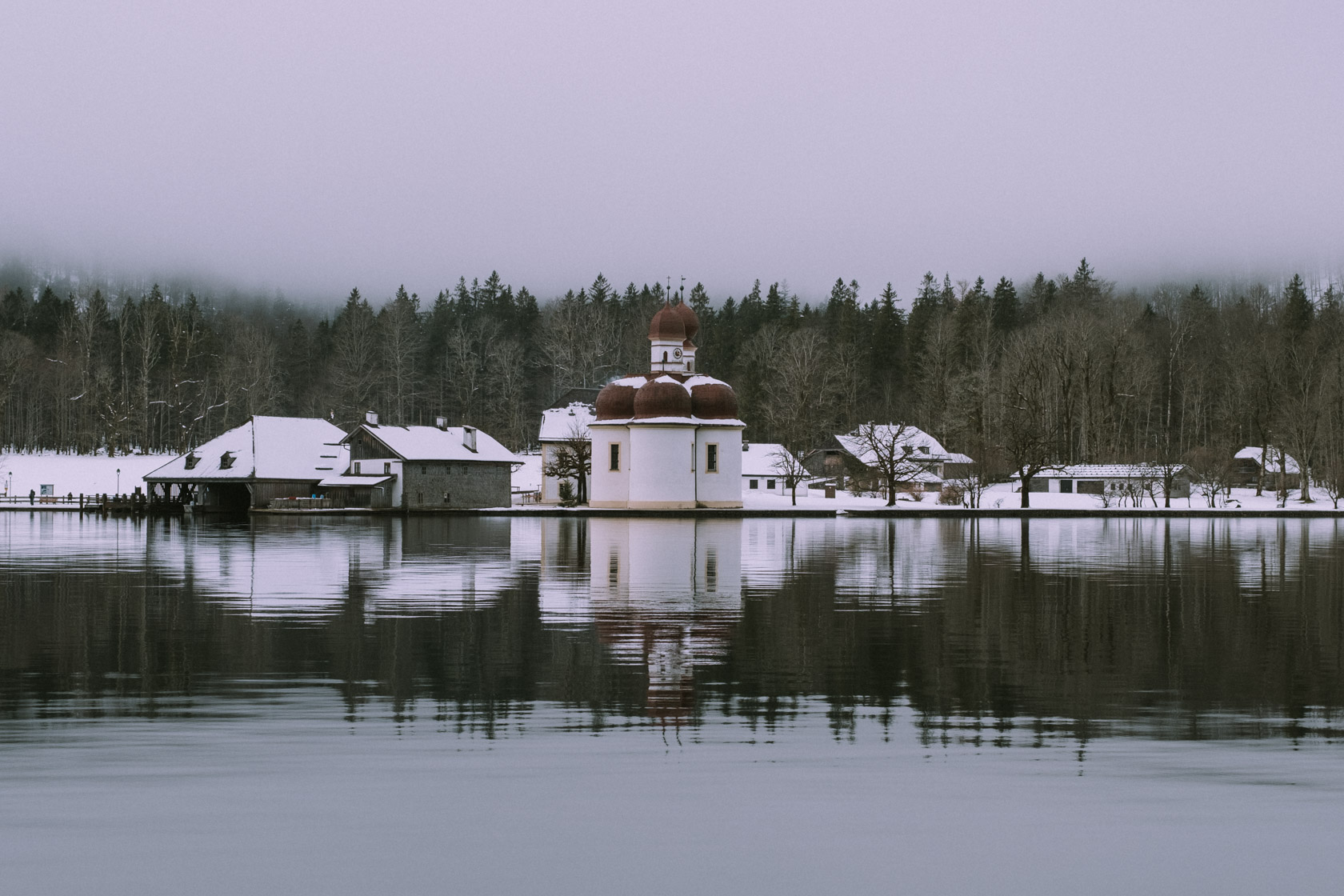 Ramsau Church
Leaving the Königssee area, we're going to wrap up our trip by visiting two of the most photographed churches in the area, starting with Ramsau Church. As you enter the town, you will find parking along the river where you can place your car. However the best photos are to be taken from across the river, like you see in the picture below. If you're lucky, you'll also see mountains peaking out from behind the church!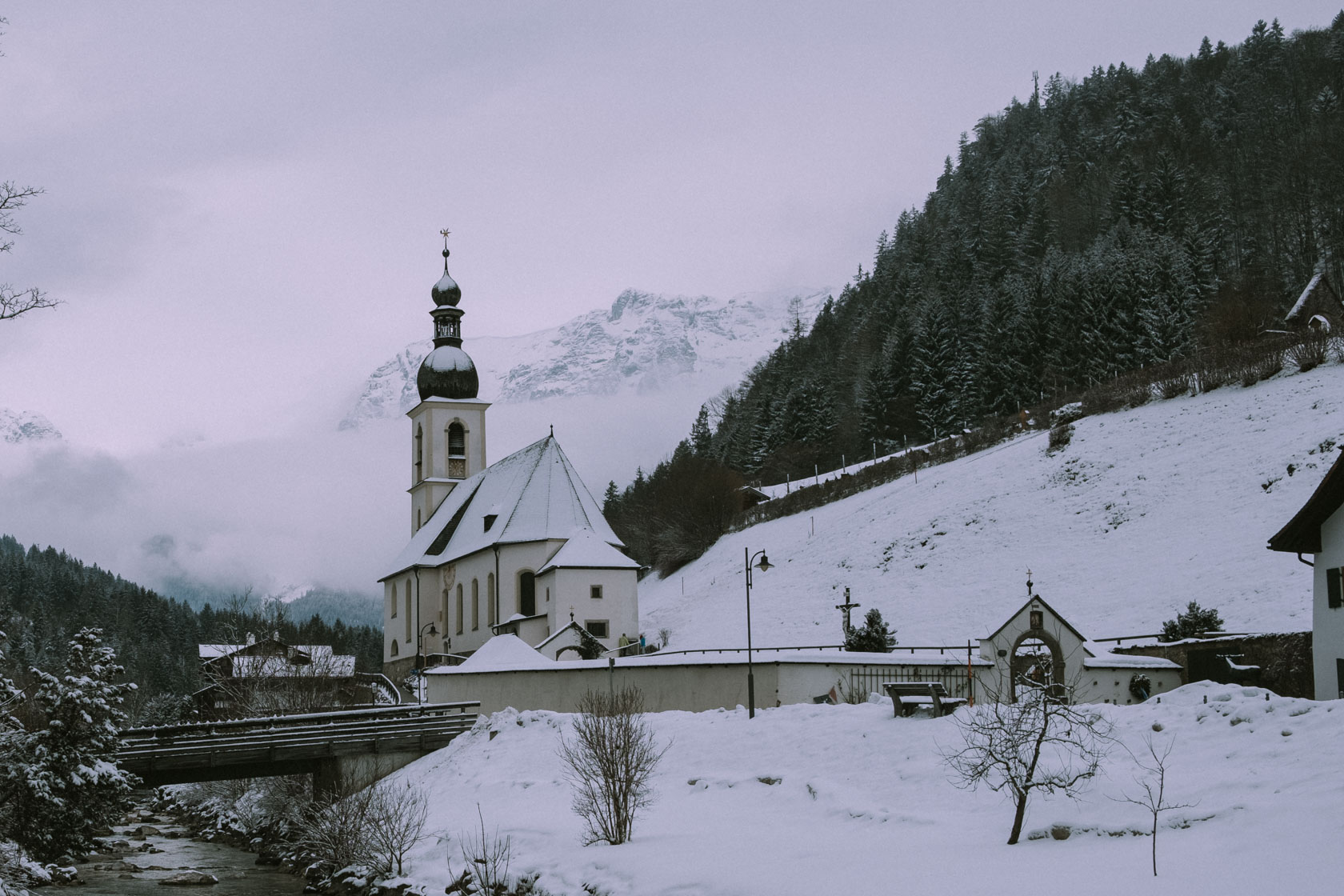 You can both enter the church, and take a walk around the cemetary. You'll see memorials for the sons of families in this town who died in the second World War.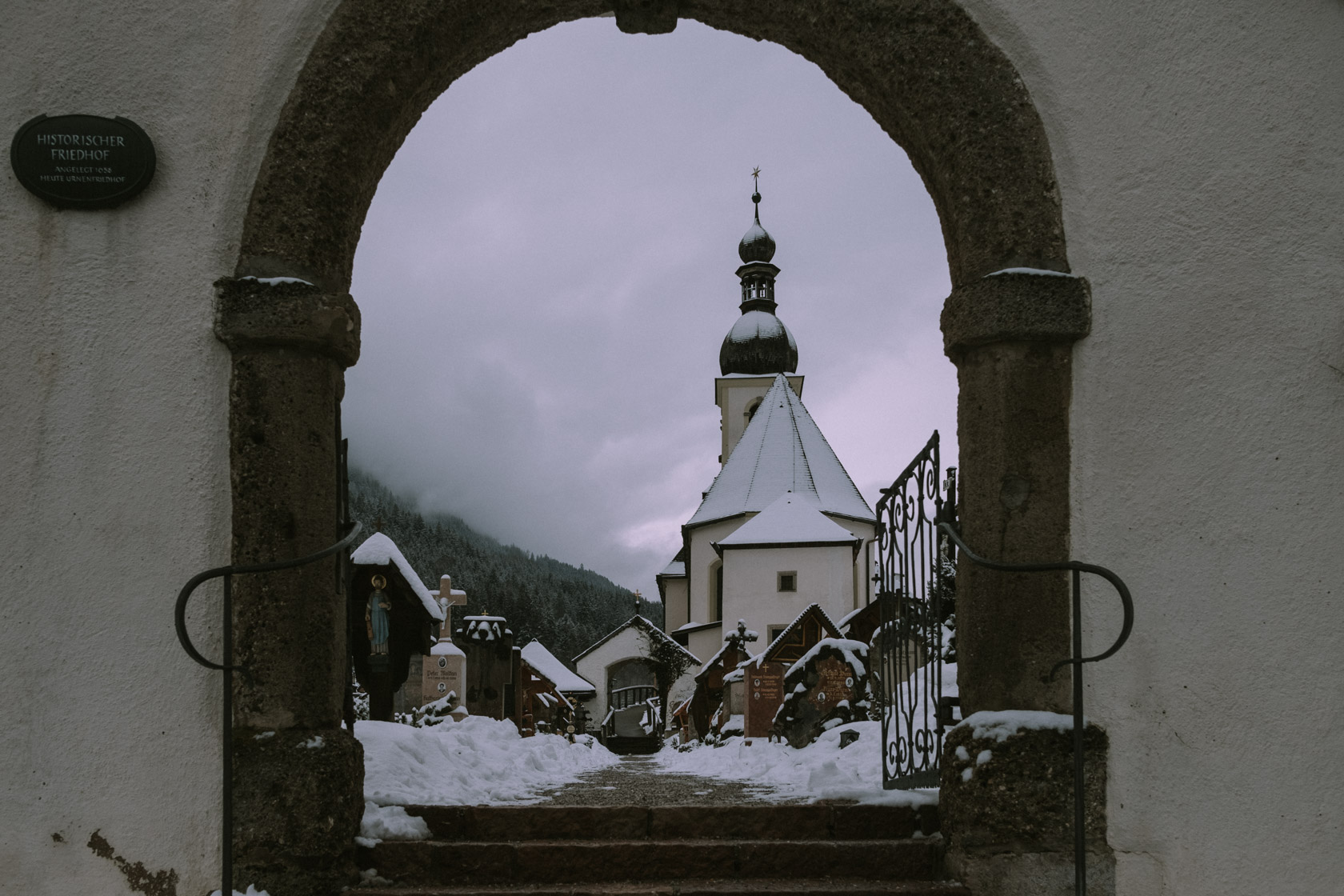 Maria Gern
Another popular church for photography is the Maria Gern, which is painted a pleasant shade of pink and is extremely tiny inside! Spend some time here to walk around and pick the best angle for your photo. Unfortunately some of the best photos can be taken from the middle of the street, so be careful to listen for cars when you are taking pictures.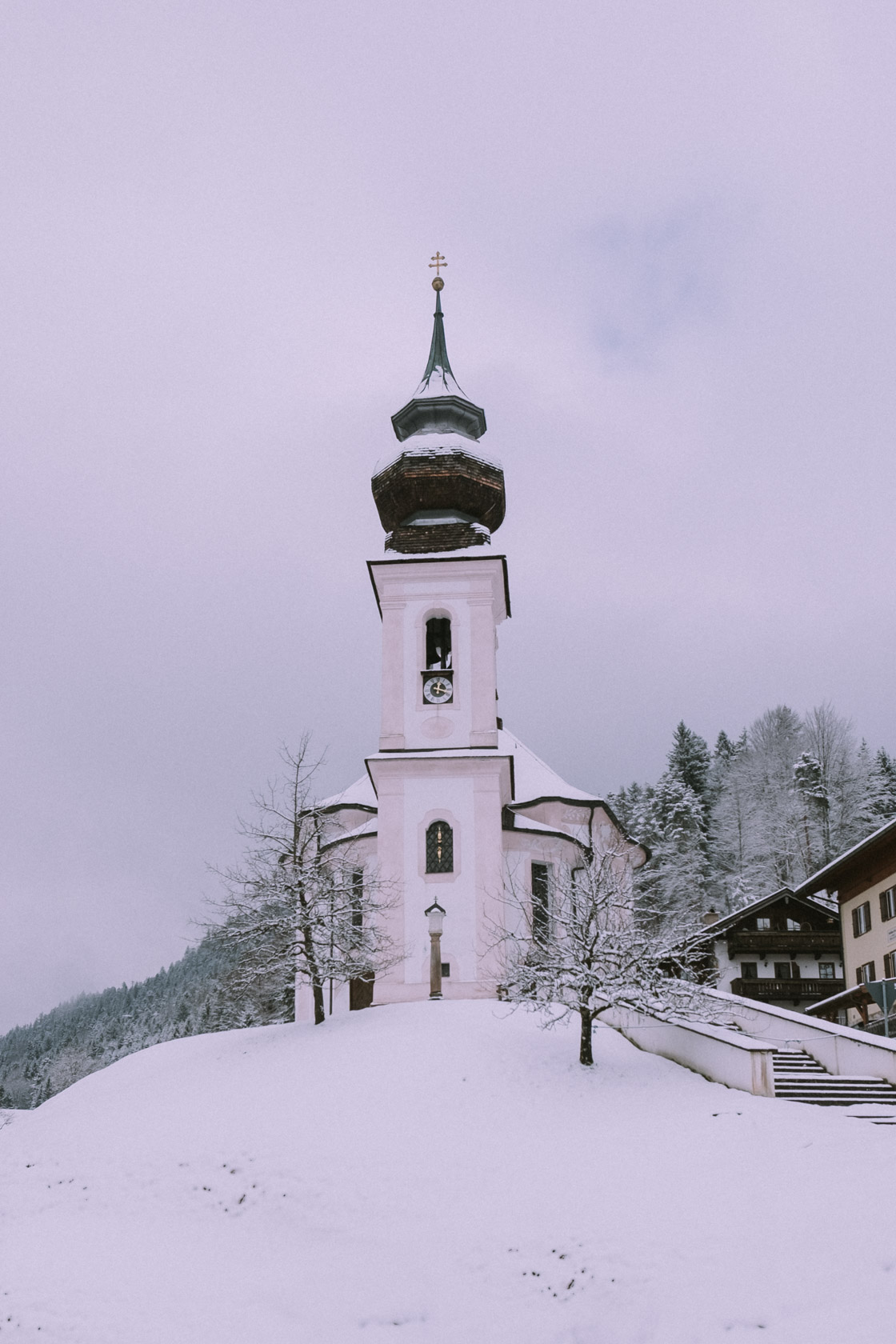 If you happen to return in the Summer, or you're in the mood for a winter hike, you can do a bit of hiking around here on a path known for wildflowers. It also offers a really nice view of the church as well.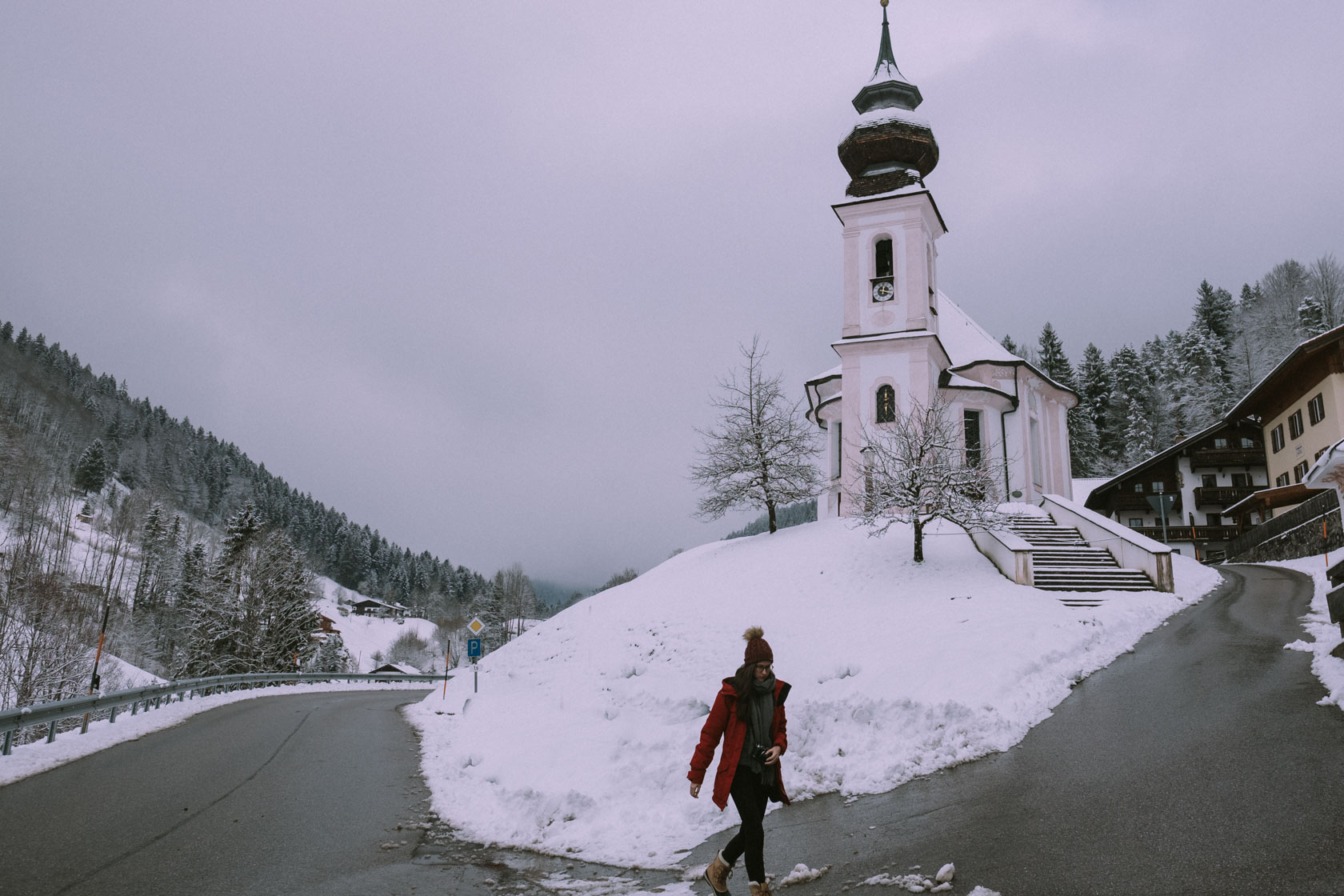 General tips for Winter in Germany
Visiting Germany in Winter is not so different than visiting plenty of other places in Europe during this time. You need to be prepared for a good amount of snow, and if driving, you need to have proper snow tires and hopefully some experience driving on icy roads.
In Winter in Germany, it tends to get dark rather early (around 4:00PM), so be mindful of the time you spend at each location if you want to catch it during daylight. Generally speaking, you're doing yourself a favor if you start your day early to make sure of the limited daylight.
On whole, the region can be a mix of cloudy or sunny. It's certain got more sun than other parts of Germany in Winter, but you shouldn't expect clear skies all the time. If possible, leave a bit of flexibility in your schedule so you can do the scenic places on clear days.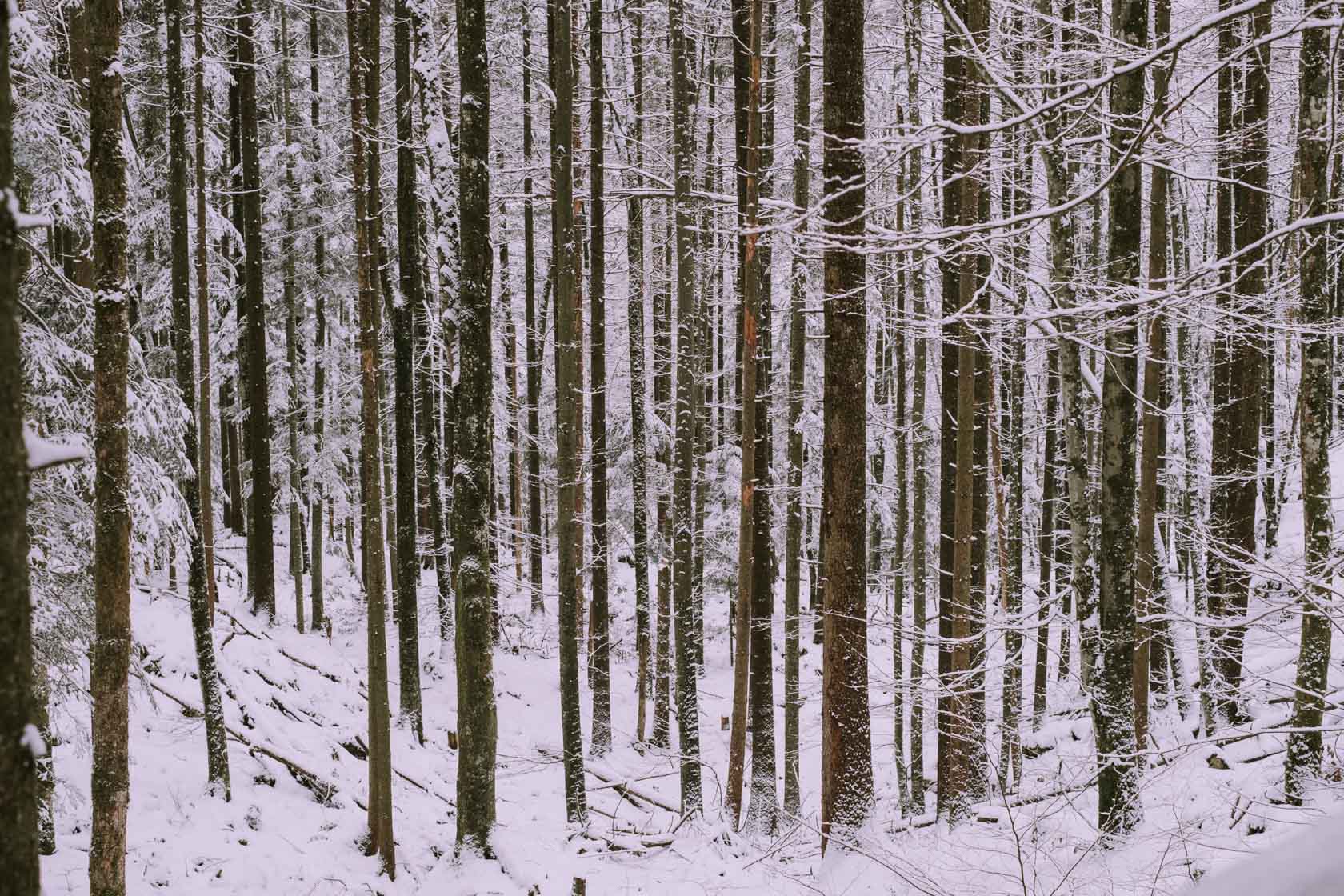 Where would you like to visit most in Bavaria?
Share it in the comments, I'm hoping to return in the Summer at some point to see the other side of this beautiful region of Germany!